The Future Is Now
Welcome to the future. Or at least BMW's take on it, for the time being. With battery technology still not quite there to make full electric sportscars viable (ones with actual range I mean), the i8 combines the best of two worlds. It's a car I've wanted to sample for a while now and it was the guys at Studie AG that made it all possible. I would get a chance to drive the i8 at Ebisu Circuit – the North Course to be precise – and fling it around for all it's got. Doesn't sound like a shabby deal, right?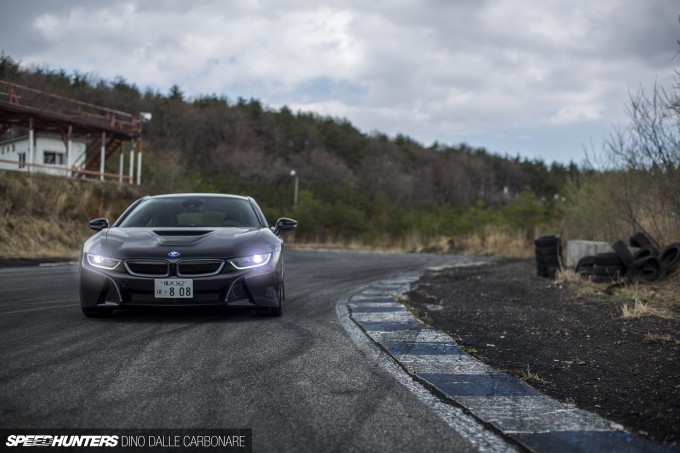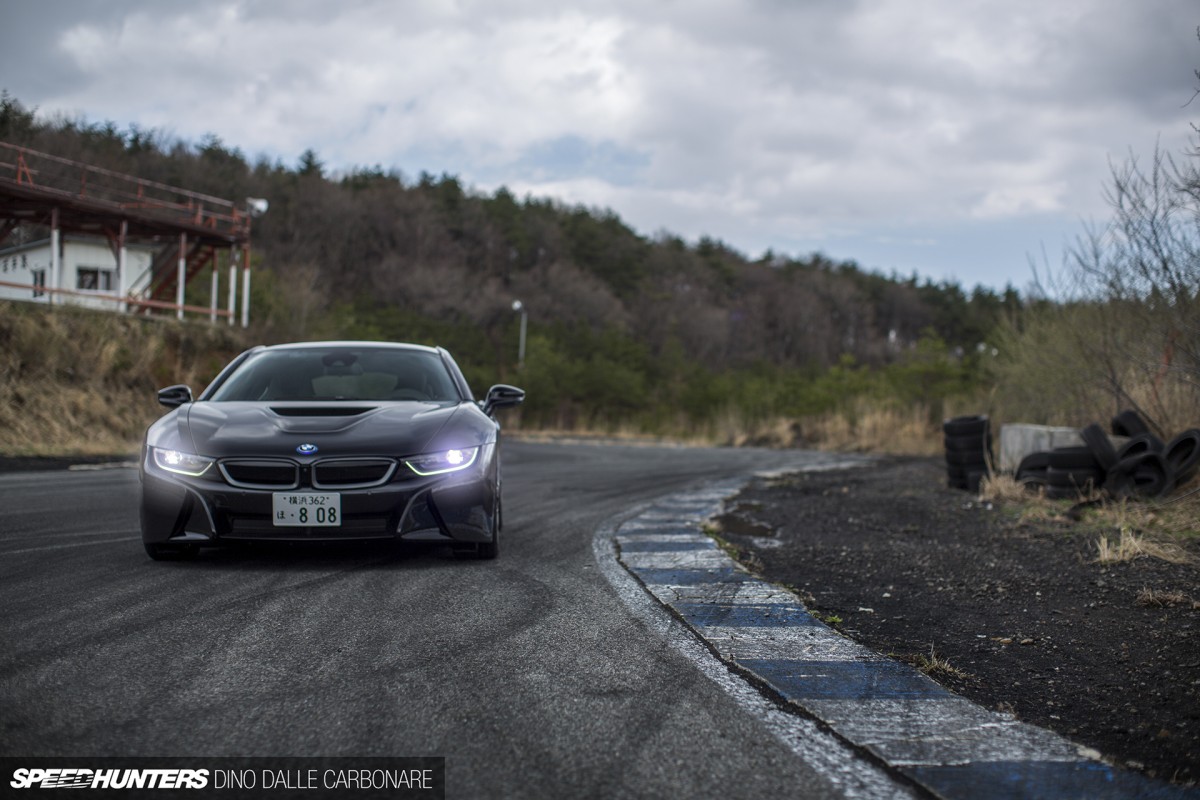 This was definitely a good day, but it was also instrumental in depicting what cars of the future will actually be like. And I have to start off by saying that BMW really went out on a limb with this car, and to some extent the smaller, city-oriented i3. The German automaker obviously took a chance and were very serious about it, because in a surprisingly short amount of time BMW teased us with two mouthwatering concepts of cars that would 'eventually' make it to market.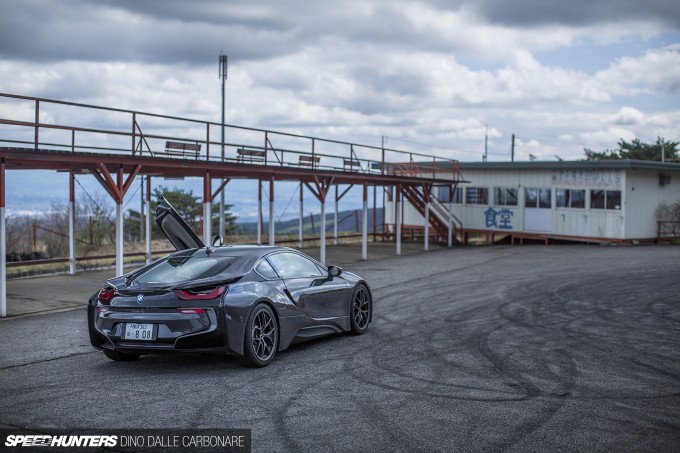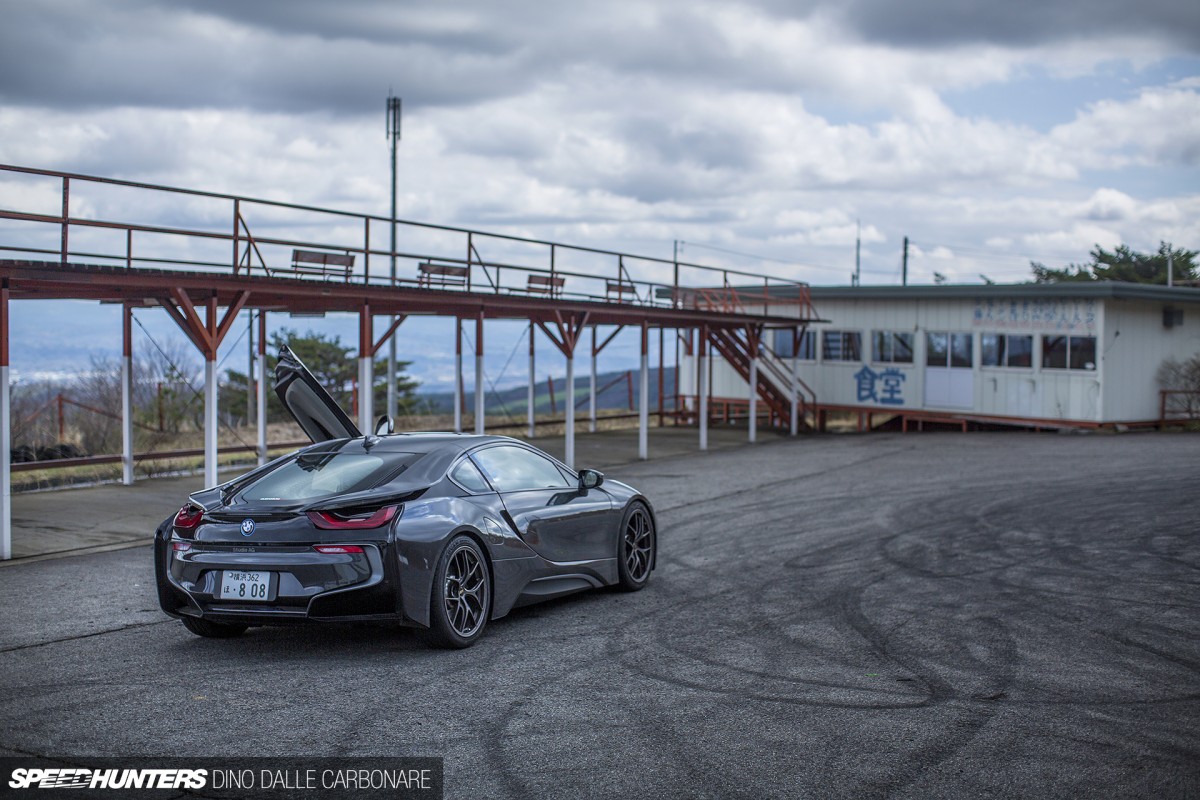 We see this all the time, but the difference here is that BMW cut through all the usual excuses and delays and just quietly created two of the most advanced cars that are available to be purchased today.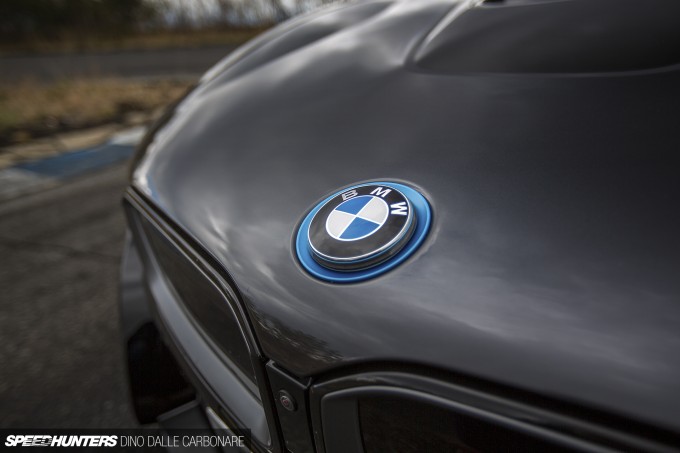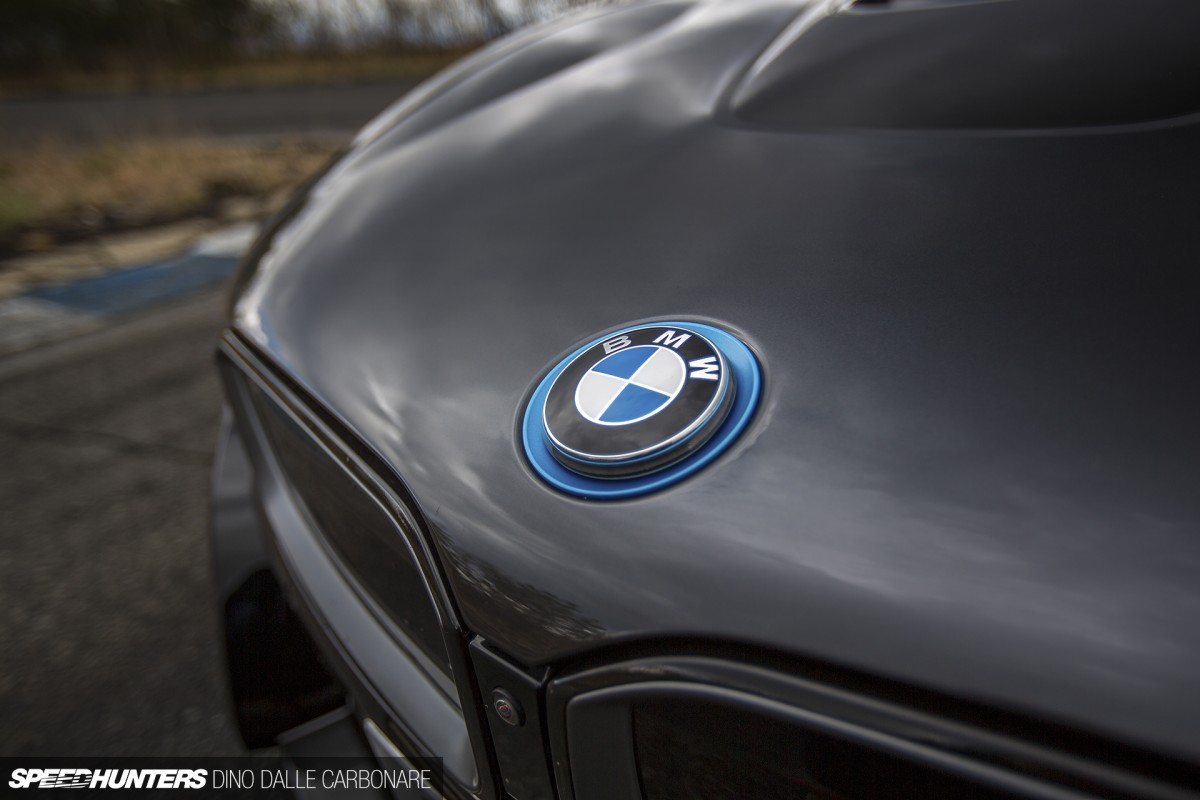 It hasn't even been a year, but the 'i' moniker is quickly building up brand value and momentum, but it can honesty only make sense to anyone who has driven one of these cars. The more I looked at the i8 as it was being unloaded from the transporter that drove it all the way up to Ebisu Circuit, the more I thought that a car like this shouldn't be here right now. This is a concept car – it's designed like one, it employs materials that belong in a concept, and its interior, drivetrain and even the noise it makes is all too alien to be related to a current production car.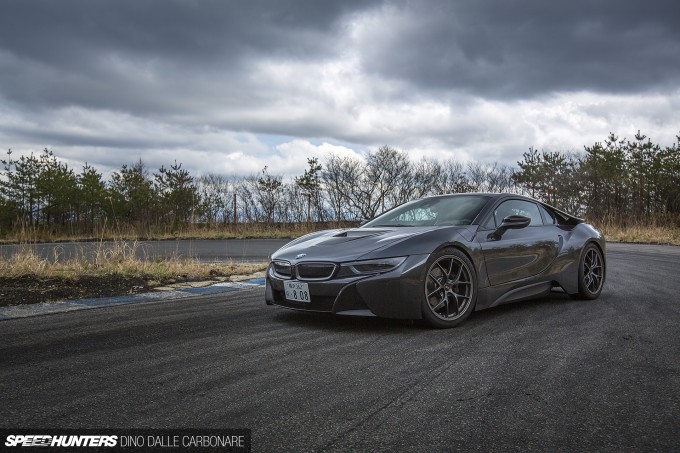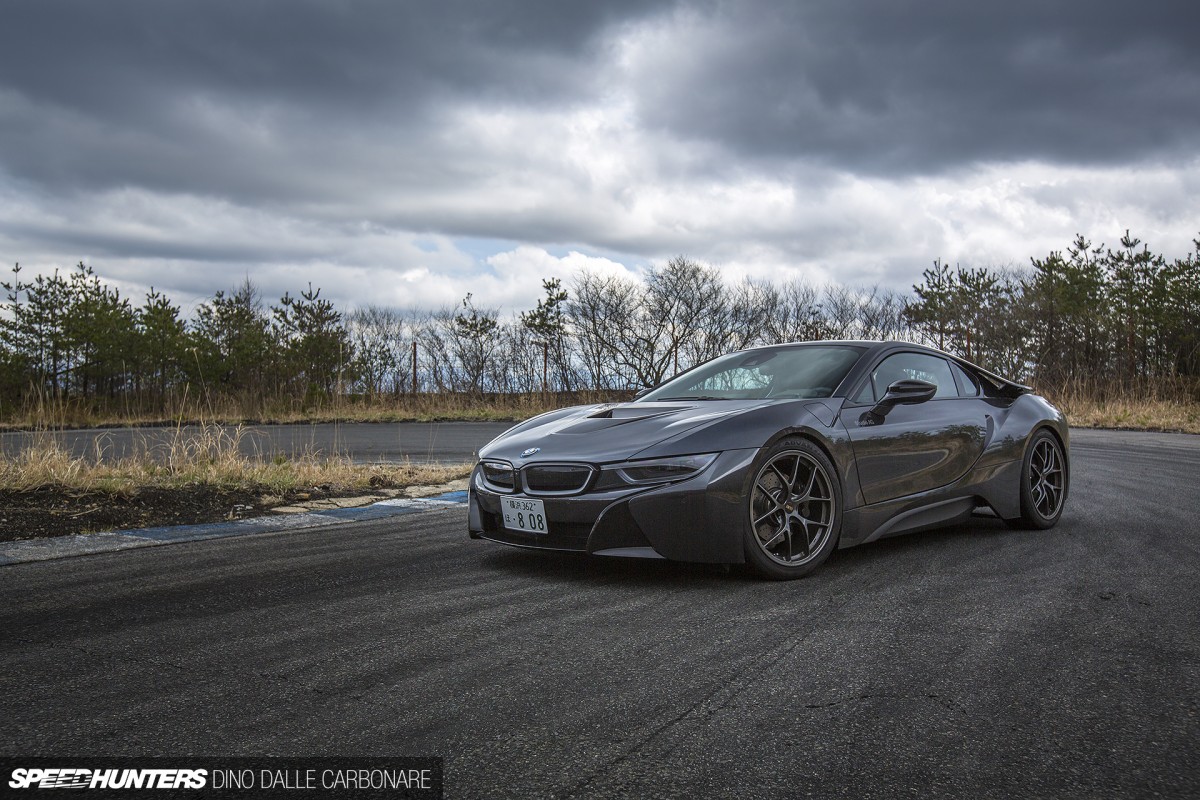 But it's here, and it's hard not to salute BMW for the massive effort. To top it off, the Studie AG version you see here – which belongs to the tuning company's big boss, Bob Suzuki – is sporting a few little upgrades that make it even more special.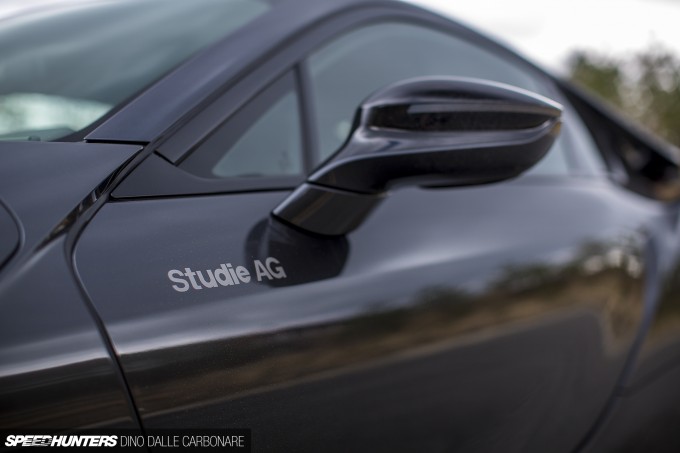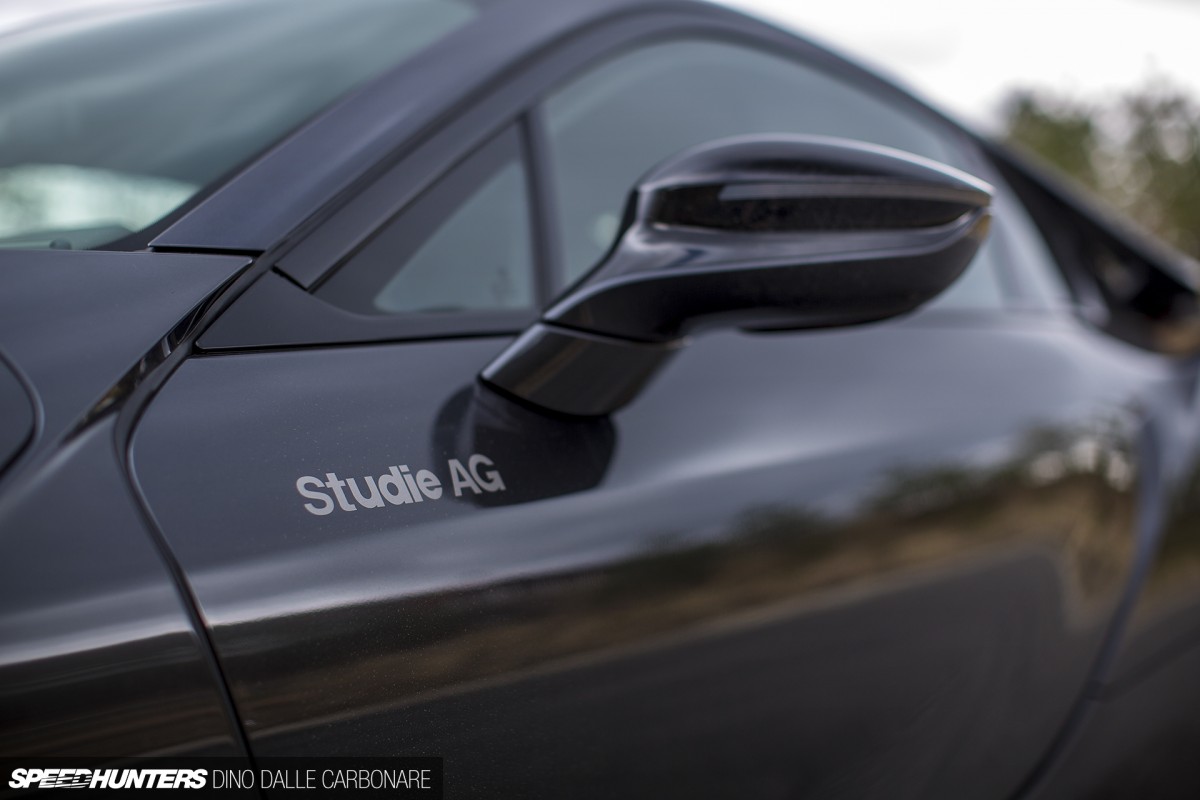 In case you're not familiar with the name Studie, it's Japan's biggest BMW tuner. The company has a total of five shops across the country with a new one in Nagoya opening this summer, and it's expanded to Thailand with a workshop in Bangkok. You really have to be in Japan to fully understand the sheer value of the brand, and as such many BMWs you come across proudly sport a Studie AG sticker on their boot lid. From its Super GT300 Z4 race car to its demo cars, Studie is synonymous with performance and style. It's also the place to go to in Japan if you want to make your BMW stand out from the crowd. I'll have a full tour of the Tokyo shop coming up soon – that is as soon as Project Drop Top is introduced to you guys and ready to go under the knife…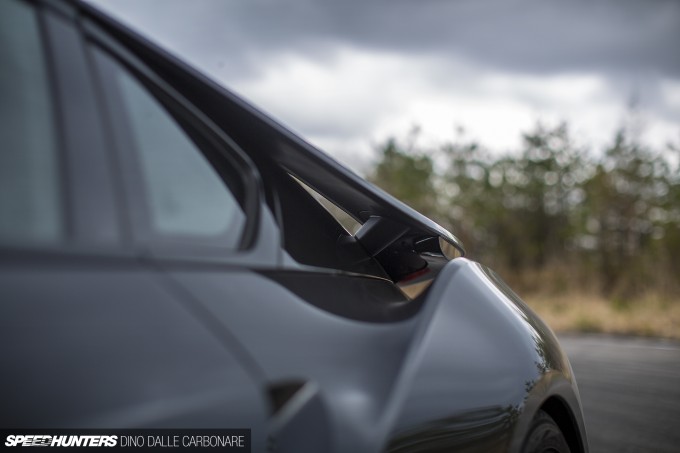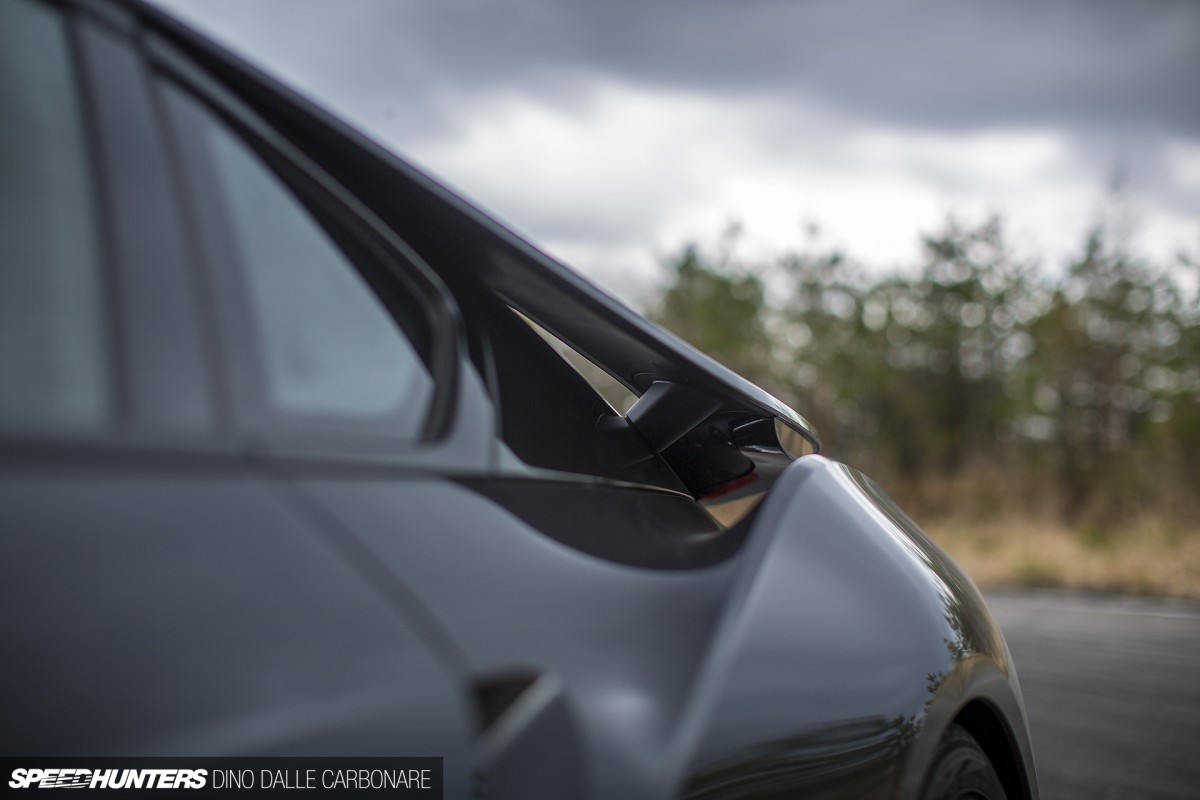 But back to the i8. I could look at this car for a very long time – especially in this dark silver hue which sort of camouflages the two-tone paint scheme. It's undeniably a BMW, yet it boasts a new design language for the brand – one where complex lines flow and curve around and end up becoming the outlines of specific sections of the exterior. The rear side treatment is the perfect example, splitting the car up and then all coming together at the back.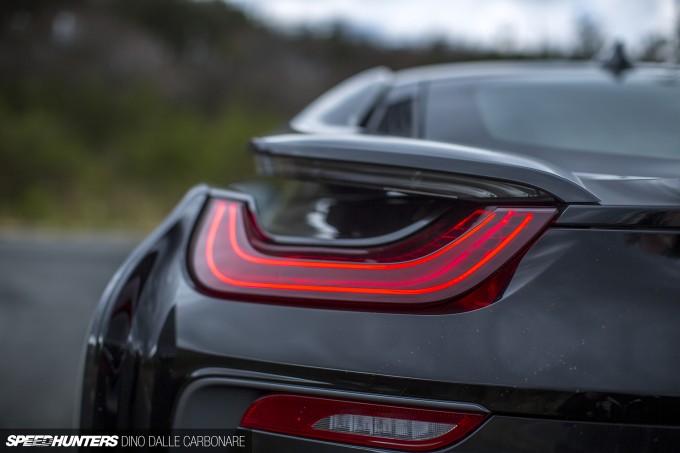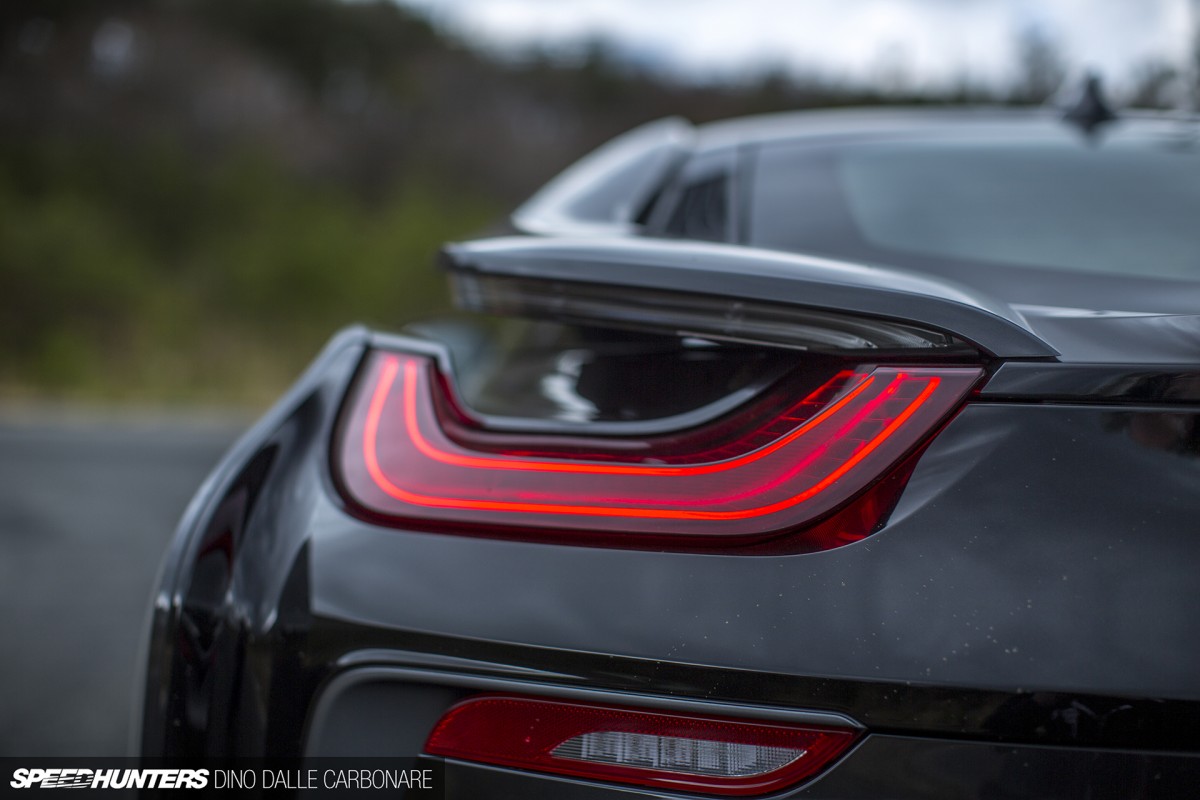 It creates the outline of the rear taillights, which employ some futuristic-looking, LED-powered inner reflector designs.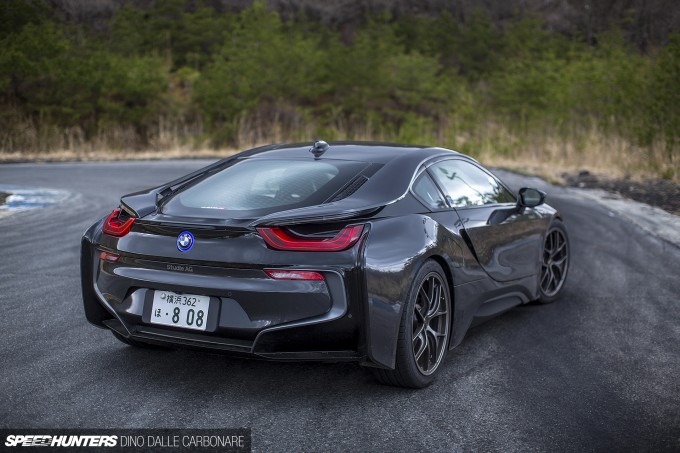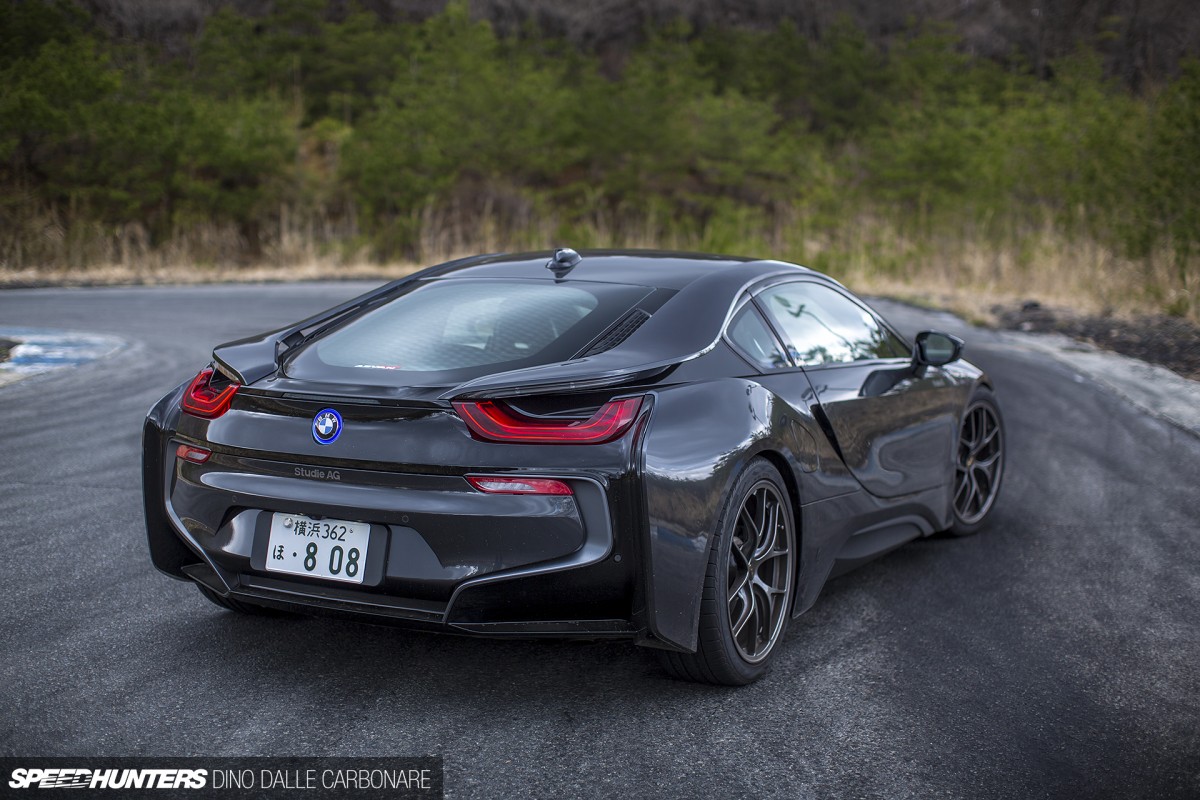 Nothing on four wheels has ever looked like this outside a futuristic concept car on a motorised turntable at a motor show. You either love it or you hate it, but you can't knock BMW for coming up with something so ahead of anything else you could pit it against.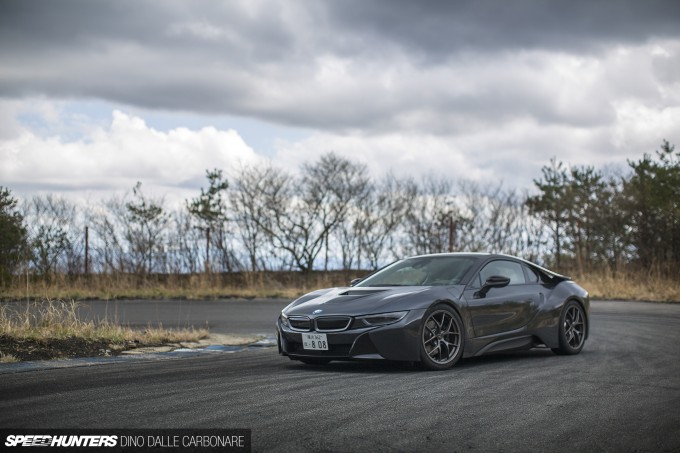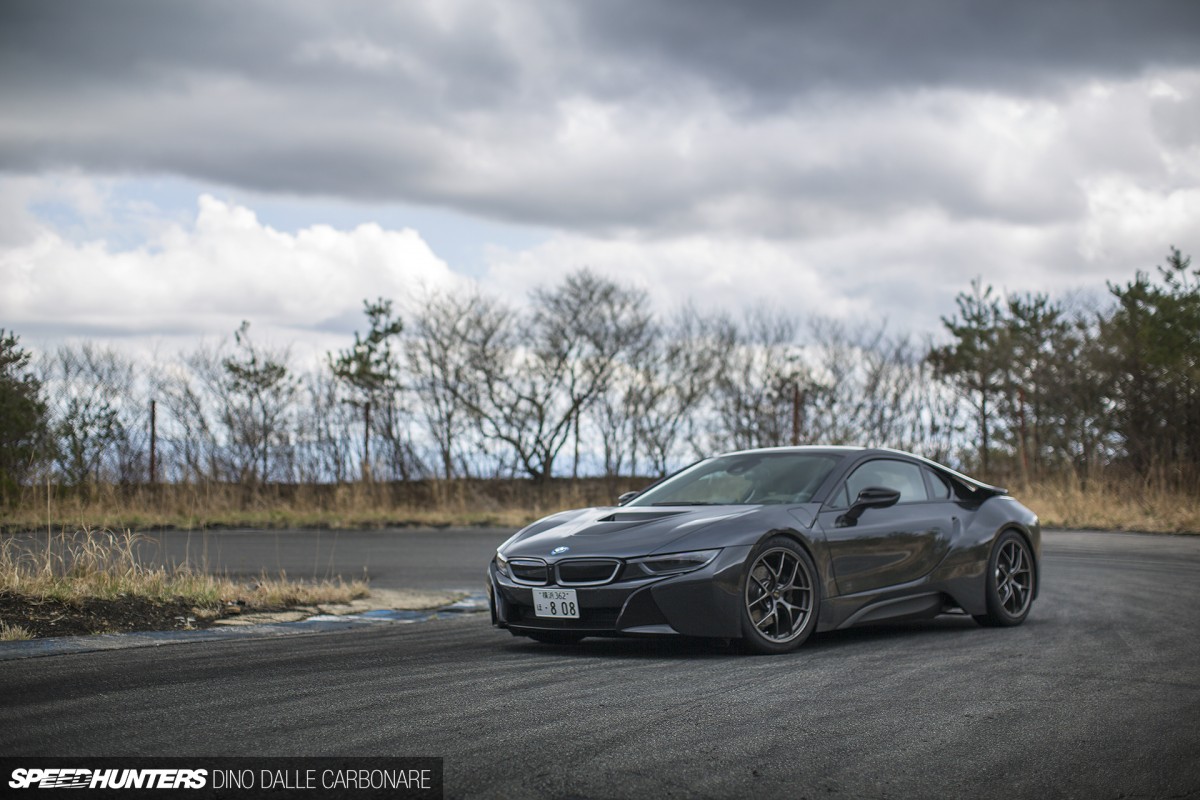 Of course, Bob didn't wait too long before making the car look more like a proper Studie car. First up, the ride height was taken care of with a set of H&R springs to drop it lower and emphasise the aftermarket wheels that have been fitted. Studie is awaiting KW to release its adjustable suspension package for the i8, and you can be sure that kit will find its way into this car as soon as it becomes available.
BBS, The Only Way To Go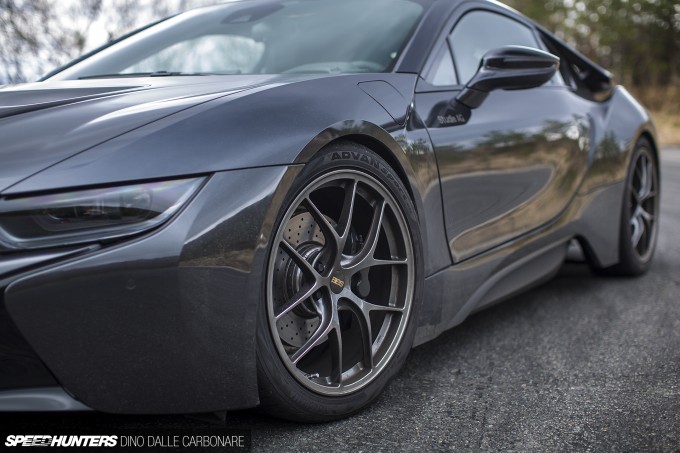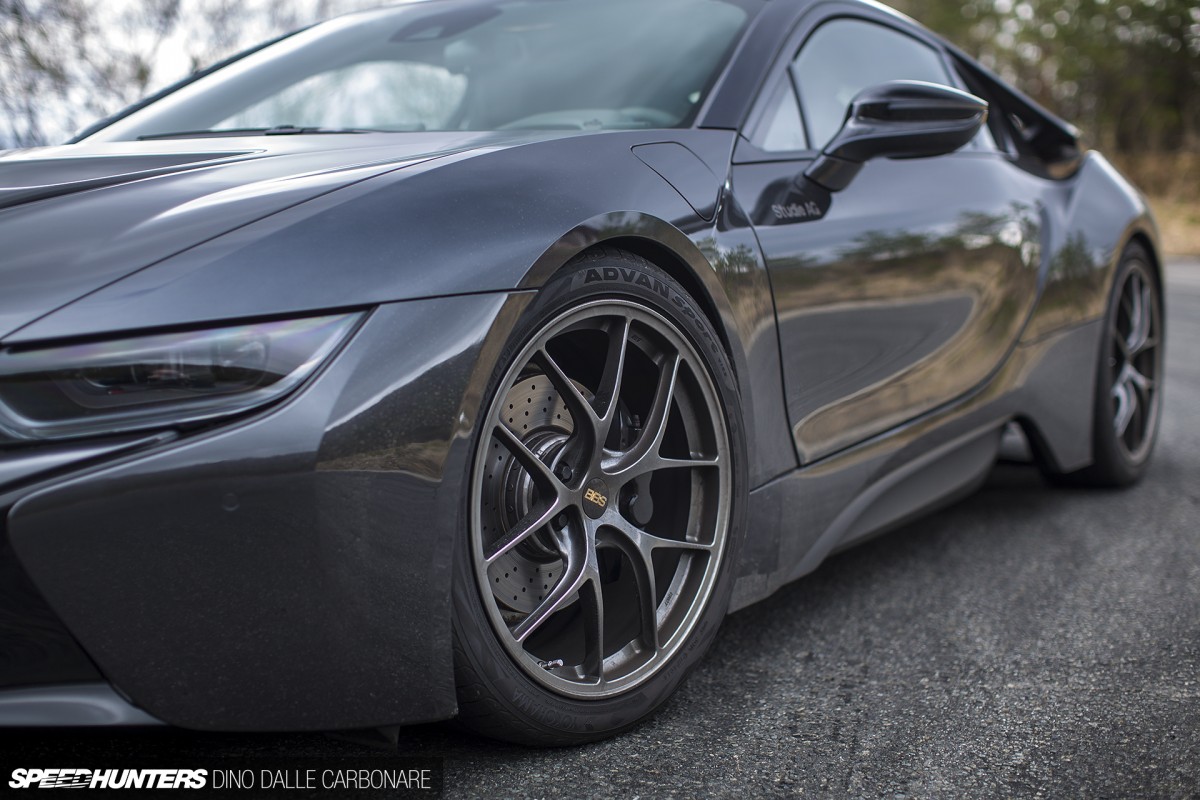 These are BBS's top-of-the-line RI-Ds – extremely lightweight alloy wheels that hit the scales at just 7.9kg for the 20×8.5-inch size used here. The high-pressure forging process and a special mix of alloys is what gives the thin-spoke wheels their strength. Bob runs this car as his daily ride so the Yokohama ADVAN Sport tyres he's opted for are a great match, offering great performance in any condition. And they impressed me no-end through the multiple laps I did of the Ebisu North Course, enhancing the car's already high mechanical grip and keeping it planted through every corner at all speeds.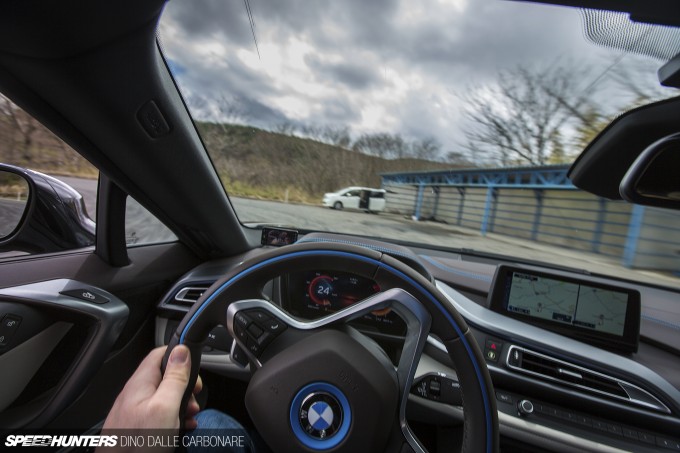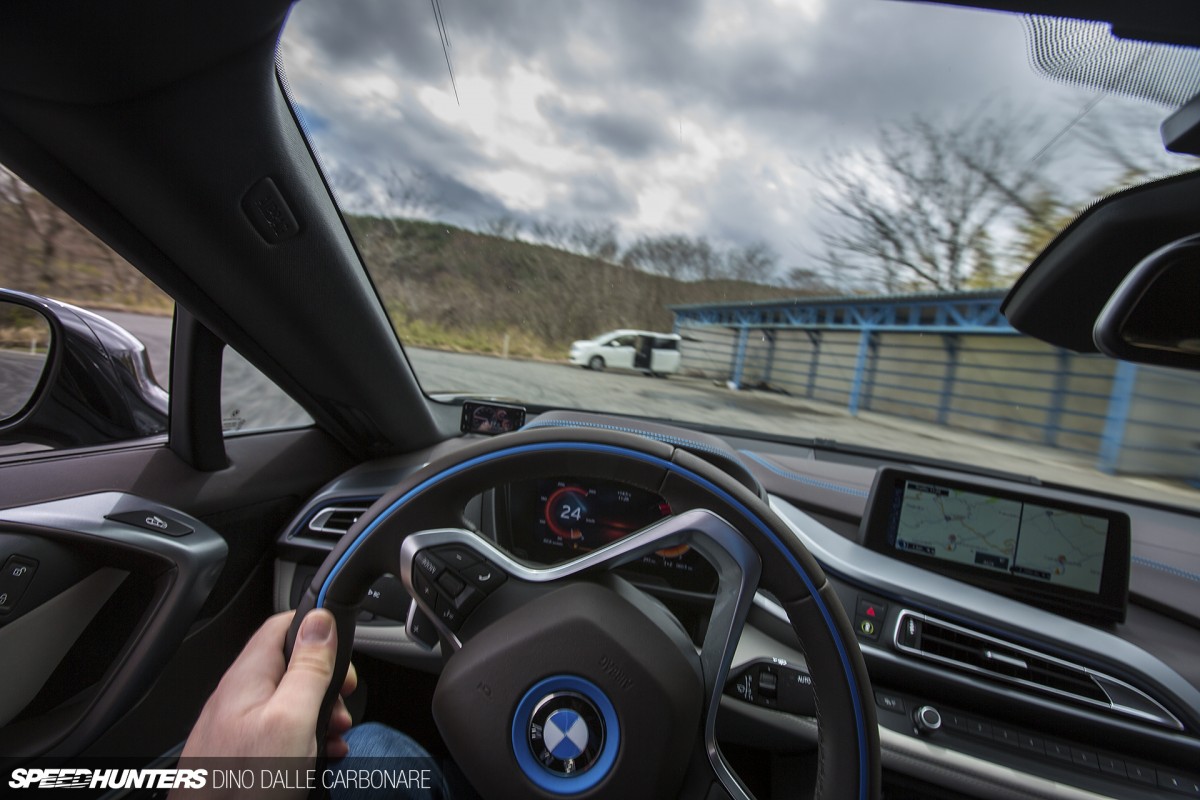 I even spent some time on Ebisu's skidpad, called Kuru-Kuru Land. I had a go at finding the limit of grip and how the handling behaves once the car starts to move around. It's a beautifully neutral thing, but when provoked it kicked the tail out enough for a bit of sideways fun. I even did the same exercise in full electric power, something that is as bizarre as it sounds! Imagine being thrown around the cabin in zero silence, only the scrubbing of the tyres there to give you feedback of the abuse you are inflicting.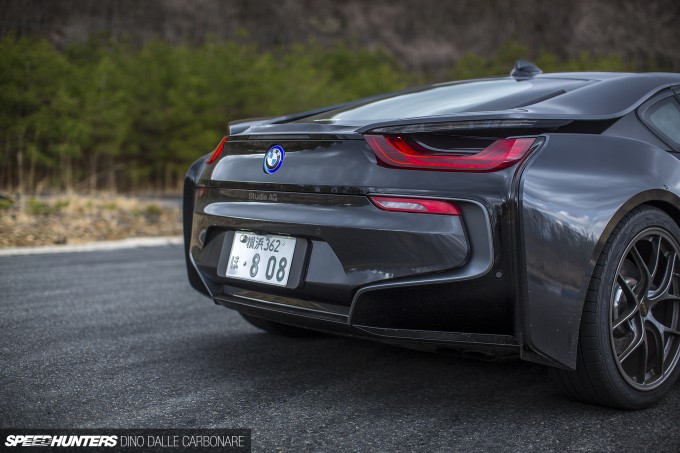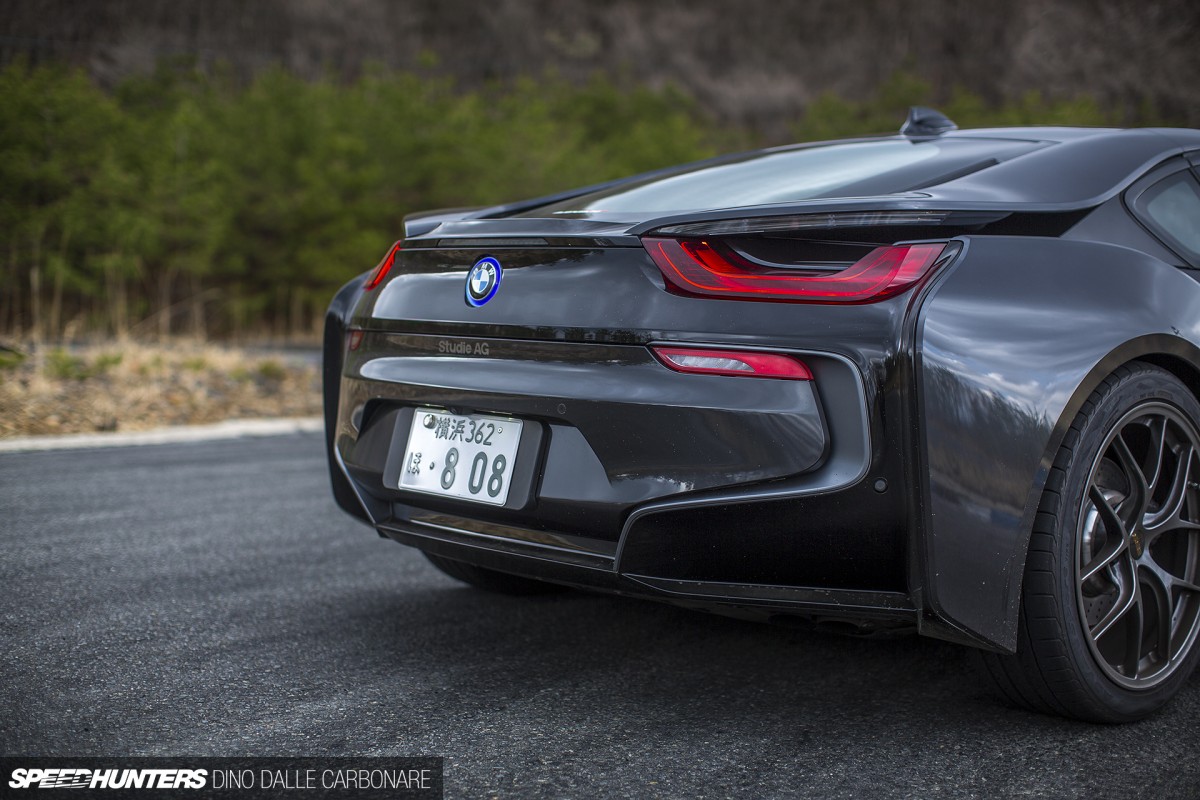 Is this the most controversial design aspect of the i8? The rear end supposedly giving birth to a Porsche 991… I won't deny that I see it, but it's something that could easily be fixed by painting or wrapping this portion to match the rest of the body color.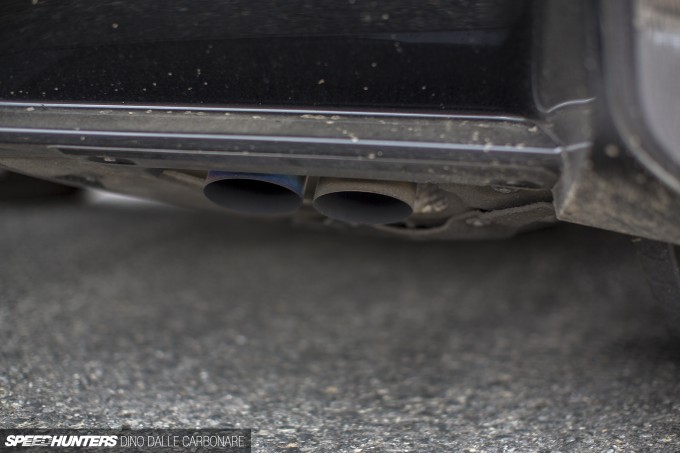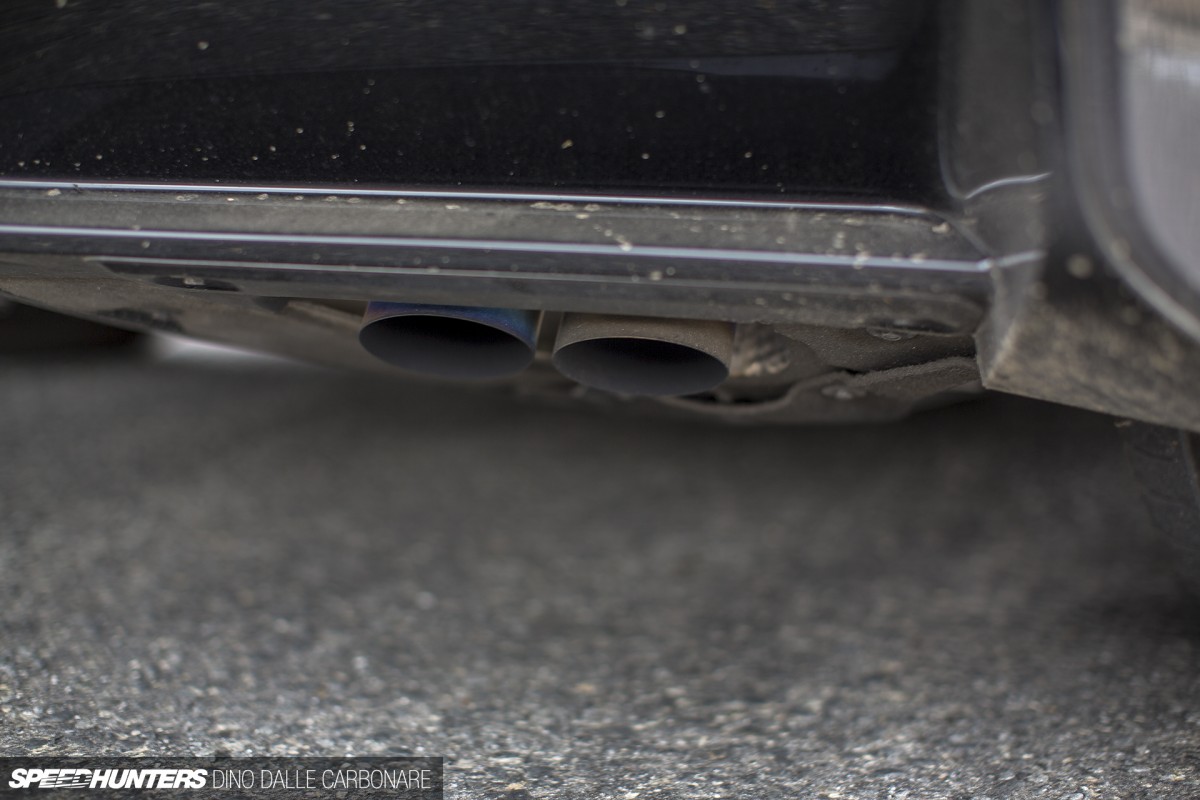 The guys at Studie have also fitted the i8 with a titanium exhaust system, which is barely visible out of the rear diffuser section. I was wondering what a turbocharged three cylinder engine would sound like when fitted with an open exhaust and had sound bites of tuned Kei cars running through my mind. But the Studie i8 sounds nothing like that. In fact, it sounds like the end of world – a massive approaching storm that unleashes bangs and pops every time you aggressively lift off the throttle, or short-shift through the dual-clutch transmission.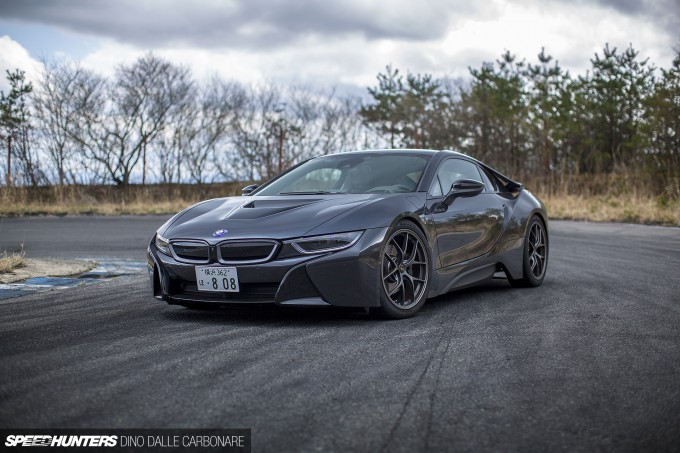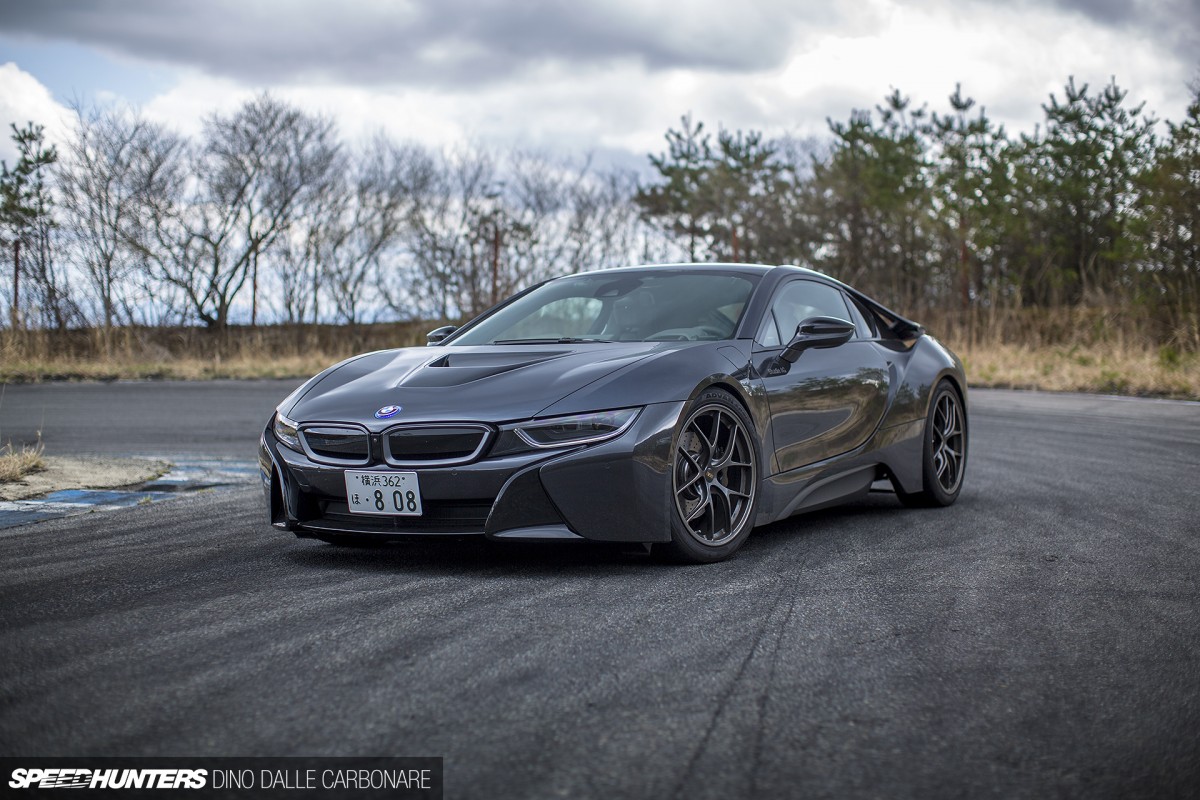 It quickly became obvious that it was very hard not to love the i8 – the innovative design, the spiced looks, and the fact that it felt very special from behind the wheel.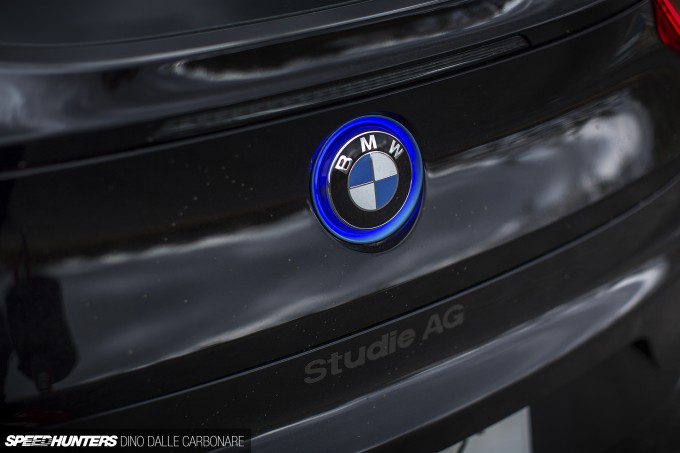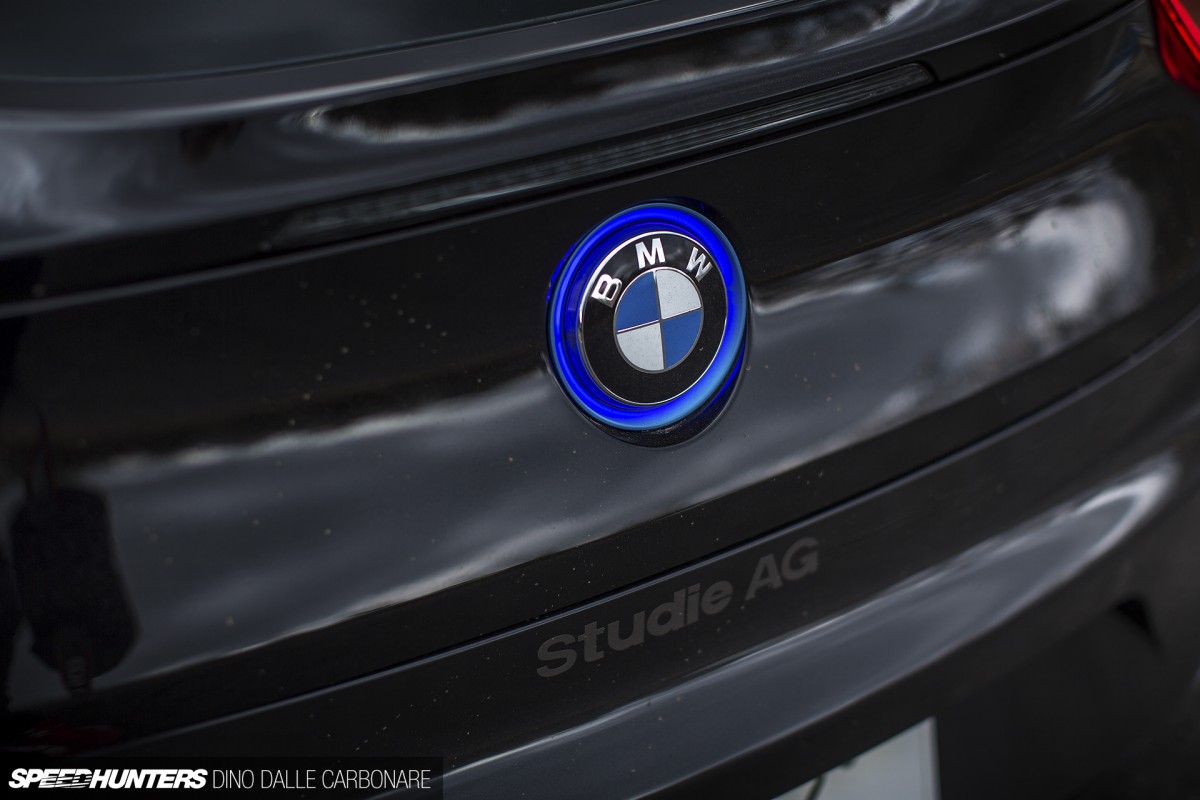 Bob's car has also been fitted with the Studie Emblem Marker: an illuminated backlight that fits around the front and rear BMW badges to make the car feel even more Back To The Future than it already is.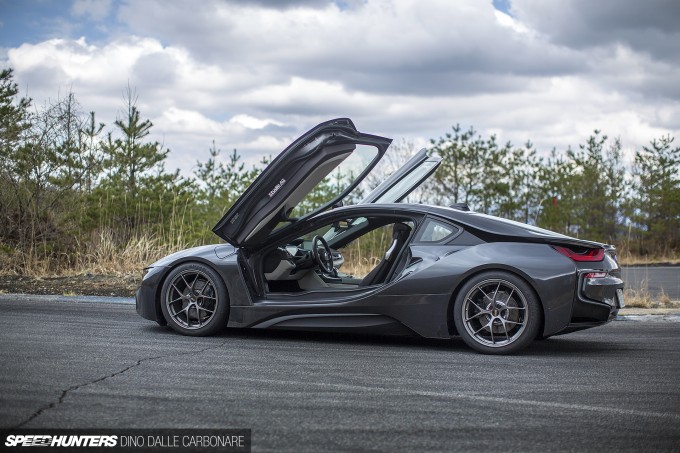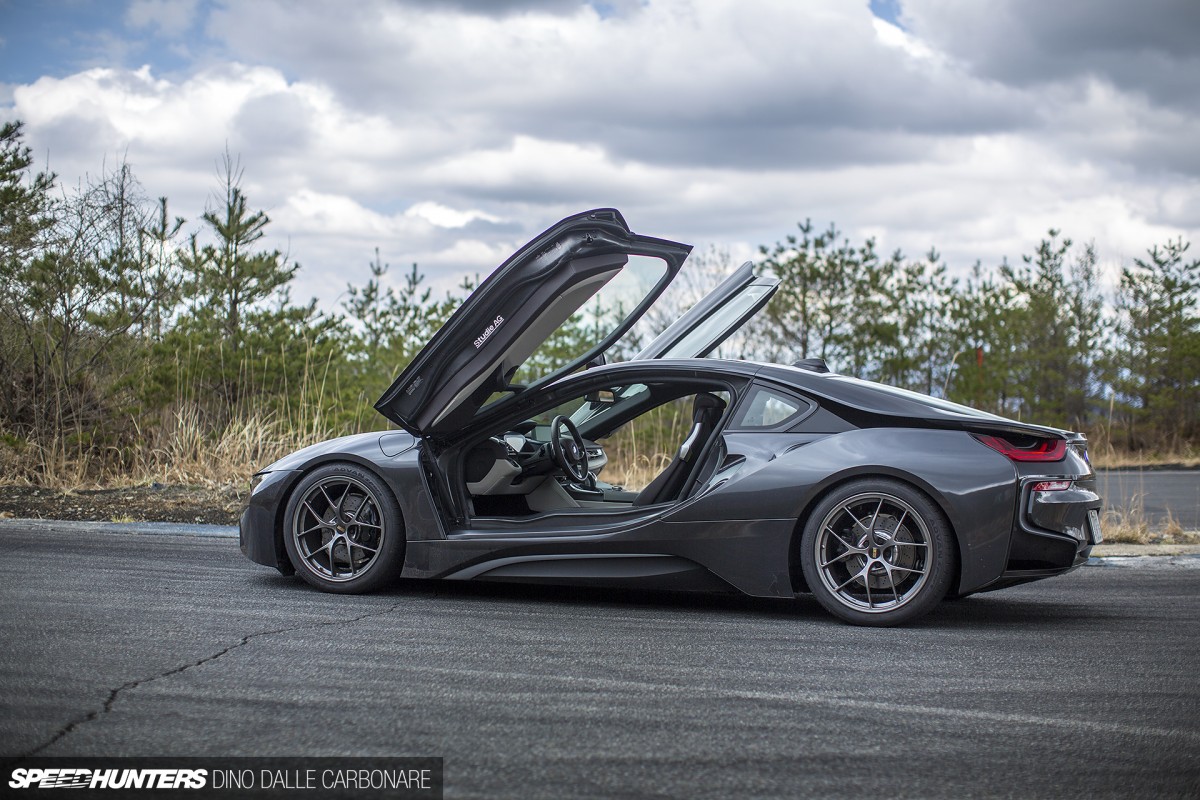 But things get even more interesting once you continue to admire the car in its entirety.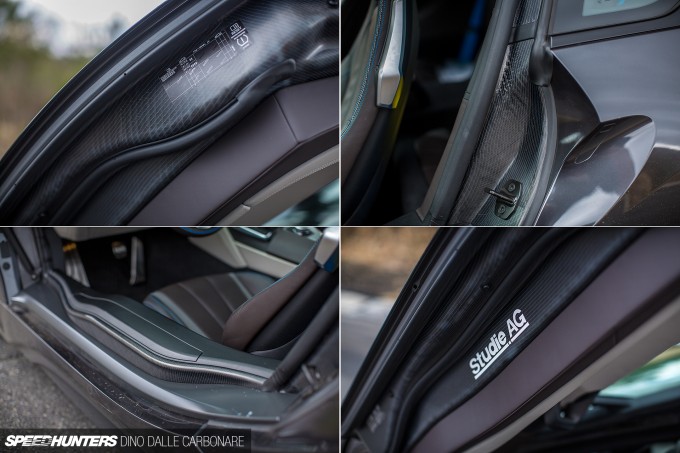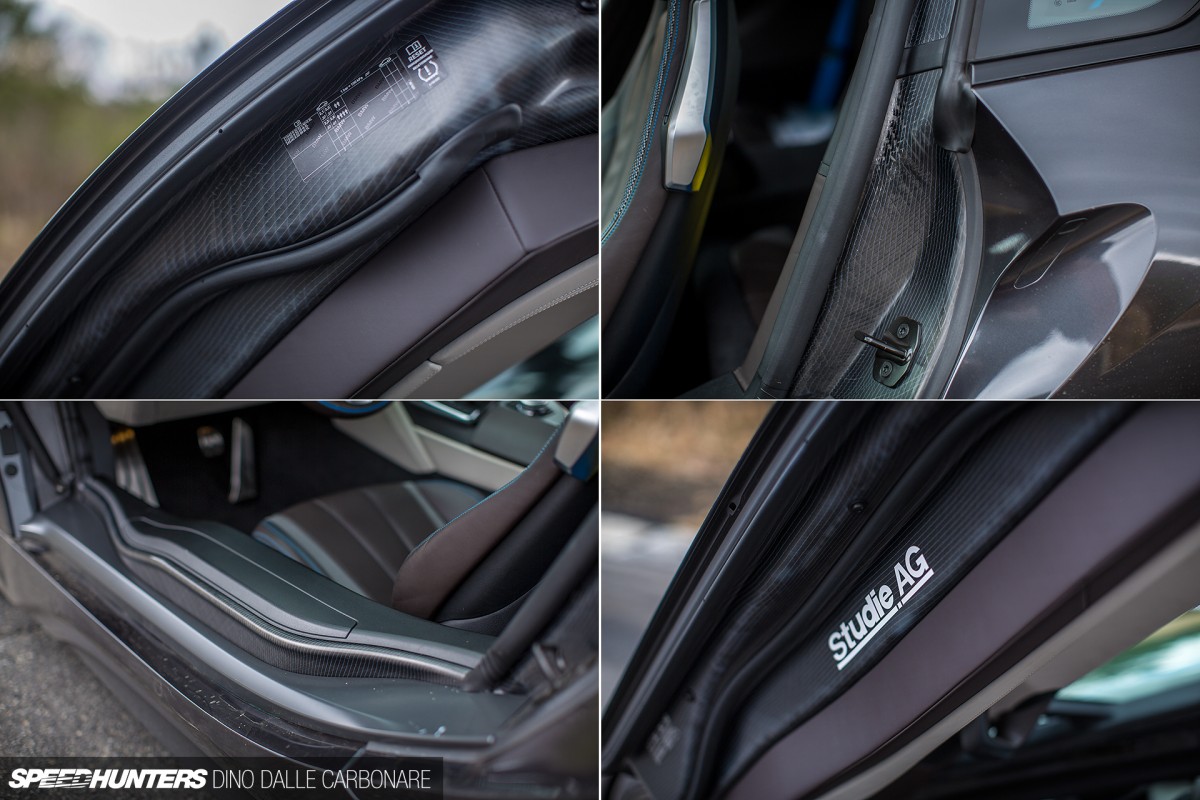 The entire passenger cell is made out of carbon fiber reinforced plastic (CFRP) – a strong and light composite material that makes the i8 even more advanced than its looks and drivetrain suggest. There is heavy use of aluminium and even magnesium to keep weight as low as possible, because of course there's heavy battery cells and an electric motor that need to be balanced out. It hits the scales at 1490kg, but with 357hp to play with – not to mention the instant torque delivery of the electric motor – it all combines to make a really fun car to drive hard.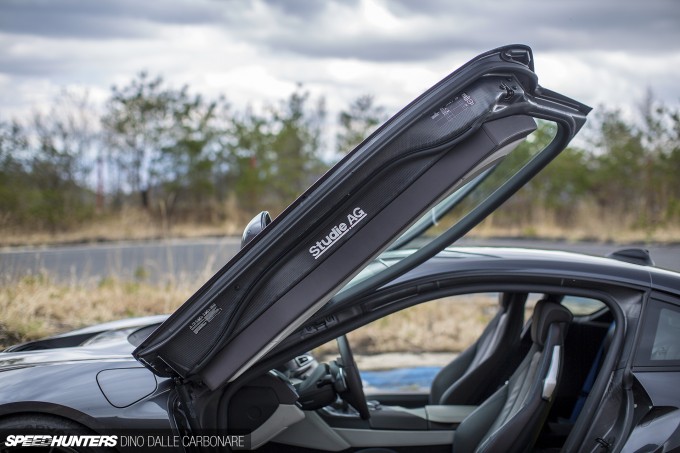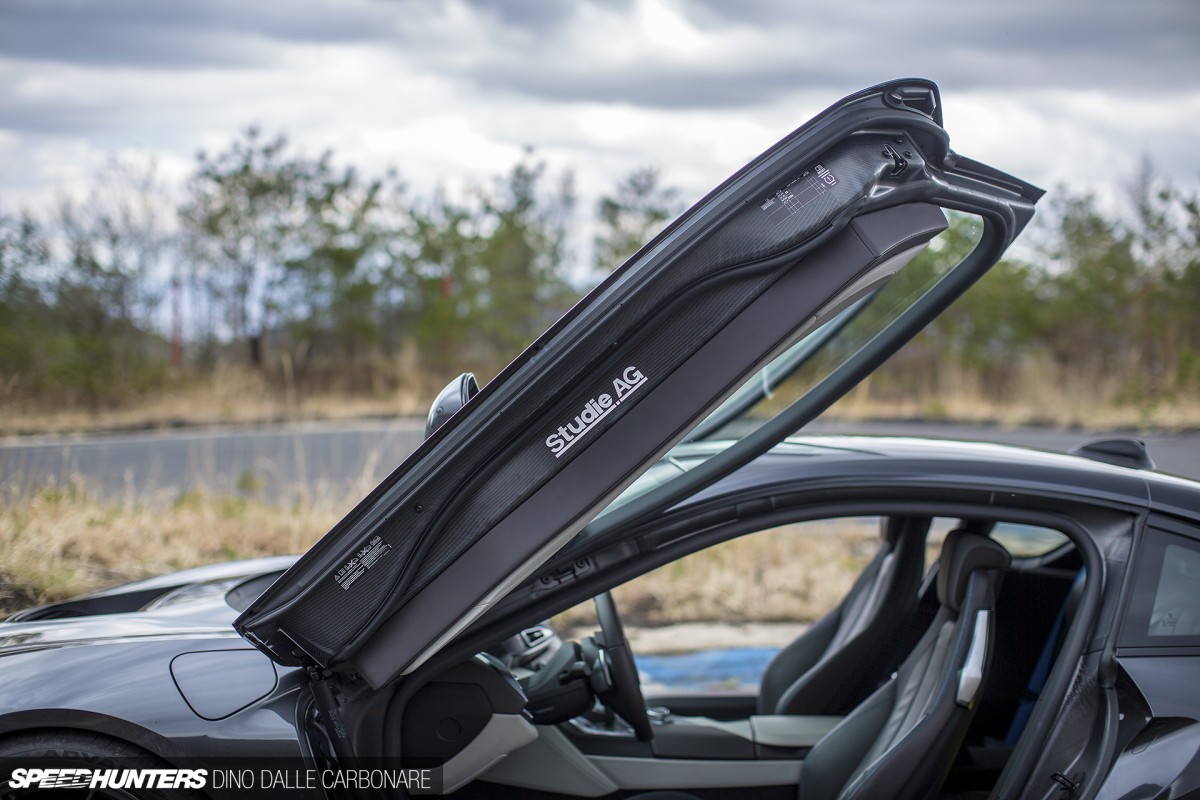 Now that's some awesome sticker placement right there!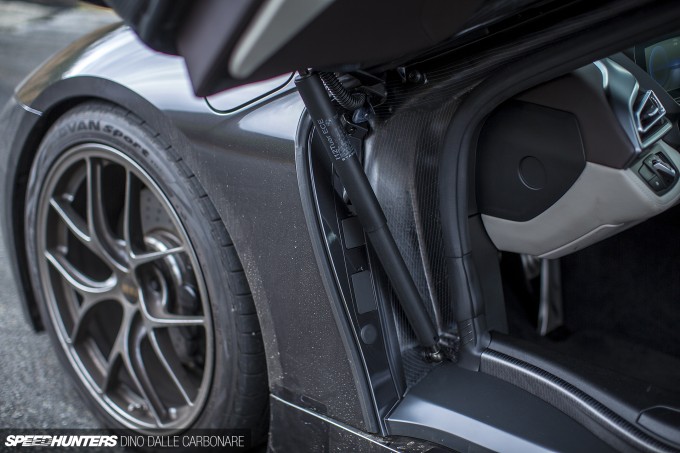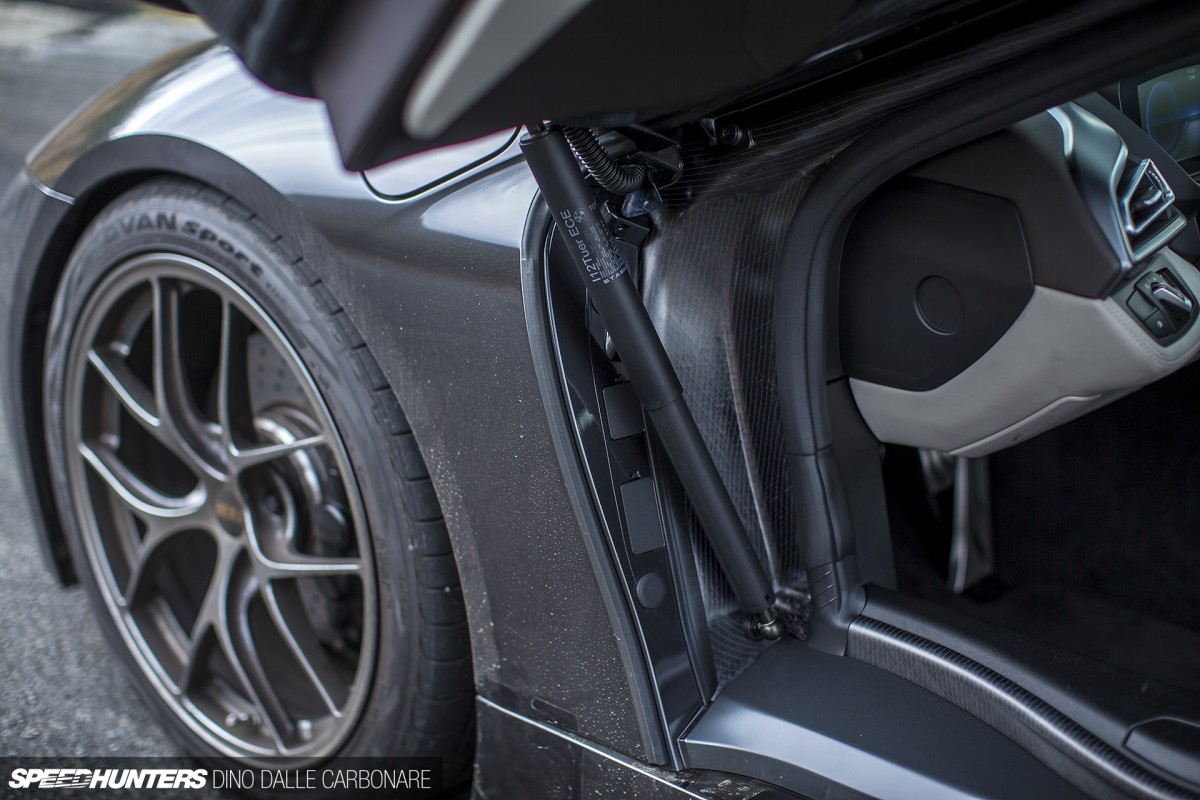 The carbon and aluminium doors are very light but some assistance is needed to lift them up and hold them in place – something done by a big hydraulic cylinder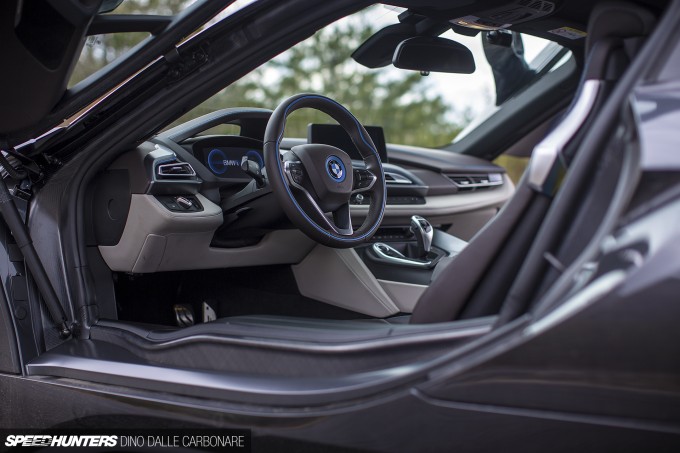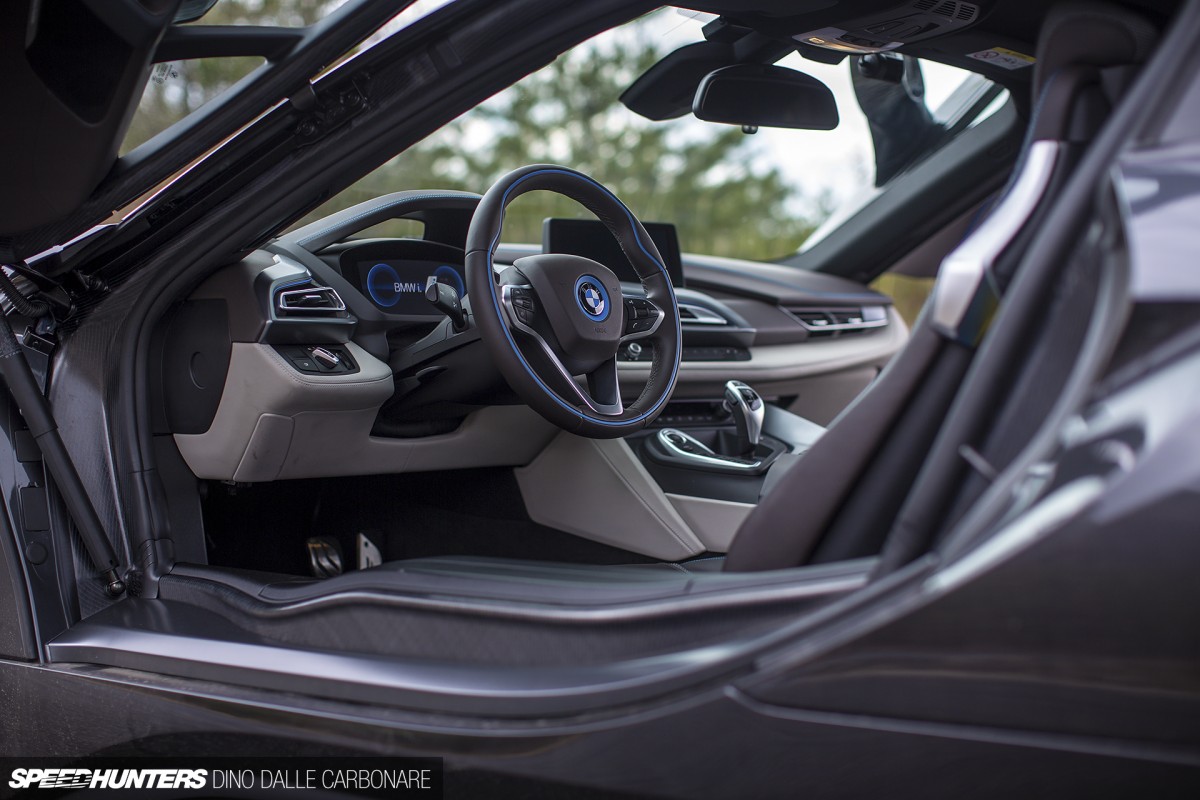 The doors swing out high away from the car freeing up a ton of space for you to drop your behind into the driver's seat. Still, it can be a bit of an issue with the edge of the dashboard and I kept rubbing my shoes along it when exiting the car.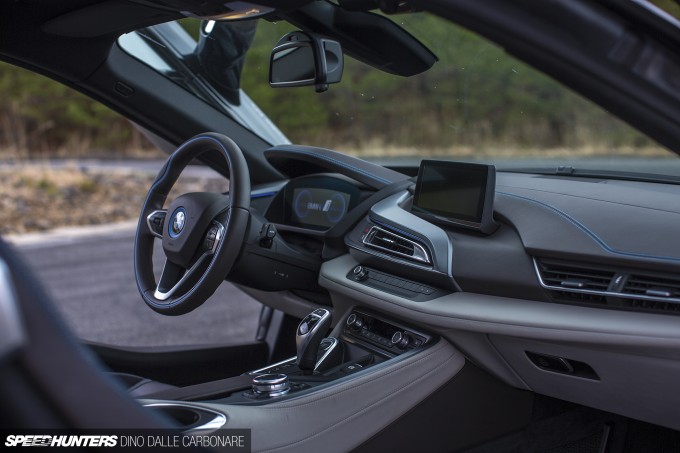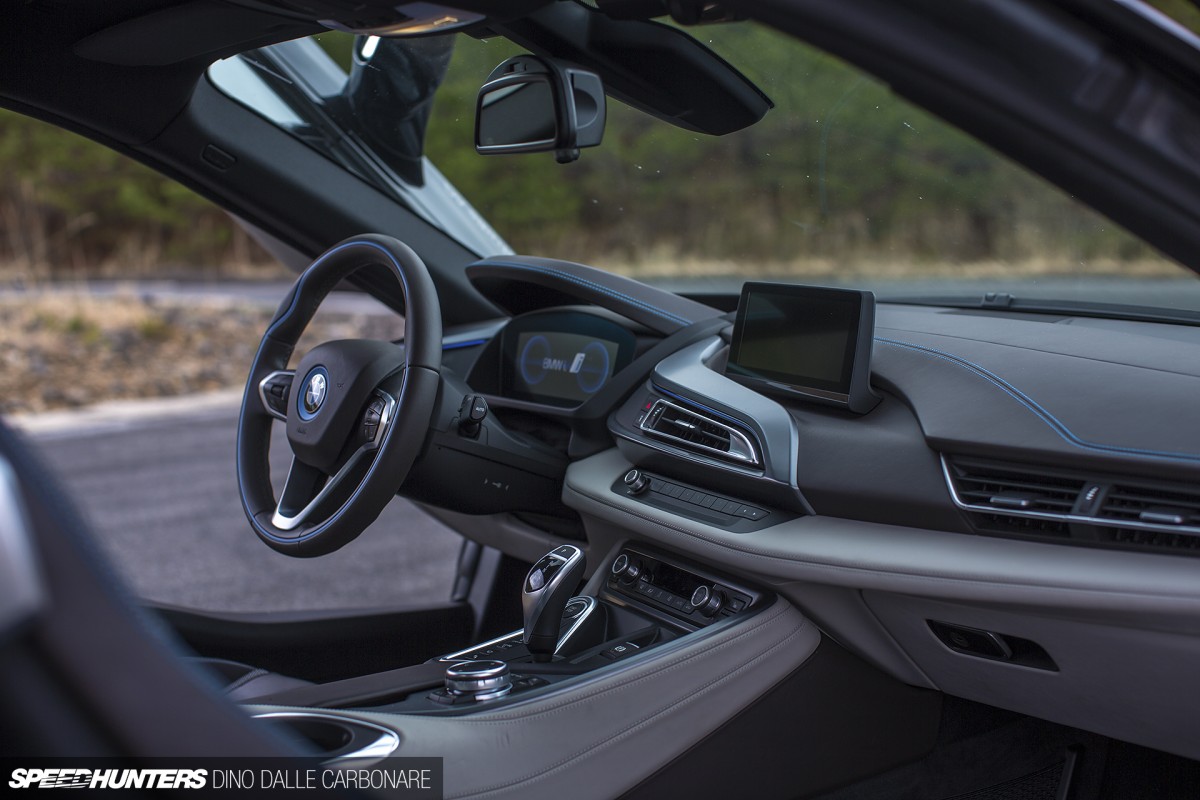 But I'm sure if you drive it on a daily basis this is something you would easily learn to avoid. The cabin is a mix of familiar BMW design mated to an unfamiliar futuristic take – an evolution of what any BMW driver would be used to. And that's precisely the reason that BMW has really hit the nail on the head here. It could have gone with a few tacky touches to emphasise the whole special plug-in hybrid feel of the car and its design, but instead it just evolved what everyone knows and loves while looking fresh and new. It's all beautifully familiar. You have your thick-rim steering wheel, the usual BMW shifter and the iDrive to control the navigation and various options the dash-mounted screen offers.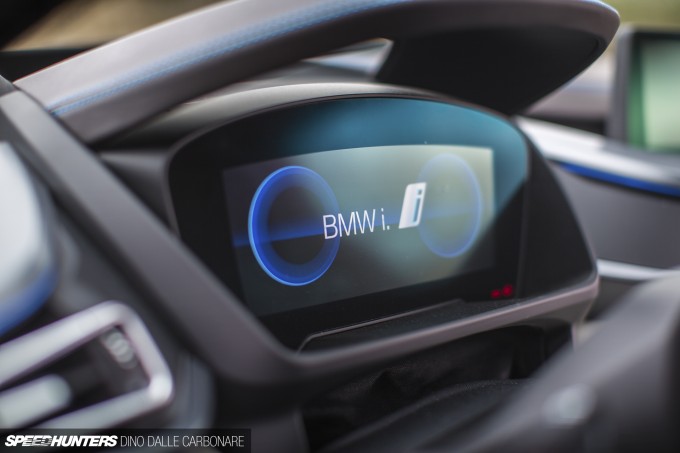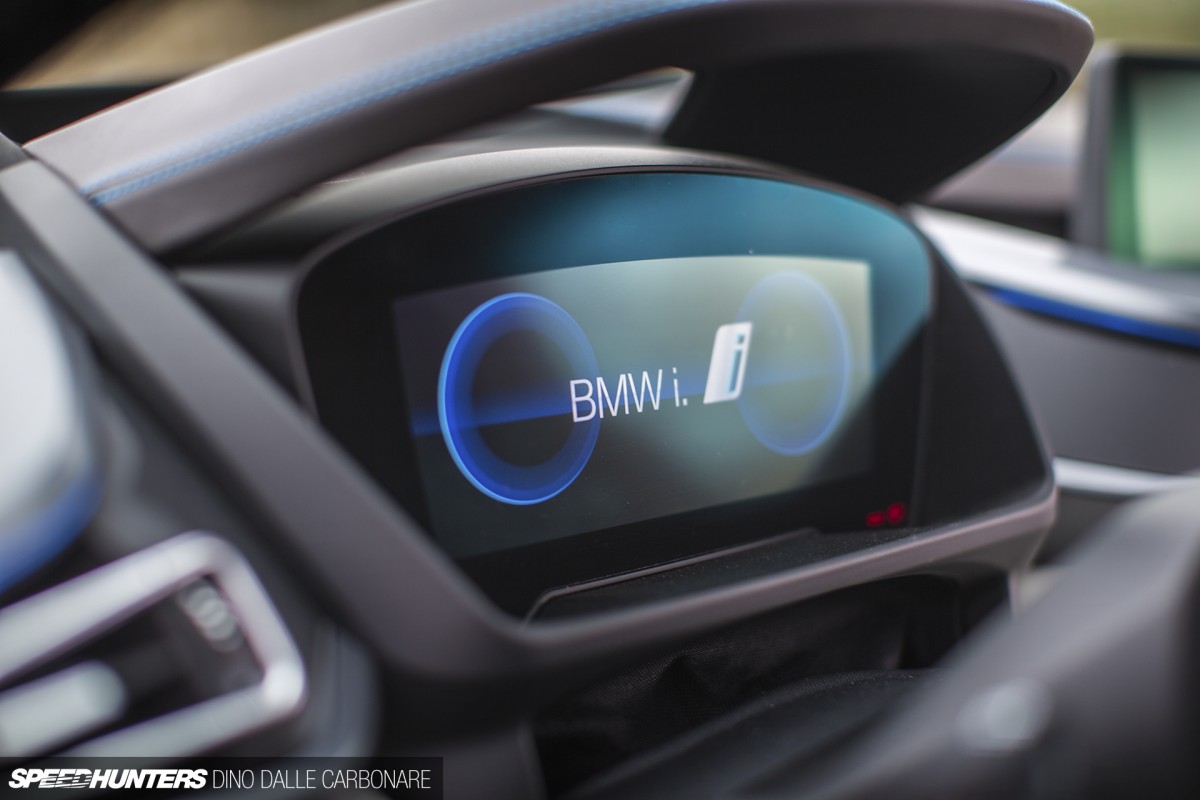 On top of that the dashboard features a large, fully digital LCD display that shows a pair of analogue gauges which change design depending on which driving mode you're in. You can see in the POV driving shots what they look like.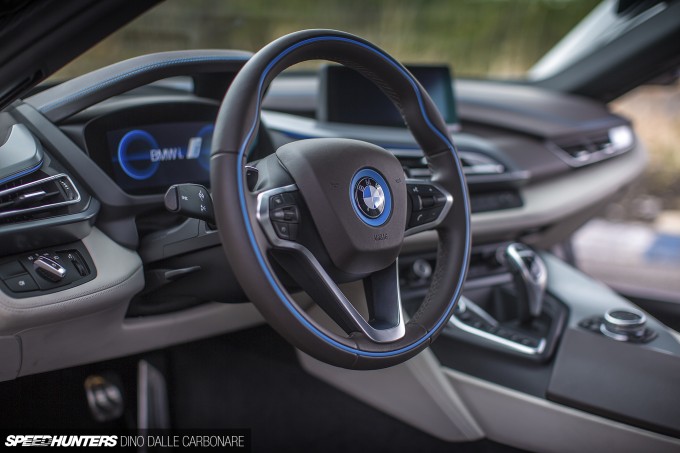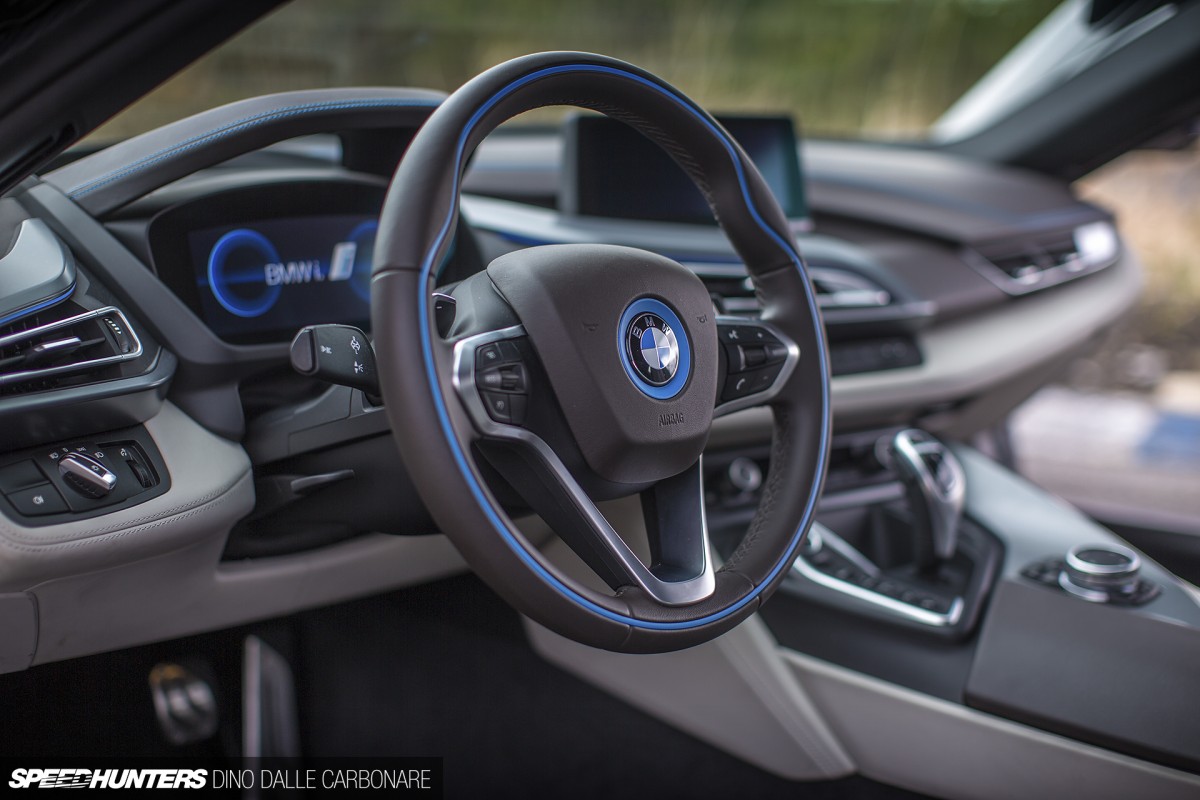 It's all so tastefully done, but with just the right sort of verve to make you feel like you are indeed sitting in something a little out of the norm.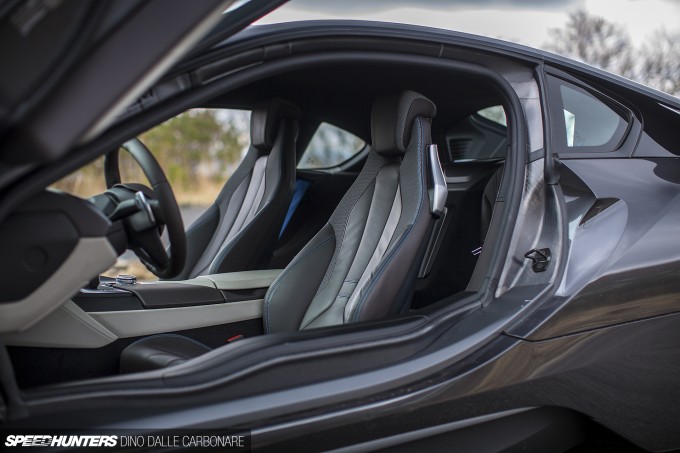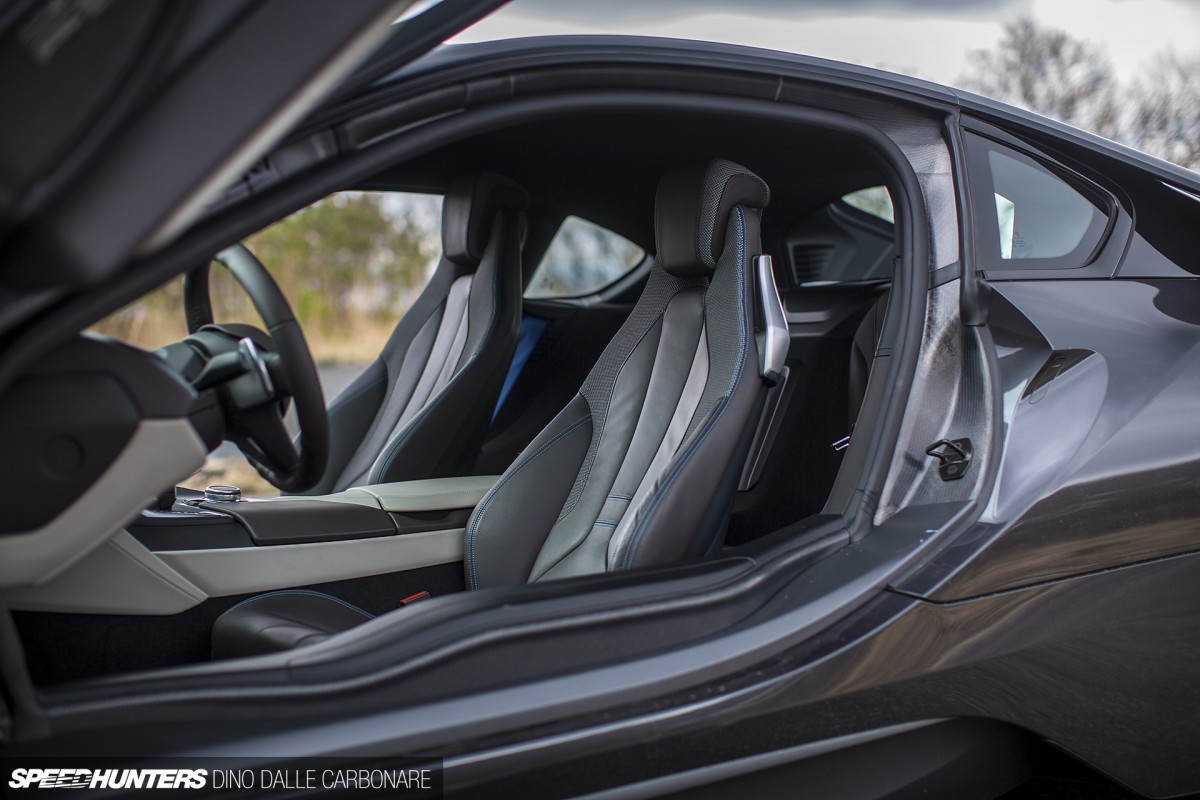 The seats are comfortable and supportive, but with the actual g-forces this car generates now with the suspension improvements and the grippy Advans I did have to brace myself through the tighter corners. There is a decent amount of space for two more occupants in the back – enough for the odd short journey or lift, but probably not the best for long trips.
It's All About The Drive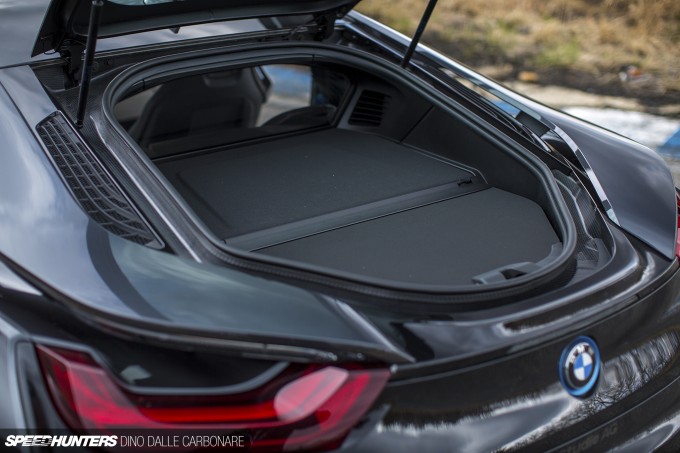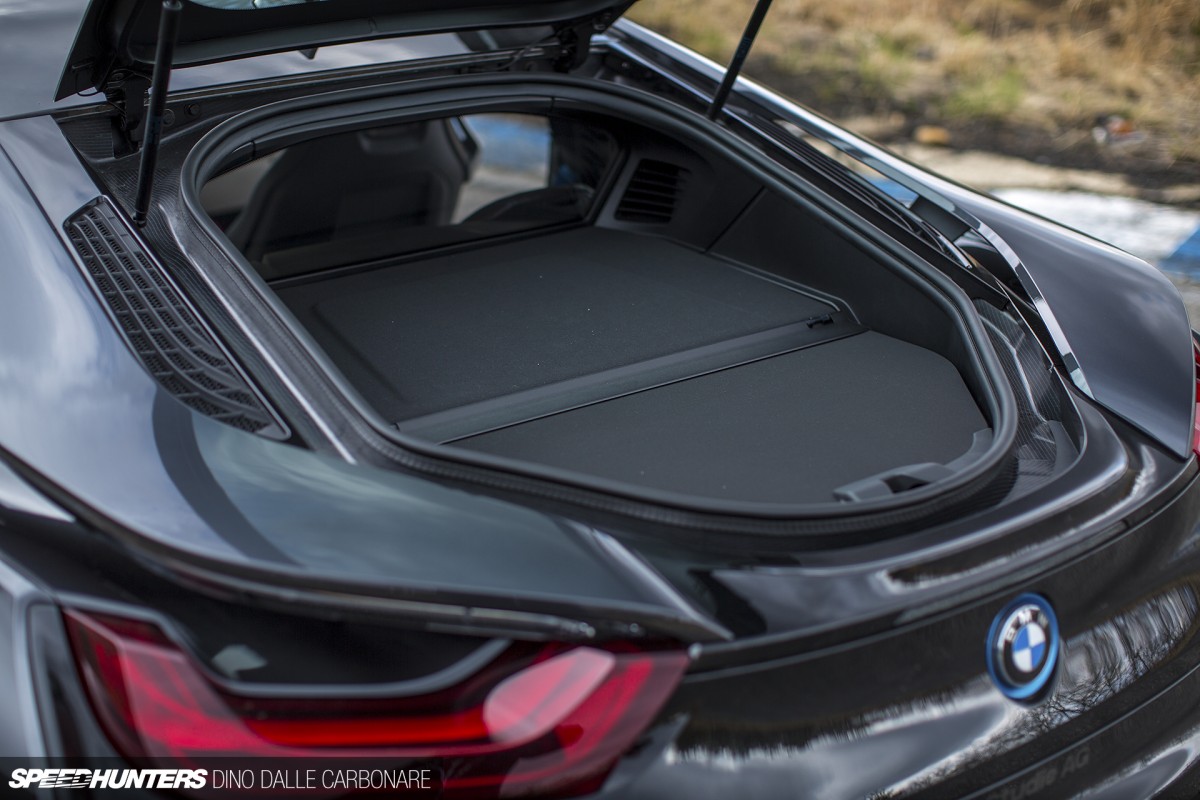 And then there's the engine. Or not. The Twin-Power Turbo 1.5-litre three cylinder sits mid-mounted, perched on the rear aluminum subframe that belts onto the carbon tub and mated to a generator and various other wonderful bits of plug-in hybrid technology.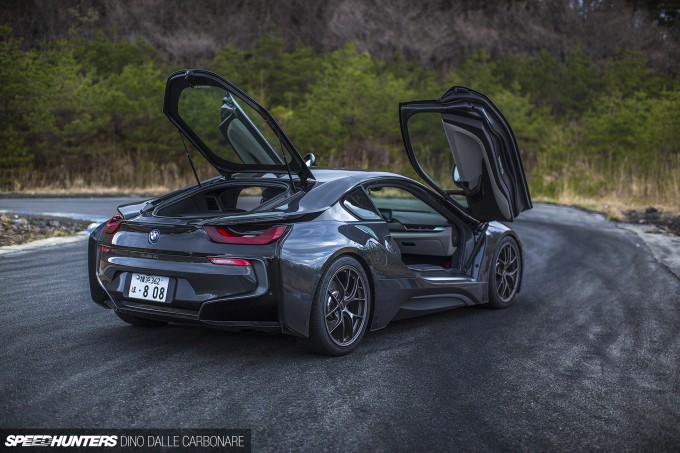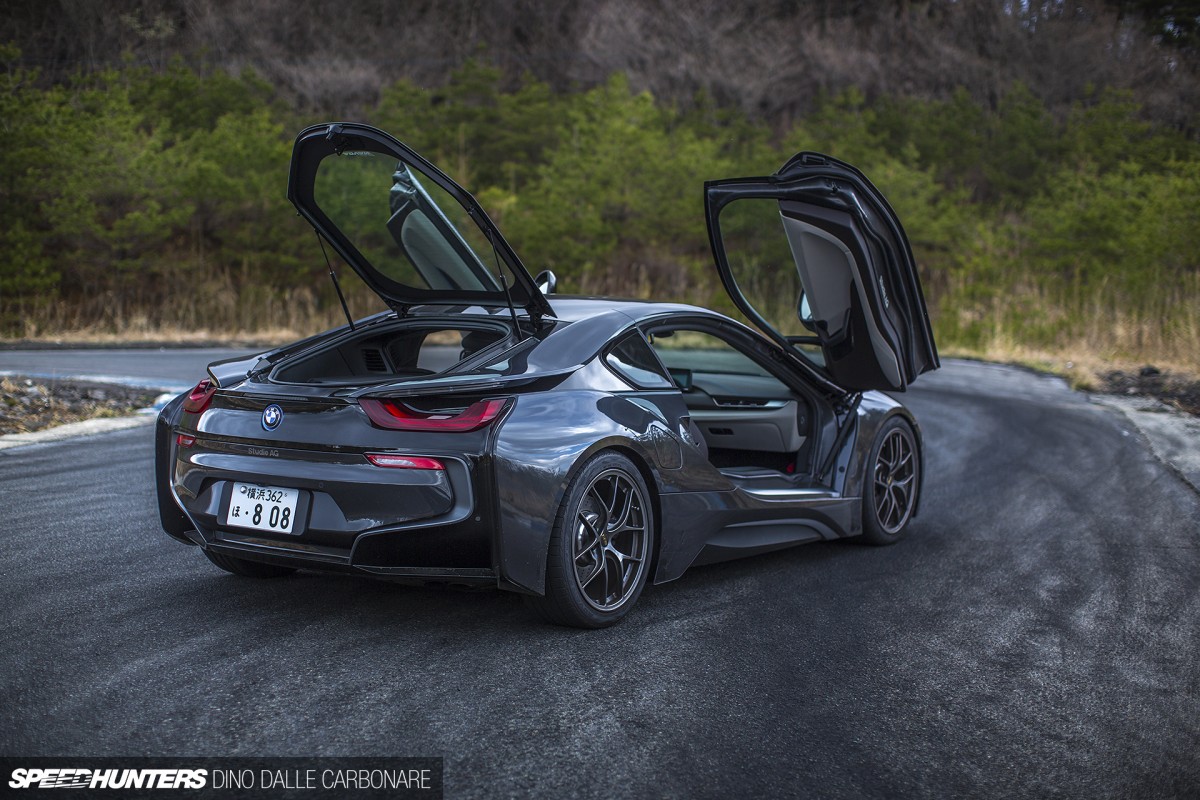 The 129hp electric motor is nestled between the front wheels while the 5kWh lithium-ion battery packs are neatly arranged along the 'transmission tunnel'.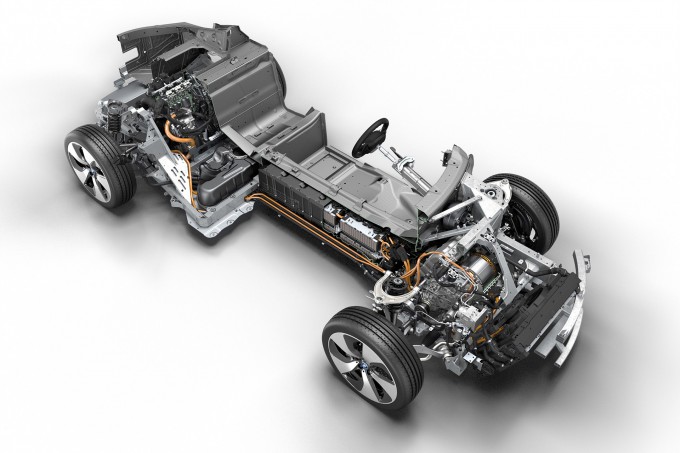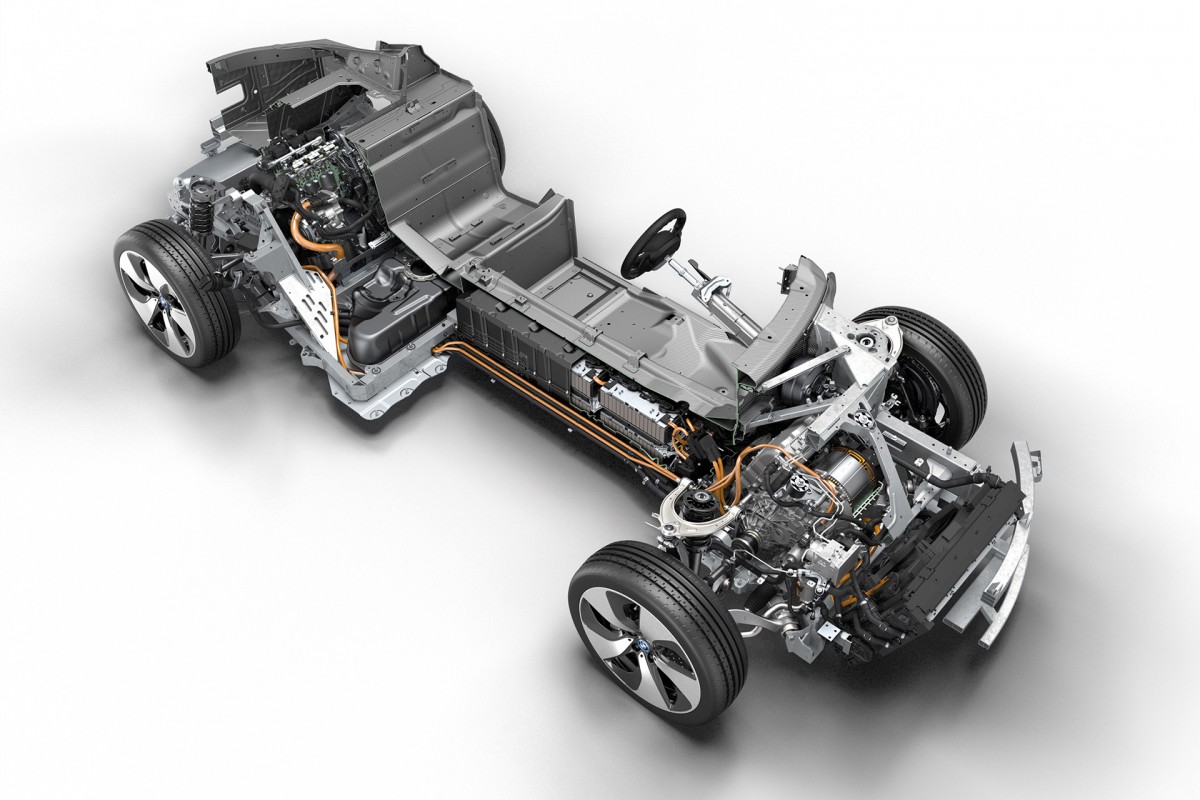 Underneath the futuristic skin is a beautifully packaged chassis, as this cut-away image from BMW perfectly shows. The fuel tank is positioned between the motor and cabin, pretty much below the rear seats.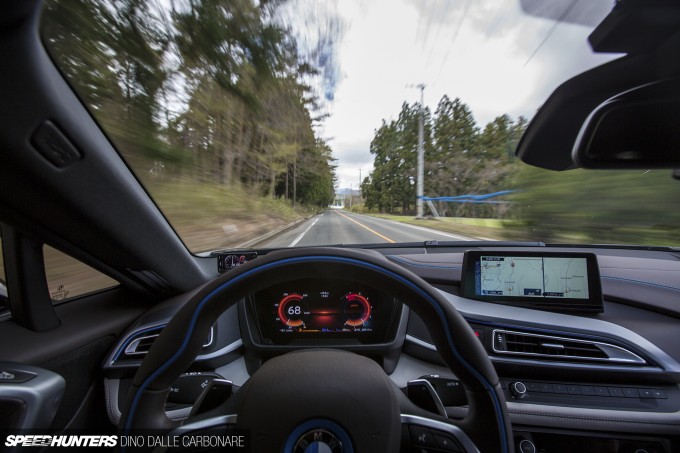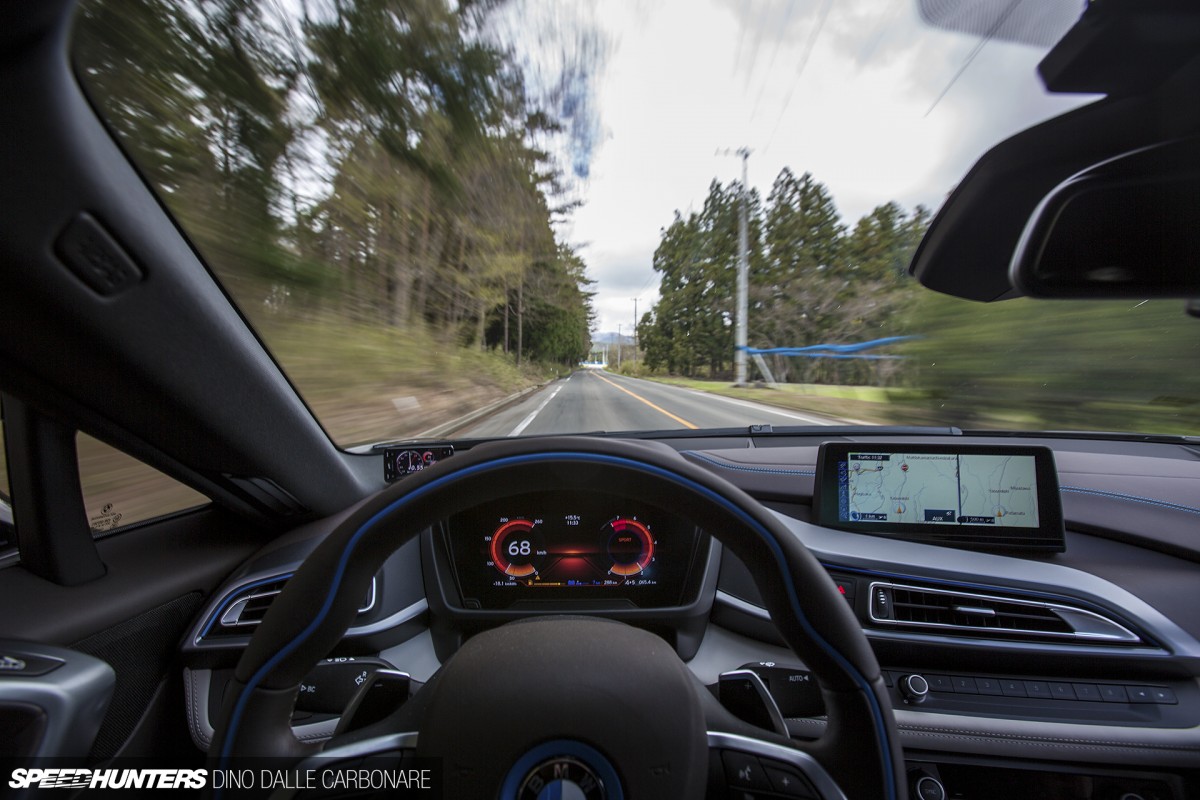 So a ton of technology, and the best thing about it is that it's all so beautifully engineered that it works in total synergy, allowing the driver to take care of the most important thing of all: driving. I seriously think this is the single most important compliment one could pay to the i8 – it feels just like any other performance car but it gets to that goal in a unique kind of way.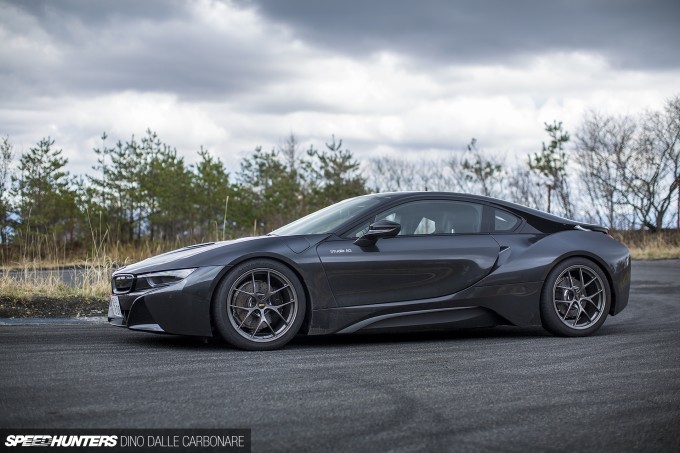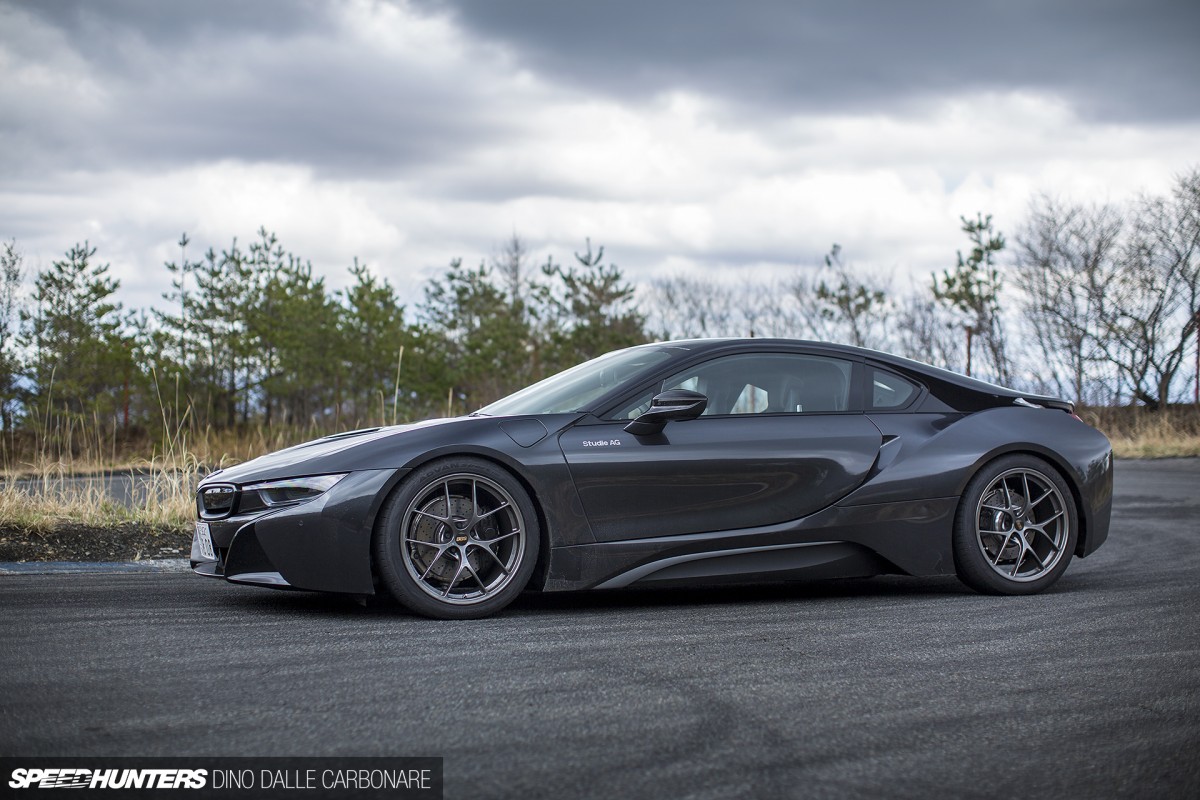 When you floor the throttle and get the electric motor to help out via the front wheels the i8 just lunges forward on a strong surge of torque. And it drives beautifully. There could be more feel, but considering what is going on underneath, the electrically-assisted rack does pass on quite a bit of information. I did, however, have a strange sensation of numbness from the front tyres most of the time.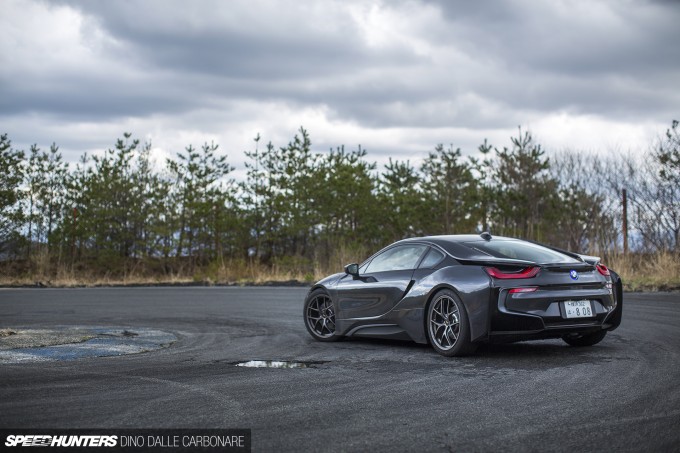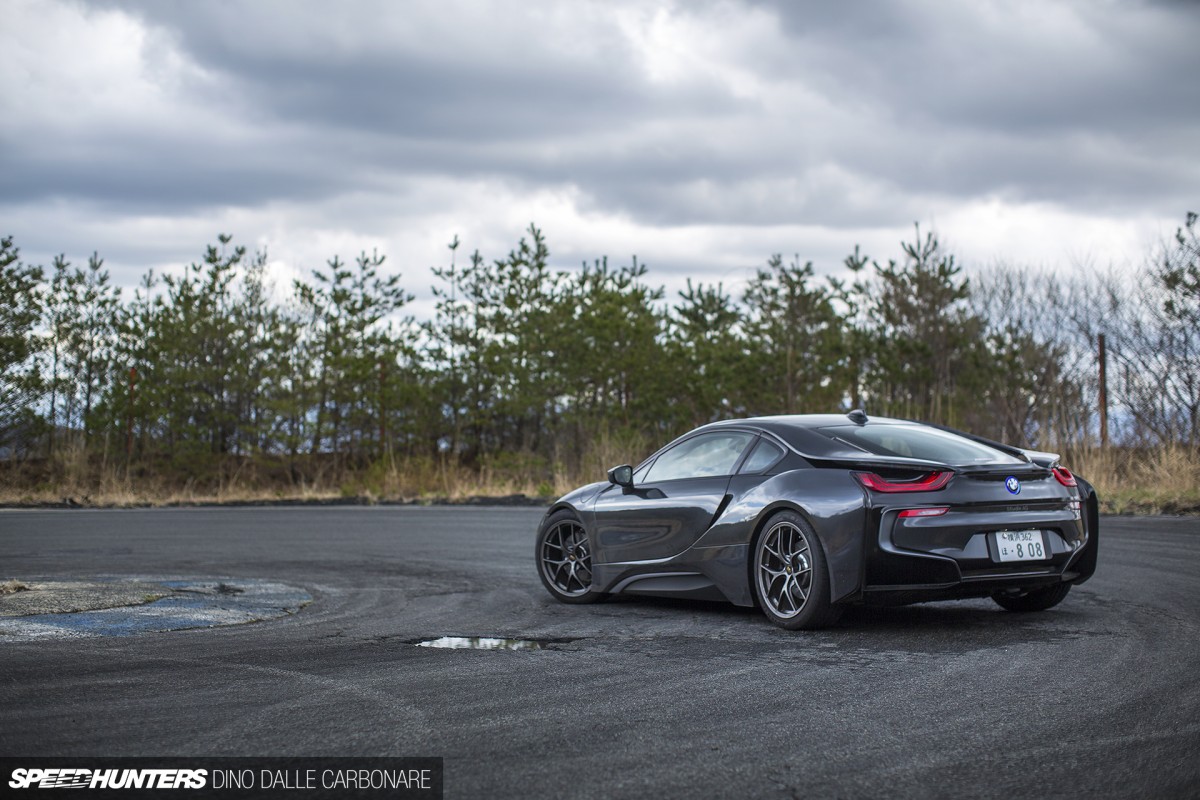 If this is the sportscar of the future, then I'm convinced all is not lost. For early adopters looking to have a bit of fun on the side, this is a car that I don't think will tire.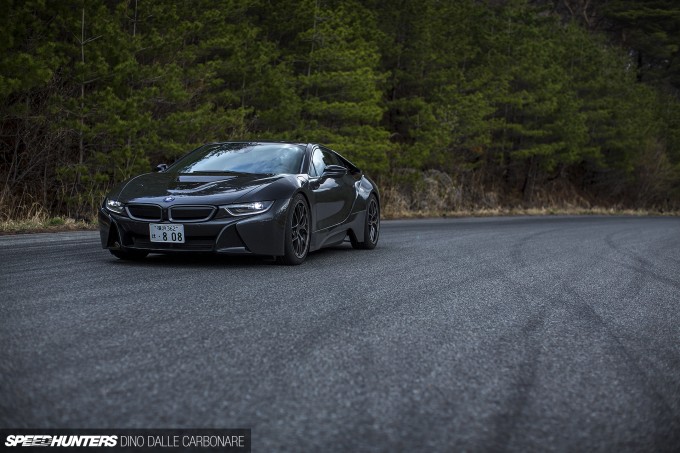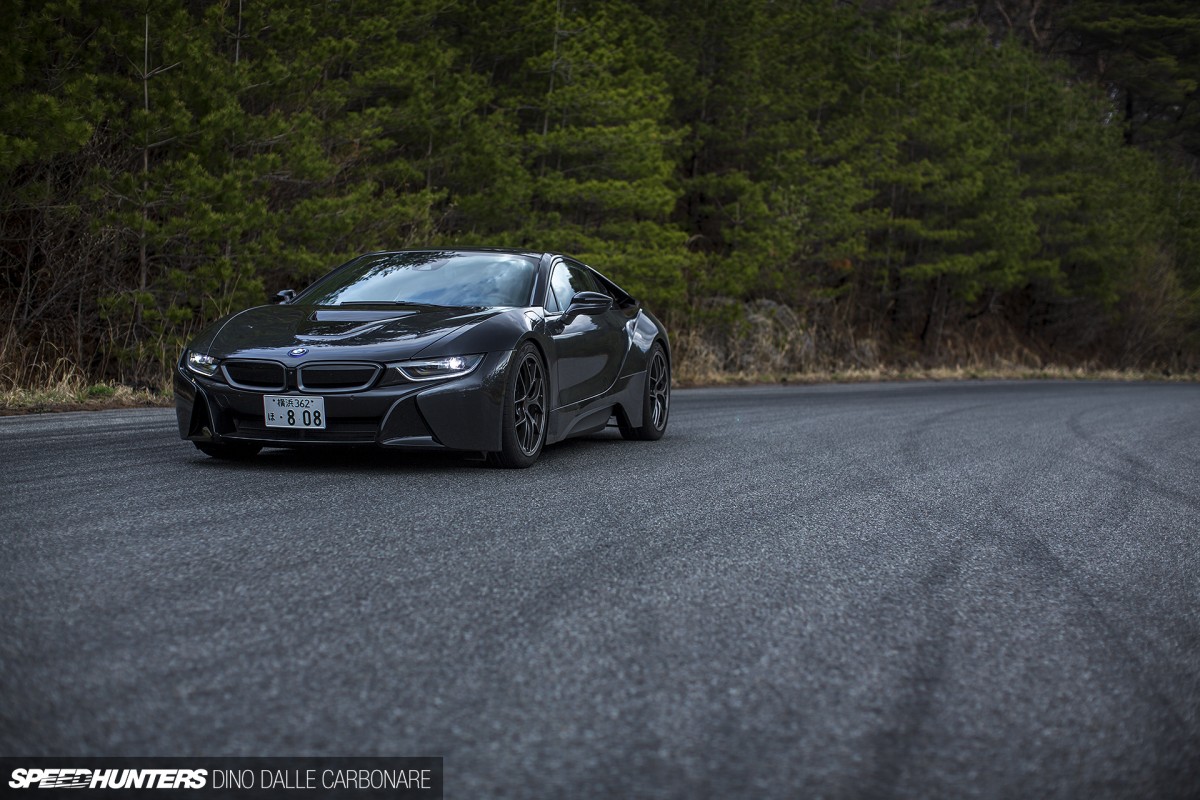 Enthusiasts will continue to lust over the M cars that BMW makes, and that's perfectly okay. Others will look at other brands with different philosophies, and that's perfectly fine too.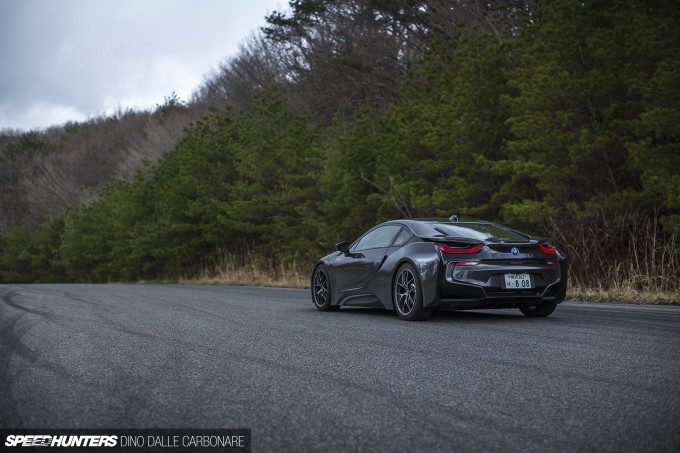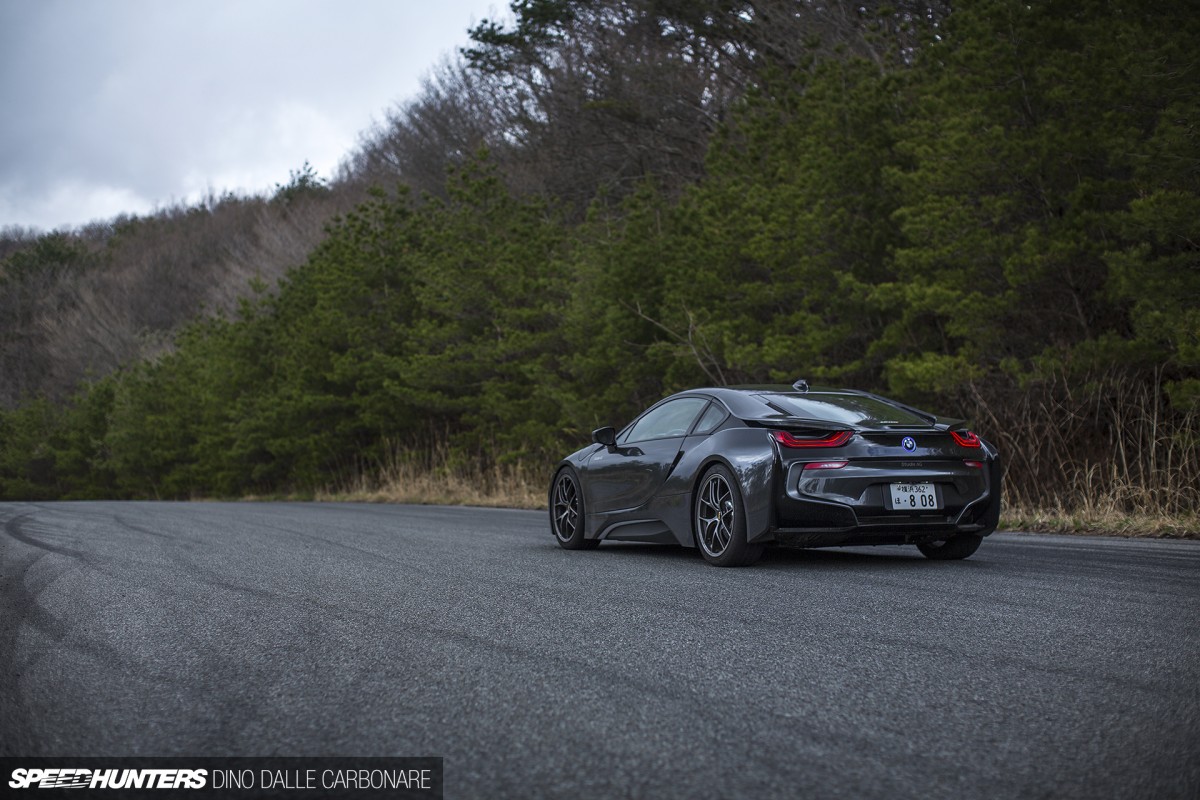 But for BMW to offer us the choice – that's where the i8 really comes into its own. It's as unique as a sportscar gets right now and the only thing I can say is don't knock it till you try it.
I'd like to give a big, massive thank you to Bob and all the guys at Studie for allowing me to sample this car.
Dino Dalle Carbonare
Instagram: speedhunters_dino
dino@speedhunters.com