Shift Pattern
I just wanted to give you guys an update on my Speedhunters Project SR240Z – also known as Ole Orange Bang.
It's been a while, as we are all very busy here at Speedhunters bringing you guys fresh new content. The funny thing is, we spend so much time behind the lens, it's really weird to be in front of the lens.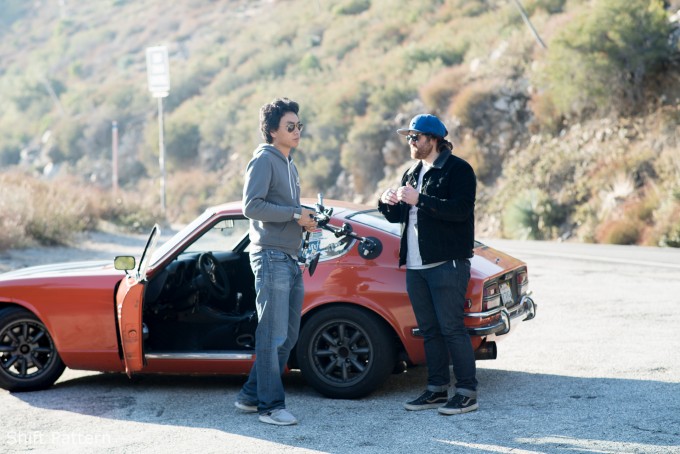 A little while back I got an email out of the blue from Mike Amezcua, who creates the Shift Pattern video series. He wanted to do a feature on my S30.
If you didn't see the video when we originally posted it, you can watch it by pressing play above.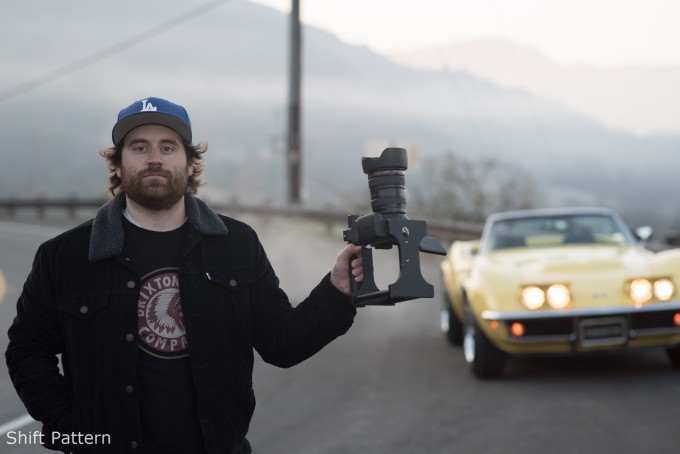 Not only did Mike do a video feature on Ole Orange Bang, he also followed me around the next day for a Speedhunters Dream Drive shoot.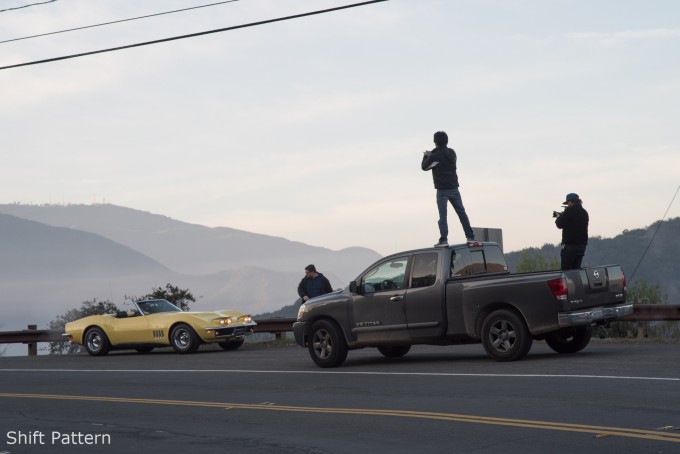 My friend let me drive his 1969 427 Corvette Stingray – with a 4-speed manual of course. It was such a fun car to get behind the wheel of, but more importantly, a really fun car to shoot.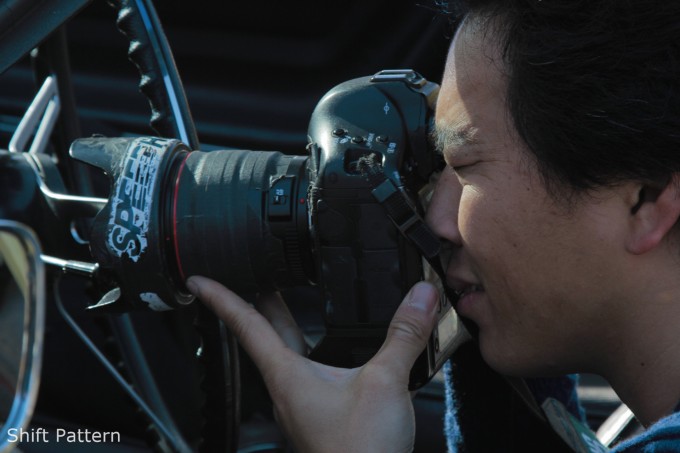 The thing is, we don't really care to be in front of the lens most of the time, and I actually prefer to be that 'fly on the wall'. But it was cool to be able to work with Mike and see a nice video come out of it.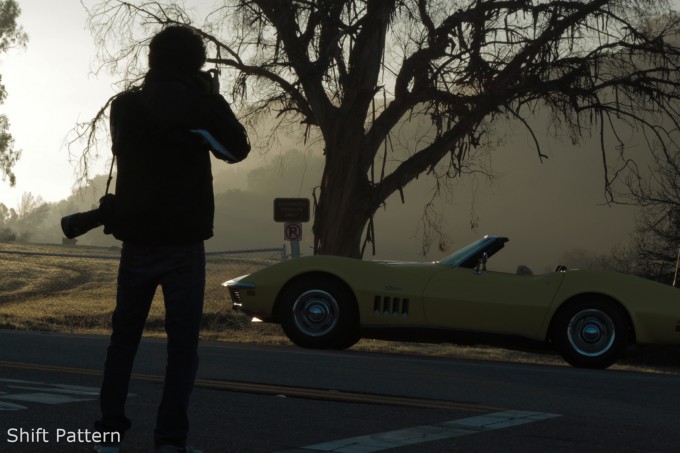 As for the Dream Drive piece? I still need to work on it, but it will be up on Speedhunters soon enough.
Animal Auto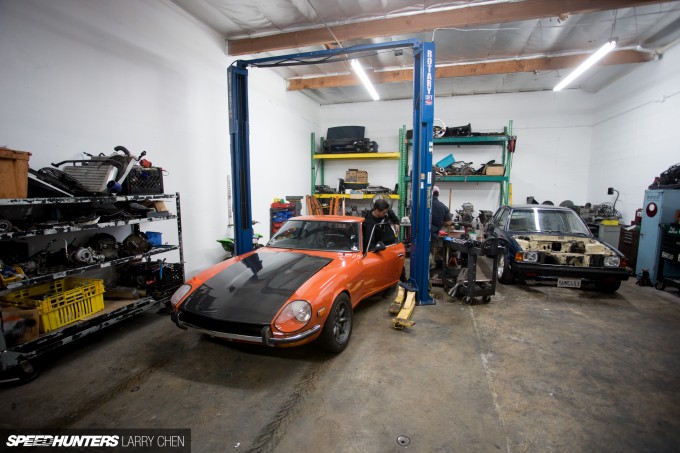 Ole Orange bang is 45 years old now, but she has never been better. That said, I am constantly trying to improve the drivability, as well as the reliability.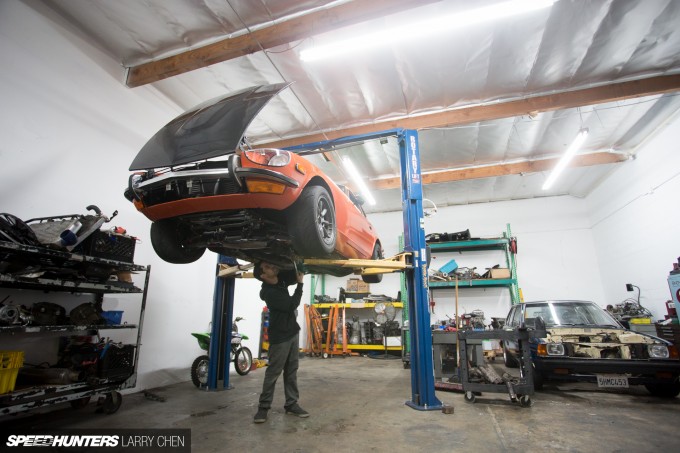 As you guys can probably imagine, I don't actually have much time to work on my own car. Plus, as things get more complicated, I don't actually have the skill.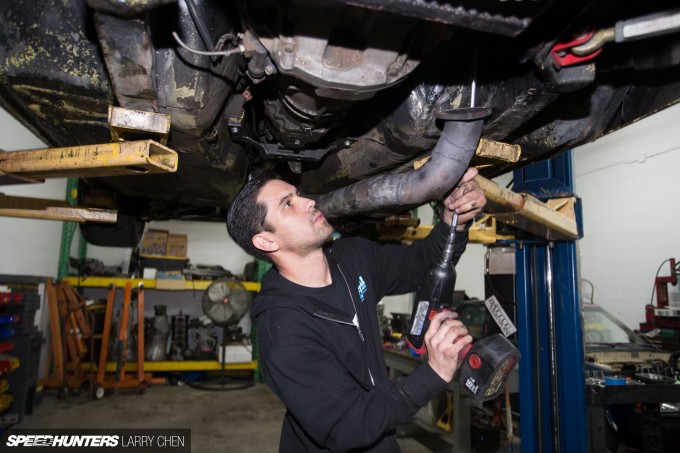 This is where Andrew Molina of Animal Auto steps in. He has a small tuning shop located in Norco, California.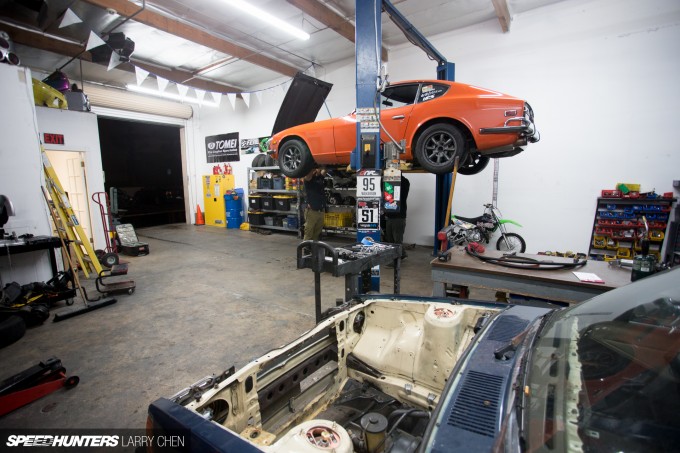 He works on all types of cars, but mostly specializes in Japanese cars. He also builds some impressive drift cars, and his personal drift and street car is an FD3S RX7 to die for.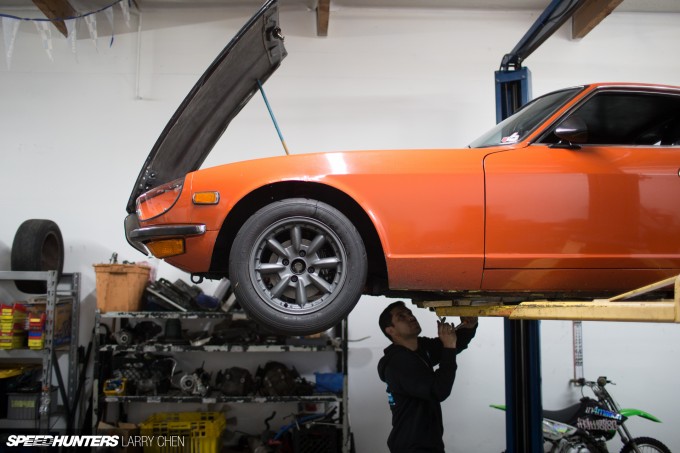 I actually first met him in China as crew chief for Ryan Litteral when he was competing in World Drift Series China. His skills impressed me, and I figured there would be no better person to work on my personal project car.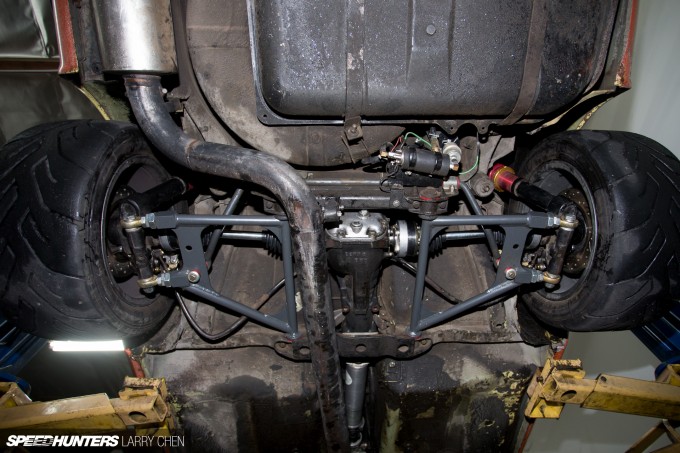 So what did I have Andrew do right off the bat? Porsche 911 axles, rear disc brake conversion, front Toyota 4×4 4-piston brakes, an oil cooler, and an oil filter relocation kit. He also fixed a few minor issues here and there, all in the name of reliability.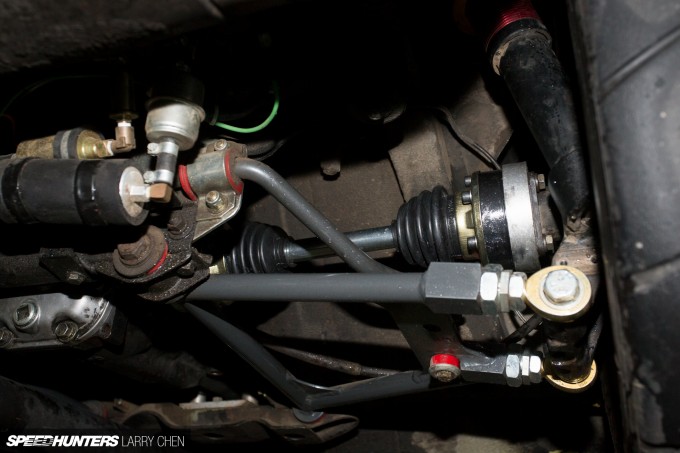 There was nothing wrong with the stock axles, but I have broken them before while drifting at an open practice day, so I figured with the added power it was time to upgrade.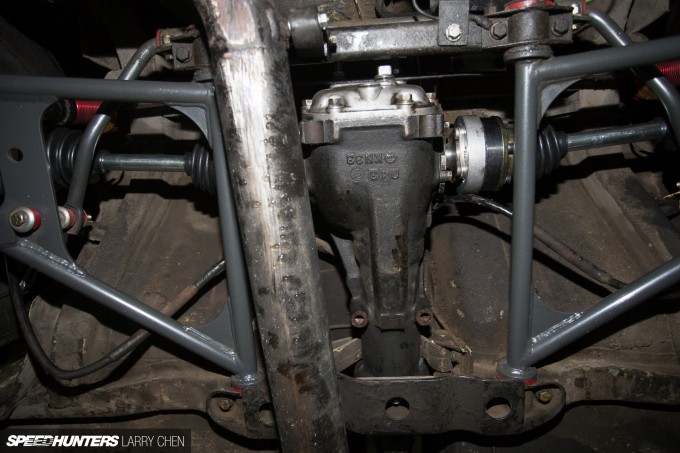 I got the axle kit from the great guys at Wolf Creek Racing. Their service was excellent and their parts are quality, and paired up with the Subaru STI R180 I won't have to worry about my driveline for a while.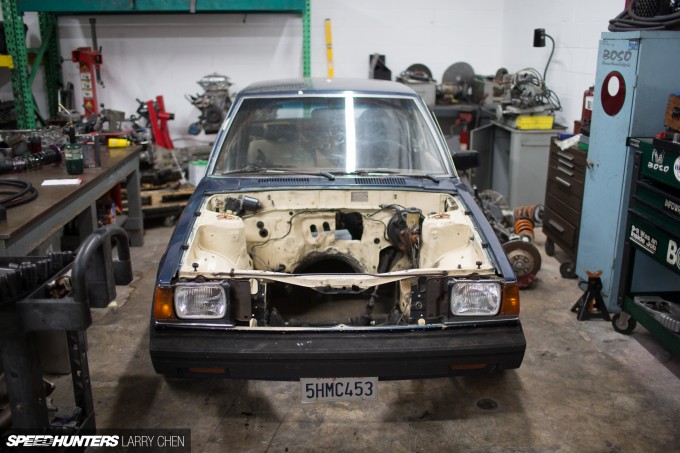 I decided to poke around the shop a bit to see what else Andrew had going on.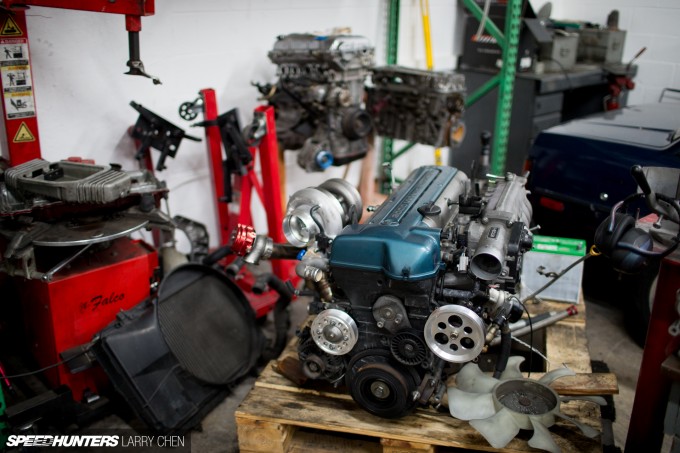 Motor swaps or general maintenance – he does it all. While I have nothing against big-name shops, I like the one-on-one service that Animal Auto can provide.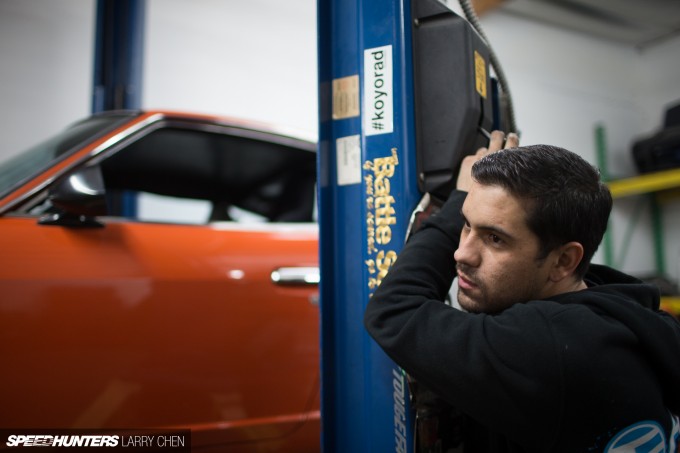 So where did Andrew learn this stuff? He is so young, and he looks like a little boy.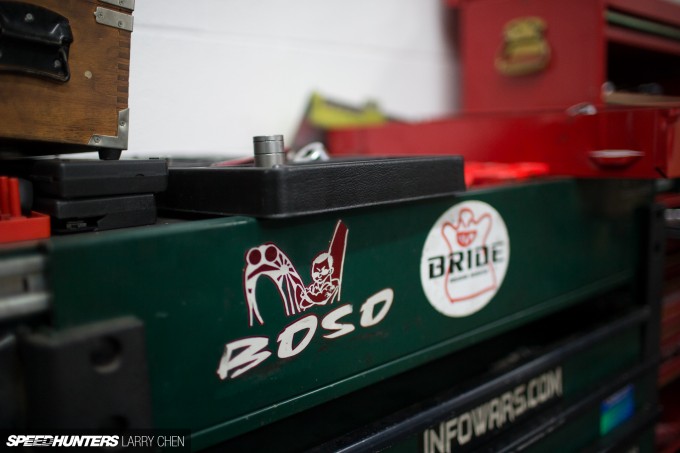 Well, he actually picked up quite a bit of knowledge from Ross Petty at Garage Boso, when they were still around.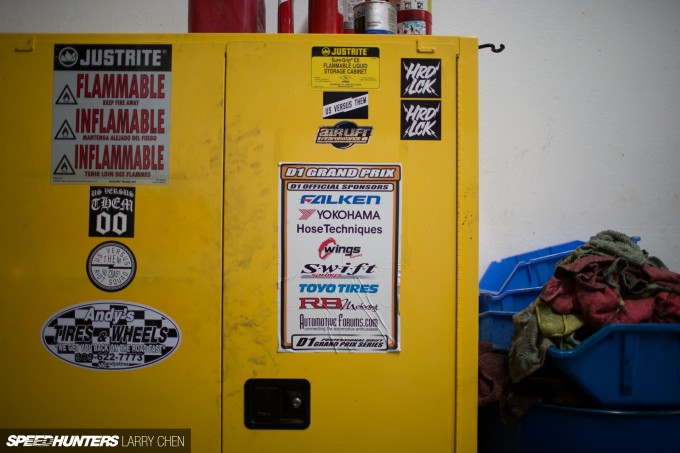 Plus, he has been in the drift paddock for quite a while helping teams out when they need it.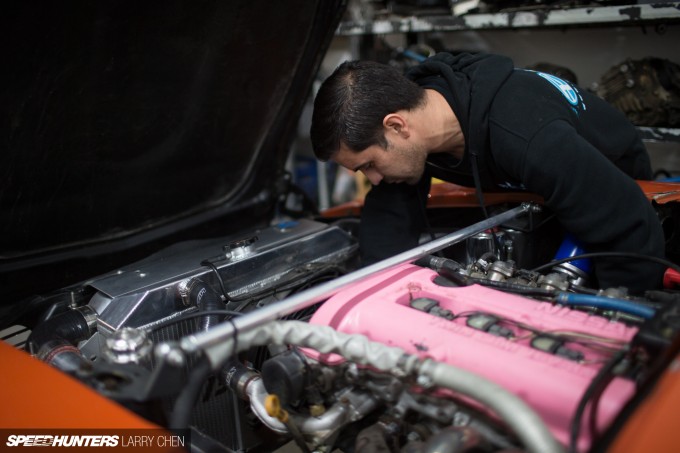 The stuff that I had him do was small-fry, but it's still nice to be able to trust someone with my pride and joy.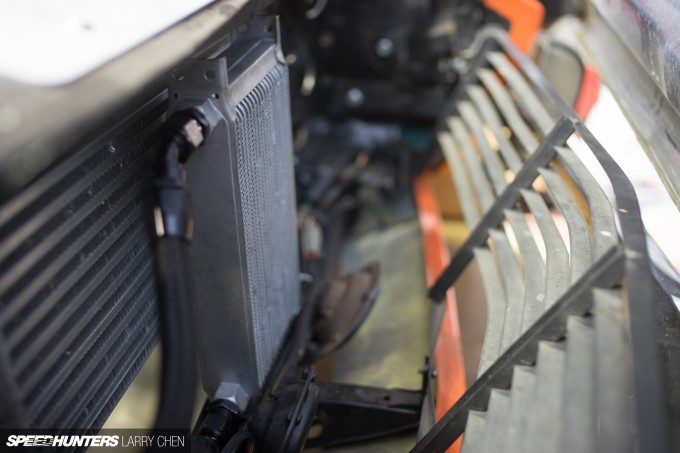 While the GReddy oil pan helps with oil temps, I figured it would be a good idea to have an oil cooler installed for those hot Southern California track days.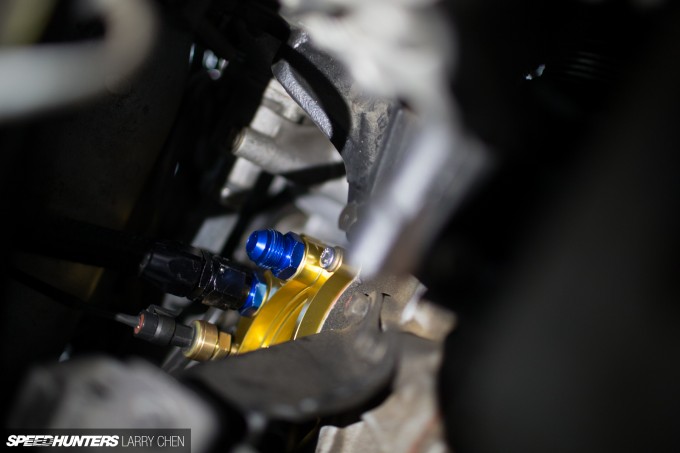 The filter relocation kit makes it so much easier to install the oil cooler.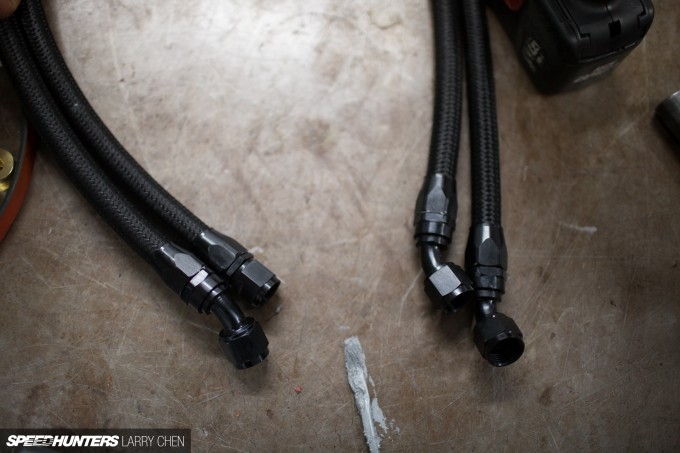 Everything looks much cleaner with AN fittings.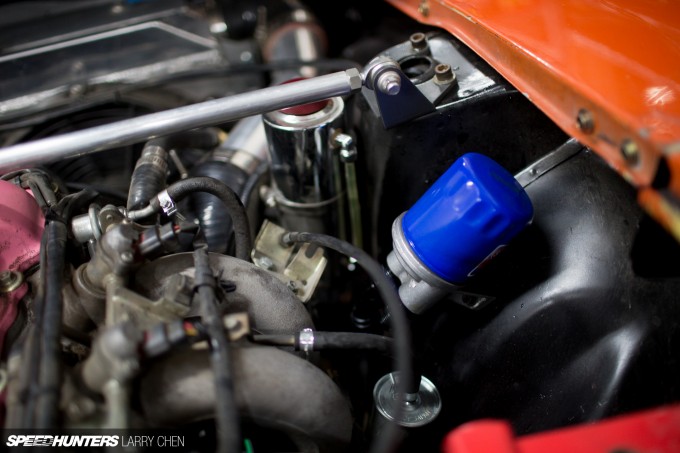 Now it's just that much easier to change the oil filter too.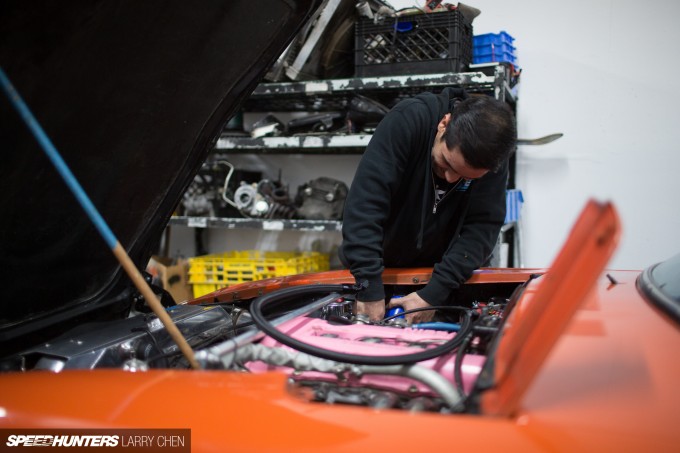 In terms of power, I am happy with the way it is now for street use. Weighing 2150lbs (975kg) with 300whp and 300ft-lb, it flies just fine. Until I get better safety equipment that is… I know it's time for a rollcage.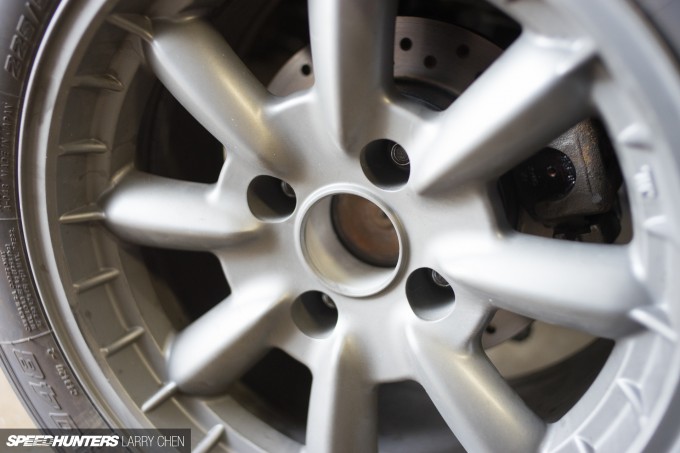 The brakes are actually pretty tricky. I went with Nissan Maxima calipers in the rear, and I am not sure I really like the driving feel of the setup. After it was all said and done, I spent about $2000 for the front and rear brakes, but I think I might actually go with a Wilwood setup now. I drove a standing mile 240Z just a few weeks ago with a full Wilwood setup and I liked it much better. In fact, the stock drum setup felt better! So hopefully you guys can learn from my mistake.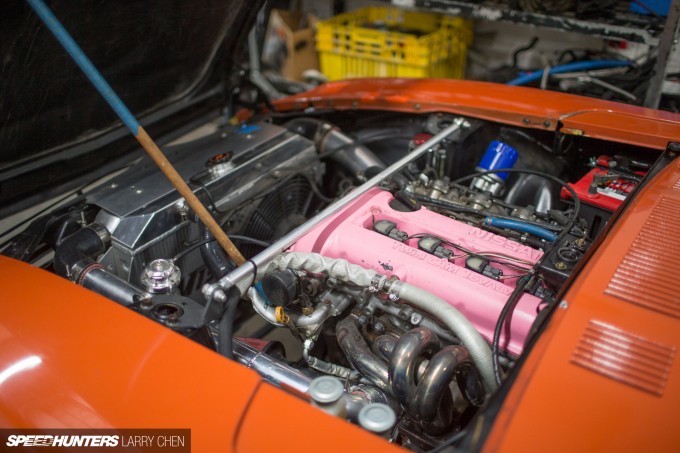 Once I change out the brakes again, I will feel much more confident returning to compete in Global Time Attack.
Sabelt Seats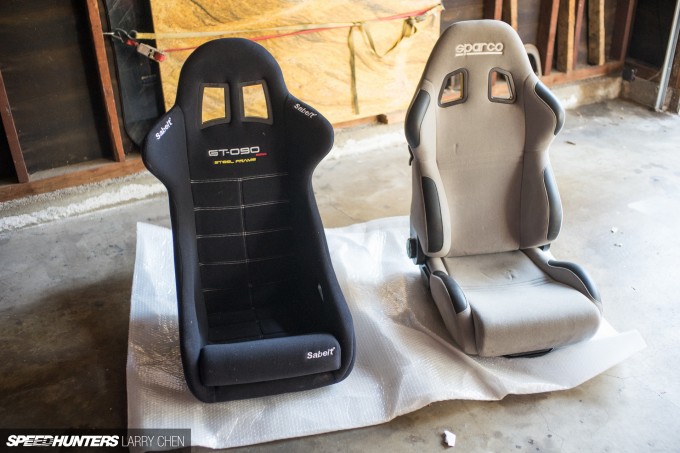 I've been meaning to change out my Sparco reclinable seats for a while now. I picked them up at a Sparco garage sale for $700 about 10 years ago!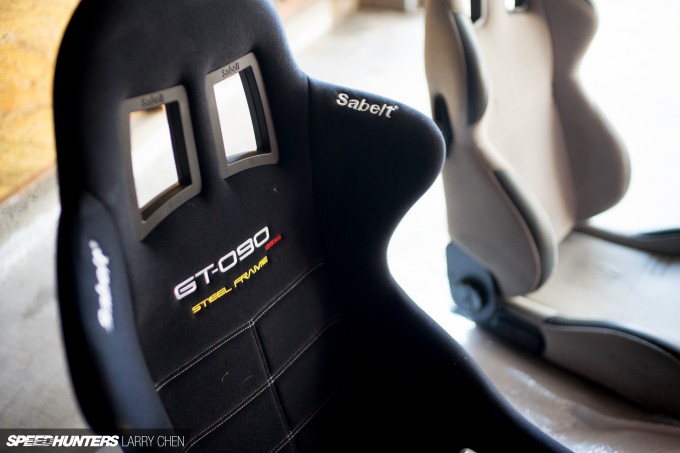 The issue I had was finding a one-piece seat that looked good and was narrow enough to fit inside the S30 cabin.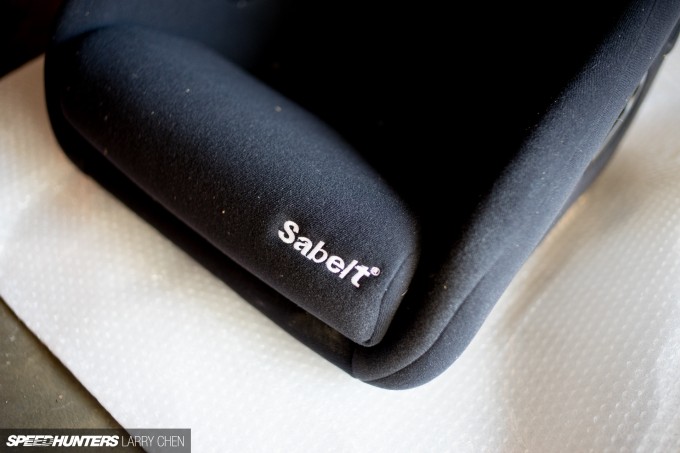 My friends at Sabelt heard about my struggle and let me try a few of their seats to see if any would fit. I tried three, and the third model fit perfectly, just like the Sparco reclinable had.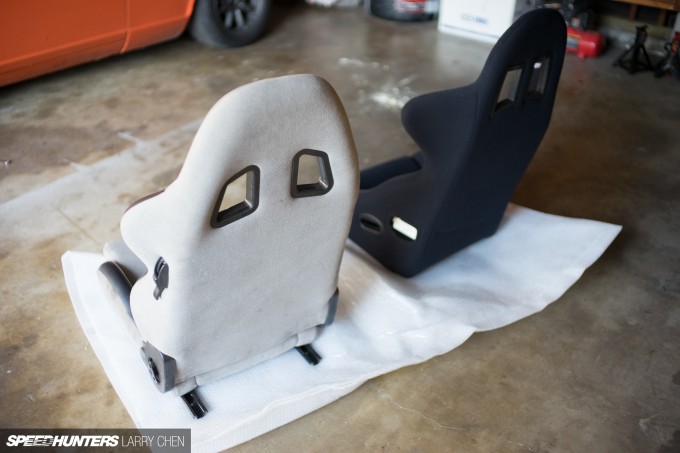 While I didn't have a problem with running reclinables on the street, they just do not hold as well as a one-piece seat when you're on the track.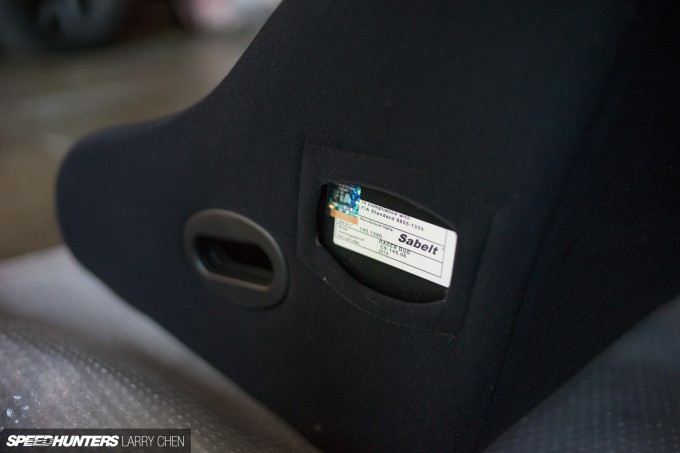 These GT-090 steel frame seats are also FIA approved and I think they have the perfect old school look that I wanted.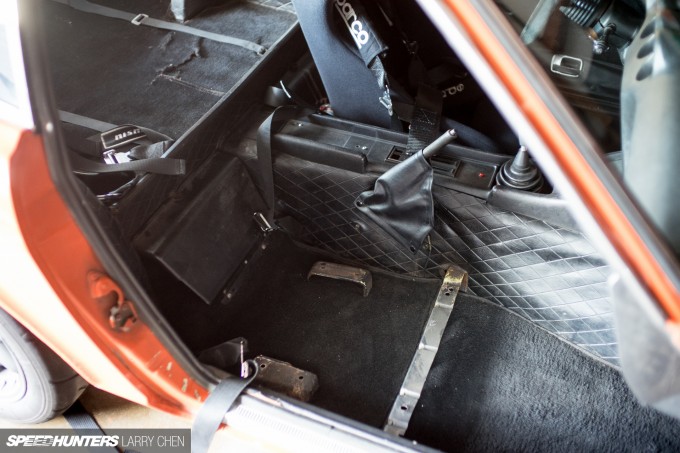 Out comes the old passenger side seat. What's interesting is, I don't actually use a bracket, because the seats bolt to the stock mounting location.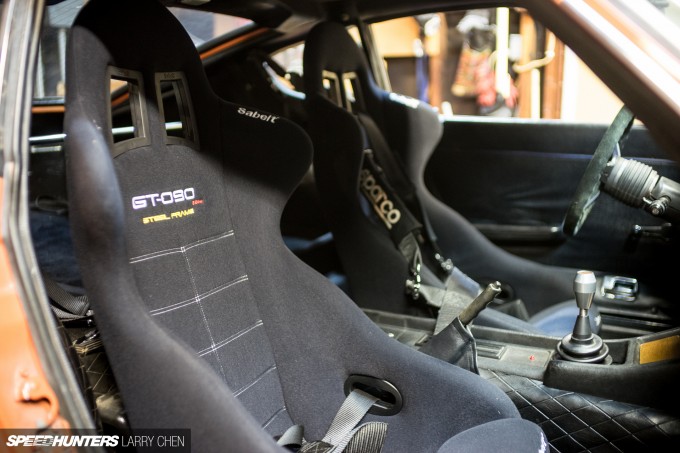 They fit in nice and snug with just enough room on either side for the seat belts.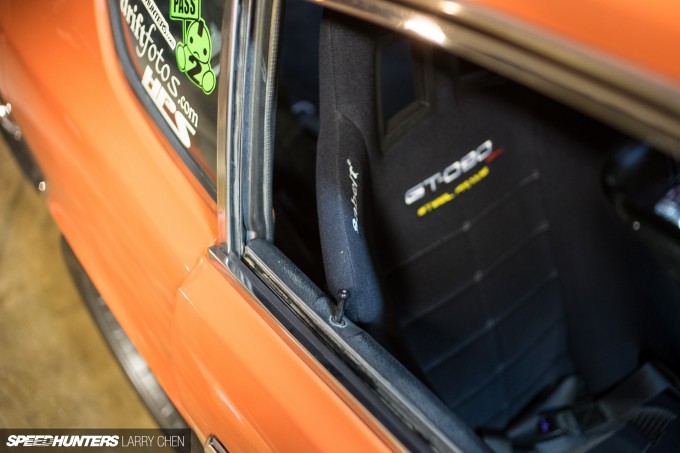 However, I tried closing the door and I ran into an issue. While the seats bolted in perfectly, they were too wide on the shoulders. The door closes, but there was quite a bit of stress on the door panel.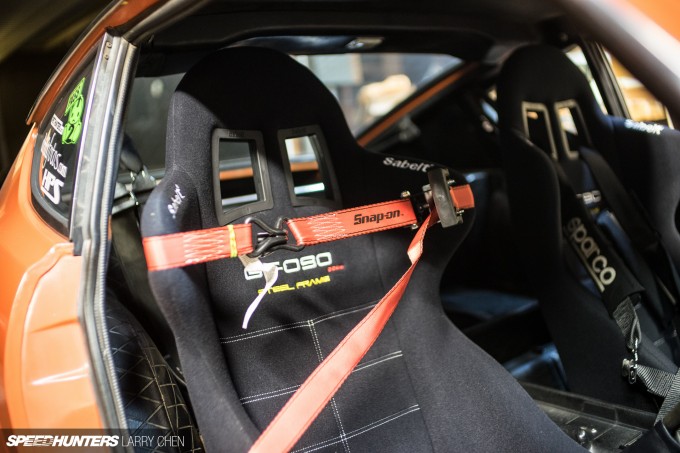 The guys at Sabelt told me that these seats fit perfect in a Mazda Miata so they should fit fine in the S30.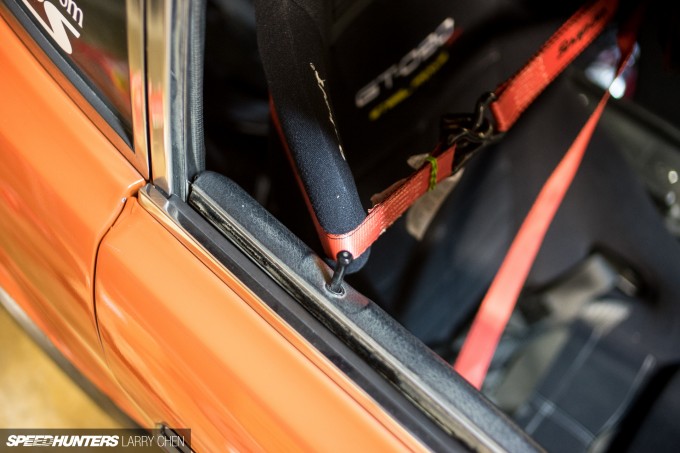 So, I figured that since the frame is steel I could bend it one inch and it should be okay. It worked perfectly.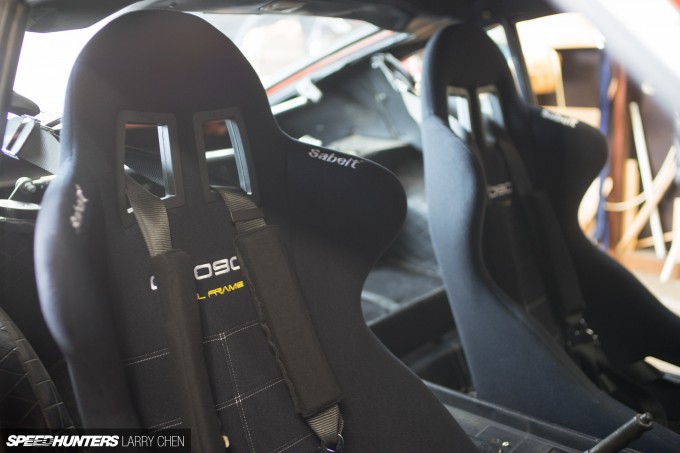 While it's cool that these seats look great, I am definitely looking forward to using them on the track.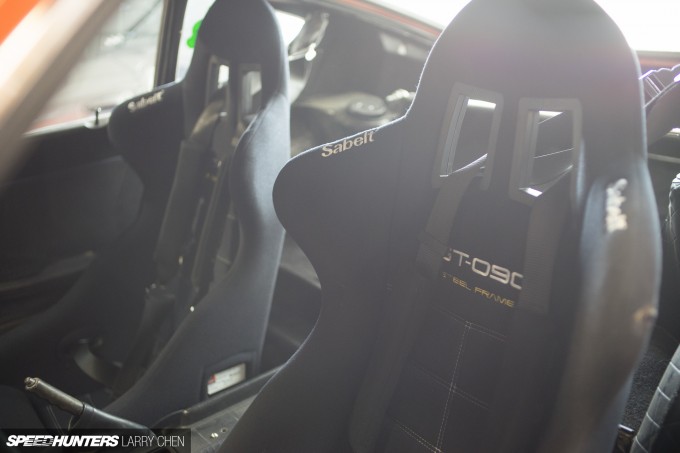 This car was built to be driven, not to look pretty.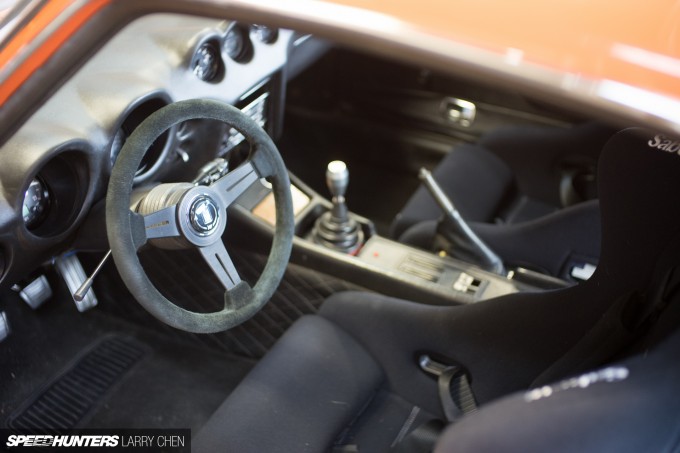 I will keep you guys updated on what I have in store next for Ole Orange Bang, but in the meantime I will enjoy her on the canyon roads near my house.
Larry Chen
Instagram: larry_chen_foto
larry@speedhunters.com