Light & Hasty
Since the dawn of automotive modifying, there's been a pre-eminent formula that has always proven to be a blueprint for performance success. A theory so simple it has been employed for victory – even domination – across countless occasions past.
Take one compact, lightweight chassis. Procure one (or more!) engines of large capacity. Then combine using the correct assortment of nuts, bolts, wire and ingenuity. Sprinkle with a generous portion of weight saving and voila – just like in the photo, the result should be a striking example of a time-honoured performance recipe.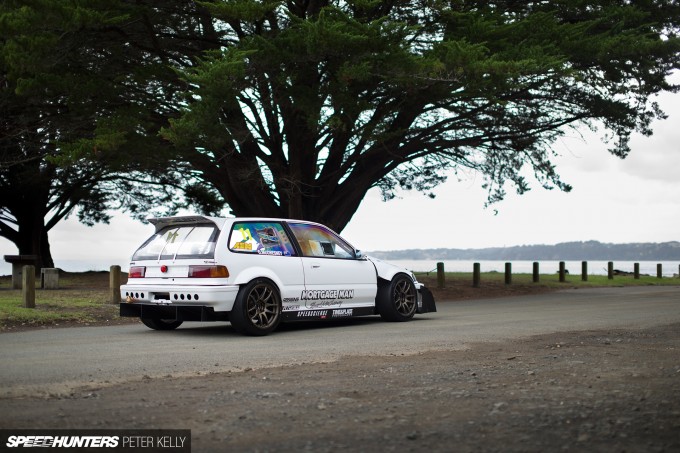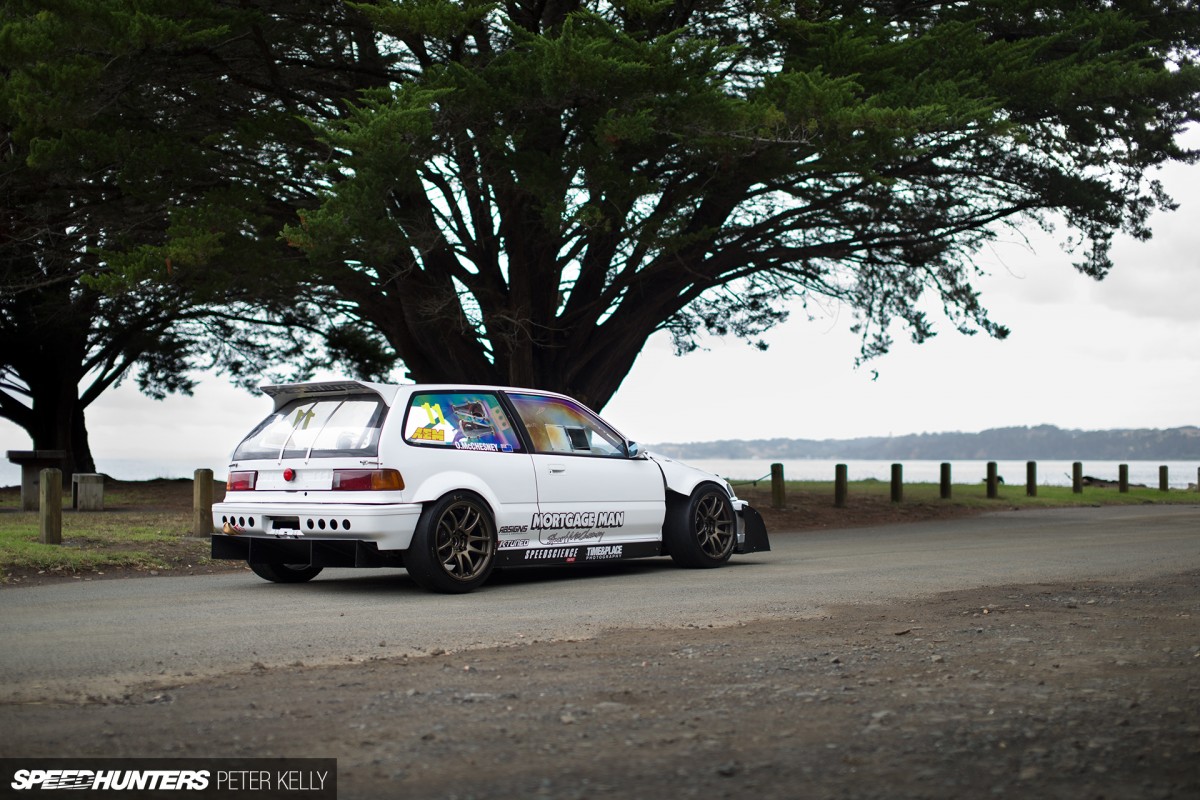 Moreover, the type of blank canvas that this go-large-or-go-home ethos is applied to begins life with invariably modest roots. Take the classic T-bucket rods, based on the humble Model T Ford and blessed with bent eights with capacities bordering on ridiculous. Or the likes of the MG Metro 6R4 – a hatchback with unpretentious origins whisked from the factory floor and transformed into a works-built 3.0-litre V6 rally weapon.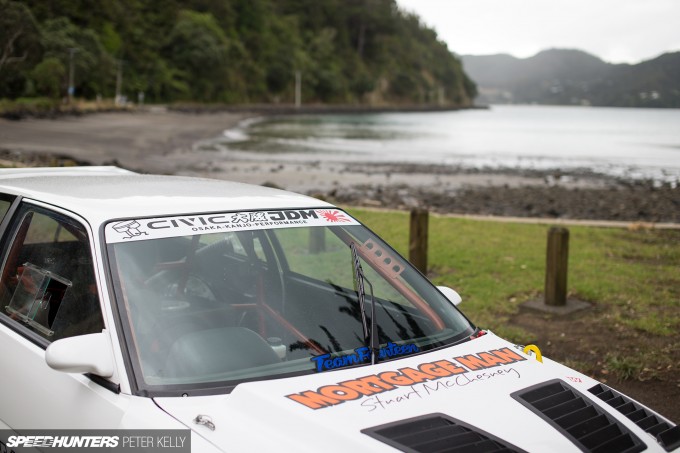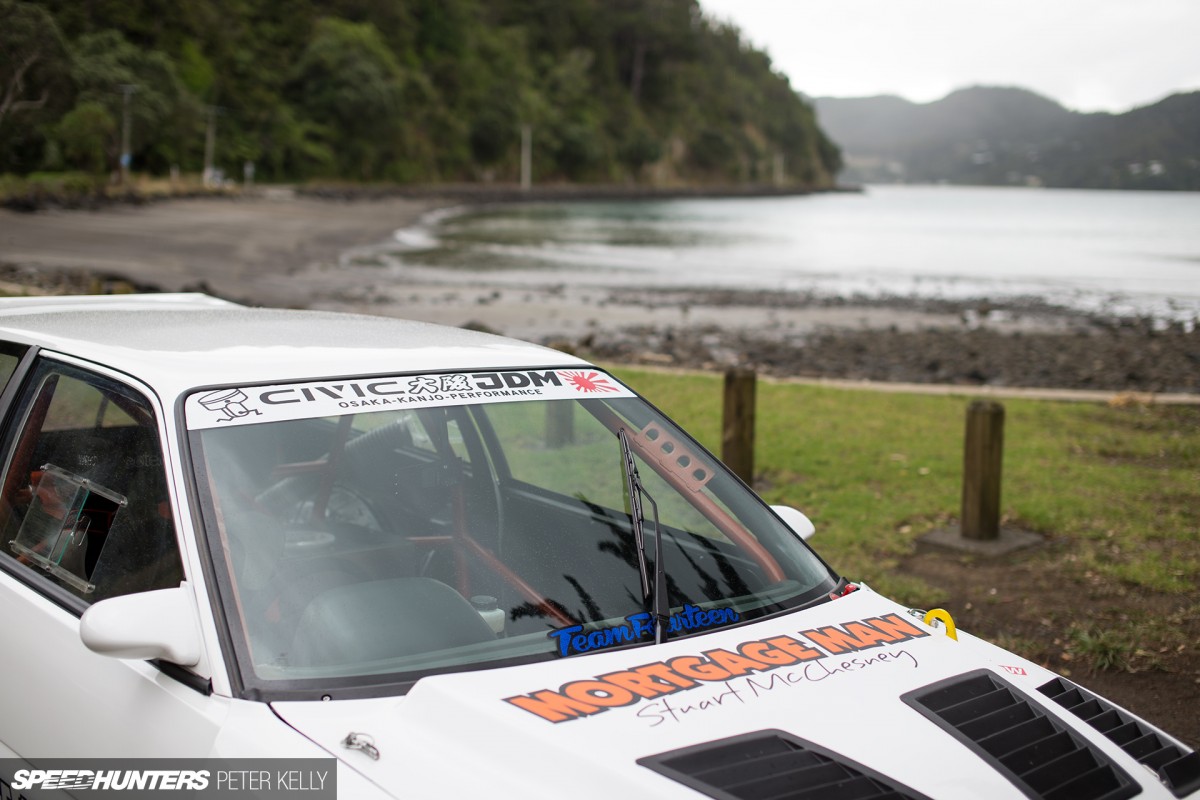 It could be argued then that as far as unassuming starting points go within the sphere of contemporary (and popular) automotive modification culture, none really come quite as modest as a base-model Honda Civic hatchback.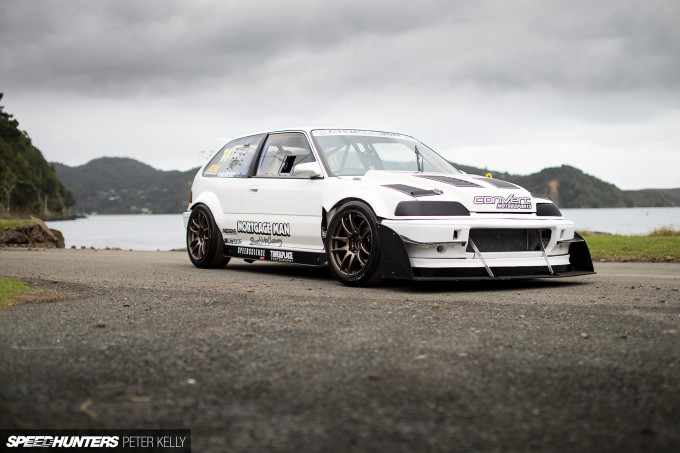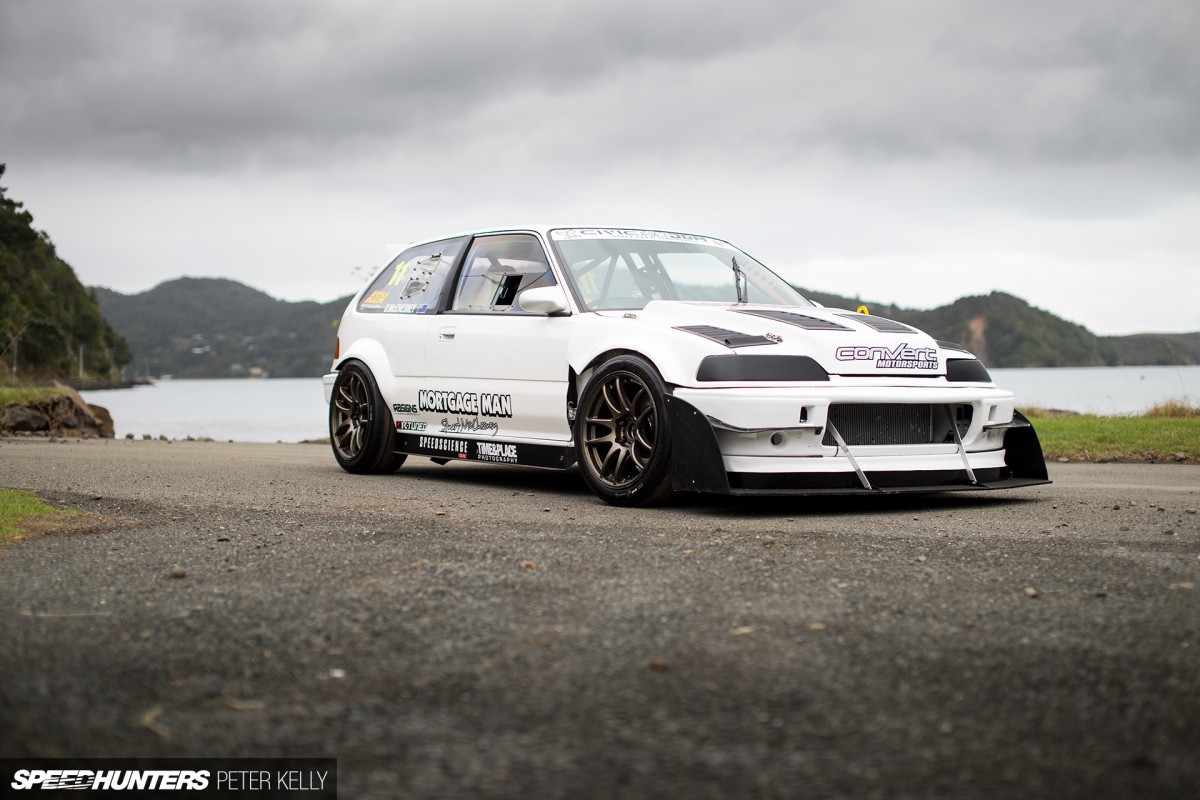 Now seems like a good time to introduce you to Ollie McChesney and his homebrewed, time attack focused, late-'80s vintage Honda Civic EF3.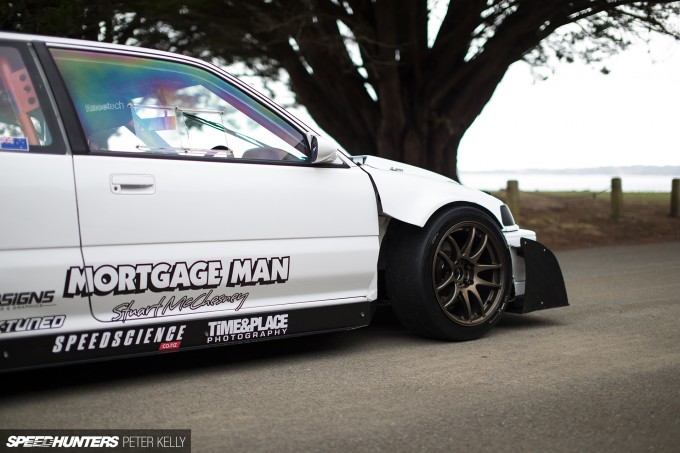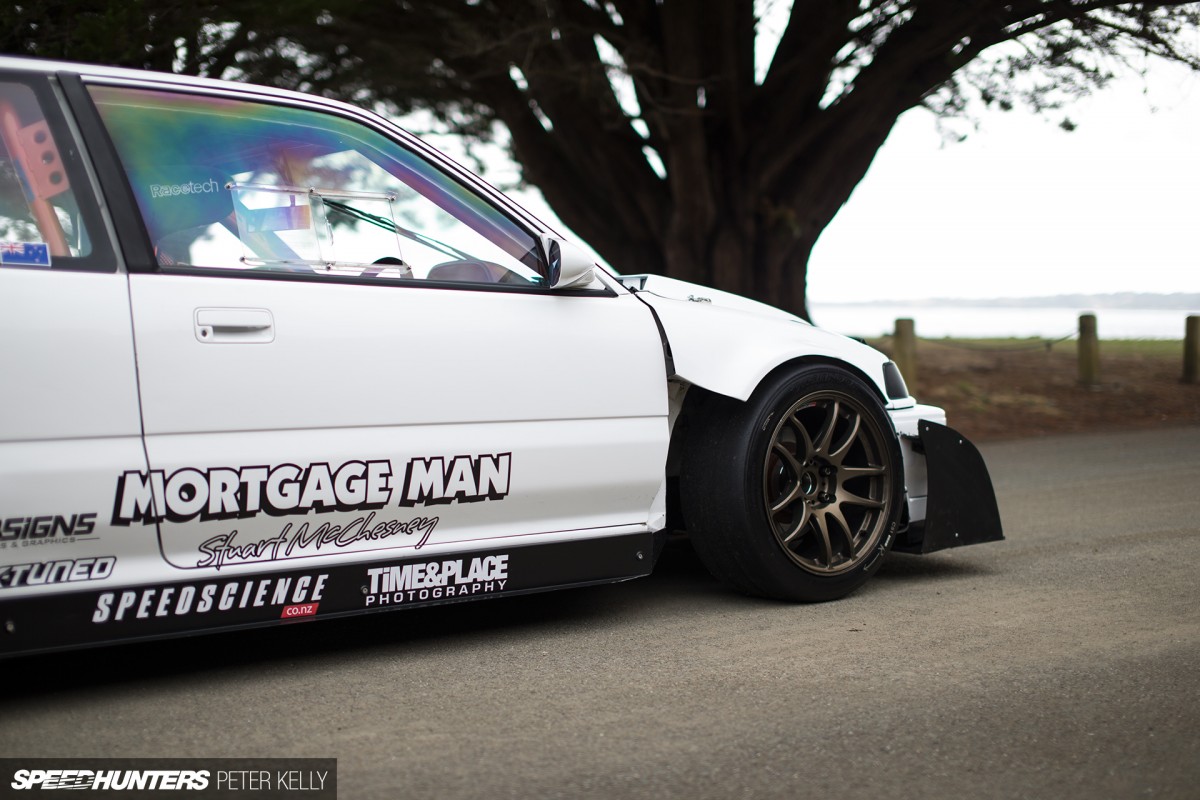 While Honda's bread and butter product from the decade that brought you hits such as Never Gonna Give You Up may have had modest intentions, the underpinnings of this particular Civic chassis inspired a generation of modifiers in itself to press the nippy runabouts into applications far beyond their grocery-getter market position.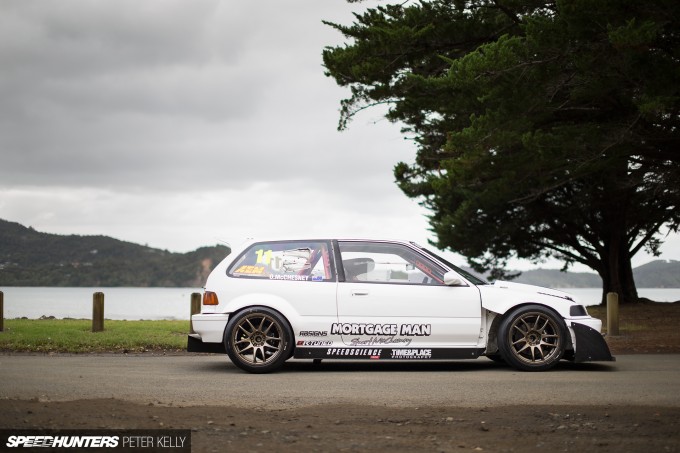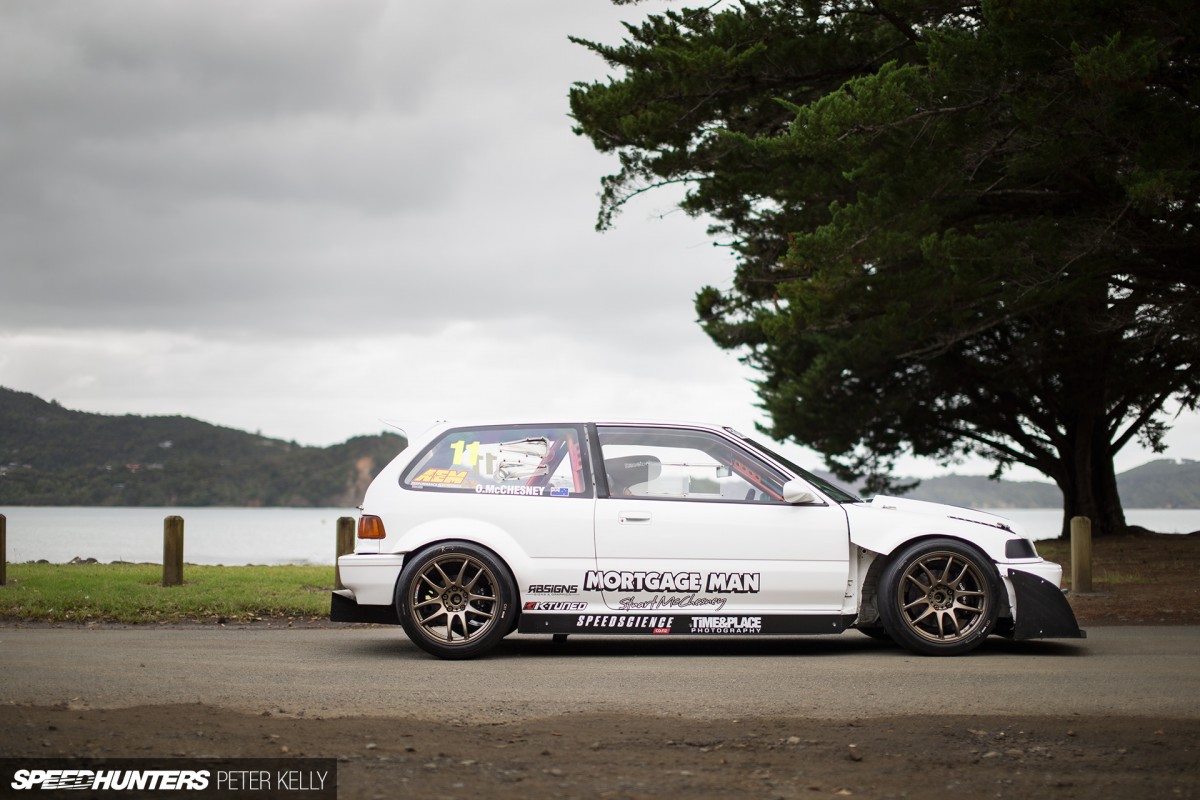 Utilising a combo that would go on to define Honda as a force in front-wheel drive handling, the lightweight EF chassis offered a cleverly-designed trailing arm rear independent suspension arrangement coupled with a double-wishbone front setup. It was enough to convince Ollie that the third generation Civic was the perfect candidate to transform into his vision of the archetypical front-wheel drive time attacker.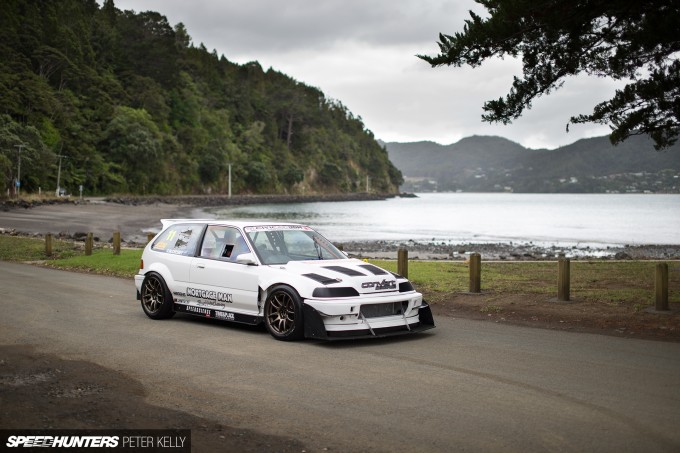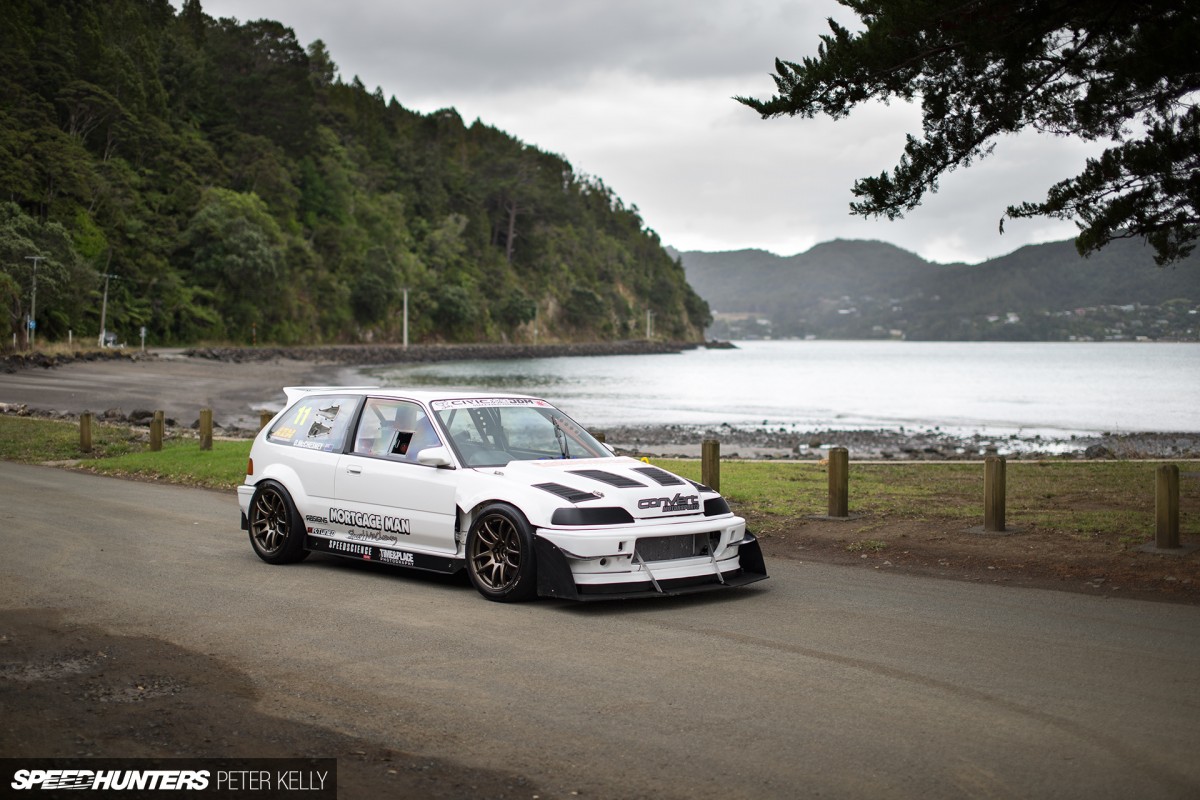 It was around four years ago that the quest for the ideal base was commenced, eventually turning up a half-finished project already stripped of its interior and re-powered with a B18C for some extra zing. With a set of sticky semi slicks added into the mix, the car proved a fun, quick track hack, but the with an incessant desire for further performance niggling at the back of his mind, Ollie made the call to level up.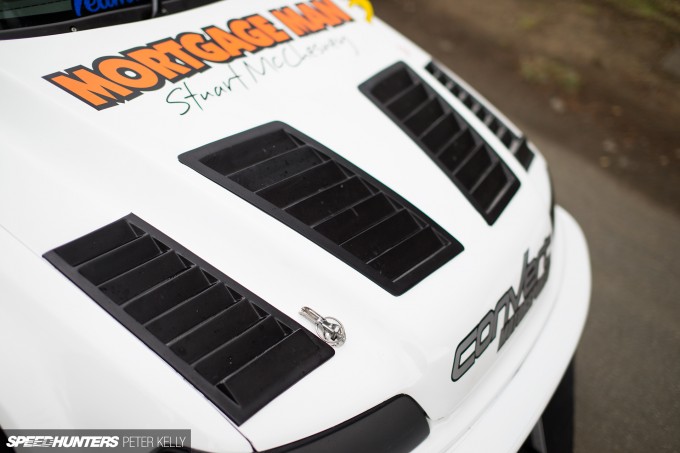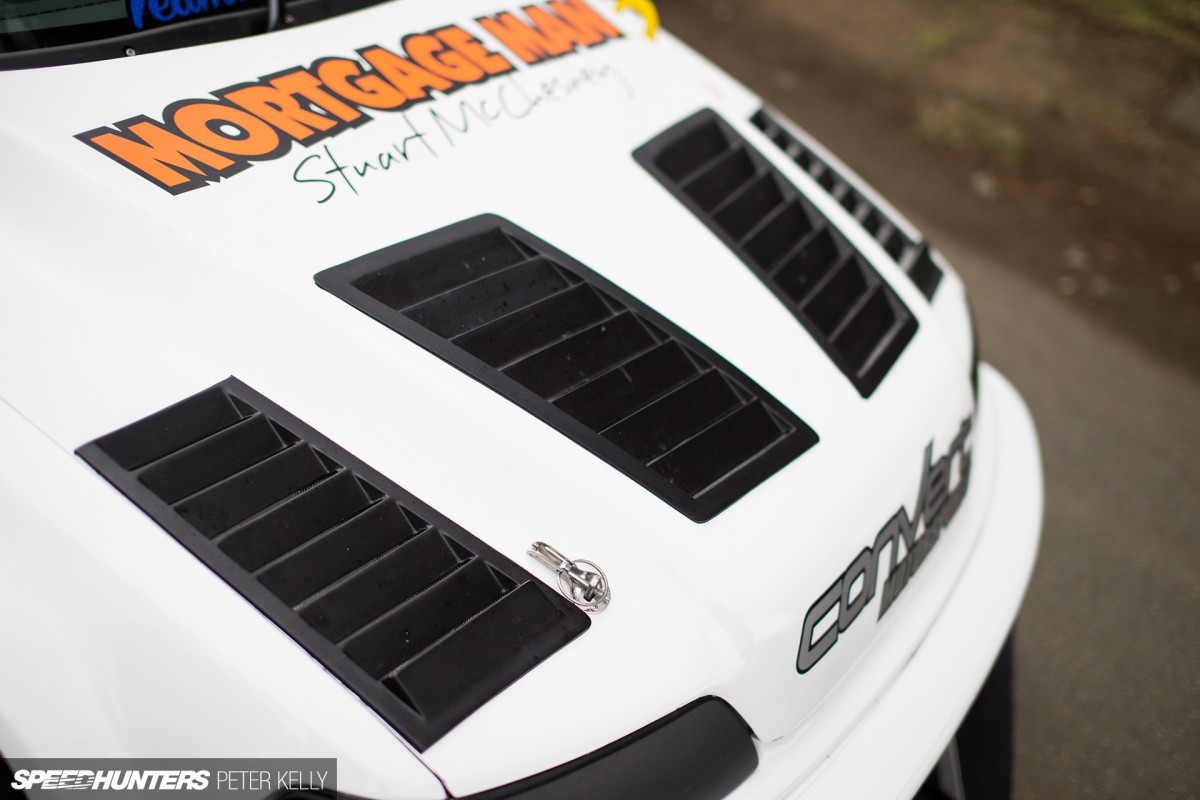 Enter the K-series.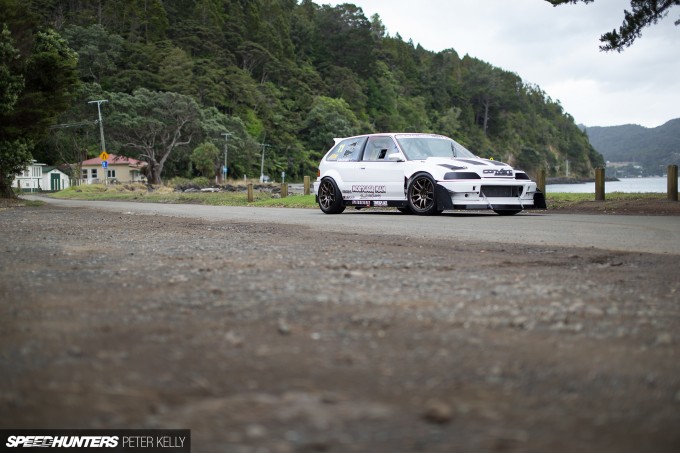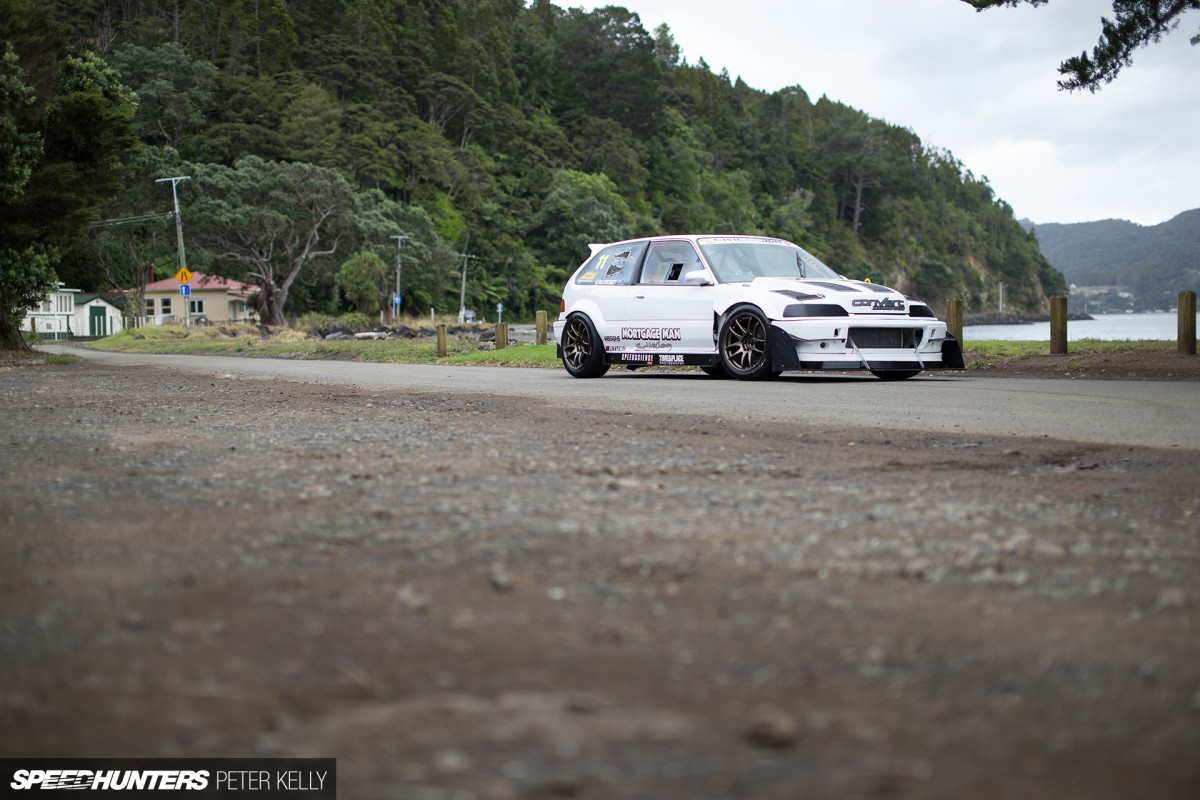 A generation or two removed from the B-series that served so faithfully, K-code engines represent the ultimate in four cylinder Honda performance – especially for those chasing naturally aspirated numbers by virtue of their high-flowing cylinder heads and of course the extra capacity. Coincidentally, Ollie's father Stuart happened to have an EP3 Civic Type R spec K20A spare – a leftover from a K24A upgrade to his own Honda race car.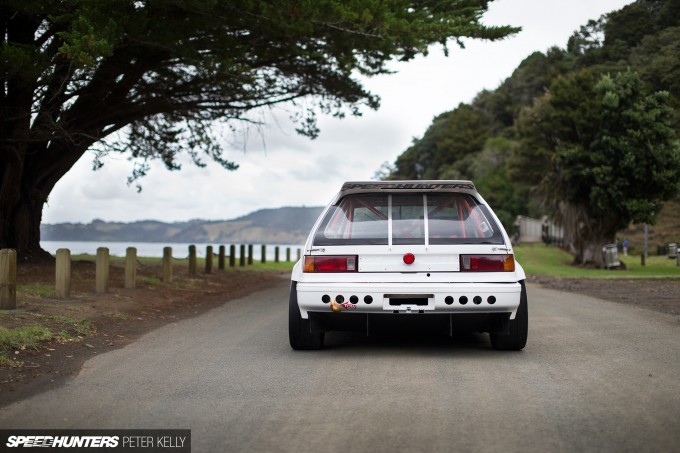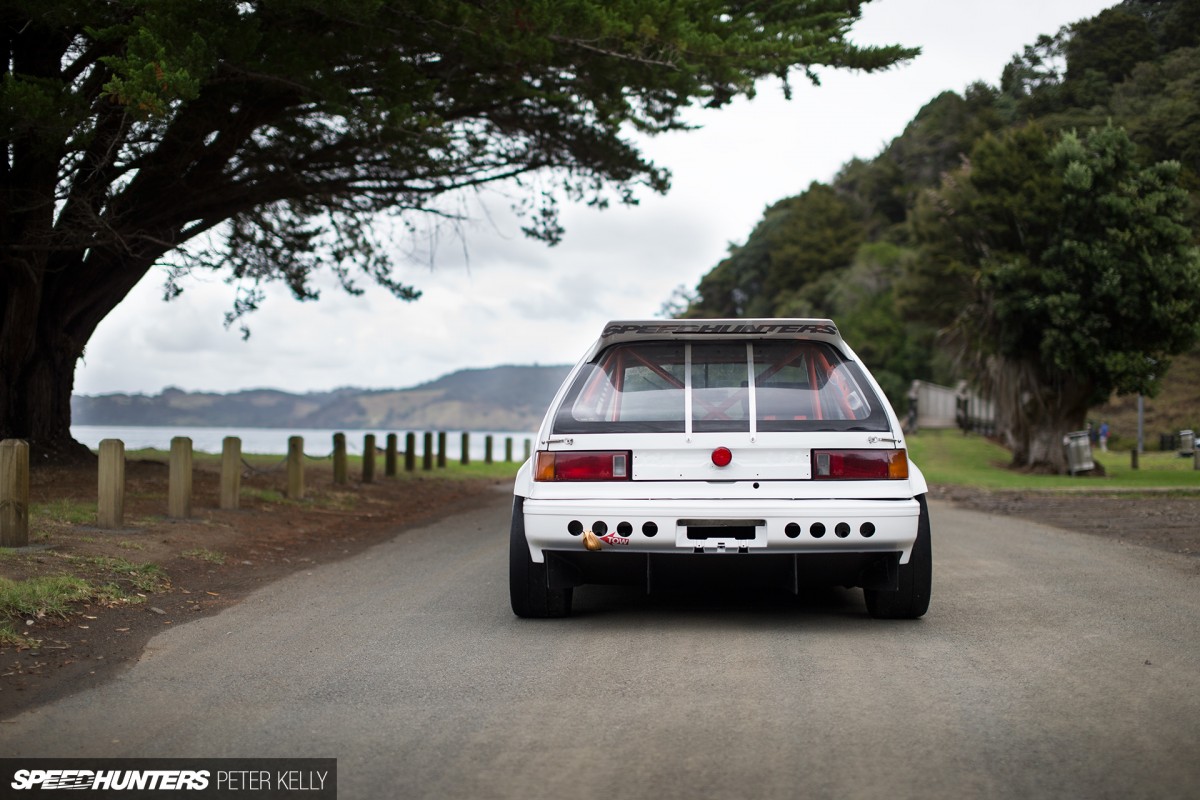 Evolution had commenced and the Civic's days as a basic club-level package were about to come to a halt in favour of a build mentality aimed purely at time attack competition.
Evolution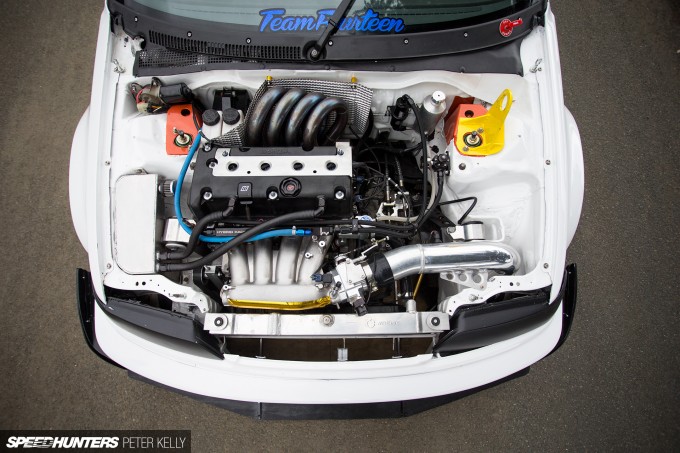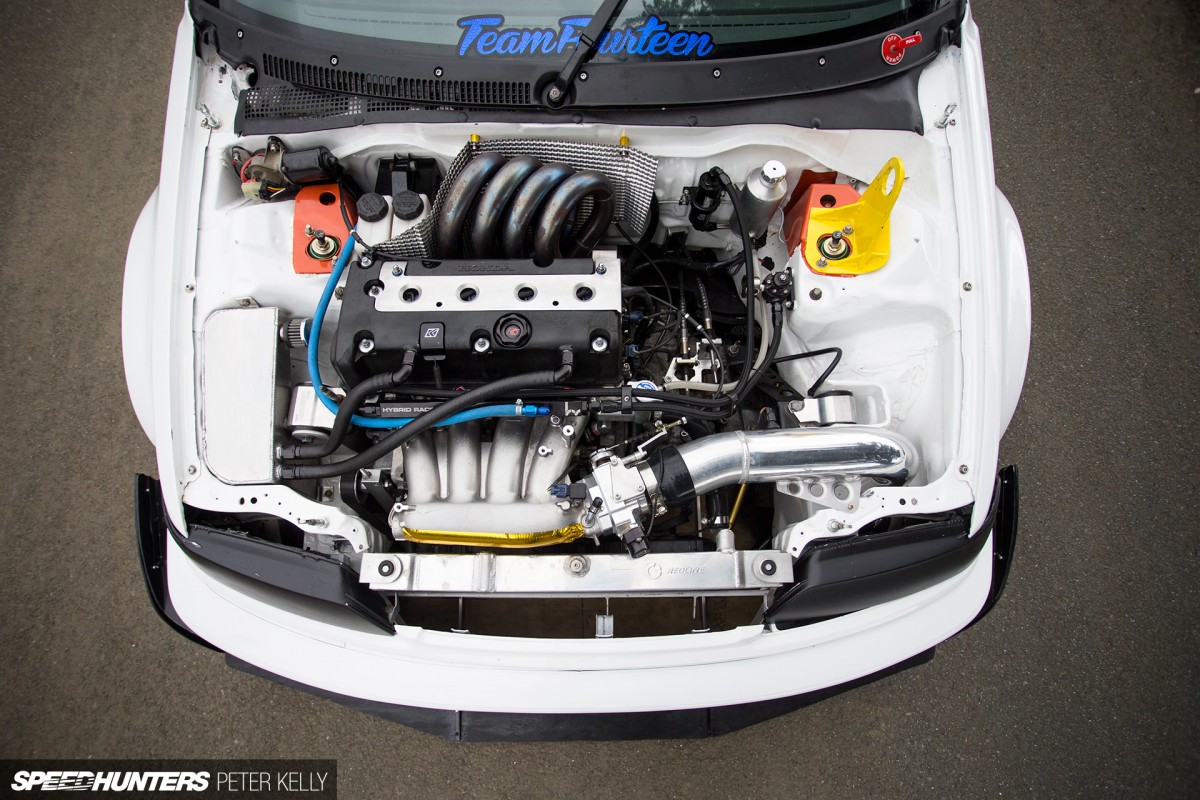 At the time of the build's kick-off, a K-powered EF chassis was a rarity in New Zealand. So rare in fact that none existed, meaning Ollie was faced with the required research to put his plans in motion and wedge the hefty lump into the EF's comparatively compact engine bay.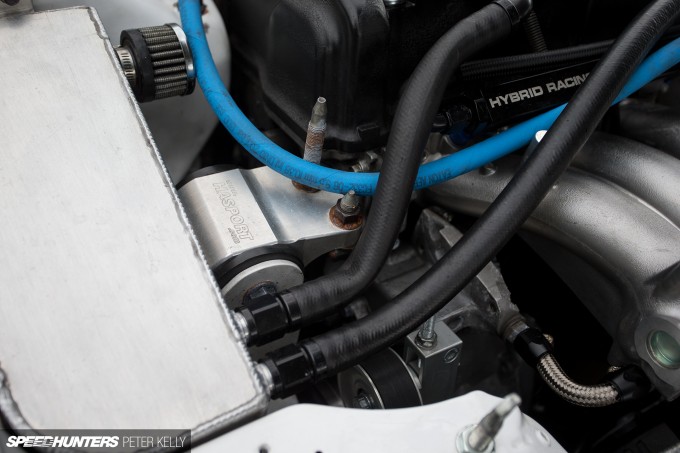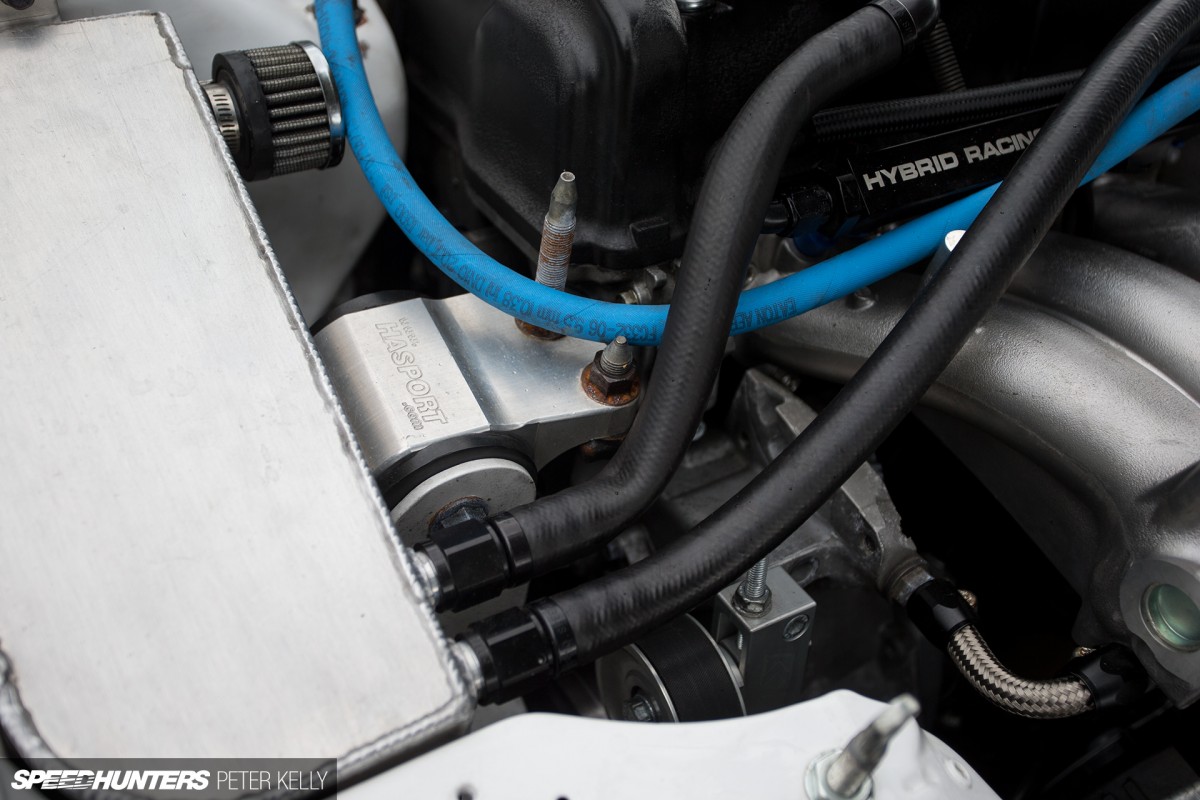 The task at hand proved reasonably simple with the use of Hasport conversion mounts. Milled from billet alloy, these are the first of many quality components dripping from every surface of the Honda. While the mounts locate the K20A snugly within the limited real estate, notching of the chassis rails, plus removal of the front crossmember, was required to accommodate the extra bulk.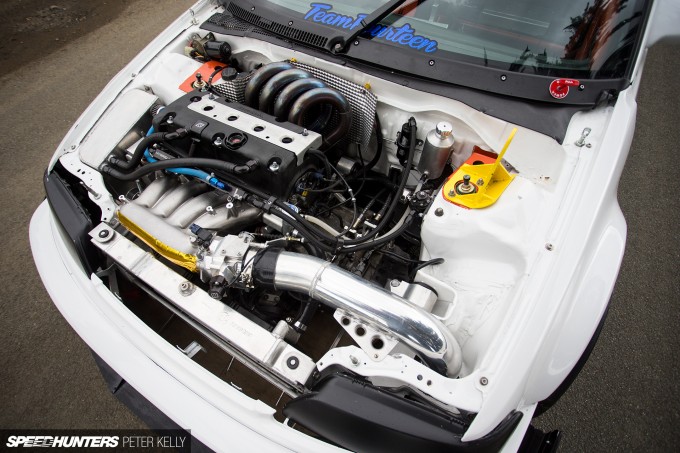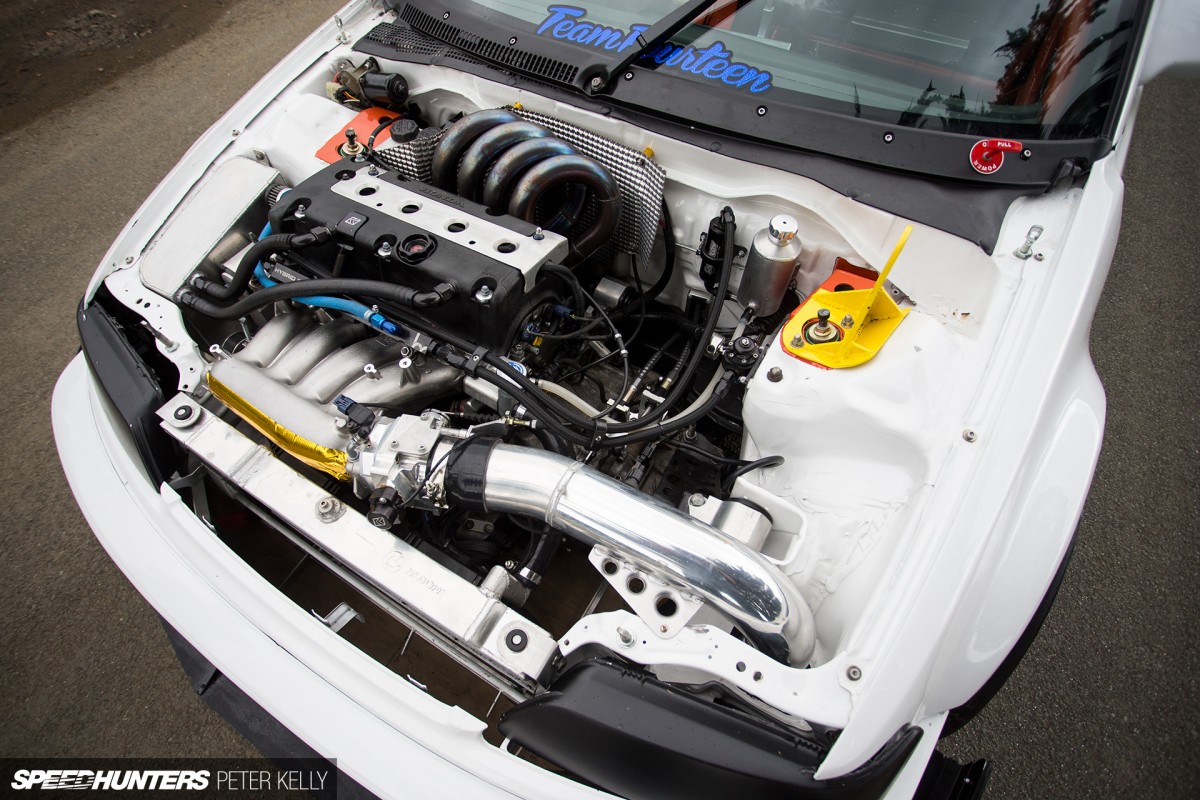 Not content with merely adding the extra capacity, the K20A is blessed with a catalogue of high quality parts aimed not only at increasing power, but ensuring the engine holds together at sustained high revs.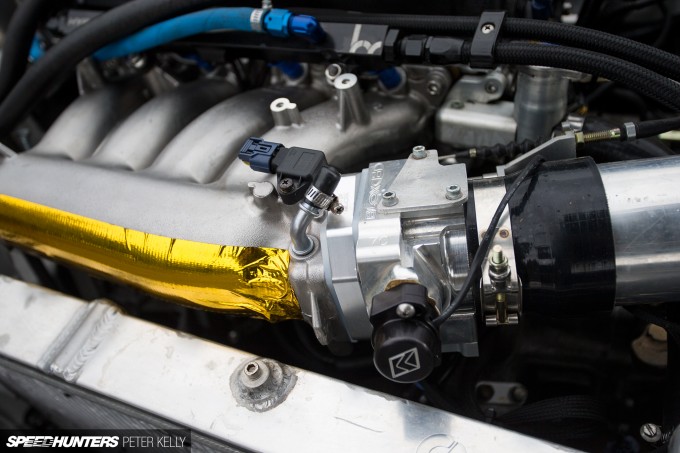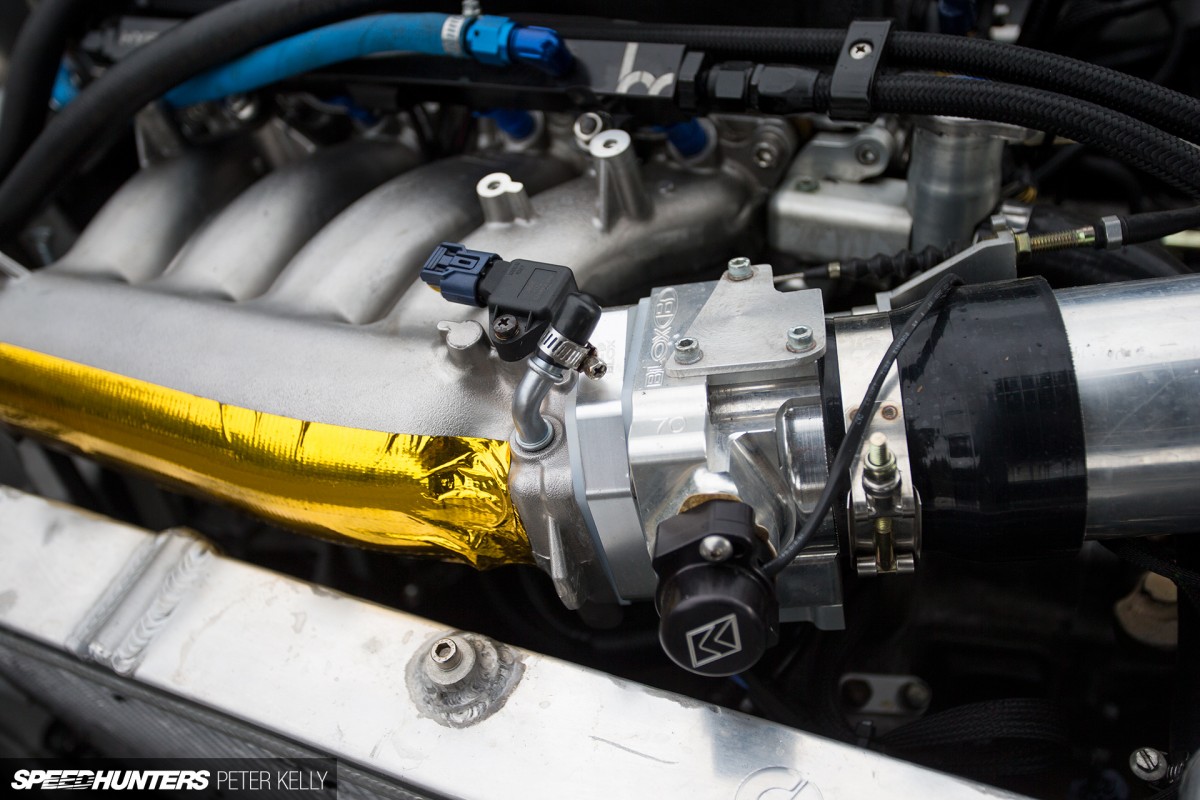 As any Honda stalwart knows, the first aspects to tackle when it comes to naturally aspirated Honda performance are the basics: intake, header and exhaust. Starting at the intake end, the Civic inhales cold air via a filter located behind the front bar, flowing into an OEM Honda 'RRC' intake manifold sourced from an FD2 Type R Civic, courtesy of a Blox 70mm throttle body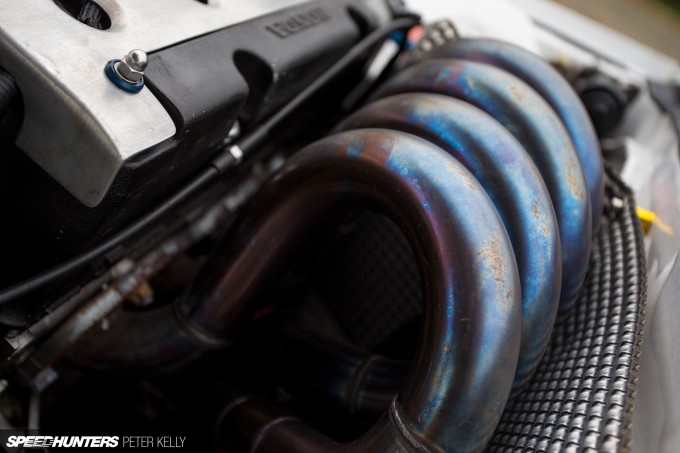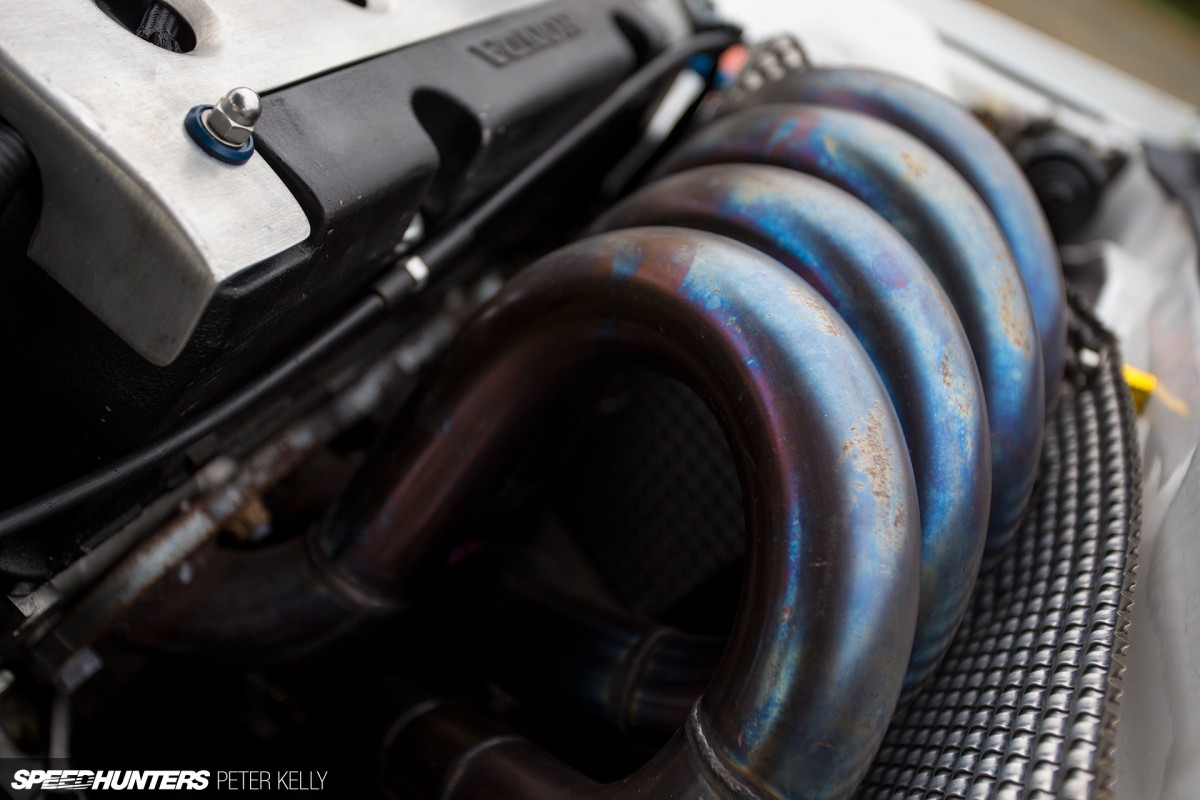 An off-the-shelf header for a somewhat unconventional build like Ollie's was not an option – but thankfully, sharing a house with one of Auckland's talented fabricators lends itself to these kind of builds well. Housemate Brendan Duncker (known locally for his drifting  exploits) knocked up the gorgeous octopus-style stainless headers that sweep down the firewall into a flame-belching 3-inch stainless side-exit exhaust. Beneath the distinctive cam covers of the K20 lie a set of SVM camshafts acting on a set of Supertech valve springs. K-Tuned is represented heavily in the engine bay – from the heater-delete kit right through to a billet TPS. Fuelling is supplied via the perennial Bosch Motorsport 044 pump into a set of RDX injectors mounted to a Hybrid Racing fuel rail supplying enough of the good stuff to support the engine's 180kW (241hp) output at the front wheels.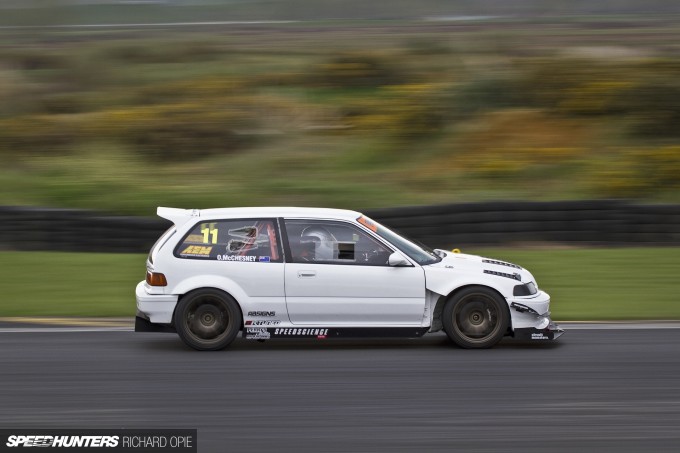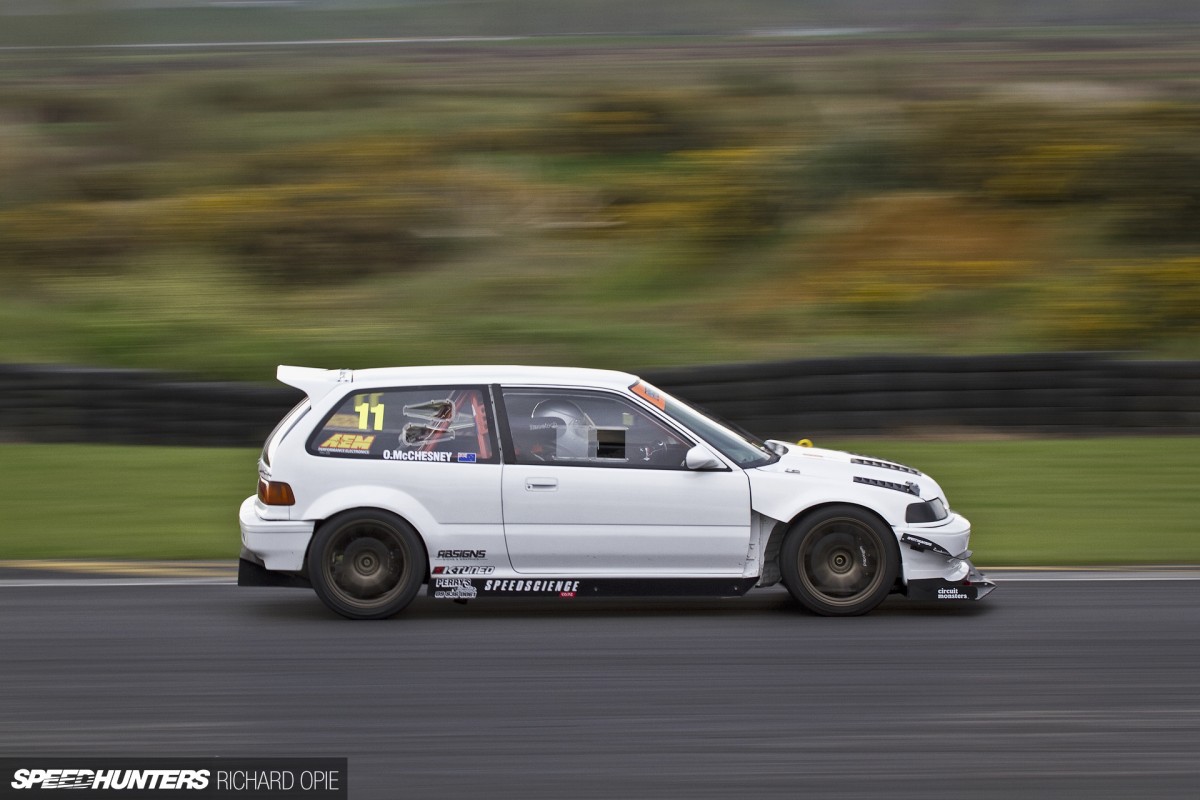 The rigours of circuit duty dictated the fitment of a larger Moroso sump featuring internal trap doors, while the engine's lifeblood retains a fresh, cool state running through a Moroso filter relocation kit and a Mocal oil cooler.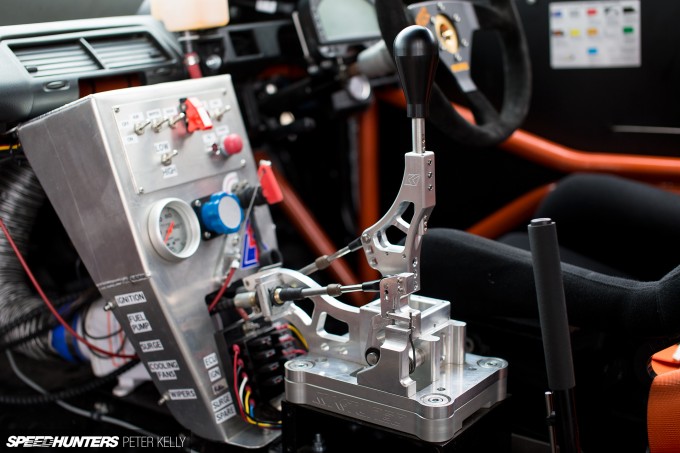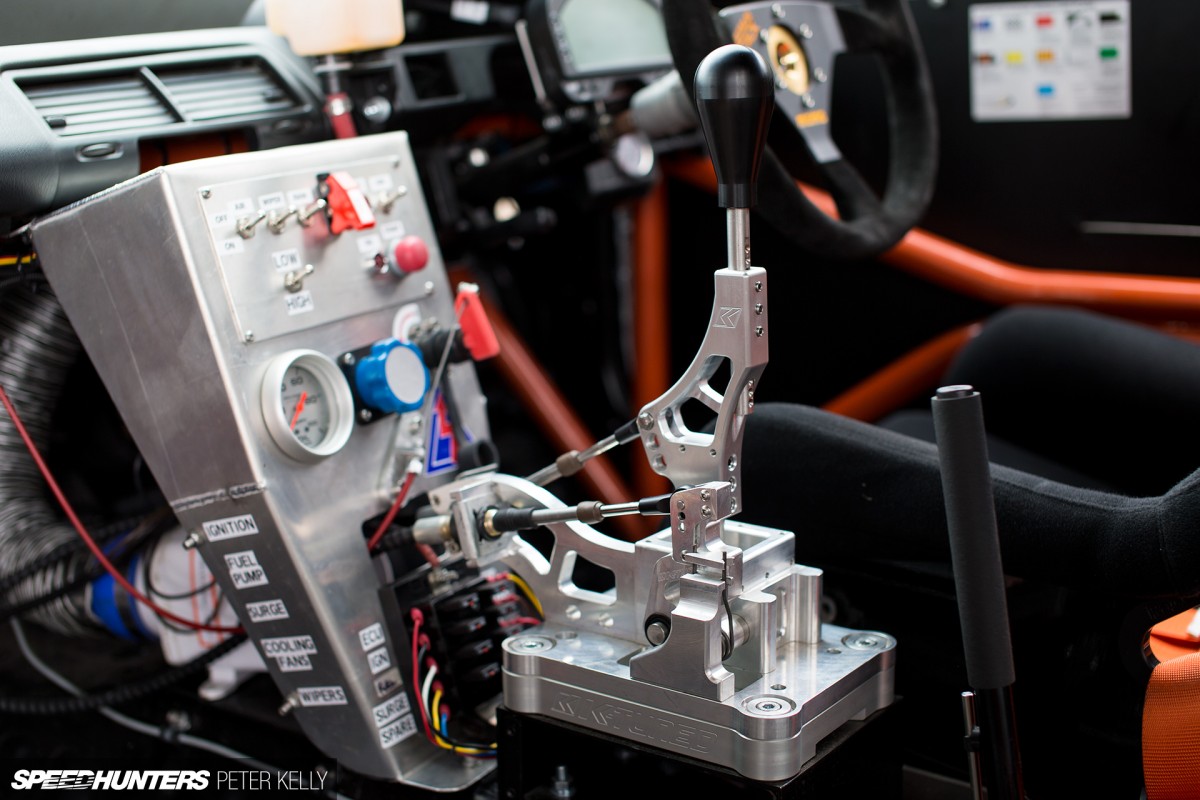 Getting power to the ground is paramount and perhaps more difficult in a front-wheel drive application than in any other layout. Using a custom hydraulic master cylinder conversion, an Exedy Hyper Single clutch transmits drive to a 6-speed EP3 Type R gearbox which internally features a Spoon close-ratio gearset on gears 4, 5 and 6, along with a Spoon 5.1:1 final drive and an M Factory 1.5-way plate LSD for improved corner exit traction. Shifting is quick and accurate with the use of the striking K-Tuned billet shifter, retaining the H-pattern style gate of the original gearbox.
Tiptoe Through The Tarmac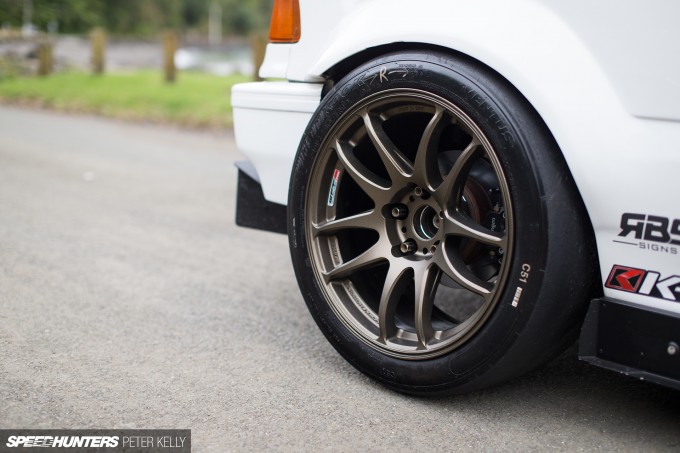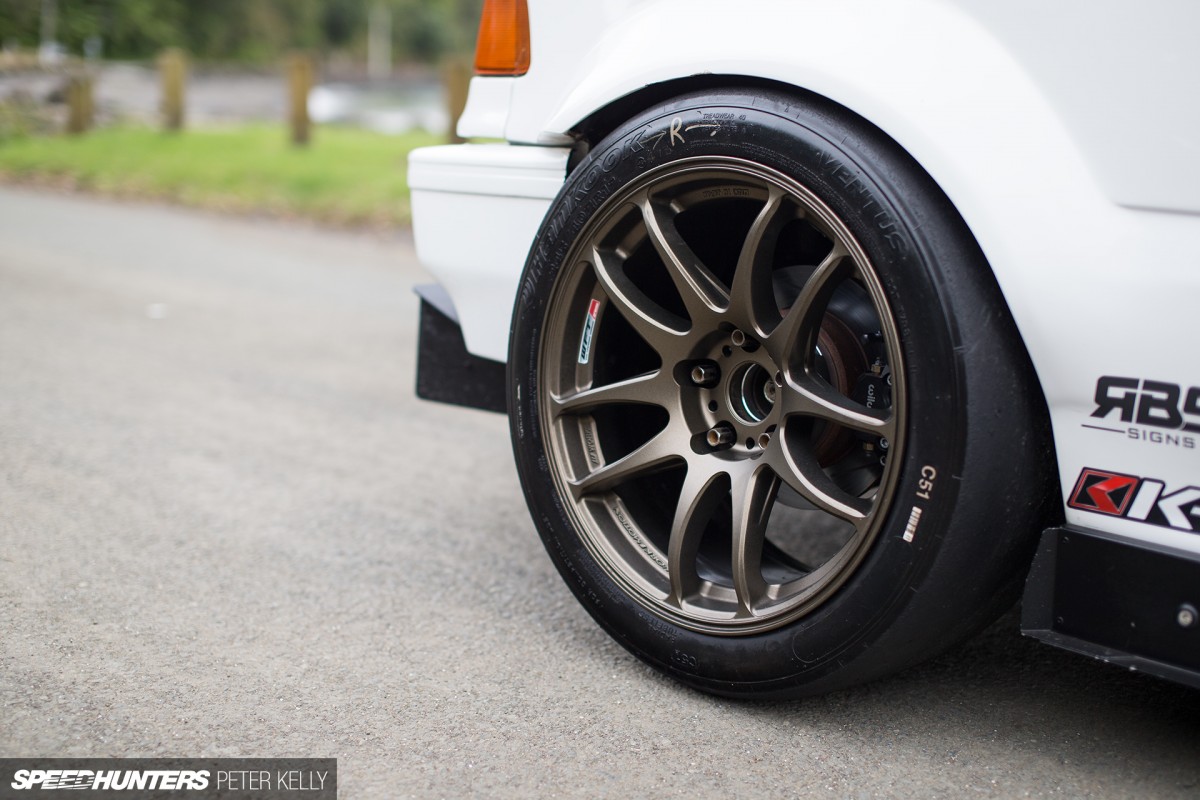 As any follower of time attack is aware, aero and chassis setup is absolutely crucial. It's also an aspect of the build that Ollie finds most rewarding. Starting with the 17×9-inch Work Emotion CR Kai Ultimate wheels in an aggressive +17 offset, the bulging flares were crafted in steel to accommodate the comparatively-massive rolling stock.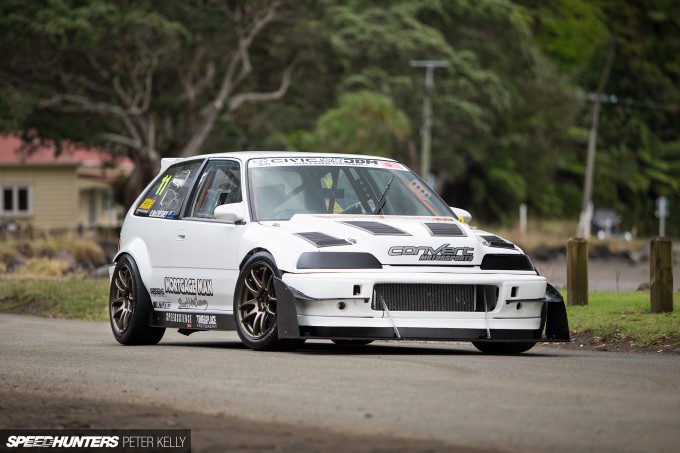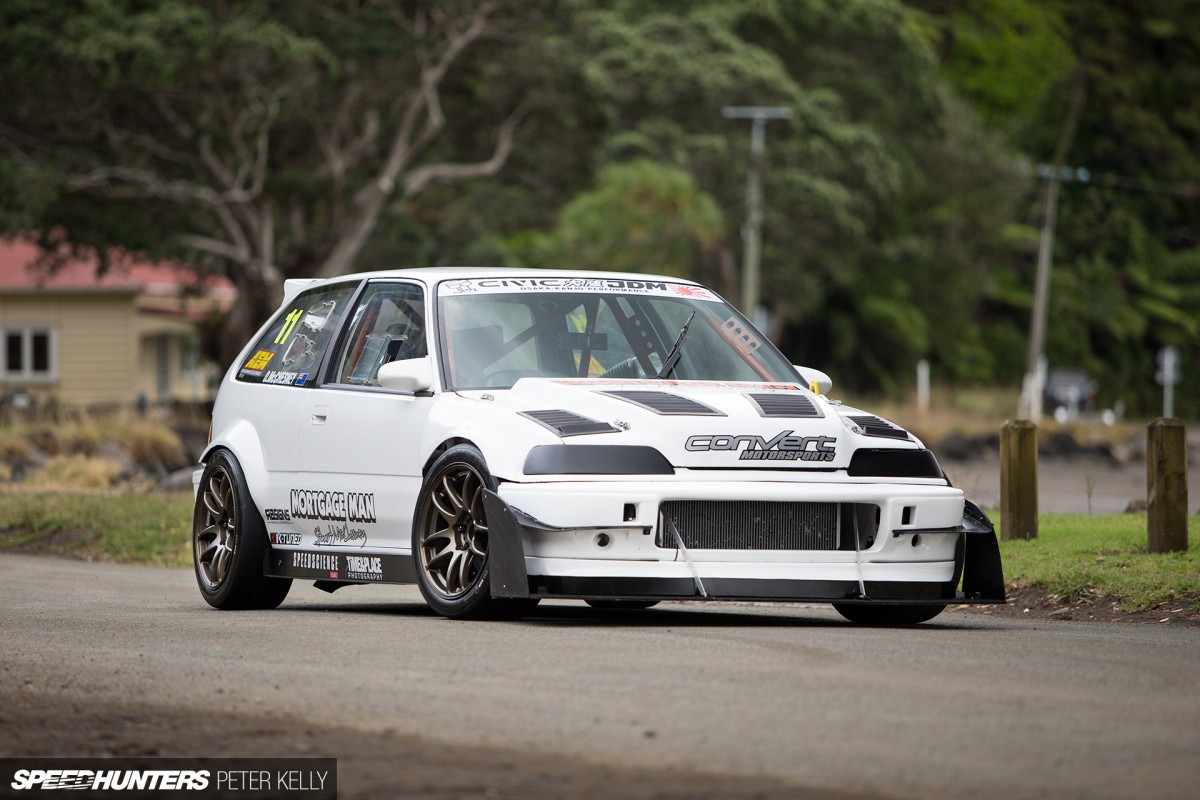 Time attack permits a level of creativity and interpretation of the way things are done, in a fashion almost unlike any other motorsport. Through a process of trial and error, the Honda displays a familar yet unique arsenal of canards, splitters and side skirts – in this case all bespoke items created through the hard yards of testing and development.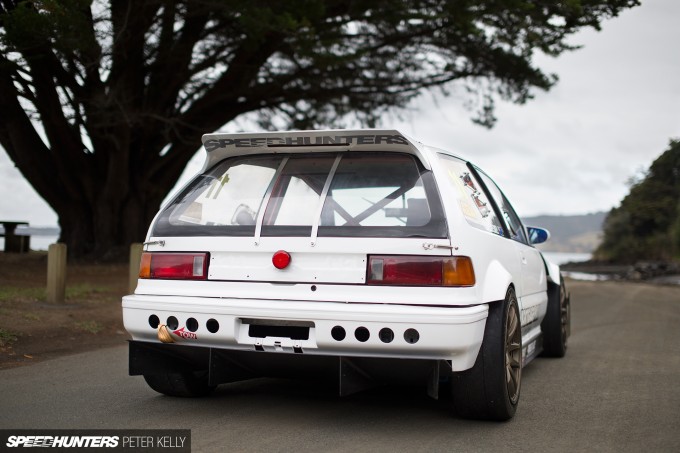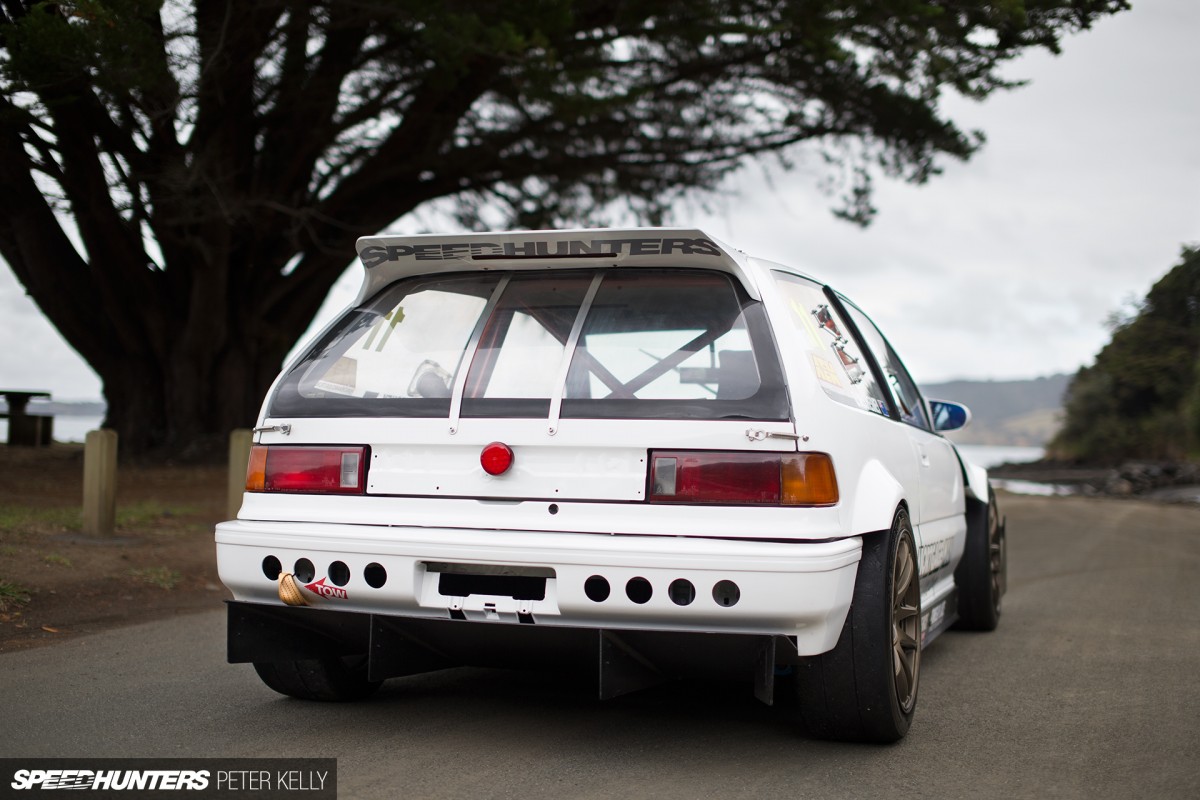 The rear plays host to a genuine J's Racing rear wing, while slung beneath the bumper is yet another bespoke creation in the form of a one-off rear diffuser.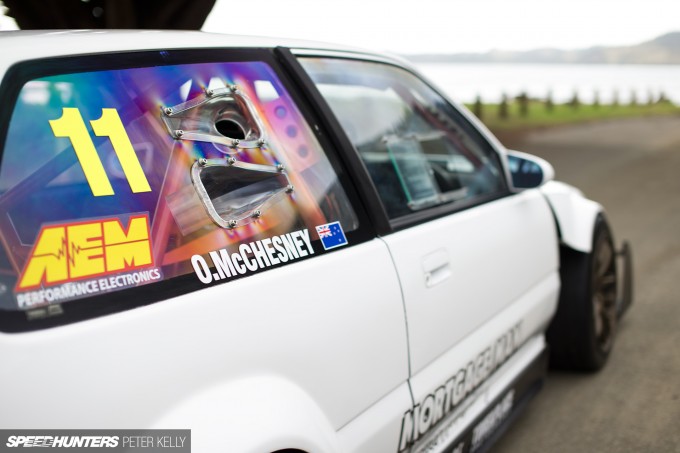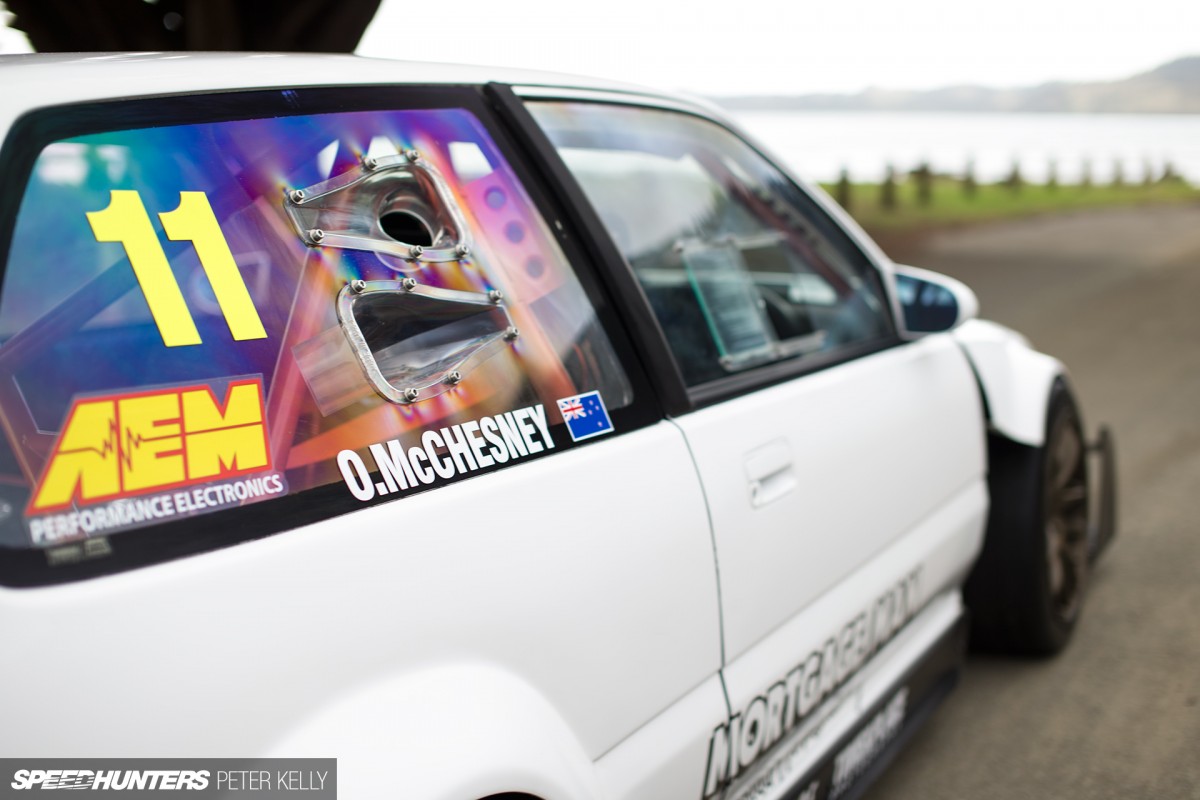 Weight is kept to a minimum thanks to the use of lightweight Lexan windows, the deletion of the hefty sunroof and again, a custom-vented bonnet designed to clear the tall stature of the K20.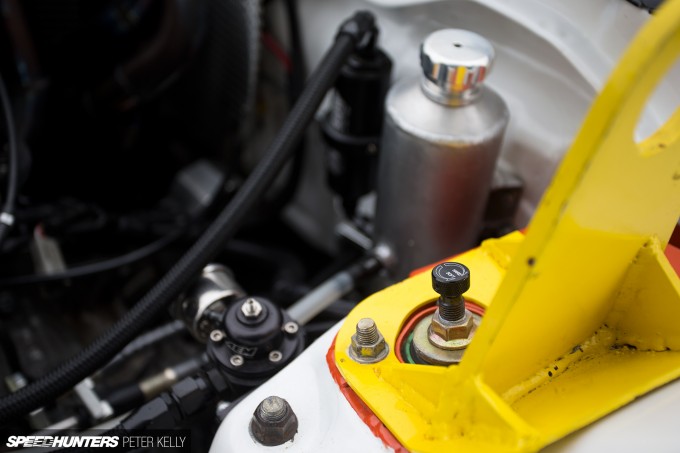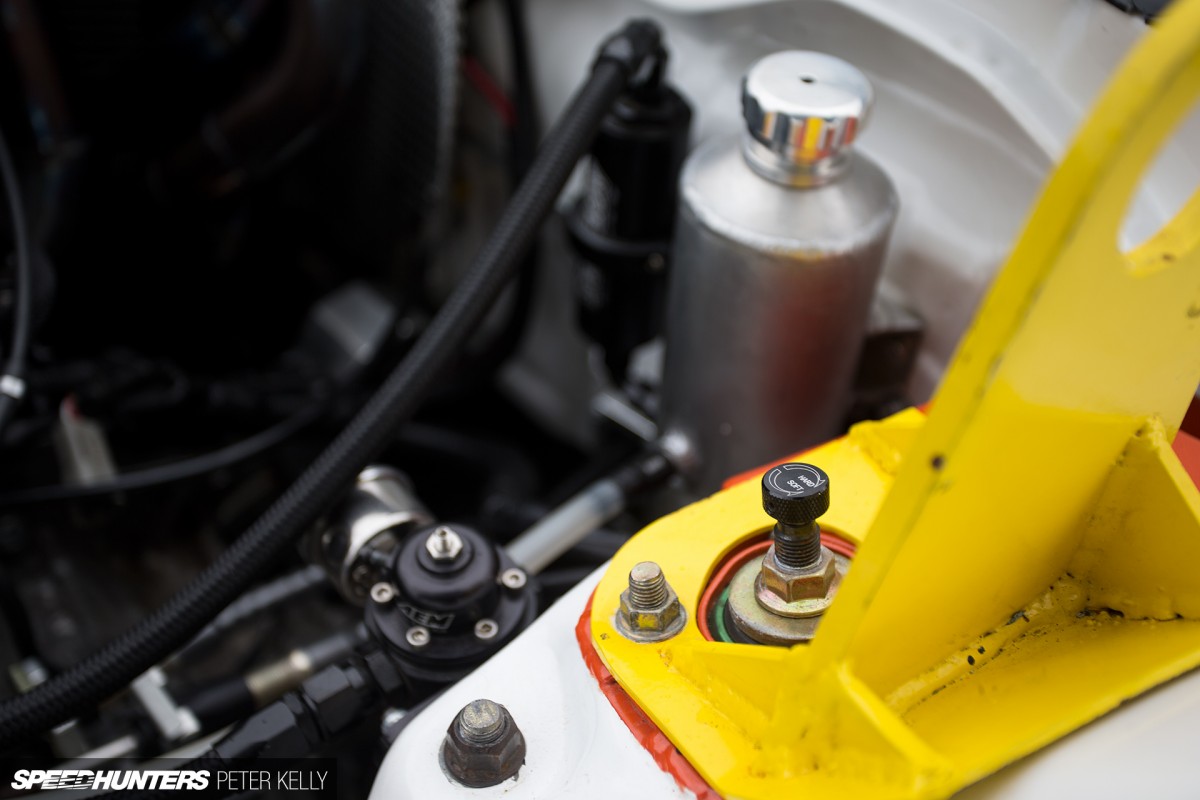 Keeping the attitude of the Civic in check on the tarmac is the responsibility of Fortune Auto coilovers damping ruthless 900lb/inch rate front, and 700lb/inch rate rear springs. Geometry is provided by means of a host of aftermarket components with names such as Hardrace, J's Racing, ASR and Skunk2 all contributing to tying together a tweak-able and capable chassis setup.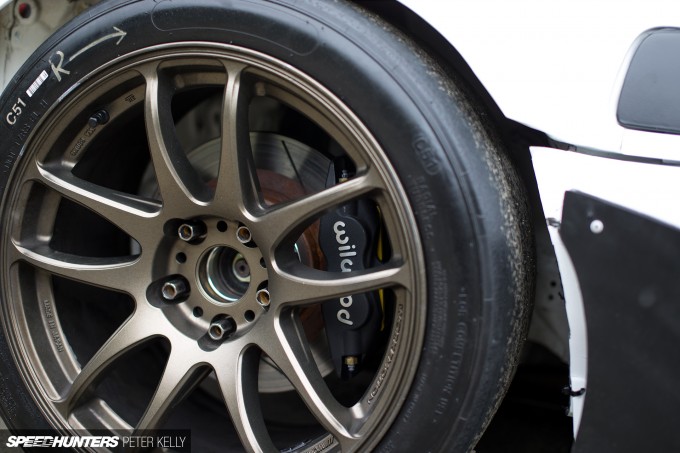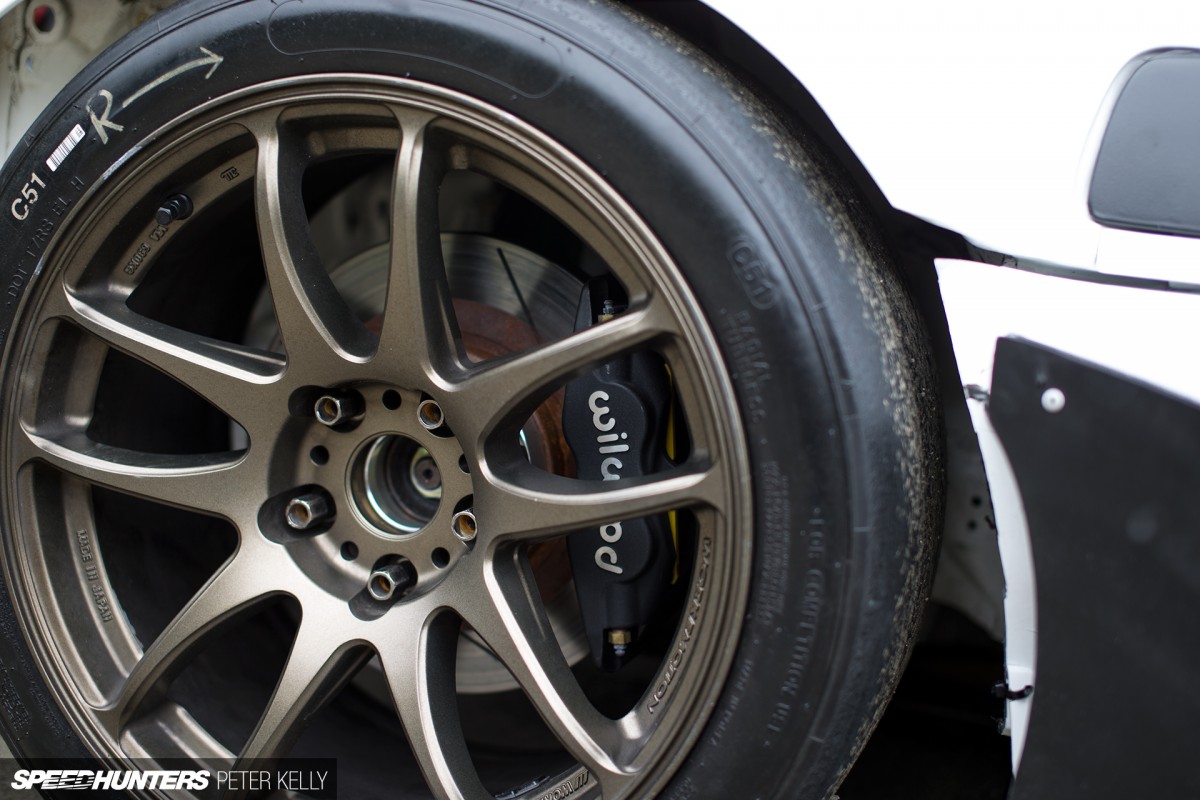 So we've got power, we've got plenty of grip but the car needs to slow down, right? Wilwood features predominantly in the stopping department in the form of Superlite 4-pot front calipers gripping dinnerplate-sized rotors backed up by a set of 2-pot Dynalites in the rear. With a mass of roughly 880kg, the Wilwood setup allows Ollie to fire into corners deep past the final braking markers before mashing the middle pedal to setup for corner entry.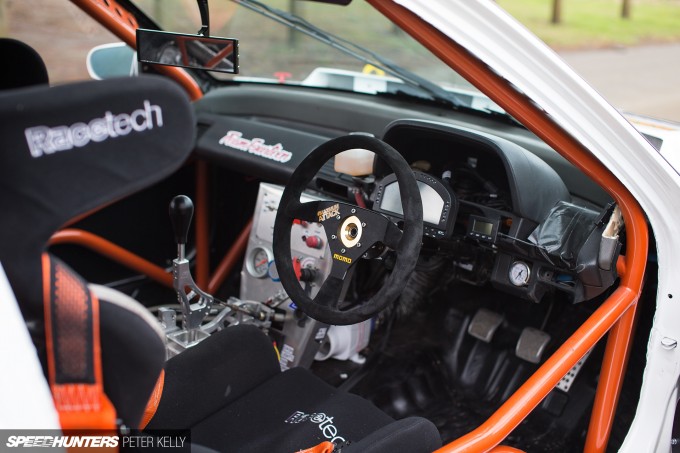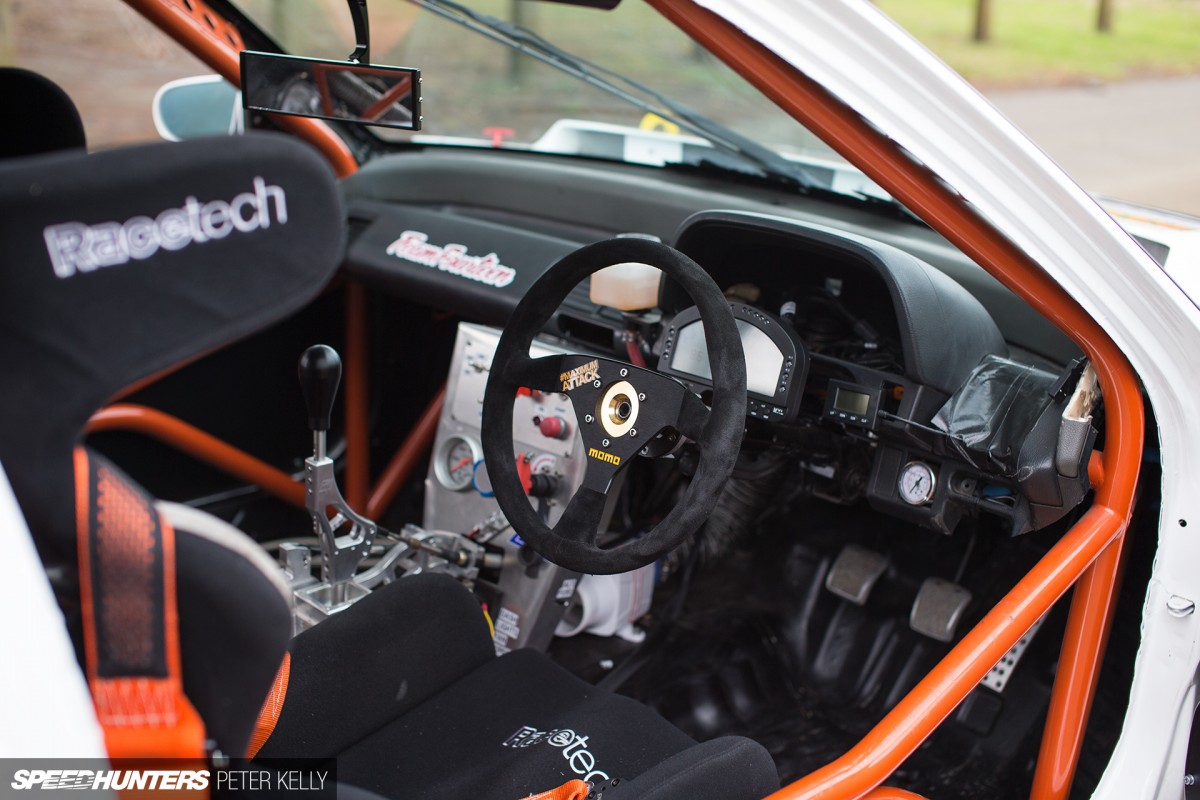 Delve inside the cabin and you're immediately greeted by a clean, business-like race car interior. Knowing the car was to be capable of high corner speeds, Ollie opted to install an 8-point roll cage for safety in the event of the unmentionable.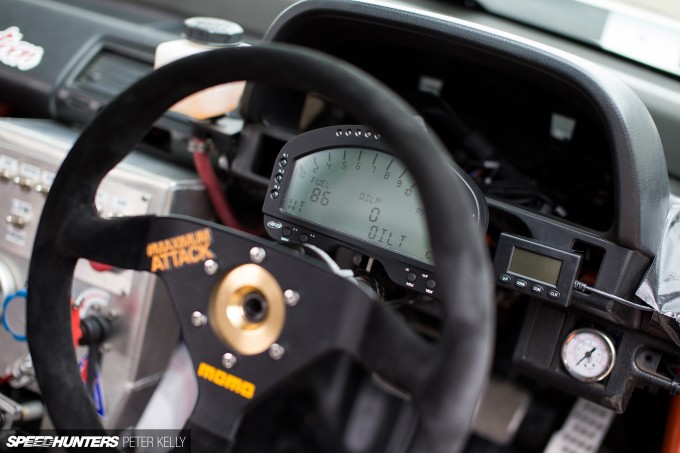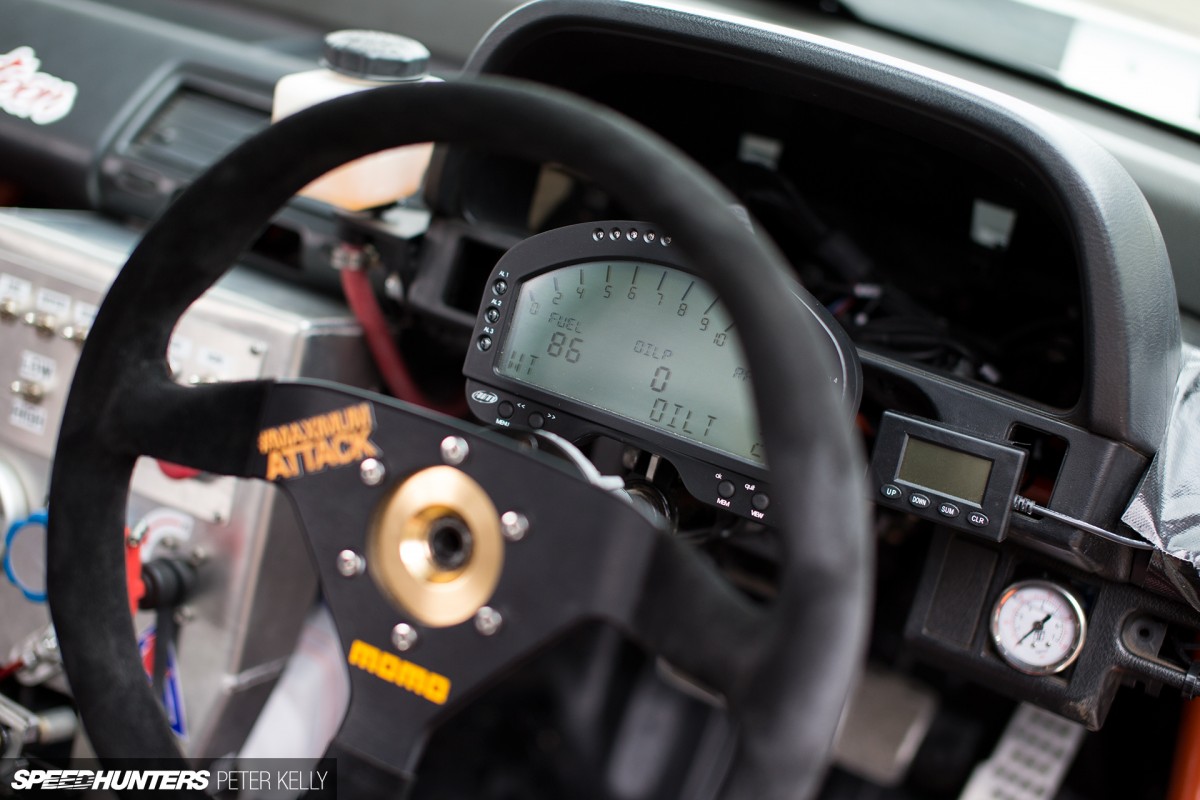 The theme of quality components extends to the office with the use of an FIA-spec Racetech seat coupled with a 6-point HANS-compatible harness belting the pilot in securely. Behind a quick-release Momo suede steering wheel sits an AiM MXL digital dash unit displaying information relayed from the AEM EMS engine management in charge of the K20.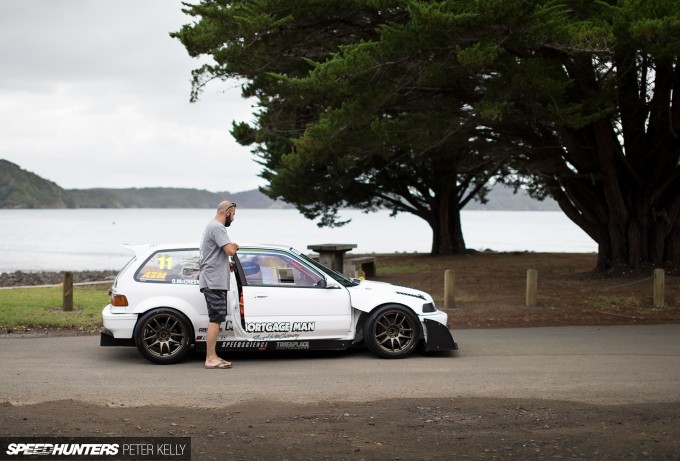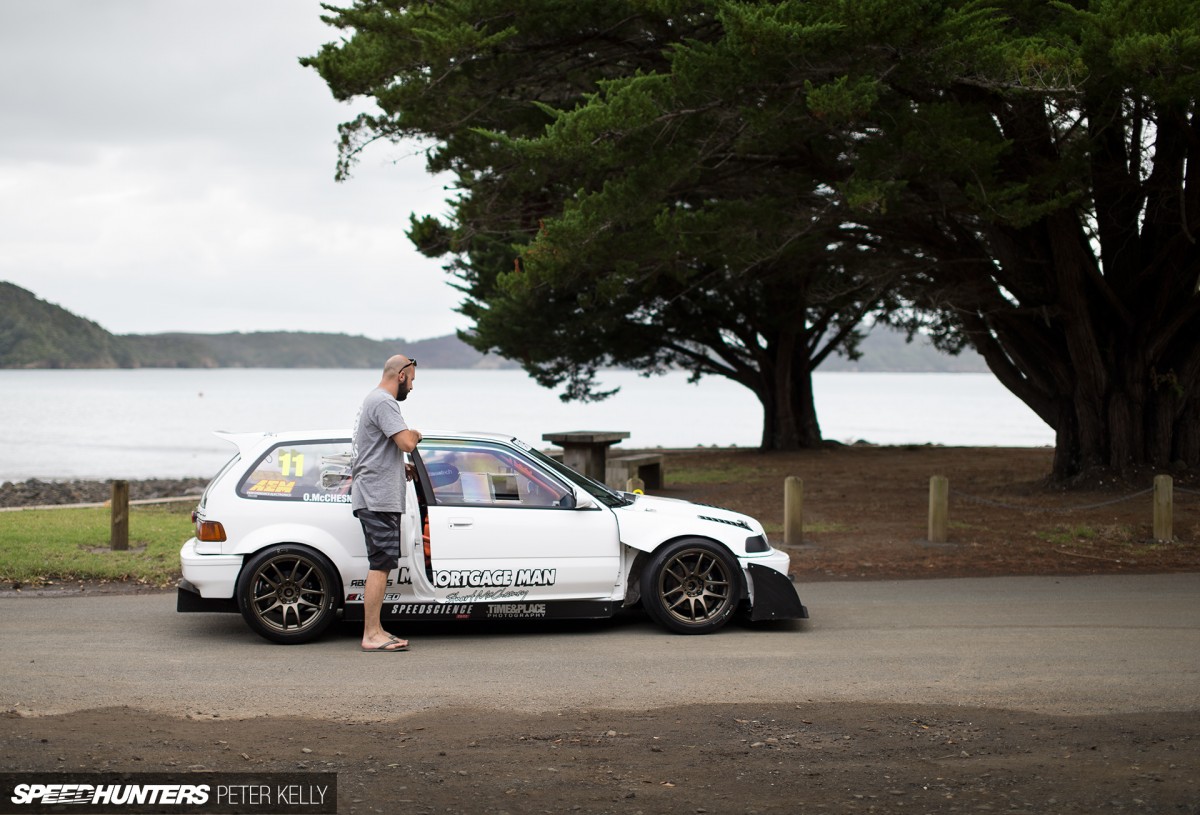 With one season under his belt in the car now, Ollie is proving the age-old technique of stuffing a big lump into a small, nimble chassis is working. Having campaigned the car briefly in a local club series in its current guise, the Civic was immediately on the pace and a race winner off the trailer.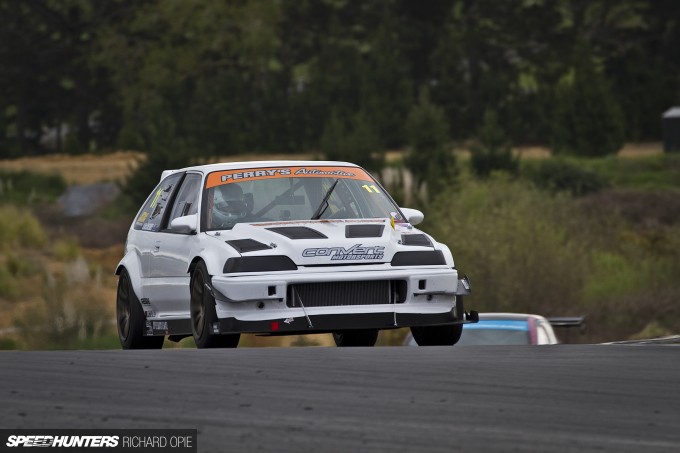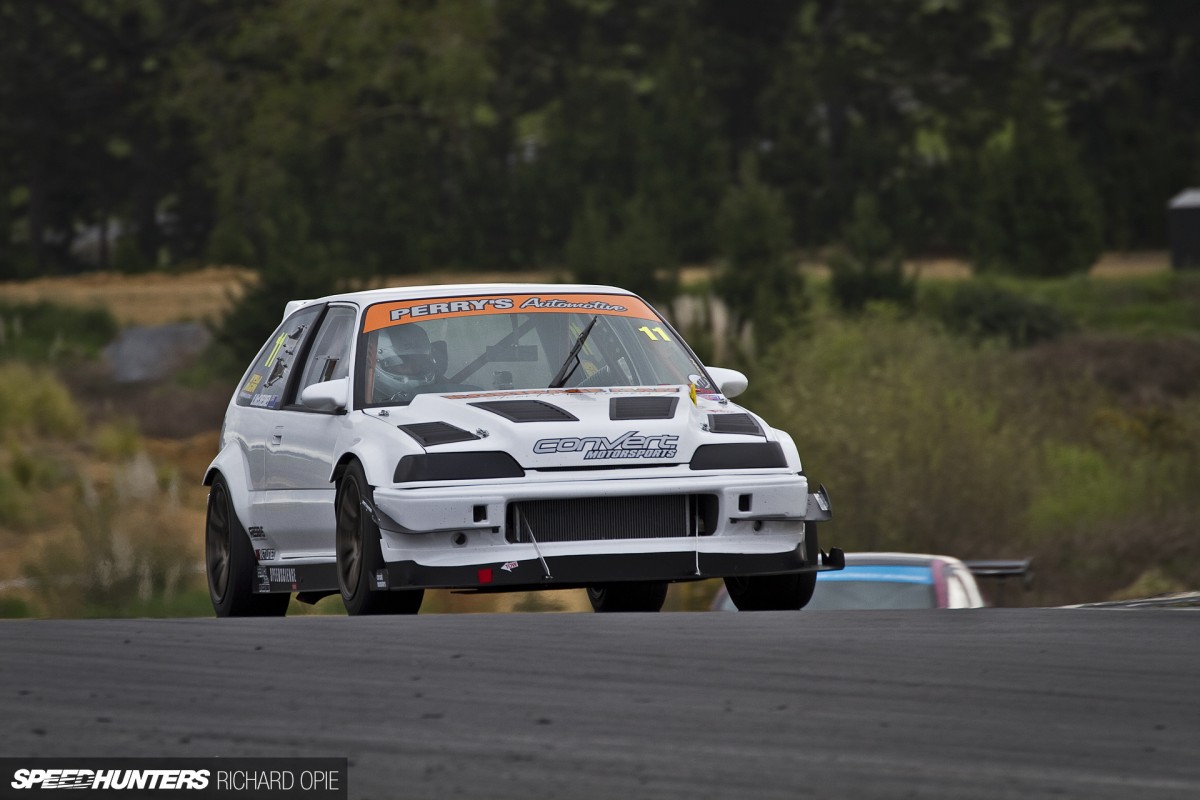 In a situation familiar to many campaigners of vehicles enriched by much larger powerplants, the off season will see the opportunity to address some of the shortcomings of the EF chassis caused not only by the substantial increase in power, but also the heightened levels of grip and downforce acting upon the structure. Ollie commented that the grip afforded by the aero, suspension and tyre combo is actually tearing the 27-year-old chassis apart, so reinforcing of stress points among the original monocoque is taking place, along with additions to the rollcage also increasing the level of torsional rigidity and eliminating the problematic flex.
All of this with one clear, and focused goal in mind. With the intention to campaign the Civic solely in time attack competition, this means Ollie can throw away the race class rulebooks and concentrate on pure, simple front-wheel drive lap time domination.
Richard Opie
Instagram: snoozinrichy
richy@speedhunters.com
Photos by Peter Kelly
Instagram: speedhunters_pedey
pedey@speedhunters.com
Ollie McChesney's K20A-Powered 1988 Honda Civic EF3
Engine
EP3 Civic Type R sourced K20A, Buddyclub valve springs, Supertech retainers, SVM camshafts, OE Honda RRC inlet manifold, Blox 70mm throttle body w/adaptor, custom alloy intake arm, Karcepts throttle cable and billet bracket, Convert Motorsports custom stainless steel header & 3-inch stainless steel exhaust, RDX injectors, Speedflow 3000hp fuel filter, Hybrid racing fuel rail, AEM fuel pressure regulator, Speedflow AN fittings, Circuit Hero coil cover, Hasport alloy engine mounts, K-Tuned billet water neck, K-Tuned billet thermostat housing, K-Tuned billet idler pulley, K-Tuned heater delete kit, K-Tuned anodised oil cap, K-Tuned IACV rotation plate, Hybrid Racing twin ratchet cam chain tensioner, K-Tuned billet cam chain tensioner cover, K-Tuned billet alternator relocator, K-Tuned hard coolant lines, custom wiring loom, K-Tuned billet TPS, K-Tuned thermo isolating inlet gaskets, Moroso trap door deep sump, Trust thermostatic oil sandwich plate, Mocal oil cooler, Moroso oil filter relocation plate, K-Tuned dipstick, Walbro intank lift pump, custom surge system, Bosch Motorsport 044 inline fuel pump, Mocal fuel cooler, Bolt Boys engine/transmission stainless cap head fastener kit, Hybrid racing radiator hose kit, modified Redline alloy radiator, custom alloy catch can, custom alloy radiator overflow bottle.
Driveline
6-speed K20A gearbox, Spoon close ratio 4-5-6 gearset, Spoon 5.1 final drive, M Factory 1.5-way plate LSD, Exedy Hyper Single clutch, Toda lightweight flywheel, custom cable to hydraulic clutch conversion, K-Tuned braided clutch line, Hybrid Racing shifter cables, K-Tuned billet shifter cable bracket, K-Tuned billet shifter.
Suspension/Brakes
Fortune Auto damper & height adjustable coilovers, 900lb springs (front), 700lb springs (rear), Fullrace traction bar with rose jointed arms, custom front LCA w/hardrace spherical bearings, Skunk2 front camber arms, HRV front hubs, J's Racing roll centre adjusters, Driveshaft Shop 2.9 axles, Hardrace spherical rear toe arms, Hardrace spherical rear camber arms, Hardrace spherical rear lower arms, '98-spec DC2 Integra Type R rear trailing arms and hubs, PCI spherical trailing arm bearings, ASR hollow chromoly rear sway bar, Wilwood Superlite 4-pot front calipers, Wilwood Dynalite 2-pot rear calipers Goodridge brake lines, Wilwood adjustable bias pedalbox, OBP hydraulic handbrake.
Wheels
17×9-inch +17 Work 11R (for wets), 17×9-inch +17 Work CR Kai Ultimate/17×9-inch +17 Buddyclub P1 (for slicks)
Exterior
Custom fibreglass vented bonnet, custom wide steel fenders, modified PCI sideskirts, Lexan windows, J's Racing rear wing, custom rear diffuser, custom front bumper, custom front splitter, sunroof delete.
Interior
Racetech FIA-certified seat, Racetech 6-point HANS compatible harness, KTuned billet shifter, Auto Meter mechanical oil pressure gauge, custom alloy switch panel, AiM MXL digital dash, Momo steering wheel with quick release, 8-point rollcage, billet rear vision mirror, fire extinguisher.
Cutting Room Floor