Get Out & Drive
The evening started off rather quietly. As I often do, I hit up my favourite coffee shop in Tokyo, which I go to because it's the best place in the city to do some serious car spotting. I had a bit of time to kill before I was due to meet with Nate – the owner of the yet-to-be-named RWB 964 I featured earlier in the month. With his arrival it was then a quick convoy drive over to Shinbashi where we were rendezvousing with a rather well-known and respected character in the world of air-cooled Porsches – Magnus Walker.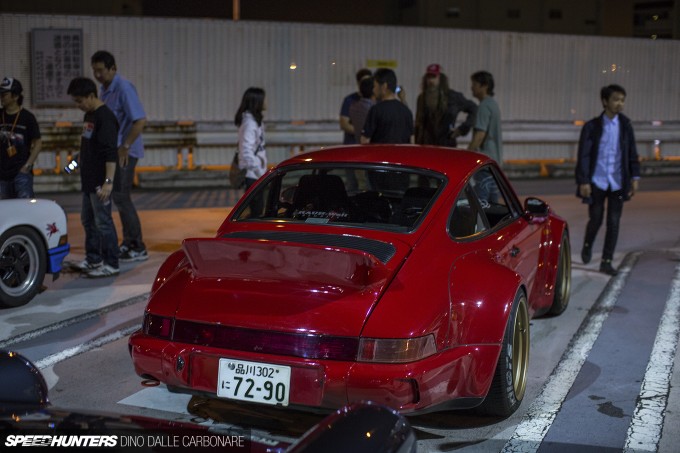 How did this come to be? Well, a few weeks back I received a message from Magnus telling me that he would be coming over to Tokyo for a little visit. His plan was to check out the scene and at the same time take a closer look at what guys here in Japan are doing with their air-cooled collectables. I hadn't seen Magnus since Gatebil last year, so it was a pleasure to meet him again and chat cars for a while. After a few greetings and introductions, we jumped in our cars and before we knew it had crossed the Rainbow Bridge and were pulling in to Tatsumi PA.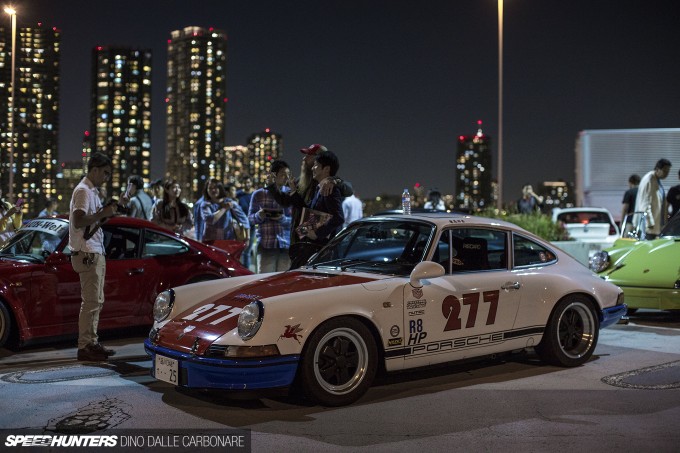 A week prior I had posted on my Instagram account that I'd be dropping by Tatsumi with Magnus, and asked people to stop by if they were free. Upon our arrival we were greeted by a nice selection of cars, and Magnus immediately met up with his friends at the recently-opened Crosspoint25 Garage in Saitama, who had kindly provided a car for him to drive. It looks familiar right? That's because the 1971 911 is a pretty faithful replica of Magnus's own '277' car. As you can imagine, driving along the Shuto and then the Wangan with this car chasing me was quite a strange experience!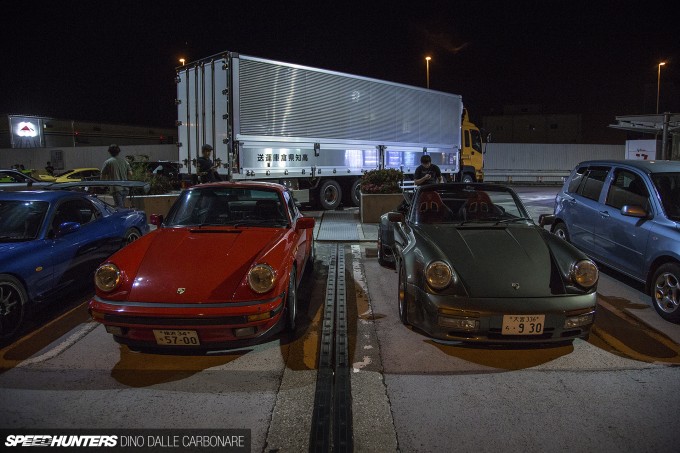 With the air-cooled scene constantly growing and evolving in Japan – as it's doing in many other parts of the world – it was cool to see so many awesome cars turn up for the unofficial meet and greet.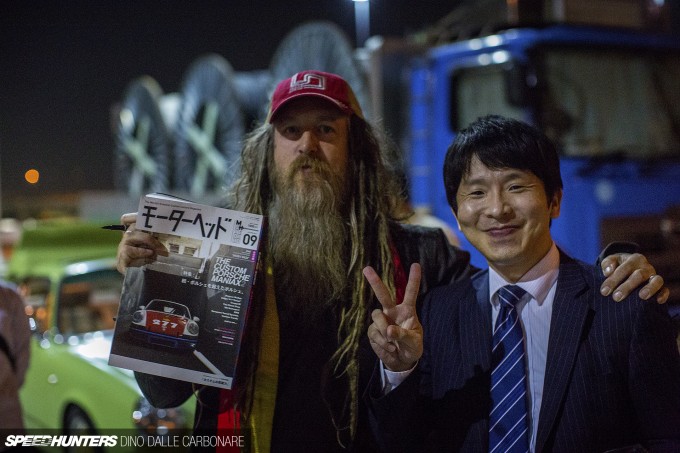 Magnus has developed a real following in Japan – thanks in part to his cars and Downtown LA warehouse being featured in Motorhead magazine on a number of occasions – so for the first part of our time at Tatsumi he was kept busy signing autographs and posing for pictures.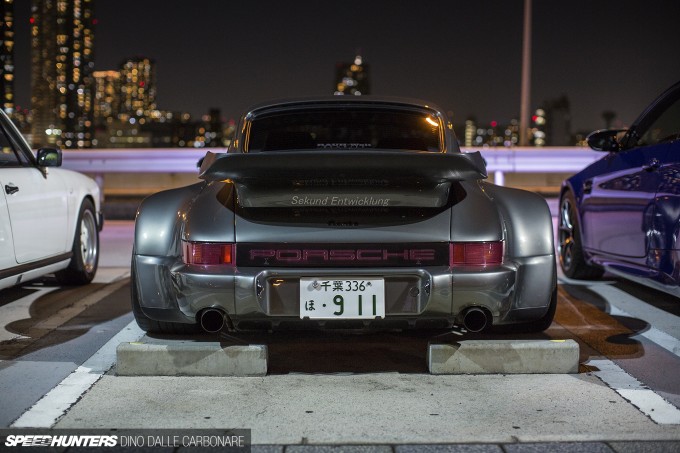 With Nakai-san having built quite a few cars in LA over the last couple of months, RWB Porsches aren't anything new to Magnus. Still, having a few examples turn up, he was able to see just how many flavours and versions they come in. This 930 Turbo was sporting some serious rear girth, just allowing it to fit in between the lines of the Tatsumi parking spots.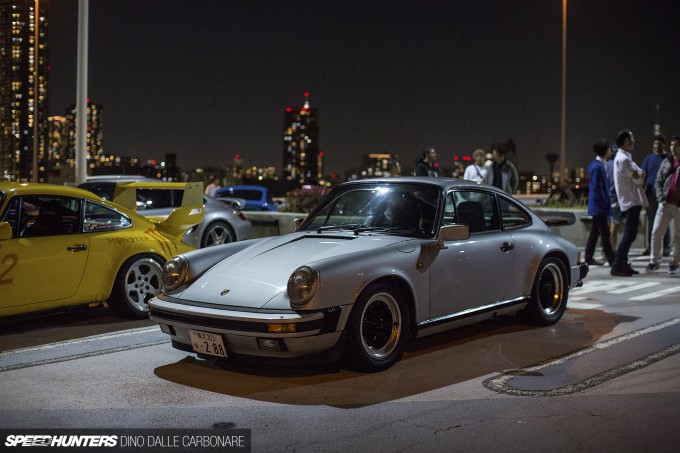 Aside from the odd idlers event or visit to Nakai's shop, my exploration of the Japanese air-cooled Porsche scene has barely scratched the surface of what is out there.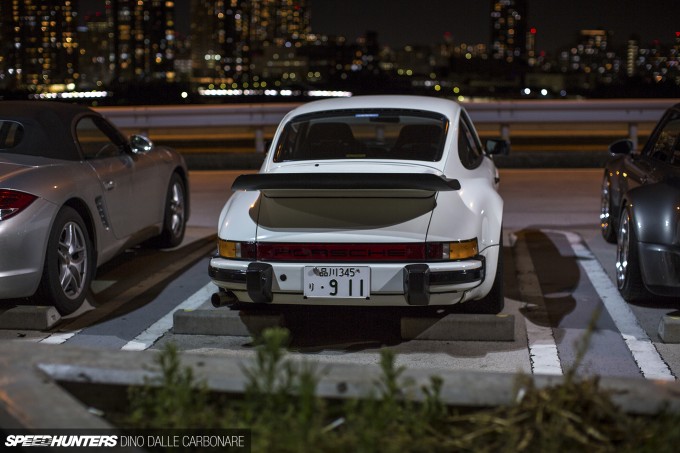 That's something that became pretty clear as I wandered around the awesomeness that had gathered.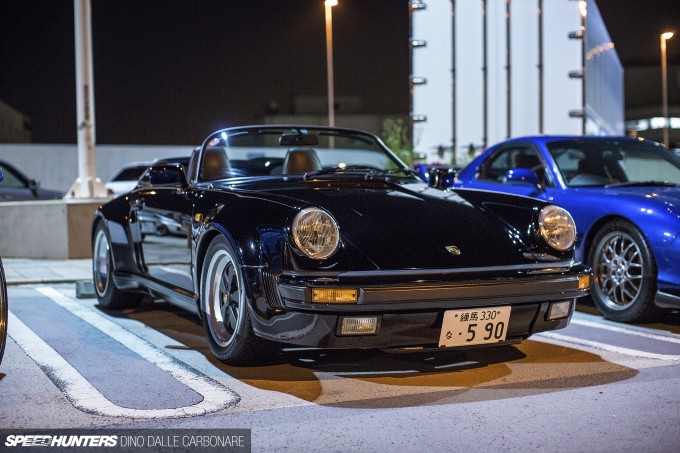 And you can bet that Japan never disappoints when it comes to variety. I had the chance to take a closer look at this 3.2 Speedster, which really made the gathering all the more special.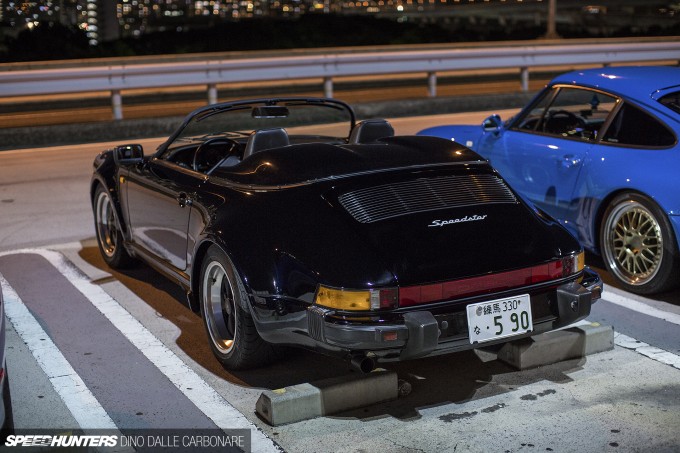 It's definitely not something you come across every day!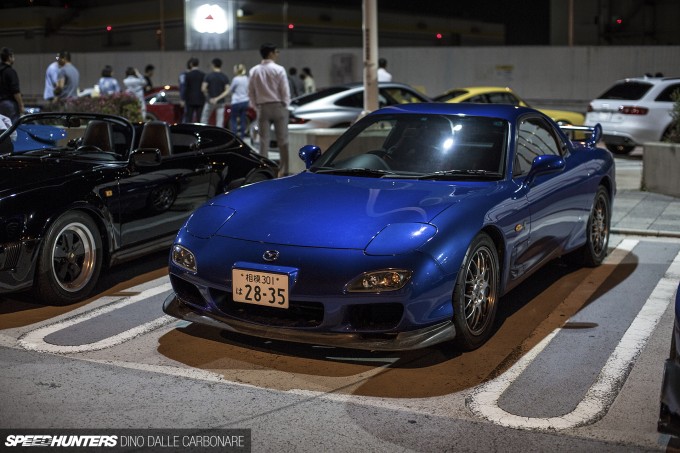 In no way was the meeting exclusively limited to Porsches, and the invitation to meet Magnus was open to everyone. That meant people showed up in all sorts of cool cars. One of my personal favourites was this close-to-stock FD3S RX-7 – a car that still has unquestionable charm more than 20 years after its introduction.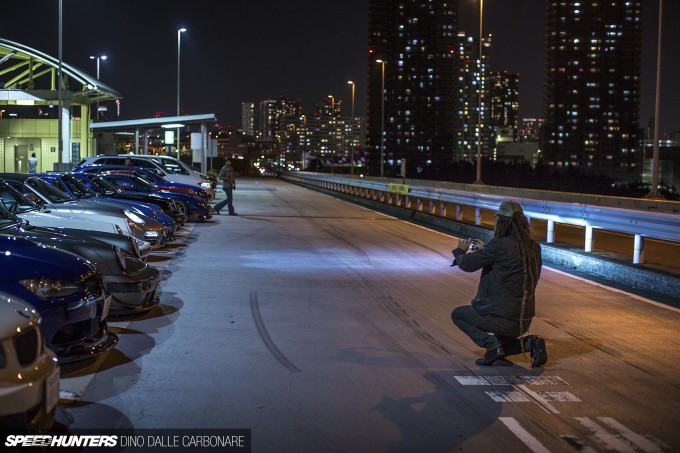 Magnus quickly got a feeling for the passion the Japanese have for their cars. And not only the Japanese, because we had quite a large group of foreigners that also showed up in a wide range of machinery.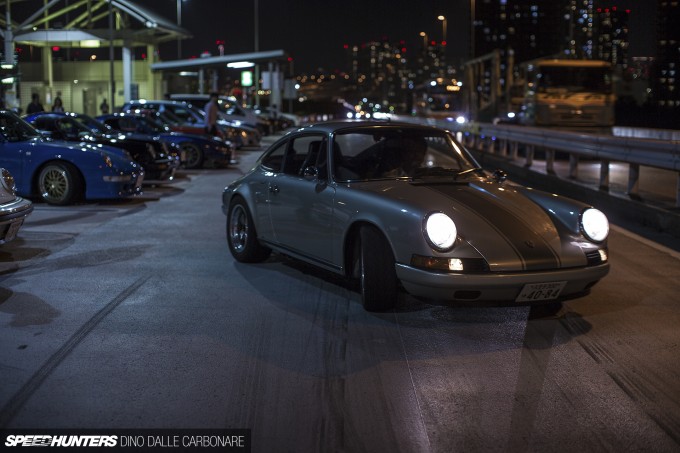 Words cannot explain how much love I have for a simple long-hood 911 just like this. It's unfortunately way too late for me to jump on the Porsche bandwagon over here, as prices have really skyrocketed in Japan too. But then again, you never know what may pop up in the future…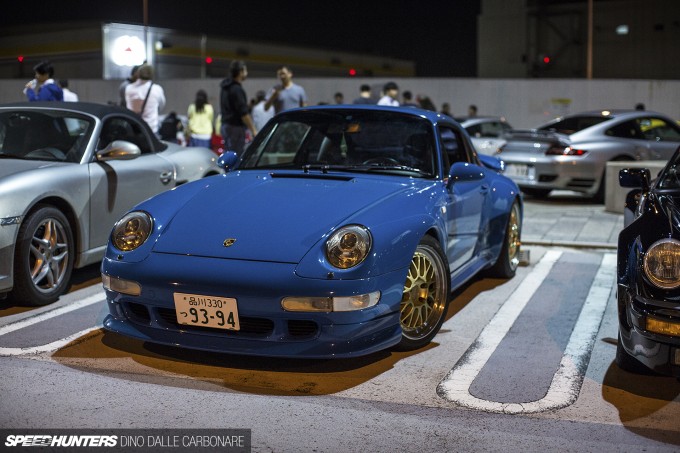 As you can see, it wasn't all Porsche stuff from the '70s and '80s either – there were also a few 993s that showed up, as well as a 997 Turbo which you can make out in the background of this shot.
A Quintessentially Japanese Selection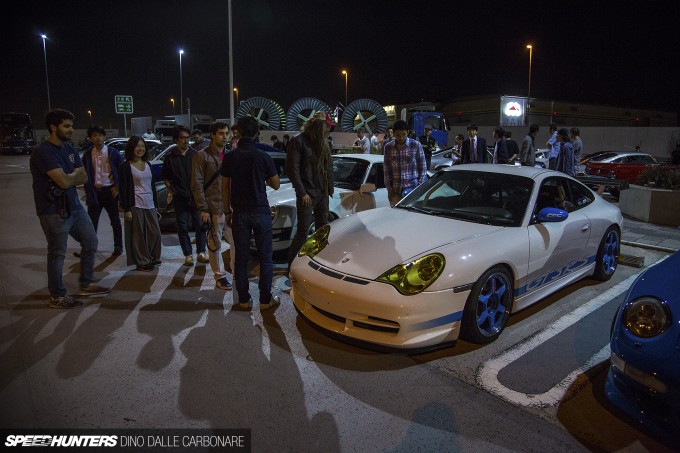 I was quite happy that this 996 GT3 RS turned up, as at it gave Magnus a chance to see a Porsche modified with one of the most 'Japanese' touches of them all: a set of RAYS Volk Racing TE37s – in this case color-matched to the car's light blue highlights. I'm a big fan of the TE37, but it always surprises me seeing them fitted to 911s as they are usually sporting a flat-face design, which changes the look quite drastically.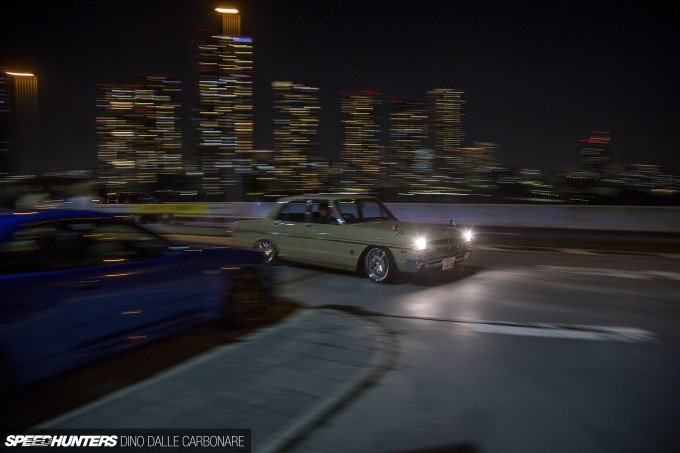 As far as unexpected cars go, this Gloria Super Deluxe sitting on lowered suspension and a set of billet wheels was right up there. The above-average concentration of Porsches must have scared the owner into parking it right down the back of the PA, but it was still a nice sighting.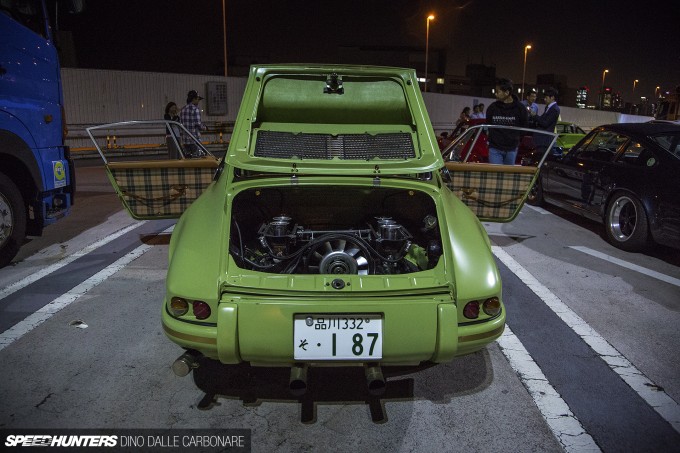 However, the car that truly blew me away was this one. My feelings towards it were only strengthened after chatting to the owner and discovering what a journey the project has had in the last year.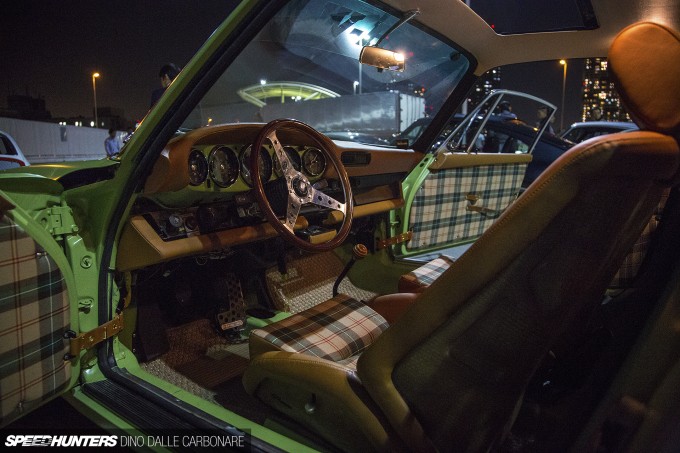 I won't divulge too many details now, because as soon as he's completed the last minor touches to the interior I'm definitely going to be featuring it. But let's just say that it's one of the most unique Japan-based 911s I've ever come across.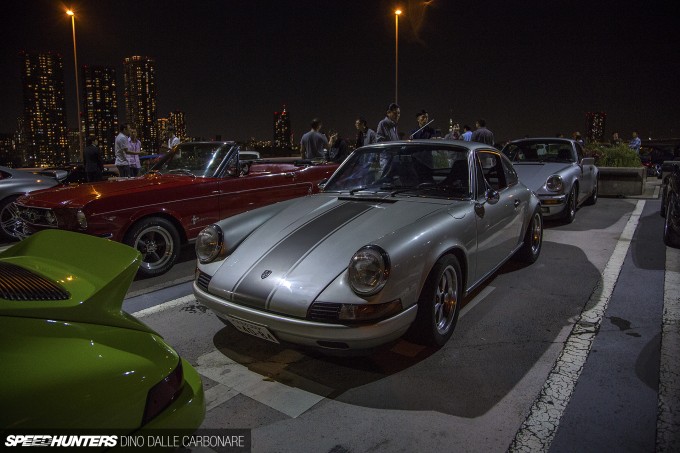 There's that silver 911 again. Simplicity rules!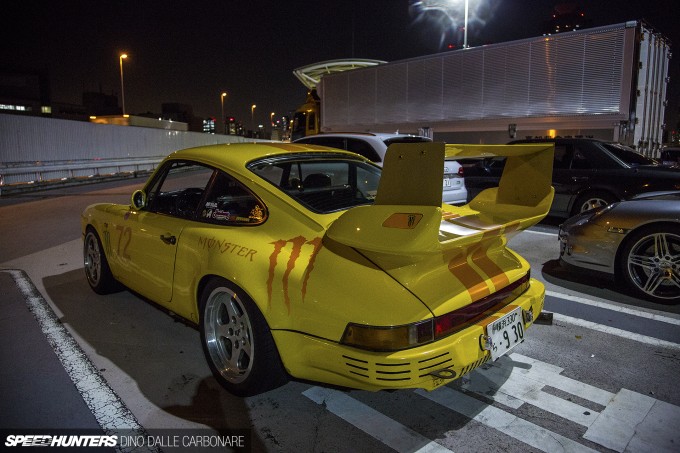 After seeing a couple of cars in the PA, as well as mobile phone pictures everyone was showing and exchanging, Magnus quickly noted that the Japanese seem to love cutting out slats and additional venting into their rear bumpers. It's sort of a RUF kind of look, as this 930 on RUF wheels perfectly exhibited.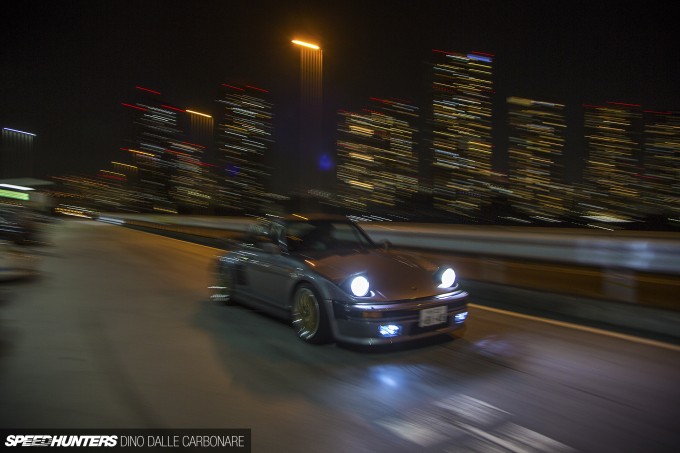 A slant nose? But of course! We all know how many of these cars exist in Japan, and their premium over the stock 911 and rarity has always made them a hot collectable.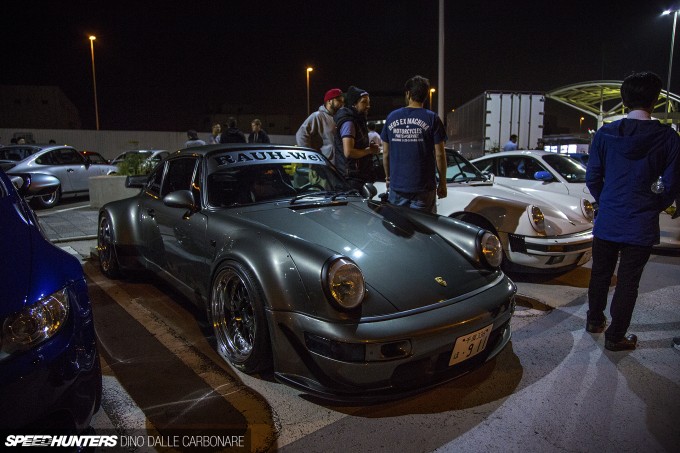 Here's a front shot of the RWB 964 we saw further up. Yep, it looks just as wide from this angle!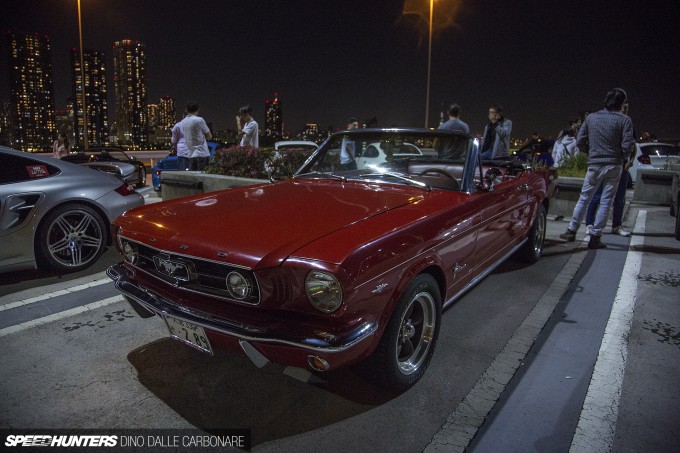 Somehow this Mustang had infiltrated the 911 ranks, but I really don't think anyone was bothered by its presence. It was stunningly restored and looking just as beautiful as I'm sure it would have been on the day it rolled off the production line in Detroit.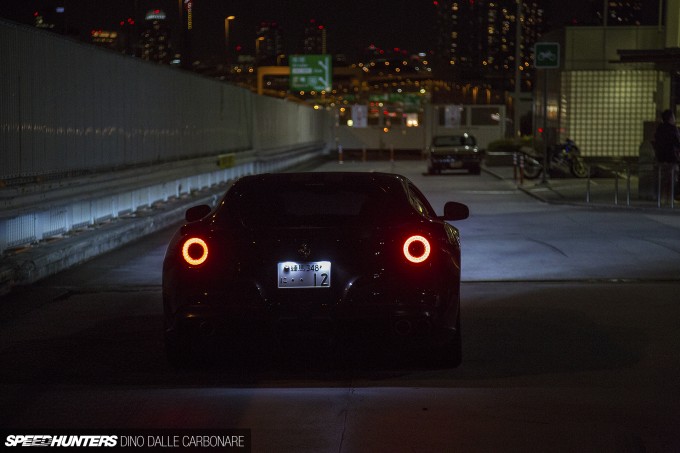 Then one of Maranello's finest crawled by – its unmistakable high-pitched idle providing the soundtrack. It disappeared to the other side of the PA as quickly as it had appeared.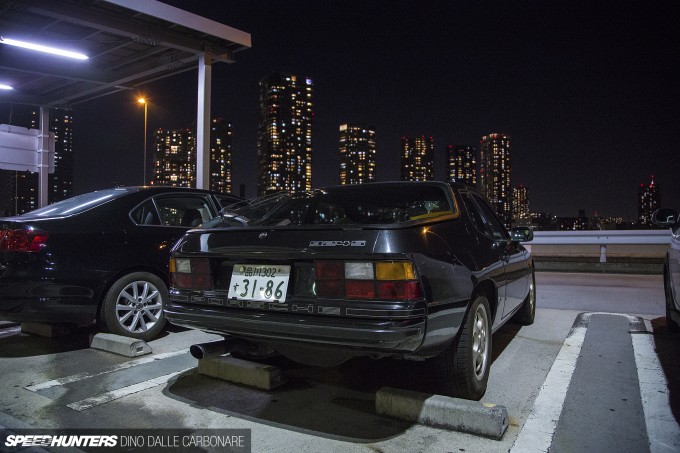 Magnus was telling me that he had recently acquired a 924 Carrera GT, so it was quite fitting that there was at least one 924 in the line-up – an extremely clean S variant at that.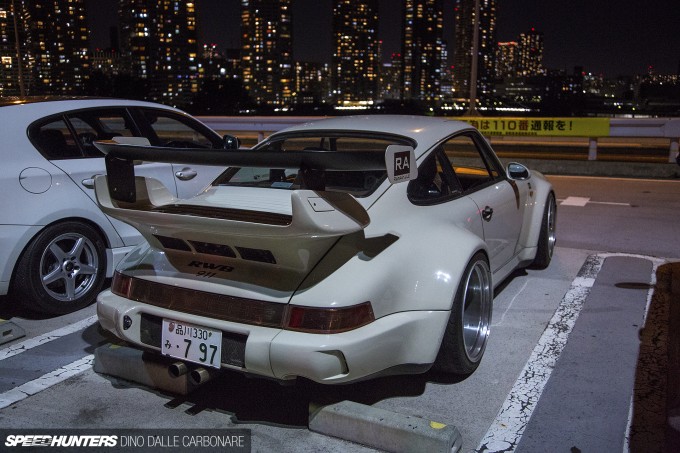 Ah, that's more like it! It wouldn't have been a proper nighttime Porsche meet in Japan without at least one stacked-wing Nakai-special 964 – this one with its fenders seamlessly blended into the body work. After spending a good two hours chatting about cars and taking in all the details of the machinery that had assembled, it was time to make a move.
Daikoku Bound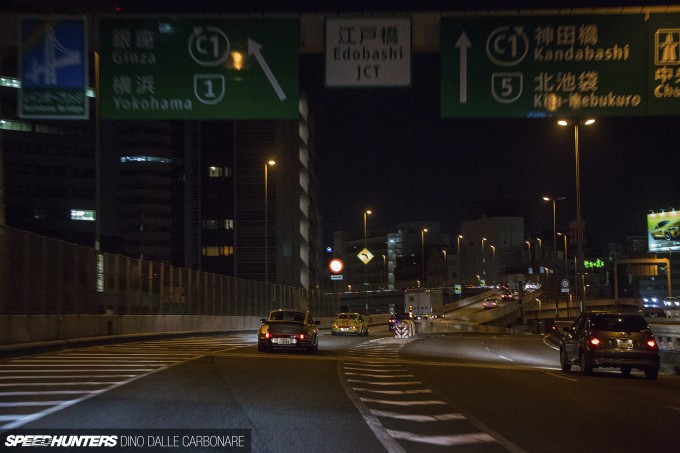 The idea was to head to Daikoku PA, which mean that from Tatsumi PA we would have to loop back onto the Shuto-ko. Of course, this gave Magnus an opportunity to jump into another car in the convoy, and sample for himself the winding, elevated roads that stretch over Japan's capital.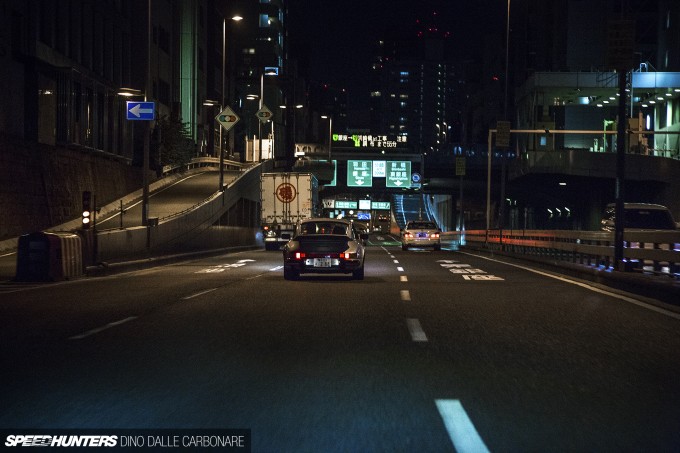 The route took us back on the C1, past Ginza and then back onto the Rainbow Bridge, which hopped us over to Odaiba so that we could merge onto the Wangan.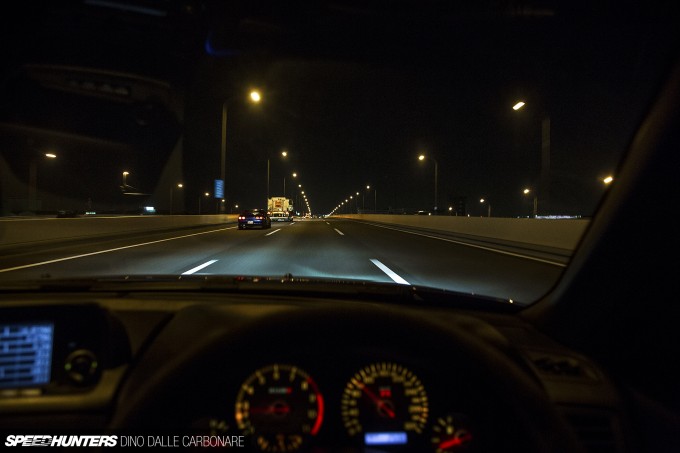 From there it was a 20-minute or so drive straight down to Yokohama. That's right, in the convoy was a Bayside Blue BNR32 that has had the magic touch of Top Secret's Smoky Nagata. As I suspected, it was far too fast for me to even attempt to catch with the still 'kind of stock' RB26 in my BNR34.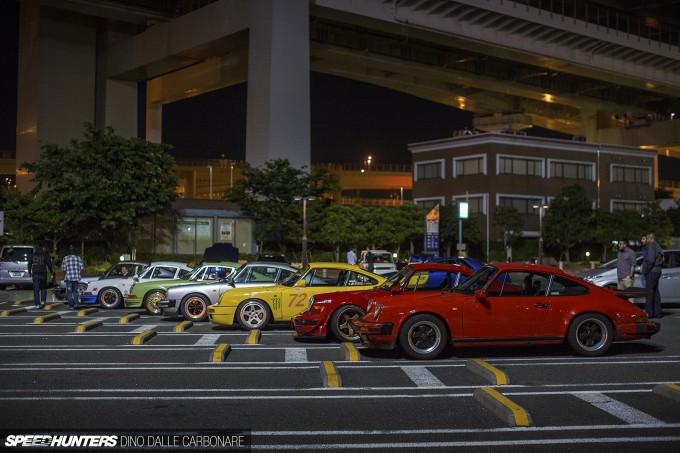 At just before midnight Daikoku was mostly empty. There was a small group of old shakotan Toyotas gathered on the top part of the PA, so our colourful convoy claimed a row of empty spots right under the lights.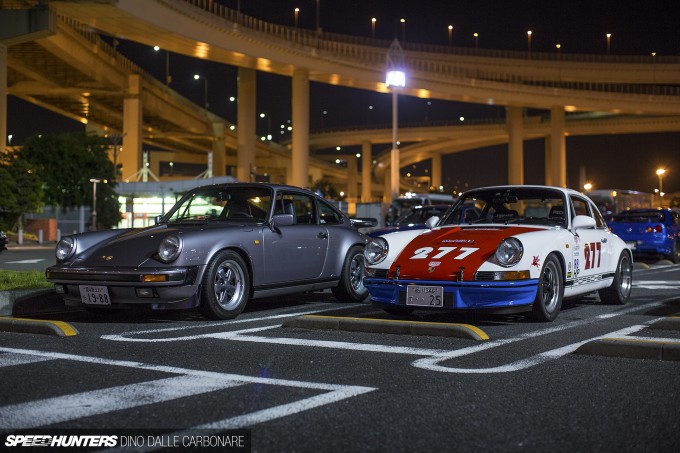 After seeing numerous Speedhunters reports from Daikoku PA, Magnus seemed pretty happy to have a chance to check out Tokyo Bay's favourite meet-up spot first-hand. We all chatted of the good old days when the famous Mid Night club used to own the highways, and what I saw those first few times that I came down here all the way back in 1993.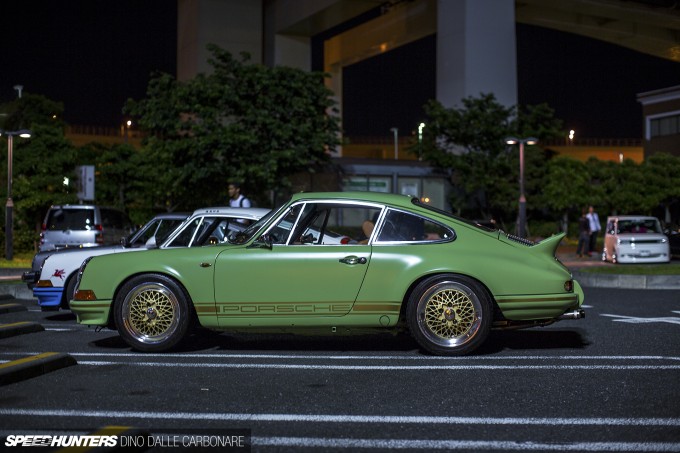 It was the owner of the satin green G-Body 911 that had thrown Magnus the keys, and in doing so given him the chance to drive the recently-completed build on one of Japan's most legendary stretches of highway.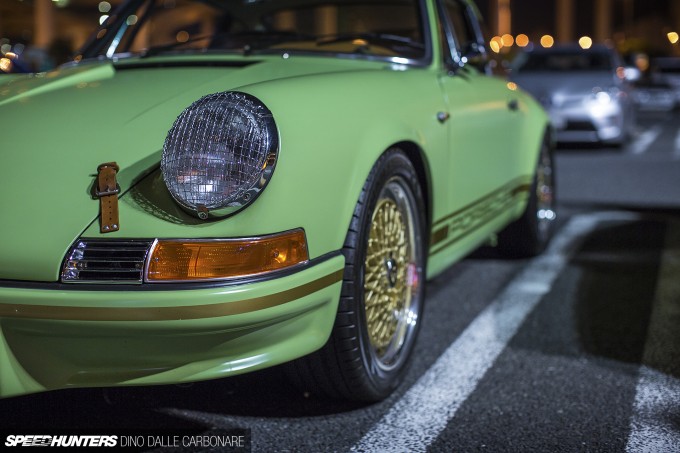 Quite a chariot to have taken down to Daikoku!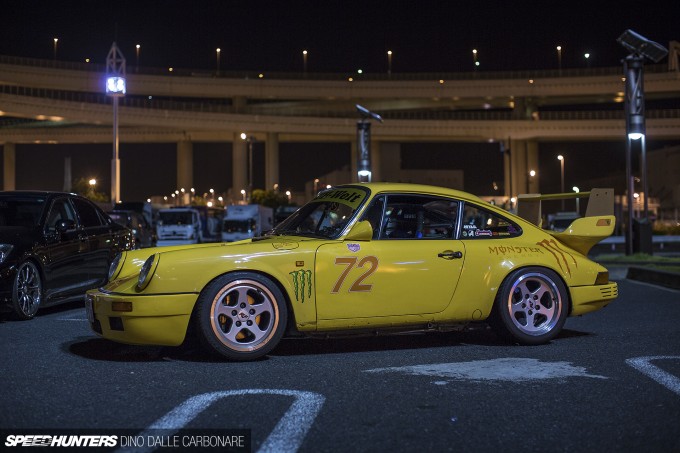 While a lot of things may have changed in the last two decades here in Japan, the passion and perseverance of Japanese enthusiasts shows no sign of slowing down.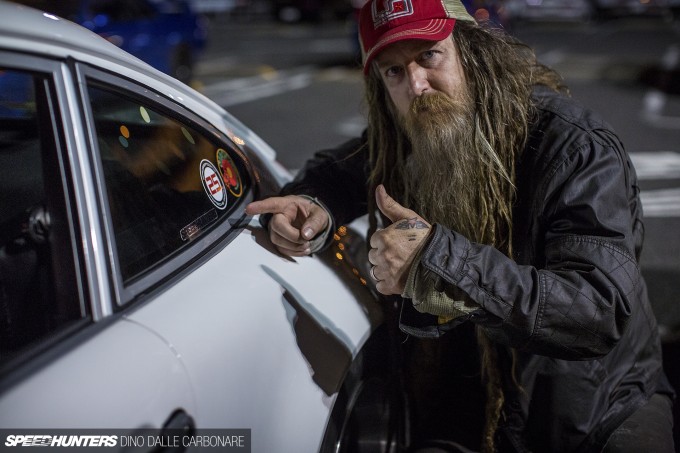 It doesn't matter which scene, style or cars that you associate most with – as long as you enjoy what you are doing, that's the most important part. Magnus seemed to be of the exact same opinion, and in his words, we should all just "get out and drive!"
Dino Dalle Carbonare
Instagram: speedhunters_dino
dino@speedhunters.com