The Bunny Still Has It
Has there been a bigger phenomenon in the aftermarket over the last few years than the rise of TRA Kyoto and Rocket Bunny? We've watched the brand move from small Japanese aero parts designer to a global entity whose products can be seen in countries around the world and whose creator Kei Miura is more recognizable than many well-known racing drivers.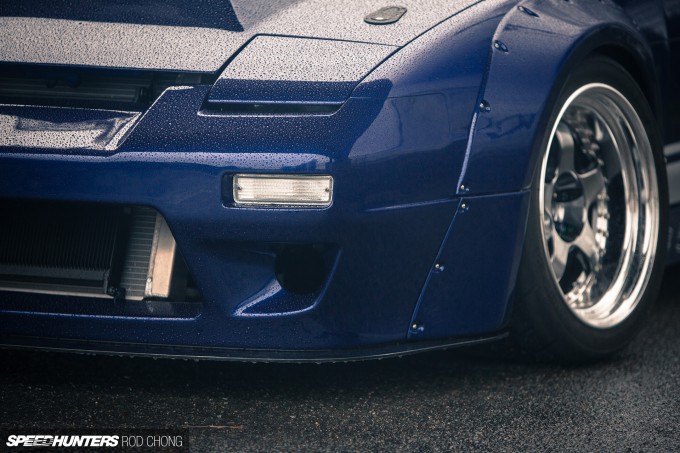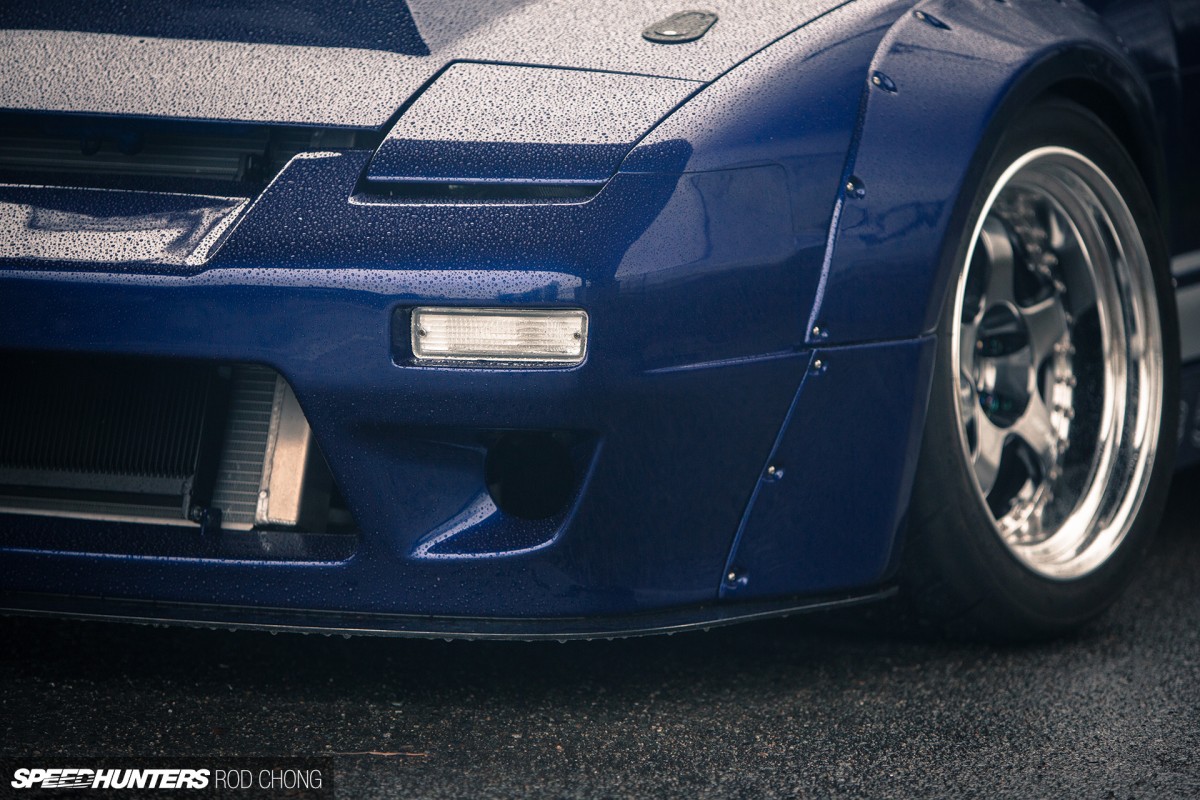 Whether it's a matter of being at the right spot at the right time, genius marketing, or just making cool stuff that enthusiasts want, it's been fascinating to watch the brand grow and evolve over the years. Who else remembers the days when we knew TRA Kyoto for S13s with dish mags and window nets, Kei vans and one hell of a quirky website?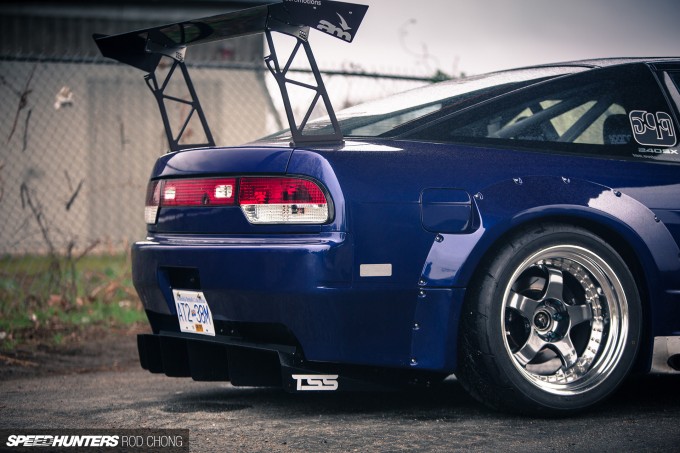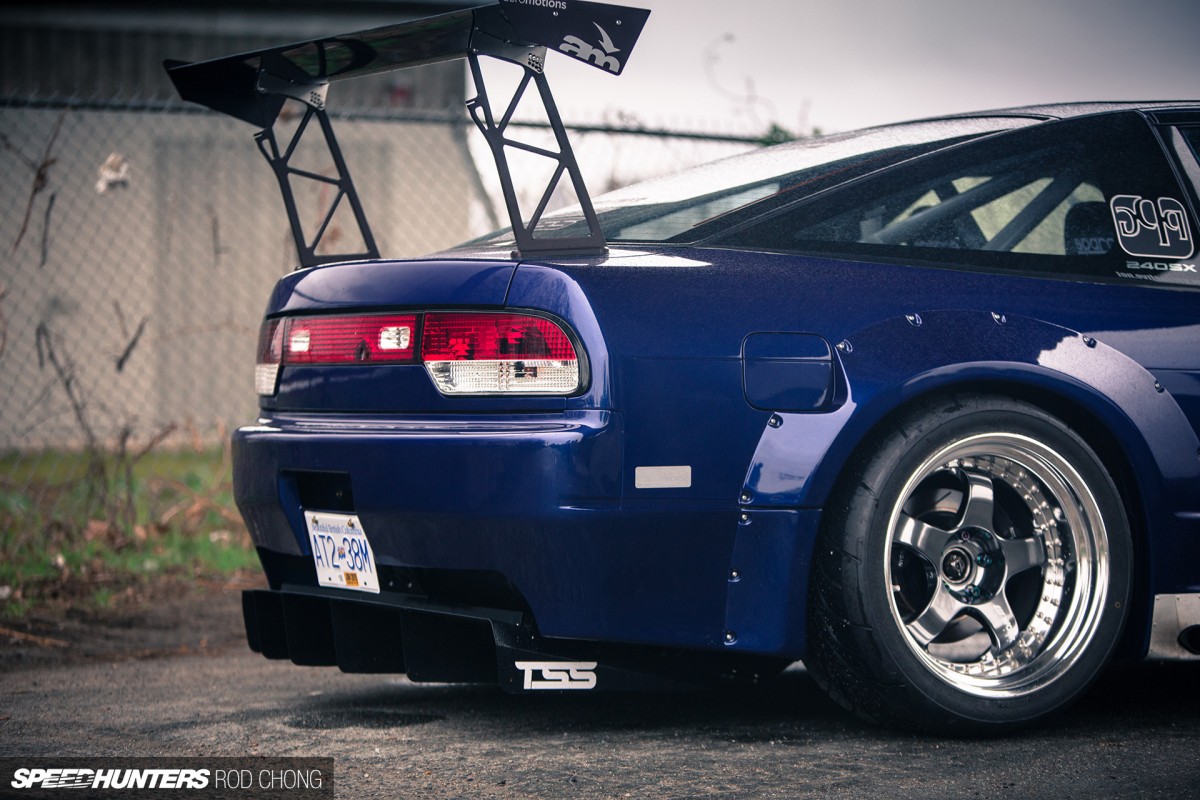 Of course, when anything reaches the level of popularity that Rocket Bunny has, there are bound to be those who label it as played out or too mainstream. It's human nature.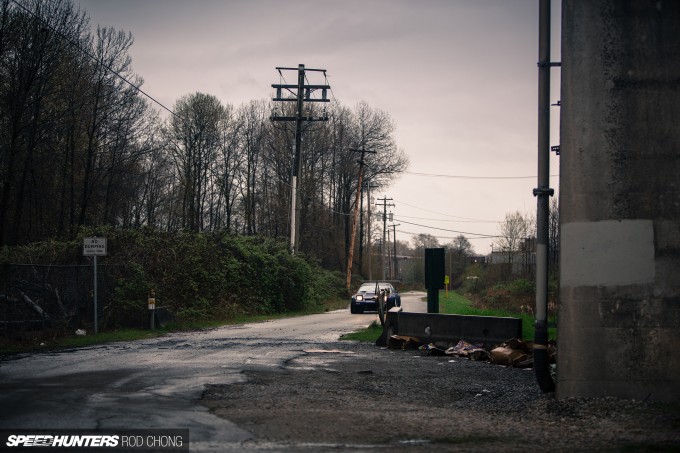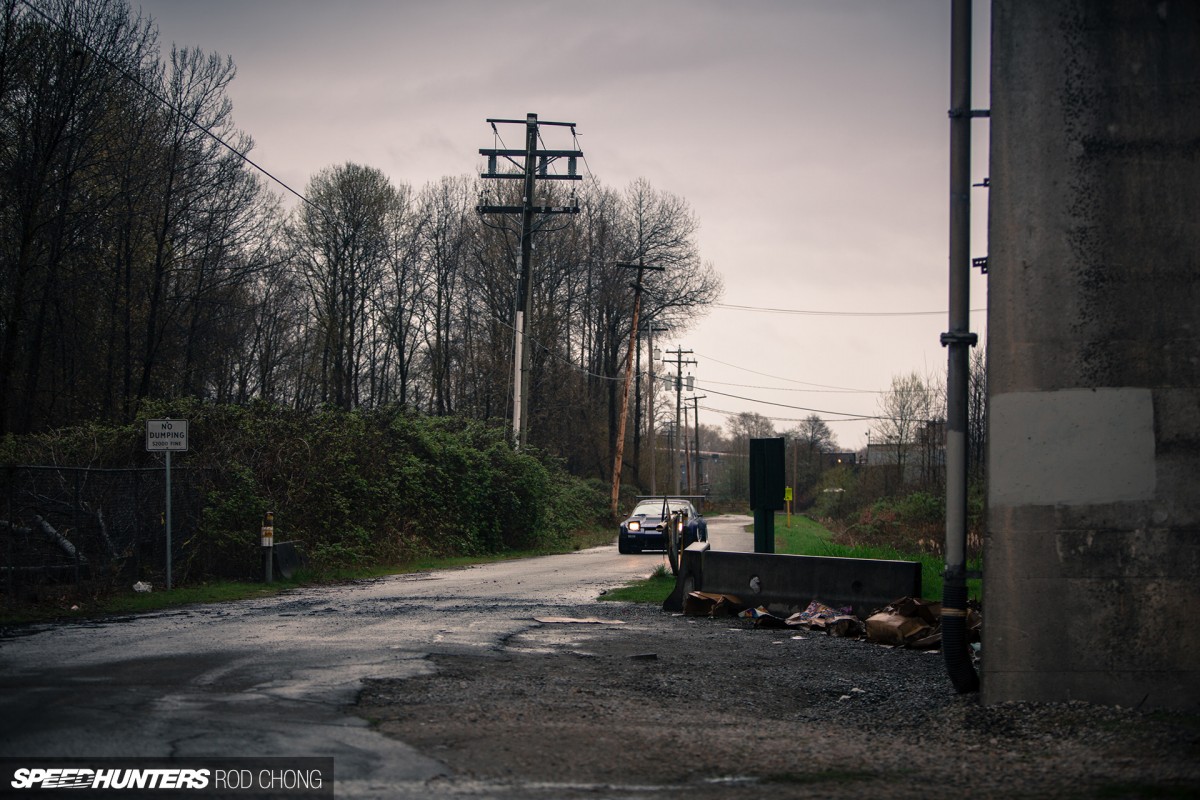 And while it's true that Rocket Bunny parts have become so common that you can't really use them as the primary feature of a build anymore, there are still some very unique, very cool and very functional machines out there which happen to use TRA Kyoto components as part of their styling. You are looking at one right now.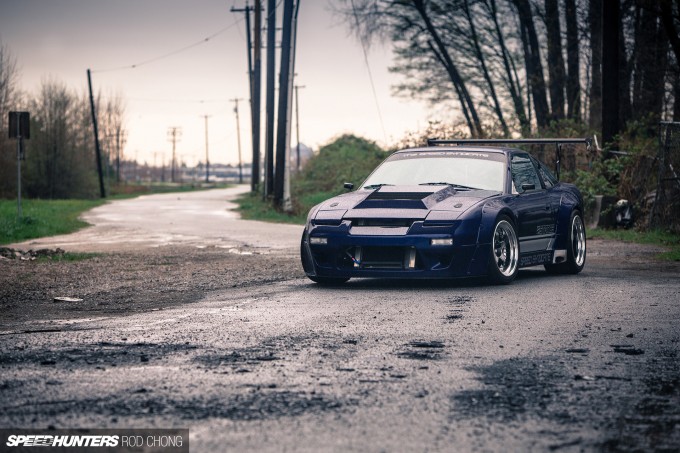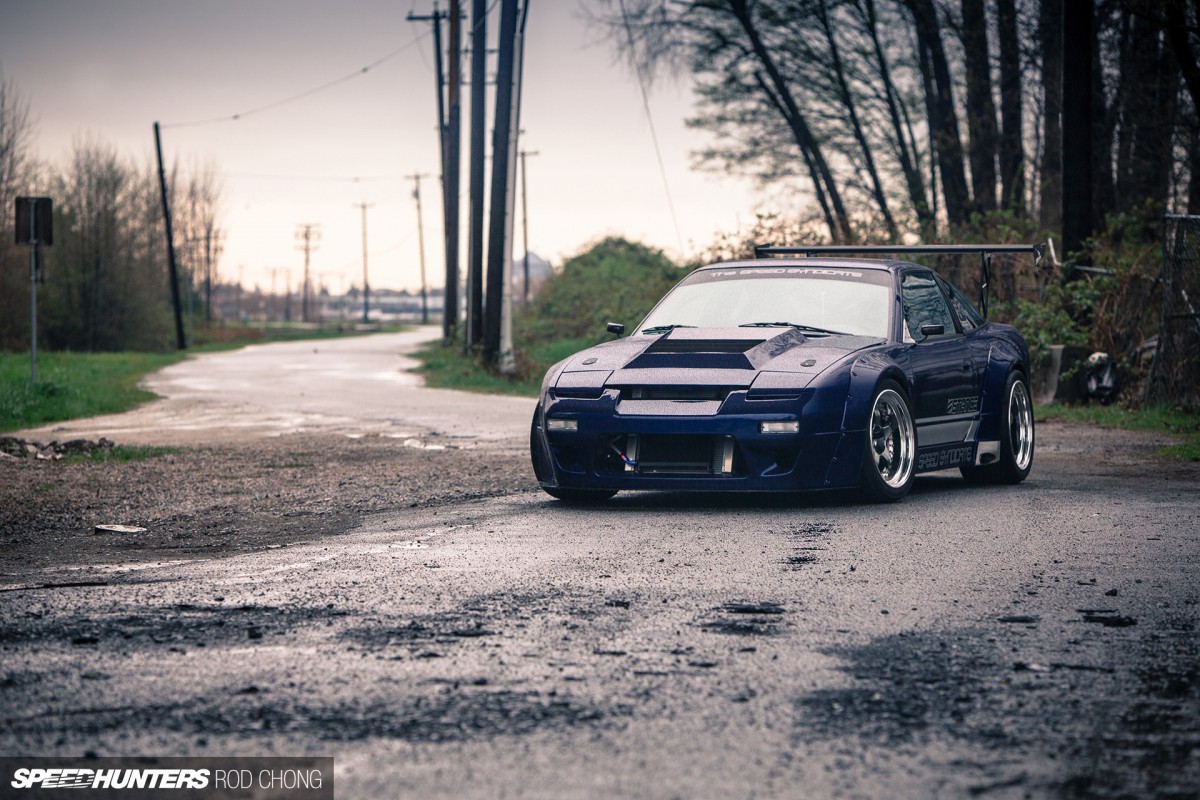 It's a Nissan S13 owned by Quinton Chan of British Columbia, and this thing is special enough on its own merits that I don't want to simply label it as another 'Rocket Bunny S13′. After checking out the car, I think you'll see exactly where I'm coming from too.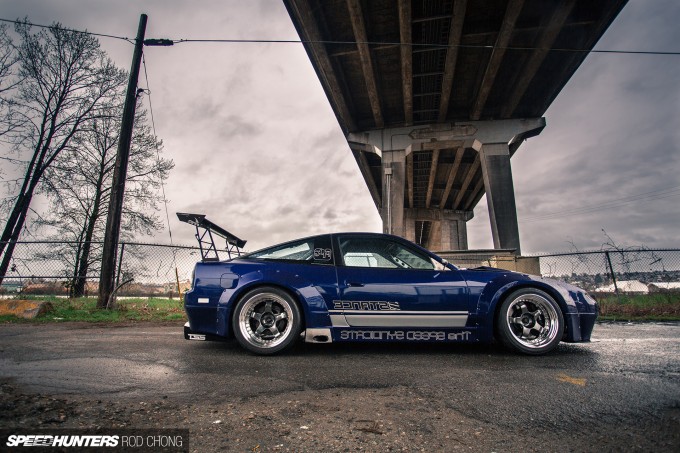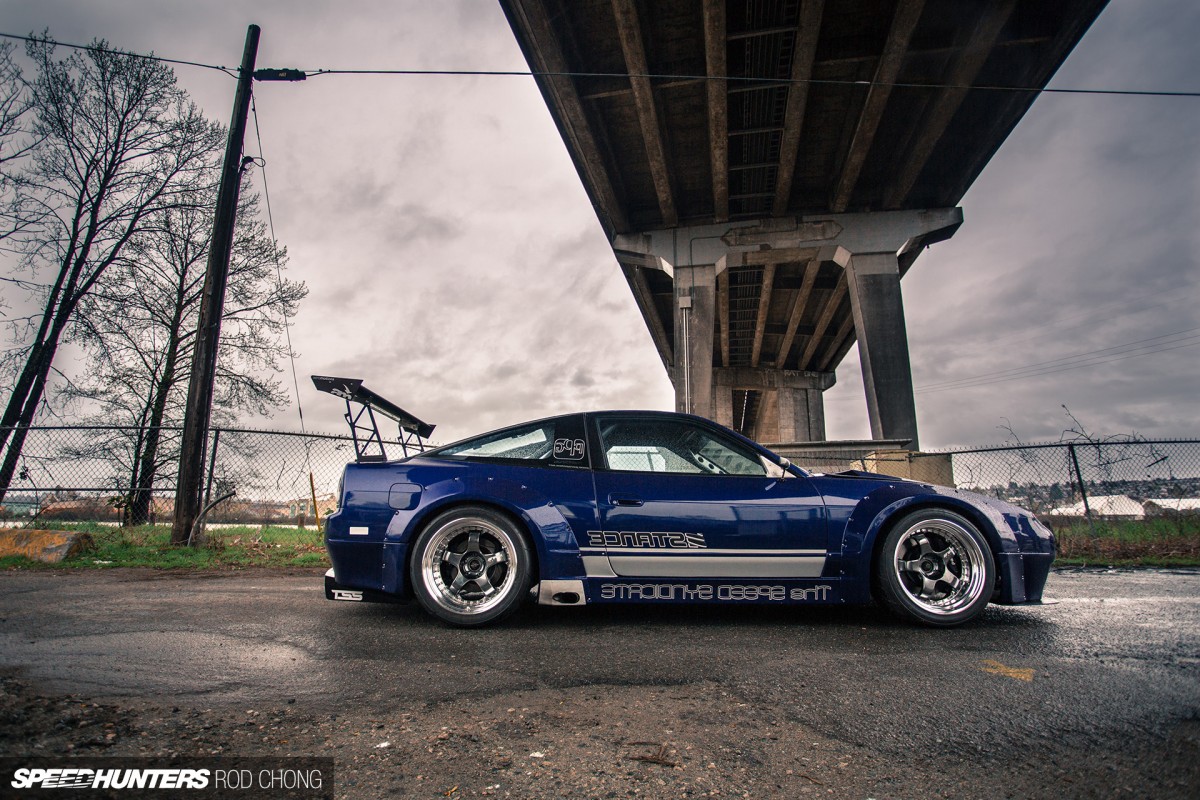 Quinton has owned the Nissan for about four years now, and nearly all of that time was spent converting the stock '92 240SX hatchback into the aggressive, stylish and functional machine before you.
No Stance Queen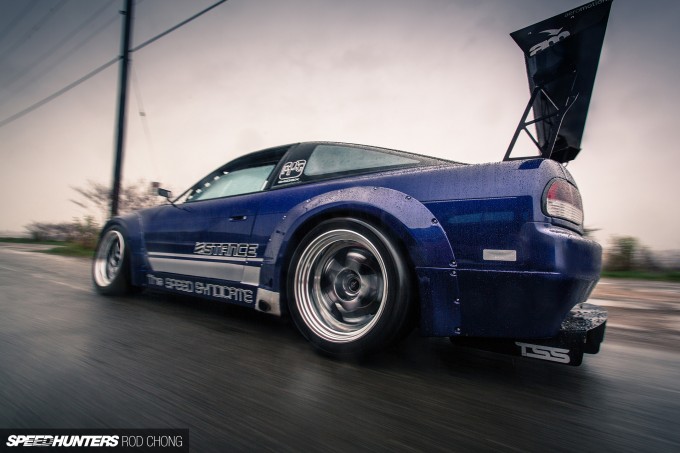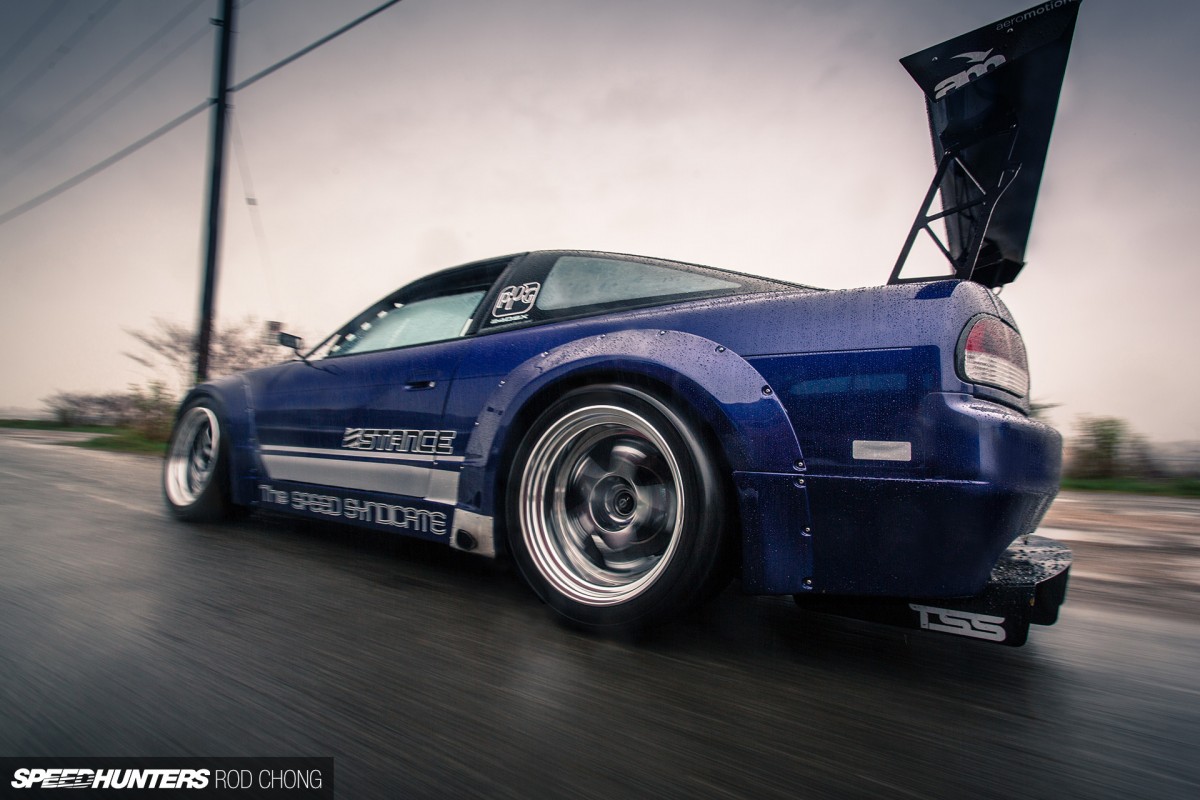 When Quinton began the build the plan was to transform the S13 into a drift machine, but as the project moved along the focus shifted. Rather than building a car designed for sliding, he ended up with a car made for ripping it up at traditional track days.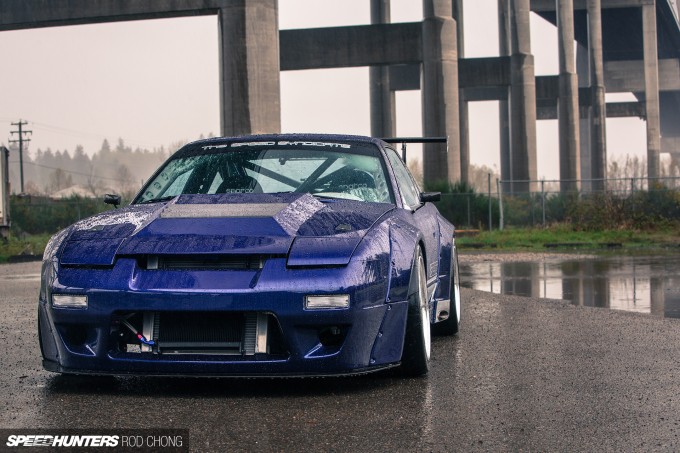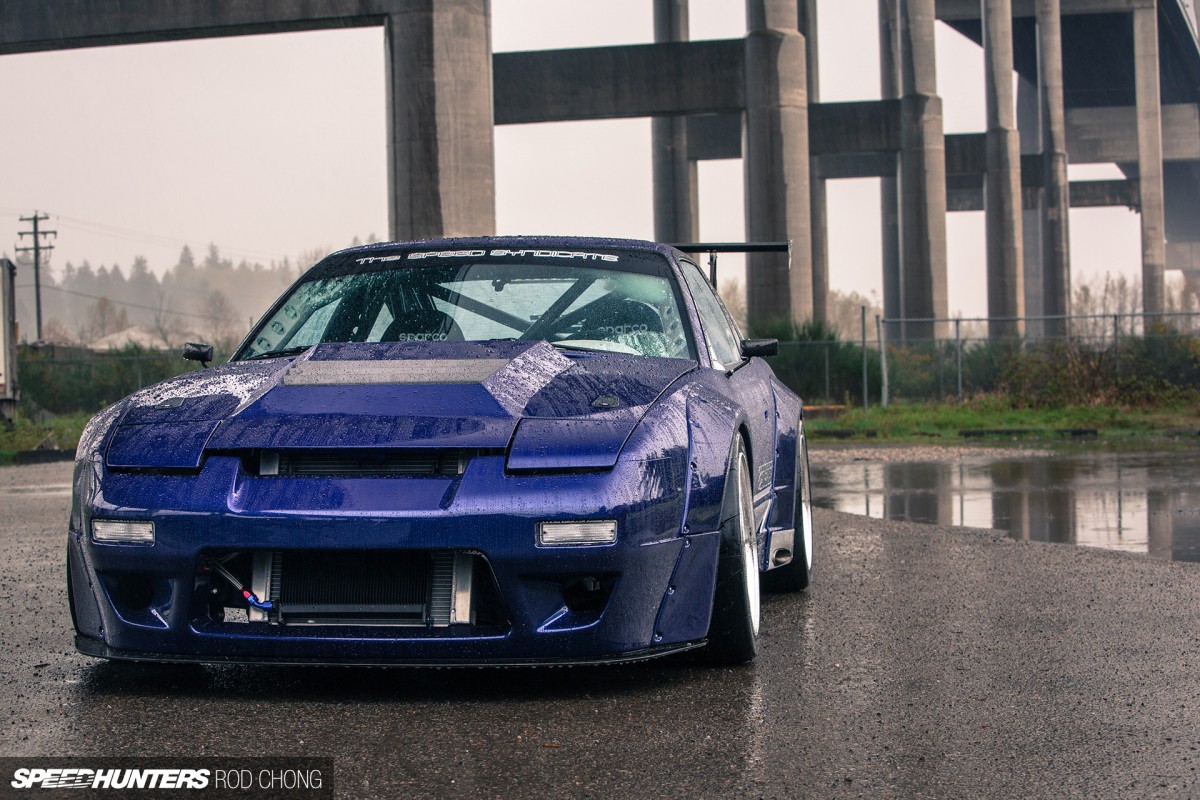 Why the change? Well, for Quinton it was a simple matter of opportunities. There aren't a whole lot of drift events in his region, and he realized that he would be able to enjoy the S13 a lot more as a grip-focused track day machine.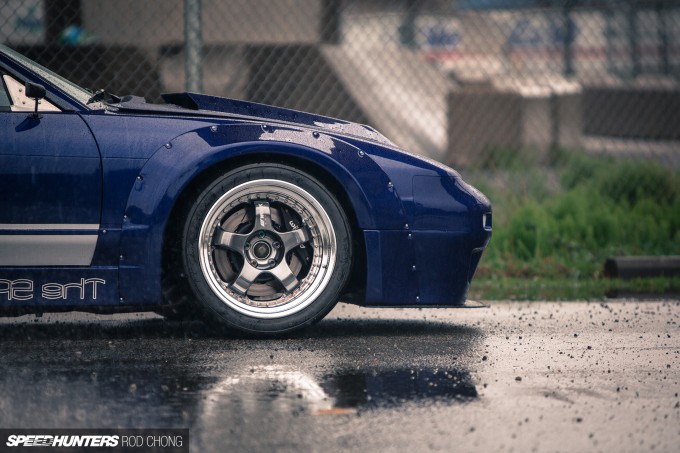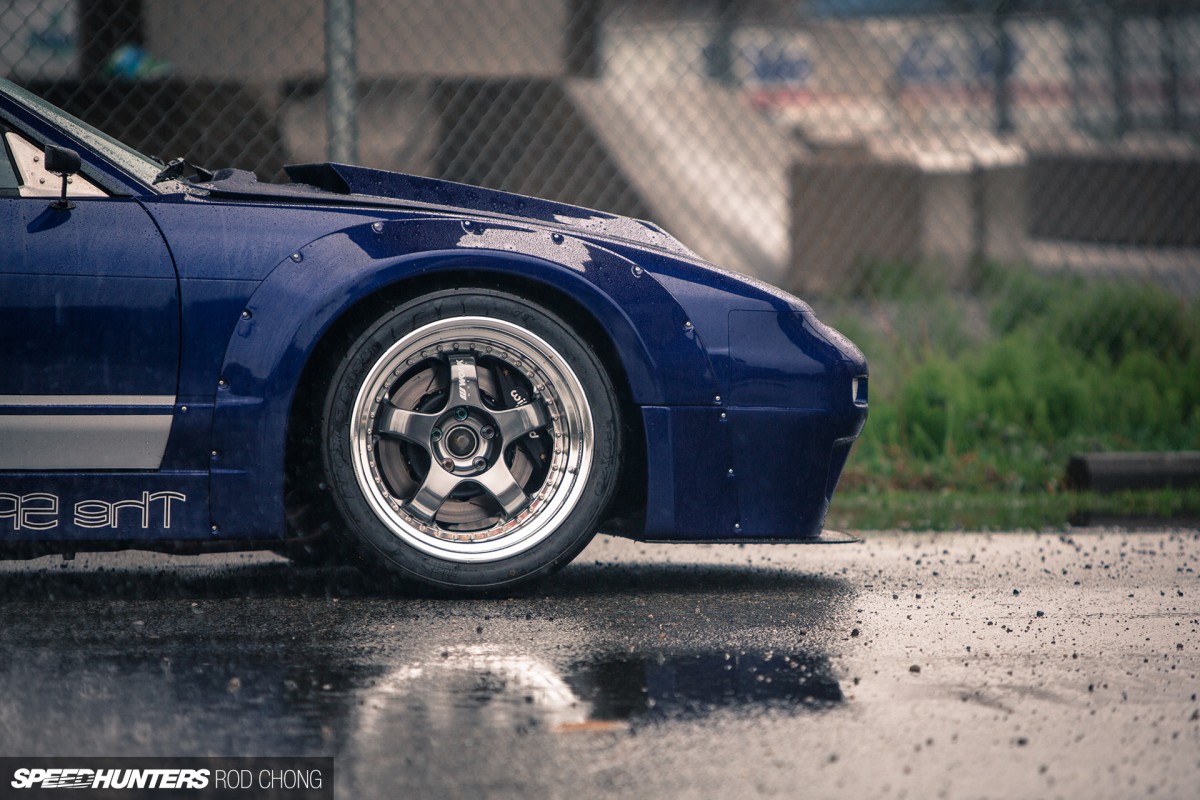 And should you happen across this 240 at a track day in the Pacific Northwest, you can bet it'll be one of the coolest cars in the paddock – such is the aesthetic focus and attention to detail Quinton has put into his build.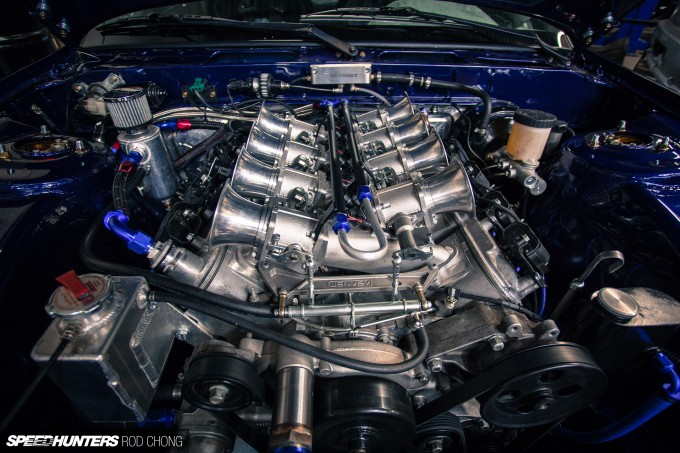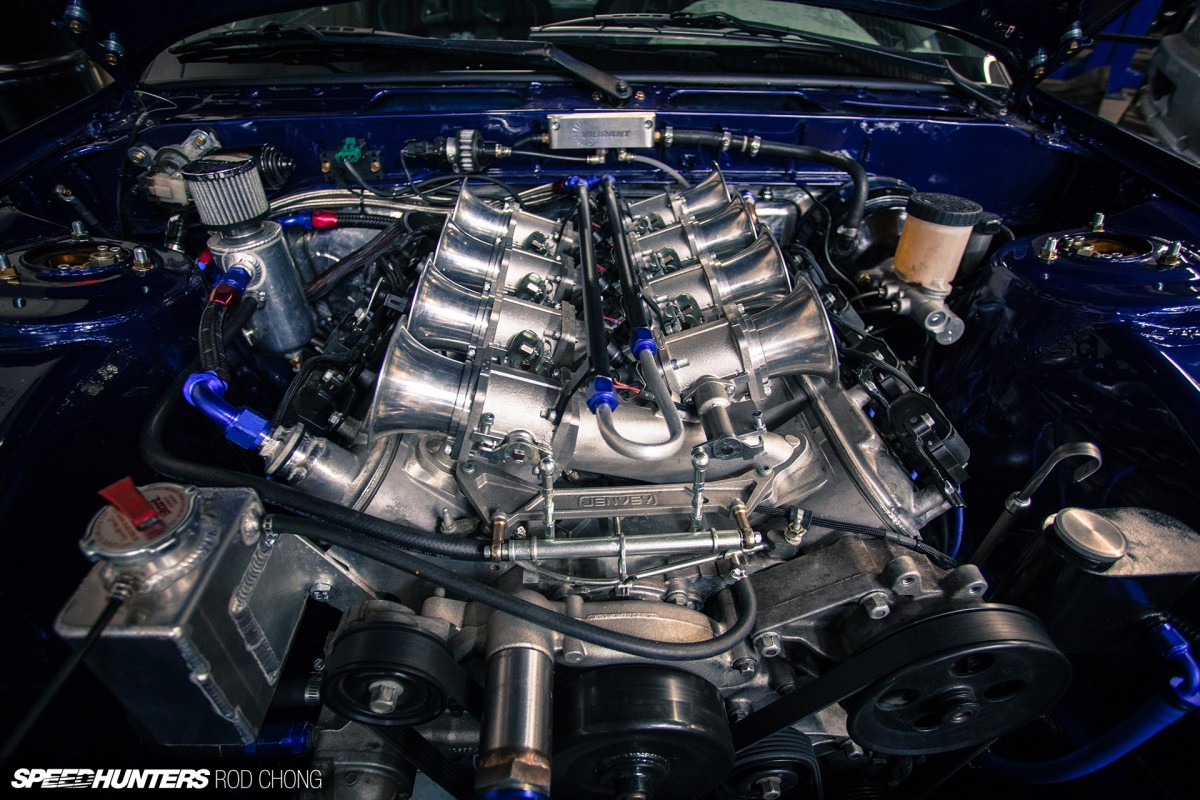 Under the hood sits a 5.7-liter LS6 V8 pulled out of an '05 Caddy CTS-V mounted with a Sikky LS/S13 conversion kit. While there will always be those who scoff at V8-swapped S13s, when it comes to track day enjoyment and reliability, it's hard to beat a setup like this.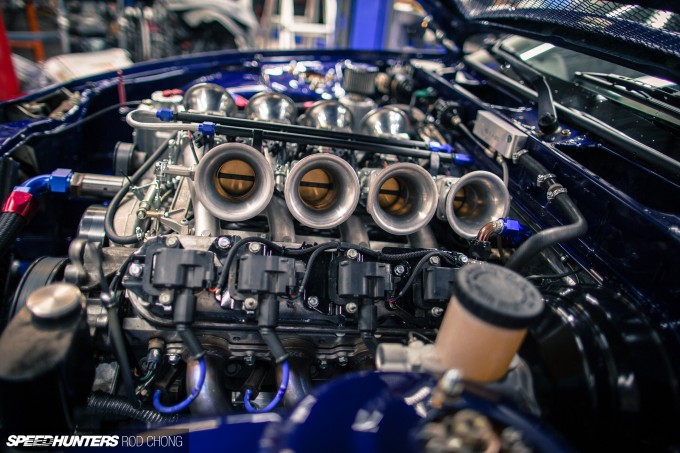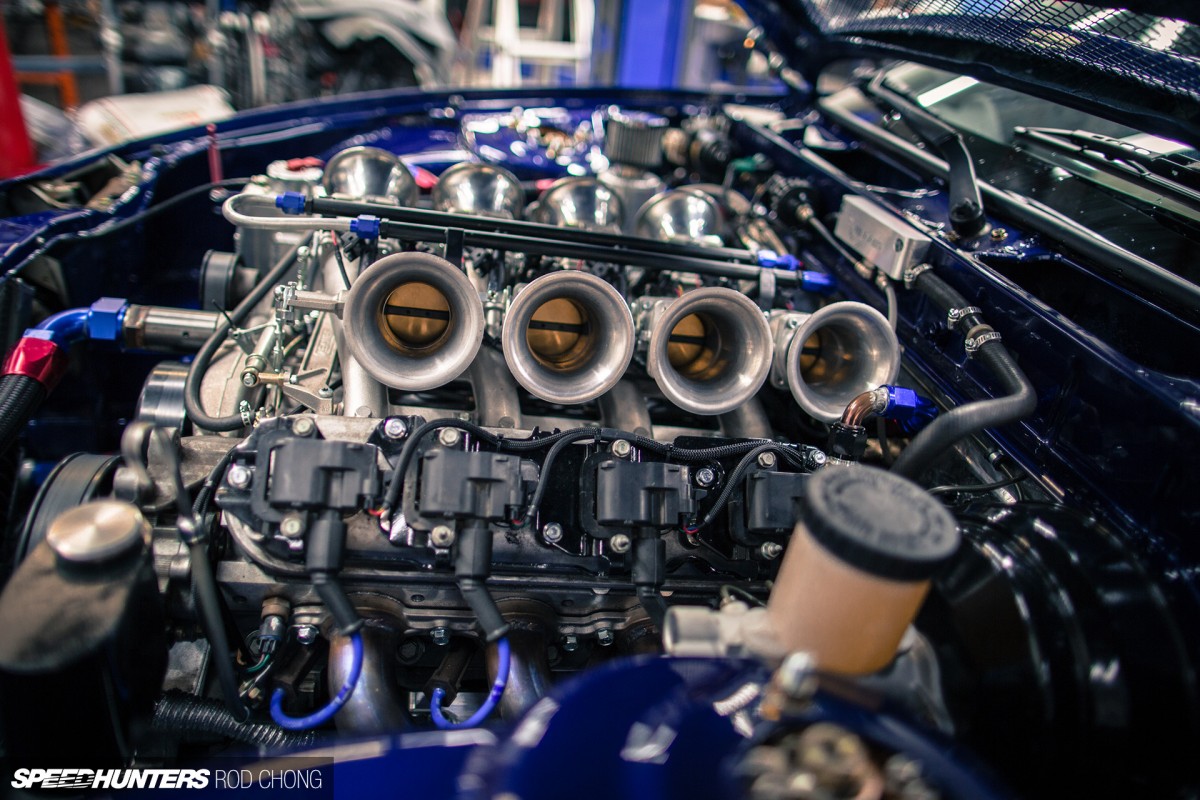 It also helps that Quinton's LS6 has been treated to a few upgrades, including a set of Hayward Performance 52mm Jenvey individual throttle bodies, which not only make power and cool sounds, but add some serious eye candy when he pops the hood. Also adding to the aesthetic factor is the fact the engine bay has been fully tucked by The Speed Syndicate – a Vancouver-based shop which handled the custom fabrication on the car.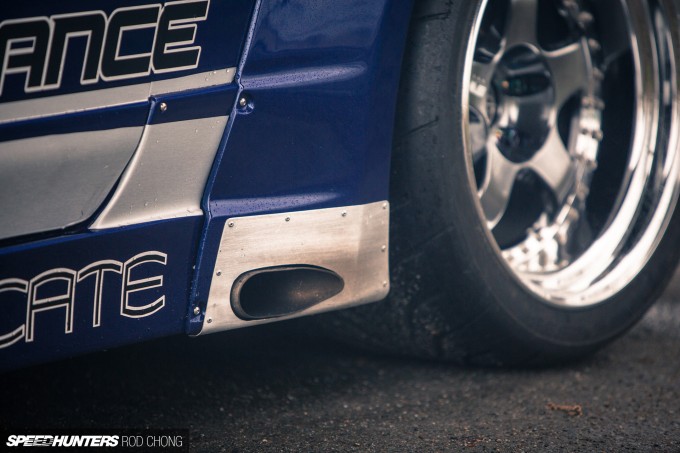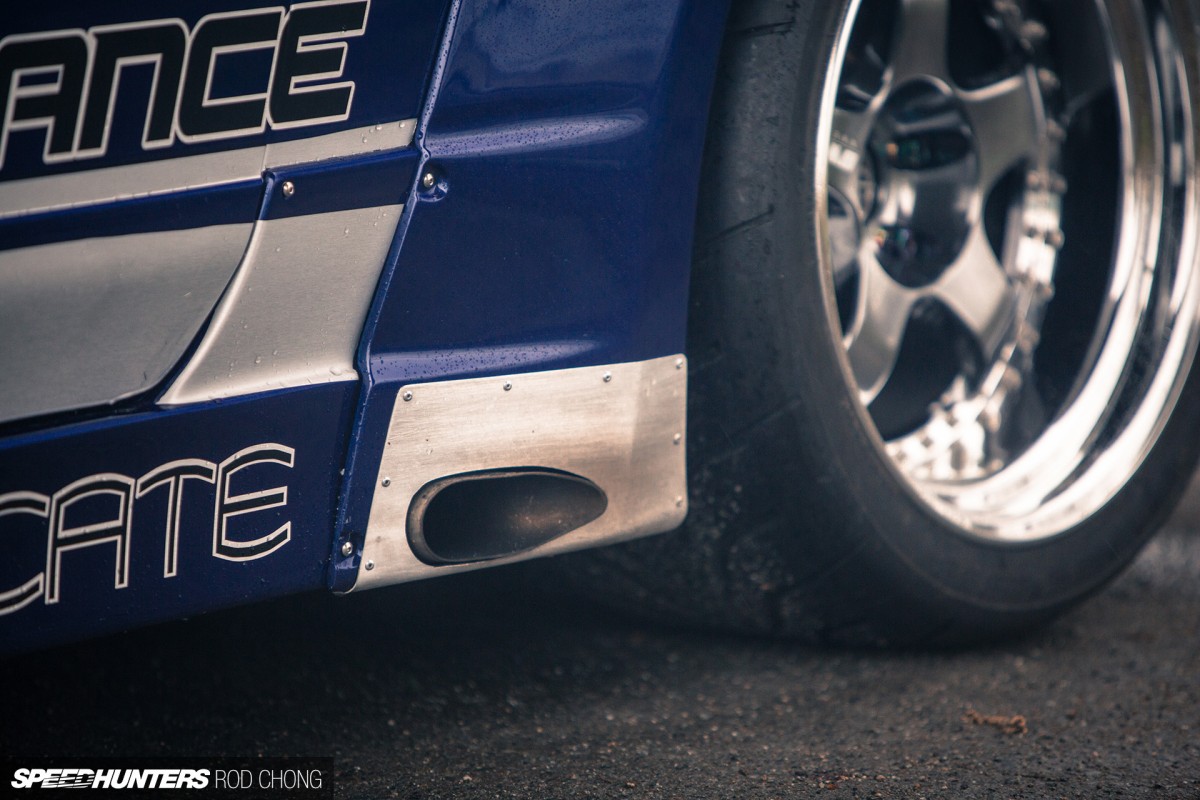 The V8 exhales through a set of Hooker S13 conversion headers out to a custom-built TSS stainless side-exit exhaust with titanium heat shields. The setup looks pretty gnarly dumping out before the rear tires.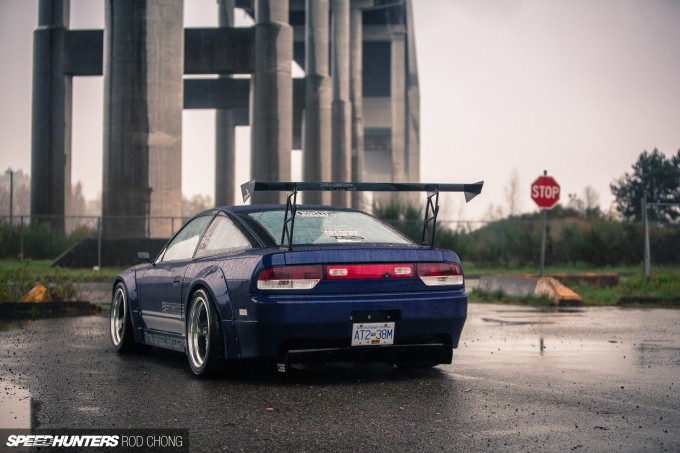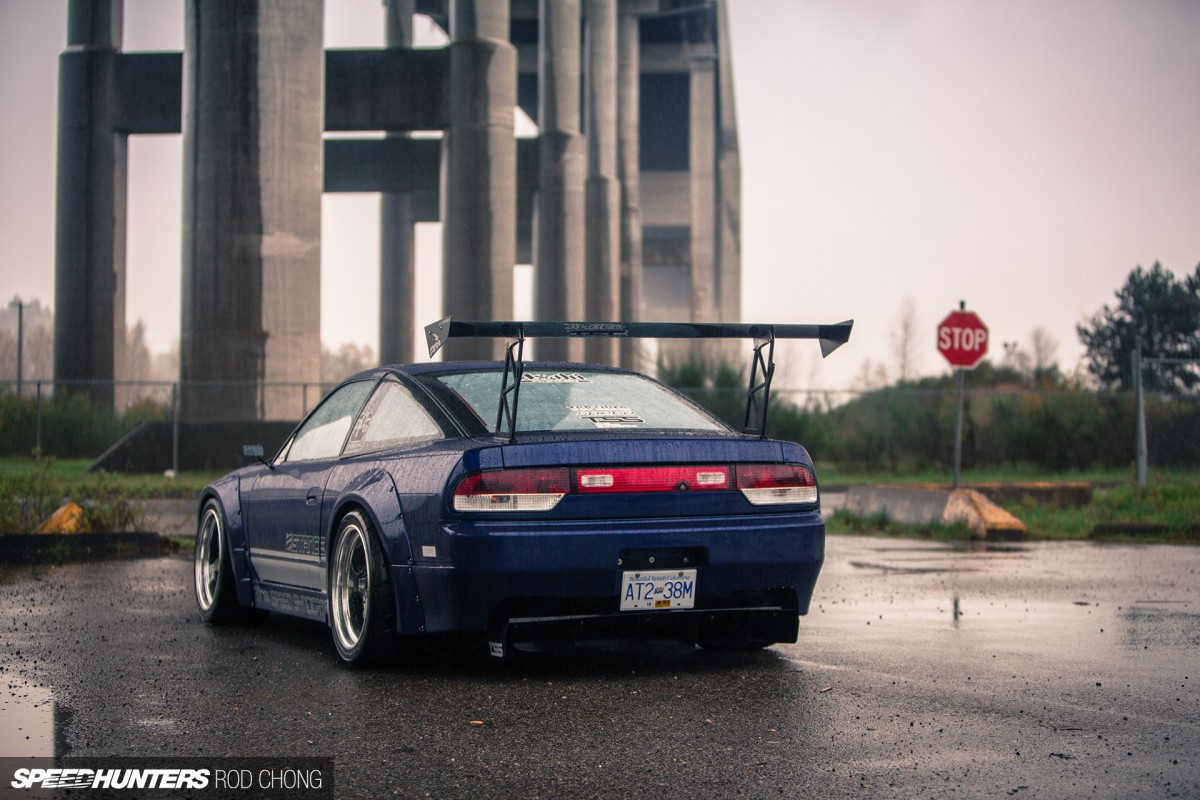 As for the drivetrain, the transmission is a stout T56 6-speed and a custom driveshaft feeds to a rear differential with an OS Giken 1.5-way LSD. Gotta make sure all that V8 power gets put down properly!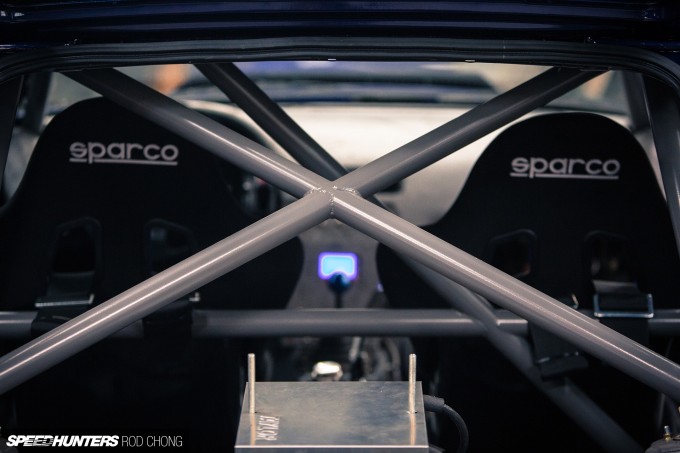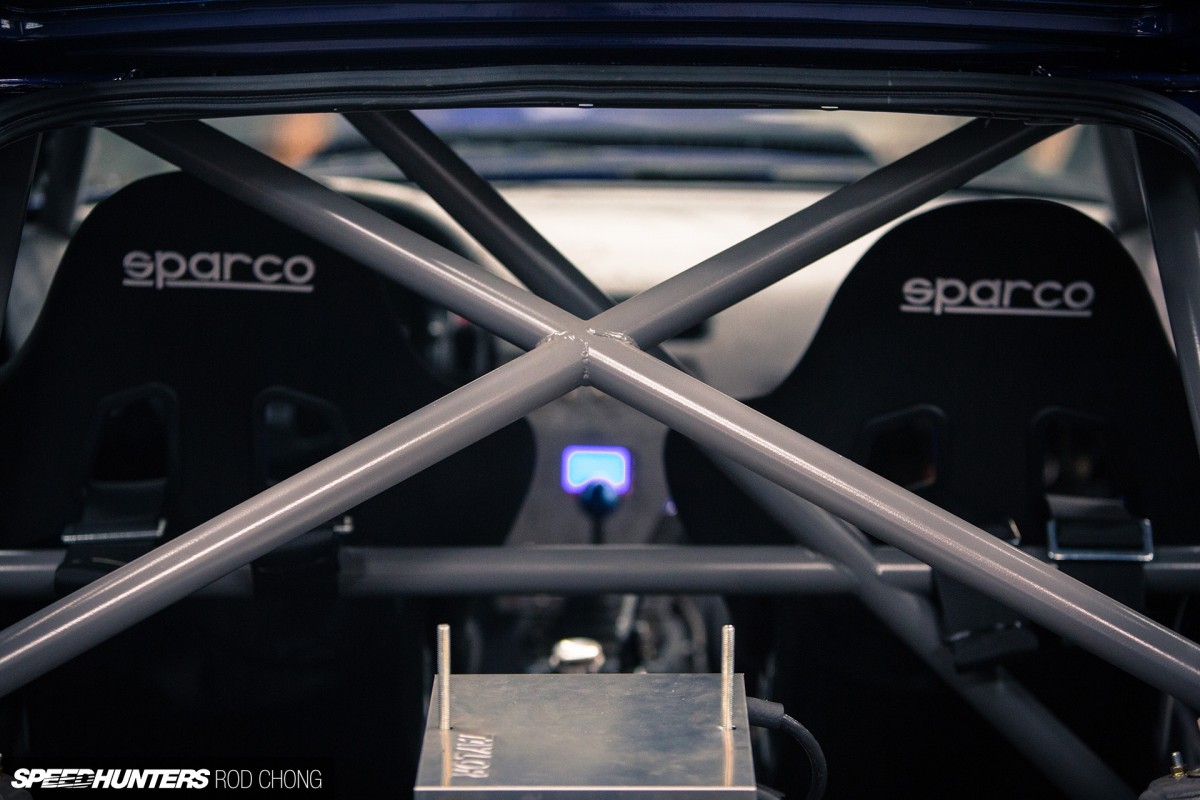 Because Quinton knew the car was going to see serious punishment on track, the 23-year-old Nissan was treated to some heavy upgrades in the safety and rigidity department. TSS stitch-welded critical points on the chassis and fitted a 6-point rollcage, a front crash bar and custom front wheel tubs.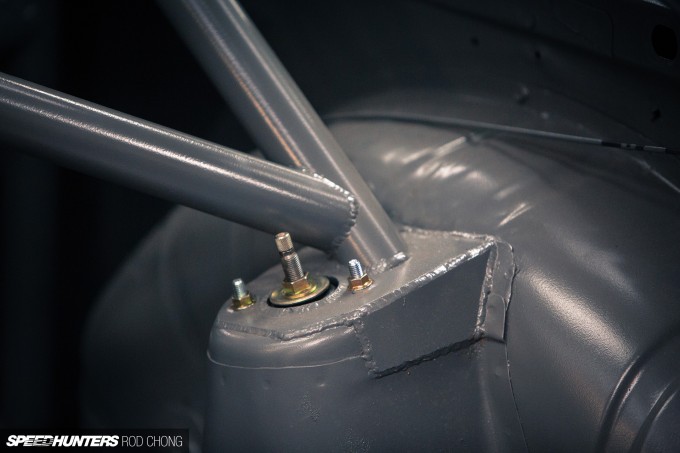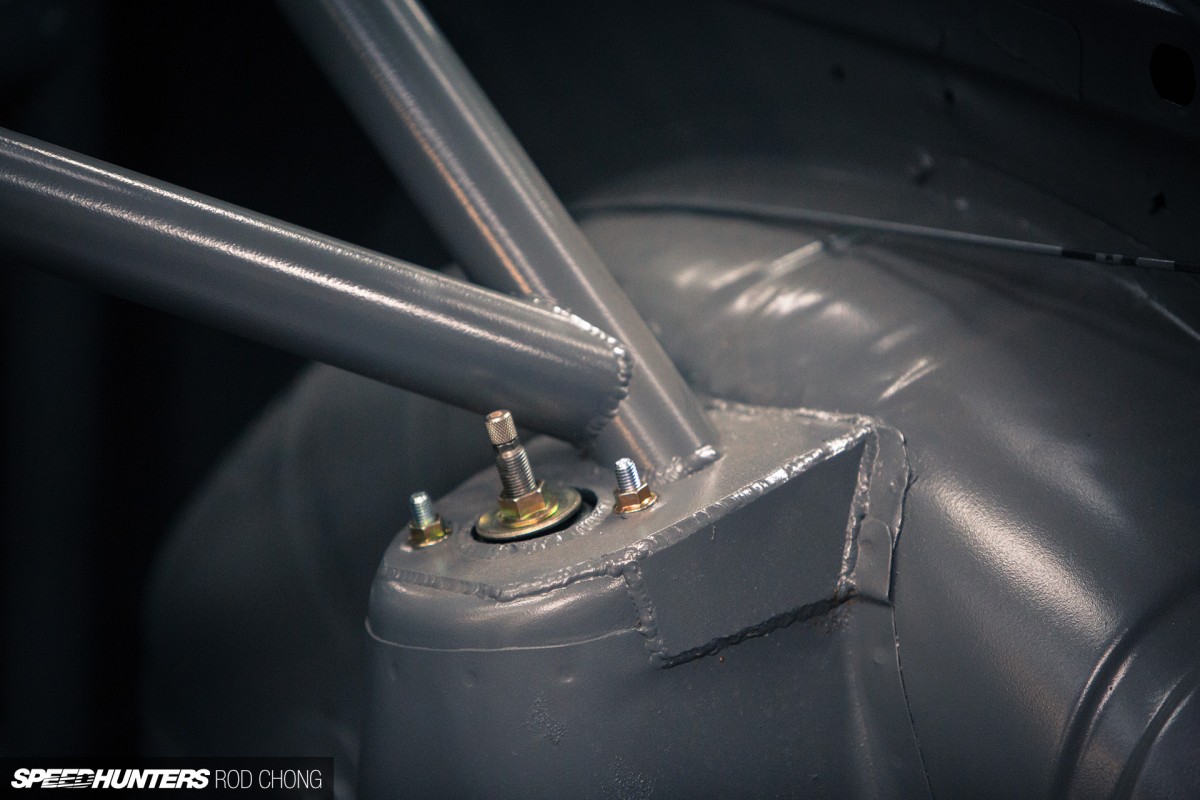 In the footwork department, Quinton has full support from Stance Suspension and the S13 is running its full catalog of components including Super Sport coilovers, traction, toe and tension rods, rear upper control arms and more.
Style Meets Function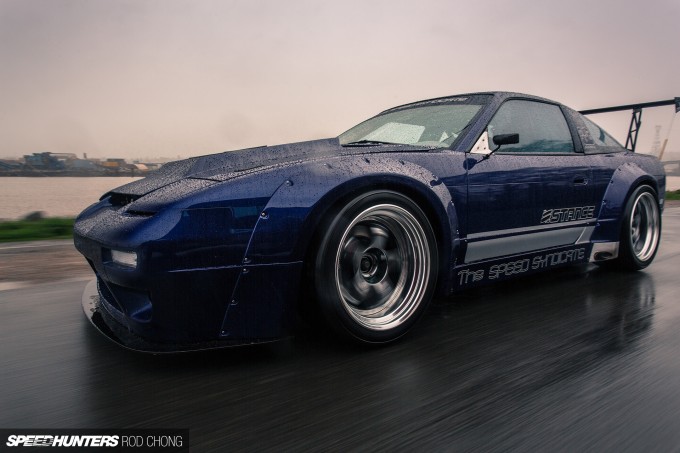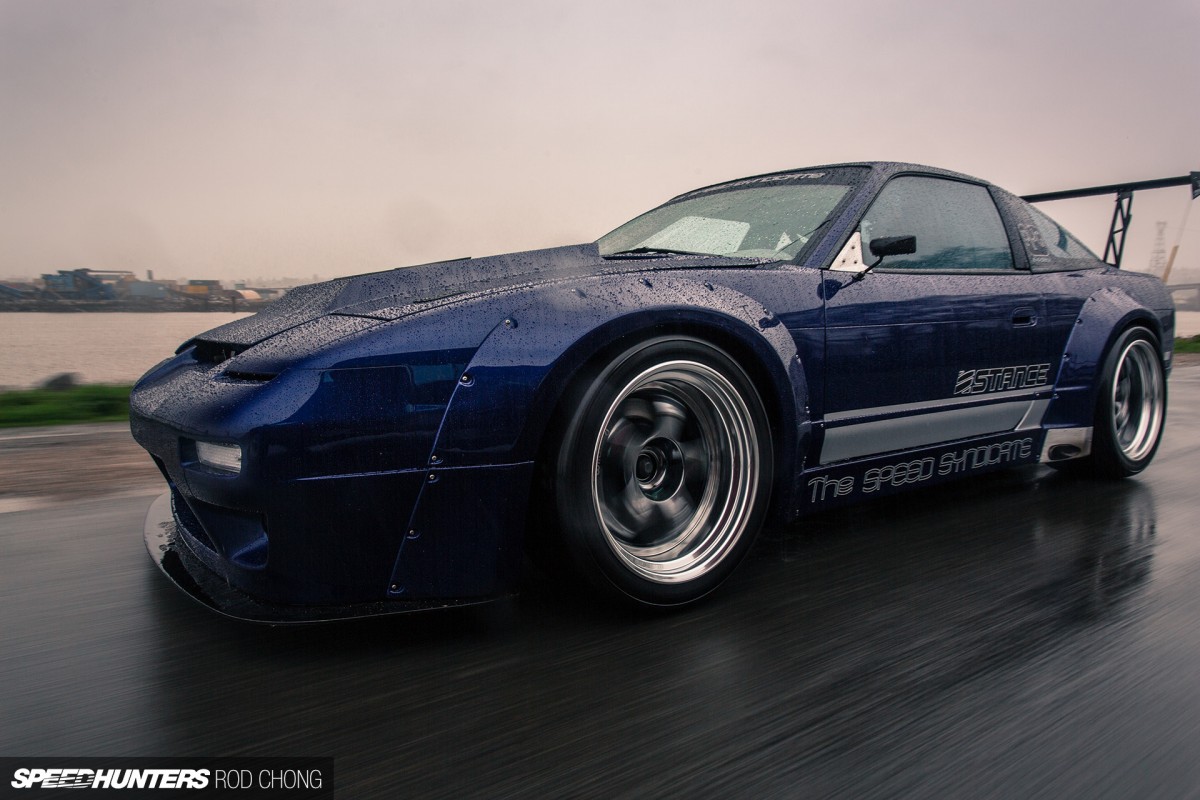 As mentioned a moment ago, the S13 is indeed sporting Rocket Bunny aero parts – a full V1 wide body conversion to be exact. The aggressive lines of the kit are perfectly in keeping with the tough and functional vibe that Quinton was going for.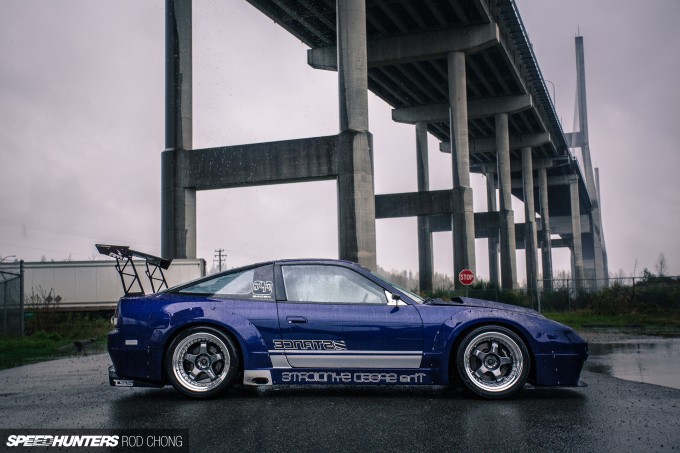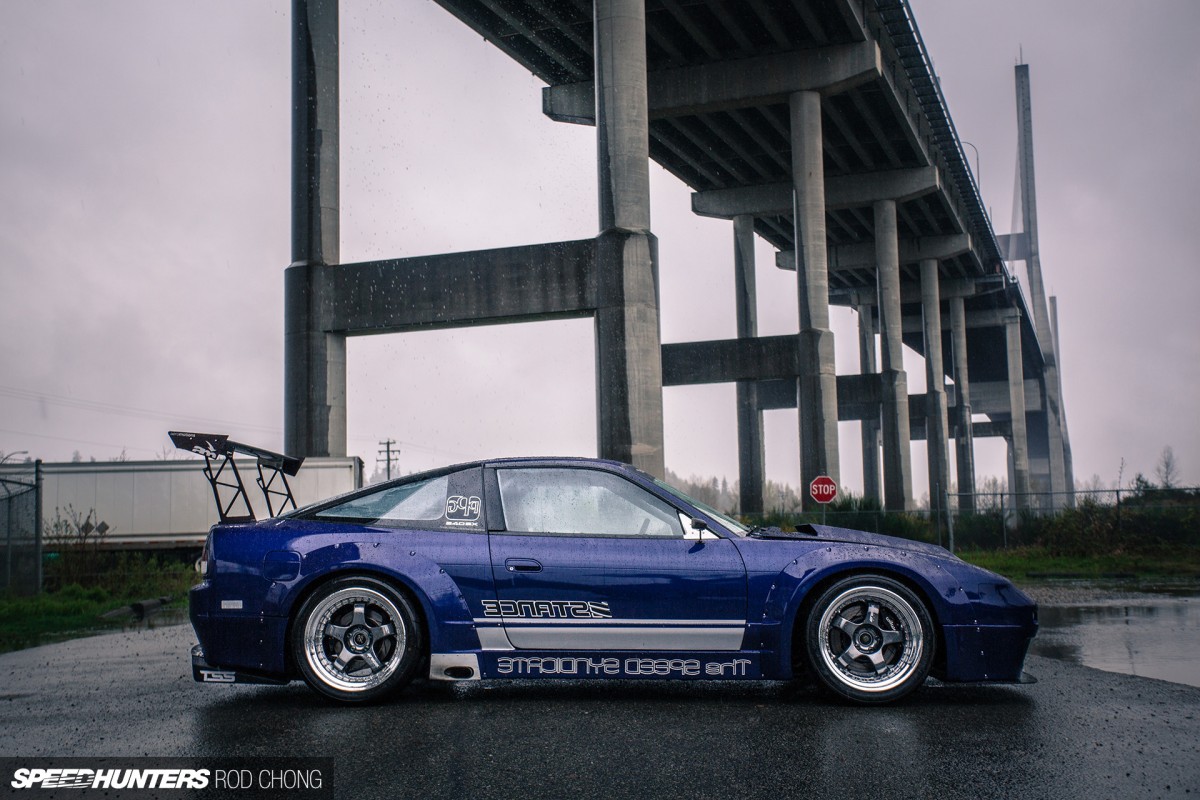 Along with the wide body kit and tall GT wing, the 240's also been fitted with a Difflow rear diffuser with custom TSS mounts and a front splitter.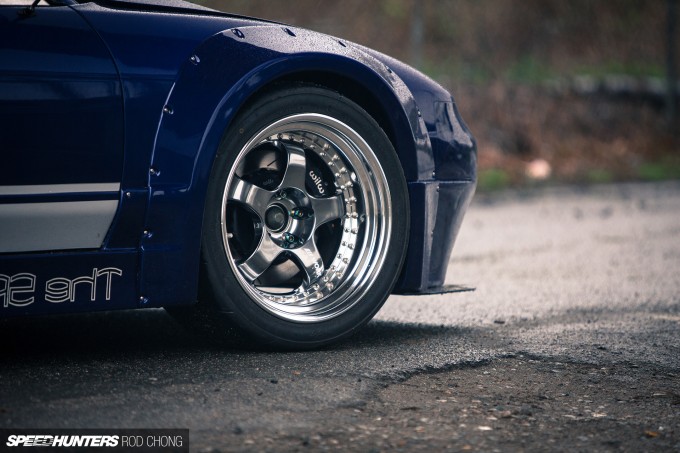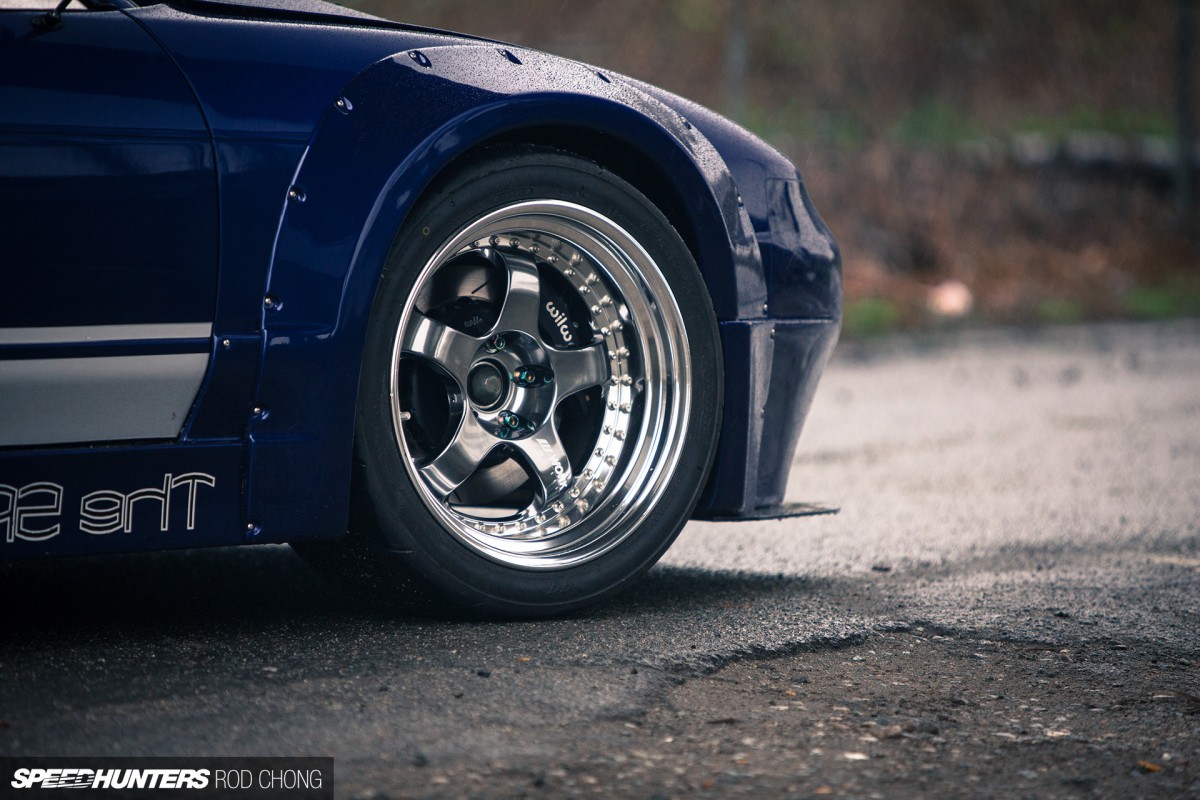 Bringing the V8 S13 to a stop are Wilwood Superlite 4-piston calipers with 12.88-inch 2-piece rotors in the front, and Z32 calipers with Mustang Cobra rotors in the rear.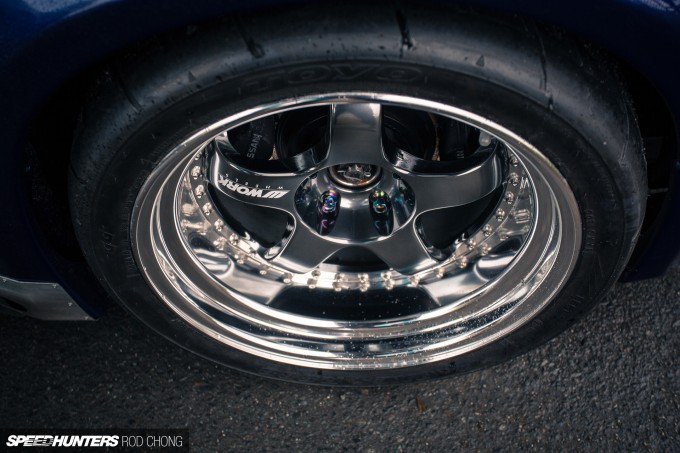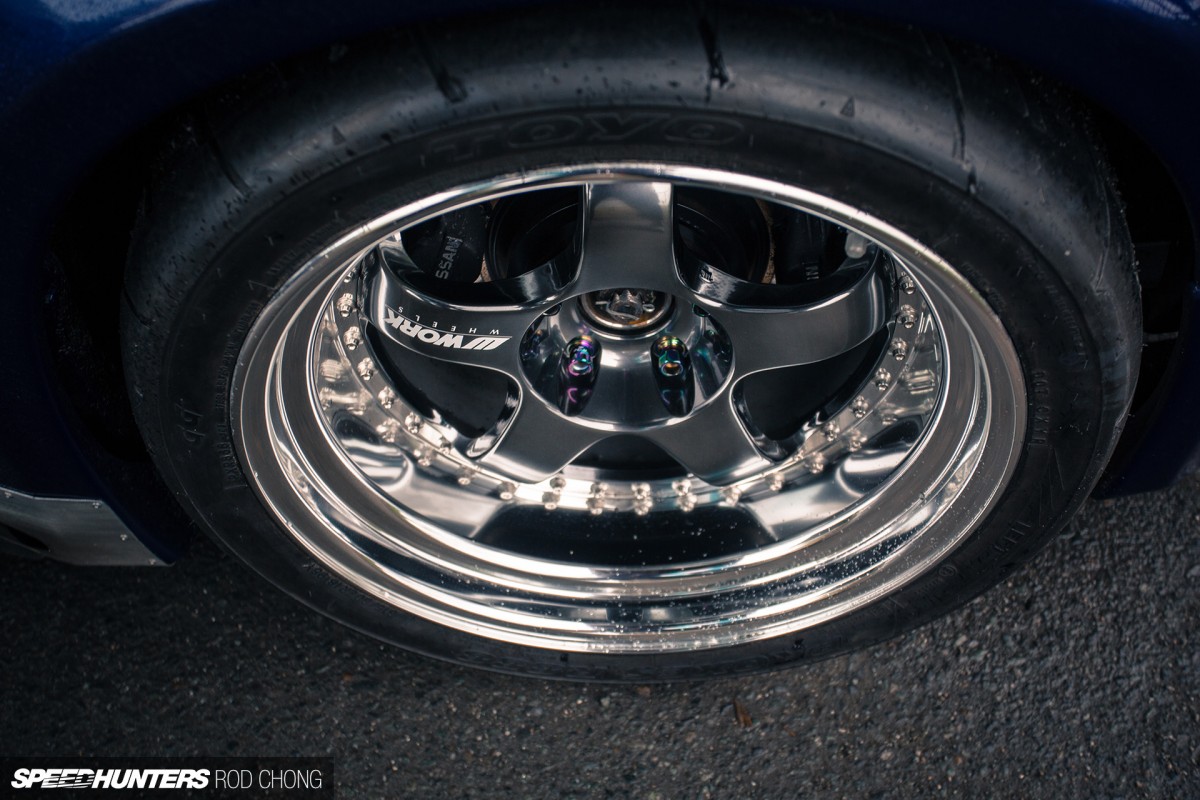 Filling the wide body fenders are a set of Work Meisters in SMS finish. The fronts are 18×10-inch and the rears 18×11-inch – both with the same +13 offset.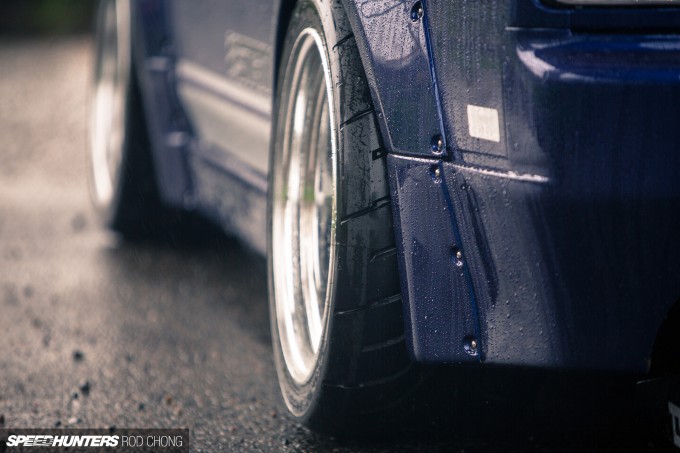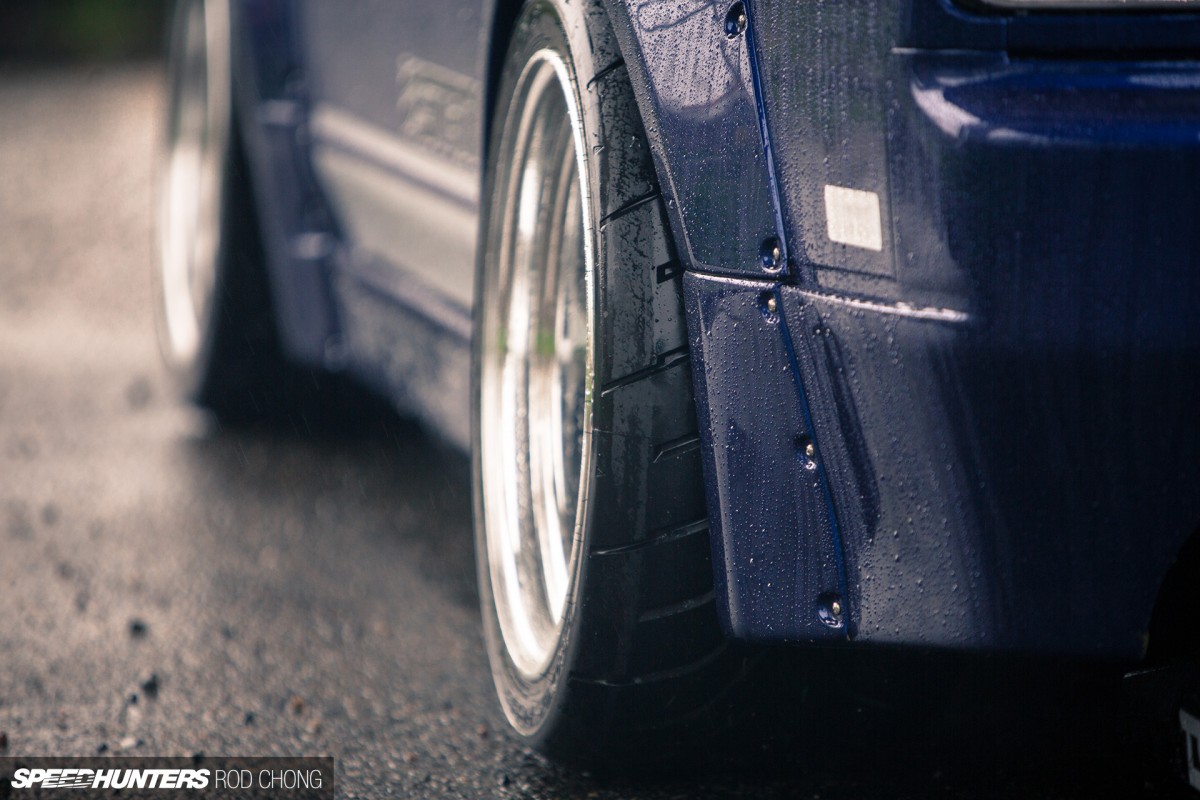 No mega-stretched tires or excessive camber here. The Toyo R888 rubber measures 275/35R18 up front and a meaty 315/30R18 out back.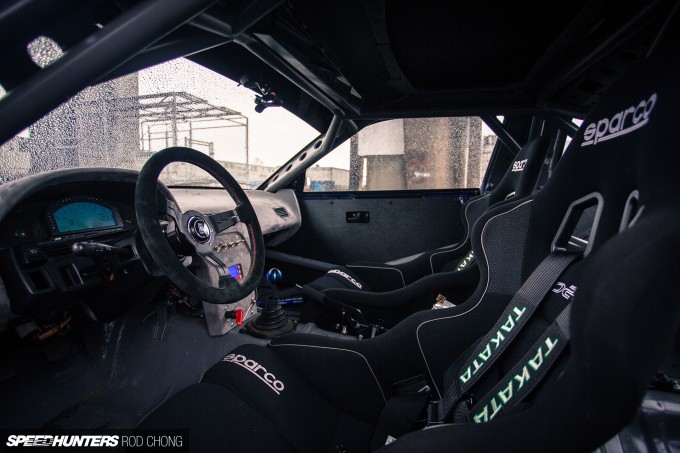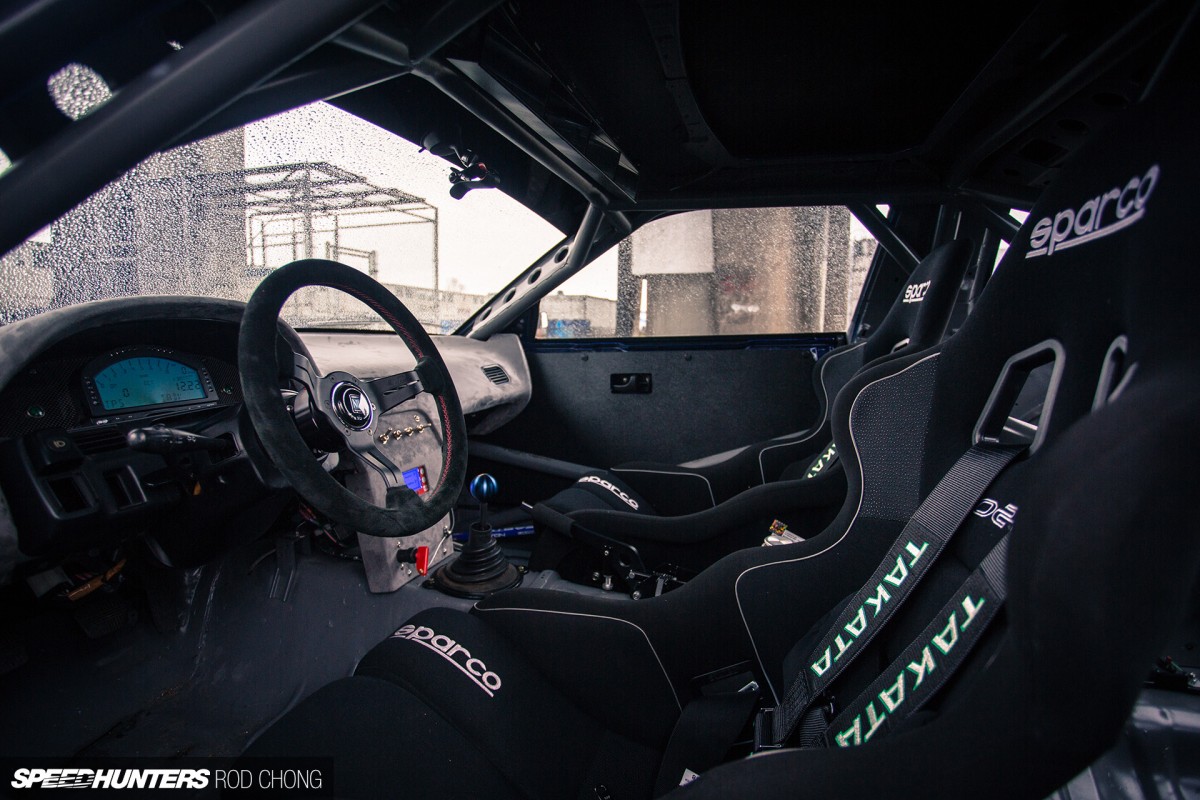 Along with the aforementioned rollcage, in the cockpit you'll find a pair of Sparco buckets with Takata harnesses, a Circuit Garage sunroof delete and a custom-built shifter by TSS.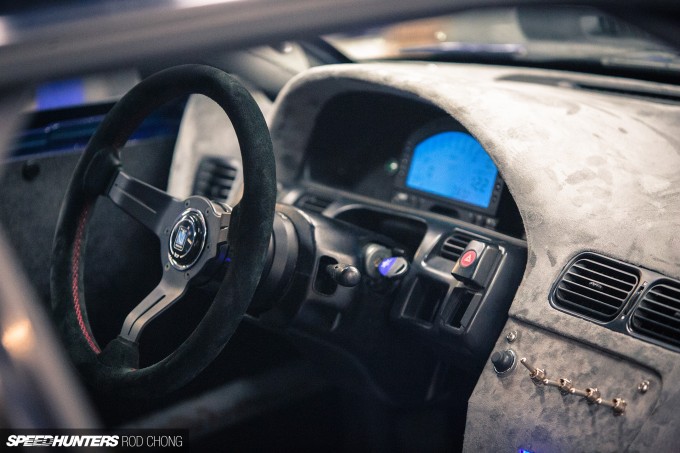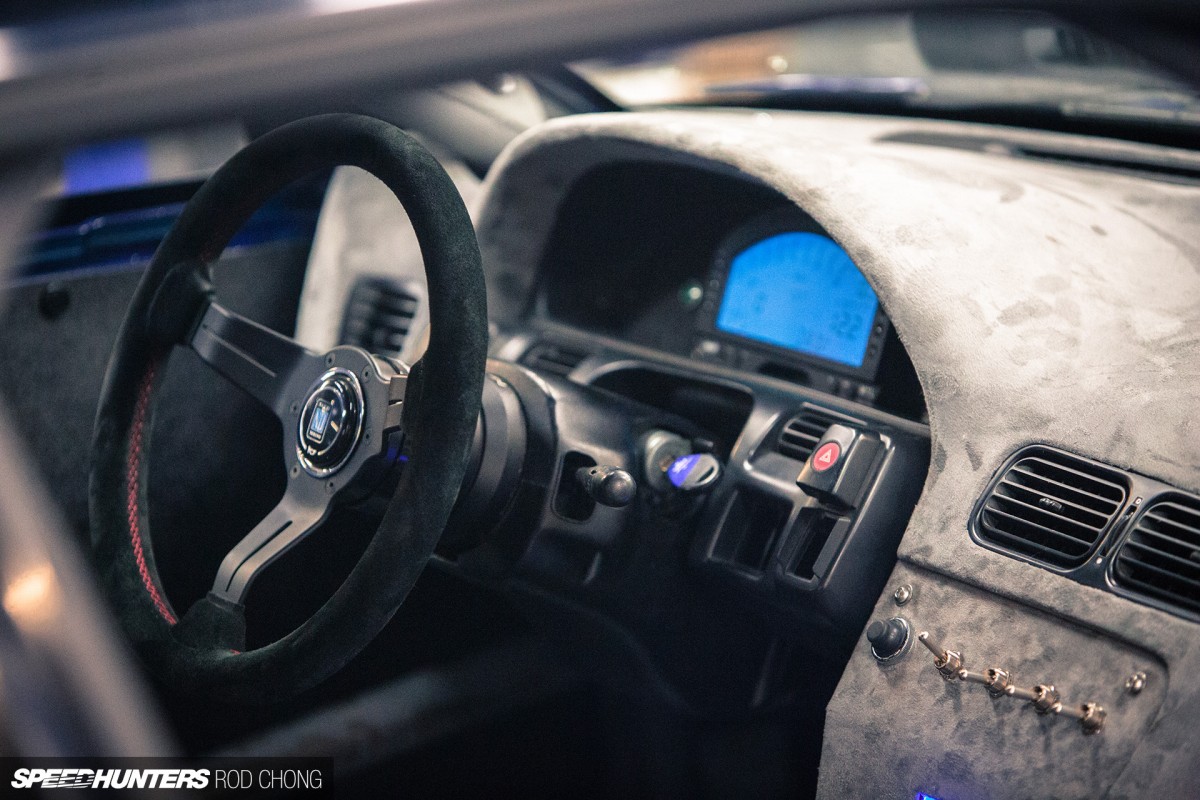 The steering wheel is a deep cone suede Nardi with a Works Bell hub. And what's that glowing in the dash? It's an AiM MXL Strada Digital instrument setup of course.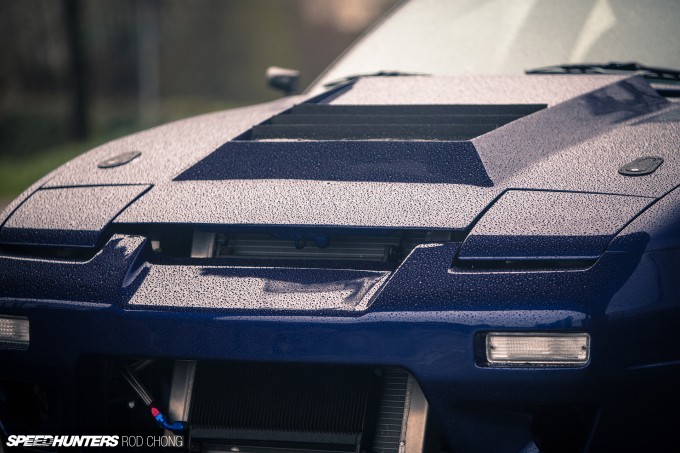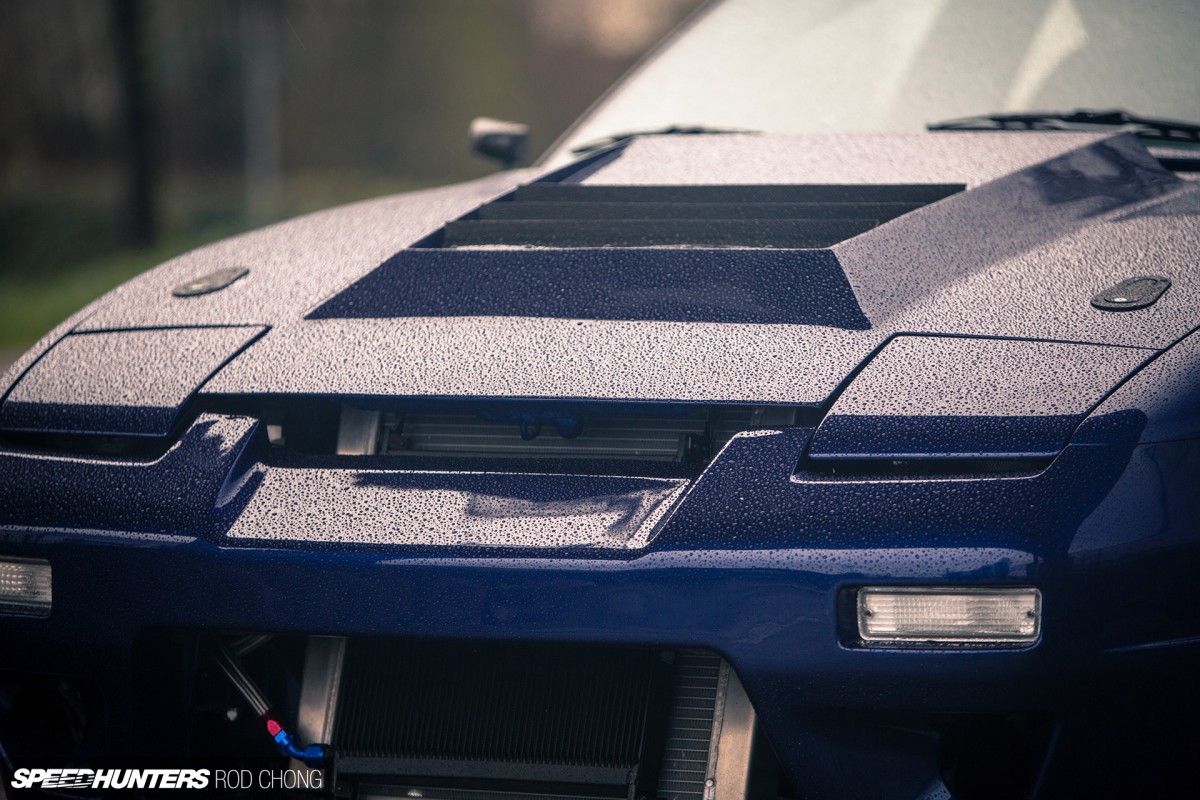 Quinton tracks the S13 as much as he can, and he takes great pride in doing things that people might not expect from a V8-powered Rocket Bunny S13.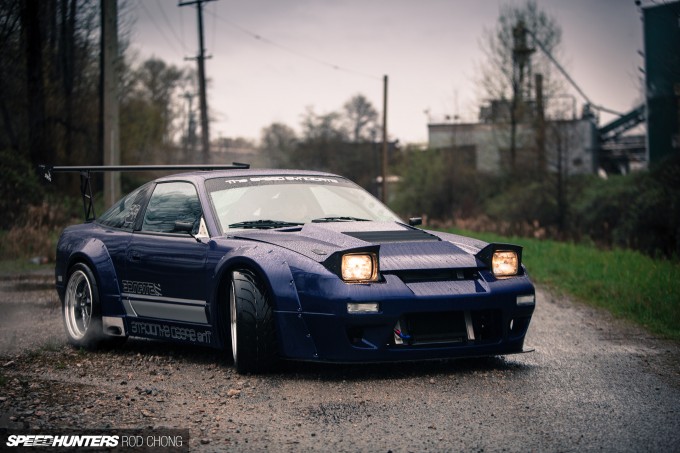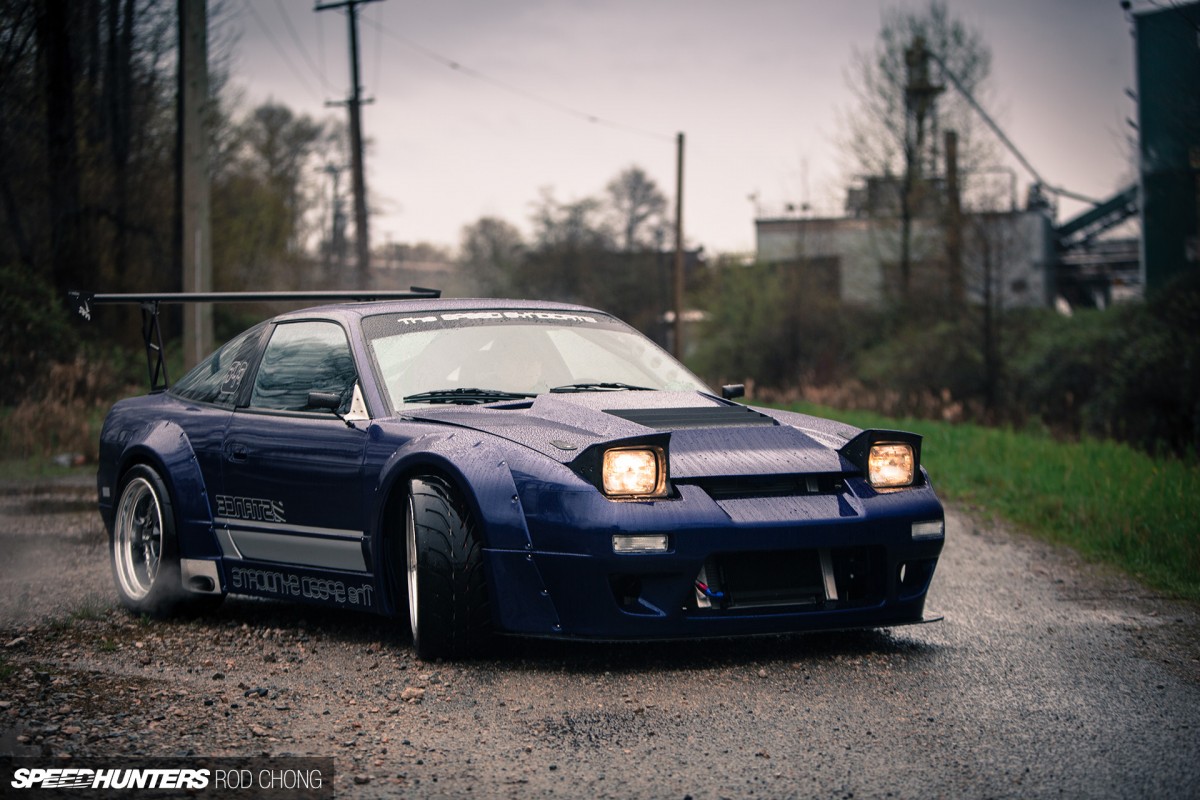 Whether or not you believe the over-fender movement has reached its peak, we think there will always be room for cars like this one. When you've got soul and substance, trends are of little meaning. Even if left completely untouched, we see this thing being just as cool in 10 or 20 years from now as it is today.
Mike Garrett
Instagram: speedhunters_mike
mike@speedhunters.com
Photos by Rod Chong

Quinton Chan's 1992 Nissan 240SX

Engine
GM 5.7L LS6 V8 from Cadillac CTS-V, Sikky LS/S13 conversion kit, Jenvey (Hayward Performance) 52mm ITBs, Sikky baffled oil sump with trap doors, Chase Bays/TSS harness, Hooker headers, custom TSS side-exit exhaust, BeCool/TSS radiator, Setrab oil cooler full wire tuck by TSS
Driveline
T56 6-speed transmision, ACT twin-disc clutch, Driveshaft Shop custom driveshaft, OS Giken 1.5-way LSD
Suspension/Brakes
Sikky front sway bar, STANCE Super Sport coilovers with Swift springs, Stance rear traction rods, Stance toe rods , Stance tension rods, Stance rear upper control arms, Stance aluminum subframe collars, Stance aluminum subframe bushings, Wilwood Superlite 4-piston front calipers, Wilwood 2-piece front rotors, Z32 rear calipers, Mustang Cobra rear rotors, Wilwood stainless brake lines
Wheels/Tires
Work Meister 18×10-inch +13 (front), 18×11-inch +3 (rear), Toyo R888 tires 275/35R18 (front) 315/30R18 (rear), Kics R40 lugnuts
Exterior
Rocket Bunny V1 complete wide body conversion, front splitter, Difflow rear diffuser with TSS mounts, GT mirrors, GT wing, custom front wheel tubs
Interior
Custom 6-point rollcage by TSS, Sparco Pro2000 seats, Takata harnesses, custom TSS door panels, TSS shifter, Circuit Garage sunroof delete, 330mm Nardi suede steering wheel, Works Bell hub, AiM Sport MXL Strada digital dash
Cutting Room Floor