First Bite Of The Apple
For 11 months of the year, Tasmania is an idyllic, quiet and sparse place – the kind of destination your mother would love, but those accustomed to the big smoke might call.. slow. Natural beauty abounds and the locals are friendly but stores close at 4:00pm and a big night on the town involves walking back and forth between the two pubs. If you look up the word 'quaint' in the dictionary, there's probably a picture of what us Aussies call 'The Apple Isle'.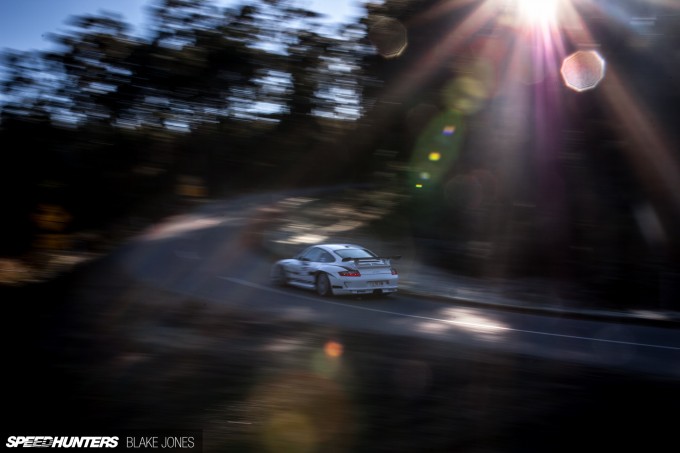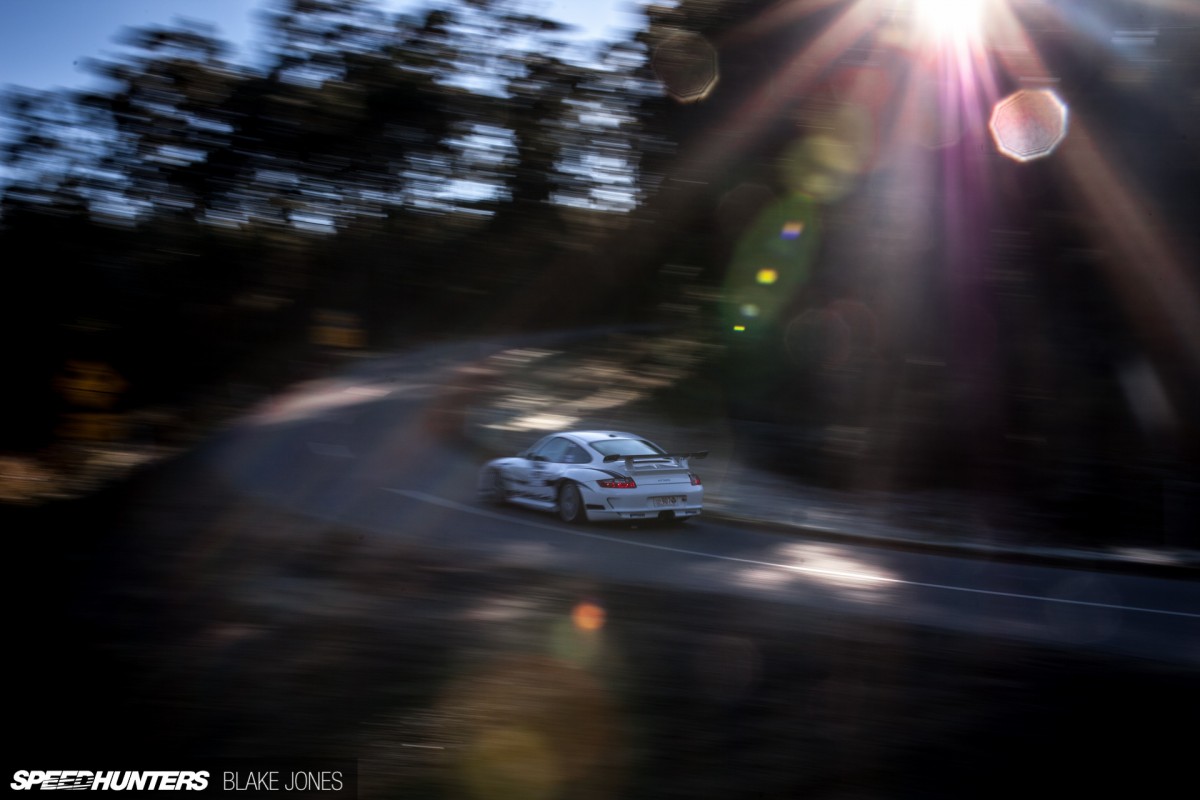 Where does this name come from? Is it the delicious fruit produce? The vaguely apple-shaped coastline? In the four days I spend in Tasmania covering the Targa Tasmania, I believe there may be a more biblical source of the nomenclature – this southern island is a deliciously tempting beacon to Australia's motorsport lovers, but ripe with danger and an odd addictive quality.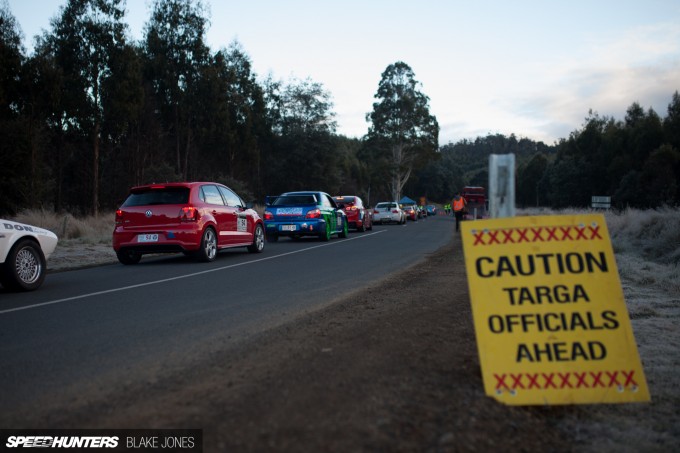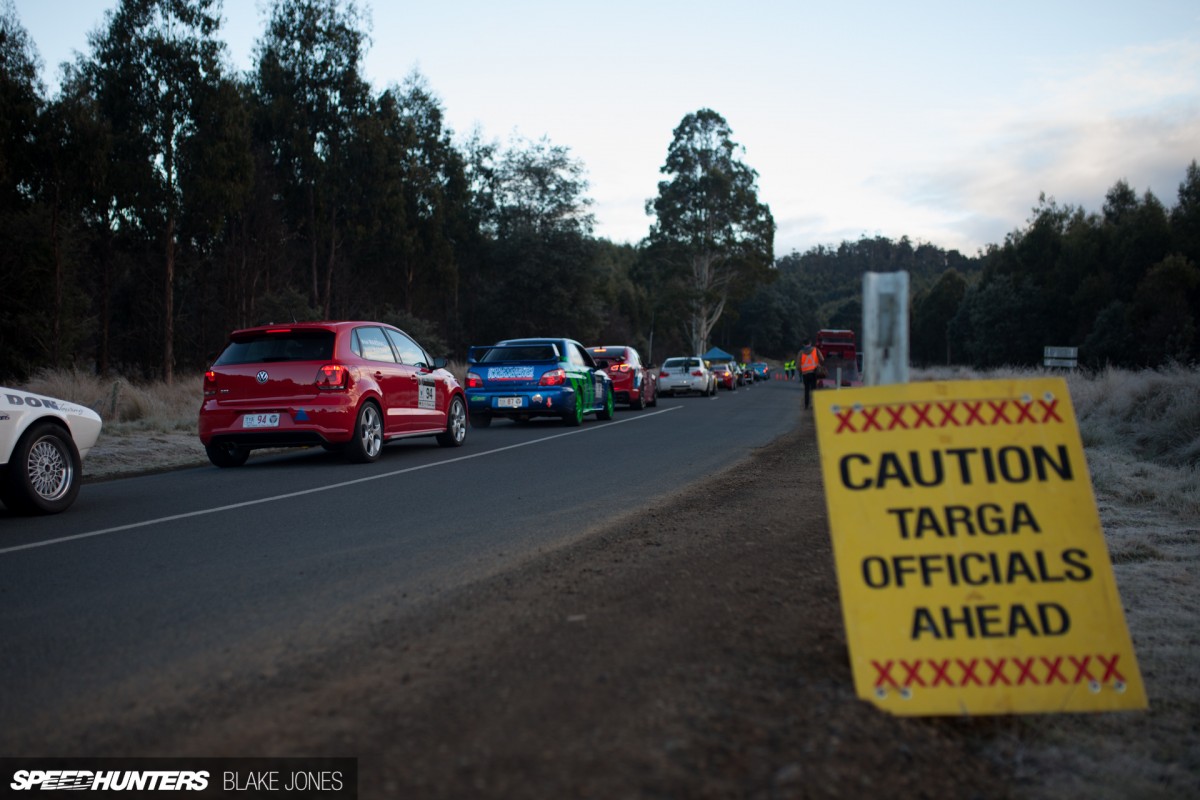 For one week in April every year, the charming island south of the Australian mainland plays host to what I believe might be the most intense, testing and exciting road races in the world. Six days, 38 competitive special stages and hundreds of race cars define Targa Tasmania, but even my lofty expectations were decimated by actually being on the ground to witness the organised chaos and emotional rollercoaster of this event.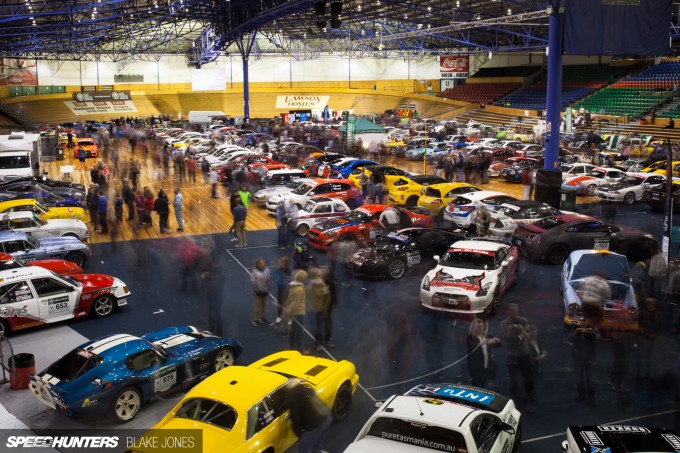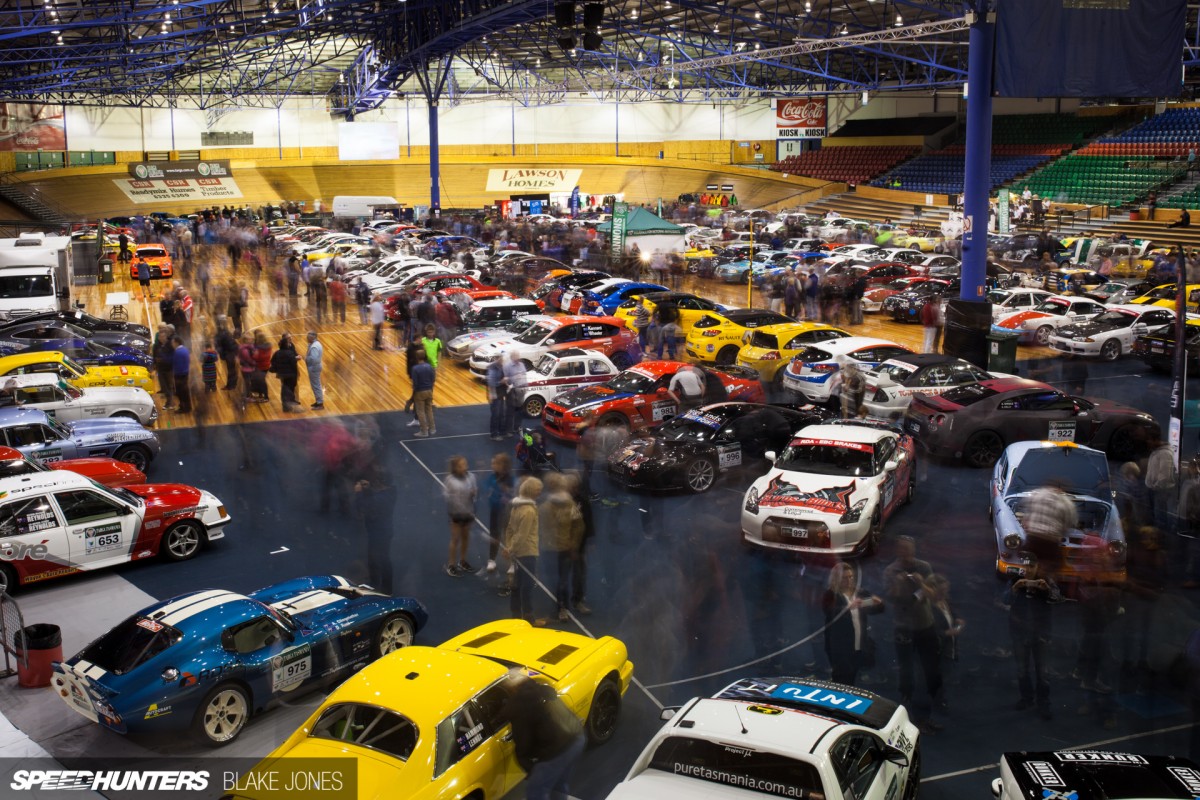 It's amazing that an event of this magnitude can run in today's litigious and eco-everything climate. The logistical effort alone of making Targa Tasmania a reality is stressful to even think about for a simple bloke like me, but there I was, standing amongst 100-plus competition-ready cars on opening night, completely split between the need to capture every incredible detail and the desire to slow down and soak in the atmosphere. Now the event is run and done, it's obvious that it would be simply impossible for me, or anyone else, to give you the whole Targa story. For that, you'll need to come down and see it for yourself.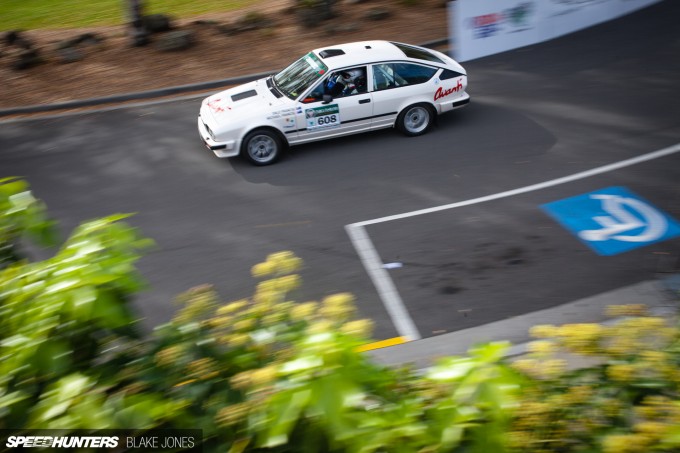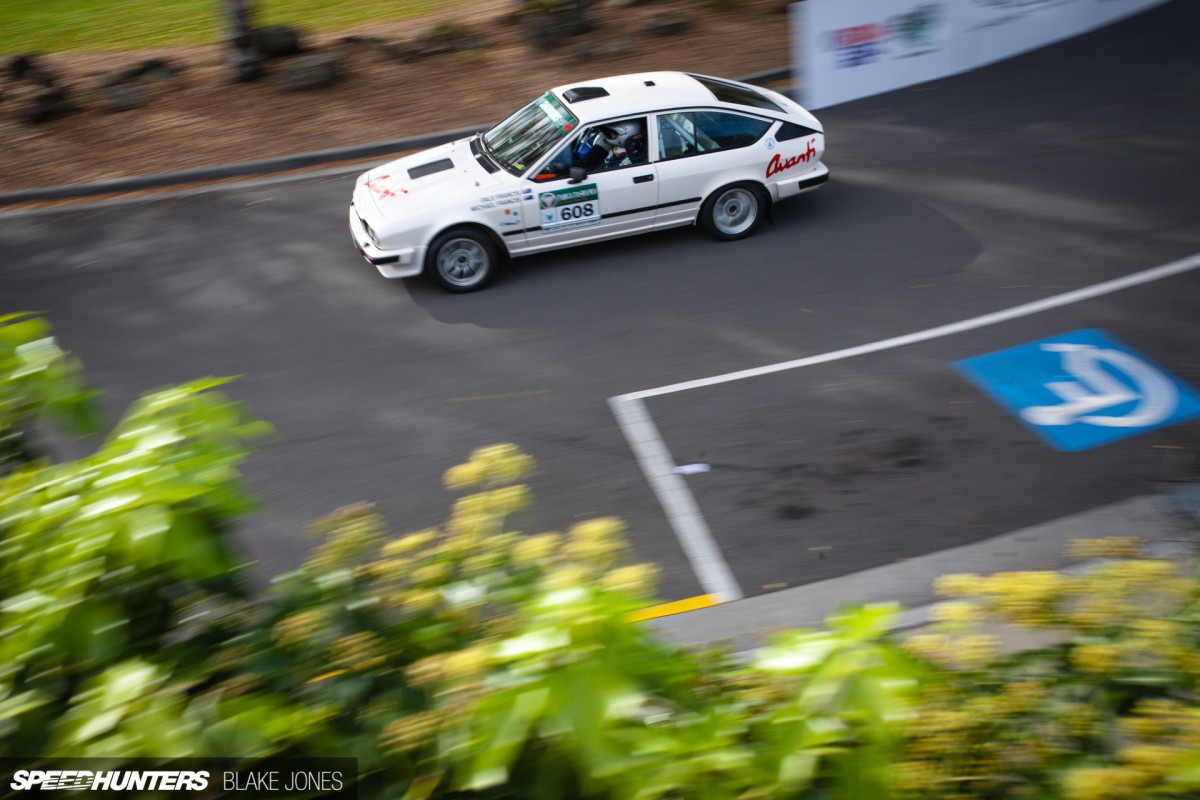 By the morning of Day 1 it was clear that any intentions of enjoying Tasmania's relaxed pace were shot – there was so much happening already. I started to chase a bunch of Porsches through Launceston before realising that they were the non-competitive Targa Tour cars – I was in the wrong place! Thankfully, nothing seems to be too far away in Tassie and I resettled myself amongst the true competition cars that were flowing through the picturesque grounds of the Launceston Country Club.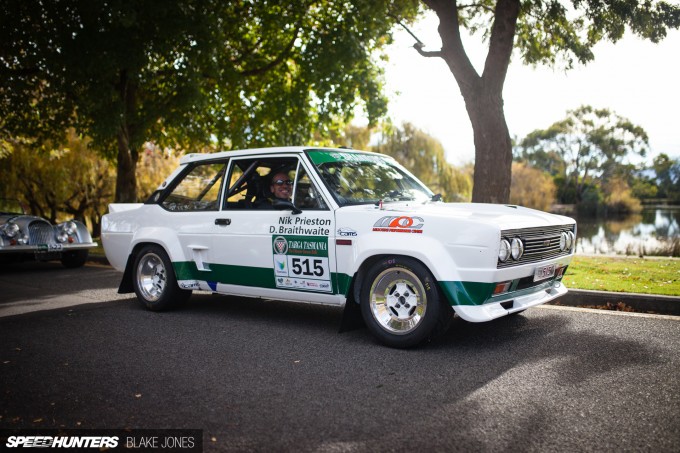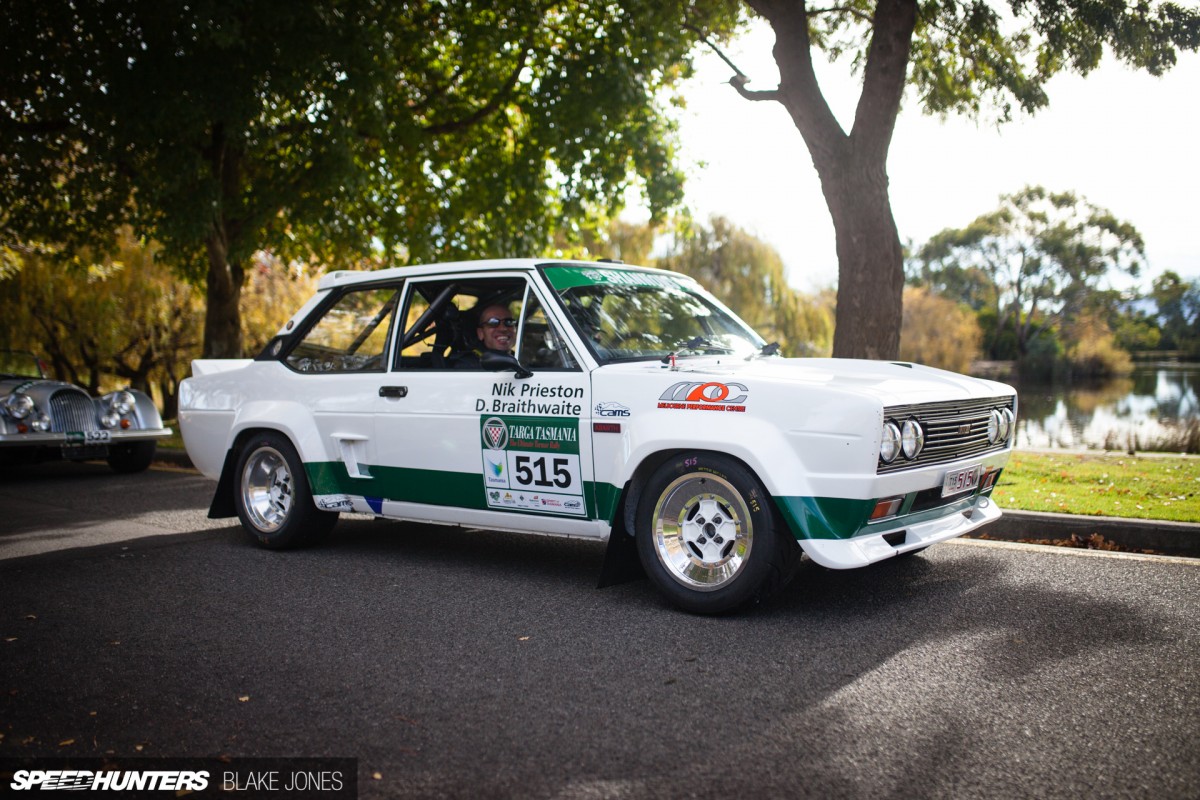 The machinery on display was a lovely mix of grassroots motorsport and jaw-meet-floor collectors items and the beaming smiles and positivity of the drivers and navigators was infectious. Pictured here is a friend of mine from the Porsche Club, Nik Prieston, and his beautifully prepared 1975 Fiat 131 Abarth Rallye.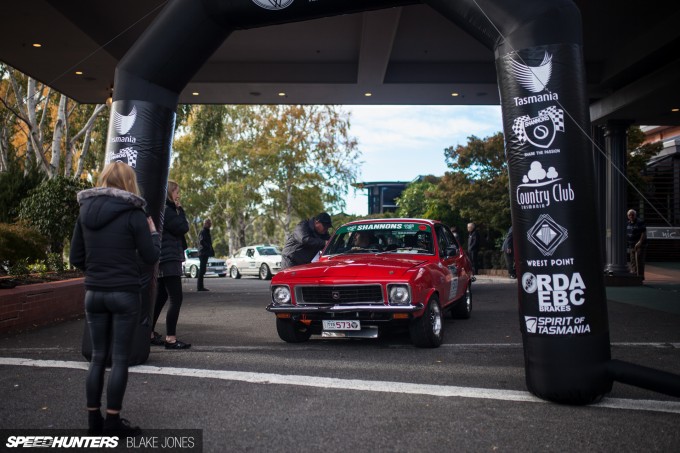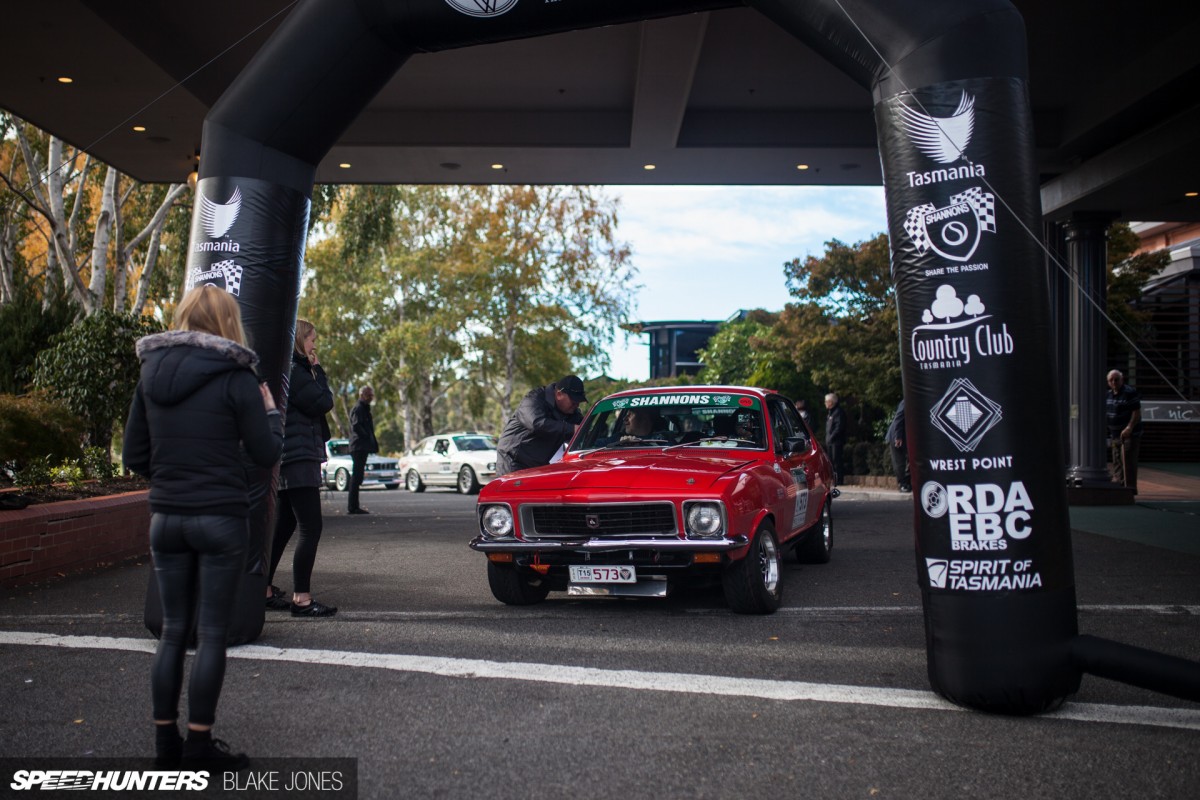 Cars crossed through the ceremonial start line out the front of the Country Club, but this was nothing more than a pleasant formality. The real challenge was about to start…
A Photographer's Nightmare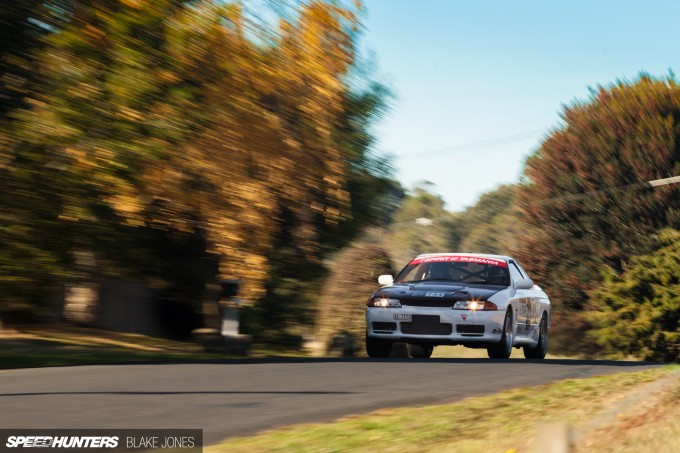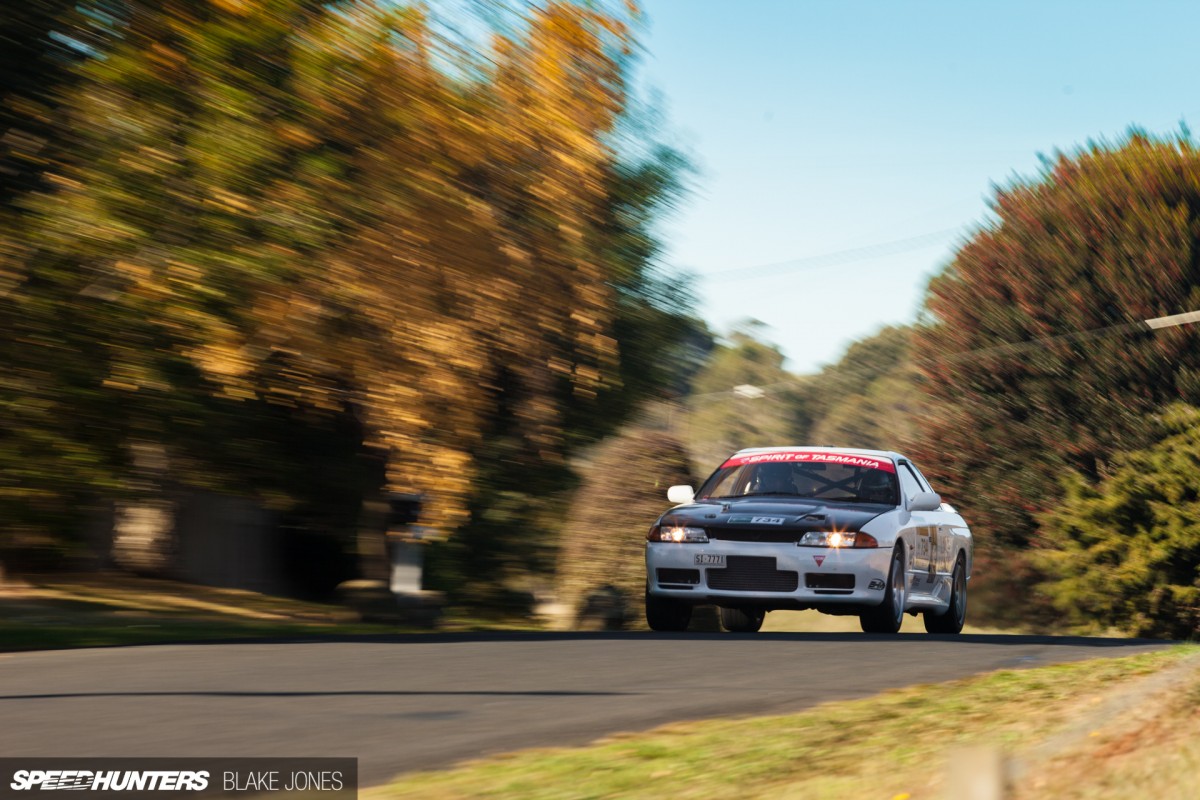 The event by its nature covers a large amount of ground over the six days (over 2,000km, 500km of which is competitive) which means teams get to sample the various terrain and scenery that Tasmania has to offer. In a single day up to 500km of twisted tarmac is covered between special stages and the touring routes, but for anyone hoping to follow the event, say a photographer, it presents a serious challenge.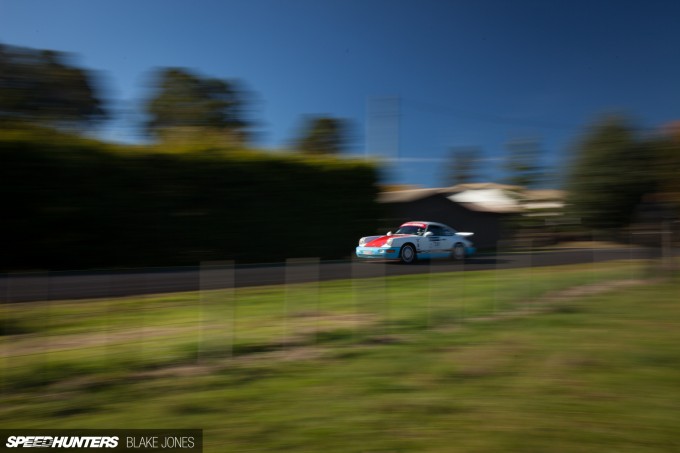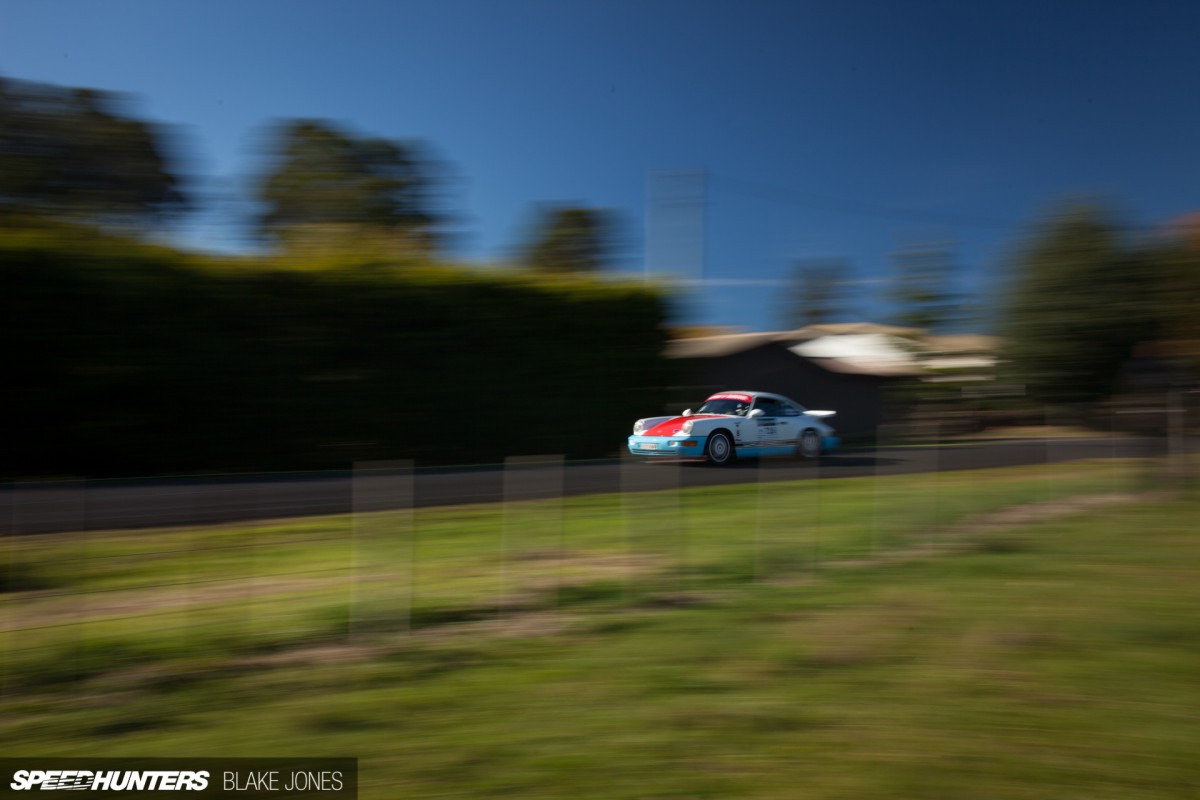 In addition to the sheer distance and pace at which the competition cars cover ground, spectators and photographers have to navigate around the requisite road closures which often means feeling your way through the web of gravel backroads that criss-cross the island state. Putting blind trust in a GPS unit is not my style, but the route maps provided were often as helpful as a polystyrene driveshaft so left no other option. The only sure sign of success was a stickered-up Targa car sighting!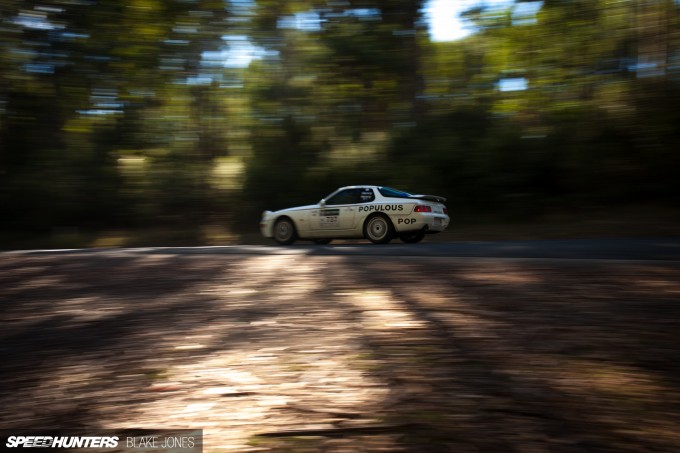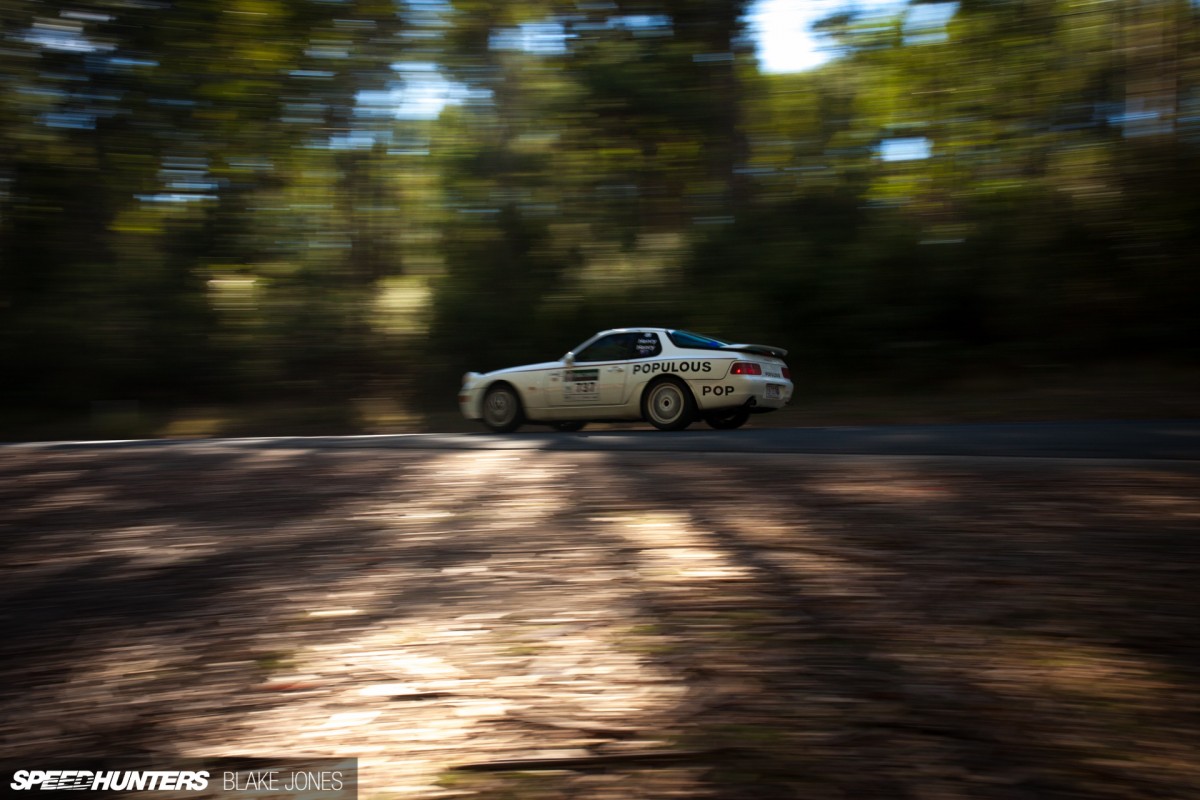 After naively barrelling into Day 1 expecting to cover every stage, by nightfall all I was left with was sore legs and not a whole lot of great photos. Shooting at a racetrack is a very different prospect – if you miss your shot the first time, just wait a couple of minutes and try again on the next lap. It quickly became clear that this would be a very costly event to make mistakes at (low batteries, wrong settings, wrong location… the list goes on) and some serious planning would be required to get the desired results.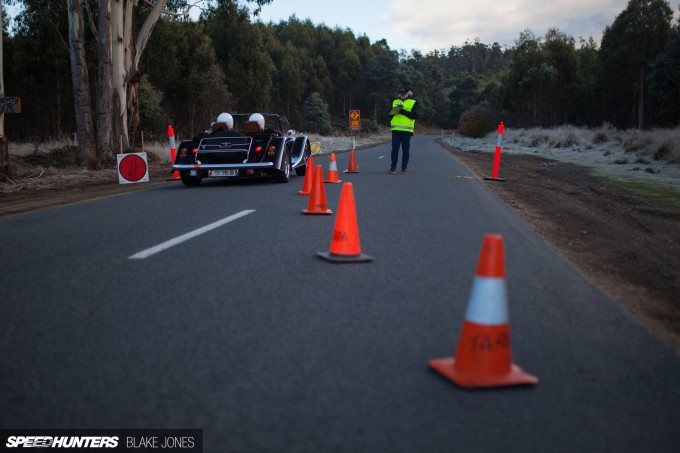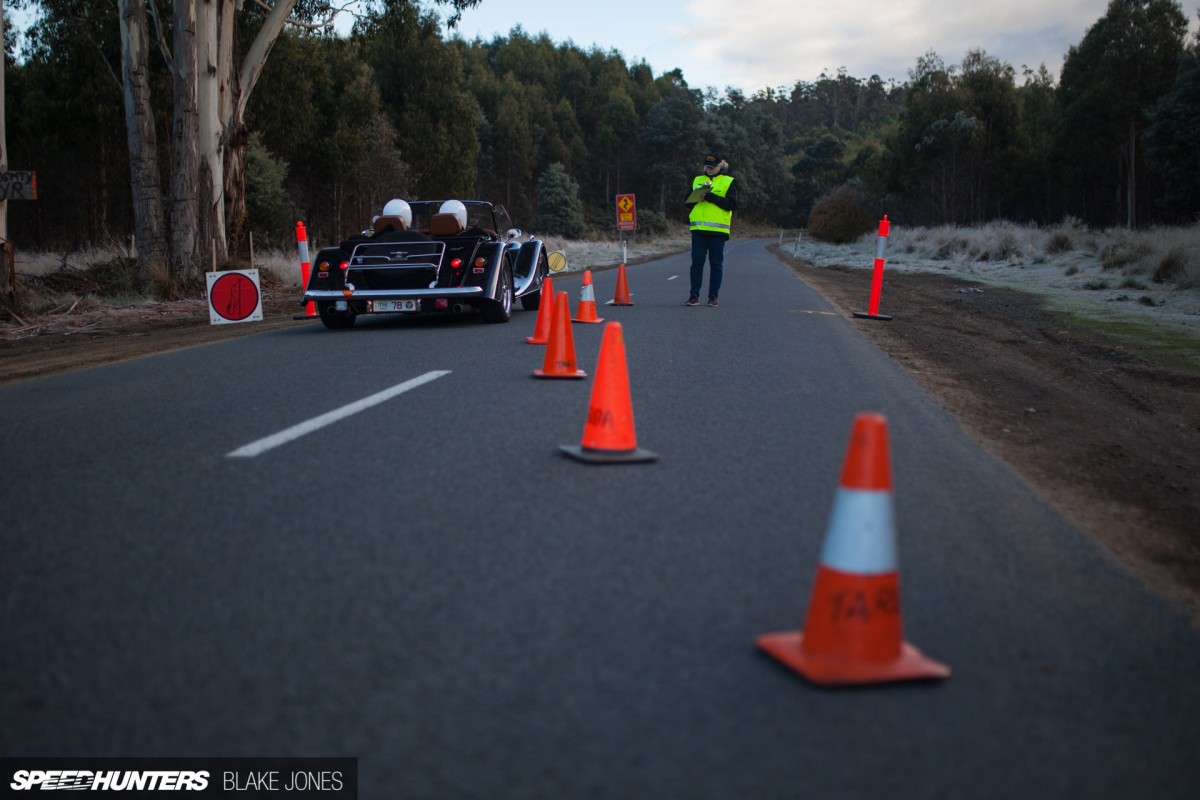 The sun was up on Day 2 and it was time to take action. The previous night I'd downloaded every map of the roads I could dig up and plotted out exactly where I'd need to be to capture just three sections of the eight stages – any more would be a logistical impossibility. Even then I had no idea when the cars would actually be arriving at each stage as this is largely dependent upon how smoothly (or not) the special stages run.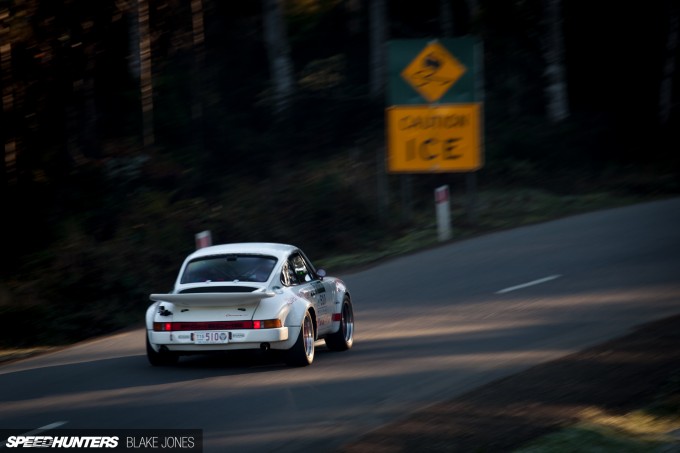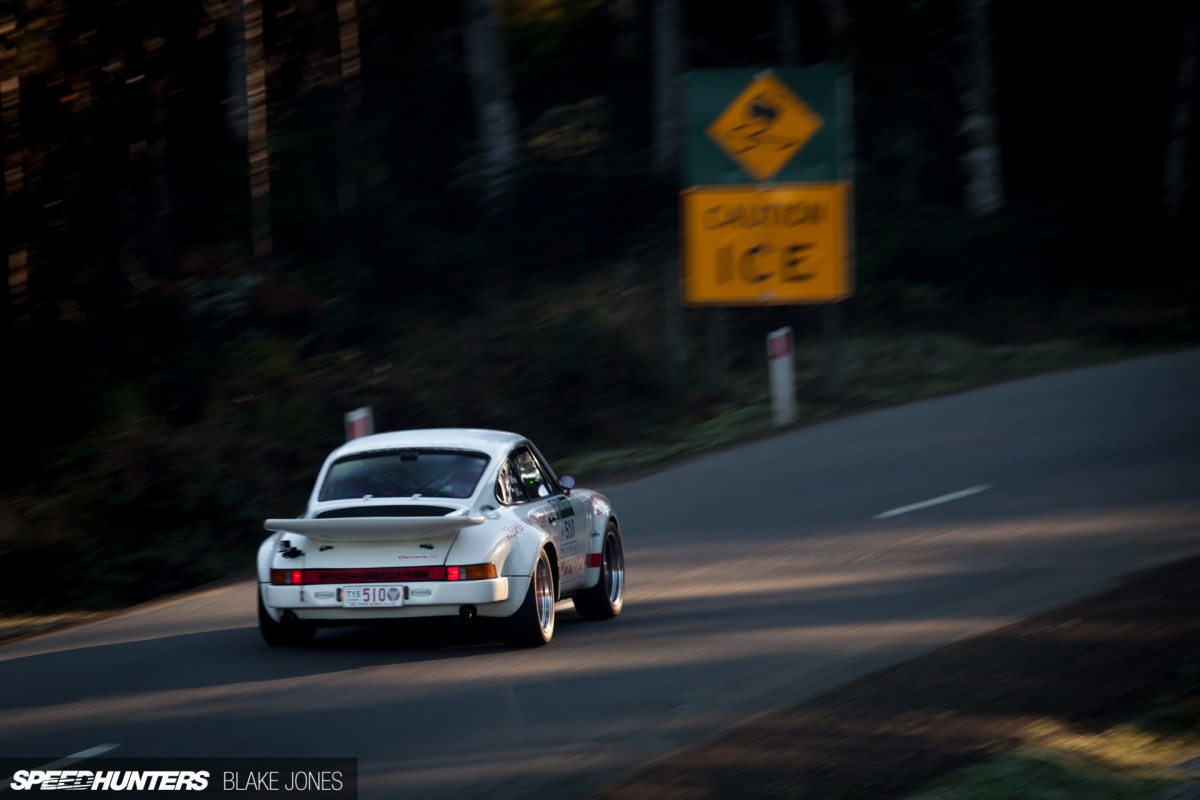 So the day went much like this: punch coordinates of backroad that intersects rally stage into GPS, get to area as quickly as possible while avoiding police speed traps and local wildlife, drive down several kilometres of dirt road to the road block, run on foot to the side of the road, snap each car as it passes, then jump on the tail of the race cars once the road is reopened, rinse and repeat.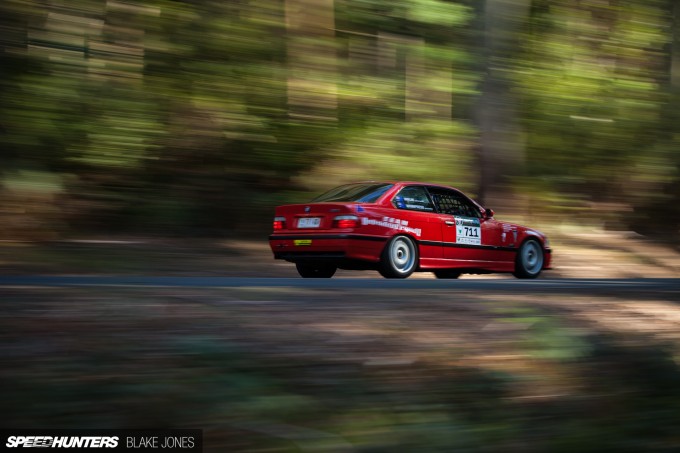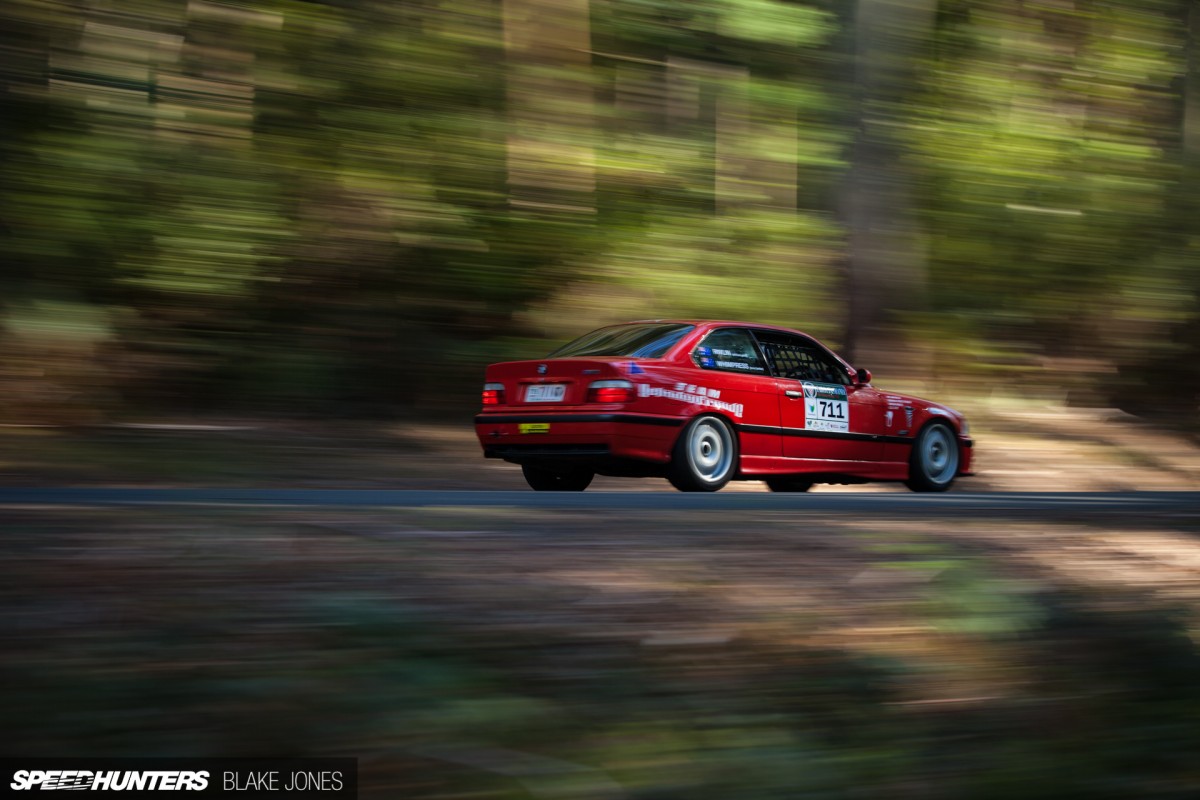 Targa Tasmania was by far the most challenging motorsport event I've ever had to cover. I hope you'll agree that the effort was worth it as capturing such potent cars in such varied and picturesque settings was a real privilege. What the hectic schedule and huge distances did offer me was an understanding of just how intense the event would be for the drivers and navigators attempting to cover the same ground at maximum velocity.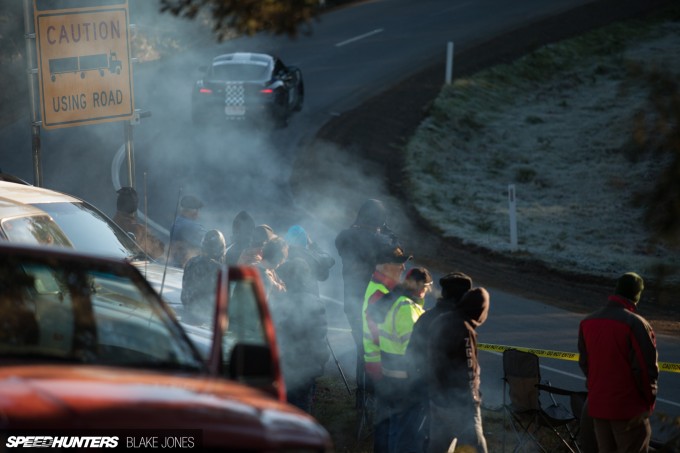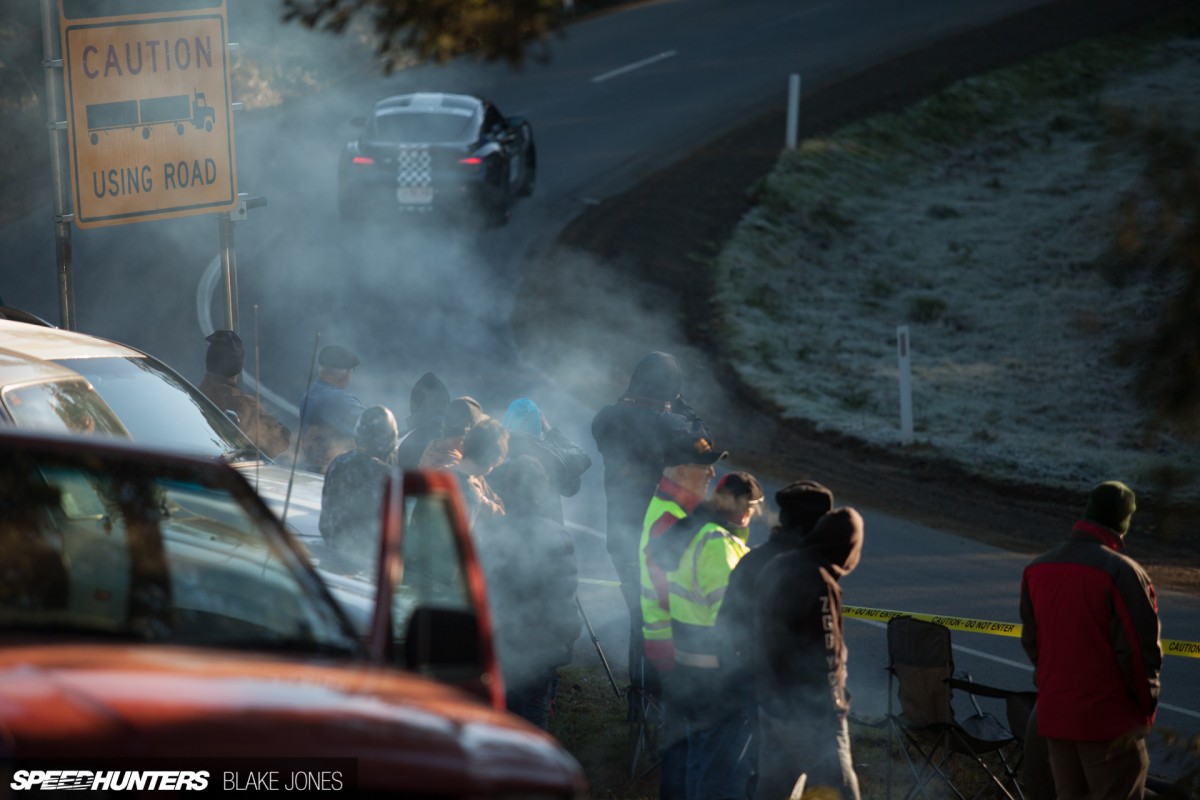 While some stages are decidedly unfriendly to spectators, without fail there will be a hotspot where camping chairs are set up and warming early-morning fires are lit, usually next to a particularly challenging corner that the locals have scouted out.
This ensures exciting viewing (who doesn't like seeing a rally car sideways!) but pick the wrong spot to stand and you will soon realise that although these fences can contain cattle and sheep, the Targa-breed of wildlife will barrel right through. Check out the footage from this awesome spot on Day 2… and stay especially alert around the two-minute mark. Not seen is my gracefully flailing sprint in the opposite direction…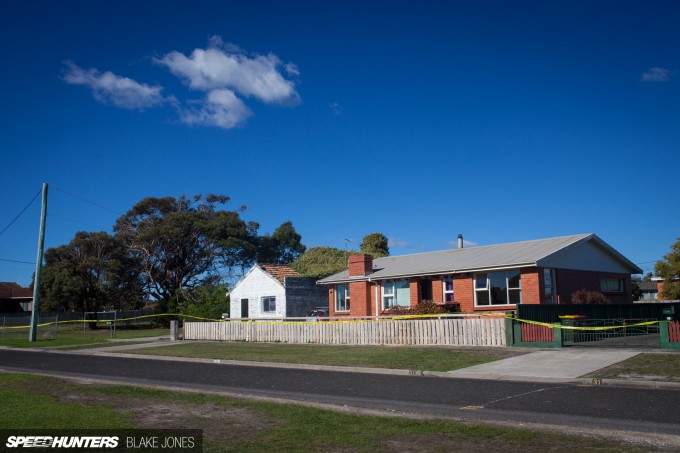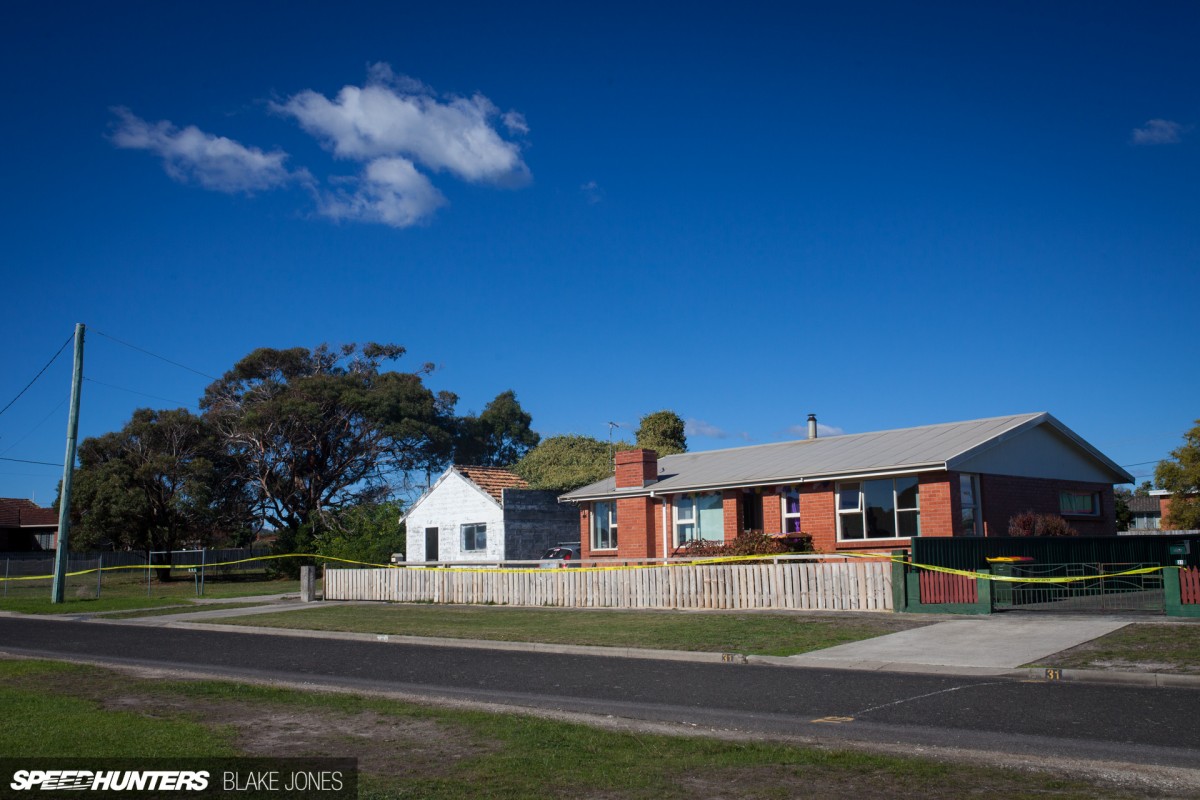 For some locals the race quite literally comes to their doorstep. That white chalk line you see on the roadway was the starting line of the Georgetown stage – the final stop on Day 1. The tape serves as a reminder to residents that now is probably not a good time to take Fido for a walk, if the racecars flying by at 150km/h wasn't enough of a hint.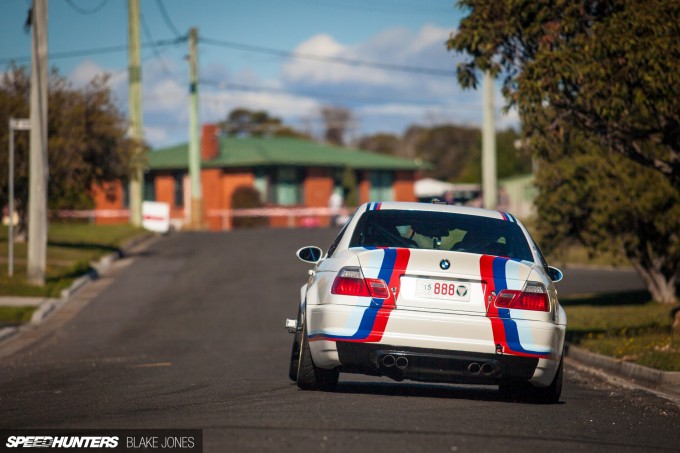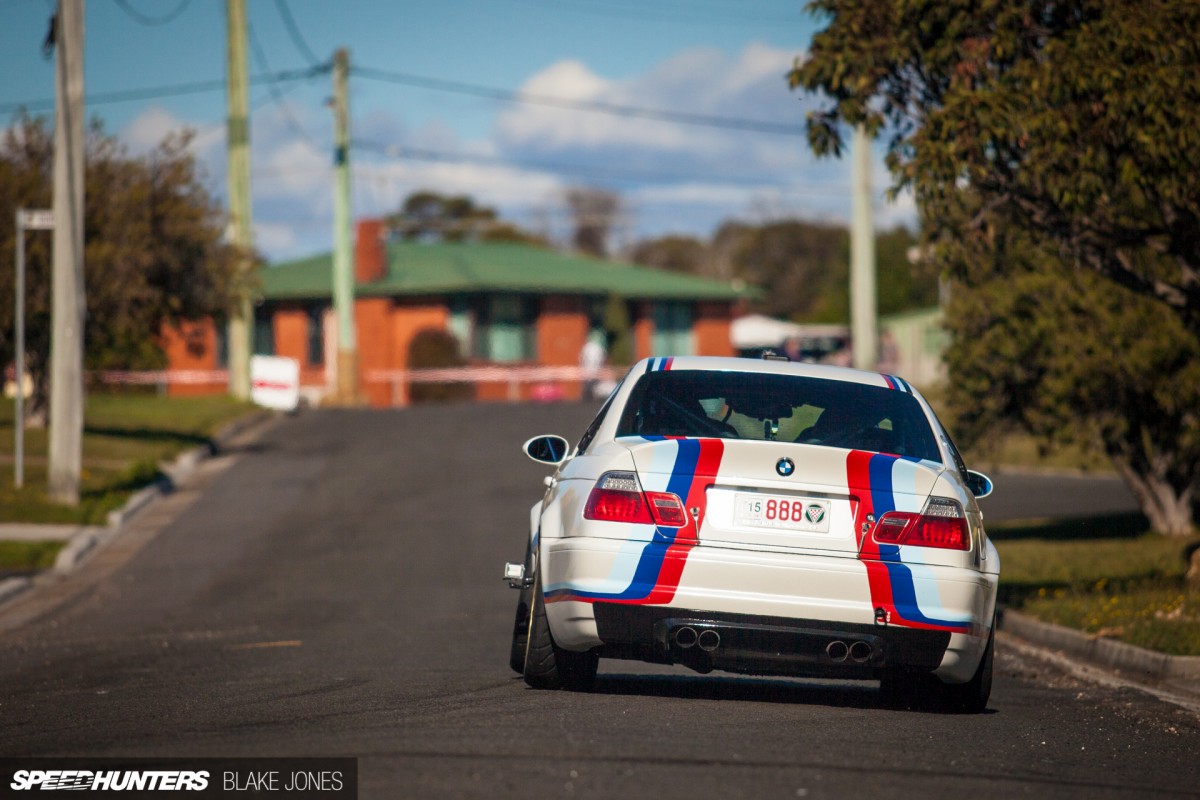 These suburban stages provide a stark contrast to the flowing backcountry roads and the slower right-angle corners are perfect for provoking some sideways action!
The People & Cars Of Targa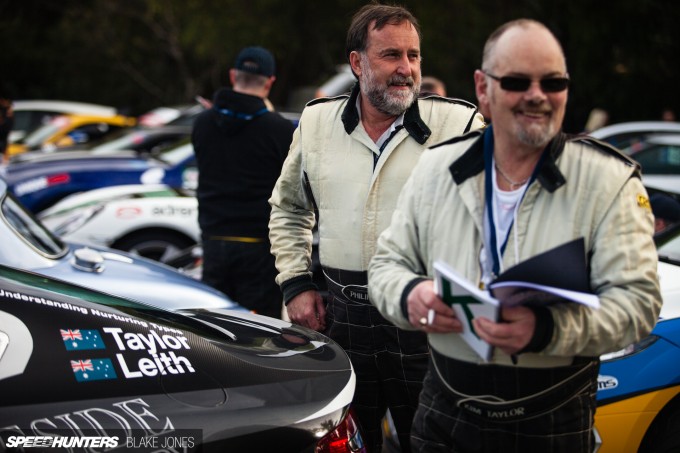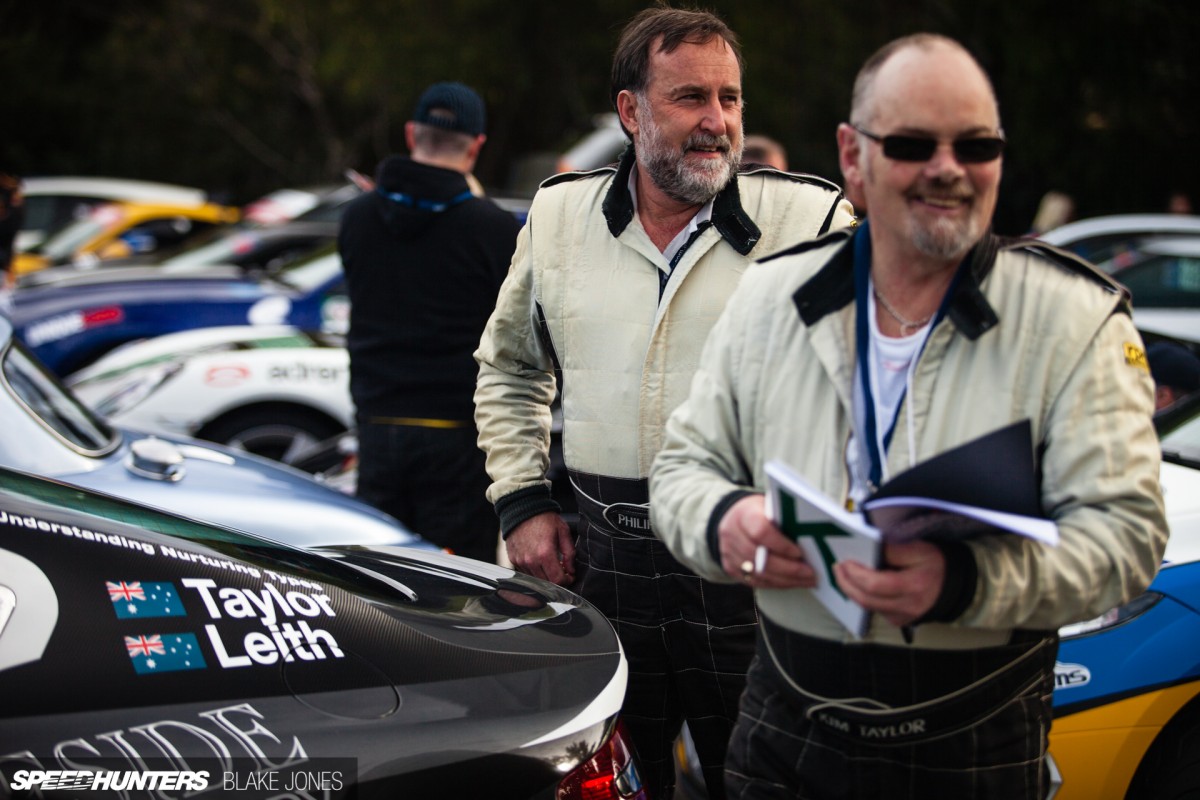 It was interesting to note that the average age of competitors was somewhere around 50, which struck me as unusual for an event as demanding and (in most classes) competitive as Targa Tasmania. It was also rare to find teams that were first-timers – most were battle-worn veterans who approached the event with equal parts enthusiasm and trepidation.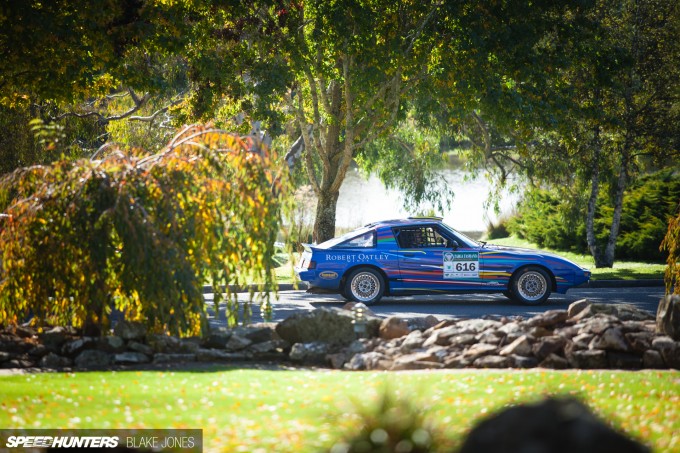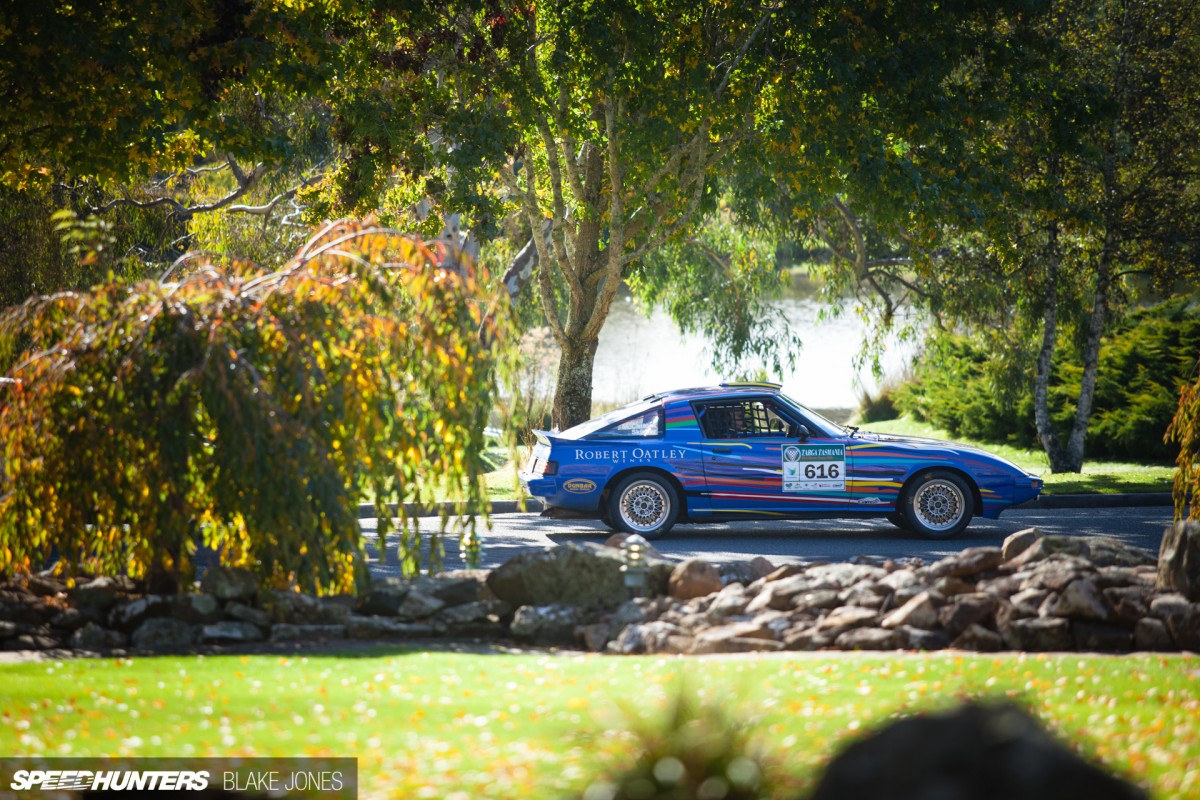 I can only speculate as to why this is, but I do have a few theories. Firstly, this event does largely fly 'under-the-radar' when it comes to mainstream media (this is probably a result of how damn hard it is to cover!). Picking up a Tasmanian newspaper will guarantee Targa content but on the Australian mainland barely a peep is raised outside of dedicated motorsport channels. Secondly, the costs associated in participating in such a logistically complex event would no doubt rise quickly even before your beautifully prepared race car goes for a trip through someone's front yard. This high barrier to entry with a questionable return for sponsors leaves the event in the realm of well-off gentlemen with a fetish for speed and the odd professional driver with the right connections.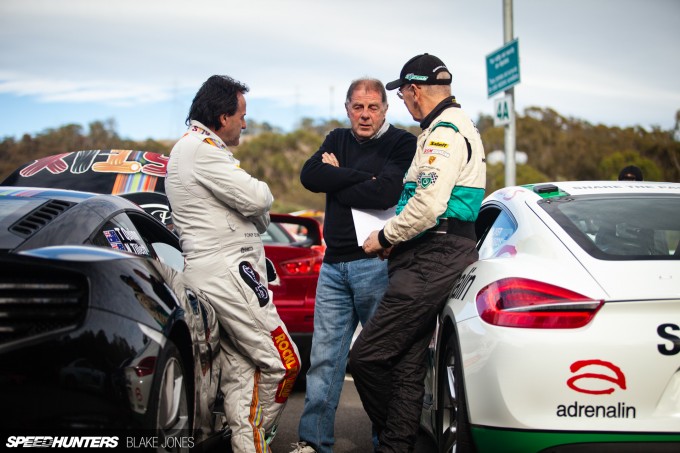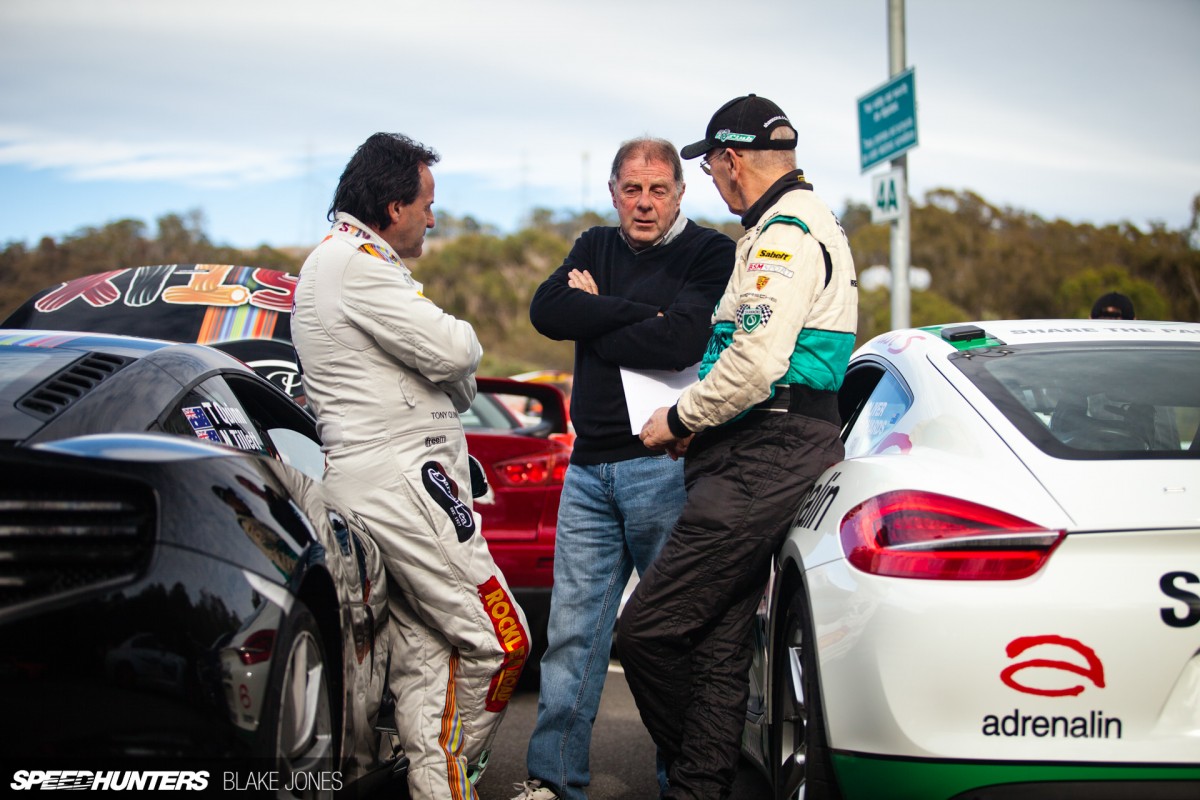 Tony Quinn and Jim Richards, pictured here, have been front runners at Targa for as long as I can remember and both are heavily active in motorsports outside the Targa event. Quinn had brought down his brand new McLaren 650S – freshly gutted and caged – to contest the Showroom class. Richards was running a current-gen Porsche Cayman S which, while no match for the sheer power of the McLaren, possesses the balance and poise required to be competitive over long distances, especially at the hands of the eight-time Targa winner.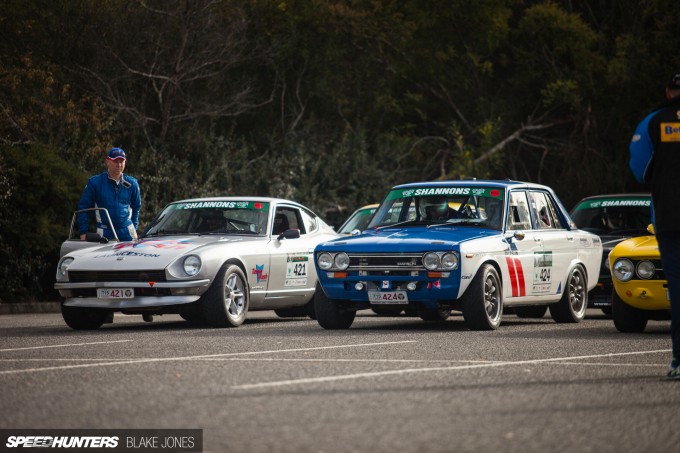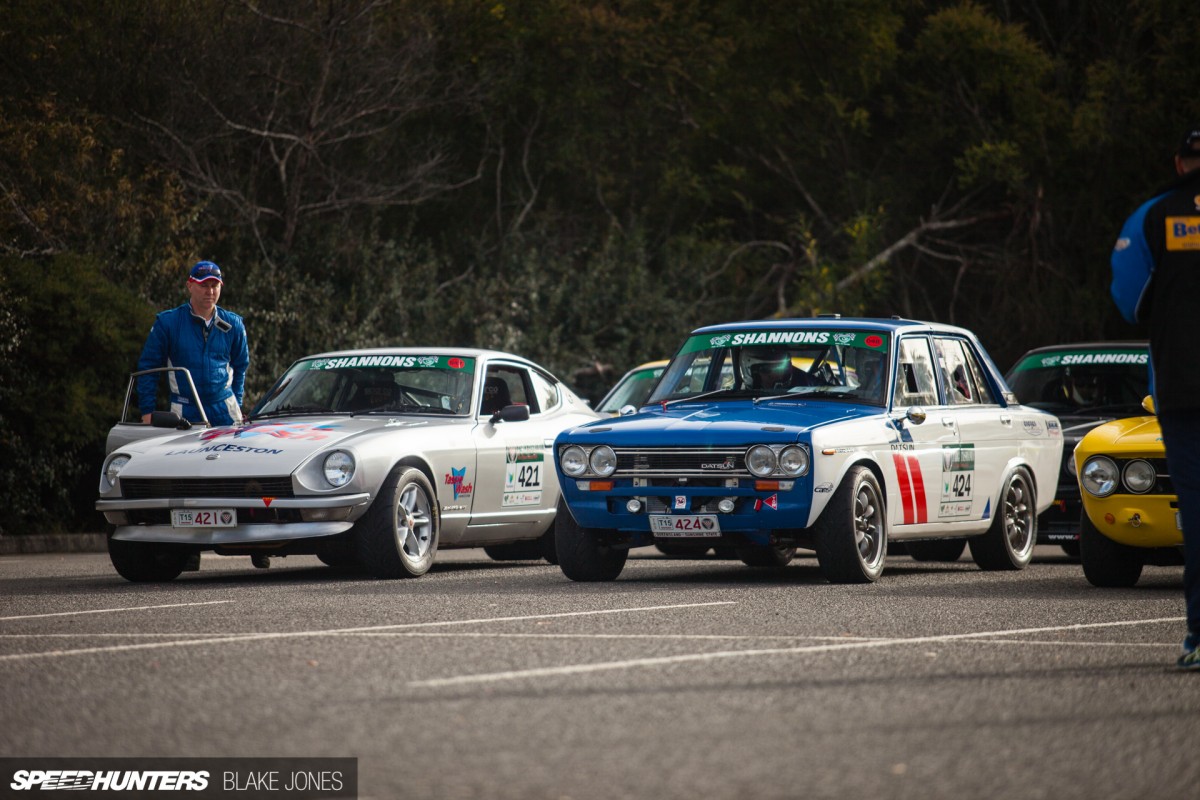 The selection of cars that emerge from the shadows for this event is another aspect that puts Targa in a league of its own. Most of the field falls into classic (Pre-1985) class, including these two meticulously prepared '70s Datsuns.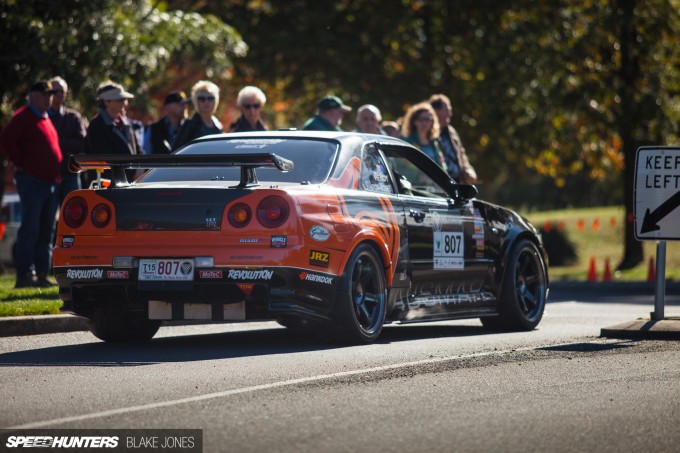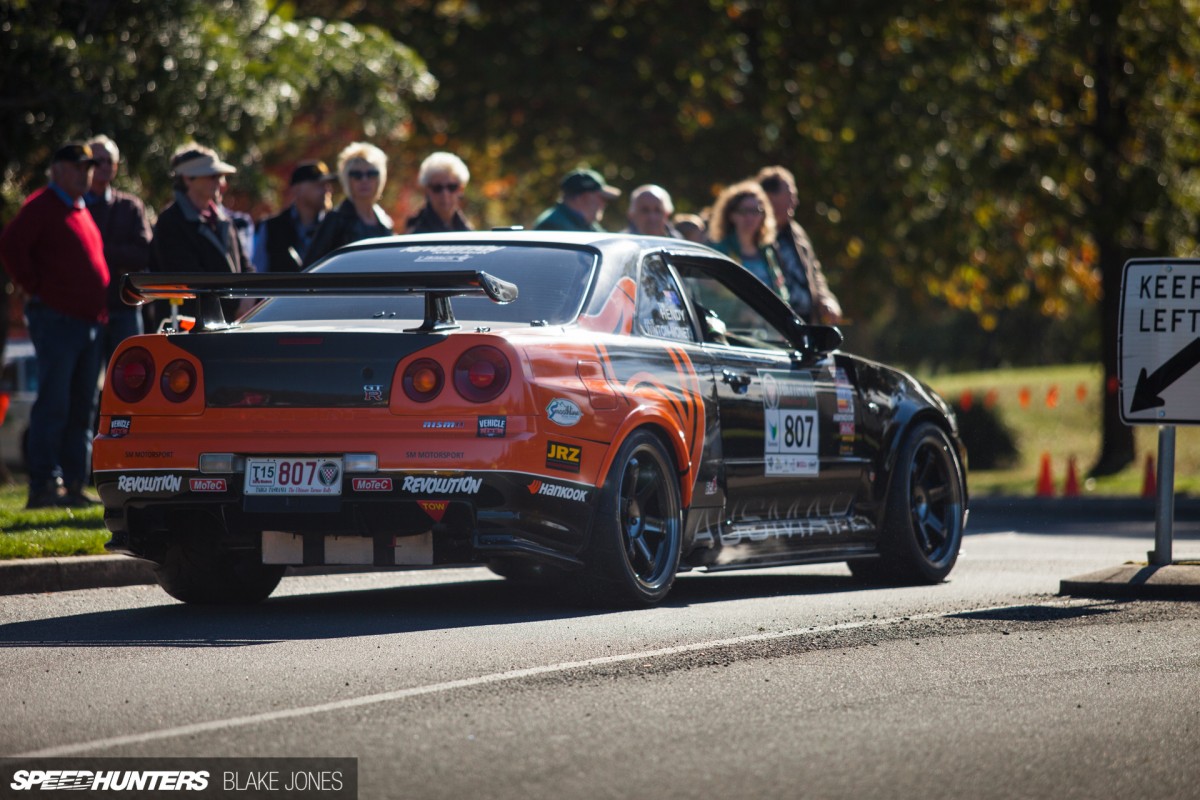 Newer Nissans weren't hard to come by either and year after year continue to be competitive. This awesome 2003 Skyline GT-R Z-Tune of Hendy/Winton-Monet finished second in the Early Modern class, beaten only by another R34 GT-R!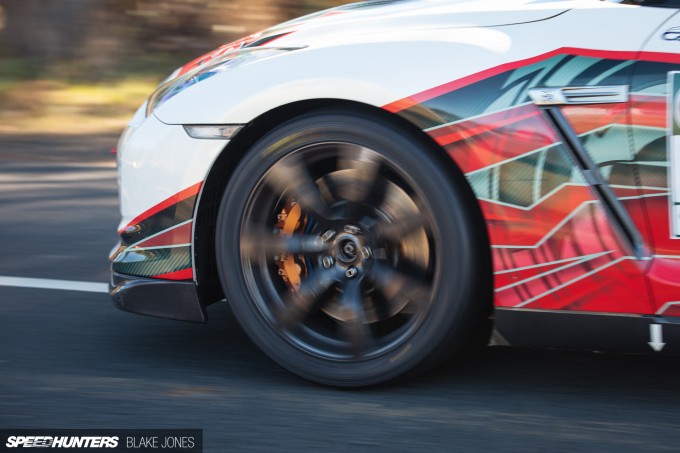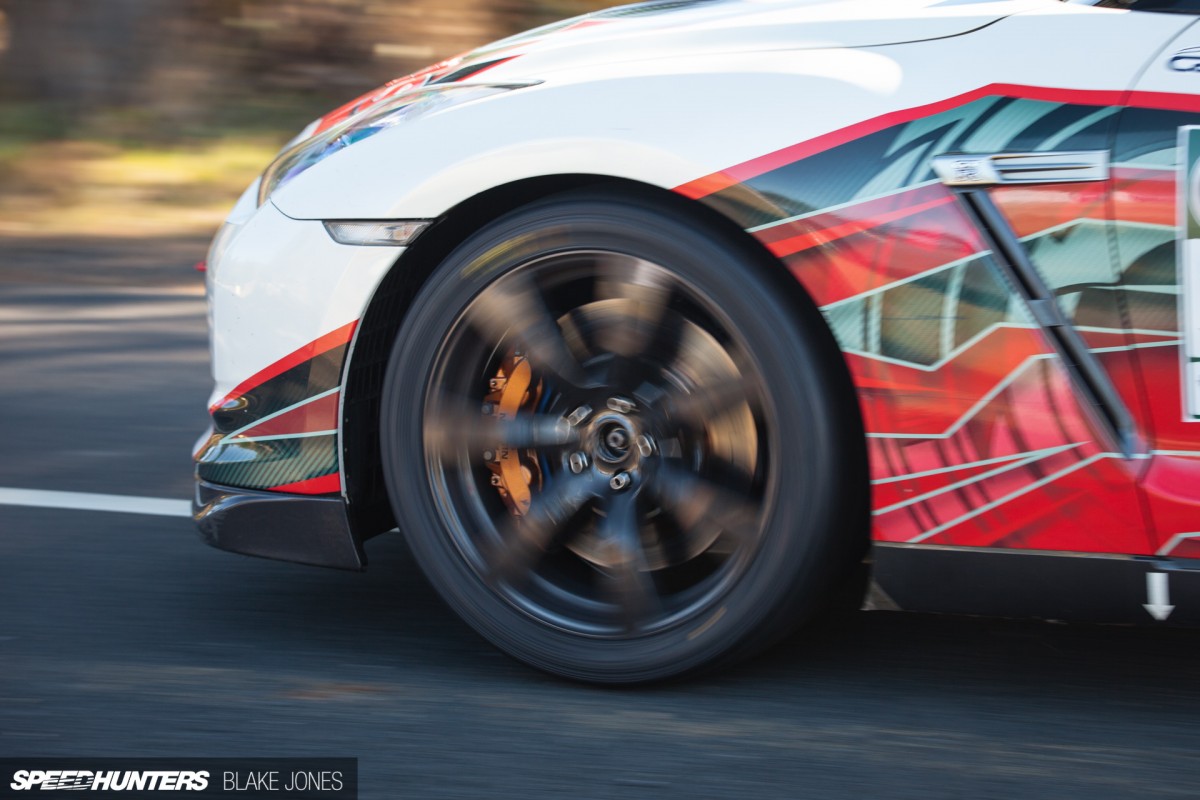 R35 GT-Rs also punctuated the top of the leaderboard in the Modern Outright category and as a spectator, left a serious impression upon me. The way they catapult from a standing start, all four wheels scrambling to find traction for the force-fed surge of torque, is only matched by much more expensive and fragile Italian creations for theatrics.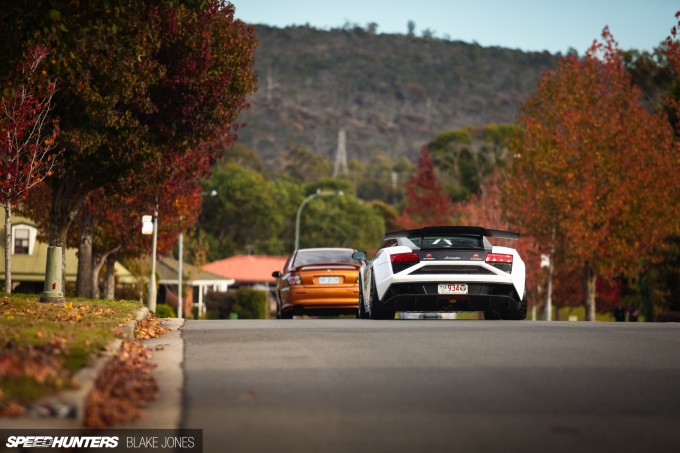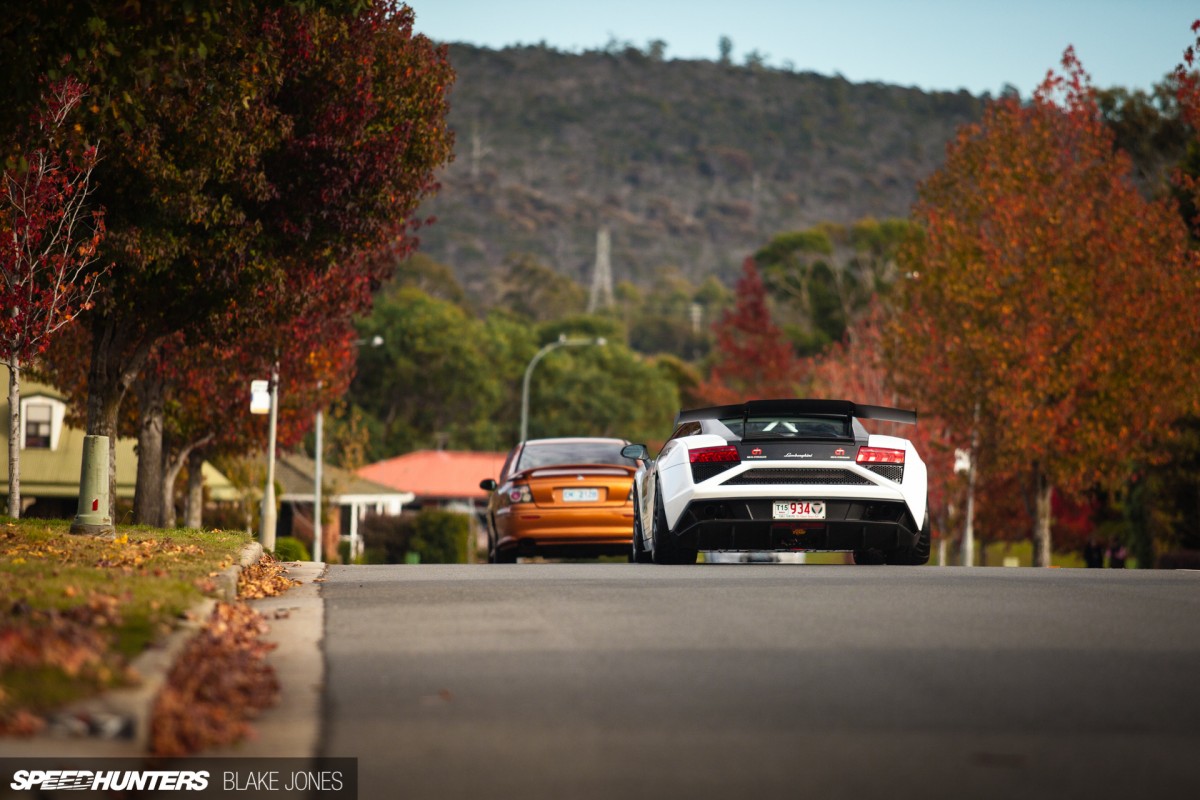 Speaking of which, the lone Lamborghini in this year's competition was this 2013 Gallardo Squadra Corse (recreation, I believe) driven by local boy and four-time winner Jason White. He went on to take out this year's Modern category by a very narrow margin (26 seconds!) over Steve Glenney in his Nissan GT-R.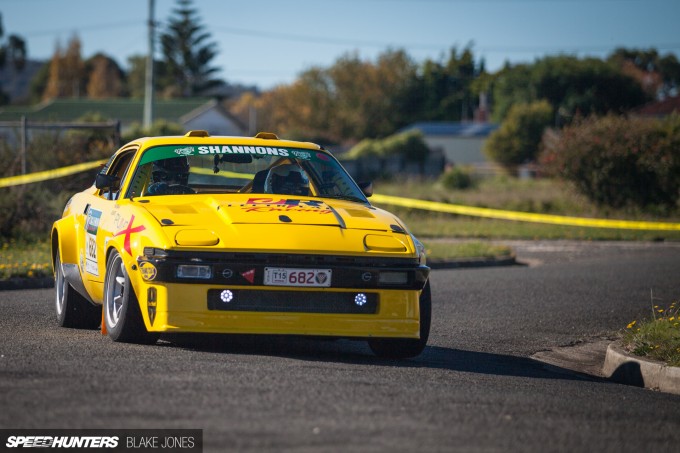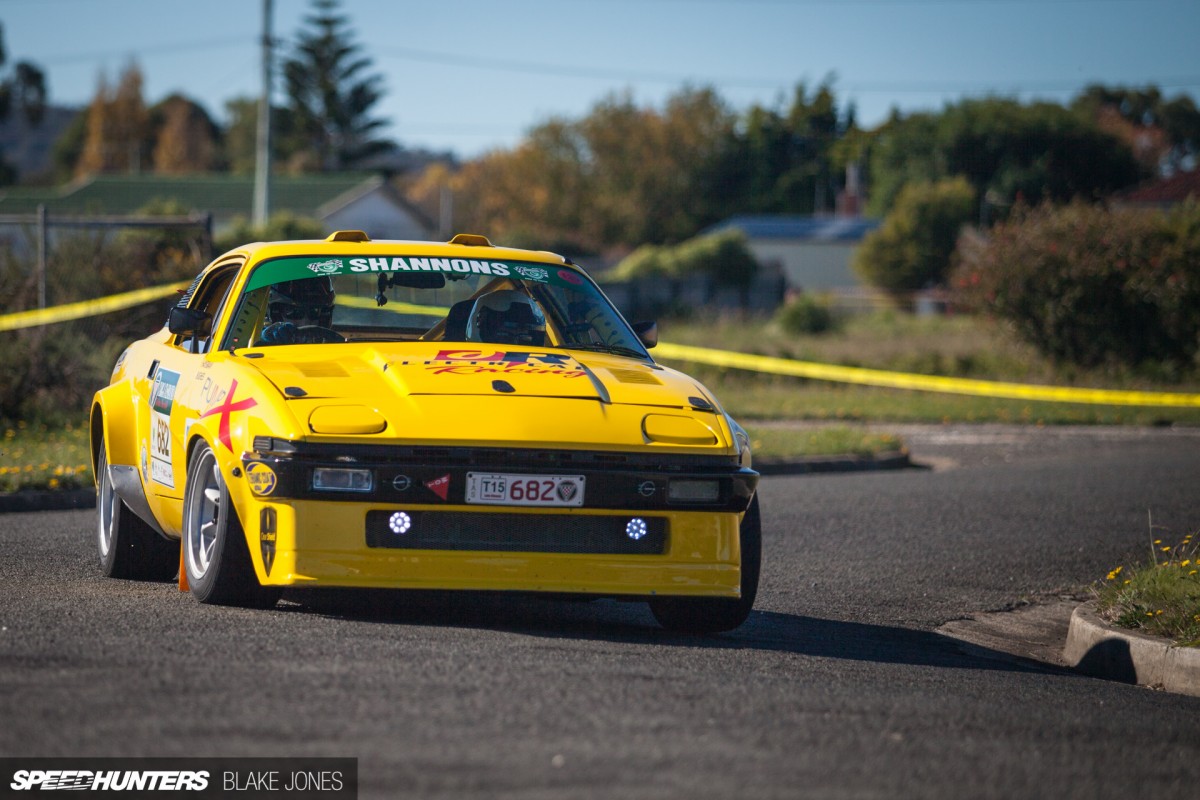 This 1981 Triumph TR7 was carrying extreme pace on whatever stage it raced, and a closer inspection on the display night revealed an extremely comprehensive build. This preparation paid its dues: the Haysman/Hughes duo took out the Classic Outright class which had a competitive field of 50 vehicles.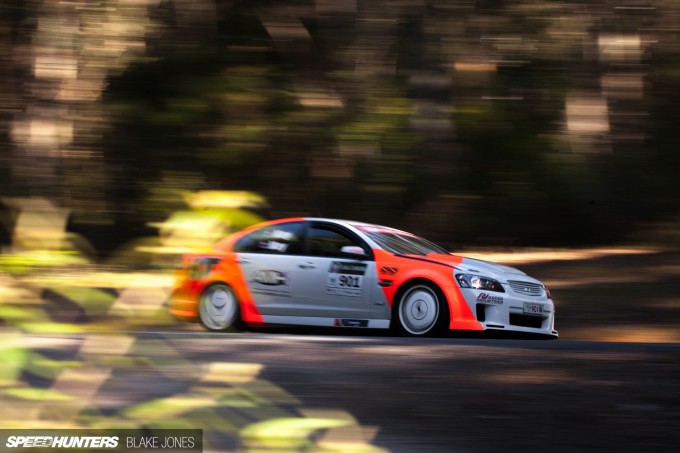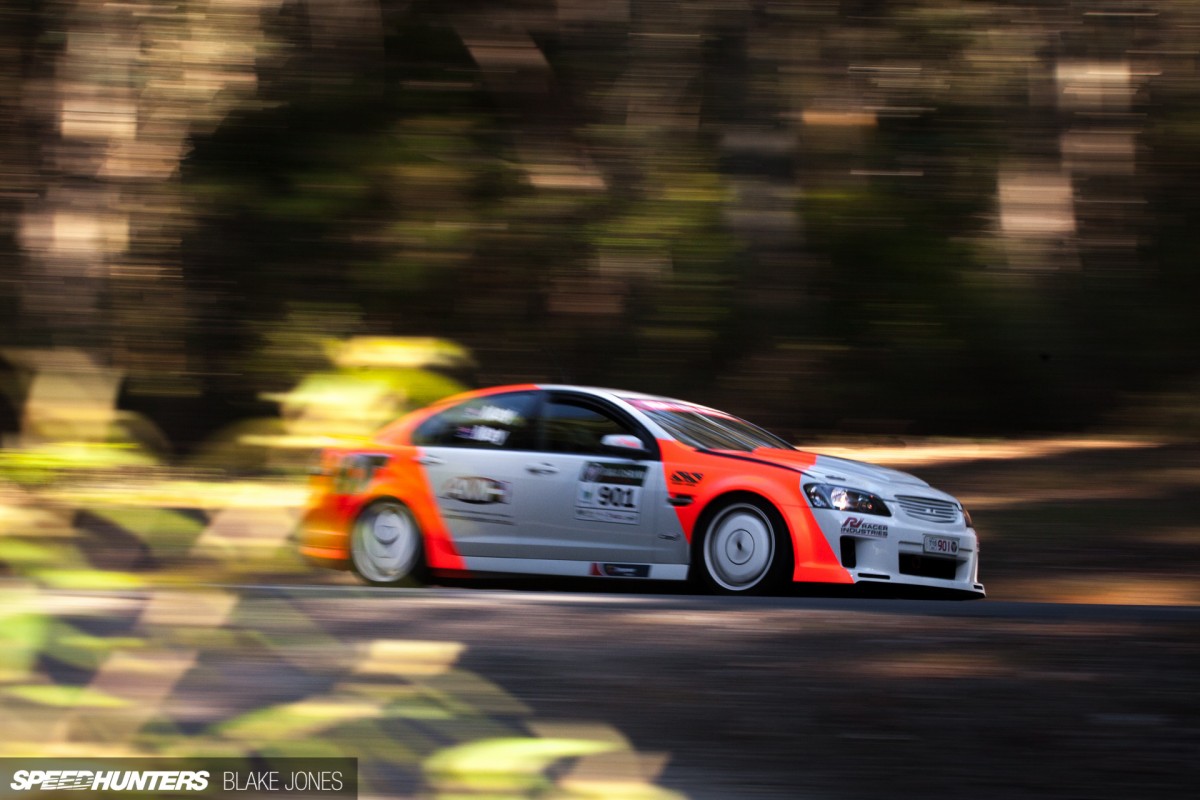 GM Holden was fairly well represented across both Modern and Classic classifications, with this 2009 Commodore SS mixing both – marrying a modern chassis and Gen Four LS poweplant to a livery harking back to the glory days of the Holden Dealer Team in the '80s.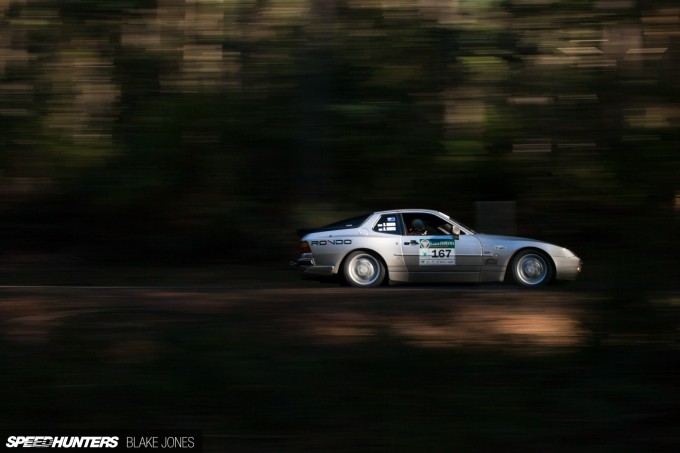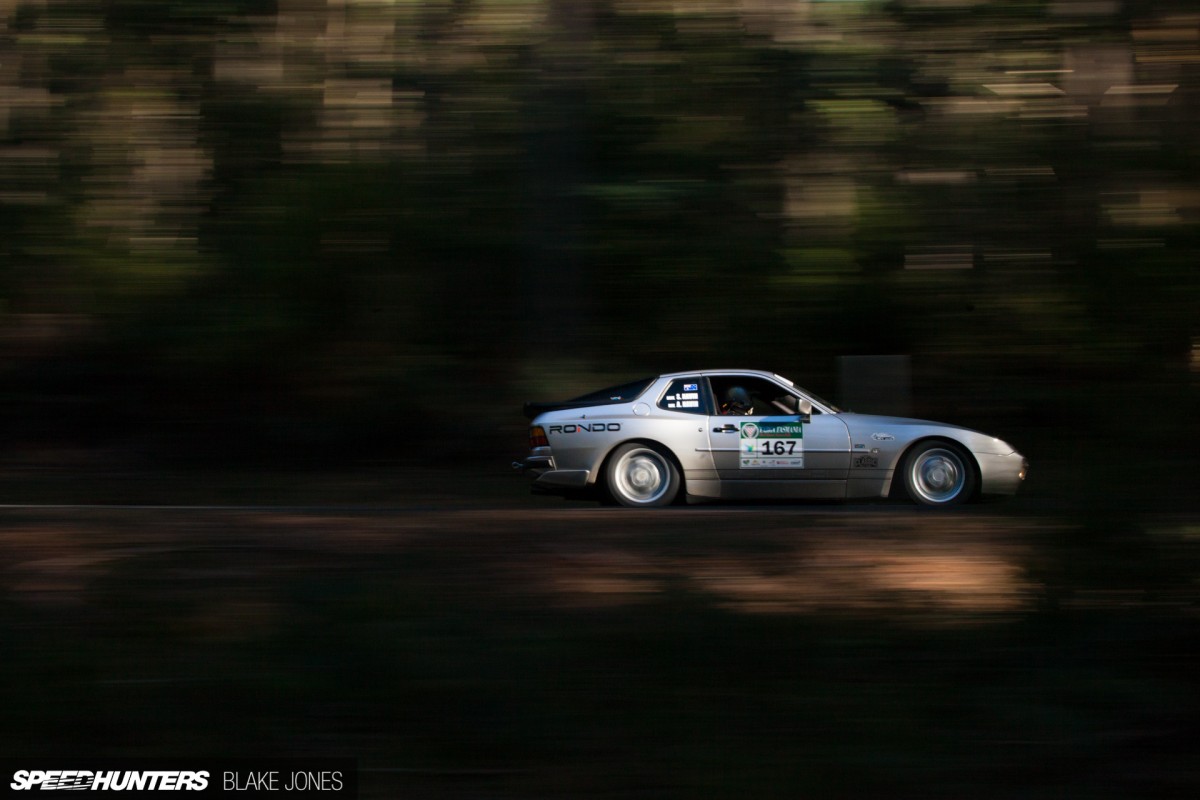 Porsches of all configurations and vintages were well represented, from early longhood 911s and 916s up to current 991 GT3s, but for me it was the front-engined variety that stole the show. To my count there were three 944s and a 968 competing – and all punching well above what their relatively low power outputs would suggest. In fact, a 1982 naturally aspirated 944 took out the hotly-contested Late Classic Handicap class – the same model I own and drive! Maybe I should have a crack at it next year…
Second Bite Of The Apple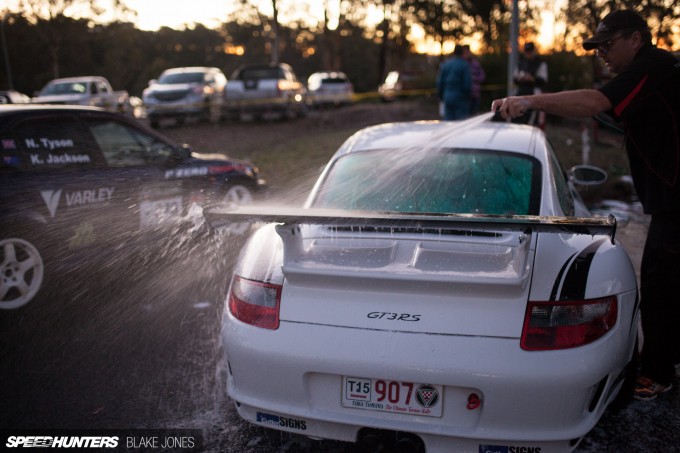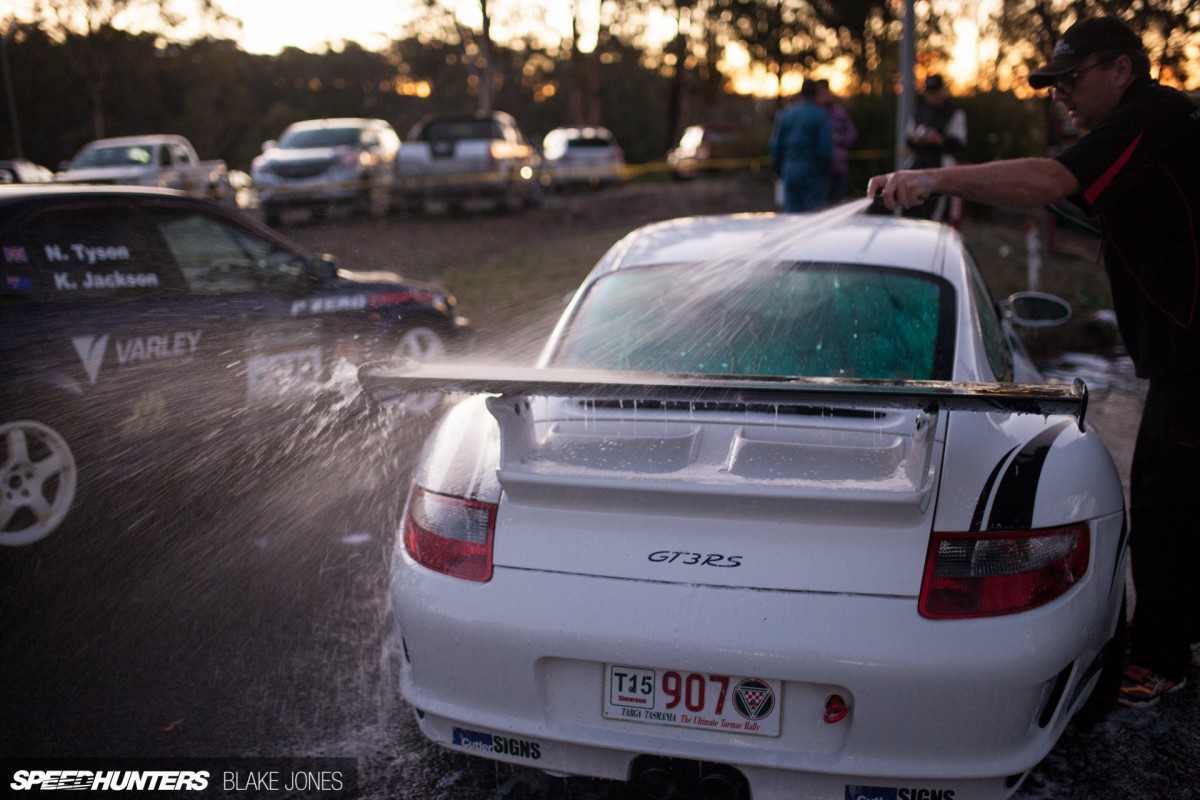 Once the day's rallying was done, the cars would filter back through town and into the central Targa hub – in the case of Launceston this is the Silverdome Sports Centre. If your day has been relatively successful, all that's left to do is wash away the dirt and brake dust before enjoying a frosty and well-earned schooner of James Boag's.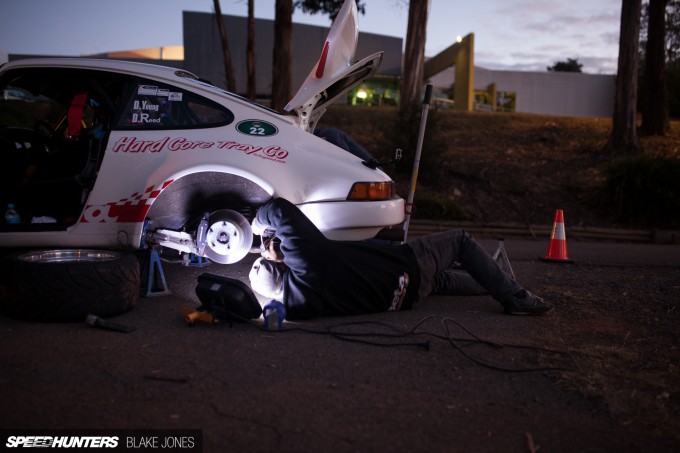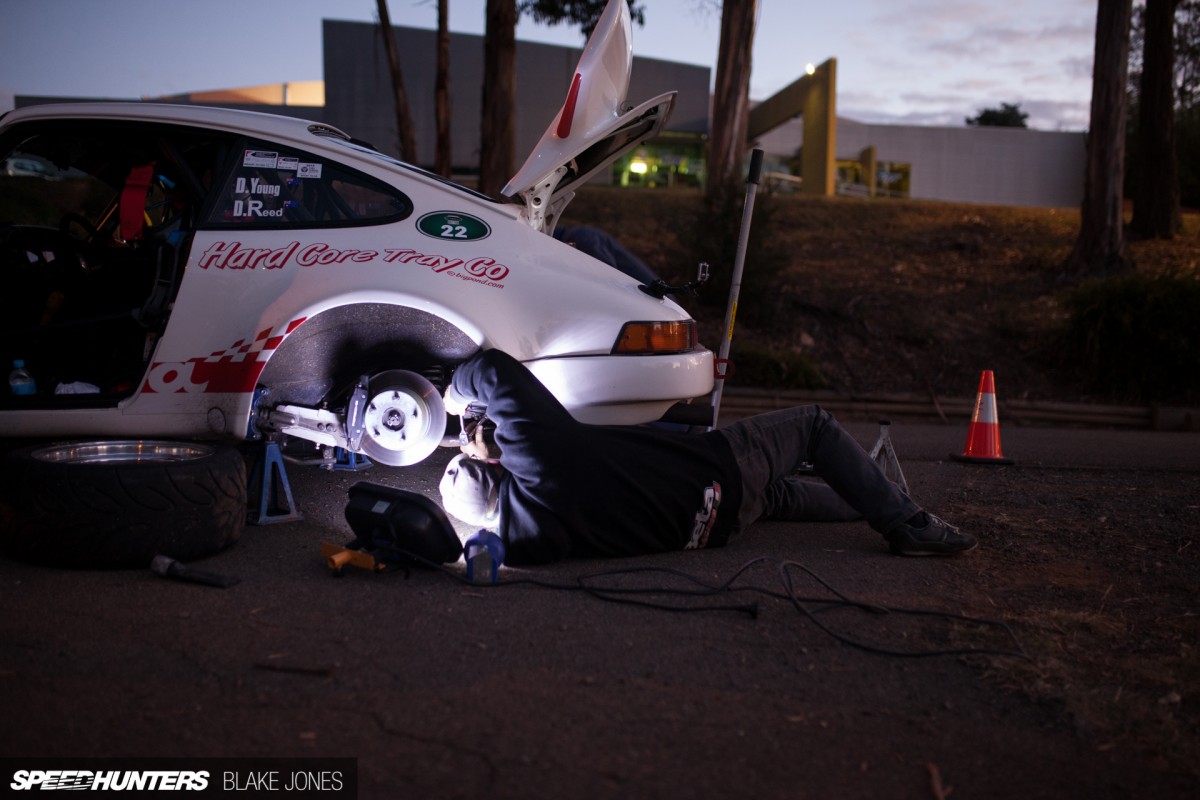 At one point or another the reality was much less thirst-quenching for most teams – a mad rush to have the car repaired or re-tuned after abuse suffered on the challenging Tasmanian roads prior to the 6:00pm cut-off.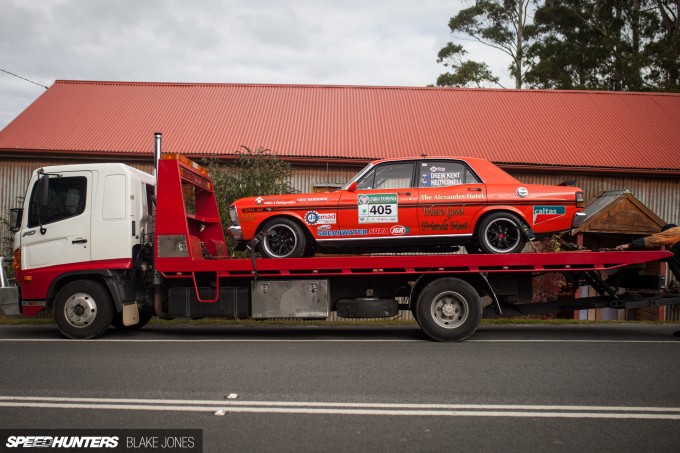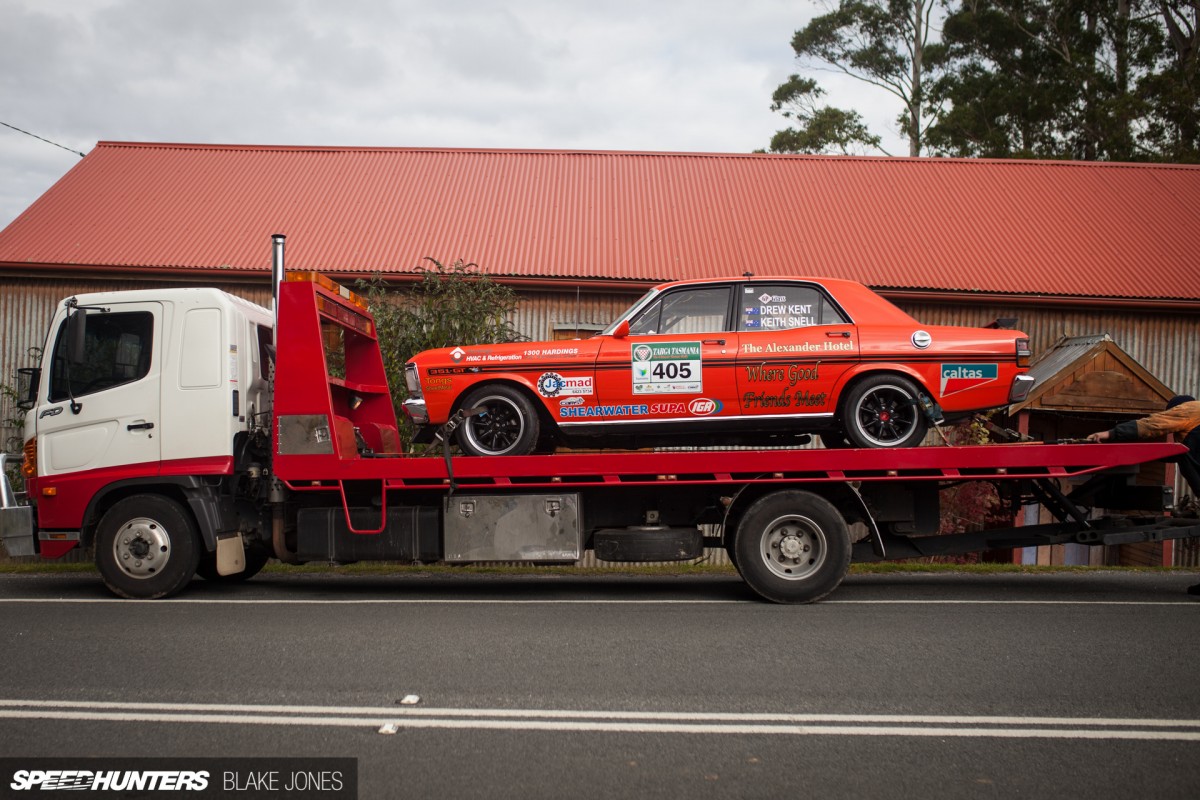 This is the unfortunate but fundamentally characteristic note I must end this coverage of the 2015 Targa Tasmania on – the toll taken on both car and driver. Traveling the rally roads after the dust has settled you will find countless abandoned race cars, shells of empty potential and fumbled dreams. Tow truck drivers eagerly lurk in nearby towns ready to collect the prized possessions and return them to civilization and the reality that 2015 is not their year.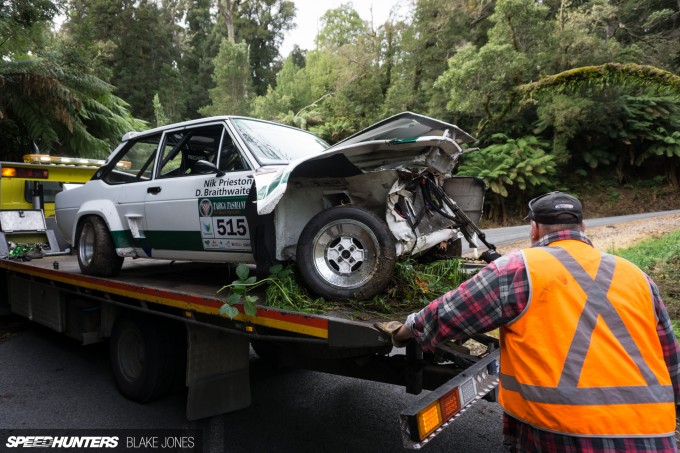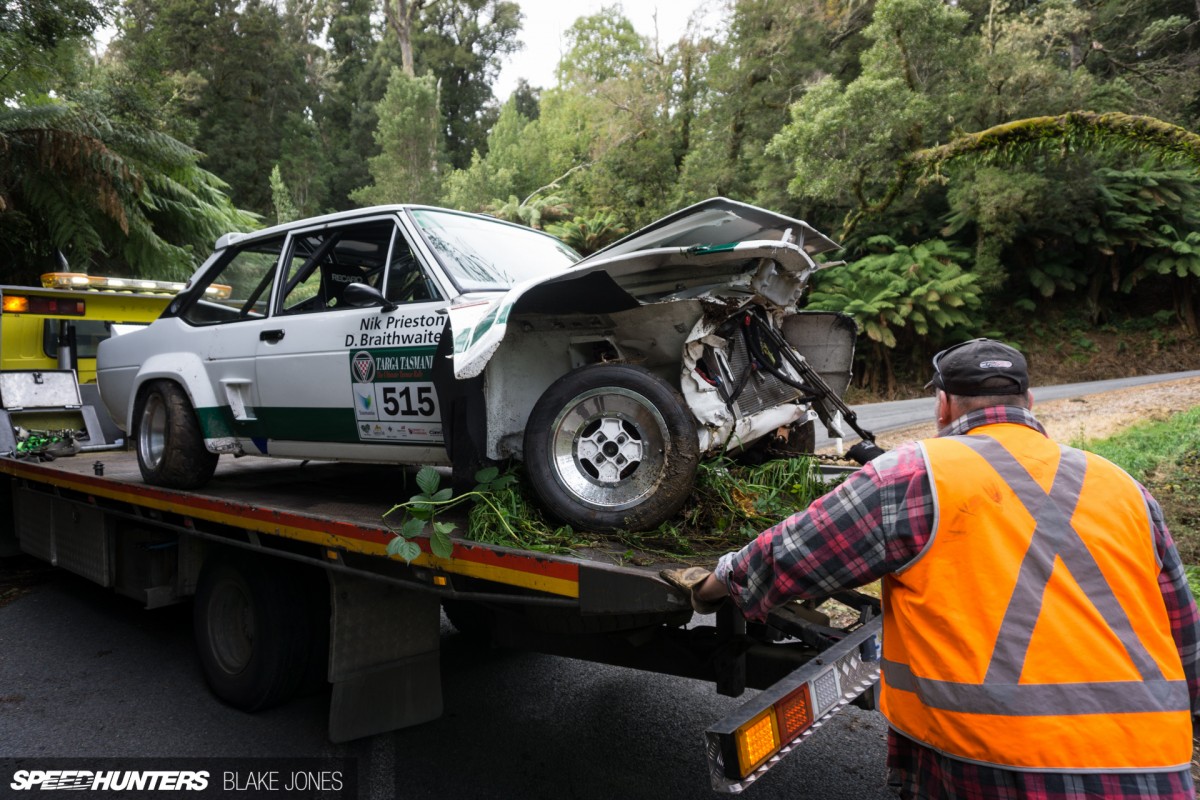 For some, the reality is more painful than a bruised ego. High speeds and limited run-offs are a recipe for wrecks and every year cars and drivers earn scars – some deeper than others. The car I was following closest and rooting for – the Fiat 131 of Prieston/Braithewaite – plunged into a bushy crevasse on Weldborough Pass mid-way through Day 3 leaving the front end severely damaged. Impressively, Nik still managed a smile when I checked in on him while the car was being recovered. "That's just motorsport. That's Targa. Next time," he lamented. Next time indeed.
Blake Jones
Instagram: blaketjones
blake@speedhunters.com
Cutting Room Floor