There's A What? Where?
I don't know anybody who doesn't like a sleeper. You know, the kind of car that looks happy parked outside the local shops, yet could blow your doors off and happily destroy a supercar off the line. Generally it means hiding as much power under the standard skin as possible, but once in a while somebody like Chris Todd does something really out there… Like put a Subaru motor in the back of a Ford Fiesta.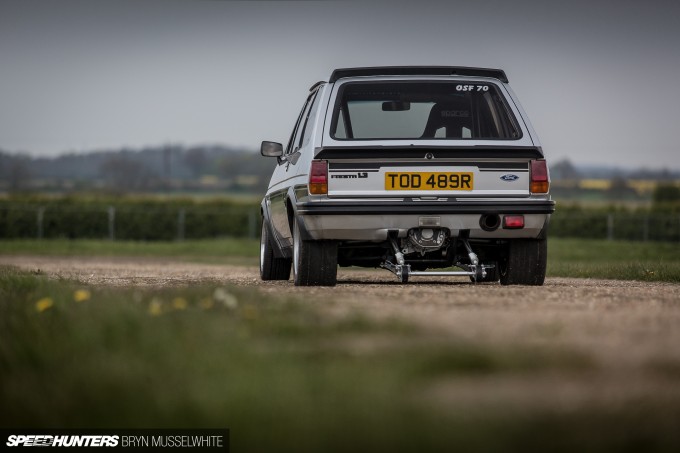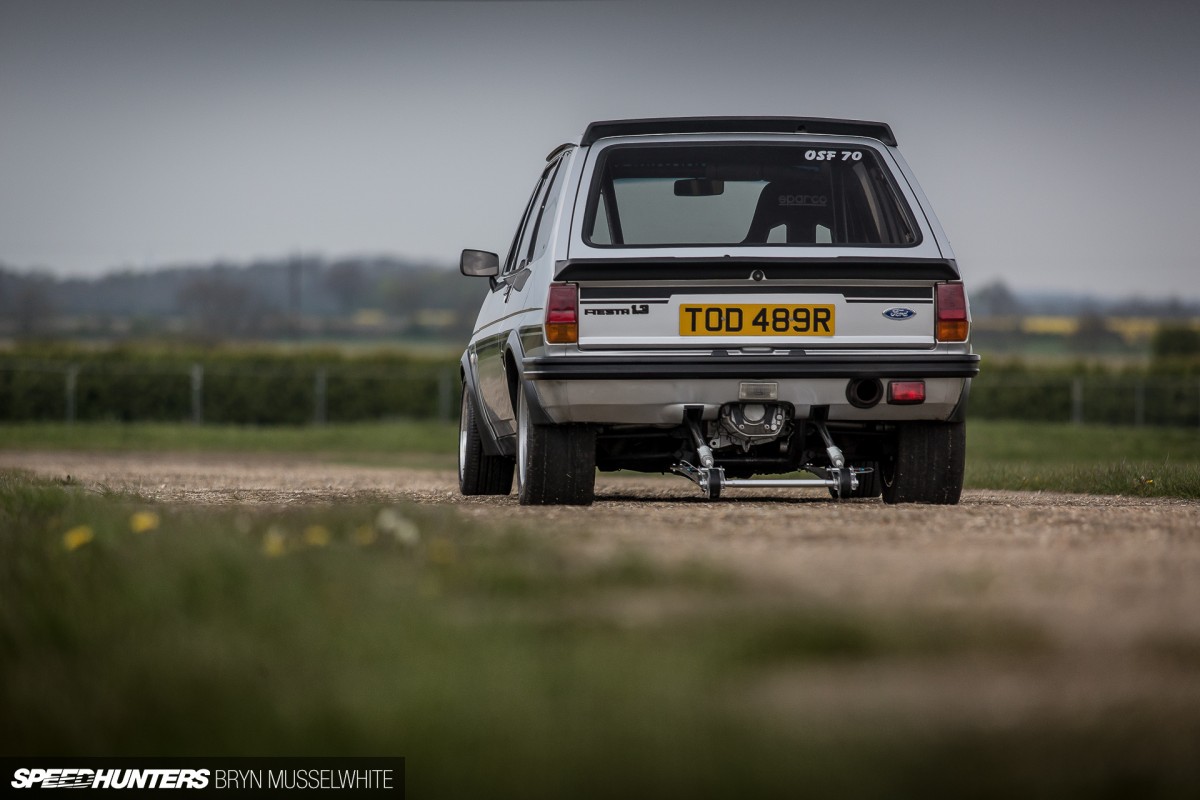 Okay, so the wheelie bars are a bit of a giveaway, and the odd transmission-looking lump hanging out from the under the rear valance – yup, that's a sure-fire sign something is a little out of the ordinary. But that's because this baby Ford has mutated from its days as a potent street car, taking down bigger-powered, larger foe.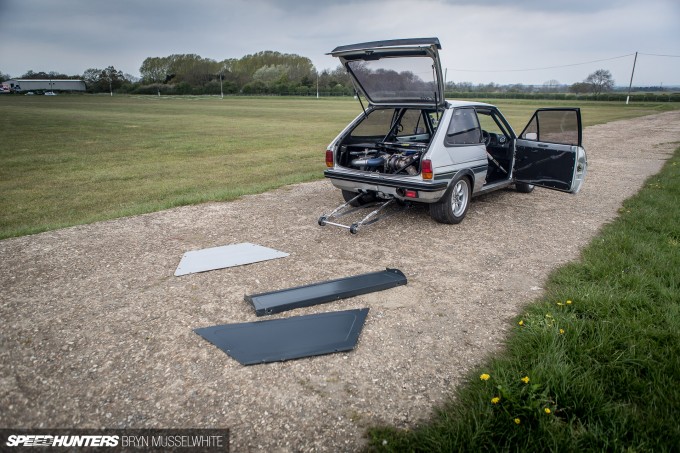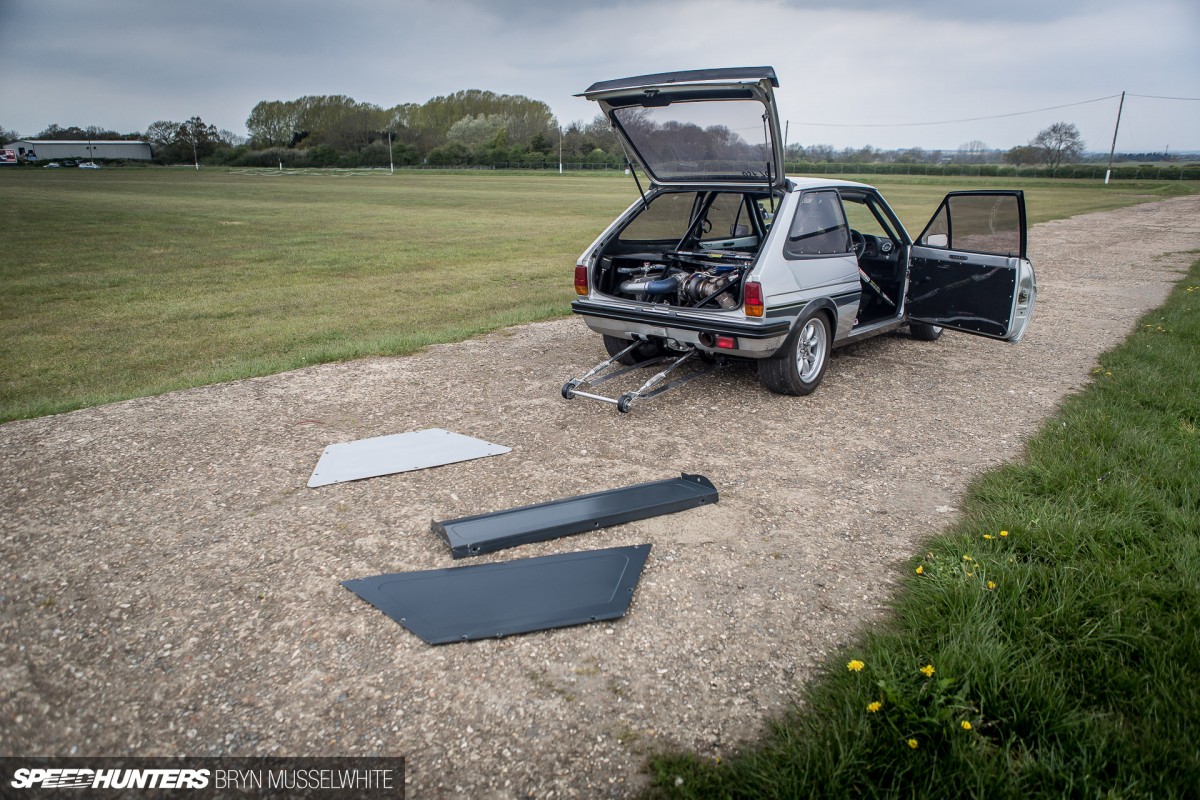 Chris didn't set out to build a wheel-standing drag racer with a Subaru motor in the back when he bought the Fiesta in 1998, but 17 years of ownership mean this blue oval baby has developed beyond even the owner's wildest imagineering. Yes, I just invented a word. Things are going to get a lot freakier yet though…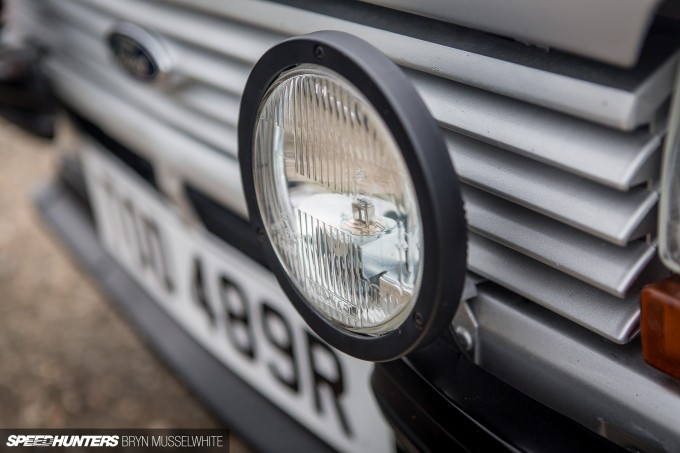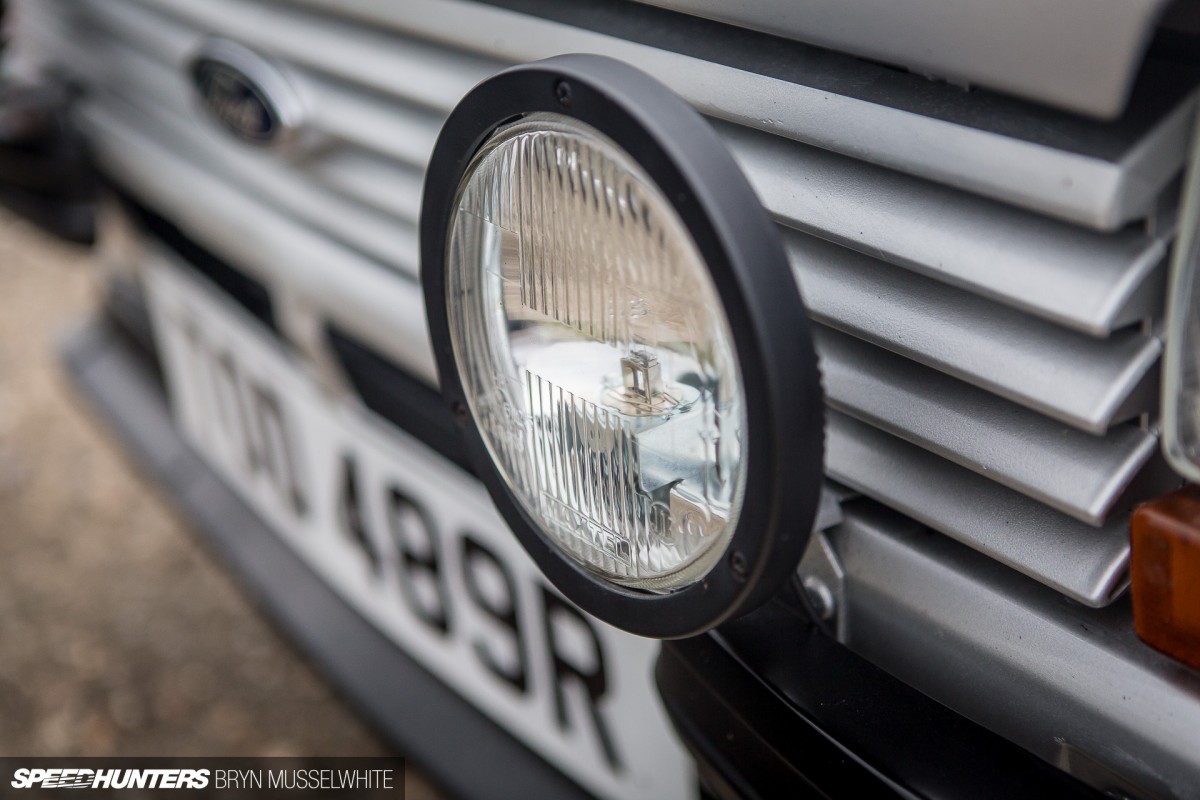 It's been a pleasure watching this build progress over the years. I first wrote an article about it for Classic Ford magazine well over 10 years ago, and at that time it was running a turbo and supercharged CVH motor in the front. That was a natural thing to do mind you, as Chris is a die-hard Ford man having owned a brace of Mk1 and Mk2 Escorts. His first car was a Mk1 Fiesta too.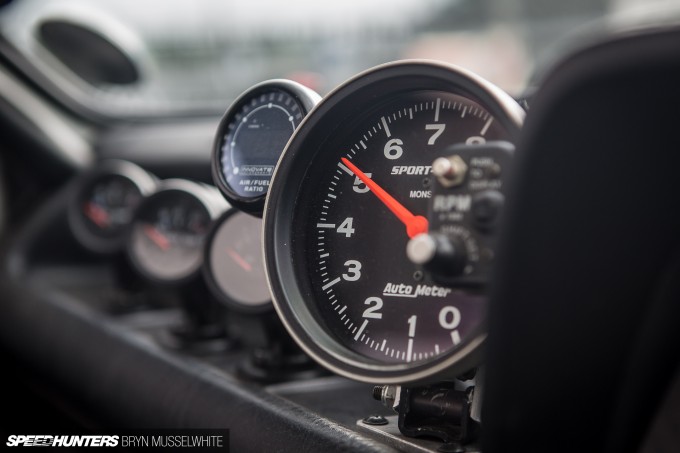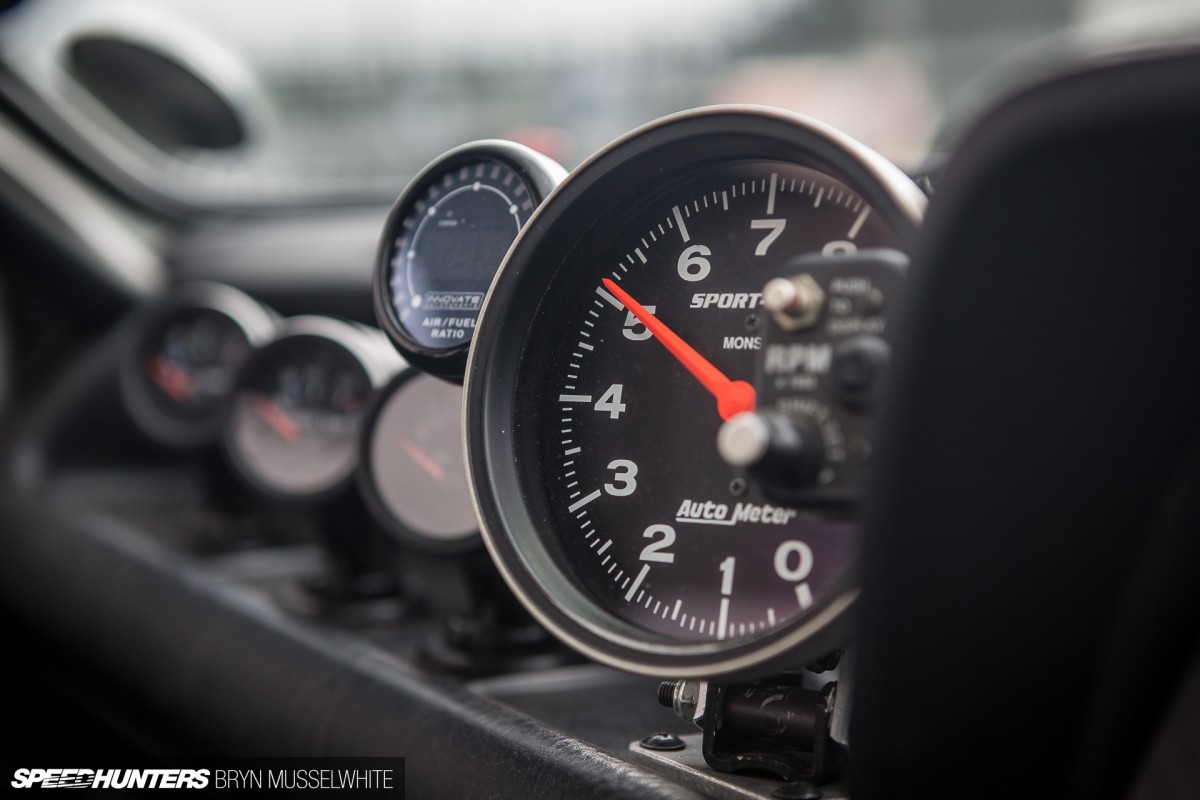 There was a 3.0-litre V6 supercharged Anglia as well, with some larger Granadas and a Zephyr also in the mix. So when the chance to buy a clean and rare (even then) Mk1 Supersport from his neighbour came up, Chris got the cash together and made the keys his.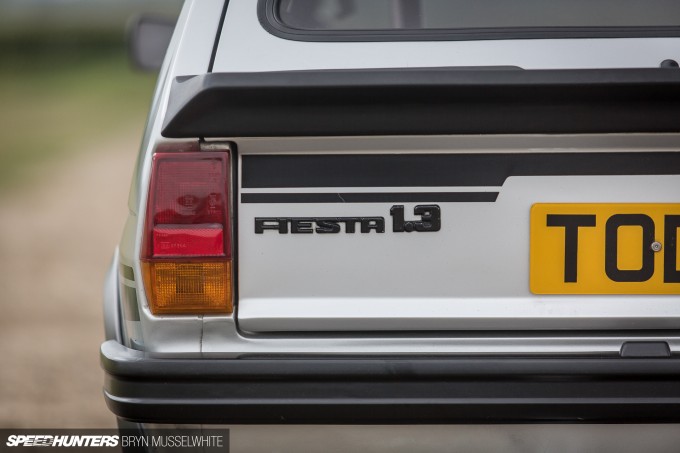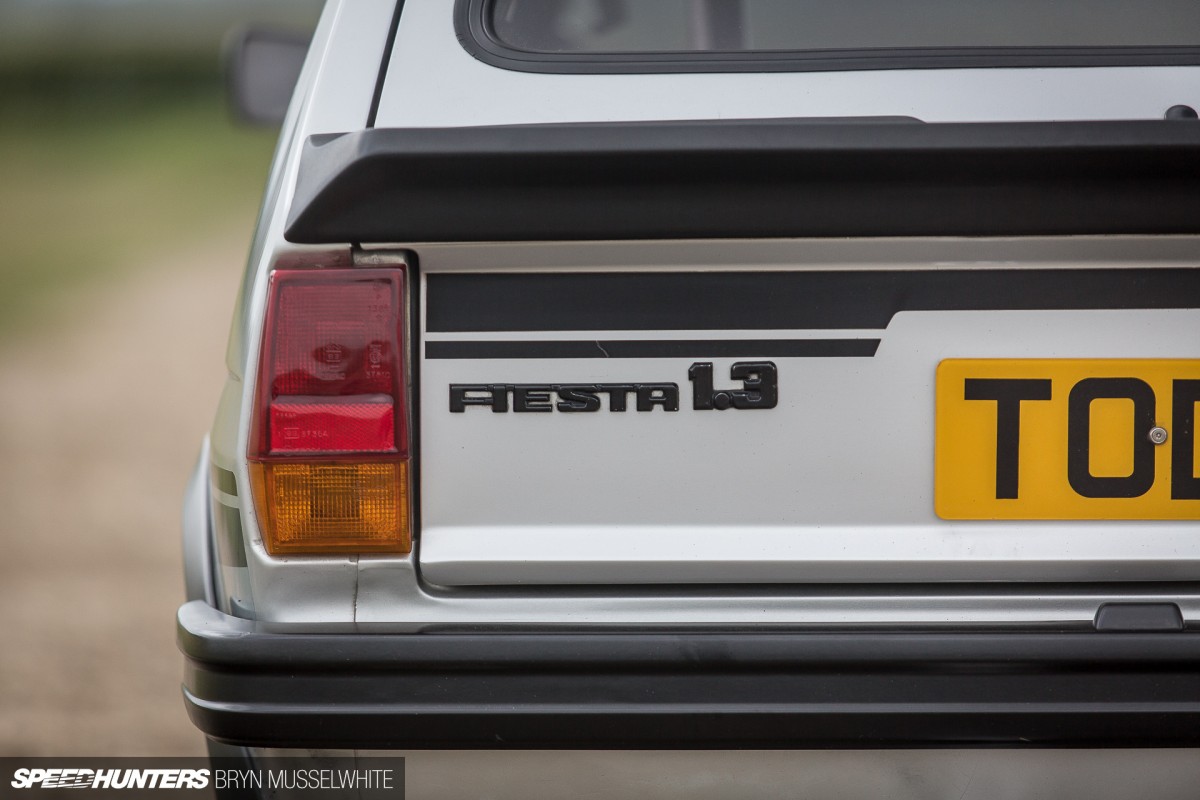 All the time I've known Chris he's worked in the tuning industry, from operating a dyno and more recently getting stuck into the electronic side of things.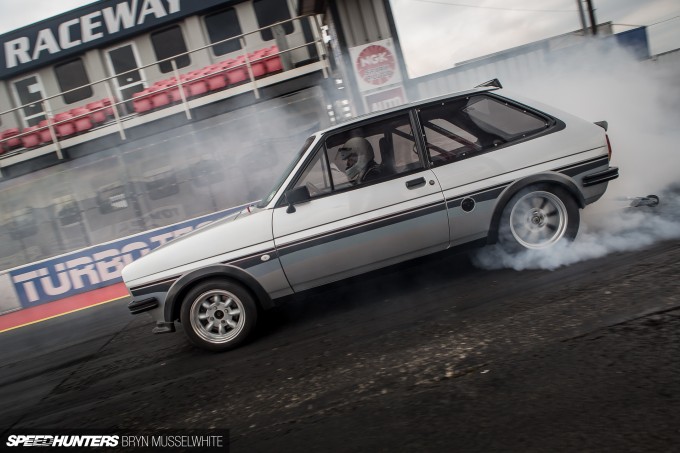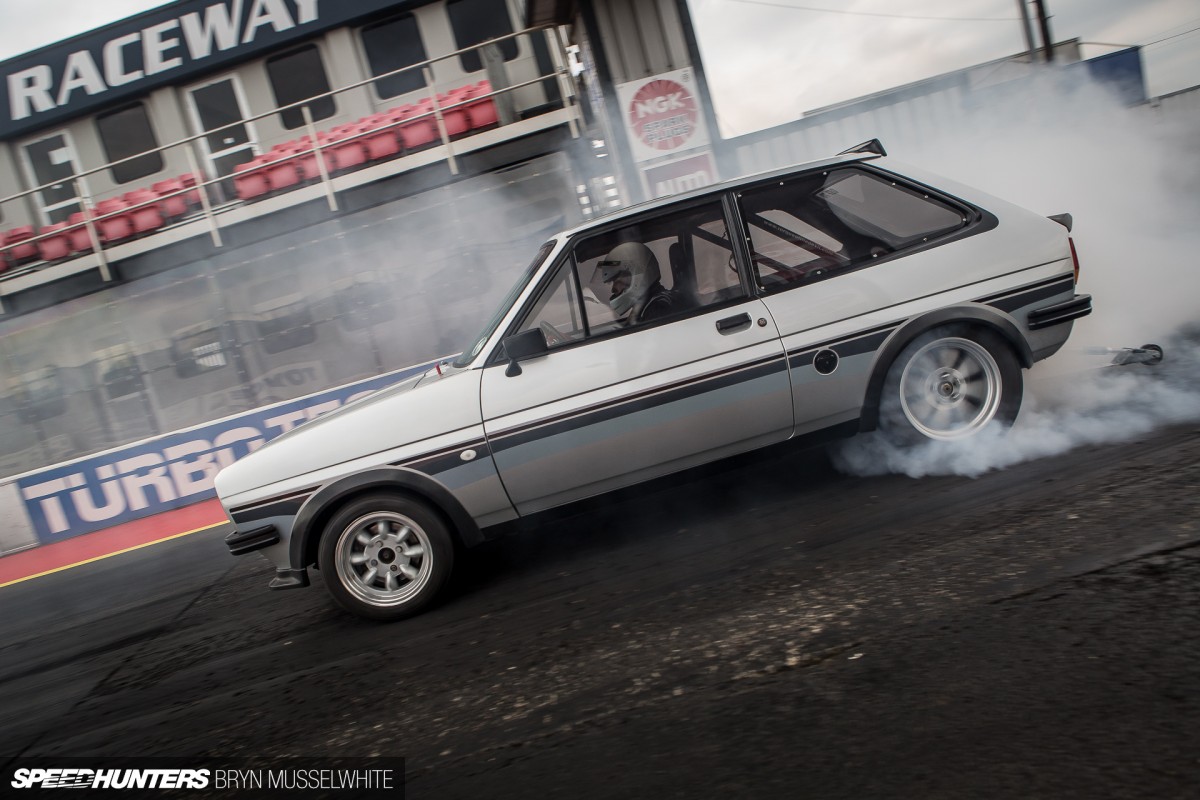 So he's got a natural lean towards to making things work without simply bolting a prescribed package together. Chris also has a family and a life outside of cars so he can't justify pouring every penny into a project, but he definitely doesn't use this as an excuse. Hell no. I mentioned it's run a 9-second ET on the quarter mile, yeah? Oh yeah!
Mutant Technology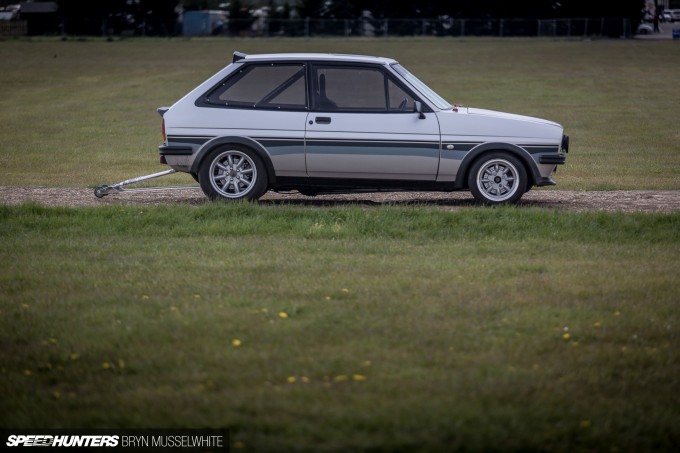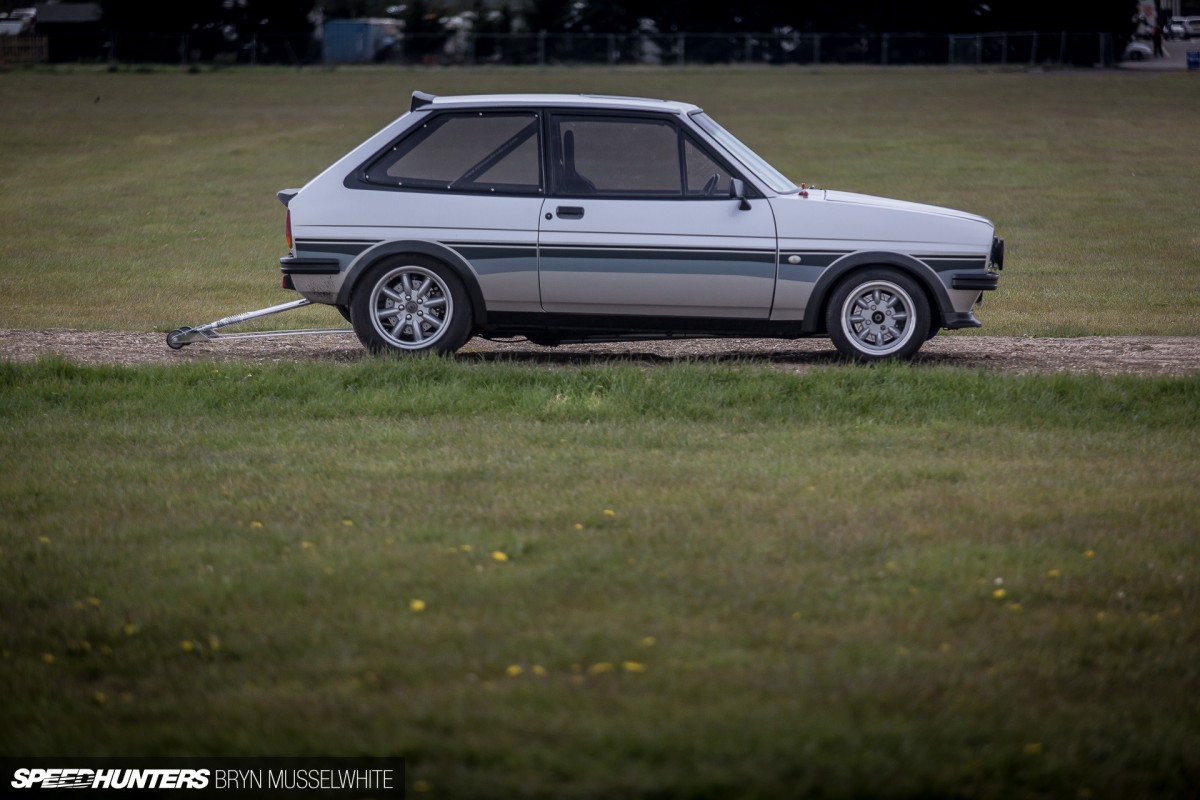 Instead it means Chris is inventive. Having built up carbed motors before, he decided to try something different with the Fiesta when, after eight months of owning it, the original 1300 crossflow just didn't cut it anymore. On the car's first transformation, Chris says: "I bought a 1.6-litre CVH engine from a Mk3 Escort and fitted low compression pistons to it from a series one RS Turbo. Then I bought a brand new Eaton M62 supercharger and proceeded to attach it to the engine using the engine management system from a 2.0i Pinto Sierra and a fifth injector to supply the additional fuel. Down at the dyno this made 180bhp at 12psi boost and was a quick little car; so good I had to uprate the brakes and suspension to avoid an accident."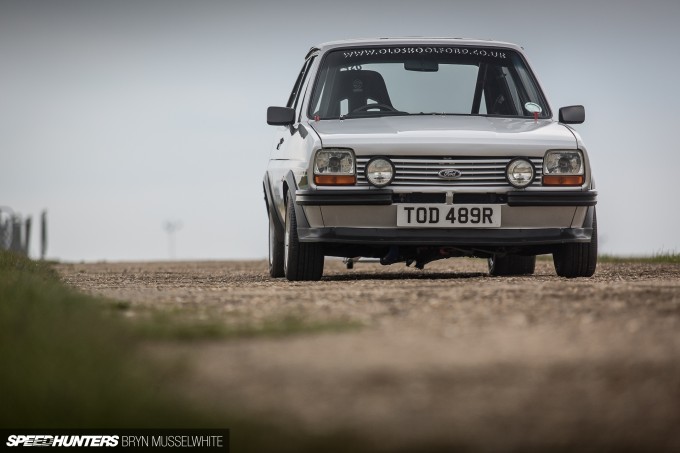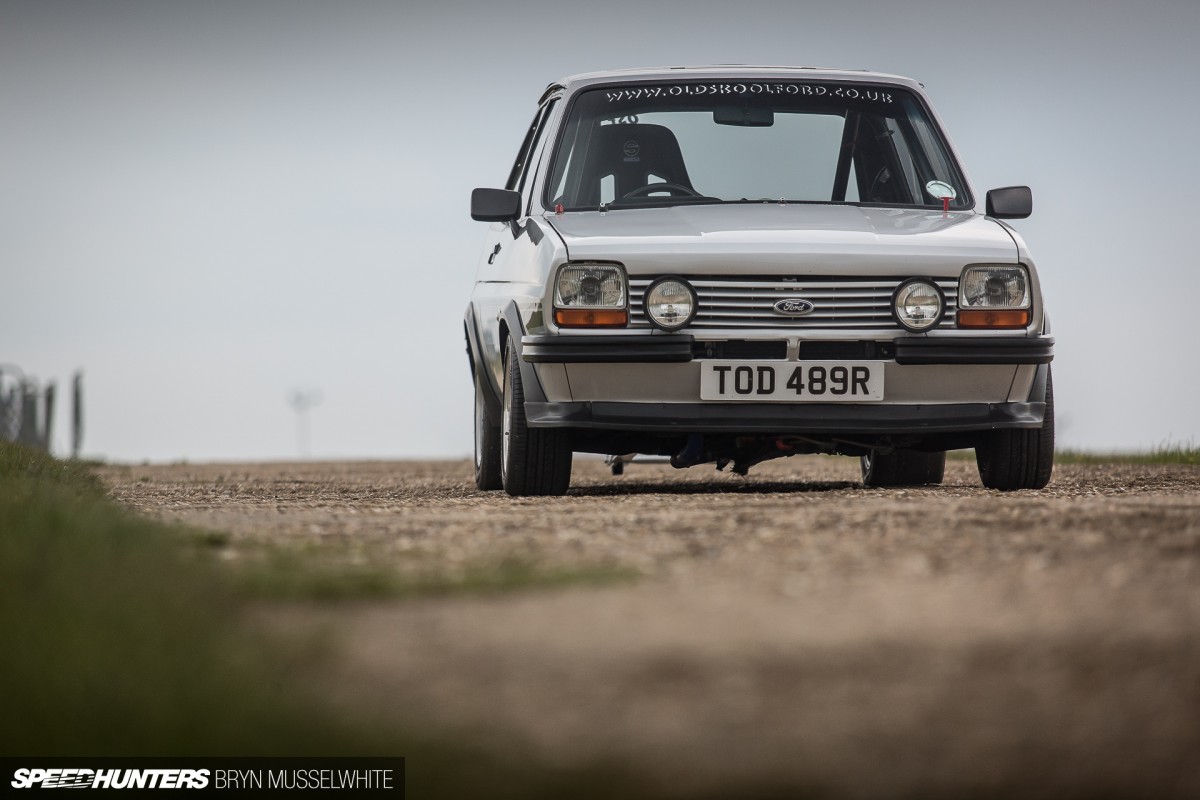 180bhp in a car that used to have 75bhp was pretty cool, but obviously it wasn't enough or we wouldn't be here now. And this is where Chris starts to show his true colours… "I thought about adding a turbo as well as the supercharger – a fairly easy progression as the CVH engine came turbocharged in the series one and two Escort RS Turbos. So I bought a hybrid turbo and manifold and connected the pipework so the supercharger blew its air into the turbo intake. I also changed the engine management to the more suitable Cosworth L6 Magneti Marelli system and re-mapped it to achieve 220bhp."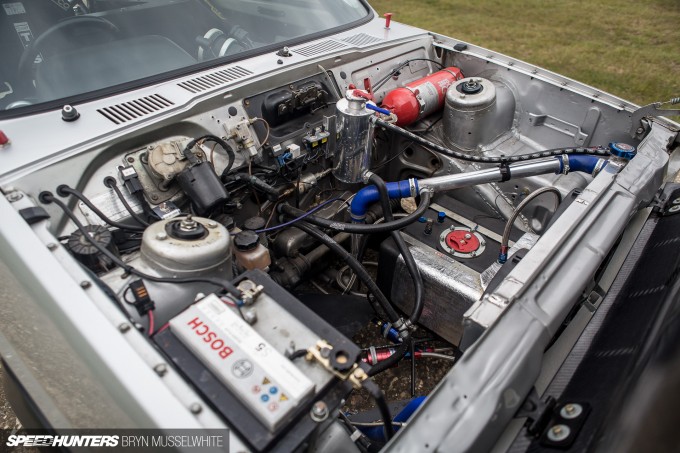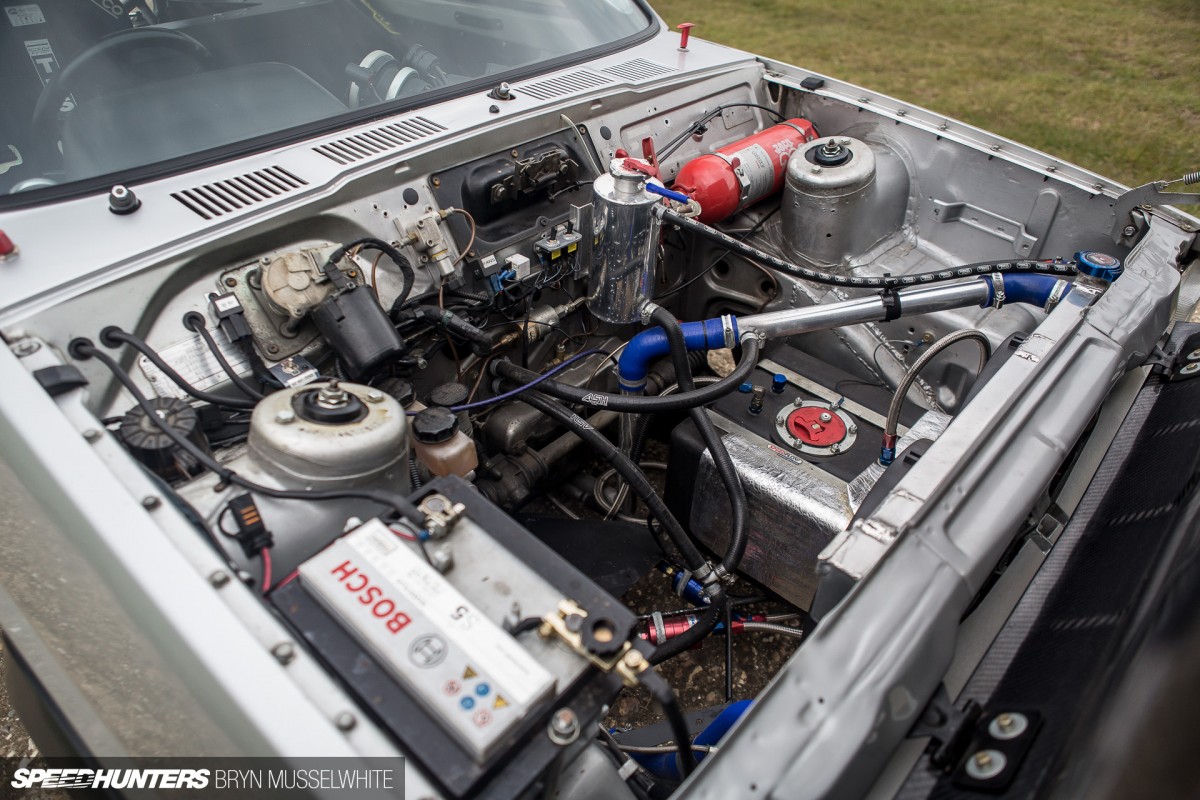 He makes it sound so simple, huh? Of course, it's not in real life and the supercharger was actually strangling the turbo as the latter demanded more air. "I was impressed with the complete lack of any turbo lag but was a bit disappointed with the power figure," says Chris. "As a test I disconnected the supercharger pipework to allow the turbo to breathe its own air – not the heated air from the supercharger – and instantly it felt much more powerful. A trip to the dyno again proved this with a figure of 260bhp."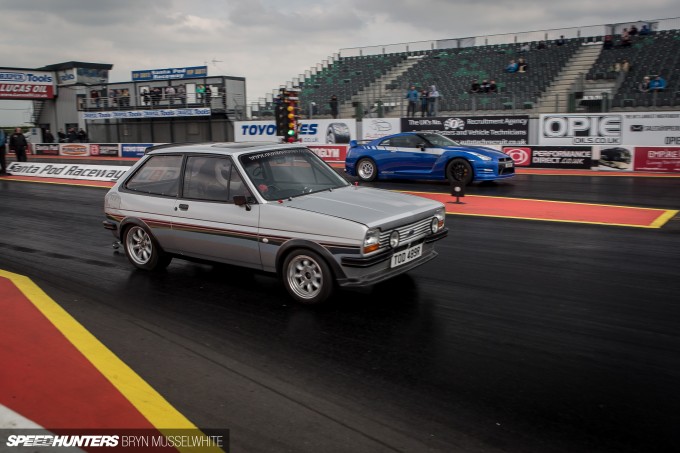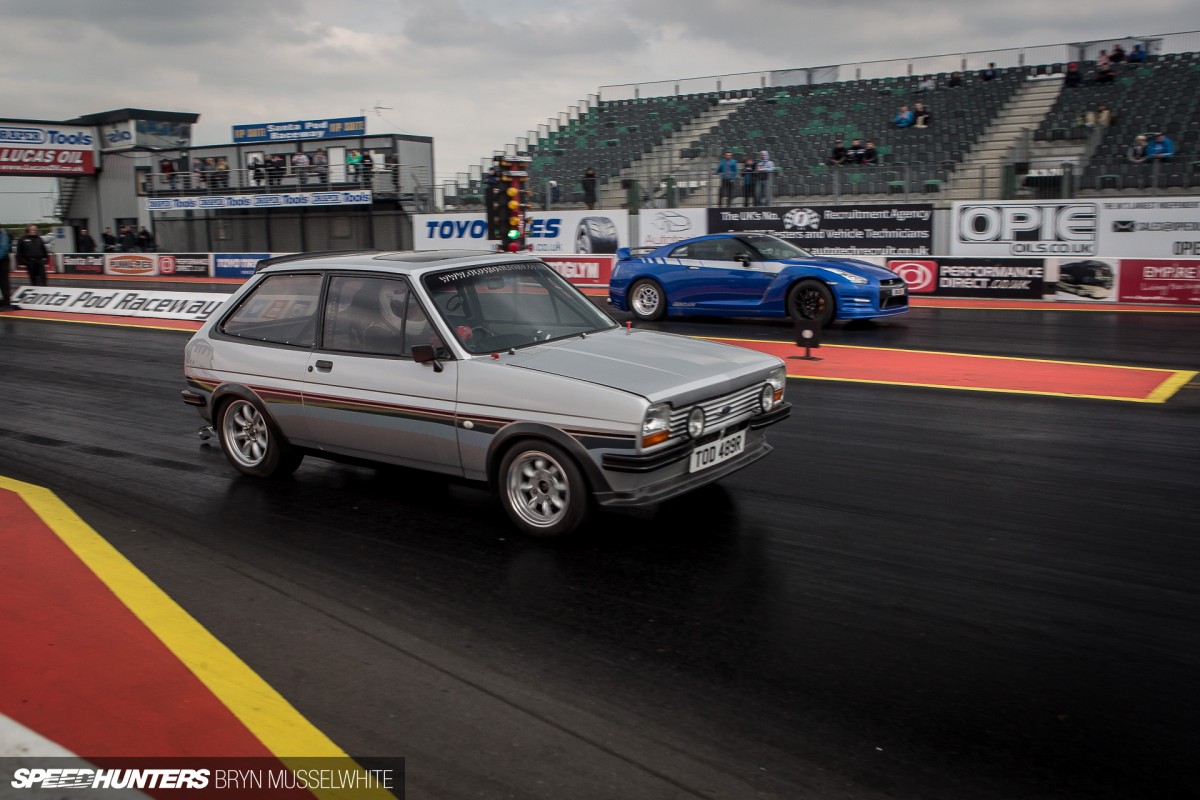 To solve the problem Chris designed a second throttle between the supercharger and turbo pipework that was actuated by a Ford Granada central door locking motor. This opened at 4000rpm and above a certain boost, and allowed the turbo the extra air that the supercharger could not provide it. "Zero lag and silly power equals happy days," says Chris laughing.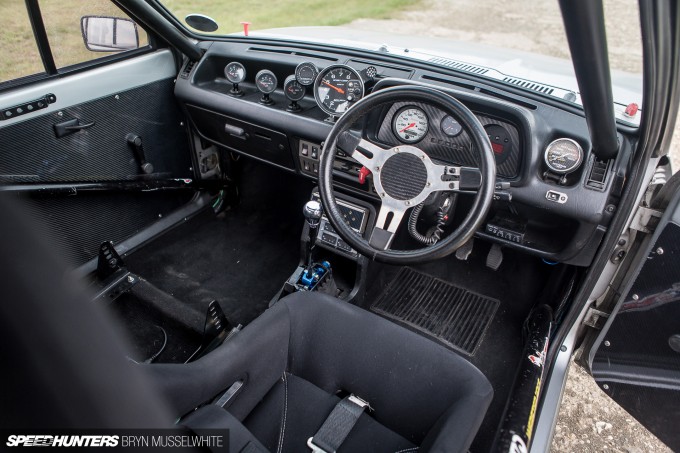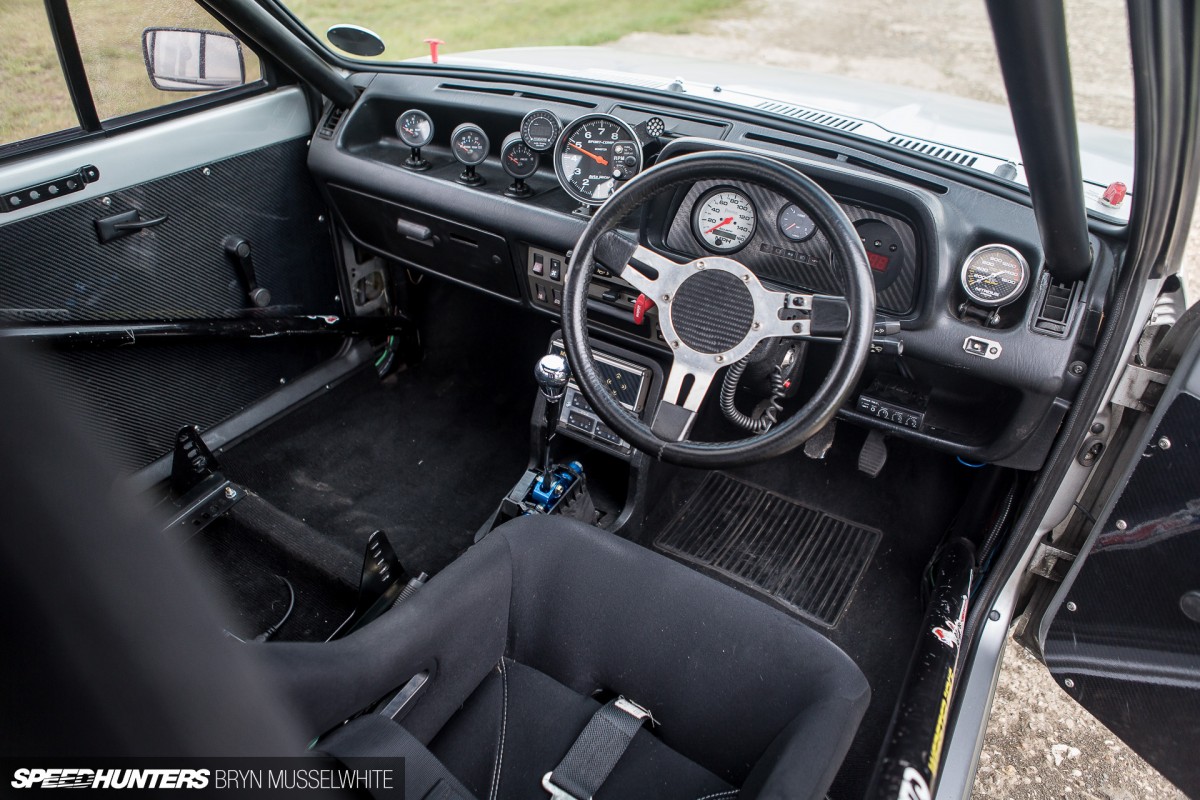 That's a pretty innovative solution, and it lasted a while. But the increase in power meant physics started to come into play, and that's when Chris began to question the front-wheel driveability of the whole thing. "After getting used to the extra power again I wanted more, so I went for a 50bhp nitrous setup," he says. "Now at 320bhp I was really struggling with traction at the drags and seemed to be stuck running mid 12-second quarters, so I hatched a plan to move the engine from the front to the back."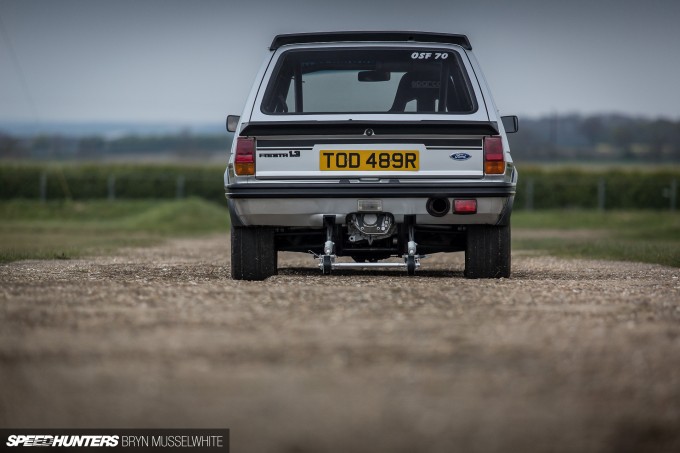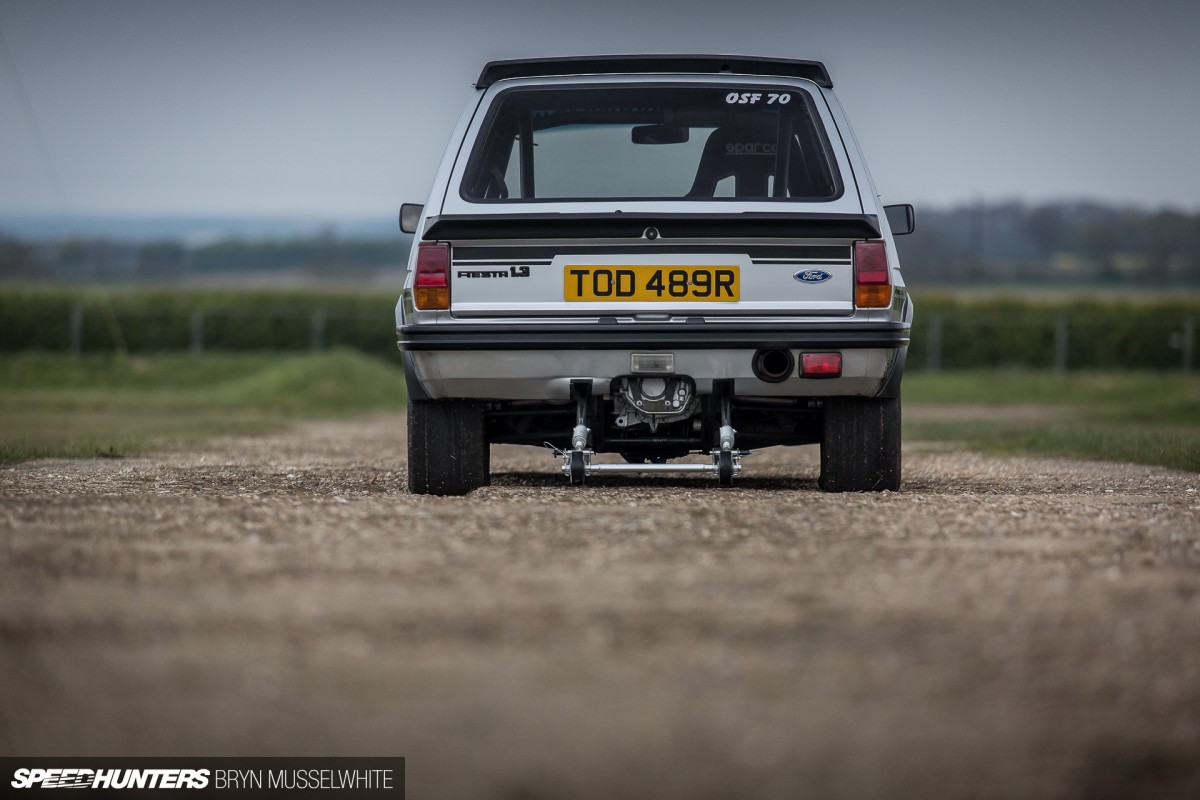 It's that last line that sets Chris apart for me. It also adds him to an elite group of people who'd think of something like that as a solution. The easy thing to do would've been to sell up and start over with something rear-wheel drive, so I asked Chris what made him stick with the Fiesta. "I suppose I've always loved the boxy shape and having one as a first car held many memories, and I never got bored with driving them or looking at them."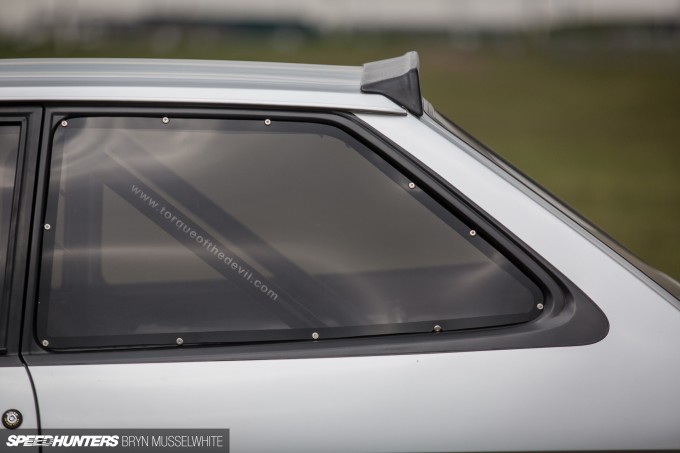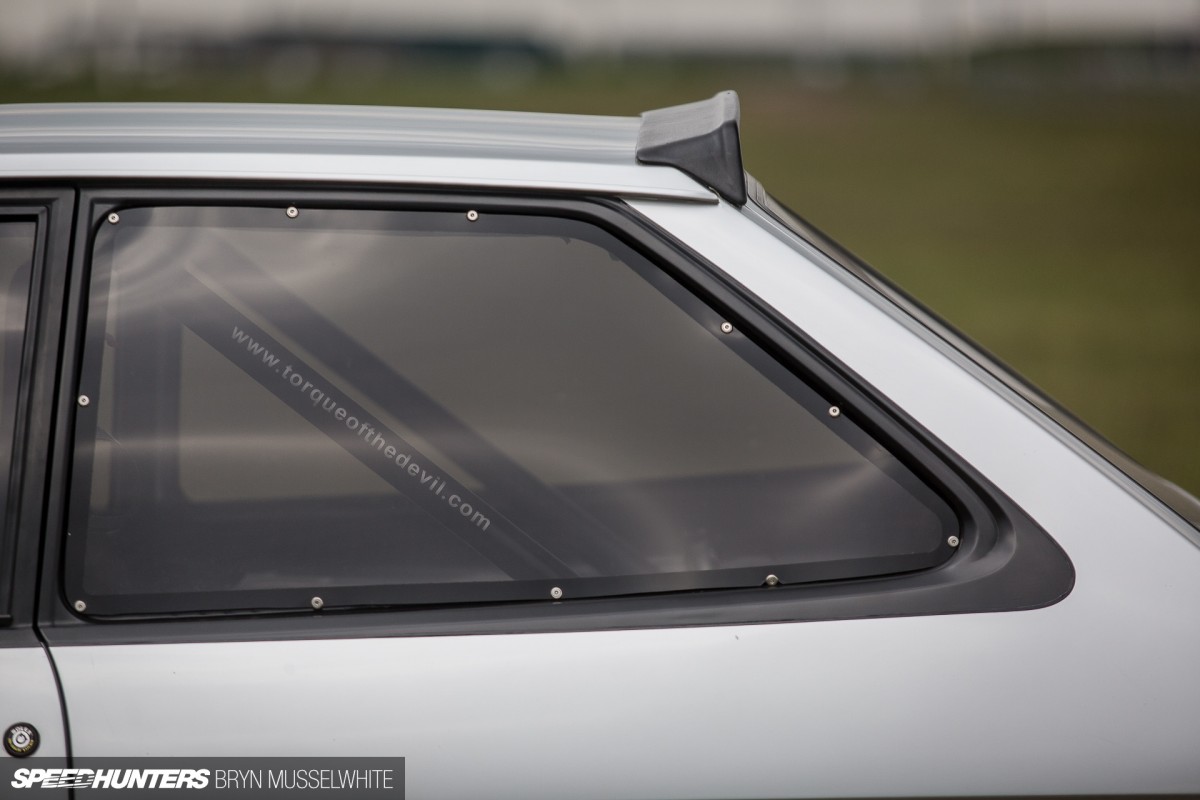 After he'd sat on the idea for about a year it started getting comfortable, so out came the angle grinder and welder and the floorpan behind the front seats all the way through to the rear valance was chopped out. With the CVH mounted in the rear, Chris upped the power again figuring a capacity increase to 1900cc would do the trick.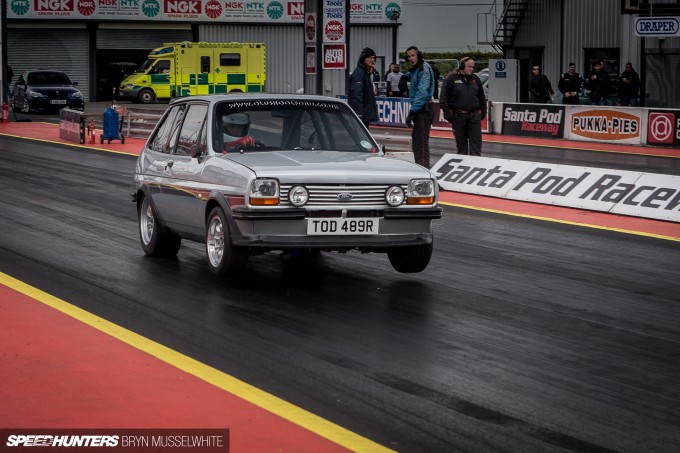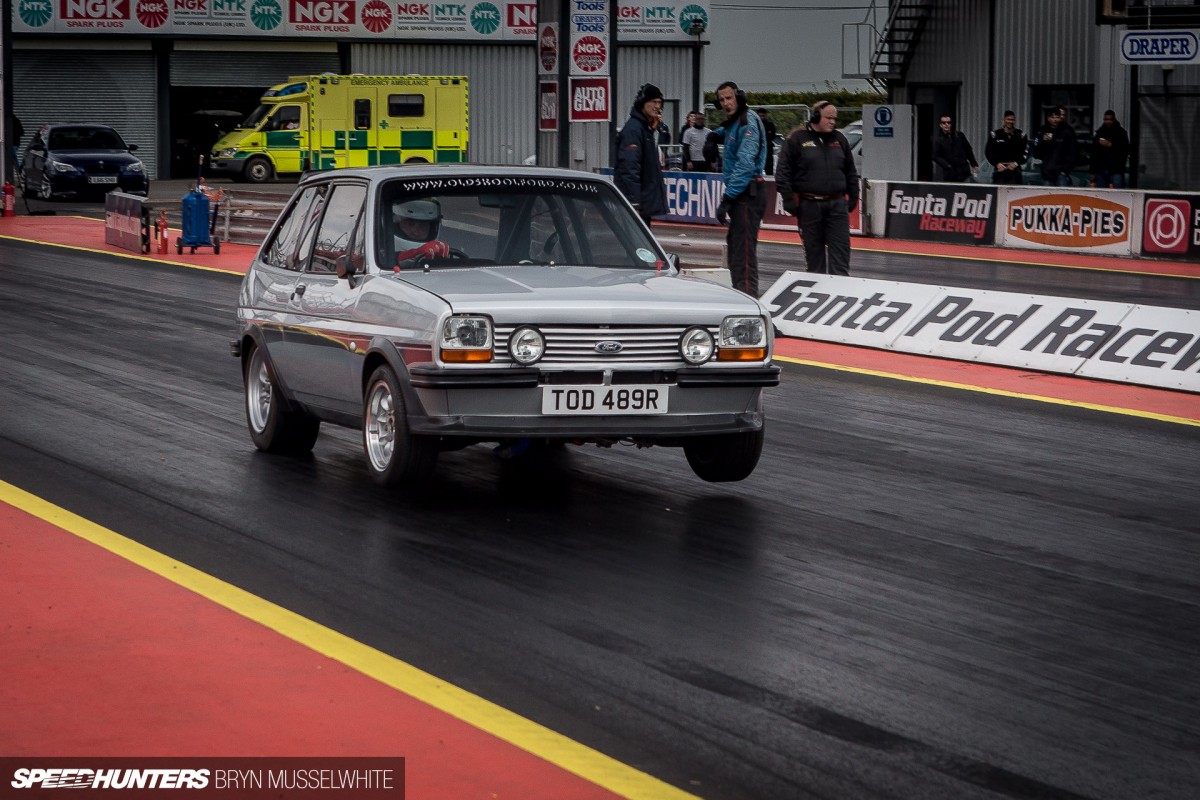 On the strip the transformation felt wildly different, and more power and traction meant that out-of-the-box he ran 11.7 at 128mph. But just as before, it wasn't enough…
Err, I Need More Power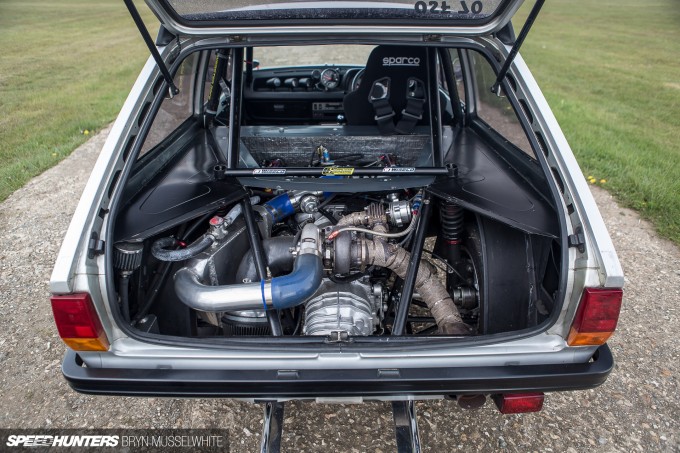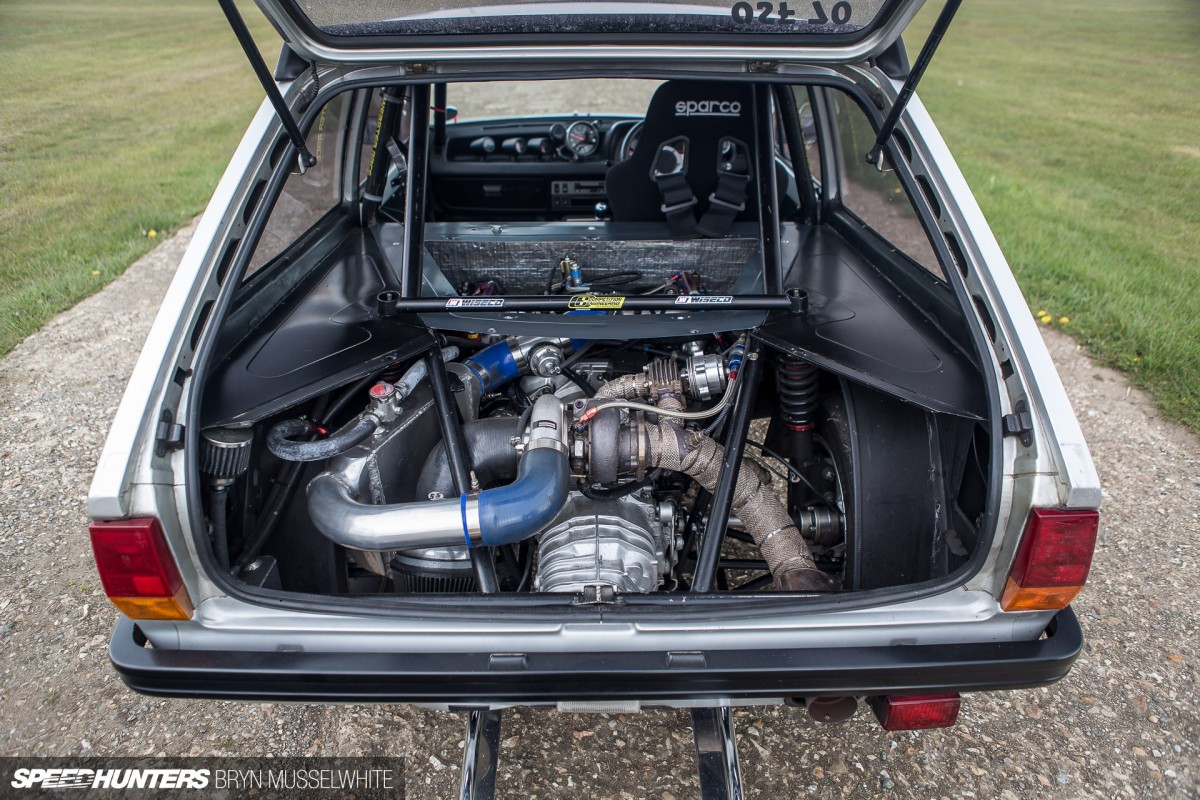 And that's how, two years ago, the transformation that you see the bones of before you came to be. But just how do you decide to bin your rear-mounted, supercharged and turbocharged Ford motor and go for a Subaru boxer? "While working under a Subaru Impreza STI at my day job I got out the tape measure and wrote down some dimensions of the engine and transmission," says Chris. "The next day with the Fiesta on the ramp and the same tape measure the next idea was born: mid-engined, turbo, flat four Impreza power!"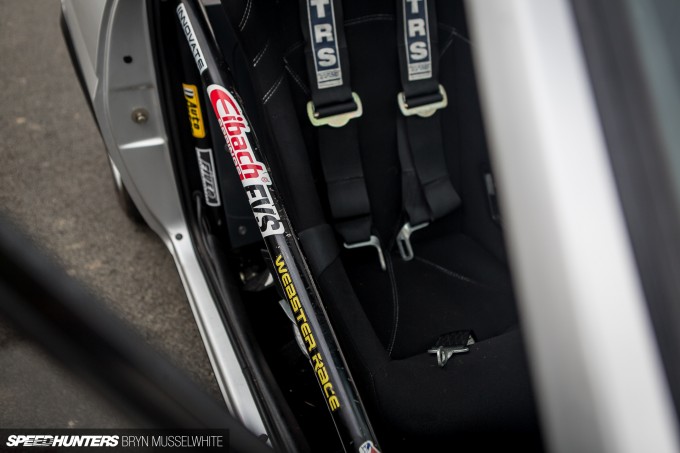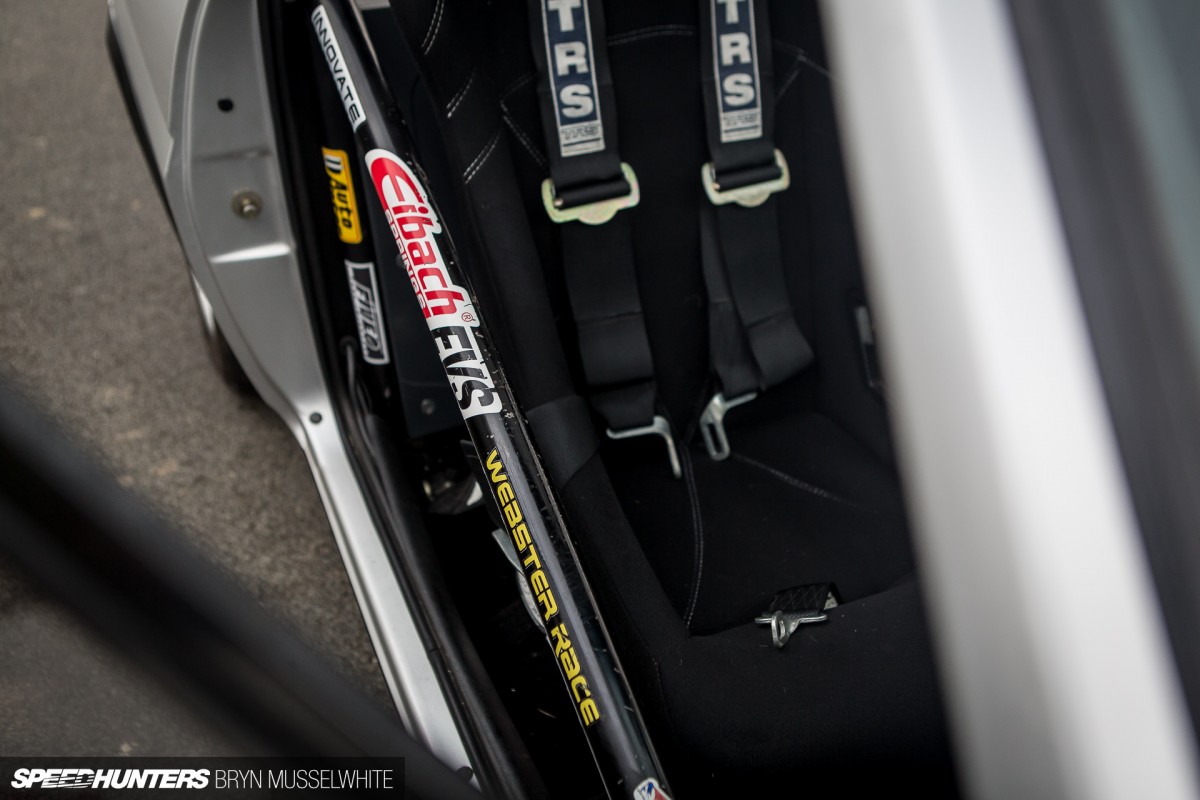 When you're wired up like Chris to solve tuning problems, it might seem logical and the results are plain to see, but man, that's some commitment! The Fiesta was stripped and this time Chris sent it off to Webster Race Engineering – the same company responsible for a lot of the work on Matt Smith's killer twin turbo Cosworth. It was in great hands.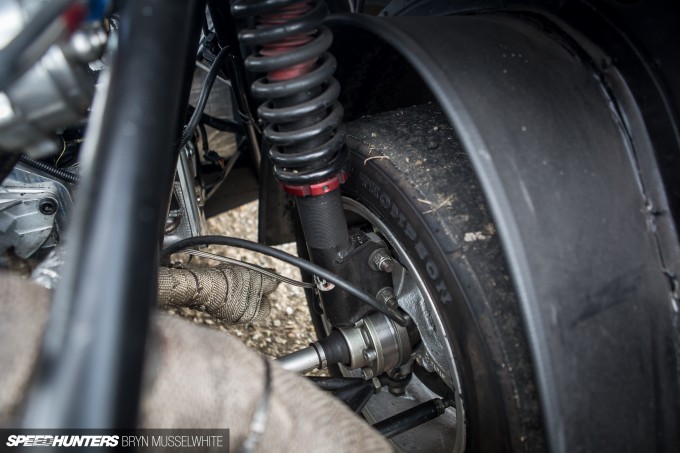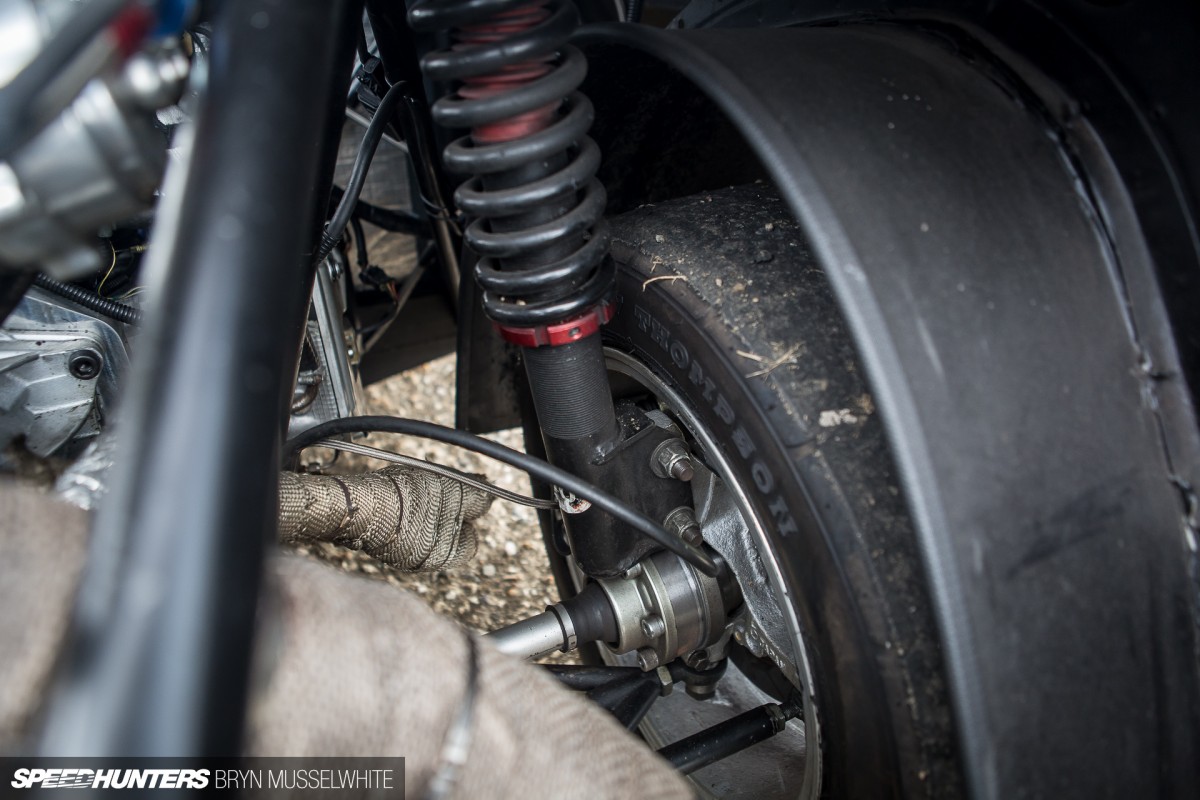 But of course, this was just a small part of the work required. There were custom drive shafts, converting the transmission to two-wheel drive, custom offset wheels to order, the gear linkage and all the other fairly fundamental jobs to tackle. The first run back down the strip resulted in an 11-second pass, but after gradually increasing the boost and nitrous Chris went 10.3 at 145mph – the same day.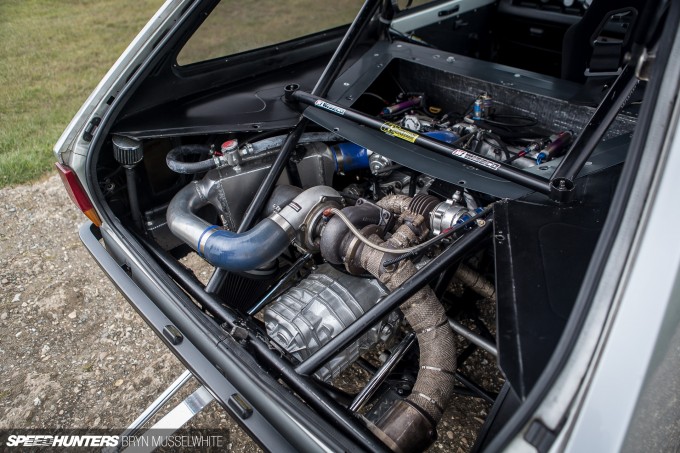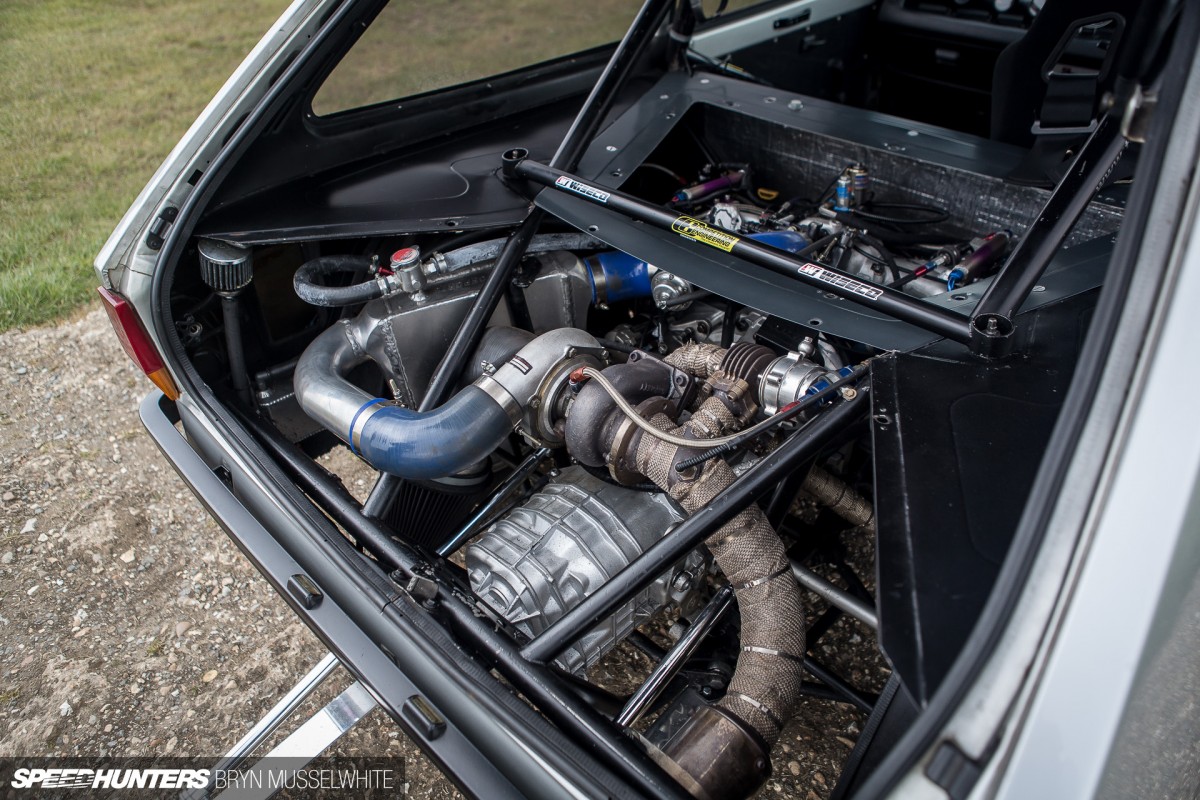 His troubles weren't quite over though, as no matter what he tried the Subaru gearboxes couldn't handle the abuse of the drag strip. We're talking everything from brand new 6-speed units through to straight-cut dog gear equipped 'boxes. All told, Chris munched his way through no less than 10 Subaru transmissions.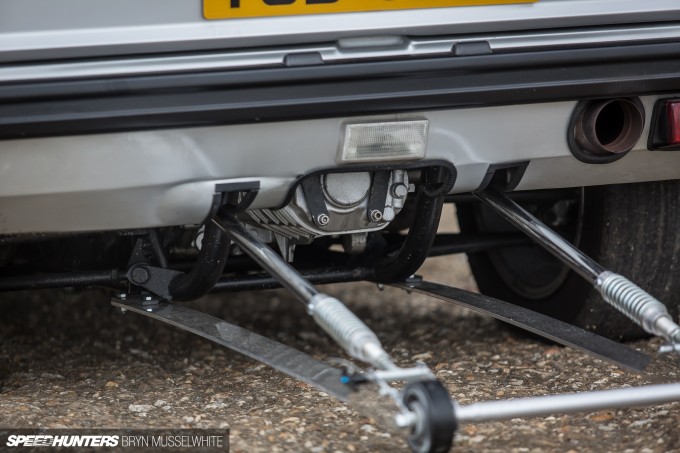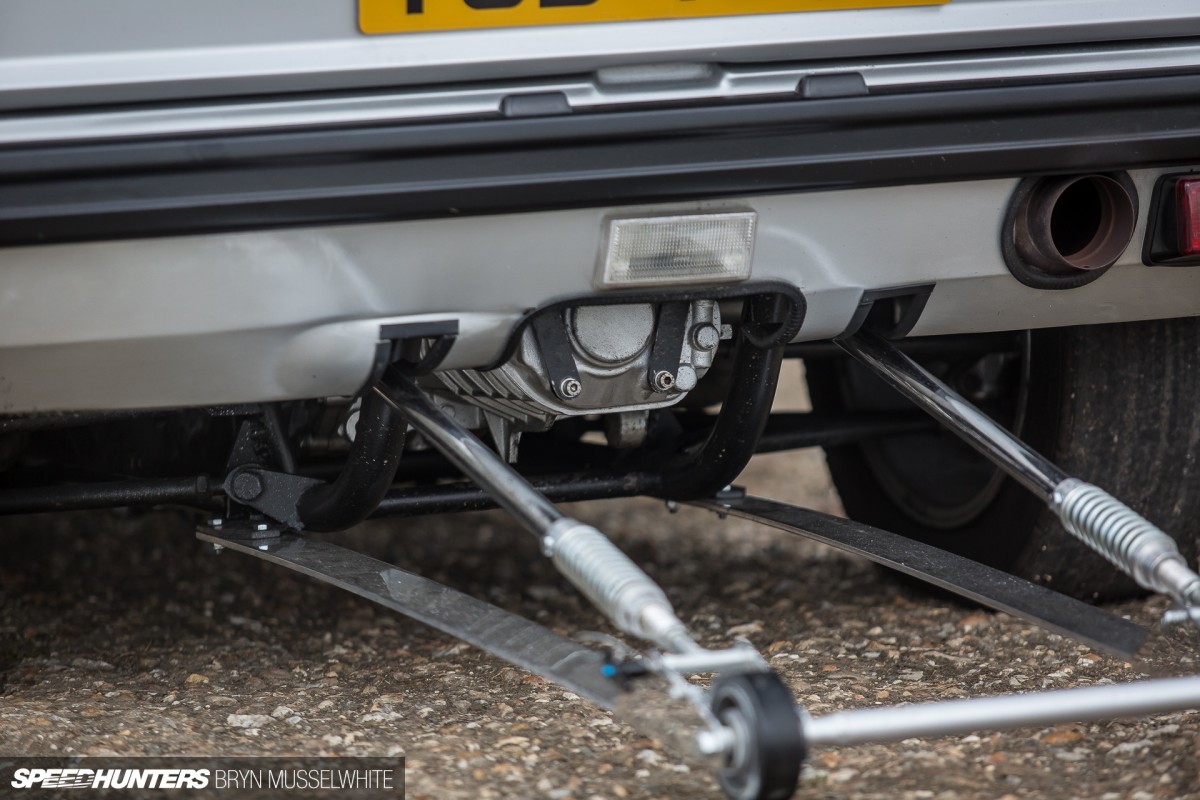 It was at this time that he found a company called Precision Chassis Works in Gilbert, Arizona. These guys were putting Subaru motors in the back of Porsche Boxsters using the original 6-speed Porsche (Getrag) gearbox – and putting lots of power through them. After his disappointing battle with Subaru gears, it was worth a go. One adapter plate shipped across the Atlantic plus some more fabrication and the Boxster S gearbox has performed faultlessly ever since.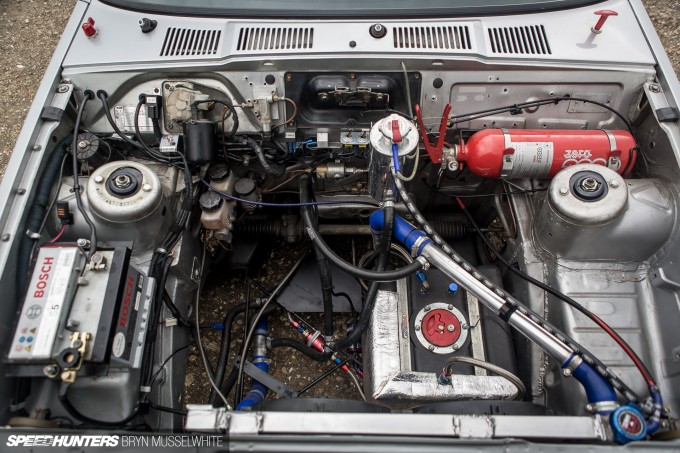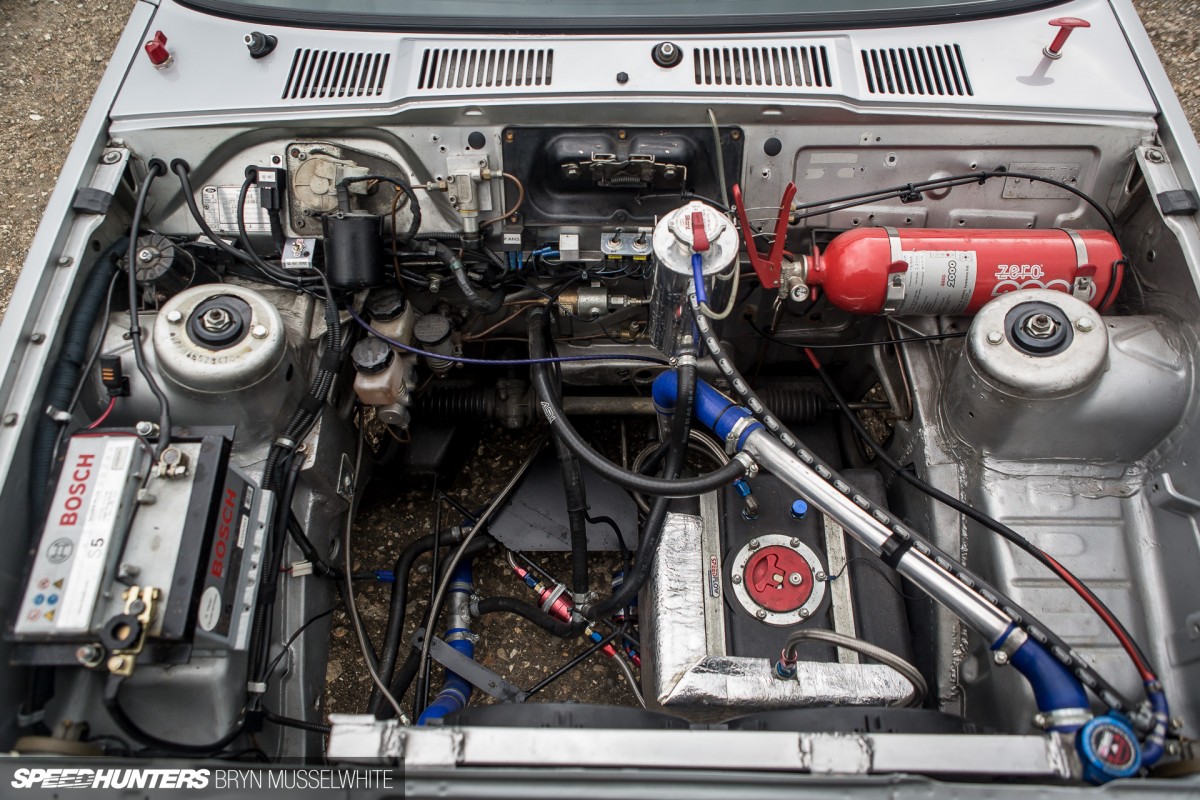 On the day I shot the Fiesta Chris didn't have the NOS bottle on board. It usually lives here, under the bonnet with the fuel cell. But really, I don't think it would make this scene appear any more normal.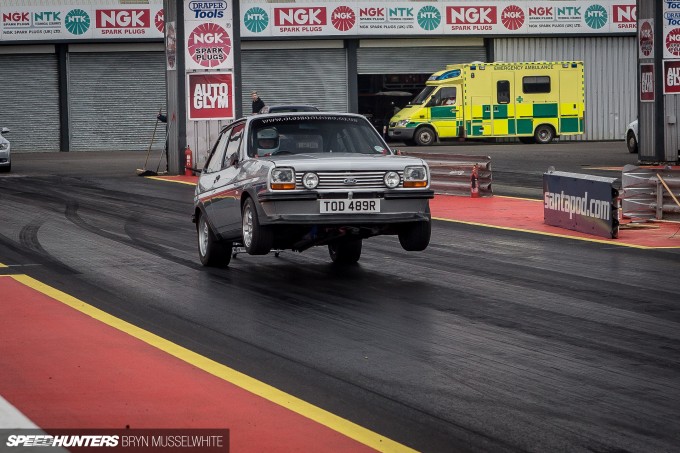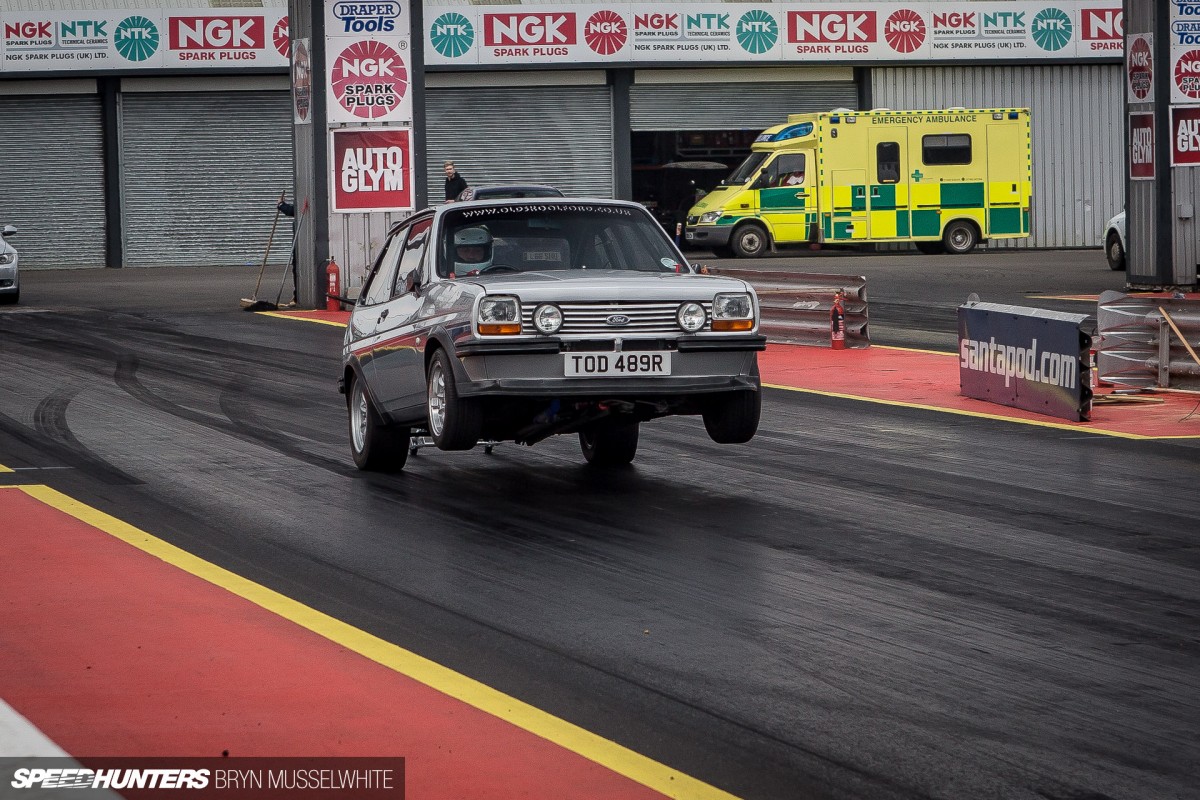 It's just plain odd opening the custom-made carbon bonnet and seeing a hole where there should be an engine. It reminds me of Henrik's renegade Renault 5 I shot at Gatebil in 2013. But where that is a factory homologation special, this Fiesta is very much the creation of one man, Chris Todd. Sure, he's had some help here and there along the way, but like I said way back – I've loved seeing the project develop and become this mutant from within a mutant.
Now take a look this excellent video. The second launch is one of my favourites – there's such aggression from the Fiesta as it fights for grip and Chris just keeps it pinned. Now you can see why he fitted those wheelie bars, yeah?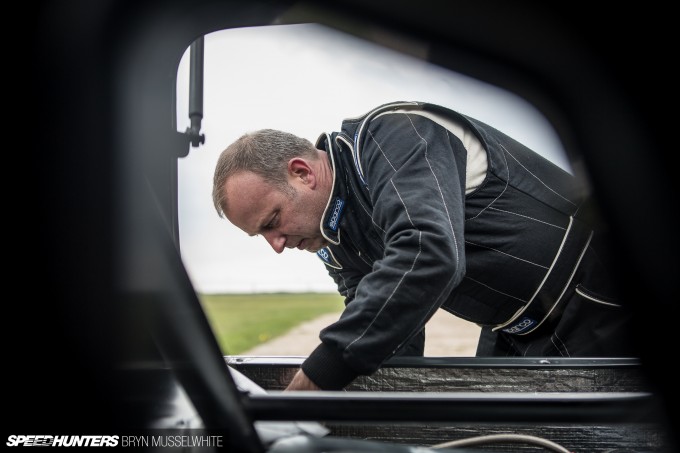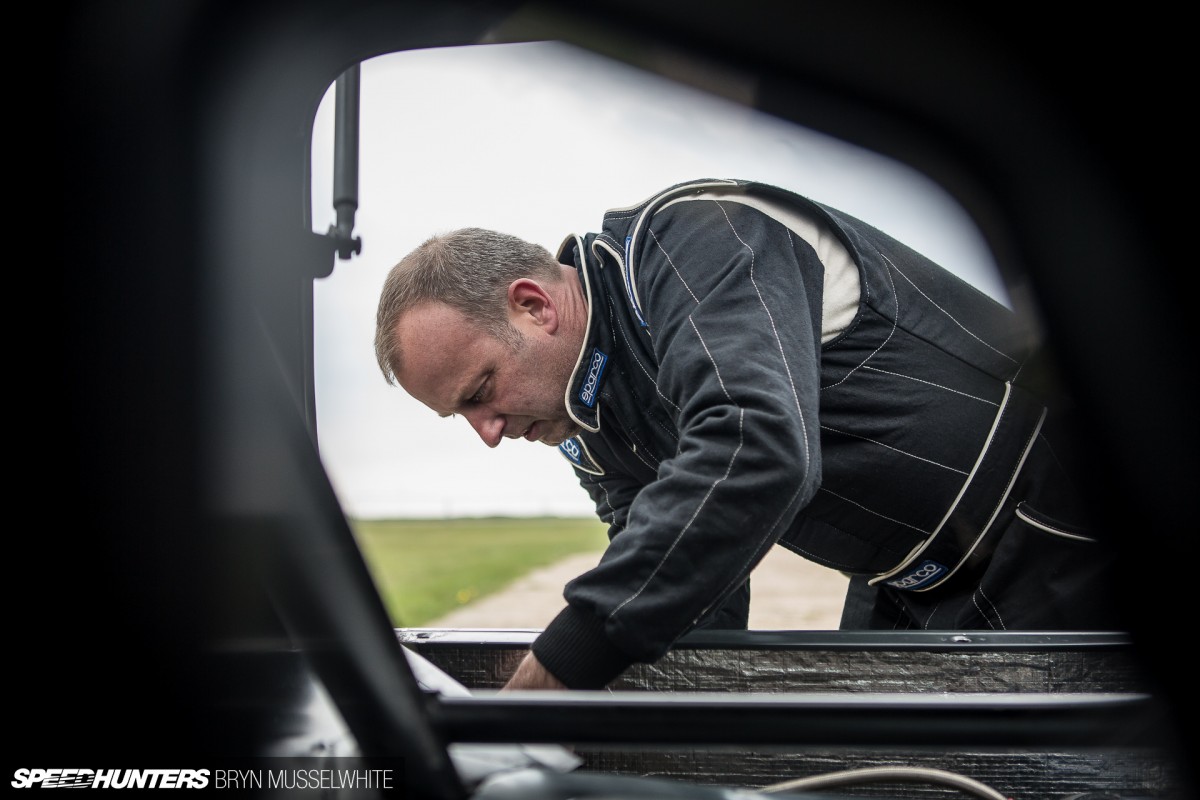 All those years of dedication, time, sweat, head scratching, commitment, money and downright dogged determination have propelled Chris to a genuine 9.69-second quarter mile with a terminal speed of 151mph. Given the comparatively small size of the 225/50R15 Mickey Thompsons out back, it's an incredible achievement.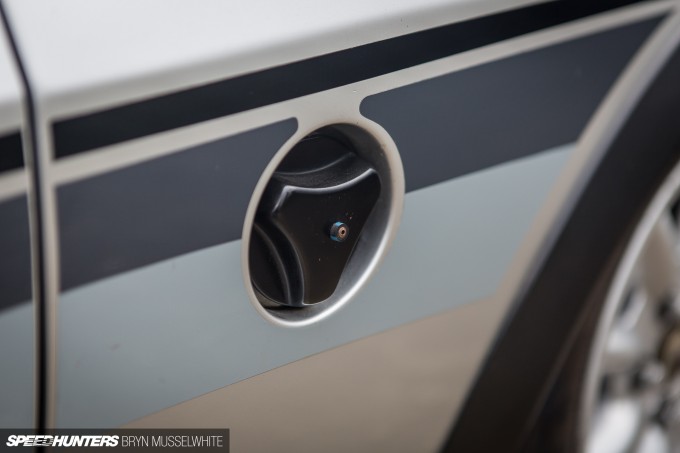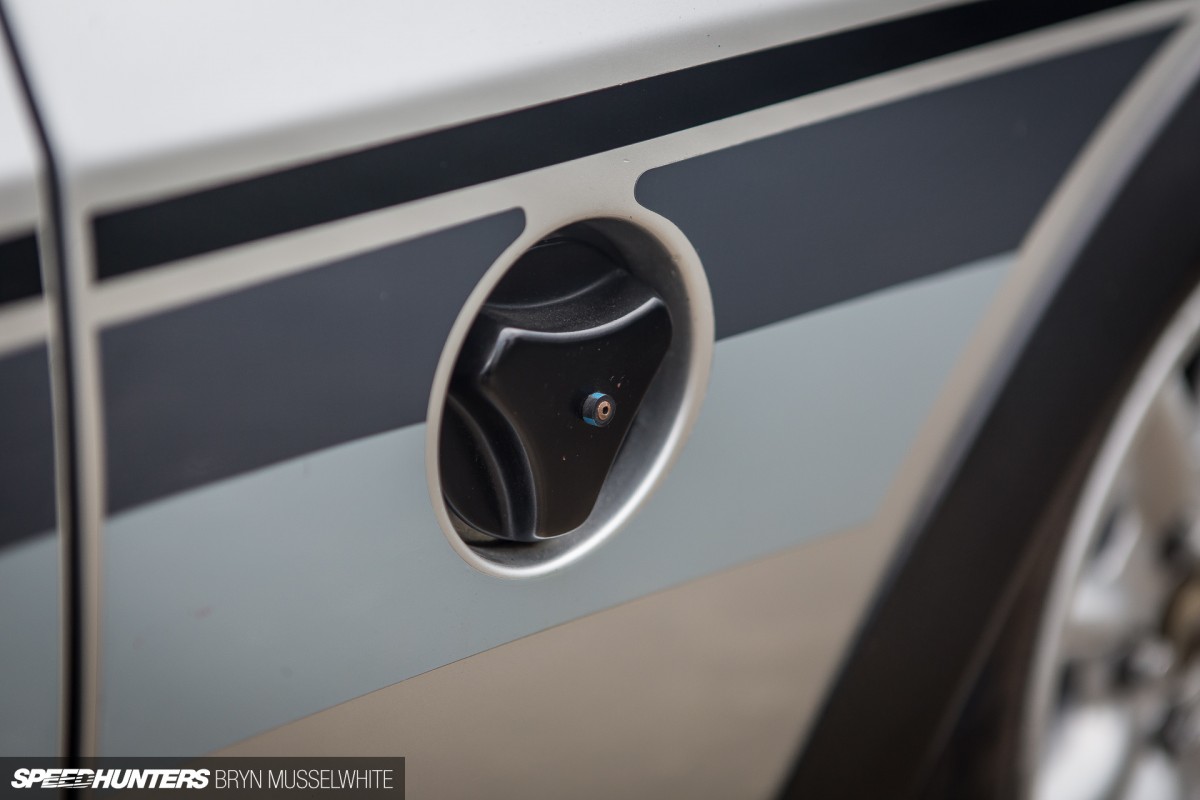 But on top of that he's done it with a sense of humour and perspective – which I think we can all learn from. When you get so immersed in a project that it takes you over, it can go wrong because nobody is in charge. But Chris has always seemed to be right on top of things to me. Oh, and that's the nitrous oxide purge valve mounted in the original (now pointless) fuel filler cap…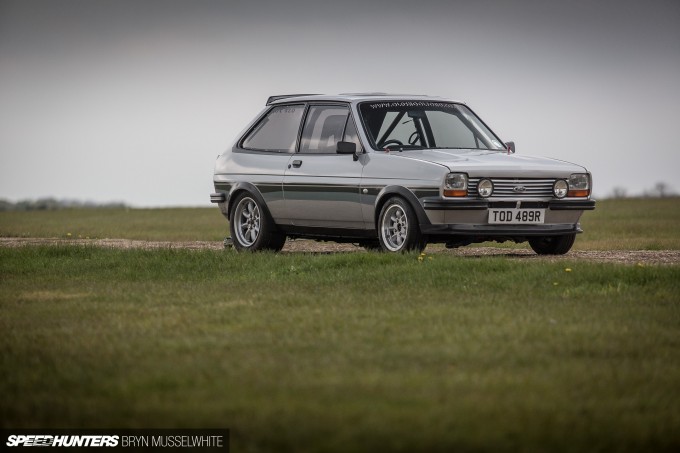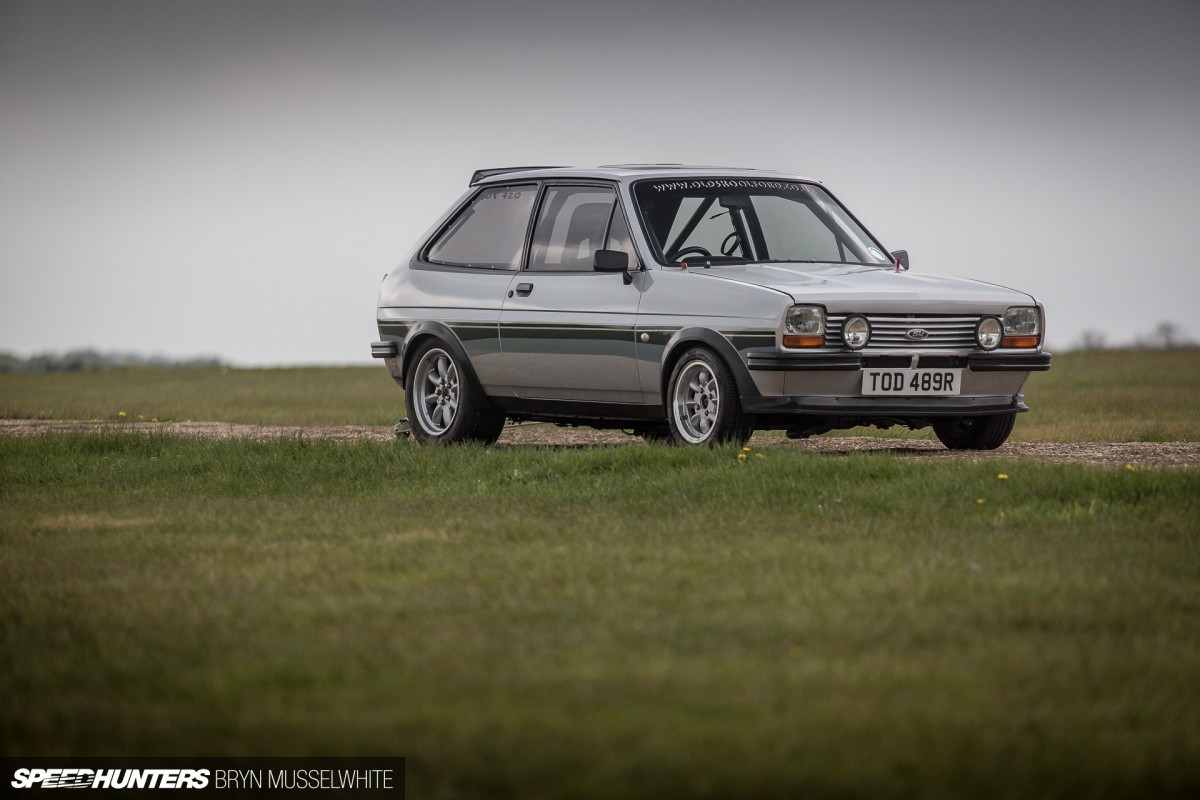 So I'm glad Chris didn't get distracted by another project, or gave up, or even decided that running 11 seconds was enough. Because the world would have been deprived of what I truly believe is the only wheel-standing, Subaru-engined Ford Fiesta on planet Earth. And for that Chris, I wholeheartedly thank and salute you!
Bryn Musselwhite
bryn@speedhunters.com
Instagram: Speedhunterbryn
Cutting Room Floor