Day 1: Phoenix To Flagstaff
For the vintage and classic car fan, events like the Copperstate 1000 Rally feel like a once in a lifetime, top of the bucket list affair – yet it happens annually. Now in its 25th year, it's essentially an endless stream of amazing cars, roads, and scenery broken up by excellent meals and accommodations. Sound great? It's unbelievably great.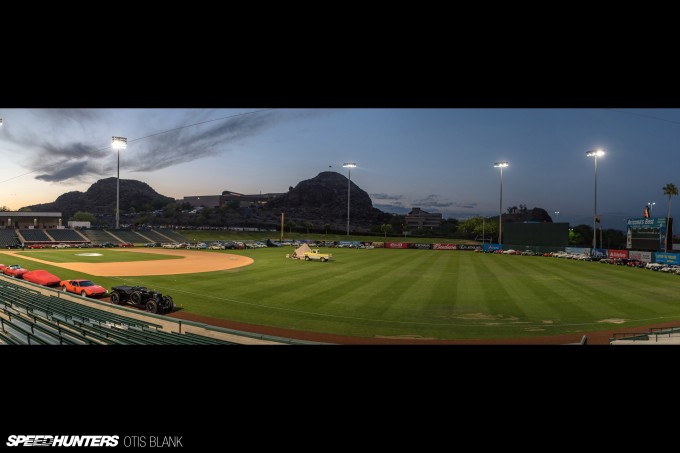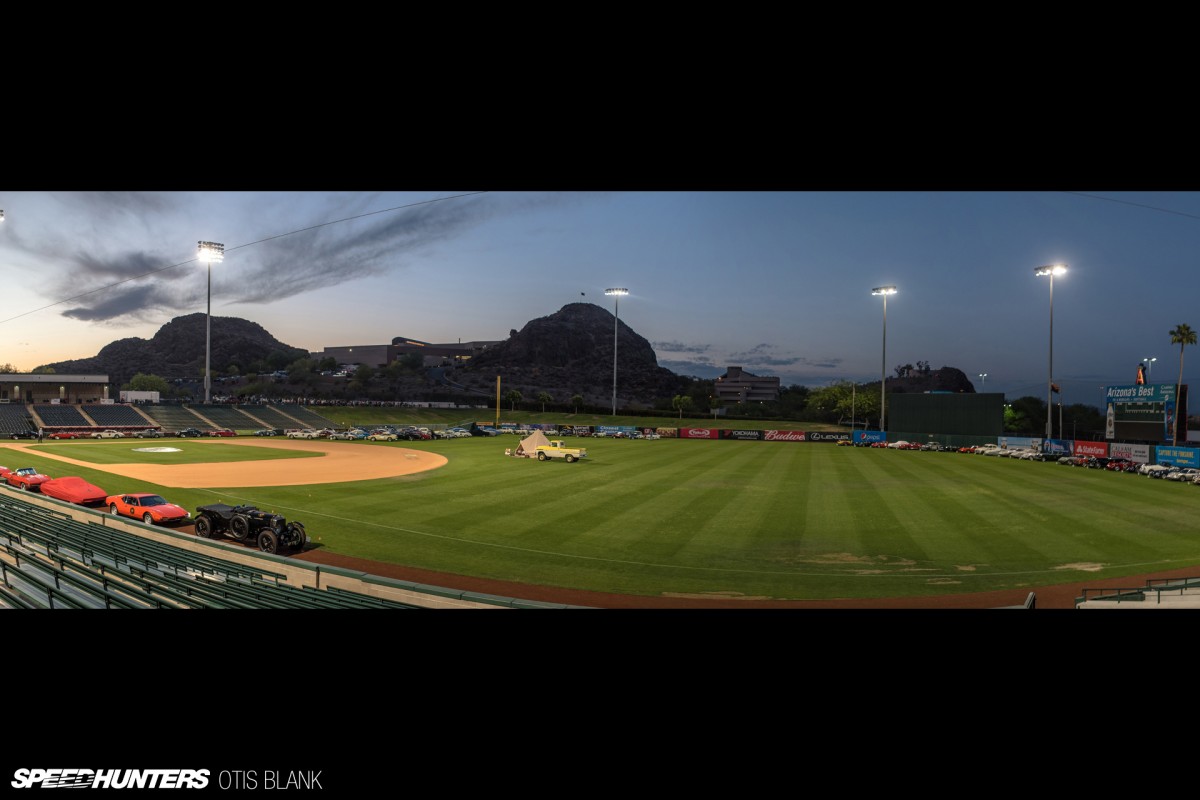 It all starts at the Tempe Diablo Stadium – not really the place of dreams for most car fans, but a convenient location large enough to host the roughly 100 cars and all the people who come to watch them set off. The night before that happens there's a barbecue for everyone involved in the rally, with all the cars lined up and ready for the 1000 miles and five days of driving that lie ahead.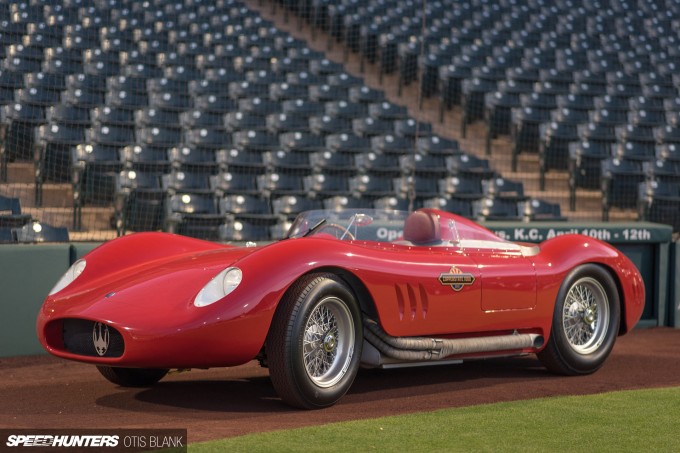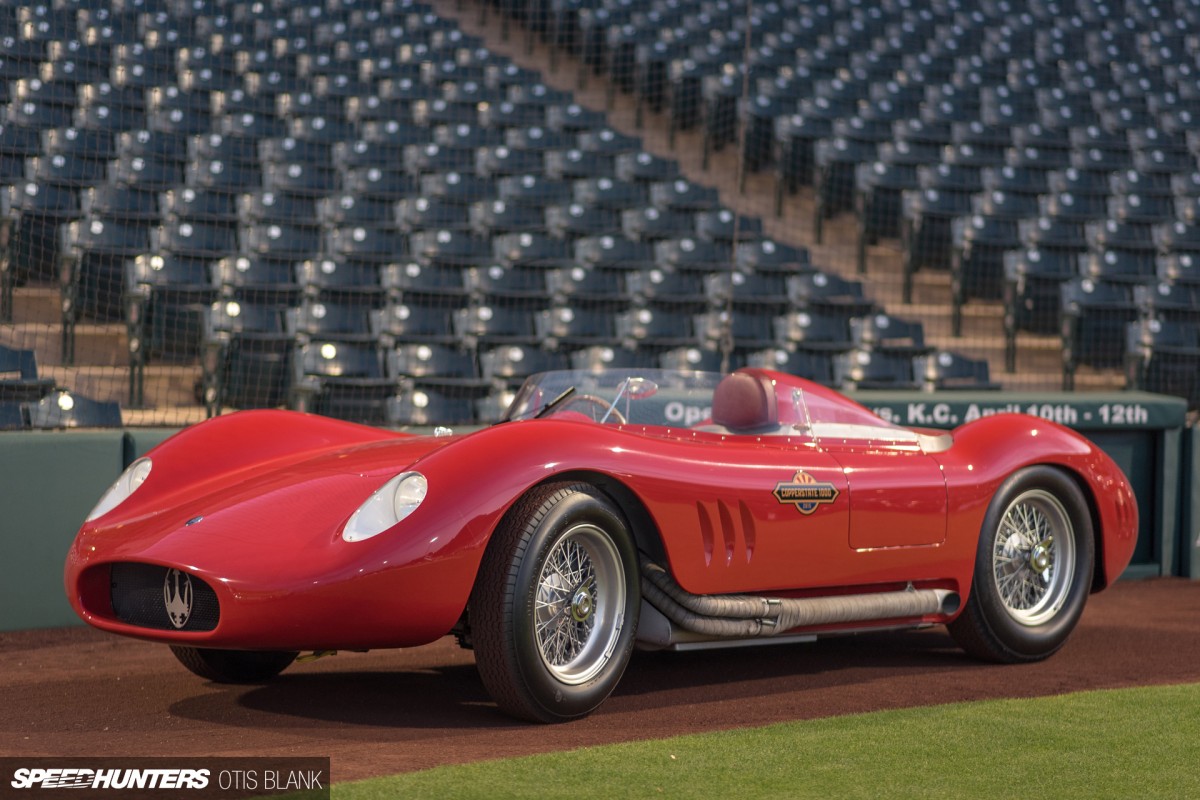 Luckily for me the crowds wouldn't be there until the morning, and with the soft light of dusk it all made for the best possible scenario to shoot some photos.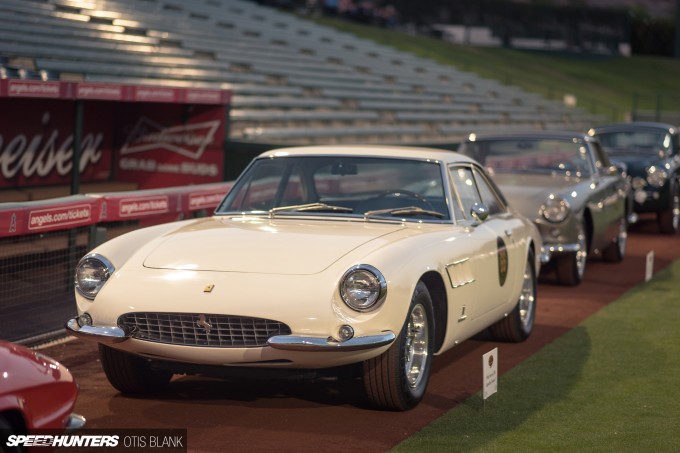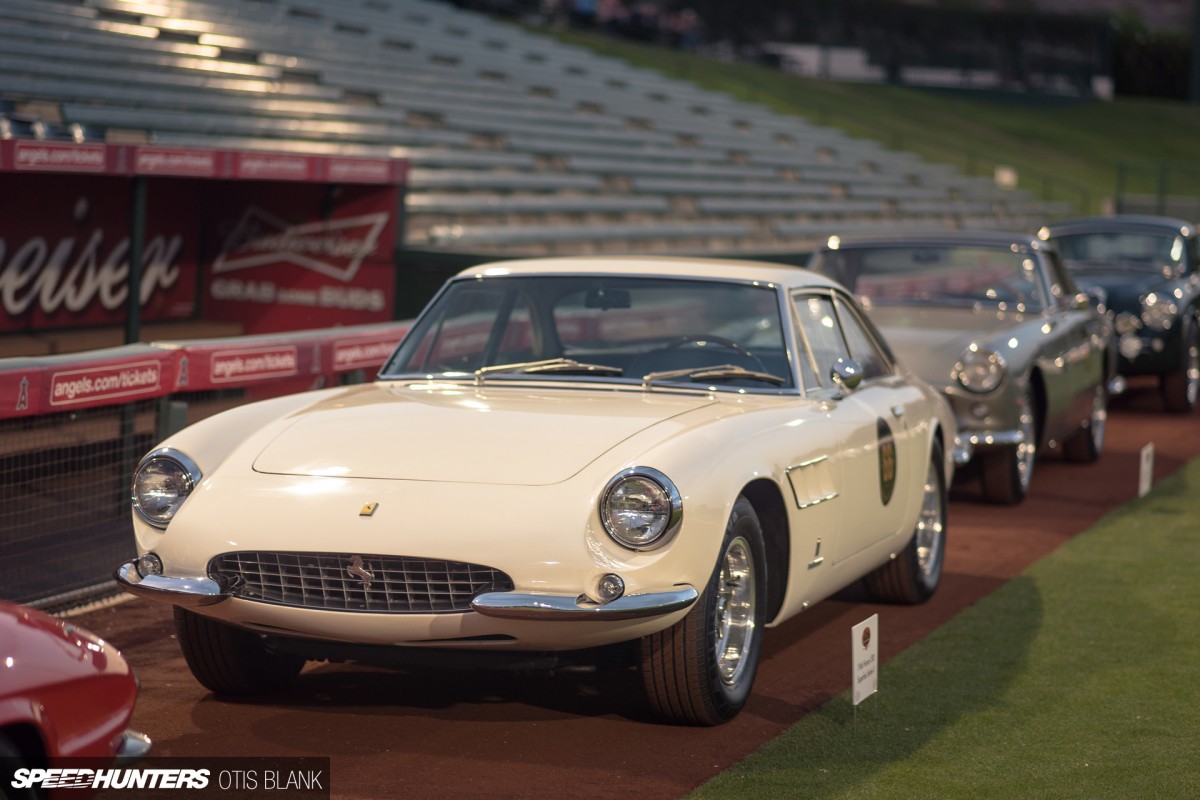 Participants come from all over the world with their astounding cars. The dominant marque this year seemed to be Ferrari.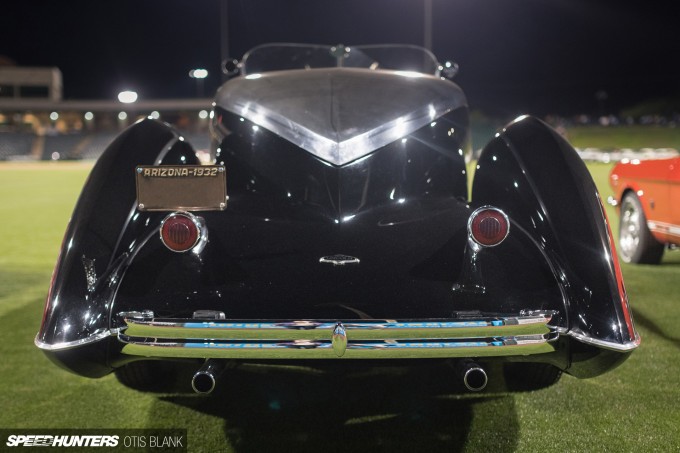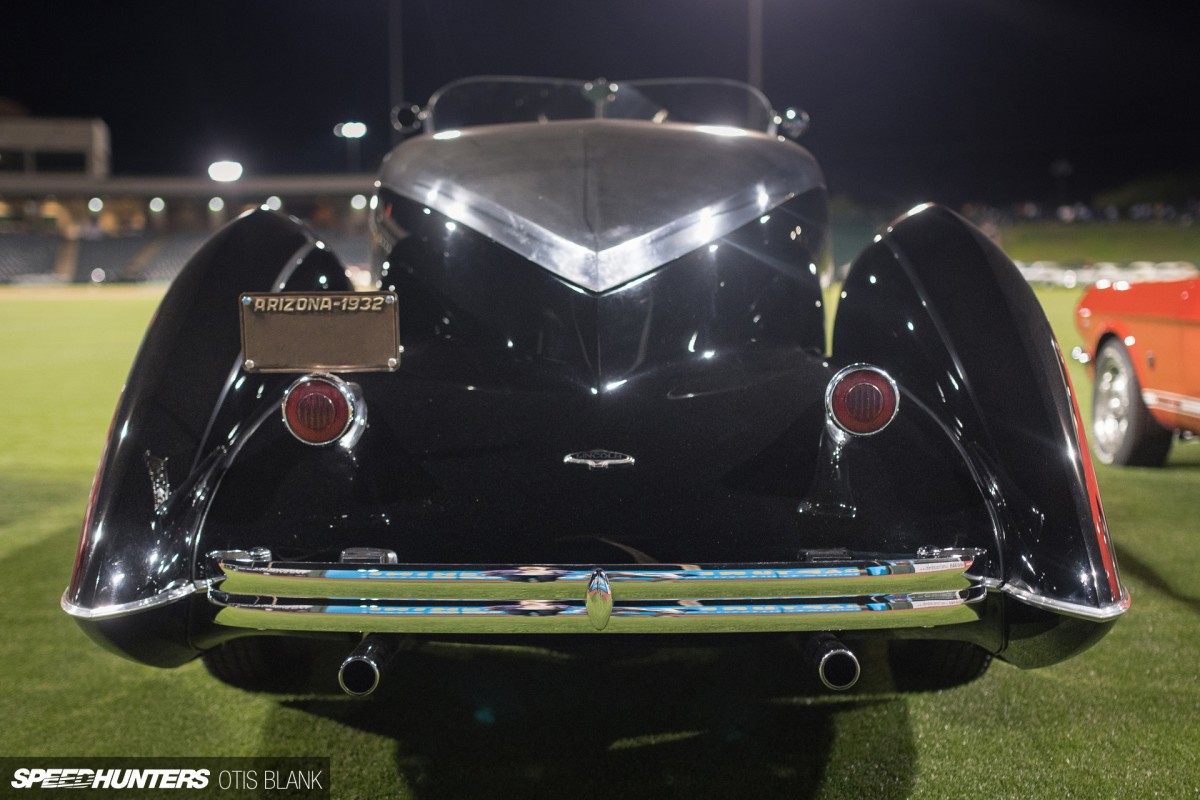 Not that there was any shortage of variety though; this Lincoln looked like it was straight out of a movie.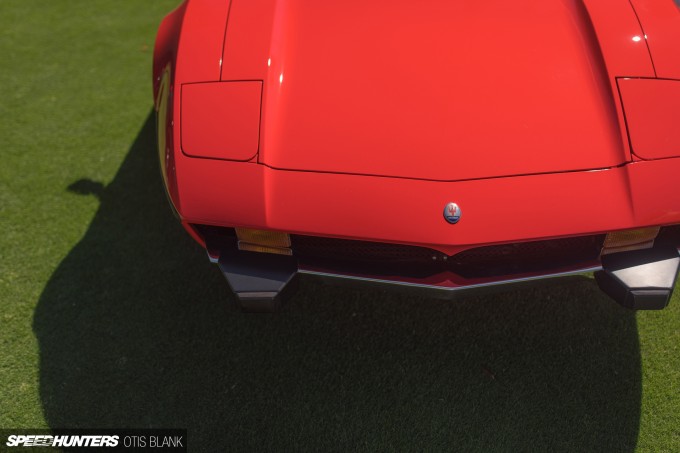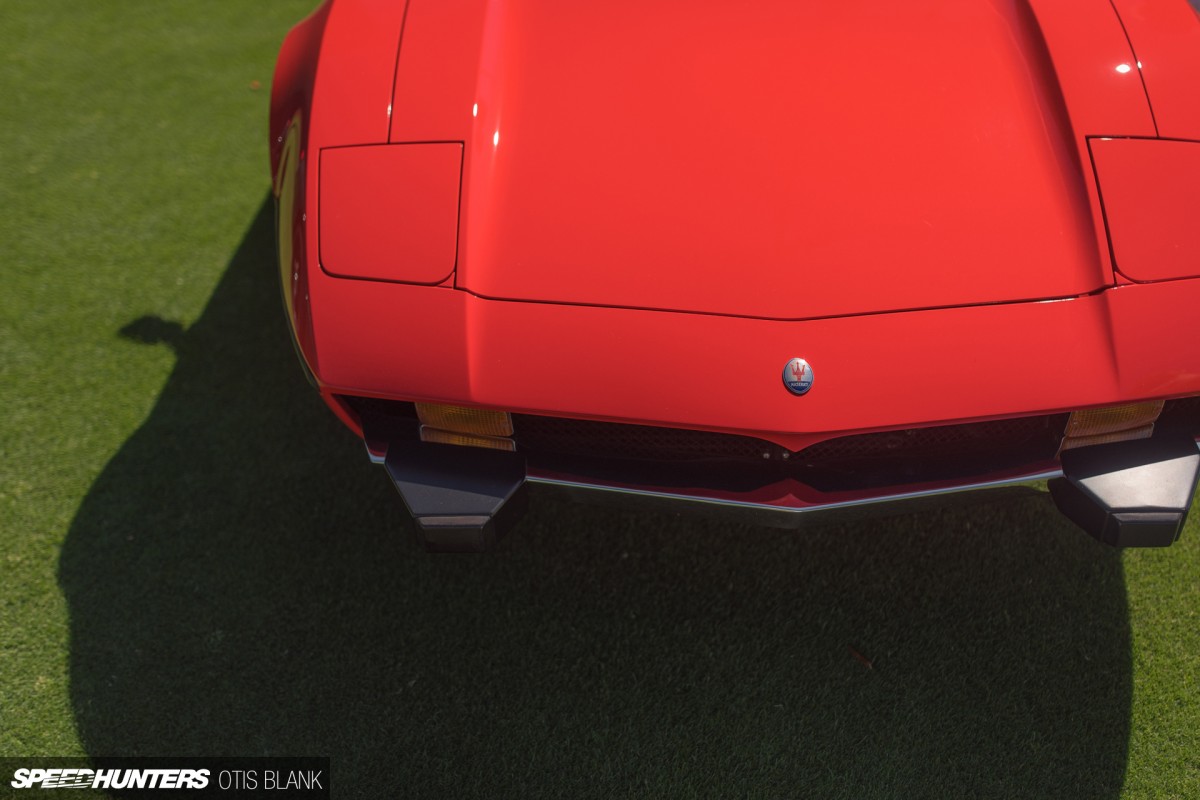 One of my favorites was this Maserati Bora. There are so many interesting choices in its design that work so well together – almost unexpectedly.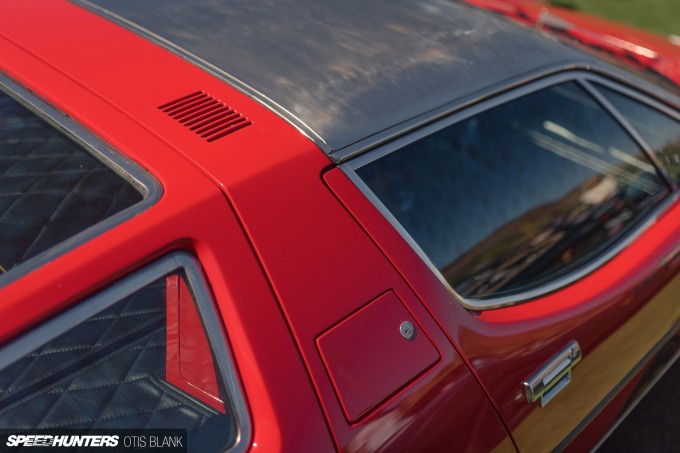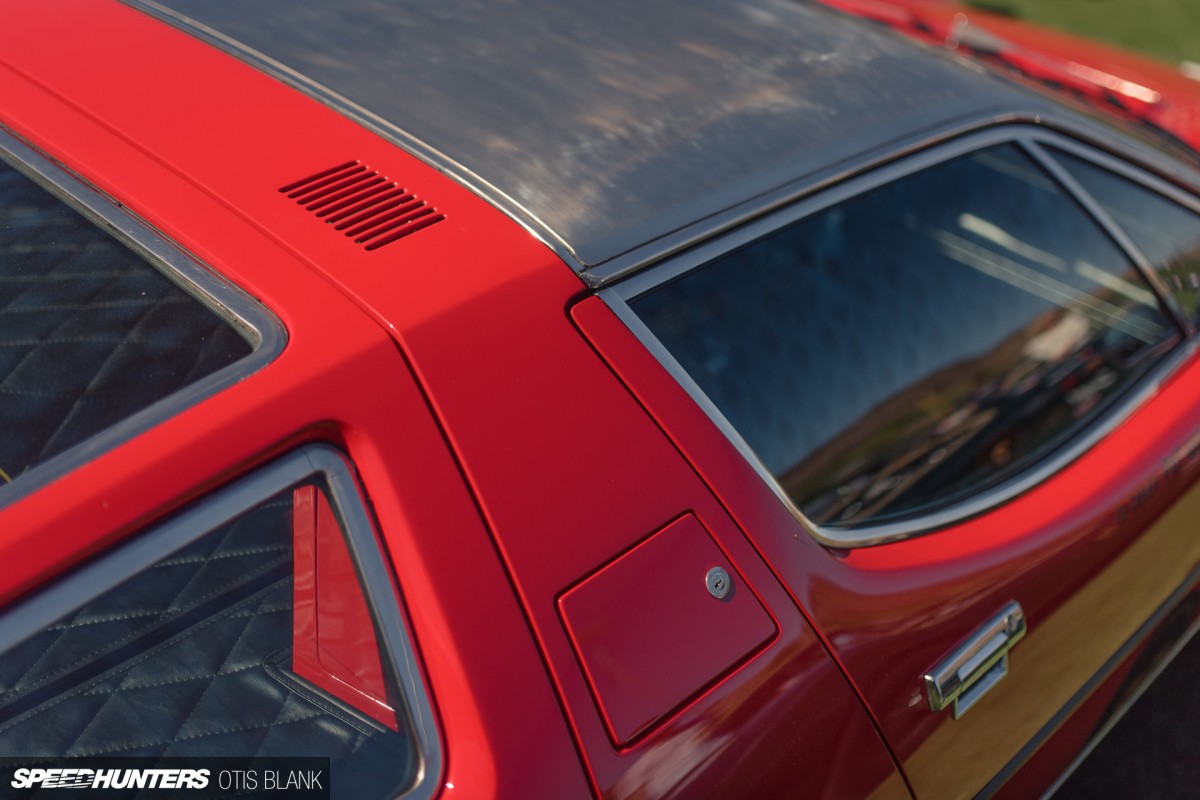 The brushed roof, for example, is something you'd expect on a car like the Lincoln, yet it looks right at home on this mid-engined '70s GT car.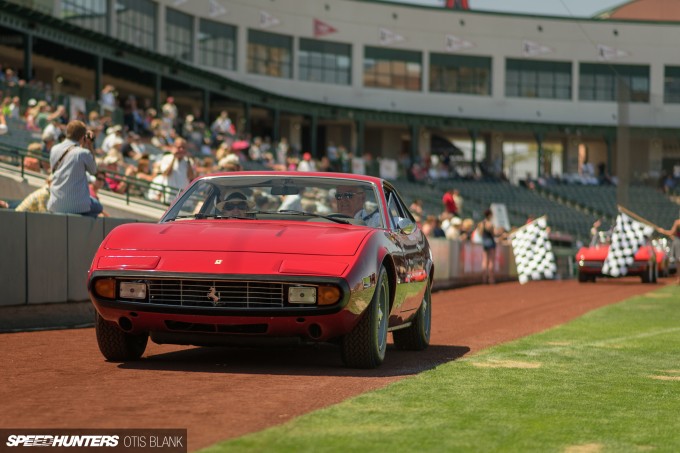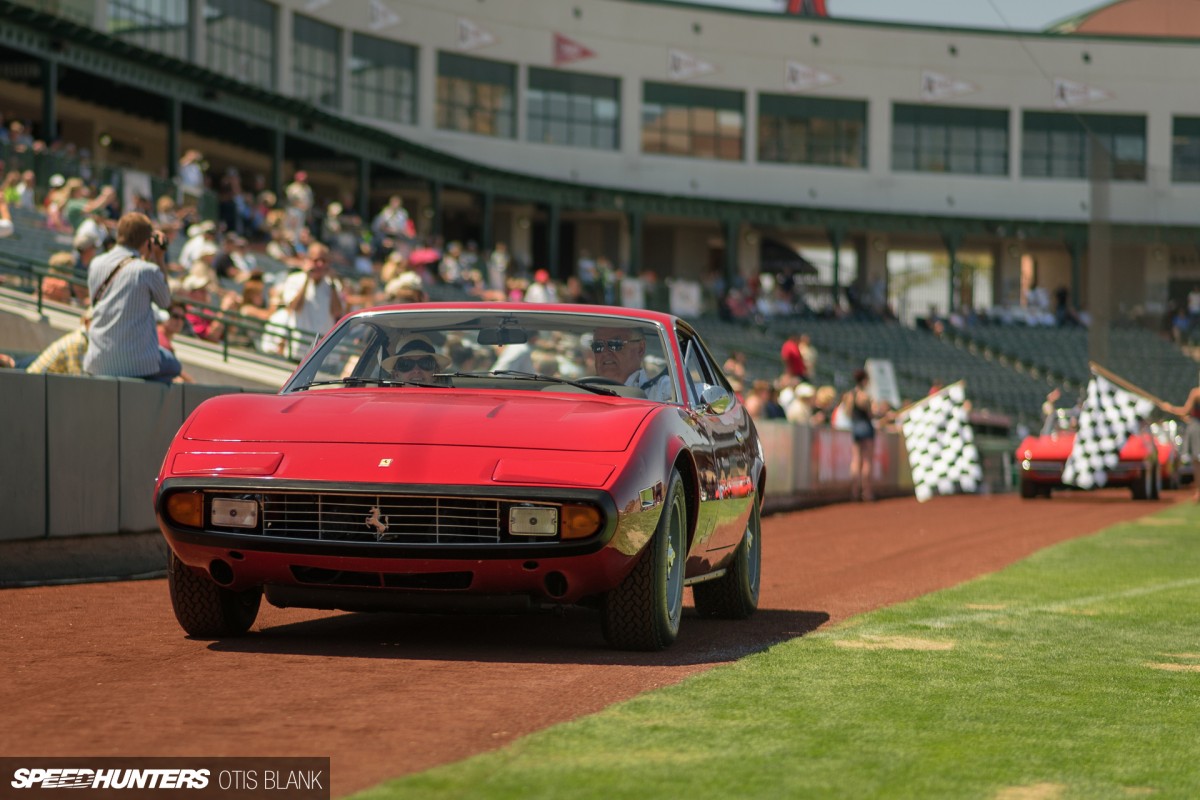 At noon on Day 1 engines are started and flags are dropped as all participants head off to the first destination, Flagstaff.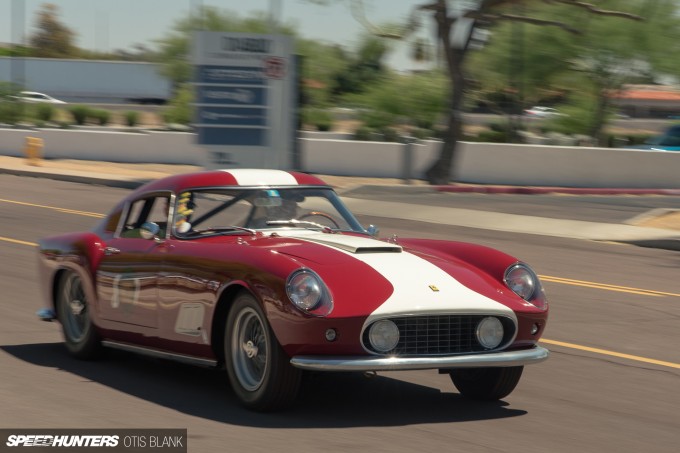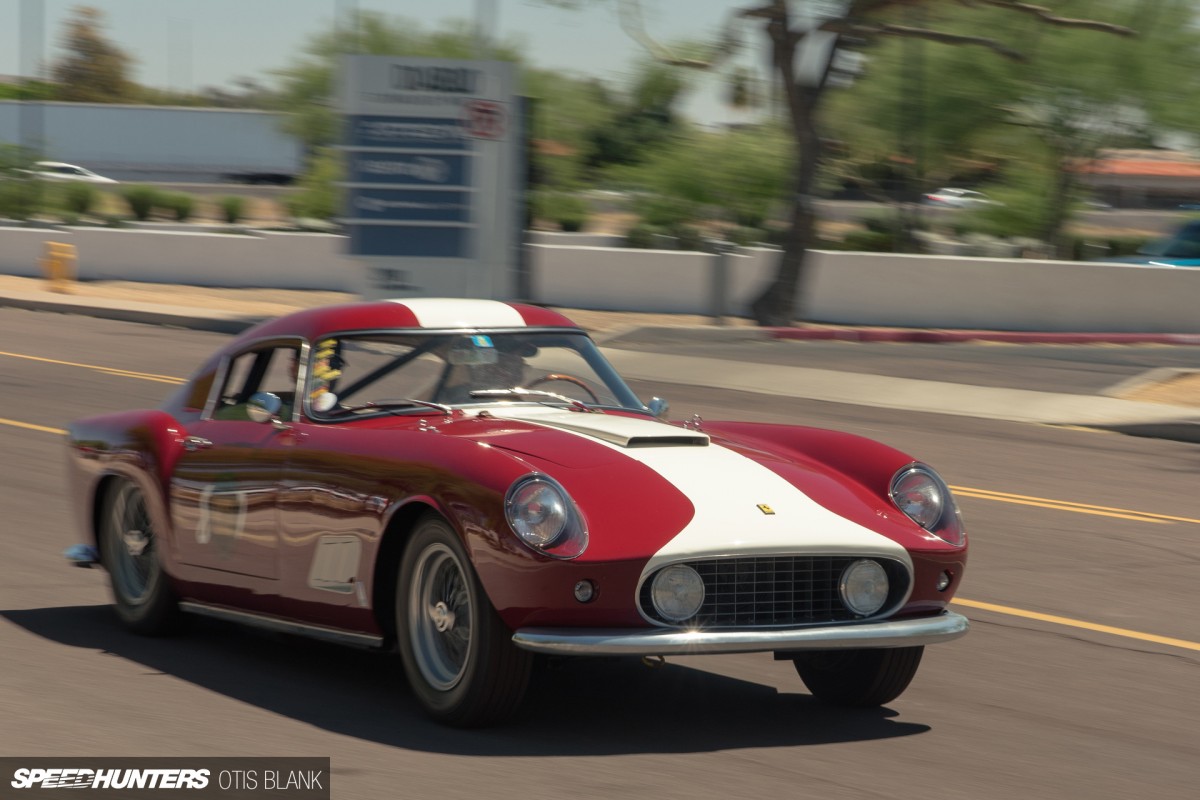 There were several valuable cars taking part in the rally, but this one might take top place. This 1959 Ferrari 250 GT Tour de France was purchased by its current owner in 1994 when it was worth far less than it is today. Driving alongside cars like this was as surreal as it was nerve-wracking.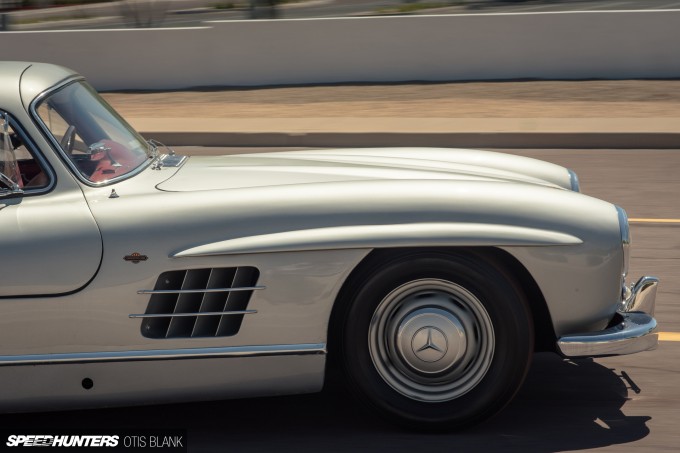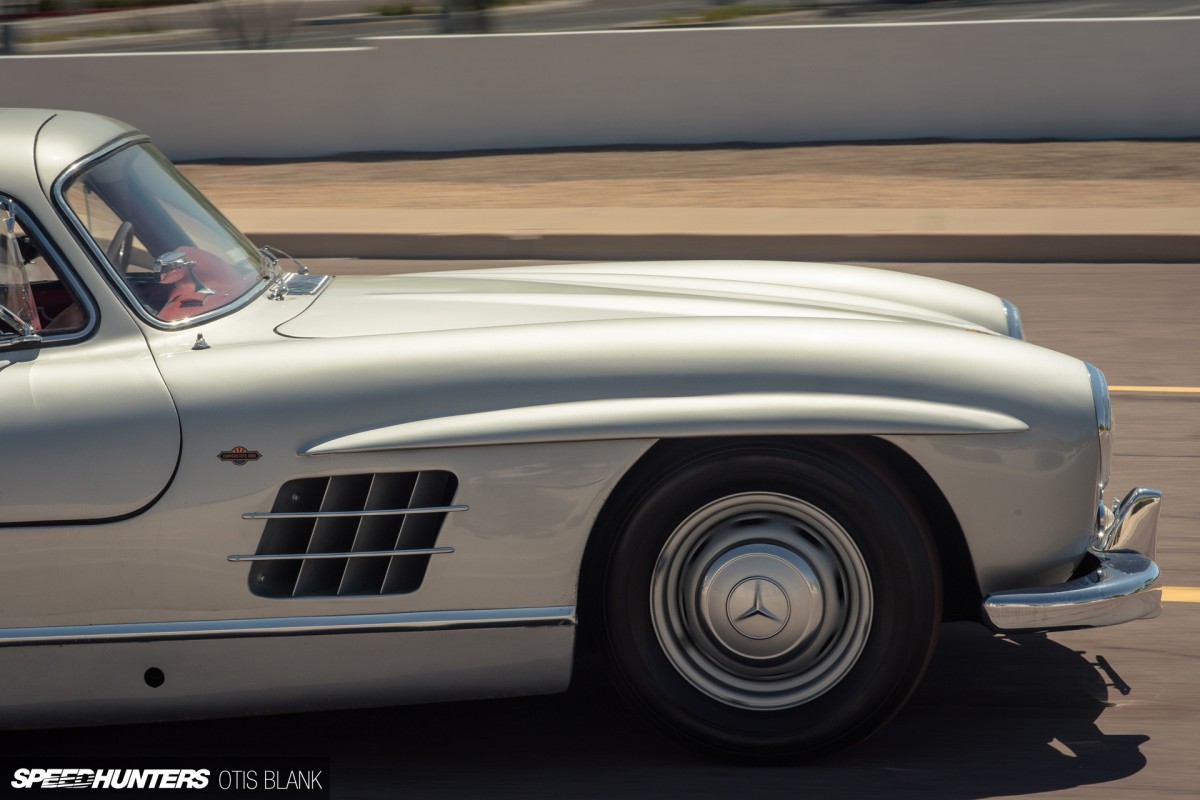 Another seven figure car that constantly wanted to distract me was this Mercedes-Benz 300SL. Once the world's fastest car, it's still one of the prettiest.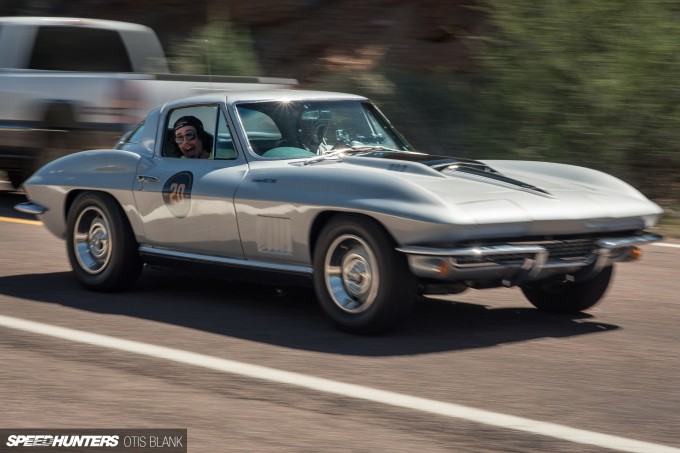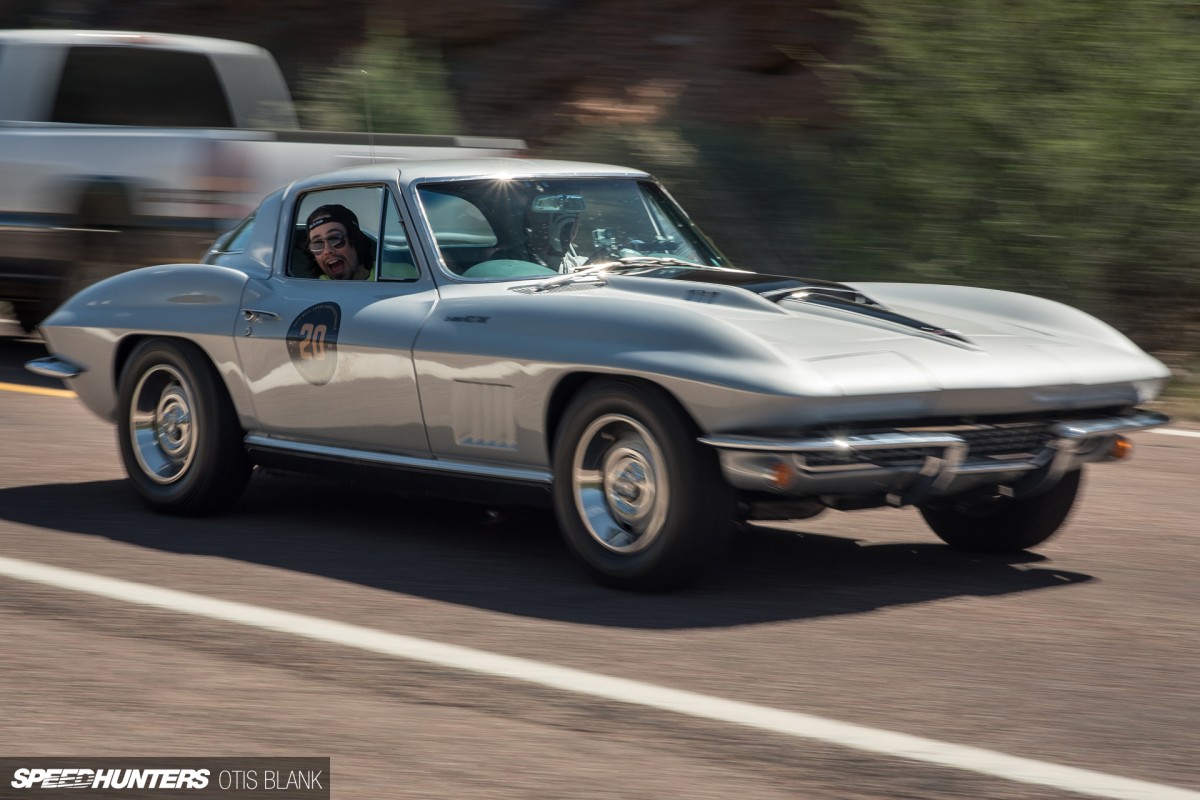 The first day of driving to Flagstaff was relatively short since given the midday start, but that didn't mean people were any less excited.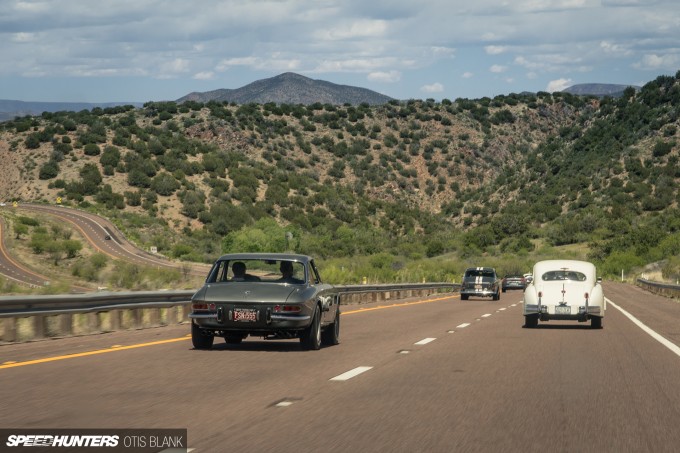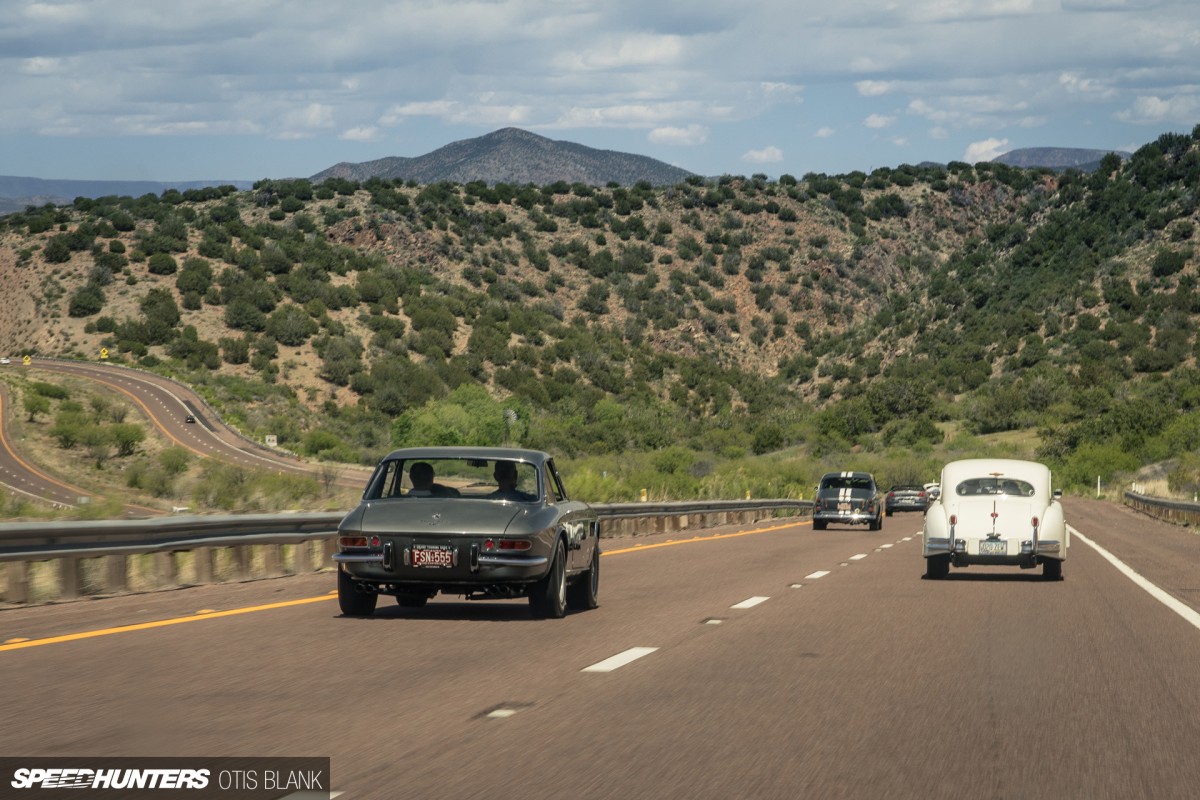 The fun was just beginning and the scenery was just starting to open up. I'll never get tired of seeing classic and vintage cars swarming regular traffic.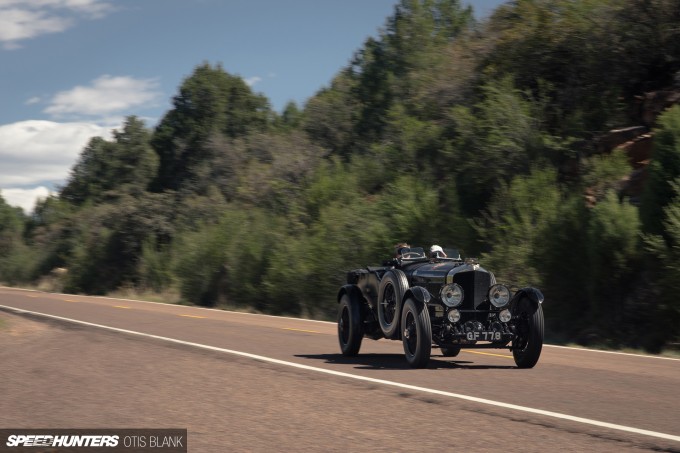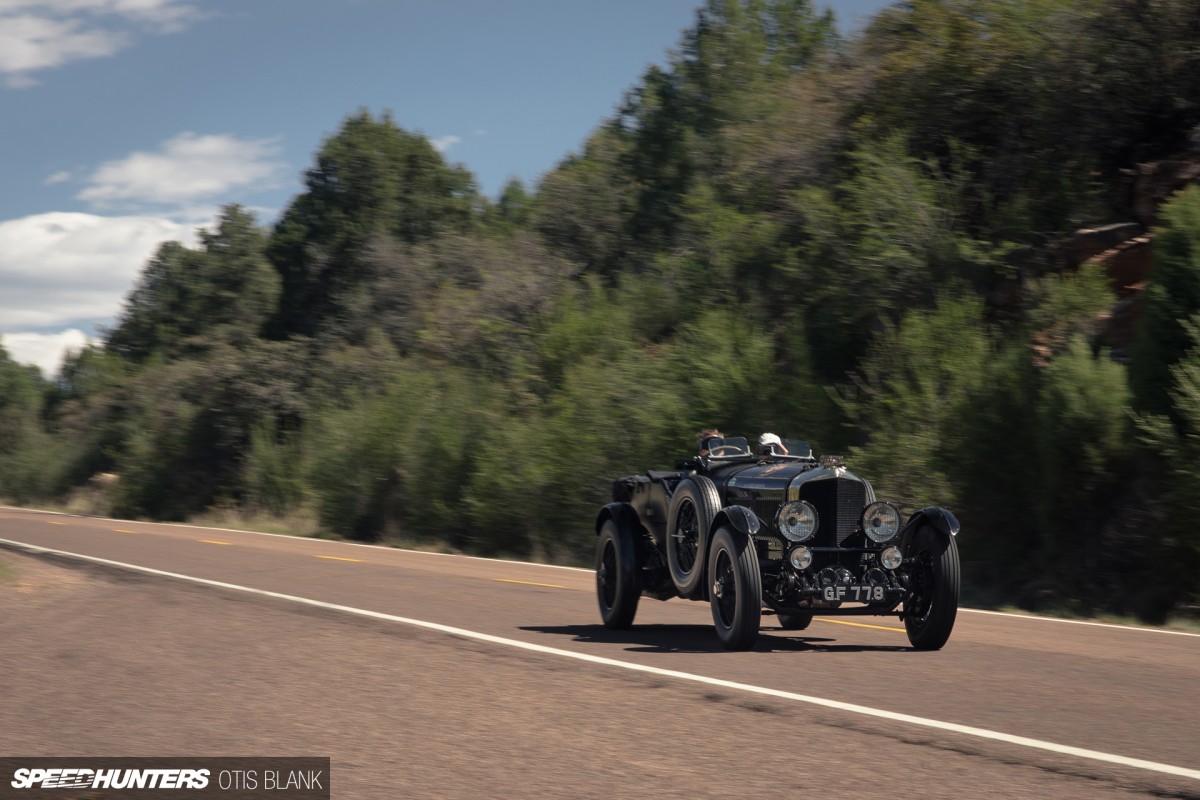 This is one of two giant Bentleys entered, seen here just prior to entering the world's largest Ponderosa Pine forest. This one is a 1929 6.5-liter, and it's probably bigger than the SUV they'll be releasing in the next couple of years.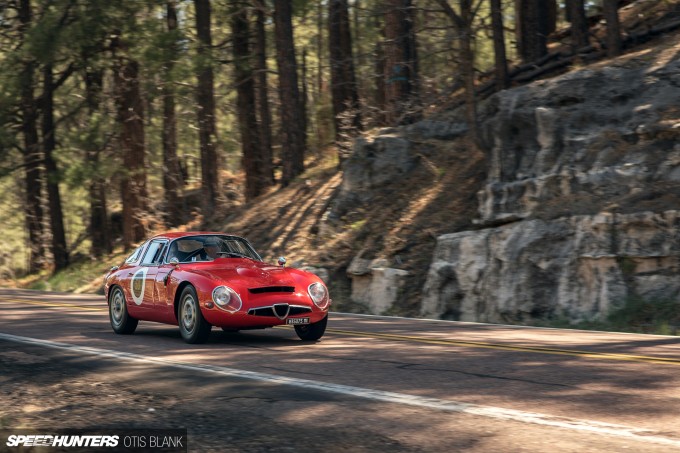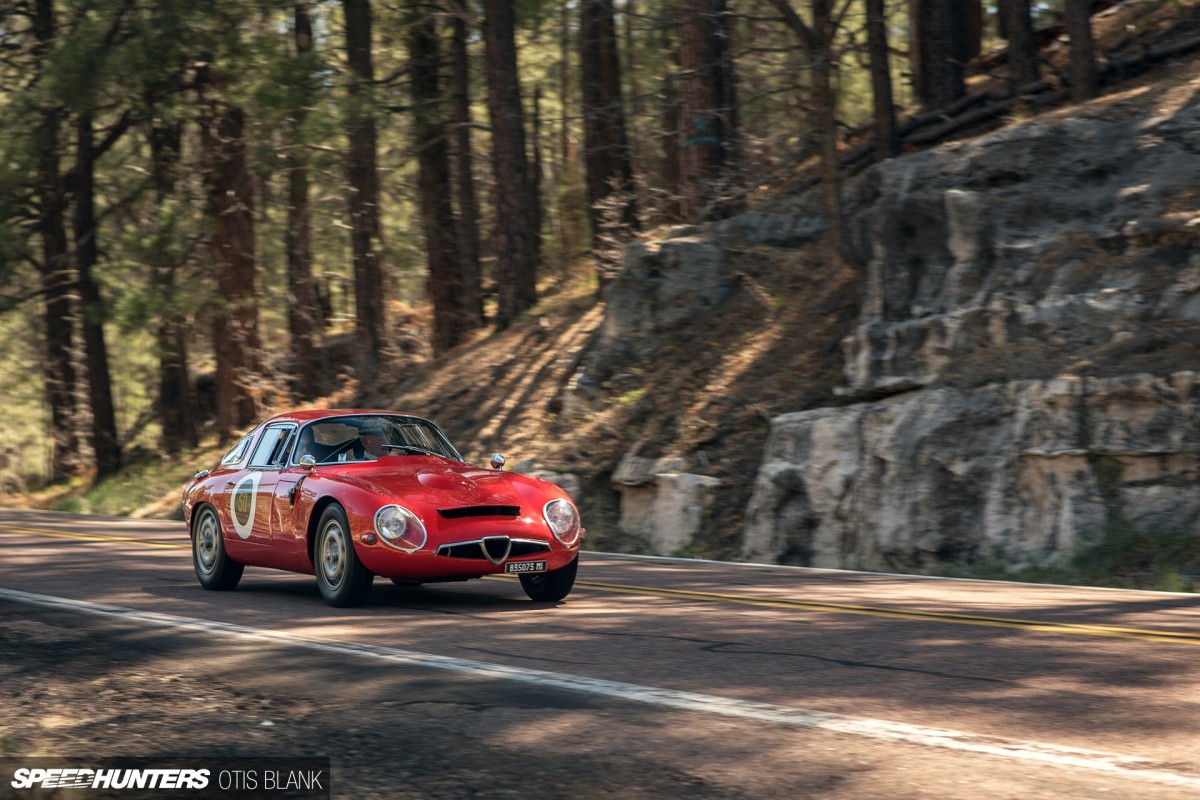 This 1964 Alfa Romeo TZ1 was another stand-out, albeit from the opposite side of the size spectrum. Alfa was really doing it right in the '60s, with a little help here from Zagato.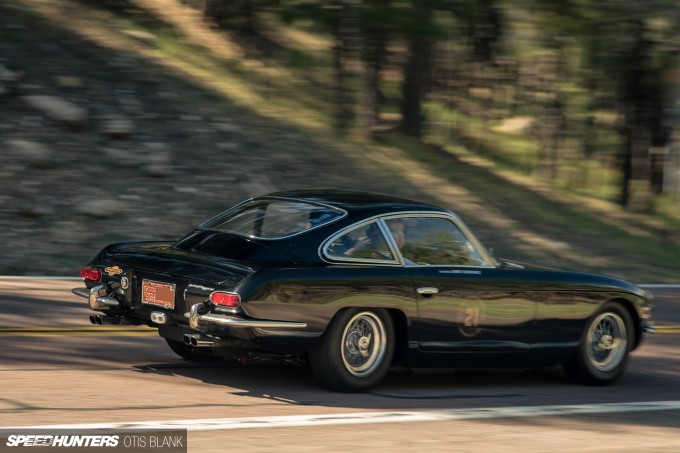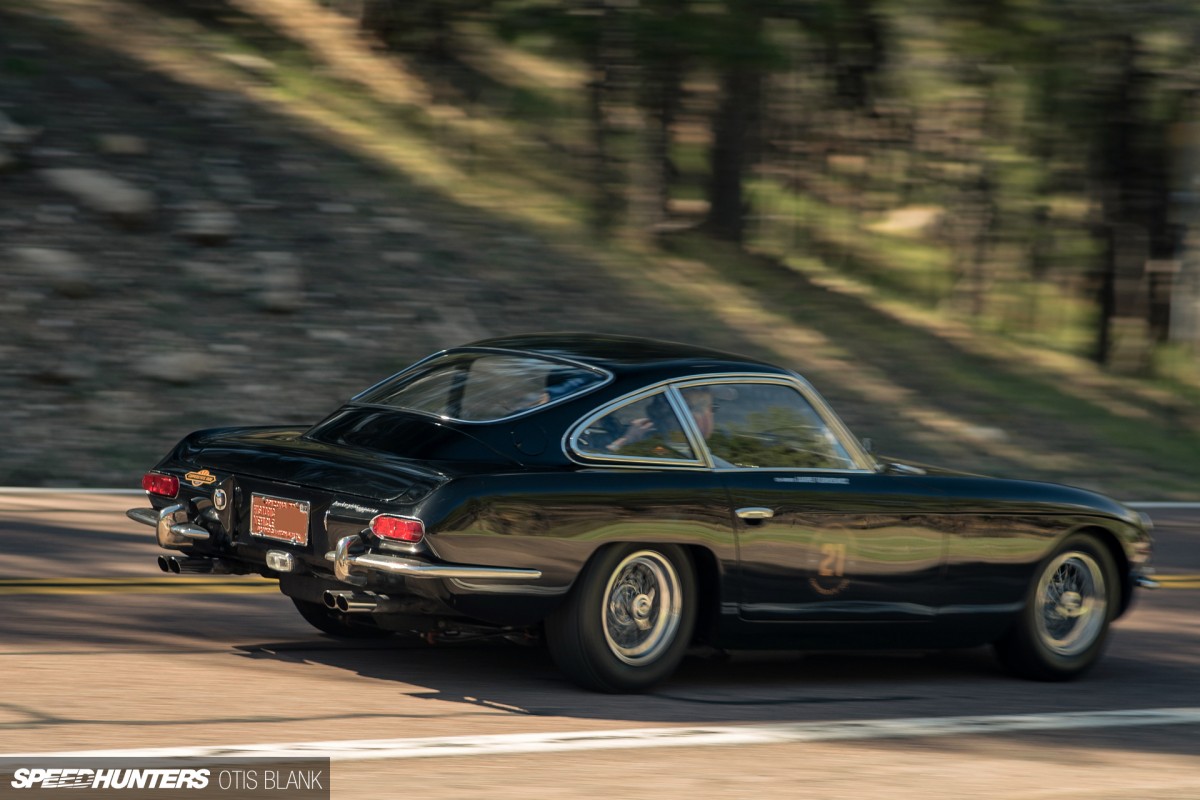 Another stunner – though, they're sort of all stunners – was this early Lamborghini. The 400GT 2+2 is an evolution of Lamborghini's first ever offering, the 350GT. The 400 had a larger V12 and more horsepower, 320hp to be precise.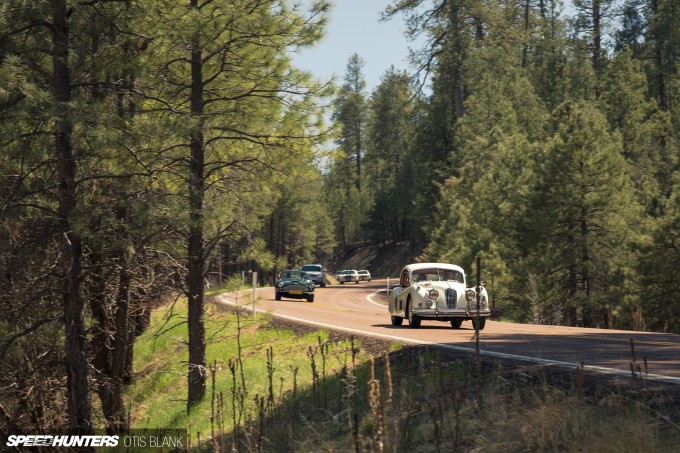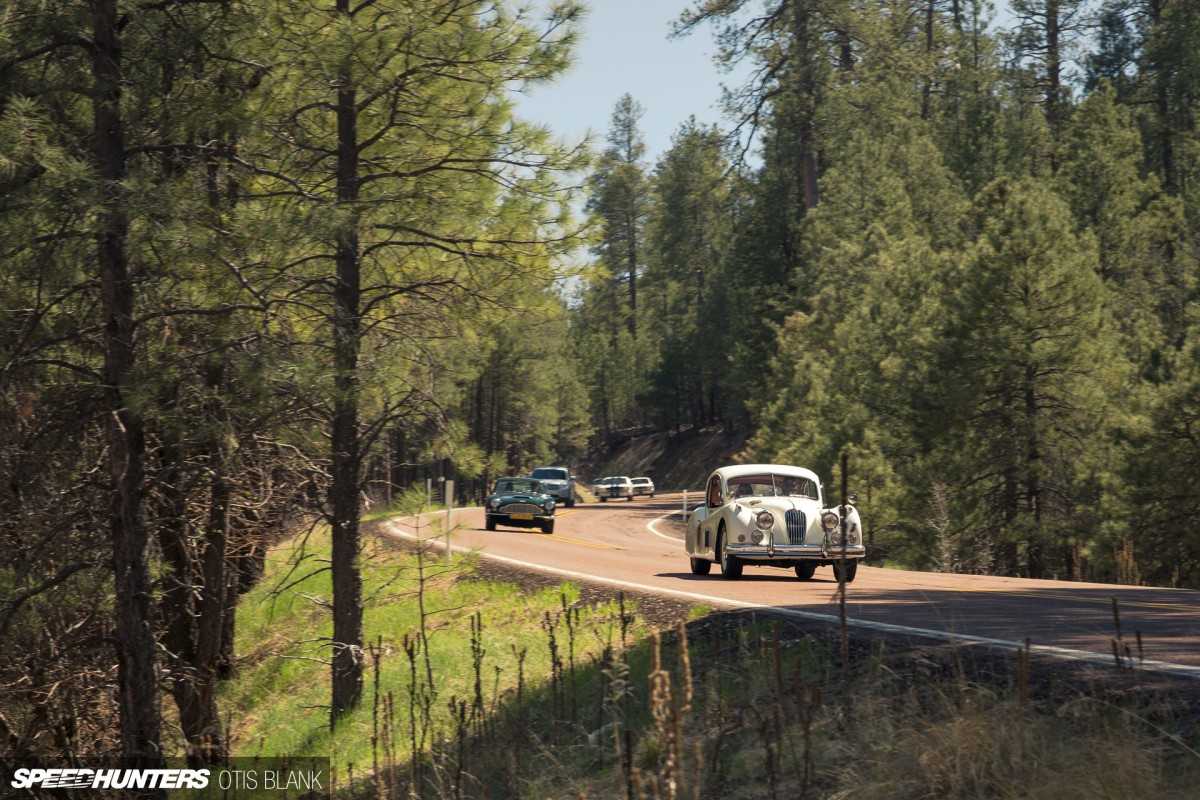 Only a few hours into the rally and I'd already seen so much. The variety from the cars and the surroundings never ceased to impress.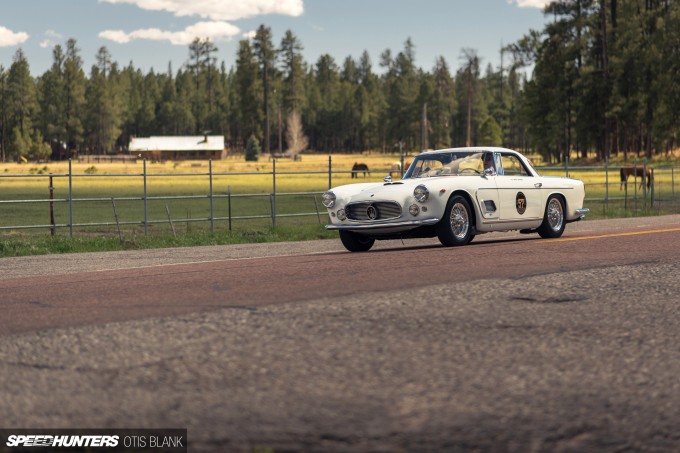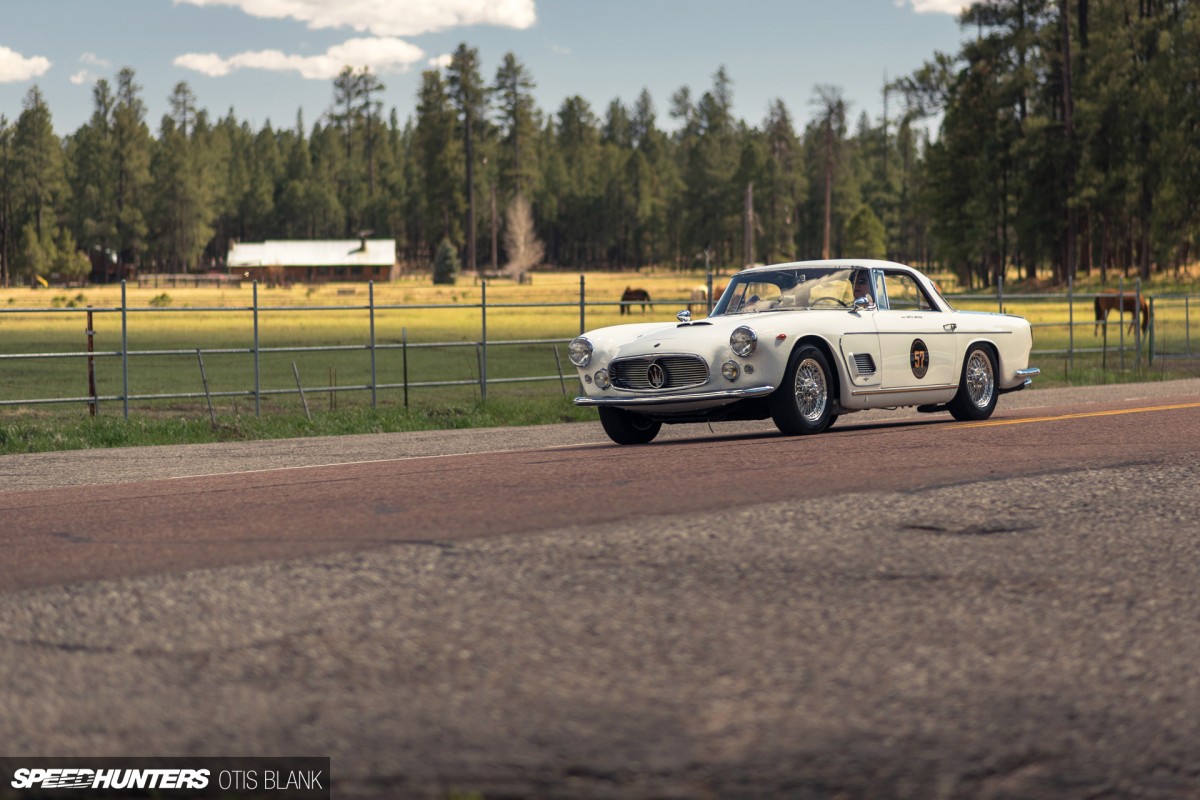 After a long stretch of what was mostly forest, the road opened up and straightened out through some ranch land.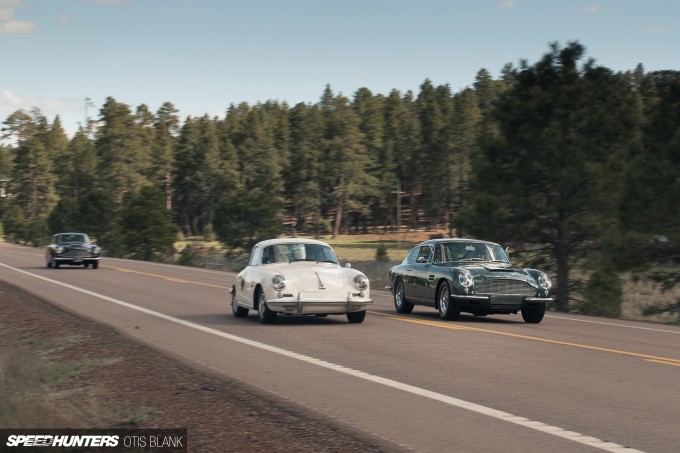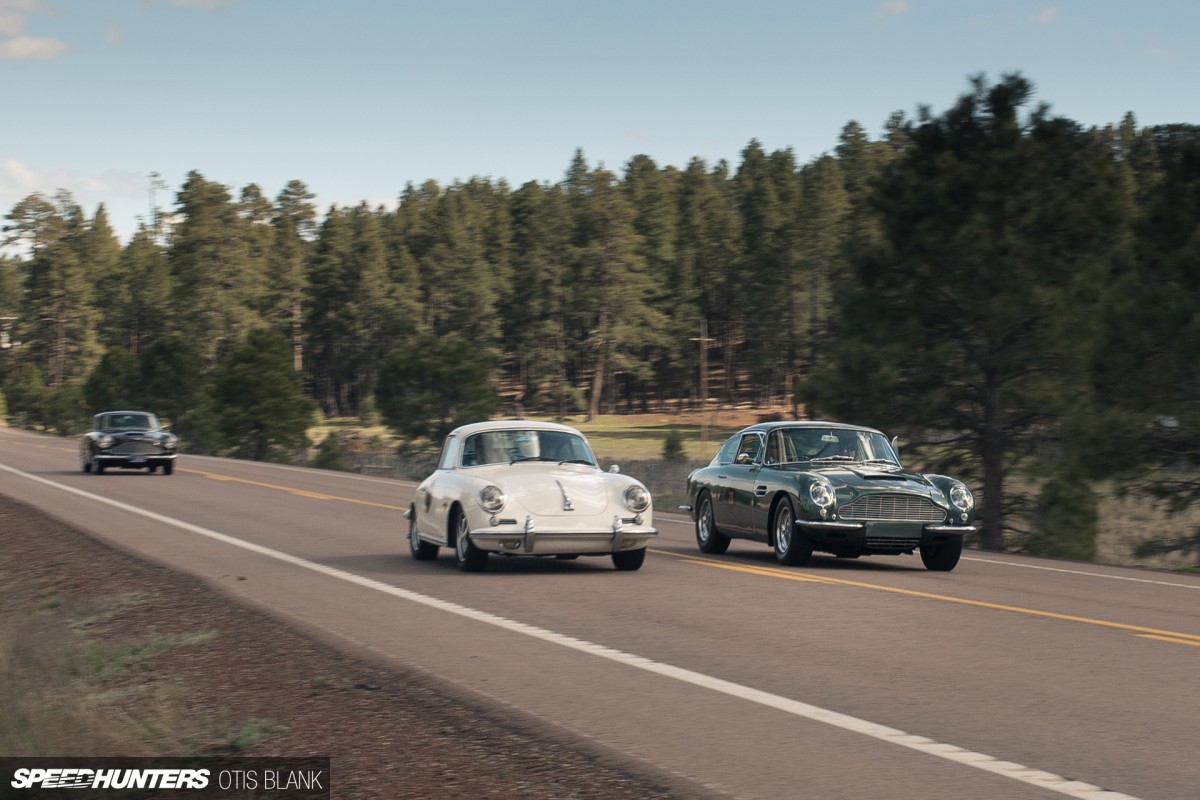 Some passing took place.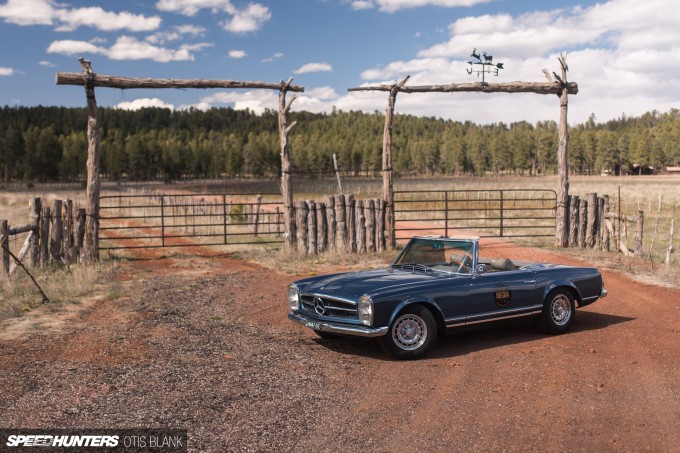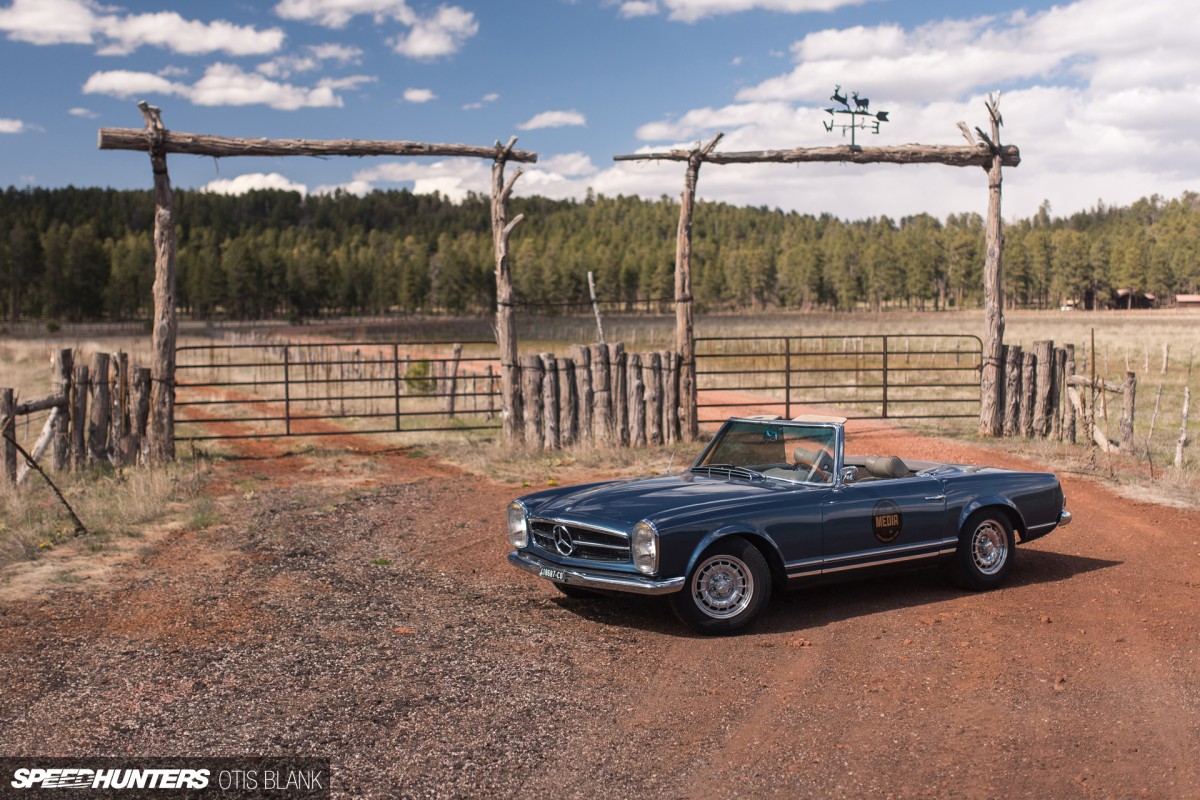 And some photo-opps were taken advantage of. The symmetry of these ranch gates was too good to pass up. I guess this is as good a time as any to introduce you to the car I got to drive for the rally (thanks to a very generous friend of mine) – a Mercedes-Benz 230SL.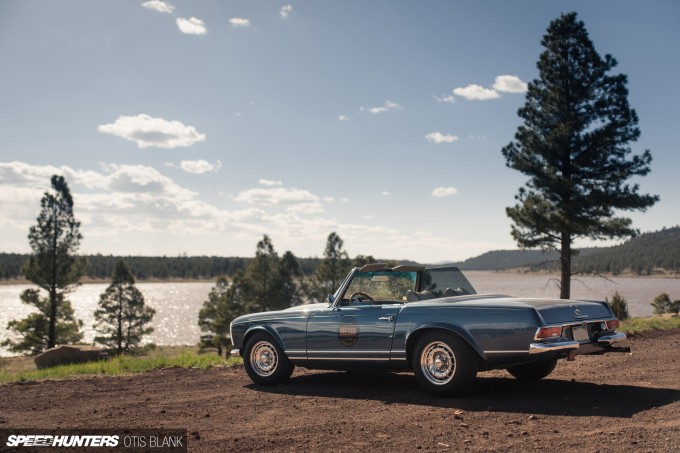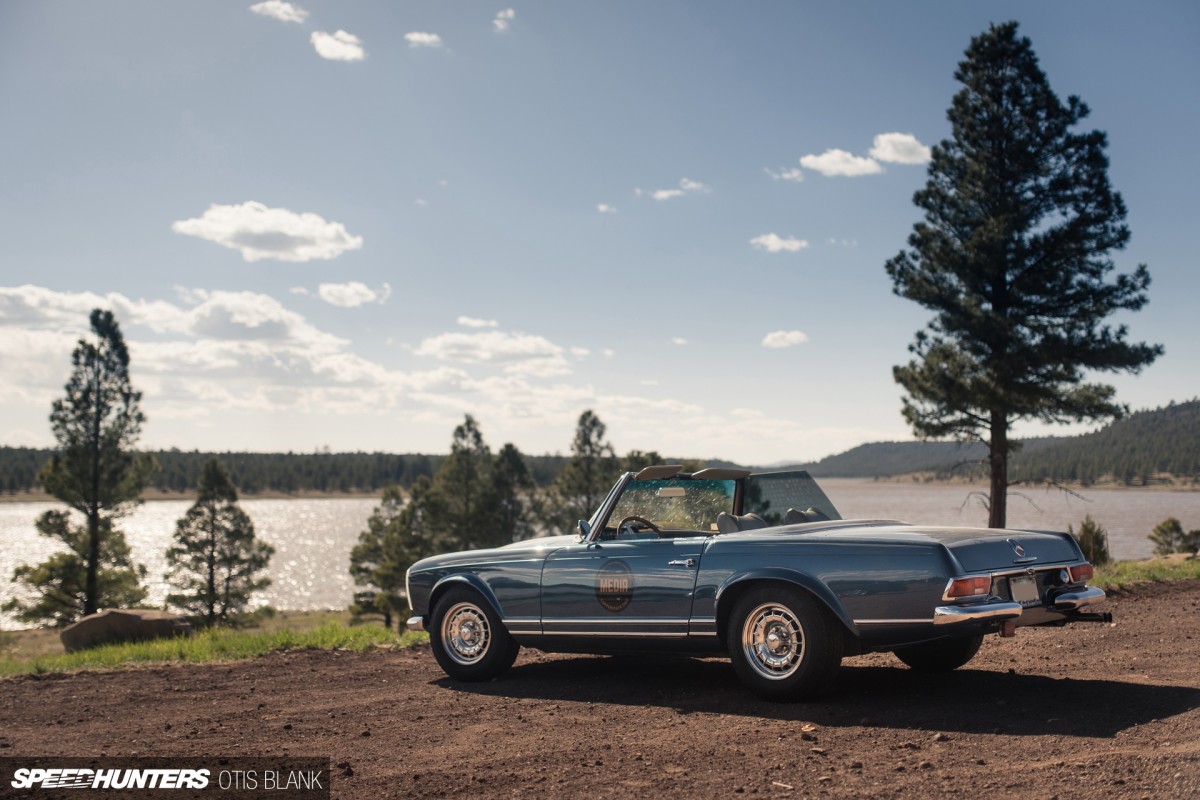 I love this car. Built in 1966, this W113 has since been repainted a shade of blue Mercedes used much later on, and it's also sitting on later-model wheels. These are things that might make a purist cringe, but to me this car looks right. If you haven't fallen for the looks, some time behind the wheel will have you wanting one regardless.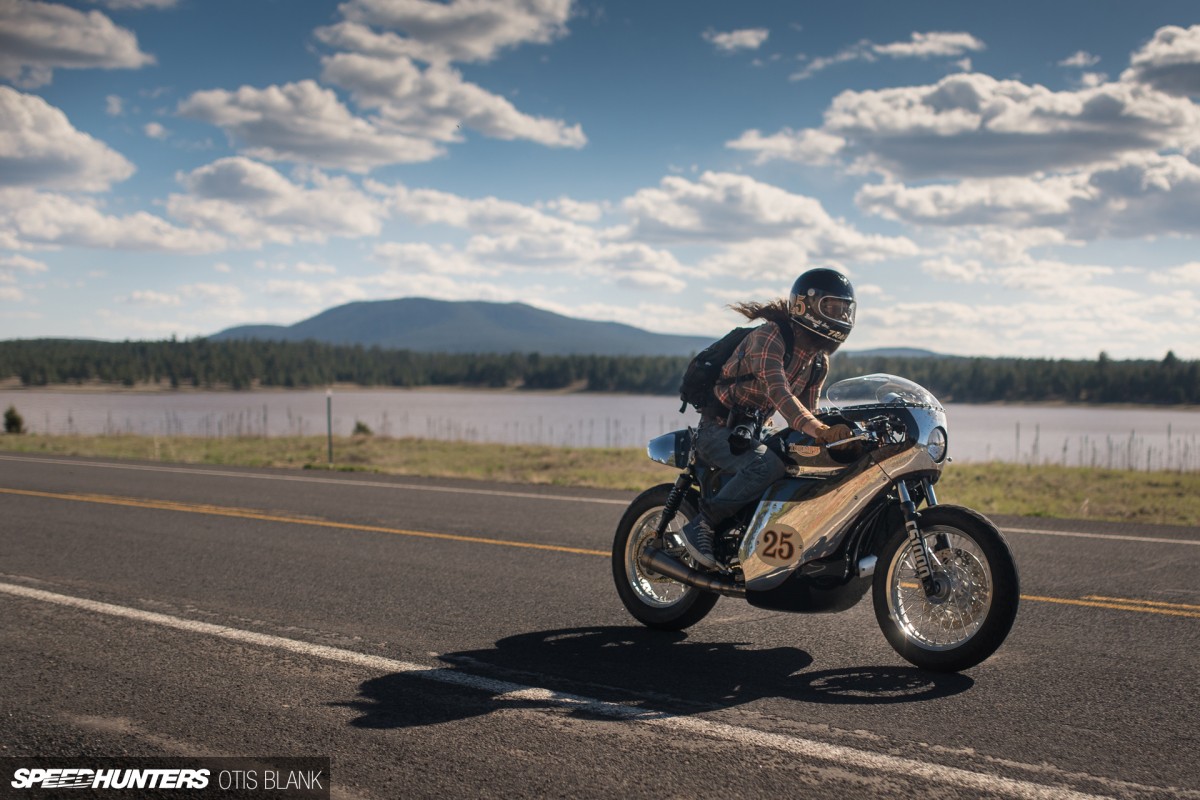 I wasn't the only photographer piloting something interesting on the rally. This is Christian Otjen riding a modern Triumph Thruxton modified by Haifley Brothers in honor of the 25th anniversary of the rally. All the custom metal work was hammered out by hand, marrying vintage technique and style with today's machinery.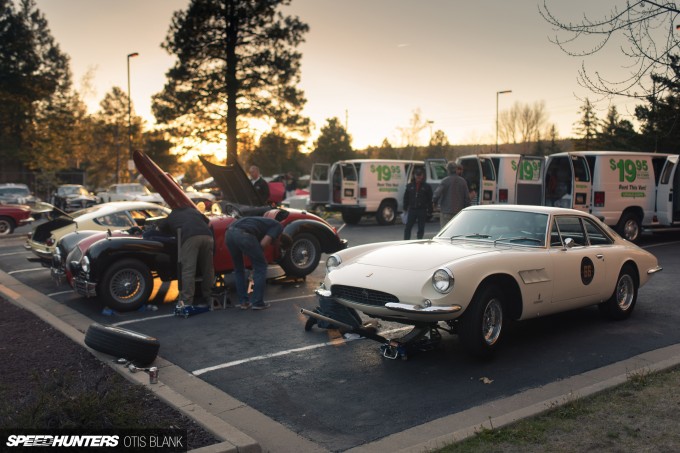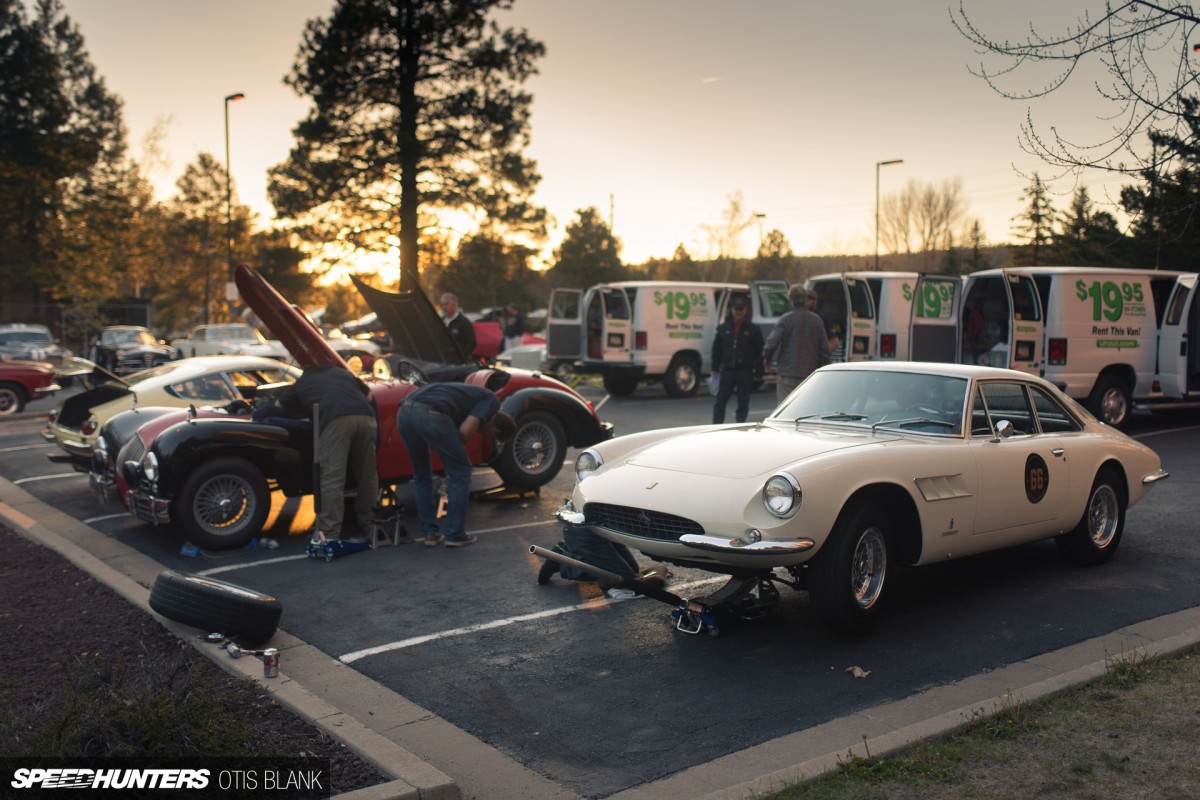 Other 'crew' members include a small team of mechanics that follow along in less glamorous U-Hauls and make running repairs throughout the day. They also have the duty of working into the night re-preparing the cars for the following day's driving.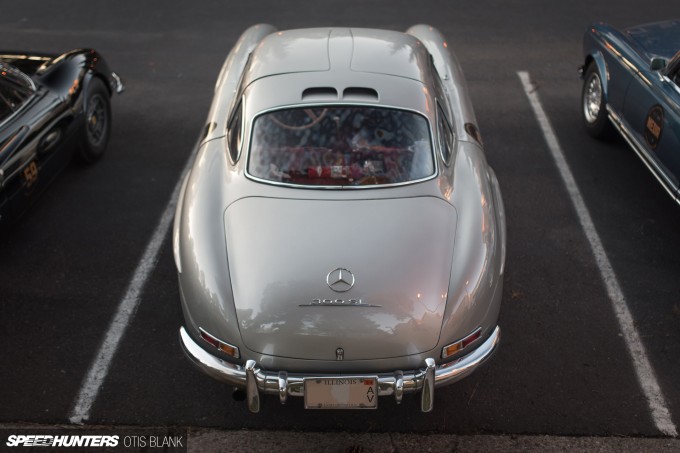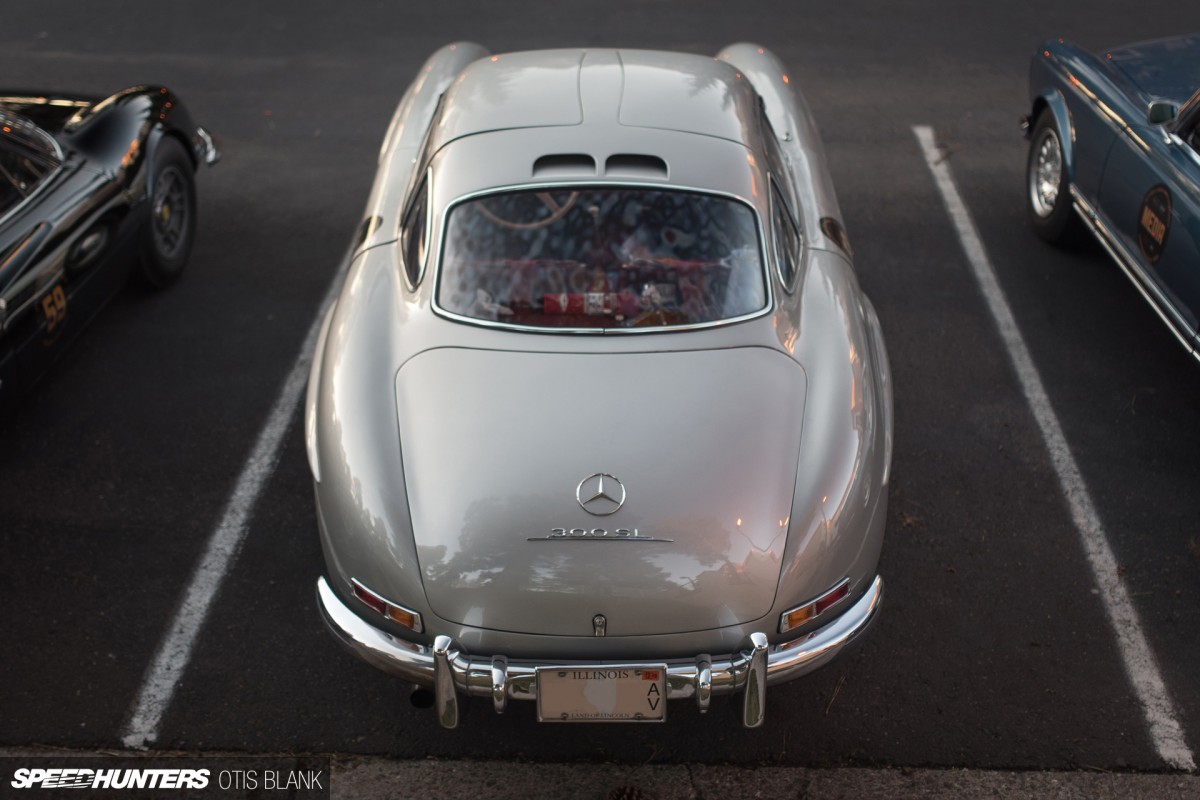 Evenings on the Copperstate are worth looking forward to. After driving for the day everyone is treated to drinks in the parking lot before dinner, which is a great time to talk about the day's journey and to ogle the cars in the perfect golden hour light.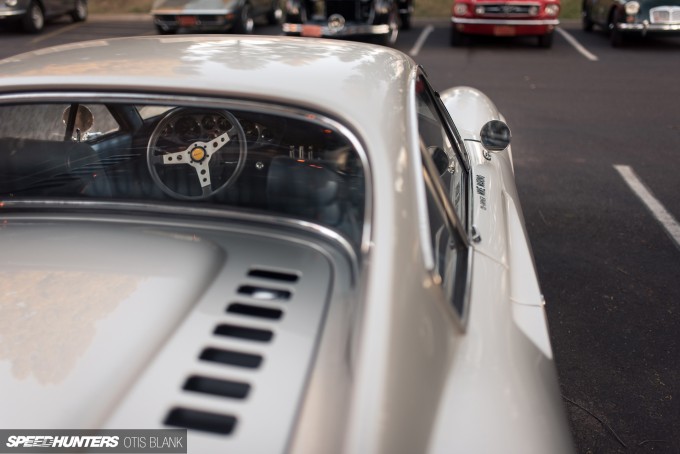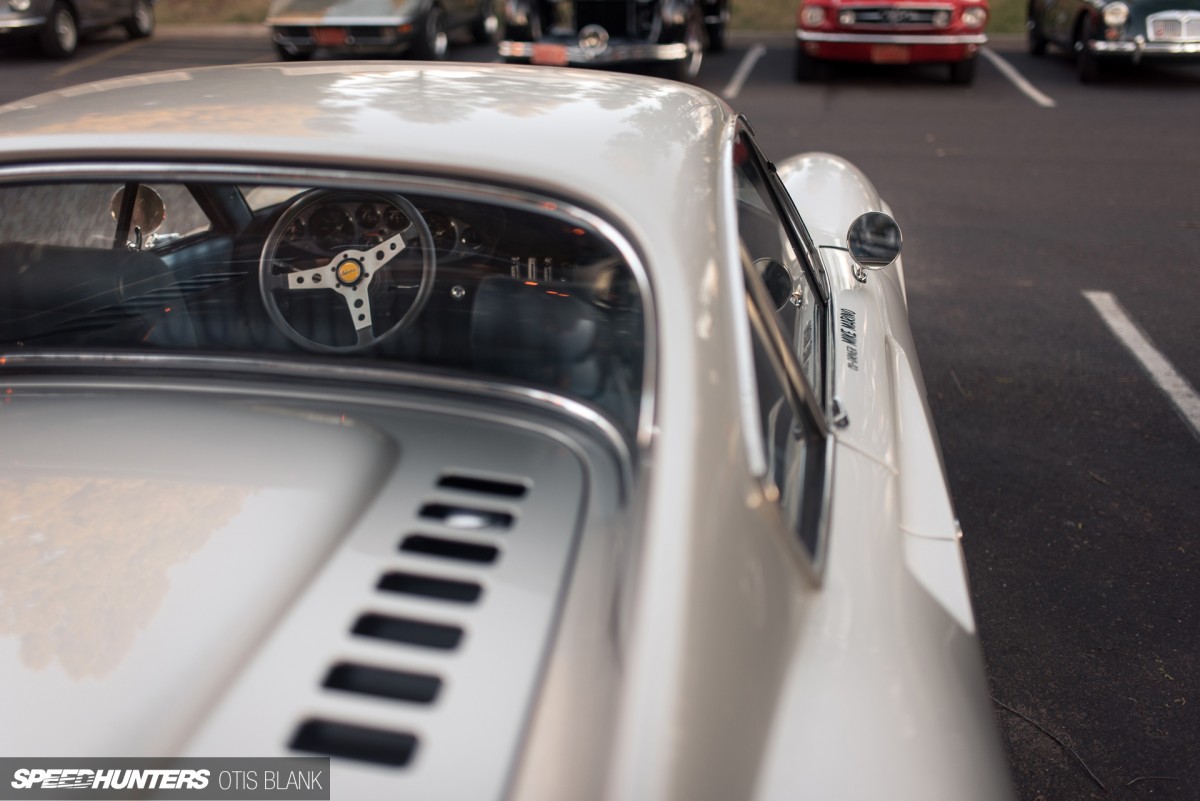 And I do mean perfect. The light seems even better up high in Flagstaff.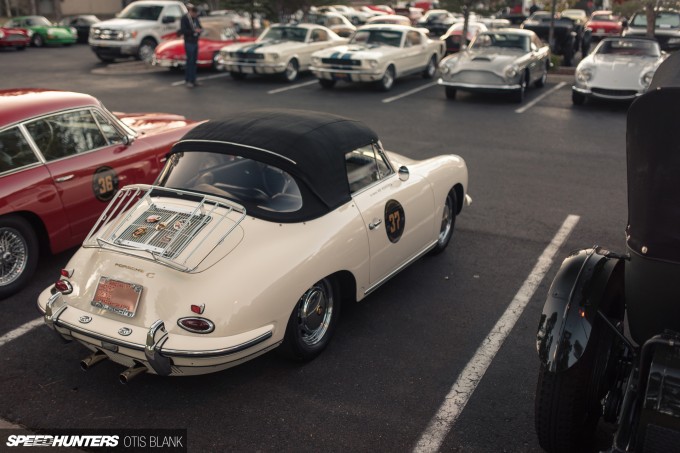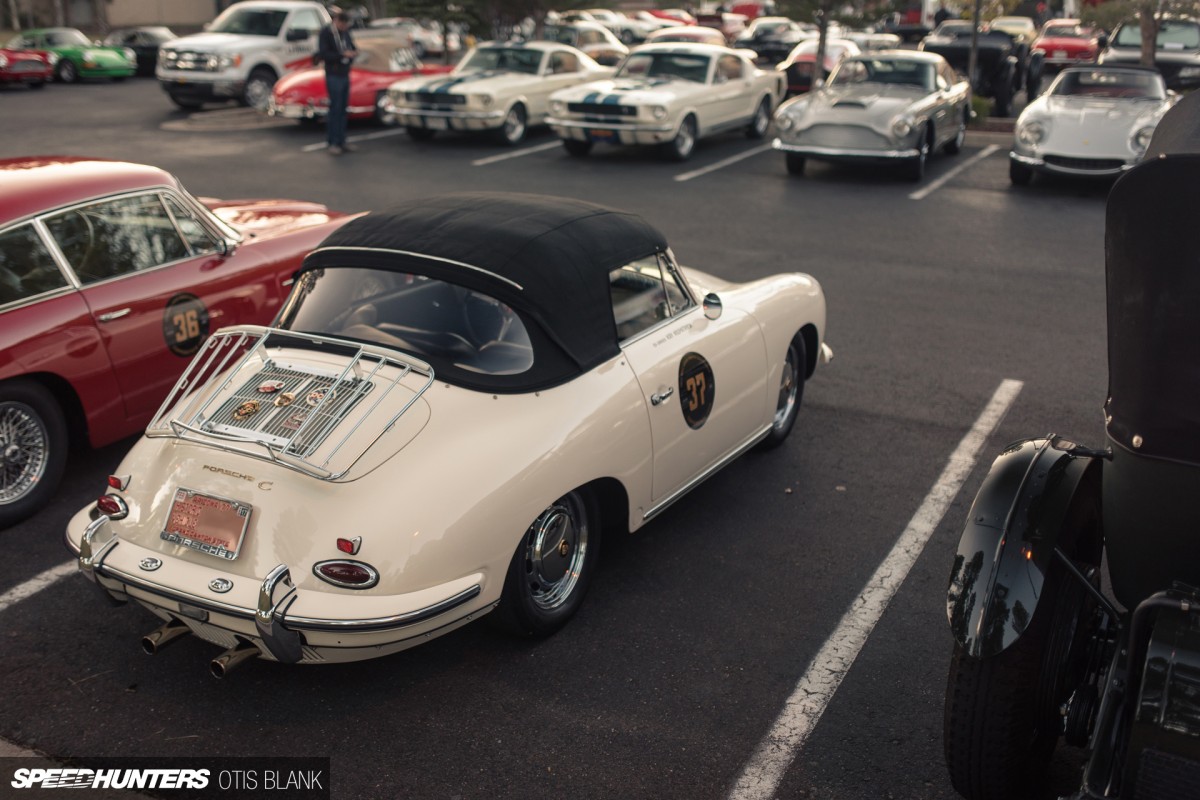 It really starts to sink in how crazy this all is when just about every parking spot at the hotel is occupied by a car that would be seen as extraordinary on any given day.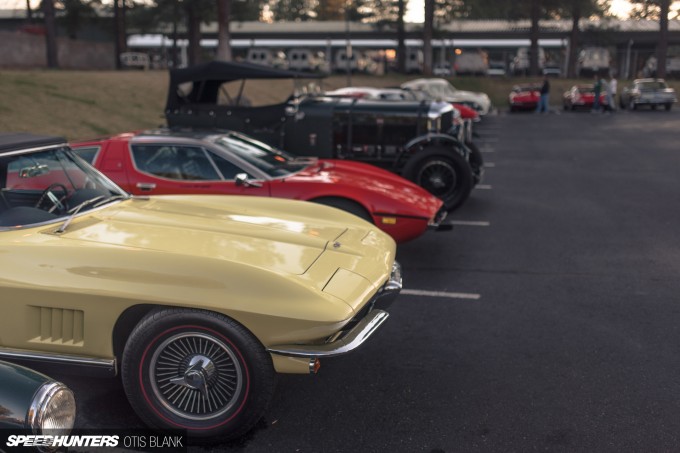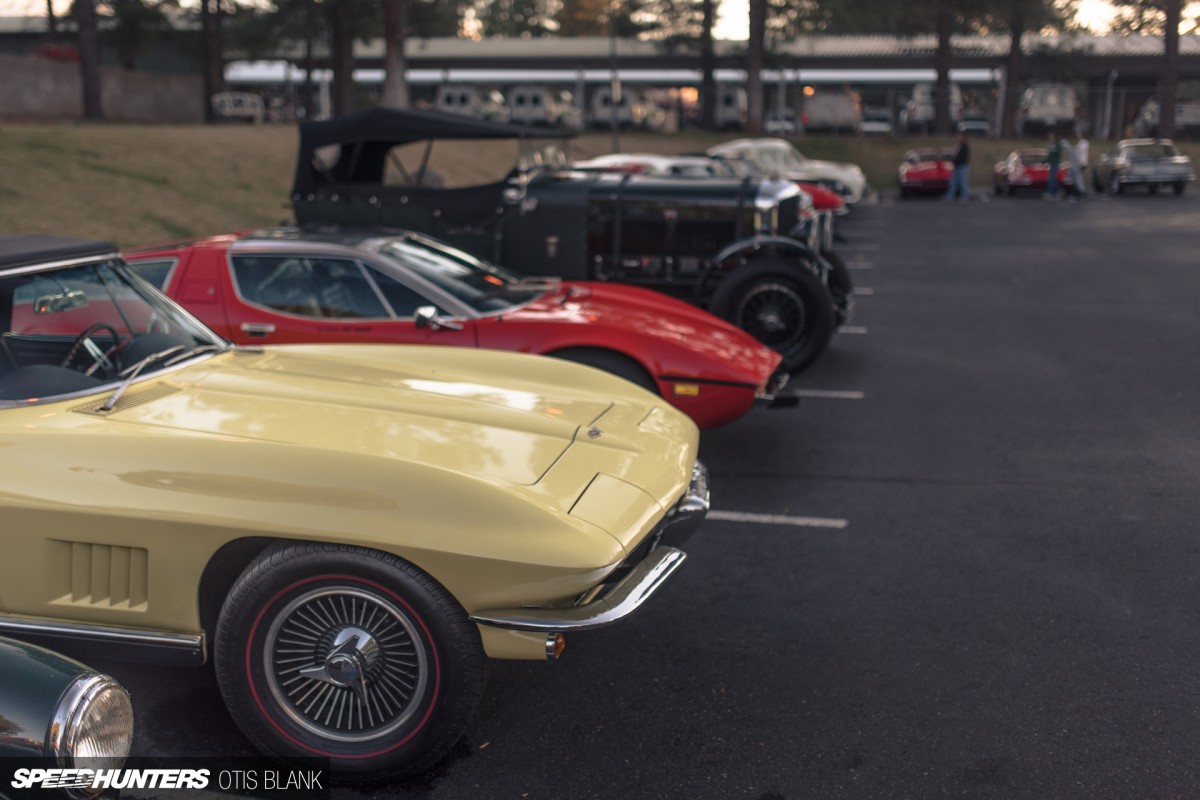 I can only imagine what it would be like to stumble upon something like this unknowingly.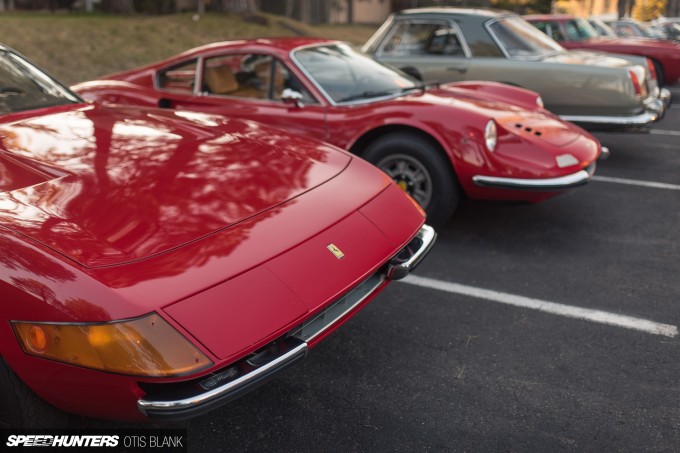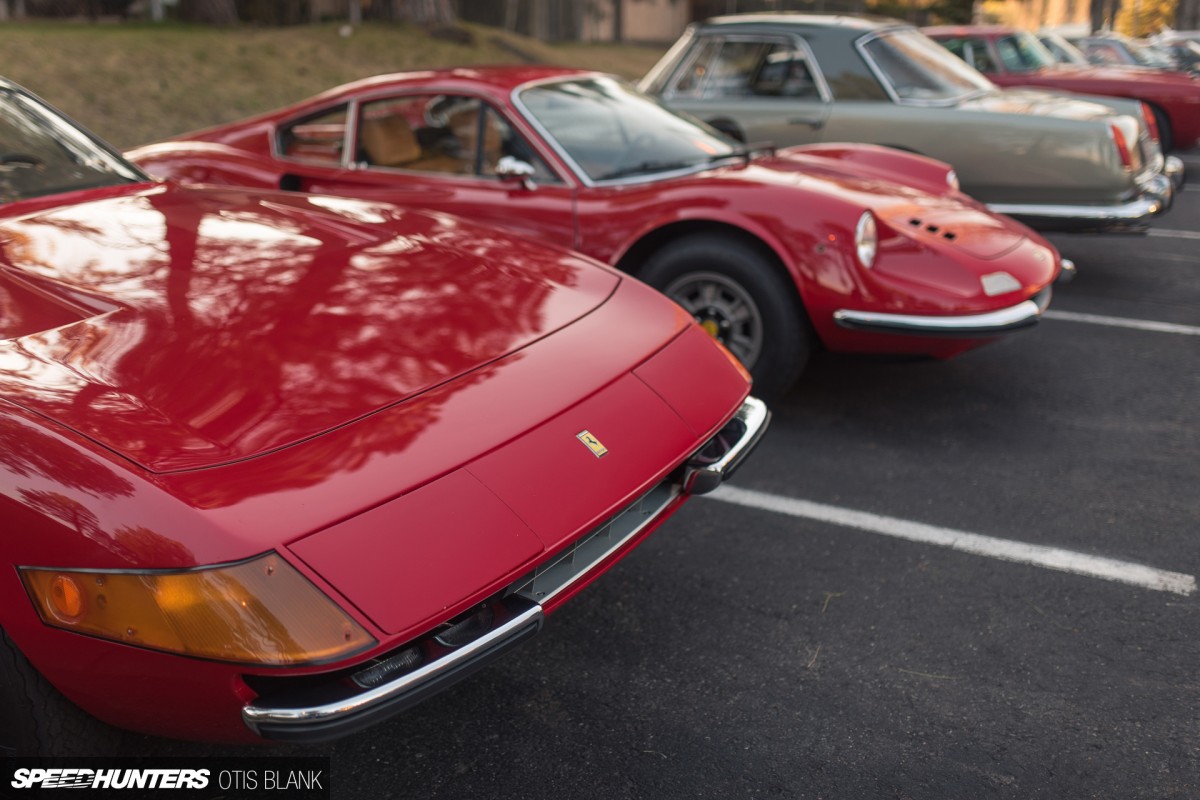 The day's driving included desert, three lakes, the aforementioned world's largest forest of Ponderosa Pines, and the San Francisco peaks. All this in half a day! Day 2 would be more driving, more scenery, and more drool clean up.
Day 2: Flagstaff To St. George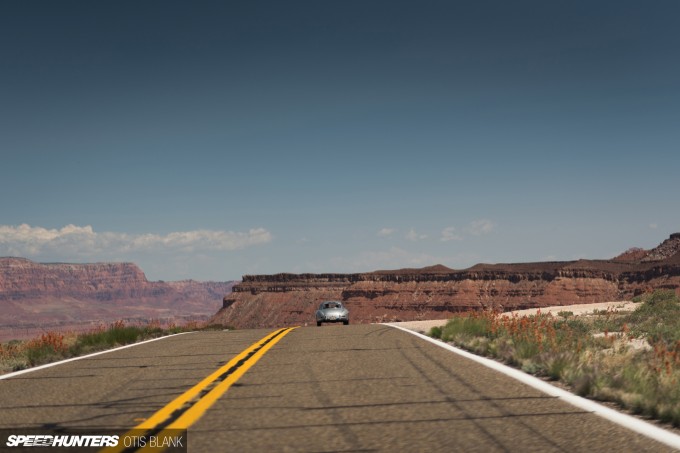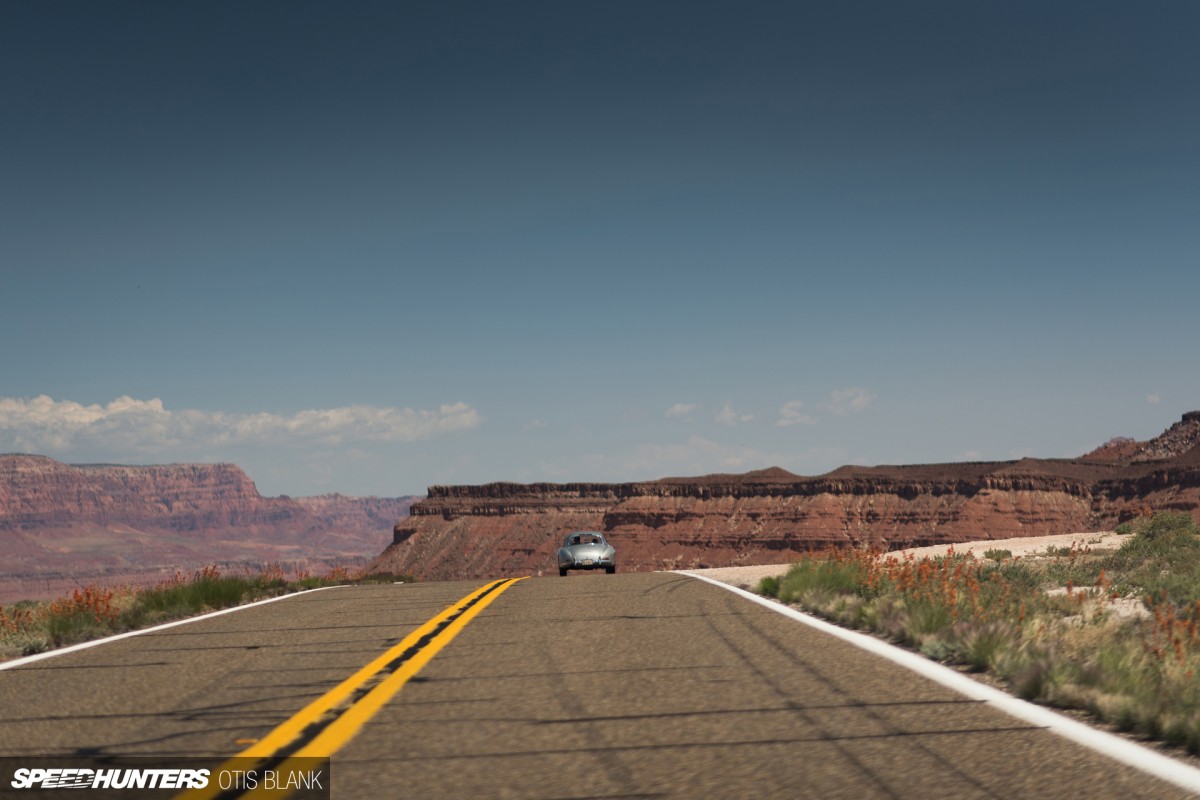 Day 2 would eventually take us into southern Utah via 270 miles of amazing roadways.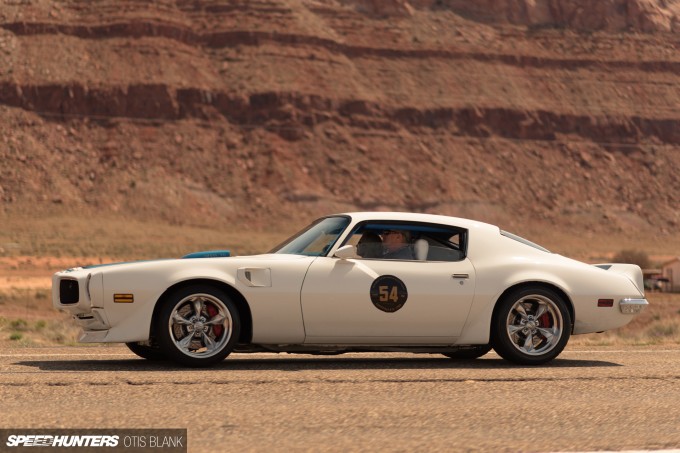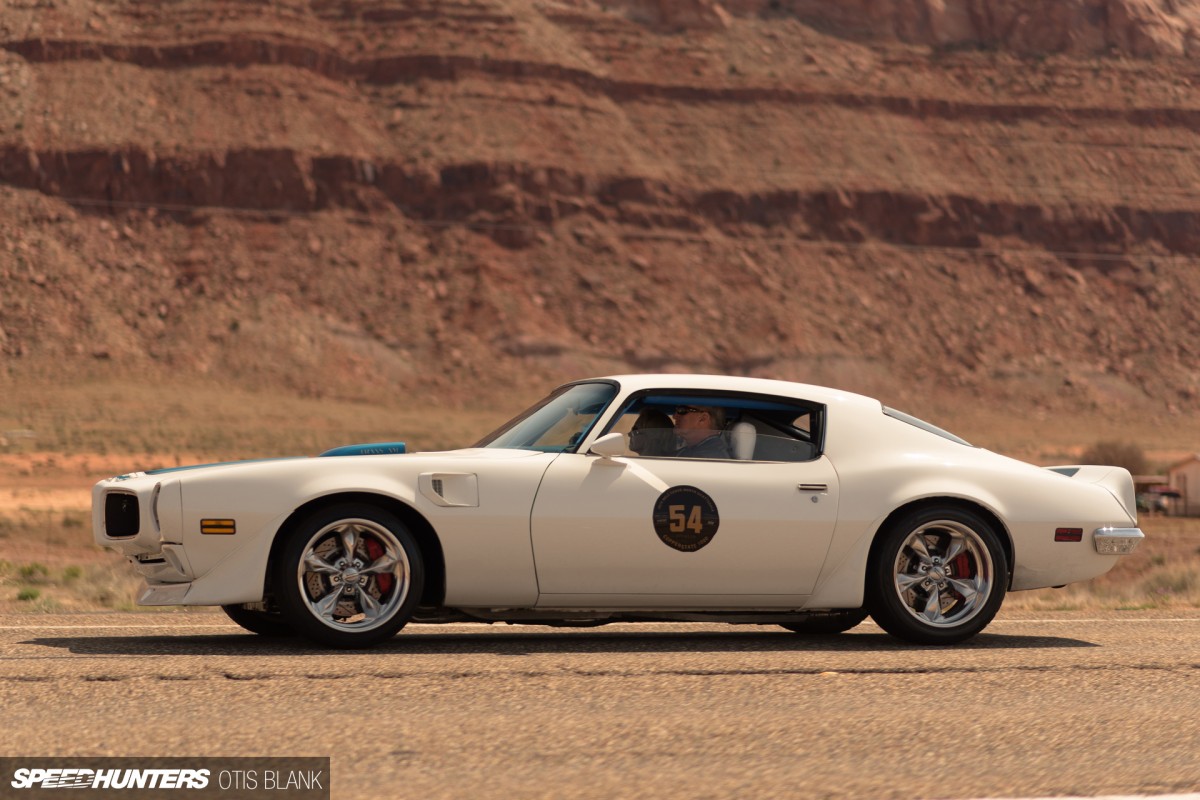 But the majority of the day was spent traversing across northern Arizona. As you approach the west towards St. George the rocks and hills shift from darker reds to more fiery shades of orange.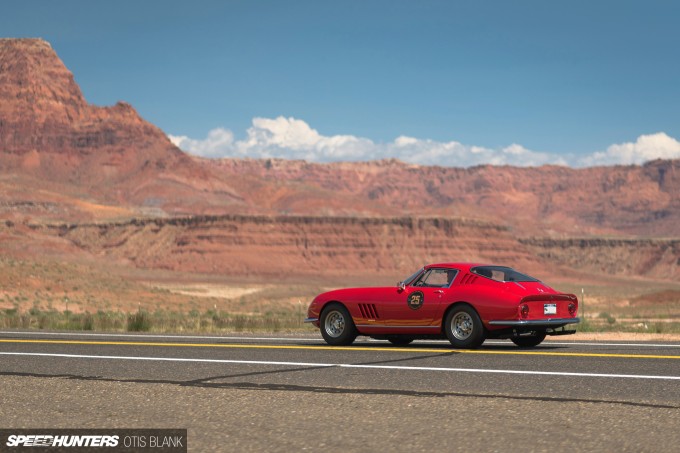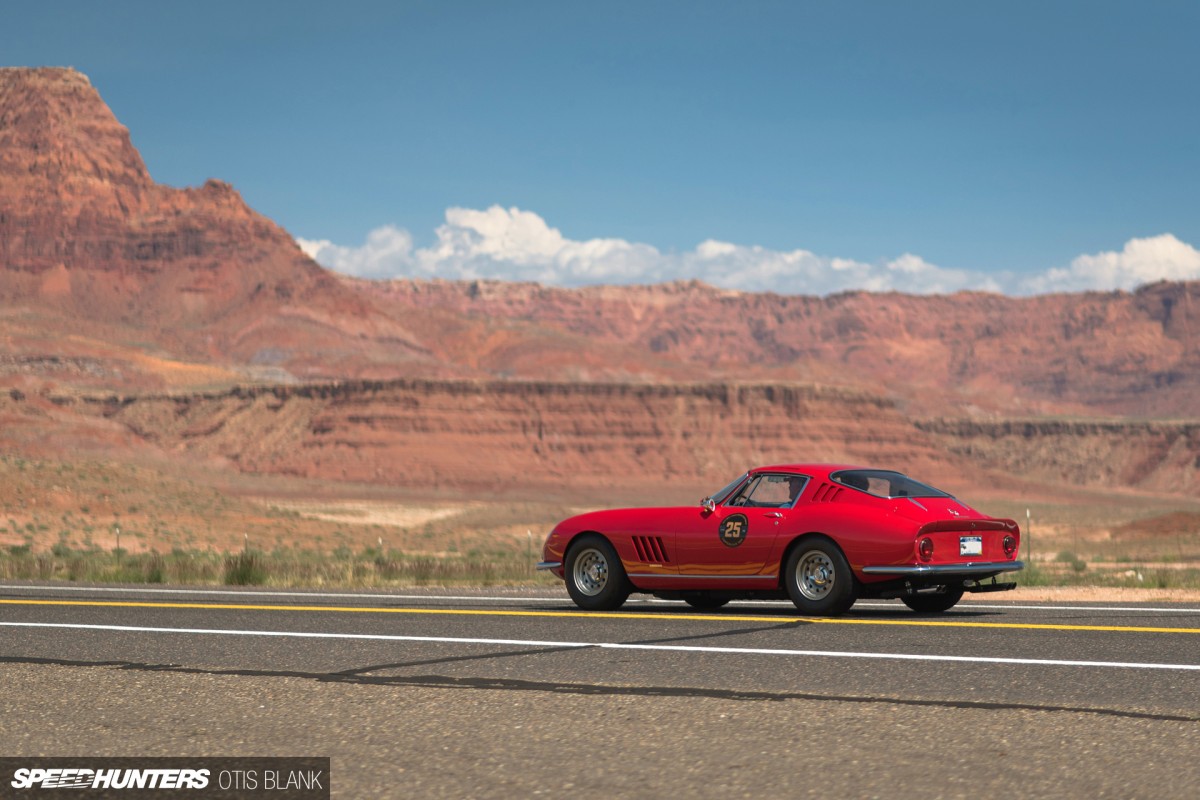 There were times when the hills even got a little pinkish.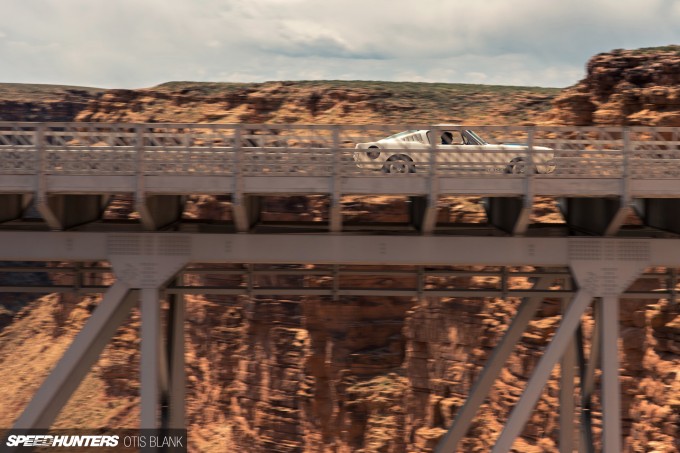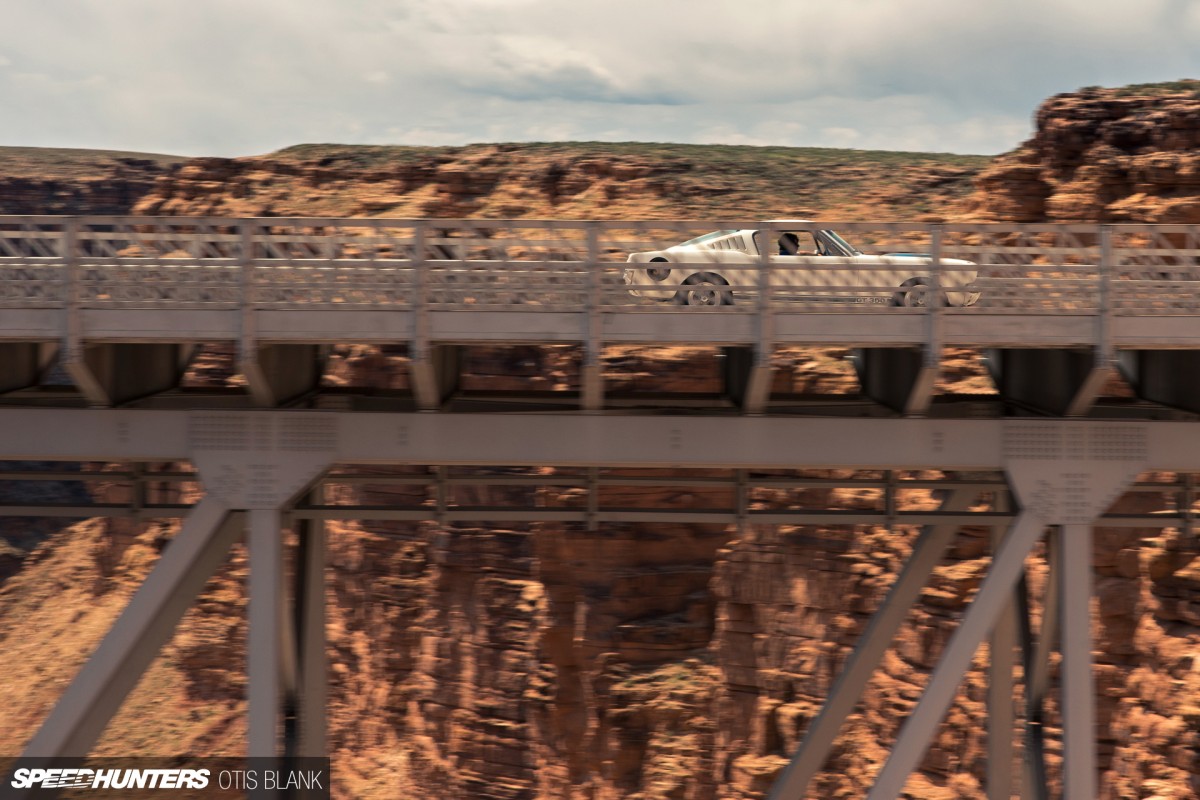 The pinnacle of the morning's drive was at the Navajo Bridge overlooking the Colorado River. I love old steel bridges like this, and they look especially interesting when they're set in such a natural and vivid environment.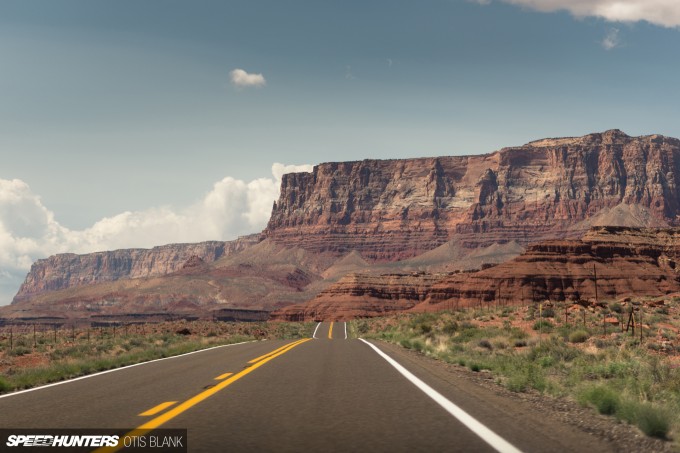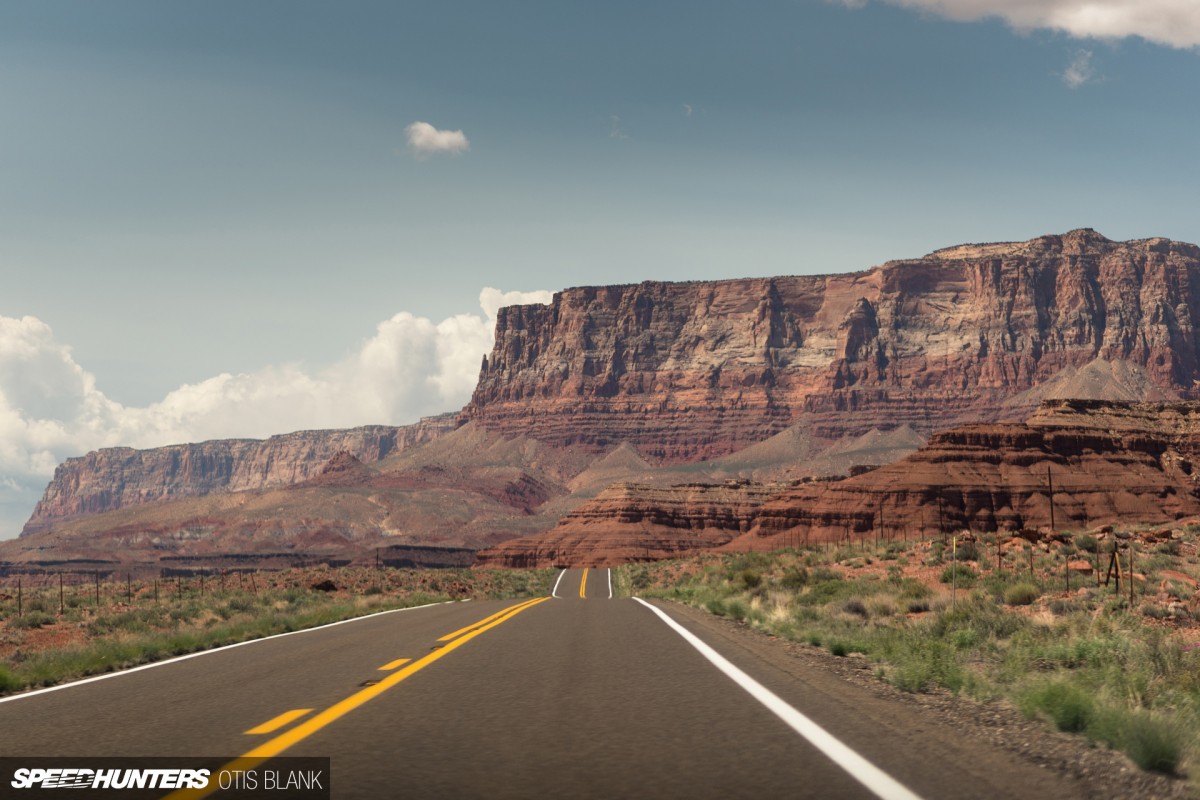 After the bridge it was more beautiful open road as we continued traveling laterally through the northern-most parts of Arizona.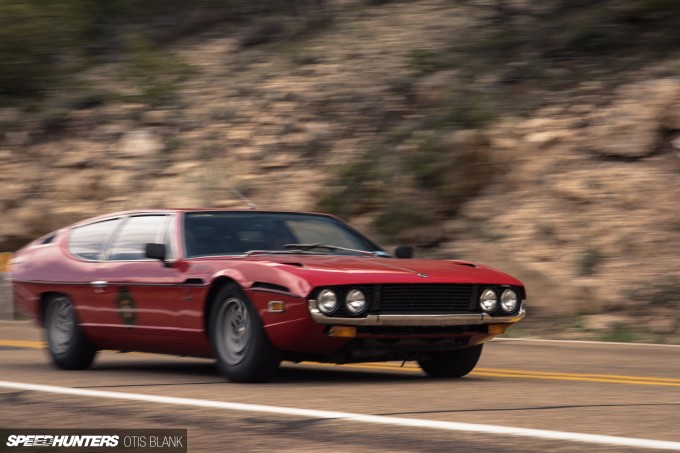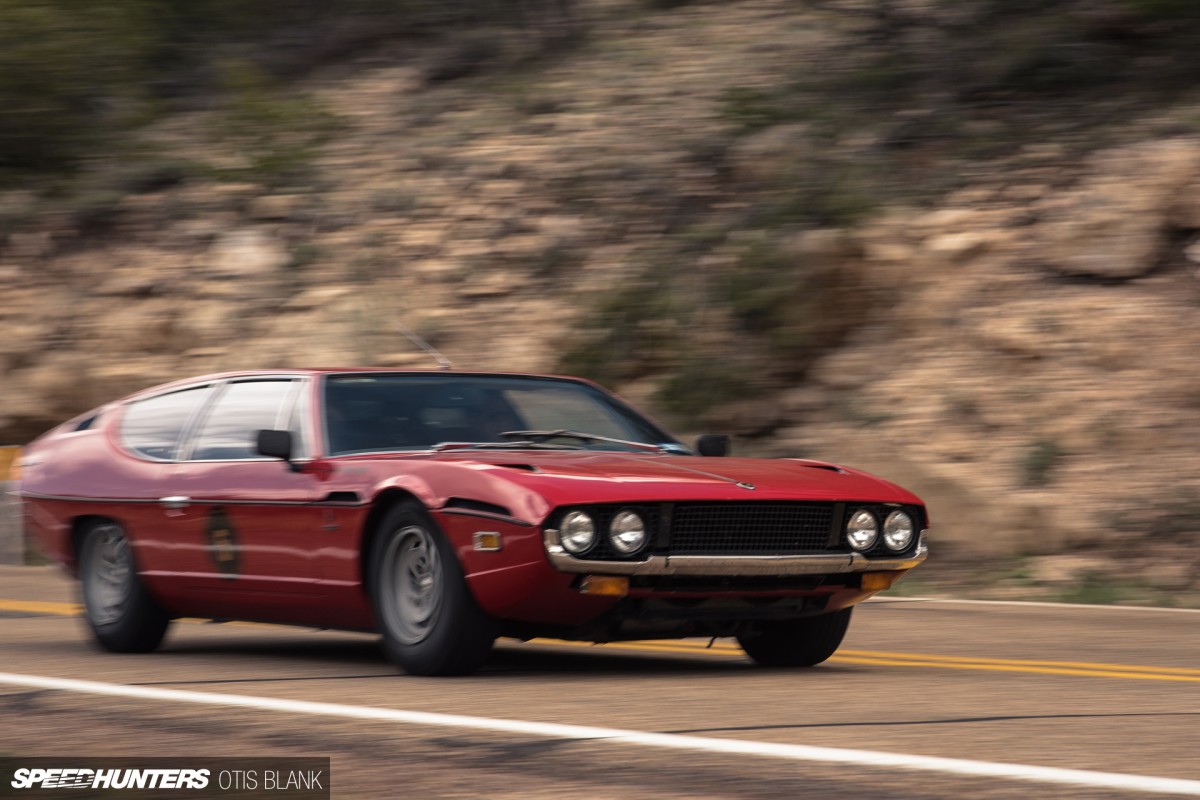 The scenery changed yet again, this time in an unexpected way – back to desert-forest. We entered the Kaibab Forest from the west via route 89A. I'm telling you this specifically, because it's easily one of the best roads I have ever driven.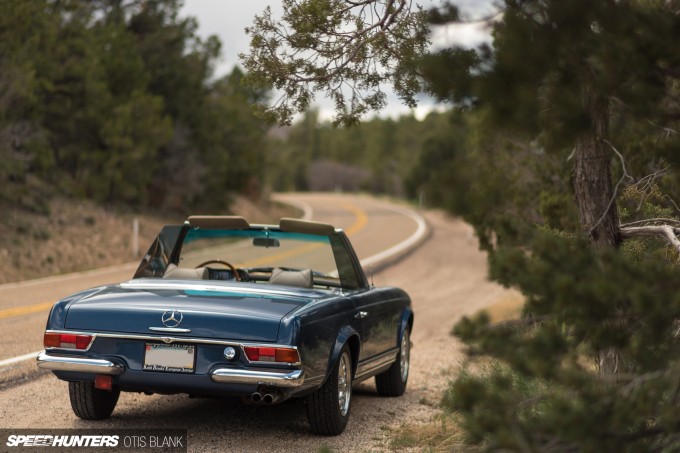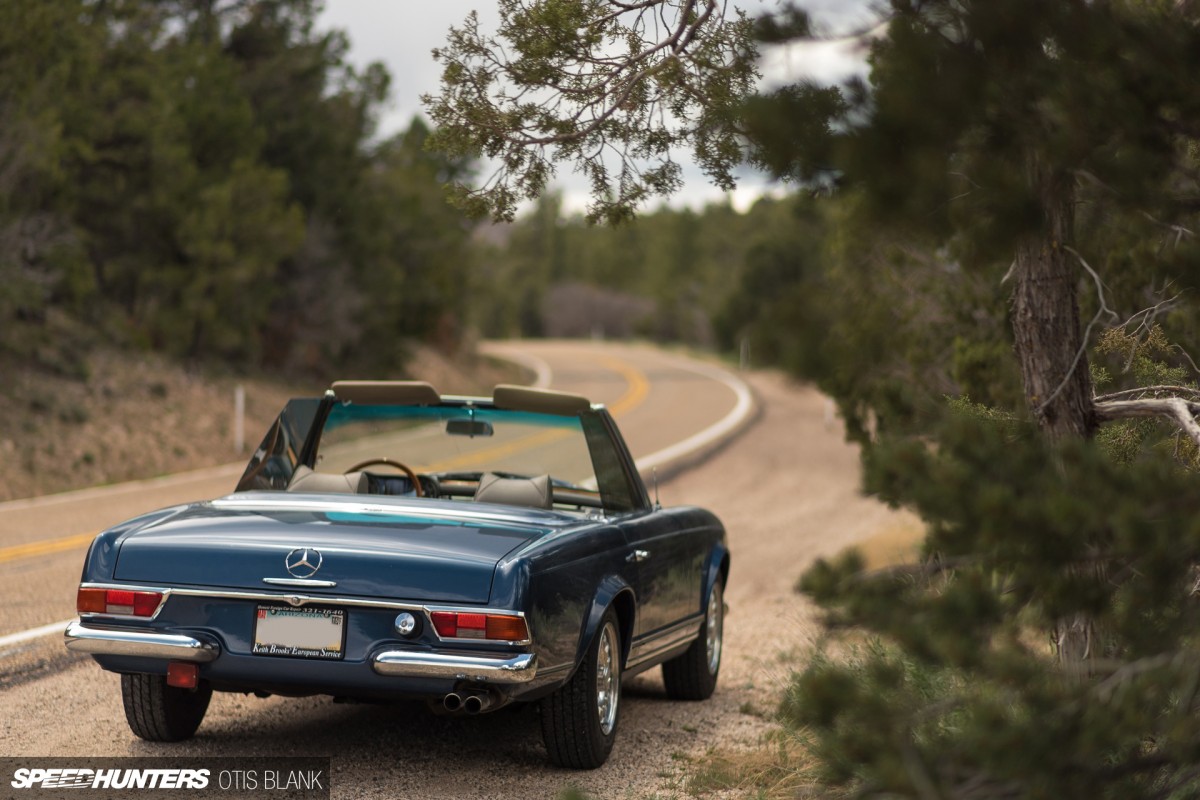 The beginning is an uphill start through smooth, naturally banked turns over gorgeous hills into more dense forest like you see above. Unfortunately, there weren't any safe pull-outs in the best sections, so you'll just have to take my word for it.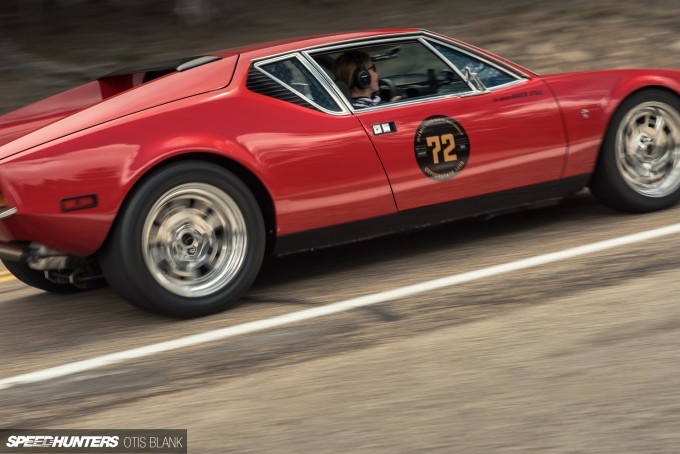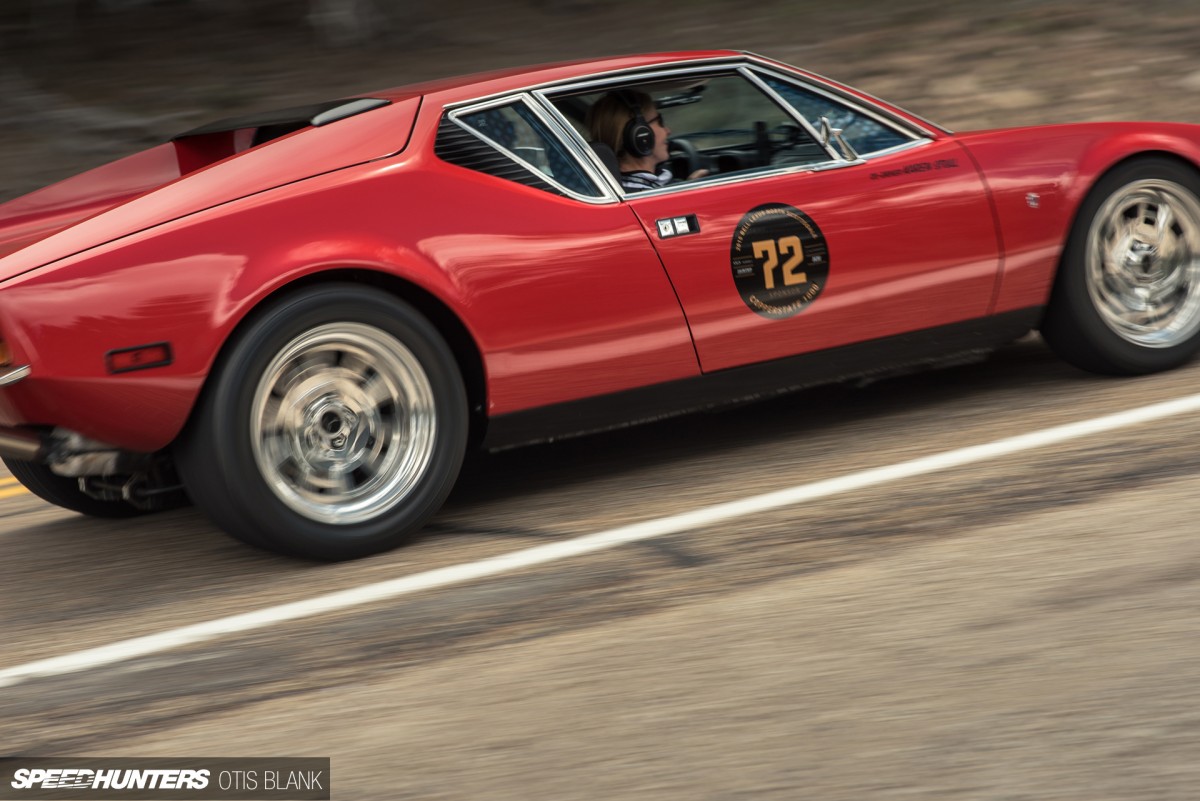 The curves don't end there though, they continue right up until you leave the forest.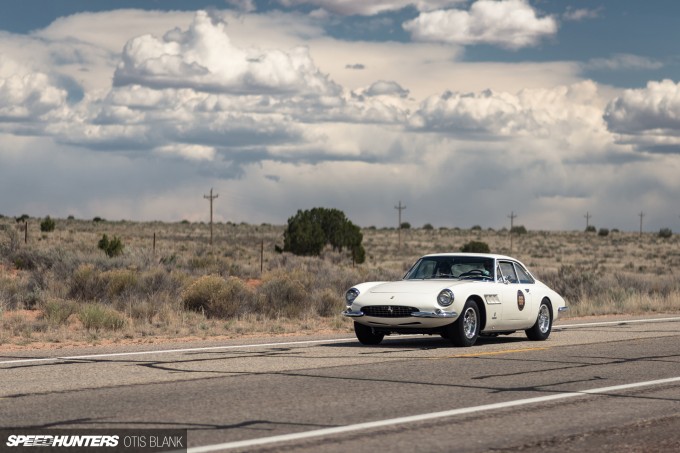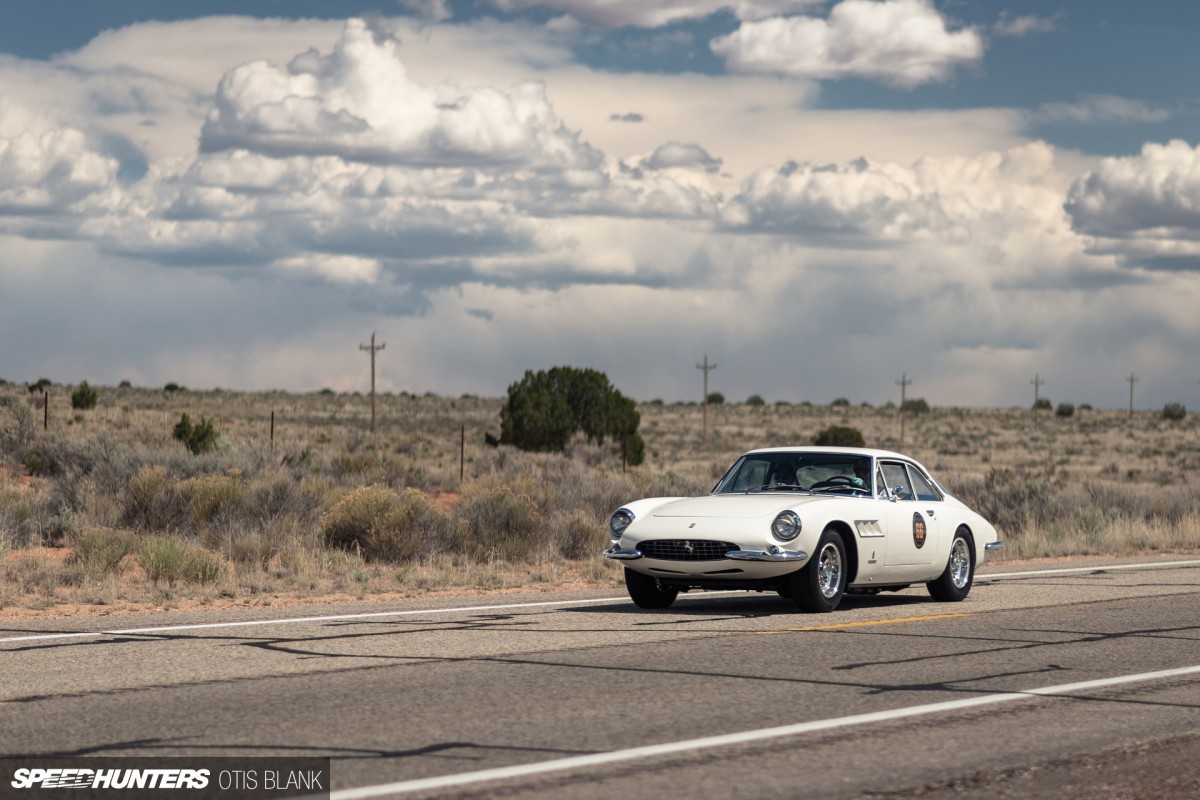 You know you're on an incredible road when every time you go over a hill the scenery is suddenly even more gorgeous than it was the last 10 to 20 miles. While the Copperstate 1000 route is comprised almost entirely of such roads, much of 89A truly fits that description. The last five images were all taken within 50 miles of each other on the same road.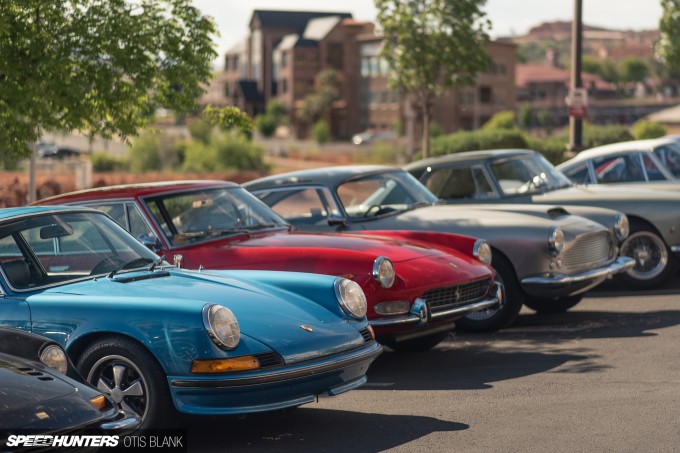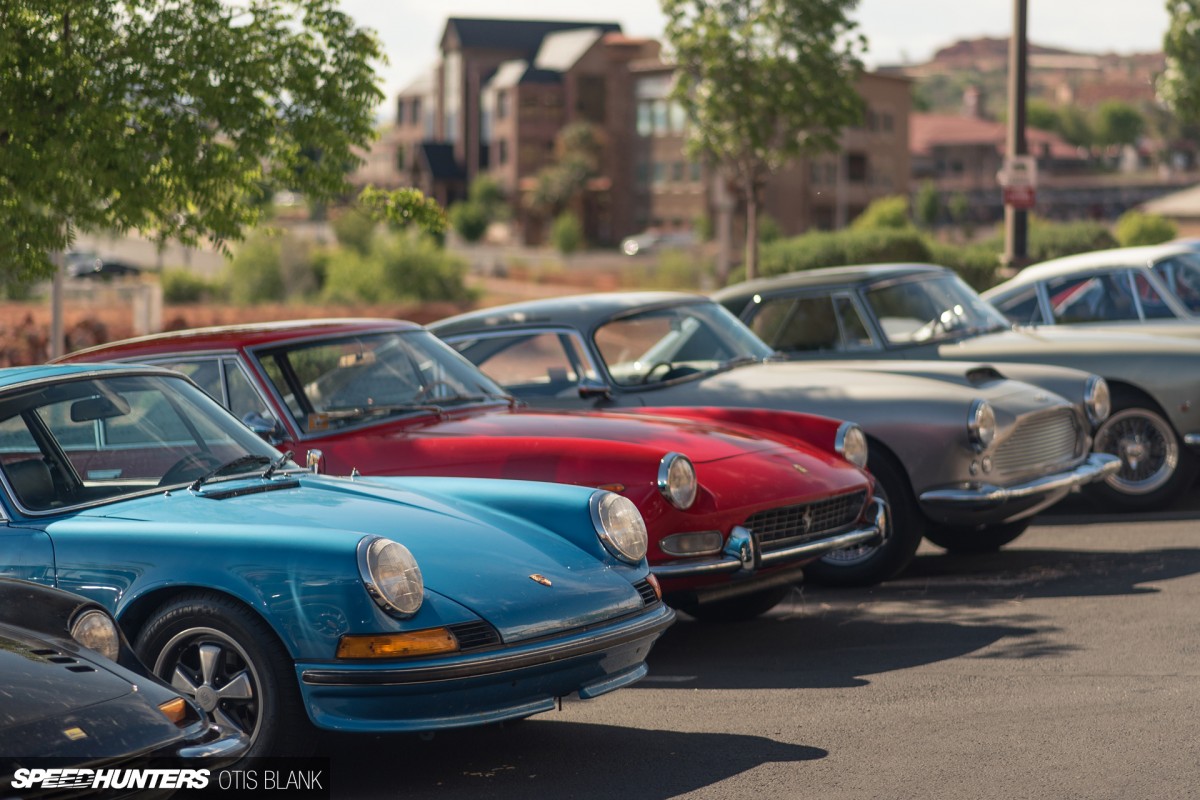 The last bit of driving to St. George was brief. The real Utah experience was still ahead with our upcoming visit to Zion the next day.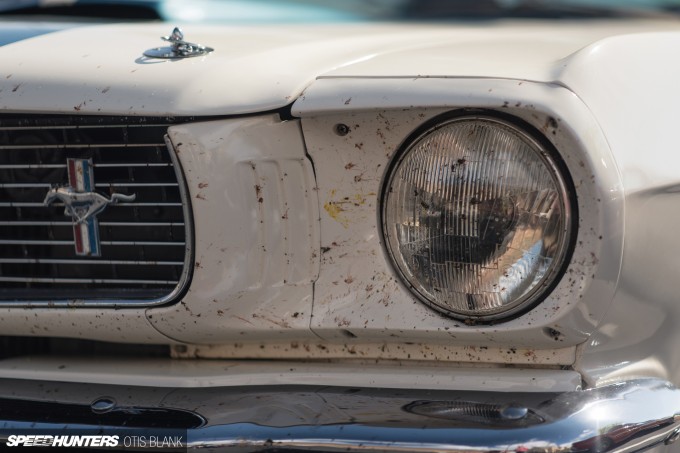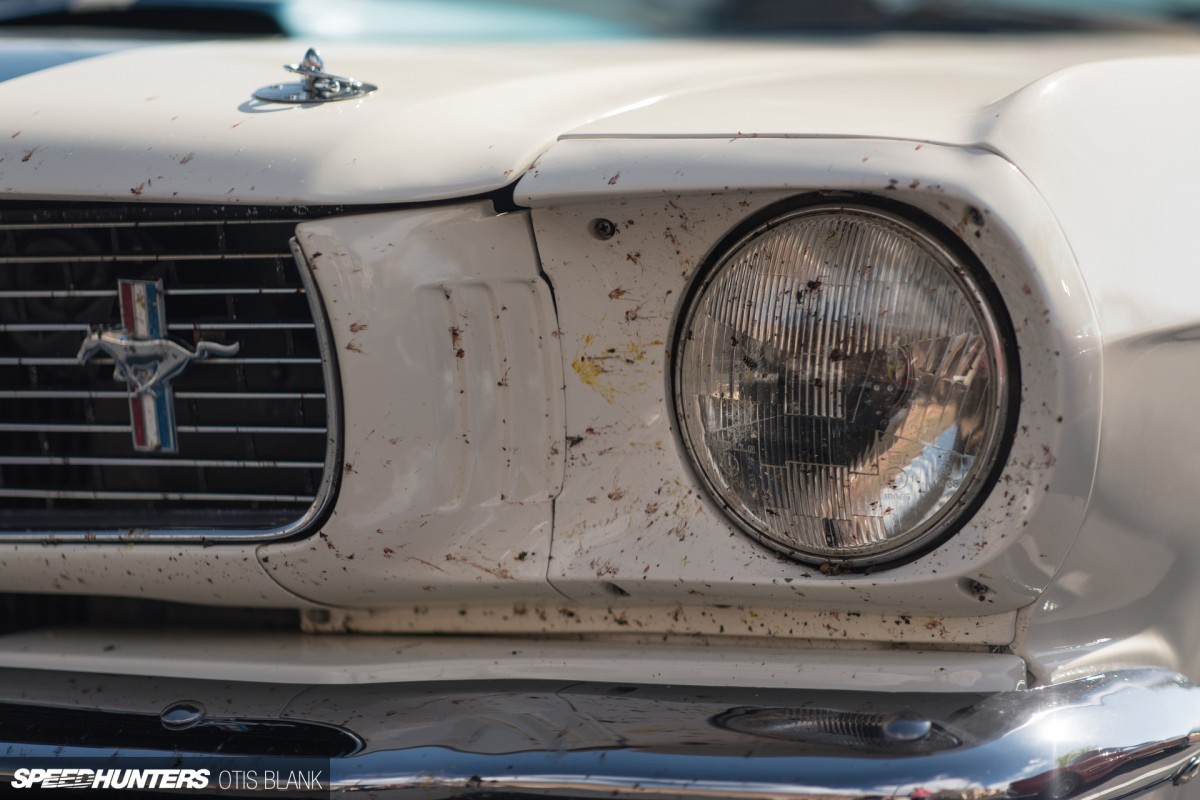 The cars were now sufficiently splattered with bugs – always a fun thing to see on cars of this caliber.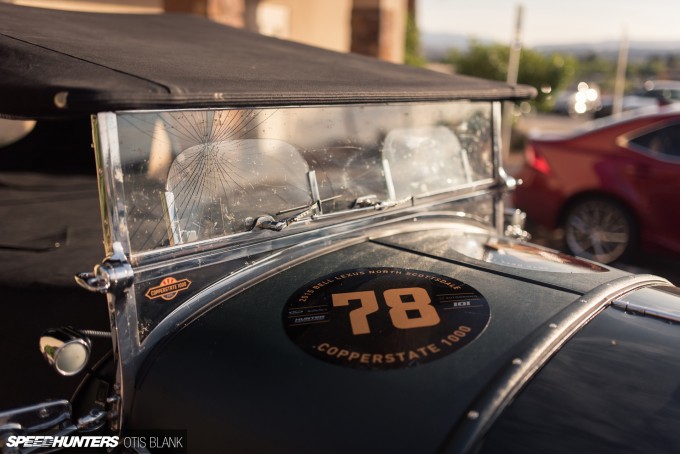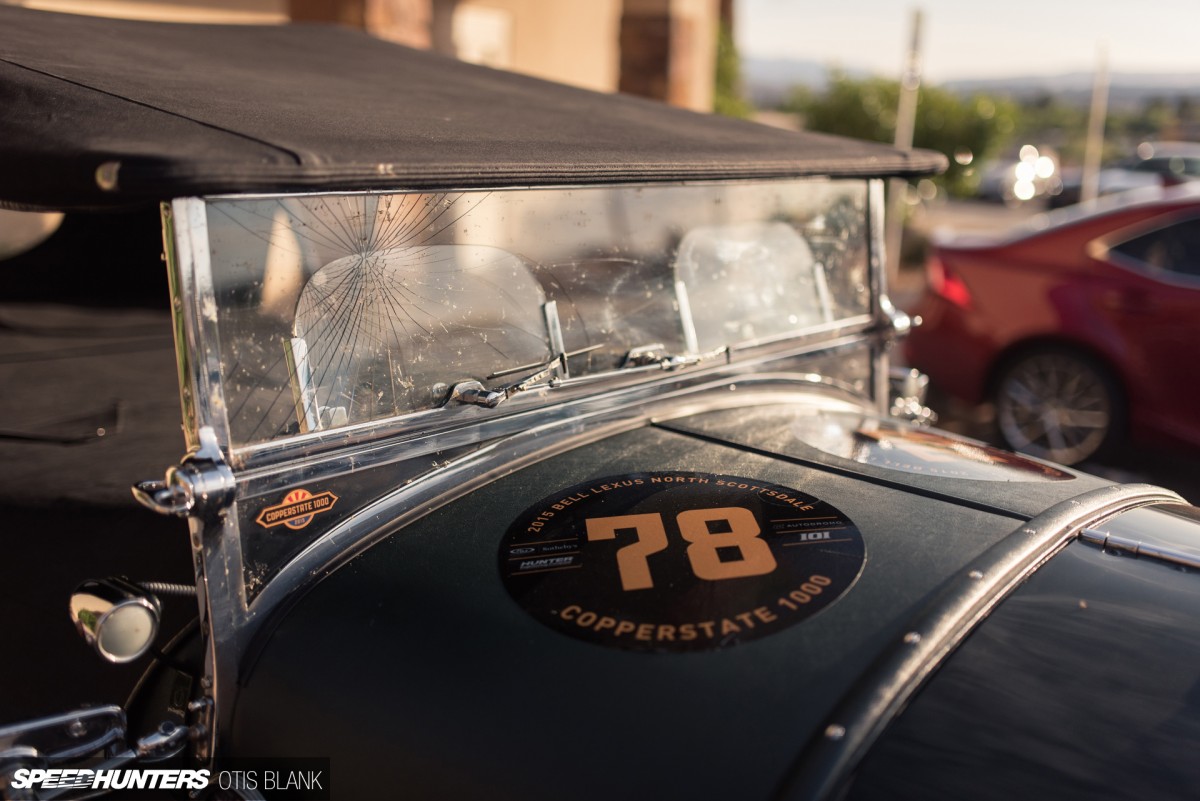 The other big Bentley on the rally, a 1930 Speed Six, unfortunately struck a bird.
Day 3: St. George To Sedona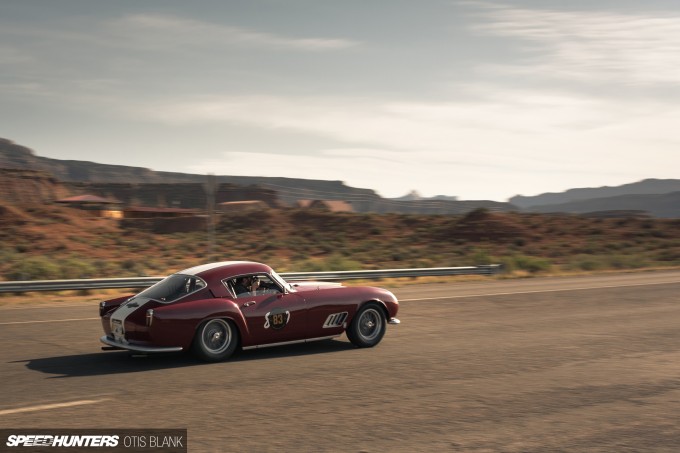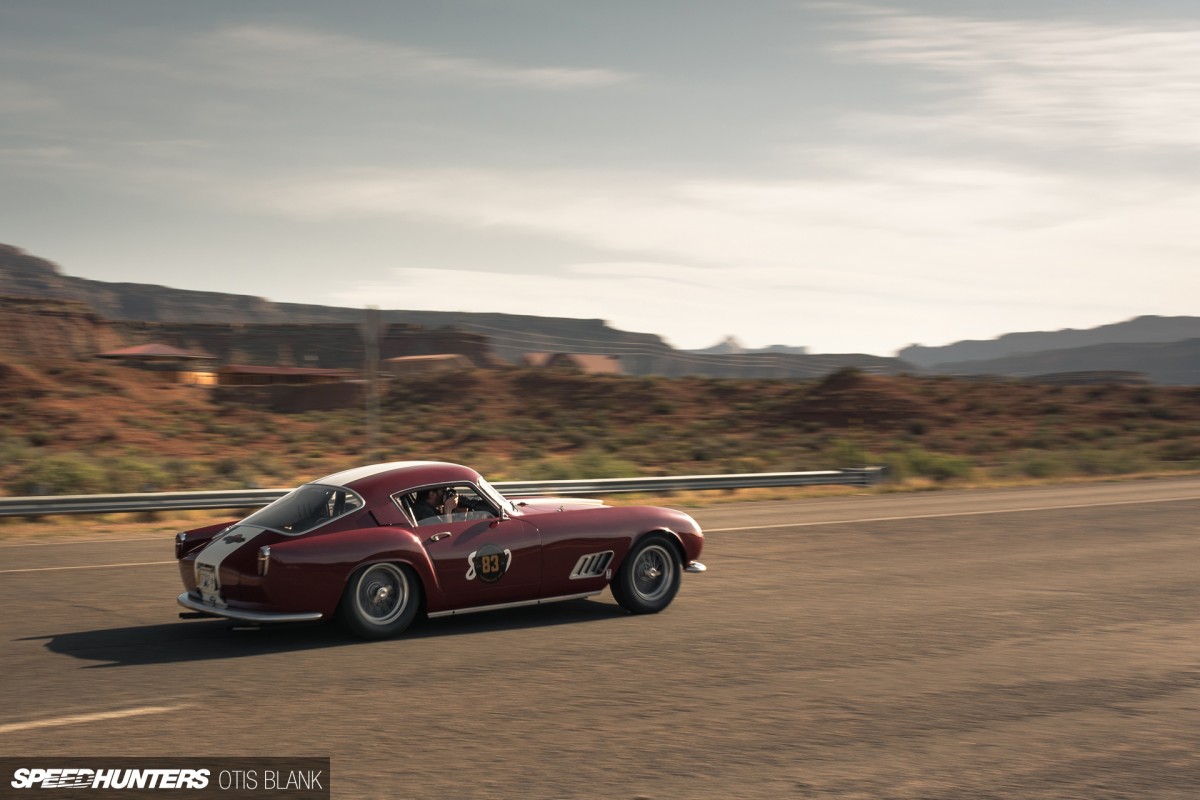 The drive between St. George and Zion National Park was stunning, but little did I know it was just a small preview of what was to come.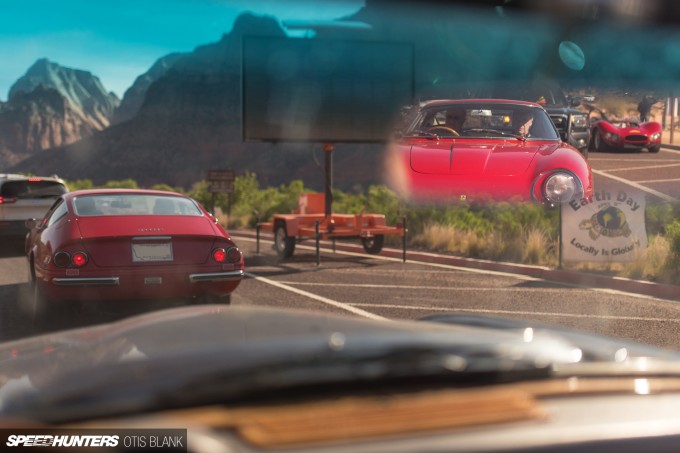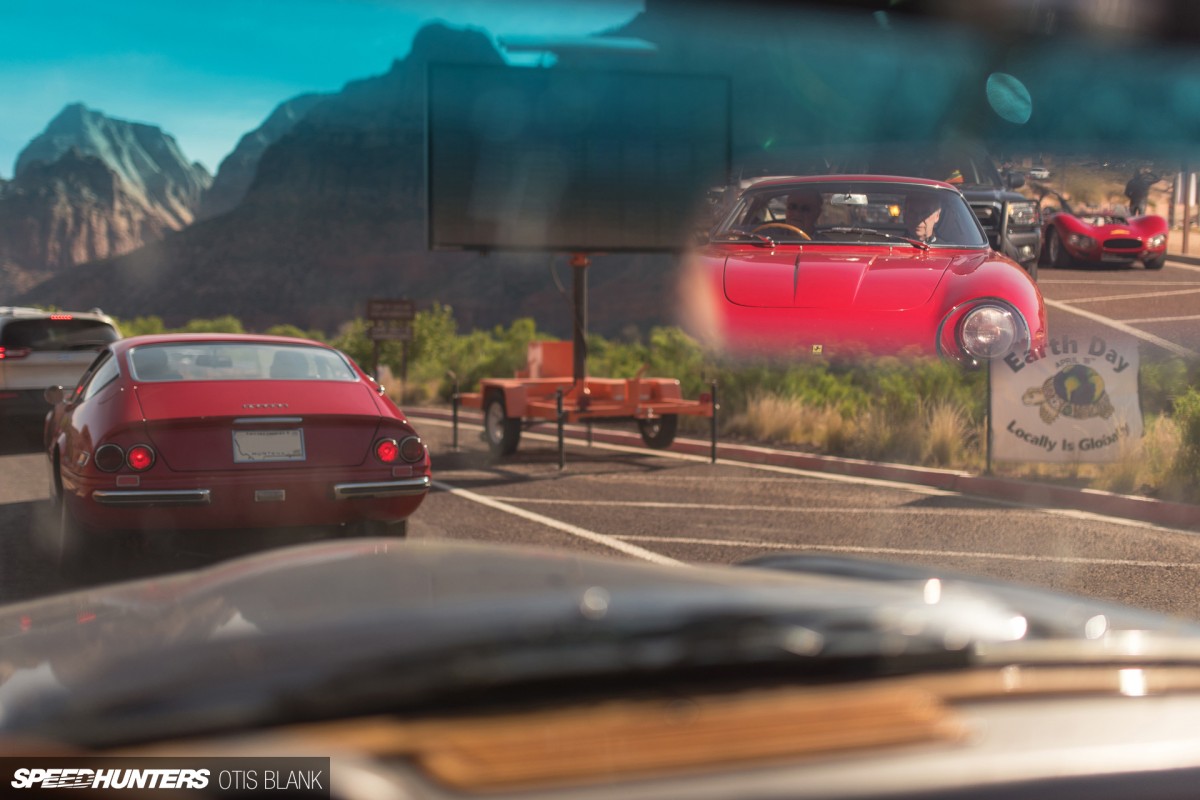 The entrance is definitely not the best part of a national park, but being in company like this is a good reminder that it could be worse.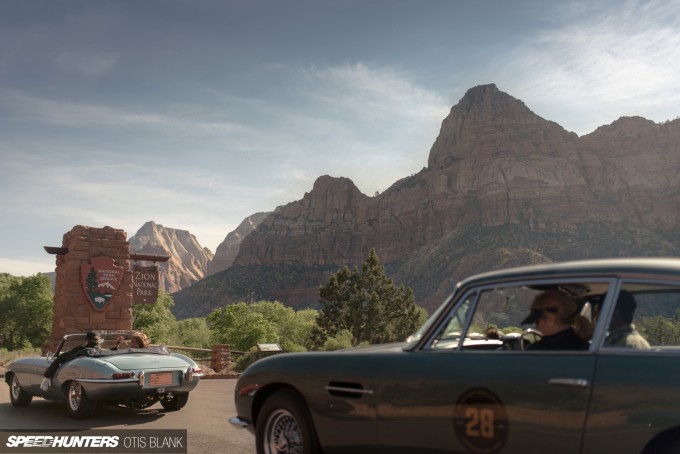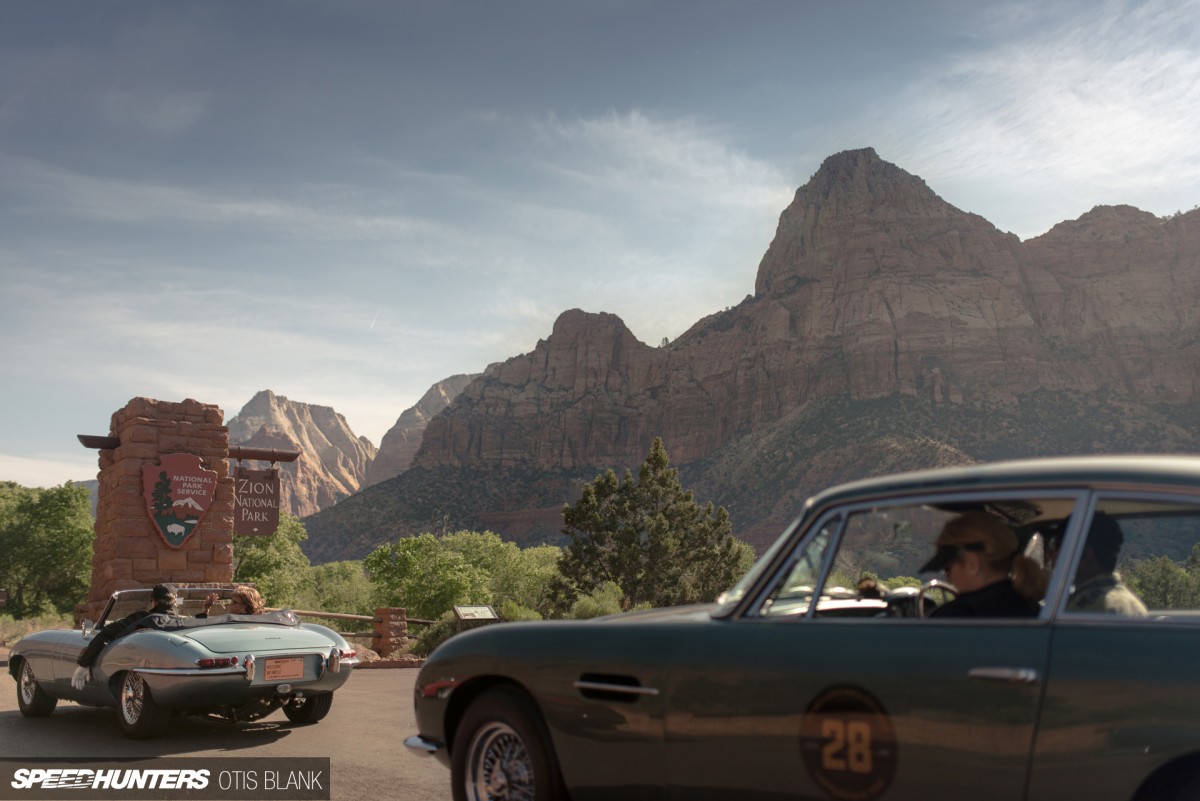 But once through the gate the landscape went from incredible to jaw-dropping.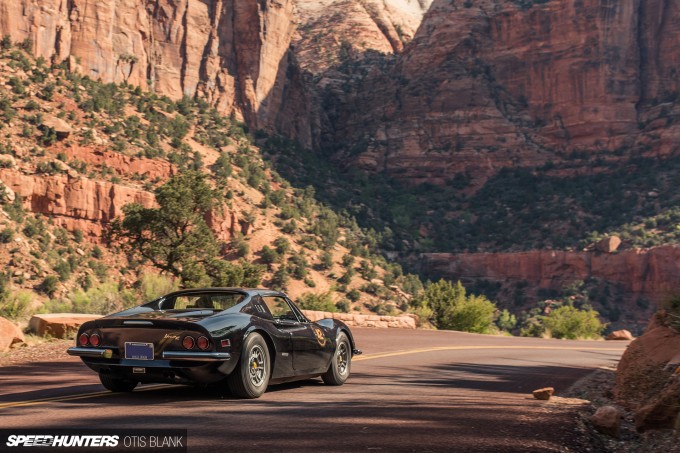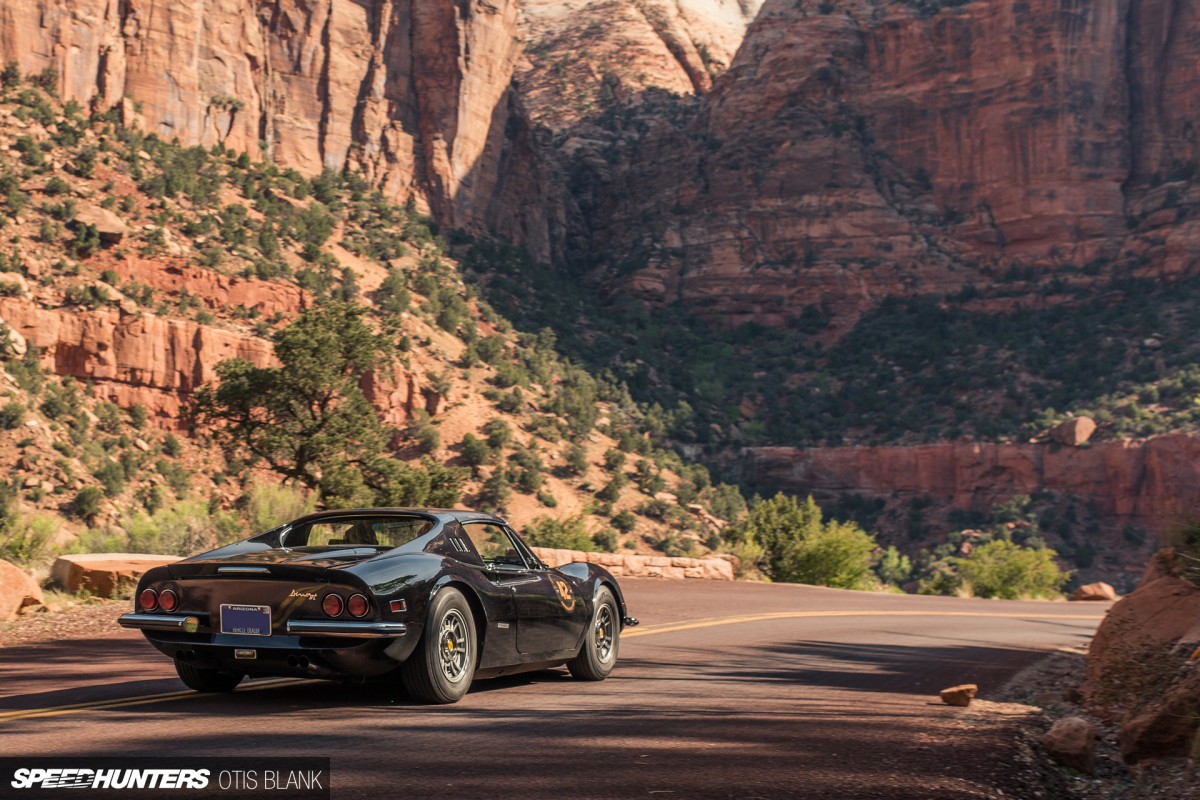 Zion doesn't even seem real when you're there. The rocks seem painted almost like an extremely elaborate and large scale alien landscape made for Hollywood.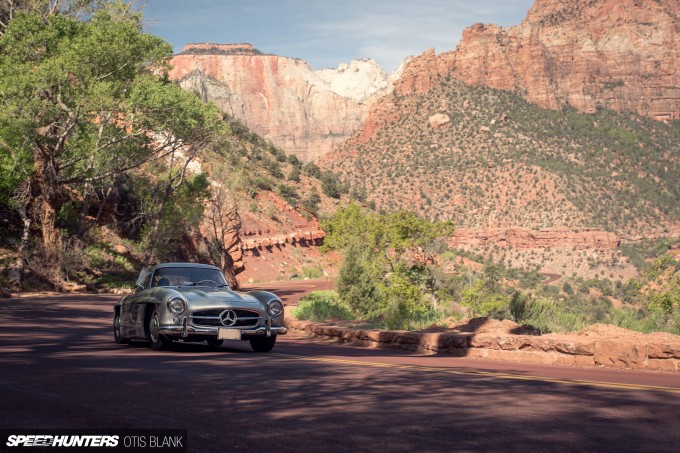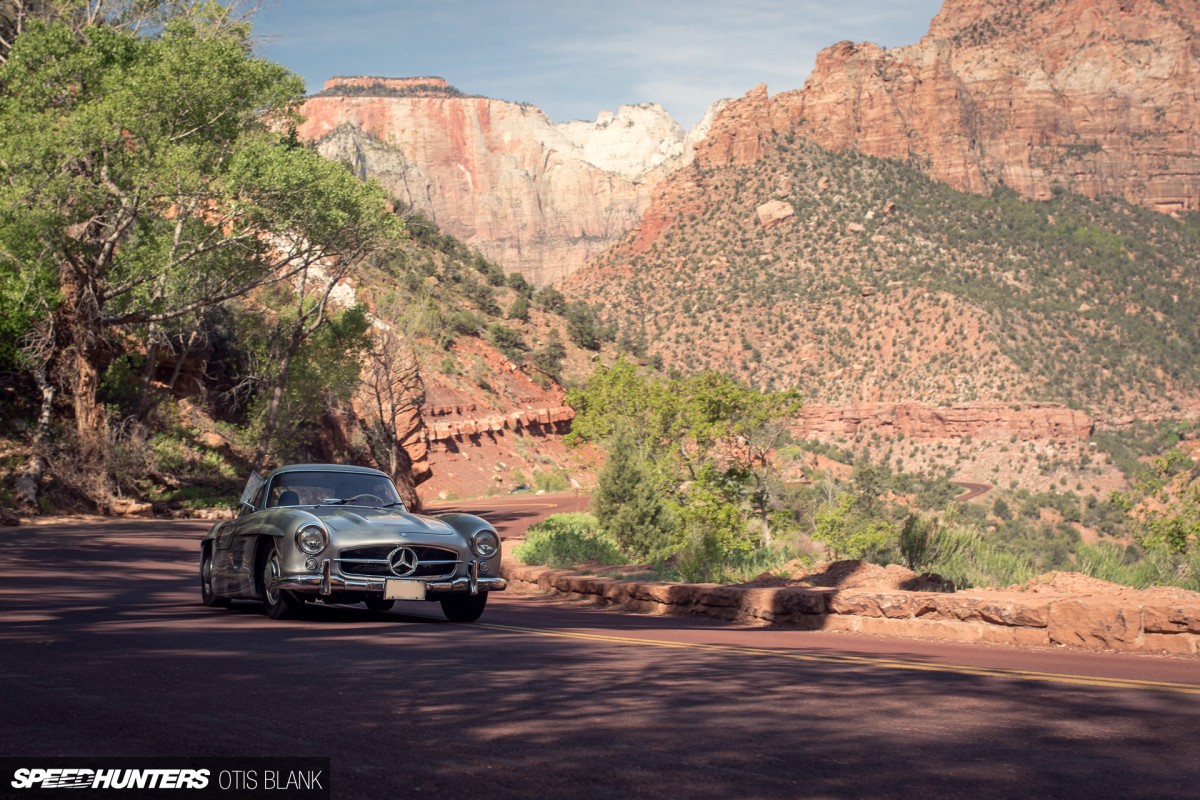 The situation wasn't made any less surreal by the cars that were buzzing through the area.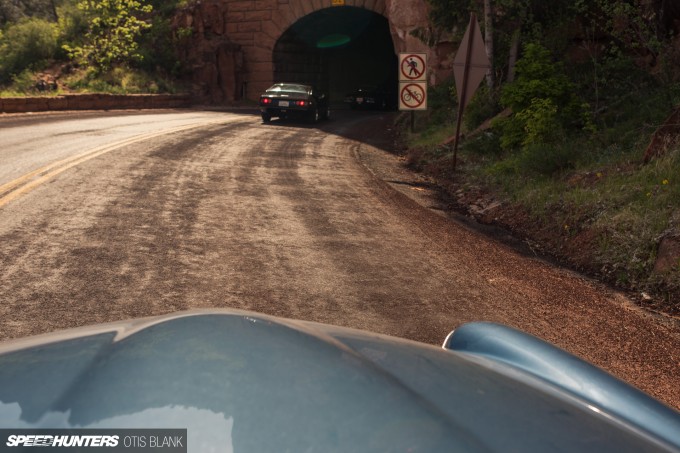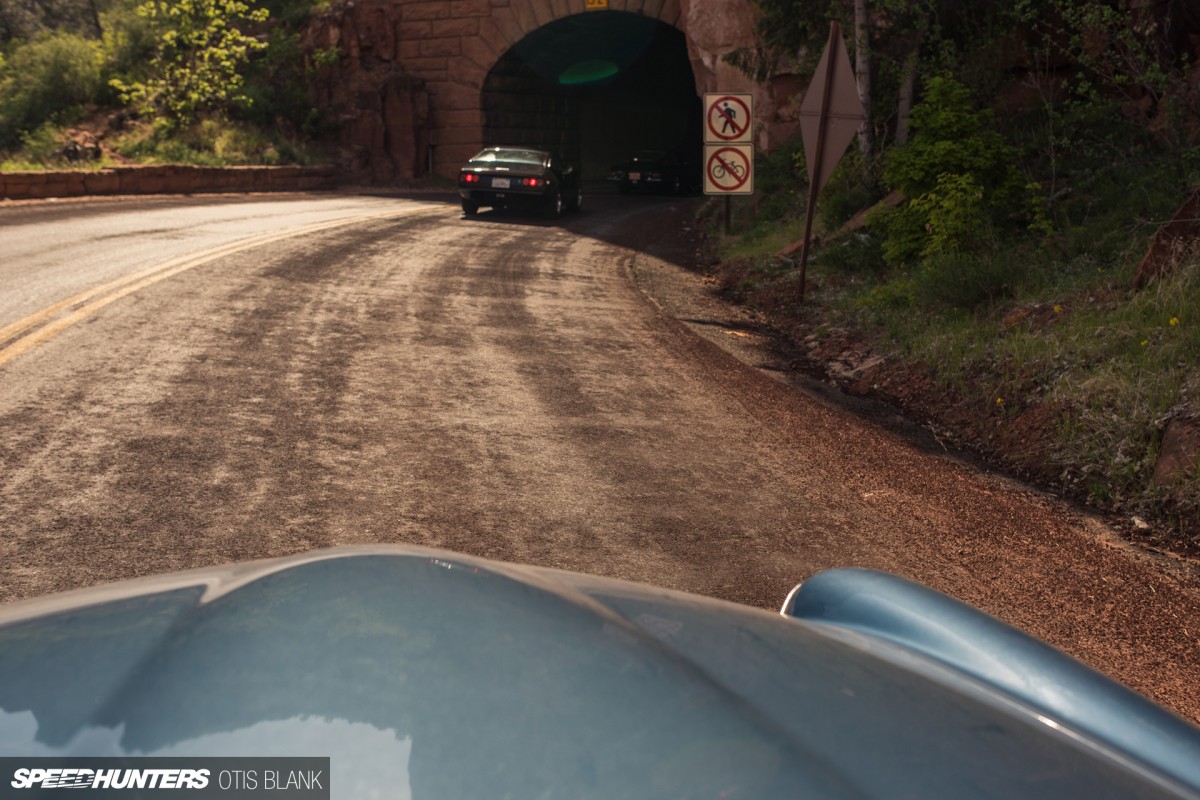 Diving deeper into dreamland, we enter a narrow tunnel cut through Zion's amazing red rocks.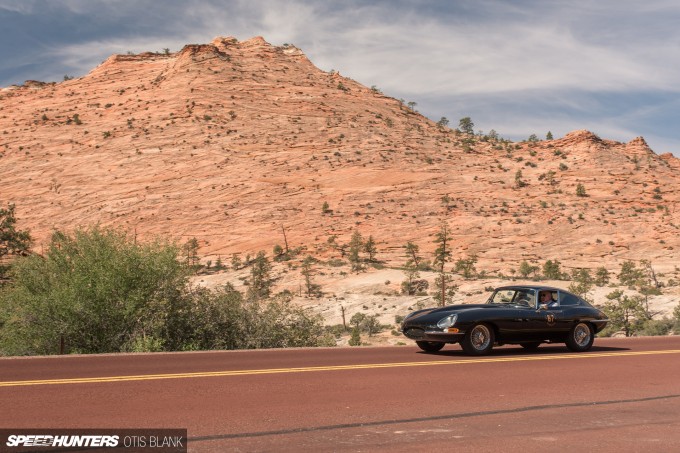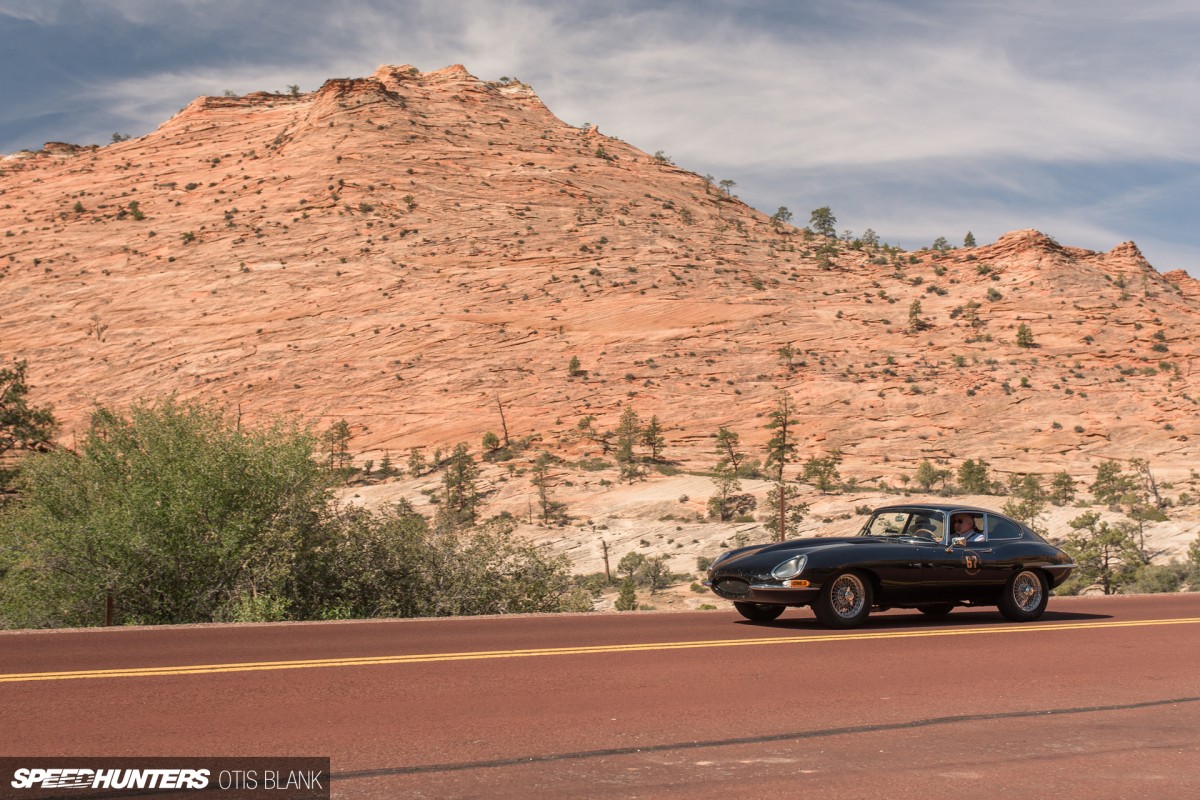 Coming out of the tunnel presents yet another change of scene. The hills were now these much smoother wave shapes. It almost looked like a regular hill was draped with thousands of sheets.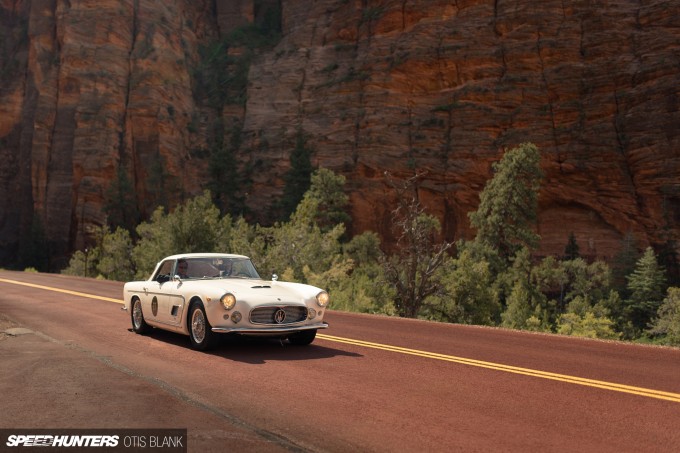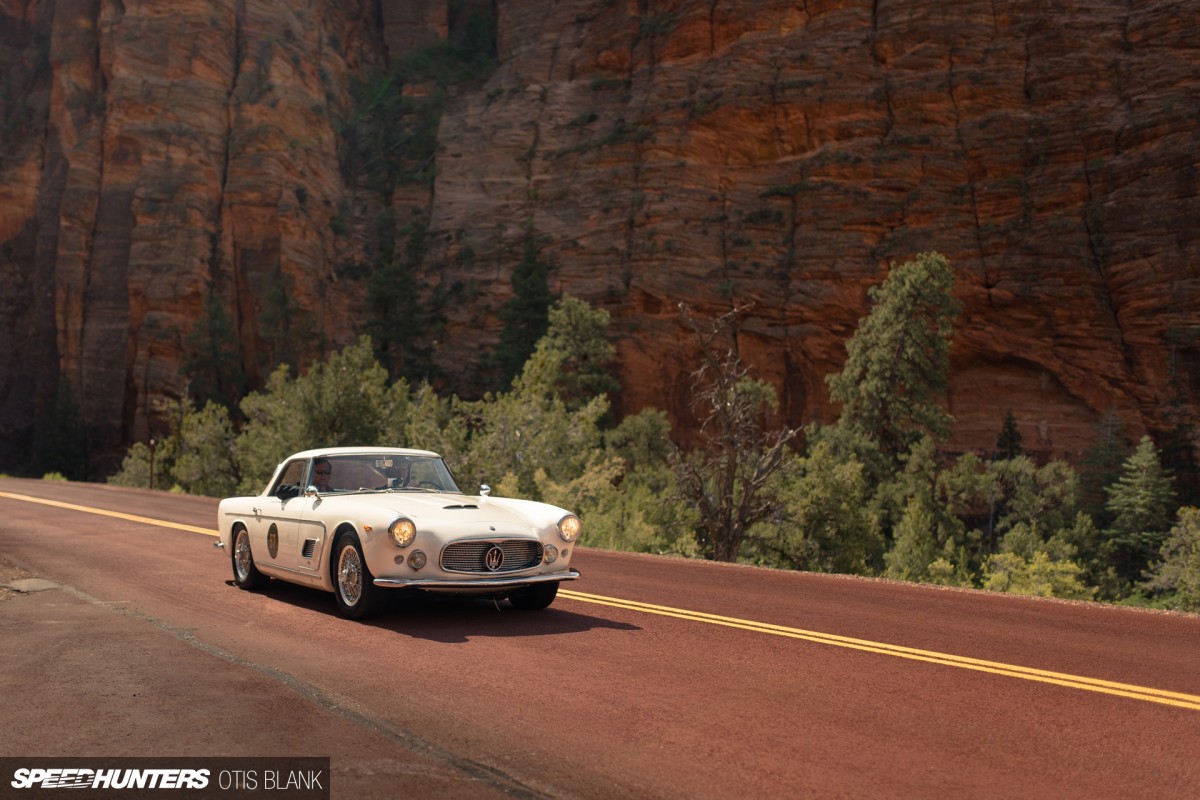 The only place that I have been that compares to Zion is the Grand Canyon, which is similar in that it seems unreal but it differs in terms of perspective. In Zion you get to drive right through the heart of it, where as to get in to the heart of the Grand Canyon you need a significant amount of hiking ability, time, and a donkey.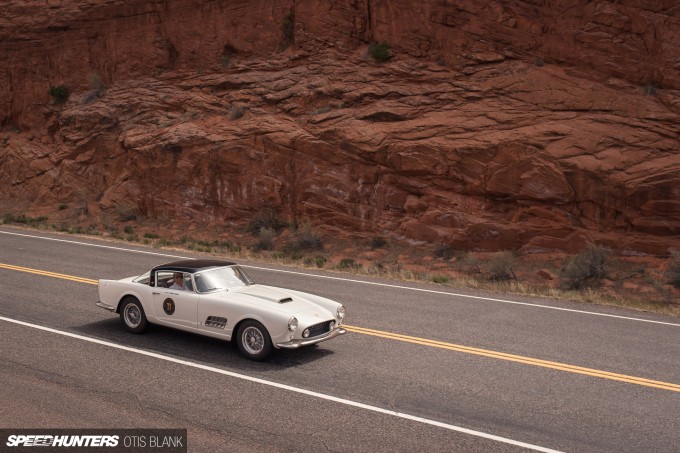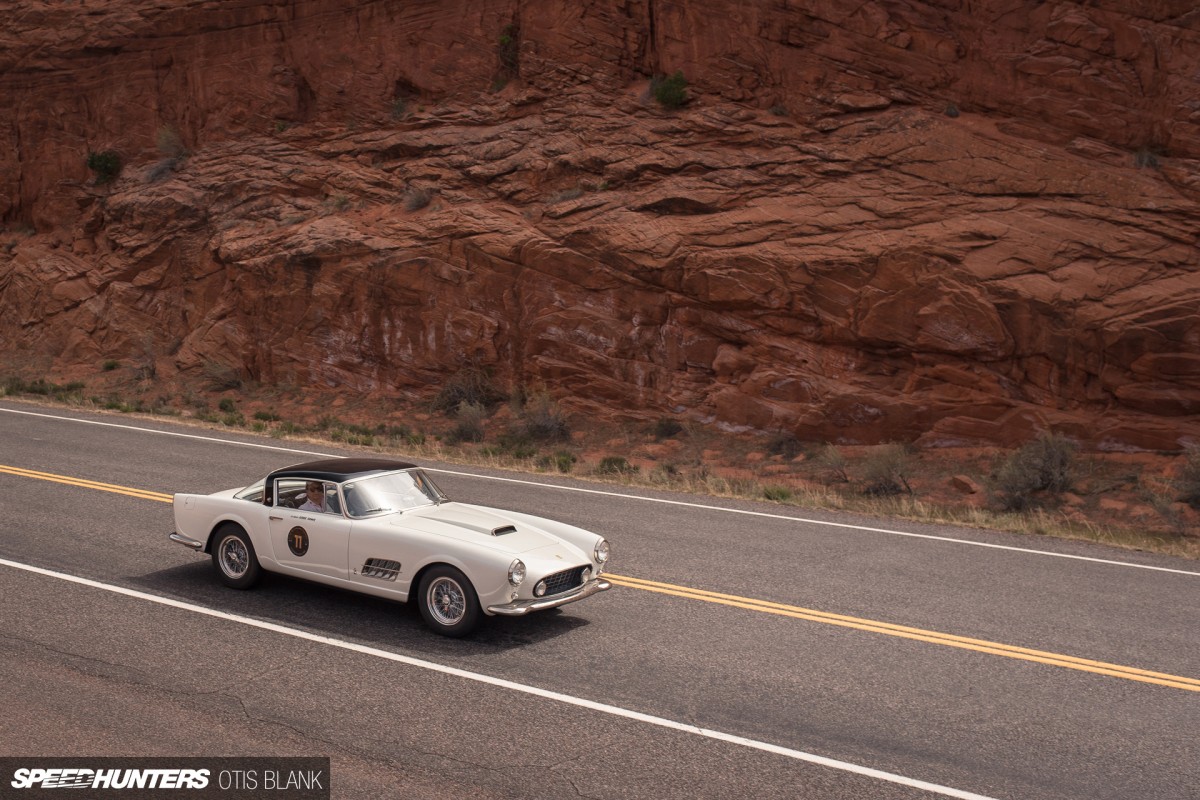 As you could guess, the way out of Zion is nothing to sniff at in the looks department either. I found a huge bank of sandstone to catch some cars passing through from an elevated perspective.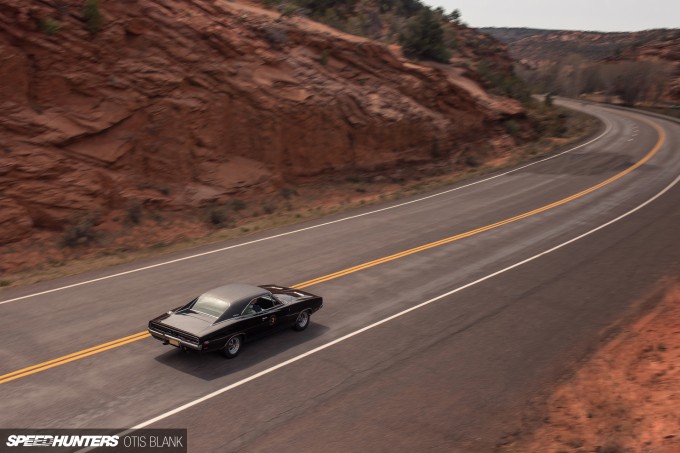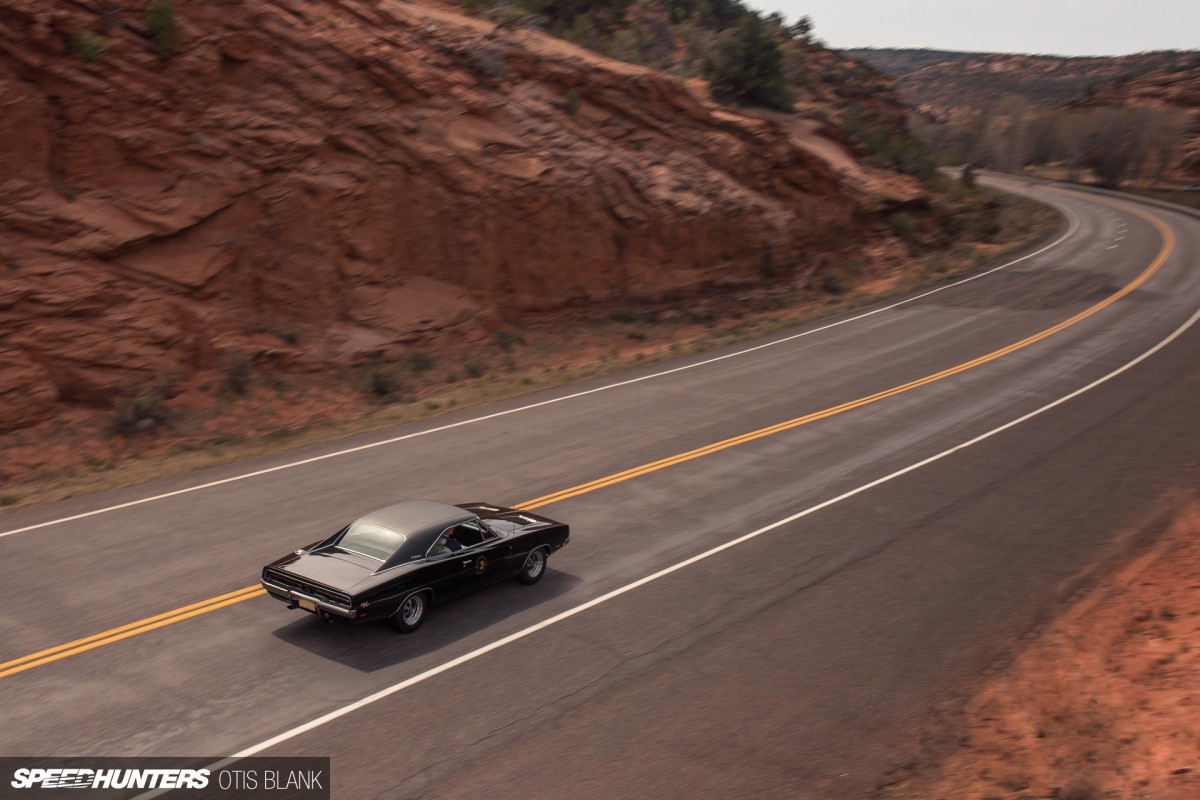 Seeing a Charger from this angle really shows off how nicely the rear section is designed. I love how the c-pillars stretch past the rear window.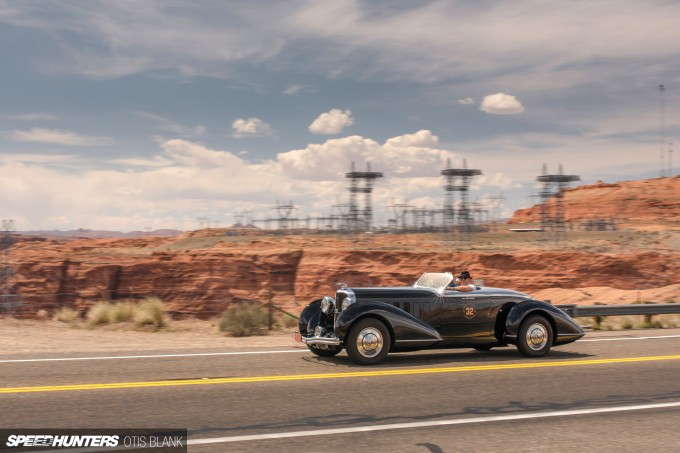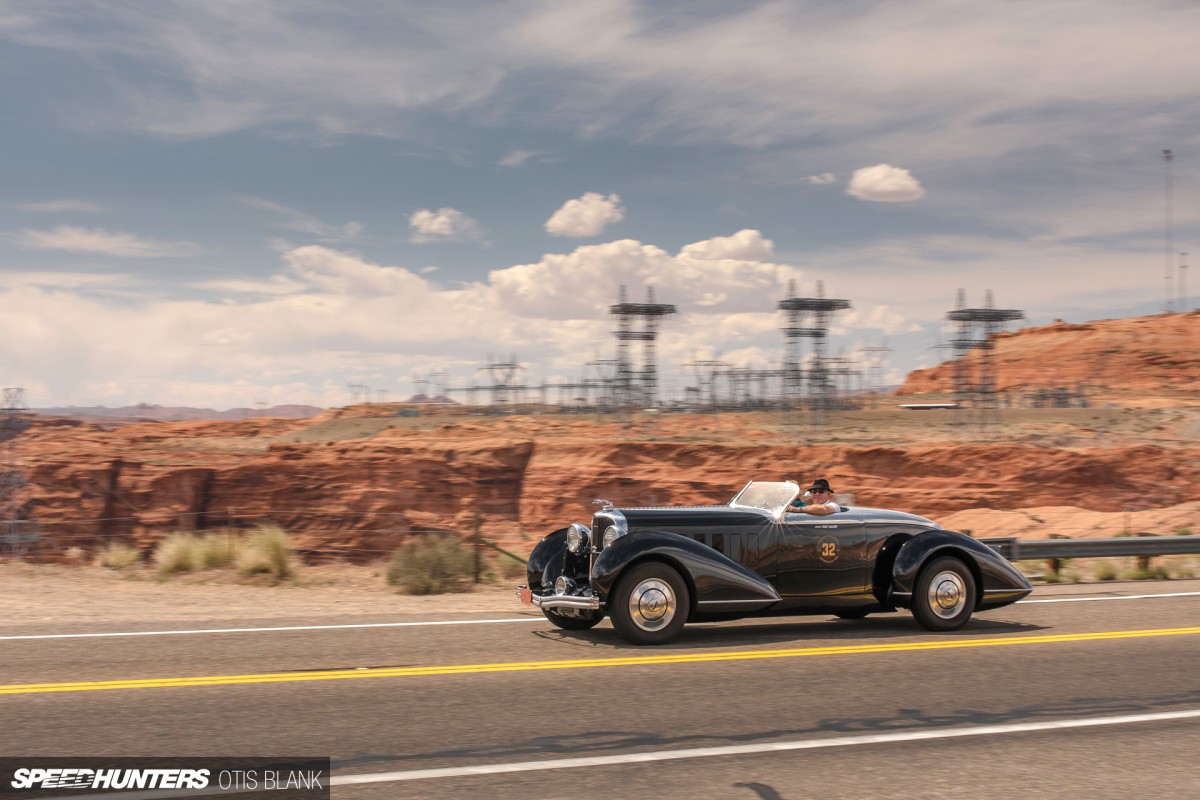 After coming back into Arizona, we crossed over the Glen Canyon dam near the edge of Lake Powell, the second largest man-made reservoir in the USA.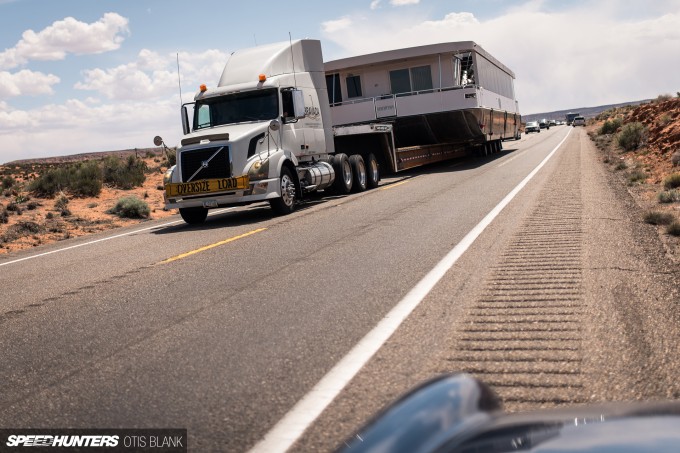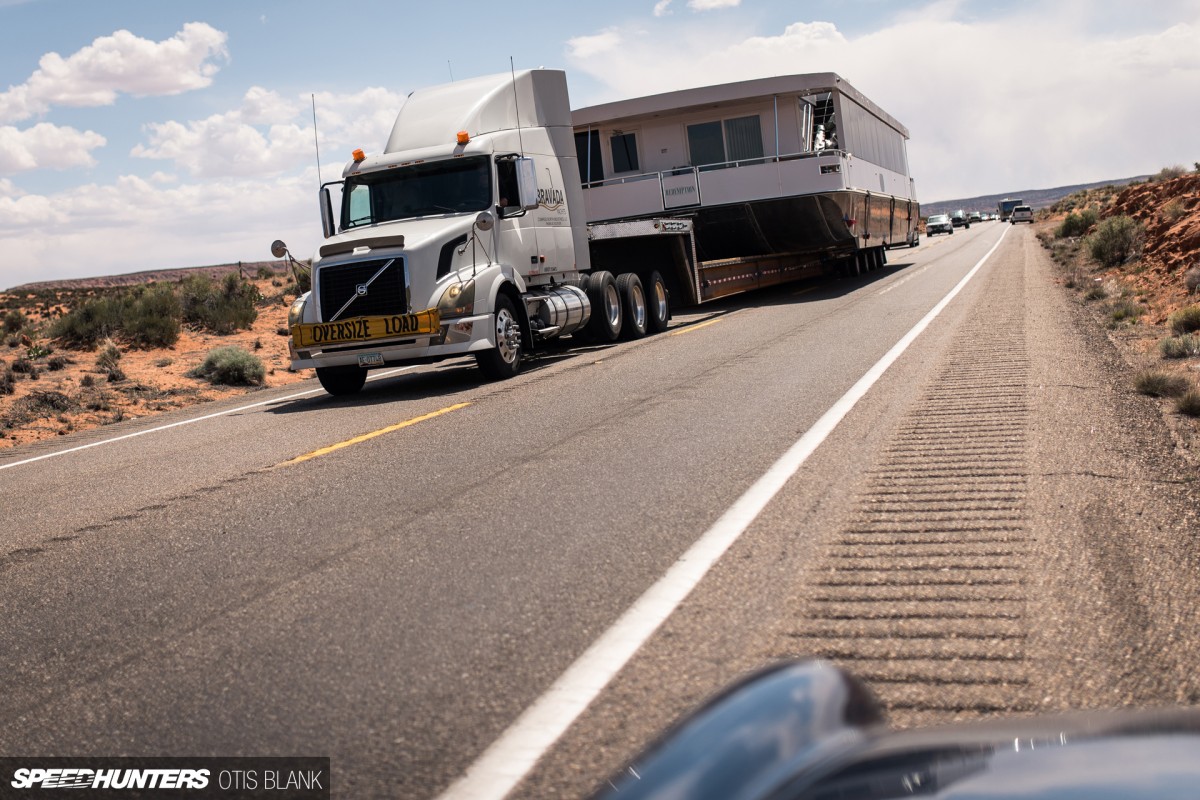 Being the only sizable lake in the area means that Lake Powell is the destination for a lot of boating activity. We had to pull completely off the road so that this one could come through.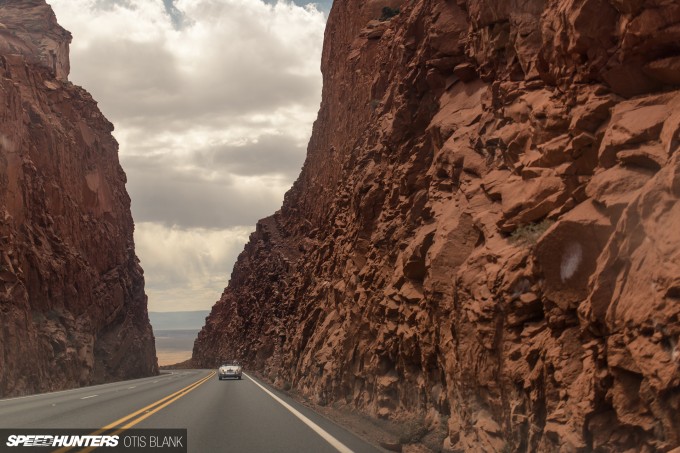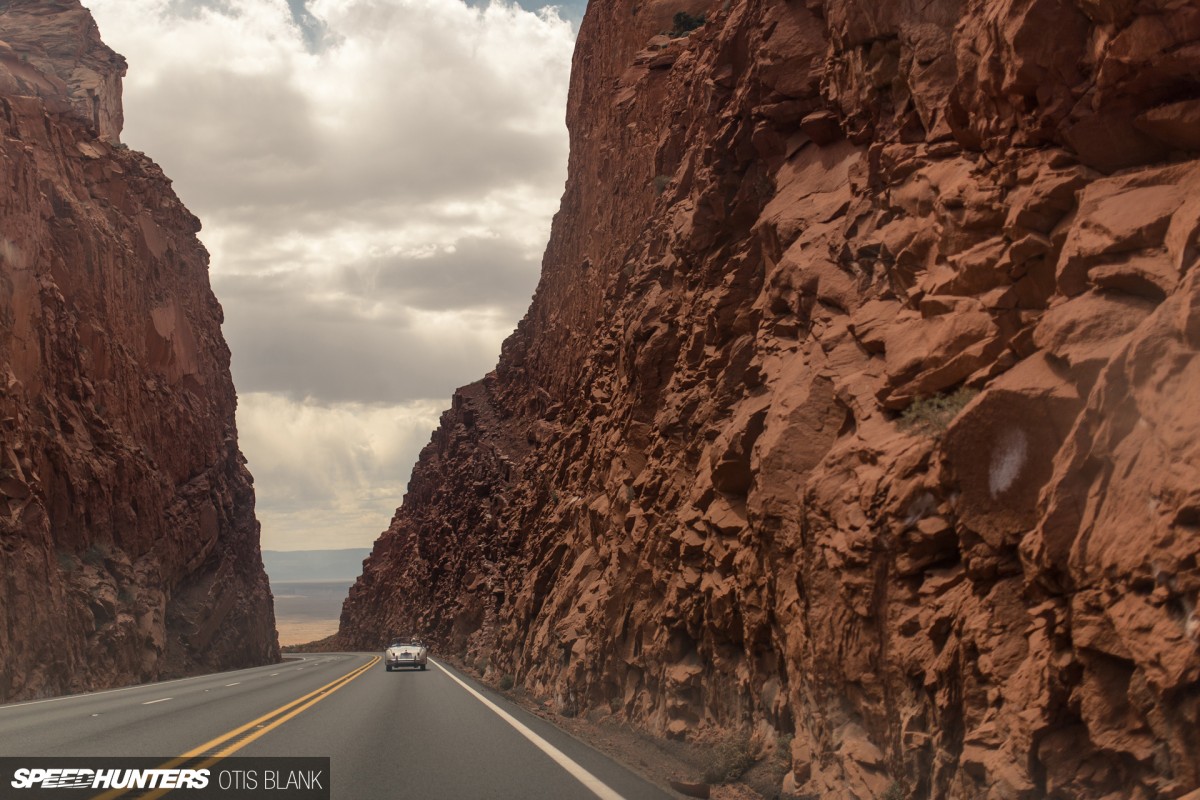 I know I keep going on about how gorgeous everything was but it's just plain true. Every time we shifted environments it was a pleasure.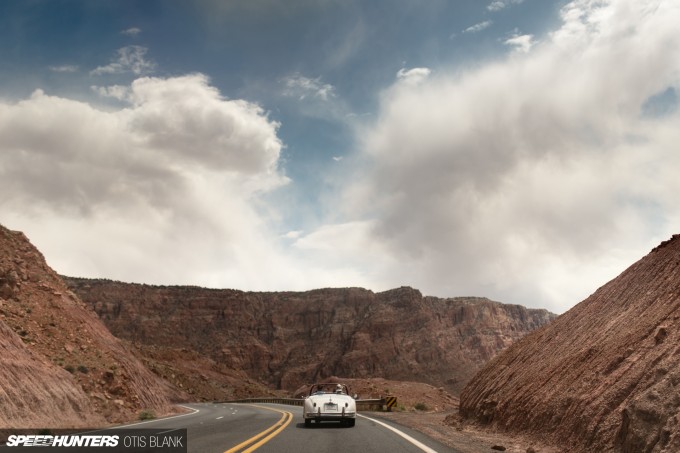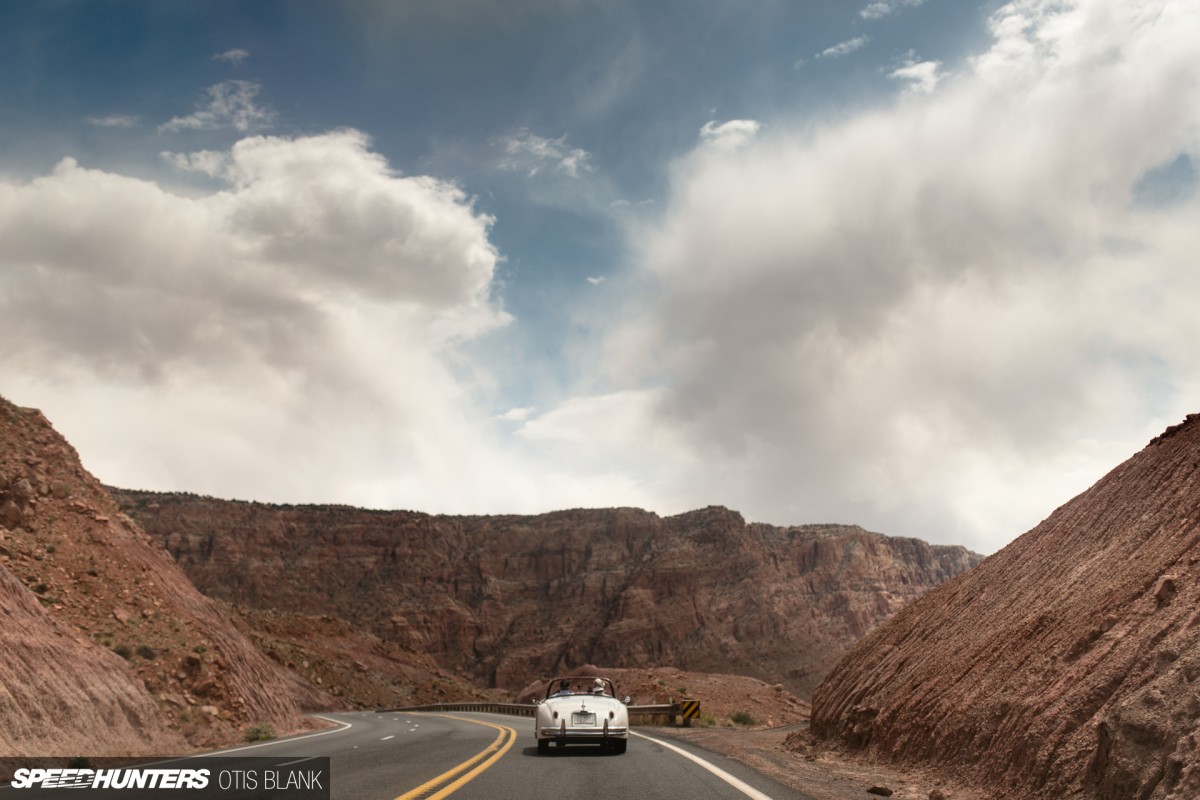 And it all happened so quickly. It was like a fast-forwarded version of what you might expect a tour of the southwest to be.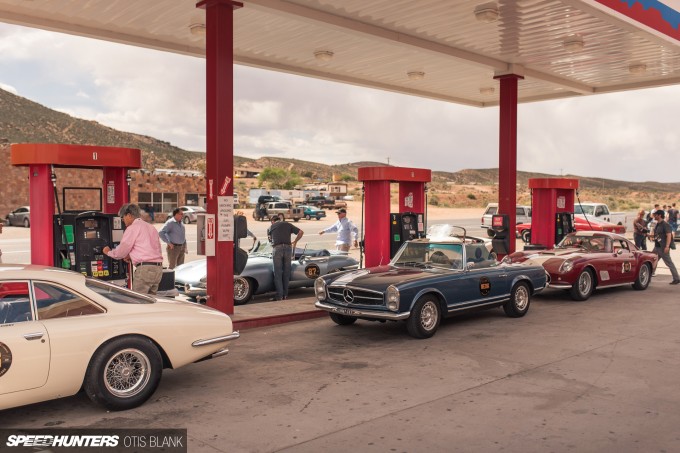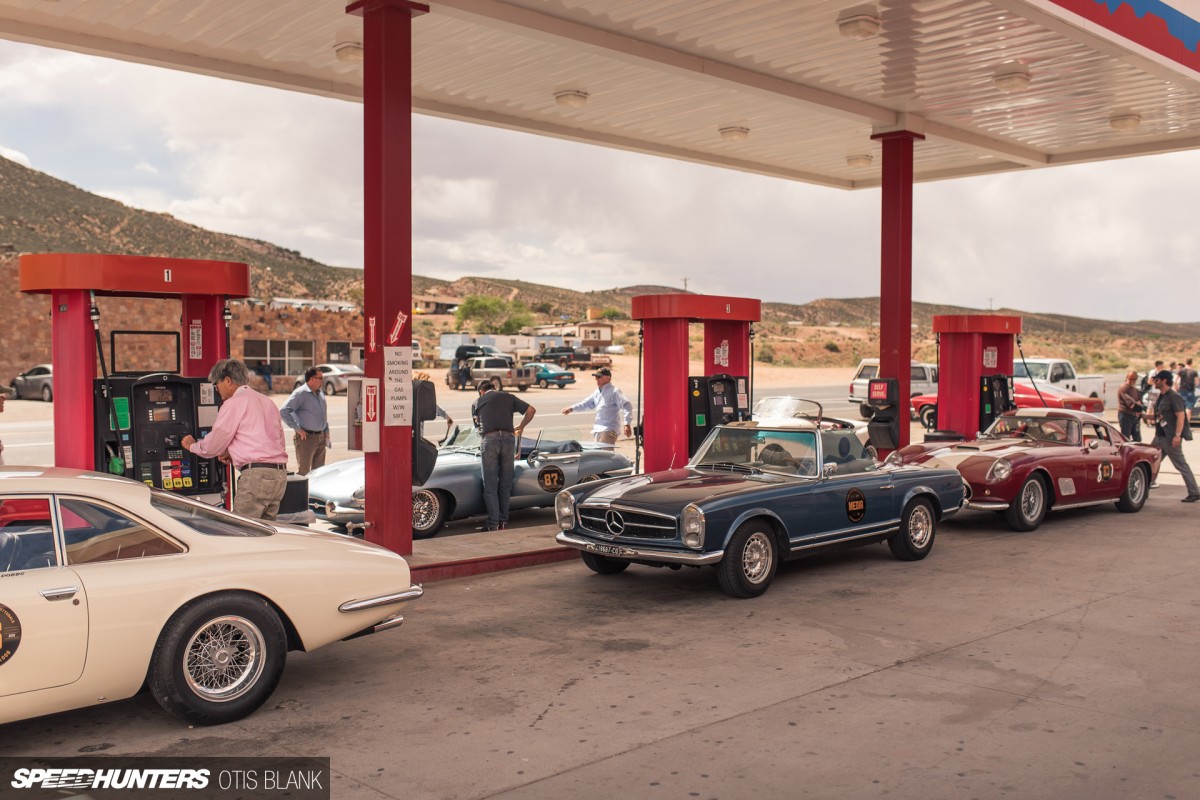 A fuel stop was necessary for just about everyone, as with 334 miles to cover Day 3 was the longest day of driving.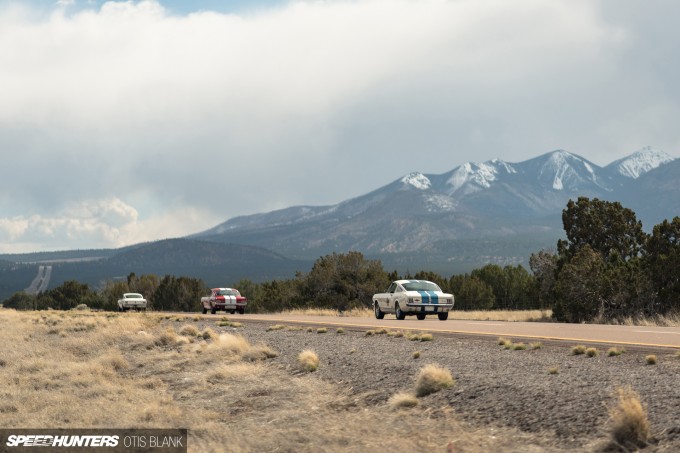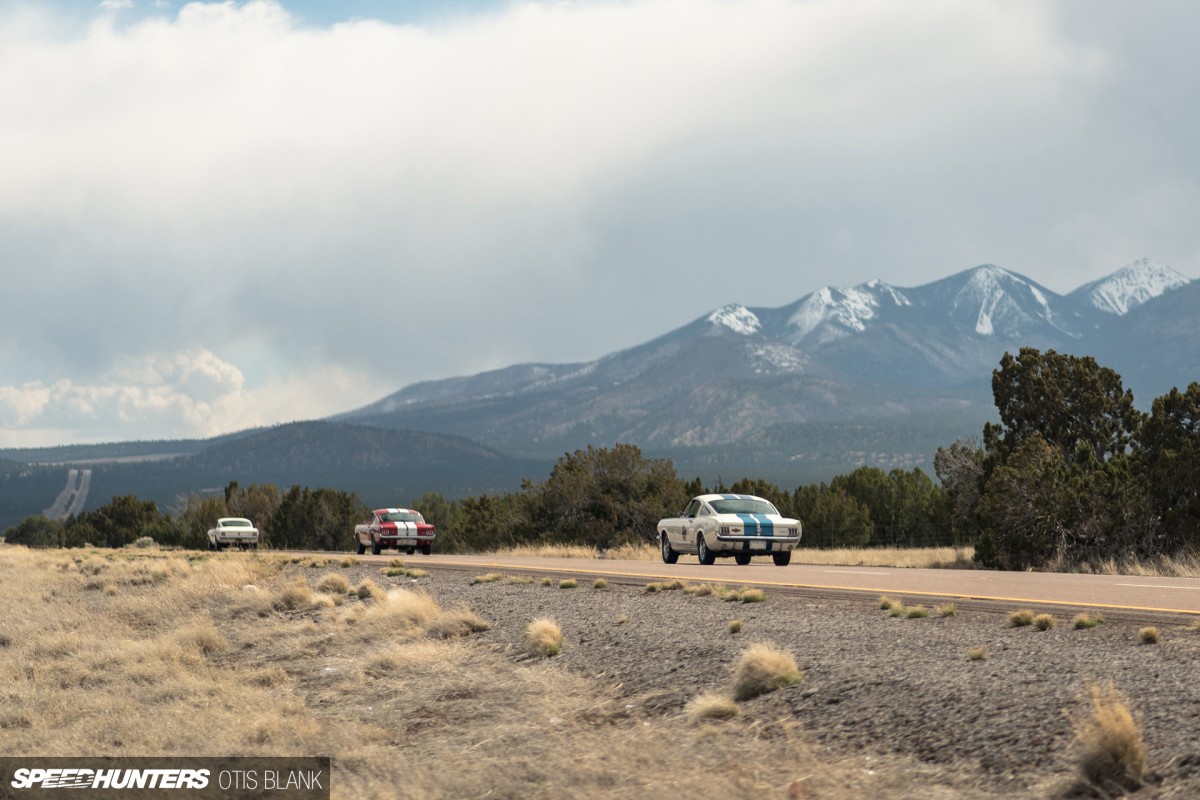 We rounded out the last part of the day by driving back past Flagstaff towards Sedona.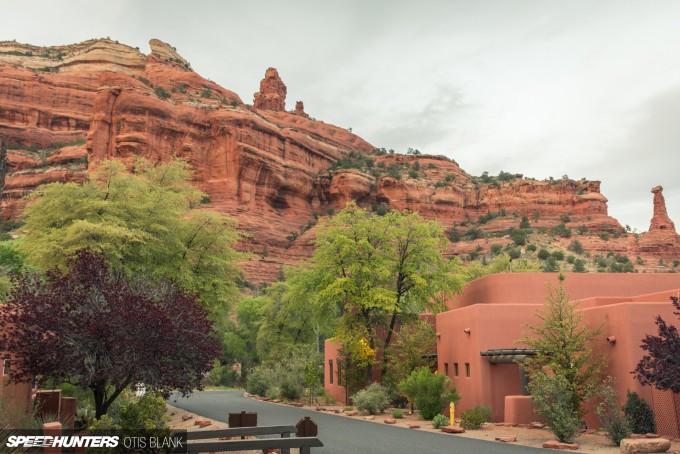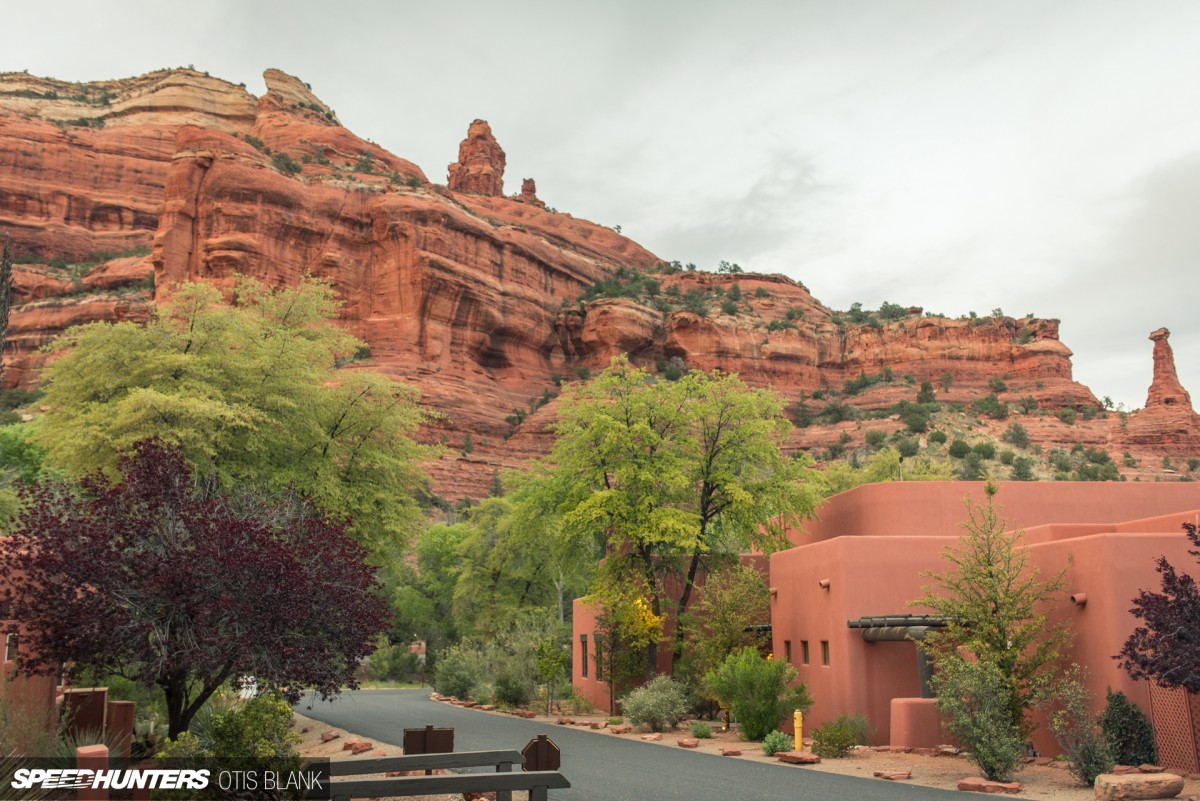 Sedona is gorgeous, yet somehow I didn't get the chance to get too many photos while we were there. Maybe I was a little jaded by Zion and just about everything else I had been seeing the last few days.
Days 4 & 5: The Grand Canyon & Back To Phoenix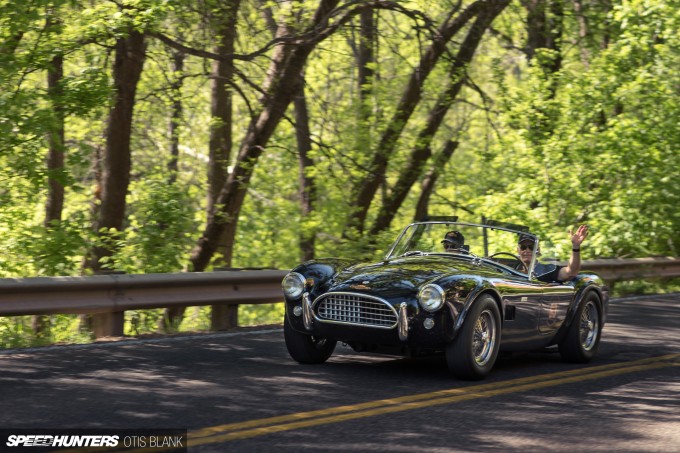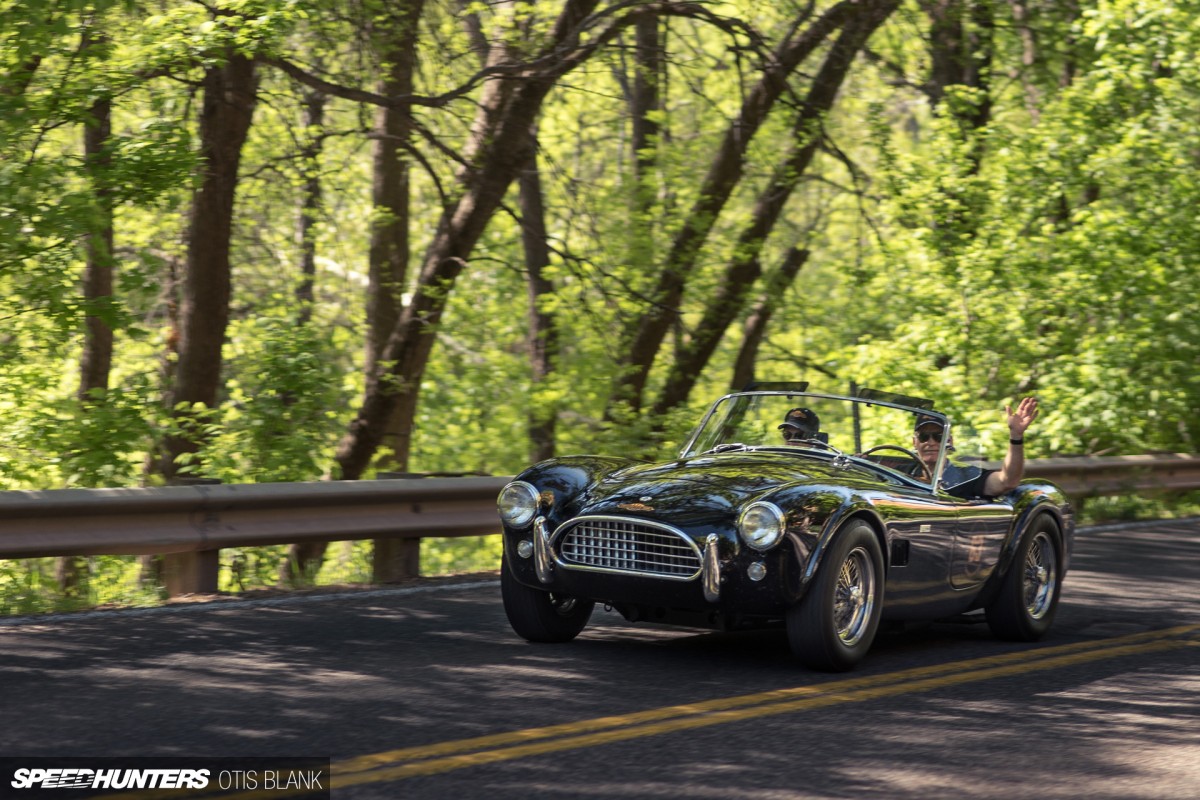 Day 4 was a loop route through the Grand Canyon and other noteworthy parts of central northern Arizona.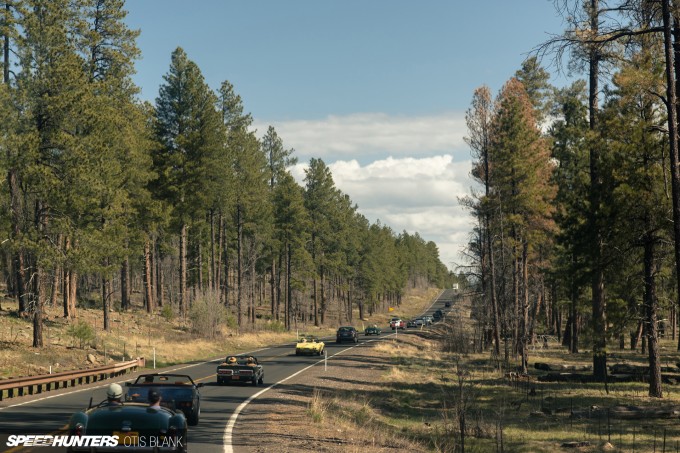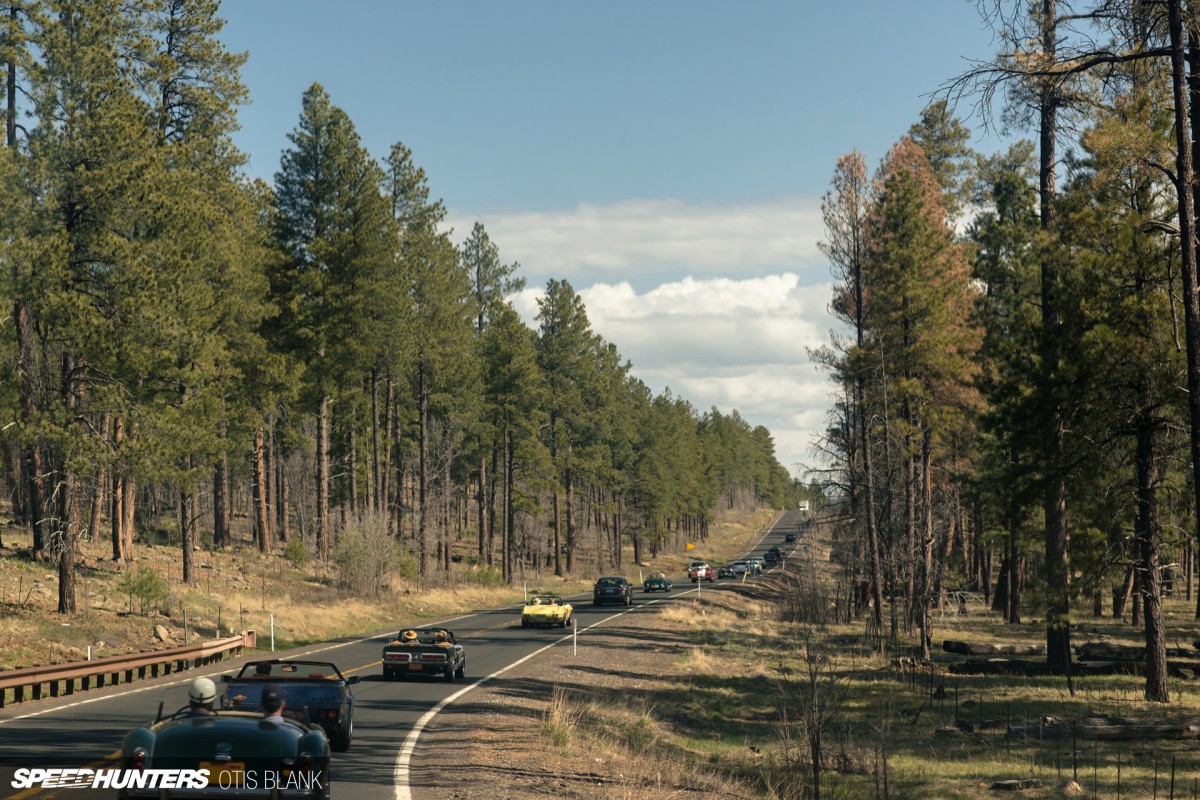 The way out of Sedona was dense with trees as we headed towards one of the world's seven natural wonders.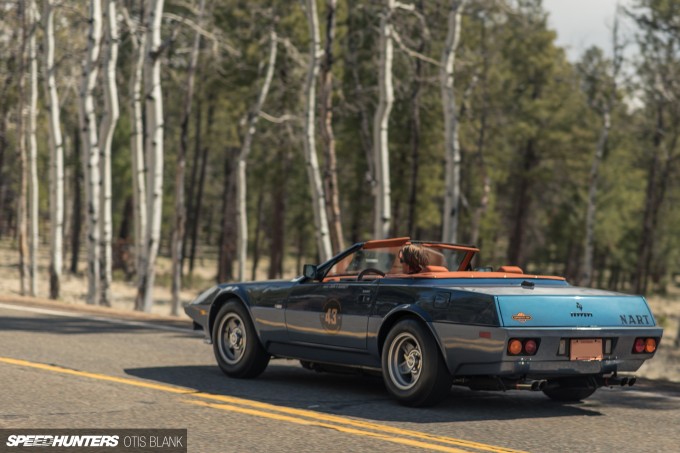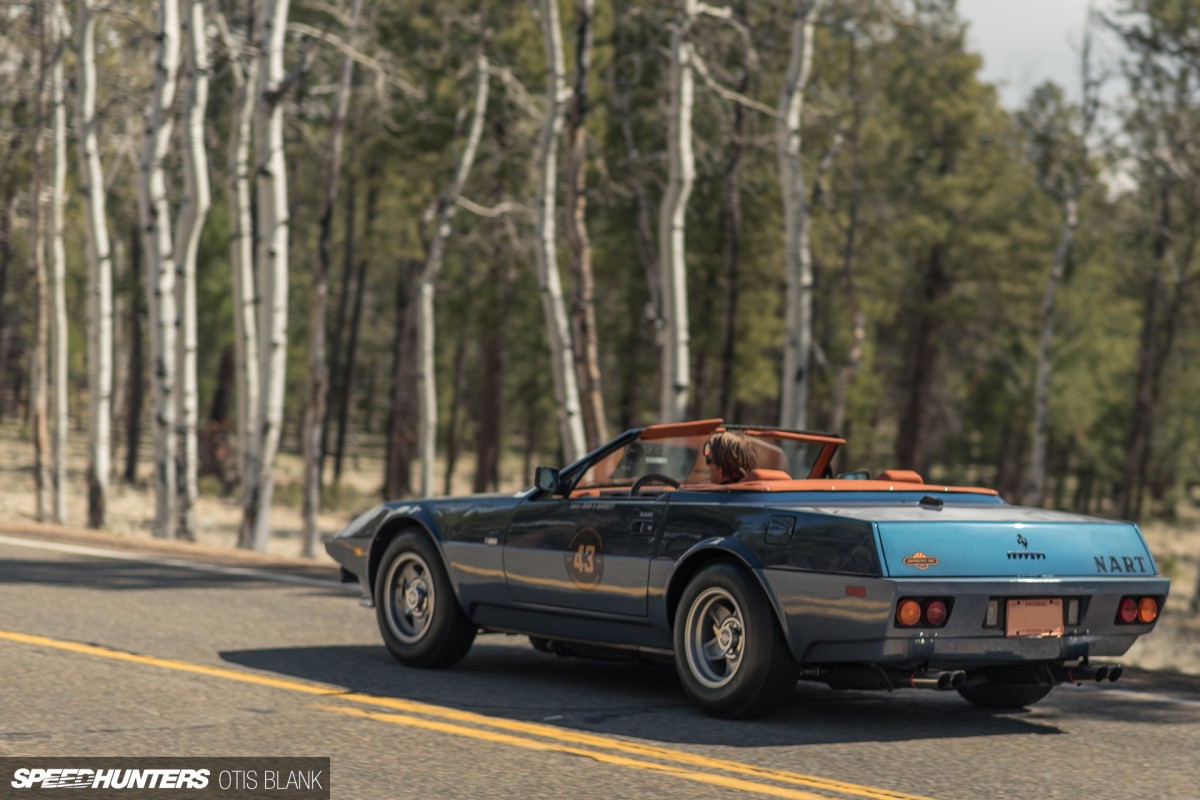 Here's a car many of you probably haven't seen before. It's a 1971 365 GTB Daytona with coachwork by Carrozzeria Giovanni Michelotti as commissioned by American Ferrari importer Luigi Chinetti. A stark change from the smooth curves of a stock Daytona, this custom one-off looks a bit like a C4 Corvette even though the coachwork predates that car by almost a decade. Until now, this car saw an average of 44 miles per year for the last 44 years. Could there be a better way to break it back in than the Copperstate 1000?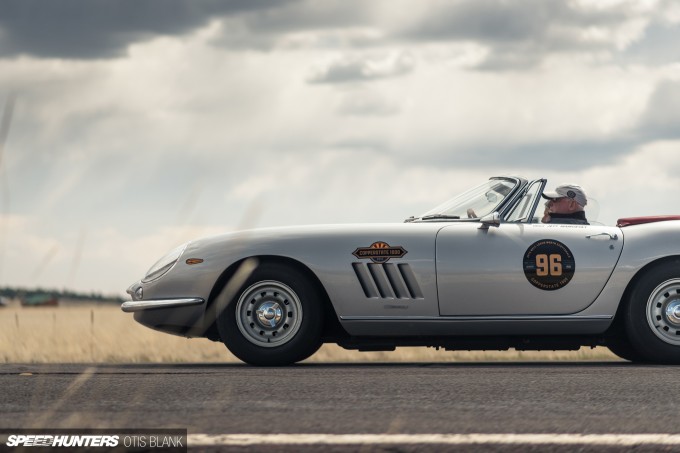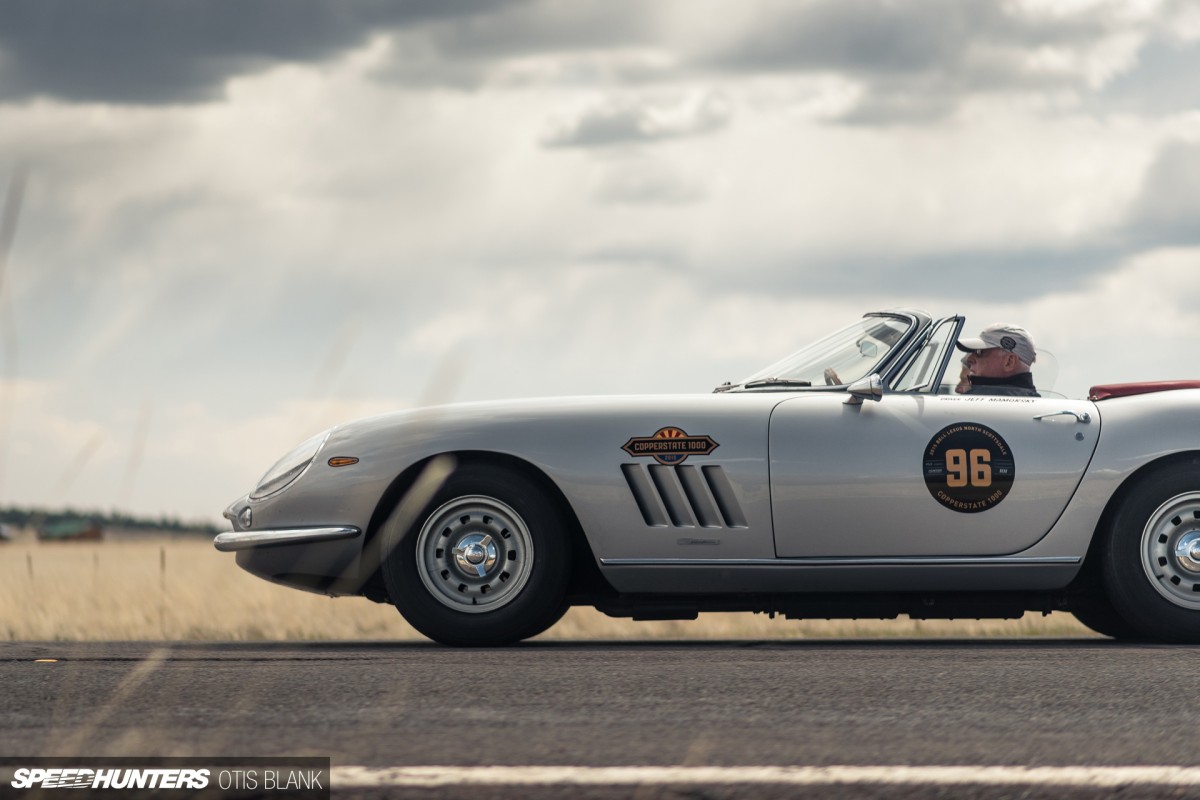 That Daytona wasn't the only modified Ferrari on the rally. This 275 was converted to a Spyder by Straman, who was known in the '80s for doing high-end conversion jobs on this particular model. They didn't simply lop the roofs off either, Straman strengthened both the body and chassis to make up for the lost rigidity and figured out a properly functional folding top mechanism. A Straman Spyder is basically the next best thing to an original 275 NART Spyder – arguably better since they had more time to perfect the functionality aspects of the conversion.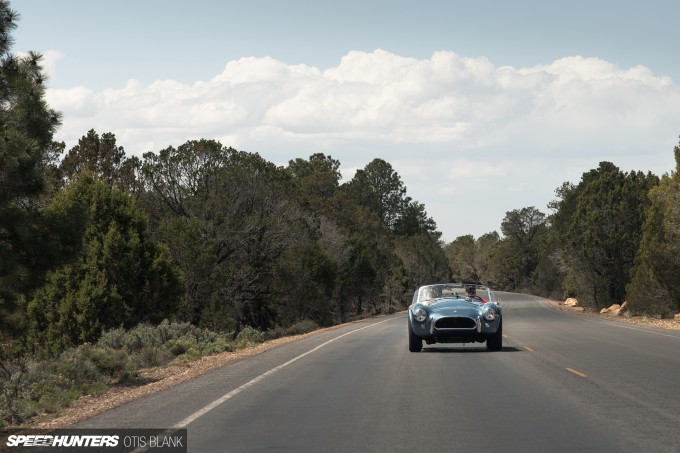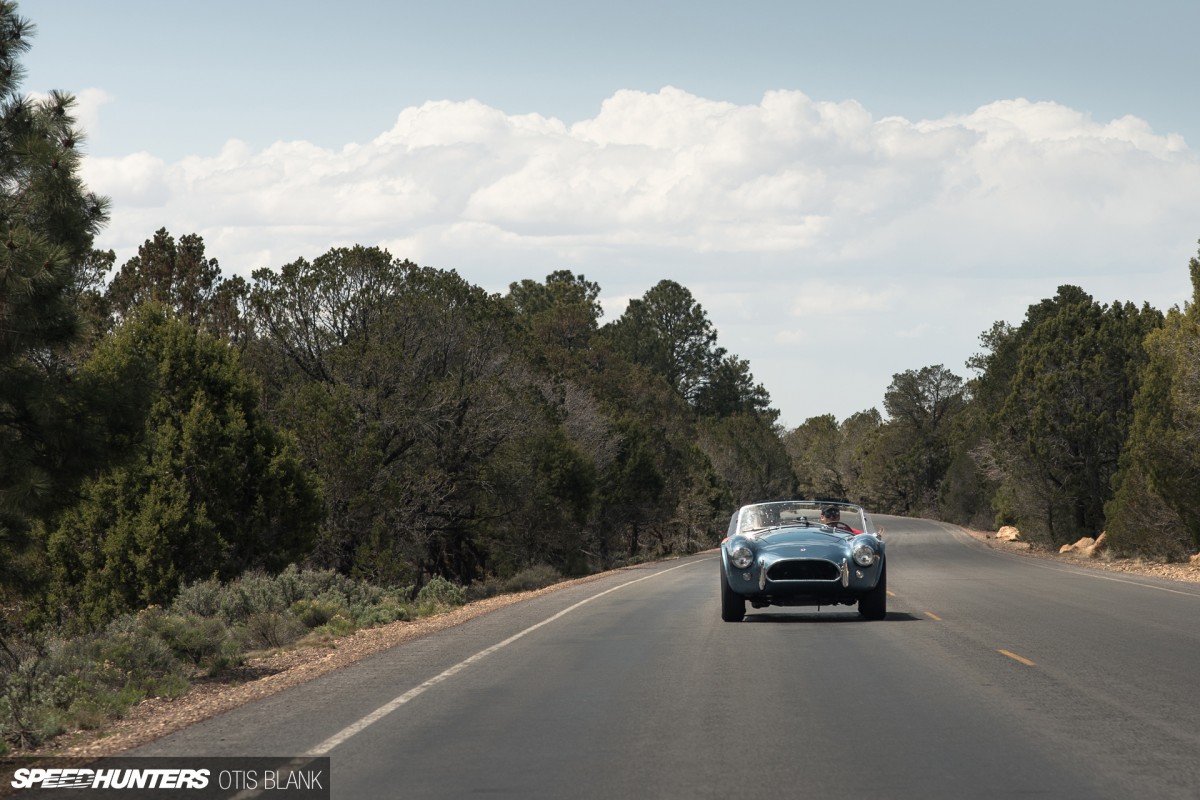 The thing I didn't realize about the Grand Canyon before going there for the first time, is that most of it looks like what you see above when you're driving on park grounds.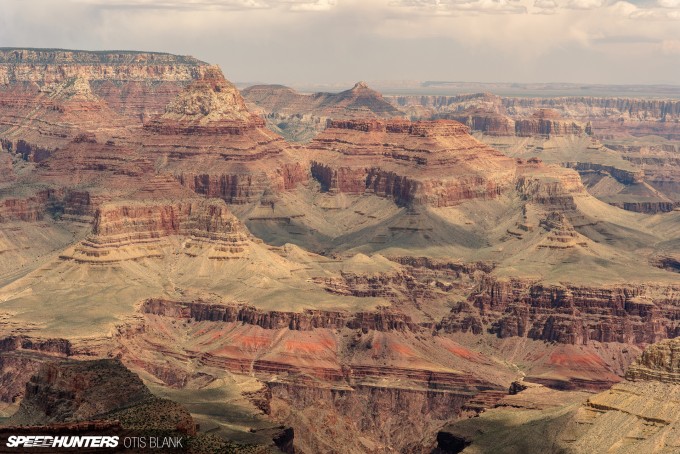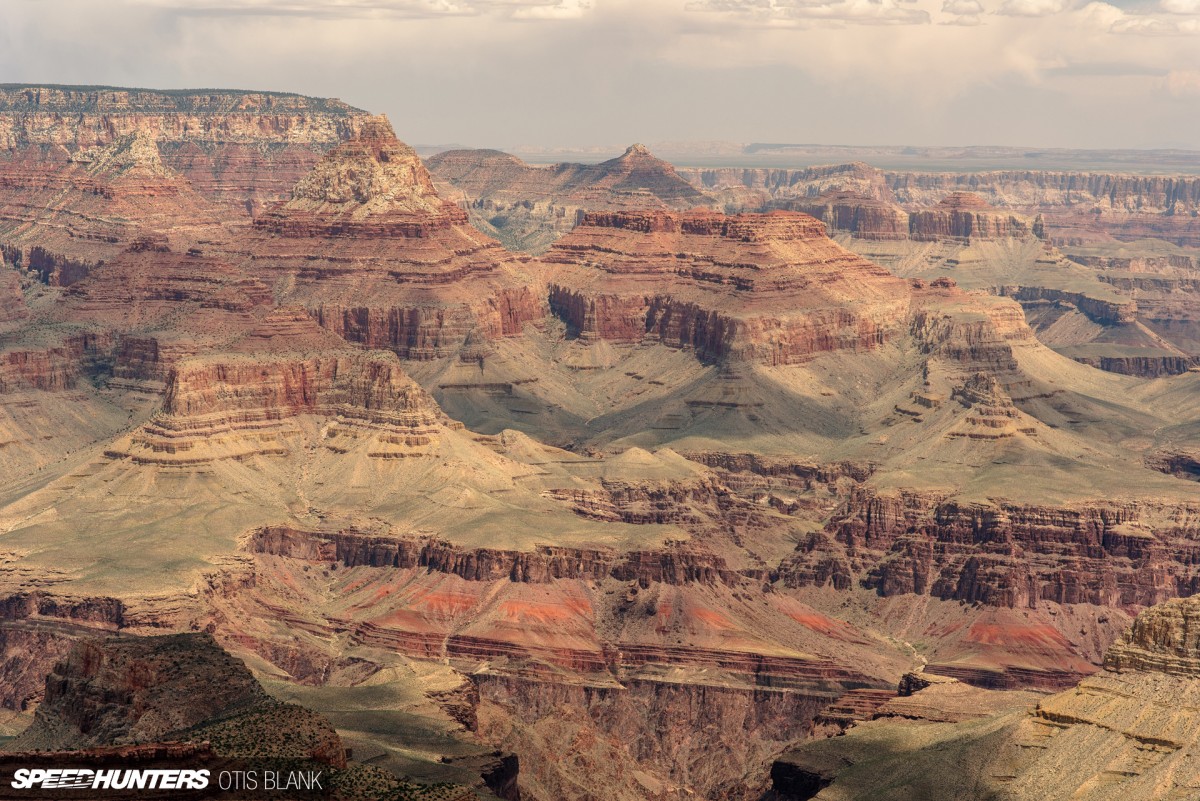 But every now and then there's a small pull-out where you can get a peek through the trees and you see this. The vastness of the Grand Canyon is something that really must be seen in person to really comprehend. What you see above is only a small fraction of the 277-mile-long natural wonder.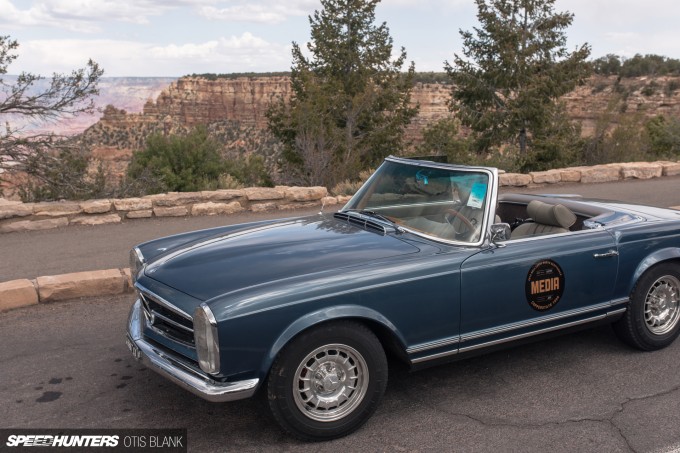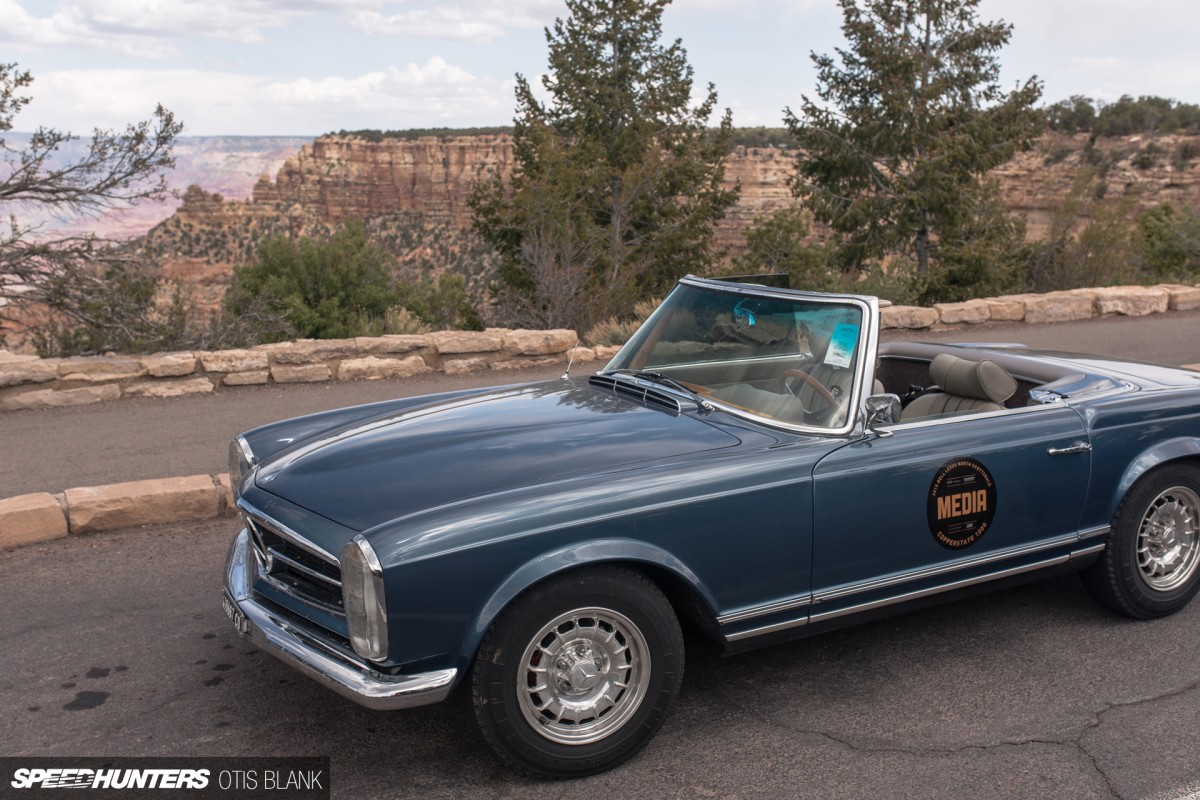 Photo-opps with the rally cars were unfortunately scarce as getting close to the rim in a car isn't really doable in most areas.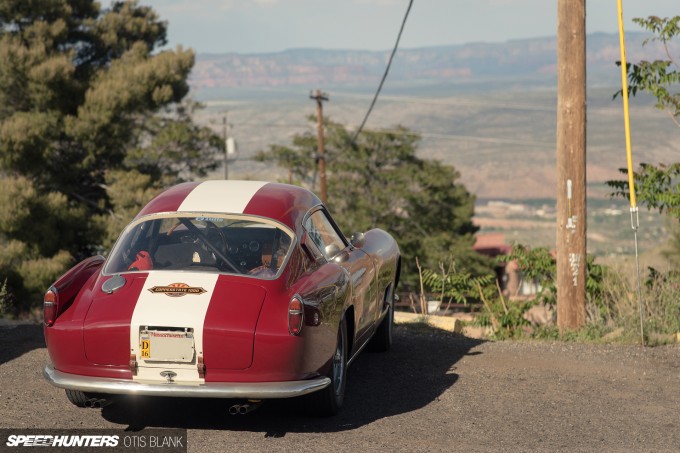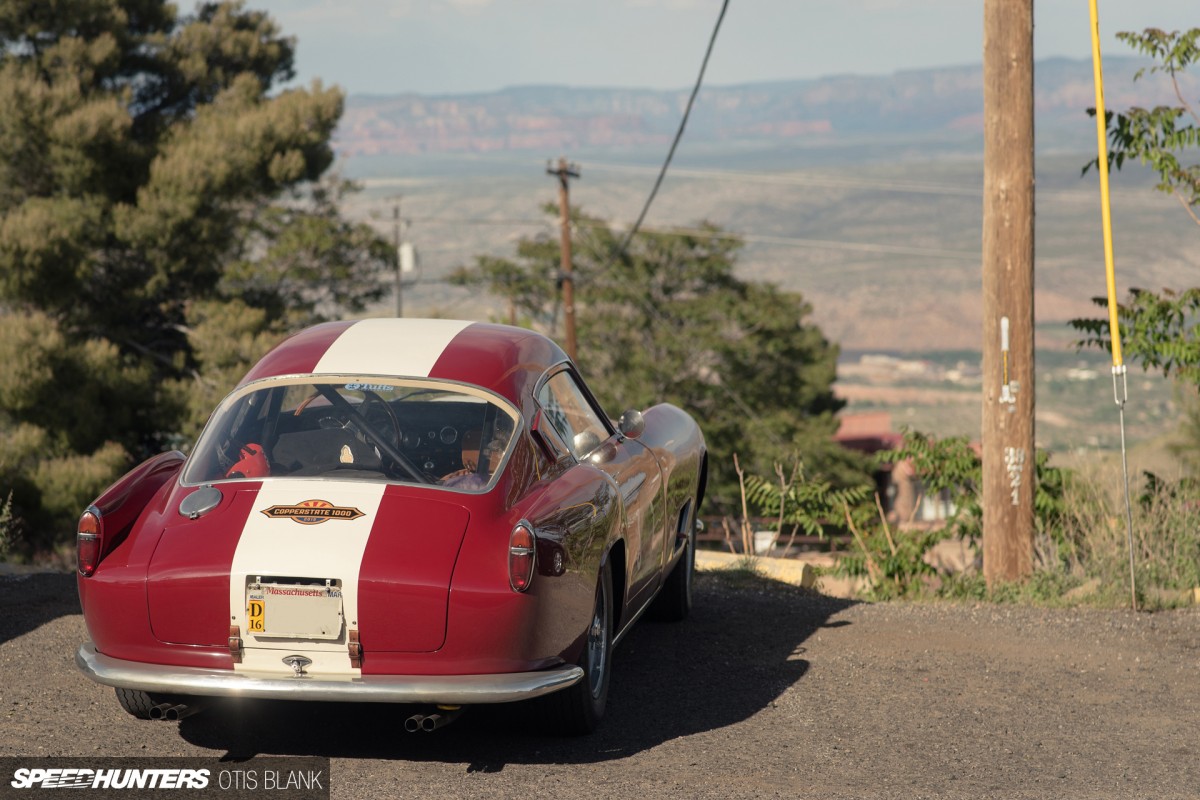 I had been to the Grand Canyon before, but our next destination was totally new to me. Jerome, Arizona, is a former mining town set on a steep hill.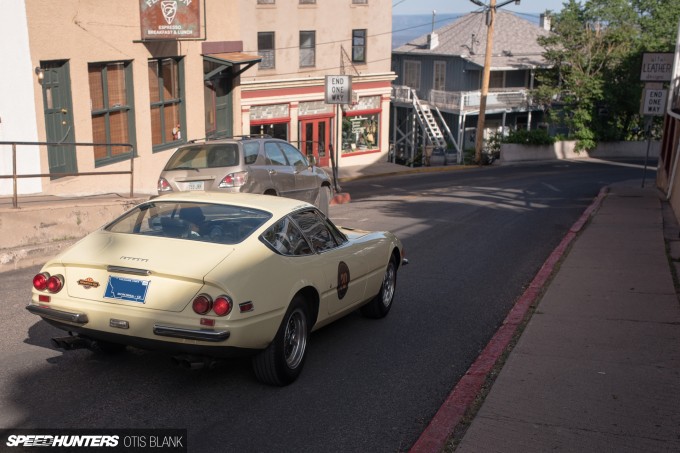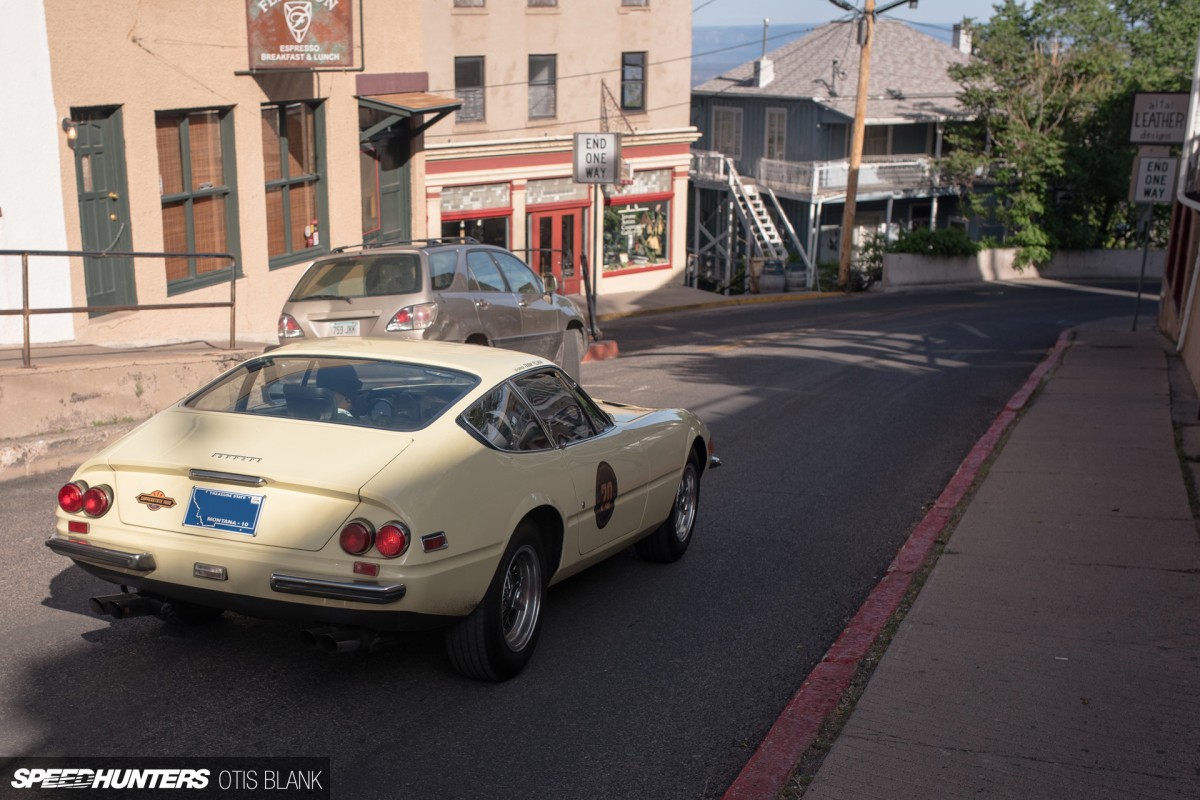 Now home to artists and other small shops, it's kind of like a mix of the color and mysticism of Sedona and the old world artistic charm of Bisbee, Arizona.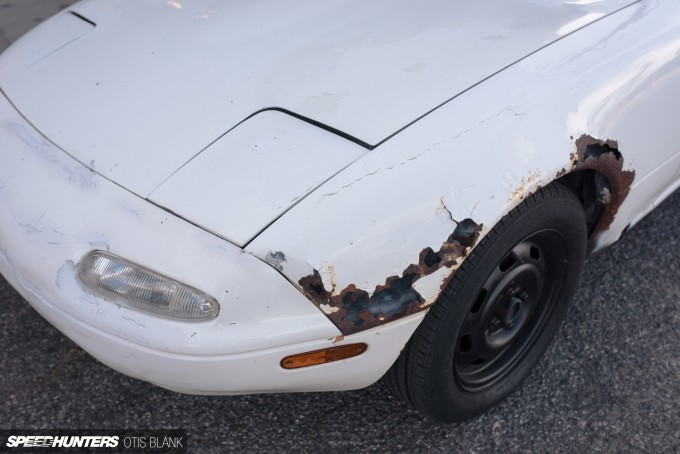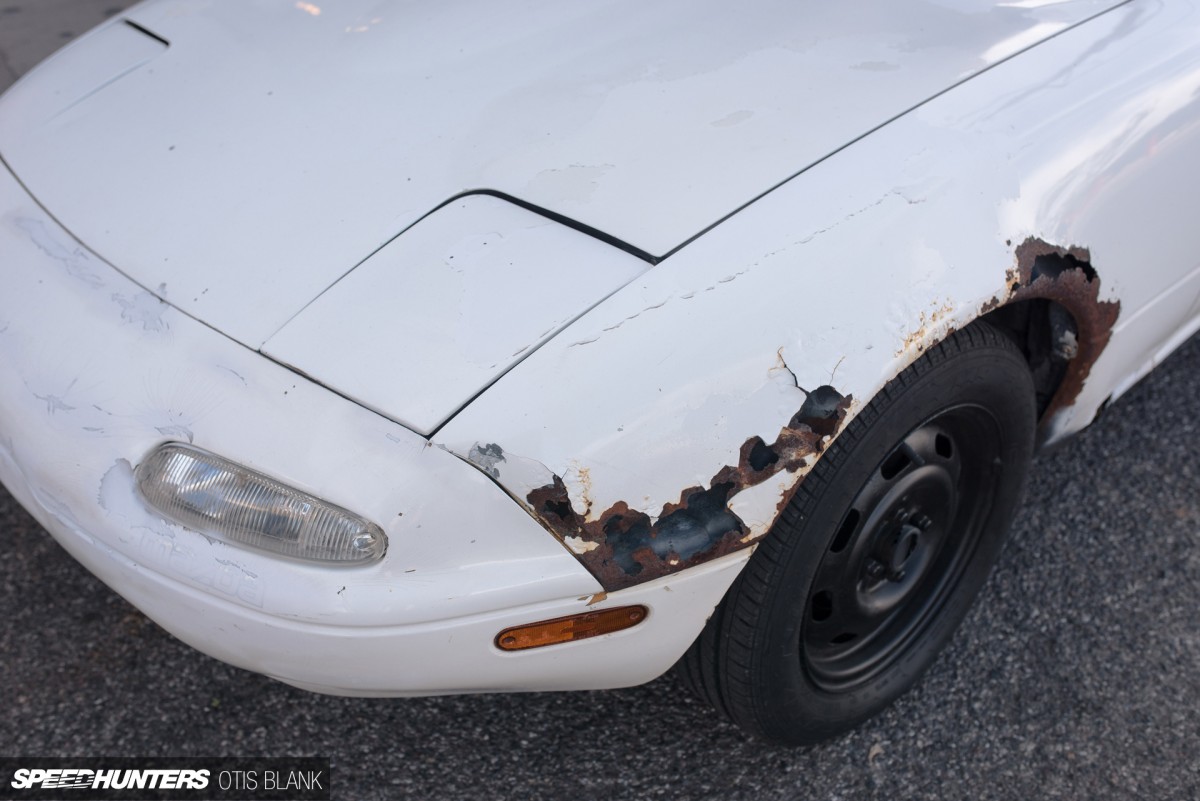 It was also home to the rustiest NA Miata I've ever seen this far from an ocean.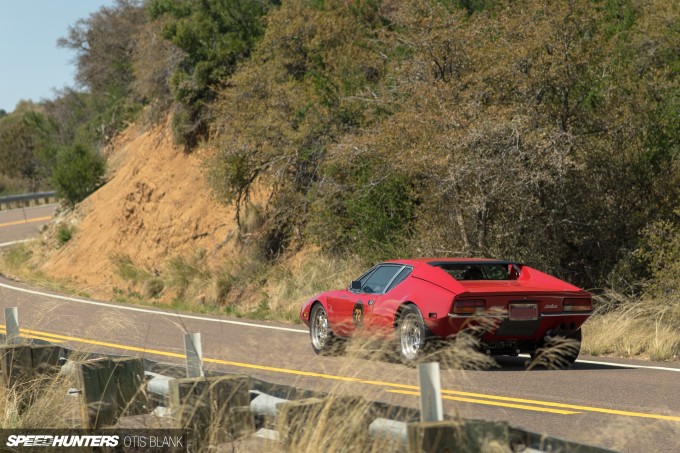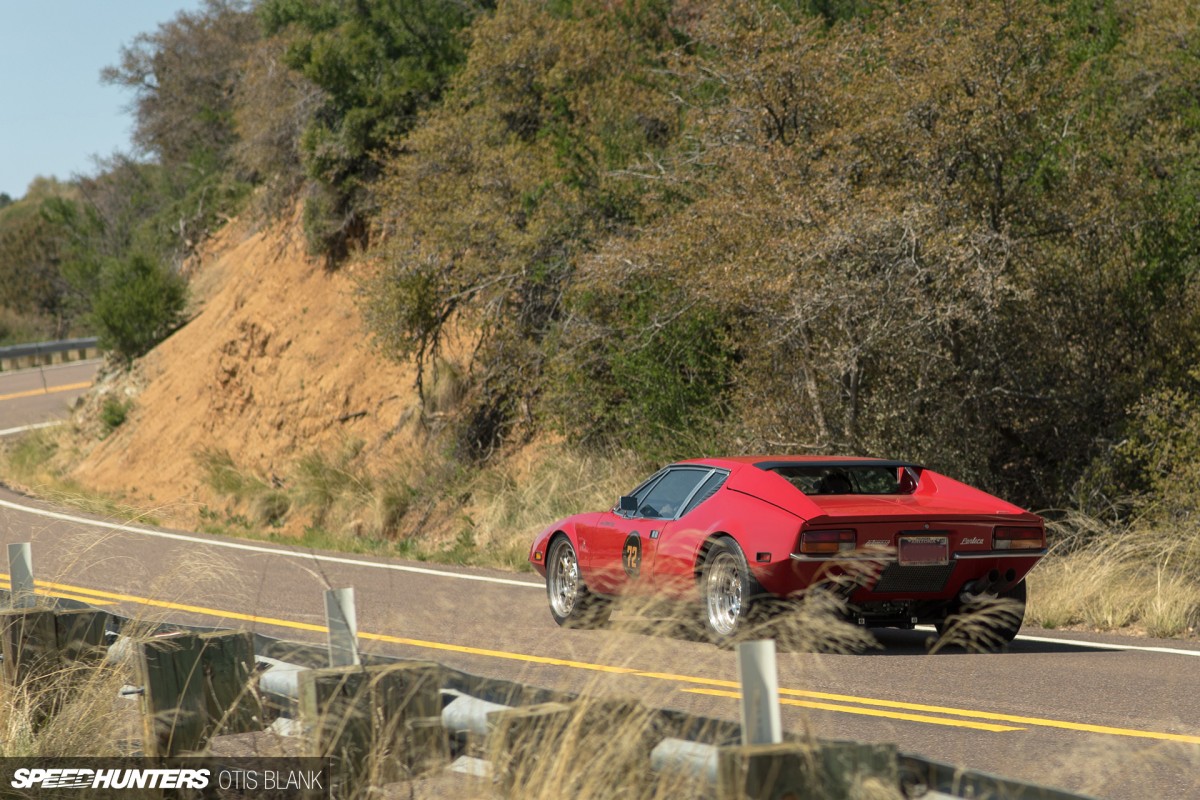 The next and final day of the rally was a more leisurely half day of driving. The roads continued to be absolutely spectacular.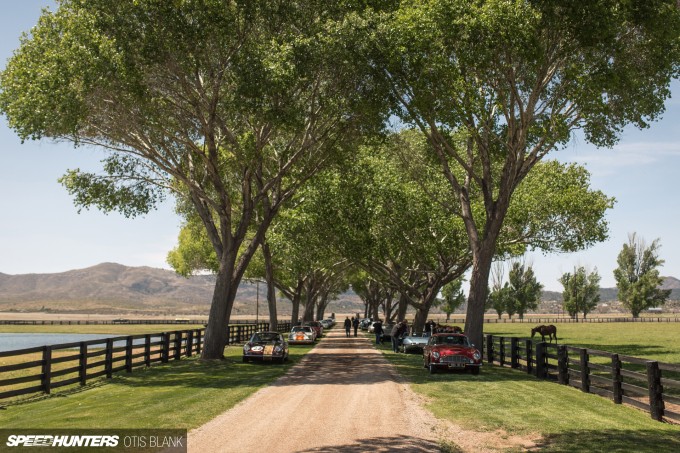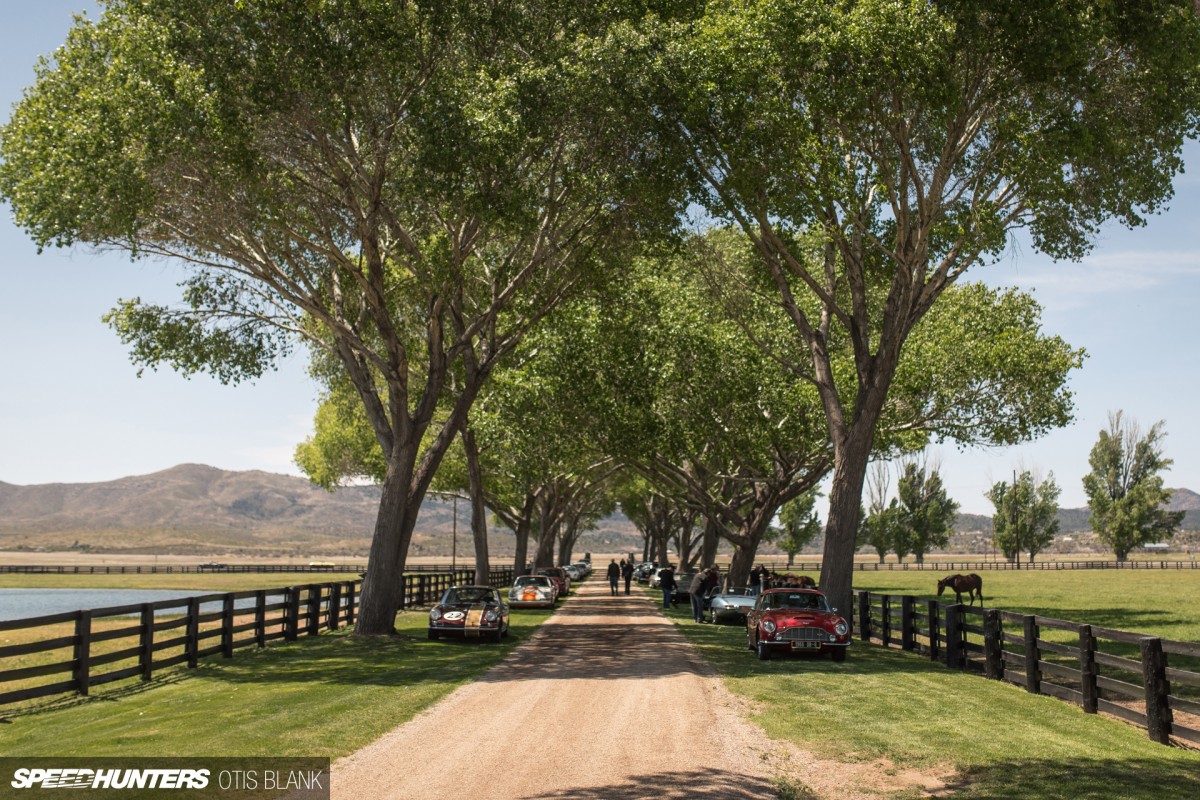 Not quite as spectacular as our lunch destination though. We had the pleasure of eating at Hidden Springs Ranch, a plot of land that looks like it was plucked straight out of Kentucky.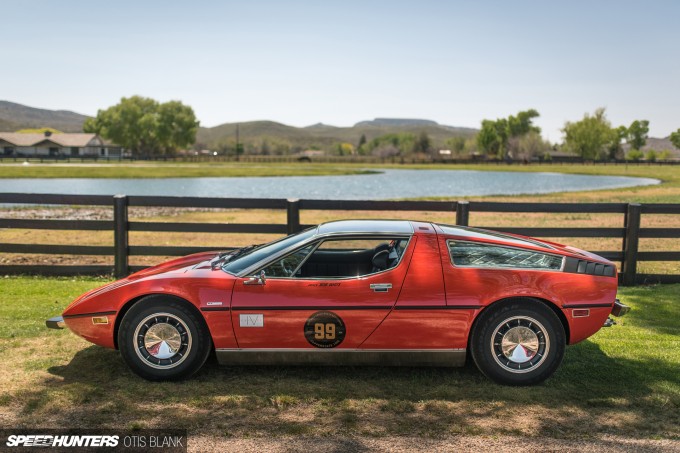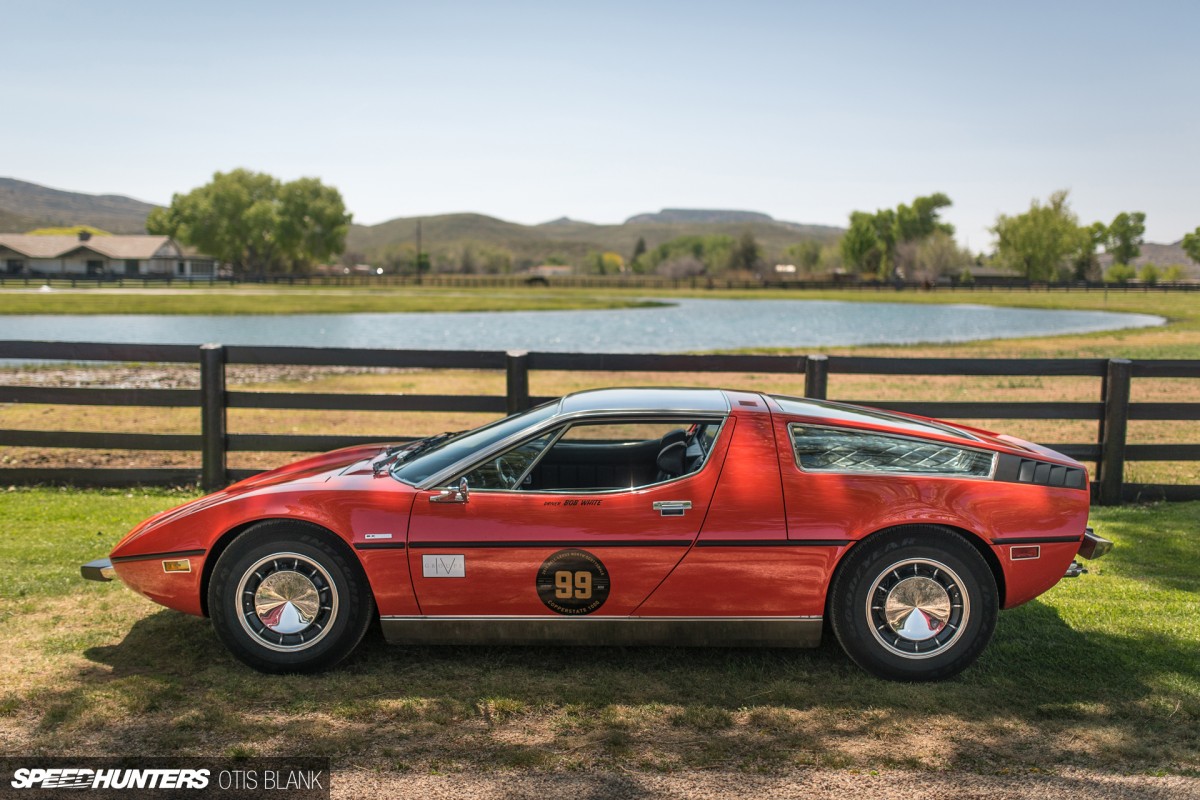 It yet again felt like being on a movie set. Everything was almost too perfect.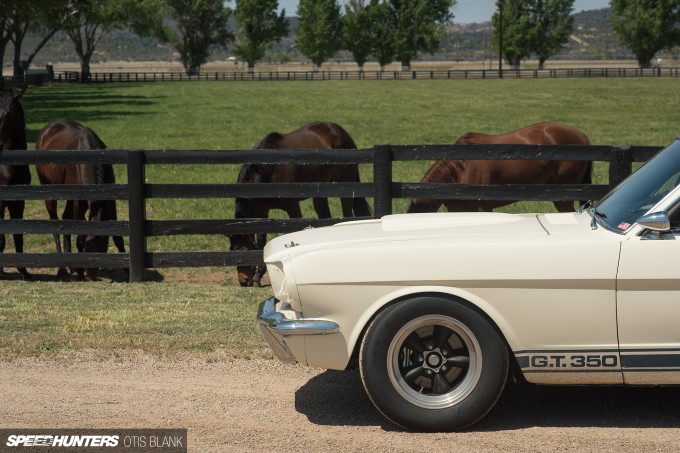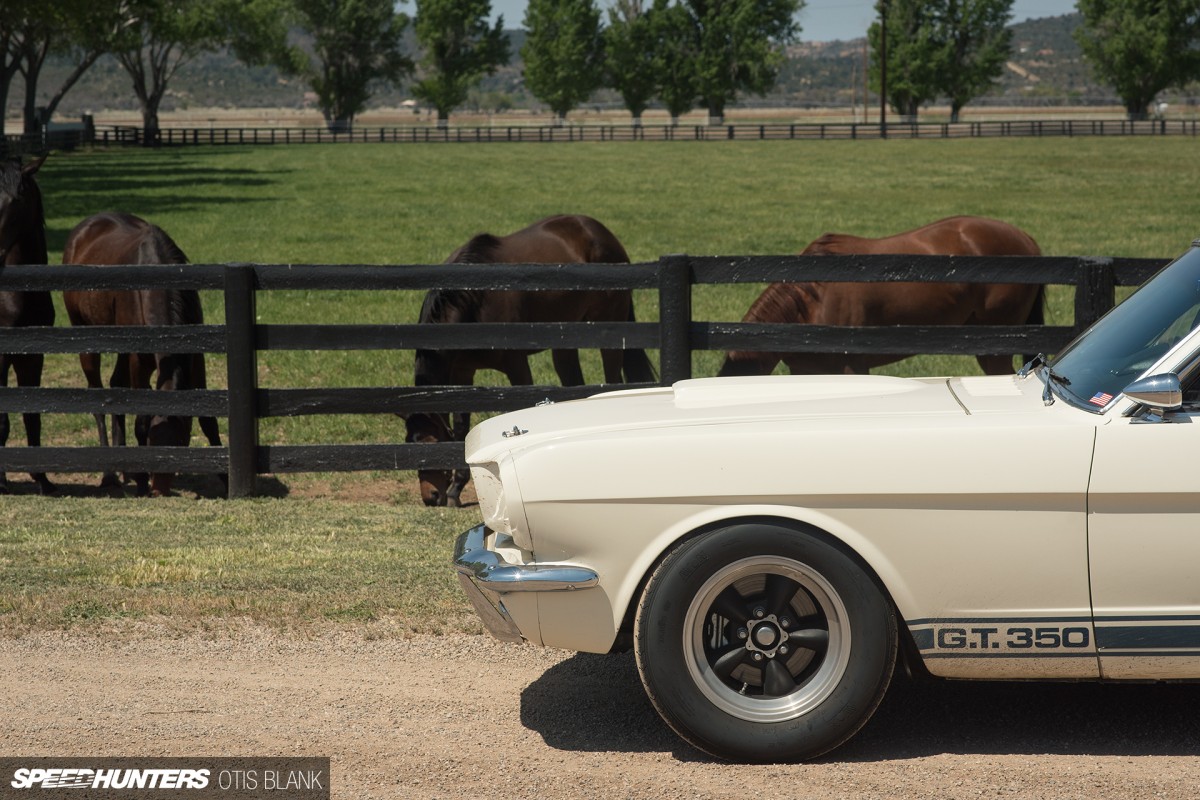 Many varieties of Mustang were present.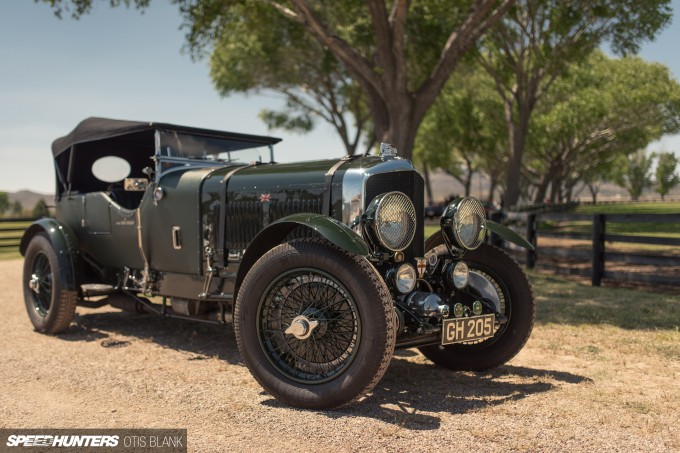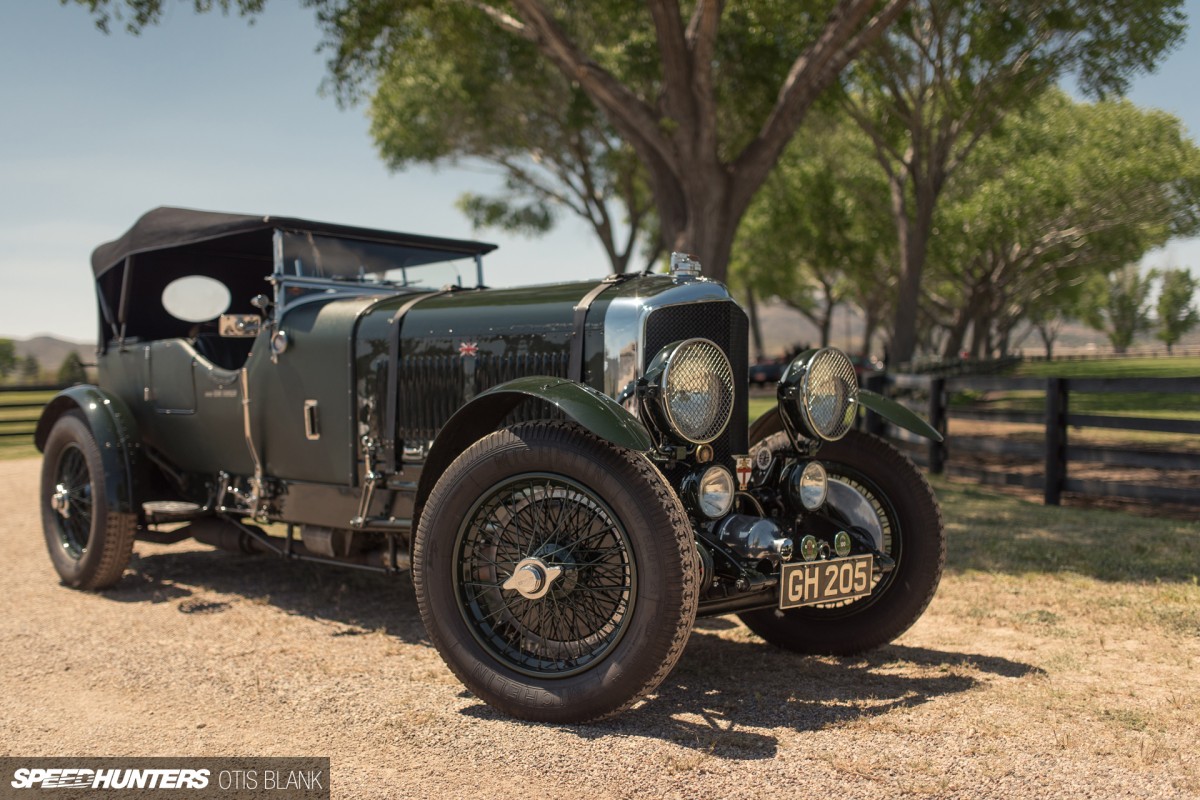 None of the cars looked particularly out of place, but the giant Speed Six fit in perfectly with its tractor-like size and stance.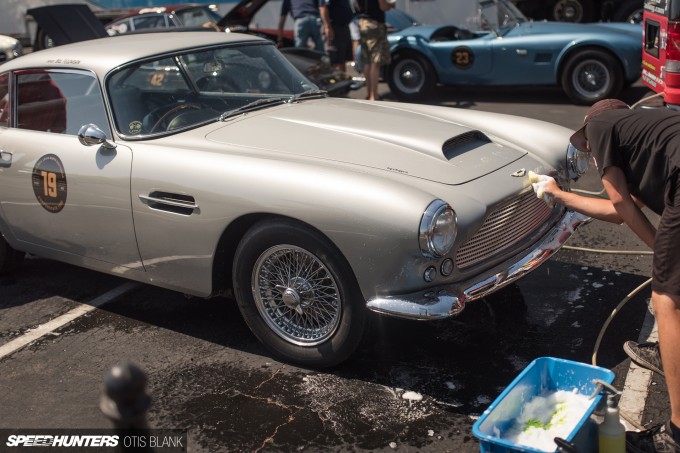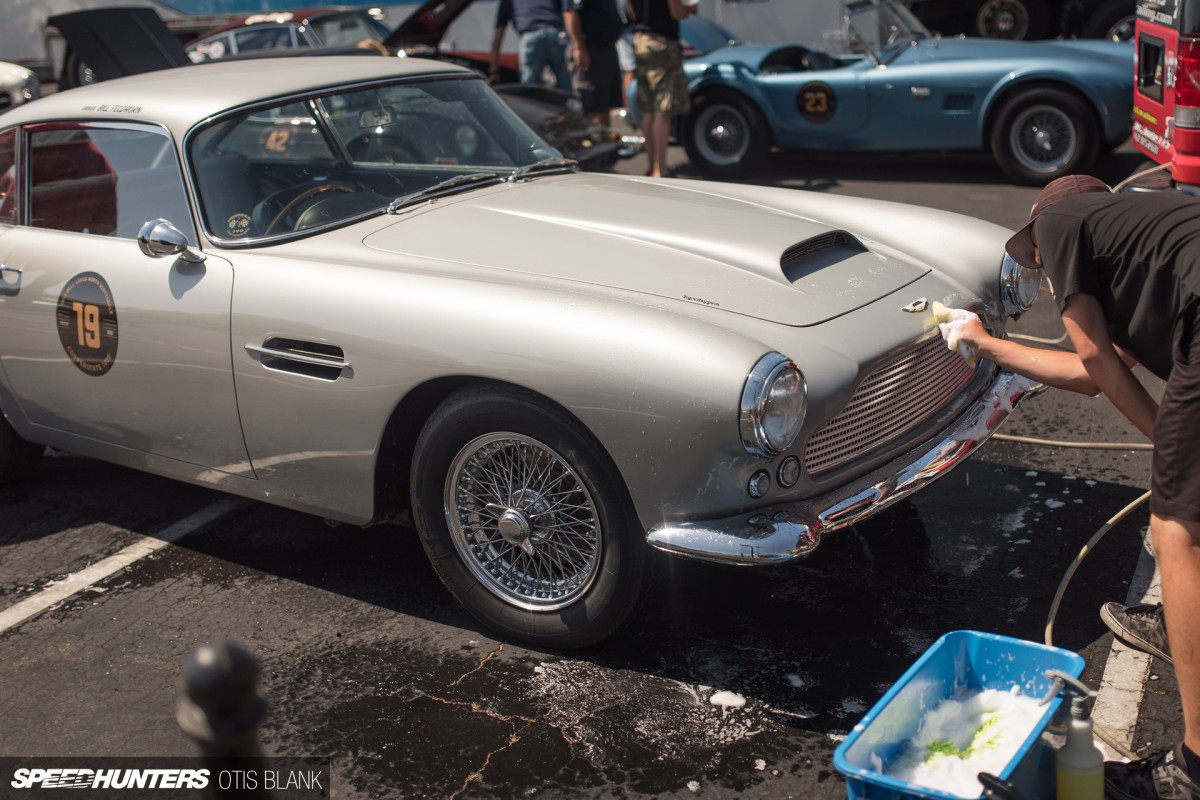 The final leg of the journey after the ranch was brief. We all slowly poured back in to northern Phoenix where a mobile detail service was there ready to undo 1000 miles worth of bugs and grime.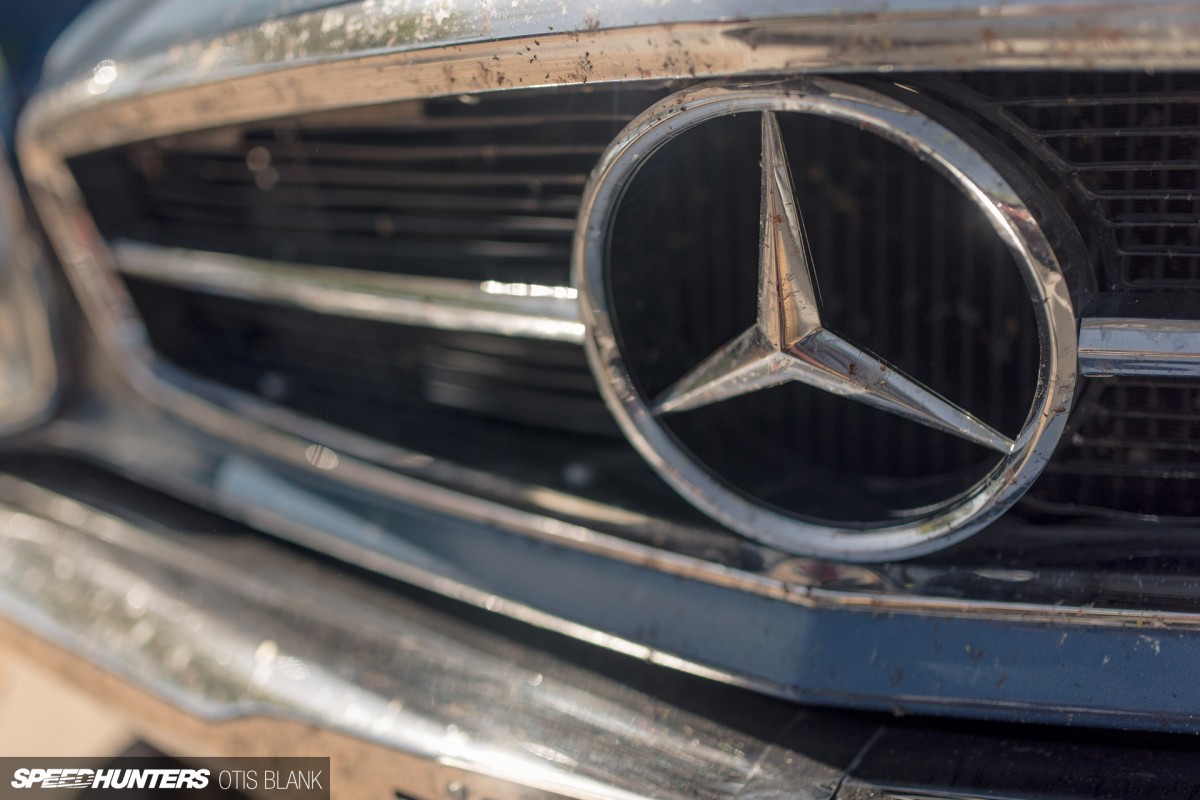 The SL performed flawlessly, as did just about all of the other cars on the rally. The whole thing really went off with out a hitch – a fitting celebration for 25 years of a fantastic event.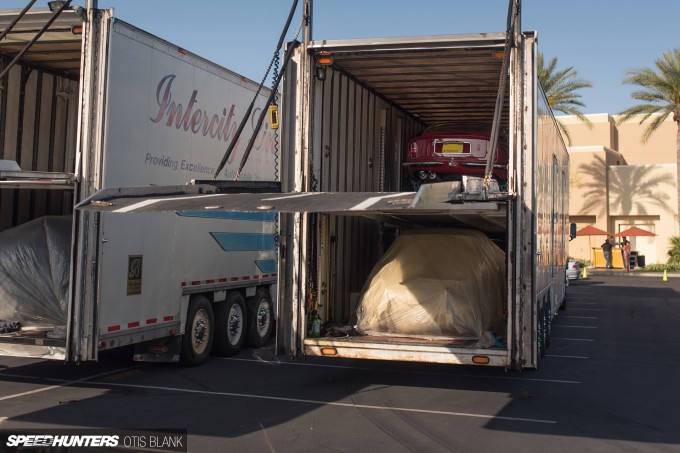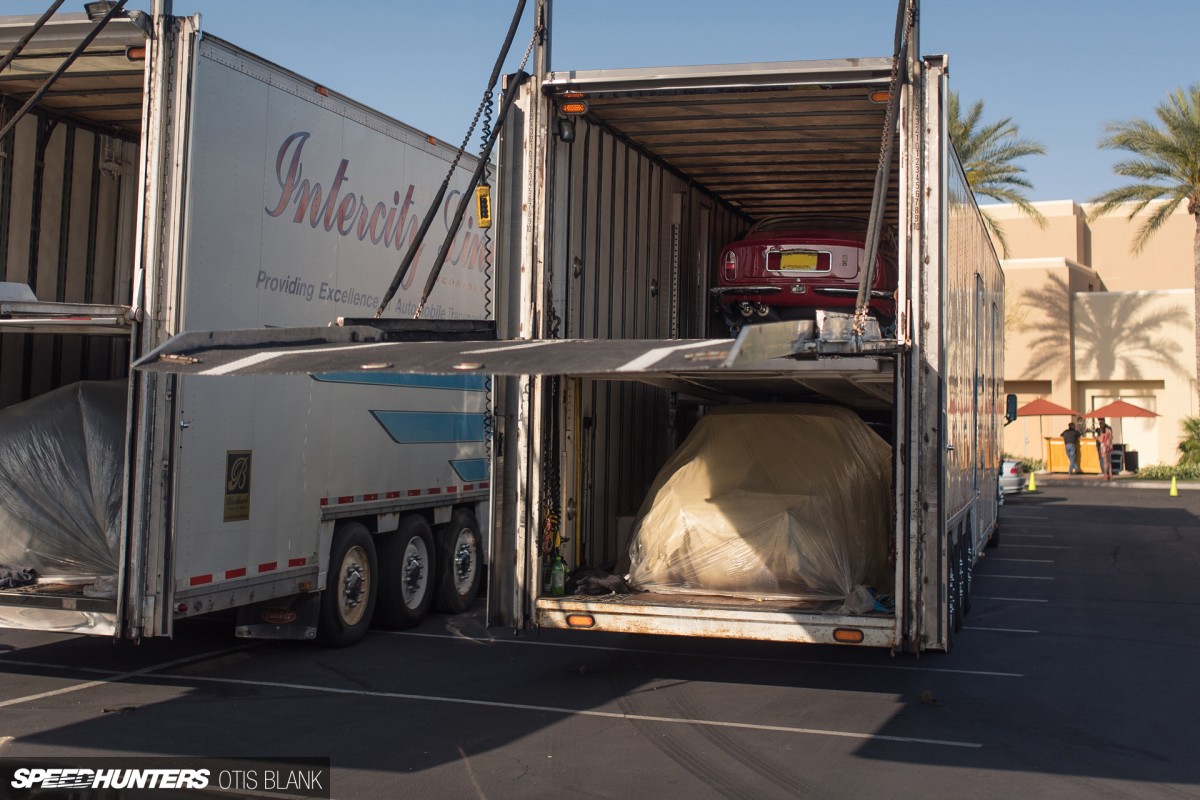 Watching the cars get packed away made me come to the unfortunate realization that the next day I would not be waking up to go and drive an amazing car – surrounded by even more amazing cars – through absolutely gorgeous country. I am now fully convinced that the best way to see the southwestern United States is behind the wheel of a classic European convertible. You probably wouldn't have had to send me on the Copperstate to get me to agree to that statement, but I am glad I now know for sure.
Otis Blank
Email: otis@speedhunters.com
Instagram: otisblank