A Dream Come True
If you had the chance to spend an extended amount of time in Japan, what would you do? Sure, there are months worth of exploring and sightseeing to do in this country, but if you're a car guy we all know what will be going through your head – and a long time before you actually even set foot in Japan!
Cars obviously, and events, meets, races – you name it. You'll probably spend an unhealthy amount of time looking at sites like Car Sensor to try and get a feel for what jewels are out there, or maybe Yahoo Auctions to find some bargains. But when Nathan Vosburg had the chance to hang out in Japan while his parents were here working, there was only one particular car he was thinking of: the Porsche 911. Or more specifically, an RWB Porsche 911…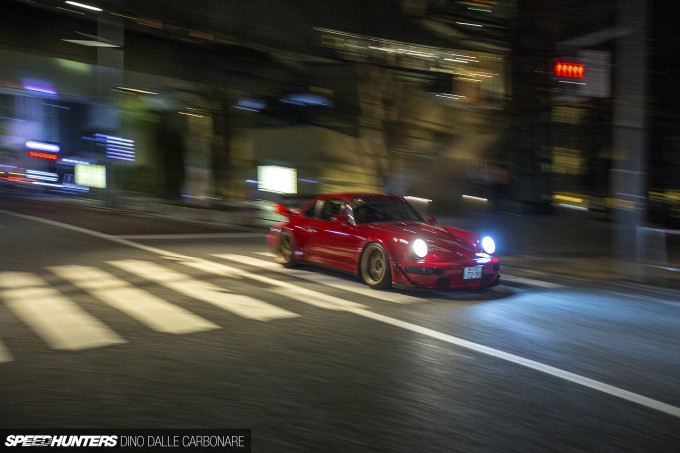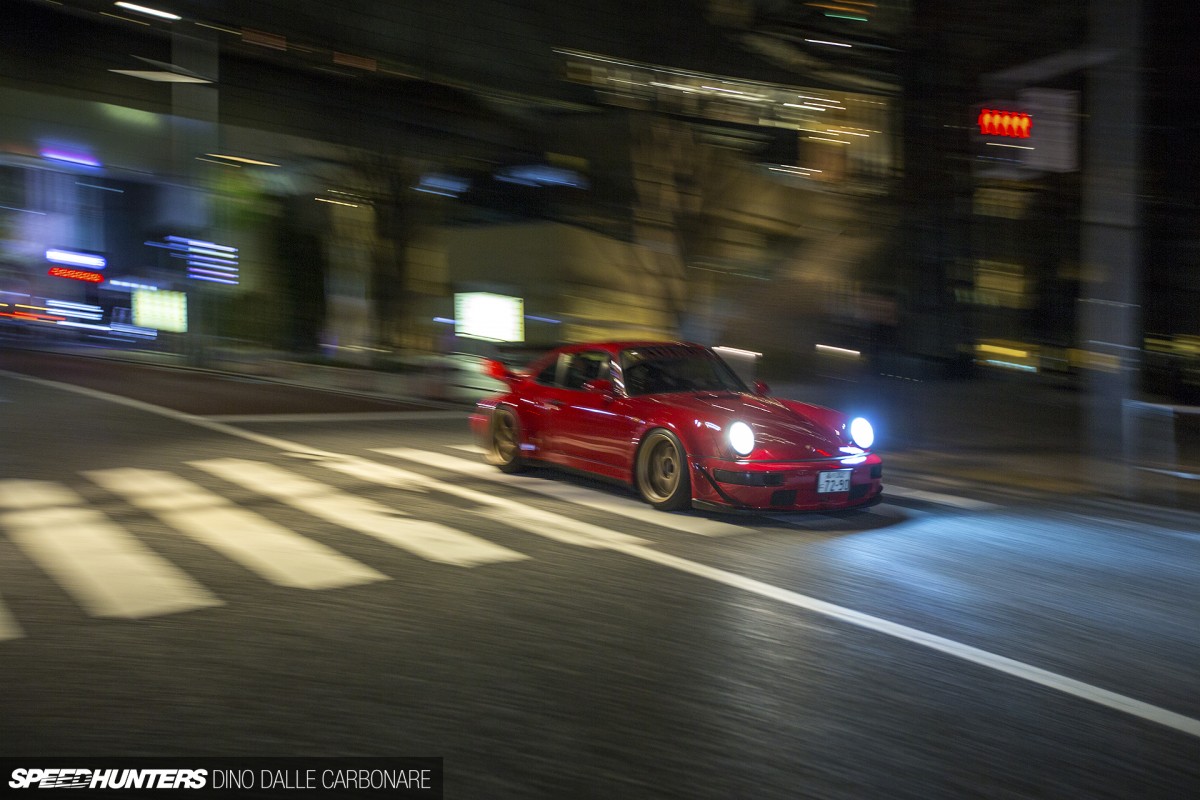 You see, aside from being into air-cooled Porsches for as long as he can remember, Nathan has fostered a real interest in Nakai's style and creations. That's something that first kicked off in 2008 when he stumbled across an obscure Yahoo group and some pictures of the iconic RWB build – Stella Artois. With an interest in the older and wider cars of the lineage like the IROC RSR, the 965 3.6 Turbo and the 993 GT2, his attraction to the RAUH-Welt Begriff style was justified. But it wasn't until January 2014 when he first met Nakai-san at the yearly RWB party held in Roppongi, that his interest turned into an obsession.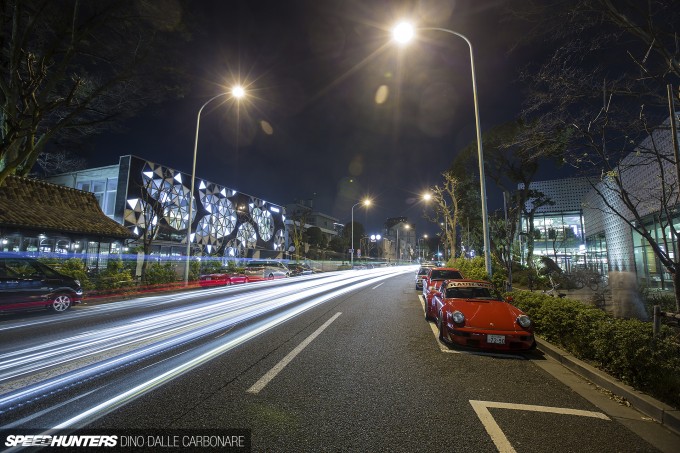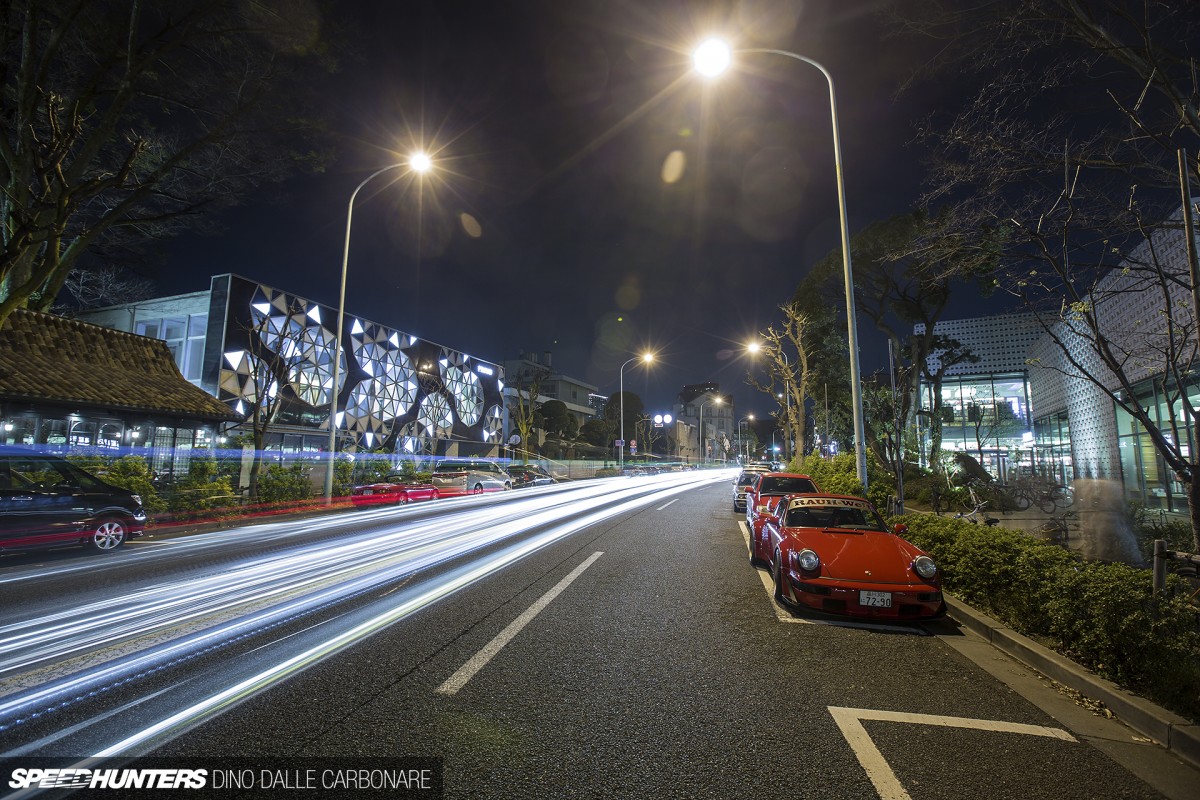 It was a few months later that I met Nathan at an early morning Cars & Coffee get-together at T-site in Daikanyama, and after a short chat he mentioned that he had put an order in with Nakai. As luck had it, a manual 964 Carrera 2 that Nakai had previously worked on was up for sale, and Nathan jumped the chance to use it as the base for the build. Nathan's plan has always been to take the car back to his hometown of Louisiana, but in the short-term he's been able to enjoy the special Porsche on its home turf. I knew the big move was not far away, so one night I messaged Nathan and asked if he was free. "Sure," he replied, and soon after we rendezvoused in Daikanyama where we originally met.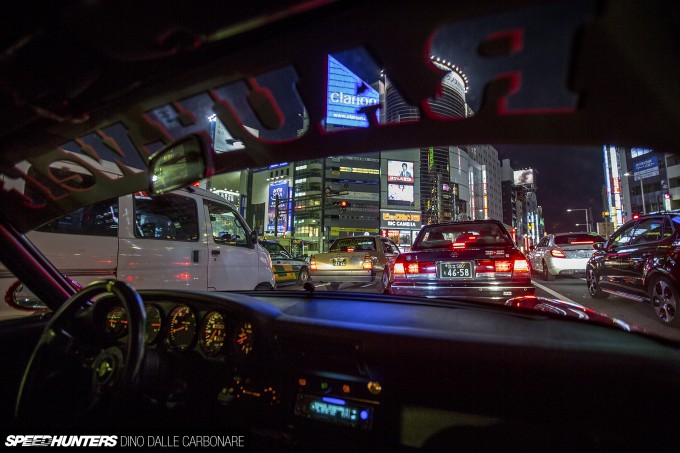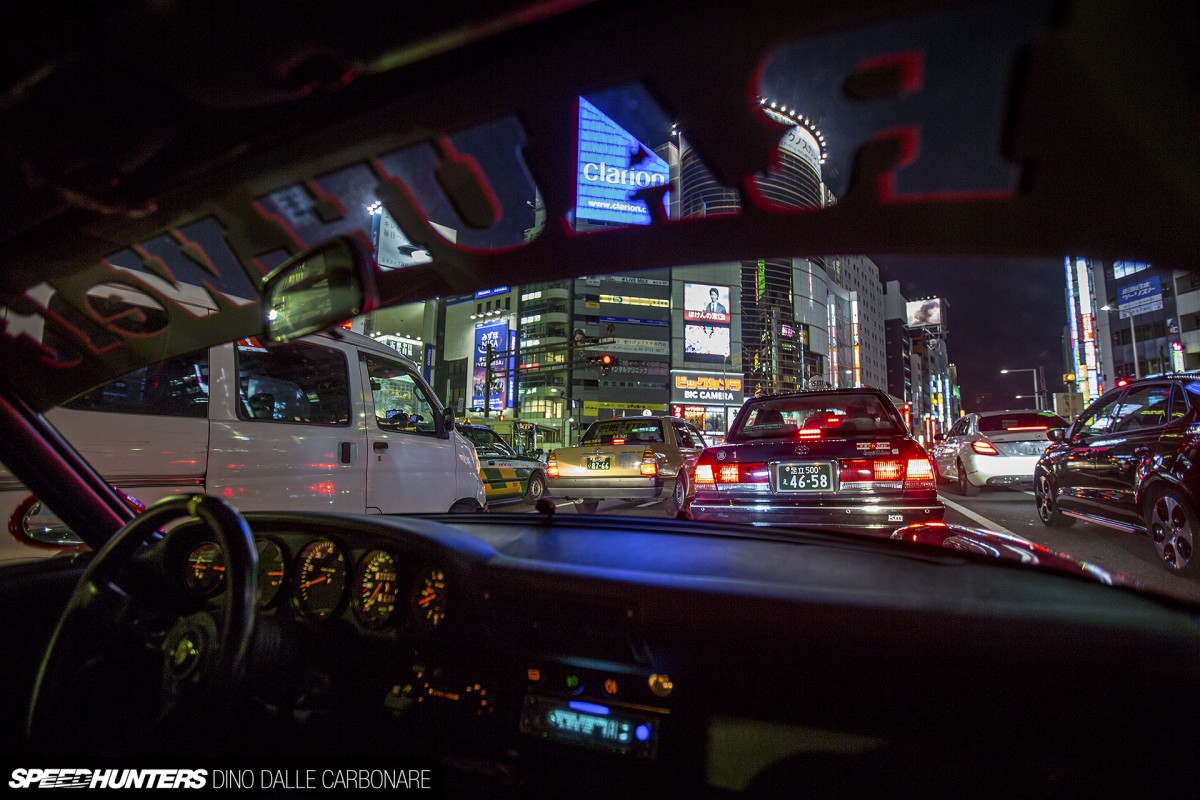 I dropped my car off and jumped into Nathan's 964 with the idea of driving to an unquestionably-Japanese location for the shoot. Seeing as the car will soon be cruising on Louisiana streets, we just had to give it a fitting send off and drive it to some cool places around the city.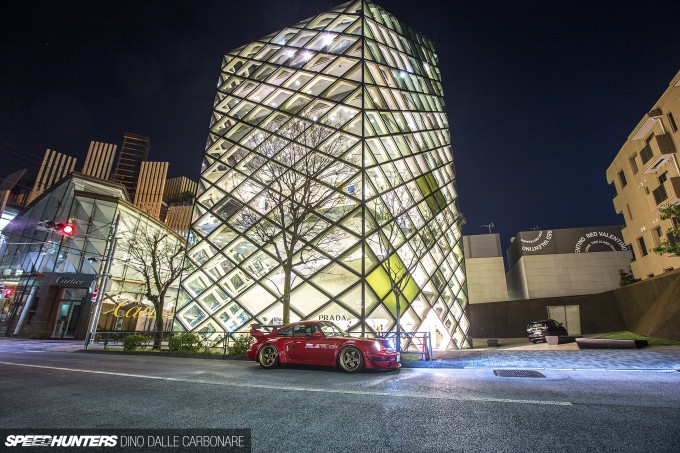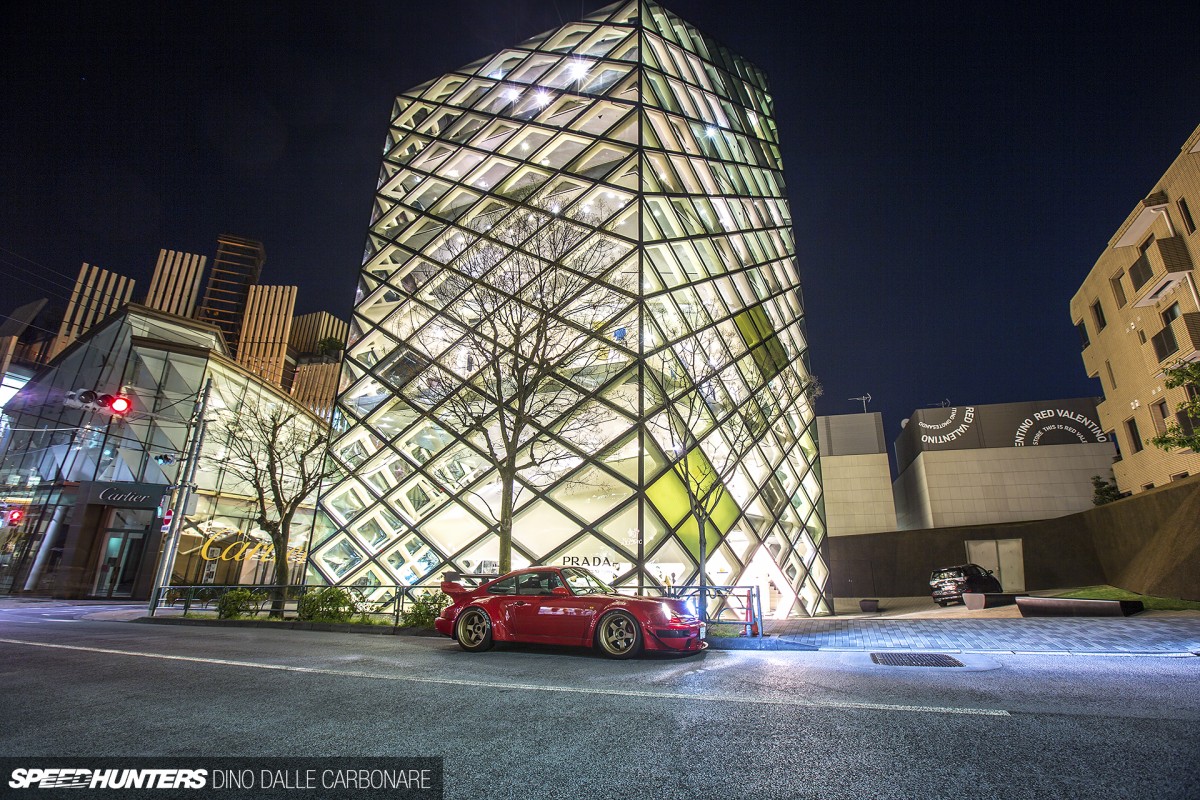 While Shinjuku was our goal, I decided to do a little detour so that I could finally grab a shot in front of the famous Prada building in Omotesando. This place is usually packed with traffic and general movement during the day, but late at night – just before the lights go off – there's an opportunity for a few clean images.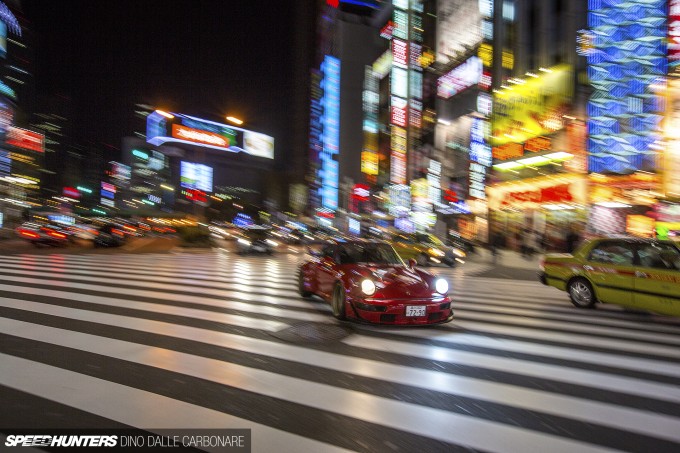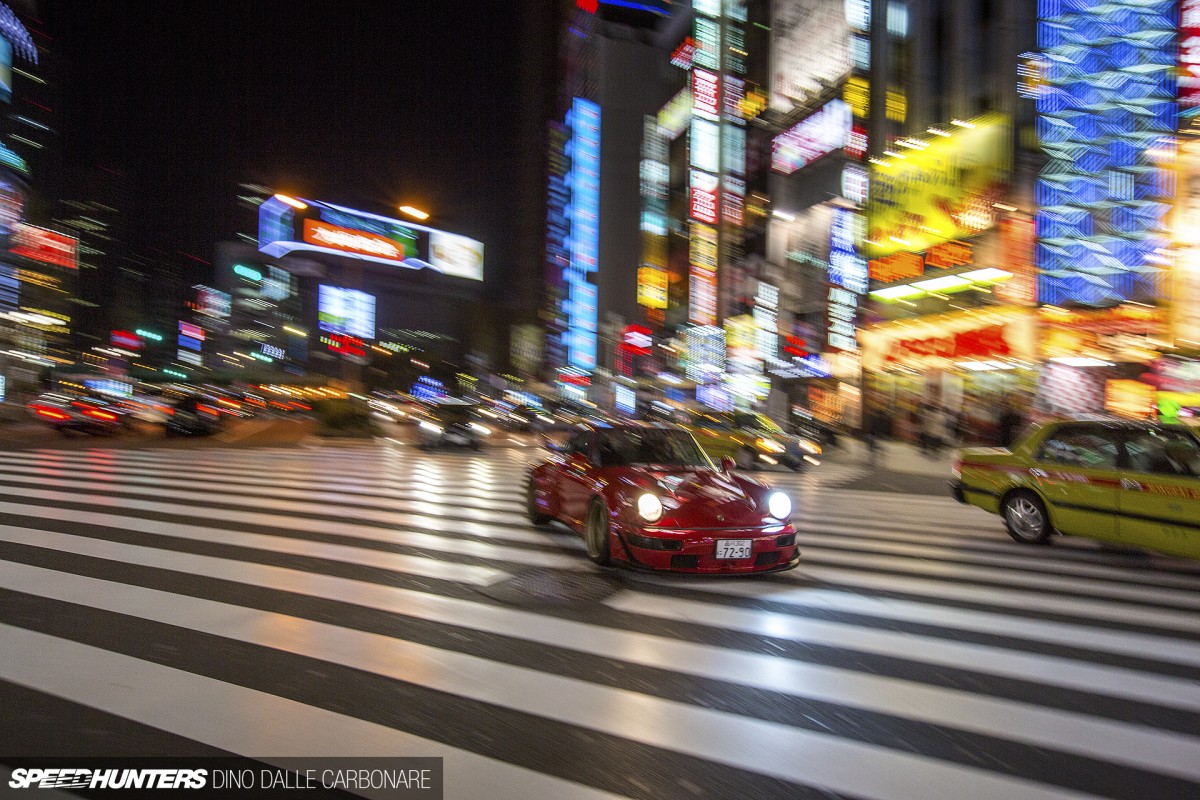 I also thought that it would serve as a complete opposite look to what we'd find as backdrops in the backstreets of Shinjuku.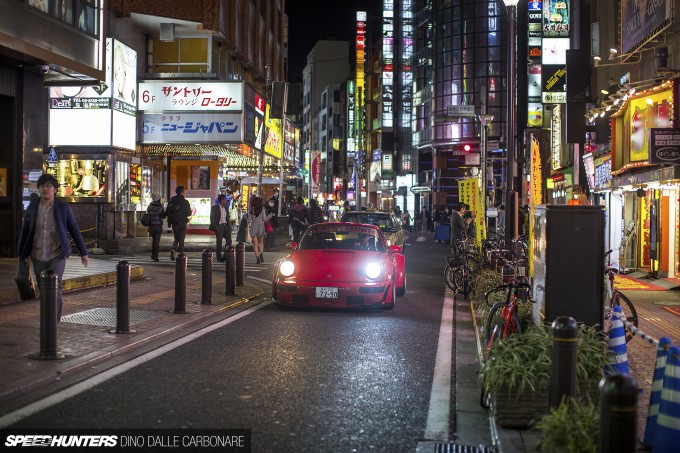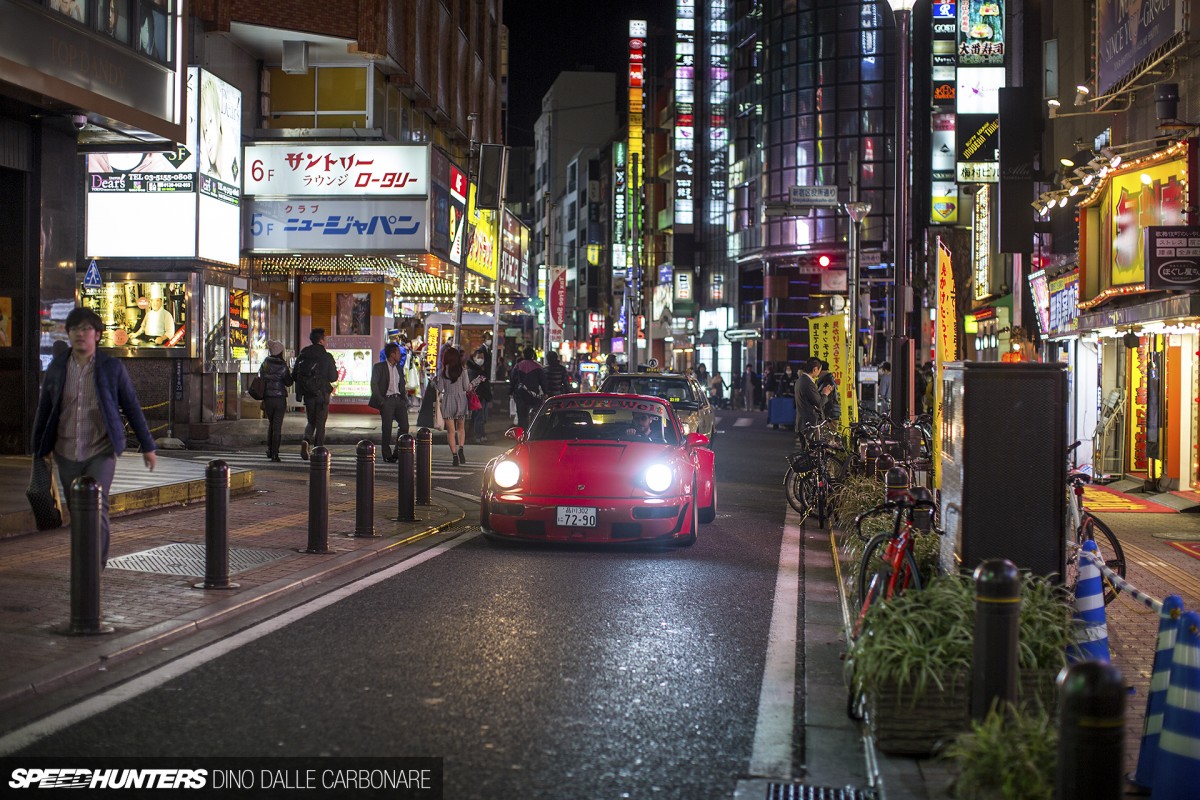 And it wasn't long before Nathan was making his way through the said roads, as we entered the area of Kabukicho.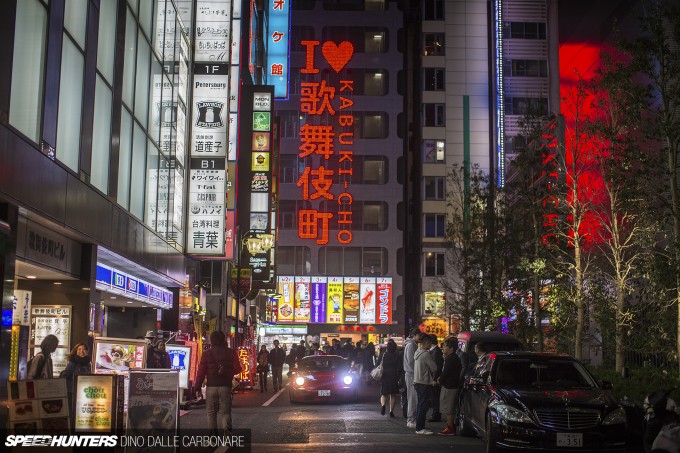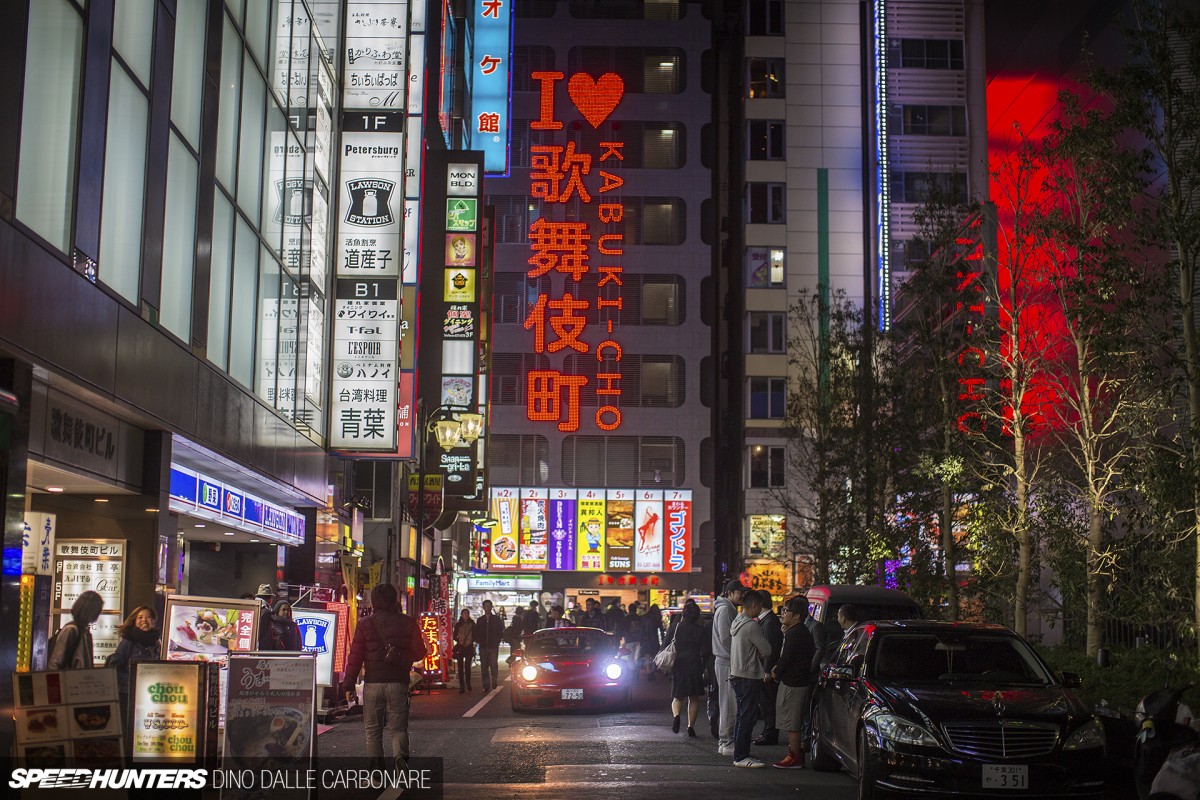 This is the place, that every night right through until the wee hours of the morning, Japan's underground life unleashes. You name it, you can find it in Kabukicho – everything from innocent little corner eateries to the seediest of establishments.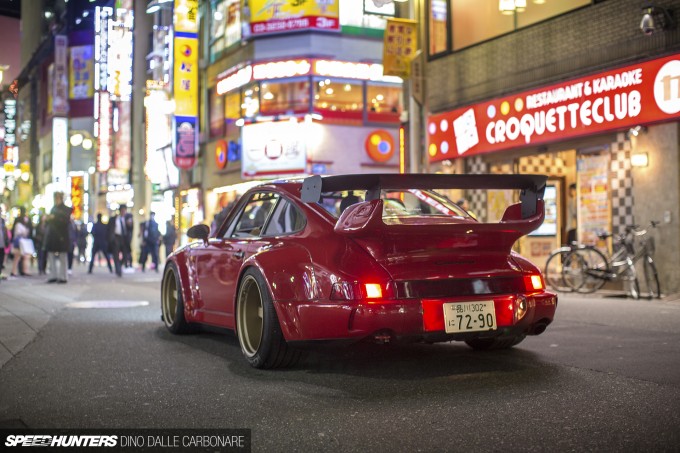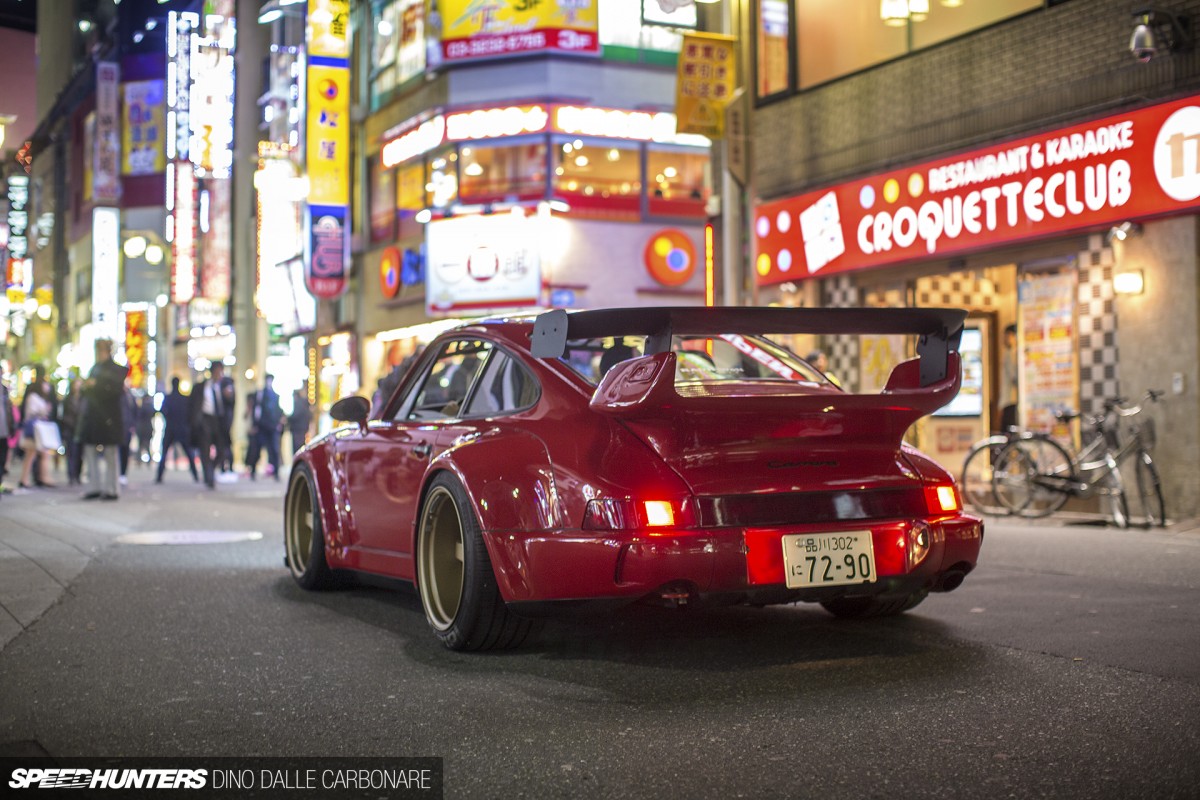 It's in areas like this, where excess is the order of the night, that the Japanese drop their guard for a few hours of relentless fun. So bringing along a car like an RWB Porsche just seemed so right.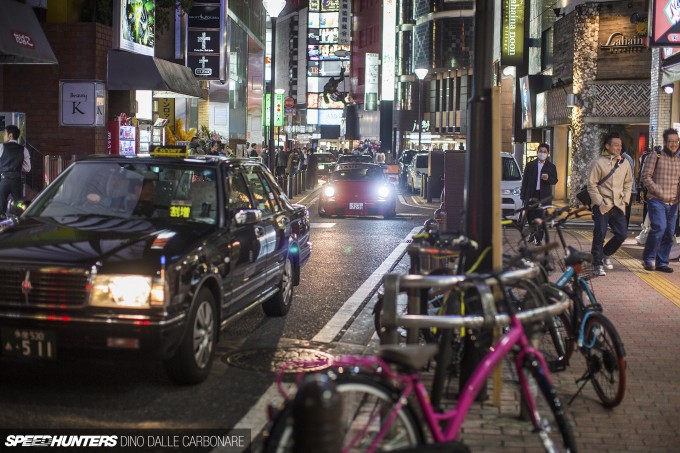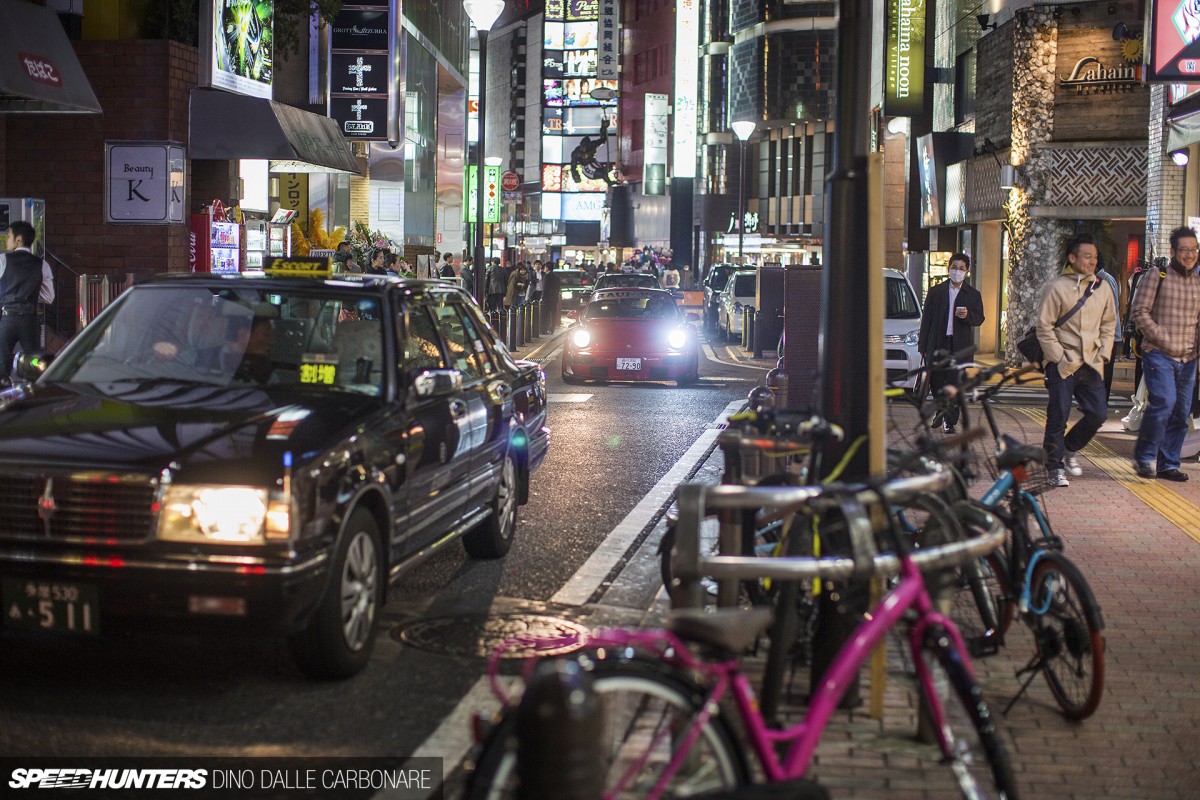 Once you dive in and select one of the multitude of roads that crisscross through the district, you're on your own. Japan is always described as a safe destination, but in Kabukicho anything can happen. Act like a baka gaijin with the wrong guy on the street, and you might be surprised at the reaction you get.
You Can't Get Any More Tokyo Than This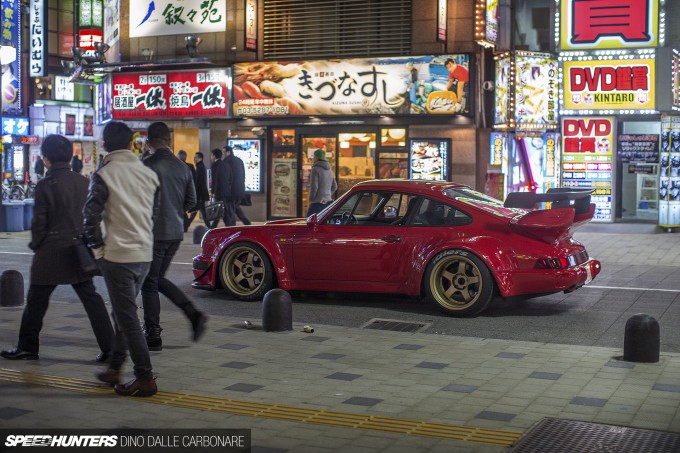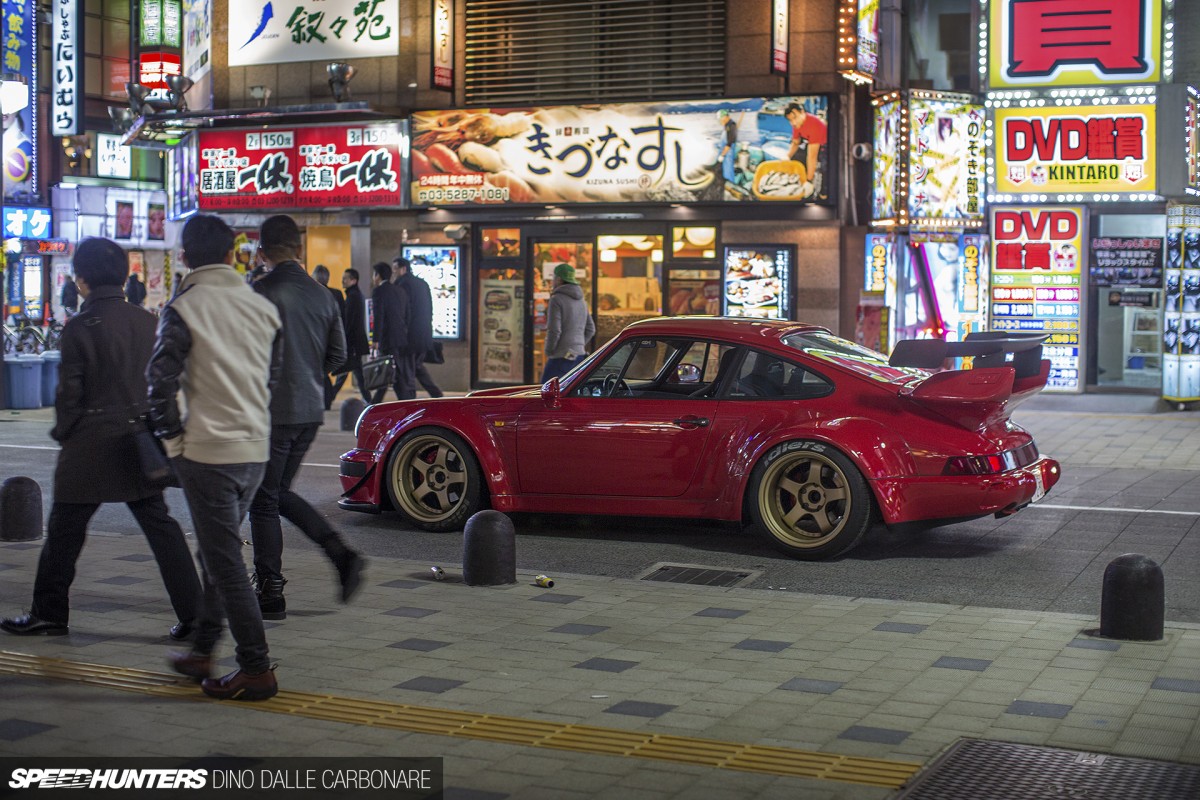 So where to park the 911? Well, Nathan pretty much dropped it right in the middle of the biggest open area in this fun and exiting part of Tokyo – right outside the big Toho cinema complex. We expected a shop or bar owner who was angry at the fact that we'd just parked up in front of their establishment to tell us to move on within a matter of minutes, but the reaction was the complete opposite. People stared, some came over, and others – many of which obviously had a few drinks in them – engaged us in conversation about the car.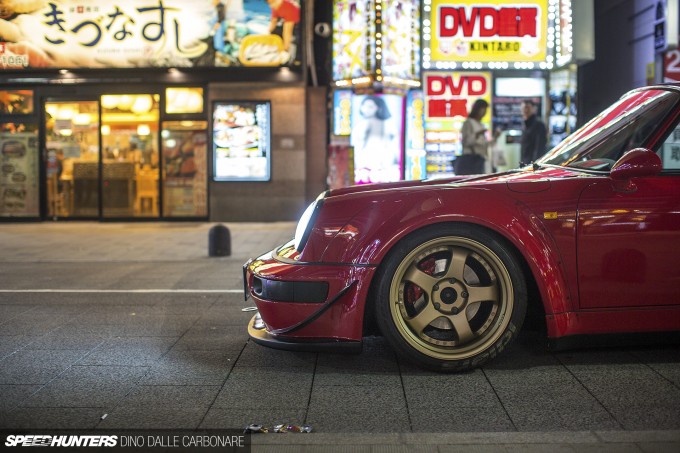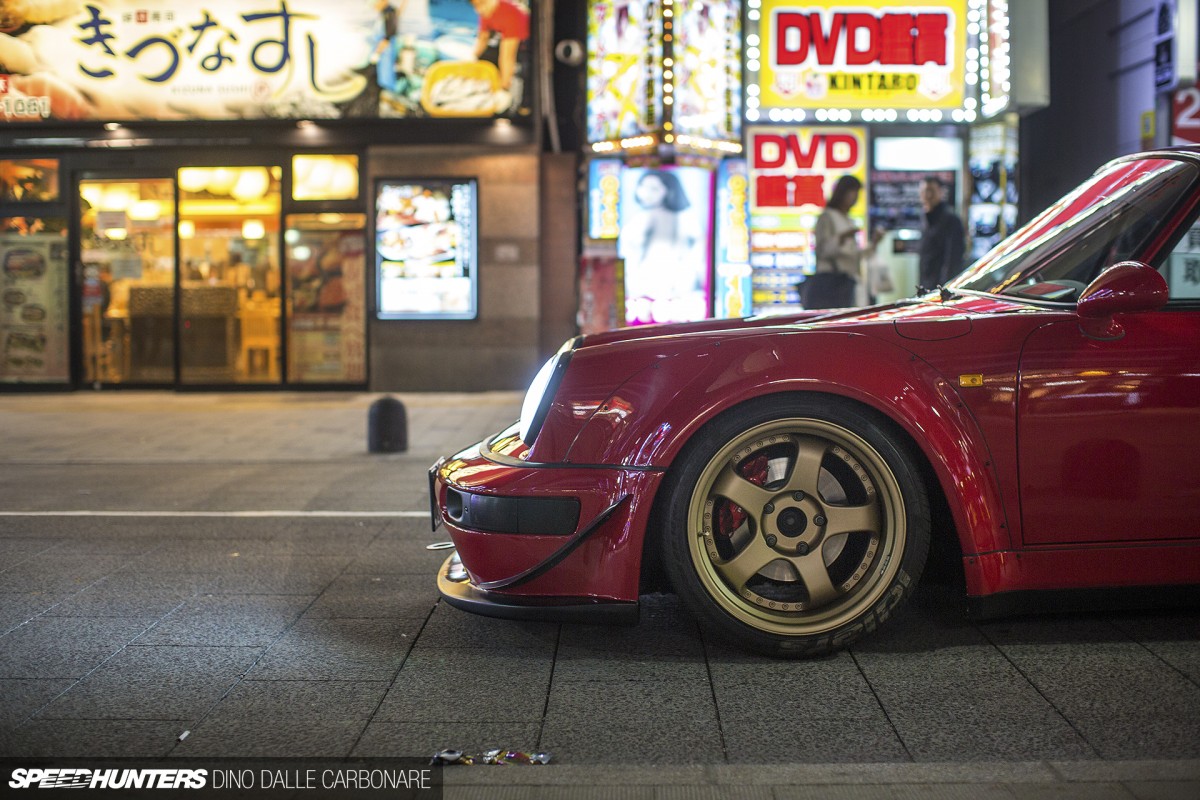 There may have been a ton of people walking by, but with the lighted billboards and buildings around us providing ample illumination, the spot served as the perfect venue to check out Nakai's custom work up close. Nathan's 964 runs a complete conversion, which of course means it sports RWB's signature fender flares.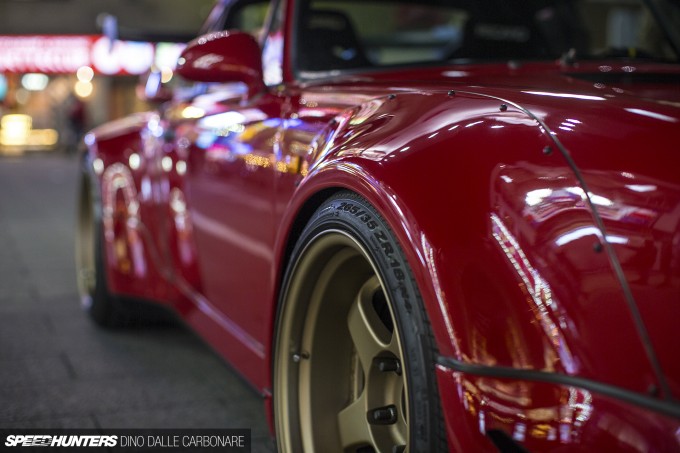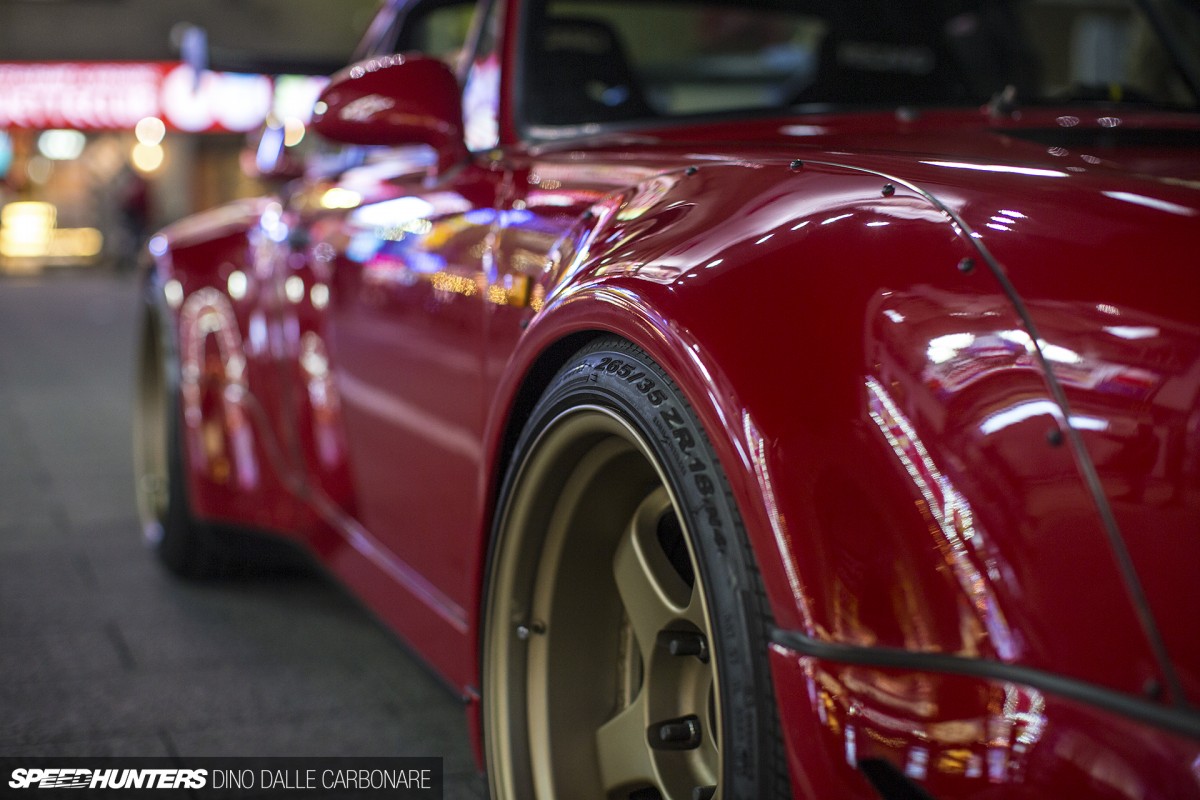 Seeing Nathan has plans to drive the hell out of his car, Nakai was instructed to keep the overall stance of the car more user friendly. In that respect, it doesn't sit quite as low as some of RWB's other more track-focused builds and the wheels run a slightly more conservative offset.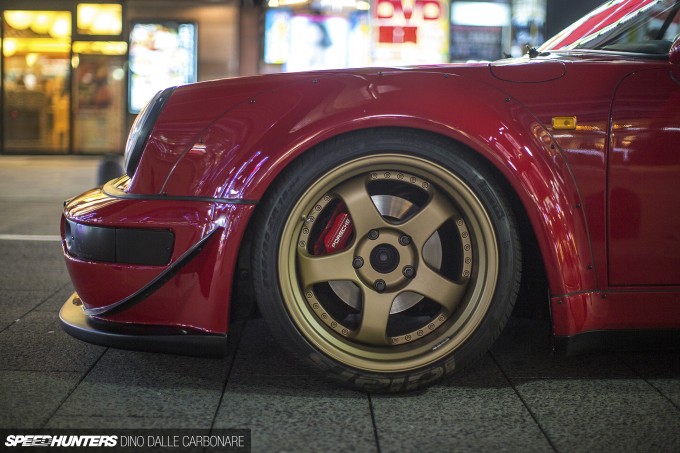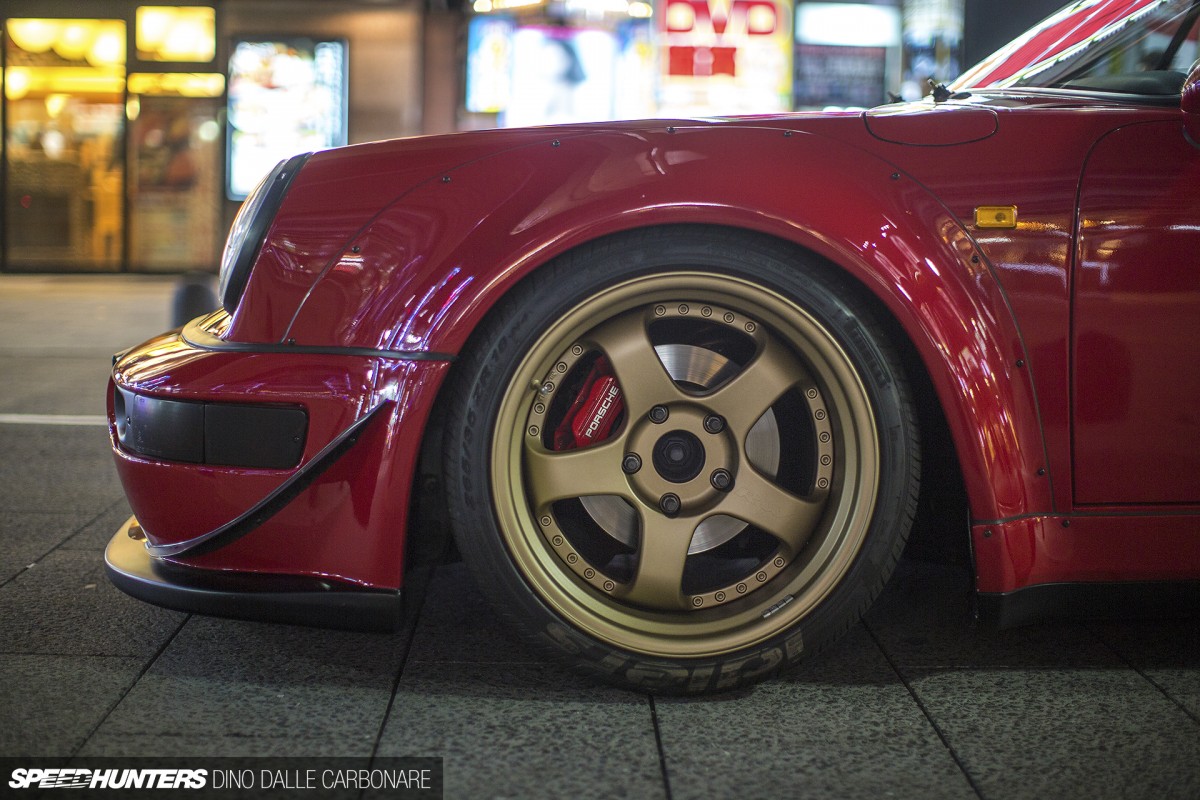 Still, the custom painted 18-inch SSR Professor SP1s boast some serious girth – the 10.5-inch wide, -5 offset fronts fitted with 265/35R18 Pirelli P Zero Rosso tyres.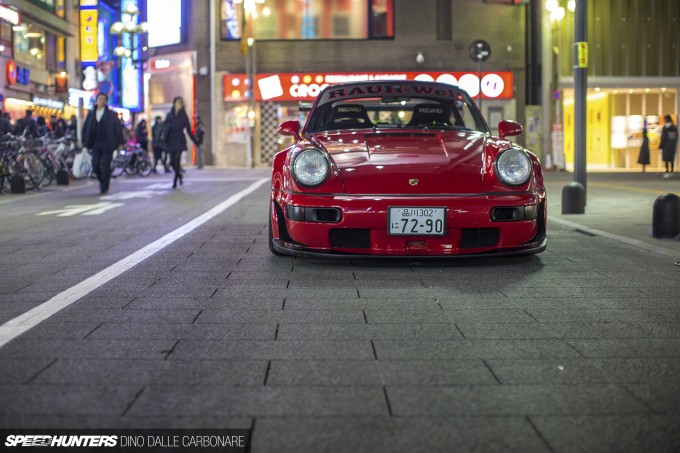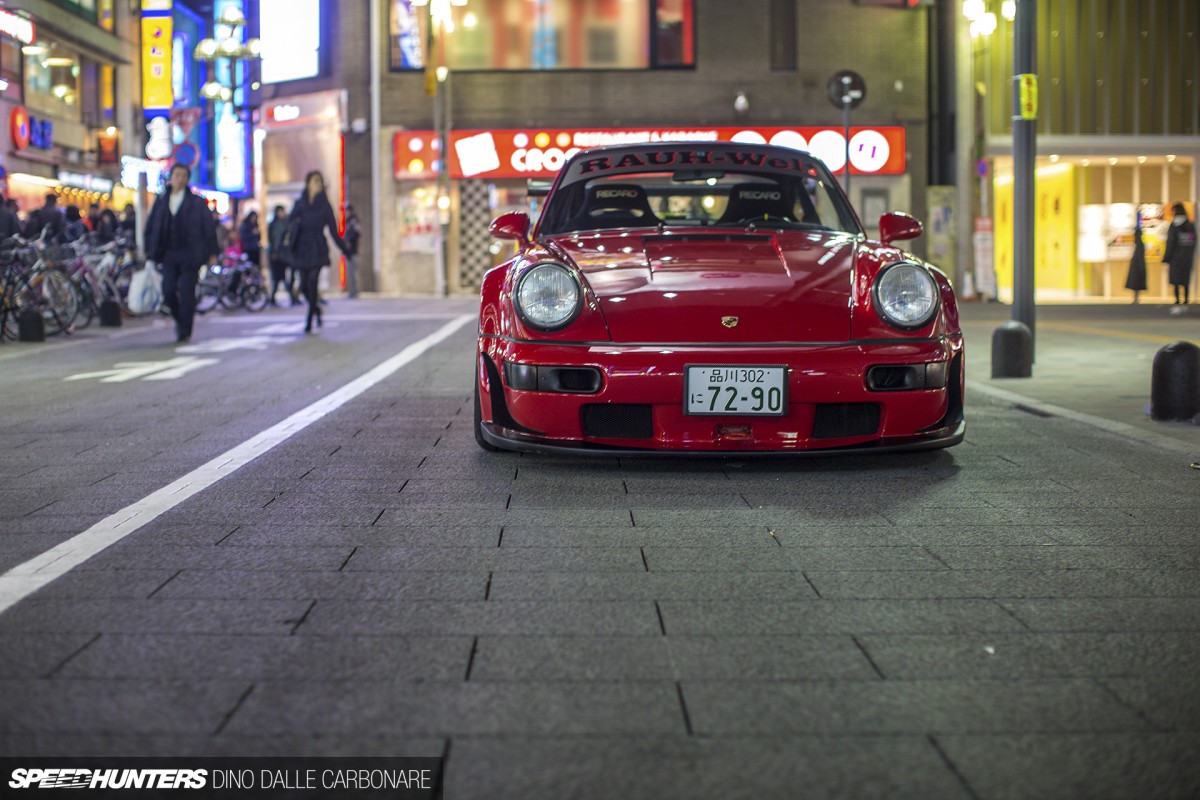 The front end runs a 993 GT2 inspired RWB bumper which incorporates the 964 corner intakes but features a pair of nostrils for a more race-oriented look. It's then topped off with a conventional splitter rather than the band of rubber that Nakai uses on some builds.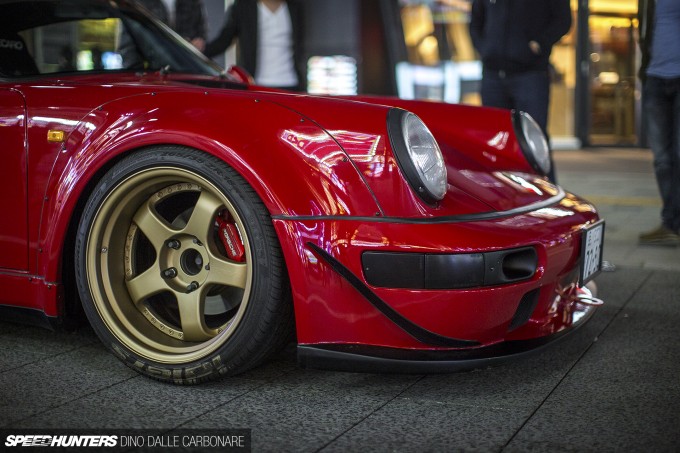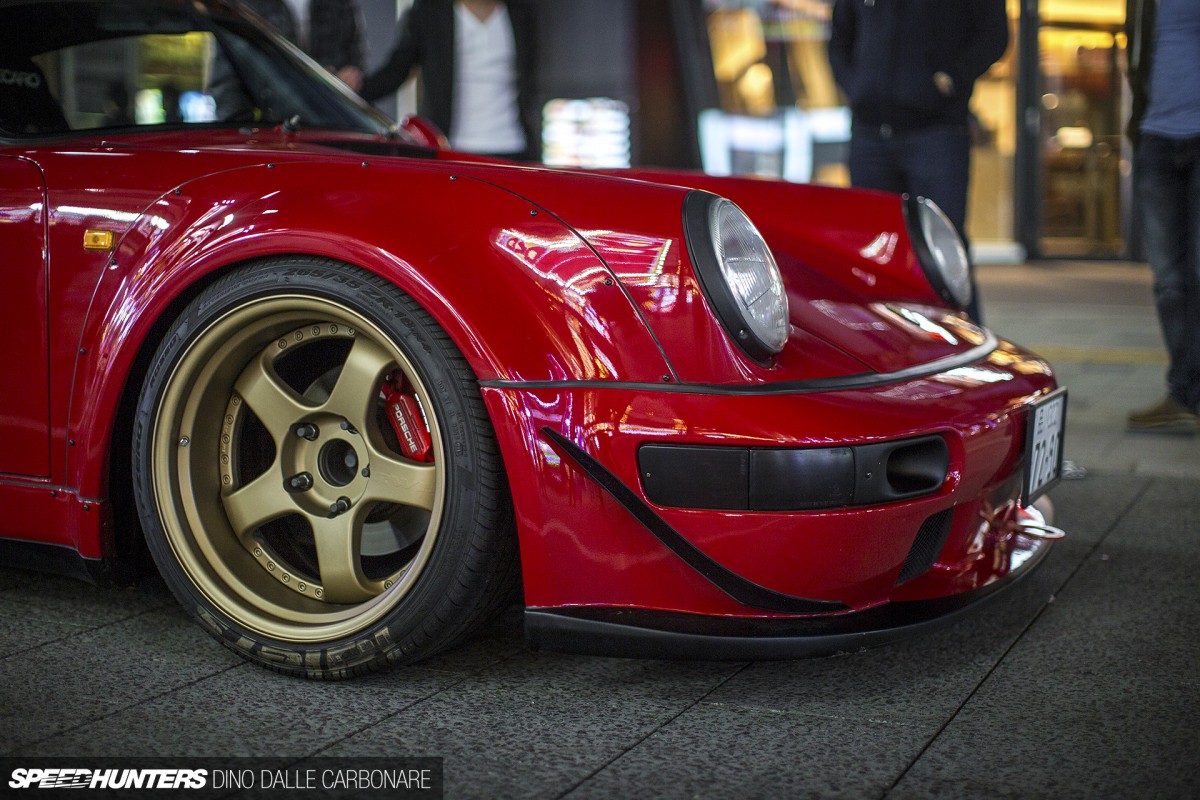 Compact canards stay true to the road-going feel and the smoked position lights are a nice touch. The latter were modified by Nojima-san of Nojireal, Nakai's painter who's always busy at work in the RWB lair. When chatting to Nakai about the build of his car, Nathan mentioned that he'd like the car repainted and that he had a soft spot for Guards Red. Being an RWB special though, a factory-spec colour was never going to fly, so Nojima came up with his own mix using less orange than the iconic Porsche hue. The result is hard to criticise.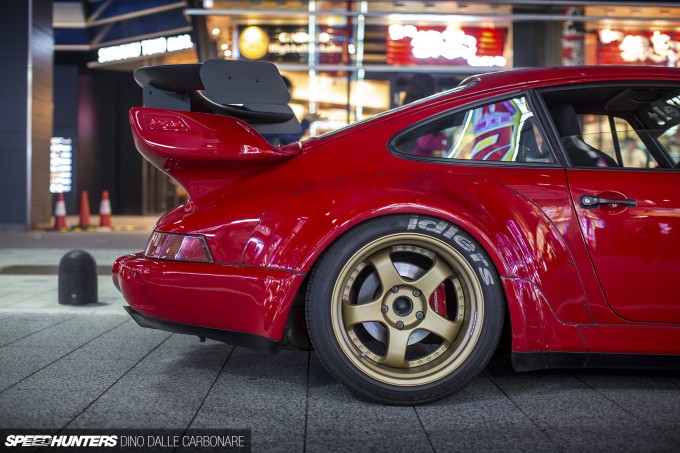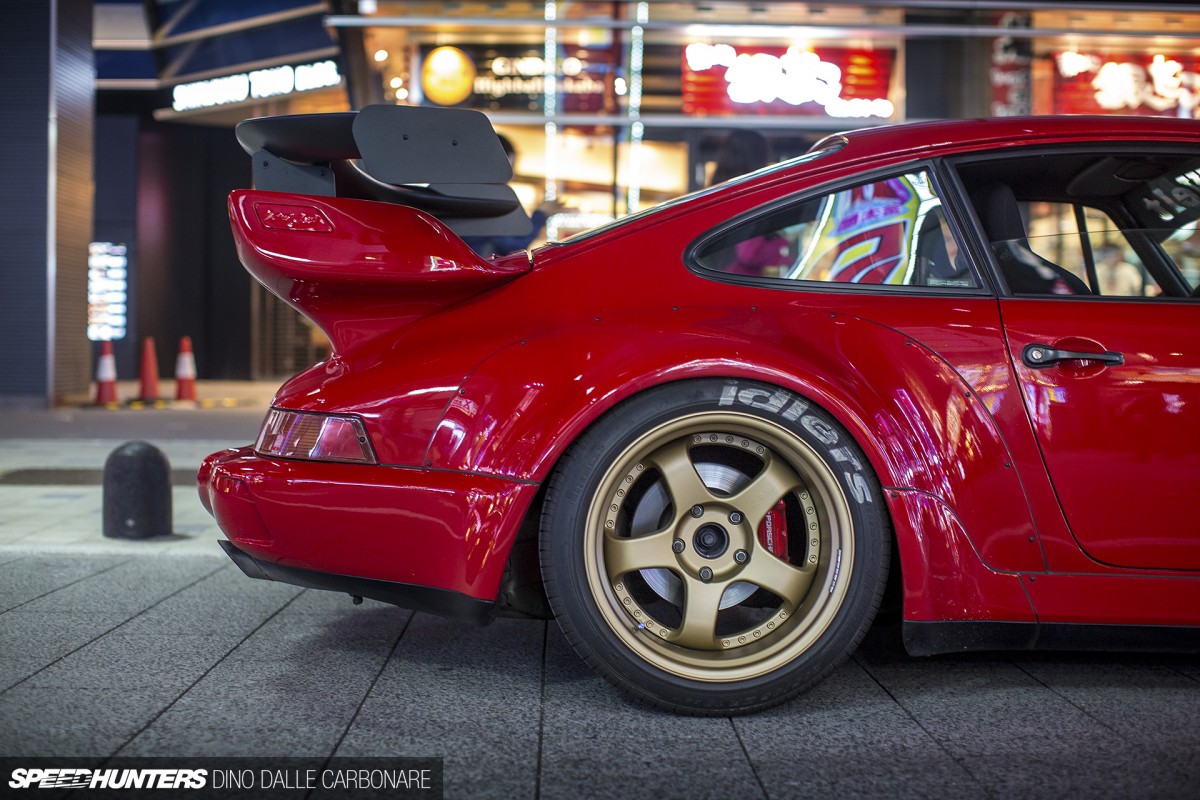 The rear SP1 wheels sport a massive 12-inch width and an even more exaggerated -48 offset. Despite the SSR's staunch proportions, Nakai added 10mm spacers on both sides to help the wheels perfectly fill out the massive fender flares.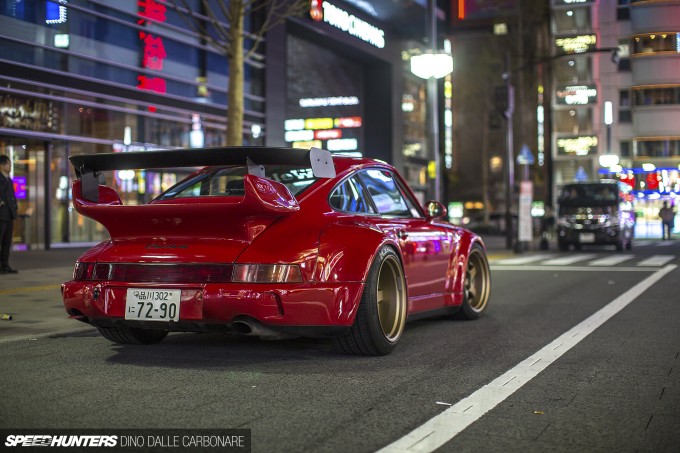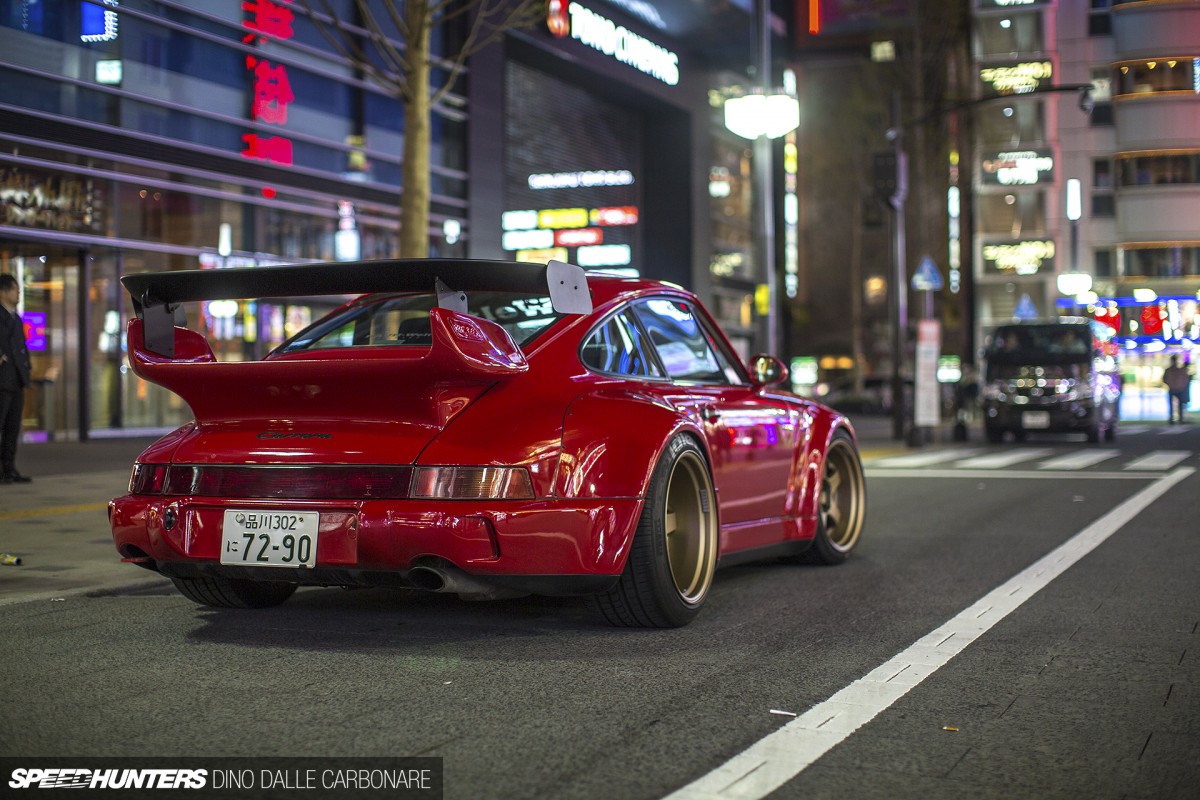 The car came with the obligatory stacked wing, but Nathan had a ducktail rear end made up as well, so when he's back in the US he'll be able to change up the look whenever he feels the need.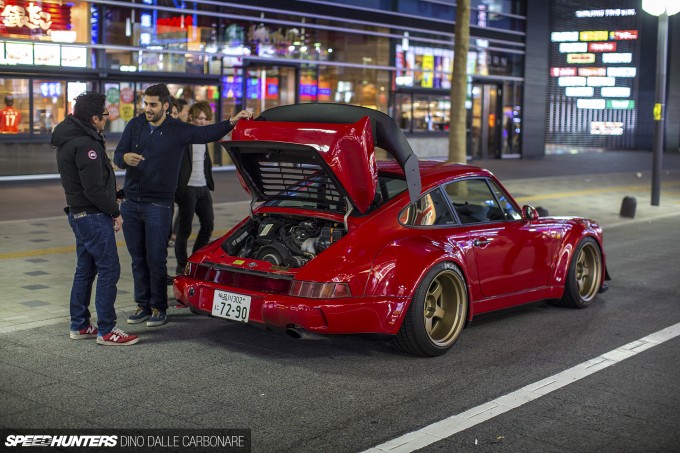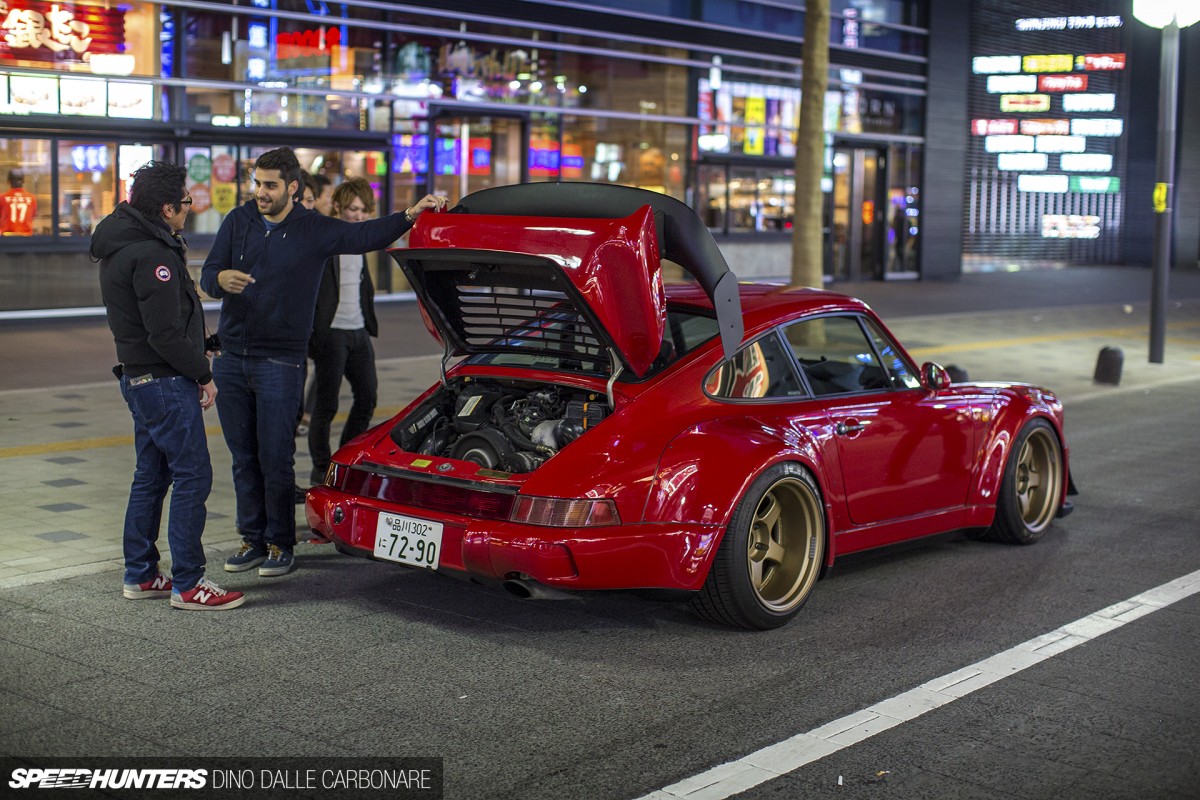 The 3.6L engine is internally stock, with just a few little touches added to enhance its already unique character. Things like deleting the catalyst and inserting a bypass pipe to allow it to sing with a little more vigour.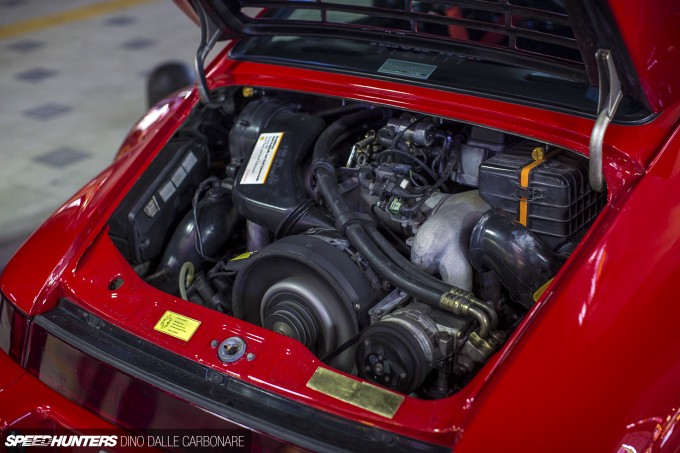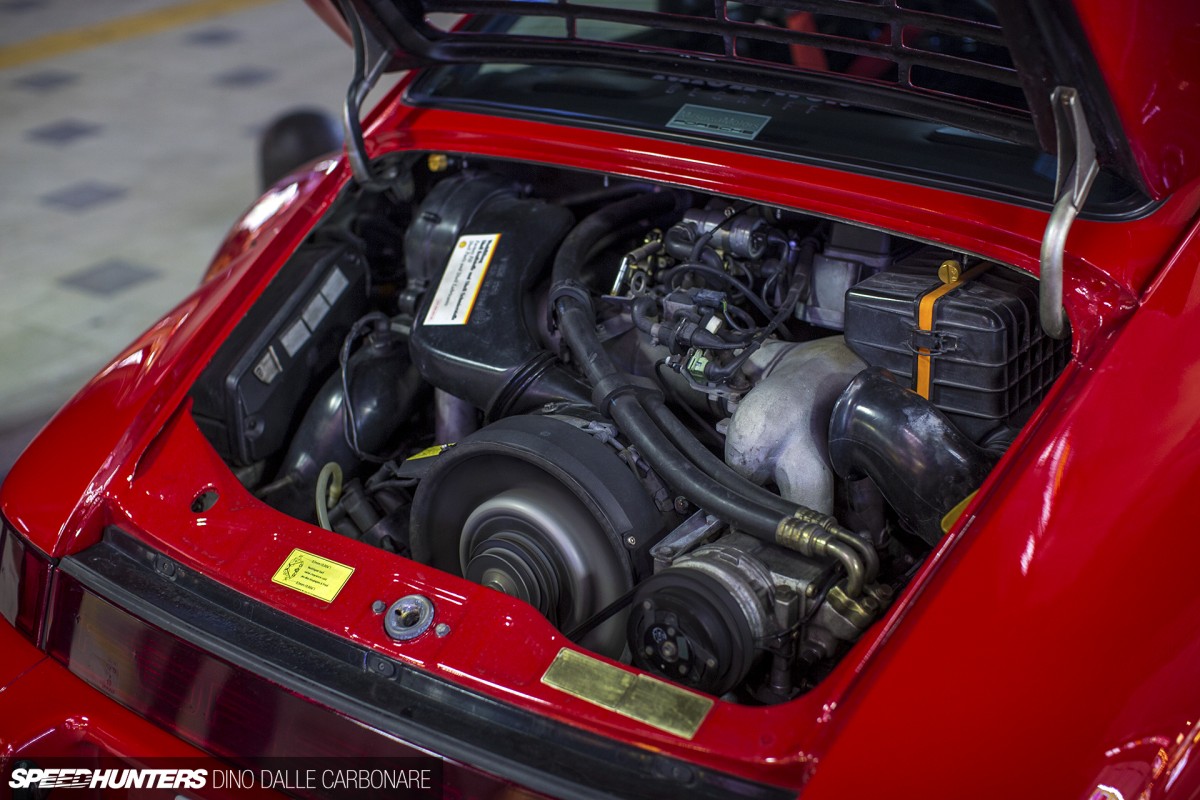 An RS-spec clutch and lightweight flywheel give a more direct feel and connection to the motor while an LSD makes sure that power is unleashed efficiently to each of the rear 295-section tyres. Nathan has kept his driving style on the conservative side as gets used to the car, but he is always blown away at how Nakai drives it. That is, throwing it around with total control and keeping the engine on the boil, never dipping below 4,000rpm.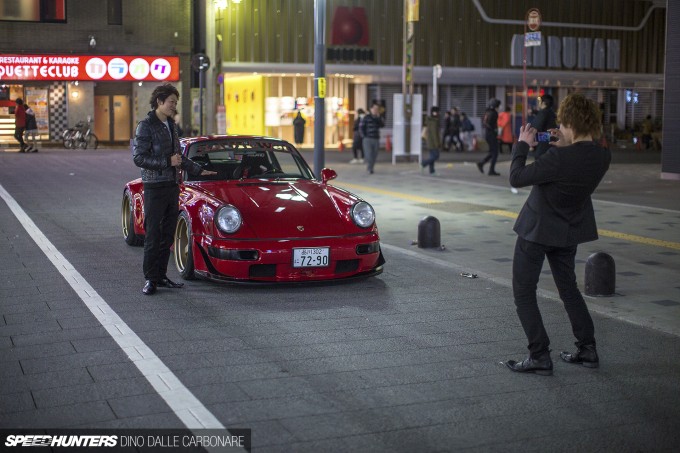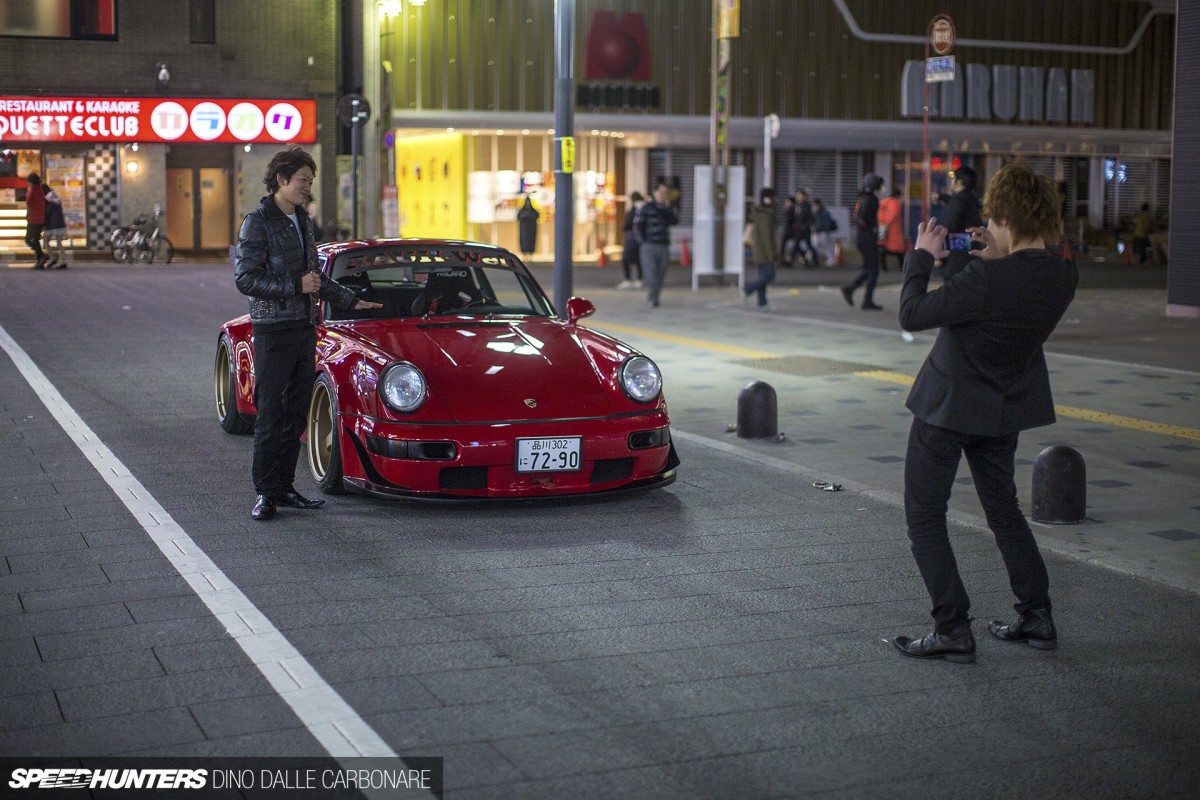 The longer we spent in Kabukicho, the more attention Nathan's 911 attracted. I often had to step aside as interested passers-by had a quick look or their picture taken next to it.
Soon To Be Stateside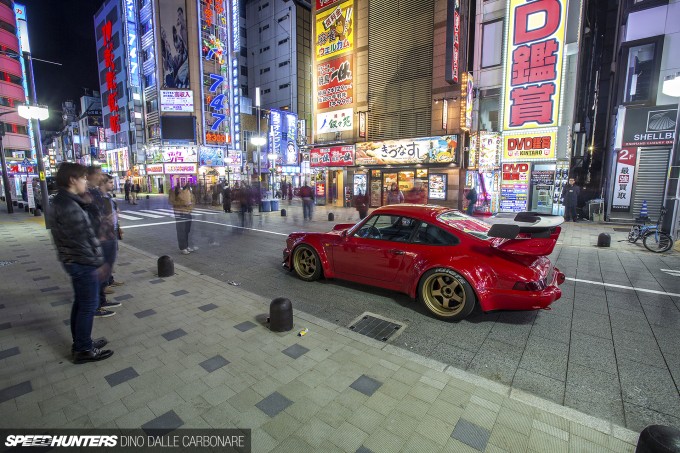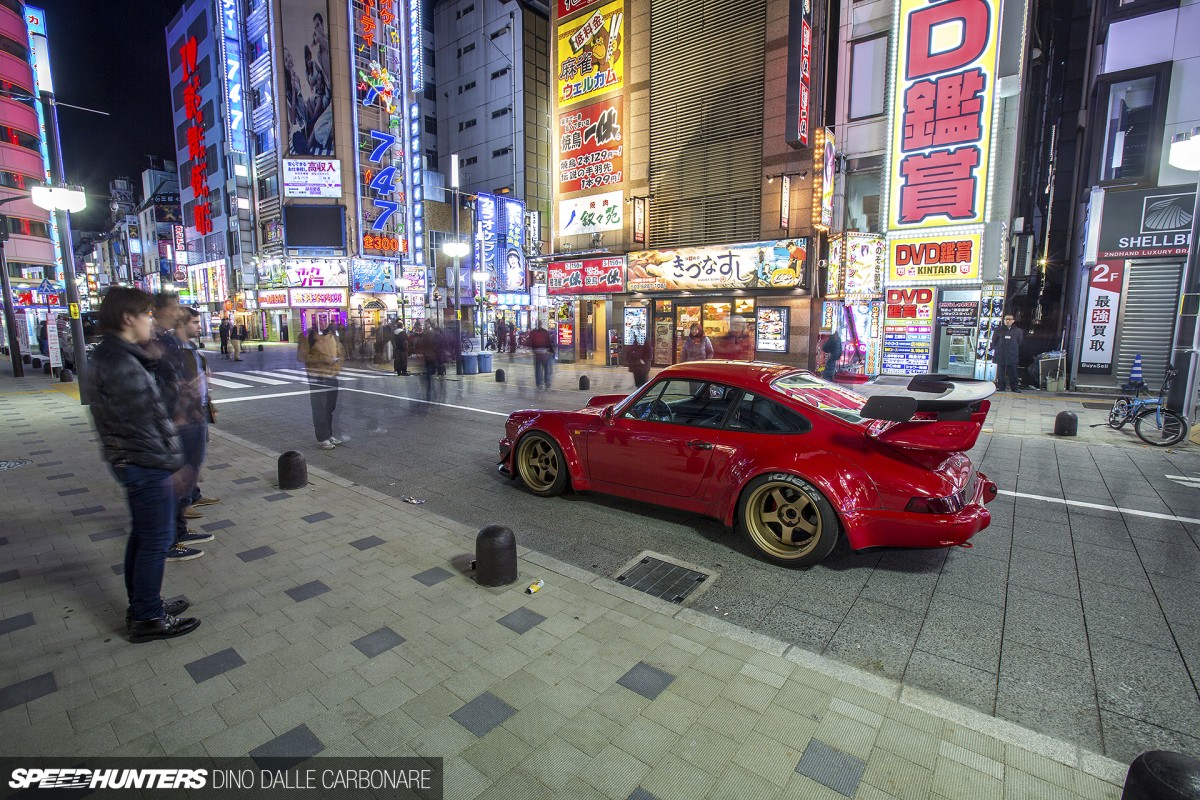 There was a crowd assembled pretty much the entire time we were in the spot, and seeing as no one came to tell us to leave, we just enjoyed it and hung around for a little longer.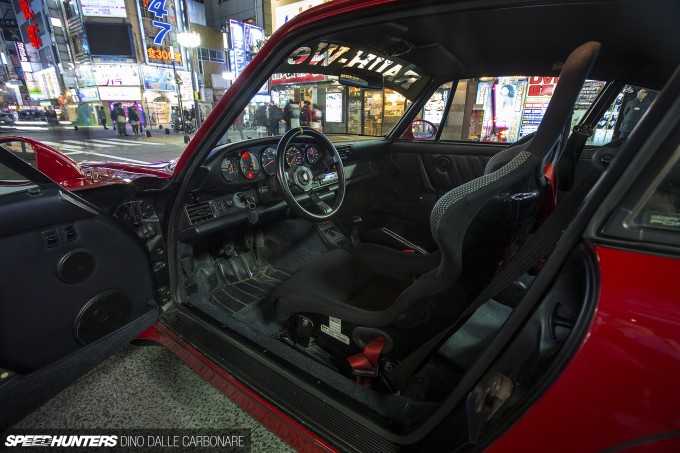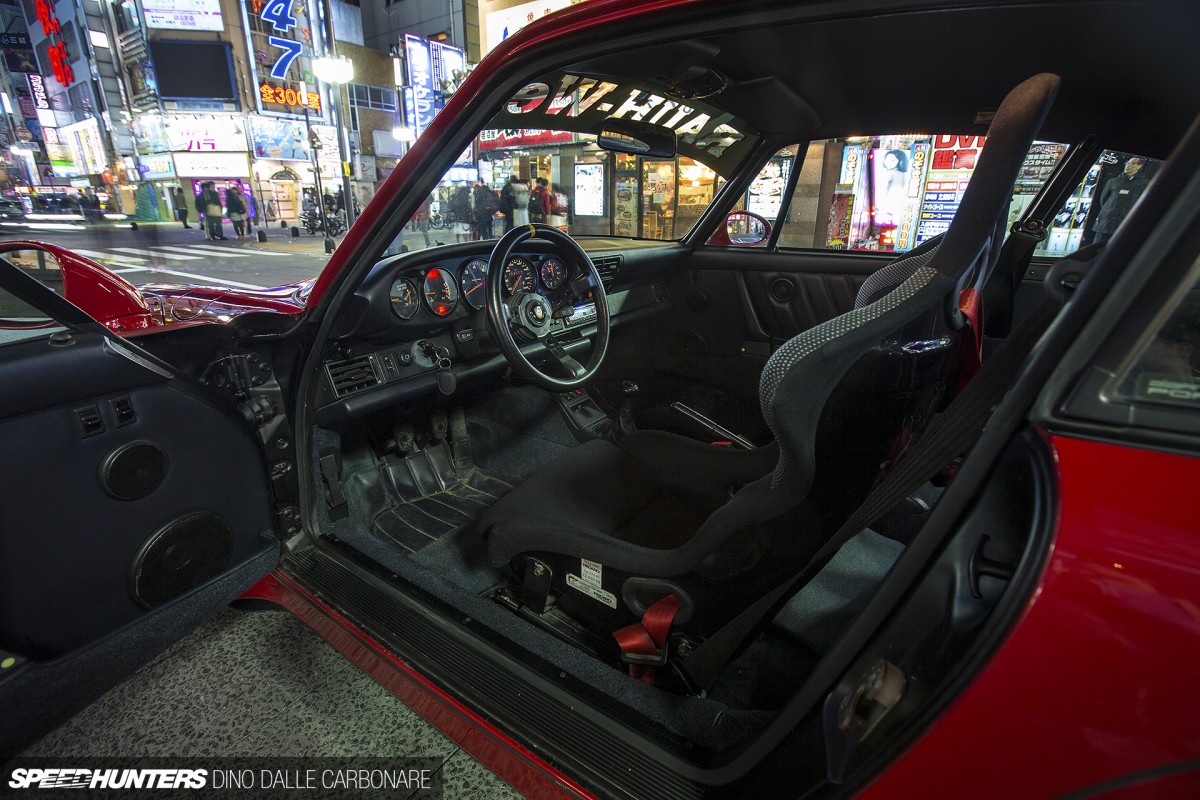 There is something so functional and right about Porsche cabins, and that goes for the older cars right up to the 991. So it's understandable why RWB doesn't really mess around much with this aspect.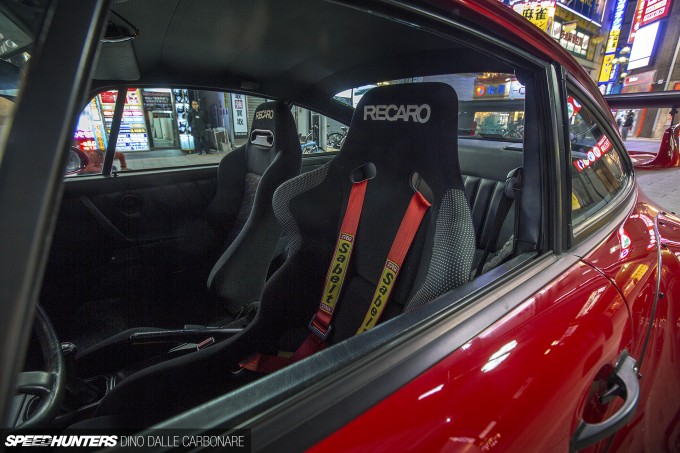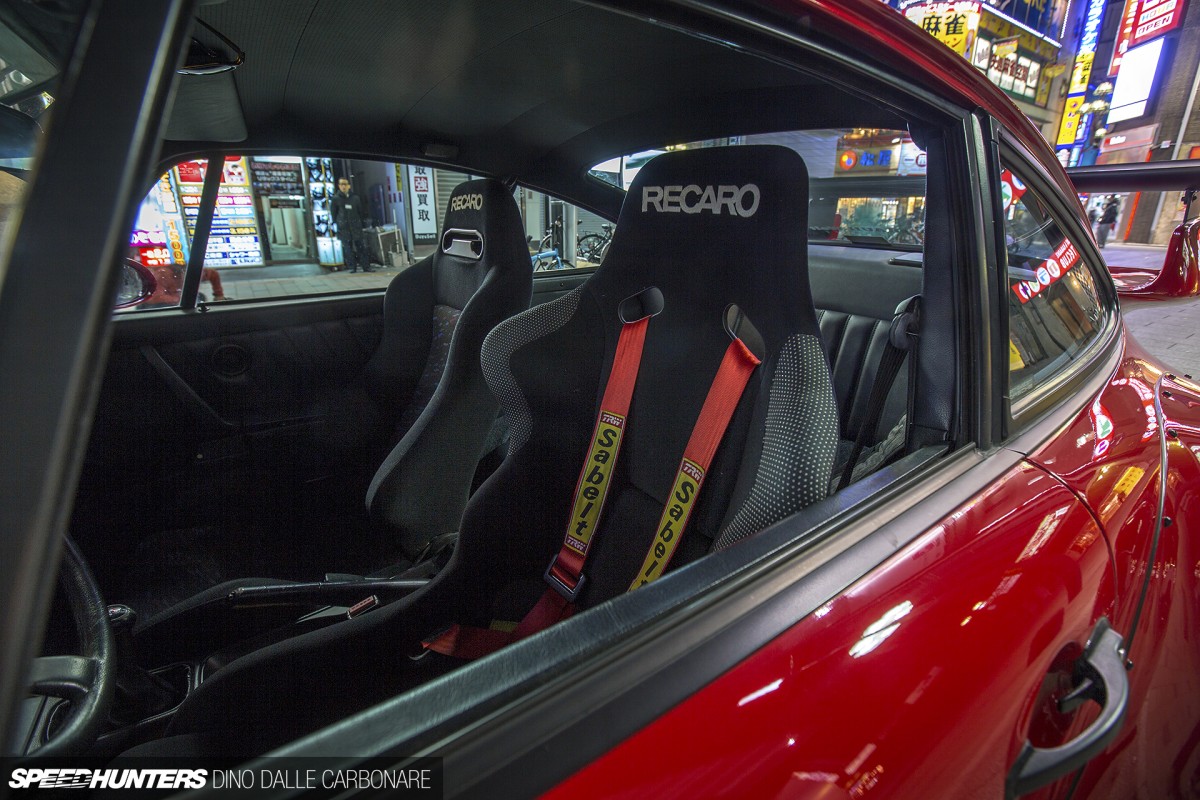 Nathan's 964 has only a few additions, most notably the Recaro seats – a fixed SPG bucket for the driver's side and a reclinable SR for the passenger to allow access to the small rear seat.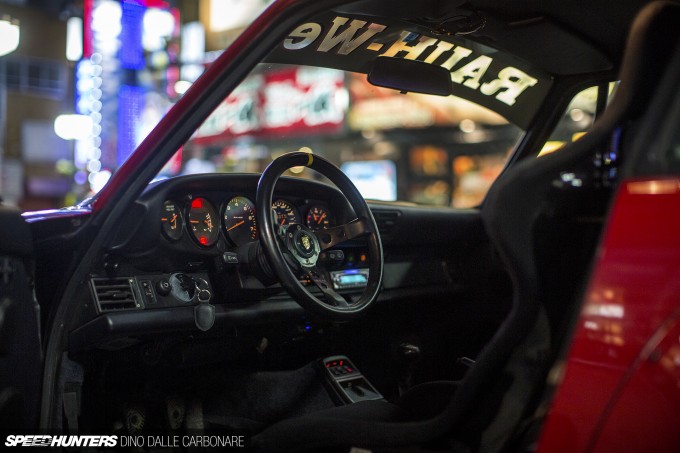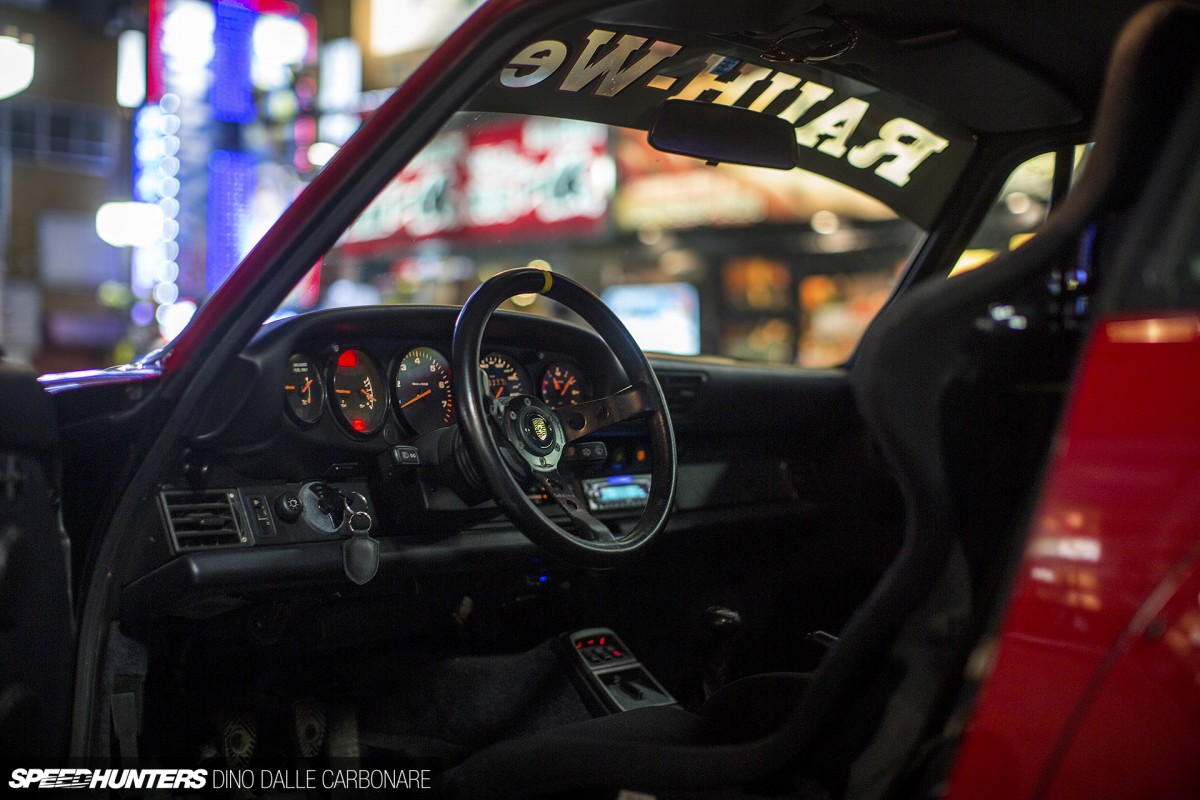 A Momo steering wheel completes the touches, but as Nathan tells me there is more he wants to get done in here. On the to-do list is swapping out the Midnight Blue interior trim for a black RS-spec equivalent – including carpets, door cards and the rear seat delete.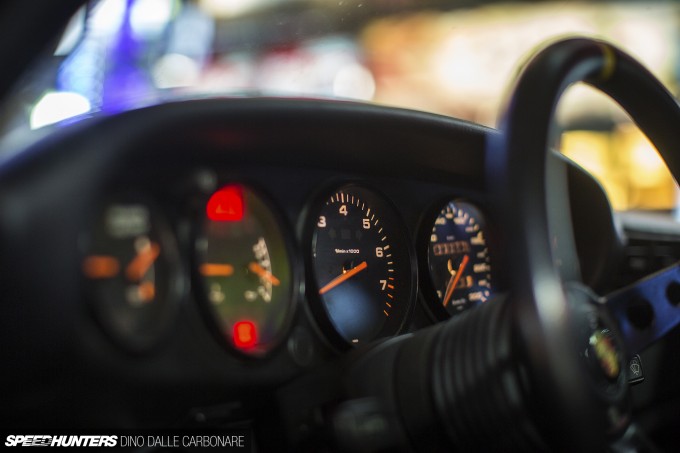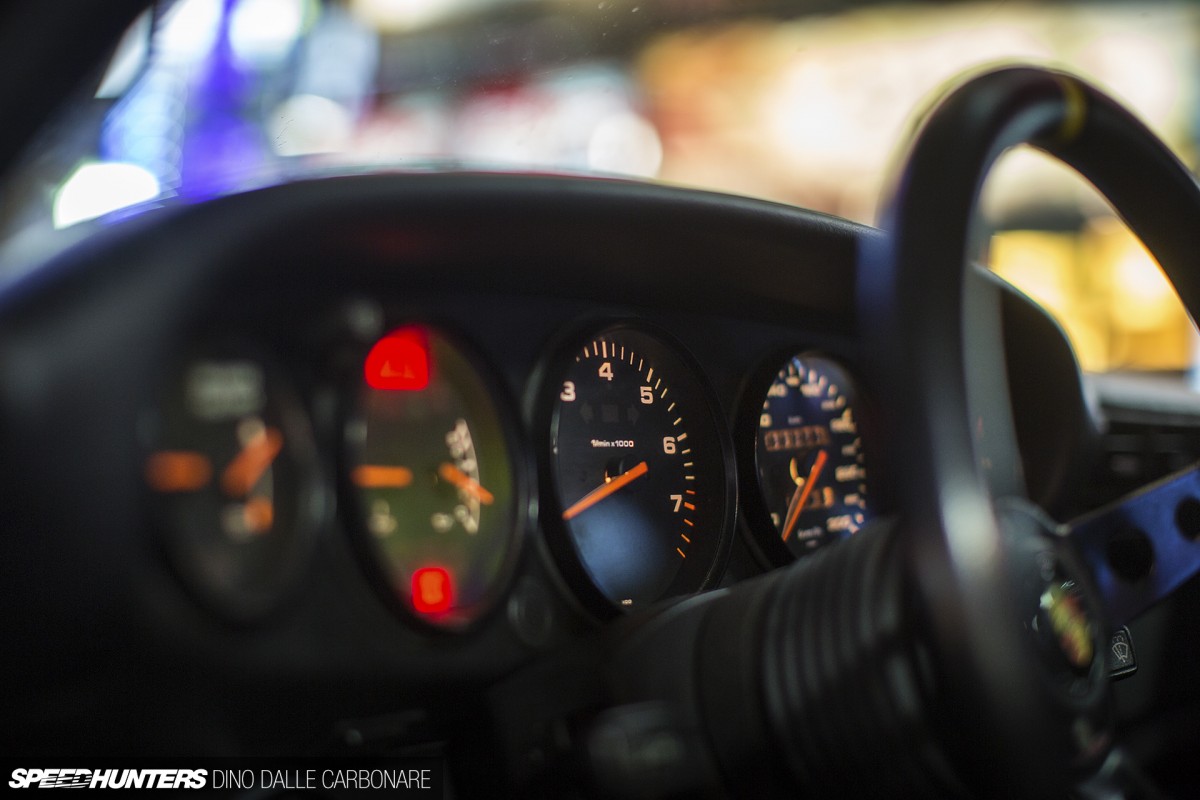 But that is all stuff that he can deal with later on. Once the car is back in the US there'll be plenty of time to address the smaller details.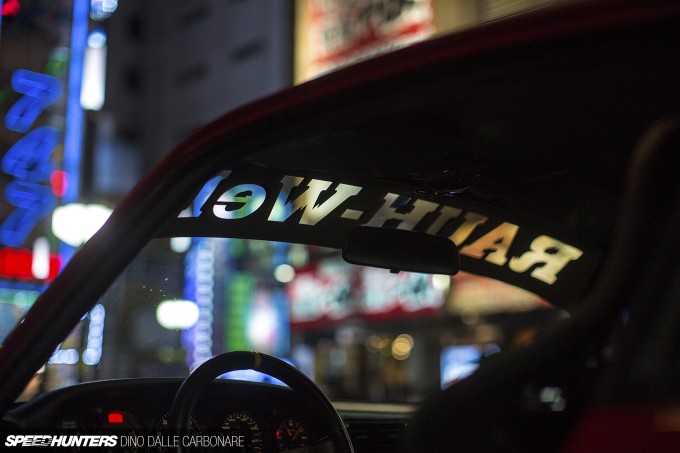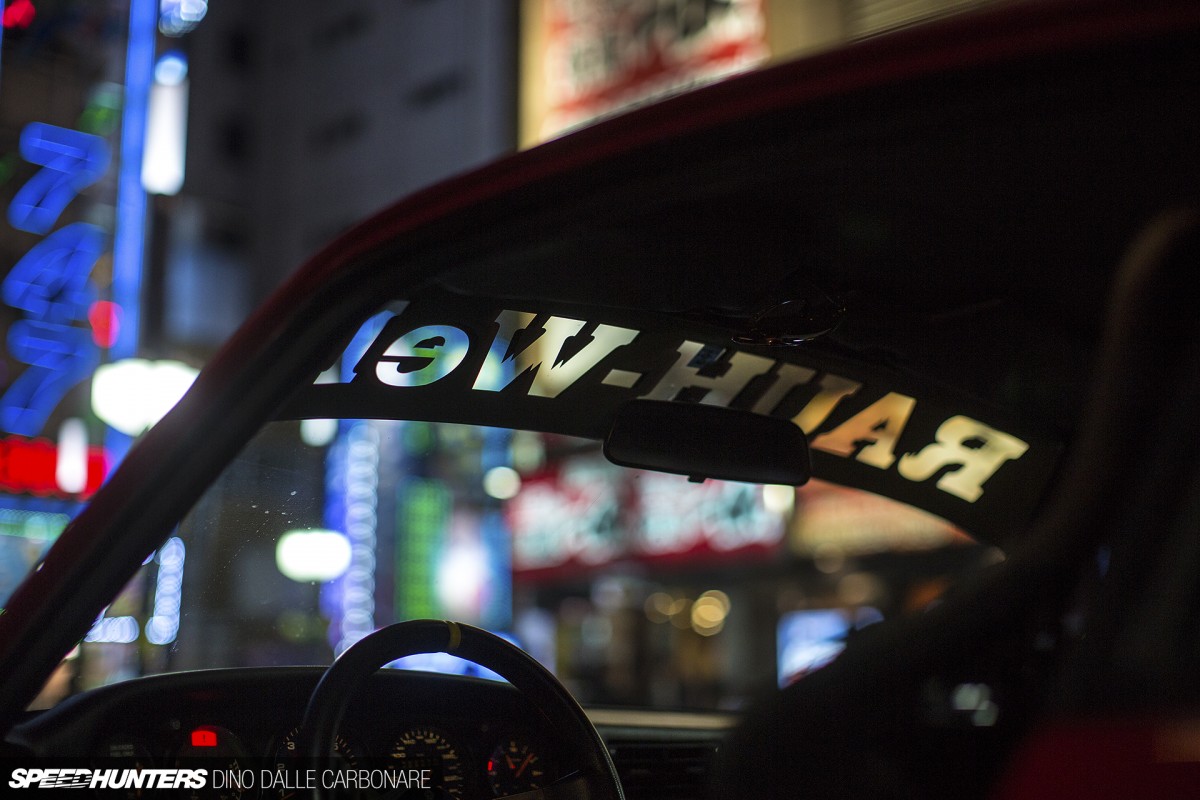 Right now, Nathan's number one priority is to enjoy the car in Japan, while he's still here. Picking up the 911 directly from Nakai's shop and being able to drive it on the streets of Tokyo has been like the ultimate factory delivery experience.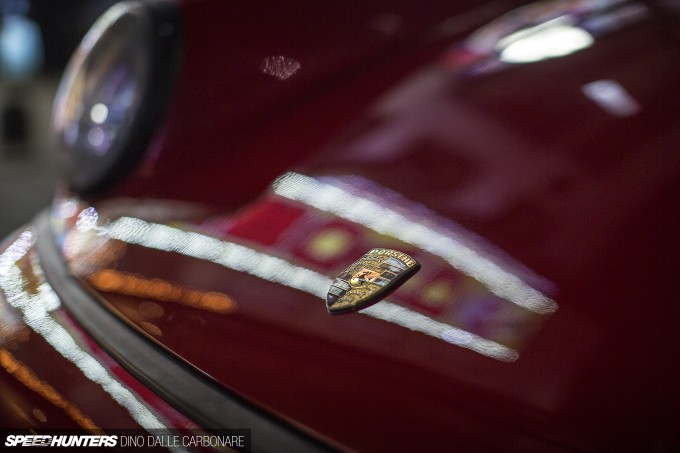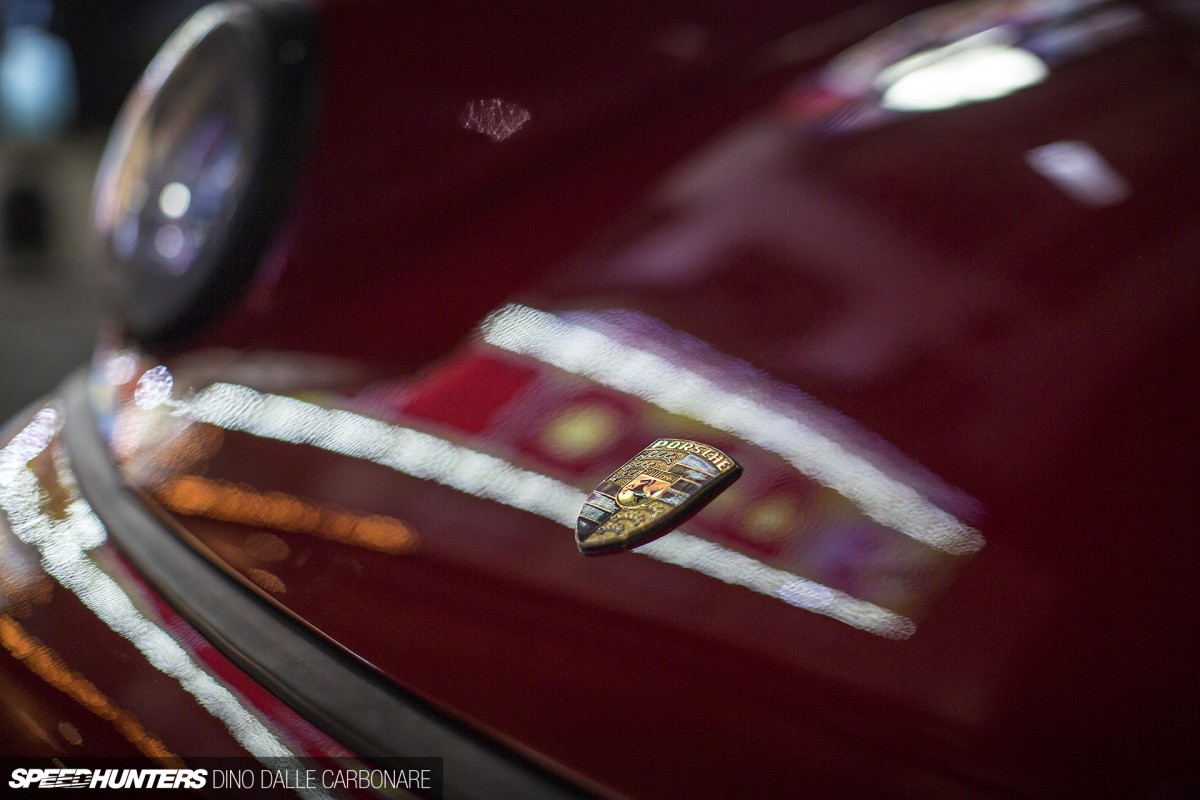 His nights consist of cruising the Shuto and hitting up Tatsumi PA where he often has a chance to hang out with other RWB and idlers crew members. They have all been so inviting and accepting it has made the experience even more of a dream come true. Nathan says the best thing has been dropping by Nakai's shop at night and just hanging out with him, watching him work and seeing him apply his magic to new and upcoming projects.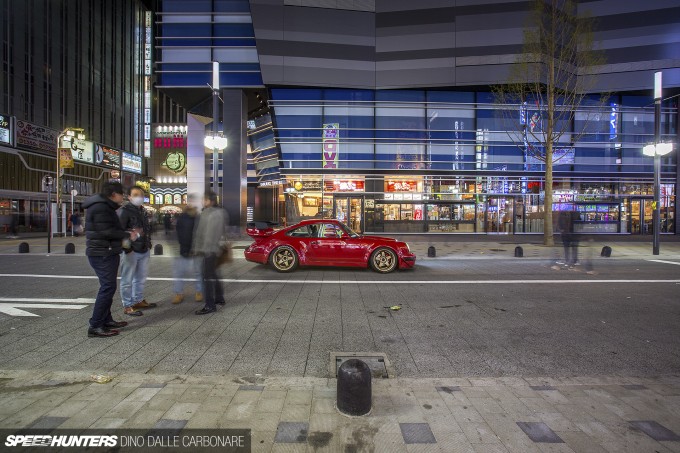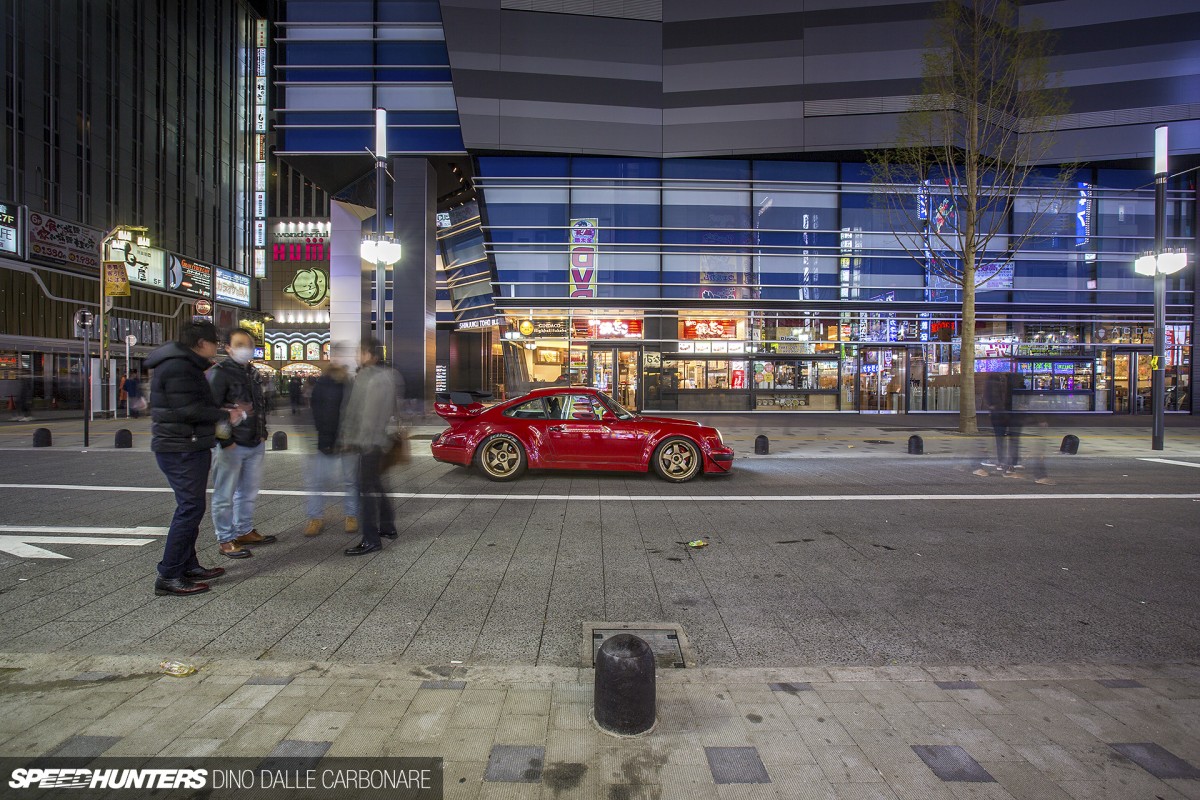 With the pictures wrapped up it was time to get out of Kabukicho. Nathan cranked the flat-six into life and let it rumble through the narrow backstreets, all the time attracting even more attention.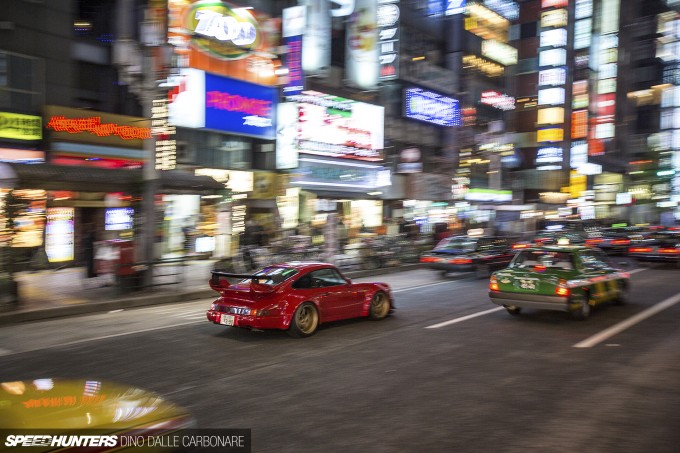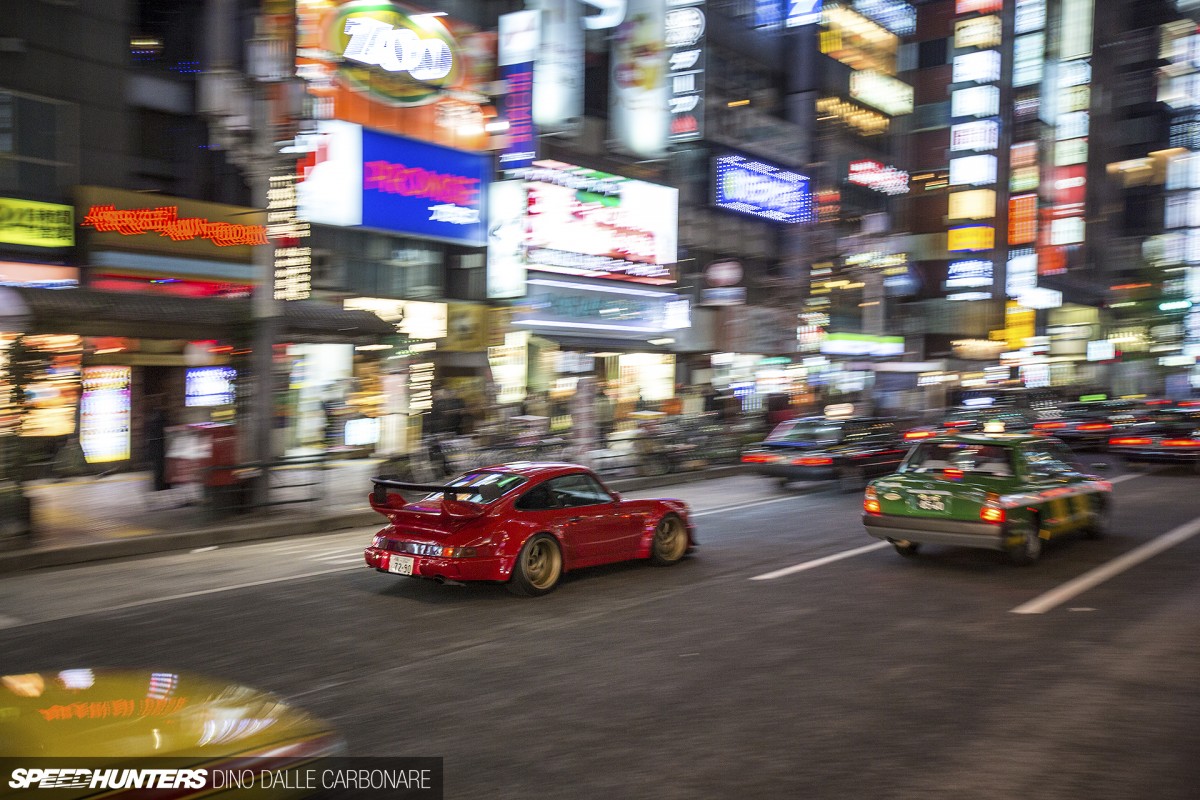 After all, a great part of an RWB Porsche is its charm – an unquestionable aggression that just draws people in, regardless of whether they're into cars or not.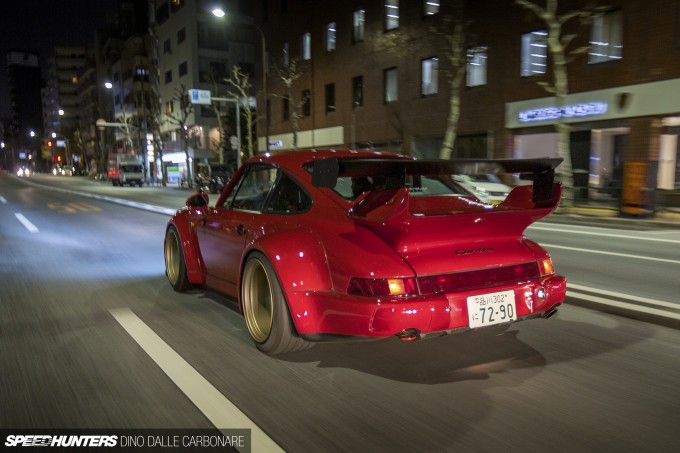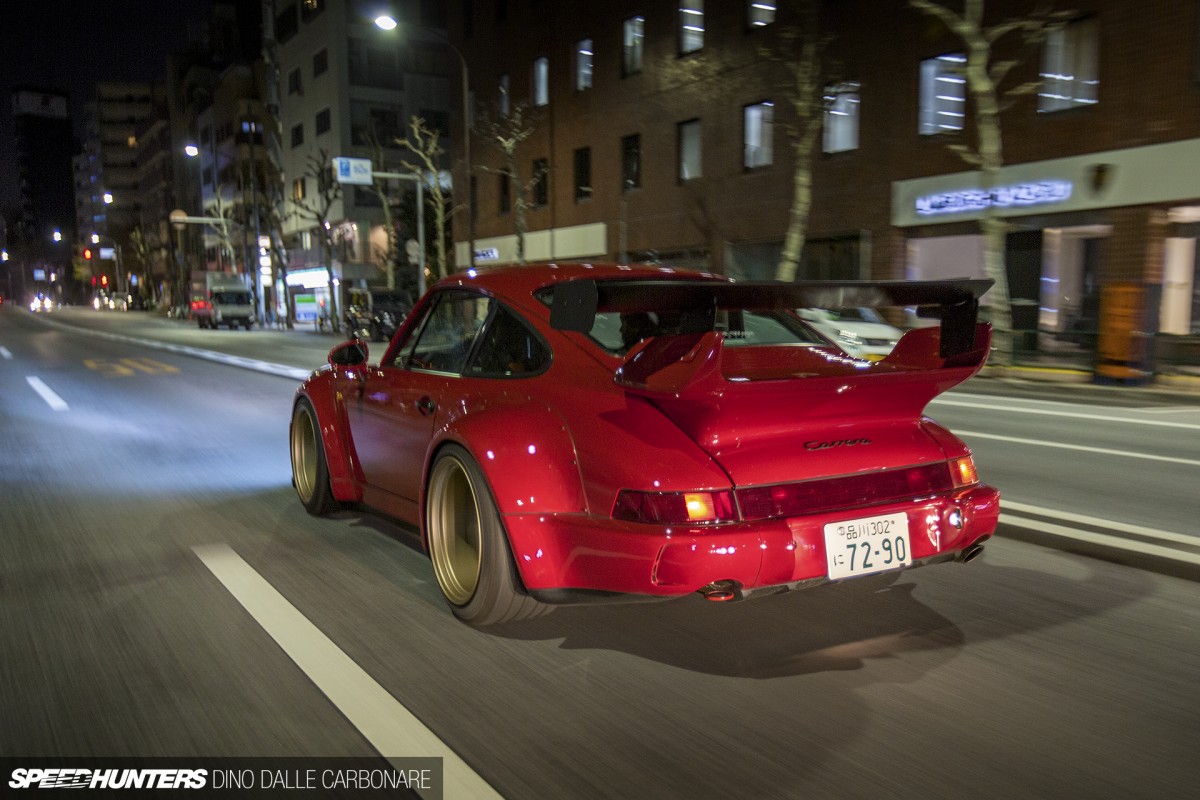 This particular RWB build has quite a journey in front of it. For the simple fact that it's a Japan-sourced car, built at RWB in Kashiwa by Nakai and enjoyed on the streets of Tokyo, it'll be a one-of-a-kind Stateside. But there's one last thing that Nakai needs to do before it goes, and that's to name it. It's something Nathan is patiently waiting for, wondering what random word the great master himself will choose to further differentiate this 964 from all the others he has applied his world-famous touch to.
Dino Dalle Carbonare
Instagram: speedhunters_dino
dino@speedhunters.com