Low Style Skyline
Within the expansive and diverse spectrum of motorsports available to the worldwide enthusiast community in this day and age, crafting a vehicle with the ability to truly stand out among the crowd is no mean feat. When that chosen area of motorsport is drifting – arguably one of the most explicit exhibitions of style, be it performance or aesthetic, among all of the octane-fuelled pursuits at the disposal of the modern day speed merchant – it's even more of a challenge.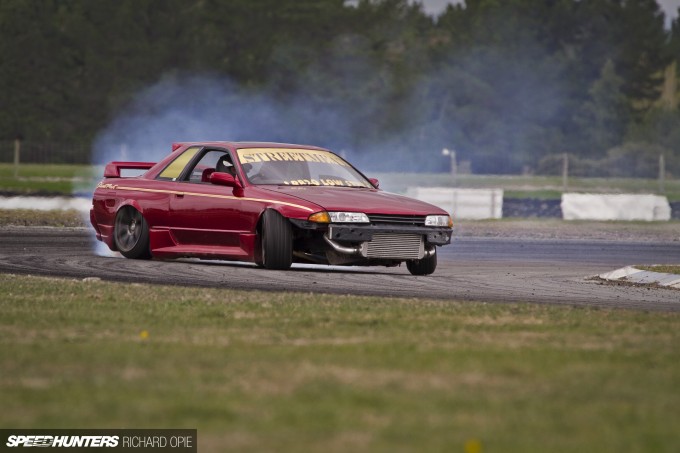 During a recent trip to the Mainland (that's the South Island of New Zealand for those who are scratching their heads!) for the fifth round of our local D1NZ drifting championship, one vehicle in particular stood out in the local grassroots 'expression session' demo during the lunch hour. Sitting mere millimetres from the deck while gliding gracefully sideways in an almost surreal fashion, I had my first encounter with Jonny's sparkling R32 Nissan Skyline GTS-t coupe.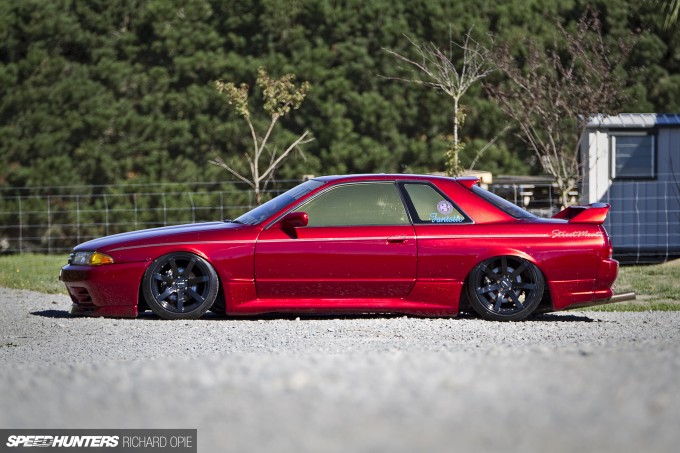 Among a sea of fibreglass, wild graphics, big wings and aggressively dished wheels, the R32 stood out for its sublimely simple styling, unique colour, and of course that sump-cracking ride height that really pulls the whole package together. I took the opportunity to catch up with Jonny and shoot a few pictures of the Skyline, and ask a few questions about the car.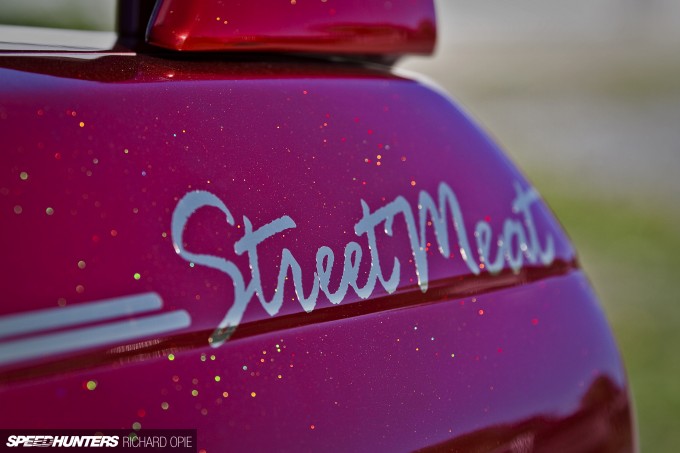 First of all, how about that paint? Trackside from afar is one thing, but bathed in light the R32's deep red hue takes on a new dimension, with the originally Ferrari-derived complexion treated to a heavy dose of rainbow metal-flake. Prior to being drenched in the scarlet tone, subtle flaring was applied to all four arches in anticipation of the upcoming ride height, or lack thereof.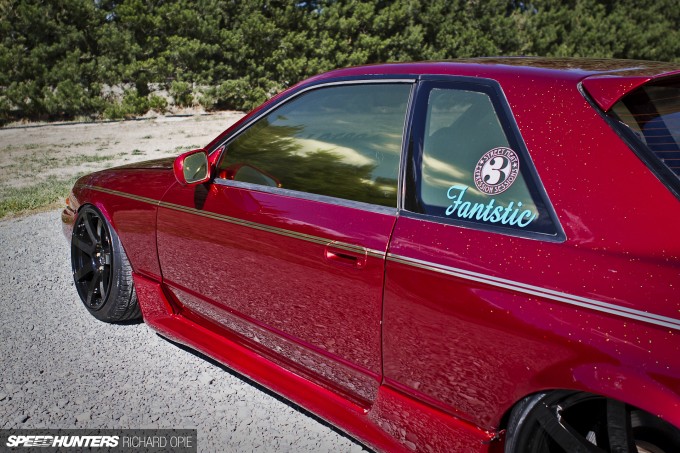 Choice aero additions are littered around the car – from the plastic GT-R front bumper and OEM side skirts and end caps, to the subtle roof spoiler and GT-R boot spoiler for a period-perfect, Japanese-influenced look. Jonny's signwriting expertise allowed him to contrast the paint with the application of the gold mirror tint to the coupe's windows, tied in with gold pinstriping and banners inspired by the 'Streetmeat' grassroots drift days he's instrumental in organising.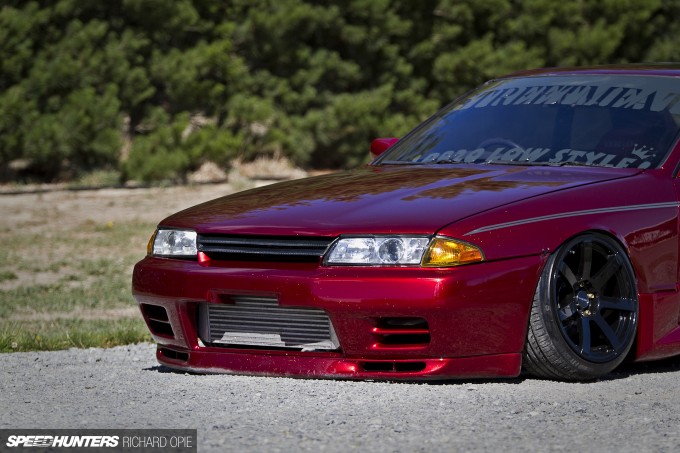 But that height?! Again, with the overbearing theme being simple but effective the underside of the Skyline gets cosy with the tarmac courtesy of a brace of Tein Super Drift coilovers holding up the front end, while the rear sports a pair of S13 Silvia spec D2 units. Keeping geometry intact to ensure the car behaves on track, custom short adjustable castor arms, offset castor bushes, adjustable toe arms and extended LCAs work in conjunction with a relocated steering rack acting against modified knuckles in the quest for lock.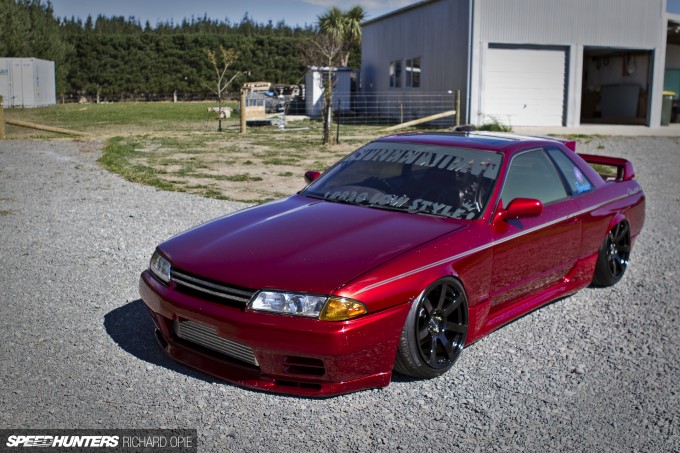 Nestled among the modified arches are a set of Origin Labo DRF-S7 wheels, with a staggered fitment of 17×9.5-inch for the front and 18×9.5-inch in the rear. Mutual +15 offsets ensure that with the help of 25mm front and 15mm rear spacers and a healthy dose of camber, they sit snugly with no metal versus rubber interference while hazing the treads at the top of third gear.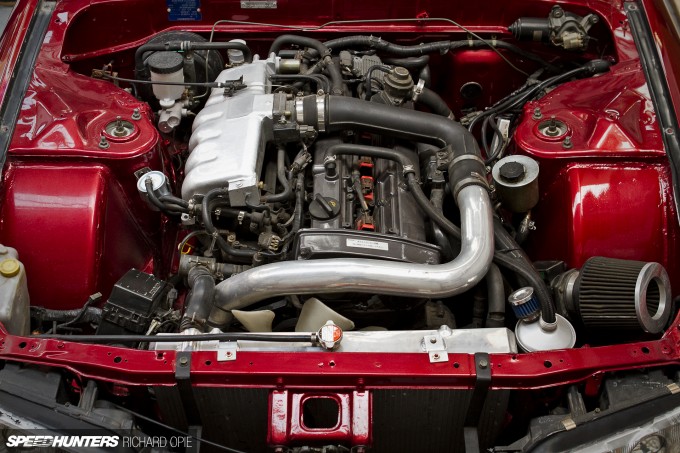 Keeping the traction to a minimum is the job of a basic yet effective mechanical setup. Notice a theme here? Sitting between the scarlet-coated tubbed arches is a modest RB20DET setup, with a VG30ET-sourced T3 turbocharger allowing a reasonable power increase and sending spent gases through a 3-inch straight-pipe exhaust for that familiar (in NZ!) RB20 twang. Keeping things cool on track is the job of an uprated dual-core alloy radiator, while the factory-spec 5-speed gearbox dispatches torque to a locked 4.3:1 ratio R200 diff.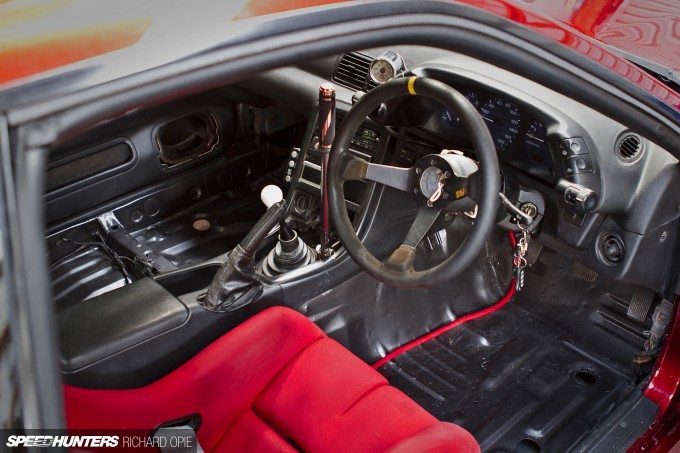 Inside the R32 is pure grassroots with a serious focus on having a good time. A Bride Vios fixed-back seat in screaming red holds the pilot in place during runs, while a well-used suede-wrapped Sparco wheel ensures the front wheels are pointing in the desired direction. Cogs are swapped via a Nismo Duracon gear knob, and initiating is a breeze courtesy of the massive Parts Shop MAX handbrake lever, acting on a Wilwood master cylinder.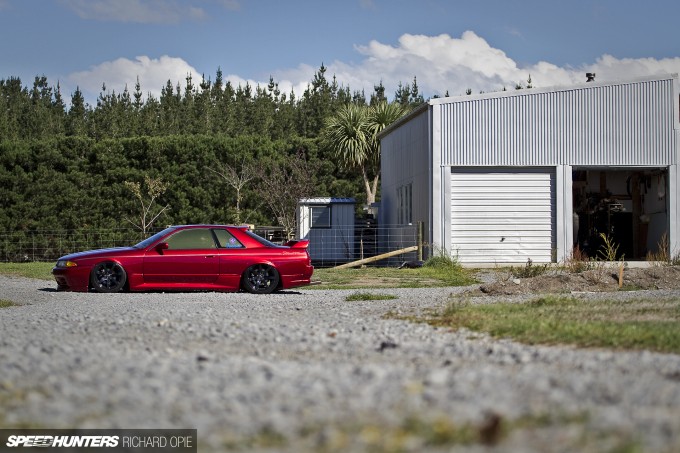 The beauty of it all? Completely homebuilt with the assistance of some good friends.
Jonny's R32 proves that with a bit of resourcefulness and imagination, one can chose their motorsport discipline of favour, have great times on track and break a neck or three with unique yet outrageously tasteful presentation.
Richard Opie
richy@speedhunters.com
Instagram: snoozinrichy
Cutting Room Floor