When I first found myself being drawn toward the world of drifting in the early-to-mid 2000s, there was nothing more exciting than the original US events at places like Irwindale Speedway and seeing drivers and drift cars that had come directly from Japan. Their presence added serious experience and authenticity to a motorsport which at the time was still relatively unknown outside its homeland.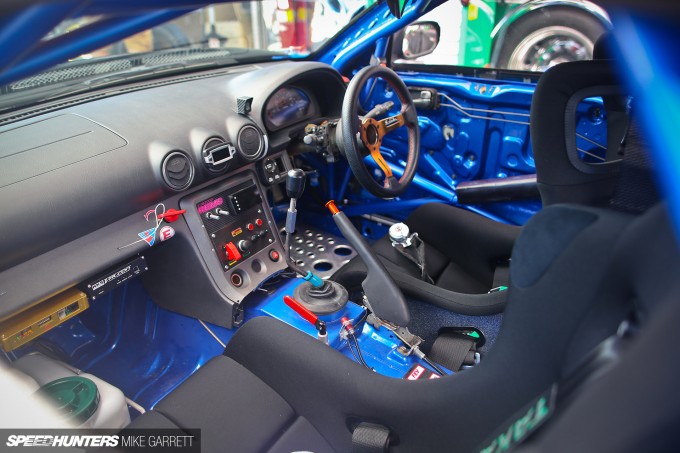 Much has changed since those days – cars have gotten faster, the sport has become more competitive than ever, and America has developed a professional drift scene all its own. But there's still something special about seeing Japanese drivers and Japan-built cars coming to the US to try their hand at Formula Drift. The latest Japanese driver to compete professionally stateside is Masashi Yokoi.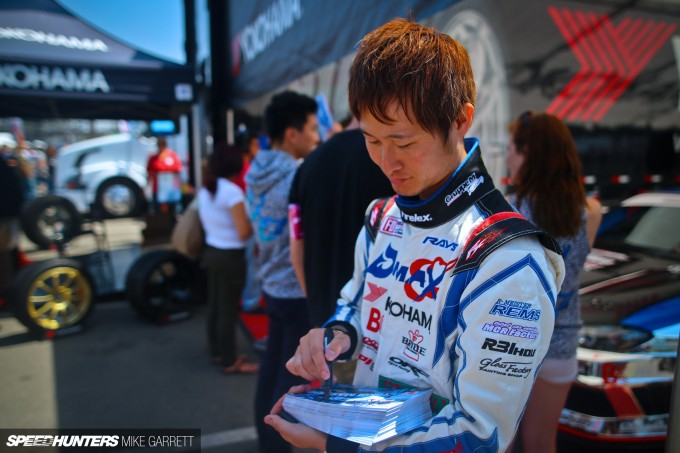 Yokoi has been ripping up the Japanese drift scene for years, starting on the street with Team Mind Control and coming up through the MSC and D1 Grand Prix ranks. Last year he achieved success in Formula Drift Japan's events, and now he's made the leap across the Pacific to contest the full Formula D Pro championship.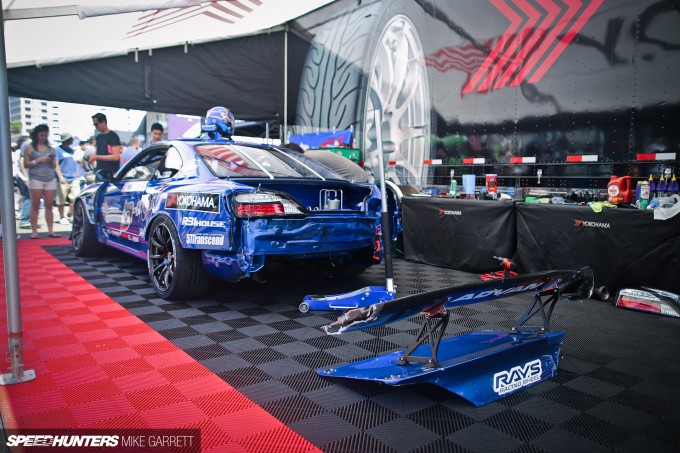 When Yokoi made his US Formula Drift debut the weekend before last in Long Beach, he didn't do it as a hired gun driving for an established team – he came with his own car and his own style. To be specific, it's a widebody S15 Silvia built by his shop, MCR Factory, in Aichi Prefecture.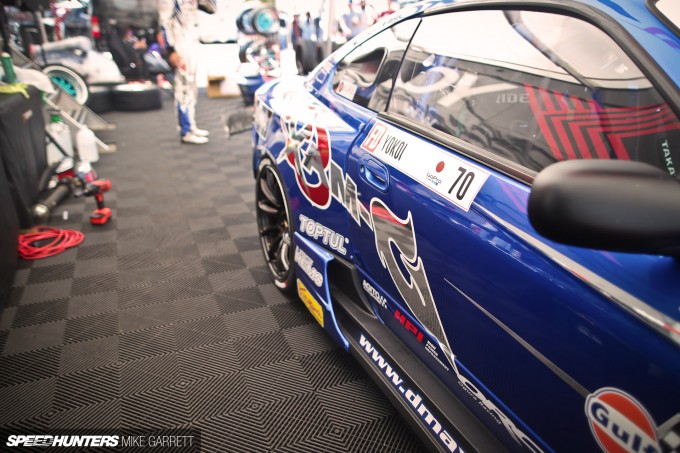 With D-MAX on board as a sponsor, you can be assured that Yokoi's Silvia has all the good style you'd expect from a Japanese drift car. From the bodywork to the graphics to the wheels, it looks like like it was just plucked from the paddock at a Japanese event.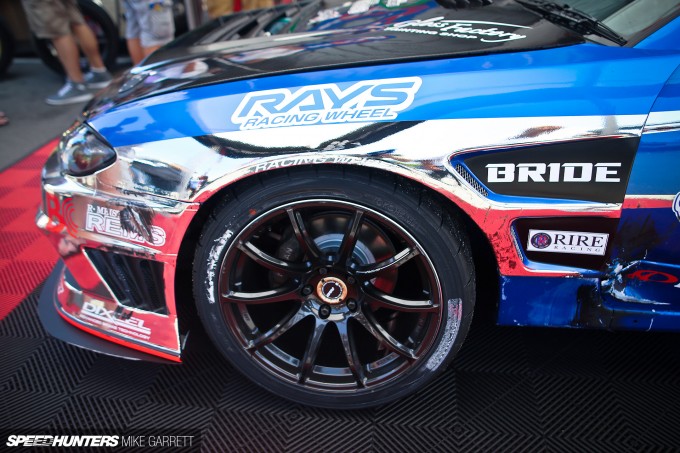 And speaking of the wheels, RAYS is also supporting Yokoi's D1 effort with his S15 is running the company's new Gram Lights 57Transcend wheels with Yokohama tires. Not a bad look at all.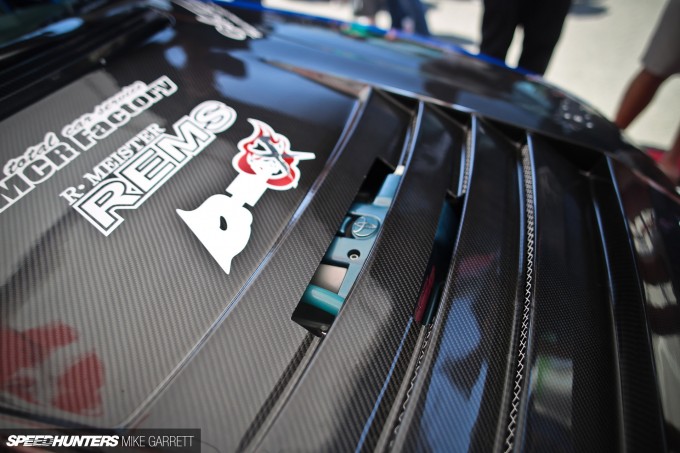 But of course, you can't be competitive with style alone, and it seems like Yokoi's Silvia is packing all of the equipment it needs to run with the big boys in the game.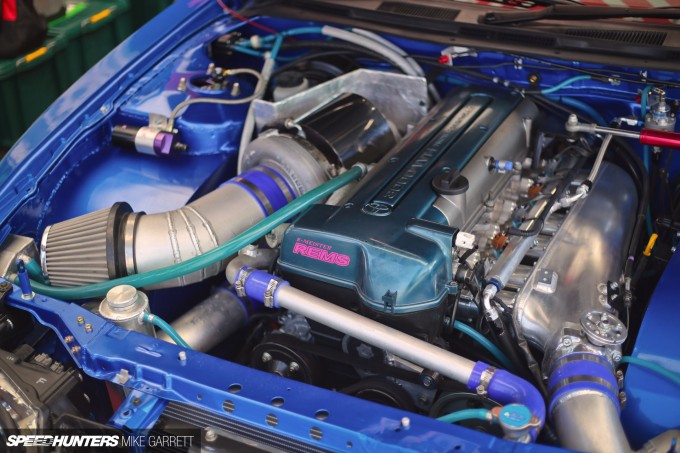 You won't find the factory SR under the hood, nor will you find a V8 swap, instead, Yokoi is doing battle with fully-built, single turbo Toyota 2JZ setup prepared by a shop in Japan called REMS. Looking at it, the engine doesn't seem too dissimilar from the 2JZ powering Forrest Wang's new car, and it'll certainly be interesting to watch the two S15s compete over the course of the season.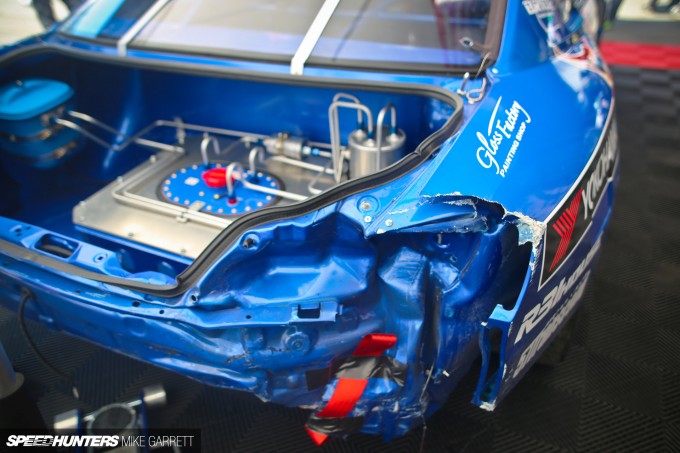 Yokoi didn't have his best result on the unforgiving Long Beach course with a 30th place finish, but he showed a lot of potential in his practice and qualifying runs and has vowed to come away with a better result at the next round.
Time will tell whether Yokoi can can follow in Daigo Saito's footsteps as the next Japanese driver to shake up Formula Drift championship, but his addition to the FD line-up has already made the new season a whole lot more interesting.
Mike Garrett
Instagram: speedhunters_mike
mike@speedhunters.com