Ten, Six or Four?
This past weekend I had the pleasure of once again attending the annual Bilsport Performance & Custom Motor Show here in Sweden. I'm going to be honest, my 2014 Elmia experience truly blew my mind to the point that I didn't think it was possible for this year's show to top it; but oh, it did. Scandinavian car culture never disappoints!
There wasn't any specific automotive style or genre I was looking forward to seeing this year at Elmia, because I knew there would be such a huge variety of modified cars of all makes, models and eras. But after stepping inside the CurrentFifteen display area inside Hall B, a very high concentration of extremely cool S-chassis' were instantly noticeable. Throughout the weekend I got chatting to the owners, and as I did, I realised that all five of these cars had some interesting similarities as well as contrasting features. Here we had five Silvia S13s owned by five young Swedish car enthusiasts, all of whom have their own back-stories and have injected their own unique style into their builds – and a different choice of engine. Shall we take a closer look?
1992 Nissan 200SX
Engine: 2004 Viper 8.3-litre V10
Owner: Alexander Lundborg
Instagram: japcrapalex
Location: Örebro, Sweden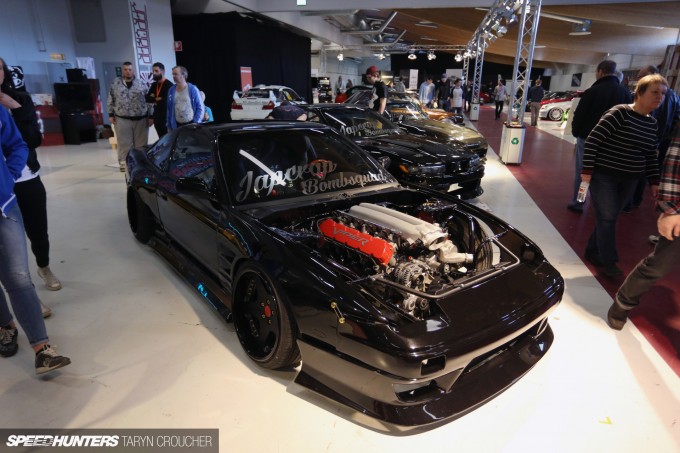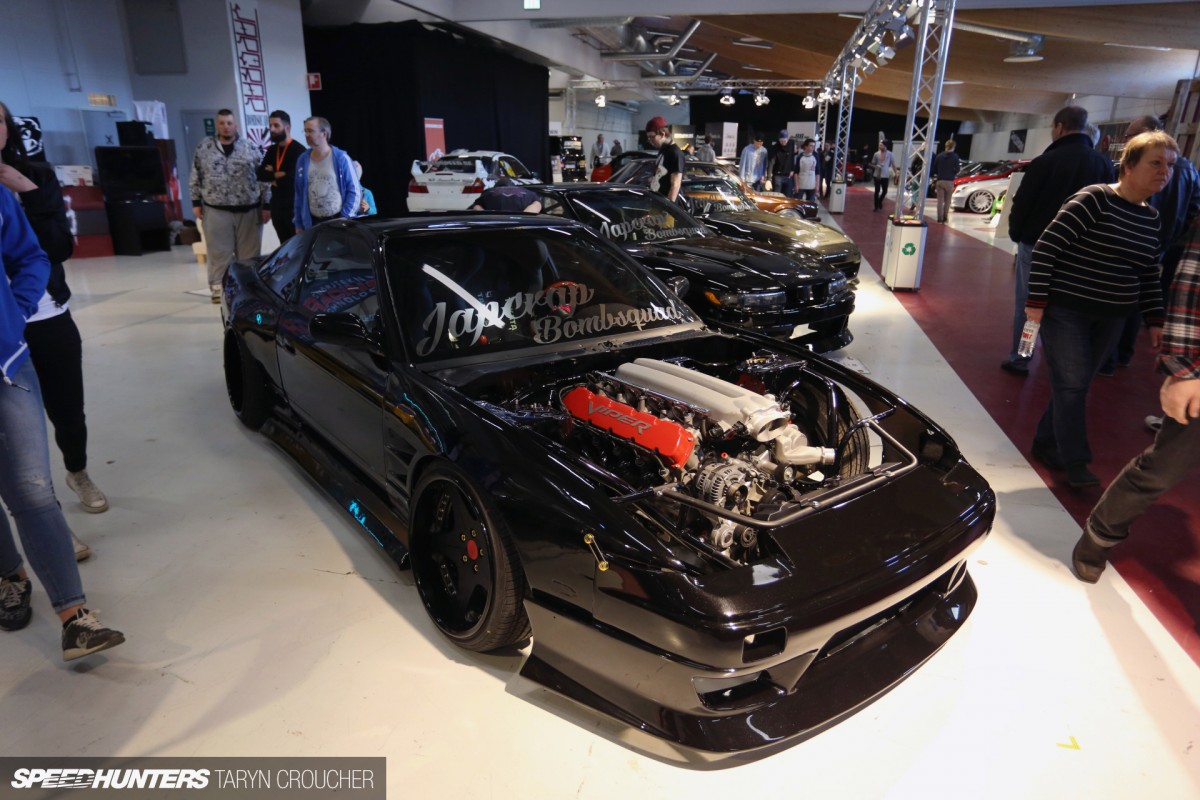 JapCrap Bombsquad member Alexander Lundborg is no stranger to wild S-chassis builds with big-power engine swaps; we actually featured his old RB-powered S13 a couple of years back. Sadly, in January last year Alexander received a devastating phone call. The garage where his S13 was being stored had caught fire, and his beloved car, along with a friend's S13, had been completely destroyed. Alexander explains, "I was ready to throw in the towel. I'd owned an S13 ever since I could first drive, but after the fire, that passion somehow felt lost. Fortunately, my friend wouldn't let me give up, and he practically forced me into buying another car!" That's what friends are for, right?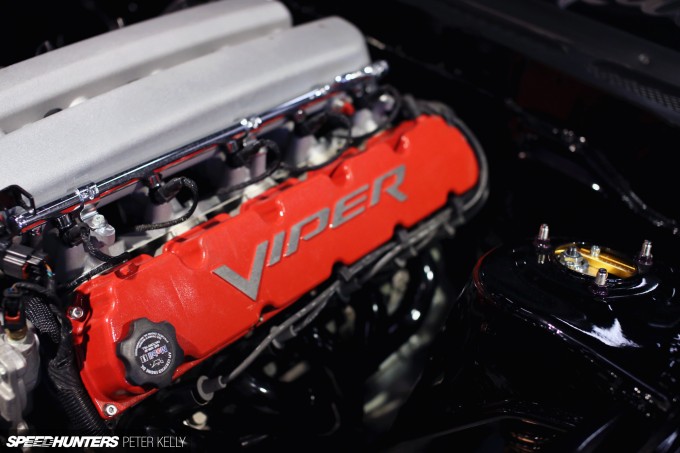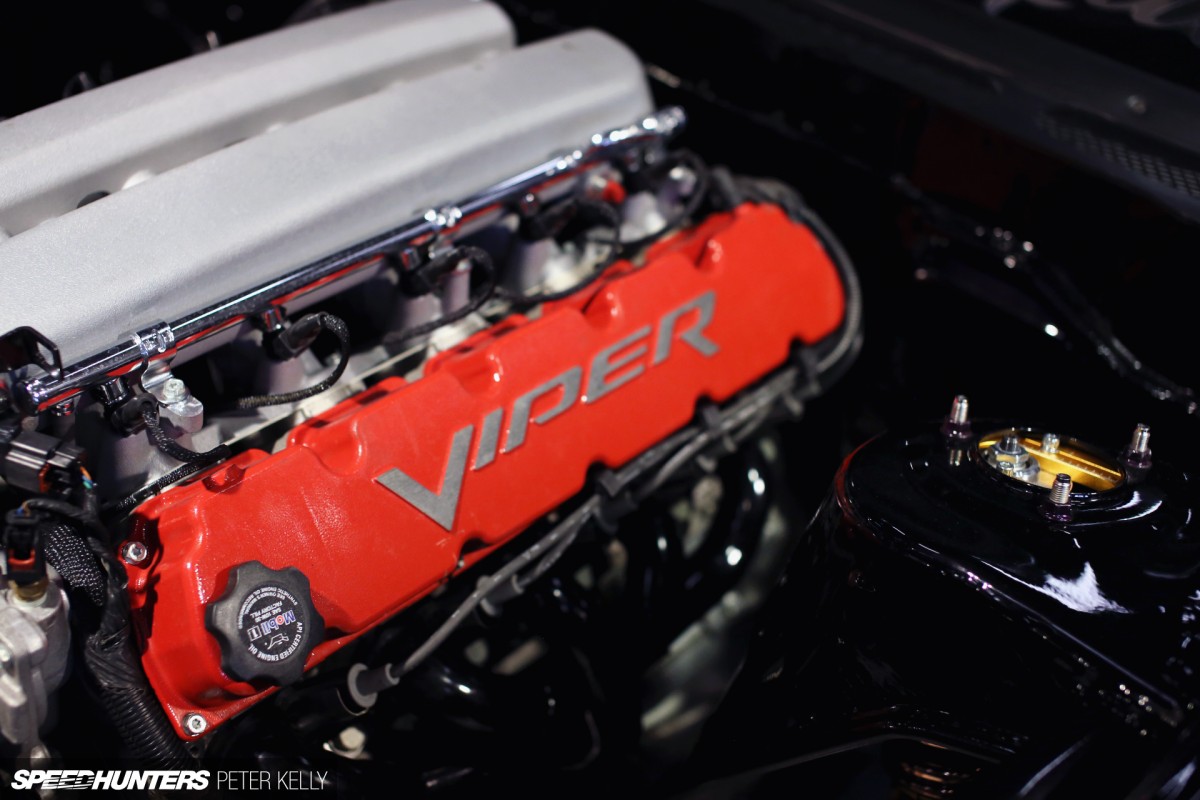 Alexander realised that this was a chance to start fresh and do something different, but it wasn't until he saw a Viper V10 engine listed for sale that he knew exactly what he had to do. A fresh 200SX body was sourced and with his S-chassis passion reignited, he and his friends set to work, and this is the 'almost-finished' result.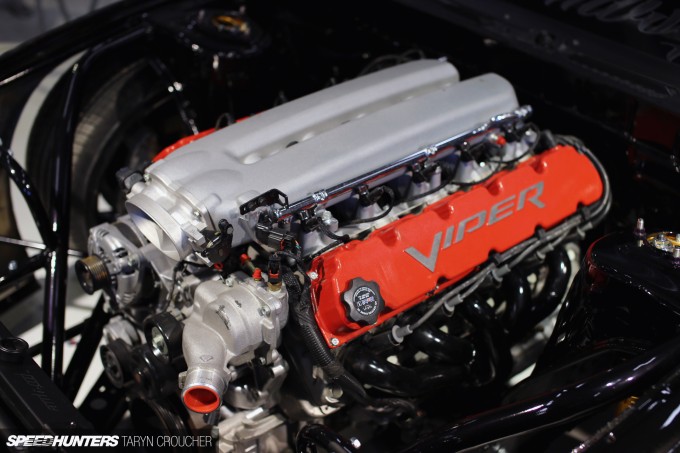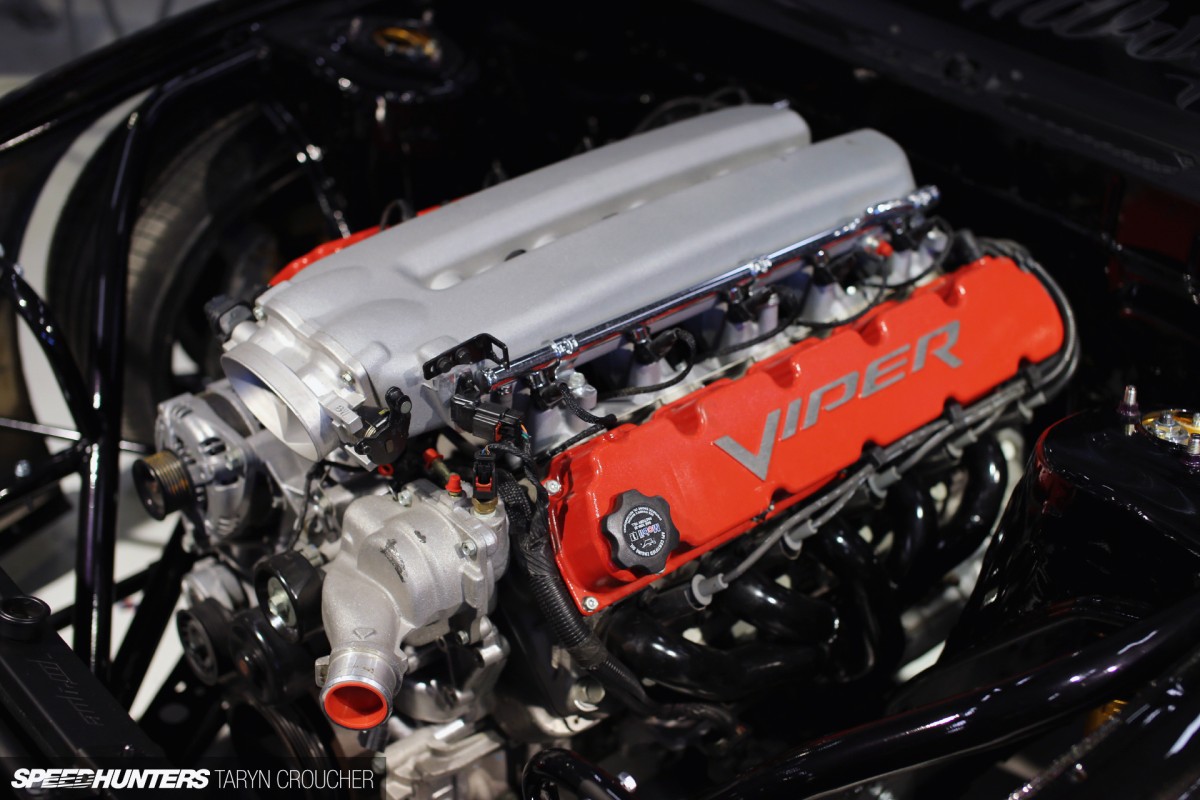 With its bonnet completely removed at the show, the 200SX was turning a whole lot of heads with its massive V10 lump protruding from the engine bay. But why a V10? Well, 511hp and 725Nm of torque are two reasons, and with LS V8 conversions being so common these days, and having already owned an RB-powered Silvia, Alexander liked the idea of powering his new car with something a bit more unusual. We can see the appeal; with the straight double-pipe exhaust it's going to sound totally insane!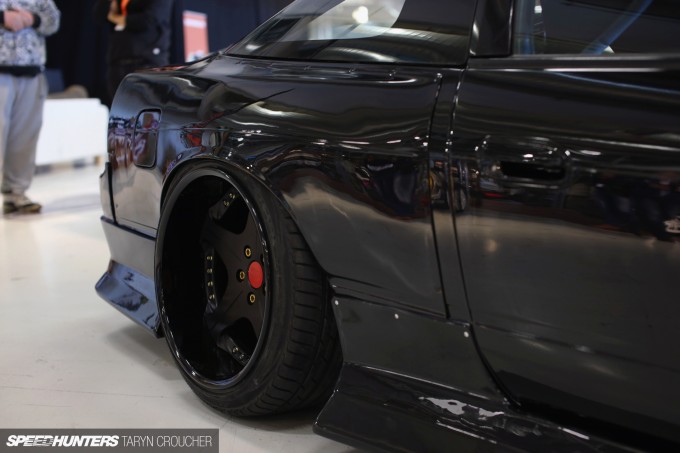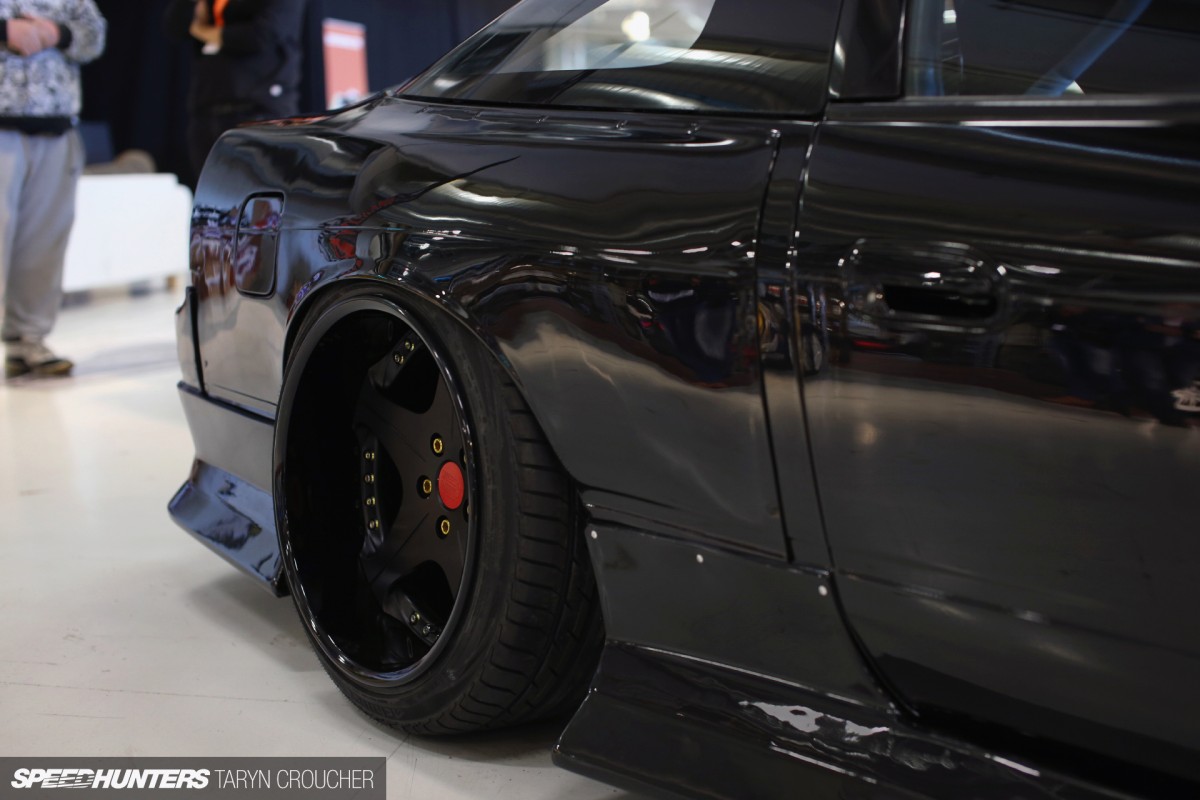 For what the stealthy S-chassis possesses in power, it also matches in style. The 200SX wears a D-Max Type 3 bodykit with pulled Origin-style rear fenders, and Super Star Leon Hardiritt Orden 3-piece wheels in 18×9.5-inch -17 in the front, and 18×11.5-inch -10 in the rear. The wheels have been pulled apart and painted in the same glossy black as the body, which combined with the low ride height makes for a sleek, menacing stance.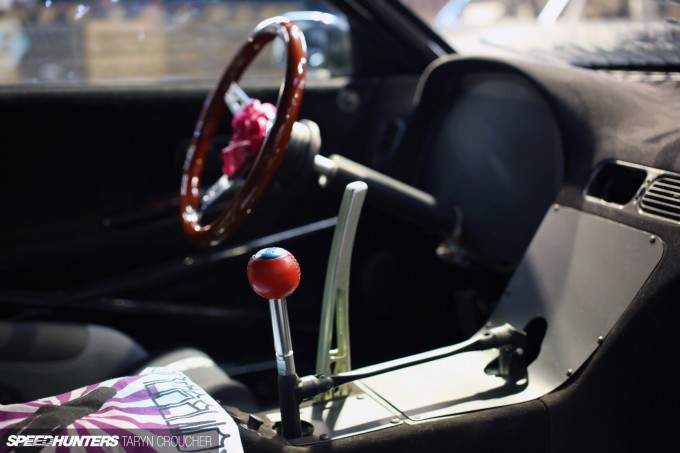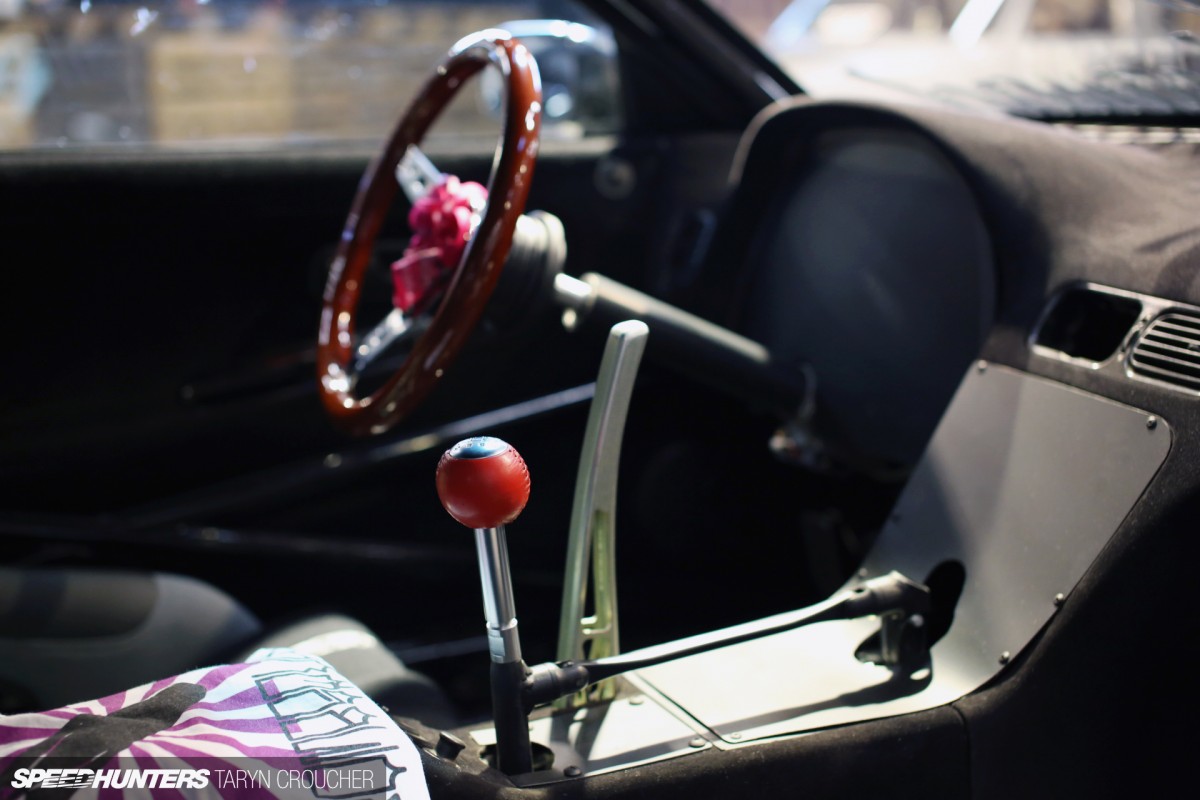 Inside, you'll find Mirco RS2 racing seats with Takata 4-point harnesses positioned in front of a new rear firewall and surrounded by a full welded rollcage. There's also a very tidy flocked dash, center console (which houses a Viper cluster) and matching door skins.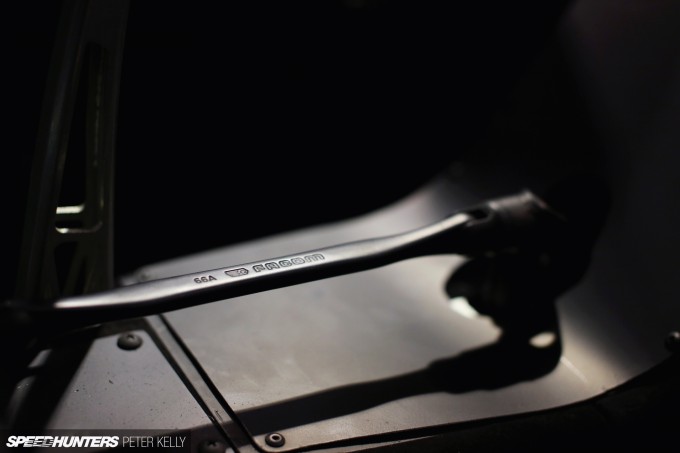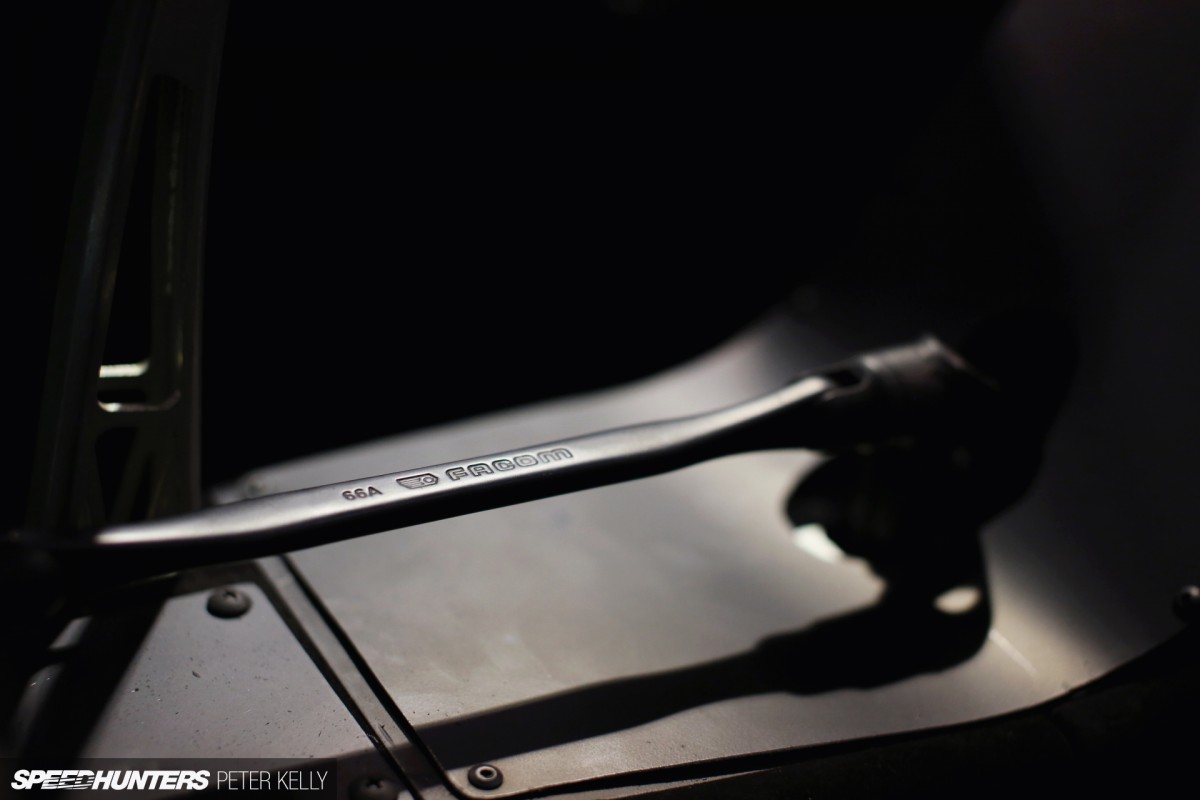 As you can see here, Alexander also created a very cool homemade shifter kit to move the gear shifter to the Tremec T56 Viper gearbox 300mm rearwards.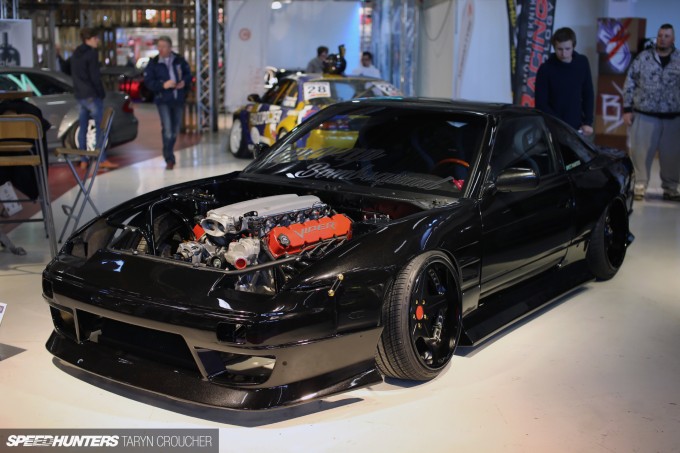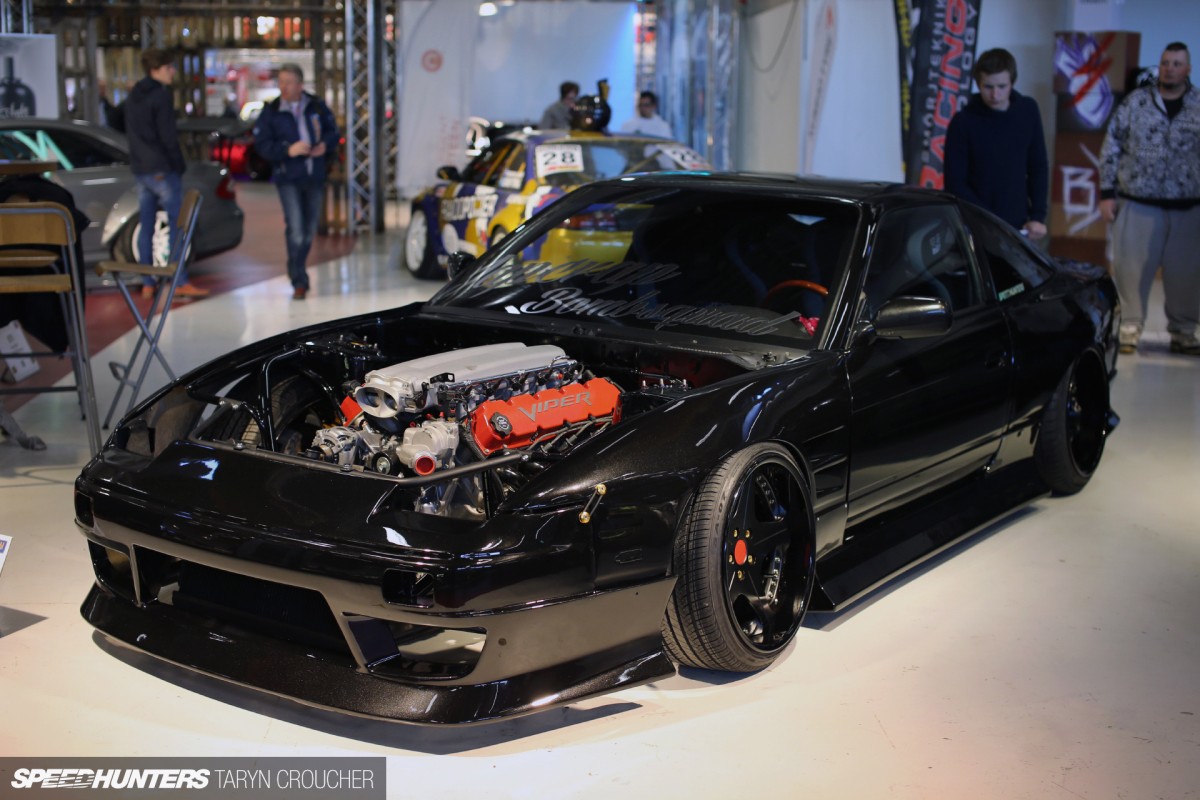 When I asked Alexander what he's going to do with the car once it's ready to drive, his answer was, "If I want, I can drive down the road and get an ice cream, or if I want, I can take it to the track. This isn't a drift car and I'm not going to be competing in it, it's simply a car that I built for myself, to my own set of rules. I'm not a fan of the 'look' of competitive drift builds – to me, form and function should go hand in hand. I've had enough experience with these cars now that I know exactly how I want my S13 to drive and look." I'm certainly trusting Alexander's judgement on that one – I can't get enough of his epic grassroots machine.
1992 Nissan PS13
Engine: Toyota 2JZ-GE
Owner: Arash Samadi
Instagram: japcrapkidcurry
Location: Örebro, Sweden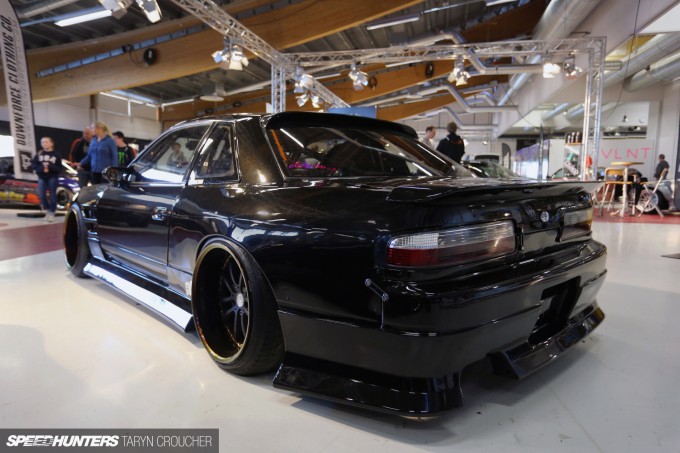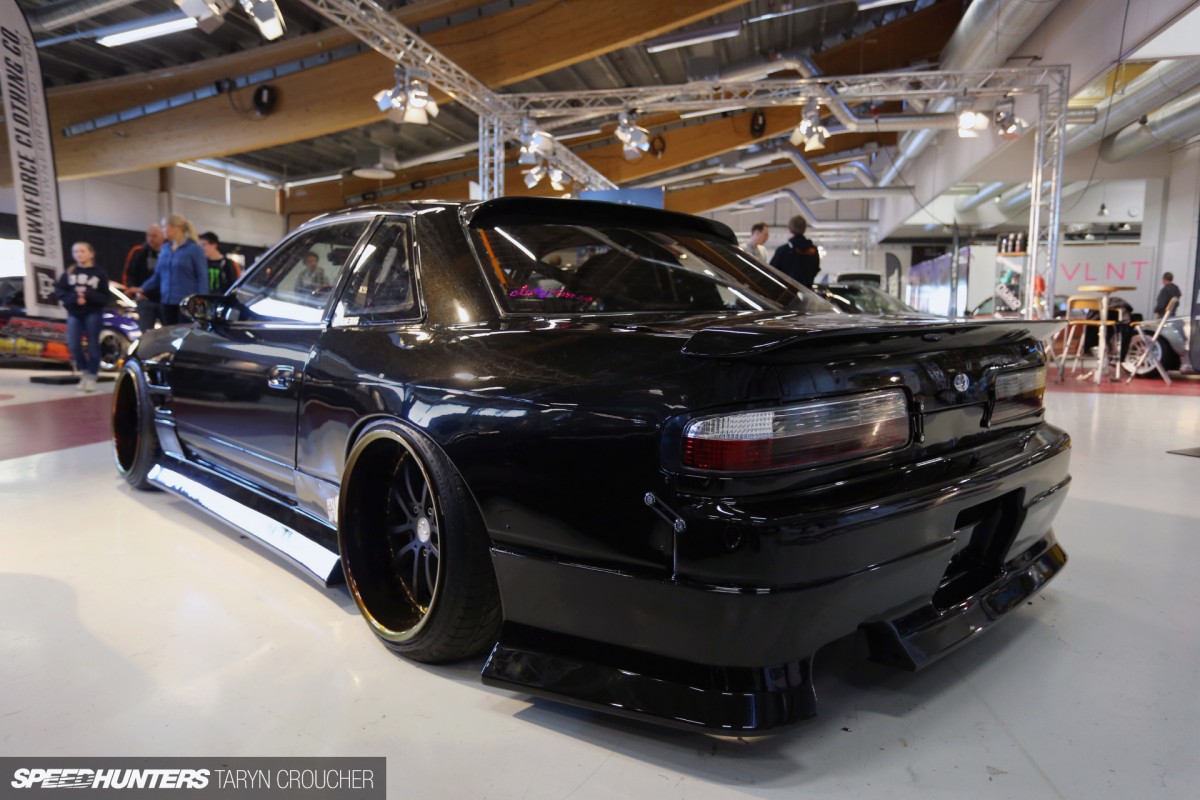 Earlier I mentioned that a friend of Alexander's had also lost his car in the same fire, and that friend happens to be the owner of this next car – a very well-styled Nissan Silvia PS13 drifter. Arash Samadi began working his project car last year, and since then the formerly red-coloured, SR20-powered PS13 has already been through a whole heap of changes.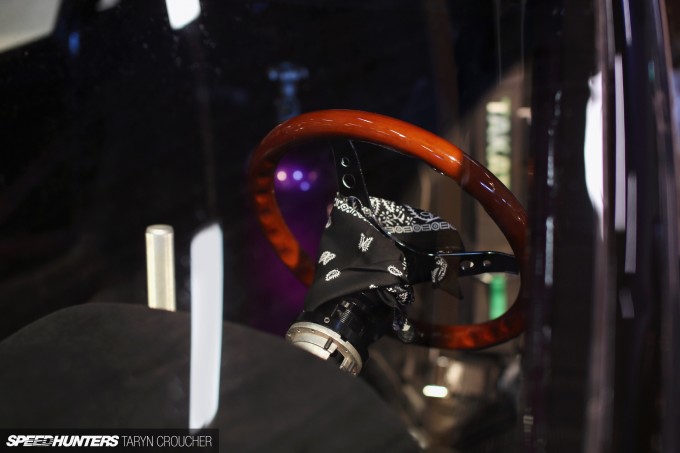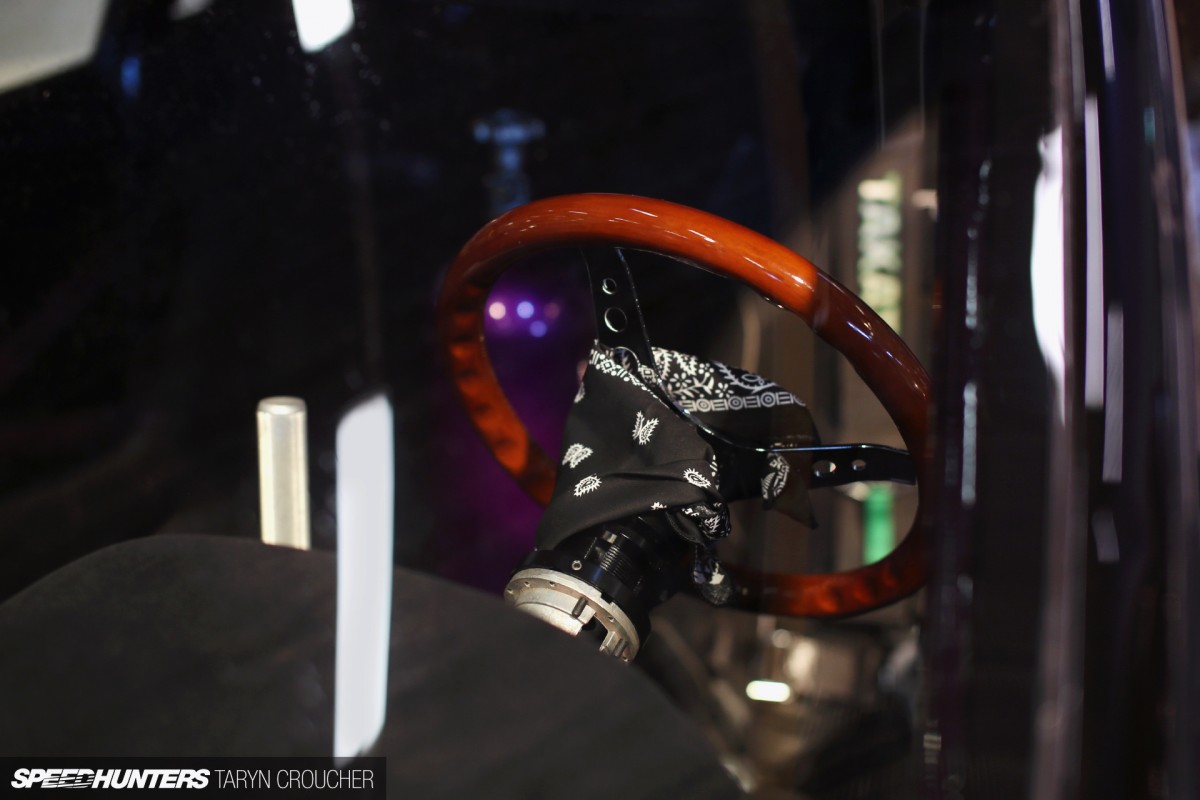 Arash tells us, "I started with a high revving red-top SR engine but before long I wanted more power, so I fitted a BMW V8 engine along with an M5 gearbox. But about a month ago I had a total meltdown – I decided it wasn't for me and I sold the V8. I'm currently building a [Toyota] 2JZ hooked up to a BMW 5-speed diesel gearbox. The head is being rebuilt too, in order for it to be able to rev higher. My plan is to run a turbo and some nitrous with it." The Silvia also has a full multi-point rollcage and a tube-frame front end, and has been converted to left-hand drive to comply with Swedish road laws.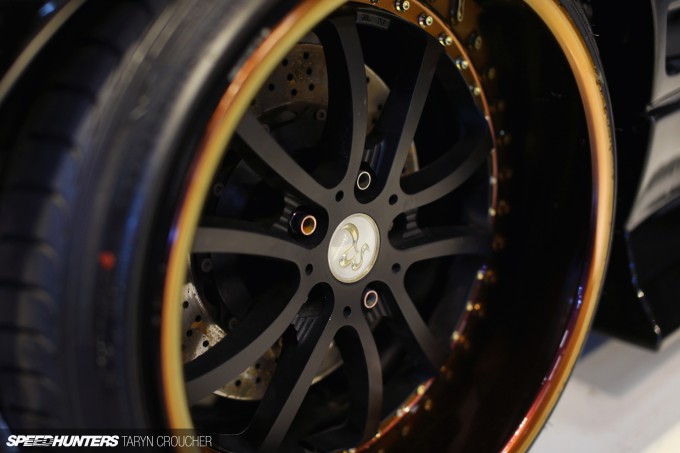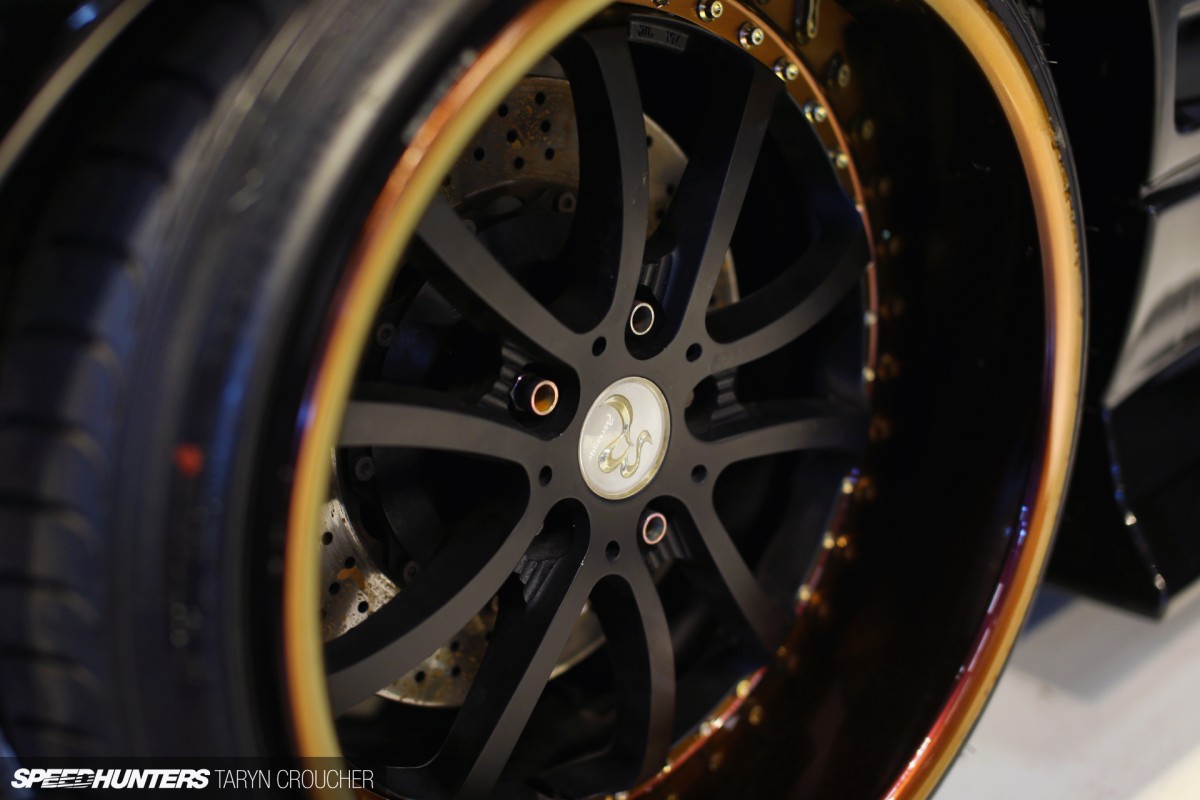 Arash's wheels of choice are a rare set of Work Bersaglios measuring 18×10.5-inch -7 at the front and 18×12-inch -0 (with 15mm spacers) at the back. With the car having been recently repainted in the black hue you see here, the black centers of the wheels and the chameleon-painted lips really work a treat. Japanese wheels don't come cheap in this part of the world – especially in such wide sizes!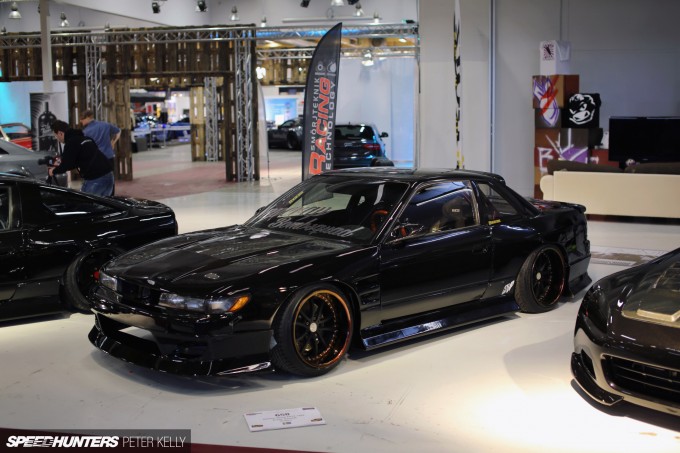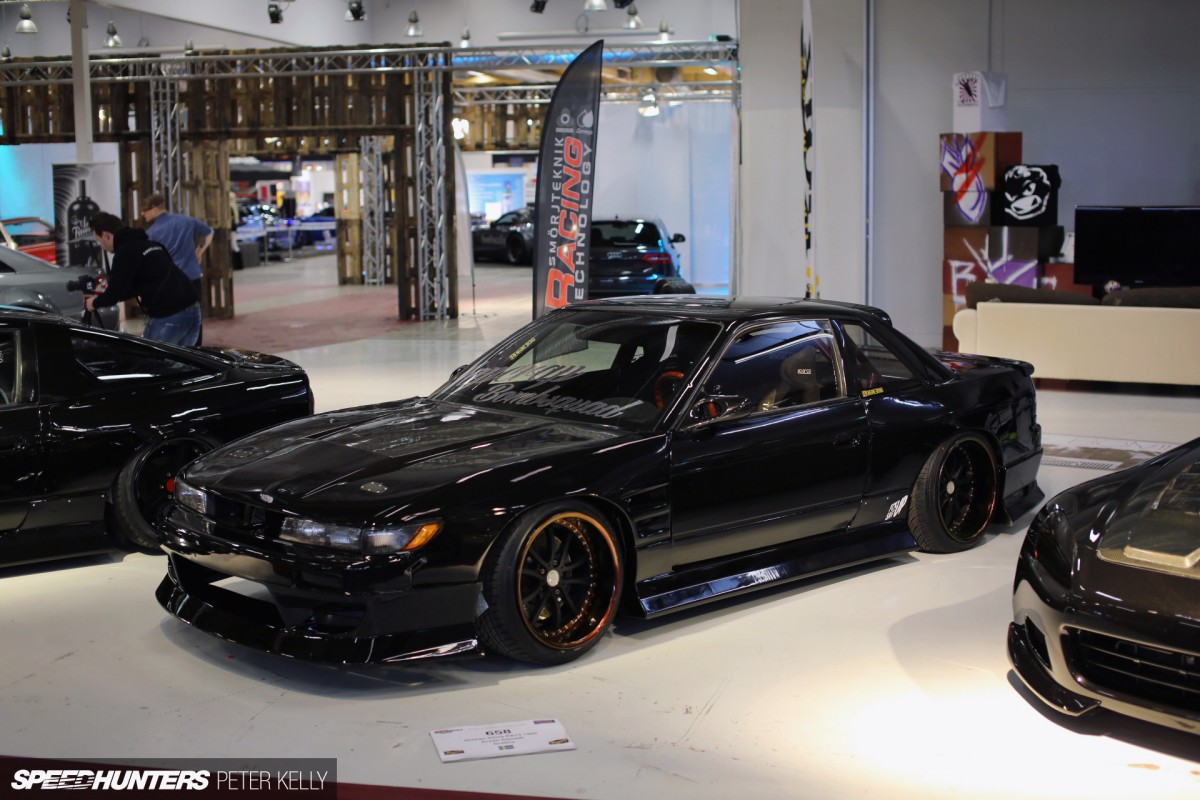 Arash also runs a full D-Max Type 3 kit, including a D-Max bonnet and front fenders, and the added 50mm rear fenders have been pulled out considerably to house the wide Work wheels. In terms of style inspiration, Arash cites an Australian S13 that featured in one of the Wreck 'Em DVDs as the ultimate inspiration for his build. From what you can see here, it looks like Arash is well underway with building his dream S13 to the exact specifications he wants, and I can certainly appreciate all of the choices he's made so far.
1989 Nissan 200SX
Engine: Nissan SR20DET
Owner: Christoffer Pettersson
Instagram: downforcegarage.co.jp
Location: Virsbo, Sweden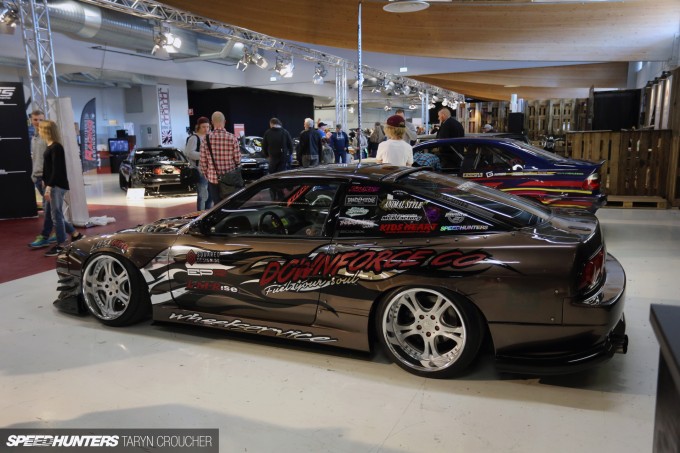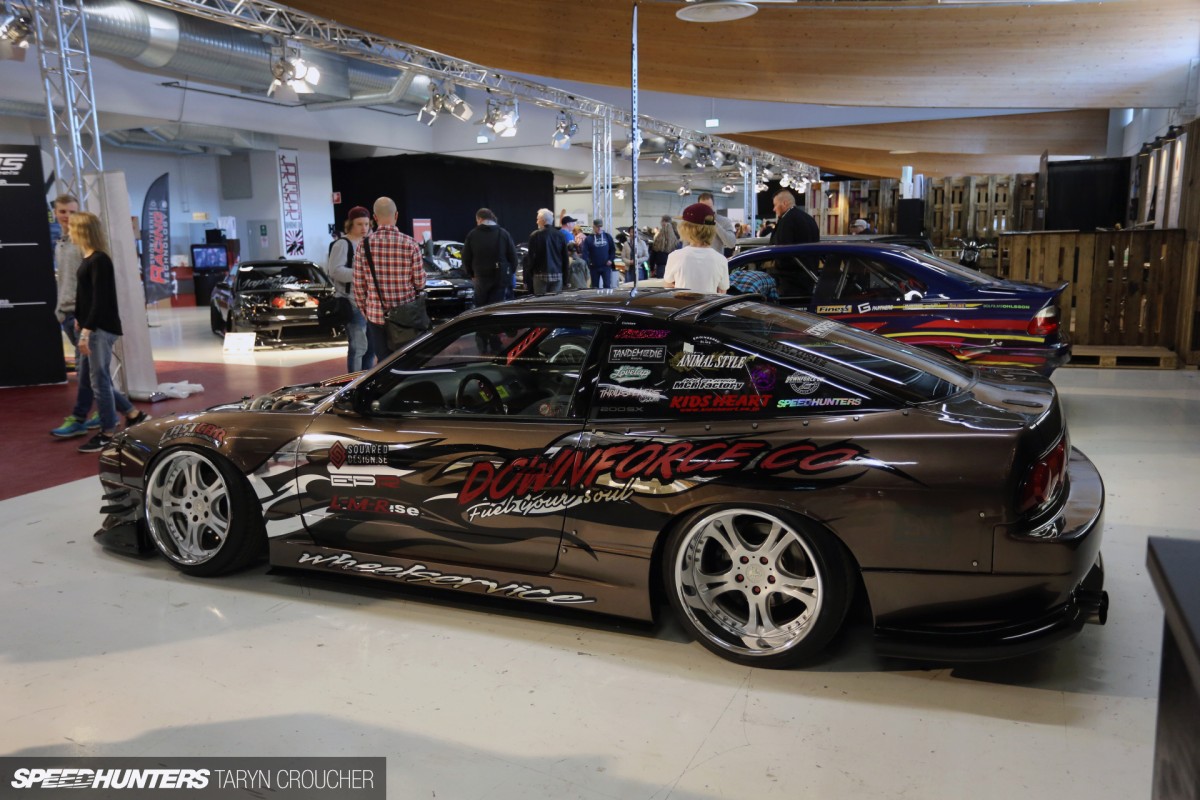 If you're a regular here on Speedhunters then you should recognise this next car, as we only featured it two months ago. If it doesn't look familiar though we'll forgive you, because within that time the owner, Christoffer Pettersson has given the 200SX a completely new look, with a flashy new D1 Street Legal/Animal Style-inspired livery, different wheels and a far more aggressive aero setup.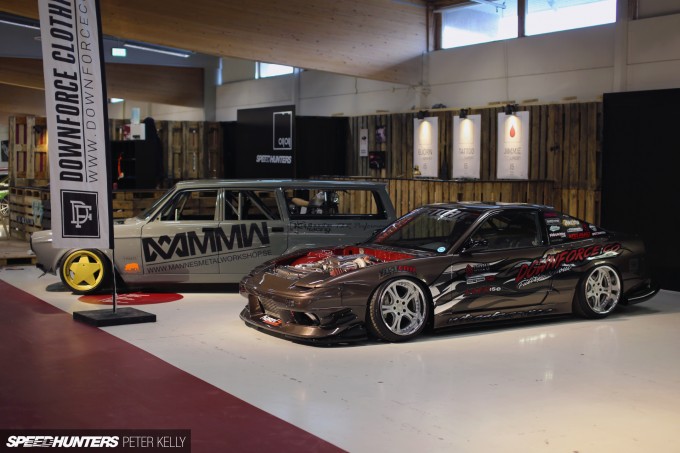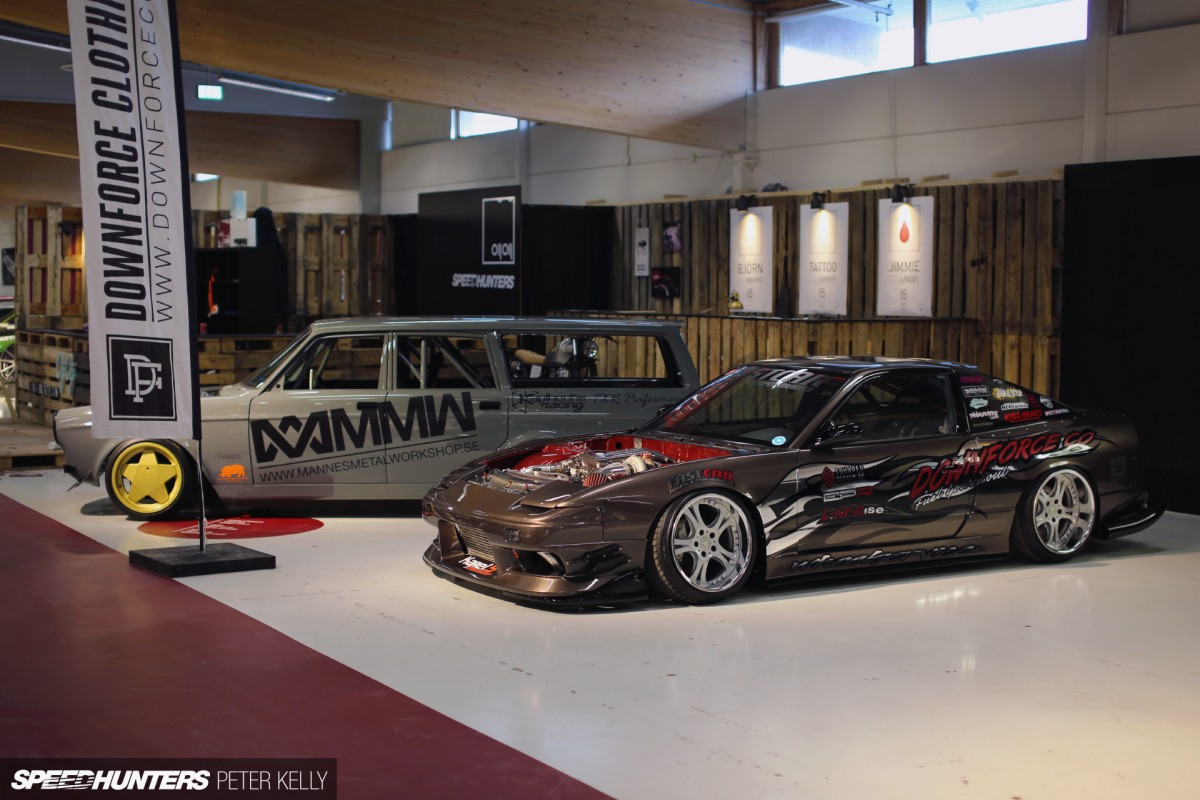 This is another thing I love so much about modified car culture here in Sweden – there's never really such thing as a 'finished' car. Cars continue to evolve as new inspiration comes along and their owners' tastes progress. Even though Christoffer's car was looking immaculate last year when we photographed it at Gatebil Rudskogen, new ideas were already ticking through his brain.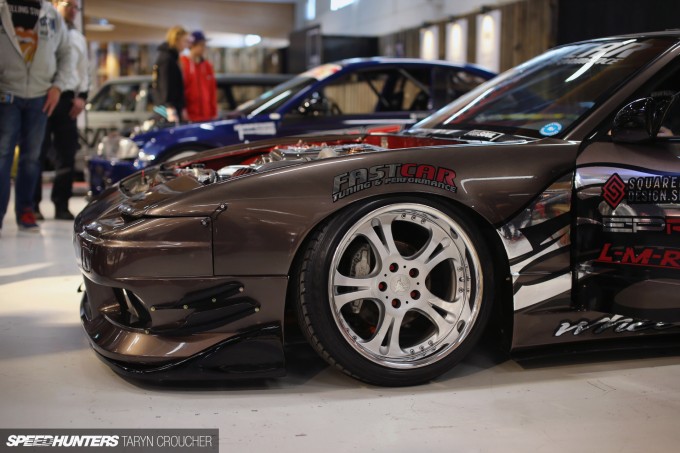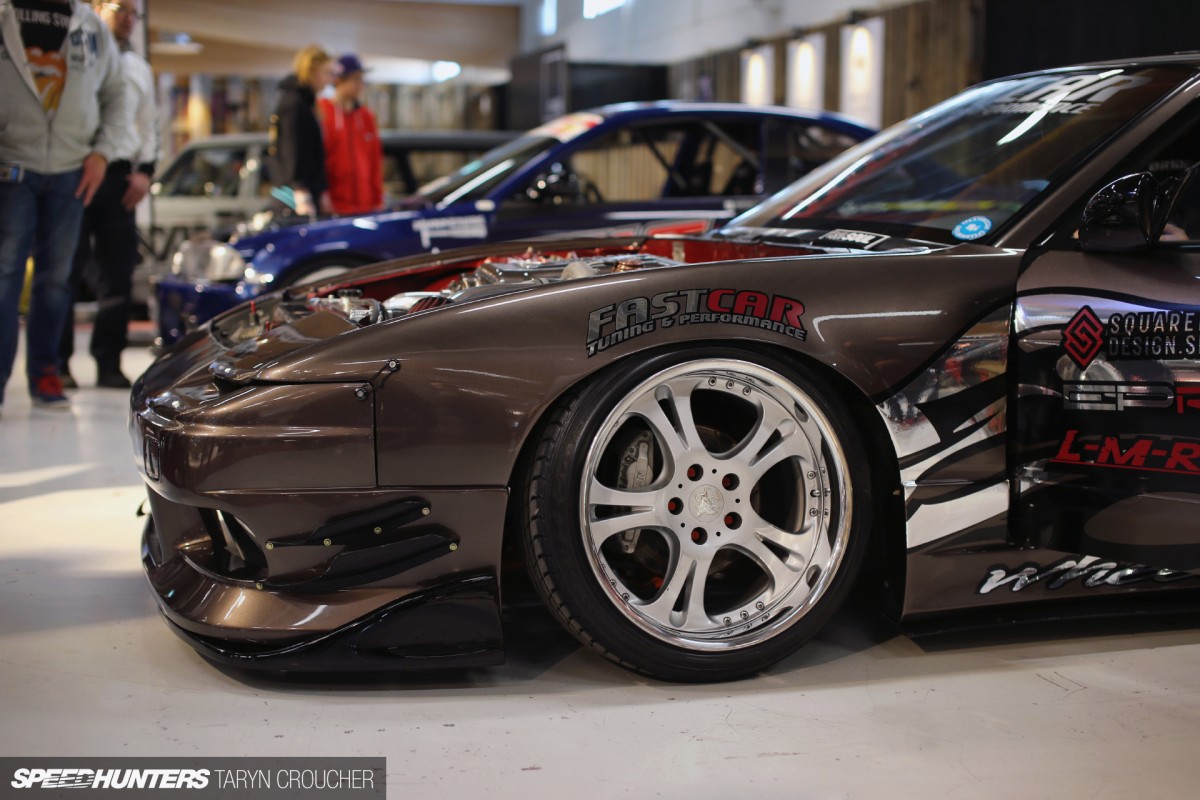 One such idea involved switching his bronze TE37s to the wider set of deep-dished polished Weds Kranze Cerberus wheels you see here. The Magic Aero Club Series bodykit and rear spoiler have also vanished, and in their place is a new Msports-style aero kit from EPRacing.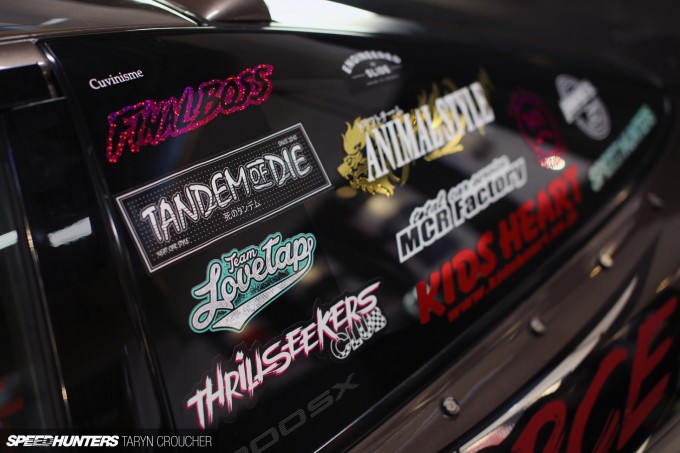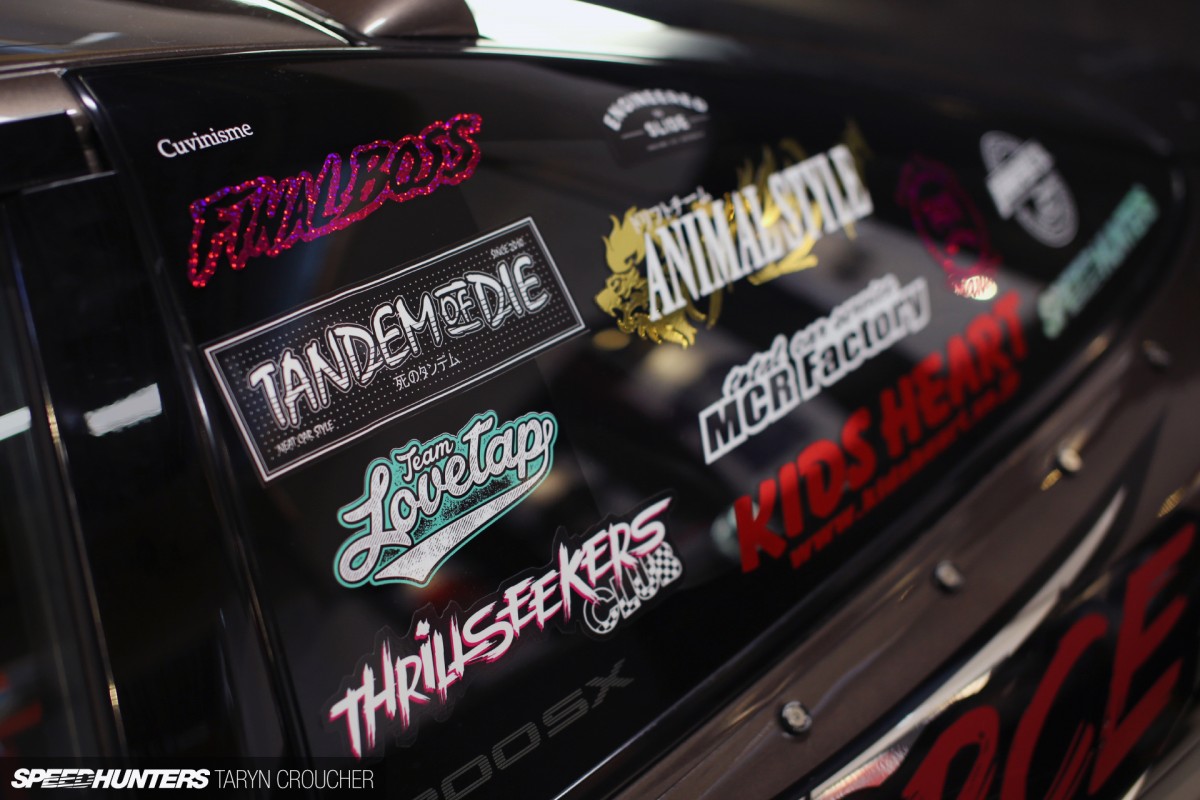 On the rear windows you'll find stickers from various drift crews that Christoffer has drawn inspiration from. With its aggressive styling and traditional SR powerplant, some would certainly consider Christoffer's 200SX to perhaps be the ideal grassroots Japanese drift build, with form and function coexisting so well together.
Function Versus Flair
1992 Nissan 200SX/Sileighty
Engine: BMW M60B40 turbo
Owner: Robin Andersson
Instagram: japcrapjunior
Location: Nora, Sweden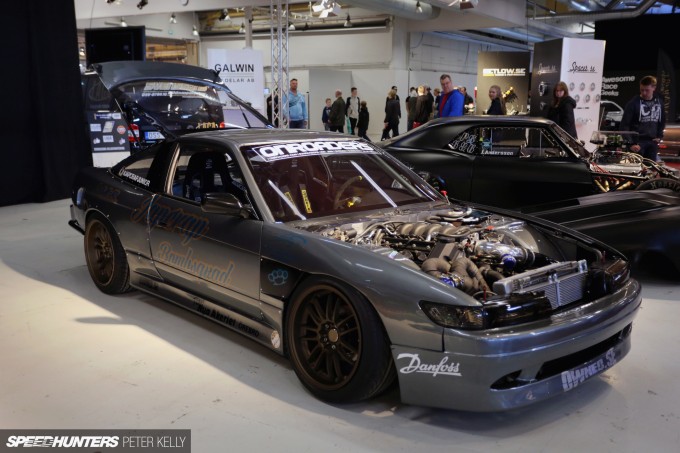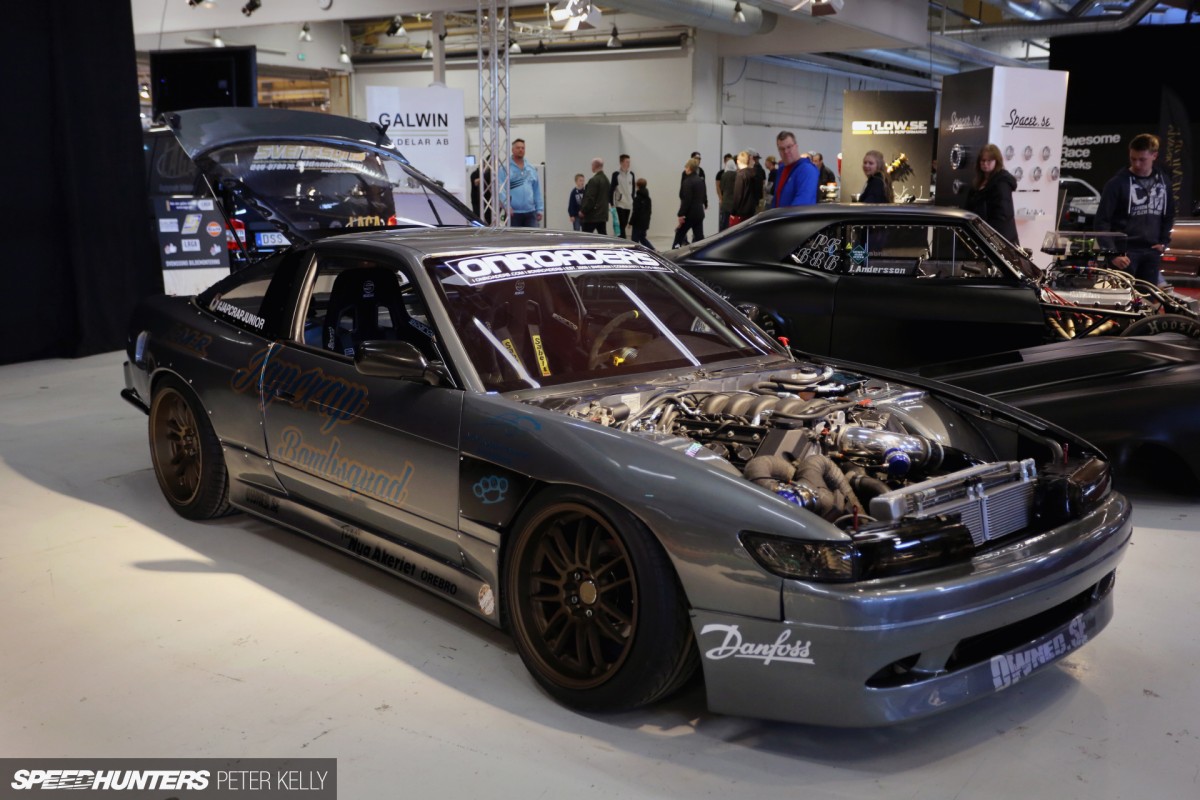 Focusing on something more function-orientated now, Robin Andersson's S13-faced 200SX has evolved over the years from a grassroots missile to a purpose-built drift weapon. He might only be 21 years old, but Robin already has plenty of experience with his S-chassis – he's just spent the Swedish winter rebuilding the car for the fourth year running.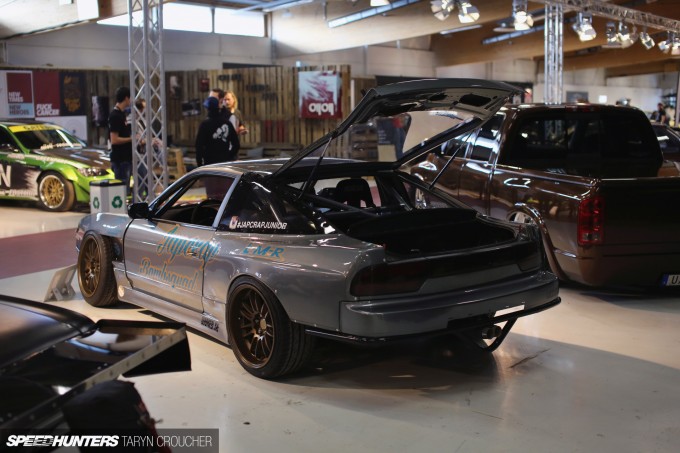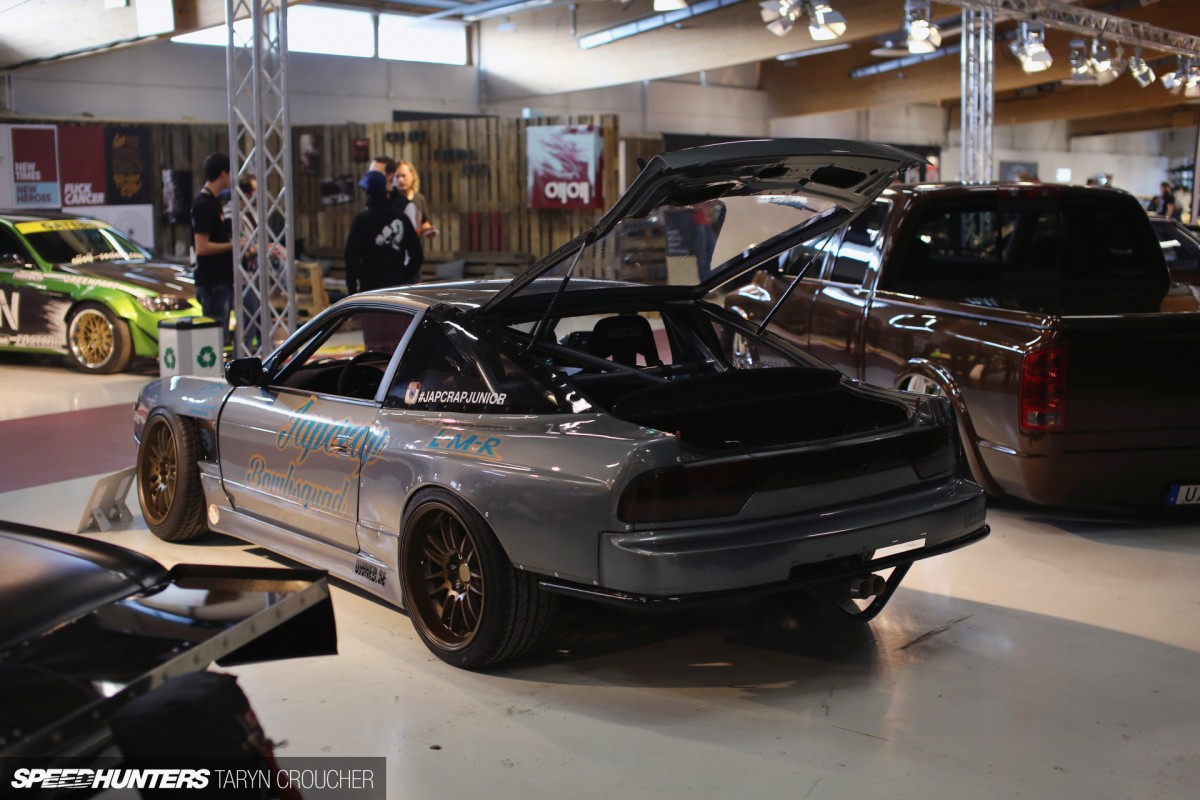 Robin shares with us, "I actually started the car as a school project. I began with a 100 per cent original chassis, and with the help of my father and a good friend, we began by fixing up the old CA18 engine and doing some basic body work. The following year I swapped to the BMW M60 4.0-litre 32-valve V8 engine I'm running now, but I ran it naturally aspirated at first. Last year, things got more serious – I decided to turn it into a full race car, adding boost, a tube-framed front end, FRP body panels and a full cage."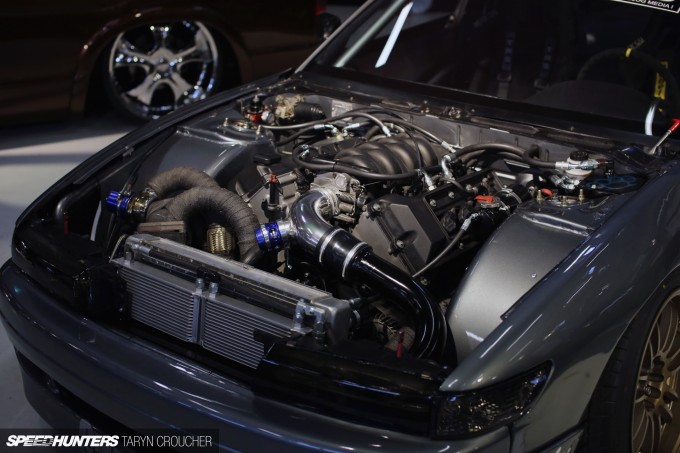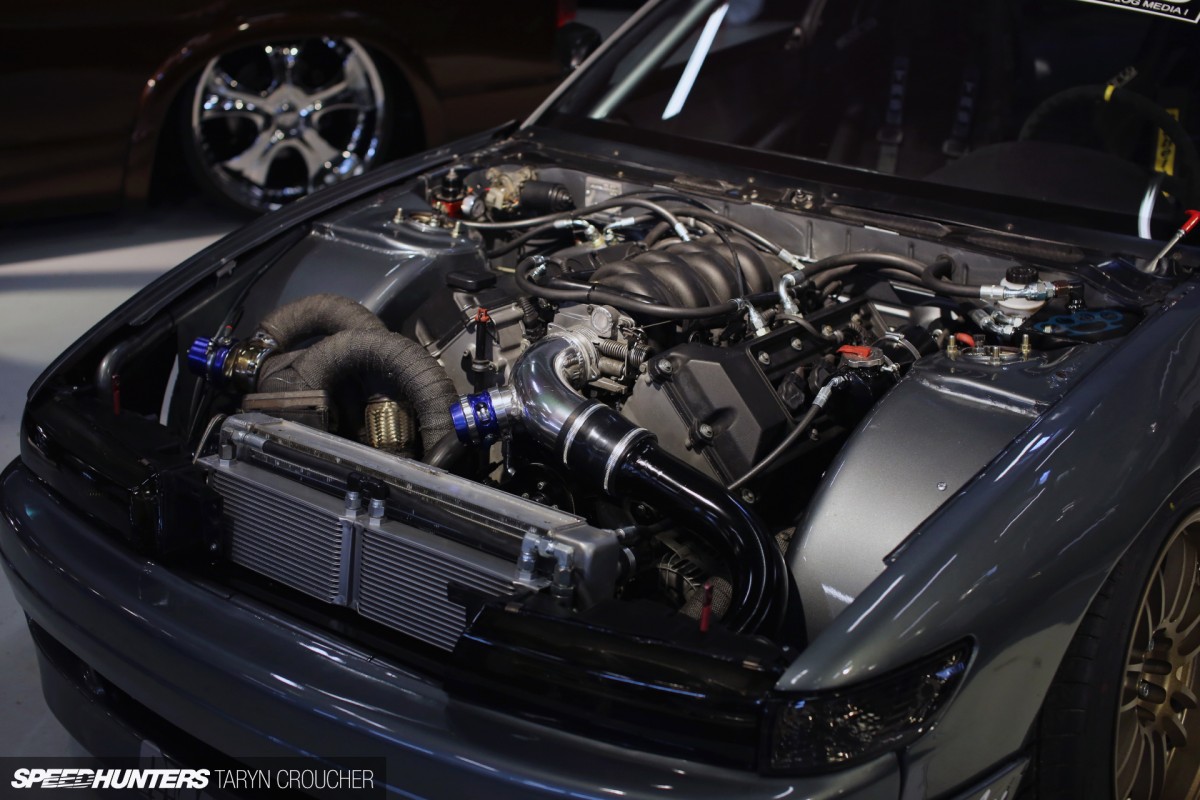 The BMW V8 is now force-fed via a Garrett GT42 turbo with custom manifolds, and has been rebuilt with forged rods, modified pistons, new bearings and some slightly worked heads. Although a BMW engine swap might seem strange to some, Robin explains that it's a reasonably affordable conversion in Sweden, and the motor itself has proven to be extremely reliable. The hard part, however, is finding a suitable gearbox. Luckily for Robin, this particular engine had already been fitted with a manual 6-speed 'box when he picked it up. An unusual yet effective combo!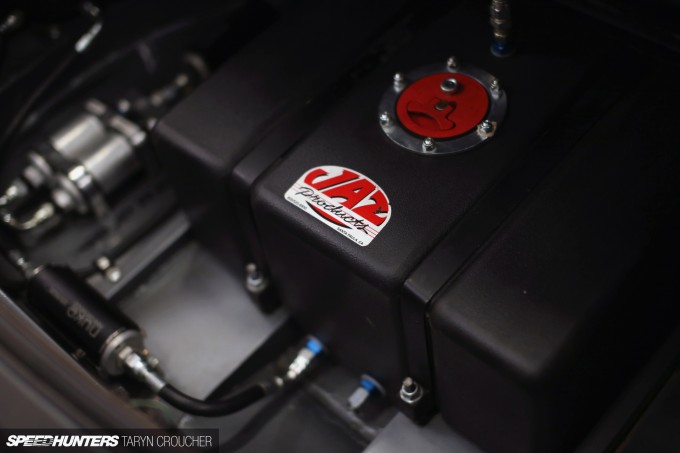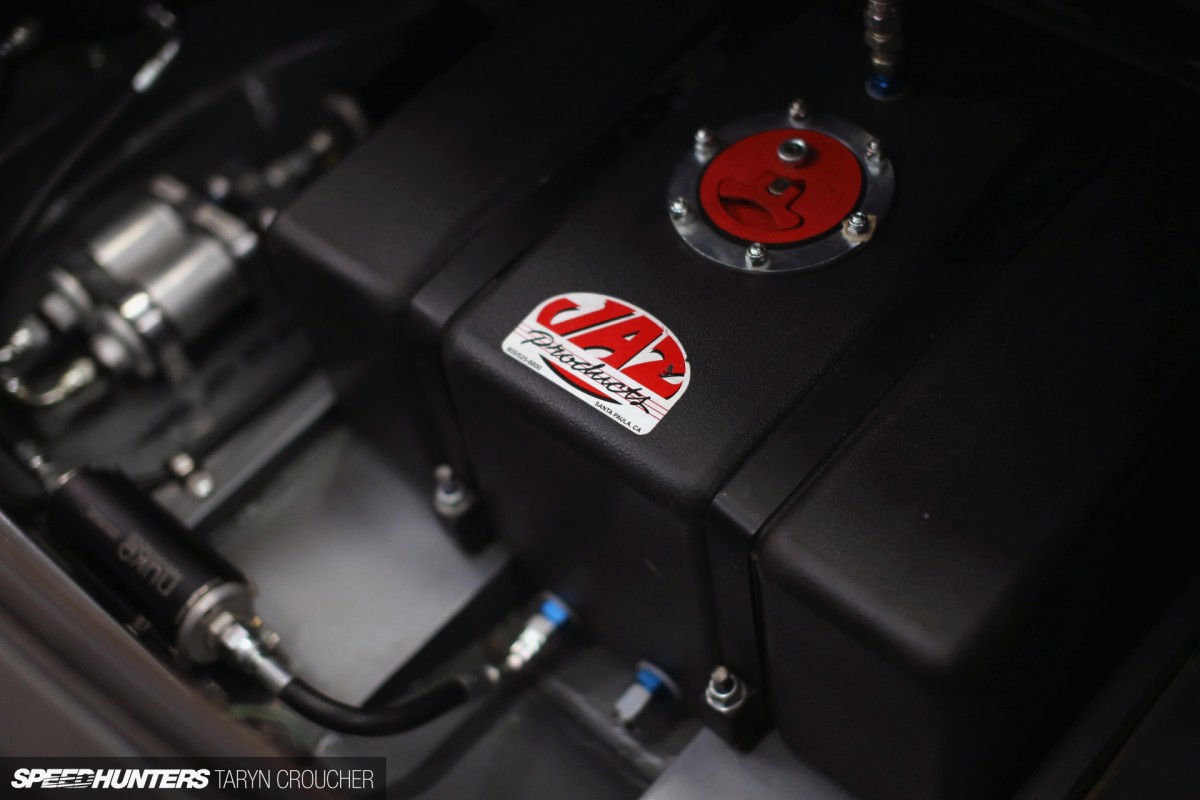 It's also running VAG coils, upgraded 1,000cc injectors, and runs on E85 race fuel, with everything being controlled by a MegaSquirt 3 engine management system. The boot well and rear fenders have also been modified to house the new fuel system, which is protected from the driver's area with a custom-built firewall.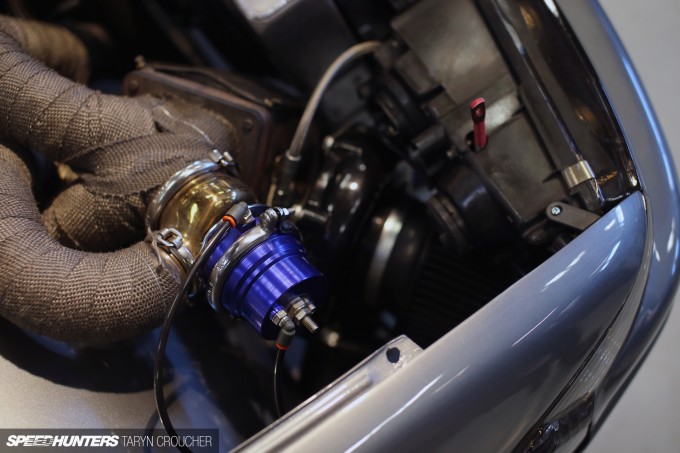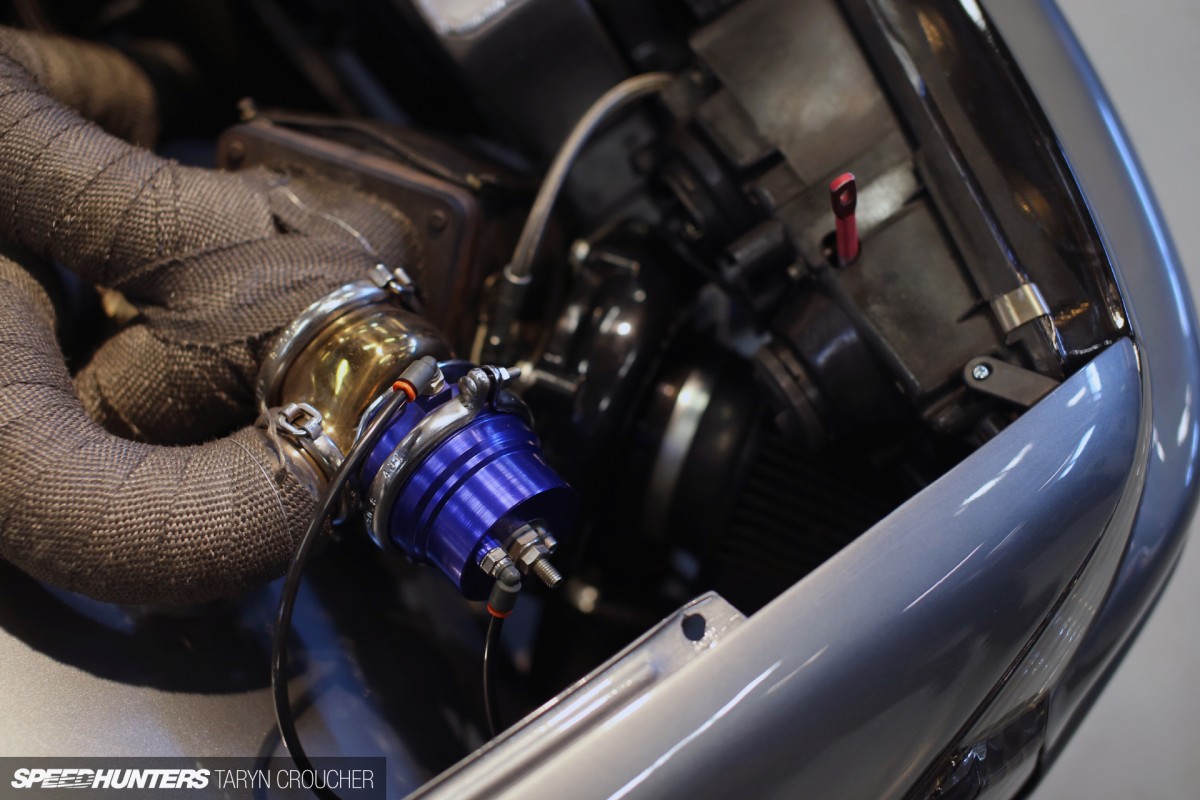 With this current setup, the boosted V8 is capable of handling 750 to 800whp, although it's currently producing 500whp and 700wNm at 0.6bar (8.8psi) of boost, which is still more than enough for Robin's needs.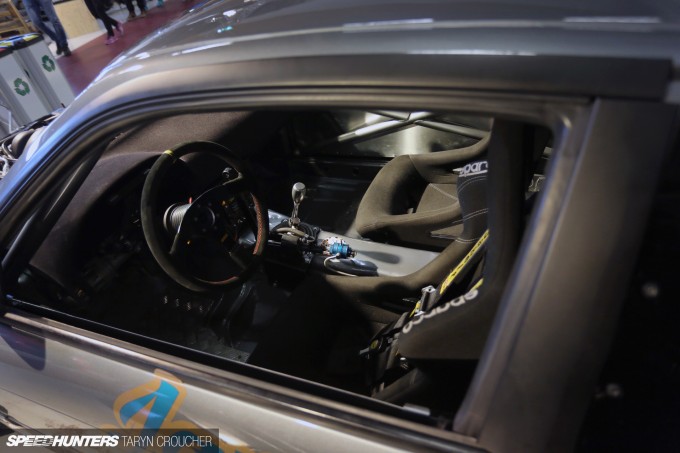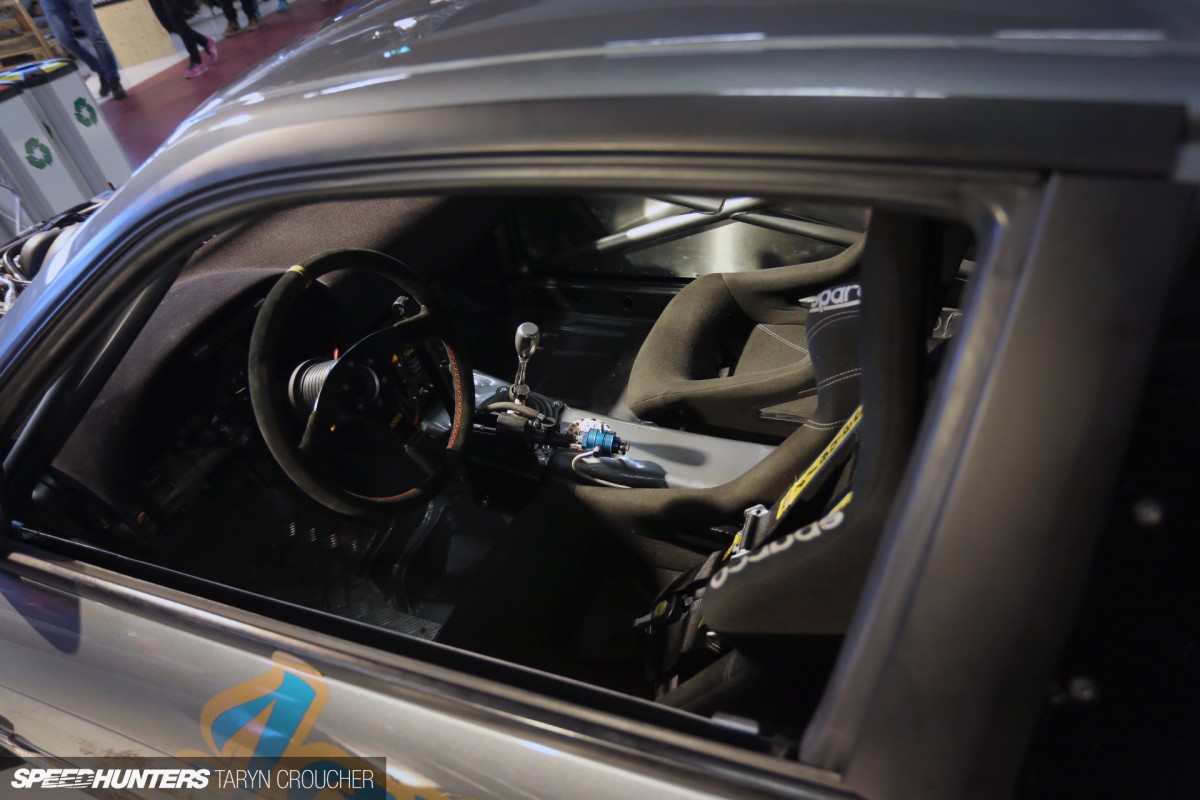 Throughout the winter, Robin has fully re-wired the car and added a Corsa C electrical power steering column, fabricated a complete new tube front-end (the whole front of the car has been chopped off from the strut towers), and built new wheel tubs to push out the FRP fenders, making the body around 60 to 70mm wider than stock.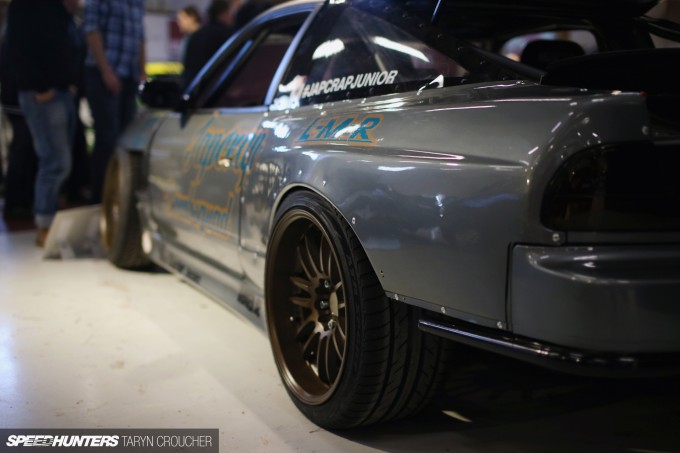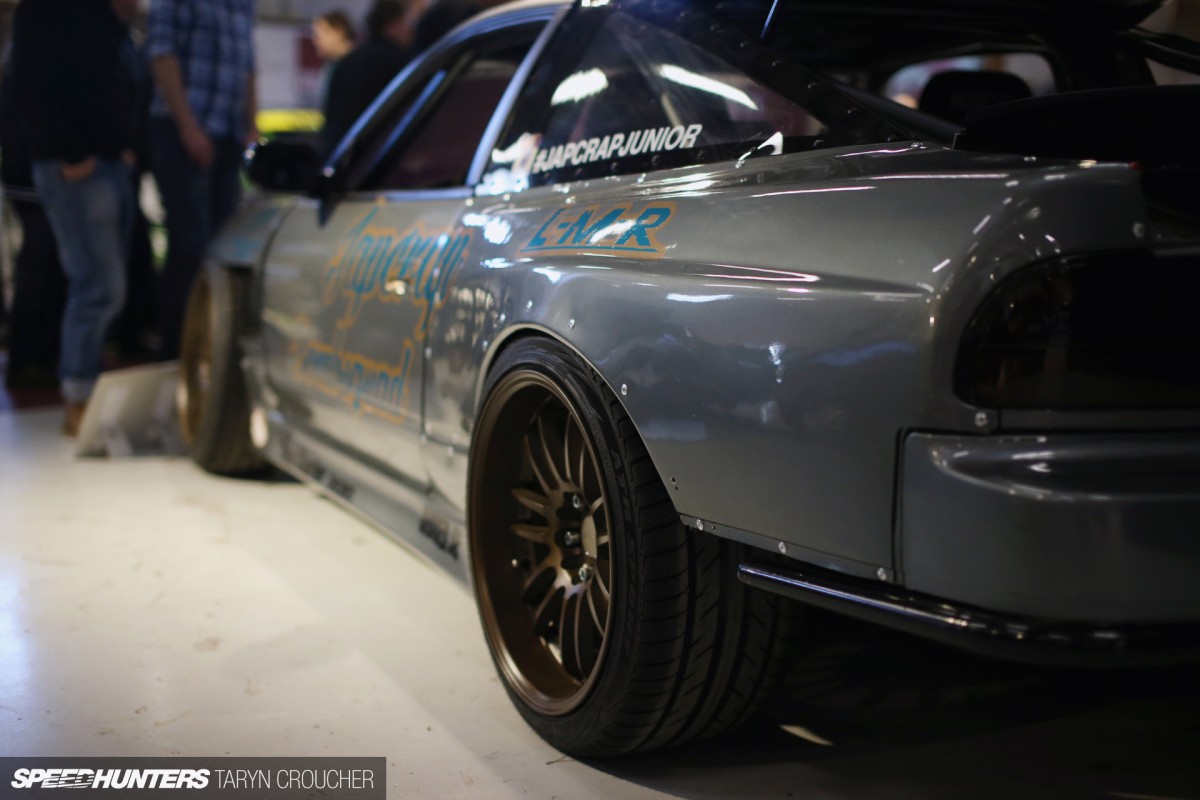 As Robin's journey with his Silvia has unfolded over the years, he's gradually introduced a few style-orientated modifications, such as the Sileighty conversion and a new set of more aggressive wheels. However, as Robin works as a race car mechanic, to him performance will always remain of utmost importance. As a result, his car has a raw, purposeful stance – spot the positive camber dialled in at the back.
1992 Nissan 200SX
Engine: Nissan CA18DET
Owner: Jimmi Jakobsson
Instagram: accordingtojimmi
Location: Eksjö, Sweden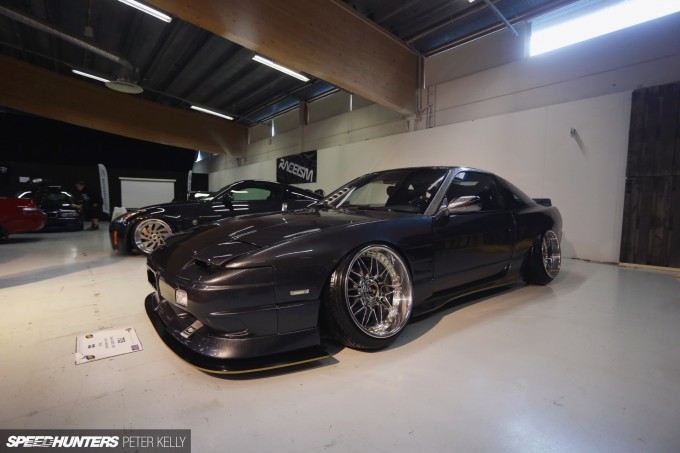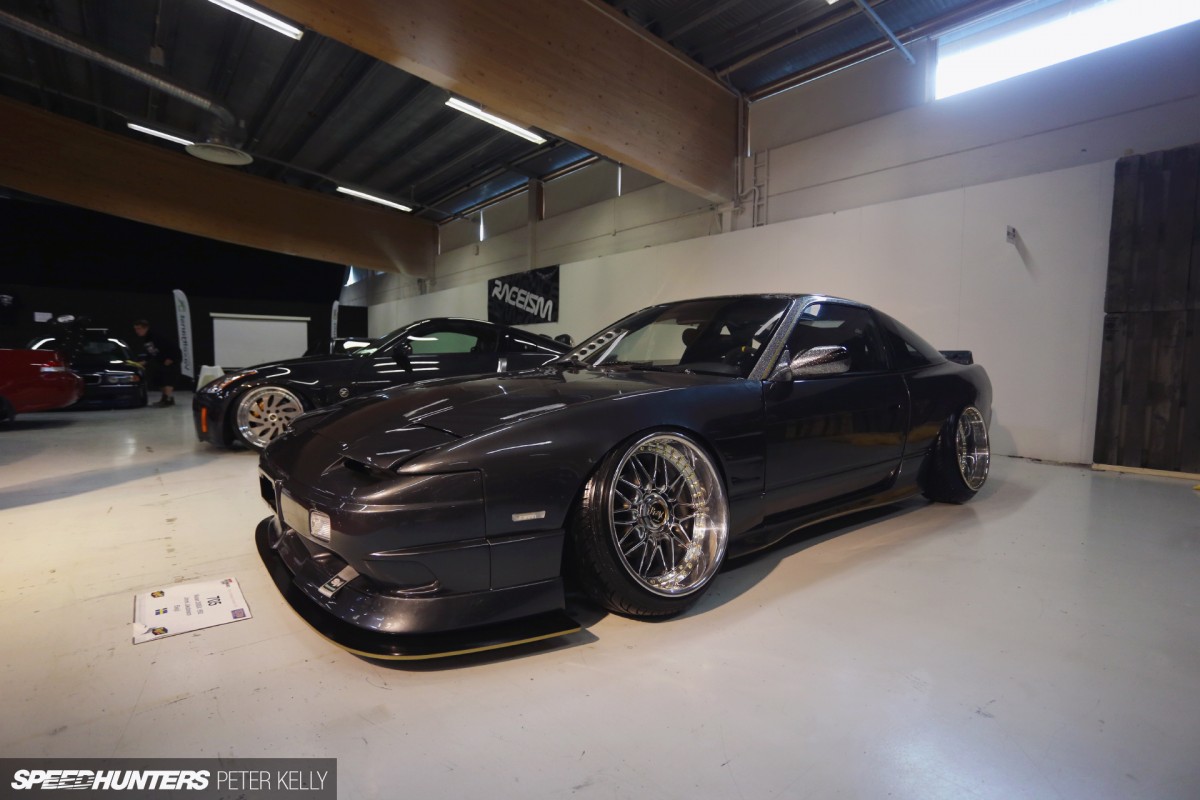 While performance and handling have taken priority with Robin's 200SX, Jimmi Jakobsson has taken a completely different path with basically the exact same car. Although heavily influenced by Japanese drift culture, Jimmi confesses that he doesn't think of his 200SX as a 'drift build' at all. In fact, to him it's more of a modern day hot rod. Jimmi explains, "I've been an automotive enthusiast for as long as I can remember, and I've always enjoyed modifying anything I can get my hands on. When I was younger I got into BMX bikes – I still am into them – I love how it's a sport where personality and style can make such a difference, and passion and creativity is really strongly encouraged."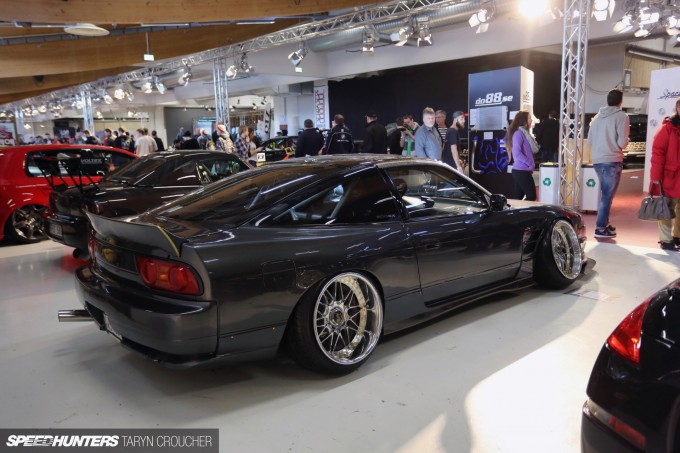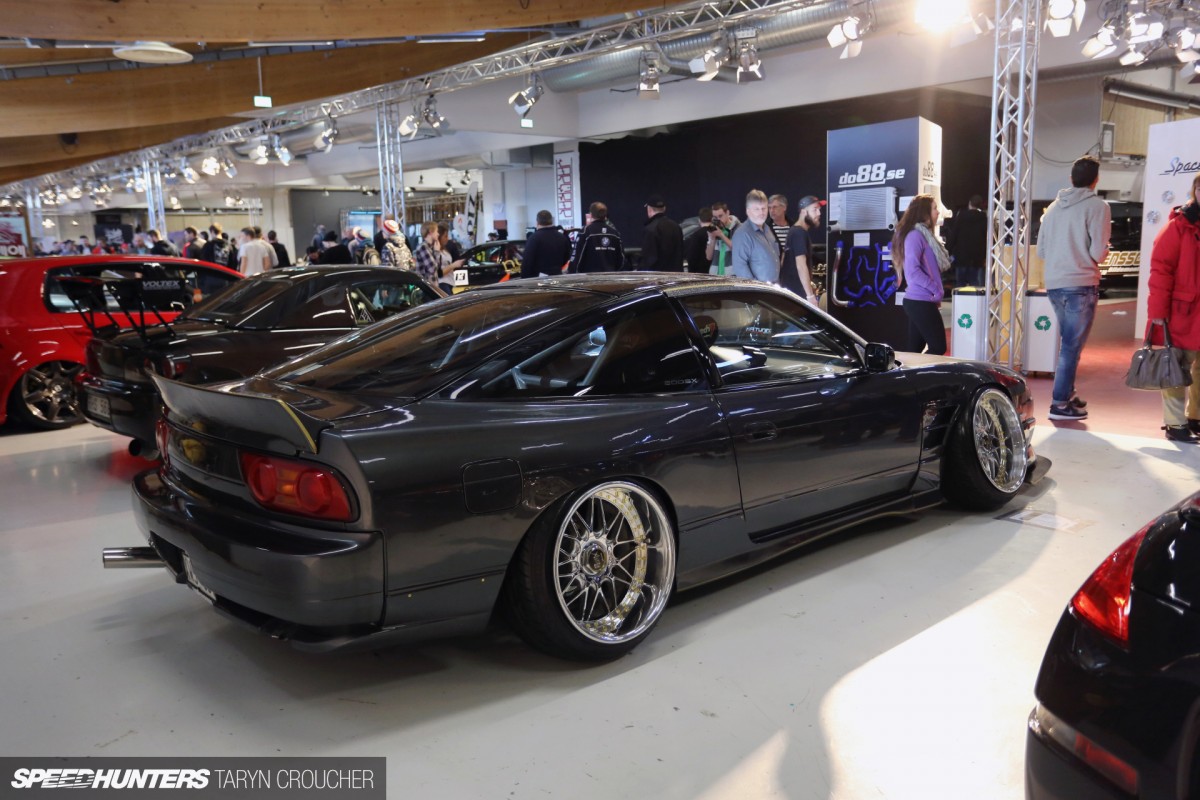 He continues, "I first discovered the world of drifting when I saw a clip of Yoshinori Koguchi drifting in his black 180 Type X, and I remember thinking, I need to have a Type X at some point in my life! It looked so well balanced, sounded so good, and the look was on point. Unfortunately I never had the opportunity – or money – to do anything about it. I stuck with my bikes and eventually started Supermoto racing, but I could never shake that old Koguchi clip from my mind. Eventually I gave in and bought a 200SX as a daily driver. It wasn't meant to be a project at all, but as you can see, that didn't last very long!"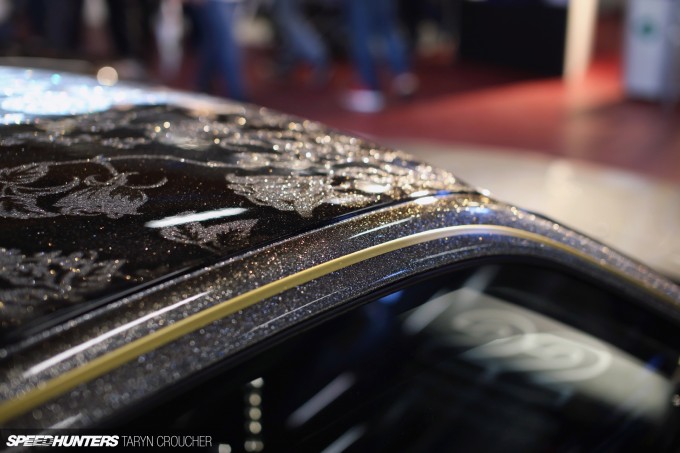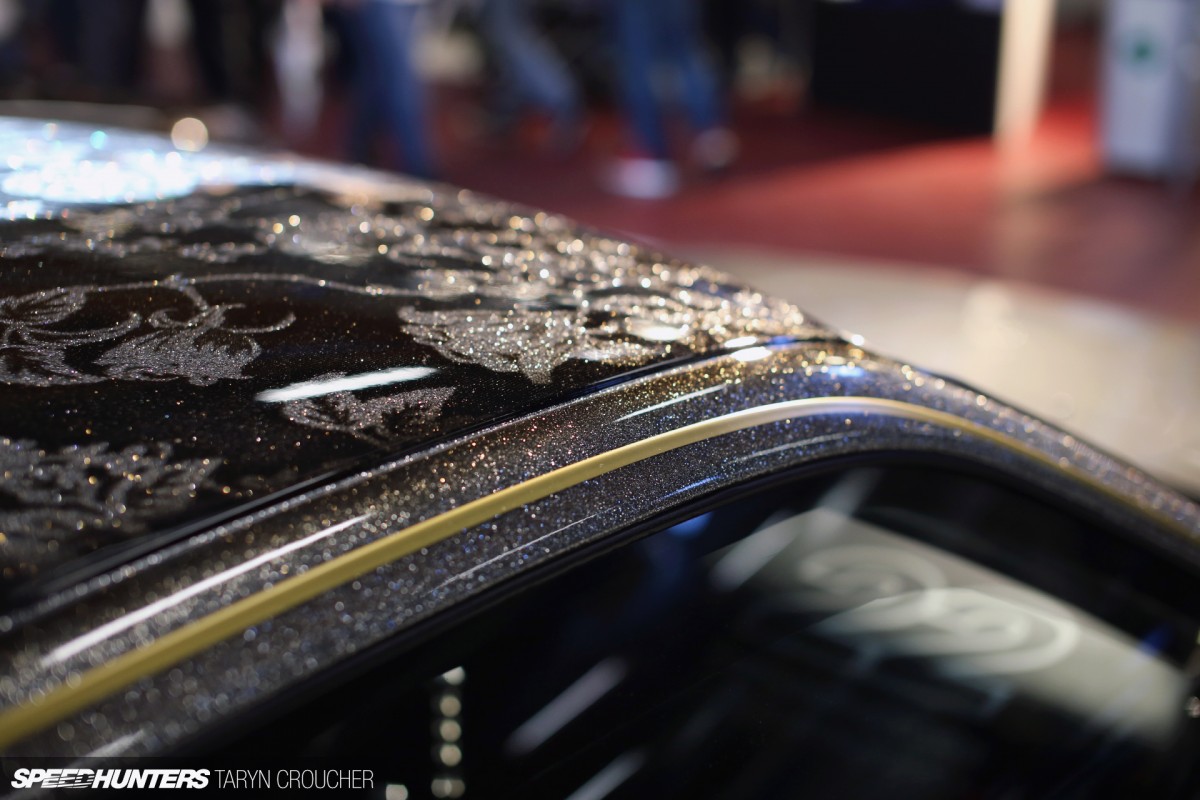 The coolest thing about Jimmi's car is that is made him rediscover his passion for having a project, and he soon started to pour all of his energy and creative ideas into his 200SX. Old school American customs, Japanese bippu-style and creative motorcycle builds have played a part in influencing his styling choices, with one of the main features being the custom-painted lace-print roof with metal-flake, pinstriped side pillars.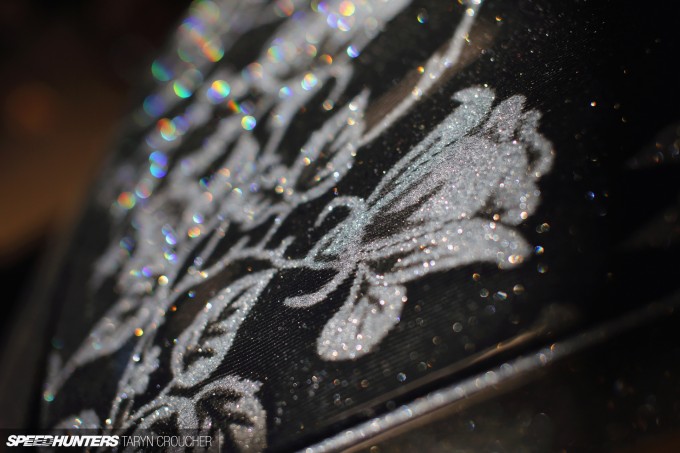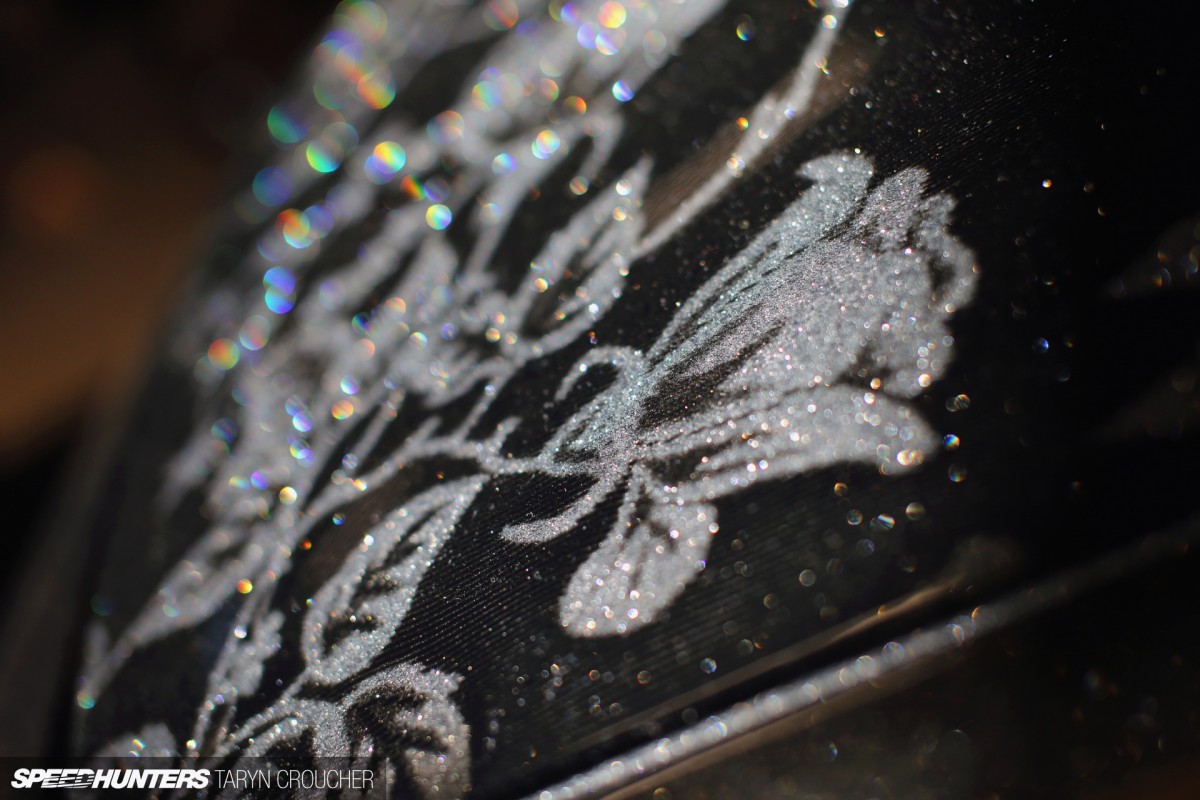 Jimmi teamed up with Anders Aldrin from Anders Lackcenter, a well-known local painter specialising in custom projects, who was able to plan and execute his wild idea to perfection. Jimmi explains that it was a complete experiment, but it happened to turn out exactly the way he'd envisioned.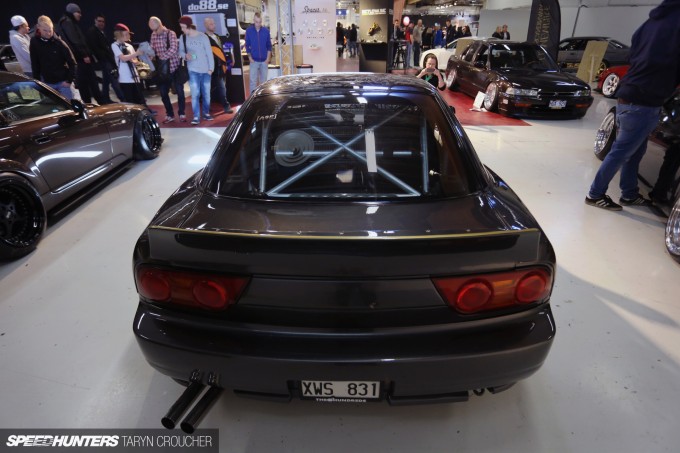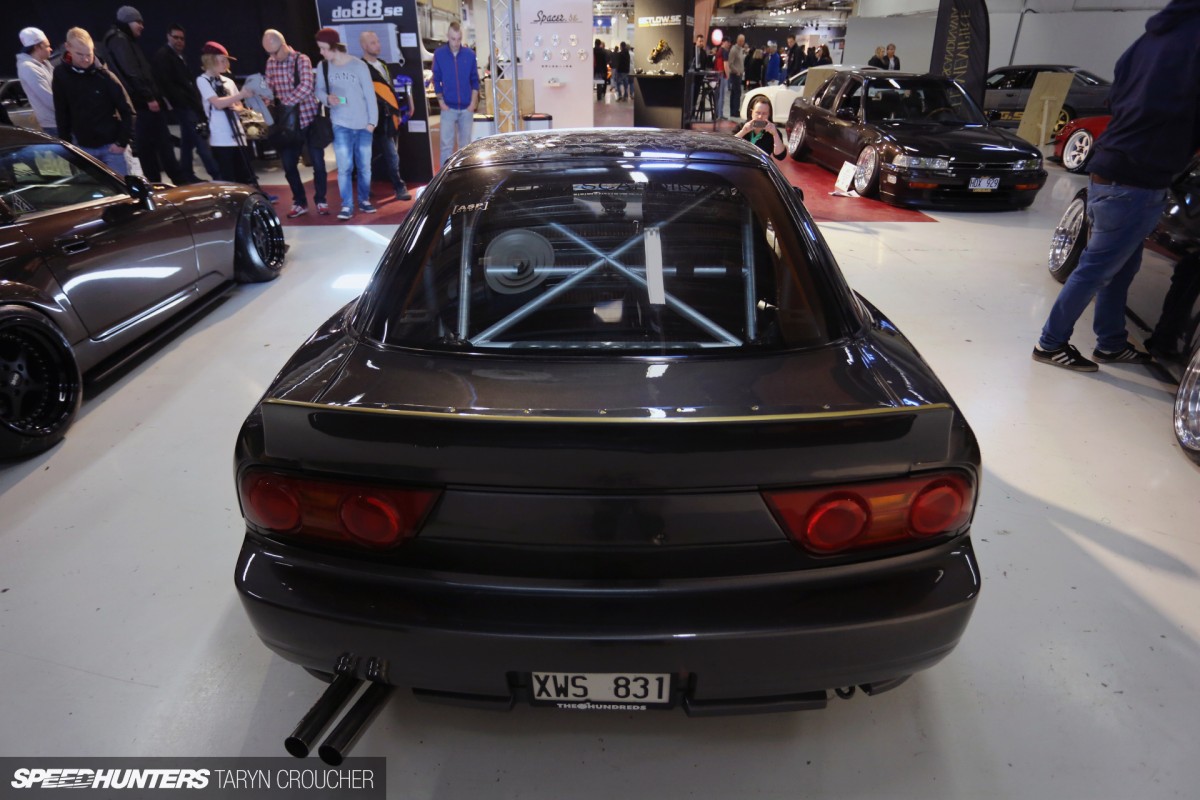 Other modifications include a full kouki Type X replica kit, a Rocket Bunny rear wing (with the rivet holes in the lower trunk shaved), a custom front splitter, shaved trimmings and antennas, BMW E39 indicators, a TIG-welded rollcage, bucket seats and Sparco 6-point harnesses.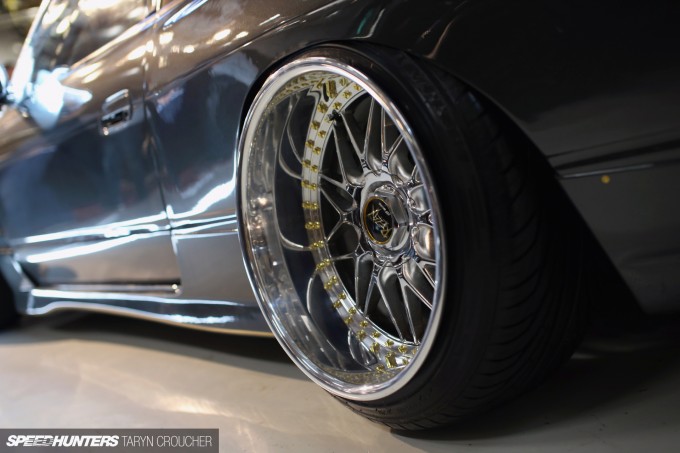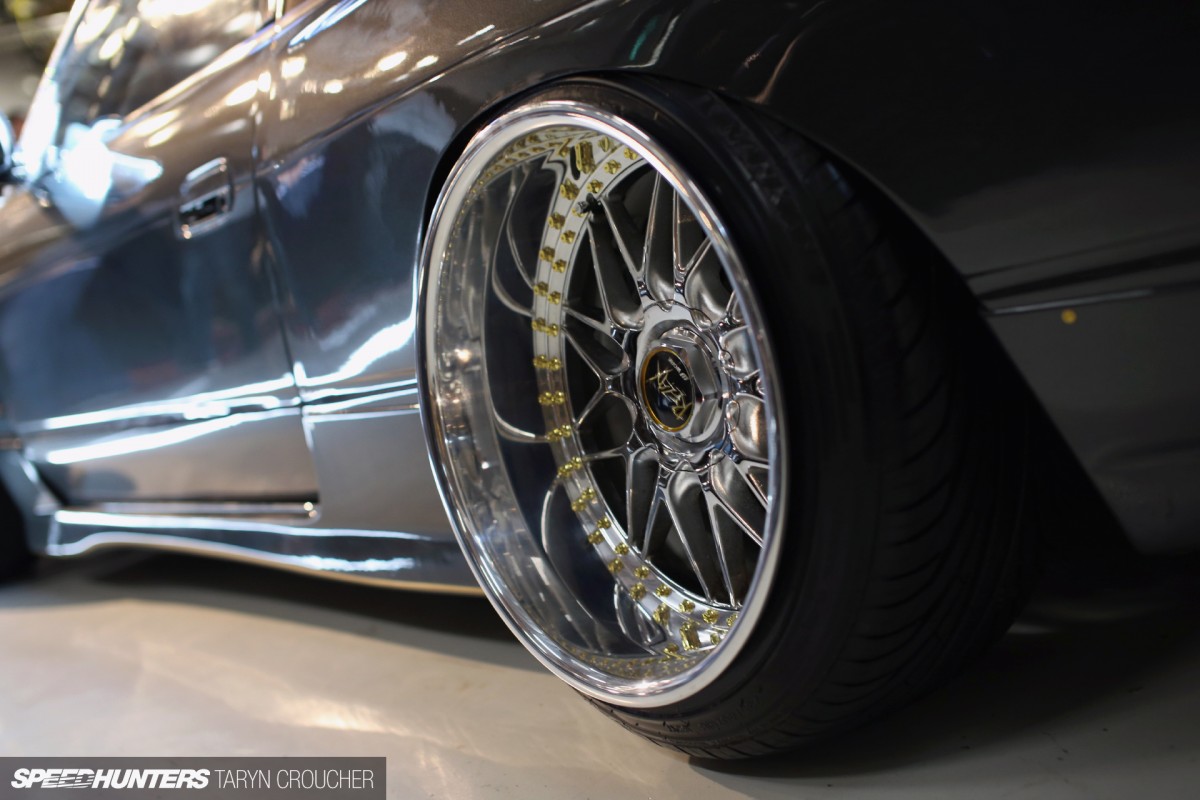 He's also sourced the ultimate set of wheels to complement the car: Work Rezaxs with aftermarket lips and gold plated bolts, measuring 18×10.5-inch -7 up front and 18×11.5-inch -7 in the rear. The majority of the work done on the car so far has been on the chassis and the suspension, which is based around modified BC coilovers.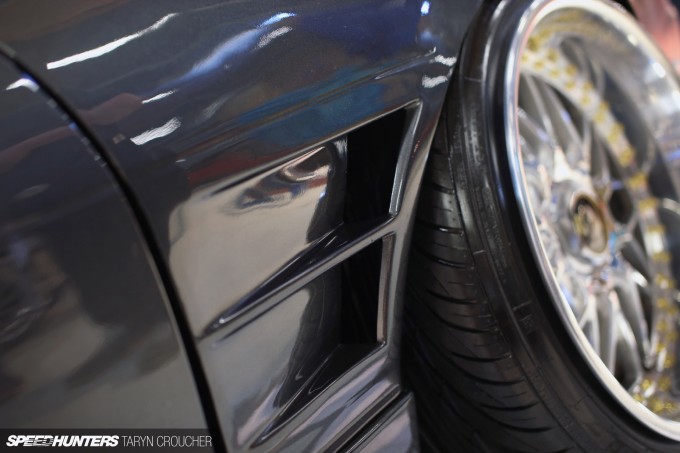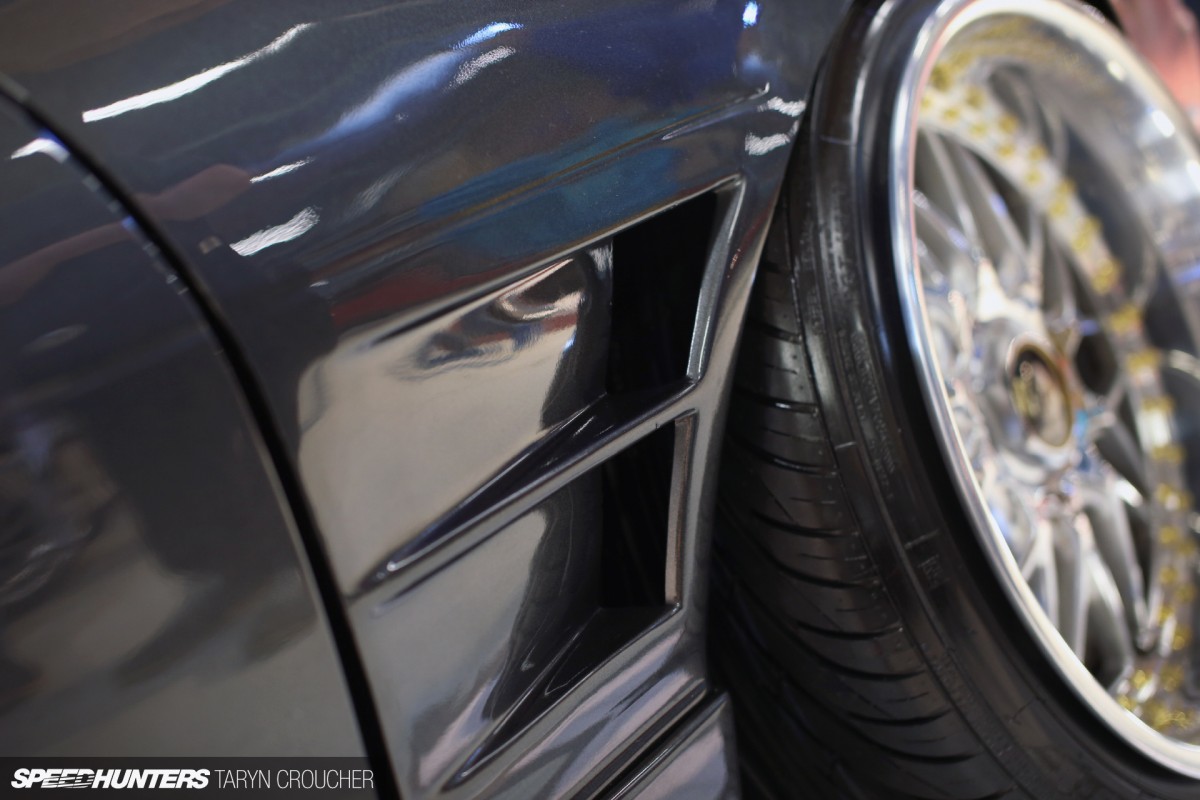 Jimmi explains that his main goal was to make it as drivable and drift-able as possible while retaining the aggressive wheel fitment he wanted. He explains, "I didn't build the car specifically with drifting in mind, but I've set it up perfectly for how I want to drive it. People might hate on cars with aggressive fitment, but I made a conscious decision to create something that fitted just me and my needs, and I don't mind what others think of that, because I know my own tastes are a little more on the wild side than most people seem to appreciate. But that's fine with me, because I'm free to create whatever I want. To me, building a project like this is the ultimate form of expression."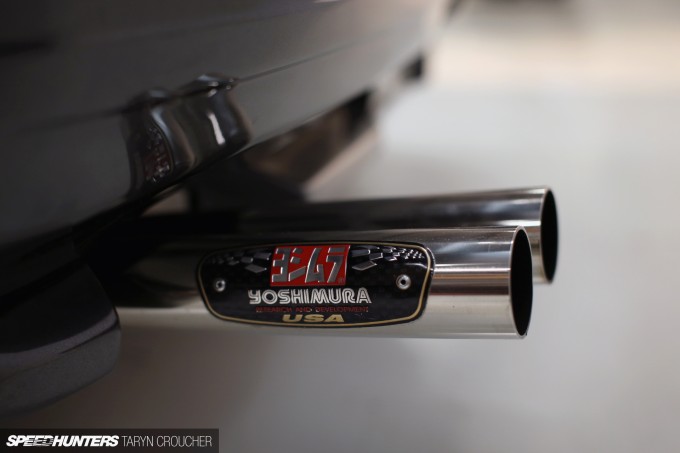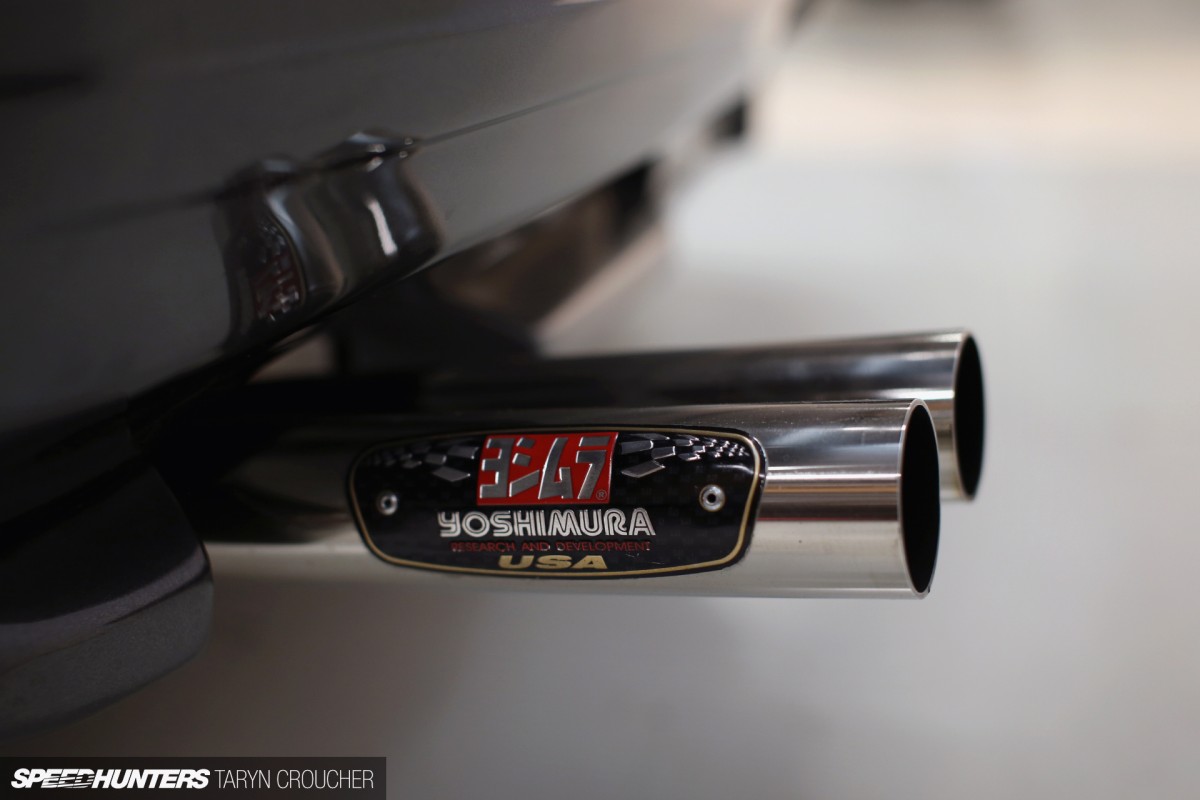 The 200SX currently runs a very lightly modified CA18DET, and seeing as it's running well, Jimmi isn't in any huge hurry to get rid of it. For now he's just going to keep driving it and tinkering with it during the winters to see where it takes him.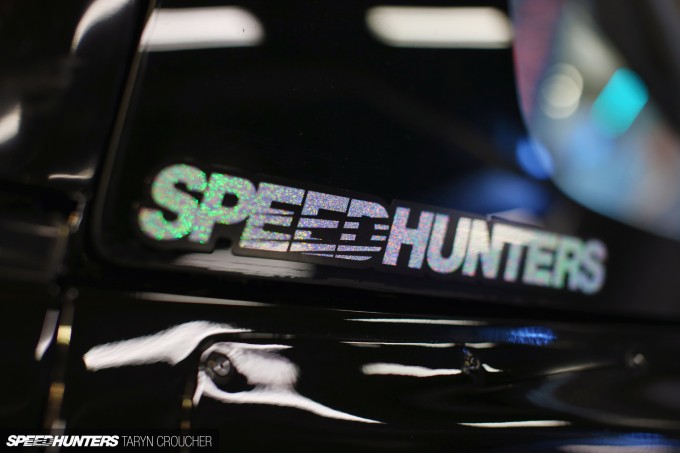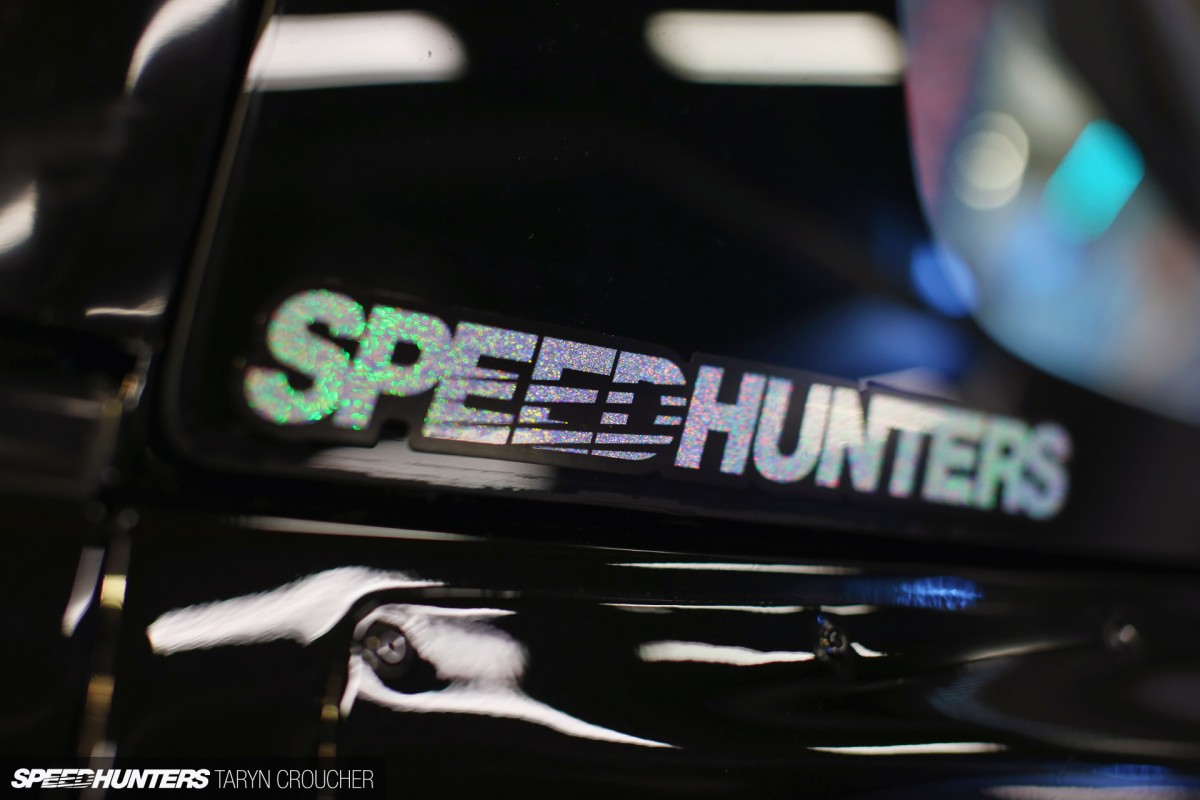 It's definitely interesting looking at the different paths each of these S-chassis enthusiasts have taken with modifying each of their individual projects, and overall I think this subject poses some thought-provoking questions. All too often, grassroots builds like all of the Silvias above seem to be 'flamed' for being too low, too wide or not 'functional' enough. Yet with competitive drift builds, there also seems to be a lot of complaining about style being completely sacrificed in order to become more competitive. So, where is the in-between?
What is a perfectly modified FR-layout Japanese sportscar? There's no arguing the fact that all five of these cars have been built to be driven, and style is definitely something having been considered with all of them. Personally, what I think we can take away from these five cars is that that 'point' where form and function balances simply doesn't exist. Because for every single person out there, that point is going to be somewhere different.
As usual, we'd all be interested to hear your thoughts below!
Words by Taryn Croucher
Instagram: taryncroucher
Twitter: @taryncroucher
taryn@speedhunters.com
Additional Photos by Peter Kelly
Instagram: speedhunters_pedey
pedey@speedhunters.com