Live, Breathe, Ford
When the term 'muscle car' is thrown around in general automotive-related discussion, immediately it evokes images of rising power outputs, increased cubic inches being crammed into compact chassis, and a wild spectrum of colours prevalent among a plethora of sport-focused saloons offered by most of the major American manufacturers throughout a period spanning the early-1960s through to the mid-1970s.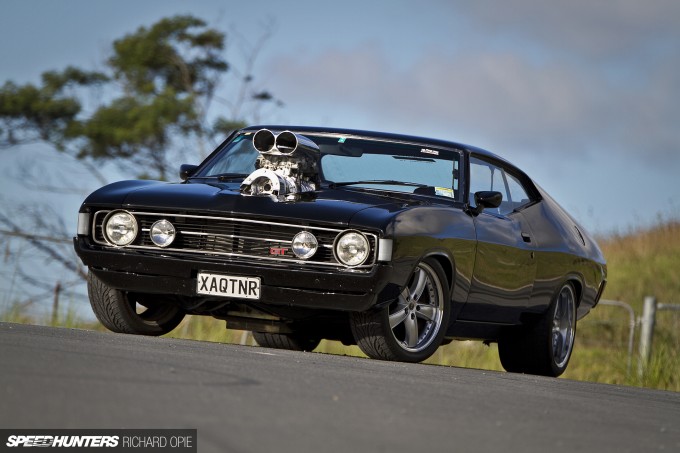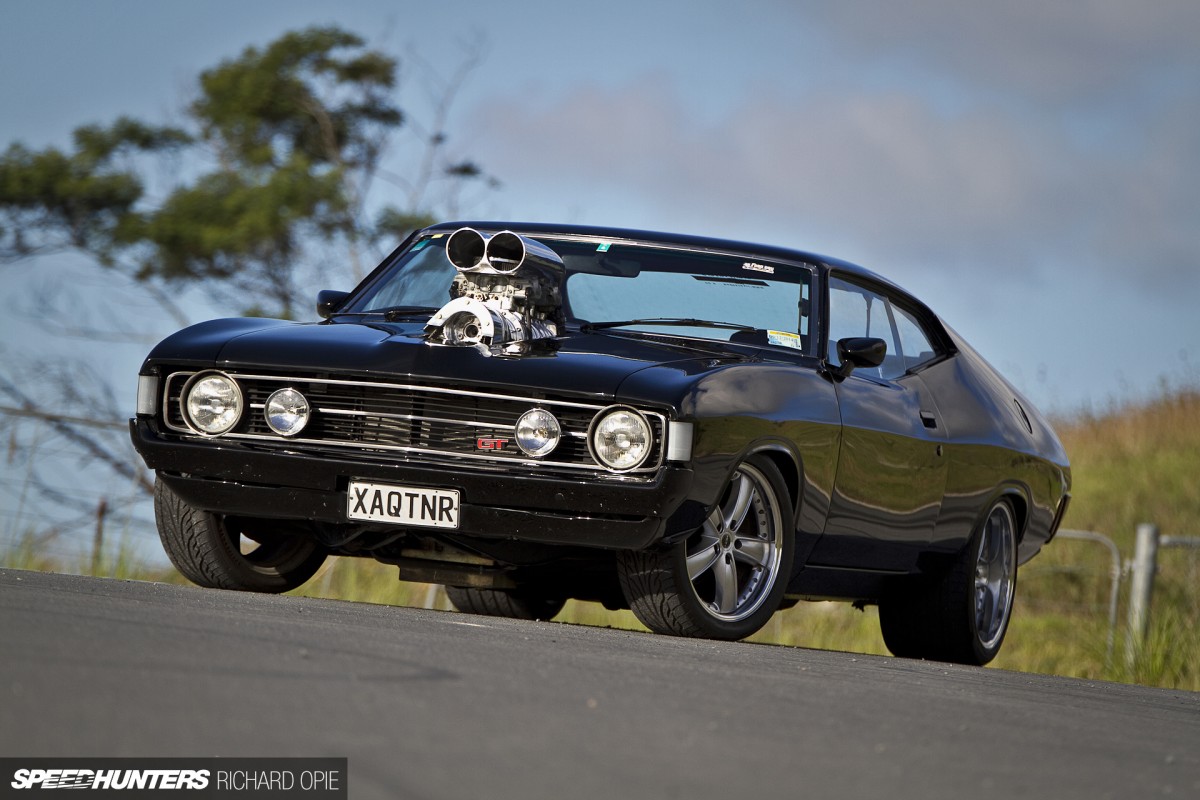 Sadly this initial era of the factory production muscle machine ground to a well publicised halt during the mid-1970s. Political pressure, clear-air mandates and fuel crises dictated this particular breed of car to become increasingly less relevant and feasible for manufacturers to economically produce.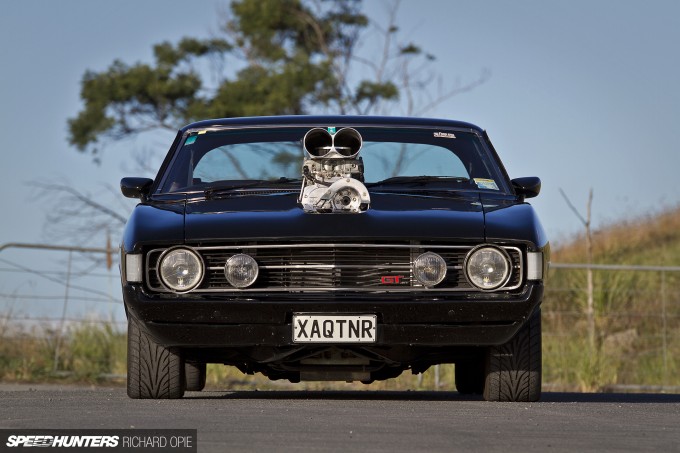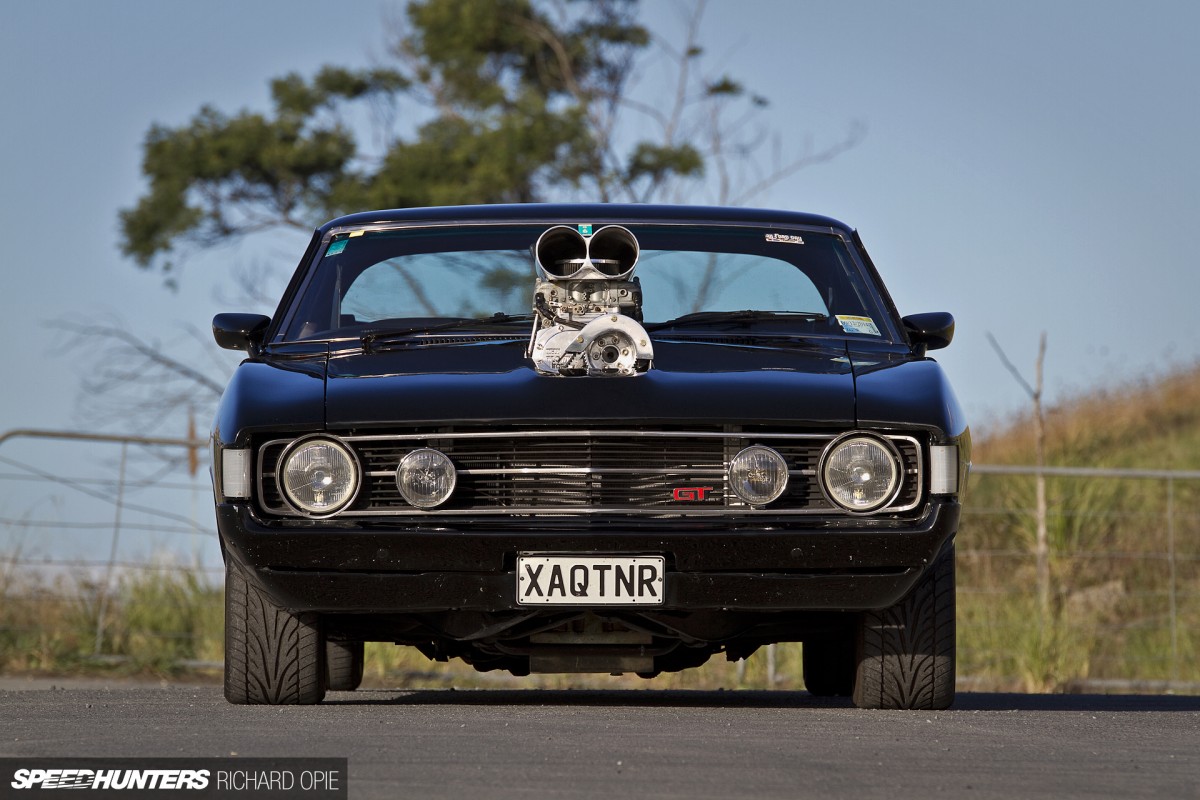 Even though the muscle car craze is most commonly associated with the United States, across the globe in Australia, Ford, General Motors and Chrysler (the Big 3) were all embarking on a muscle car battle royale of their own. While in pursuit of Australia's 'Great Race' at the Mount Panorama circuit for the 1967 running, Ford Australia unleashed the Falcon XR GT, a potent variant of the company's staple family sedan packing a 289 cubic inch (4.7-litre) Windsor V8. With Aussie motor racing legends Harry Firth and Fred Gibson sharing the drive it took overall honours, and so began a retaliatory war among the local branches of the Big 3 for touring car superiority.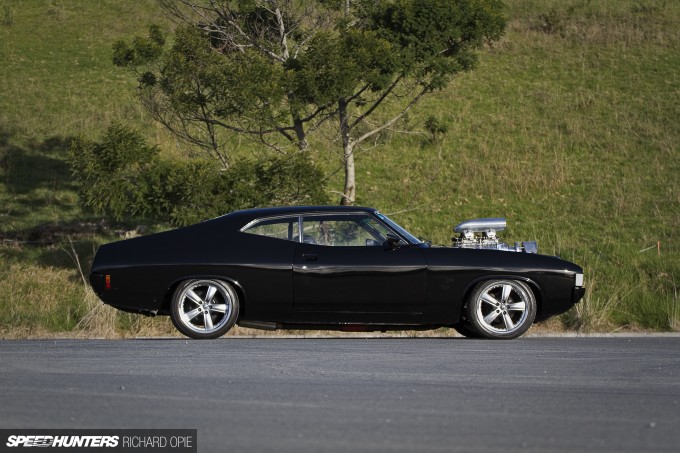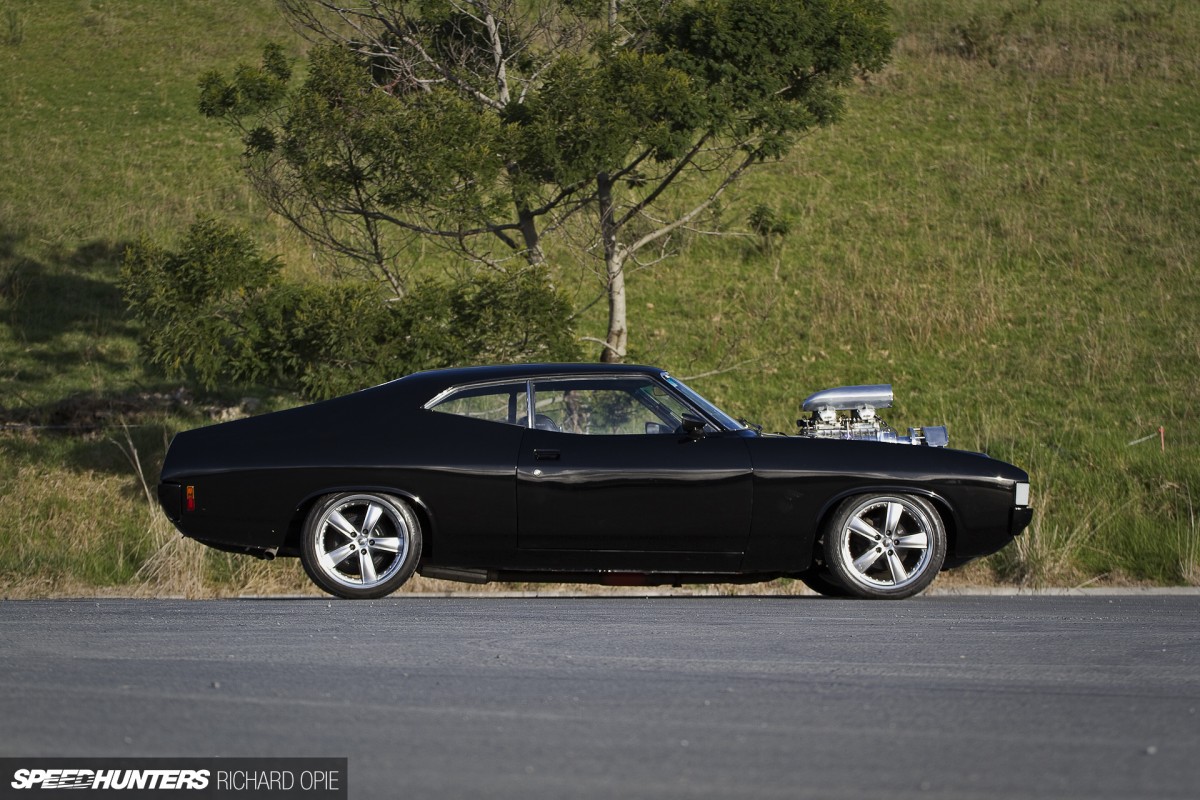 Again a reflection of the American situation, the Australian 'supercar scare' eventually put paid to what were effectively factory homologation specials for local touring car competition. In one notable incident, Australia's Wheels magazine published images of a journalist pulling over 140mph (225km/h) down the Hume Highway at the helm of an XY chassis Falcon GTHO Phase III, the predecessor to the XA model designation.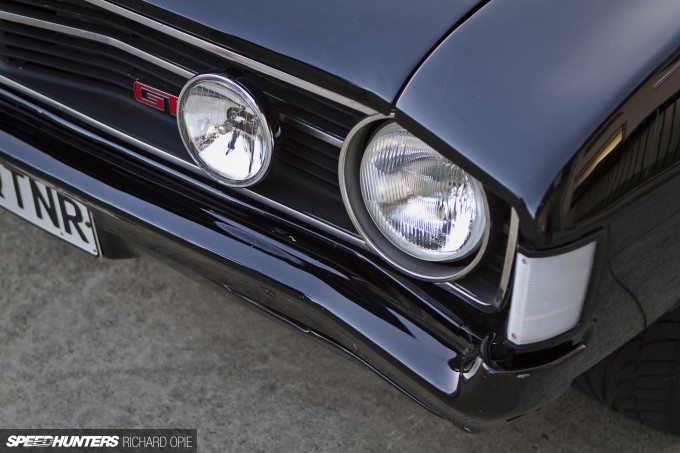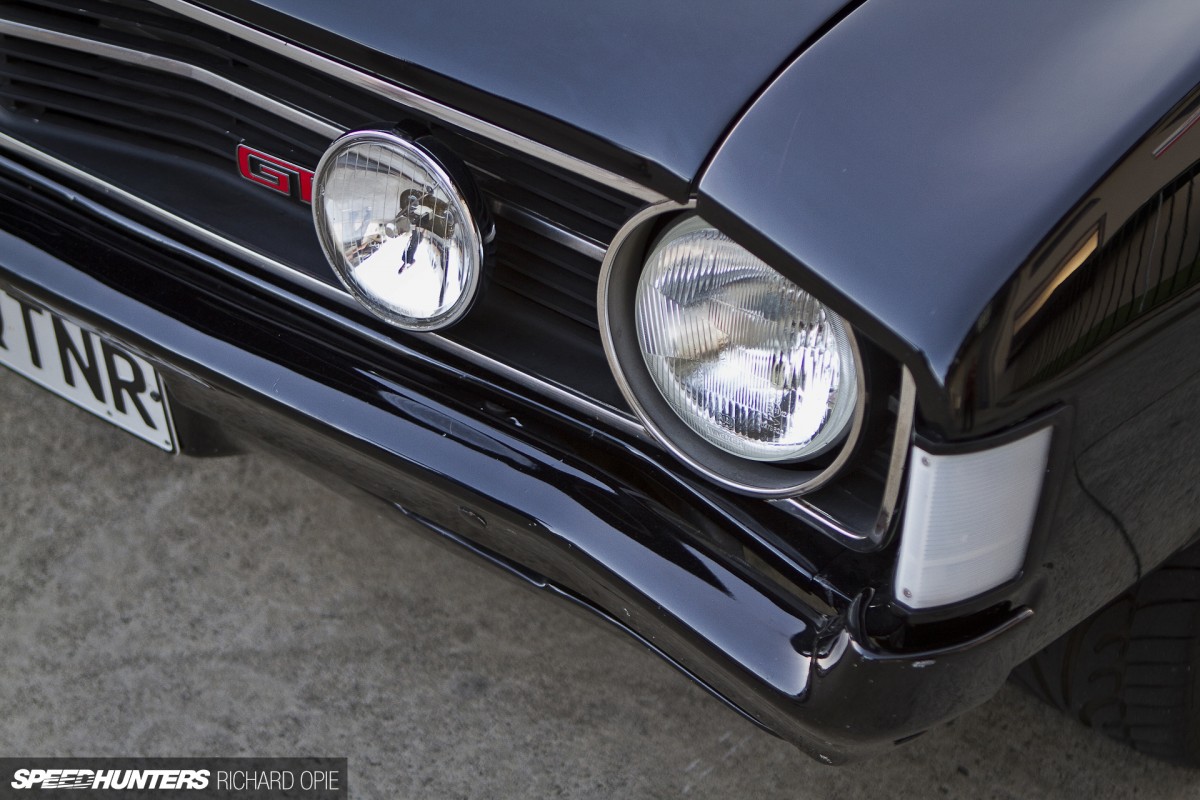 One side effect of this intense rivalry was the way in which the public became divided in the showrooms. You either became a Ford man, a GM-Holden family or a staunch advocate of the Mopar persuasion – a trend that continues in contemporary times both in V8 Supercar competition and at the somewhat less high-octane environment of the showrooms across Australia and New Zealand.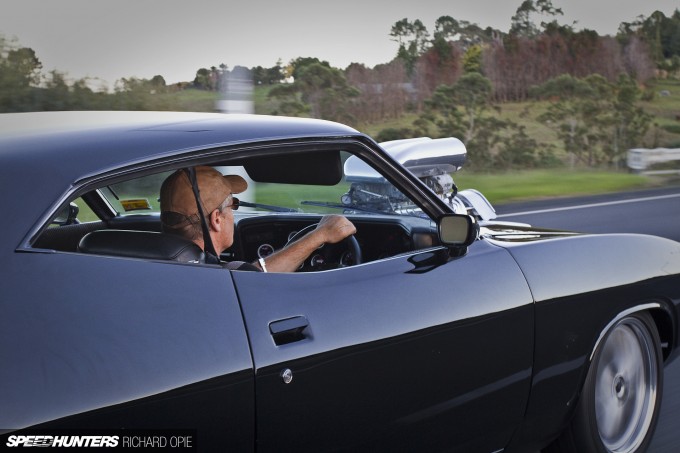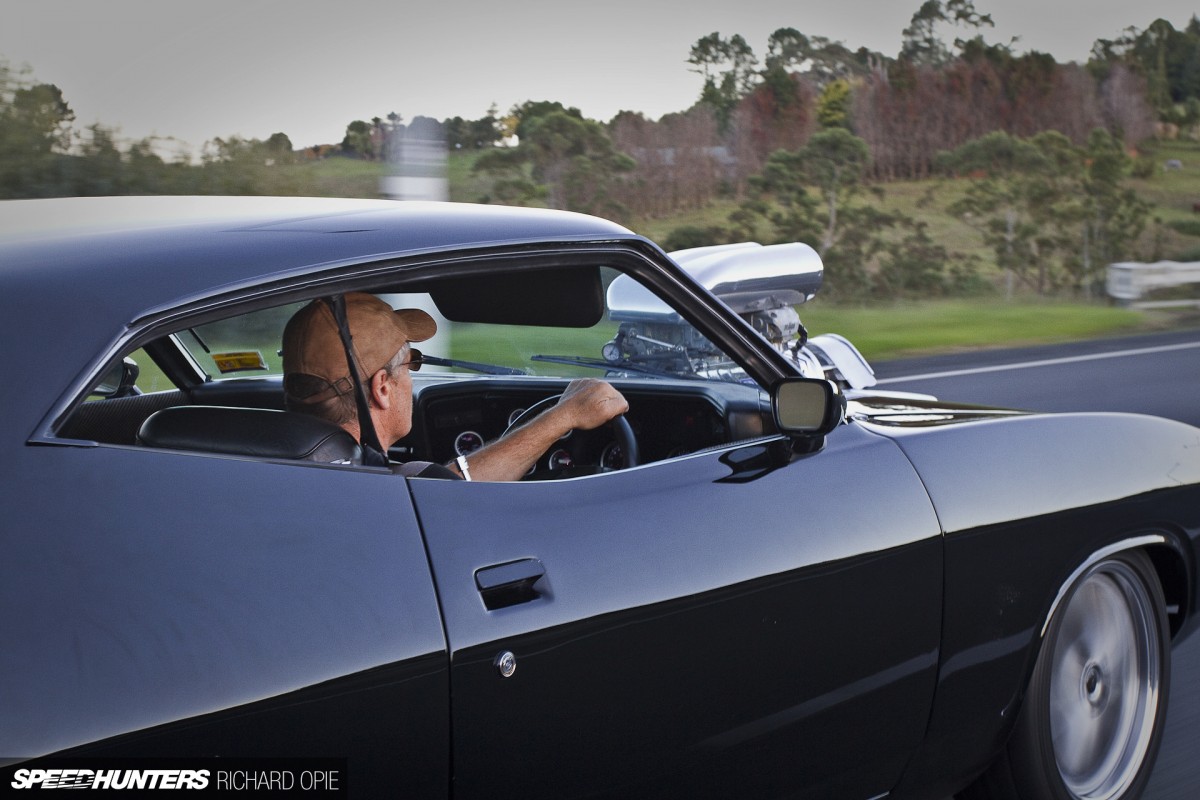 One such Ford man is Nigel Andrews, owner and builder of the smooth and sublime example of an XA chassis Falcon hardtop coupe, shot here beneath the persistent glare of the autumn Southern Hemisphere sun in Auckland, New Zealand.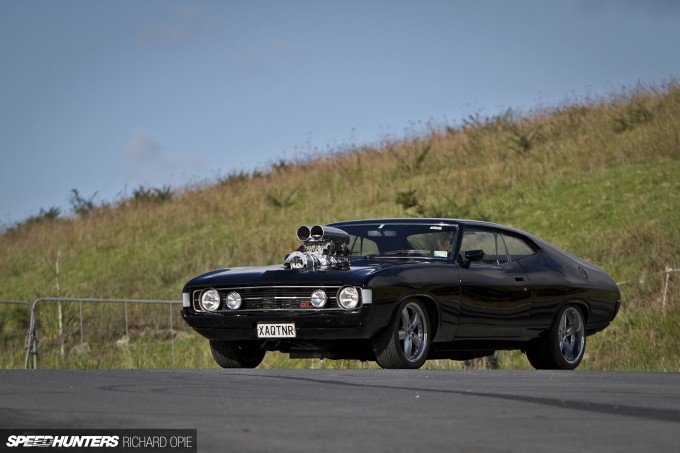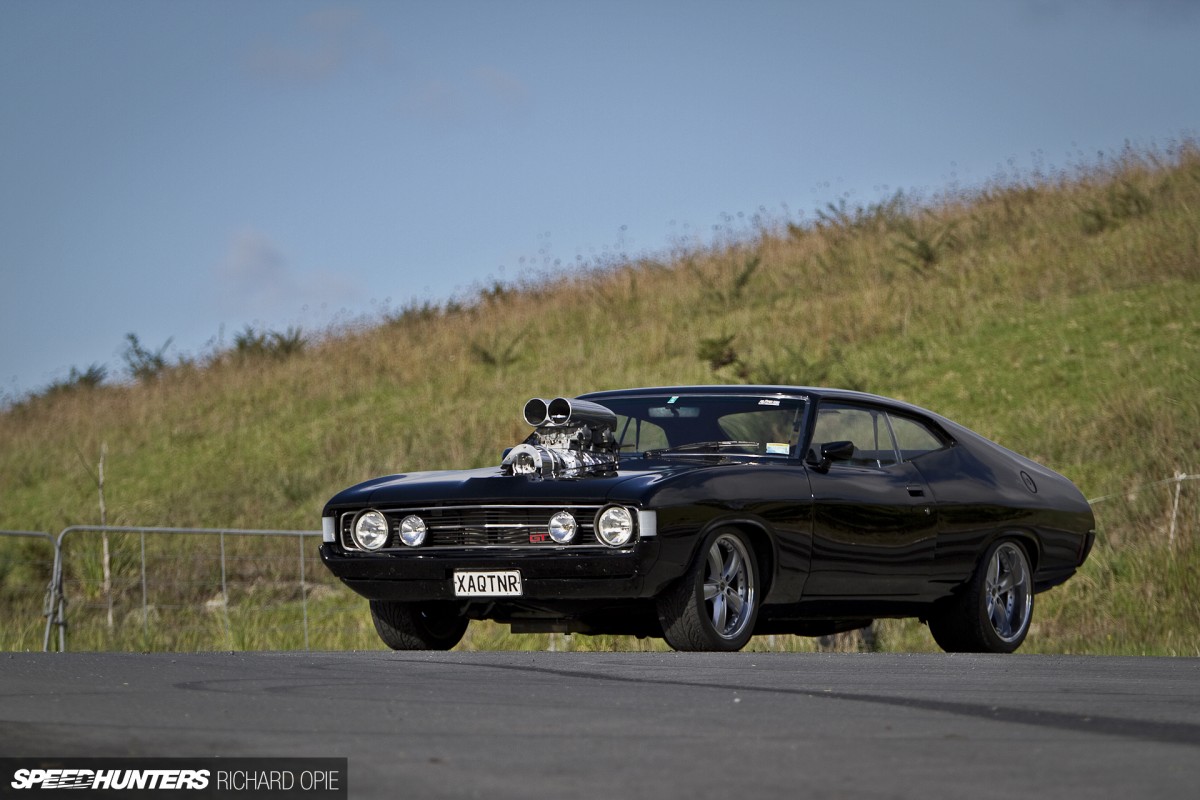 You see, the blue oval influence over Nigel's automotive life is enduring. Prior to embarking on the build of the 1973-vintage supercharged tarmac terror, his workshop was home to a younger member of the Falcon lineage – a 480kW (643hp) Vortech-supercharged BA ute. A string of standard daily drivers with Henry's emblem adorning the grille have maintained the theme from nine 'til five on weekdays, too.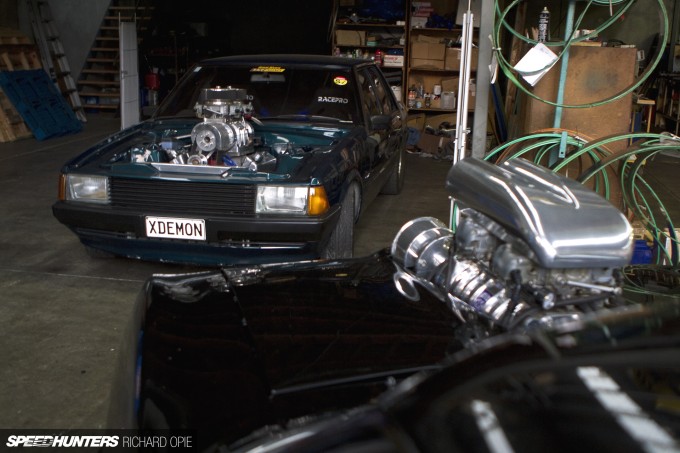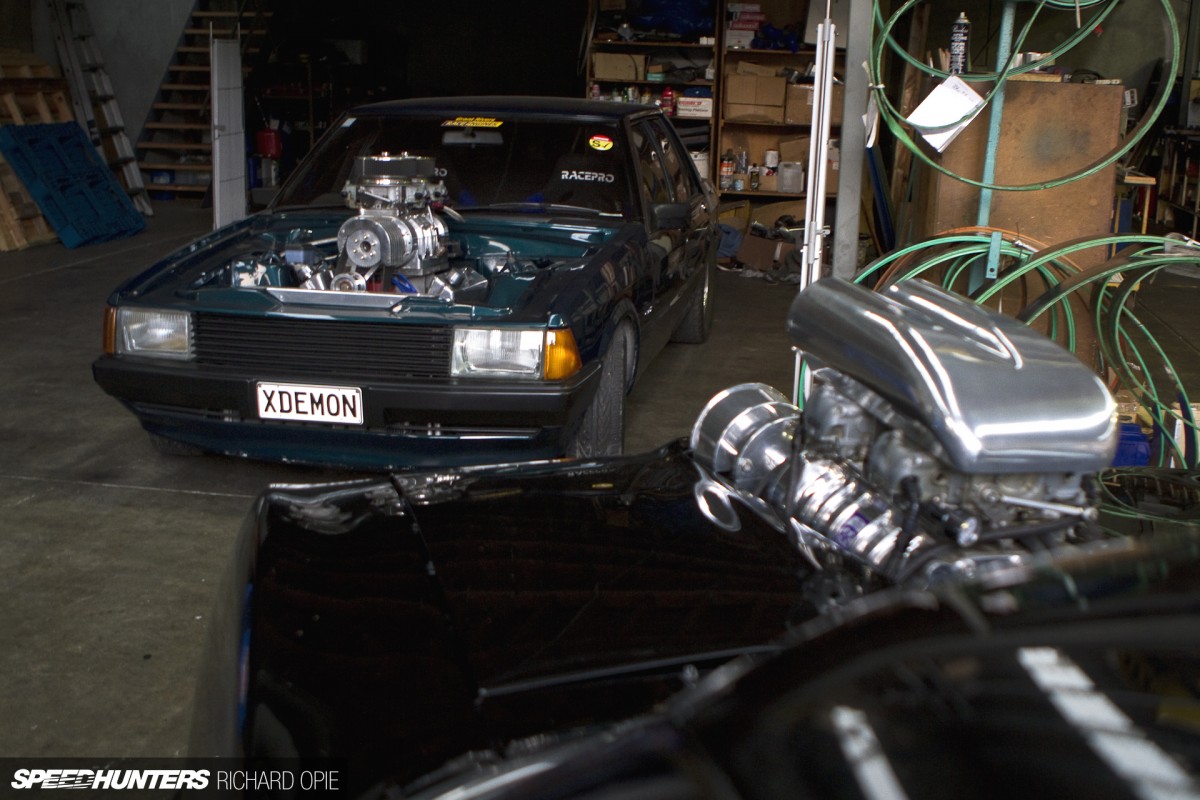 The catalyst for the Falcon build however was the completion of Nigel's son Nick's own wild project Falcon (see, I told you it's a family affair!) – a blown big block 1980 XD sedan pushing almost 1000hp from its detailed engine bay to the wide treads at the rear. With memories of Bathurst past resonating, Nigel began a search for an example of Ford Australia's classically-styled early-'70s hero car.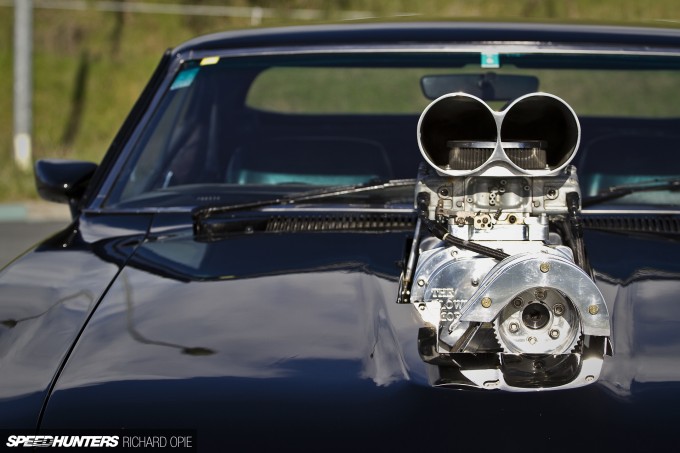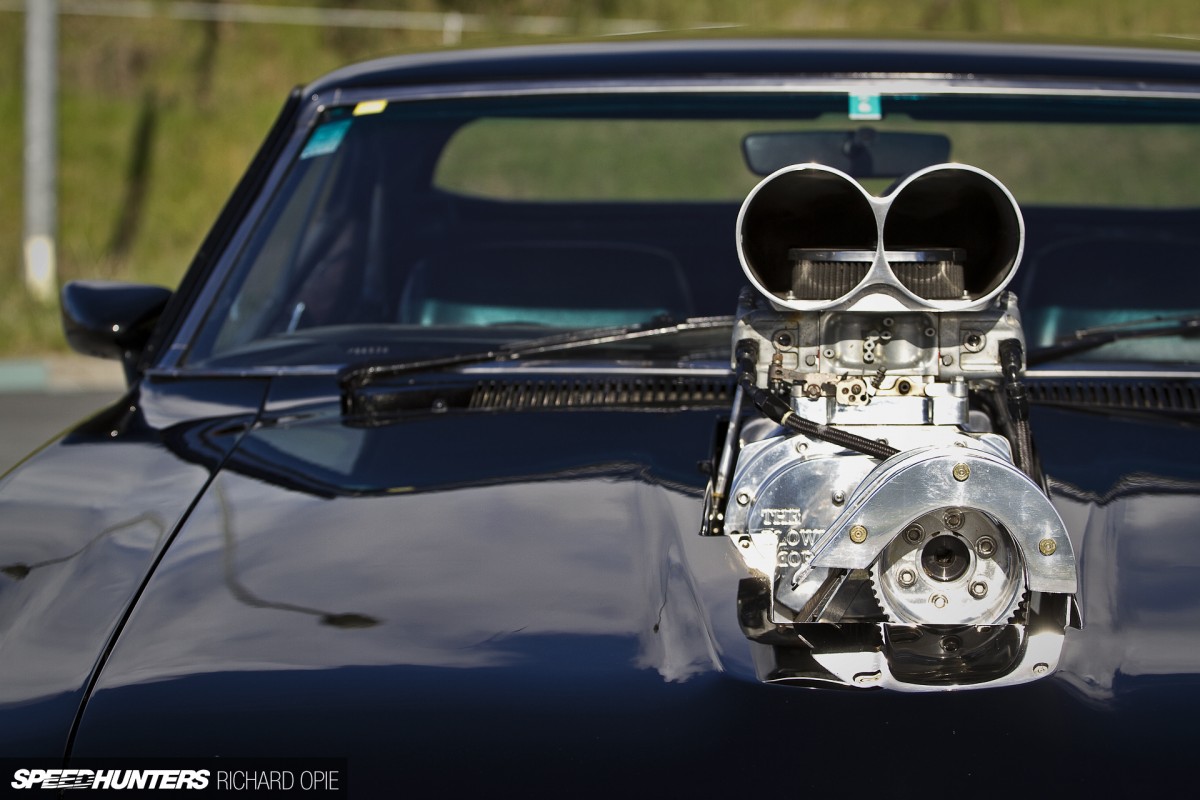 As all aficionados of nostalgic tin are more than aware, the search for the perfect starting point for a project is never an easy one. For two exhaustive years Nigel scoured the country in search of the right XA hardtop to craft into his vision of a tough street car, eventually unearthing an unfinished project just a couple of hours south of Auckland in the Waikato region.
Big Block Boogie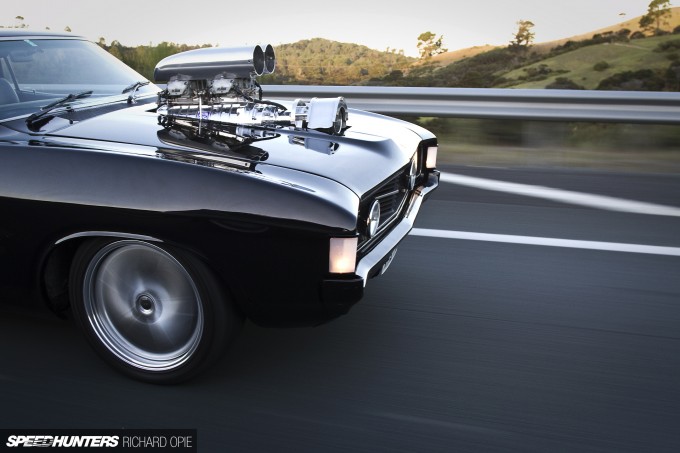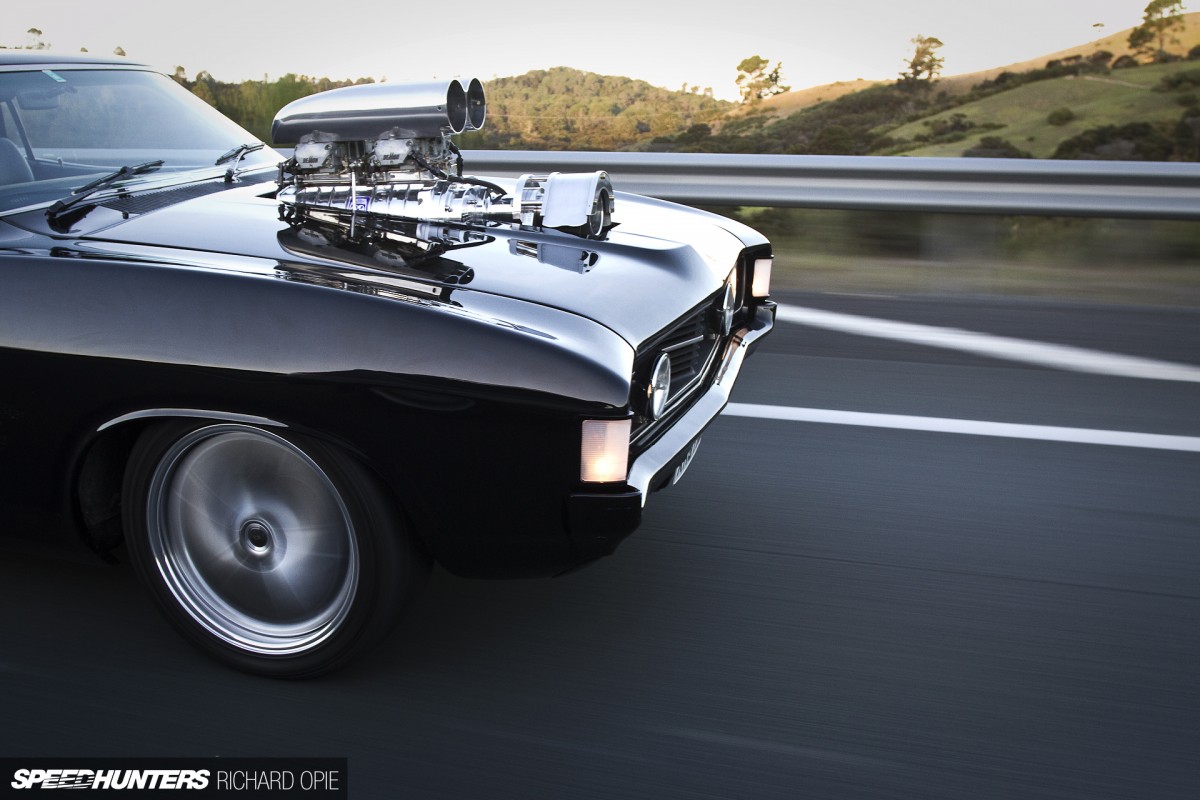 While the general demeanour of Nigel's coupe is anything but subdued these days, things were a very different story for this particular car when it rolled off the production line. For the certified Falcon foamer, the giveaway can be found on the front guards. Here, a lack of faux air vents on the leading edge of the fender points to this particular Ford beginning life as a modest '500' trim level with motivation provided by a cast iron pushrod 250ci (4.1-litre) inline six.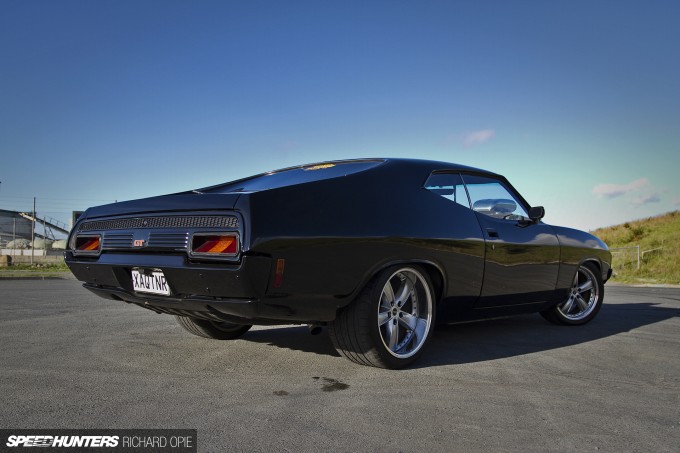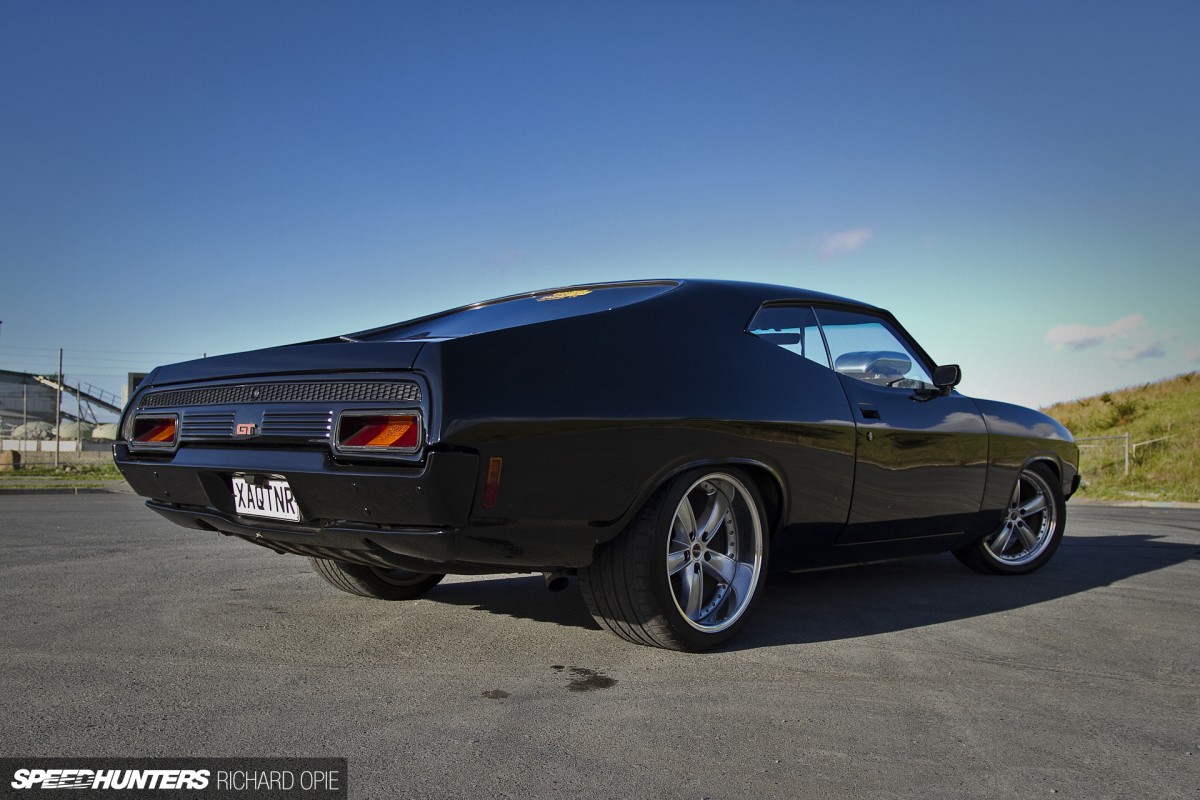 Rolling forward to Nigel's acquisition of the car in 2010 meant that things weren't quite as rosy for the big Ford as they were 37 years prior. In its unfinished state the previous owner had progressed as far as rectifying any problematic areas due to the dreaded tinworm, straightening the XA out and applying a coat of black to its brawny flanks.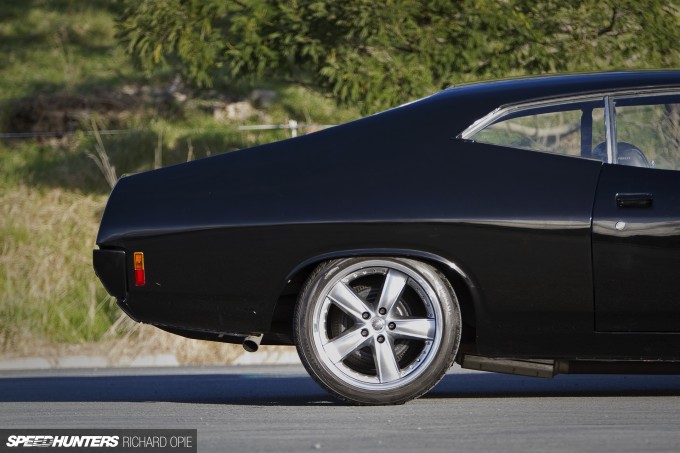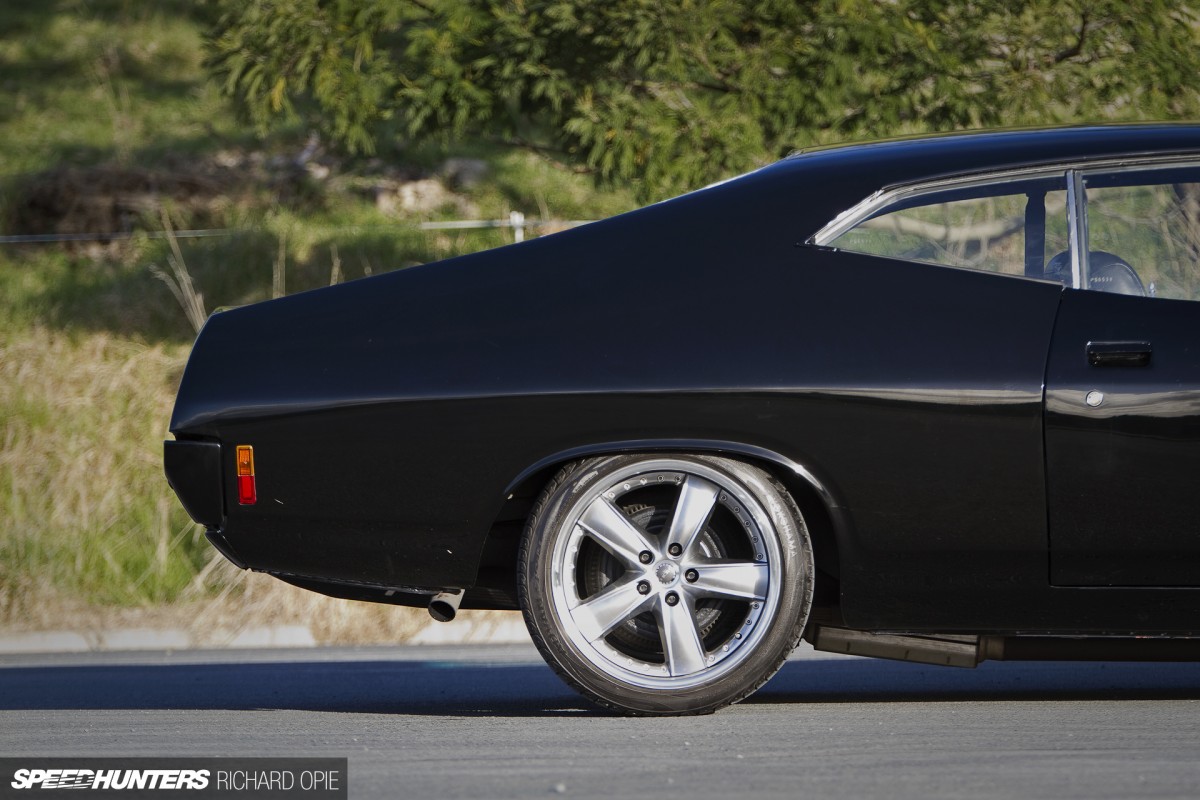 Hiding defects among paint this deep, this glossy and perhaps most importantly this black, is no mean feat. In my mind the single most striking design feature is the sheer visual size of the rear quarter, and homage must be paid to the time spent on the panel work by the prior custodian as the ripples and warps of 40-year-old-plus sheetmetal are non-existent in the now impeccable surface.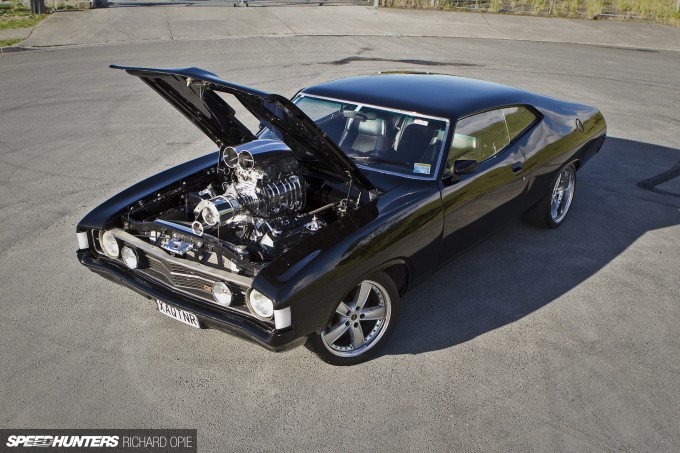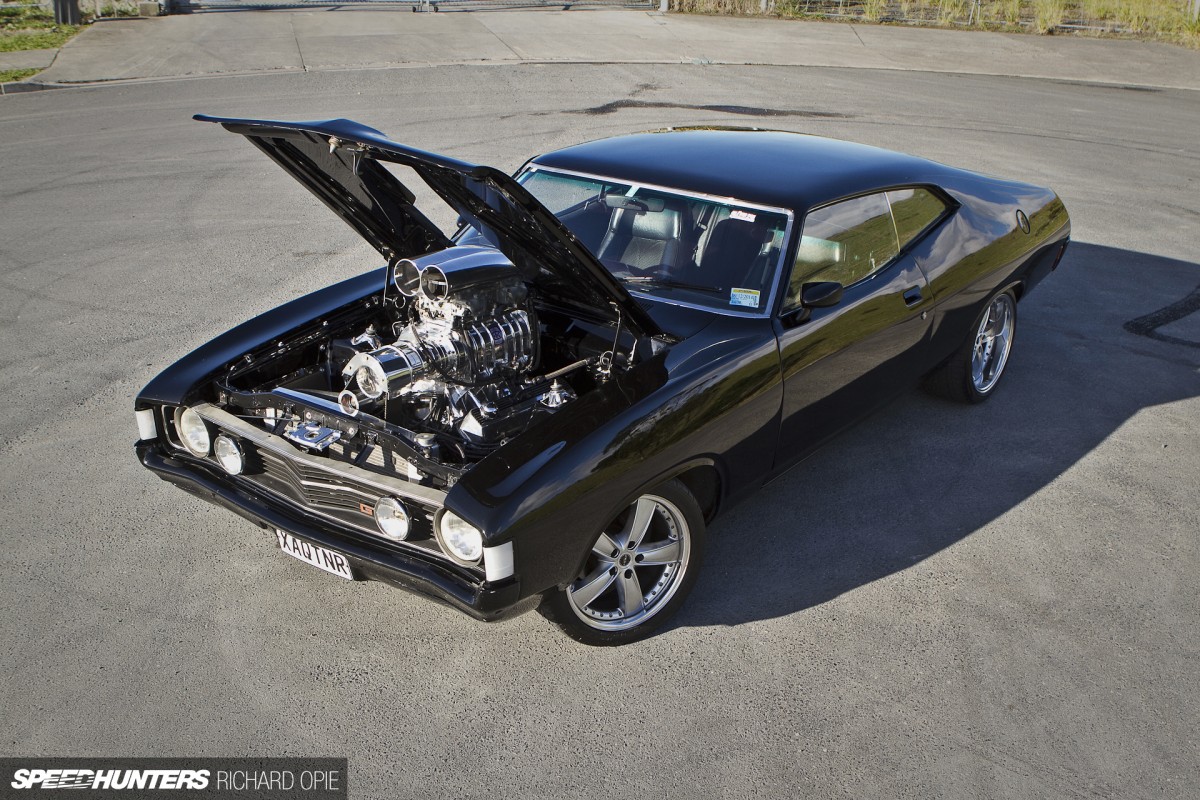 As striking as the appearance of the coupe may have been, the car arrived devoid of an engine and running gear, giving Nigel the opportunity to endow the classic Ford with what he knew best. Given his previous experience with mechanically force-fed examples of Ford's finest, the decision to fit the seam-welded and reinforced engine bay of the XA with a big block variant wasn't a consideration Nigel needed to dwell upon. Today you'll find a cast-iron block 4-bolt main V8 displacing 429 cubic inches (7.0 litres) between the frame rails.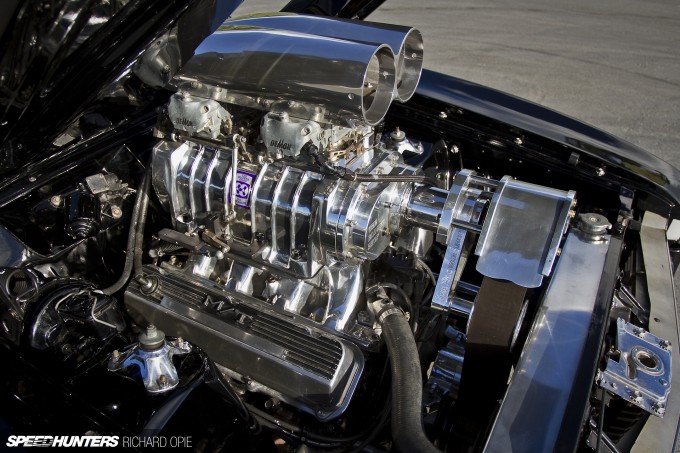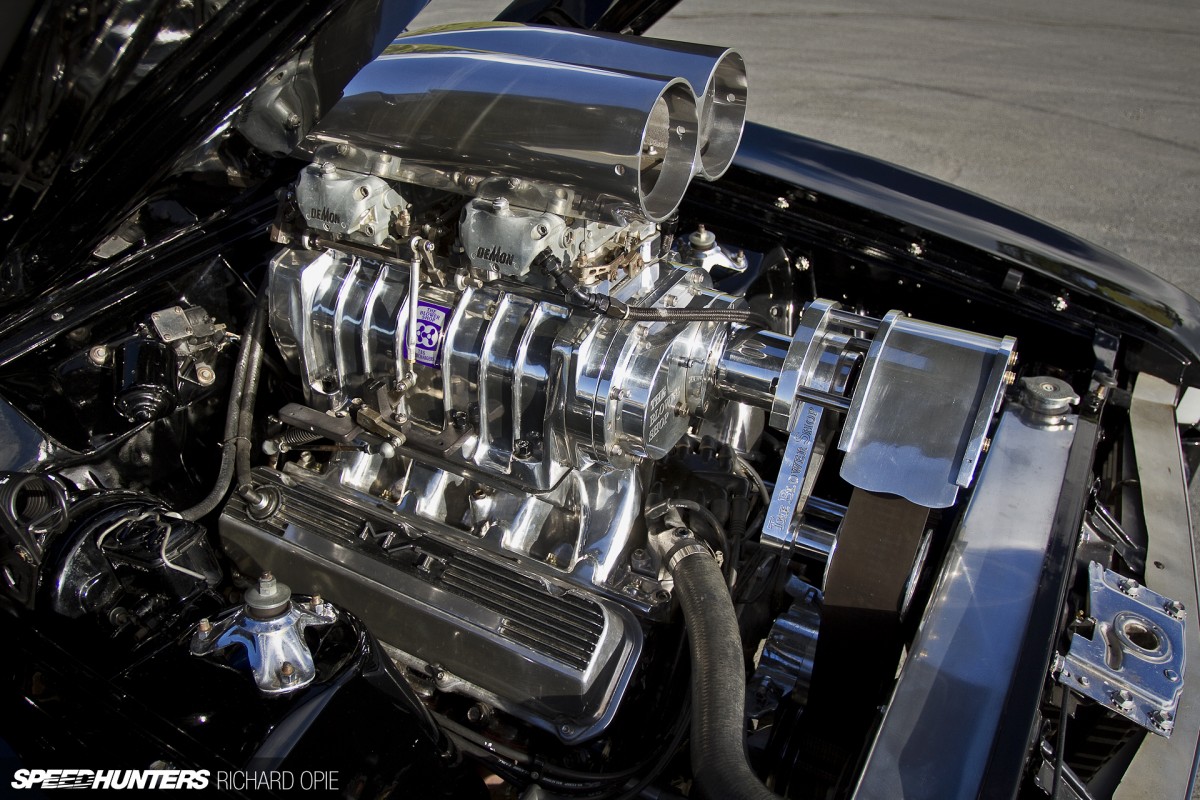 Knowing in due course that the 429 would be receiving a pressurised intake charge in the pursuit of responsive, brutal power and torque, the block was treated to a selection of goodies prior to its fitting. Crower bearings, JE pistons equipped with Total Seal rings atop an octuplet of Scat I-Beam rods provide a solid foundation for some heavy breathing.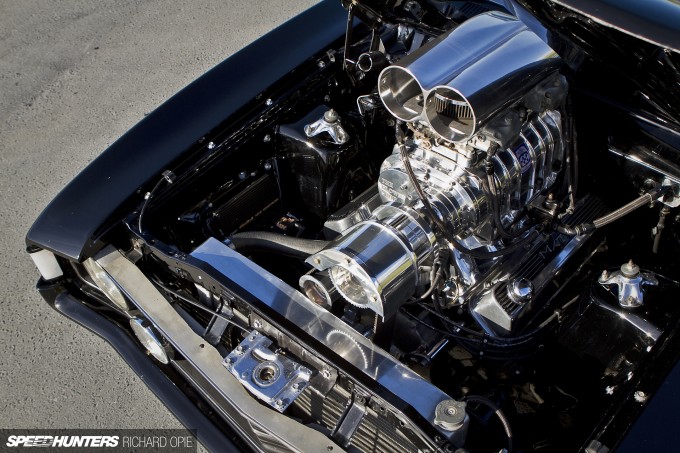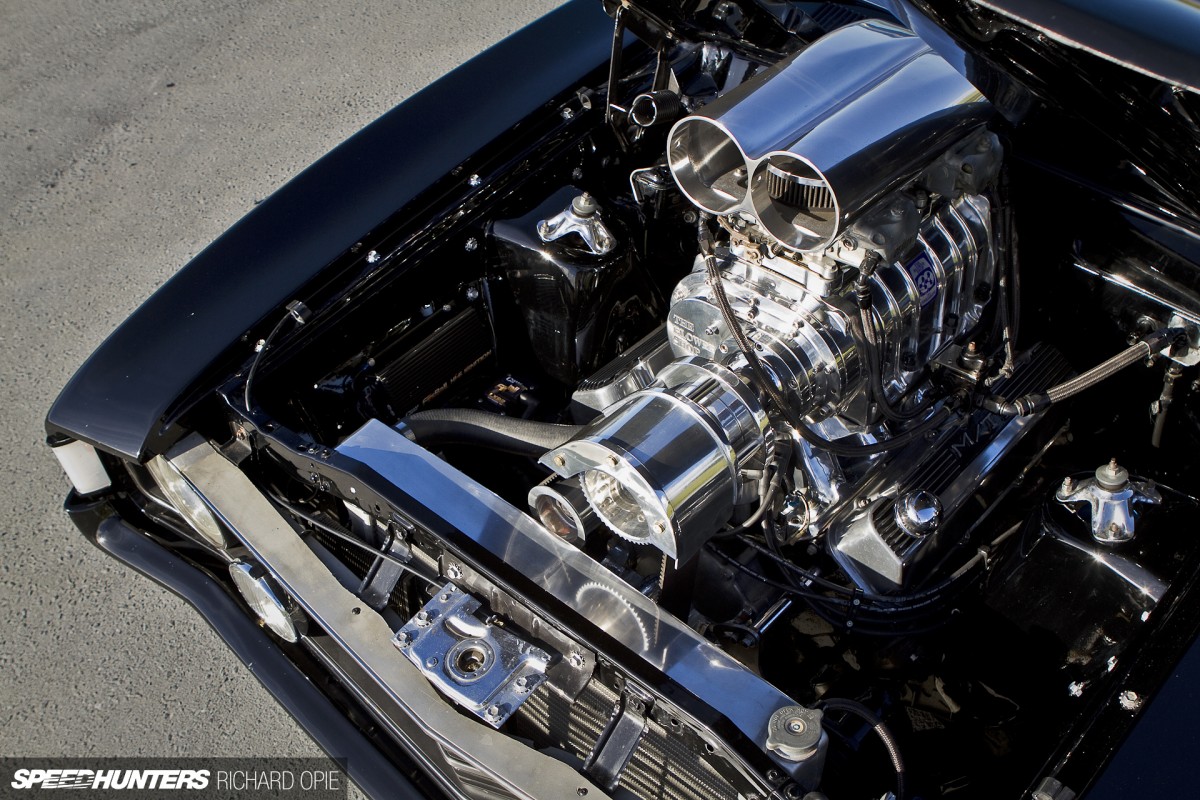 Wanganui (the same provincial New Zealand town that plays host to Mad Mike Whiddett's engineers, PPRE) V8 engine specialists Rivers Speed & Spares came to the party supplying a pair of high-flowing heads in addition to a cam specified for use in Nigel's planned boosted application.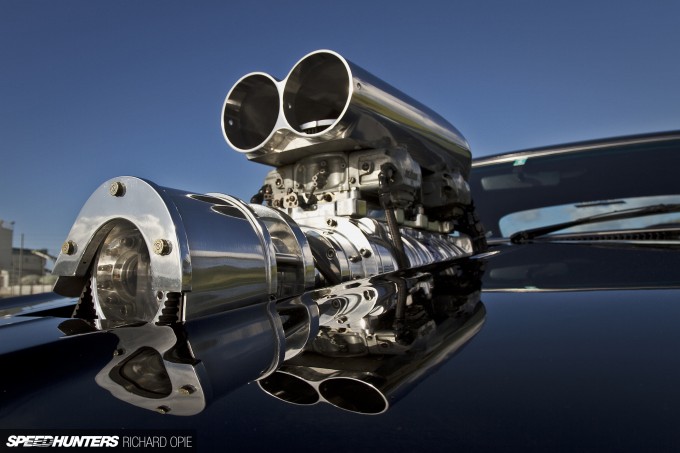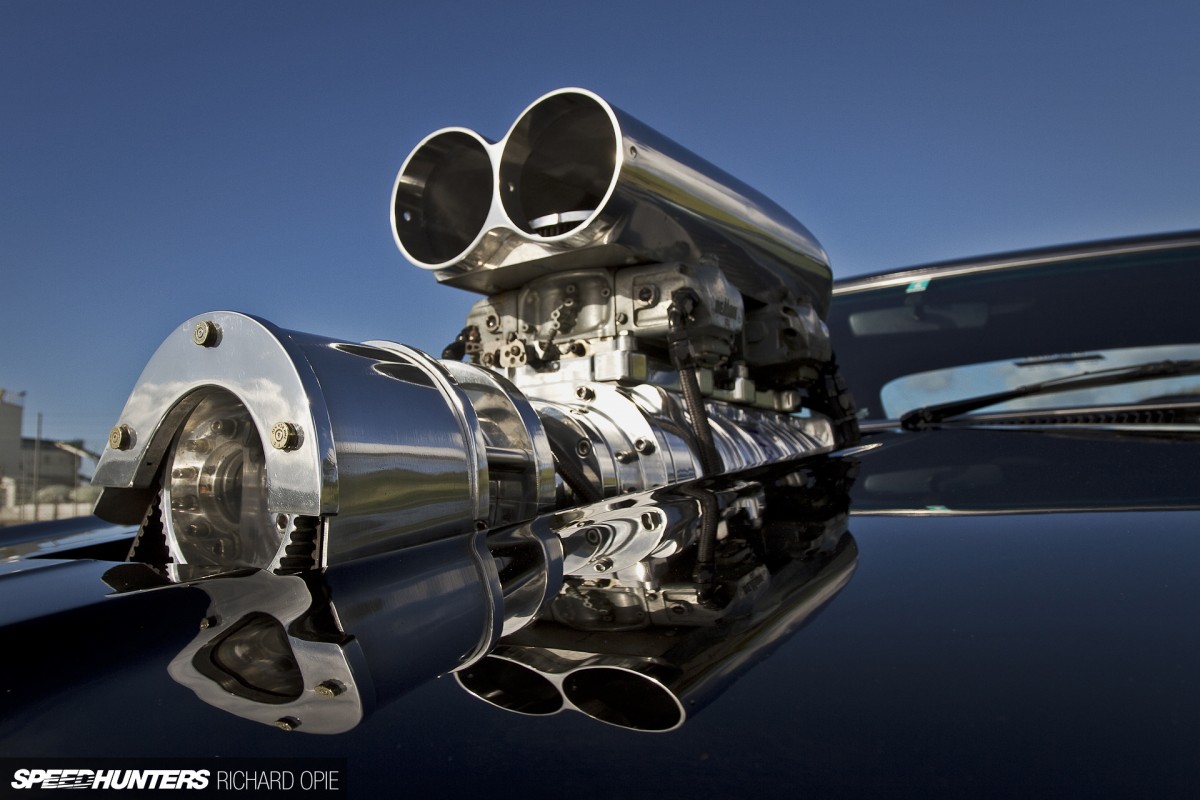 The coup de grâce of the knockout engine combo is without a shadow of doubt the highly polished supercharger. Towering proud of the bonnet line in a magnificent display of unadulterated muscle is arguably one of the definitive aspects of the modified muscle car spectrum portraying clear and simple objectives. Torque, power, lots of it please, as soon as the right-hand side pedal is mashed to the floor.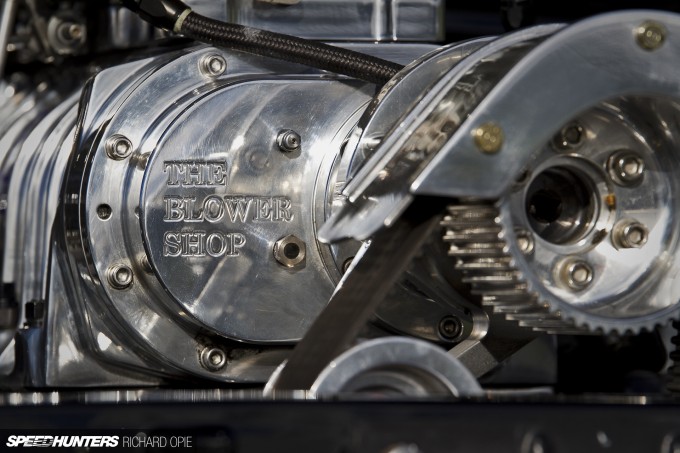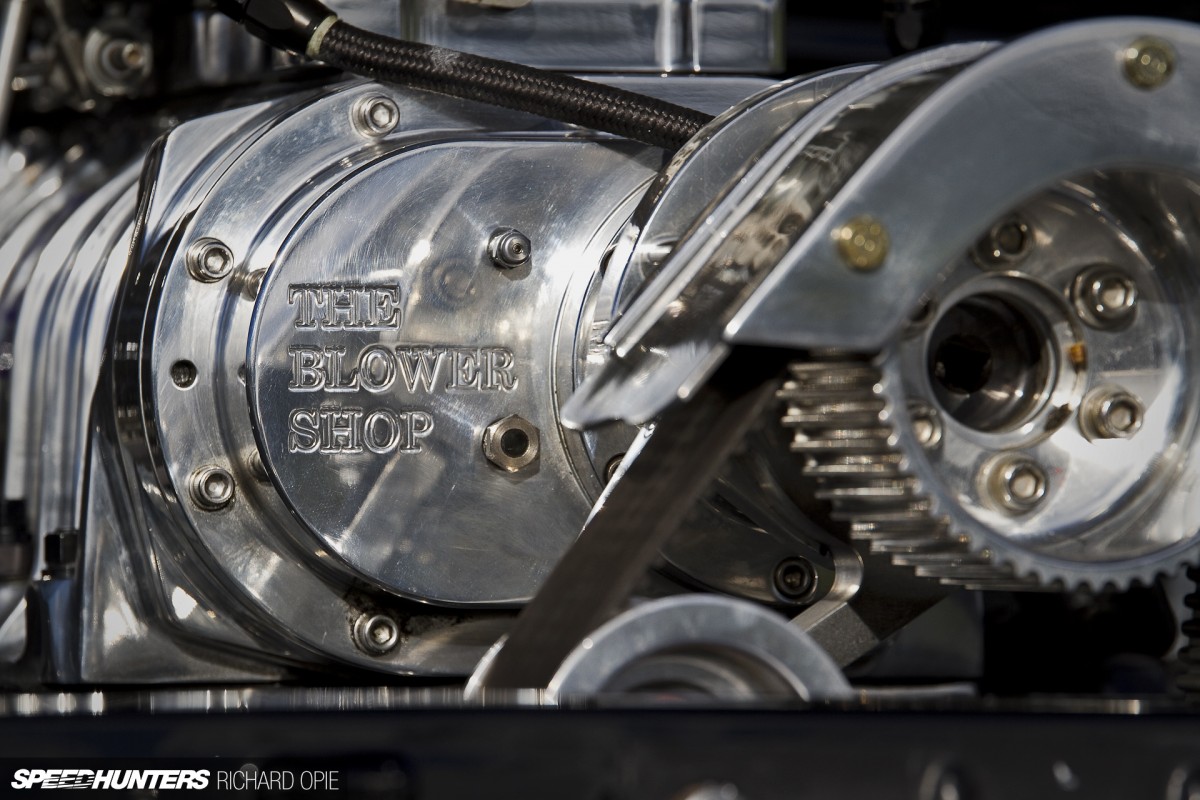 This particular unit was sourced from Al's Blower Drives, a hefty TBS (The Blower Shop) 8-71 large bore unit, featuring Teflon-tipped rotors with 12.9 per cent under-driven gearing pumping what Nigel estimates is around 4 to 5psi of pressurised air into the 429. Driven by a wide Gilmer drive belt setup from the crank pulley, the supercharger drive pulley sits beneath a custom guard crafted by Nigel himself.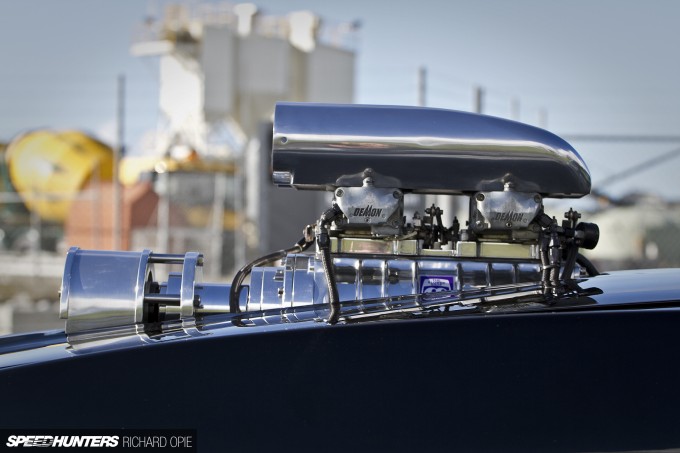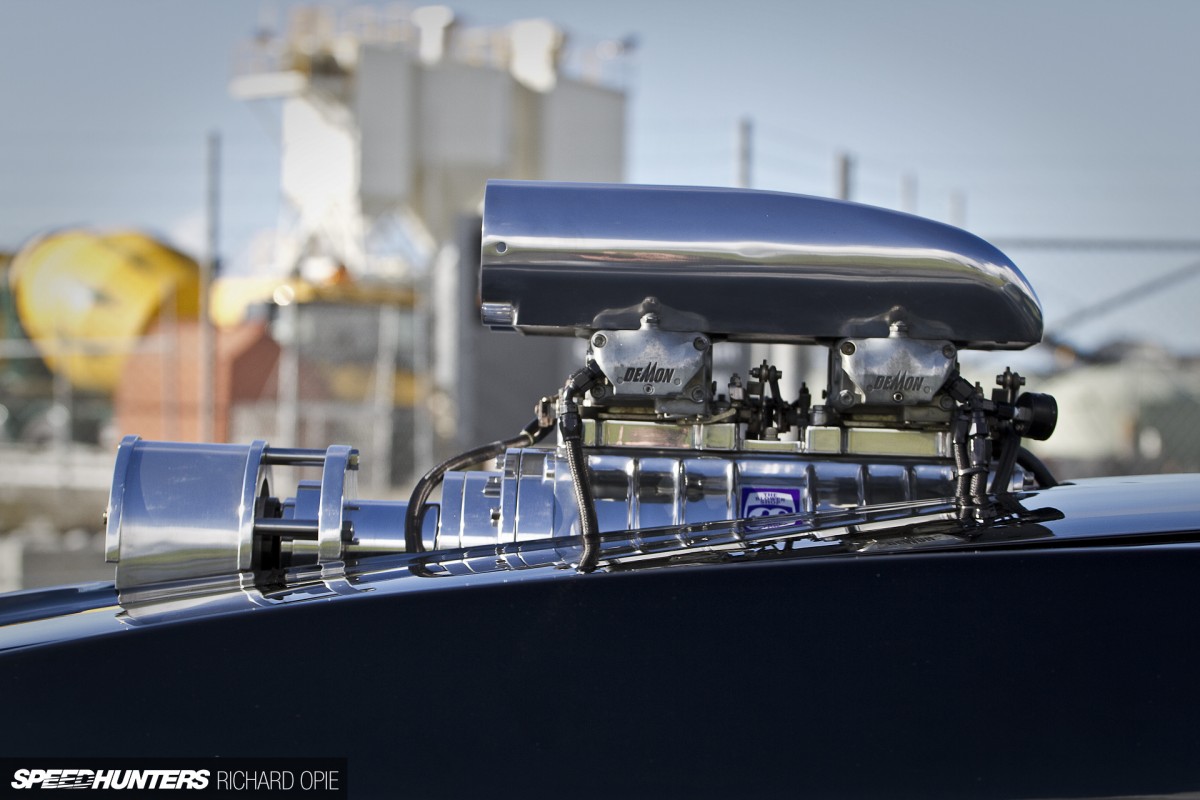 In keeping with the polished theme, a dual-barrel scoop peaks the mechanical setup up front, perched above a brace of boost-referenced Demon 4-barrel carburettors feeding the insatiable appetite for fuel demanded by the big block.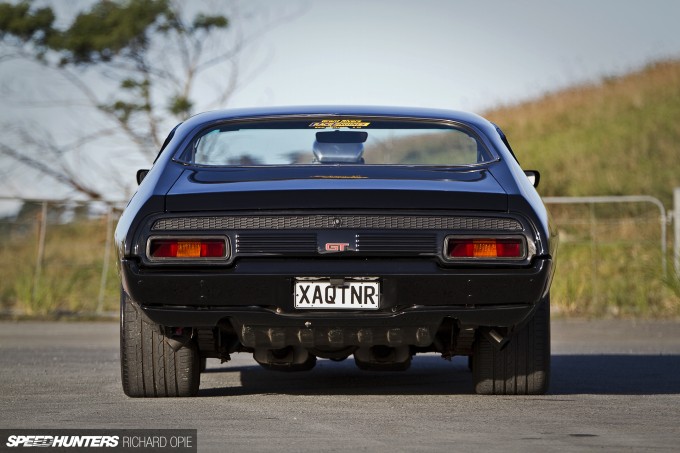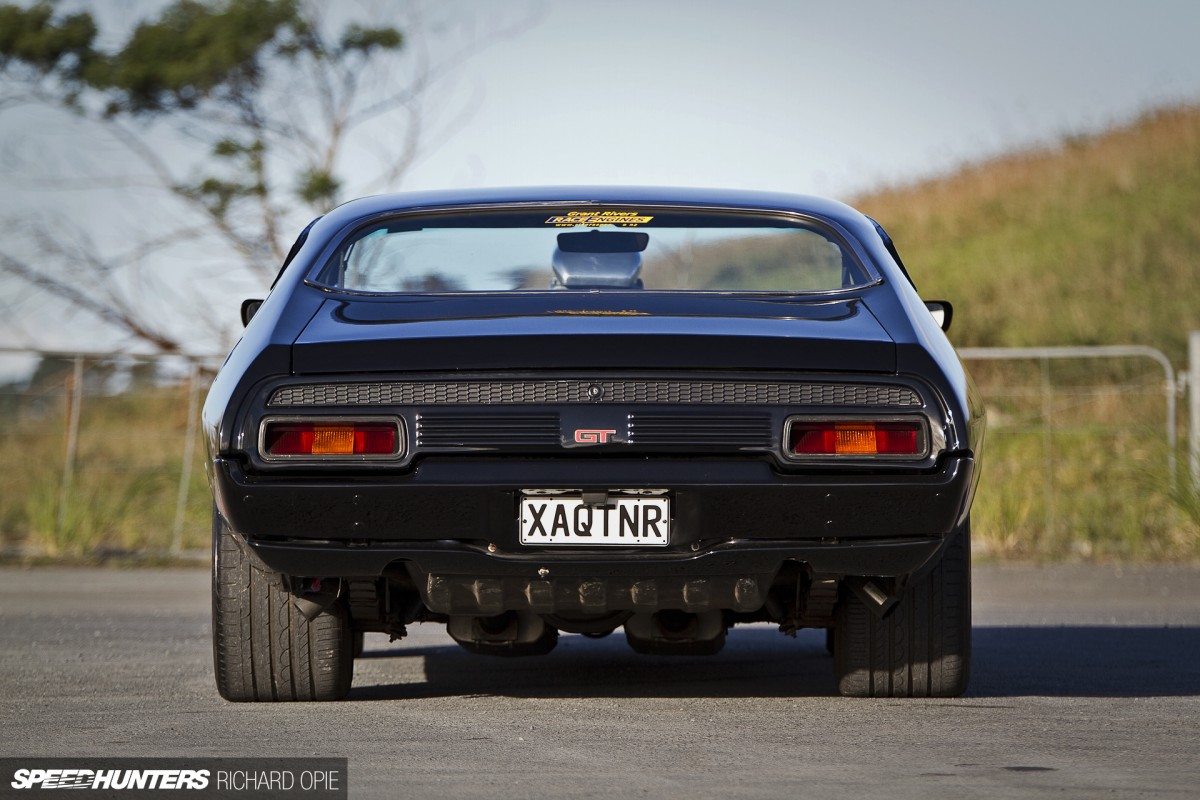 Pacemaker headers evacuate spent gases from the exhaust ports, plumbed into a twin 2.25-inch system featuring proven Hooker mufflers dumping just south of the Falcon's rear tyres. The resultant exhaust note is a guttural, lopey growl at idle, characteristic of the aggressive cam grind.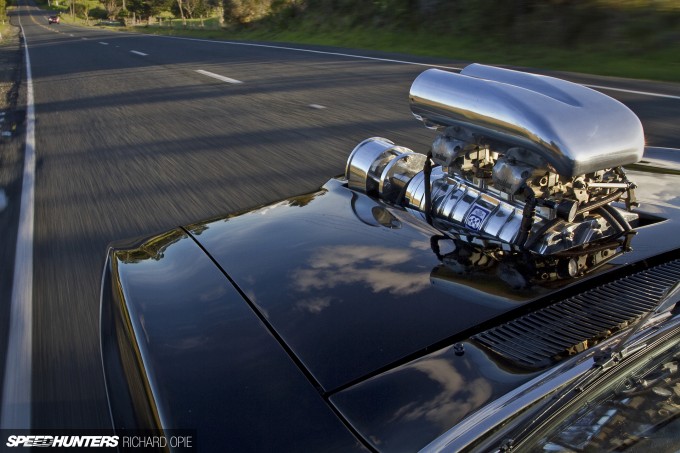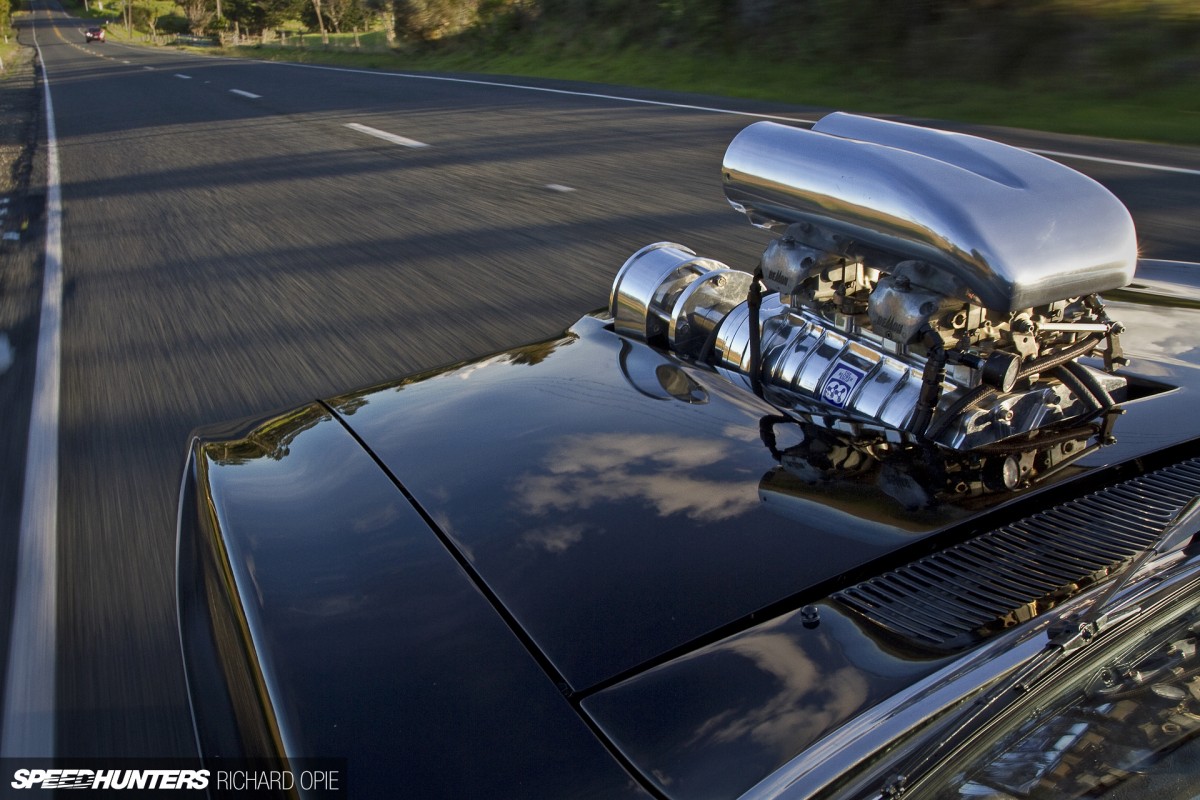 Open the taps however and things change with the blown 429 combo unleashing an unstressed 650hp (485kW) at a stomp of the foot into a shift-kitted Ford C6 auto transmission. Taking the opportunity to ride shotgun, the appeal of a blown big block soon becomes evident – buckets of torque are available at any given moment, regardless of gear or engine speed, while the exhaust note reaches an aggressive crescendo as the tachometer needle streaks clockwise.
A Refined Monster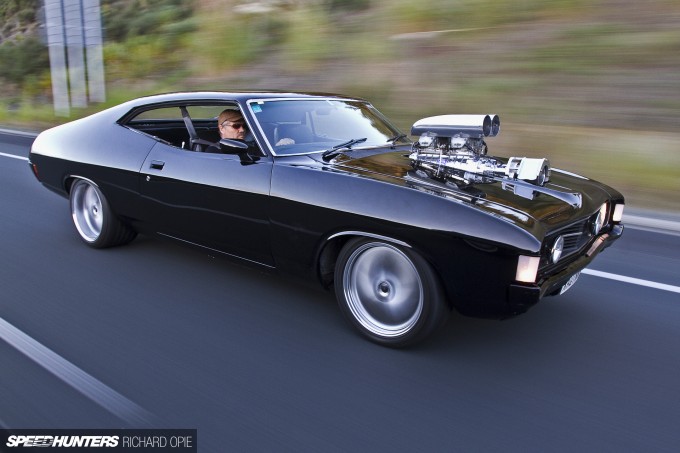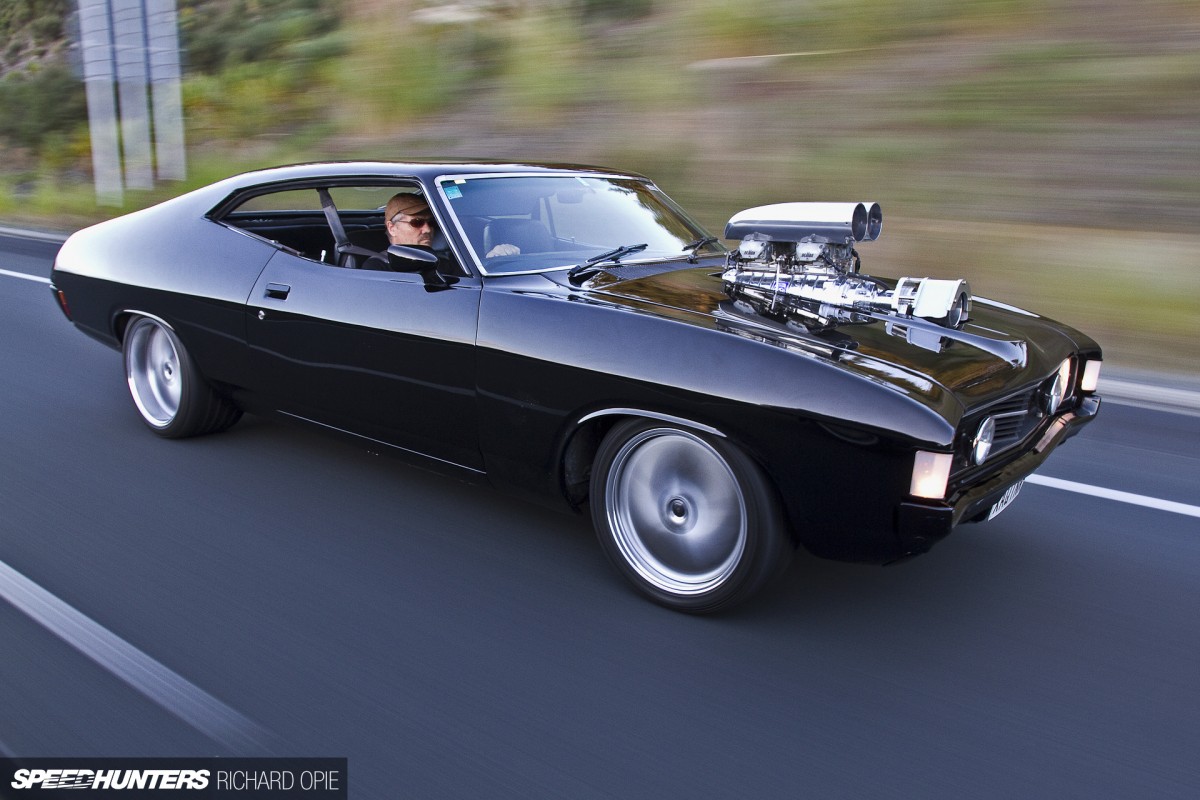 Upon querying Nigel whether the car had ever been subjected to a journey down a drag strip, even just 'to see what she'll do,' the response was a vehement "no." As aggressive and anti-social as the monster engine setup up front is, the XA has been constructed primarily as a cruiser, a street car, something to take on a lazy run over a weekend.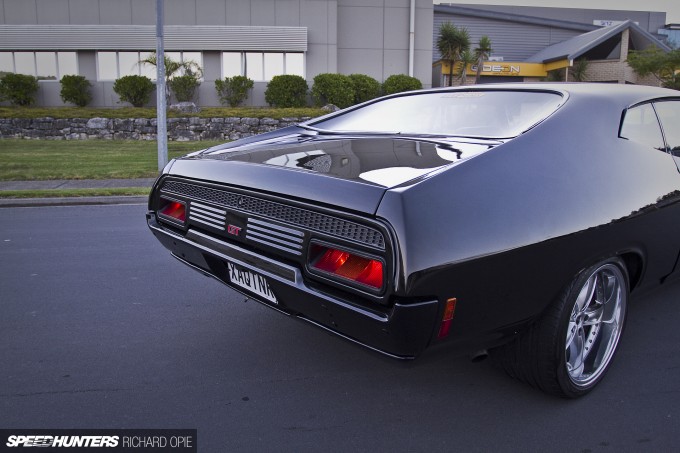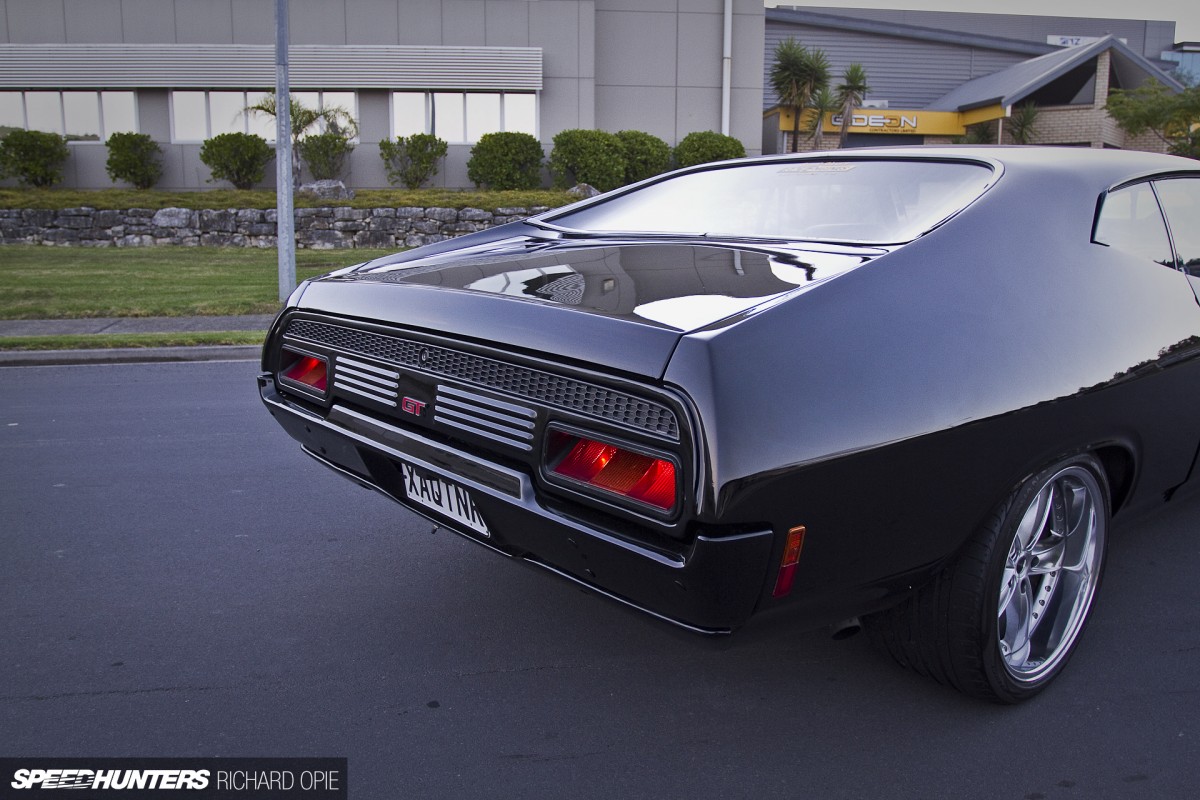 As such the tried and true Ford 9-inch live axle is home to a street-friendly Detroit Trutrac helical LSD center, running a 2.99:1 final drive to keep cruise-focused engine speed while at open road pace, in lieu of the outright acceleration a shorter ratio would afford.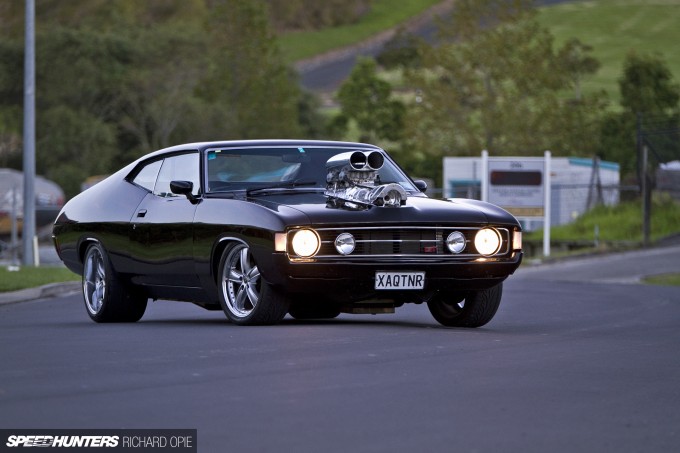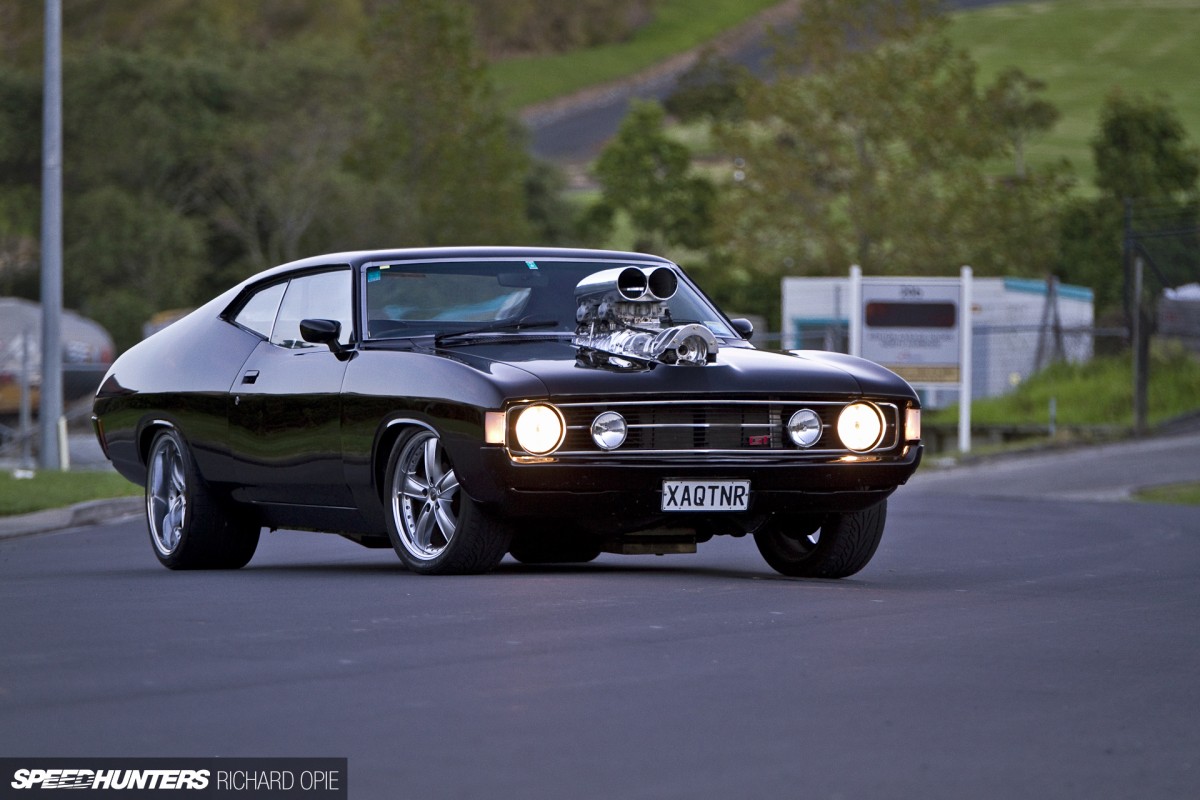 You won't find a suspension setup beneath the Falcon aimed at cutting lap times either. Not blessed with a particularly advanced setup from the factory, a simple leaf spring arrangement at the rear complements what was a 1970s par-for-the-course double wishbone design up front. A drop in ride height comes courtesy of reset leaf springs and a pair of uprated, lowered front springs all kept in check with Koni dampers on all four corners. Roll – a feature commonly found in excess among sedans of the era – is minimised with the use of heavy sway bars, while urethane bushes tighten the whole package together.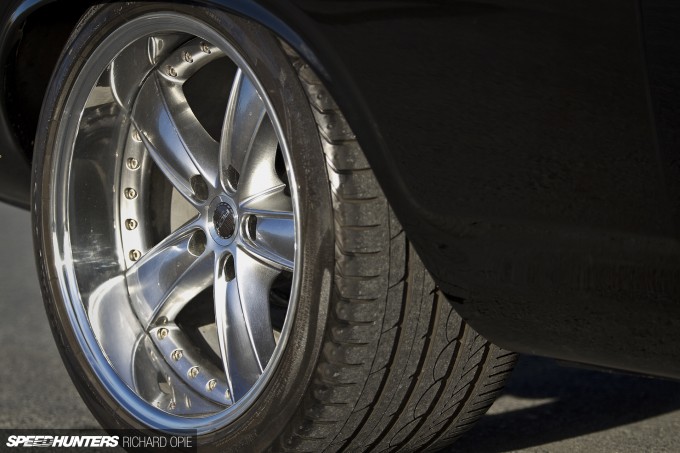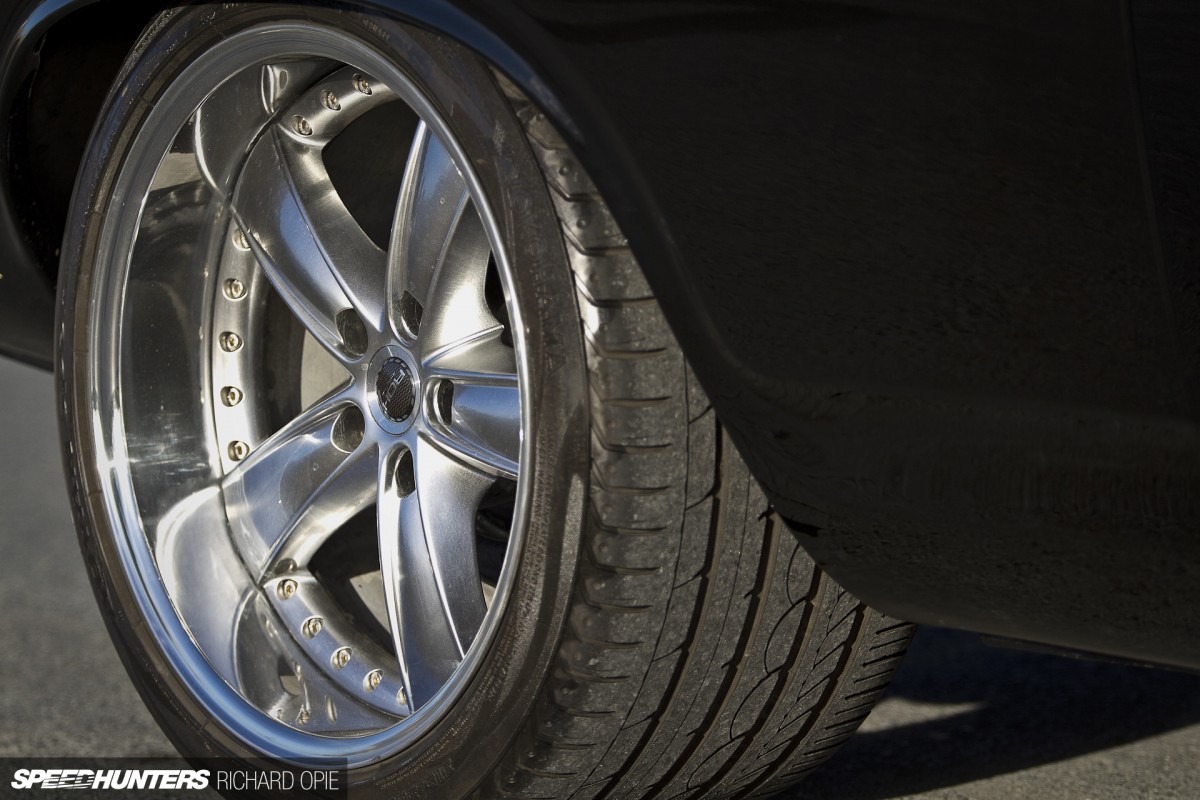 In keeping with the Falcon's home country rolling stock comes courtesy of ROH – a long-established wheel manufacturer out of Australia responsible for OEM equipment as well as a vast range of aftermarket options. Nigel's choice echoes something of a pro touring flavour employing a relatively rare set of 3-piece Directors in 18×9-inch up front and 18×12-inch to fill out the vast void within the coupe's rear haunches. Yokohama 245/40ZR18s and 315/30ZR18s maintain an adequate grasp to the tarmac.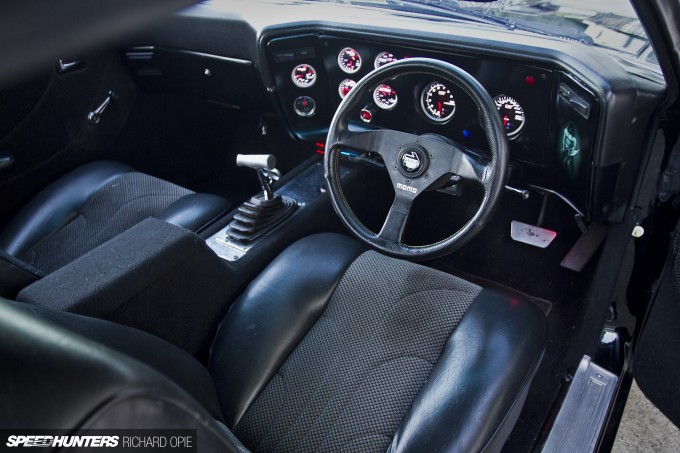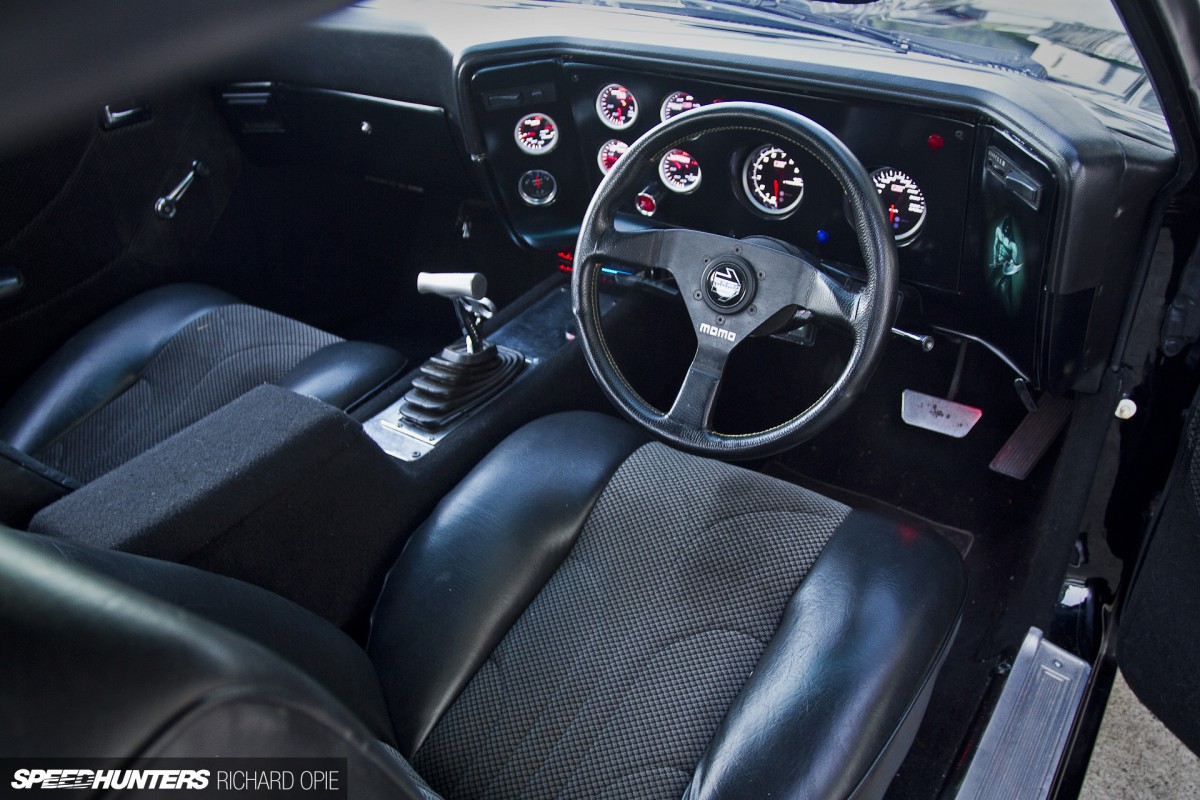 Inside things are again kept simple, but effective. Original low-back buckets maintain a subdued appearance, retrimmed subtly alongside door cards with similar treatment to update the interior aesthetic. The strikingly 1970s cockpit-style layout of the wraparound dash console plays host to a range of Auto Gauge backlit instruments keeping Nigel informed of just what's happening beneath that giant supercharger protruding directly amongst his field of vision. White knuckles are able to grip a leather-clad Momo steering wheel for direction and shift via a bare alloy Hurst shifter.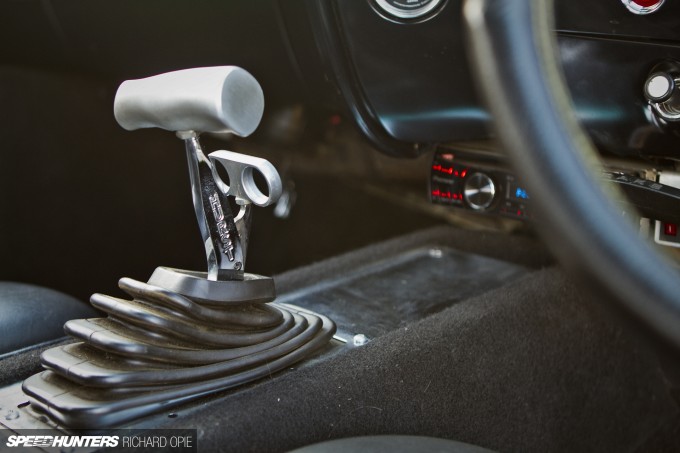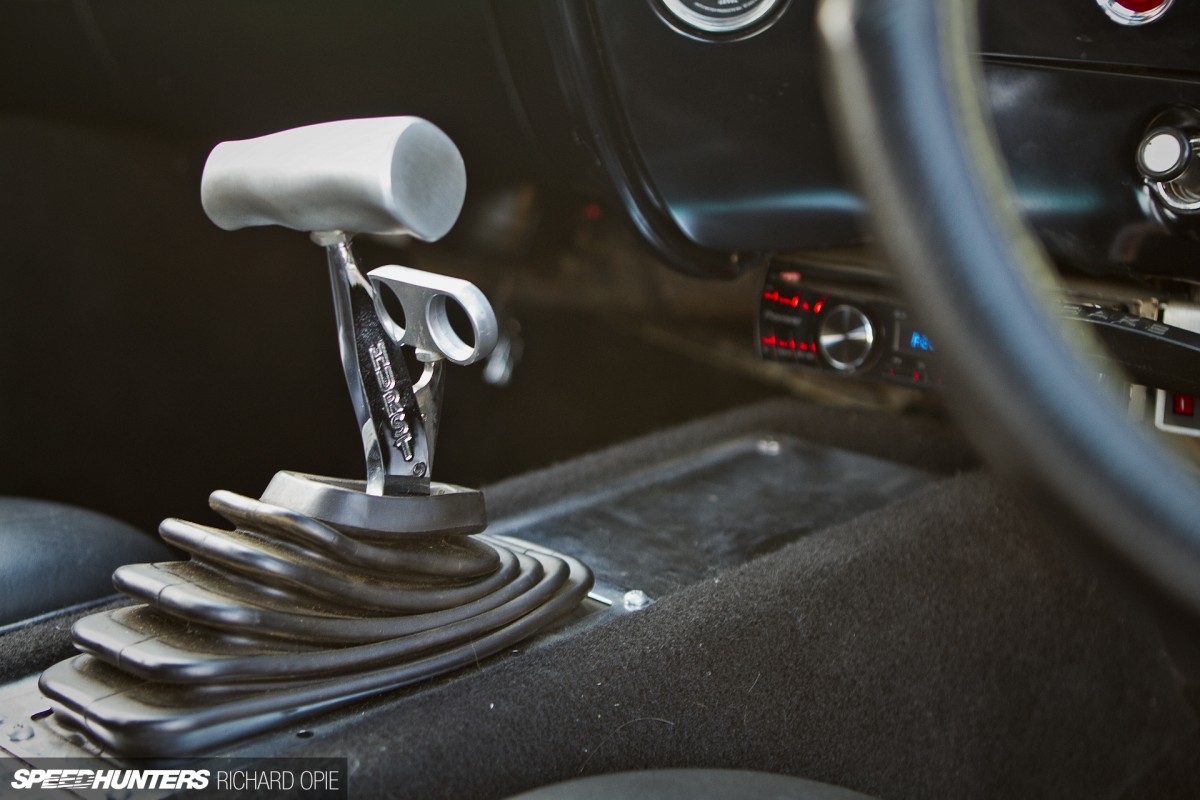 So where to from here for a man dedicated to stocking his garage with his reimagined versions of vehicles created by one of the planet's most enduring car companies? Somewhat unsurprisingly the swift reply was "another Ford, of course." The badge isn't the only constant in this case – boost will feature again, this time in the form of twin turbochargers slung from each bank of a 347ci small block Ford. The kicker? Its final location will be nestled beneath the rear cowl of a GT40 replica.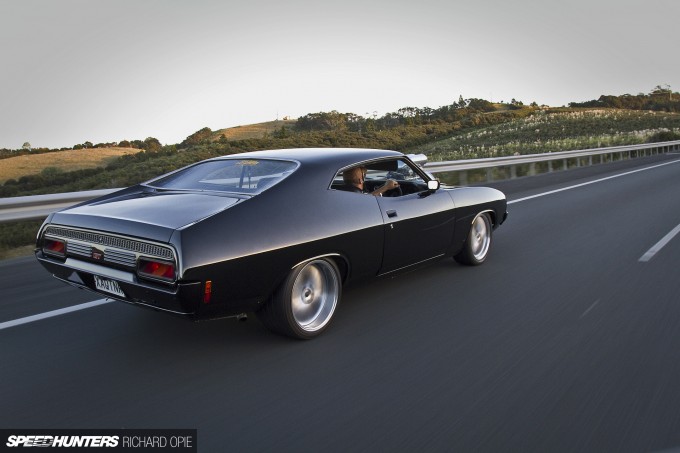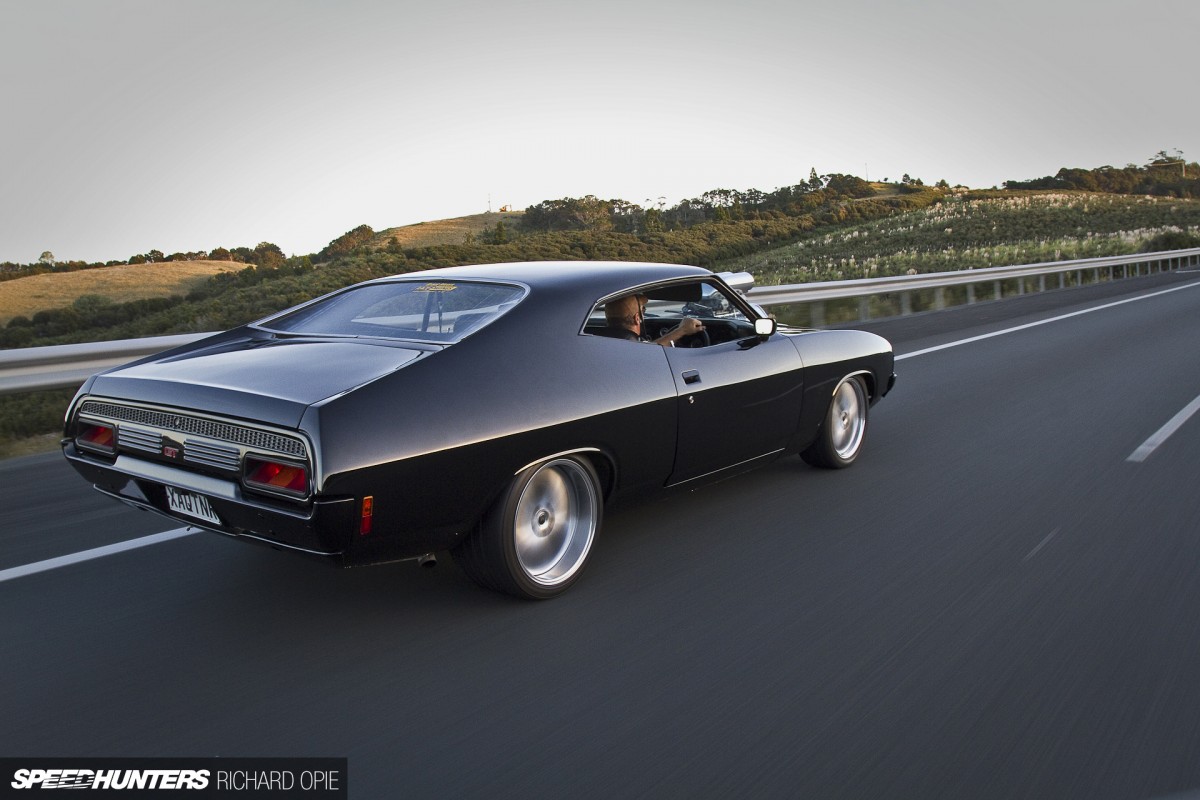 The age-old adage 'win on Sunday, sell on Monday' rings true – racetrack and performance legends crafted through competition attracting devotees with passion, imagination and attention to detail. And with brand-loyal supporters like Nigel building wild and ultimately inspiring creations, these chosen marques will continue to shine brightly.
Richard Opie
richy@speedhunters.com
Instagram: snoozinrichy
Cutting Room Floor