Thriller Bs
Hello Speedhunters, Darren McNamara here! It's been quite a while since my last post on this site, but now I'm back with a bang.
Last time we spoke I was campaigning the Need For Speed D-Mac86 around Europe. They were fun times for sure, and I consider myself very fortunate to have been able to build my dream car. But in the back of my mind there has always been a drift-spec supercar that's beyond comprehension – the sort of build that's so unrealistic you see no way that it could ever happen.
Well unbelievably, the most amazing machine that I could only ever dream about building is actually going to be my next European drift car…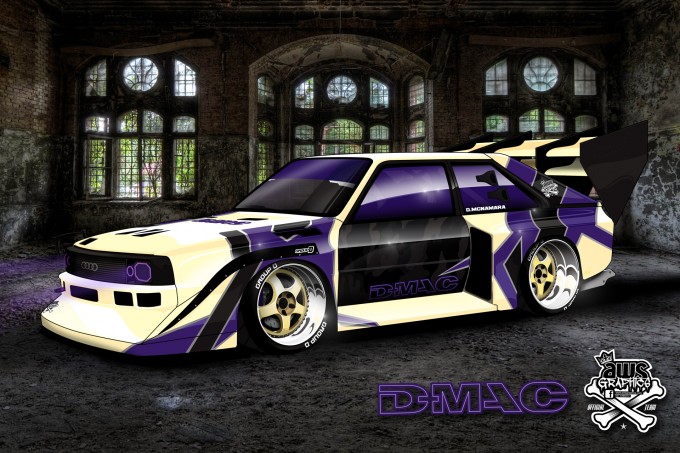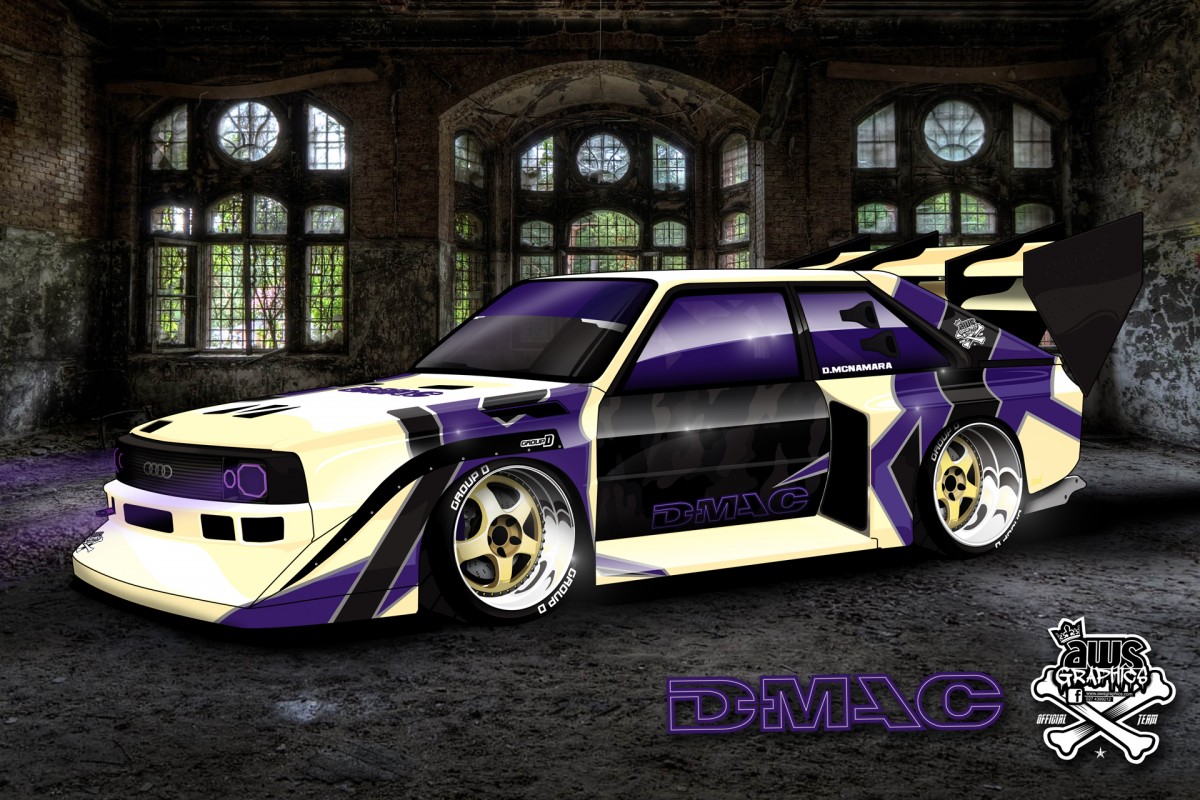 And here she is: the Audi Drift Sport D-Mac S1. You can keep your Lexus LFAs and Lamborghini Murciélagos, because this thing is going to destroy them all! Before people ask though, no, I am not doing Formula Drift this year…
What you're looking at is a long-wheel base Ur-Quattro, converted to rear-wheel drive and powered by a 2.7-liter, dry sumped Audi 5-cylinder engine. There's a TDi block and 20-valve head in the mix, plus a big Garrett turbocharger and a Haltech Elite Series engine management system. Power will be transmitted by an ACT clutch to a SAENZ 6-speed sequential gearbox. Flat shift, anti-lag – the works!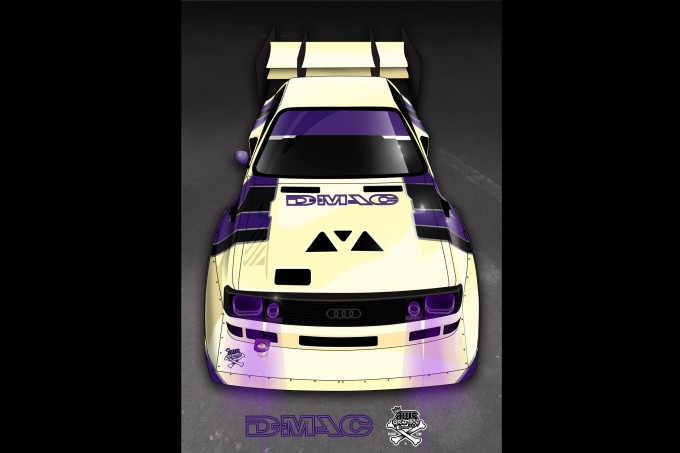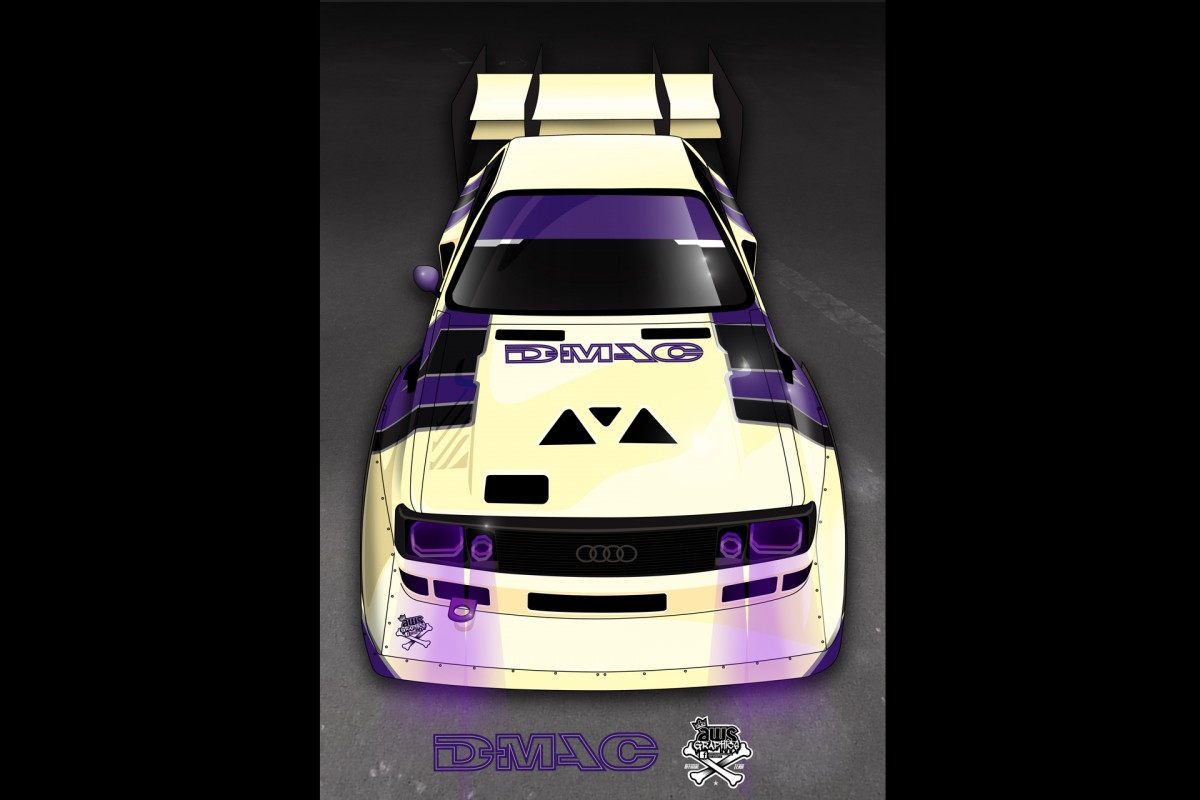 Mean isn't it? I've been sitting on these concept images for quite a while, so it's such a relief to finally be able to share them with everyone. The excitement has been hard to contain, and believe me when I say that it's been equally hard to keep this project under wraps until now. As you can see, we are using a full Group B S1 E2 bodykit, and of course Work Wheels Japan will be supplying the rims. Mishimoto is on board too and bringing their cooling gear to the party.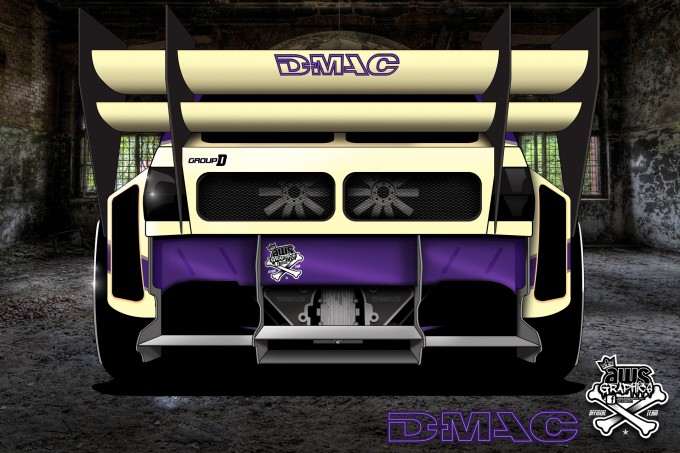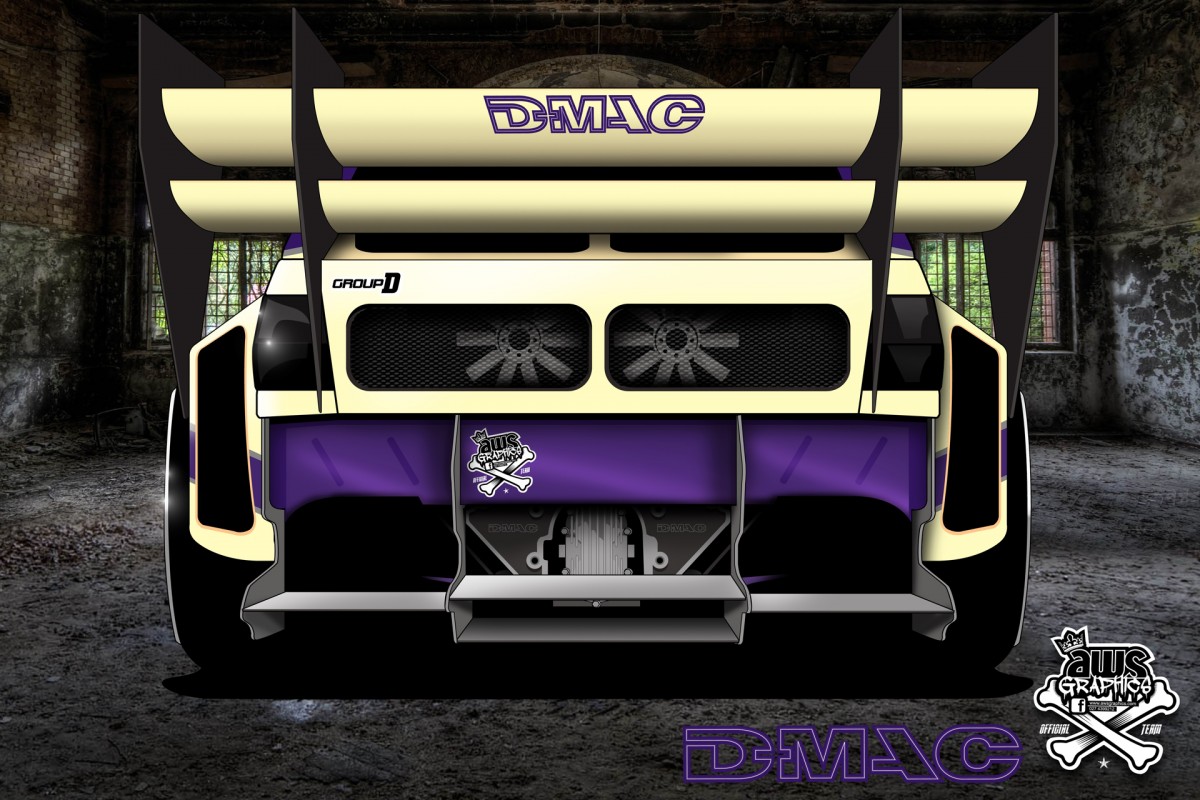 In the rear we will be using a Nissan Silvia S14 modified subframe with D-Mac Control Arms all round, plus Driveshaft Shop axles.
Well, this is what the finished article should look like in its MCNSPORT team colours anyway, but we are a long way off from there right now, so let's take a look at the beginnings of the project…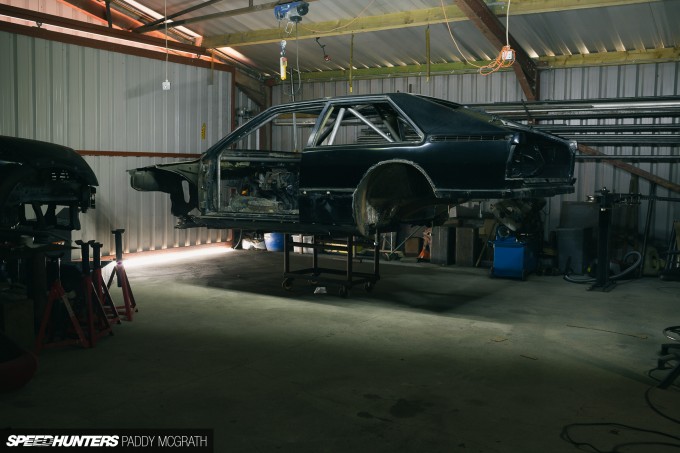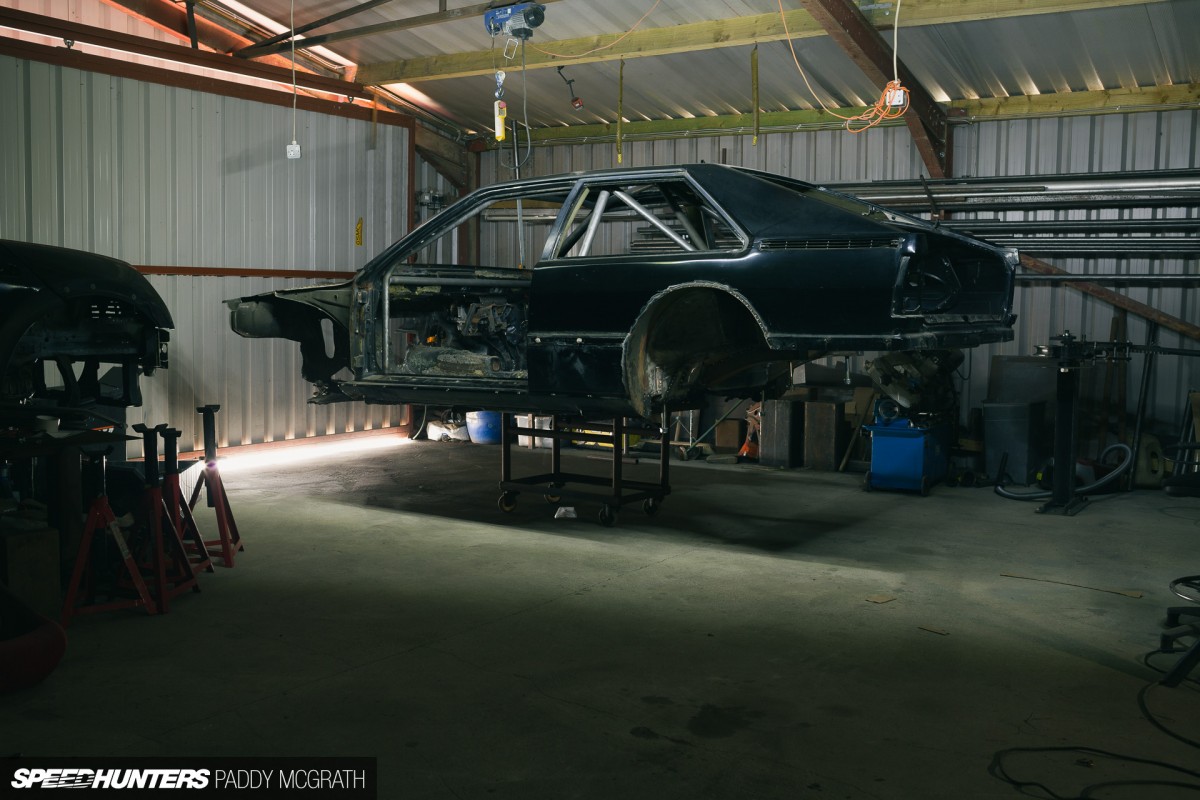 This is how the car sits right now at Stone Motorsport. Industry interest in this project has been very high, and once I told John Stone what I was going to do he wanted to be a part of it. John's fab skills are well beyond mine, so he is going to take care of the major chassis fab before passing the car over to me for suspension and mechanical. Then it'll go to West Coast Performance for tuning. So, three Irish companies working together to build one incredible machine.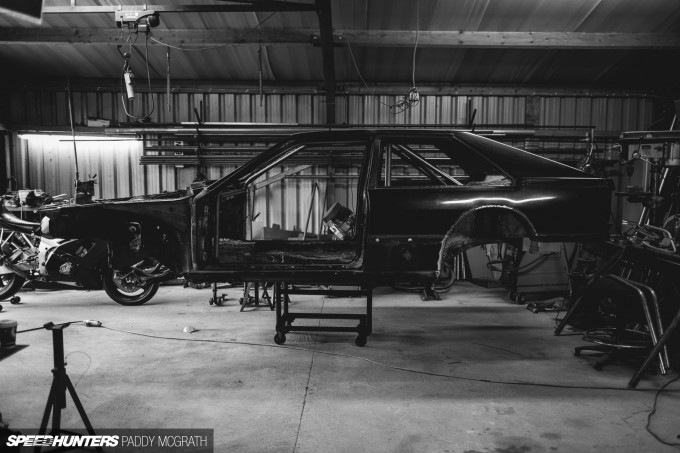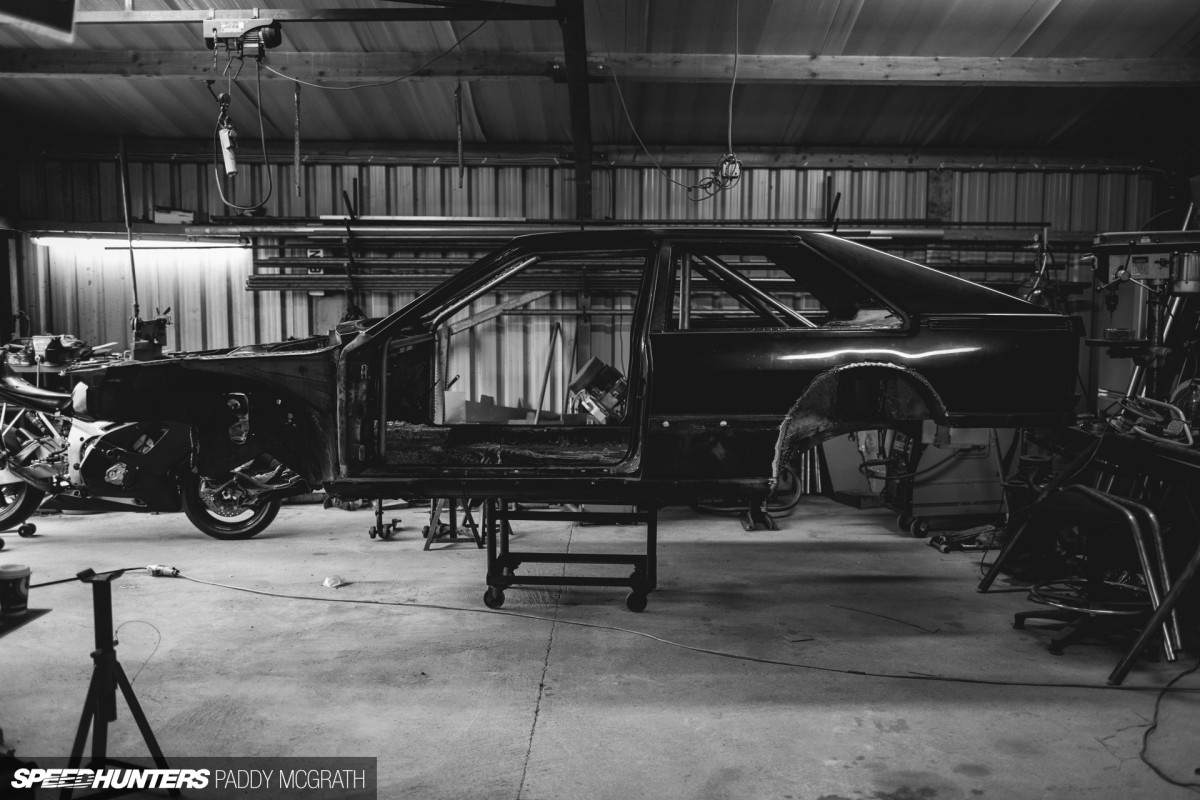 My aim for the project was to keep things simple, using tried and tested methods and parts. With no real R&D required, testing and development time can be minimised, so I should be able to just go out there and enjoy my dream machine. That's the reason the car will retain its original Ur-Quattro wheelbase, and not be shortened 11 inches like the S1 E2 rally car was.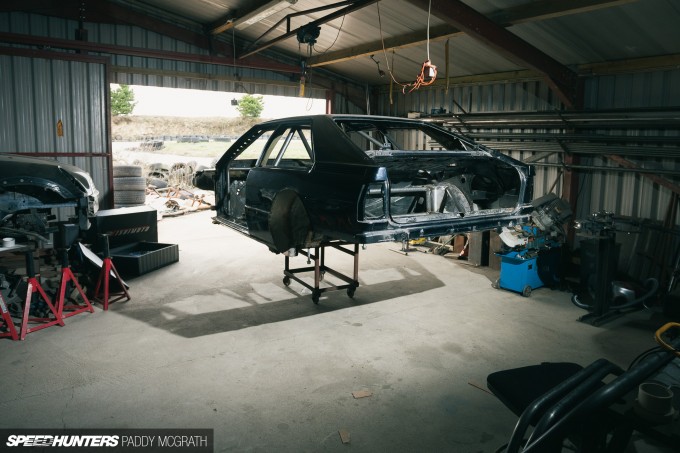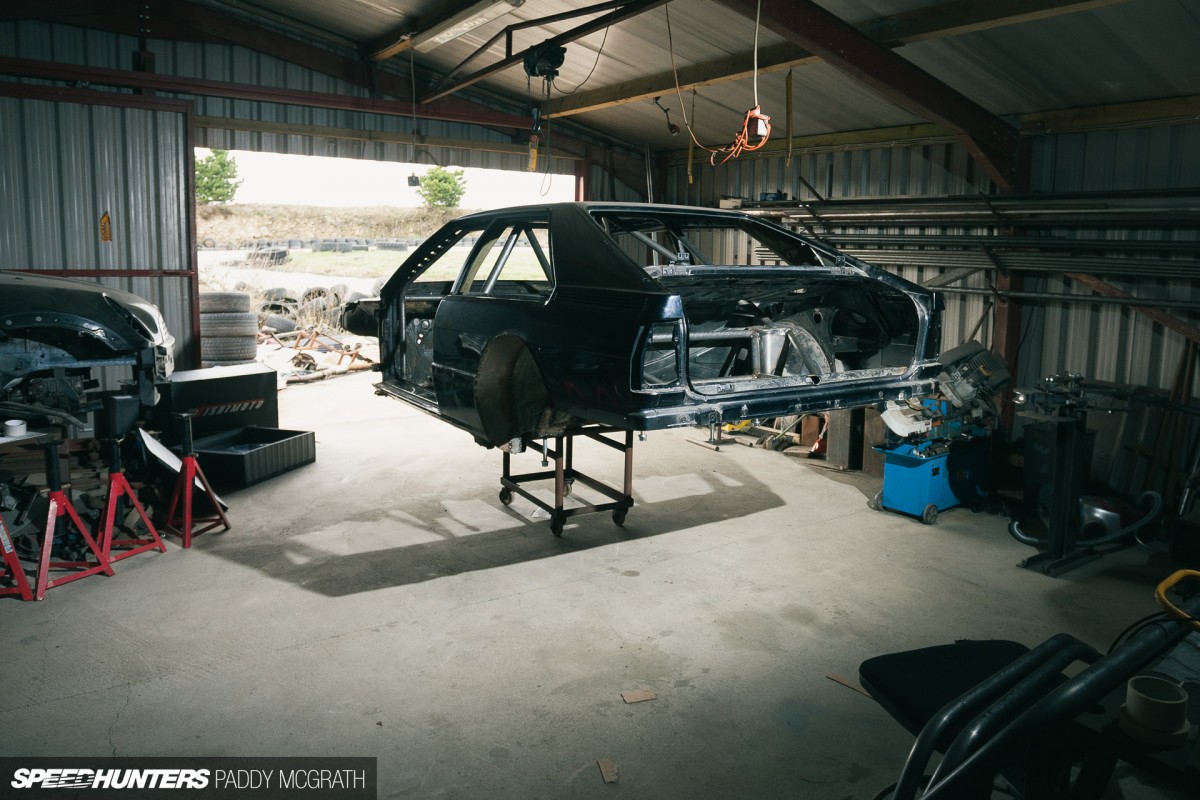 The fact that I'm not going to shorten the chassis for the short wheelbase was hard to get my head around at the start, as that aspect always set the Sport Quattro apart. But I have come to accept it for the greater good of real-world competitiveness. The Sport Quattro wheelbase is just too short for rear-wheel drive.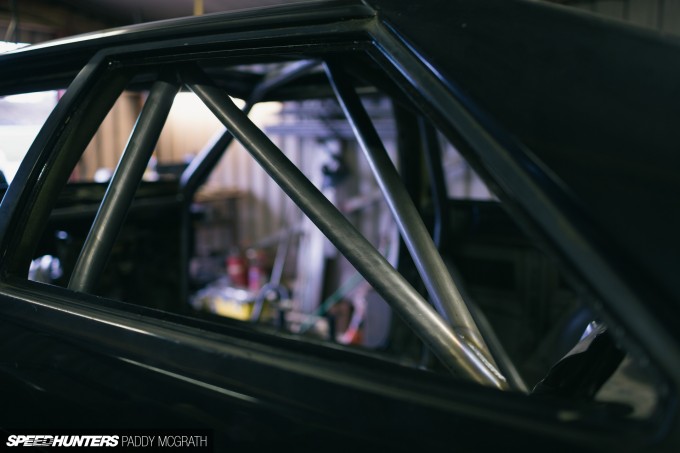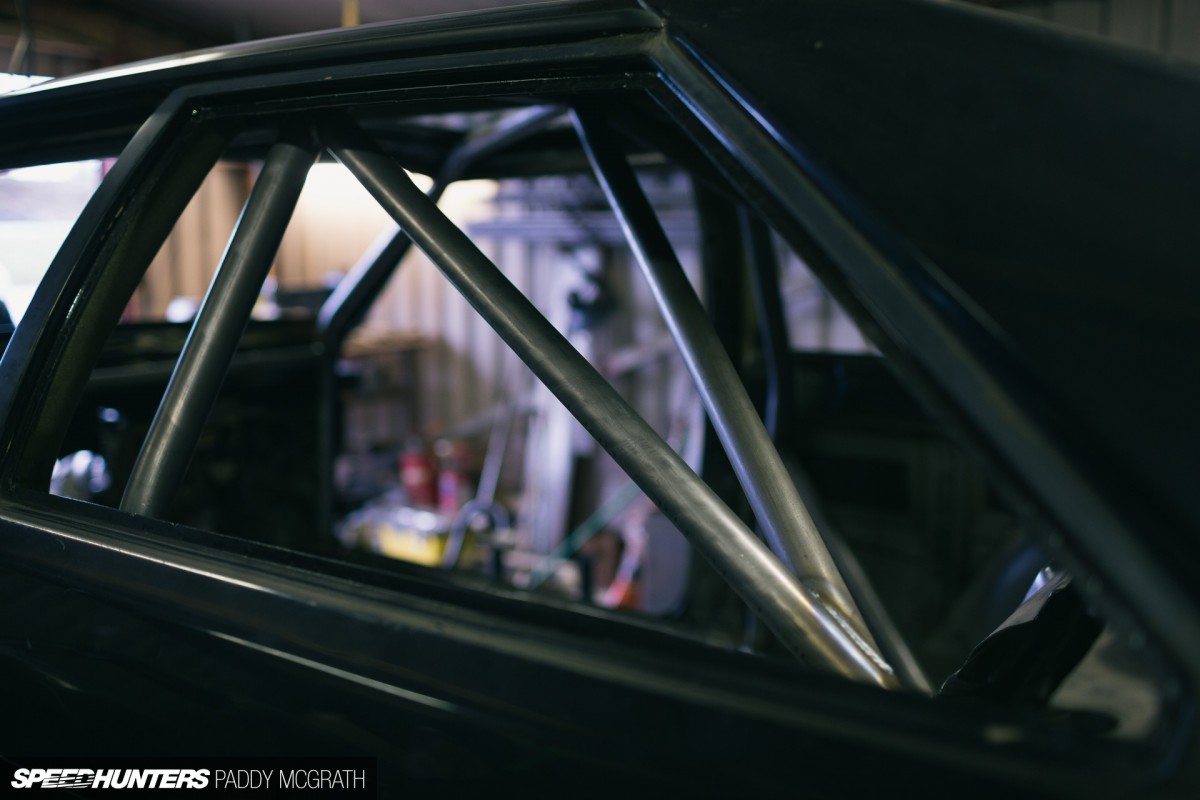 So, this window opening will remain like this and people can admire John's fab work much easier. To be honest, the long wheelbase will suit the car, as it will look much more like a Silhouette racer than a rally car. And it will sit so much lower than the rally car when it's finished too, probably by as much as five or six inches.
The Right Stuff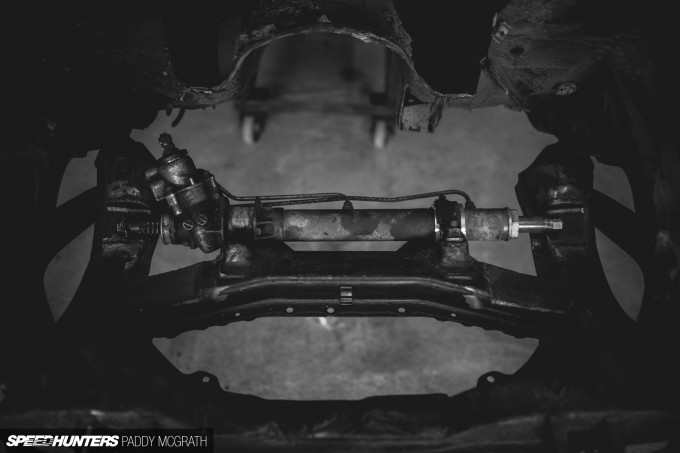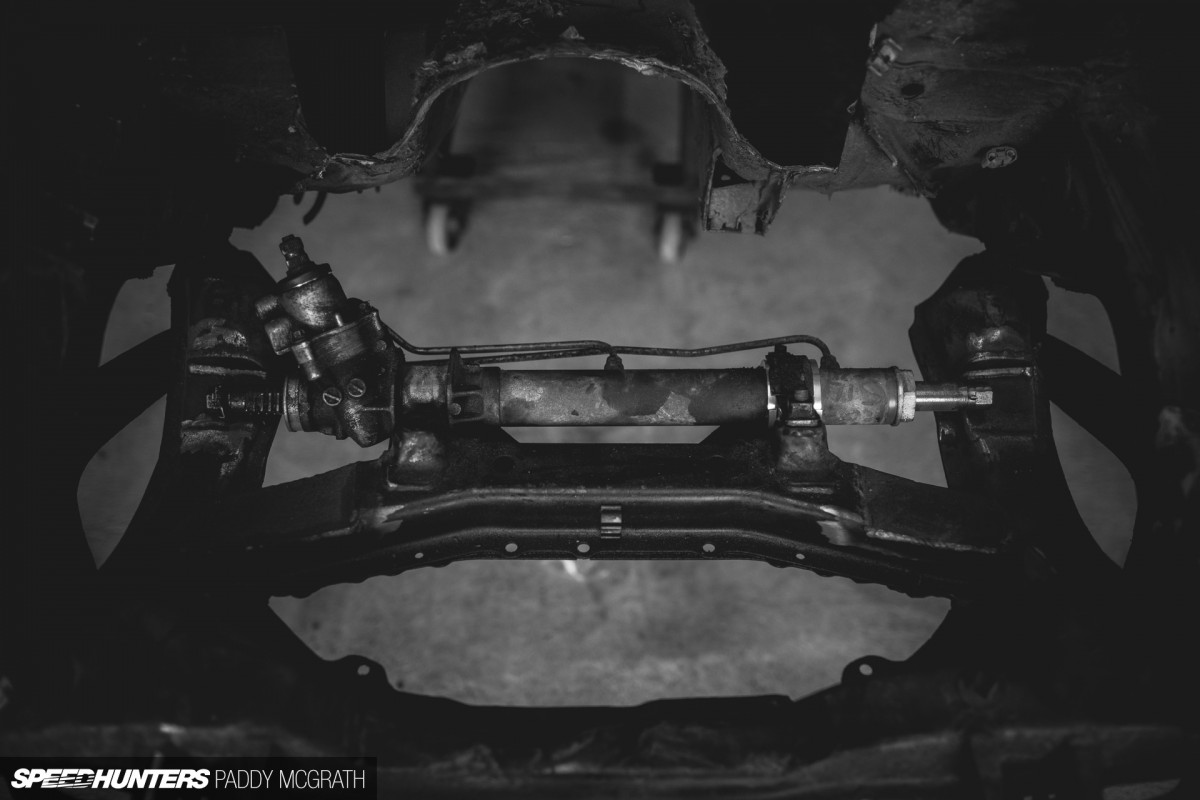 So let's take a look in detail at some of the work already completed, starting from the front. Firstly, yes, that is a Nissan Silvia steering rack down there. Keeping it simple means using parts that are readily available and we know will work. That is the middle of a Silvia crossmember welded into the original Audi subframe. The Audi subframe has been notched, and where two drive shafts once ran there will now be tie rods.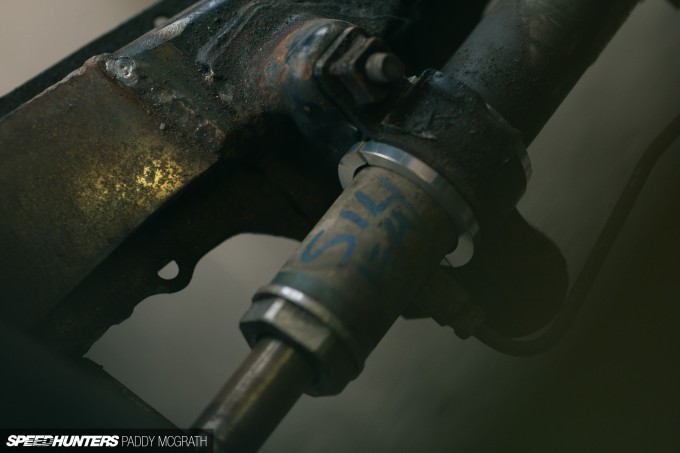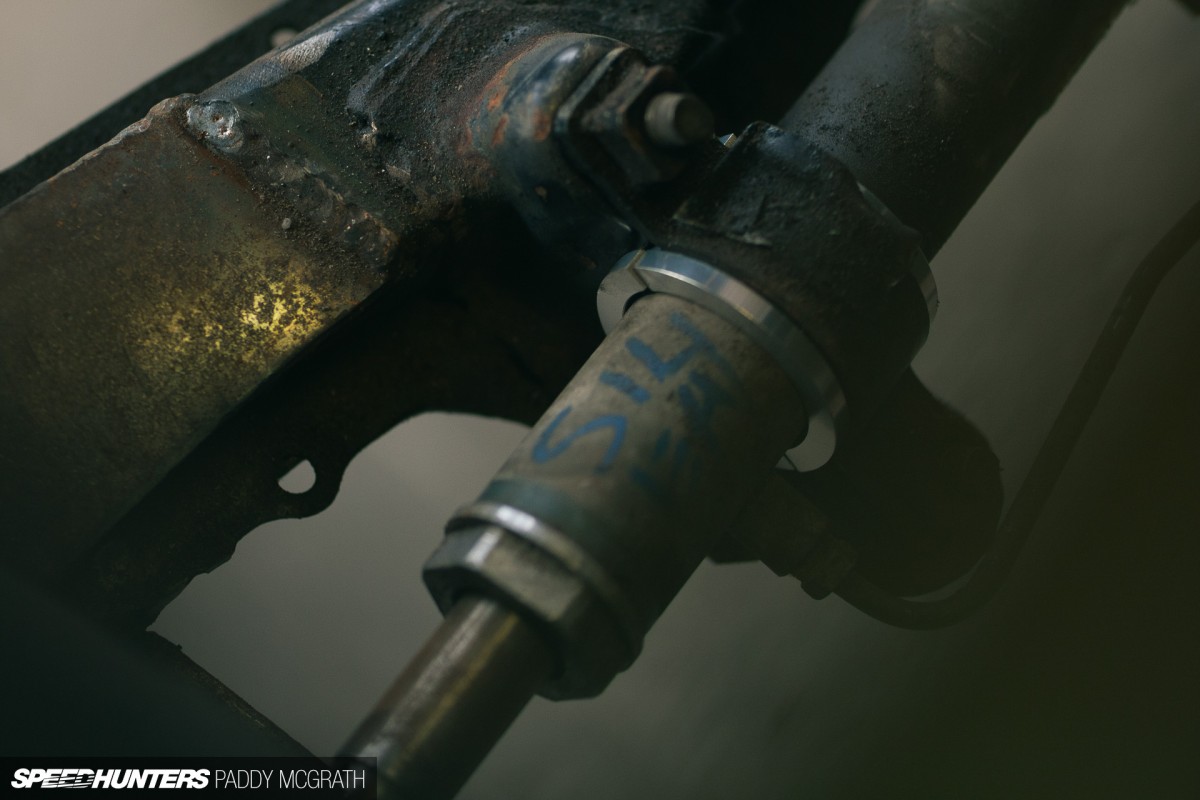 The S14 rack has been placed in what I think will be the optimal position for the front geometry I'm after. The front suspension will require some fine tuning once I get it back to MCNSPORT, but I'm very lucky that once it's all sorted I have KW 3-way coilovers to get the very most out of it.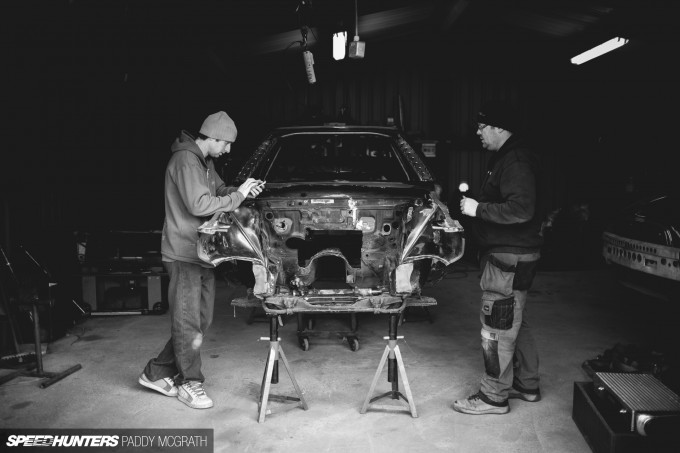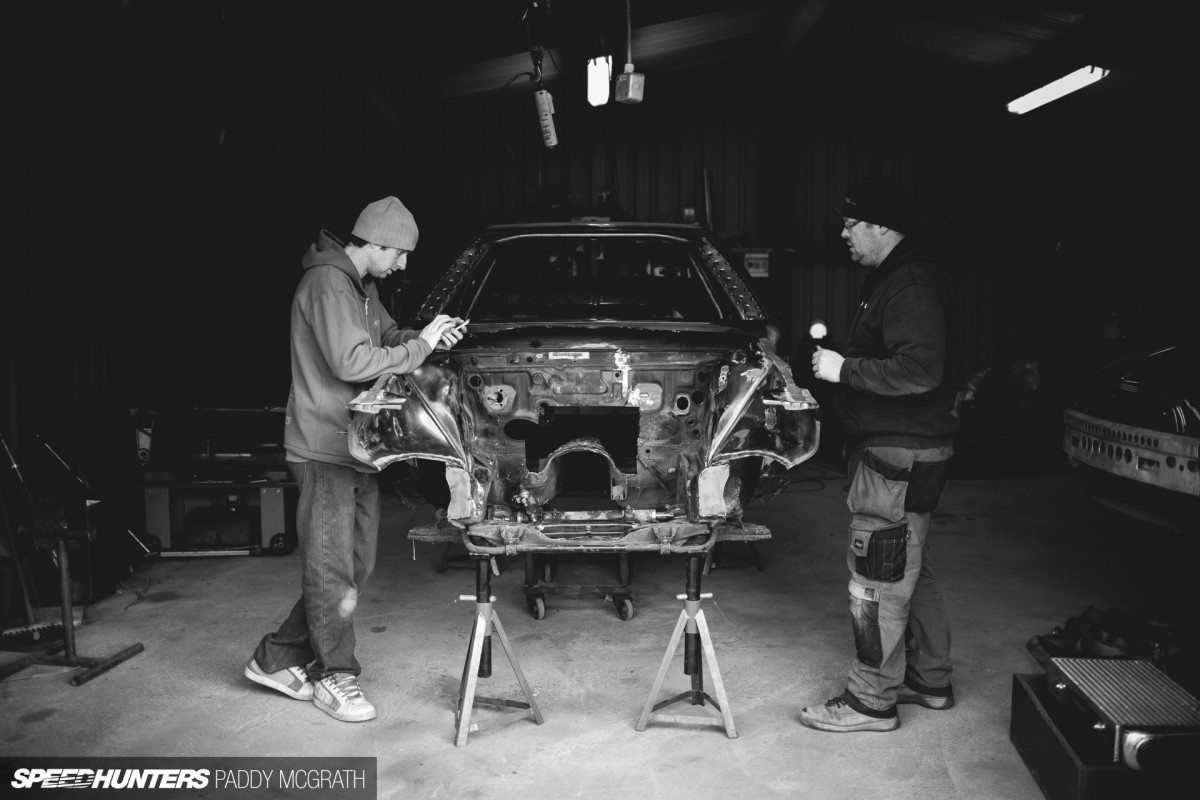 Discussions go on for quite a while about all the changes needing to be made in the engine bay. Anyone who's clued up on Audis will know that the engine sits out the front between the headlights, as back in the day it was the only way they could get drive to the front wheels. For weight distribution it absolutely sucks though, and it wasn't going to fly for a rear-wheel drive drift car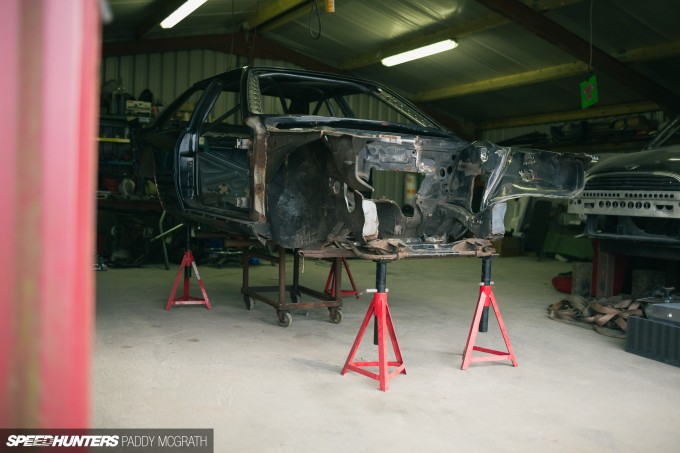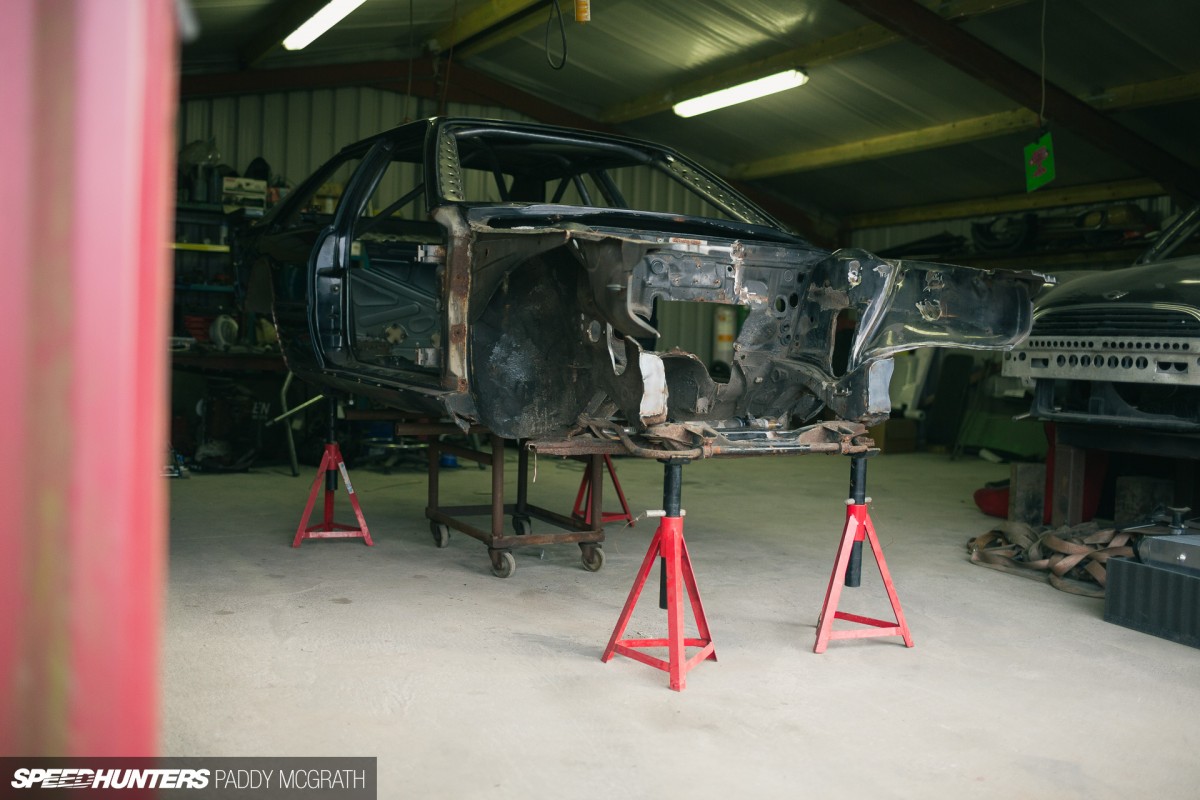 Moving the steering rack to the subframe not only lets us use familiar parts, but it also allows us to remove the bulkhead-mounted Audi steering rack and get the engine right back to the firewall. This will improve our front-to-rear weight distribution no end. The bulkhead has been cut as far as the rules allow, and in the next update a dummy block should be mounted, which will give you an idea of how far back we're able to position the engine. You can also see we have cut the chassis rails at the suspension's forward most mounting points, and removed the hilarious Audi ones that in factory form go around the radiator mounted beside the engine.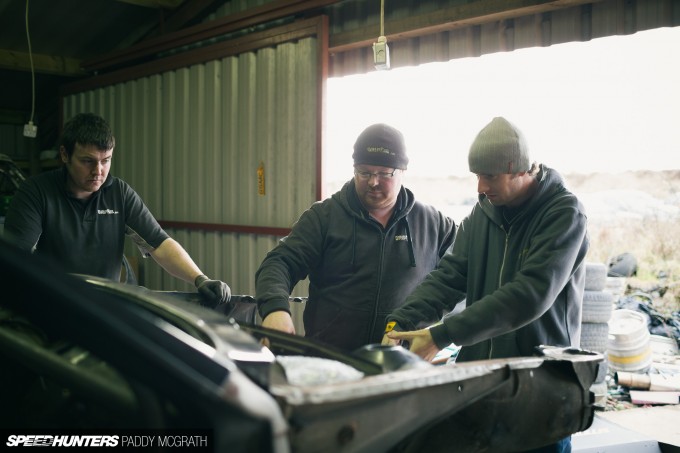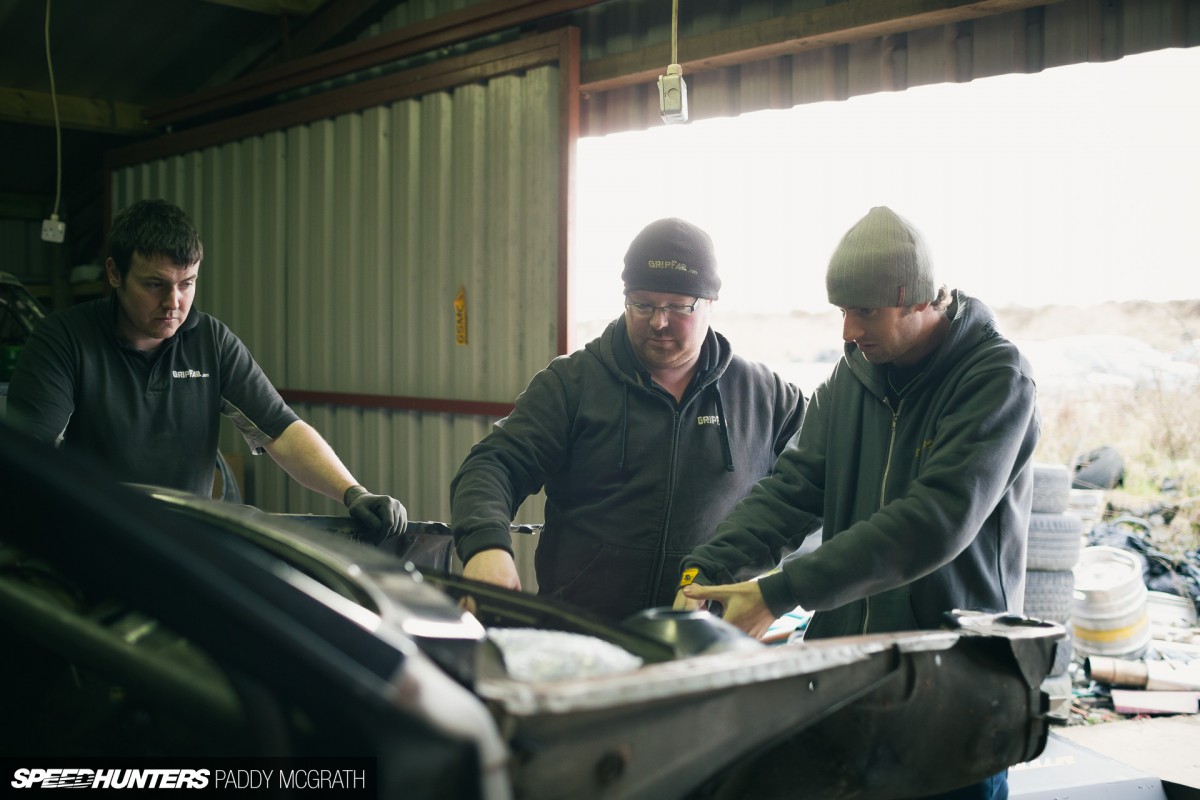 Here I am explaining that this is where magic will happen, and that the human race peaked around circa mid-1986 – in my opinion. Anyway, Stone Motorsport is the new name for a company that used to be known as Gripfab. John has done a great job on previous cars of mine, and he's the go-to man in Ireland when it comes to chassis fabrication. Obviously, the new Stone Motorsport sweaters and hats are at the printers, right John?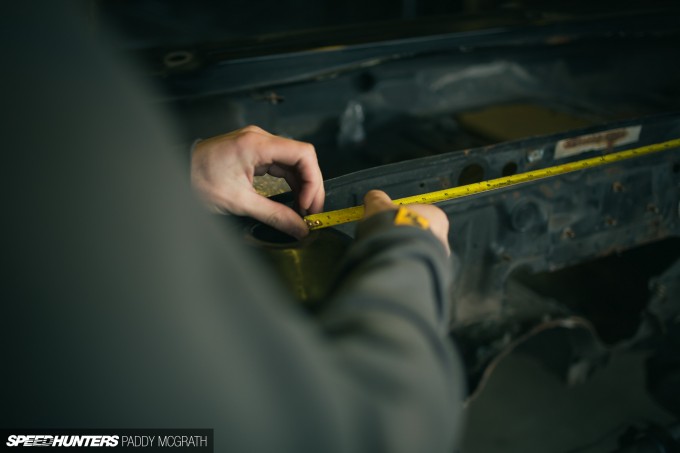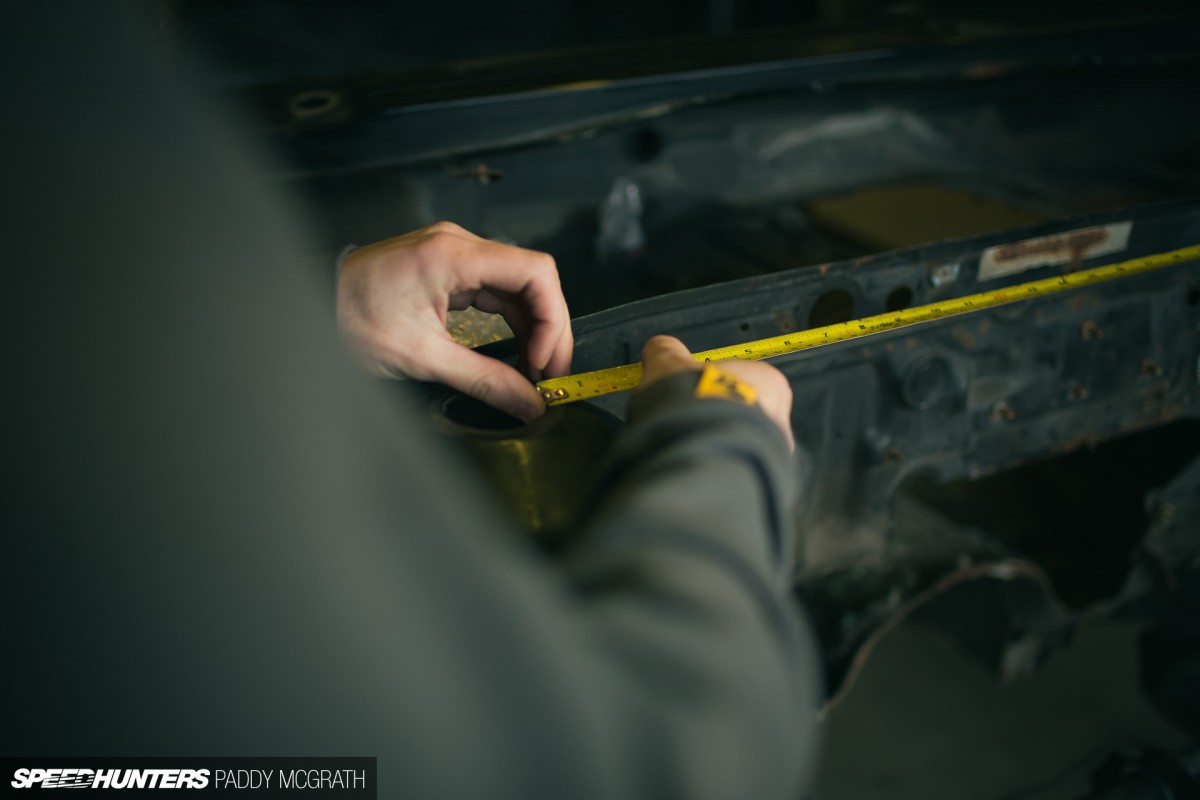 The suspension is going to be a challenge on this one, but I've managed to get my head around it. I will admit to taking long showers and have extra throne time, as these are the places where I do my best thinking.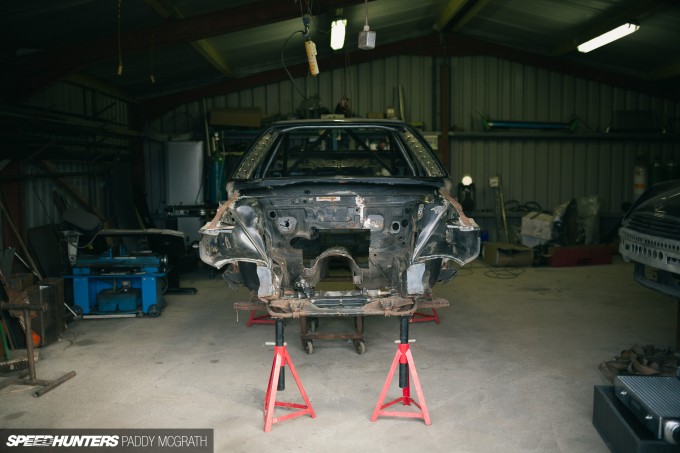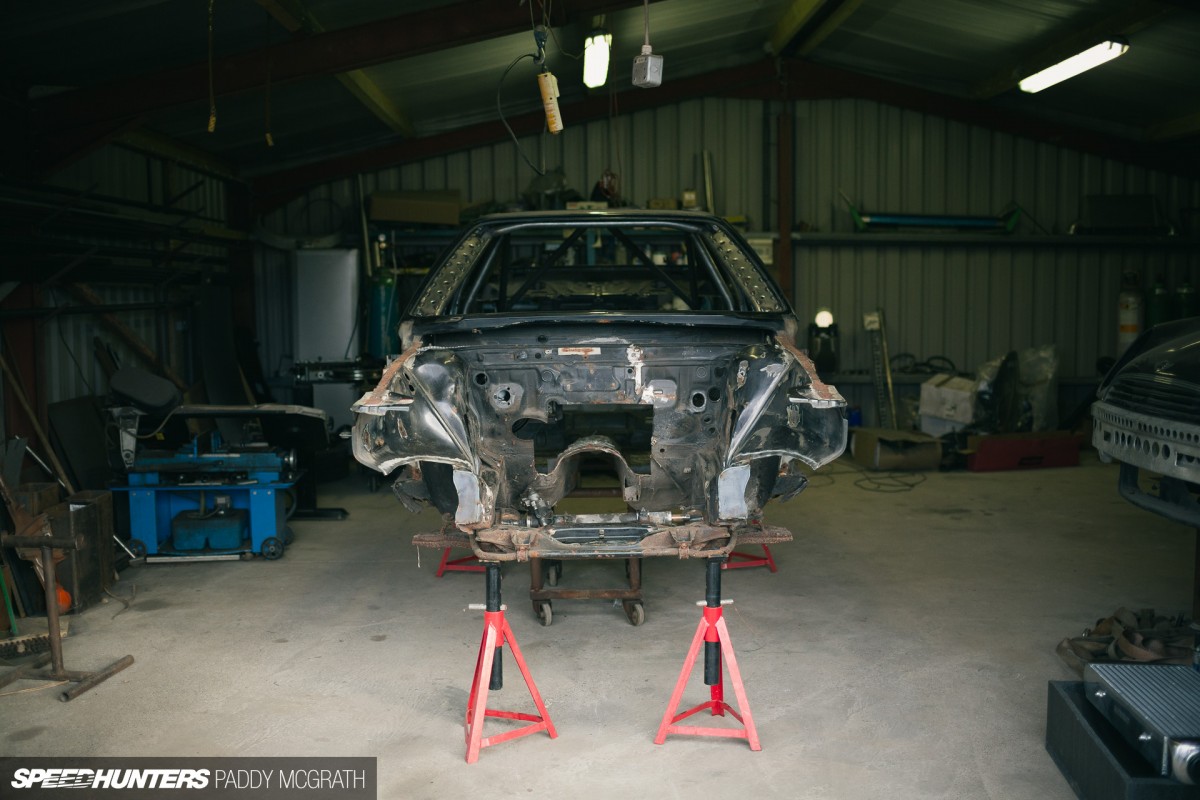 I am very happy with the job the guys have done on the front pillars and gussets. I've always had a thing for drilled and swaged A-pillar gussets, and John had them fitted without me knowing – great minds and all that.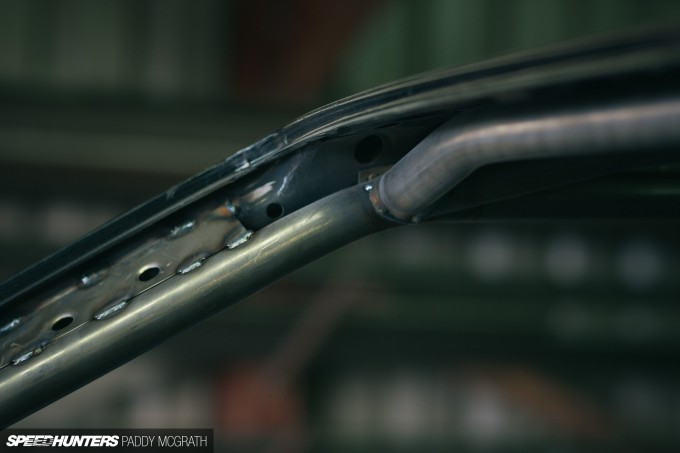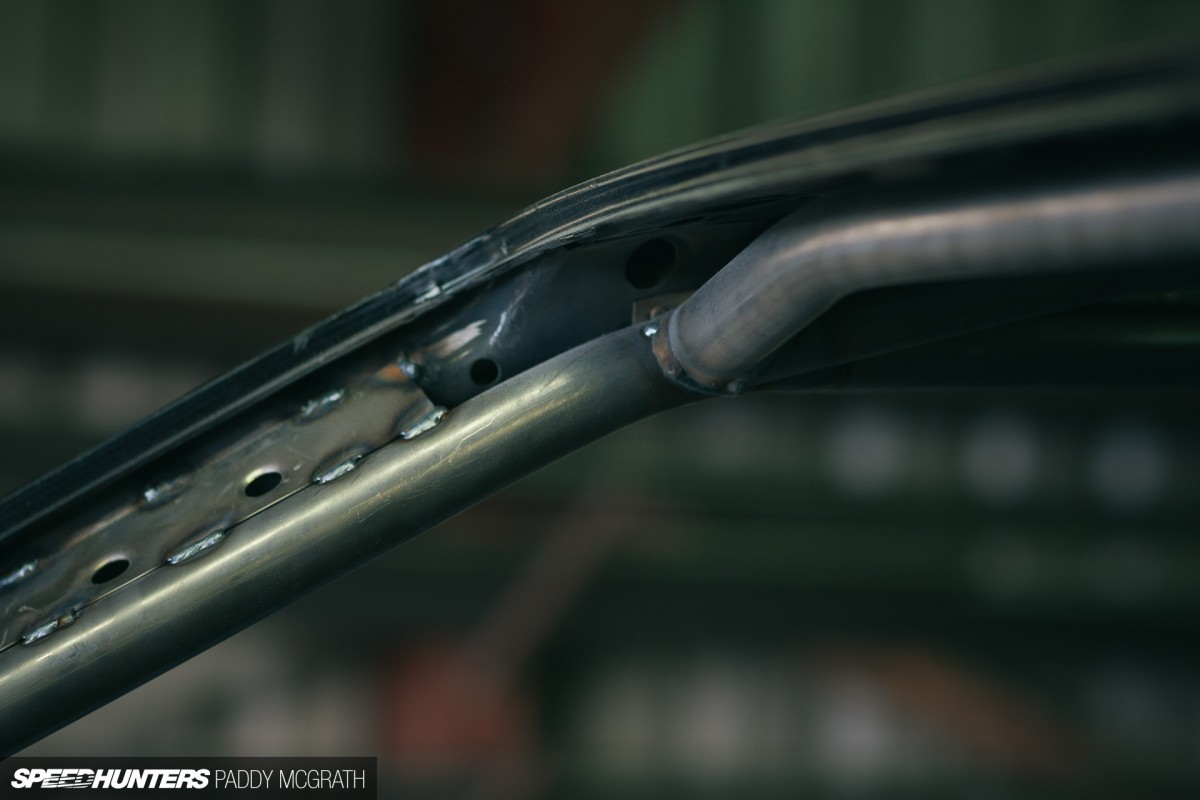 Here's a closer look at Stone Motorsport's handiwork. John and his team will be moving to larger premises soon, but his old workshop is where this car has been born. Big things have humble beginnings.
Sitting Pretty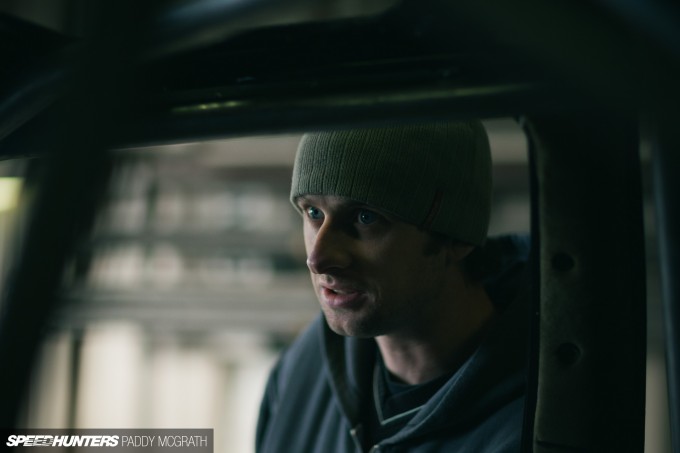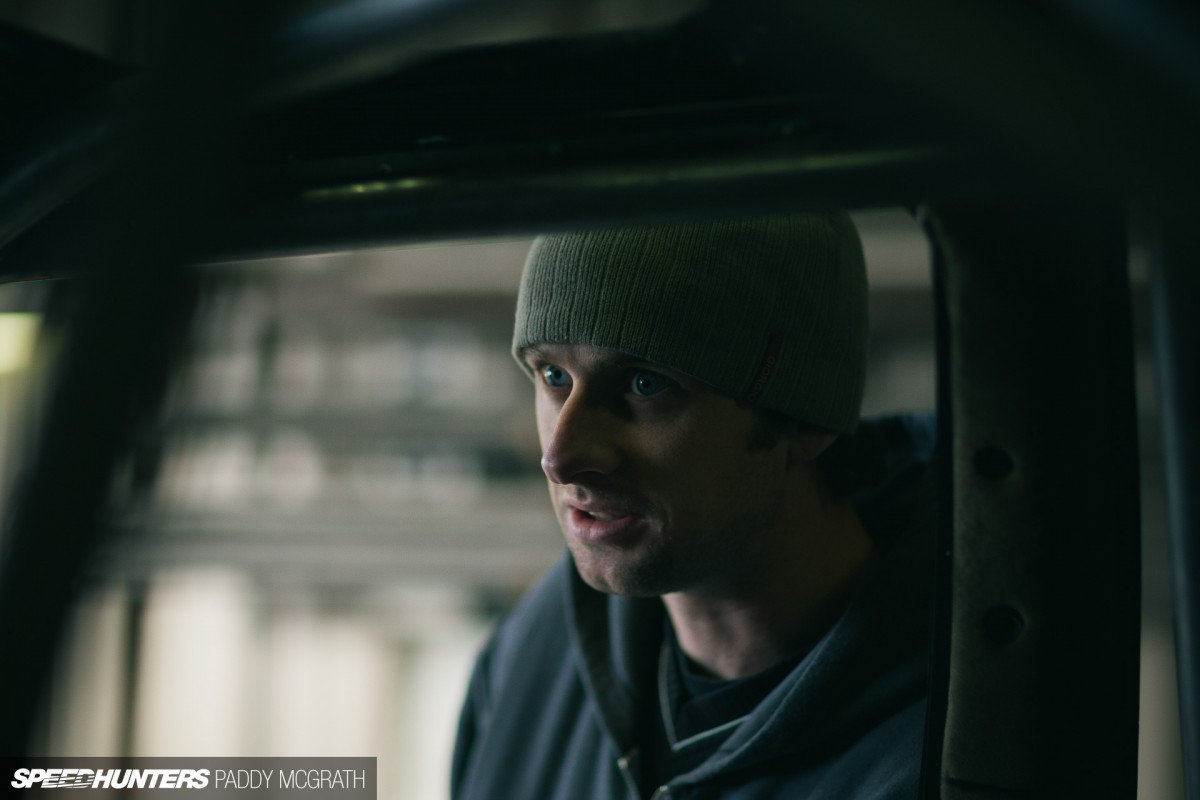 Okay, brace yourself people, things are about to get a bit weird…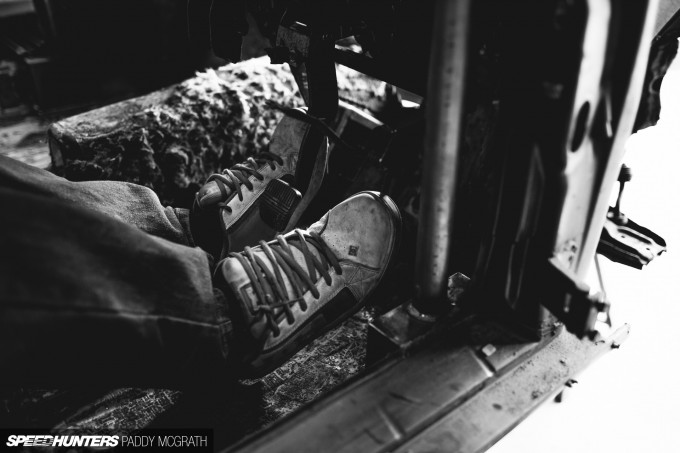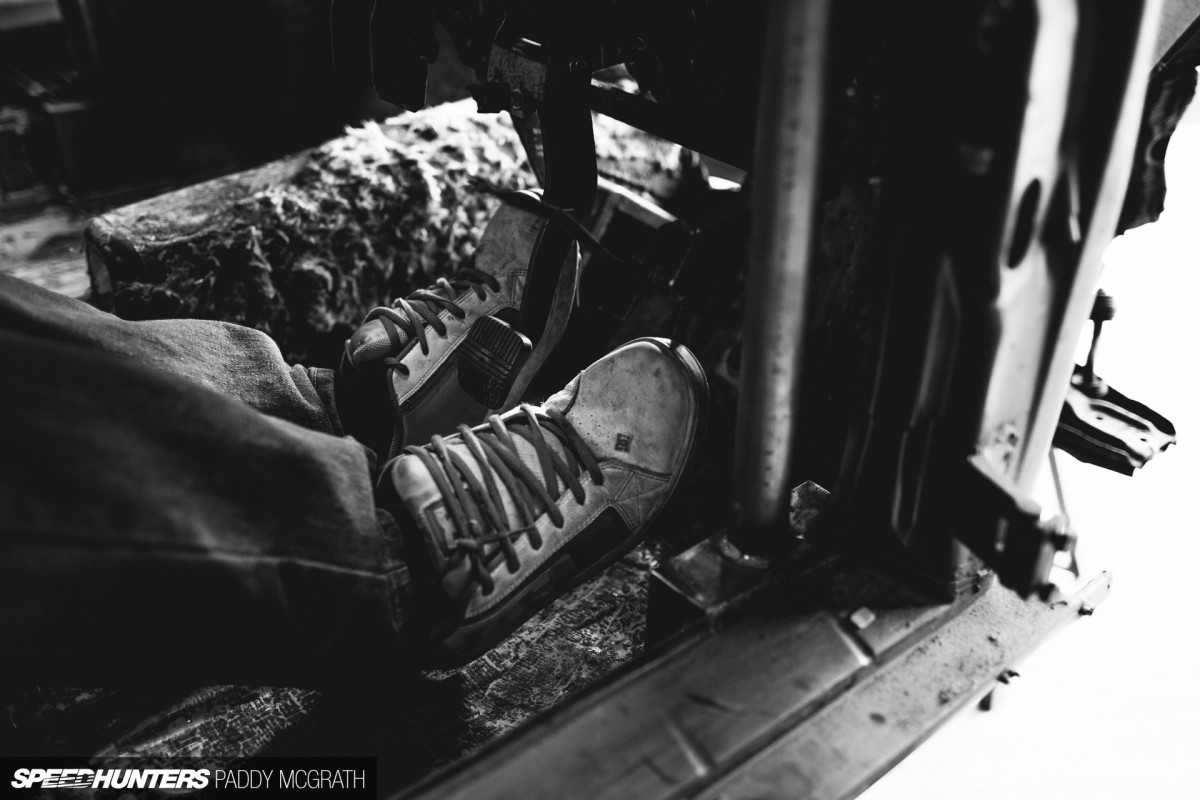 Because it's pedal assembly time! I have never really got the feeling right with a fancy twin master cylinder pedal assembly – perhaps because I've been unlucky, or maybe because I'm just not intelligent enough. But no matter what I or the people around me have done, I can never say I've actually liked those sort of setups. I much prefer going for a blast in my servo-assisted S13 with Skyline brakes. I have been told that I am much more of a finger tips and toes driver than a donkey, so maybe that explains it.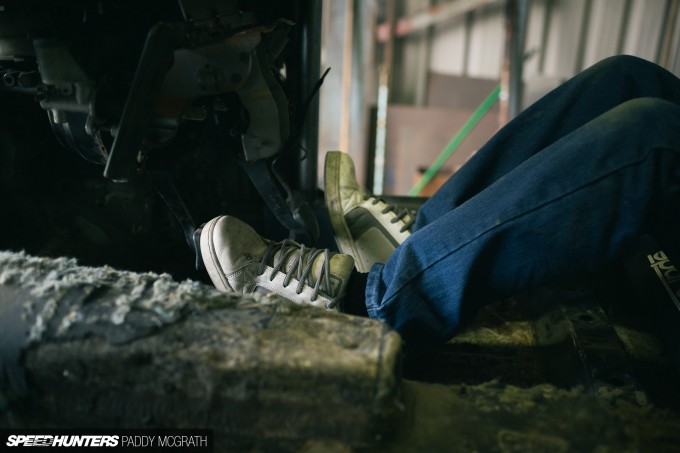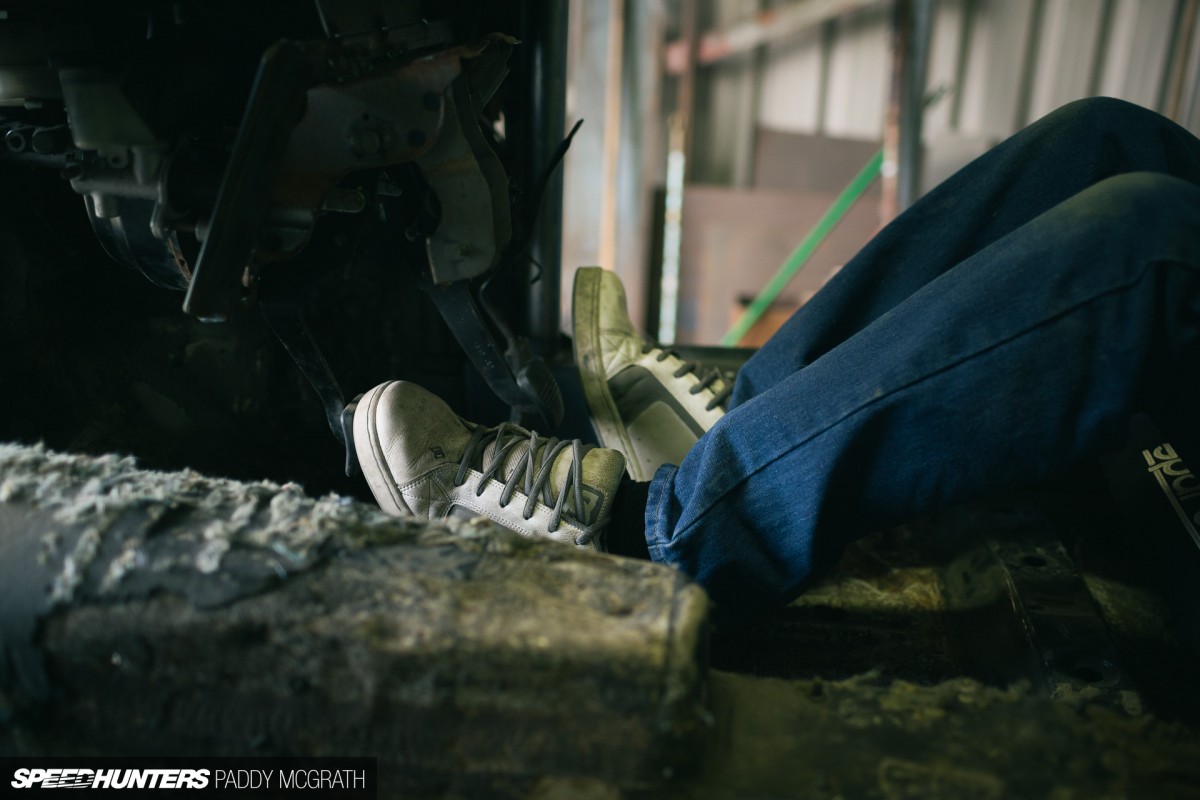 The Ur-Quattro is effectively like a front-wheel drive car, in the sense that the bulkhead is very far forward creating a large cabin space. So enter my friend, the S14 Silvia, to once again donate a complete pedal assembly that will mount inside the cabin under the dash (although I don't think the finished car will actually have a dash). This will give me servo assist and the brake feel that I prefer, plus it will work the first time I push it, which is most important to me.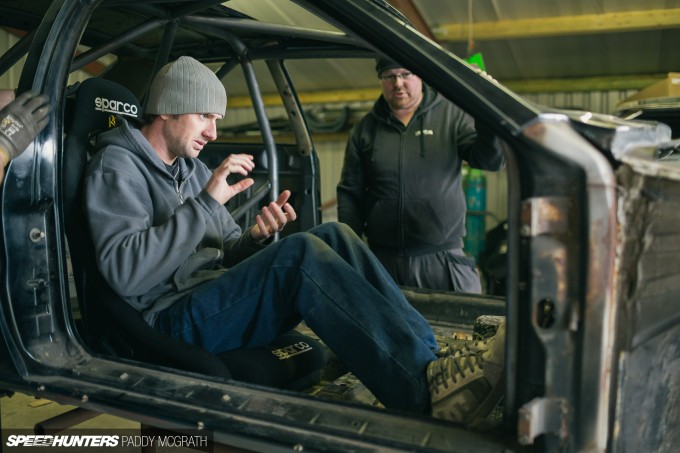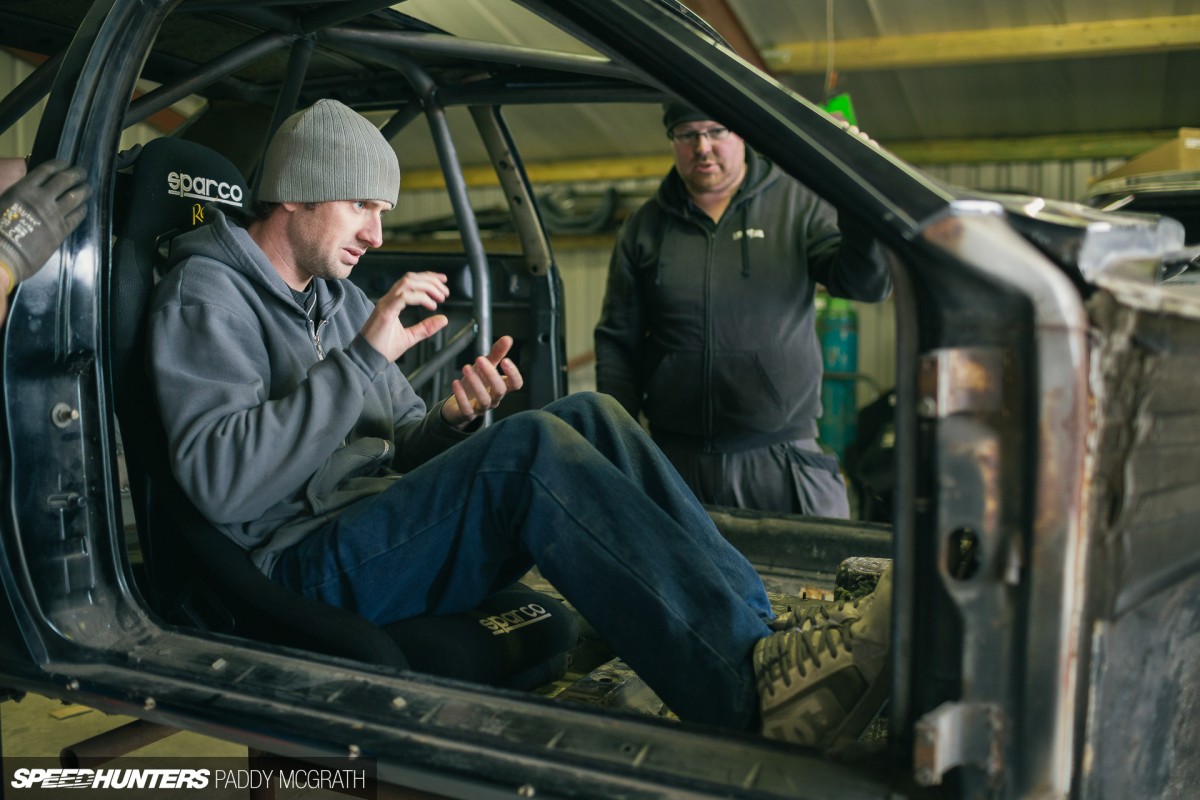 Now, we are not just mounting the pedals anywhere inside, just because it suits me. I have measured from the centre of the front wheels to the rear mounting bolt of the bucket seat on my Silvia, and have then replicated that measurement on the Audi exactly. So among other things, this gives me my pedal assembly position, which will ensure that the car feels 'natural' when I drive it.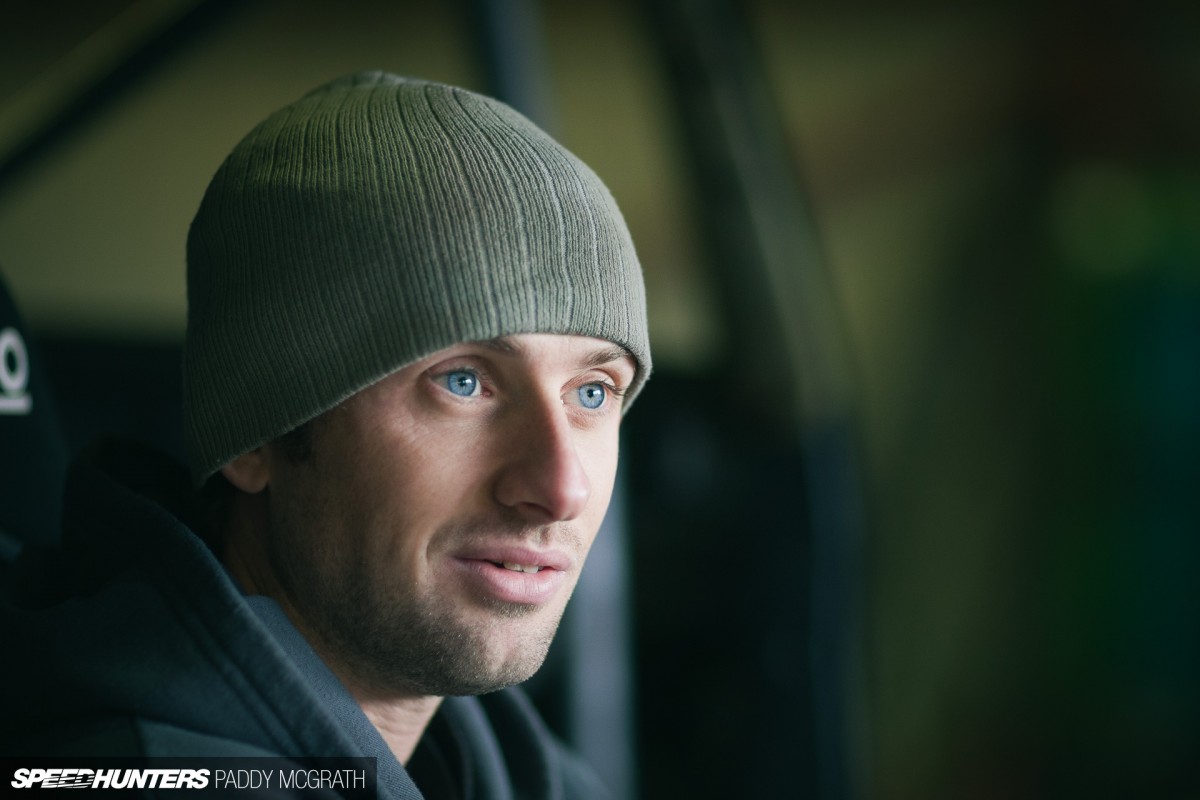 By a fantastic stroke of luck, the Ur-Quattro also shares the exact same wheelbase as the S14 Silvia. This is the face of approval regarding that fact.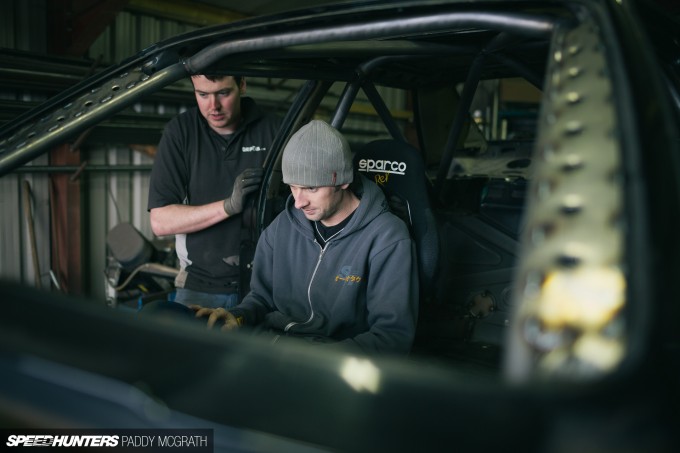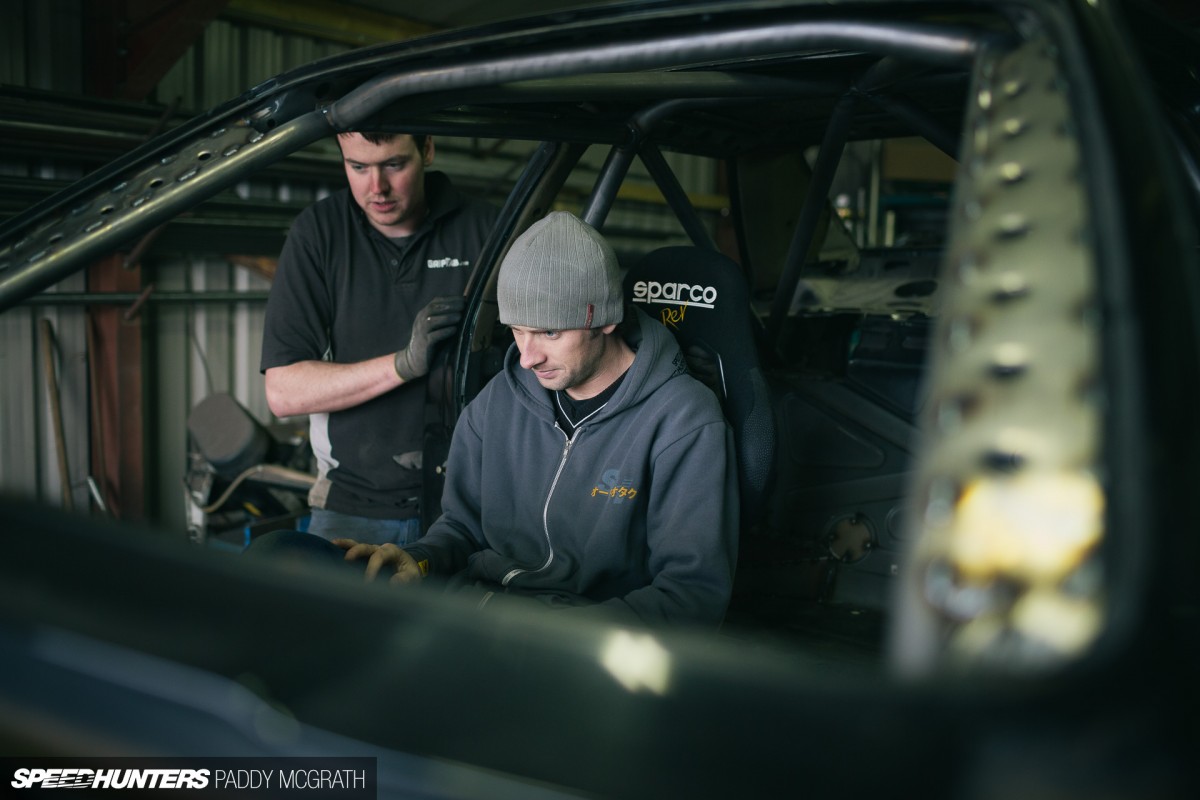 So all in all I think we are onto a winner here. We have made the right decisions moving forward and we get the added bonus of keeping the engine bay nice and clean and free of servo and cylinders. That's handy, because the area where Audi positioned them from factory will soon be filled with a lovely Martelius ceramic-coated exhaust.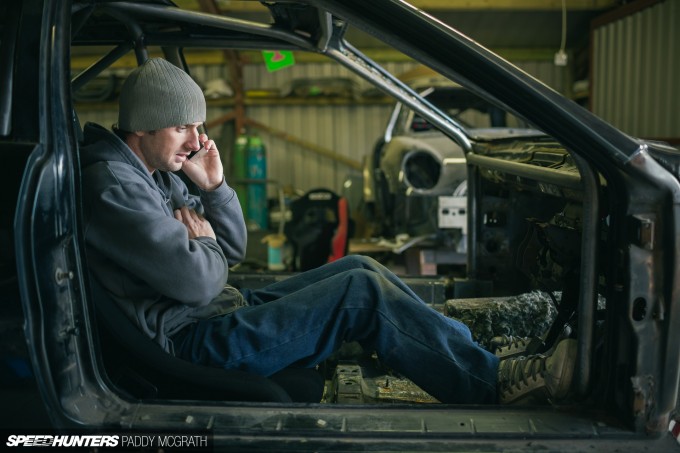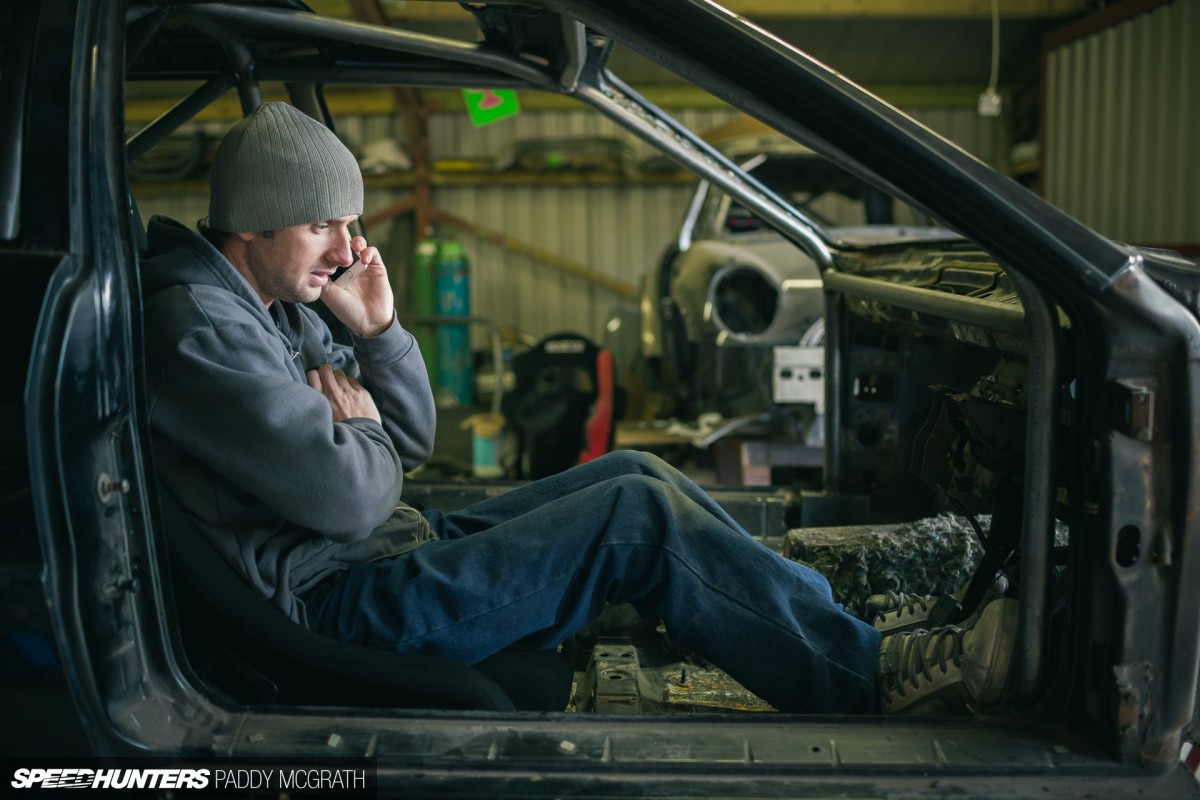 "Yes Mr. Röhrl, rear-wheel drive but with twice the power… This is good, yes?"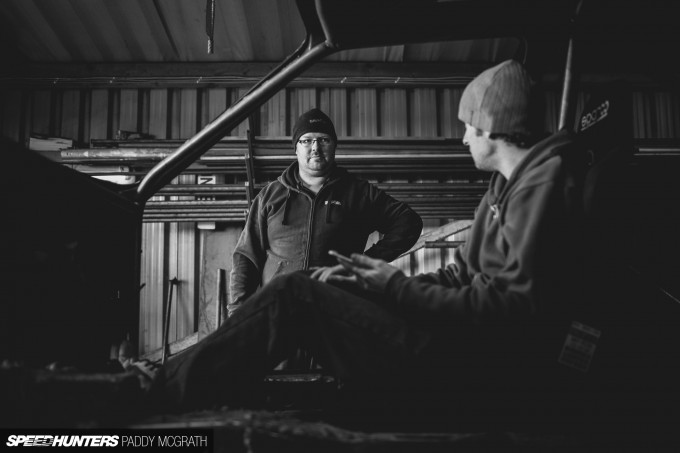 It wasn't really Walter Röhrl on the phone, John….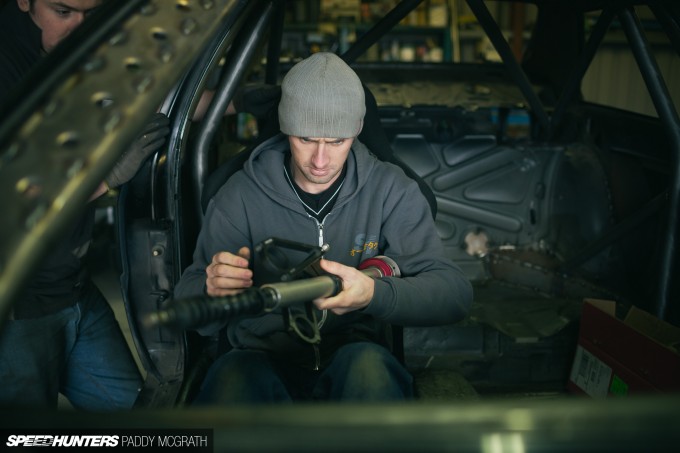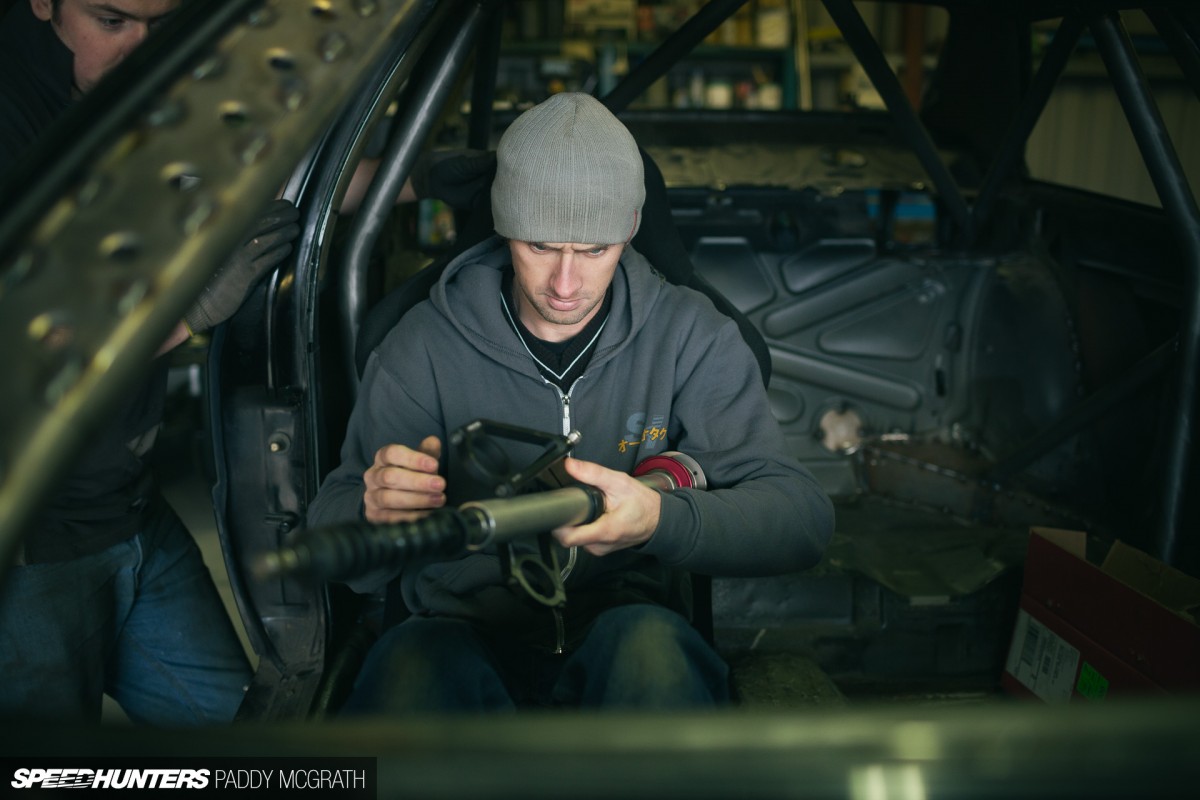 I got this…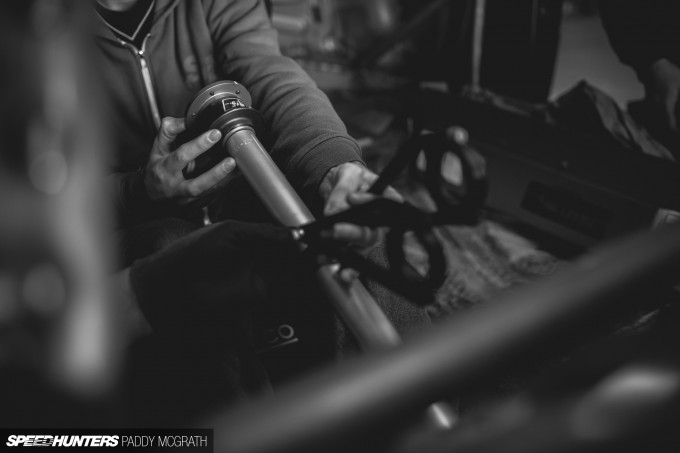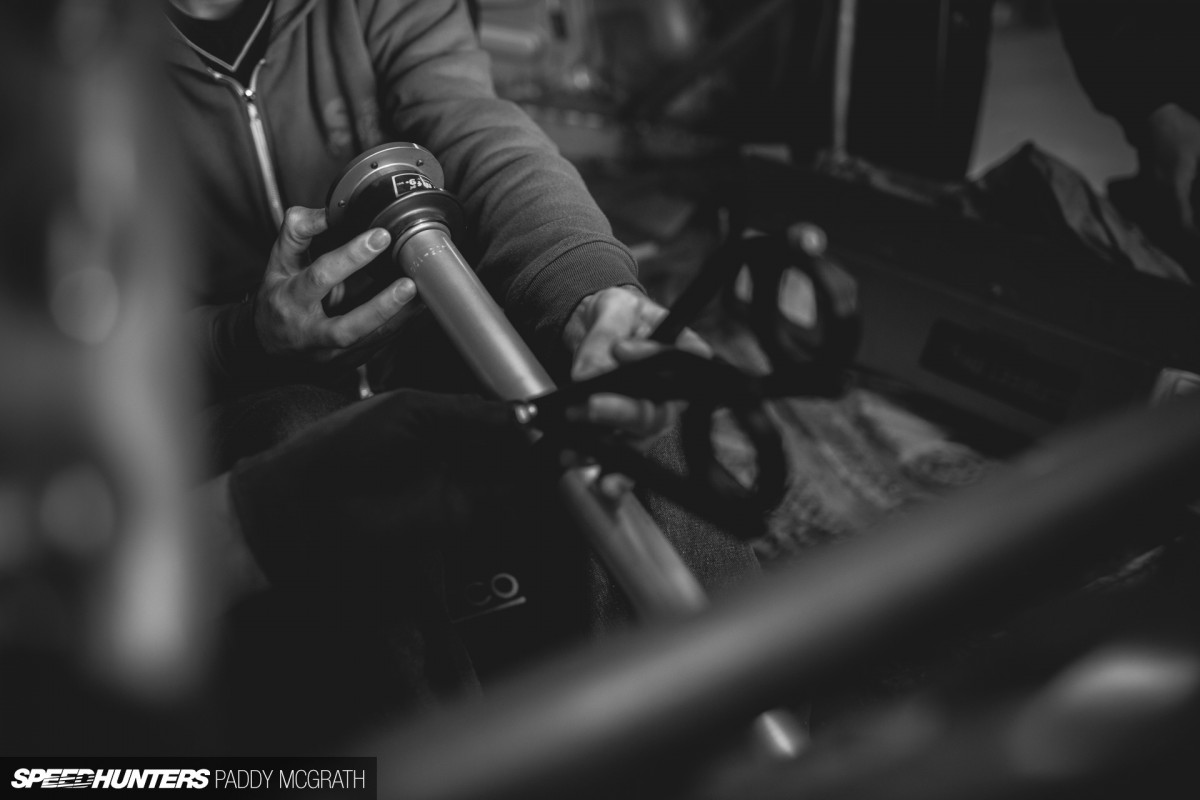 For the steering column I ordered a Sweet Manufacturing collapsible column with billet mounts. Despite being stupidly expensive, I absolutely love these things and it should make all the difference aesthetically when the interior is finished. We will bend a mounting bar off the dash bar of the cage to hold it, and I think it would be a real shame to cover it with a dash then. If we just make a bracket for the Haltech IQ3 digital display, we can keep things nice and simple.
Caged Animal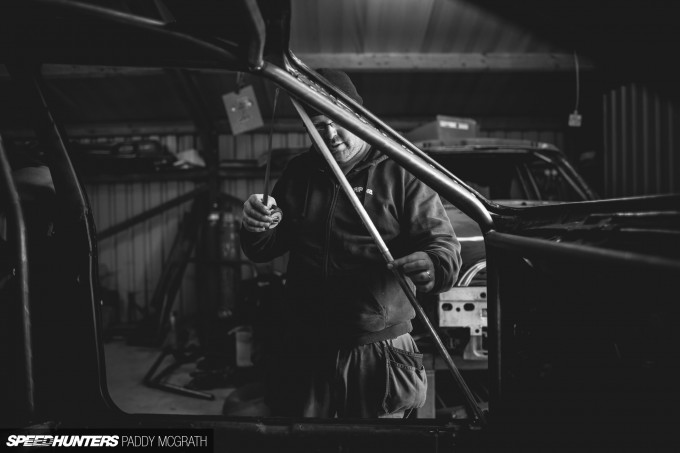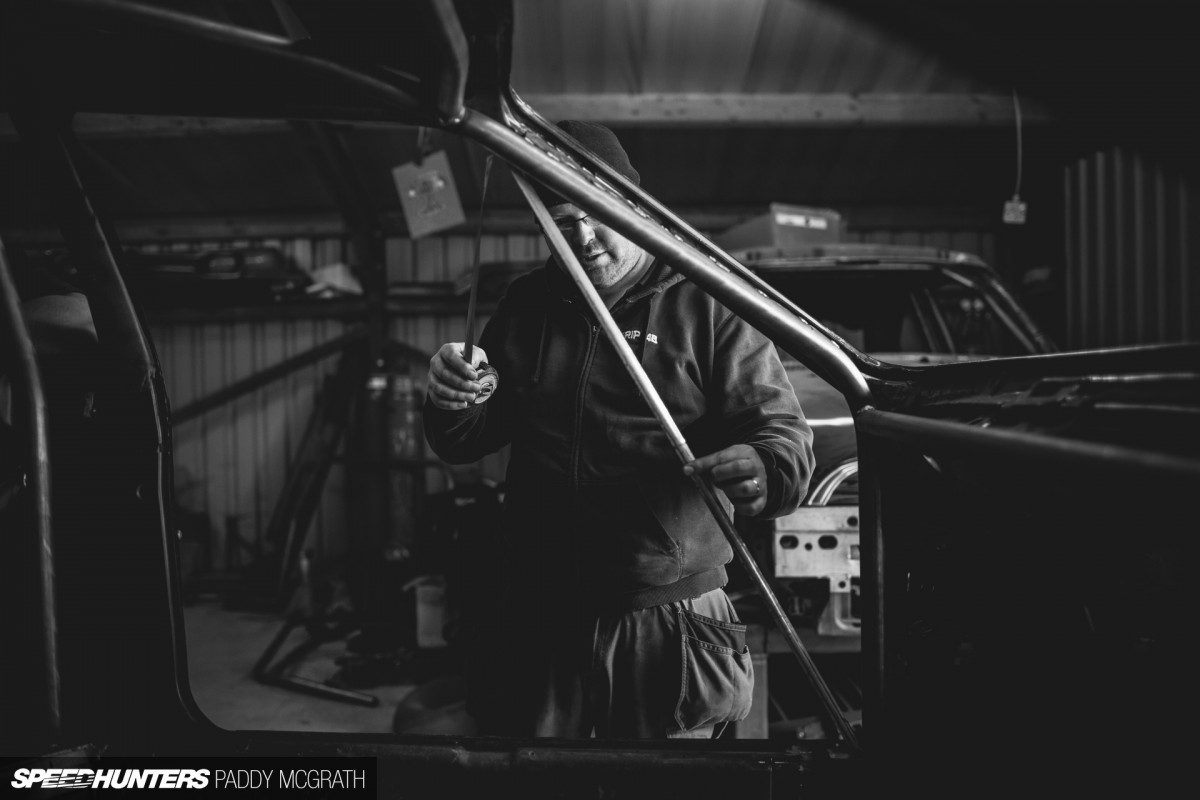 Here's John is measuring for more tubes, so let's check out the rest of his rollcage handiwork before moving on to cooling.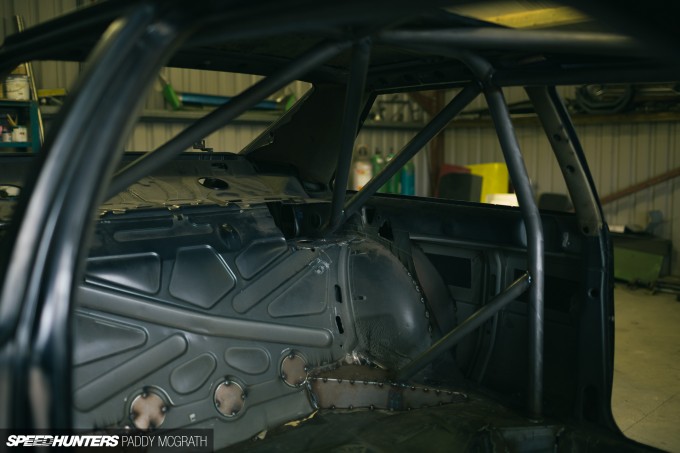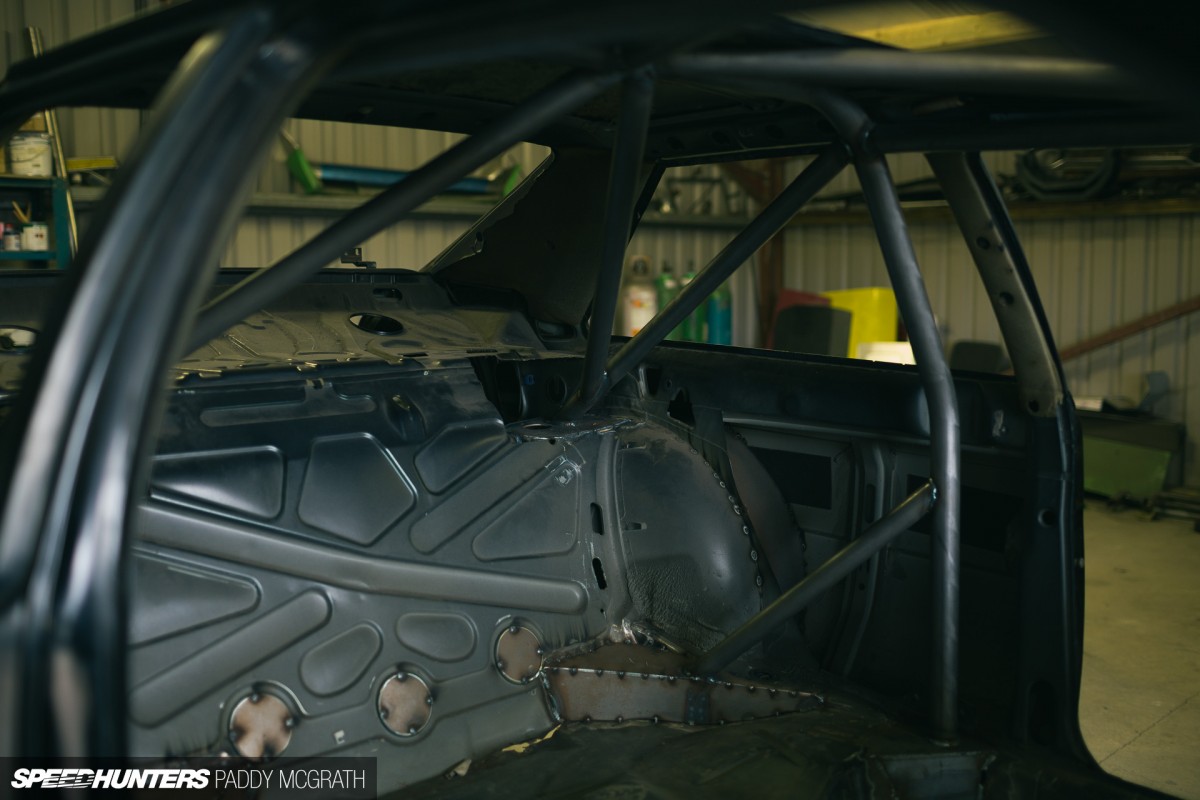 The centre hoop sits nicely behind the B-pillar and the floor has been gusseted. There's also new suspension tops for the S13 KW rear coilovers.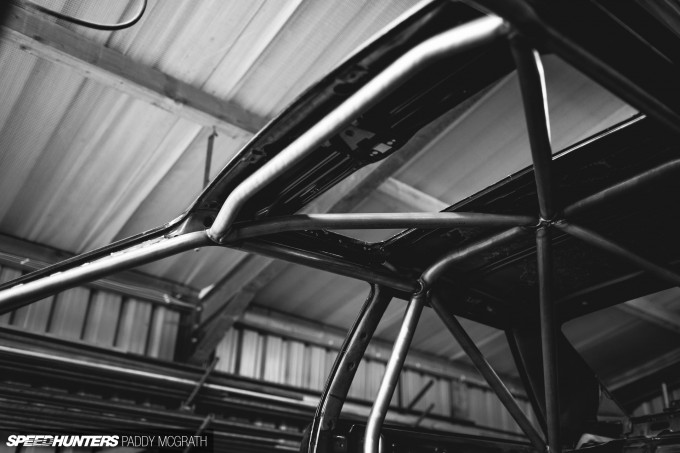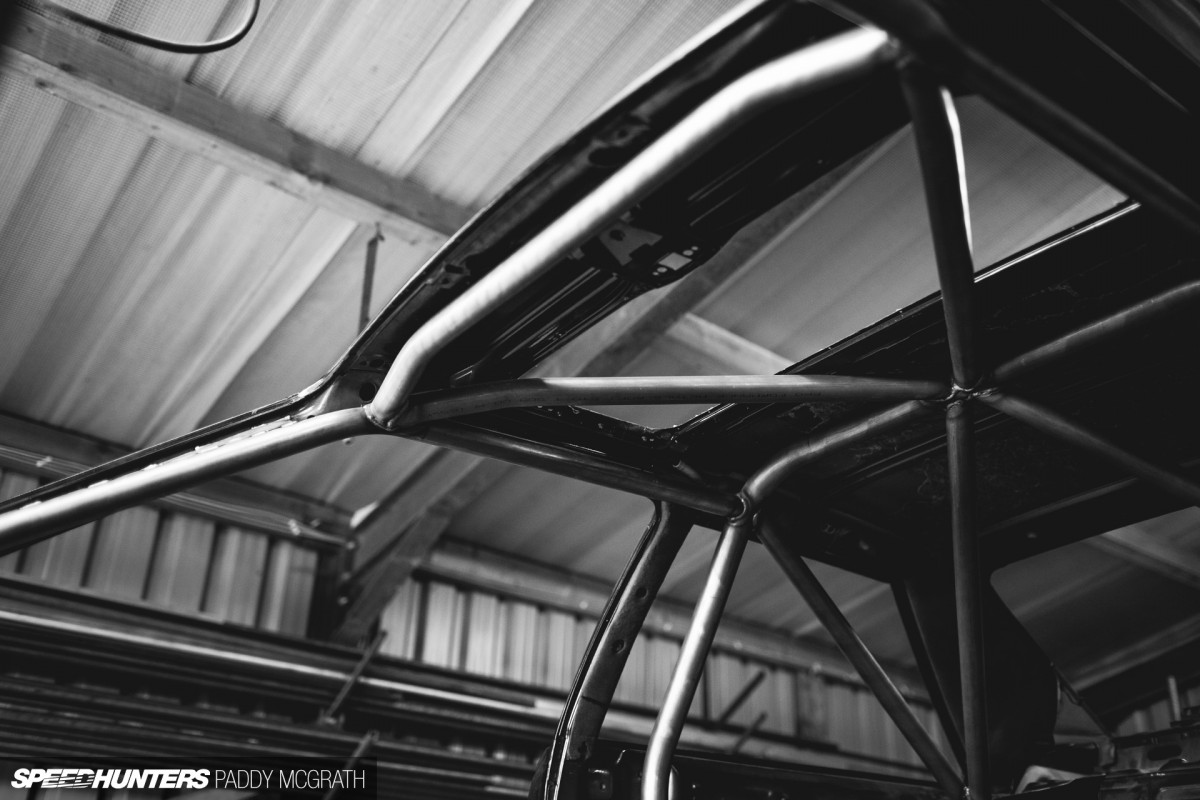 I'm a huge fan of 'V's as opposed to an 'X's in cages, as the former just seems to end up looking so much better without gussets. There will be a harness bar and centre hoop diagonal added once we finalise the seat mounts, and also the pillar bars to main hoop will be triangulated.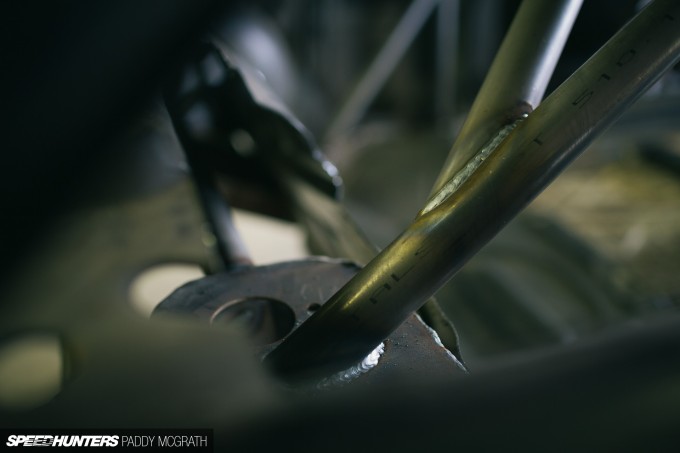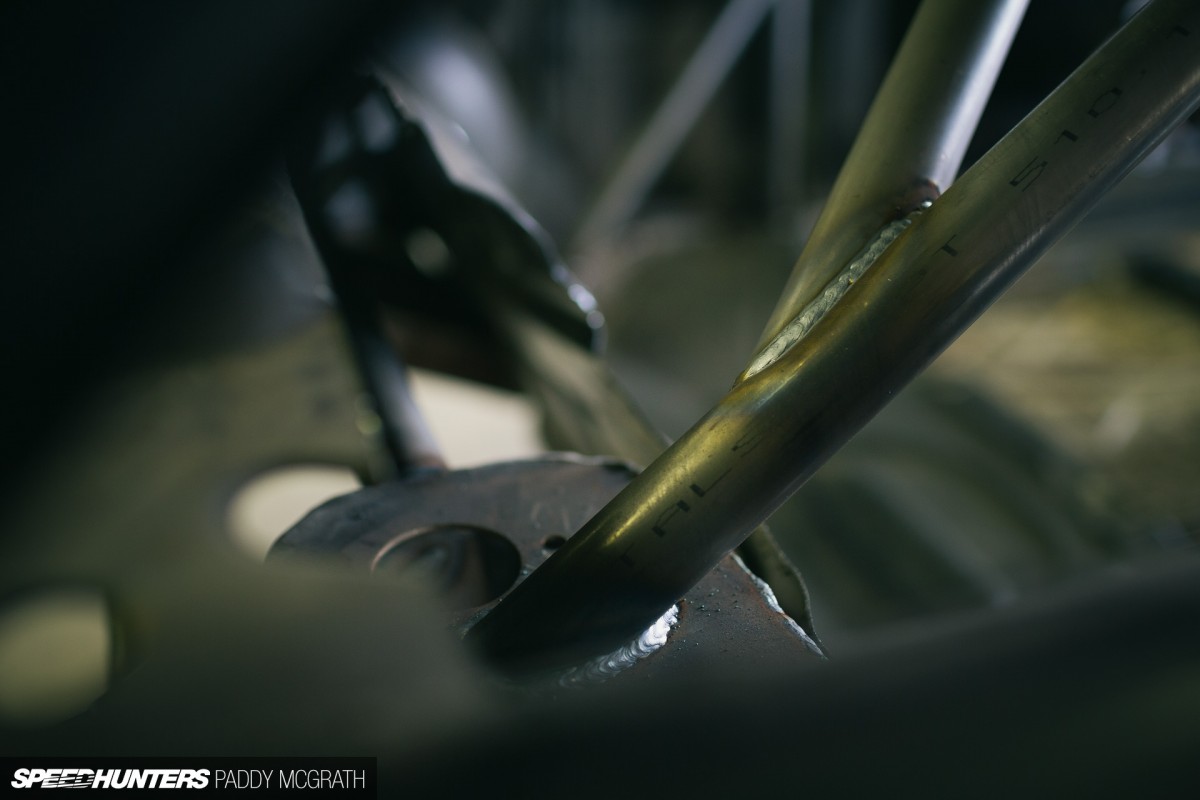 Here's a closer look at one of the new S13 suspension tops and a good close-up of John's lovely welding.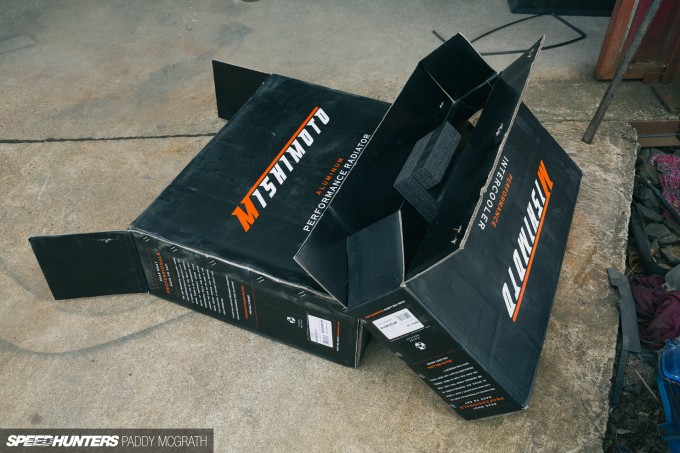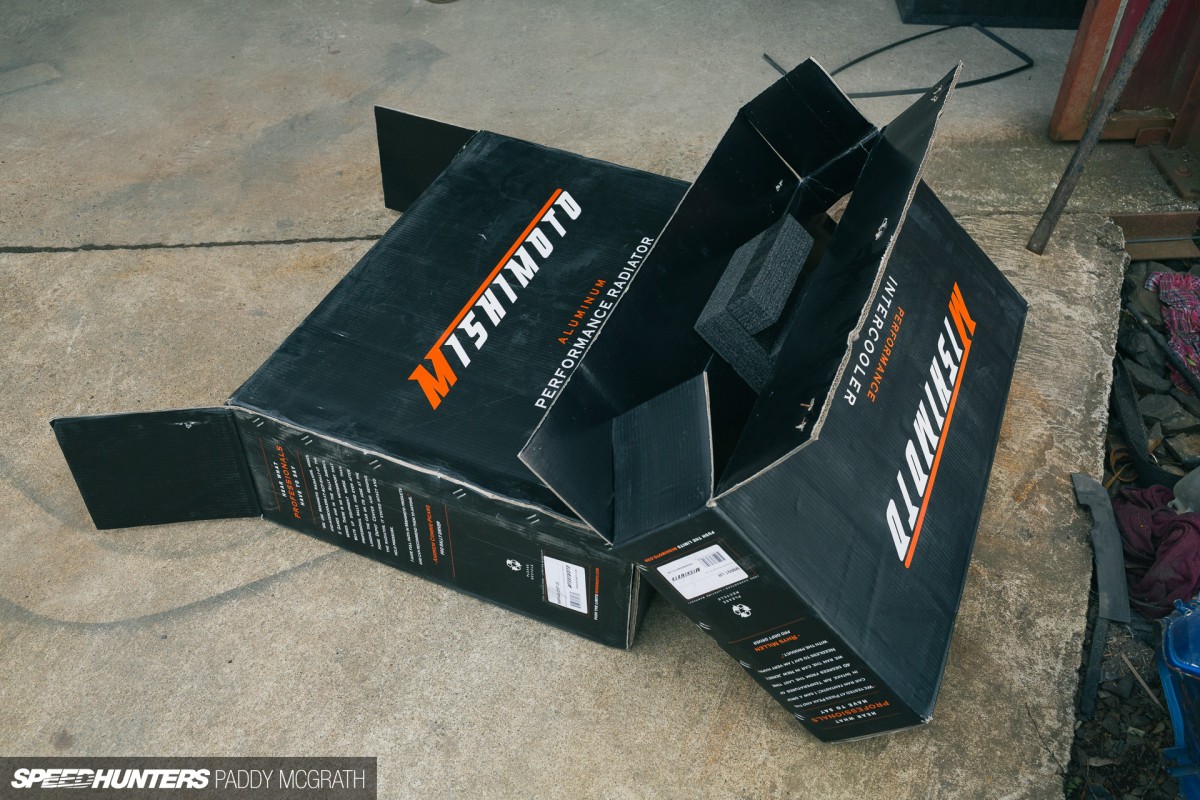 Mishimoto have been a supporter of my efforts for a while now, and a project like this would not be possible without all the amazing companies who have come on board. We wanted to get as much mock-up work done as quickly as we could, and knowing that, Mishimoto got these parts out to me super fast. Thanks guys!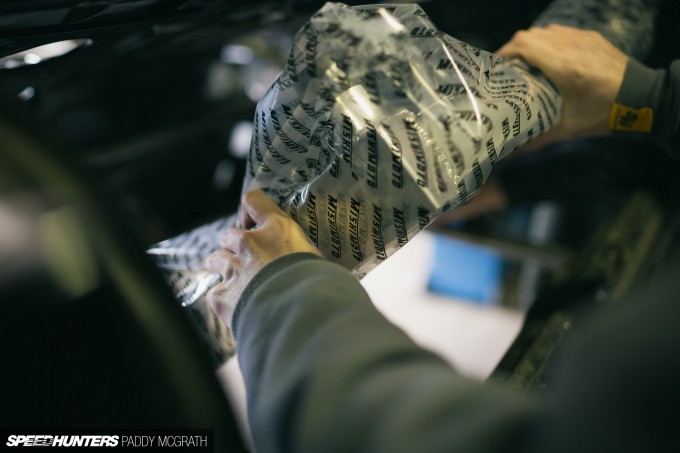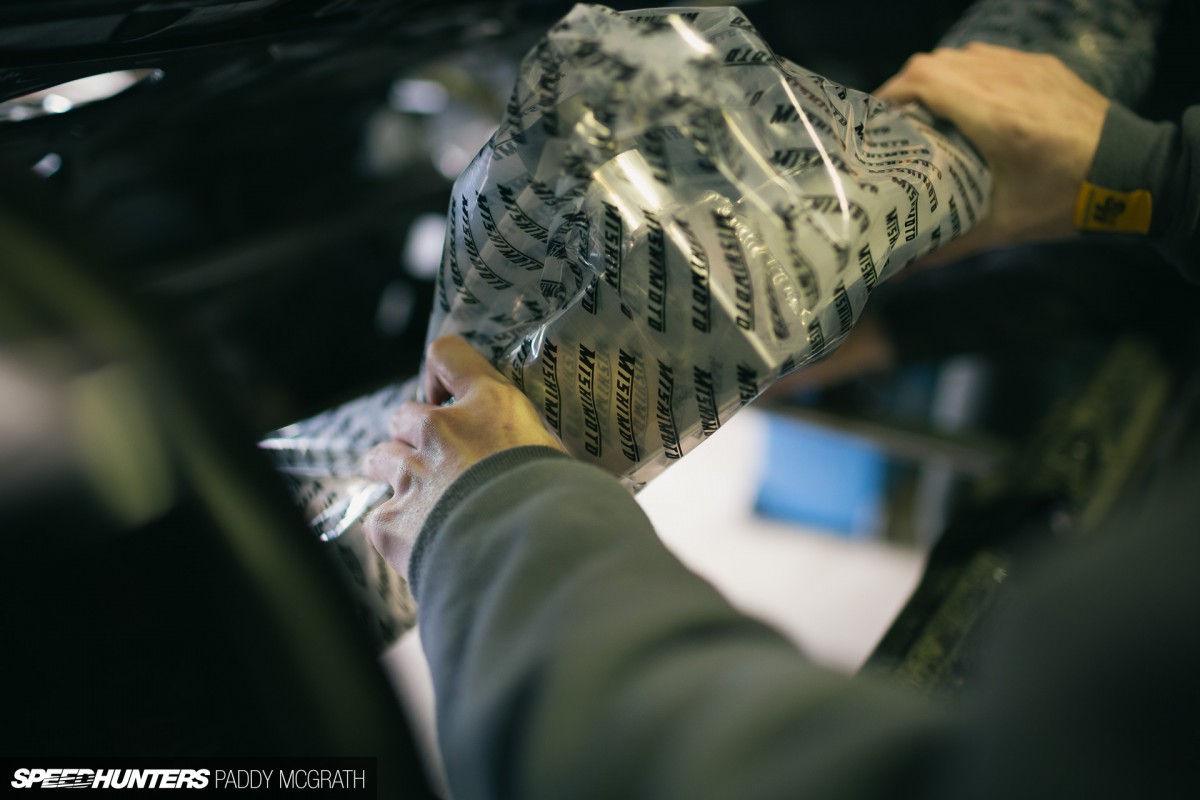 This radiator is huge! There are a couple of challenges we face with this car, and one of them is trying to prevent it being nose-heavy like the original Ur-Quattro. A large radiator radiator was required, but it's going to be positioned as far back as possible for proper weight distribution.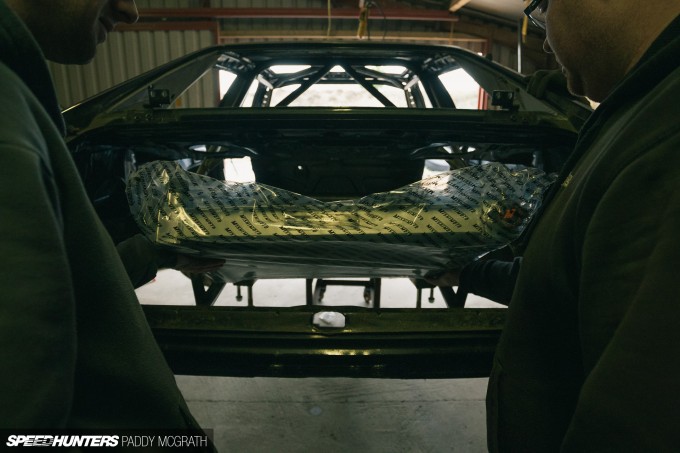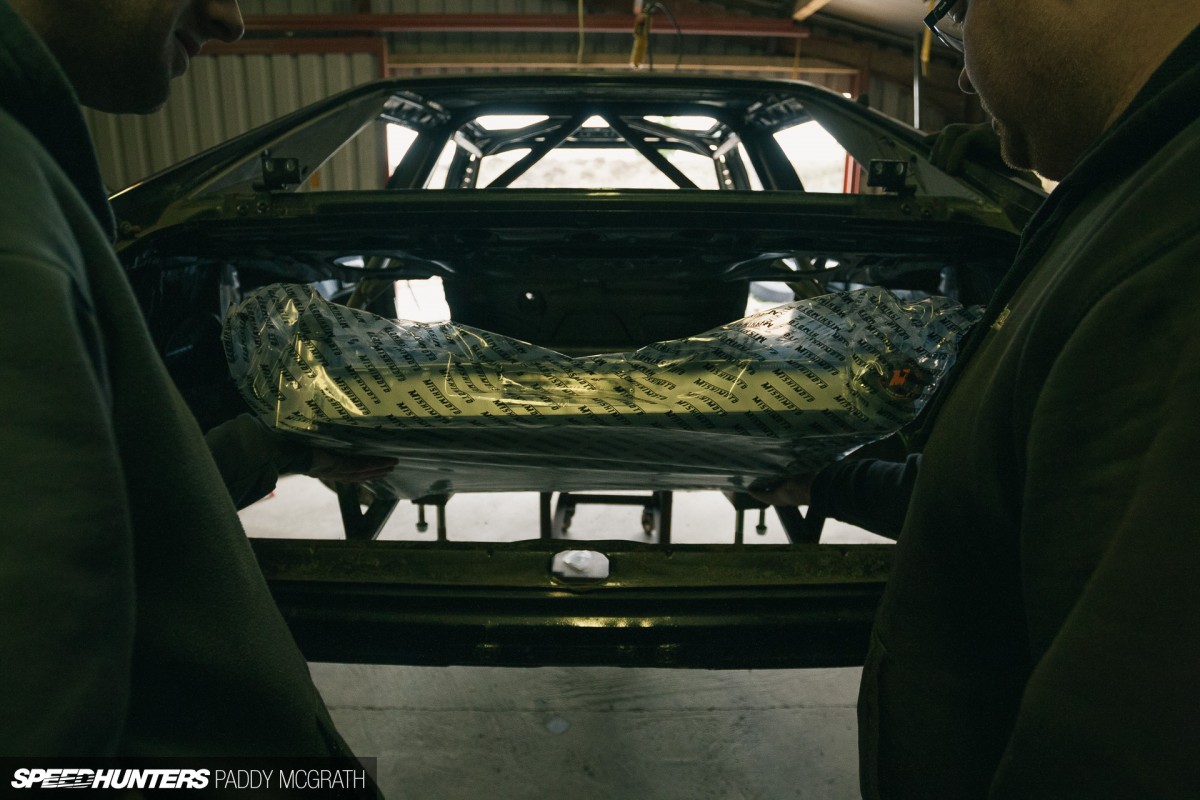 It will also be tilted like so, for a couple of reasons. One is that drift cars need to be able to hit things with their rear corners, so tilting the radiator and keeping the rear of it forward should keep it out of harms way. At the beginning we will run the Group B rally style rear wing, and not the Pikes Peak style one that is in the render. Some of you may know that the Group B car had the radiator mounted vertically right up against the rear panel, so that the rally wing diverted half the air down through the trunk and half of it onto the wing. The Pikes Peak car had the air intake in the roof, so it didn't use this diverter.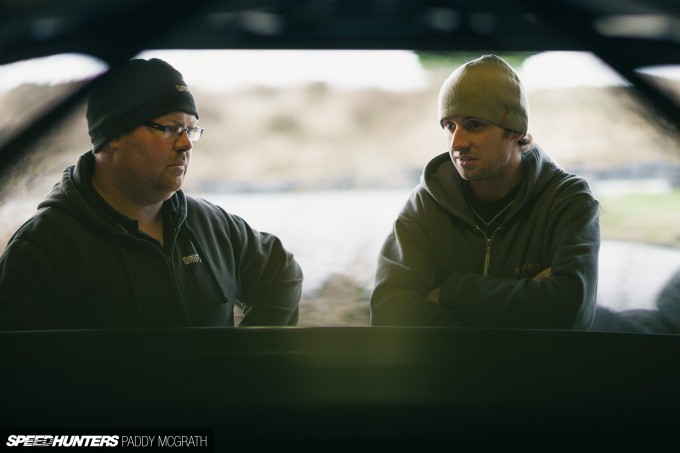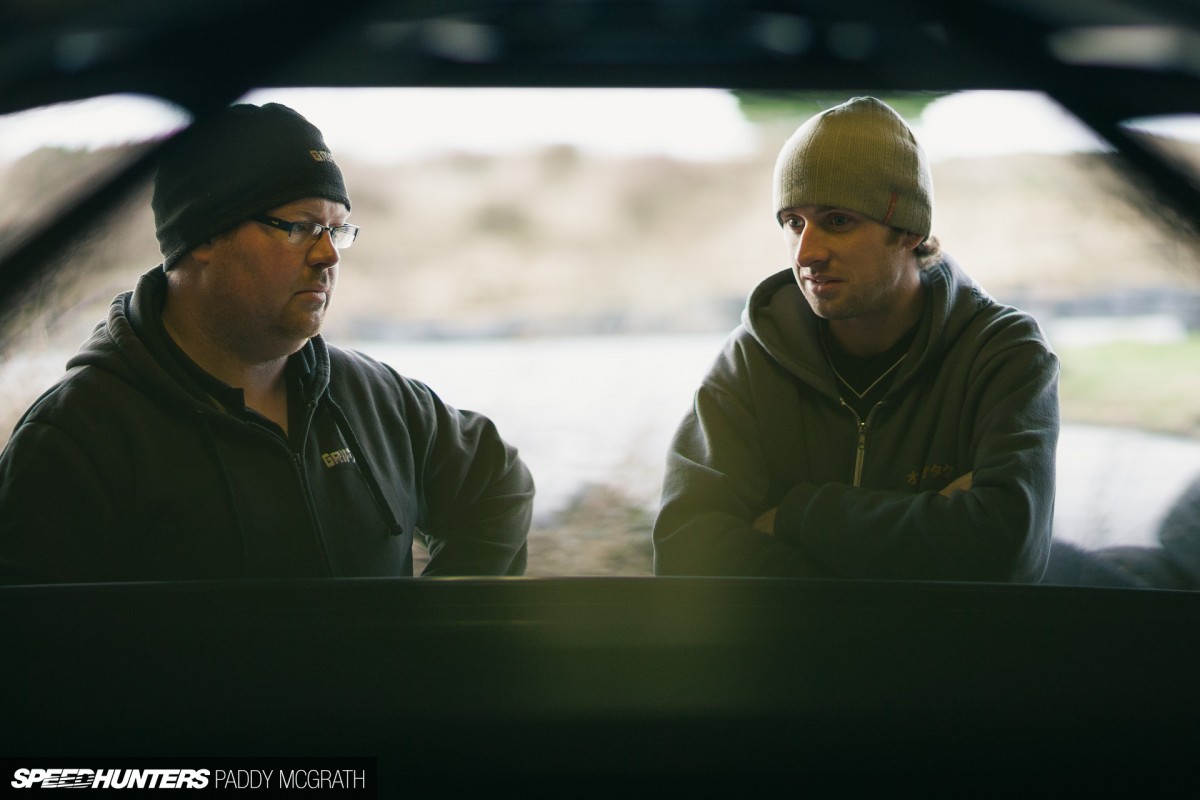 With such a rare engine powering the car, I am not going to take the chance that the air will stagnate in the rear and lead to any sort of cooling issue. By using the Group B wing to ram air down through the radiator, we shouldn't have any problems.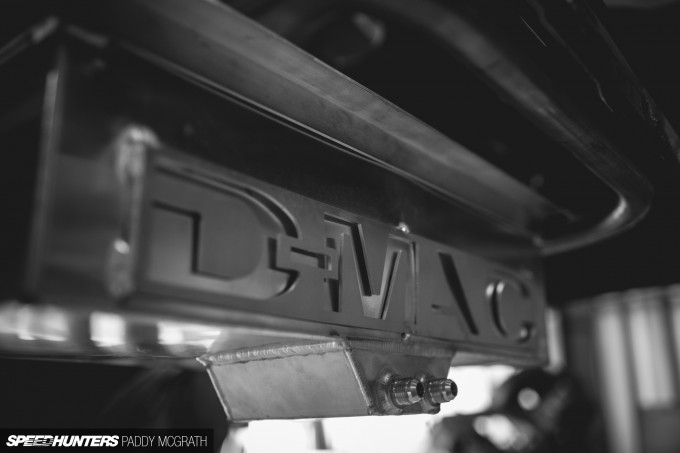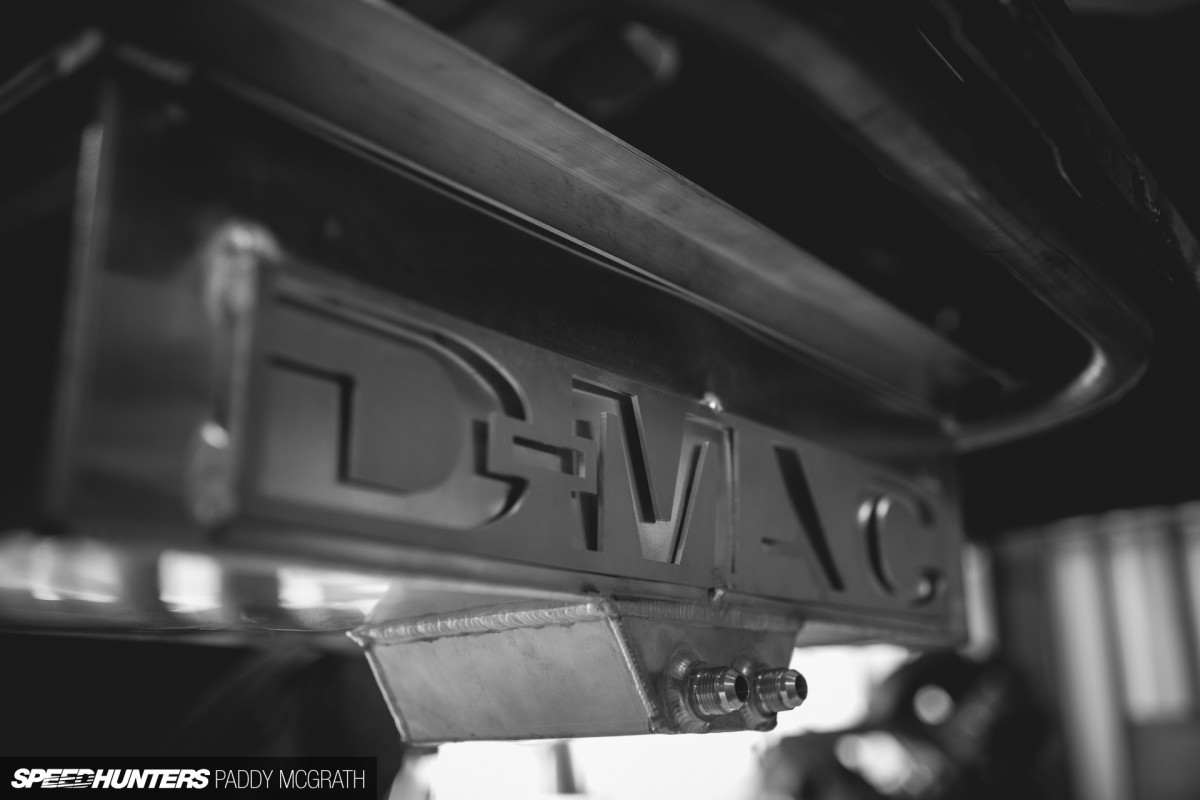 Underneath the radiator will be one of my oh-so-sexy D-Mac Fuel Tanks available at MCNSPORT.com – a shameless plug, I know! We will use an ASNU Veyron P1 fuel pump and ASNU 1,300cc injectors to fuel the fire-breathing 5-cylinder up to 800hp, and luckily the design of the tank allows me to mount a pump on each side if I need to. A single Veyron pump should do the business though, as these things are seriously impressive.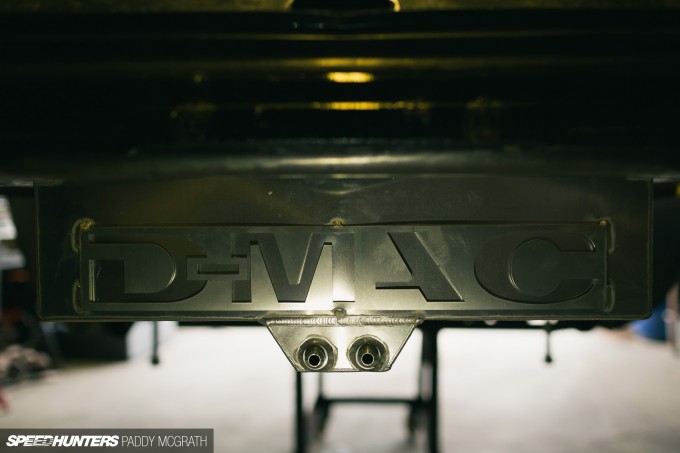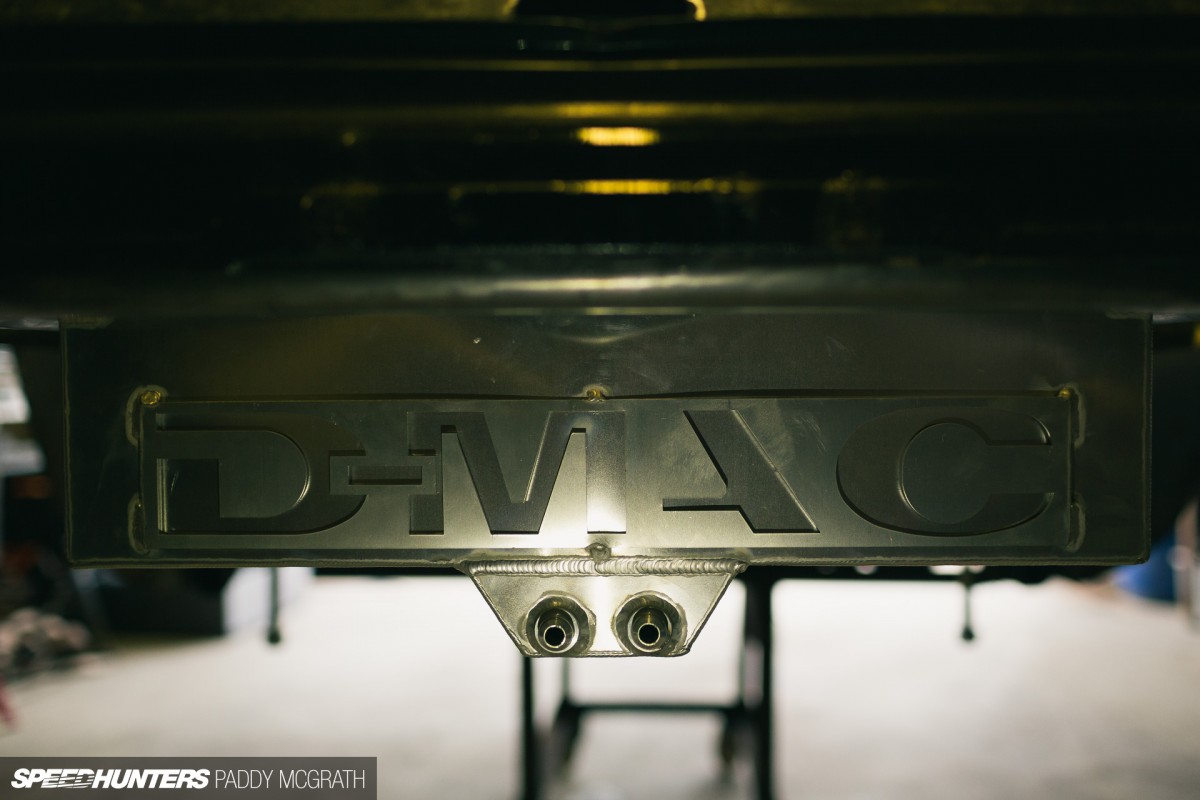 We will make a cradle under the tank to protect it, which will also give us a rear jacking point for those fast tyre changes needed with any pro drift car. Again, keeping it simple but intelligently designed for purpose.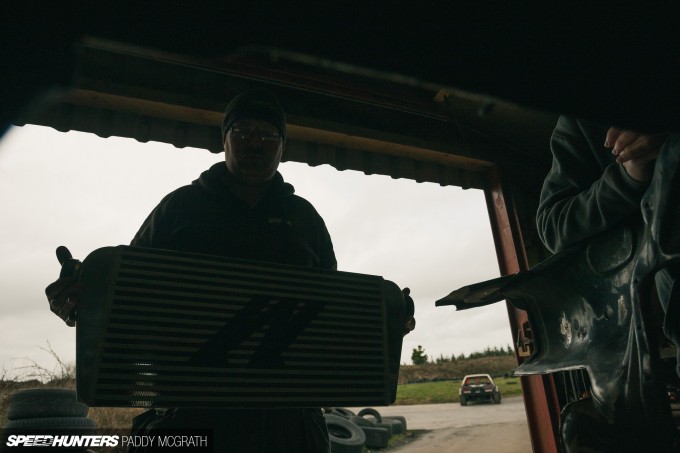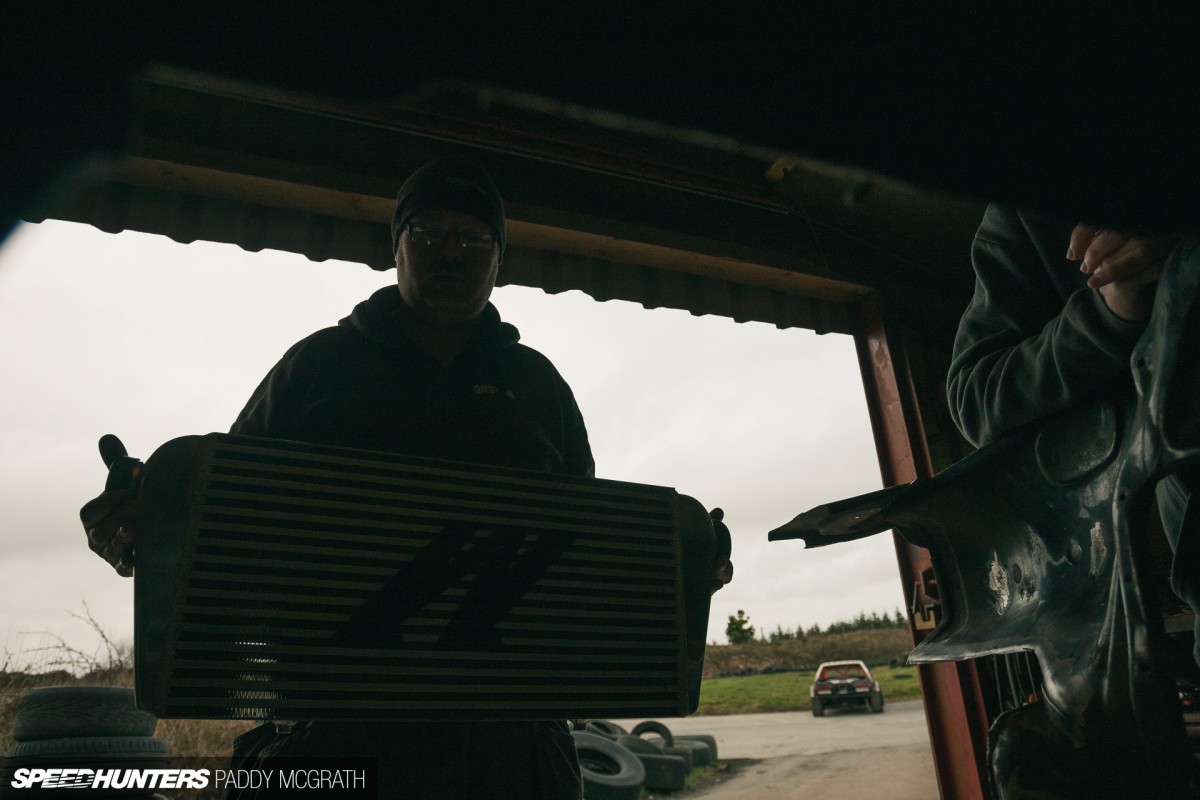 The massive Mishimoto intercooler will sit out front with no radiator in the way, so intake temps should be very low. The oil cooler will then sit between the engine and intercooler. More on those next time once they are mounted.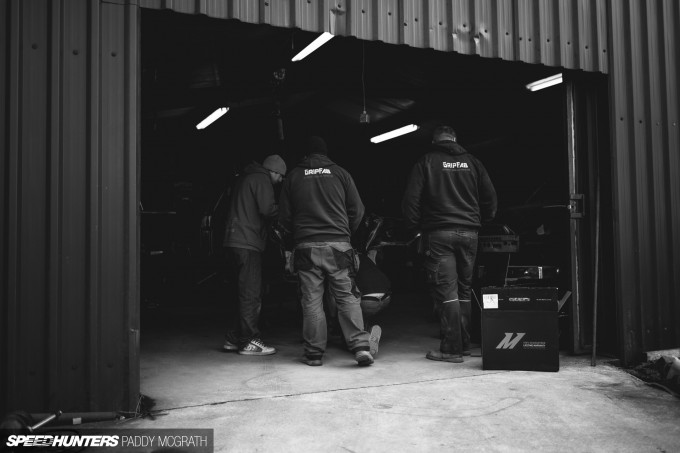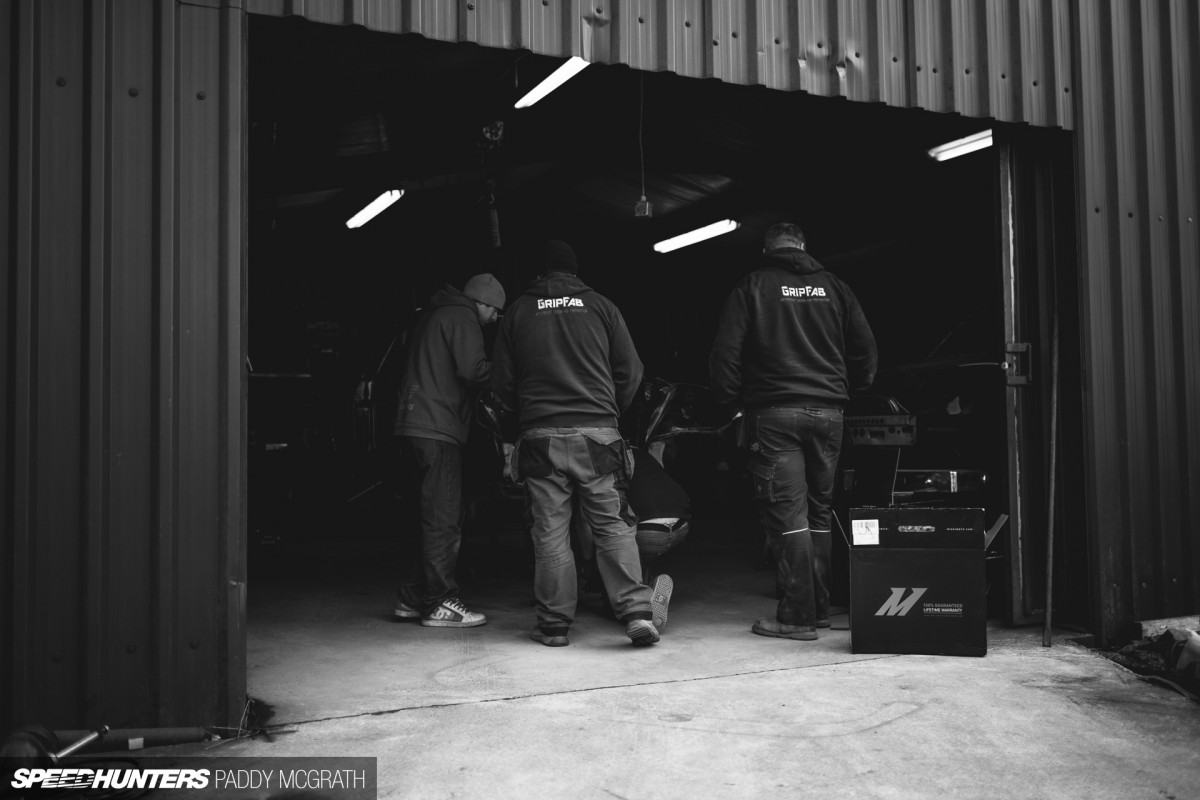 So you guys have met a couple of people behind the build and hopefully got the general idea of where we are going with this. I think we have got the balance right on this one.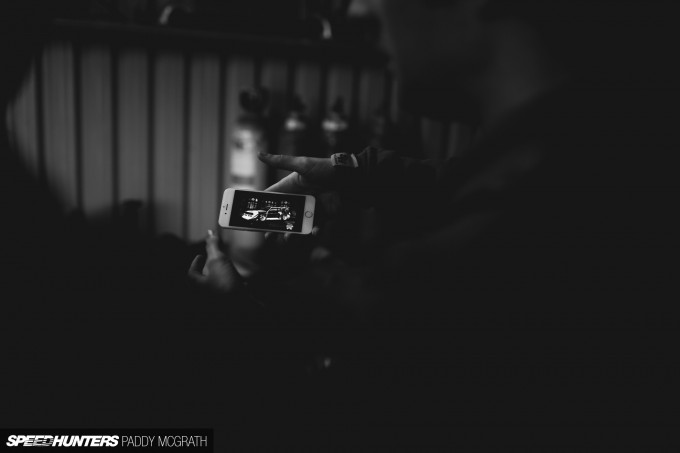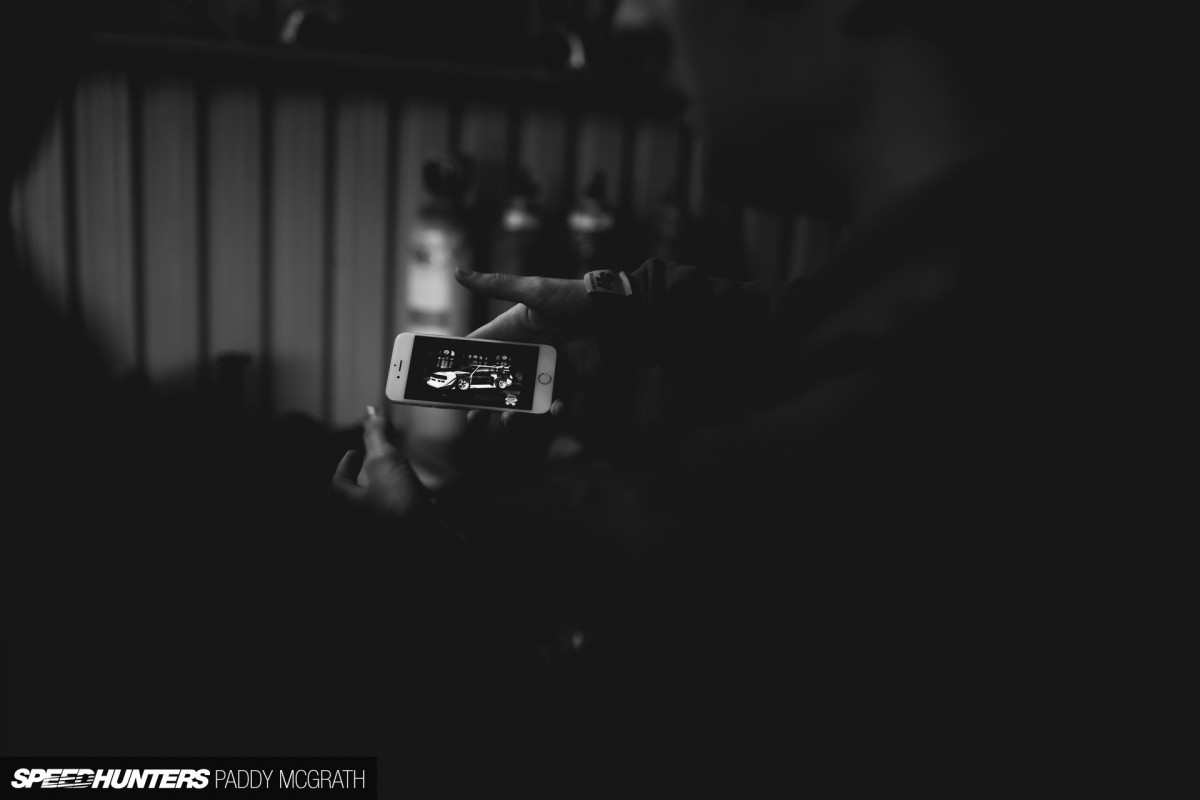 We are keeping the brute force looks and amazing sound of the iconic S1 Group B rally car, and then adding modern technology to generate the 700-800 horsepower required to be competitive with the 2JZ and V8 war currently going on in drifting.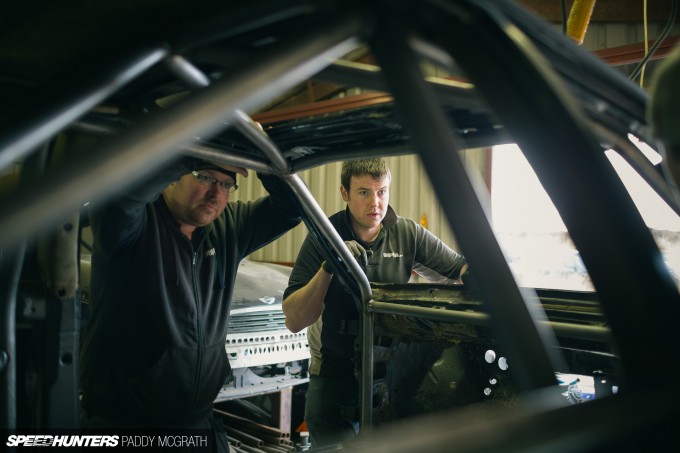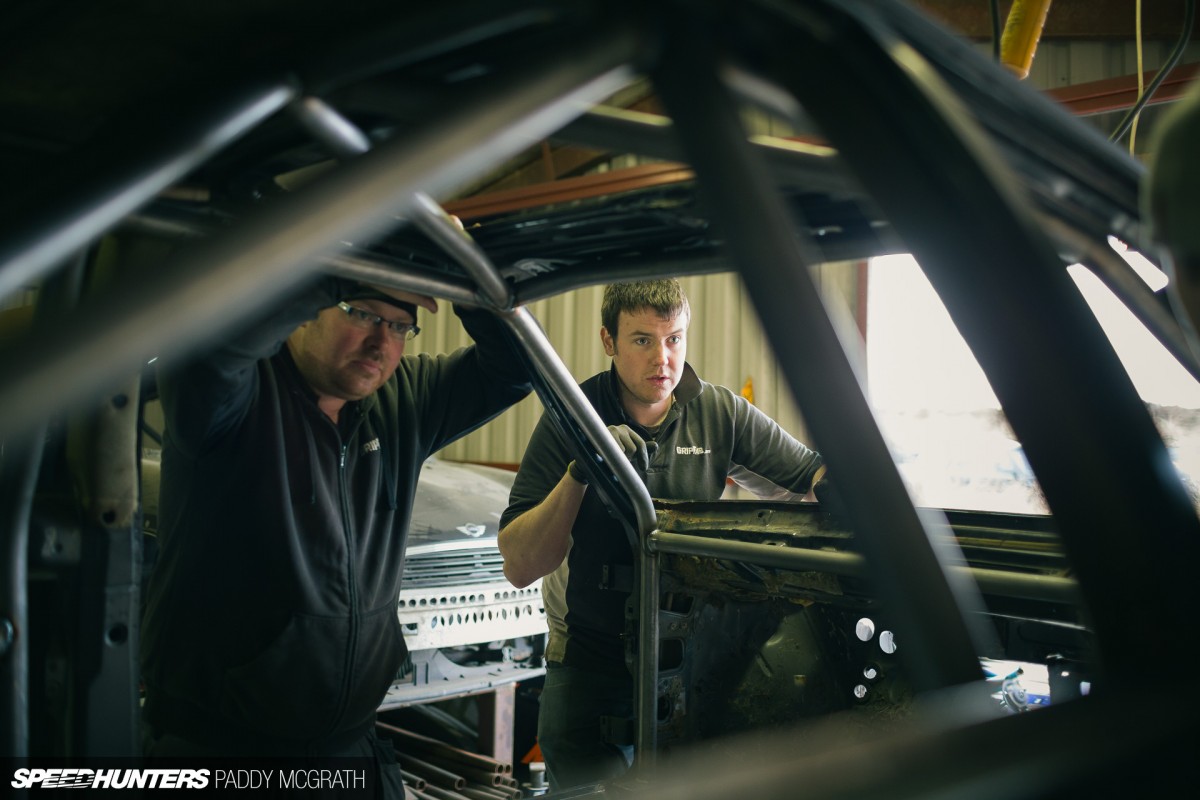 But at the same time I feel we have simplified the project, so it should work straight out of the box. In many ways drifting in 2015 is similar to Group B rallying back in 1985-86 – there are very little rules with no power limits and everything has gone a bit mad.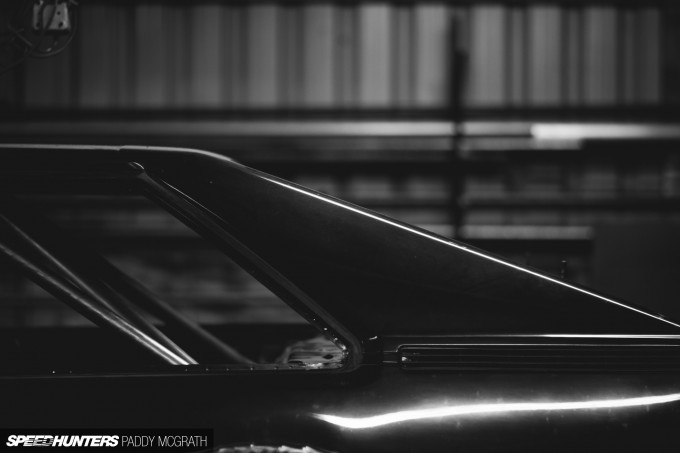 Building this car rear-wheel drive might be sacrilegious to some, but if I was to build it as a rally car I couldn't use it, as it is banned from most events. Drifting is awesome and it's the only avenue that would allow me to do what all those heroes back in the '80s did – push the boundaries of every aspect of the car, and make as much power as possible doing it.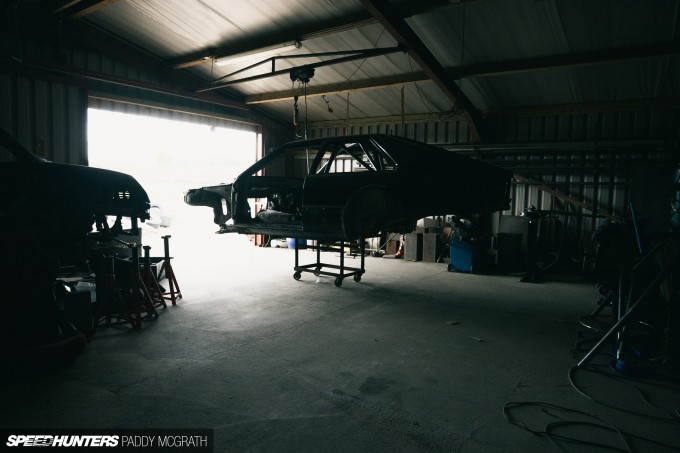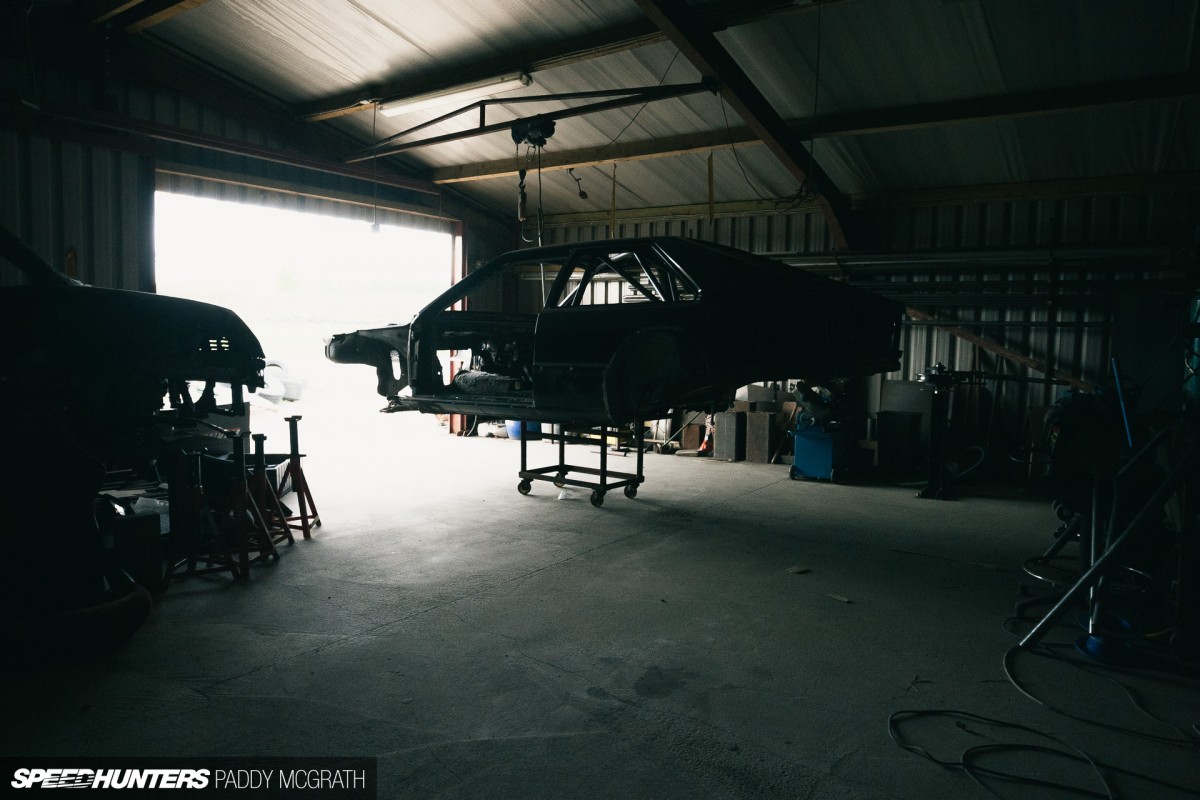 So I have to thank John Stone and his crew, Paddy McGrath for the amazing pictures as usual, and all our partners who are on board with us for this project
I am beside myself with excitement over this one. People will come from far and wide to see and hear this machine, and I know I will lose hours just staring at it in my workshop. It's great to be back on Speedhunters and I'd love to know what all you guys think about the new MCNSPORT Audi Drift Sport D-Mac S1.
Please follow my social media outlets for extra pics and videos as the project comes along too.
Darren McNamara
Facebook: darrenmcnamara86
Facebook: mcnsport 
Instagram: dmac86official
Twitter: dmac86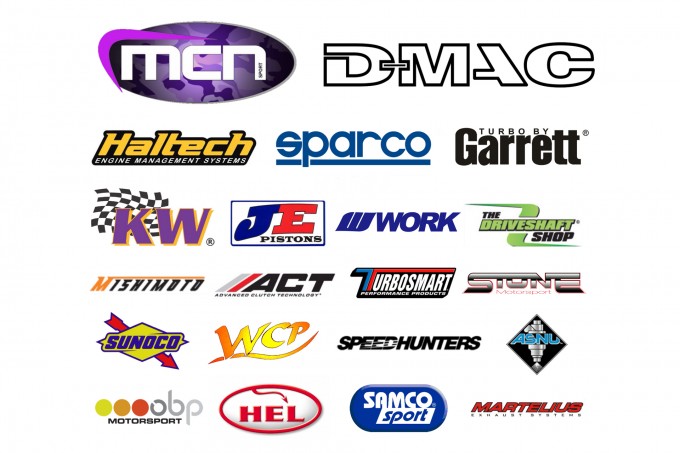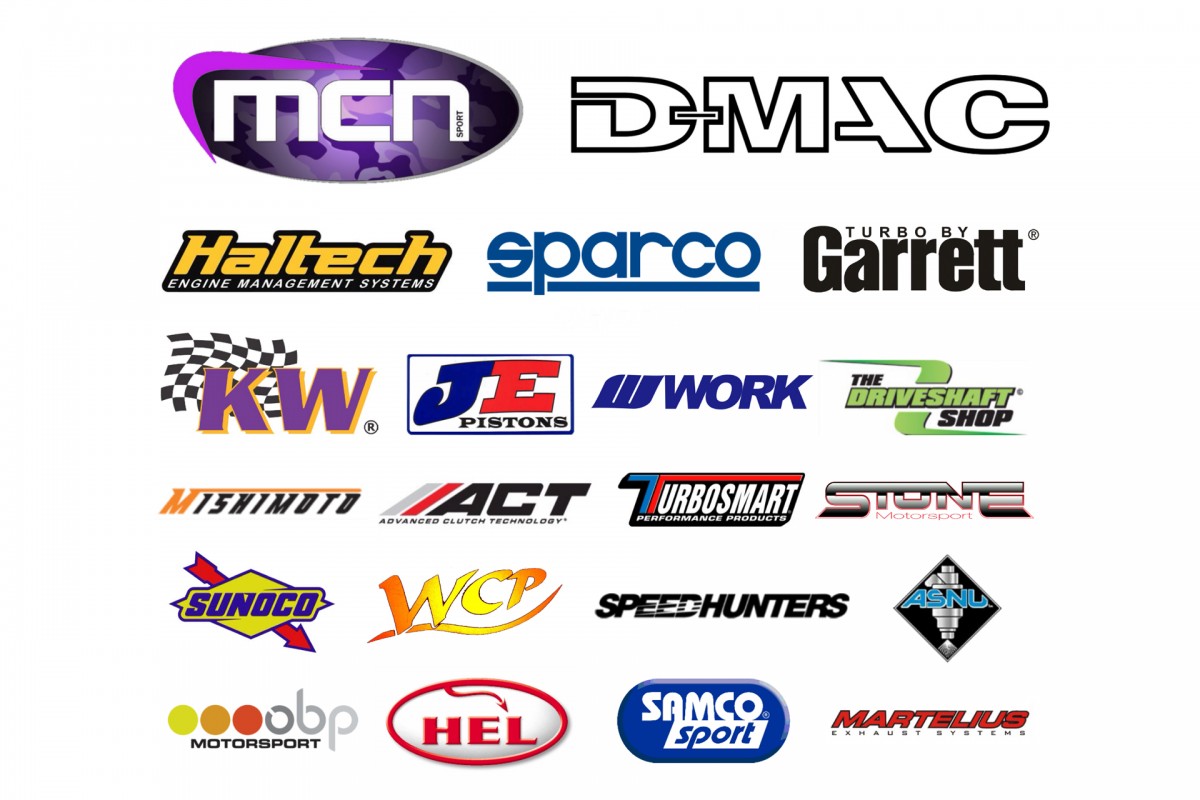 Cutting Room Floor