Conform This, Japan
"Jump in," said Andy. Now, I've been in my fair share of cool cars over the years, but on this day I felt strangely excited about stepping into the machine front of me. No, it wasn't a prohibitively expensive hypercar, but something completely different and so utterly removed from what I'm used to dealing with in my travels as a Speedhunter in Japan.
Cars from the 1940s aren't exactly something I come across often in this country – especially ones that sound like Andy's Willys street drag racer. As I reached for the chrome door handle I suddenly noticed how the car seemed to be rocking rhythmically side to side as the V8 pulsated away up front. It was hard to knock the smile off my face as I climbed into a cabin, looking around at the strange ambience I had suddenly found myself in.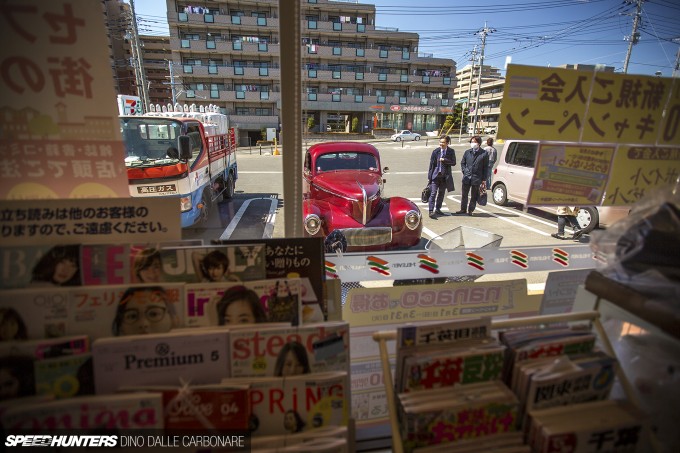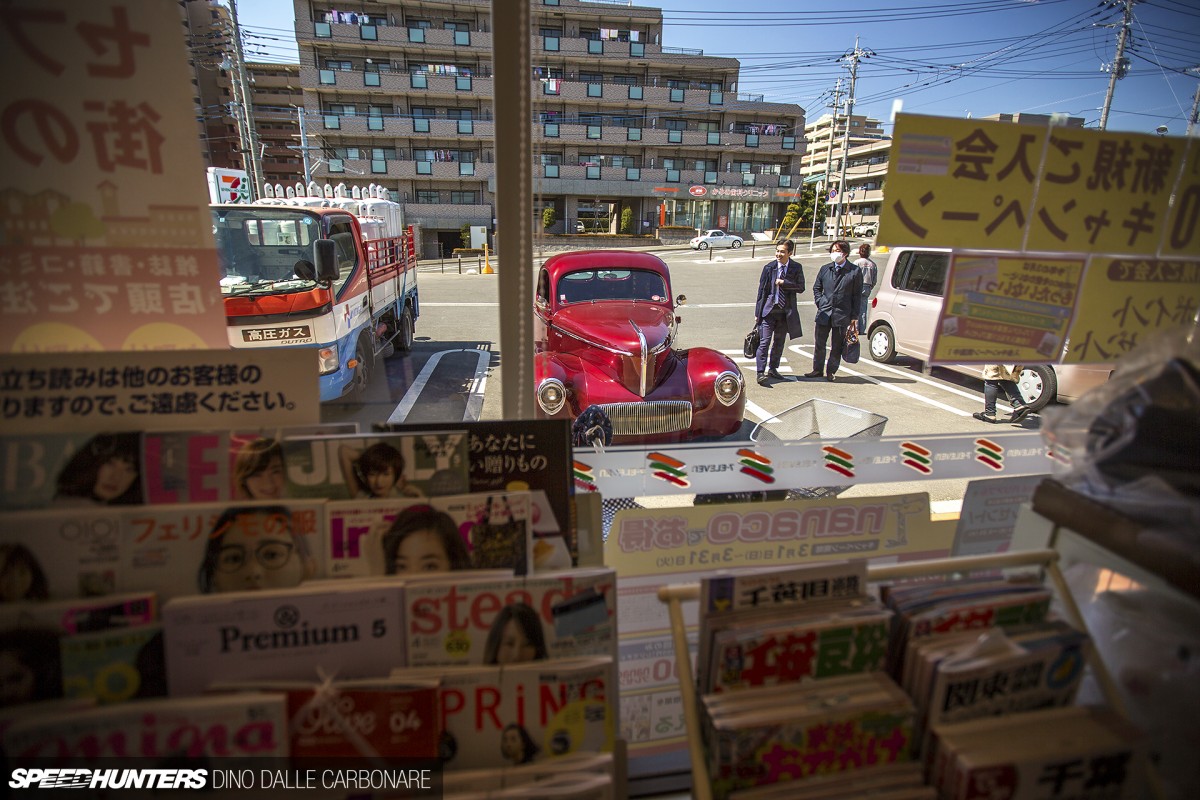 And if the whole experience wasn't unusual enough, we headed off for a quick drive down to the local 7-Eleven to grab a couple of drinks and some snacks.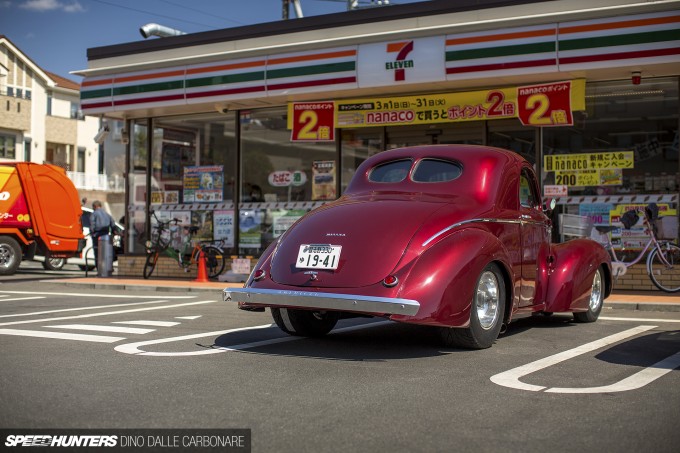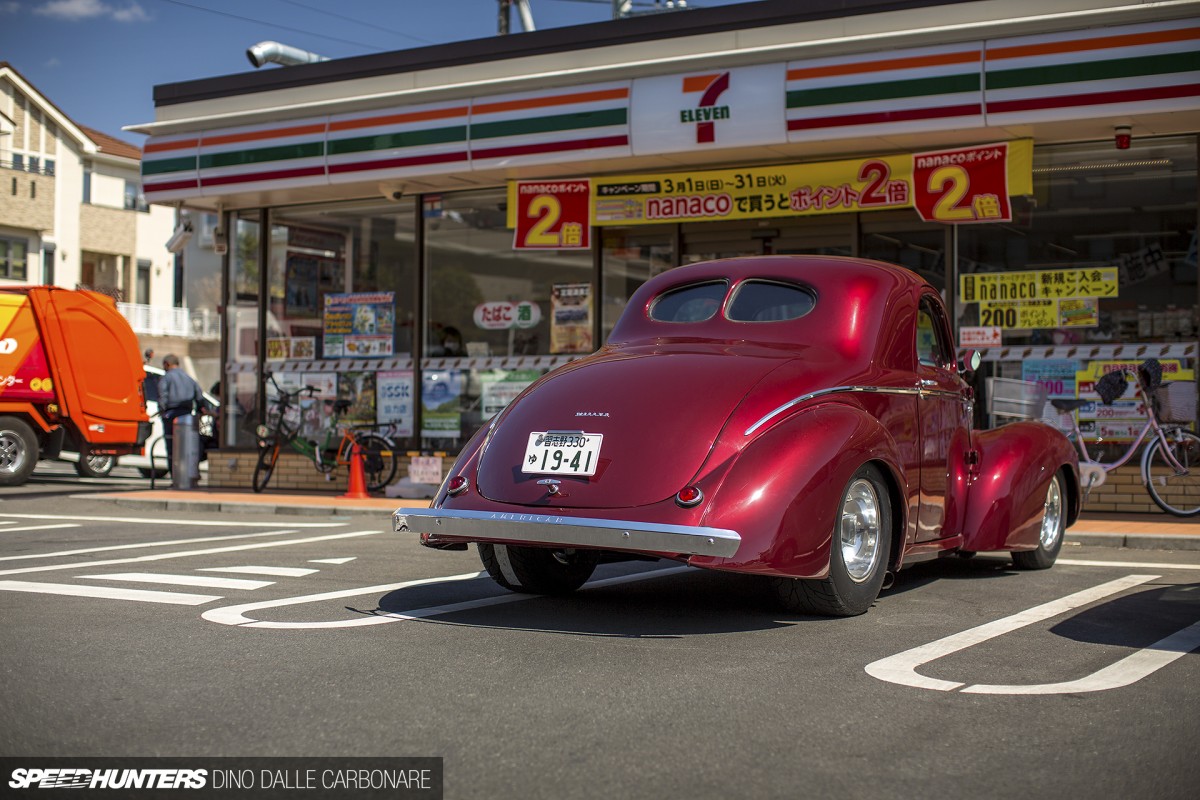 It's at moments like these that my love for Japan couldn't possibly be any stronger. This is car culture at its finest, and Andy from Andy's Rod Works reinforces this notion in its most basic form.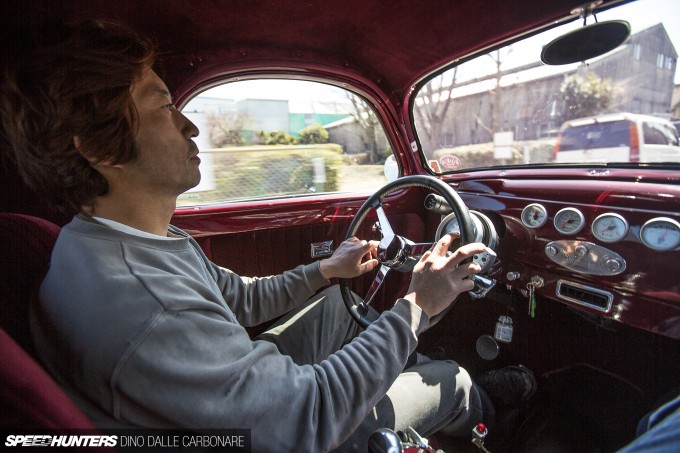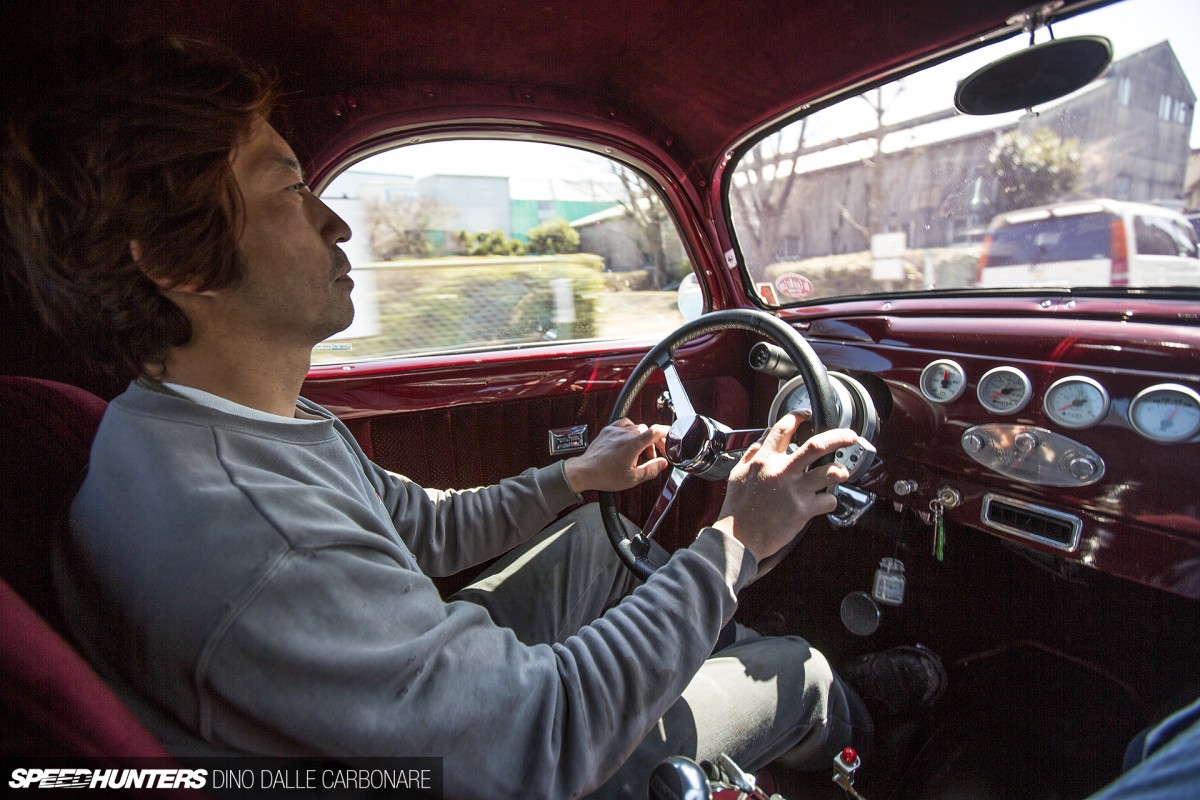 Here is a guy that despite being surrounded by one of the most conformist societies in the modern world, took the decision to step aside, do his own thing, and follow the passion he has for a special breed of older cars. And I tip my hat in respect to people like him, because they are at the center of this vast culture we strive to cover.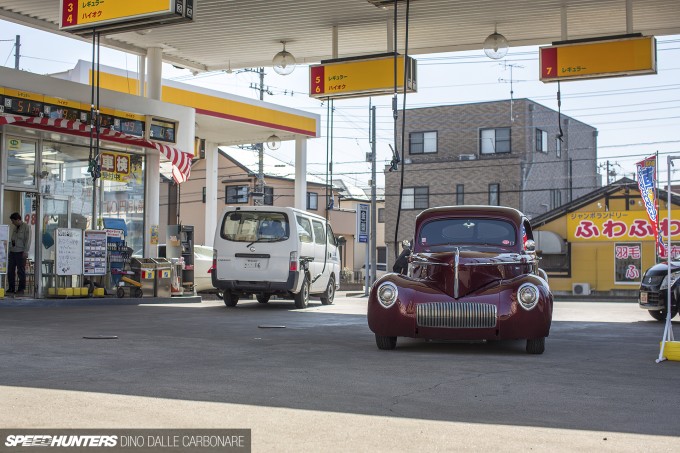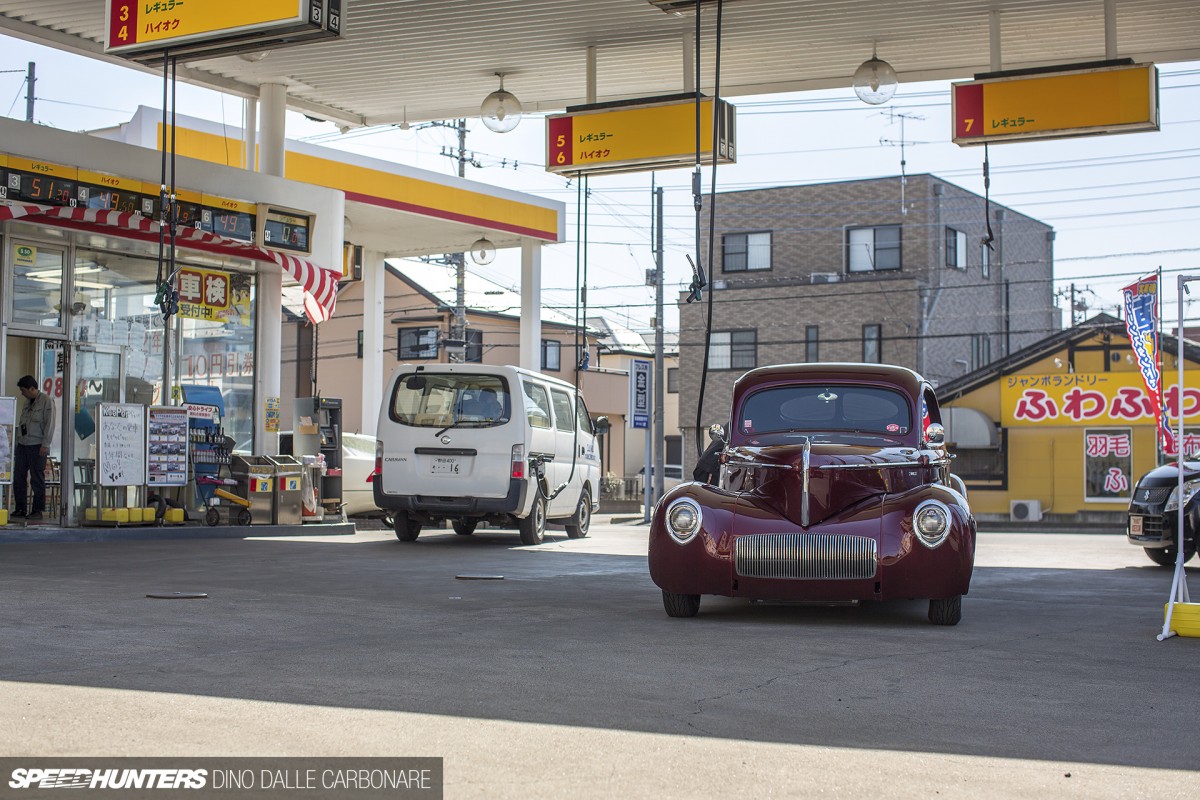 As we left Andy's shop we got into a nice cruise, the still-cold transmission shifting cogs with a brutal action. This Coupe is built for drag racing and pretty much everything about its demeanour hints toward this – starting with its obvious thirst for fuel. The gauge was reading low, so we pulled in to a friendly local Shell gasorin sutando.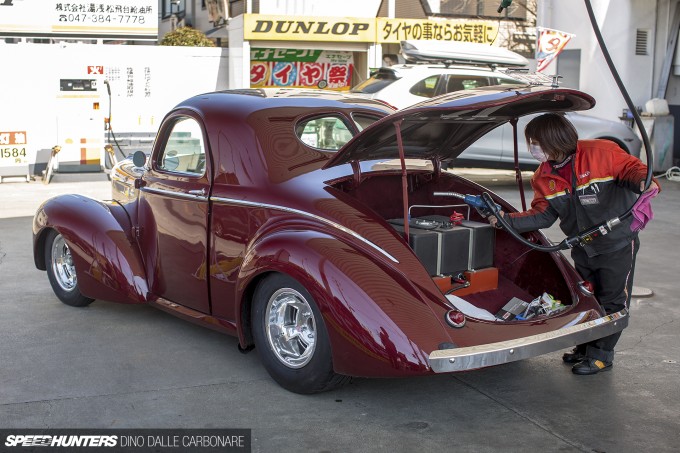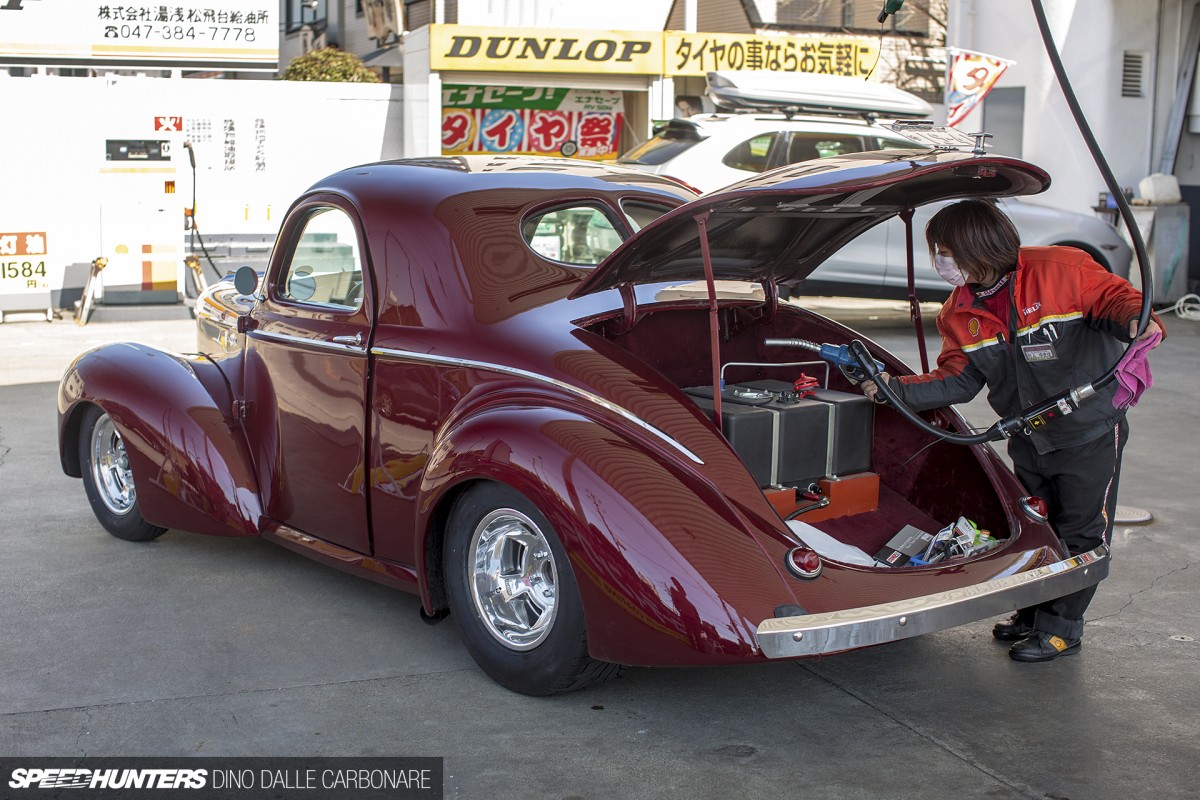 We got out, Andy popped the trunk, and after an initial look of surprise at the drag-spec fuel cell, the masked female attendant attempted to find the safest way to get the nozzle resting on the tank.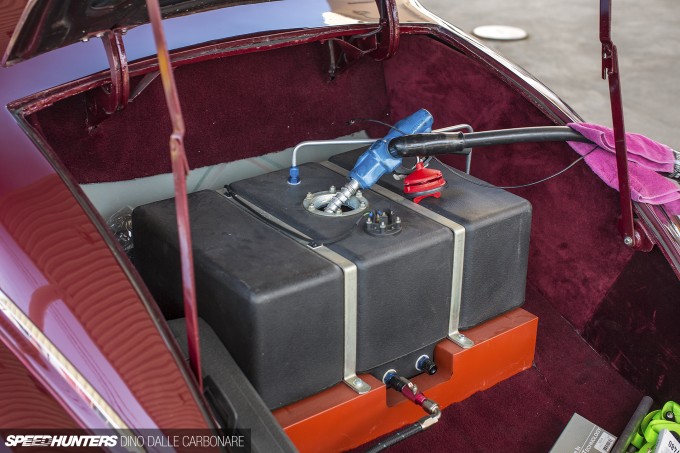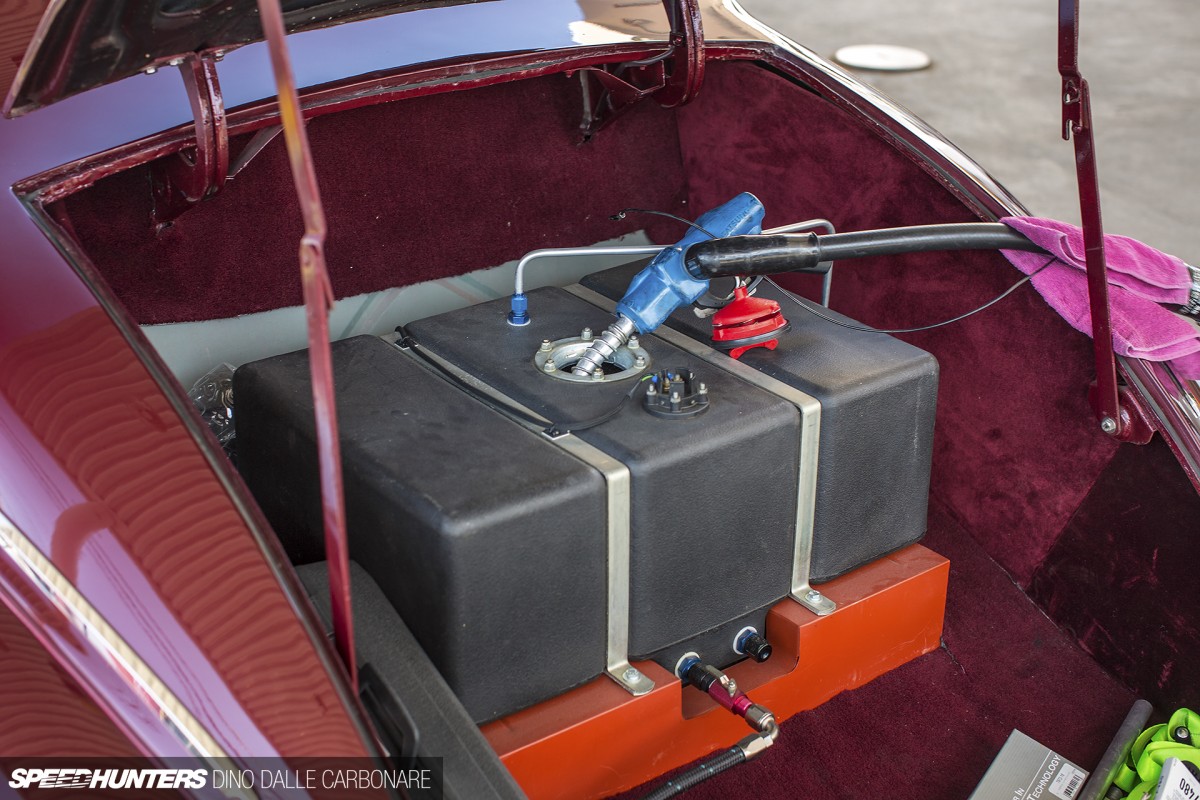 Job done! Notice how in Japan they take care to wrap a clean towel around the hose to avoid the possibility of scratching the bodywork it rests on. It's one of the small details that makes filling up in this country that little bit more special.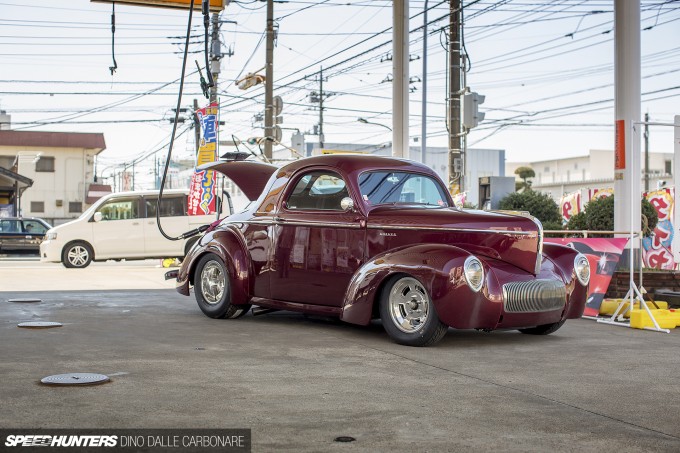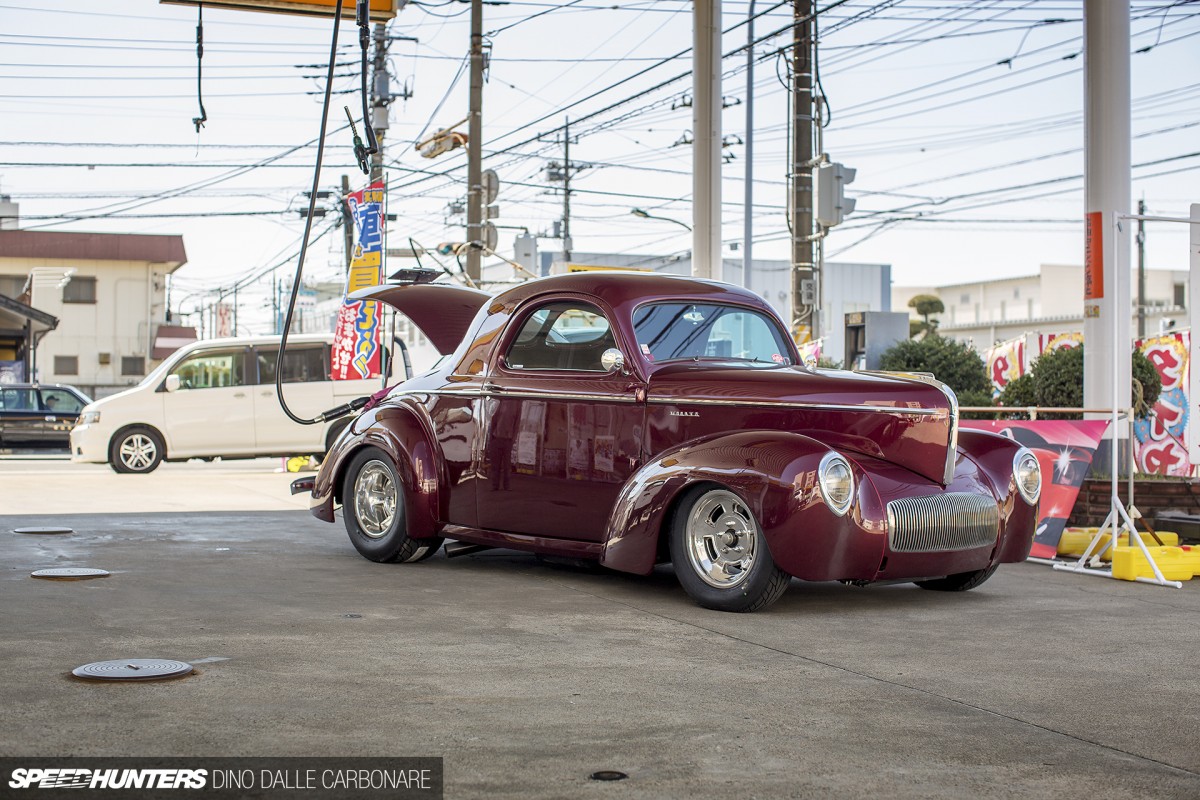 The image of seeing a 1940s classic, built for drag, sitting at a gas station in Japan was too much, so I ended up taking far too many pictures. In fact, I didn't even notice that the car had been filled up and that Andy was waiting for me inside!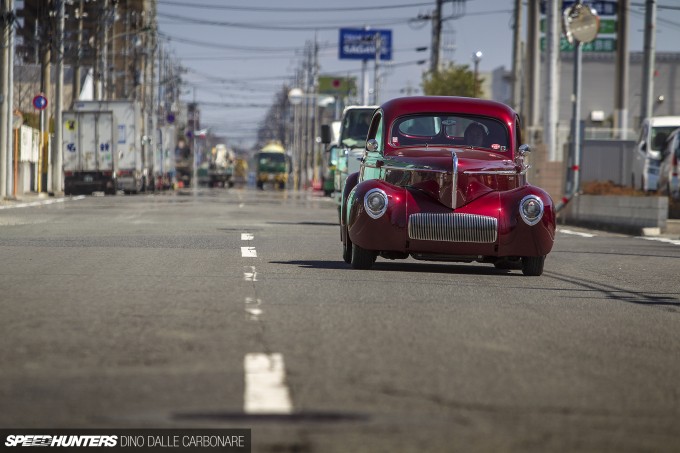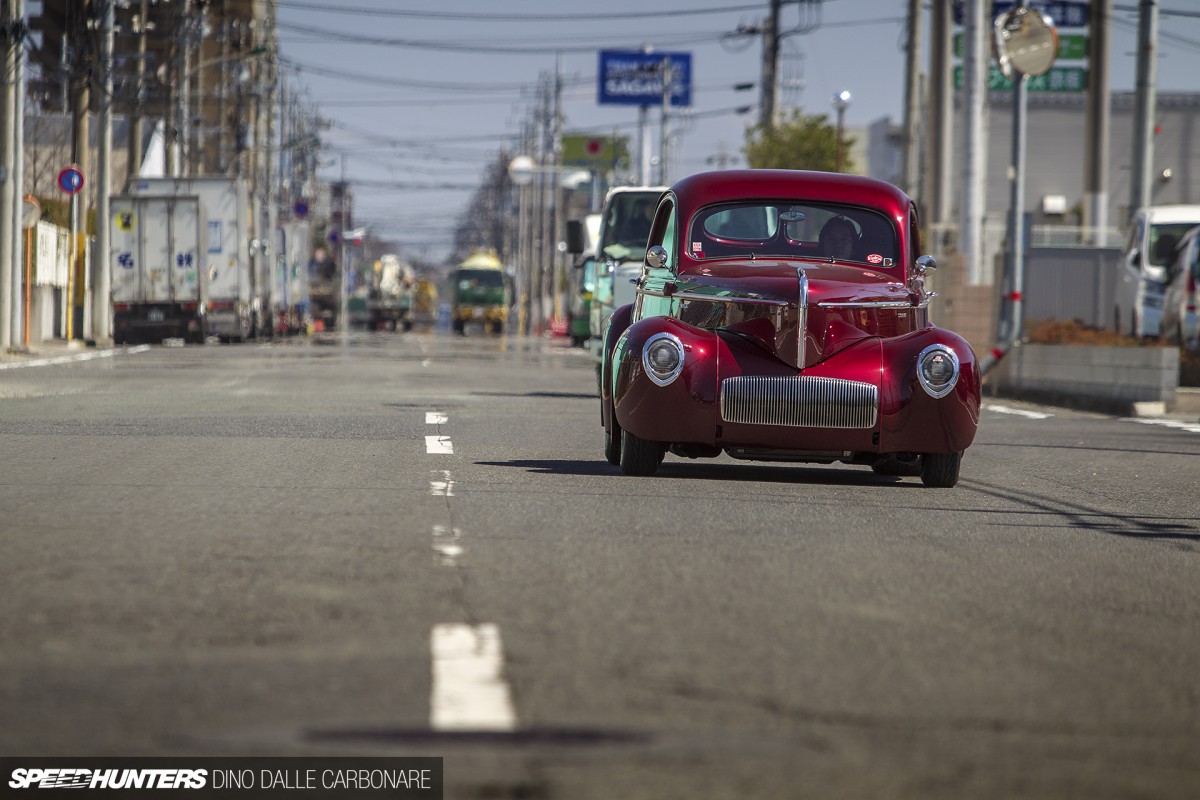 We jumped back on the road and embarked on that eternal search for a clean backdrop to shoot the car against – something that's often far easier said than done in Japan.
Admiration Of Simplicity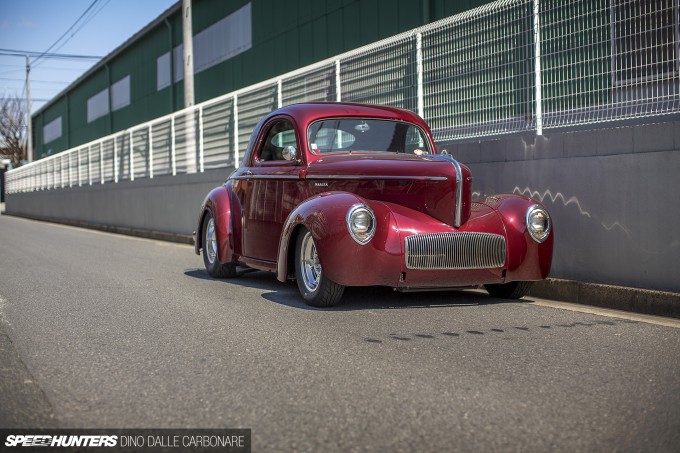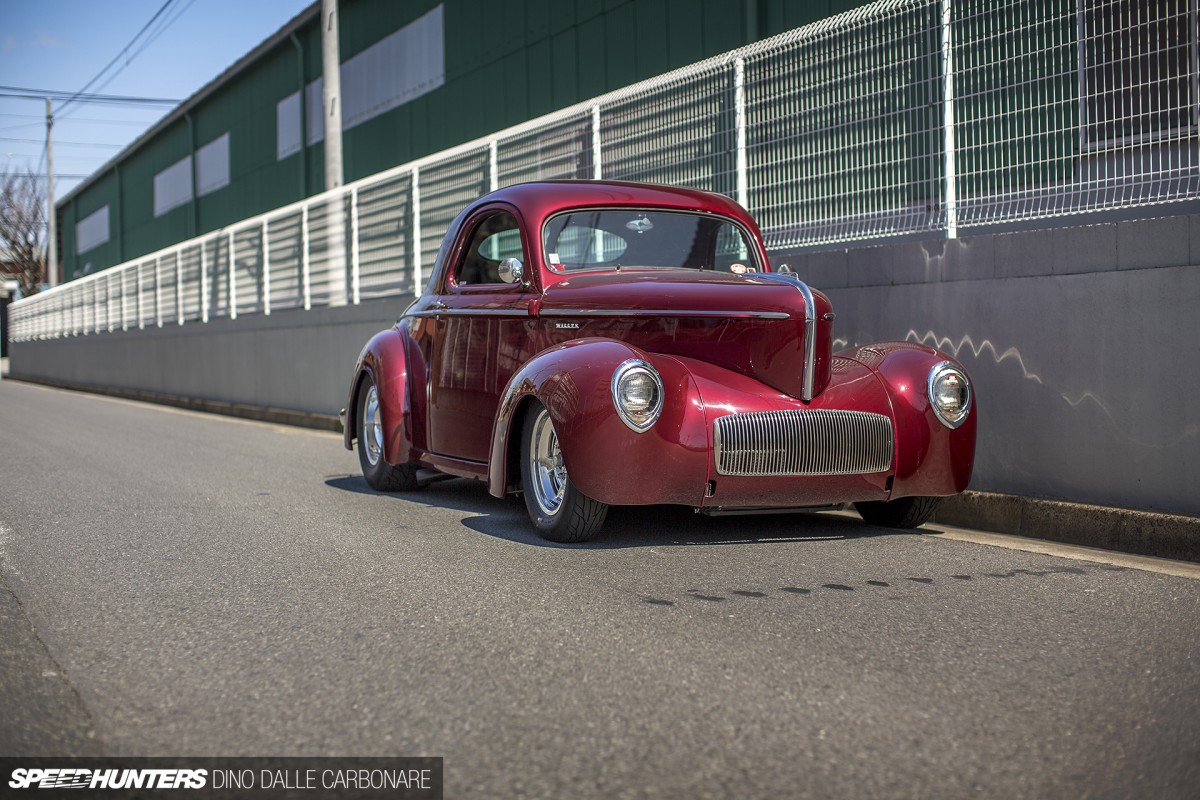 Thankfully, Andy knew of a place, and once we'd arrived a short time later we parked the Willys up to let it do the talking.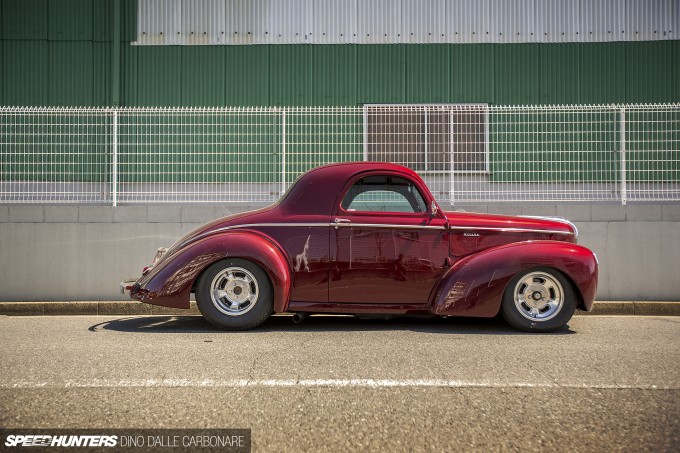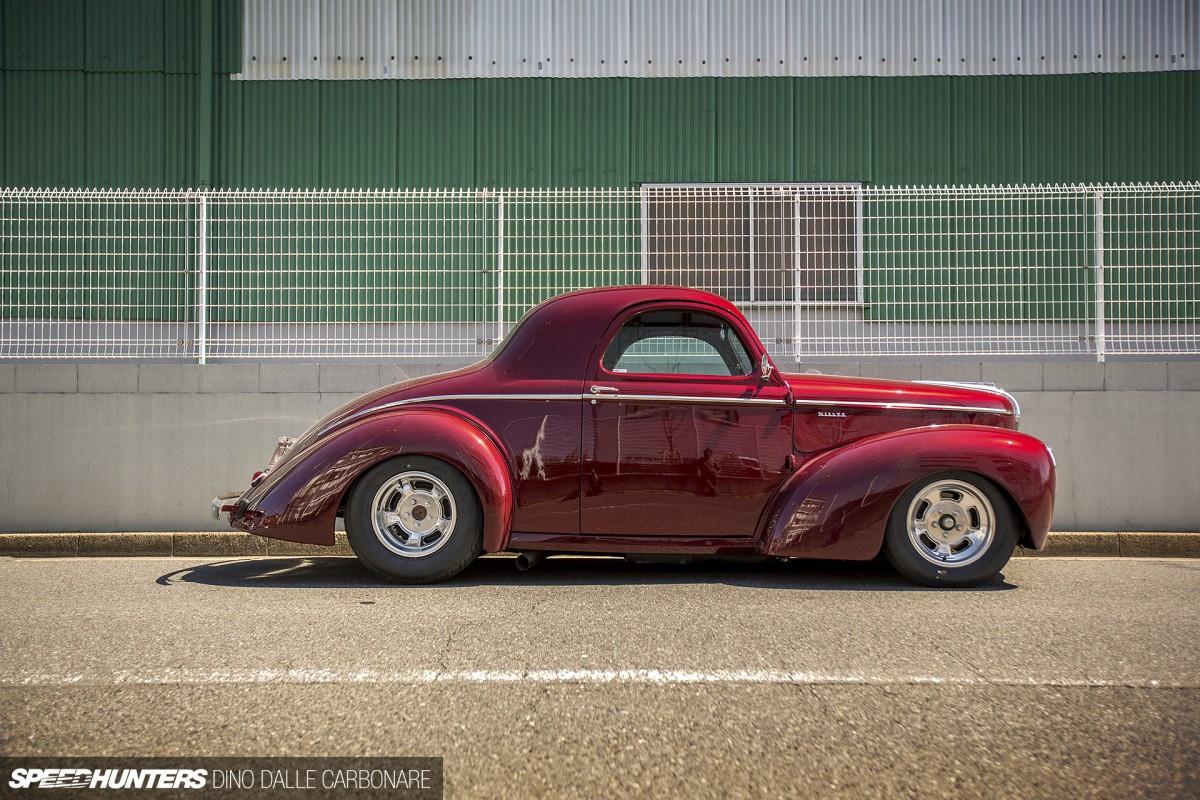 And there is much talking it has to do, as so often is the case with these sort of cars. In an age of plastic bumpers, FRP body kits and carbon wings, this Coupe is a breath of fresh air. Each panel, each curve, and each chrome accent has been left as the factory intended. Prior to the super-glossy deep red paint being laid down though, a thorough clean and meticulous prep took place.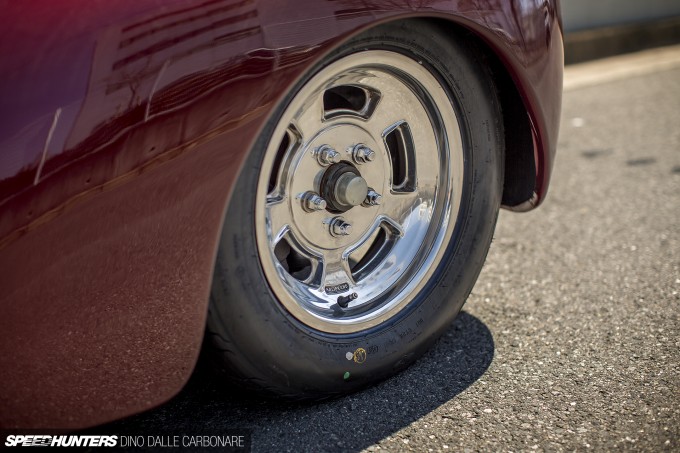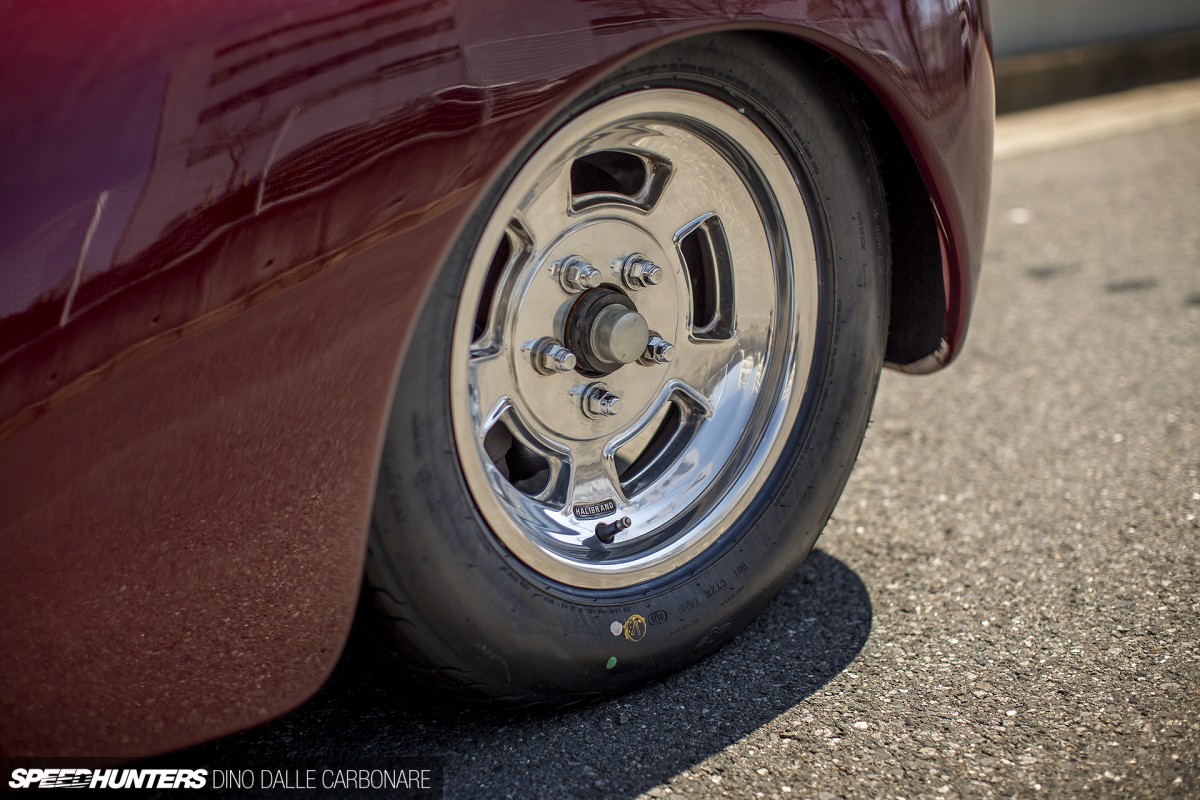 As Andy told me, the only non-original exterior addition is the set of chrome Halibrand 15-inch wheels. In a typical drag setup, these measure 4.5 inches wide in the front and 10 inches wide in the rear with Mickey Thompson 26.0×6-15R and 28.0×12.5-15 rubber respectively.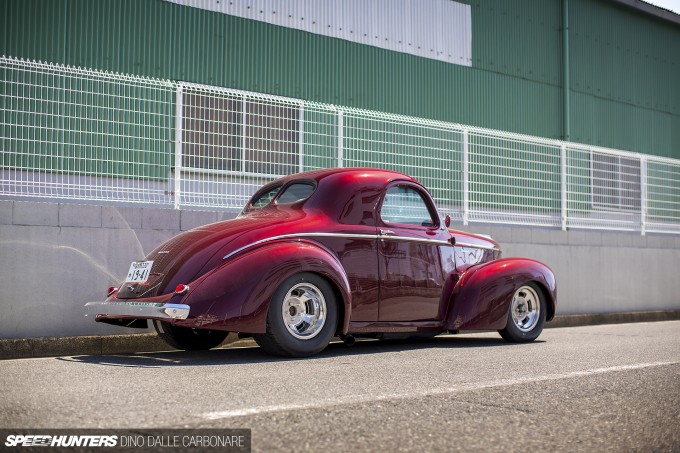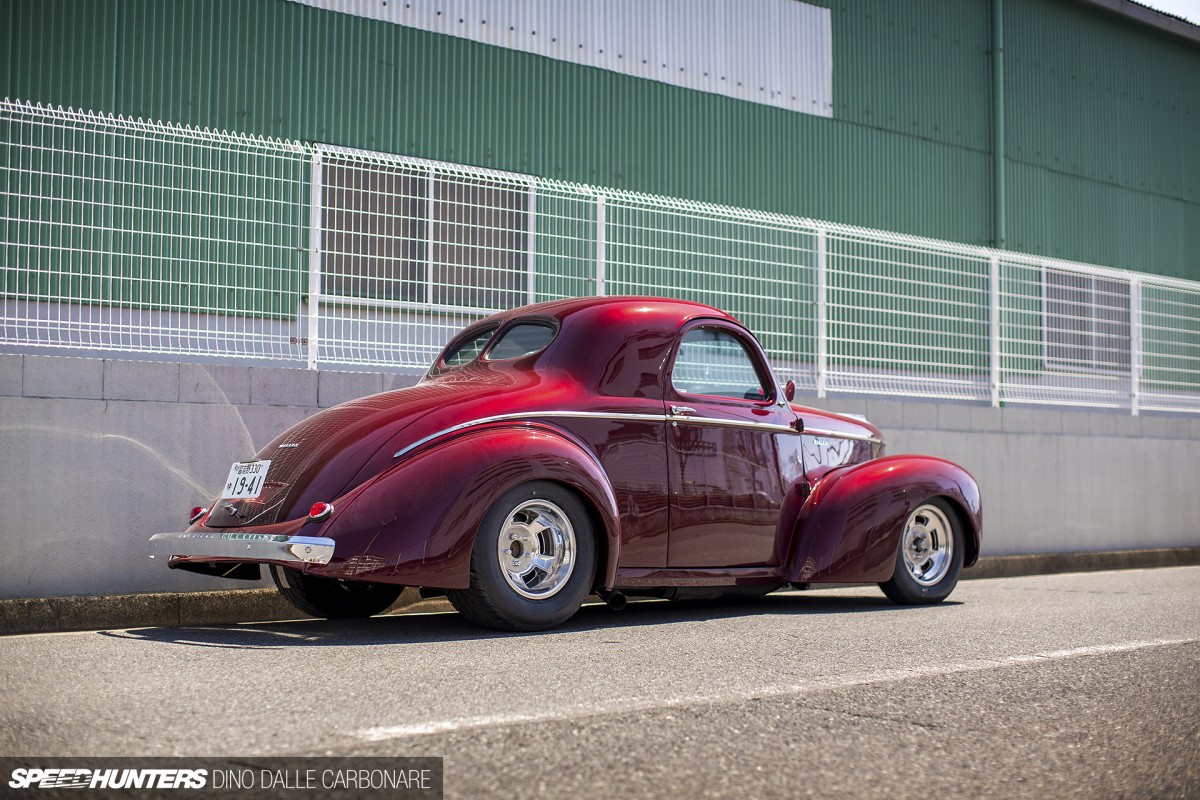 The one thing that really transforms this '40s coupe into a proper hot rod is the way it rides. It sits low on a Willys Unlimited chassis mated to a Mustang 2 front end with Aldan American coilovers. The rear end is suspended by a 4-link setup running QA1 coilovers, which is of huge benefit in finding traction off the line when Andy hits the strip.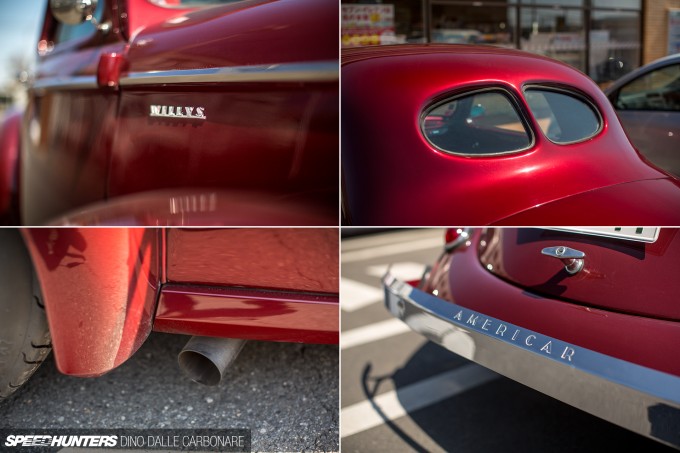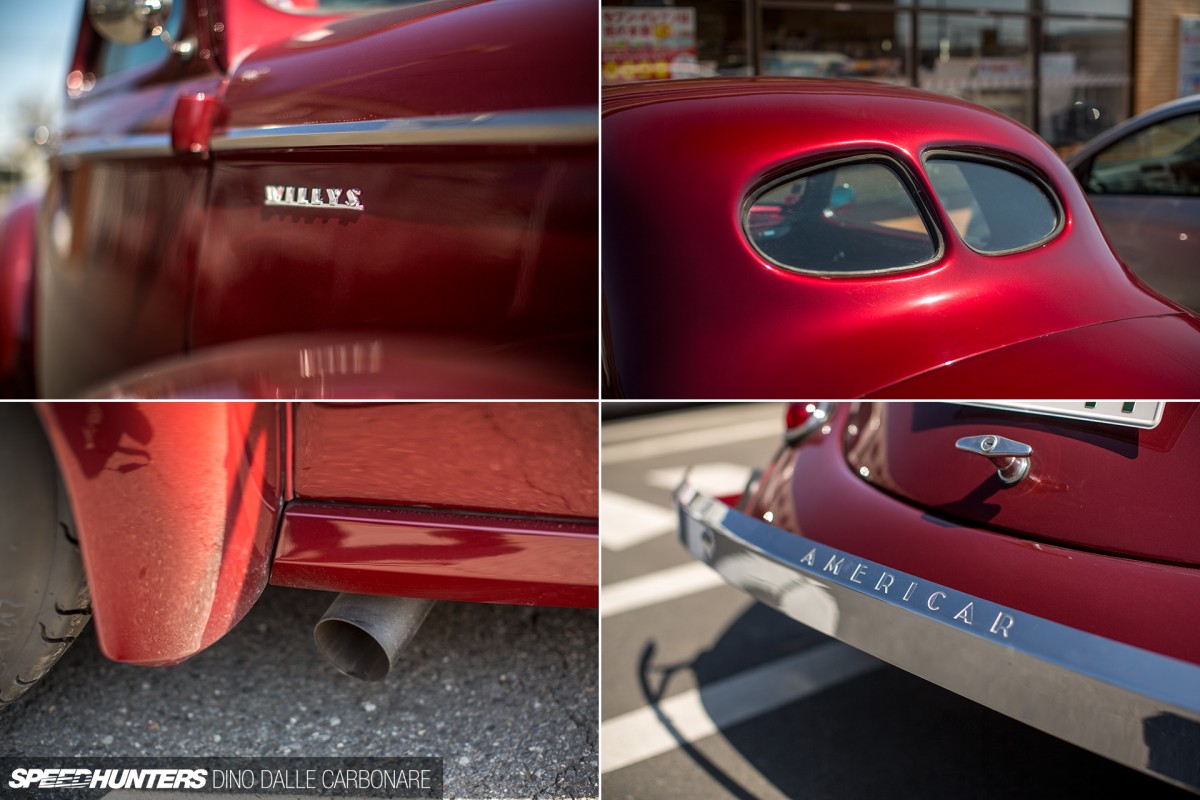 Details are plentiful too, from the curvature of the bodywork, to the split rear window and the two rather brutal side-exit exhausts which move a ton of dust off the street when Andy steps on it. The 441 Coupe was called the Americar – a name proudly exhibited on the chrome rear bumper.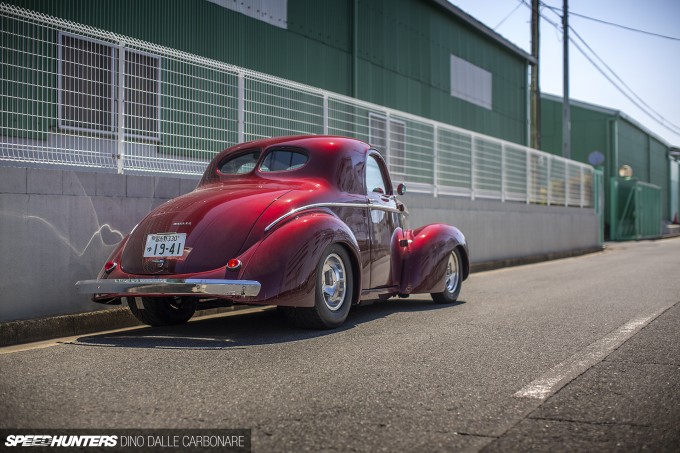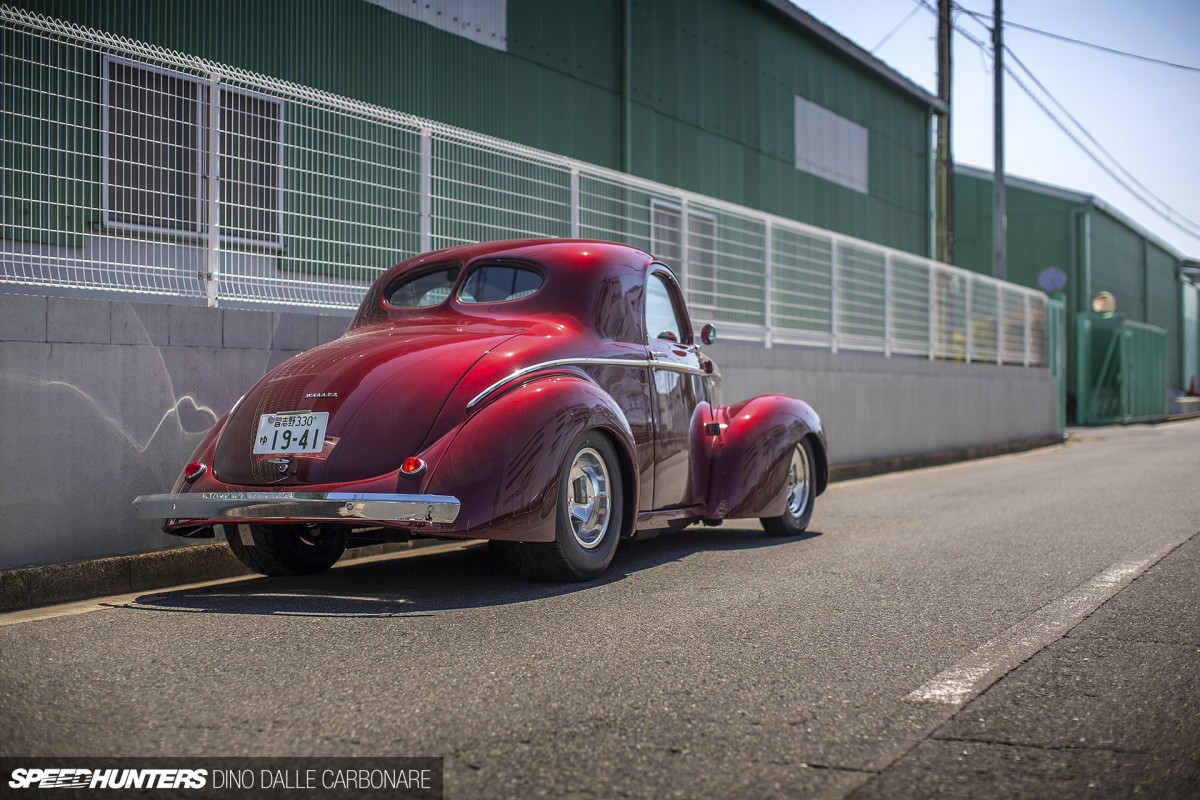 We talk a lot about 'presence' and maybe throw the term around a little more than we should, but man, this big old coupe really exudes it, don't you think?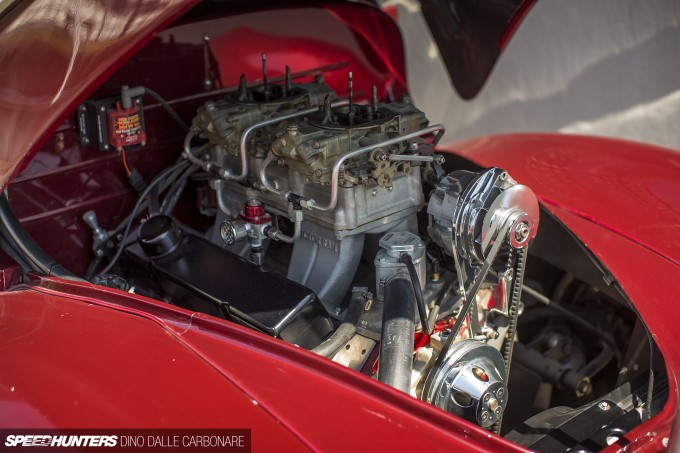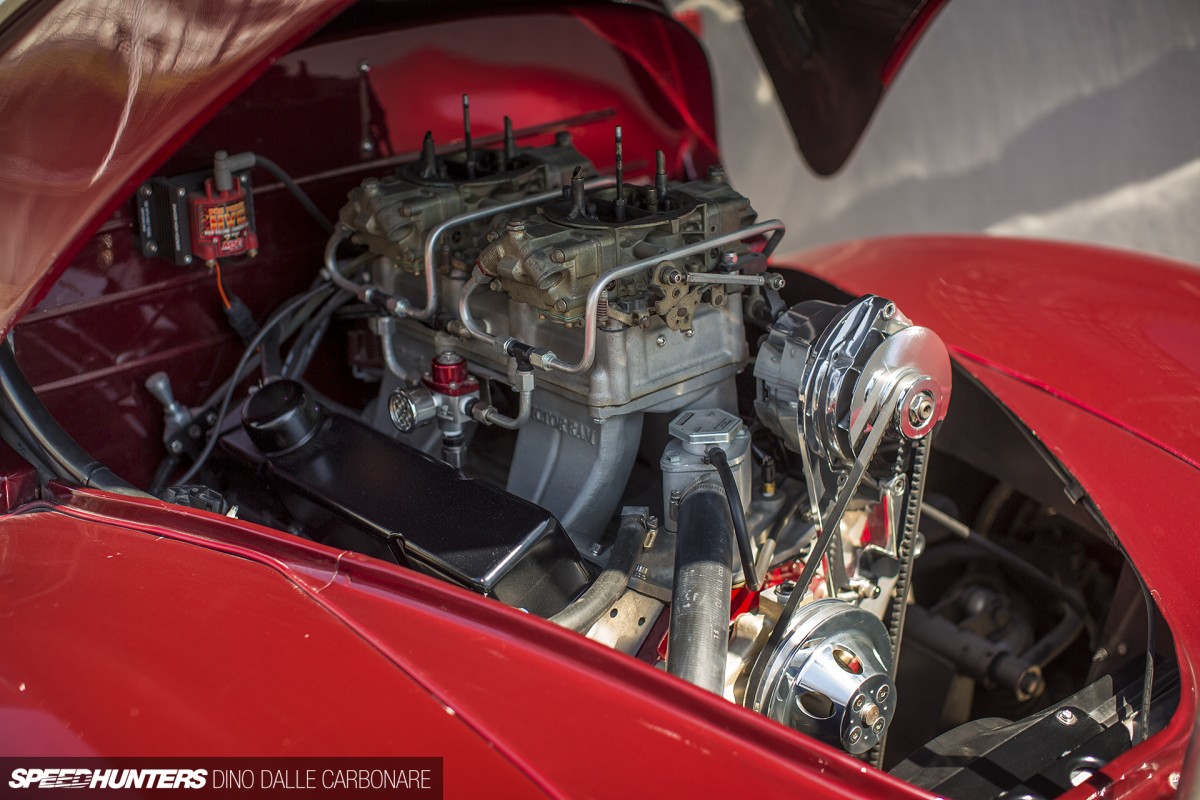 Part of that presence comes with the sound the engine generates – even at idle when it's rocking the chassis from side to side. It's all thanks to the Chevy small block 383 stroker motor that sits under that tall bonnet. Five hundred and fifty horsepower live here.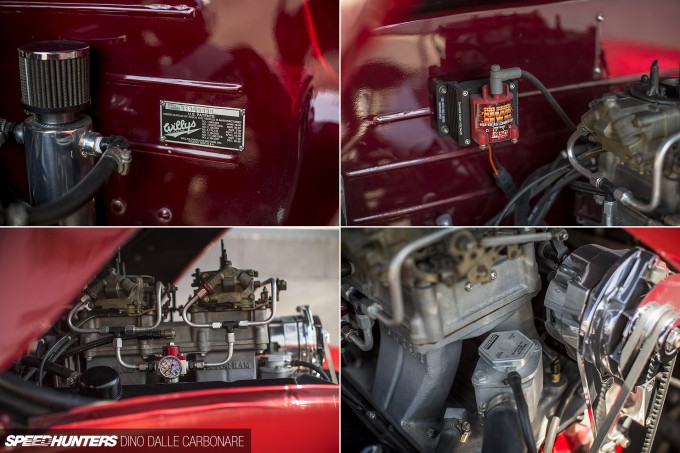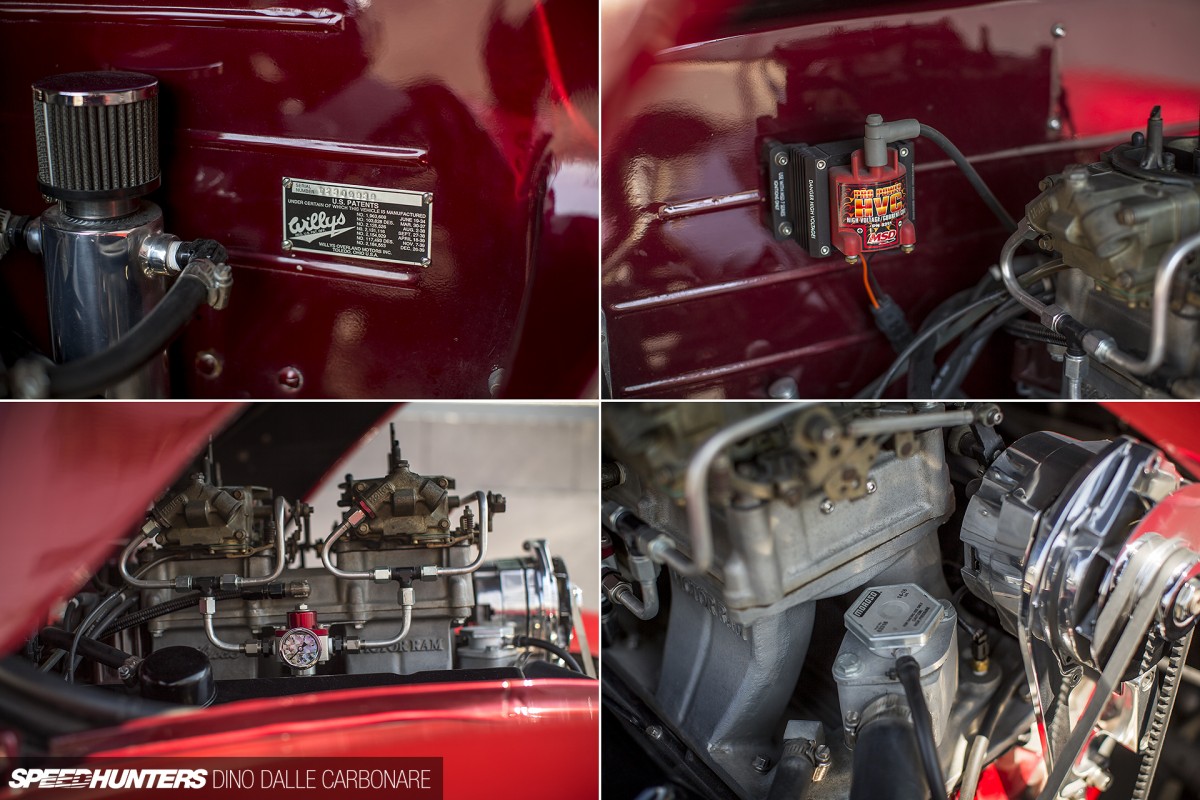 The fact that the motor runs a Tunnel Ram intake with dual four-barrel Holley 750CFM carbs, is a hint that this car is mainly used for racing. This old school intake is all about RPM, so you really have to rev the engine out to extract its full potential.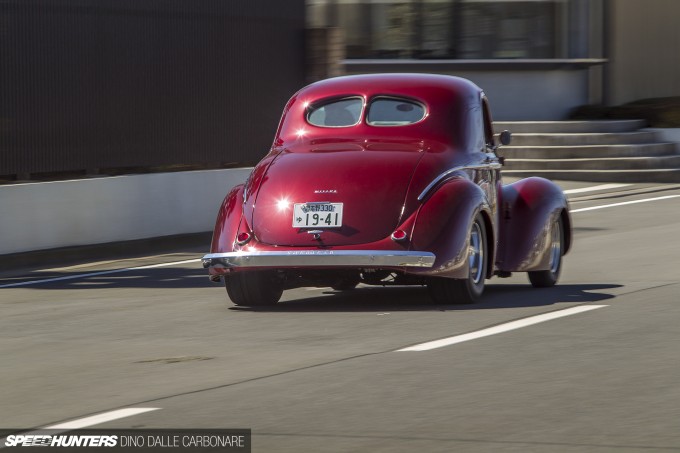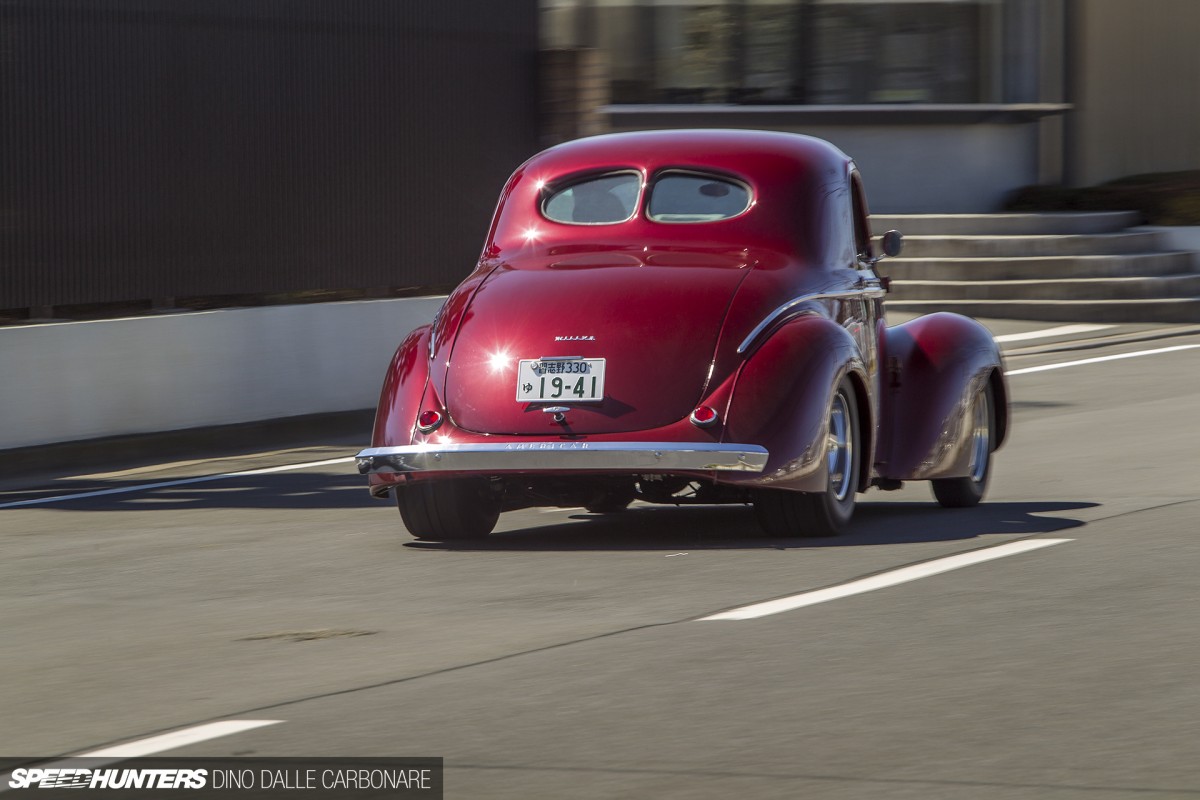 When you do however, it's well worth it. It's like an instant surge of power – a tidal wave slapping you from behind and propelling you down the street. The Willys runs a 3-speed Art Carr TH400 transmission, but the way the ratios are spaced out allows the Coupe to go from standstill to very illegal speeds in the blink of an eye.
Power Meets Uniqueness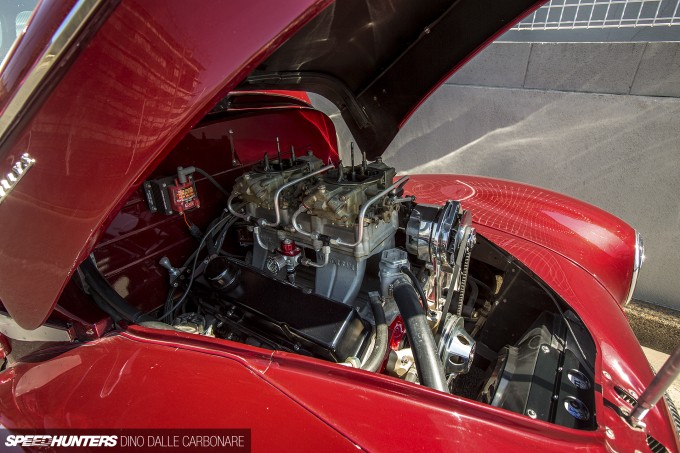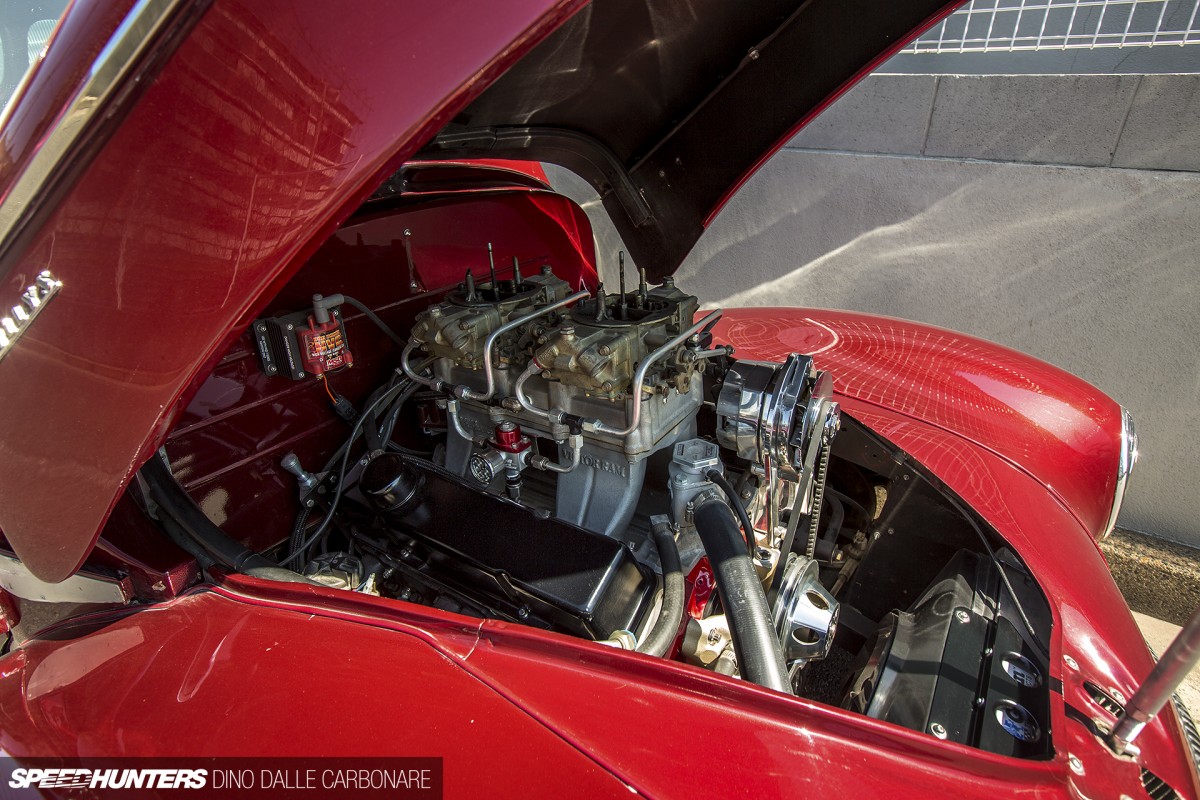 Plus, it's not like you actually need any more gears, such is the engine's willingness to pull.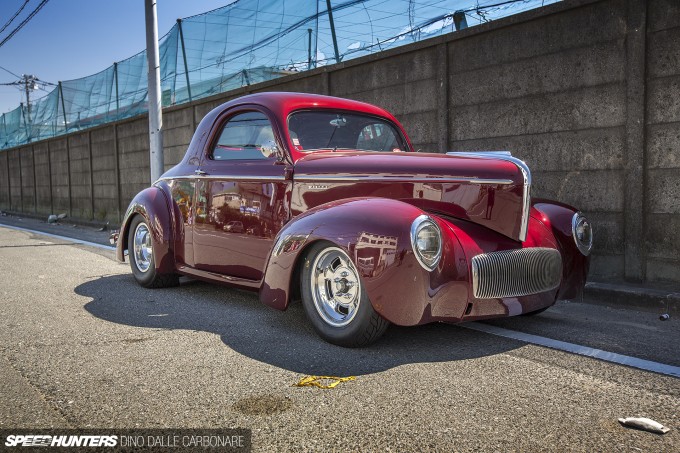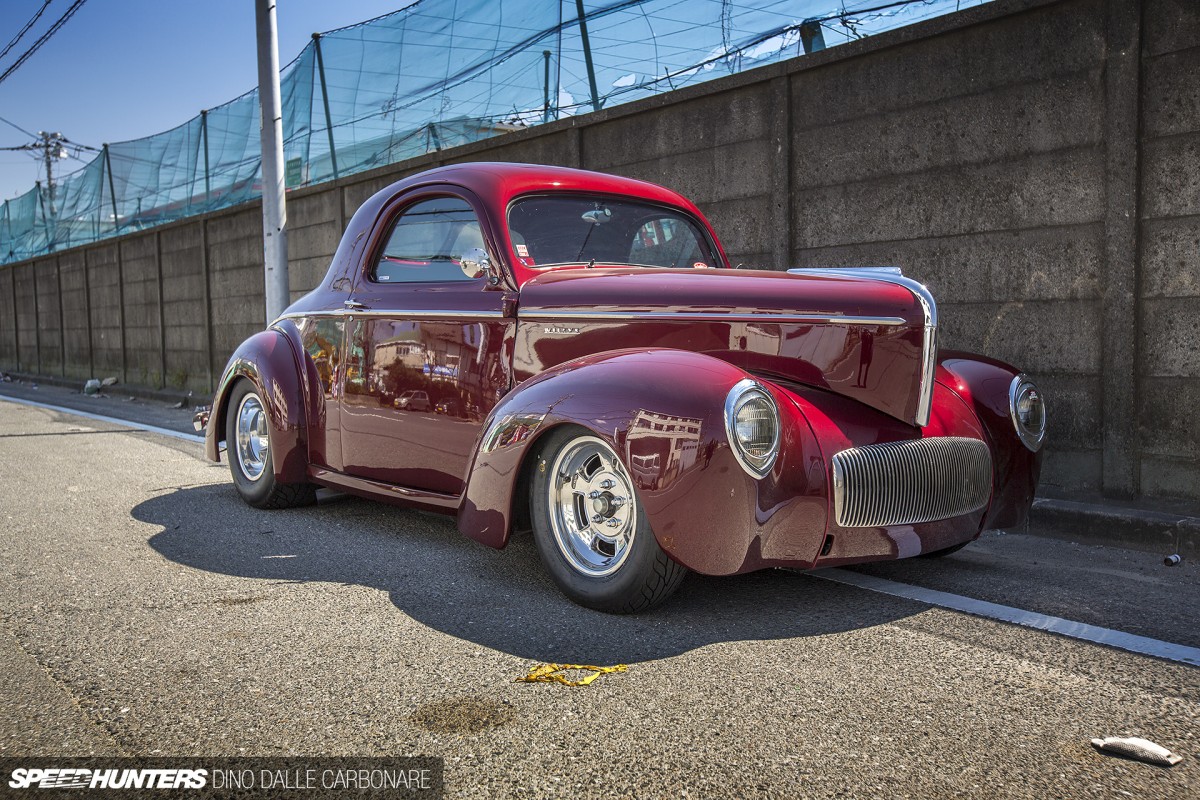 The Willys might have been very alien to me, but it really impressed.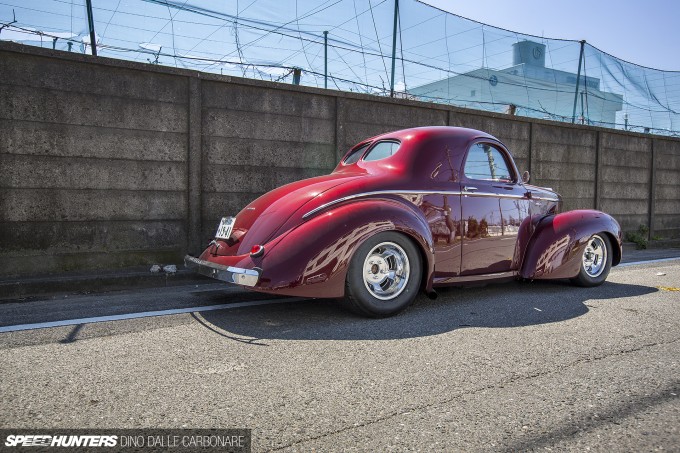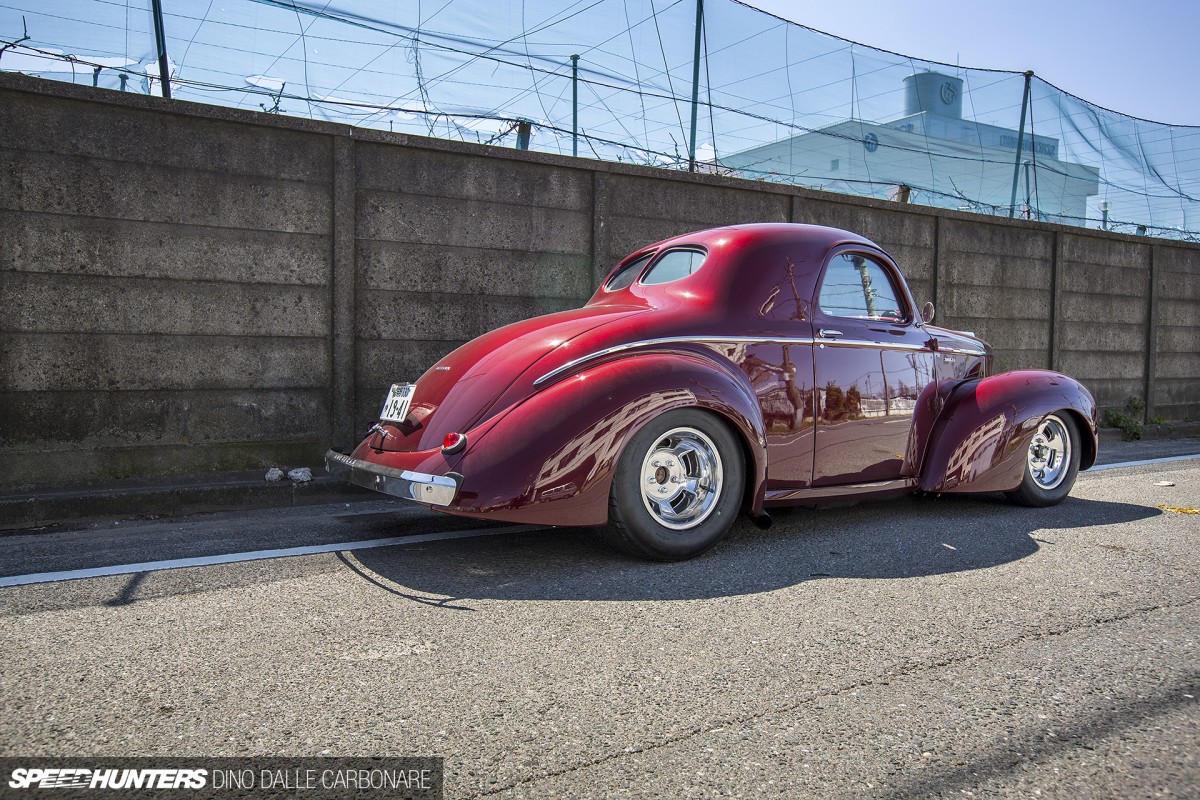 In fact, it took me no longer than five minutes to have a 'I need a Willys drag car in my life' thought constantly repeating in my head.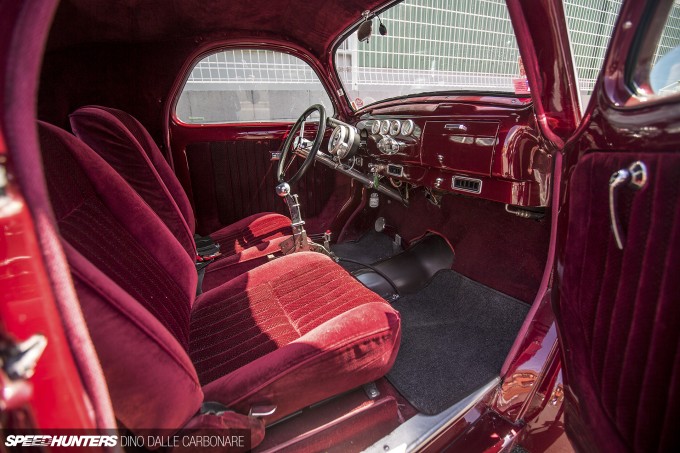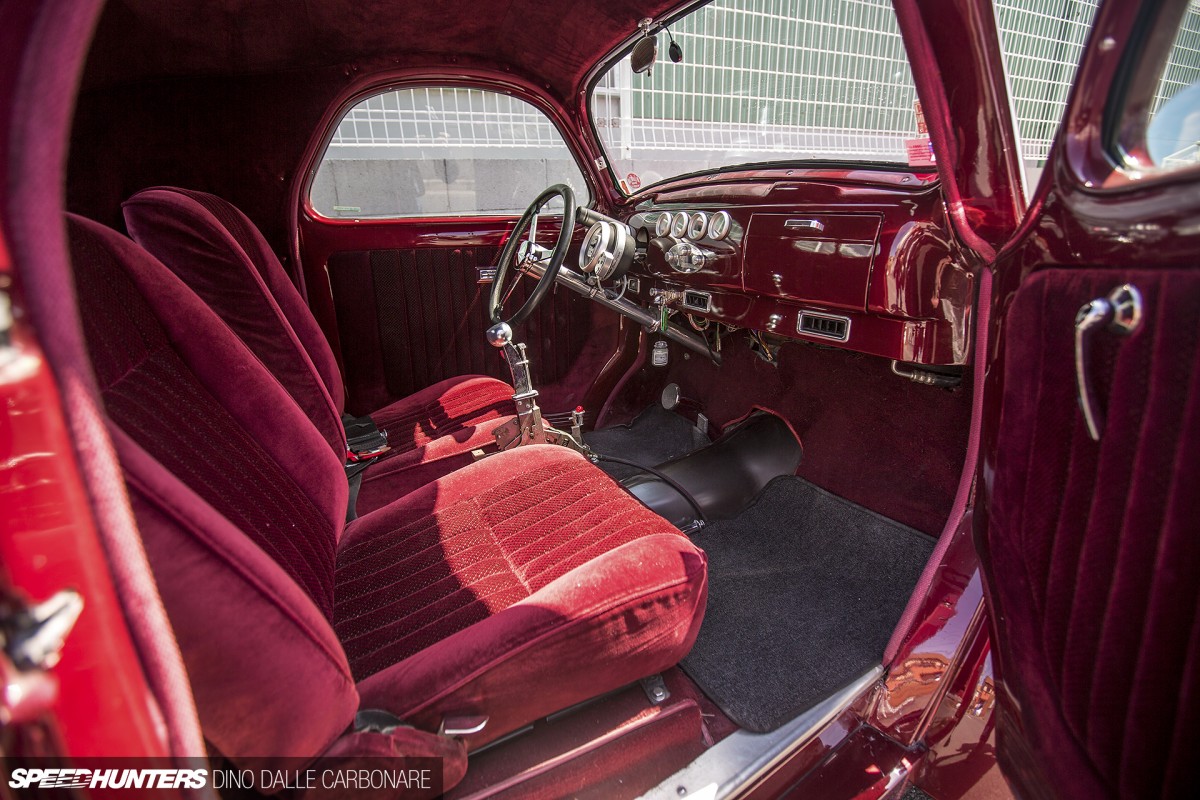 I think it would be such an experience to drive something so different to what people expect to see on the streets of Japan. But then again, we all know just how big the scene is out here, and hence the reason why people are drawn to these sorts of cars in the first place.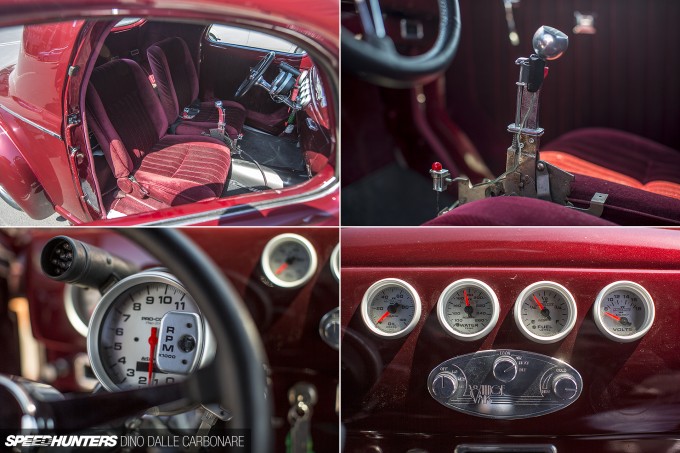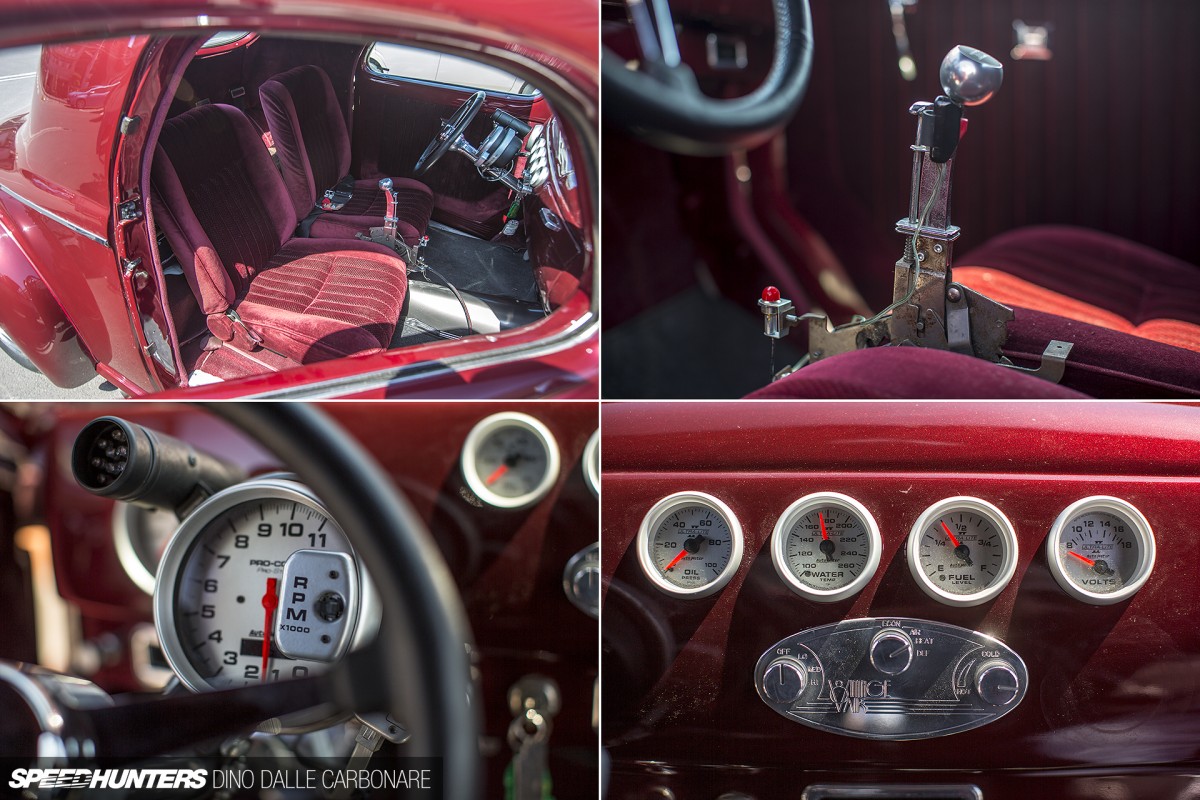 The cabin really topped off the whole experience for me. It had the right sort of ambience – a mix of old and new, or at least period-correct parts. Andy told me how he ripped out the original floor and constructed a fresh one to wrap around the new transmission and offer the correct mounting points for the Chrysler seats and ididit steering column that are now fitted.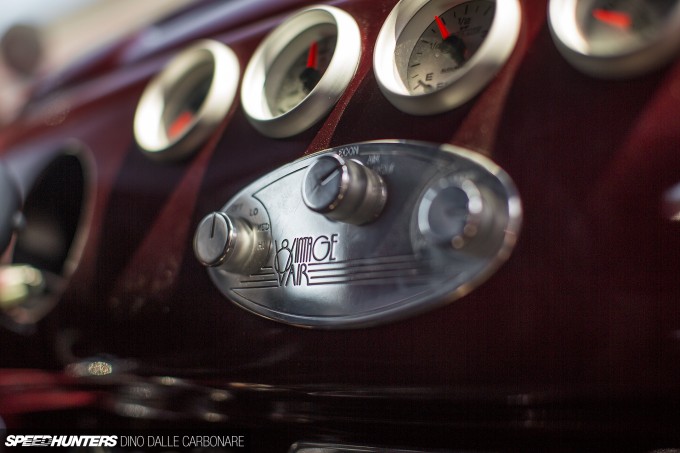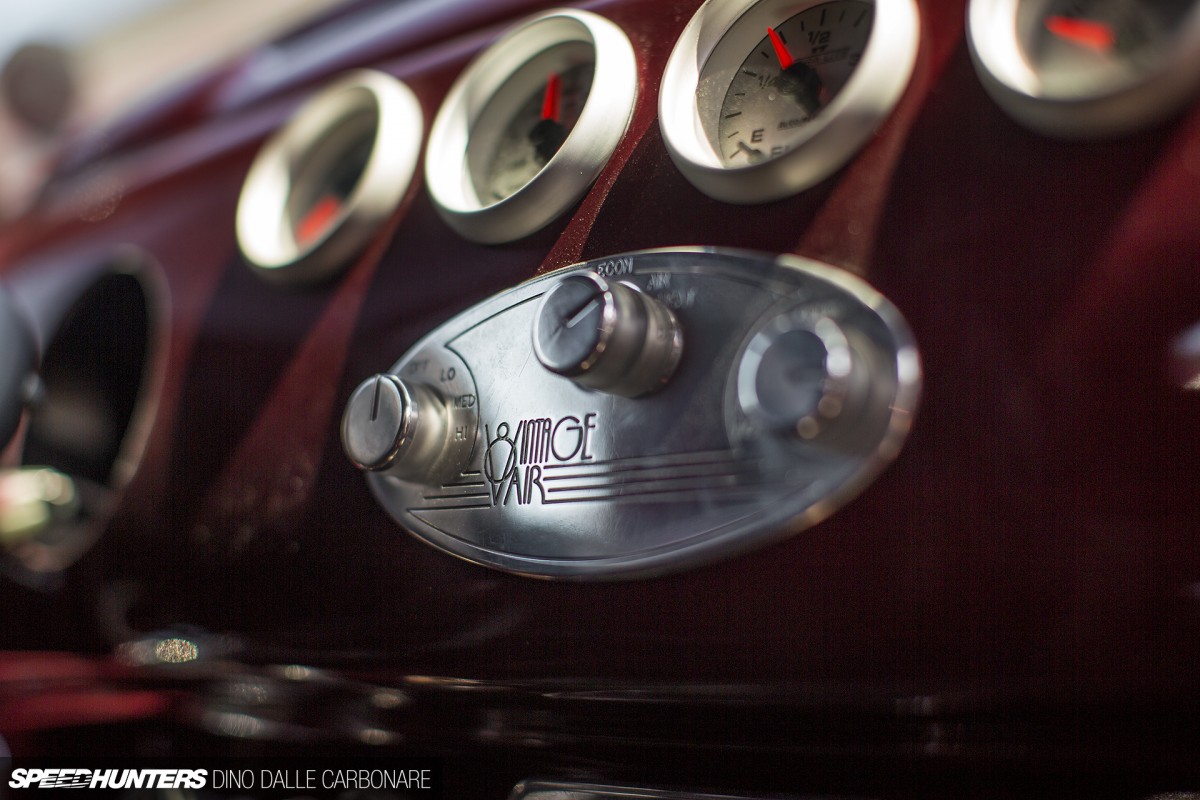 Along with an array of Auto Meter gauges, the Vintage Air A/C unit is my favourite addition. It just fits in so well on the body-matched dashboard.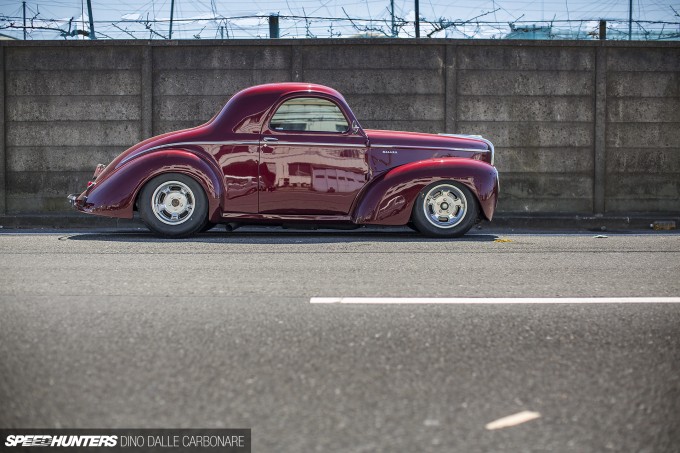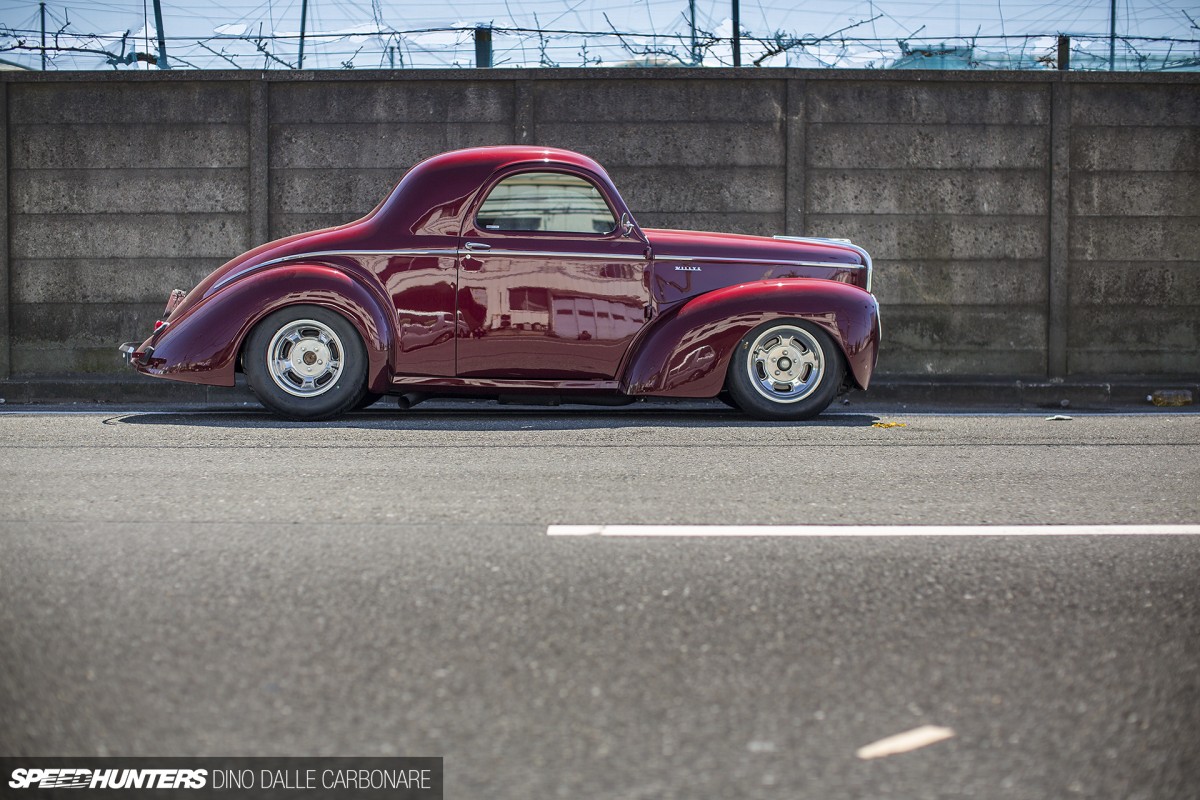 The more I look at it, the more I want one.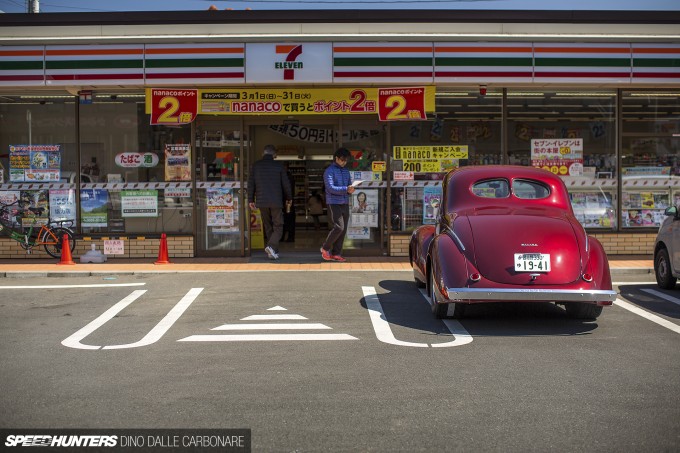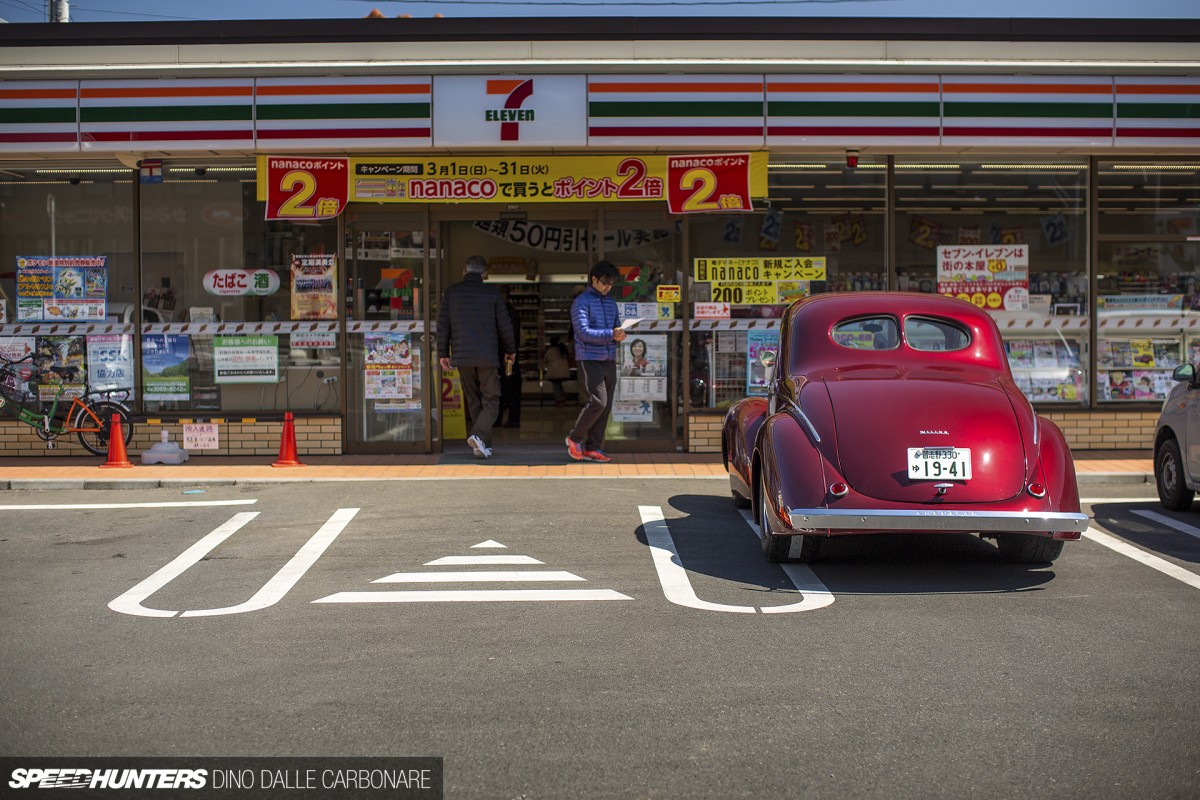 Speedhunting in Japan never fails to excite and impress for the sheer contrast it throws up at you. I've been in few hot rods, rat rods and classic customized American cars, but no old car has left me quite as impressed as this Willys 441 Coupe. I guess we all have cars, shapes, interpretations that tickle our fancy, and I think I may have found mine. Now, how much do these things go for…
Dino Dalle Carbonare
Instagram: speedhunters_dino
dino@speedhunters.com