In the last post from Dubshed, we took a close look at a '72 Karmann Ghia and the 20-year wait the owner endured in order to build the right car. That's just one story from the countless builds spread throughout the King's Halls in Belfast, Northern Ireland, last weekend.
But rather than showing you the same thing again, I wanted to give you a perfect case in point of the contrast that can be found at any of these shows around the world. It's this contrast that really fascinates me about the VW scene.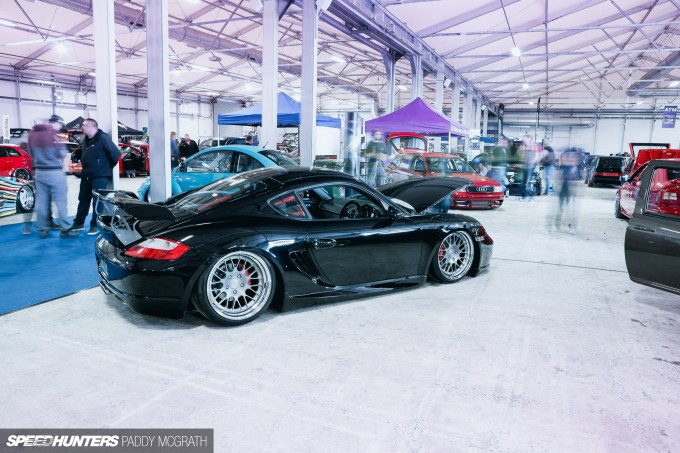 Less then 50 metres away from the Karmann Ghia was this Porsche Cayman S. In many ways, I like to think of the Cayman S as a direct descendant of the Karmann Ghia (even if that's not technically true if we follow the direct product lines). Just as the Karmann Ghia lived in the shadow of the Beetle, the Cayman has experienced the same fate with the 911. Great cars, no doubt, but it'll always be difficult to exist alongside arguably two of the greatest cars ever built.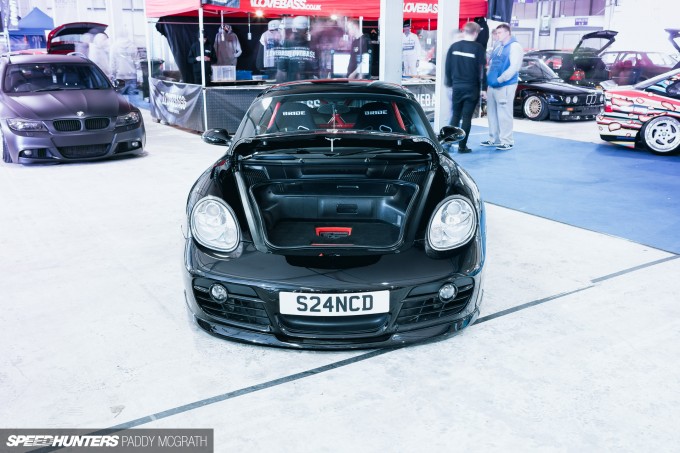 It was late November 2014 when Niall O'Dowd collected the Cayman S and it only took until December to start work on getting the car ready for the 2015 show season. Roughly four months had elapsed before he unveiled the car on his Instagram account, the day before Ultimate Dubs. What changes took place during this time period?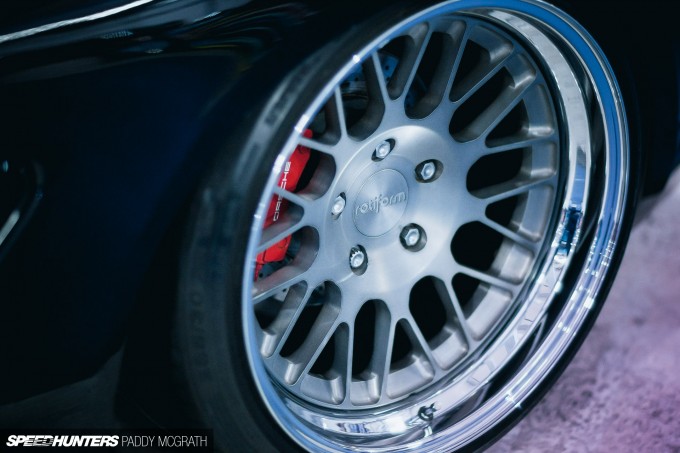 Let's start from the bottom and work our way up. A set of custom Rotiform LVS in 19×10 and 19×12 (front and rear respectively) sit neatly tucked into the arches courtesy of a fully custom hydraulic suspension setup featuring one-off spherical top mounts and Porsche Motorsport adjustable toe-links.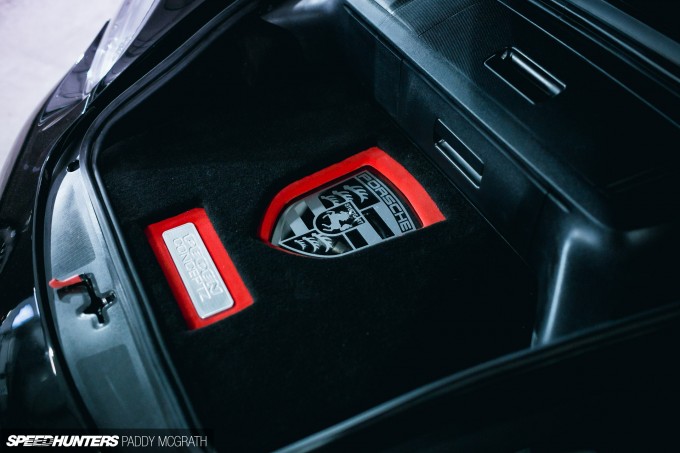 The implementation of a hydraulic setup will likely raise a few eyebrows, especially in a scene being dominated by air installs. With the hardware neatly tucked away neatly at the front, you do become aware how tightly packaged the Cayman is. It wouldn't have been impossible by any means to install an air system, but Niall's previous two cars have both featured hydraulics so it's obviously a setup he's comfortable and happy to run with.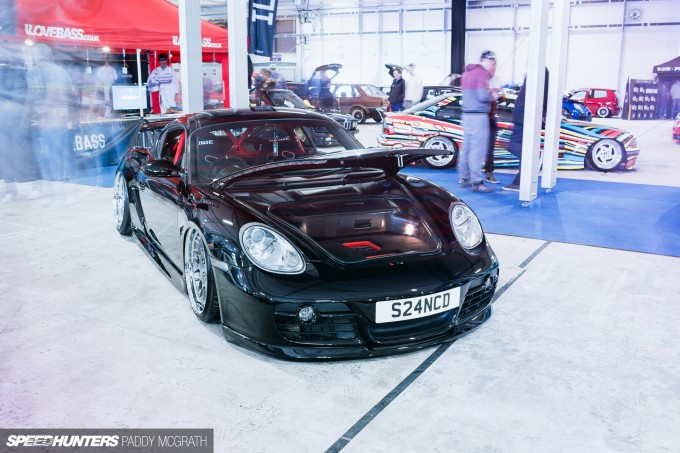 Anyone who has ever owned a black car will tell you that it's an absolute nightmare to keep clean and looking its best. Every imperfection shows up so easily that it often becomes a never-ending battle trying to maintain that perfect finish. I don't know what witchcraft Niall has carried out or to whom he sold his soul, but the paintwork is absolutely and utterly flawless. (Full disclosure: as a black car owner, I'm really jealous)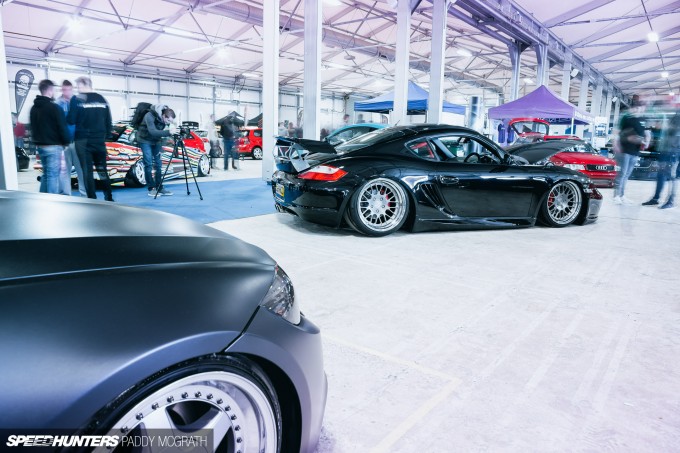 It's so good in fact, that you could easily miss the fact that the rear arches have been flared and widened by two inches, whilst the fronts have been modified similarly, but by just an inch. The car also wears a full TechArt kit, from the aero front lip to side skirts and lastly to the rear wing with custom side props. Am I imagining it, or is there quite a JDM vibe from this German tuning house?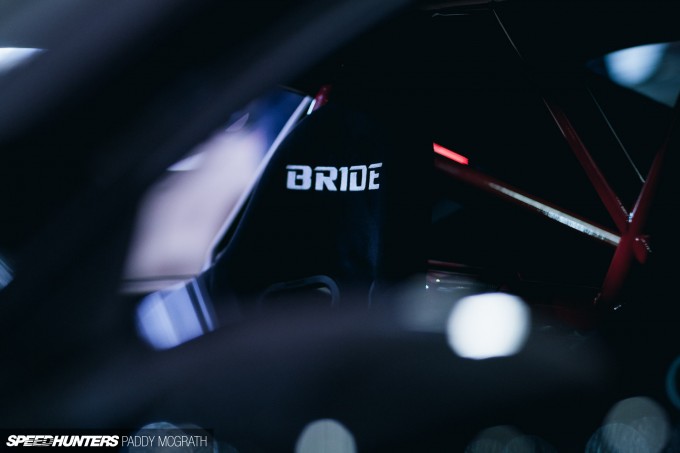 The Bride Zeta IIs definitely add to this JDM vibe so hopefully I'm not alone in my thinking. The rear half of the car is reinforced by a custom Cayman R rollcage, finished in Guards Red.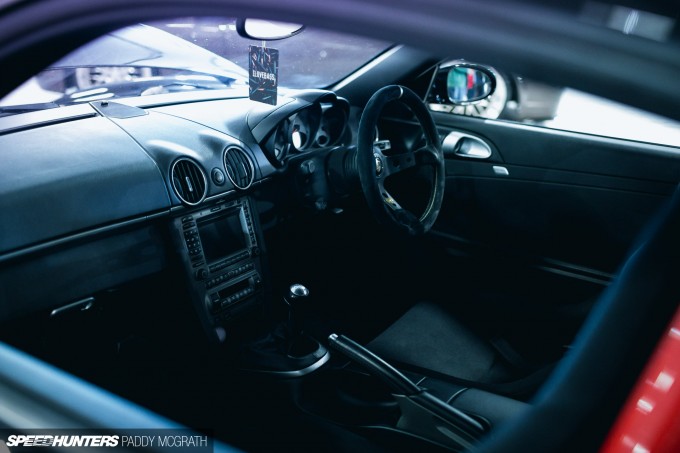 Save for the OMP Corsica wheel – with a Genuine Porsche push-button horn – and the Luke 4-point harnesses the rest of the cabin remains nicely stock. Then again, Porsche interiors very rarely require modification.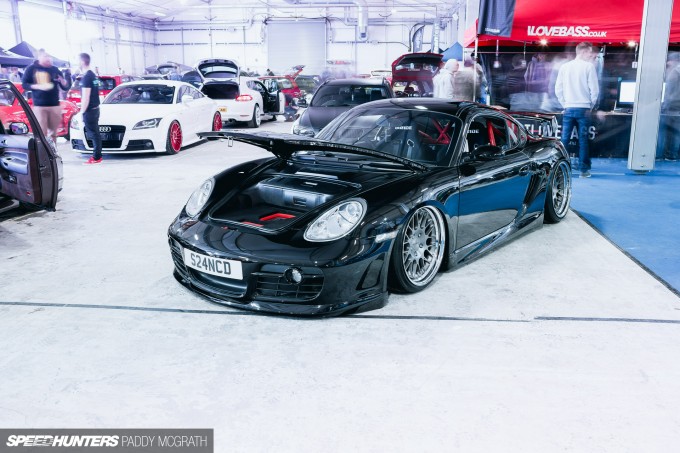 Performance modifications have been kept simple: a K&N Blackhawk Induction high-flow performance intake and a B&M short shifter to enhance the stock 290hp motor and 6-speed manual gearbox.
There's over 40 years between the Ghia and Cayman. Whilst Matt's Ghia build was an exercise in patience and long term commitment, Niall's Cayman has come together in a figurative blink of an eye in comparison. This doesn't mean that one is better than the other – far from it. I think they both perfectly represent two sides of the same coin.
Paddy McGrath
Instagram / Twitter: pmcgphotos
paddy@speedhunters.com