I Got A Fever
Those of you who regularly follow my antics on Speedhunters will already know that my favorite stories are the ones in which I get to drive awesome cars. After all, I was into driving and competing in local amateur events way before I even picked up a camera in a serious manner. So when I got a call from Magnus Walker asking if I'd like to be a wheelman in his latest video, you better believe that I said yes!
The premise of the video? Two Porsche 911 Turbos built 40 years apart. But of course, Magnus is only one man, and therefore he can only drive one car at a time – what a pity, huh? Precision driving and camera car work combines my two passions, and I just can't get enough of it.
The video was produced by my friend Fraiser from eGarage and I thoroughly enjoyed being a part of the production. If you haven't watched 40 Years of the Turbo already, you can check it out by pressing play above.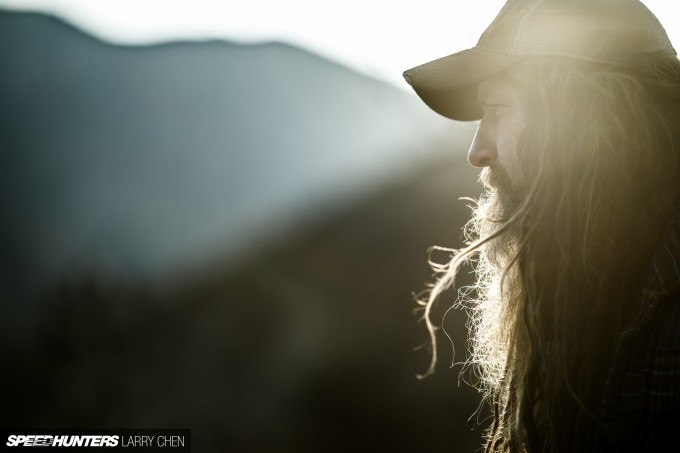 While I really like helping out whenever I can, I had an ulterior motive too.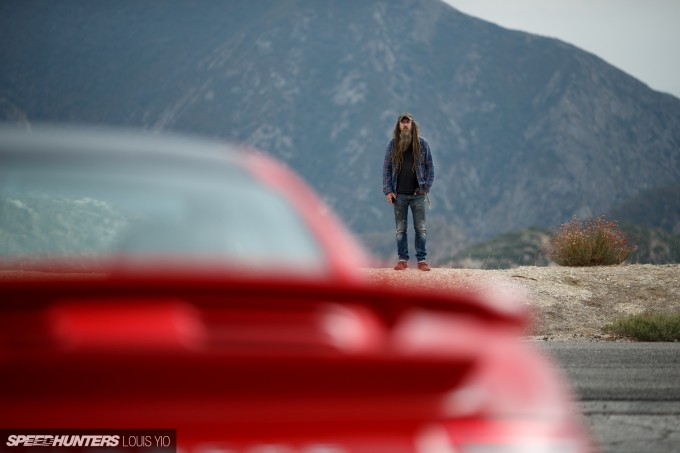 Because, when was I ever going to have the chance to drive these two cars back-to-back again?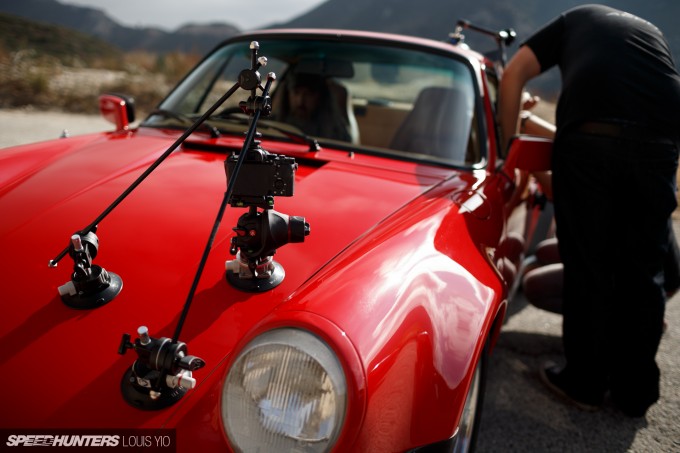 For me it was a dream come true, as I have always loved 911 Turbos. The sound, the look, the feeling – in the car world there is nothing else like this iconic model.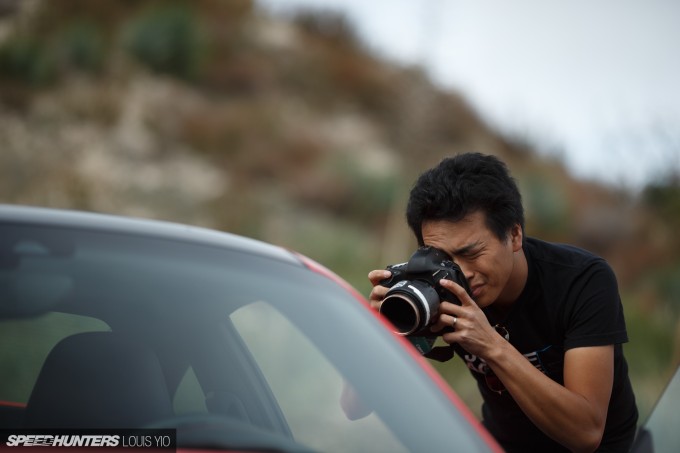 While I can appreciate naturally aspirated cars as much as the next car enthusiast, the feeling of boost kicking in can't be replicated. My face scrunches up, kind of like when I am shooting.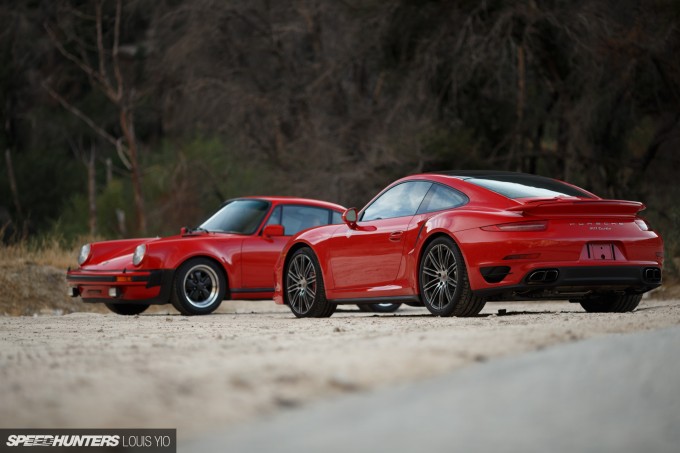 At the time of the shoot, the rare right-hand drive 75′ 930 was the newest addition to Magnus Walker's stable. I rarely get to drive RHD, so I opted to drive the left-hand drive 991 first.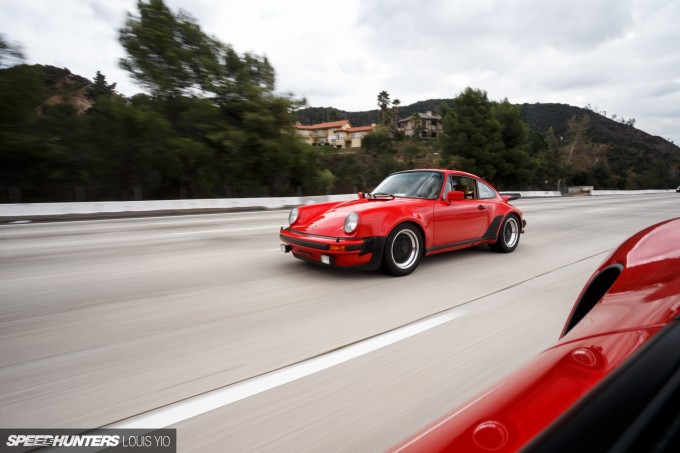 Our shooting location would be Angeles Crest, which of course is Magnus Walkers favorite stomping grounds when it comes to playing with his cars.
The endless network of canyon roads the area has to offer is just a few miles away from his garage, so it's extremely handy too.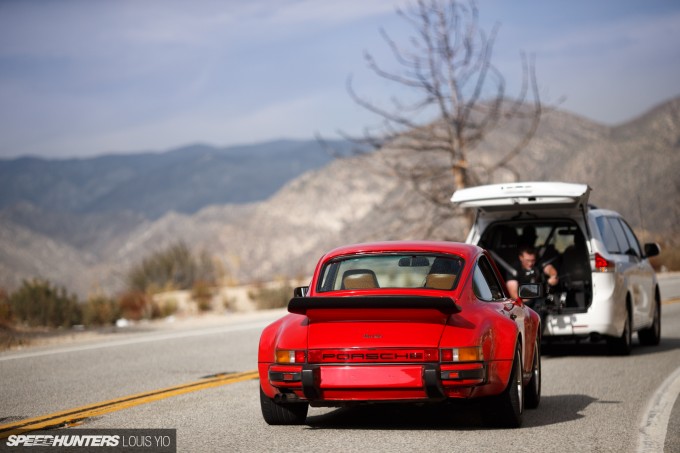 Working with the eGarage guys is always a real treat, because they don't waste time getting the same shot over and over.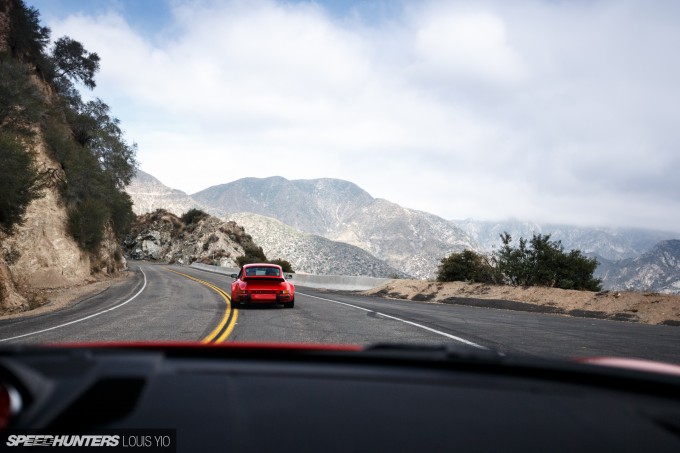 Which of course meant we had time to do some actual canyon driving.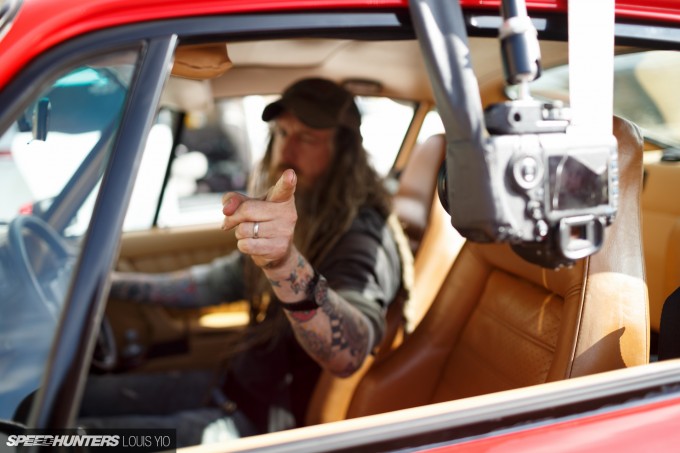 Magnus has become very familiar with video production over the past few years. He's featured in dozens of short films, made two appearances with Jay Leno and even fronted a TED talk.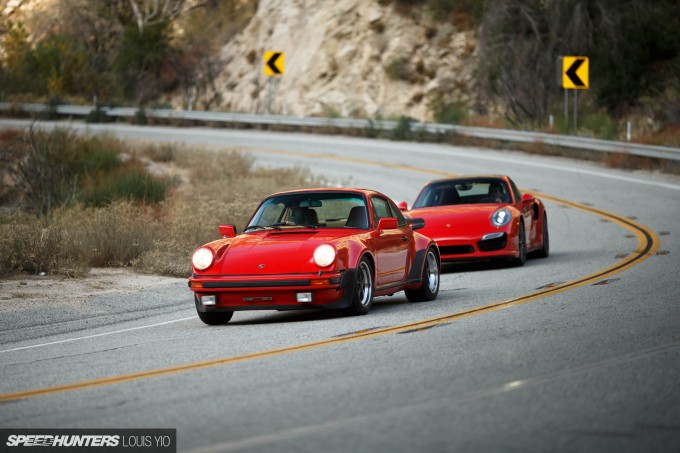 It's kind of interesting to see both 911s driving together, because even though there's been the 965, 993, 996 and 997 variants between the pair, you can still tell that the cars are related.
Same But Different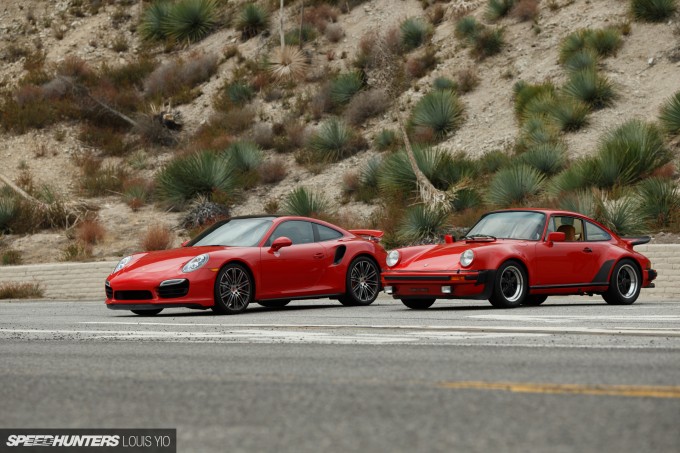 Apart from the normal things that made these two machines 'cars' – four wheels and headlights etc – there are details that simply scream 911 Turbo.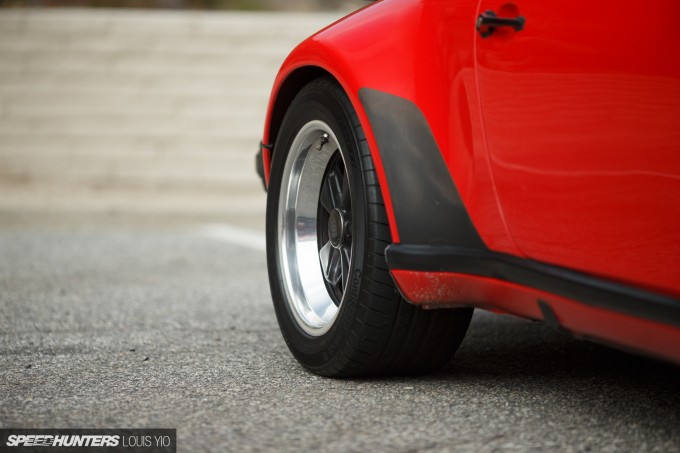 That wide rear quarter panel is unmistakable, even if the stone chip trims no longer features on the new car.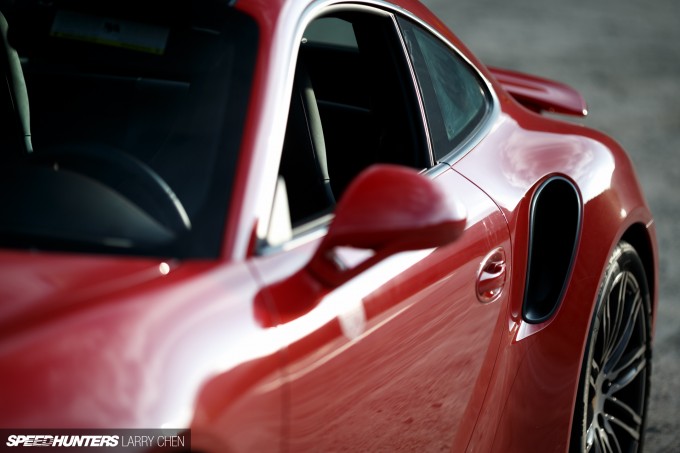 These days you'll find the intakes for the much larger intercoolers in their place. It's a similar basic shape, but totally modernized.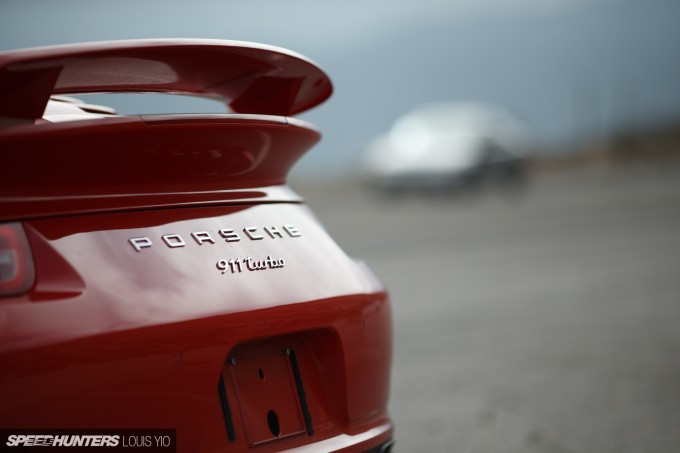 And what about the rear end? That ducktail is certainly a throwback to the original.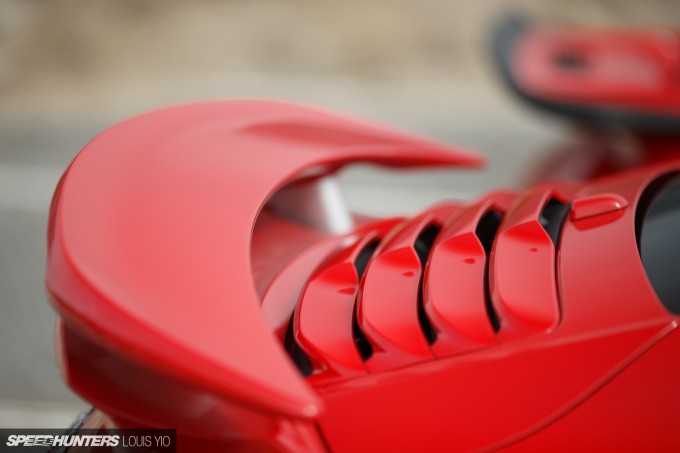 But now the wing raises at freeway speeds.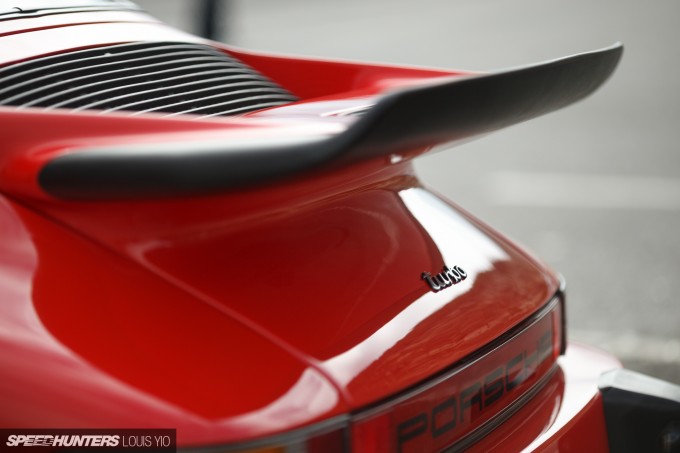 Of course, the original is much simpler and timeless.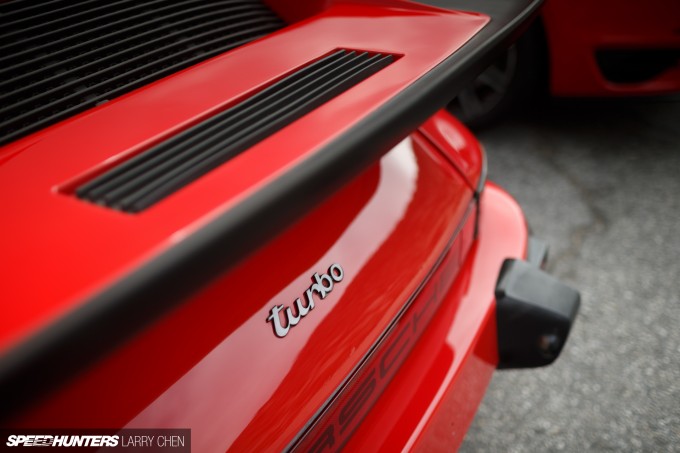 No active aero, but functional nonetheless. In its heyday the '75 Turbo was groundbreaking in terms of aerodynamics and power.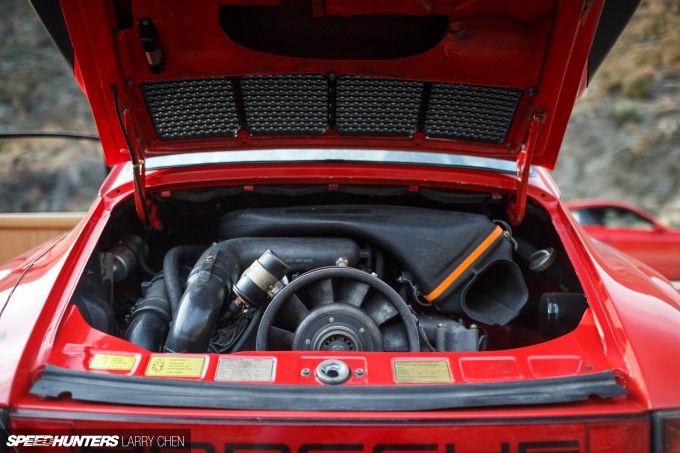 The biggest difference is in engine bay. While it was difficult to wrench on before, the new one makes it nearly impossible for any kind of DIY work.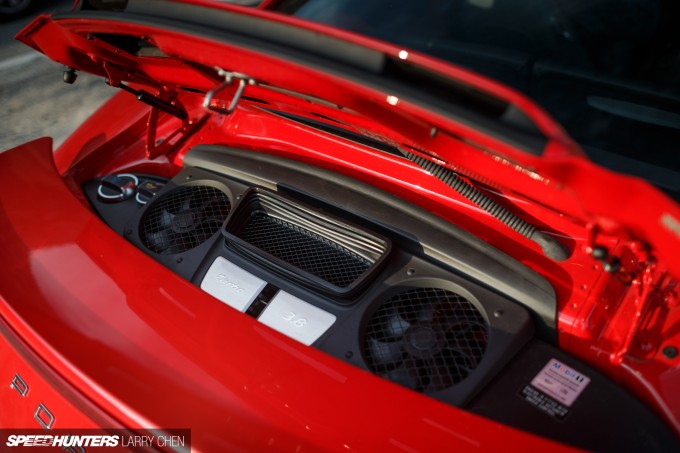 All you can really do is top off some fluids, but anything else requires the bumper to be removed. Sounds like fun, huh?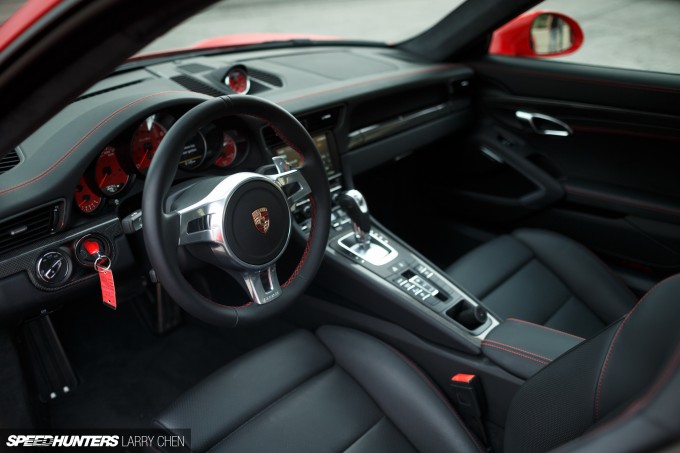 The modern Turbo's interior is one of the most luxuriously appointed you'll find in any supercar today.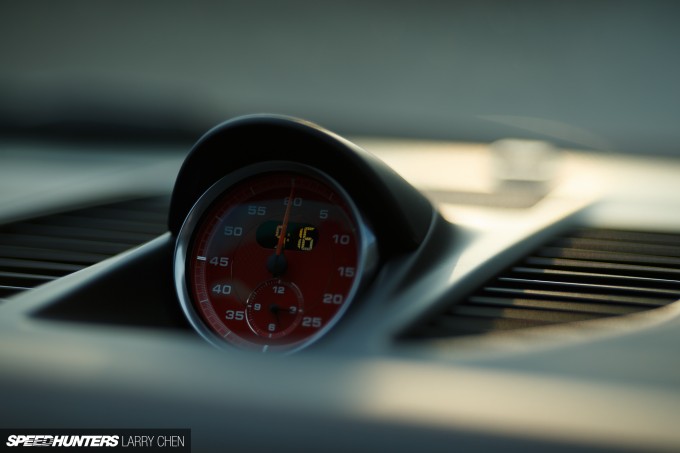 I just love the color-matched dials and gauges throughout the cabin.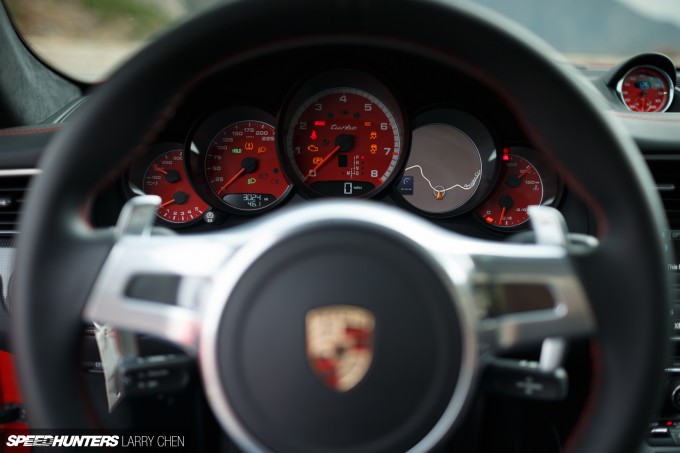 The dash is so unmistakably Porsche too. And why change the design if it's already perfect, right?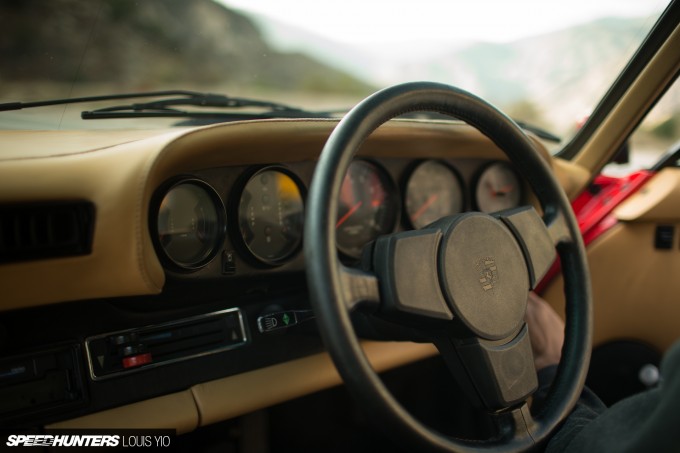 While I love the look and the smell of the interior in the 930, I just could not get around how large the steering wheel was, nor how close to the dash it's positioned. There was barely enough room for my fingers to slip through the gap. First world problems…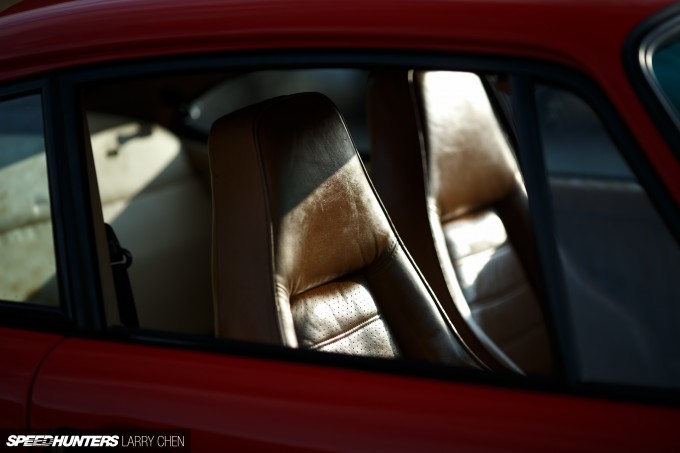 The seats were really nice and comfortable, but because there was no dead pedal on the RHD versions of the 930, I found my left foot just hovering around the clutch pedal with nowhere else to go.
Ludicrous Speed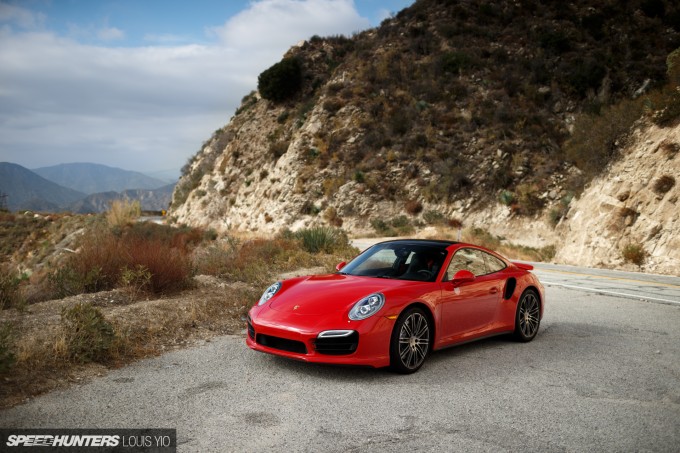 I drove a 991 Carrera more than 1000 miles, and subsequently fell in love with its practicalities.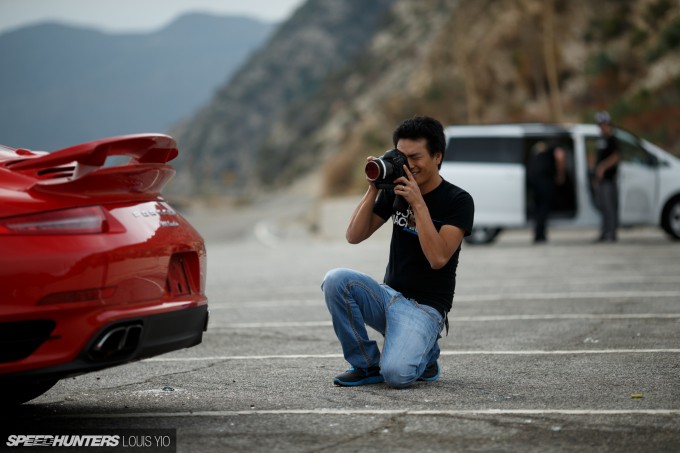 Yeah, it was fast and it sounded awesome for a factory-spec car, but to me the 991 Carrera was much more than it – it was the perfect daily driver. On top of that, the 3.4-liter naturally aspirated motor delivered great fuel economy too.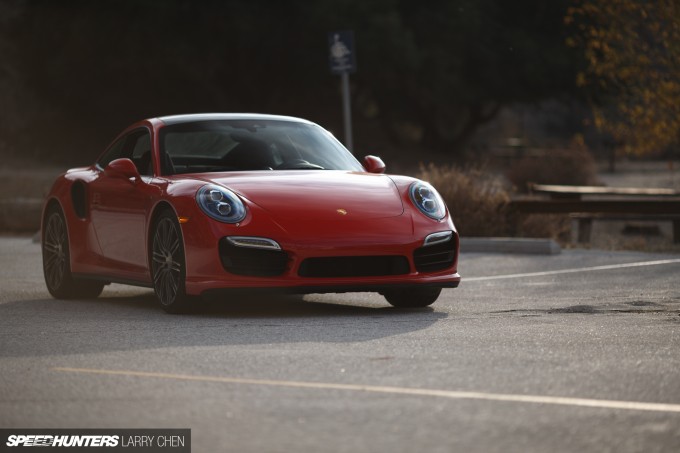 So what was driving the 991 Turbo like? Well, the press vehicle that Porsche provided Magnus was well appointed with a MSRP of around $200K.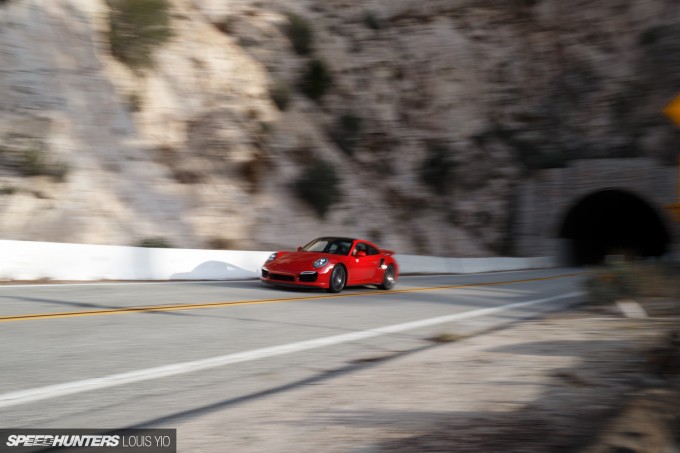 While I am a die-hard manual transmission fan, I understand that there is a place for dual-clutch transmissions. Ultimately, they are much faster.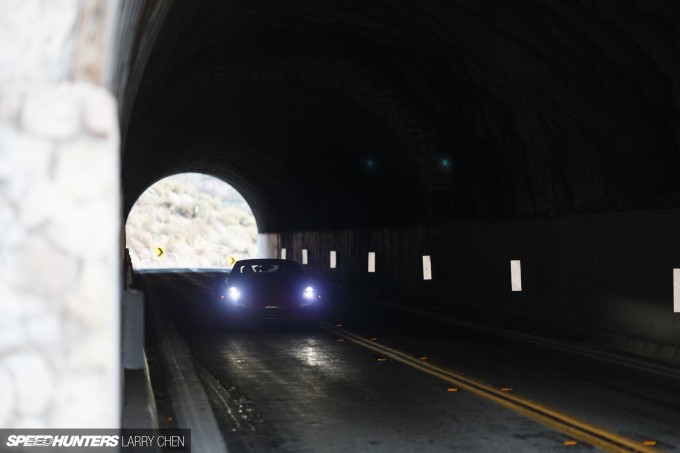 The PDK in the 911 Turbo shifts insanely fast, but it's honestly not as fun as having a clutch pedal. I felt somewhat disconnected, because the way to get the most out of the car was to let it shift on its own. When I put my foot to the floor I was merely along for the ride.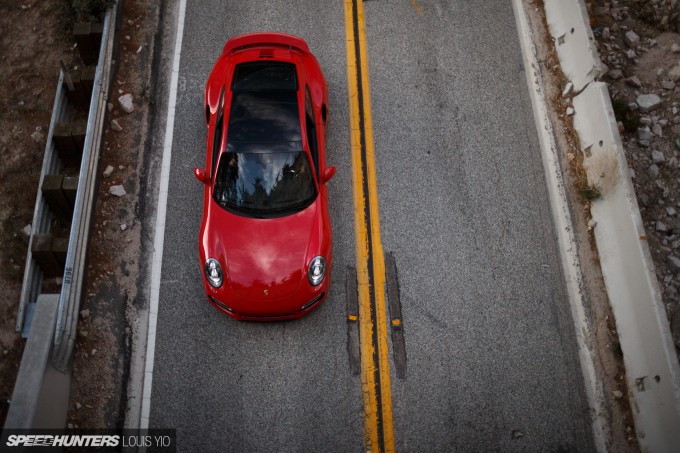 I've driven many cars with over 500hp, but this 3.8-liter flat six just screamed.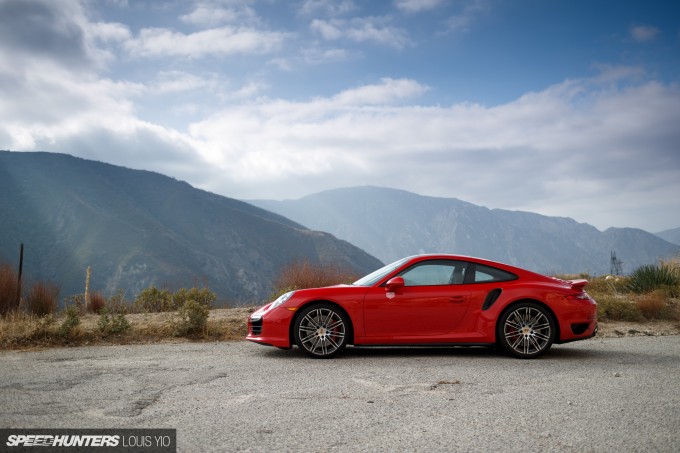 It's scary fast, and before you know it you're at triple-digit speeds on the shortest of straightaways. My palms get sweaty just thinking about it.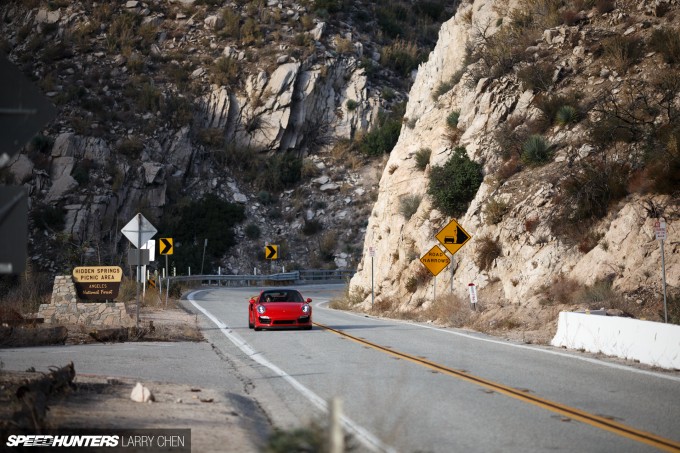 With other similarly priced supercars, like the V12 Aston Martin Vantage, you find yourself fighting for traction off the line, and not being able to put down the full potential of the motor till third gear. That's not the case with the 911 Turbo. To top it all off, it's just as comfortable to drive around town as any luxury car.
The Original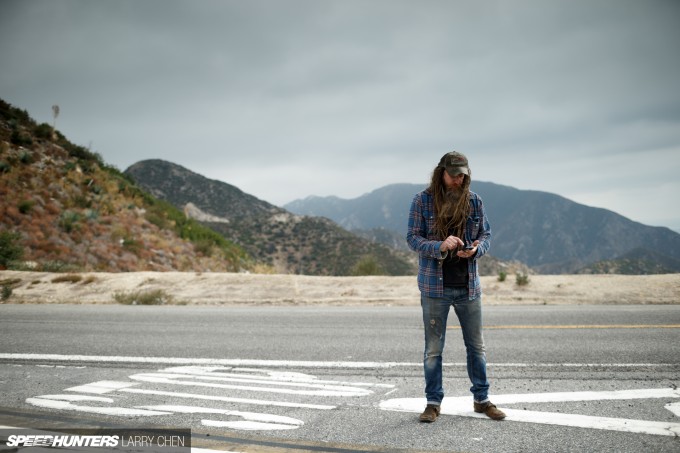 In recent years Magnus has definitely helped popularise air-cooled Porsches, and in that sense he has kind of screwed himself, as prices have been driven to the point where even he has to buy cars from out of the country.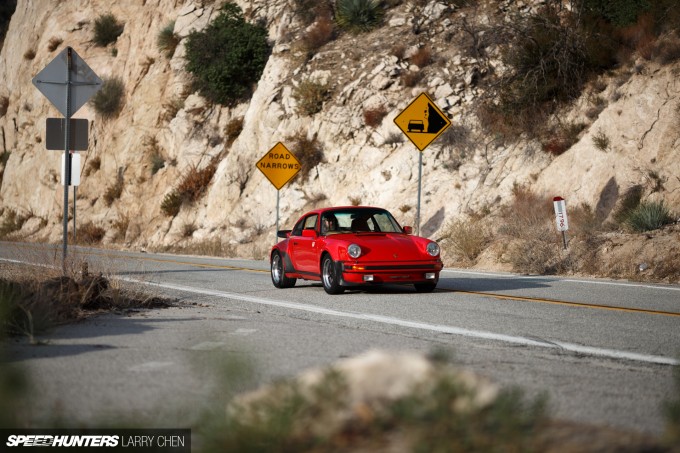 This is one of the rarest 930s of them all, not only because its a '75, but also being right-hand drive.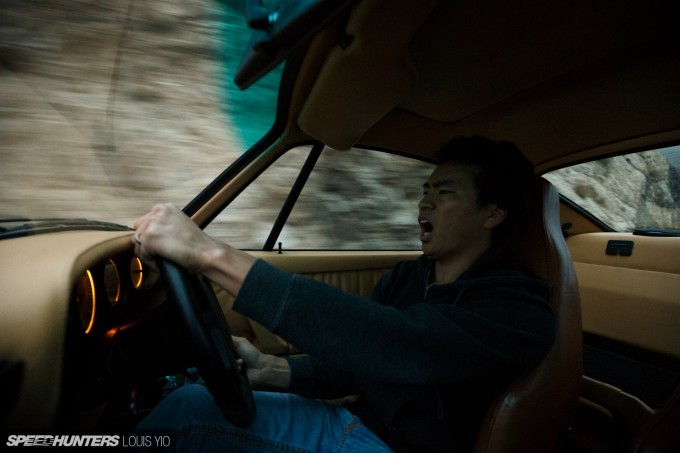 And he was careless enough to let me drive it. Go figure, right? So here I am driving a very expensive car in a configuration that I am not used to, with no power steering or ABS brakes, and on canyon roads no less.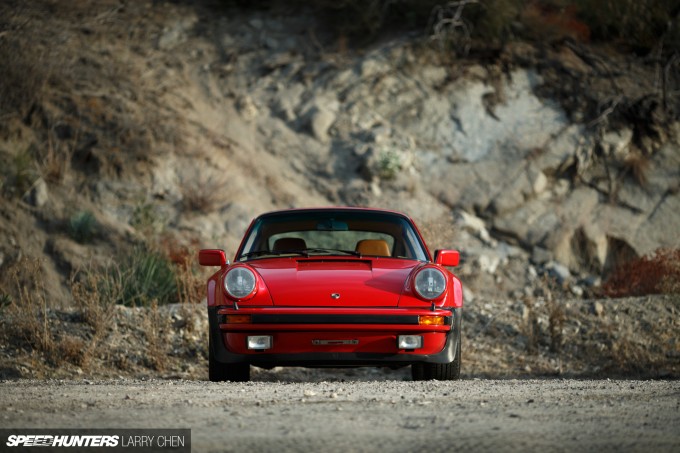 While the 991 was scary-fast, this first generation 911 Turbo frightened the crap out of me.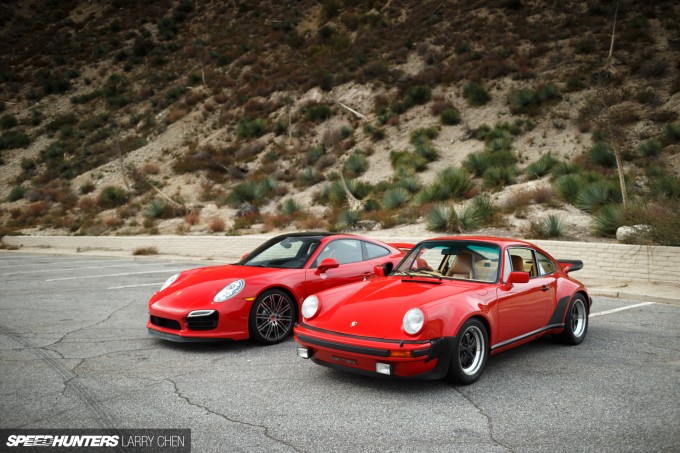 After driving it in Los Angeles traffic and in the canyons, I was soaked with sweat. I know, gross, but I was gripping onto the steering wheel so tightly because I was on edge. It had way less horsepower than the new car, but it really kicked my ass.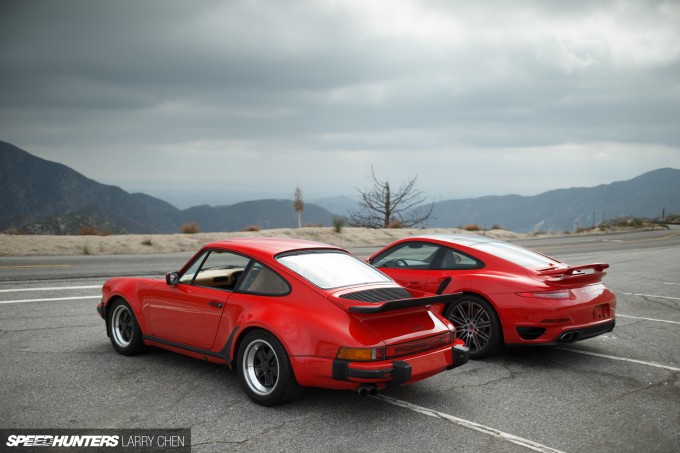 It was incredibly hard for me to shift as it felt like I was rowing a boat. Thank goodness it was only a 4-speed transmission.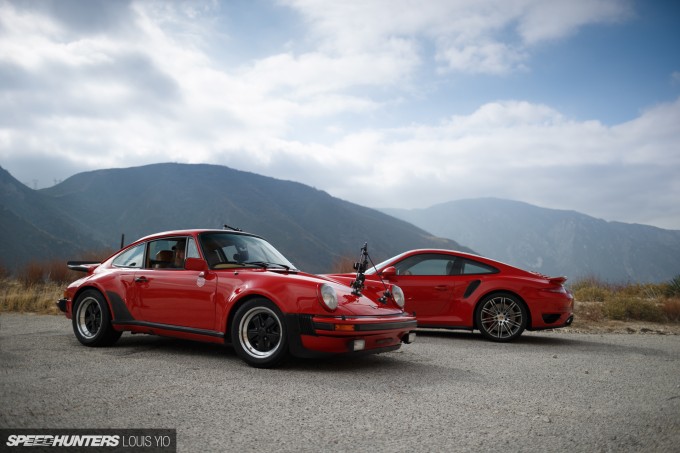 Because we were doing camera car work, I had to brake pretty late which was a mission in itself. You really had to plan ahead when you needed to stop because of how much effort it physically took to slow down.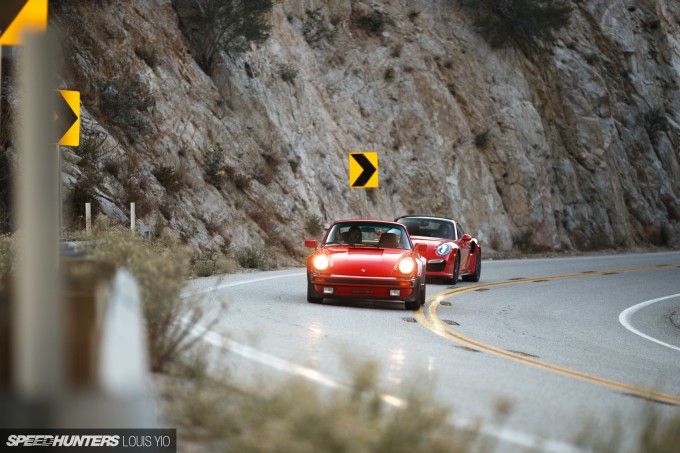 I felt everything on the road and the lack of power steering actually reminded me of my 240Z. But with less weight over the front tires it felt so precise.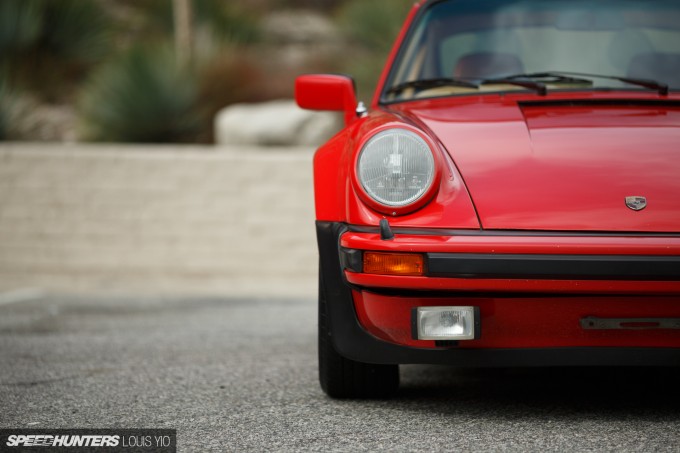 It sounds like I am complaining but I'm not. This '75 911 Turbo is one of the most enjoyable cars I have ever driven – even at slow speeds.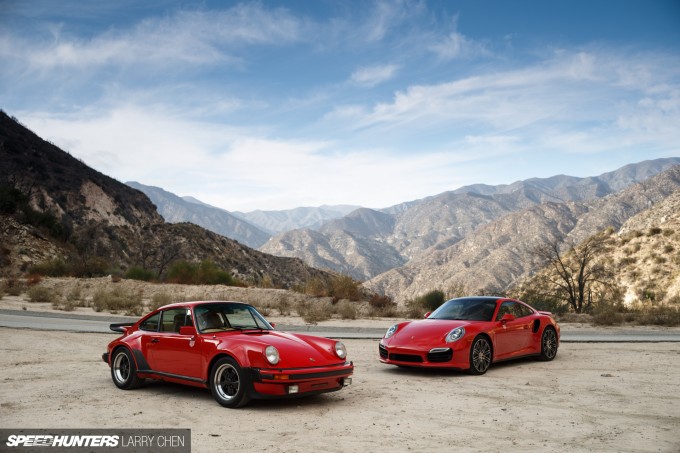 Trying to achieve a perfect shift or heal-toe at low speeds in the 930 is just as fun as going 120mph through a mountain pass tunnel in the 991. You can get so much joy out of the older car without breaking the law, while driving the same speeds in the new car feels a bit boring to be honest.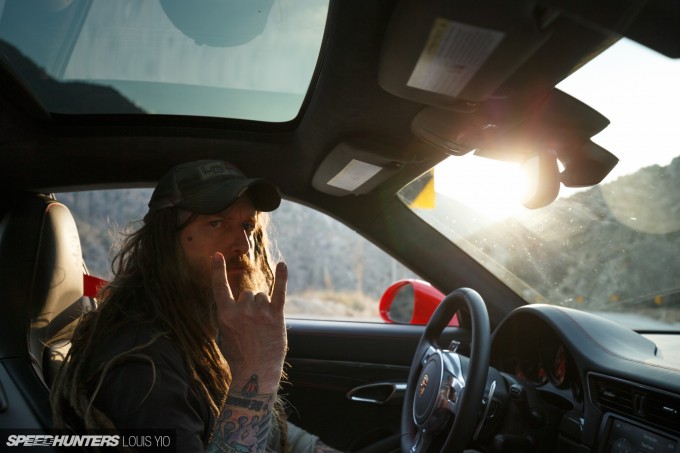 I now have a higher understanding as to why Magnus collects these air-cooled cars. While he can go out and buy whatever modern car he wants right now, there is no point. They just don't have the soul that these old cars have.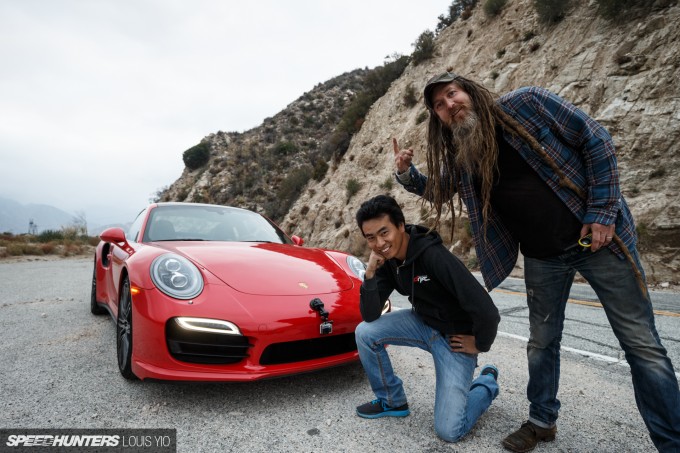 It just makes me wonder what it would have been like to walk into a Porsche showroom back in 1975 to see that shiny new Guards Red 930 Turbo sitting there in all its glory. I will never know what that is like, but I am so glad that I had a chance to take these two beauties for an extended test drive. There is no better way to fully experience a car than driving on a windy mountain road.
So my question to you guys is, which one would you take if money was not an issue? I personally would take the old one, but that's just me…
Larry Chen
Instagram: larry_chen_foto
larry@speedhunters.com
Additional Photos by Louis Yio
Cutting Room Floor