Anything But VIP
As car enthusiasts, we all strive for a sense of individuality when we decide to customize our vehicles.
Despite this intention, a funny thing happens and we still end up copying each other, following the latest trend, or fitting the same set of wheels as another guy. I'd argue that it's actually pretty tough to come up with something truly unique.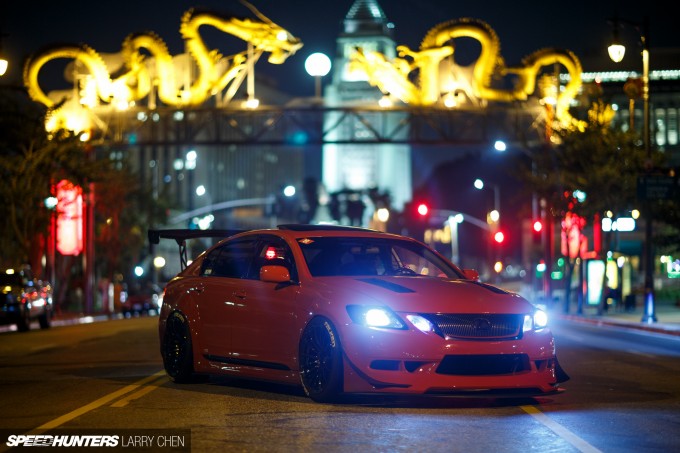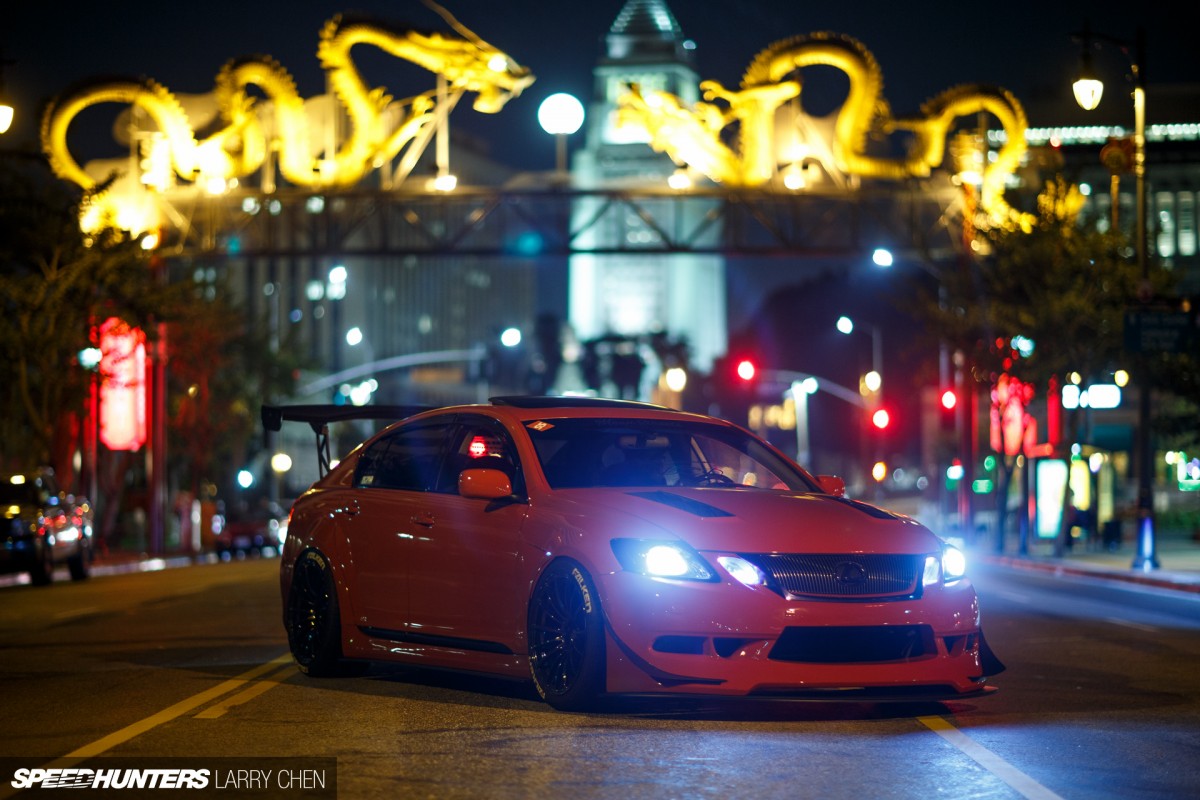 Yogi from Fatlace knew this when he set out to build his GS430. VIP styling would have been the obvious choice, but he surveyed the scene and decided to try something different.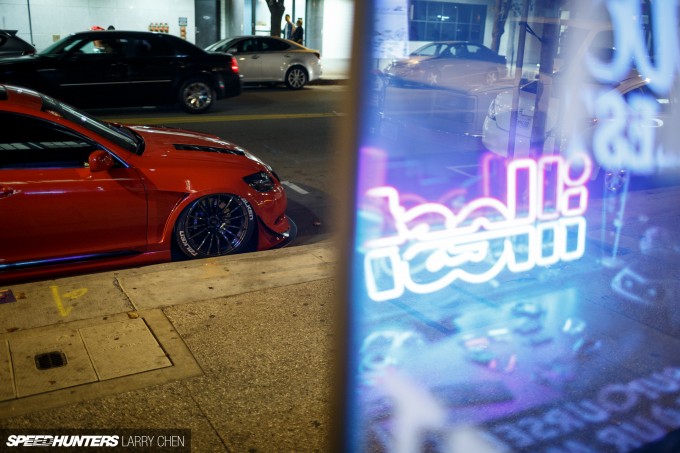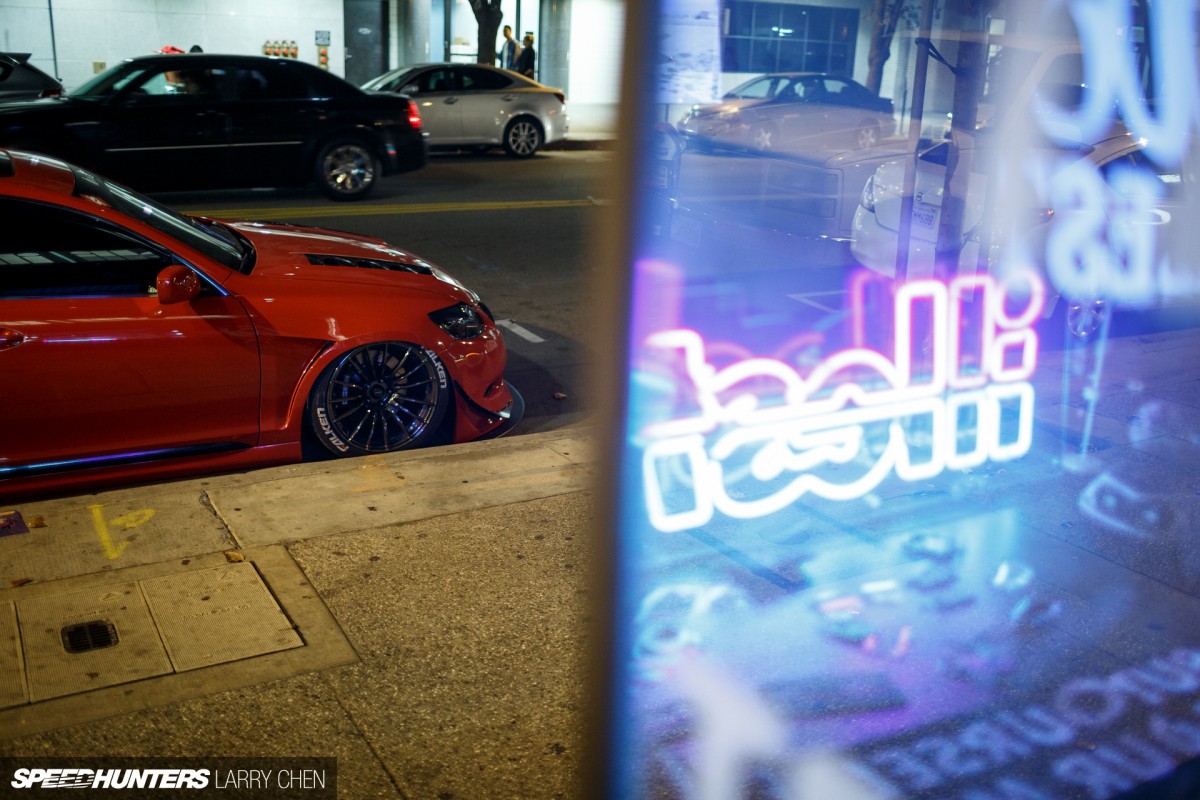 He had these ideas – the ones you see implemented in the car before you – swirling in his head for a long time. In fact, he had initially planned to apply them to an Infiniti M45 (aka Nissan Gloria), but after an exhaustive search that led nowhere, he began looking at Toyota's luxury marque instead.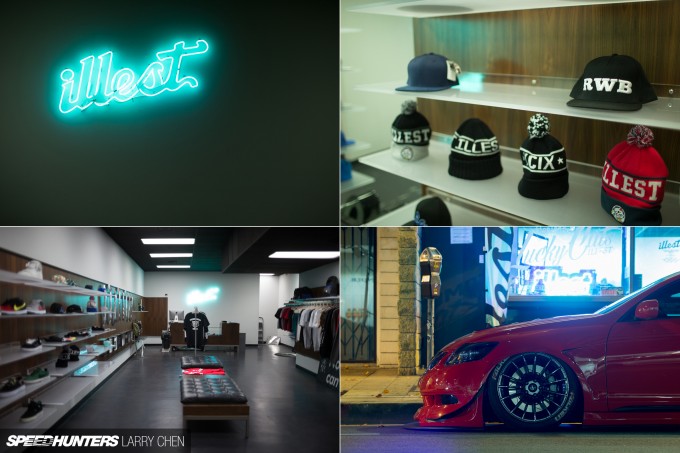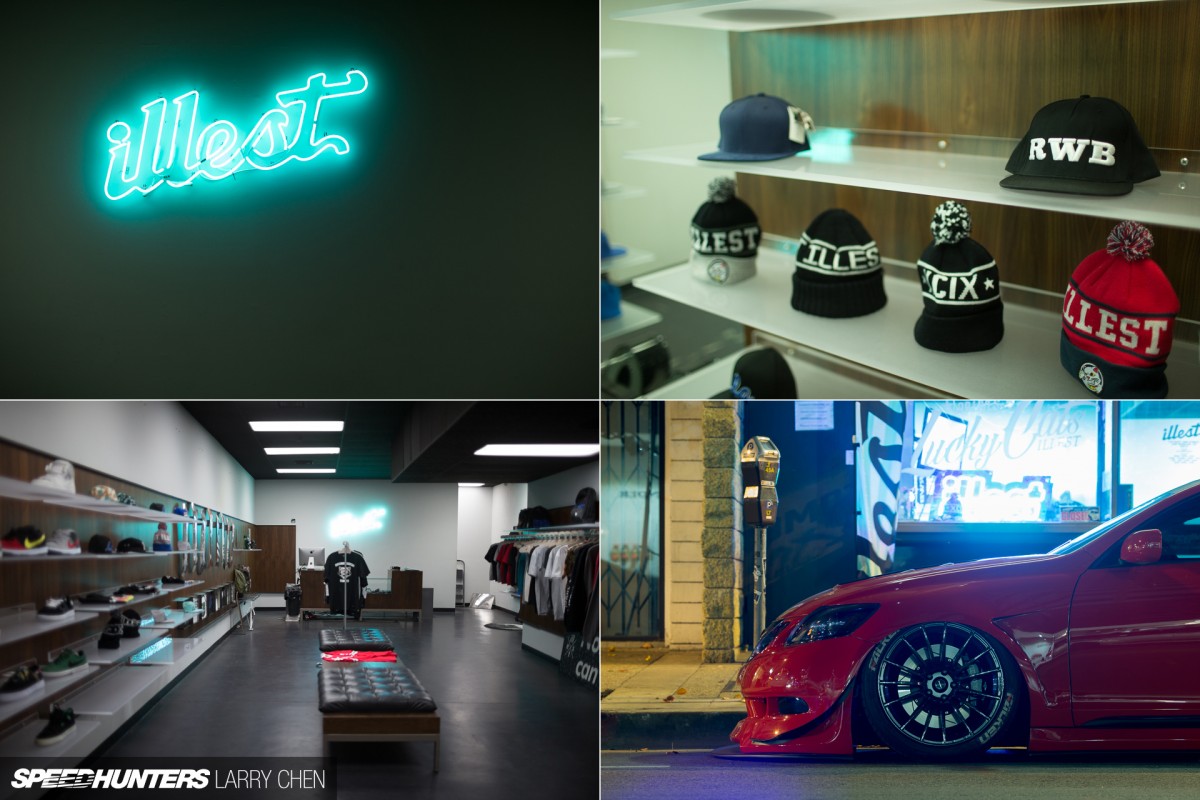 Working with Mark Arcenal of Fatlace and Illest fame, I suppose there was some pressure on Yogi to be a tastemaker too. Or maybe it's just in his blood to set a trend rather than follow one.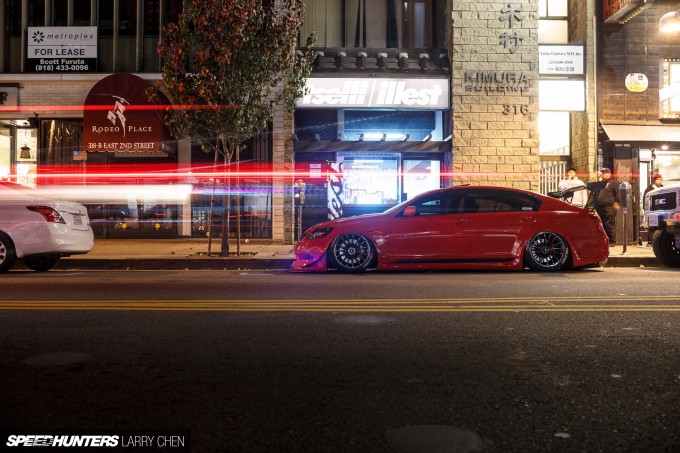 Either way, this build didn't happen by accident. Yogi spent hours poring over photos of cars from Japan, because they just seemed more wild than anything that was happening here in the States. He was inspired by styling cues from all sorts of different vehicles, ranging from track cars to the VIP style he was trying to work around.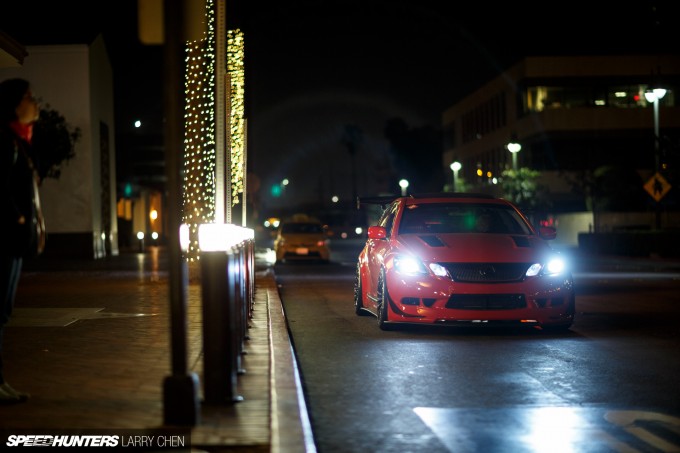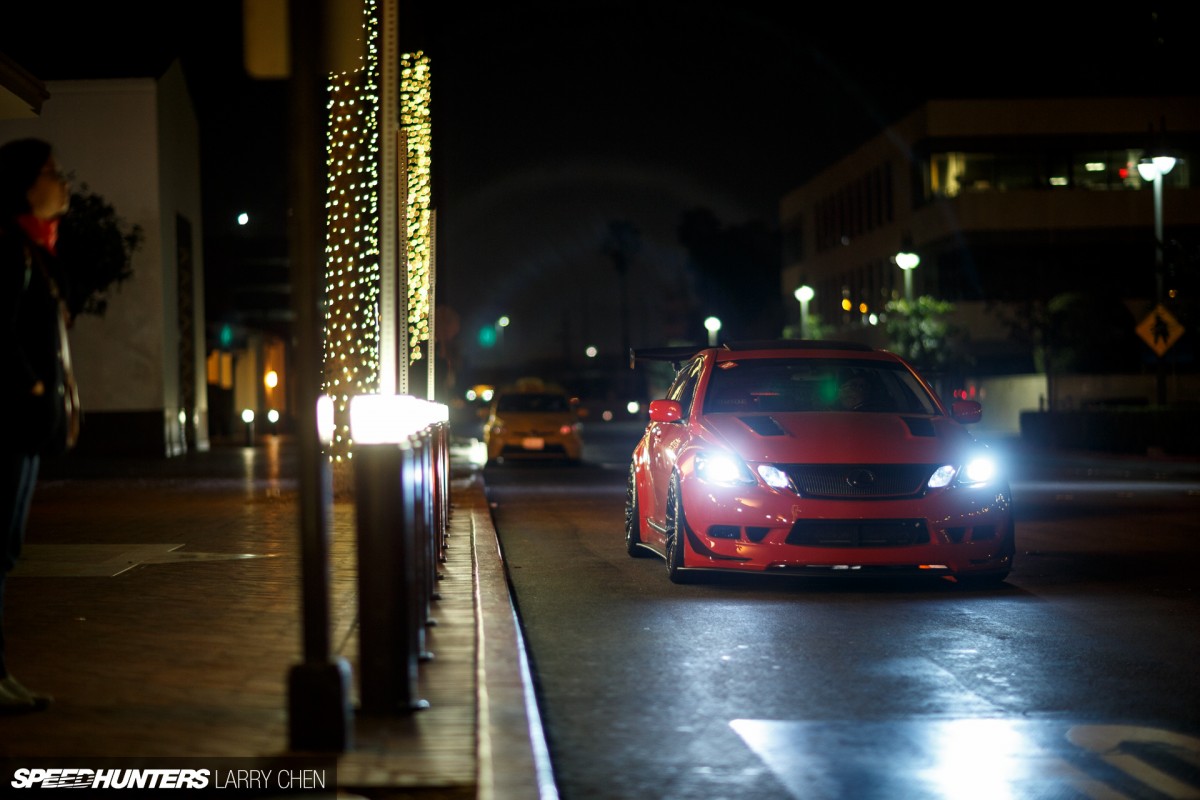 He took these details into Photoshop to pull it all into one cohesive vision for his GS. Once he had his plan, a rendering from JDMego sold him on the car. He had to build it.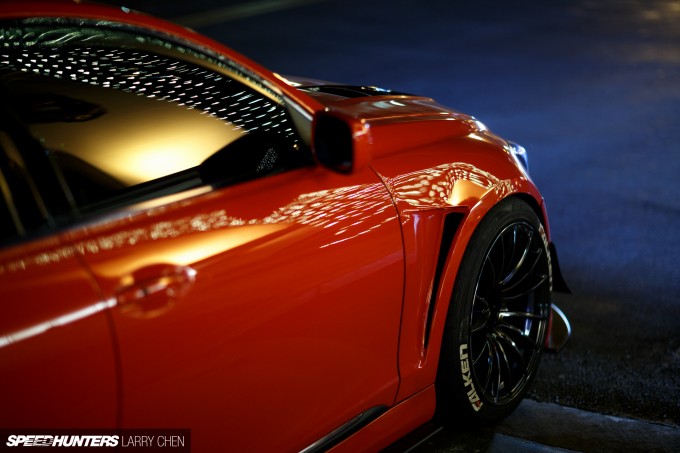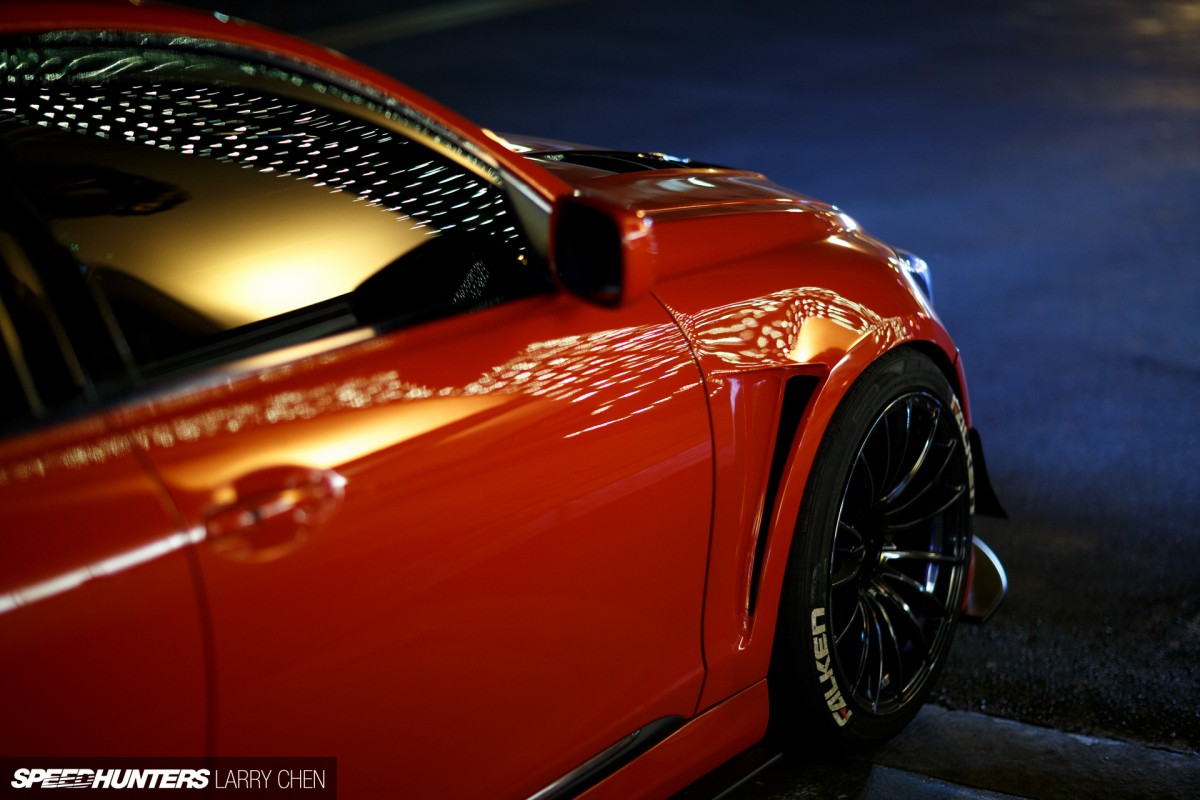 With rendering in hand, Yogi paid a visit to Buddha Concept Design (BCD), the shop that would be playing a huge role in making the GS a one-off creation. Here we see the most drastic and recognizable of the mods performed at BCD – the hand-built, all-metal fenders with custom vents.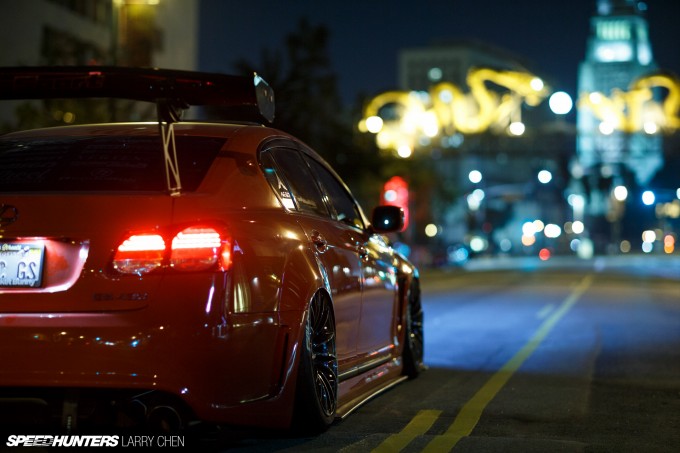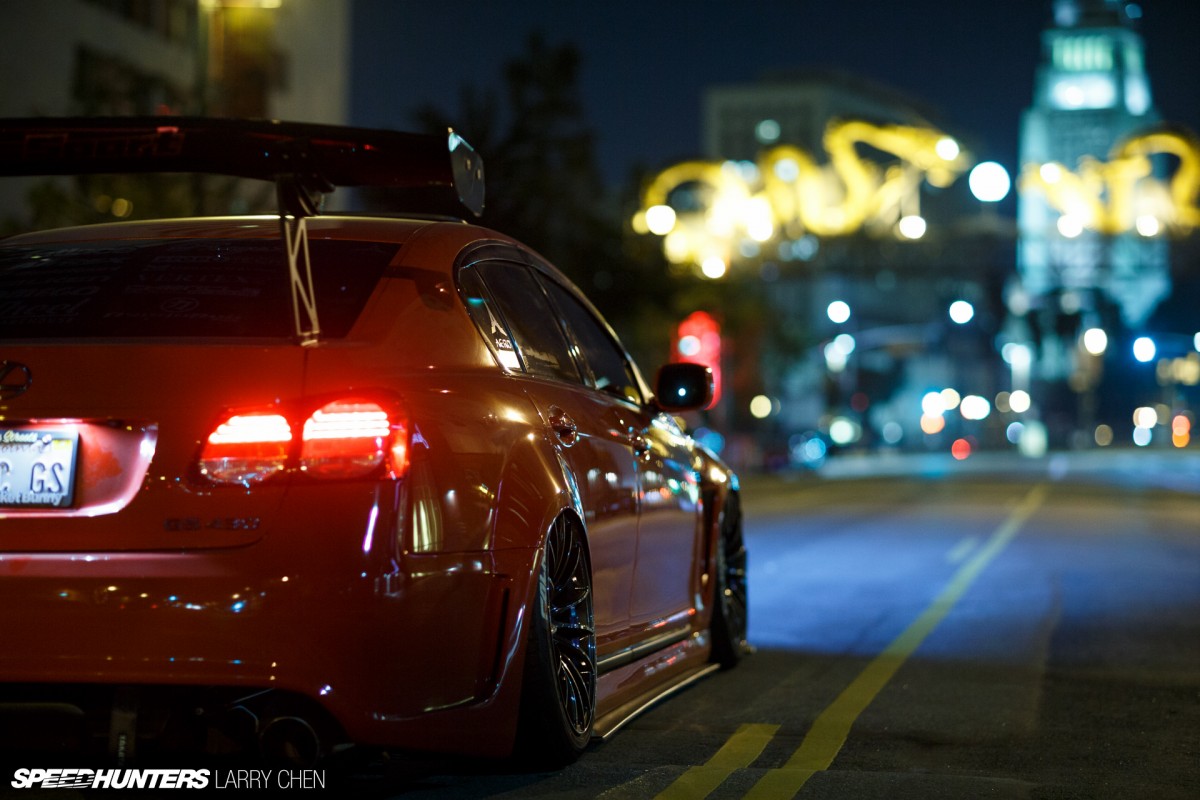 Sitting a full three inches wider per side in the rear and two and a quarter inches up front, Yogi came in with a strong opinion about the shape of the new fenders. Rather than simply flaring them outward with no real sense of form, it was critical that the new shapes followed and embellished the factory body lines.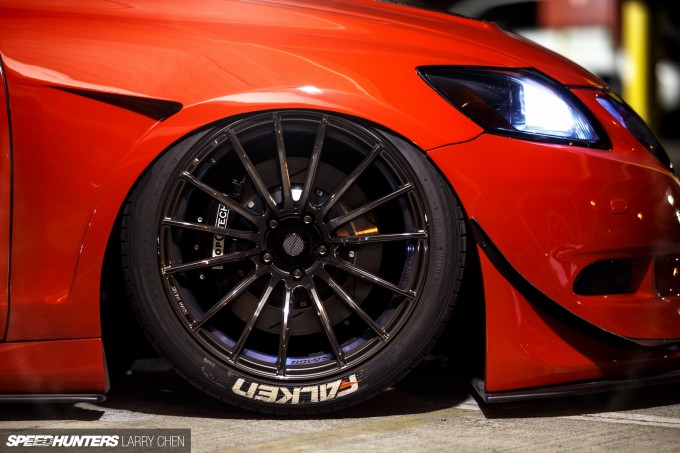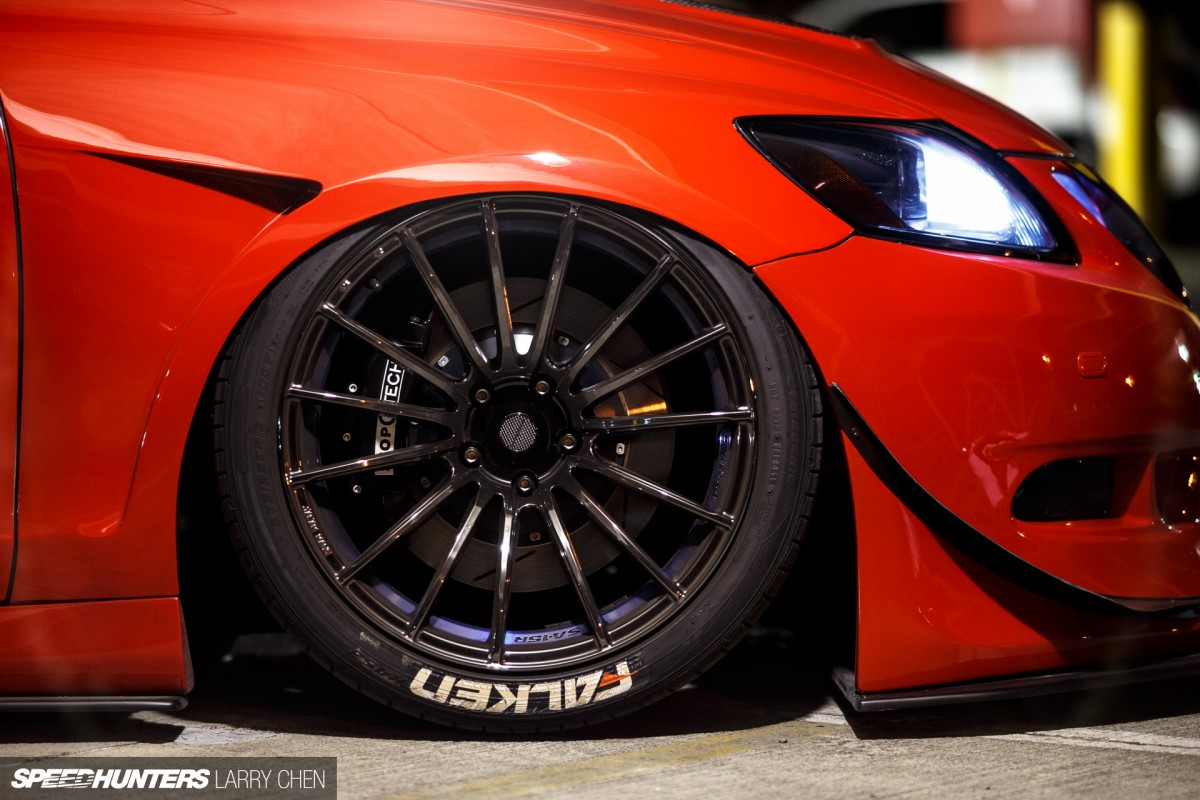 While the styling is certainly drastic, it does flow exceptionally well. As they were rebuilding the fenders, consideration had to be paid to the Vertex bodykit too.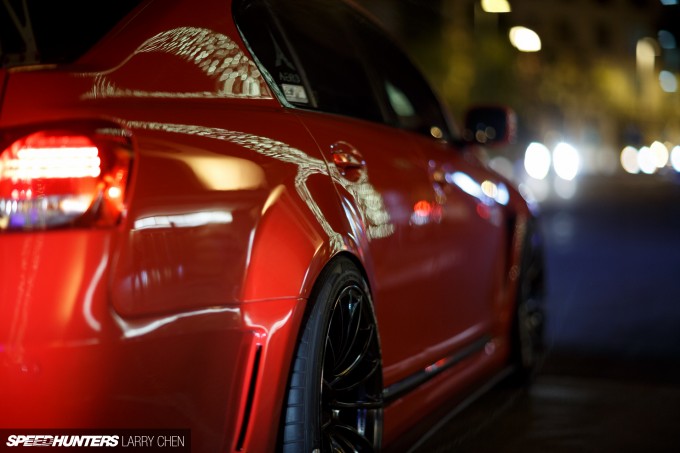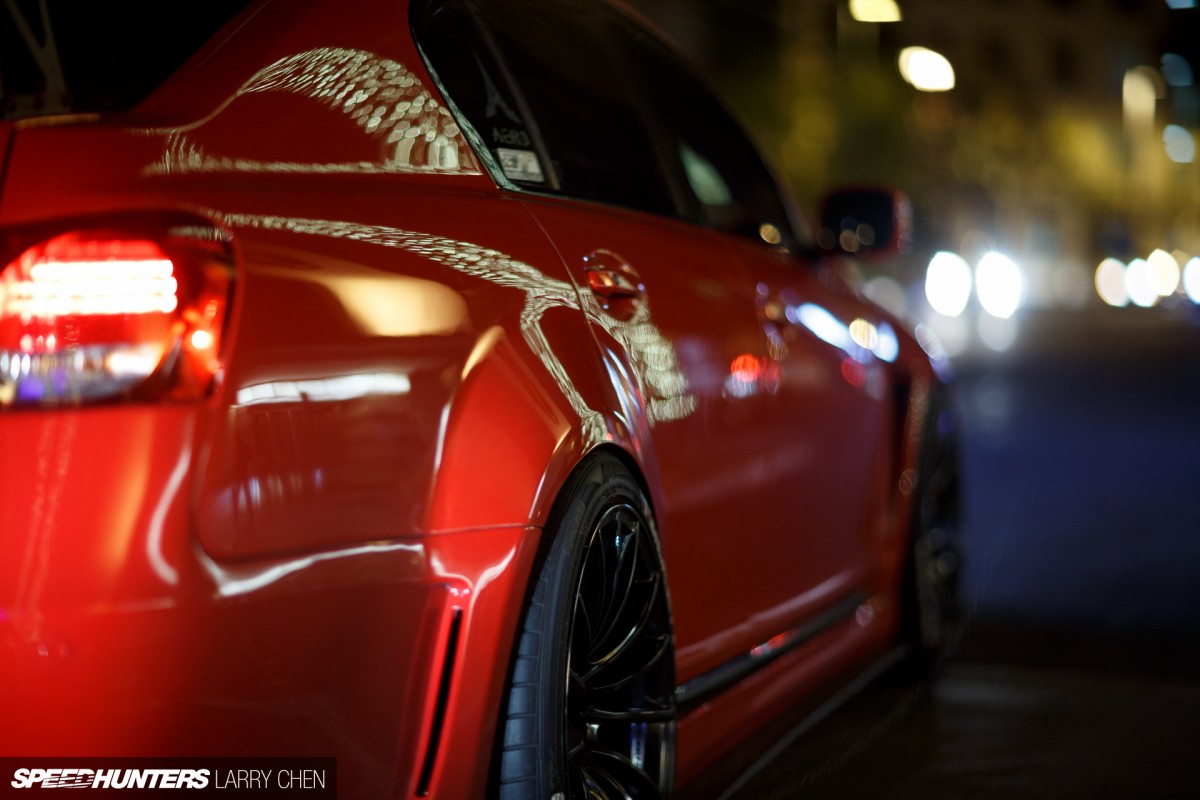 The flared fenders continue onto the Vertex bumpers, so of course they had to be modified to work with the new flow.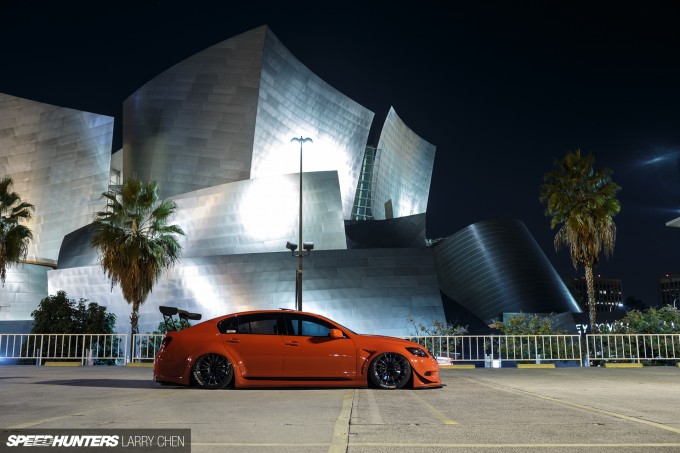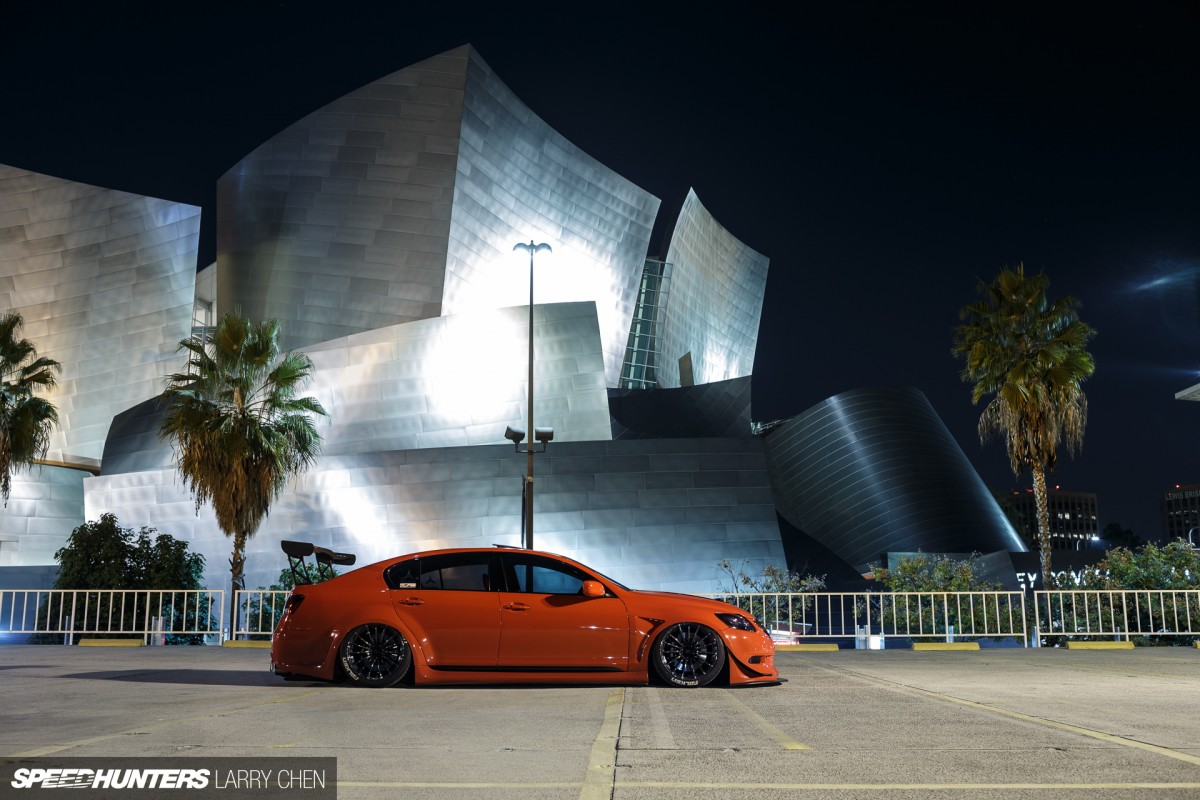 Being a sedan, the swollen rear arches also ran right into the rear door. Anyone who has attempted sheetmetal work can recognize this was a monumental task – especially to execute with this level of intention and quality.
Track Day Details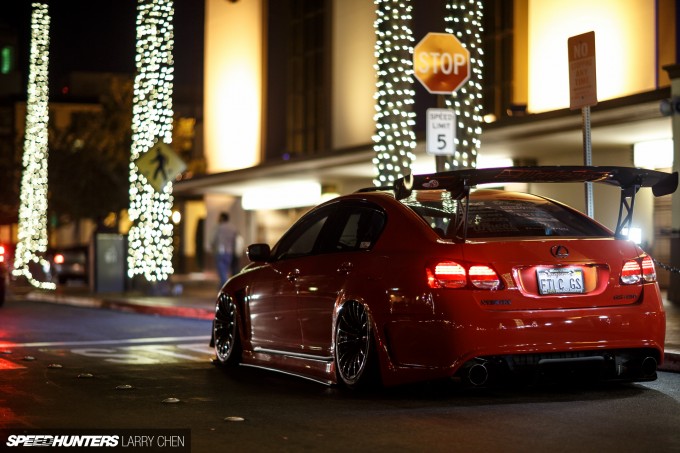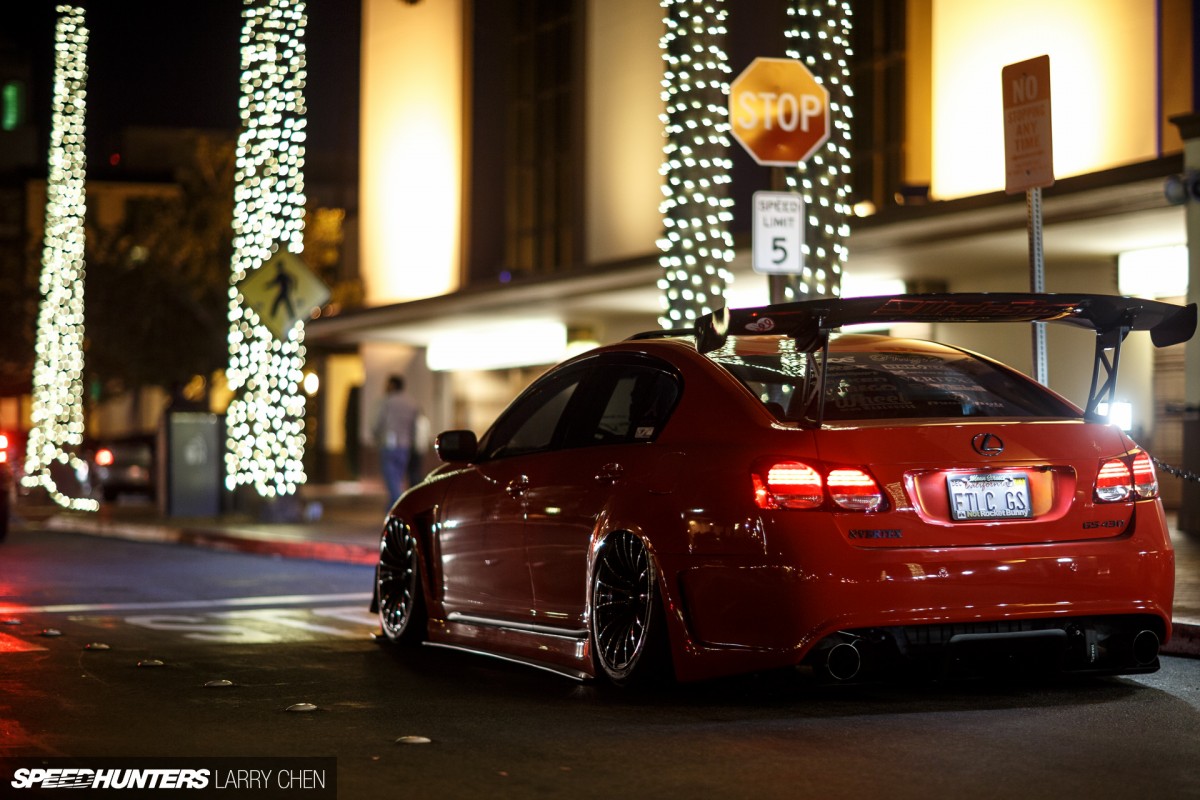 Perhaps the most 'VIP' part of the build is the airbagged suspension. Say the words 'bagged Lexus' and you can't help but picture a VIP-styled build, but Yogi wanted to be able to drop the car down for looks and lift it up to drive it around. He does drive the car almost every day of the week, you know.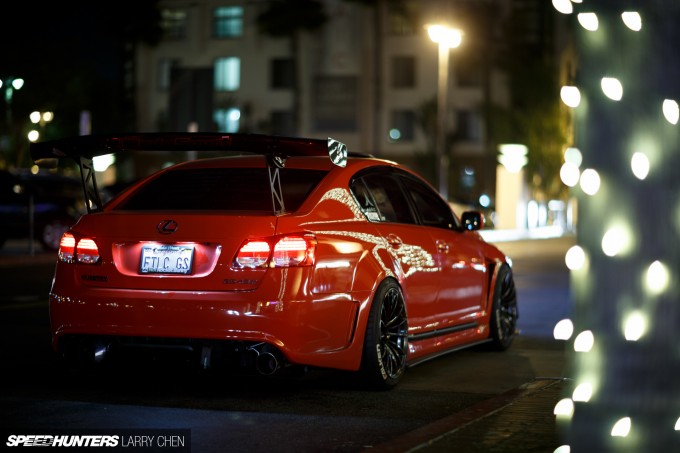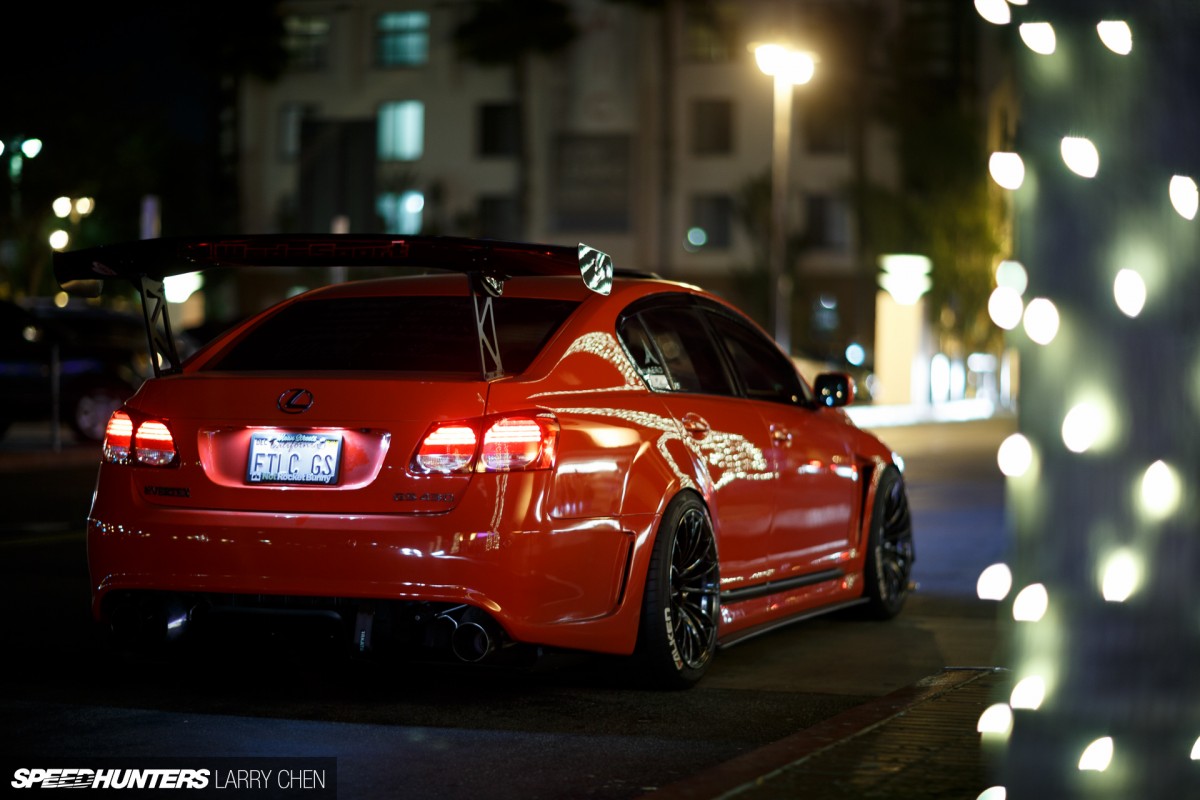 While it looks flat-out amazing when dumped, the wheels camber up nicely to fill the fenders at ride height too.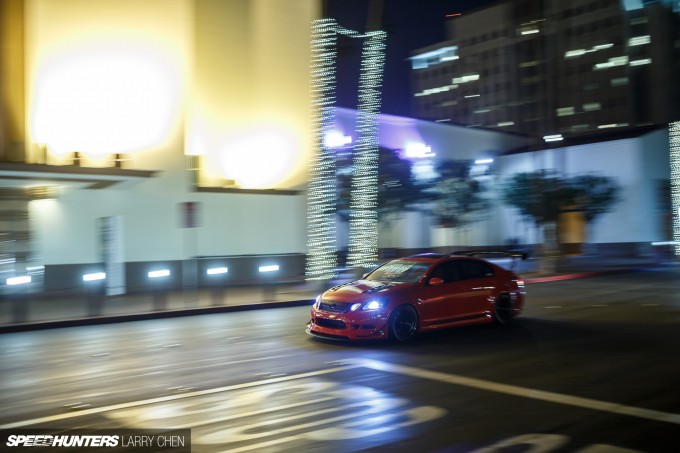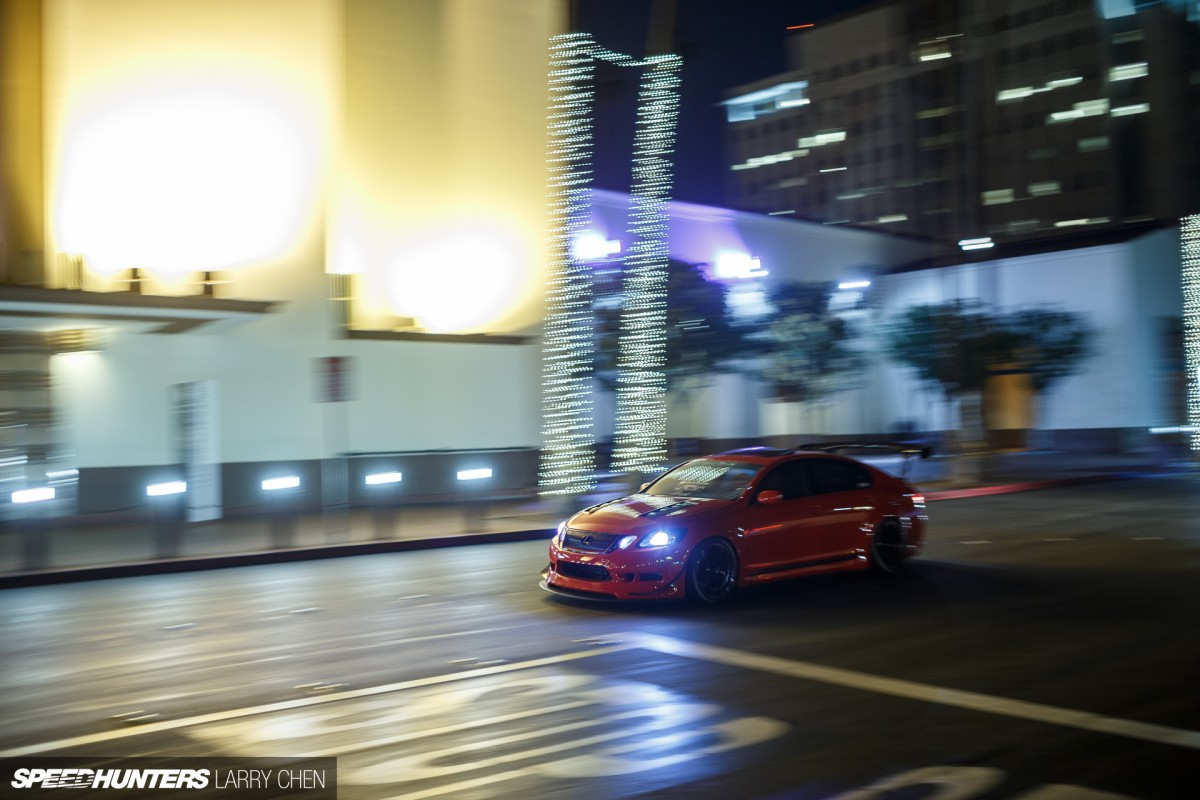 Then Yogi can proceed to fly around LA without fear of damaging the extensive aero that been fabricated specifically for this car.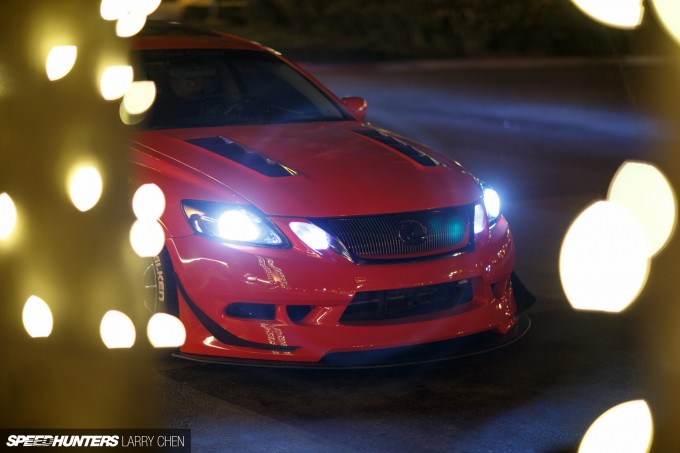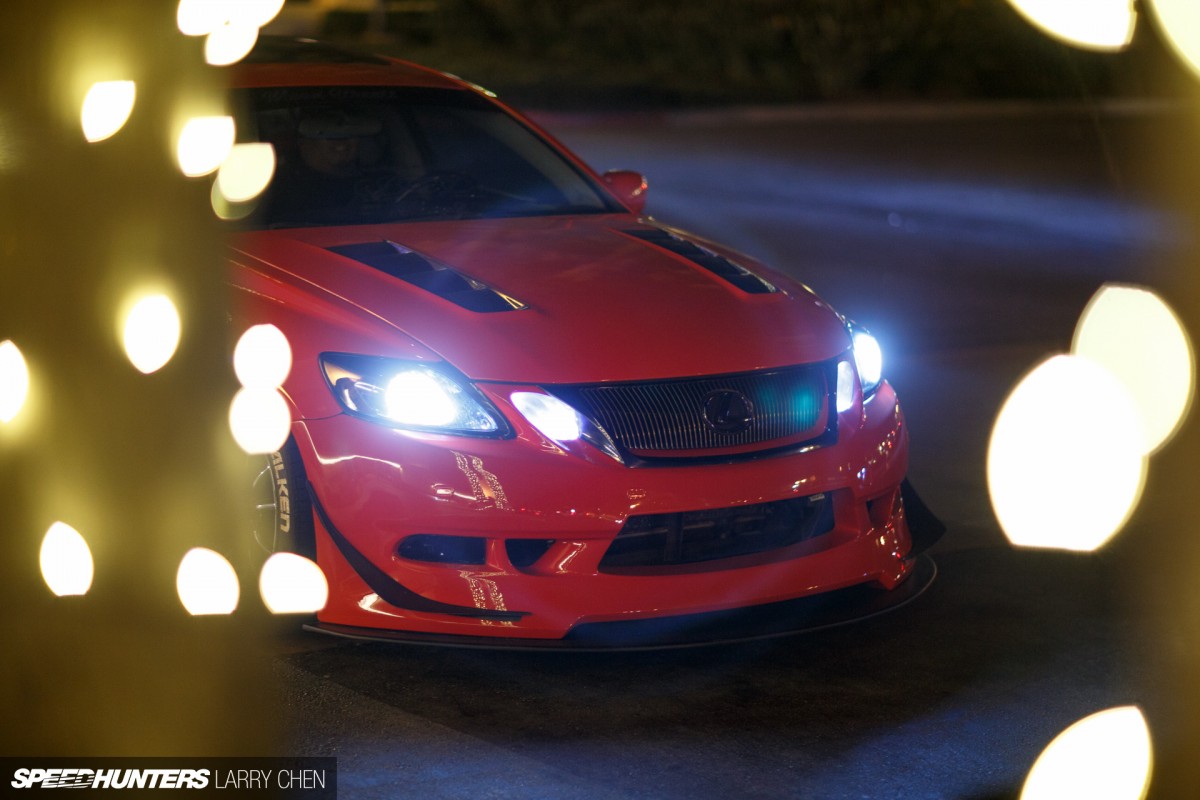 While the Vertex kit serves as the base, additional aero was made from scratch at Buddha Concept Design to bolster the race aesthetic.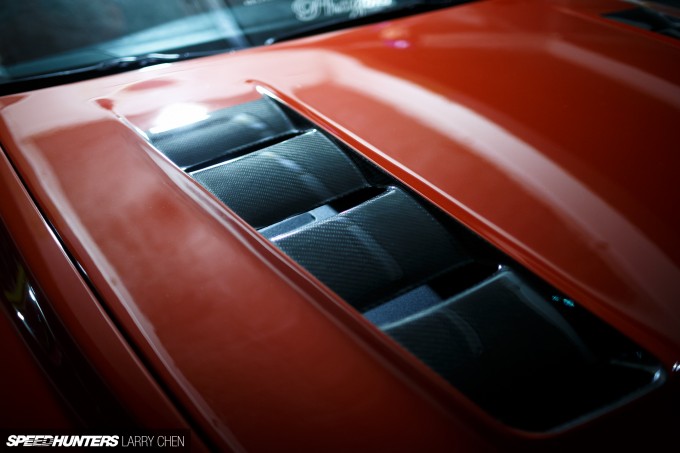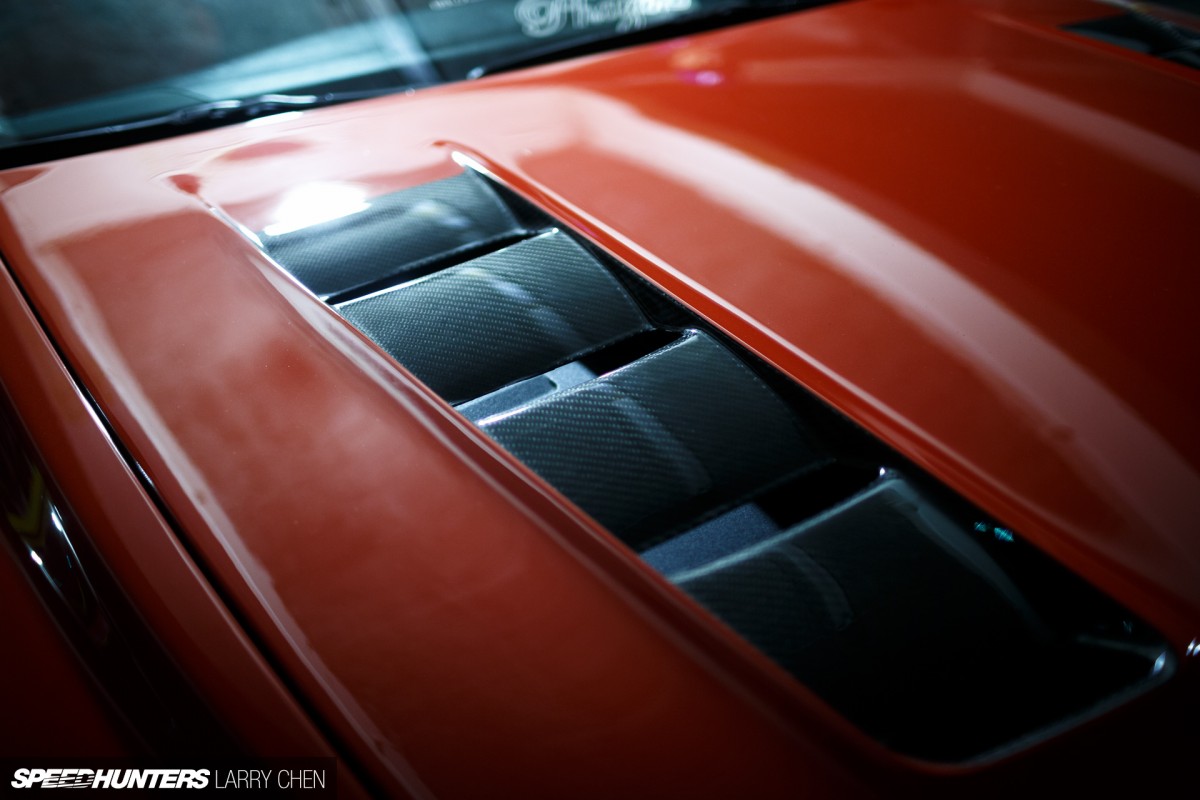 Contrasting the Dodge Viper Red paint, there's some carbon fiber in the hood and canards, and everything that was once chrome has been sprayed a candy black.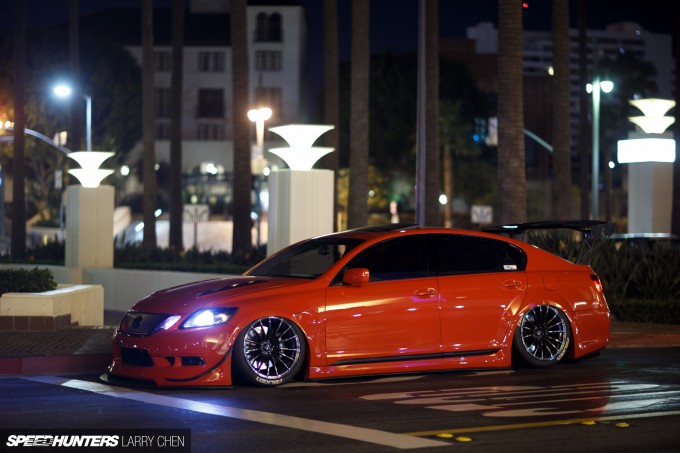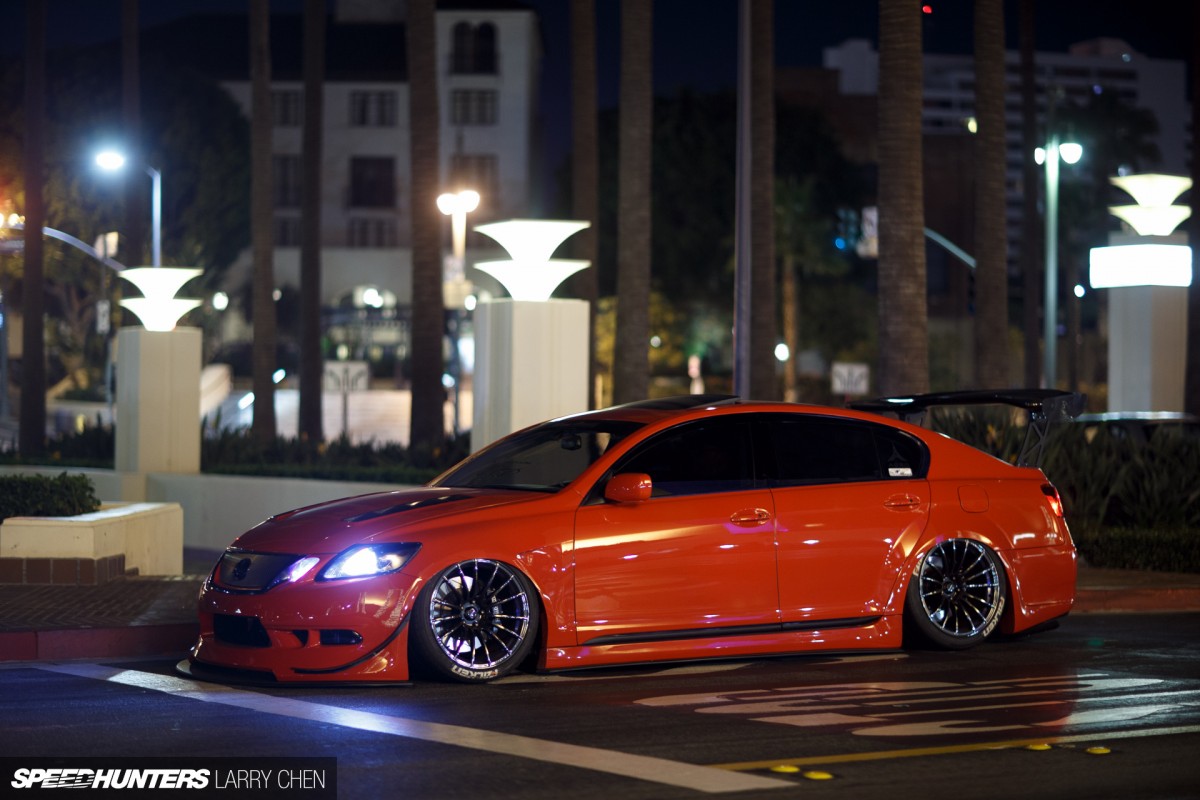 One-piece WedsSport SA-15R wheels are also decidedly racey, and not something you would normally find on a VIP car: perfect for what Yogi was trying to accomplish. The Falken lettering only reinforces the look, and I've found it helps the wheel and tire combo pop visually in the wheelwell too.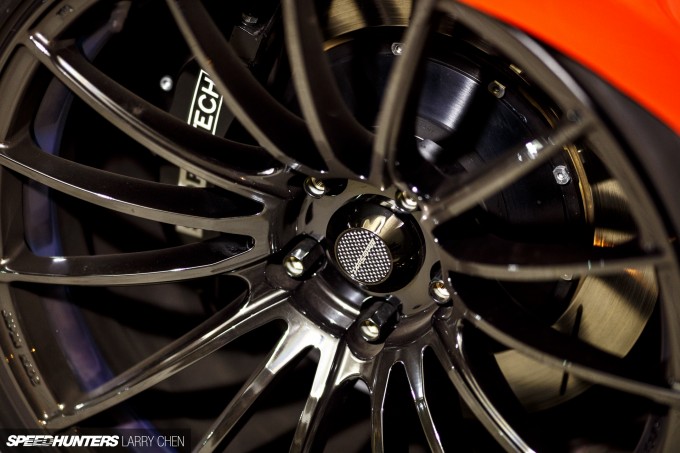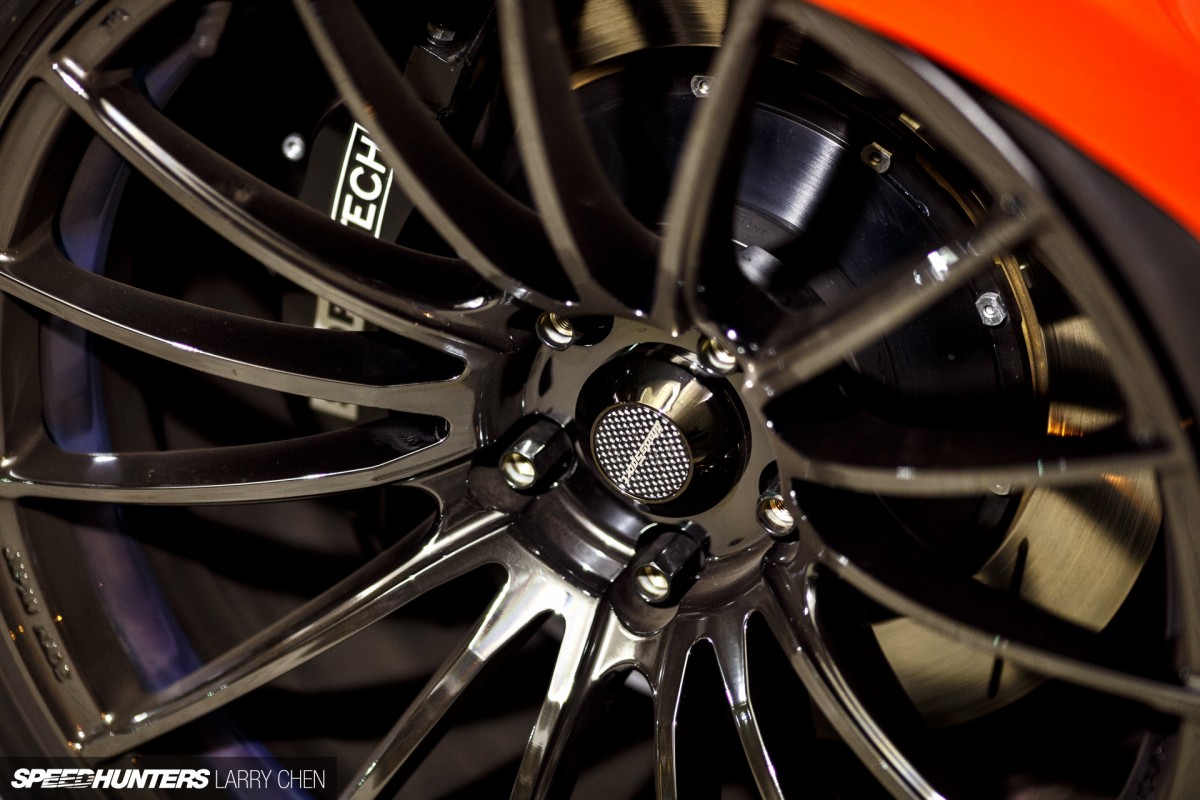 Inside sits a StopTech big brake kit.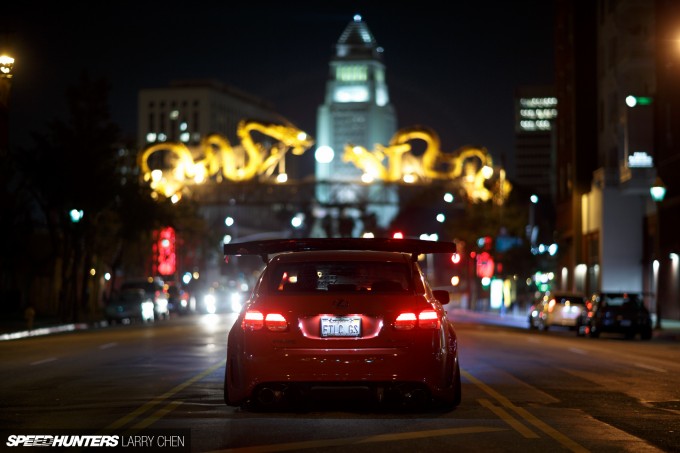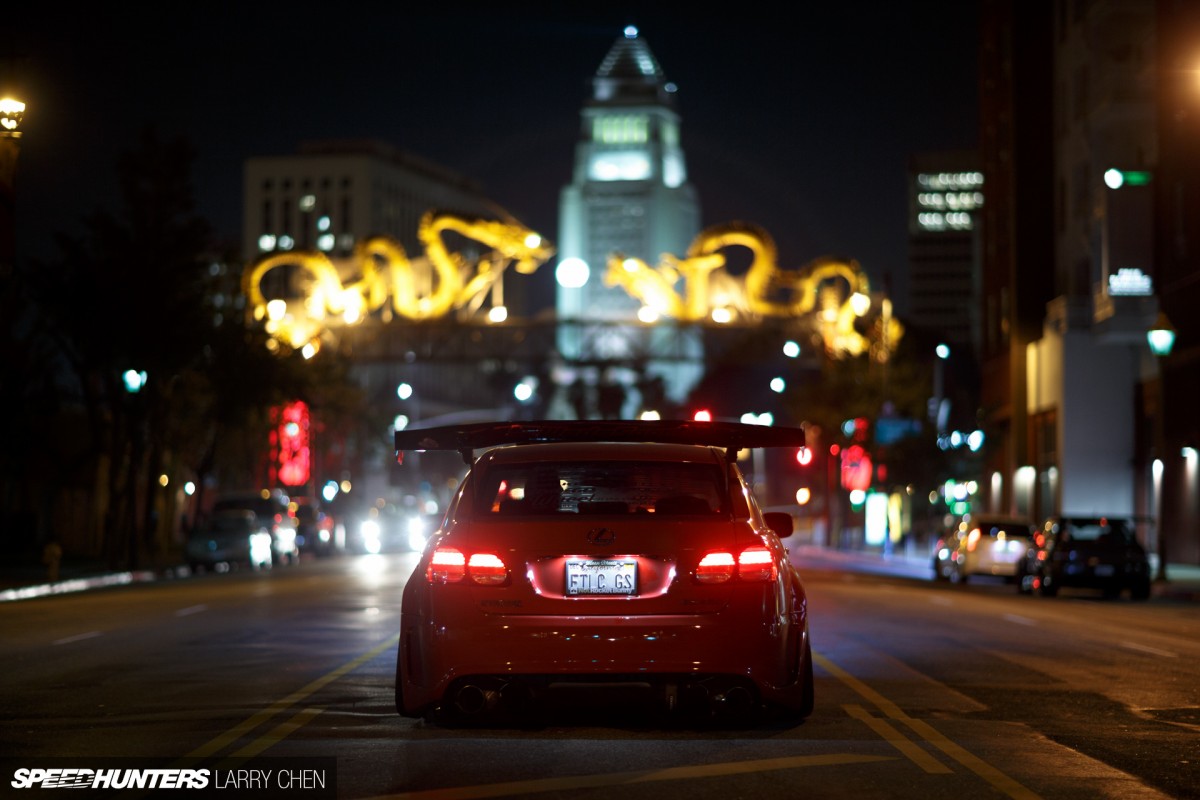 I'm sure you've noticed by now – there's a gigantic APR GTC-500 rear wing on the trunk with extended stands to make it sit up even more prominently. It's by far the most polarizing part on the car. Yogi admits that a few years ago he would be standing right next to you talking trash about it, but he knew it was a key component to the racy Super Sedan look he was after.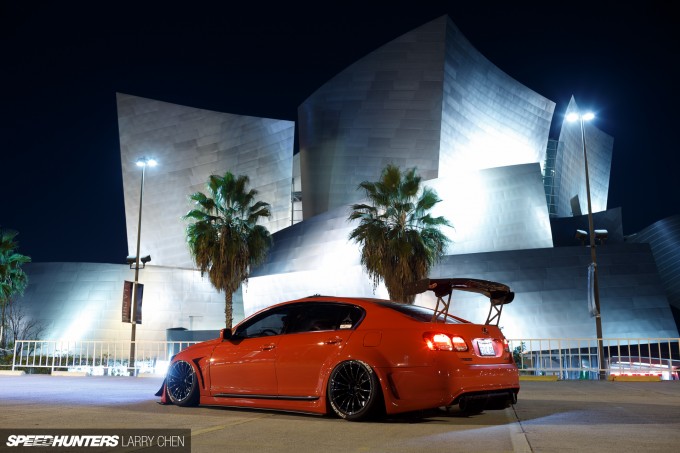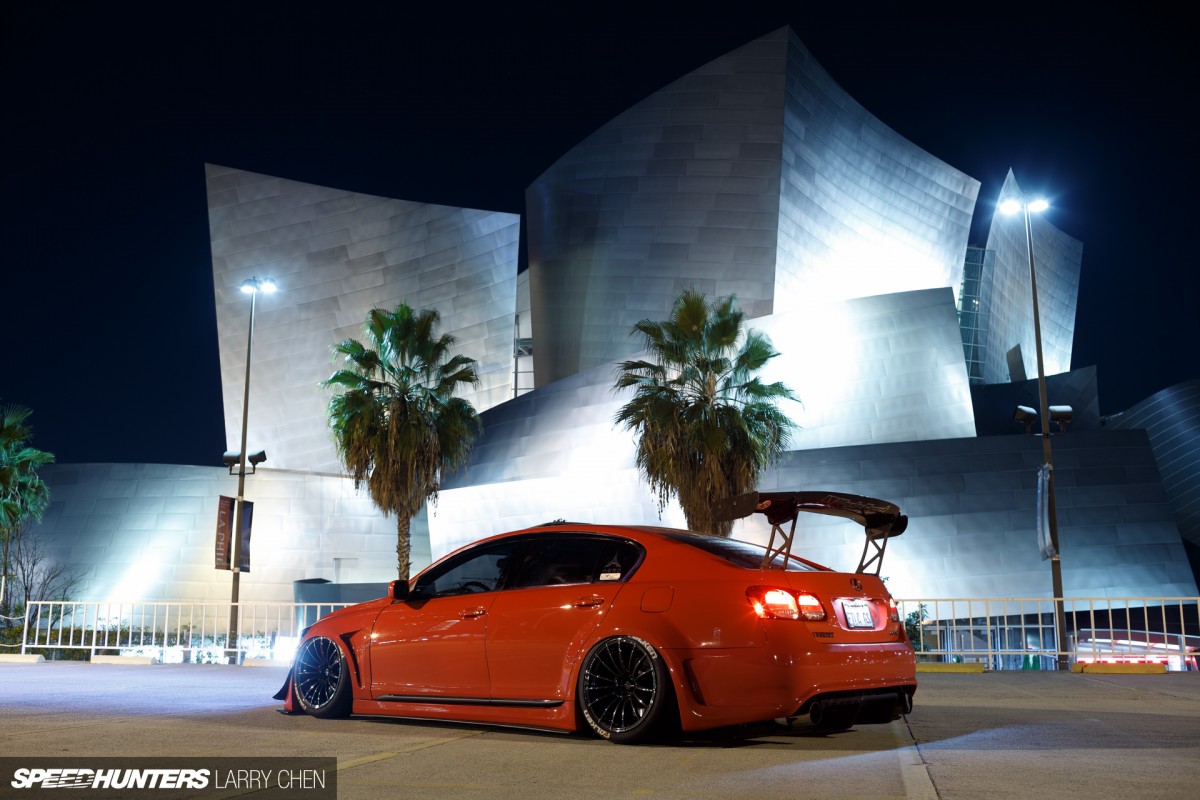 Look at this picture and squint your eyes a bit. Imagine the car without a big wing. It just wouldn't have the same effect, would it?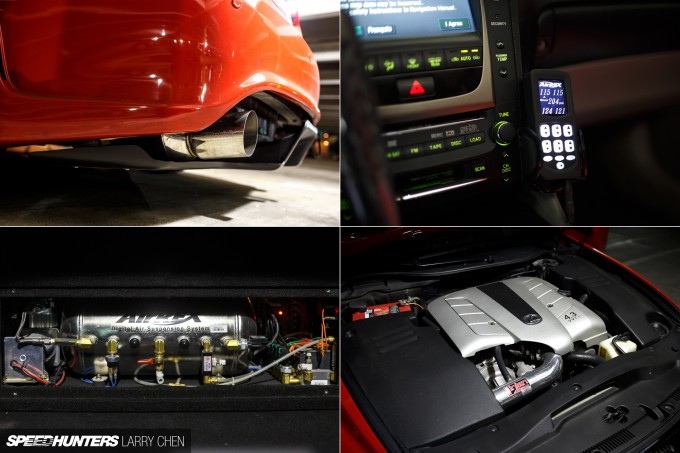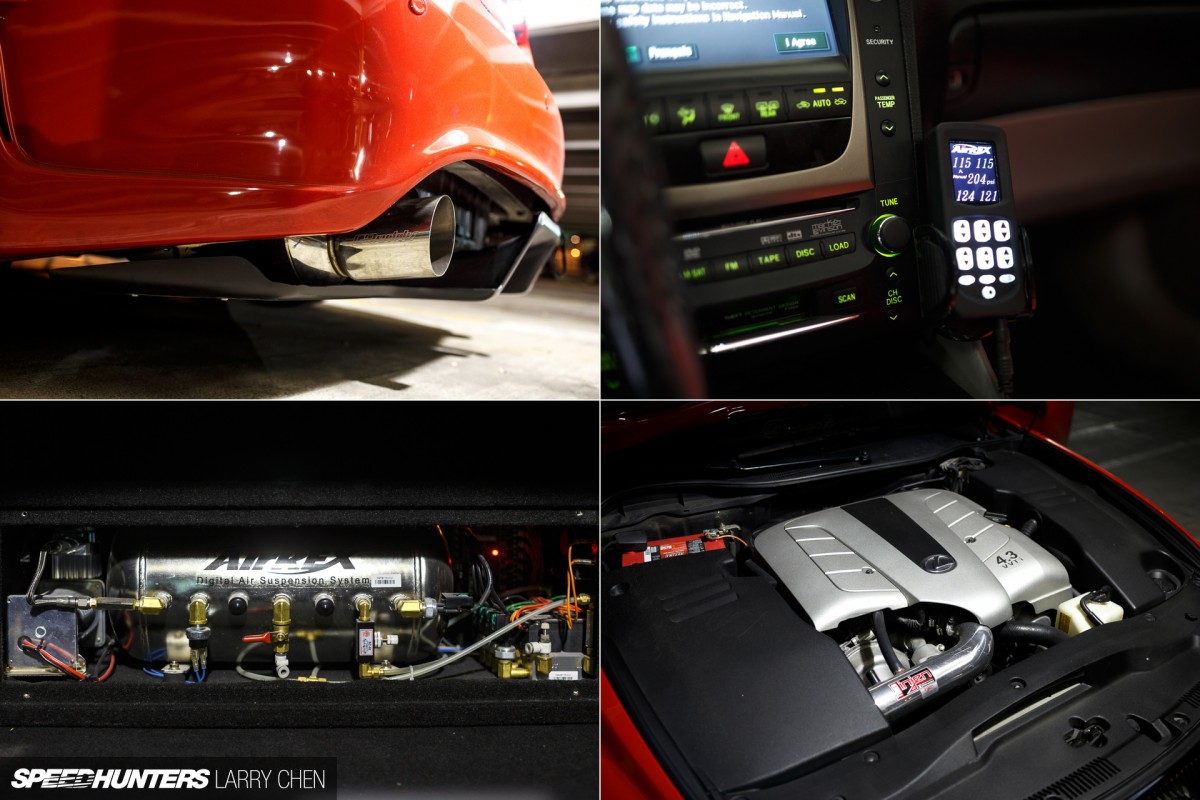 For power Yogi just added an Injen intake, Megan mid-pipe and GReddy Evo3 exhaust to the Toyota V8. This makes an interesting point – although the car is styled after a race car, it's not one and it makes no declaration that is it either.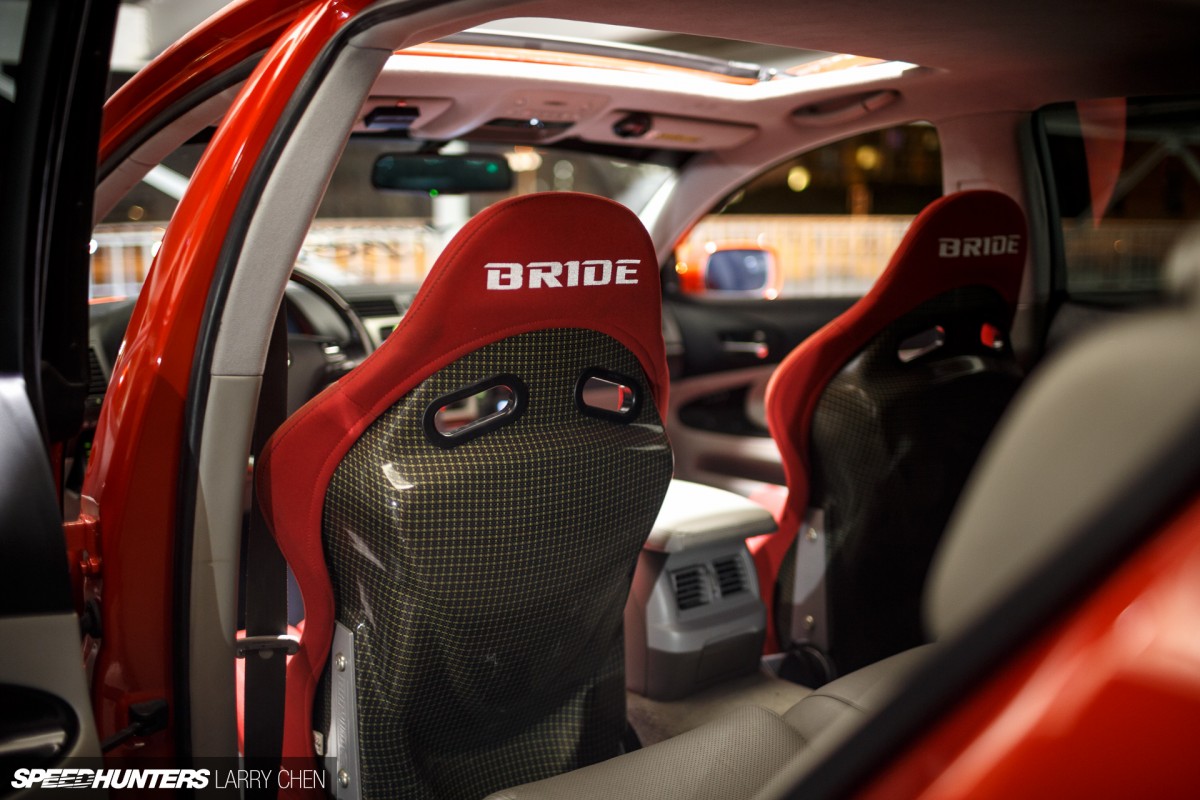 So why does the Lexus have composite Bride Low Max buckets then? Style points, I suppose. Yogi says he just wants people to look at it and go 'Oh sh*t!'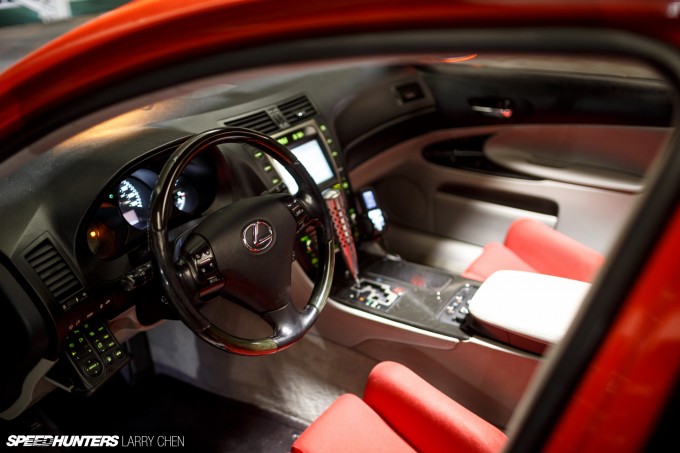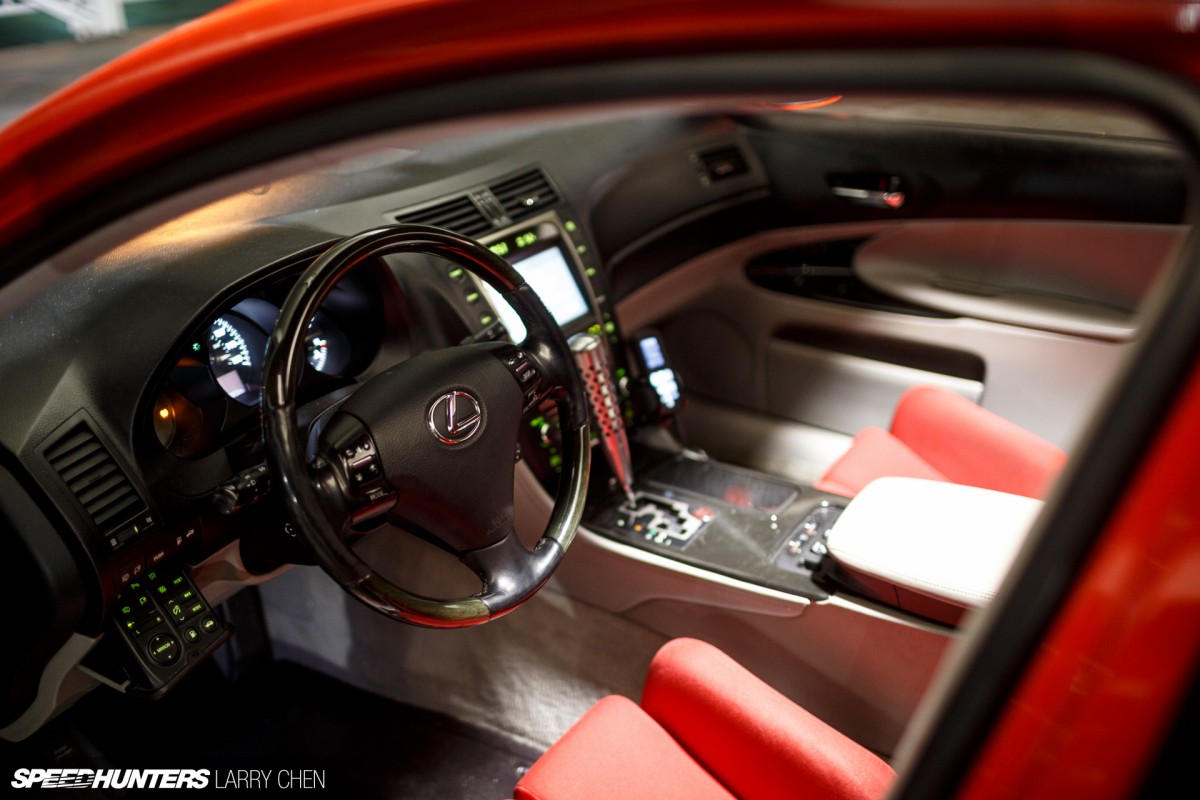 Surrounding the lightweight race seats is a plush Lexus interior with a custom shifter for the automatic transmission.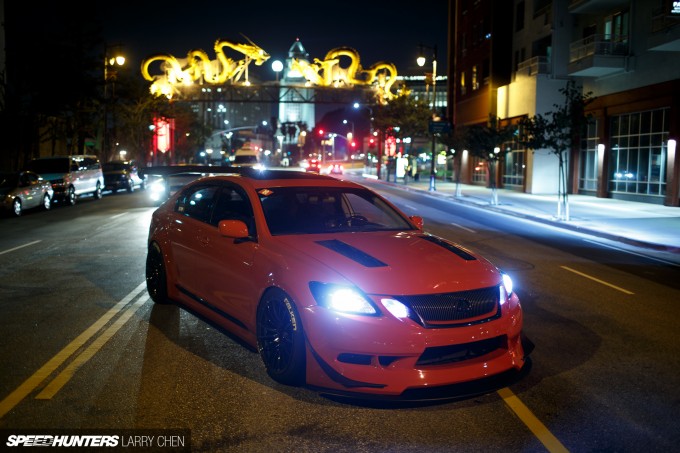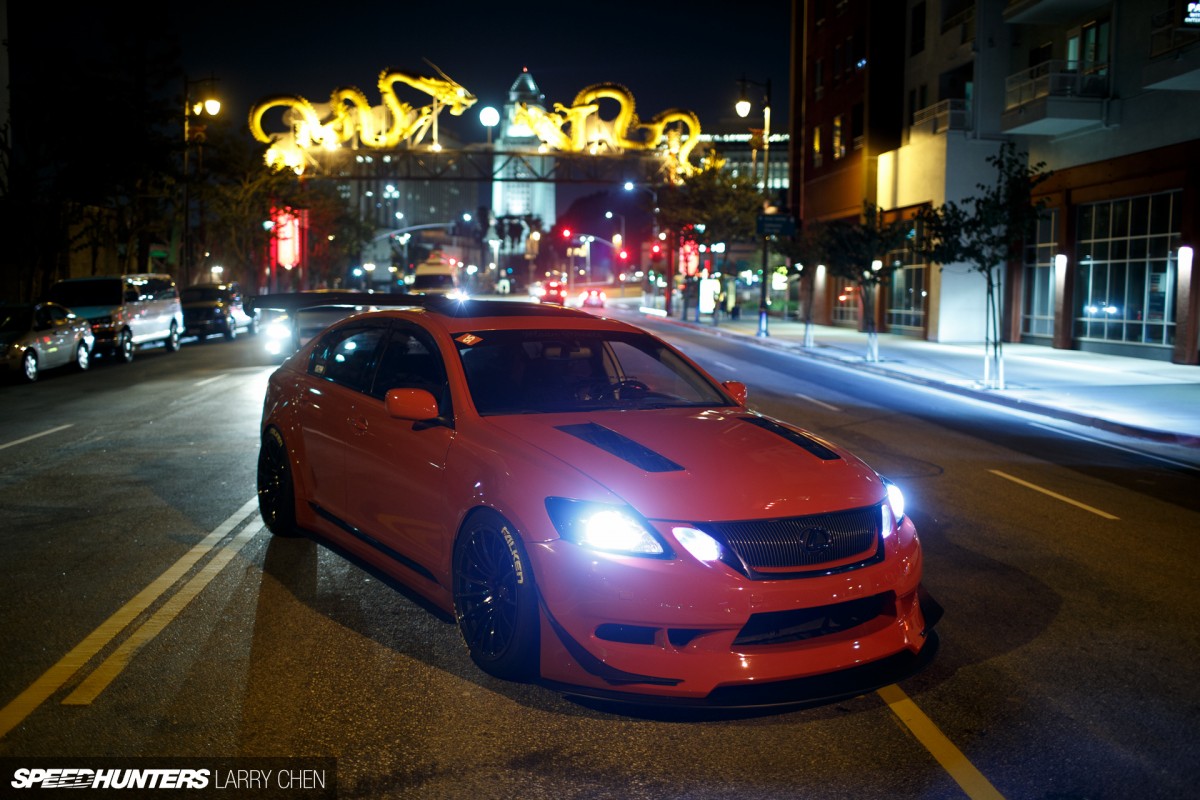 So what to make of Yogi's creation? Is it a race car? A stance car? VIP?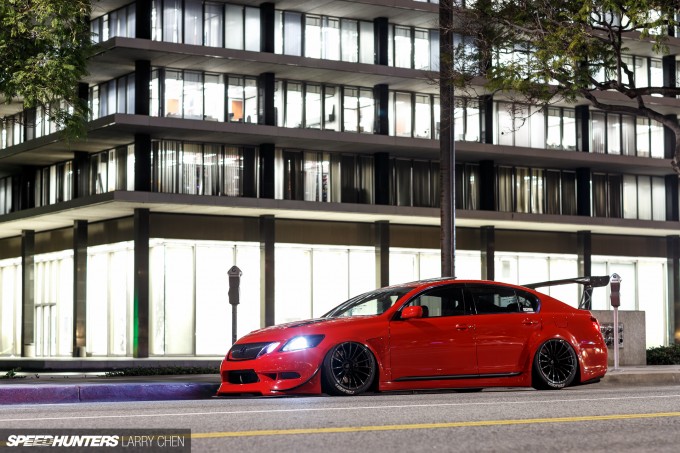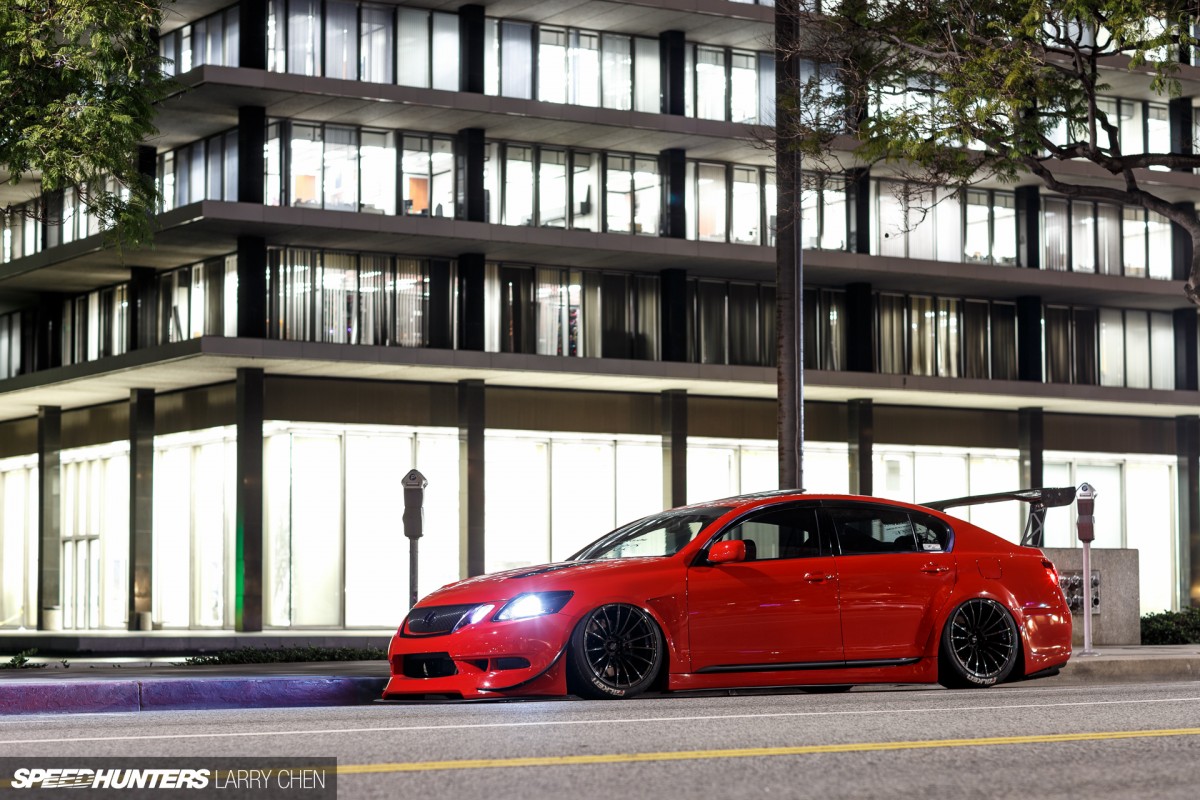 Or – and this is my personal opinion – is it a glimpse into the mind of someone who's not afraid to do what he wants?
So again I'll pose the question I asked in the title of this story: Is race car a style? You're looking at it.
Keith Charvonia
Instagram: SpeedhuntersKeith
keith@speedhunters.com
Photos by Larry Chen
Instagram: larry_chen_foto
larry@speedhunters.com
Yogi's 2006 Lexus GS430
Engine 
Lexus 3UZ-FE, Injen intake, GReddy Evo3 axle-back exhaust, Megan Racing mid-pipe, Optima Red Top battery
Driveline
Factory automatic transmission, rear-wheel drive
Suspension/Brakes
AirREX air struts and wireless management, Megan front camber arms, rear LCA, rear camber arms, toe arms and traction arms, StopTech big brake kit, 6-piston front calipers with 265mm rotors, 4-piston rear calipers with 255mm rotors
Wheels/Tires
WedsSport SA-15R 19×10.5 +25 wheels in Light Blue Chrome, Falken Azenis FK453 275/35R19 tires, WedsSport competition steel lug nuts
Exterior
Customized by Buddha Concept Design, all-metal wide-body conversion with 2.25-inch wider front fenders and 3-inch wider rear fenders, modified Vertex Digna body kit , updated '08-11 grille, custom front splitter, carbon fiber canards, rear diffuser and skirt splitters, Seibon vented carbon fiber hood, Dodge Viper red paint, all trim painted candy black, Takata tow straps, OEM Lexus window visors, APR GTC-500 rear wing with extended stands by RyokuRob.
Interior
Bride Low Max reclining seats, custom brackets built by Buddha Concept Design, steel tall shifter
Yogi would like to thank: Buddha Concept Design for all their hard work, amazing talent and long hours spent at the shop, Phaze2, RawHeart, Fatlace, AirREX USA, Weds Wheels, Megan Racing, Vertex USA/Speed Alliance, Falken Tire, Showstoppers USA, JDMego, StickIcons, RyokuRob, Wheel Warehouse, Mark Arcenal, Hubert Barnum, Aero Product International
Cutting Room Floor