Japanese Muscle
You know what the toughest thing is when it comes to evaluating a new car? Time. It's a crucial element when you are trying to assess a car, for the simple fact that these days they're rather complex machines. While this is somewhat unavoidable as technology advances, it does make figuring a car out a rather lengthy process – far lengthier than the 20 minutes you get behind the wheel at a race track during a manufacturer press launch. That's a lot of fun, of course, but the limited time behind the wheel is barely enough to get a handle on the basics. To understand a car completely, you need to spend as long as you can with it.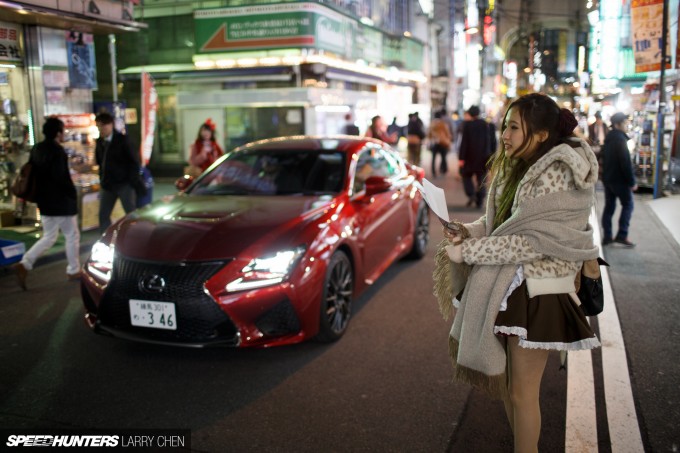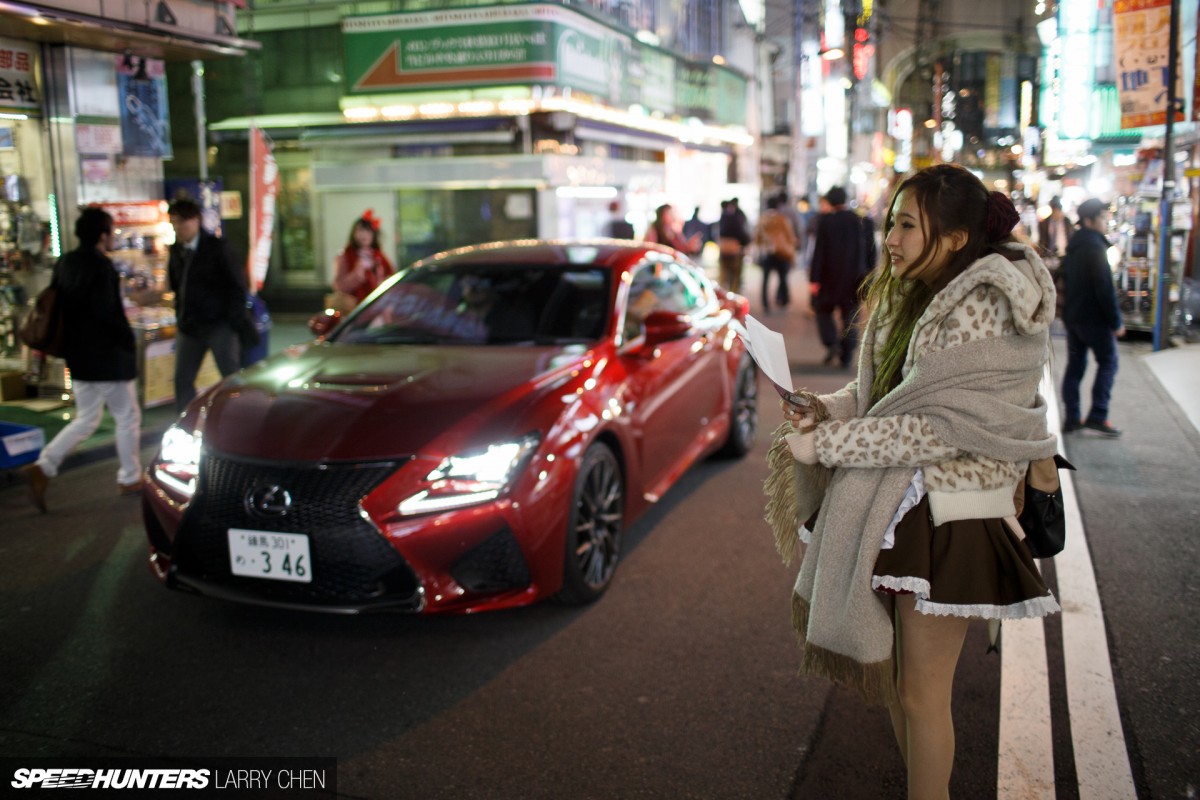 So when Larry came over in January for the Tokyo Auto Salon I though it would be the perfect time to borrow the much anticipated RC F from the cool folks at Lexus and spend some proper time with it. With Larry and I needing to do a lot of driving, this would allow me to fully explore the new sportscar.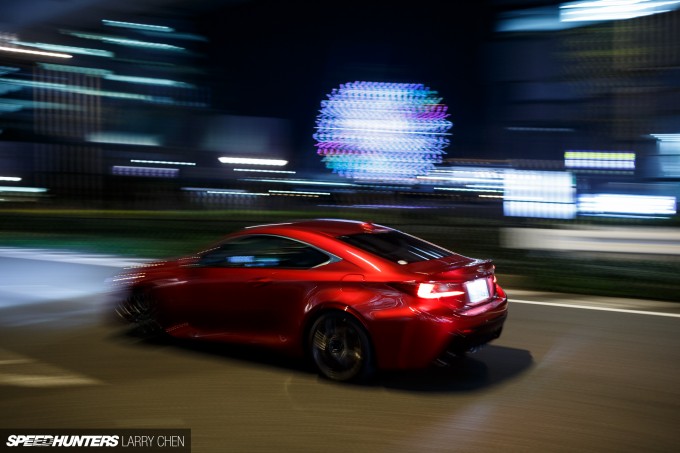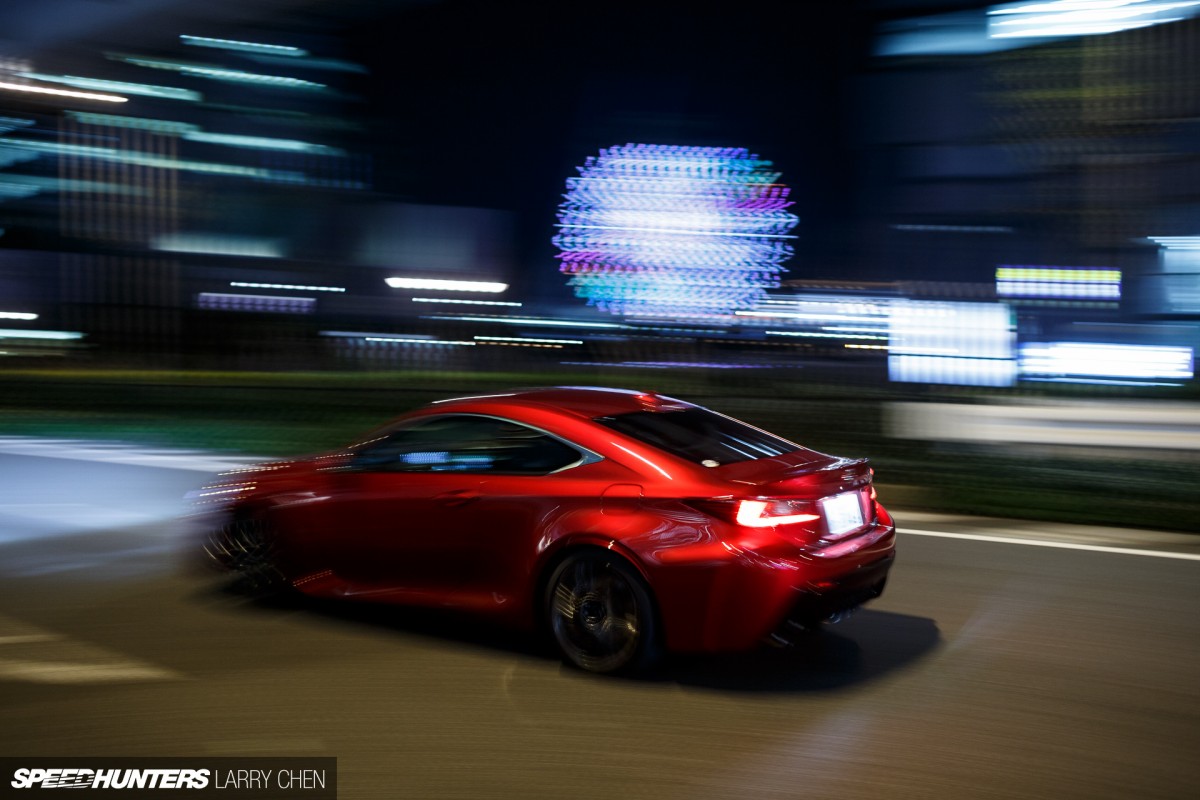 It turned out to be a good thing too, as spending well over a week with the RC F was a necessity. That's because this is one of the most confusing cars I've ever driven. From the moment I hopped in I couldn't help but wonder what sort of car Lexus set out to create here…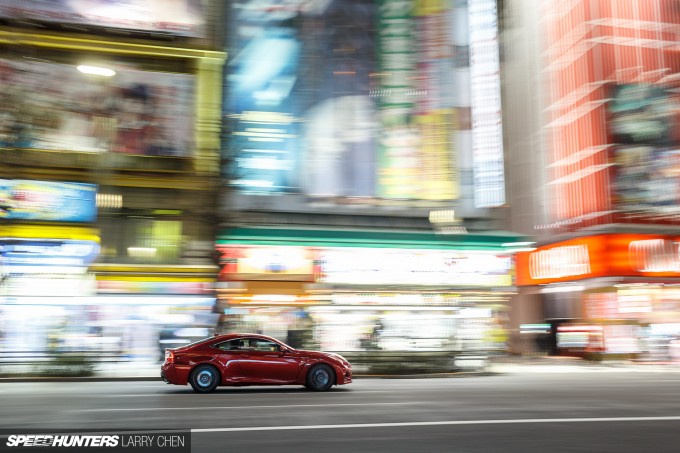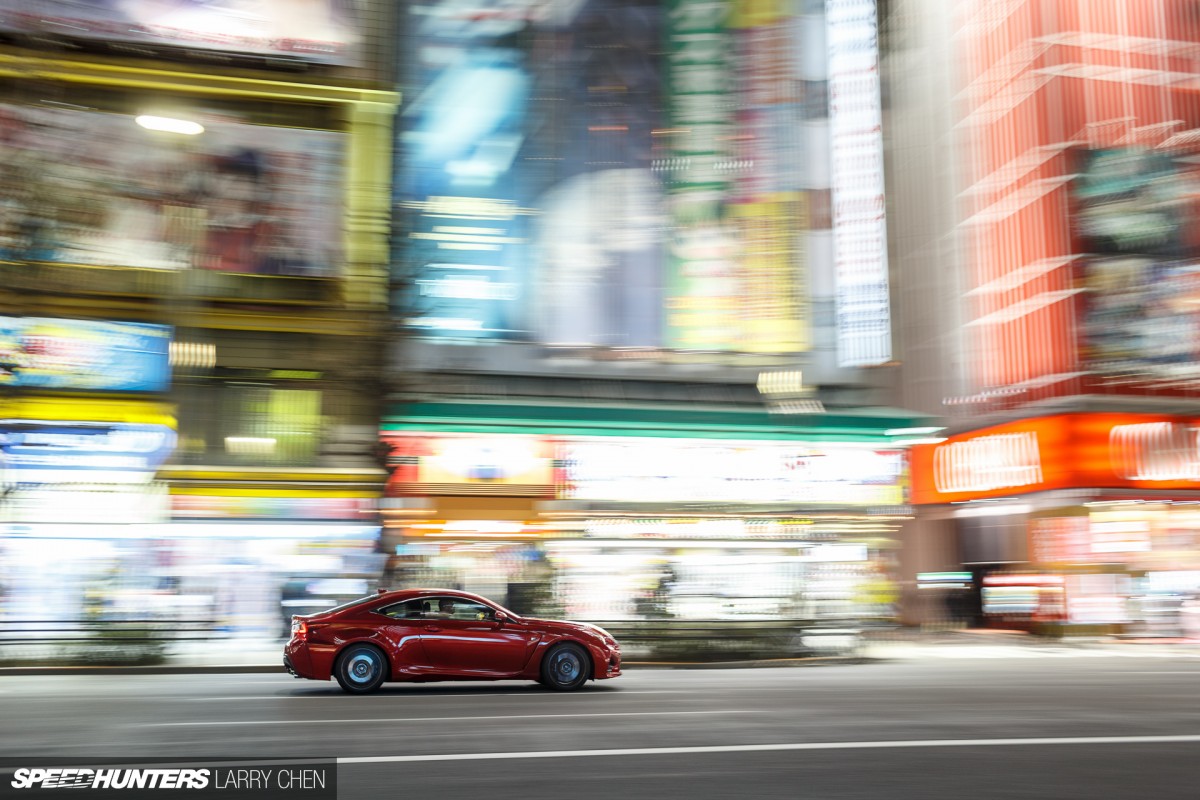 Every single media outlet has been pitching it against its most obvious and natural contender, the BMW M4. That makes sense too, as the M4 has set the benchmark in this rather lucrative sports coupe market. But I feel this assumption isn't quite on point. We all know the type of cars that Lexus manufactures, and even the LFA – which was quickly crowned a pinnacle of engineering – never traded in refinement and comfort for outright performance. This is something I learned last year while doing a 1,000km road trip in one – quality-wise it was a Lexus through and through.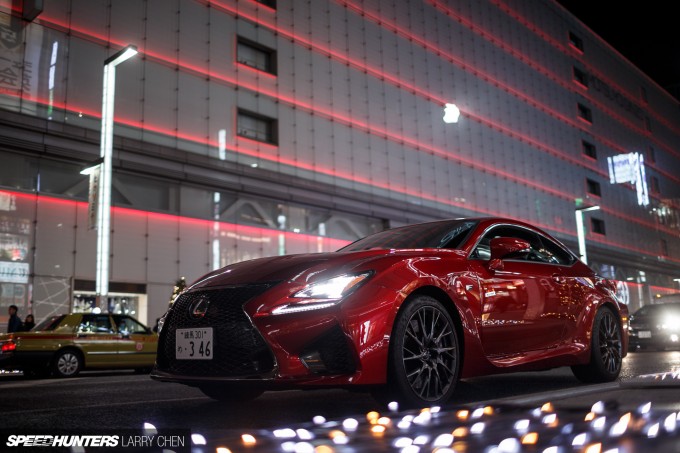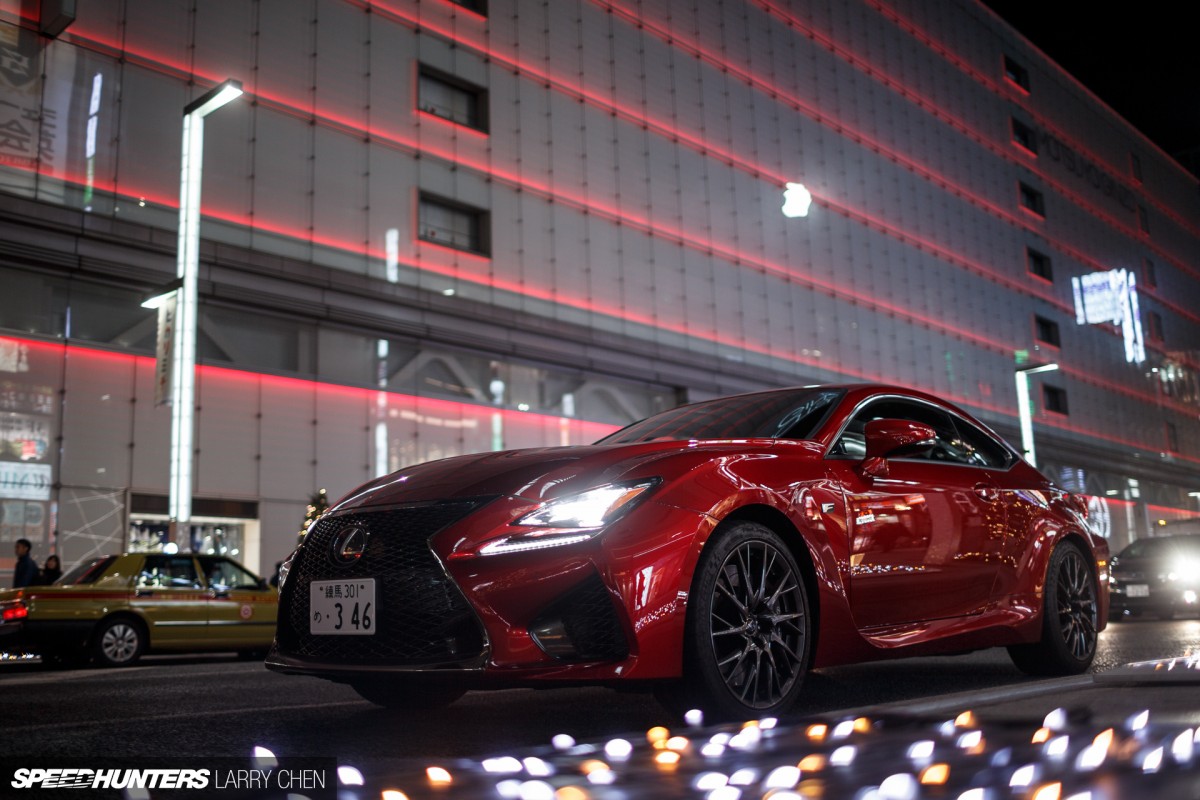 The RC F is the same, but it does it all in a frustrating way. I'll get to that later on, but for now let's take a look at the car in a little more detail, starting with the design.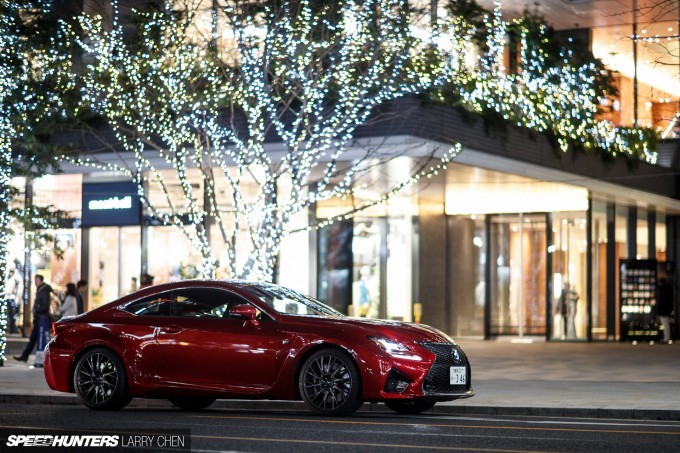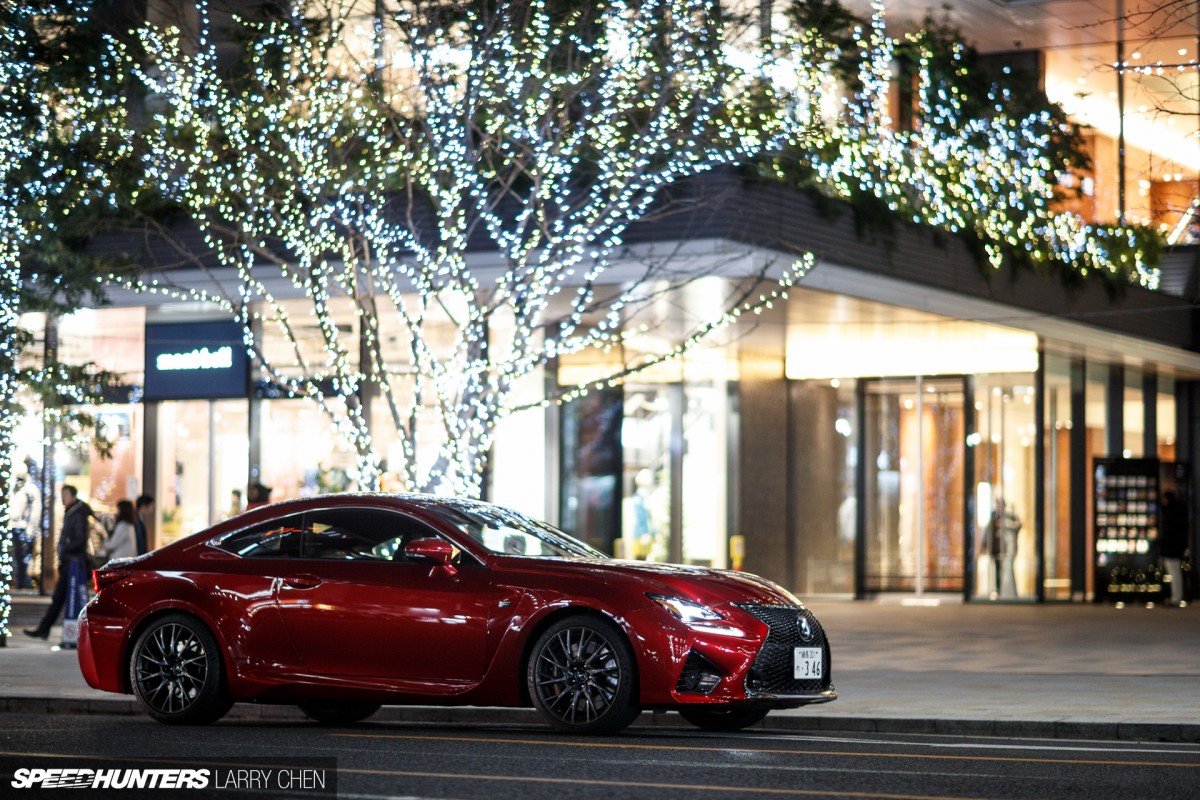 Say what you will but I personally commend Lexus – they've had the balls to sculpt a fine-cut identity for themselves, and every one of their cars is instantly recognisable. The RC F is a beautiful car. It feels and looks modern and just gets your juices flowing the moment you lay eyes on it. To me, that's the sign of a proper sportscar – one that generates an emotional response.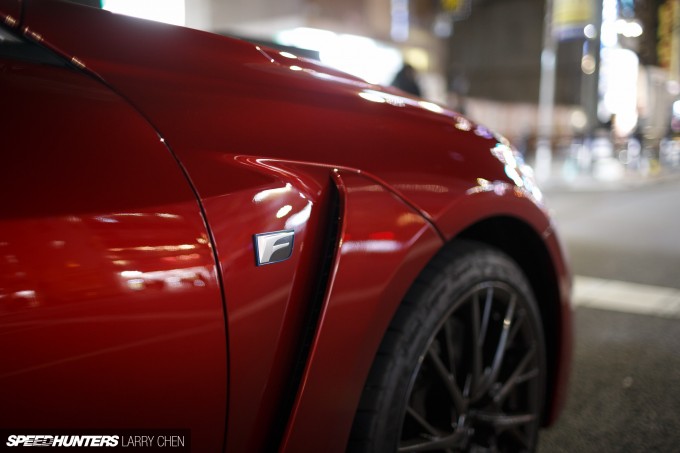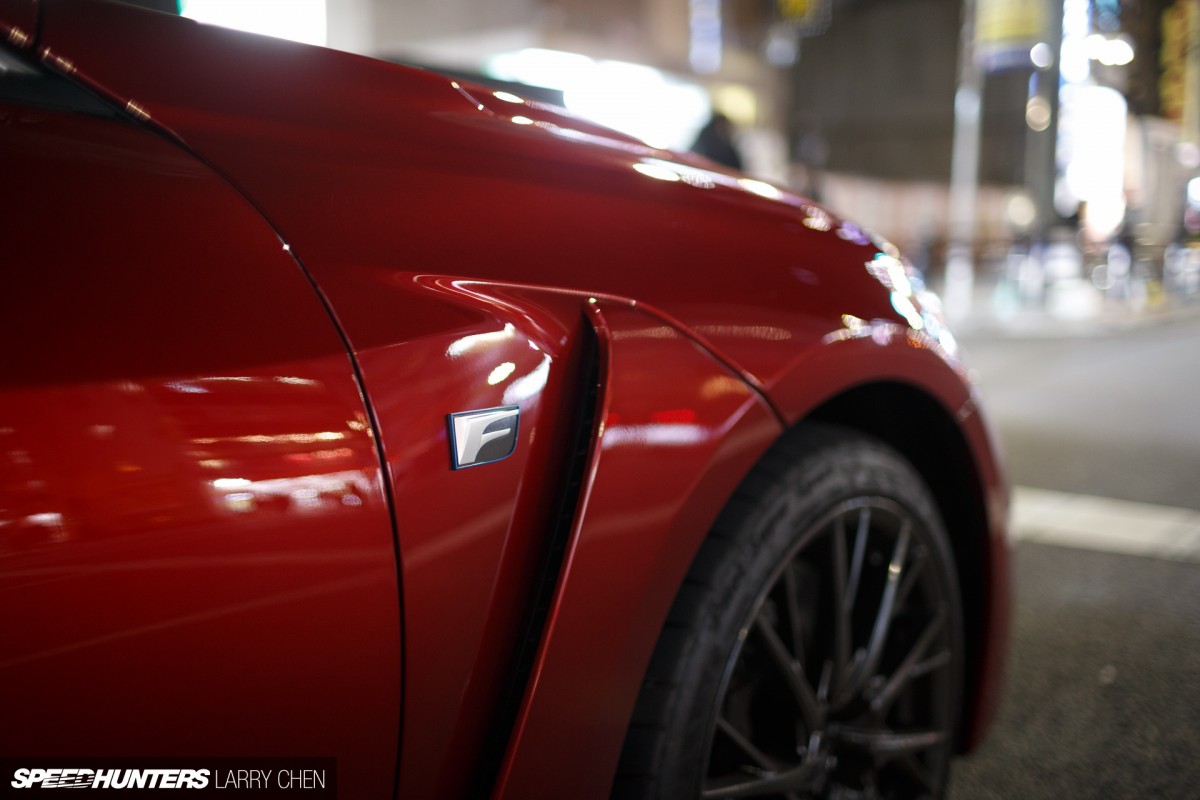 The first thing that confused me, however, was why Lexus had built a 'F' car based on an IS, but made it a coupe. Surely the IS F crowd are patently waiting for their 5.0L V8 powered sedan? Or maybe it's coming? We know the GS F is, but what about the M3-rivalling IS F? We'll have to wait and see I guess… This aside, all the right touches are there, including the vents cut into the wide front fenders…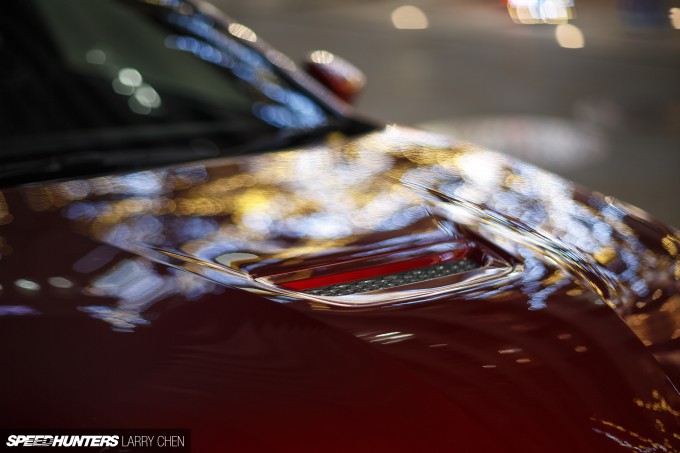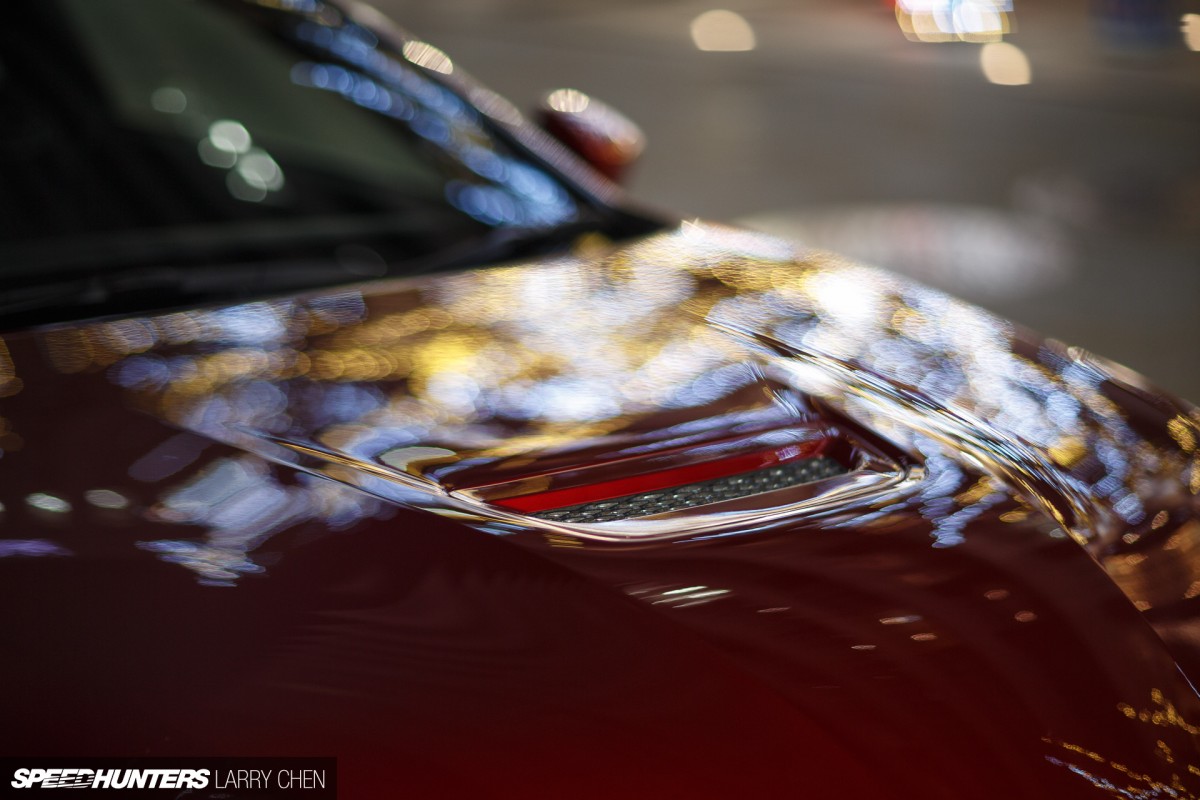 And a subtle bulge on the bonnet topped with a compact outlet that flows hot air out of the engine bay.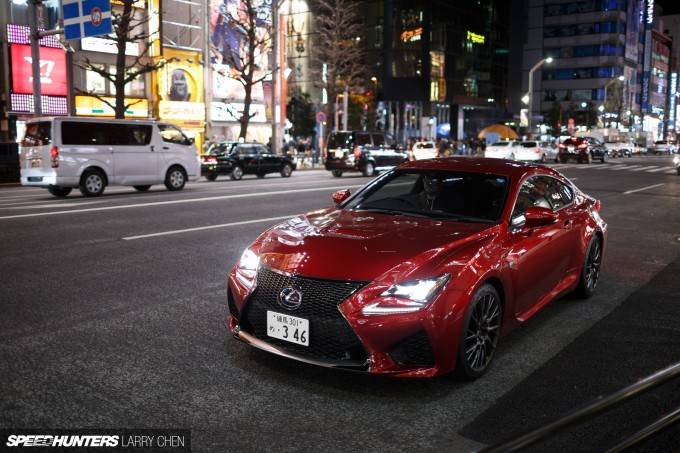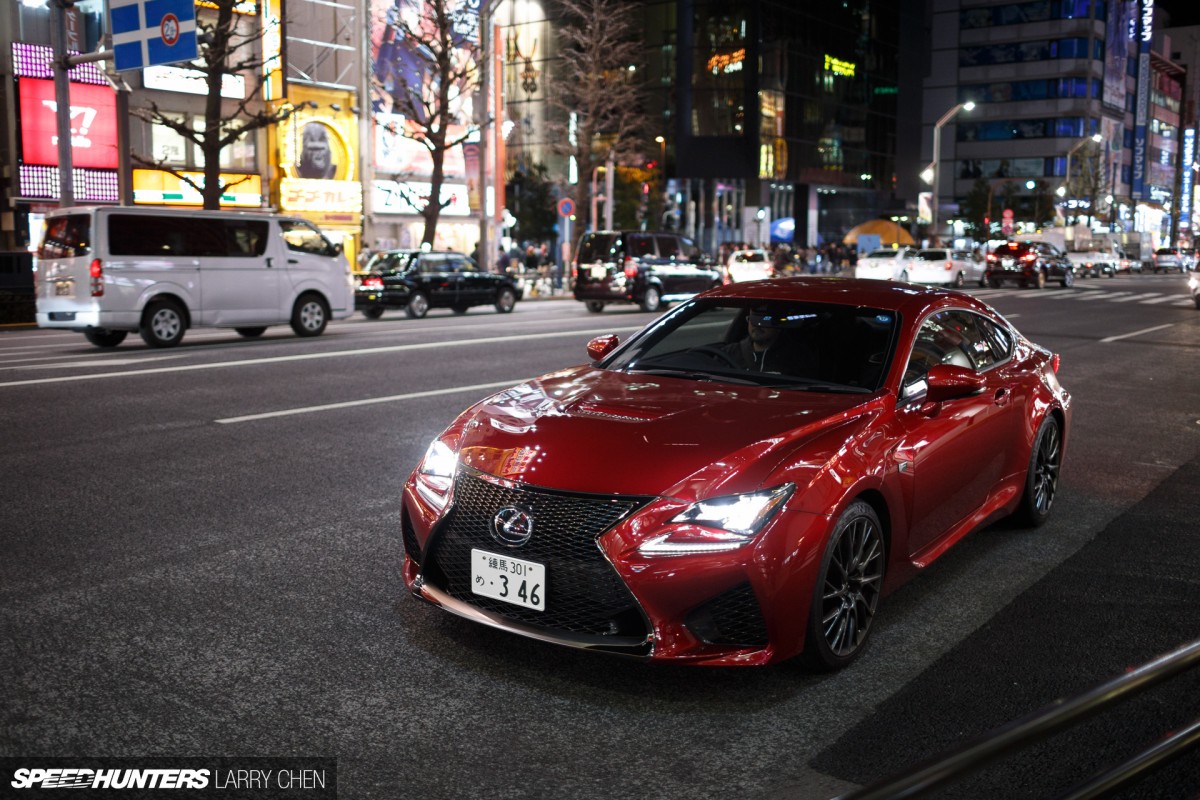 Then there's that front end.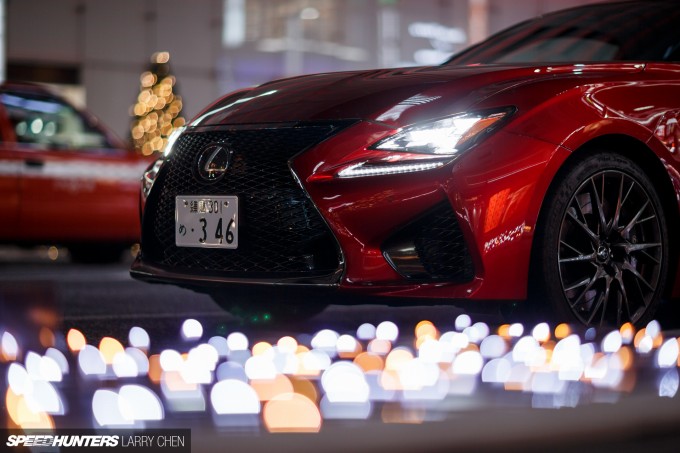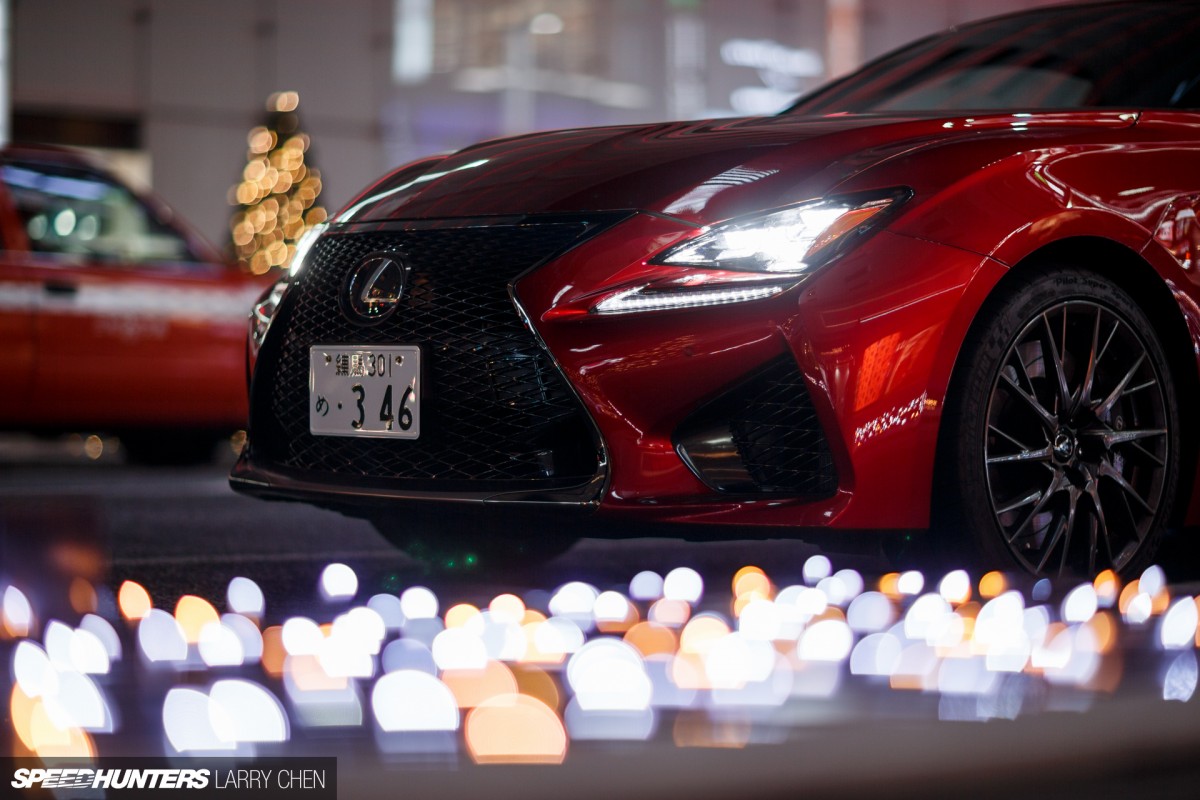 In my eyes at least, it works very well – the big spindle grille, the complex creases, the large side vents and those curiously recessed headlights with swoosh-style DLRs. It all makes for a front end that will scare small children and unsuspecting grannies out of your way, and give other road users a little jolt of surprise when they see the RC F approaching in their rear view mirror.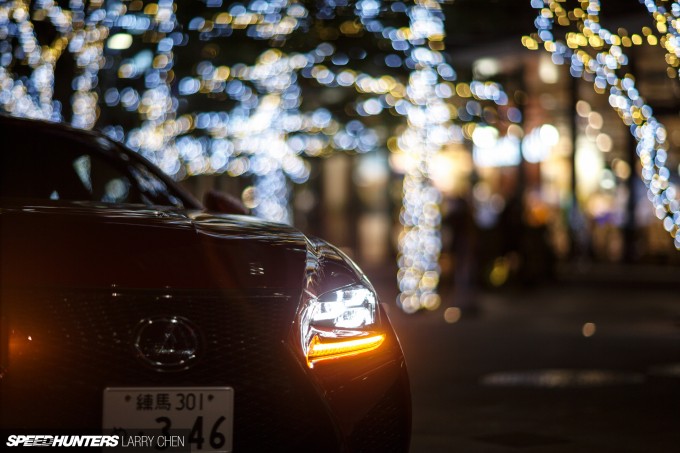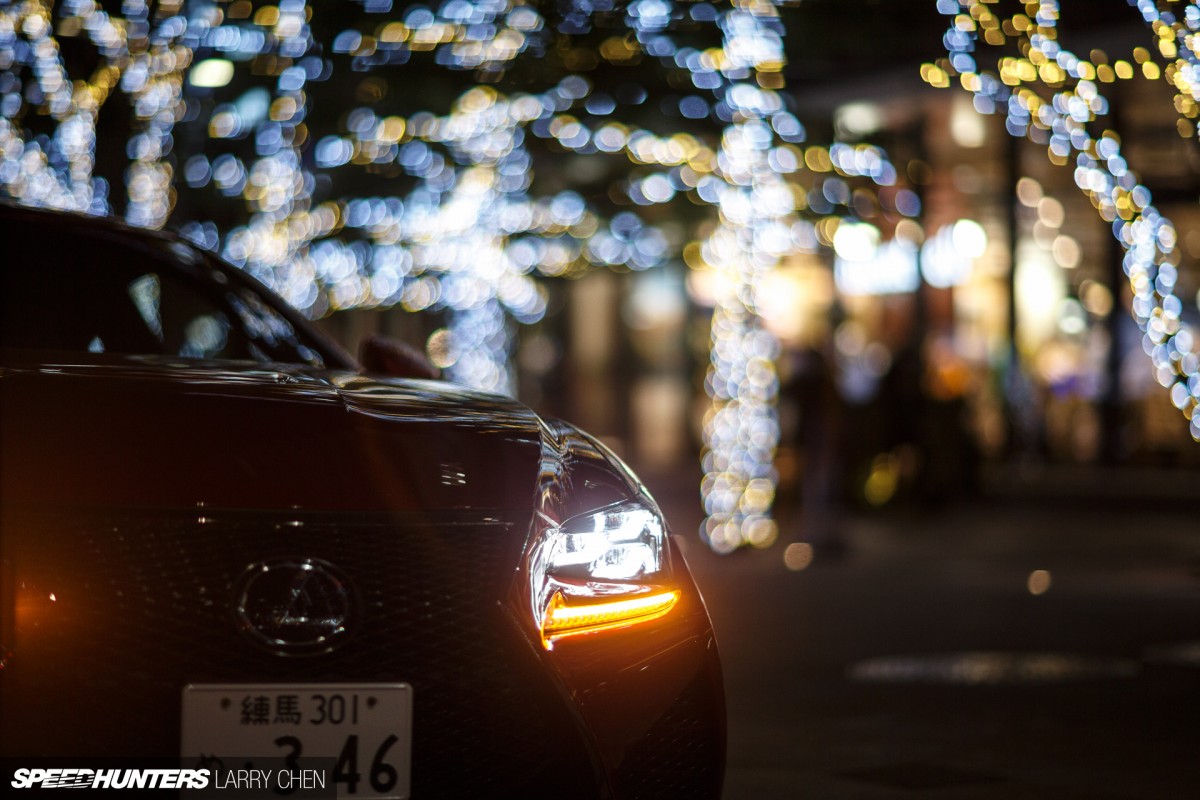 Of course, being a Lexus it's packed with technology, but not in the way the German manufacturers give it to you – as a pricey option! Lexus packs everything into their cars and on this RC F that included full LED lights, which take nighttime illumination to another level. On a BMW you'd pay dearly for it, so only a few select people would be actually experiencing it.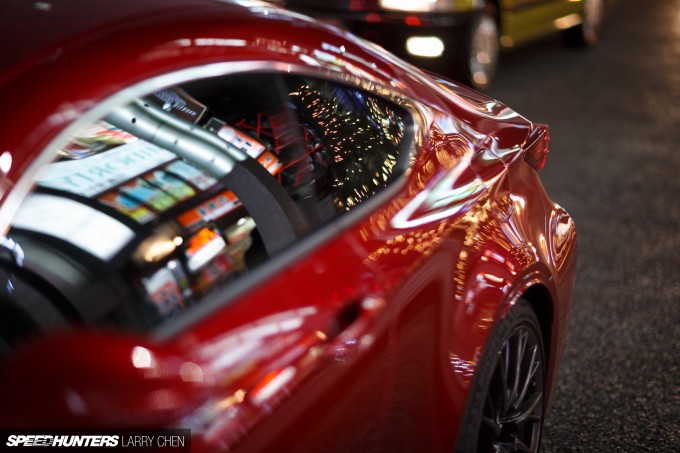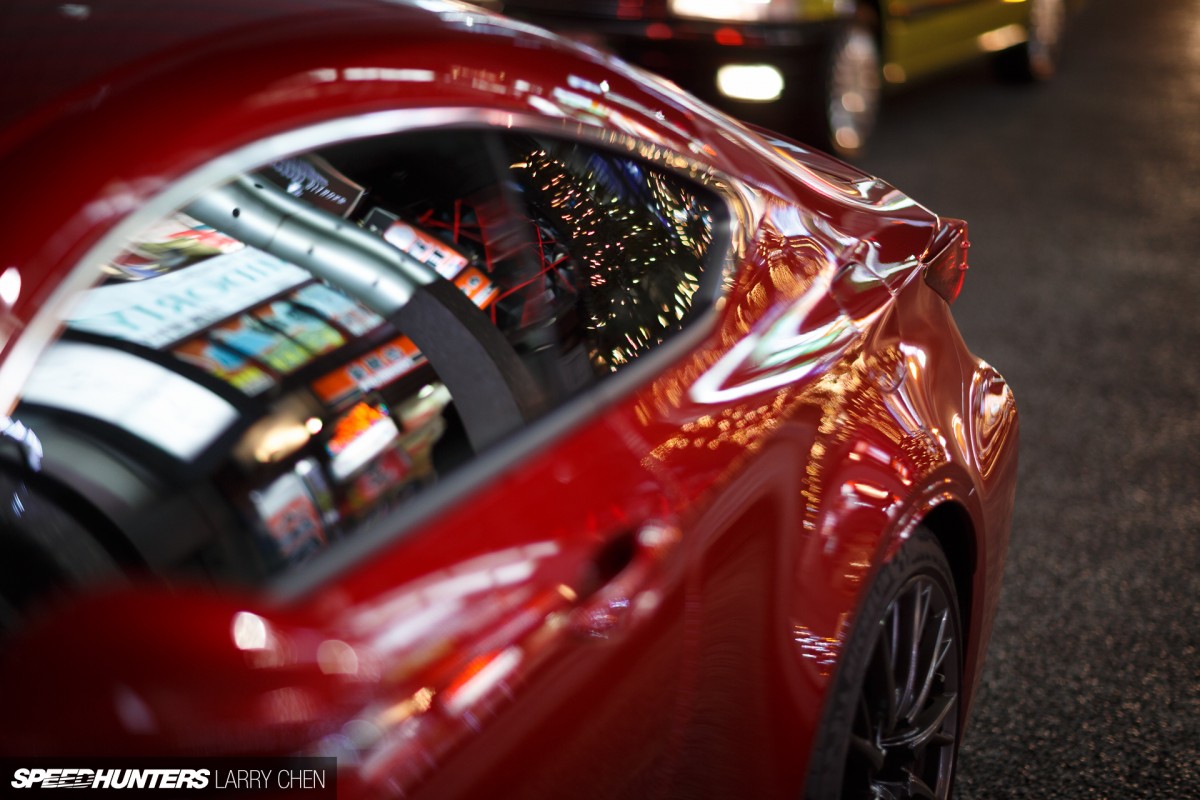 The profile? Again, beautifully flowing and boasting a great proportion between the glass and the actual bodywork, resulting in sleek coupe line.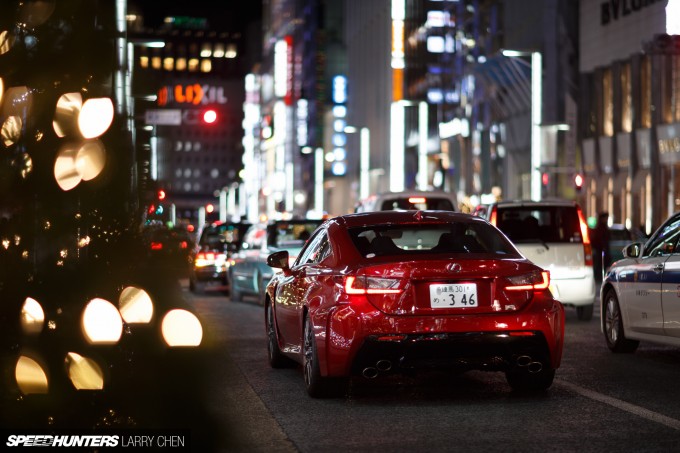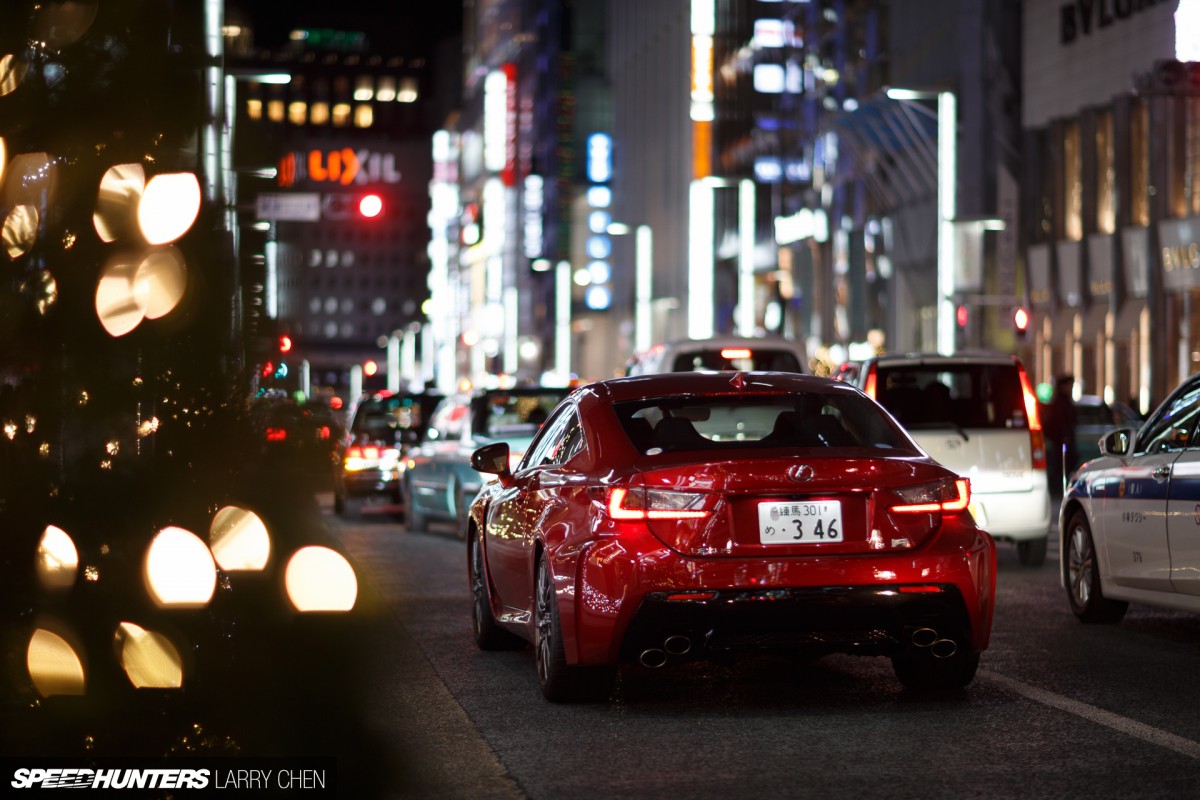 The rear end, however, is a bit of let down. There are lots of complex lines and creases, but it just doesn't come together well when you observe it from afar.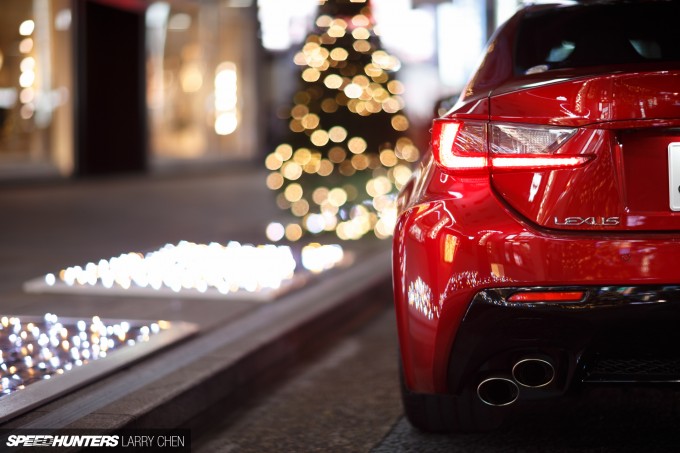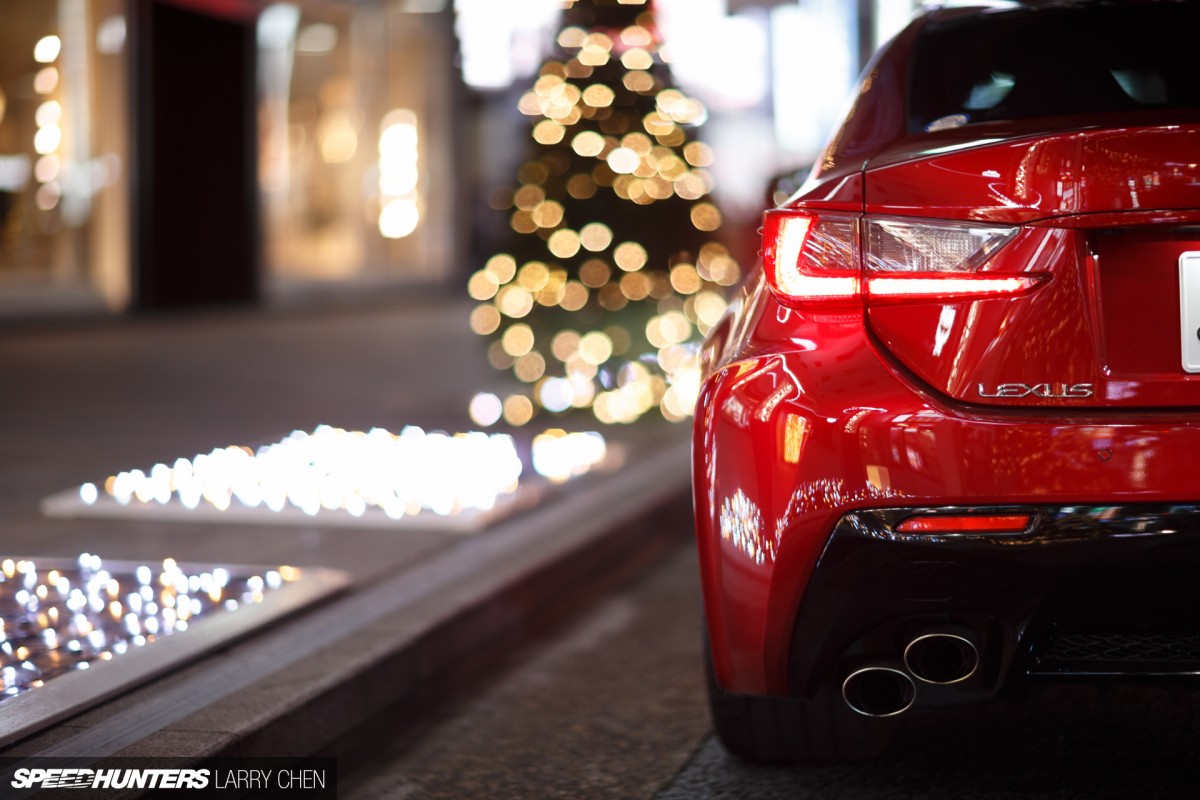 The taillights mimic the recessed look that the fronts have, and of course are all LED.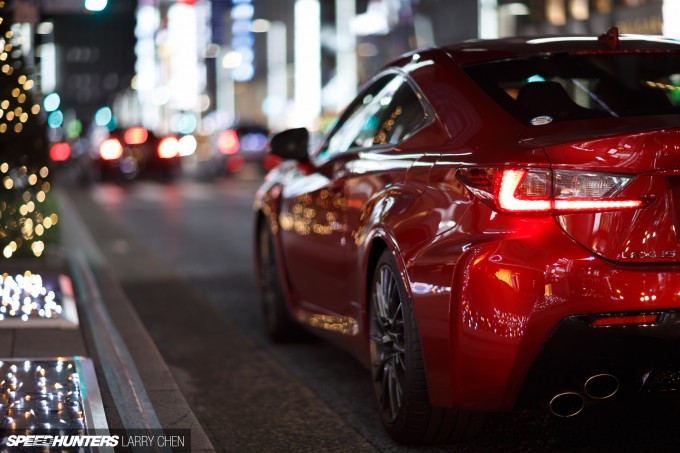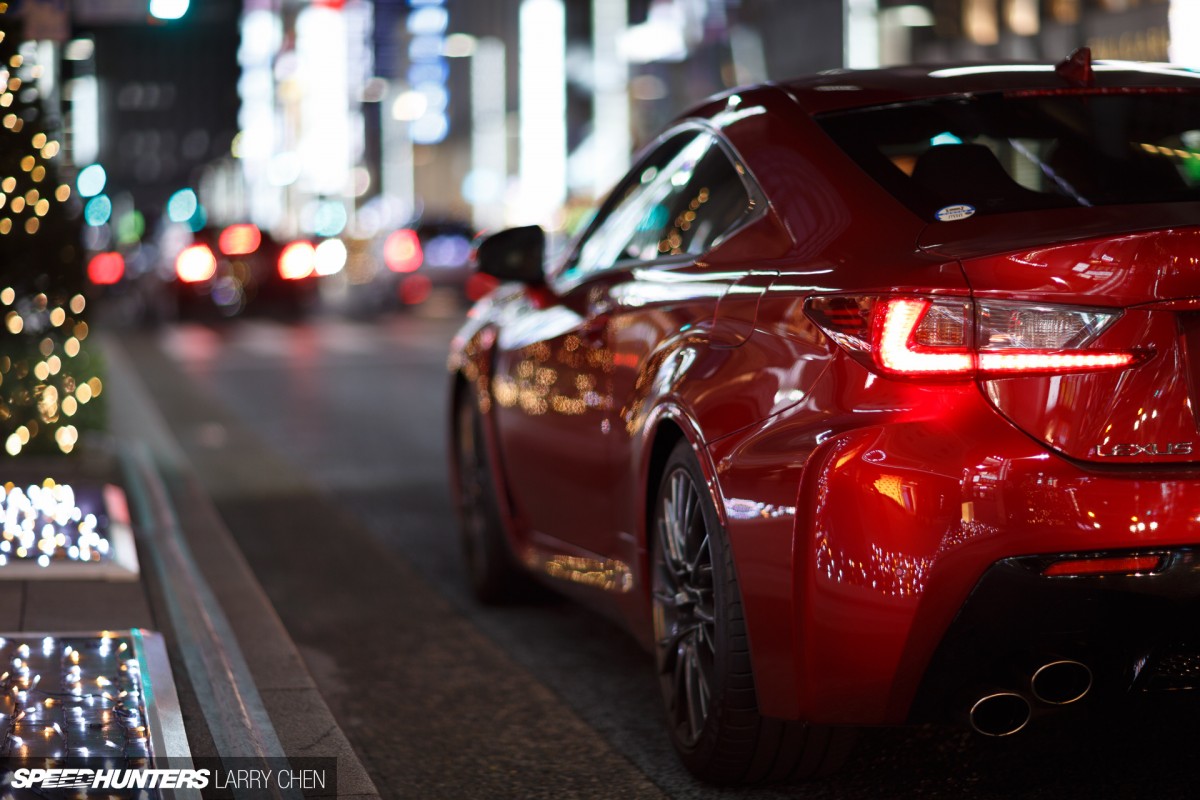 The stacked exhausts are an instant throwback to the car that came before it, the IS F, but are still a tad gimmicky in my eyes – especially if you look at the size of the pipes that hide behind those sleek oval finishers.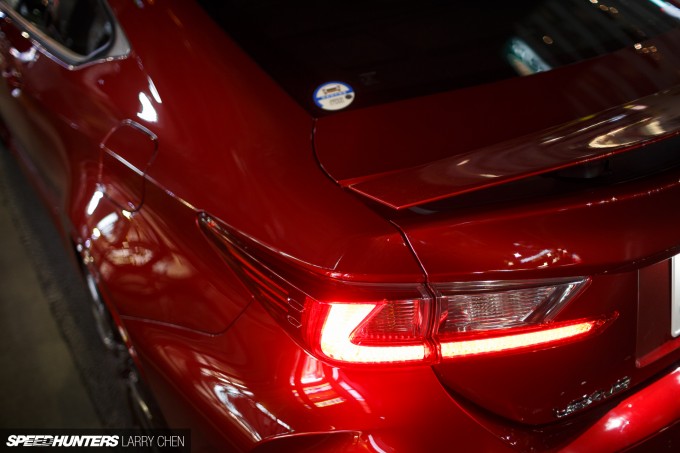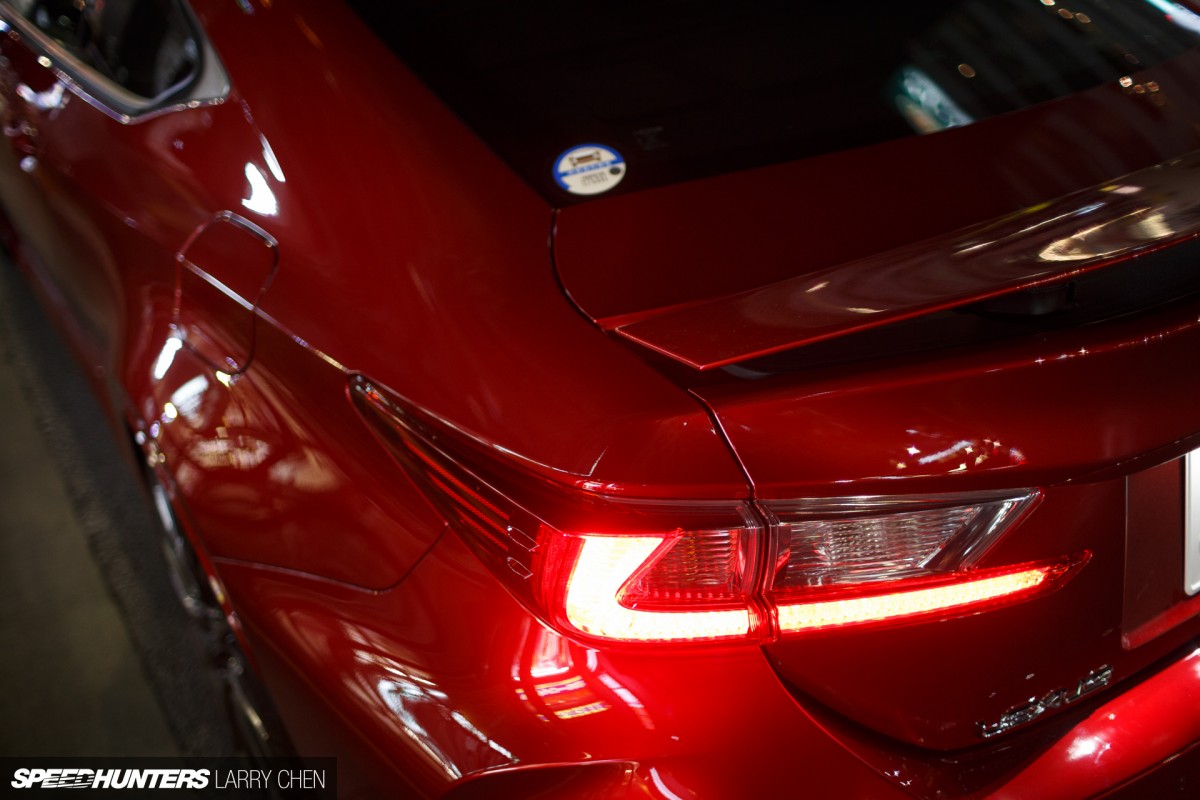 The rear also hides the neat little pop-up trunk spoiler that rises automatically at speed or at a touch of a button.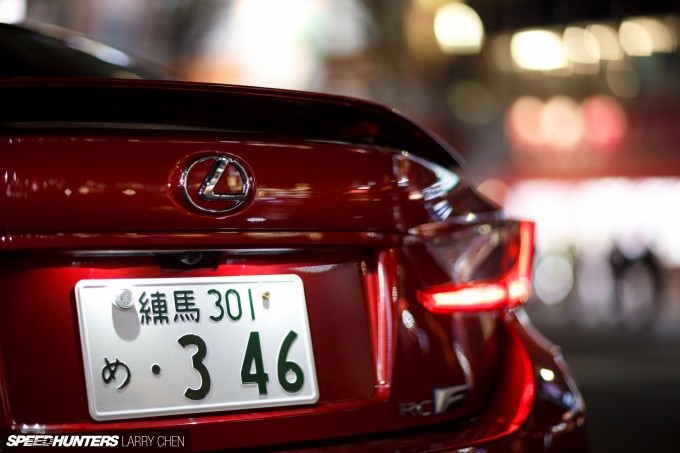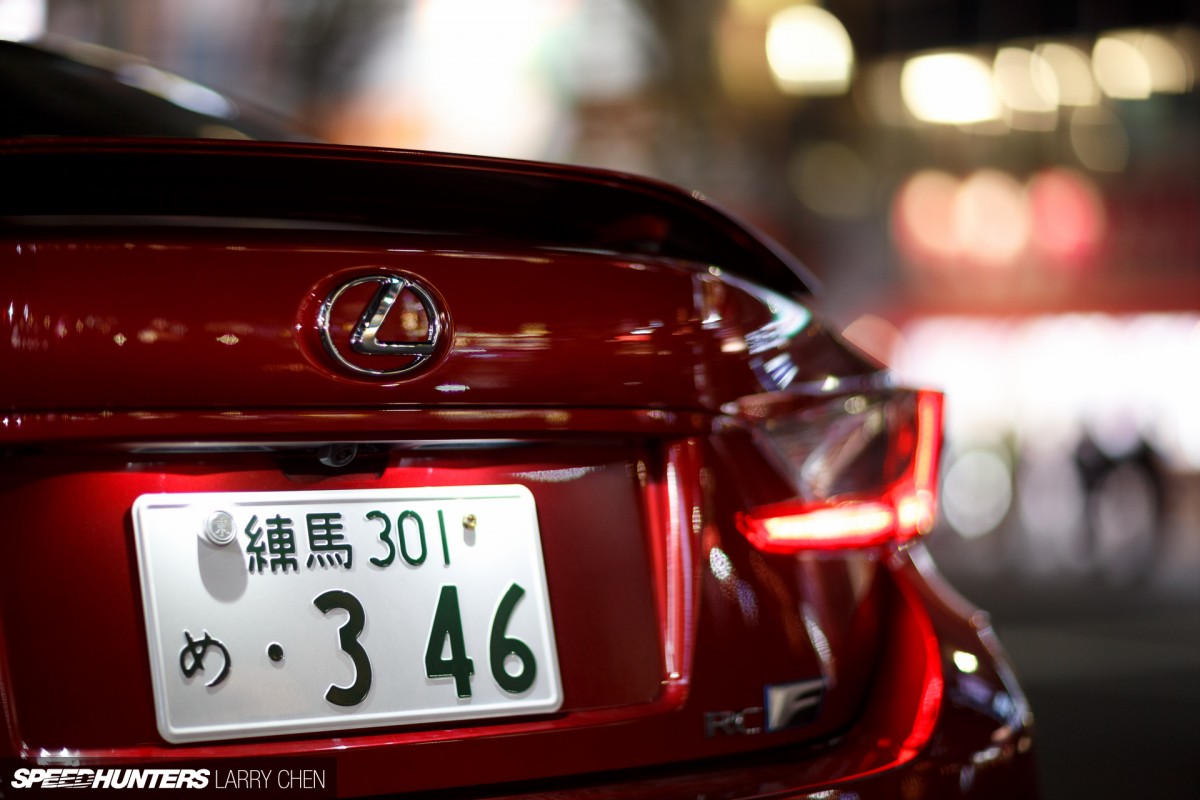 It's pretty subtle, but that's all that was needed to cut down on lift and generate a touch of downforce at high speed.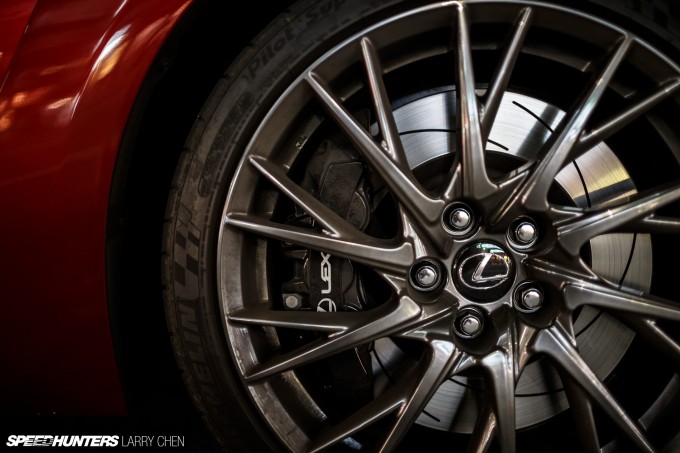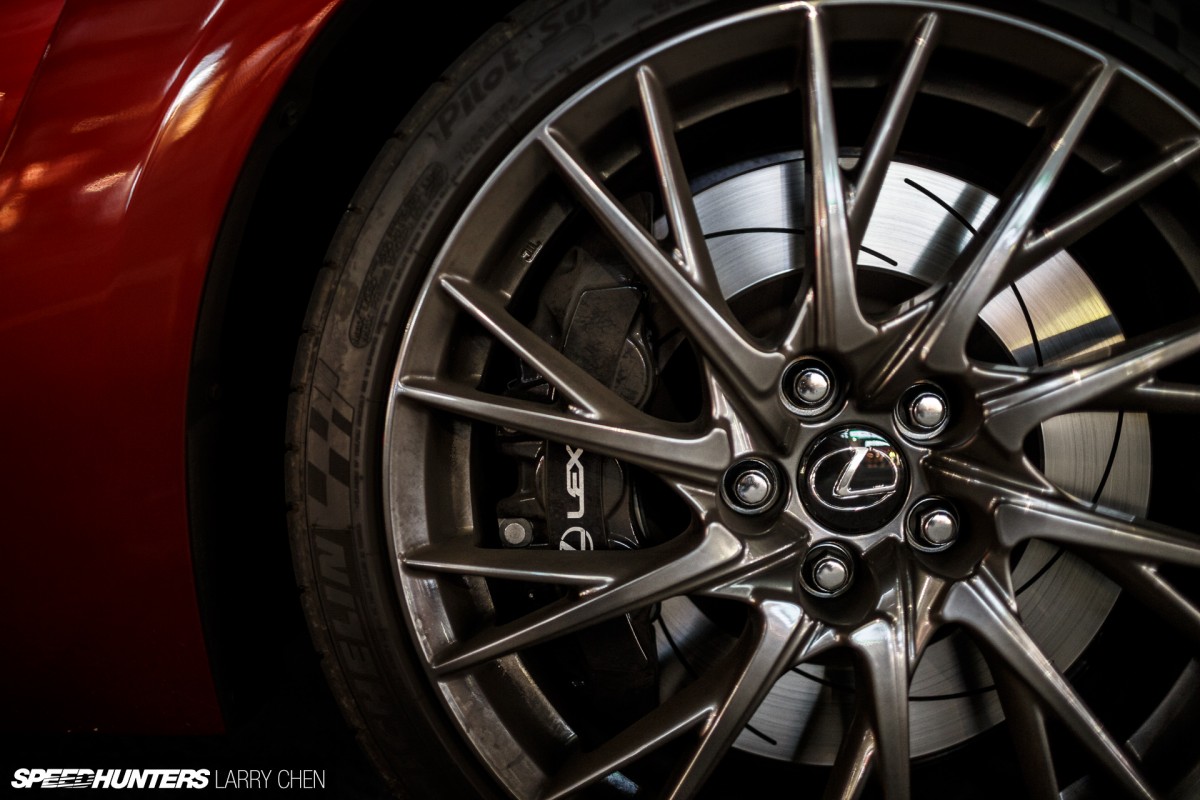 The 19-inch optional wheels hide a rather yummy looking set of anchors, and rightly so with the amount of performance this car packs. But come on Lexus, where's the carbon ceramic option?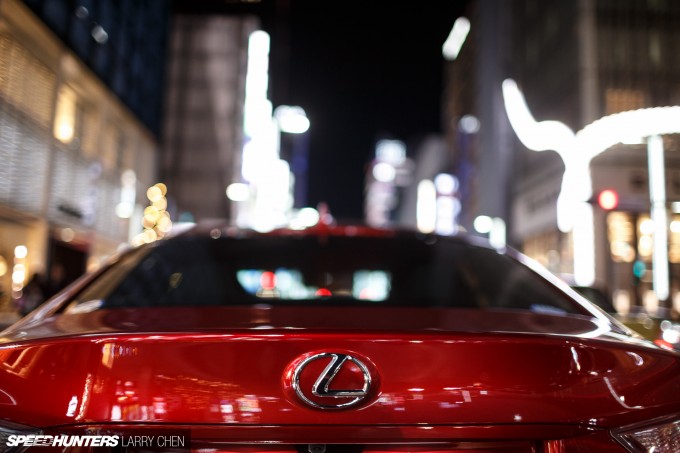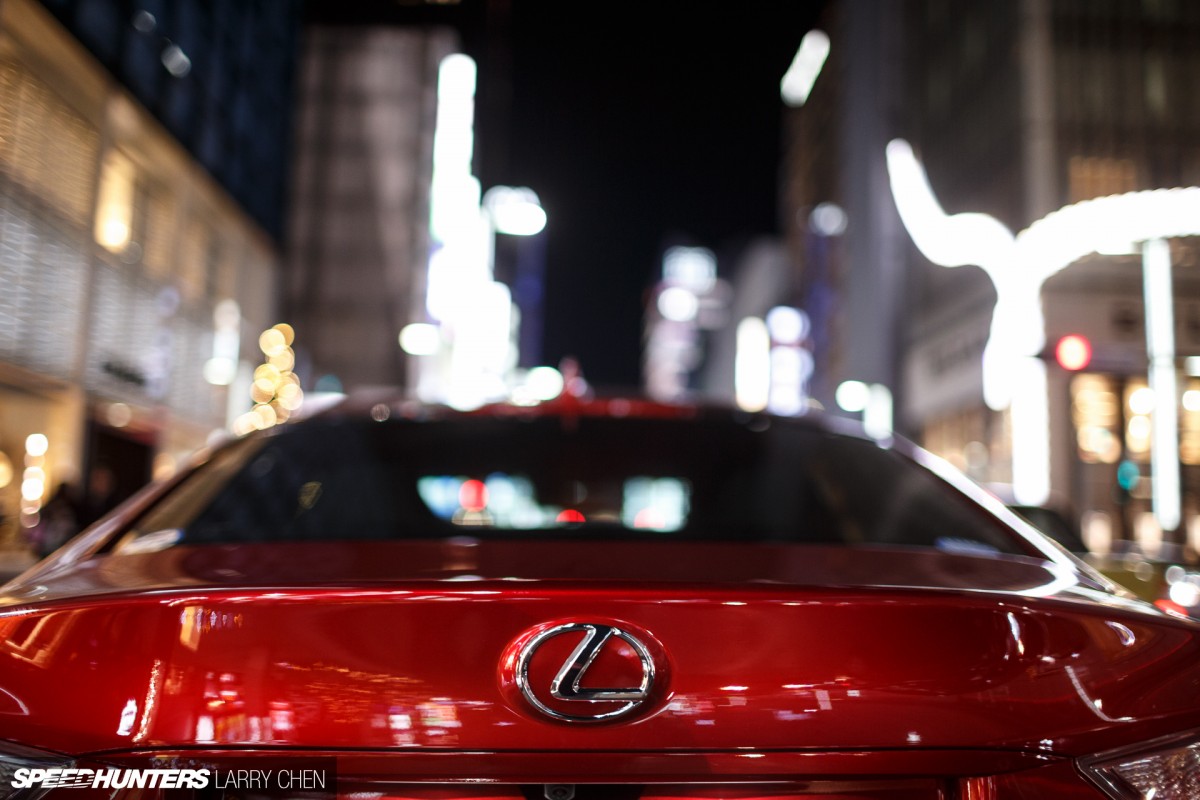 Then again, that's not what this car is about. It takes time to realise, but the RC F is not exactly a manic sportscar that you take to the track on the weekend – something that became obvious the more I drove it.
Creamy Smooth V8 Goodness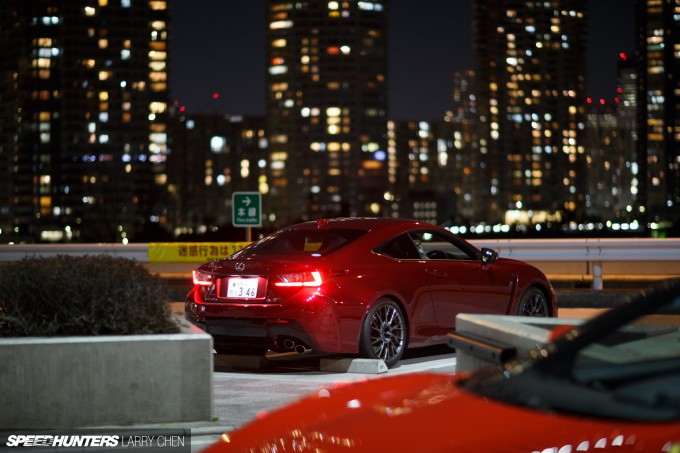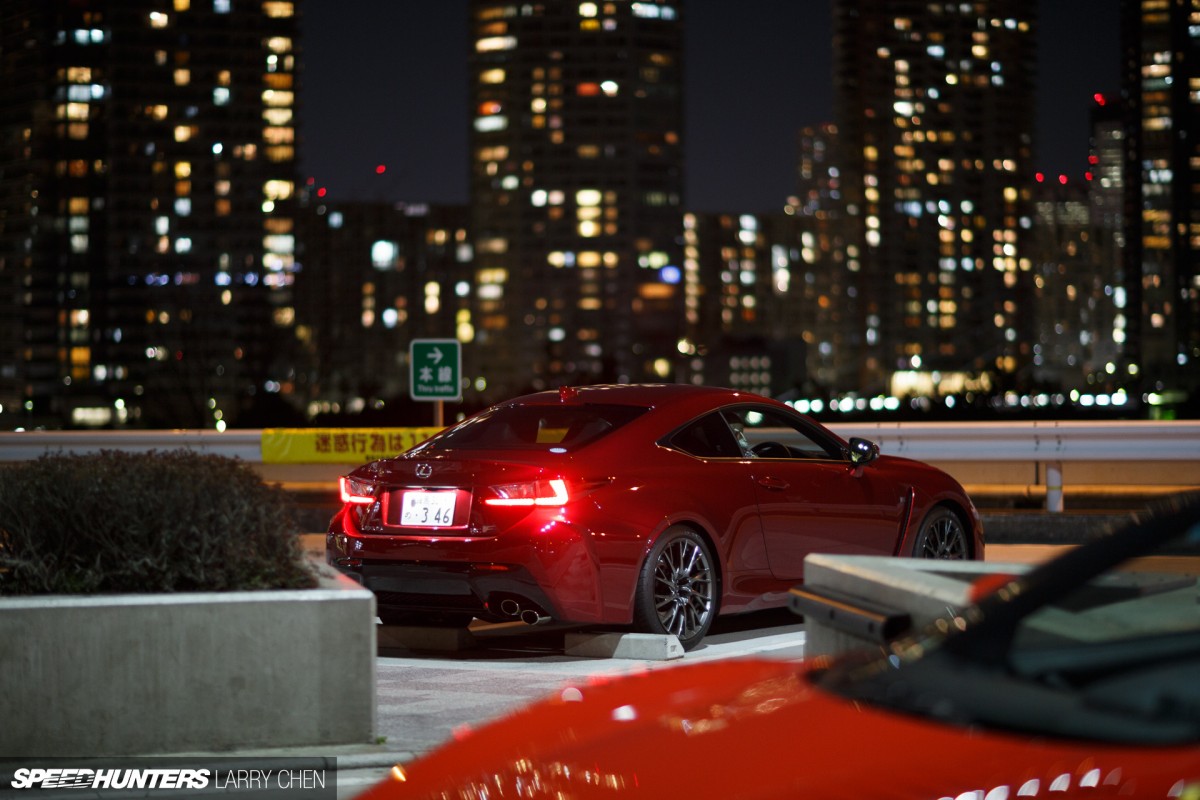 We took the car on a long drive up to Nikko as well as around the twisty sections of the C1 that snakes five stories up through Tokyo's high-rises, and to say it performed well would be an understatement.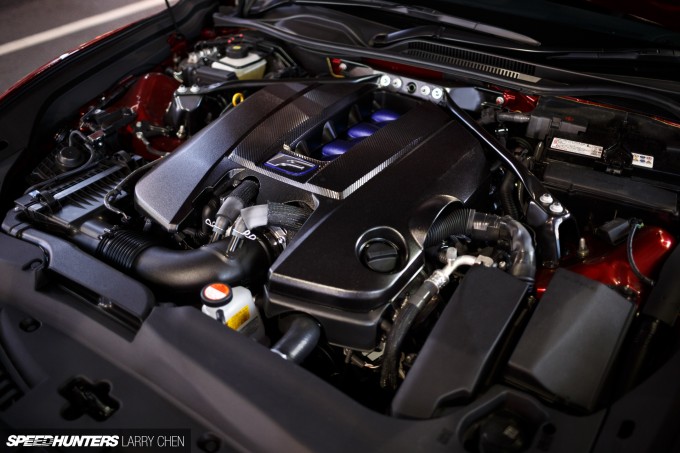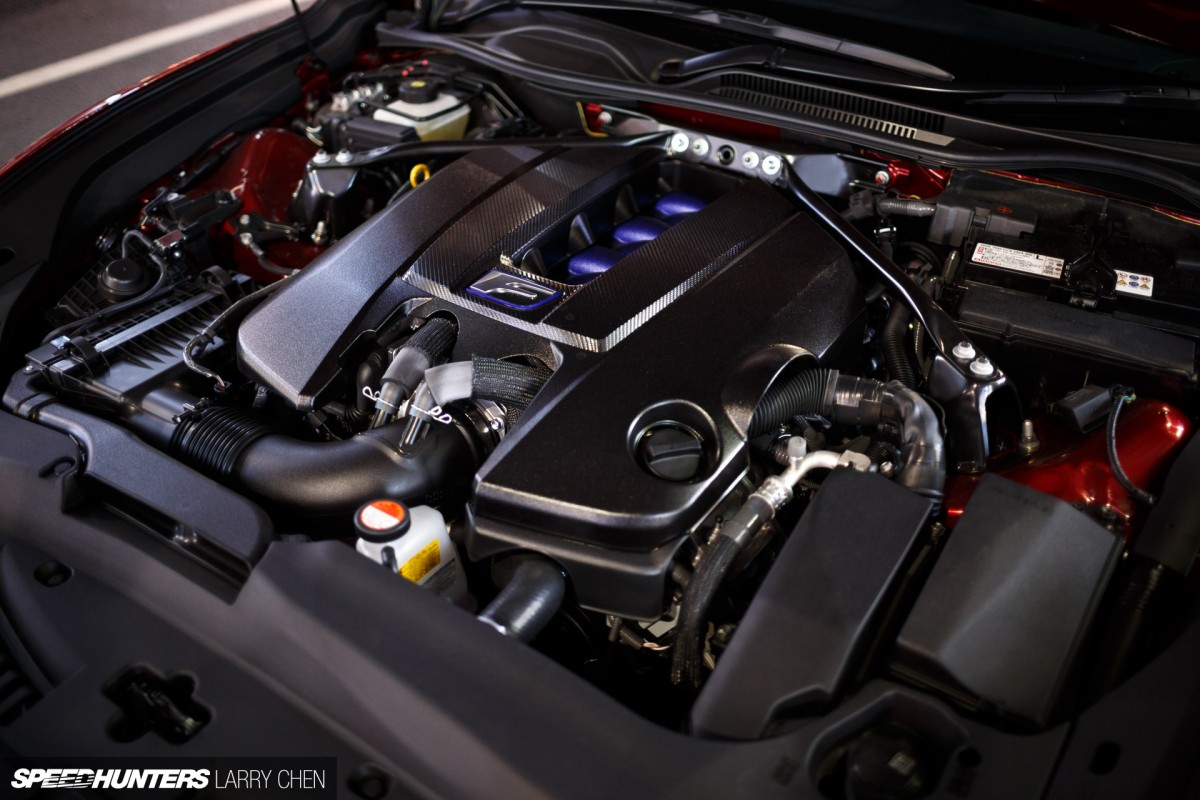 The 2UR-GSE that powers the RC F is a mild evolution of the same 5.0L naturally aspirated V8 that powered the IS F, except now its pumping out 471hp. Wow, more than an M4 I hear you say. Yes, true – 40hp more to be precise – but while it's a more powerful motor it falls a little short in the torque stakes. The M4 develops 550Nm between 1,850 and 5,500rpm – the RC F 530Nm between 4,800 and 5,500rpm. Of course, the BMW is turbocharged so such torque delivery is to be expected, but if you drive the M4 prior to piloting the RC F it's something that will weigh heavily in the back of your mind.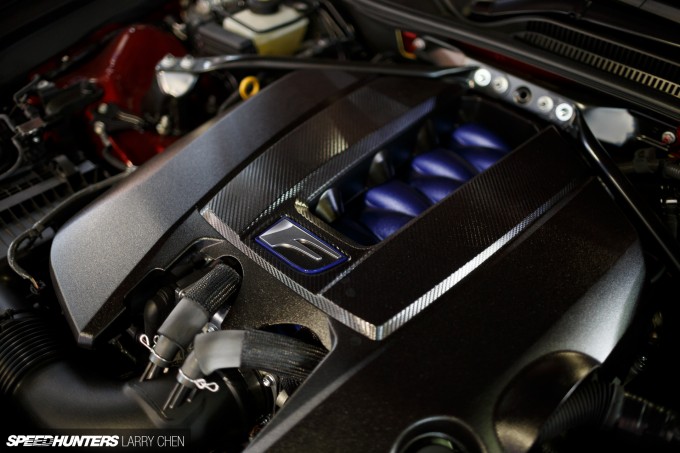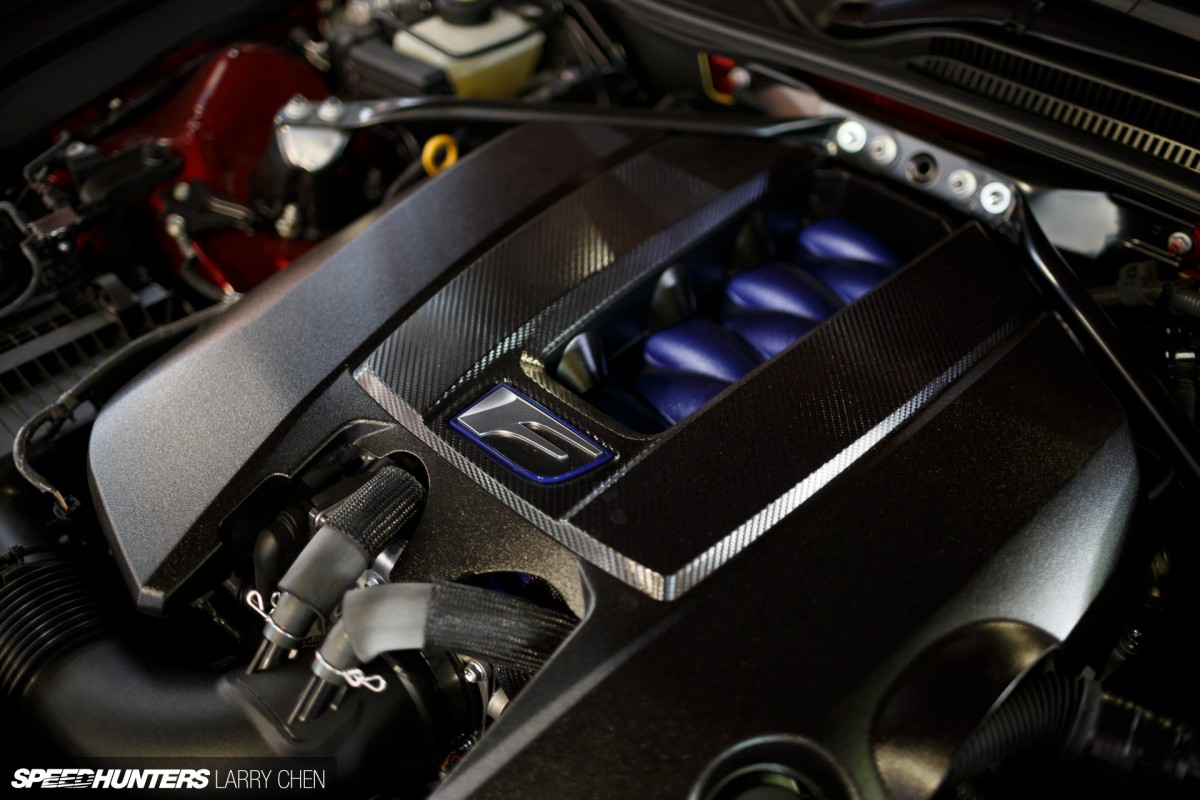 The V8 is a sweet unit – it's fast revving and really gets into its stride once the hotter cam profiles come into play and the whole tone of the motor changes. From then on it pulls in a very linear fashion all the way to its 7,500rpm redline when the 8-speed torque converter based transmission shifts cogs. Like the engine the 'box too is an evolution of the IS F unit – slightly faster in its shifts, yet smoother and more efficient. But this is pretty much one of the RC F's biggest drawbacks. The 8-speed is fast, yes, but only when you are driving the car hard. When compared to a modern twin-clutch transmission it feels old school, sluggish and seems to disagree with every demand you throw at it – be it an aggressive downshift or a low-RPM upshift.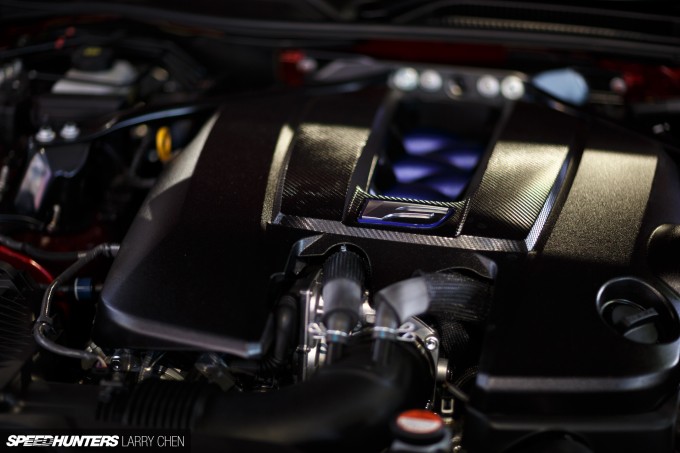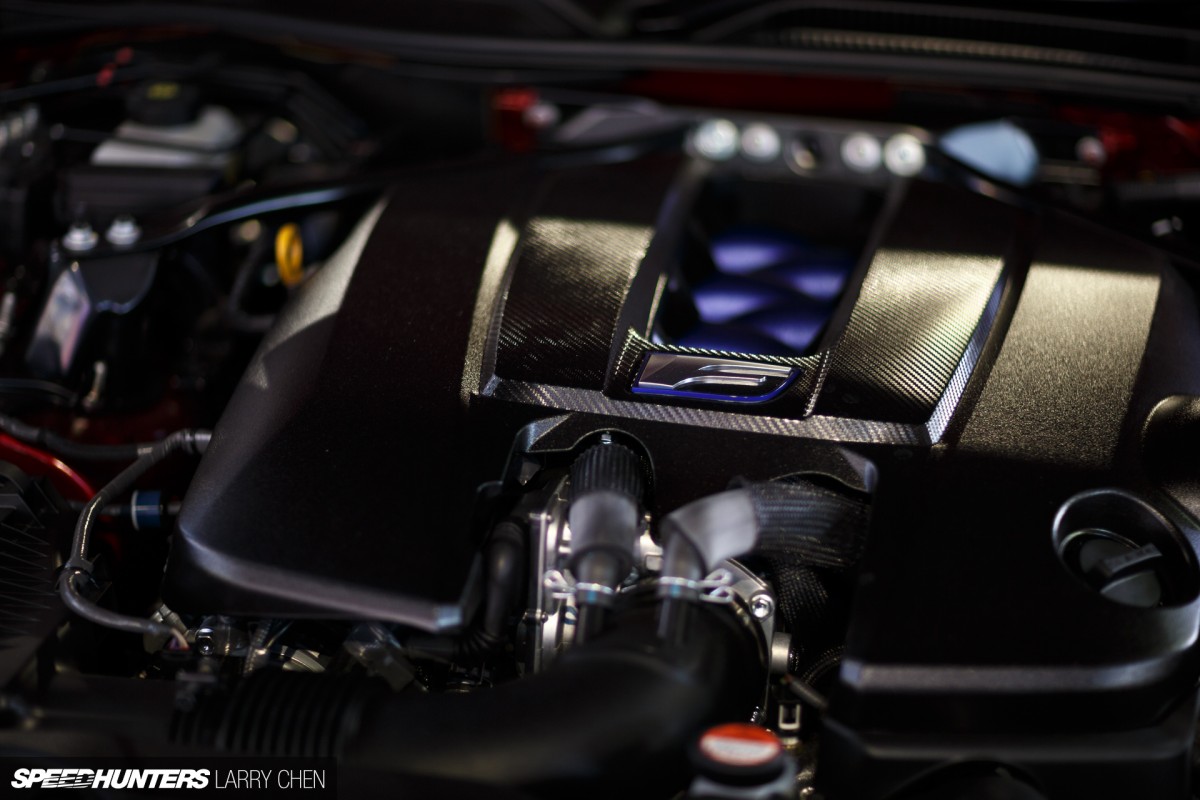 Then there are the drive settings: Eco, Normal, Sport and Sport +. I tried them all but found it extremely difficult and confusing to select the one suited for what I was doing with the car. For example, I was cruising along in Eco mode when I decided I wanted some extra performance to have some fun up a highway on-ramp. This required me to turn the drive mode knob to Sport # and then once I was done with it – with the RPM needle pinned at 6,000rpm and the computers still thinking I wanted to drive like a maniac – move it back to Eco and let the revs settle. This really took away from the experience. It frustrated me too, because a pair of user-programmable 'F' buttons on the steering wheel – like BMW does with its M cars – would have solved the problem. One press you are in 'let me burn rubber mode', hit the other button and you are in 'save my fuel mode'. Too hard?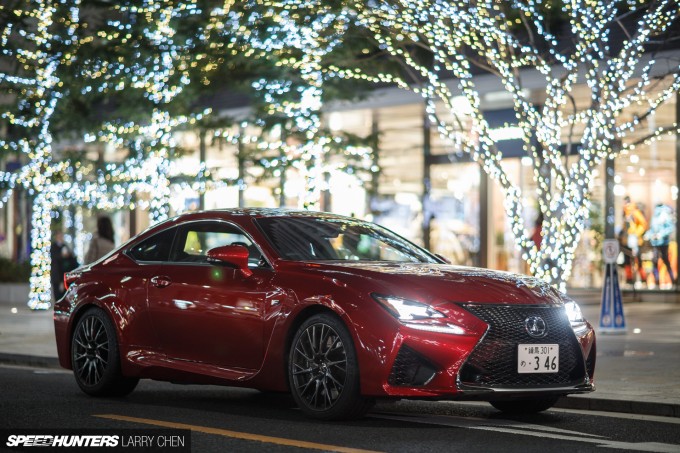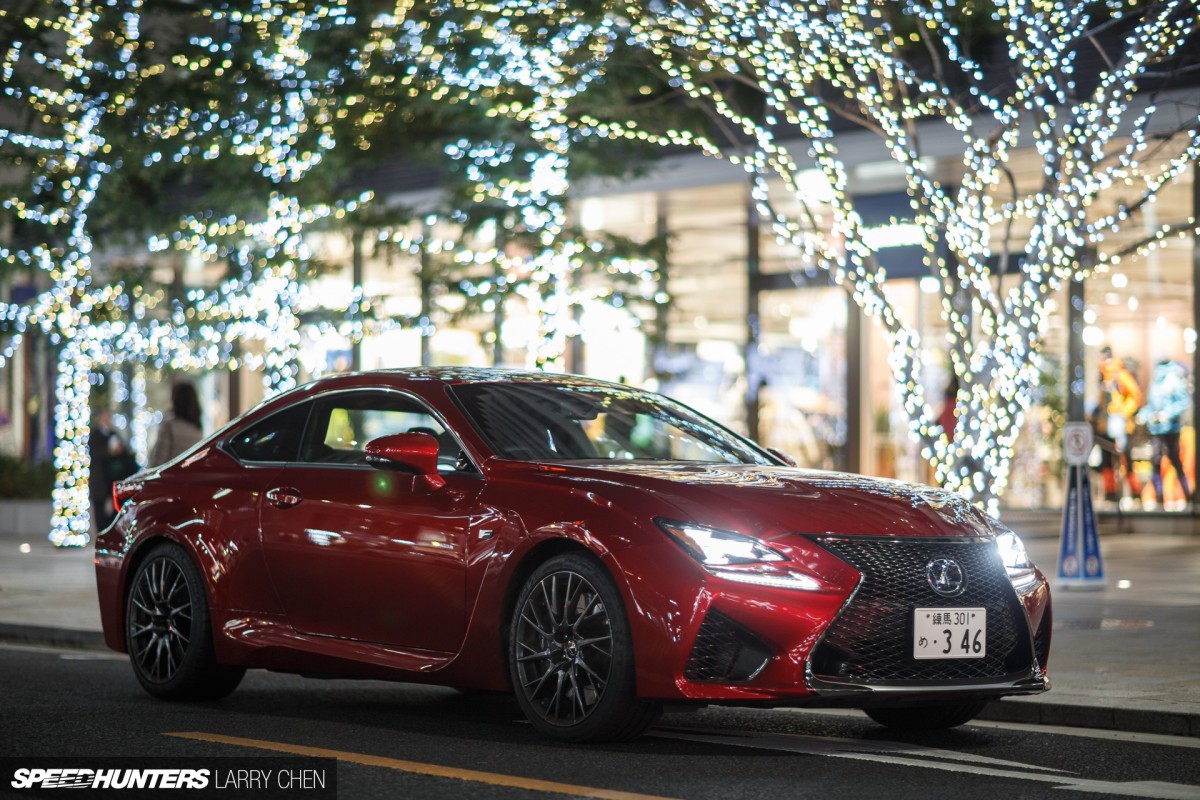 Then of course there's the weight. The RC F is a huge car that's laden with toys, and as a result it shows its mass from the first time that you take a corner enthusiastically. It's close to 2 tons, almost 200kg over an M4, and boy do you feel it. I spent the first couple of days trying to drive too hard – the engine was to blame here, it's a fun motor to put through its paces – but it was obvious this was not the way Lexus intended this car to be driven. This is a ride for a gentleman, not the sort of guy that keeps his pair of well-worn racing gloves in the glovebox. That said, I'm not too sure why the suspension is so damn hard – it's fidgety at best and just doesn't have the composure you'd expect a car like this to have. Maybe a 'soften suspension' button on the steering wheel, like Ferraris have, would be a nice idea, too.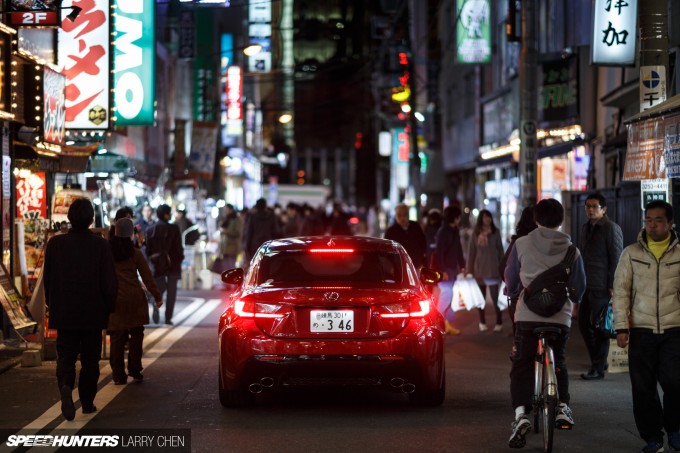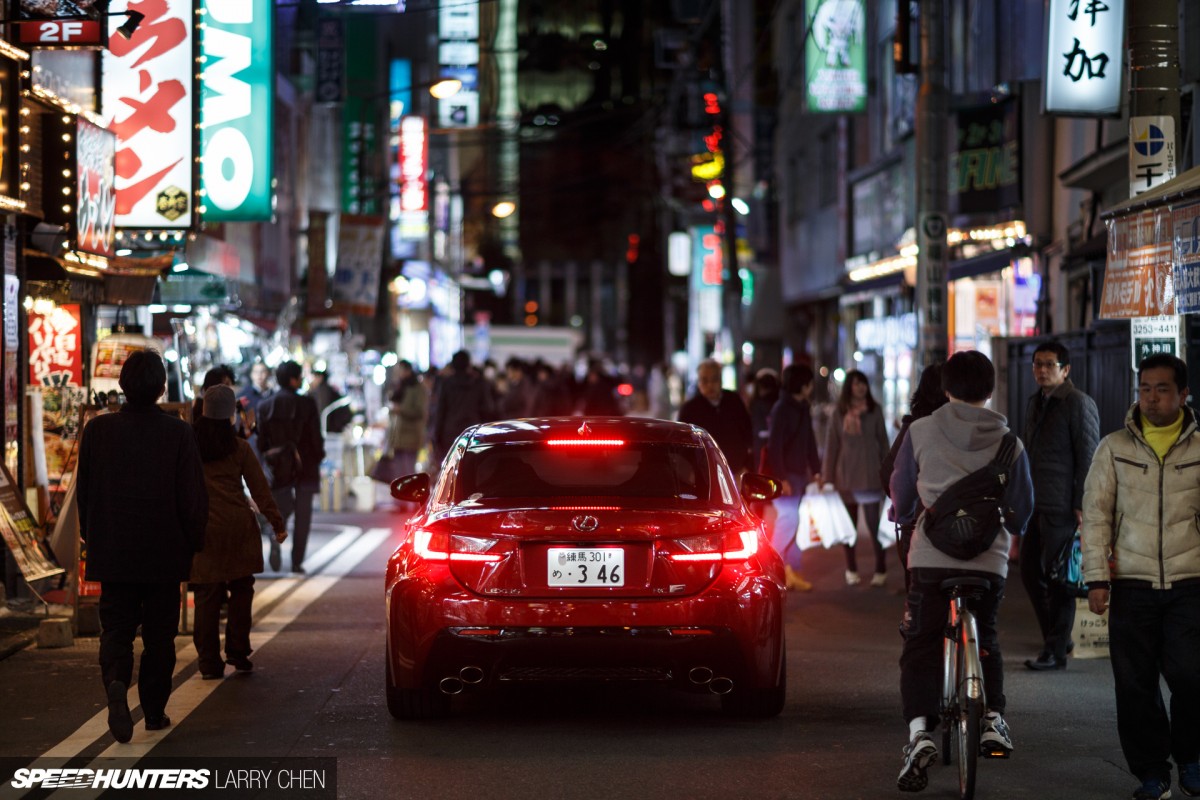 That all said, it's a fast, comfortable and fun to drive, 'everyday' sort of performance car – and one that stays true to the Lexus way of doing things.
Slightly Confusing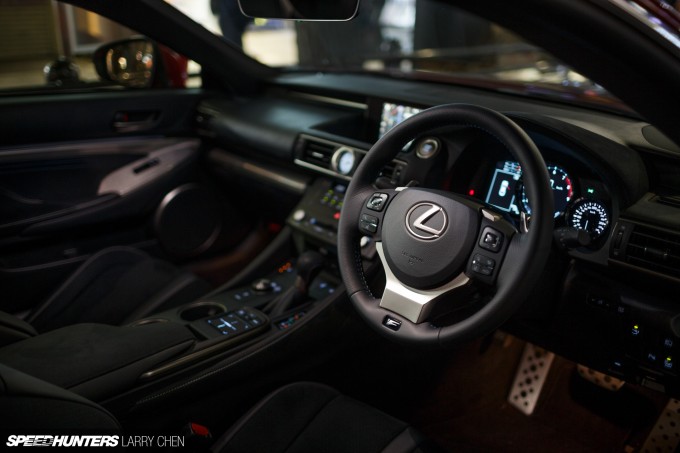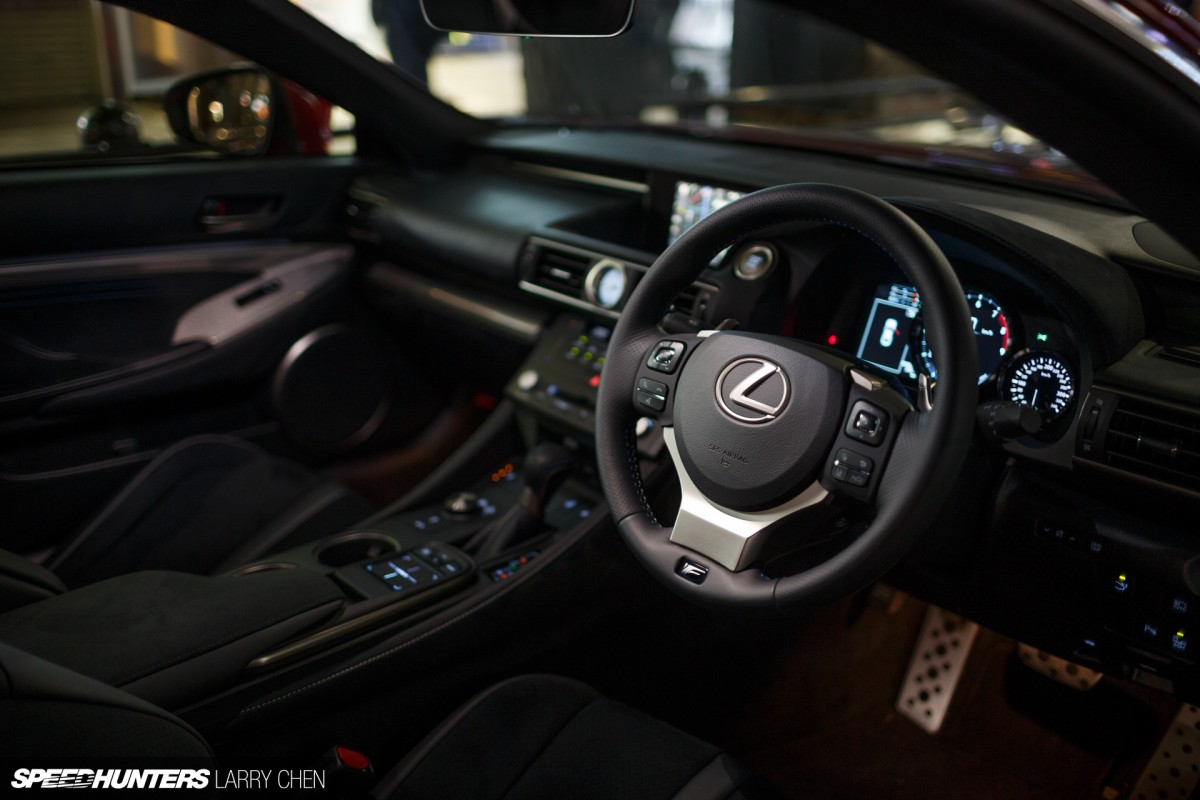 You really get a sense of this after spending time in the cabin. Despite being far too devoid of color for my tastes, you just can't fault the presentation. The LFA-style dash and center console layout is rather pleasing to use with everything neatly laid out.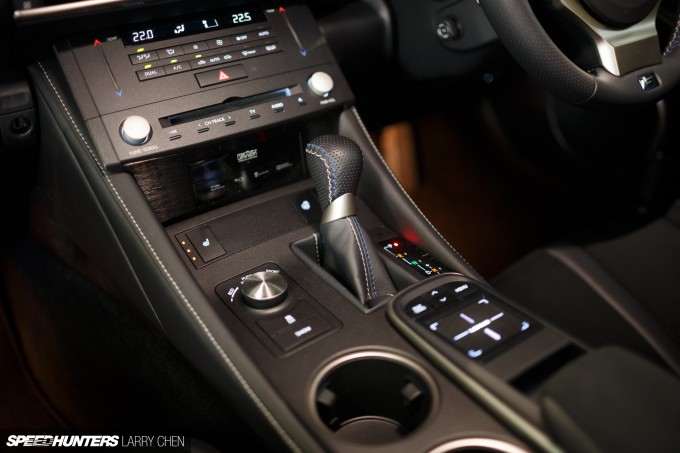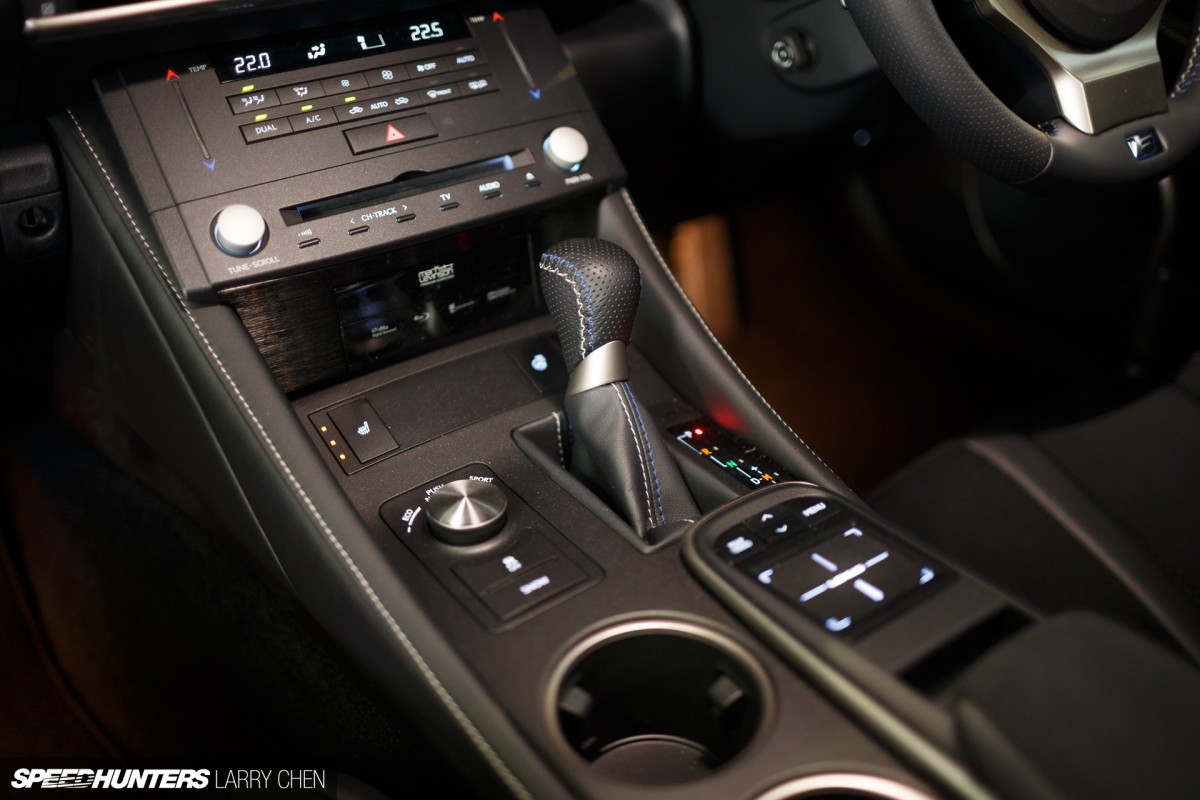 While some manufacturers are trying hard to simplify interiors, Lexus have gone in the opposite direction with the RC F and there are still far too many buttons in the cabin. Not in a confusing manner, but more in a overly cluttered way – if that makes any sense. And I still can't digest the old school, backlit, gear-pattern indicator. Surely, there's a more modern looking way to illustrate this? At least something that matches in with the rest of the interior.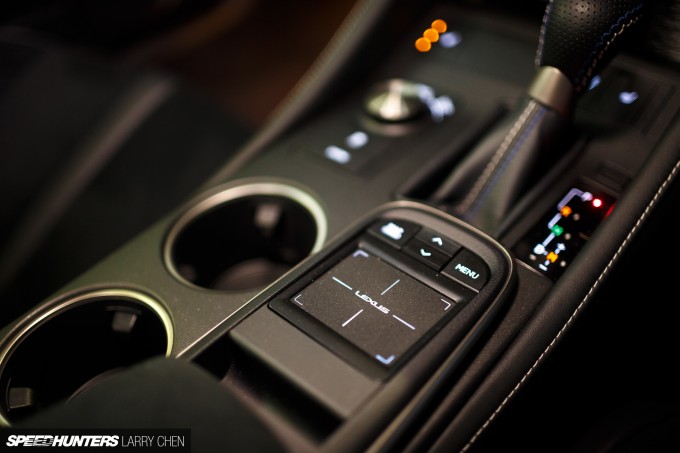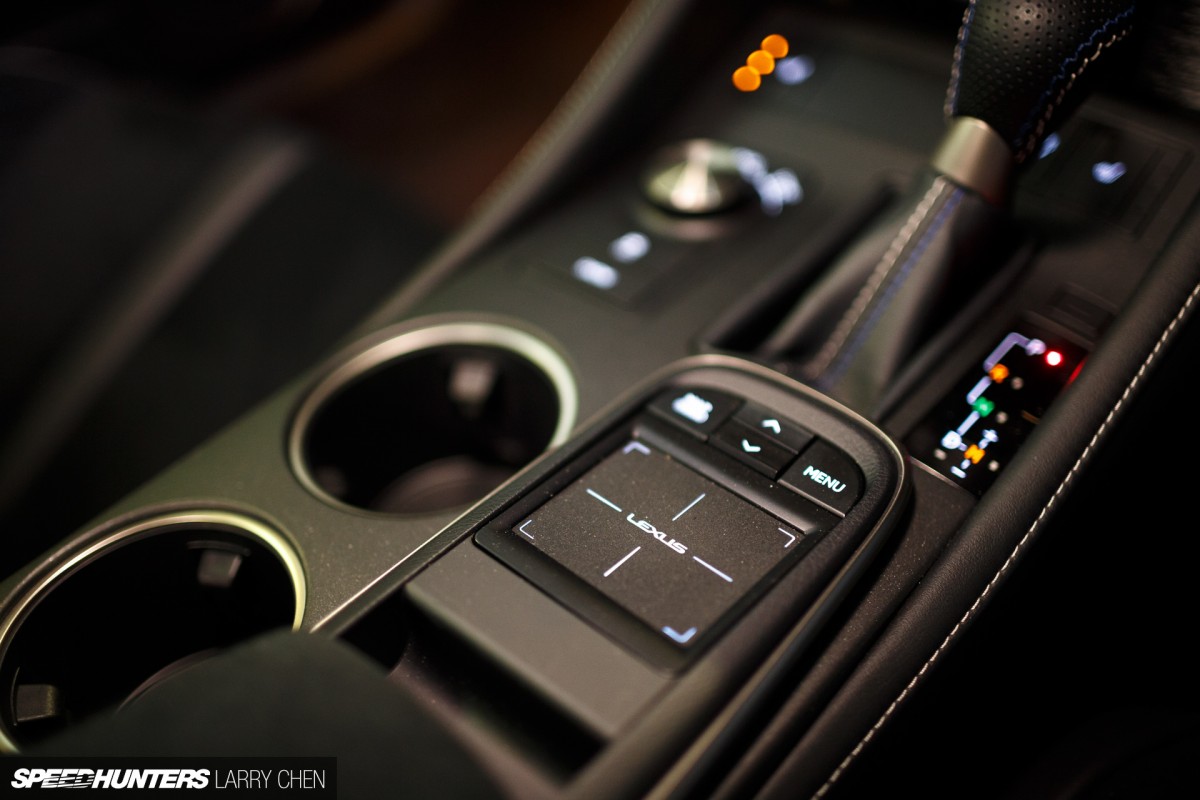 Then there is the track pad to navigate through the navigation and infotainment system. They've improved it, but I still don't like it. Yes, you get used to it, but I just can't help think that they implemented this system just to be different from BMW.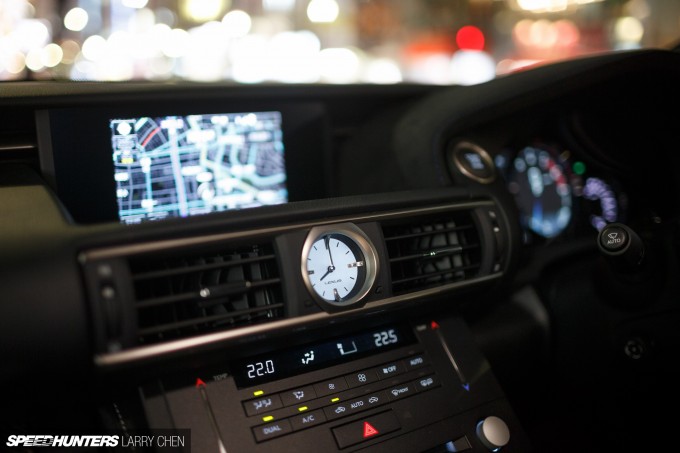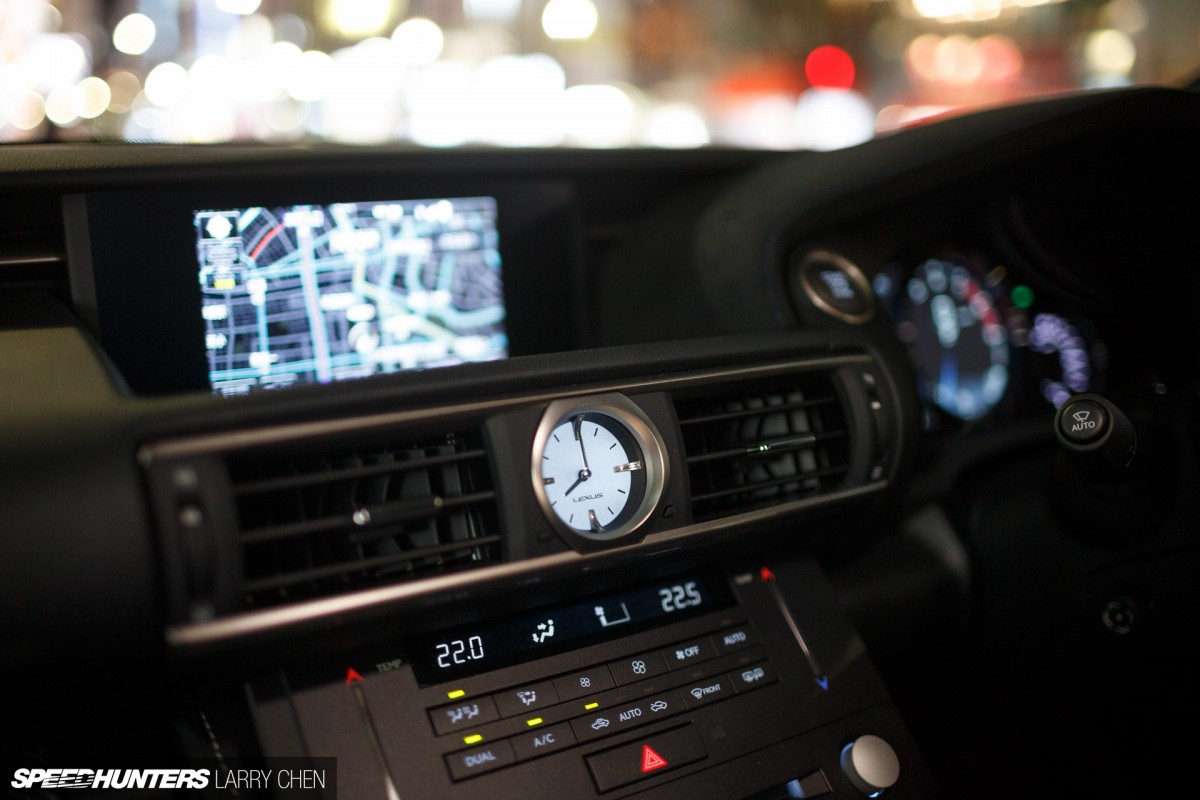 Apologies if I sound overly critical, but I just feel Lexus could have done a much better job at keeping things more simple and intuitive.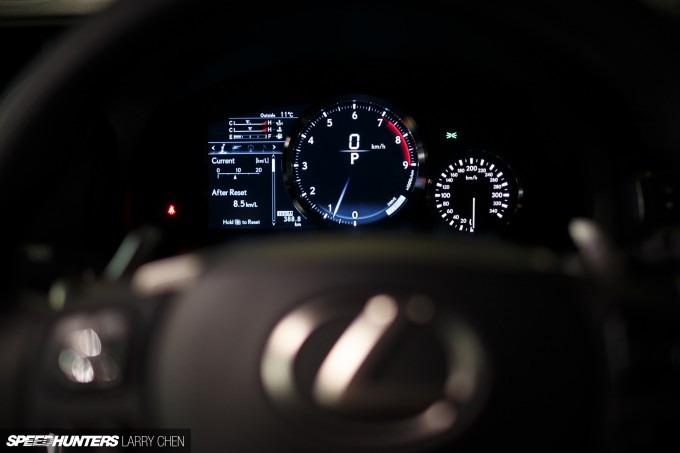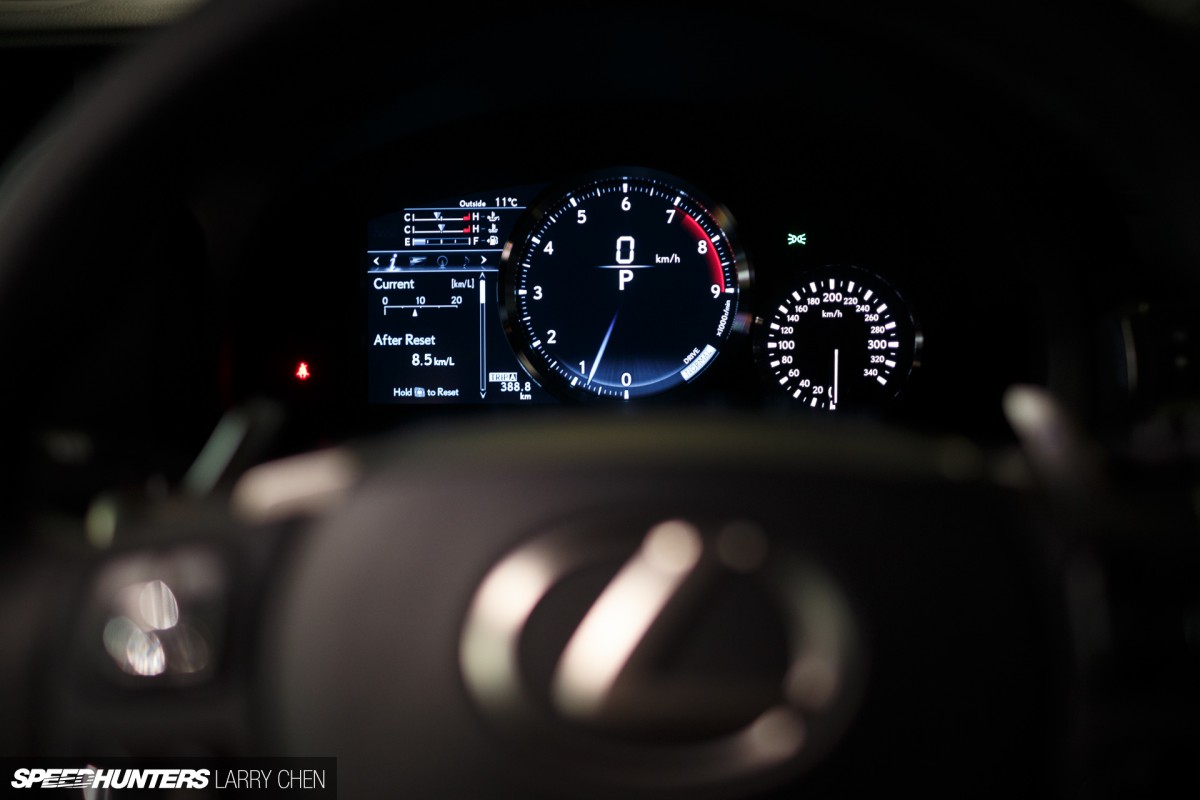 So while some of the controls feel a bit dated, the dash display is not. I quite like it – there is a lot happening and a ton of sub-menus to flick through, but it all works well and displays the sort of stuff you want to see. The other cool thing is that the RPM gauge changes design for each of the four selectable drive modes.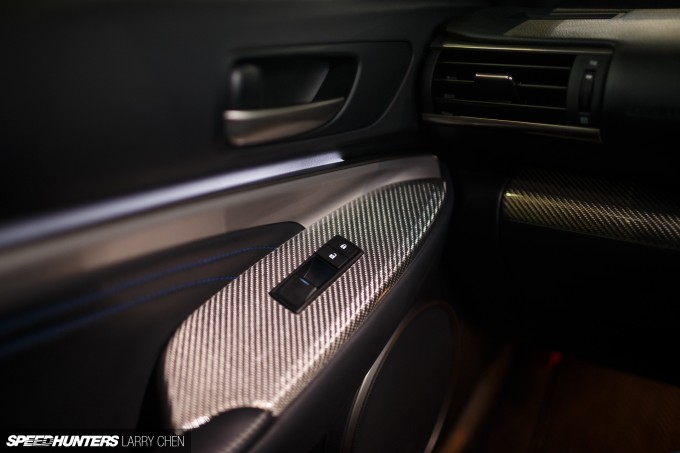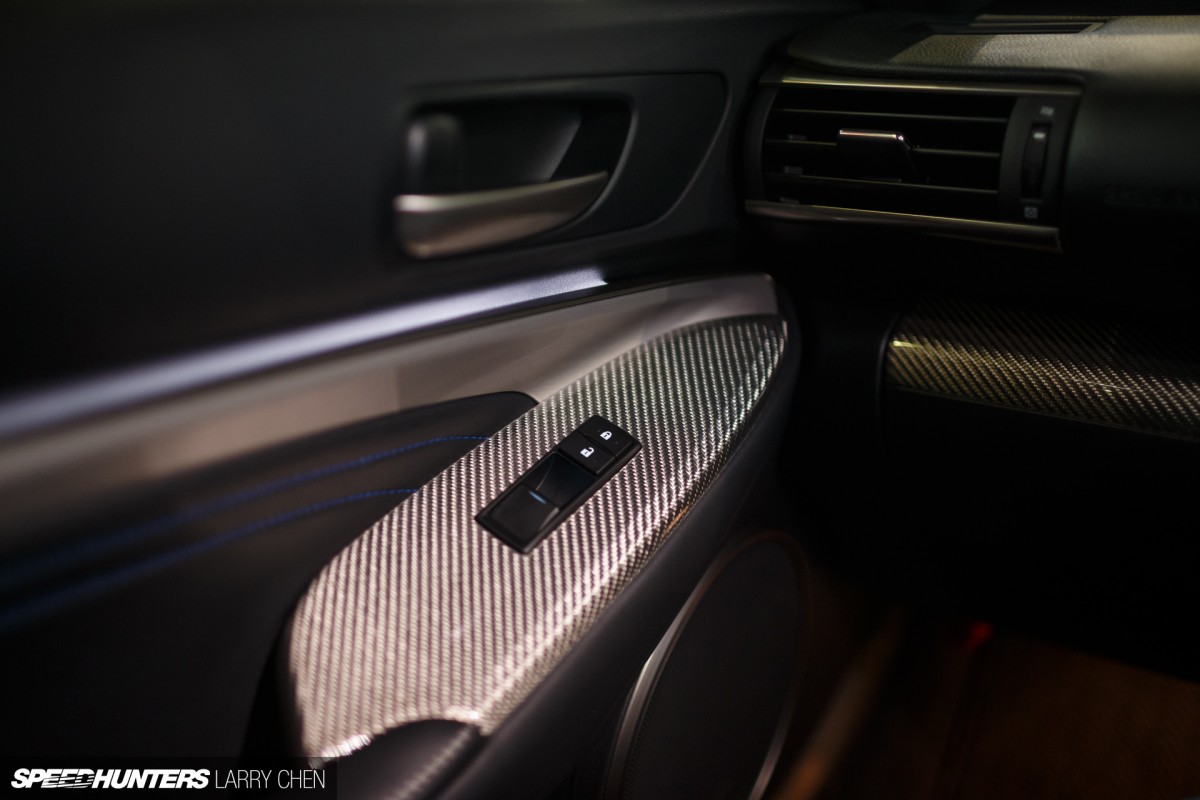 The test car came with the optional carbon pack. It was silver, and while it brightened up the black-on-black cabin with black stitching – a proper black hole for color – I just don't think it belongs in a car of this stature.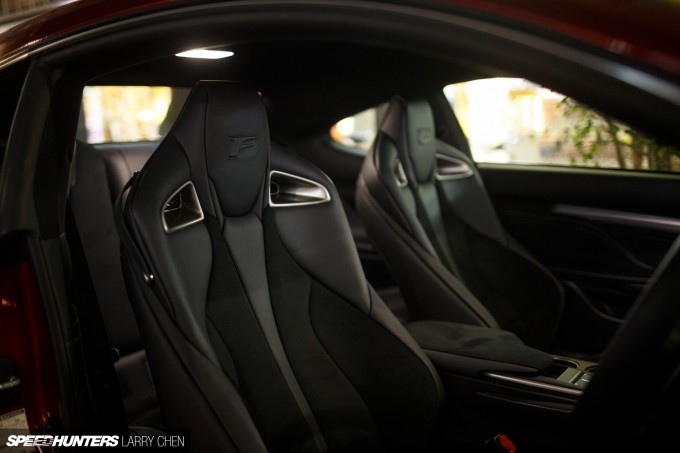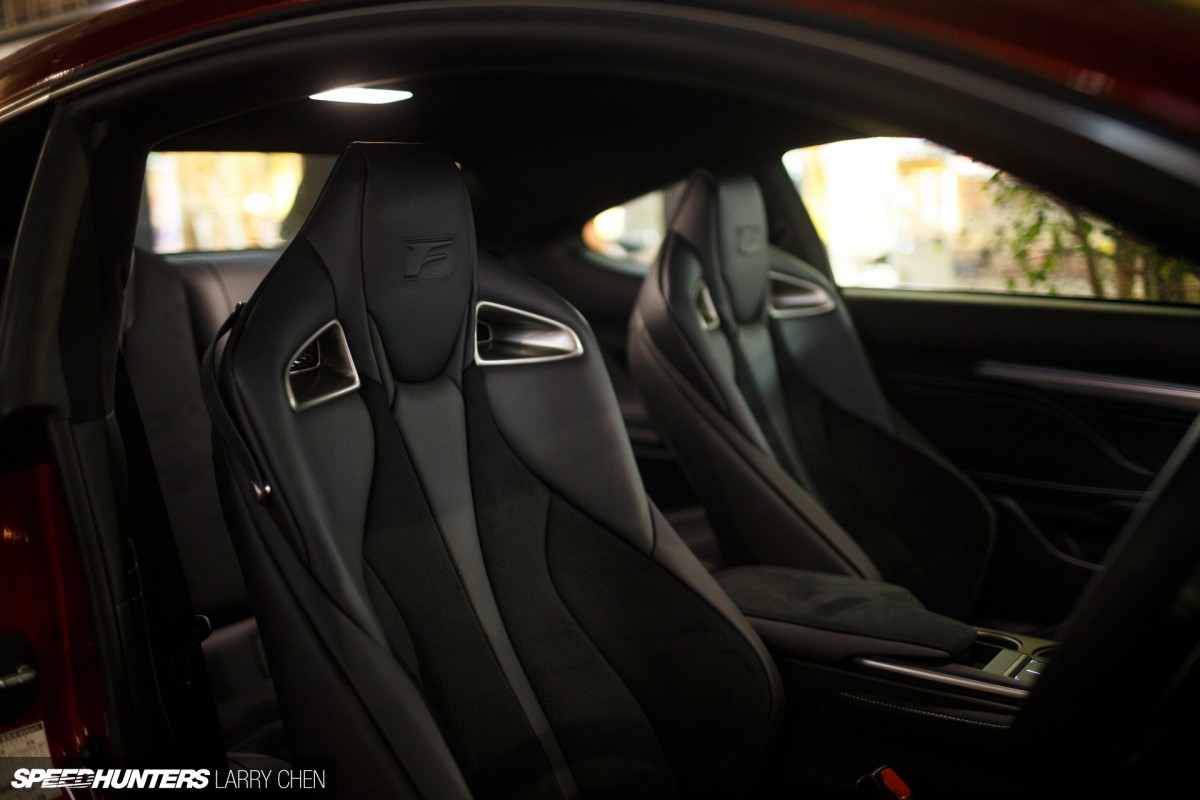 There's nothing bad to say about the seats, as they offer a great mix of comfort and support with a decent level of adjustability.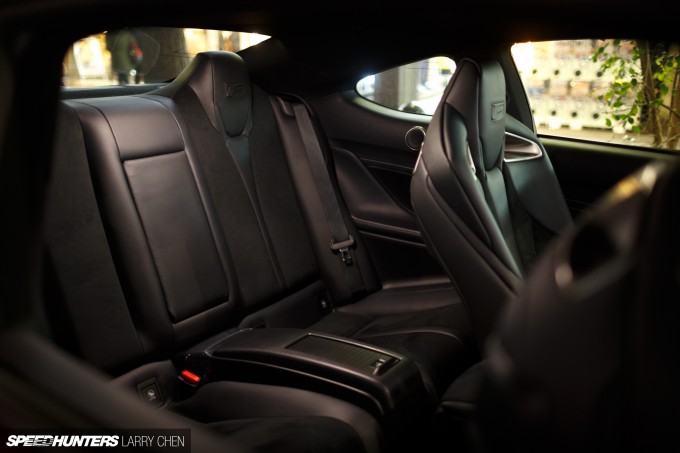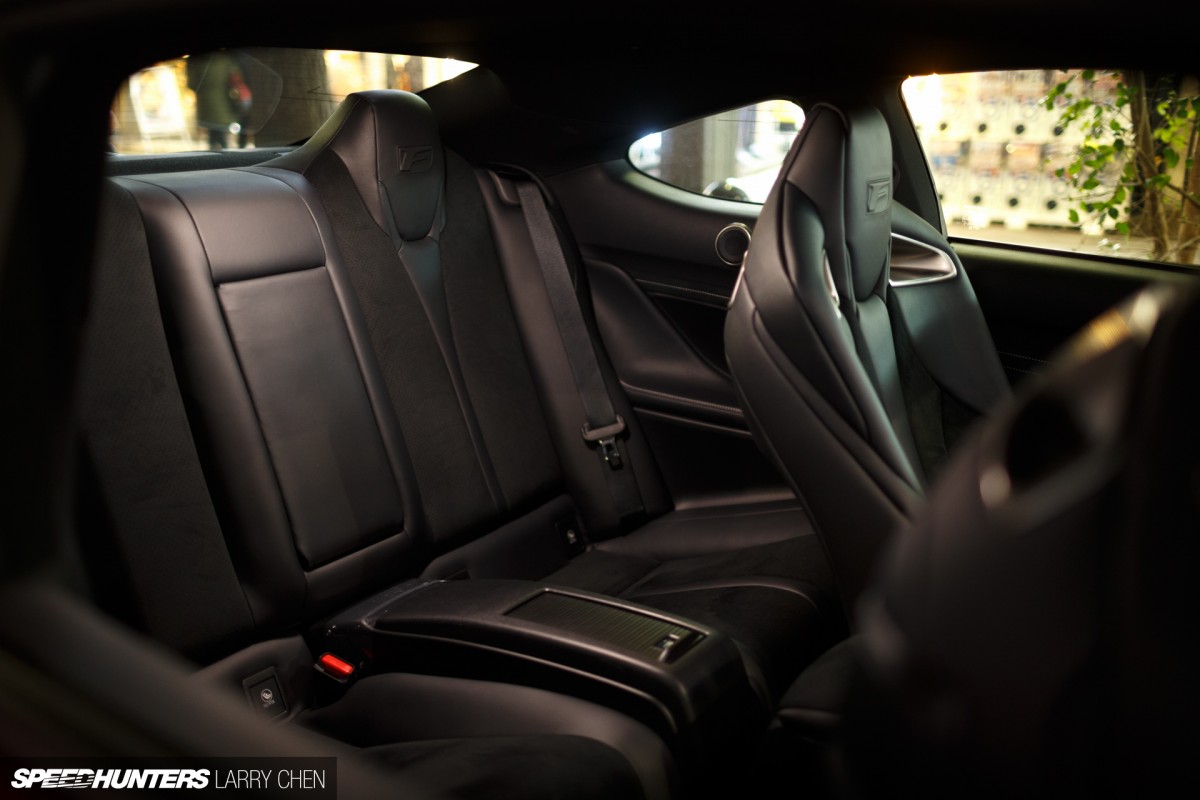 Tilt the backs forward and you have access to the two rear seats which are okay for short trips, but maybe a little too cramped for longer journeys. It's a drawback of the nice coupe roofline.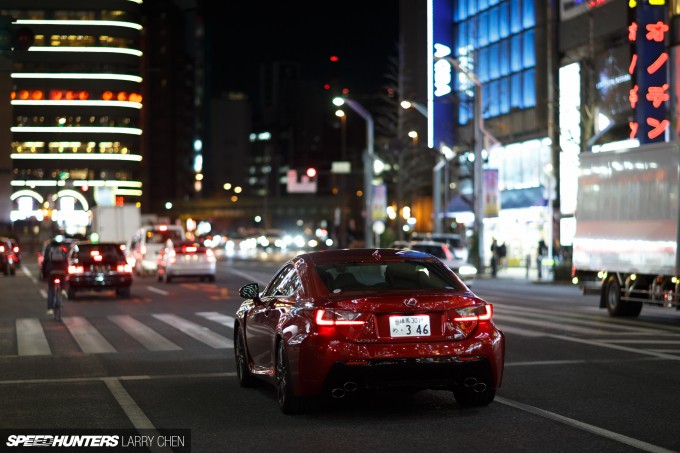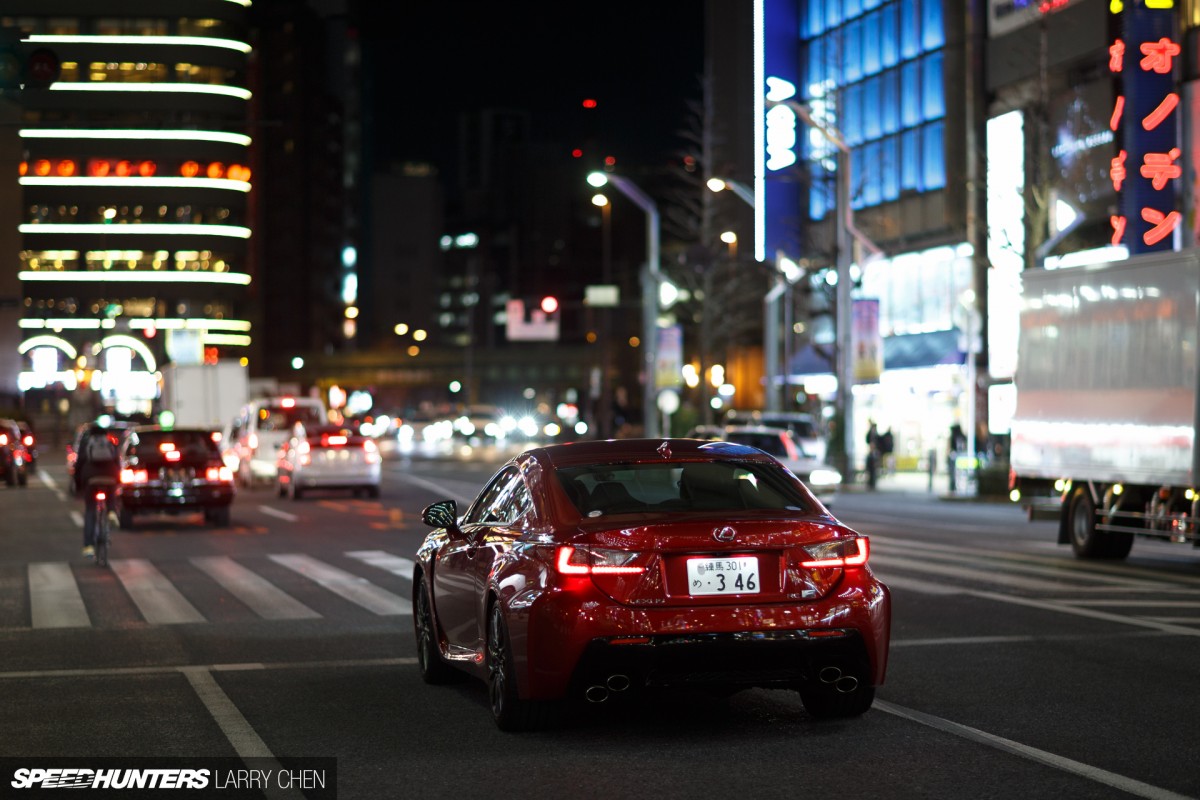 It took some time to figure out and then appreciate the RC F for the car it's trying to be. I ended up not bothering with the frustrating drive modes, just leaving it in normal most of the time and enjoying its true nature as a fast and comfortable road car. Still, I can't help but think that Lexus could have done a lot more with this car: a more modern feeling engine – turbocharged perhaps, a more modern-feeling transmission, and more carbon fiber where it counts the most. I mean, where did all that investment into the LFA project go? Where is that trickle-down effect?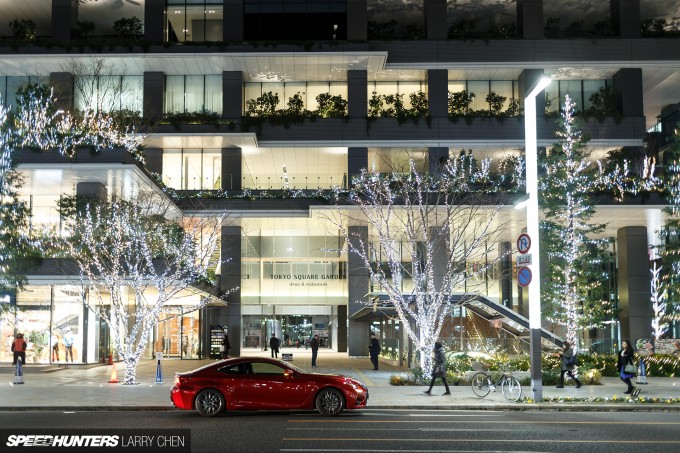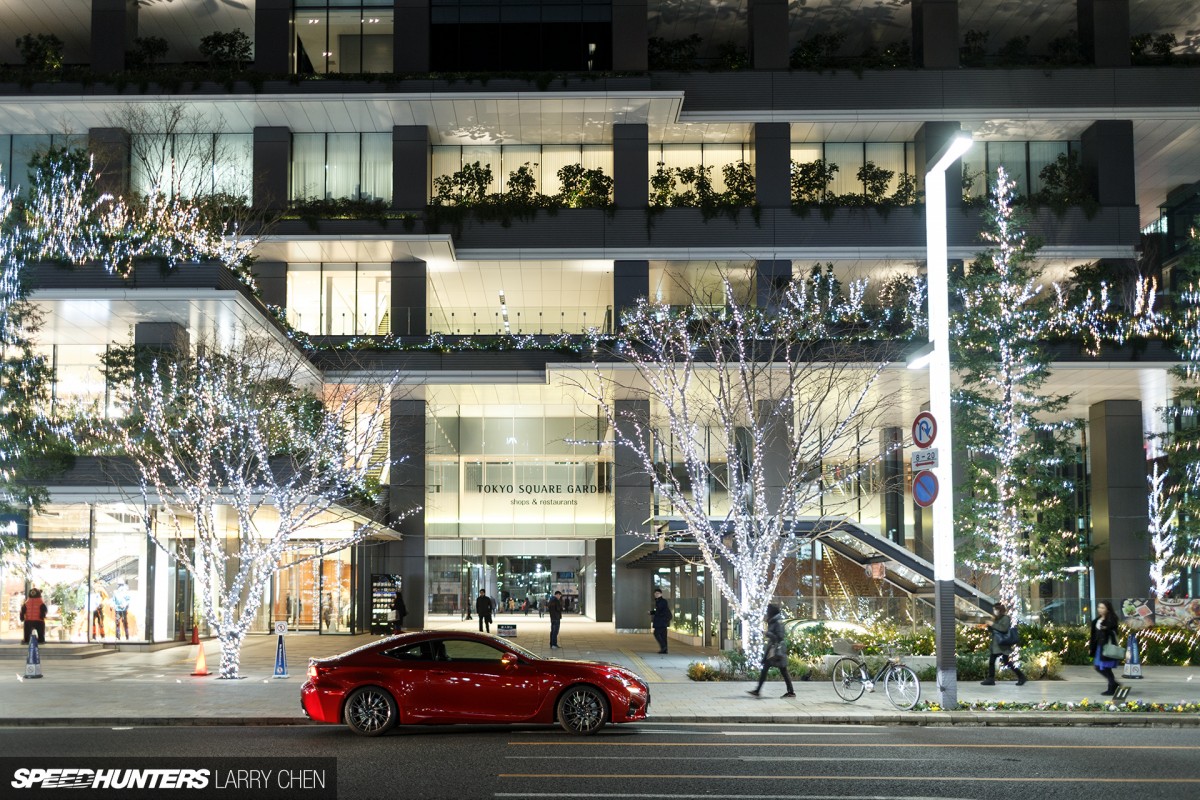 For a company that prides itself in offering hybrid options across its entire lineup, having a 5.0L V8 guzzler that doesn't even have a start/stop function for town use (trust me it makes a difference in Tokyo!) further confuses me too.
I'm hoping we'll be seeing a stripped-out, more focused version of the RC F in the future – one that will get those that really enjoy a tantalising drive and the occasional track day to jump over to Lexus. Until that happens, the Germans still have the upper hand.
Dino Dalle Carbonare
Instagram: speedhunters_dino
dino@speedhunters.com
Images: Larry Chen
Instagram: larry_chen_foto
larry@speedhunters.com