On Holiday With A Brute
It's difficult to write about an experience like an international automotive media launch event without sounding like kind of a boastful jerk.
Here's what happens; a car manufacturer flies you out to a location (usually scenic with good weather), they put you up in a nice trendy hotel, they feed you fantastic food, and you get to drive their latest and greatest cars. To me, and countless others I'm sure, this sounds like a dream vacation. That's because it pretty much is.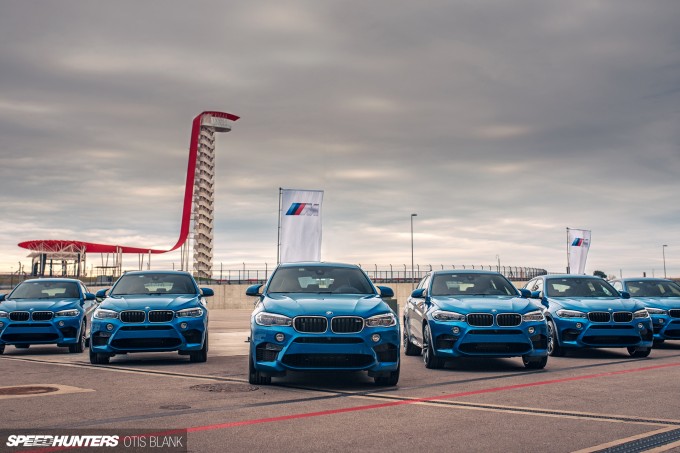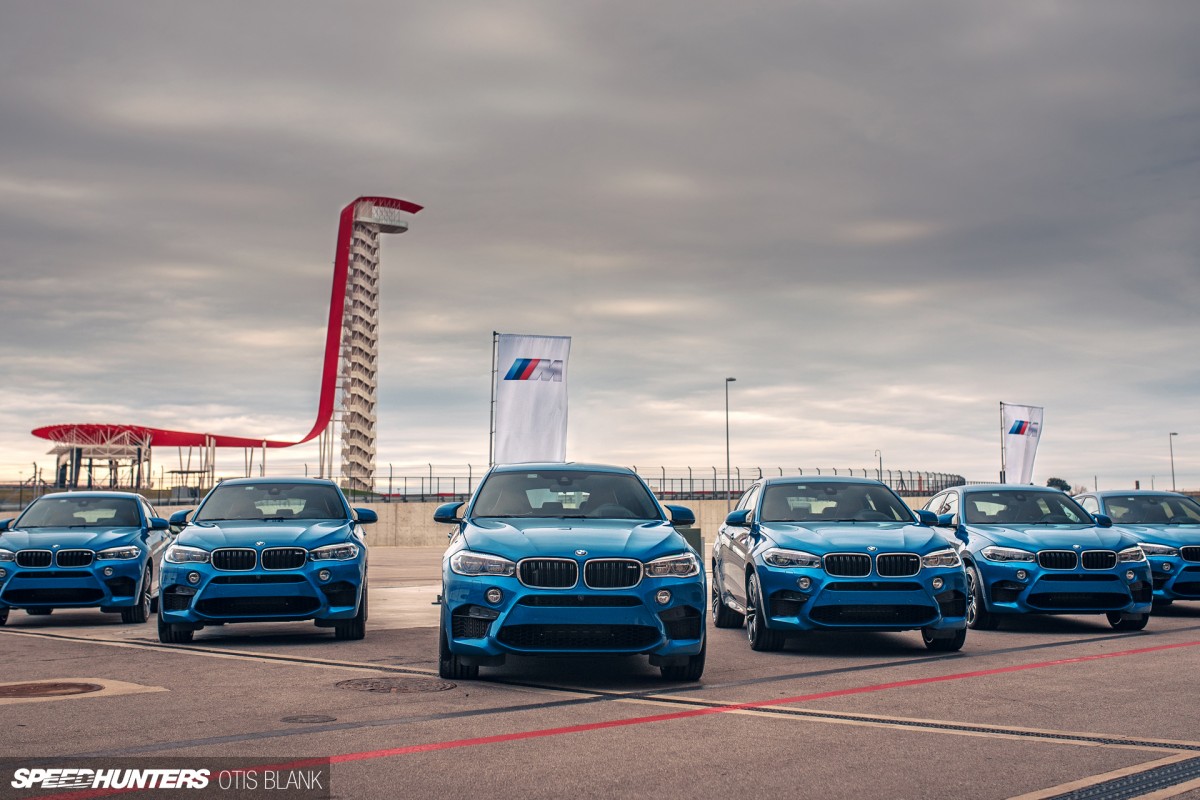 For those uninformed, media launches are a big part of selling cars. Manufacturers put their new models in journalists' hands so they can get their first-hand impressions published – hopefully combating the monotony of copy-paste stories ripped from press kits. In order to do this they will rent out a space (often a race track) for a long enough amount of time to have waves of journalists and media people come through and drive their brand new cars on designated routes and courses.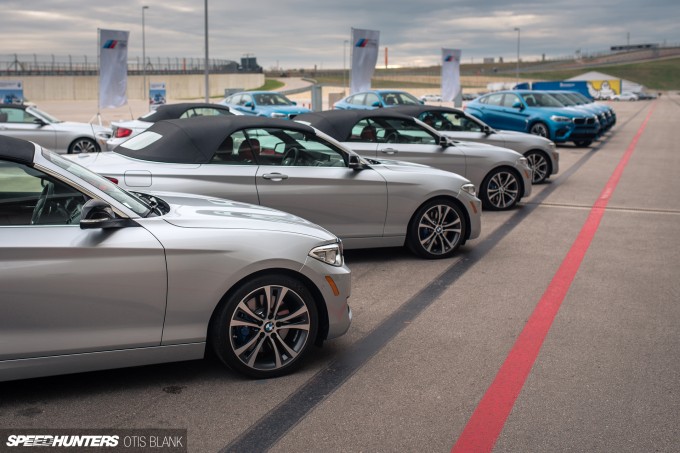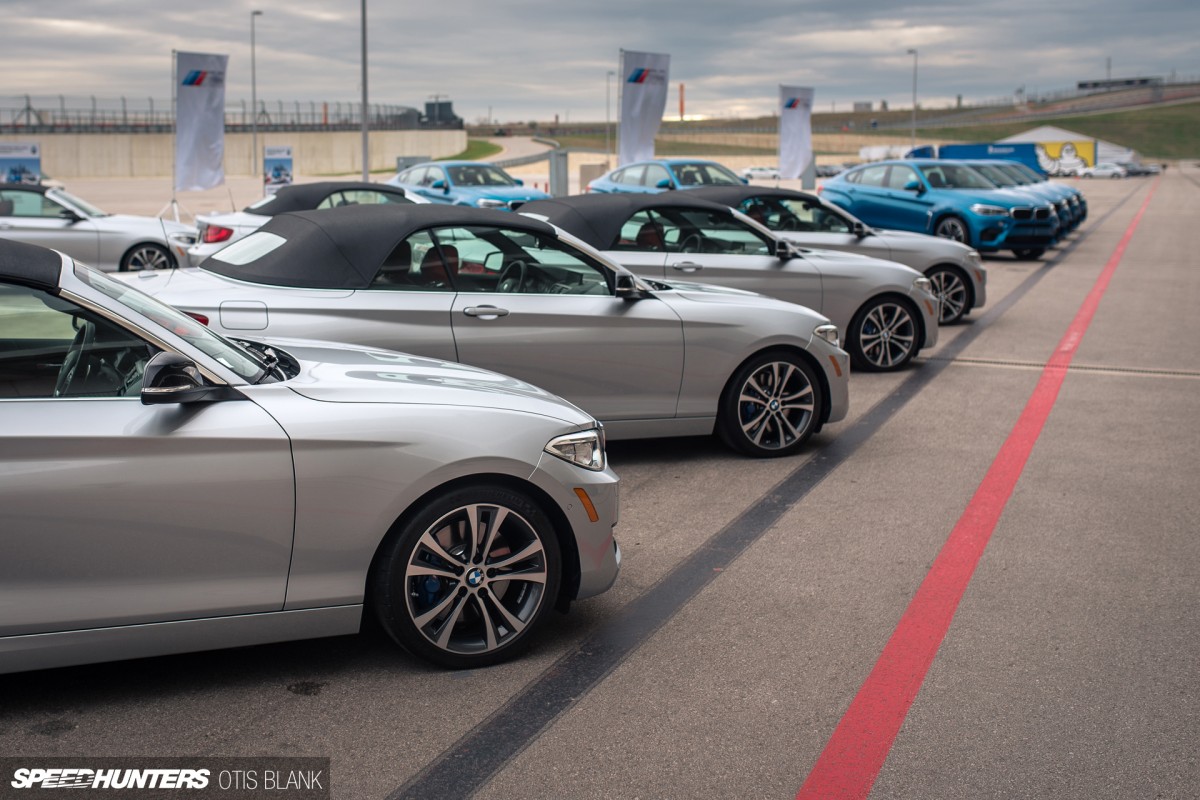 In this case the manufacturer was BMW, the track was Circuit of The Americas, the routes were around Austin, and the cars were the new 228i Convertible and the monstrous new twin turbocharged V8 X6 M. As you'd imagine I was pretty excited.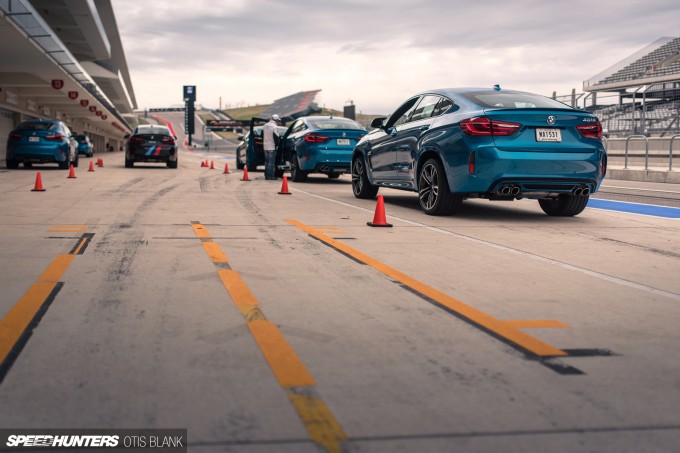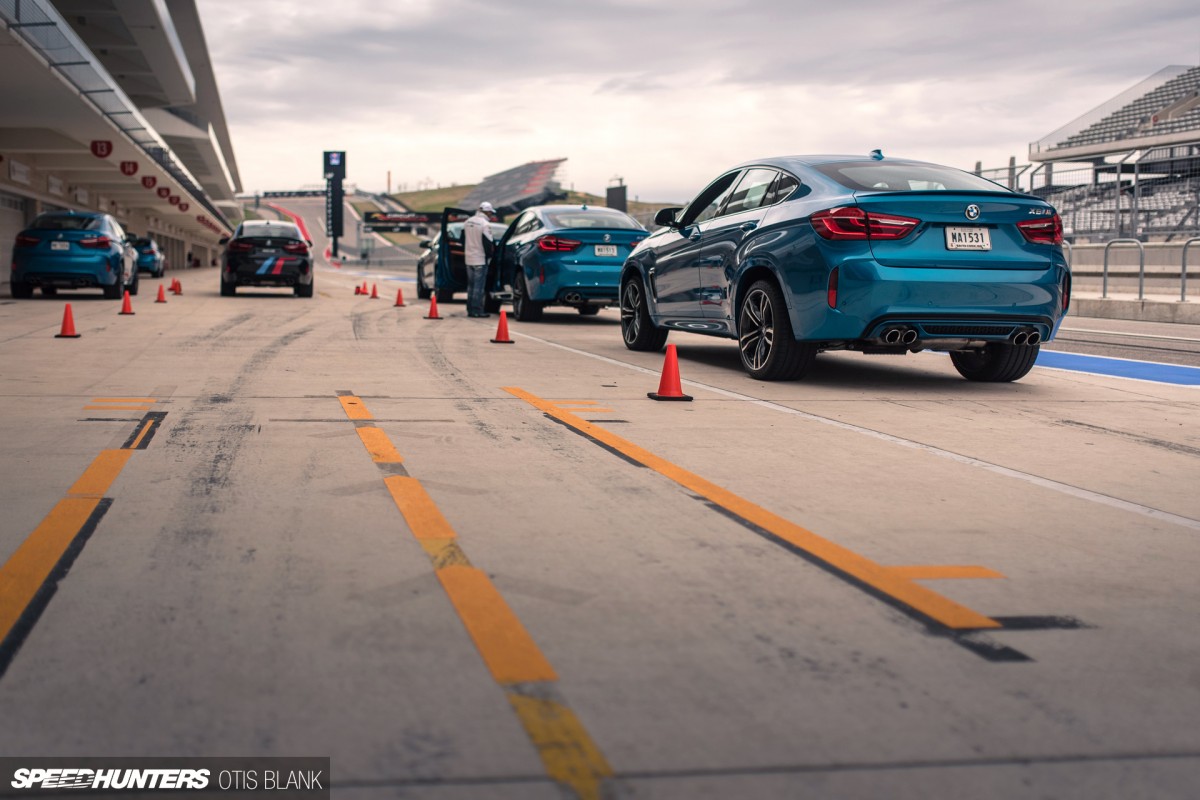 I don't have a bucket list, but if I did it was about to get a whole lot shorter after this occasion. I had never been to Austin before, I had never attended an automotive launch before, and the biggest one for me – I had never driven on a real race track before.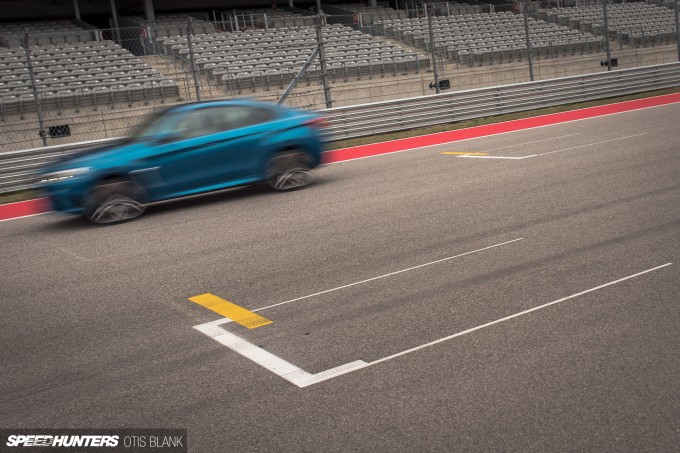 Circuit of The Americas is the only track in the United States currently being used for a Formula 1 round, and like Texas itself, it's BIG. There's 20 turns through 3.4 miles of tarmac here, so plenty of room to effectively exercise the sizeable X6 M.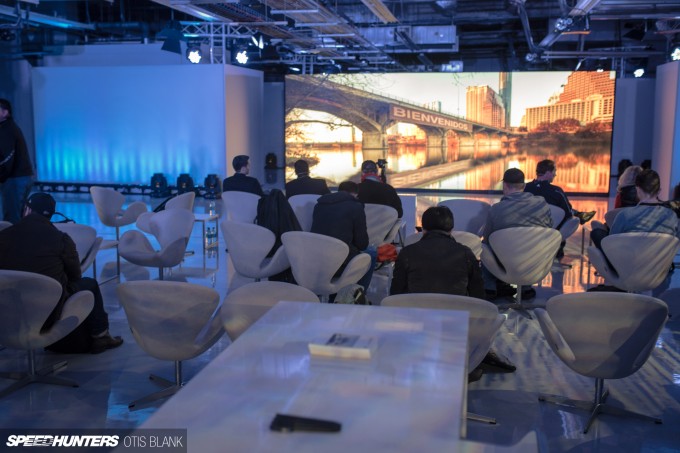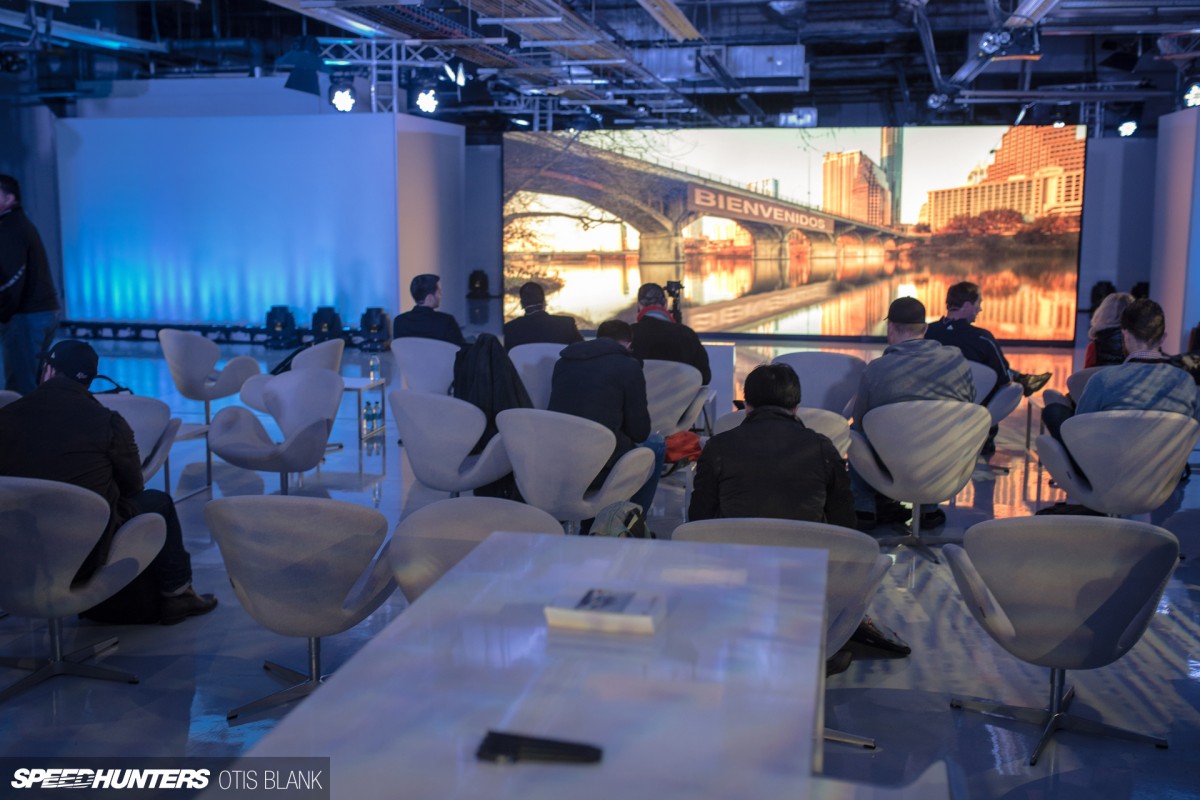 The launch event was broken down into three drives: the X6 M on its designated road course, the 228i on its road course, and the X6 M on track. Before any of that could take place though, it was press conference time.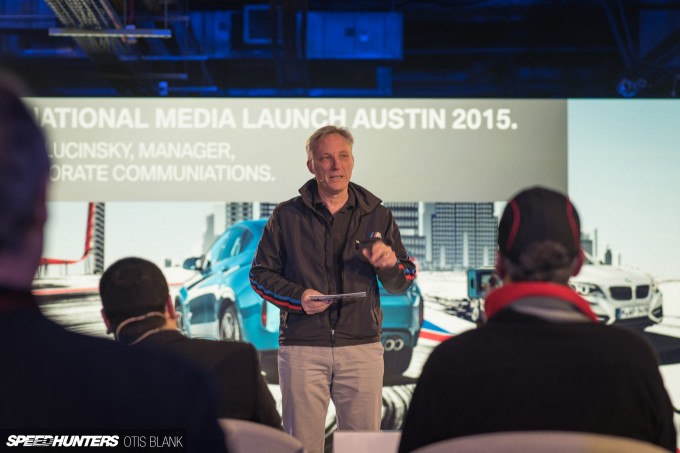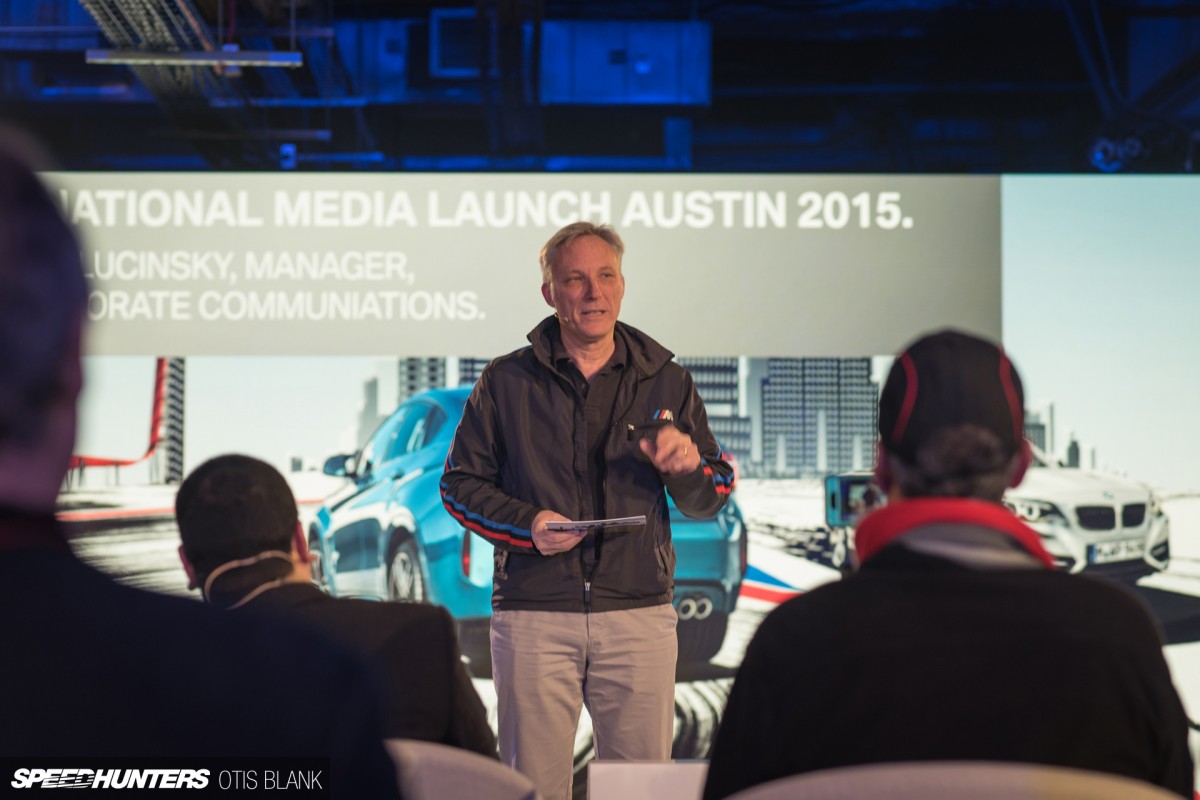 At the conference I sat freezing, not from the cold nature of press dialogue, but from the unusually chilly morning Austin was experiencing. At this point I was hearing a lot of numbers, not ideal for my un-rested and un-caffeinated mind, but fortunately I had a nice notebook and pen provided to me by BMW to jot down notes. Notes about achingly exciting things like developments in thermal management, or the fact that the 2 Series is now about 2 inches larger in all dimensions than the 1 Series it replaces.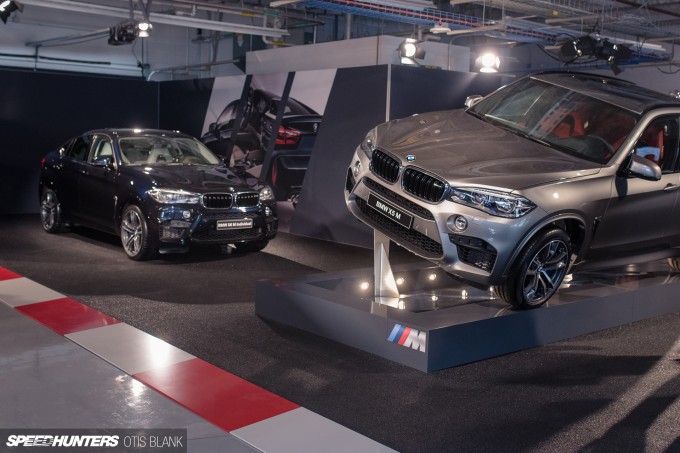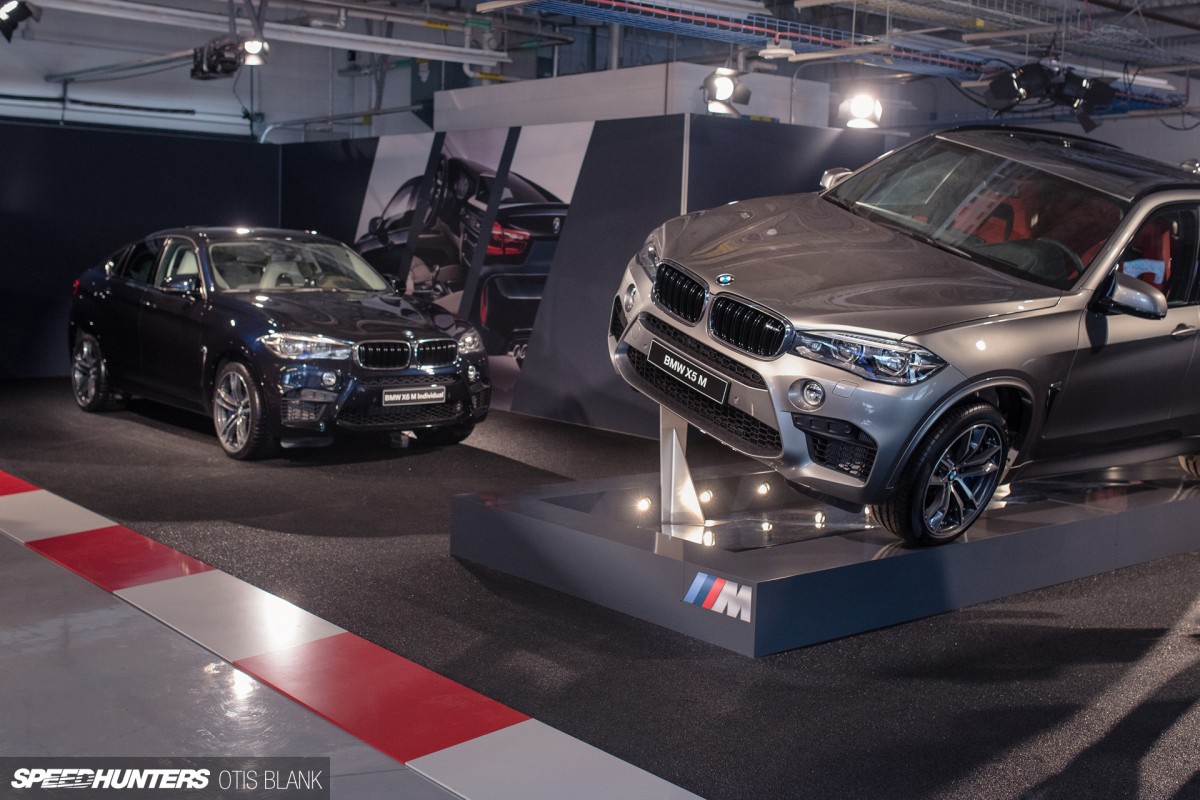 After the conference we were guided to an adjacent part of the paddock that was heated – a welcome adjustment as I somehow neglected to pack a jacket. This lounge area had necessary amenities and the cars displays were not unlike what you would see at your local dealer.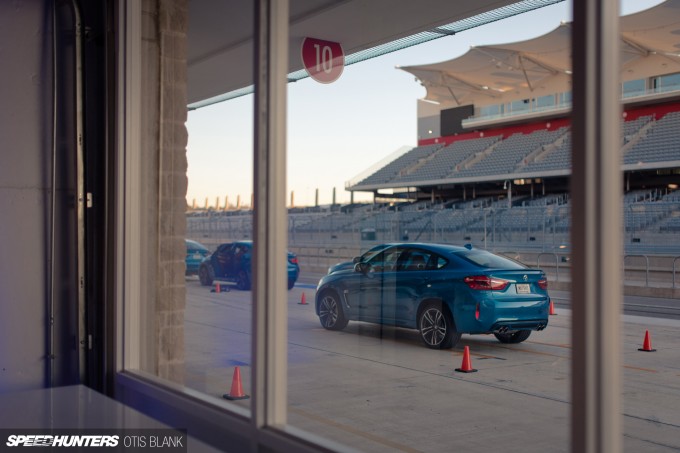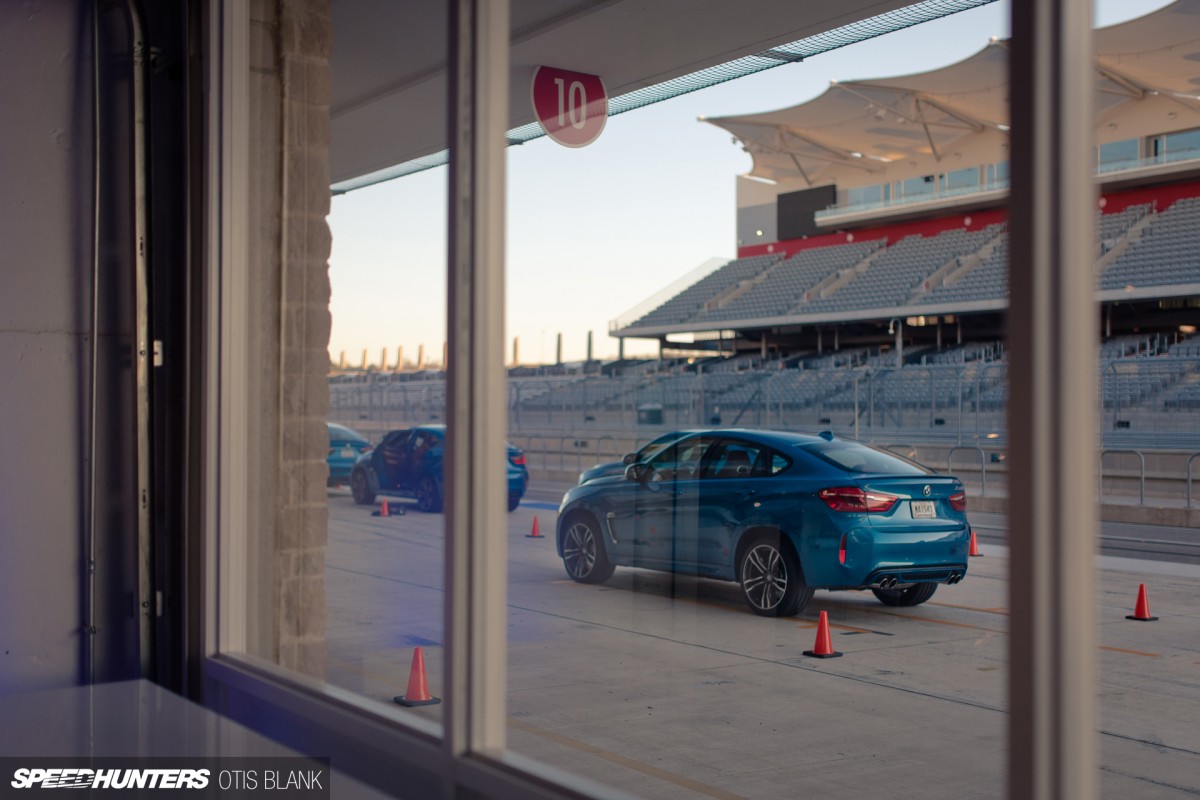 This spot effectively served as home base. It's where we ate lunch (Texas BBQ, of course), received our track briefings, and where we were handed our car keys. Once there we were split in to three groups – each group doing the three drive in a different order.
First Up: Track Time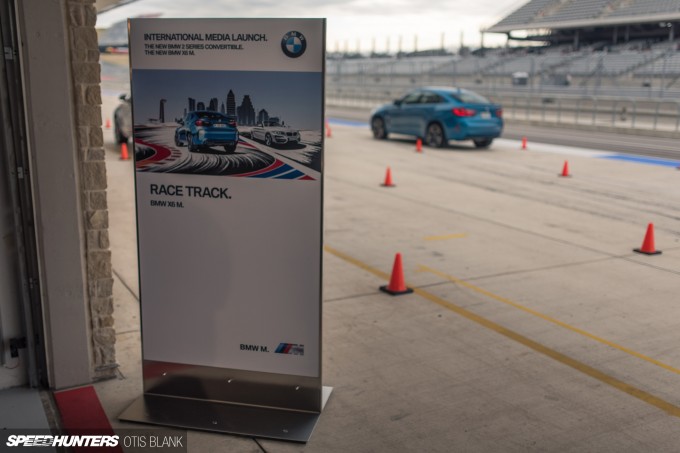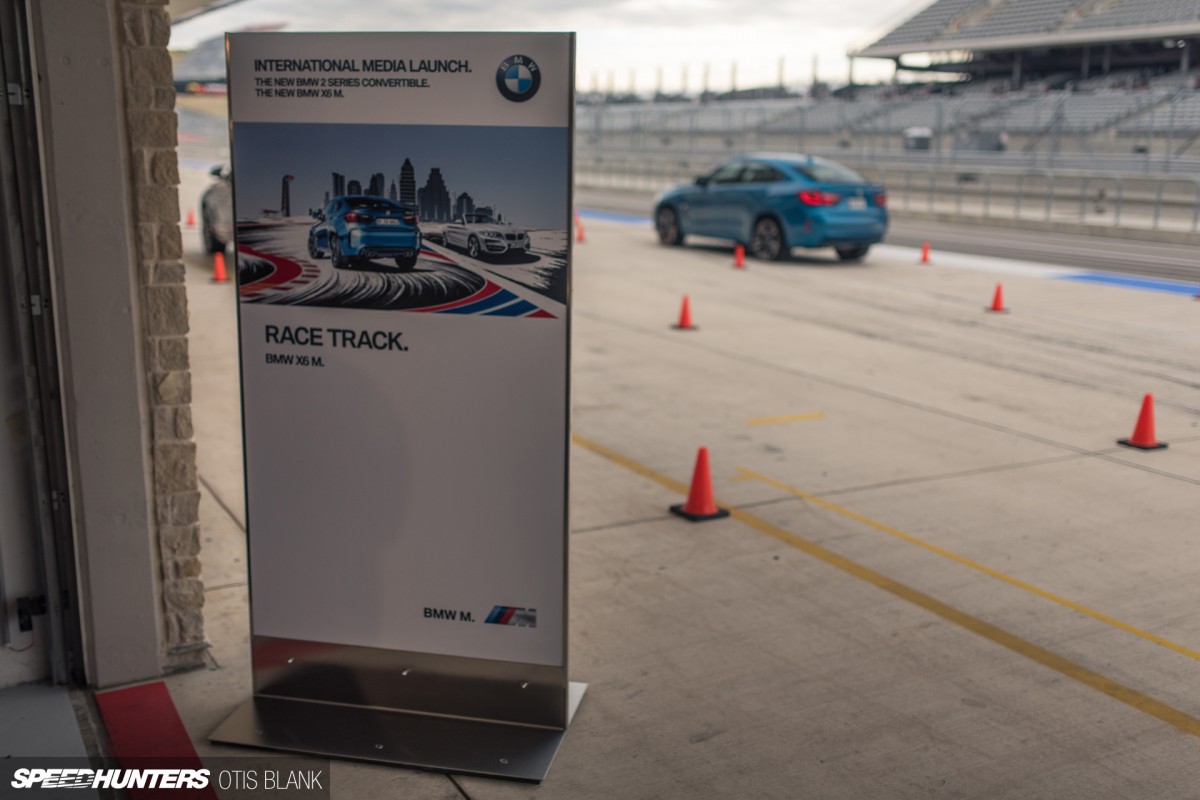 Getting on the track first thing was a daunting thought considering that my performance driving experience was so far limited to video games and a little karting. We were given an overview and track briefing from one of the lead engineers for BMW's X vehicles division, but I still didn't quite know what to expect from 575hp and 553lb-ft all wrapped up in a hulking and admittedly incapable-looking 2.3-tonne body.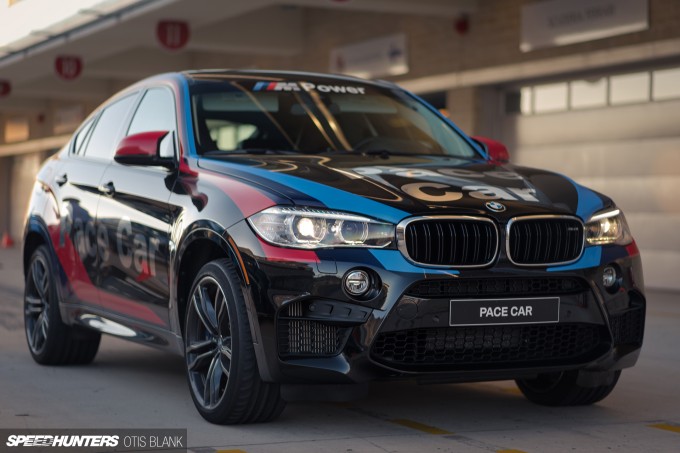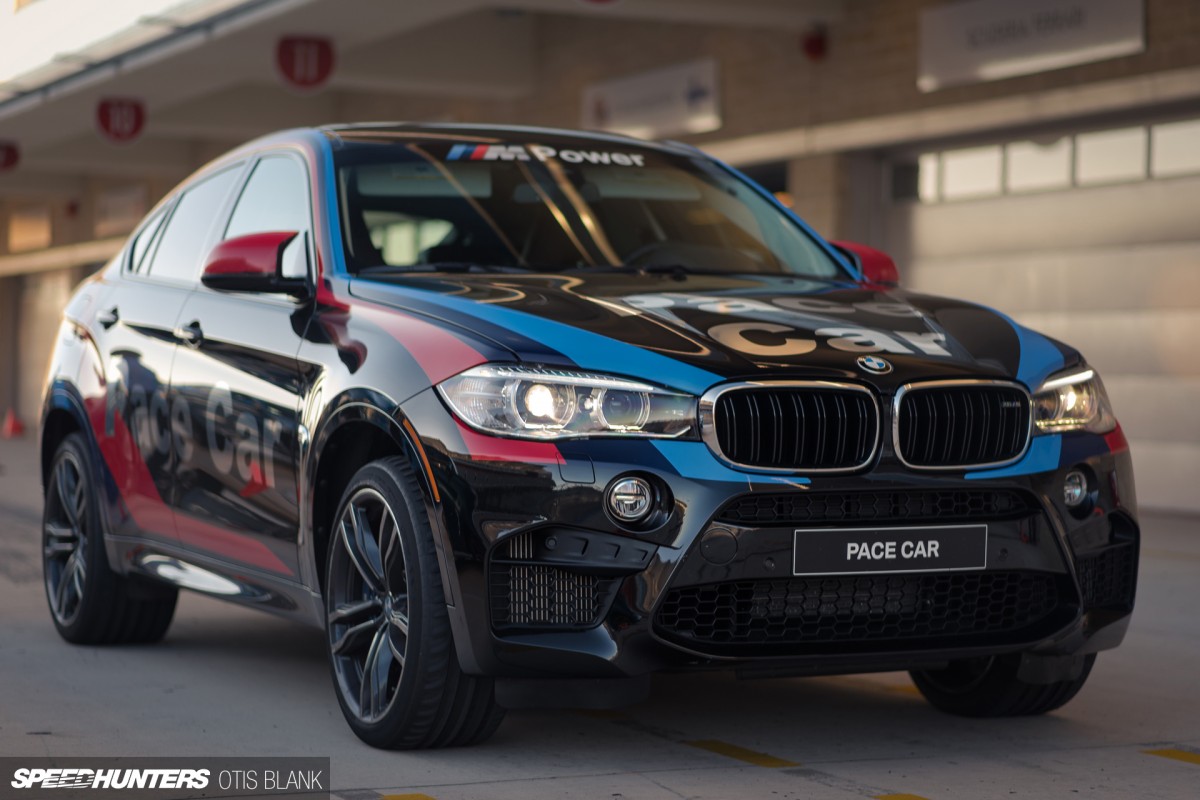 I was relieved when I found out we would drive in groups of three – two journalists led by a talented driving instructor in a pace car. Each of us had a walkie talkie so the instructor could communicate directly with us as we made our way around the track.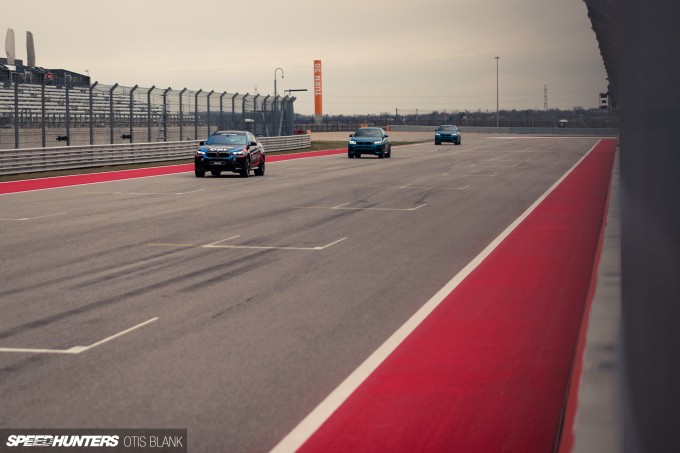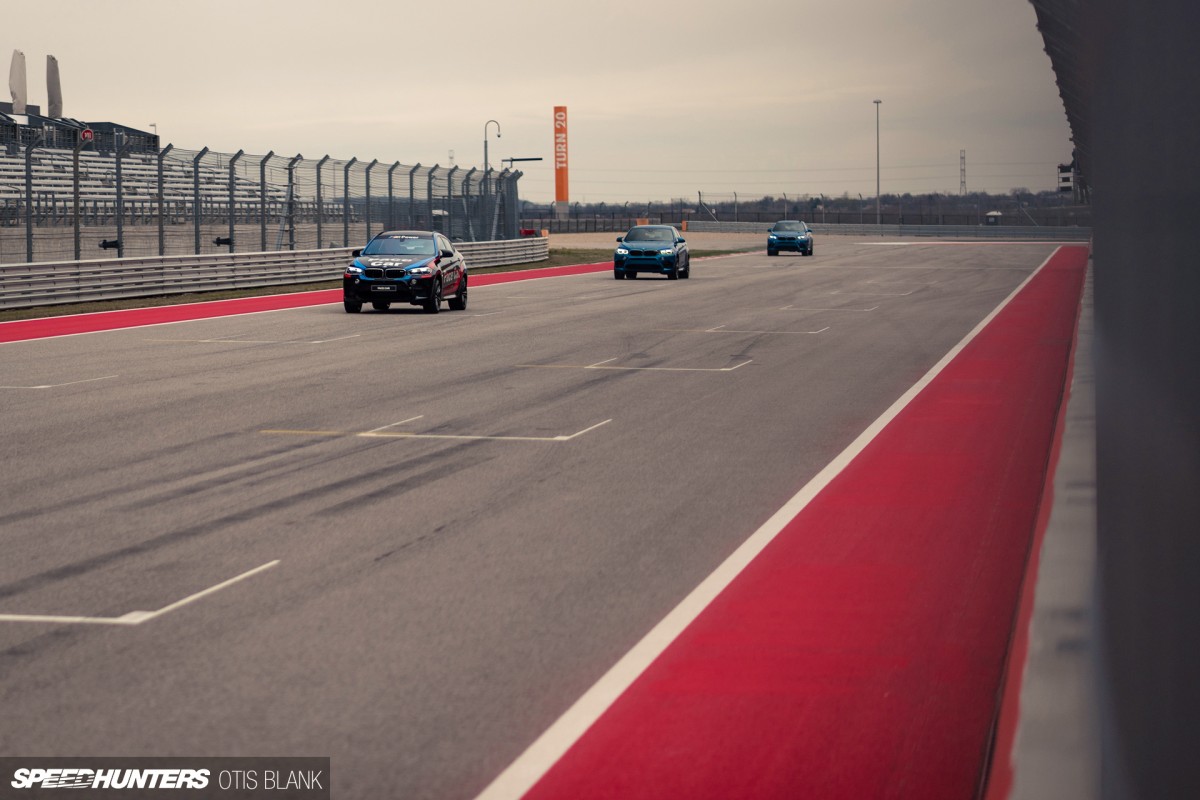 For the first few laps, the pace car would more appropriately be titled 'patience car'. Our designated instructor was very accommodating while we were getting acquainted with the new cars we were driving, but unfortunately for the seasoned journalist behind me, I was also getting familiar with driving on a new track – or any track for that matter.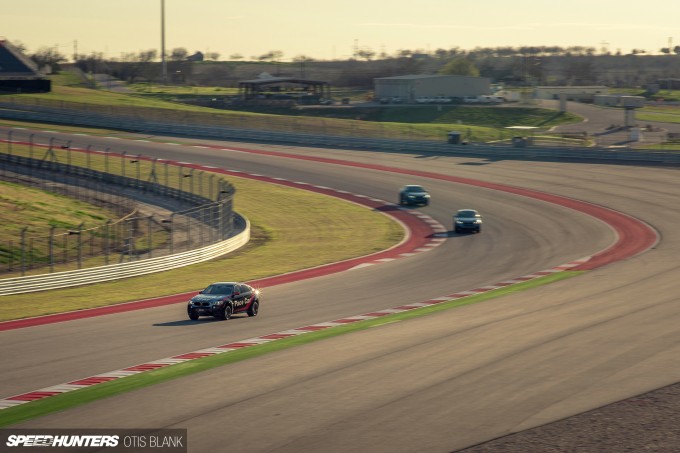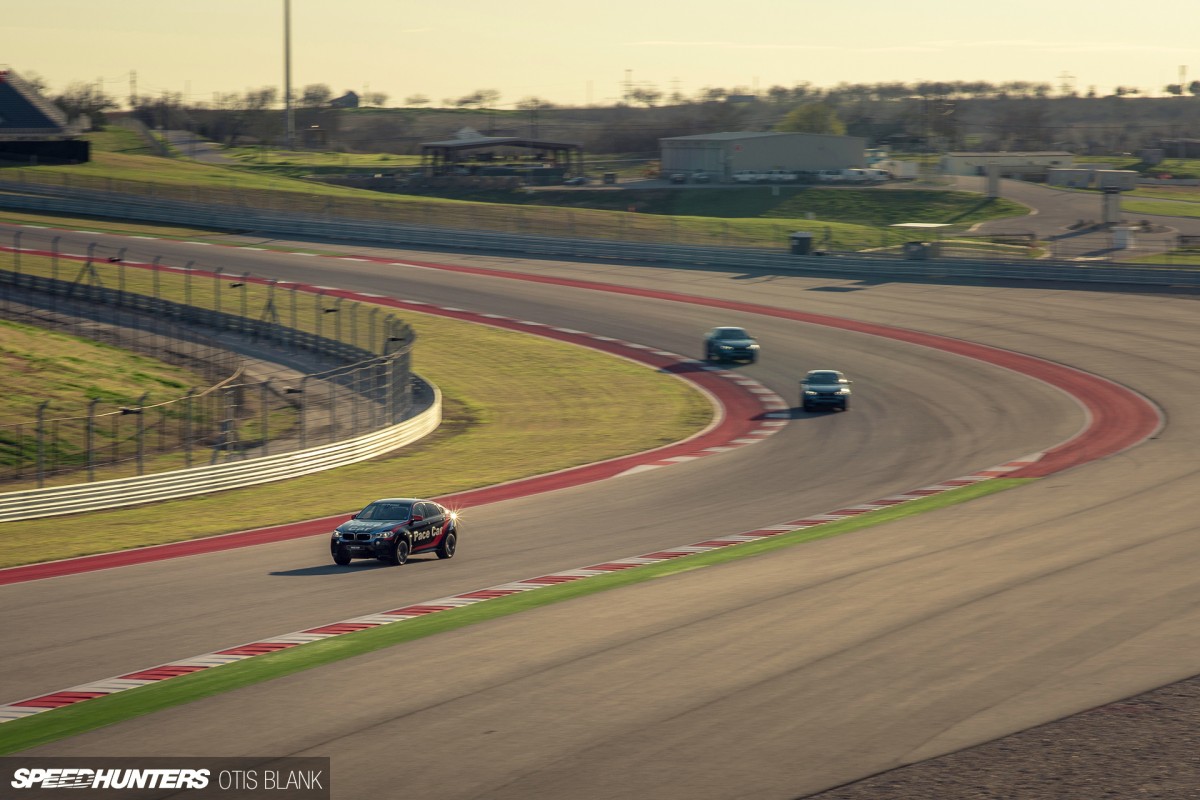 Any time I thought I was really making some good progress, I would check my mirror and see that the driver behind me was in fact still behind me and still very close. It was right after one of these moments that I heard over the radio, "Alright Otis, we're gonna do a little switch and let him ahead of you here." Before the instructor even finished the sentence the other X6 M was next to me, and shortly after it was front of me. Fair enough.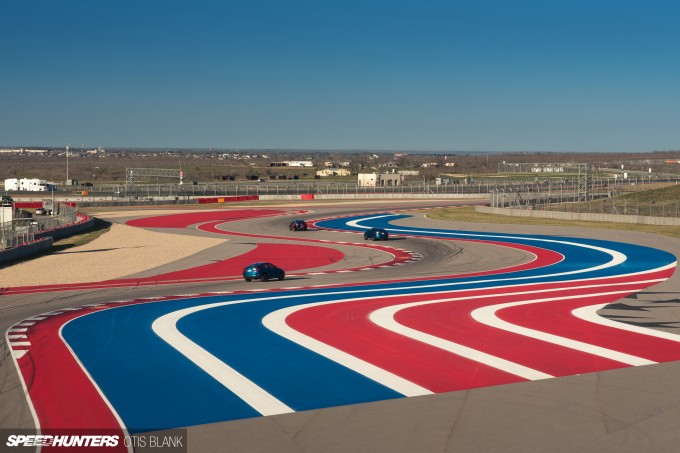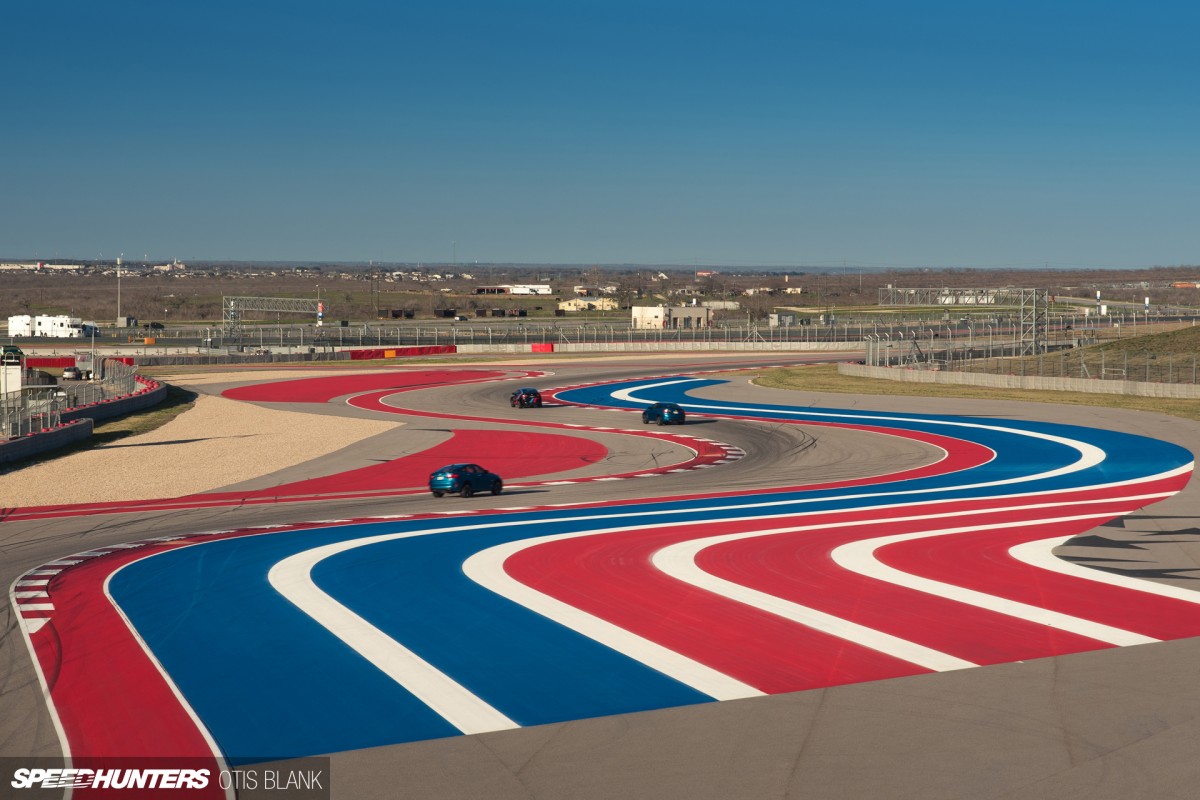 My driving may have been trash, but the X6 M was excellent. I was surprised at how well it took to the track environment for such a big, high-riding SUV. Even in my relatively incompetent hands, the X6 M managed speeds much higher than I would have thought possible through turns – thanks in part to the 4WD grip and clever torque-vectoring diffs. The most significant point of the X6 M for me though was the brakes. Having not driven in this environment before I wasn't used to slamming on the brakes so often, but every time I did, the big X6 M scrubbed off speed in a way I've rarely felt before.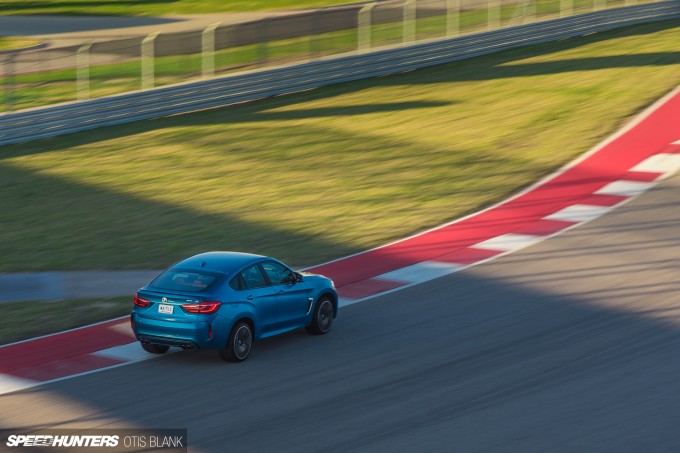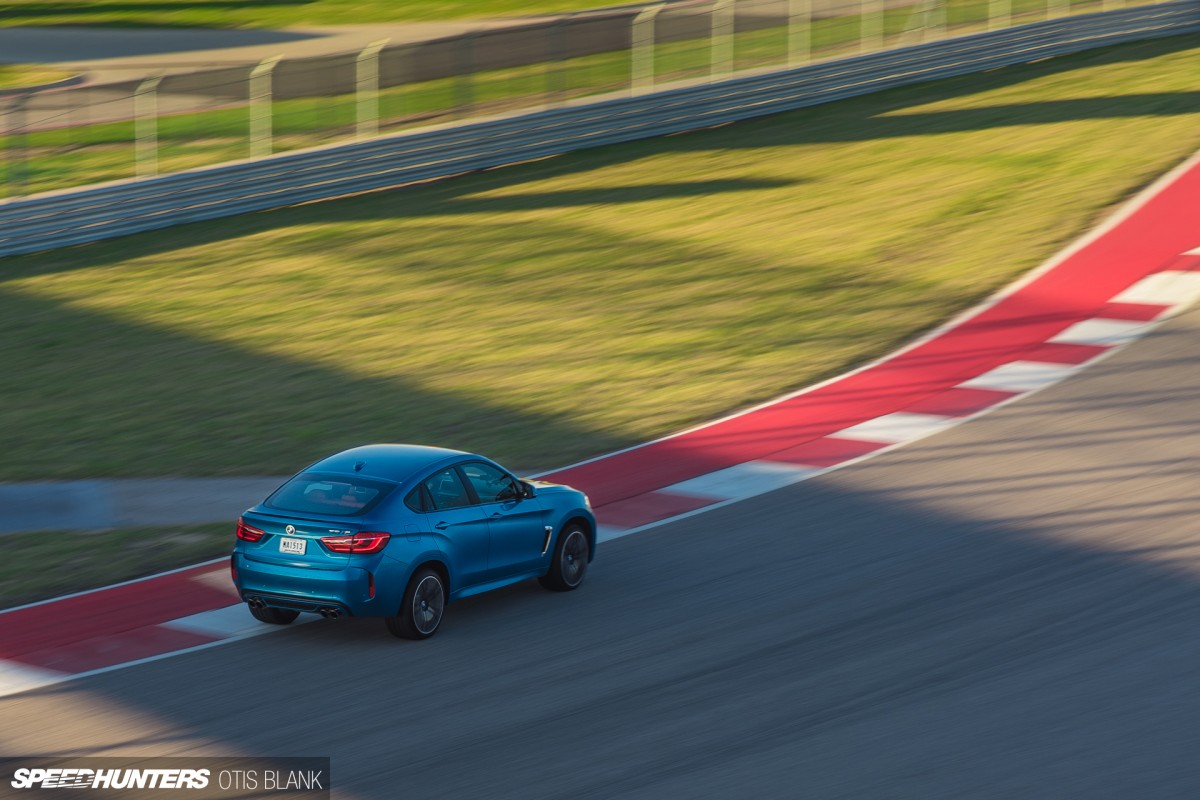 The X6 M does a great job of communicating to the driver – something many modern cars have trouble doing. The feedback through the brake pedal was dynamic and confidence inspiring. It sort of had two stages; the first is the initial lighter braking that has less sensation but a good weight to it. Press harder than that and the pedal starts to communicate more directly the pain that you're now putting the brakes through in the form of much firmer and slightly shuddery feedback.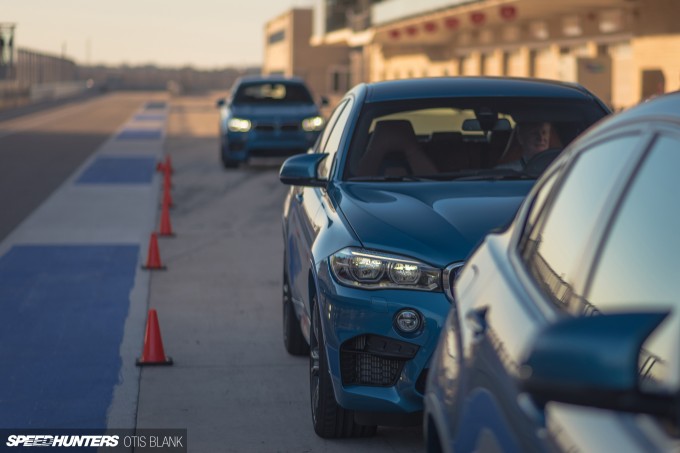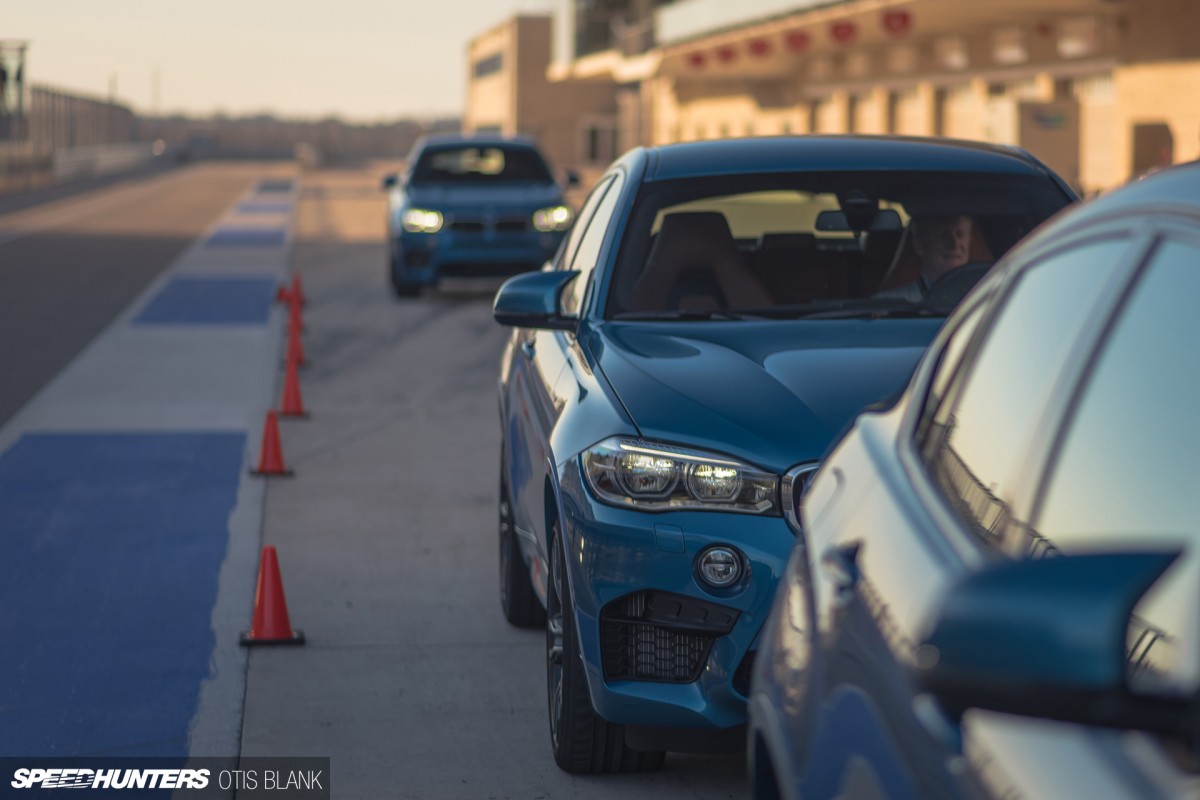 After six laps that feel way too short, it was back to the pits for cool down. Now properly awake, all I wanted to do was get back on the track to see what improvements I could make. I did eventually get the chance to do another six laps, but it still wasn't quite enough – I still felt like I could go faster. I imagine I would feel the same way even after 60 laps though.
Scenic Driving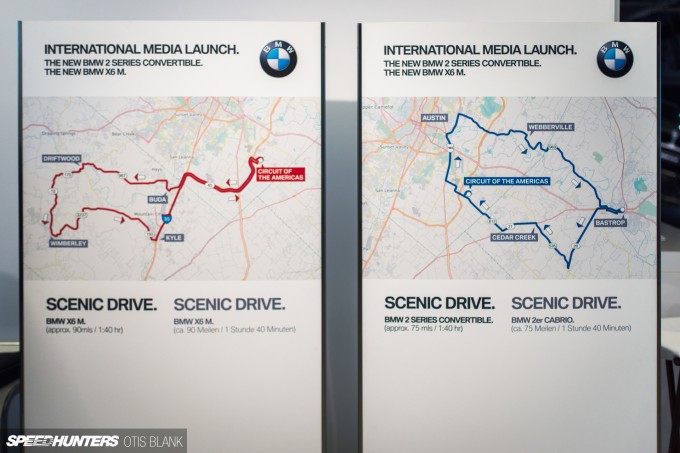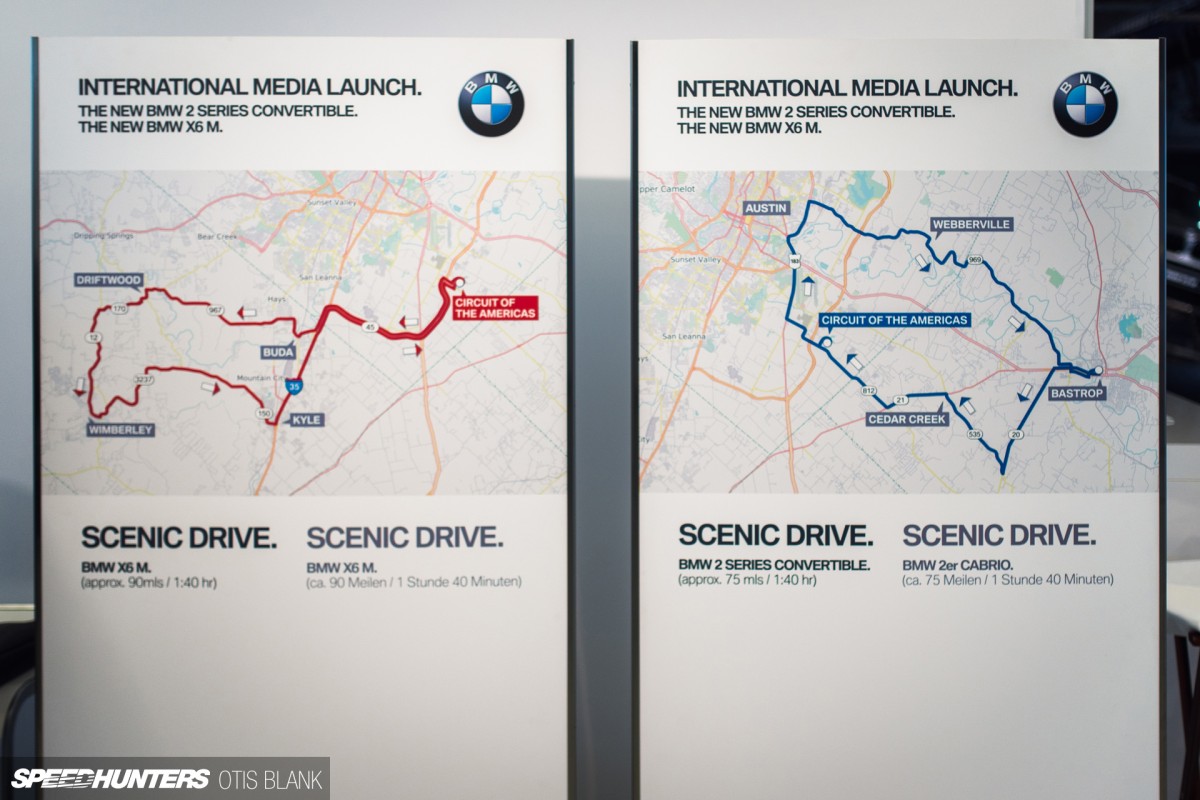 With a good amount of sweat expended behind the wheel on track, the next part of the day was sounding just fine. It was now my turn to drive the X6 M on a much more leisurely run through some local scenery.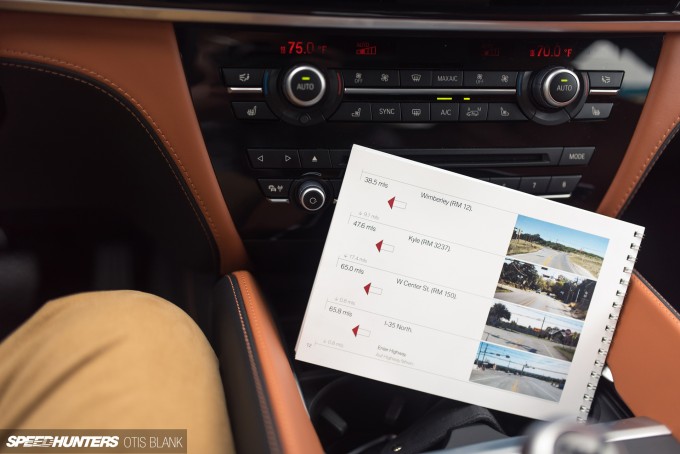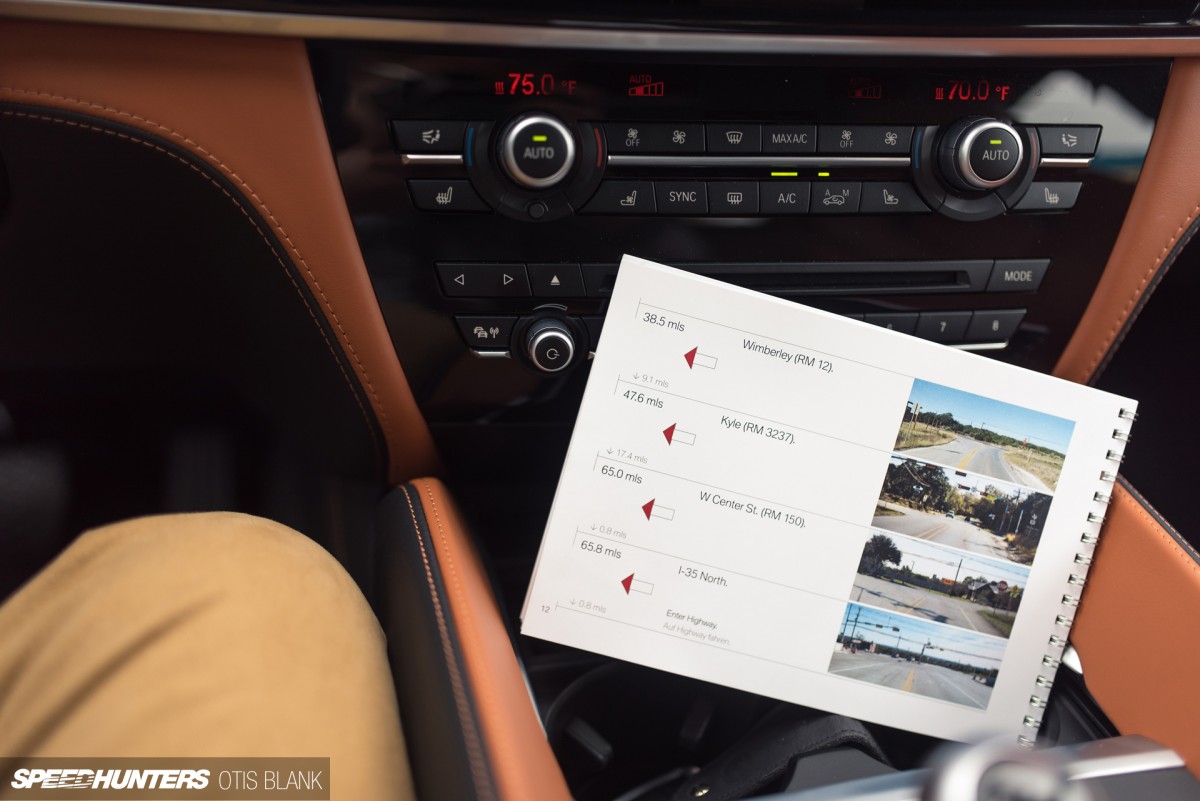 For this part of the experience I was partnered up with another journalist for the ride. While I like a good solo drive, this isn't such a bad thing, as having someone to help navigate unfamiliar territory is pretty helpful. Guidebooks are left in the cars and feature turn-by-turn directions and photos of the intersections and junctions. But even with the visual assistance, I managed to get us off course pretty much straight away when it was my turn to do the guiding.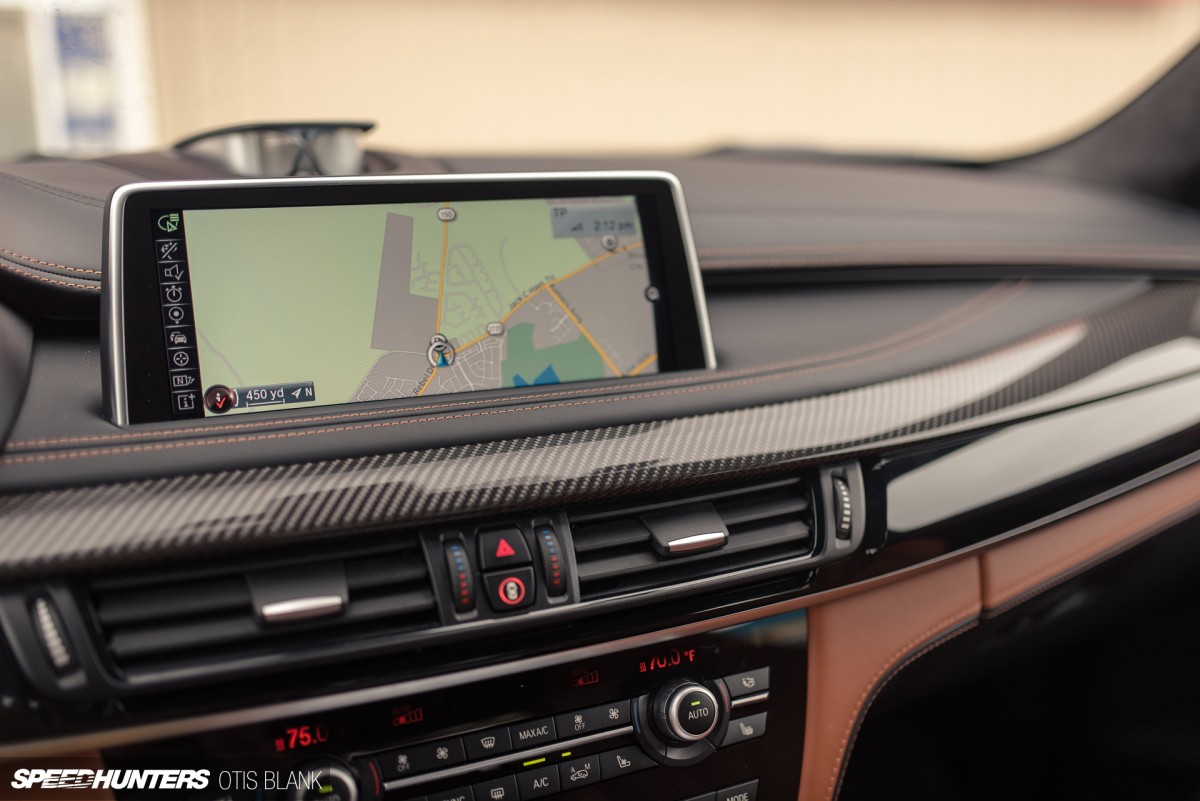 With my mind off chasing quicker lap times I had the chance to take in the simple beauty of the X6 M's interior. These press cars were all specced the same and they all looked great to my eyes, though I'm a sucker for rich tan leather.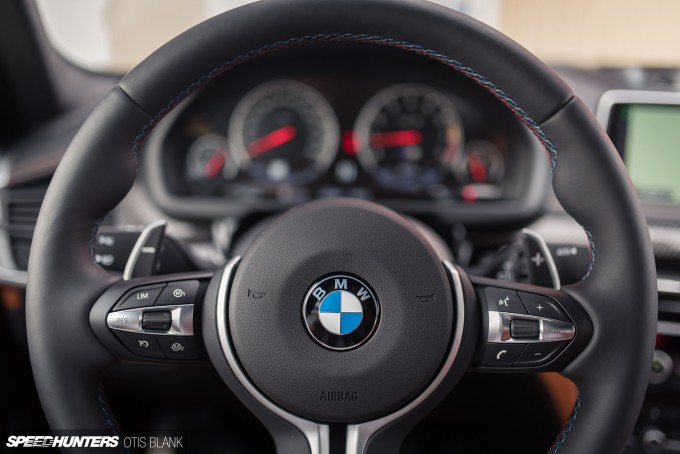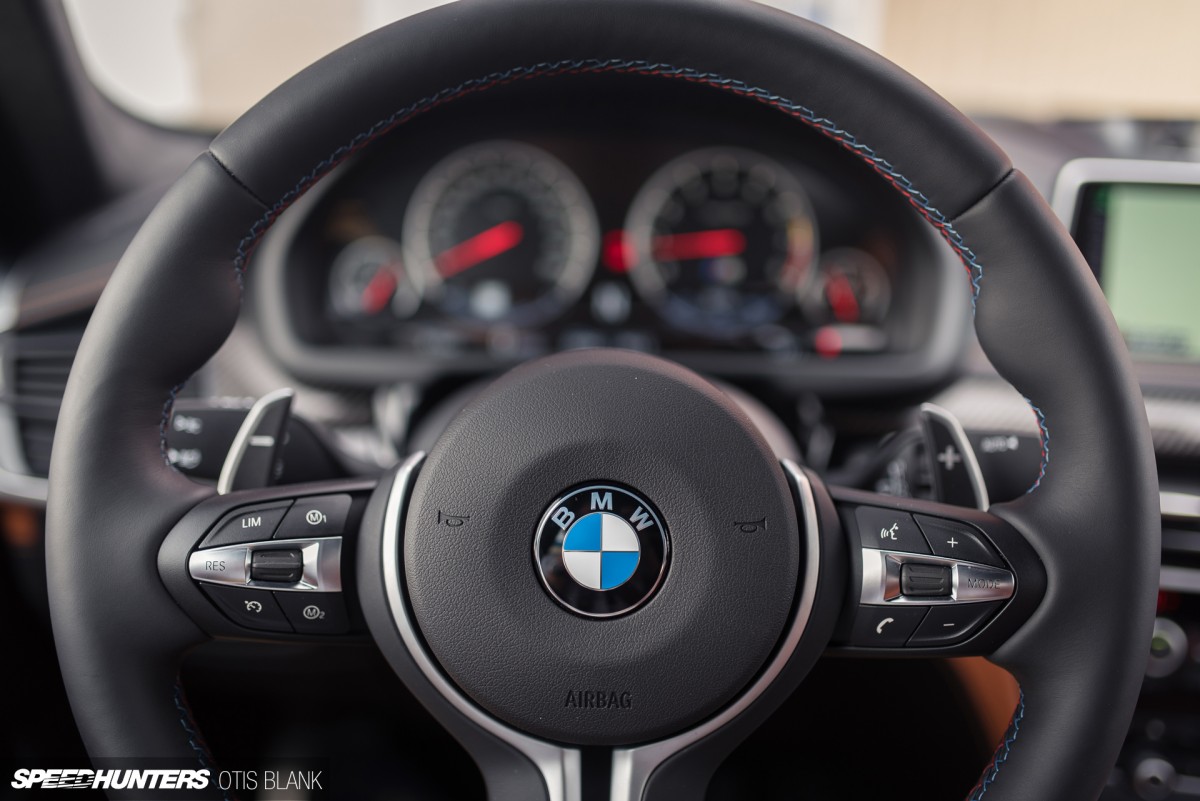 I've seen it before in other models from BMW, but I especially like the steering wheel. In addition to feeling right in your hands, it also just looks cool.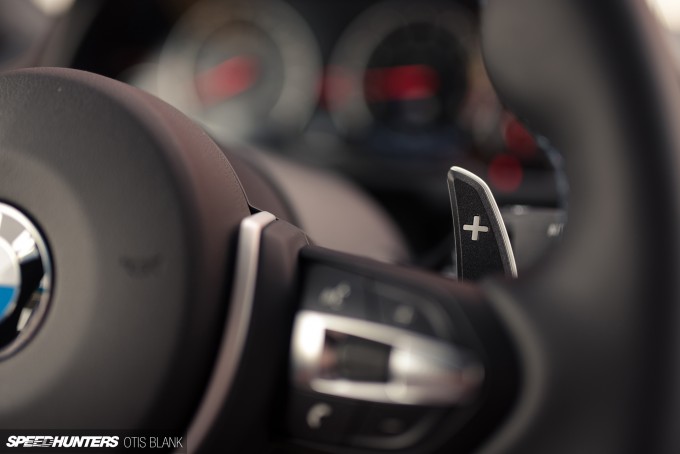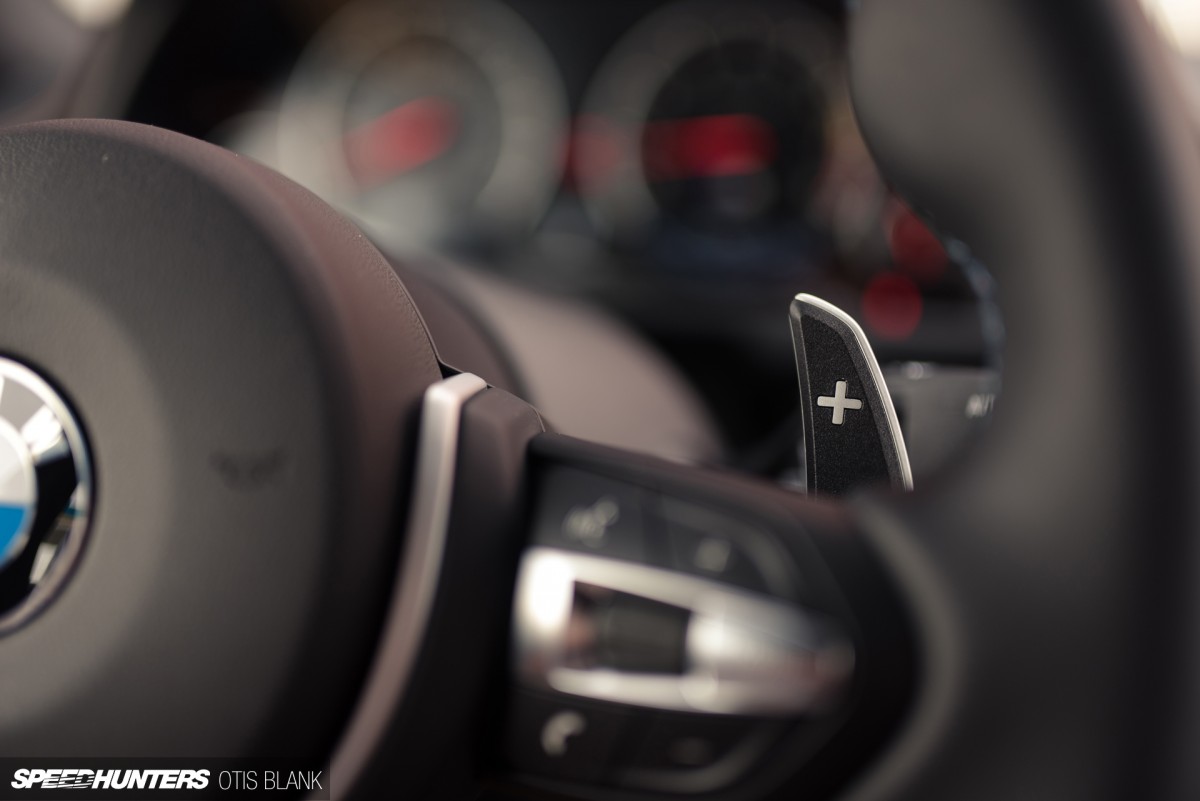 Just past the wheel are the blade-esque shift paddles that offer immediate control of the 8-speed transmission. Despite that number of forward gears almost becoming the standard these days, it still sounds a little weird to me. But in practice the transmission was fantastic. Shifts are snappy and intuitive, a tremendous improvement over the last paddle-shifted BMW I was lucky enough to drive – an E60 M5.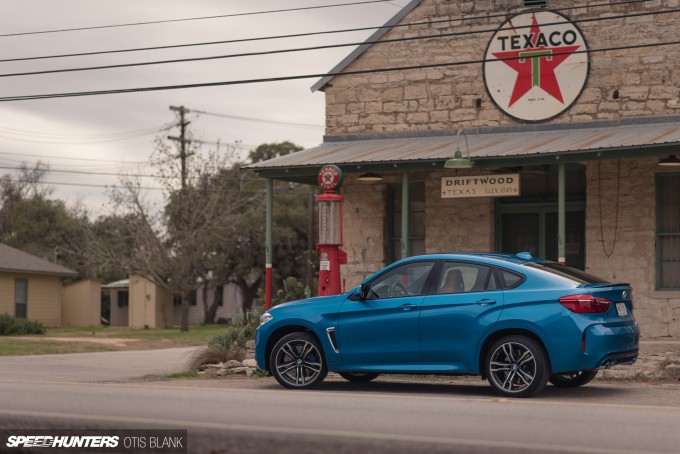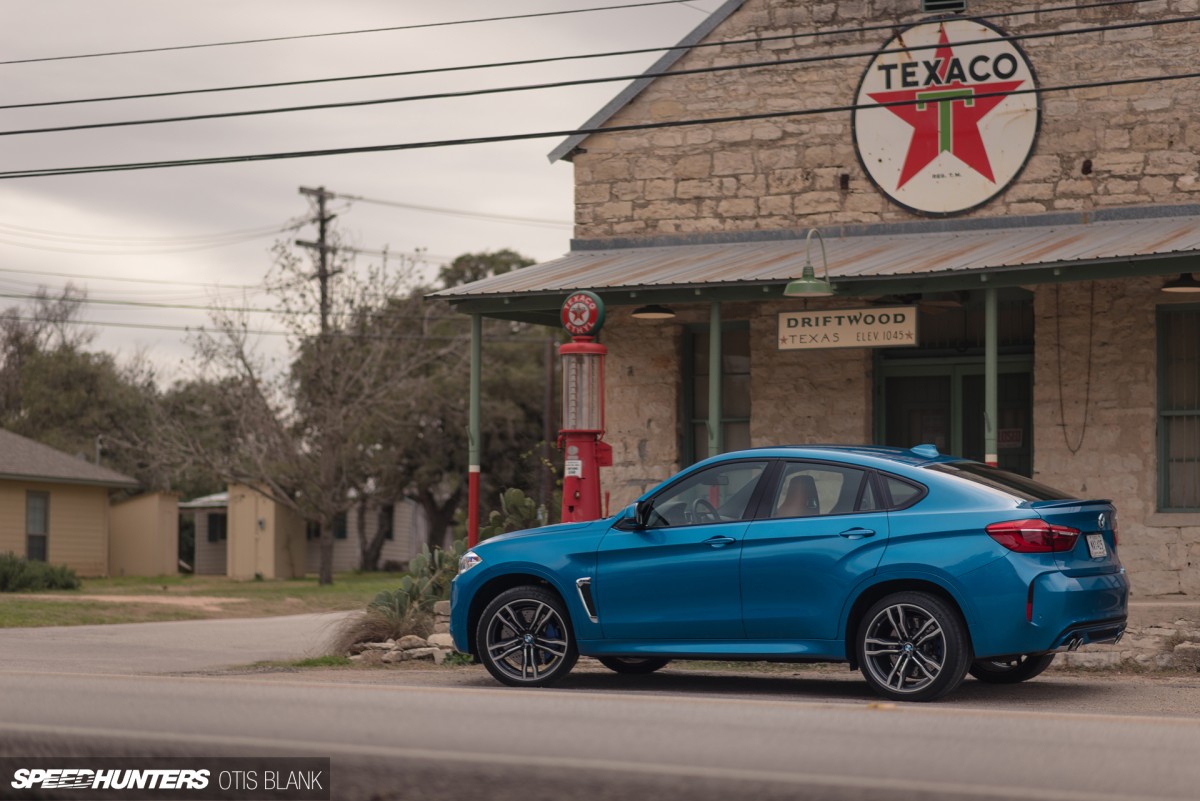 The part of Texas we got to drive through is peppered with old barns and other remnants of bygone days. It was also a lot greener than I had anticipated – probably not what you imagine when you think of the Lone Star state. We stopped at this old gas pump for some photos and to do a quick driver swap.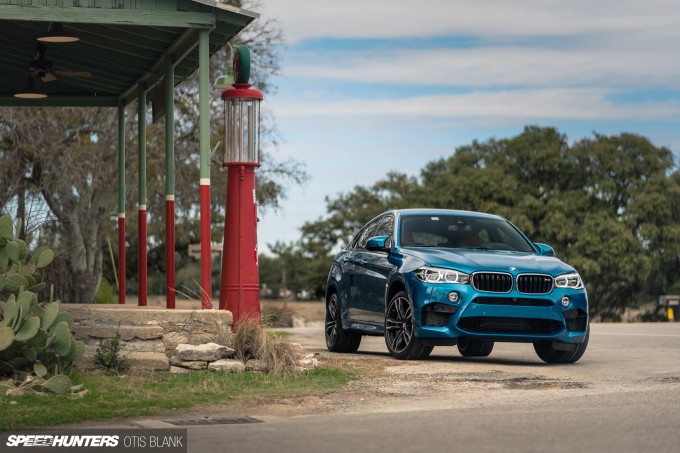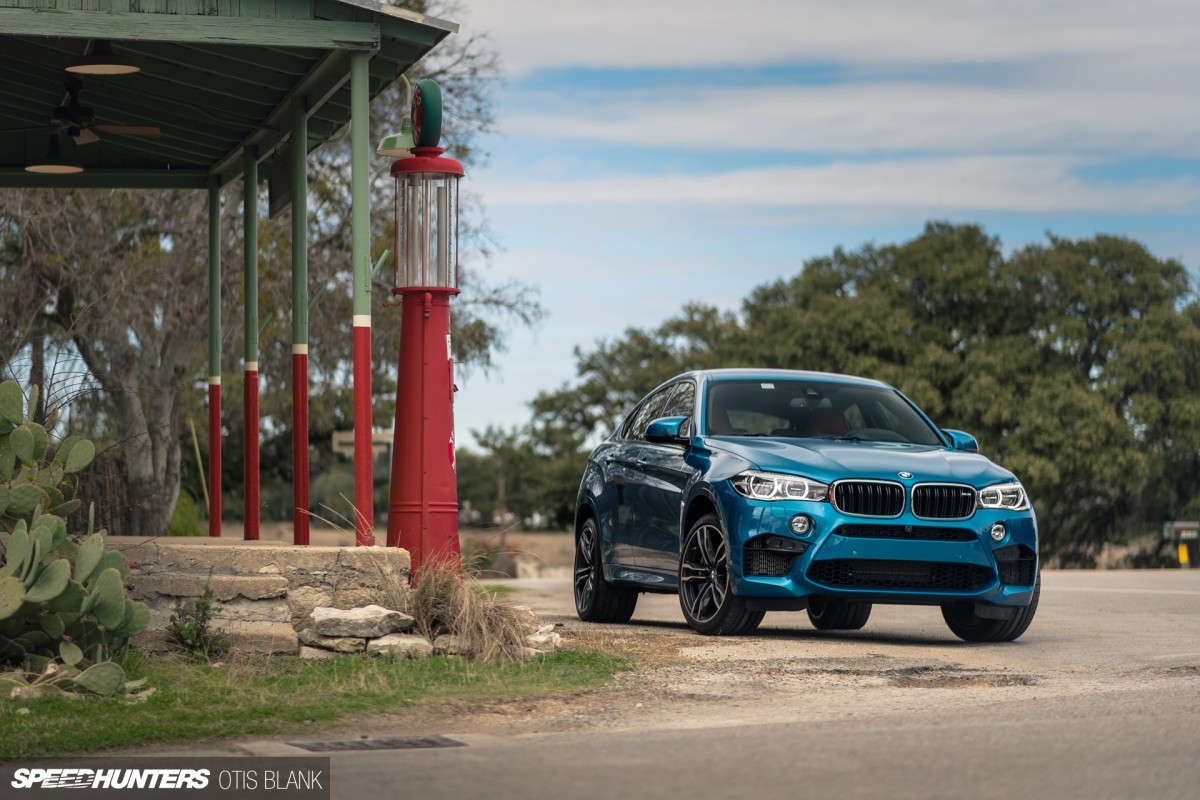 As cool as this spot may have been, I wish we had stopped at more. Regrettably, this was the only time we took a photography break while on the route.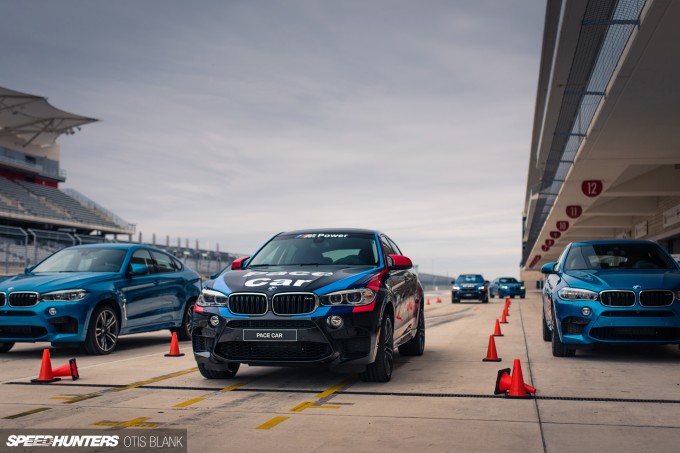 Now safely back at Circuit of The Americas, I took the chance to get some more shots of the X6 Ms in the pit area before it was time to drive the 228i. I'd be lying if I said I wasn't hovering just a little bit, hoping for the chance to get on track again, even though it technically wasn't my turn.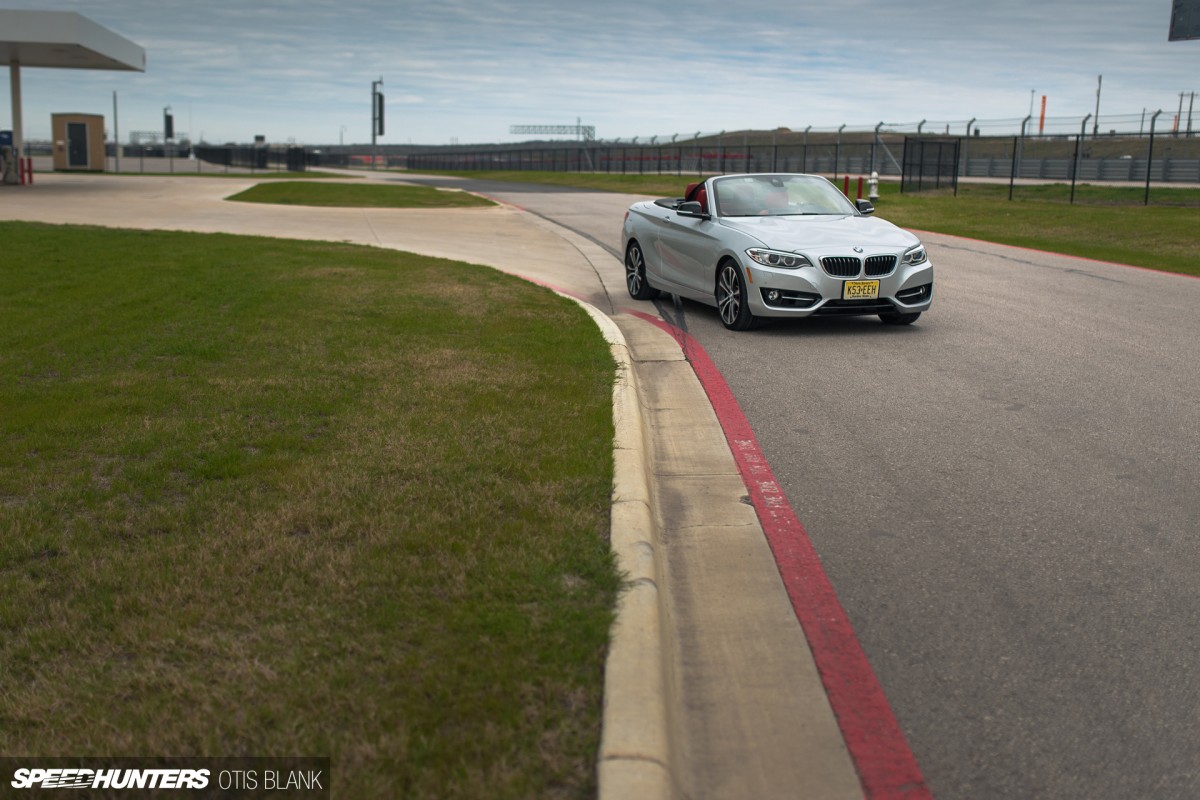 It wasn't to be, however. My driving partner called me over, key in hand for the 228i. Though I'd rather be on track, a top-down drive in a luxury sport convertible on a lovely day sounds okay, I guess.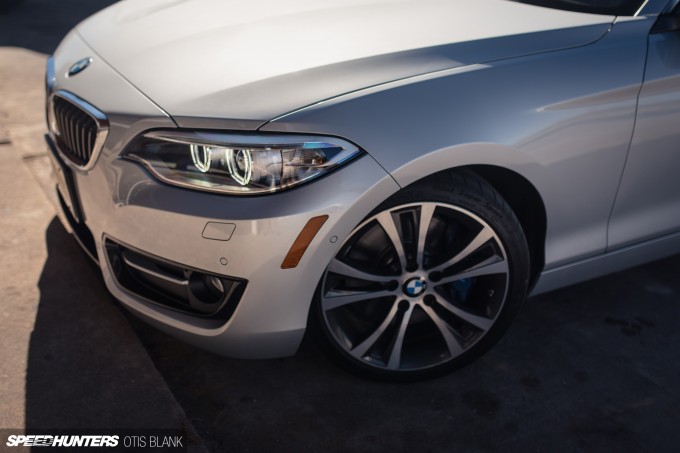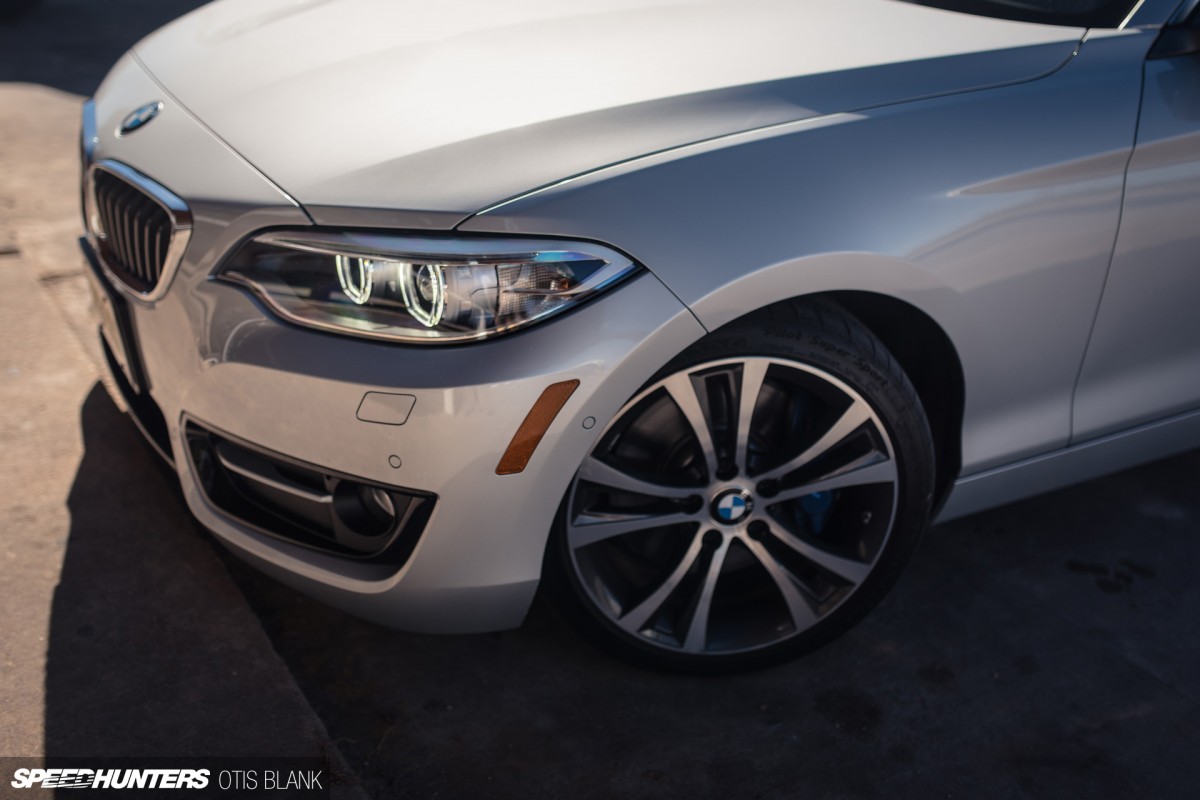 I wouldn't kick it out of the garage, but I have to be honest and say that I wasn't really taken by the little 2 Series. In regular driving modes handling and general driver input feel was wholly uninspiring, and it felt little different than cars that might be considered more pedestrian.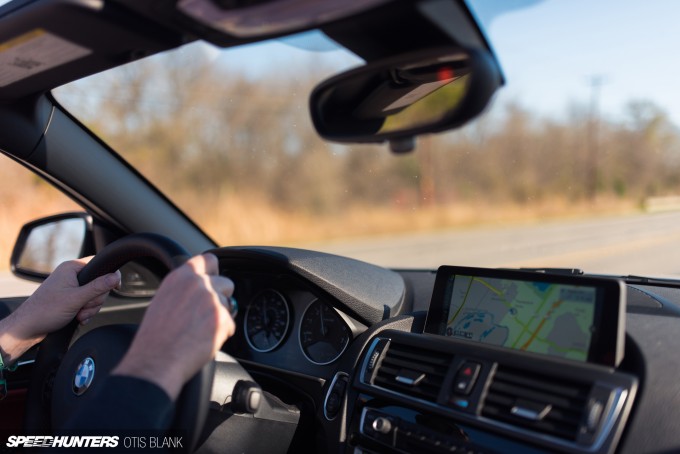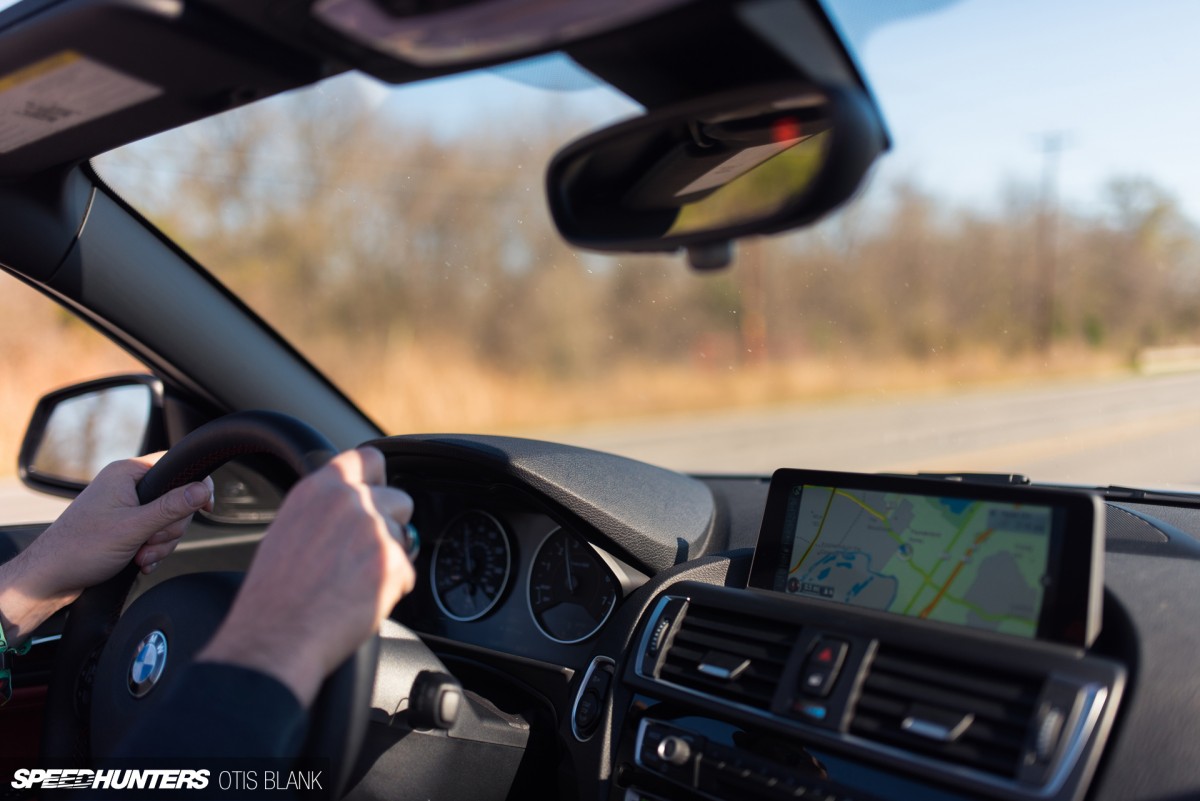 Deficiencies in driver feedback are somewhat alleviated when you put it in Sport mode, but it just isn't enough. It may be lighter and lower to the ground, but the 2 felt less connected to the road than the X6 M did. This says more about the bulky SUV than it does the compact convertible if you ask me though.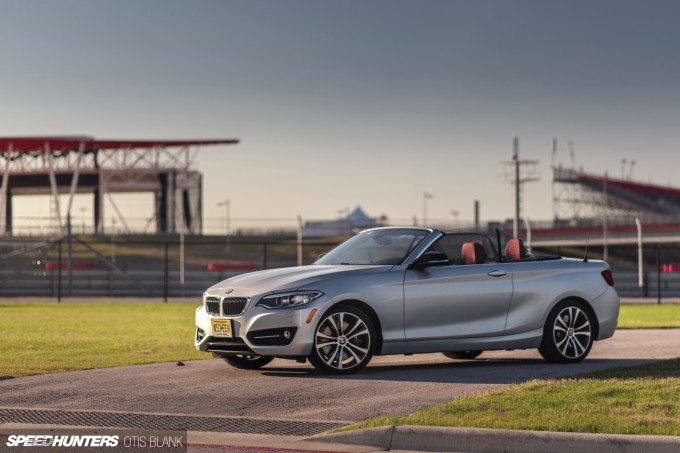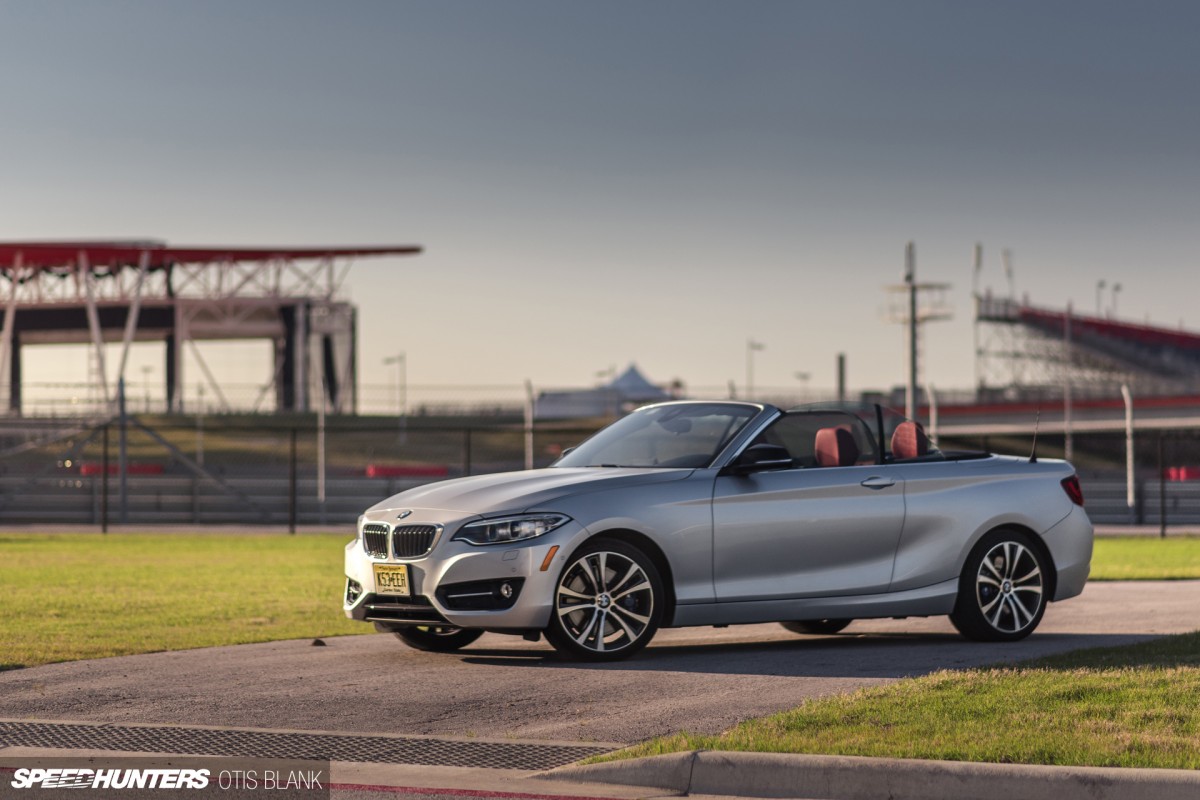 In real world driving the 228i was certainly pleasant – just boring. Even though it has 50/50 weight distribution, rear-wheel drive, and good power, it just sort of adds up to nothing. I don't think the 228i Convertible was made for someone like me though. I haven't driven one, but I imagine the M235i would be a better fit.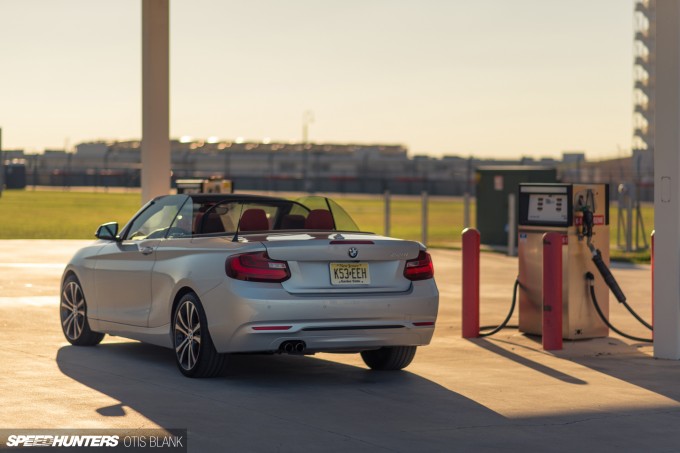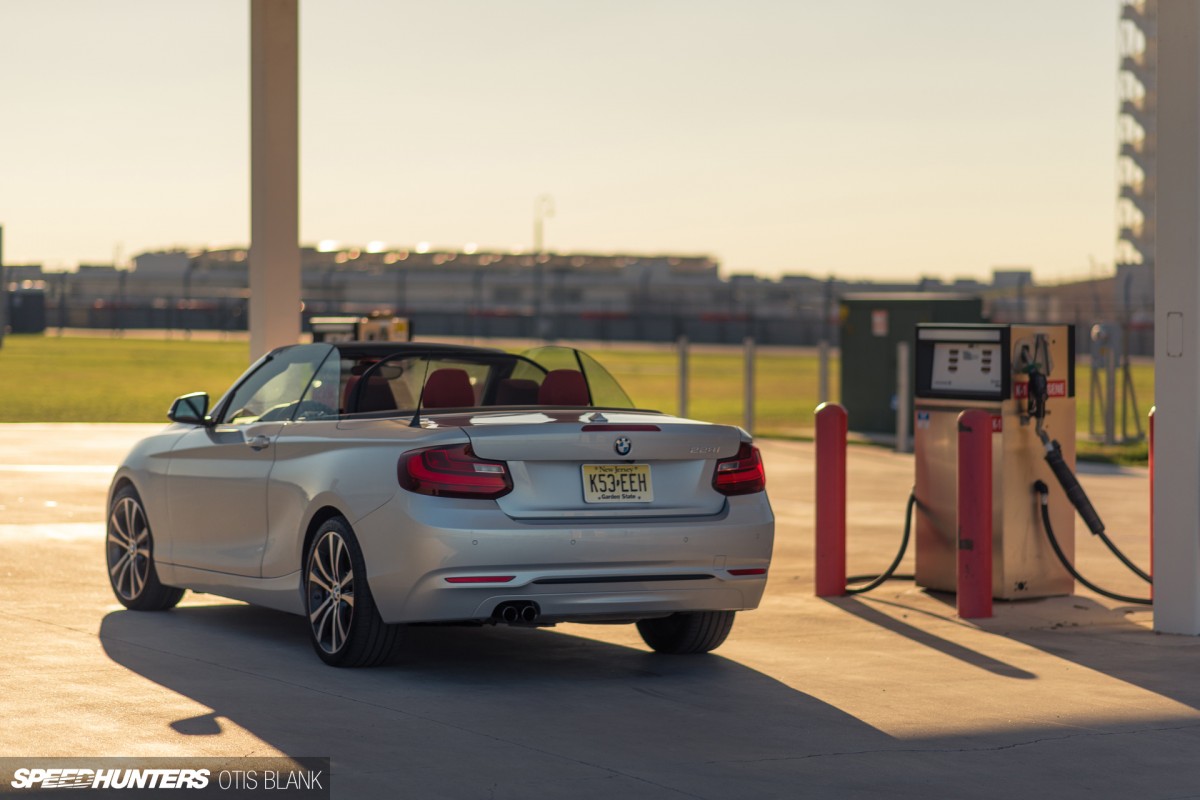 I might have gripes with how it drives, but I do like the way the car looks. Styling-wise I think it's an overall success, though the rear looks a little weaker to me on this version.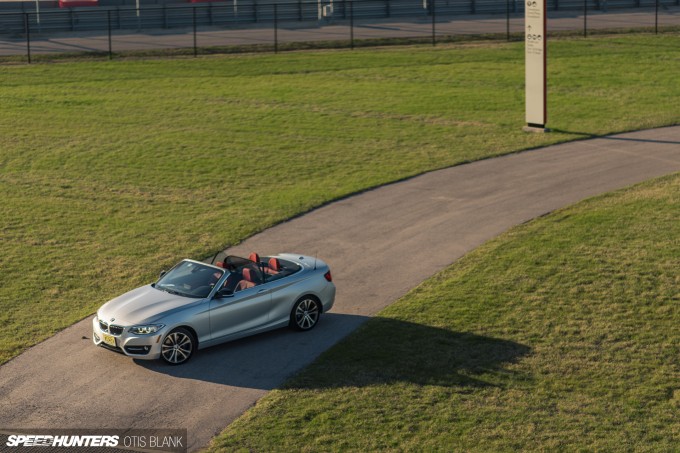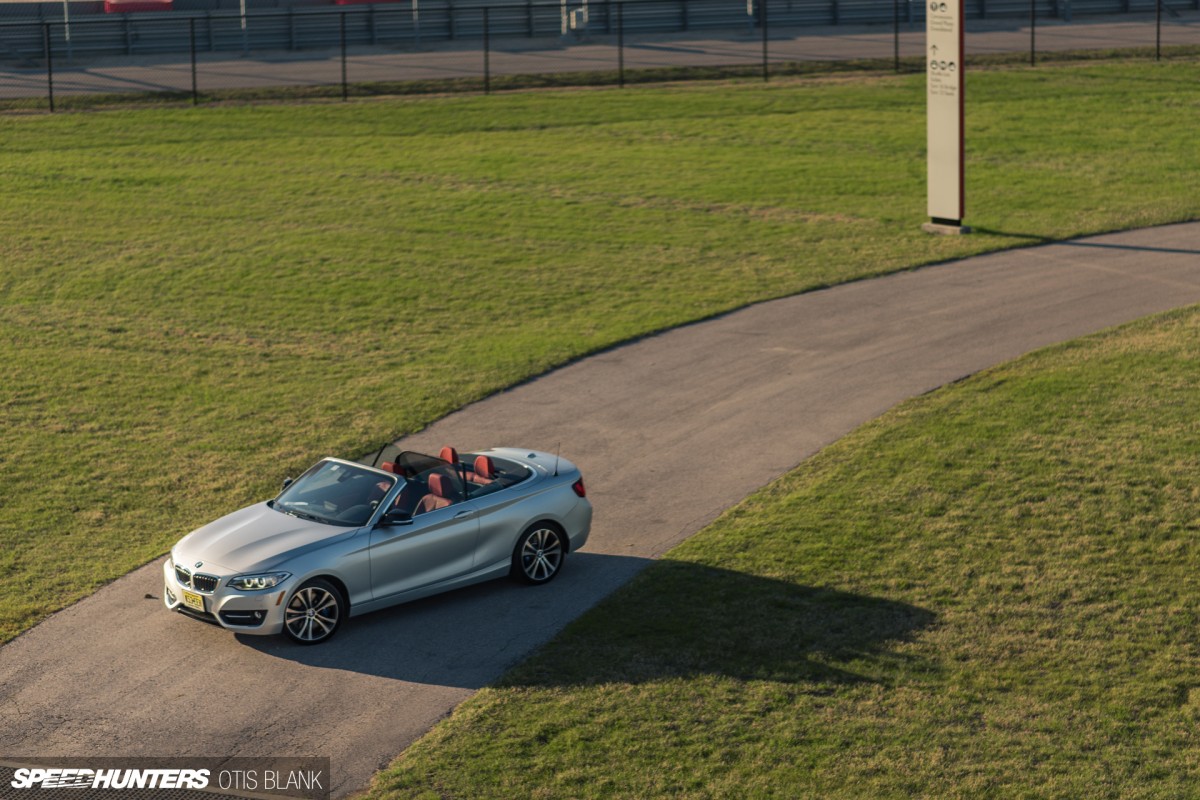 I think my time with the Convertible may have been tainted by the excess of the X6 M. The power of the M-car is simply addicting and the weaker 228i just doesn't scratch the same itch. If I had gone through the day in reverse order, I think my words about it may have been different.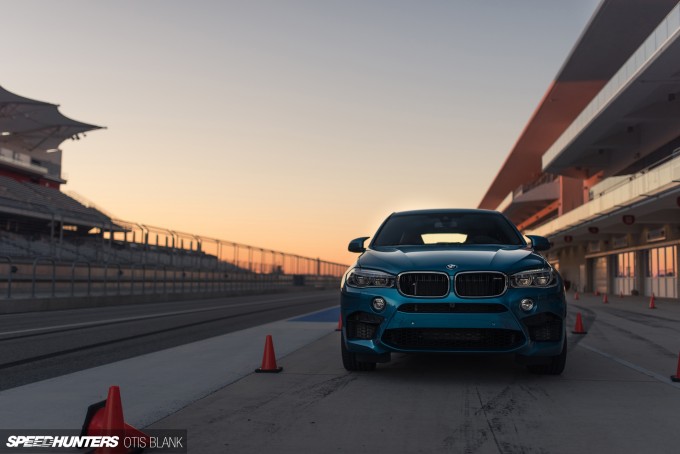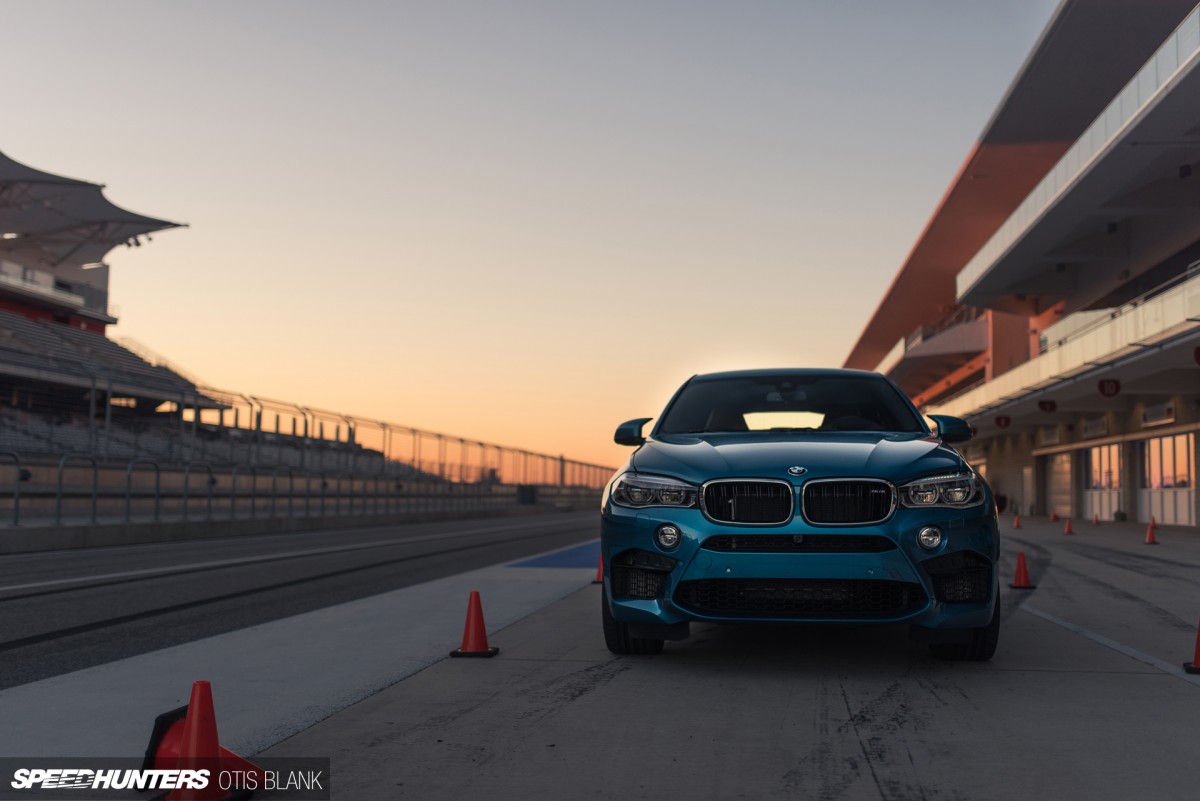 As someone who was on the outside looking in for a very long time, I had heard a little and wondered a lot about what it might be like to actually attend one of these launches. With an incredible one now under my belt, I can say my first was every bit as great as I had hoped it would be – and more. May I please do another?
Otis Blank
otis@speedhunters.com
Instagram: otisblank