Make Some Noise
For as long as I've been an automotive enthusiast I've wished I had a car I could track. I've always had modified vehicles, but they more drivers than anything that would win a race.
Now that I own a modified Scion FR-S, I've found myself falling into the boring rhythm of daily driving and telling myself I'm too busy to make it to the next autocross. But this past weekend I finally snapped out of it.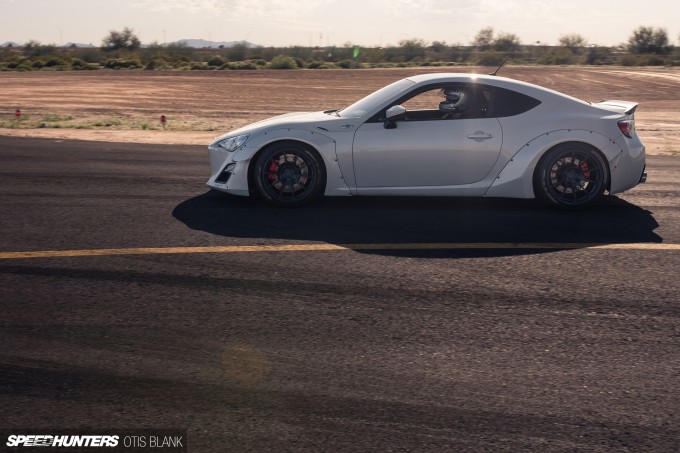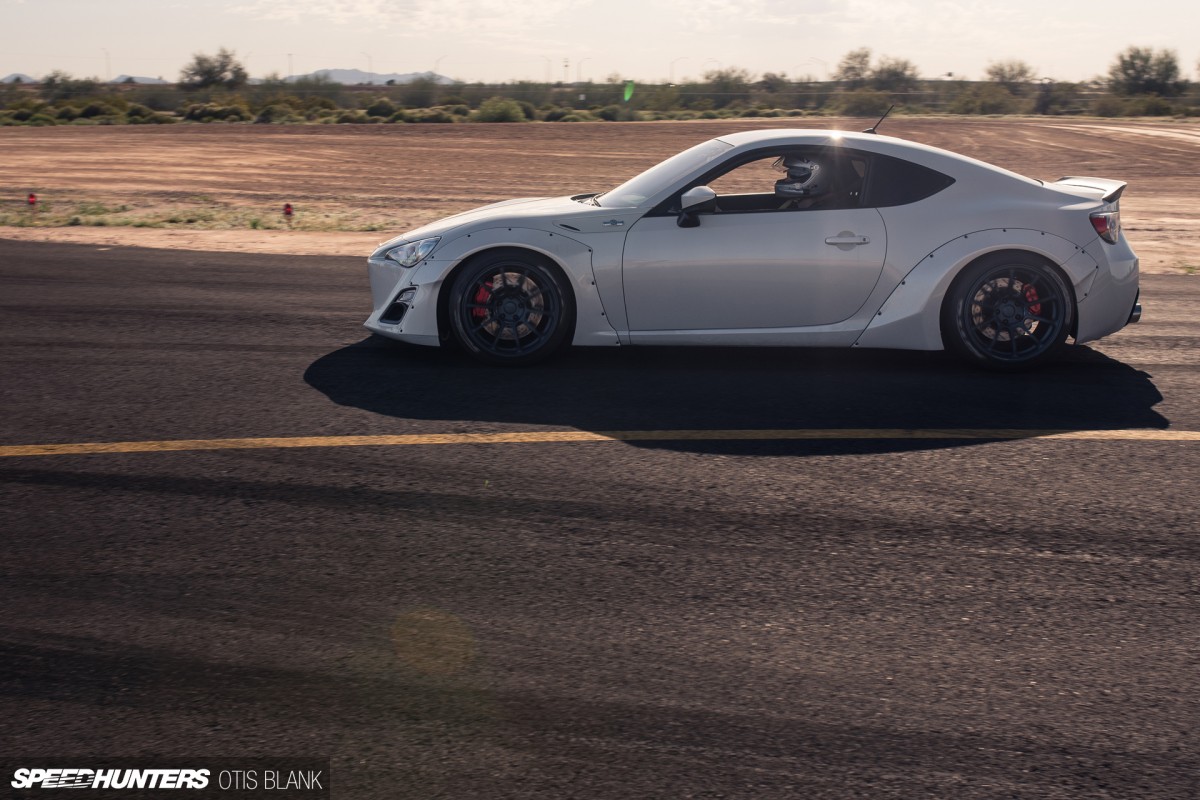 Now, I've lapped my car at Bondurant a bit, but that was just messing around because I could. This time I would be donning my new Impact helmet and strapping in for some real timed passes on a stretch of the Gila Bend Airport at Omega Motorsports' No Fly Zone half mile race.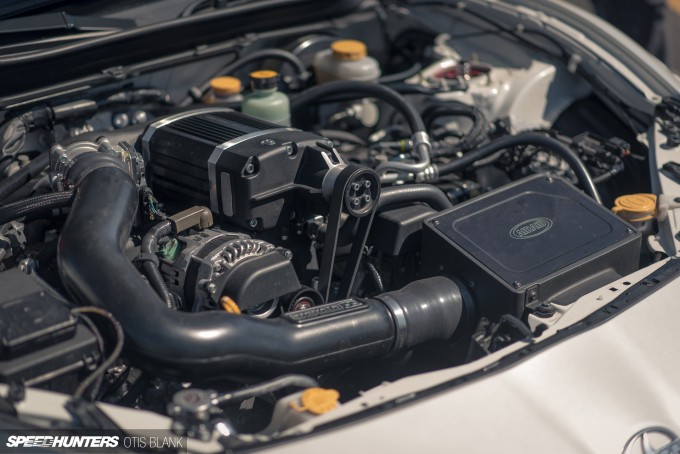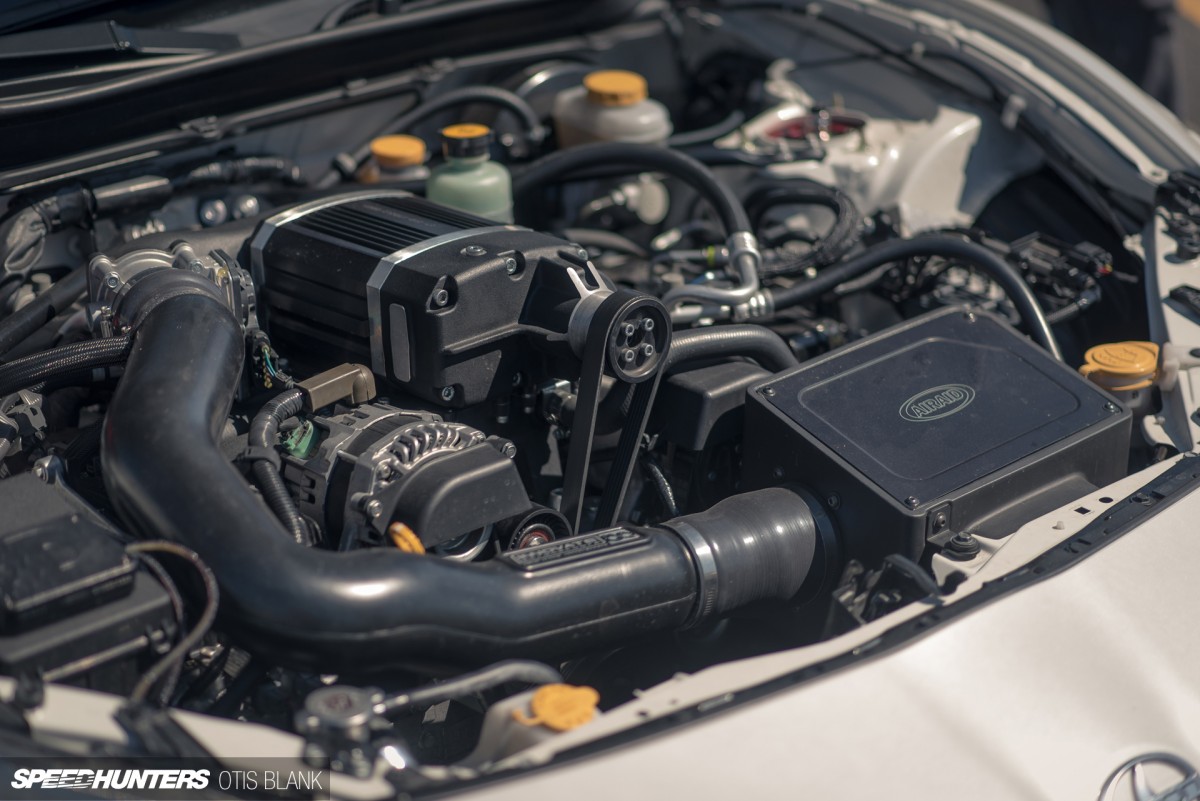 To recap, my car is supercharged by Innovate, but still on stock internals. With the addition of an Airaid intake, Delicious flex fuel tune and a hand-built PPE mid-pipe and cat-back, the car makes around 300 horsepower at the wheels, provided I dump some E85 in the tank. That's double the stock output with a nice straight torque curve, so I'm quite happy with the result.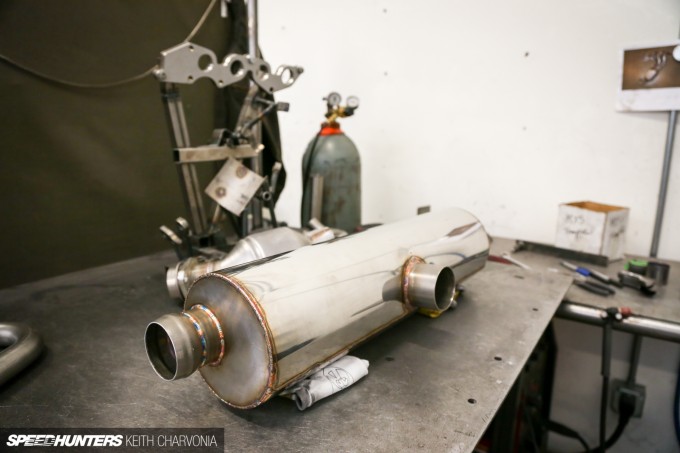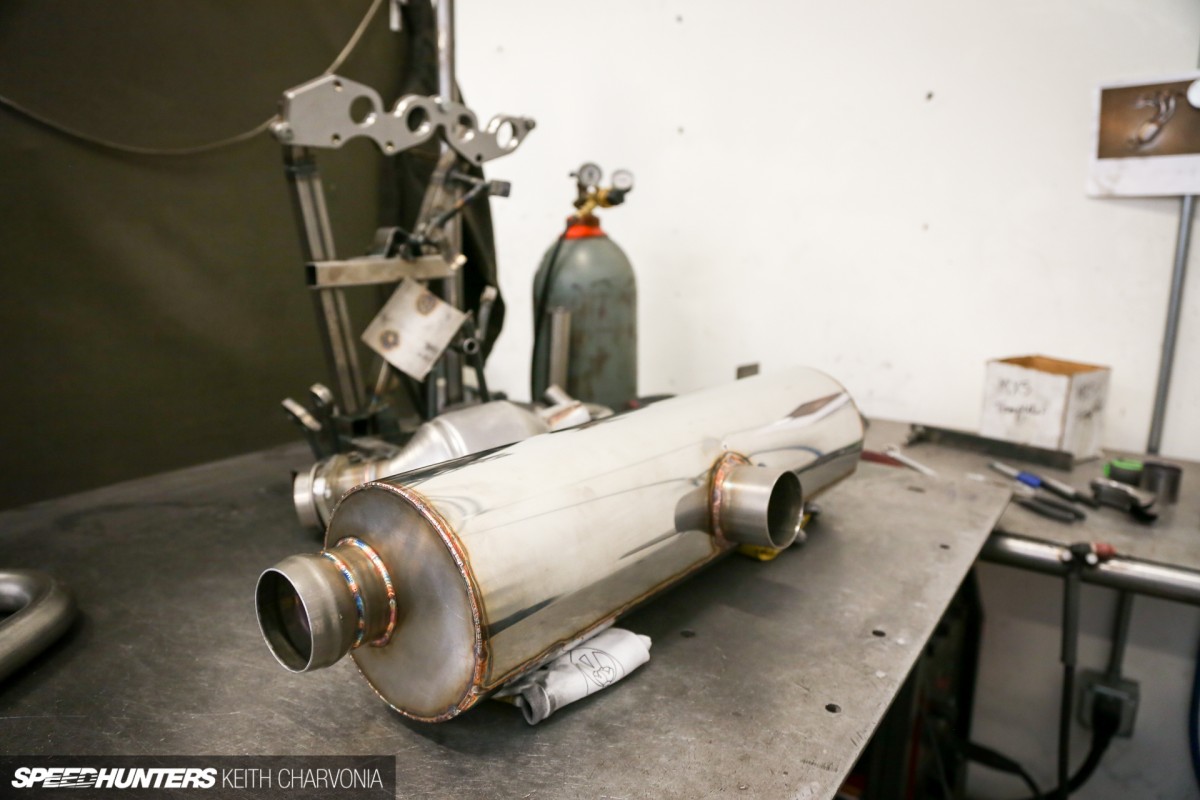 Let's back up though, because you know my project stories are always about wrenching or fabricating! This time I stopped by PPE, a local fabrication and engineering shop that builds really nice headers and exhaust components. In fact, they built this muffler specifically for my car, from scratch.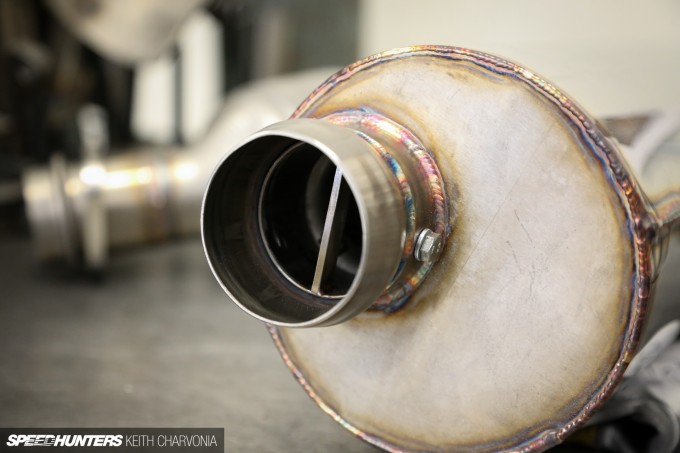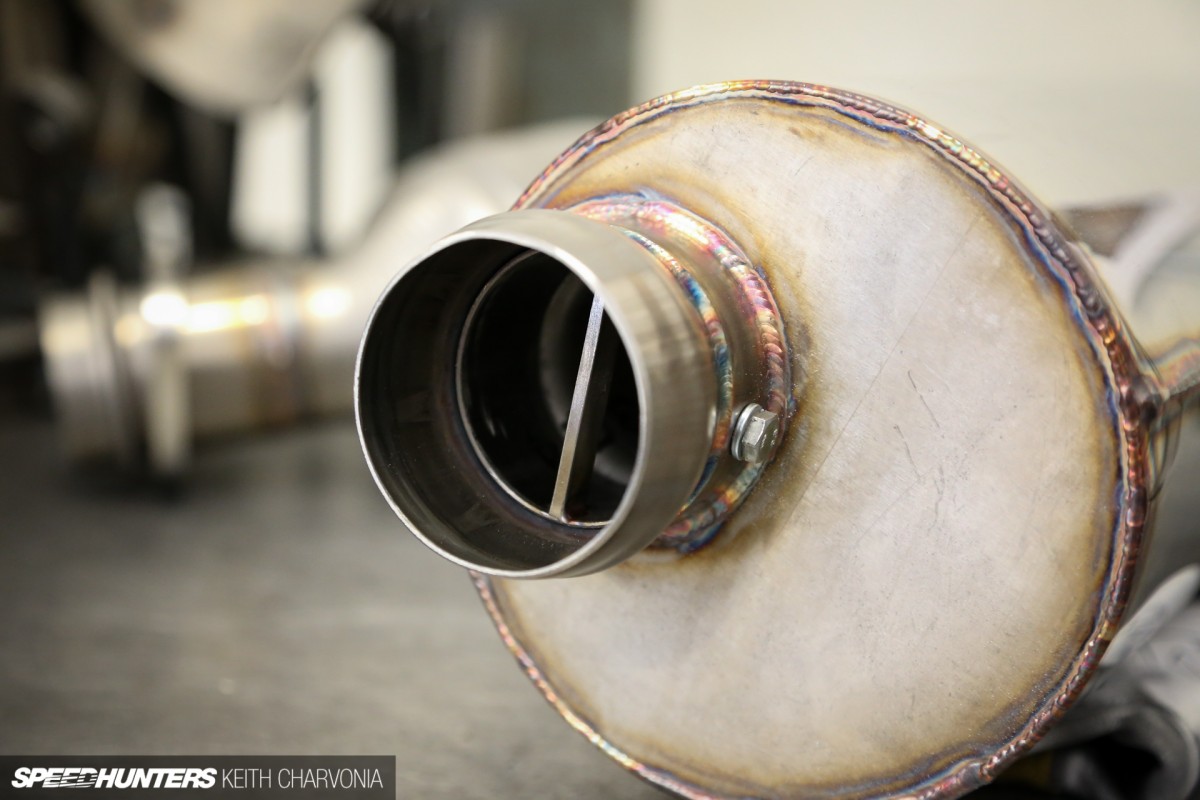 I had discussed the quandary with my current cat-back with PPE's owner, Paul Prentis, and he offered the awesome solution of a custom-built, dual-mode muffler. One side has a tuned baffle that can be inserted or removed depending on the sound level you want, so next time I drive my car to California I won't be tempted to install the stock exhaust for a nice quiet ride. Yes, I've really done that!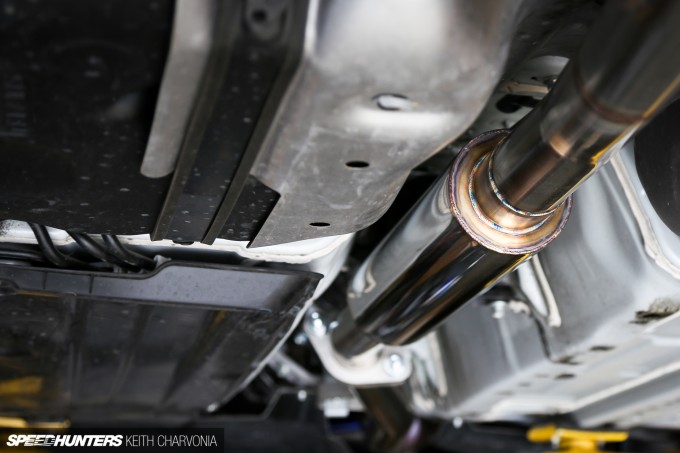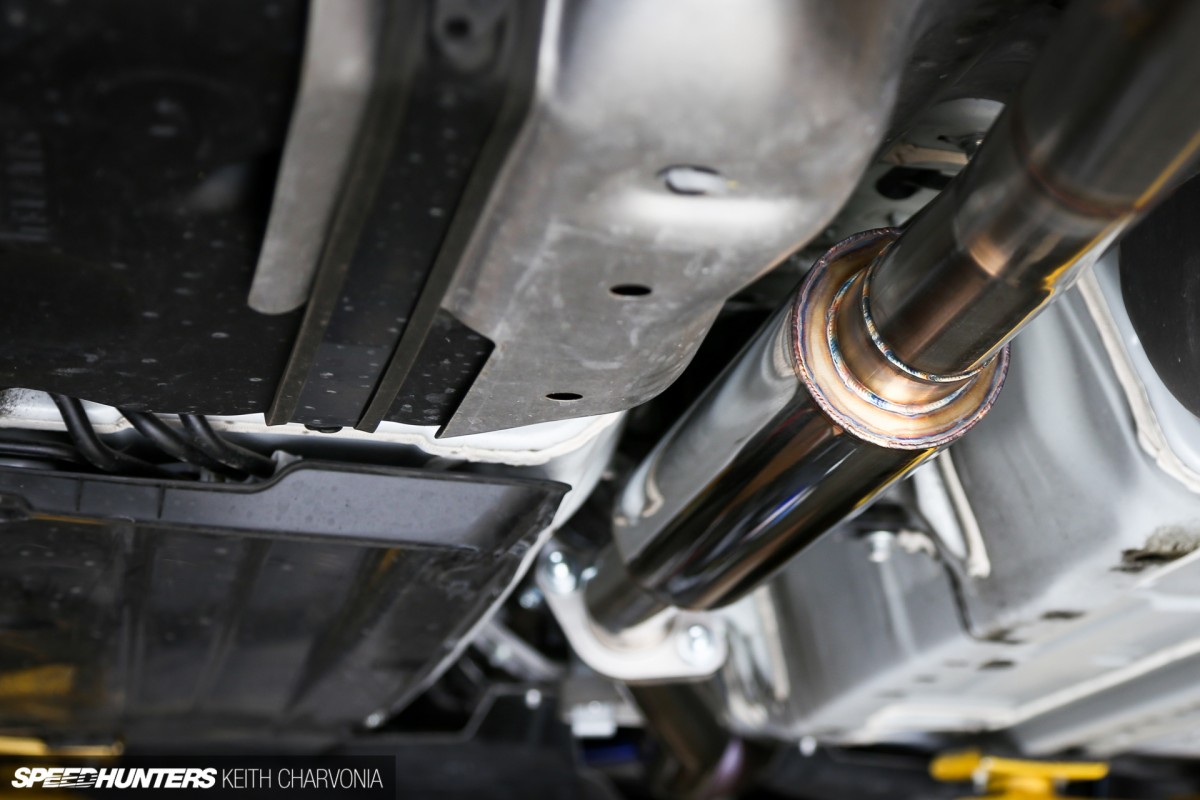 Since the muffler is pretty small due to space constraints, he also installed a high-flow catalytic converter and a custom-made resonator to keep the sound to a nice level.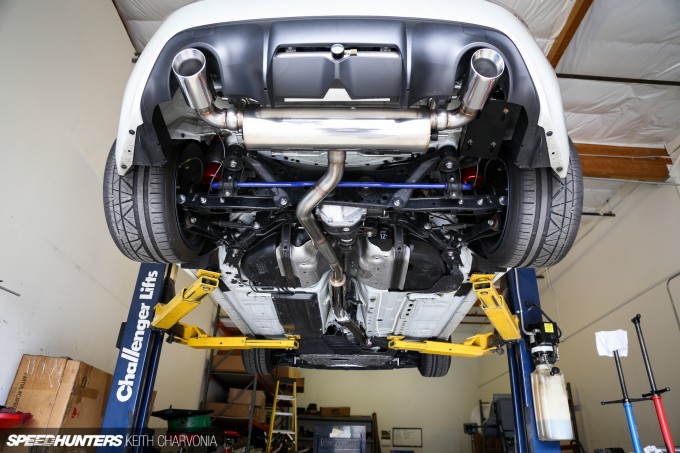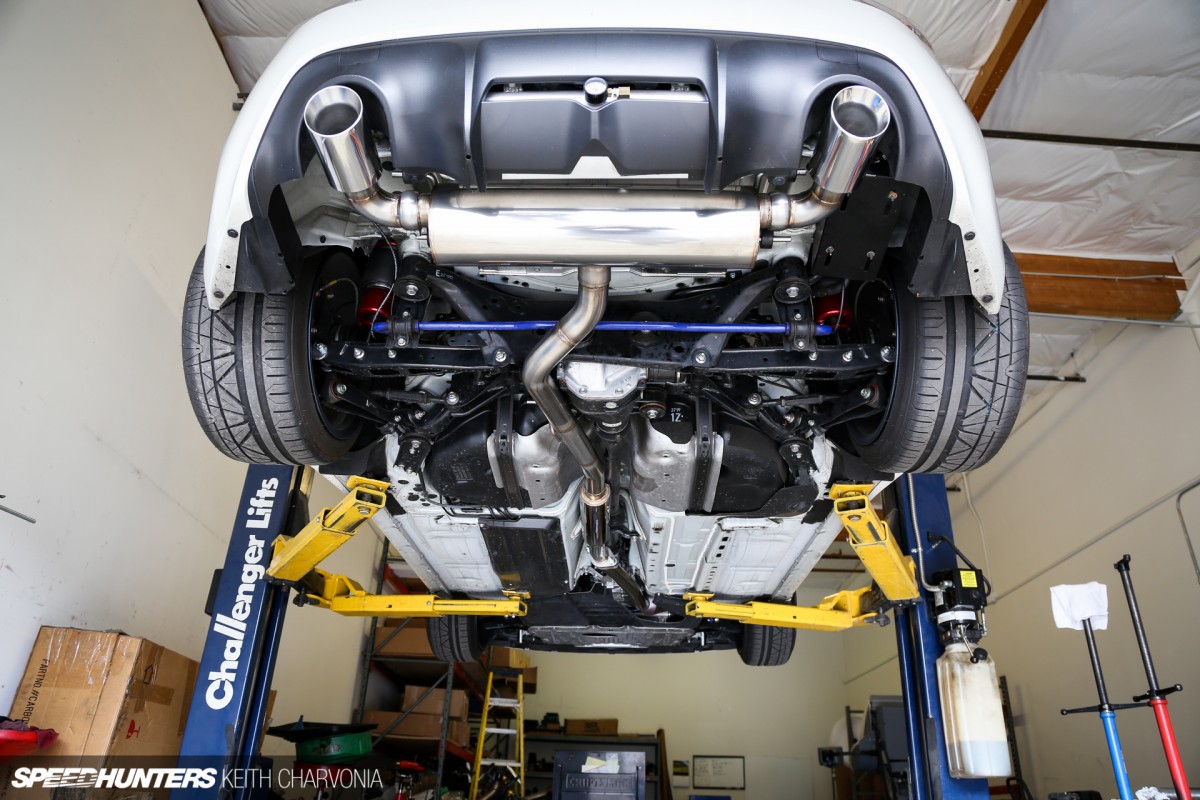 When I came to pick the car up PPE still had it in the air so I could check out their work. When's the last time you had a shop ask for your approval like this? Obviously I was impressed and couldn't wait to hear it.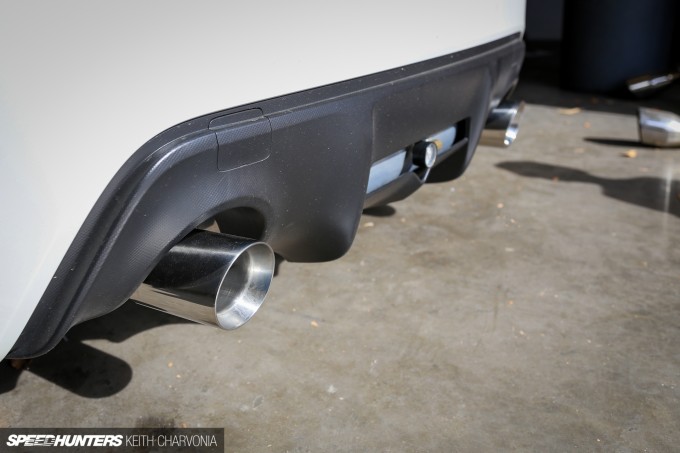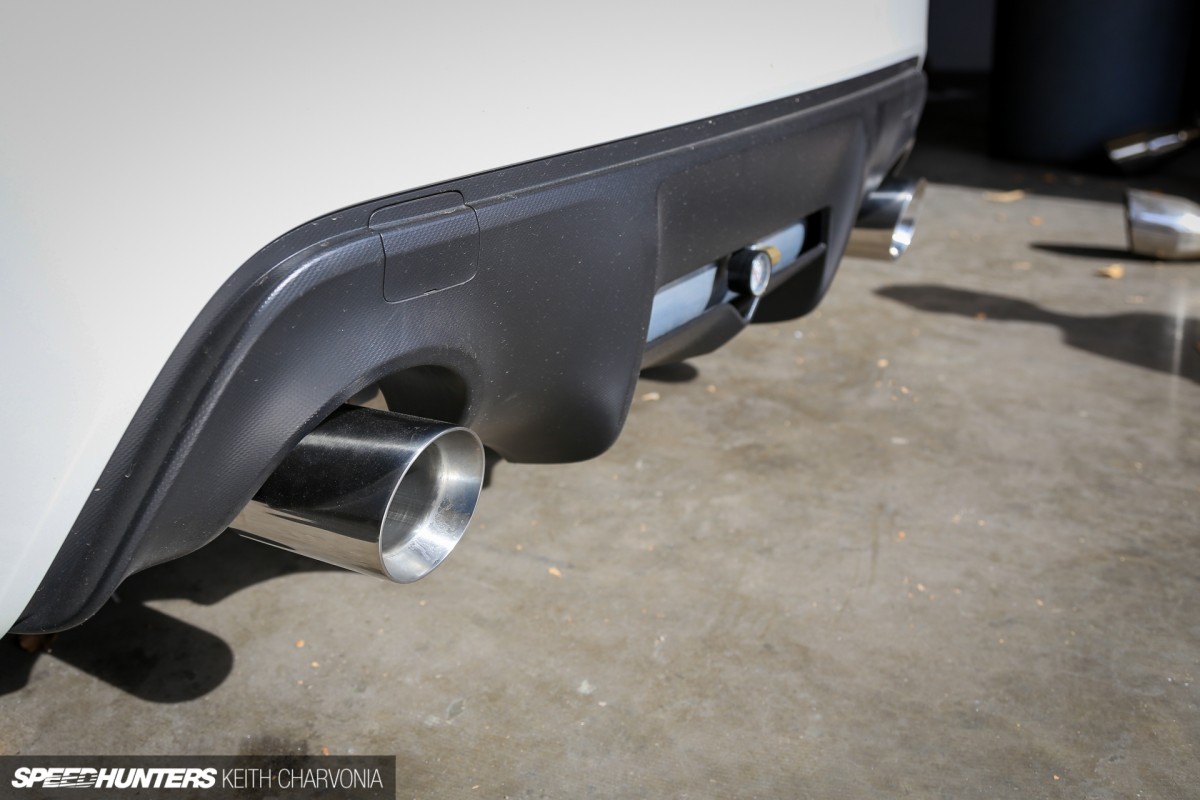 The new, quieter tone is much more suited to my tastes, and I thought it was pretty cool that after a short conversation Paul knew exactly what to do to build an exhaust that would match the sound I was hoping for.
Finding The Limits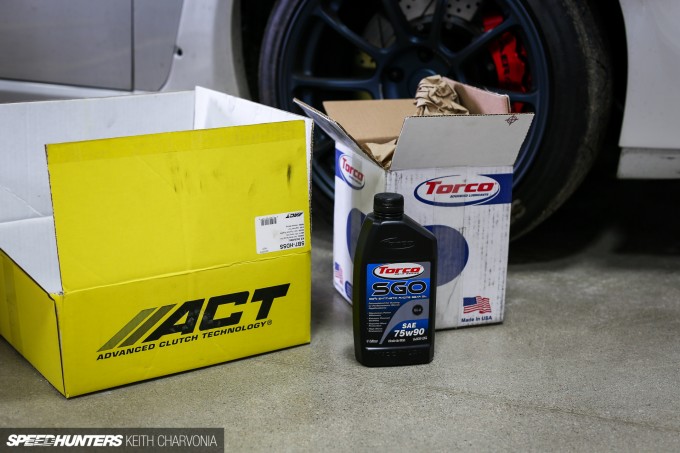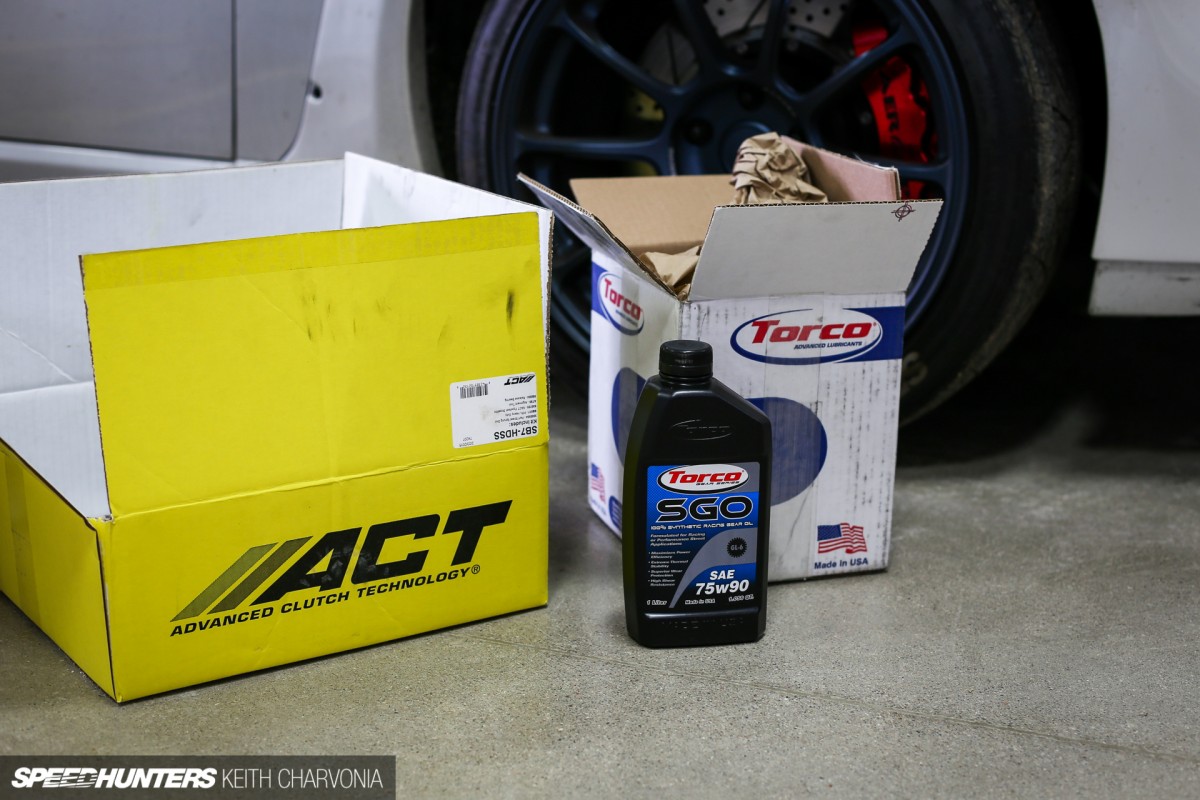 In my last project update I detailed the testing we did on the dyno to optimize power output, and mentioned that I was now up against the holding capacity of the stock clutch. In short order I had an ACT SB7-HDSS clutch on the way, along with some Torco synthetic gear oil to cure the infamous second gear 'scratch' that these cars suffer from.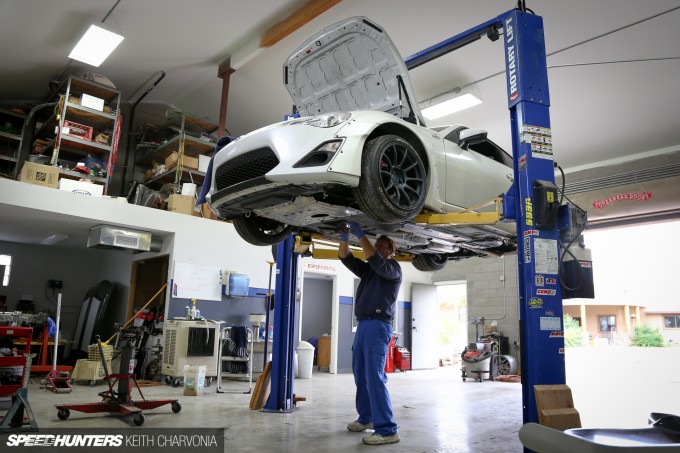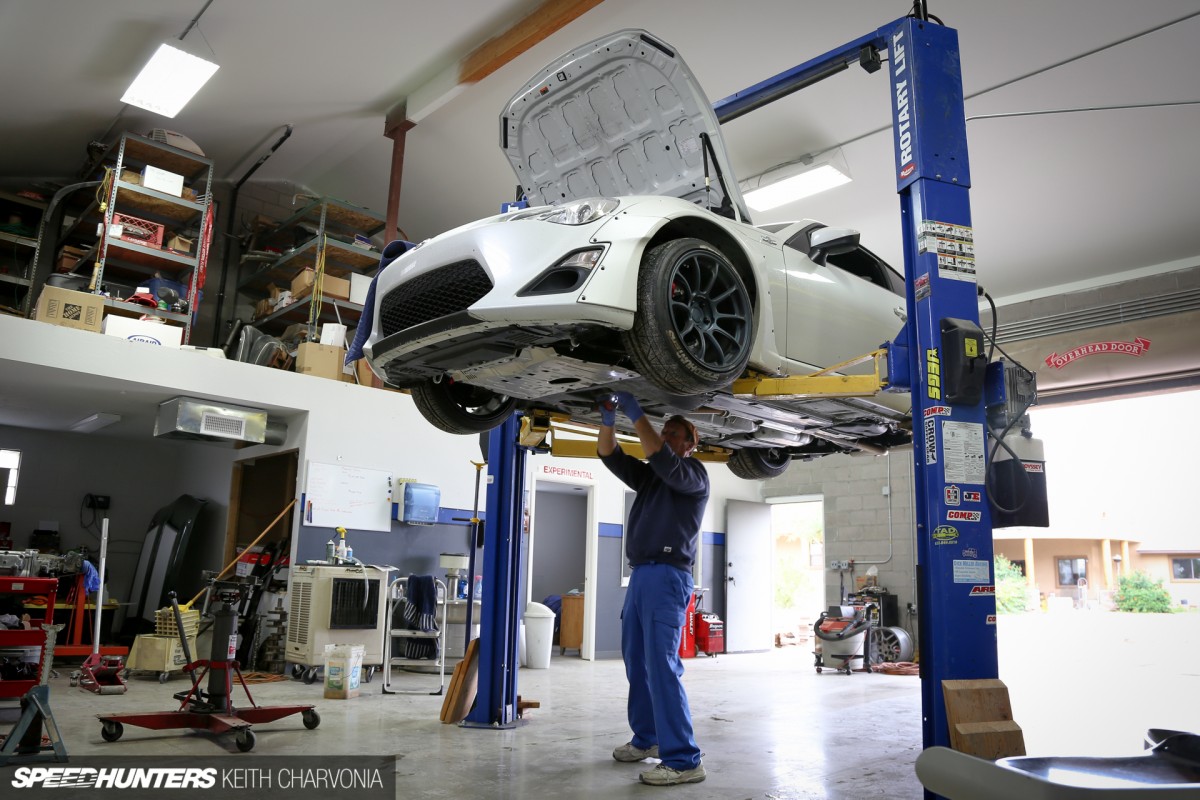 I do have a mid-rise lift in my two-car garage at home, but a clutch installation is no fun when you're crawling around on the ground. Fortunately my friend Phil welcomed me into his massive home workshop when he heard about the upcoming clutch job.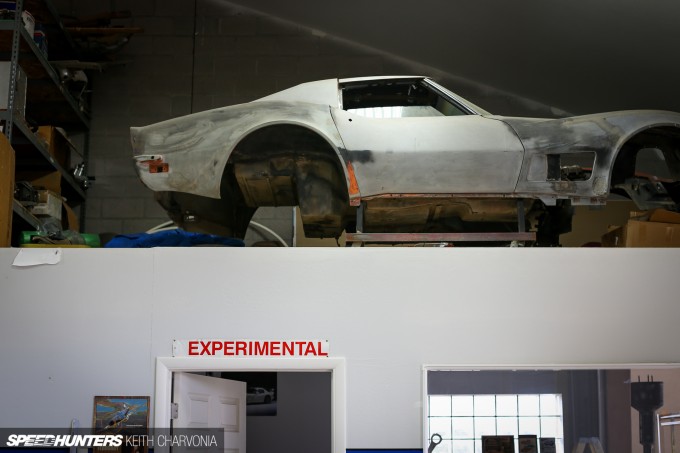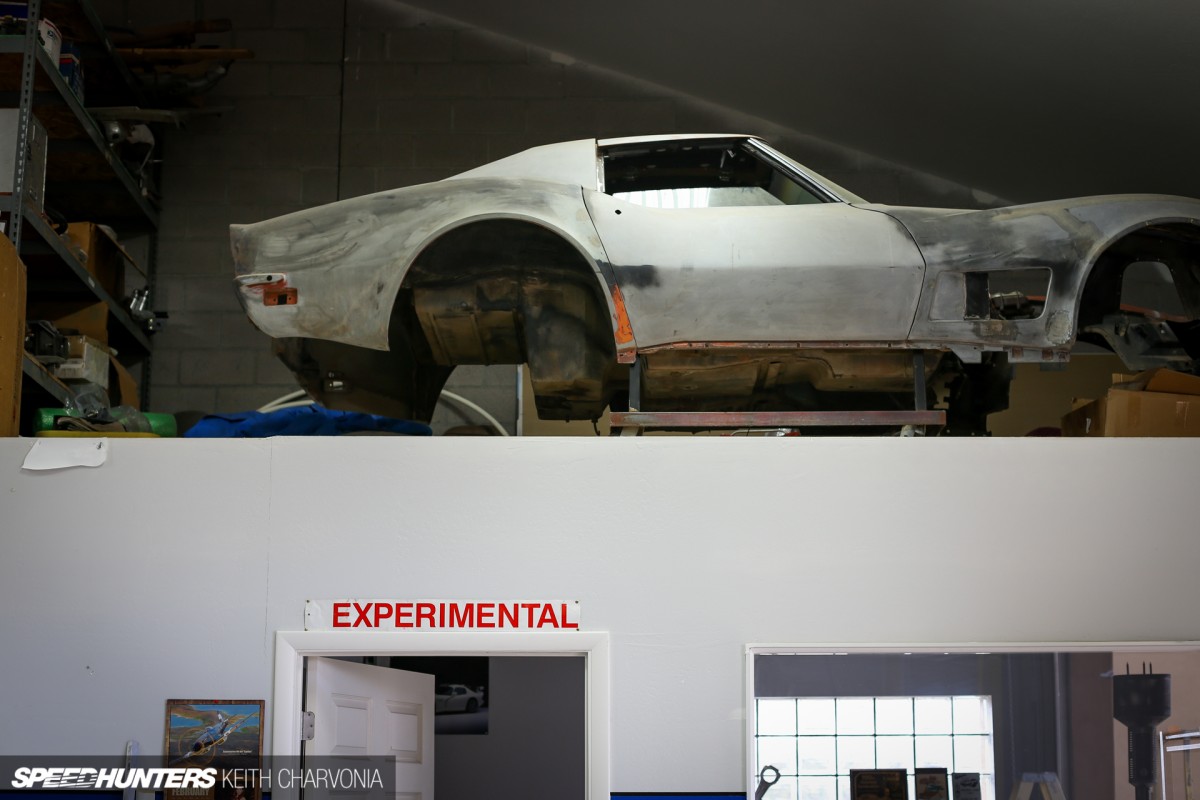 This photo sums up Phil pretty well. He's a commercial jet mechanic by day and an expert Corvette restorer by night. Every time I swing a wrench with this guy I learn something new.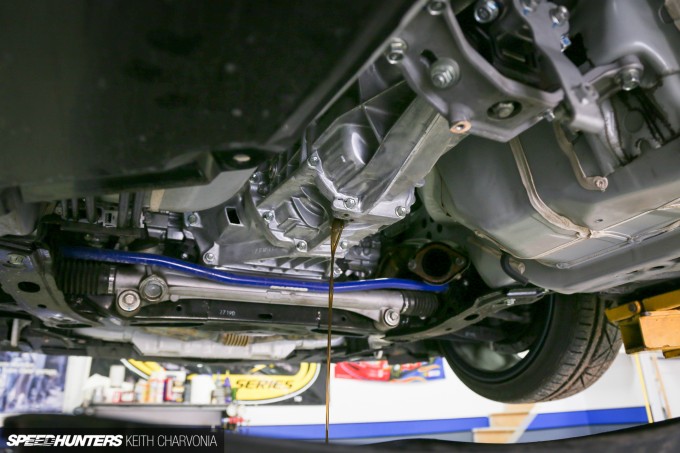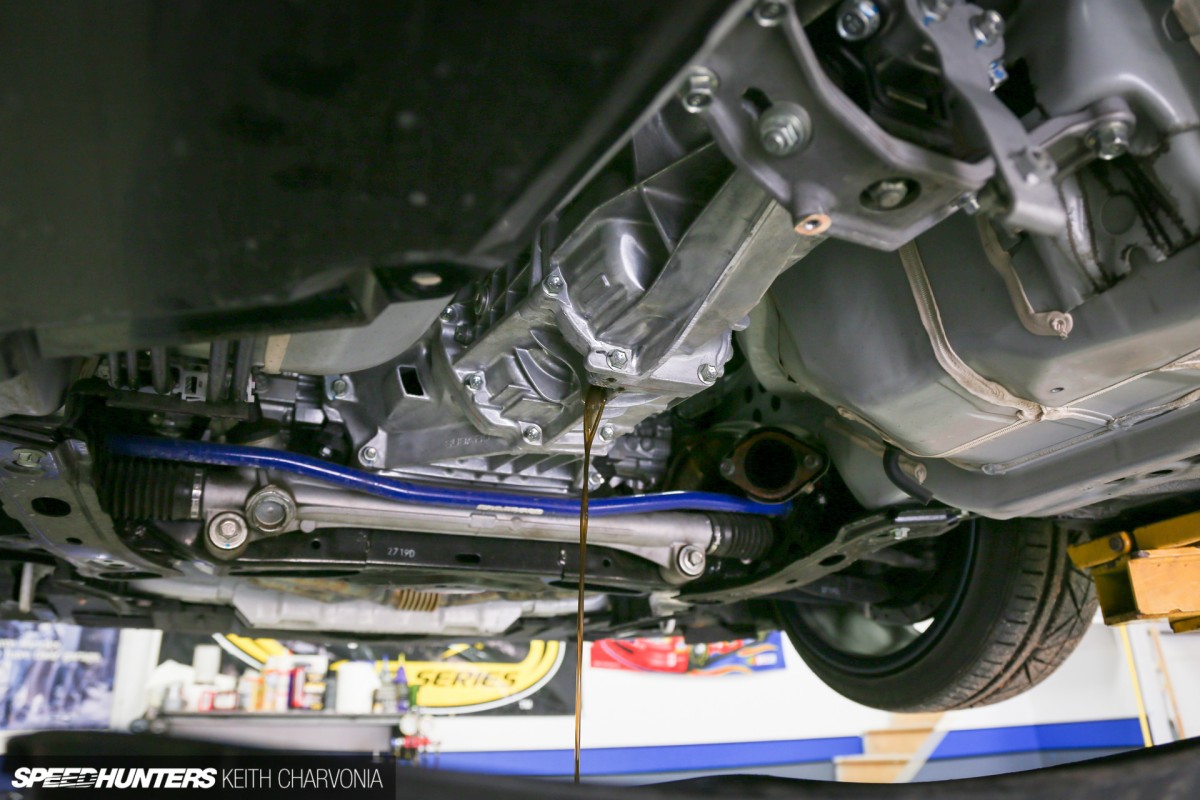 With the car in the air we first drained out the stock transmission oil.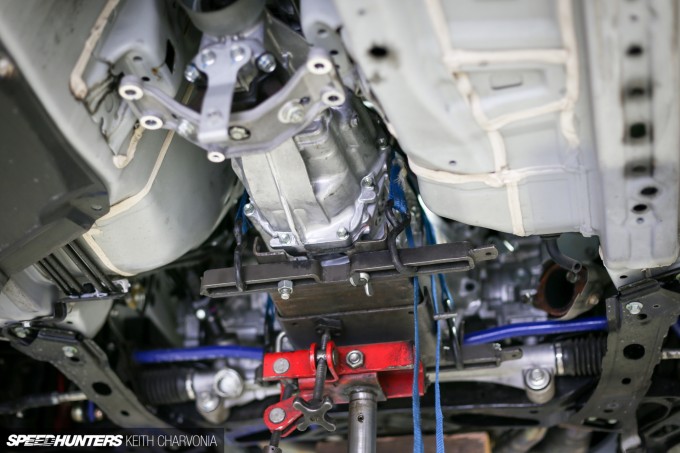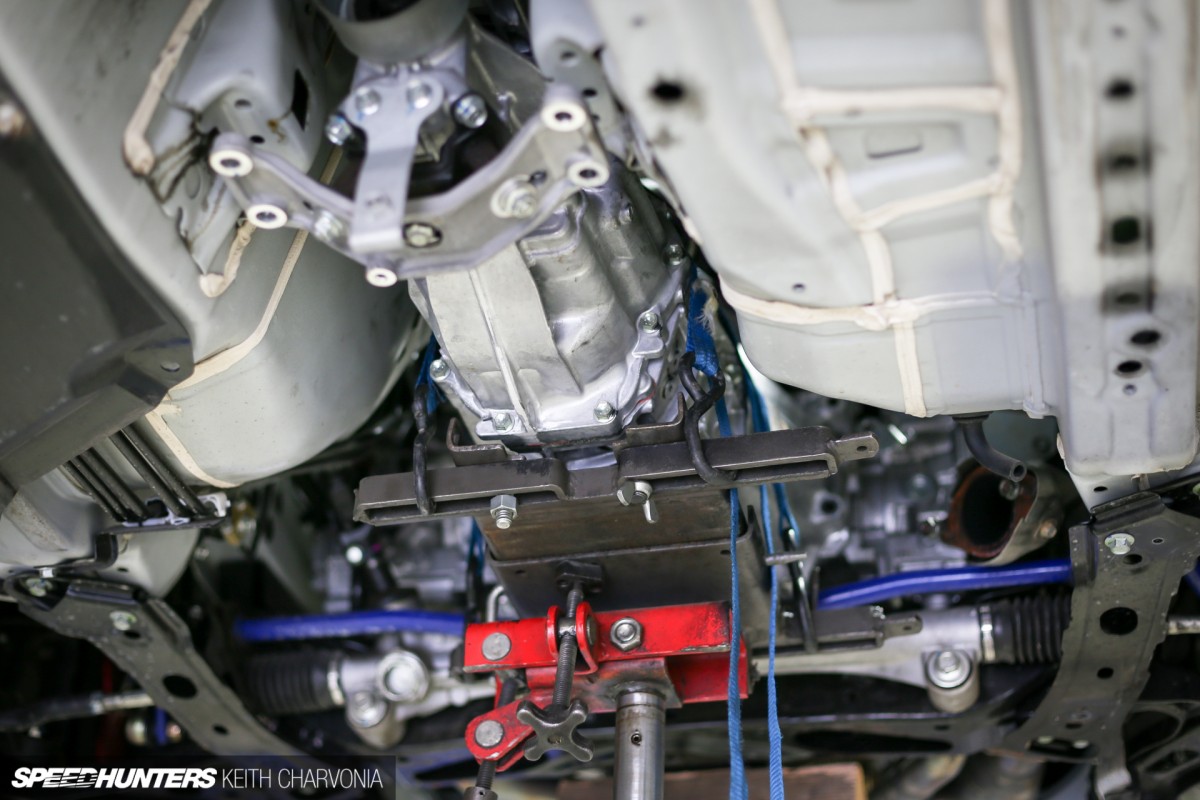 Next we moved the transmission jack into position and strapped the transmission into place. These are the kinds of pro tools that Phil has in his shop to make jobs go much faster.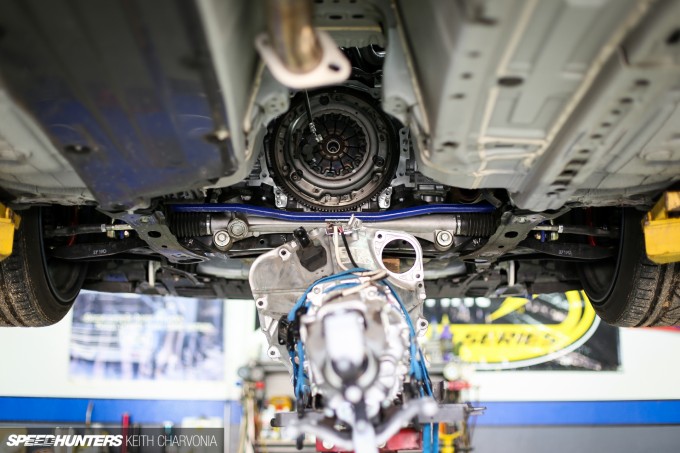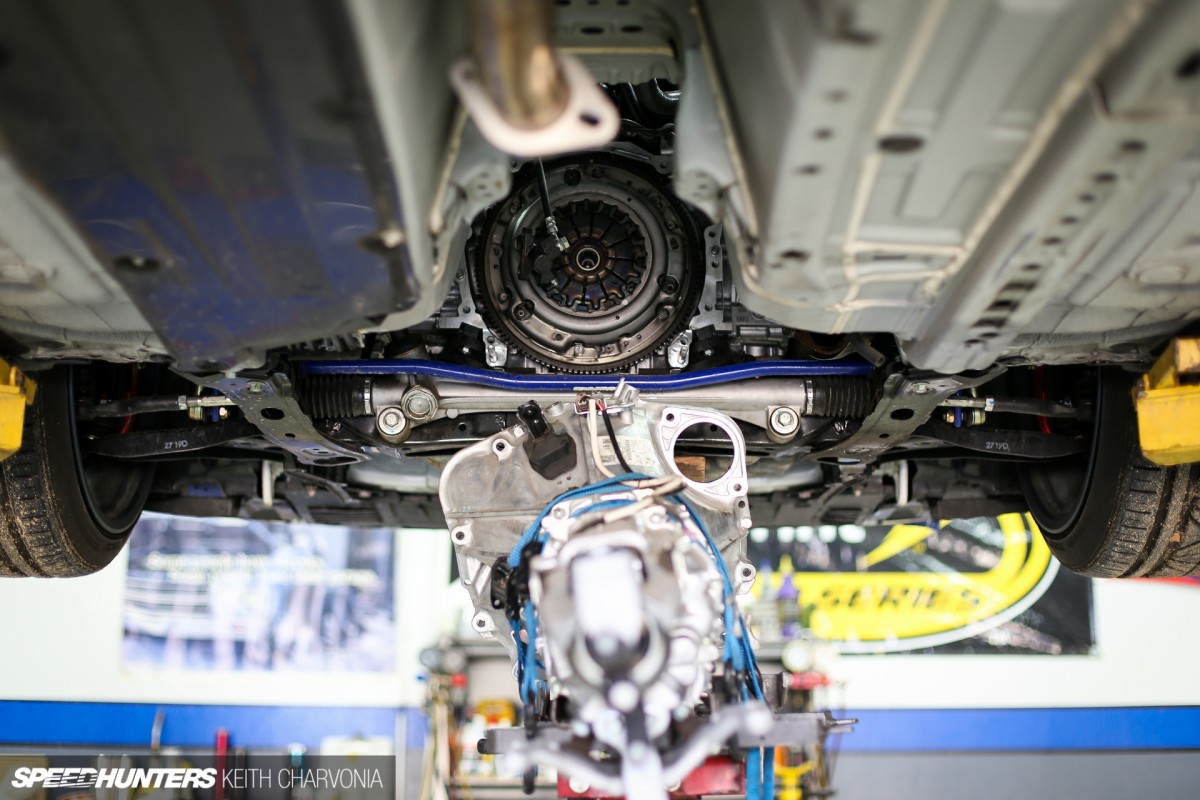 Within 30 minutes we had the transmission removed.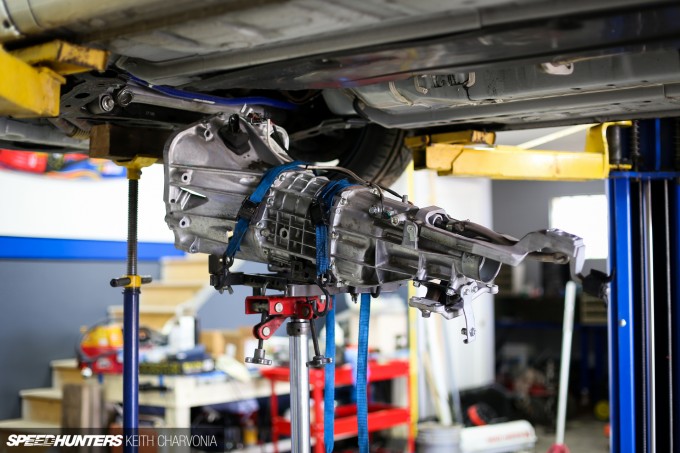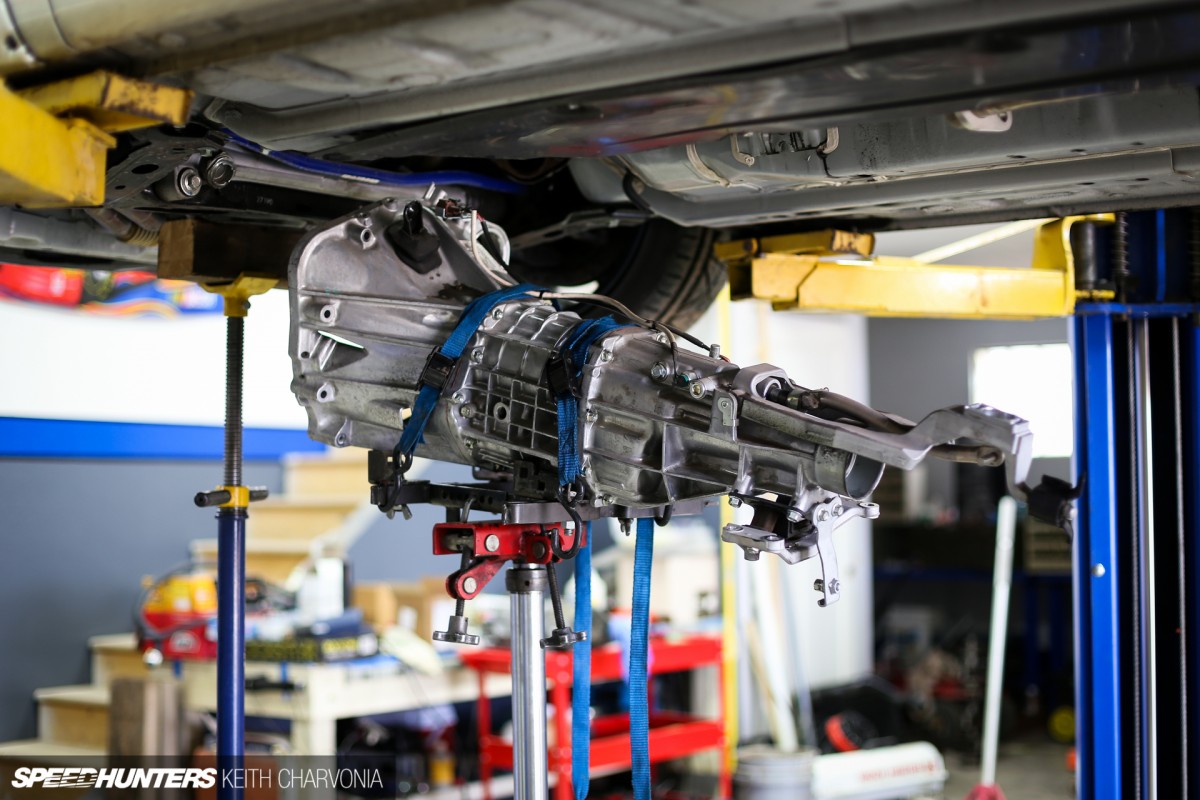 It sure beat wrestling the gearbox onto the ground with brute force.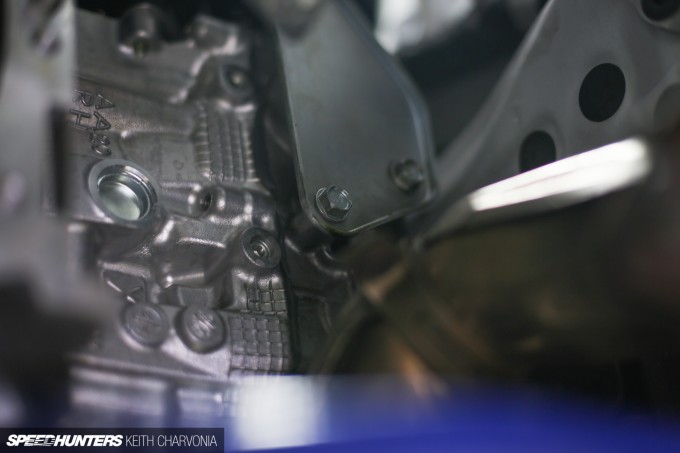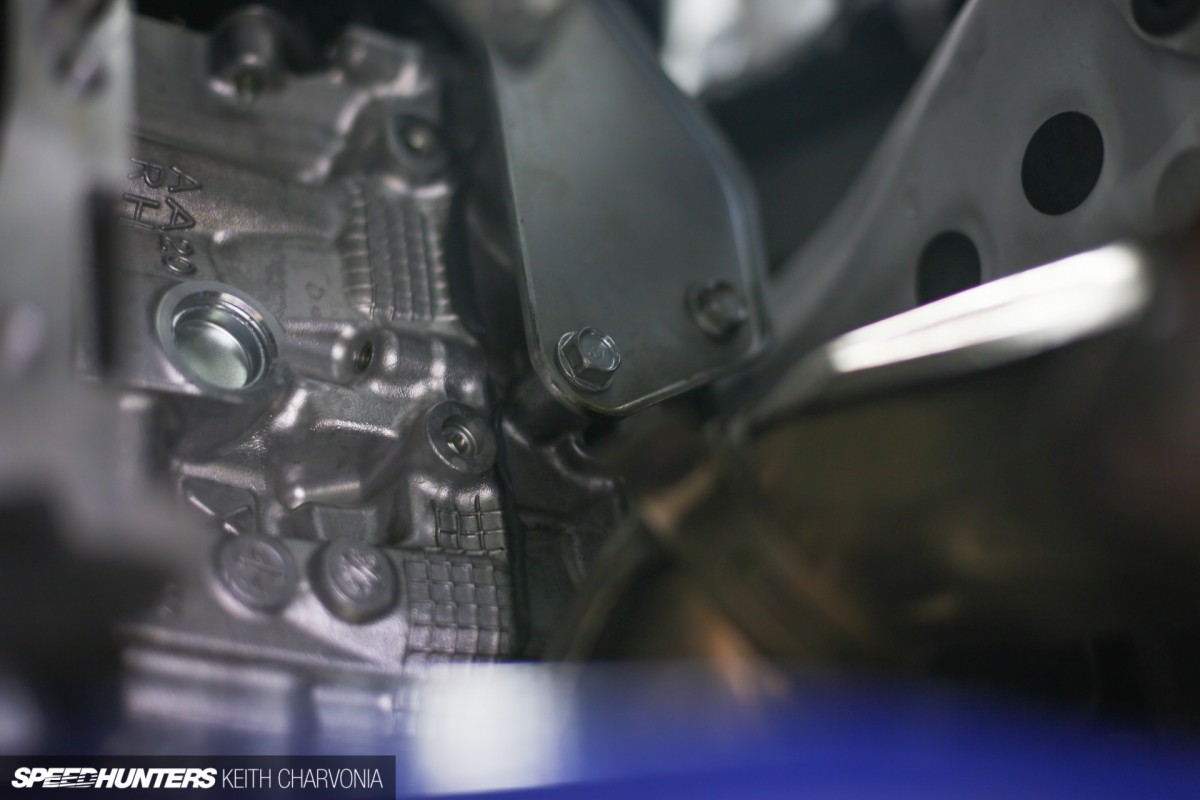 With the trans out of the way I wanted to tackle this oil leak that had developed. There is some speculation that forced induction kits are causing this cover to leak oil, but I think owners of stock cars have had it happen too.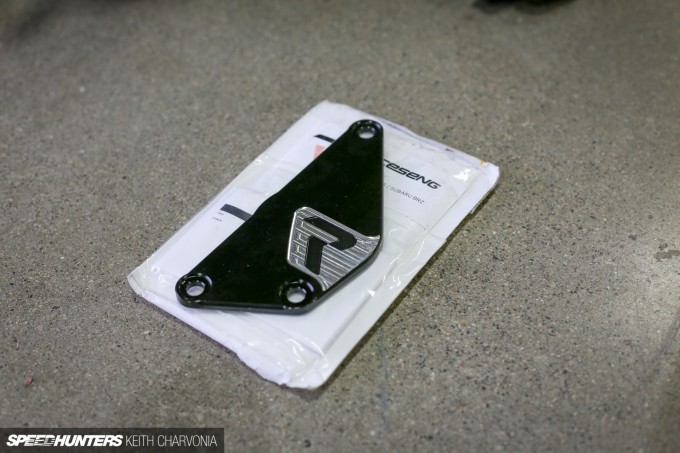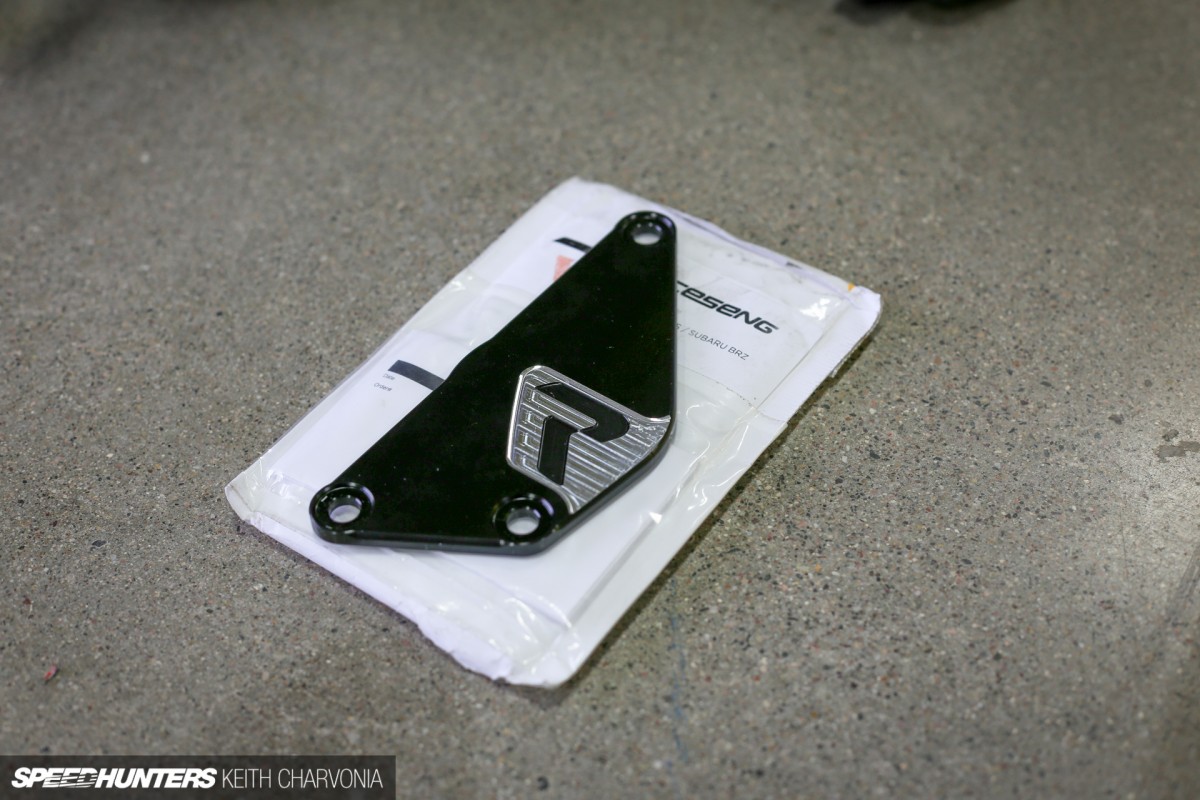 Either way, I was going to solve the problem with this CNC machined piece from Raceseng.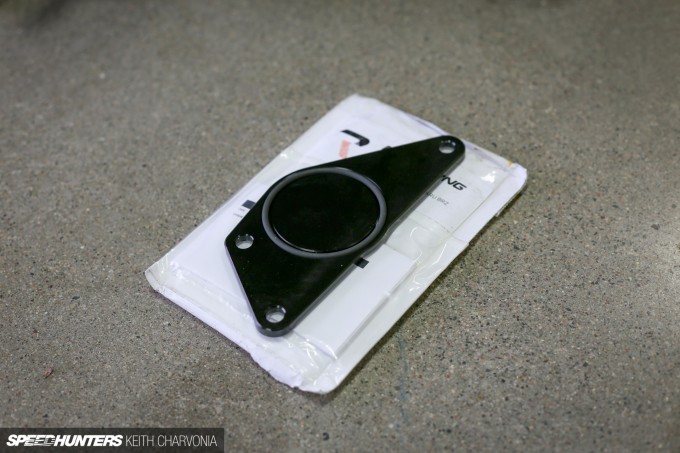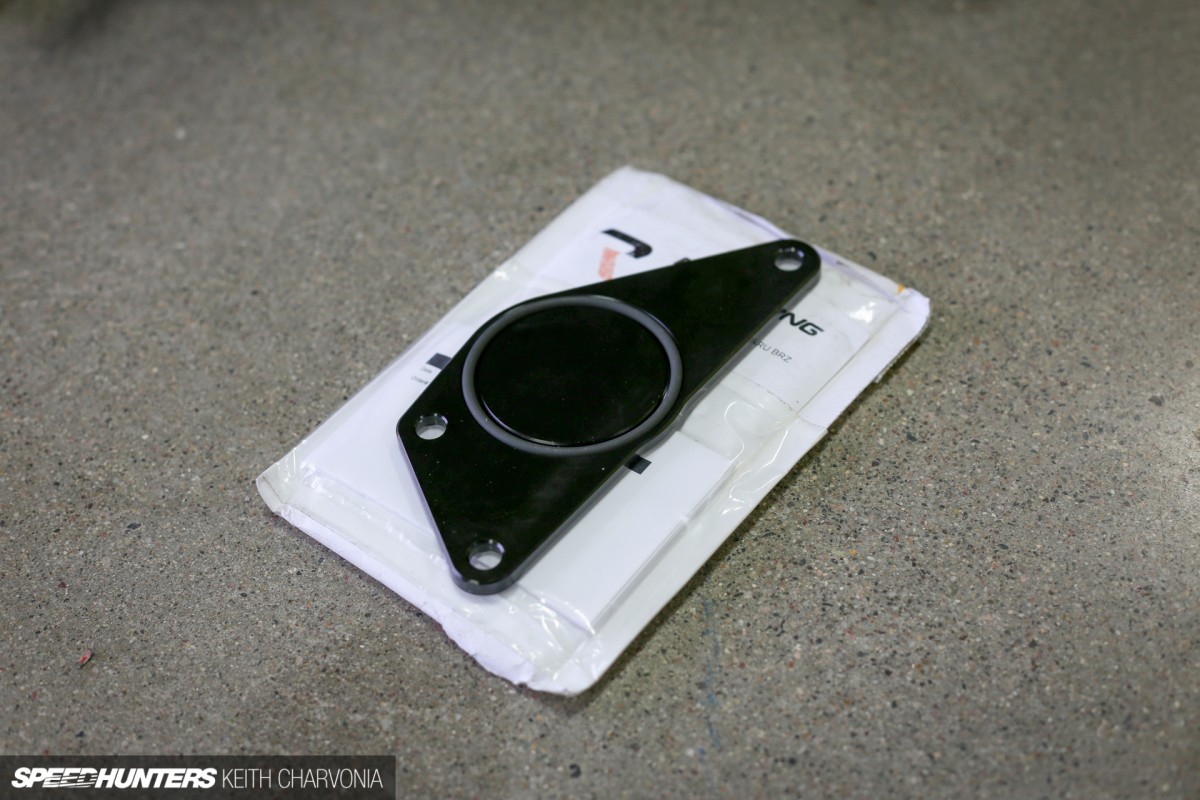 Rather than using RTV to form the seal, this aluminum plate holds an o-ring for a much more durable seal.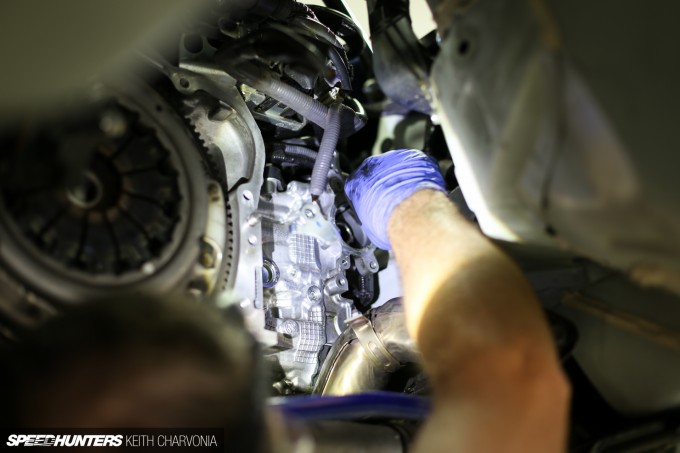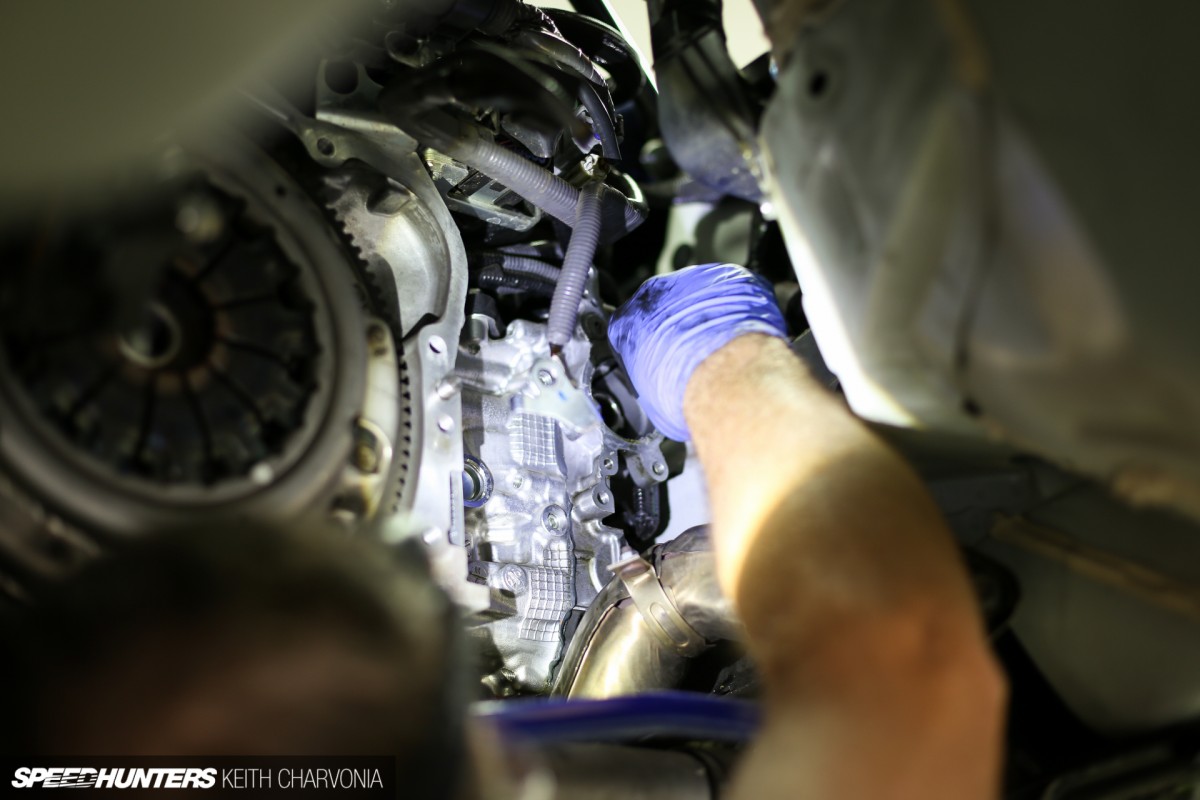 Being the perfectionist that he is, Phil jumped in and cleaned up the mating surface.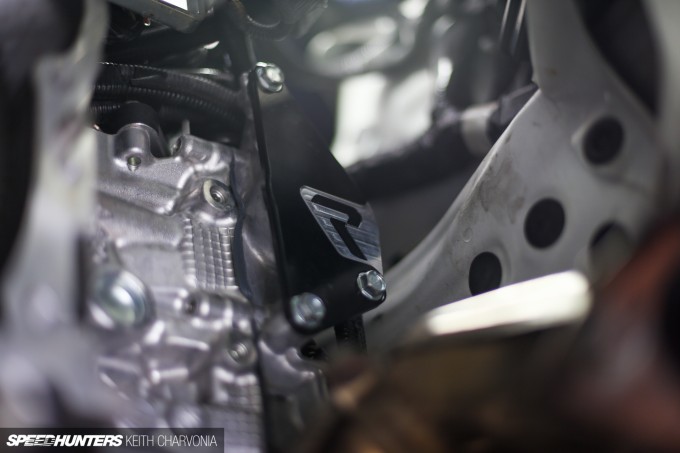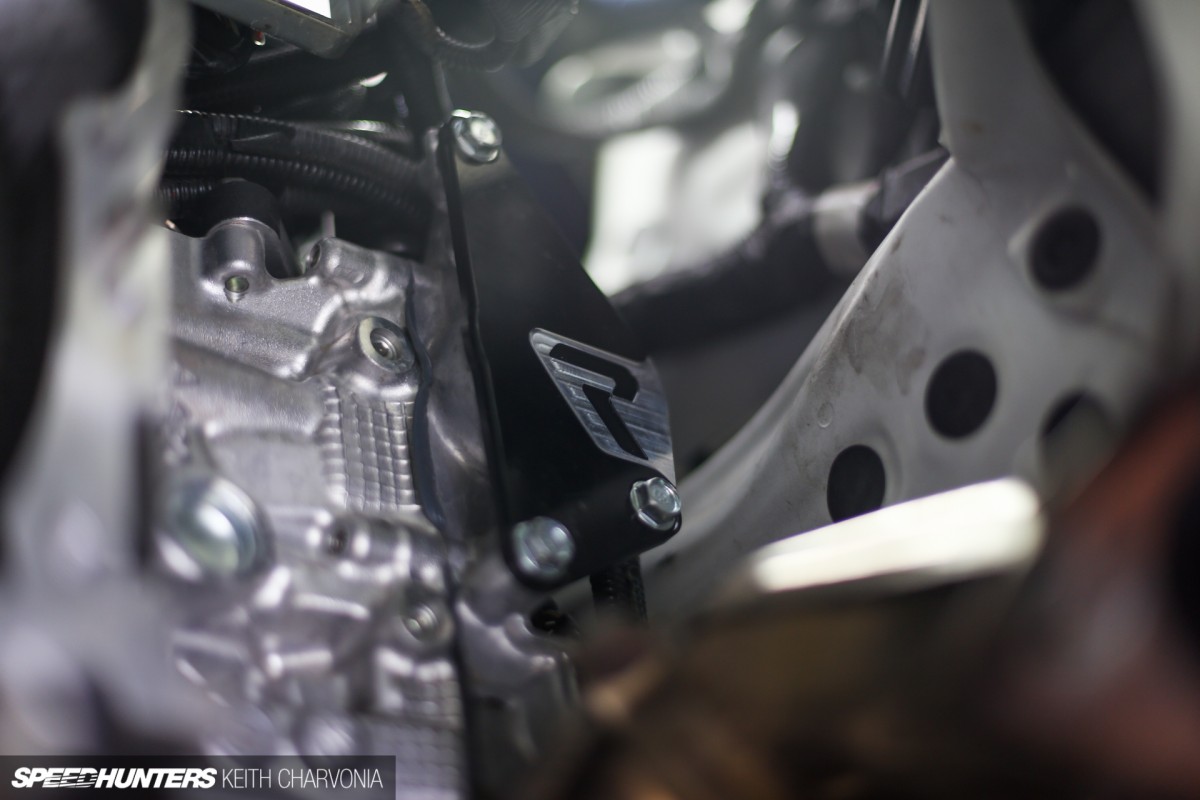 This is a pretty easy part to install from the top side of the engine bay, but with the transmission out we were looking right at it, so it seemed a good time to swap it in.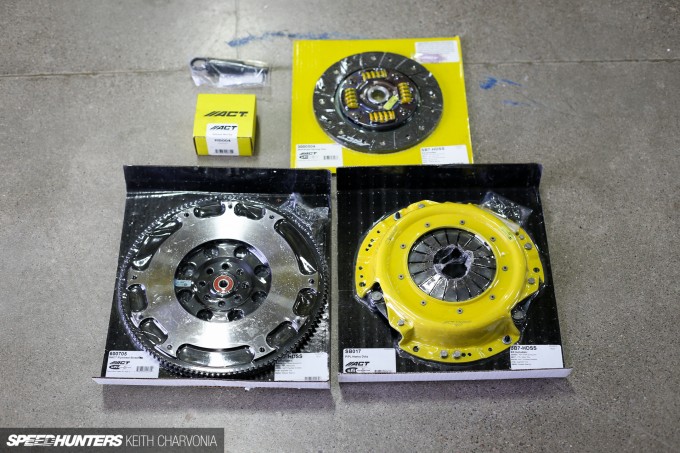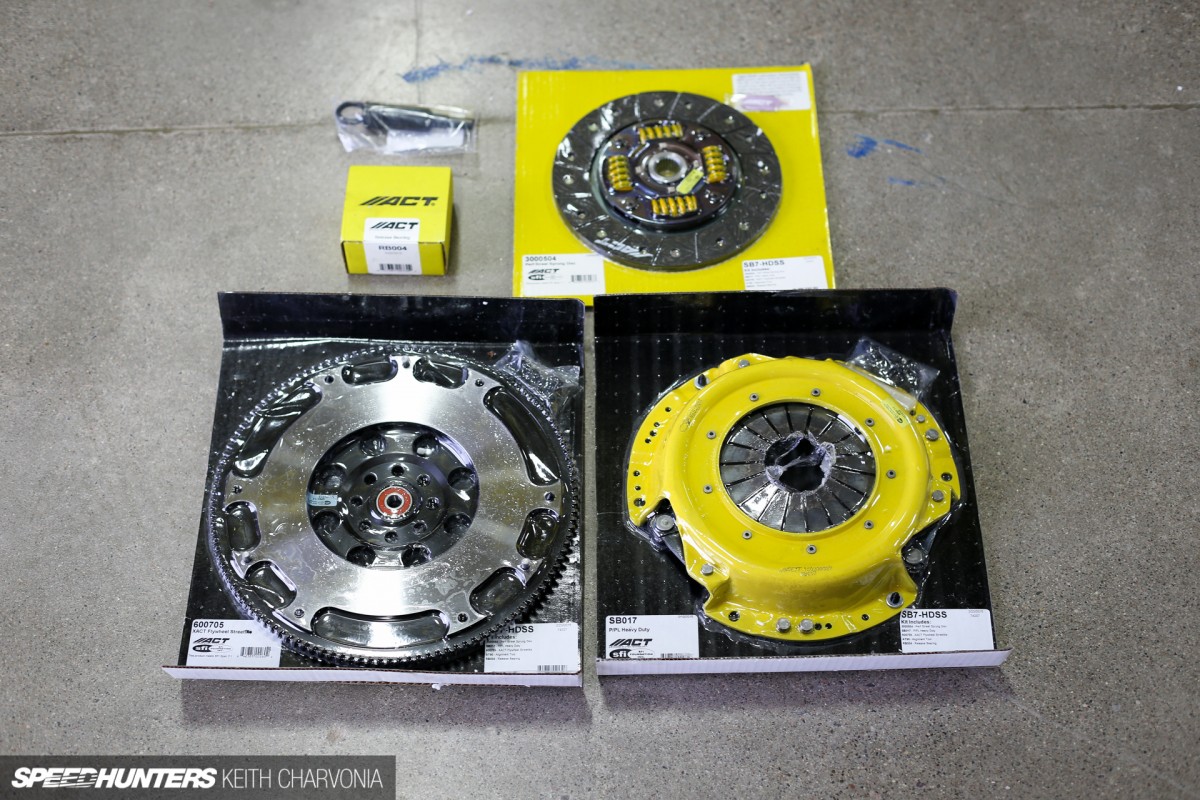 With the oil leak cured, we moved on with the clutch installation.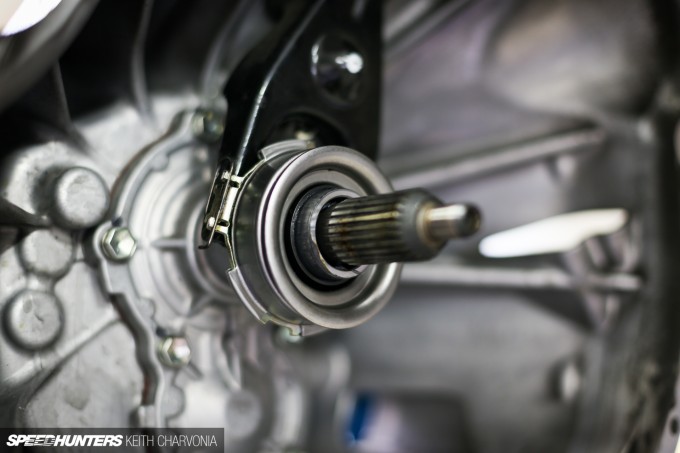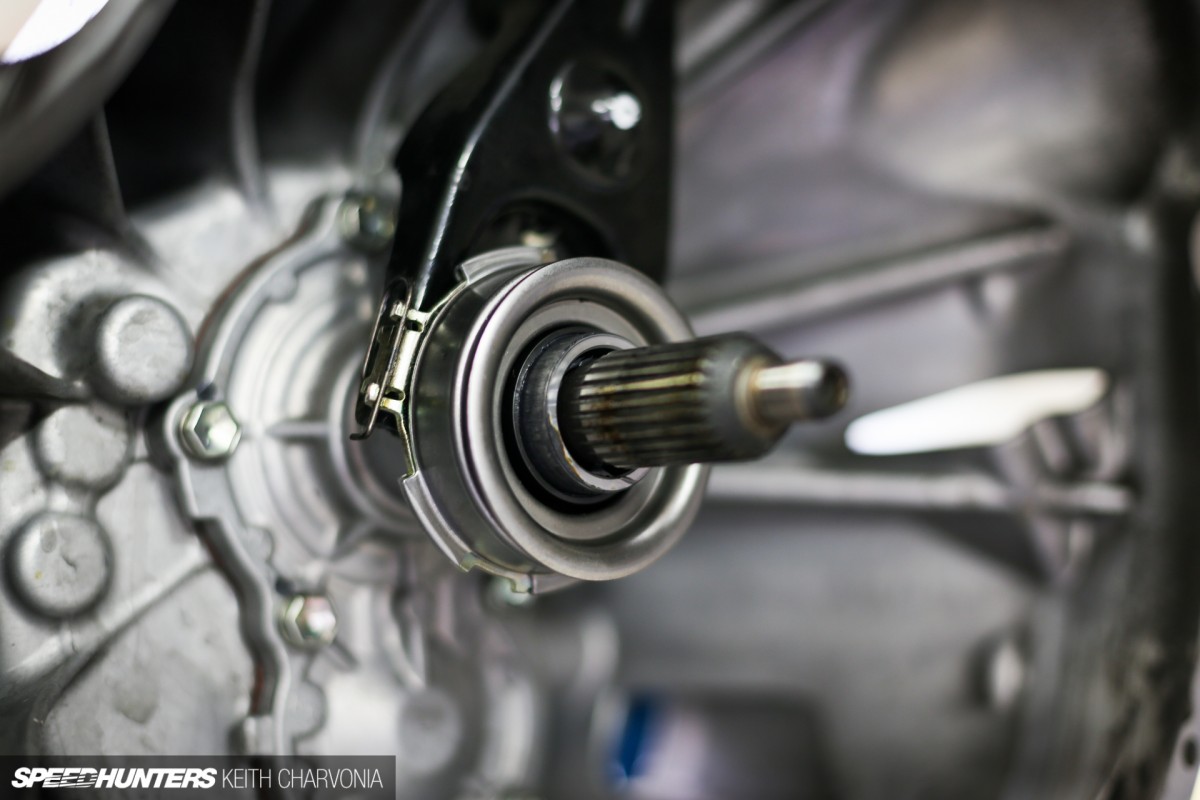 ACT includes a new throwout bearing with the clutch kit, which is always good to replace while you're in there.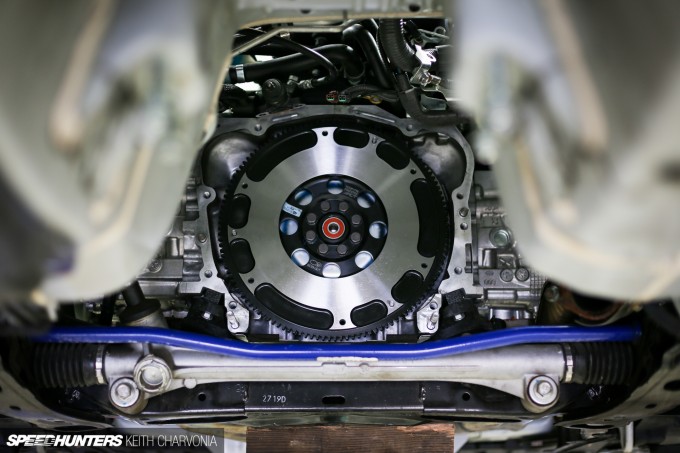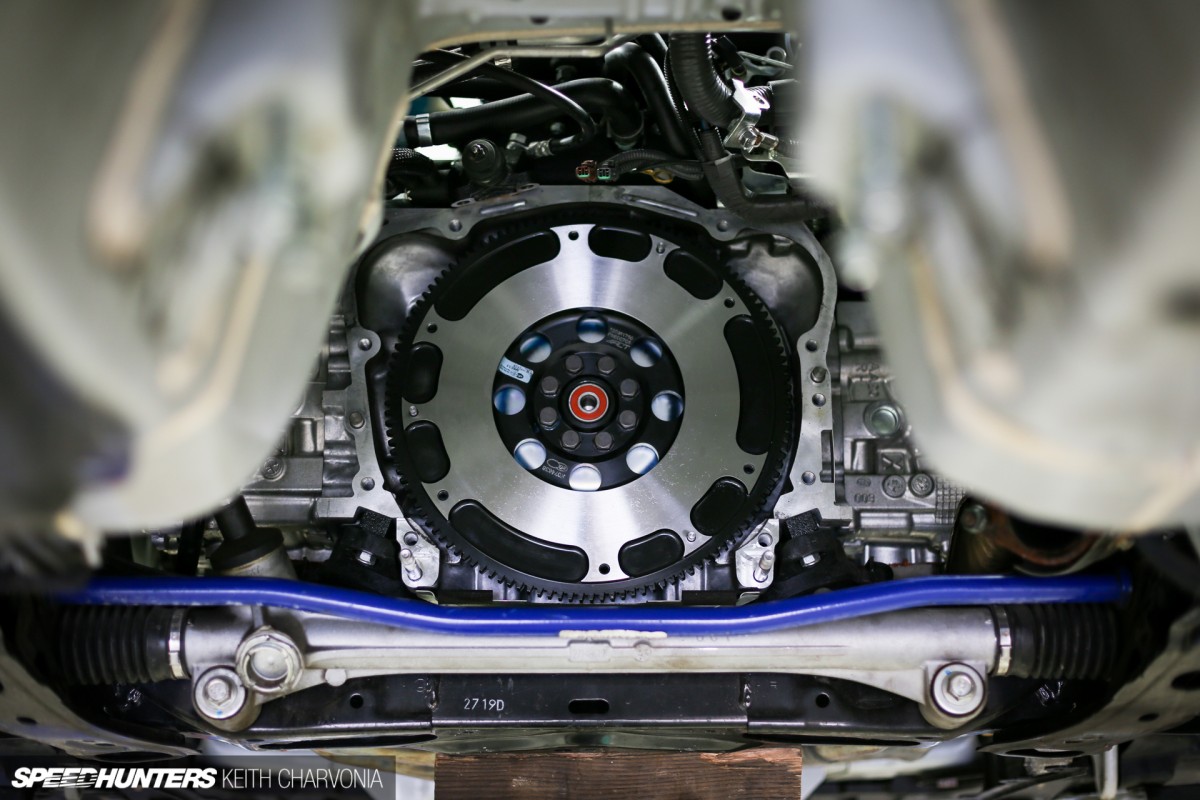 The kit also came with an 11.8lb lightened steel flywheel – a very nice reduction from the stock 20lb unit, but still heavy enough to damper the boxer engine's harmonics.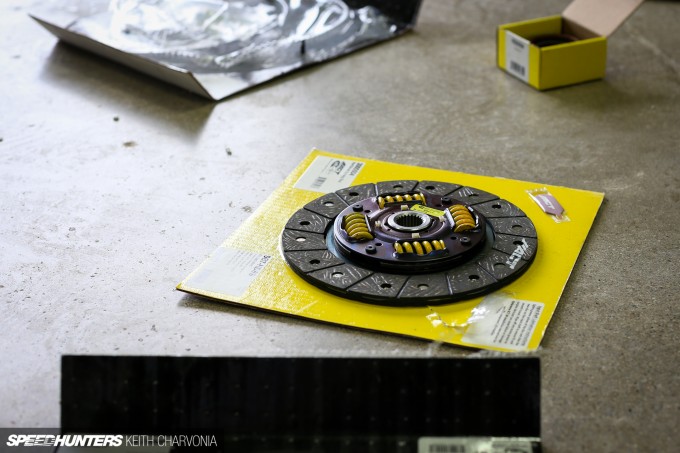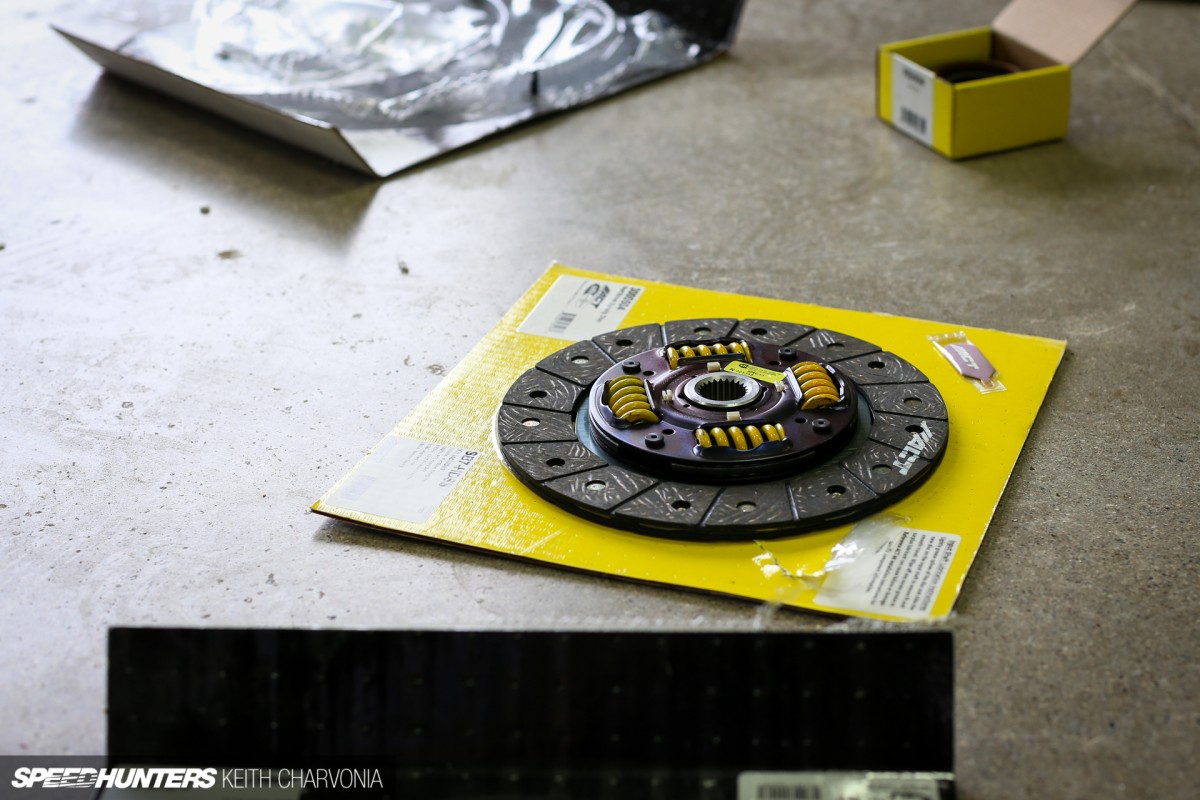 With the flywheel torqued down we secured the clutch disc with the included alignment tool.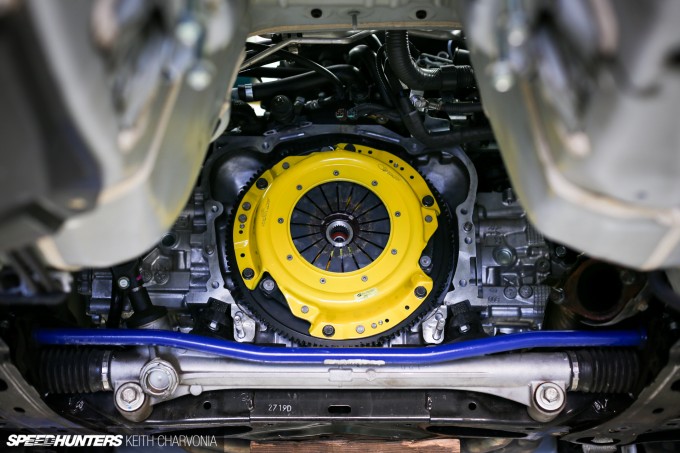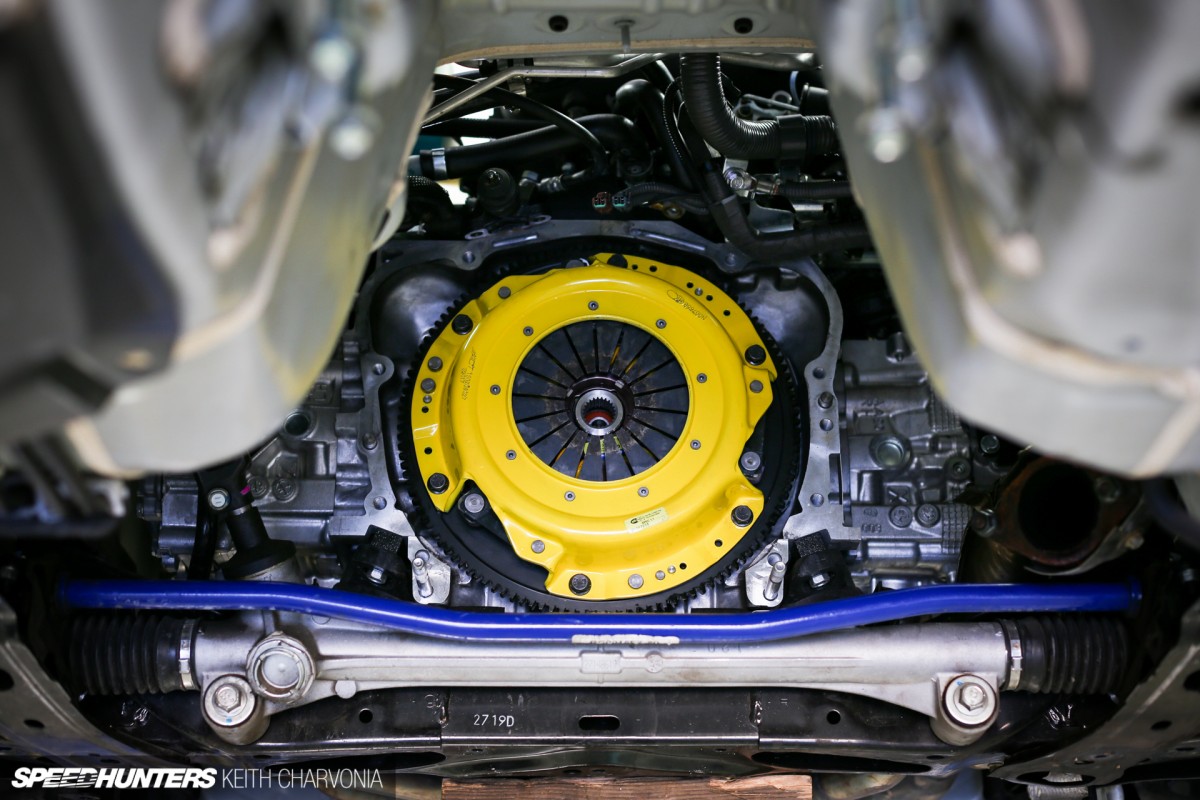 I chose the least aggressive offering from ACT because while it was right at the limit of what my engine is currently making, I don't want my modifications to spiral out of control and create a car that I no longer enjoy driving. I was very pleased to find that the increased clamping force did not come with the penalty of a ridiculously heavy pedal.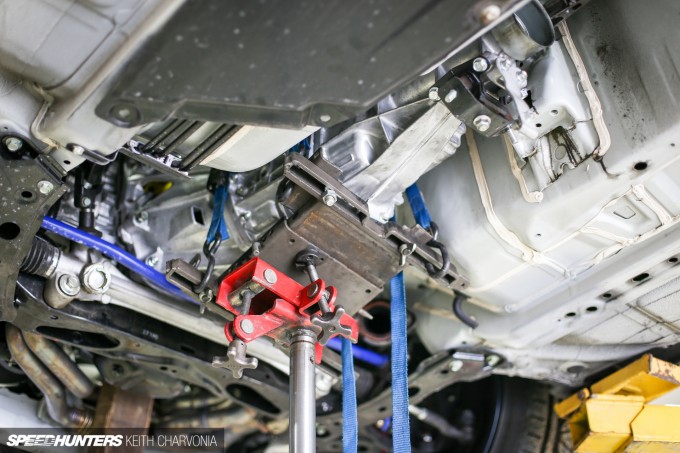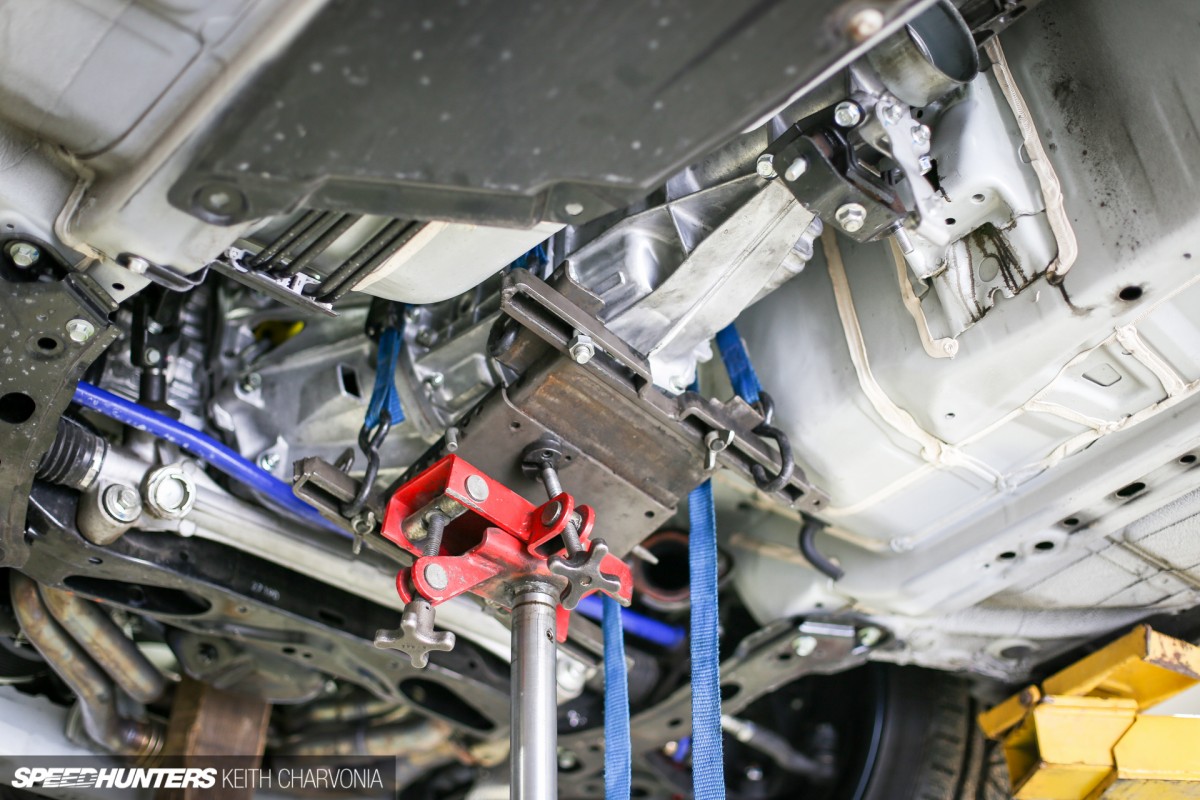 With everything torqued, we lifted the transmission back in place on the jack.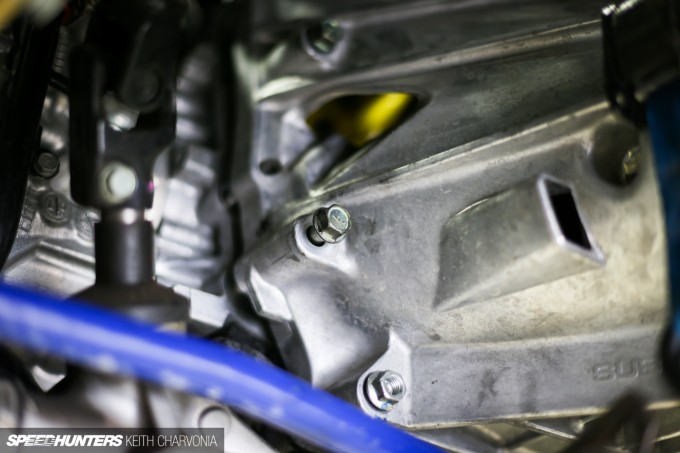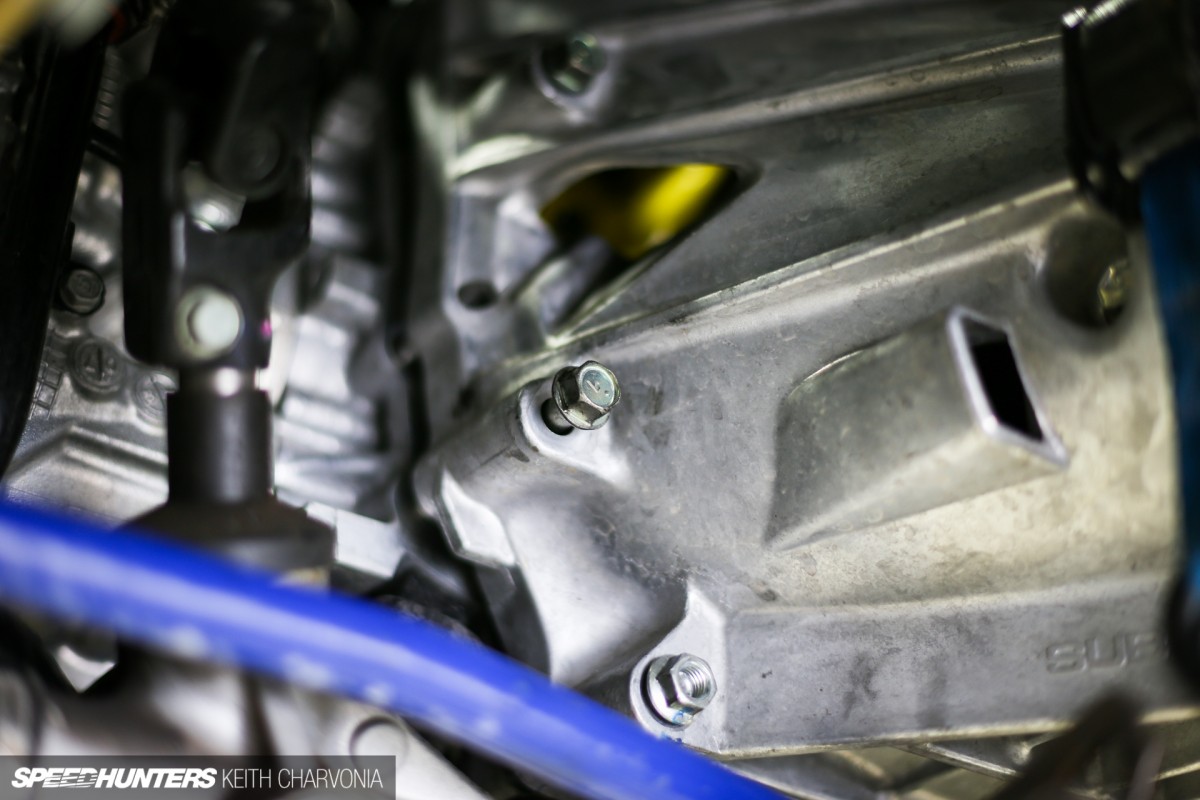 Even with an alignment tool it's sometimes tricky to get the input shaft to engage the clutch disc and the pilot bearing at the same time. We used the bellhousing bolts as a guide, then wiggled and shook the transmission until it popped into place.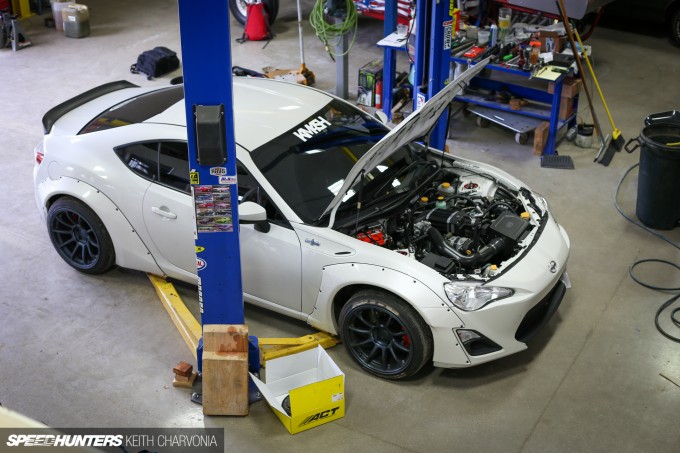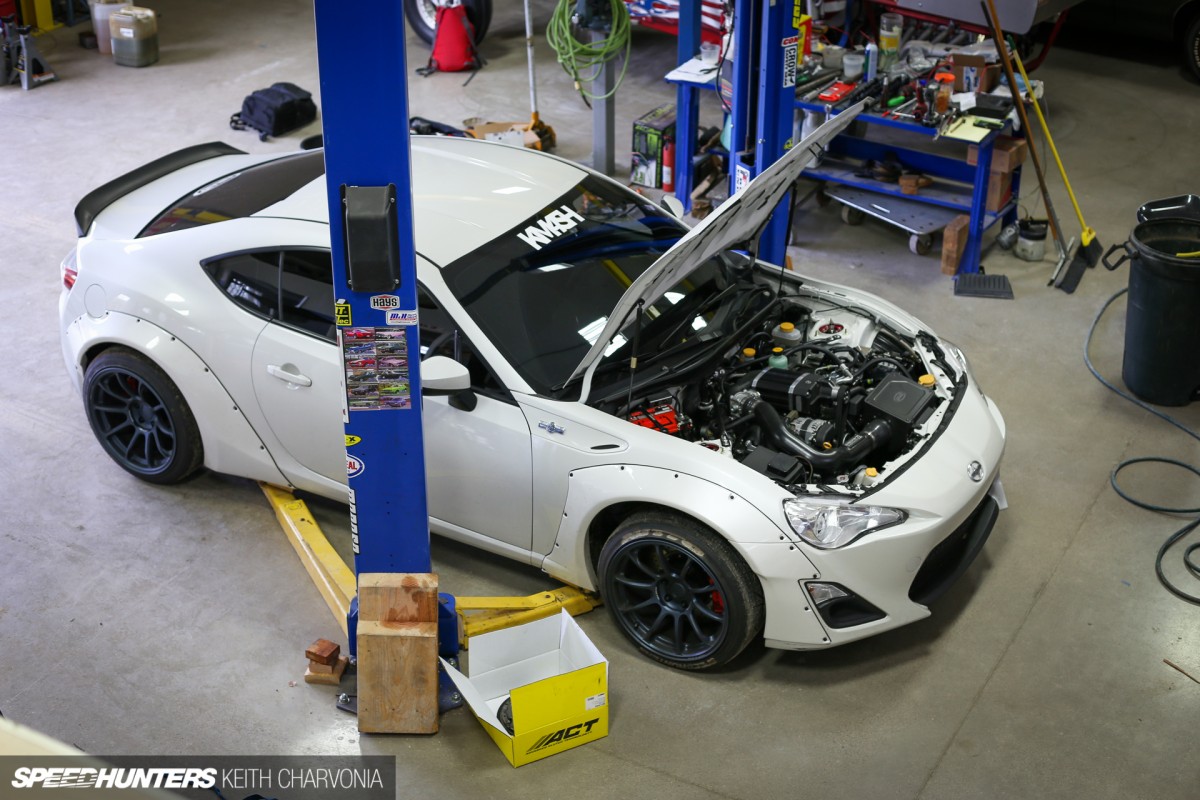 Working in Phil's shop turned this into an easy half-day task, and before long I was test driving the car back to my house. I got on it a bit and was actually surprised at how quickly the engine spun up with the lightened flywheel. I still needed to take it easy for a few hundred miles to let everything break in properly though.
Take It To The Track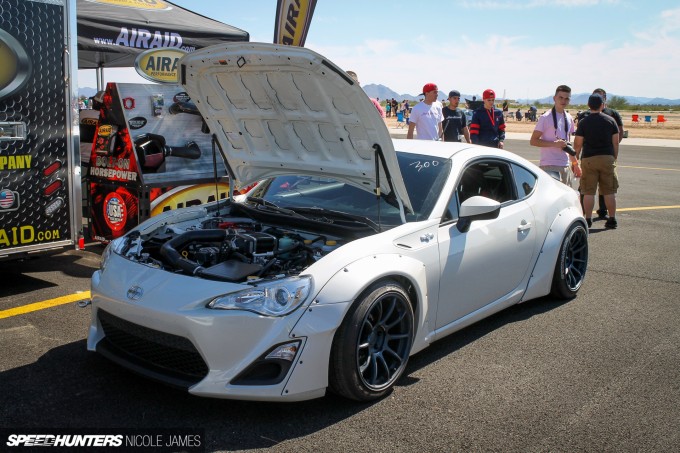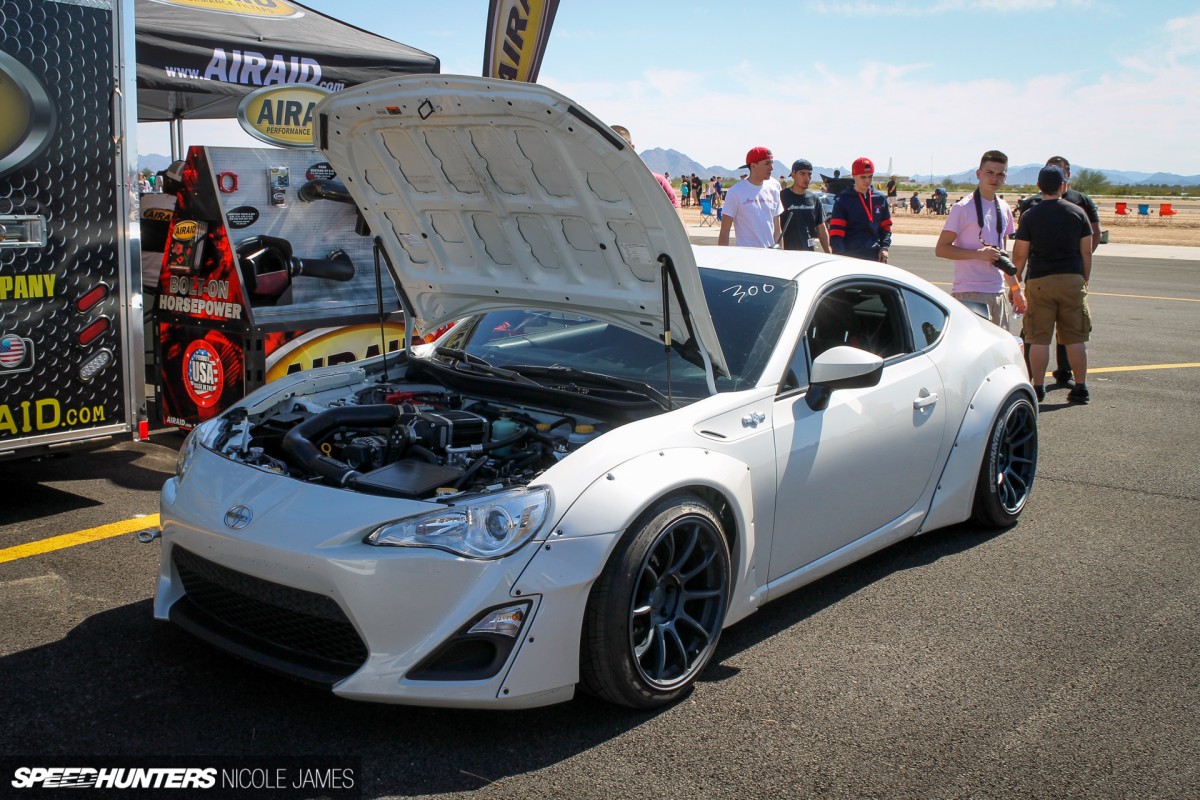 With the clutch sorted I was much more confident taking my car to the No Fly Zone half-mile racing event. Even though I had one of the lowest horsepower cars there, I knew I would have fun and was looking forward to seeing what my car could do within the confines of a safe, controlled environment.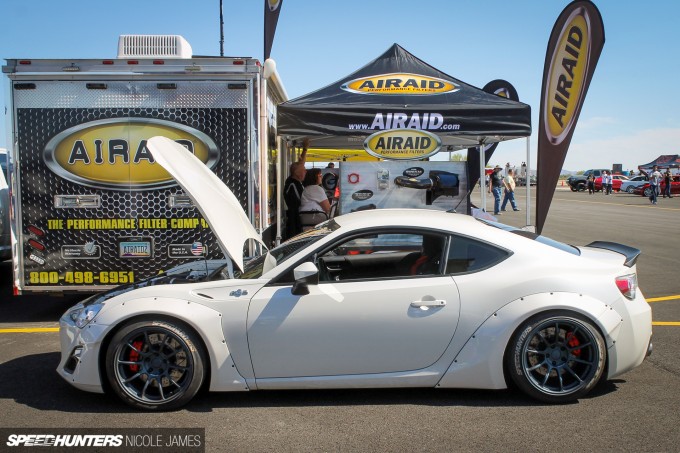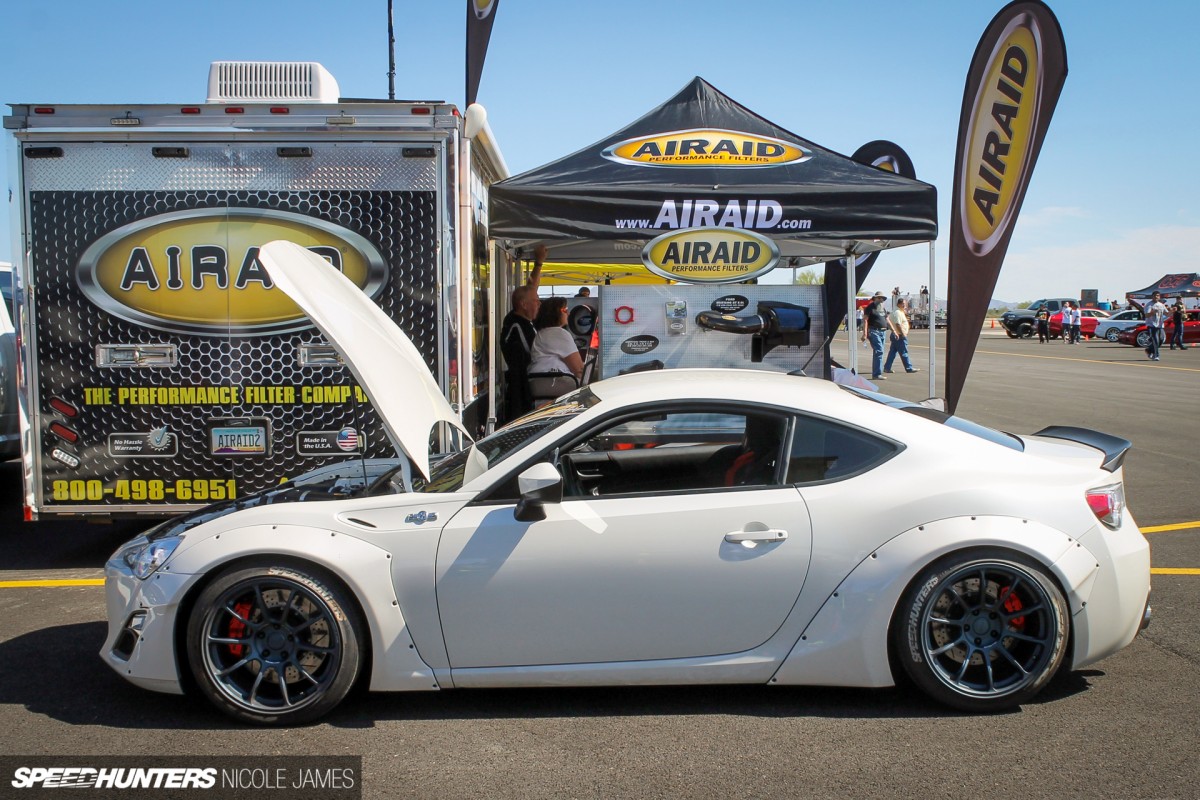 One of the great things about working in the aftermarket is getting to represent your company at events. This time Airaid was a sponsor, so we all brought out our modded cars to see what they could do. It's always fun to race the guy who sits in your office too.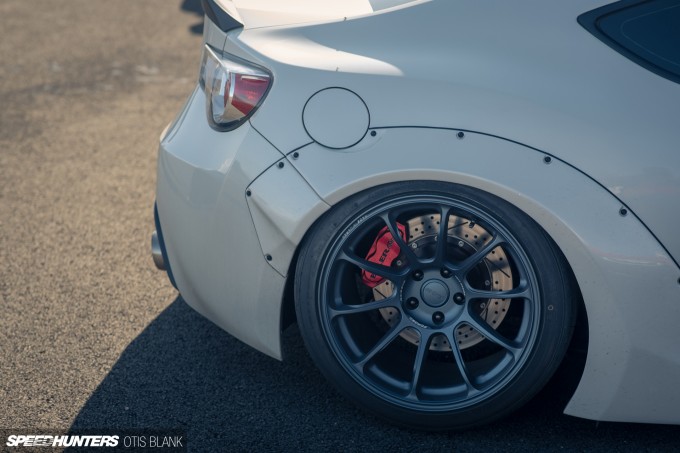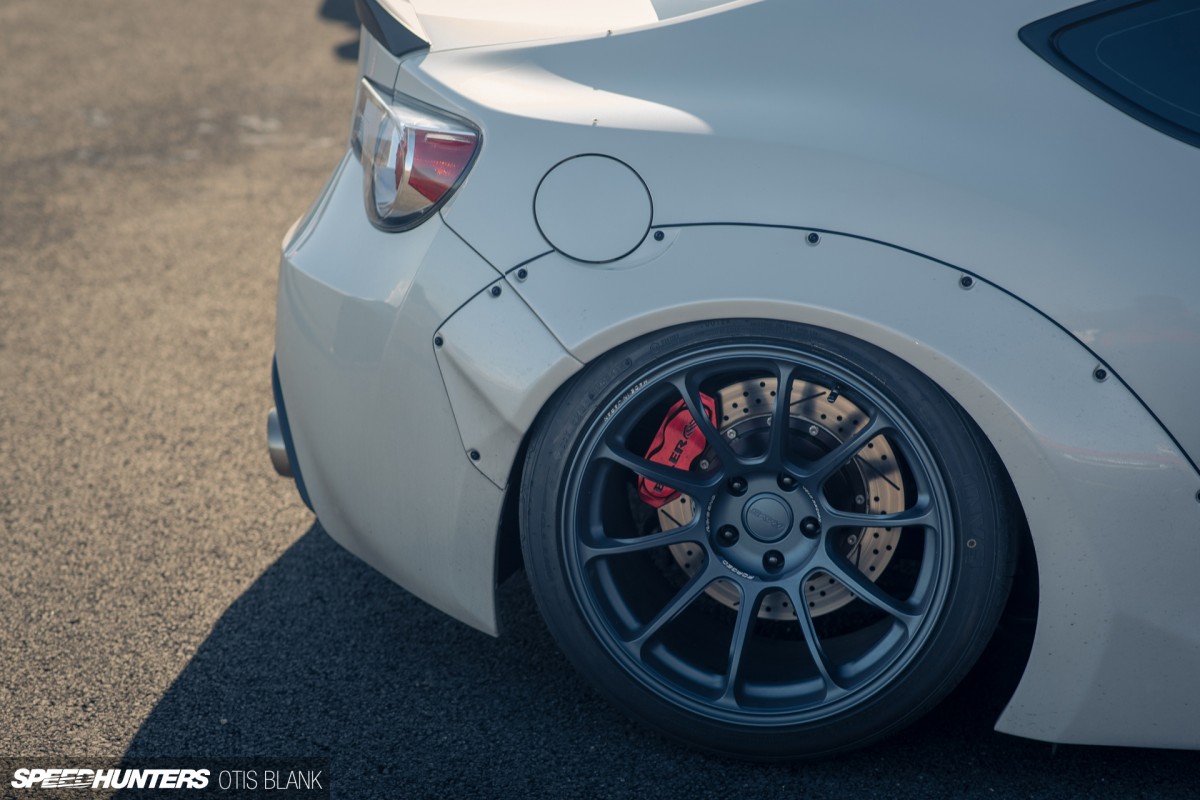 I do think I freaked some people out when I dumped my car in front of the Airaid booth, but they were about to see that airbags aren't just for parking.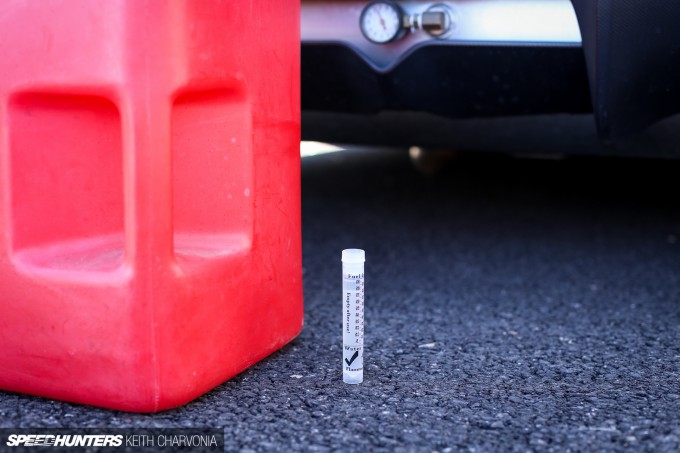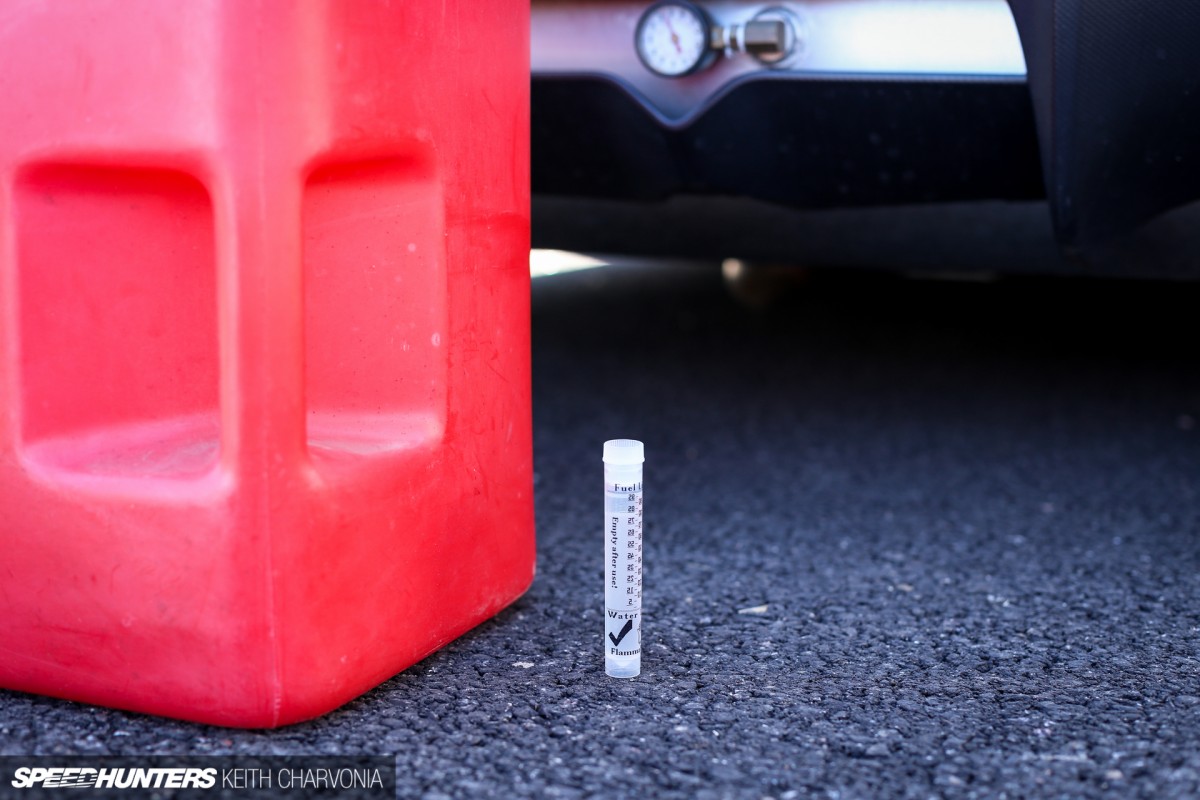 Before we left I stashed two jugs of E85 in the Airaid trailer. I tested the content so I knew how much ethanol I was actually running, then filled it up. Fortunately this was a good batch and measured at exactly 85 per cent.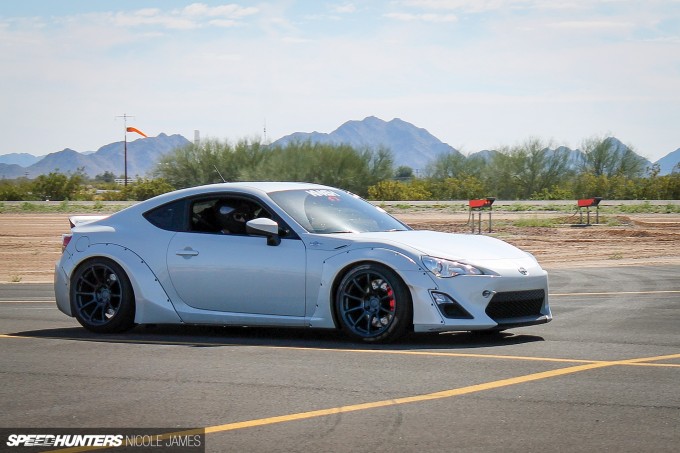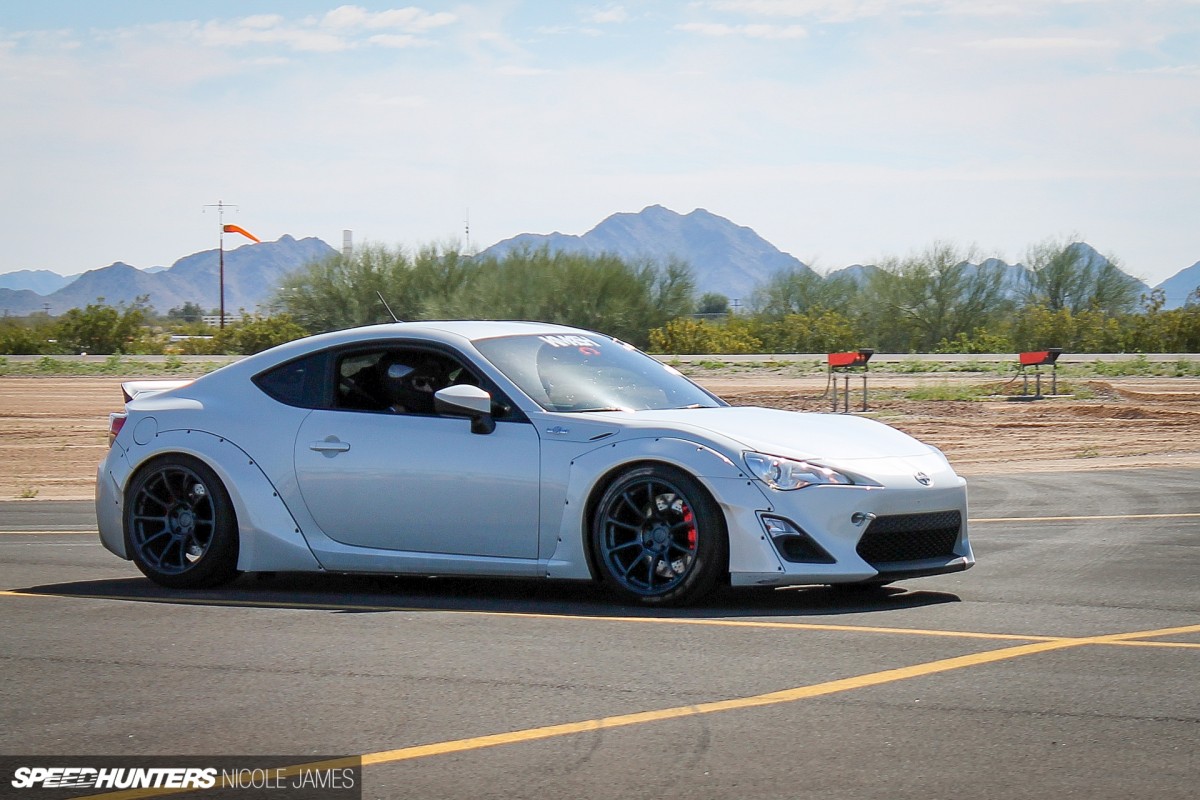 My friend hopped in for the first couple of runs and we exited the pit area.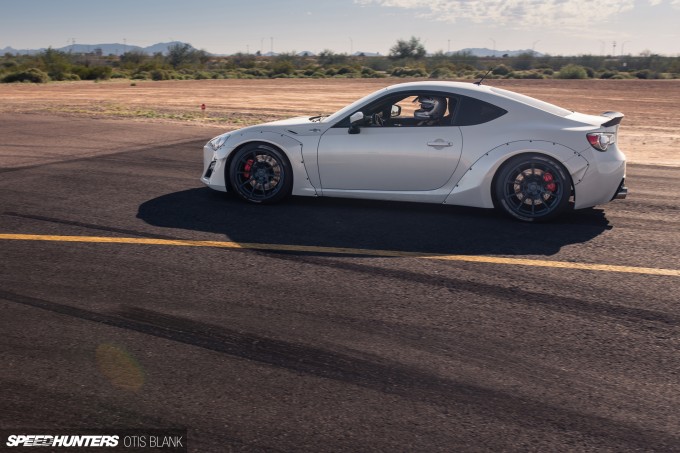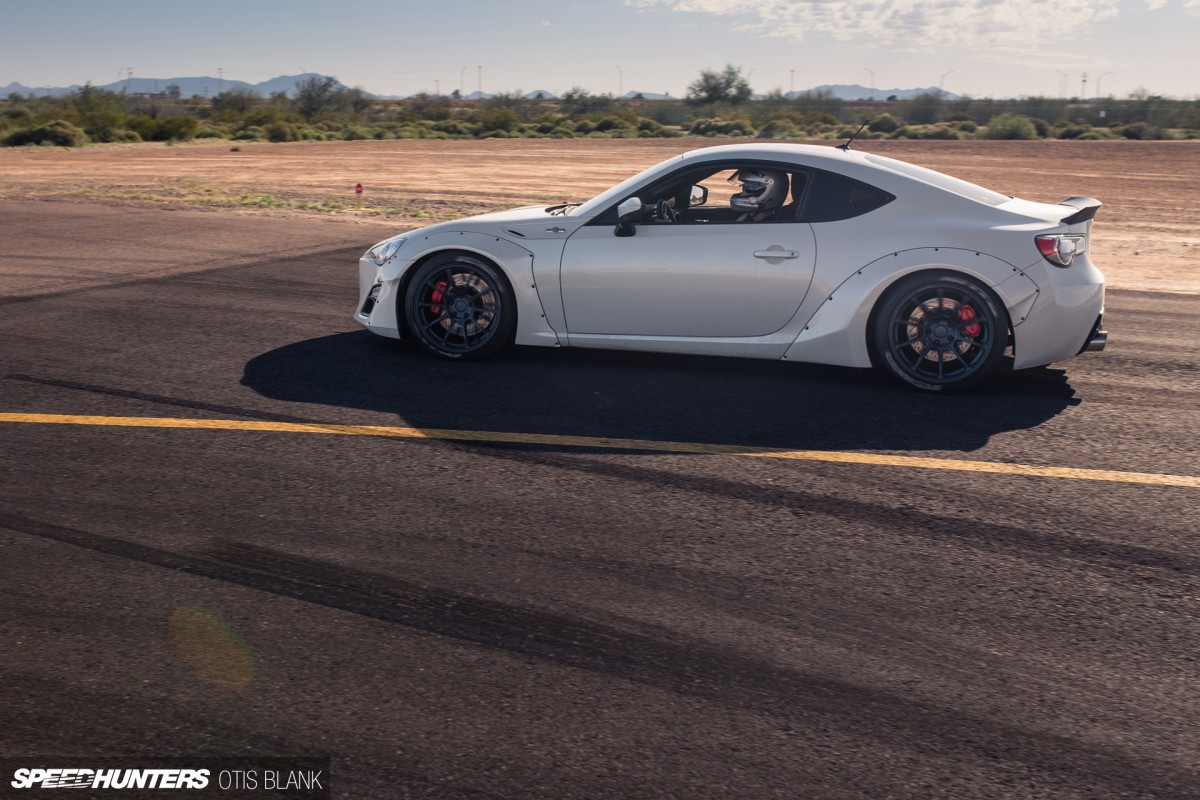 Things were running very smoothly and quickly, with just a 30-second lag between races. The more ambitious drivers got in up to 40 passes in one day. This is the burnout area, but I didn't see any reason to warm up my street tires so I rolled right through.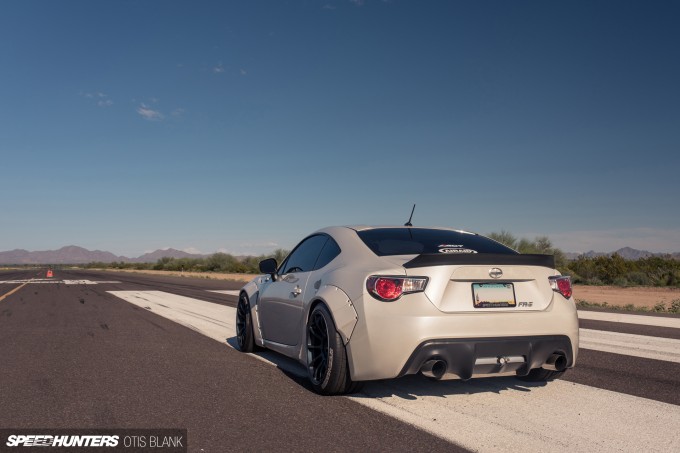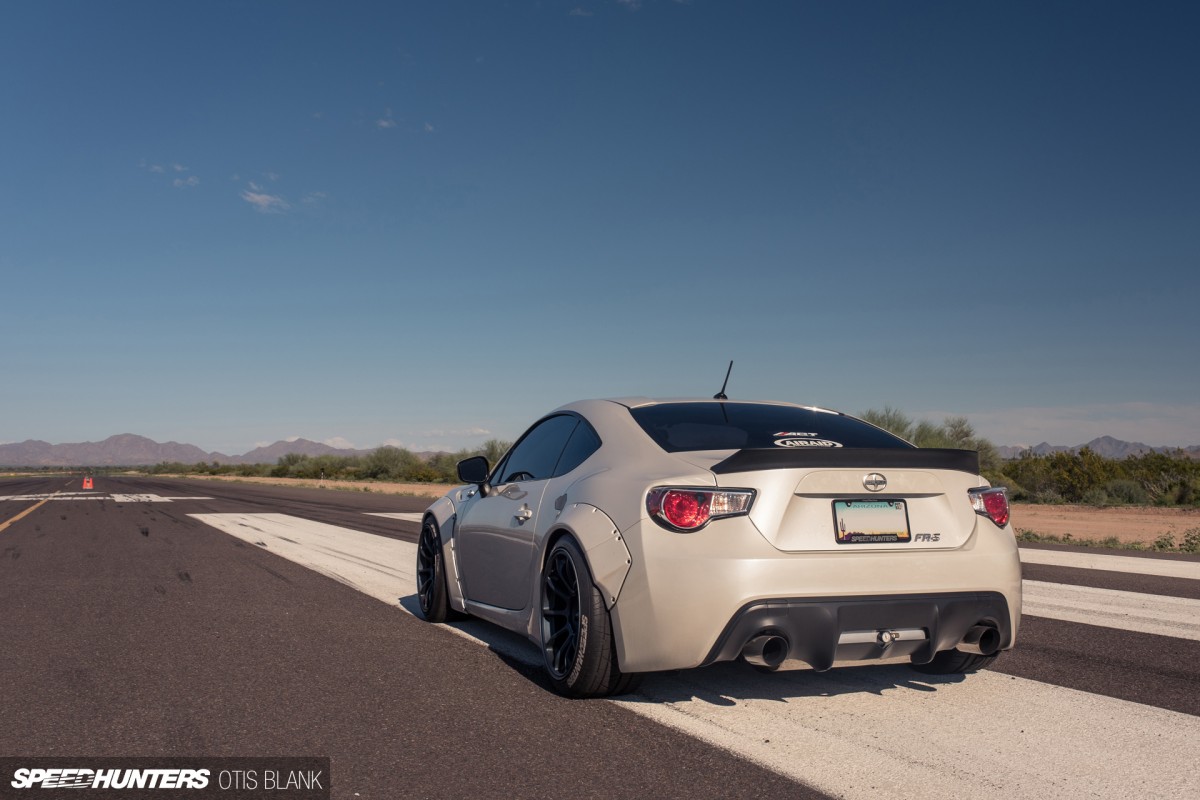 My first run was a pathetic 120mph (193km/h) pass. The idea behind roll racing is that you pace the other car until the first set of cones and then start from 40mph (64km/h), but I had a hard time hitting that speed exactly at the marker.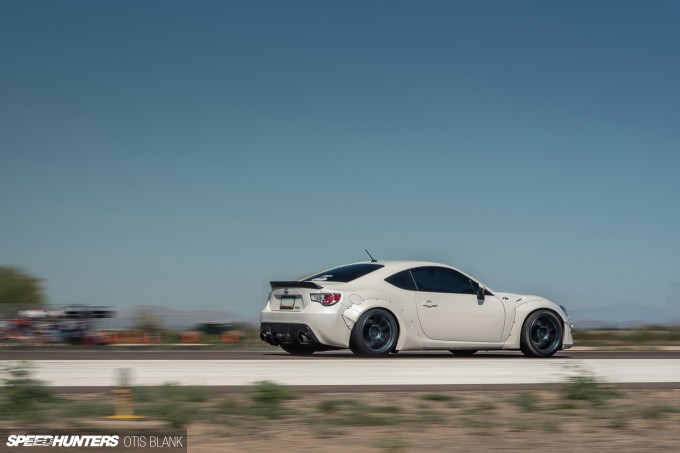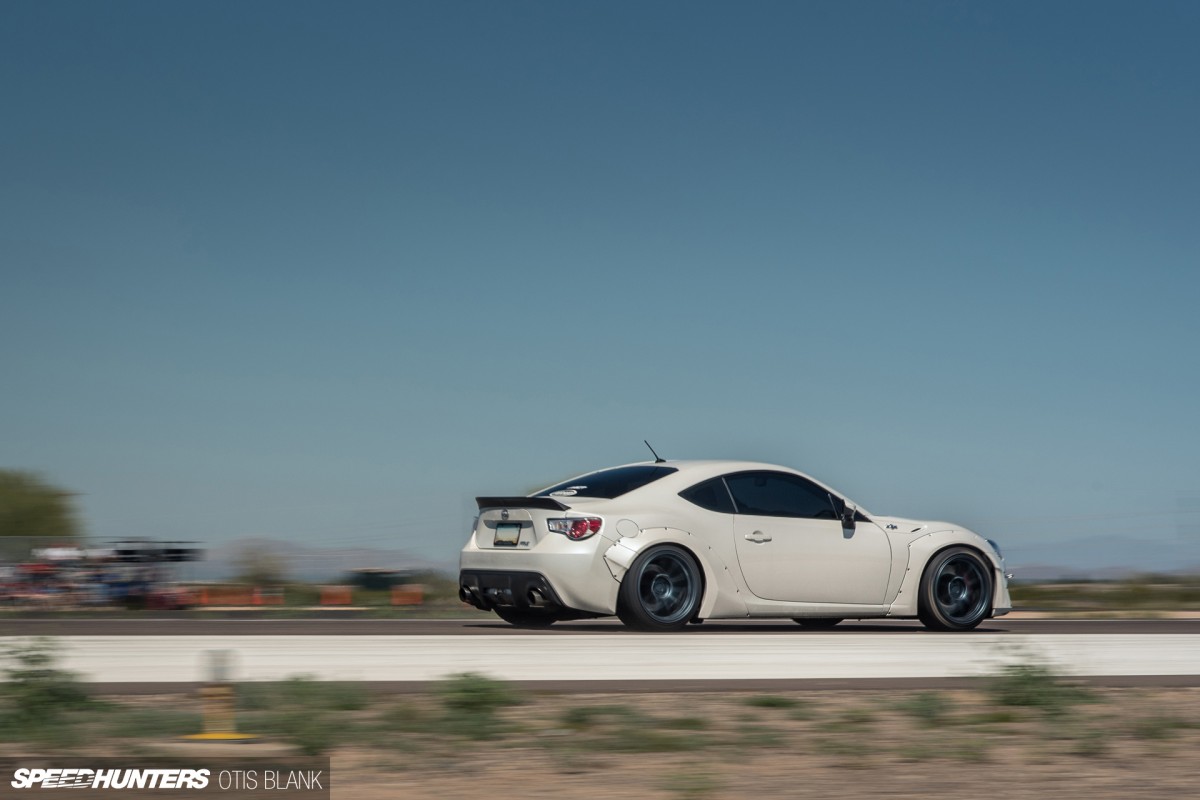 After a couple more runs with my friend helping me time the cones I had it down, and was ready to challenge someone to a race.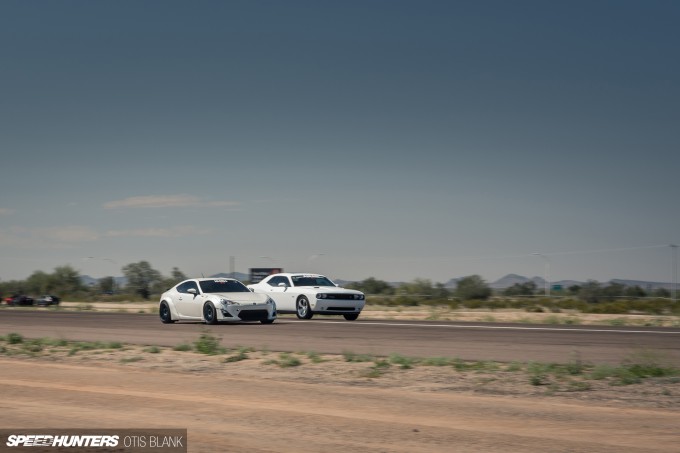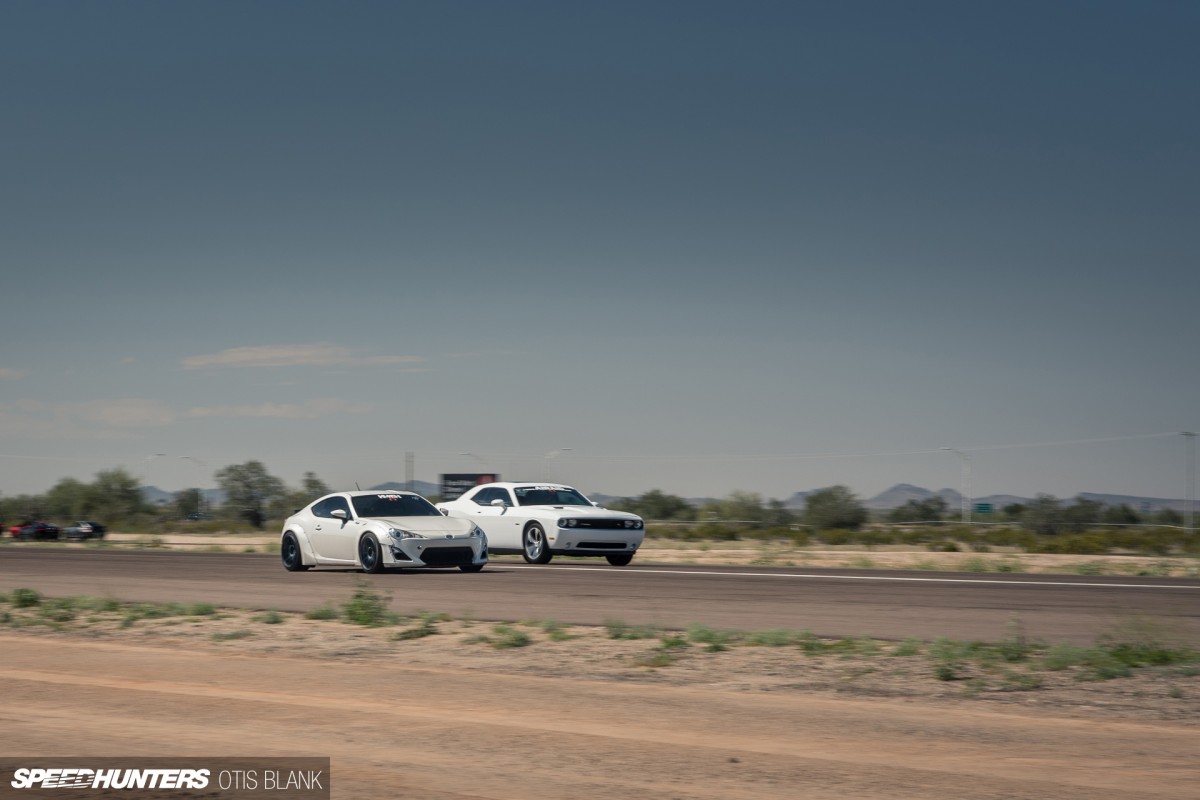 While comparing notes within the Airaid camp, we noticed that our graphic designer's new Hemi Challenger was running pretty close to my car. Even thought his engine is nearly triple the size of mine, his car is pretty stock and heavy too.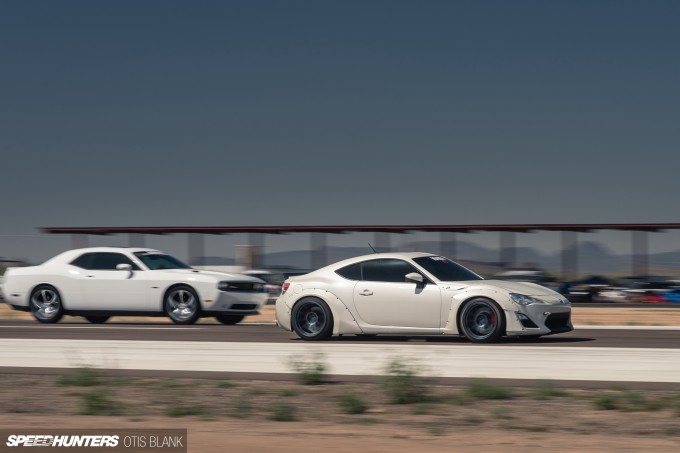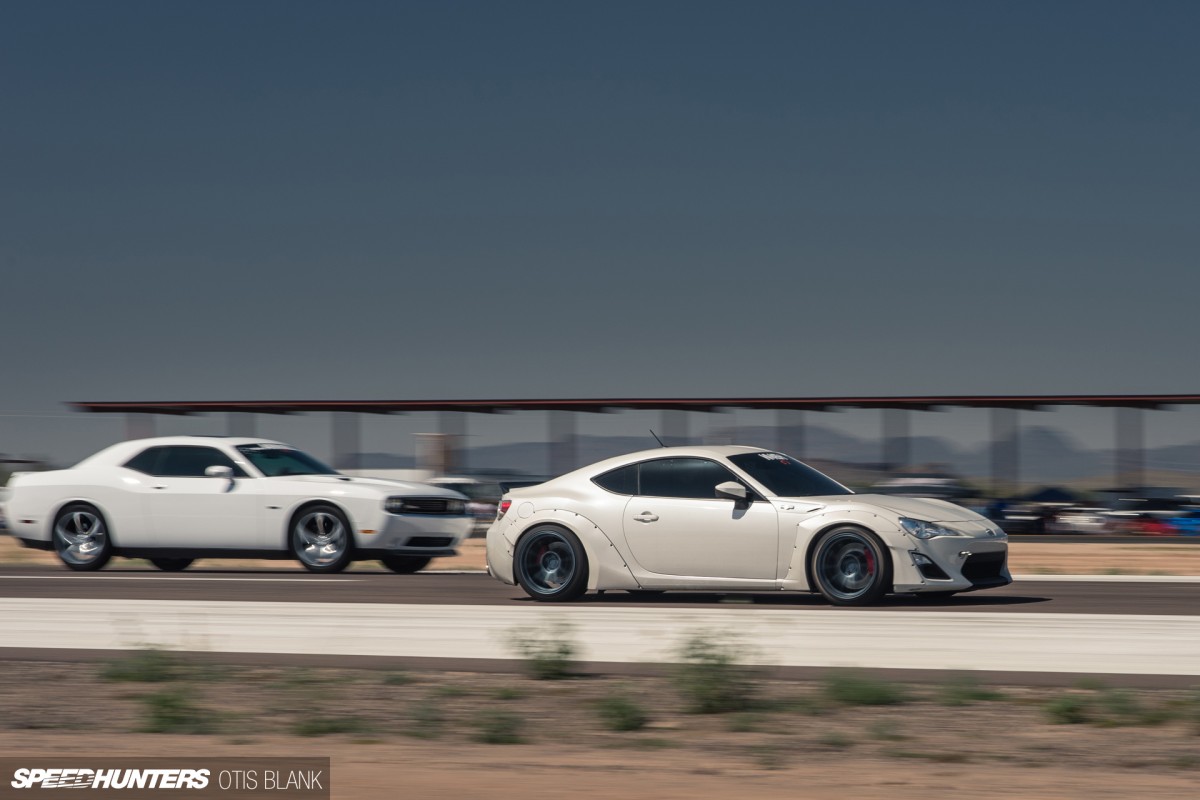 I gave him a run for his money with my little 2.0-liter boxer engine. It was good to finally know where my car stood compared to another car I might line up against.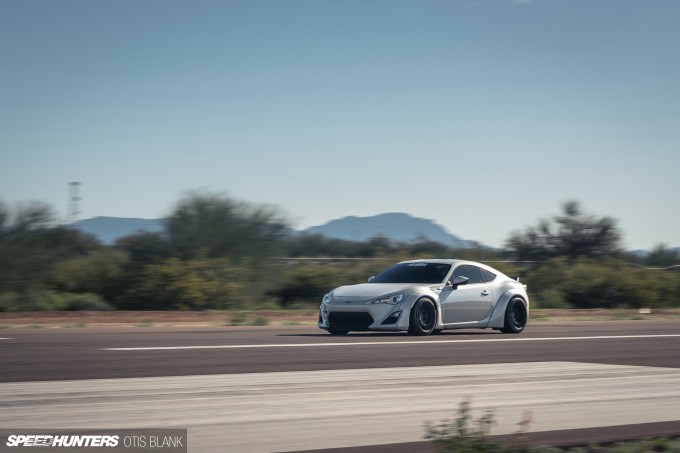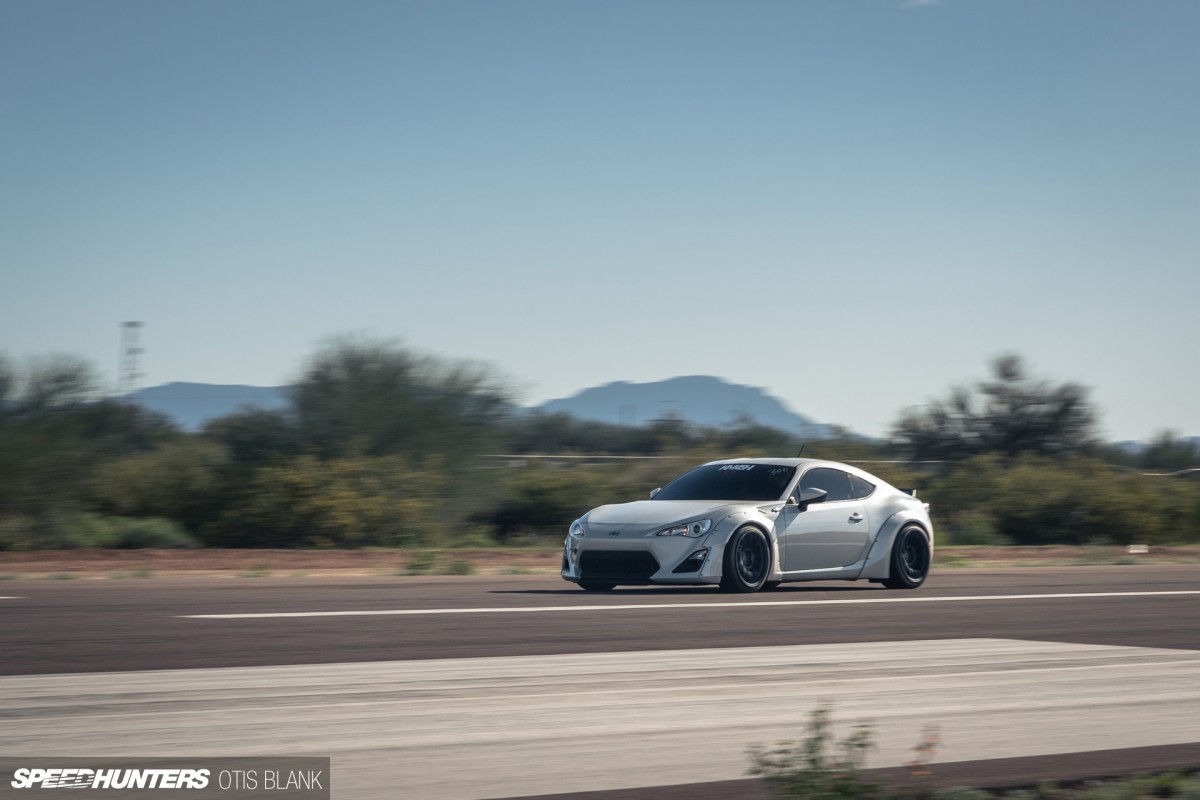 In my quest to improve my top speed, I started with weight reduction by kicking out the passenger.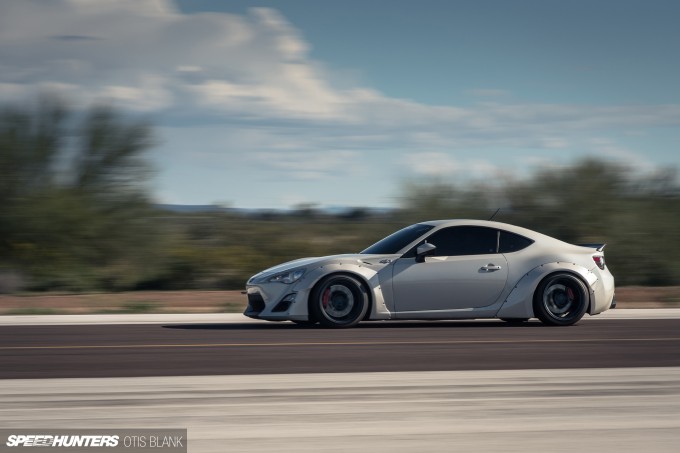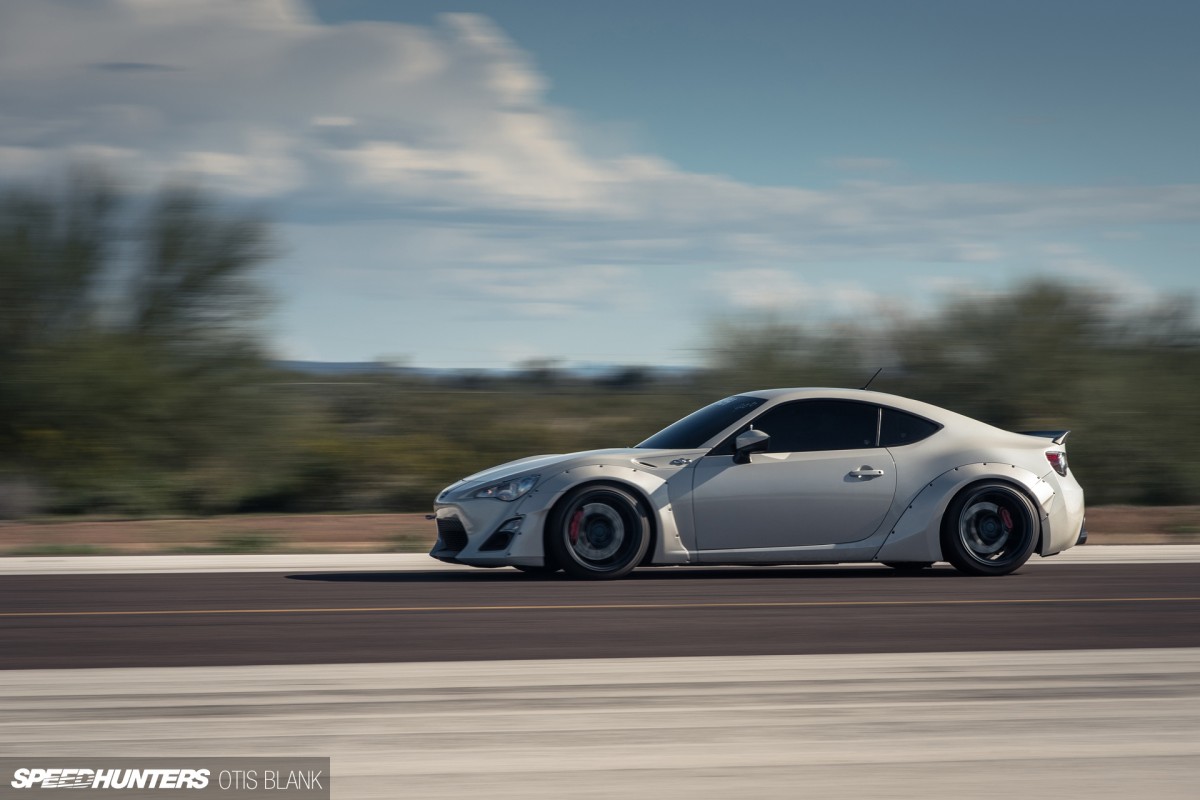 Next I emptied my trunk, and got up to 128mph (206km/h). At the last event we brought out Airaid's 2015 5.0-liter Mustang and it ran 132mph (212km/h), so I had that number in mind to beat.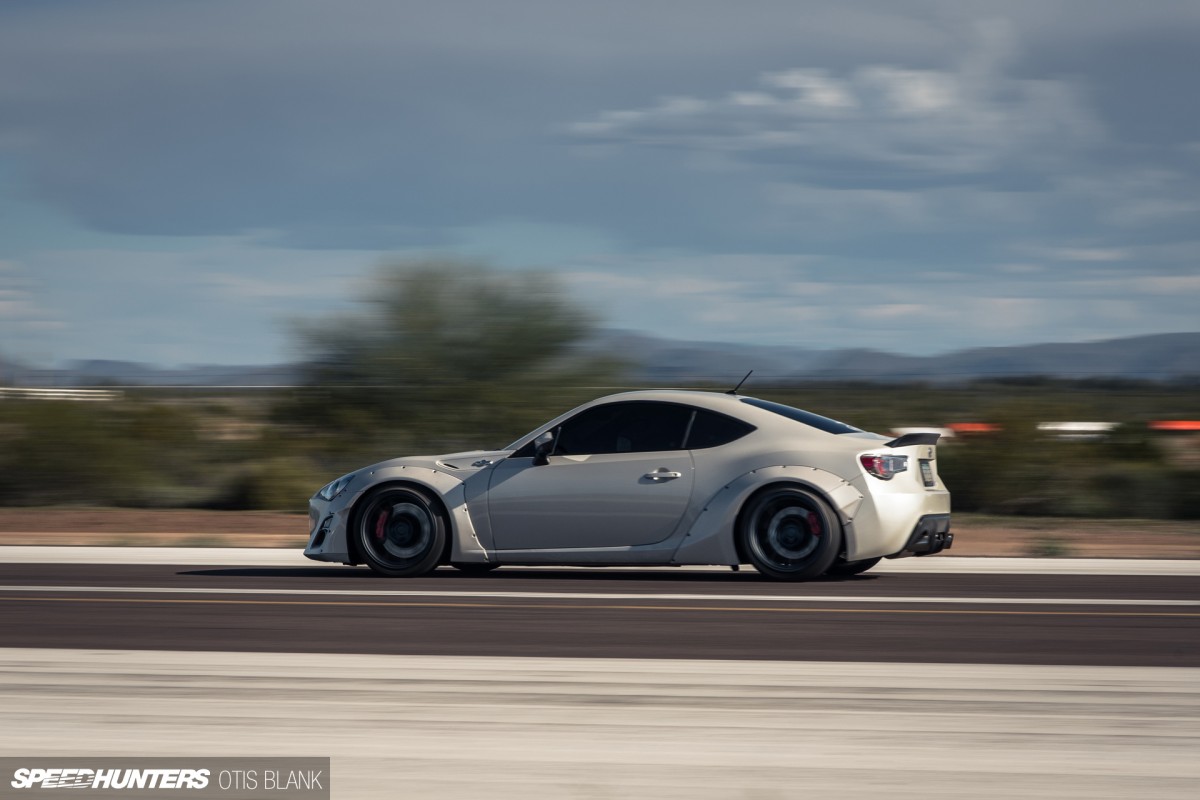 I noticed the car started losing speed after a few passes, so I chose to pull in and let it cool off before making any more attempts.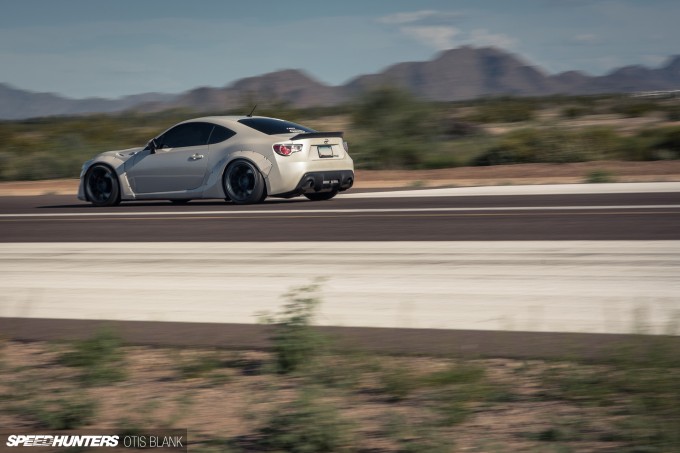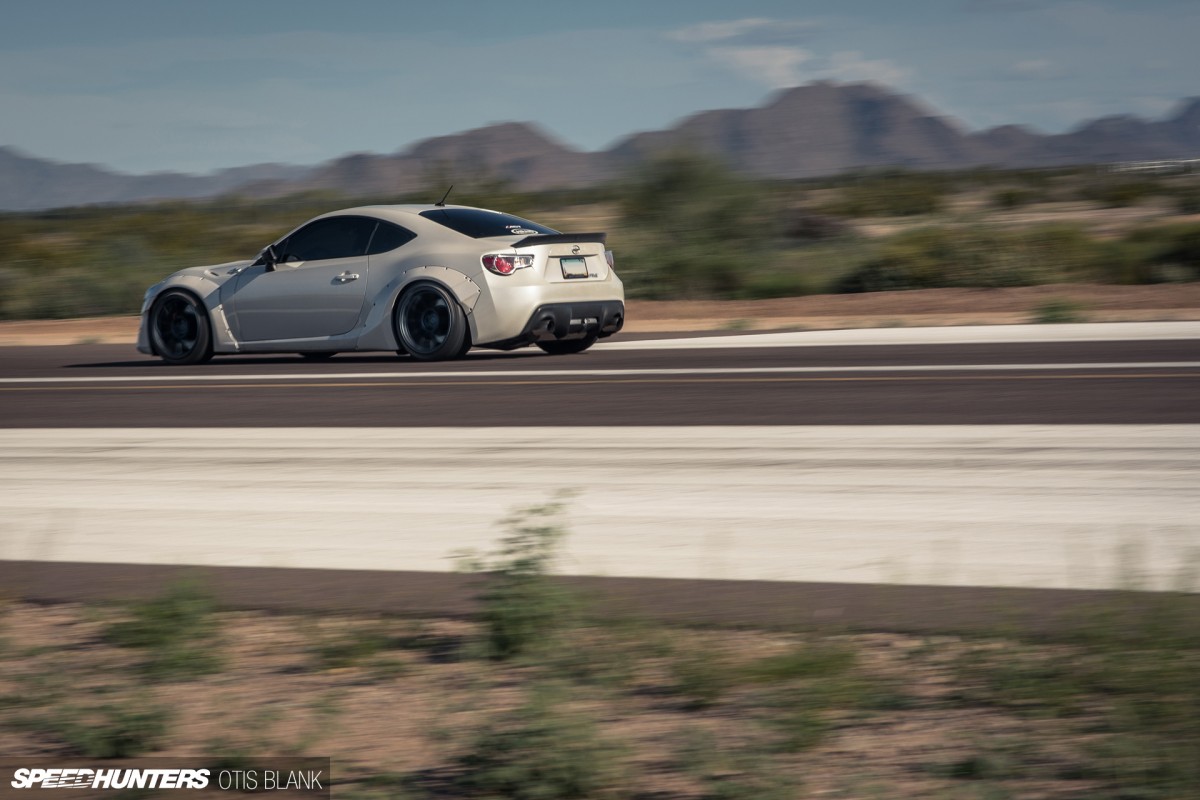 I was getting close to 130mph (209km/h) now, but wanted that little extra. I figured the first 5-gallon can of E85 was blended with a gallon or two of 91 octane, so I dumped in the second jug hoping the mix might be a little more loaded with ethanol. After letting the car cool down I took it out and ran the 132 I was looking for, so I called it a day.
It was nice to know that my car could hang with the big V8 Challengers and Mustangs – especially in this environment where I would focus on my driving instead of traffic or the police. If you ever get a chance to race in an event like this, I would definitely encourage it!
Keith Charvonia
Instagram: SpeedhuntersKeith
keith@speedhunters.com
Additional Photos by Otis Blank & Nicole James
Cutting Room Floor