Before The New Car Smell Wears Off
Despite the fact that I've made a career of immersing myself in the culture that surrounds heavily modified vehicles, I have to admit I'm still a bit apprehensive about the concept of taking a brand new car and immediately hopping on the modification train. I can't be the only one who thinks this way, right? Don't people buy new cars so they don't have to replace parts? Yes. A normal, sensible person thinks that way. But we are gearheads and we operate a bit differently.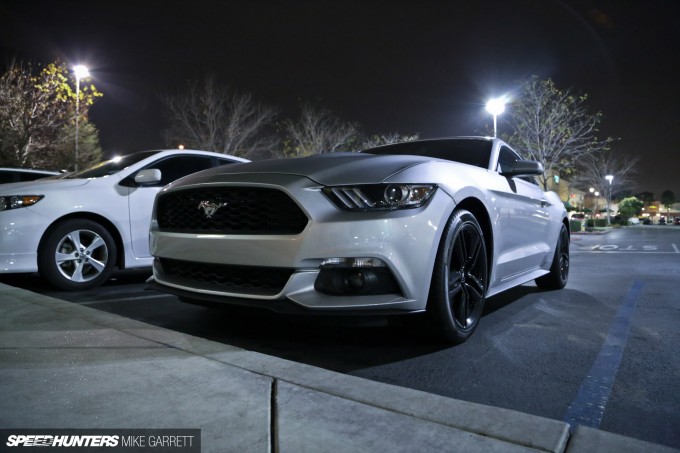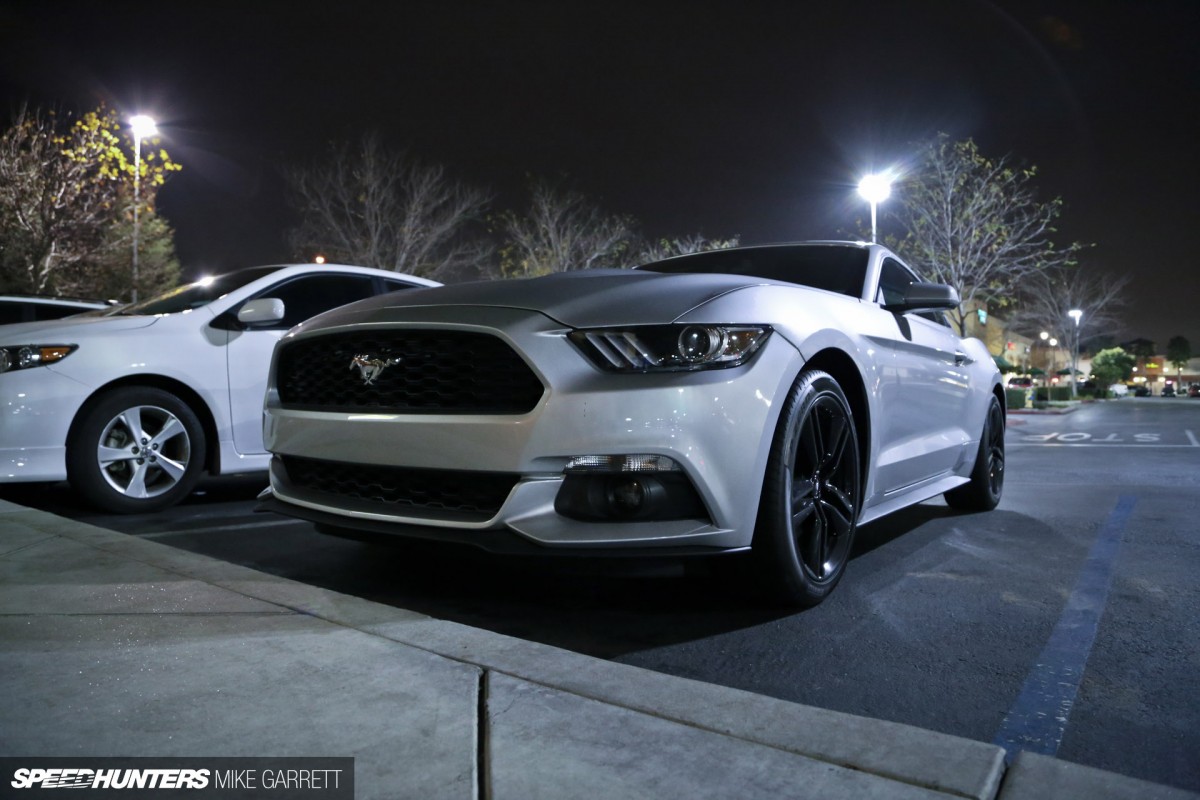 Whether it's an antique machine or something that just rolled off the showroom floor, we think about what we want to do to our cars as much as the cars themselves. It's what makes us more than just simple consumers – and it was actually future aftermarket potential which in many ways attracted me to the EcoBoost Mustang in the first place.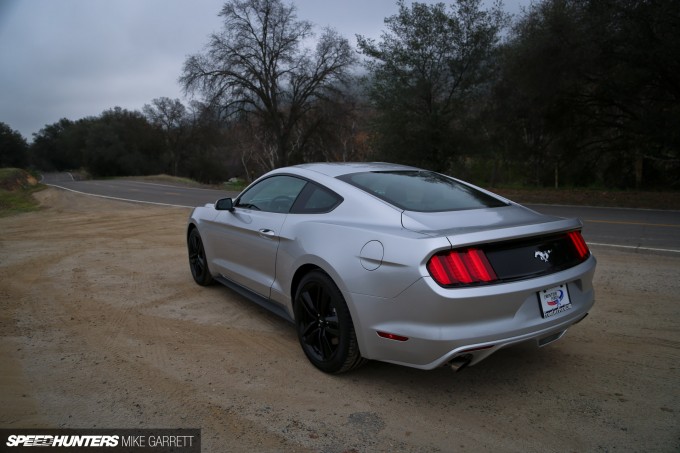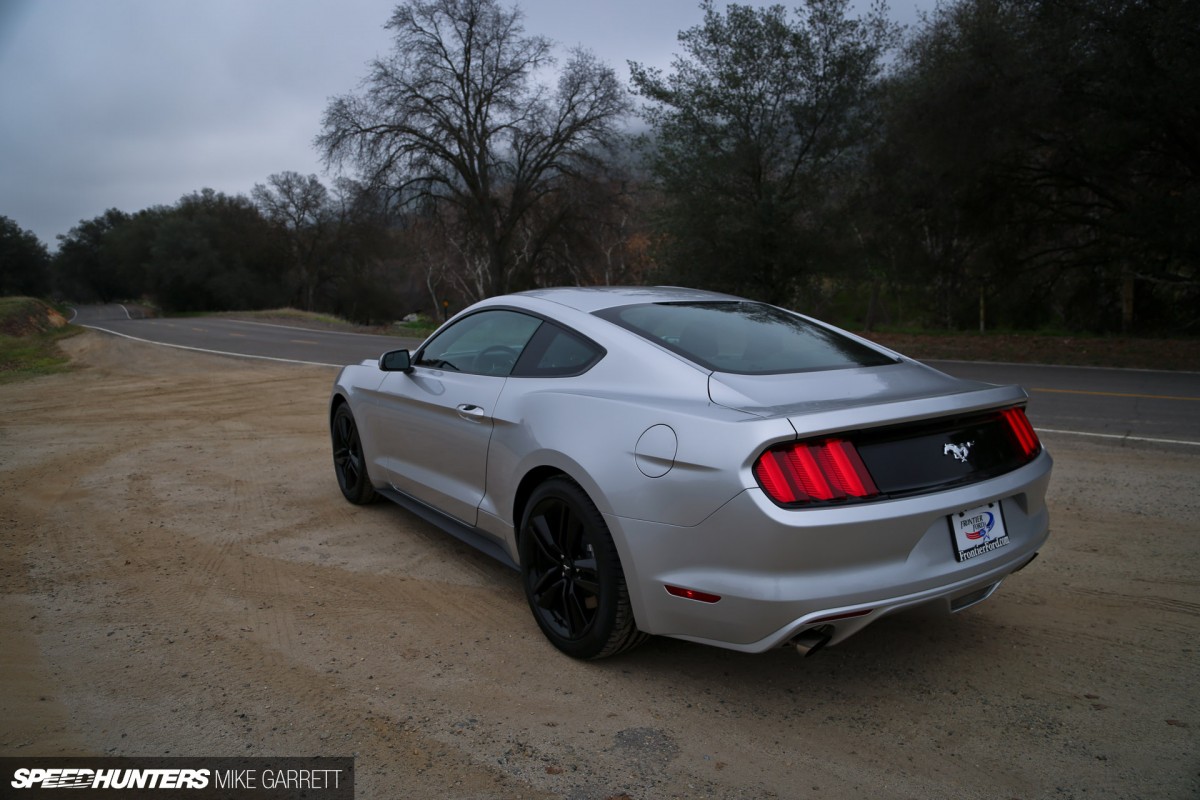 Not only was I excited to see how the aftermarket would embrace the new 2015 Mustang platform and its turbo engine, I was also excited at the idea of sharing my findings with you guys. It's been a little over a month since I acquired the car, and I'm happy to say that the upgrades have been coming even quicker than I originally imagined. There's a lot to share in this update, so let's backtrack a few weeks and start from the beginning.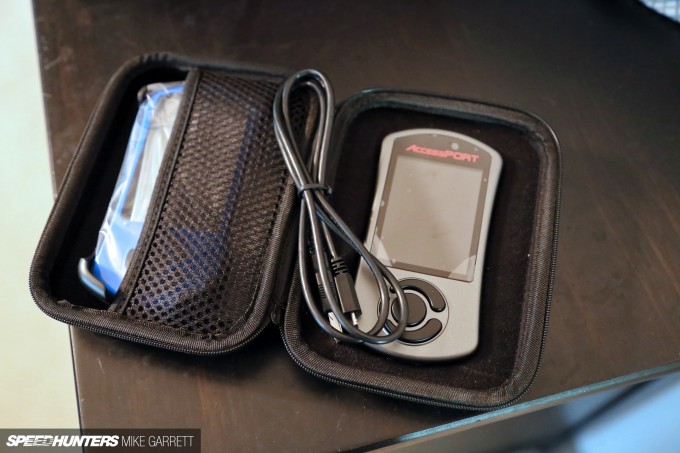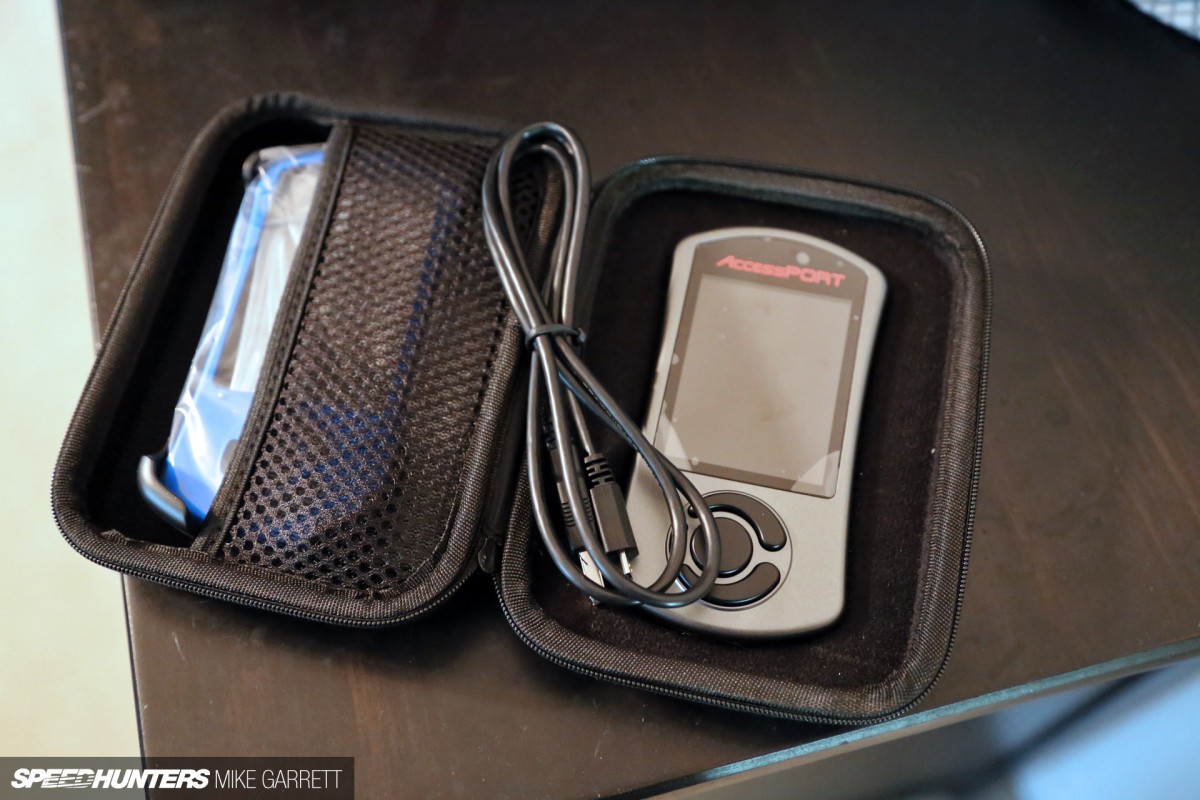 When I was younger, I remember thinking 'tunes' or 'chips' on otherwise stock cars were kind of bogus. It was the kind of thing people would sell on Ebay claiming that you could instantly pick up 20 horsepower and a ton of fuel economy that was somehow hidden in your Civic's SOHC motor. It was like snake oil for car guys, but things are different now. Today's engines – particularly turbocharged ones – actually leave quite a bit on the table in order to be accessible, hit fuel economy and emissions targets, and to play nice with low octane fuel. It's amazing what can be done with a simple re-map, and that's why the first upgrade I planned for the Mustang was a COBB Accessport V3 tuner.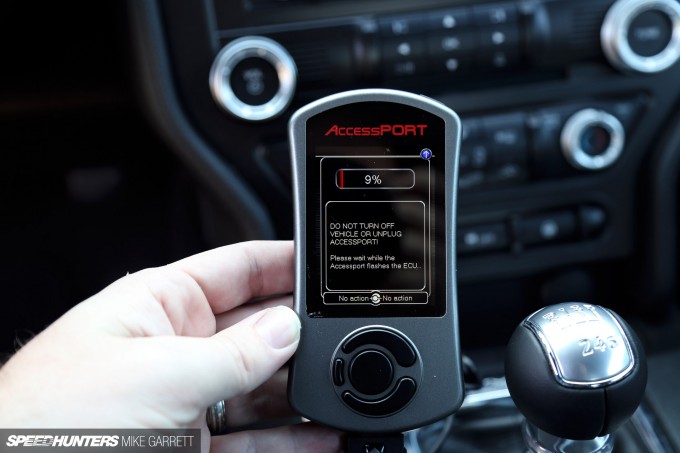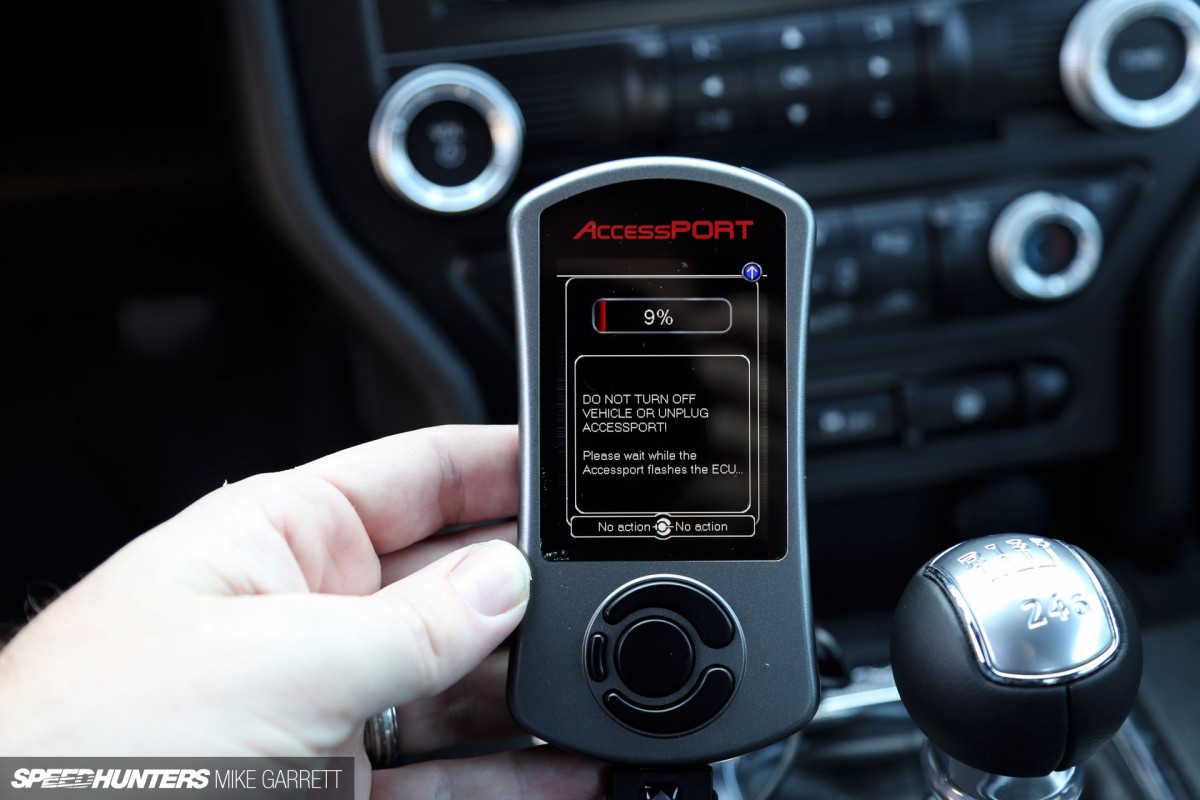 COBB has made quite a name for itself with its applications for turbo cars like the WRX, Evo and GT-R. Ford's line of EcoBoost vehicles was a natural place for the brand to go next. Not only would adding one of Cobb's off-the-shelf 91-octane (damn you California) tunes make for a nice initial bump in power and torque, the Accessport will be a crucial part in optimizing the car for any future upgrades that may be done.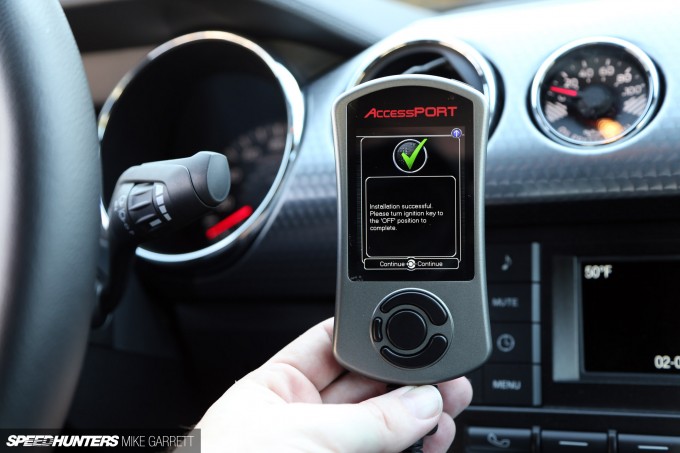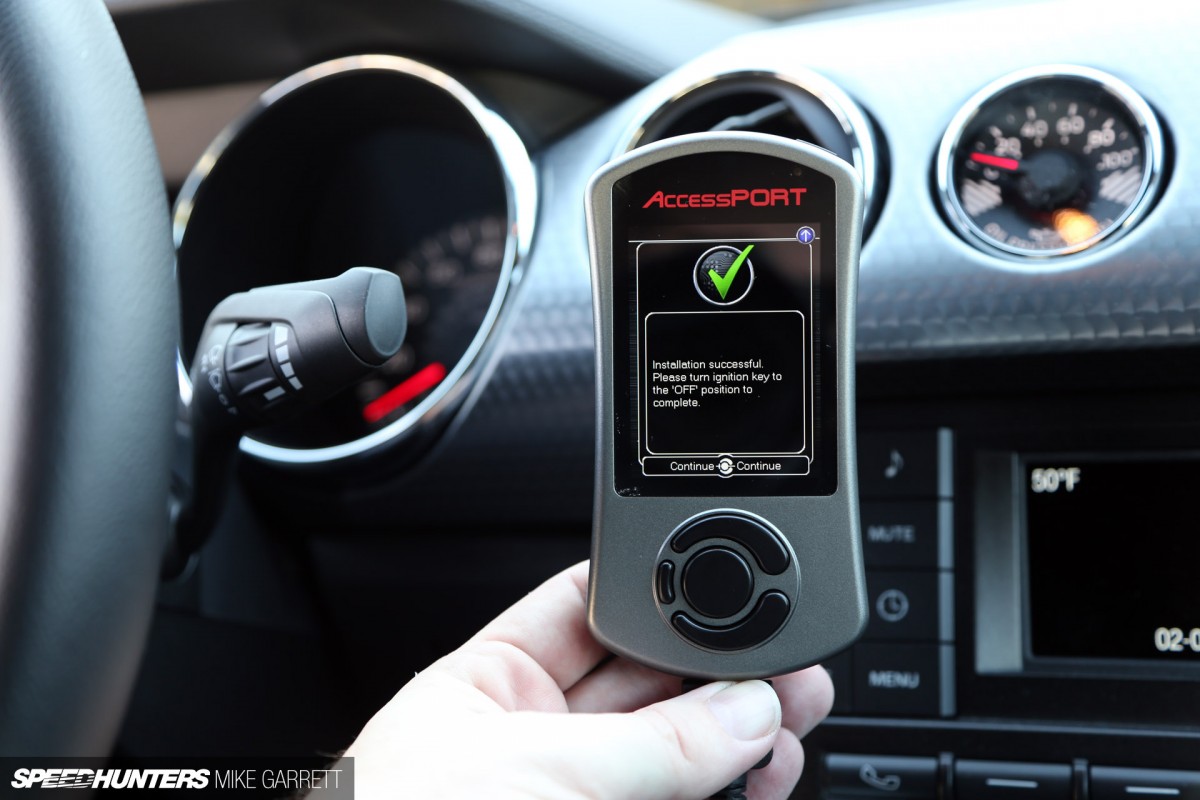 Installation was easy. You plug it into your computer to make sure everything is updated, then you plug it into your car's OBD port and wait for it to install the map. Simple as that. It took around 10 or 15 minutes in total, and with just the basic 91-octane tune, the increase in torque was immediately noticeable, and the car overall had a much more lively feeling. You can even change maps on the fly should you want to switch to fuel economy mode or another one of the preloaded configurations. It's quite impressive.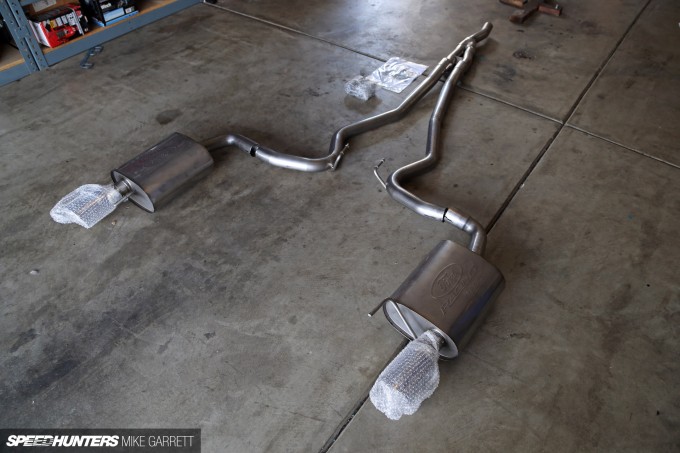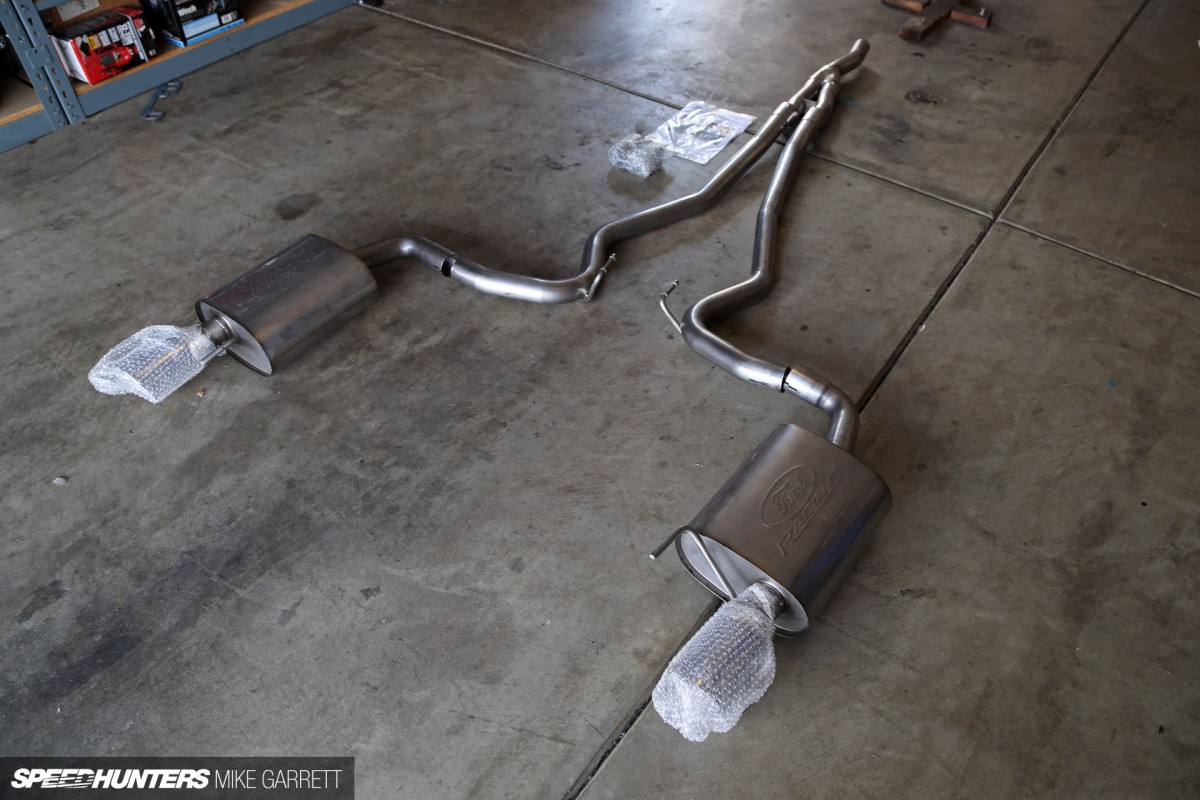 But there wasn't a whole lot of time to enjoy the new tune, because another box had just shown up. This one was much larger and contained a complete cat-back exhaust system from the folks at Ford Racing Performance Parts. I couldn't wait to get it on the car.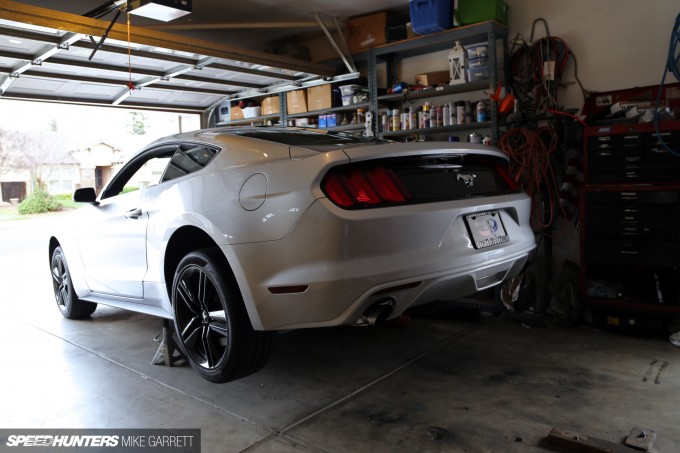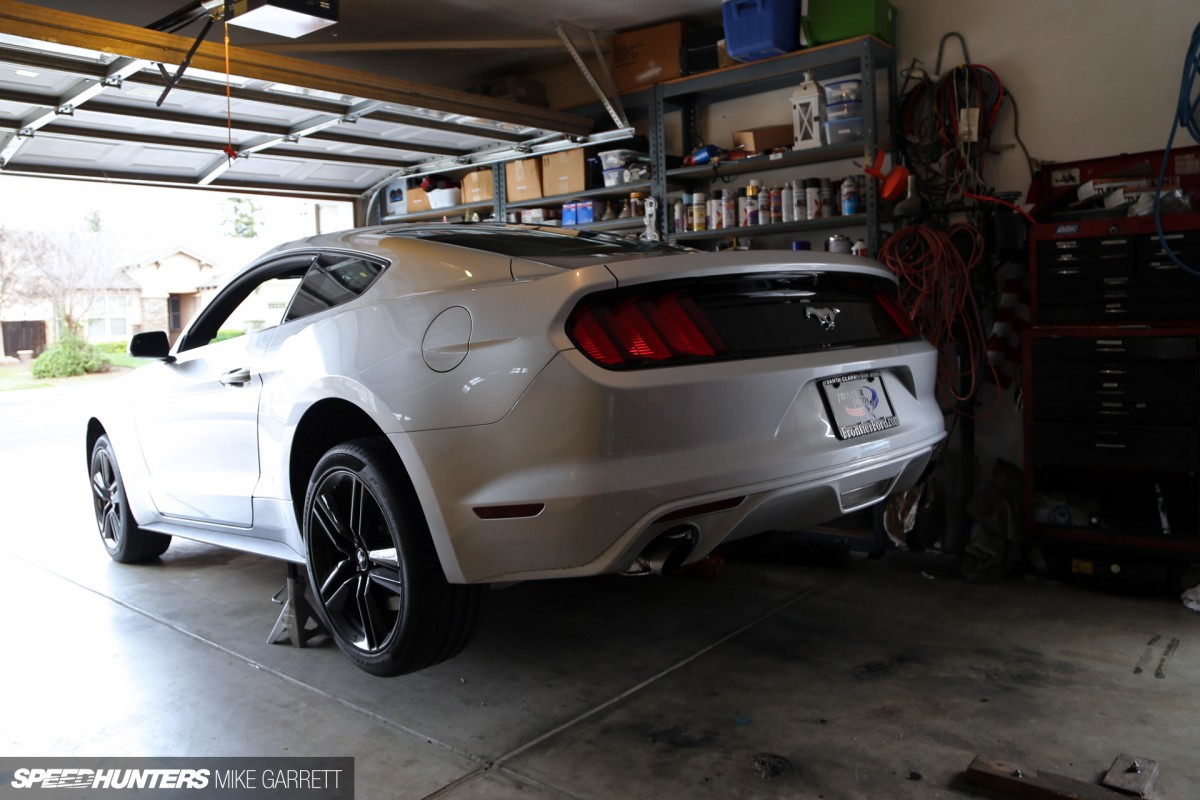 The Touring model exhaust is actually made for Ford Racing by Borla, and while I wasn't expecting a massive power bump from simple street-oriented cat-back, I was very excited to hear how it would sound. With simple jackstands it took my dad and I just over an hour to remove the factory system and fit the replacement.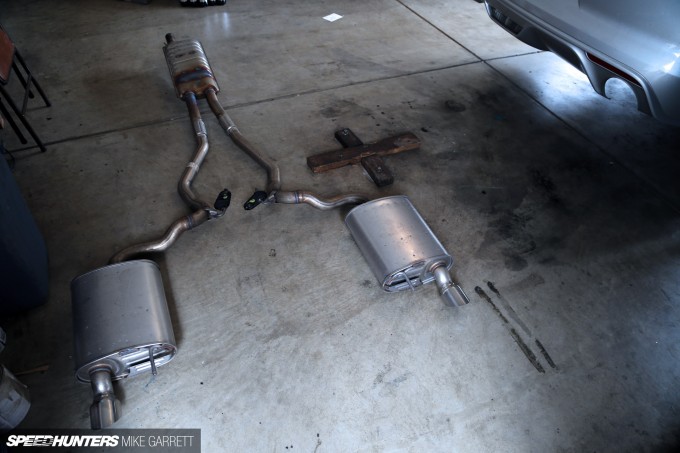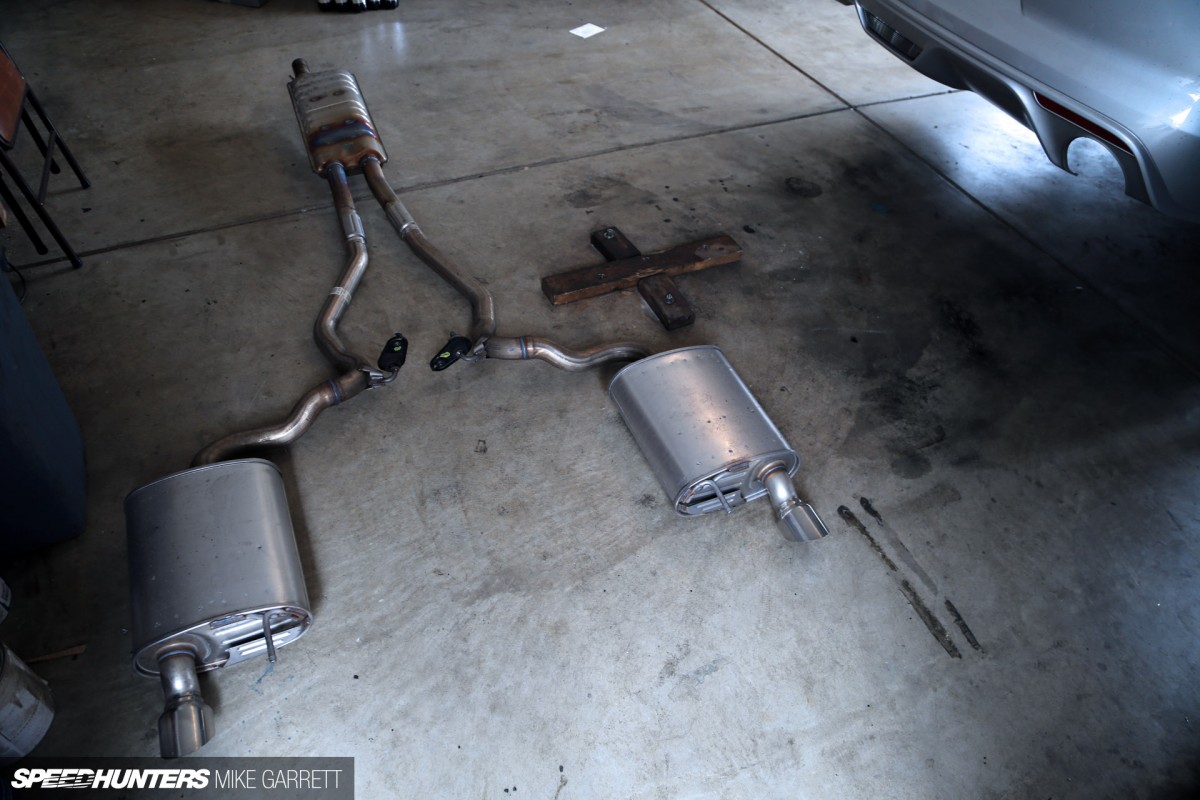 Compared to the stock exhaust system (pictured above) the Ford Racing exhaust deletes the resonator box behind the down pipe and replaces the large factory mufflers with high-flow units finished with larger tips.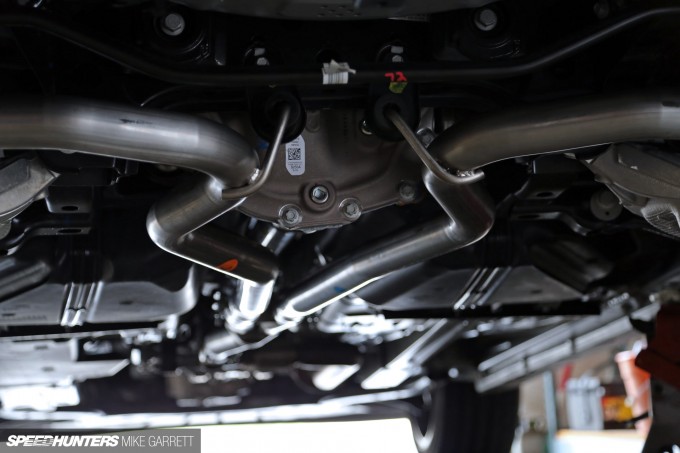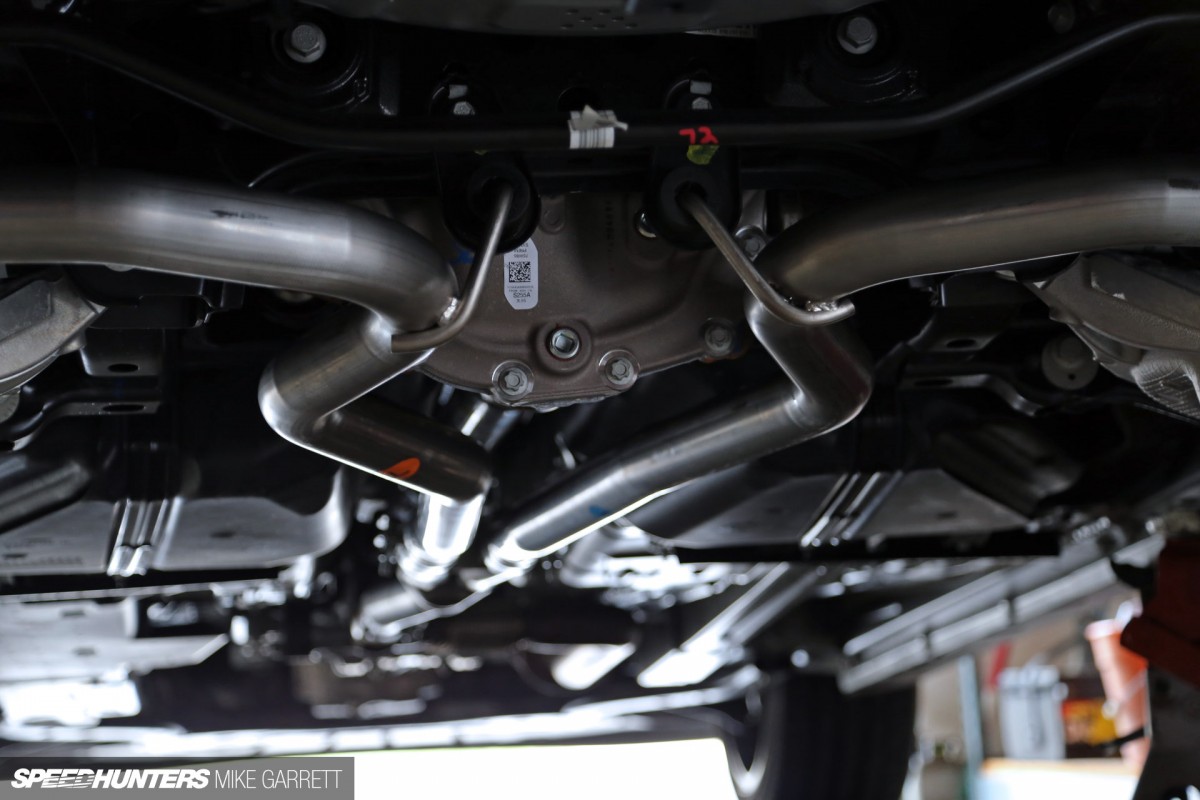 Aside from any horsepower increases and the change in exhaust note, the exhaust also sheds about 20lbs of weight when compared the factory system. Shaving pounds is never a bad thing.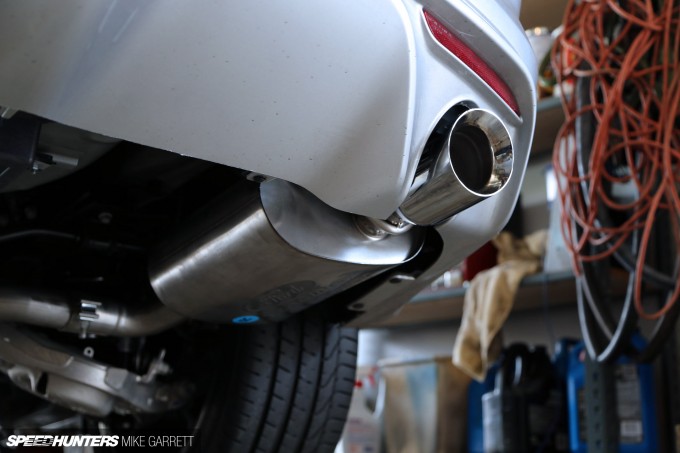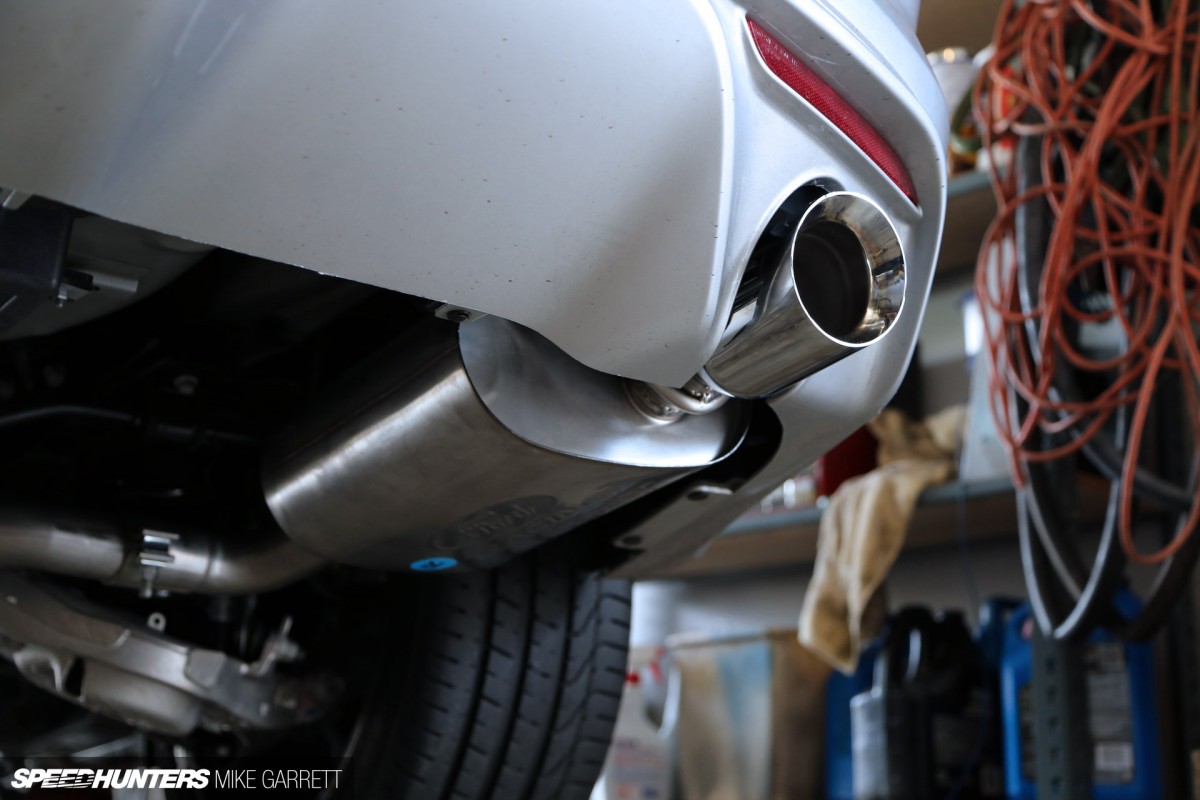 Exhaust note has been one of the primary points of discussion when it comes to the EcoBoost Mustang, and my feeling is that the Ford Racing cat-back did a fine job of adding some life to the car. The sound is noticeable, but it's not at all obtrusive under normal cruising – perfect for a daily driver in other words. While the noise this car makes will never be the same as a V8, the new note is much deeper and more refined than what you might imagine from a four cylinder. I've got some video clips so you can draw your own opinions, but I'll get to that in a moment.
The Dyno Is My Friend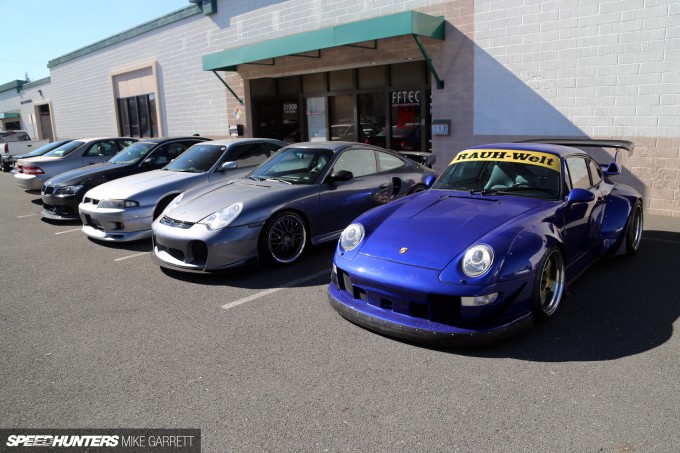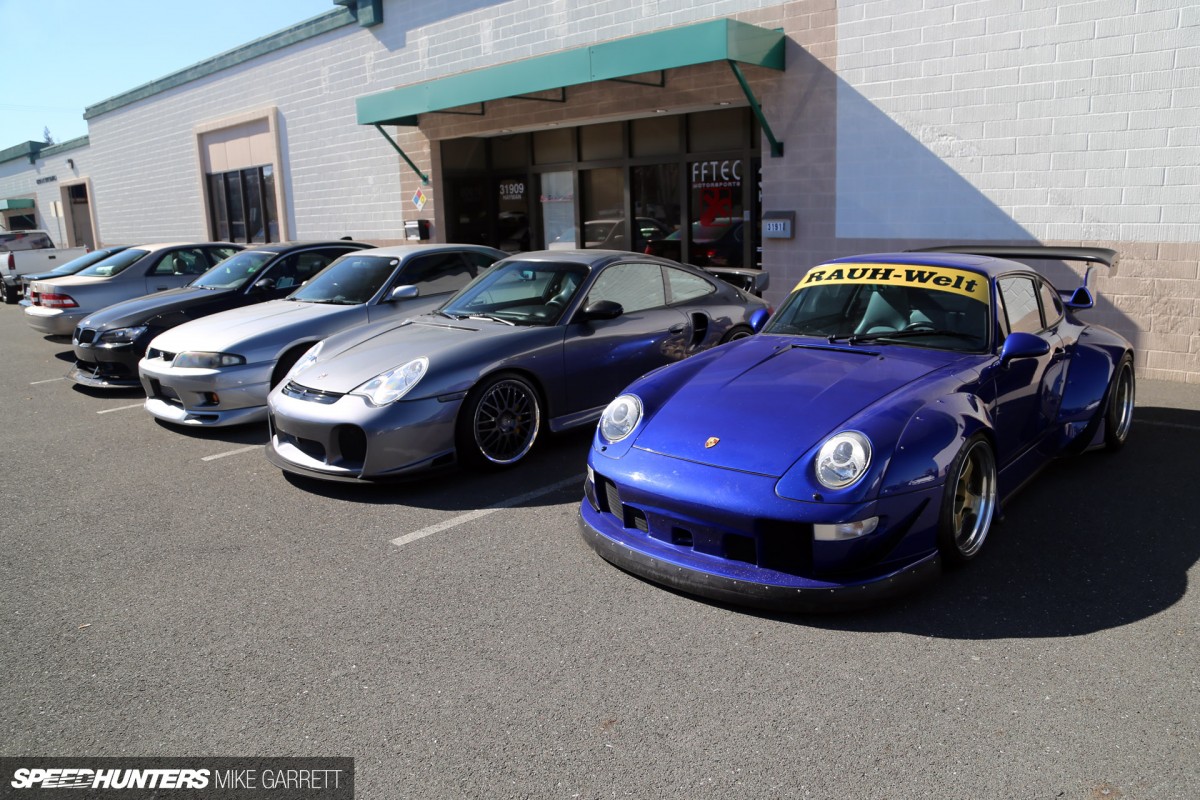 A few days after fitting the exhaust system, I found myself taking a road trip. My destination was FFTec Motorsports in the San Francisco Bay Area – a shop which has become known for building some of the fastest turbocharged street and race cars in Northern California. I was greeted by Anthony, Sean and the rest of the team who quickly got to work doing their thing.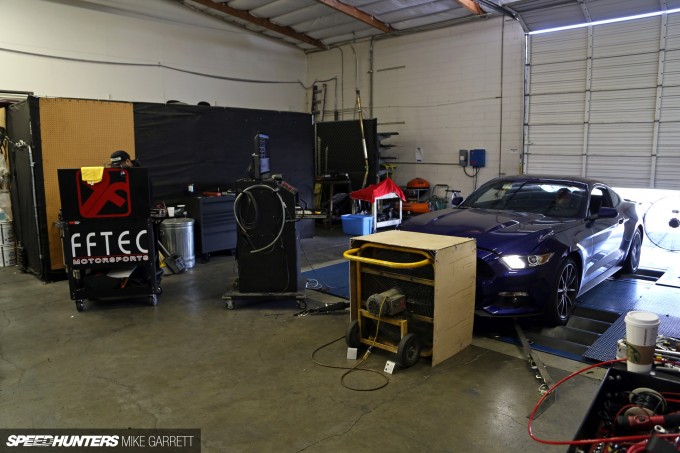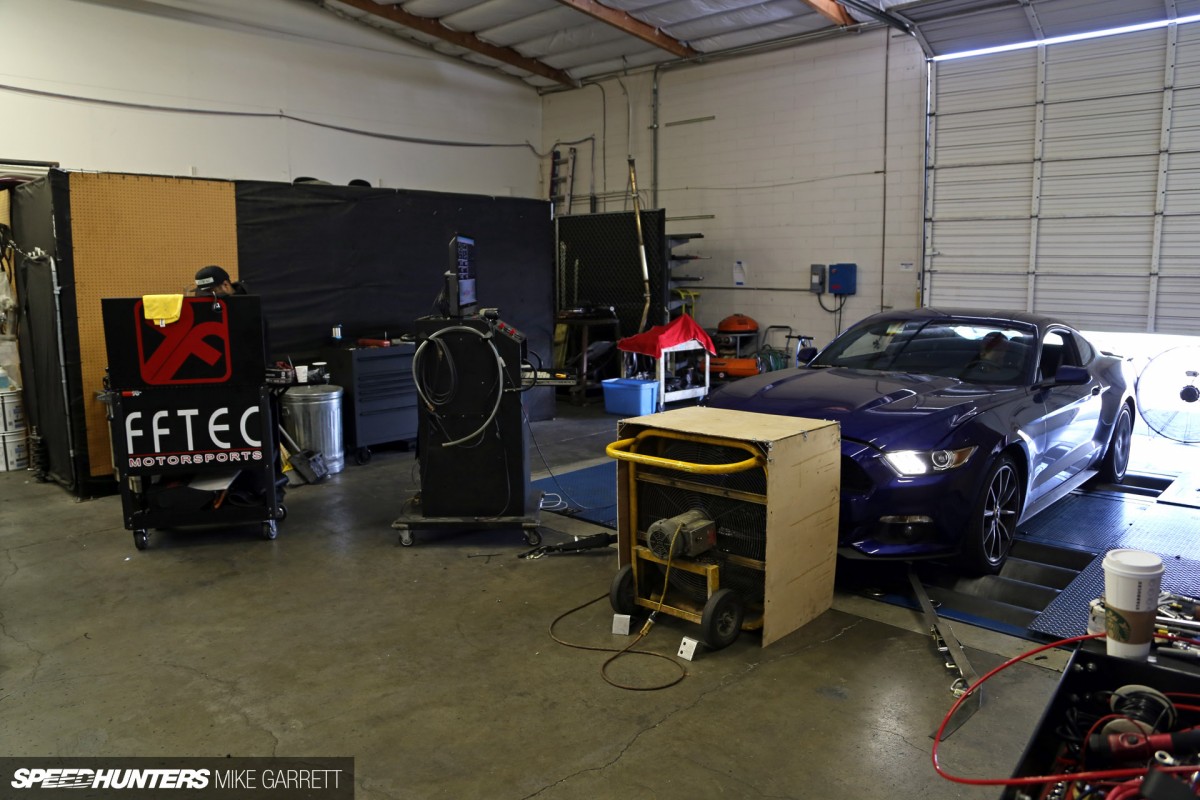 Up until this point, FFTec has focused primary on imported cars like Porsches, BMWs, Evos and GT-Rs, and I'll have more on the shop and its projects later. For now, I want to focus on FFTec's recent venture into the EcoBoost world. Last fall they picked up a '15 Mustang knowing they could use their experience with high horsepower turbo cars to start developing a line of upgrades for the EcoBoost. The plan for the day was to fit my car with one of their recently-released EcoPro intercooler kits, as well one of their cold air intake systems. Just as importantly, we'd strap the car onto their dyno for a custom tune to make the most of all the upgrades made so far.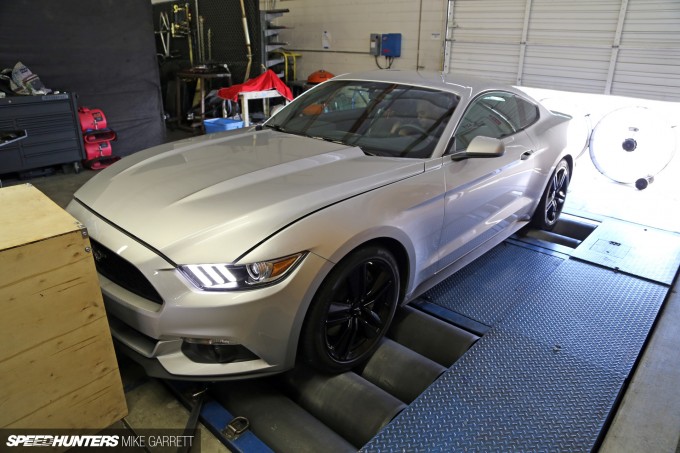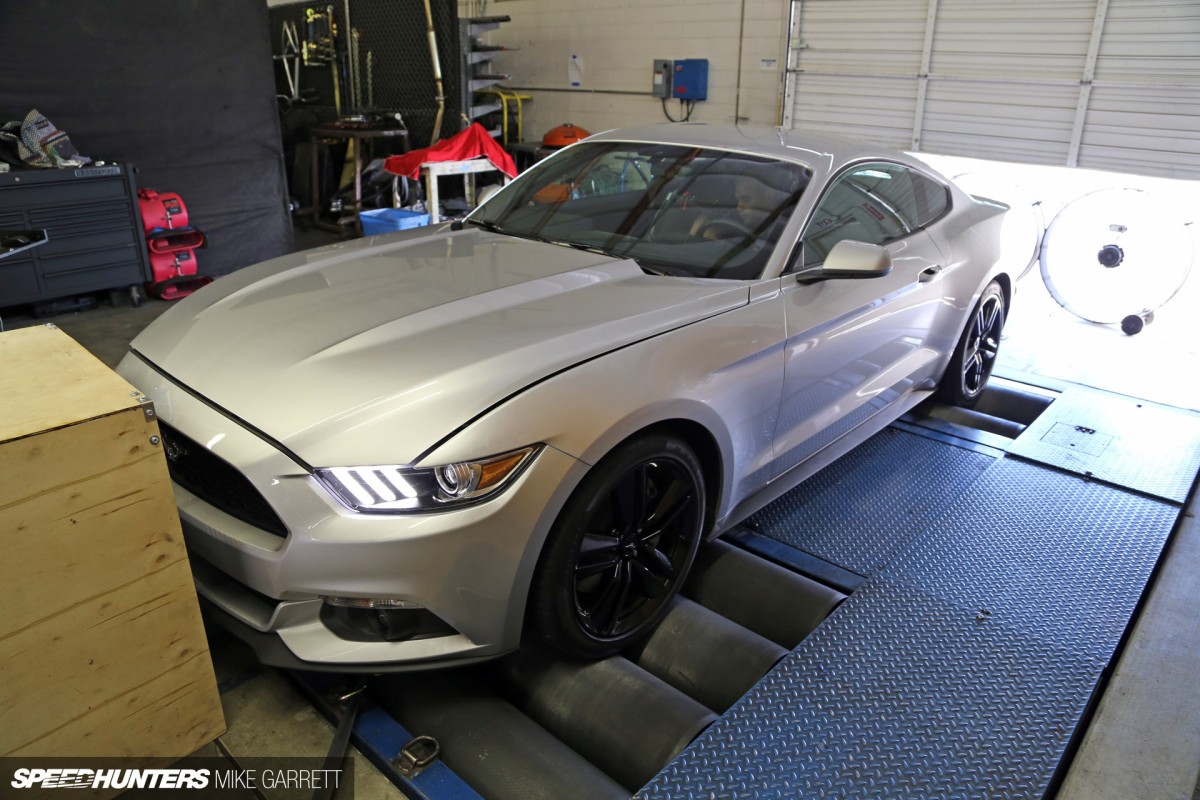 First off we put my car on the dyno to see exactly what kind of numbers it was making in its current form. If you go back to my last project update, you'll remember that I took the car to a local Mustang dyno when it was bone stock and it put down 263 horsepower and 273 pound-feet of torque to the rear wheels.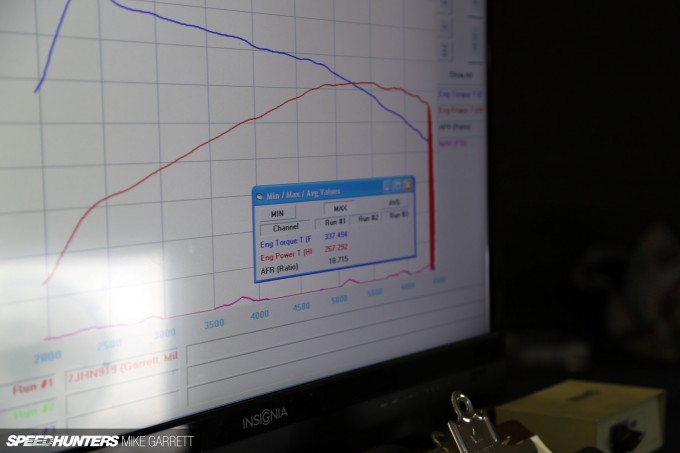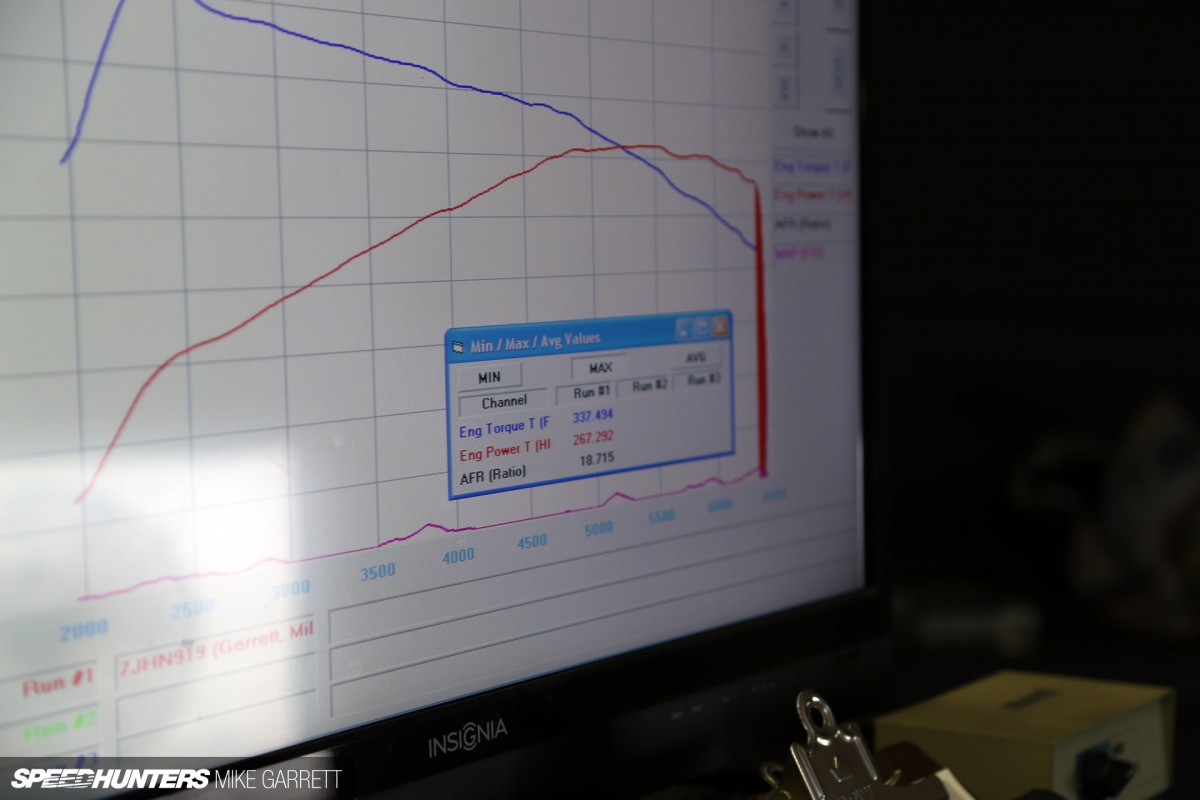 Now keep in mind that this is a different dyno on a different day, but with just the COBB Stage 1 tune and cat-back, the car threw down 267 horsepower – and more importantly 337 pound-feet of torque – at its peak. That's a serious jump in torque with just an ECU flash and exhaust, and our day was just beginning.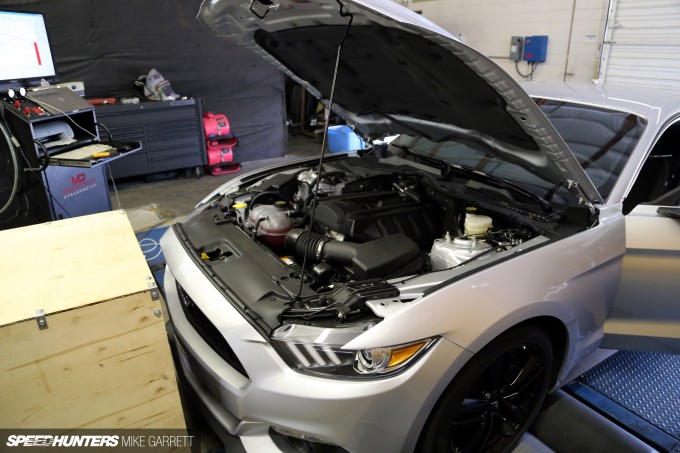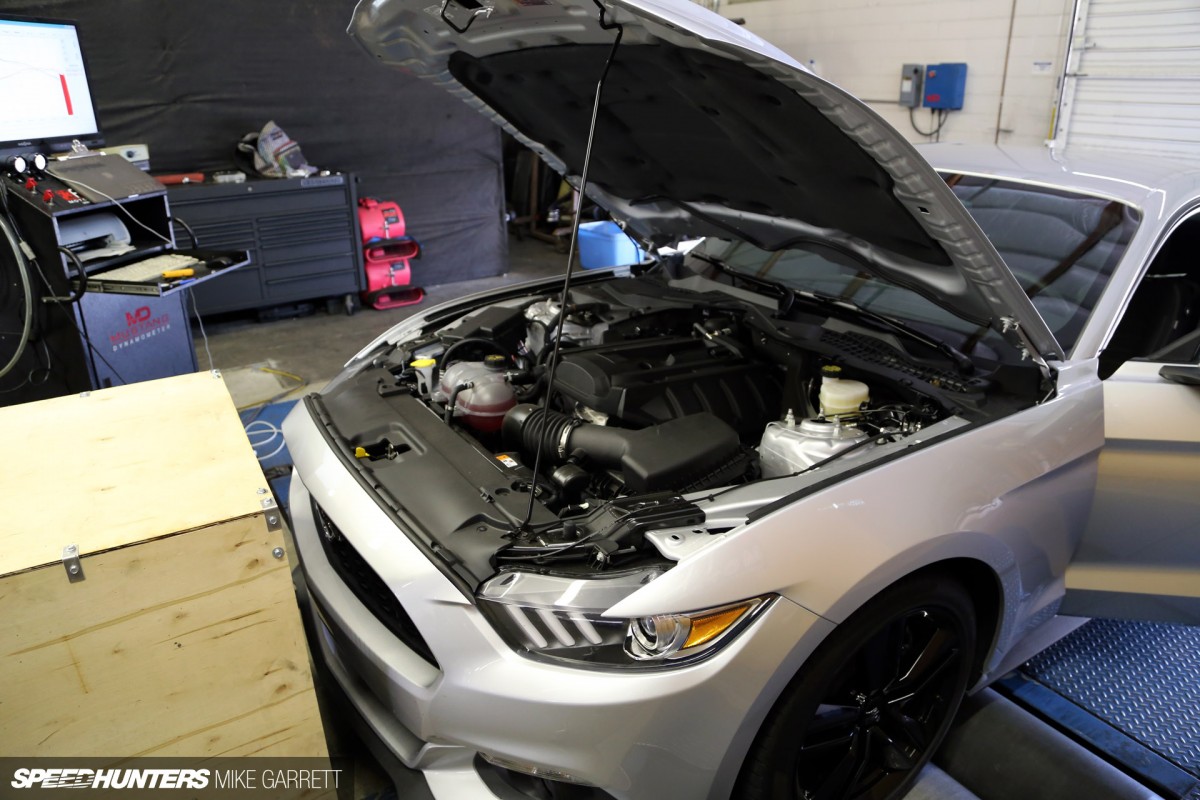 Next up the, factory airbox was removed so that FFTec's new intake could go in its place. Like the exhaust, this upgrade had another benefit besides improved power and sound – it deletes the large, heavy factory airbox assembly saving a few pounds and freeing up even more space under the hood.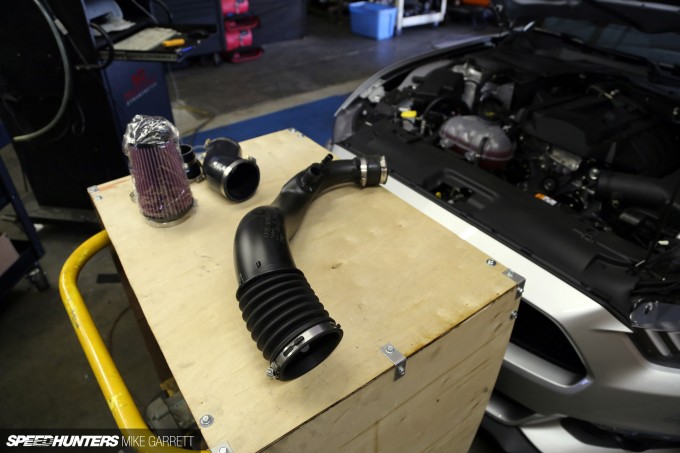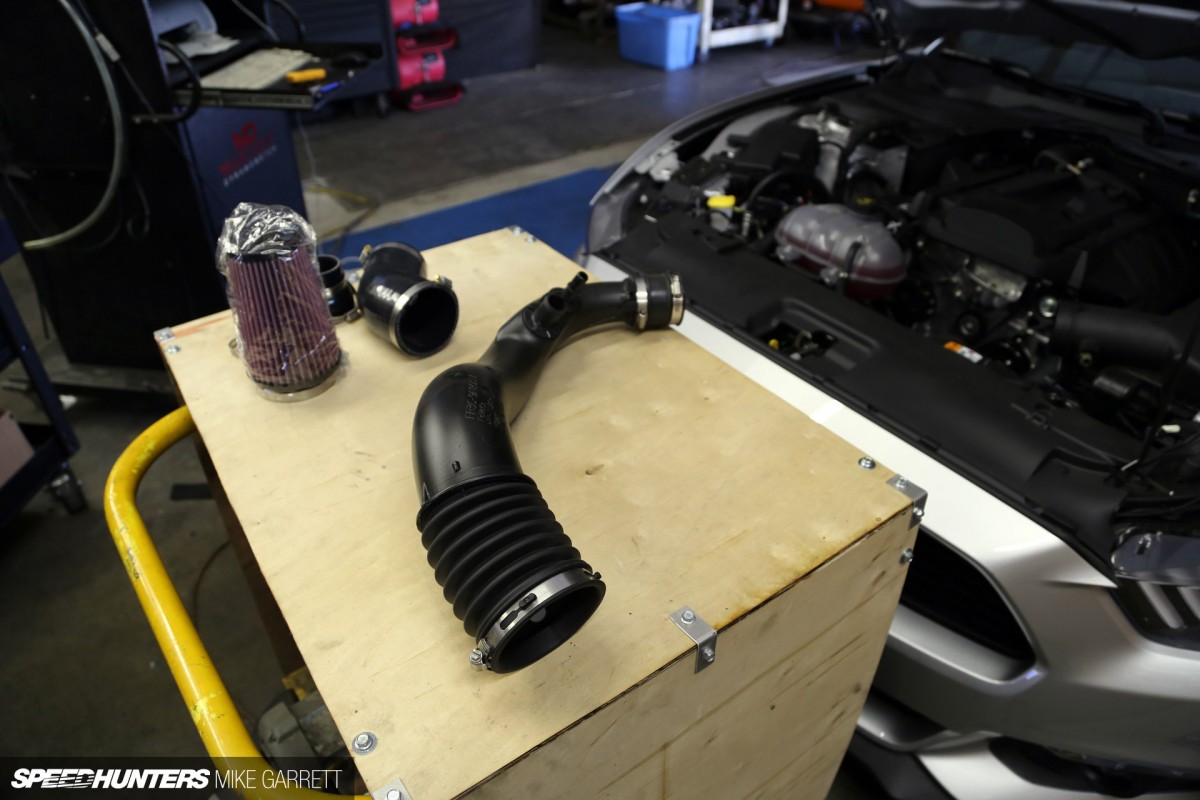 The FFTec intake has a straightforward design that uses a K&N cone filter which grabs air from just beneath the driver side headlight. It's also finished in stealthy black, which I quite like.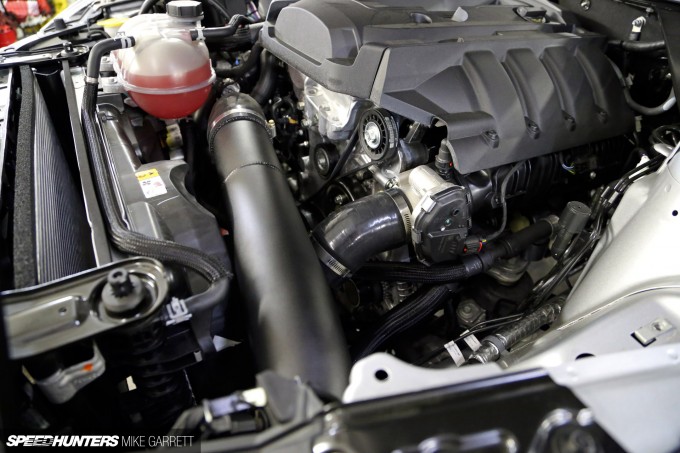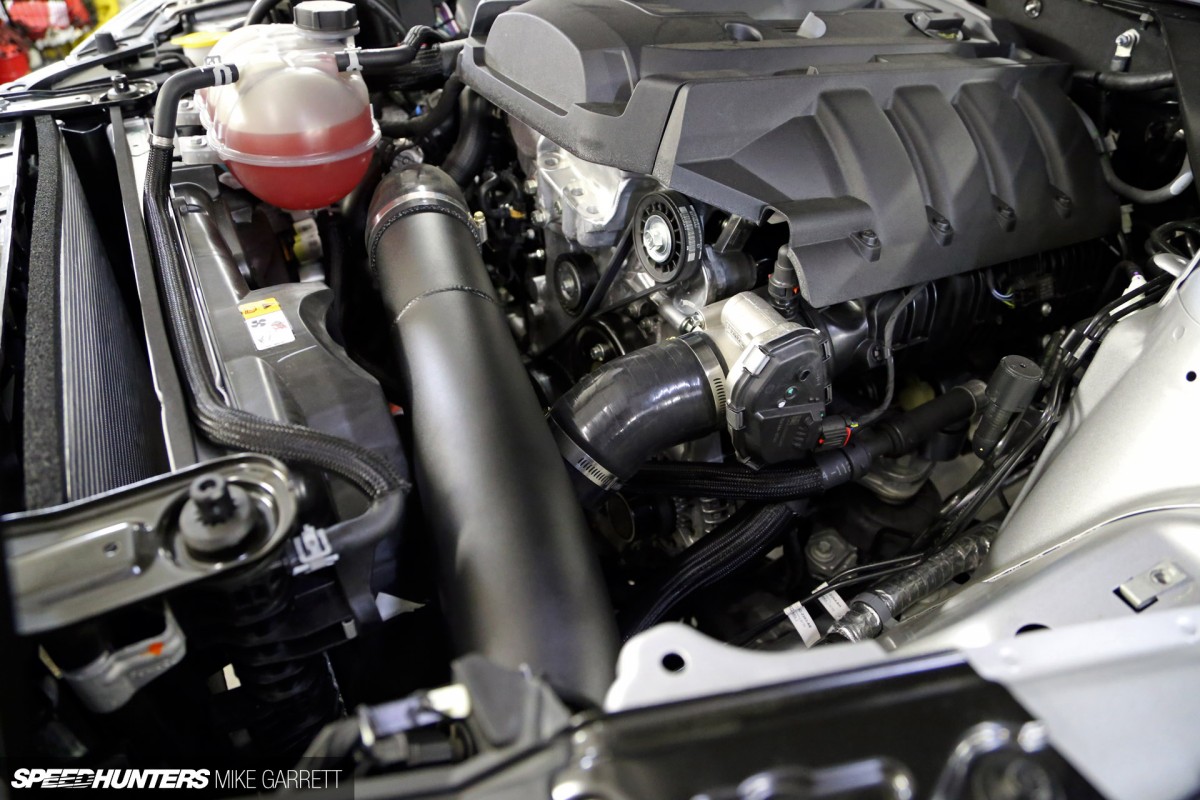 Going from a stock airbox to an aftermarket intake can also make a massive difference in sound on a turbocharged car, and that's very much the case here – but I'll get to that shortly.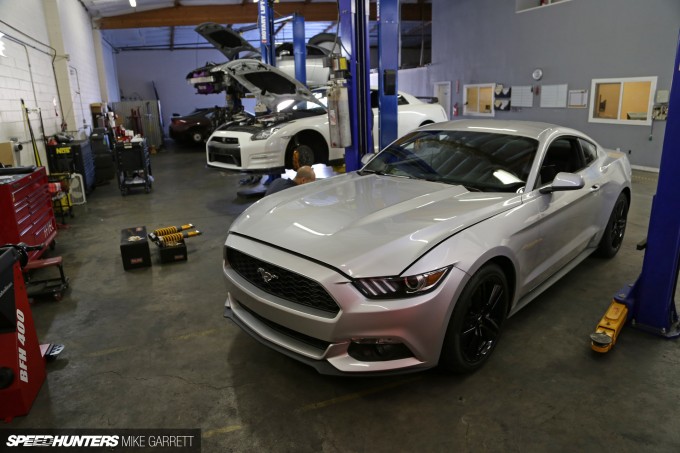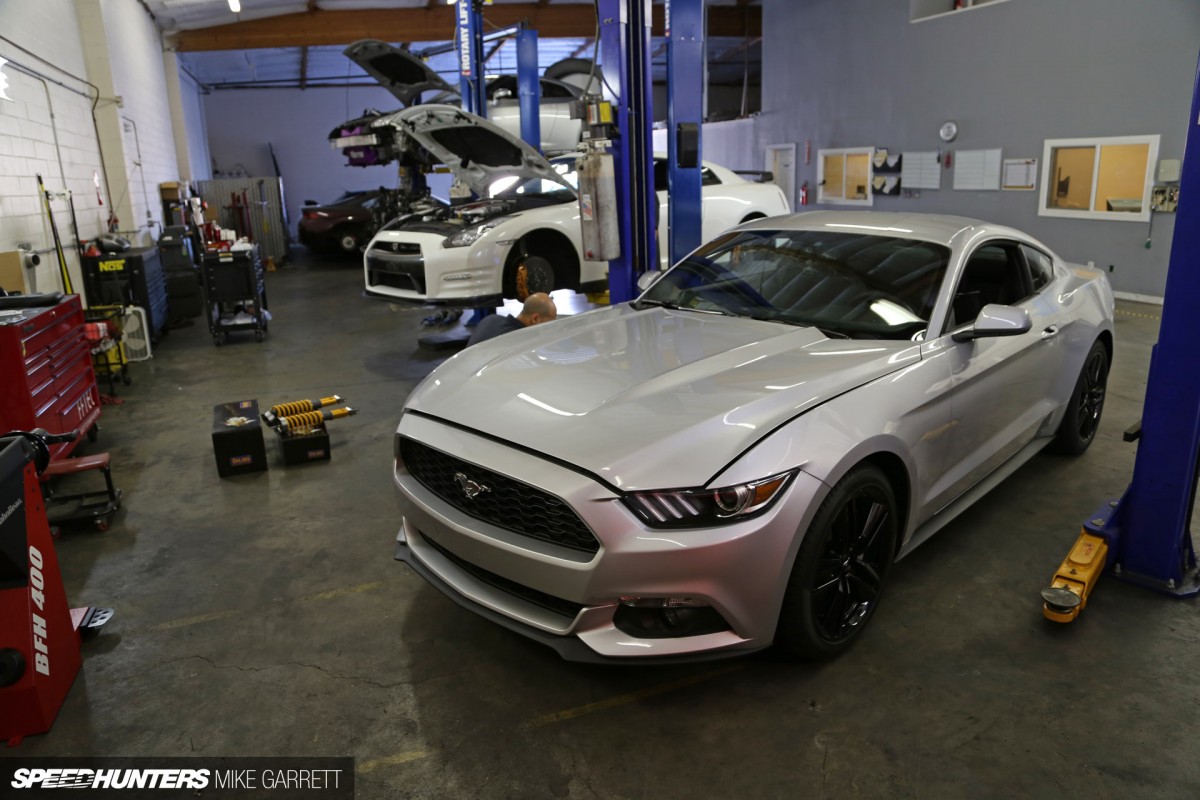 The next step was to fit the intercooler and that meant to pulling the Mustang into one of the service bays beside some of the highly modified GT-Rs hanging around the shop.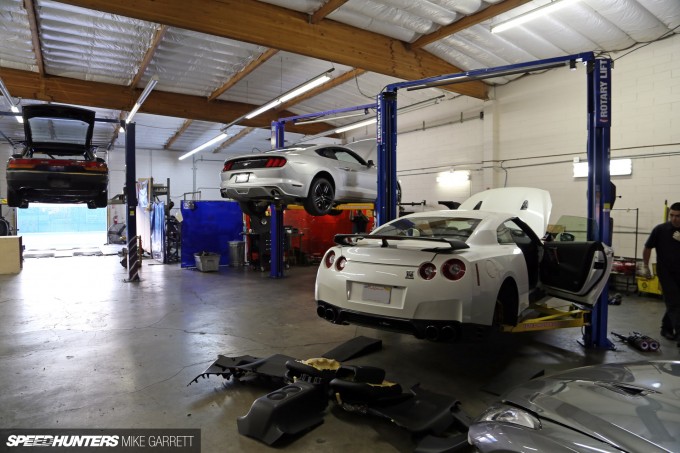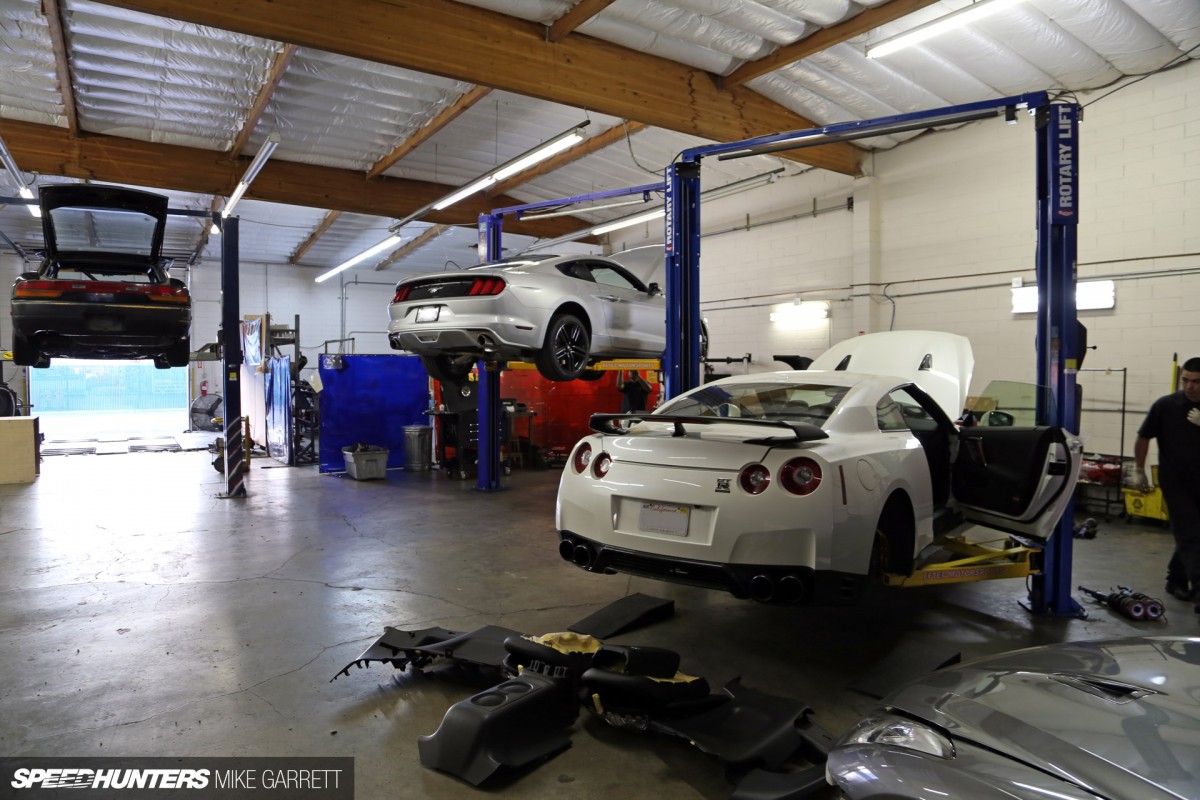 If anything it was a little intimidating having my little four cylinder Mustang surrounded by such high horsepower machinery, but the atmosphere just goes to show that FFTec certainly knows a thing or two about handling fast turbocharged cars.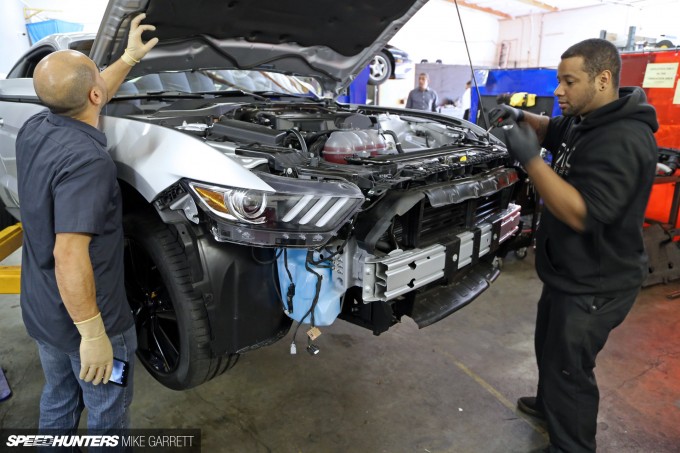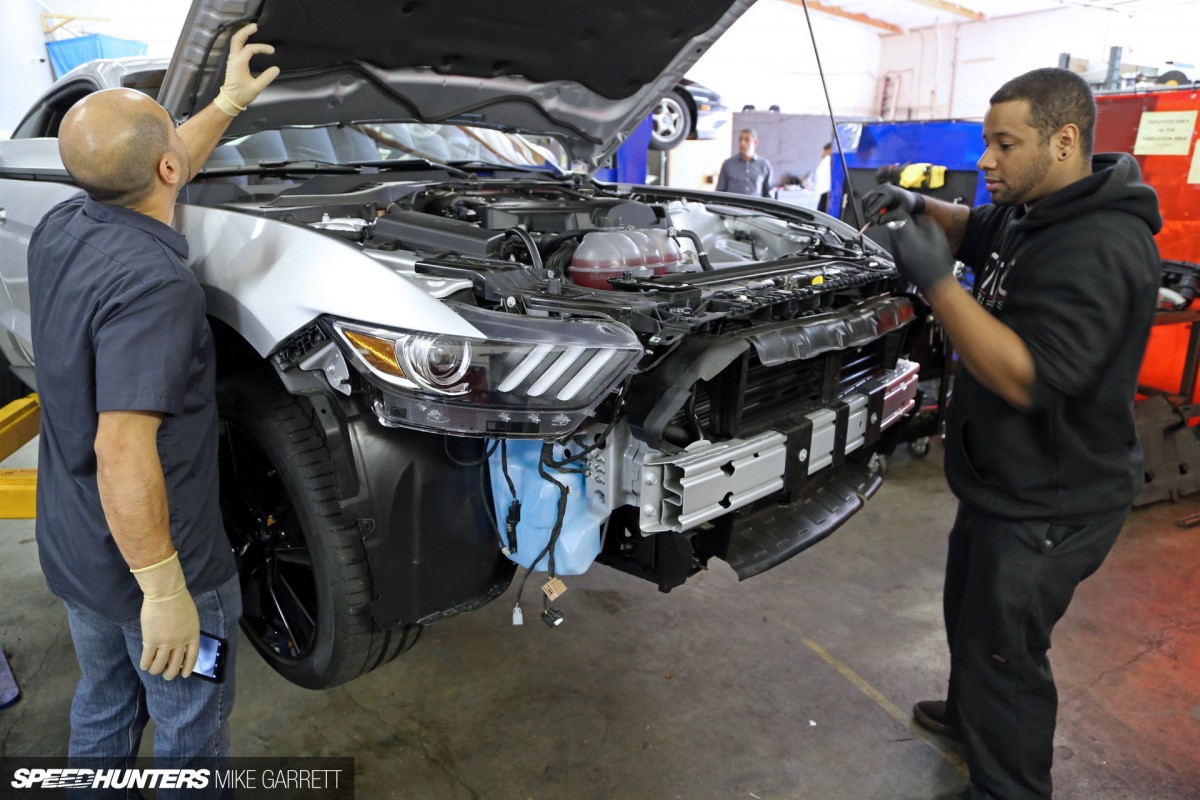 In fact, at one point when the guys were busy working on my car, I slipped away for a moment so I could take the shop's EcoBoost Mustang development mule for a quick test drive.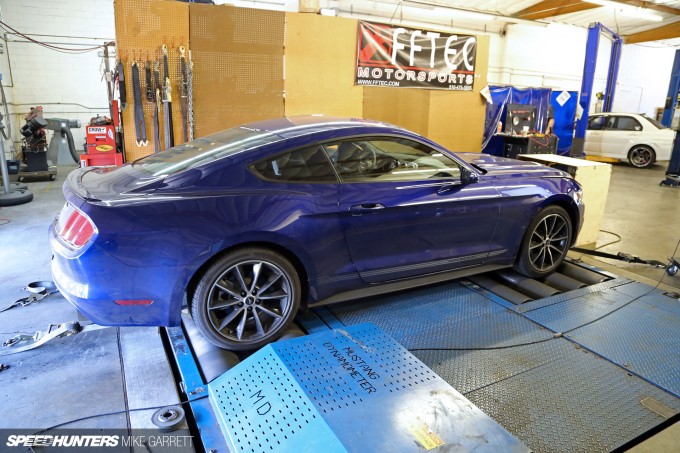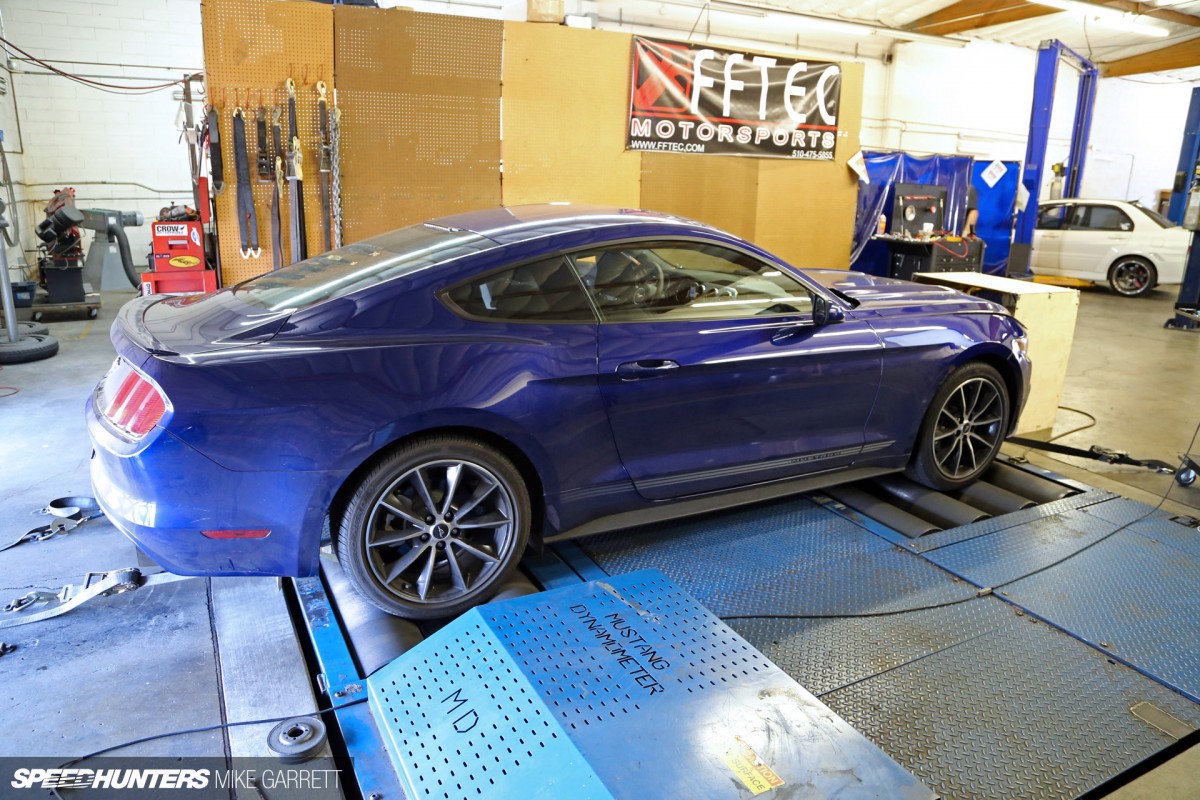 It's safe to say this car is one of the most heavily modified EcoBoost Mustangs in the US right now. It already has a prototype turbo upgrade, strengthened internals and is putting down 400 horsepower to the rear wheels. If you were looking for an EcoBoost car that has the capability to embarass V8s, this is it. It's slam-you-in-the-seat fast while still being plenty docile on the street, and it took just one mash of the throttle to tell me that the EcoBoost Mustang has a bright and fast future indeed.
Higher Numbers, Better Music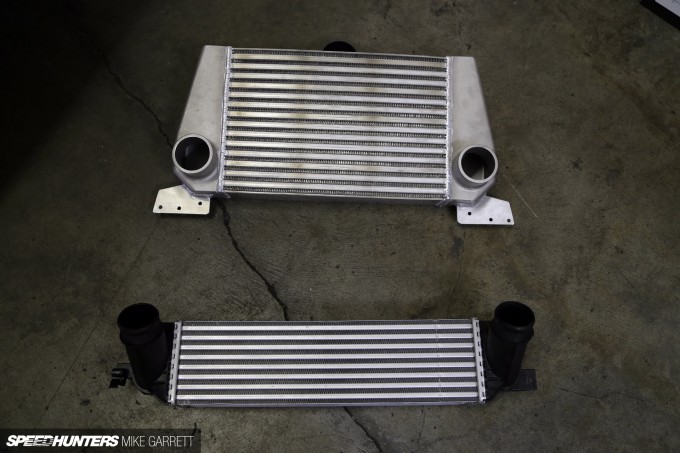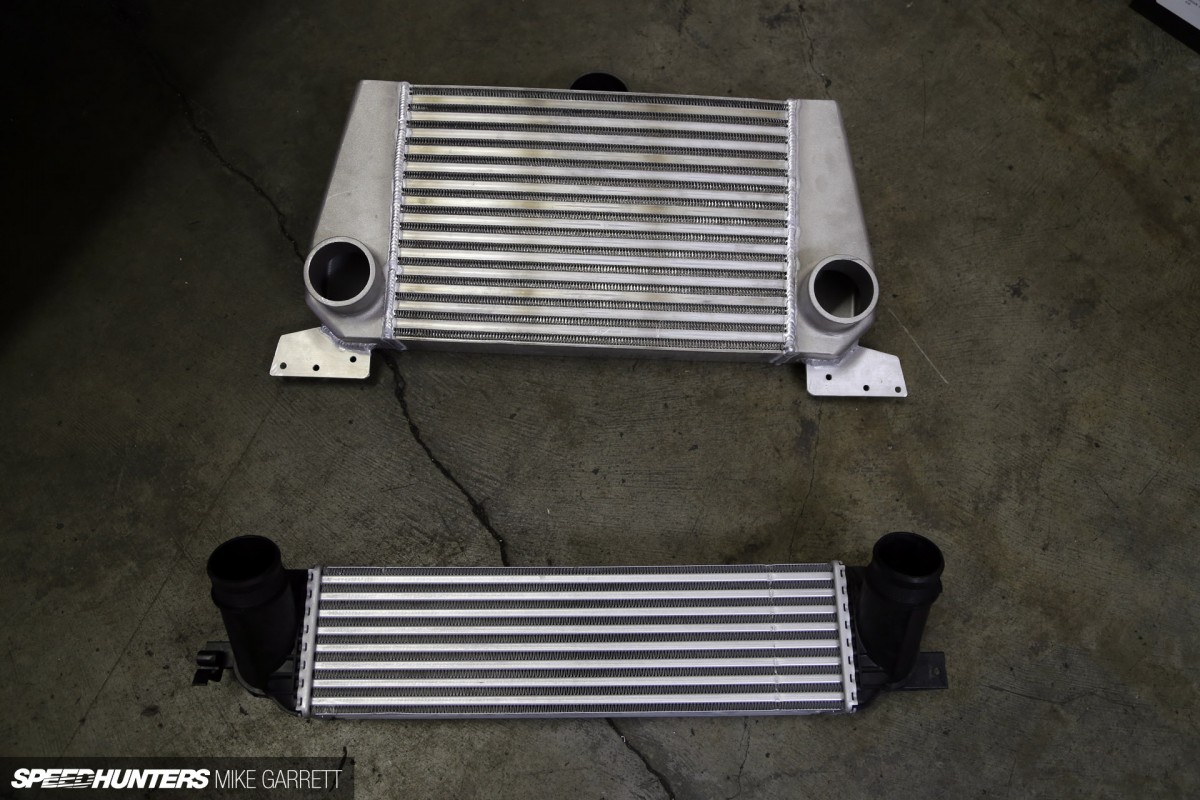 Anyway, back to my car. Once the front bumper was removed, the factory front mount intercooler was removed and we put it next to the EcoPro to gauge the difference in size between the two. Pretty big change, eh?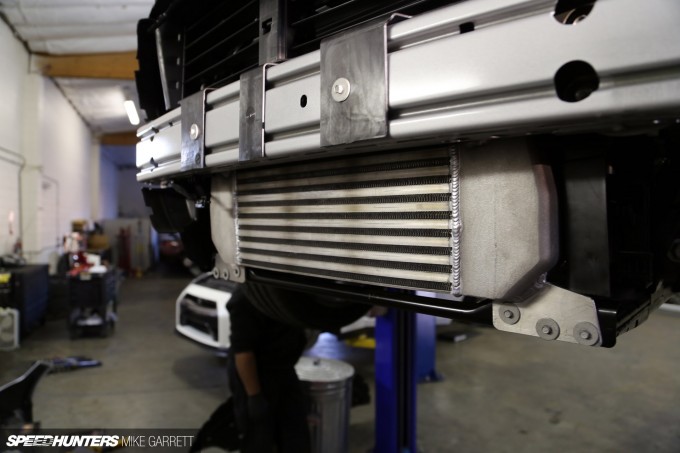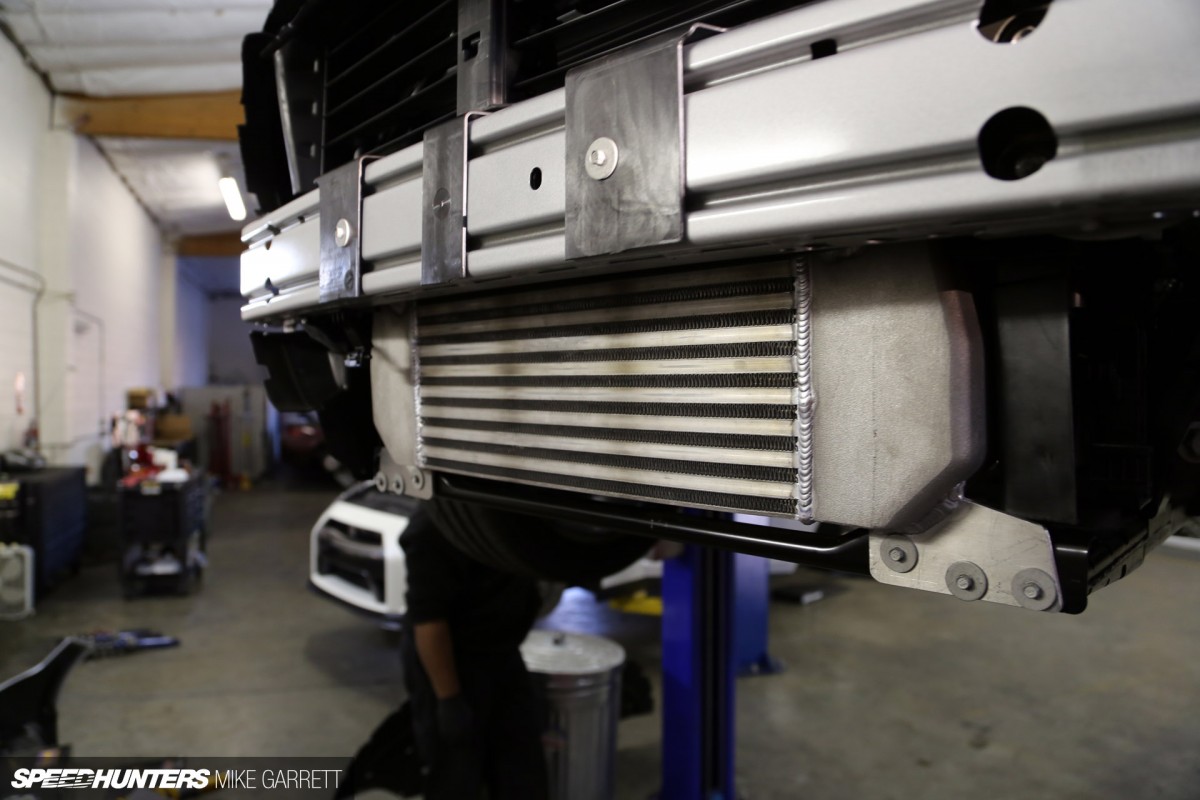 Of course, the primary reason for an intercooler upgrade on these cars isn't so much for increased power, it's for more consistent power. Dyno tests have found that heat soak sets in quite quickly on the EcoBoost Mustang, and an intercooler upgrades will do a lot to combat that. It uses a Garrett core and is TIG-welded in house with aluminum end tanks.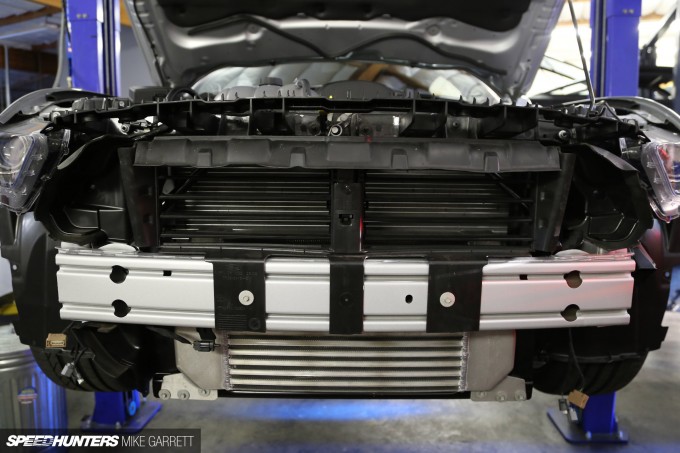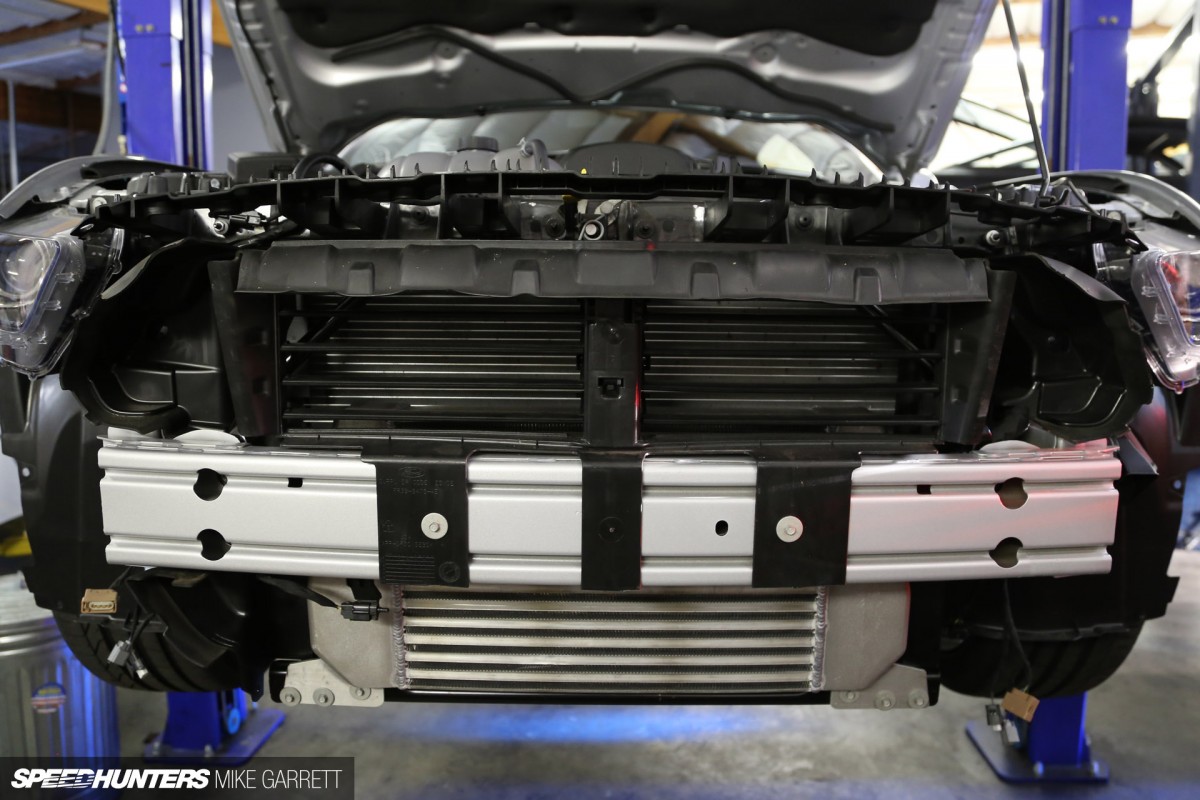 Here's another view of the new intercooler fully installed before the front bumper was reattached. I expect this to become a required upgrade for anyone looking to get more out of their turbo 'Stang.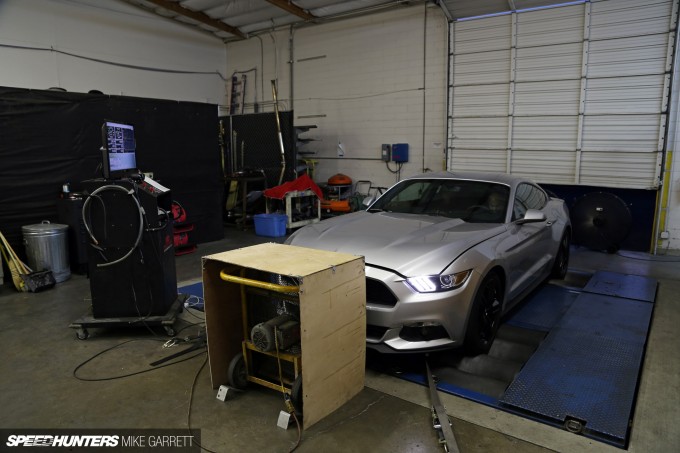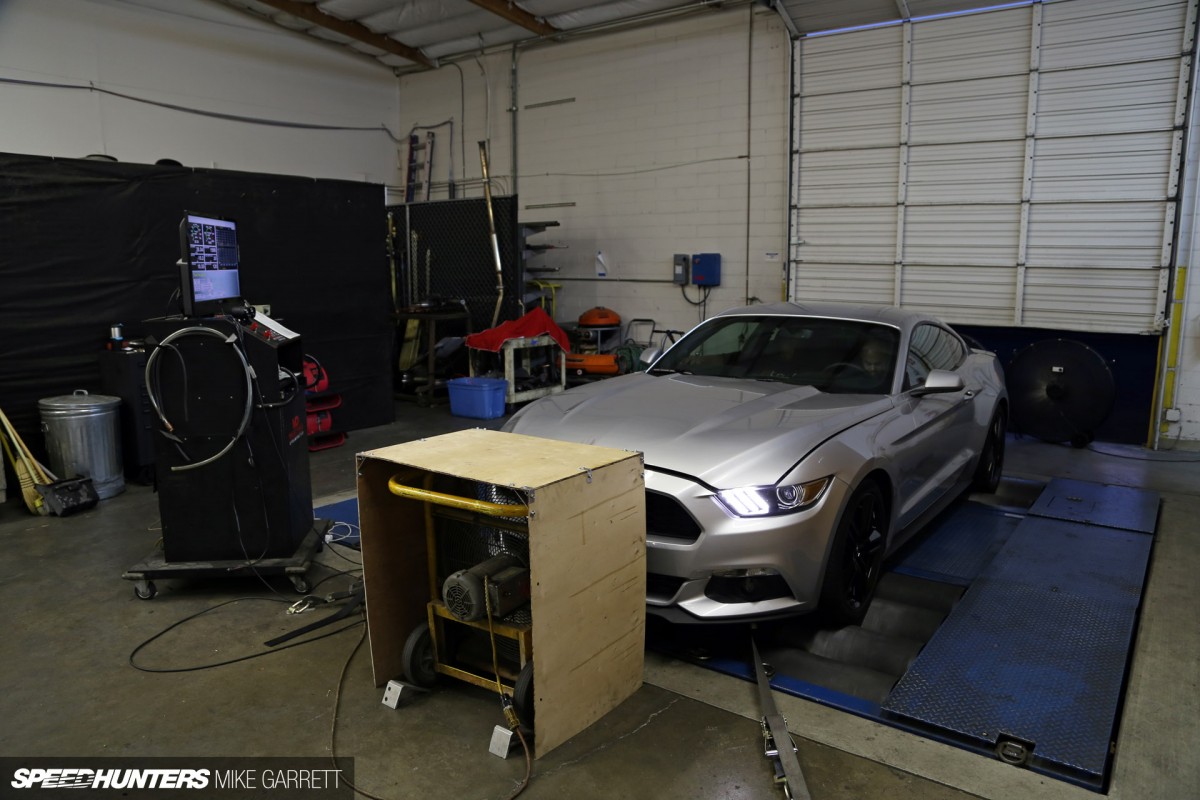 With everything installed, it was back to the dyno. This wasn't just to see what kind of power the car was making with the intake and intercooler, it was so Sean could get to work on a custom tune so the car could maximize the benefits from all of the new upgrades.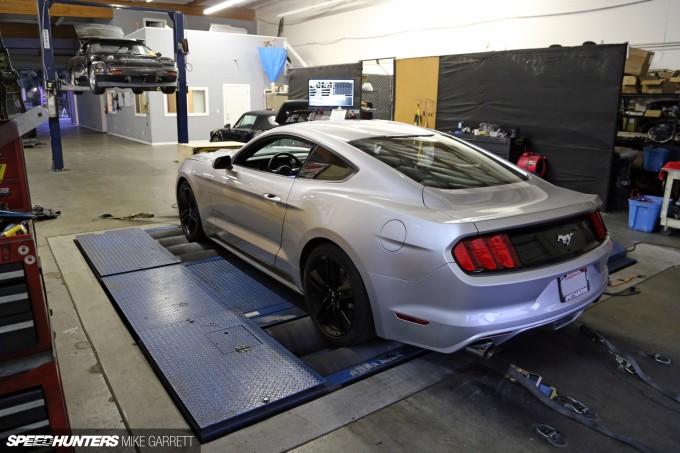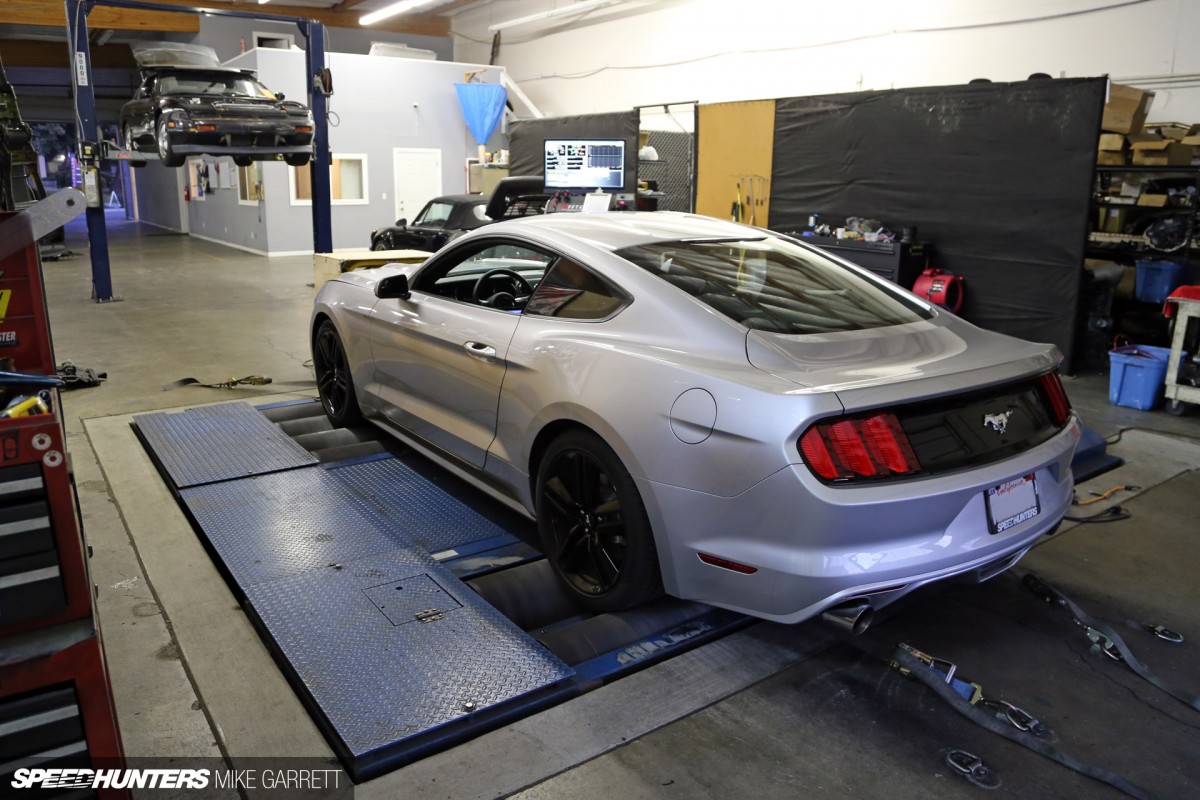 On a car like this, even bolt-on parts aren't going to provide their best results unless they are accompanied by a new flash to fully take advantage of them.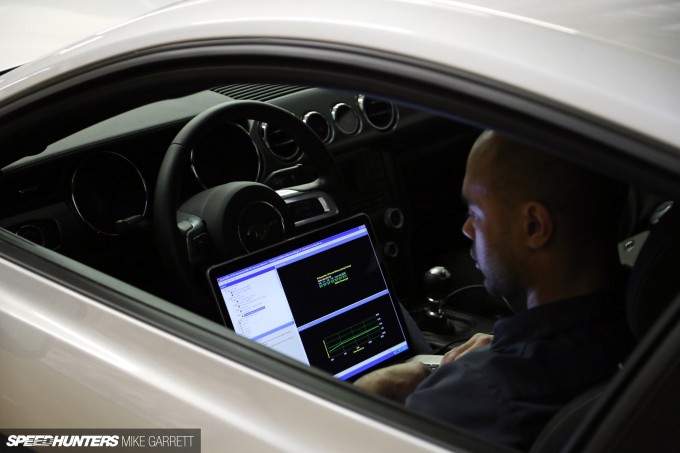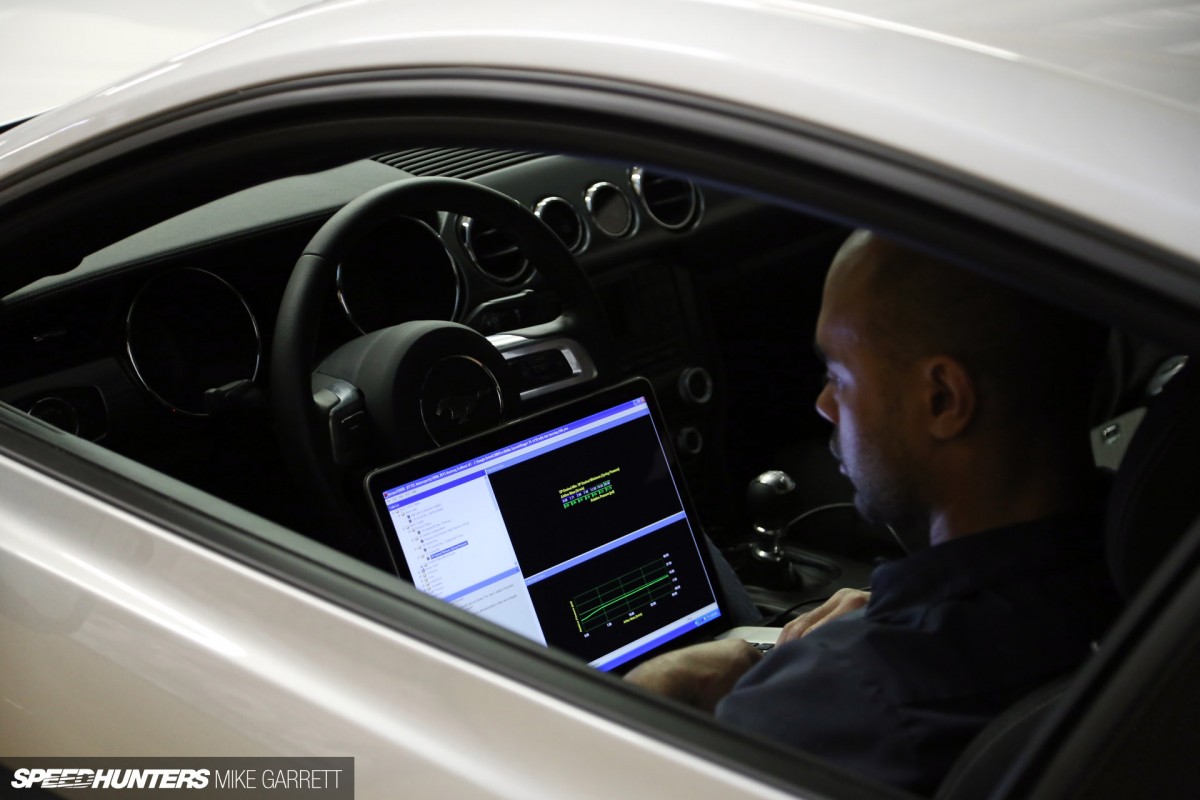 We must have done six or seven pulls, with Sean making adjustments via the COBB Protuner software after each one. He pretty much has tuning down to an art form.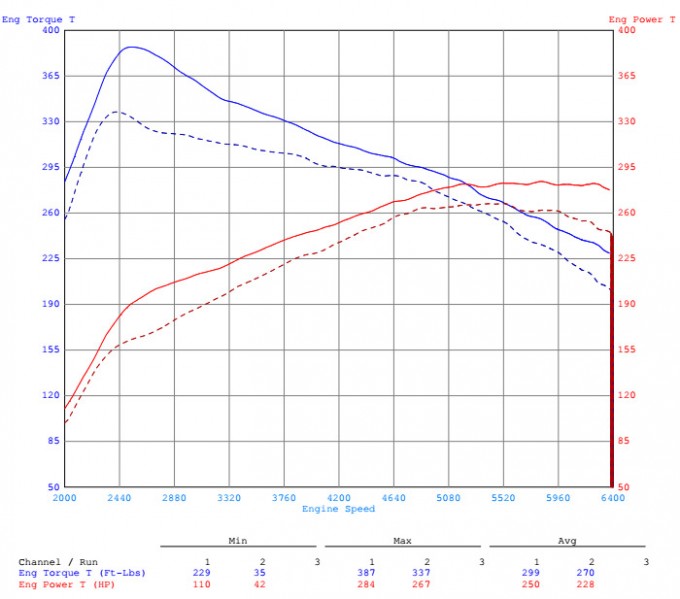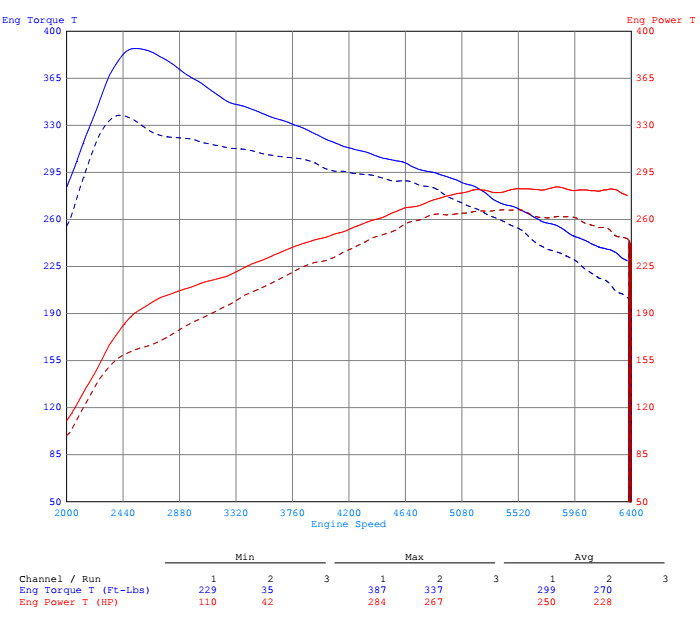 And the final result? Well it came out looking like this. 284 horsepower and an eye-opening 387 foot pounds of torque to the wheels. That's nearly 20 additional horsepower and 40 more foot pounds than what the car had when it rolled in. When compared to stock, I think these are very solid numbers for three basic bolt-on upgrades and a custom tune.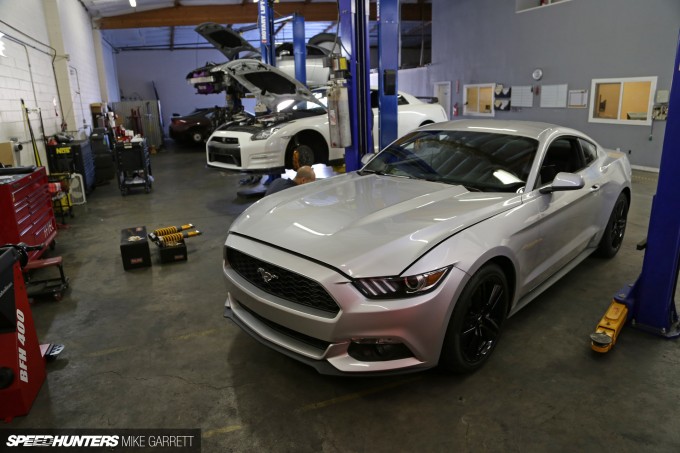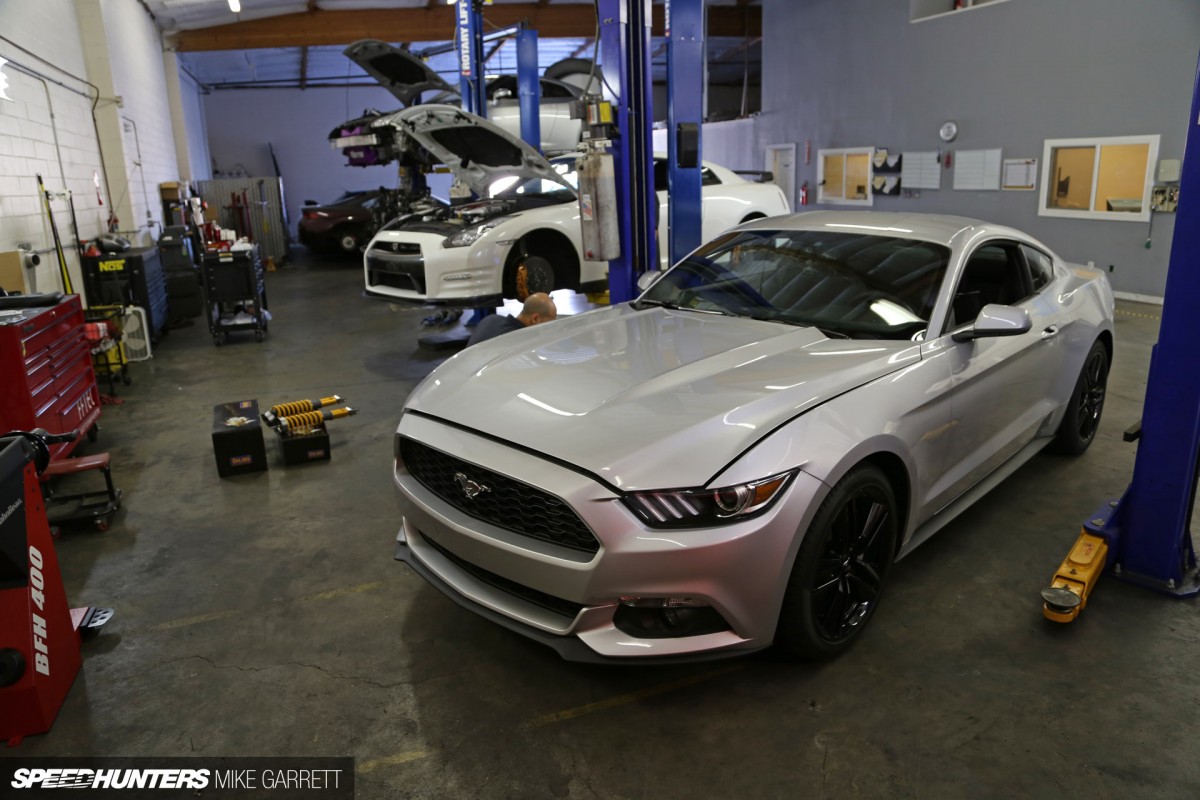 But of course, numbers just tell part of the story. In stock form the car had the feeling of 'wow, this is pretty quick for a four cylinder'. With the upgrades I'd say it's now crossed into the realm of being a genuinely quick – with a strong burst of midrange grunt and a healthier top-end feeling. It might not be quite at 5.0 level yet, but it feels a helluva lot closer! The fun factor has also been upped significantly and it's still getting over 30 miles to the gallon on the highway. For a daily driver, it's hard to imagine wanting a whole lot more than this. But who knows?
And if I'm honest, what's excited me just as much as the additional power and torque is the change in sound. In stock form this car is very muted, but opening up the intake and exhaust have given it an entirely different personality. You can hear the turbo spooling, the blow-off when you take your foot off the throttle, and the much more aggressive exhaust tone out the back. The other day I recorded some quick video clips to give you an idea of what it sounds like. While it might not make muscle car noise, it certainly sounds like a proper turbocharged performance car now – and I like that a whole lot. Have a listen for yourself and let me know what you think.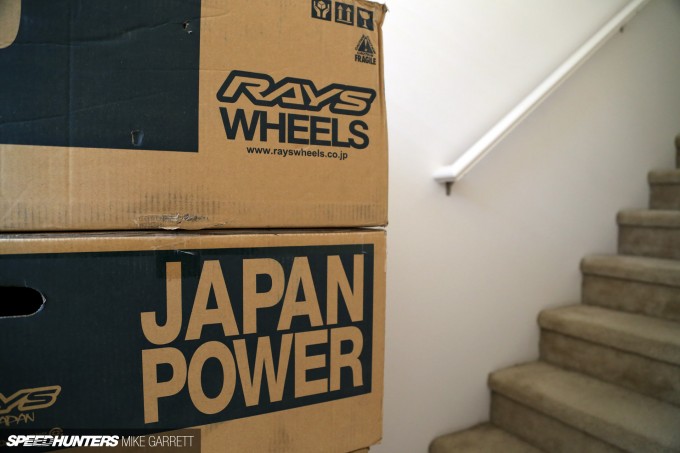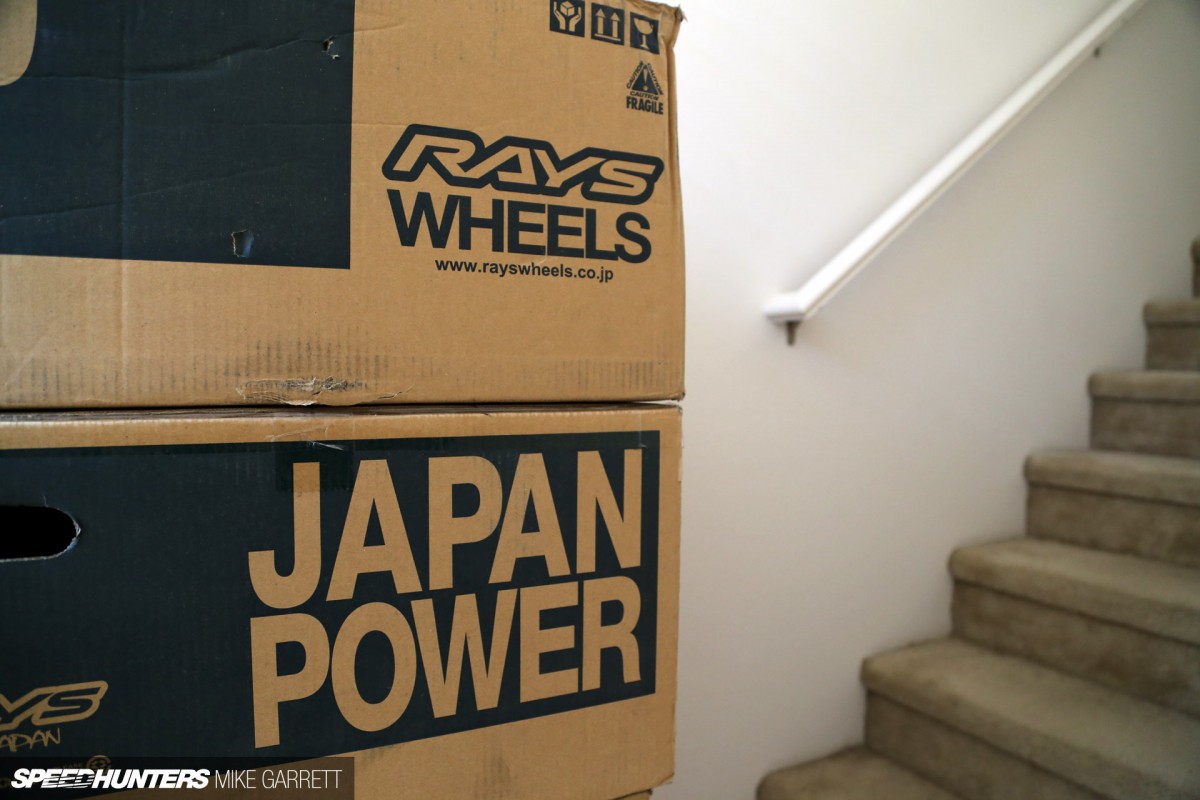 So there you have it – a very successful opening around of upgrades for Project EcoBoost. Of course, there will be a whole lot more to this project besides just increased horsepower and cooler noises. In fact, here's a quick teaser of the latest parts to arrive.
Things are about to get even more interesting, so stay tuned.
Mike Garrett
Instagram: speedhunters_mike
mike@speedhunters.com