In the world of the shakotan kyusha, nothing will bring you more kudos than having Mizuno Works work their magic on your car. If in the future I decide to build myself a slammed JDM old school ride, this is definitely the shop I'll be heading to – especially after seeing the amazing job they did on Kato's Kenmeri Skyline last year.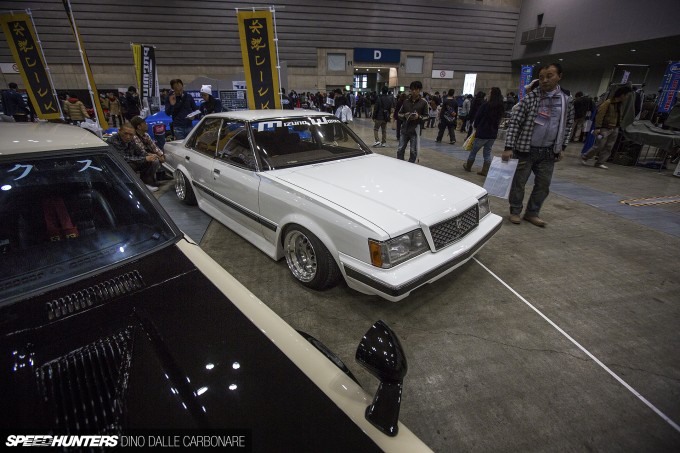 And you know what, there's a good chance I'd choose the same GX61 Toyota Corona Mark II Grande they had on display at the recent Nostalgic 2days as the base, because it looked seriously bad ass!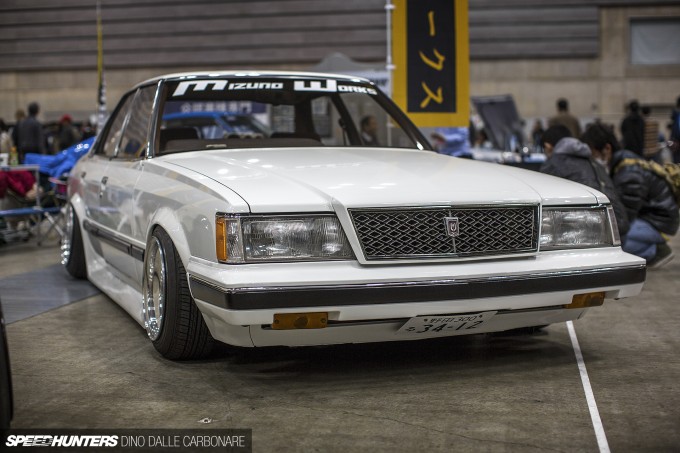 I'd probably add a bucktooth front lip in there for extra impact, but you can argue that the cleaner look is more subtle, and fits in perfectly what Mizuno Works has done here. I don't think I've ever seen a Corona of this generation without the fender mirrors before, and maybe it was an option. But as JDM as they are, the stock ones normally fitted to this model were too big and square, and well – '80s. It might be illegal to have no side mirrors, but damn it's clean!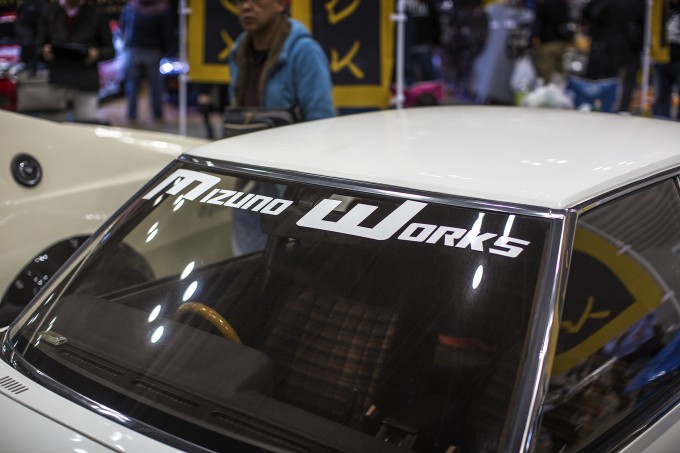 I too would also keep the plush, velour-like trimmed seats – they look so comfortable, which is just what you want in a shakotan cruiser like this.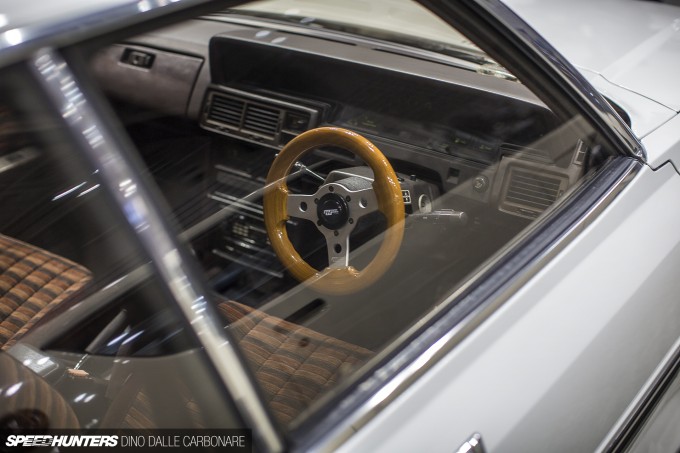 The super-small Mizuno Works wood steering wheel is an absolute must as well!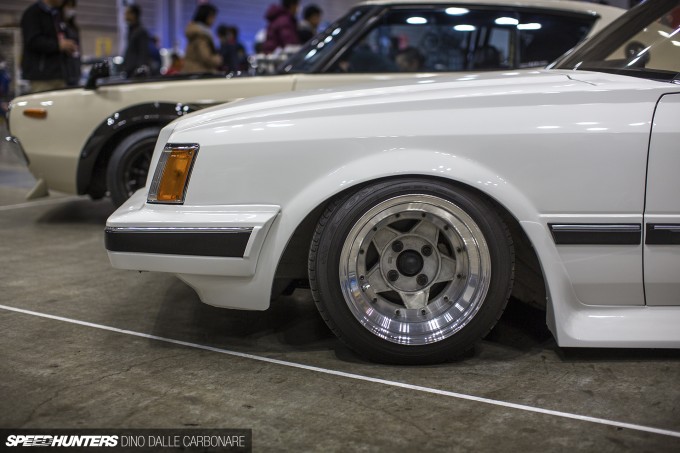 These older cars all seem to have pretty well defined – and wide – fender lines, which are just begging to be taken full advantage of. In this case the car was obviously lowered substantially, and its inner arch section rolled to get rid of sharp edges. To complete it all a pair of Mizuno Works skirt sections were added, and blend into the factory arches beautifully. The wheels of choice are vintage SSR Focus 5s that sport just the right amount of dish.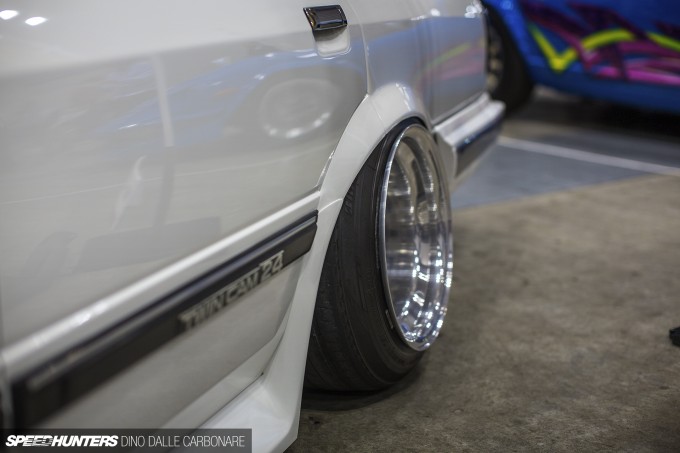 The same treatment can be found at the back – here finished off with the perfect wheel and tyre combo sporting a pretty insane amount of stretch.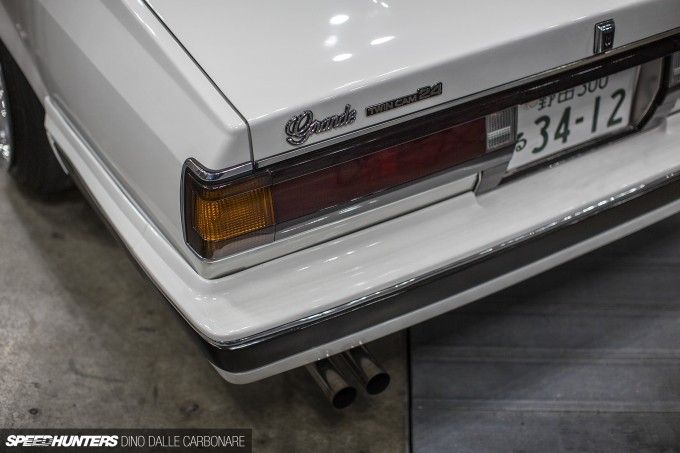 There isn't much to see at the rear as it's all completely stock, save for the dual-exit exhaust which now dumps gases from the original straight six engine through a more audible system.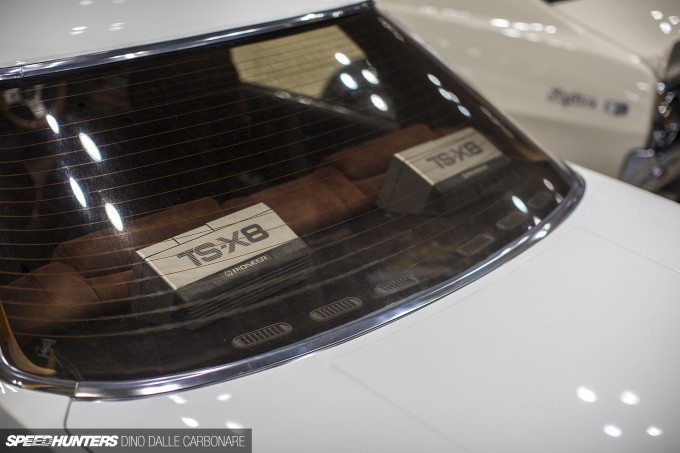 And speaking of sound, what self-respecting JDM car from the '80s could possibly be found without a pair of Pioneer TS-X8 parcel shelf speakers? Well, not this car obviously!
They're the perfect detail to end this quick Spotlight on a shakotan ride as authentic as they come, put together by one of the biggest names in the business.
Dino Dalle Carbonare
Instagram: speedhunters_dino
dino@speedhunters.com