The '80s: A Pivotal Decade
When it comes to cool, can any other decade possibly come close to the '80s? I don't think so… I may have only been a young kid at the time, but if you asked me to think back to those days, I would have a flurry of images rushing through my head: vivid colors, big hair, Miami Vice, Queen, stone-washed jeans, Cosby sweaters, Back To The Future – and extreme cheesiness. But all in a good way, of course.
Yep, the '80s were an awesome time – especially when it came to interesting cars. This is the era when Japanese manufacturers embraced turbocharging with open arms, giving birth to an evolution of cheap and fantastic Japanese sportscars – not to mention an aftermarket tuning scene that trailed not too far behind it. But more specific to the story I have for you today, it marked the beginning of the great German horsepower race.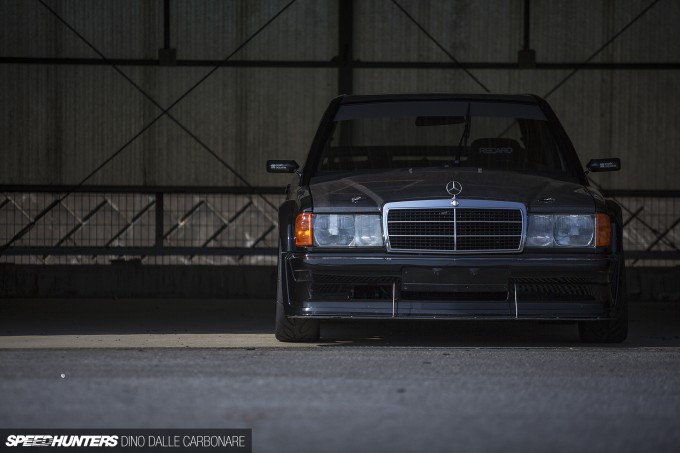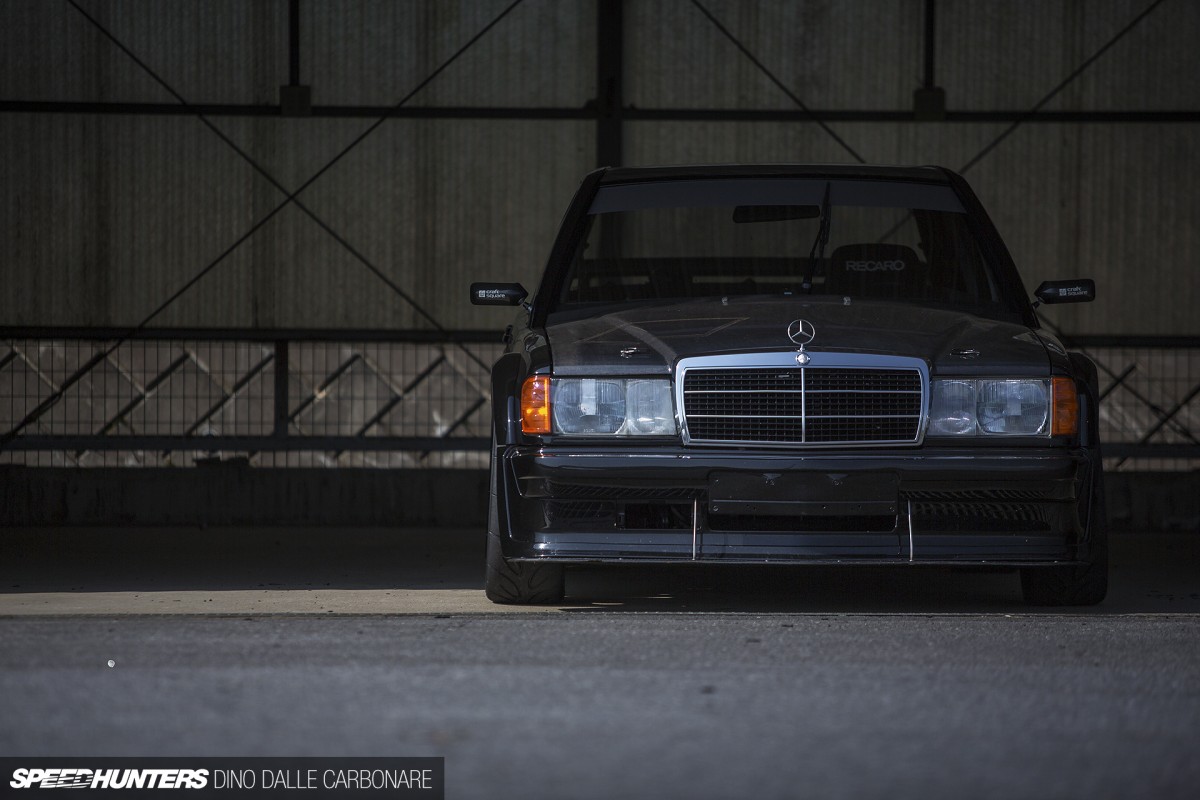 It was around the middle of the decade that Mercedes-Benz decided to take its best-selling sedan and breathe some more performance into it. Thanks to a great collaboration with Cosworth, the W201 was the first of its breed to receive a 16V motor. Little did Benz know at the time, but the cylinder head upgrade made to 2.3L M102 four-banger would be the catalyst for big things to come.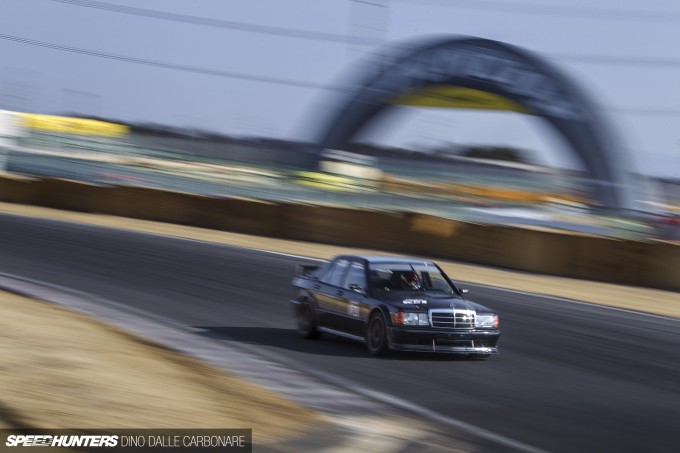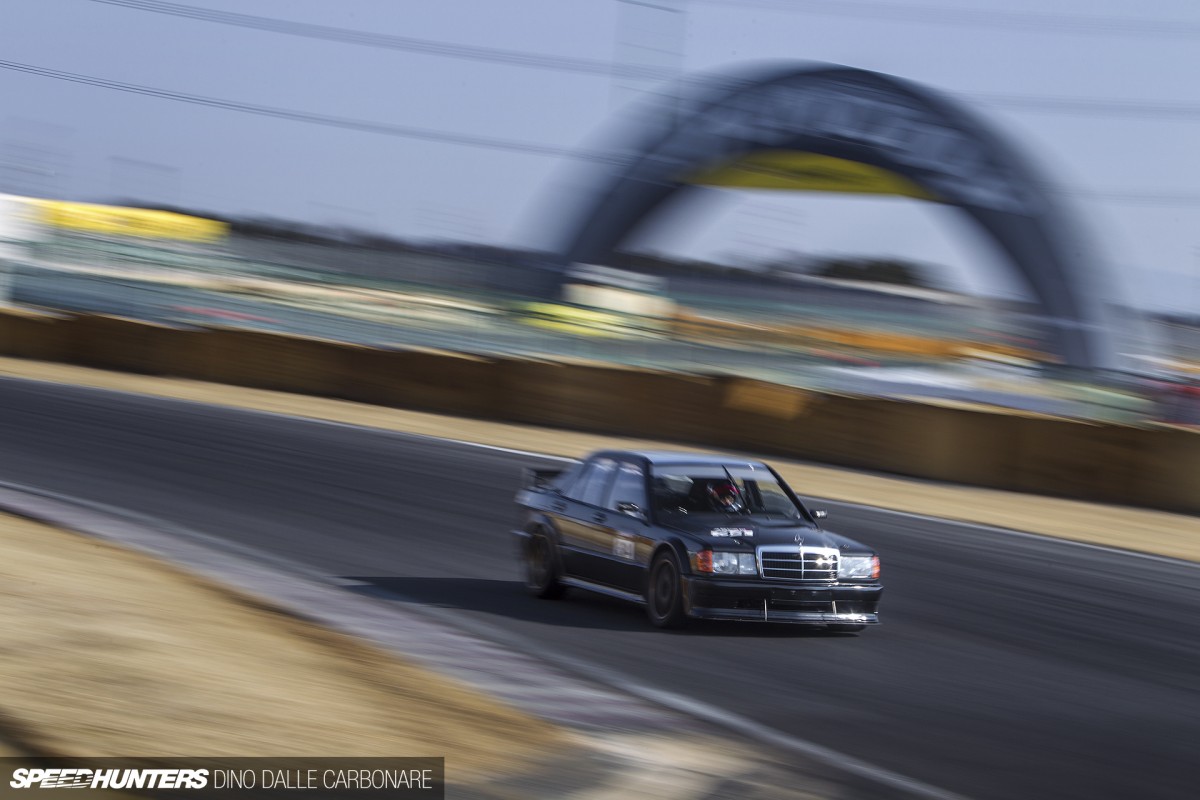 It was this car – the 190E 2.3-16 that sent shockwaves through the M-department at BMW, and they quickly fought back with the now-legendary 1986 E30 M3, one year after the E28 M5 hit dealerships. It was the beginning of something great – powerful performance versions of the smaller cars that each of the two German giants produced; a battle that continues to this day.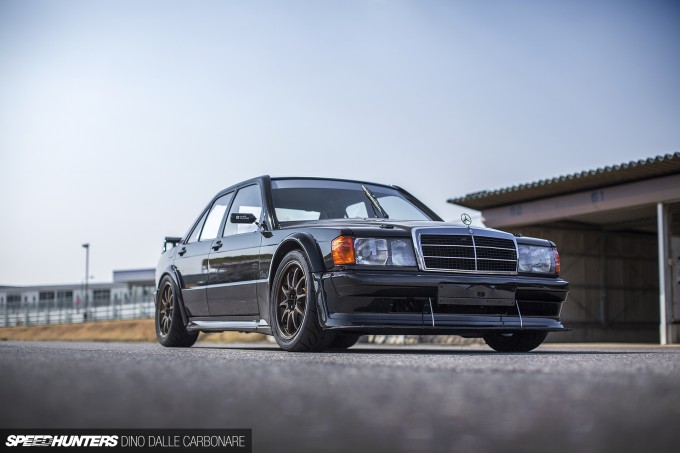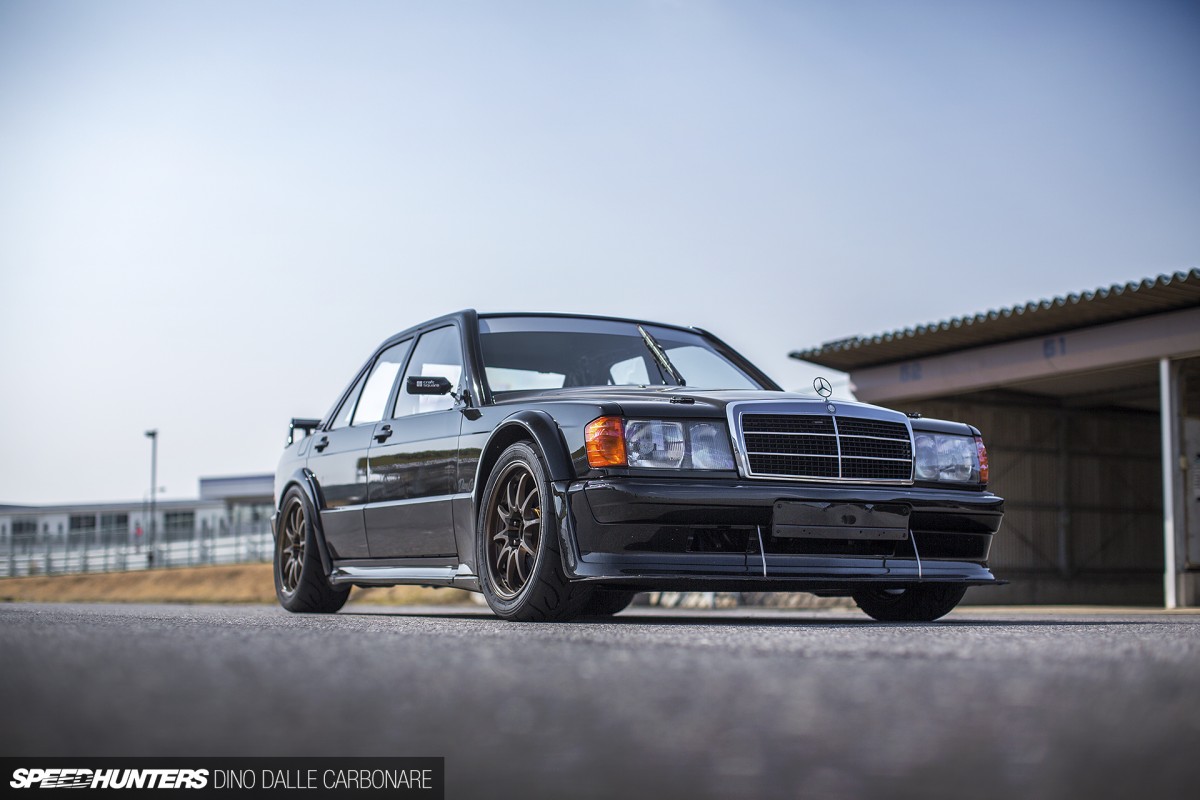 But enough with the history lesson, because I want to get to this rather special and unique interpretation of the original hot version of the W201. When I first laid eyes on this 2.3-16 at the recent Battle Evome event, it was parked up at the bottom end of the Tsukuba Circuit paddock with its carbon bonnet propped open.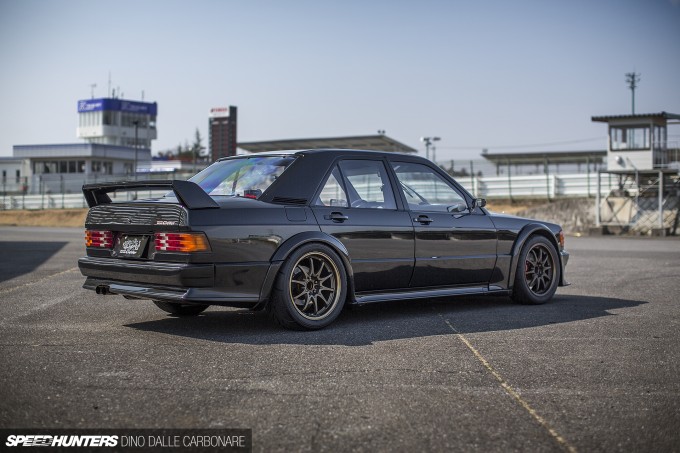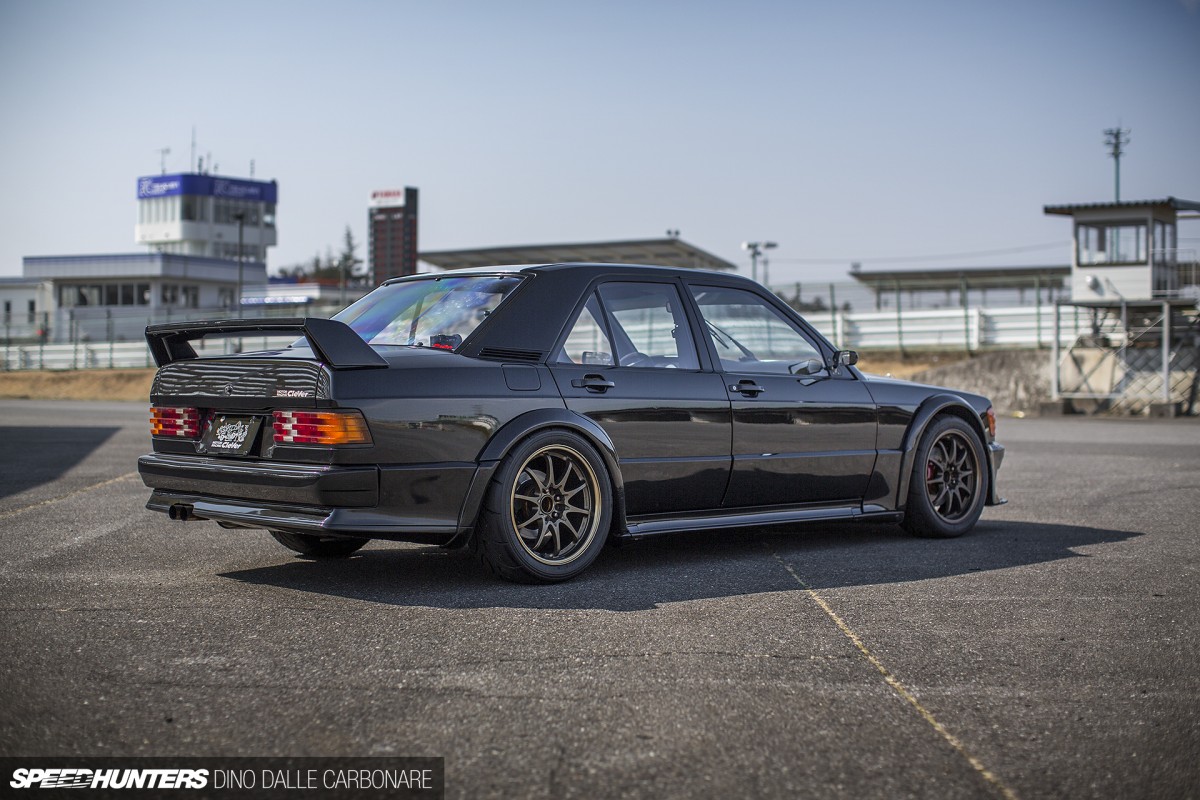 While this model isn't as hard to find in Japan as they might be in other countries – the same with anything else automotive that is rare, limited edition or highly sought after – there was something different about this particular car. A few steps closer and I knew I had stumbled across something very special. No, it wasn't down-to-the-last-detail factory perfect – it was almost the complete opposite. This was a 190E 2.3-16 built for time attack, and that my friends had me salivating like a teenage boy at an '80s Madonna concert!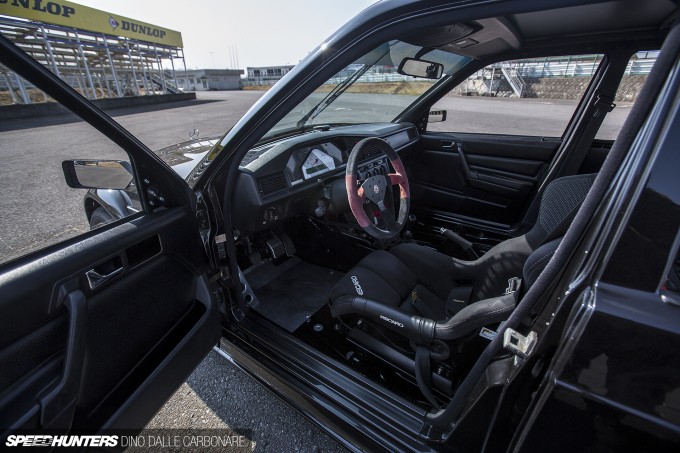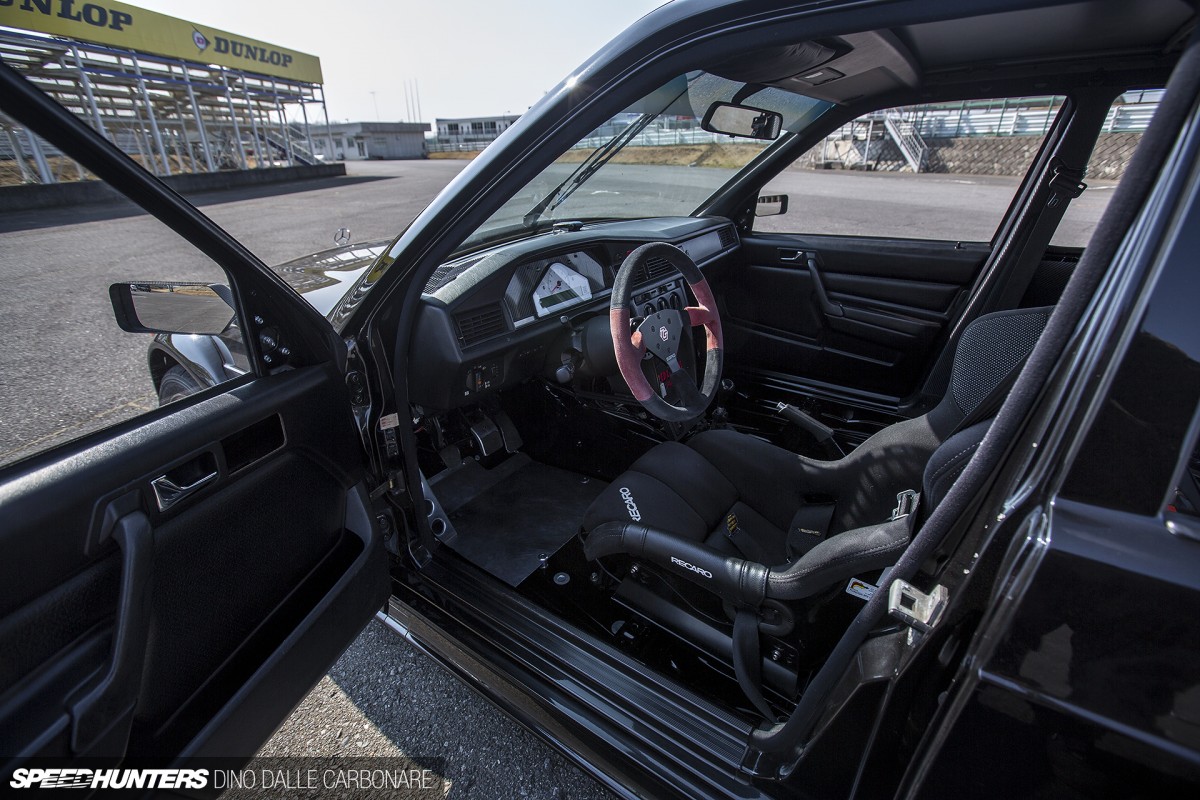 I took one look at the interior and merely glanced in the engine bay, and had seen enough to ask the owner if he'd mind setting some time aside for me at the end of the day for a shoot. It's cars like these that I dream about finding for you in Japan, so I couldn't believe my luck on that freezing Sunday morning.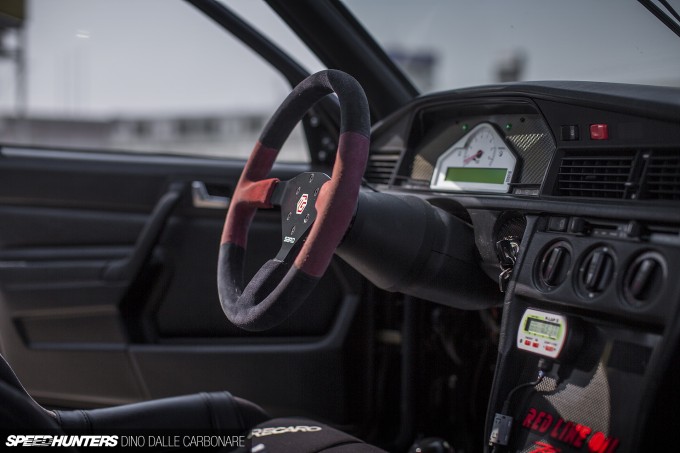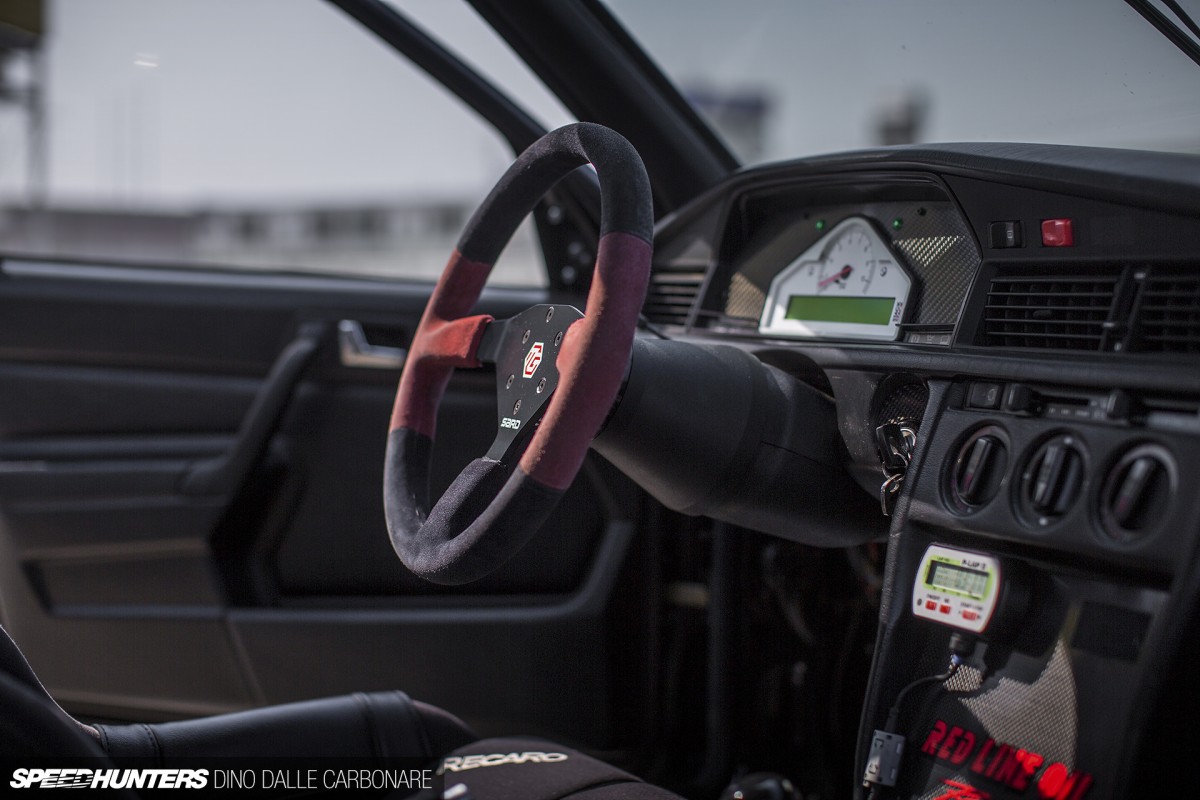 Everything inside this car hints at its repurposing. Once a relatively fast, hot version of a compact family saloon – now a stripped-out hunter of speed. The oversized '80s Benz steering wheel has been thrown out – in its place a chunky SARD suede-wrapped unit offering the grip a dedicated track car requires.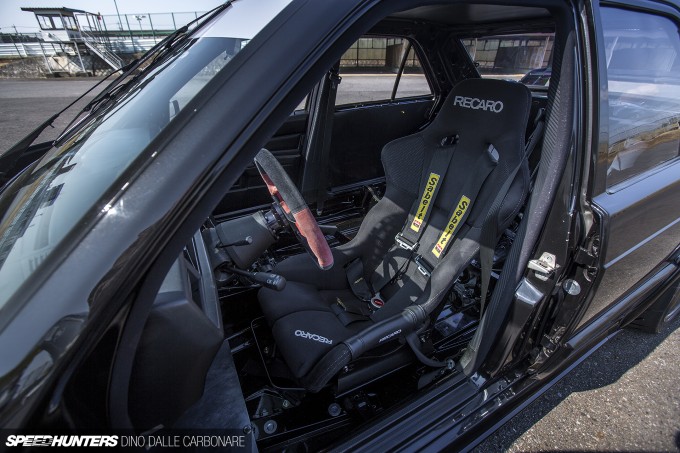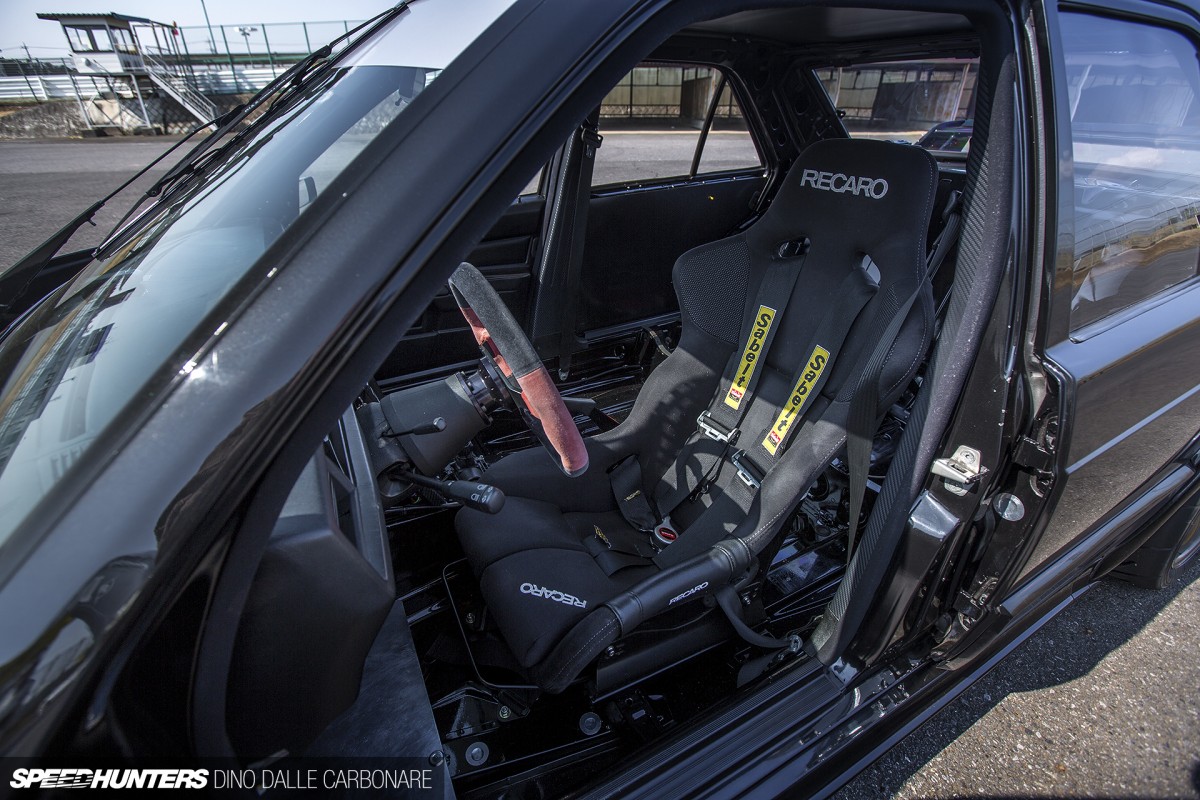 There is little left in the interior – well, nothing at all really, except for a Recaro SPG bucket seat flanked by a 6-point Sabelt harness.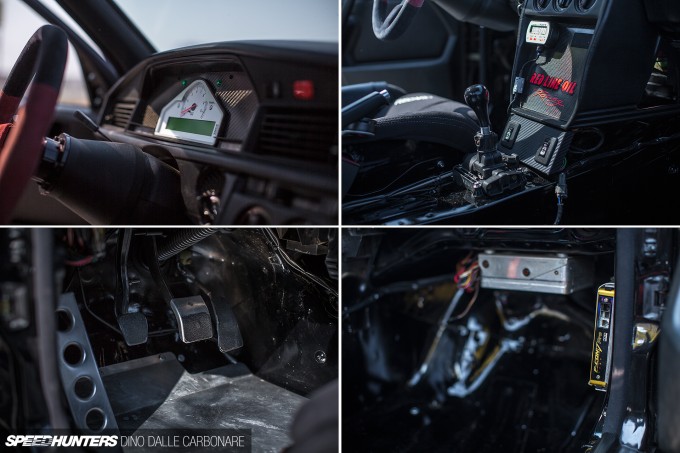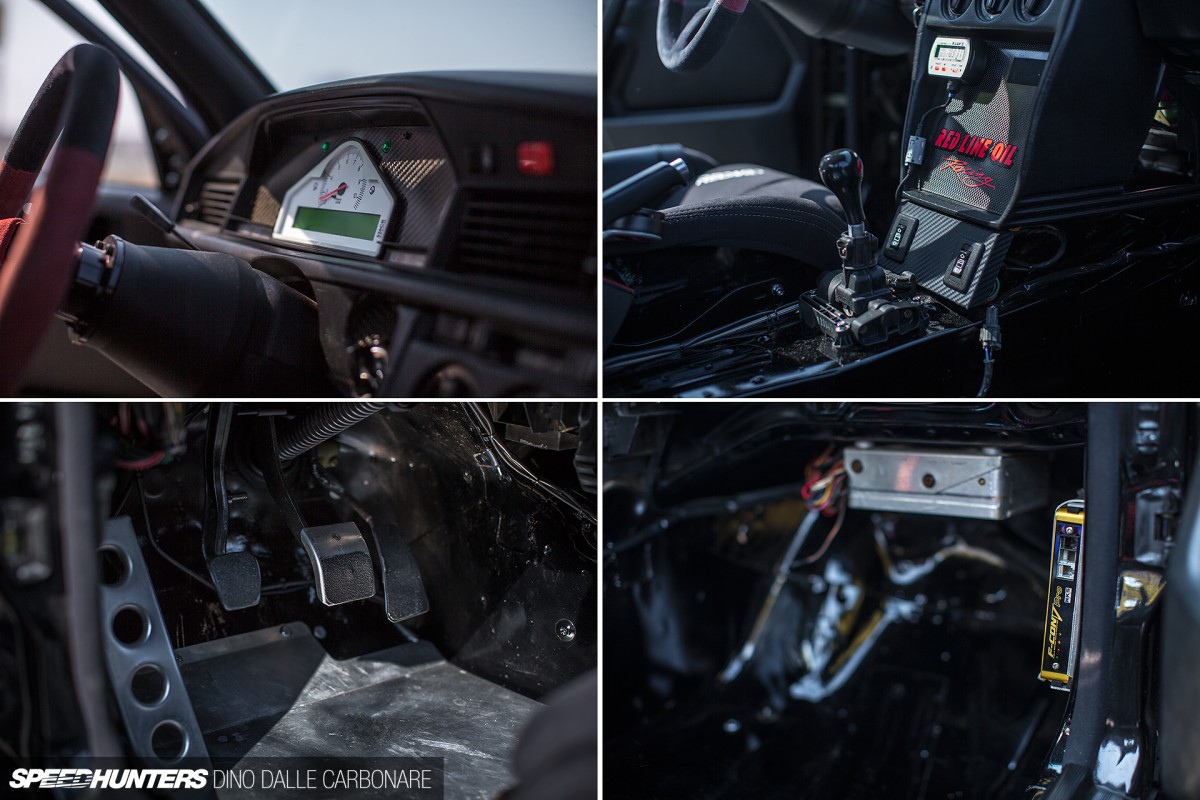 Matsumoto-san, the owner and driver of this W201, no longer stares at the original big stock gauges with yellow-needles; in their place is a Stack dash unit sunken into a carbon fiber shroud that's simple and to the point. The portion of the centre console that housed the headunit as well as the water temperature gauge, clock and volt meter has been gutted out and closed off with a sheet of dry carbon. On top is a Lap Shot lap timer to record lap times as the 190E passes over the start/finish line at Tsukuba. And then there's the HKS F-CON V Pro sub-computer, which hints that things may not be too stock in the engine department either…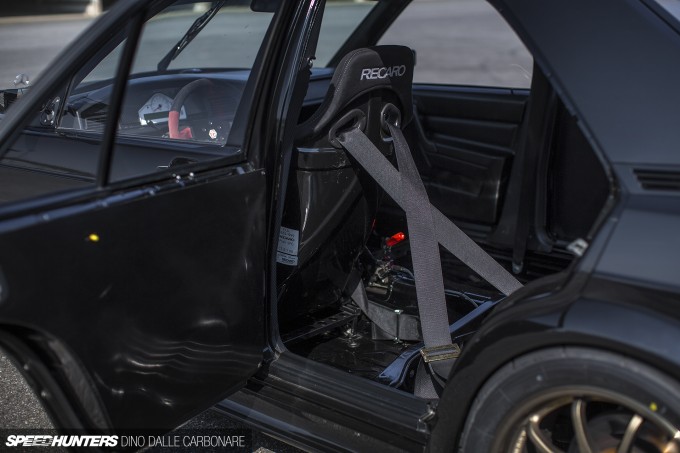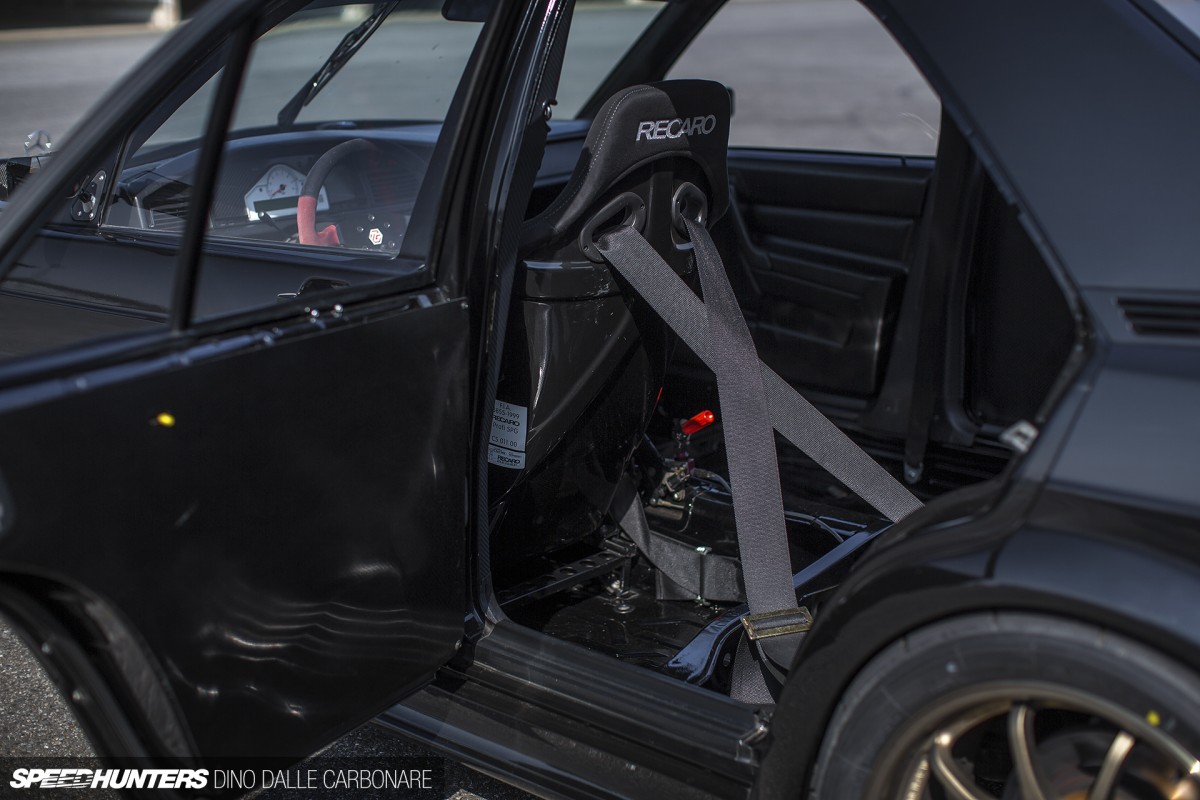 While the stock cards have been retained for the front doors, the rears have been stripped off and sealed away with some carbon sheeting. The glass too has been removed and replaced with appropriately cut Lexan equivalents. And that's a good thing, because we all know how sturdy and over-engineered every component of these '80s Benzes are. The glass was probably bulletproof, you know, just in case.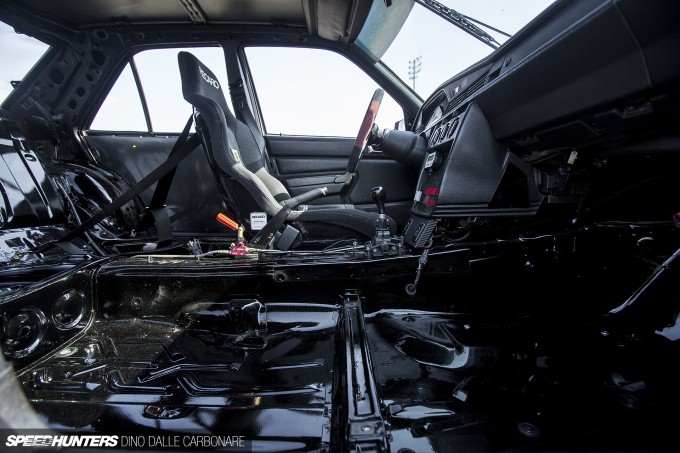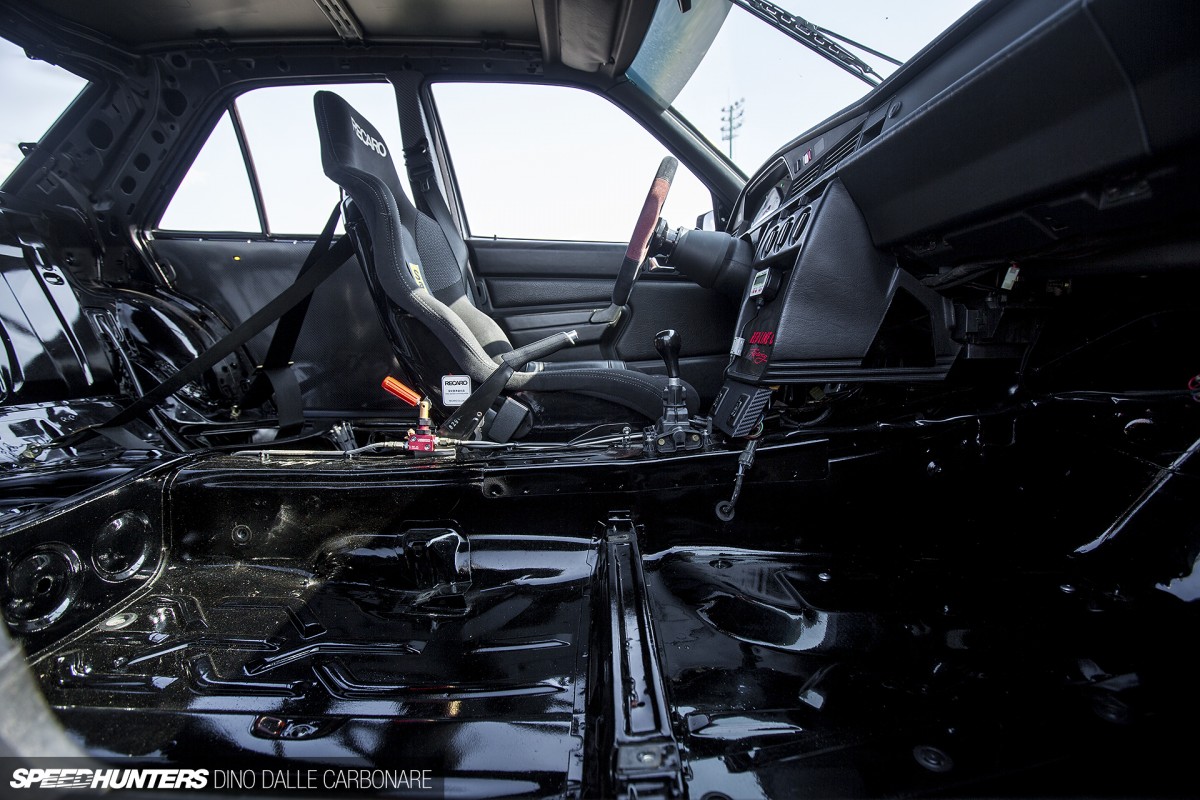 When I say the interior is gutted, I'm not using the word lightly! And just because Matsumoto-san likes things to be done properly he didn't just leave a mess of half scraped away sound deadening, padding, foam and other miscellaneous crap. Oh no, he cleaned it all up before applying a fresh few coats of gloss black paint. This is refreshing to see in Japan, as presentation – especially in cars where function reigns over form – is something that's often overlooked.
DTM As Inspiration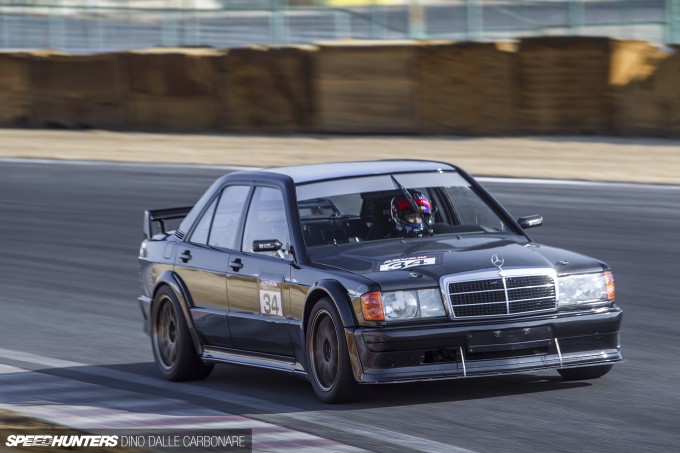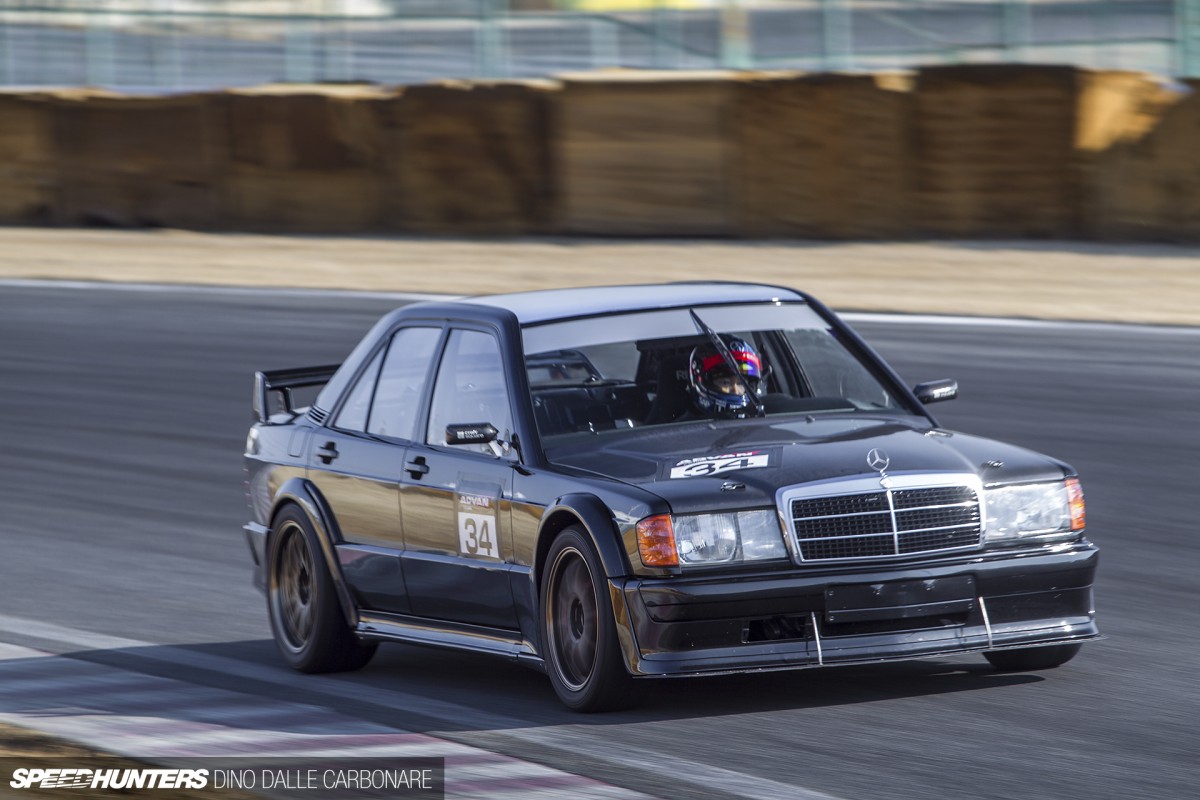 Most of the upgrade work was carried out at Motor Racing Clever – a small shop that specialises in custom work and racecar preparation. And stay with me, as this gets even better once we look at the exterior of the car…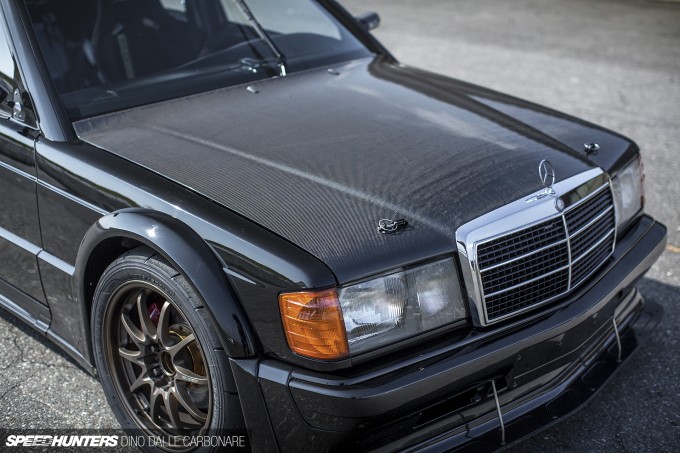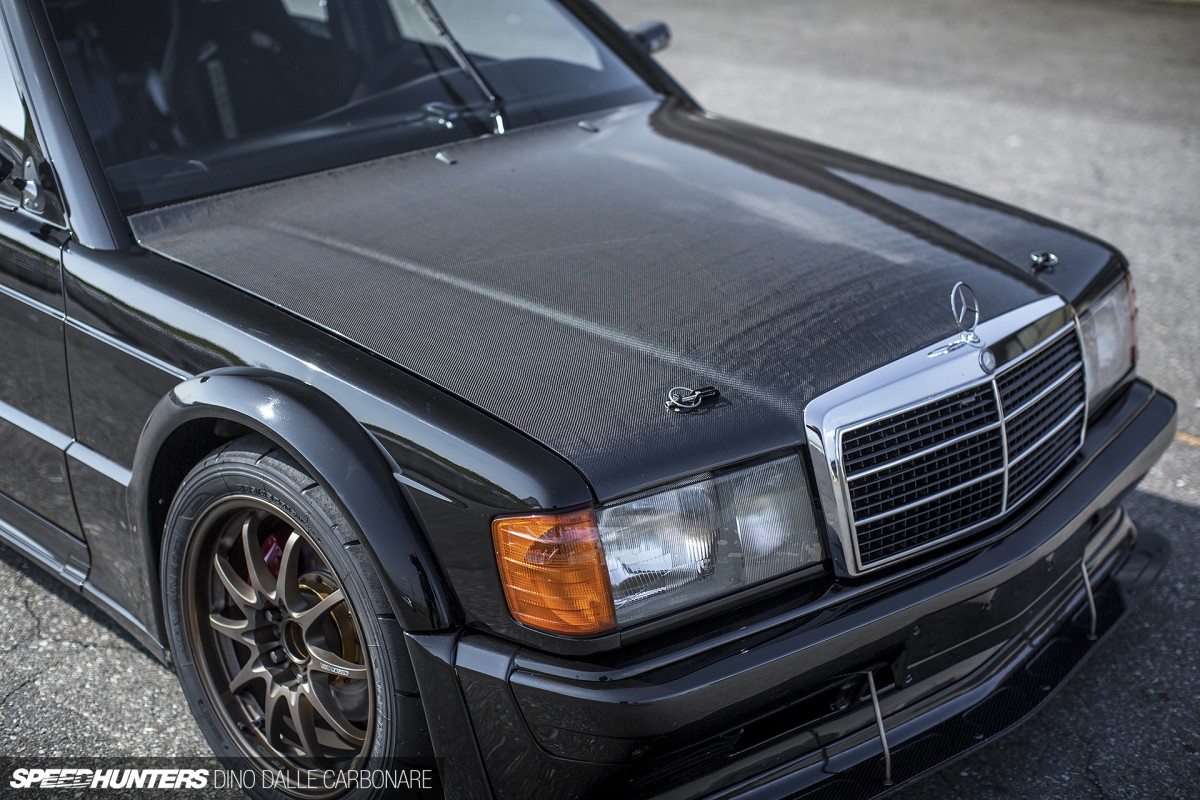 It's all about subtlety here. Take the beautifully fitted carbon bonnet for example – it's been left unpainted as from a distance it sort of looks like the same colour as the rest of the almost black, dark silver metallic exterior. Of course, it shaves off precious weight too – the stock item having probably been made out of cast iron from an old German bank vault.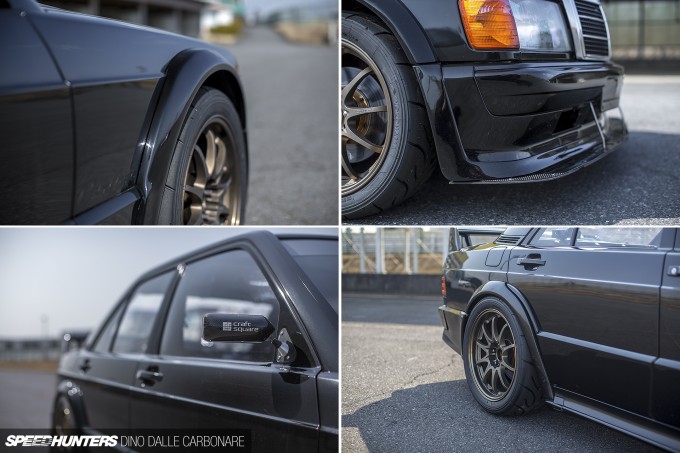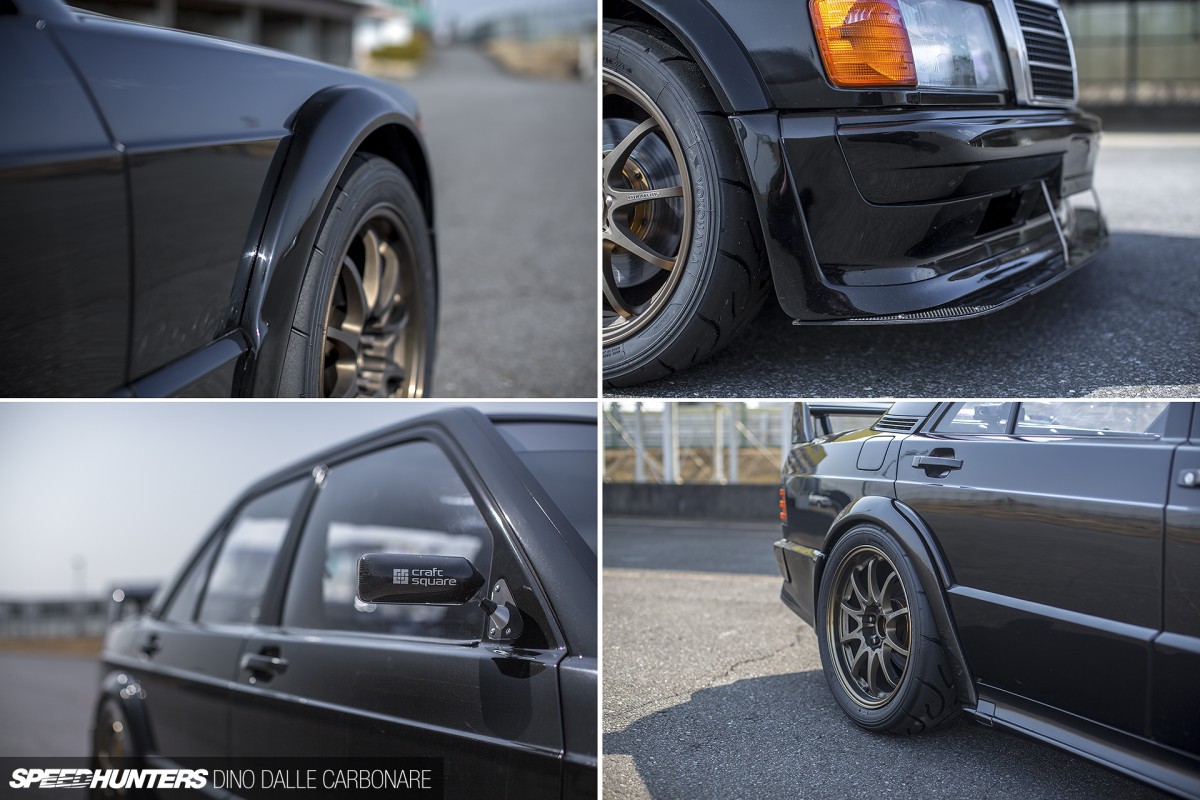 The body kit additions are from an Evo I – a subsequent version of the model that received the slightly larger and more powerful engine. It's a tasteful addition, which while not as in your face as the overfender-equipped Evo II variant, sets the whole stance of the car off very well. Matsumoto built an under panel which extends well under the engine bay, and in true DTM fashion it protrudes out at the front with a carbon lip held in place by a couple of support rods.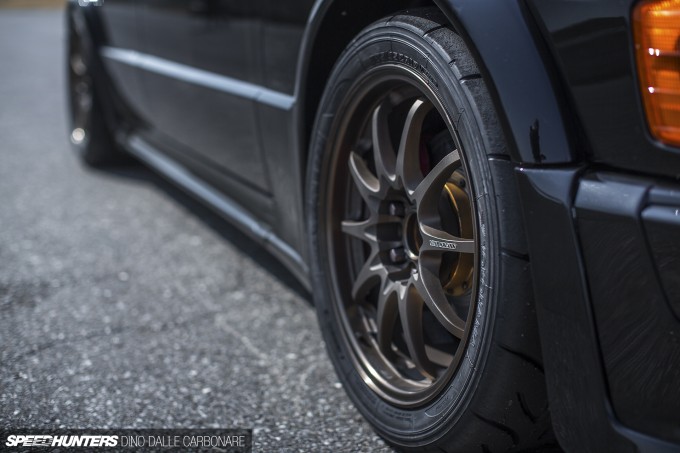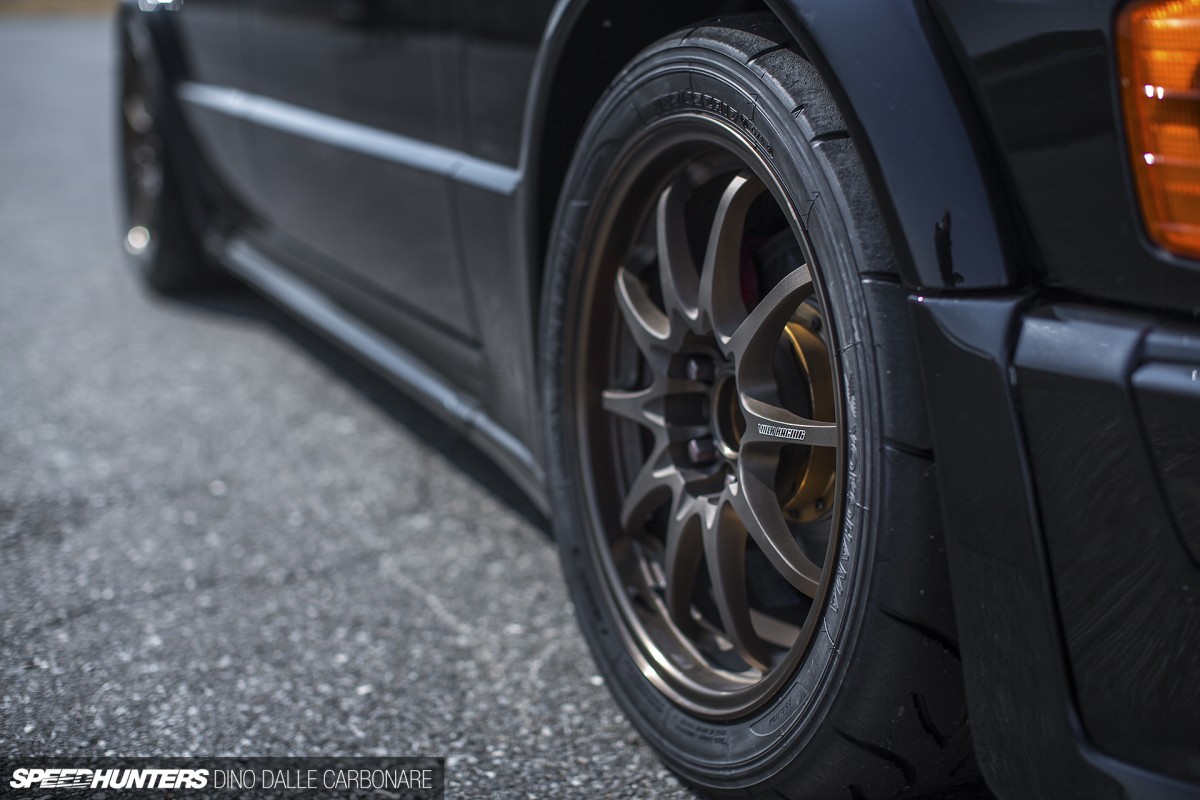 While the wheel diameter of 17 inches has remained the same as factory spec, the style couldn't be any more different – or more to the point, spot on! A 190E 2.3-16 on RAYS Volk Racing CE28Ns? Seriously, I was sold on the look as soon as I caught my first glance of the rim combo! Spacers help them sit just right under the pumped arches, and seeing the car is built only for time attack, the forged monoblock wheels are fitted with super sticky Advan A050 semi slicks front and rear.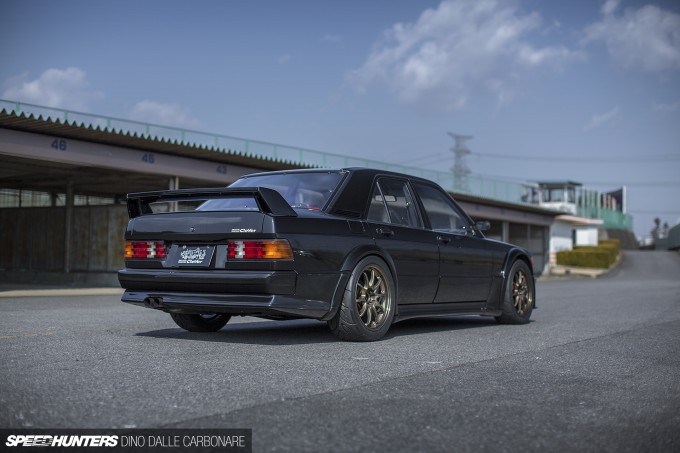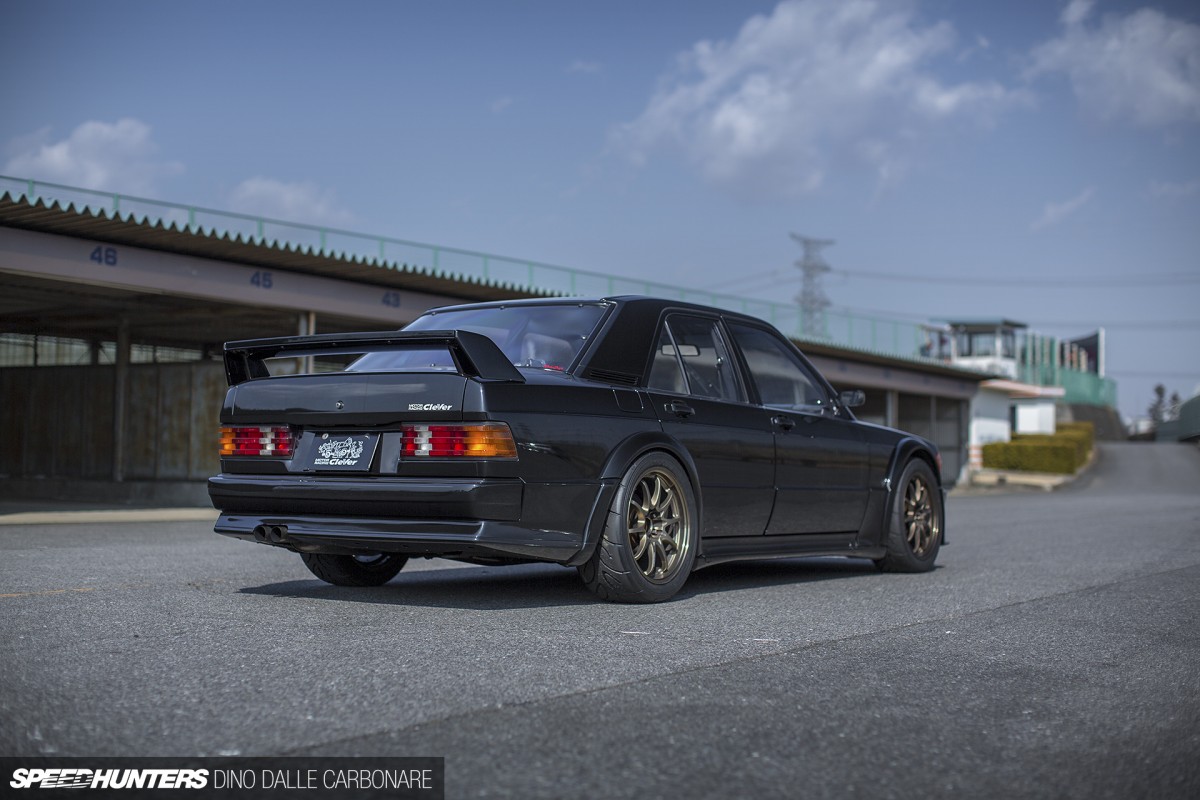 The Benz rides on a set of custom-built coilovers – TRD dampers with Swift springs at the front and Konis at the rear mated to Eibach springs. Pillow ball type bushings get rid of any possible slack, while a set of adjustable front upper mounts allows Matsumoto to run the sort of negative camber necessary to extract the very best out of the Yokohama rubber. Considering the extreme diet the car has been put on, hitting the scales at just a whisker over a ton – 1,020kg to be precise – stopping was never going to be that much of an issue.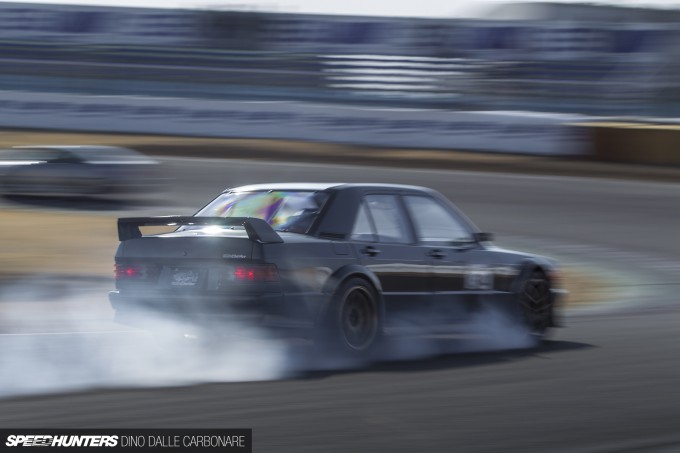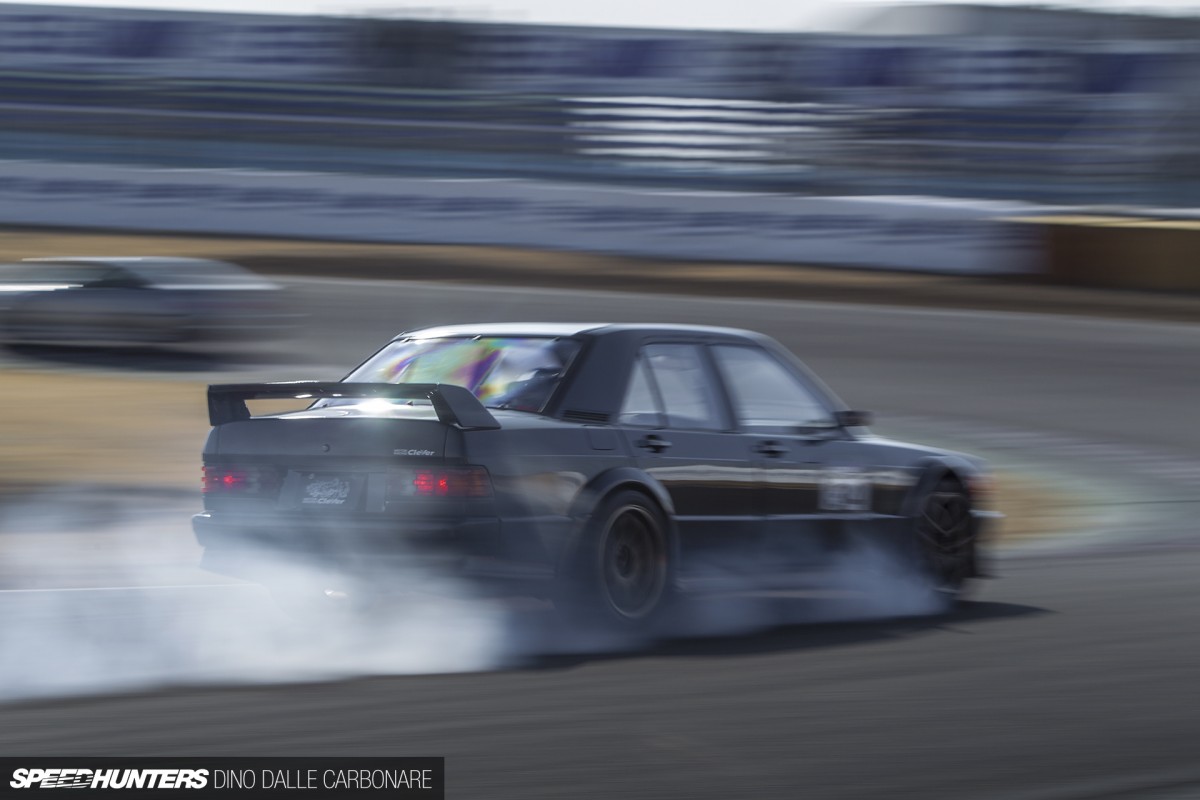 But seeing as brake performance can seriously impact your time on track, calipers and discs from an E500 were fitted in place of the stock setup front and rear. Oh, and there's no ABS to speak of, as the above image hints at.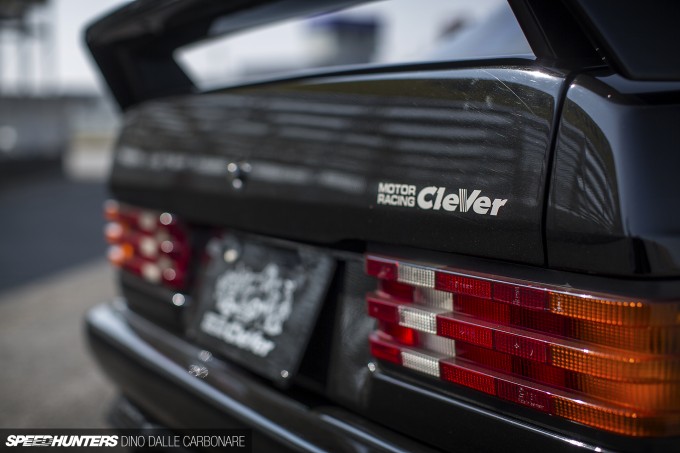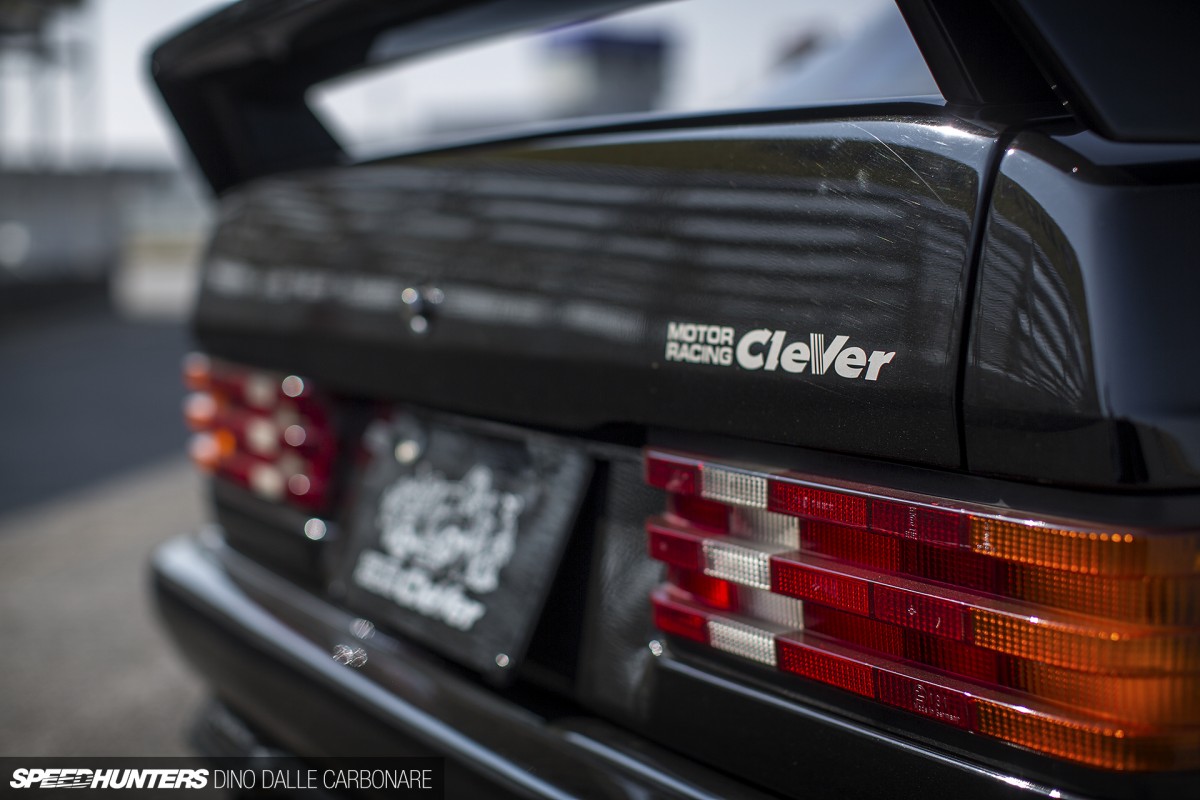 More weight was shaved off at the rear thanks to the use of a dry carbon trunk lid painted to match the rest of the body panels.
A New Breath Of Life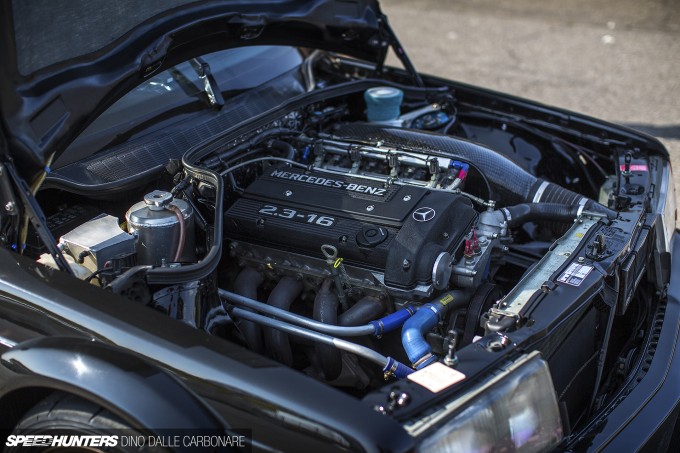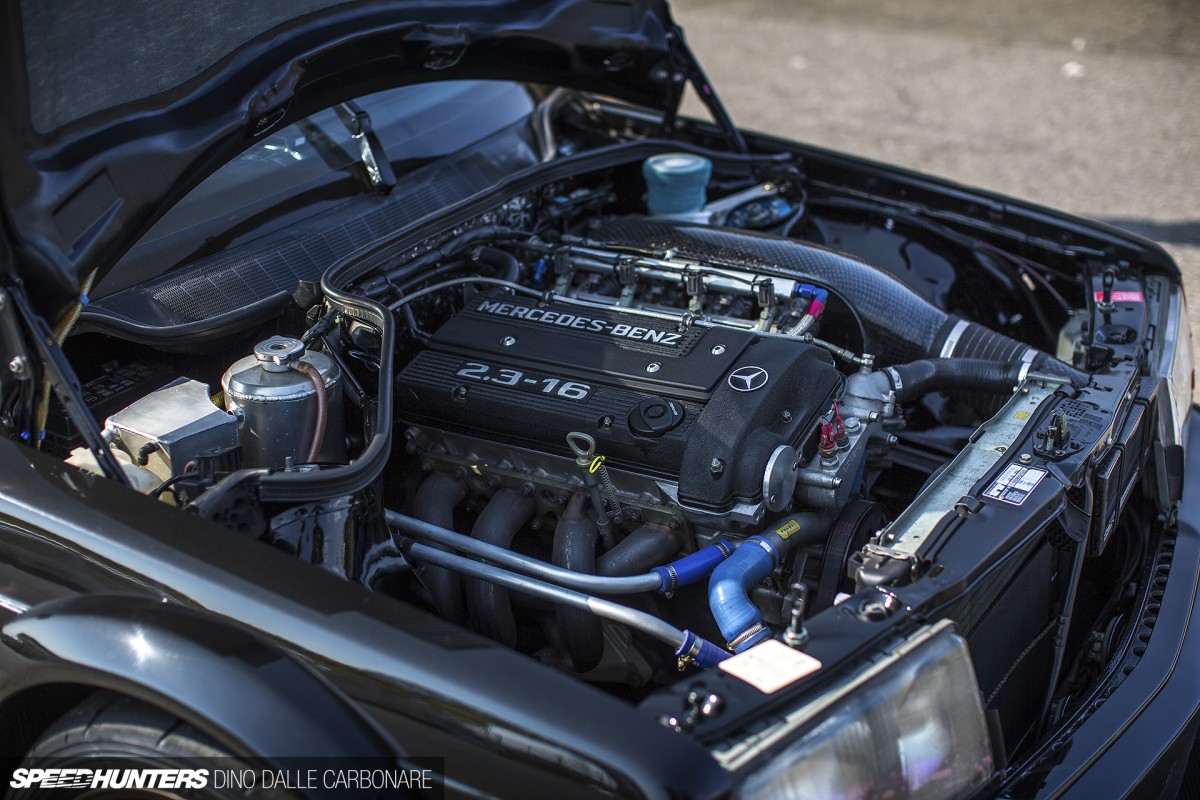 Okay, okay – I won't beat around the bush any longer, here's the bit that I know everyone will want a closer look at…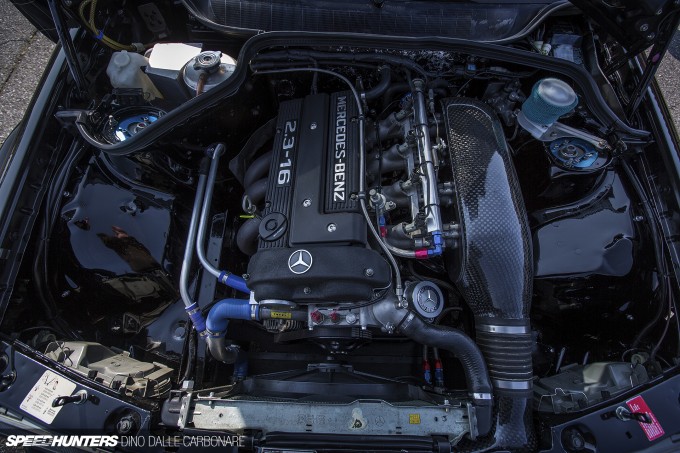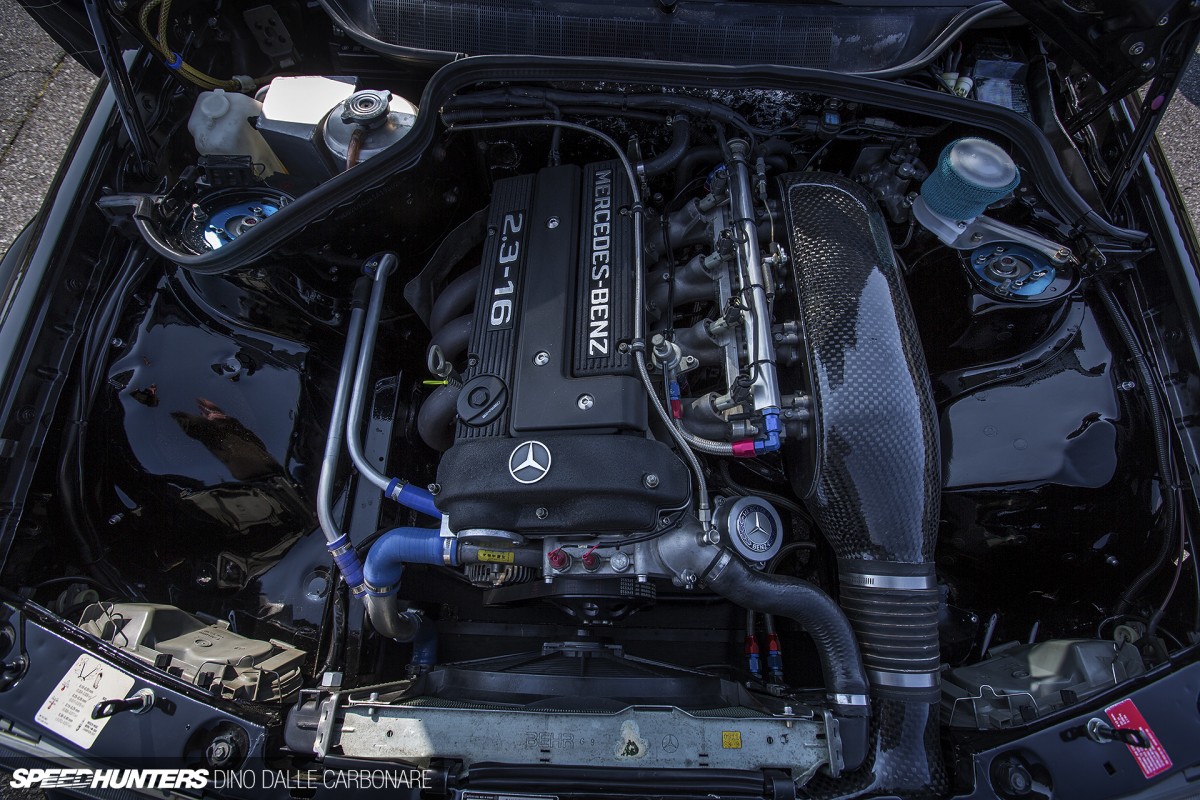 As expected, presentation in the engine bay is superb. Time has been taken to simplify things, including the horrible factory plastic radiator overflow tank which has been replaced by a smaller aluminium item that's hidden behind the primary bulkhead. The engine looks fresh thanks to the modern crackle finish on the cam and pulley covers, but the real interesting bits are beneath it. You seen, after blowing the original motor Matsumoto had Motor Racing Clever do – pardon the cheesy pun – clever things with the engine. They started by sourcing a 2.5L bottom end from the Evo I version, and then rebuilt it with a one-off set of Carillo H-section connecting rods and Nissan VQ35DE pistons – the latter a perfect fit for the bore.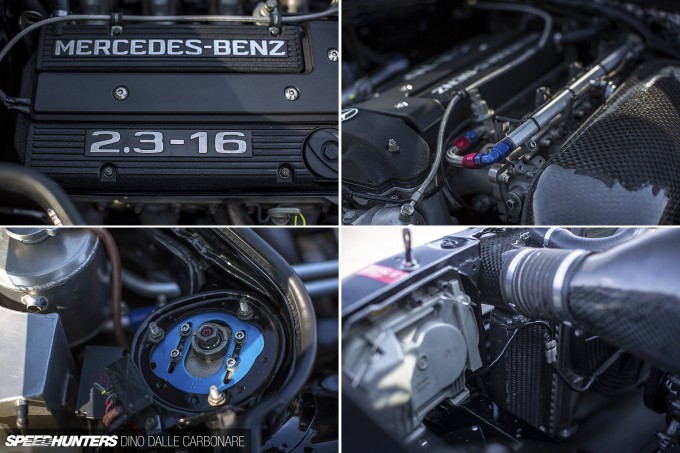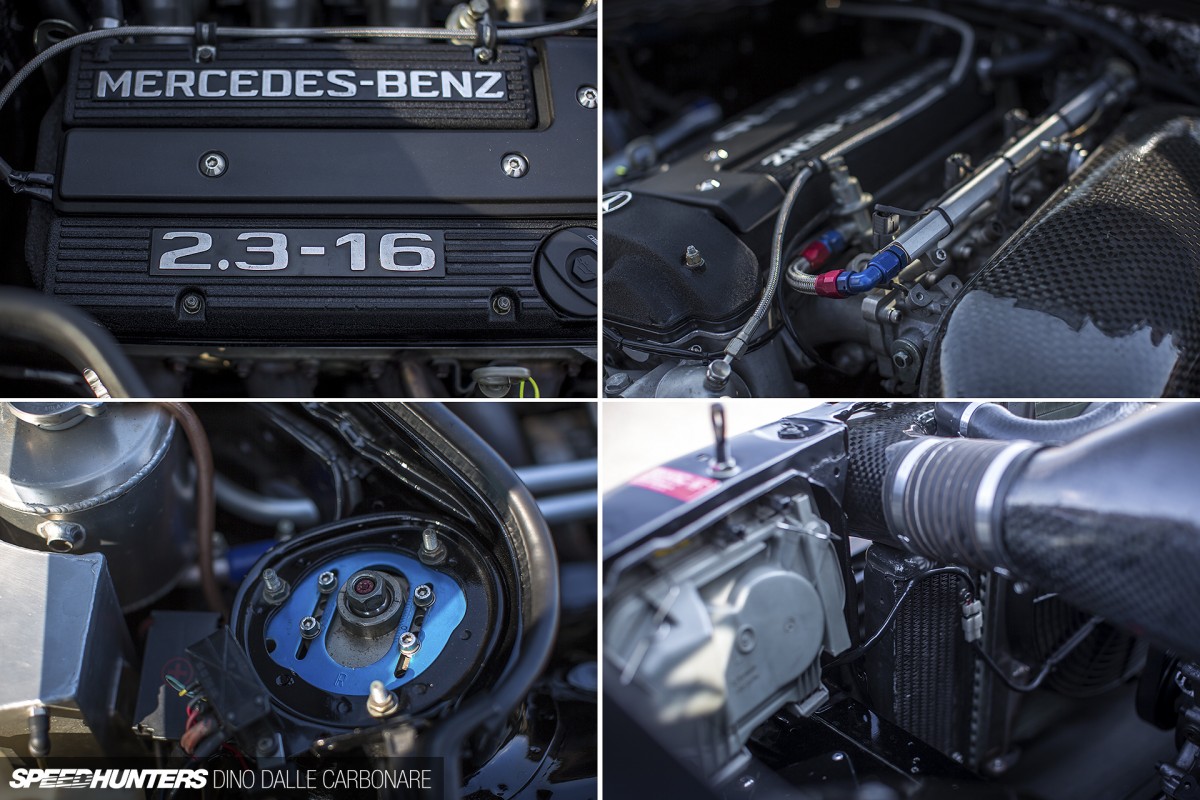 The Cosworth twin cam head that made these engines so special was ported and polished to increase flow and then mated to quad throttle bodies borrowed from a Toyota AE101-spec 4A-GE. Hey, whatever works, right? On the exhaust side the stock exhaust manifold has been retained, but a one-off exhaust system has been fabricated to get the best balance between intake and exhaust pressure. Fuel injection was revised too with a more modern rail and line layout, while cooling was taken care of with a thin, vertically-mounted oil cooler positioned right alongside the stock radiator.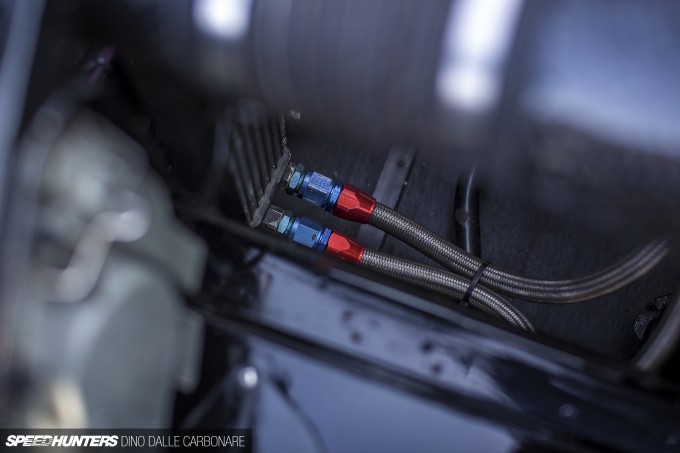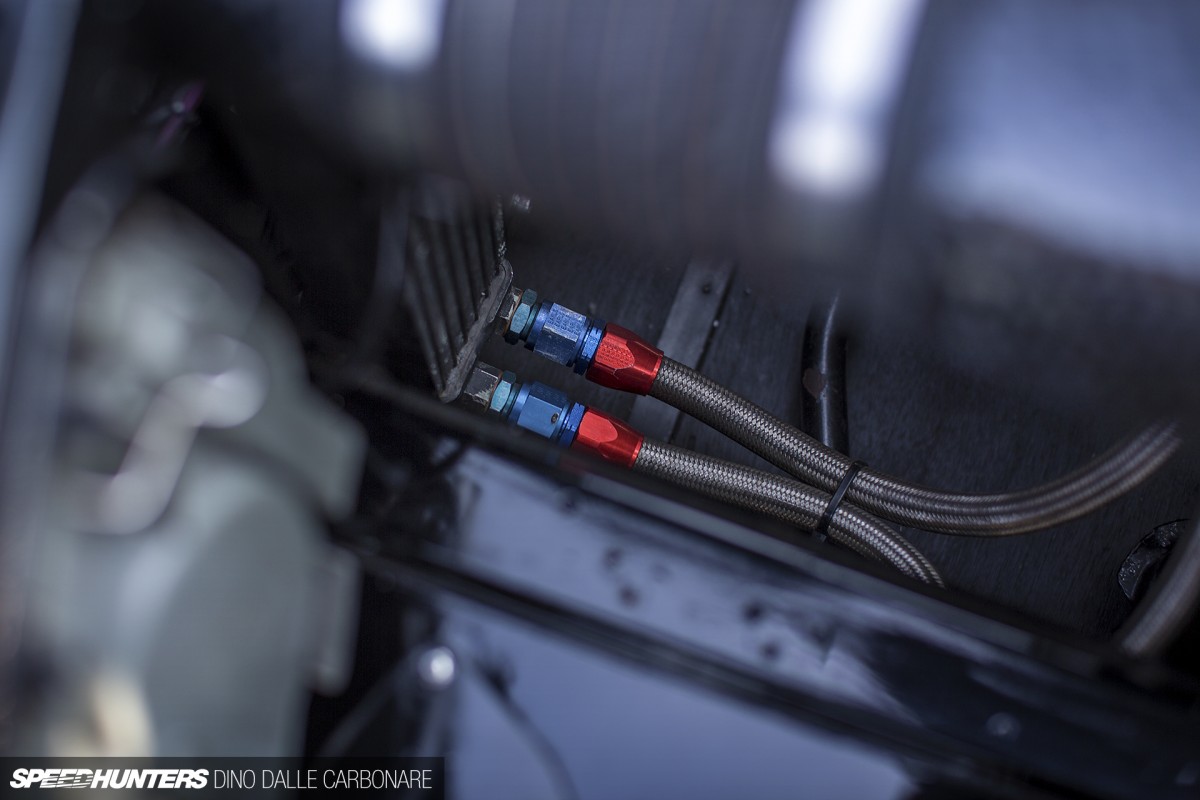 You can see the braided oil lines that run to and from it, as well as the wooden aero under-tray beneath the engine.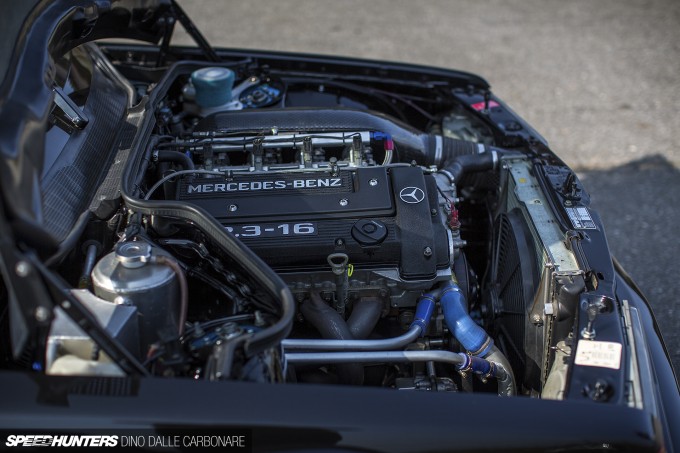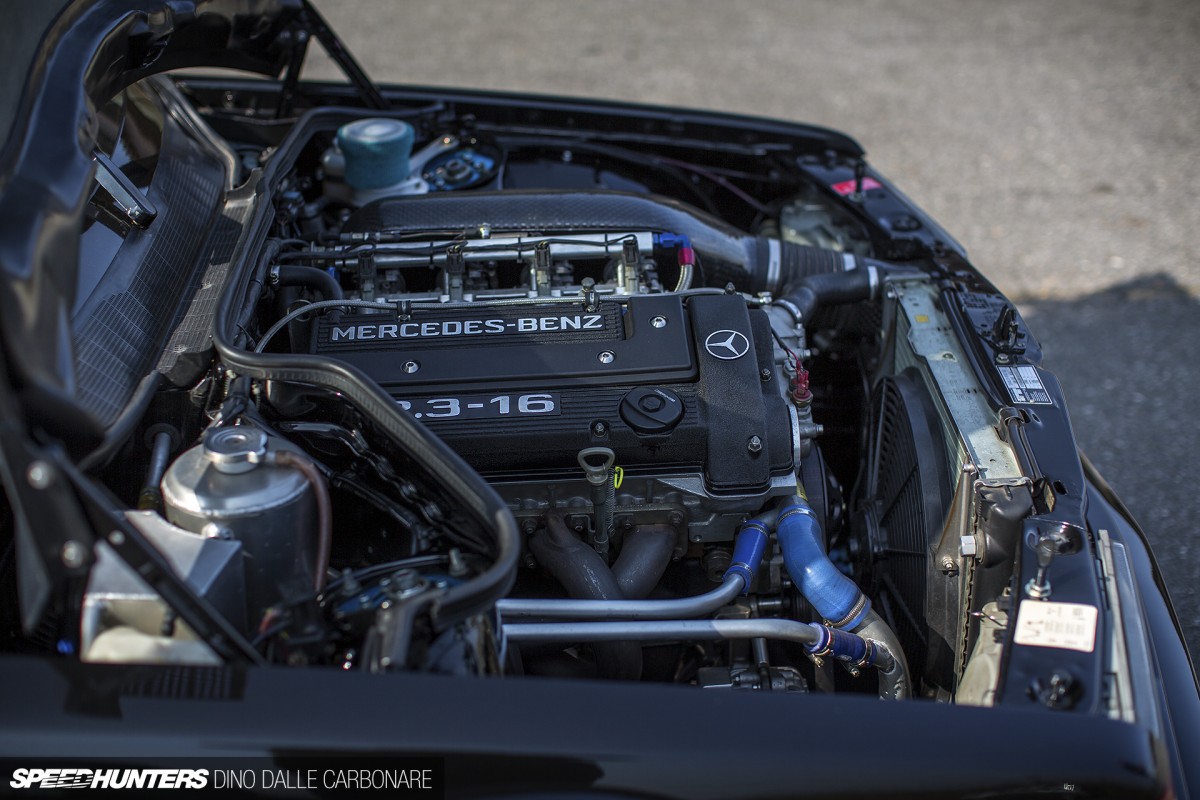 It was when the engine was out for the rebuild that the chassis was treated to the refresh, and that extended to a clean up and a new coat of paint inside the engine bay too.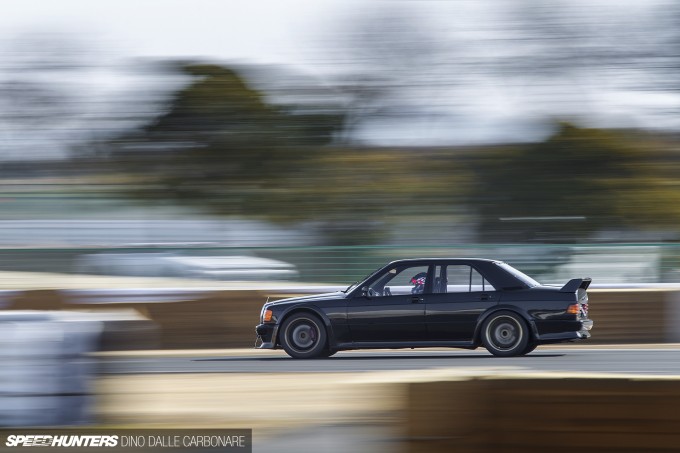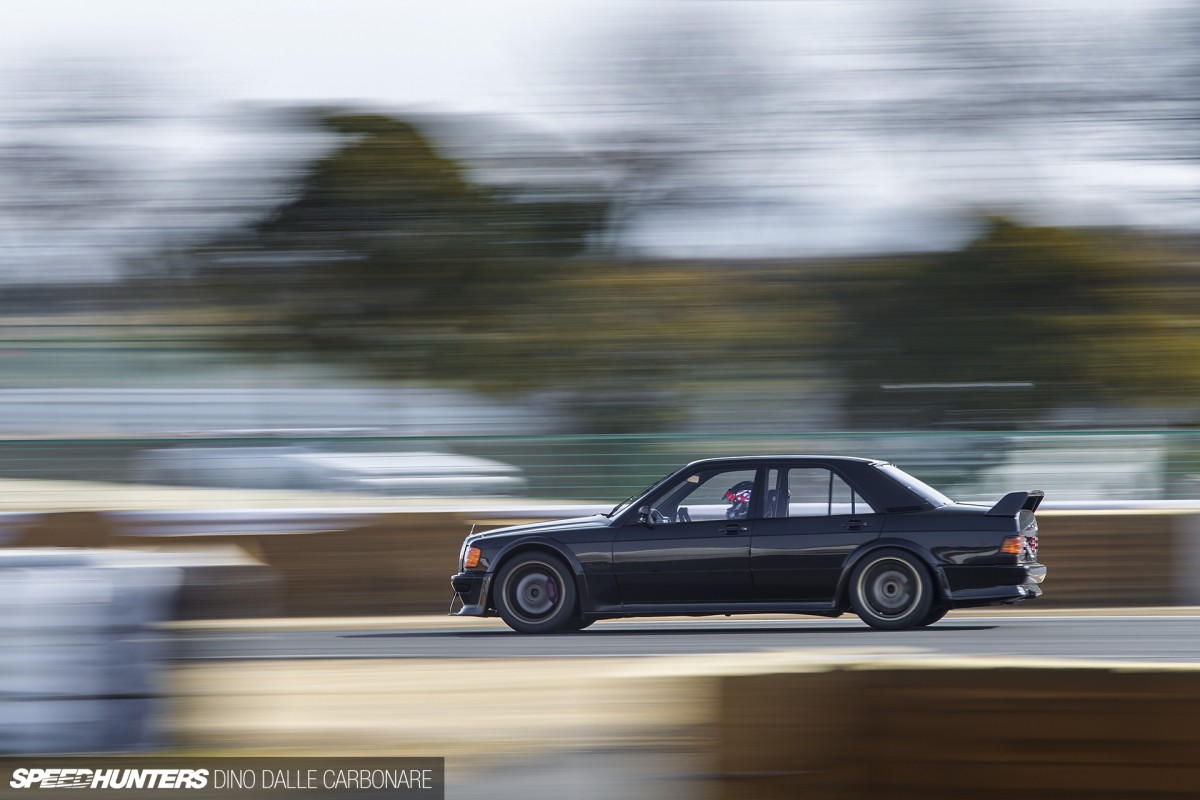 The larger capacity engine delivers quite a lot more power, not to mention response. And oh yeah – the sound is pretty damn special too!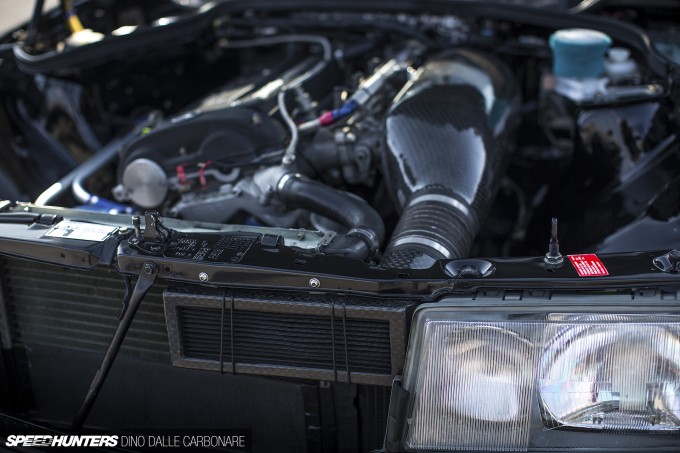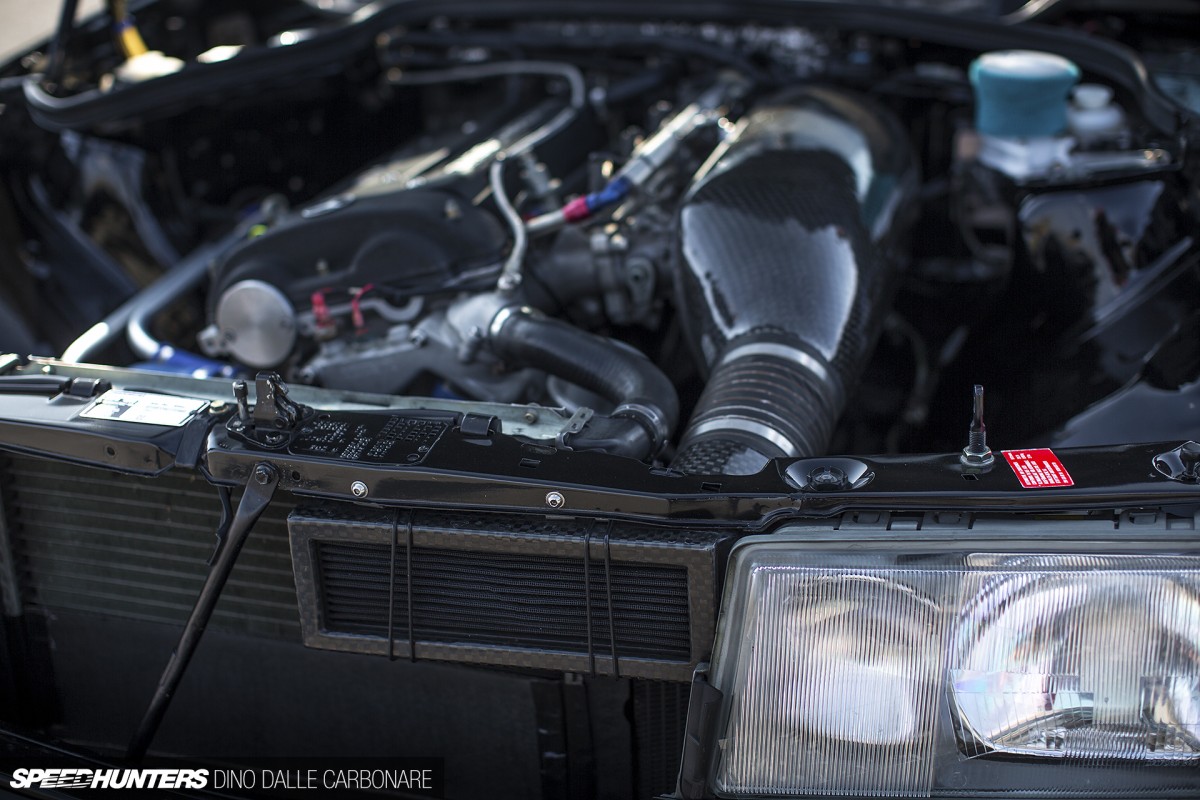 Matsumoto-san wasn't about to let his freshly-built motor breathe hot air through a set of velocity stacks without any sort of filtering, so he built his own carbon fiber intake plenum. The chamber covers the four throttle bodies and connects down to a little grille-mounted air cleaner element, again housed in a carbon fiber box. I'd consider this a ram-air type system, and it helps greatly in supplying the engine with a constant stream of cool air. The driveline hasn't been forgotten either and received an E30 M3 clutch – the two cars shared the same 5-speed Getrag transmission with dog-leg first – as well as a Toyota 7.5-inch rear diff running a Cusco 2-way LSD with a 3.5:1 final to bring the gear ratios closer together.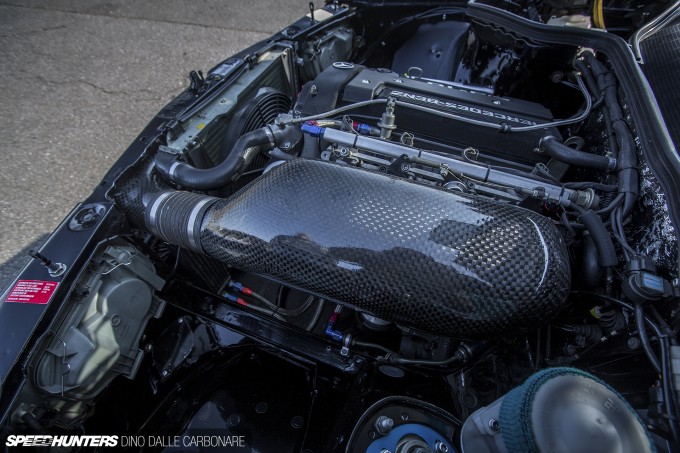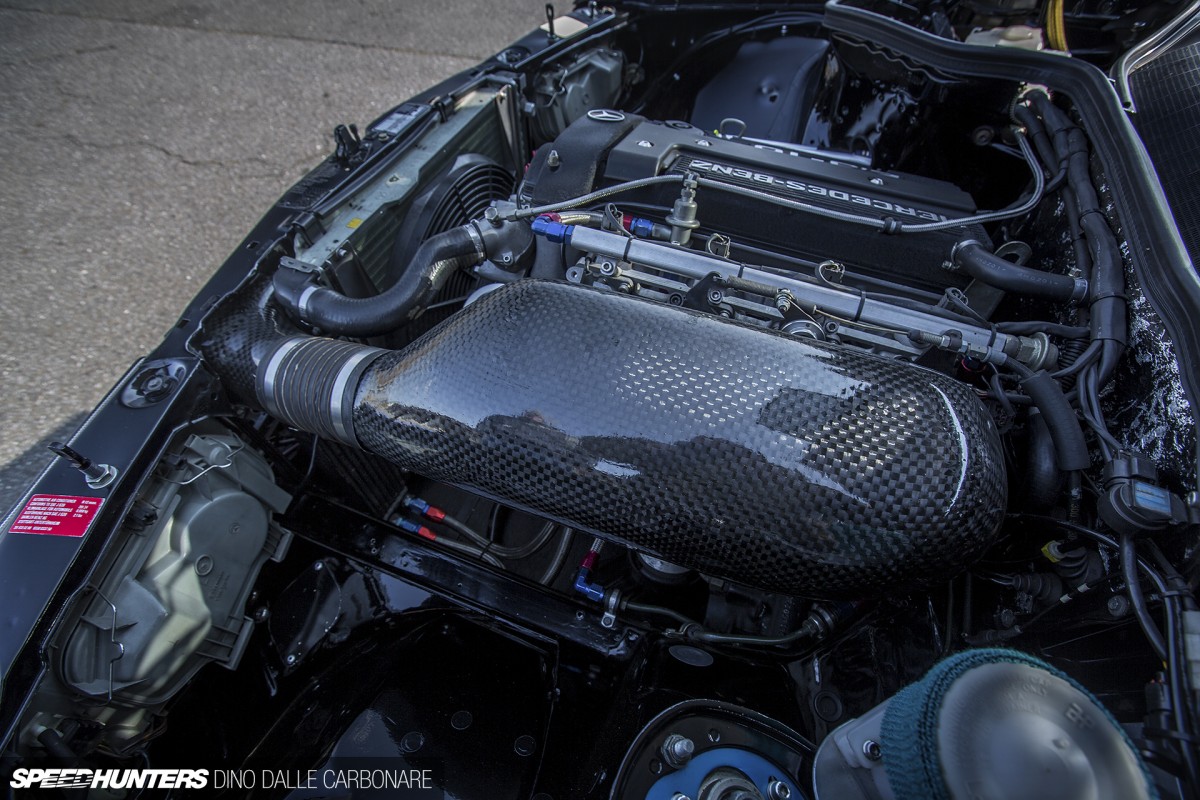 In stock configuration the 2.3-litre motor made 185hp. which for 1986 wasn't too shabby. Now, with its 2.5-litre bottom end, plus a host of custom touches and modern fixes, it's able to deliver 250hp thanks to the custom-mapped ECU that Motor Racing Clever cleverly programmed. Okay, I'll stop it!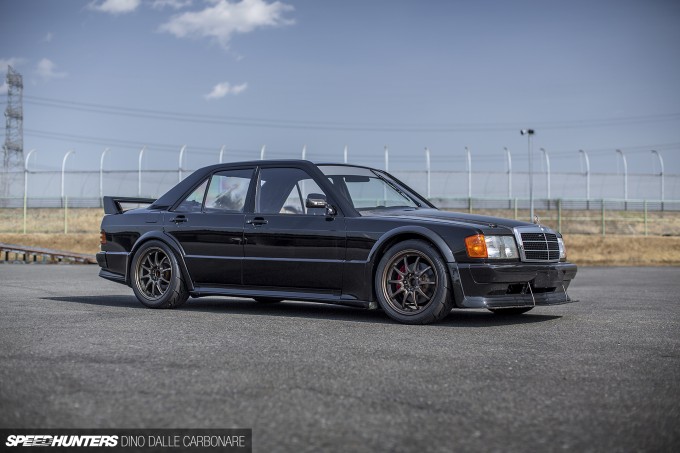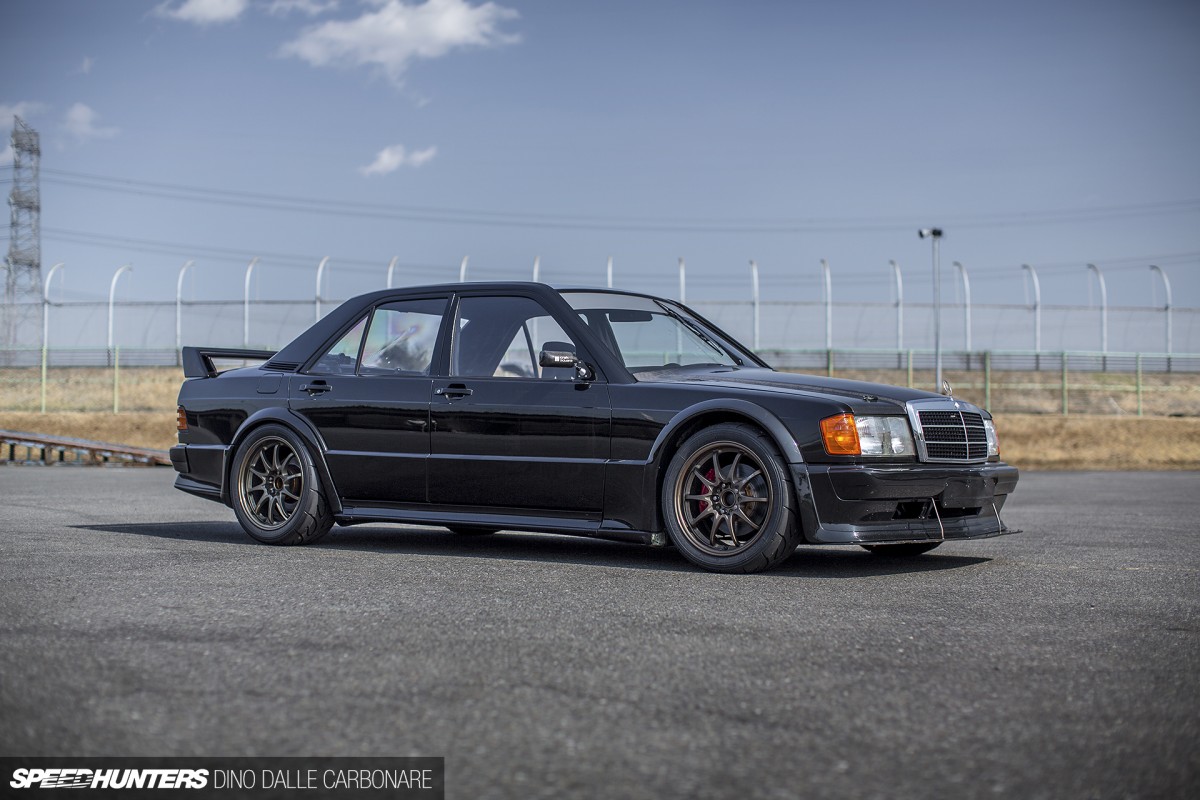 In all of its entirety, this 190E makes for one of the freshest cars I've come across in Japan, in a very long time.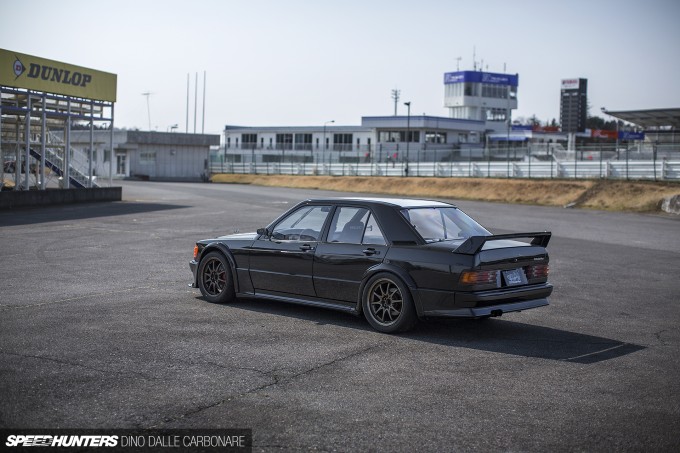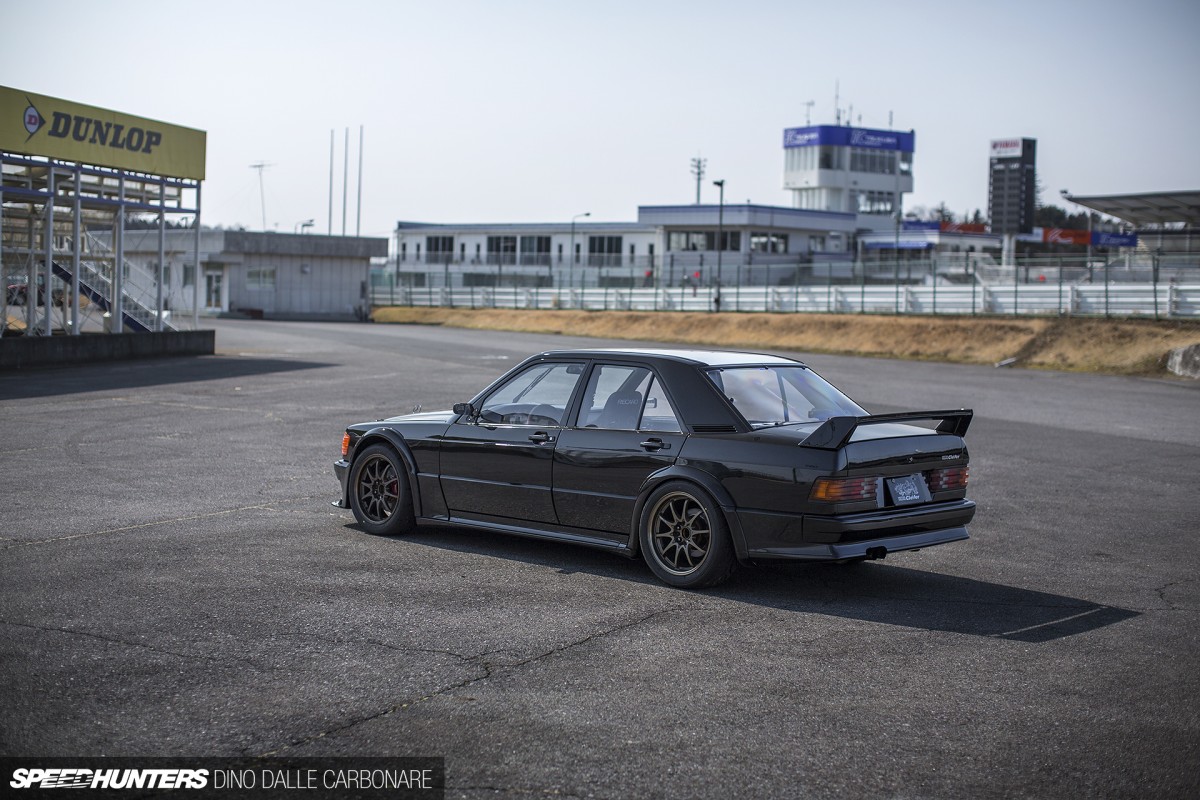 It's not built to impress, and it's not built to get likes on Facebook and Instagram. It's simply all been put together to cut quick lap times.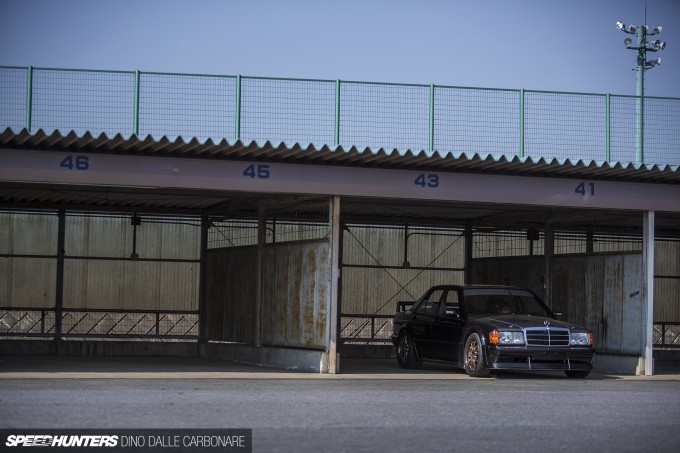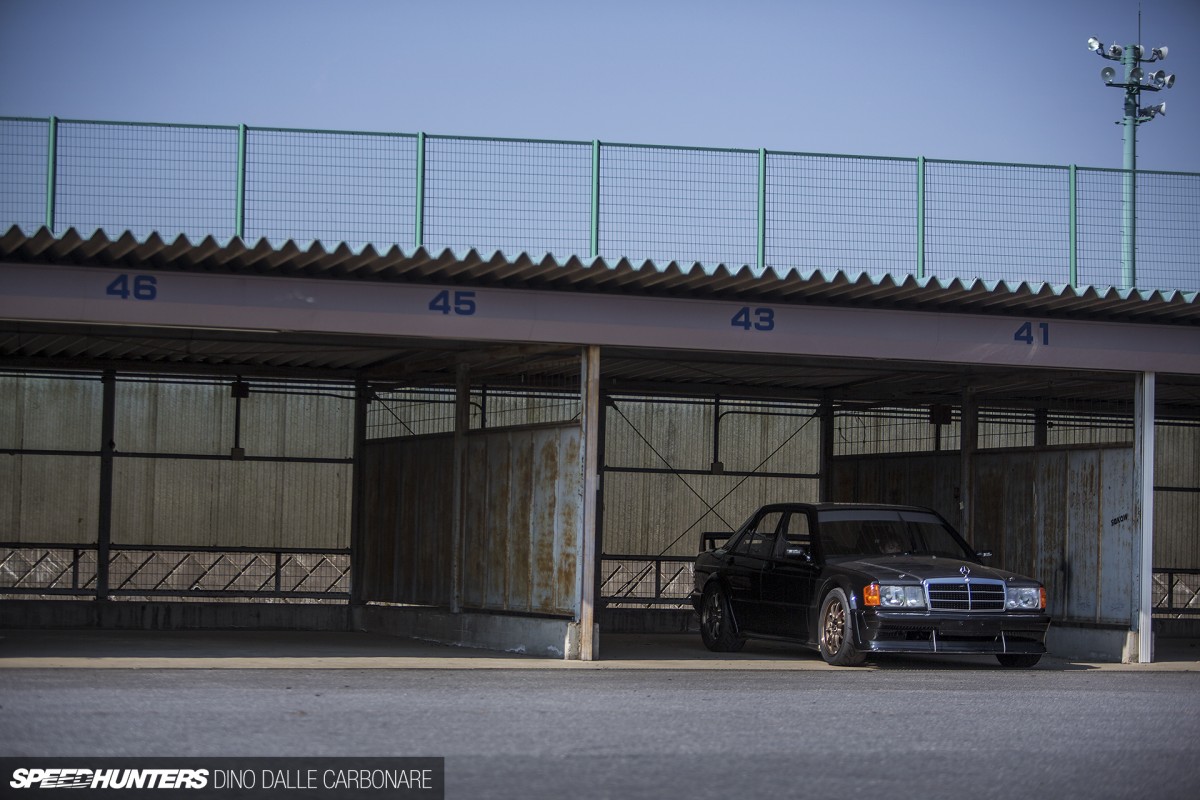 Currently Matsumoto has been able to extract a 1'03″007 at Tsukuba – which he did that morning at Battle Evome. He's still not entirely come to grips with the new setup, but he has plenty of time to get used to the car and will no doubt have a ton of fun while doing so.
I hope you enjoyed checking his car out with me, but now it's time to go off on an internet search to see just how much these 190Es go for these days… Long live the '80s!
Dino Dalle Carbonare
Instagram: speedhunters_dino
dino@speedhunters.com
Clever Mercedes-Benz 190E 2.3-16
Numbers
Max Power: 250hp, Weight: 1,020kg, Tsukuba Best Lap: 1'03″007
Engine
Mercedes-Benz 2.5-litre block, Carillo one-off H-section connecting rods, Nissan VQ35DE pistons, modified oil jets, custom-ported Cosworth DOHC 16V head, Toyota AE0101 4A-GE throttle bodies, one-off carbon fiber intake plenum, one-off carbon fiber ram-air airbox, stock exhaust manifold, one-off custom exhaust system, HKS F-CON V Pro ECU
Driveline
Factory 5-speed Getrag transmission, E30 M3 Evolution clutch, Toyota 7.5-inch diff housing, Cusco 2-way LSD, 3.5:1 final
Suspension/Brakes
One-off coilover front dampers using TRD 5-step adjustable dampers & 10kg/mm Swift springs, front adjustable pillow upper mounts, Koni Racing Formula rear dampers mounted on pillow balls, Eibach 1300lb rear springs, E500 calipers/rotors
Wheels/Tires
RAYS Volk Racing CE28N 17×8.5-inch +30 (front), 17×9-inch +22 (rear), Yokohama Advan A050 225/45R17 (front), 245/40R17 (rear)
Exterior
190E Evo I aero kit, Craft Square carbon mirrors, carbon bonnet, dry carbon trunk lid, Lexan windows
Interior
Fully stripped out & repainted interior, Recaro SPG bucket seat, Sabelt 6-point harness, SARD steering wheel, Stack dash unit, stripped center console & transmission panel, Odyssey battery mounted diagonally across from driver for weight balance
More Mercedes-Benz stories on Speedhunters
More Cosworth stories on Speedhunters