Lights, Camera, Action
You don't go to a massive international car show like Geneva to look at shopping cars, or whether the new Opel has more cup holders. Or at least, you shouldn't – not when there's so much future tech on display. The halls are awash with colour and light, accompanied with the clash of competing soundscapes emanating from the numerous stands.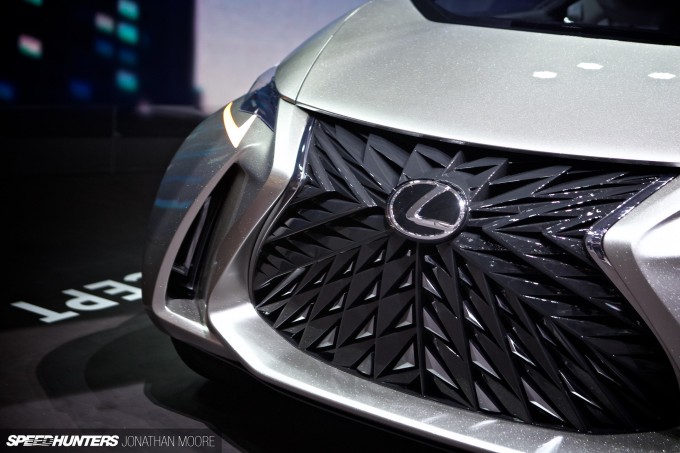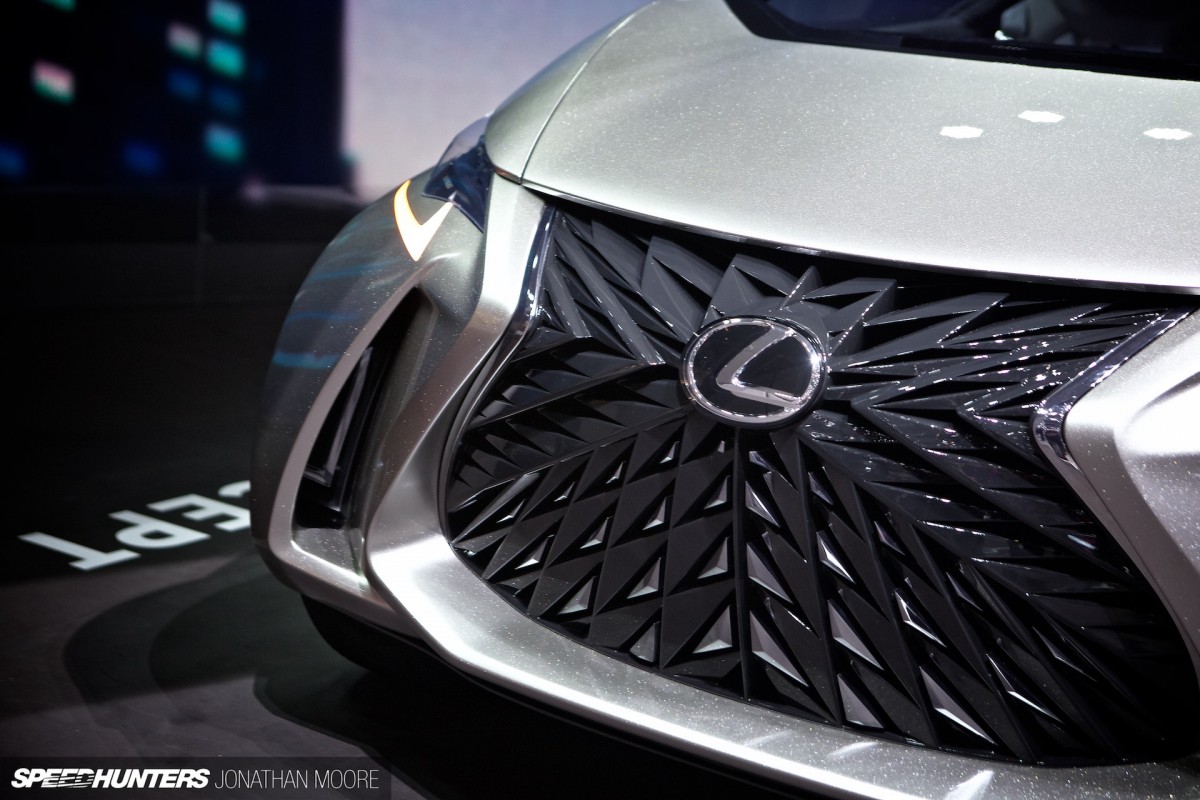 As ever, there's the argument over whether concepts are relevant, whether technology demos can be so out there that they don't really have any relation to what's on the street. But then this side of the show is always about showing off what could be happening in five or even 10 years time.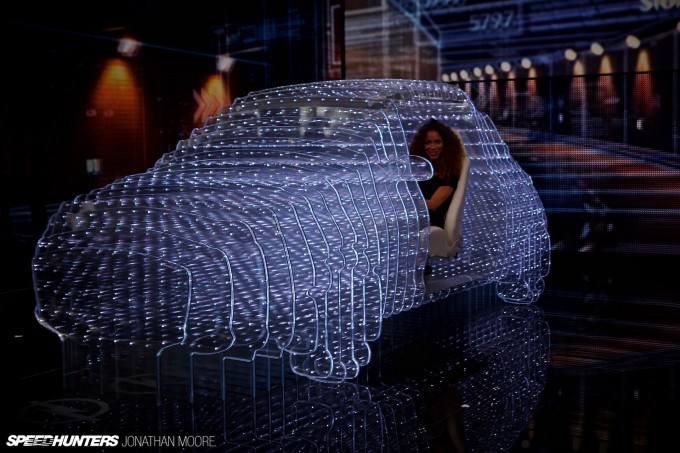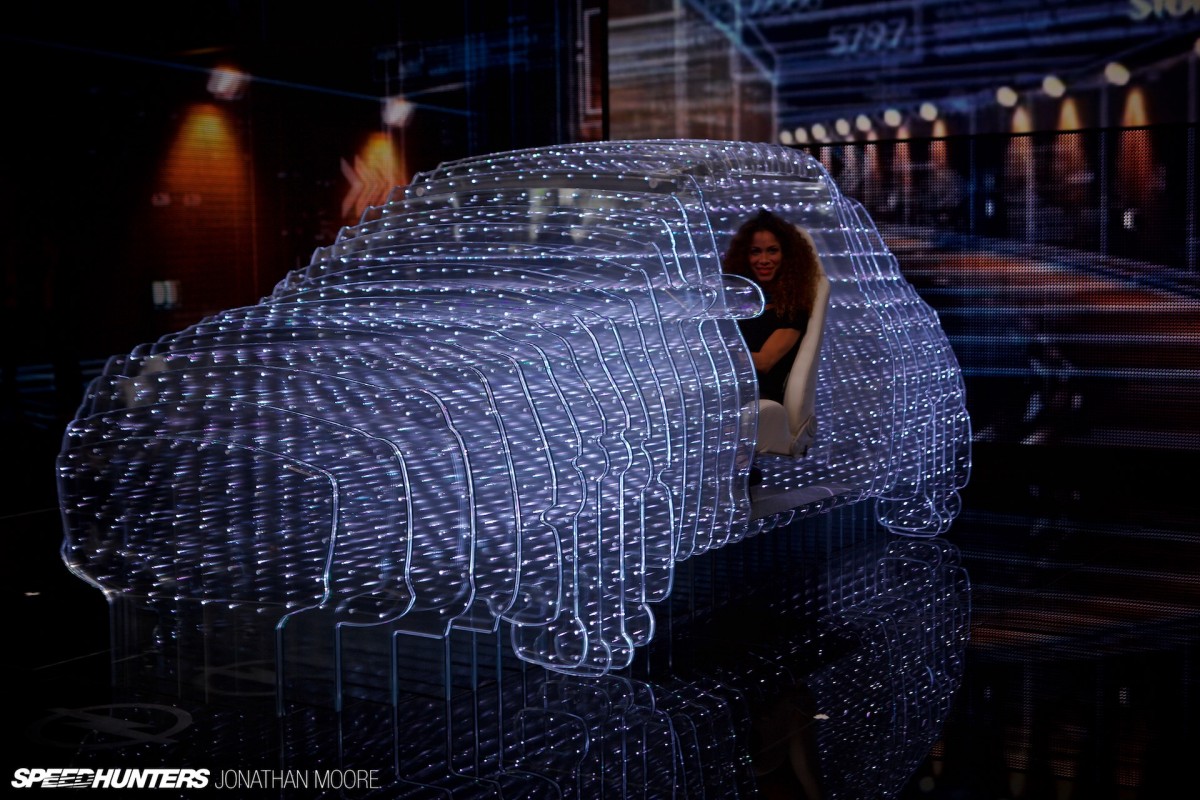 At times the Geneva Motor Show can seem like a techno playground, with huge ostentatious displays or superfluous eye candy – and that's fine with me. I want to see more than just a line-up of the expected from the mainstream.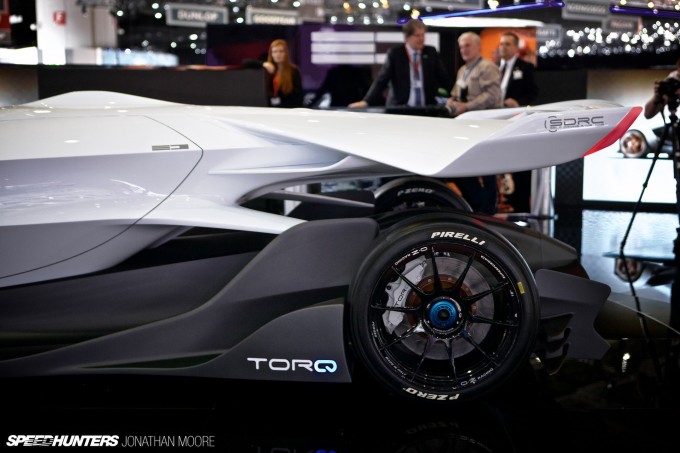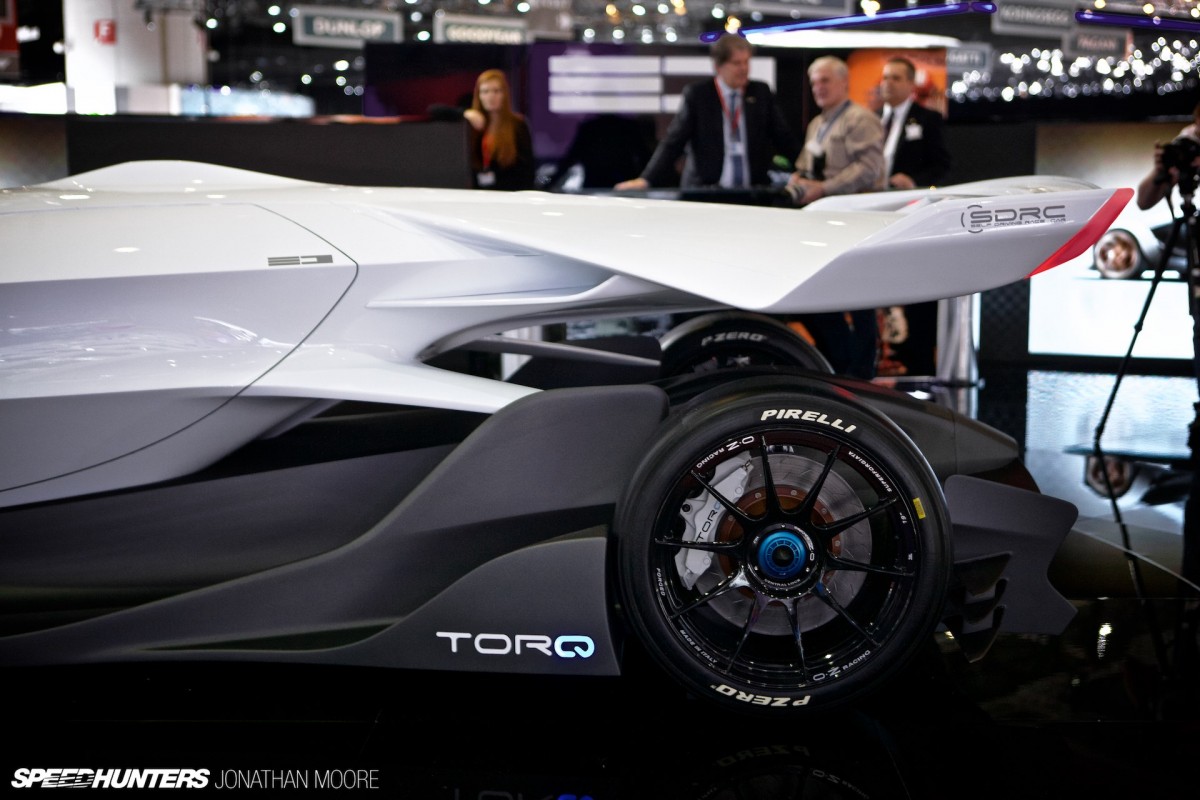 It doesn't even matter if the cars on show are completely crazy. You have to push boundaries to find new visions.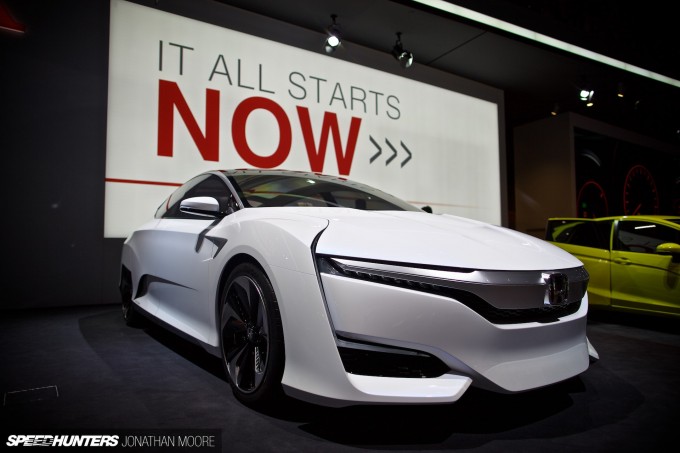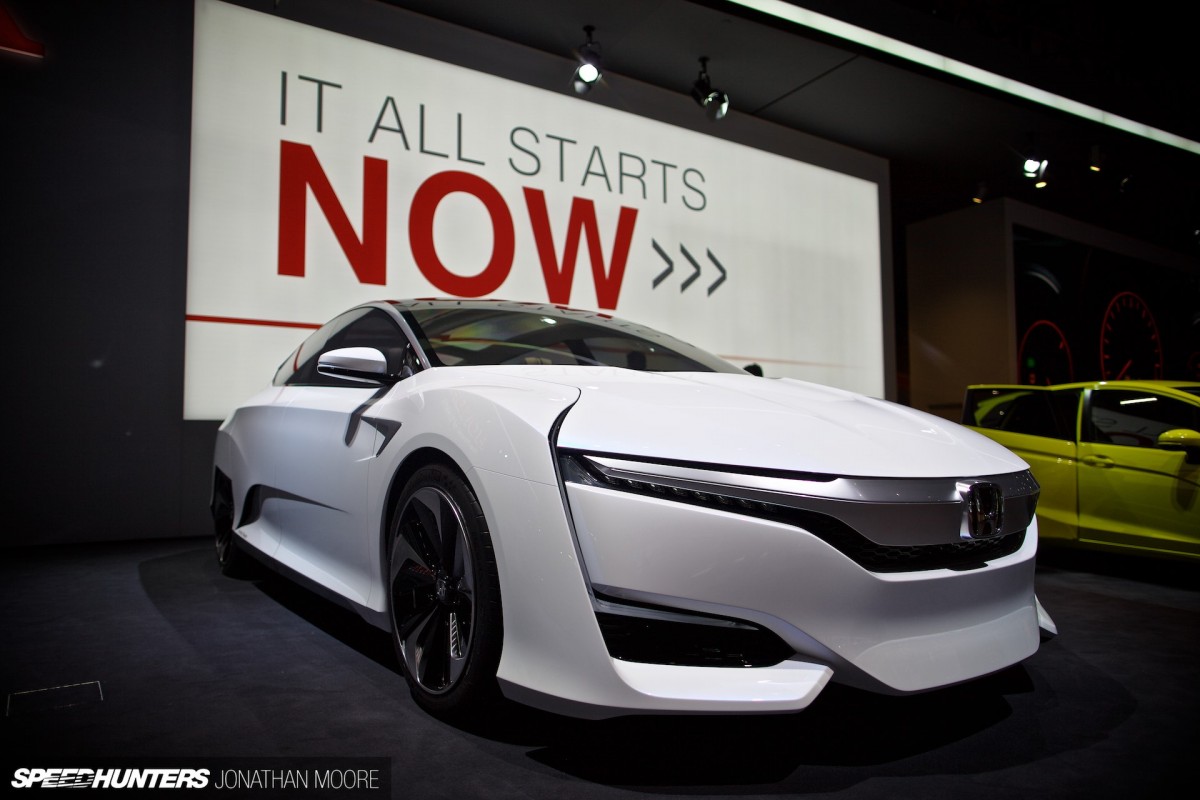 It's all about channelling future vision, showing what's possible, whether or not it's actually achievable – or even desirable.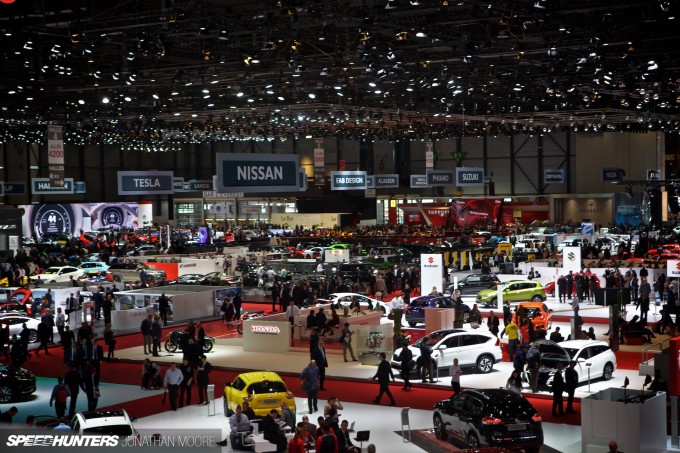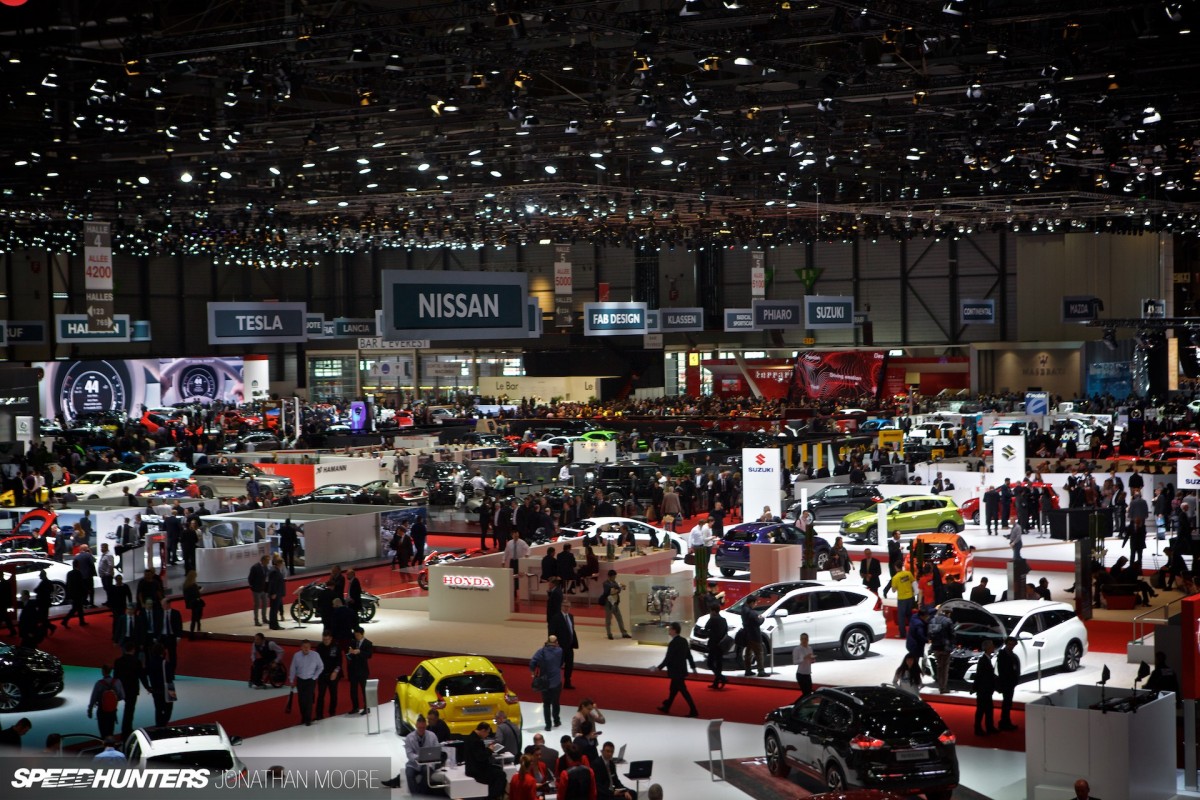 That for me is the exciting thing about Geneva, once you've ticked the boxes on your supercar bingo card. Because on a macro level you could always argue it's the same old thing year after year: massive halls, the same stand designs and overall layout, the multitude attendees like ants as they ebb and flow through the halls, finding new pathways around the course.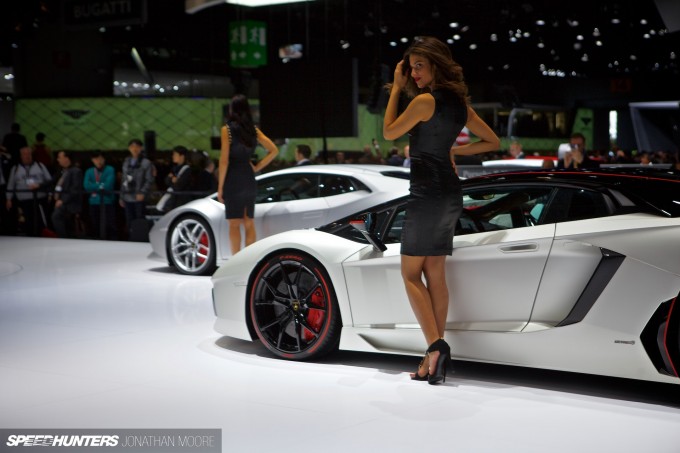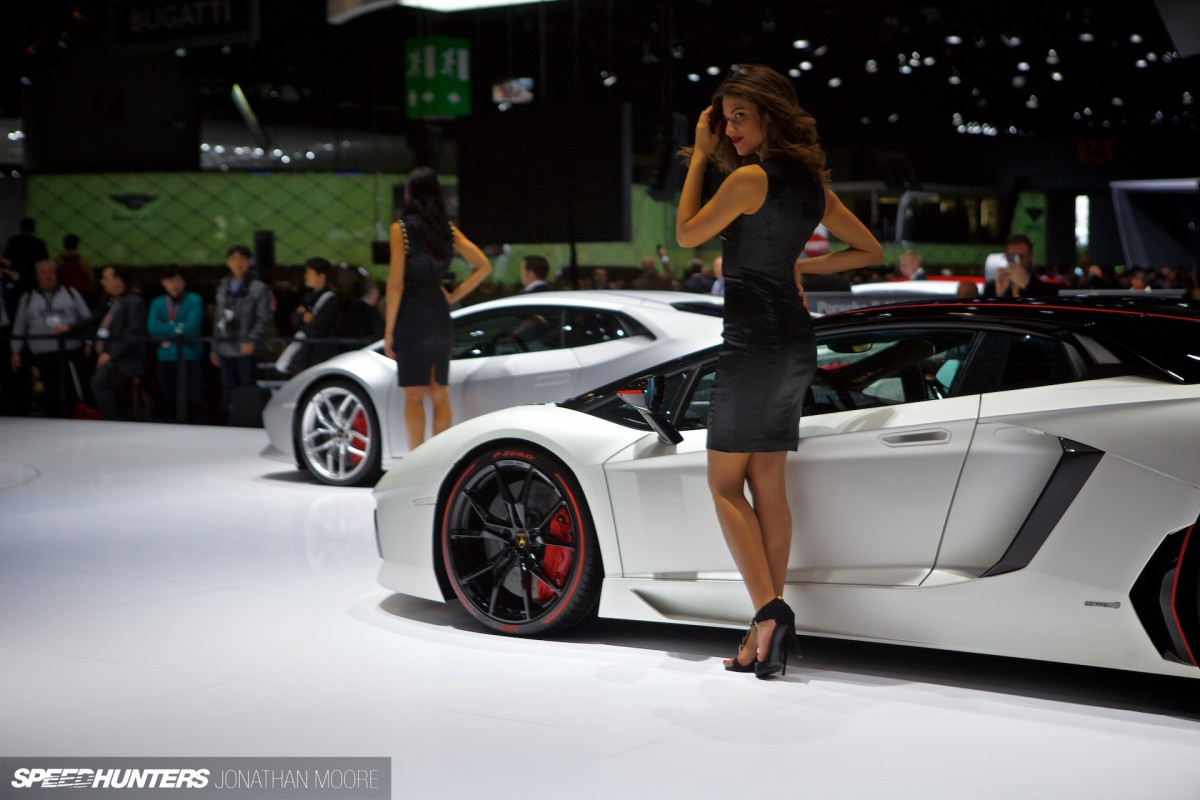 Other things similarly would fool you into thinking nothing's really changed over the years, with the squadrons of promo girls still used on rotation duty on many stands.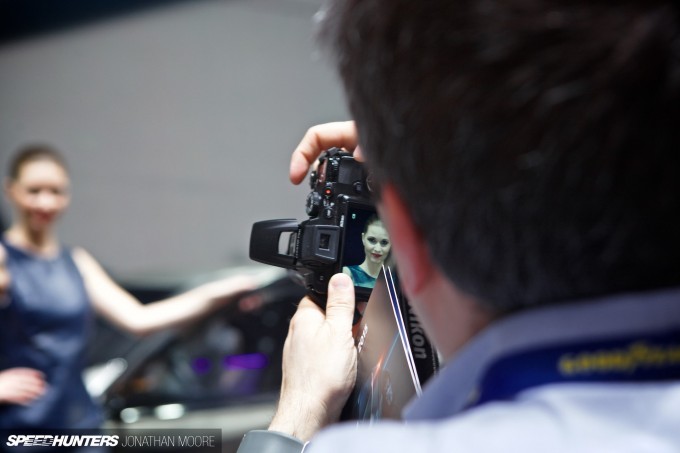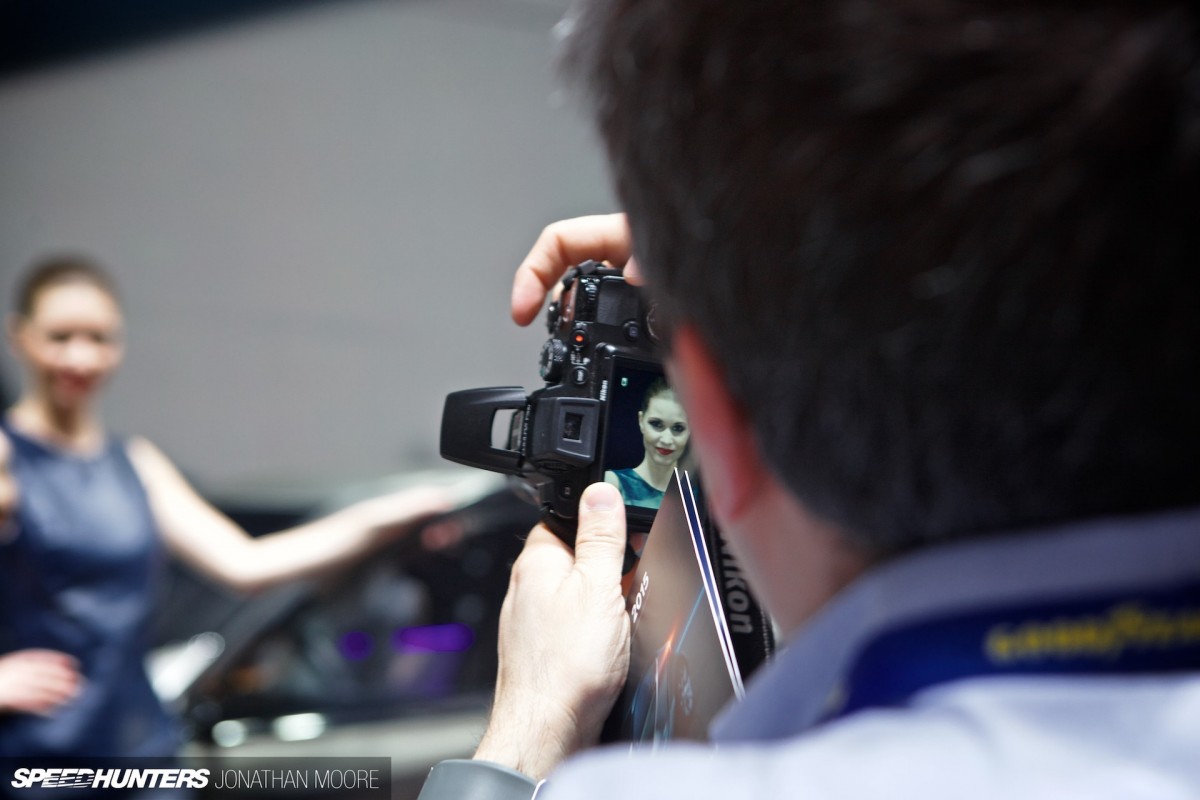 Do people really go to car shows to snap pictures of girls? Maybe it's one of the few still acceptable places for that kind of anachronism.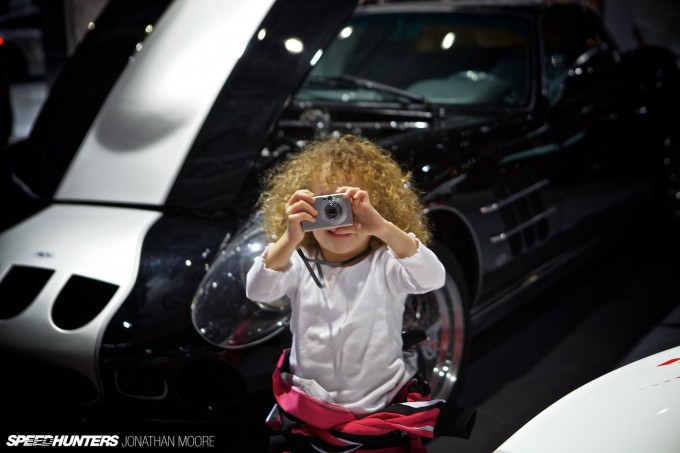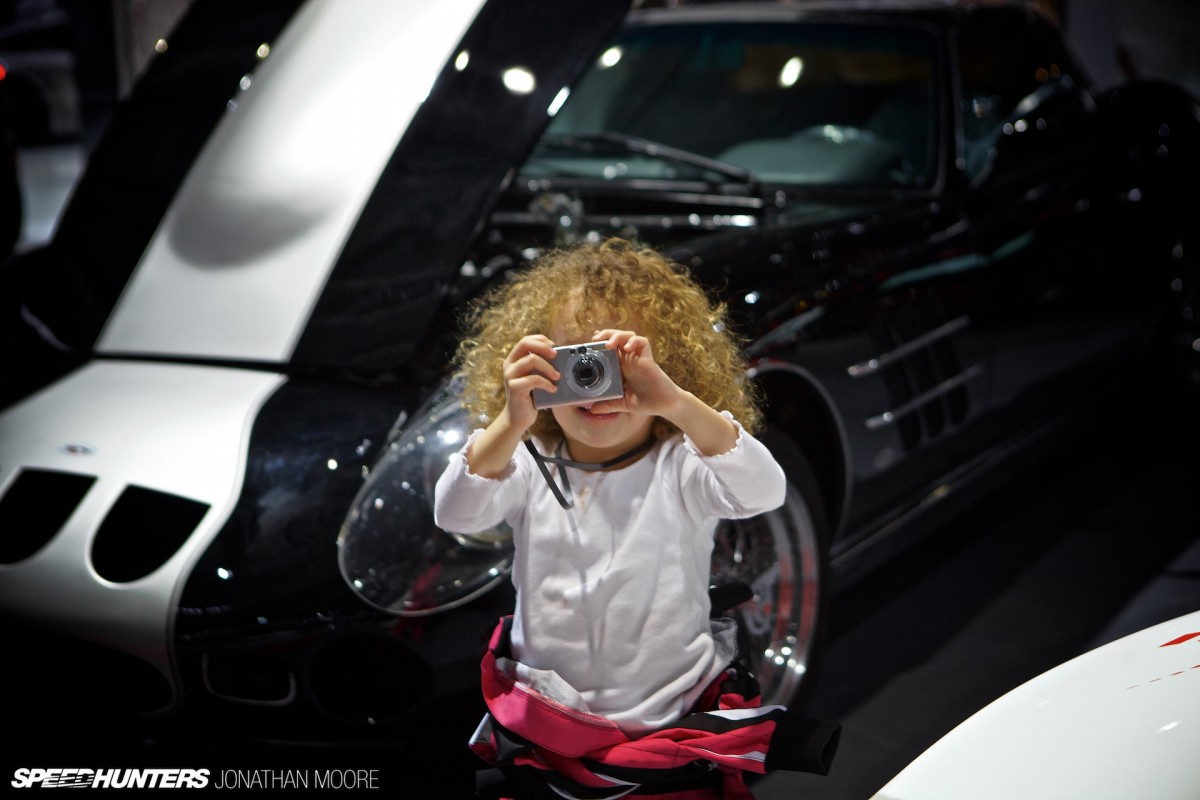 Me, I was happy to be on the receiving end of a lens for once, from exactly the kind of visitor I like to see at shows: the next generation of automotive fan. This little girl was merrily snapping her way around the Sbarro stand, wide-eyed and gleeful, overwhelmed by the visuals without being concerned with the whys.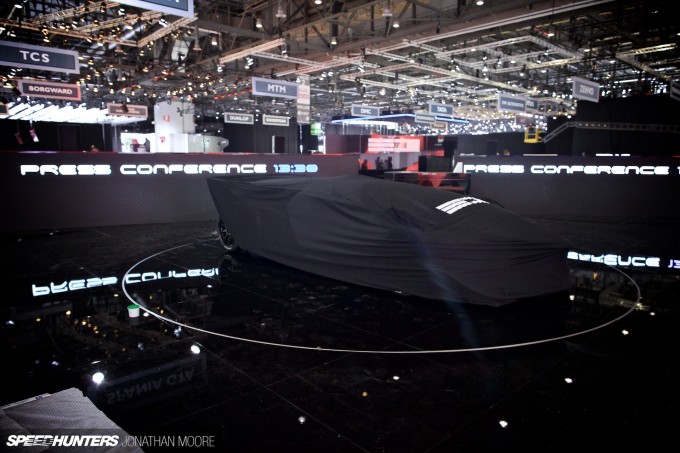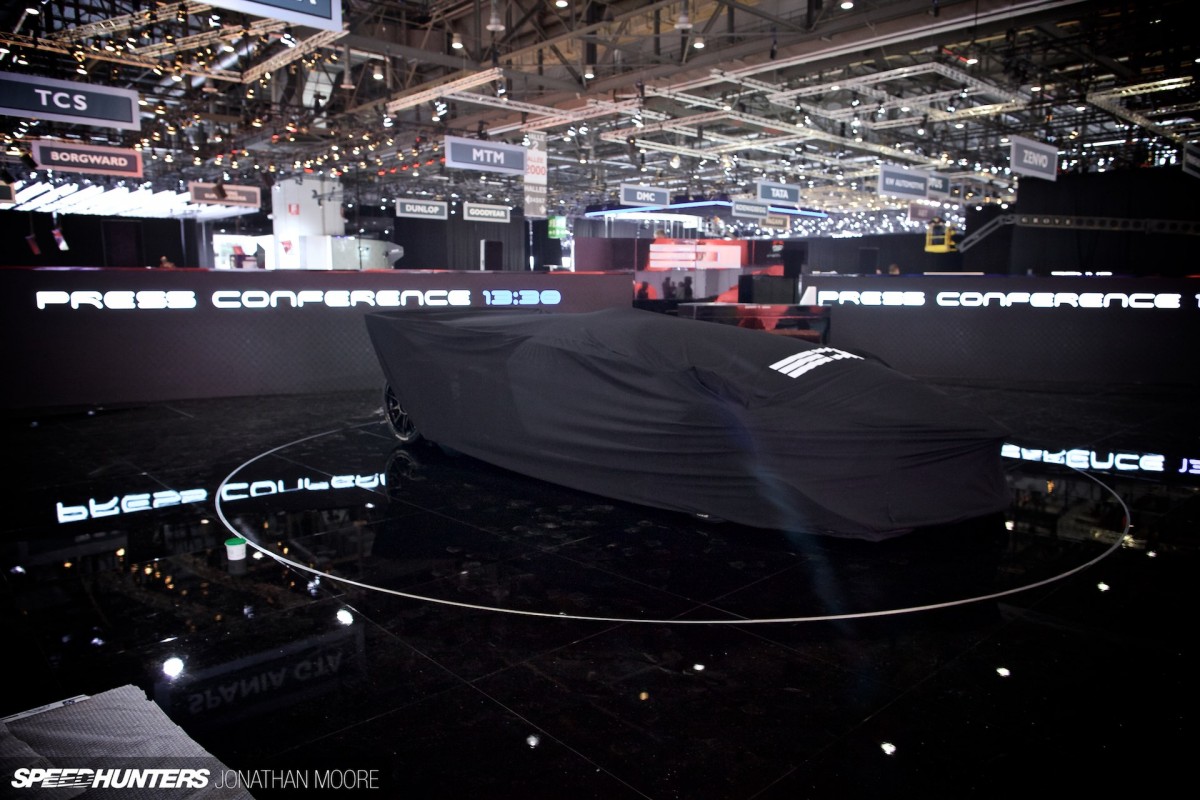 The whys can sometimes be as confusing as the whats, though the surprise that the latter can deliver again help make the show. The drapes over many cars on the pre-opening day give clear visual cues to what lies underneath, especially from the more well known brands. Others just leave you wondering…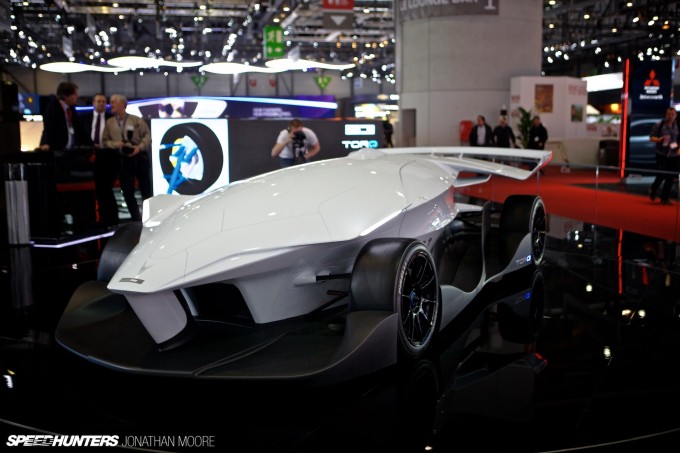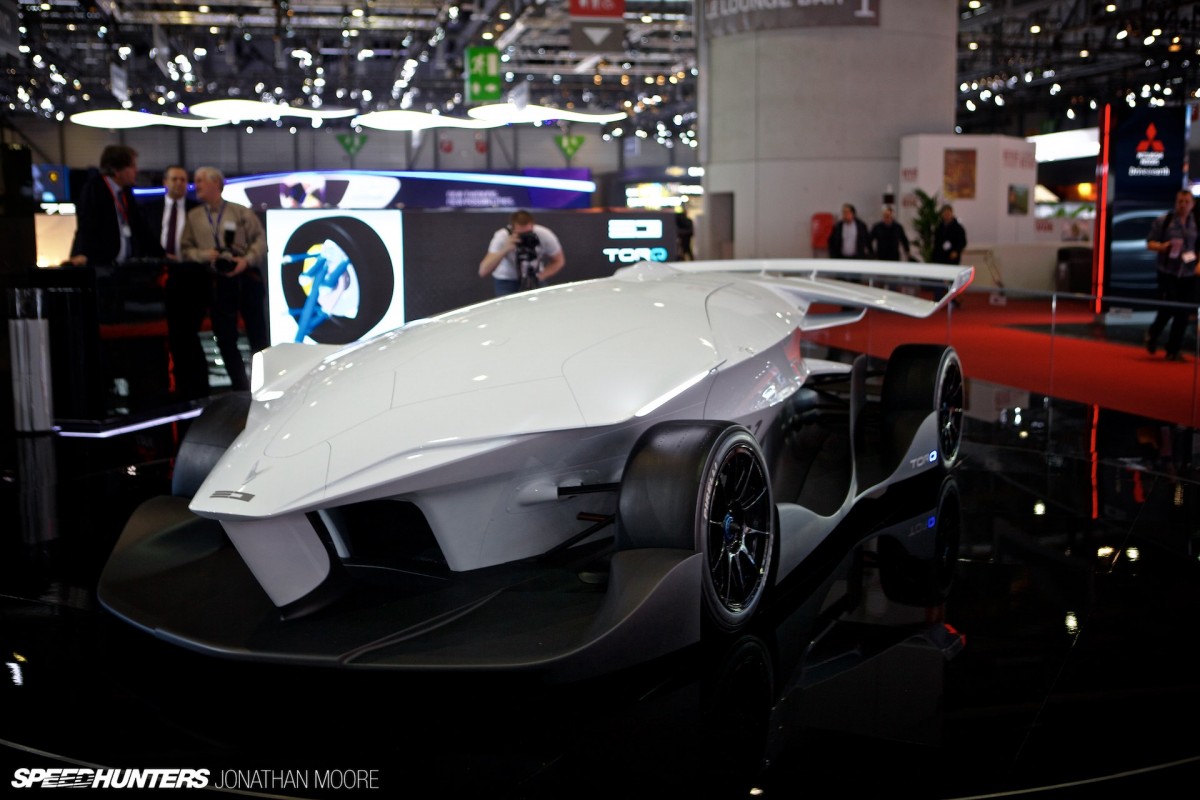 It's then like Christmas morning, as this kind of toy gets unwrapped. This was the ED Design TORQ racer, a 205mph Le Mans concept that has no windows. It's more than just a design study though: the designers hope to get the car into the Garage 56 invitational slot at the 24 Hours in the near future. The car does have a steering wheel, but the driver sits inside a fully immersive display pod, with external cameras providing a 360-degree view of the track around the car. They're trying to use a natural voice command system to help control what would be a semi-autonomous racer and are – seriously – working on whether telepathic-style links could be used as well. Mind-blowing, literally!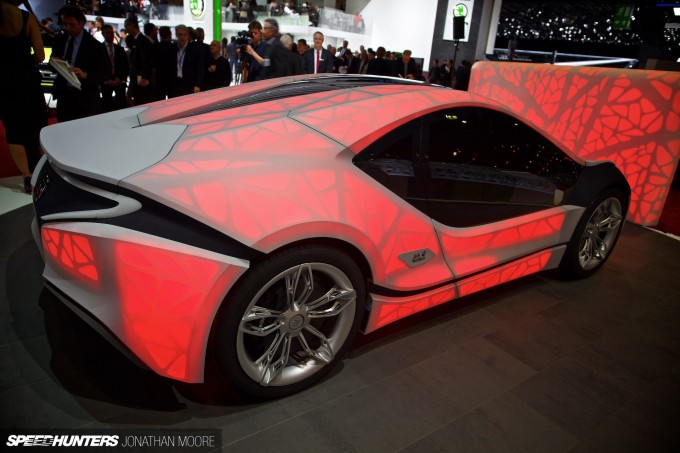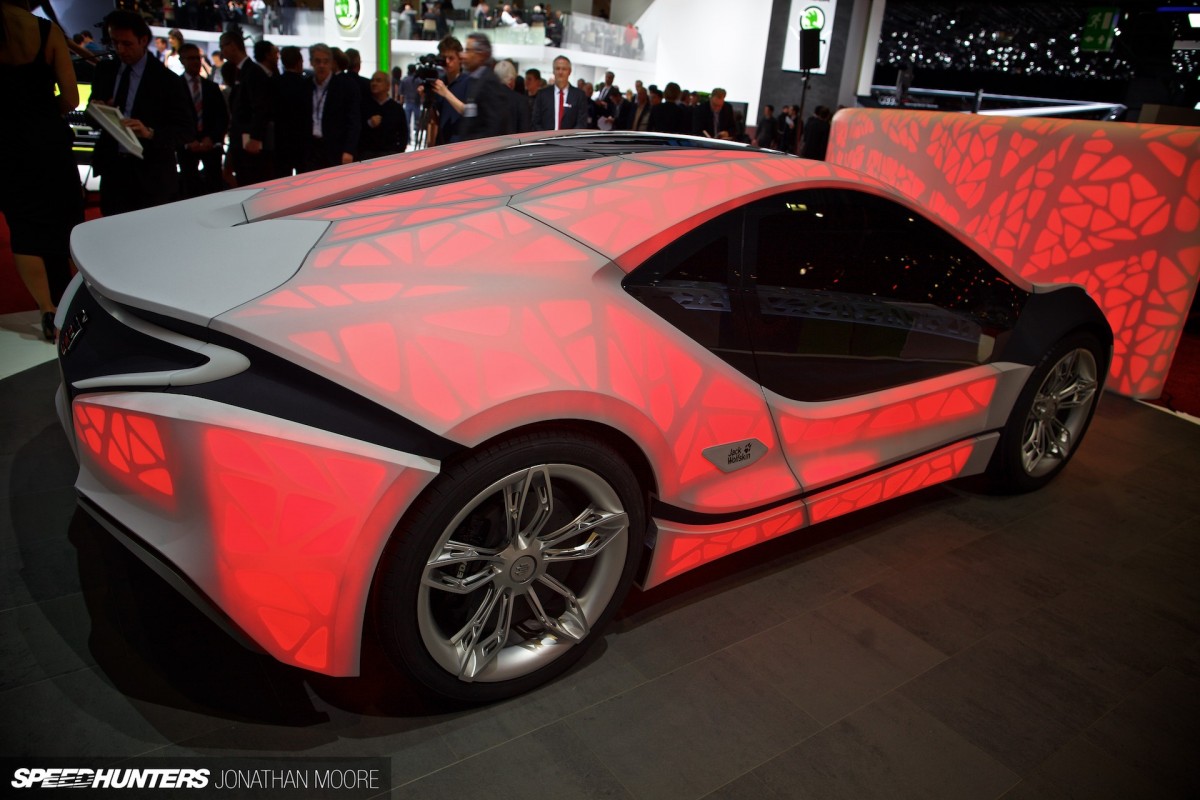 Technology demonstrations and concepts like this seem to be the stuff of sci-fi, but here they are nonetheless. It's now accepted that there will be autonomous cars sooner rather than later. So, why not make them awesome? Edag served up a beautifully skeletal 3D-printed chassis in 2014 and this year delivered this spectacular, 'bionically inspired' Light Cocoon concept.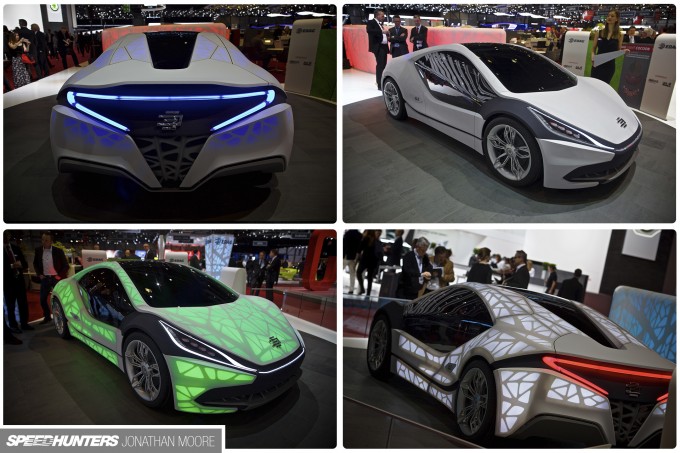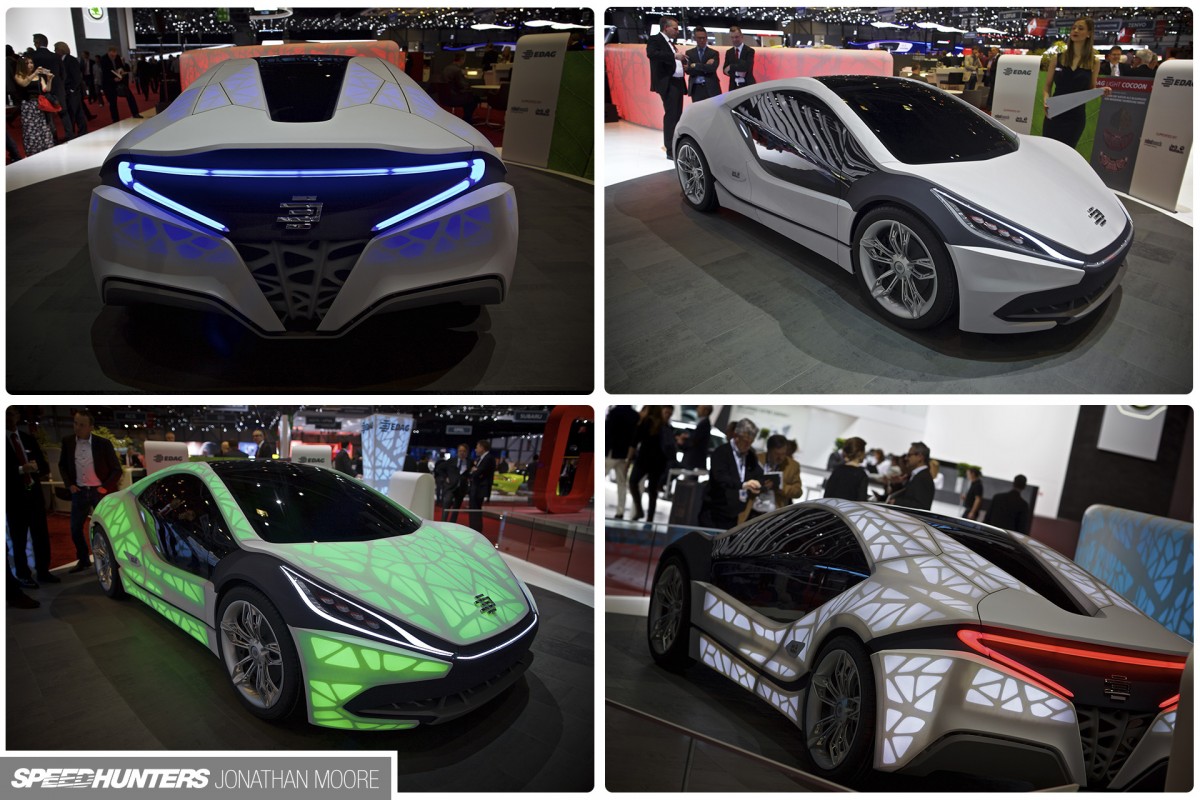 And then every time I passed by, they changed the car… No hang on. Call me easily pleased, but show me something that changes colour and I'm instantly sold. Edag have stretched Texapore Softshell 02+ fabric over the shell, with ambient lighting installed beneath the skin. But the shifting, chameleon LEDs weren't its only trick…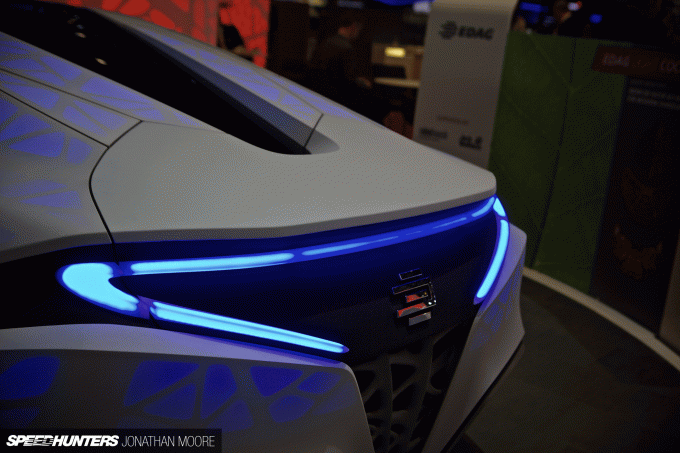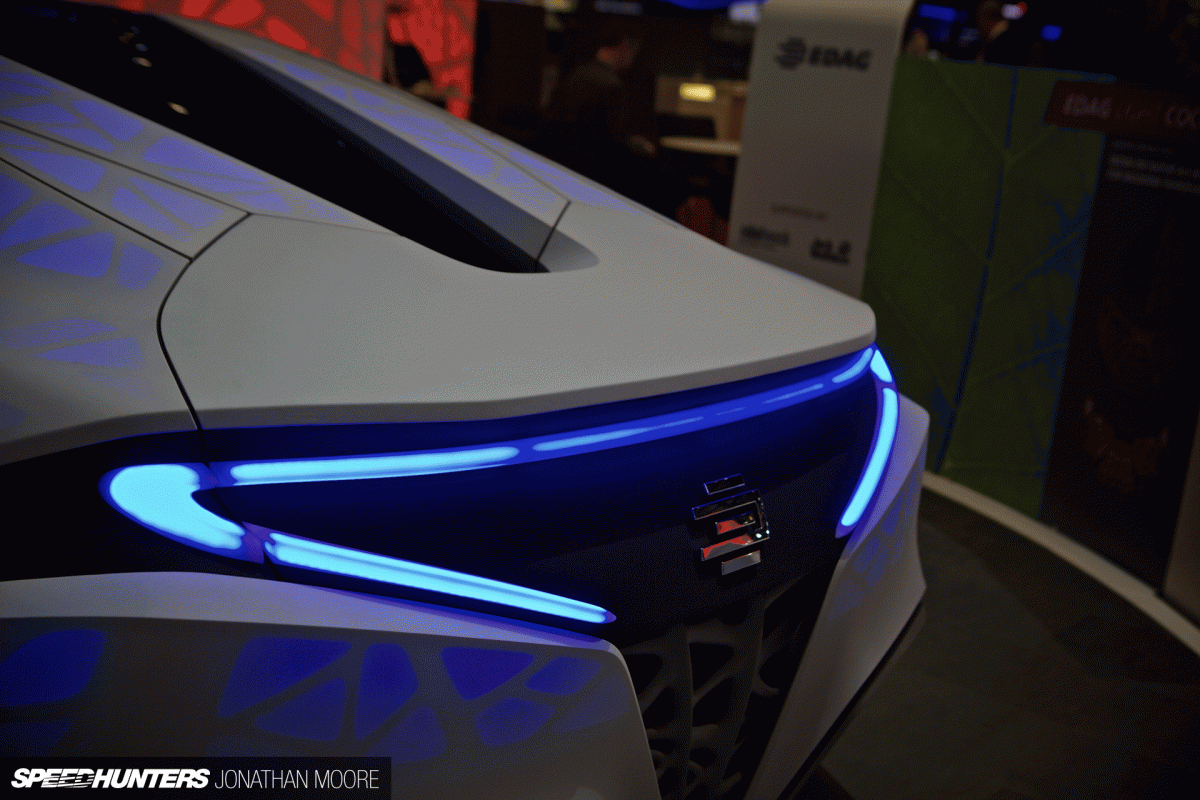 At the rear, the rear panel of the car organically deploys, stretching the fabric and arcing up into a little duck tail spoiler. Now that is active aero!
Different Schools Of Thought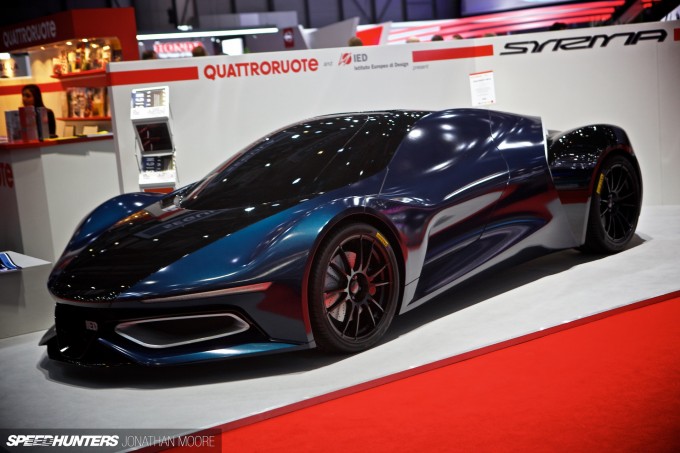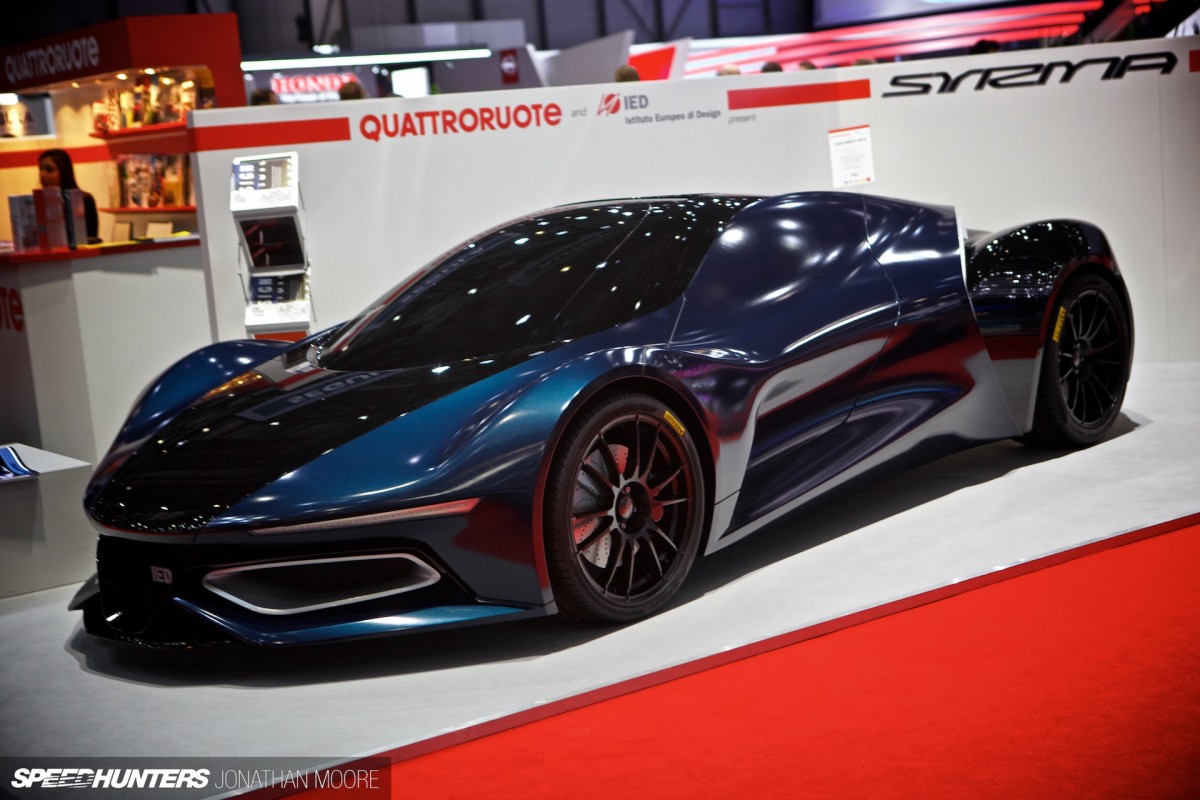 The Instituto European de Design school in Torino have a regular spot at Geneva to reveal the result of their Masters degree final year project. I was privileged to visit their studio last year and an exhibition of previous Geneva concepts.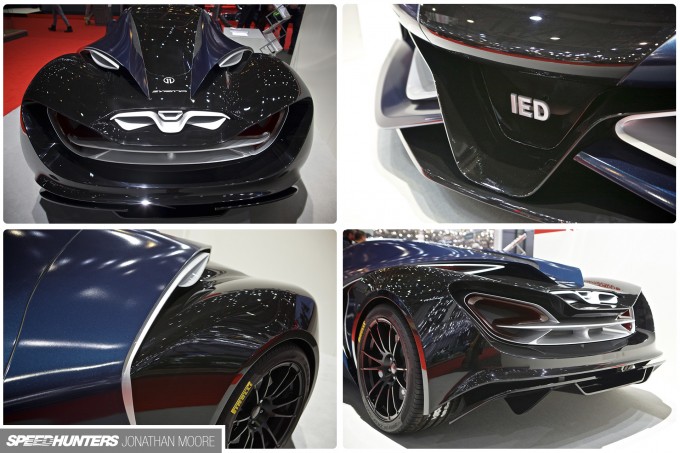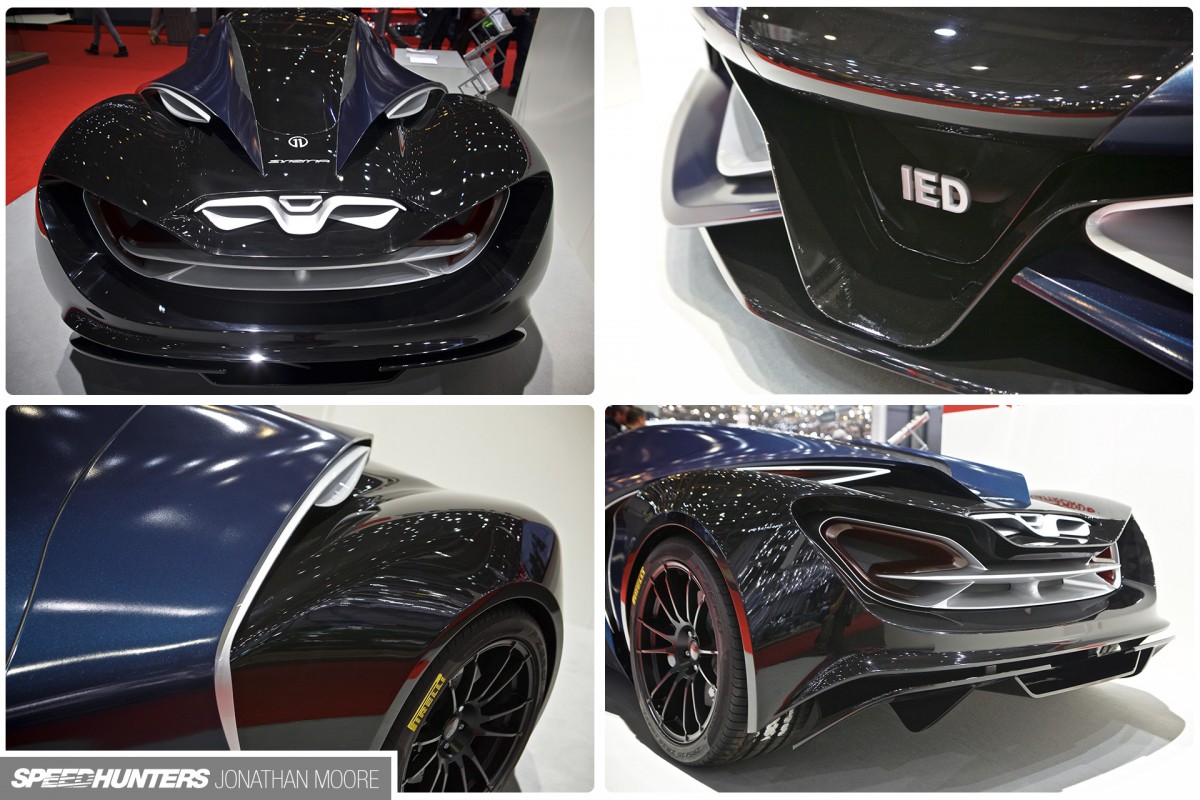 This year's car was called the Syrma: it used a 1+2 layout with a rear-hinged canopy for maximum driver visibility and is envisaged to use hybrid powertrain combination of a 4-litre V6 and electric motor to give 900hp.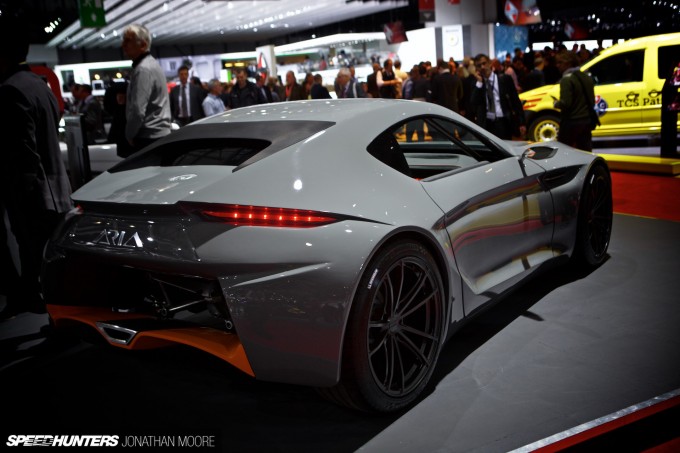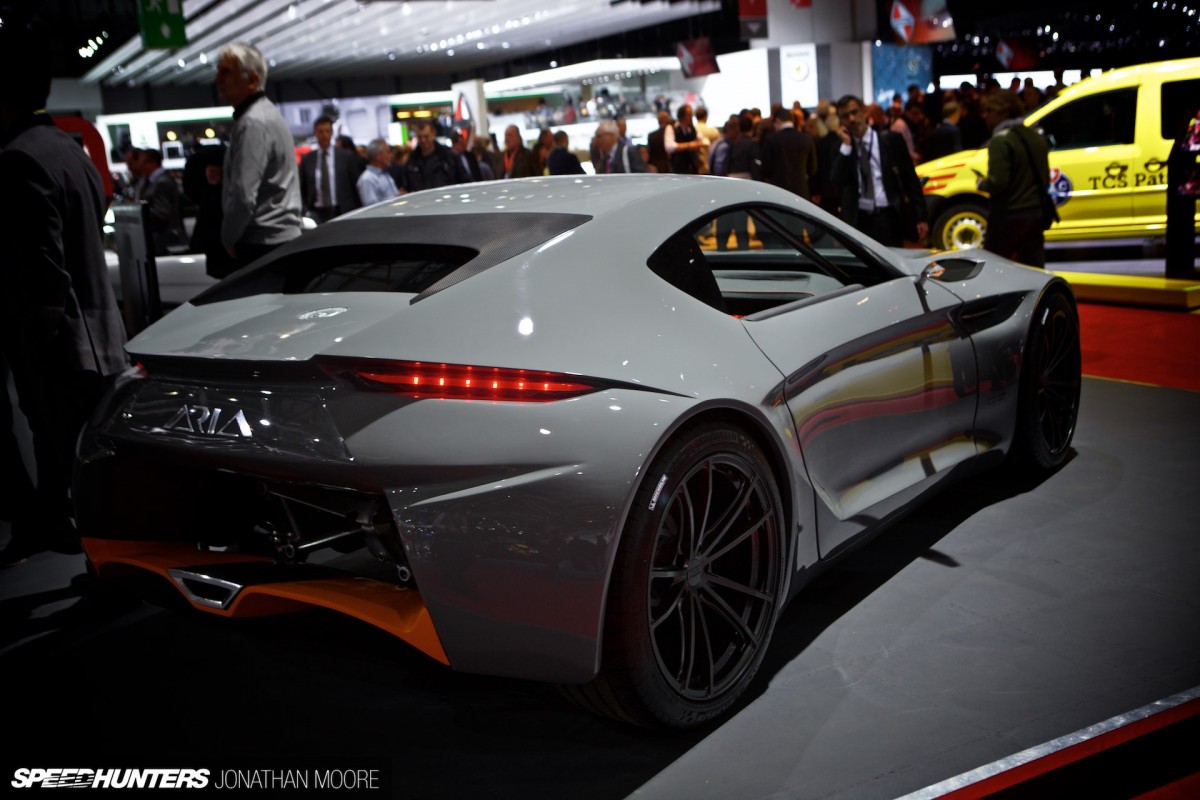 IED's French counterpart is the Sbarro Espera school, who similarly wow year in year out with their student-designed concepts. They brought their breathtaking Grand Prix racer along, which Alok featured at the tail end of last year, and also a brand new concept.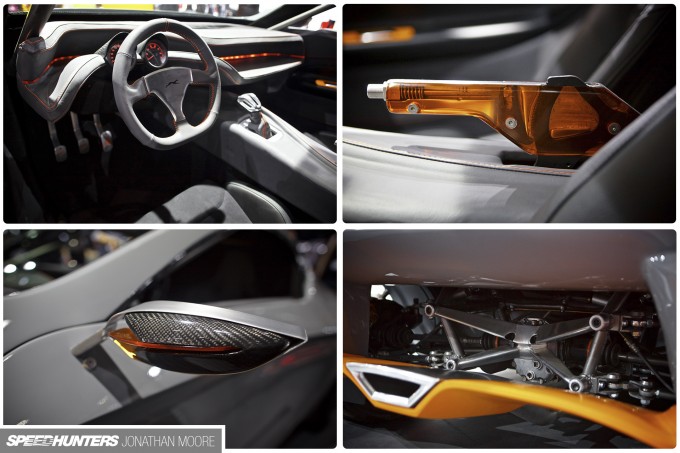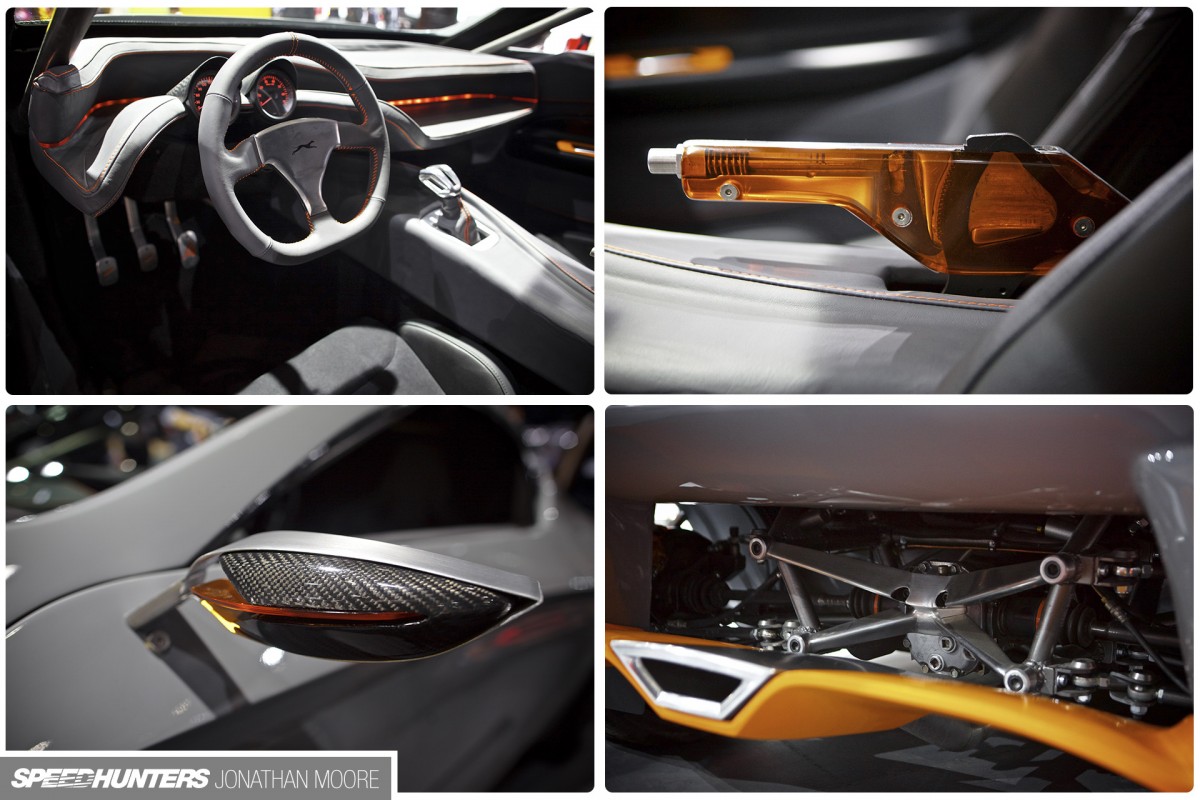 The key difference here was producing a fully functioning, drivable car from the ground up – in just 12 weeks. The advantage for the students is the even greater degree of collaboration required between different strands of the automotive faculty, design, engineering and manufacturing. The body is GRP, but many parts have been milled from solid blocks of metal, carbon used sparingly and the workings of mechanisms exposed wherever possible; a 2-litre Subaru motor propels it.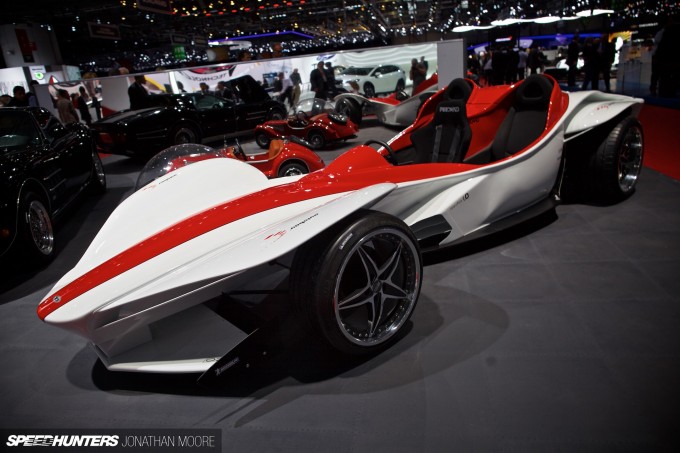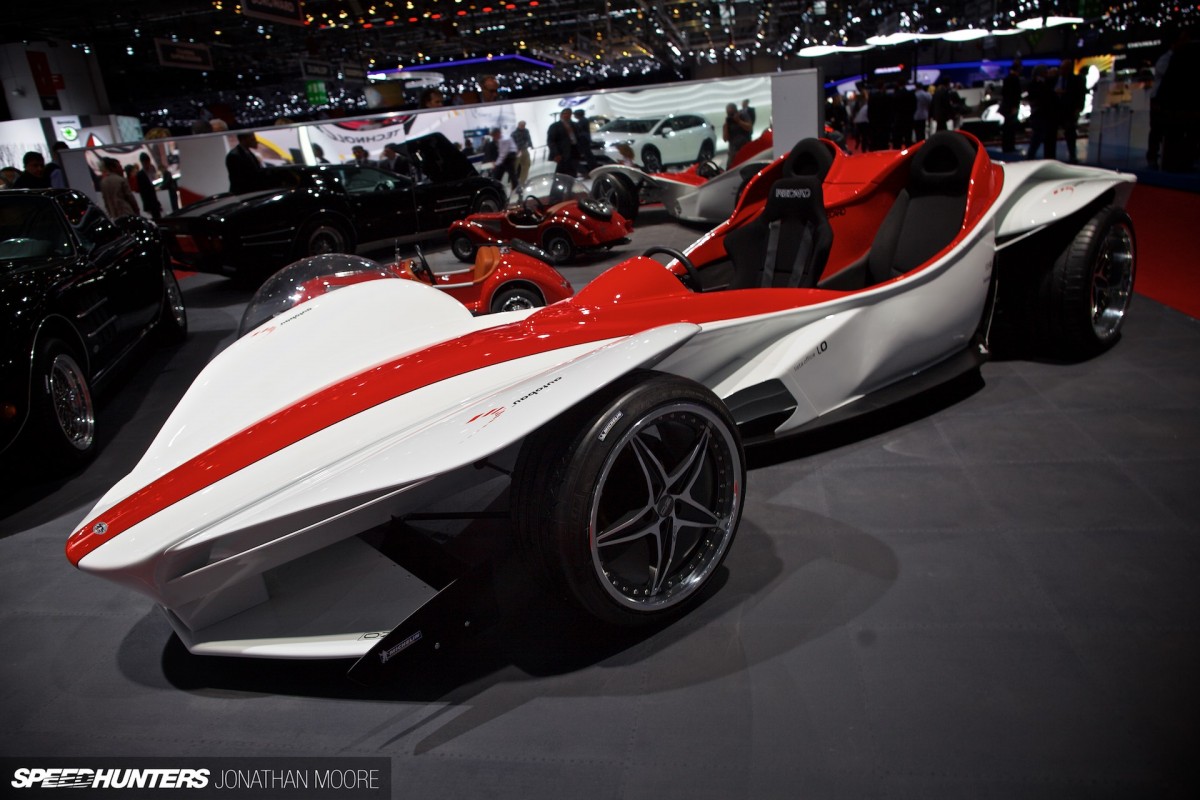 Sbarro always bring along a couple of older builds as well: they have a crazy amount of crazy projects from across the years, both from the school and its founder, Swiss designer Franco Sbarro.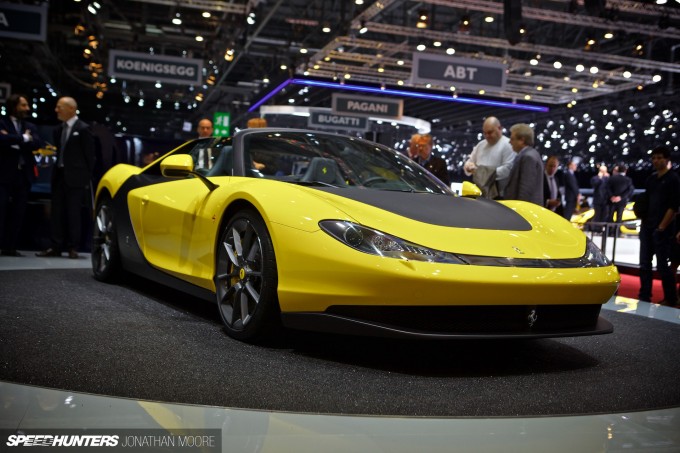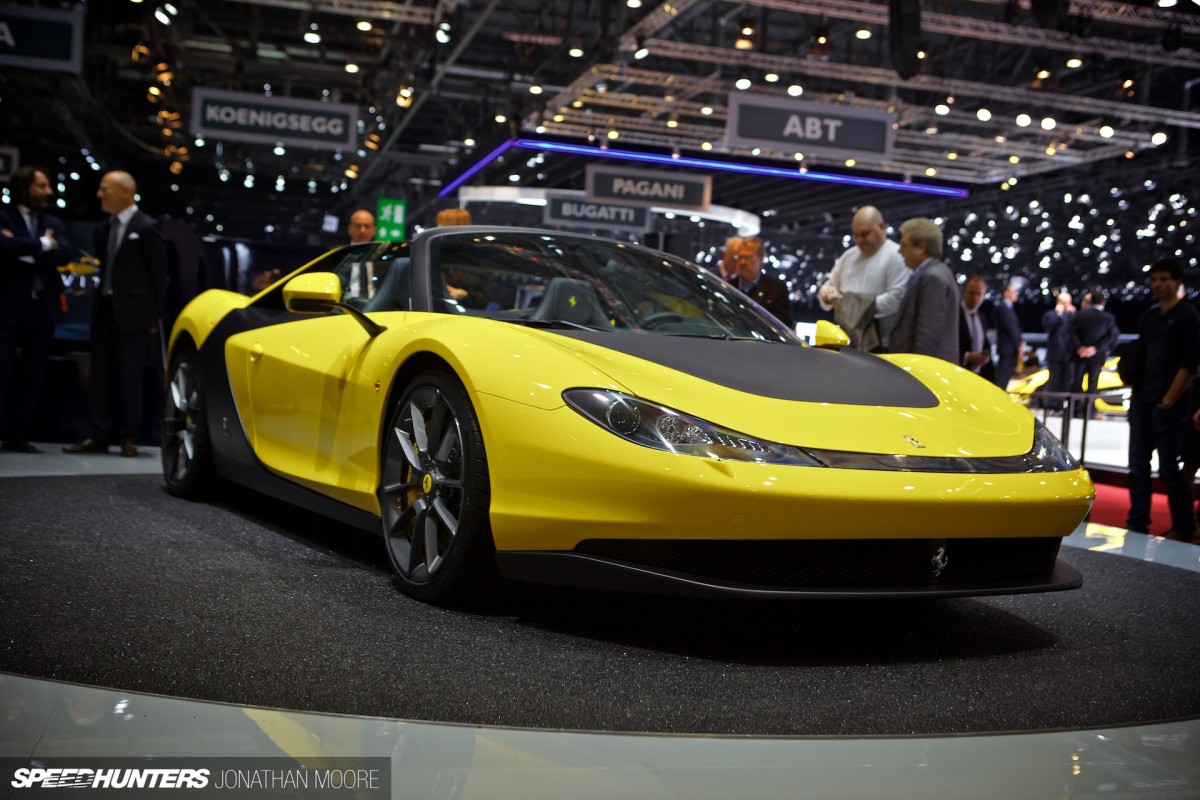 My visit to IED last year was inspiring, as I'm sure Alok's was to the Sbarro school. It was impressive to see the support from, and integration with the industry, giving students the knowledge that a move into the real world isn't a pipe dream. Having Pininfarina's Lead Designer, Luca Borgogno, as both an alumni of IED and a project supervisor points out the very real industry that's ahead of students. Seeing one of just six production Sergios was also great – with very few changes made from the prototype, I was pleased to note.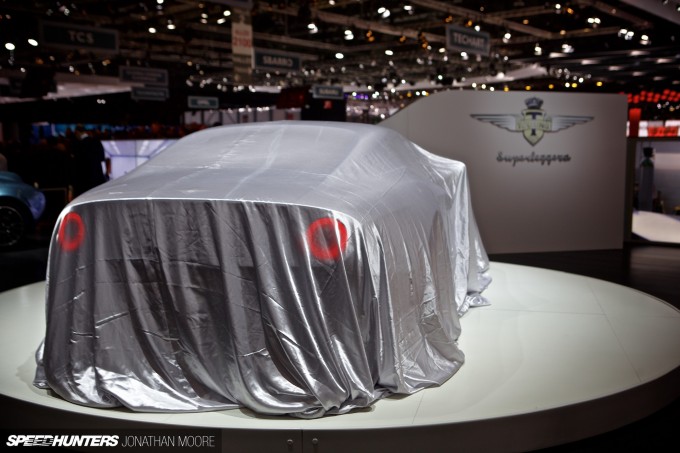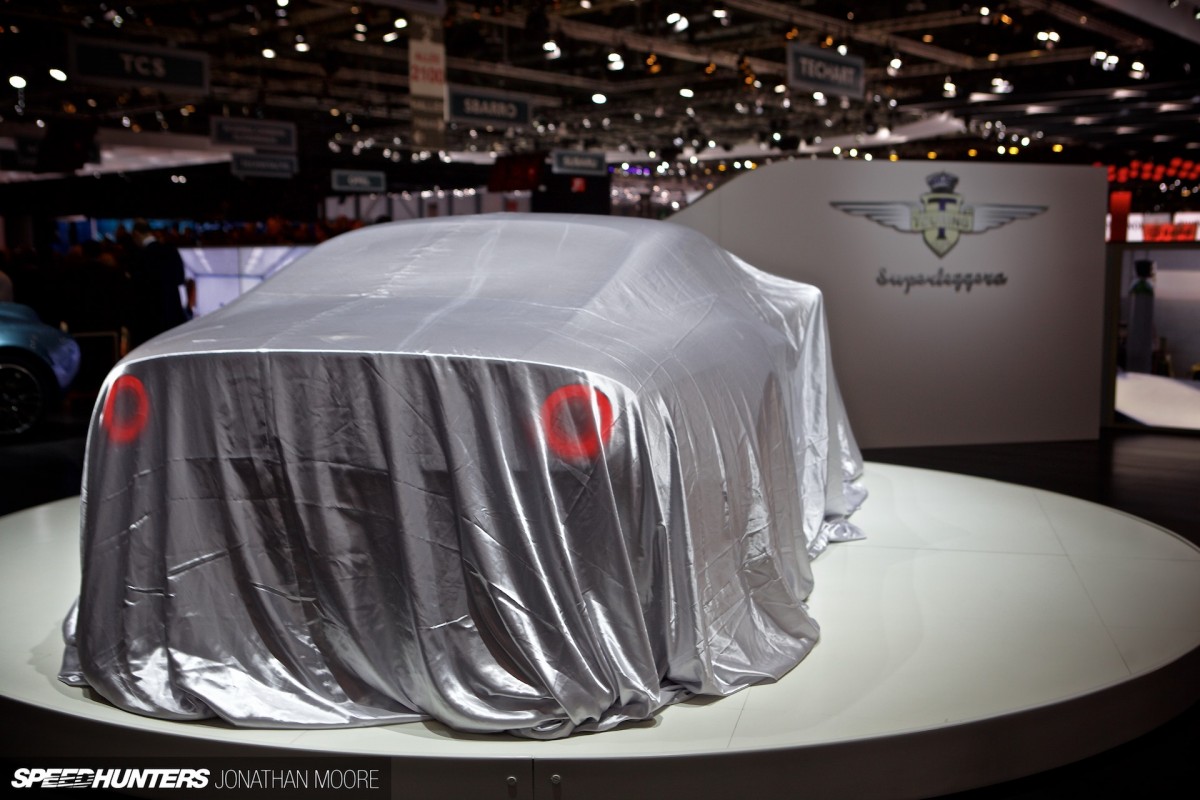 In the future there's no reason why it wouldn't be their creation underneath the wraps on a Pininfarina or Touring Superleggara stand.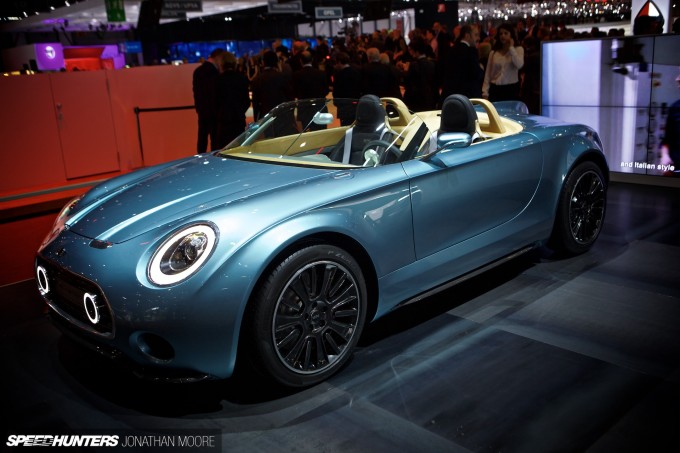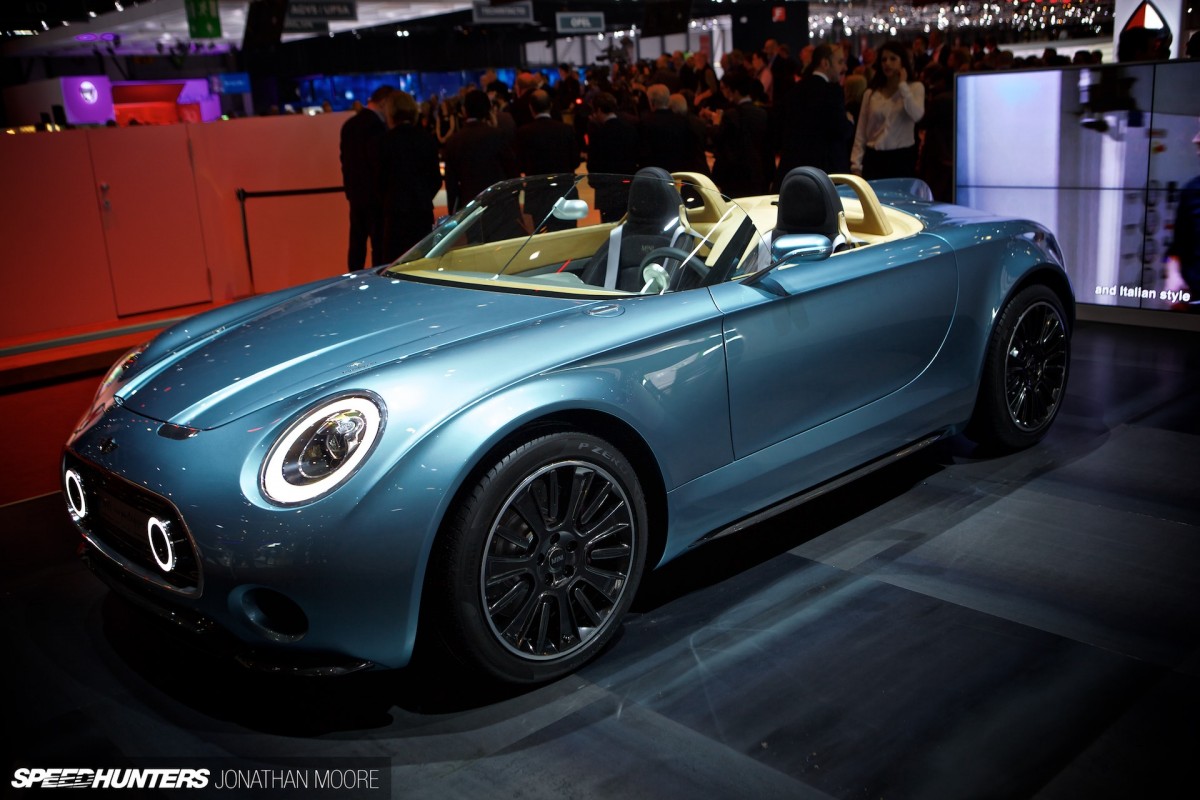 Touring brought along the Mini Superleggara Vision electric two-seater, which made its debut at Villa D'Este last year, complete with Union Jack taillights.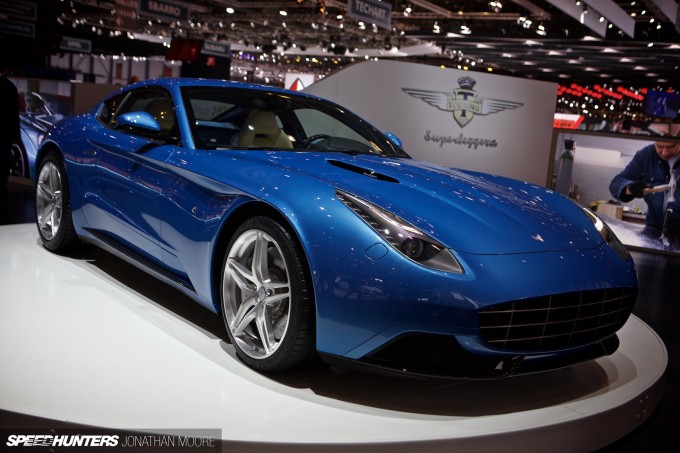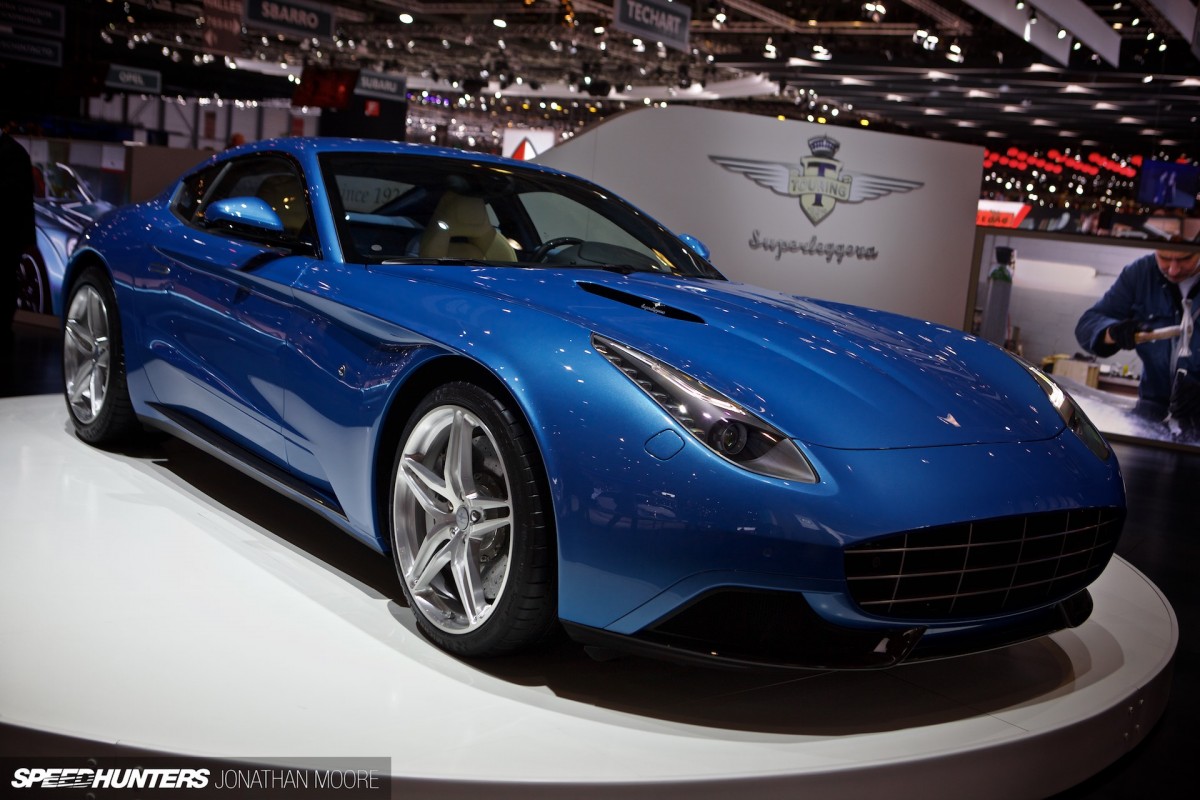 But what was underneath that cover though? Touring's Berlinetta Lusso: a very clean, classic take on Ferrari's V12 coupé, subtly rounding it off and giving it a more retro feel.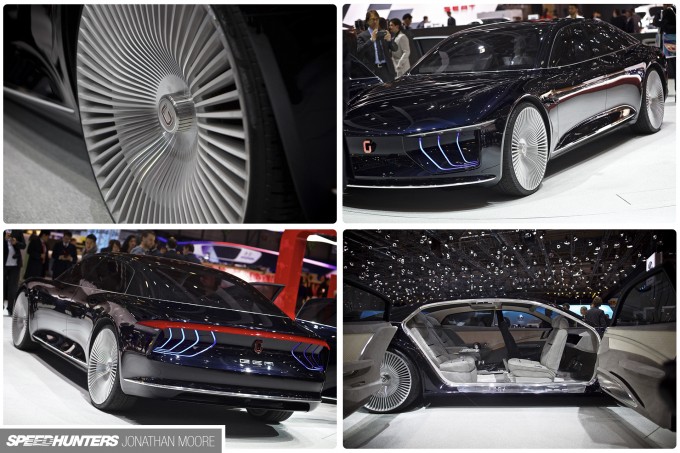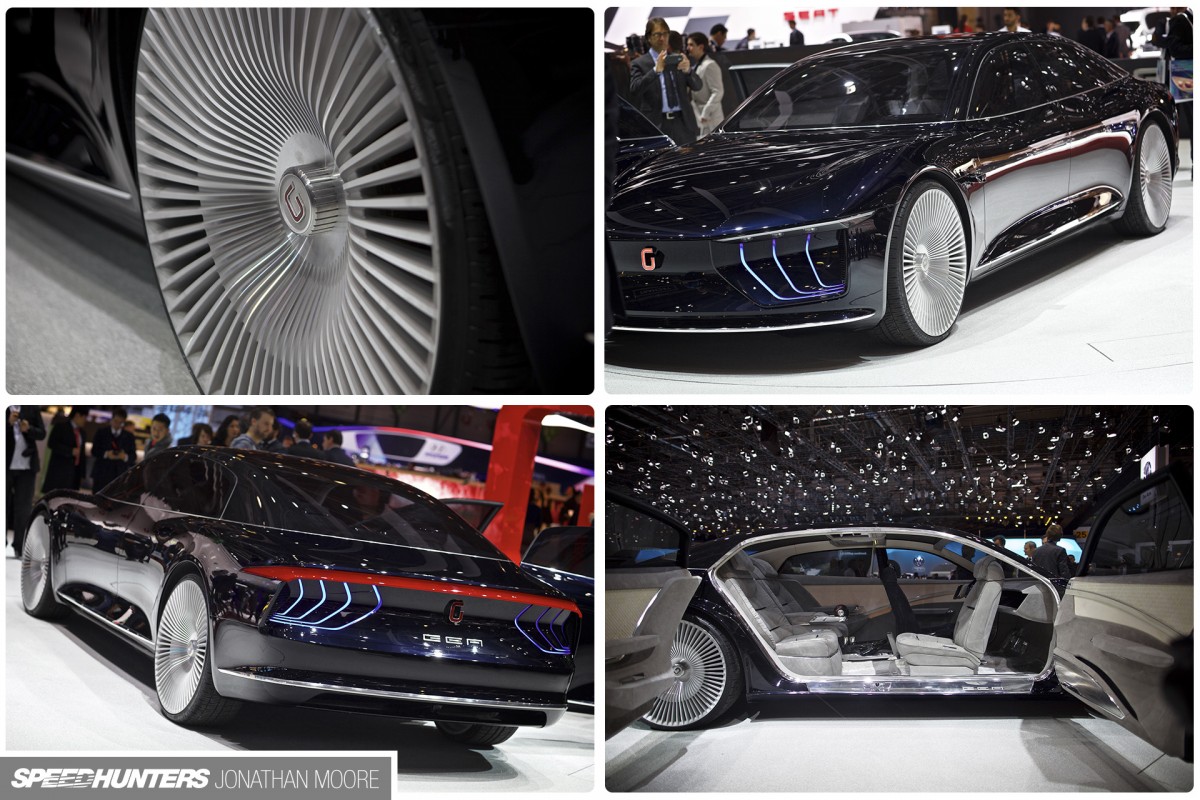 After I'd melted in front of Giugiaro's epic jacked-up buggy-style future roadster of 2013, last year's almost too sensible evolution of that model into the Clipper MPV was almost disappointing – perhaps as a result of their VW takeover. This year they were back with a bang with this epic luxury tourer, the GEA, powered by four electric motors producing 700hp. The wheels are pieces of art in their own right, 26-inch and milled from solid blocks of aluminium.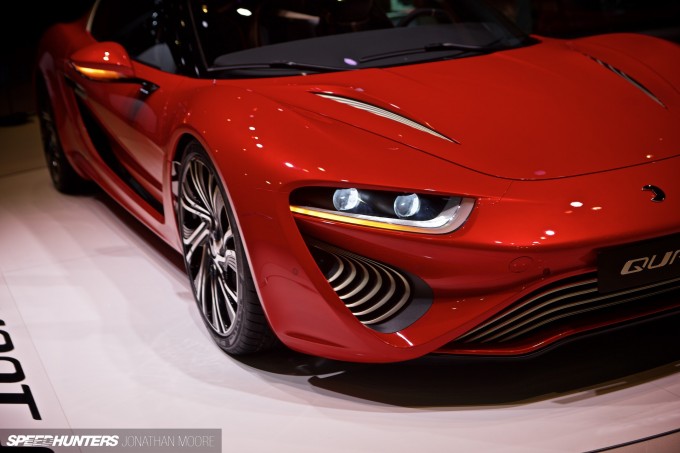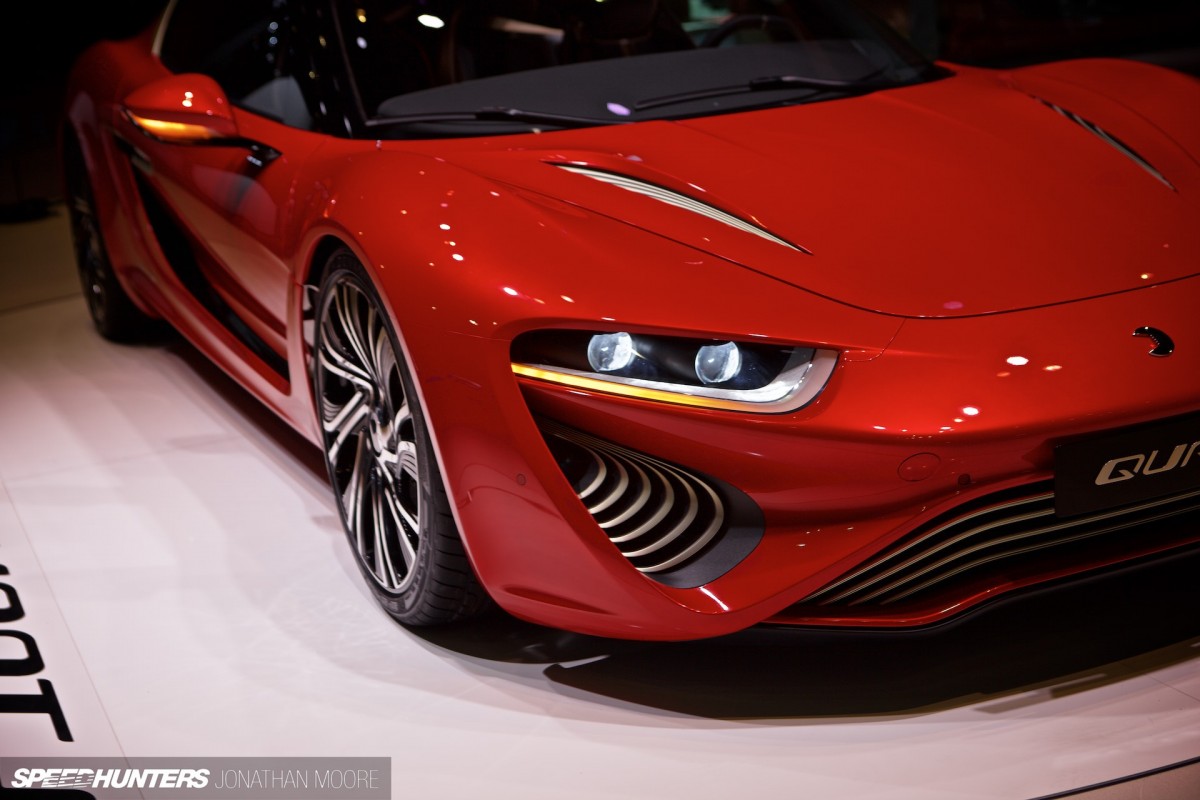 Quant's nanoFlowcell stopped me in my tracks last year, but for 2015 they were back in Geneva with a huge presence and a trio of cars – and ones which are theoretically actually going to see a real road. Originally a co-production with Koenigsegg, the gullwing Quant F is an evolution on the theme, using a chemical battery system that uses liquid electrolytes to produce a cold burn power system. You want tech, they have it.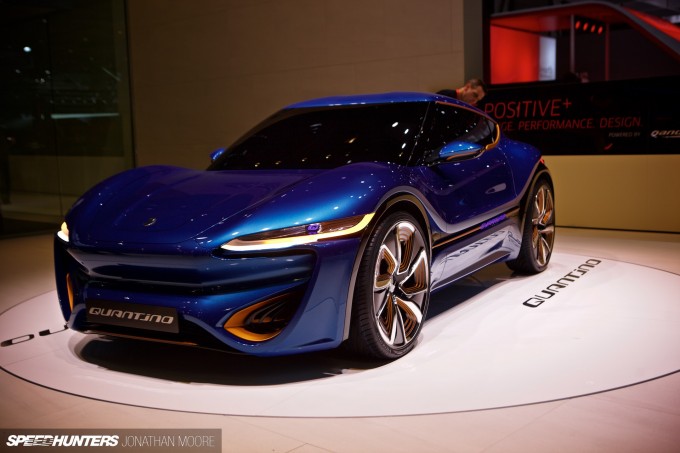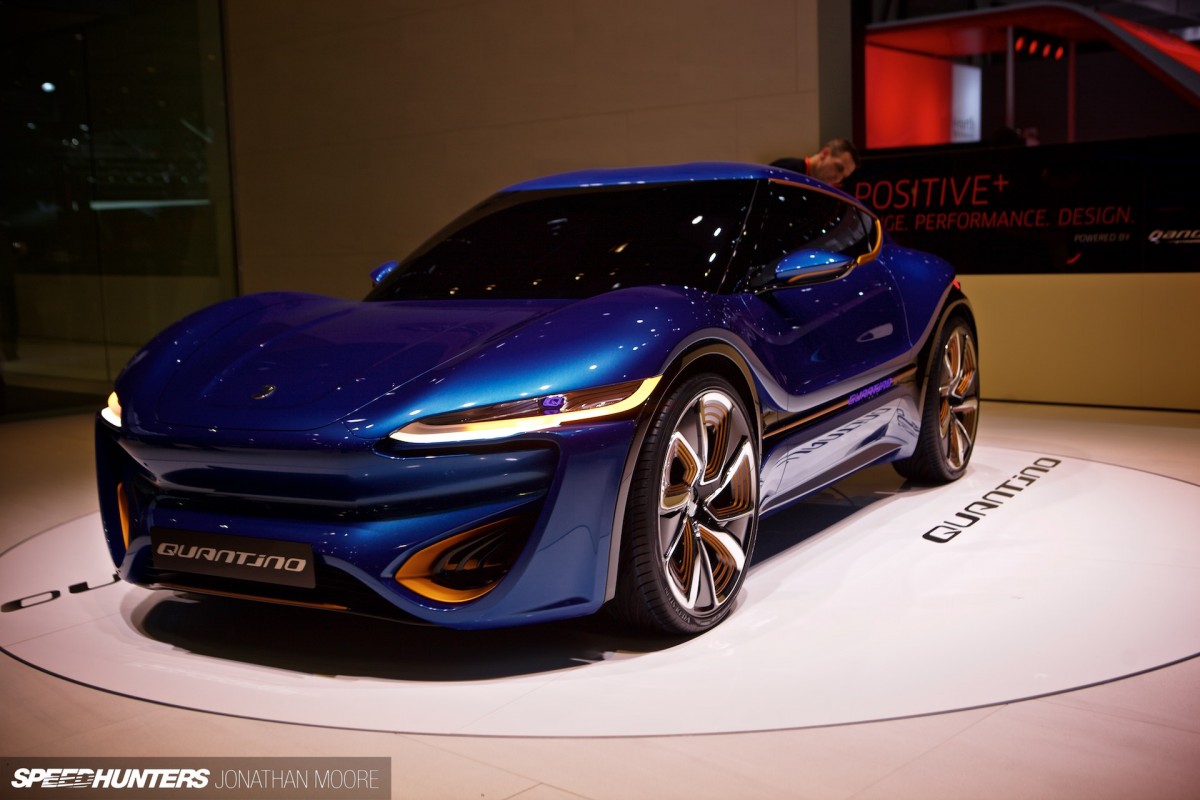 Quant also introduced this squat little coupé, the Quantino, which has a smaller electrolyte tank but still has a 620-mile range and top speed of 124mph (200km/h). Quant are aiming to test the car during 2015: it's still unproven technology – but then again, anything new always is…
Make Mine A Large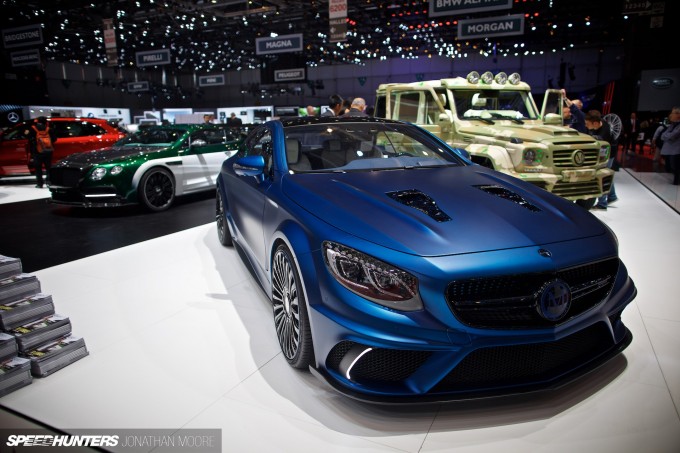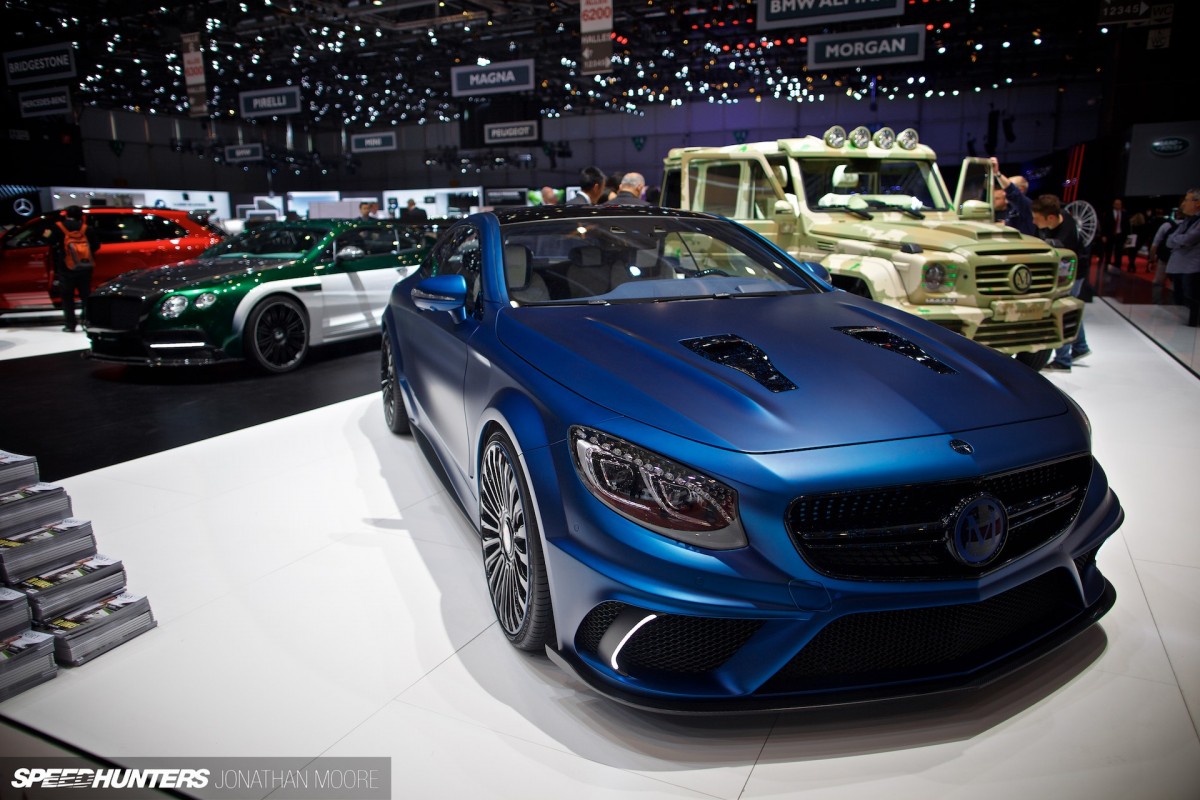 Like any car modifications, high-end tuners aren't always to everyone's taste, with paintwork often a particular source of contention. Mansory aren't known for their subtlety, and the 986hp AMG S63 Coupé Diamond Edition certainly maintained that tradition. Any idea of the satin blue being restrained was countered by the window surrounds all being a 'matching' sparkly blue.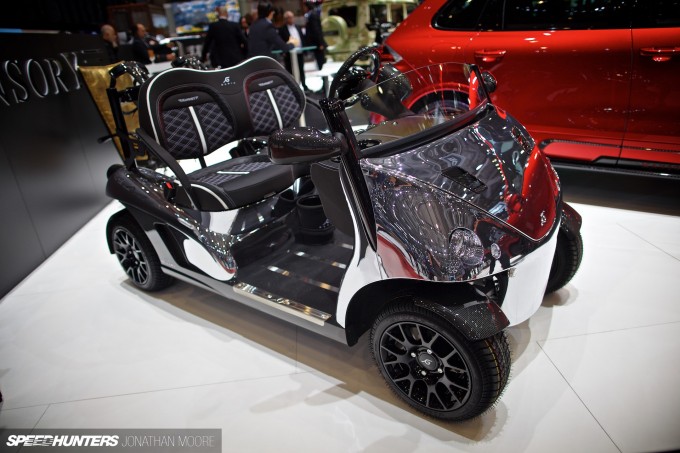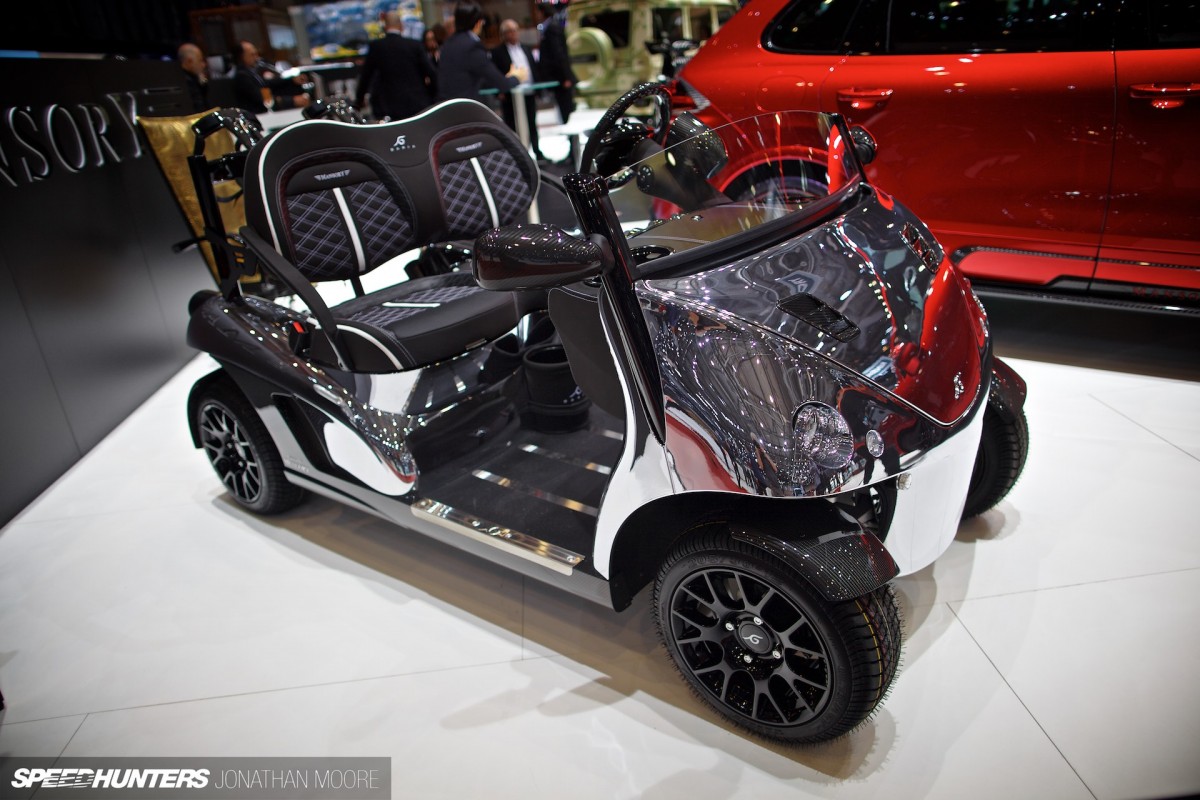 They brought their bling carbon golf cart along as well, just in case anyone thought they'd gone mainstream.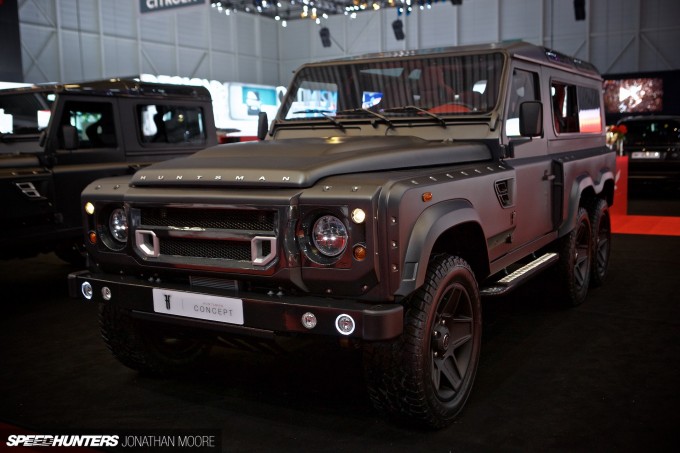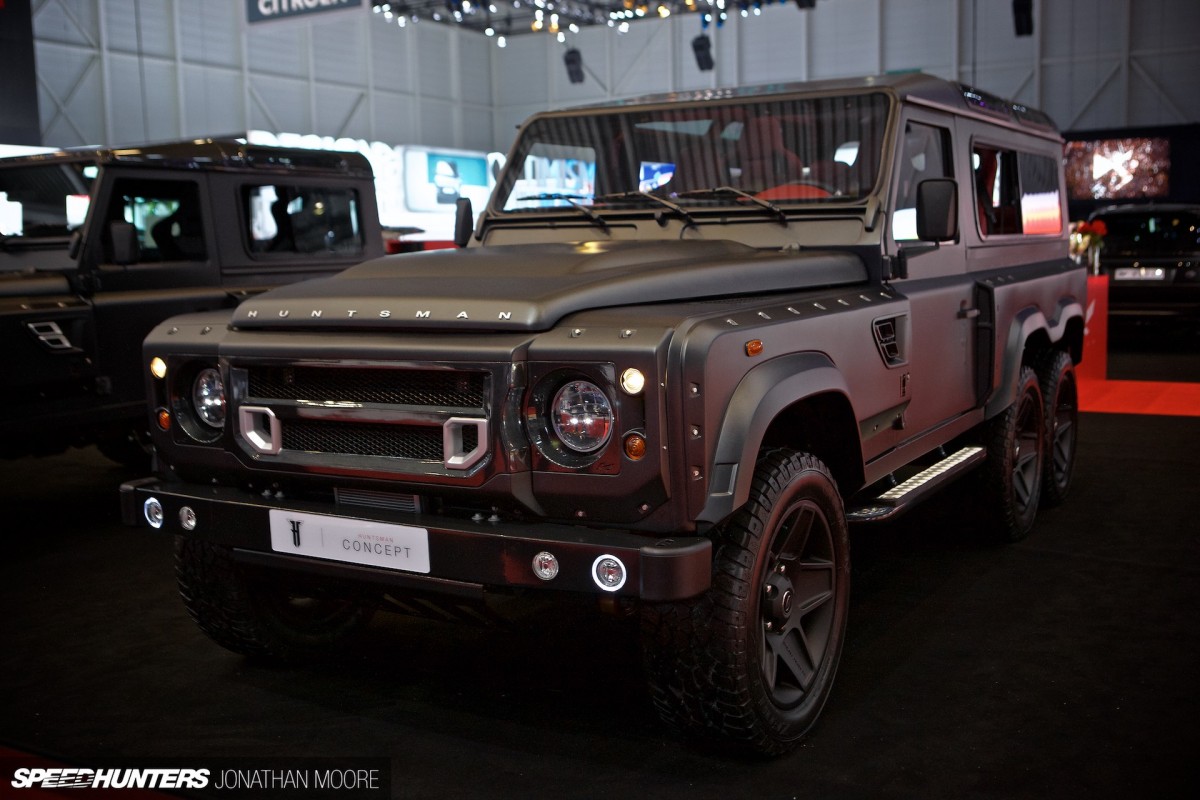 The up-gunned Brabus take on Mercedes' already bonkers six-wheeler G63 seems to have proved inspiration for British tuning firm Kahn to apply a similar treatment to a Land Rover Defender, producing this behemoth, powered by a Chevy LS3 V8!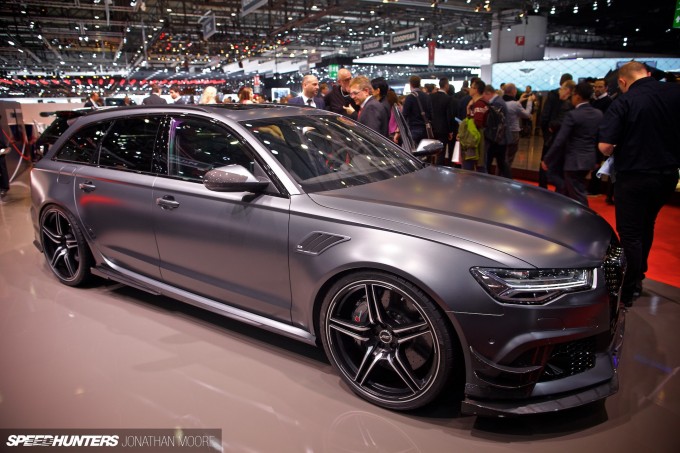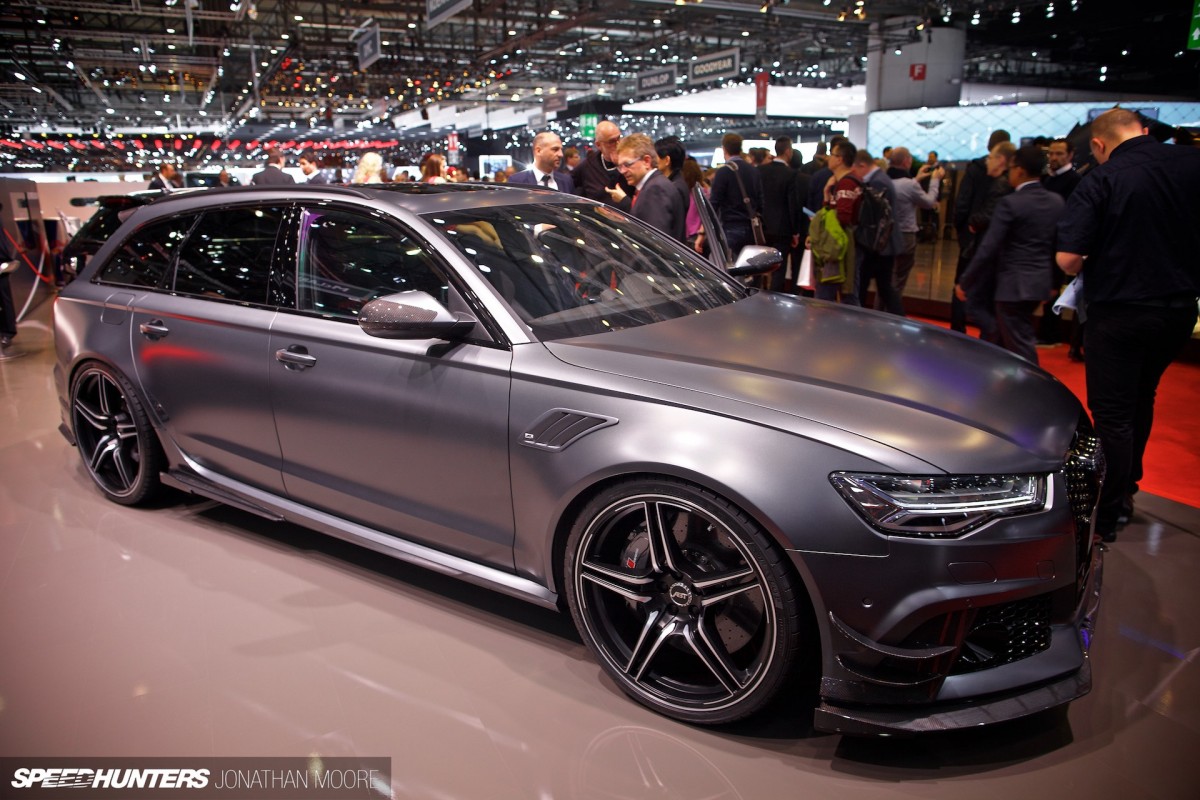 Audi tuning specialists ABT always bring out some sledgehammers for Geneva, made even more impressive in that they score a stand deep in manufacturer territory. They brought a full range of tuned Audis, topped by their obscenely quick wagon, the 730hp RS6-R Avant.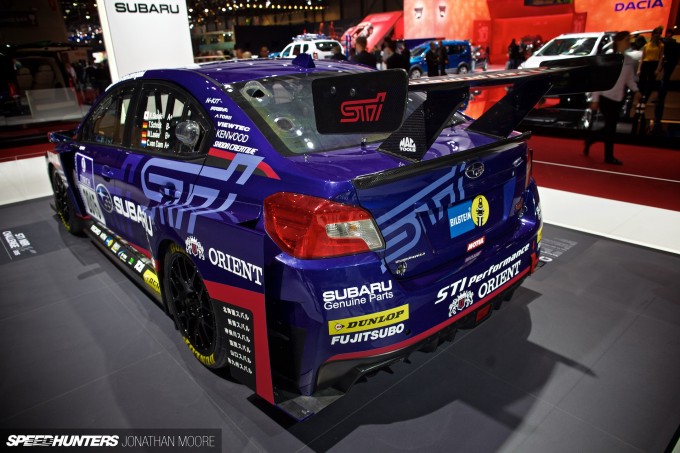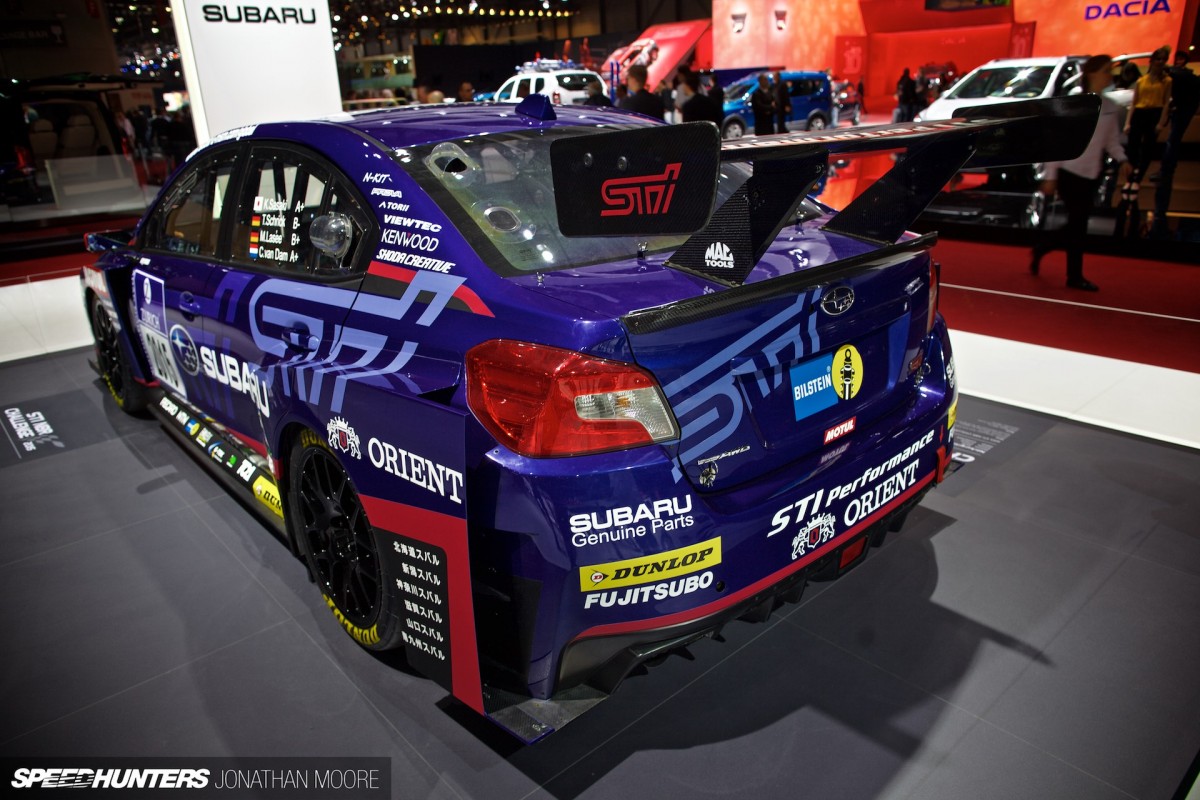 Just as performance seem to back in focus across the board at Geneva, so racecars made appearances on a number of stands. LMPs from Audi, Toyota and Nissan took centre stage on their respective stands, but competition machinery cropped up almost everywhere you turned. I usually make my visits to Subaru brief, still hurting from their turning away from the WRC, but knowing that in recent years they've featured cars that have been campaigned at the Nürburgring 24 Hours.
From the front the new STI looked so-so, but as I made my way round to the rear the tail took my breath away! The rear aero treatment is brutal in the extreme for a car like this, with huge fins reaching back from the fenders and a massive wing and diffuser.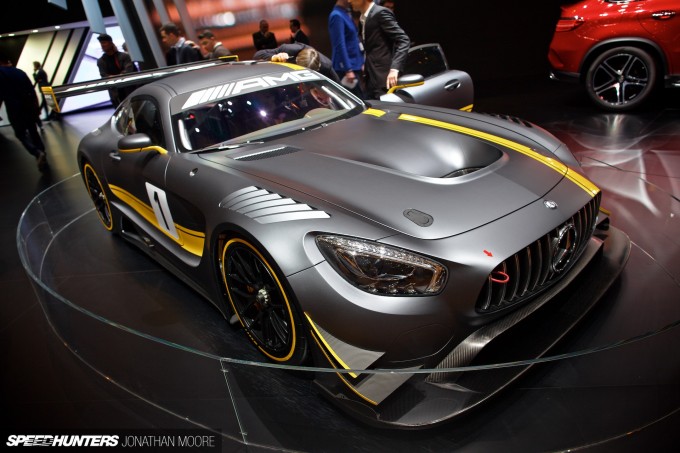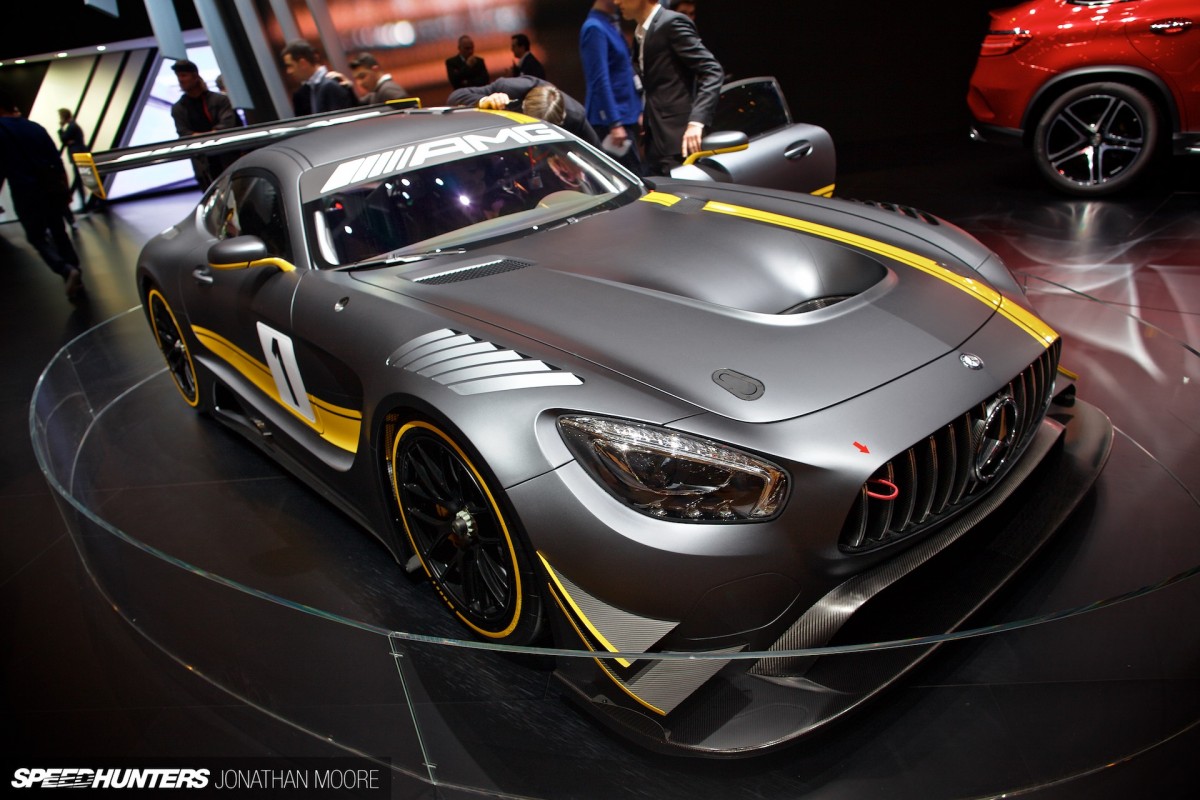 As I talked about with the launch of the new Audi R8 GT3, that FIA racing category is providing rich picking for global sales – cars like the Audi and this, the new Merc GT GT3 will likely sell in the hundreds.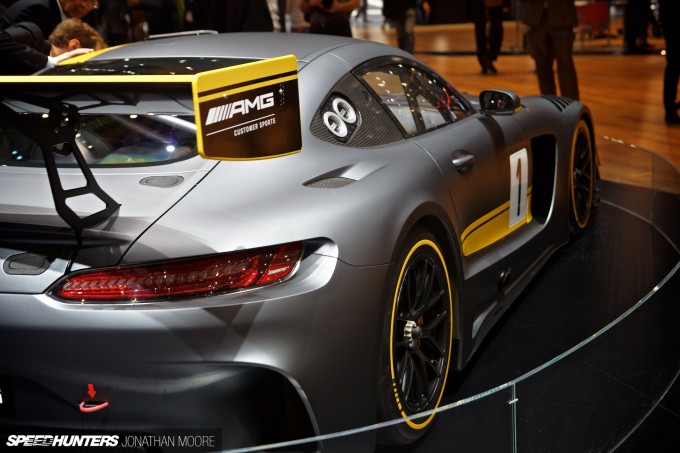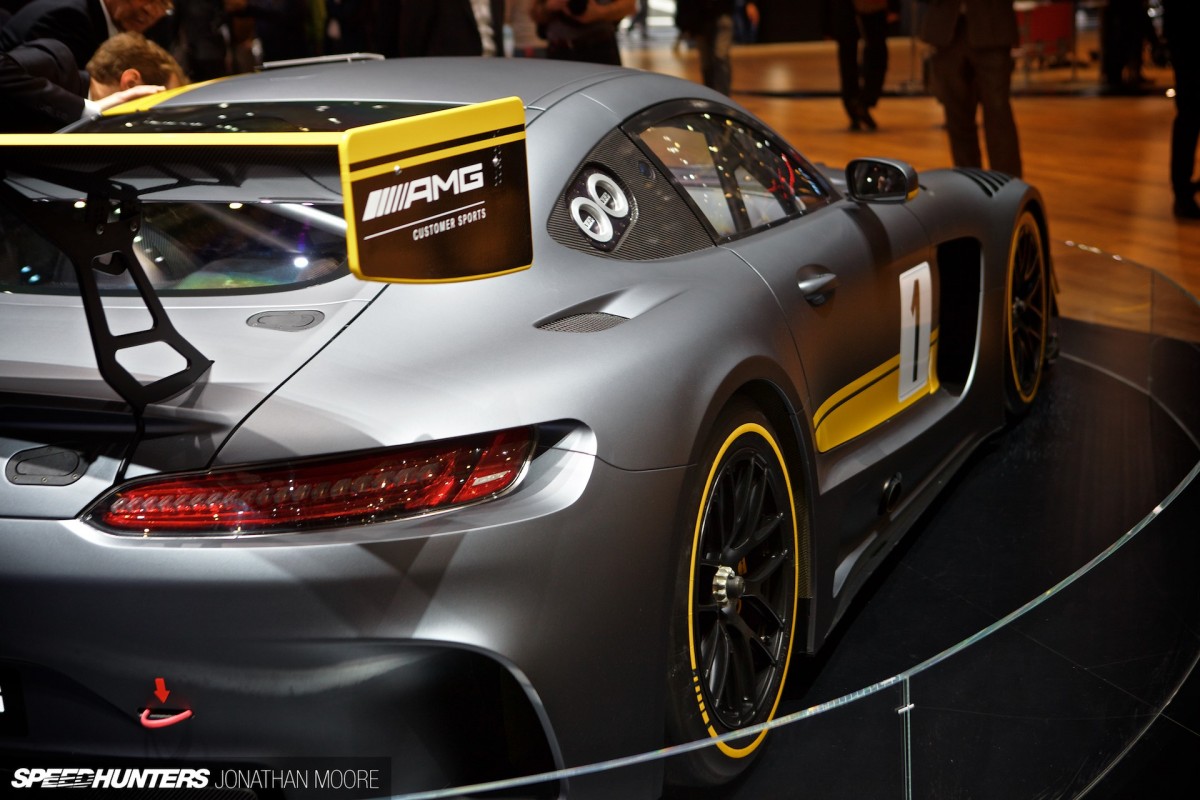 I wasn't convinced by the aesthetic of the new GT when I saw initial release images, thinking the tail too rounded and soft in comparison to the sheer bulk of the SLS that came before. But as usual this shows how fickle I can be: stick a massive wing on something, and I'm sold. Do you take IOUs?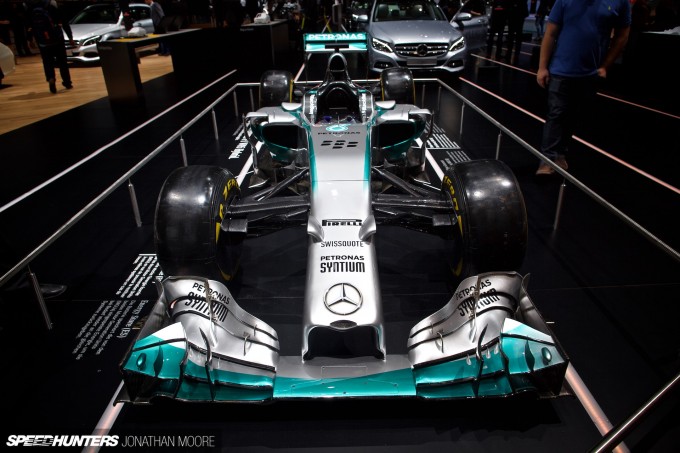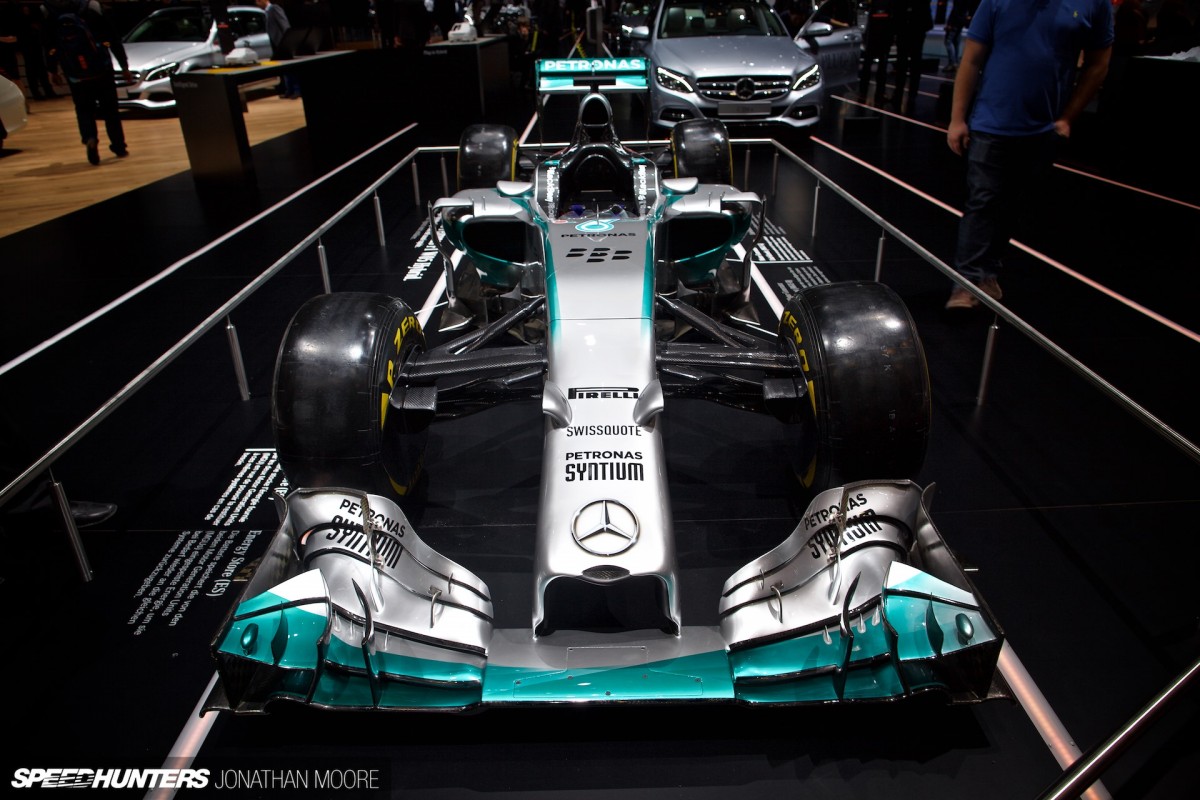 Now, this really isn't normally the place to talk about Formula 1 racers, as irrelevant as they are to the road, but I really enjoyed the opportunity to take a long look over a contemporary F1 racer. I'm sure that the new Merc W05 Hybrid isn't fully 2015 spec (and the eagle-eyed amongst you will likely be able to point out exactly which parts that includes), but it was a pleasure to see something close to the real thing rather than the frankly tick-box 'bitsa' showcars that turn up at a lot of events.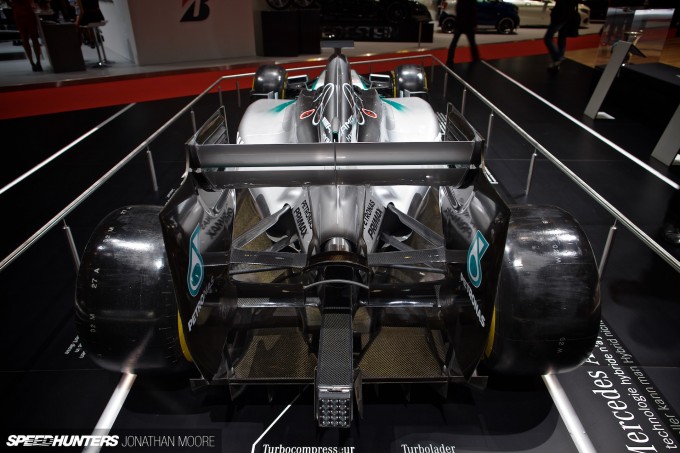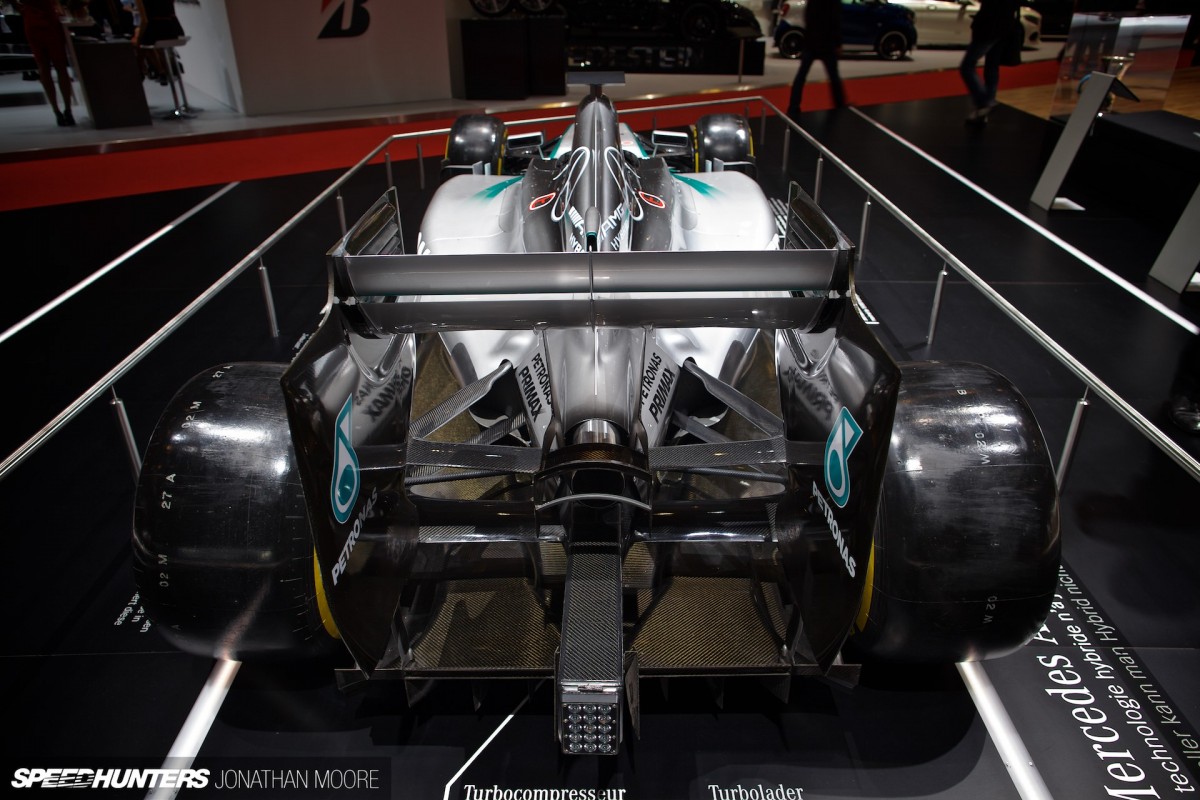 In overall shape, I might have just got a bit more used to these narrow rear wing, narrow track cars, but I'm sure there's been a positive evolution over the last couple of years. Whatever the horror of the politics, the sheer visual impact of F1 cars still can't be denied – especially now the massive full-height vertical fins have been pretty much cut away. The way the bodywork arcs down to almost touch the floor, whilst the Coke-bottle shape narrows to such an extent that it's amazing there's anything to provide that ferocious drive to the rear wheels.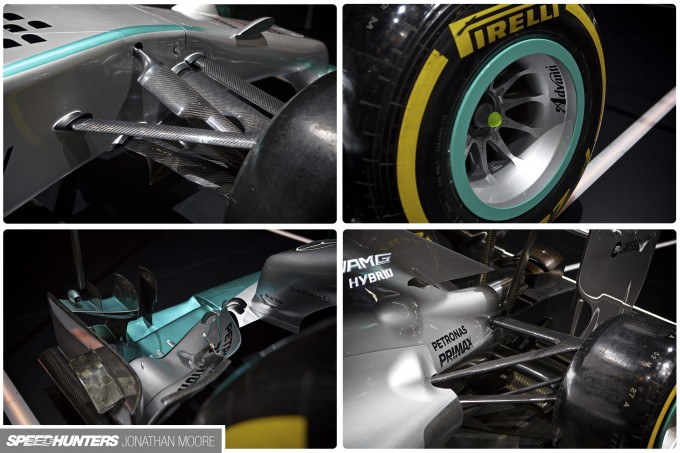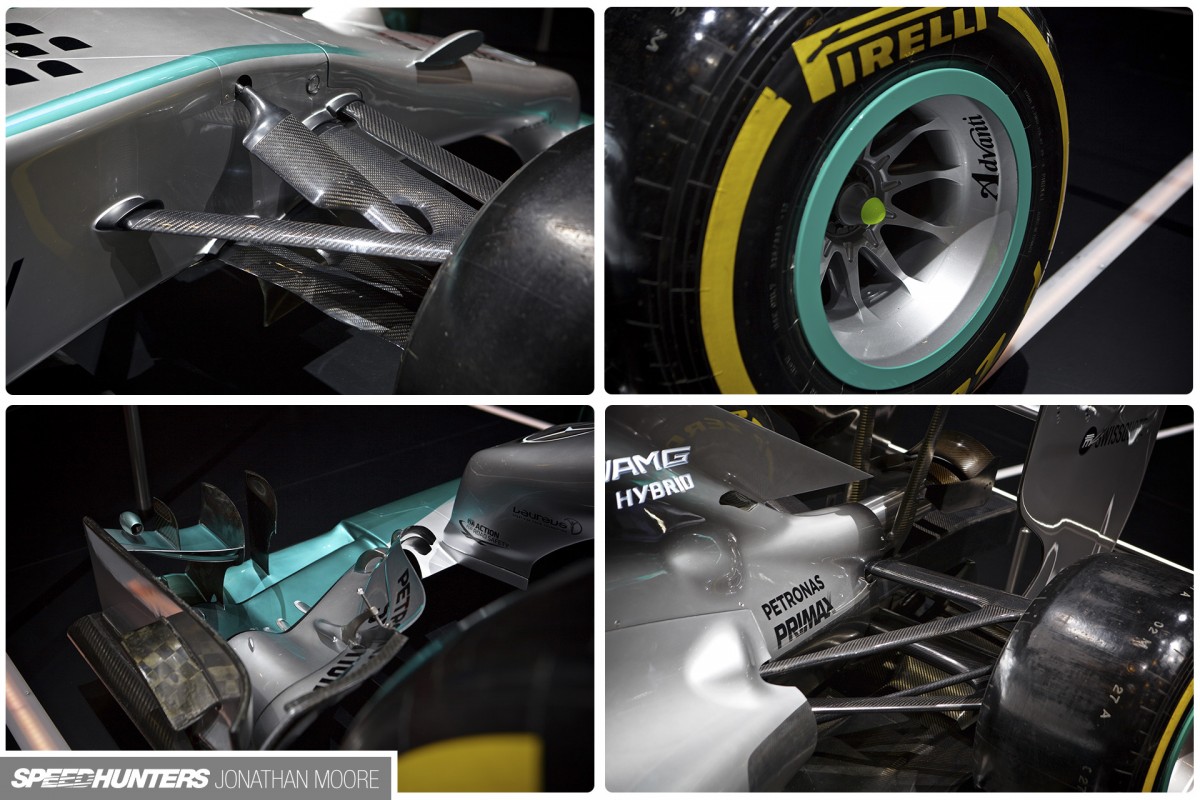 Massive air-cutting carbon suspension parts are no new thing, sure, but it's still the width compared to the depth that makes them look almost industrial, with their mass of aerodynamically-optimised, intertwined struts and arms.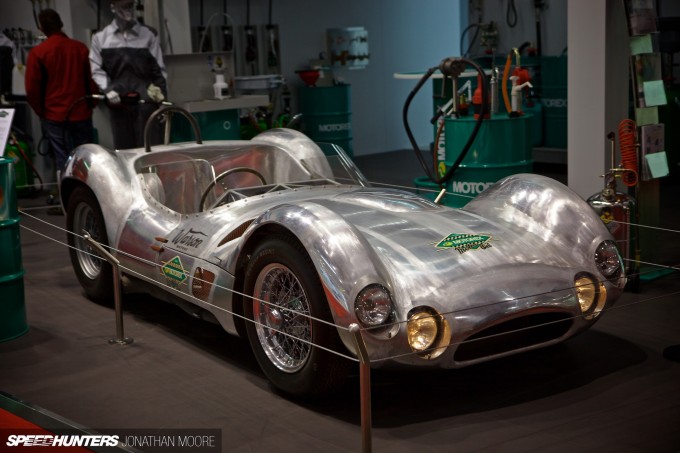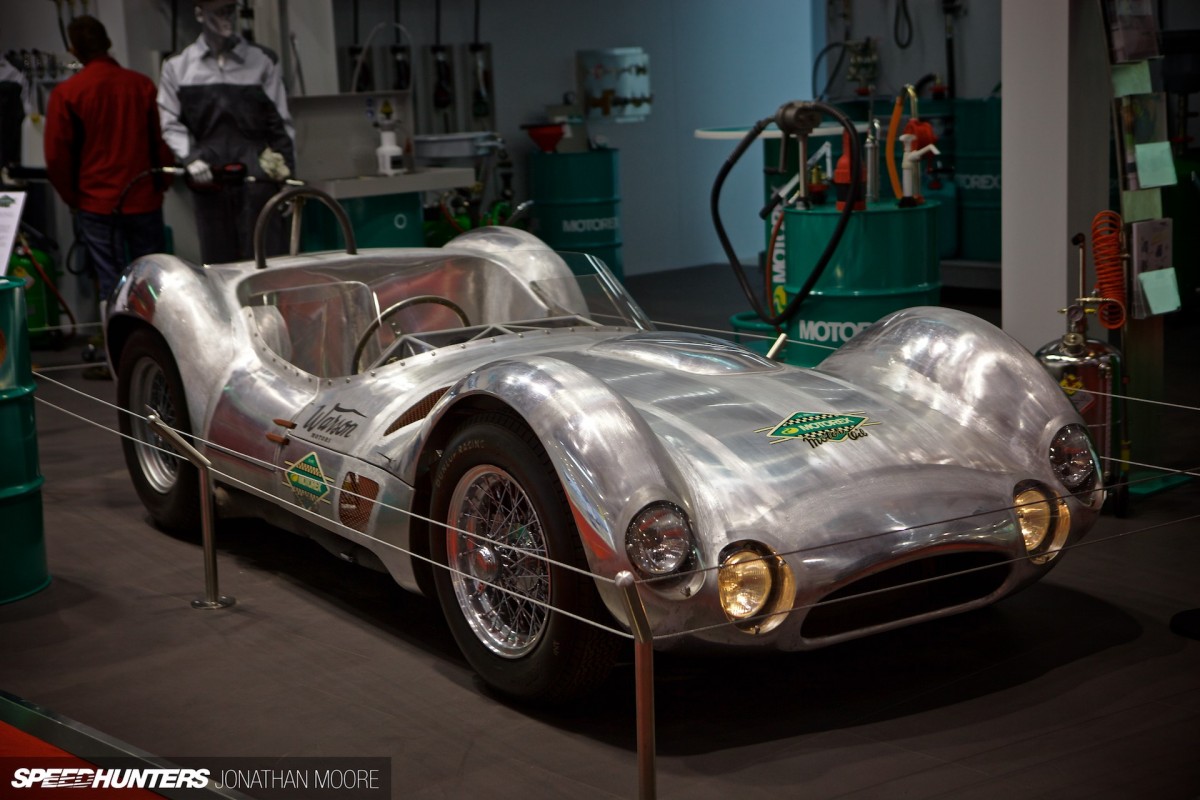 Because this is me, I always have to sneak old stuff in somehow. This is a protest picture, directly aimed at Maserati. In recent years we've seen increasingly sharp Maseratis, like the GT Stradale and then last year's Alfieri concept. This year, I barely stopped at the stand, which is a terrible thing to admit. Happily, downstairs in the equipment sellers' dungeon was an inspirational Maseratii Tipo 61, the Birdcage.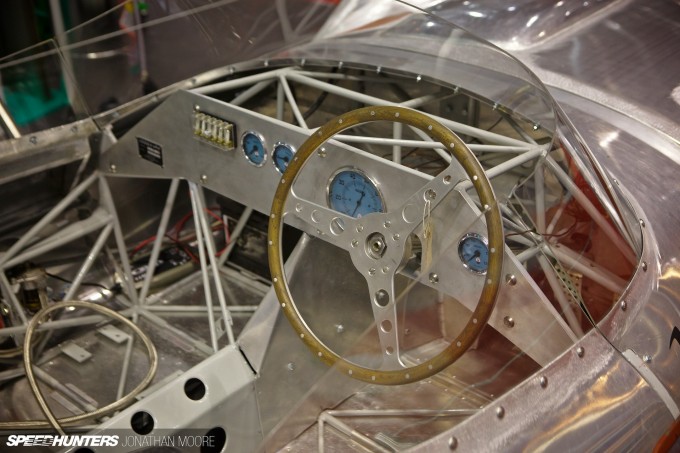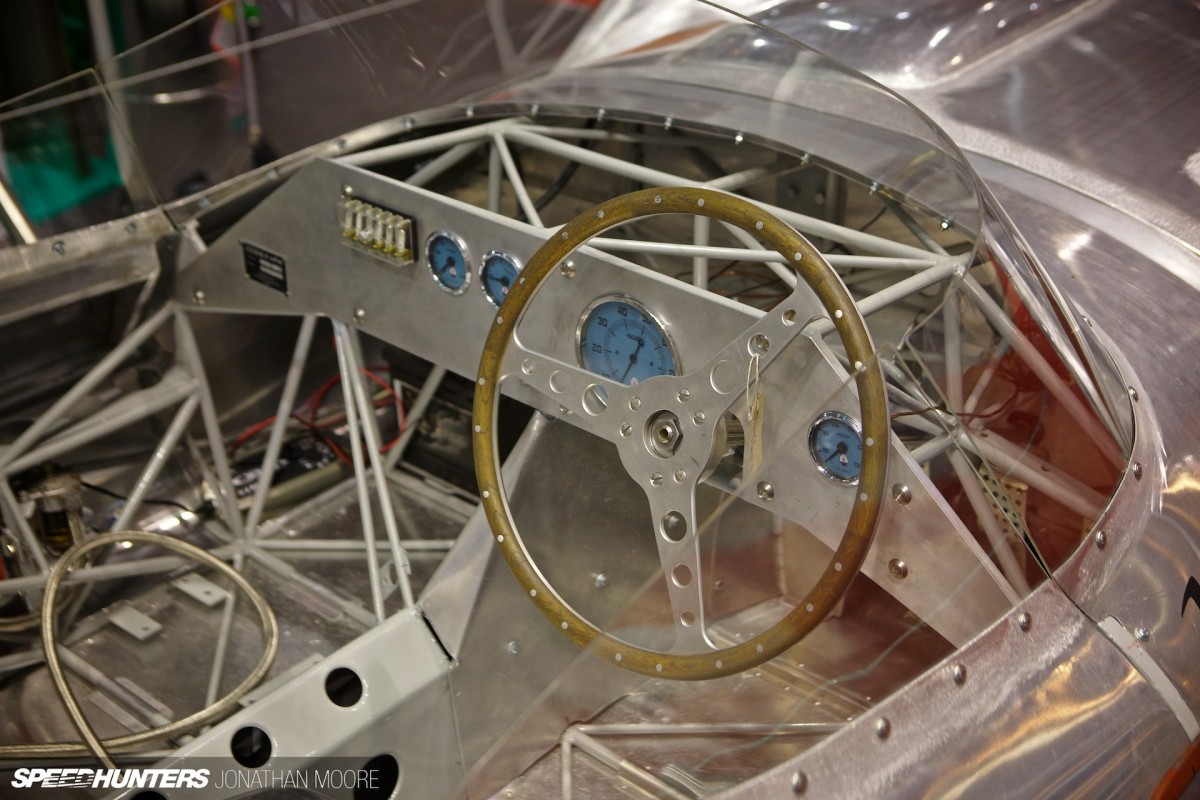 This one had just been rebuilt, and you can see here why it earned the nickname. 600kg and 250hp show just what a machine this was in period – and how it's still a handful today.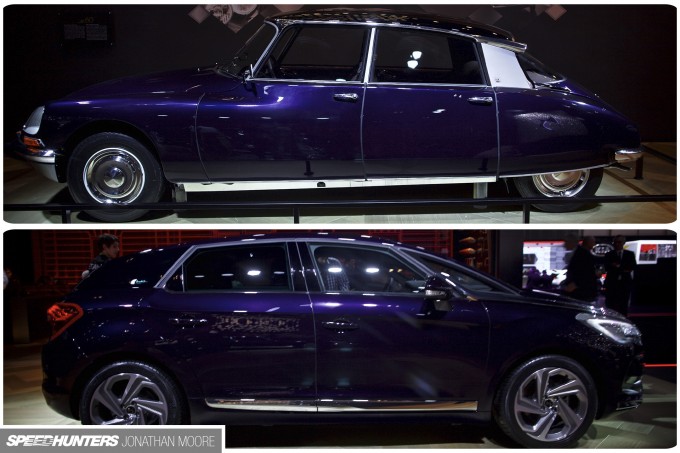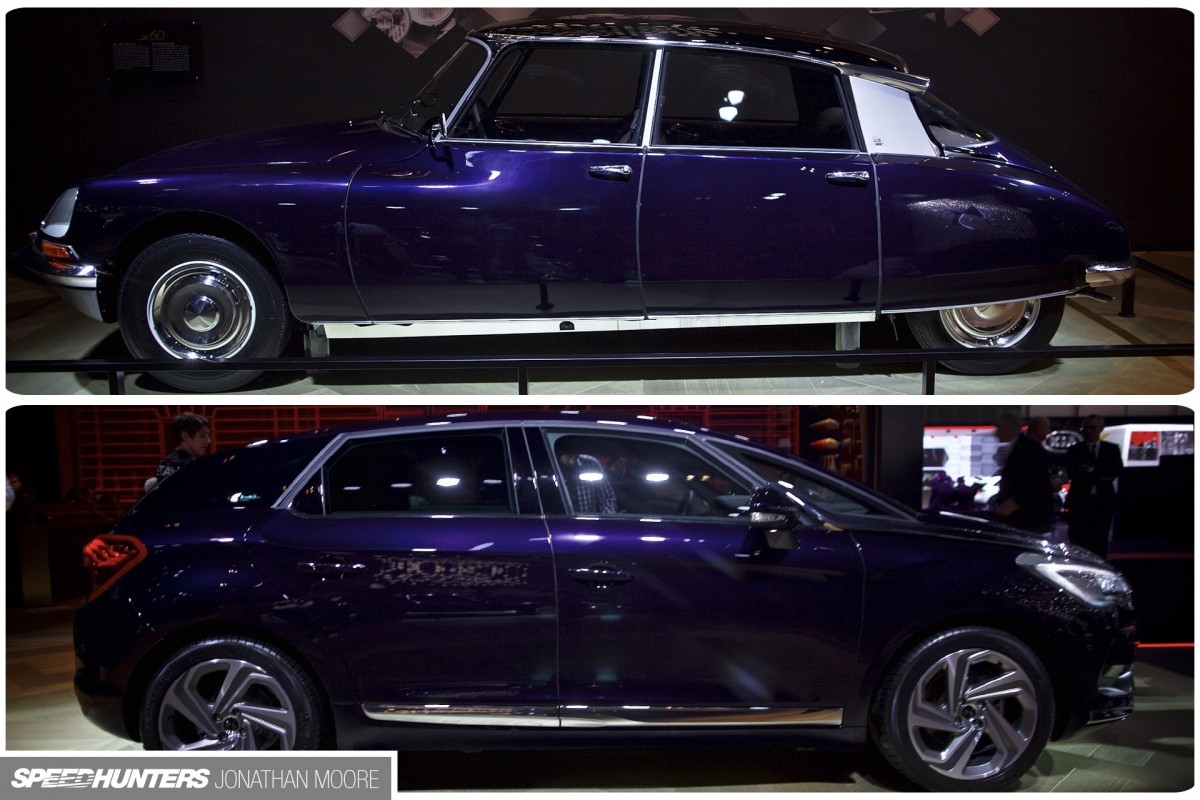 Citroën are troubling me. I say that as an unfashionable fan of classic Citroëns in general and the DS in particular. I revel in manufacturers using their rich heritage to promote new models: I want my cars to have depth and soul. But to take one iconic model and then to try and invent a new brand using its name?
So, it's the DS I'm talking about of course. At Geneva, Citroën made the error of highlighting the incongruity of it all by having an utterly beautiful DS Pallas (updated with modern colours) opposite this, a new DS5. Non merci. Sacrilege!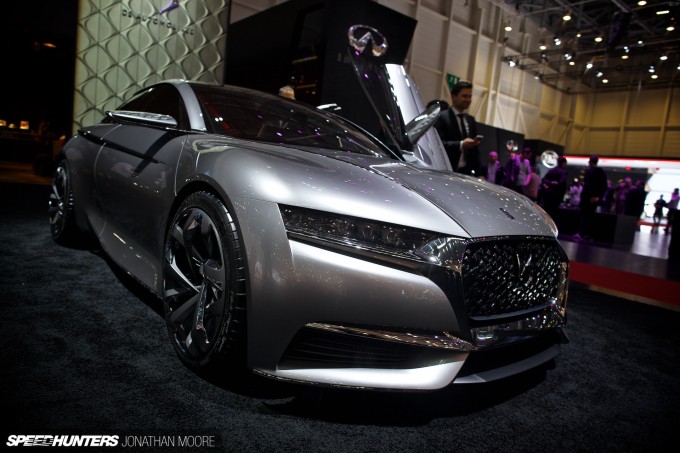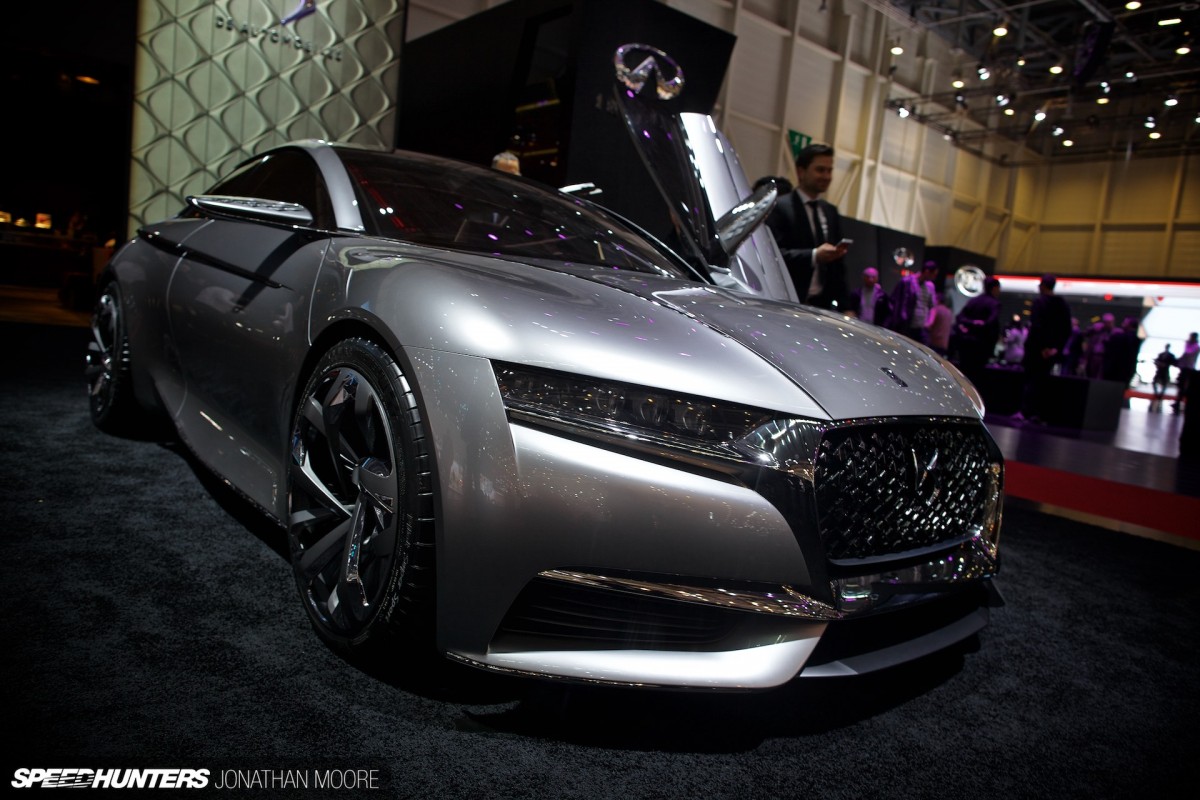 I'm just not cool with taking the DS name as a brand. Okay, I'm sure Citroën are hardly quaking in their boots at that, but I just don't understand the need to do it, especially when they've got really exciting concepts on show like the DS Divine concept which debuted in Paris.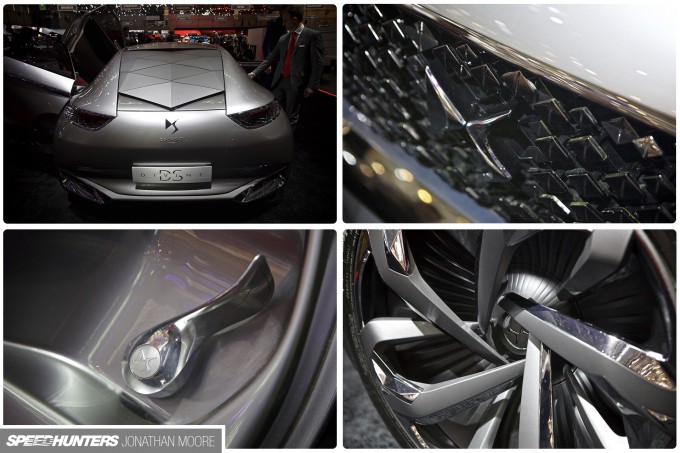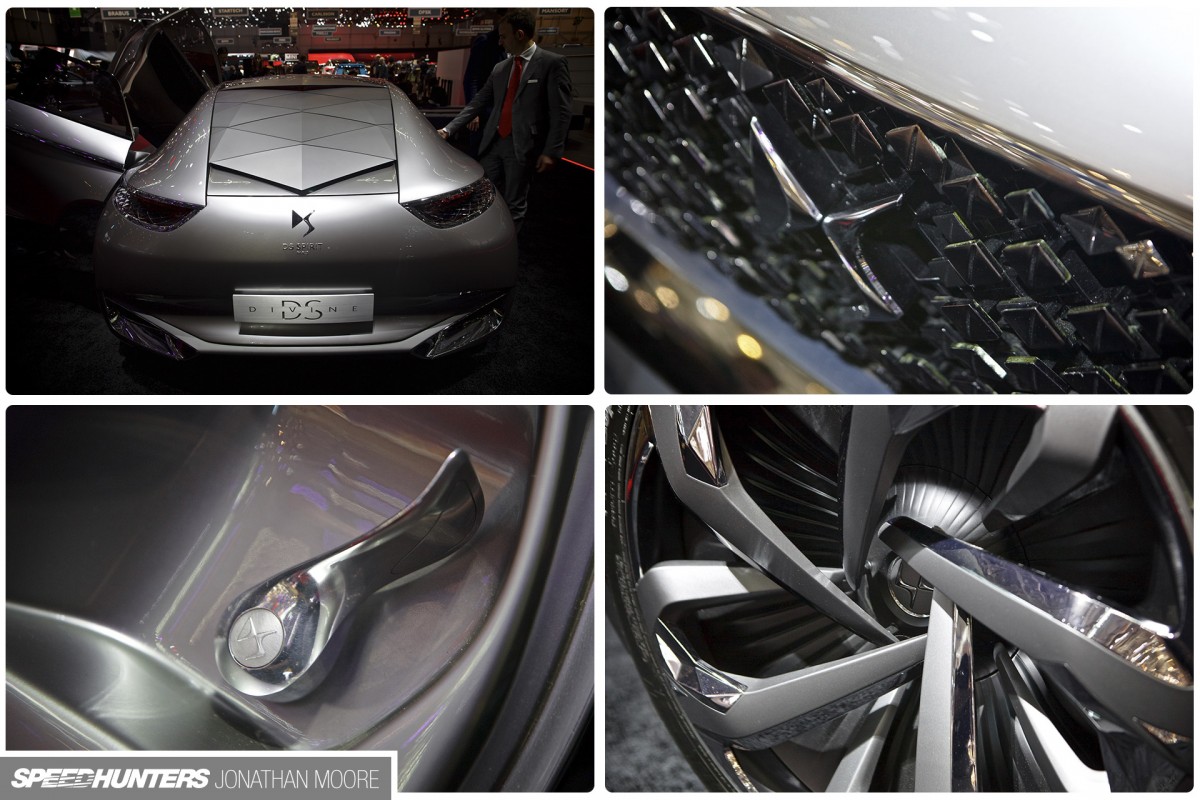 One thing everyone seems to do now is add insanely ornate and features, particularly wheels. Still, pretty cool, huh? I also loved how the scissor doors had such traditional, solid levers to operate them.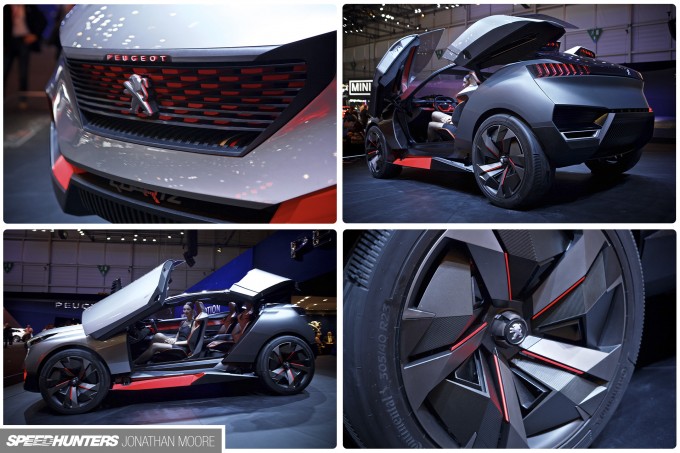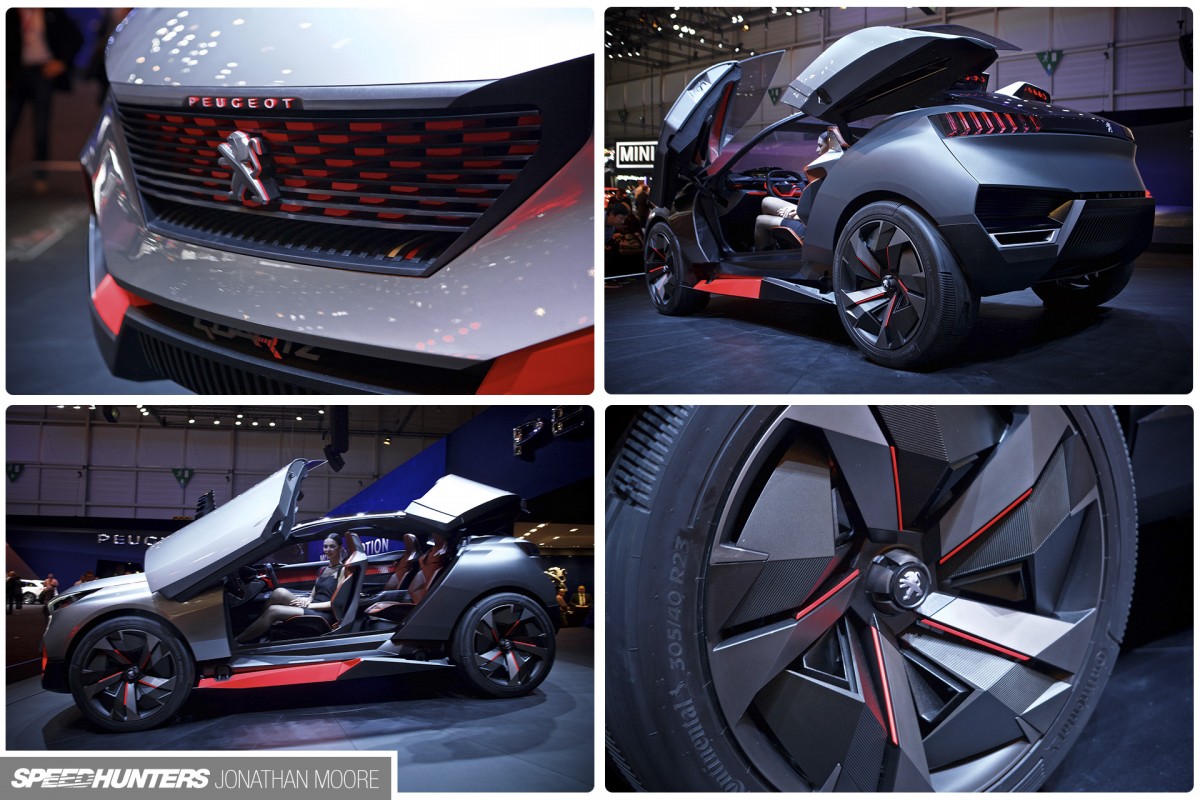 Similarly Peugeot – no sign of anything as exciting as the Onyx from a couple of years back. But again the Quartz showed off some crossover style with its wheels, even if the overall bulk of the car made it look like it probably had trouble fitting through the doors of the hall…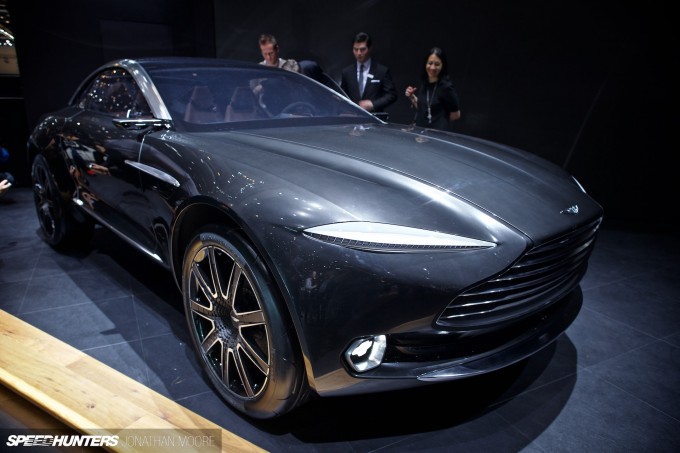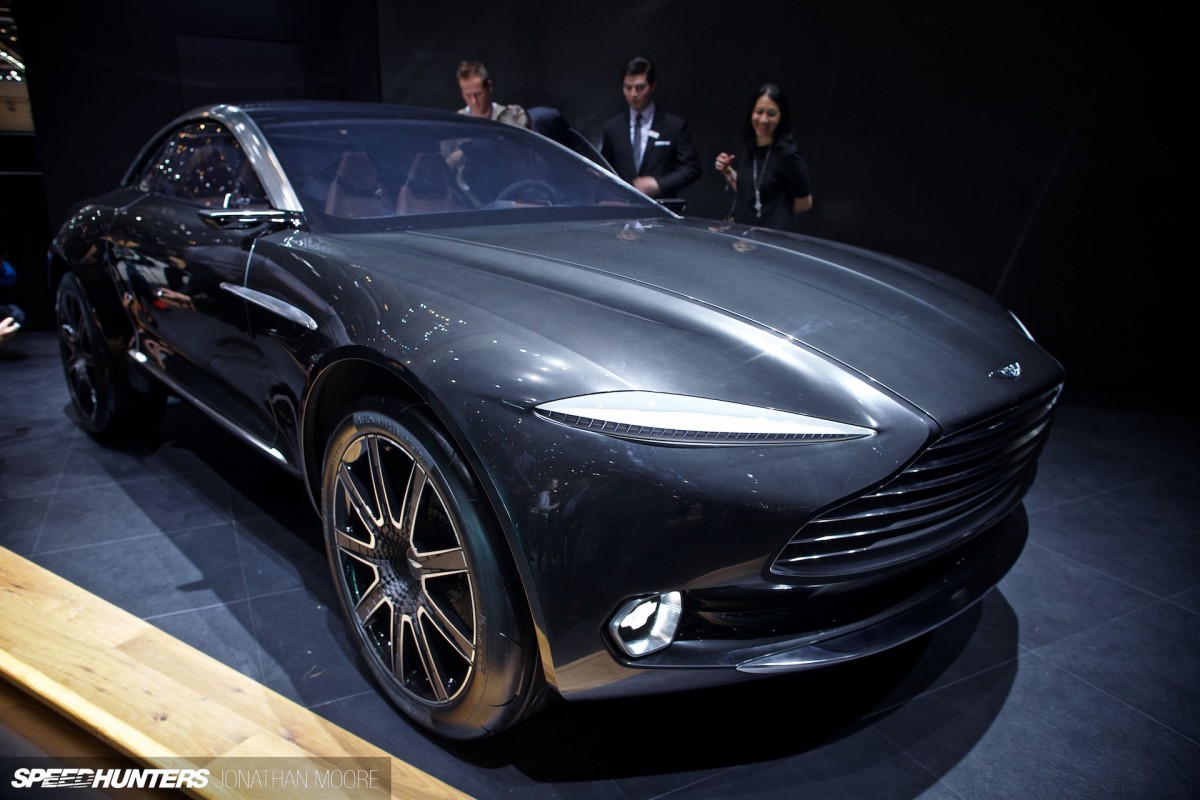 SUVs and crossovers are categories I've never really understood. Massive on the outside, the size of regular saloons on the inside. If I want a 4×4 (which I do, strangely), I'd buy a real 4×4: a Land Rover or Land Cruiser. A sportscar, then a small coupé. Anyway, the idea of a prestige brand coming up with an SUV would usually leave me cold. But then I saw Aston Martin's DBX.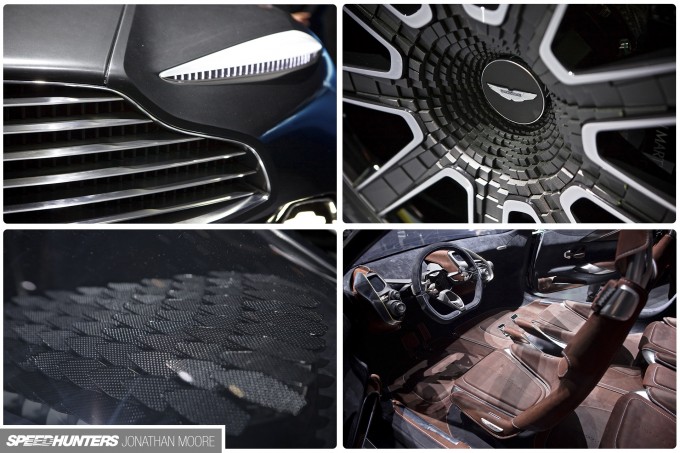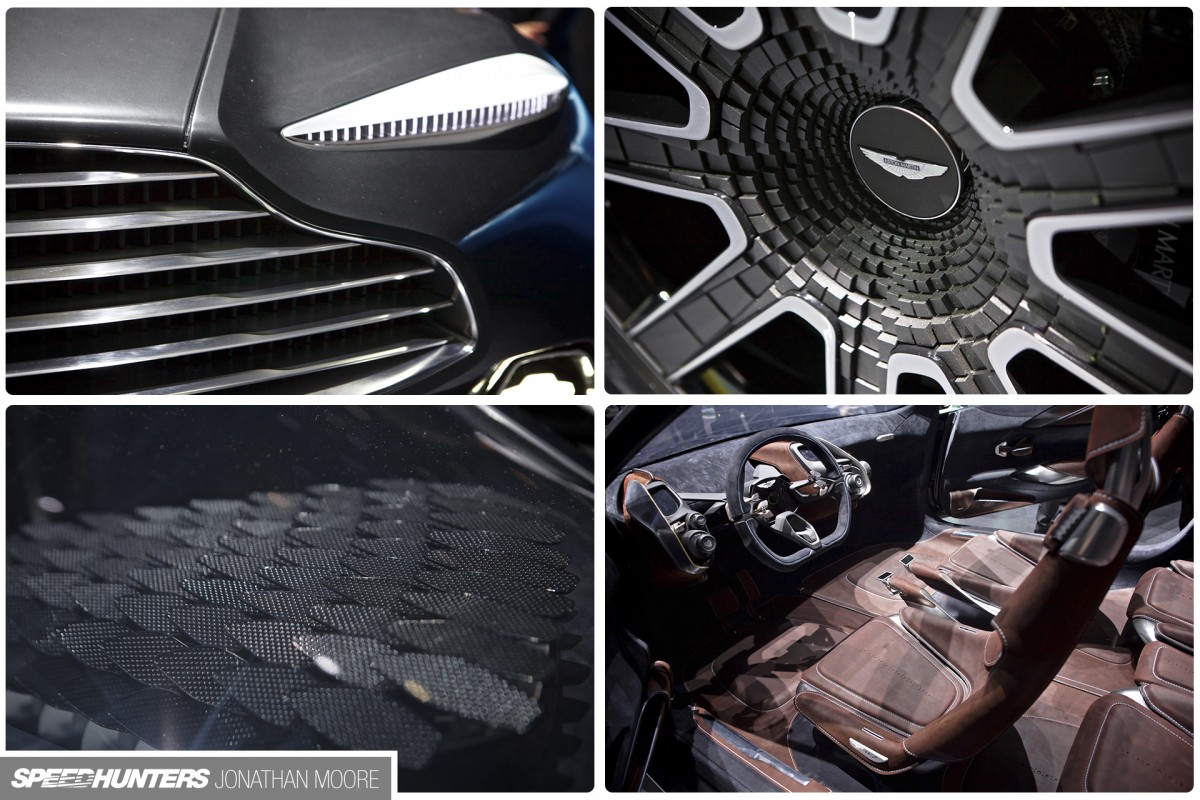 This thing is full future-shock epic. With its ellipses and sharp edges, it somehow retains a traditional Aston roundness and organic shape. This was another all-electric car, with four in-wheel motors, a KERS-style system and drive-by-wire steering. The interior oozed class, with its almost rustic-look leather creating an incredible looking cabin – complete with solar panel petals at the rear. Again, the wheels though: like something out of Event Horizon.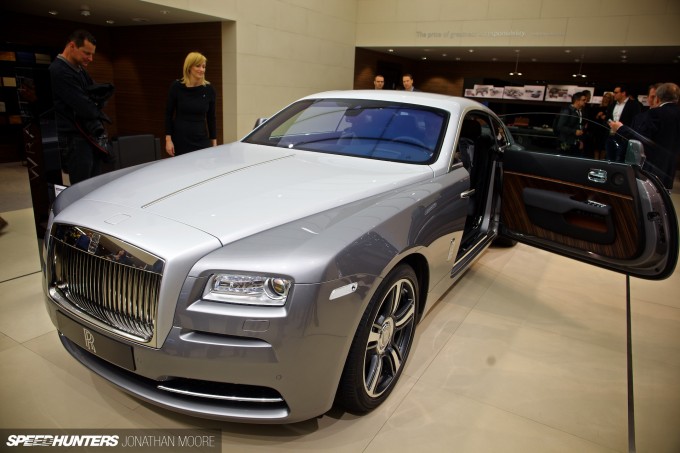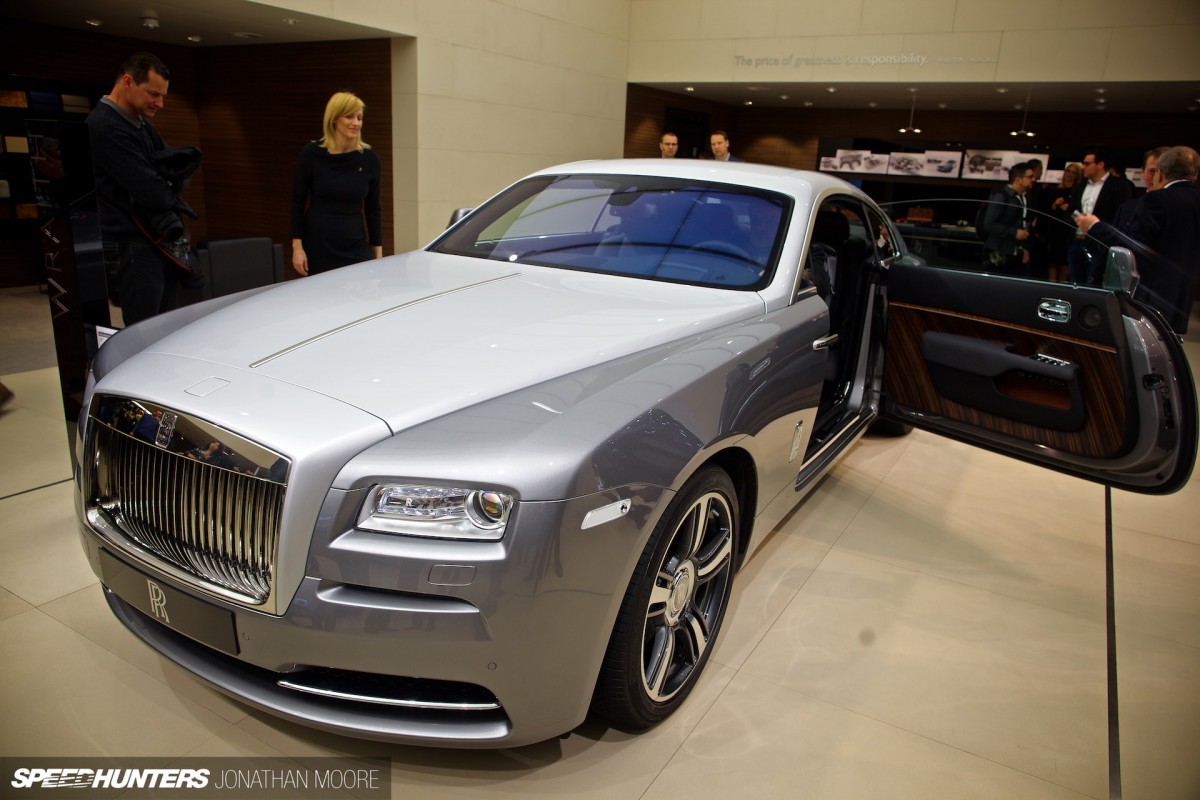 Not even attempting to be anything other than what it was, Rolls-Royce's 'compact' tourer Wraith is still a pretty amazing beast. Exquisite craftsmanship is a given, suicide doors now almost expected, ferocious power being the new addition; Rolls-Royce are going through an impressive reinvention. I'm due a visit to their Goodwood factory in the near future, and I'm intrigued to see what we'll find.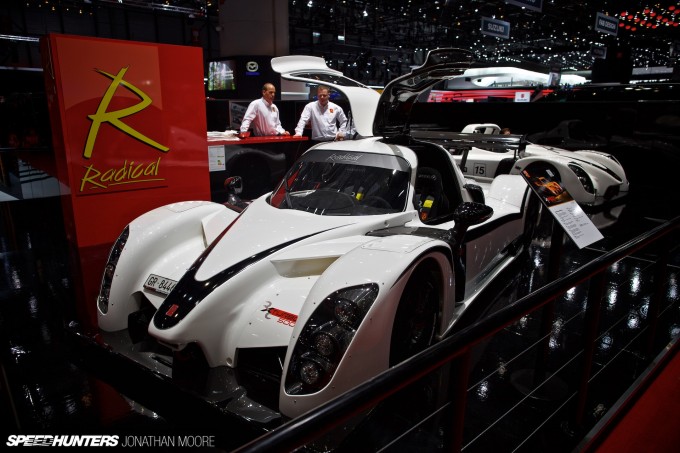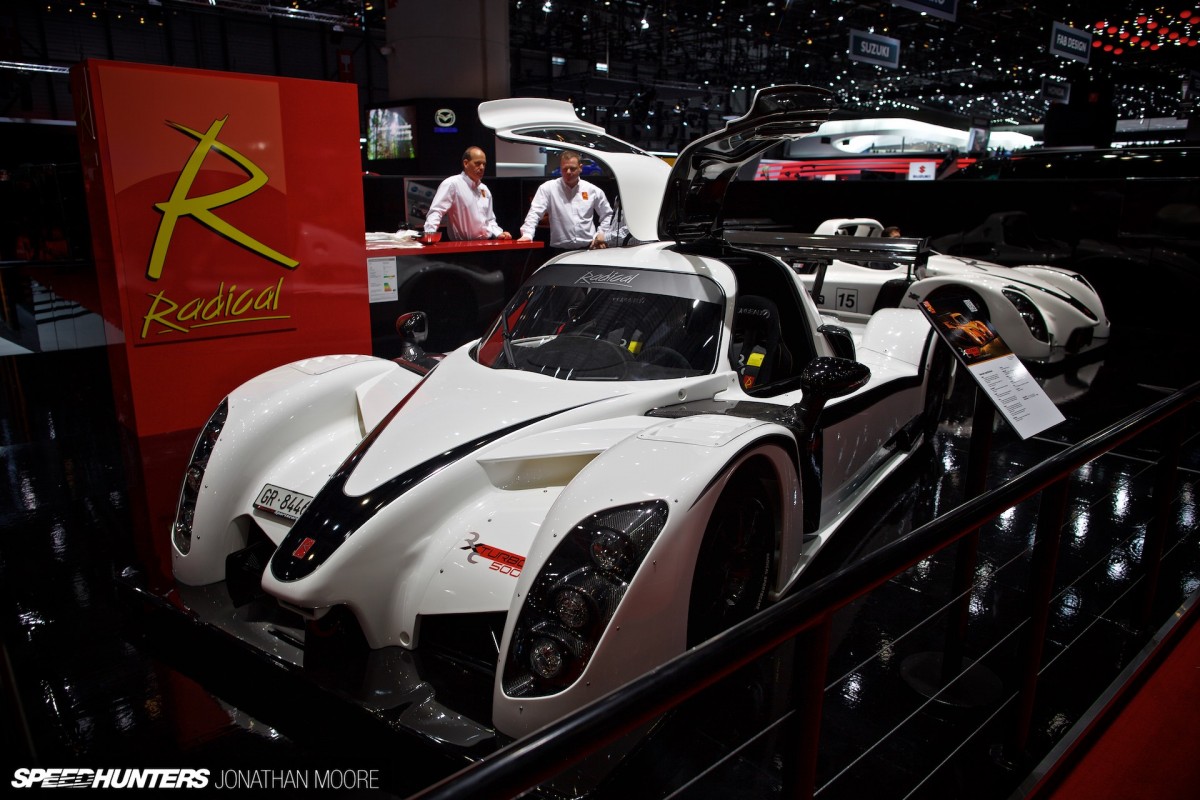 All roads at Geneva inevitably lead back to the Nürburgring at some stage, whether in race or road form. Radical currently hold the Nordschleife lap record, with a car driven from the UK to the track then smashing the time. They're aiming to do the same again the RCX Turbo 500 – a barely-disguised racer for the road. Using the notation from my previous story, this car could well be the defining unit of 1 Nordschleife in the very near future.
Jonathan Moore
Instagram: speedhunters_jonathan
jonathan@speedhunters.com