The Car Show, Simplified
Let me throw out a thought: car shows have become far too complicated. Why are we paying outrageous entry fees months in advance, waiting in line at the crack of dawn for roll-in and walking around with plastic bags full of stickers, brochures and pens?
The Bomb Squad Car Club must have seen it this way too, because five years ago they started the Bomb-B-Q with a simple premise: show up with your friends, bring a grill and a cooler and just kick back for the day.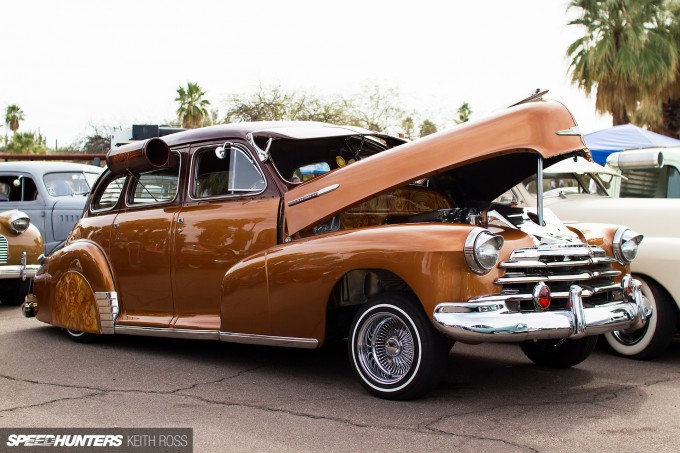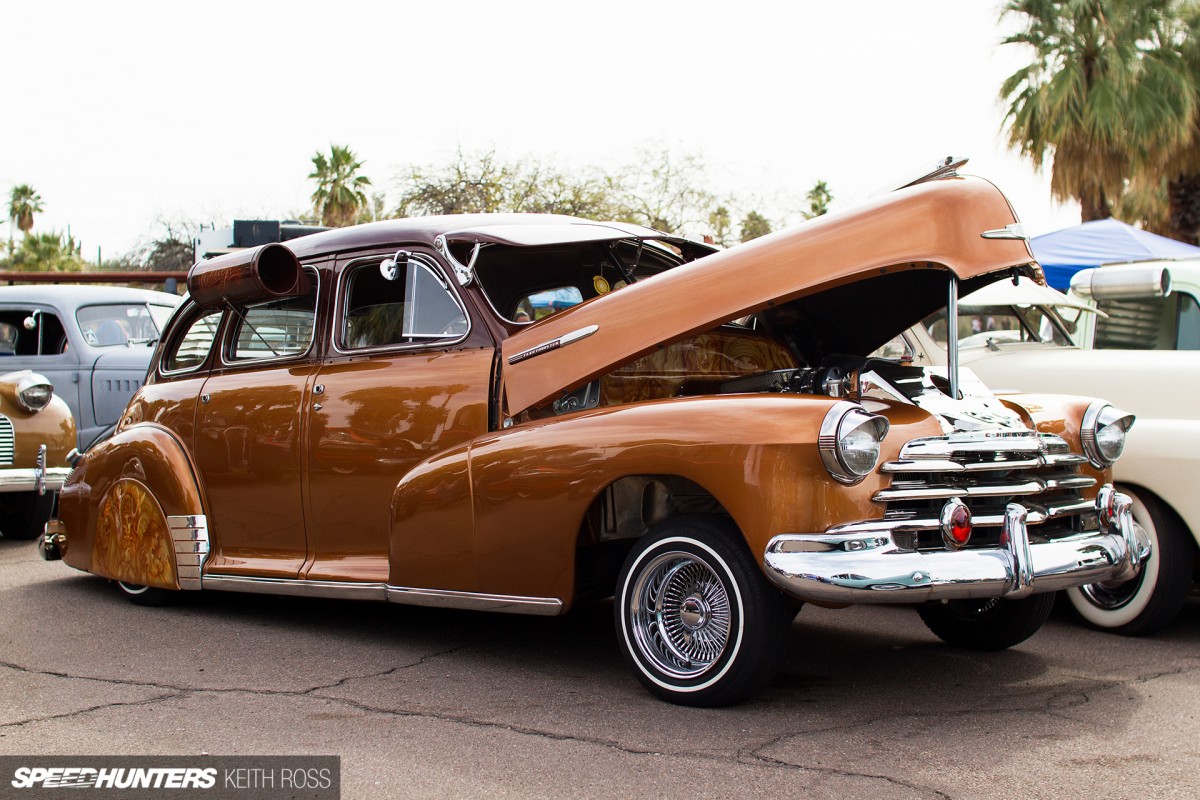 That's exactly what we did this past Saturday. While the term 'bomb' is traditionally reserved for this style of lowrider – typically a '30s to '50s American model dressed in accessories and wire wheels – there were all sorts of other vintage rides too.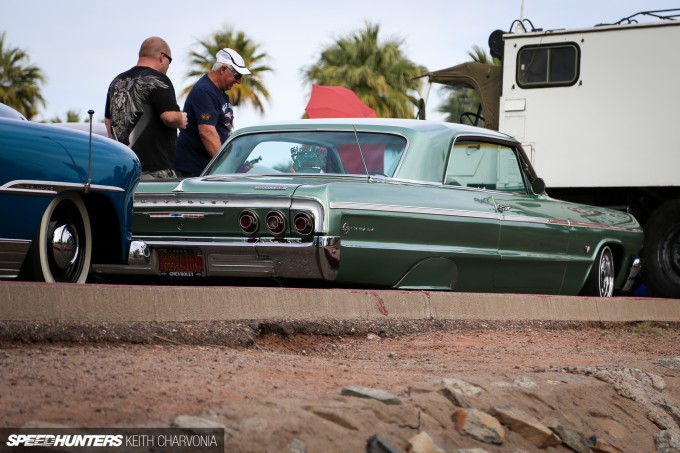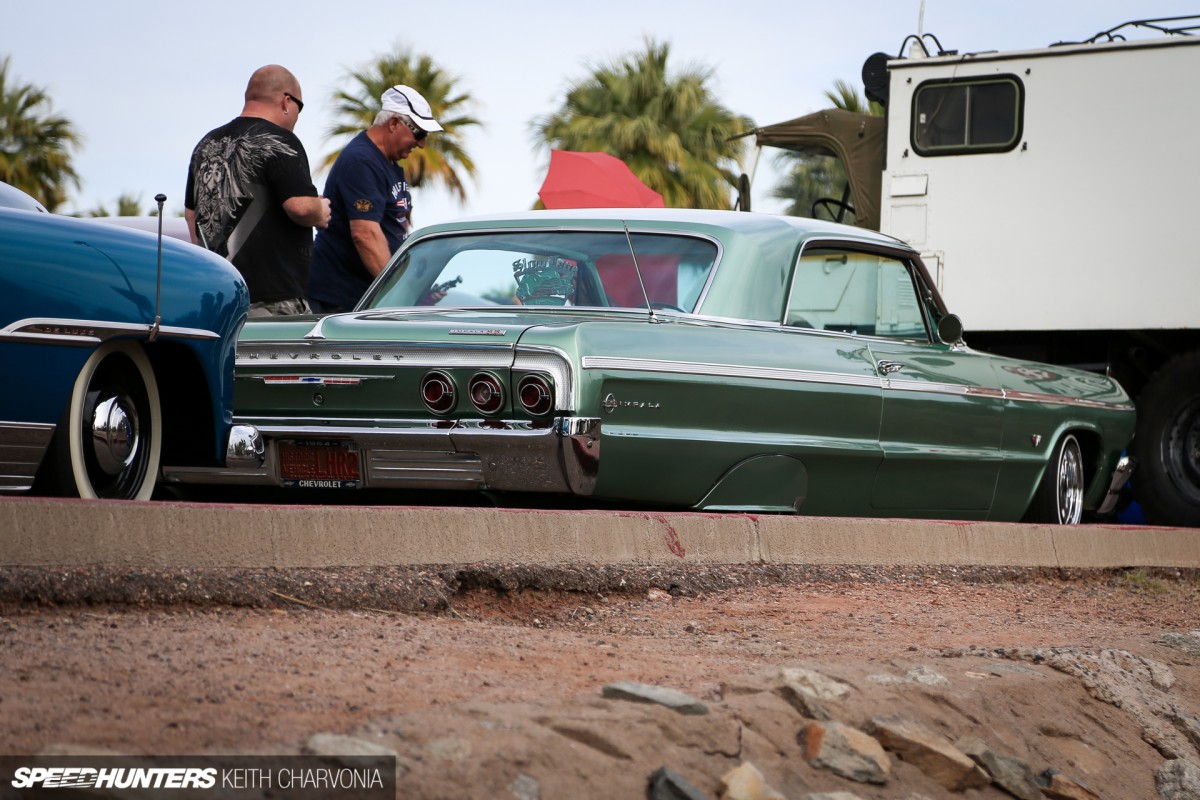 We saw the ubiquitous juiced Impala, of course.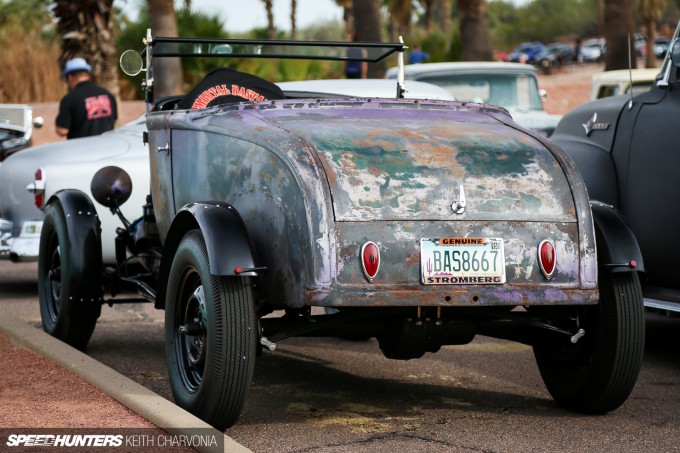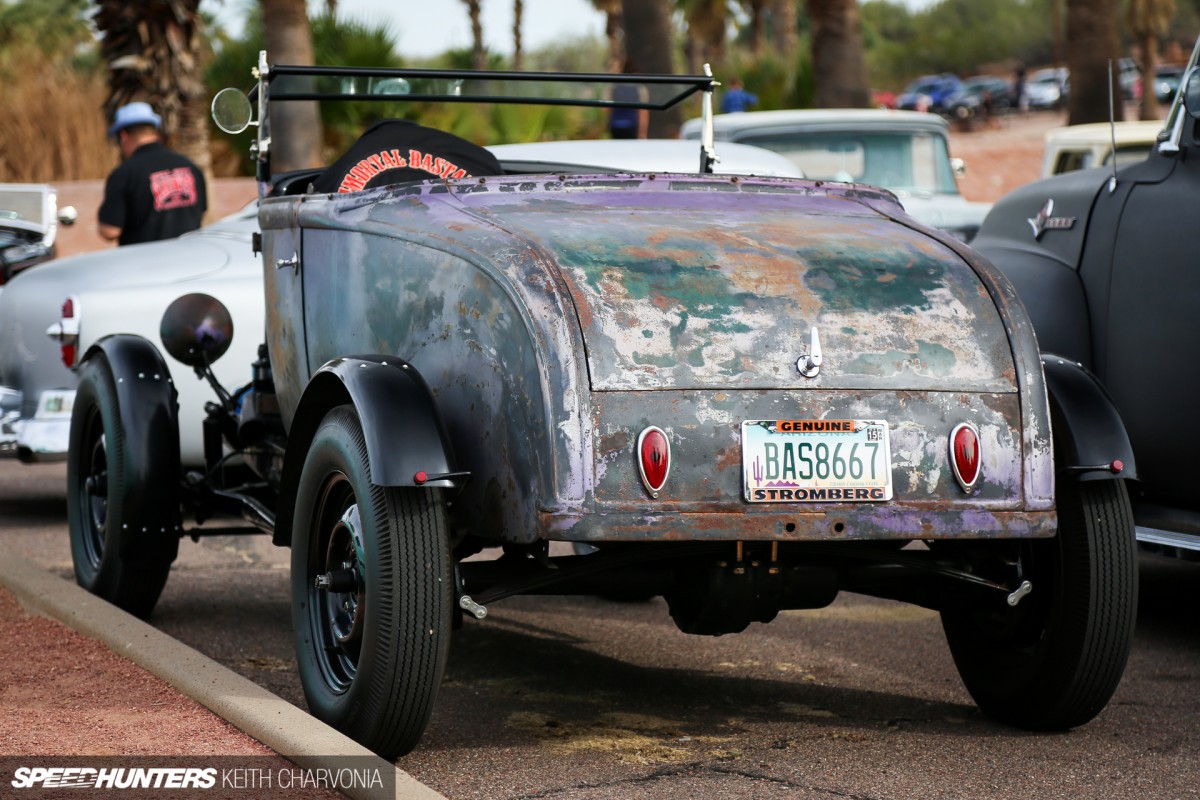 There was also a small contingent of traditionally styled hot rods.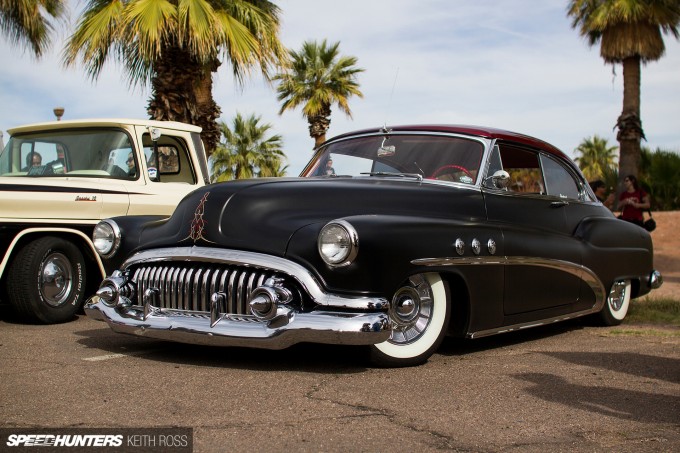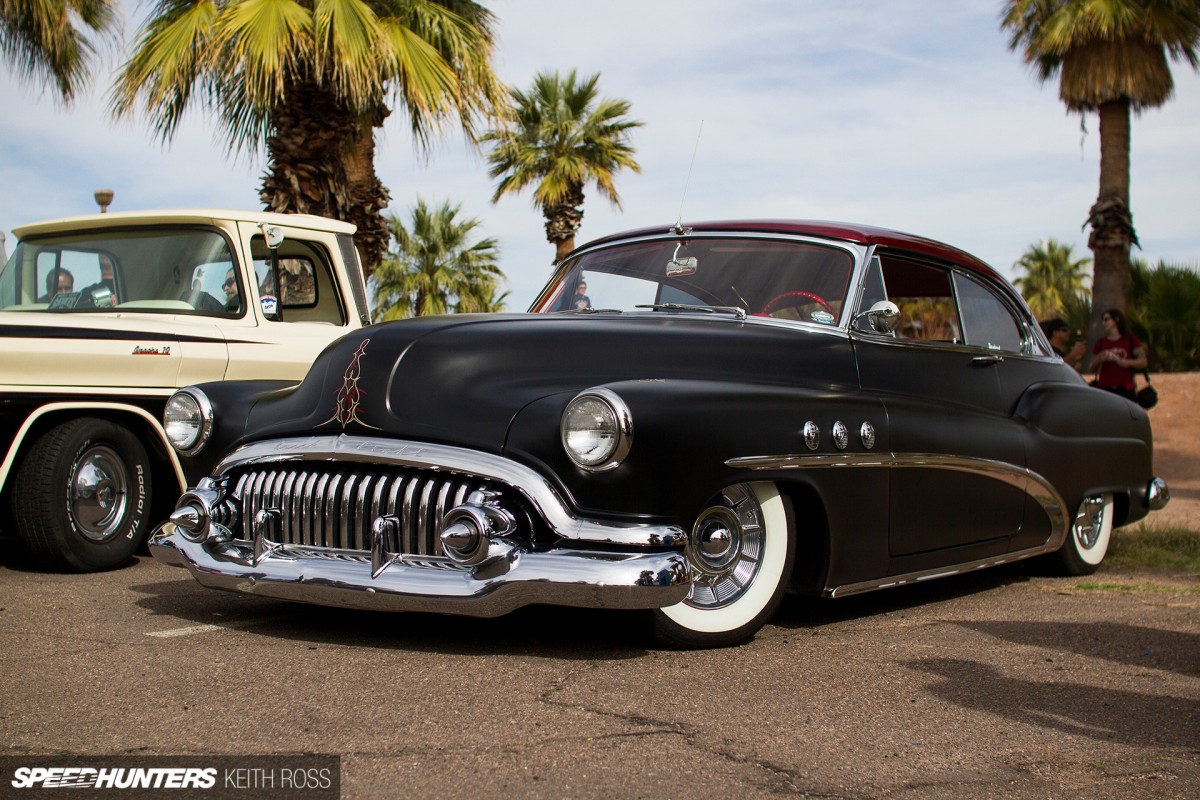 Lowriders were derived from the kustom genre, so it was no surprise to see several that day, ranging from mild to wild.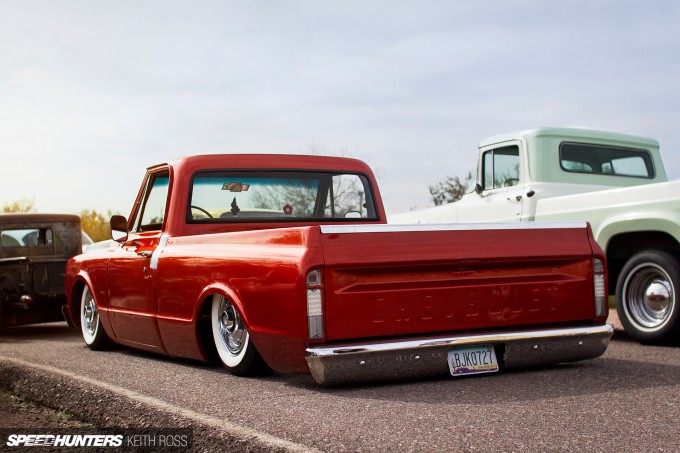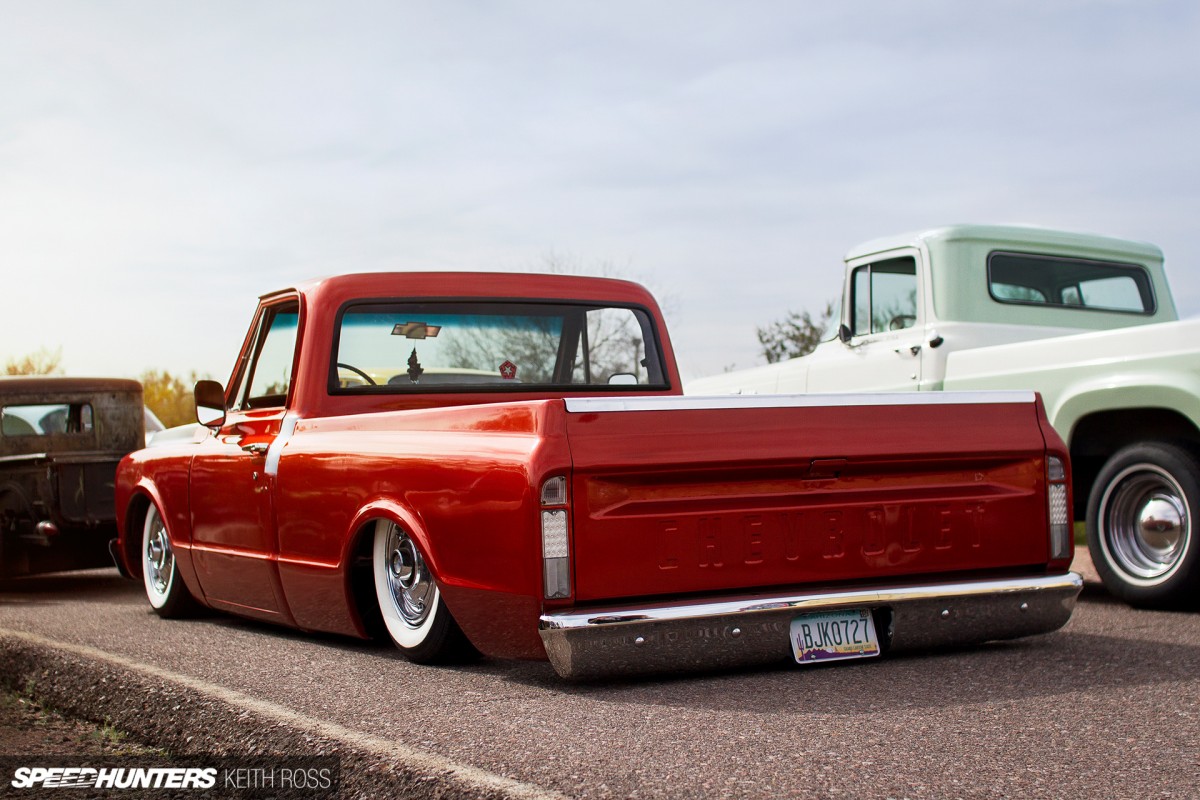 And somewhere in between were a few bagged pickups with lowrider or custom touches.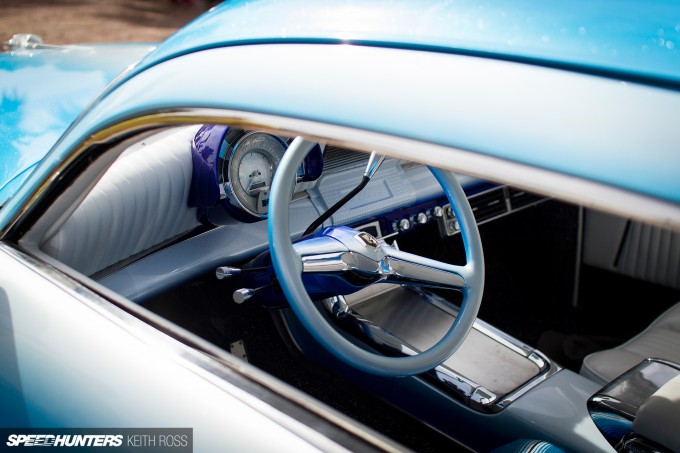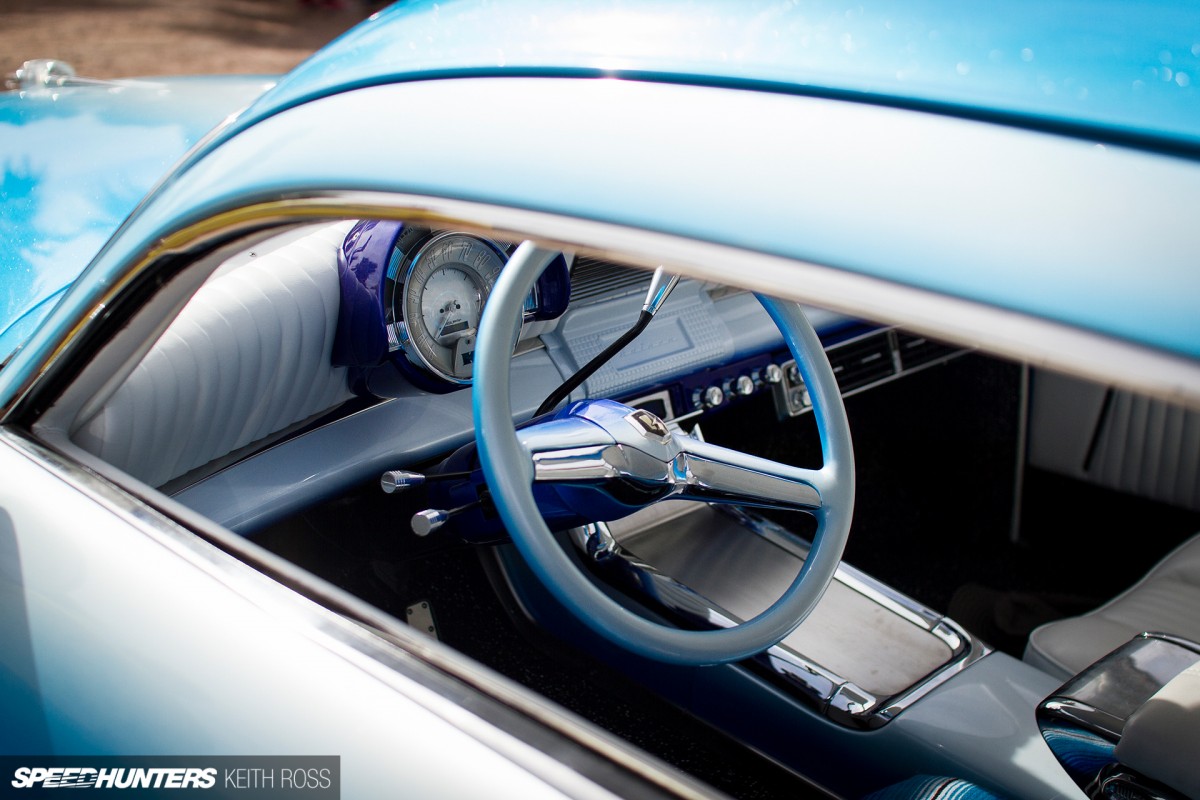 It's been too long since I've driven my kustom Kaiser, so I brought it out for the day. It was good motivation to finish up some loose ends and get it on the street.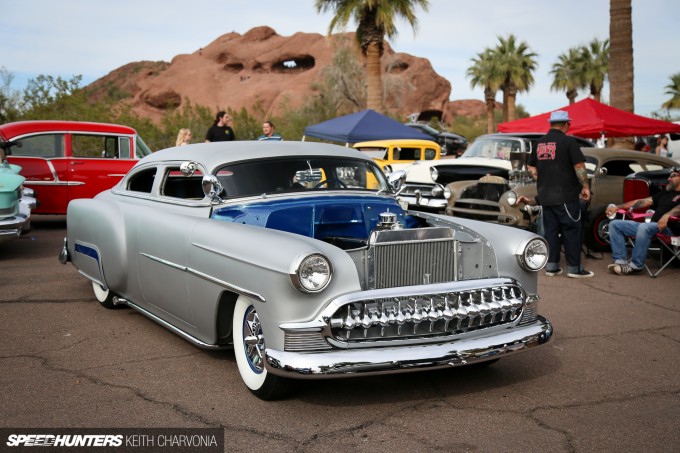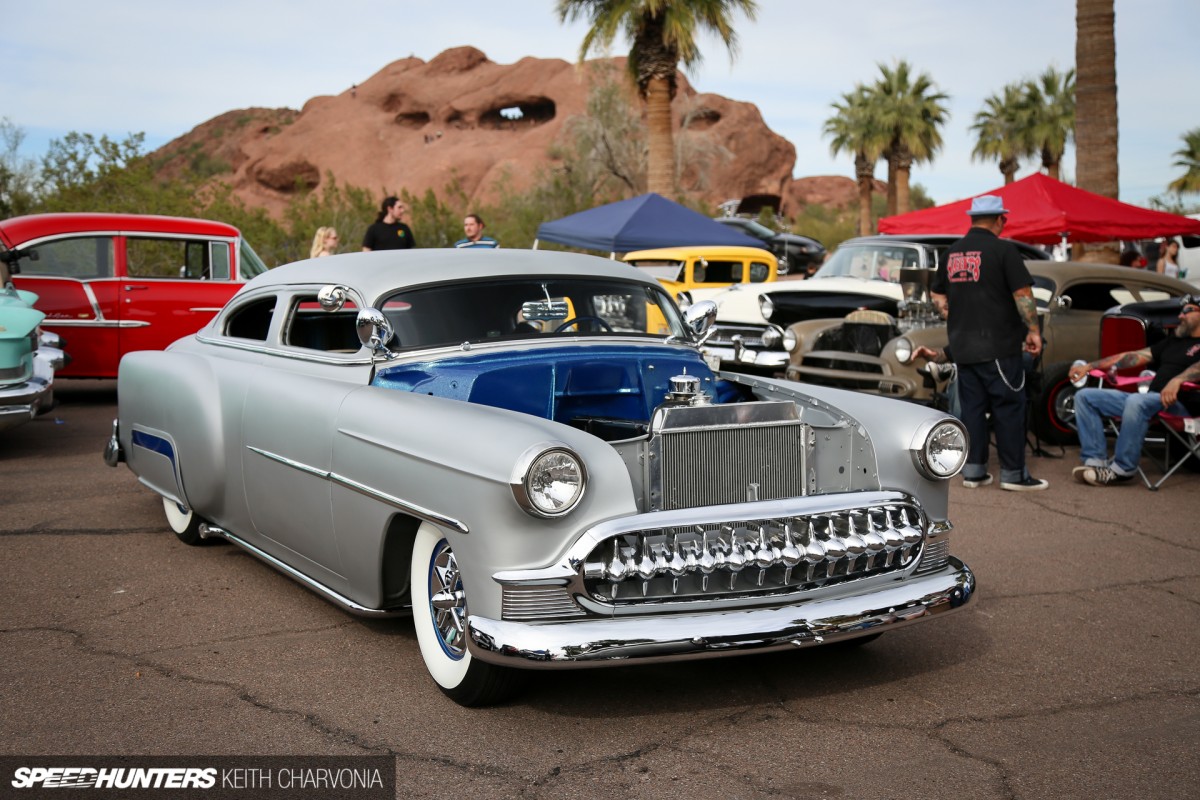 The Bomb-B-Q is held in Phoenix's Papago Park, smack dab in the middle of the city and located at the base of some alien-looking sandstone mountains.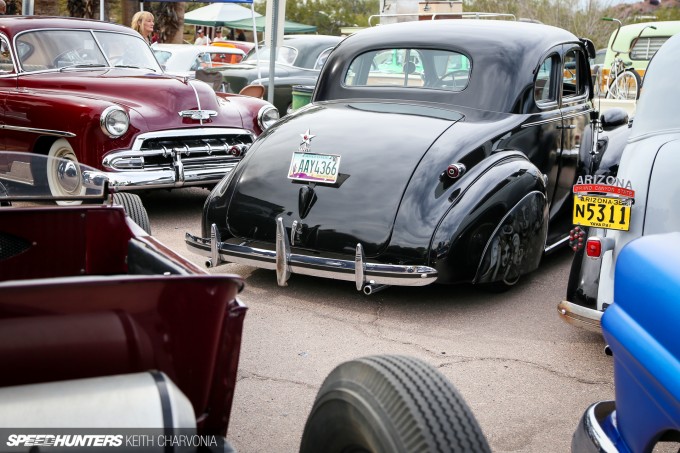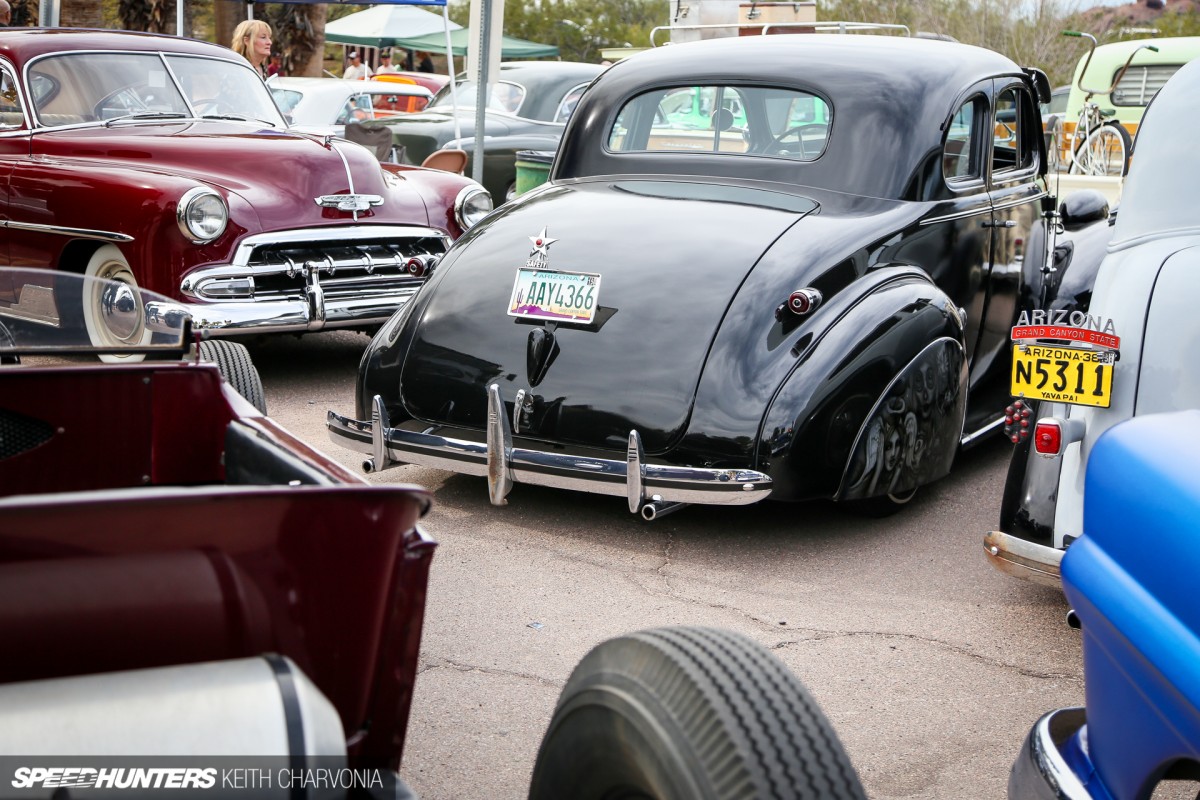 The Bomb Squad CC is only able to reserve one parking lot for their show, so it ends up being really packed.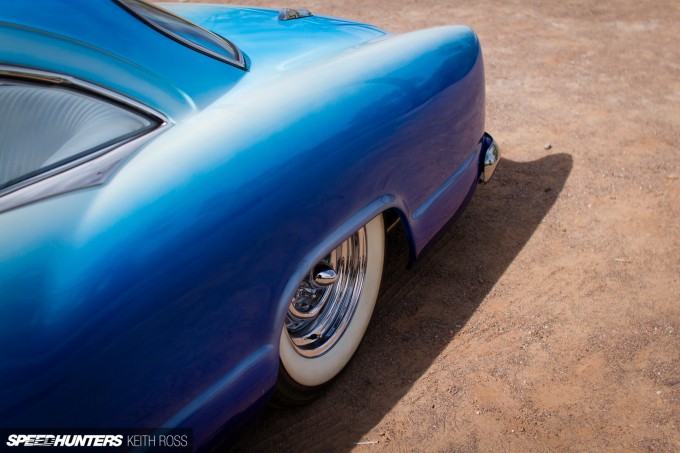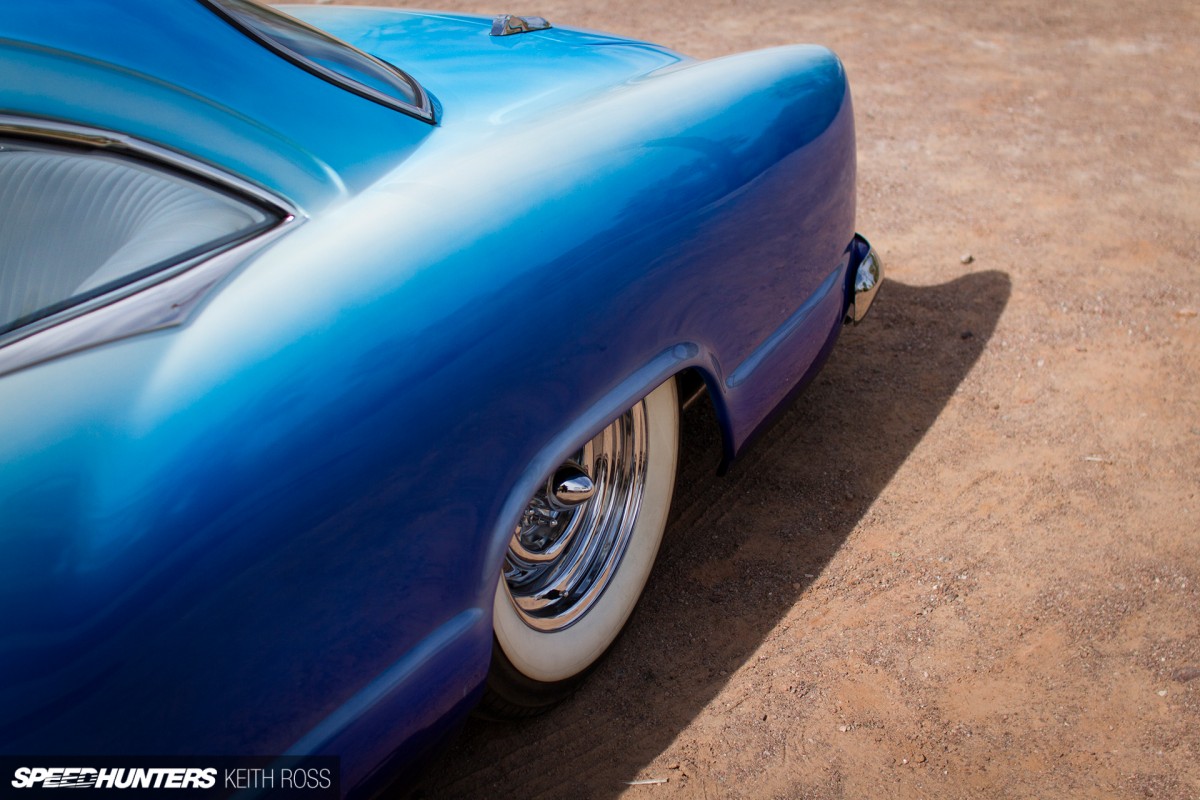 With the parking lot filling up quickly, I found a spot on the outskirts over in the dirt.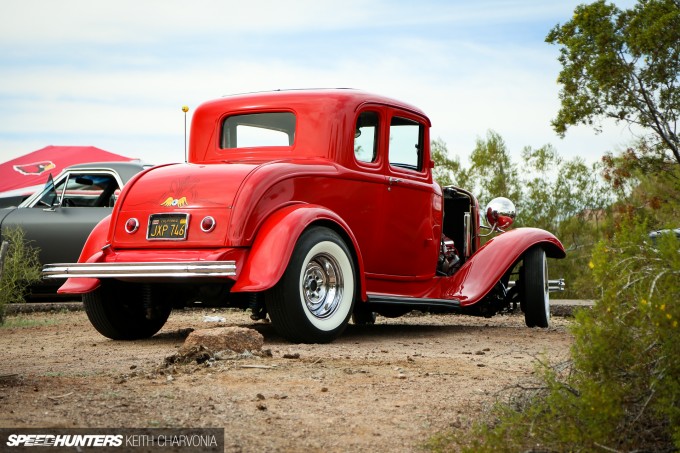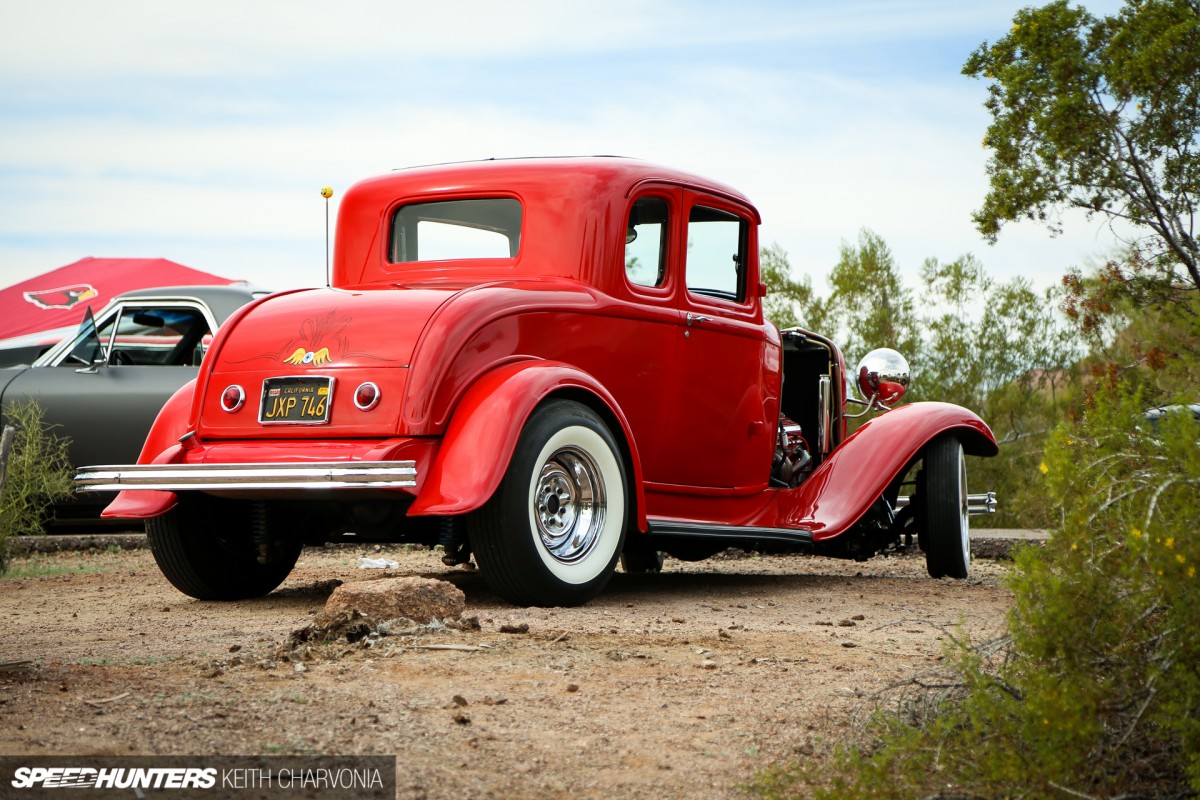 I wasn't the only one who didn't mind parking in a little dirt. For those of us who drive our custom cars, this was a nice change of pace from the 'car duster' crowd.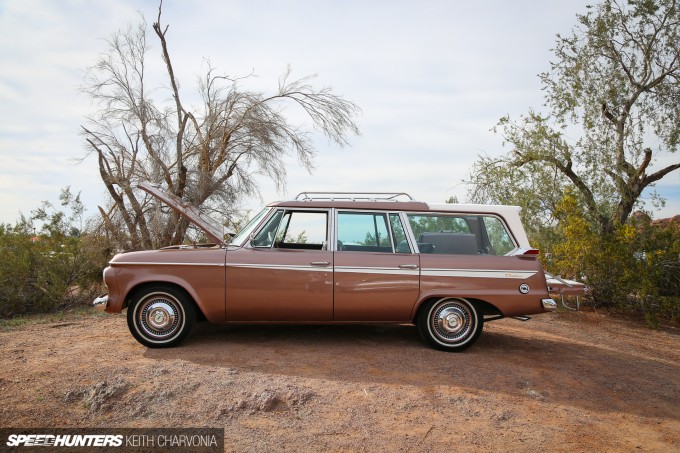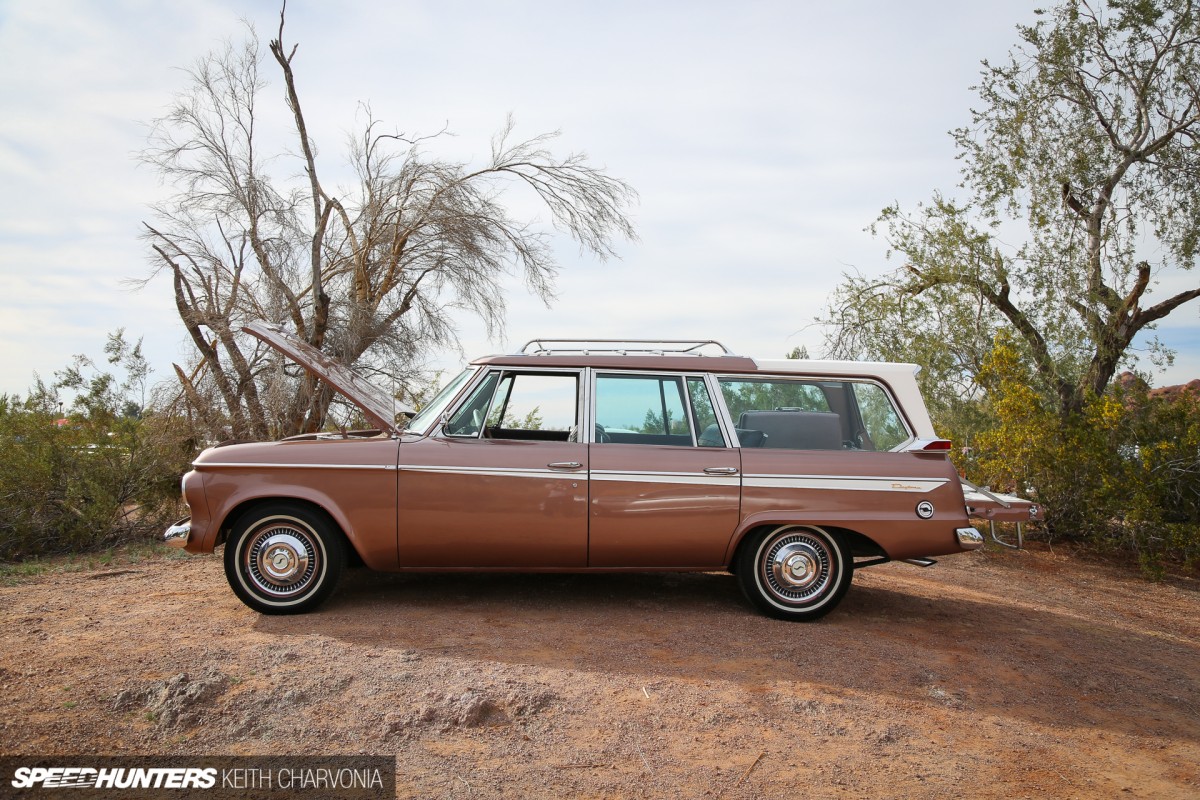 Nearby, this Studebaker wagon drew people in all day.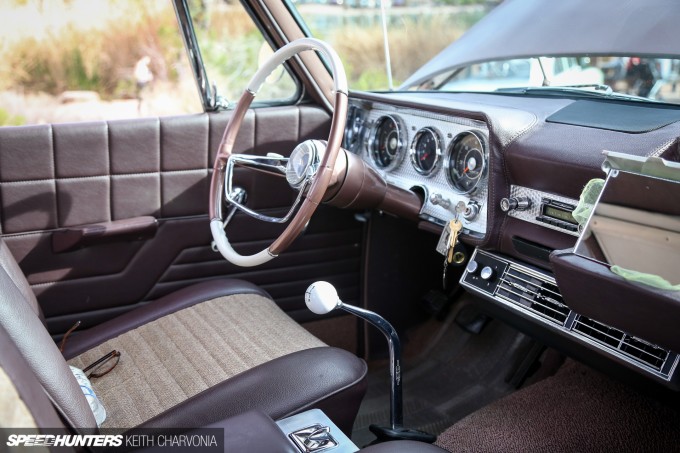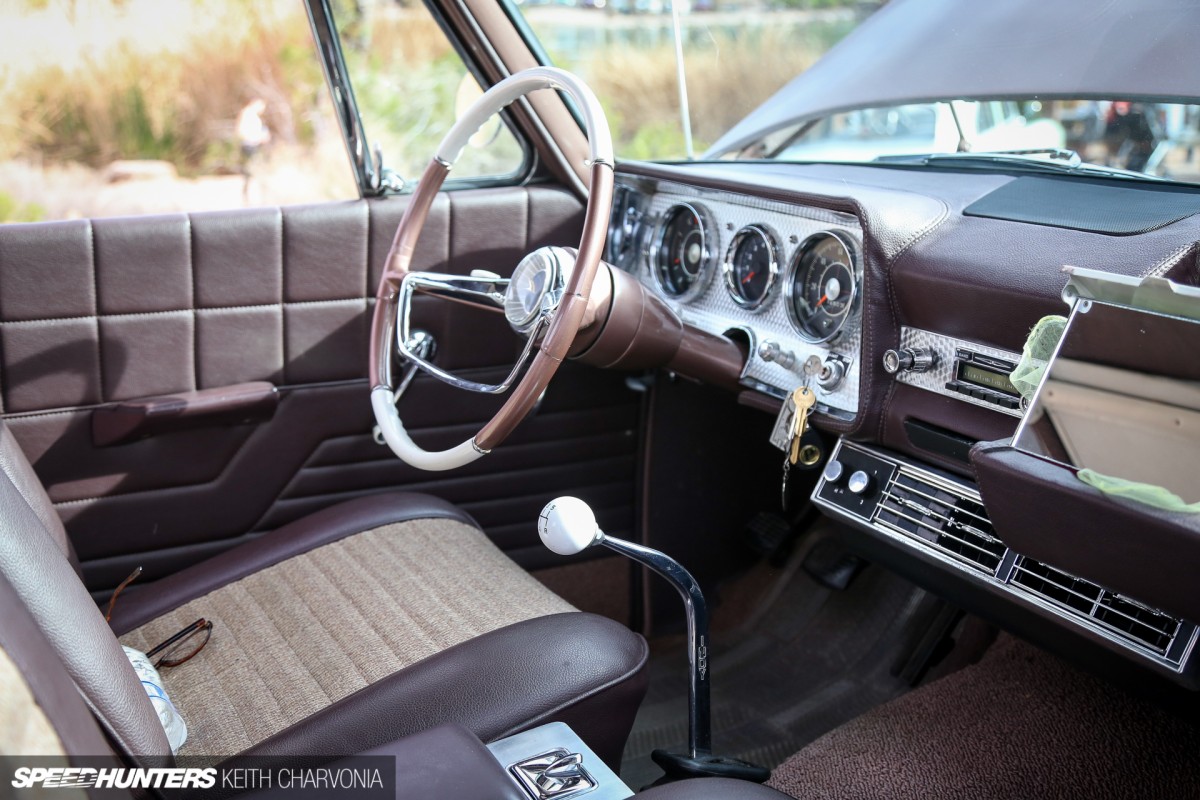 Despite the tame appearance it had a V8 powerplant with a manual transmission.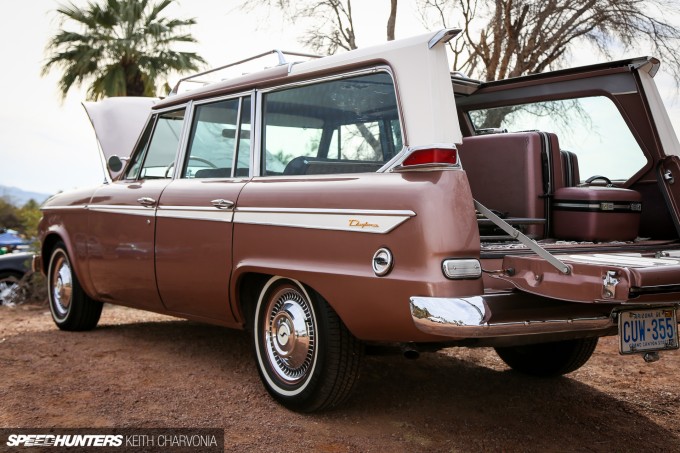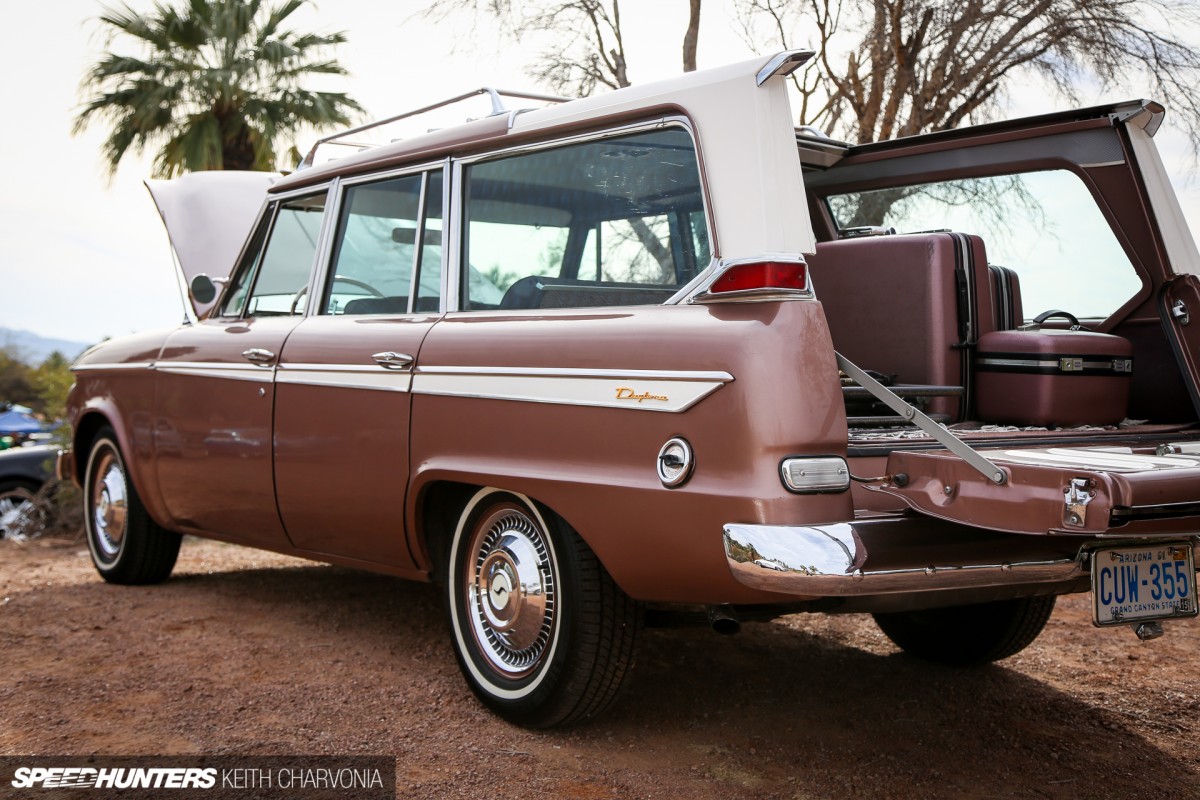 The coolest feature by far though was a panoramic sliding roof!
Bombs & Lowriders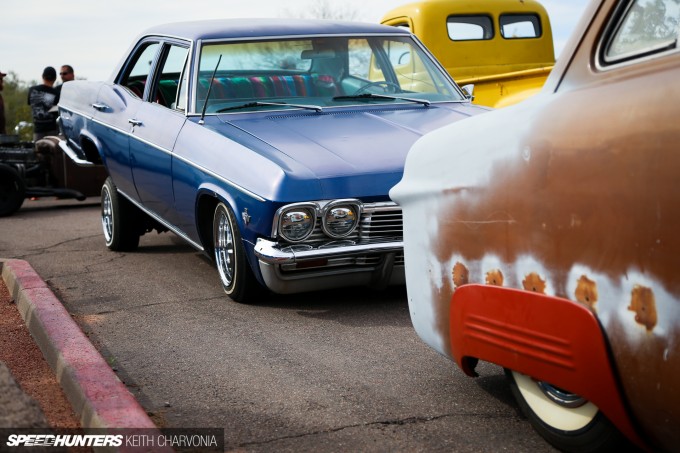 Since the Bomb-B-Q wasn't technically a show at all, I found the line of what was acceptable to bring to be quite blurred. It seemed like everyone knew what was appropriate, yet there weren't any rules dictating what was allowed either.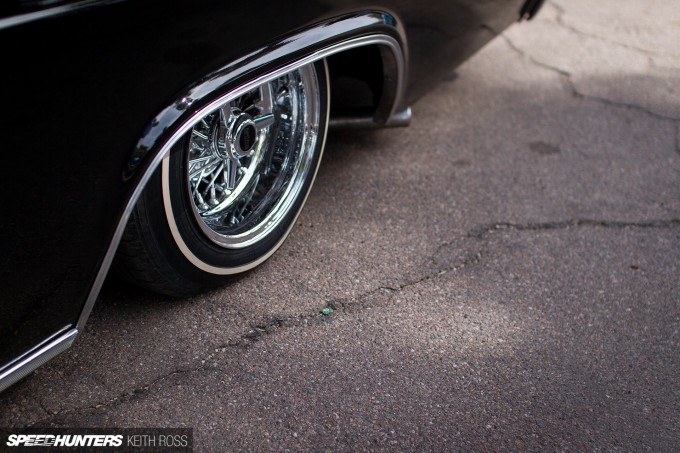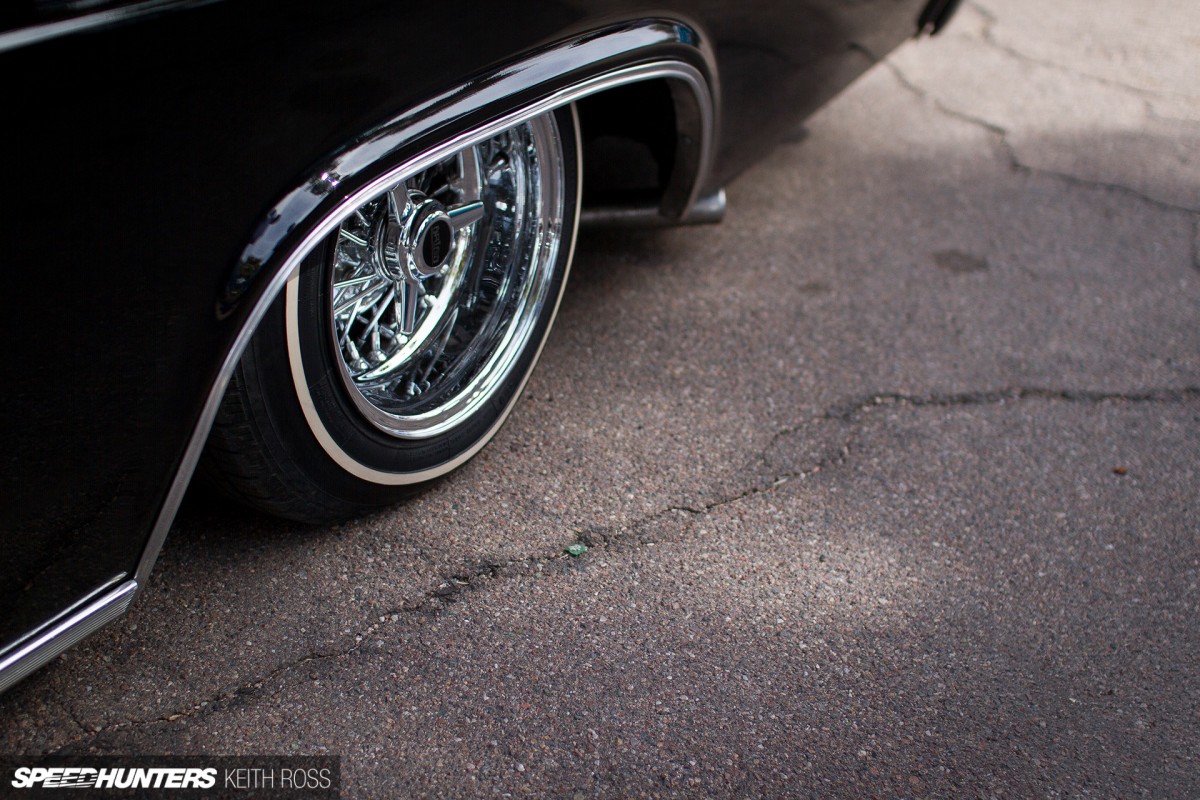 The lowrider crews had a strong presence, with many clubs displaying their banners and grouping up under awnings.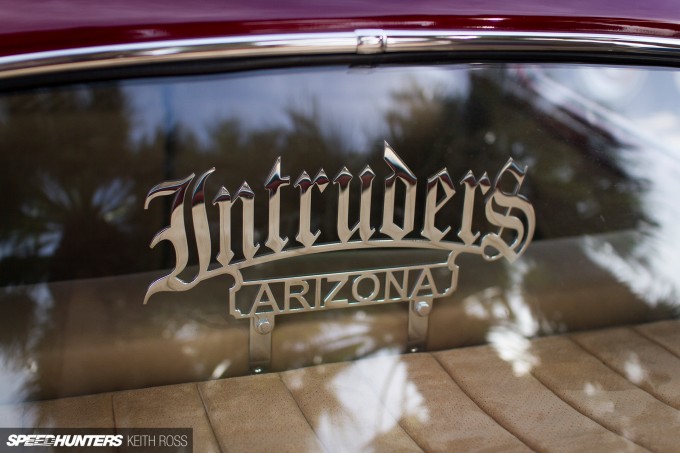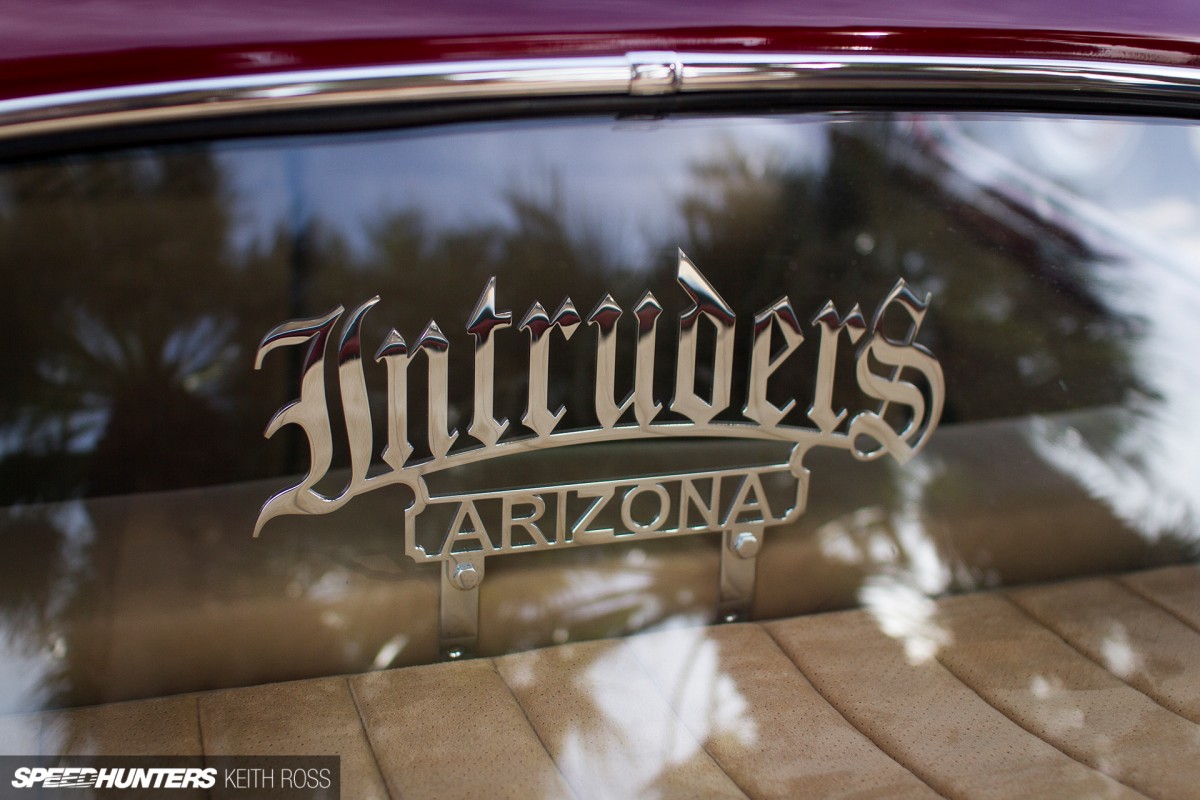 It's interesting to me how certain genres display their affiliations, ranging from a simple decal to the intricate (and heavy) chrome-plated signs of the lowrider culture.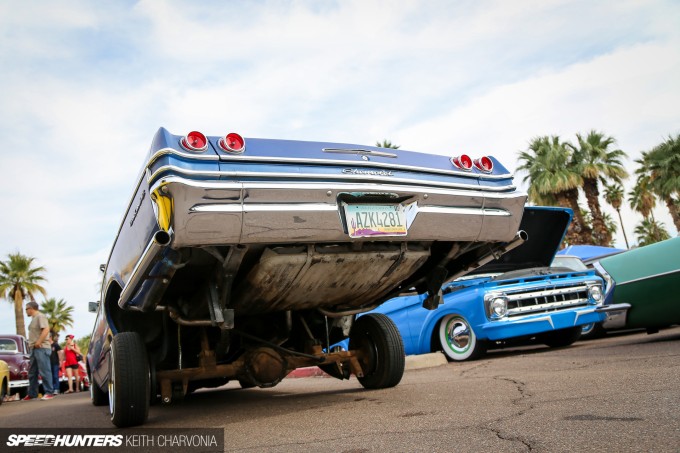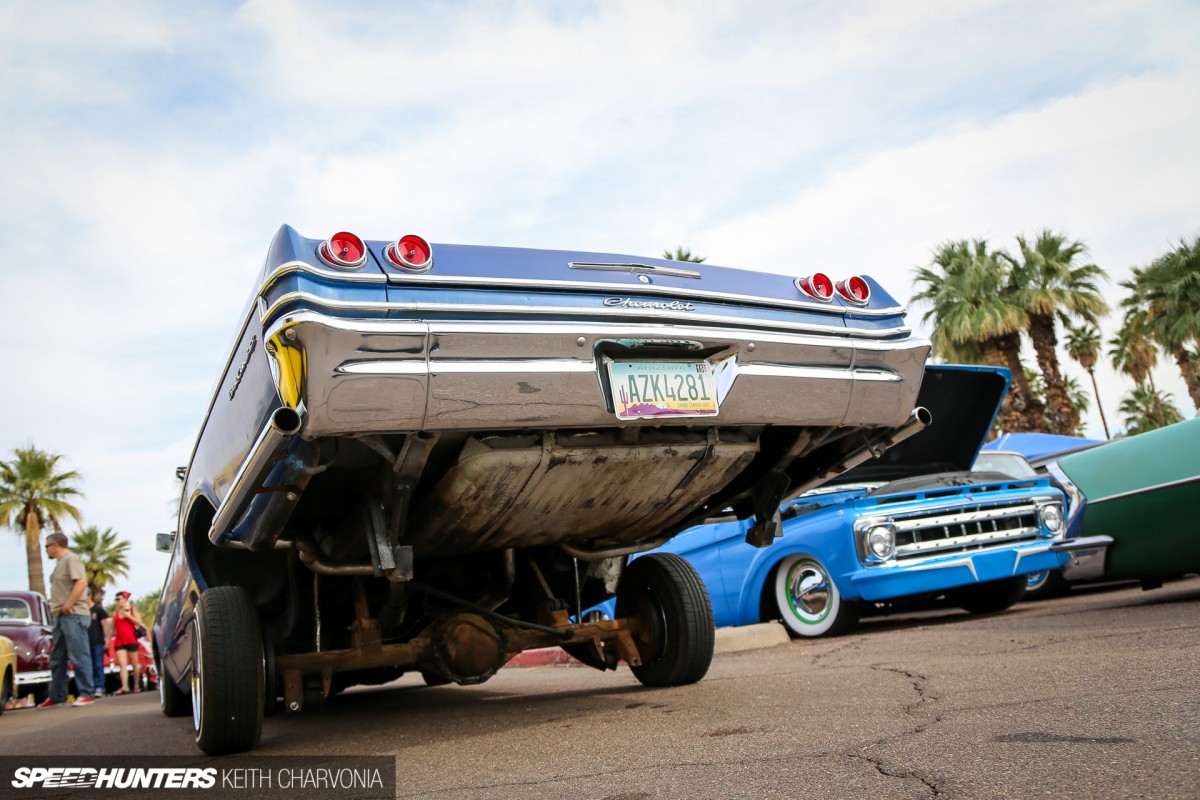 While almost every car was tucking tire, this guy showed off his hydros by lifting and lowering the car throughout the day.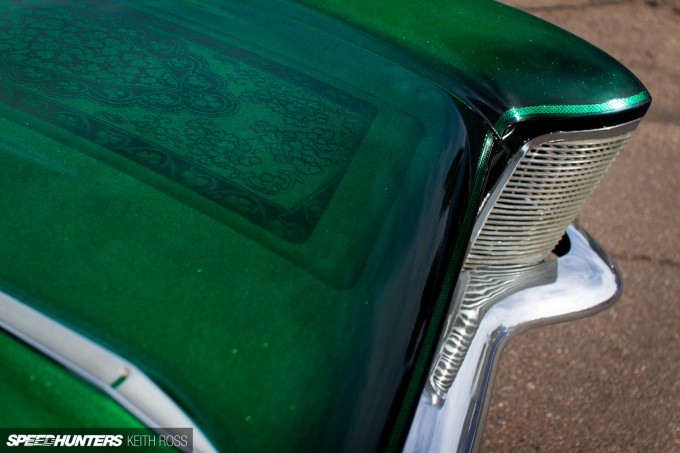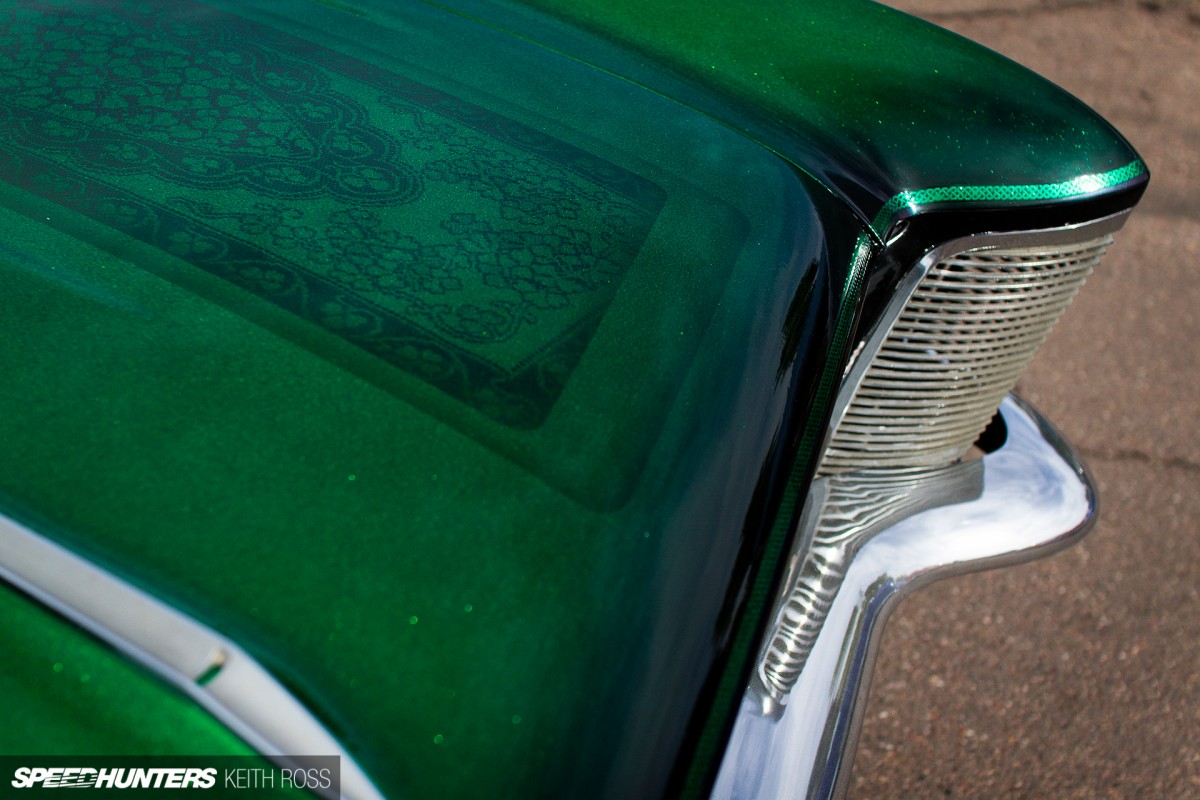 A '60s Riviera is a body style that can work well with many different treatments, but in this instance a lace paintjob made the lowrider theme read loud and clear.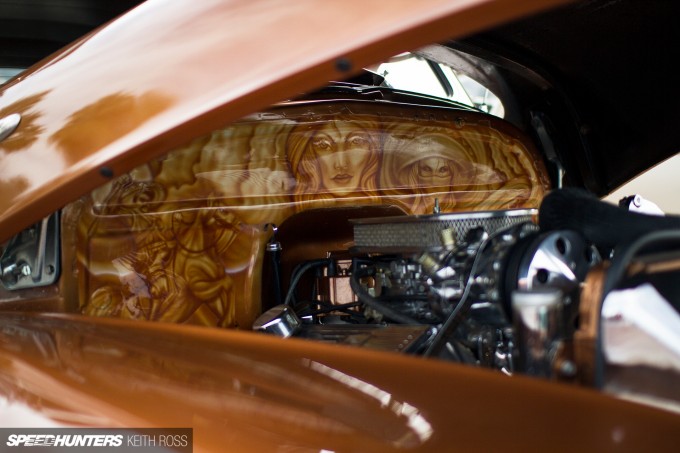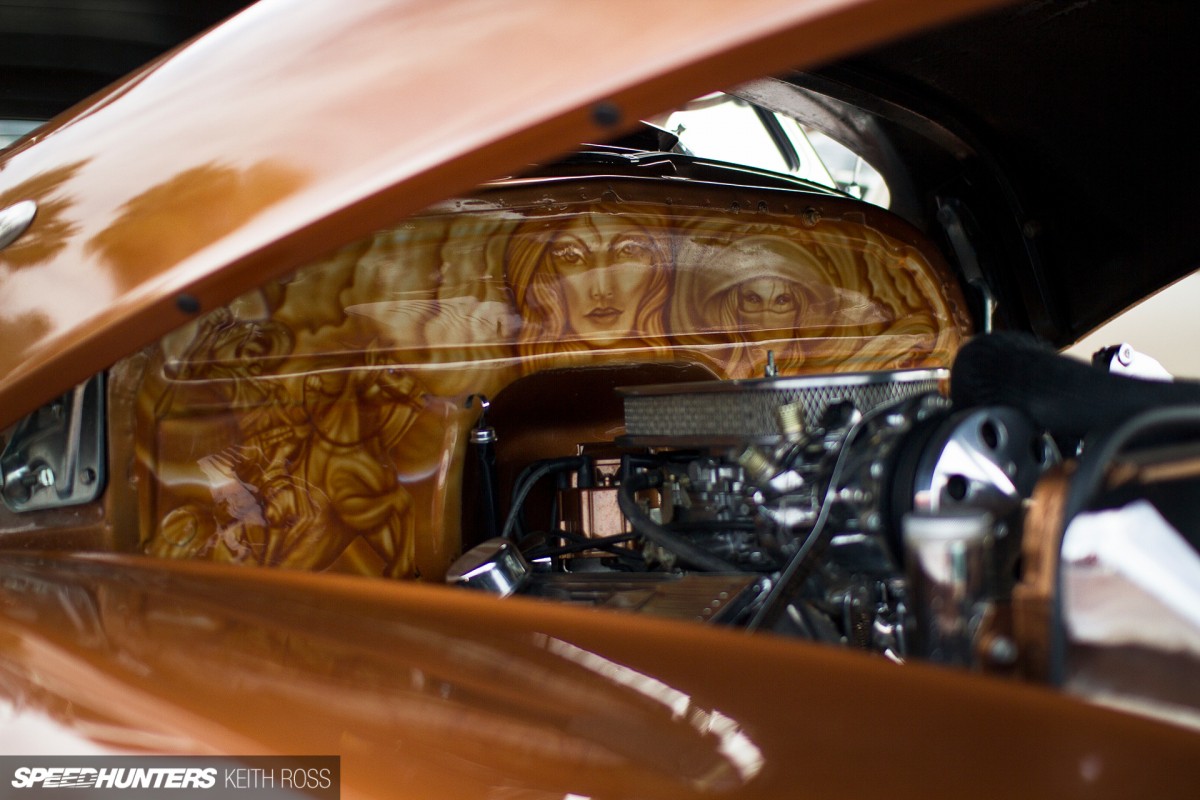 Intricate airbrush work is also a huge part of this scene, but this guy kept it low key by limiting the airbrushing to just the firewall.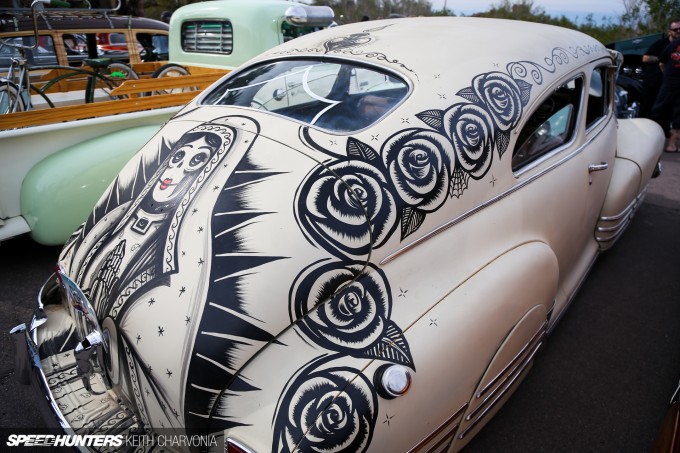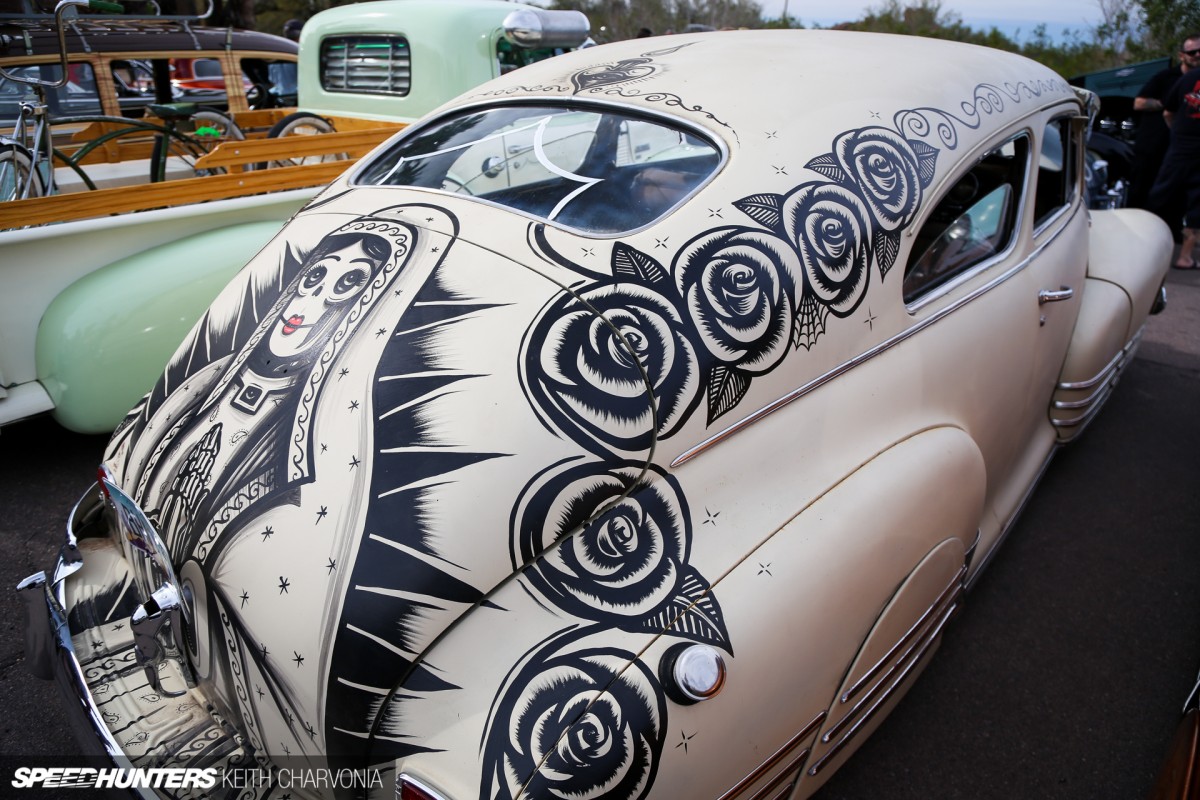 While this theme definitely aligns with lowrider culture, I can't say I've ever seen such a tattoo-inspired paint job before. It's a pretty killer treatment.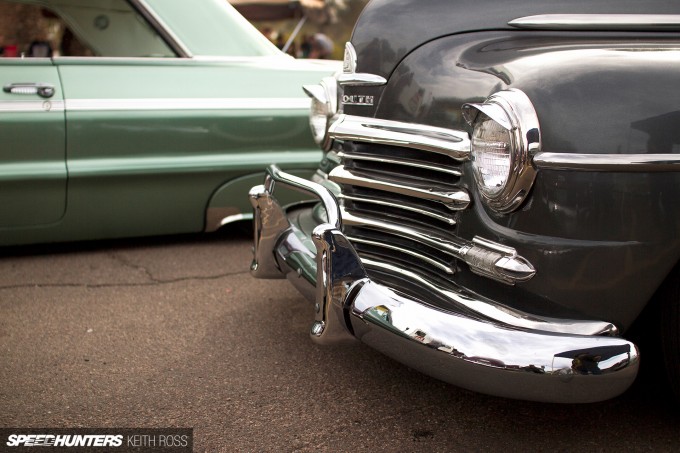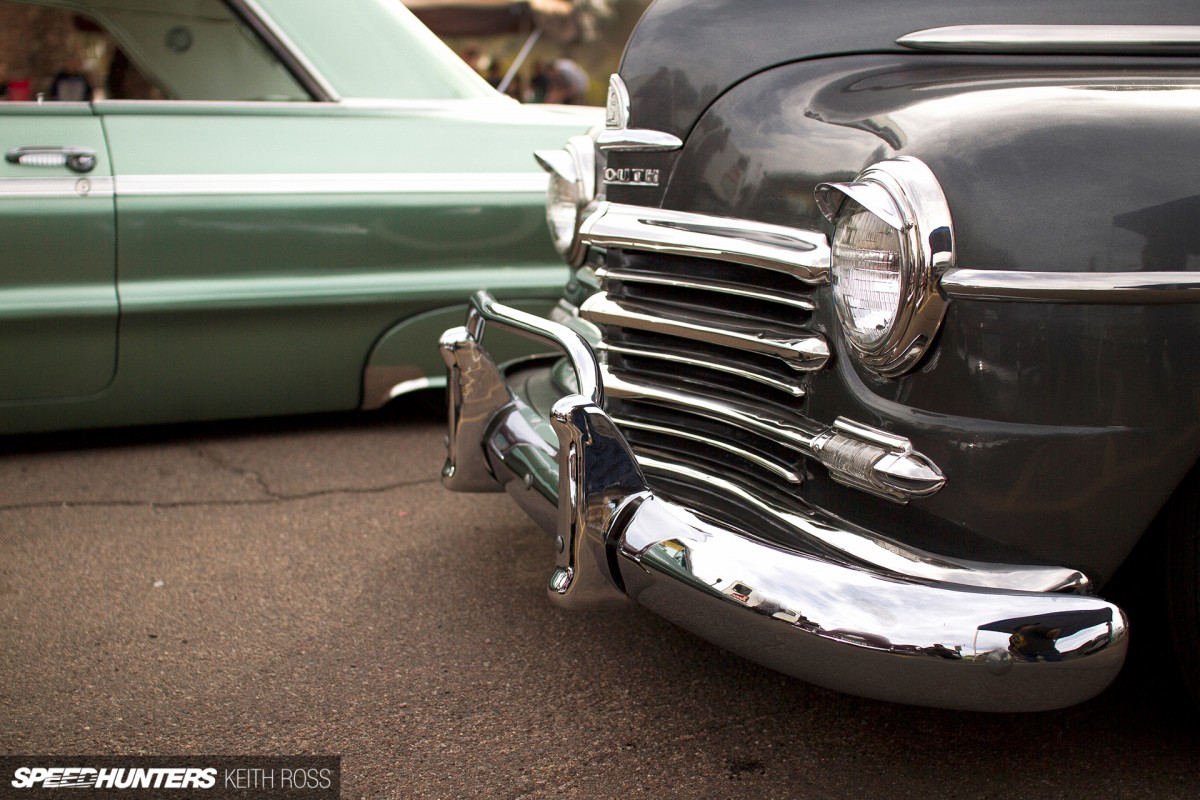 The bombs, while similar to lowriders in stance and wheel choice, were usually painted one solid color.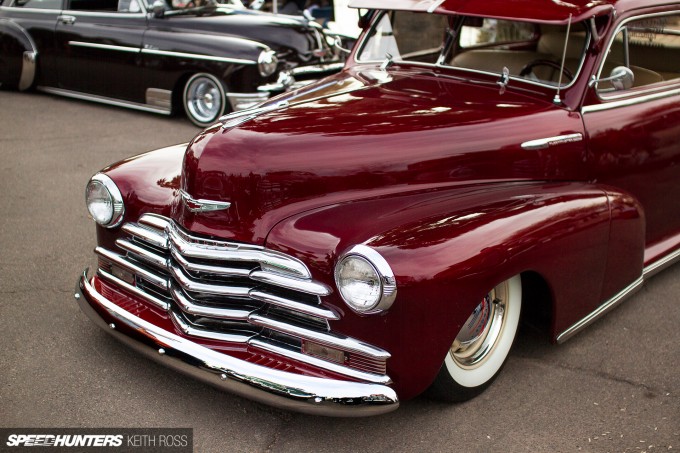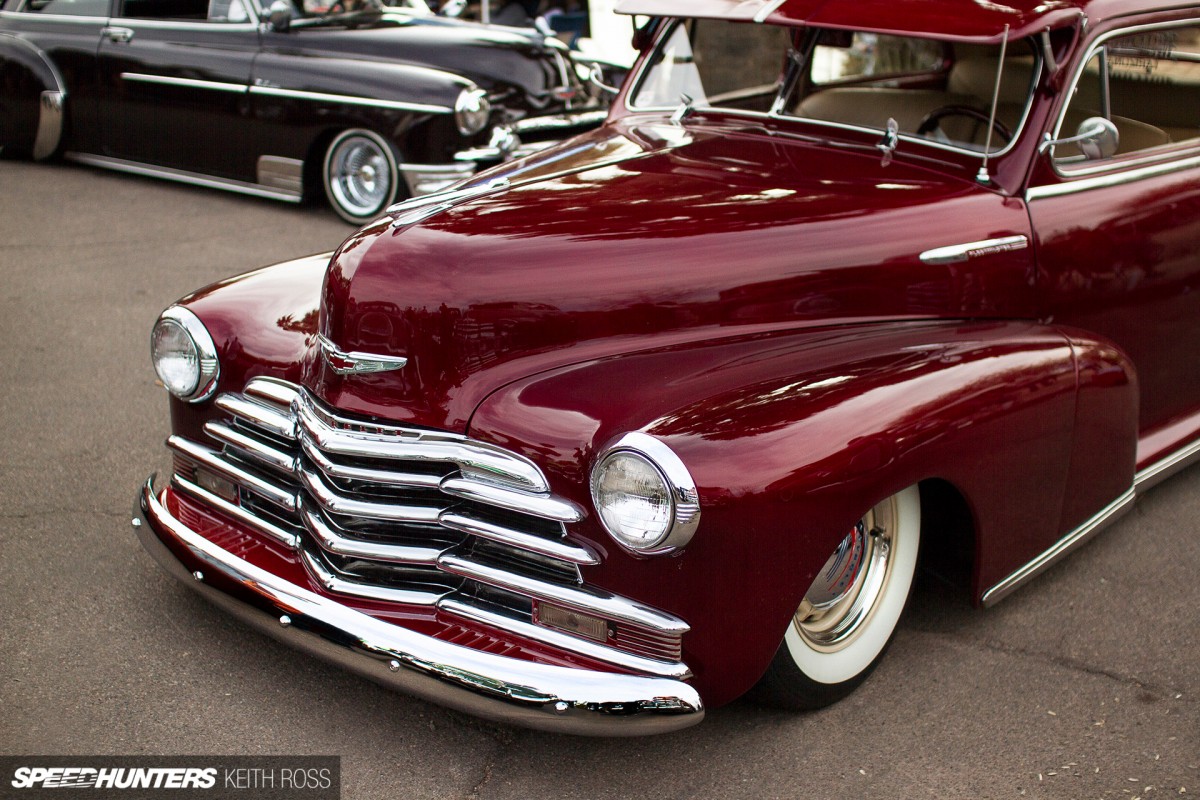 It seems like a simple dark tone such as maroon, green, navy blue or black works best on these builds. All of these colors were available back when the cars were new, so they lend a very nostalgic feel.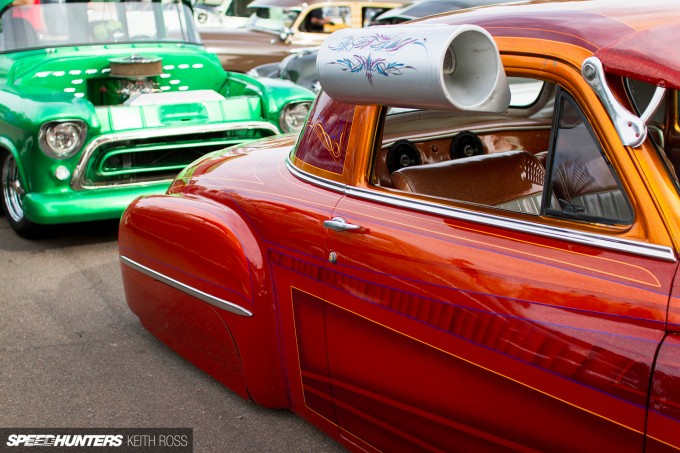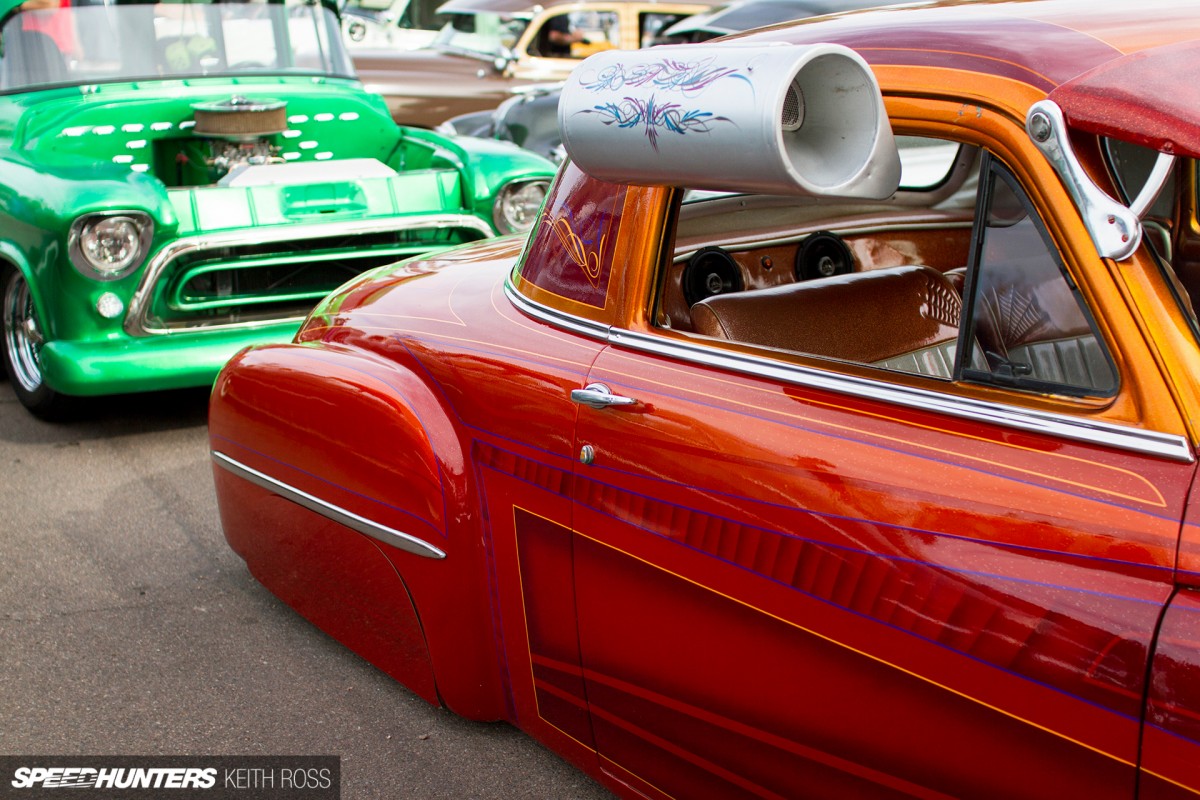 Of course, just when you think you've got the style figured out, someone shows up with a wild paint job that smudges the line between lowrider and bomb.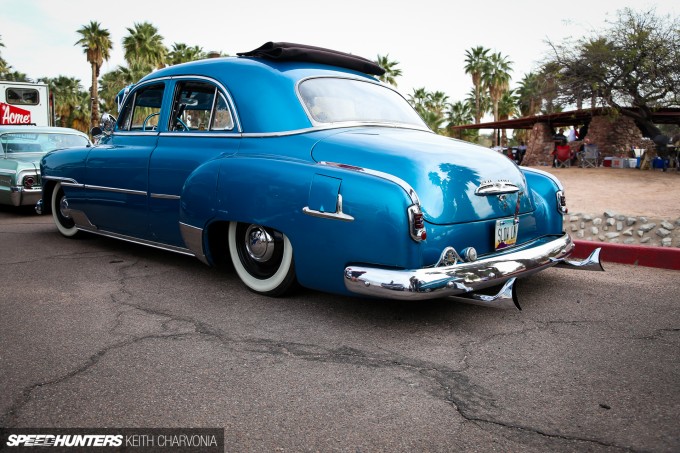 Take off the accessories and I would call this one a mild kustom, but really, it doesn't matter what you want to label someone's car. The owner built it the way they like, and it definitely turns heads.
Rods & Kustoms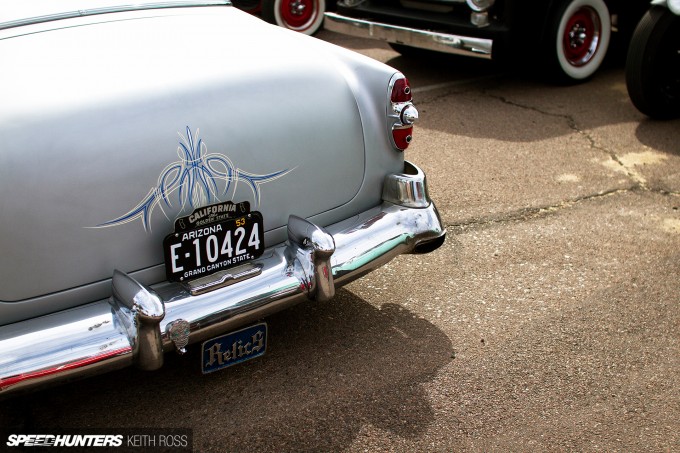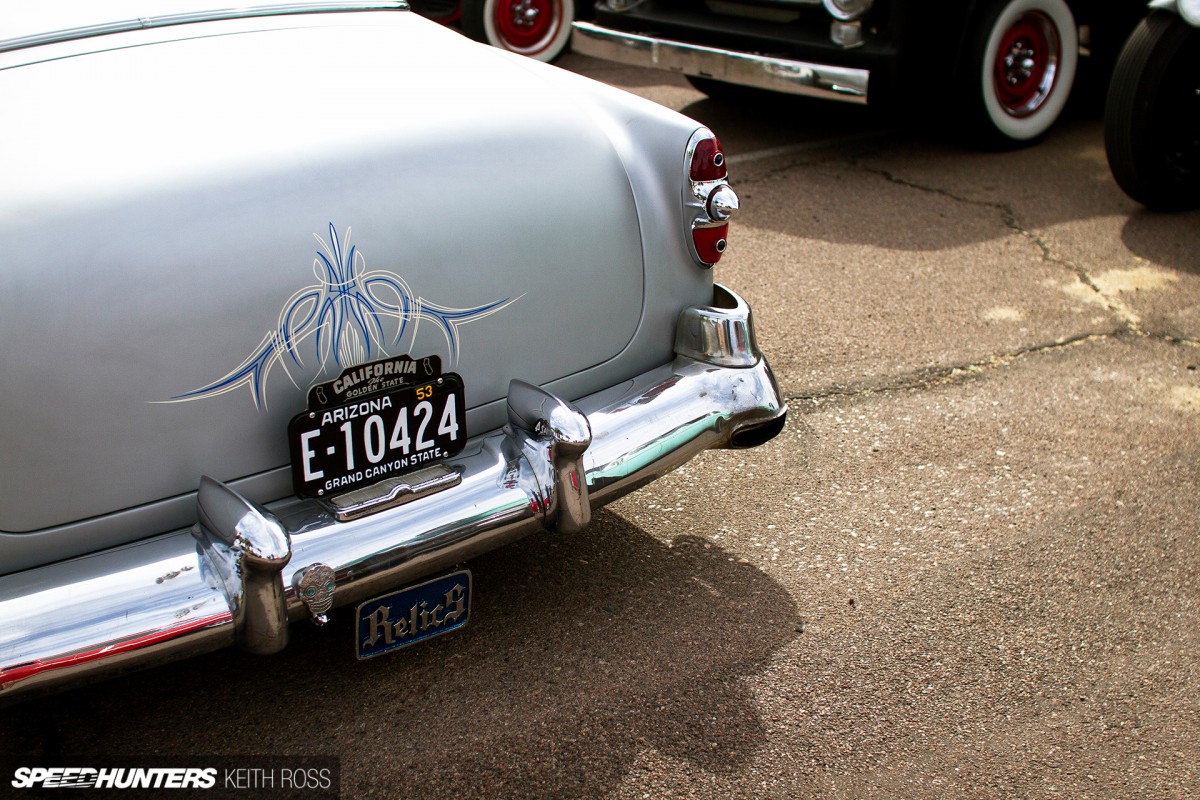 As you can see, all these styles sort of melt together. Personally, I find that very satisfying.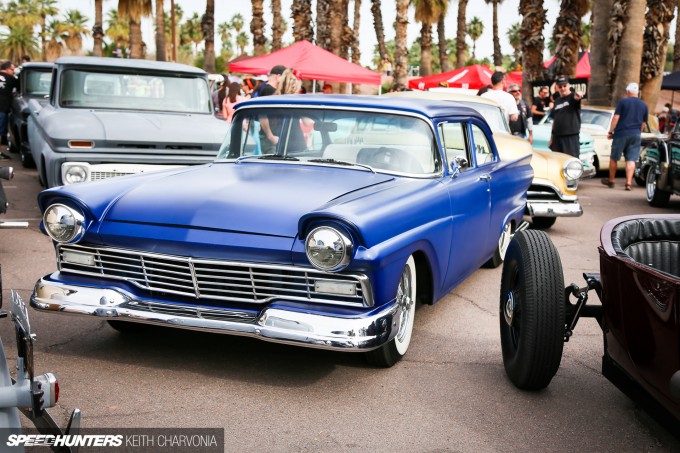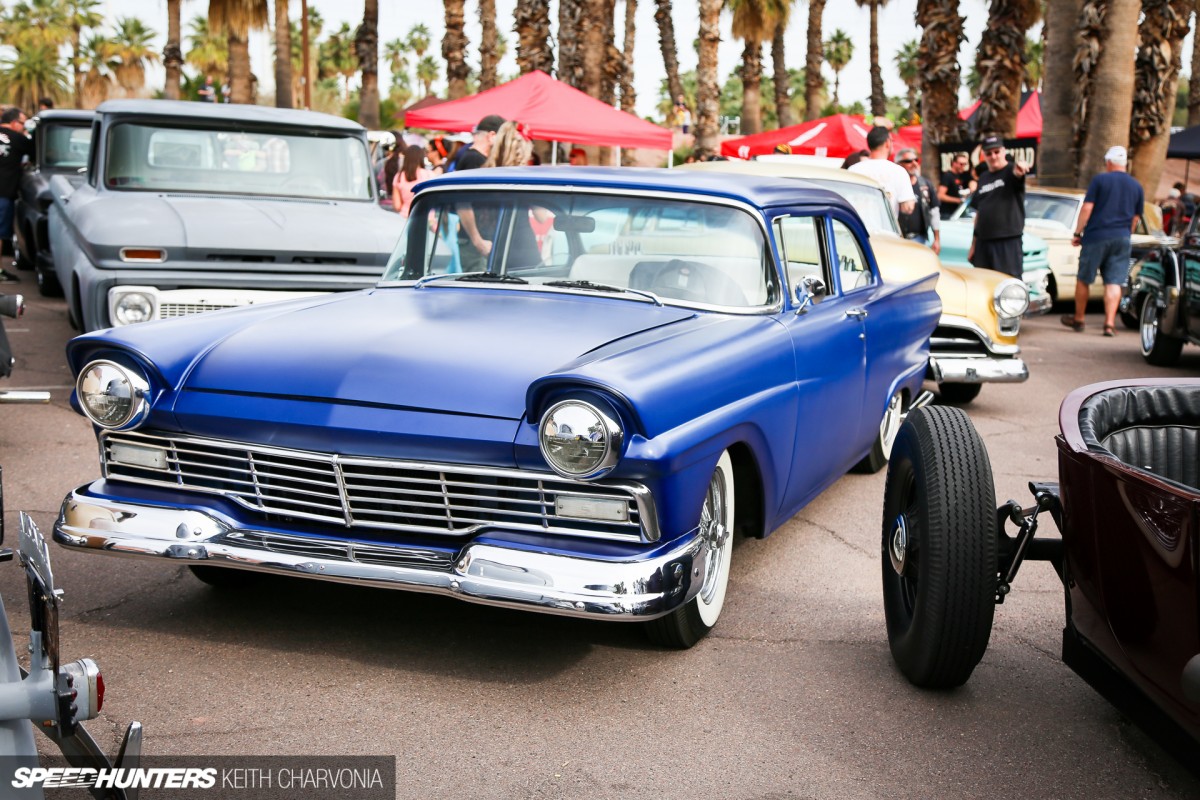 We all came at our builds from our own perspectives, but they sat together so nicely in the same parking lot on a day like this.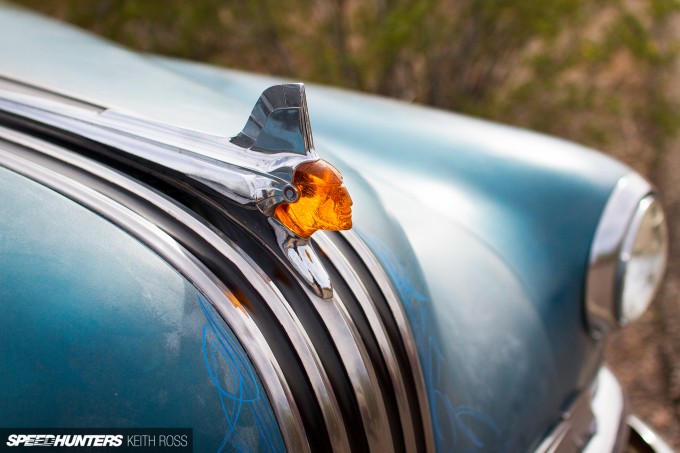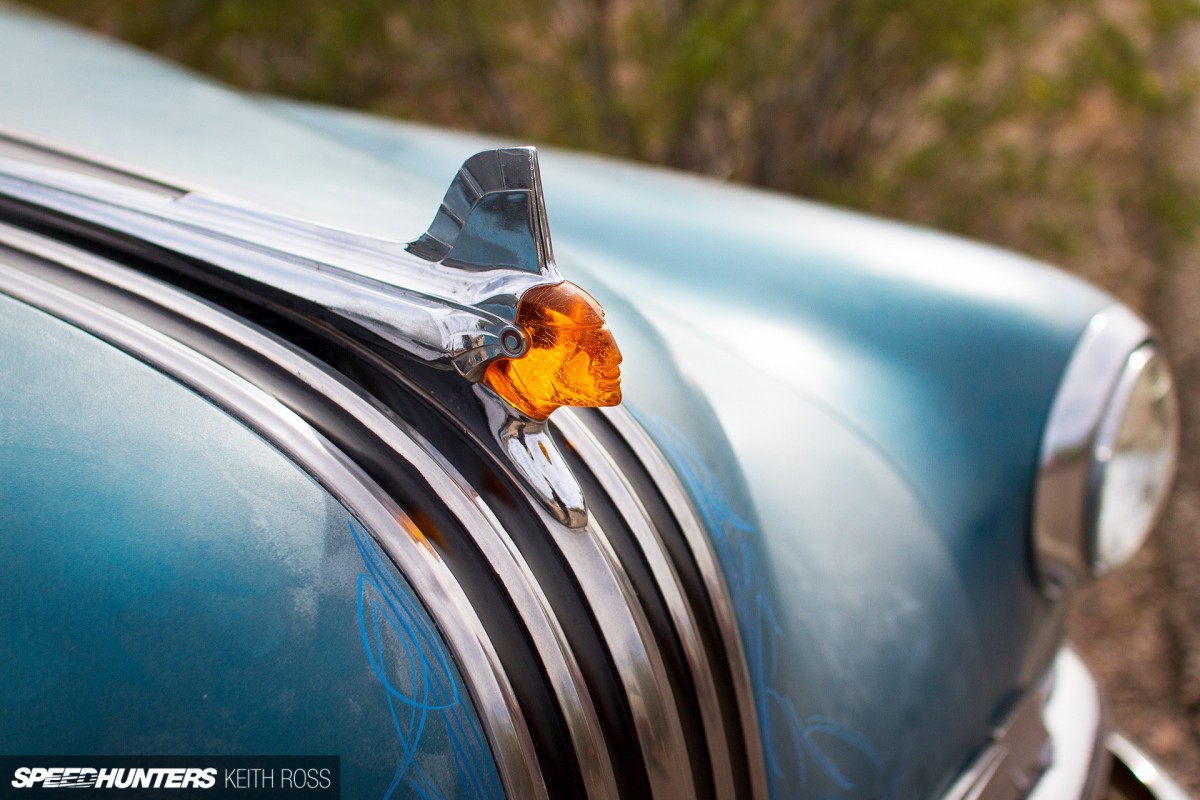 I suppose these cars do carry one common theme: they're all customized and they're all old. These are traits that nearly anyone can appreciate.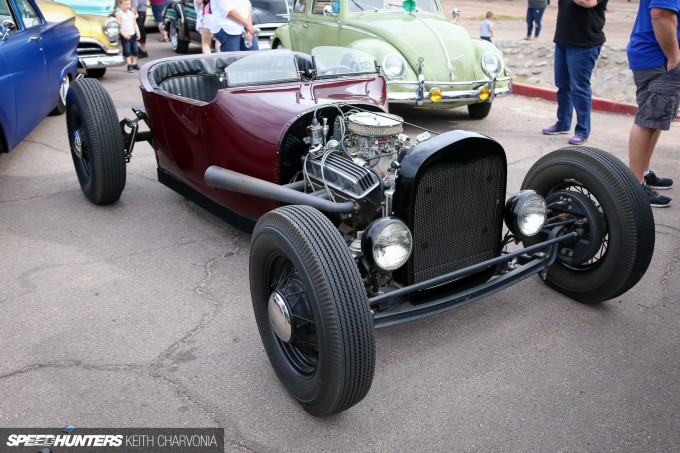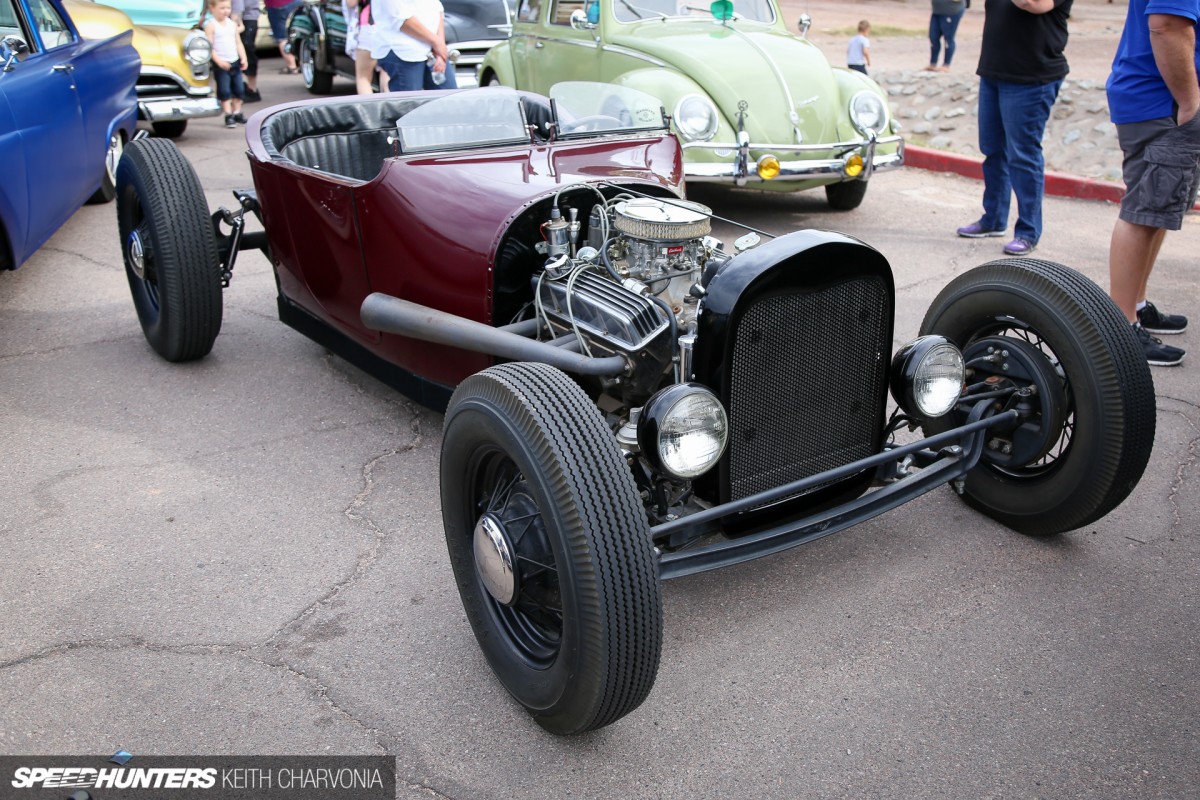 Walking through a get-together like this, with no boundaries of what's allowed on display, you get to see almost every step in the lineage of the custom car hobby on display.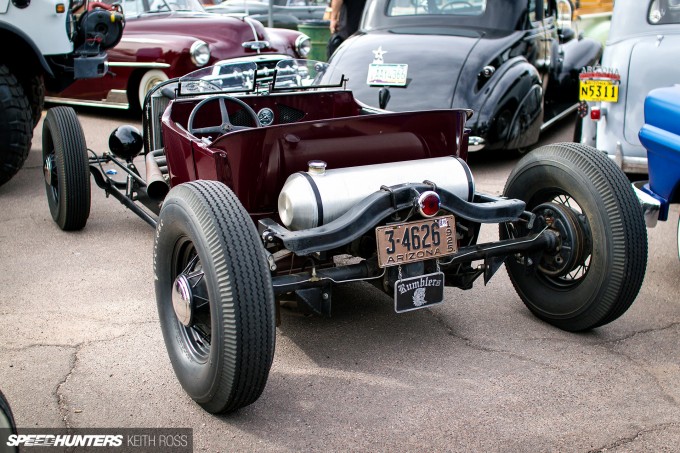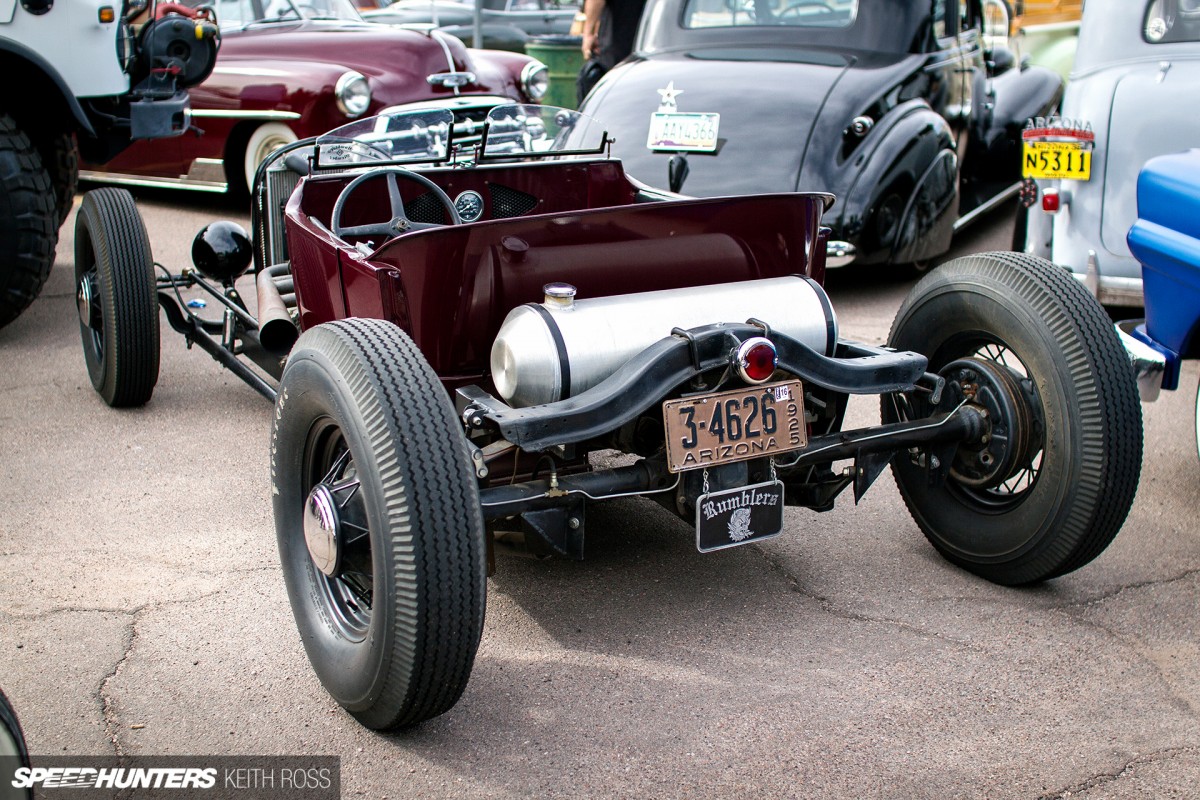 This little roadster was one of my favorites of the day, with period-correct parts all around and a unique split windshield that really gave it a feel of its own.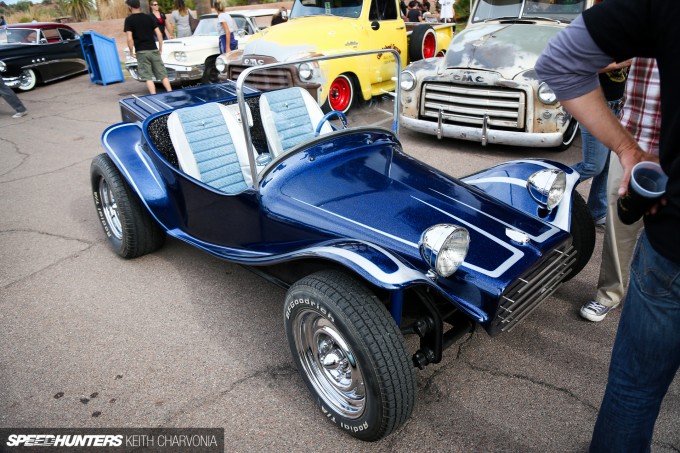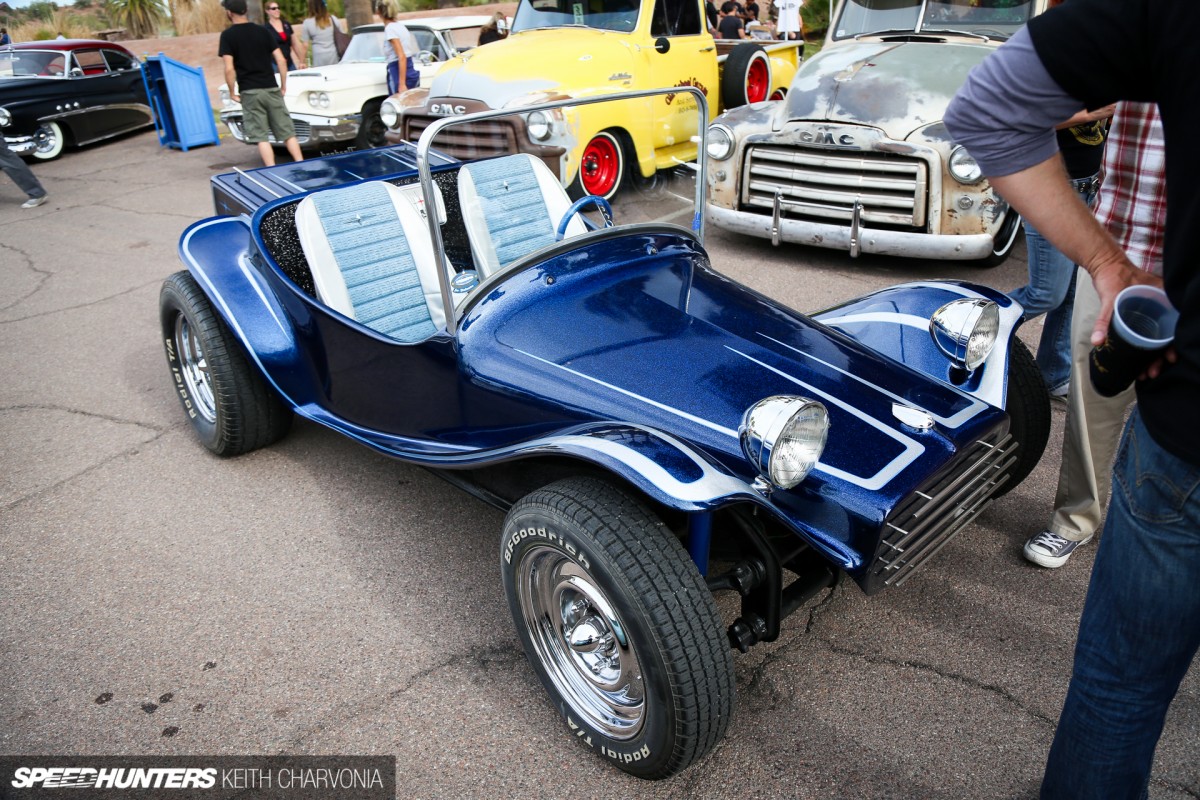 My other pick would have to go to this '60s show car styled buggy.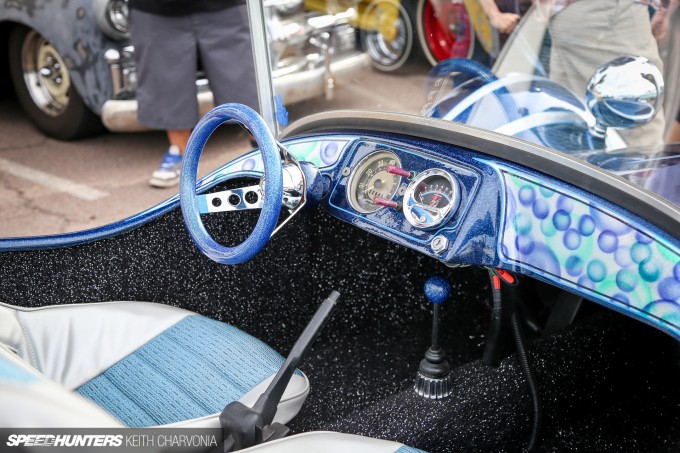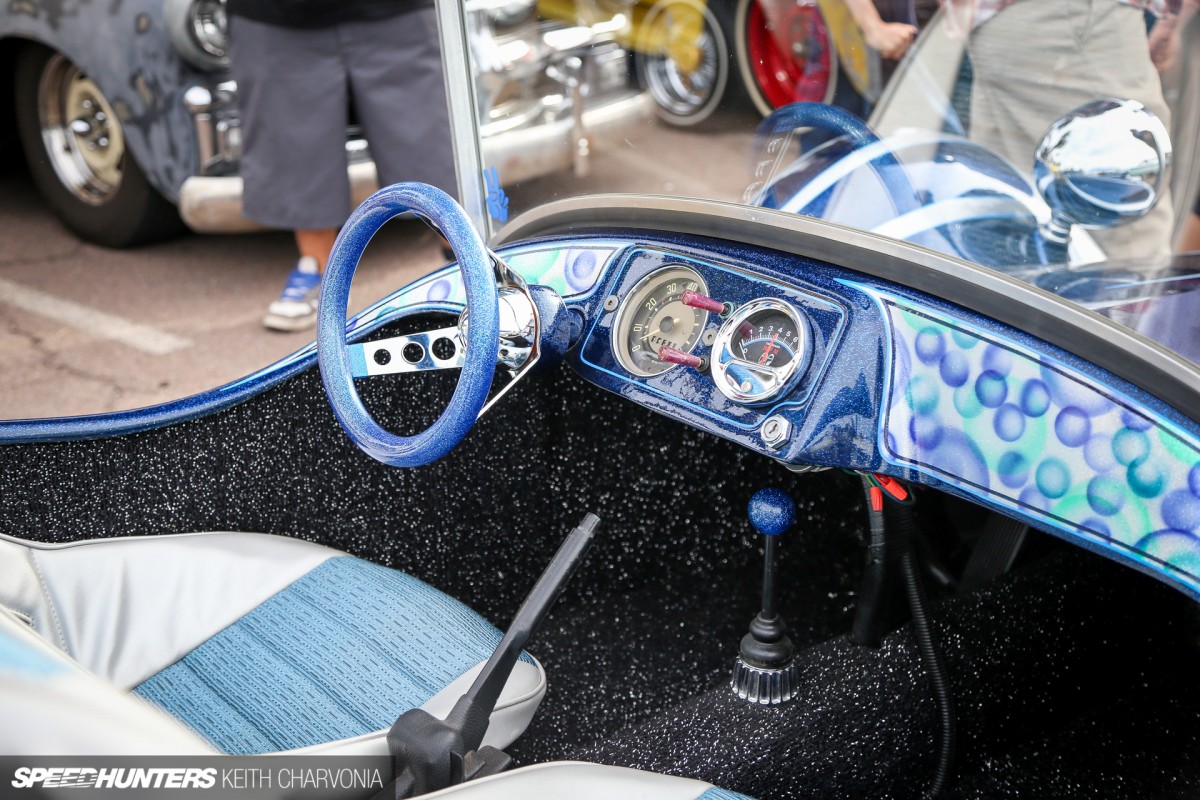 I had forgotten all about it, but the owner and I chatted a few years prior when he wanted to use the same carpet that's in my Kaiser for his build. Of course, I had no idea he was working on this!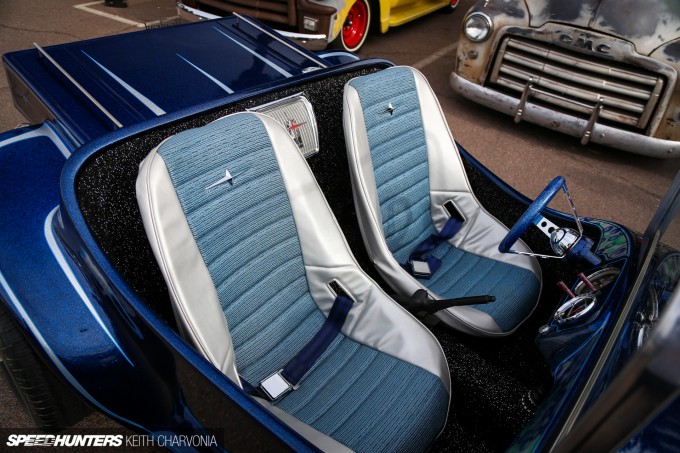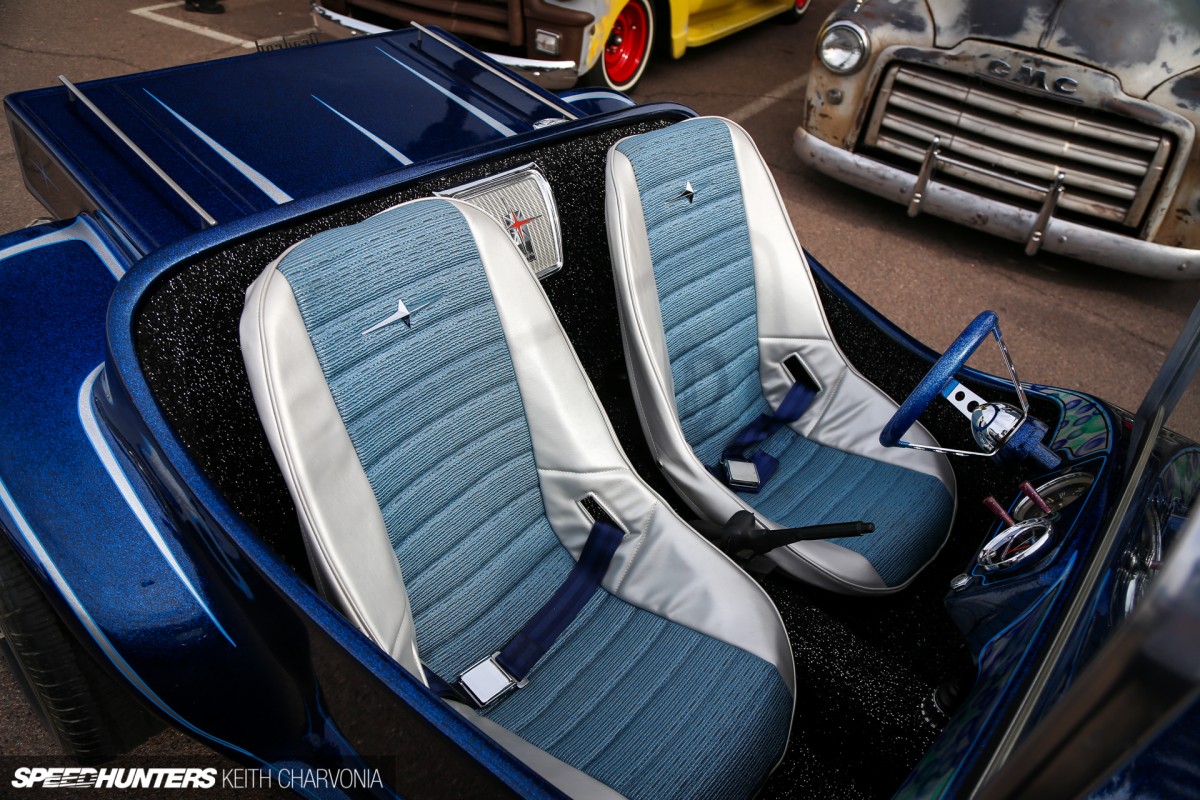 I love the seats – a combination of your typical fiberglass buggy buckets covered in period '60s upholstery.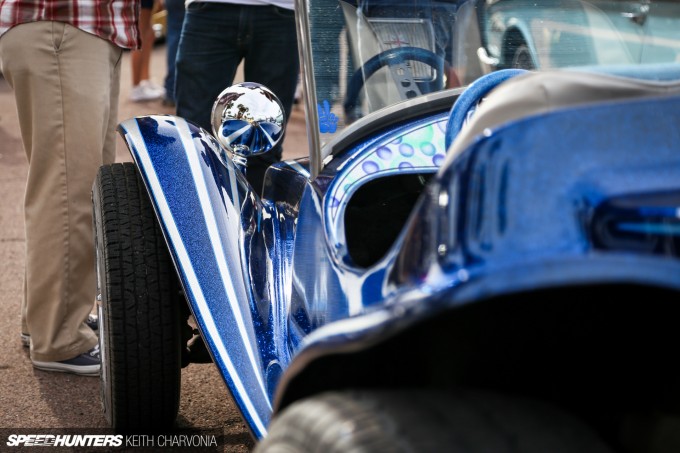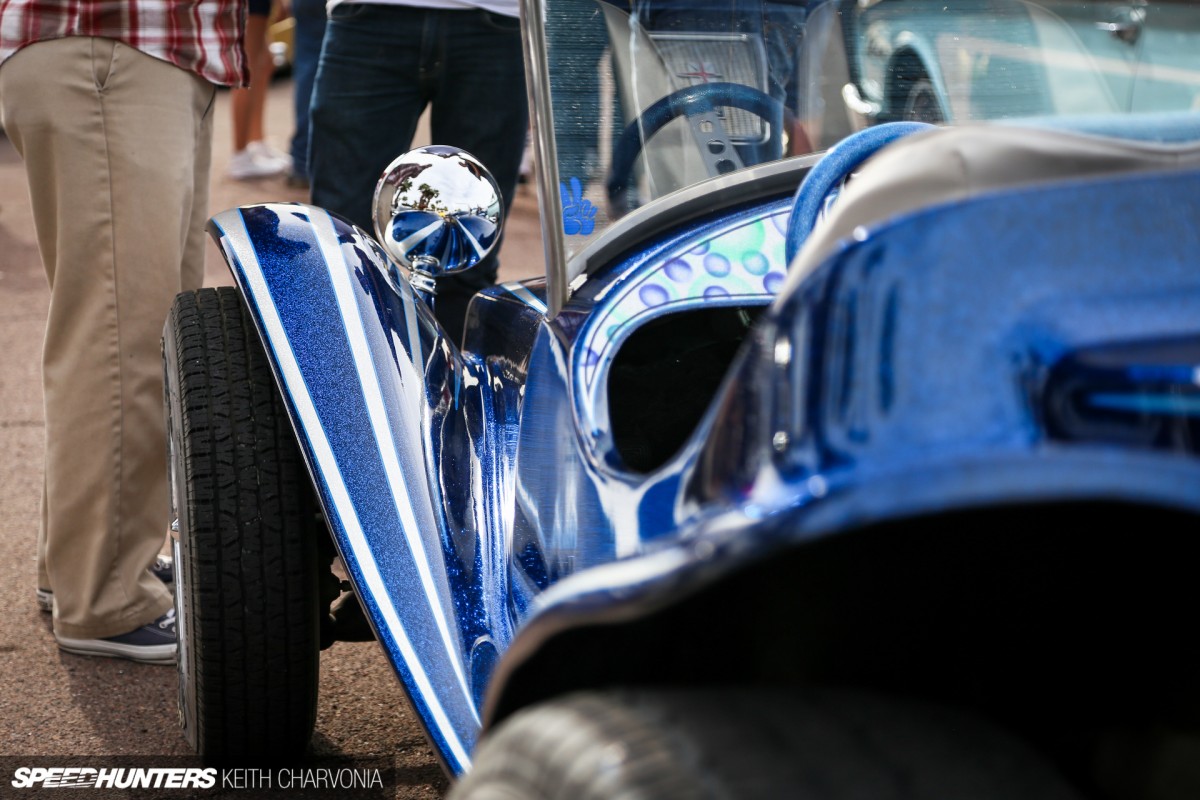 A deep, glossy metal-flake paint job sealed the deal for me, making this one of the more unique and well thought out builds I've seen lately.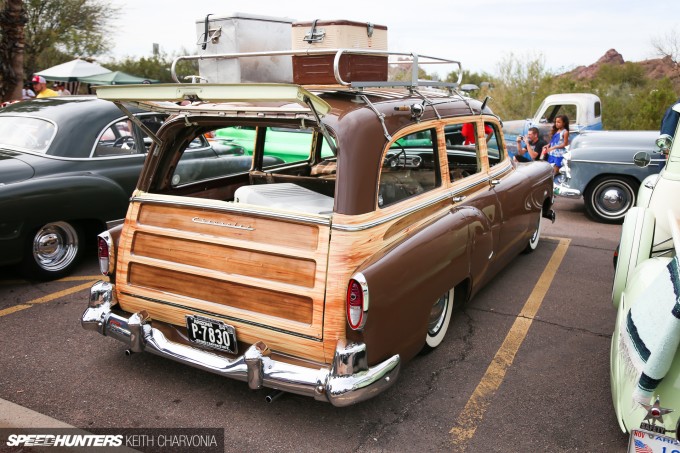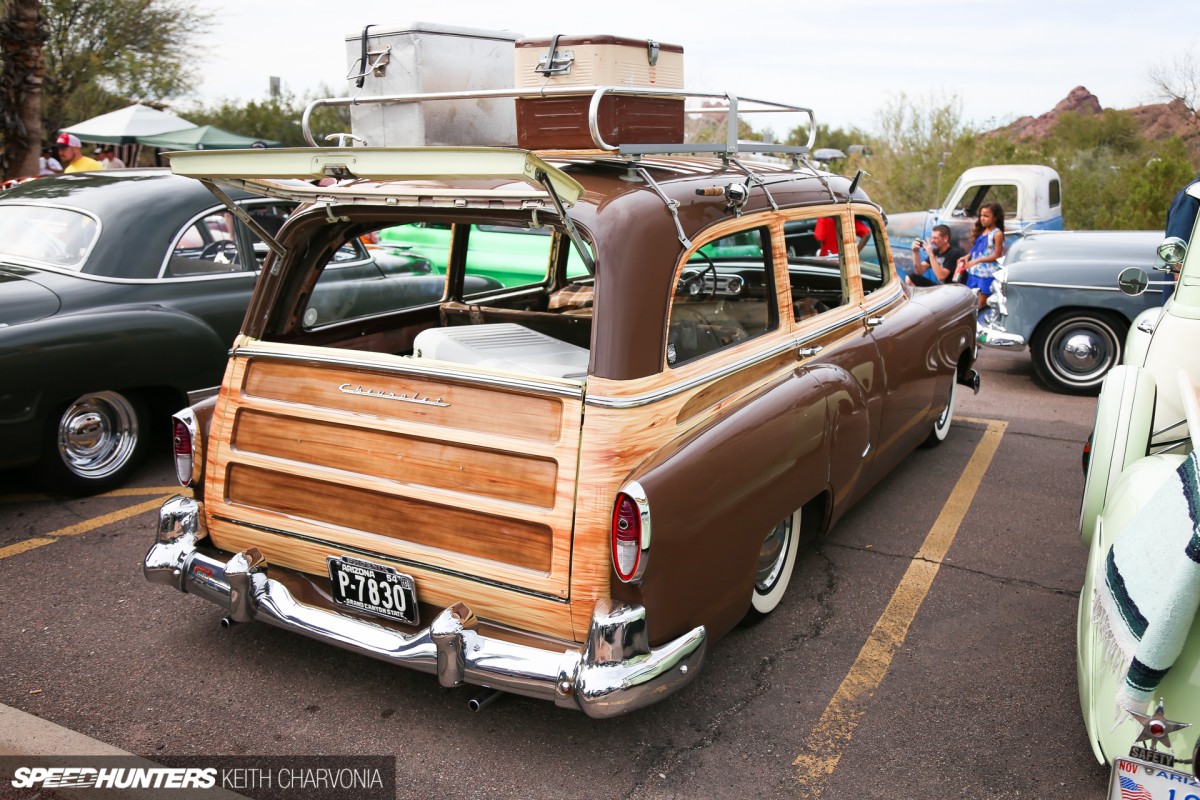 Since we just celebrated Wagon Week here at Speedhunters, I was of drawn to this '50s Chevrolet 'Woody' loaded with all the stuff you might need for a weekend adventure.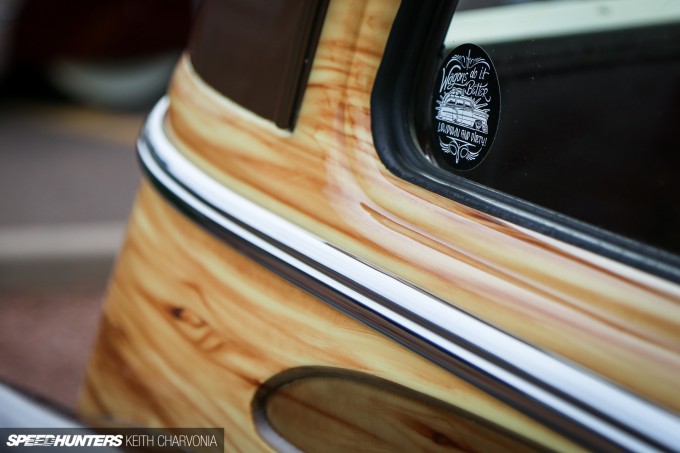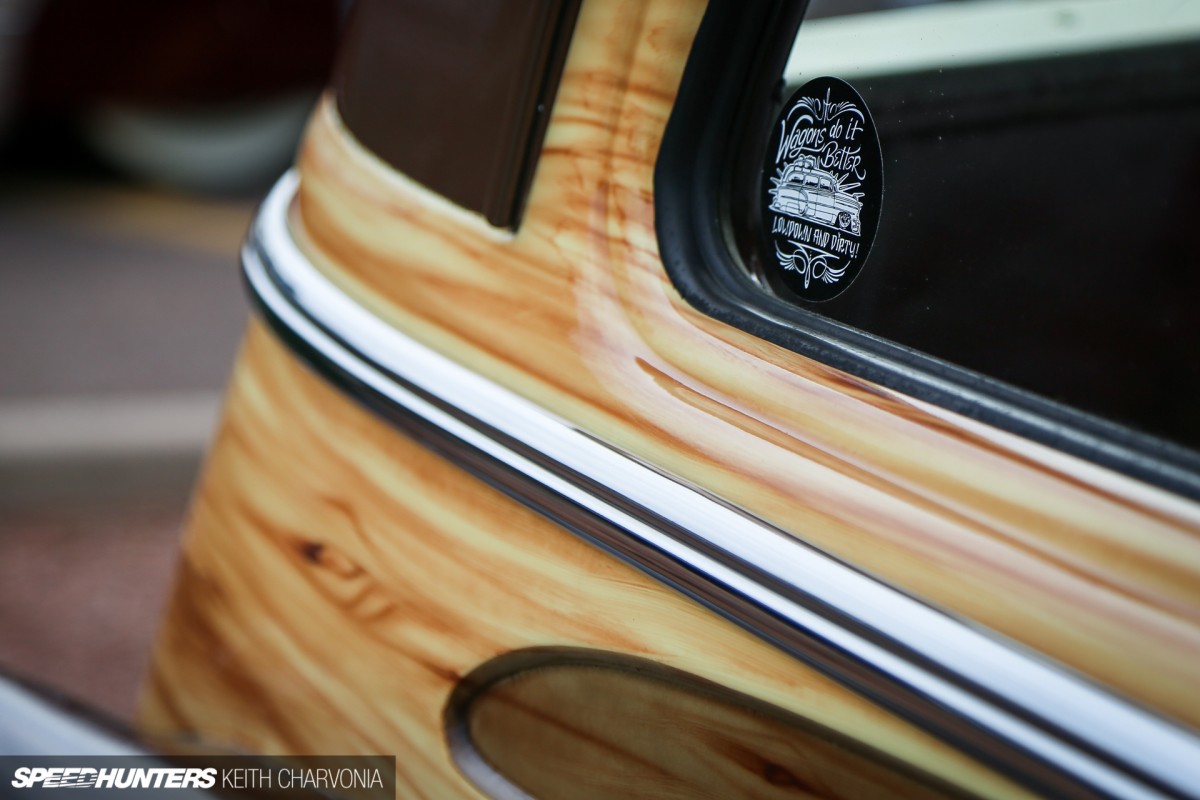 If you look closely, you'll see that the woodgrain is actually expertly applied paint.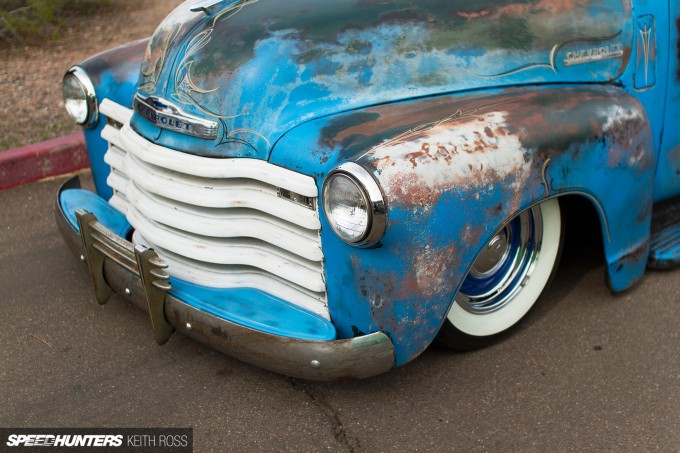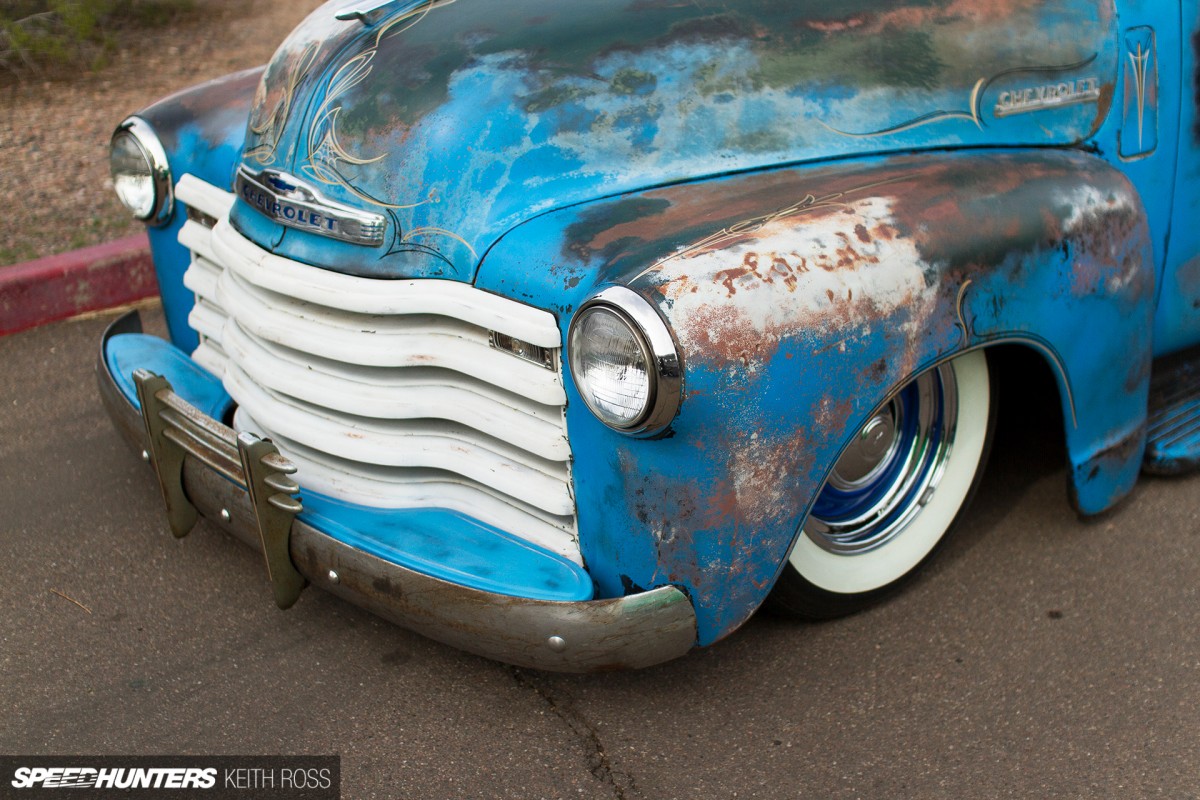 You don't have to spend a fortune on a custom paint job to have something that looks great though. I'm not a fan of rotted-out, unsafe cars at all, but a good patina can go a long way in the right build.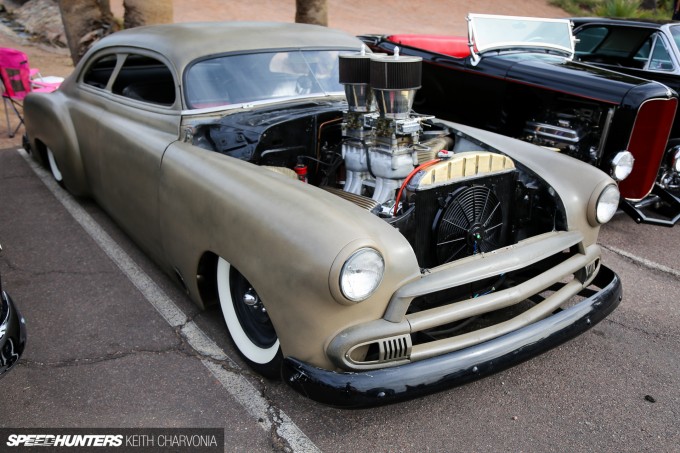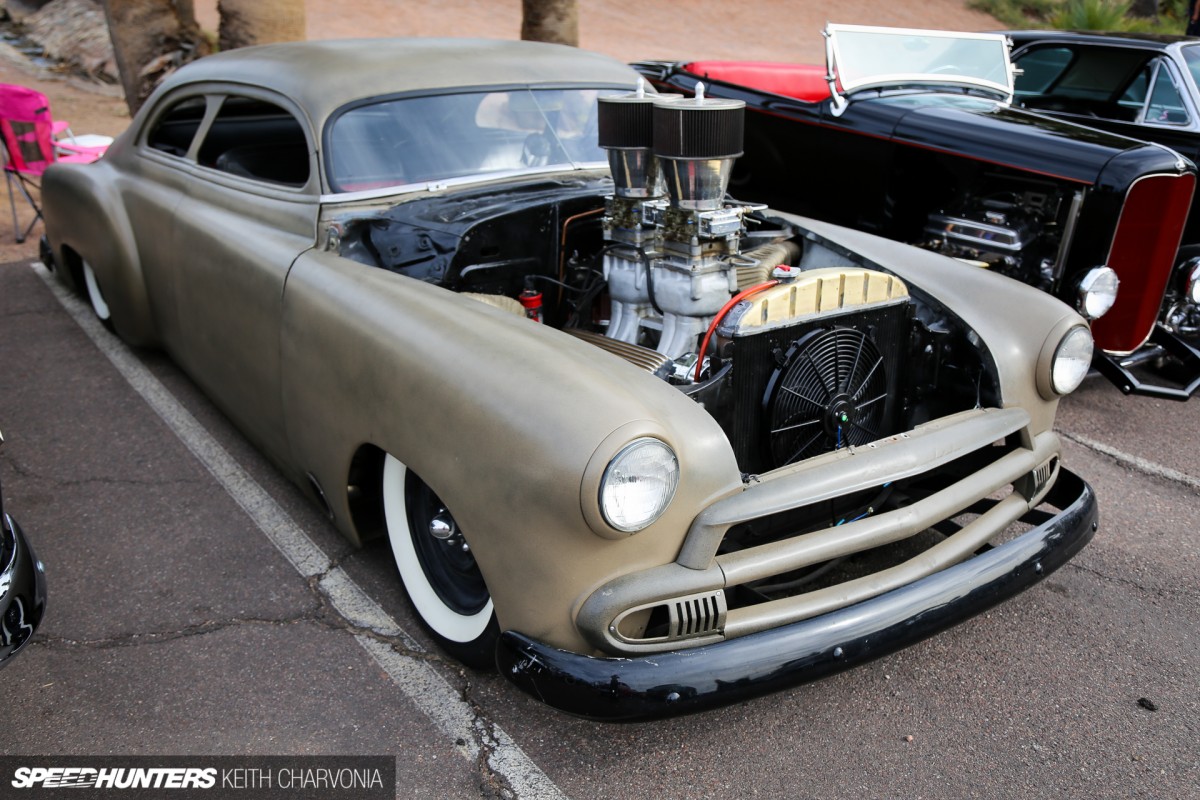 Here's another car that blurs the line for me – a customized Chevy that has such an aggressive engine and color treatment it feels like a hot rod.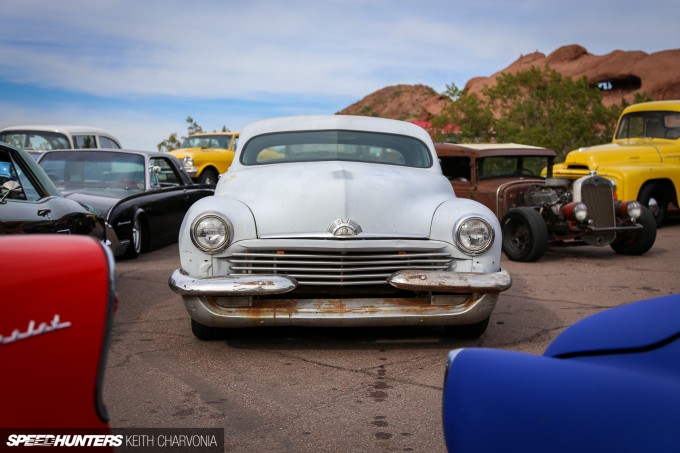 The owner of this chopped Merc mentioned to me that his car was at Gene Winfield's at the same time as mine. Turns out as we were readying my car for paint, his was in for a chop. Come to think of it, I have photos of our cars parked in front of the shop together! Small world, huh?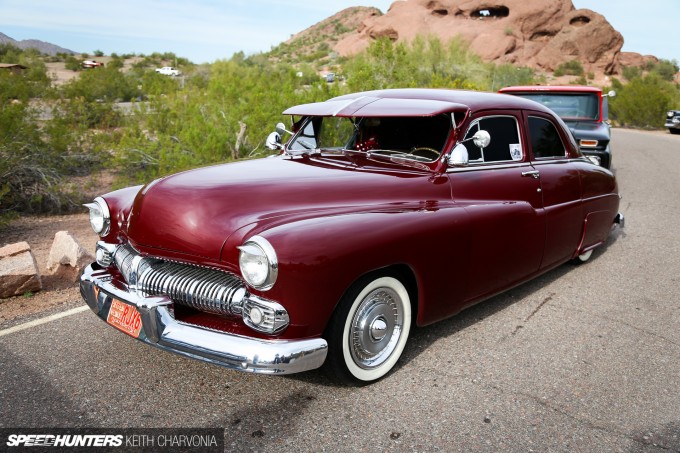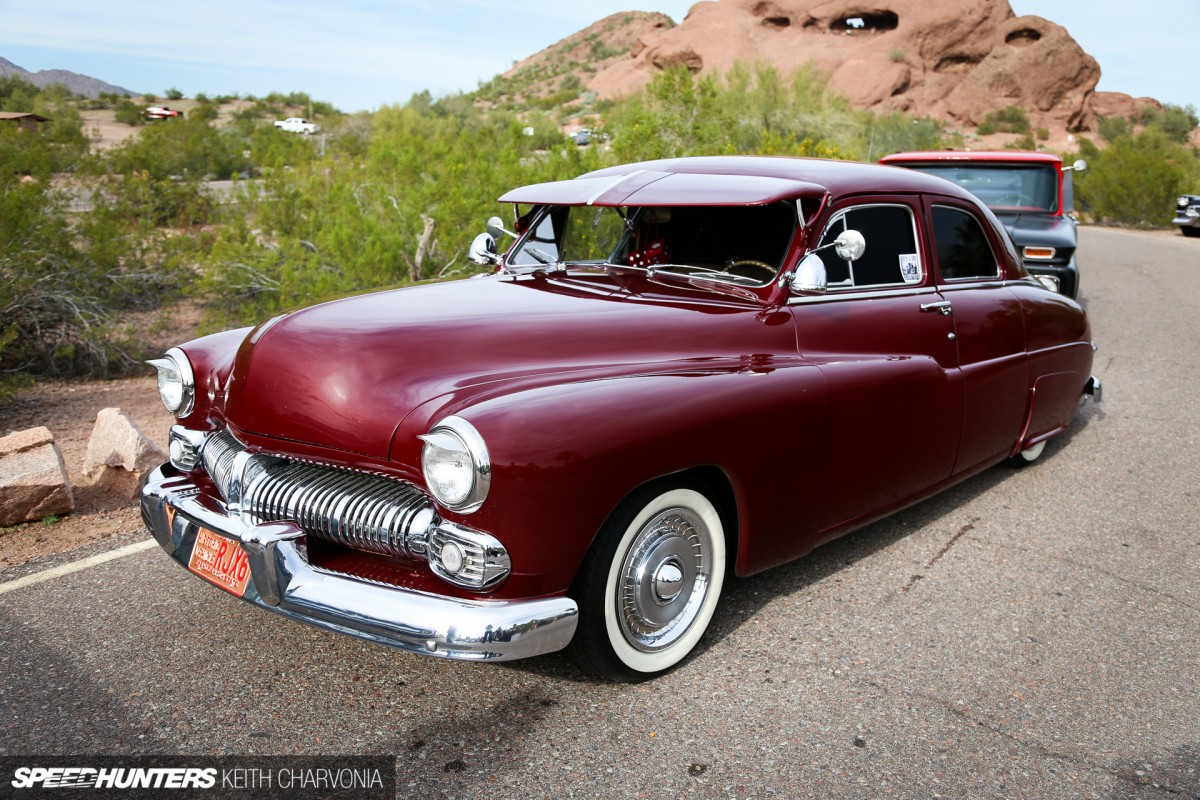 I want to show one more Mercury as an example of the intermingled styles that exist in this scene. It could have so easily been a kustom, but with a few small tweaks, it fits into the lowrider bomb culture and maintains its timeless style.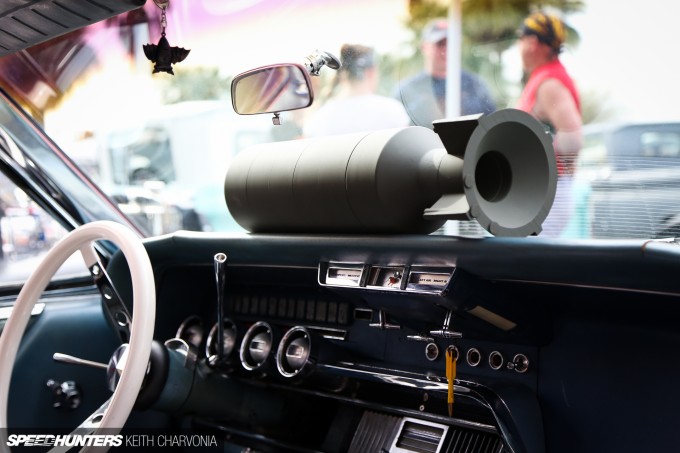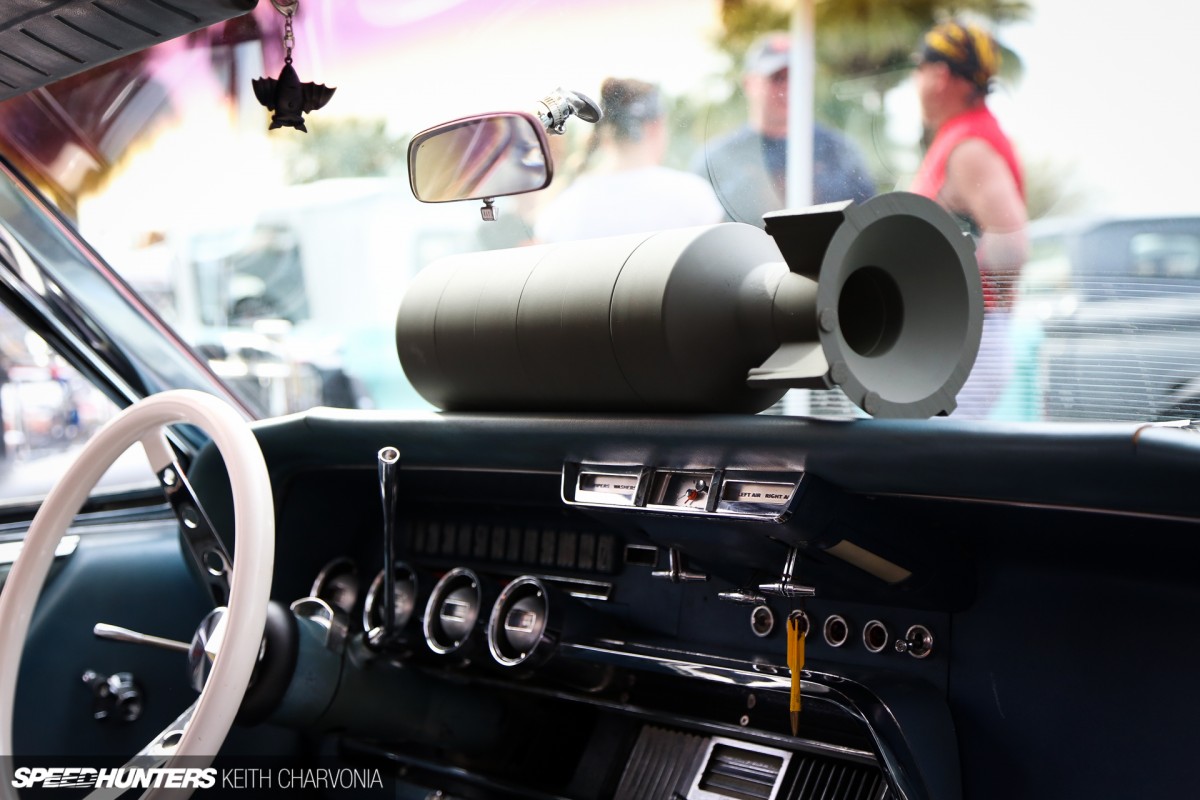 As I looked in one of the Bomb Squad member's cars, I noticed a cool dummy bomb sitting on the dash, obviously a reference to the club's name.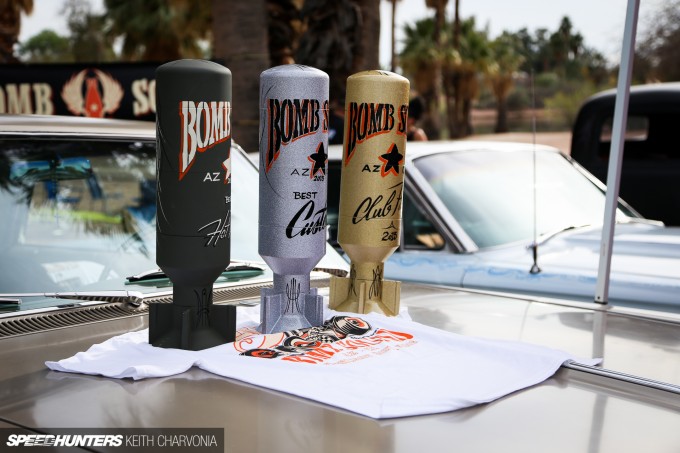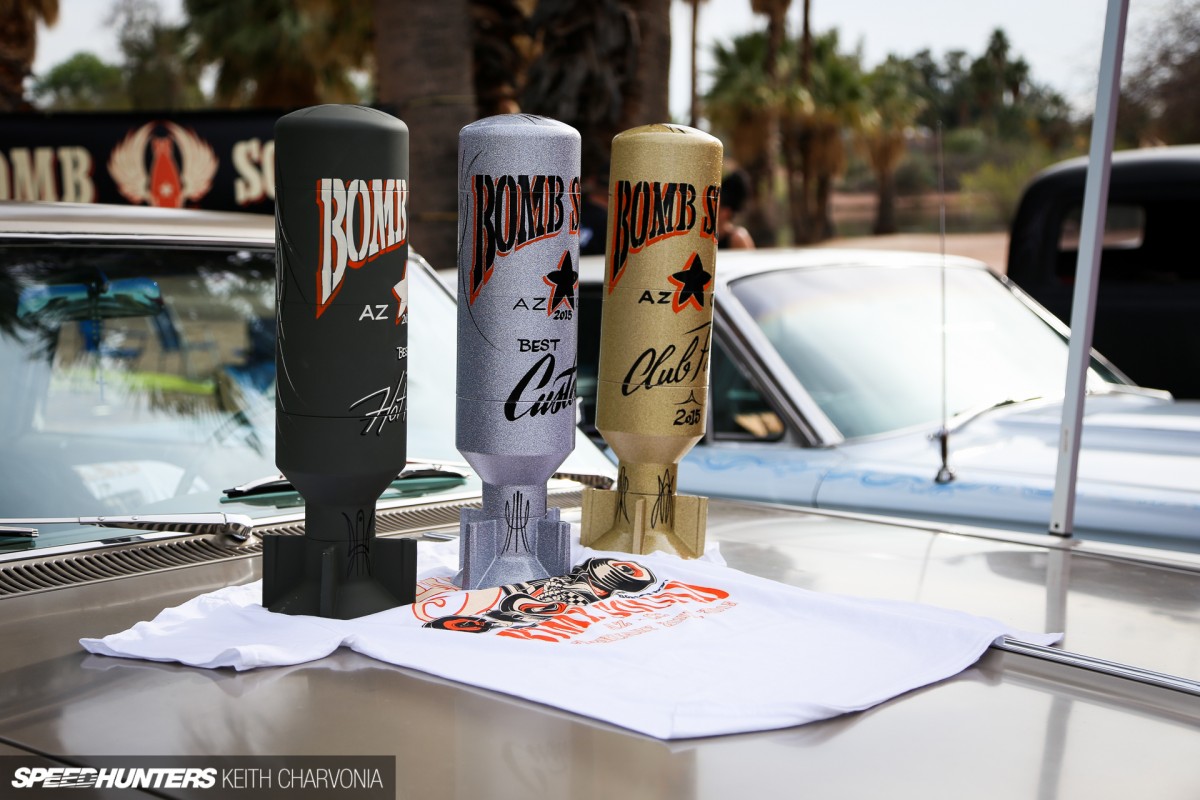 Then I noticed these trophies nearby, just like the one I had seen on the dashboard. The Bomb Squad had made these custom awards for a select few cars that they wanted to honor. How cool is that?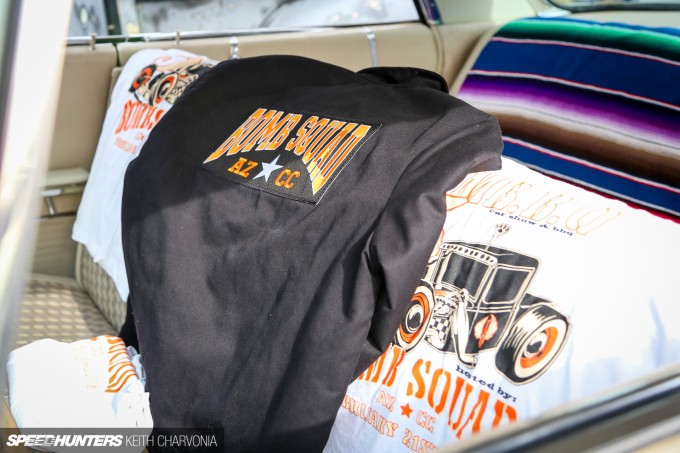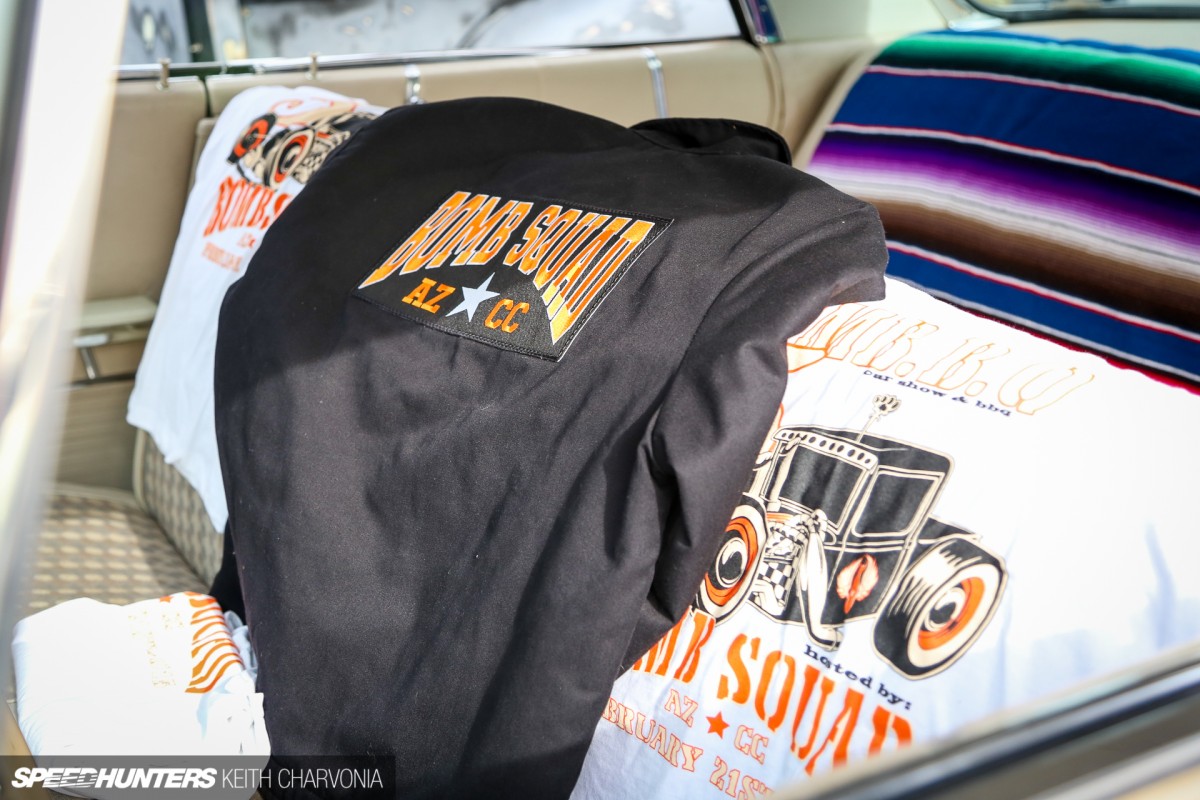 With no entry fees paid, I can only imagine that the Bomb Squad ends up out of pocket putting on this get-together every year. I think we owe them our sincere gratitude for giving us the chance to have a relaxing Saturday with a bunch of cool cars and good friends every year.
Keith Charvonia
Instagram: SpeedhuntersKeith
keith@speedhunters.com
Additional Photos by Keith Ross
Instagram: Keith602
Cutting Room Floor