A Family Affair
I don't know how it is for you guys, but it was always hard for my family to understand my passion with cars. It's better now – mostly because I've made a career in the industry, but before that happened they could not get their heads around the fact that I wanted to work on my car and take it to the track on the weekends. They thought that if I was working on it, then it must mean that I am fixing something that had broken. So when I see families like the Campbells racing together, I admire them. I may even be a little jealous.
This was my third year covering the Nitto Tire King Of The Hammers, and I figured I would do something a little different. I always say that I try to keep away from traditional motorsports coverage, and I always like to tell the story – no matter how it ends up. There are other media outlets that'll tell you who came first, second and third, but here at Speedhunters we prefer to concentrate on other aspects, like what a team has to go through in their quest for podium glory. For this post, I decided to follow a racing family unlike any other.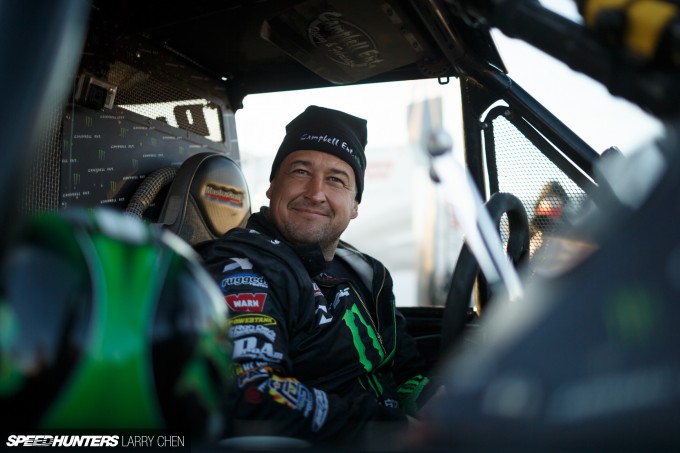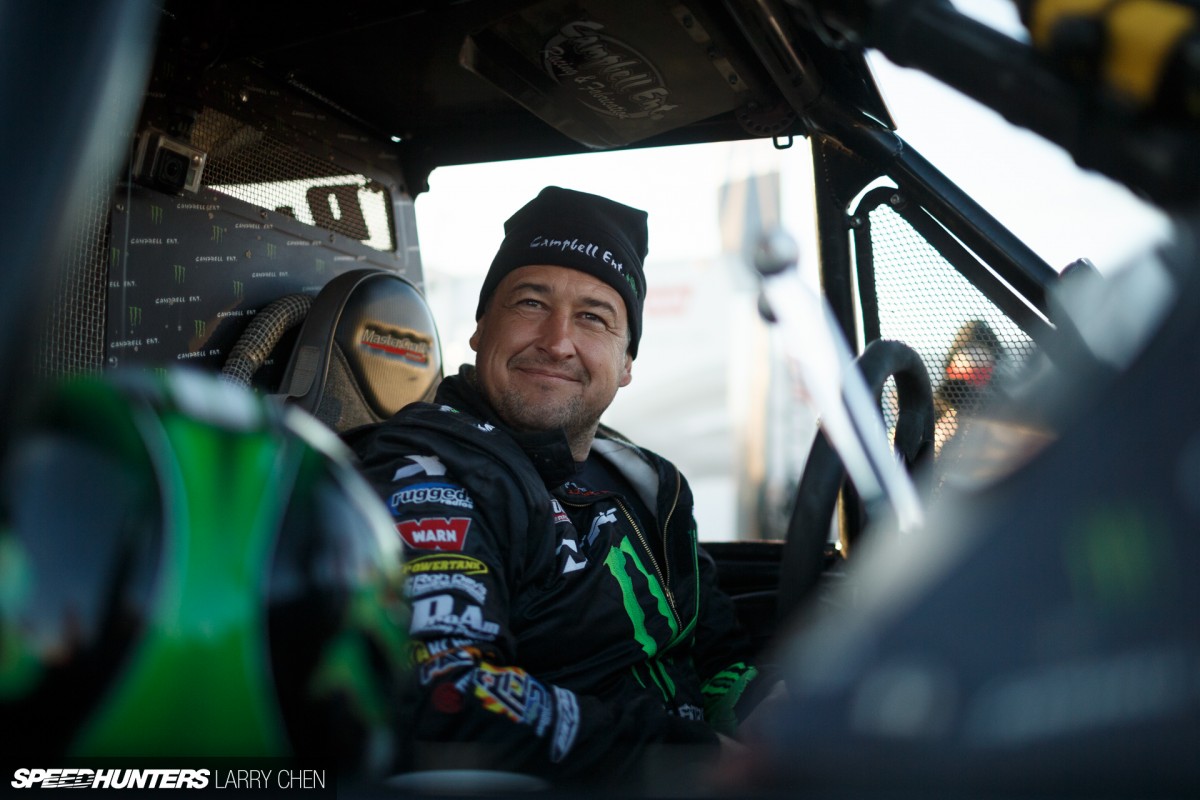 Shannon Campbell made an impression on me when I first watched him race in 2013 at the King Of The Hammers. While there is nothing wrong with conservative driving – especially when it comes to the most brutal, one day off-road race in the world – Shannon pretty much throws all of that out of the window. He doesn't drive at 100 per cent – it's more like 110 per cent, and at all times. On top of all that, he doesn't have a co-driver to tell him what to do, and rightfully so, because he is one of only two drivers who has two King Of The Hammers crowns under his belt.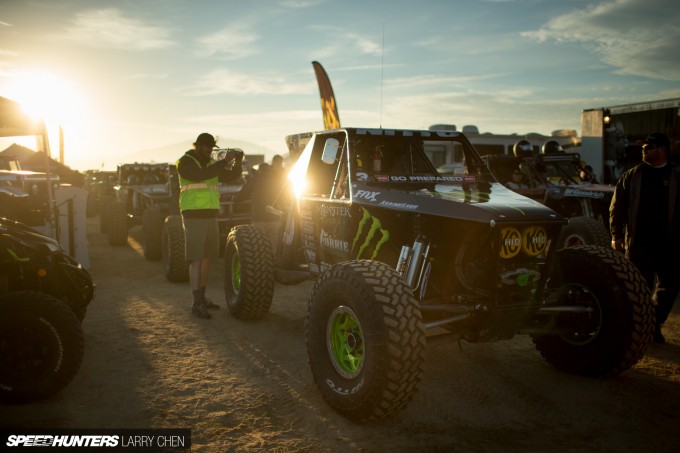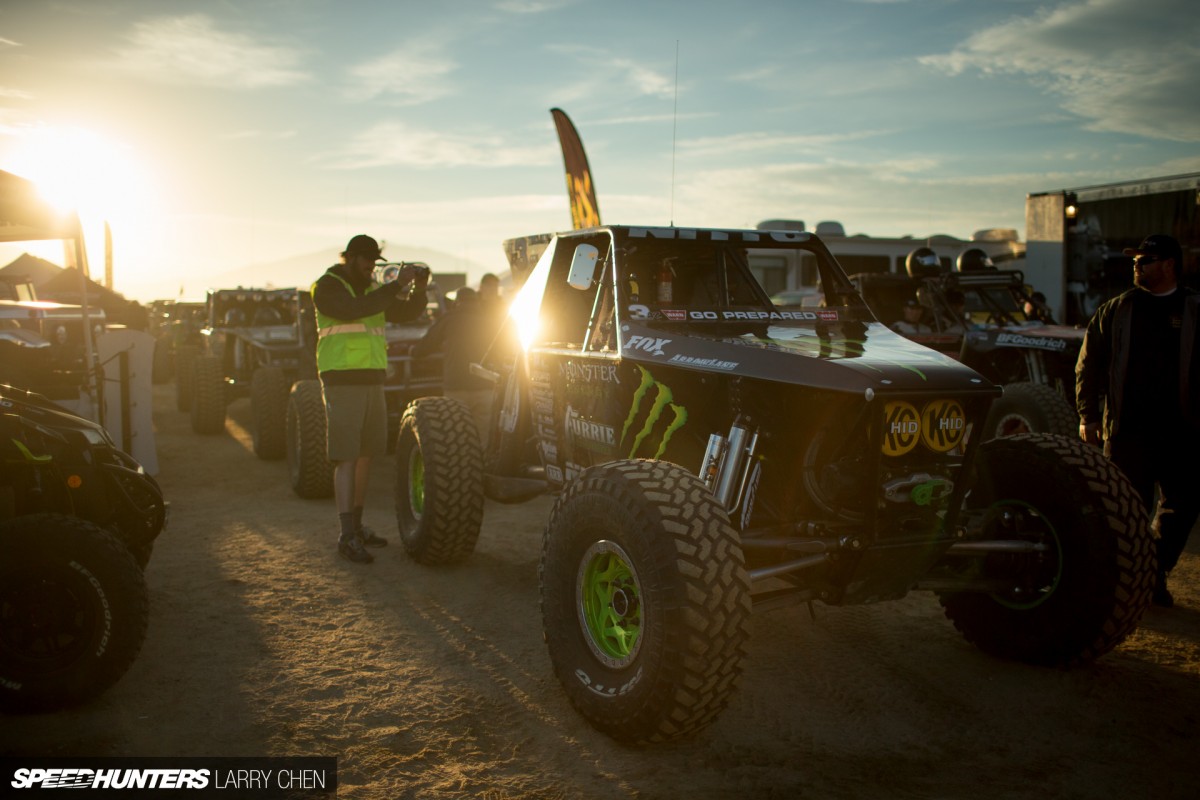 His day job? Building racecars of course – many of which compete in the King Of The Hammers every year. According to Shannon, having his off-road racing hobby turn into a family business has been a wild ride.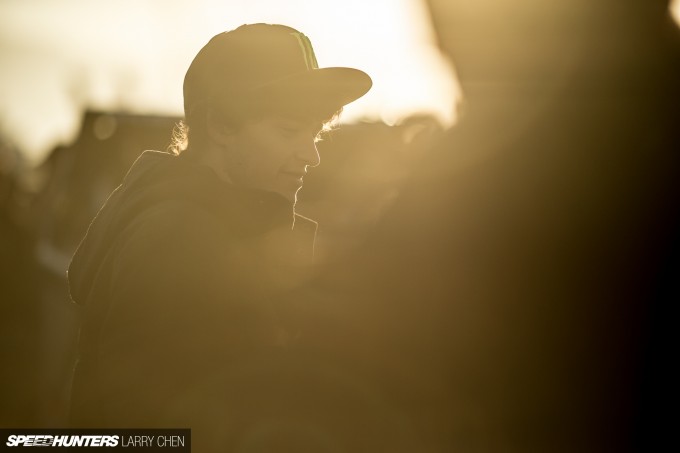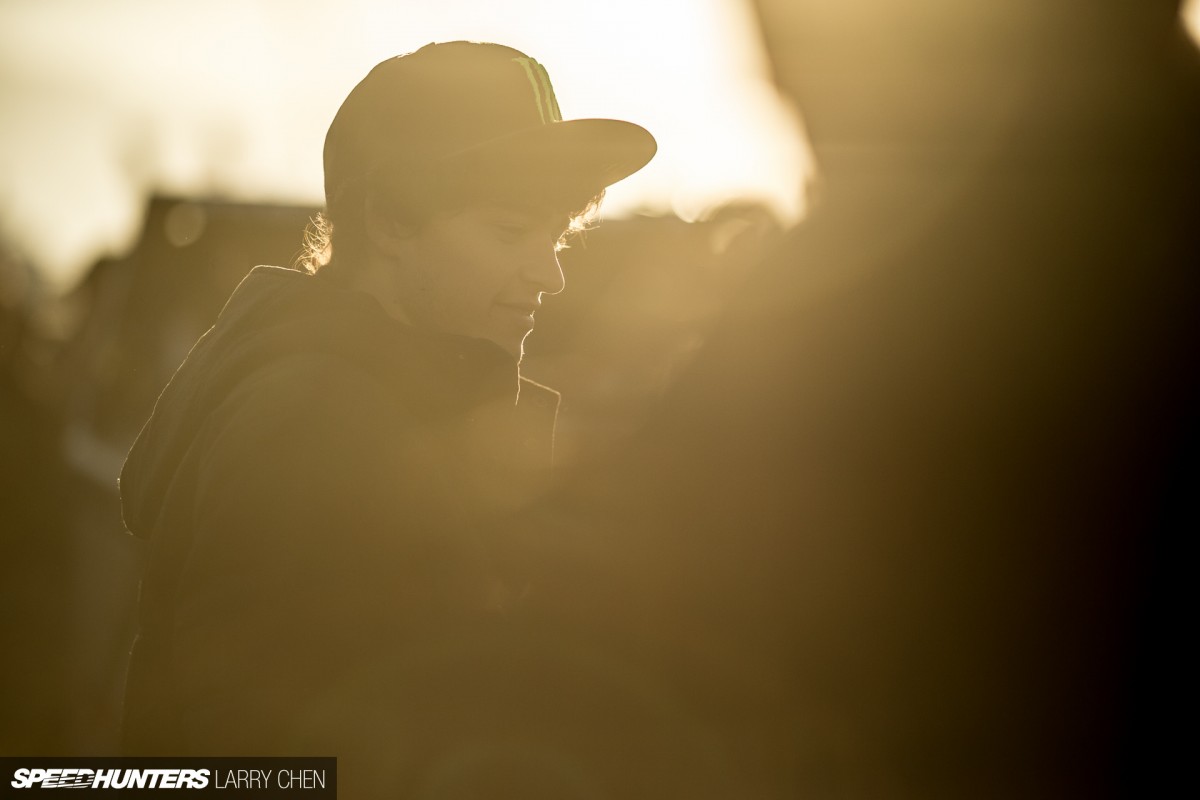 Shannon's son Wayland is a King Of The Hammers veteran and this would be his third time driving in the grueling race.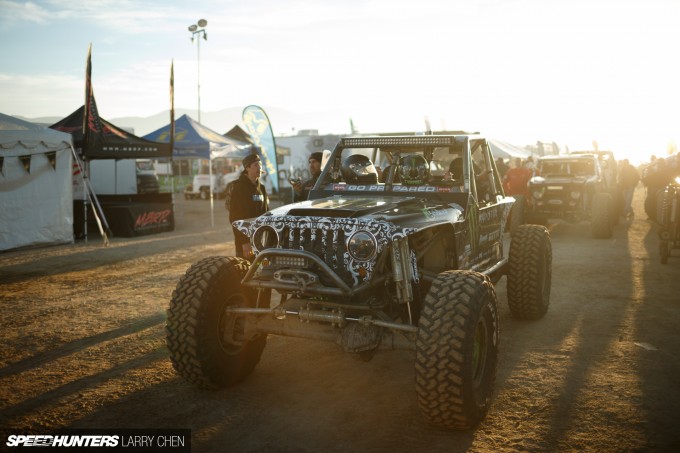 On the other hand, Wayland's sister Bailey is a rookie, but she had her sights set on finishing the race on her first attempt.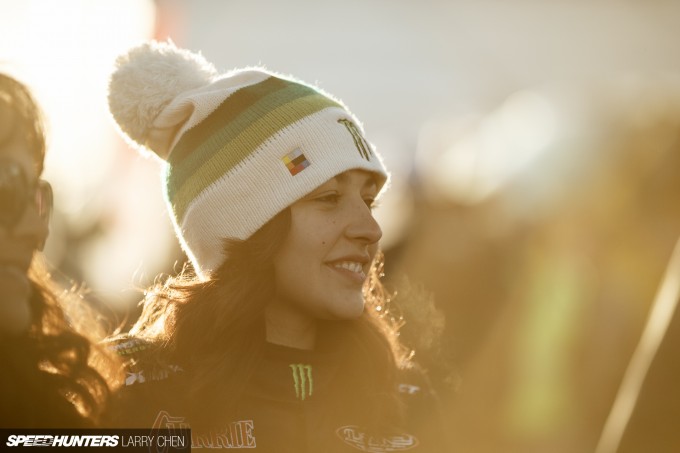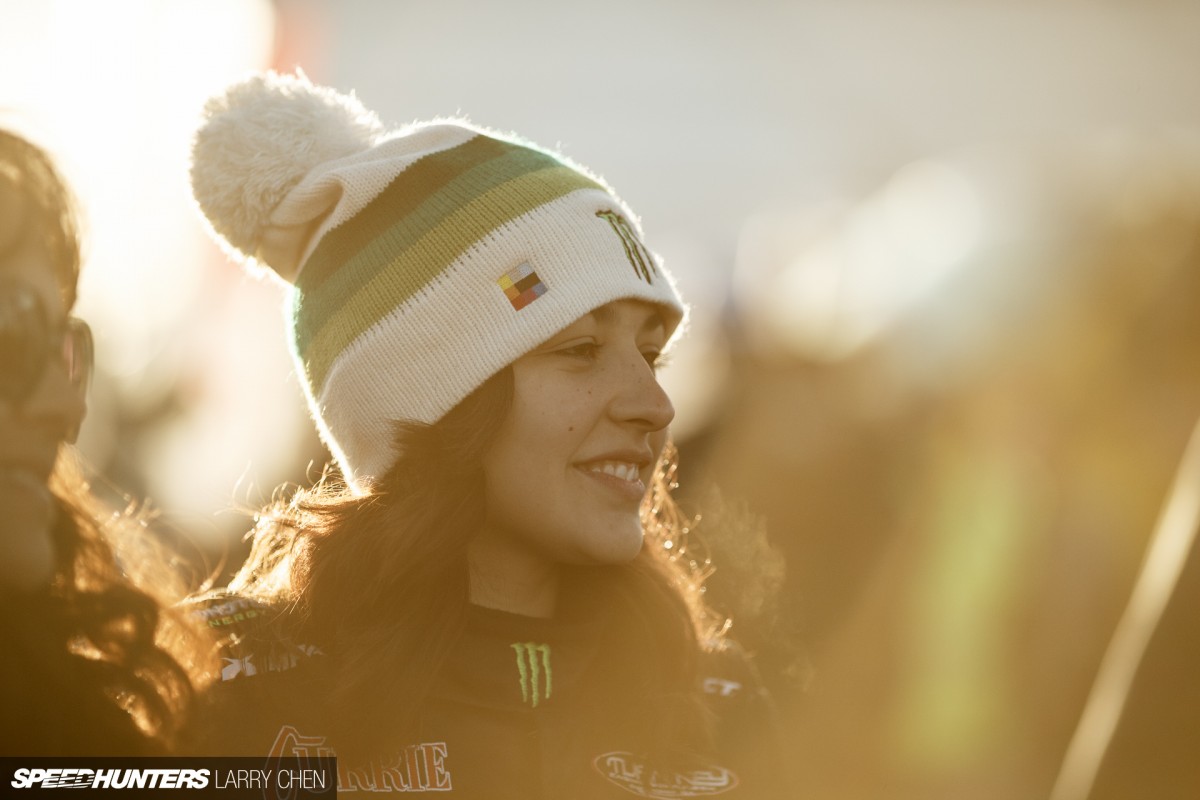 Not only that, but she was the only woman driver competing out of the 129 teams that entered into the main race, and at 18 years old also the youngest in the field.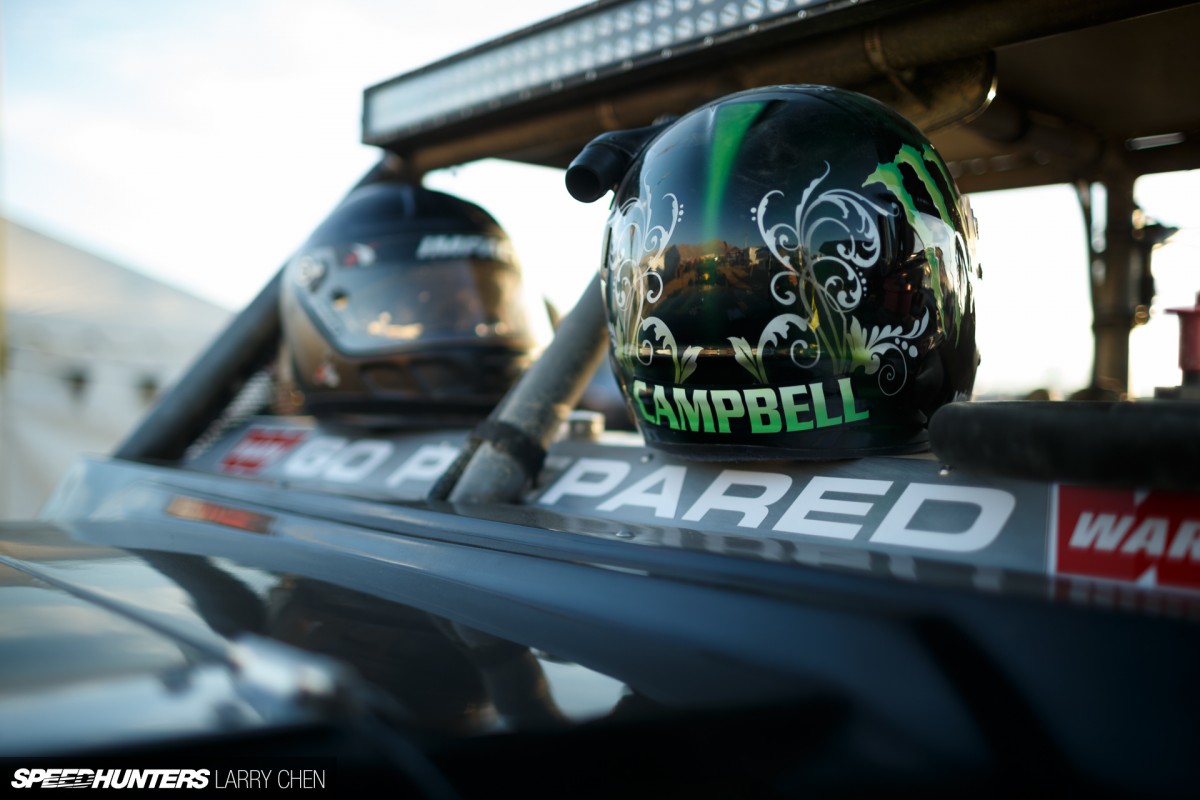 Bailey was not going to be alone out there though, as she had the help of co-driver Ryan Miller, as well as the rest of the Campbell Racing pit crew to assist her along the way.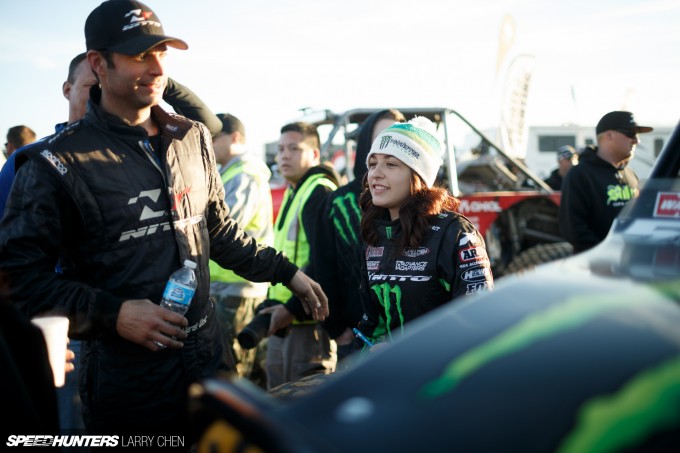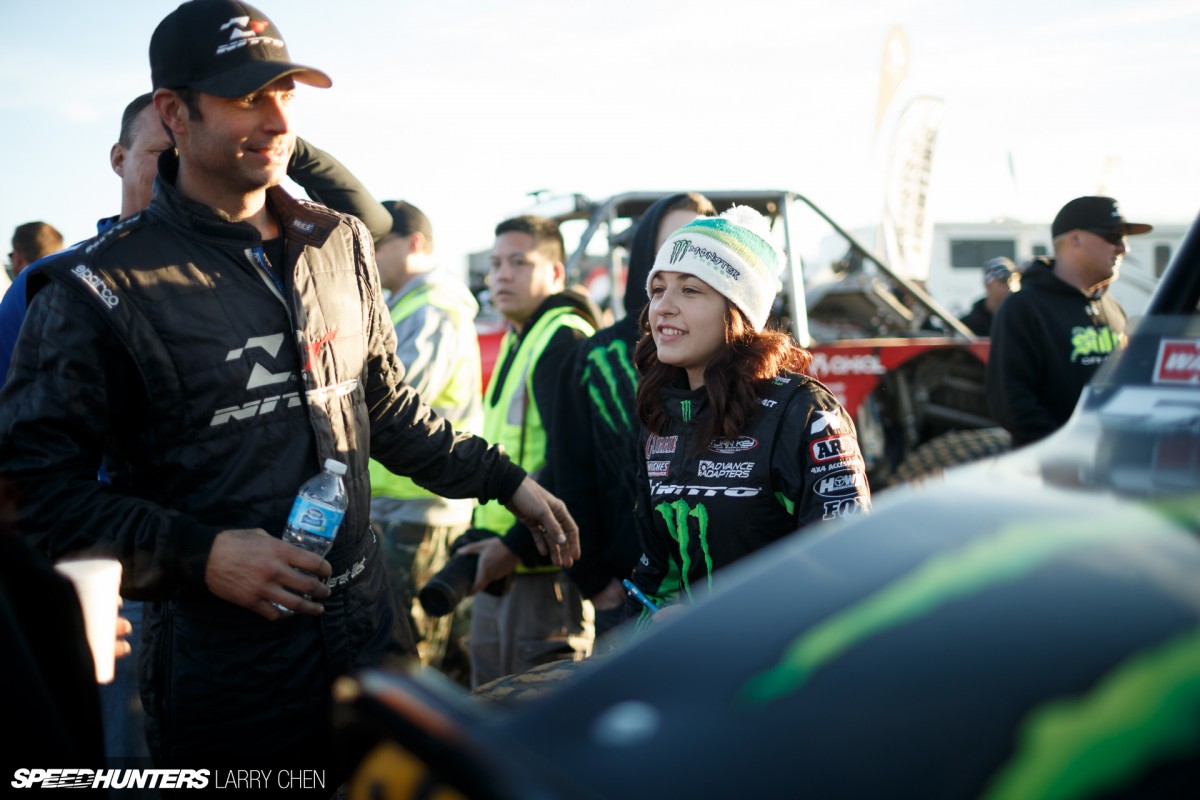 She qualified 91st out of the 149 drivers attempting to grab a spot in the Unlimited class race, so she would have a bit less time to finish under the 14-hour time limit.
It Begins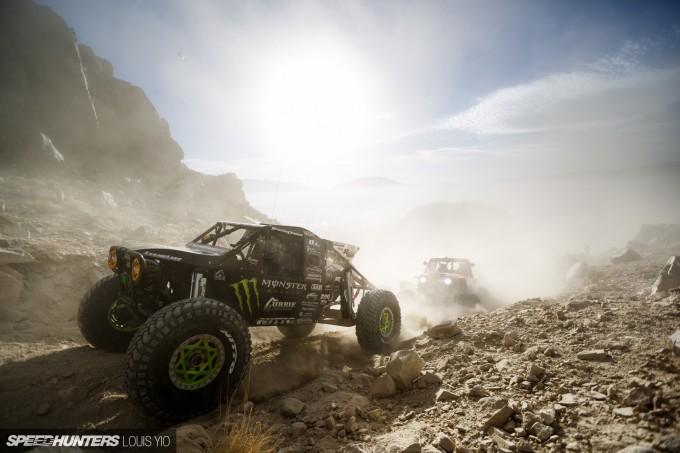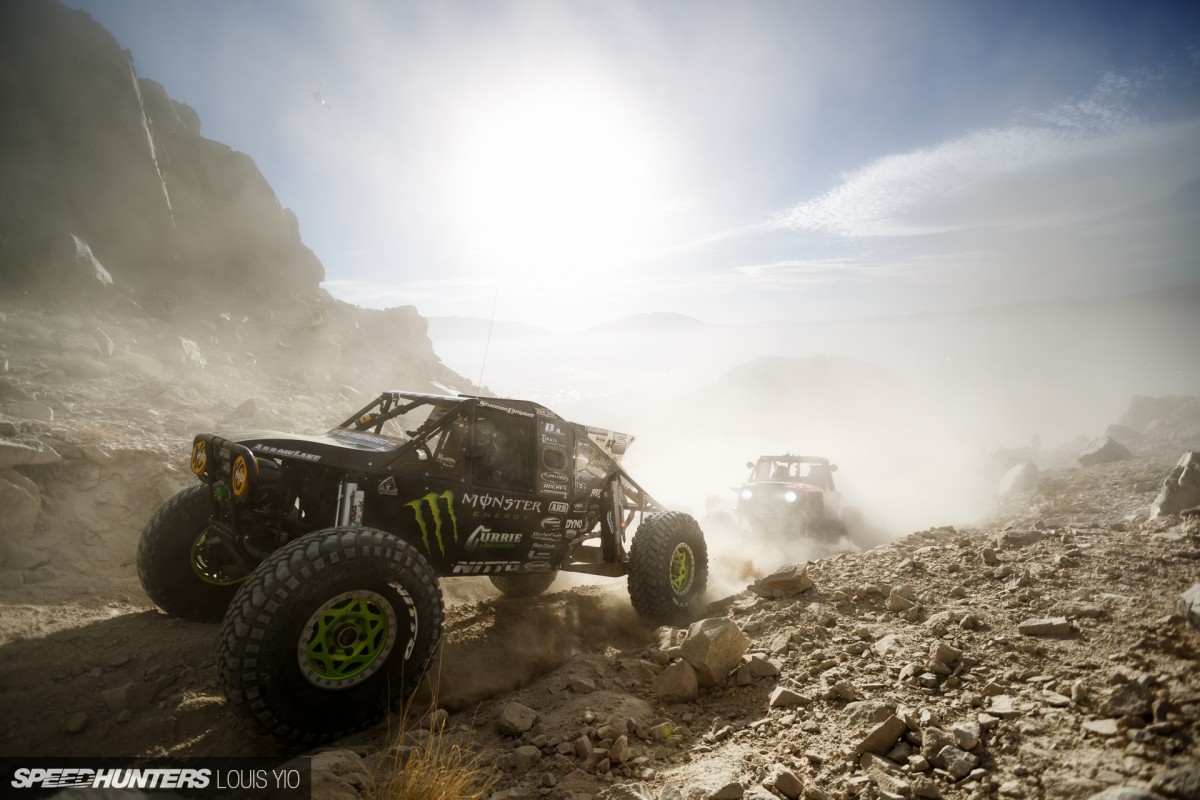 For the start of the race I split up with my buddy Louis. I wanted to try to get a shot of the Campbells as they hit top speed on the lake bed.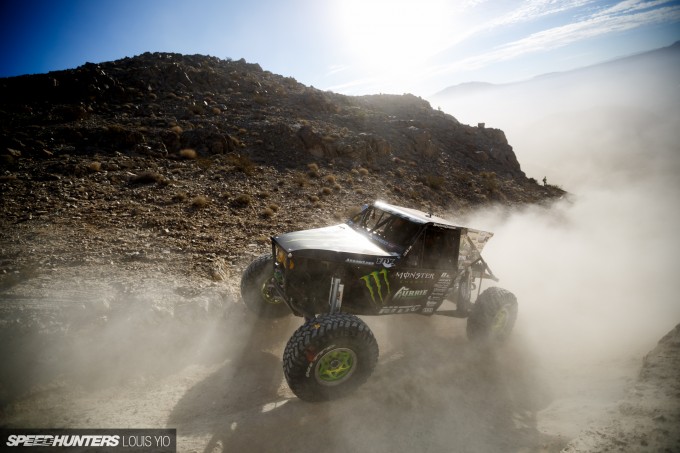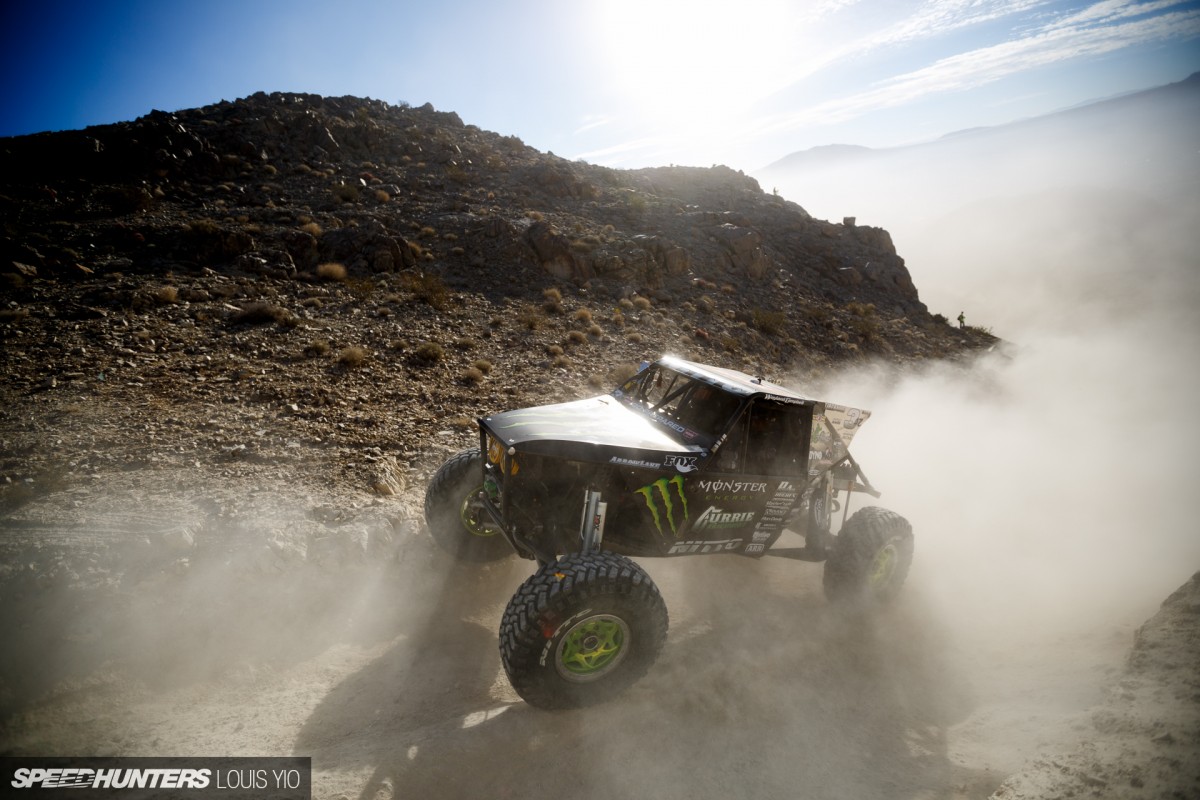 That didn't work out very well though, because with all the dust kicked up visibility on the lake bed quickly reduced to 30 to 50 feet, and it was getting more and more dangerous to stay out there. It's not fun dodging race rigs going at top speed when you have all your camera gear on you.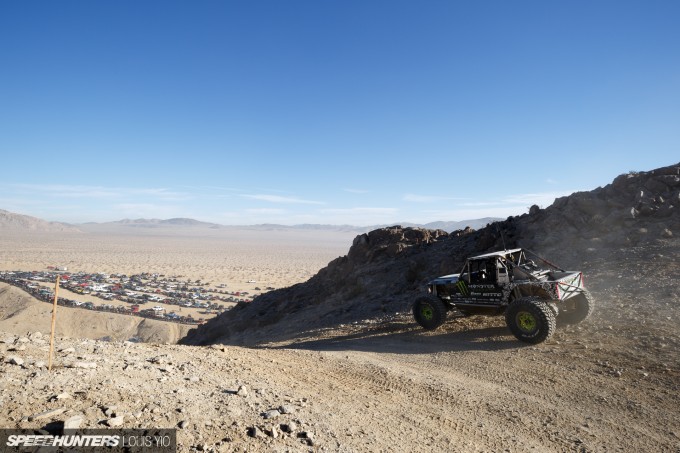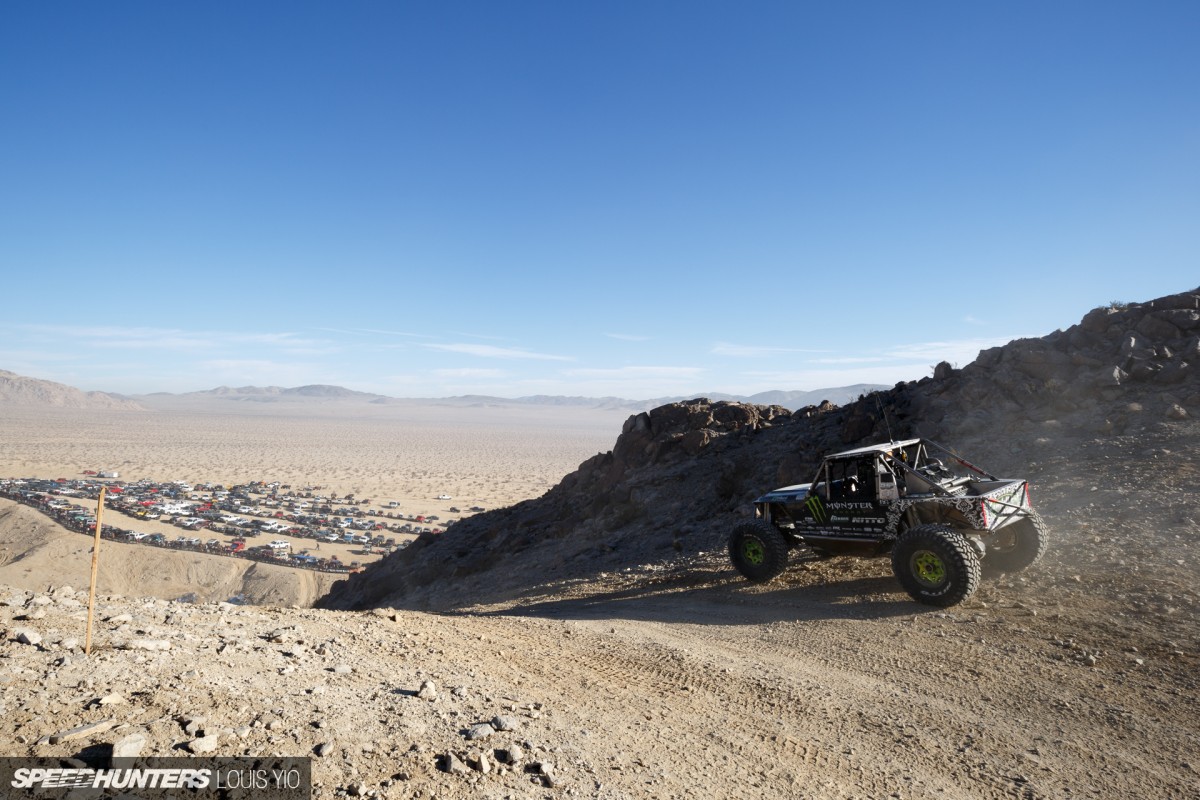 This year's course turned out to be the most brutal yet: 214 miles of high speed sections, rock crawling and mountain crossings. Because the track is so big, after seeing Bailey at the start we would not be able to catch up with her for another eight hours.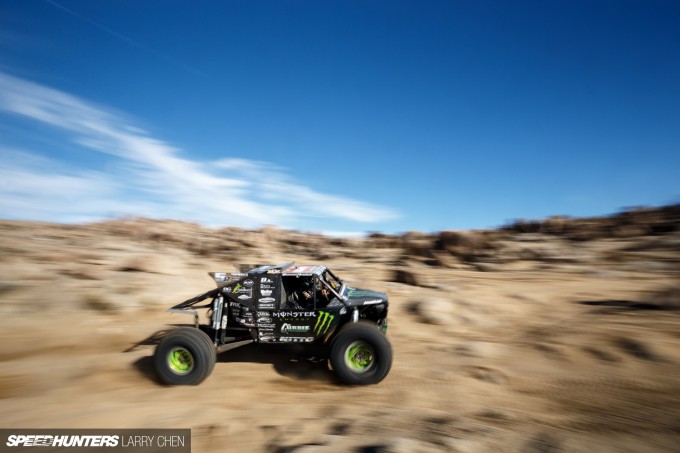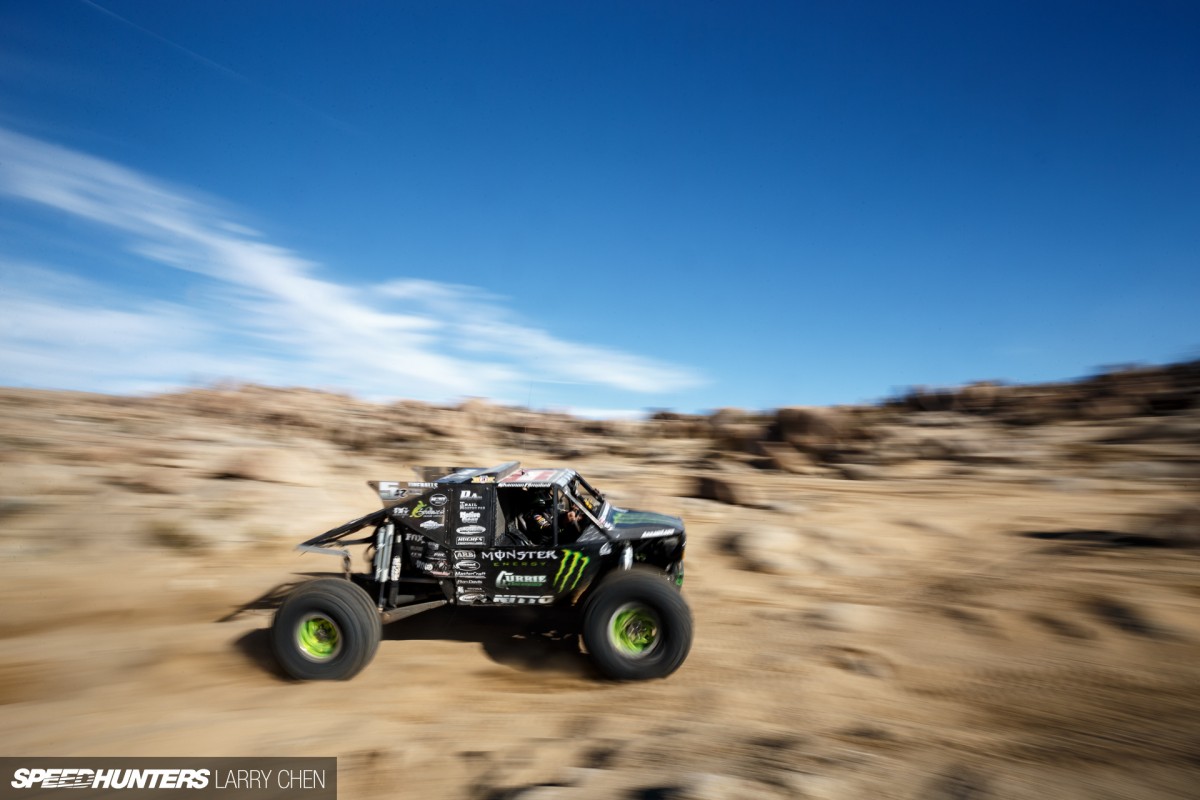 I first caught sight of Shannon as he was finishing his first lap, and at this point he was in the top 10. It was so early on in the race that there was no way to tell how he was going to finish.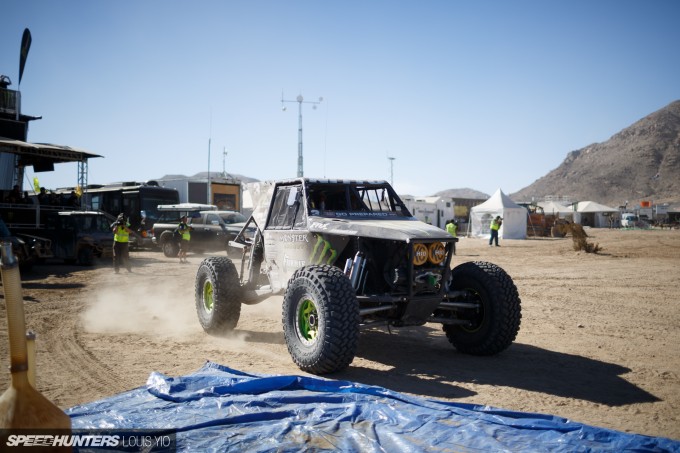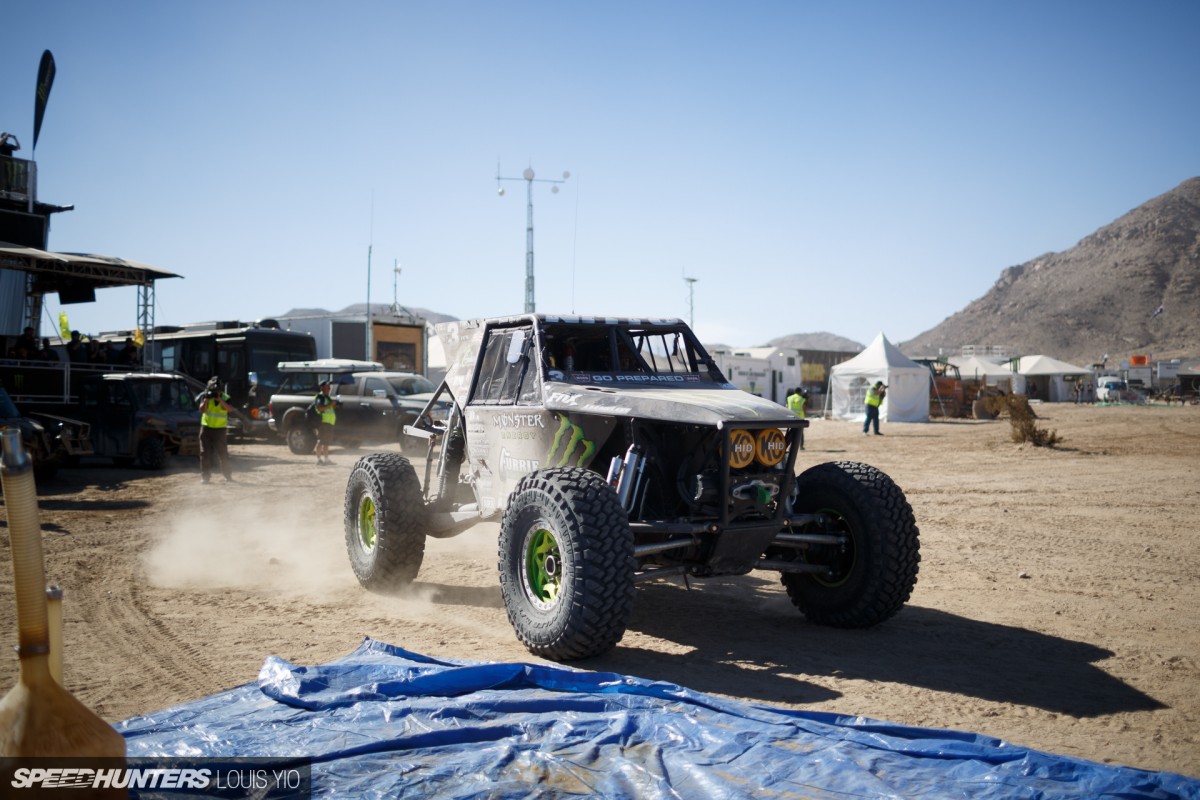 Louis caught Wayland coming in after the first lap for a dash of fuel.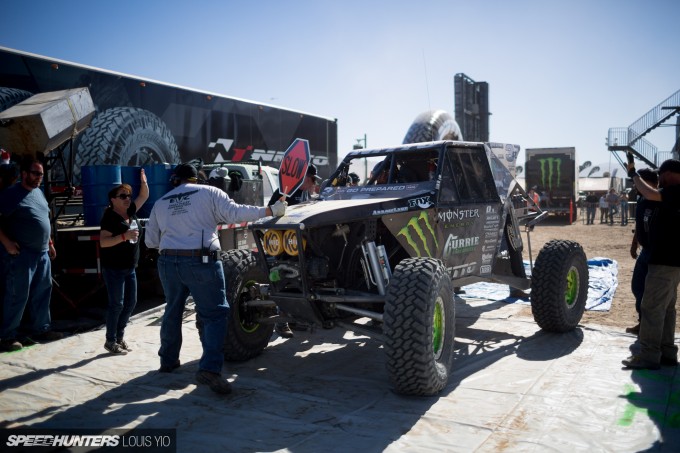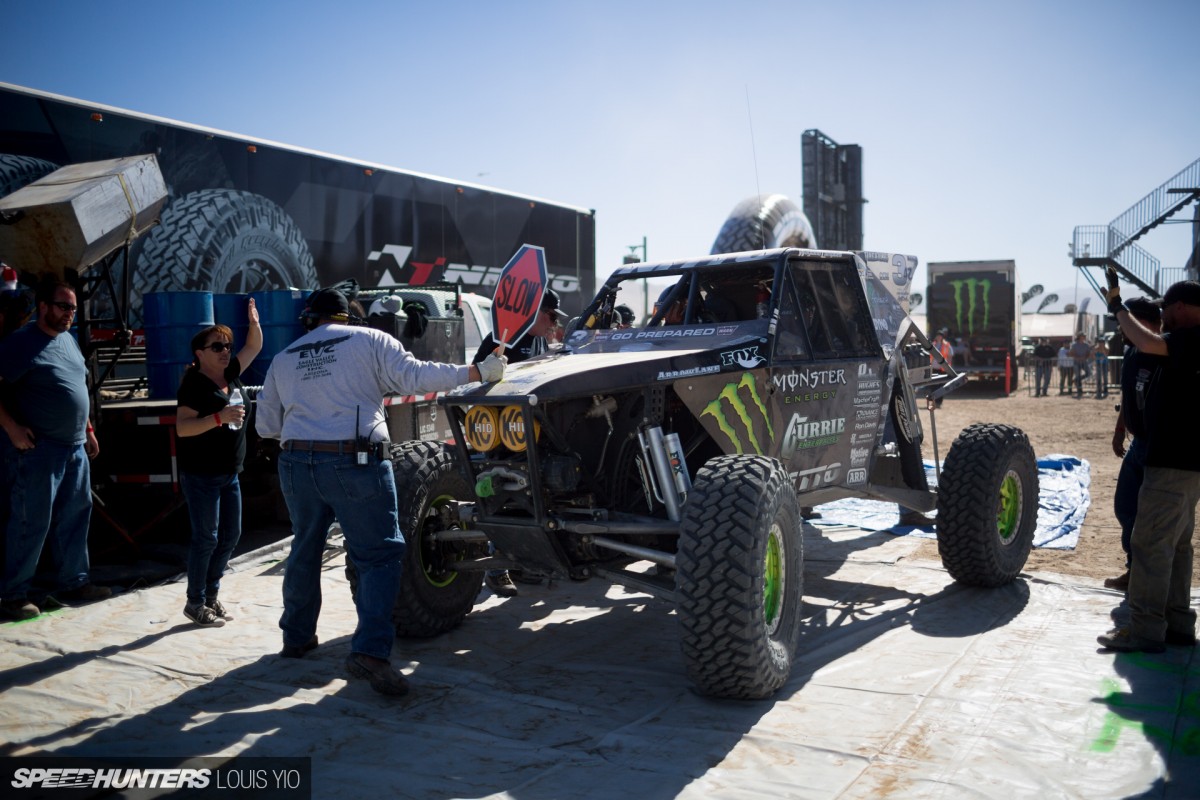 What people don't realise is that unlike sports car racing, these guys have to drive for the entire day straight. There really is no time to take a break – unless you're in for a quick pit stop.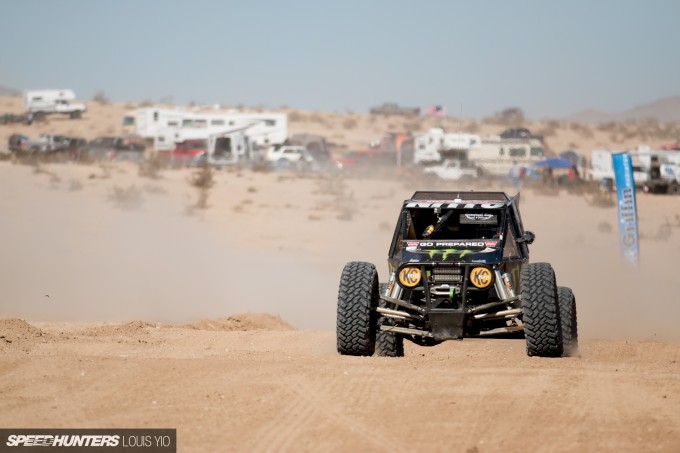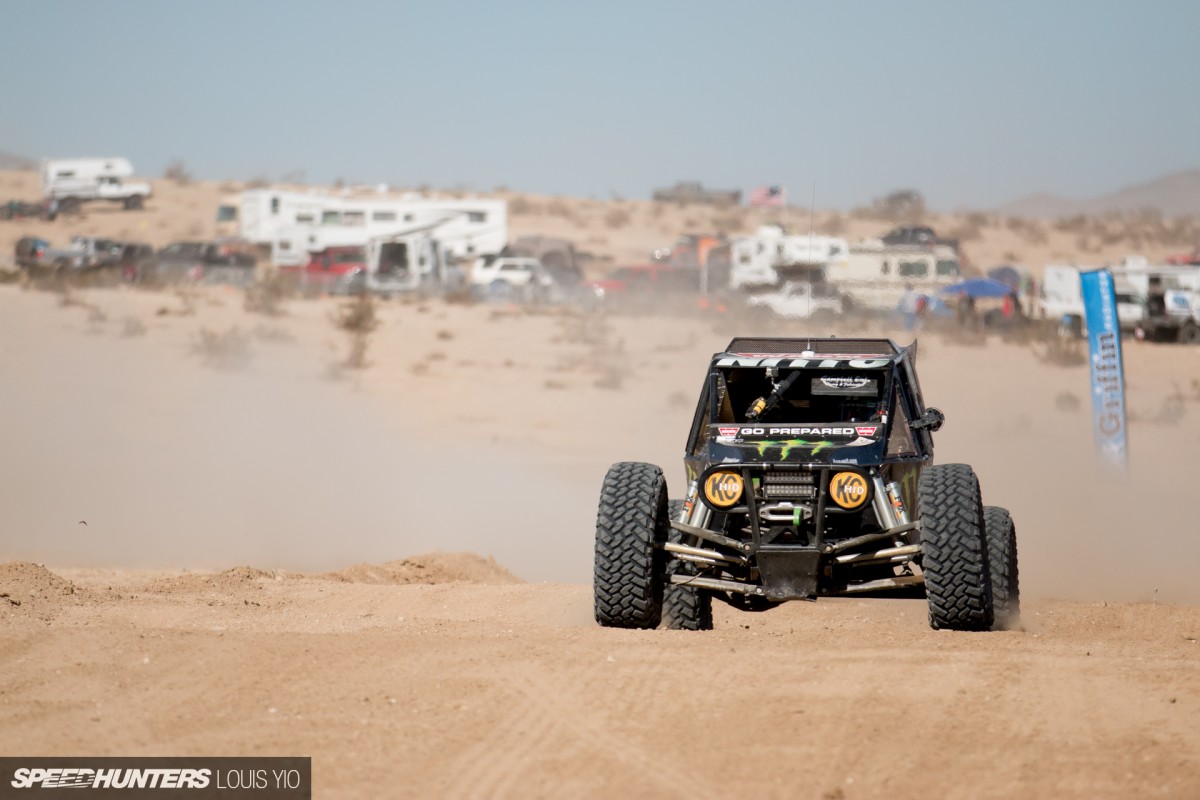 The race really started to get interesting during the 2nd lap. While Wayland started much further back, one of transmission coolers in Shannon's rig was leaking, so he had to keep stopping to top it off with whatever fluid he was carrying with him.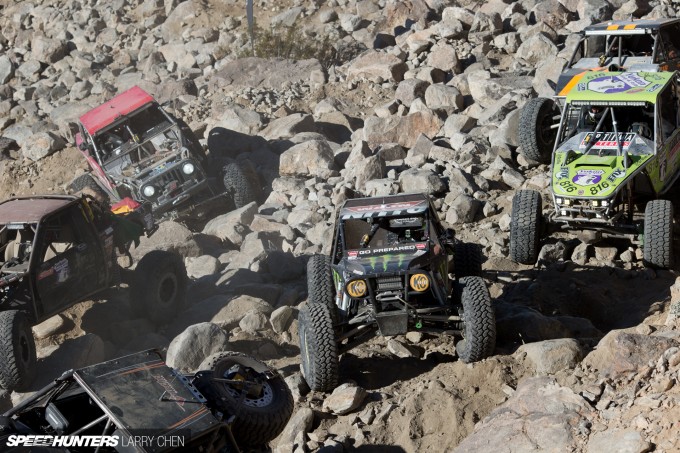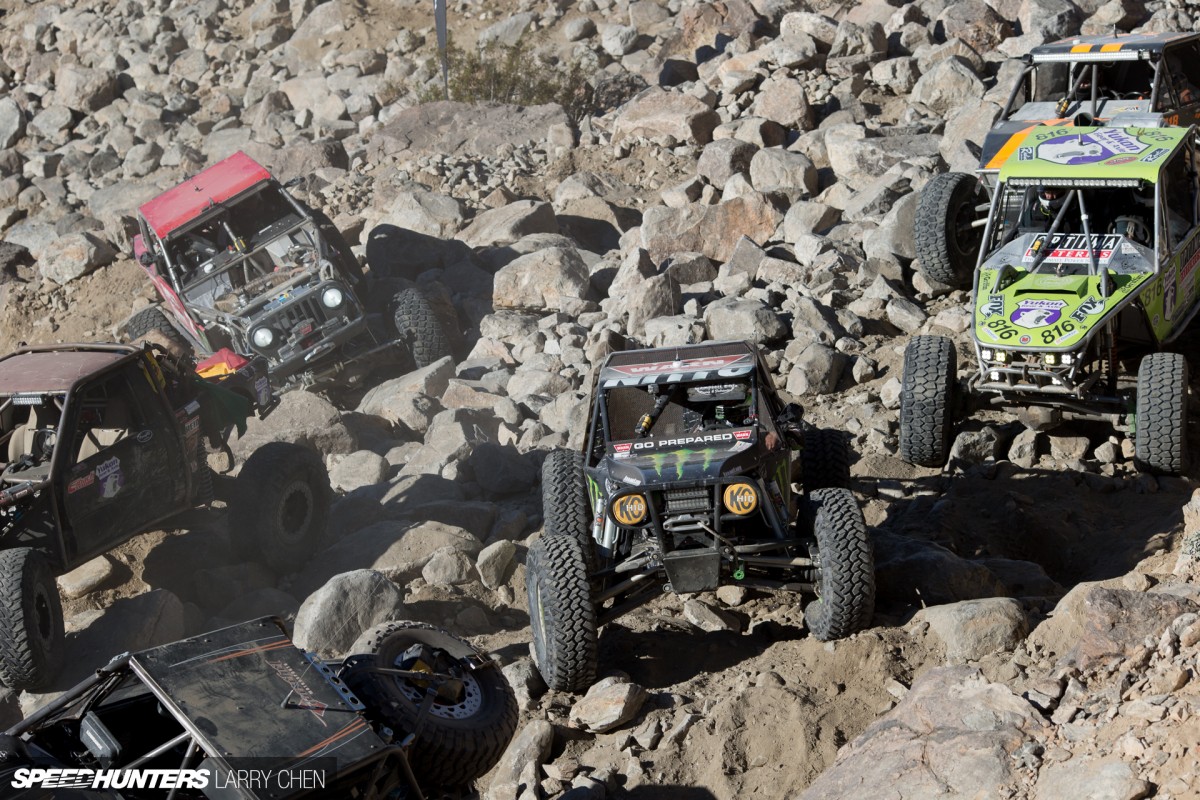 Both father and son arrived at one of the hardest obstacles on the entire course. I talked about the 50-rig log jam that happened later in the race in my first post from the event.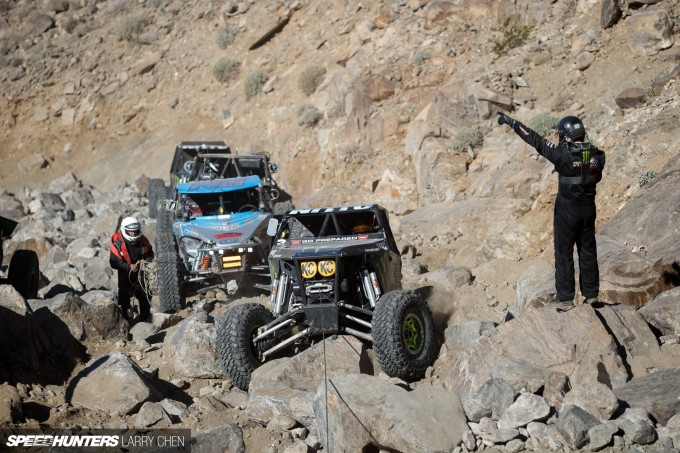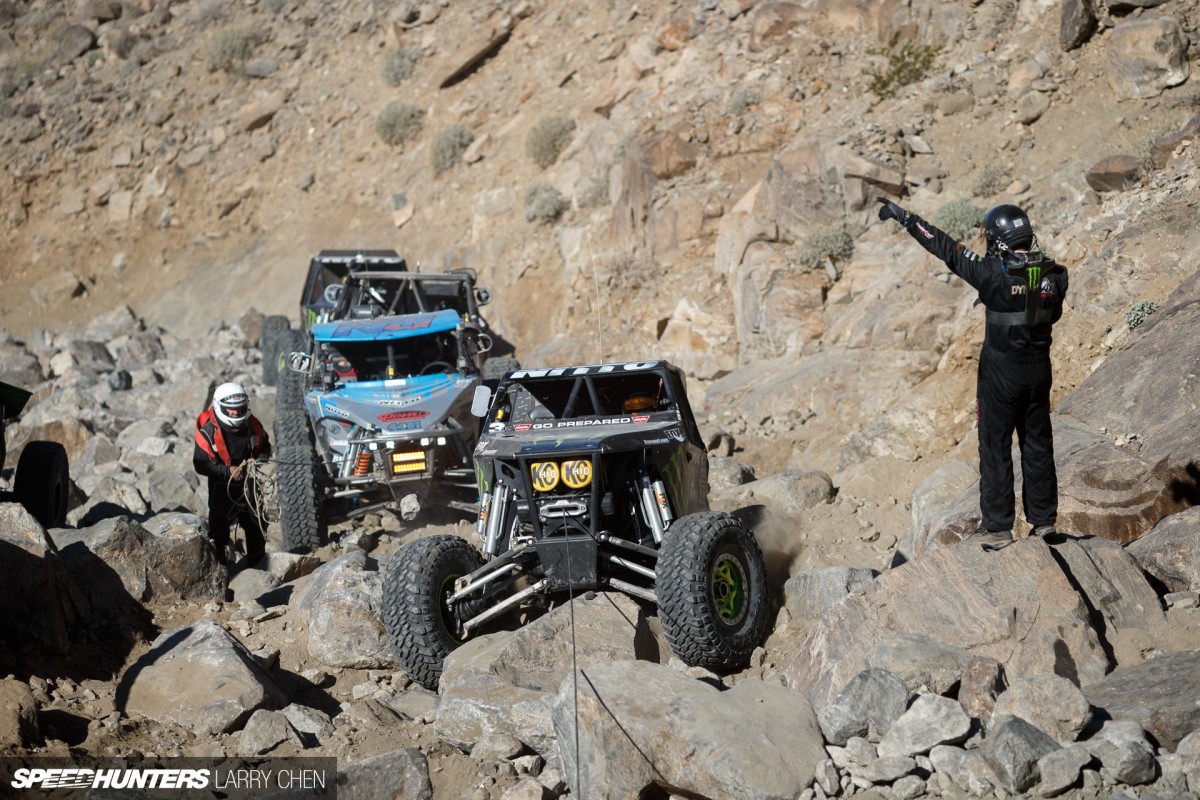 This is a great shot of Wayland's co-driver Jason Berger directing him where to turn his wheels. You can see Shannon just a few rigs back, waiting for his turn at the Jackhammer obstacle.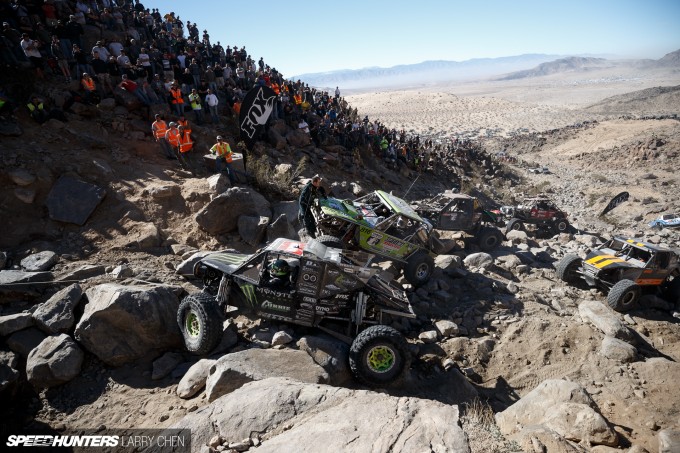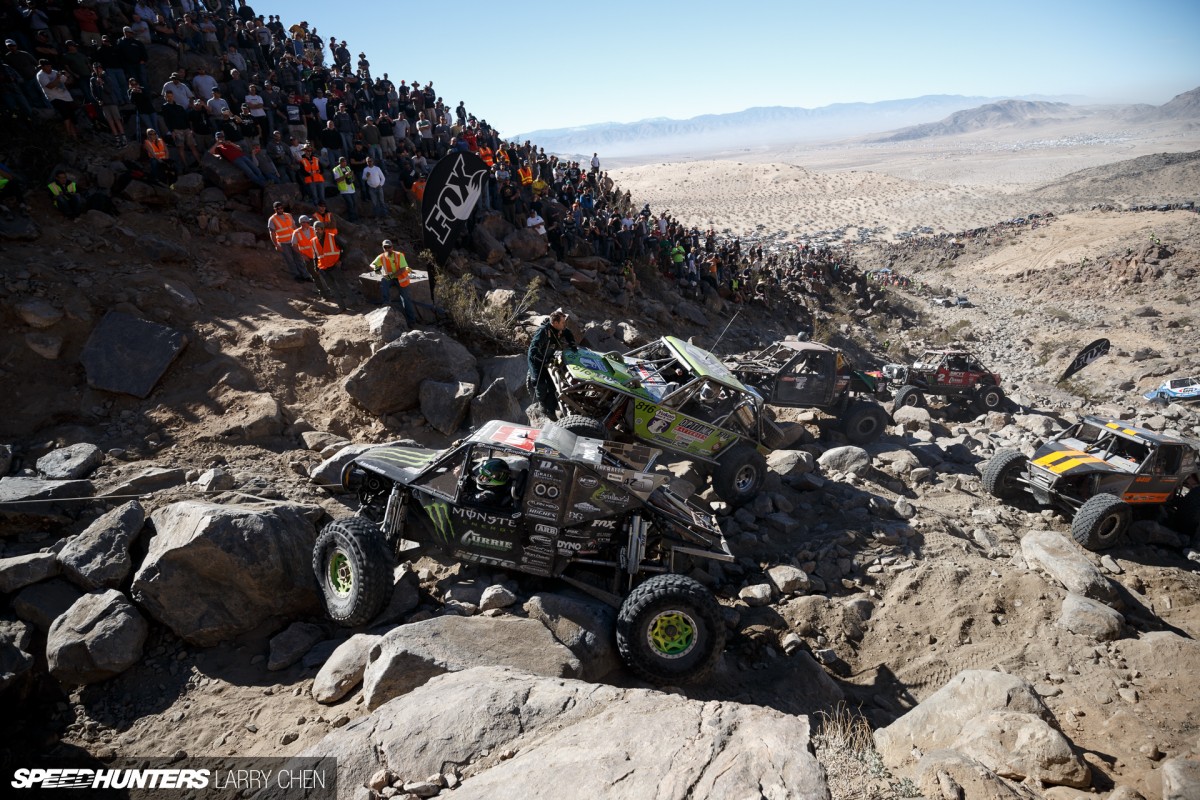 Because Shannon had to keep stopping to tend to the transmission cooler, he quickly lost position, but after each temporary fix, he made those spots back up with relative ease.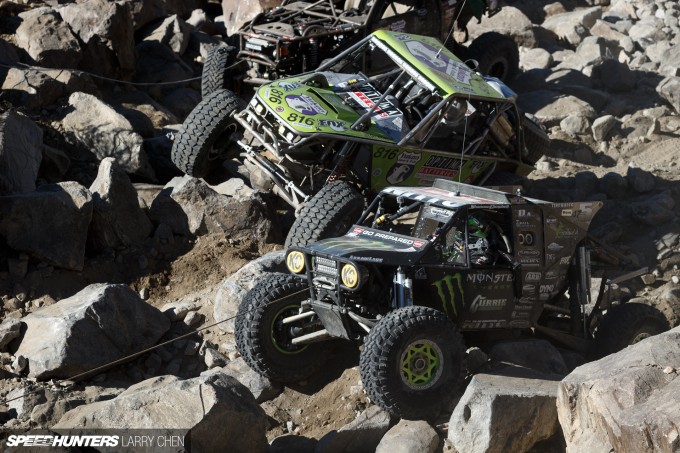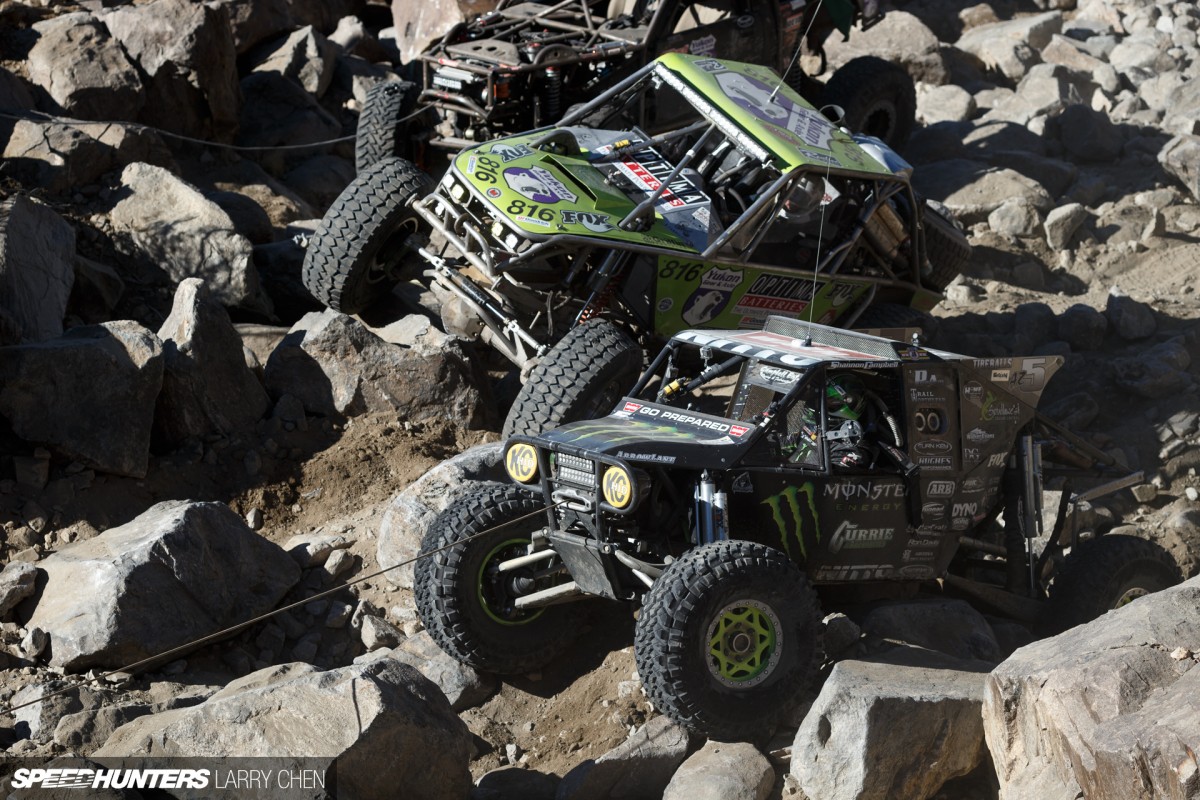 This was when Shannon was winching his way through the main choke point. At the same time I turned around and looked uphill to see Wayland almost out of the thick of it.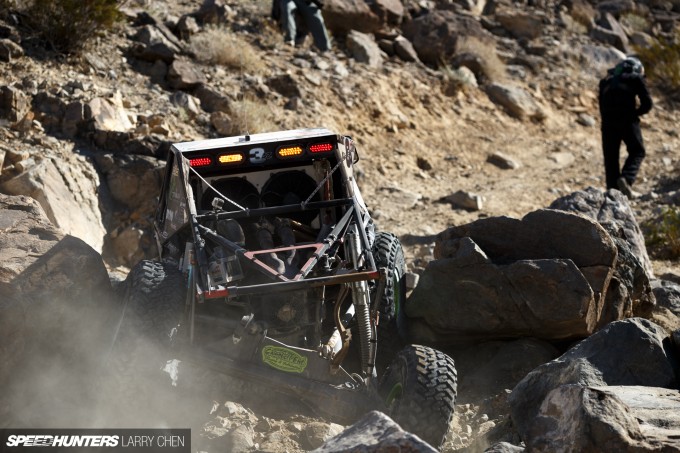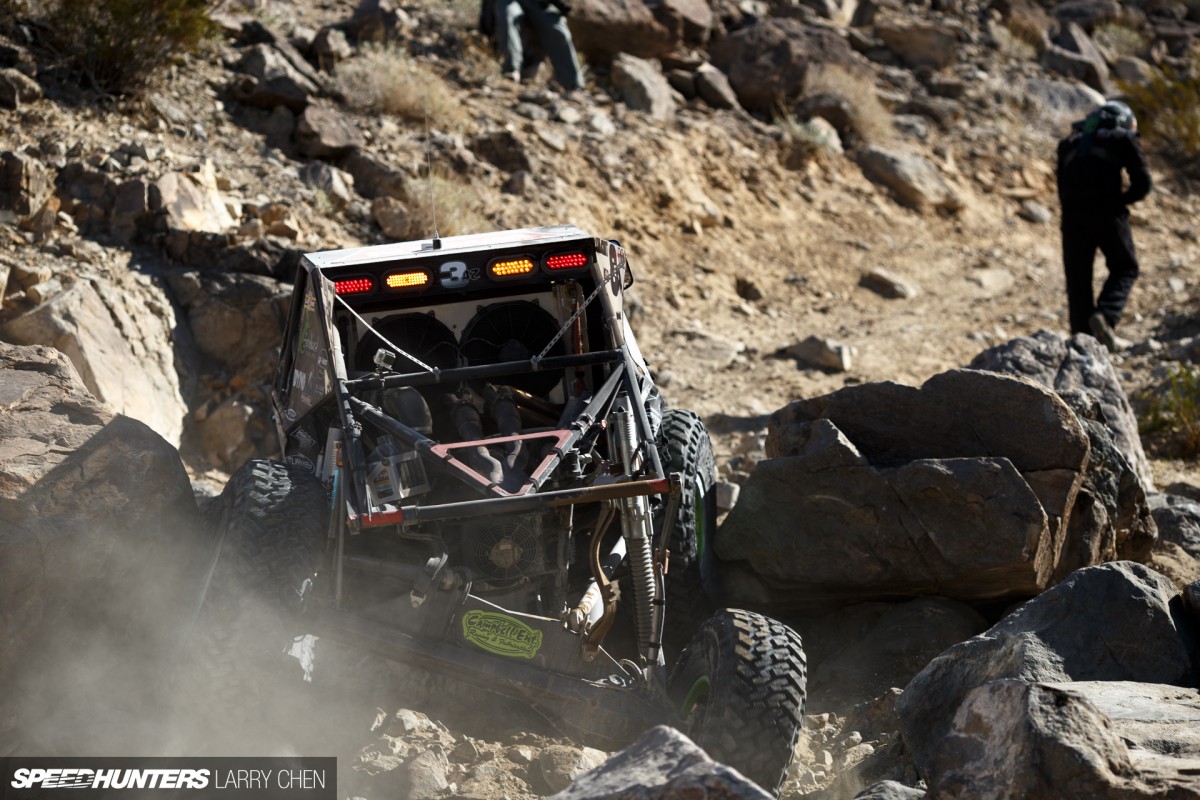 In traditional rallying the co-driver reads out pace notes and helps fix the car and change flat tires, but with this type of off-road racing it's not uncommon to see the co-driver hiking up the obstacle directing their driver from the outside, and winching whenever it's required.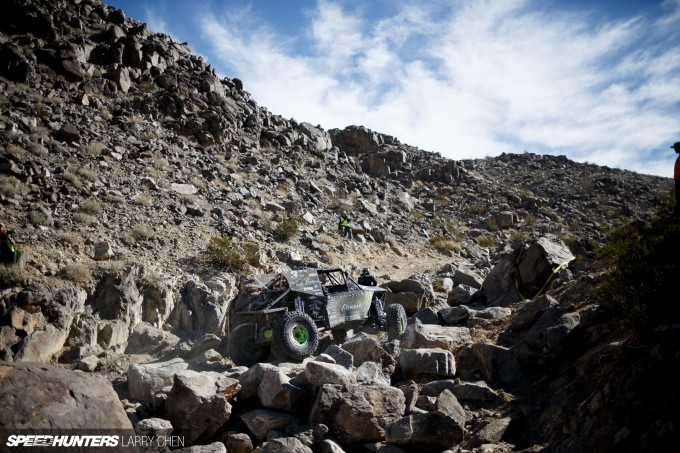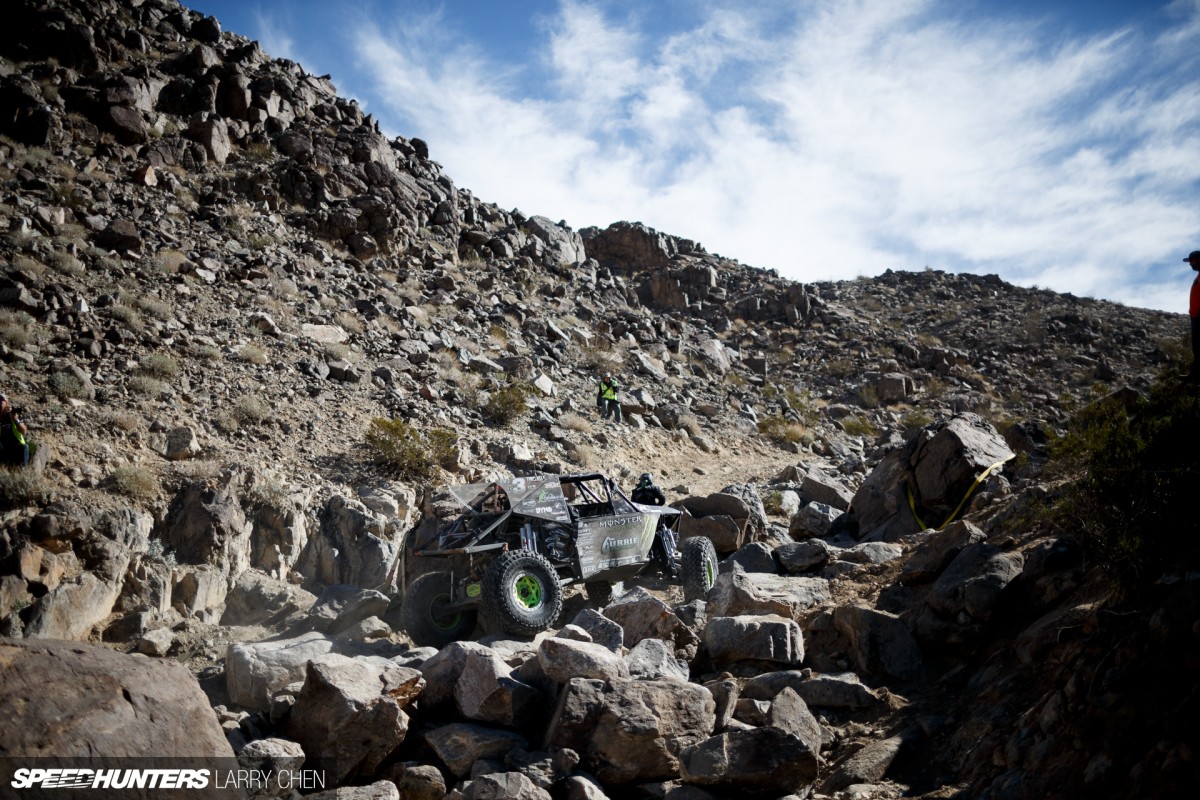 At this point Wayland was maintaining a steady pace and not having to stop for any reason other than waiting for his turn to tackle a blocked-up obstacle. He had also taken over the lead from his father.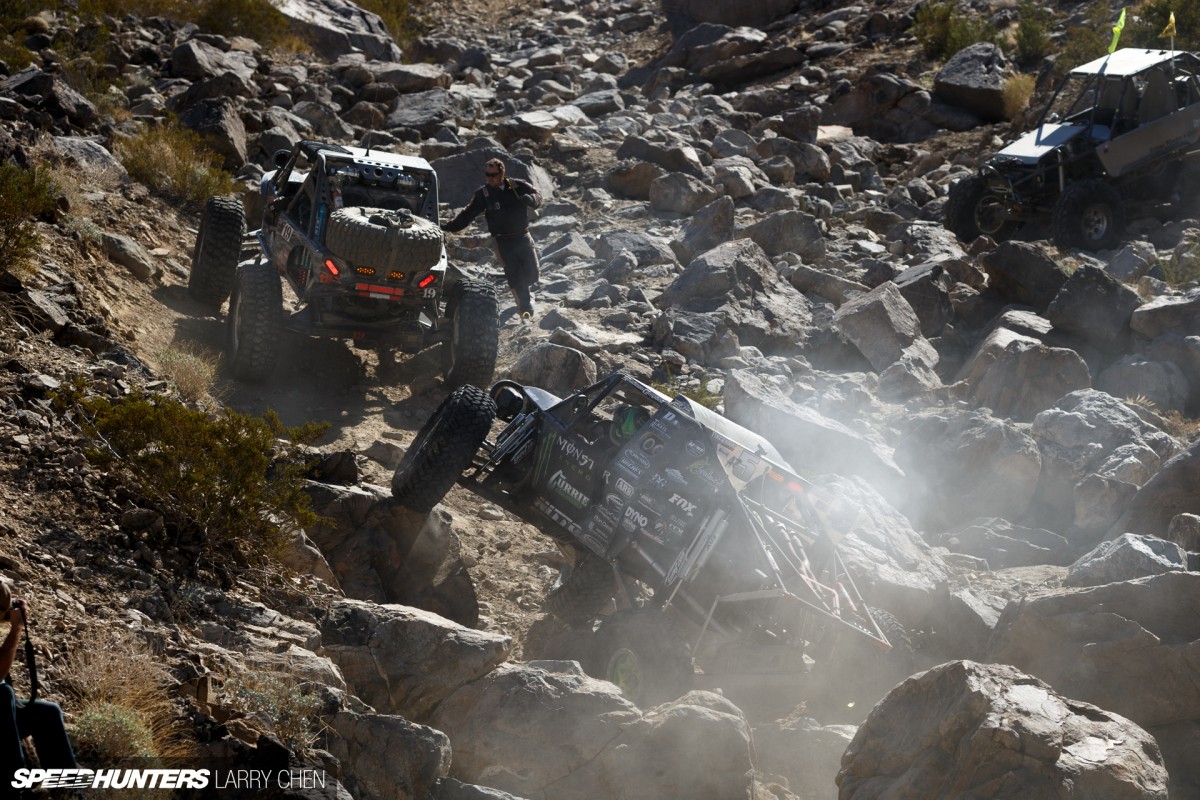 Not a moment later Shannon freed up his rig from the rocky mess that is Jackhammer and proceeded to mash the right pedal in an effort to make up some lost time.
A Rock & A Hard Place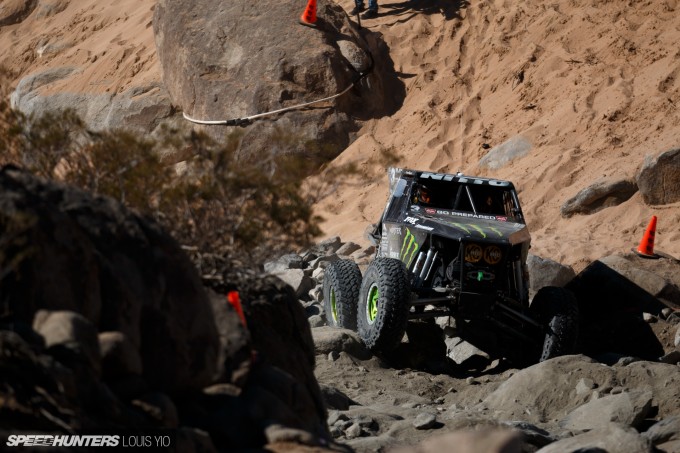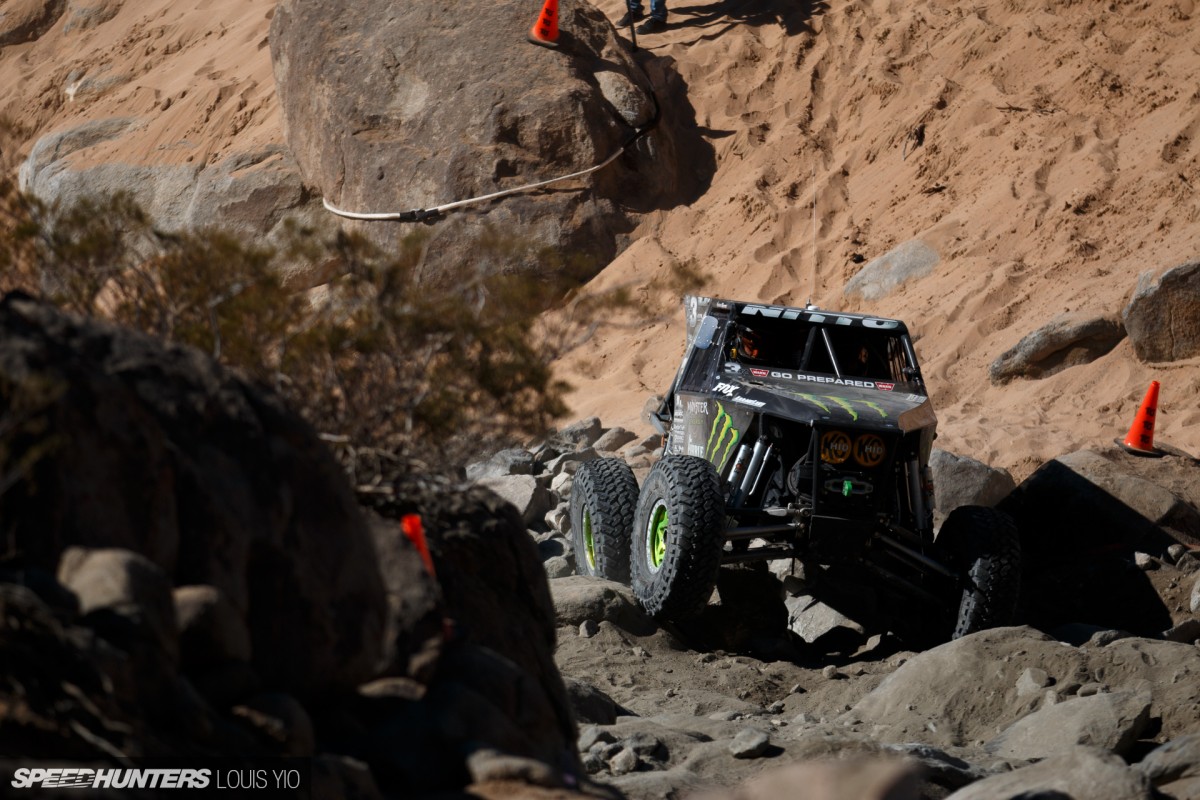 As soon as they passed me I radioed Louis to let him know that both drivers were right around the corner.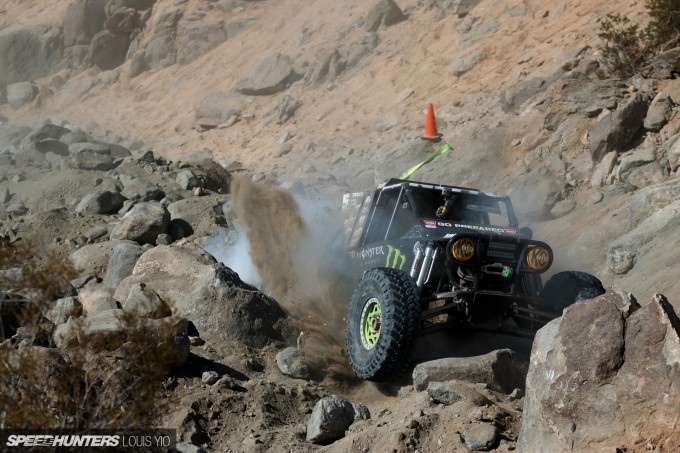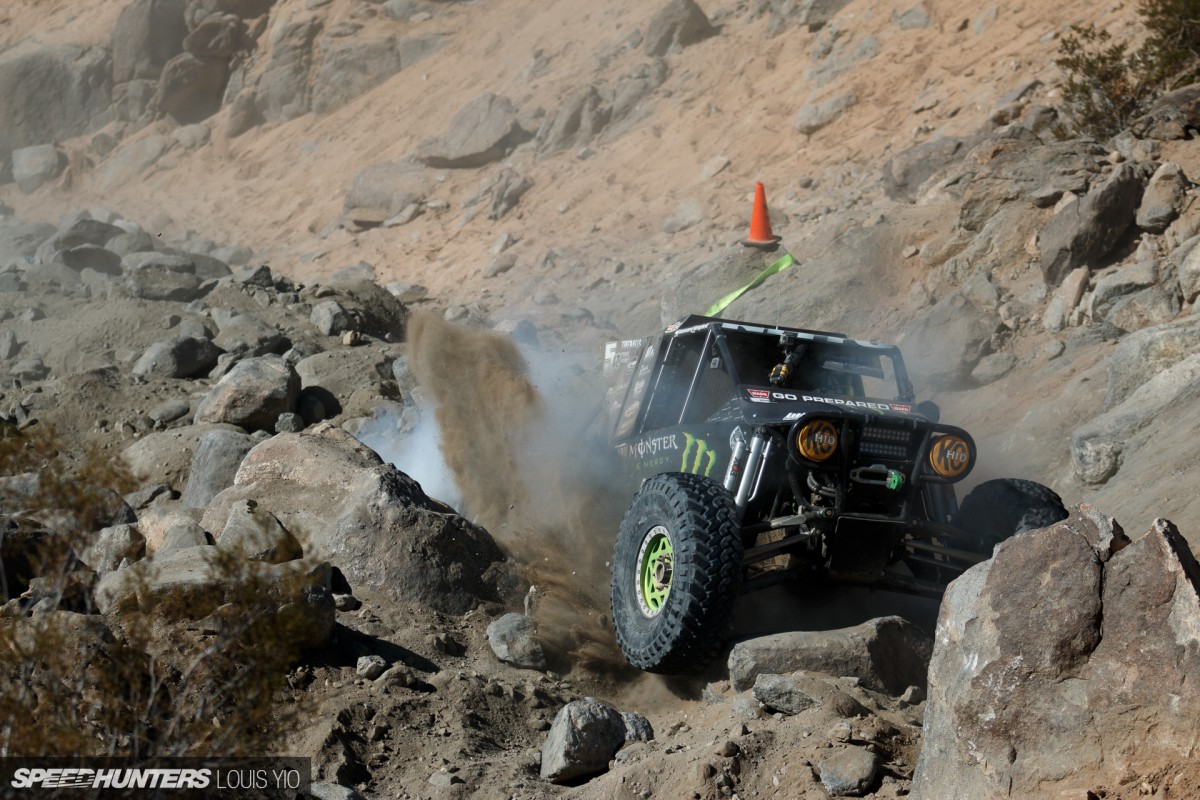 Although Shannon was making good time, he had to bypass the leaky cooler, which left the transmission cooling duties to a single radiator. It was a quick fix that didn't last very long though, and the fan melted from all the heat going into one cooler, which overheated the transmission.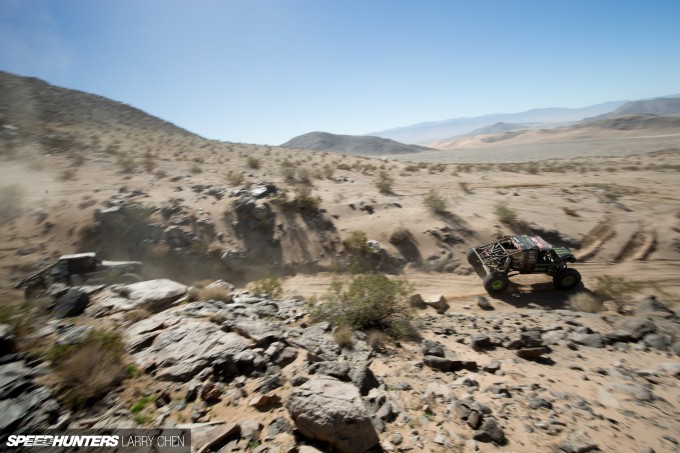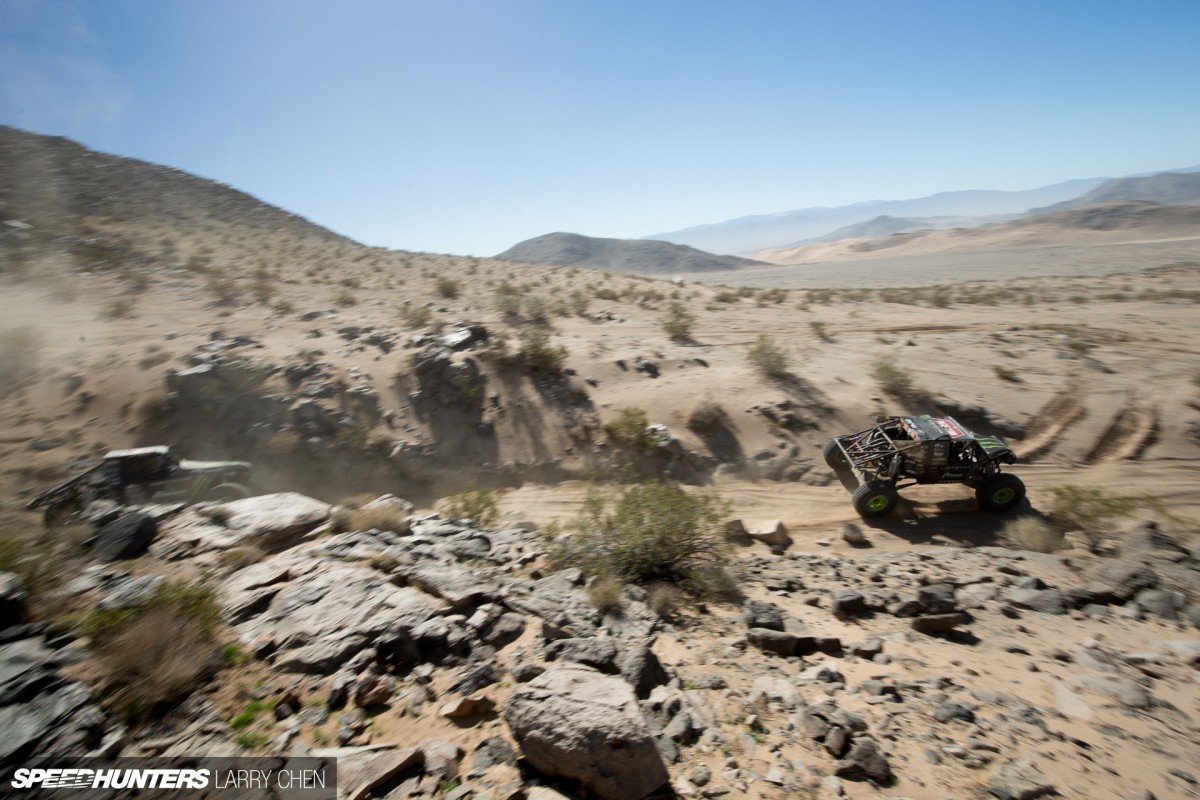 You can't beat yourself up too badly when you miss a shot, but I honestly did everything in my power – including driving like a crazy person in the desert – to make it to this shooting location, also known as Boulder Dash, to try to catch the father and son team come through together. As I pulled up I watched Shannon pass Wayland on the outside of the course. It was literally a matter of me opening my bag and reaching in for my camera, but by the time I started shooting it was already too late. This was the only shot I managed to capture.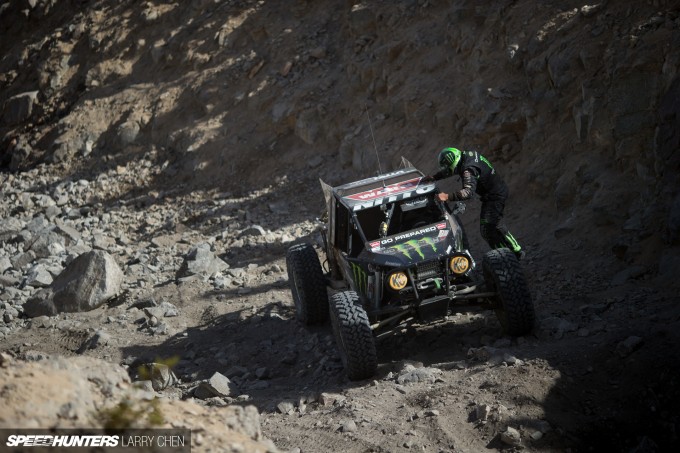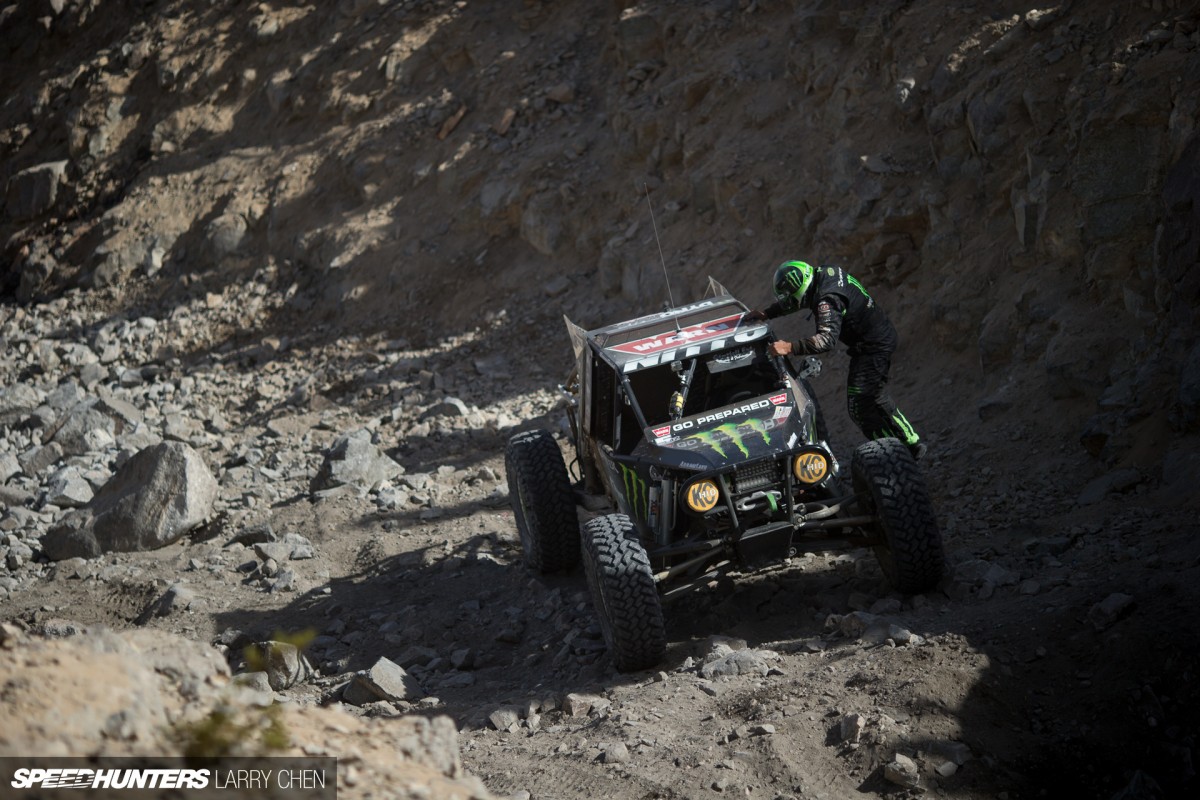 I was a little bummed out, because I knew if I had arrived just three seconds earlier I would have had a perfect shot of father passing son – but I told myself that I needed to continue on and follow the story. I knew that they were both on their way to the main pits, so I would have some time before seeing them at the hardest obstacle on the entire course – the one they call the Backdoor.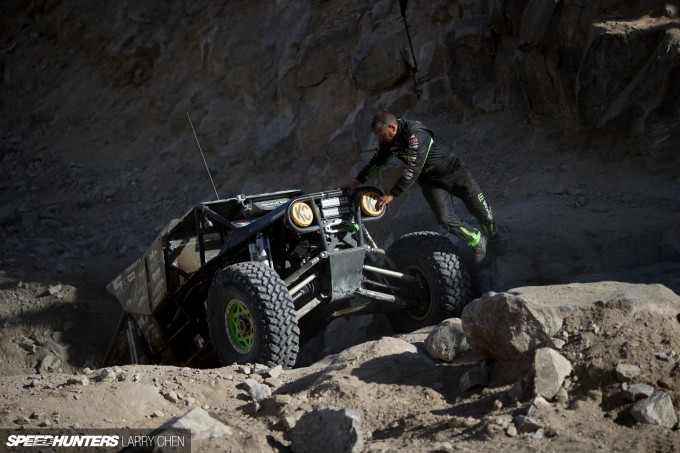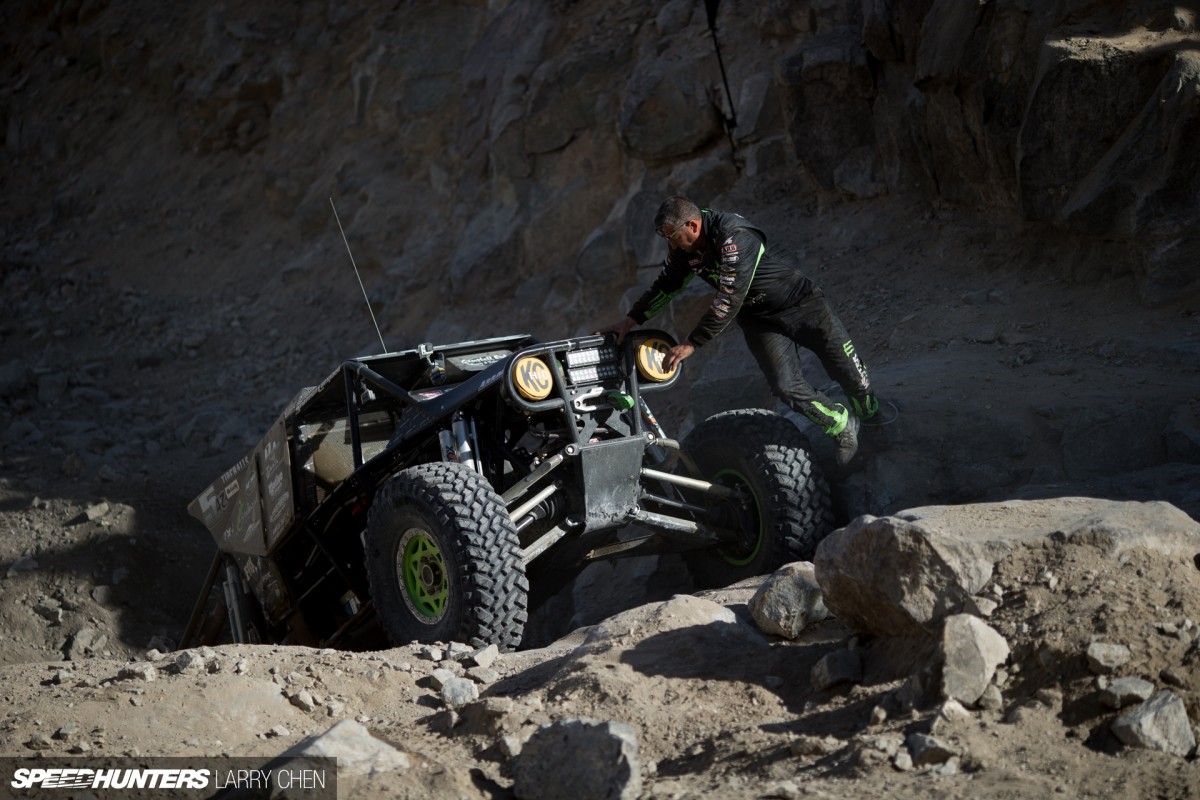 It was only the beginning of the 3rd lap, but Shannon's race rig was very hurt. The transmission was damaged and it was slipping due to it overheating. He attempted to force his way up the dried-up waterfall, but he couldn't get his diff to lock-up or his winch to work because a relay in his air compressor was busted. Essentially, he was a sitting duck.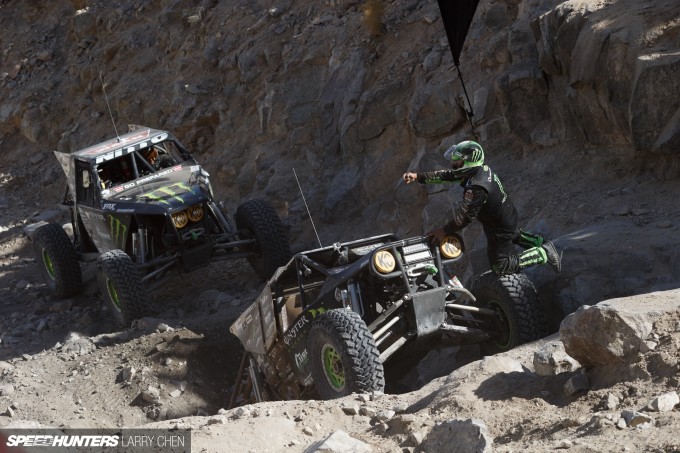 And just like that Wayland came up right behind his father. Shannon quickly pulled to the side to let his son by.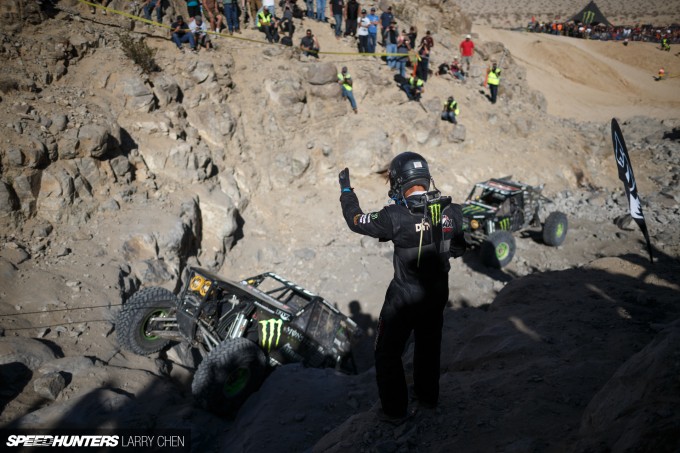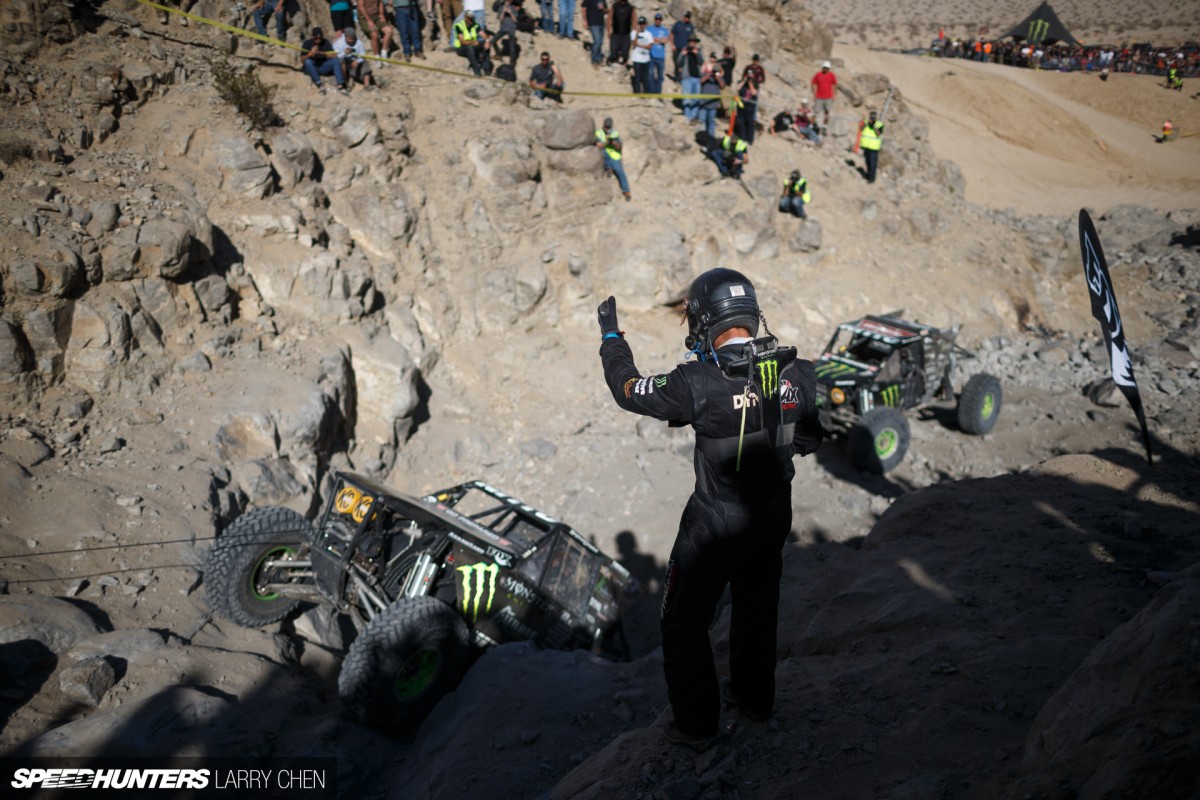 Wayland's co driver, Jason Berger, got out to help his driver up. They didn't want to go full throttle at Backdoor, because with just one lap left there was no point in risking a breakage.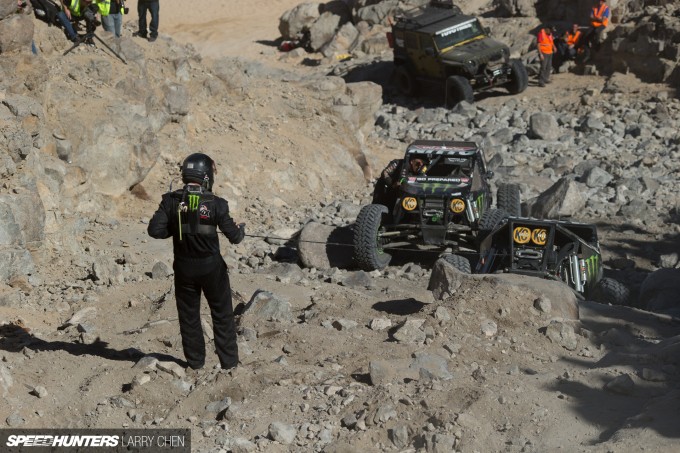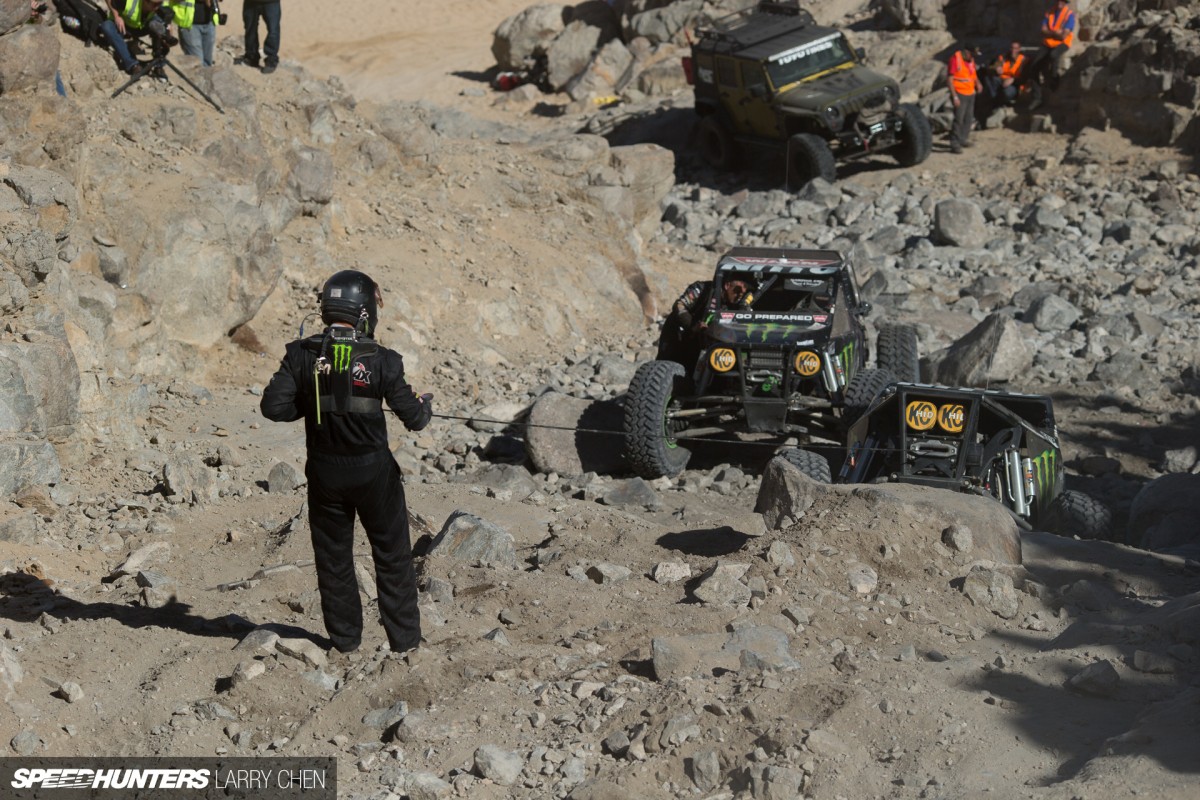 It's about saving the car and finishing the race in a solid position. As Wayland was making his way up Shannon realized the spare wires and tools he needed were not in his rig.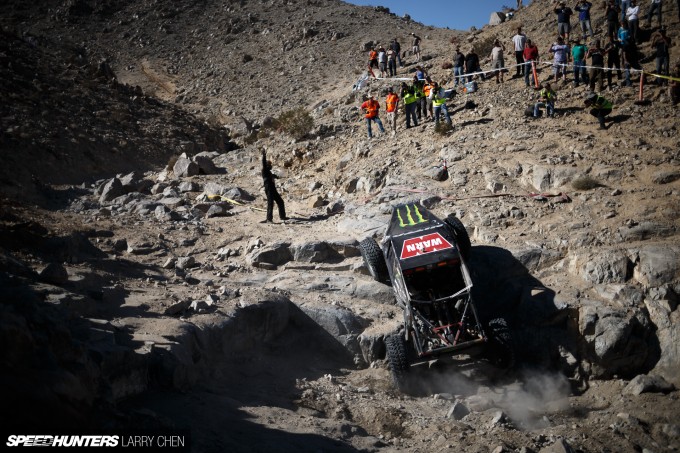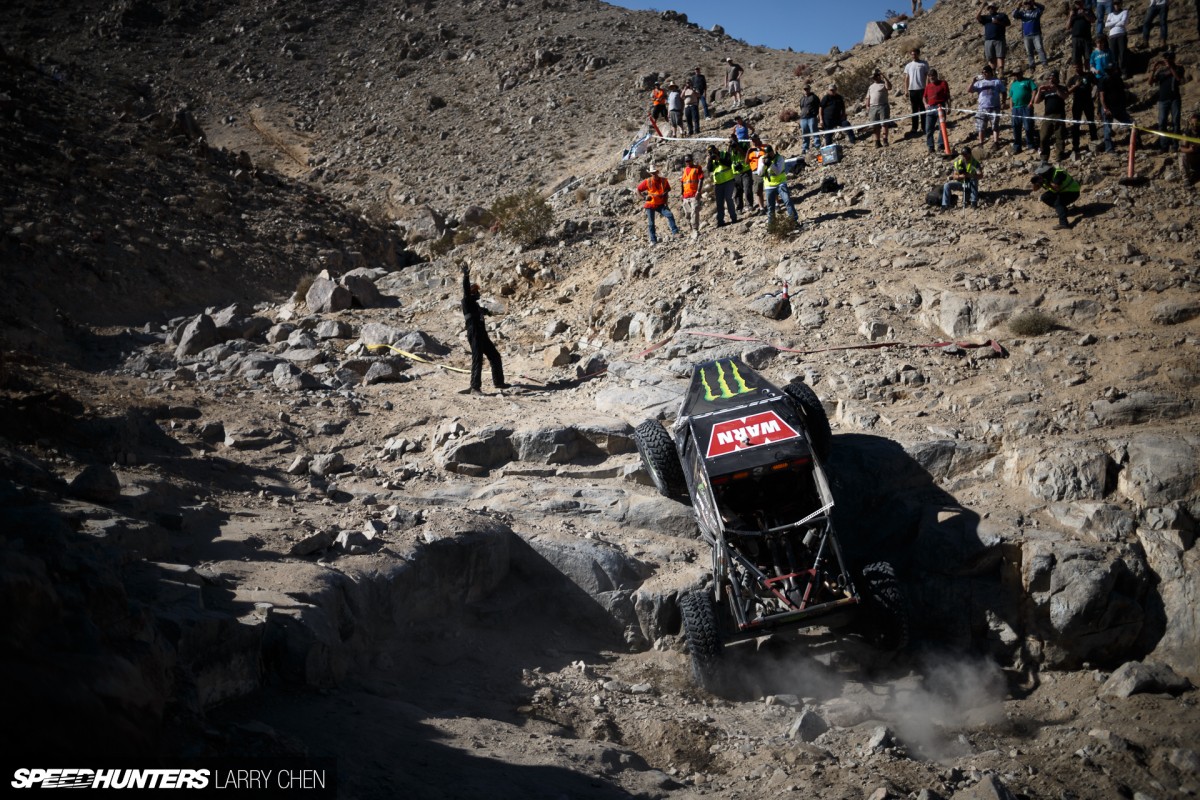 Just one more obstacle to go and Wayland was on his way to tackling the rest of his third and final lap. It was at this point Shannon remembered that Wayland had the right spares and tools onboard.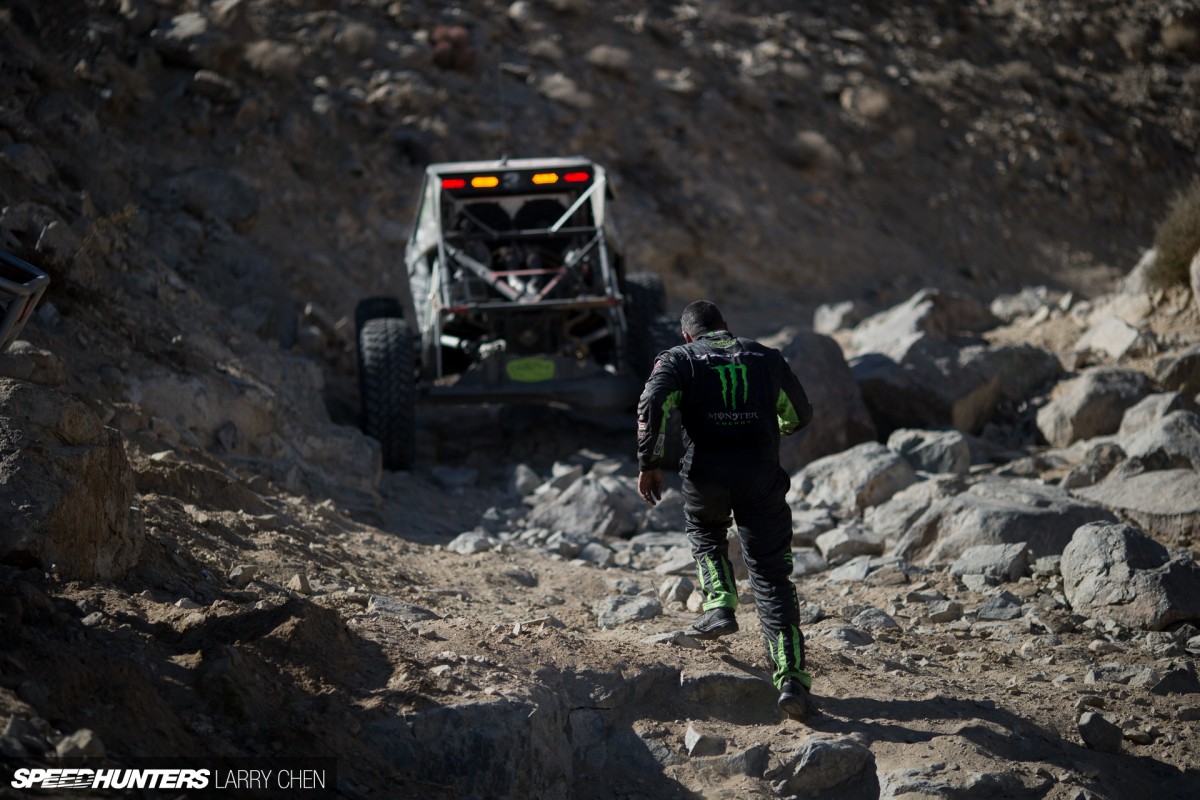 He quickly radioed his son telling him to wait so he could grab everything he needed to repair his rig.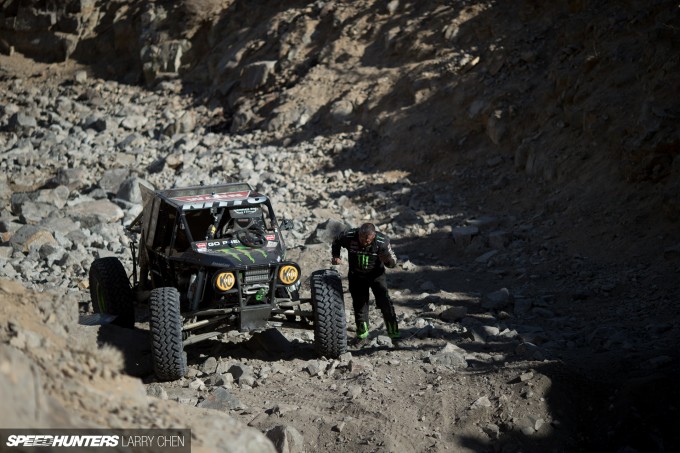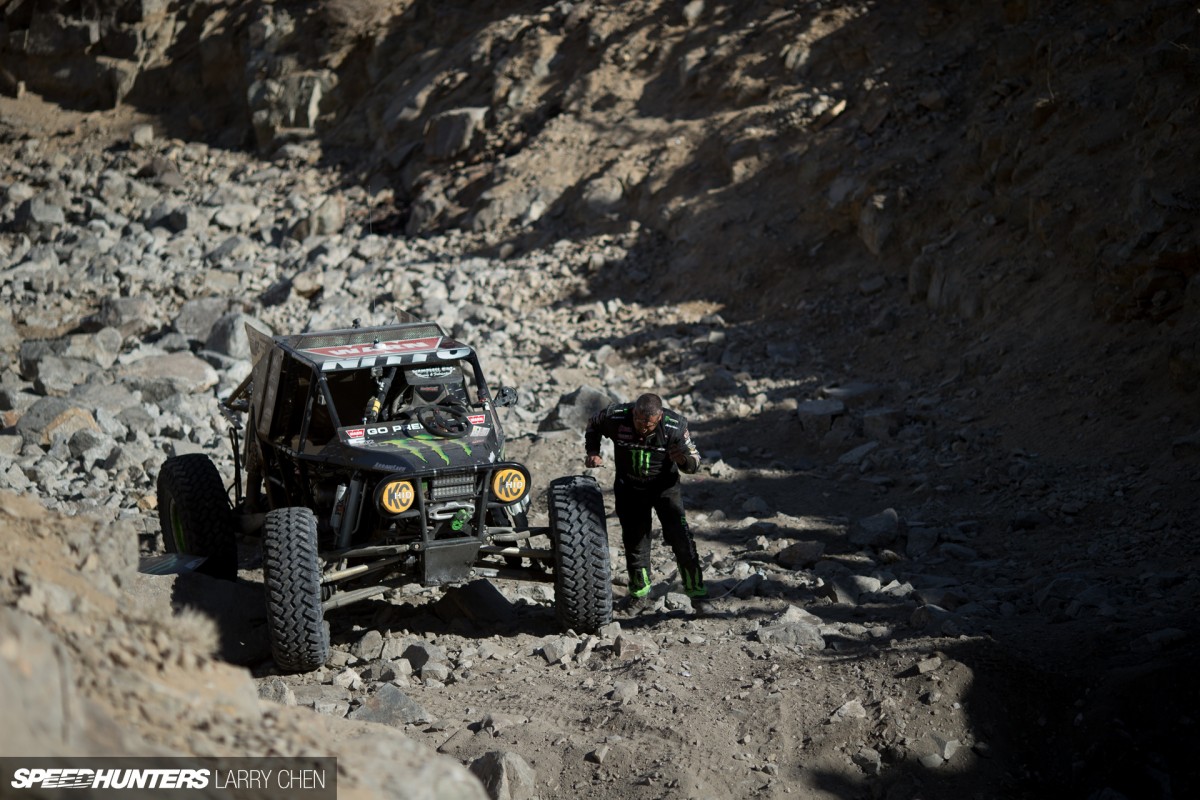 He connected his air compressor directly to his battery and got both his rear lockers and winch working.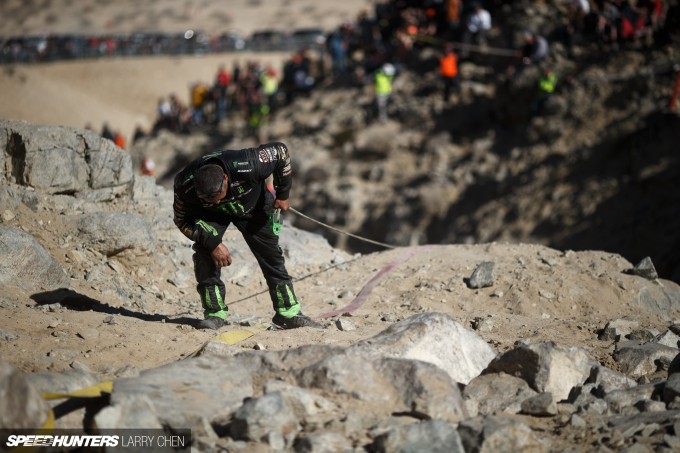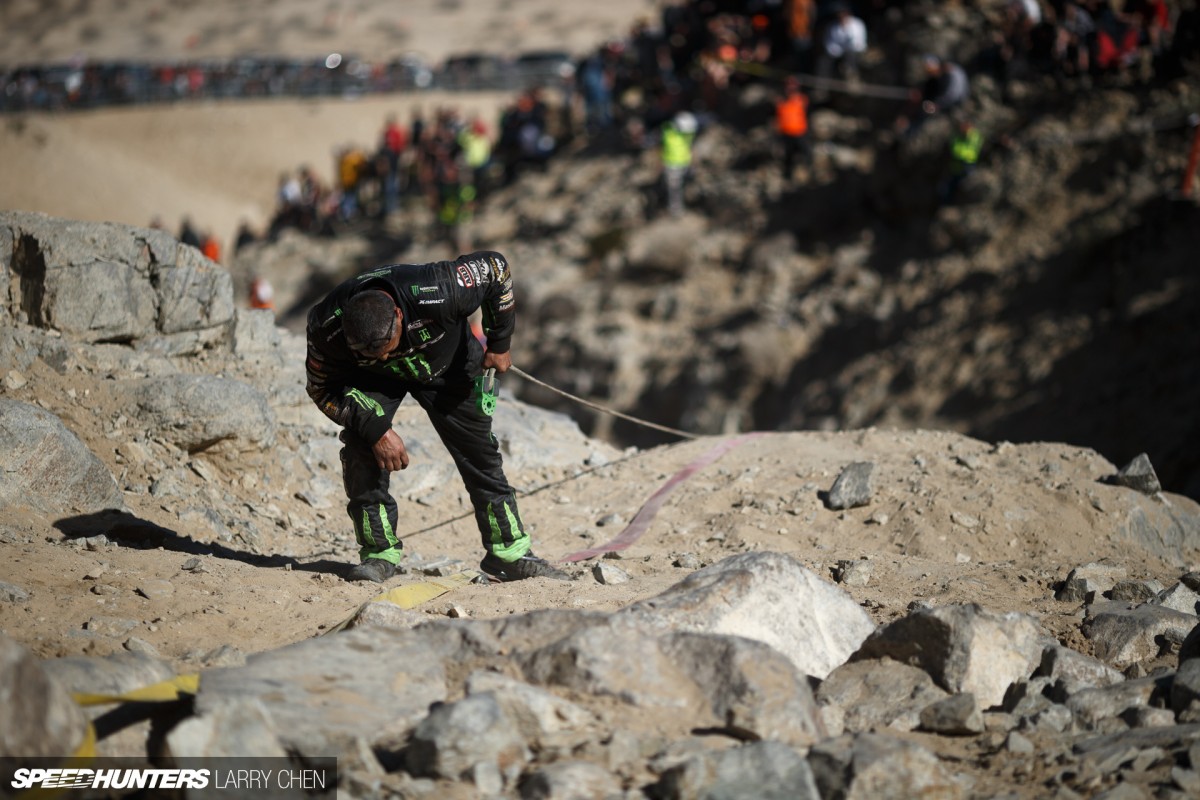 Exhausted as hell, the bruised but not beaten warrior was determined to push on. It seems that the other competitors really respect former champions, because I remember two years back Shannon was stuck in the same spot and other competitors went out of their way to help him winch his rig up, knowing that the little bit of help they could provide might make the difference between taking the crown for the third time and not. Talk about respect.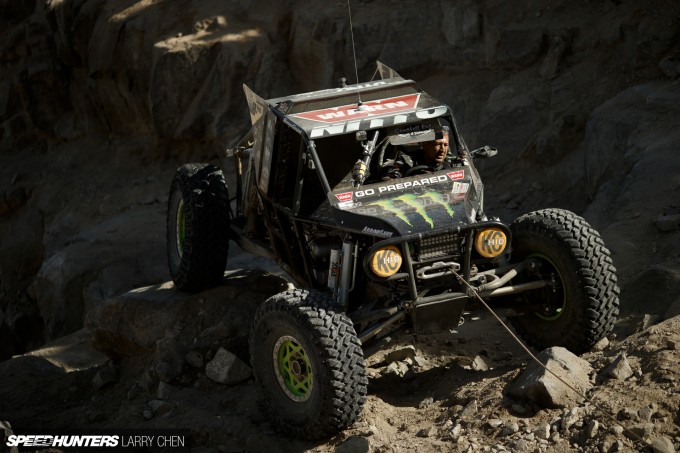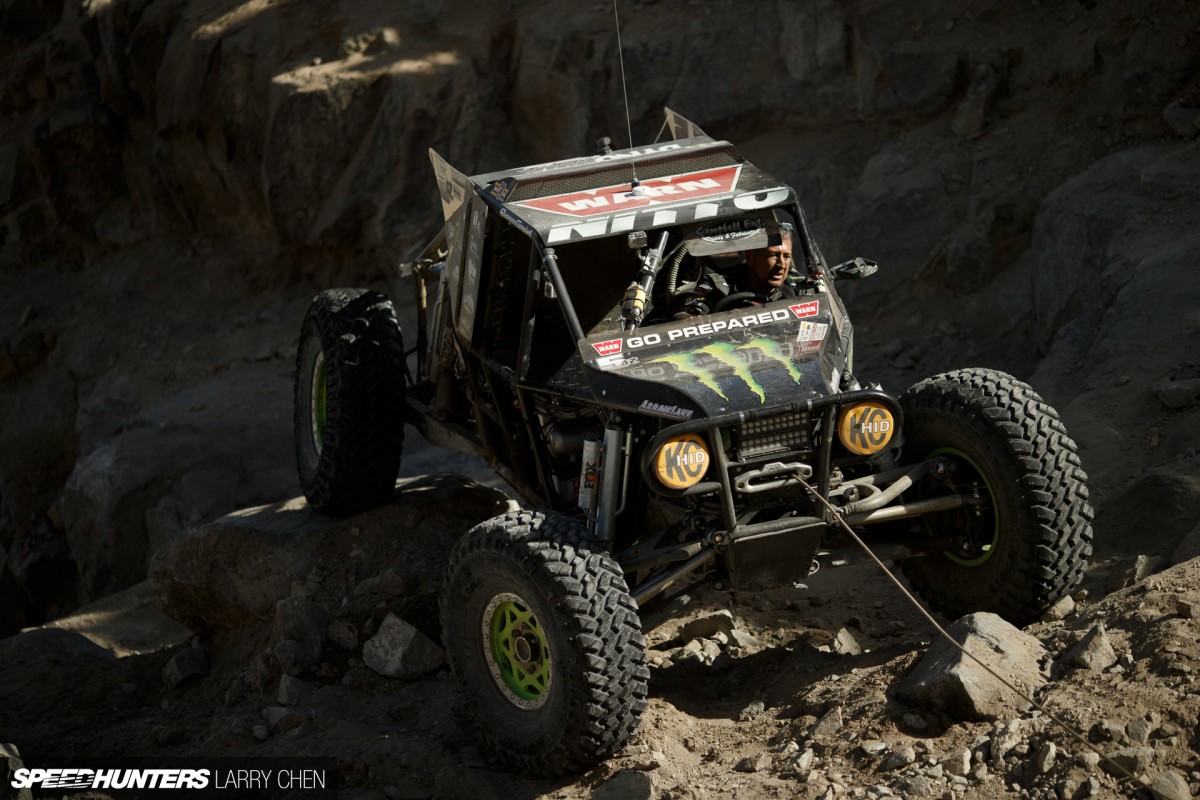 The Campbells have a lot of fans, and at this point the crowd was cheering and yelling.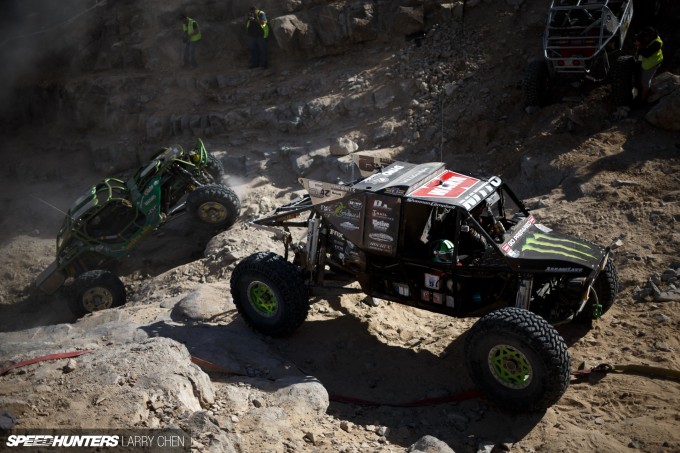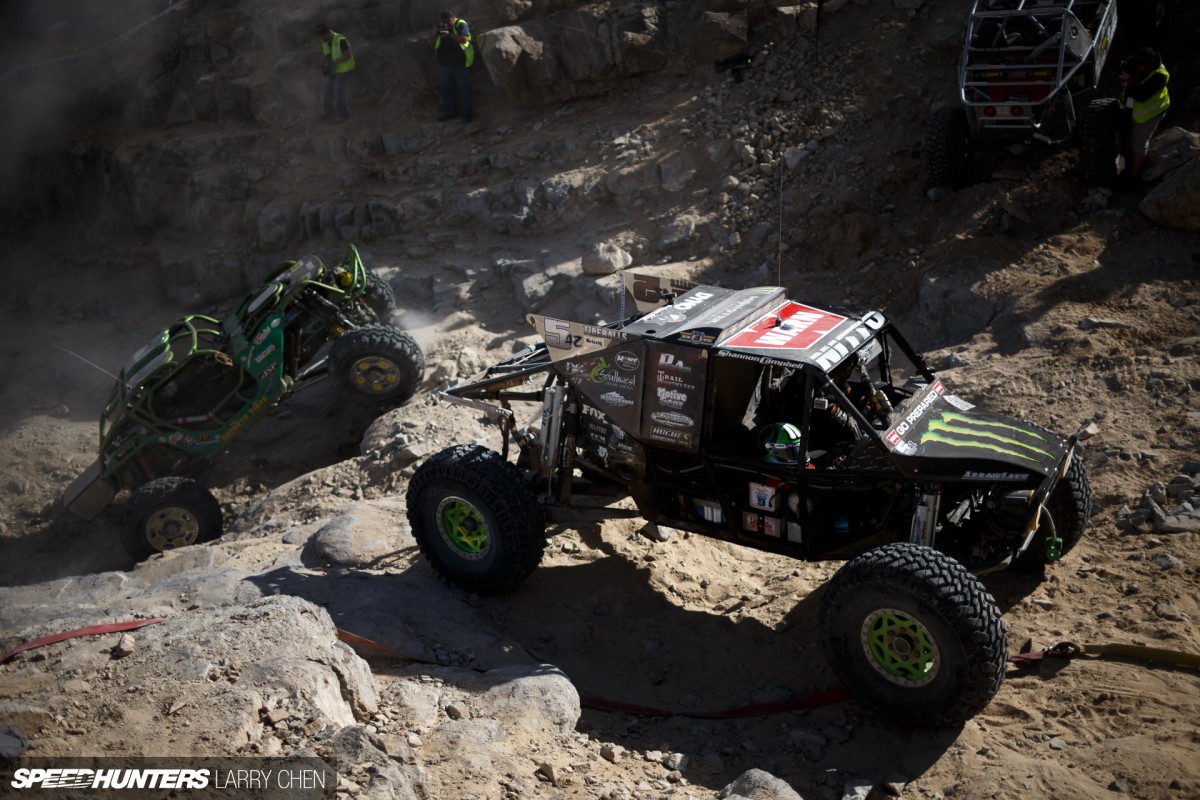 Missing the side panel of the rig having thrown it into the crowd of ravenous fans, he proceeded on to catch his son once again.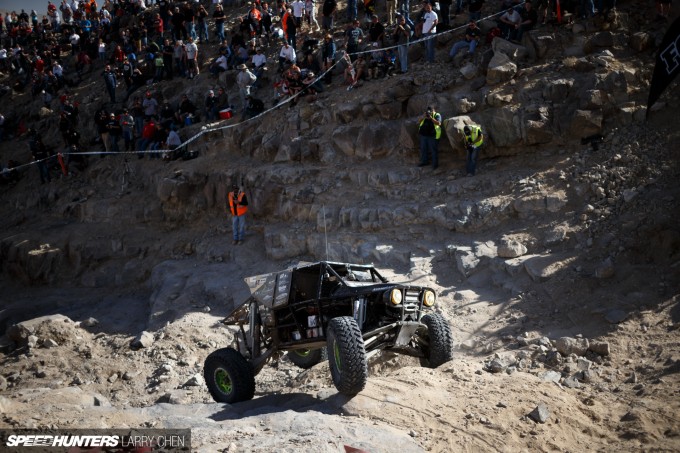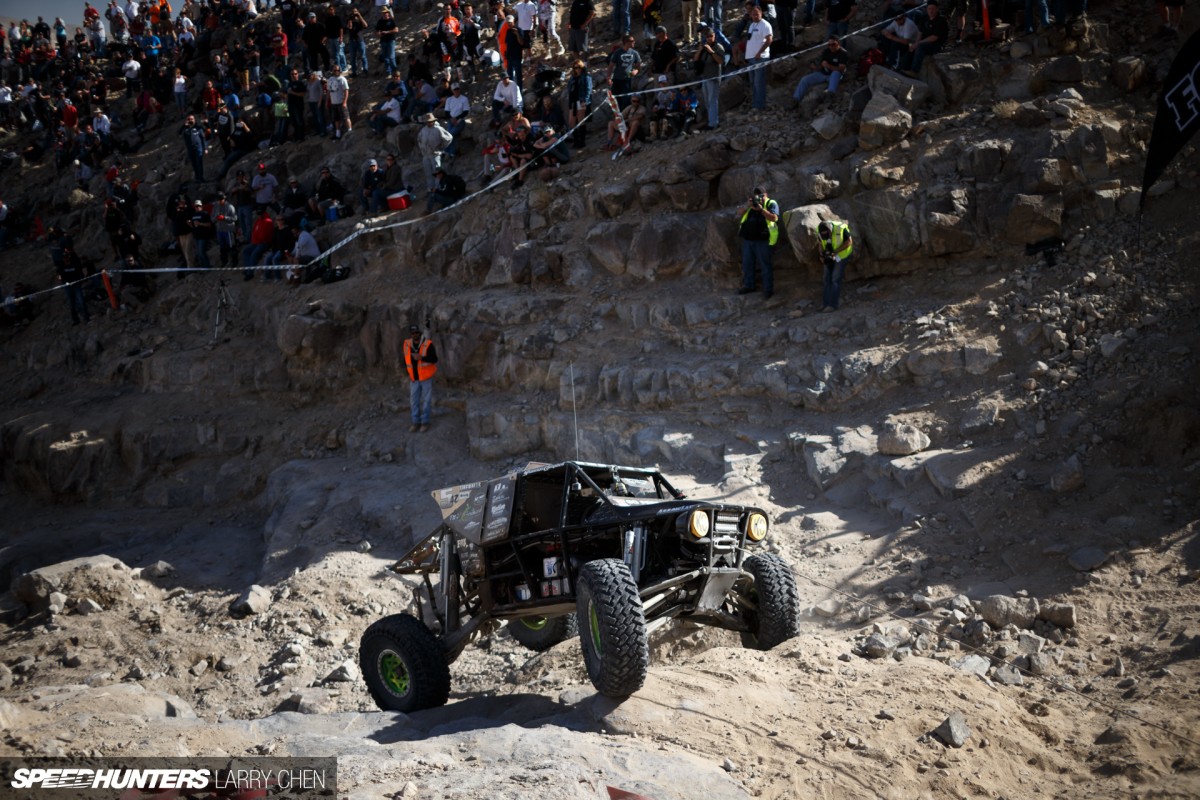 As they both make a large loop in the desert I headed back over to the Jackhammer to check out the 50-rig pile-up going on, and at the same time wait for the father and son duo to come through one last time.
So Harsh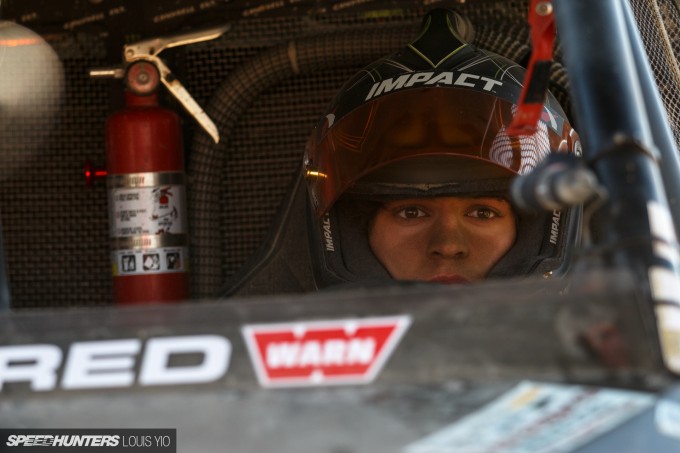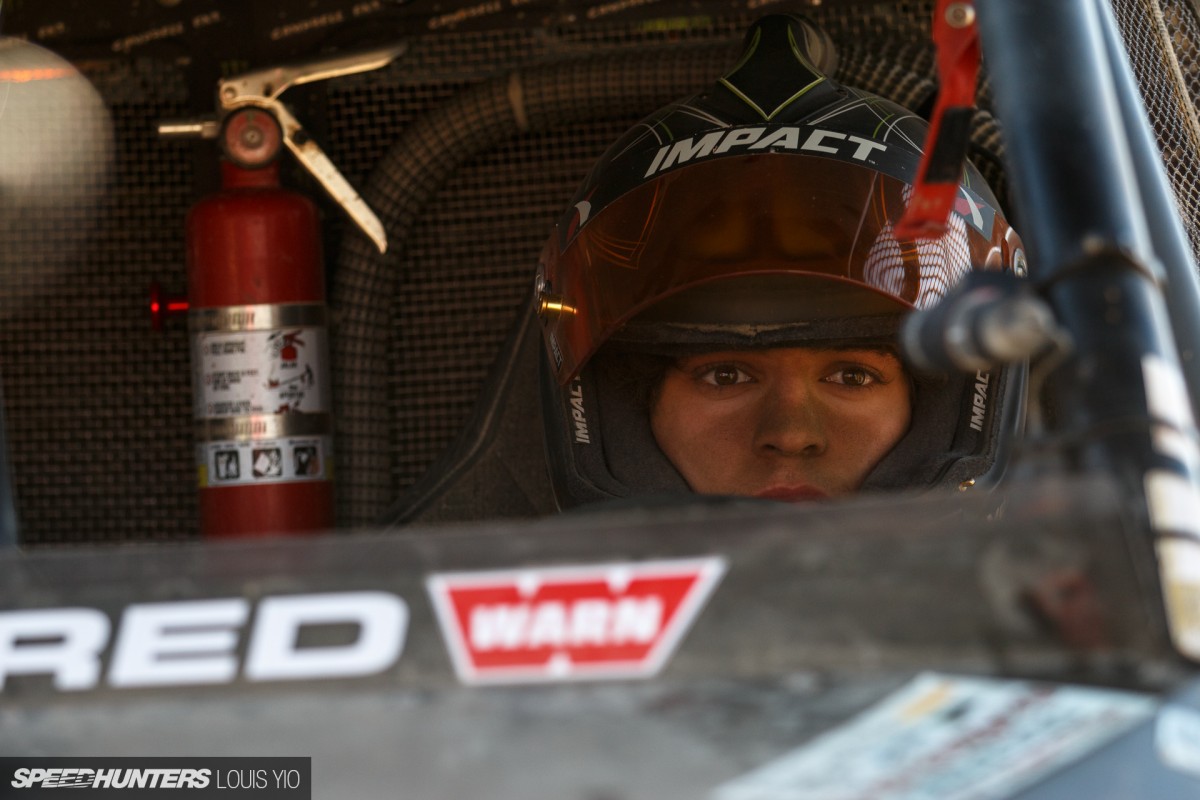 As much as Louis and I covered we still missed out on so much action – but it's impossible to be there for everything, because the course is just too large. I had a quick chat with Shannon after the race and he mentioned to me that Wayland's pace would pick up as soon as Shannon passed him, because he would be able to follow his father's lines. This is not just a team racing – it's family.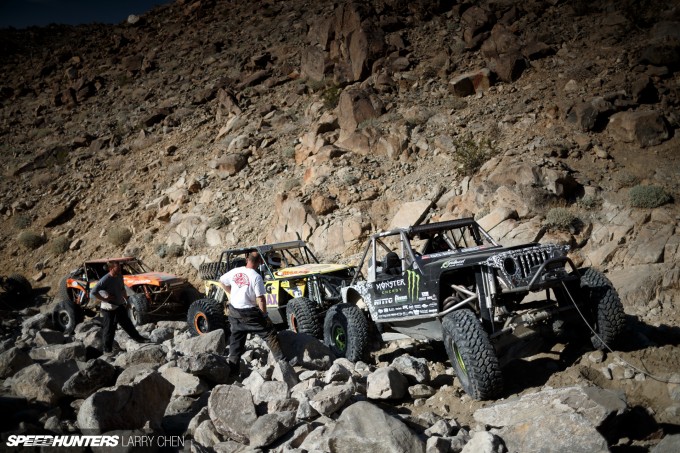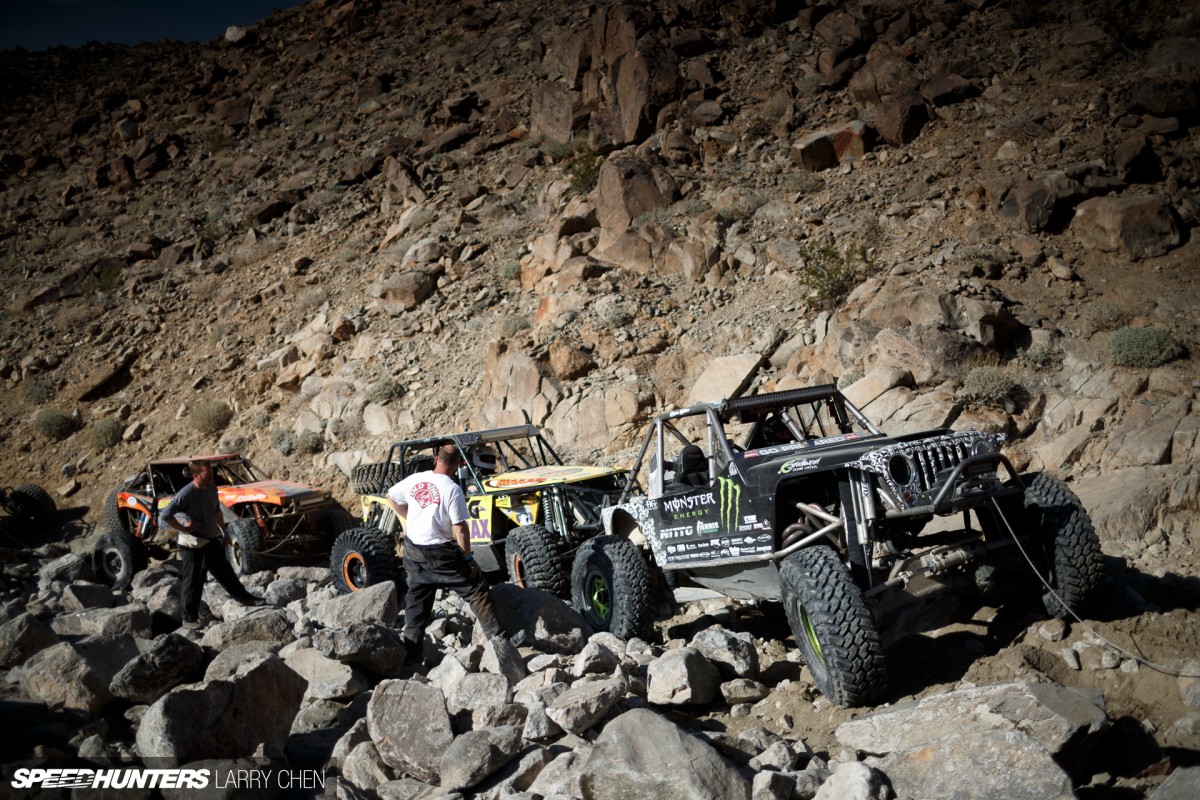 Louis was back in the pits and soon radioed through that Bailey was stuck on the Jackhammer behind a massive pile-up. I didn't get to shoot her all day, so I headed straight there in case I missed her.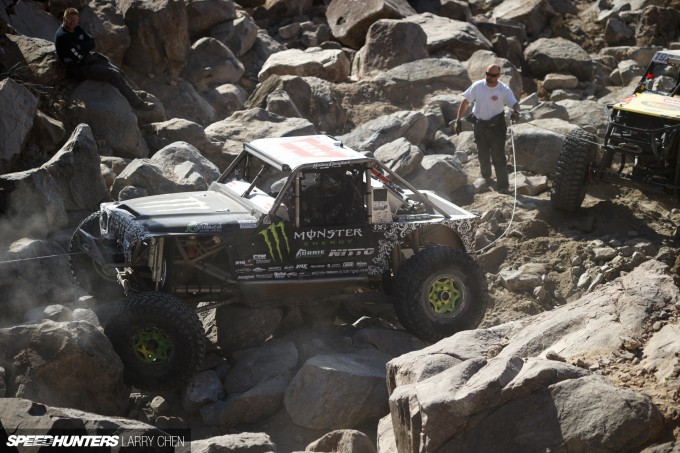 I was dead wrong though, and by the time I got there she was really in the thick of it. Every rig was together, and all the co-drivers were outside holding the winch lines like they were walking dogs on a leash. It was the only way they could speed things up at the massive bottleneck. I didn't stay long because I knew that I had a chance to catch Shannon and Wayland one last time before the end of the race.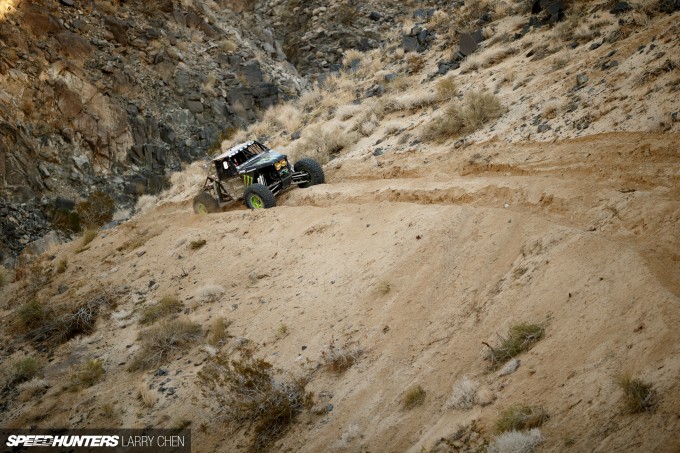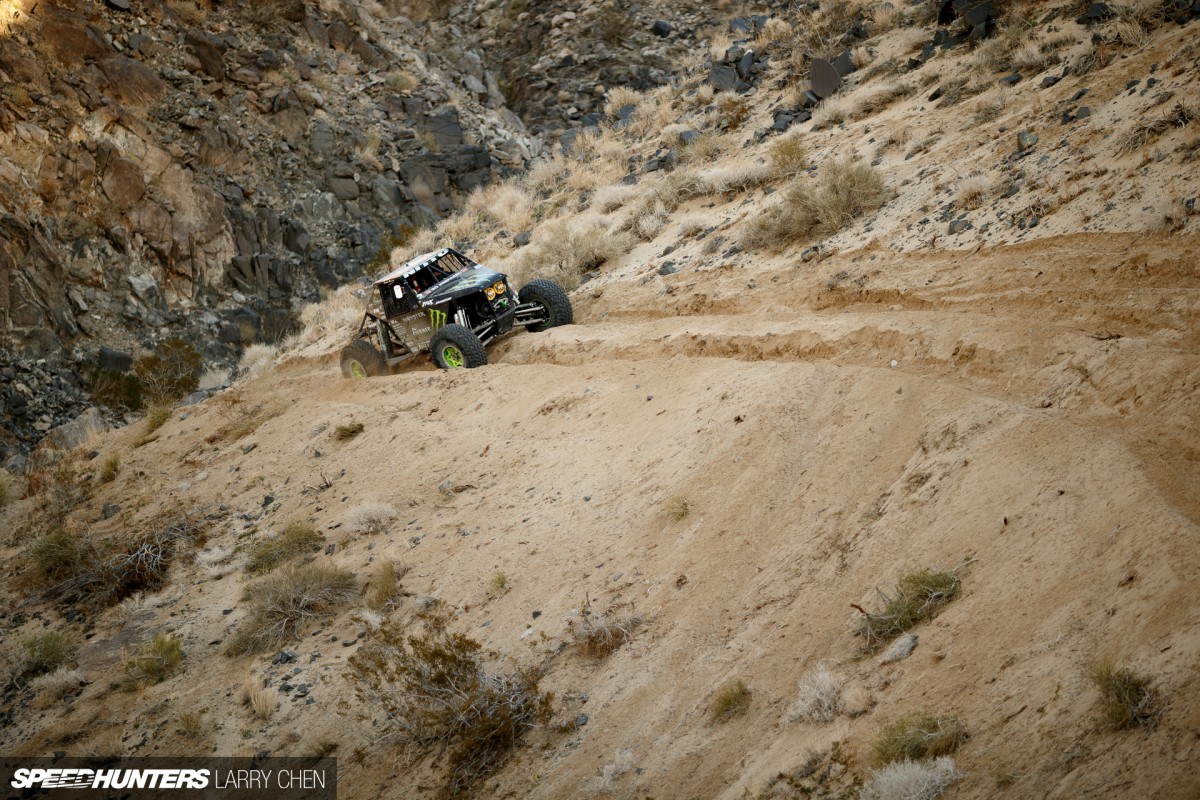 Due to the massive pile-up, not a single competitor was going to be able to finish under the 14-hour time limit, so the King Of The Hammers officials decided to allow all the drivers to bypass the obstacle on their third lap. I waited for probably an hour at my chosen spot with no sign of anyone, but finally Wayland came around the corner. So what happened to Shannon?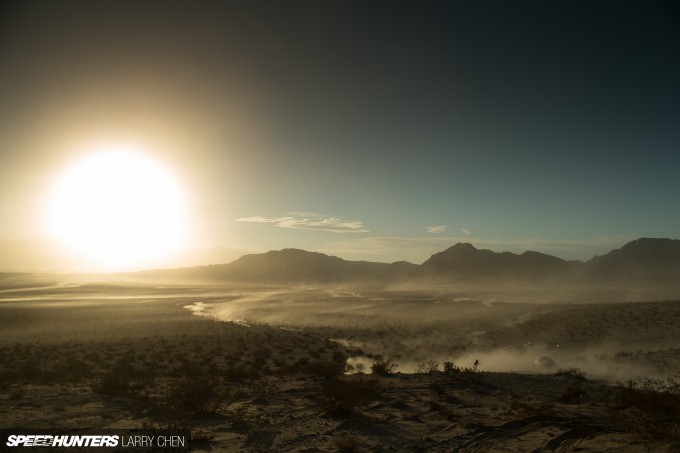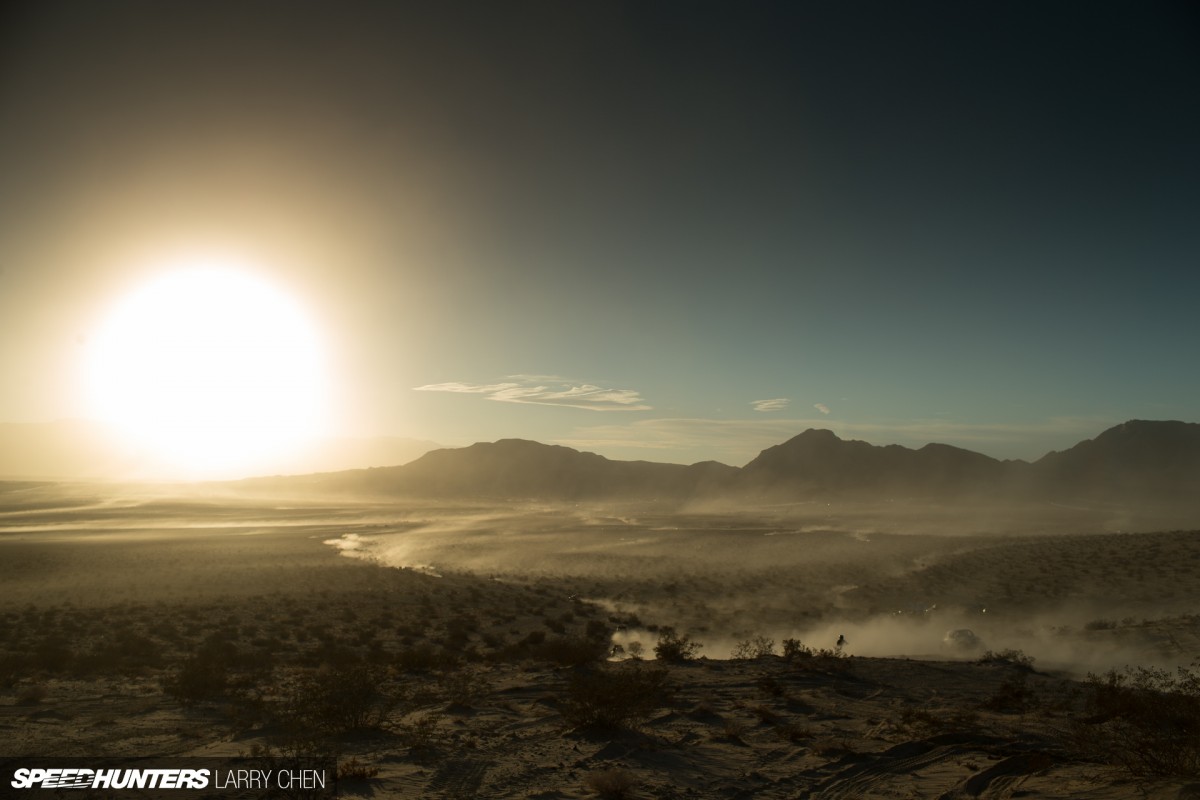 A few obstacles back the father and son duo were running neck and neck, but there was a point where Shanon could see a remote pitstop on the other side of the ridge. His rig was hurt, his transmission was slipping very badly, and to top it all off he was out of spare transmission fluid. Yes, he could have pressed on knowing that his team would have to come and rescue him if he got stuck, or he could just beeline it to the remote pit location and join the pit crew and free up resources for his children. He chose the latter, and threw in the towel early.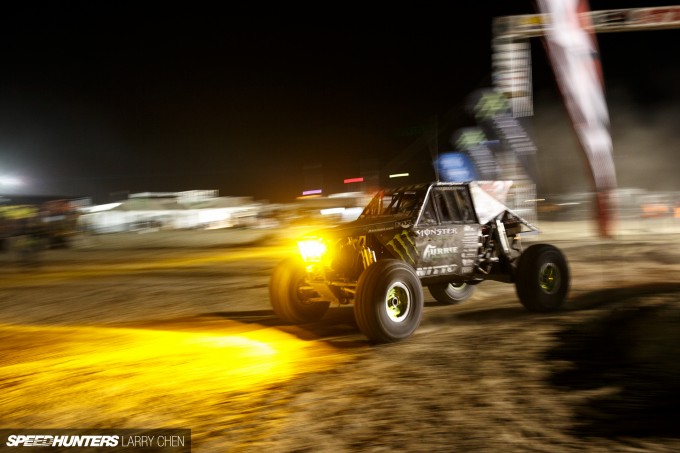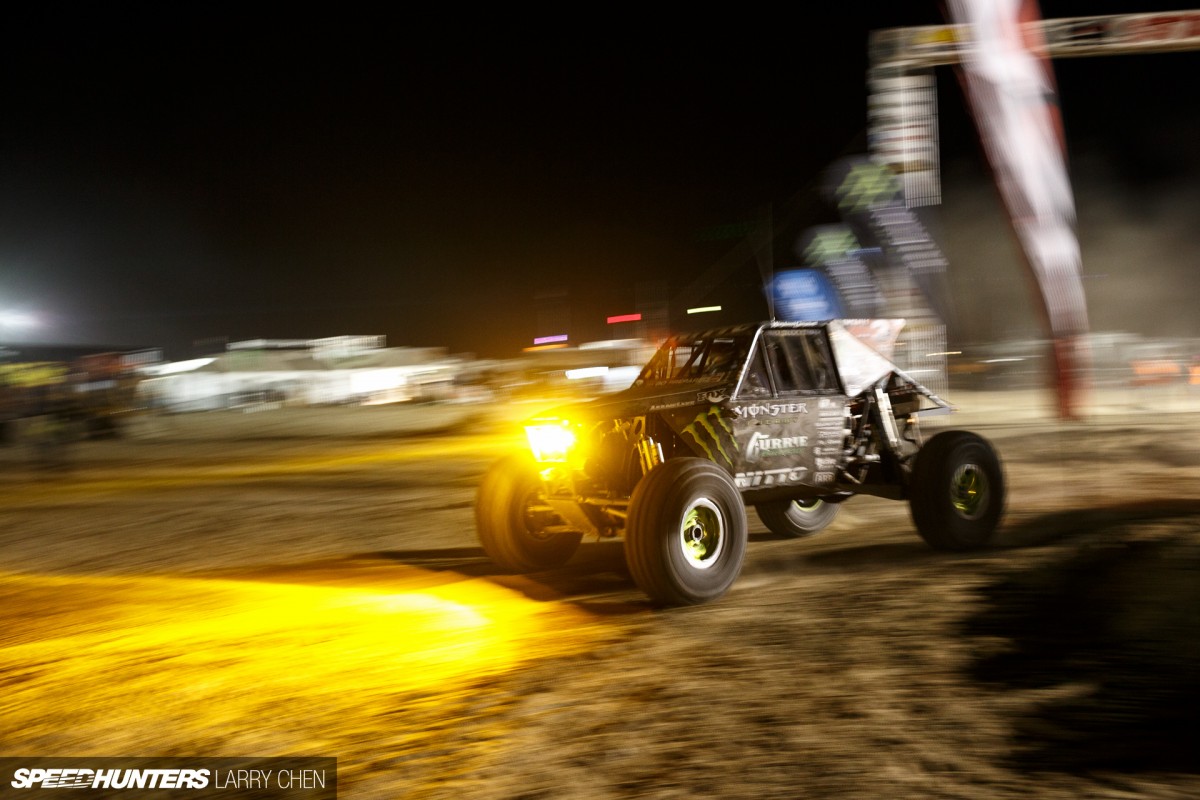 He chose wisely, because not only did Wayland finish the race under the 14-hour cut off, he placed 4th place overall. Out of 129 drivers who took the green flag, only 17 drivers officially finished under the allotted time.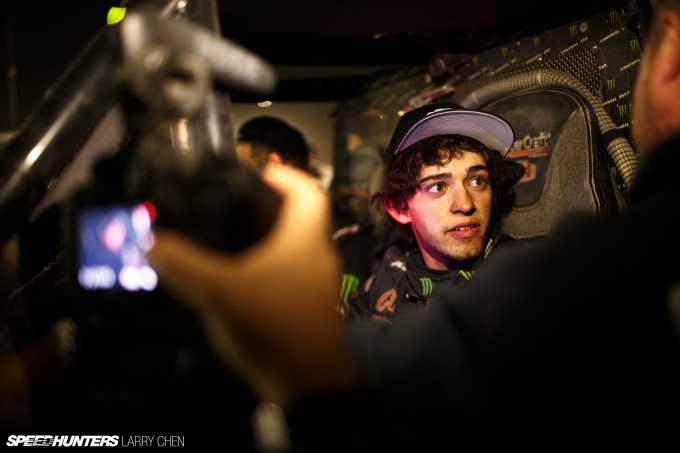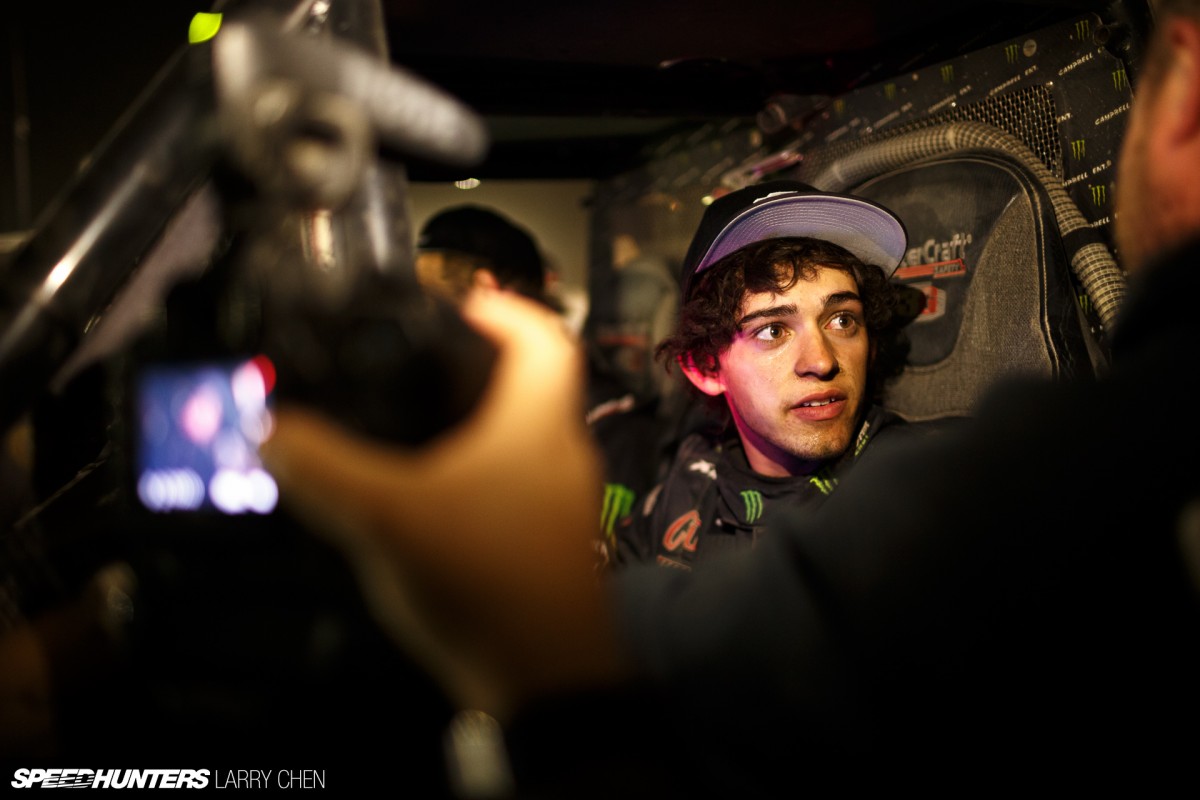 Wayland drives very conservatively compared to his father, but they achieved their goal which was to finish. That's a win in itself for this race. In fact, Shannon told me that he wanted his son to shy away from being too aggressive because the most important thing was to save the car. There is no point in breaking down early on. Wayland finished in 10 hours and 41 minutes, which was 1 hour and 20 minutes behind 3rd place and 15 minutes in front of fifth place.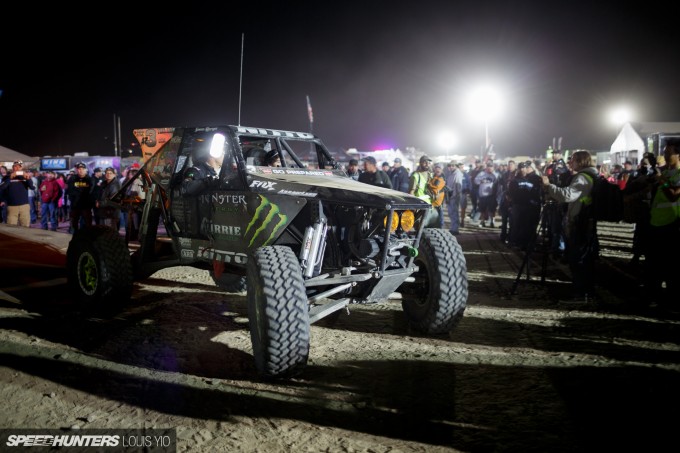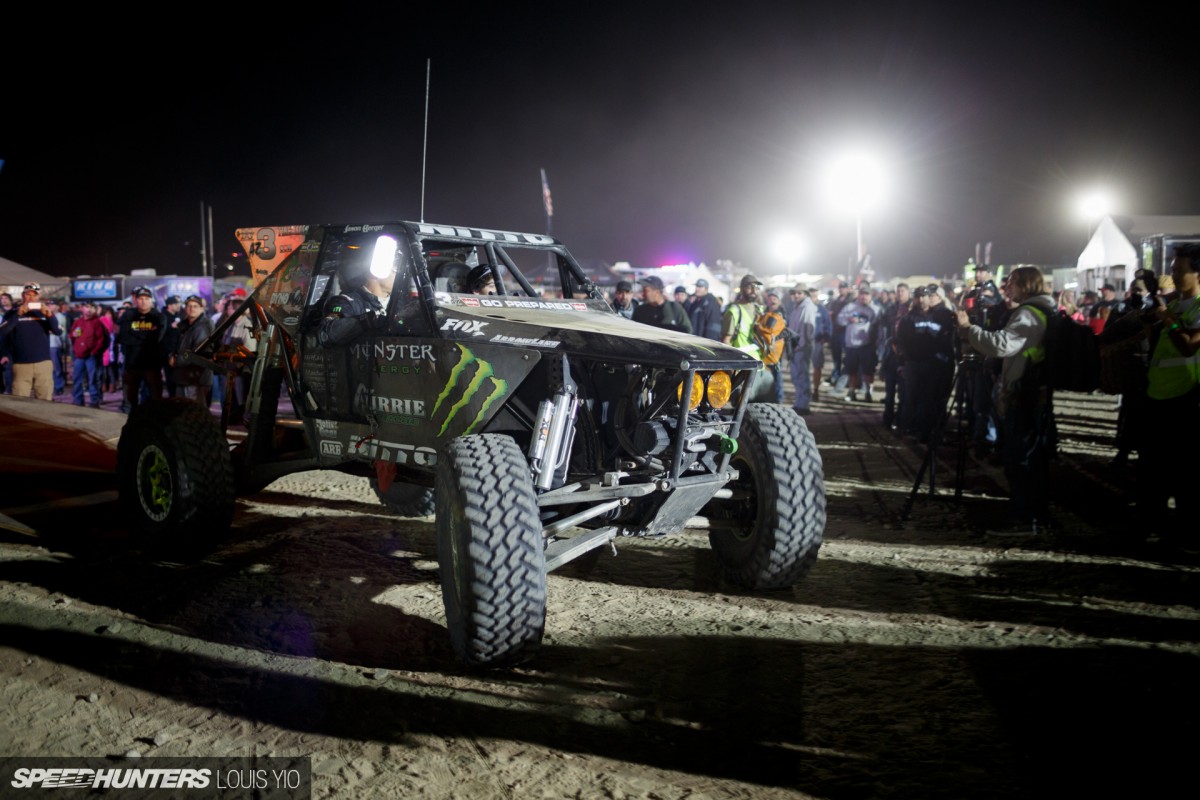 Unfortunately Shannon was not there to watch his son take the checkered flag, because he was still out in a remote pit, waiting paitently for his daughter to come through. That's all he could do to help now.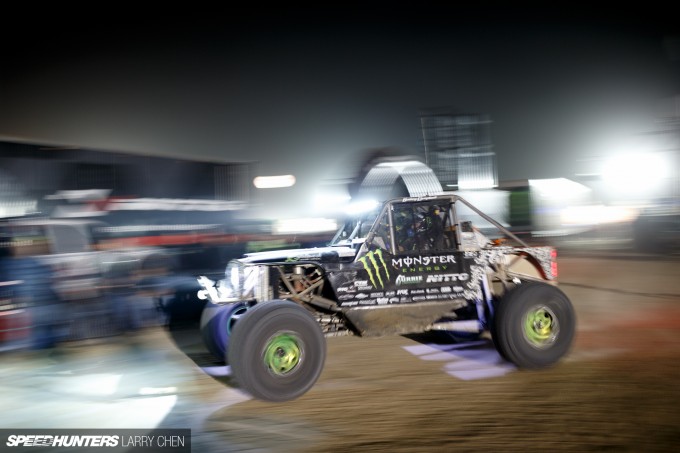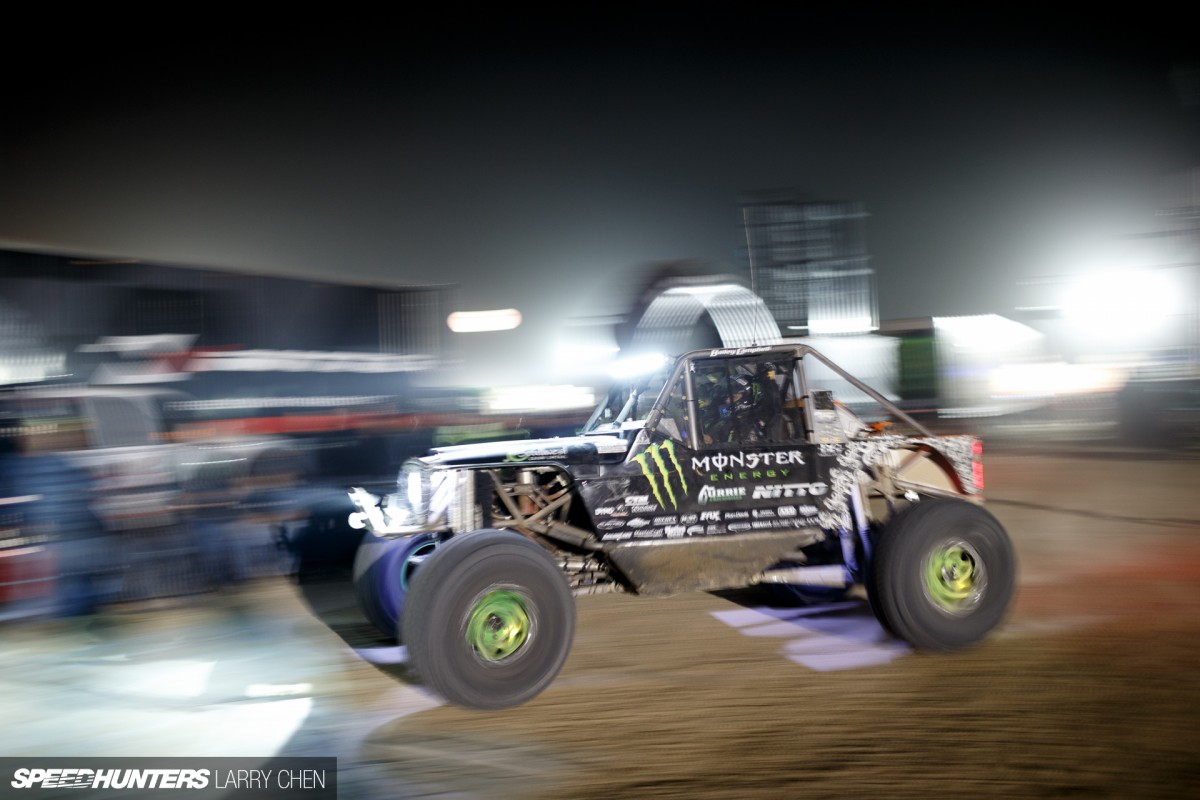 I was exhausted, and at this point I had been awake for 21 hours straight, but there was still lots of commotion in the pits. Bailey was coming in for her last main pitstop before heading back out into the darkness for her third and final lap.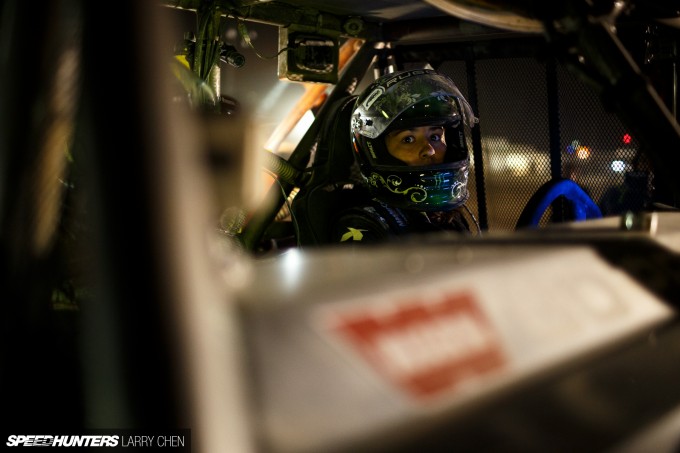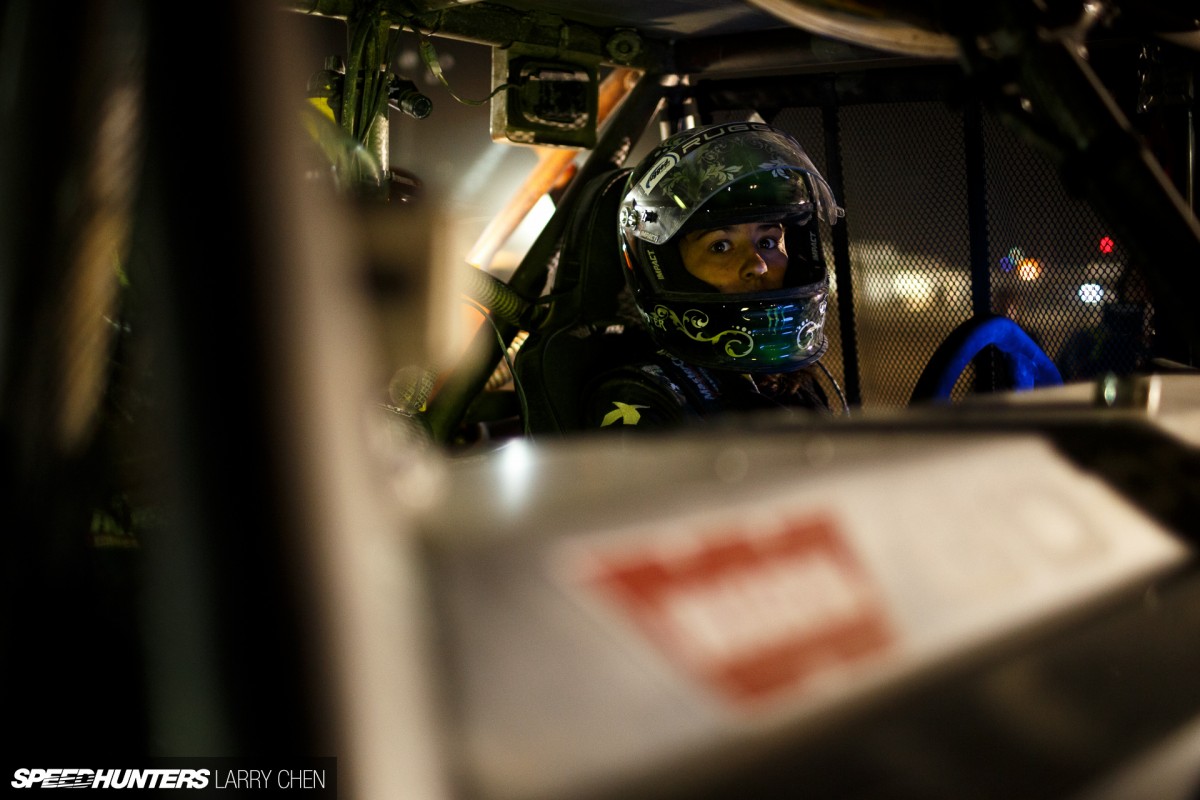 Most people would give up in this situation, but she was going to continue on and finish in the dark – even though it would be way past the official 14-hour cut-off time. What a trooper.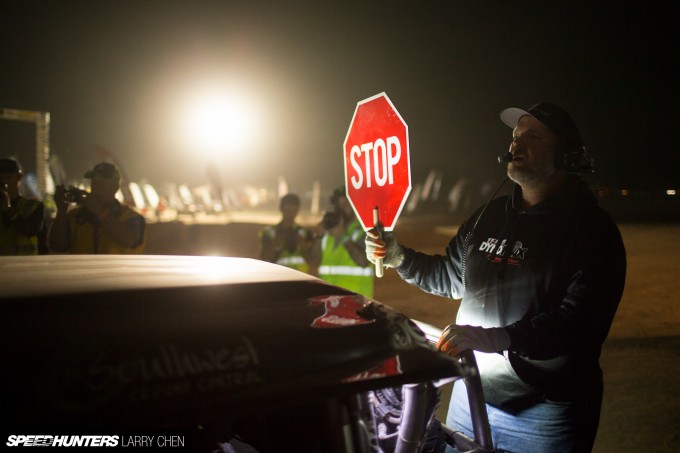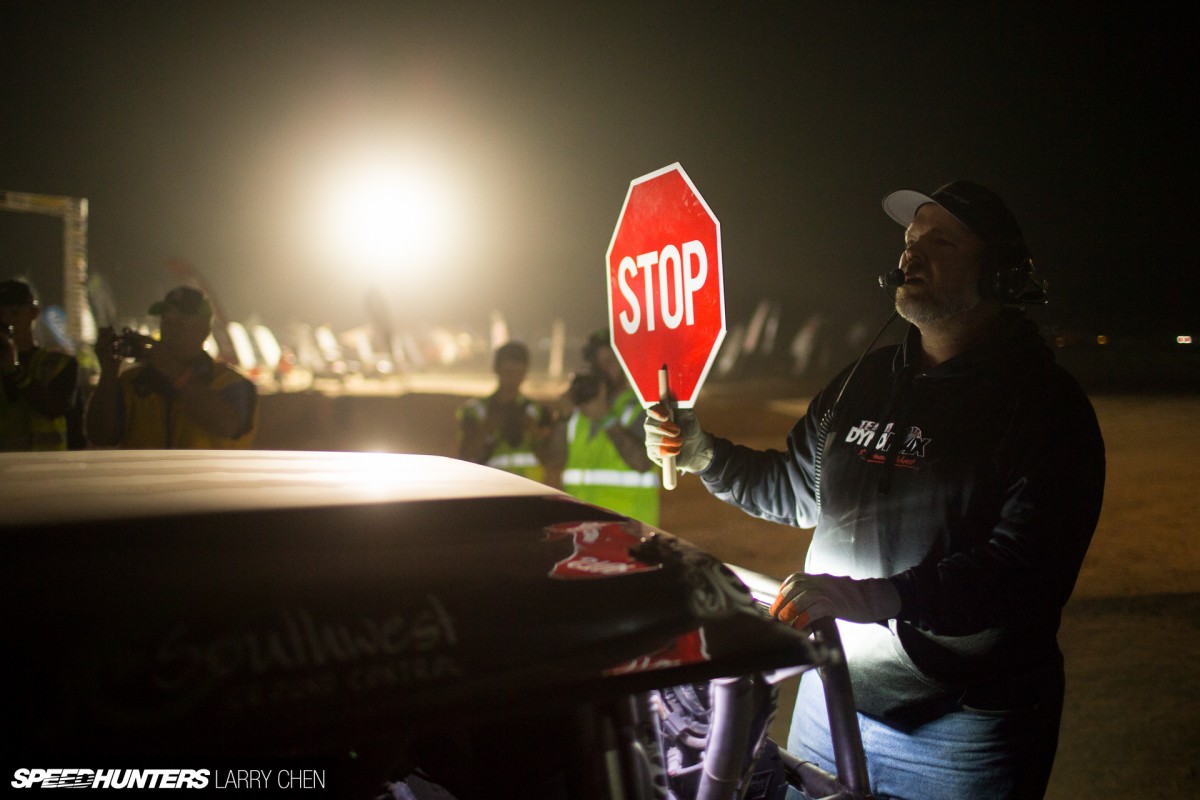 After driving for 16 hours and 24 minutes Bailey eventually finished at almost 1:00am and was the last driver to cross the finish line. Her dad Shannon was there to welcome her back and wave the checkered flag. I truly believe that she could have finished in time if it were not for that massive pileup on the Jackhammer.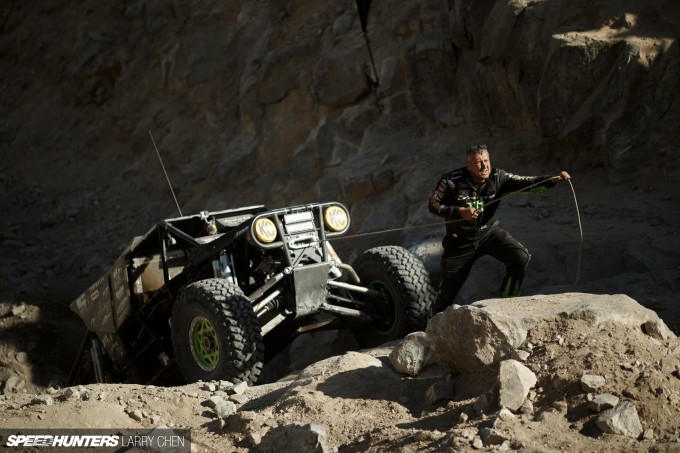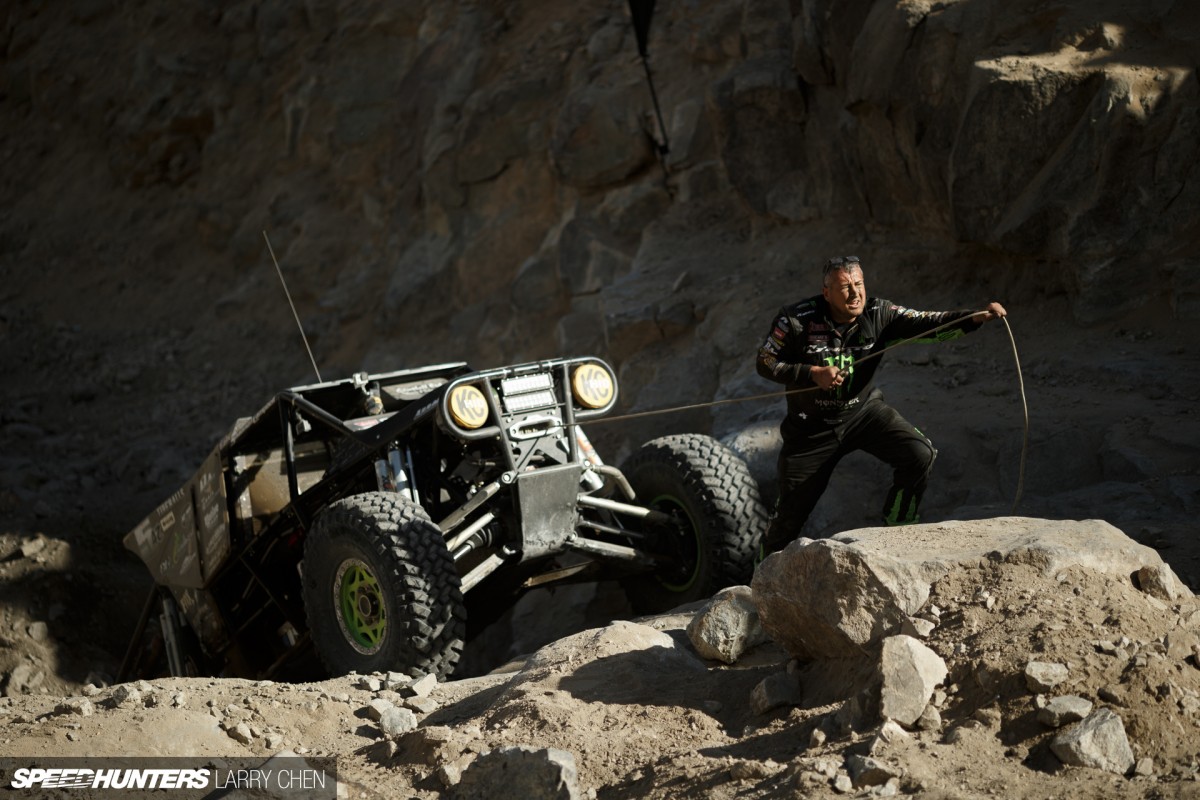 For a two time winner, it means a lot when Shannon said that this was his favorite King Of The Hammers to date. I can only imagine how proud he was to see both his son and daughter finish the race that he loves so much.
So what's next for the crazy off-road father and his family? They will be competing in the Mint 400, and you can bet I will be there to document all the spills and thrills once again.
Larry Chen
Instagram: larry_chen_foto
larry@speedhunters.com
Additional Photos by Louis Yio