Rough World
In reality, Speedhunters has only just scratched the surface of Japanese car culture. With Dino taking point and Mike and I helping out every now and then, we search far and wide all over the Land of the Rising Sun for the hidden shops and ground-breaking garage builds. You just never know what you will find when you are hunting for speed in Japan.
While I travel to Japan every year, I've missed out on the Tokyo Auto Salon for nine years running. So this year I figured it was time for me to go back and check out first-hand how the iconic tuning event has evolved. But that's not all I did though…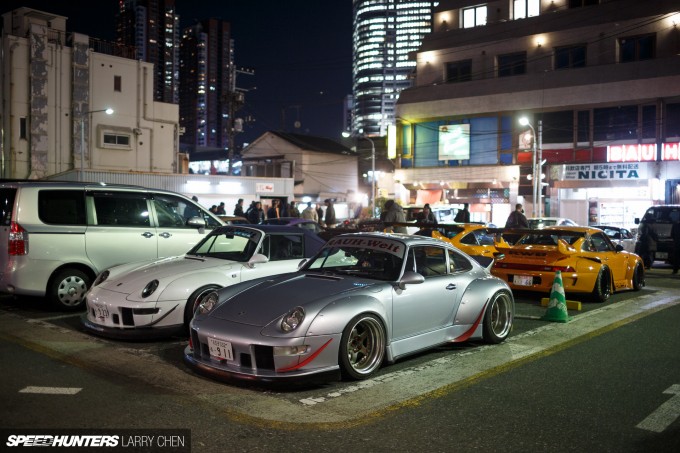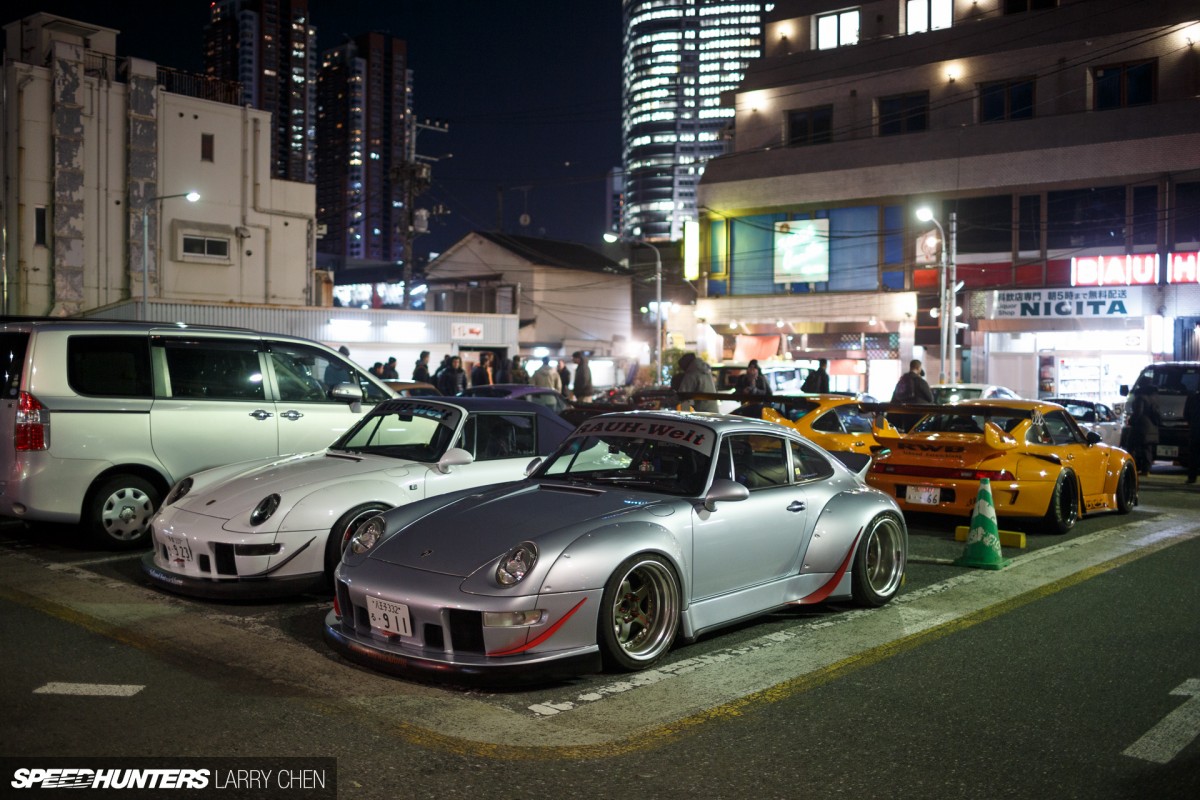 As soon as I arrived in Tokyo I hit the ground running and immediately met up with Dino. Our first stop was the RAUH-Welt meet at the Hard Rock Cafe.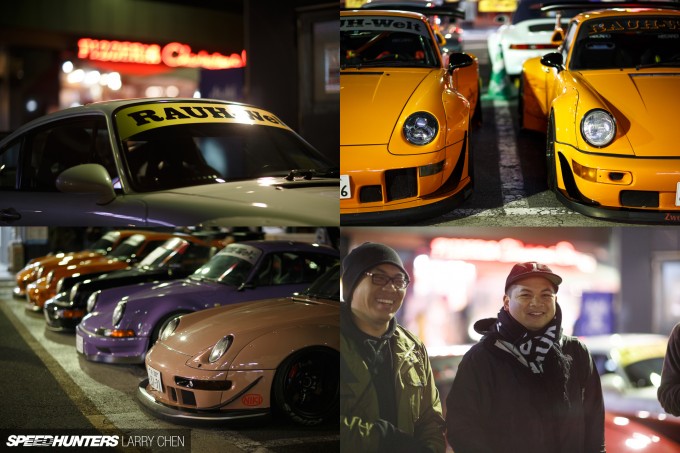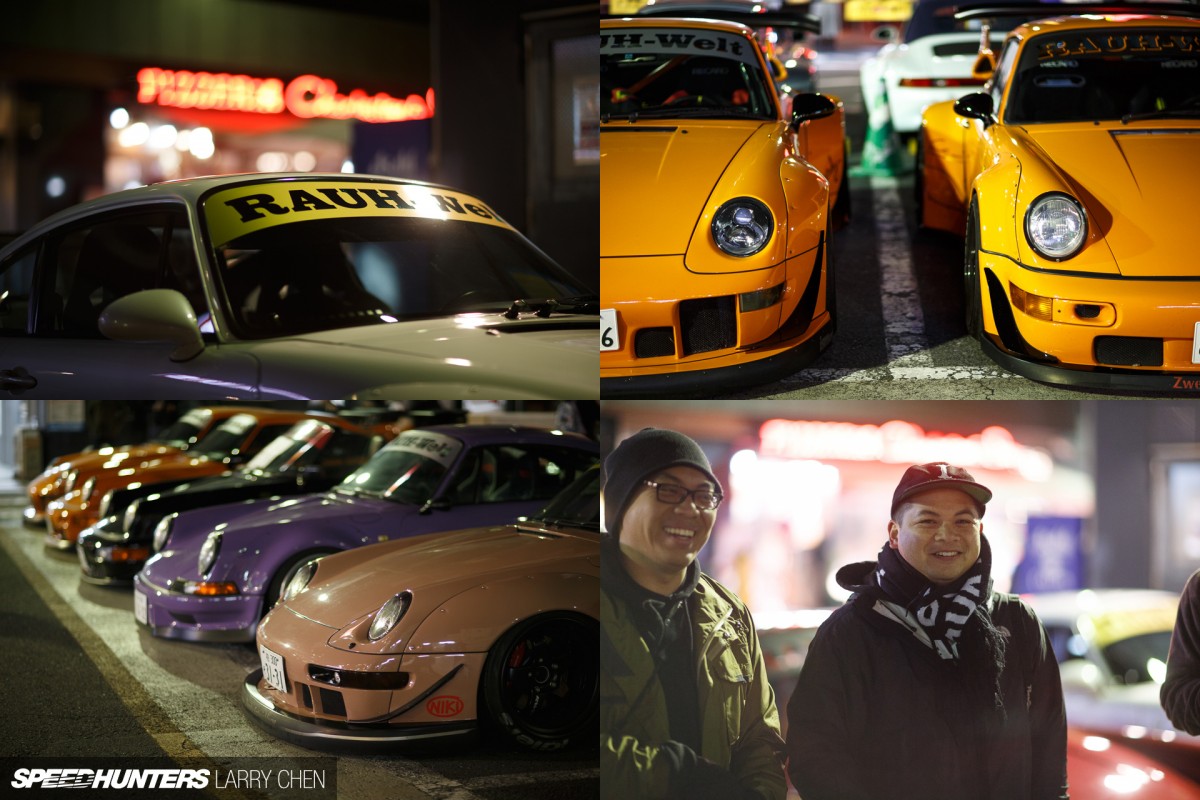 Right away I recognized some of the more famous RWB cars, as well as some personalities, like Mark Arcenal from Fatlace. Did you guys know that he designed the Speedhunters logo?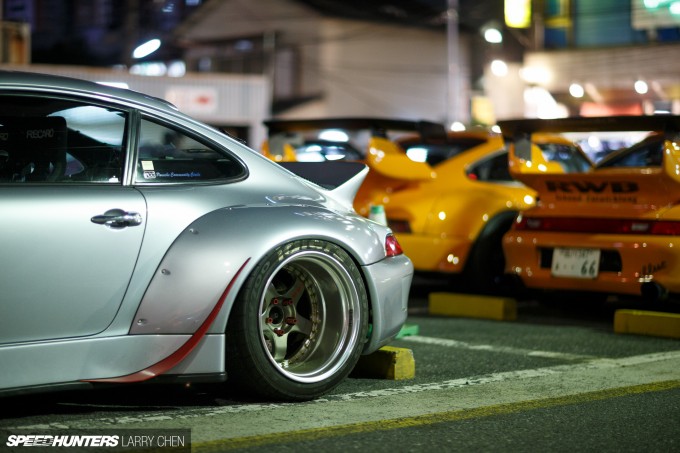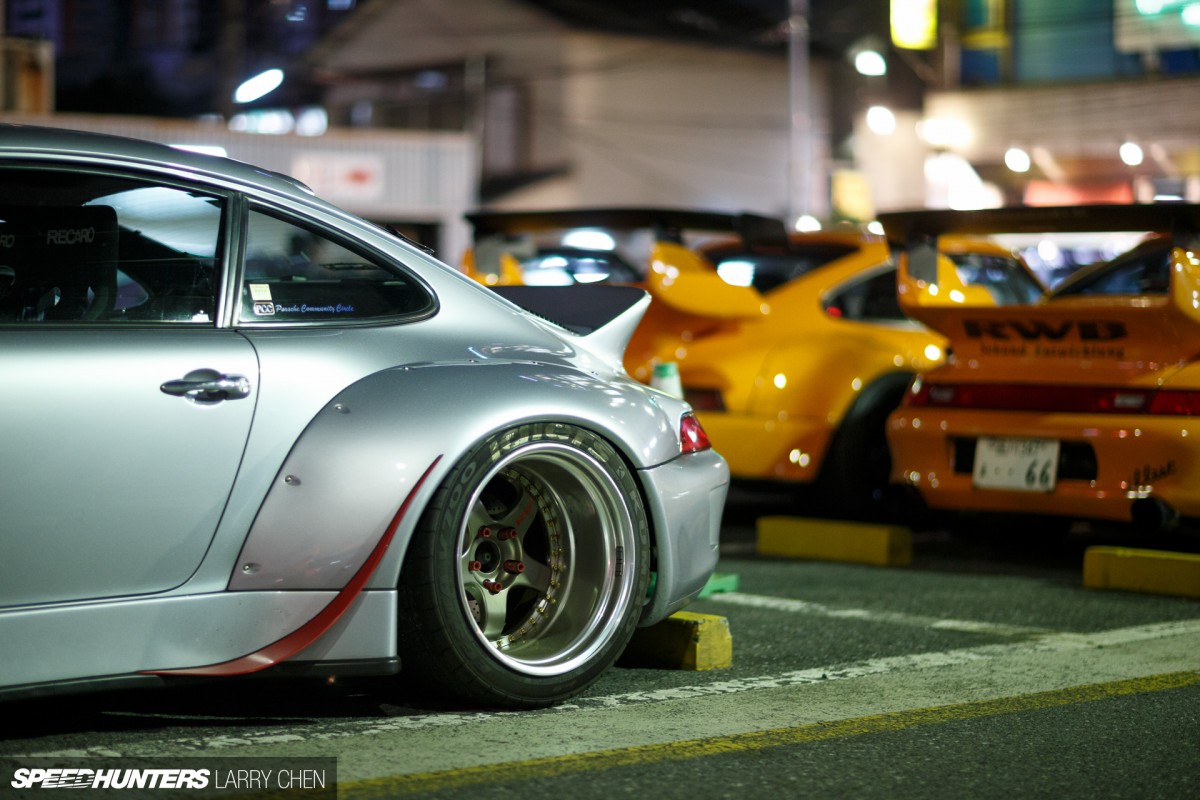 Apart from the time Dino and I raced in the 12 Hours of Motegi, I had never seen so many RAUH-Welt machines in one place.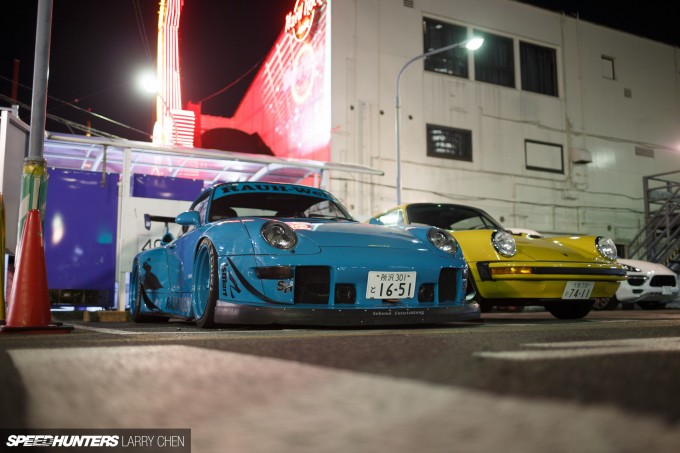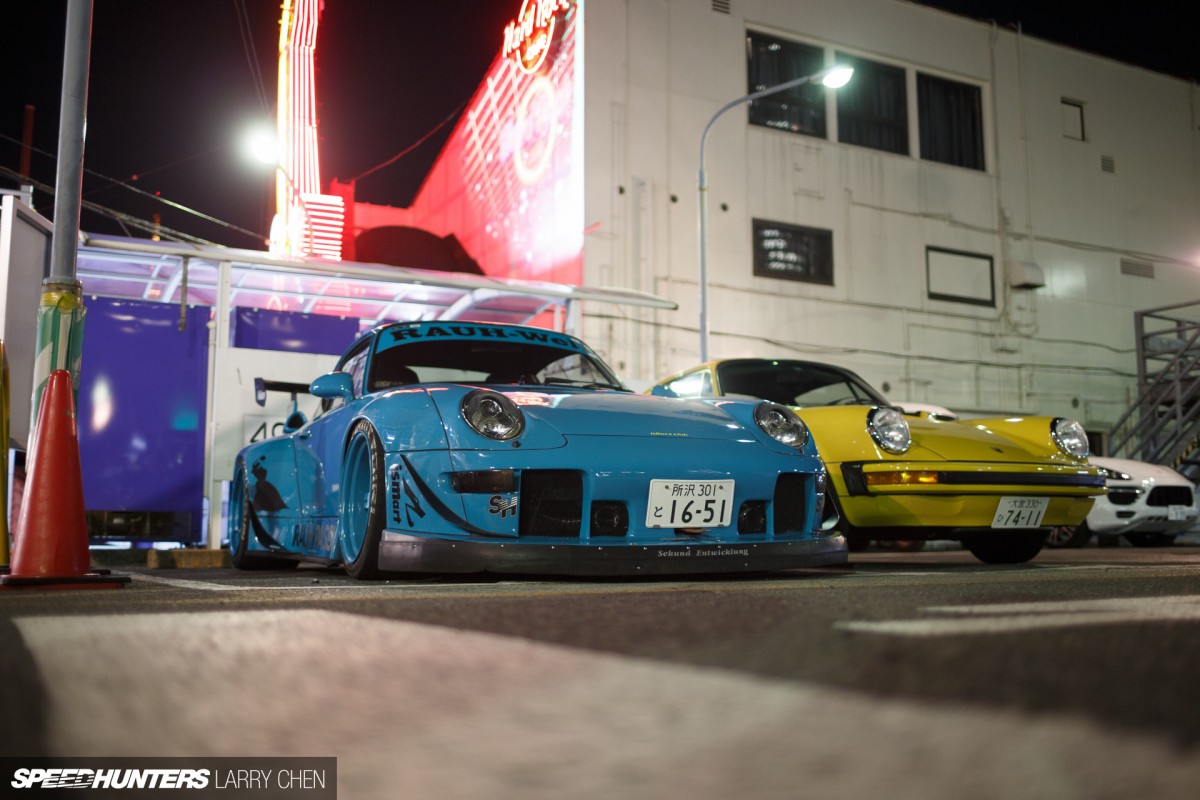 It was really neat to see Speedhunters stickers on RWB cars that I had personally never seen before as well.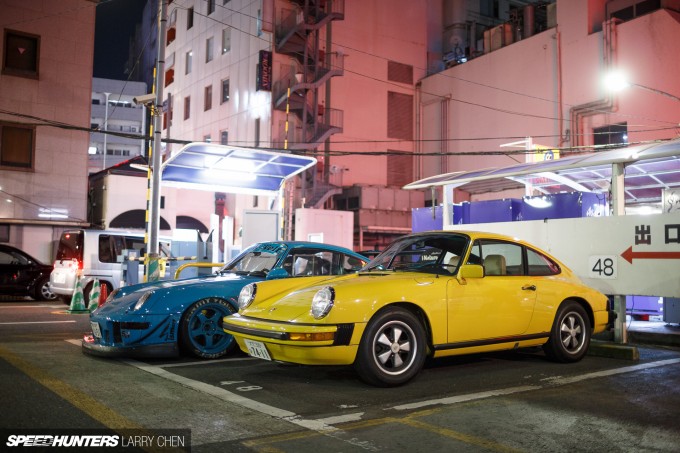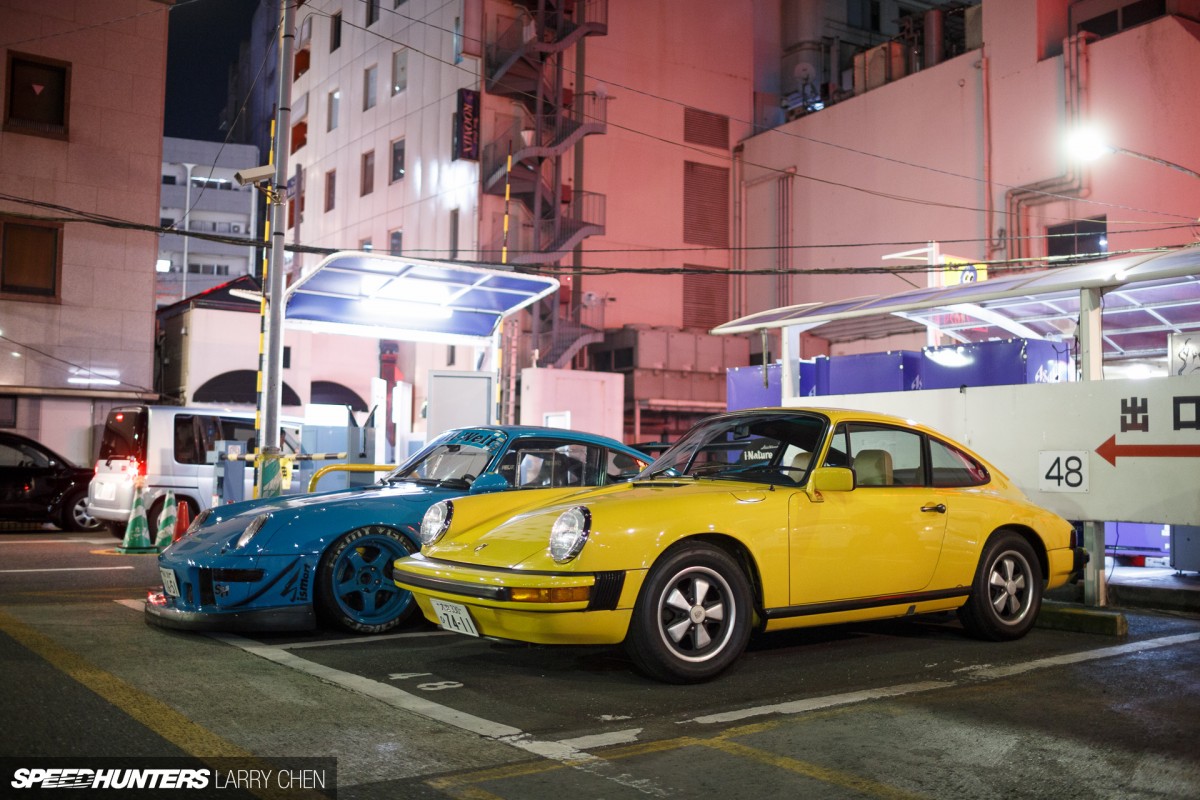 A few narrow body cars even came out to join in the fun.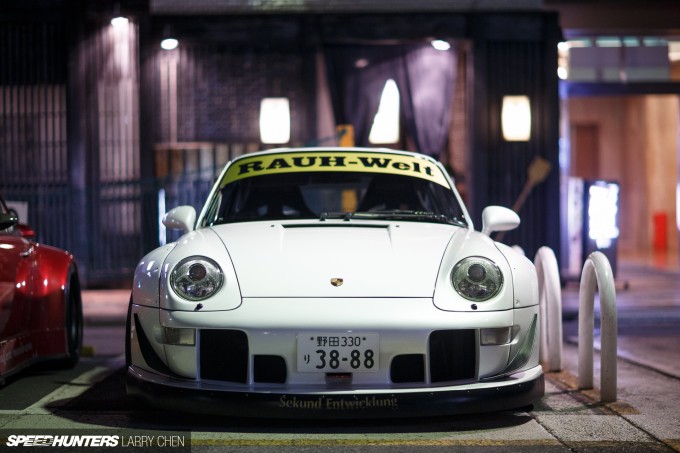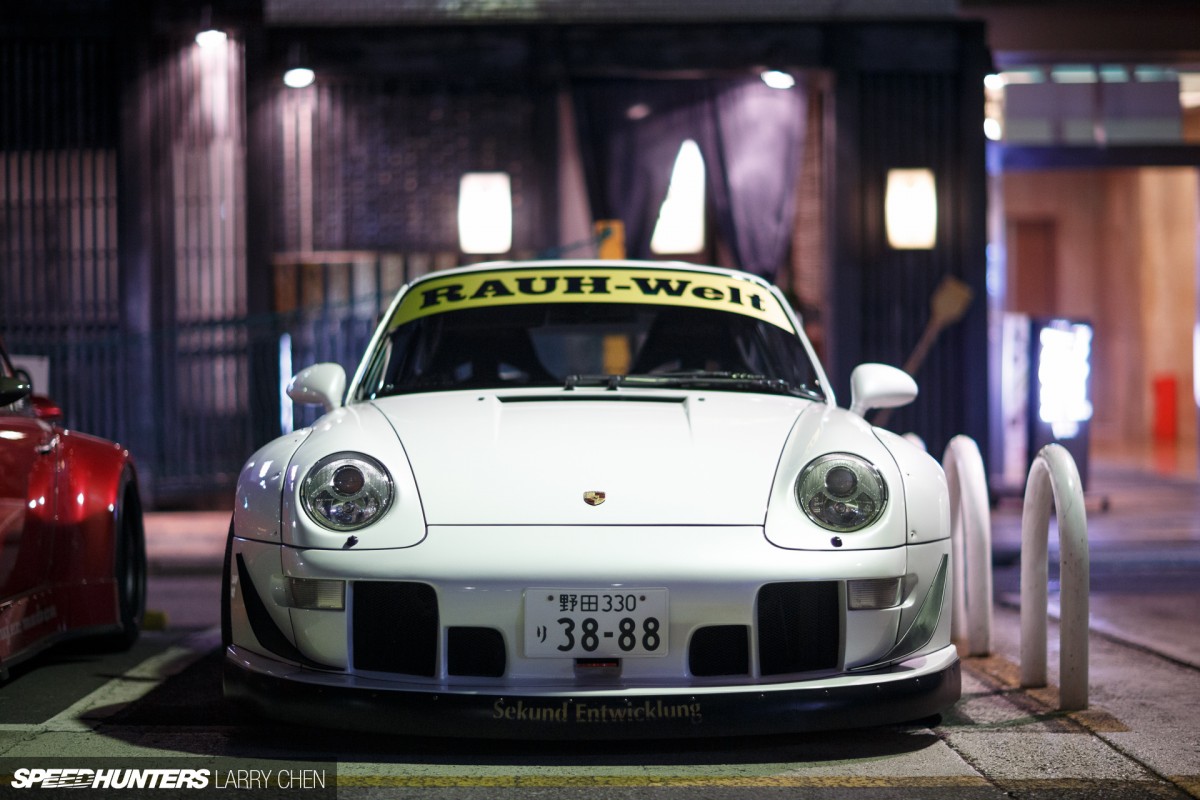 As the Porsche movement continues to grow, RAUH-Welt is only getting bigger. Although, because of guys like Nakai-san and Magnus Walker, air-cooled machines like this 993 are nearly impossible to find in North America now – or at least for a decent price.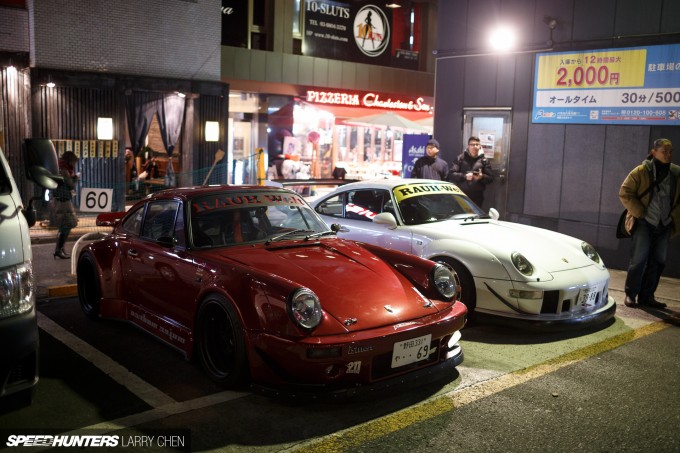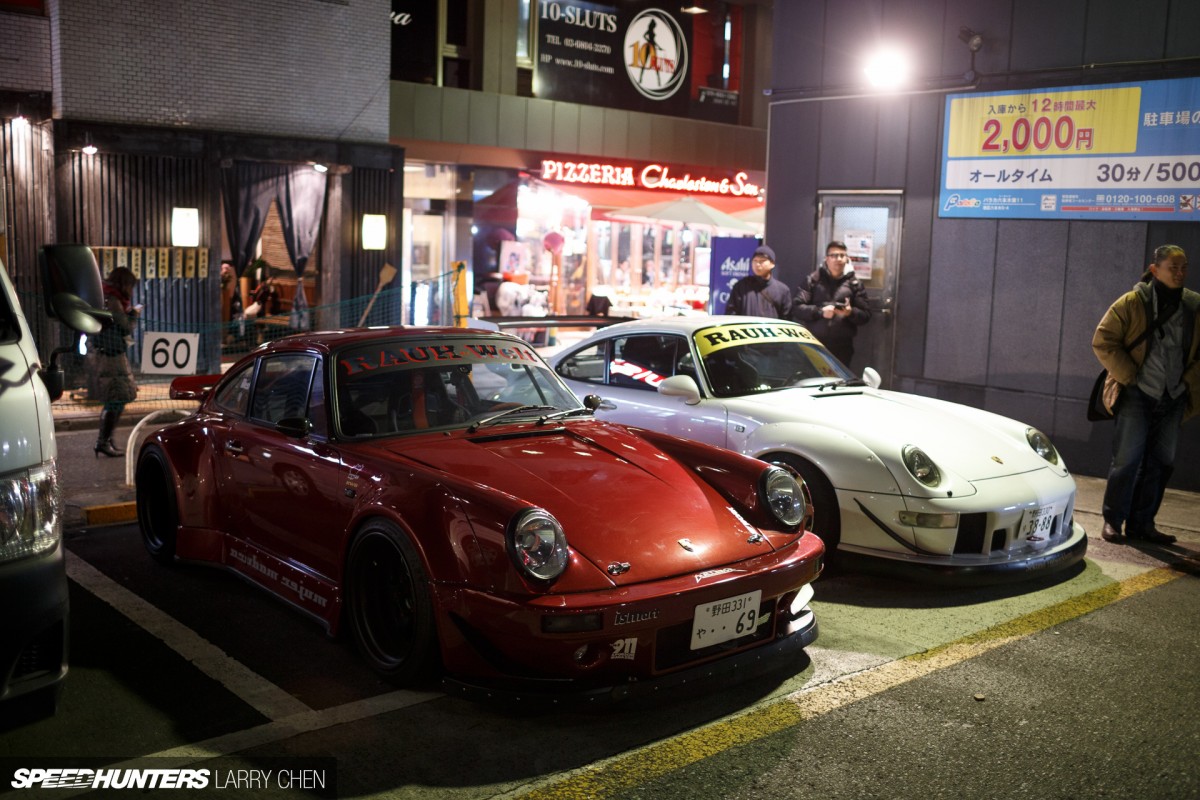 While it's easy for many people to knock these guys for cutting up the bodywork on 911s, in my eyes, by doing so the cars have become something greater. Not only does it add value, it's evident that these repurposed Porsches are actually being used.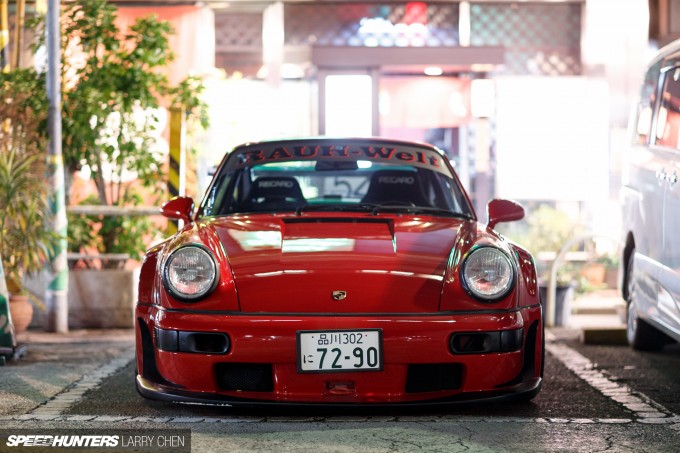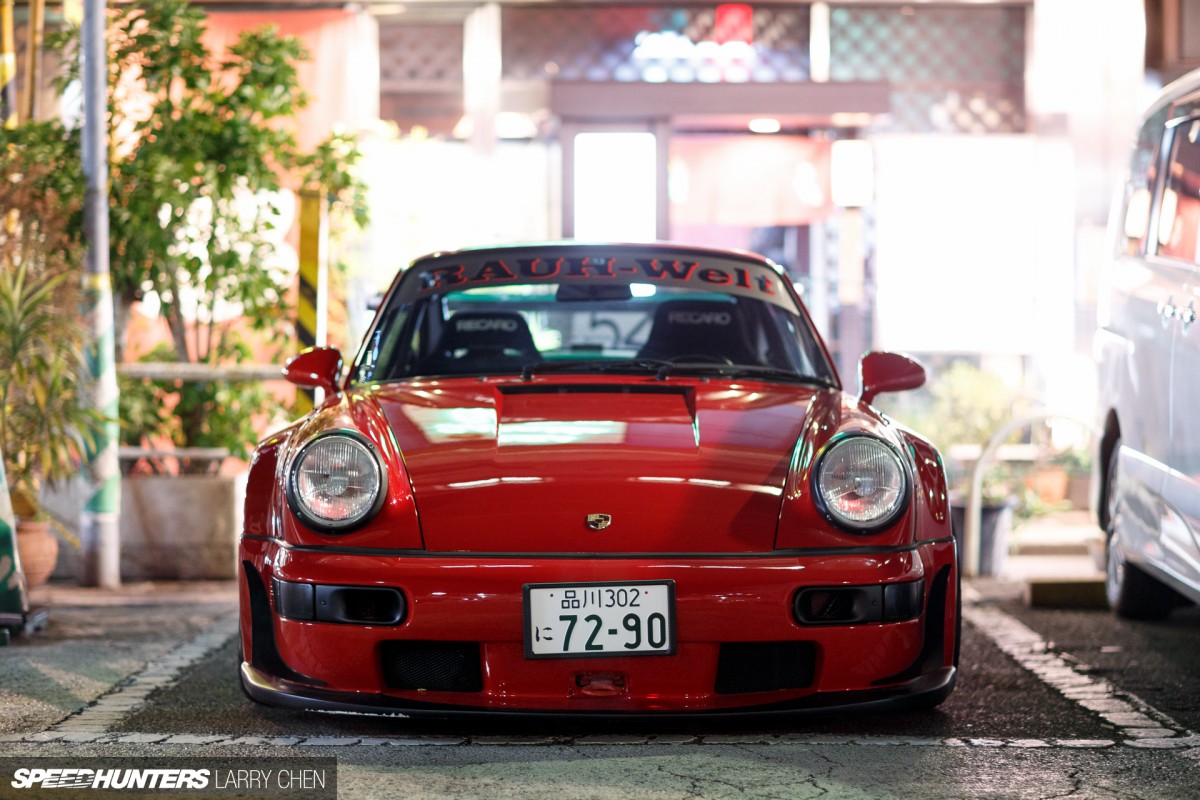 At the end of the day that is what Porsche ownership is about – actually using the cars on the street and enjoying them. That's what every RWB owner does, because it's what Nakai-san preaches.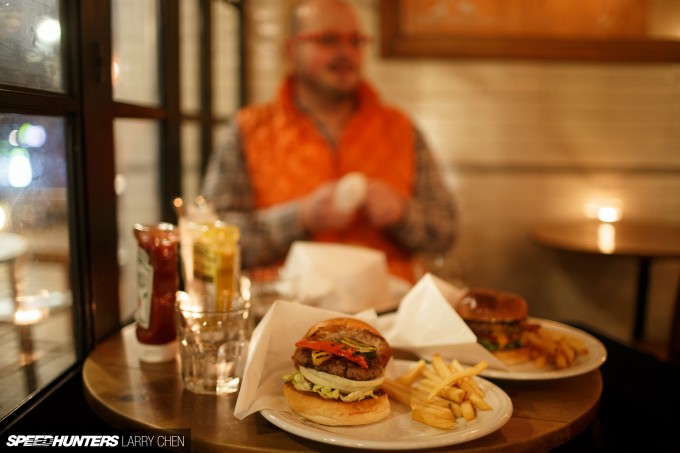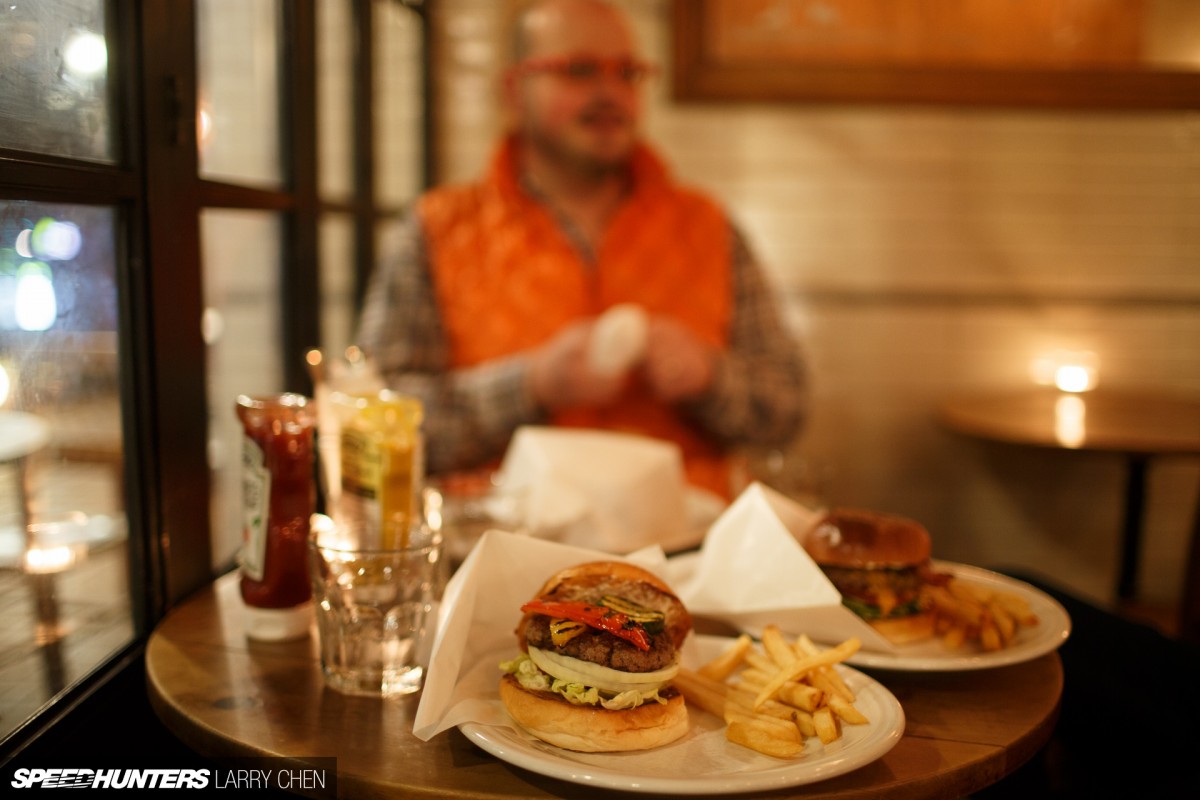 As airplane food leaves a lot to be desired, the long flight from Los Angeles to Tokyo left me starving. So after the RWB meet Dino took me to one of his favorite local burger joints. Trust me when I say that I always have my fair share of authentic Japanese food when I'm in town, so one burger doesn't hurt, right?
Tokyo Drift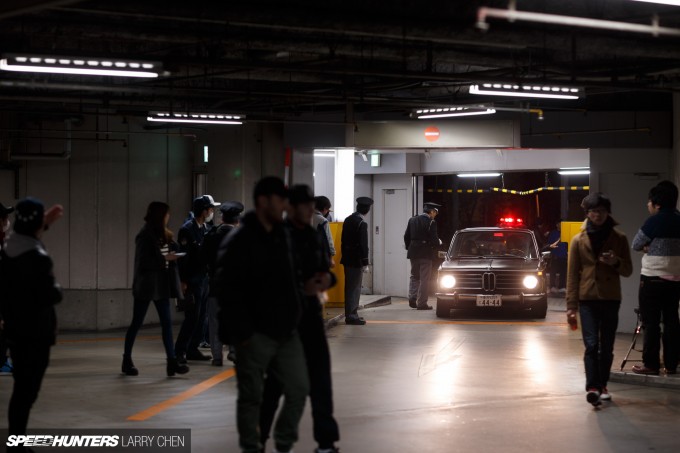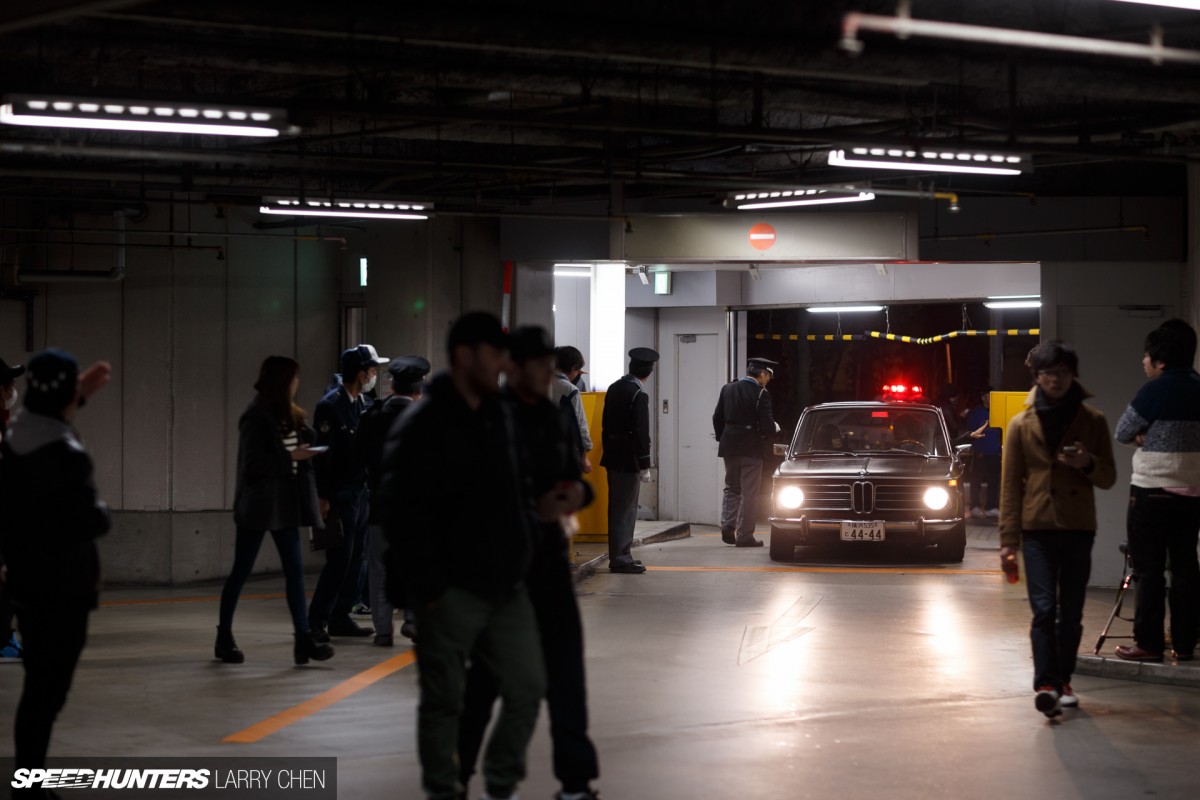 After dinner our next stop was a car meet held inside a large parking structure in an Odaiba shopping center.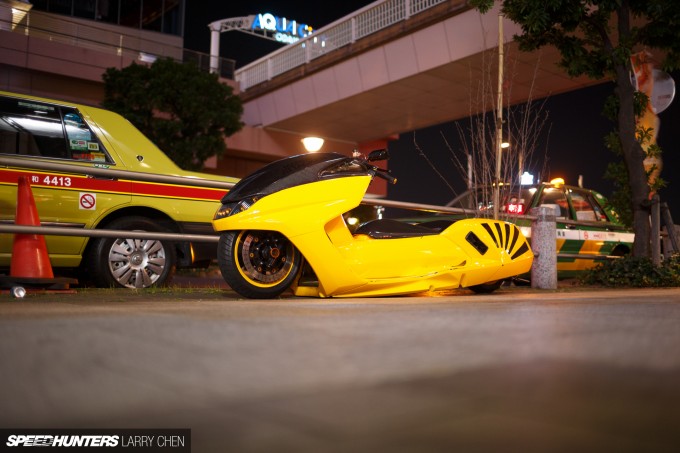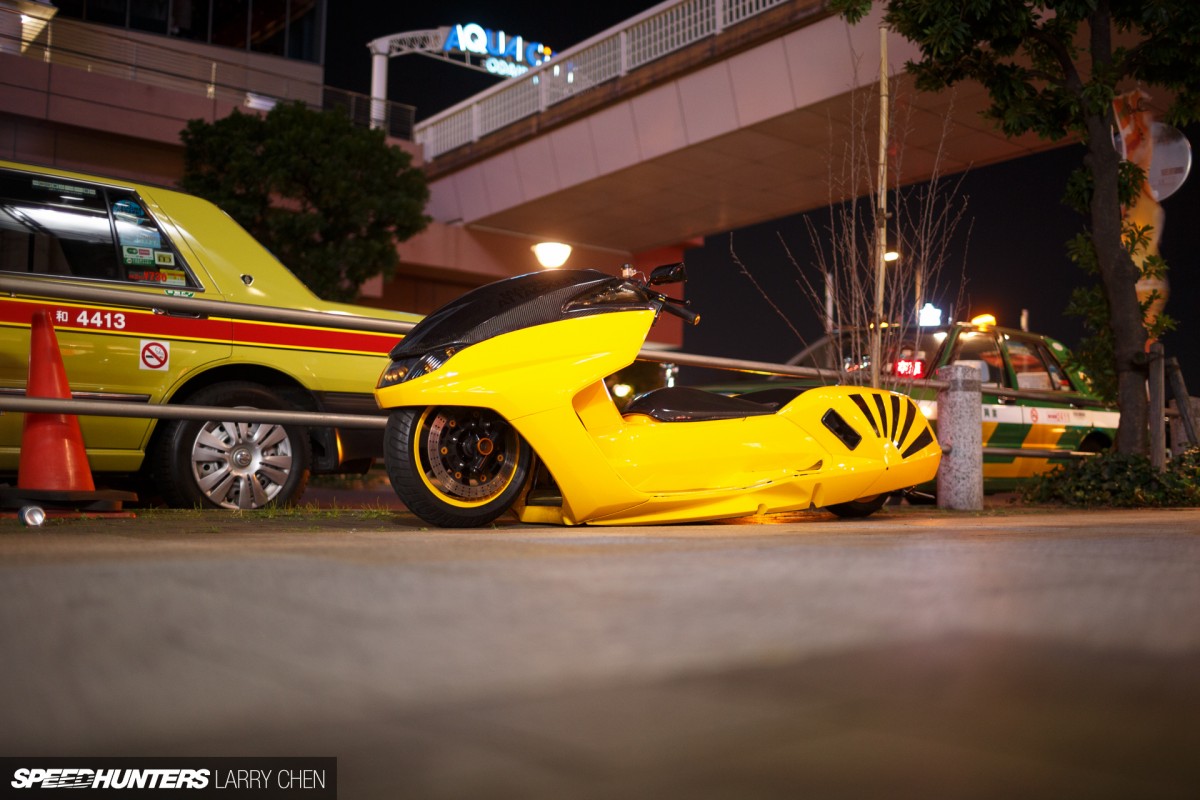 It was already very busy when we arrived, so I knew it was going to be something special. Most people arrived by car; some came by taxi, but this guy rode a very interesting motorcycle on air ride.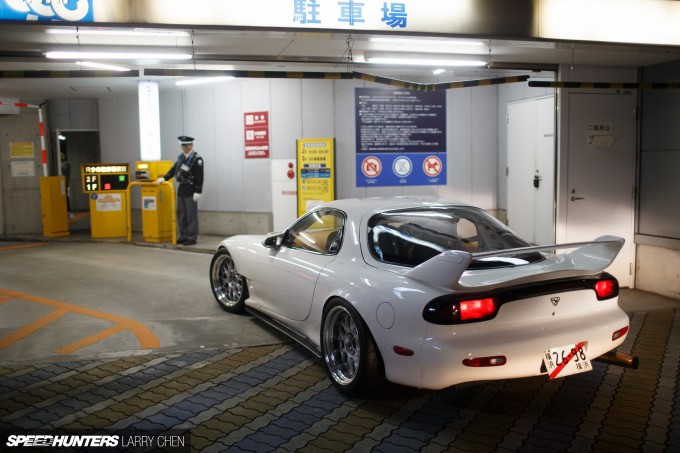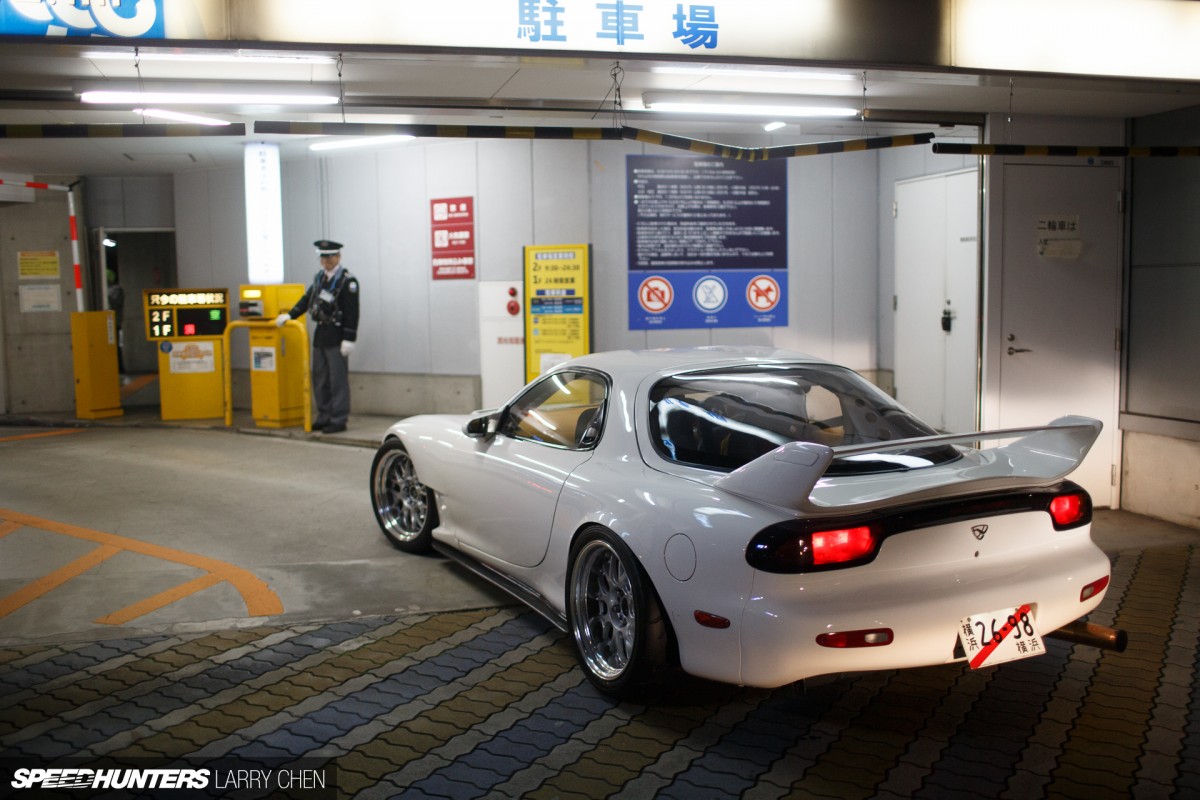 As we were walking in, the unmistakable sound of a 4-rotor pulled up to the entrance. It was an FD3S Mazda RX-7 powered by a 26B. Just your everyday Tokyo street car…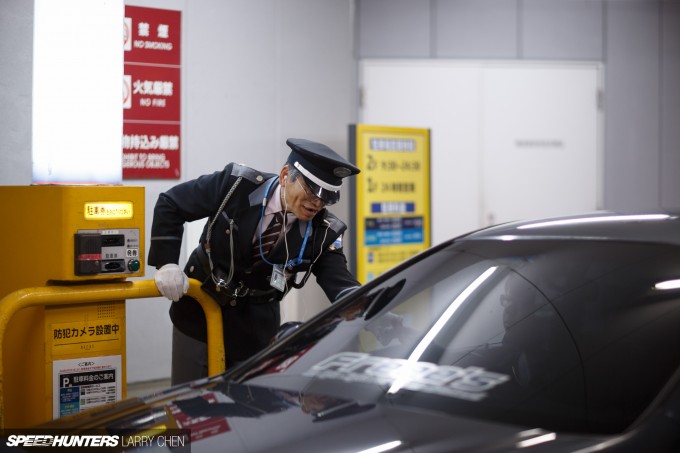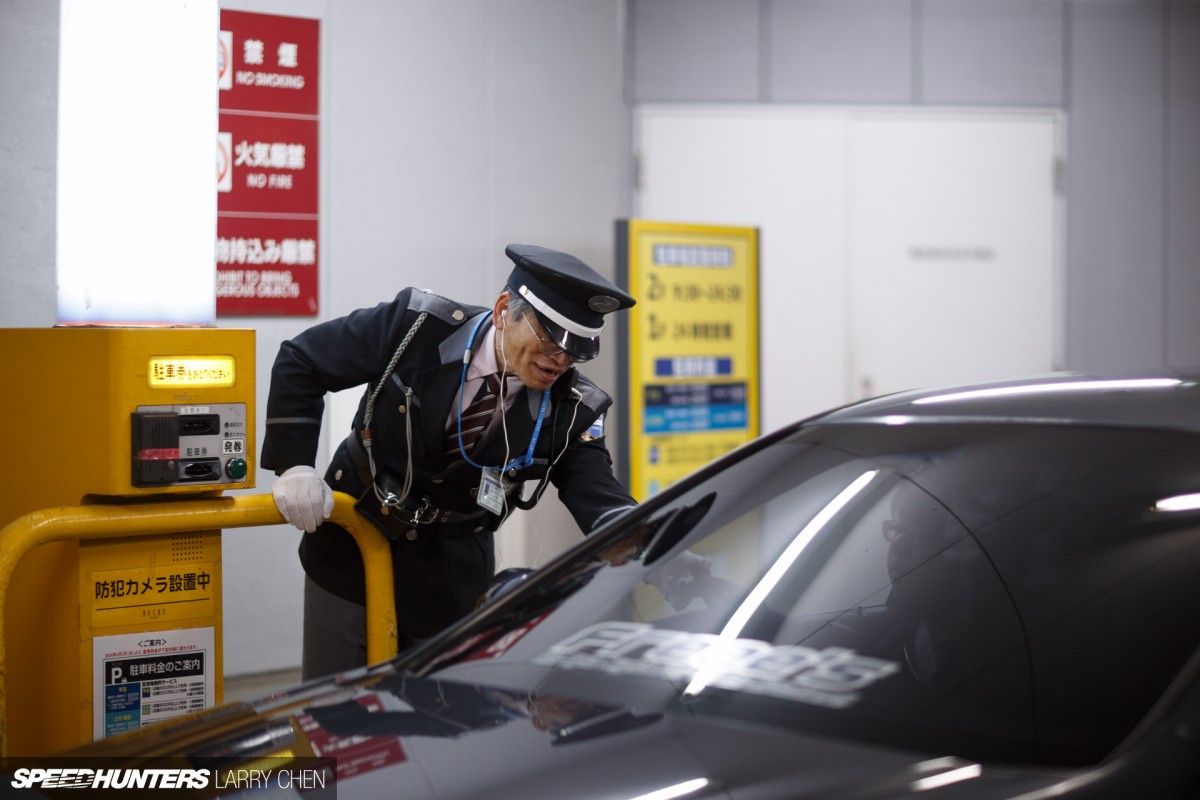 There was a security guard/ticket attendant who was letting people in and raising the gate for them. He didn't seem to mind the sudden wave of highly modified cars.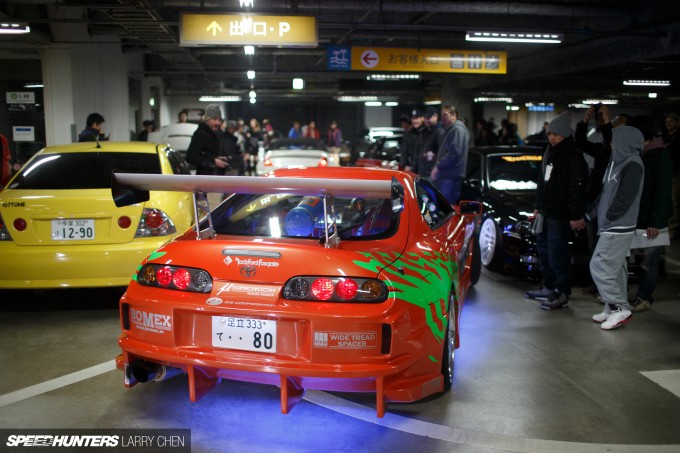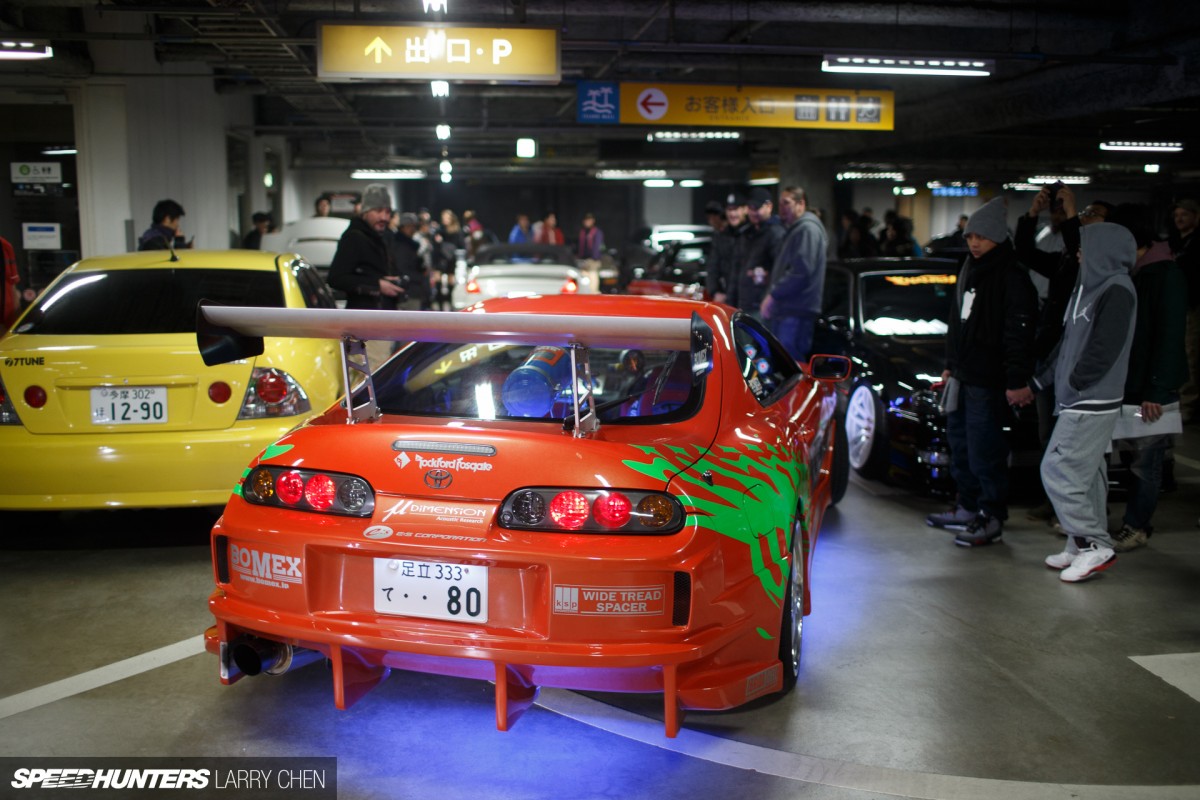 As we walked deeper into the parking complex I could not stop hearing the Teriyaki Boys song in my head. It was like we had walked onto the set of The Fast And The Furious.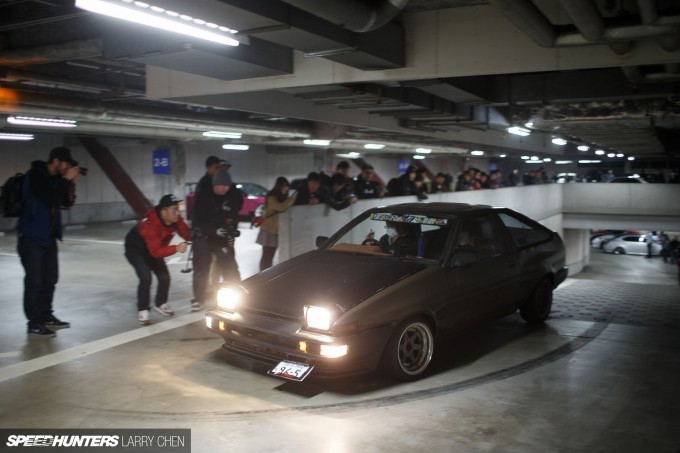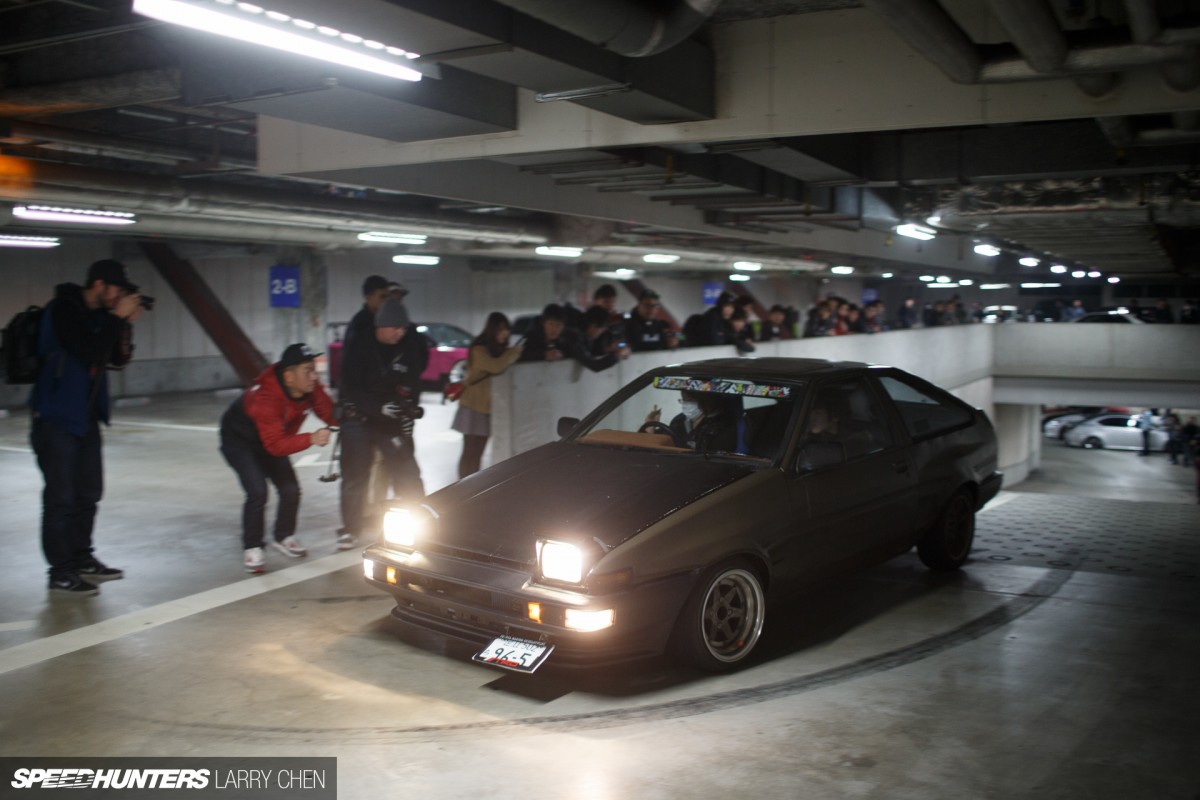 People were all lined up as the cars pulled in, and some of drivers actually gave it a bit of stick and drifted around the tight corners.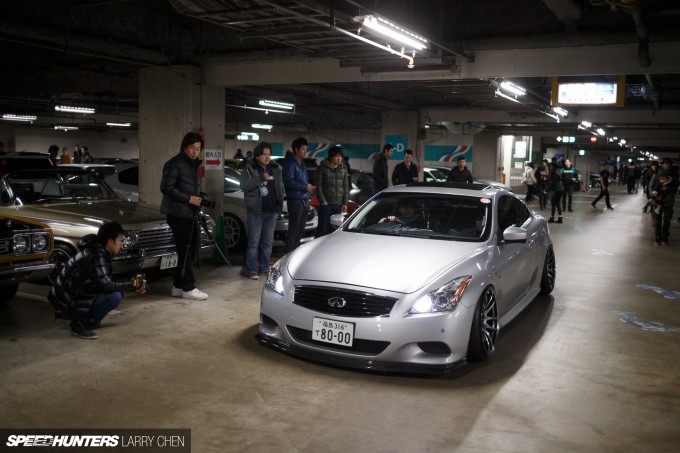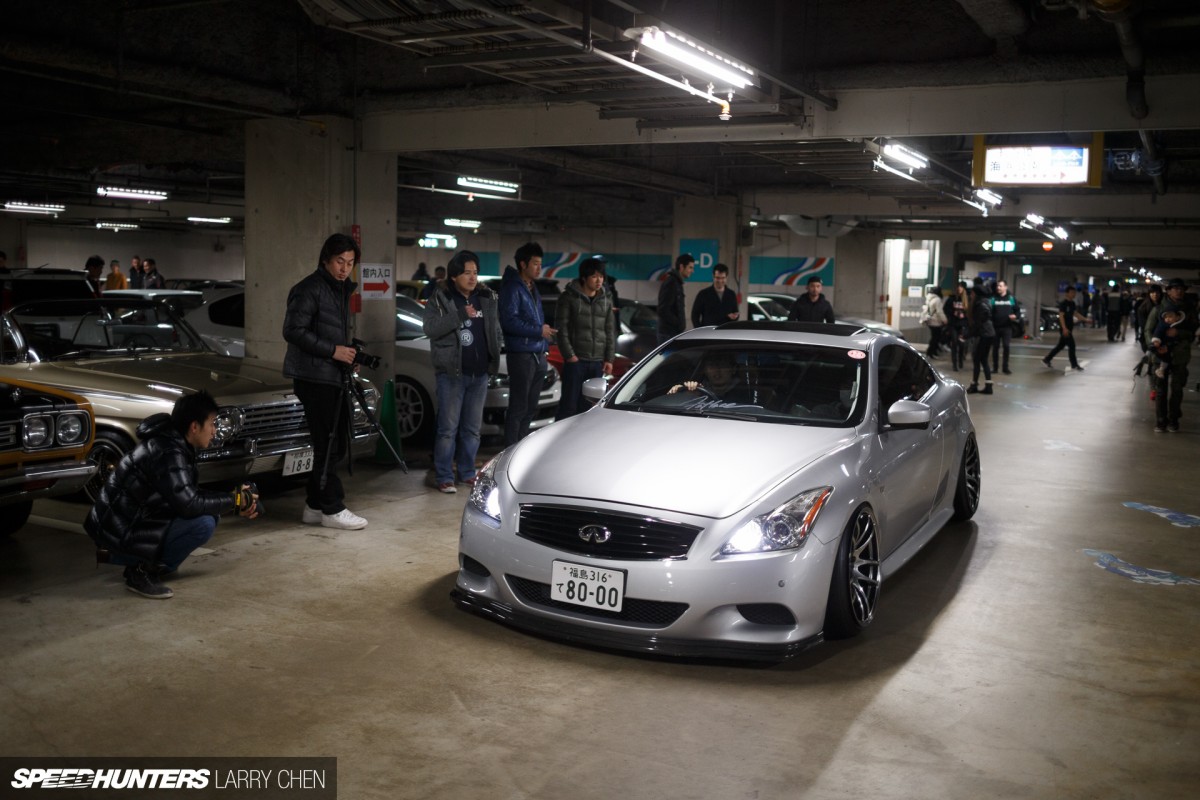 I just could not believe how many people had shown up to this meet. Even crazier, half of them seemed to be foreigners. With all the conversations in English going on, for a moment it felt like I was back in Los Angeles.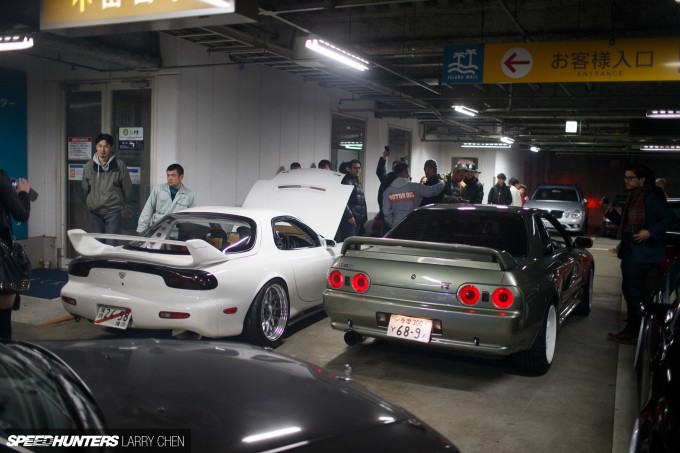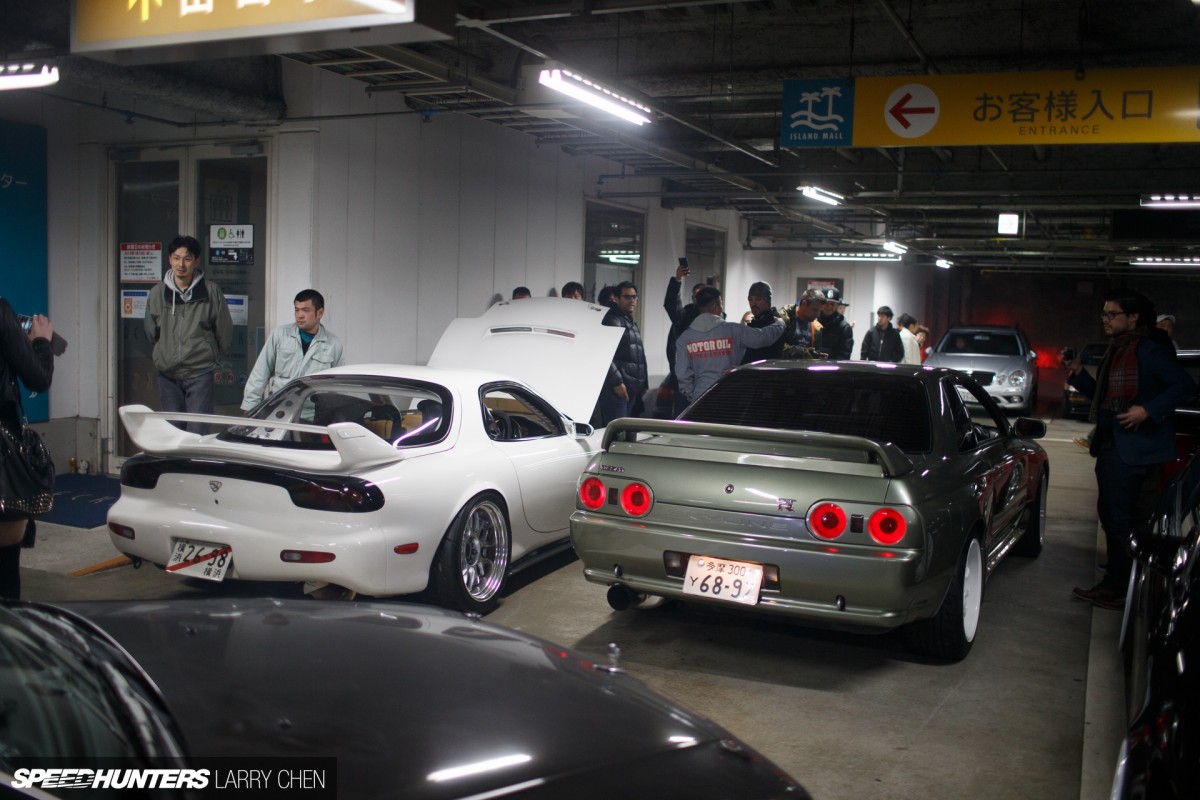 As Dino and I explored, we soon caught up with the 4-rotor FD3S and its owner who was revving the custom-built engine for the assembled crowd.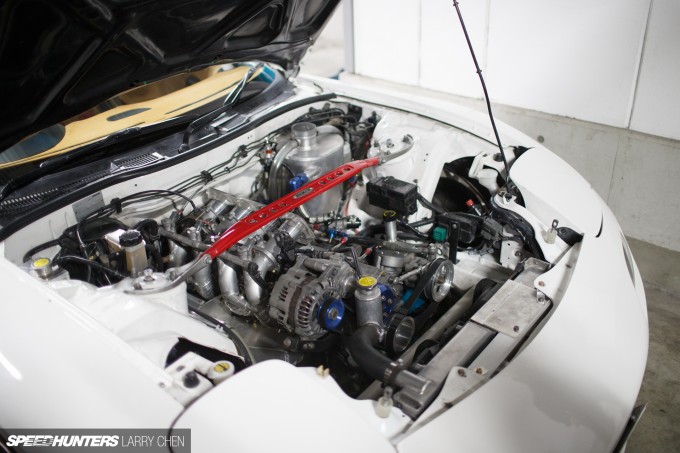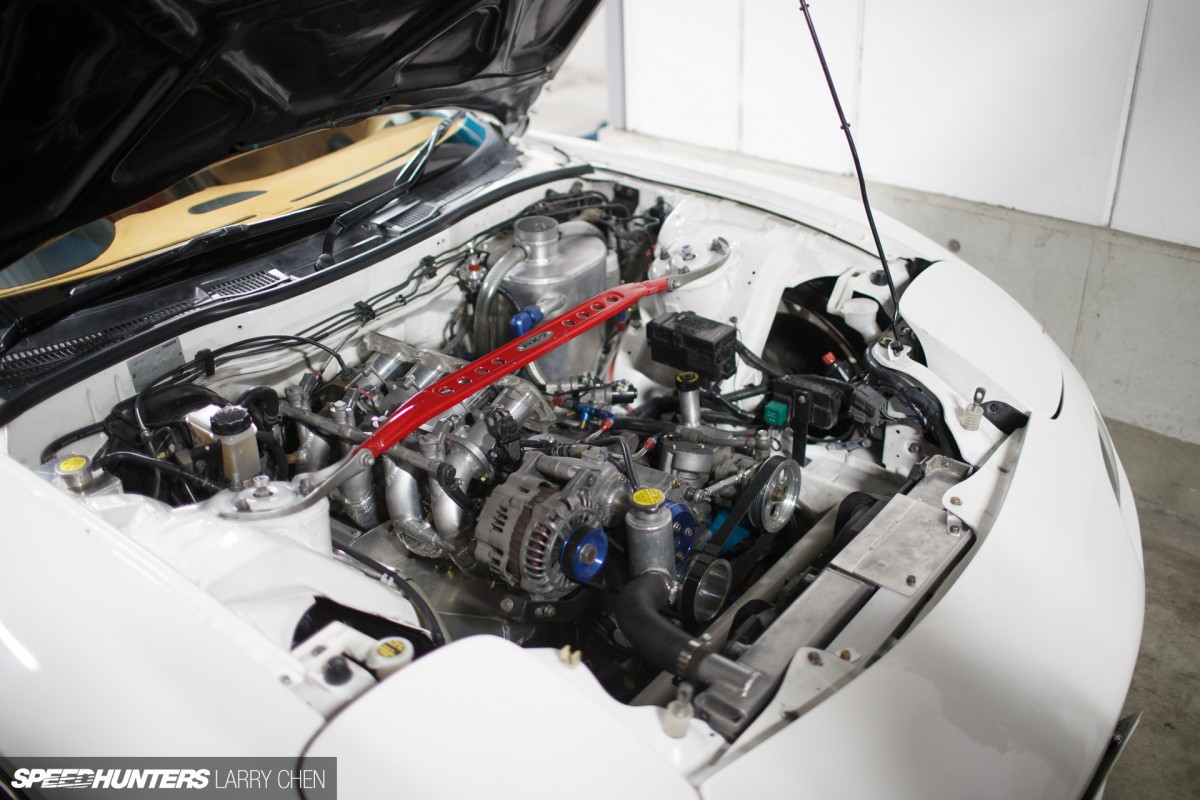 Underneath the hood is a 600 horsepower beast of a motor that revs out to 10,000rpm. It didn't sound anywhere near as loud as Mad Mike's drift car, but this car runs a proper street exhaust system of course.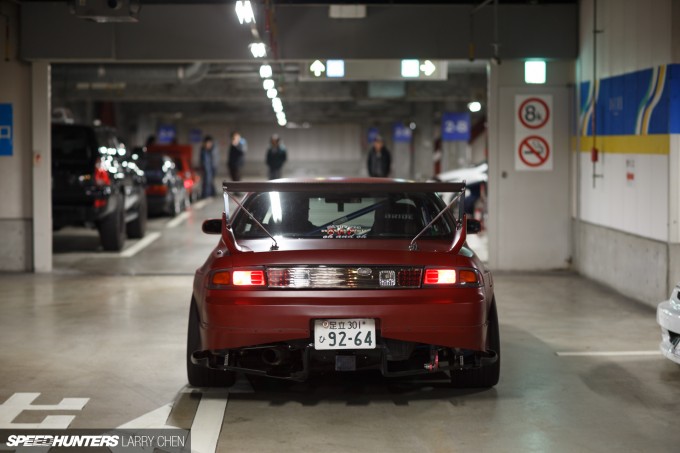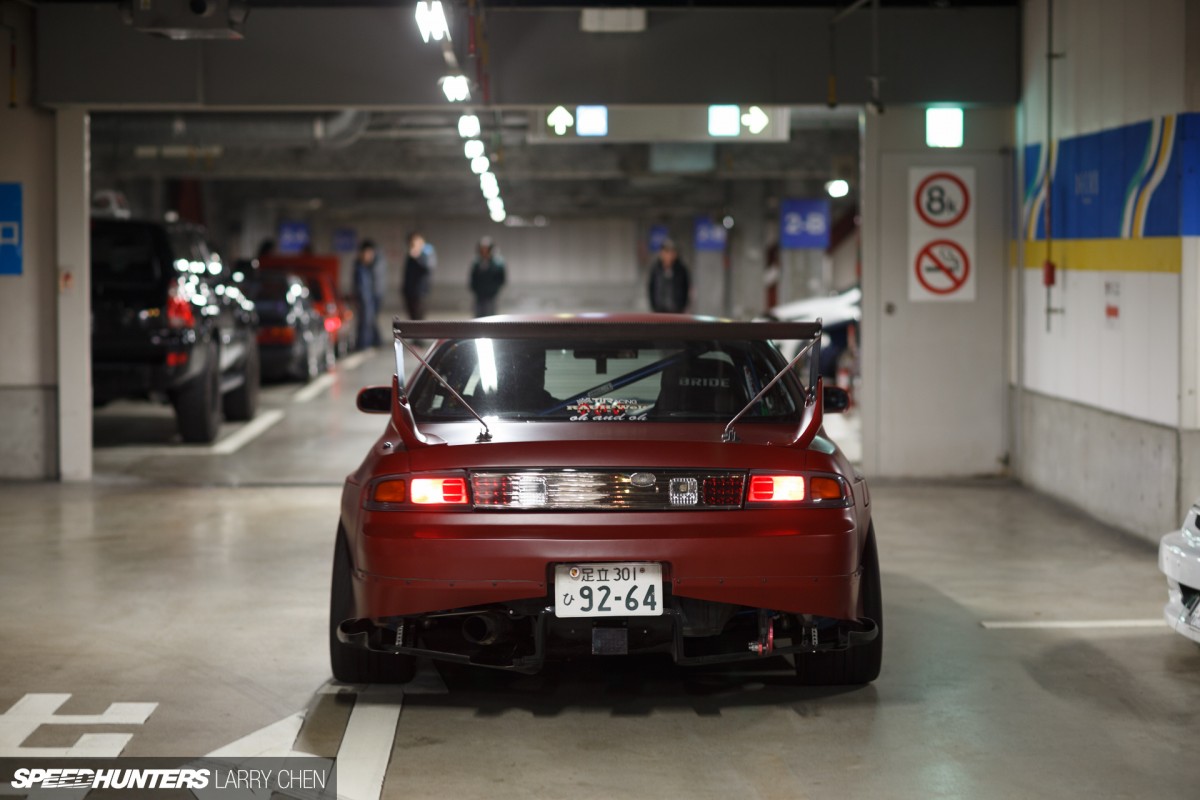 The actual structure was only two levels, but it was massive compared to anything I have seen in Japan before.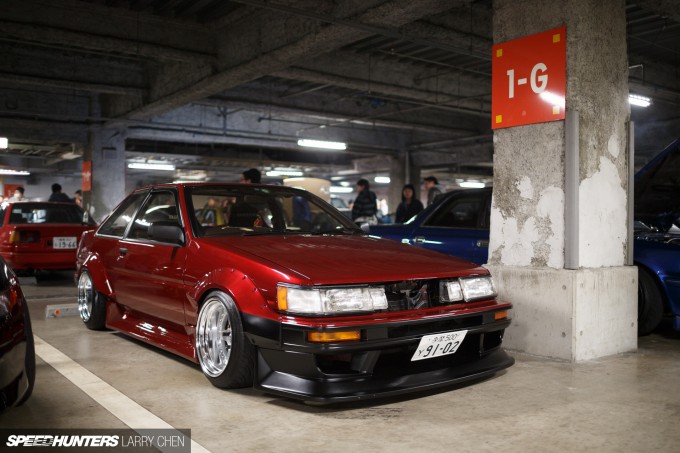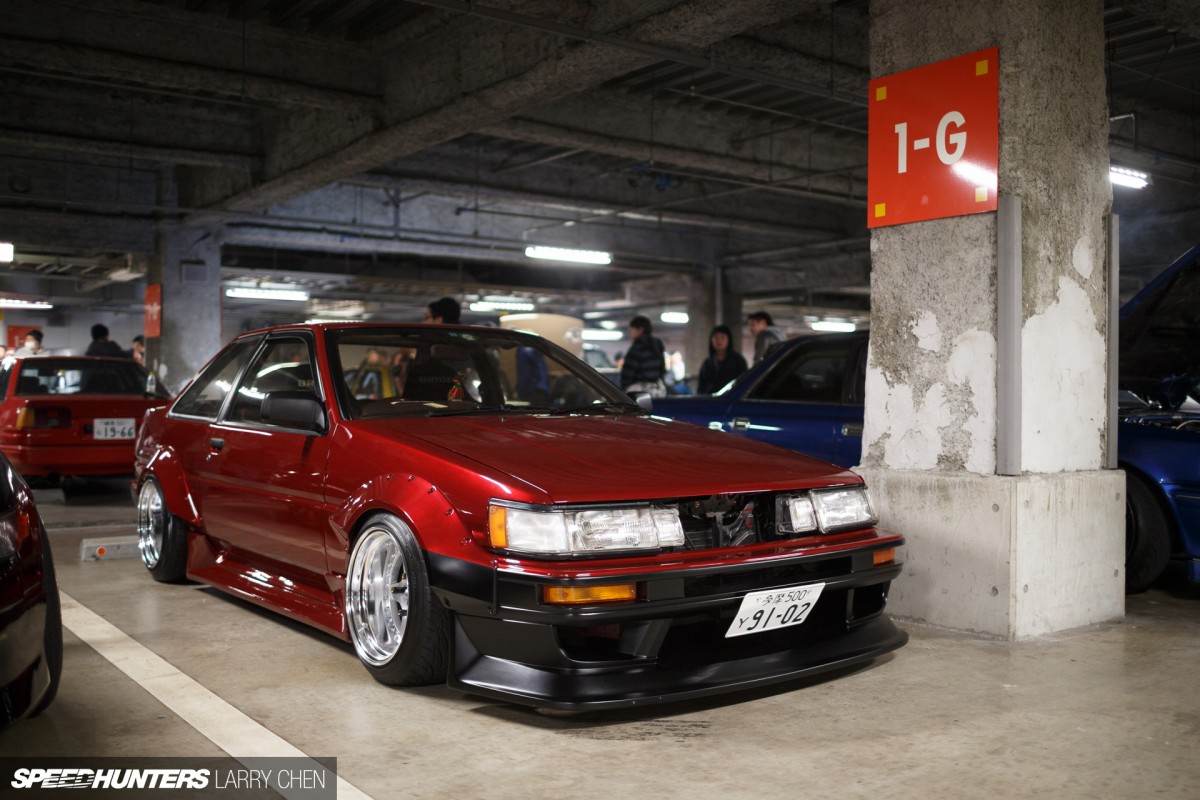 There were definitely some Auto Salon worthy builds among the crowd of cars too.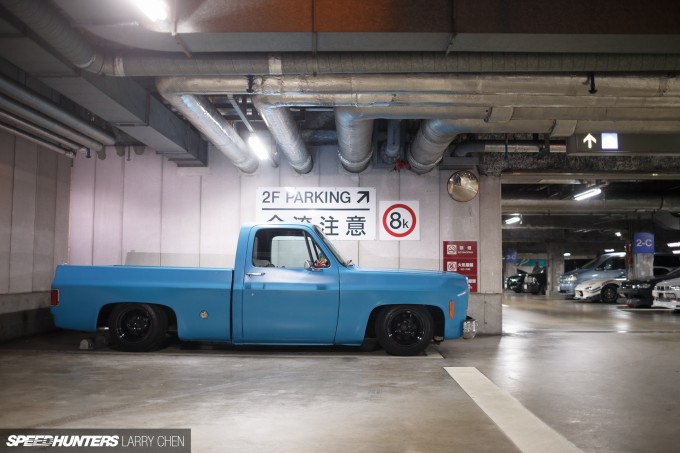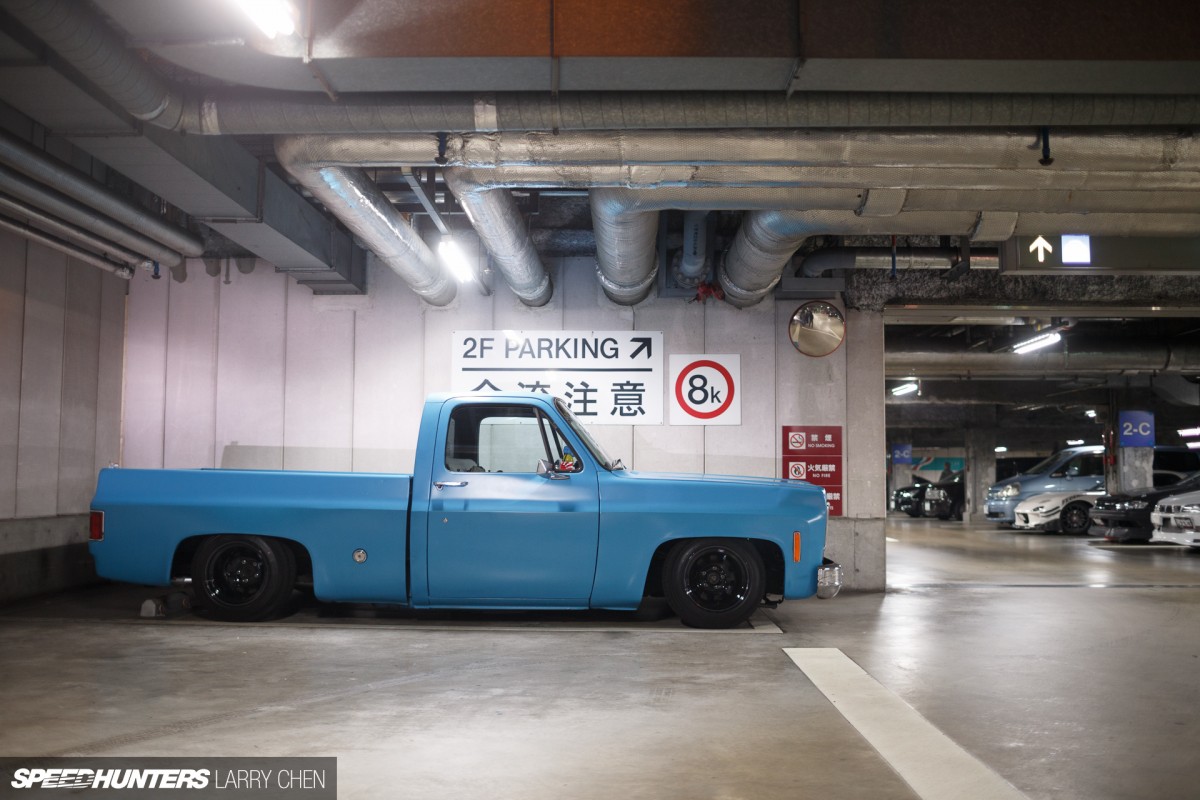 There were also a few American cars and trucks scattered throughout, including this GMC pickup on air bags.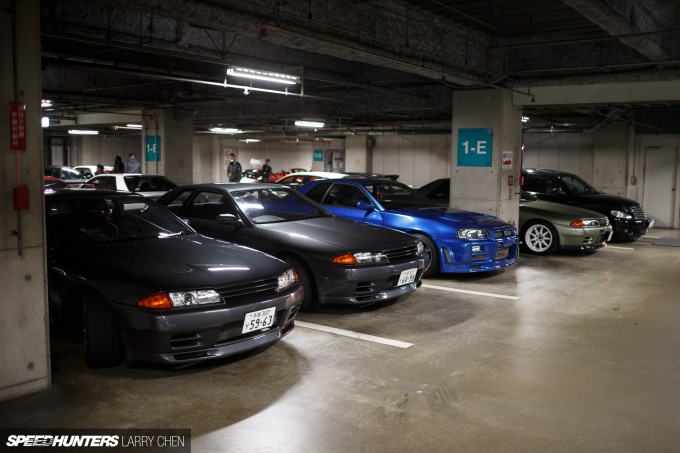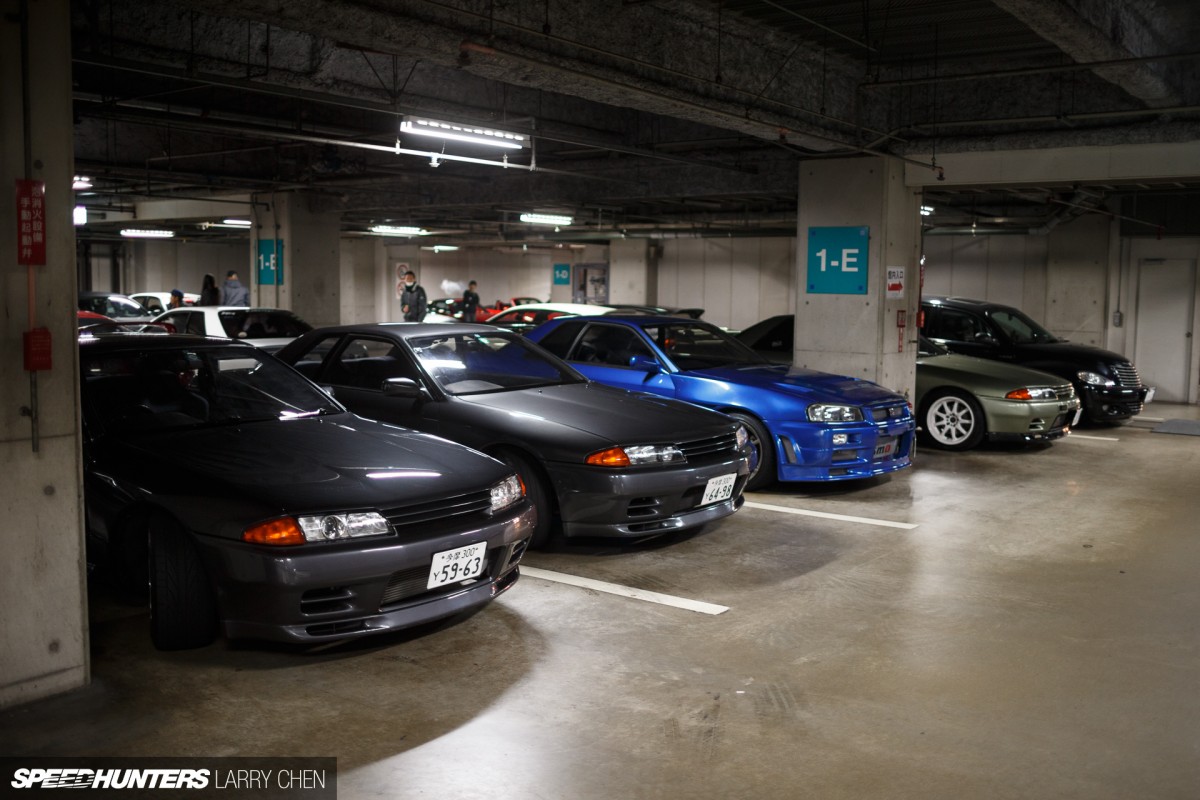 Who let that Chrysler sneak into 'Skyline Only' parking?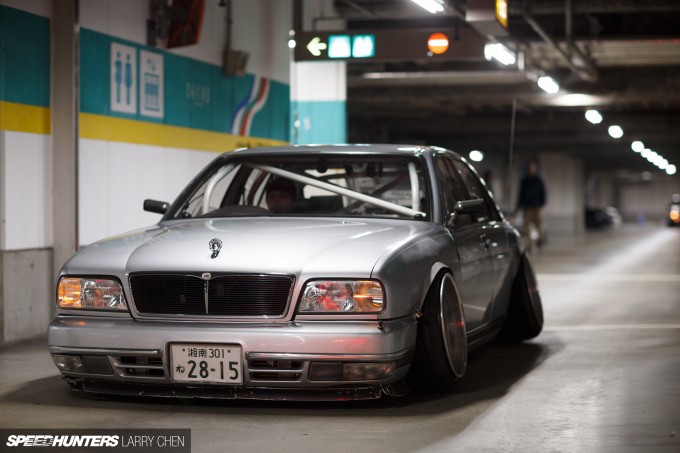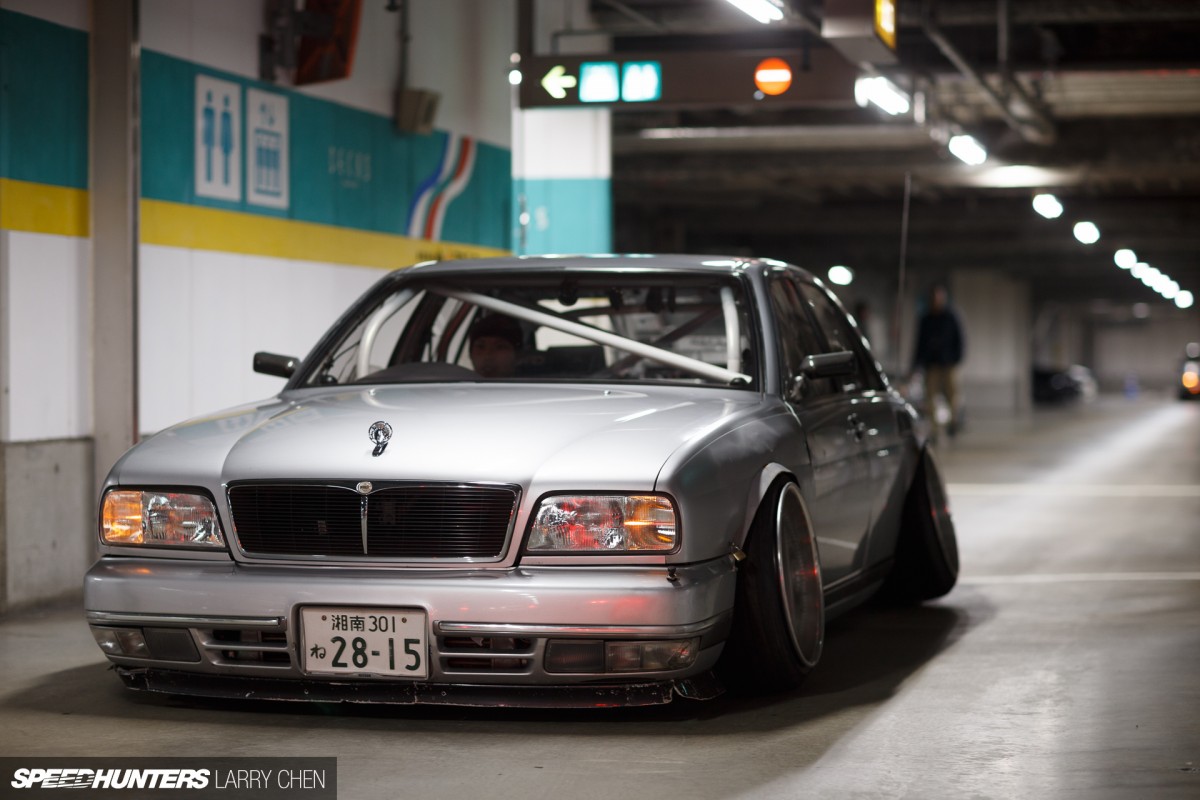 Of course, being Japan there was no shortage of extravagant builds. Who needs a contact patch anyway, right?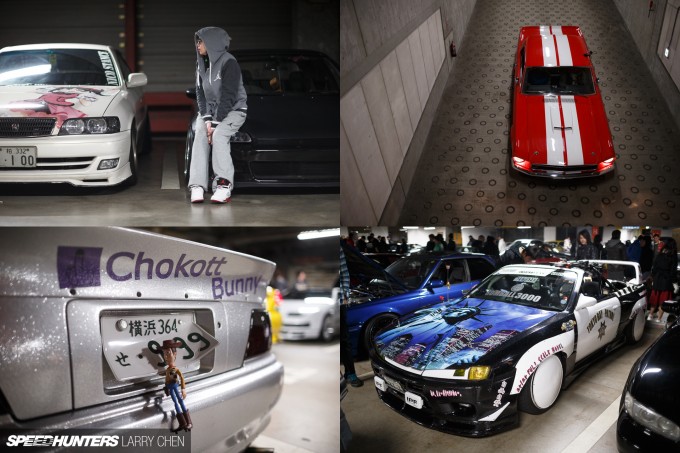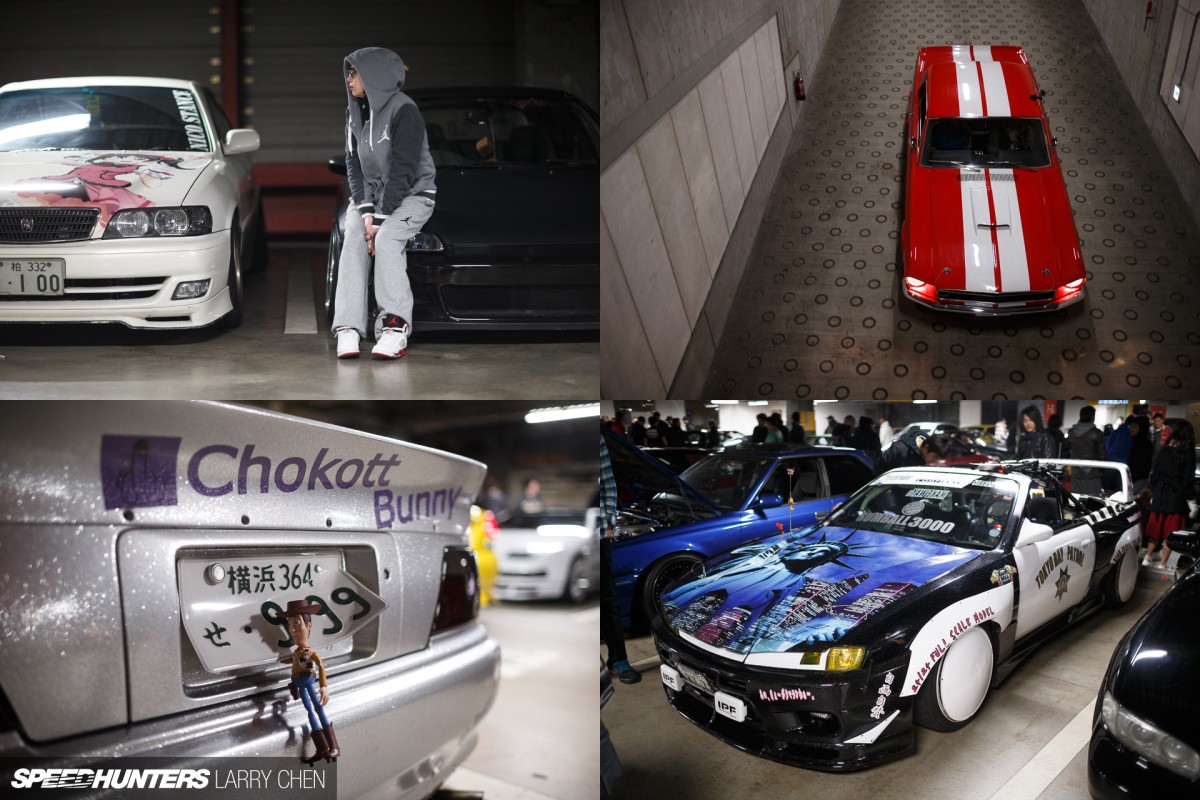 So many of these builds had their own personal style, whether it just be the type of car, a certain accessory or accent, or sometimes just outright weirdness.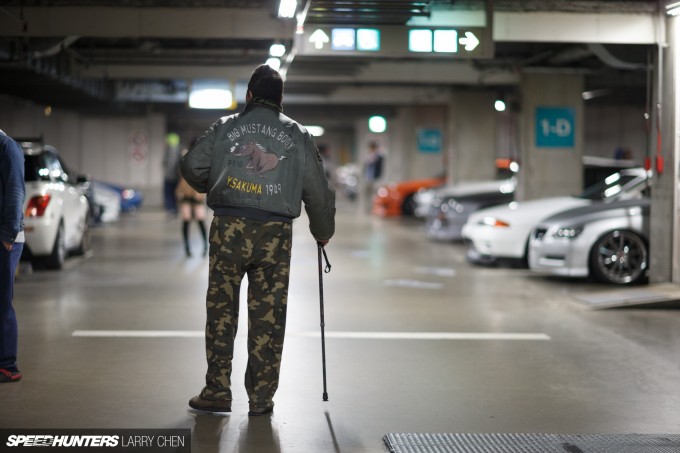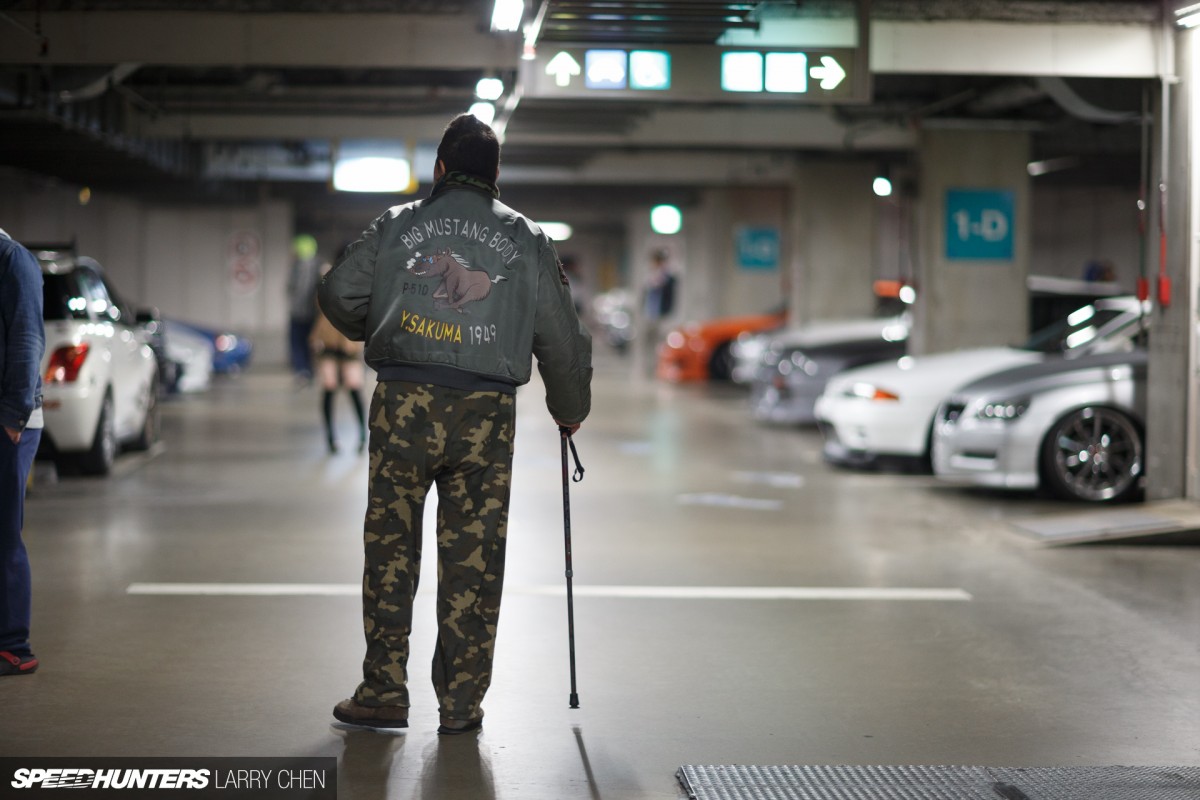 There were some interesting characters in the mix as well. Who knows, maybe some of their work is more in the 'grey area' as this man put it.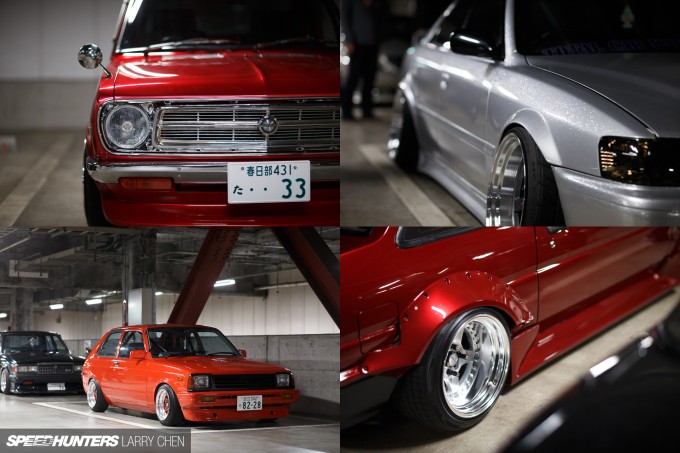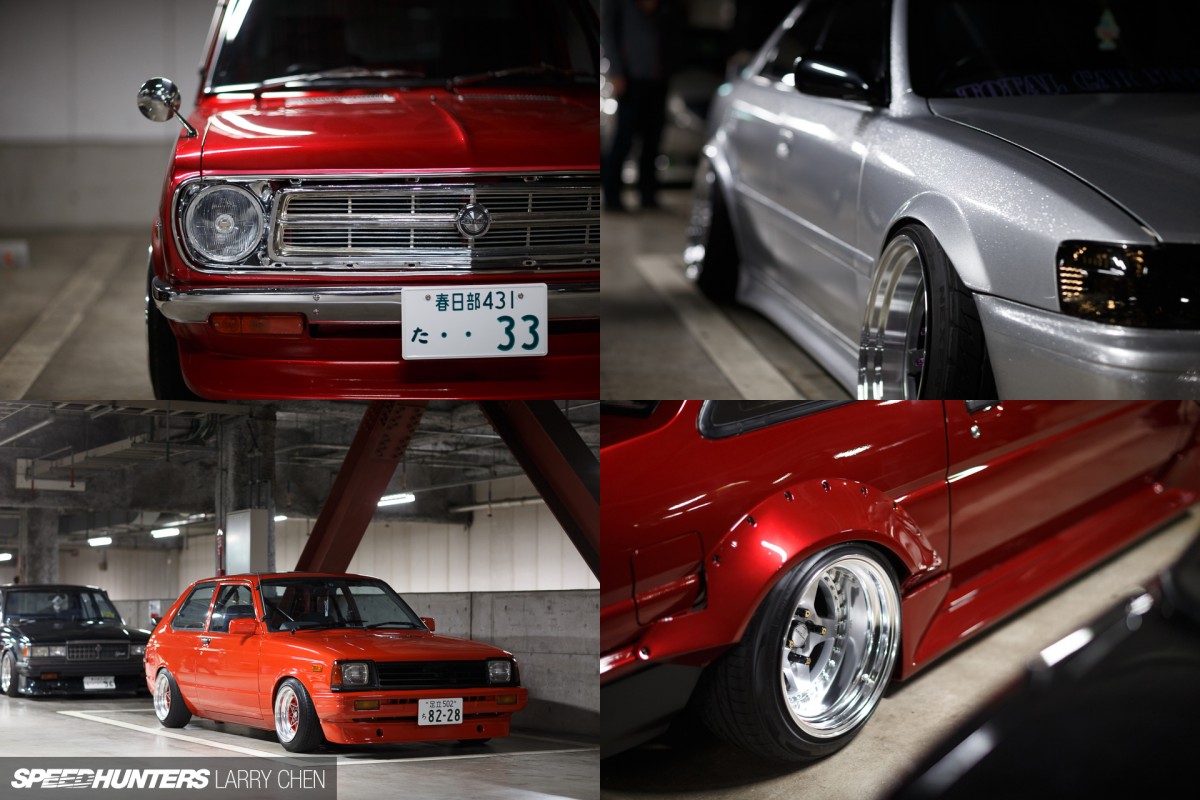 Everywhere I looked there were clean builds, which was great as Dino and I had actually headed here with the hopes of making a few new connections and lining up some cars to shoot for full features.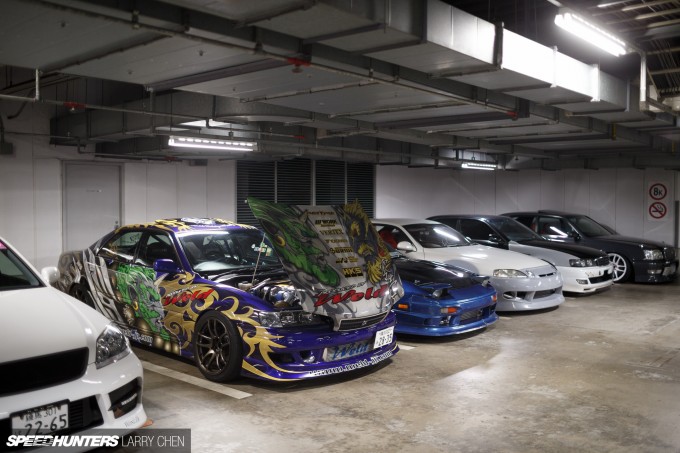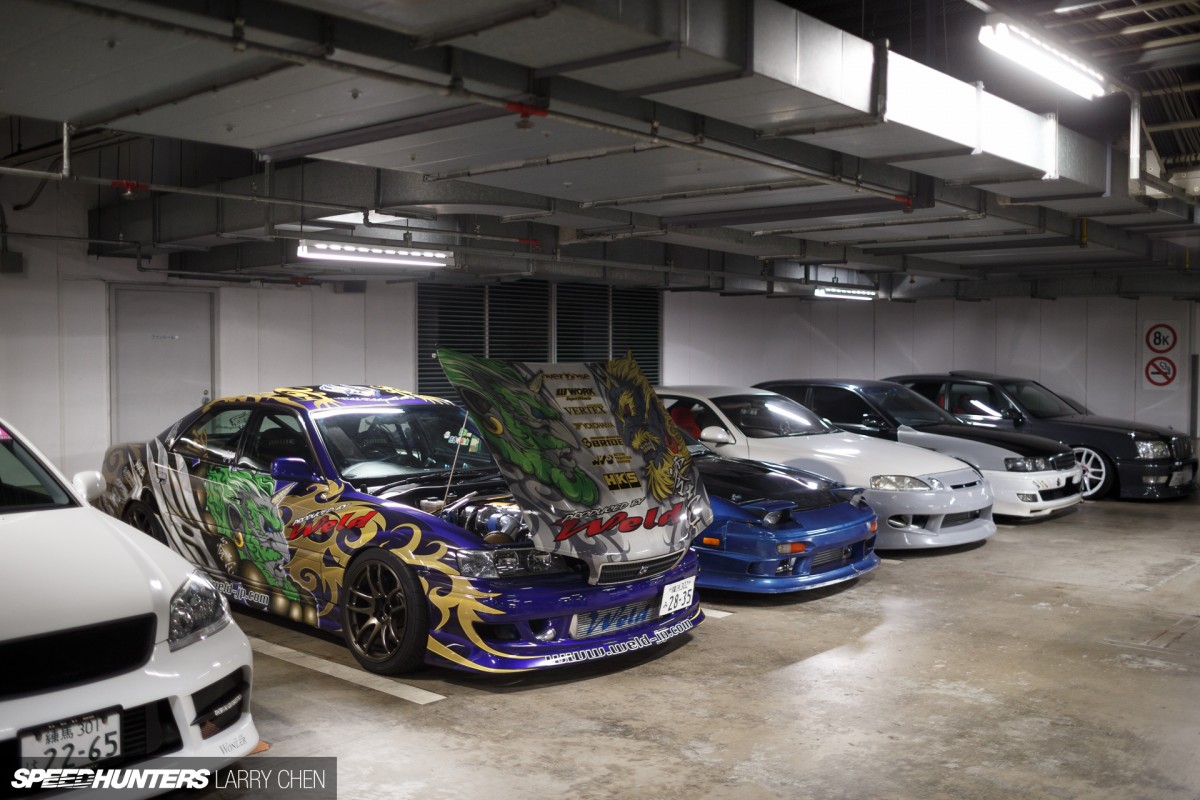 Some guys even brought along their full-on drift cars. It's amazing what you can get away with in this country.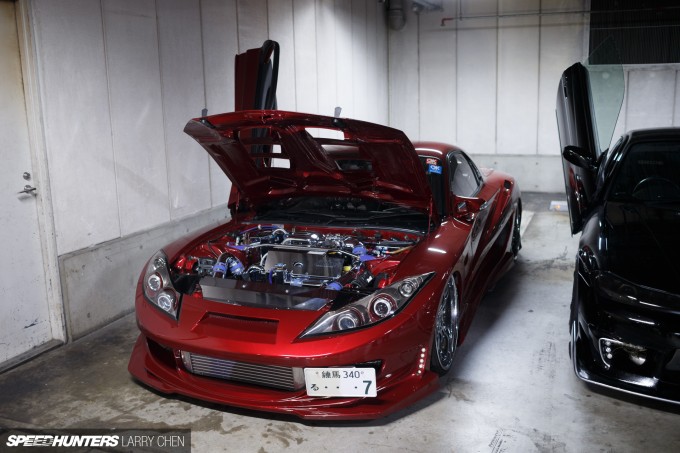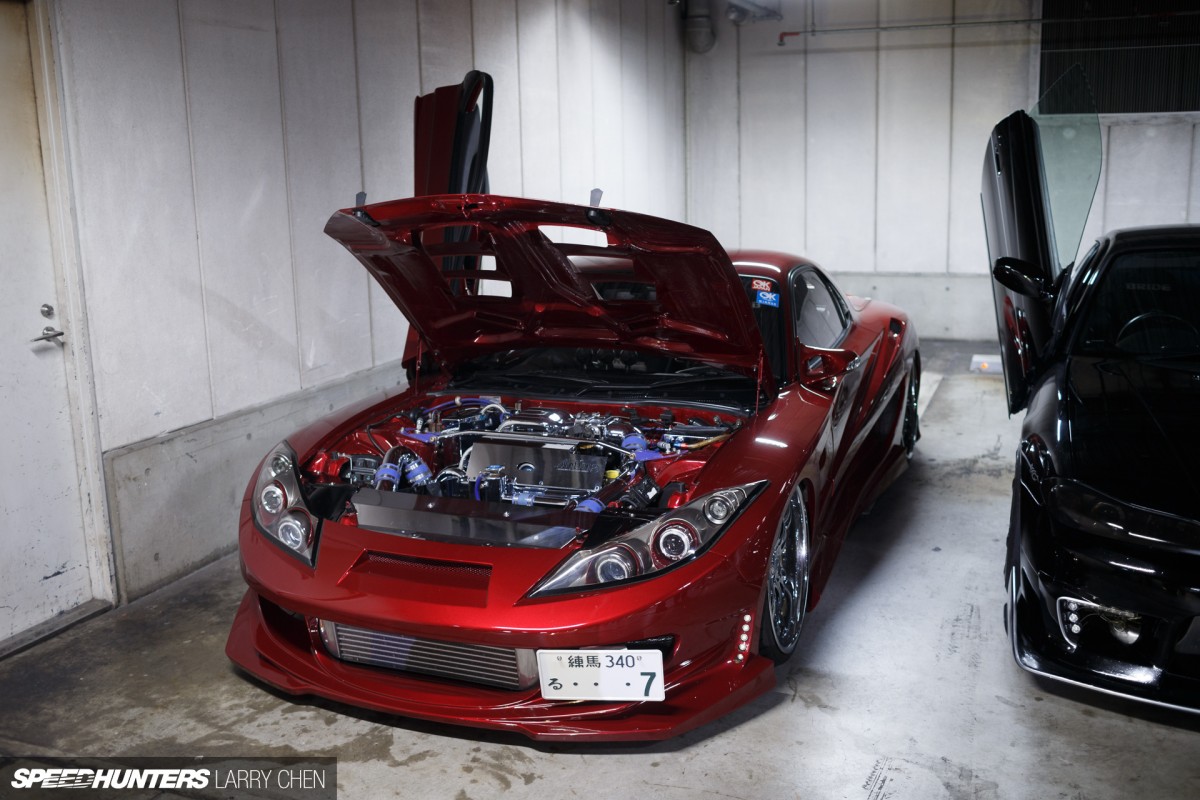 Vertical doors anyone? There seemed to be a type of build for every taste at this meet.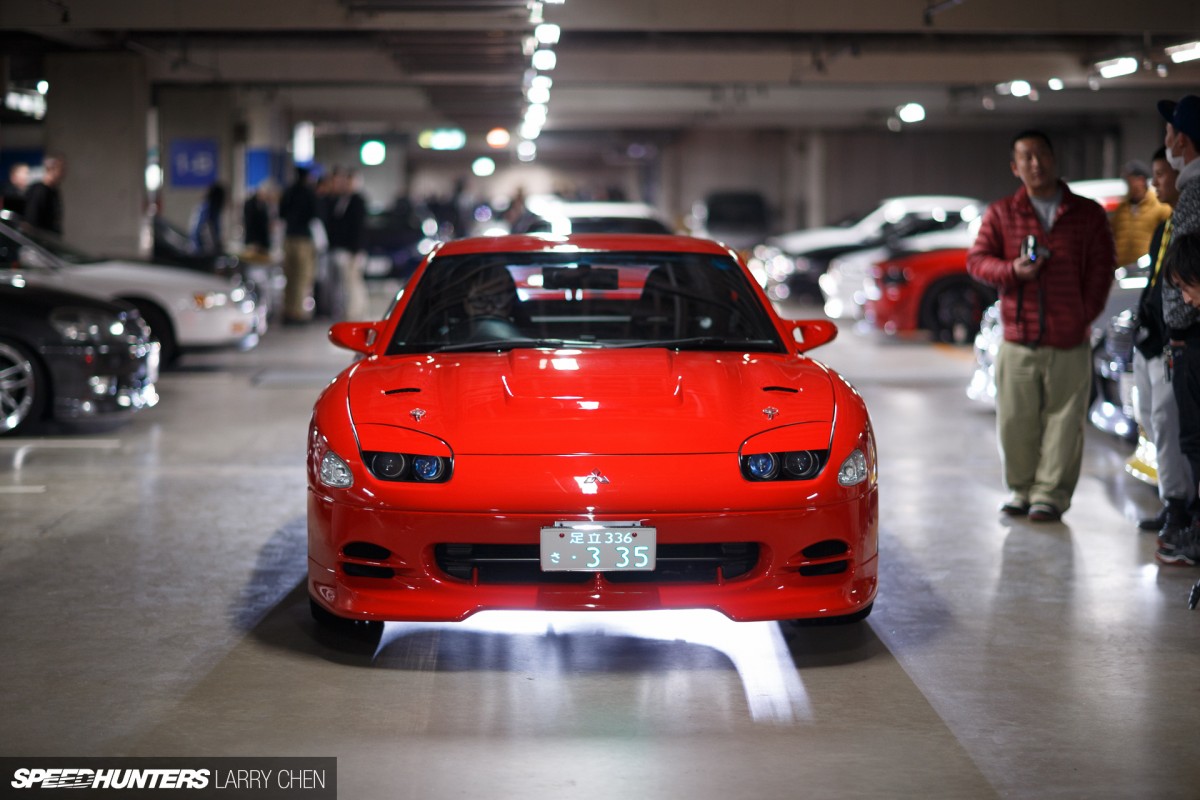 I don't think I have ever seen a Mitsubishi 3000GT this clean in North America – they all seem to be wrecked or beaten on quite badly.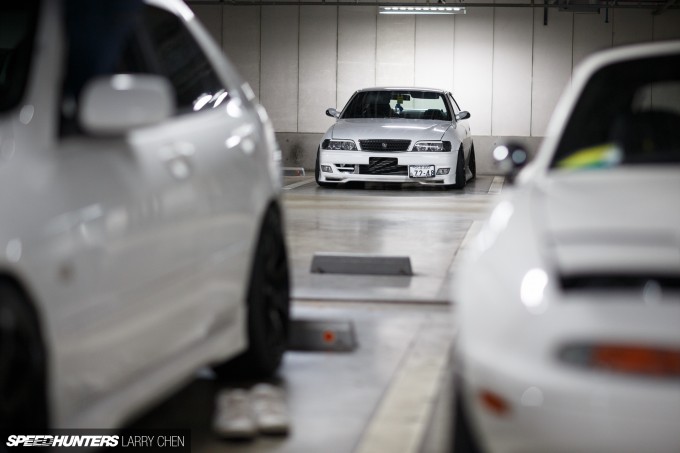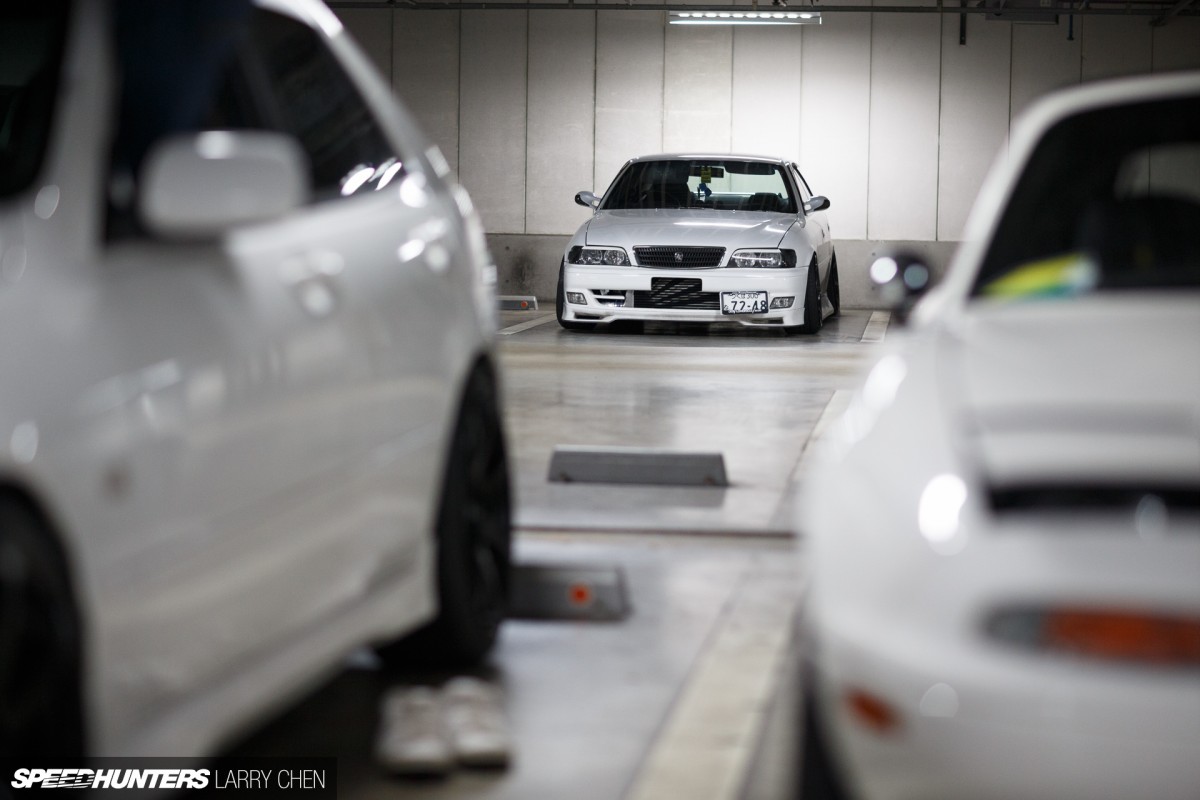 While I know these type of pre-TAS meets don't accurately represent Japanese tuning culture, I could still appreciate the type of cars that had been driven on the street to attend. I definitely hadn't been to anything like it before, either.
Hot Auto Salon Nights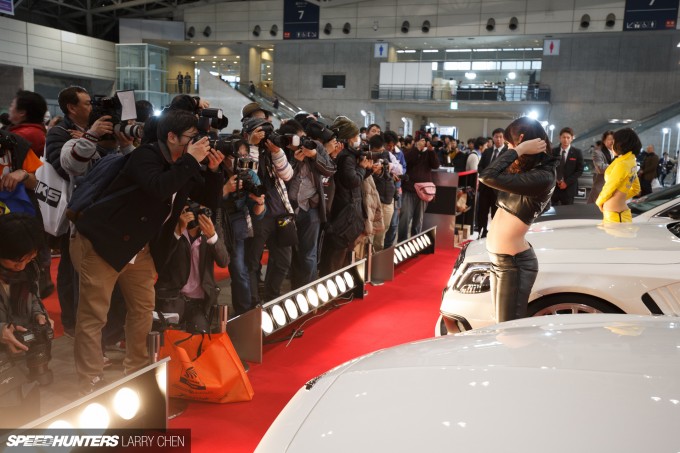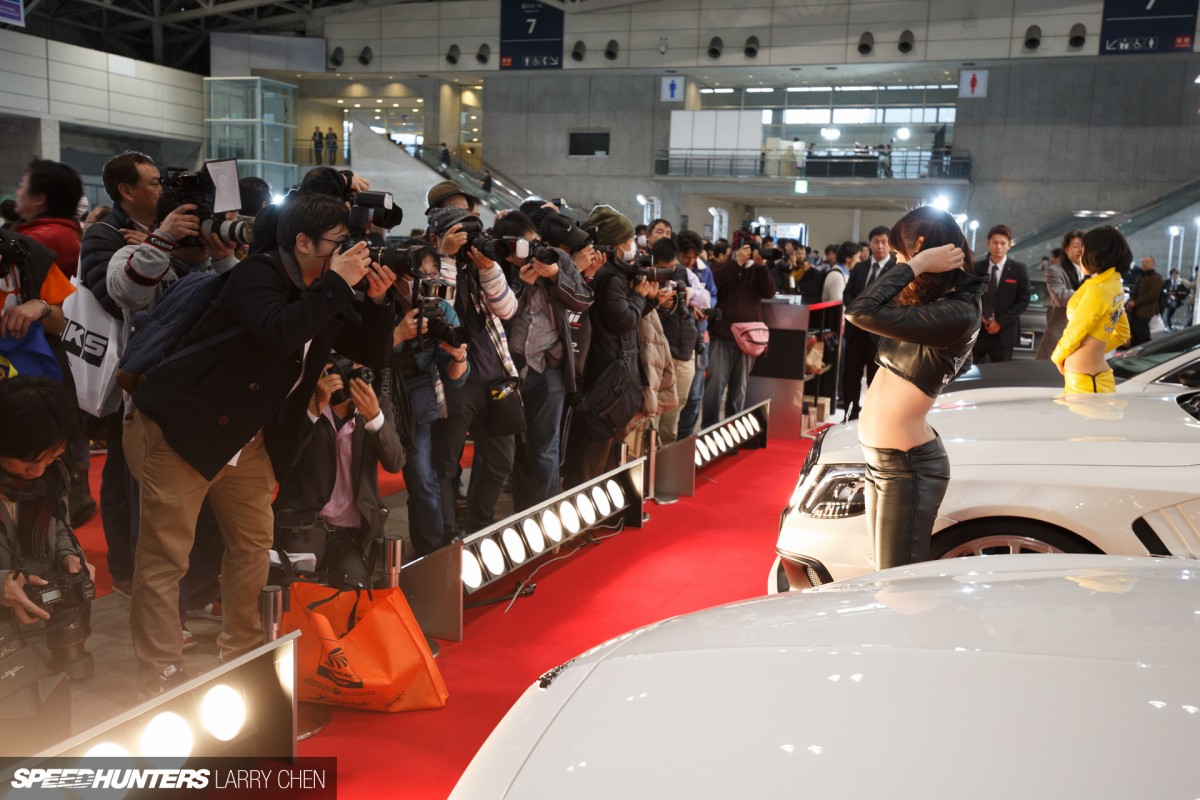 While the Tokyo Auto Salon was cool, I found myself being constantly elbowed in the face by guys who had just turned up to shoot the girls. It was quite hard to battle with then, as I was there for the cars, and they were their for personal reasons. You can check out more TAS 2015 show coverage here.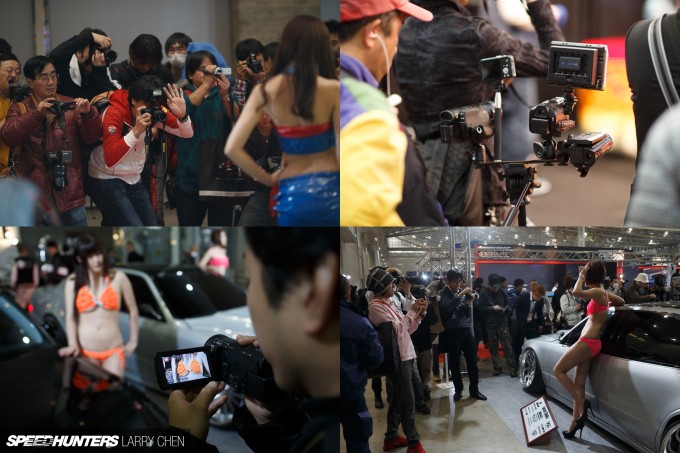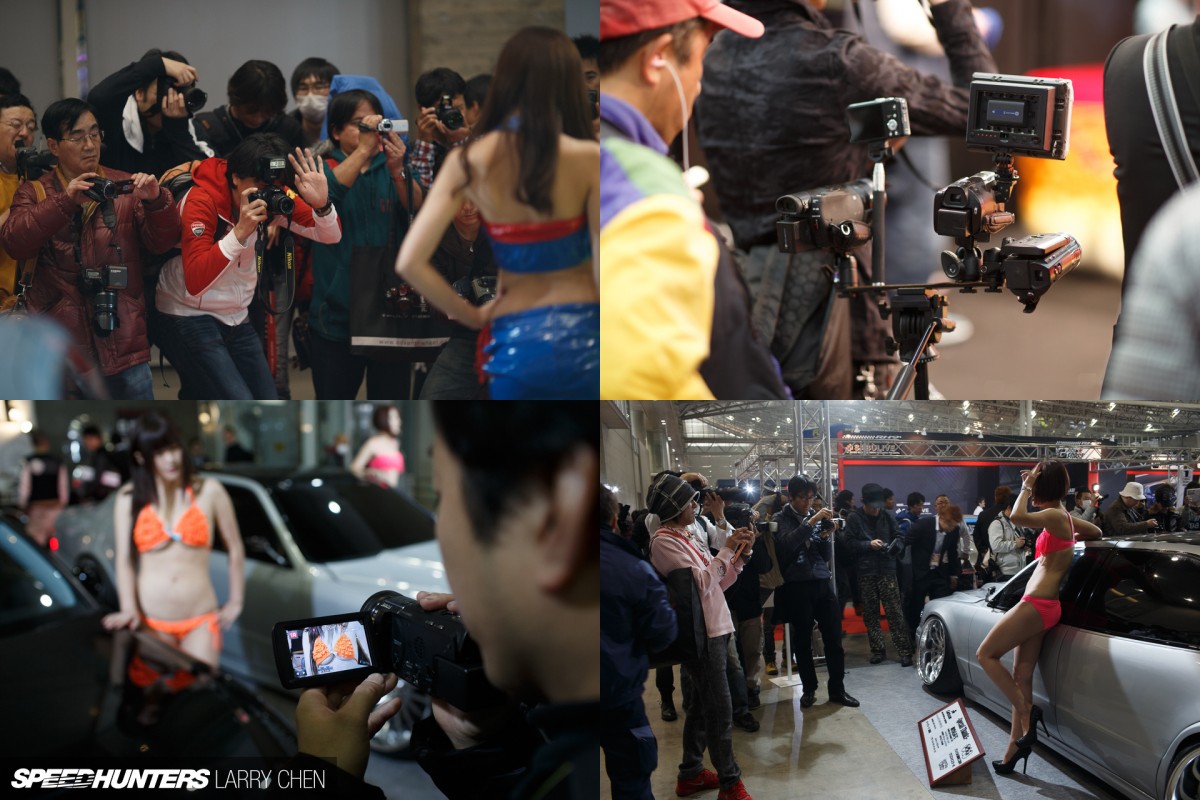 Dino actually touched on this in his post, but you can't knock these guys for being creative. Check out the rig that has four cameras on one tripod for catching every moment. I see that Japanese triple redundancy backup coming into play here, but only the best for the most important of footage, right?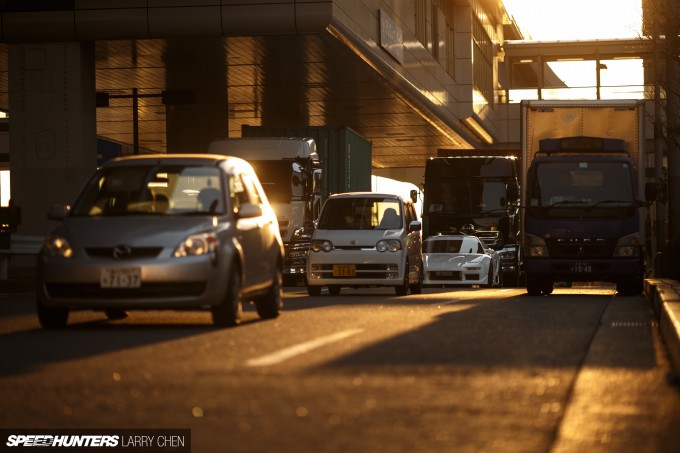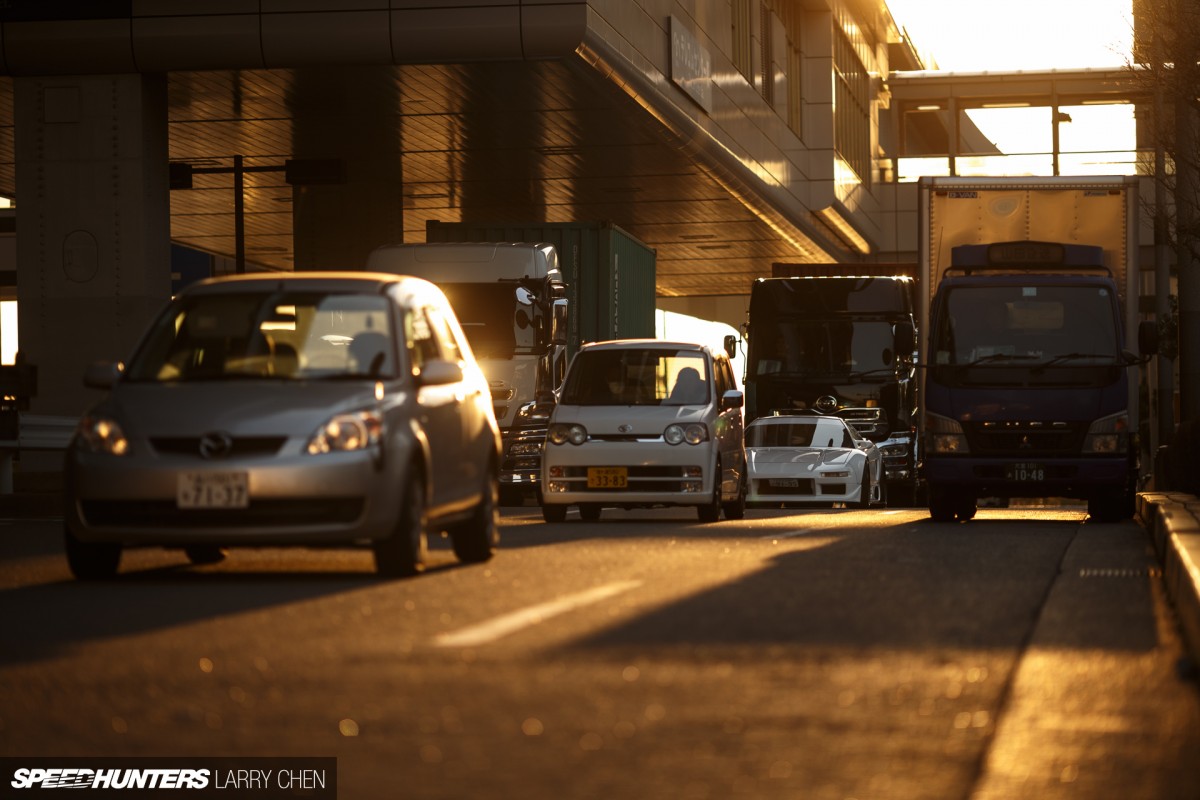 While the Tokyo Auto Salon was awesome, what I was really looking forward to was our Speedhunting sessions after the show.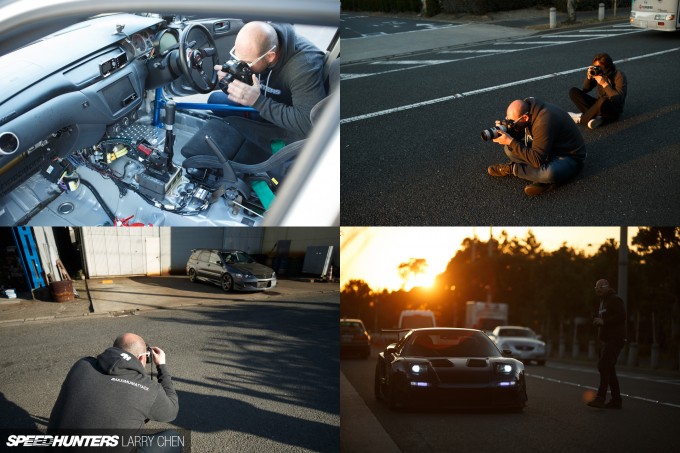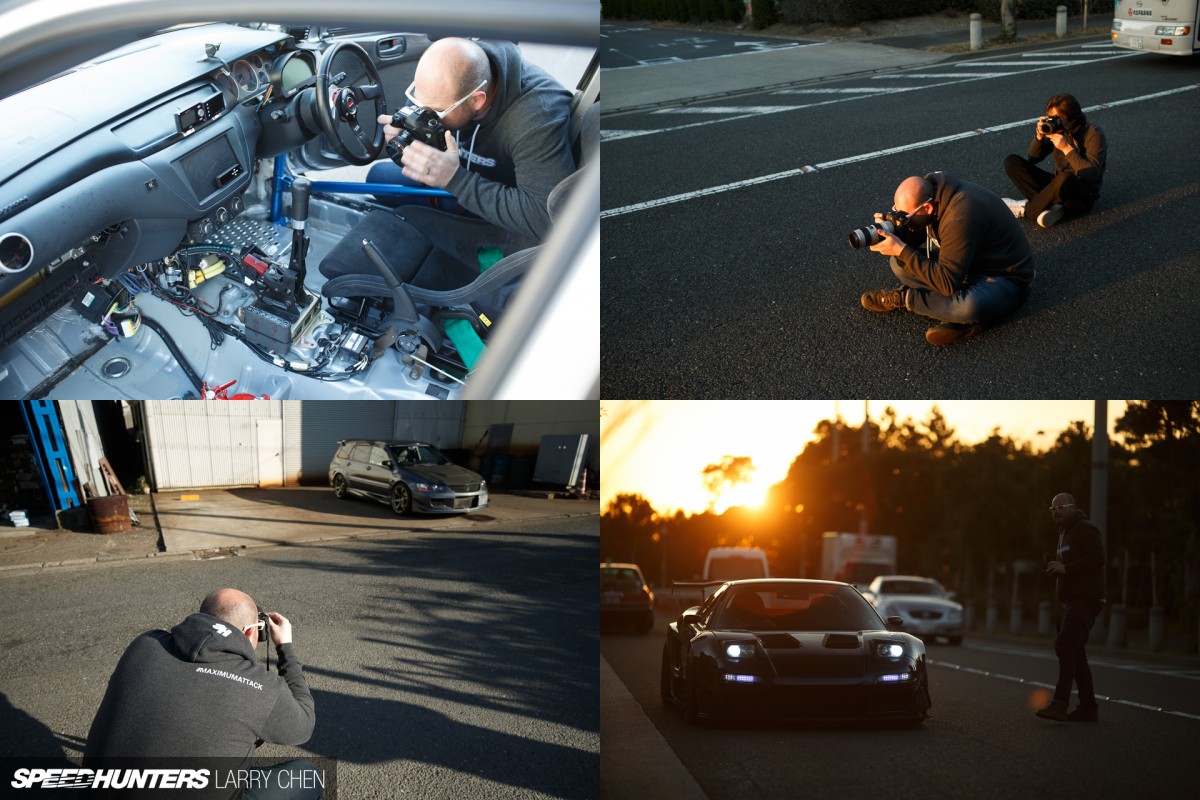 The Italian Speedhunter living in Japan tells me how lucky I am everytime I see him, because shooting cars in Japan is tough.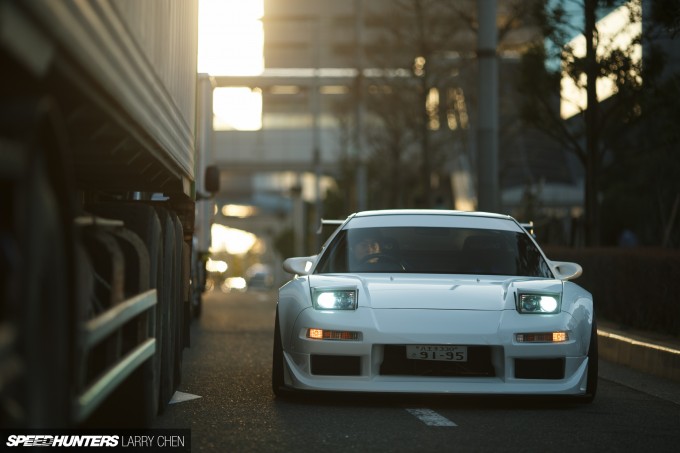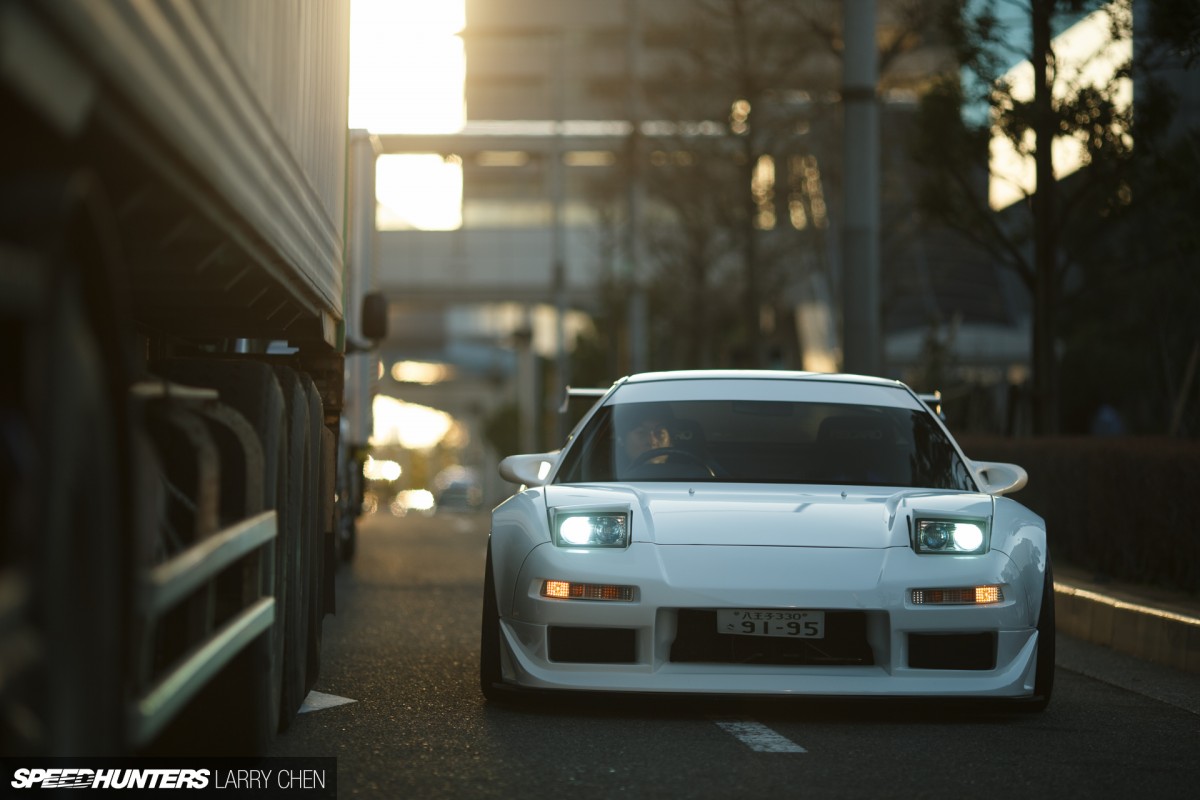 Because of the issue of physical space, the language barrier and Japanese business etiquette, I agree with him, but Dino often forgets that Japan has some of the coolest cars in the world. Plus, we know you guys can't get enough of our Japanese content.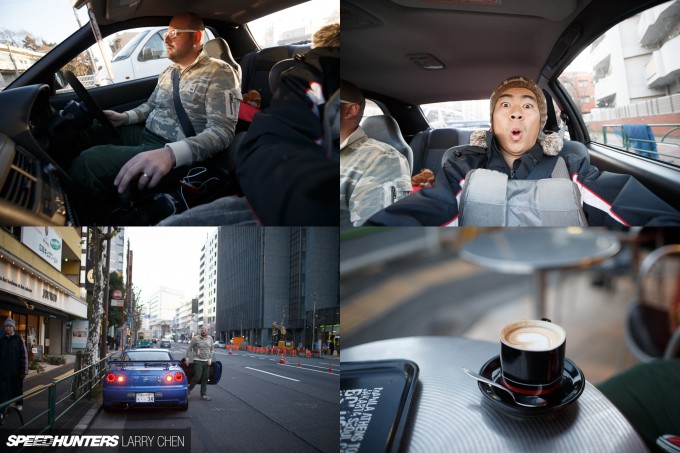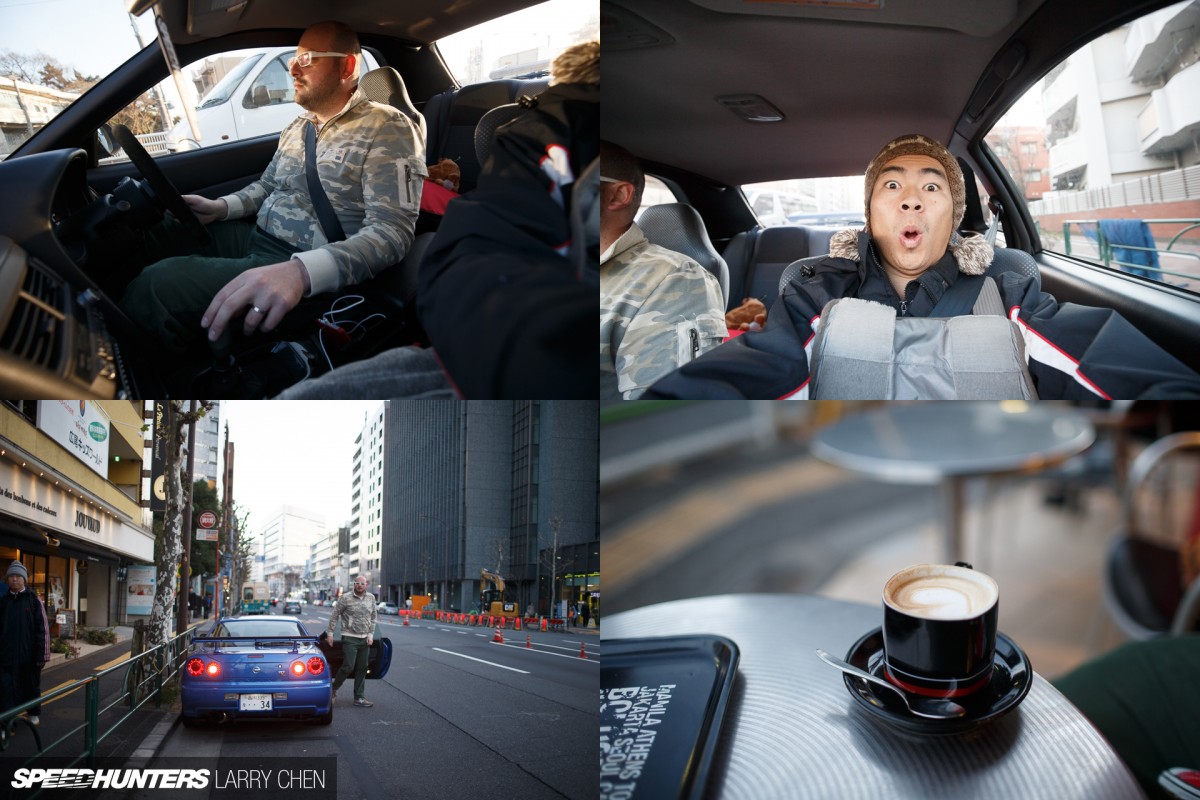 In between a non-stop shooting regime that saw us come away with 40 stories in the bag, Dino finally took me for a ride in his Bayside Blue R34 Skyline GT-R.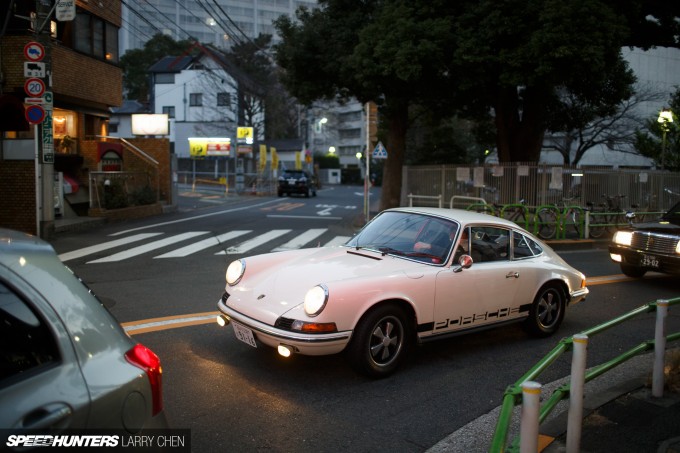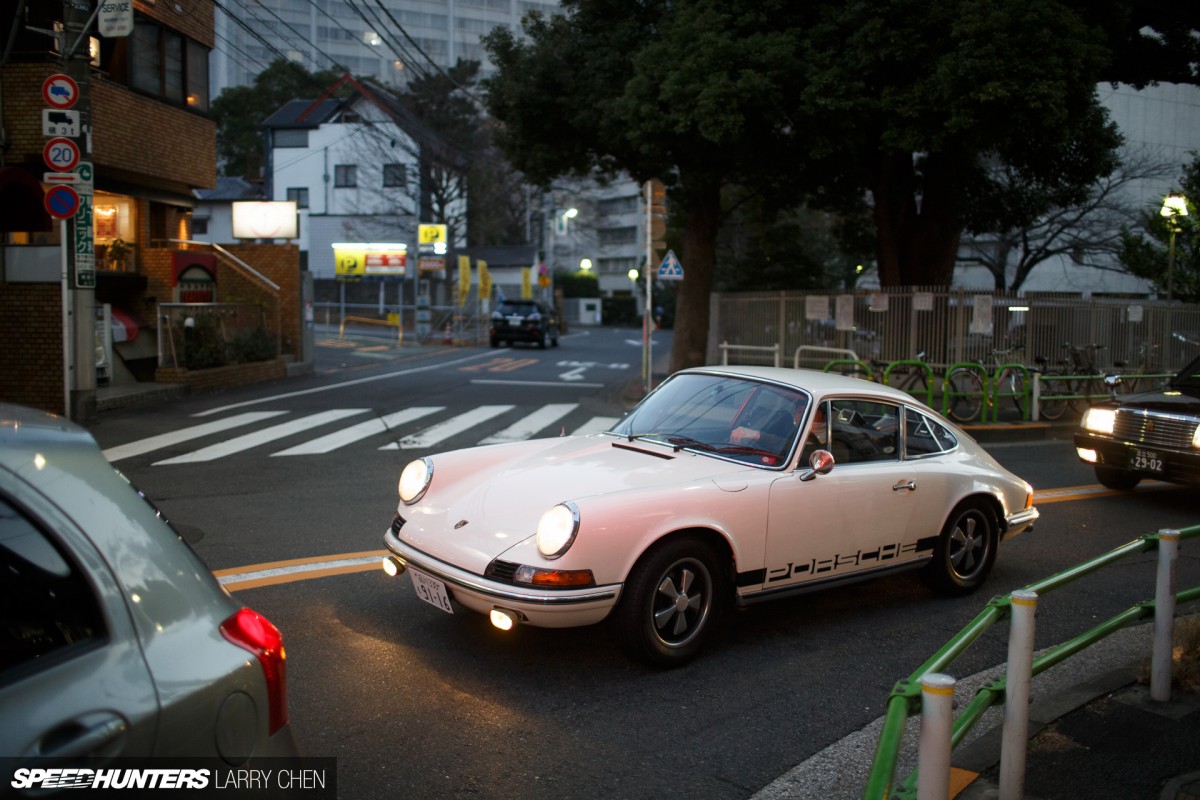 After which the proper Italian thing to do was to grab some espresso and drink it outside while the cool cars of Tokyo drove by.
Tatsumi PA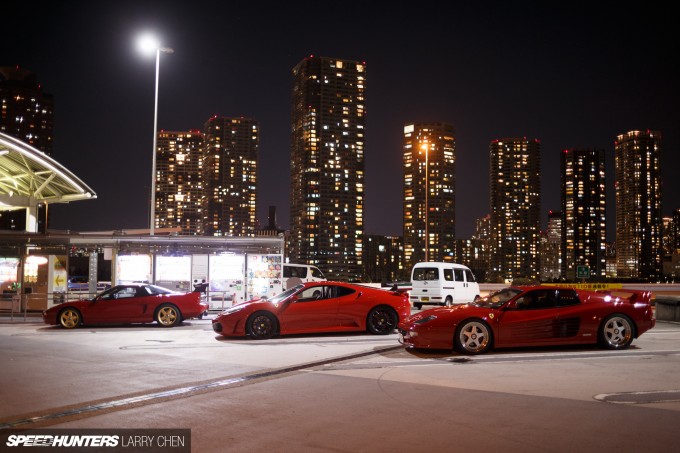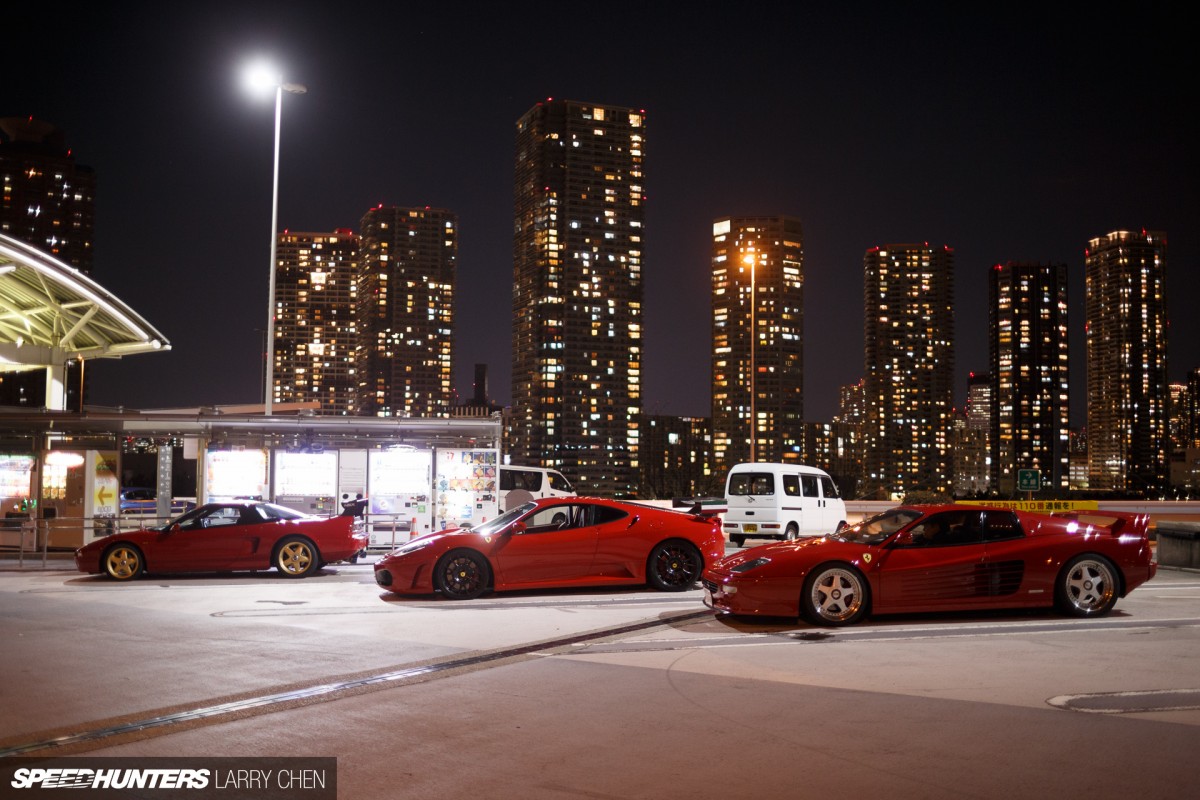 While Daikoku PA is a great place to go, every time I venture to Japan I always find myself there. This time I really wanted to go to Tatsumi PA. It's much smaller, but it's one of the coolest places I have ever visited as a Speedhunter.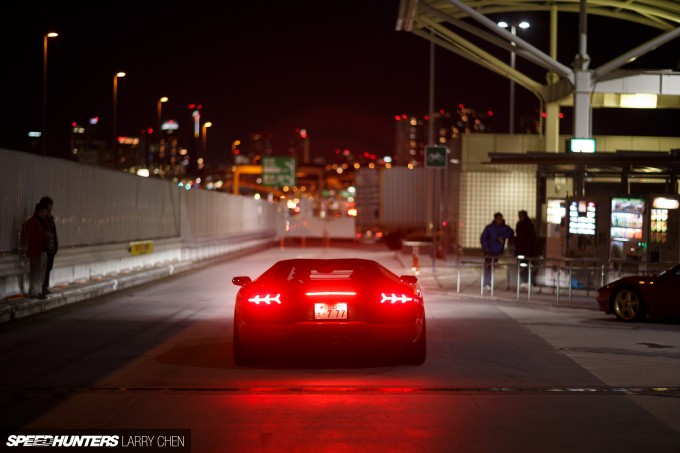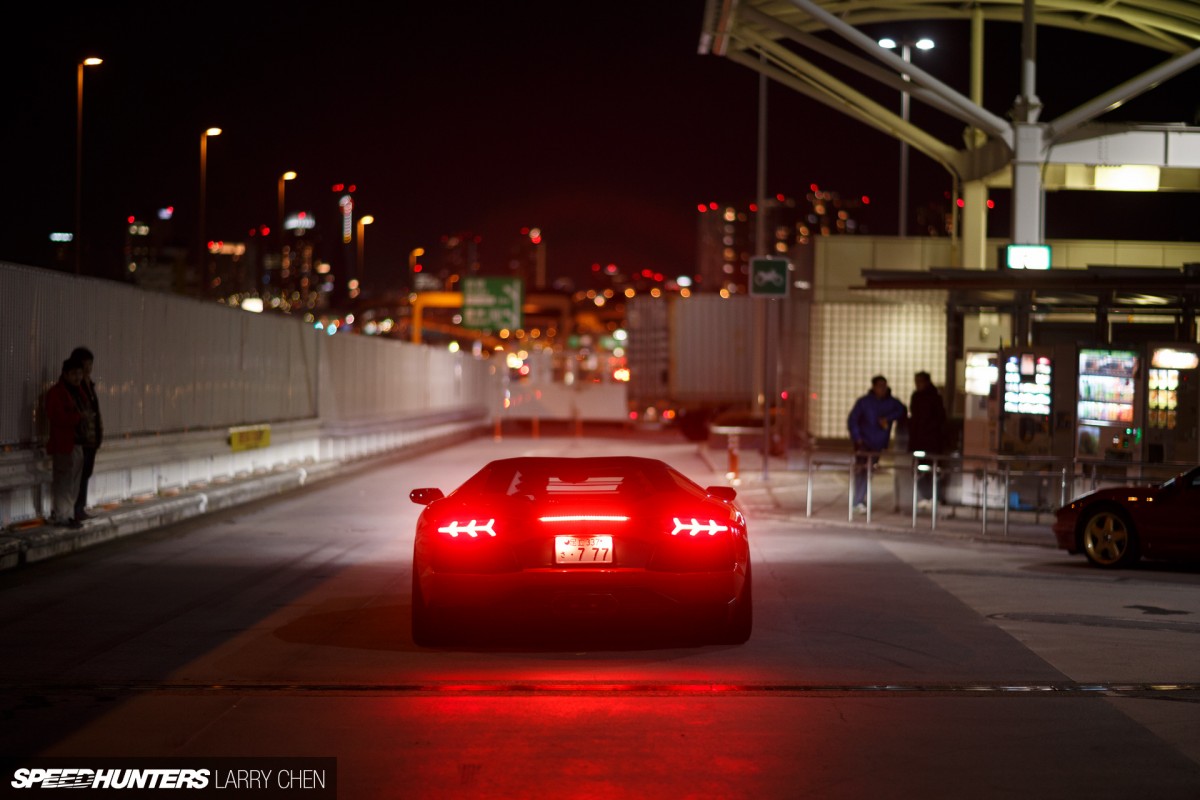 Exotic cars come and go all throughout the evening, so you just have to sit there and wait. In the distance you'll hear the exhaust note of something expensive, which will get louder and louder and eventually pull into Tatsumi.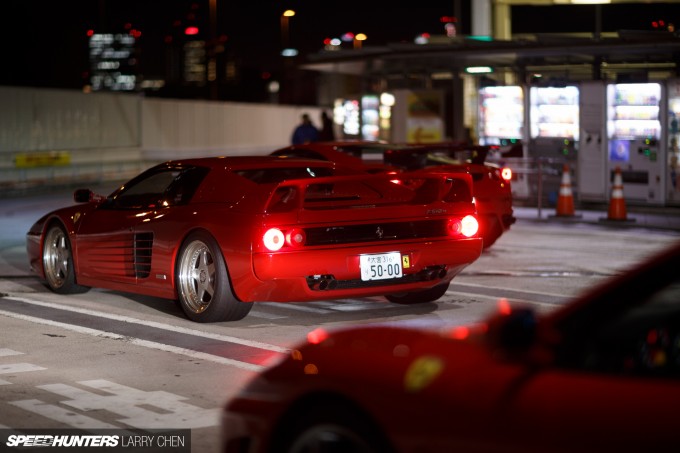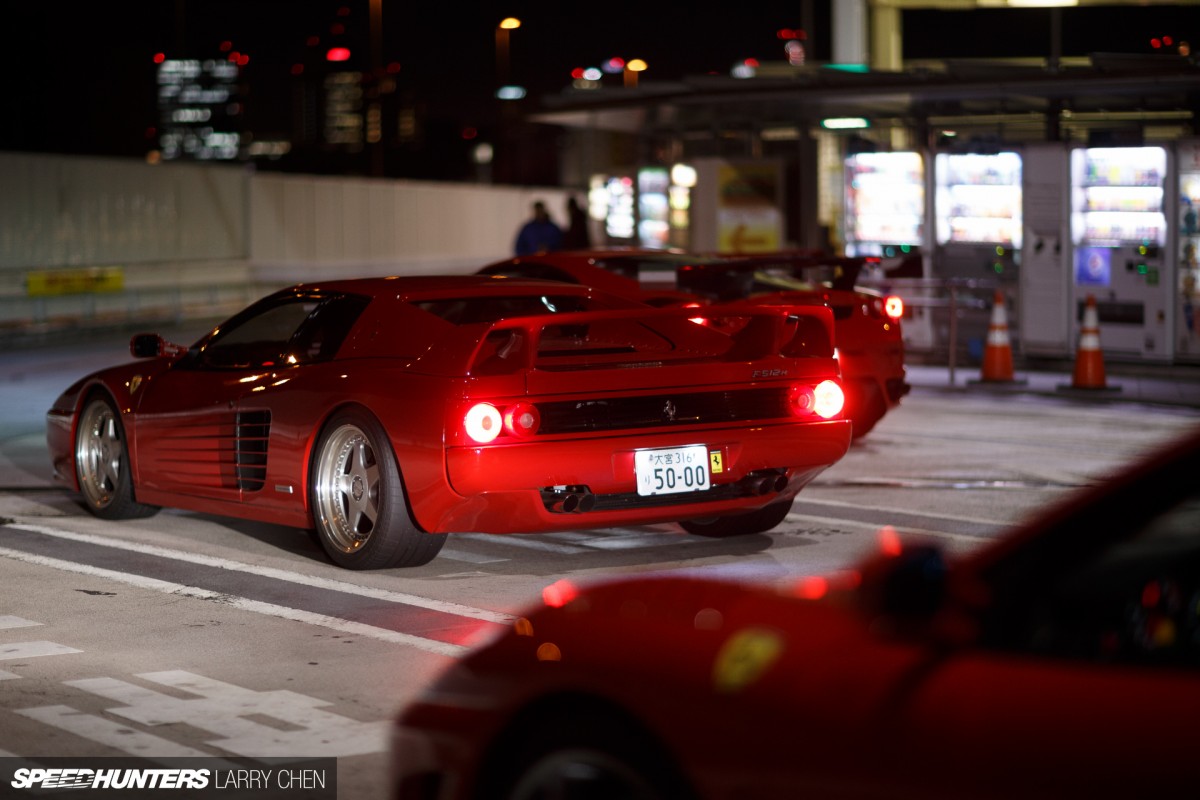 If you drive something fast and expensive, you bring it here to play with others.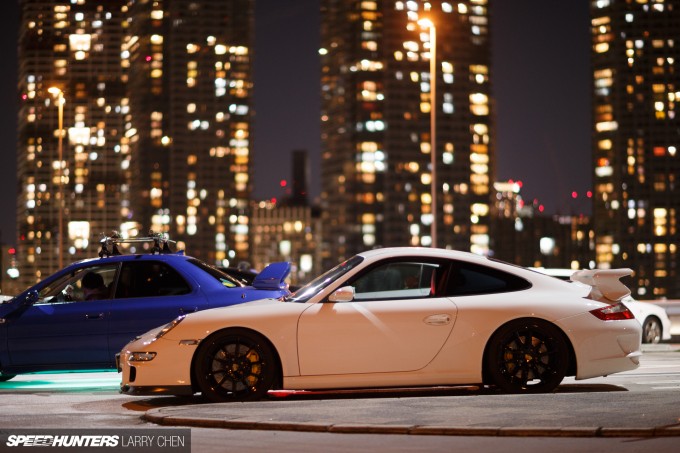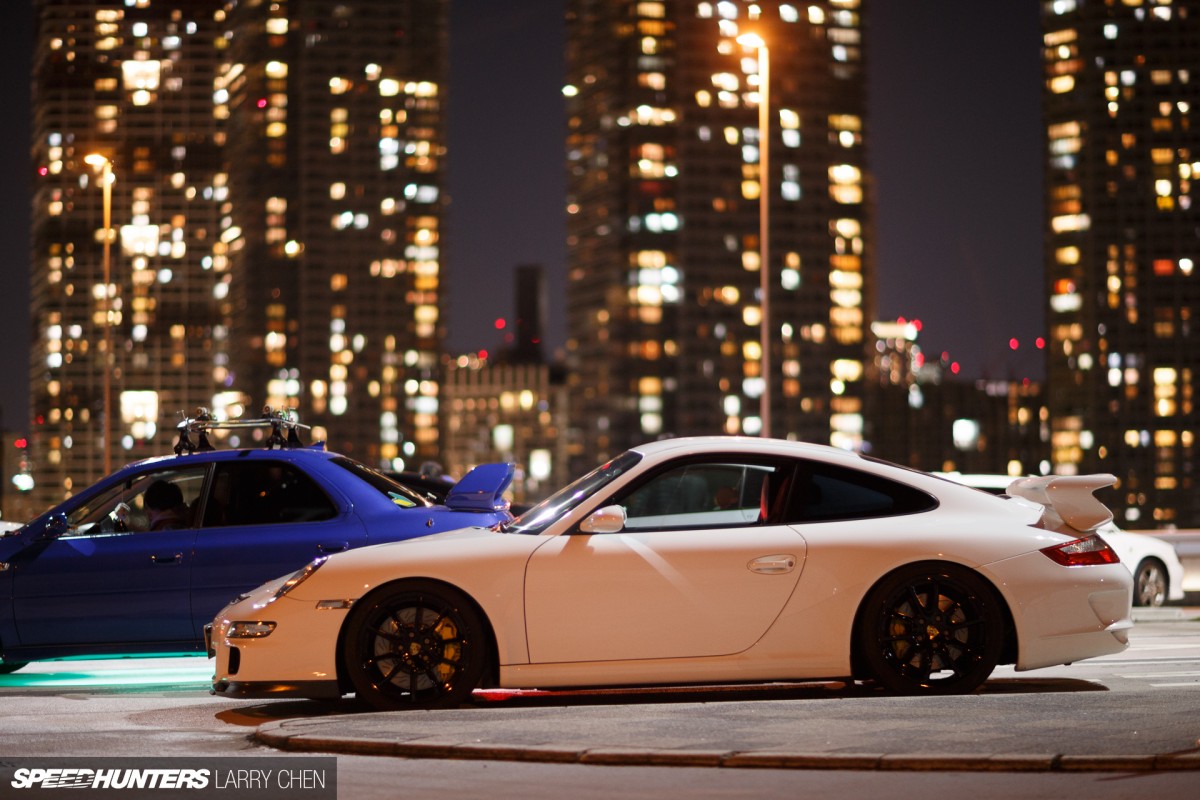 This is where Japanese business men with a lot of money come to unwind after a hard day at work.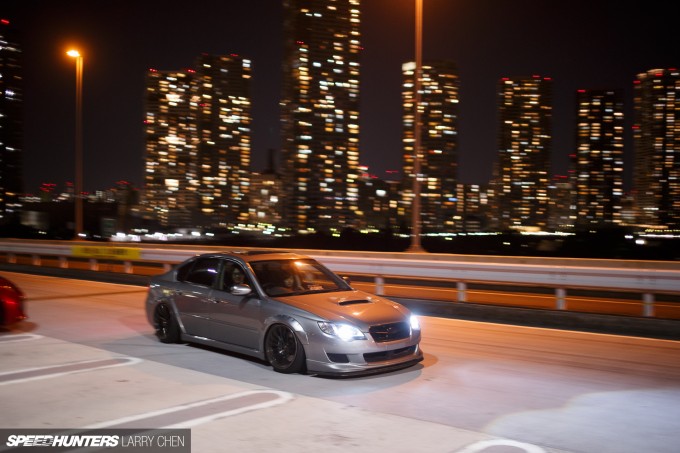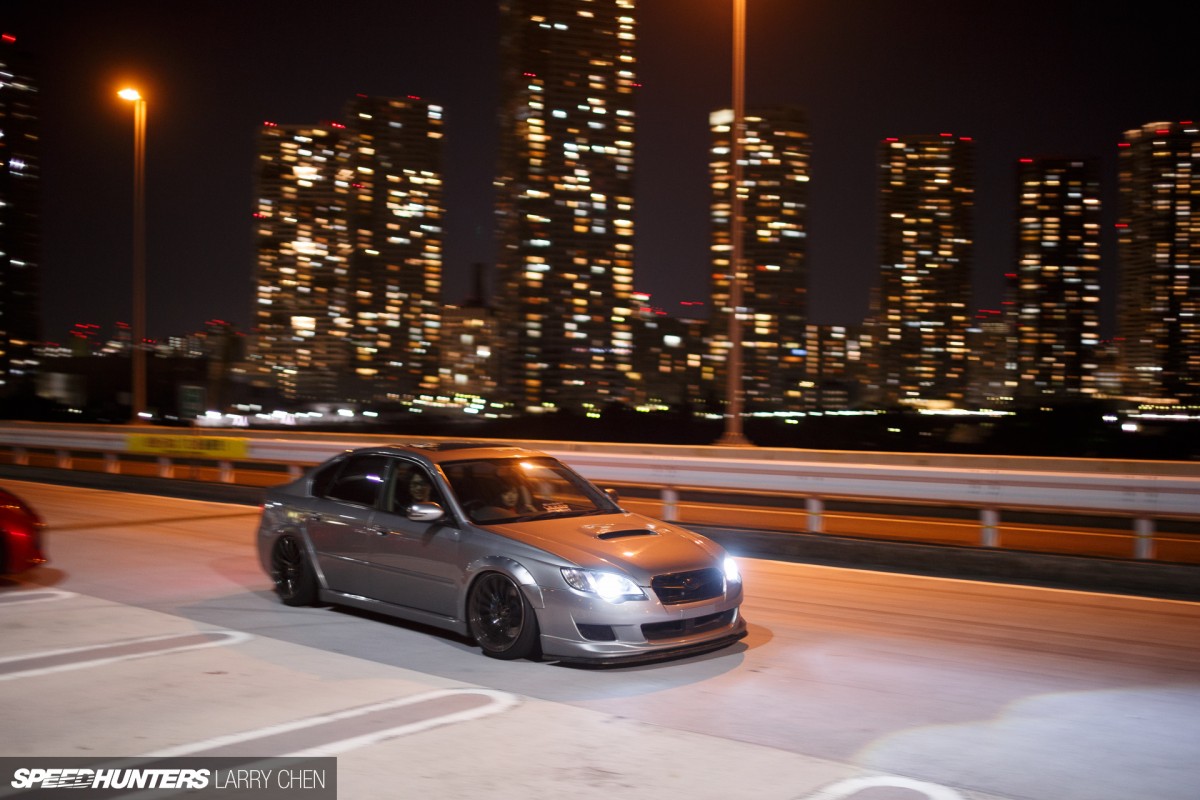 Of course, there are the younger generation tuners and car nuts as well. All sorts of cars come through, and how you enter and exit is a statement in itself.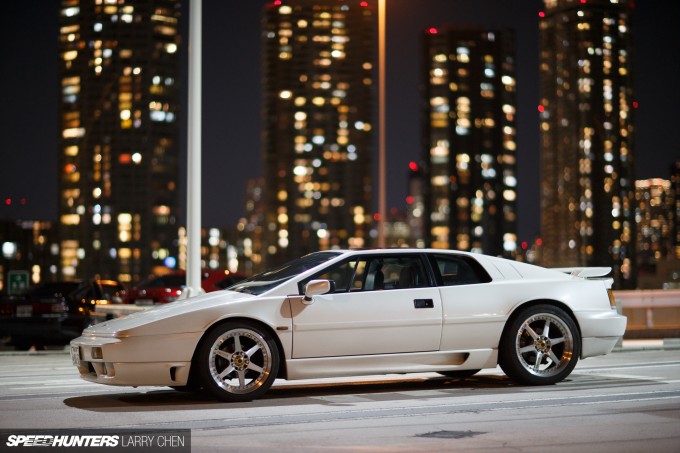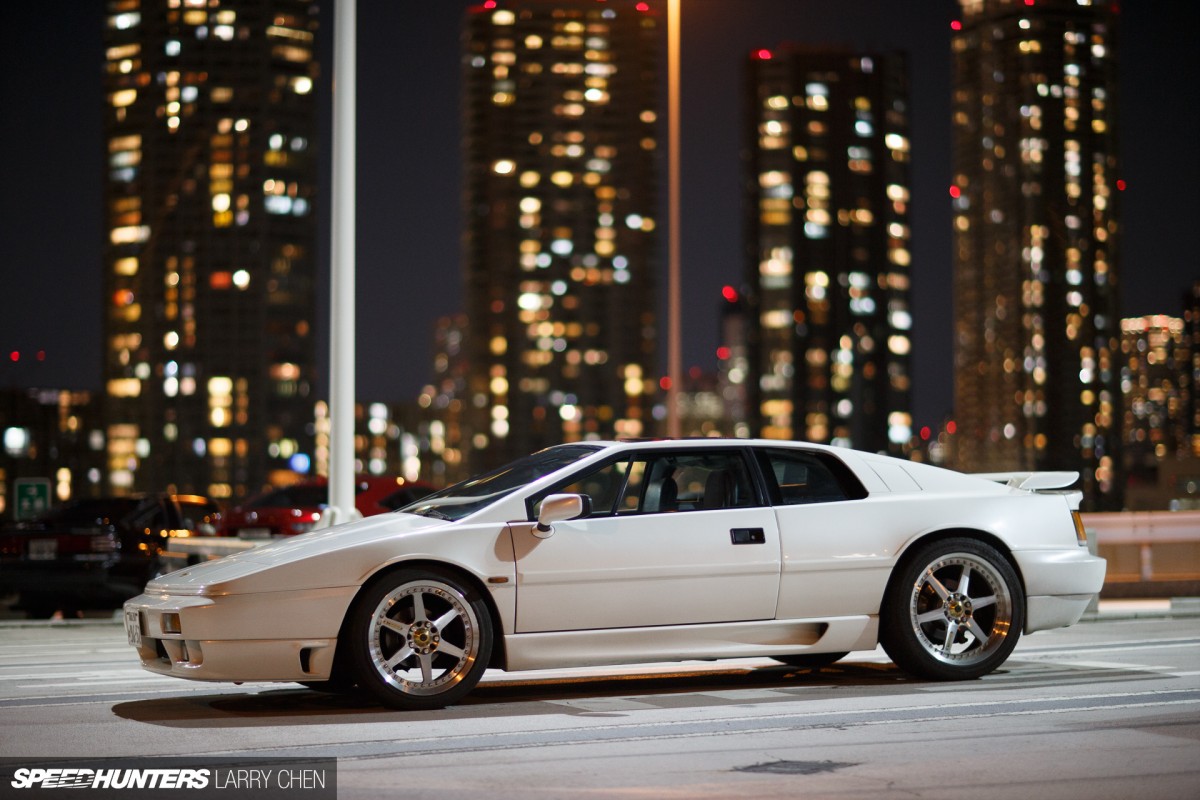 Some guys like to roll in slow, park up and enjoy a hot coffee and conversation with friends.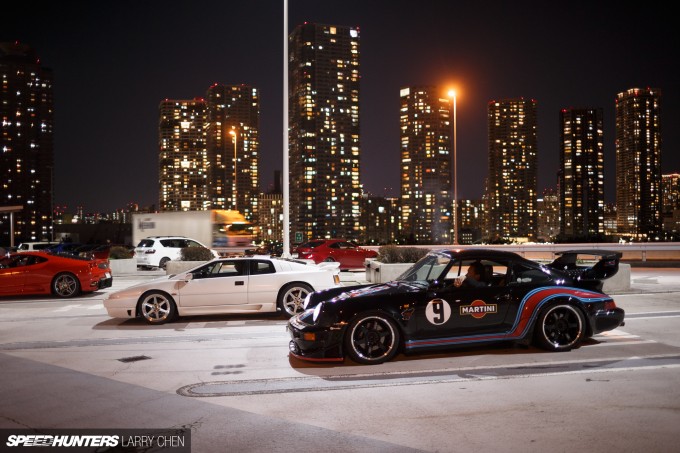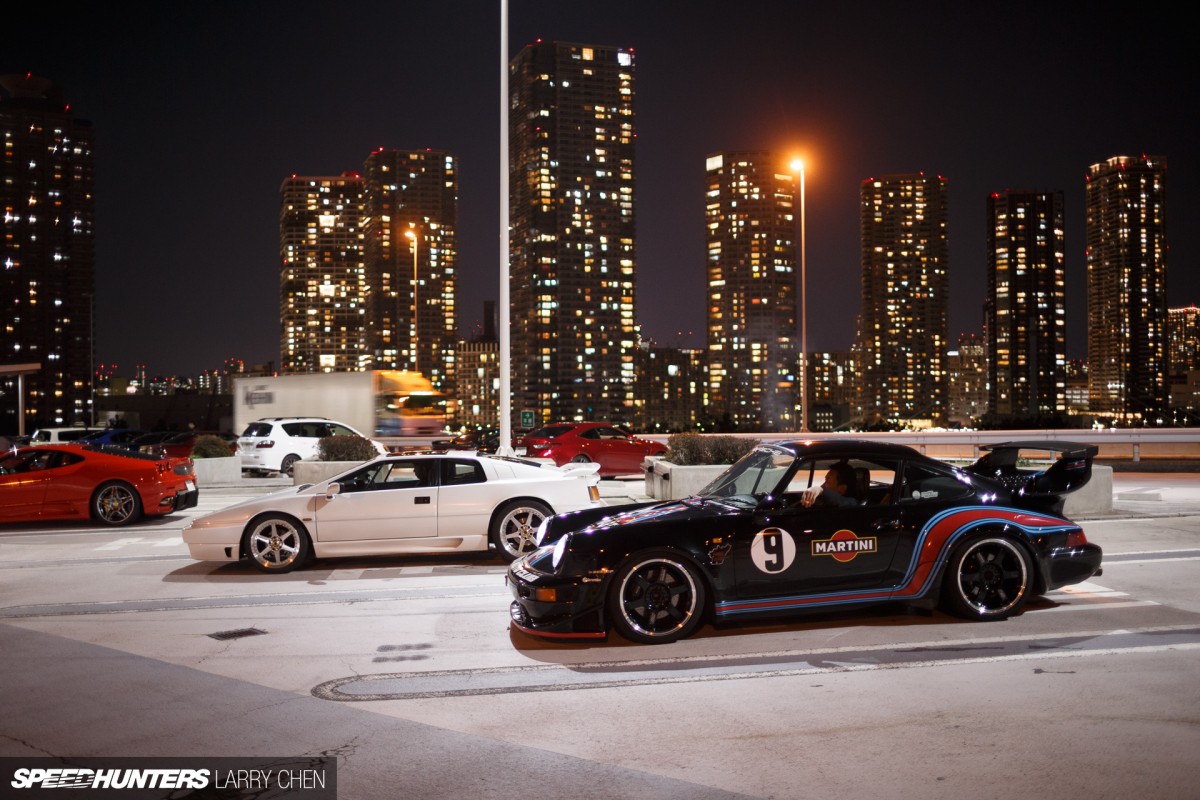 Others only come here to find someone to race. You can usually tell if that's the intent as those cars will often have their front license plate removed.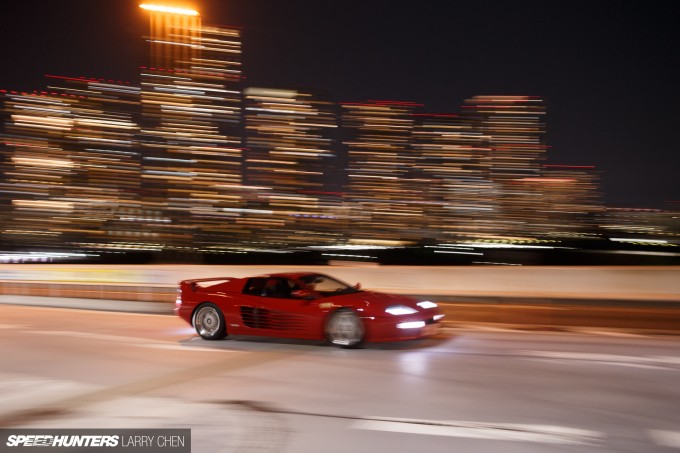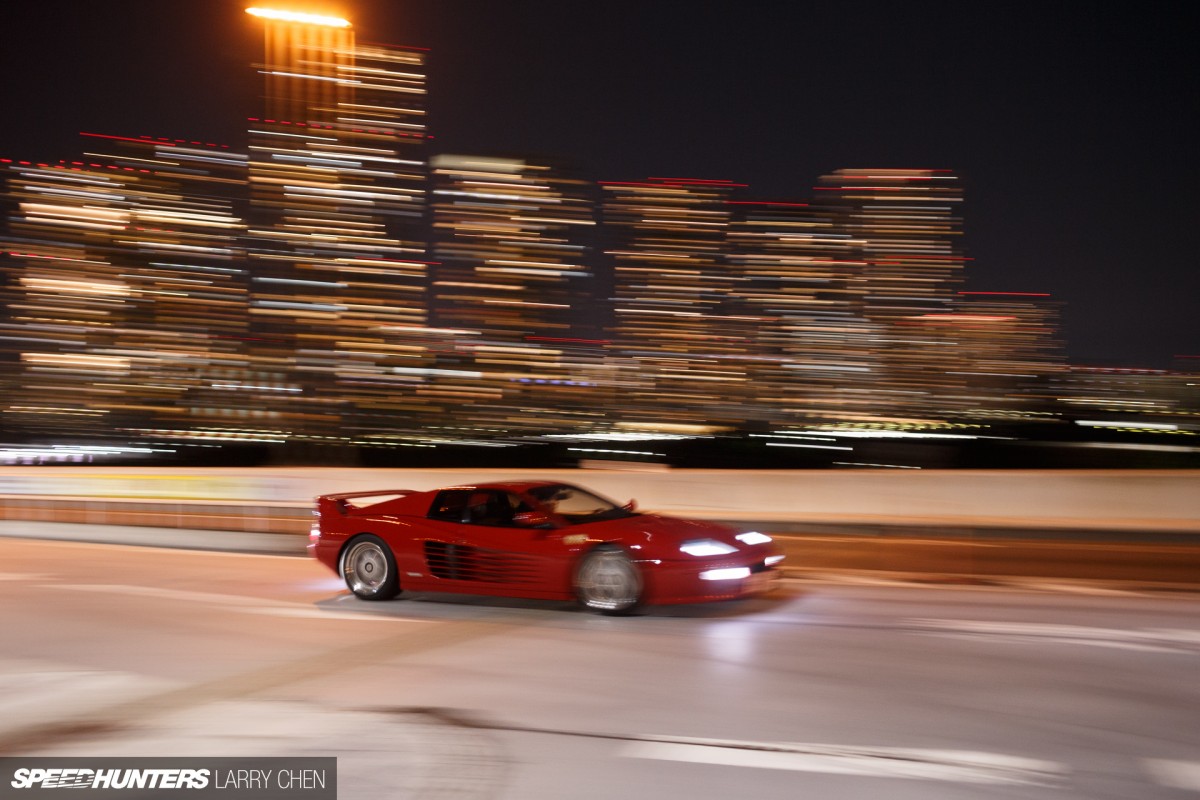 I'd say about 90 per cent of people who leave Tatsumi PA put pedal to the metal; shifting at redline and letting the exhaust note sing through the crisp winter air.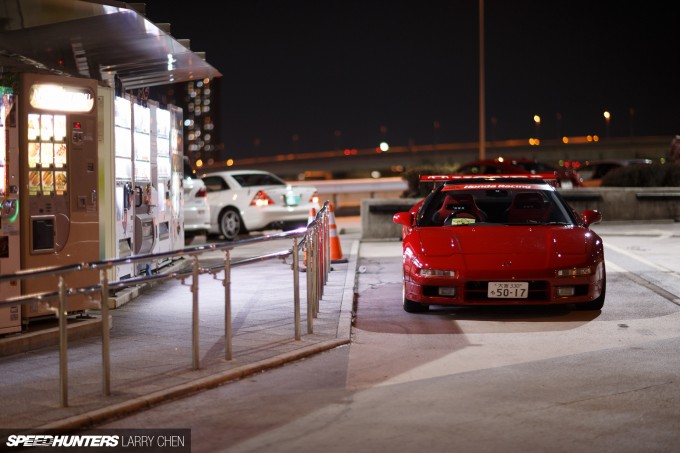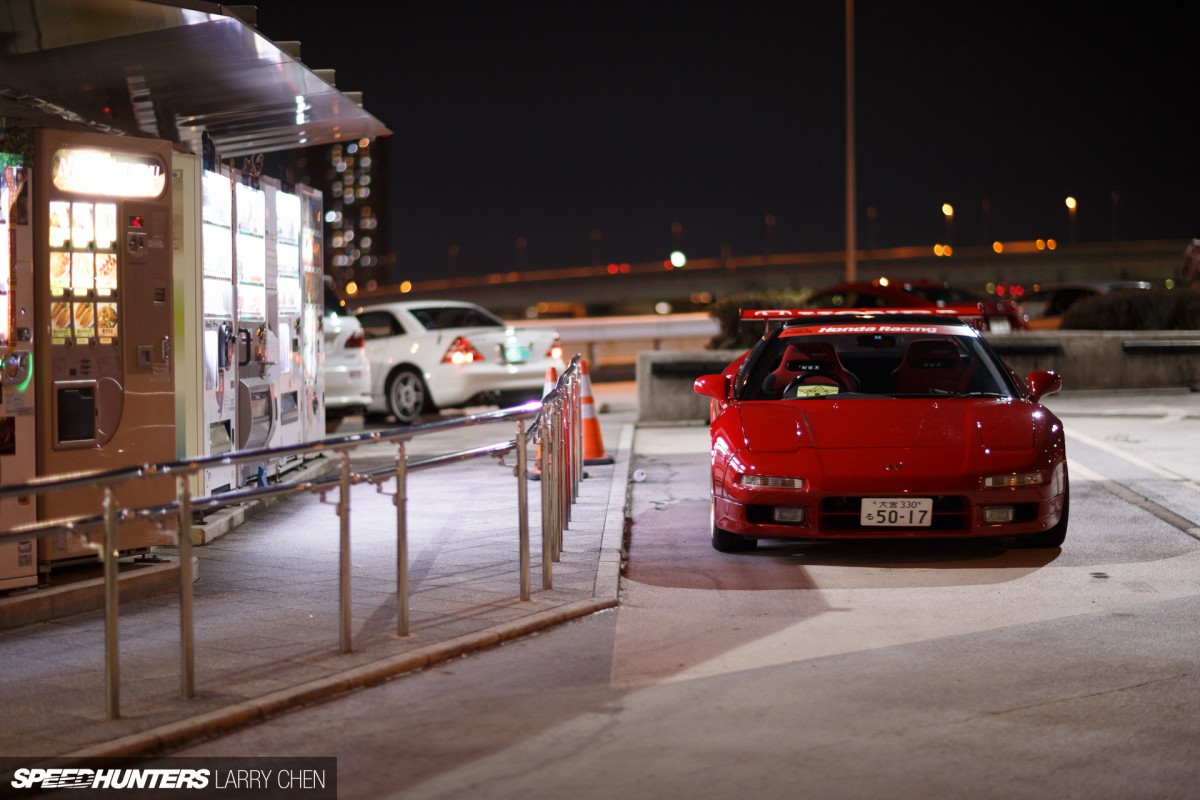 You can tell which guys like to push it by mentally timing how long it takes them to make the loop: Route 9 onto C1 then back on the Wangan, which is exactly 17.5km.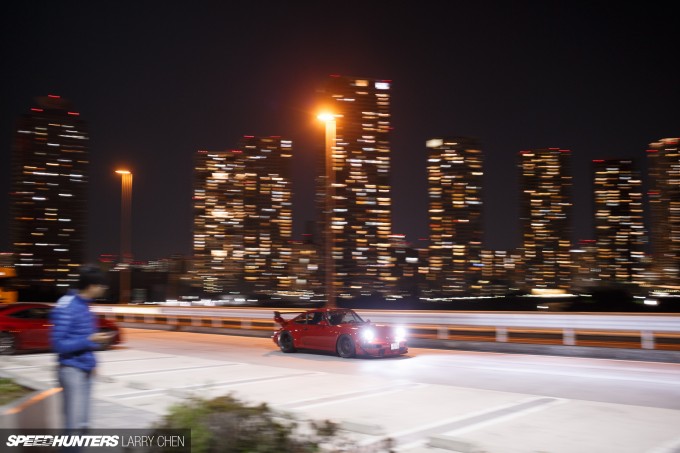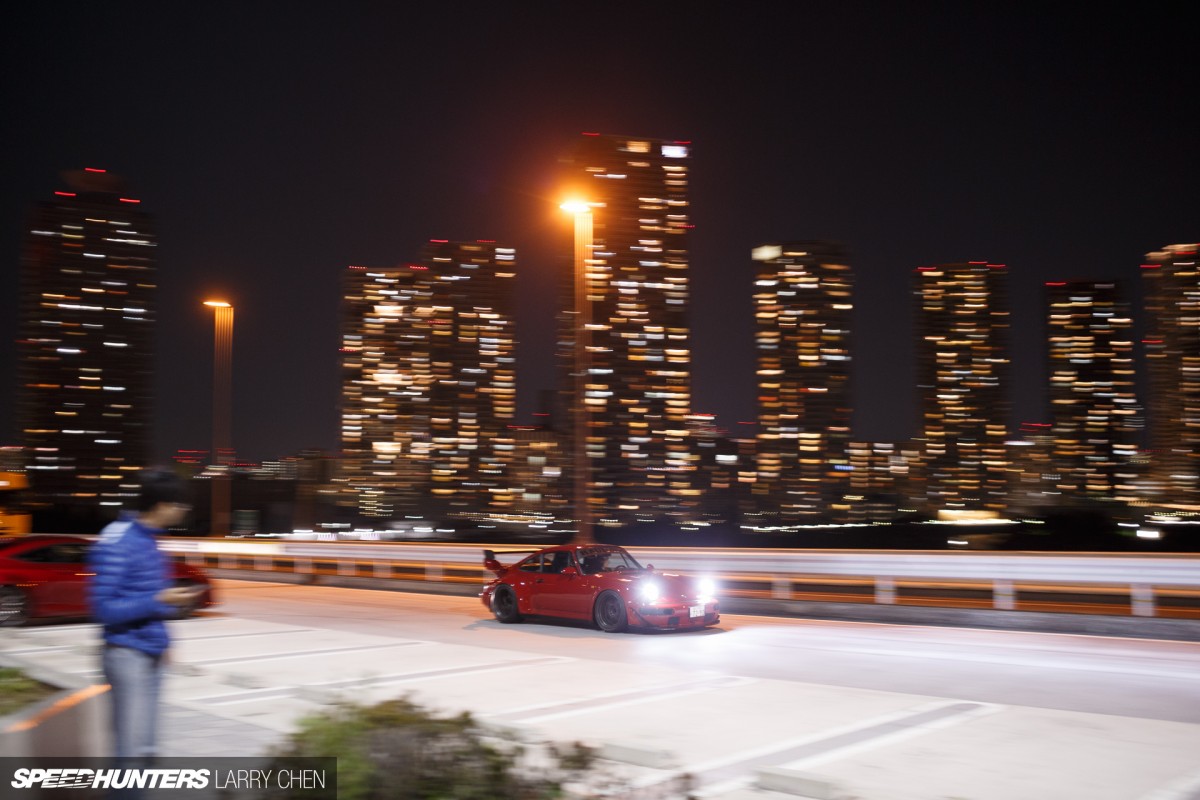 Sometimes it only seems like a blink of an eye between a car leaving and the owner being back and sipping on coffee again. In that case you know they went really hard.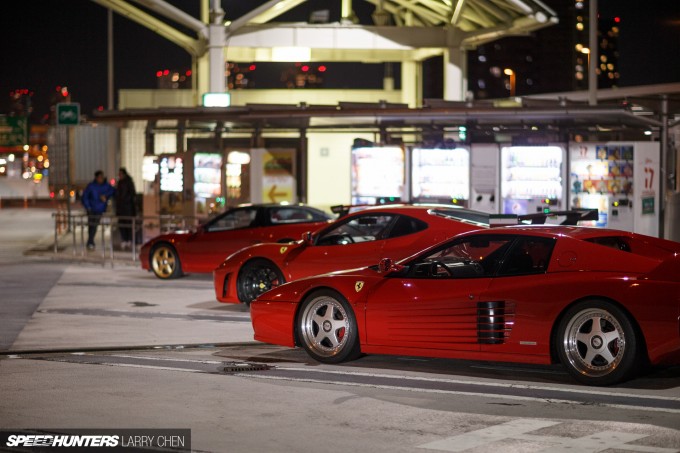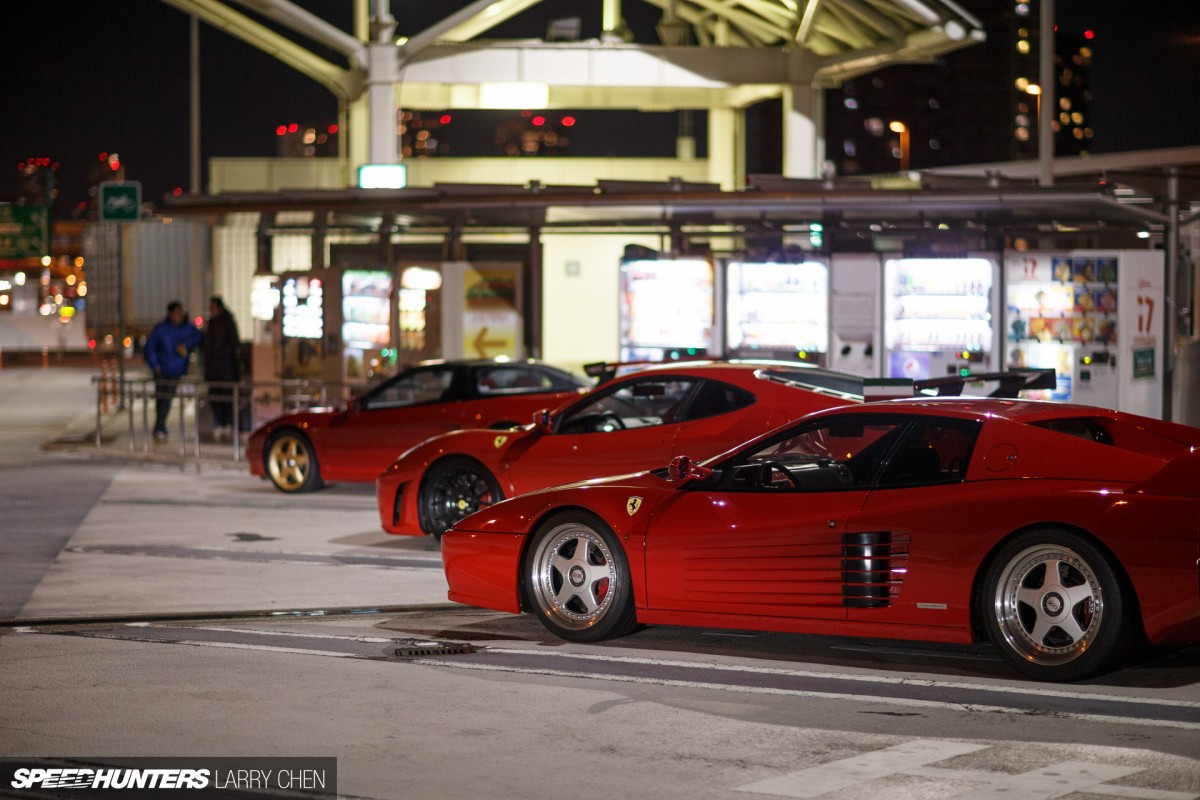 It's fun to watch the interaction, as some owners will wait for others to go before they go. Once a driver takes the lead, many people will follow.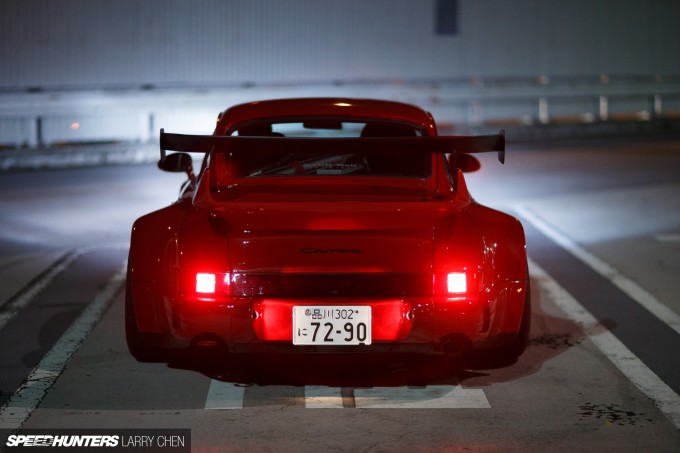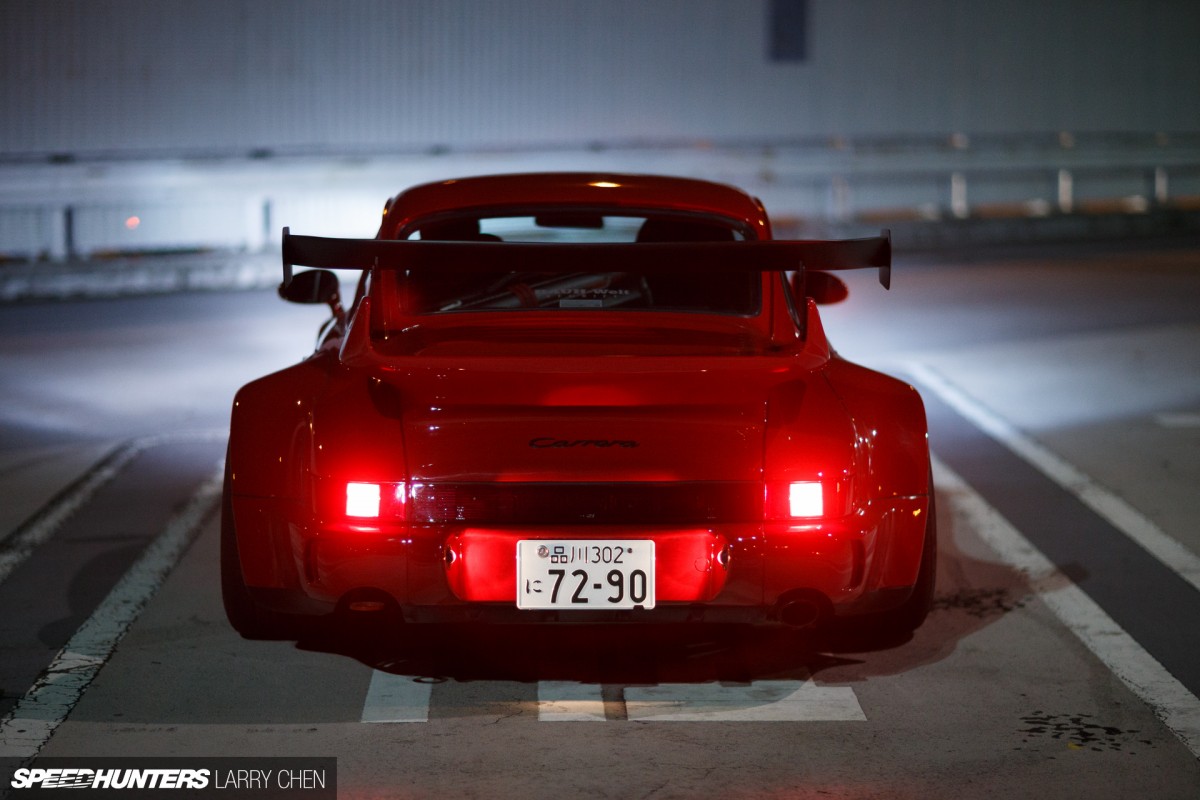 Even one of Nakai-san's RWB creations showed up for a piece of the action. To finish off our night we knew we had to pay a visit to Daikoku PA though.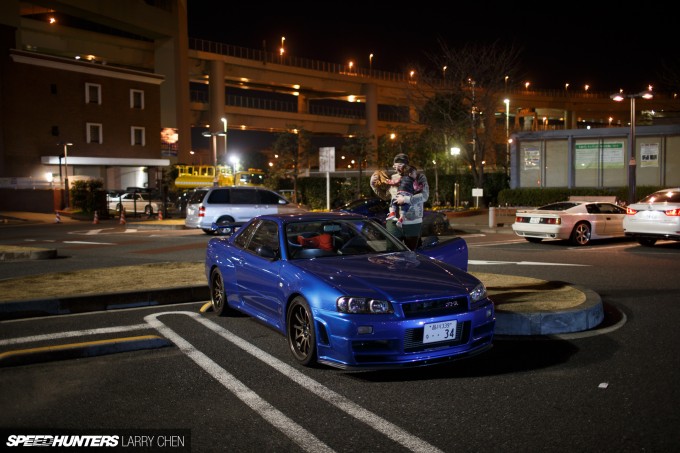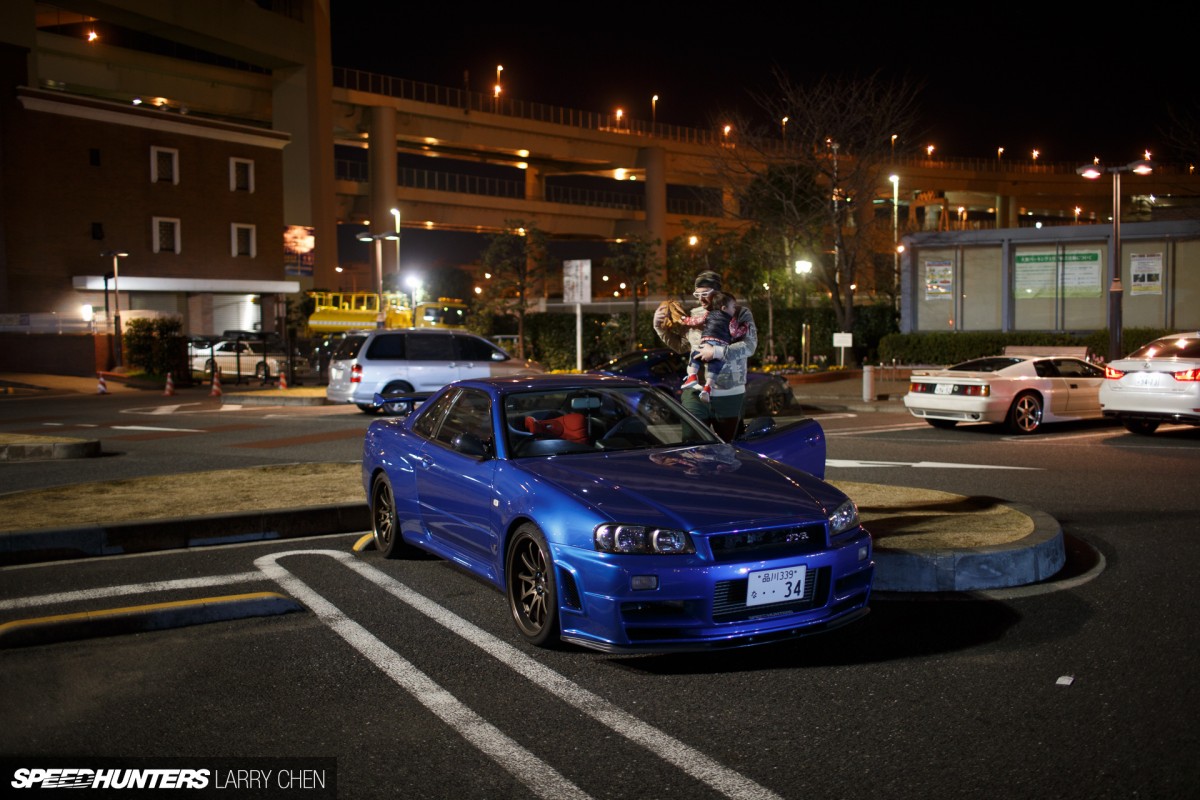 With a mini Speedhunter in tow, we arrived at the famous rest stop to see what automotive treats it had to offer.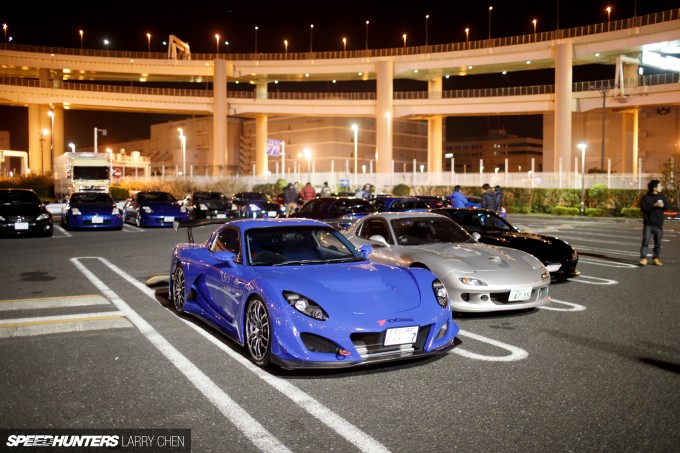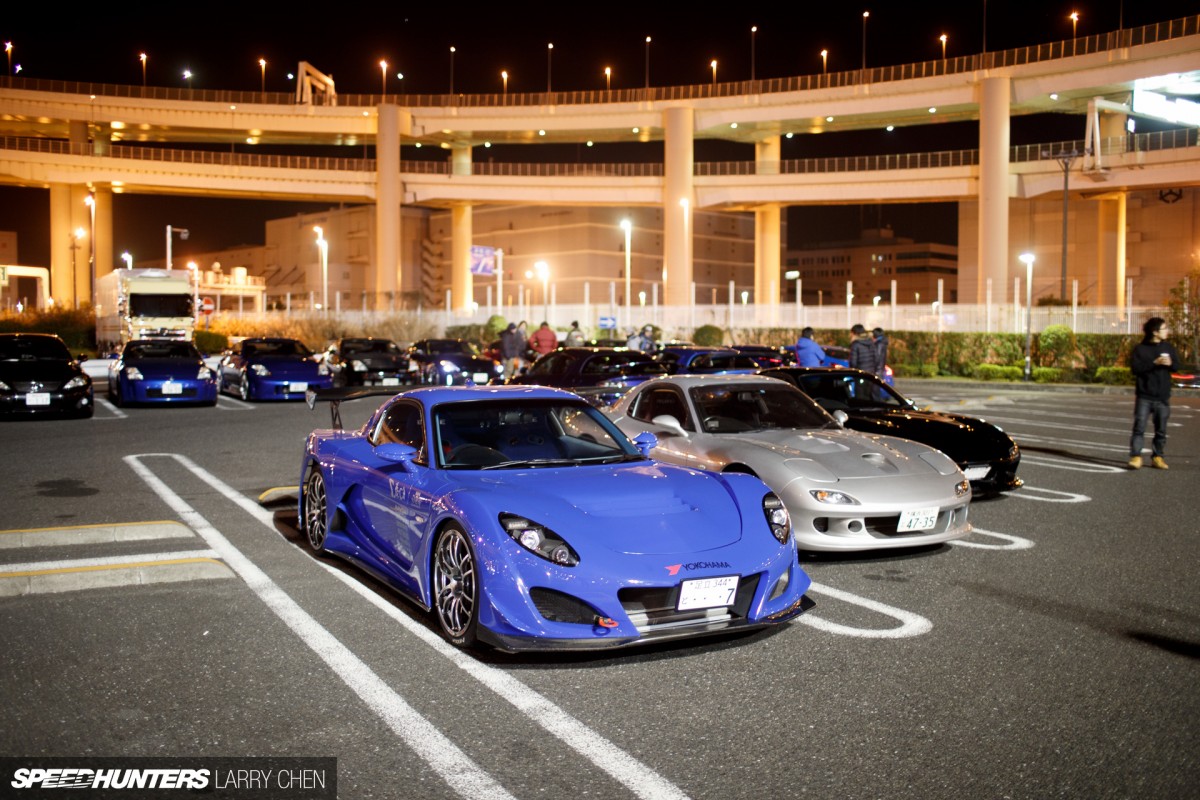 On this trip to Japan my main focus was to pick up as many car features as I could. Daikoku rarely disappoints, and scouting this parking lot is the easiest way to find something unexpected.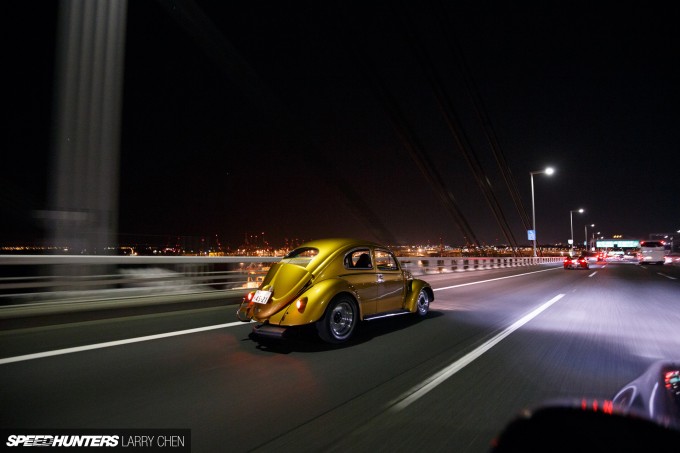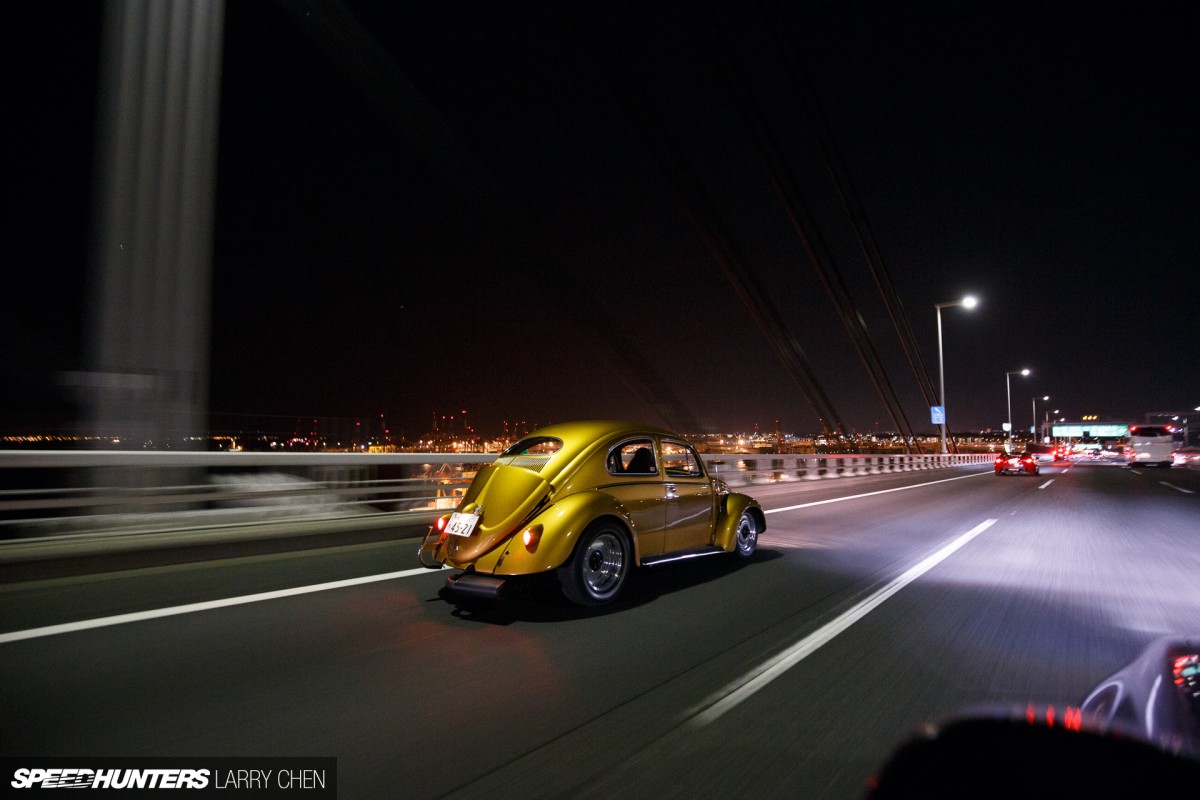 I ended up featuring this really awesome VW bug, which Mike posted about earlier in the week. The paint was unbelievable, and the style was like something I'd expect to find in Southern California. It was just beautiful.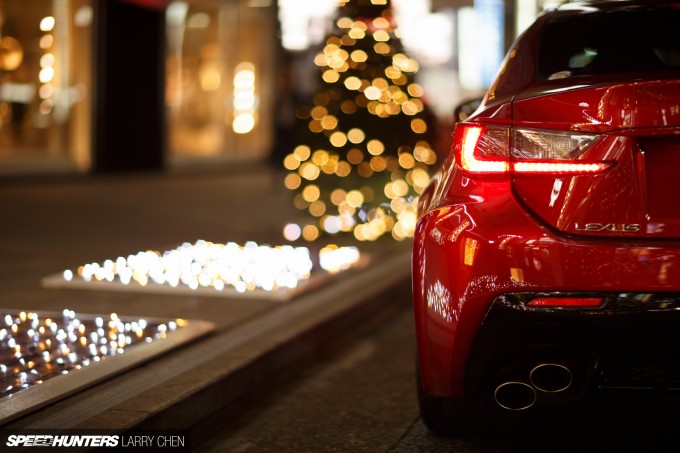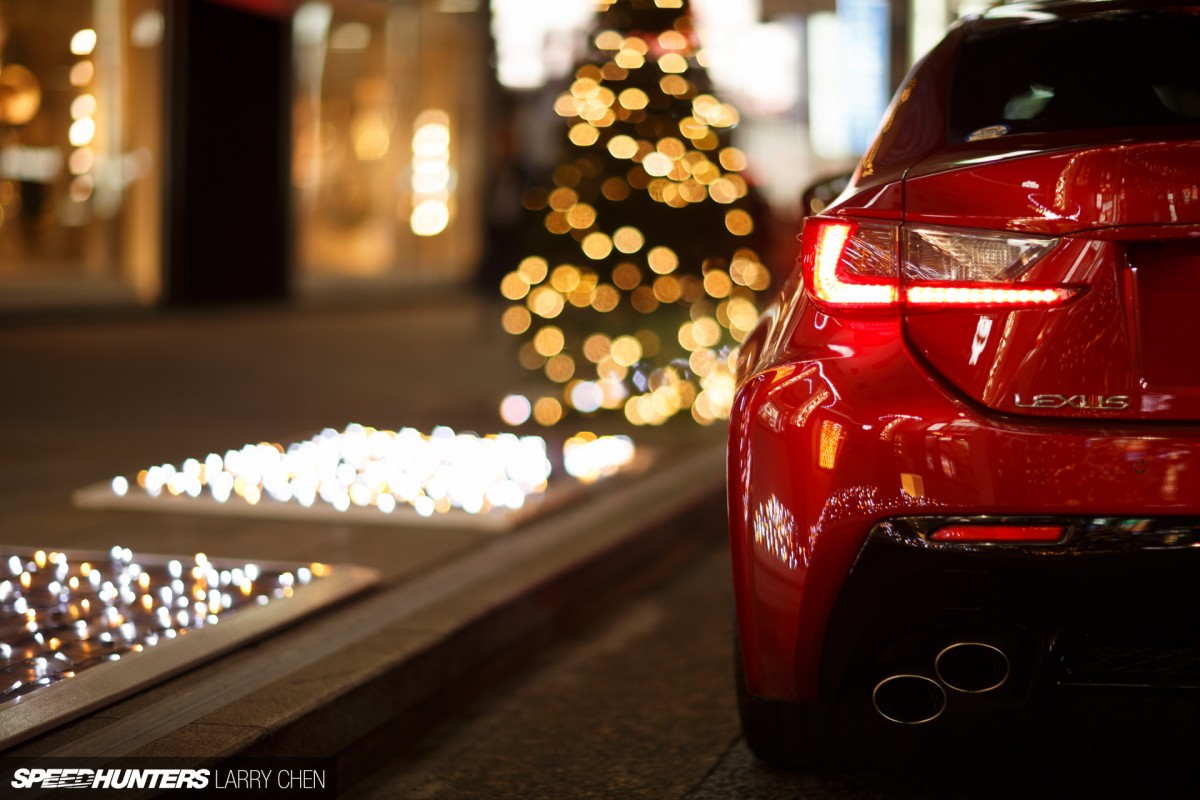 Besides Dino's R34, for getting around we had a loan of the ultimate Japanese lens mule: the all-new Lexus RC F.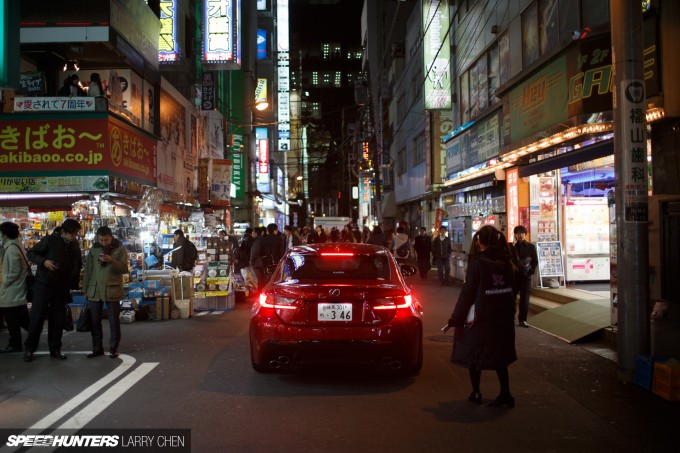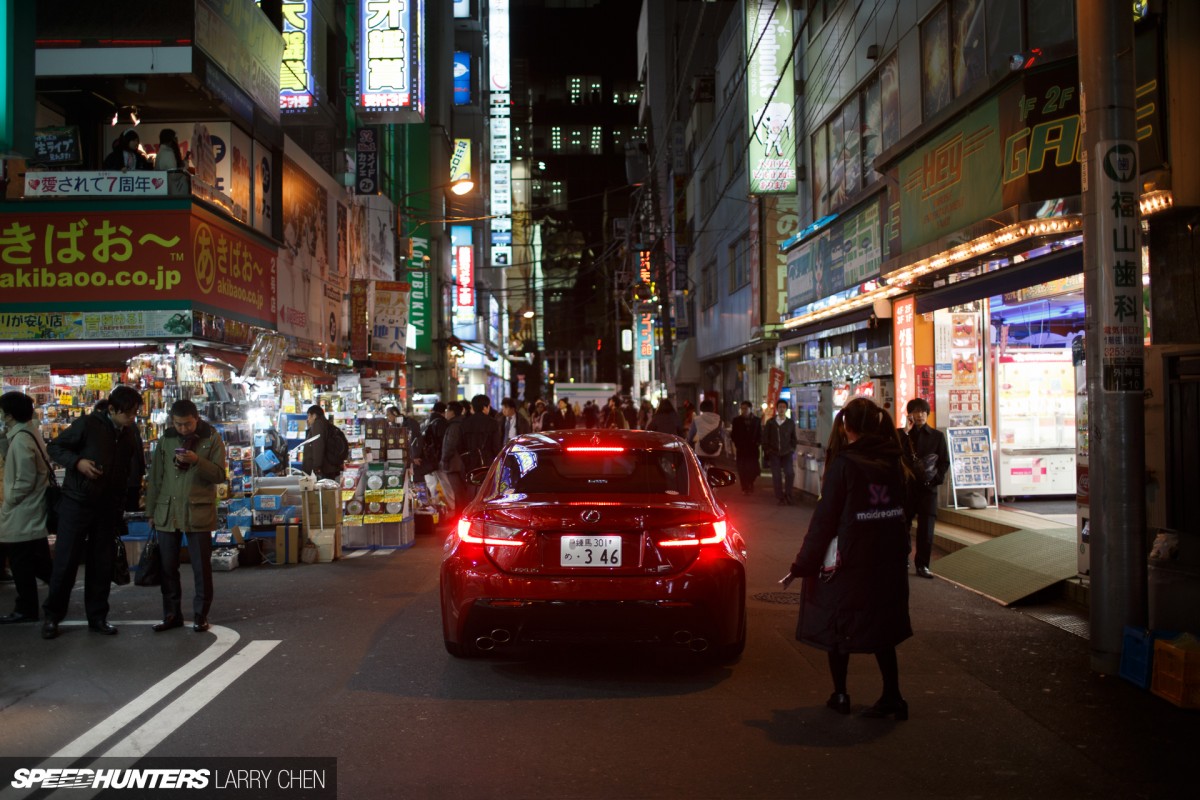 Expect a full drive feature from the the streets of Tokyo soon. Yes, we did drive it straight through the heart of Akihabara. No, we did not check-in to any love hotels.
Grassroots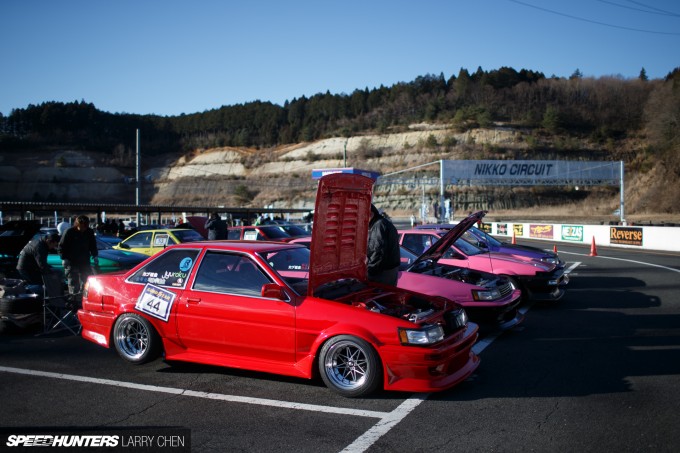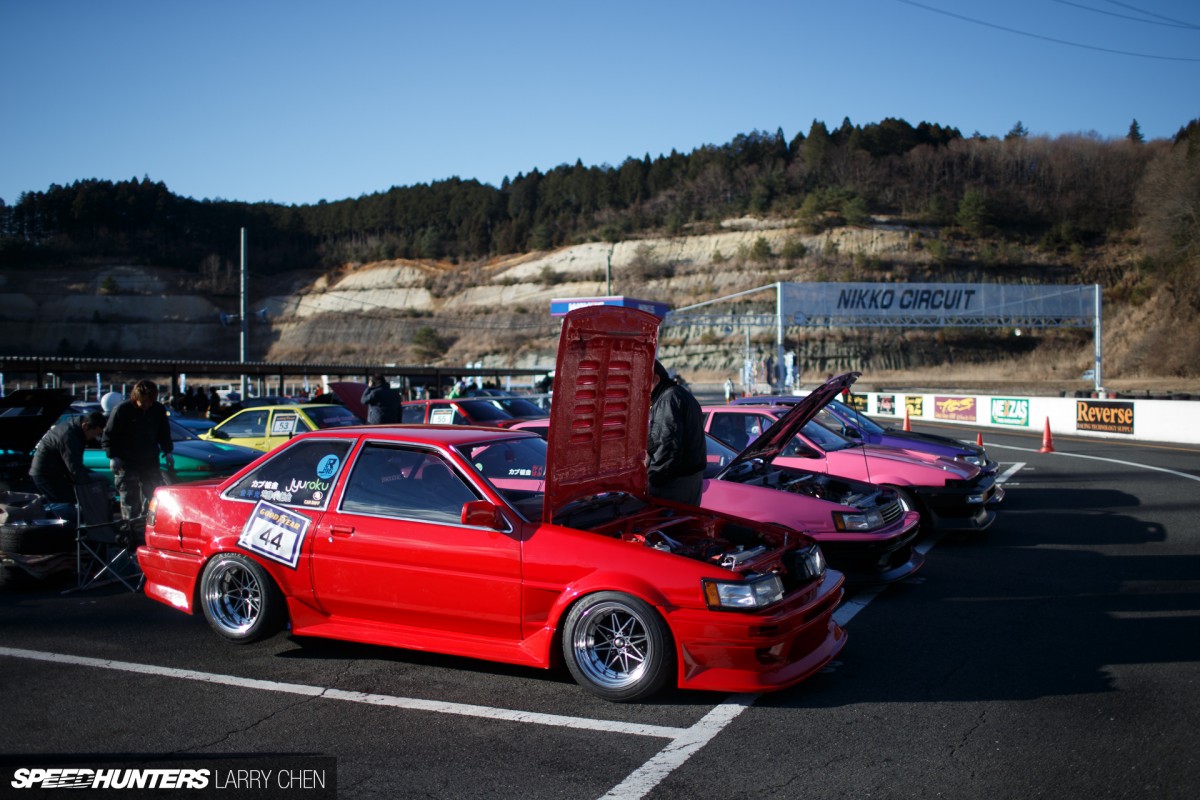 While in Japan I also had the chance to check out some grassroots drifting – my first time doing so in the motherland. We went to Nikko Circuit and I was amazed at how many cars showed up for this event.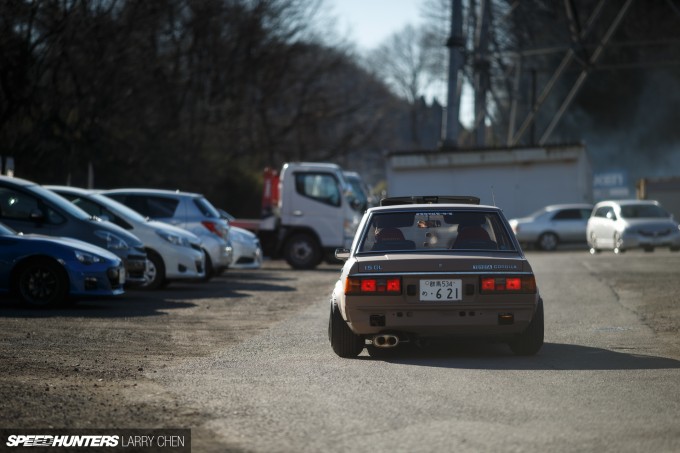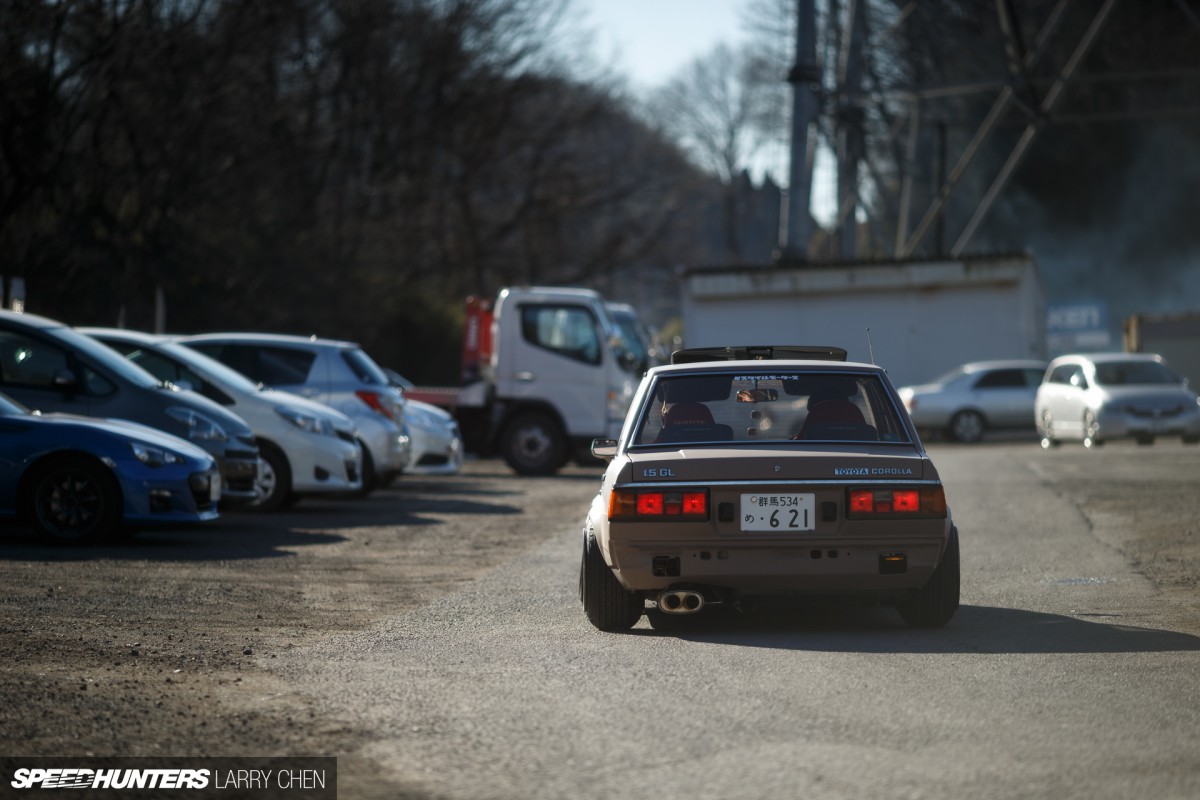 As someone who works within the drift scene, it really amazes me to see how much people think they know about drifting when they have never actually traveled to the place where the sport originated from.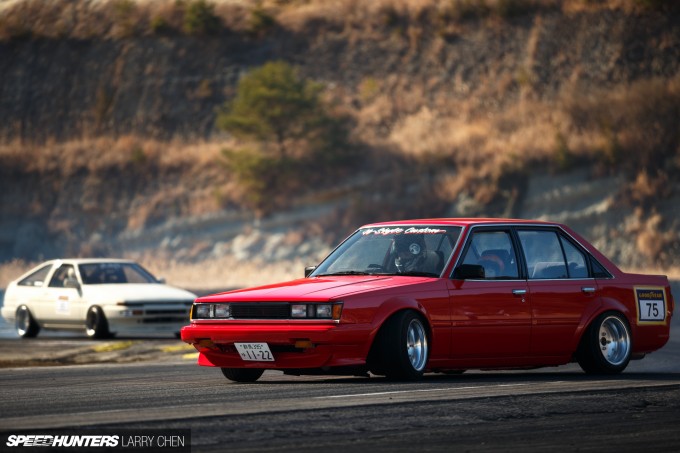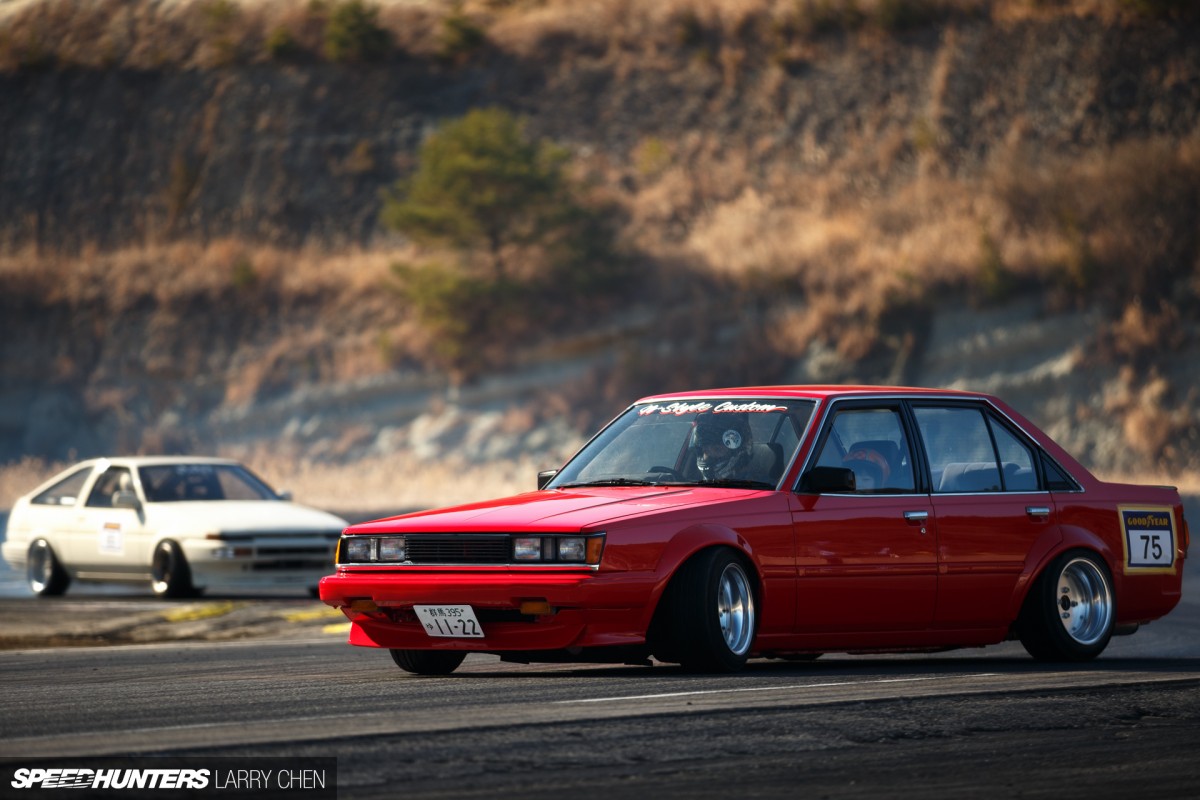 These guys were having real fun, and guess what – they didn't need much more than 100 horsepower to slide around and make it look awesome.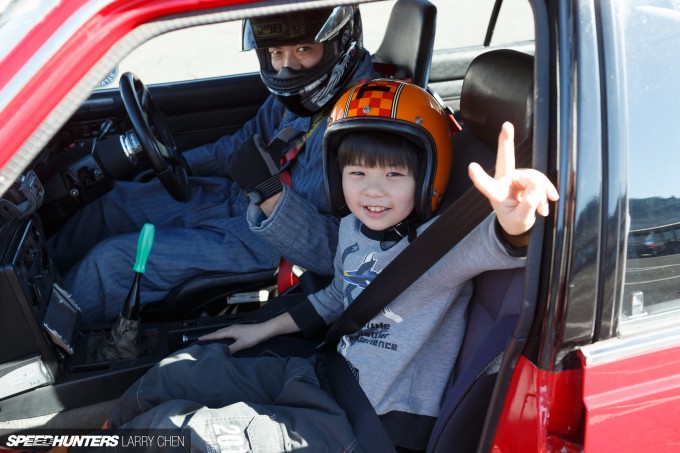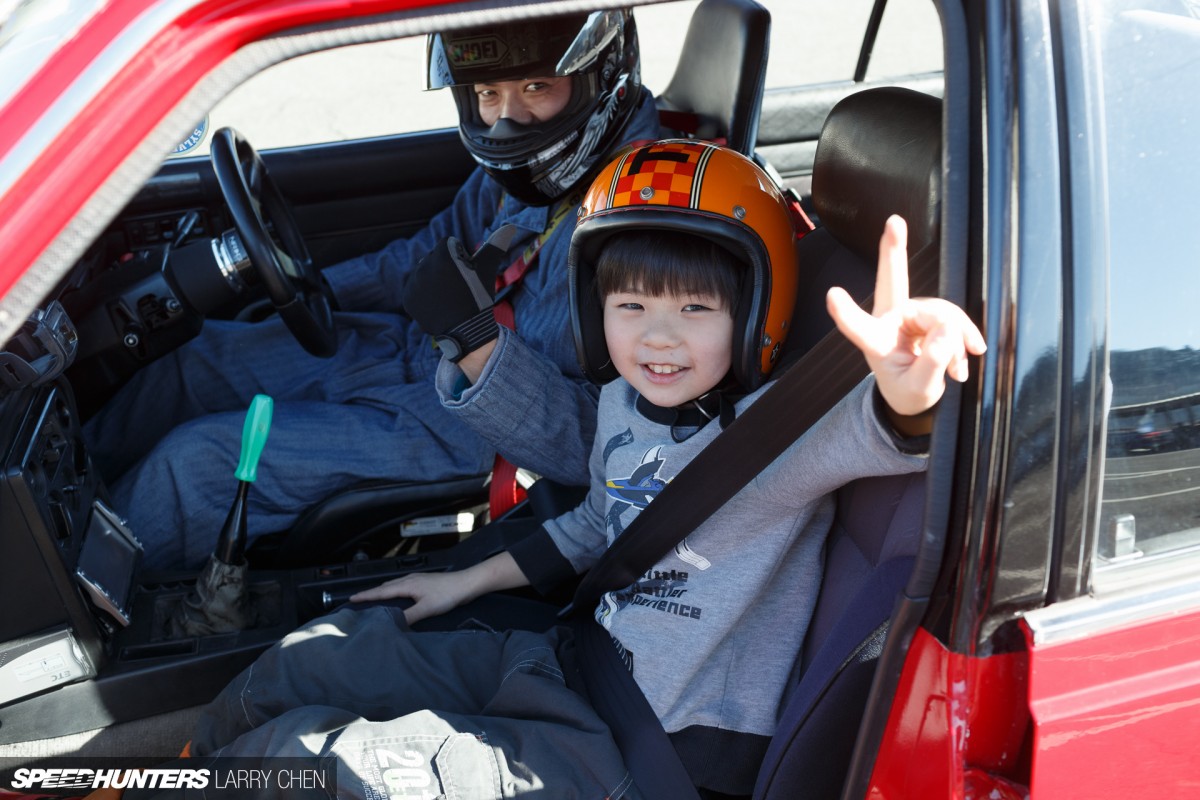 What's more fun than being able to keep your foot to the floor and using momentum to drift. Kid approved apparently!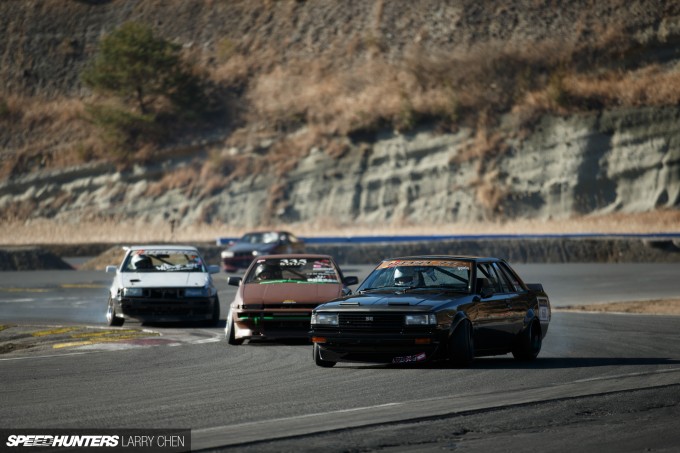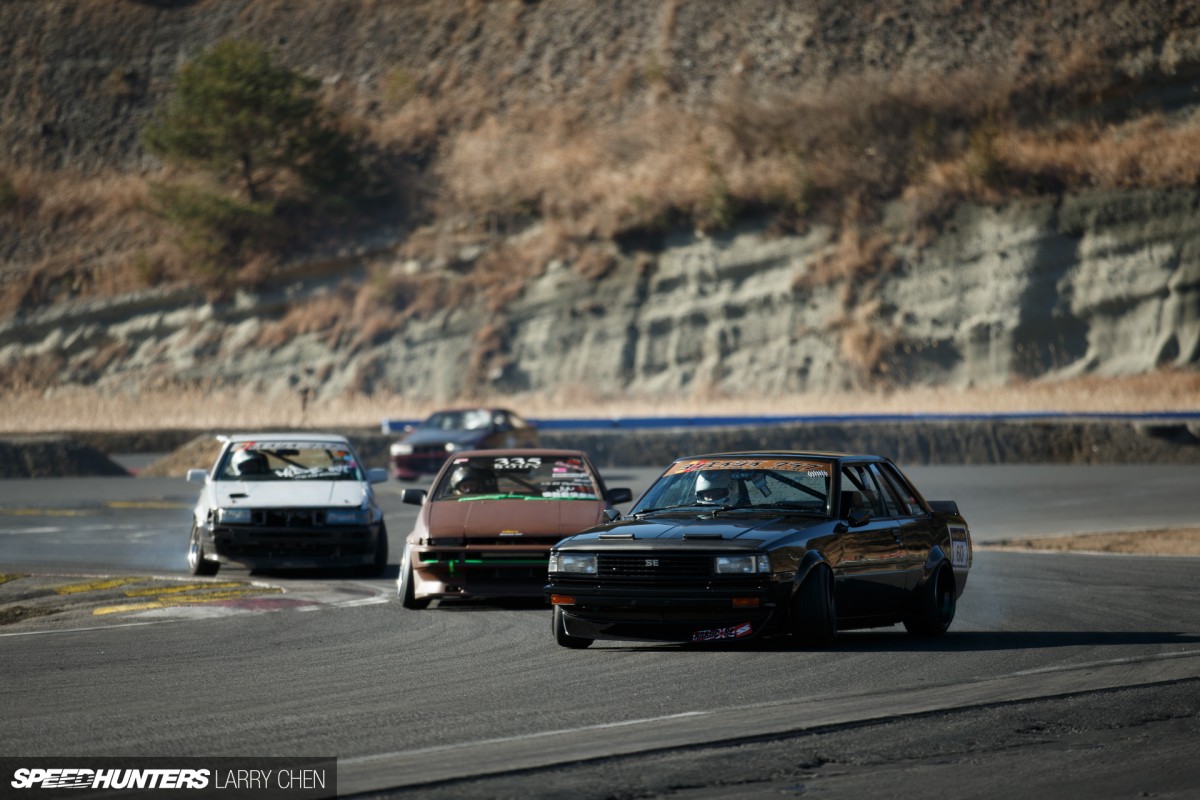 Do you recognize the lead car here? I featured it last year, for its simple street drift style.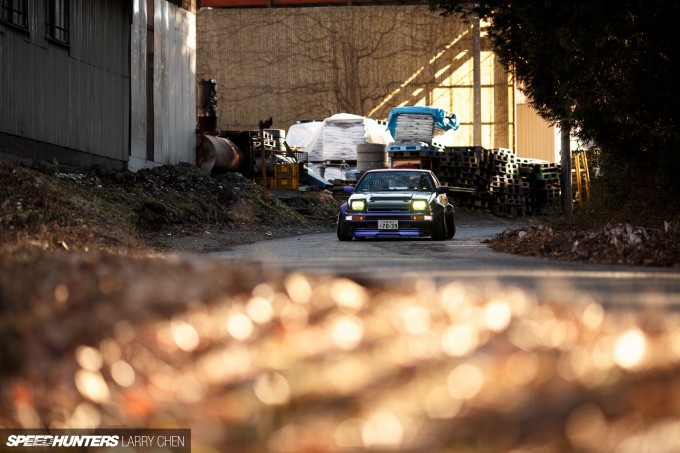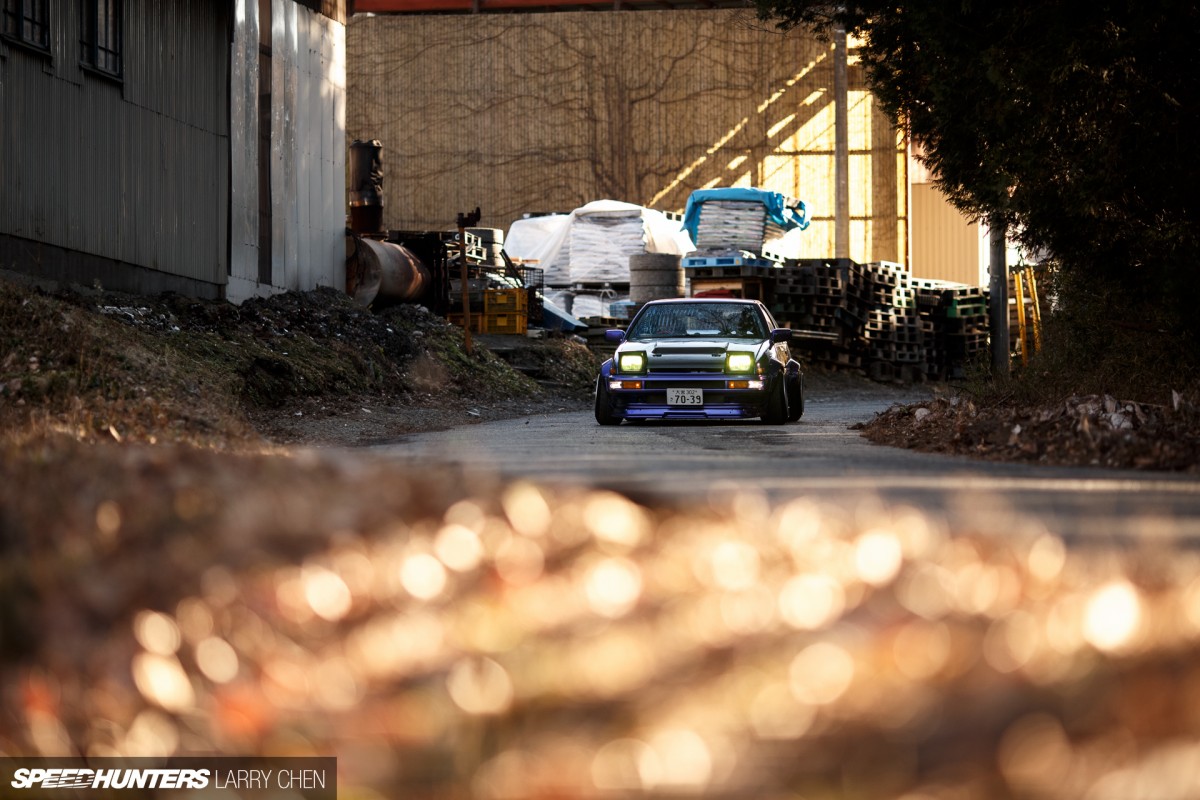 That said, Dino and I each picked up three features from this single event alone. Dino kicked them off last month with a look at a cool, carbureted Levin.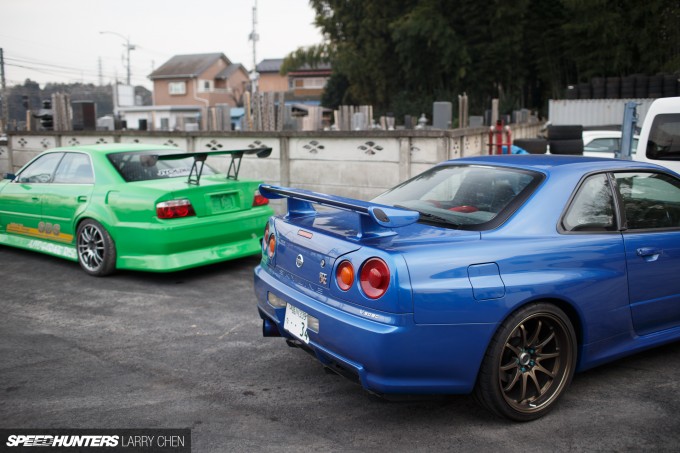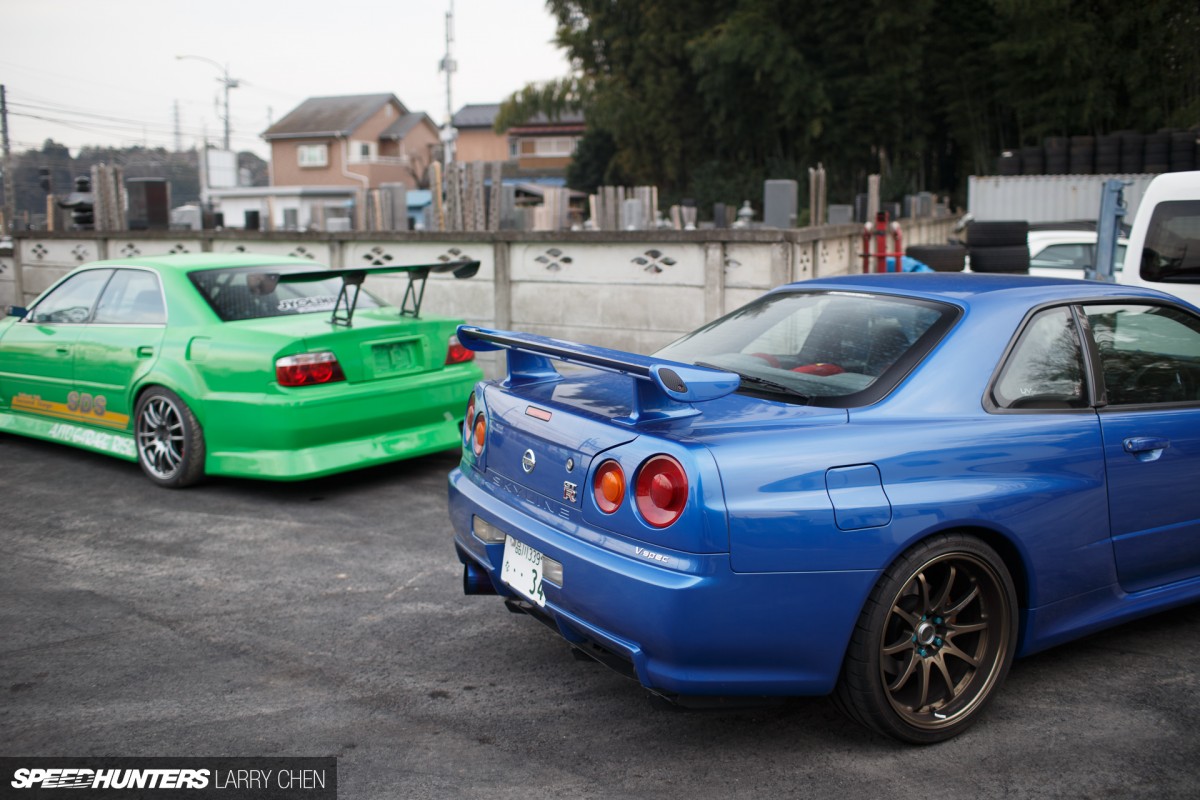 One of the last things that we did before I left was to pay a visit to Daigo Saito's new man cave and check out his 2015 Formula Drift R35 GT-R drift car build.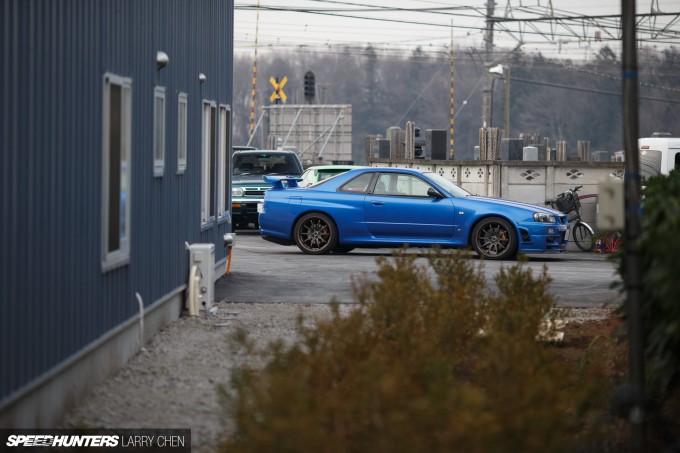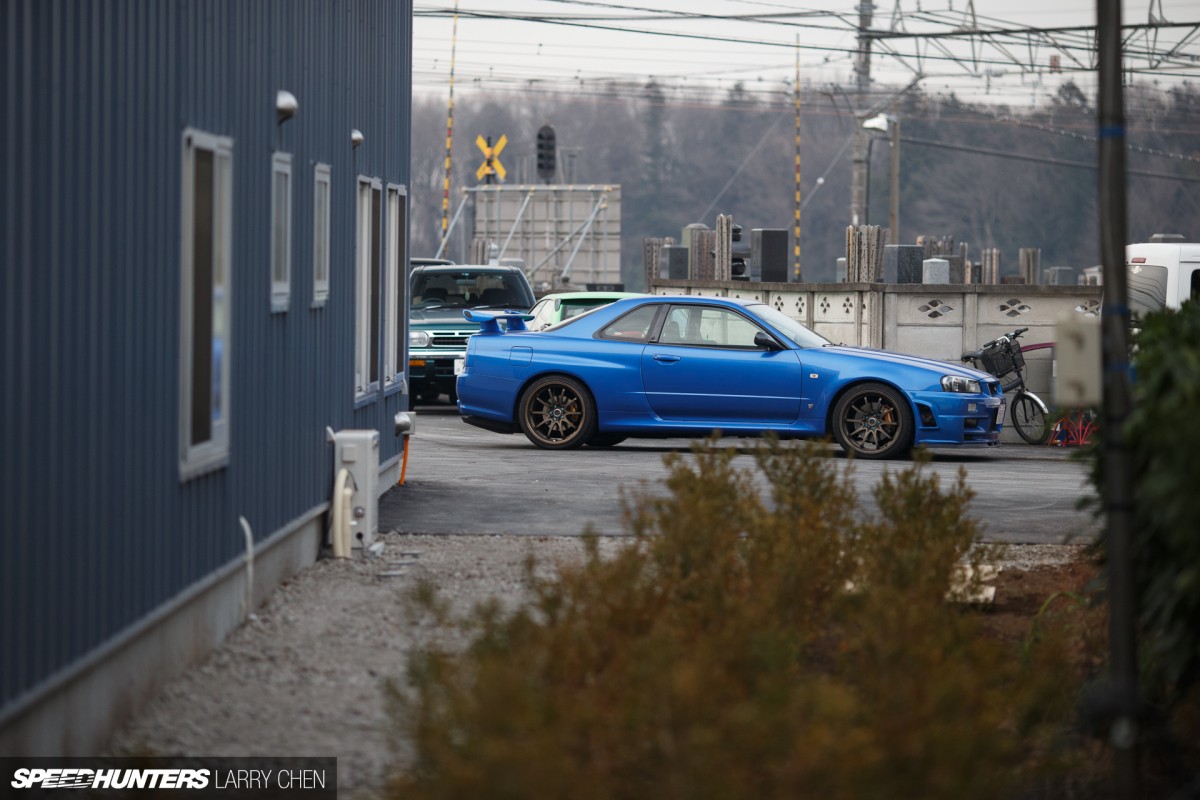 While I still have difficulty with the language barrier, Japan is not so foreign to me any more. For you true Speedhunters out there, it should not be either. Now more than ever it's easy to save up your pennies and make a trip out to the Land of the Rising Sun. That is exactly what I did many years ago, armed with my very first DSLR, a kit lens, 256MB memory card, and an undying passion for cars. So what are you waiting for?
Larry Chen
Instagram: larry_chen_foto
larry@speedhunters.com