Making It Run With Chasebays
When we last left off with our Scion Tuner Challenge build the engine bay was freshly smoothed and gleaming in pure white R-M Paint from BASF.
It might seem nuts to spend the first of three months focused on just one area of the car, but we wanted to make a statement with the MAXIMUM ATTACK FR-S engine bay, so we put in the work up front.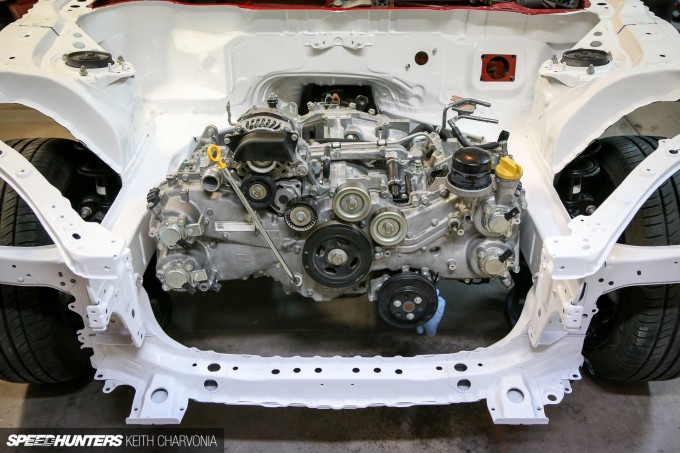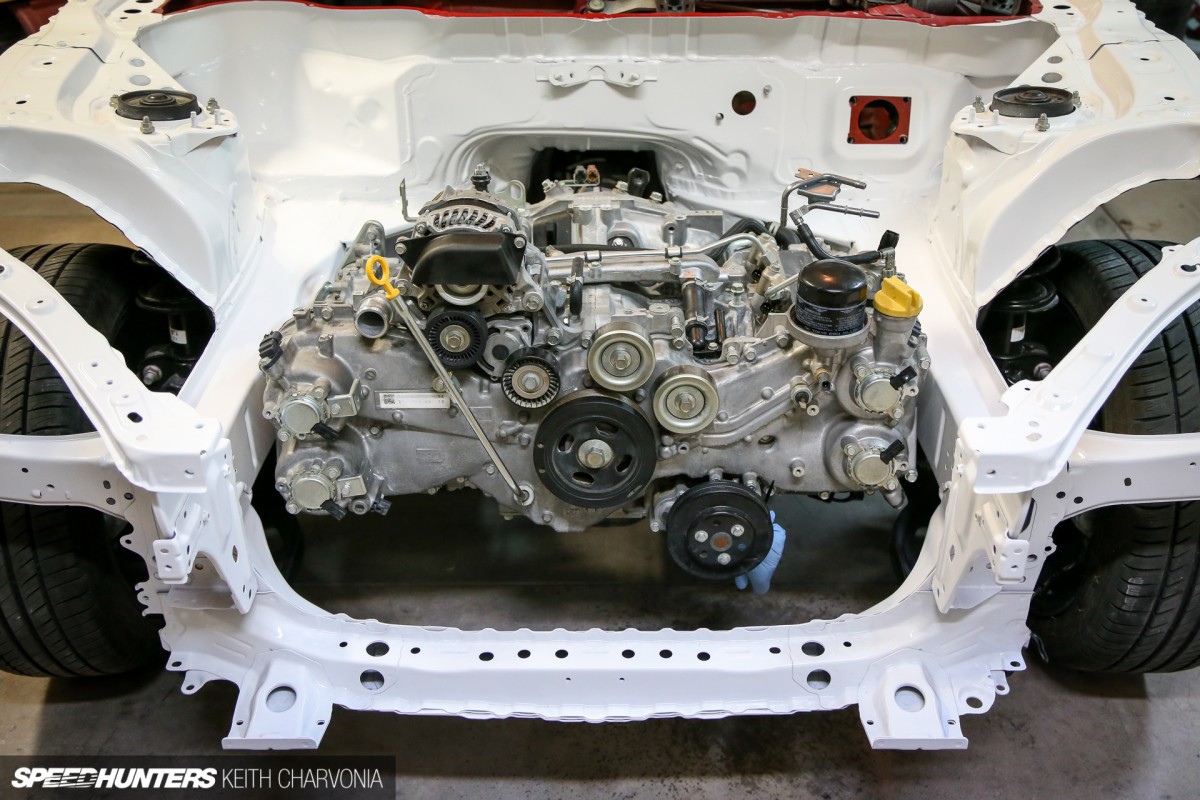 After 30 days we were left with a bay so sparse you might think the engine would never run again. But I had already made plans to ensure that wouldn't be the case.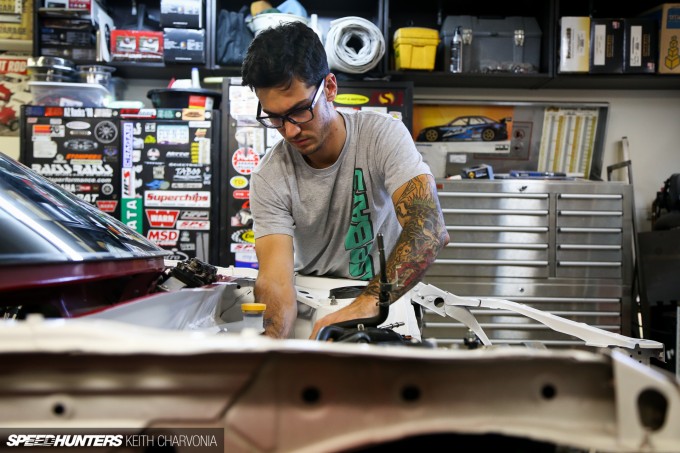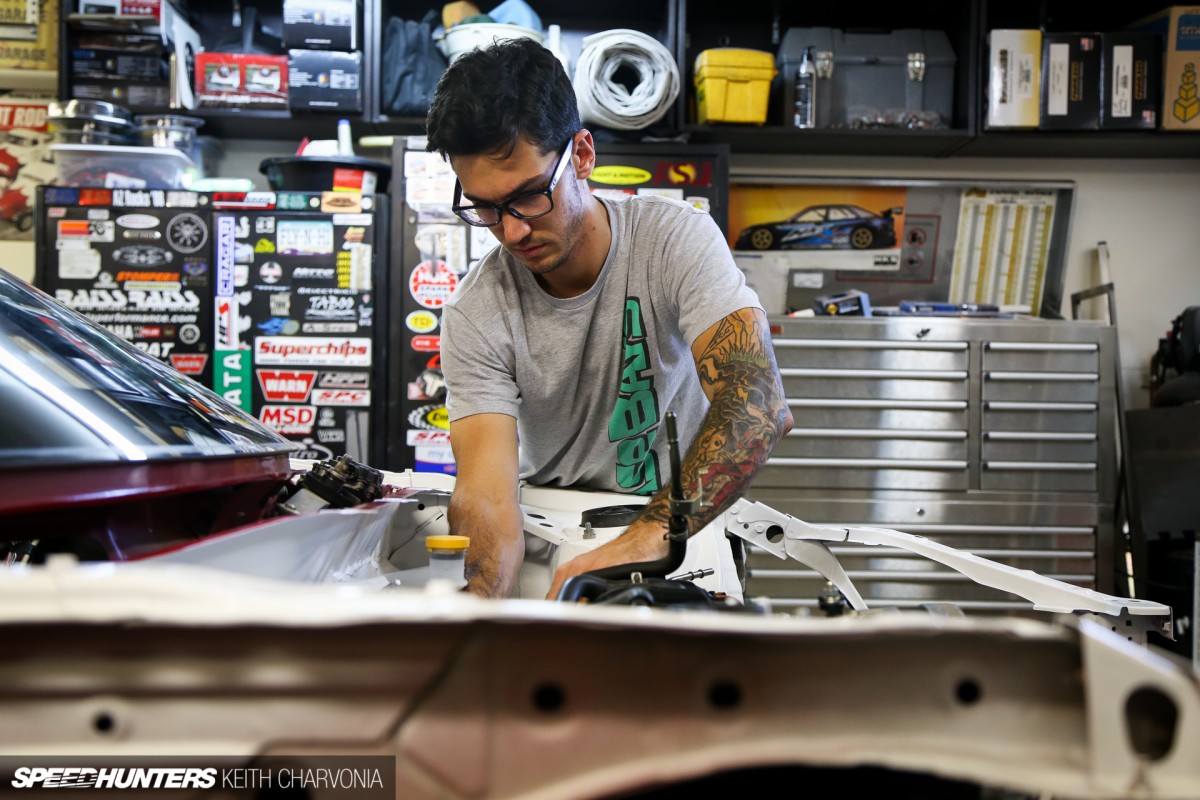 We worked quickly because we had a hard deadline; the arrival of Chase McMaster, owner of Chasebays. After his long cross-country flight we grabbed some breakfast and hit the garage for a full day of work.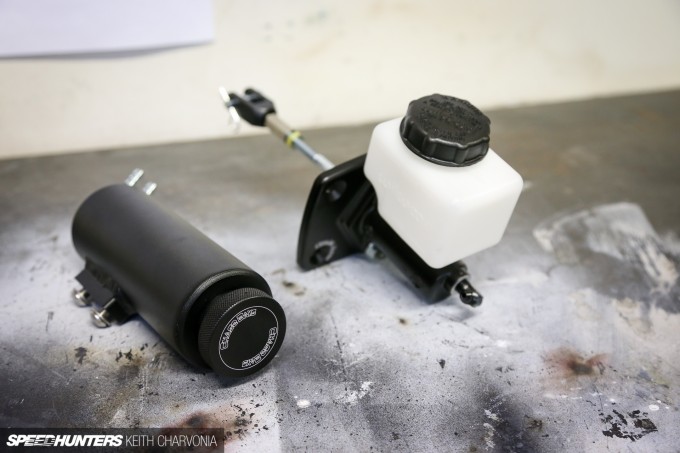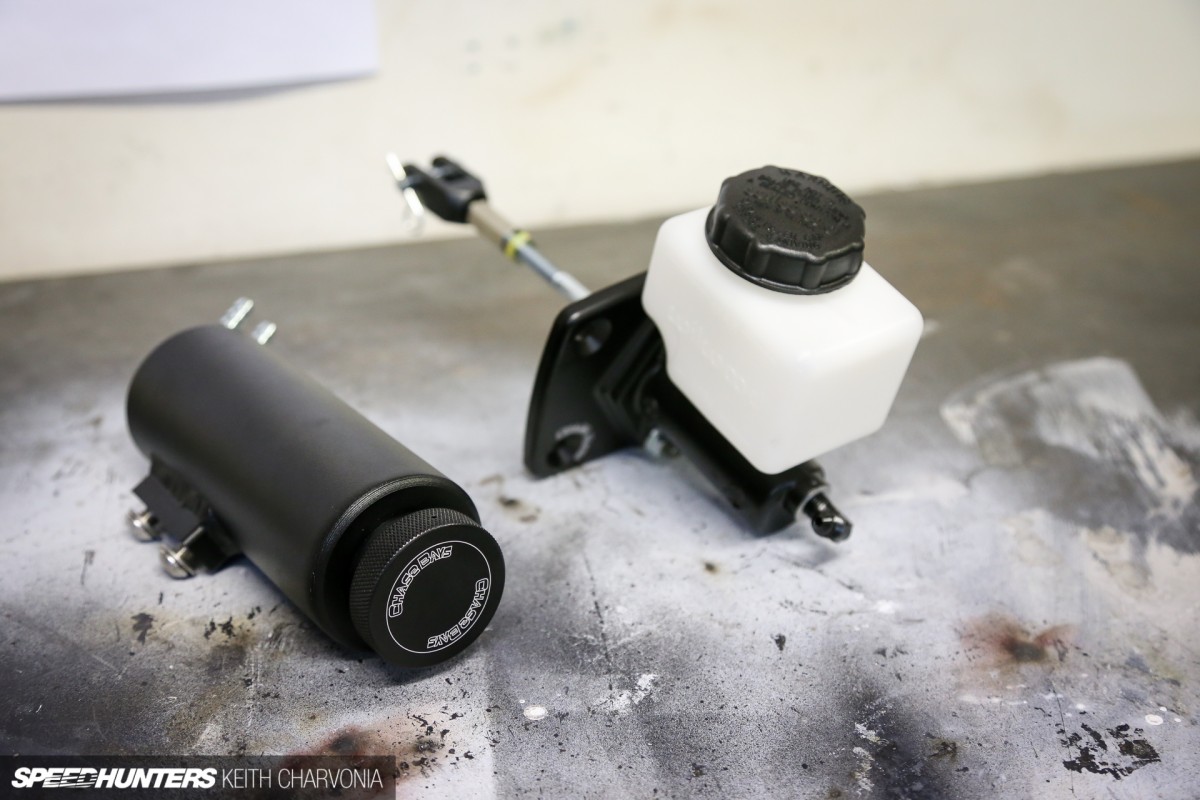 Not only was Chase going to contribute his time, he also threw his entire catalog at the build too. He makes some slick products for cleaning up engine bays and we were about to use every one of them.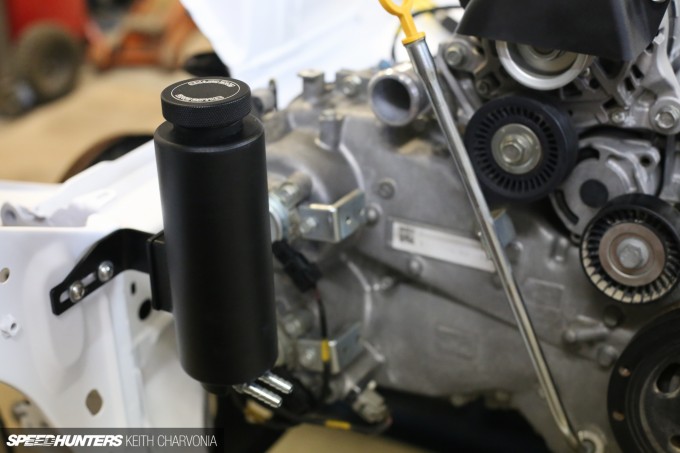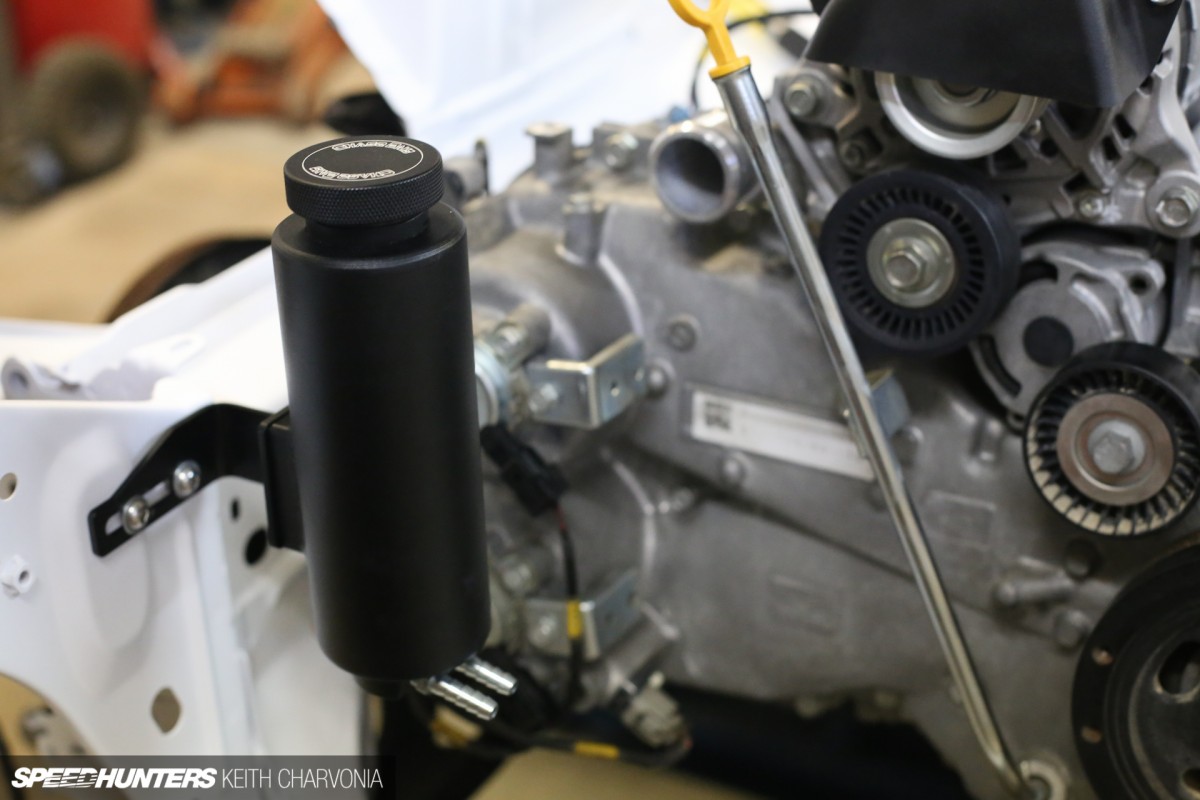 A black anodized coolant reservoir took the place of the stock plastic tank. This part just screams hot rod to me, but it's got a tough textured finish and a knurled cap to separate it from the polished billet catalog parts out there.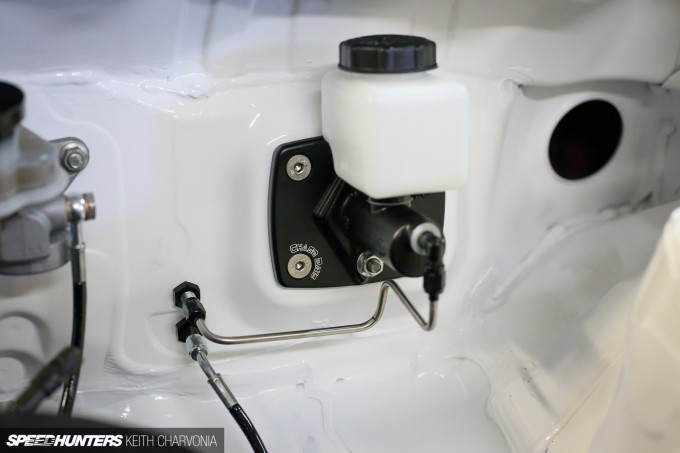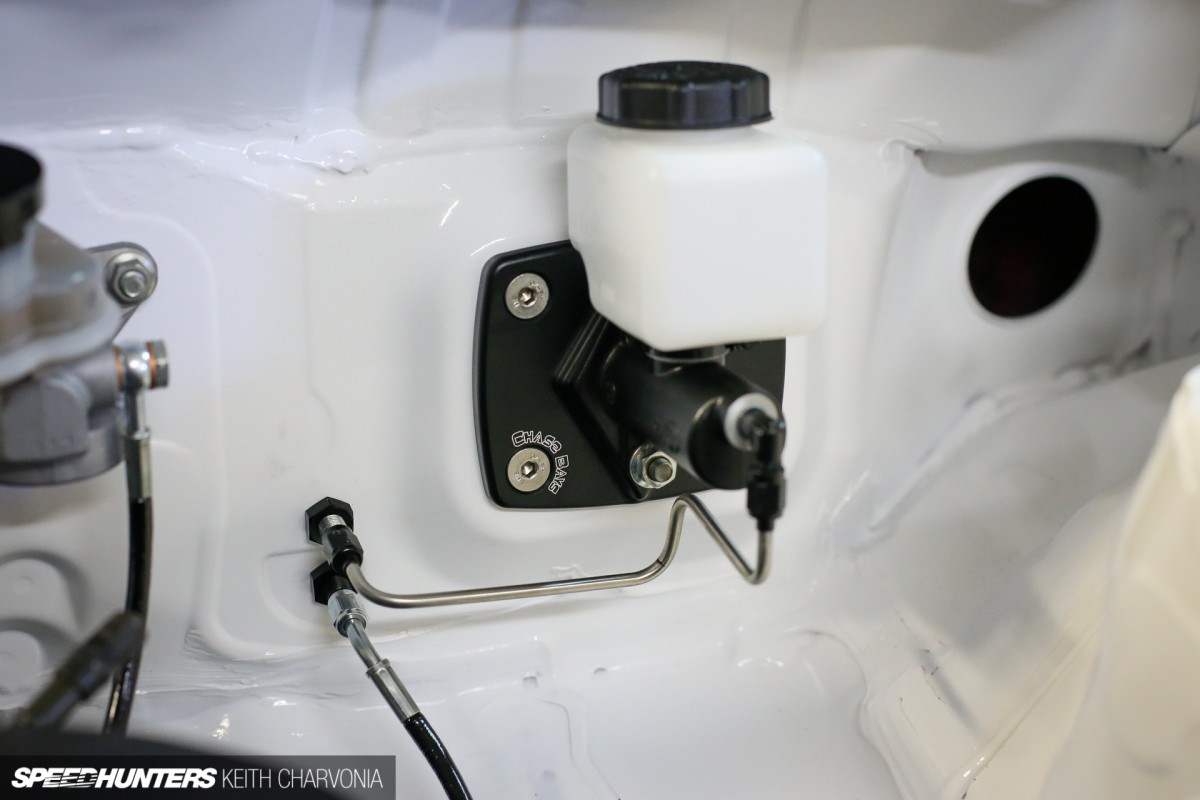 Chase also swears by his company's brake booster eliminator kit, which is basically a Wilwood master cylinder with a vehicle-specific, CNC-machined mounting plate and pre-bent hardlines. I hear this system works well on drift cars with forced induction, because you don't get changes in pedal pressure depending on boost levels.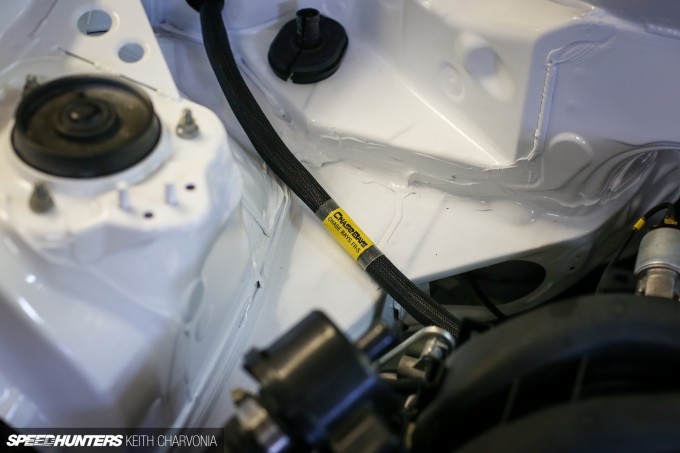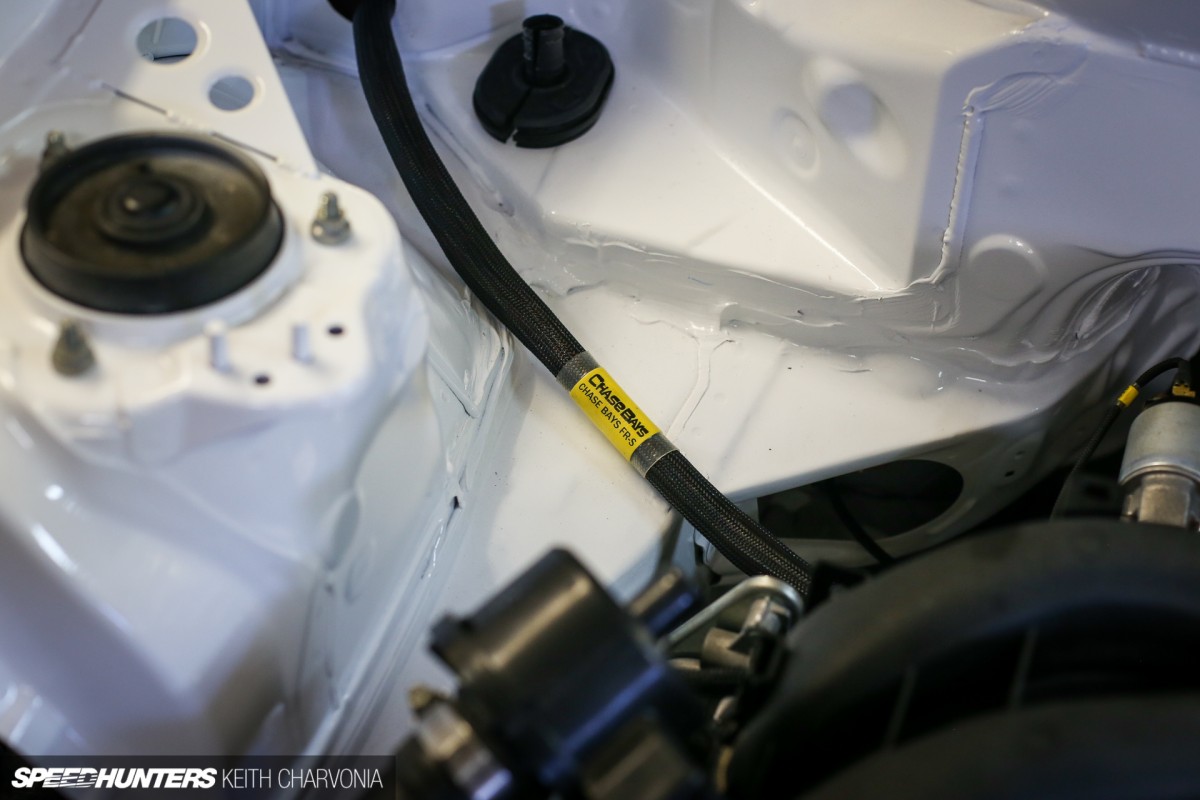 But the pièce de résistance was the tucked wiring harness. This is where Chasebays has made its mark on the industry, by crafting super-clean wiring solutions that integrate with all the factory sensors and connections.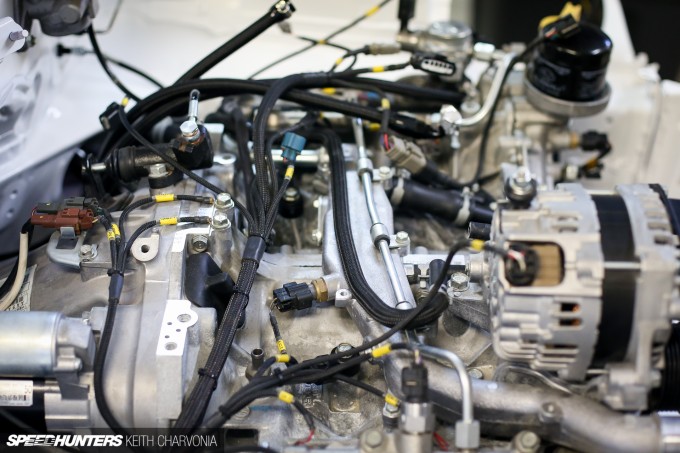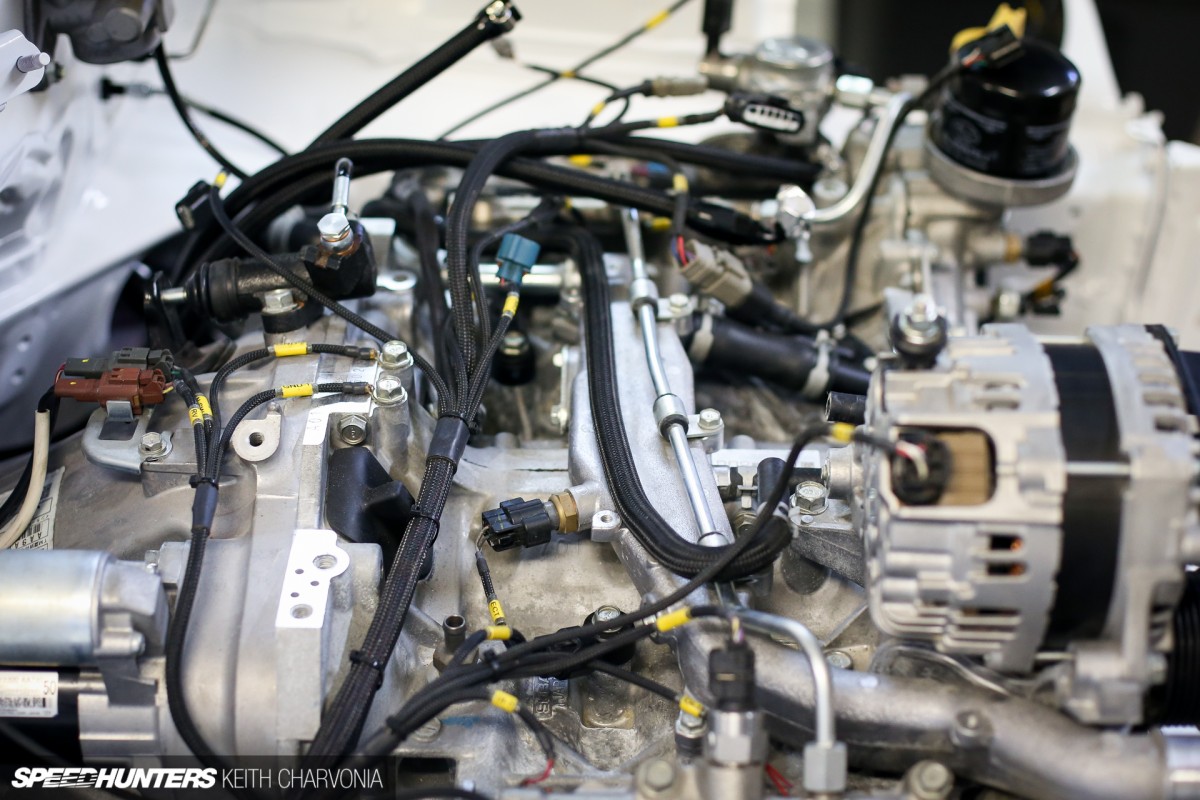 By the time Chase's visit came to an end we fired the motor and confirmed that everything had worked. After completely disassembling the engine bay, removing most of the miscellany and then putting it all back together again, this was definitely a big milestone for the build!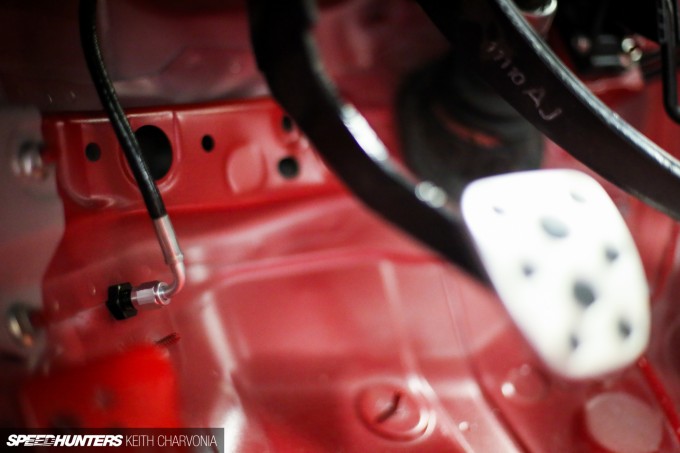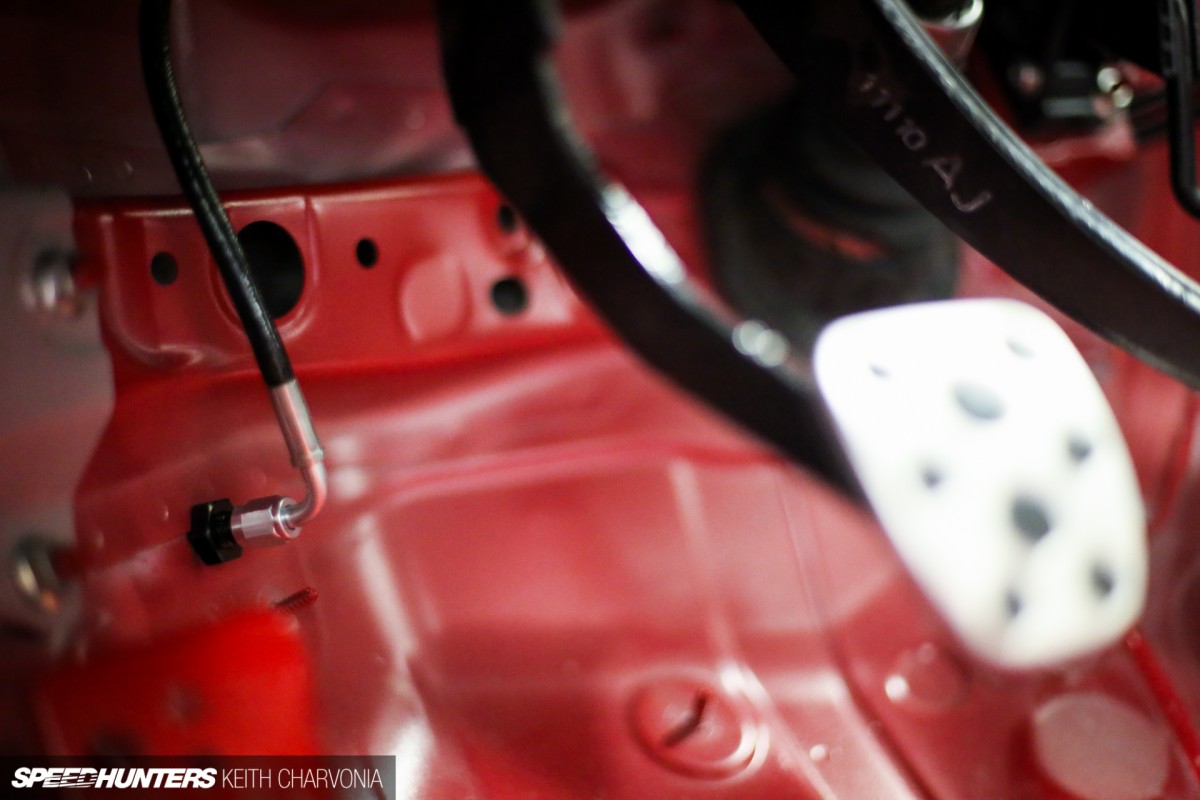 Hidden brake lines are another trick to streamline an engine bay. I had no clue how we were going to make the brake lines disappear, but soon Chase showed me how they would be routed inside the fender wells and through the firewall.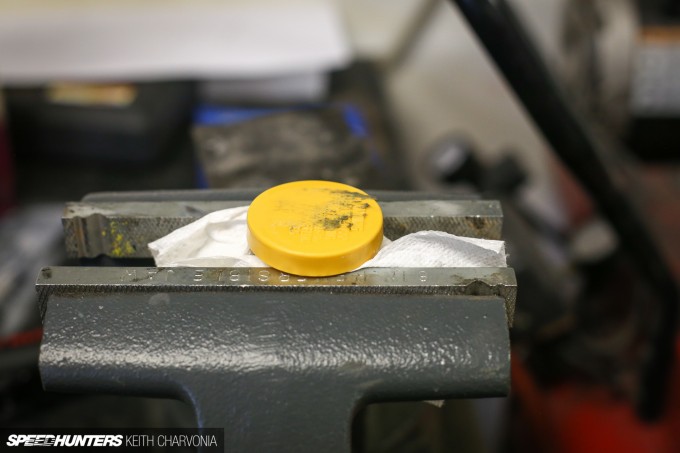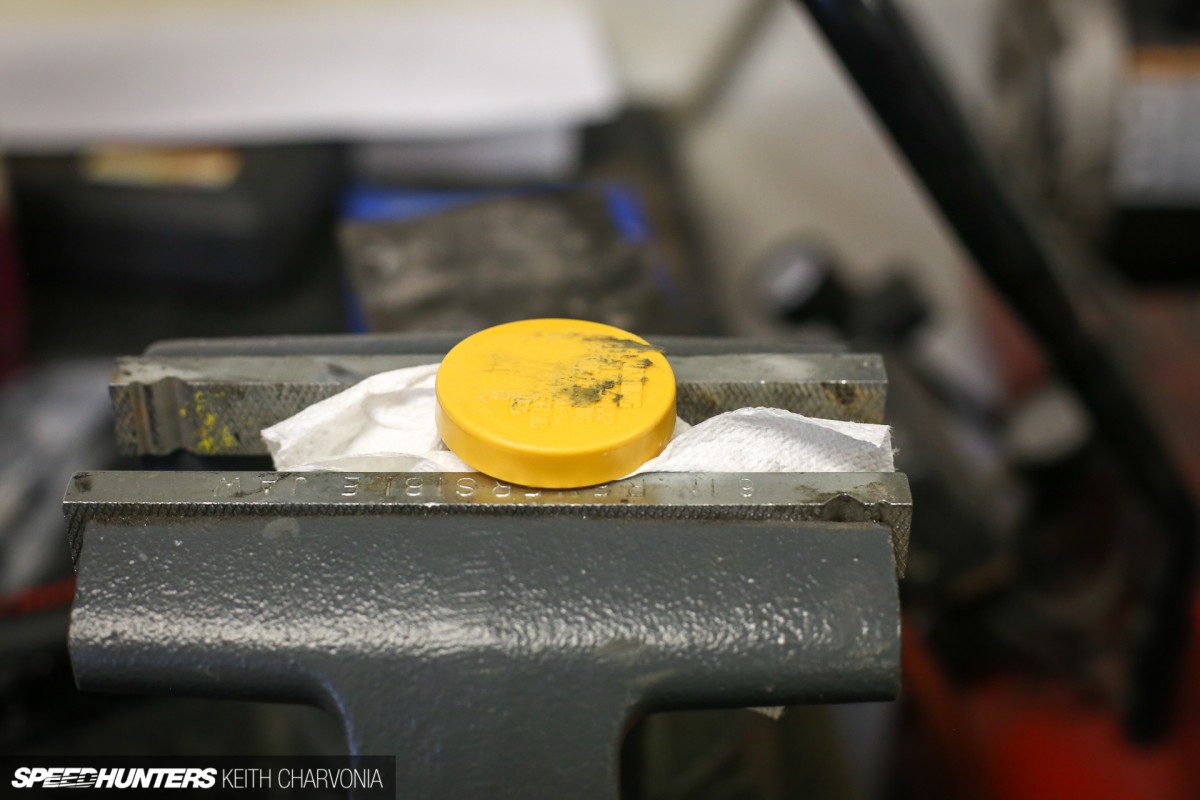 I was only expecting Chase to come and install his own products, but he's a car builder and a craftsman too, so he couldn't help but get involved with the build while he was in my garage. He gave me some some tips, like sanding the letters off the clutch master cylinder's cap and spraying it black.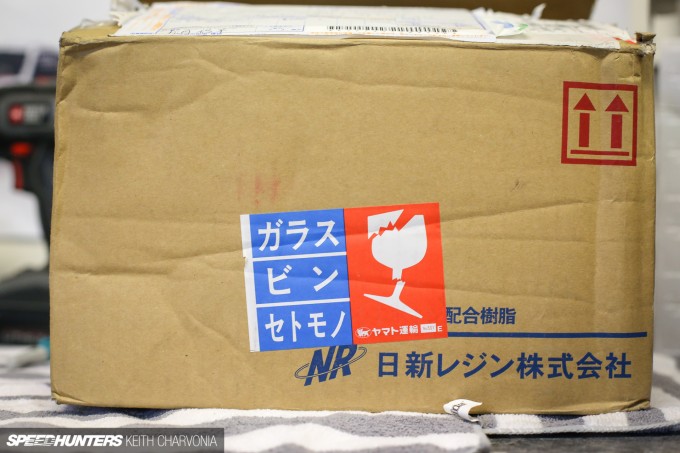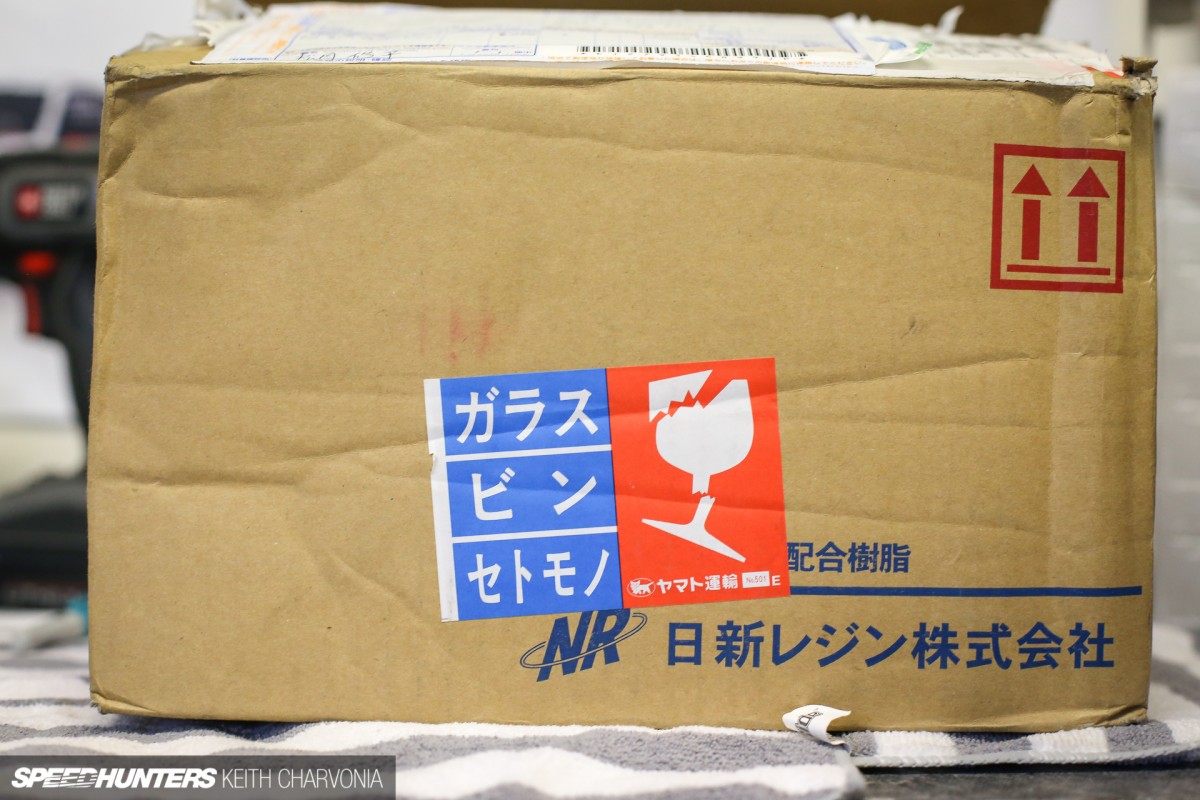 As we were working a special package arrived, the NOS (new old stock) Nissan 510 fender mirrors, straight from Japan.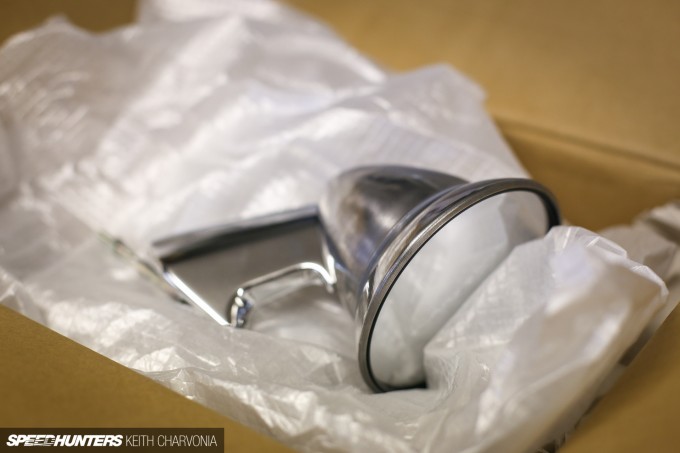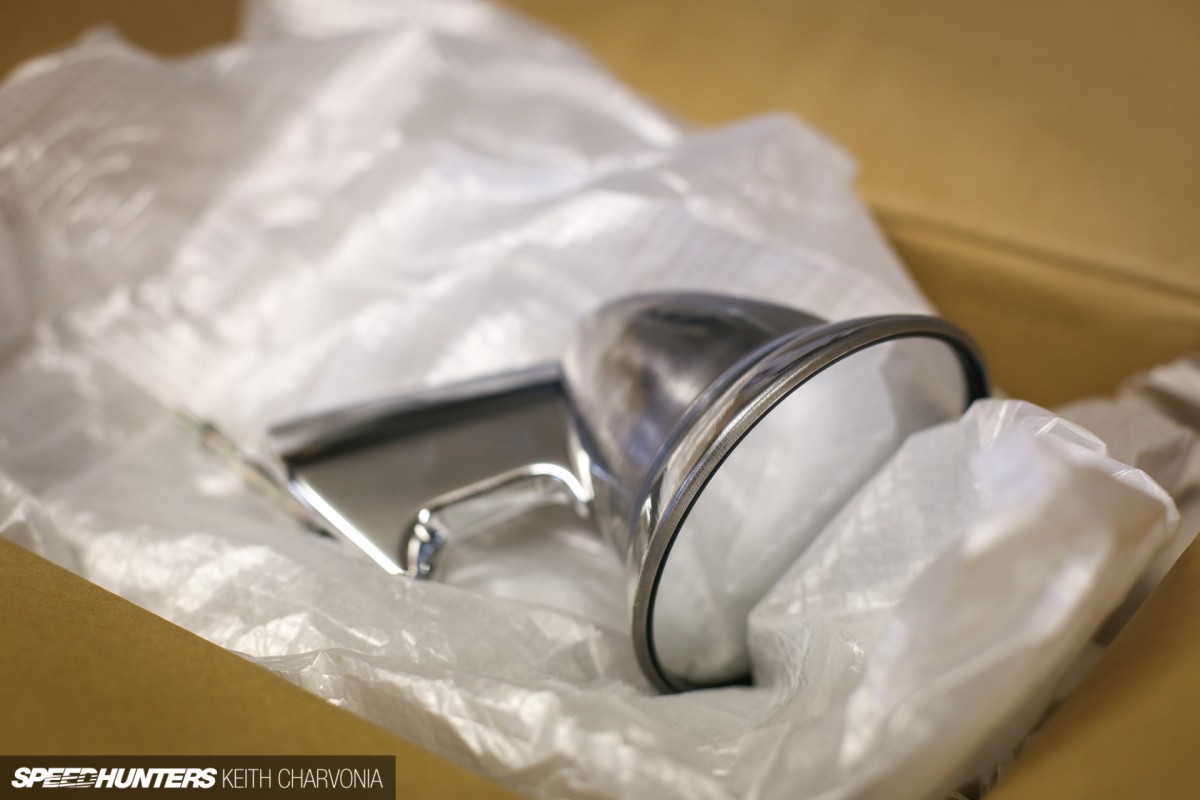 After looking at various models with designer Andy Blackmore and finally settling on this particular set, I couldn't wait to see how they looked on the car. Would they fit the way we had hoped?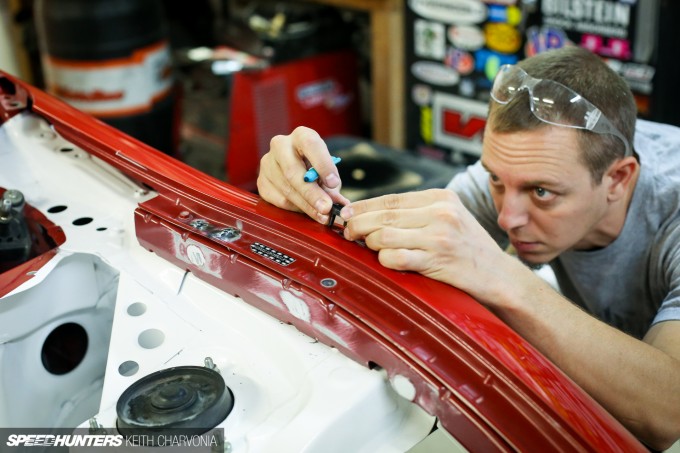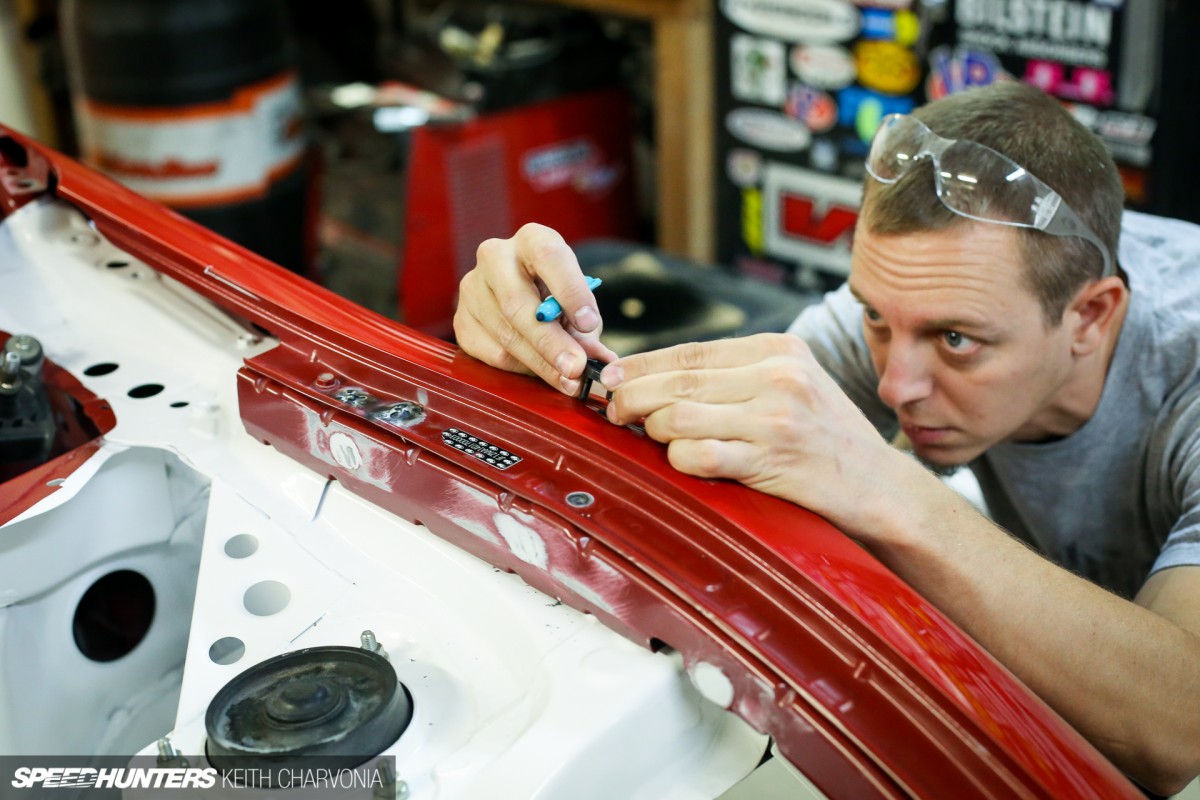 The morning of Chase's departure we decided to cut into the fenders and get them mounted. I was definitely grateful for a second set of eyes during this critical moment.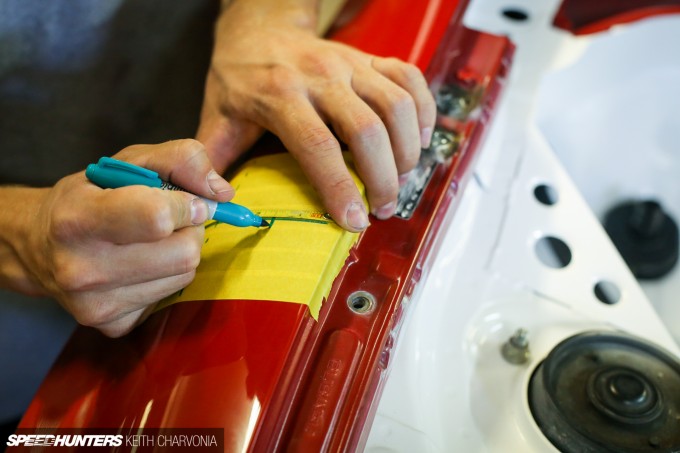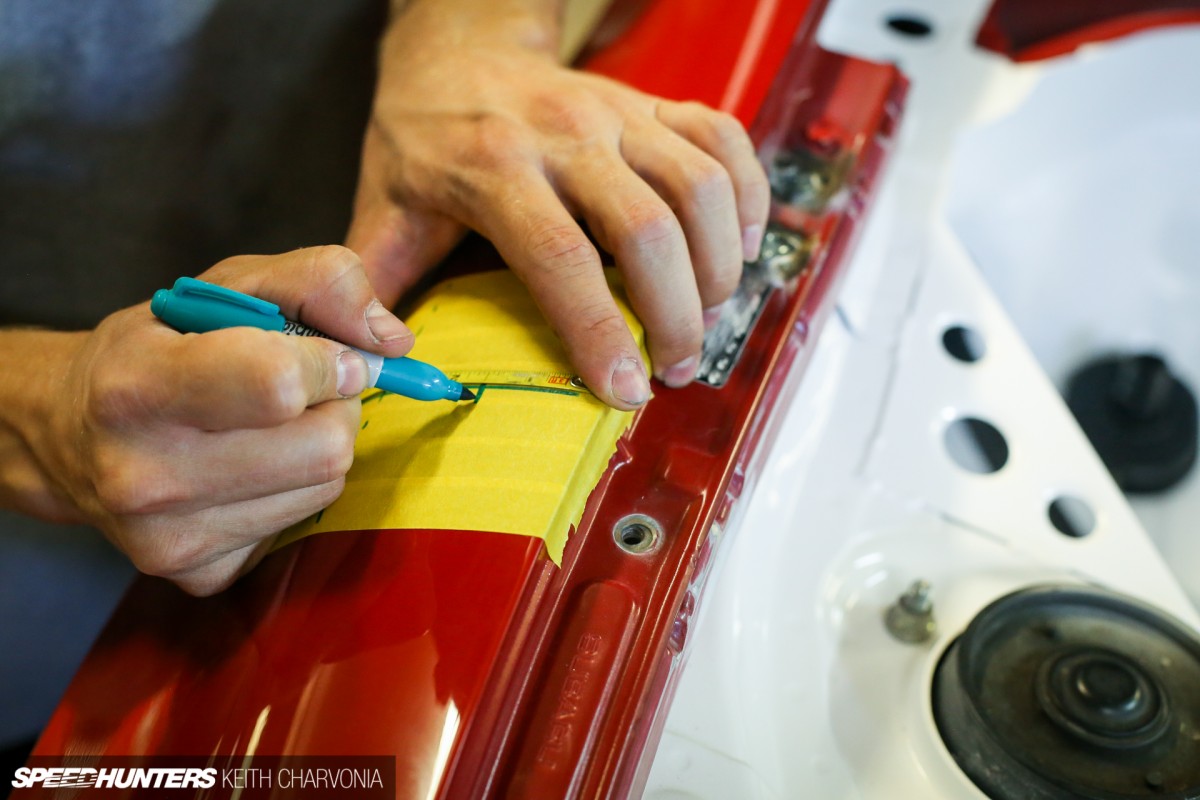 We took turns holding the mirror on the fender and eyeballing it before settling on a location. Measurements were recorded so we could repeat the placement on the other side.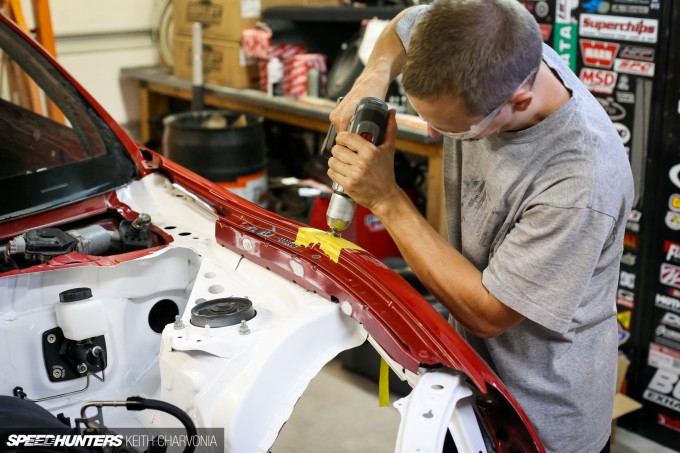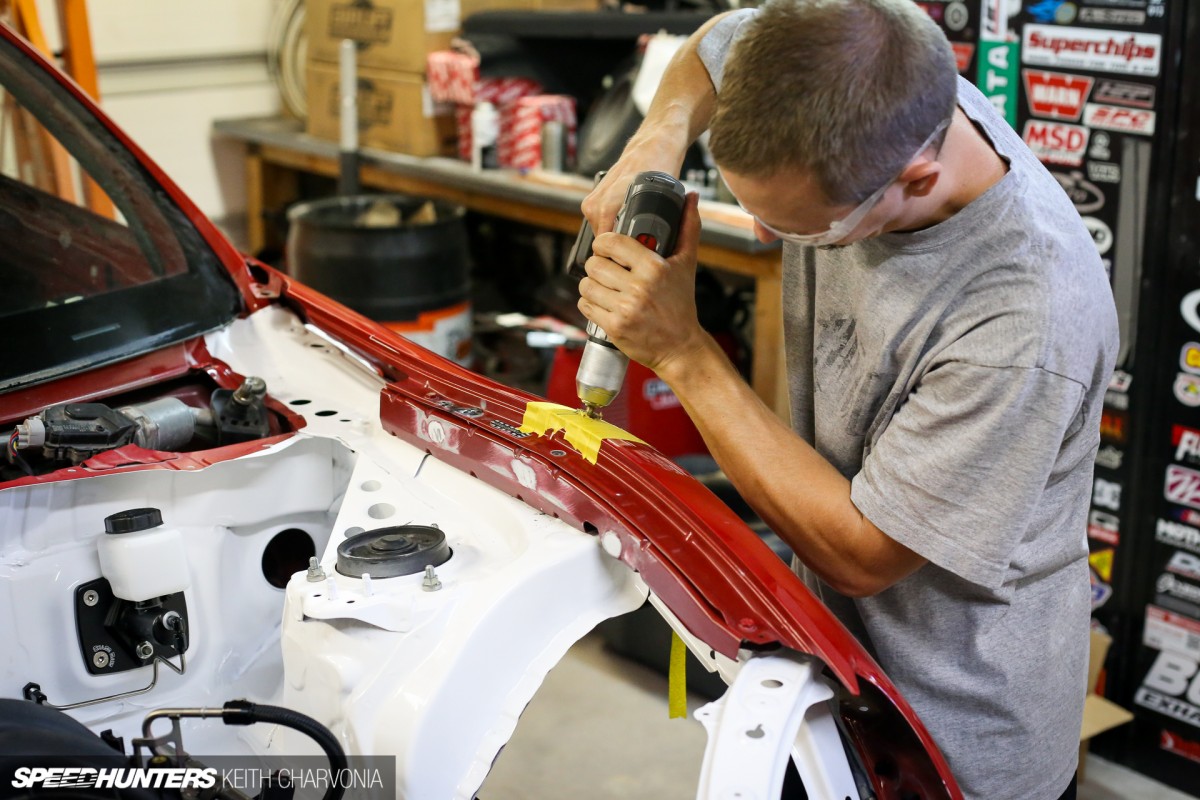 Then we just had to commit.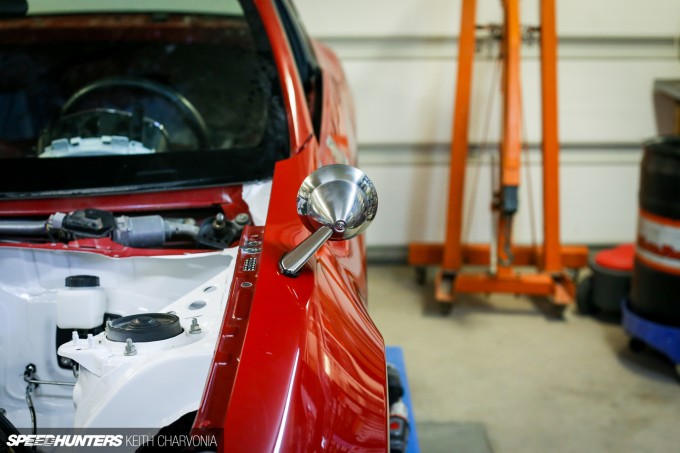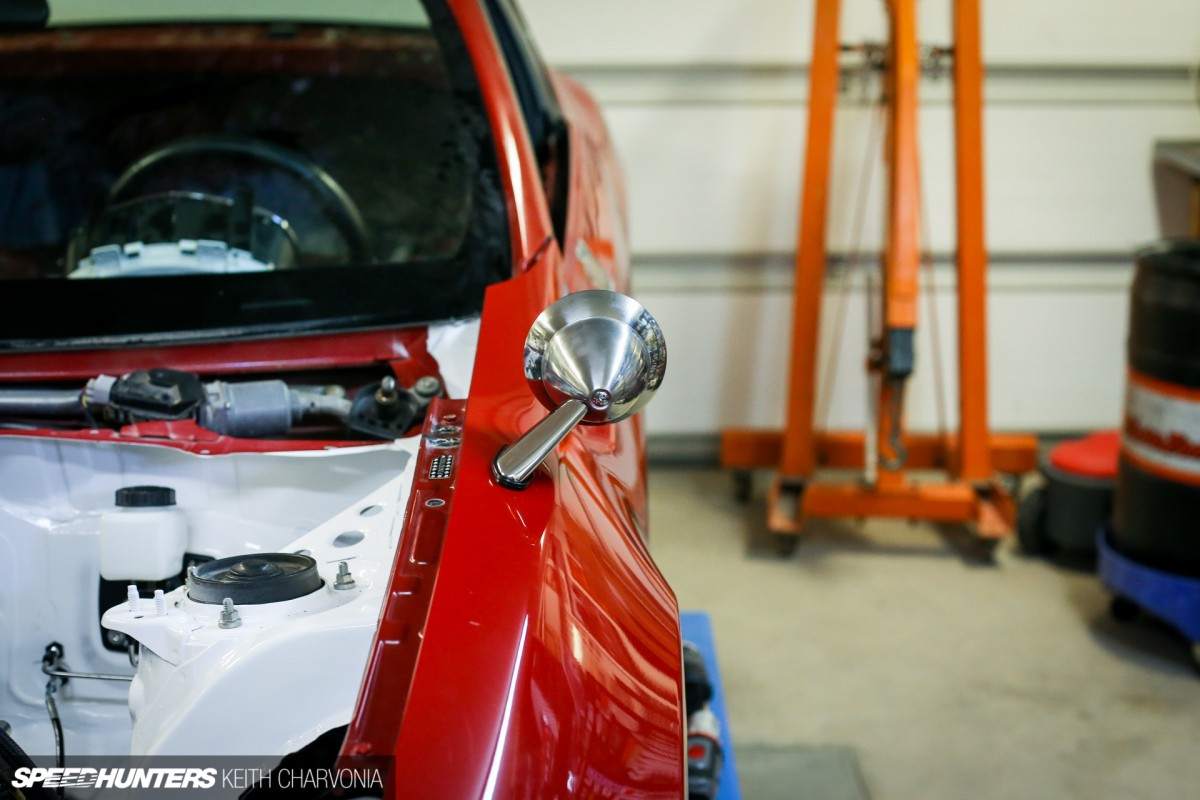 In a matter of minutes we had our fender mirrors, and they looked every bit as good as they did on Andy's rendering.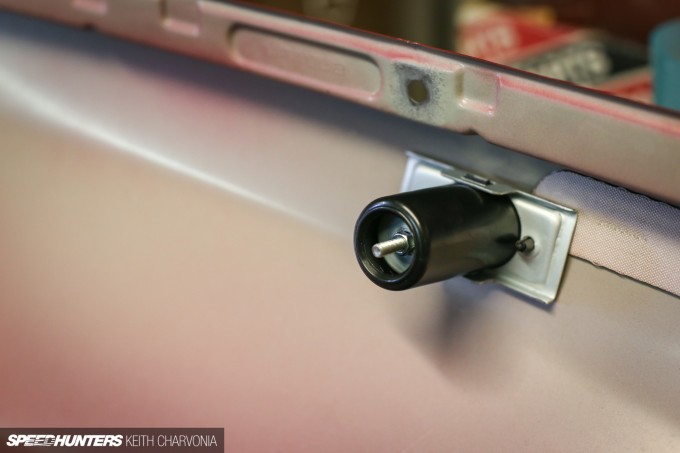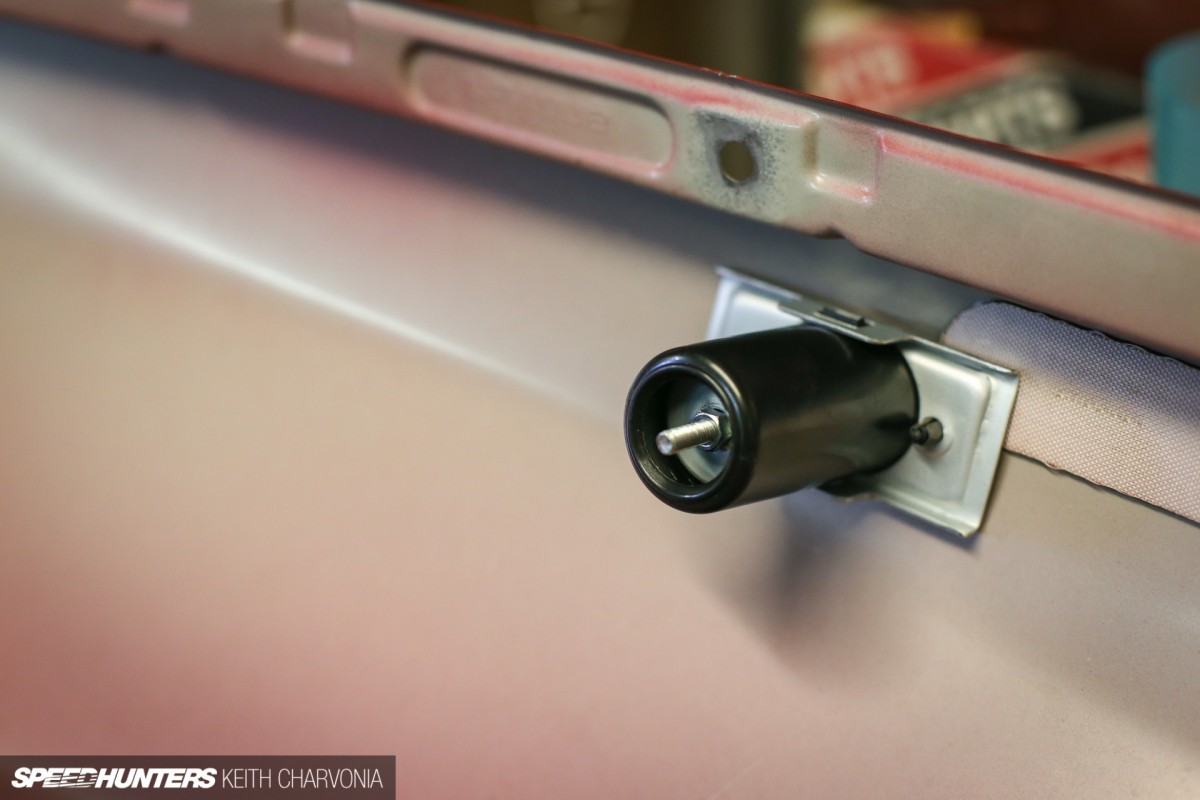 Since these were OEM mirrors they came with OEM features, like a spring-loaded cup so they could break away from the fender instead of bending sheetmetal should they get bumped.
Discreet Body Mods & KM4SH #0003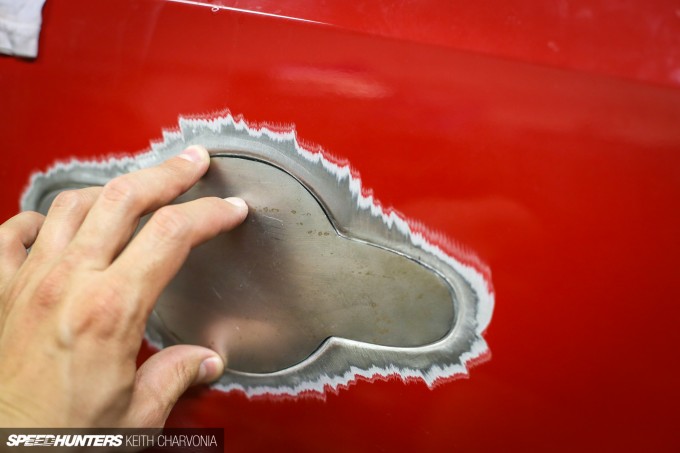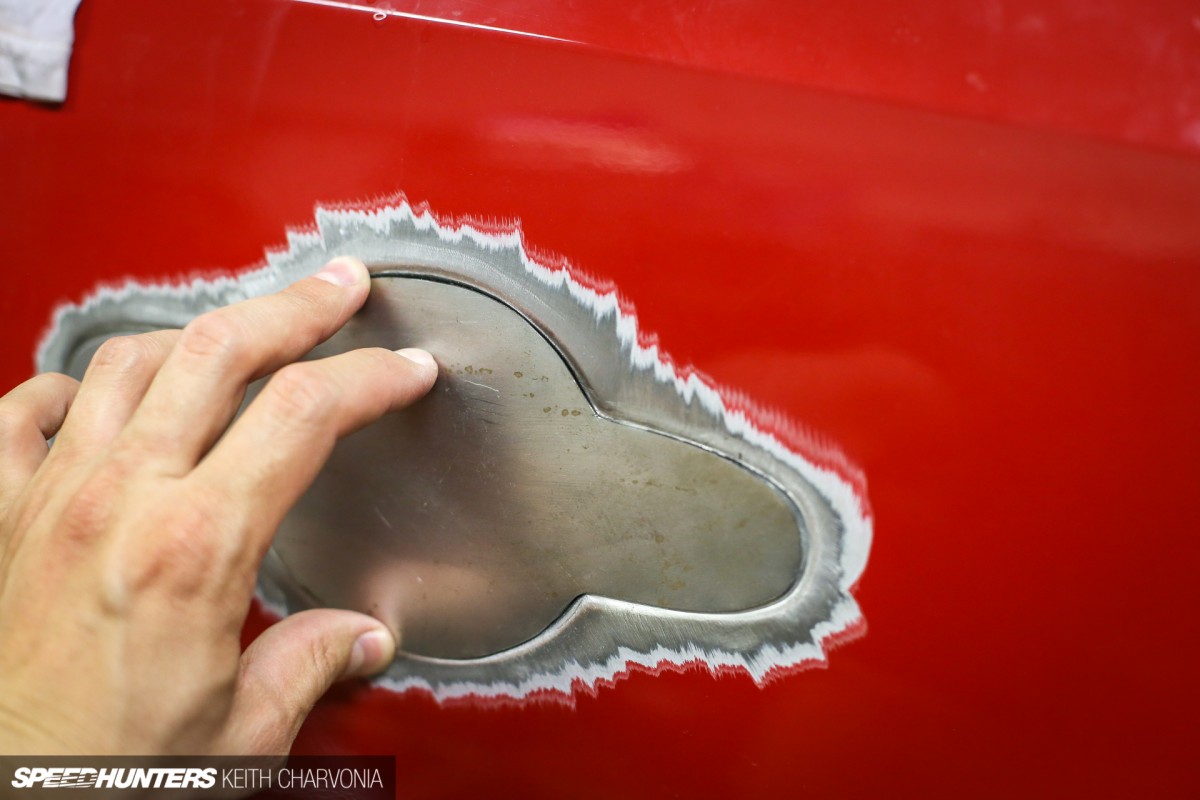 I'm surprised how many people still don't know that our FR-S has shaved door handles, but I think it speaks to the quality of the design if one mod doesn't jump out at you too.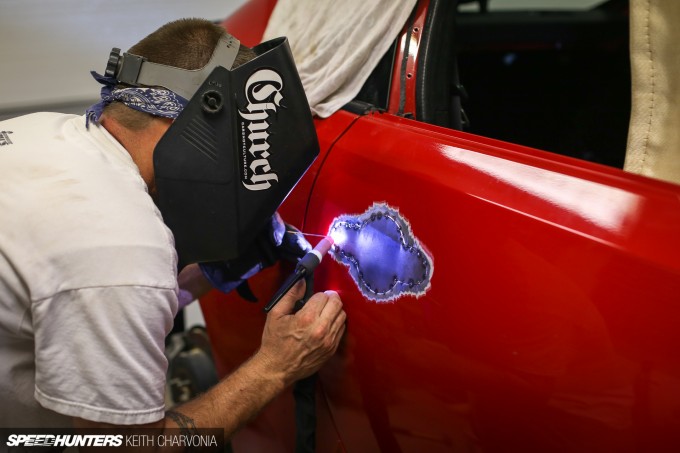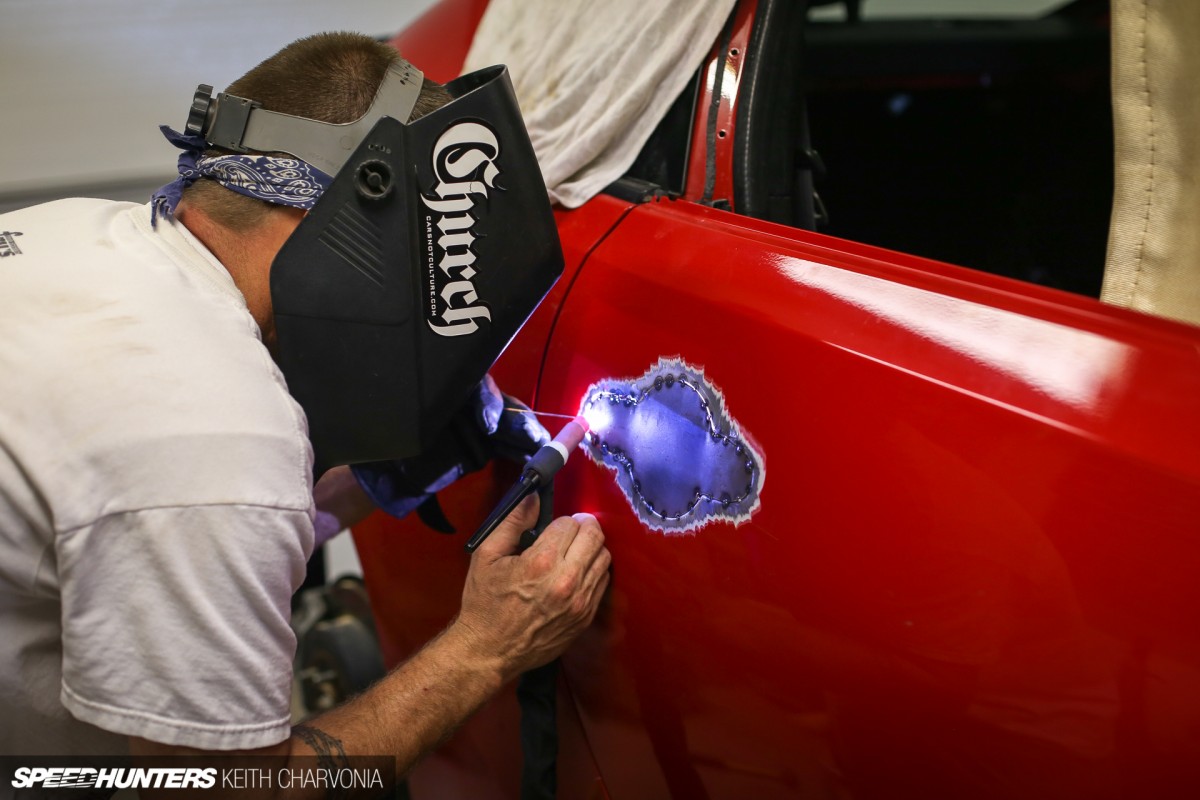 Once we finished the engine bay, a cover was pulled over it and the dirty work of cleaning up the body began.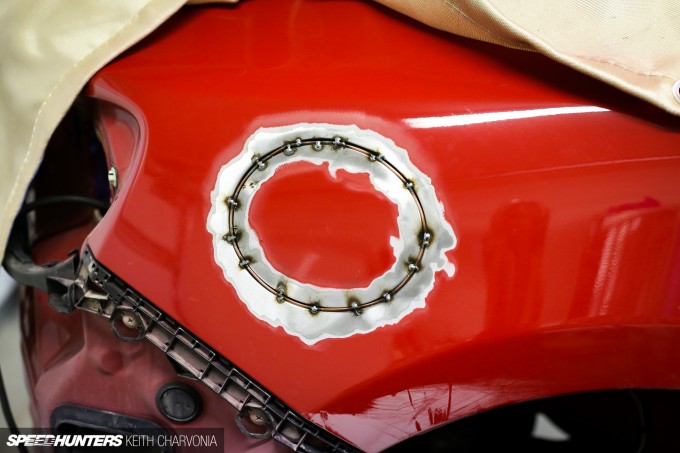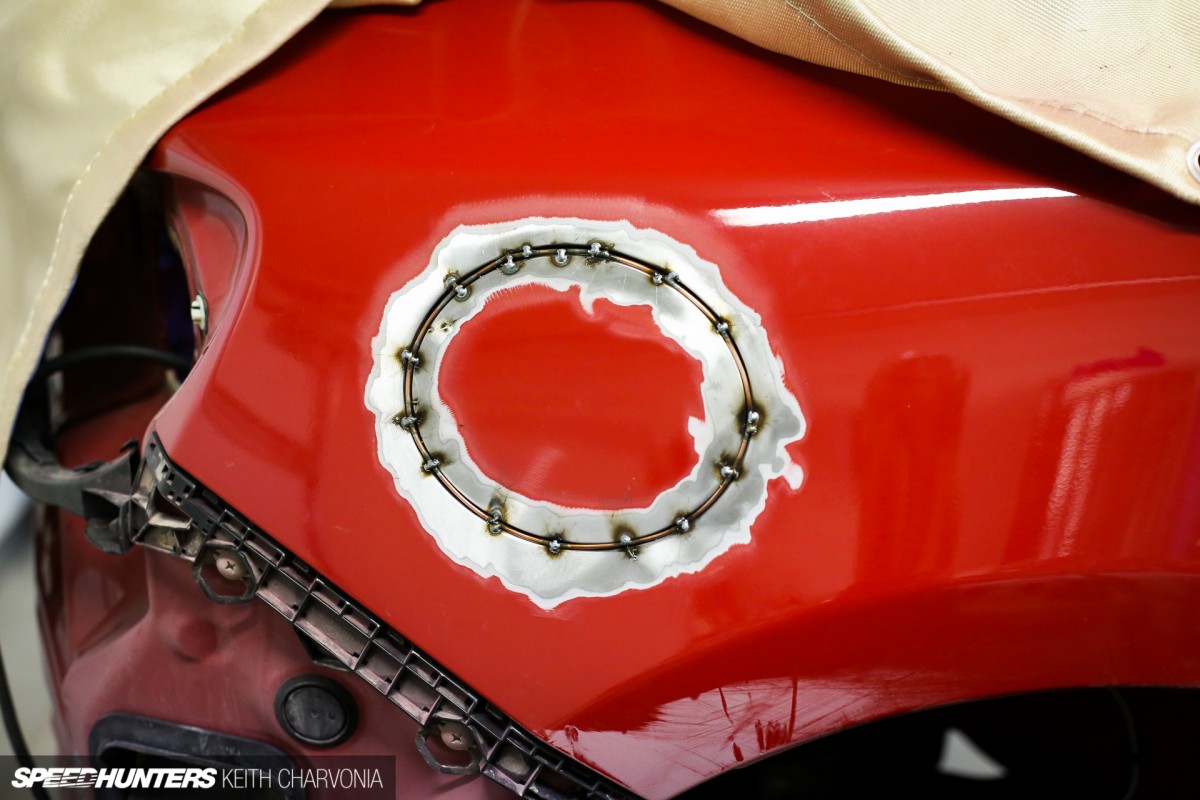 This included shaving both door handles, the mirrors and the gas door too. That's welding rod being used to fill the gap between the gas door and the body.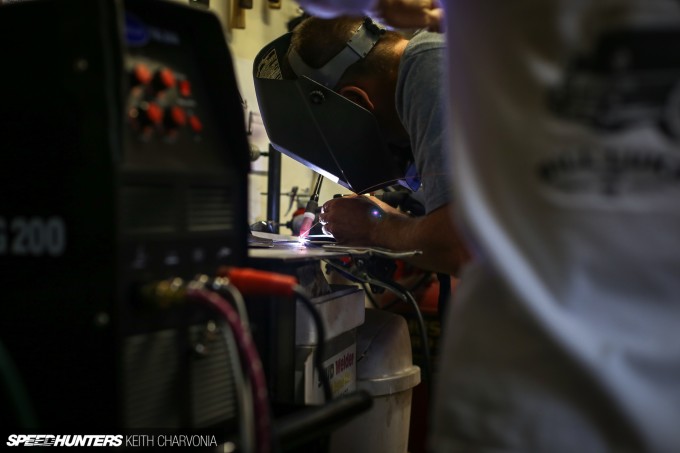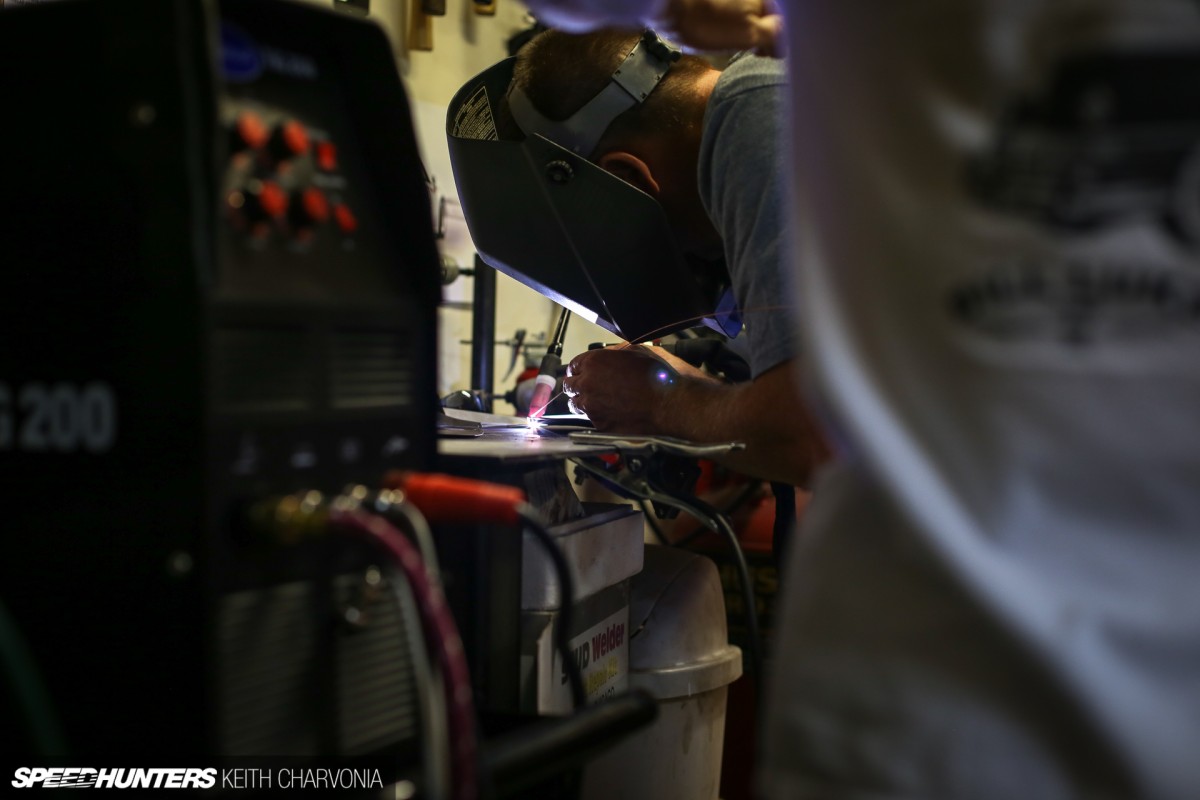 We used a mix of MIG and TIG welding, mostly because I had just taken delivery of my new Eastwood TIG welder so I really wanted to put it into action!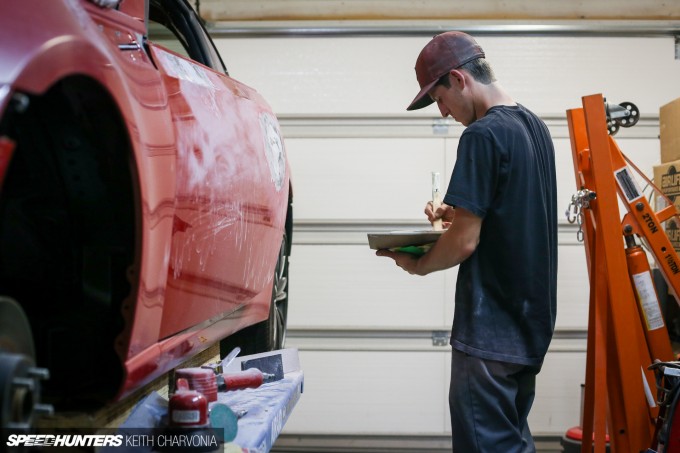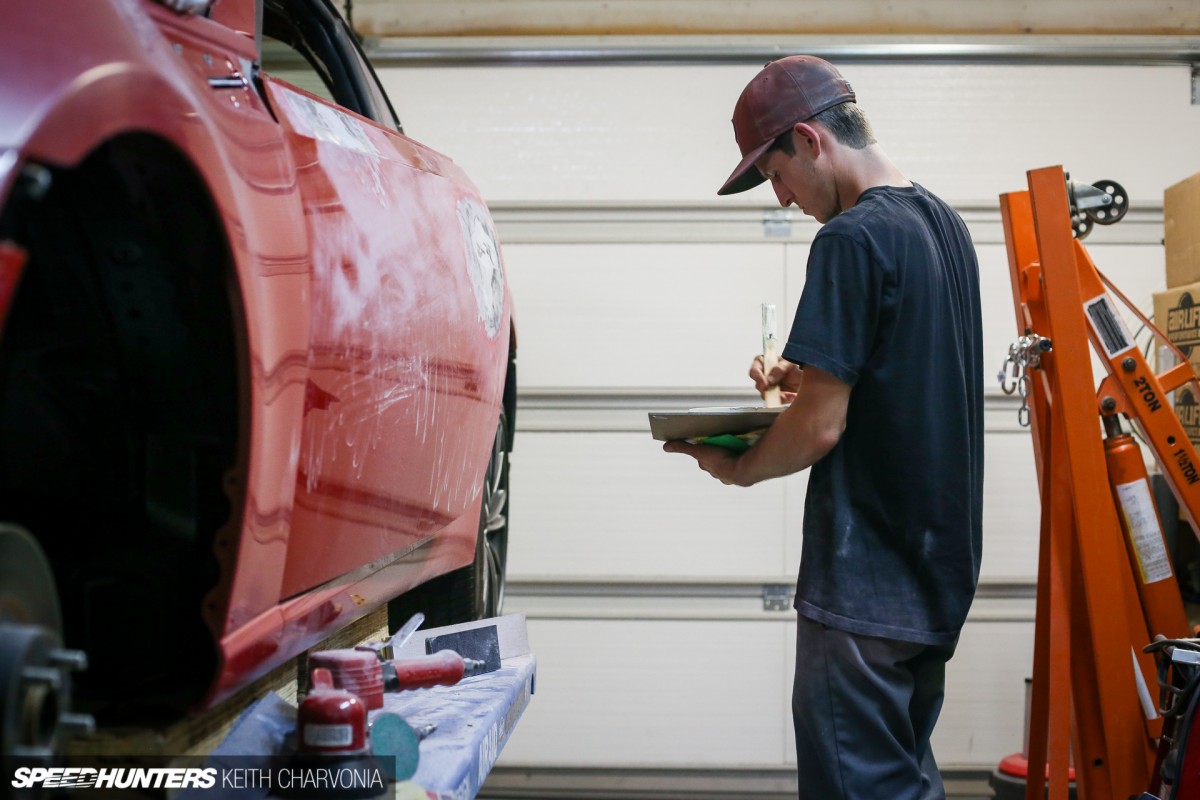 Colin Stevens of Elite Auto Creations would be spraying the paint, so it was only right that he knew what was under the primer.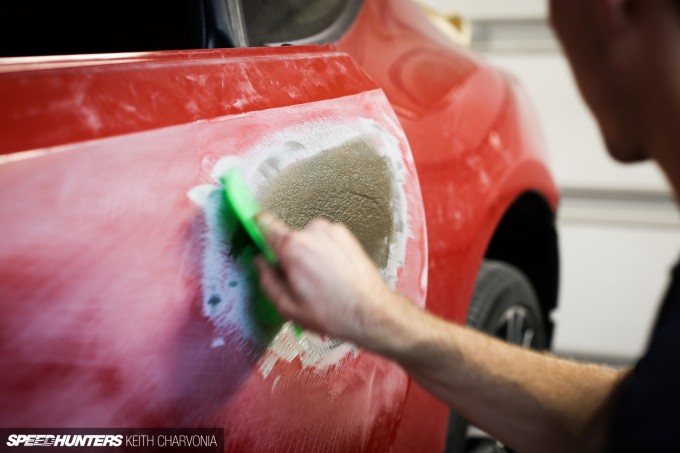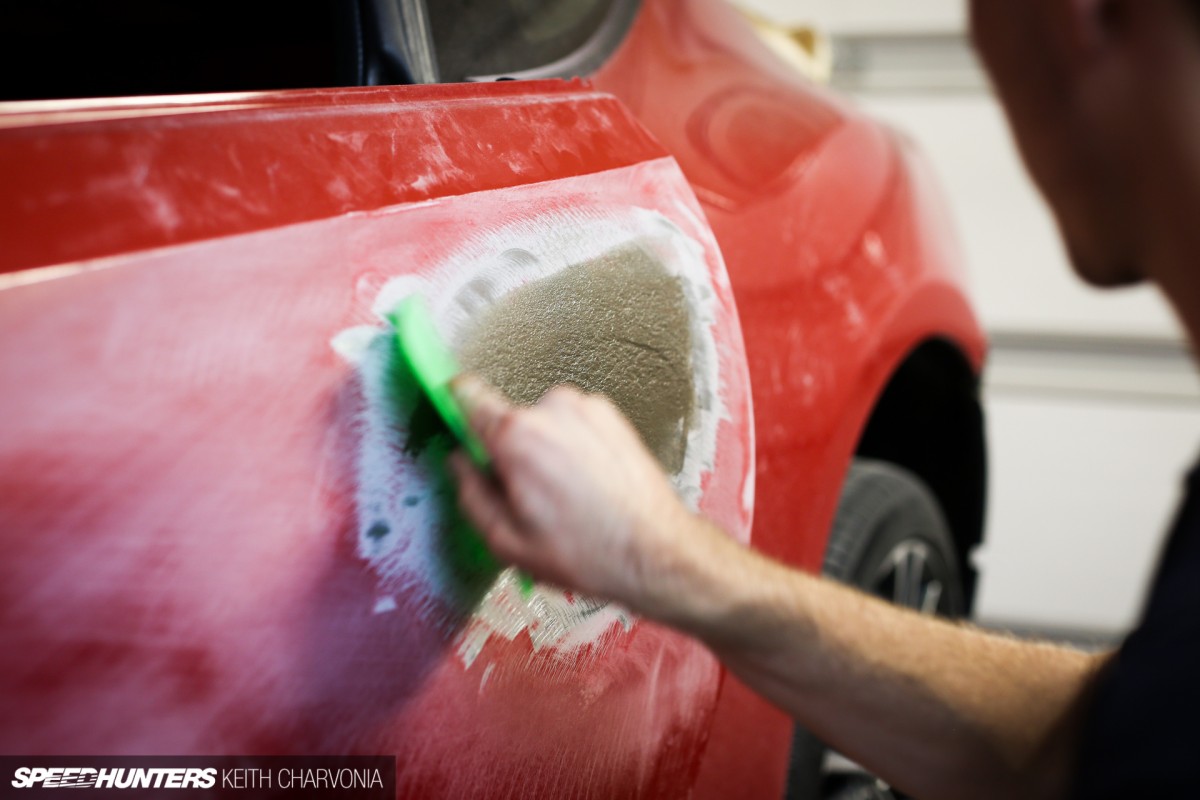 He stopped by a few times to check in on our progress and lend an expert hand with the bodywork.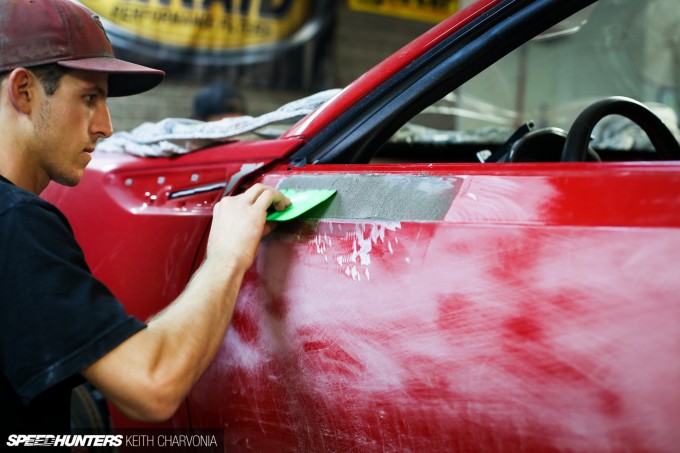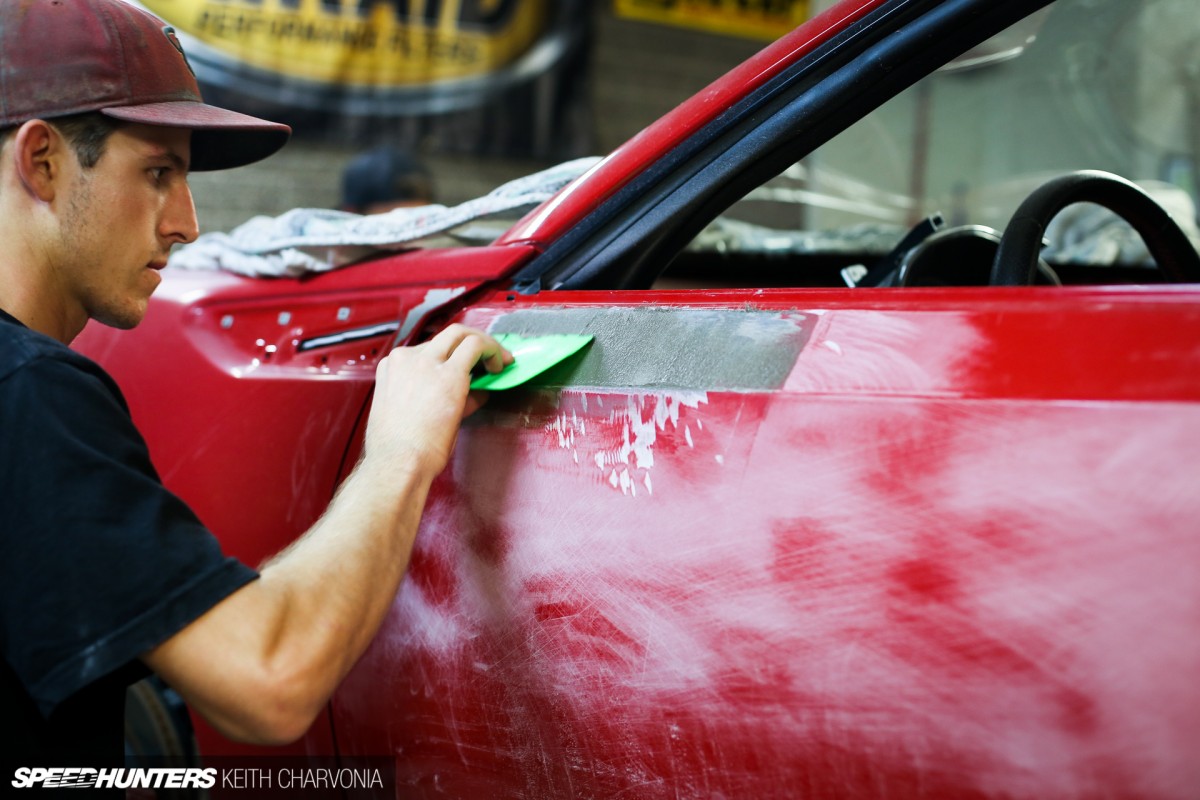 You might have noticed that this filler is an unusual dark green color. That's because it's a short strand, fiberglass-reinforced body filler, also known as 'kitty hair'. It's good practice to use this as the first coat over welded metal to keep the repair from cracking down the road.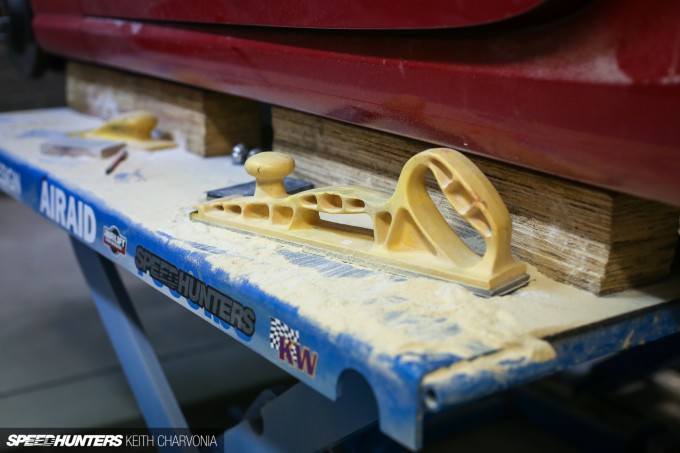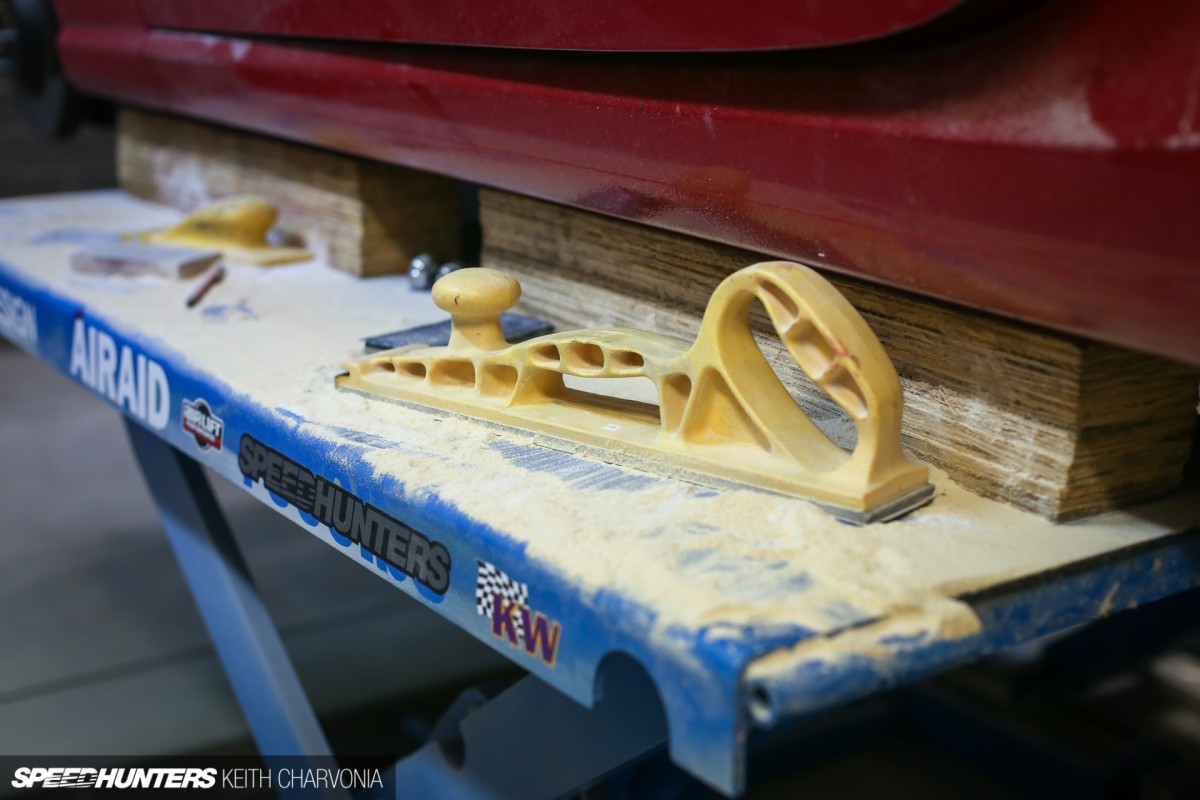 After knocking down the kitty hair with super-coarse 36-grit paper on a long block, we used traditional plastic filler and blocked it out using progressively finer sandpaper. 40-grit, then 80-grit and finally 220-grit to get the big scratches out before primer.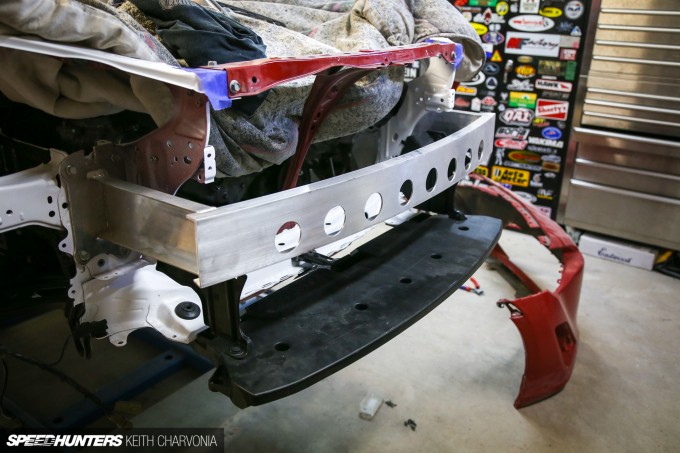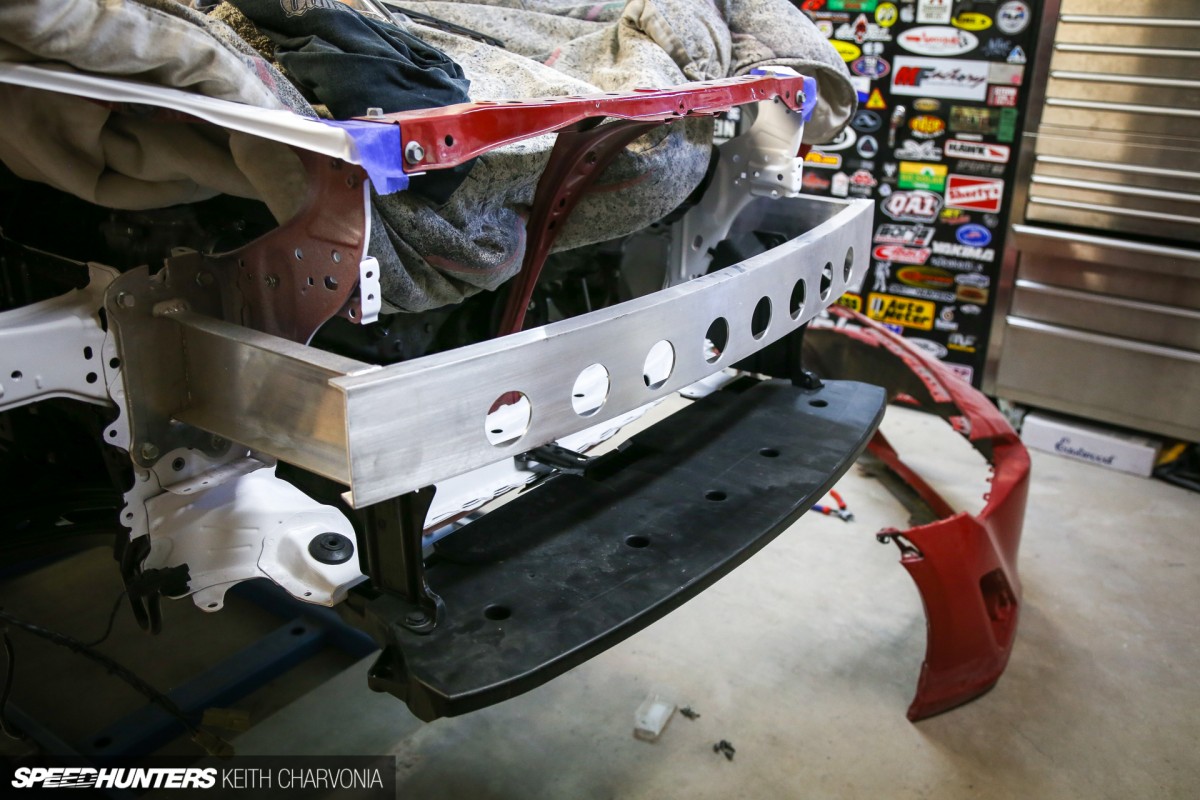 The Scion Tuner Challenge build also received my first prototype aluminum bumper beam. These lightweight, race-only parts might even be available in the Speedhunters store in the future.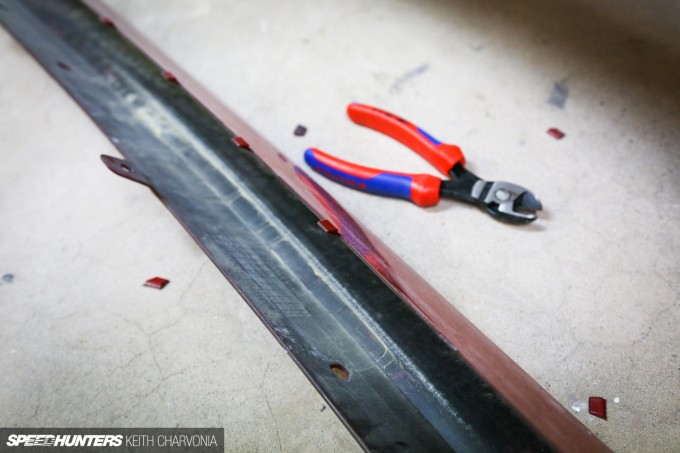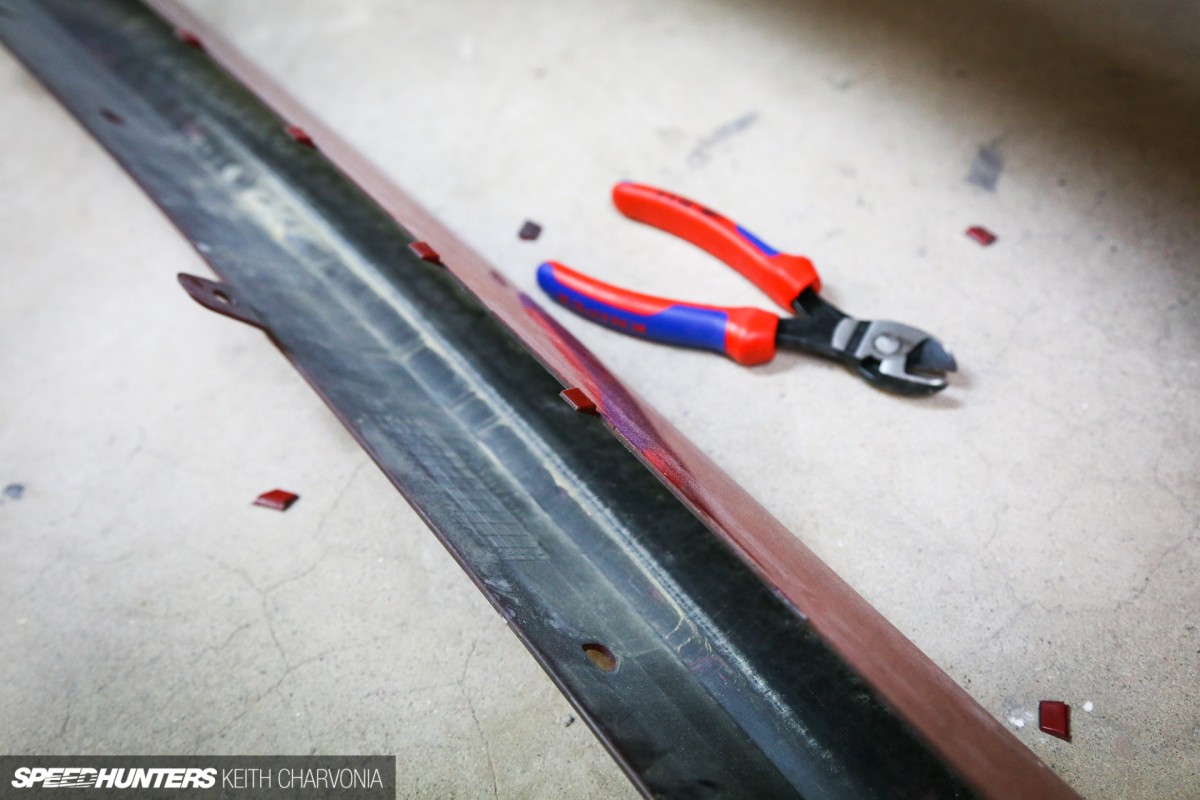 Since we wanted to show off the lightweight bumper beam, I knew I wouldn't be reinstalling the plastic factory grille. I took a pair of Knipex diagonal cutters and trimmed all the little snap tabs off the bumper. These are the little touches that can really clean up a car.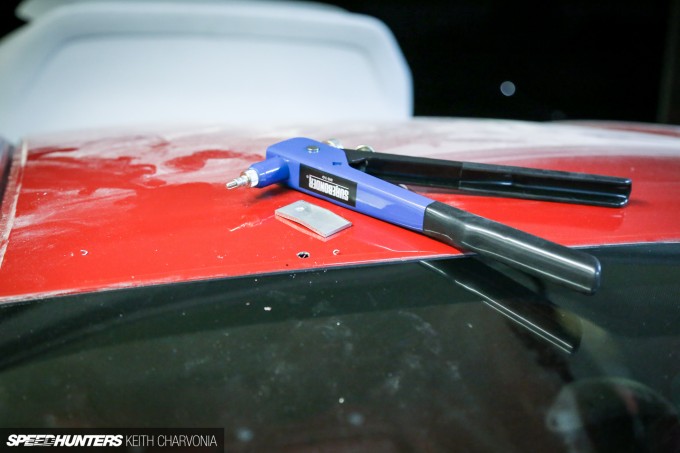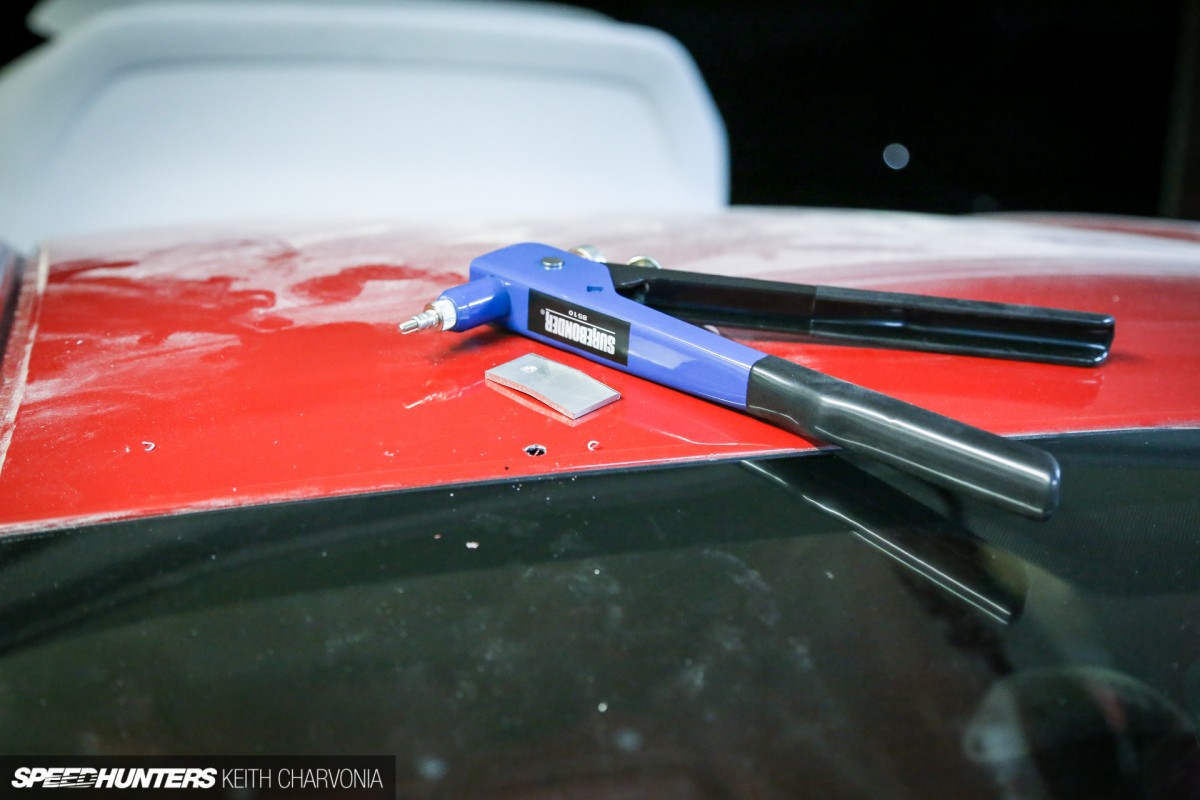 Late one night we mounted the aluminum glass retainer tabs – a throwback to the vintage track cars. I used 1/8-inch aluminum and put a slight bend in them on the sheetmetal brake. Then I used Rivnuts and a special rivet gun to put threaded inserts right in the roof skin.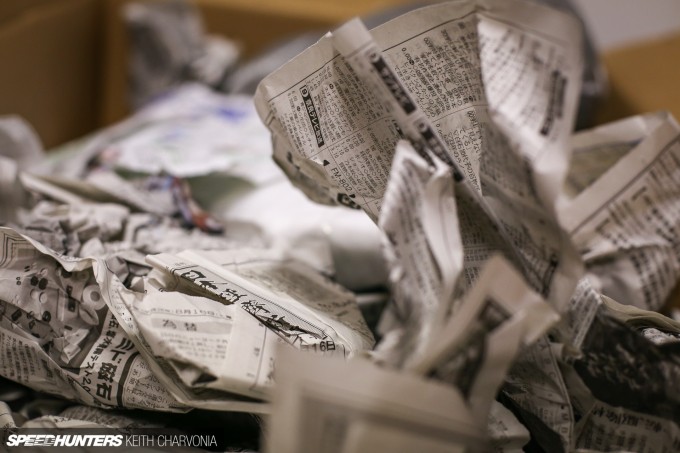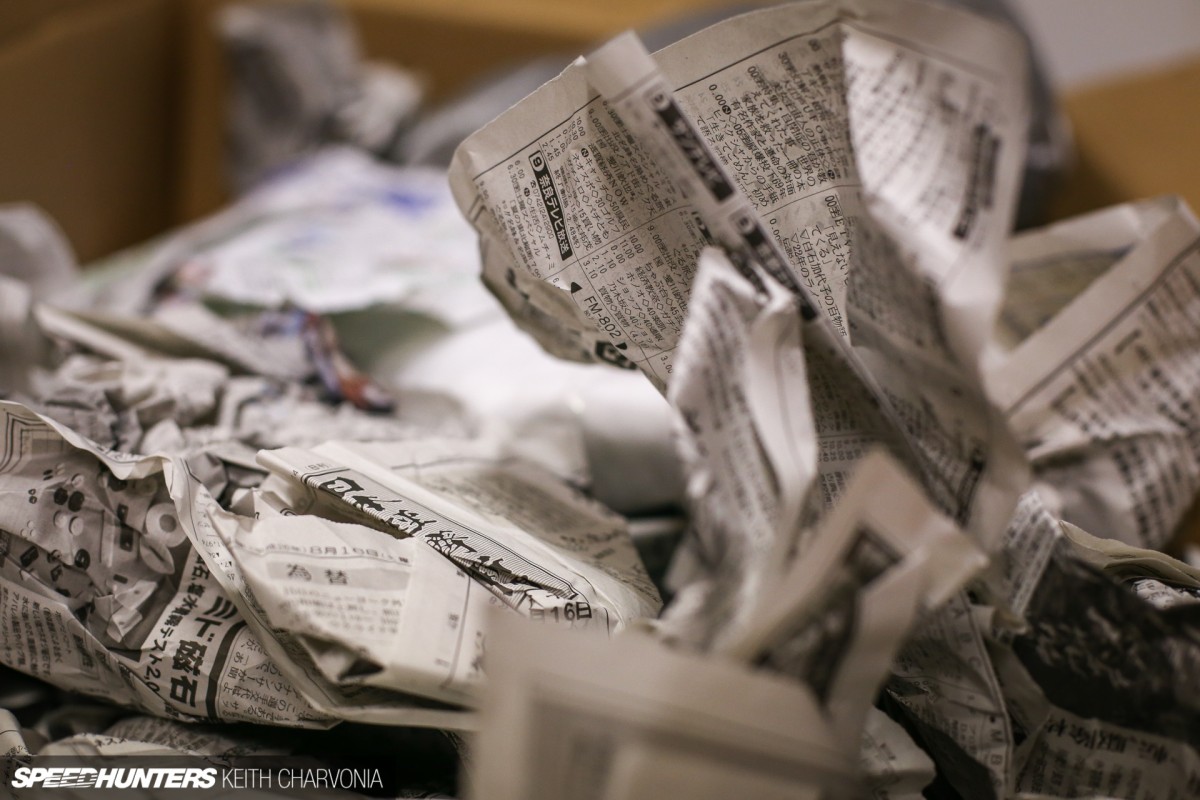 The NOS JDM mirrors weren't the only special delivery from Japan on this build.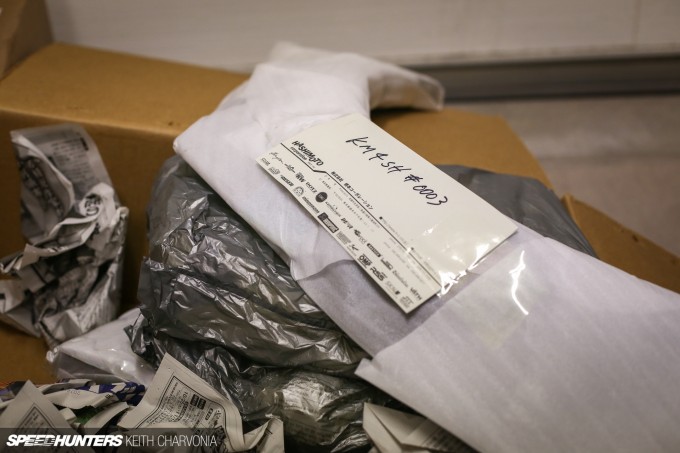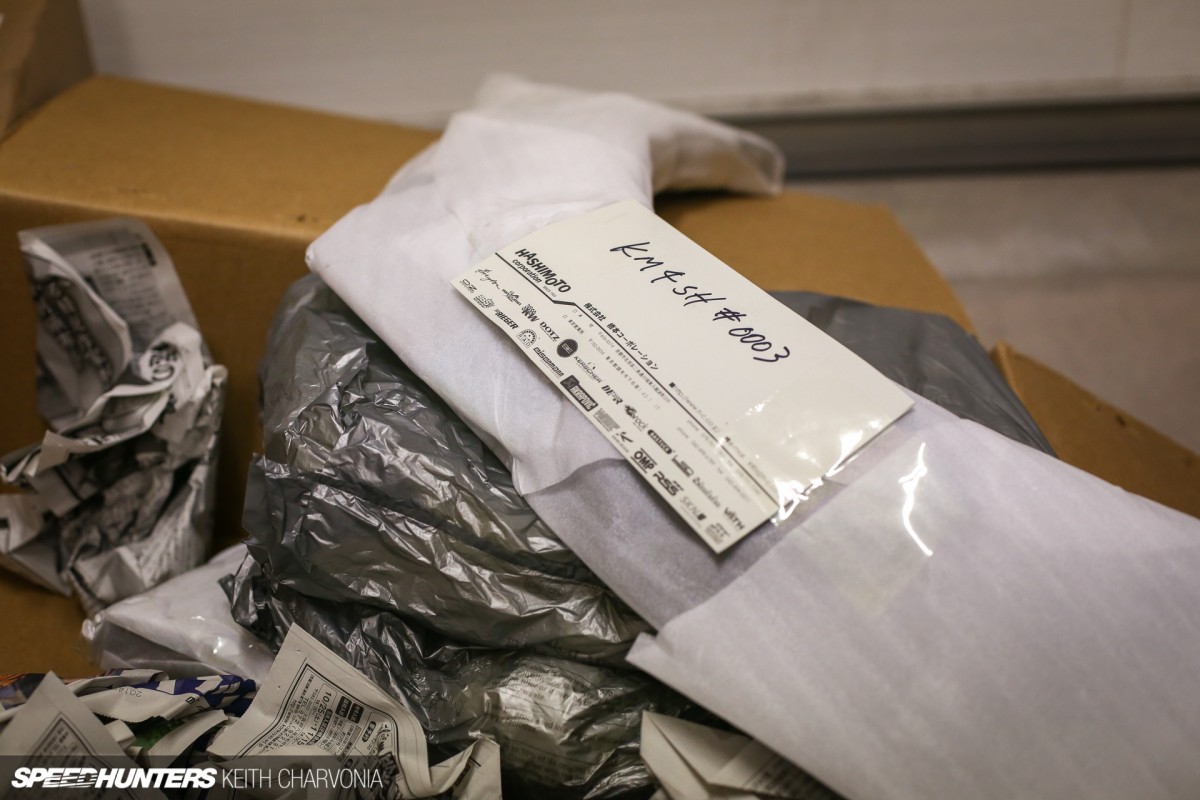 After much deliberation we chose to go with our own KM4SH kit, for a couple of reasons. First, overfenders are a fitting homage to vintage racecars and second, we knew we would have the only KM4SH car at the 2014 SEMA Show since they had not yet been released. Incorporating the freshest of Miura's kits was a sure way to set ourselves apart from the competition.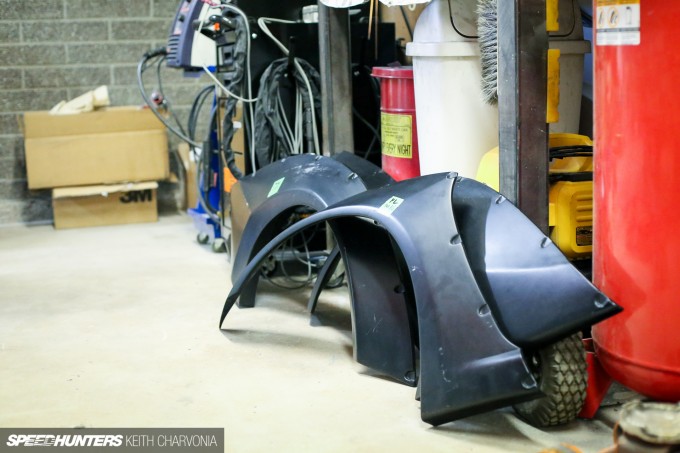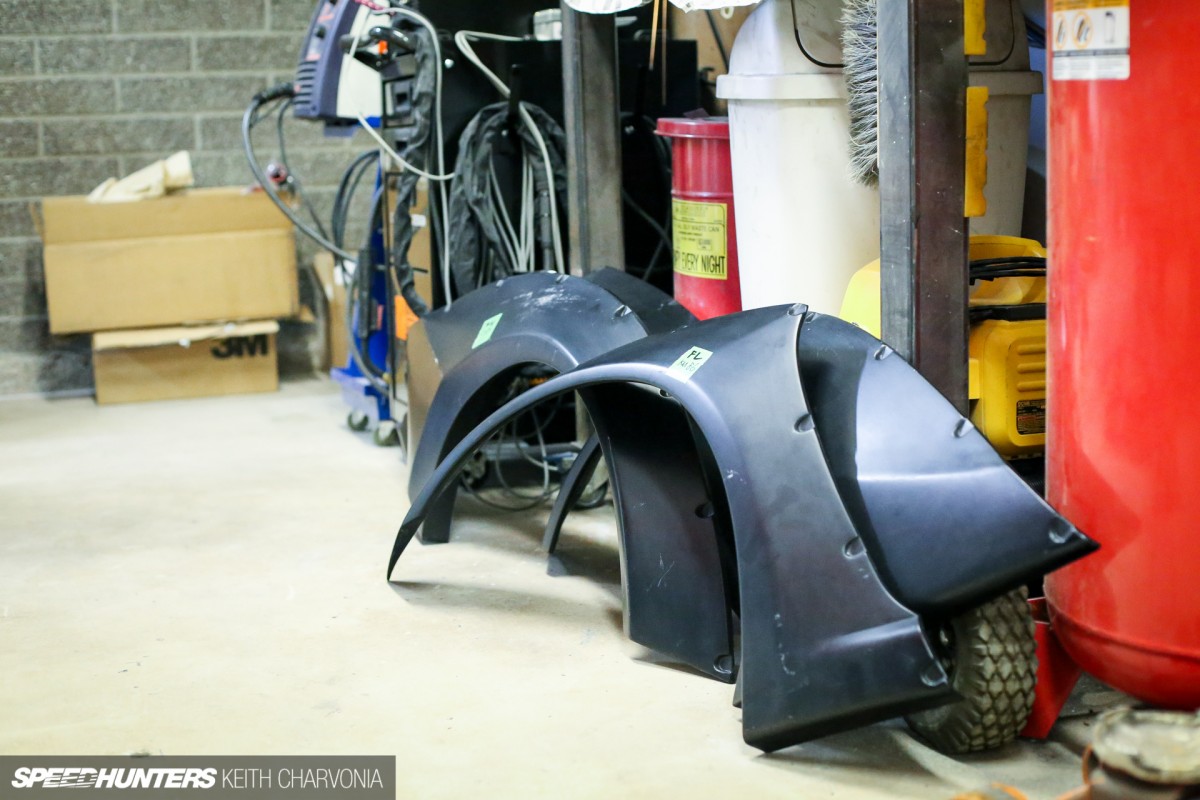 Kei Miura has KM4SH #0001 on his Japan demo car, and I have the second kit on my own FR-S. Unboxing the third set in existence was much less daunting since I had already performed the installation once.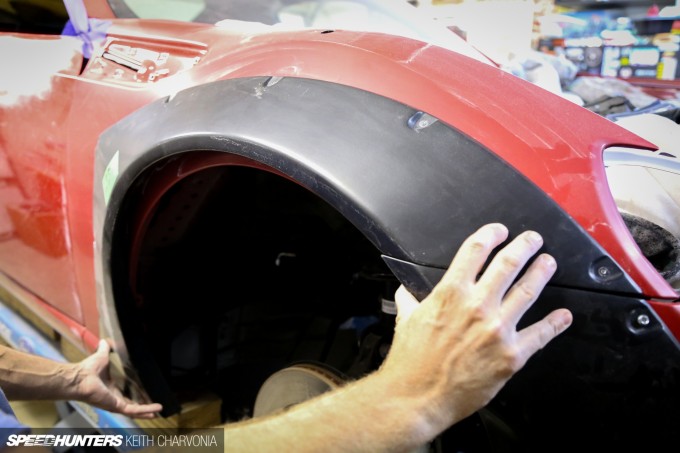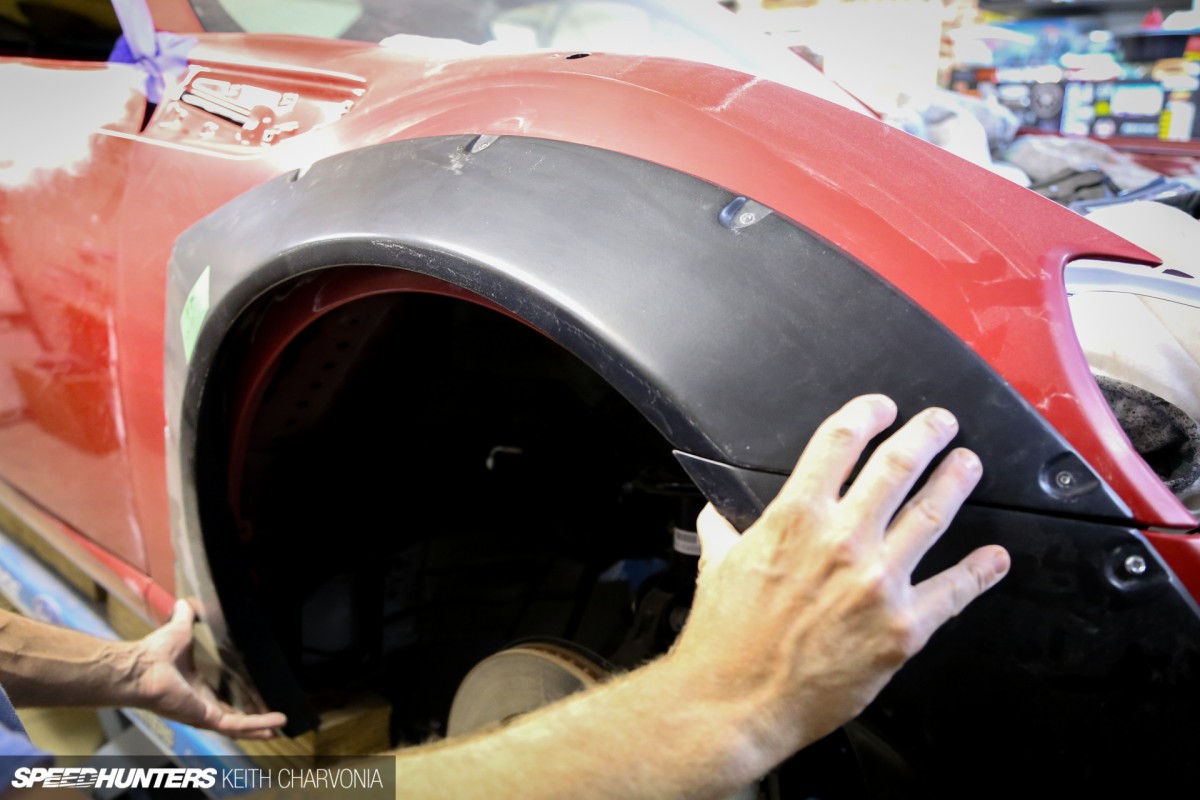 With a lot less head scratching compared to the first time, we held the flares up and screwed them down.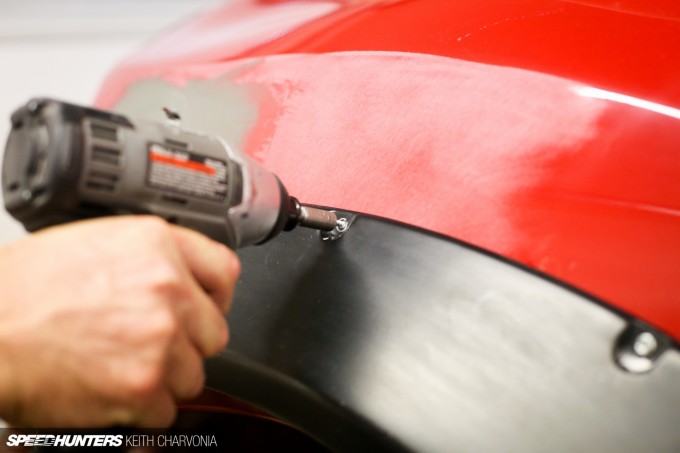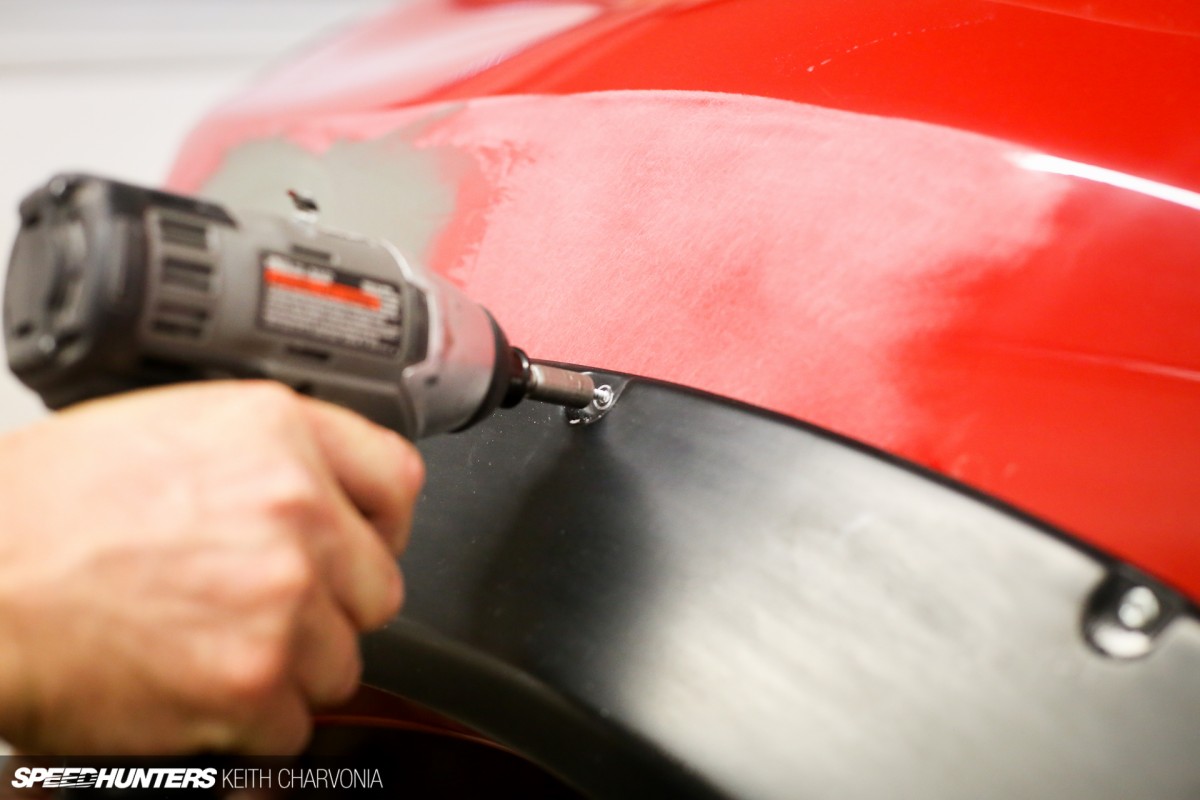 We started out with self-drilling sheetmetal screws. I like to use a hex head and a magnetic driver. It sure beats fumbling around with Phillips screws that like to jump off the drill bit.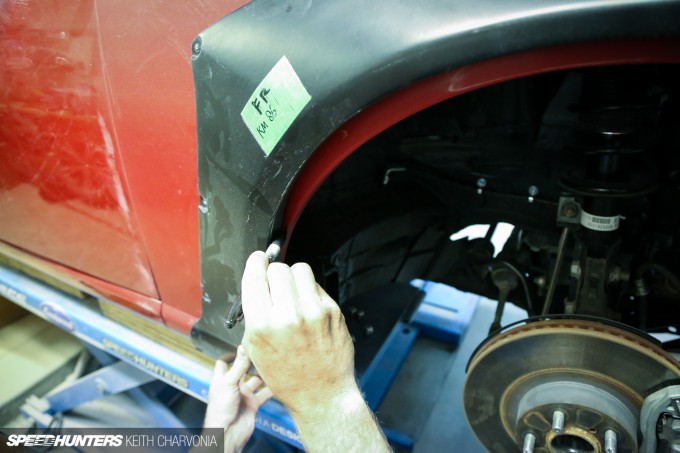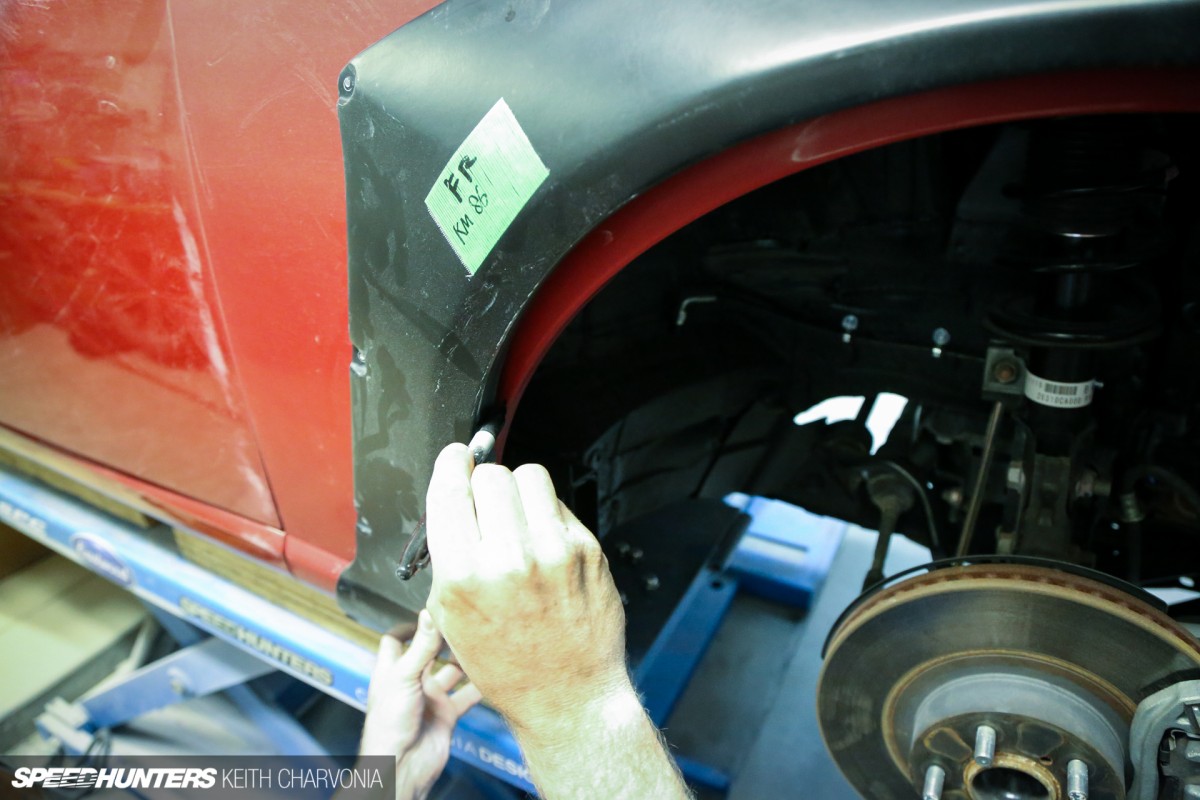 Once the overfenders were roughly screwed into place we marked where the cuts would be made. It was very helpful to have my car in the driveway as reference too.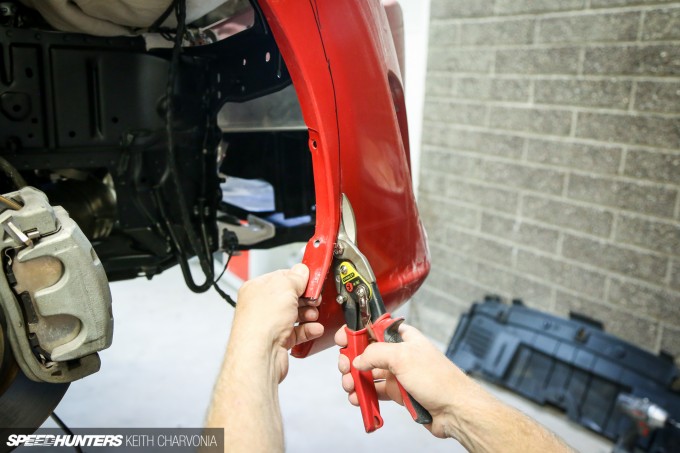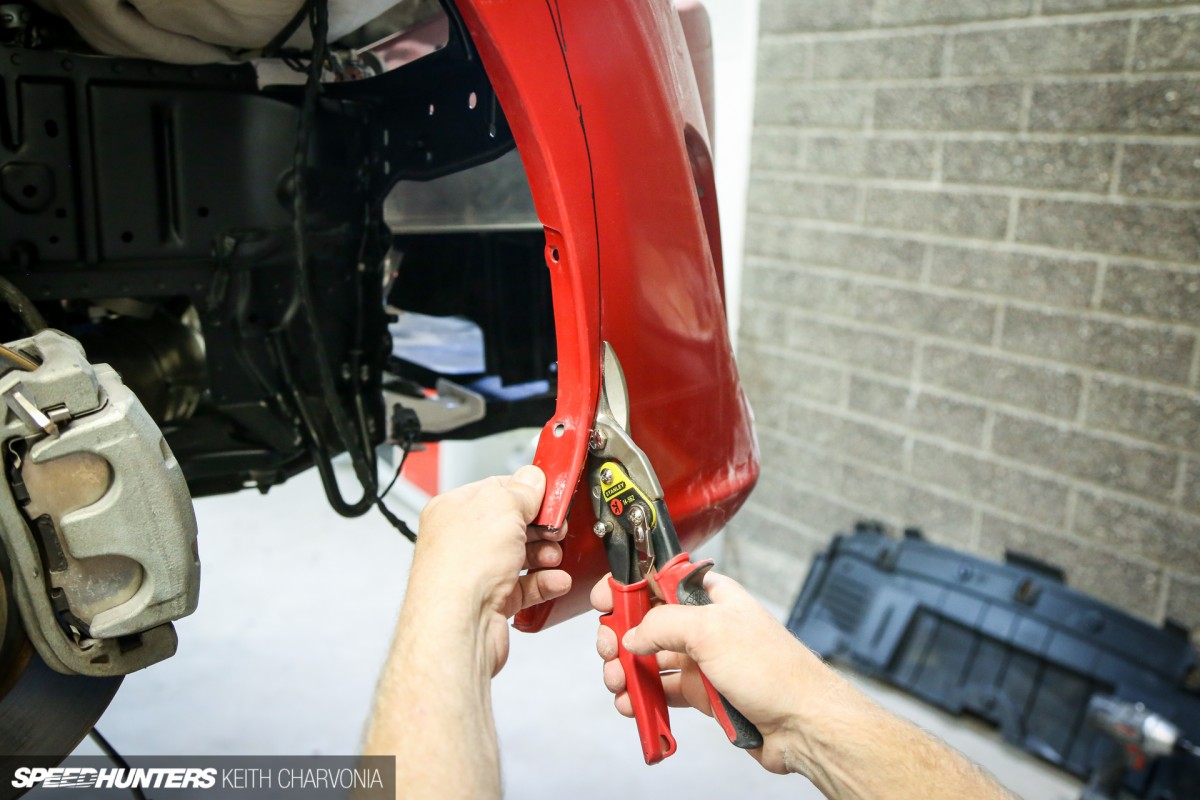 I've seen guys take grinders to their fenders, but I just can't understand why. Finesse is what you need when working with thin sheetmetal, so we used tin snips and a pneumatic body saw for all the cuts.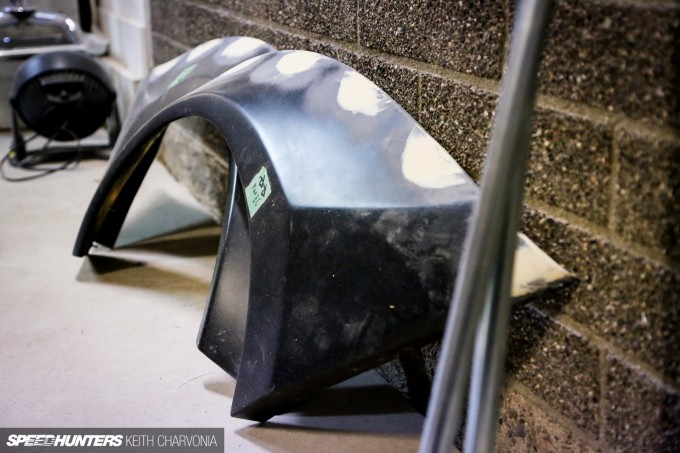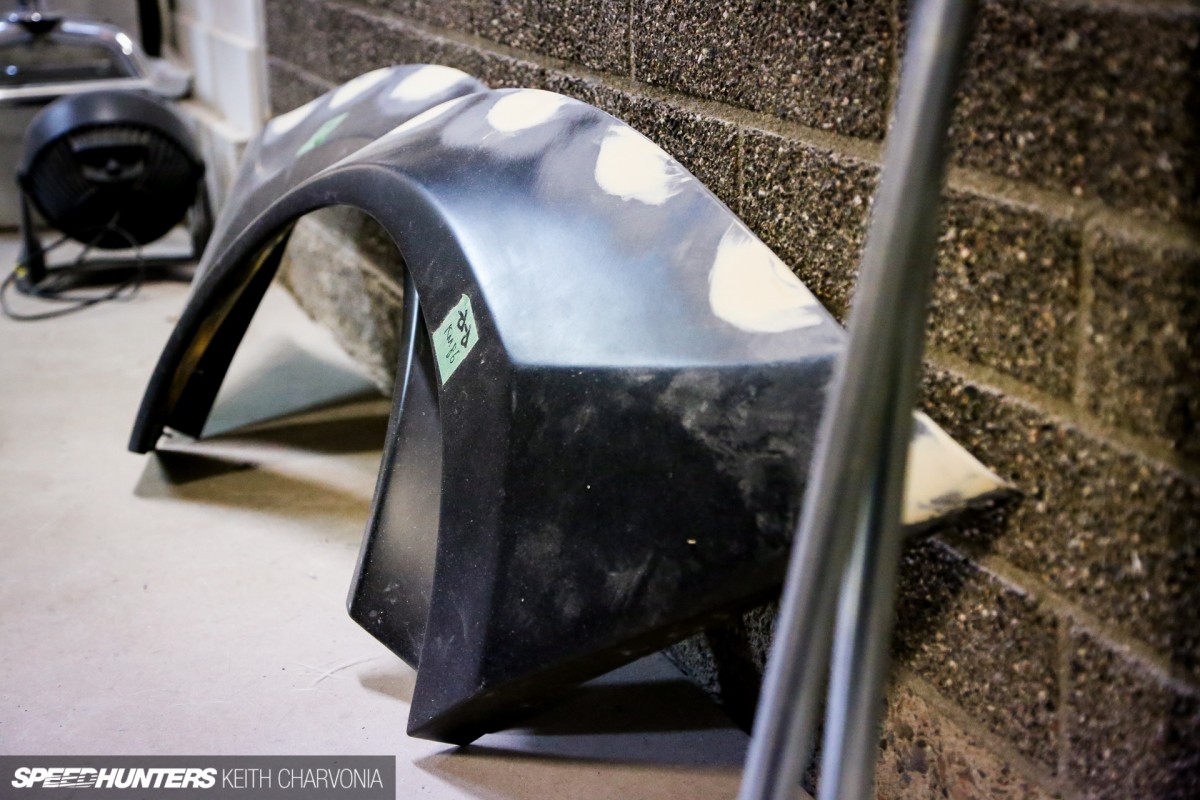 Since we wanted everything to be one-off for this build we chose to fill in the mounting holes for the KM4SH kit. This was accomplished by fiberglassing in machine screws and then fastening the flares to the car from the backside using nuts.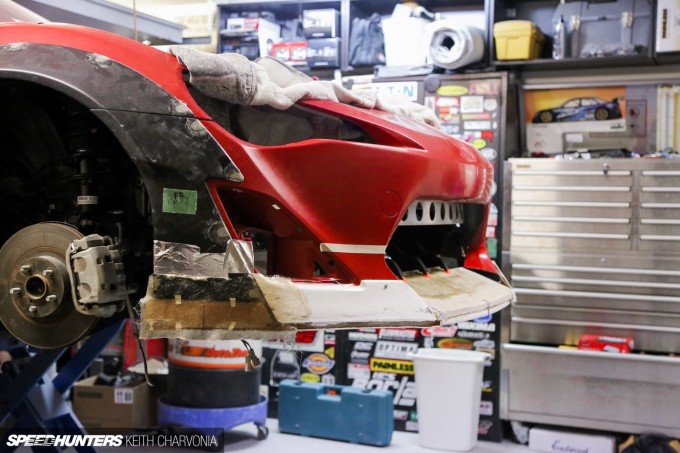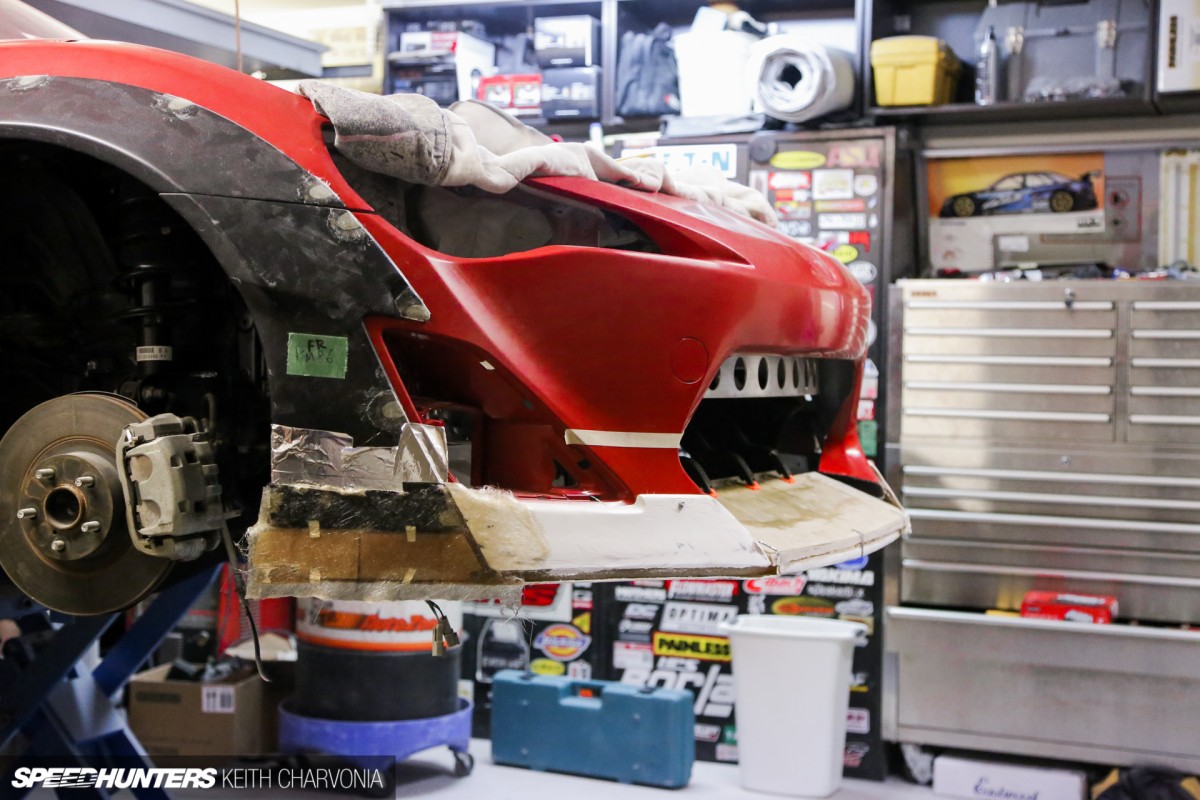 We also trimmed the bottom edge of the bumper flare and incorporated it into the handbuilt front splitter, as shown here with the cut line hiding under the silver tape. This would ensure that our custom splitter flowed right into the shape of the KM4SH flares.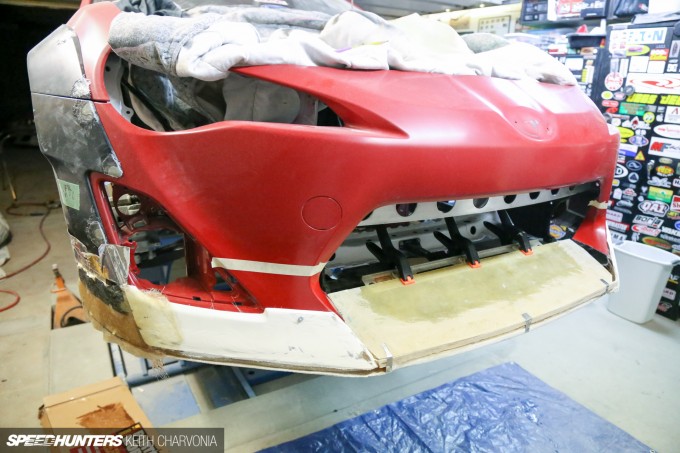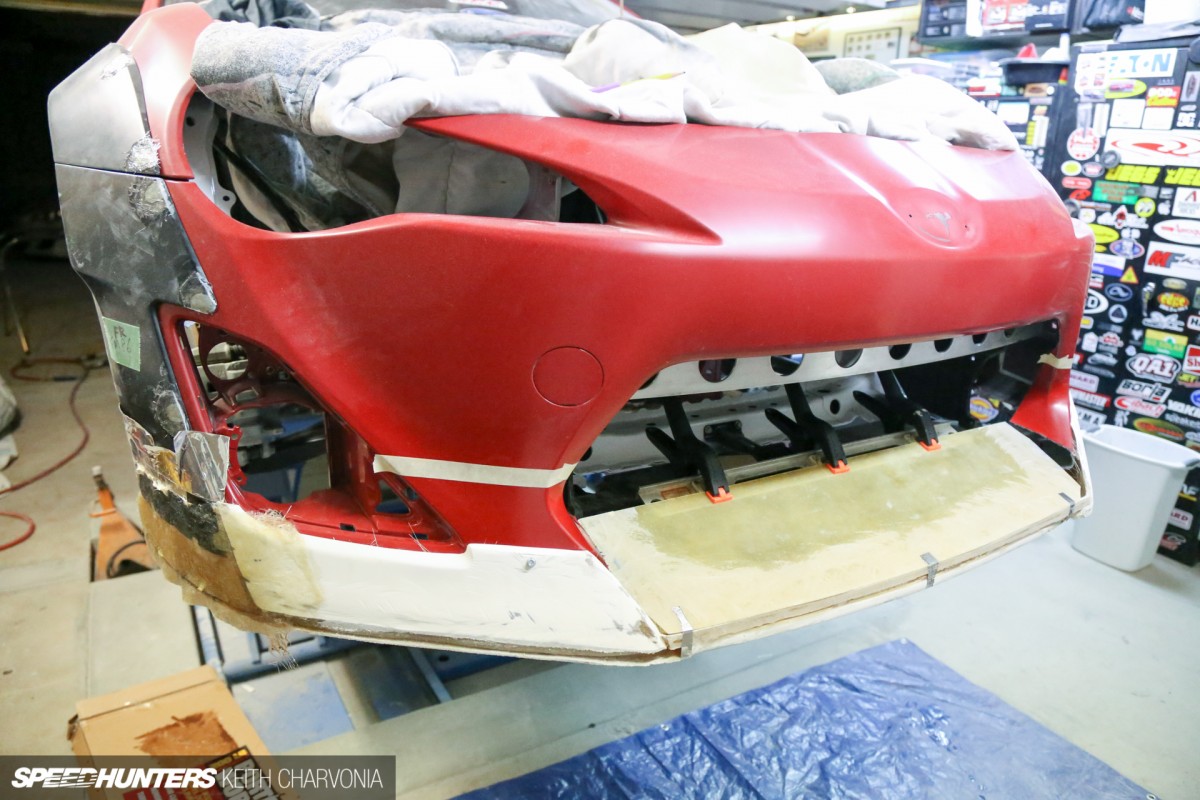 Andy Blackmore spent a ton of time researching and sketching shapes to create a retro splitter that would flow with the lines of a ZN6. We even had to cut the bottom lip out of the stock bumper to make room for the flat, angled plane of the splitter: This was critical to pulling off the look Andy wanted and I couldn't believe how well his design worked in real life!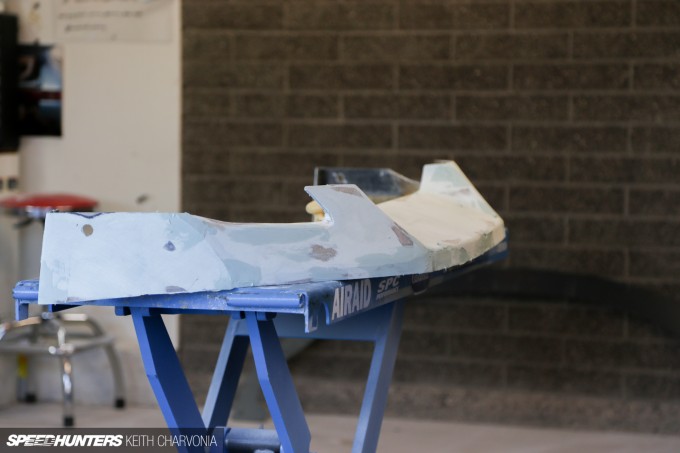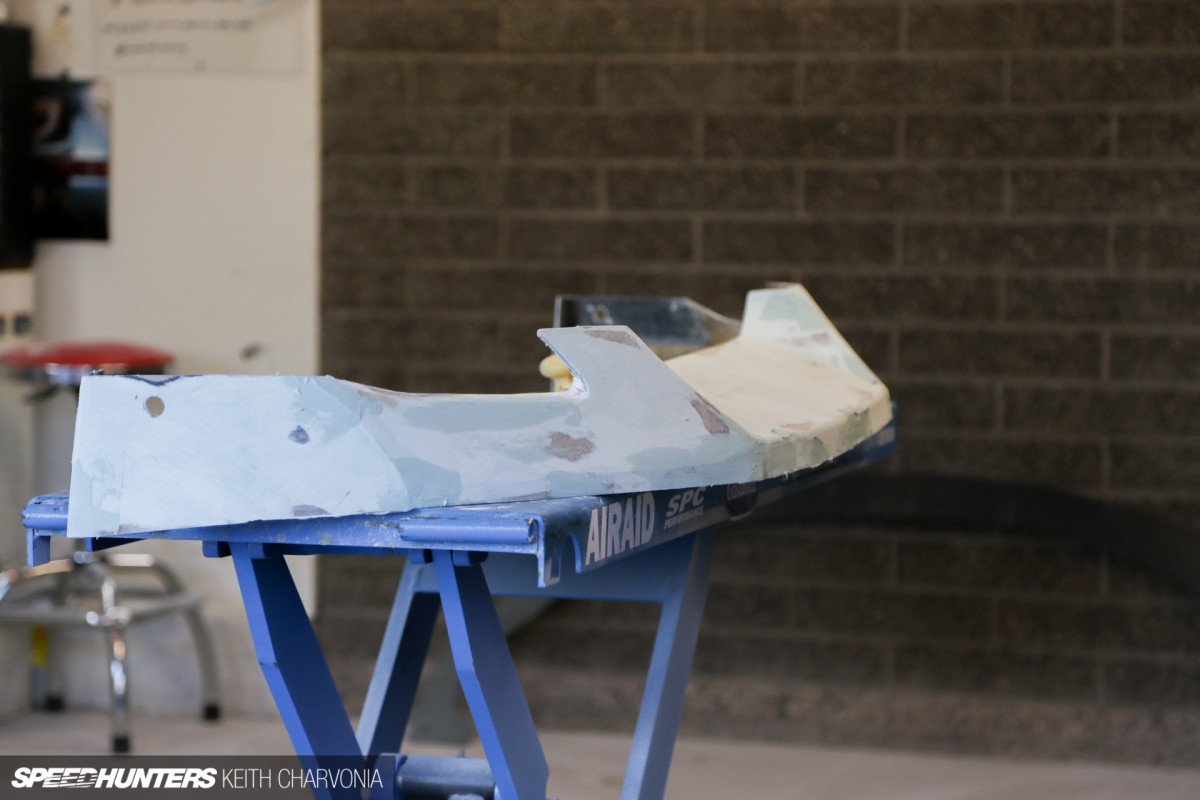 Obviously, making a part like this by hand is no easy feat, so the fiberglass work came out pretty rough and took a whole lot of mud to make it smooth. If you were producing a part like this for production this piece would only serve as a prototype to create the mold.
We considered bringing this item to market too, but with an abundance of FR-S/86 parts out there already and the fact that you have to cut up your stock bumper we didn't think it would be very popular.
Punch Some Louvers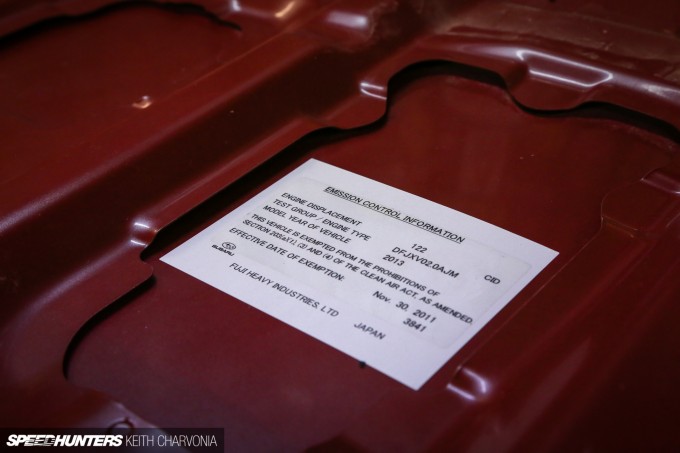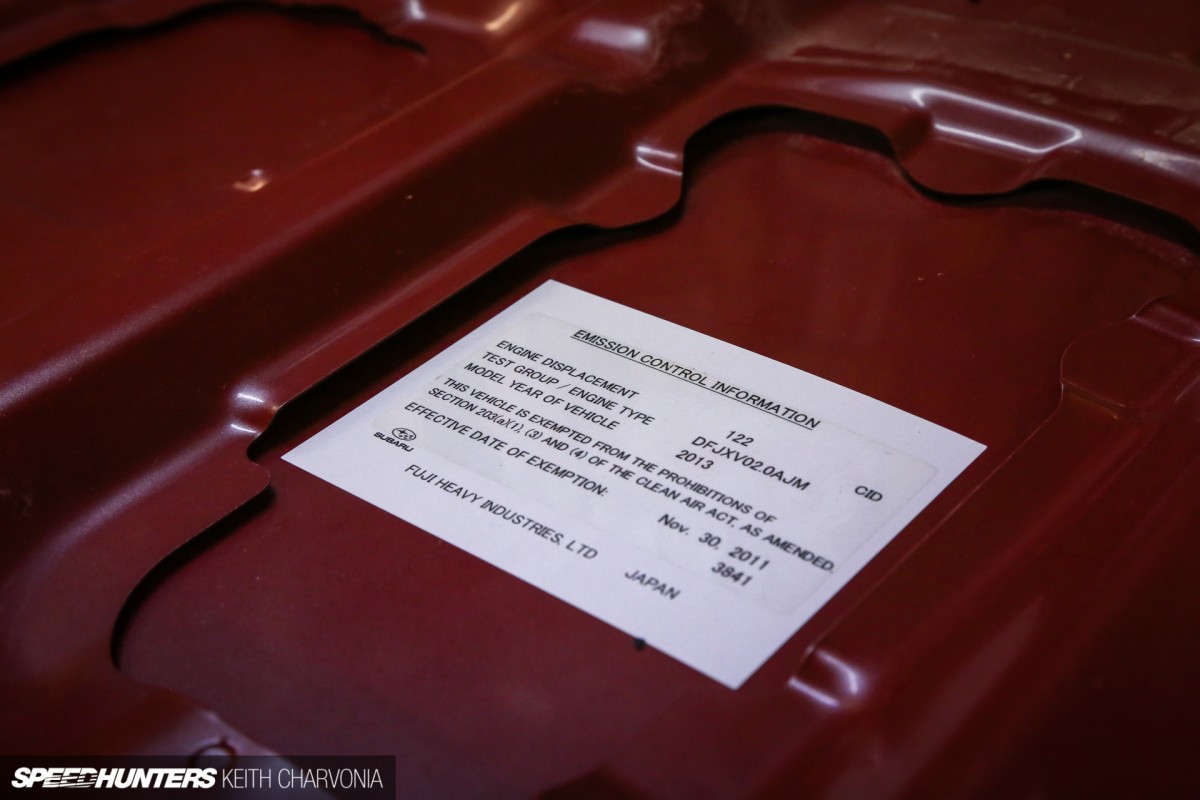 One design element that I was hellbent on incorporating from the start was a louvered hood. I called local hot rodder Chip Quinn of Hot Rod Central to do the job and he requested that I strip the hood down to bare metal. As I did that I noticed an unusally early date on this underhood decal.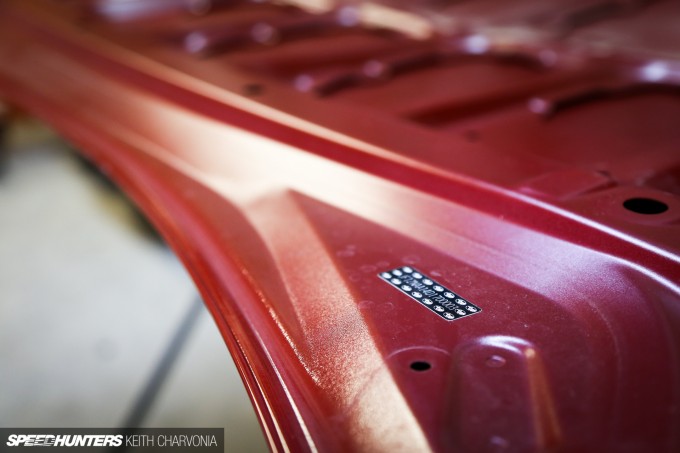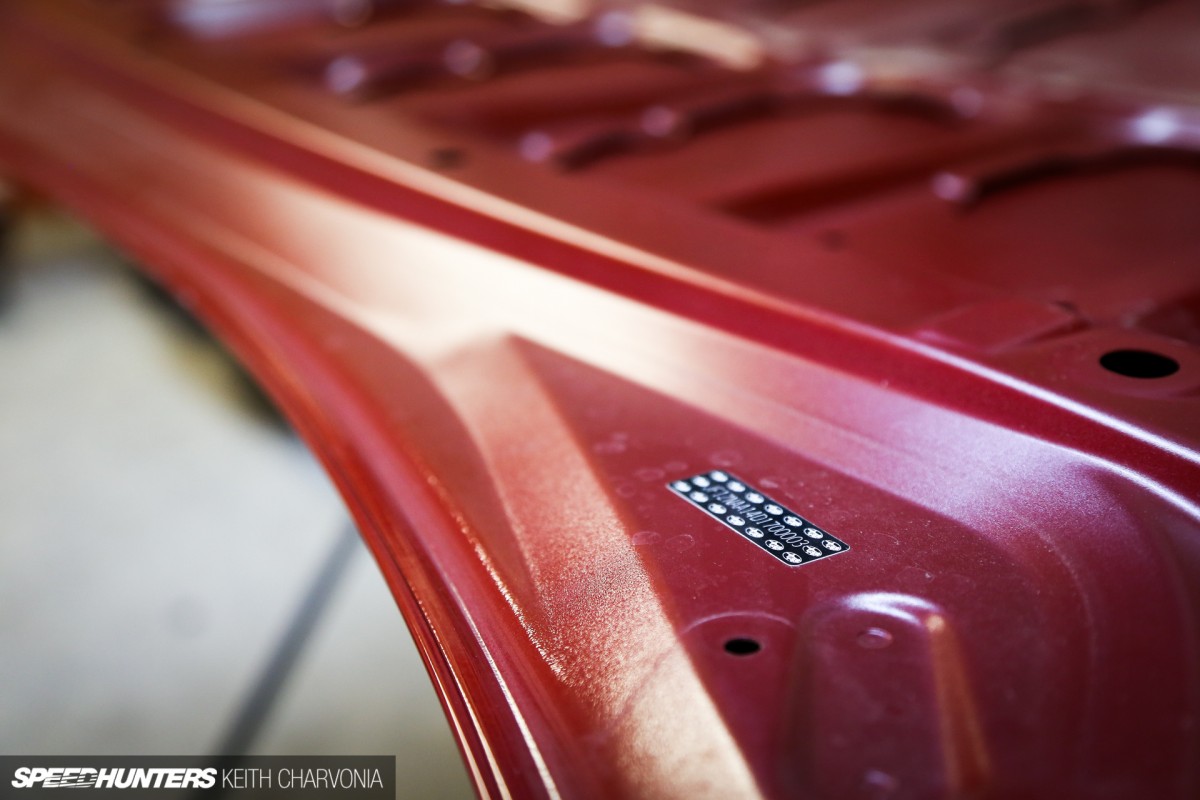 I also noticed that the VIN had a whole lot of zeroes, which made me wonder if car was an early test mule or a pre-production unit. It's kind of cool that the VIN ends in 0003 and that happens to be the KM4SH number too.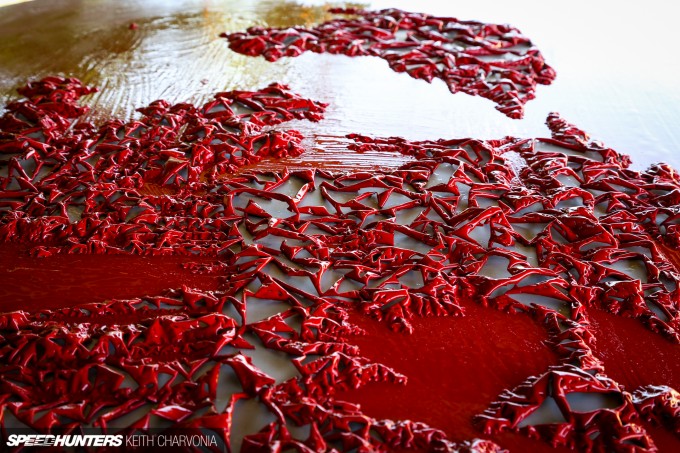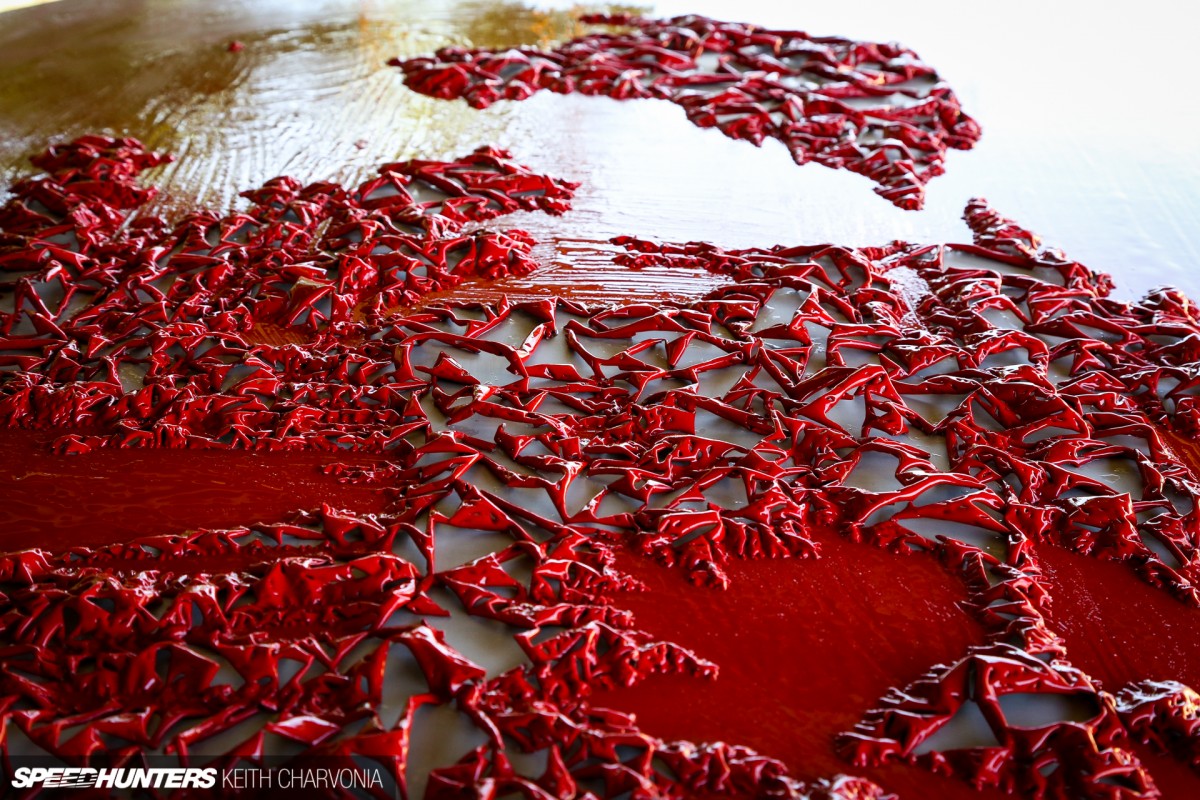 Enough speculation though, I needed to get the paint off this aluminum hood. I've always heard about using aircraft stripper so I gave it a try, and it sure was effective.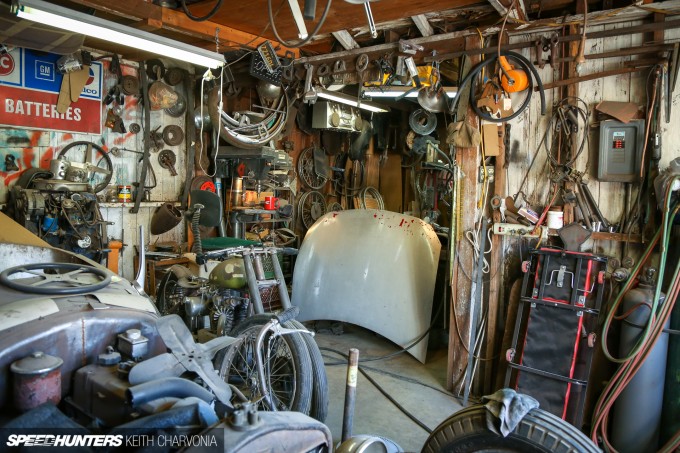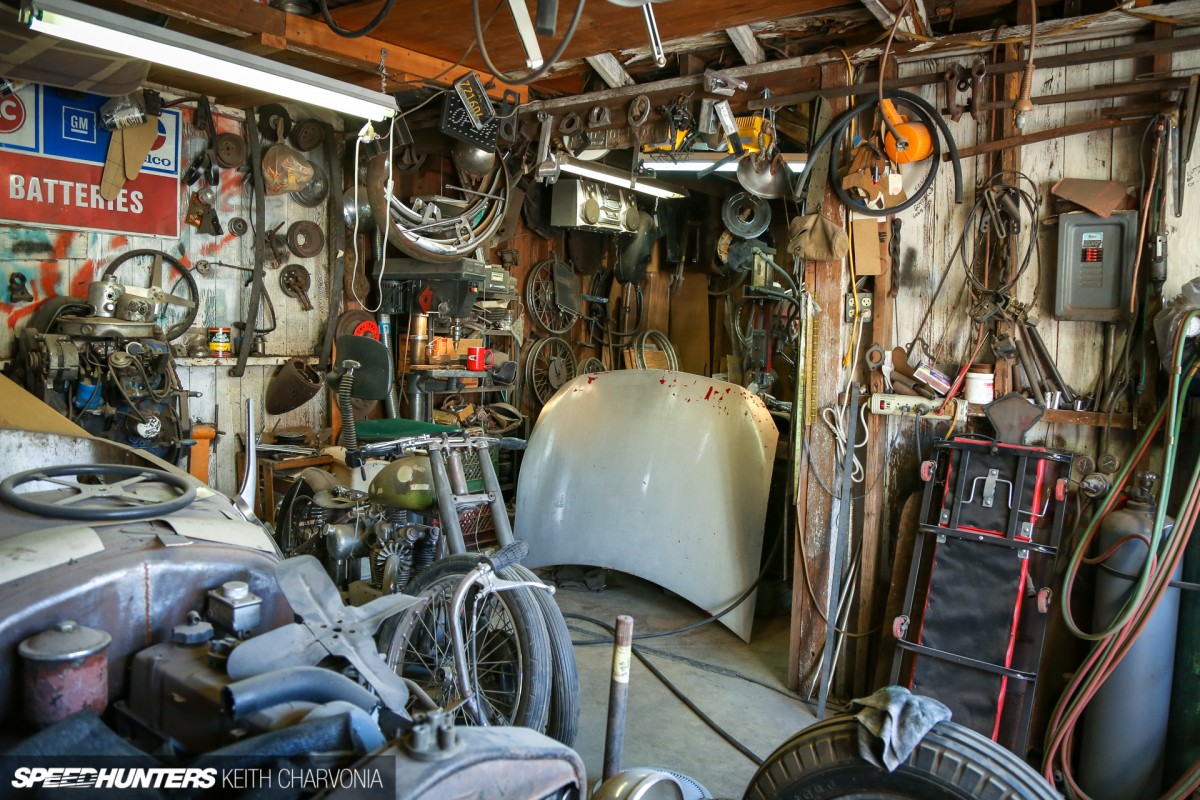 The next morning I took my little import hood to a garage that has cranked out some bad old hot rods and bikes. My automotive worlds had just collided!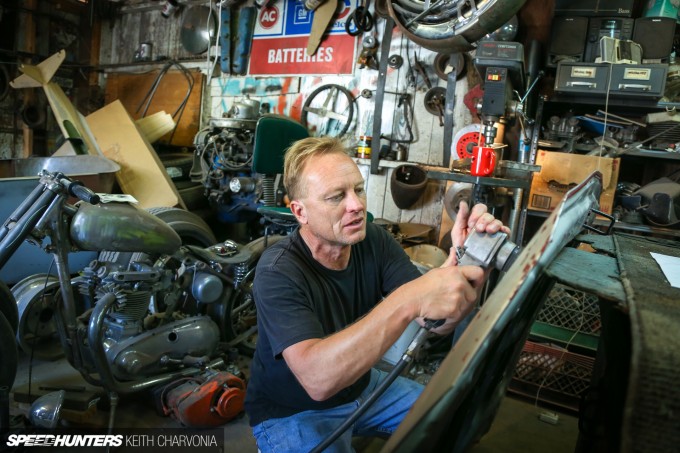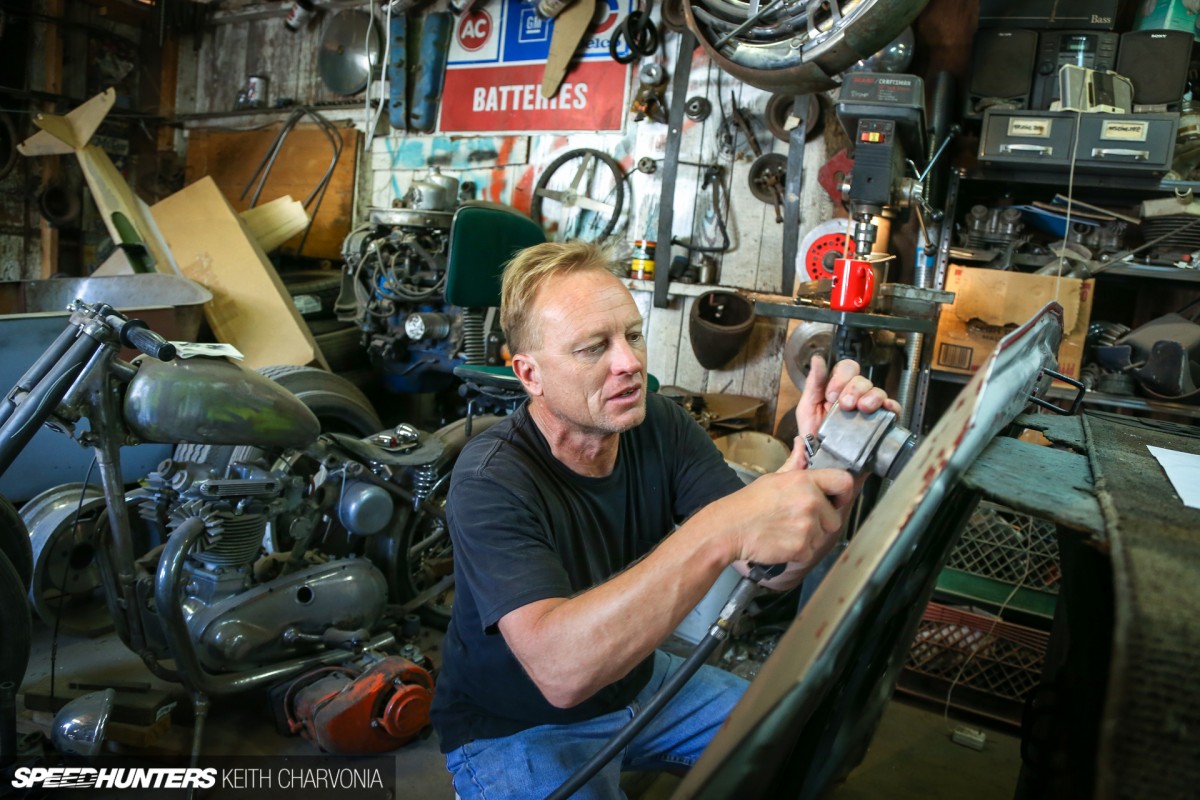 Chip didn't mind though, he thought my project was cool and was more than happy to play a role in the build.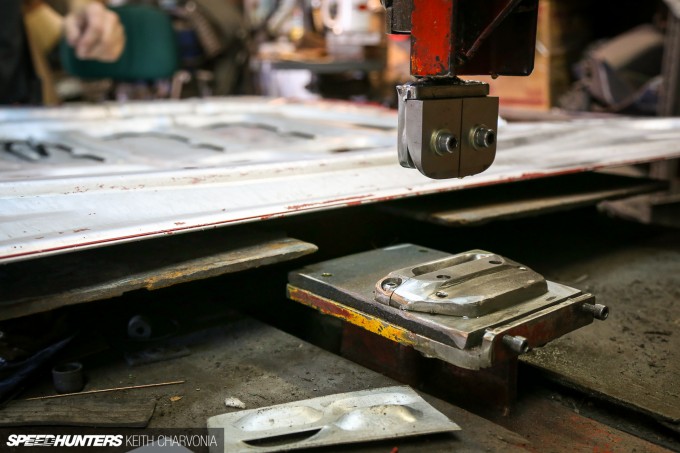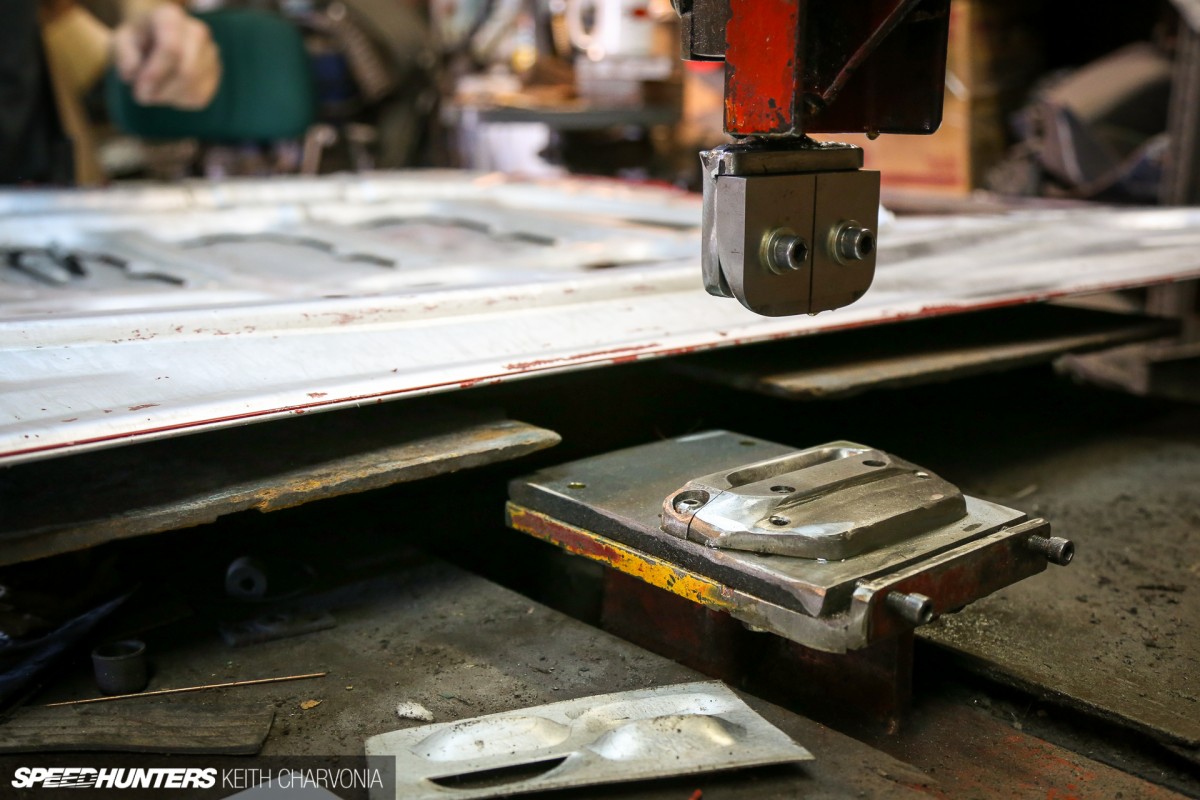 Chip's louver press is the centerpiece of his old wooden shop, and his business too. He must have punched tens of thousands of louvers with this archaic machine by now, and he's not even the first owner of this old school machine.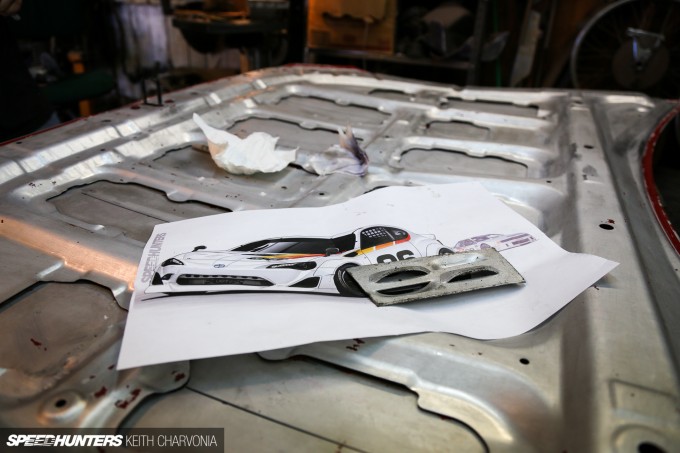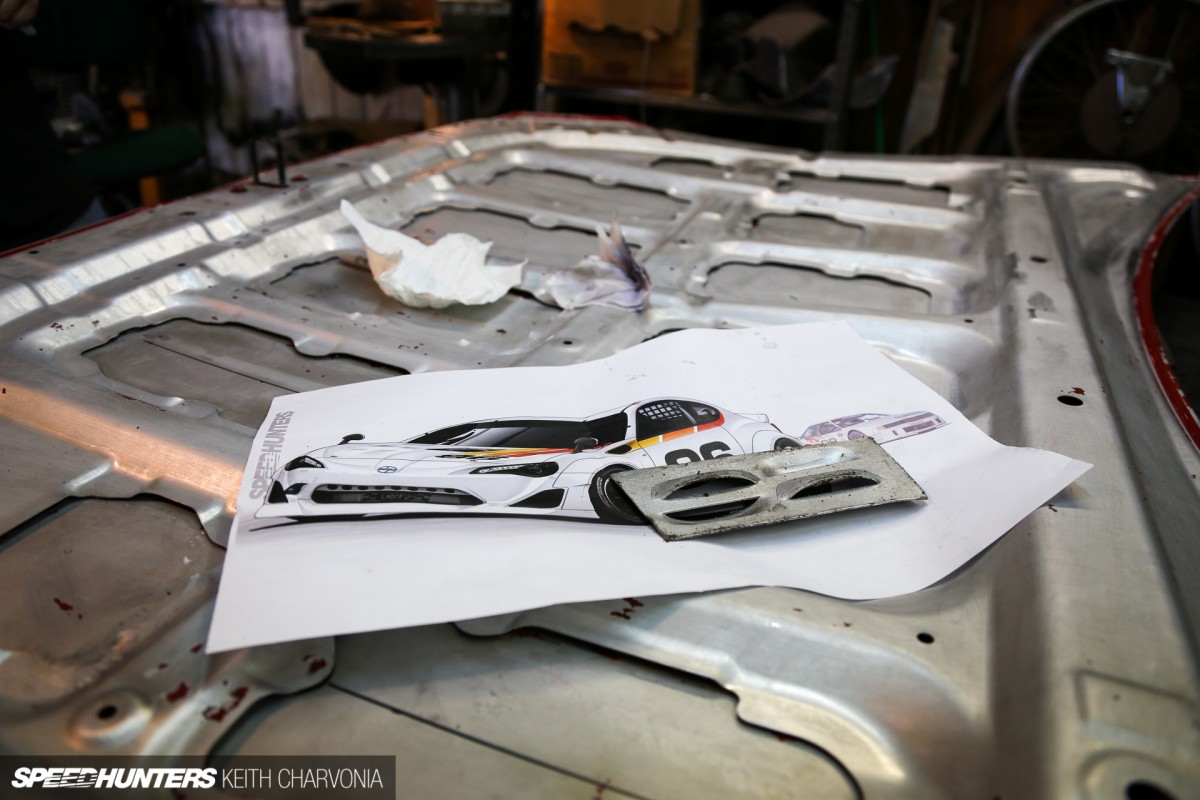 With the rendering in hand we discussed the best way to layout the louvers. This is where design meets the real world – you can draw anything you want, but there will always be practical limitations when you go to execute your plan.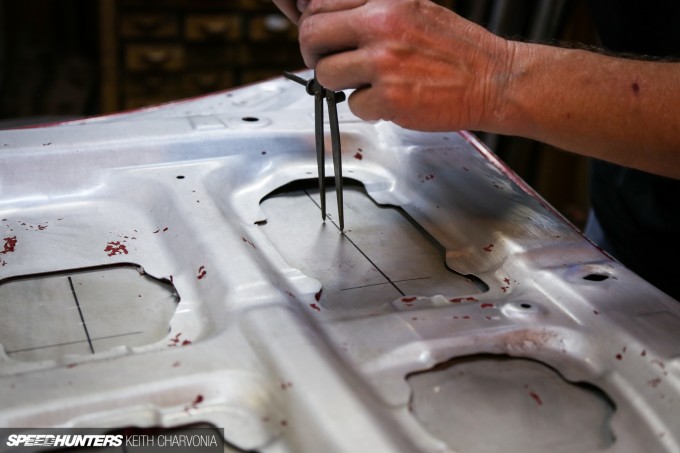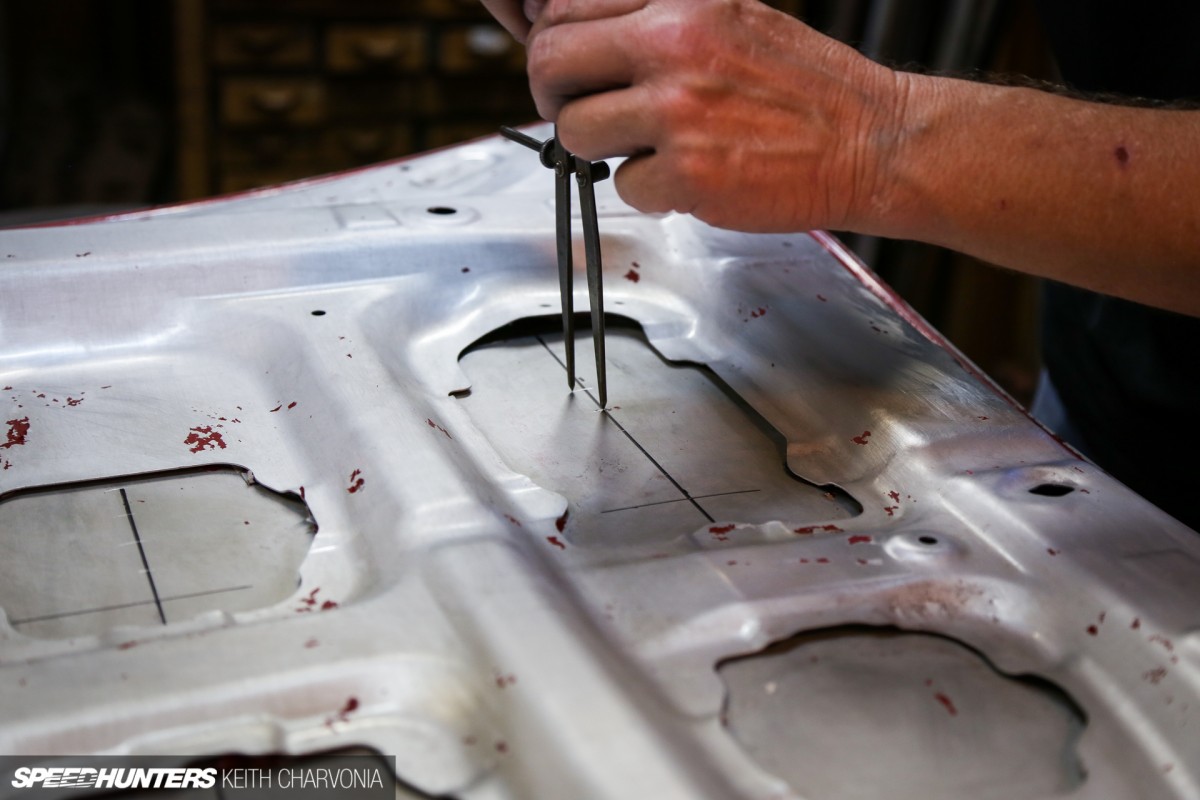 Since the hood was aluminum we decided to fill the spaces inside the structure with louvers. If this were a steel hood Chip would have cut away the structure, laid out the pattern however looked best, then welded the structure back in when he was done. That would be a pain the ass with this thin aluminum though.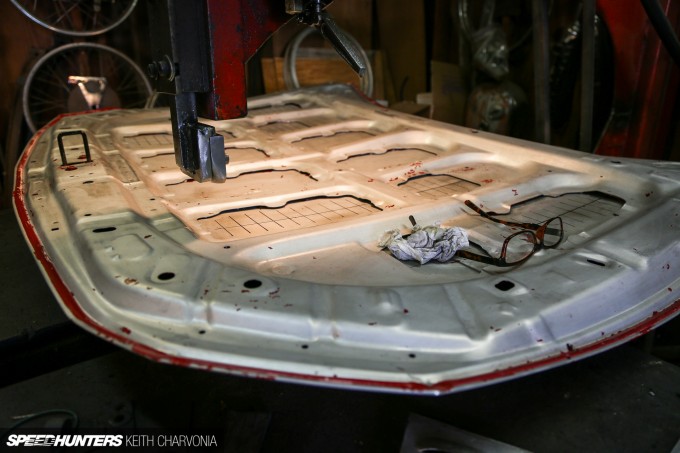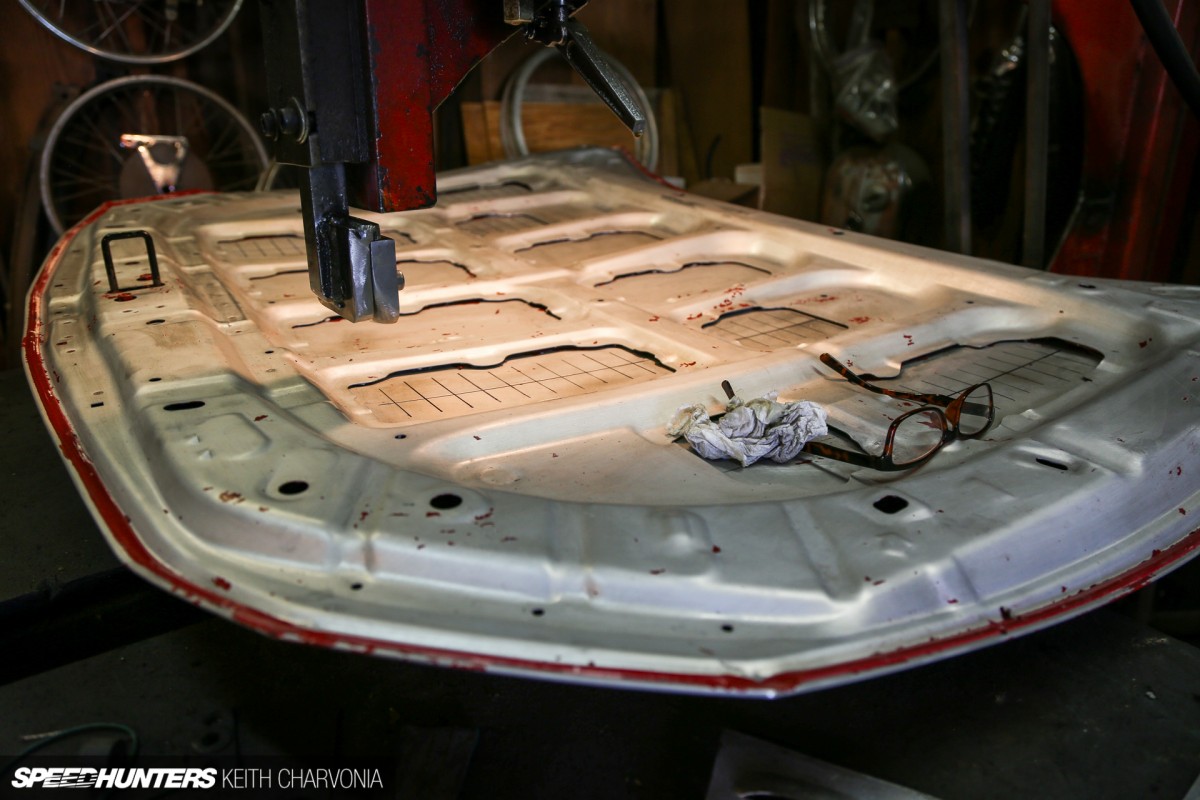 He spent the majority of the time laying out the pattern. Rather than 'measure twice, cut once', this was 'measure a thousand times and cut once'.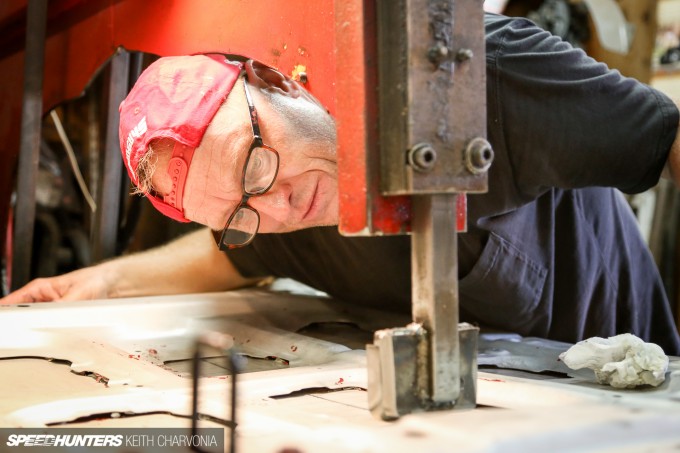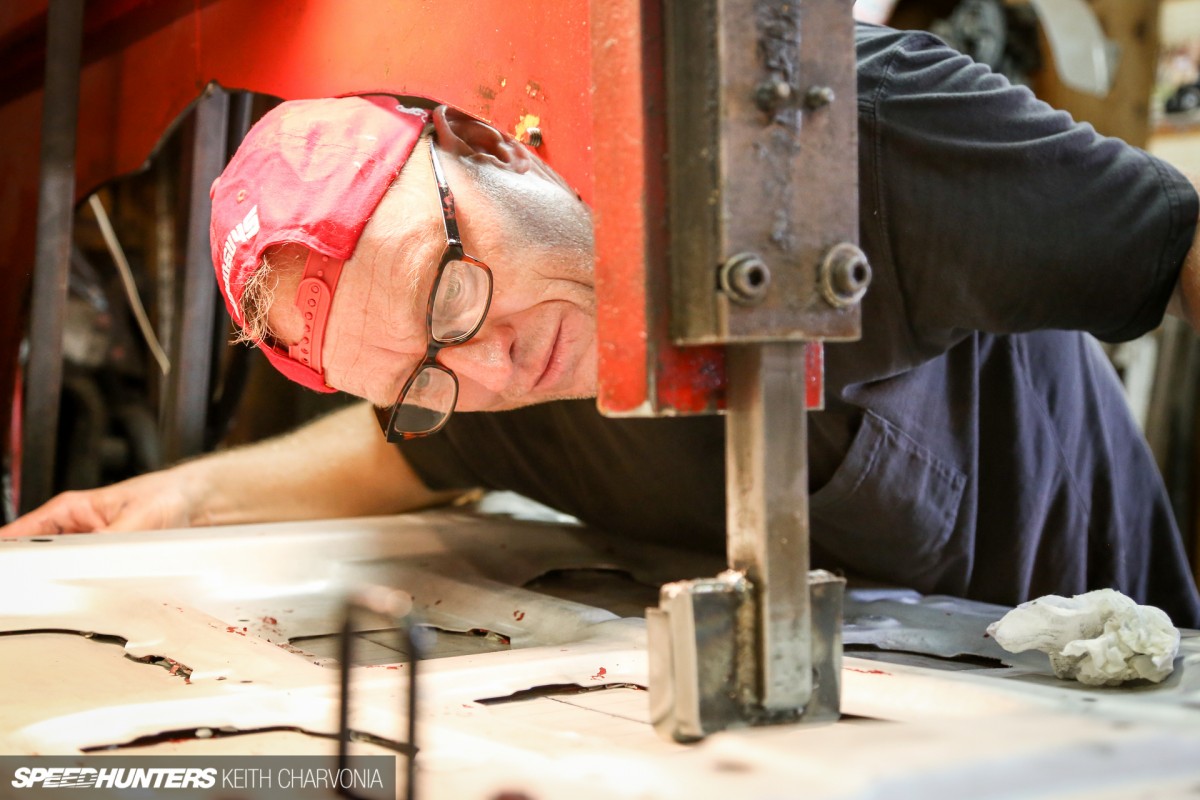 After a couple hours of planning and layout, it was finally time to punch the first louver. Chip lowered the ancient hydraulic punch down toward the sheetmetal and ensured that it was precisely aligned.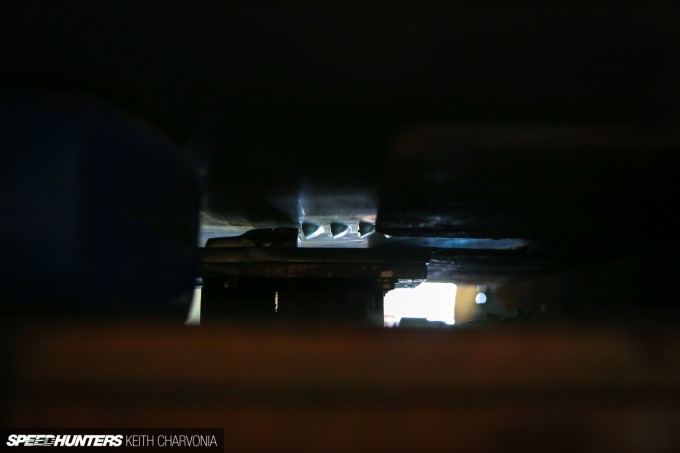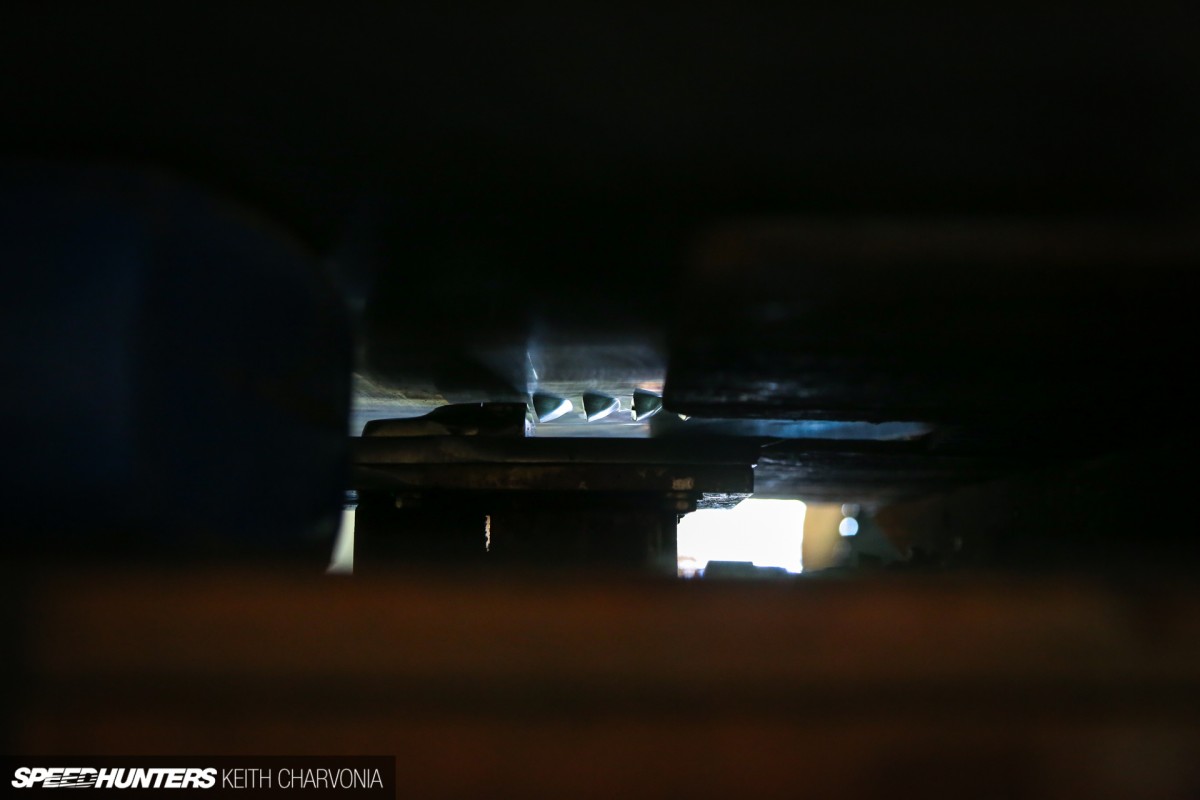 I think I held my breath as that first hole was popped through the hood skin. Once he had that out of the way though, Chip was flying through the job.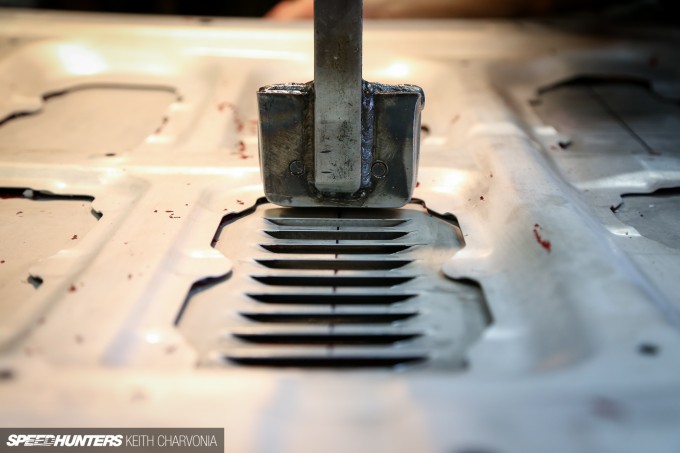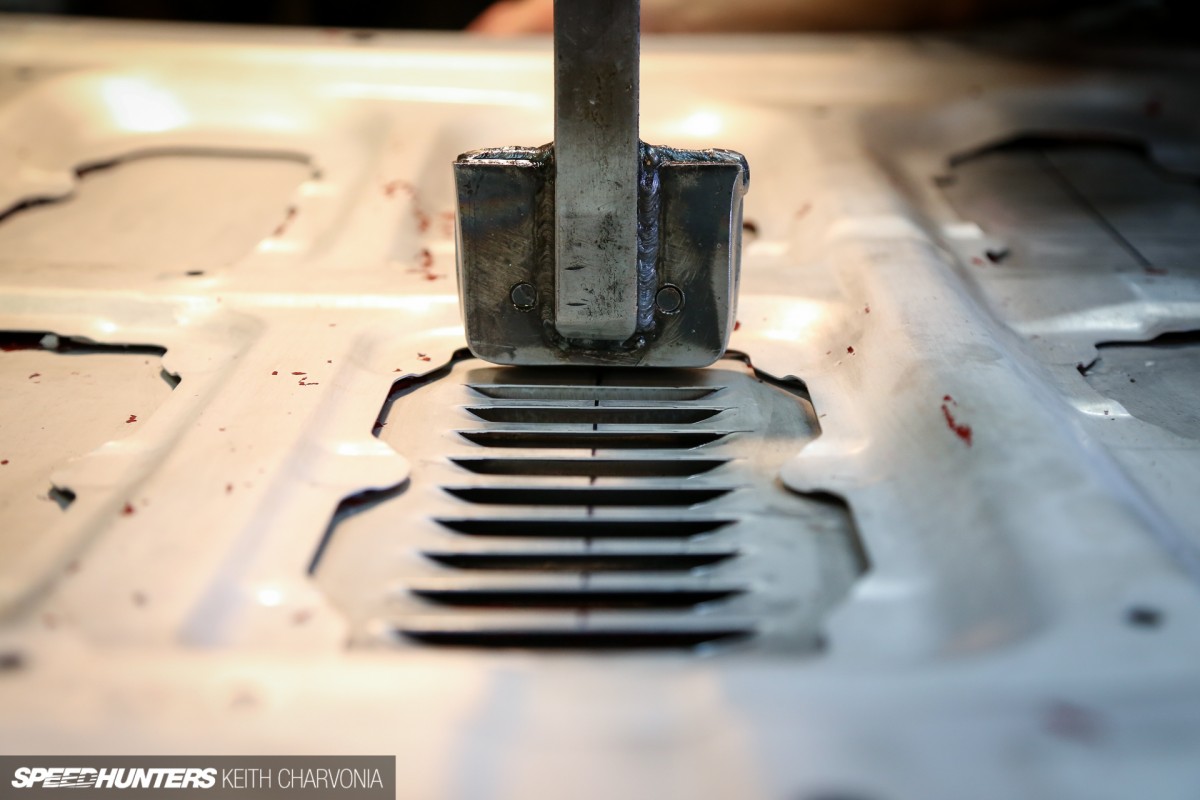 Like any artisan, he got in the zone and did what he does best. One by one, the pattern emerged before us.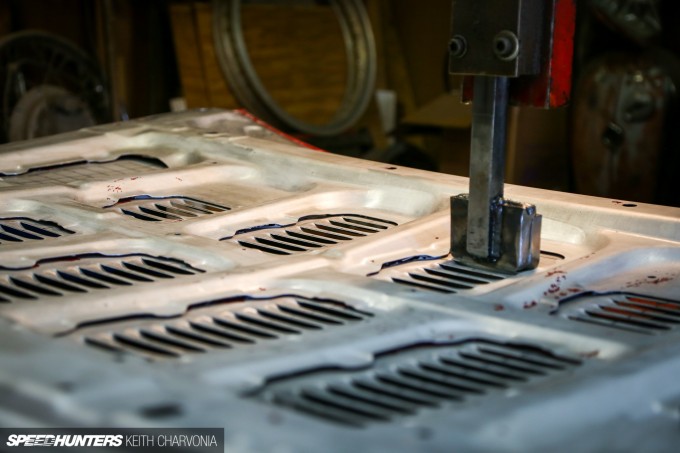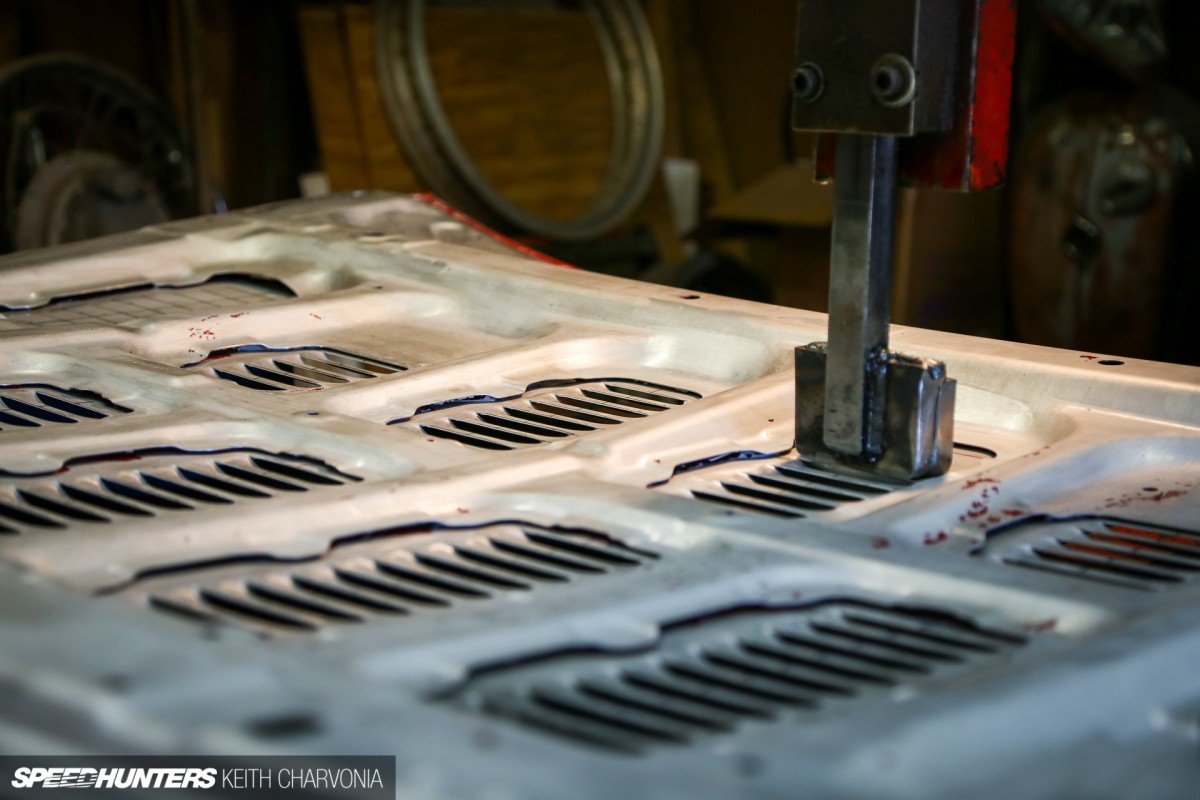 By lunch we had our killer louvered hot rod hood for the MAXIMUM ATTACK FR-S! It makes me wonder why more people aren't doing this sort of unique mod.
The Top Secret Stash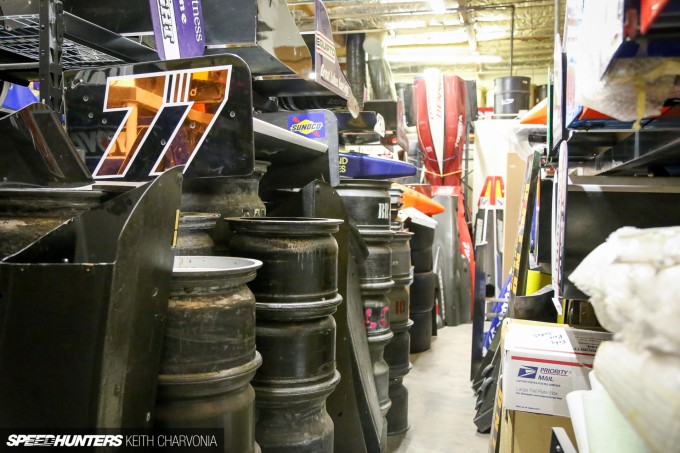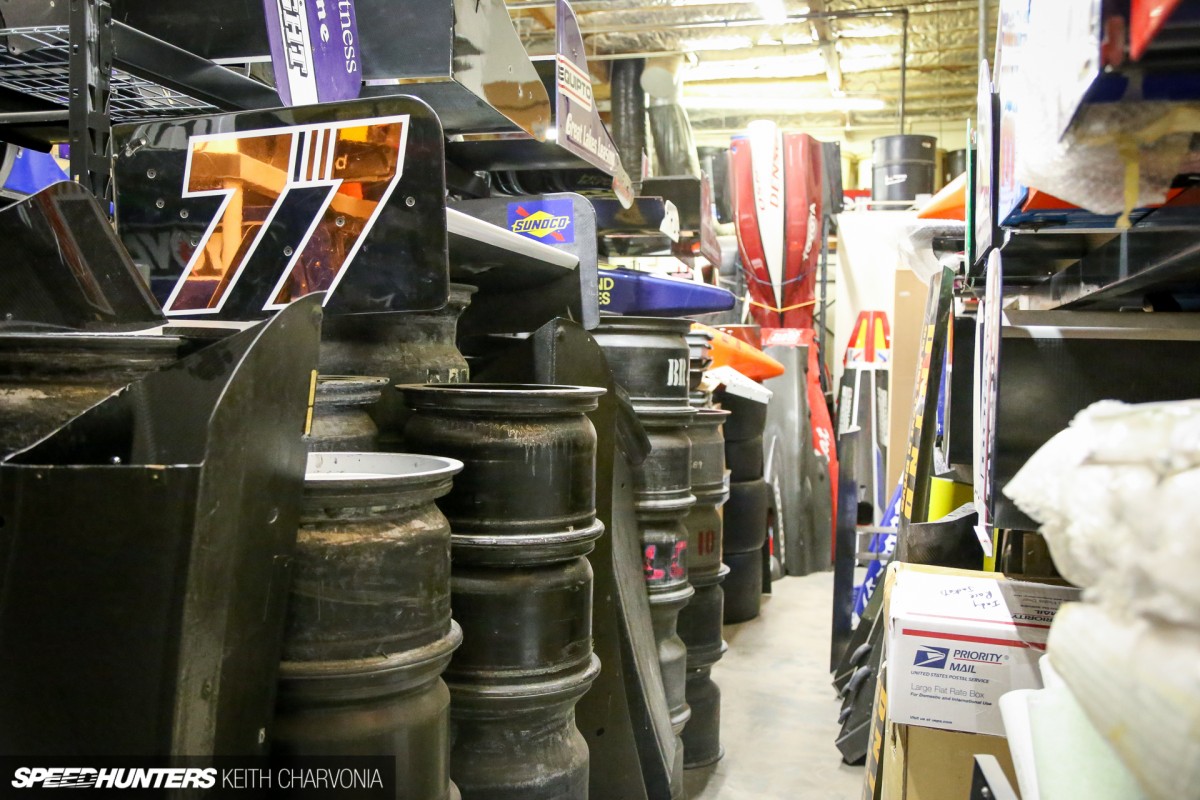 As Andy and I planned the build, we knew we wanted to incorporate some authentic race parts. Through a mutual friend I had heard about a local stash of IndyCar parts, but the seller was very careful about who he let into his warehouse. It turns out I had previously stood right in front of his roll-up door without ever knowing what was inside. Considering the value of these parts I don't blame him for keeping it on the down low.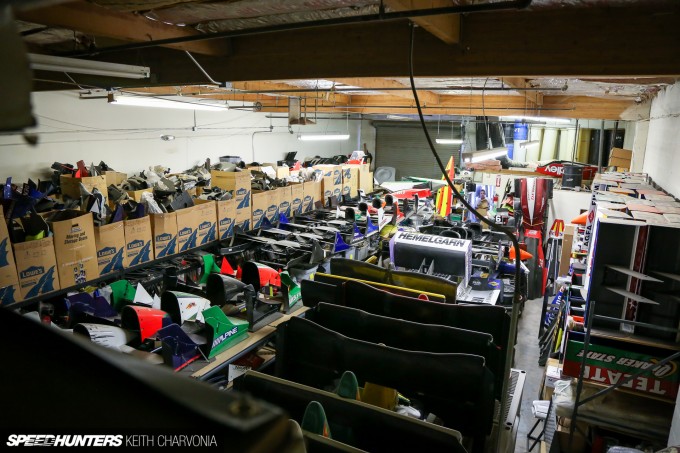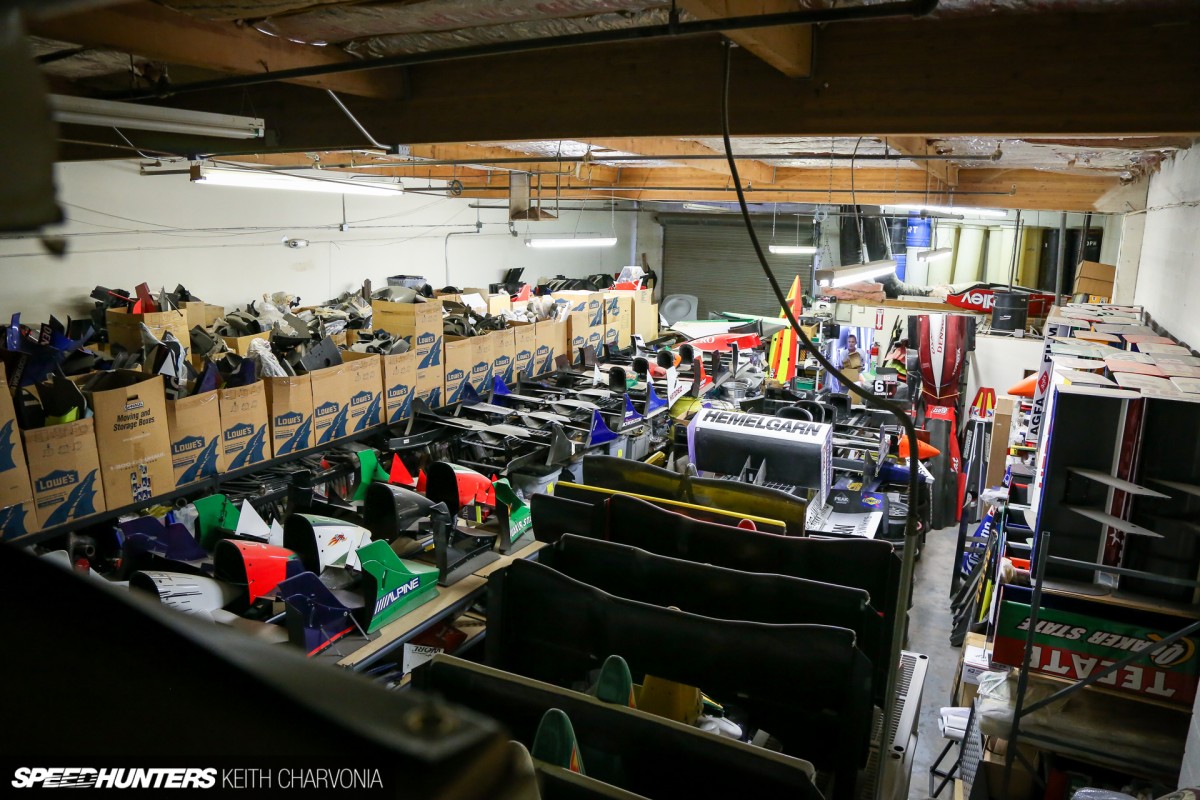 Once I explained my project to Mr. IndyCar Stash he said that he might be able to help me out. He brought a few parts to his house, where I first met him, but they weren't exactly what I was looking for. With a bit of reluctance he finally said, "Okay, let's go down to the warehouse, but you can barely even walk through the place, and you can't tell anyone where it is."
He wasn't kidding about not being able to walk. The space was positively overflowing with retired racecar goodness. I had hit the jackpot!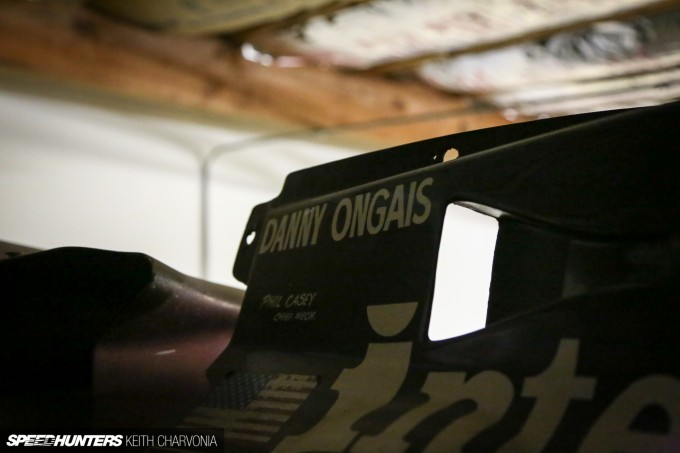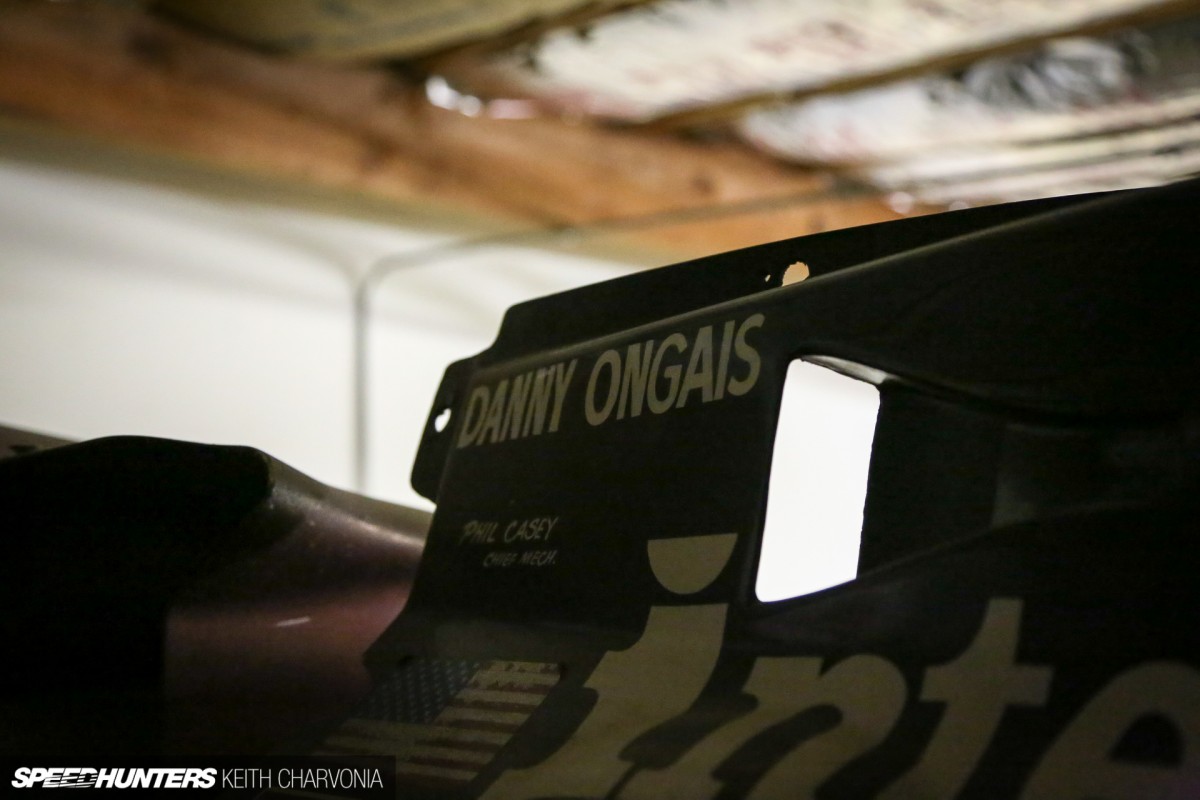 He was actually very cool about letting me bring my camera in, so for an hour I ran around like a little kid, discovering parts, shooting photos and asking questions. Of course, I was on the hunt for a few special items for the FR-S too.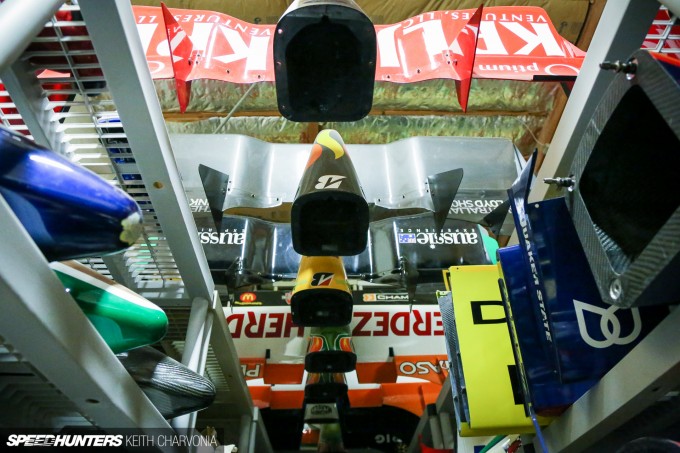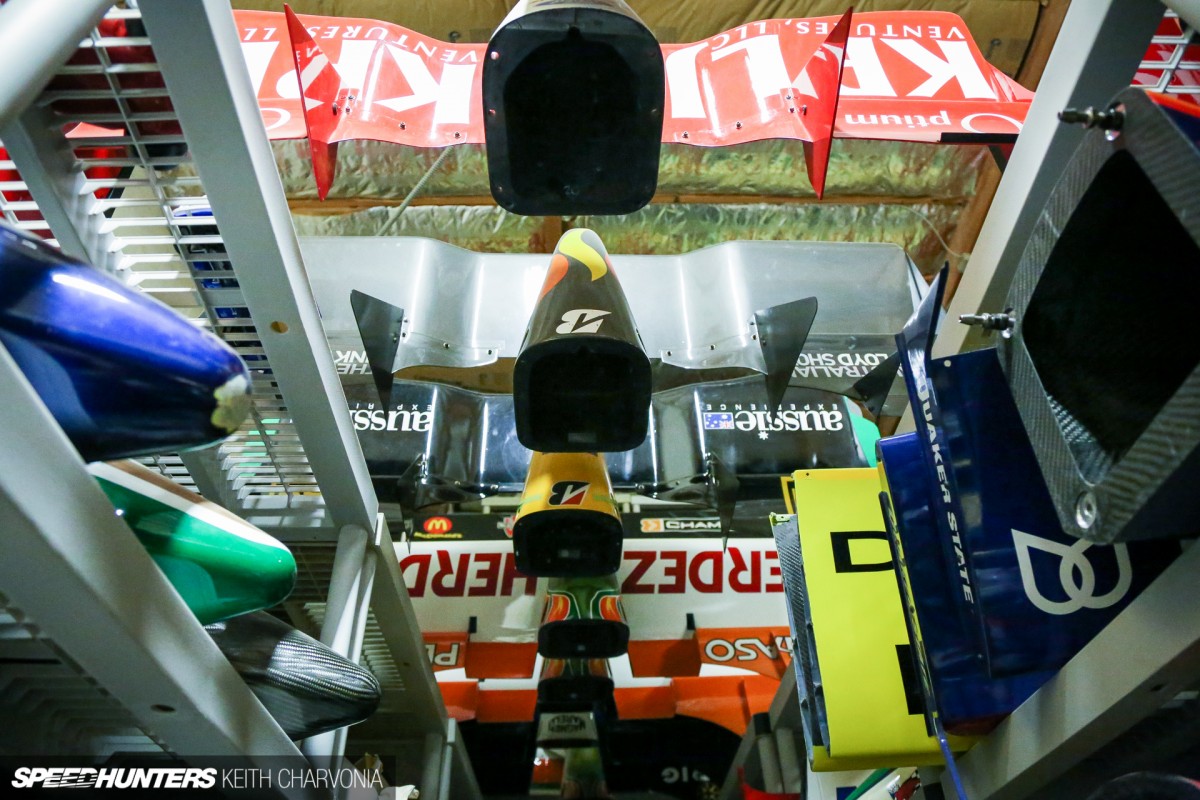 The owner of all this great stuff has relationships with all the pro teams, and he gets the call when cars become obsolete or wrecked. He then disassembles them and resells the parts to other teams. He's even been known to rip an Indycar or two down the block on occasion! This guy is living his dream, playing with racecar stuff all day, every day.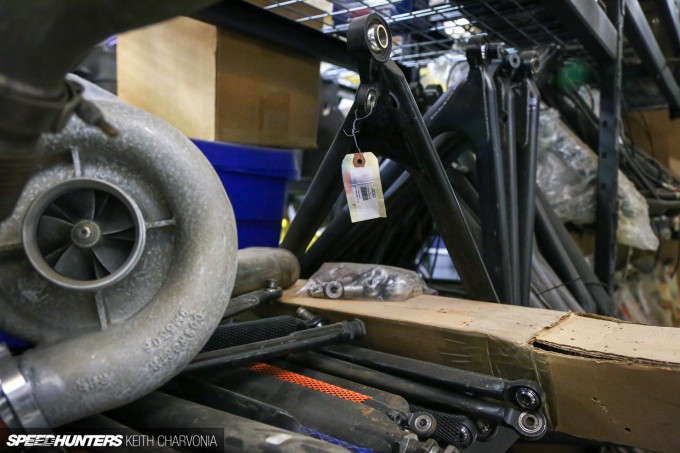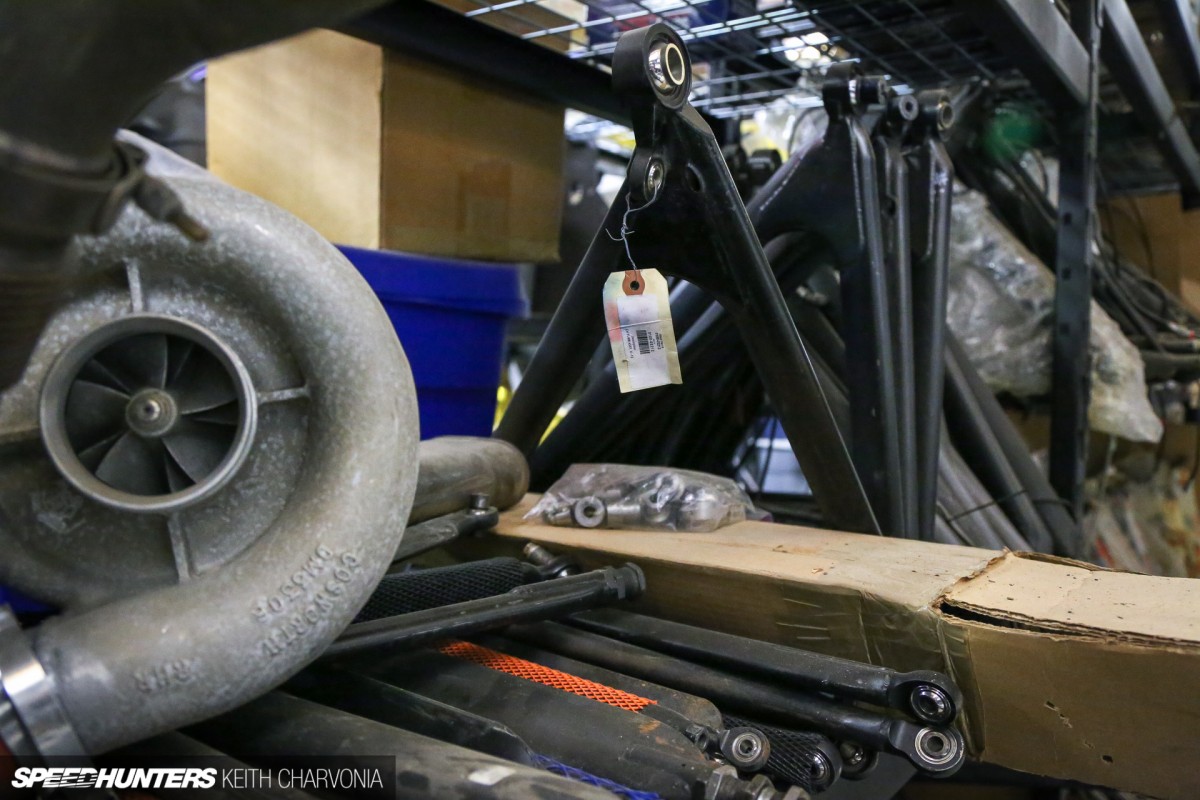 As I surveyed the mother lode of race parts, I wondered what I could actually use on a Scion FR-S. The amount of high-tech (not to mention high dollar) craftsmanship was staggering. I checked out that massive Cosworth turbo, but then reminded myself that I had a supercharger on the way from Cosworth, and it was designed to bolt up to the boxer.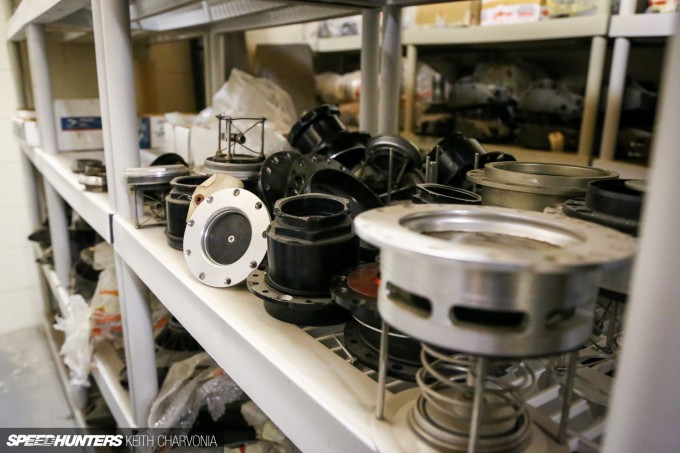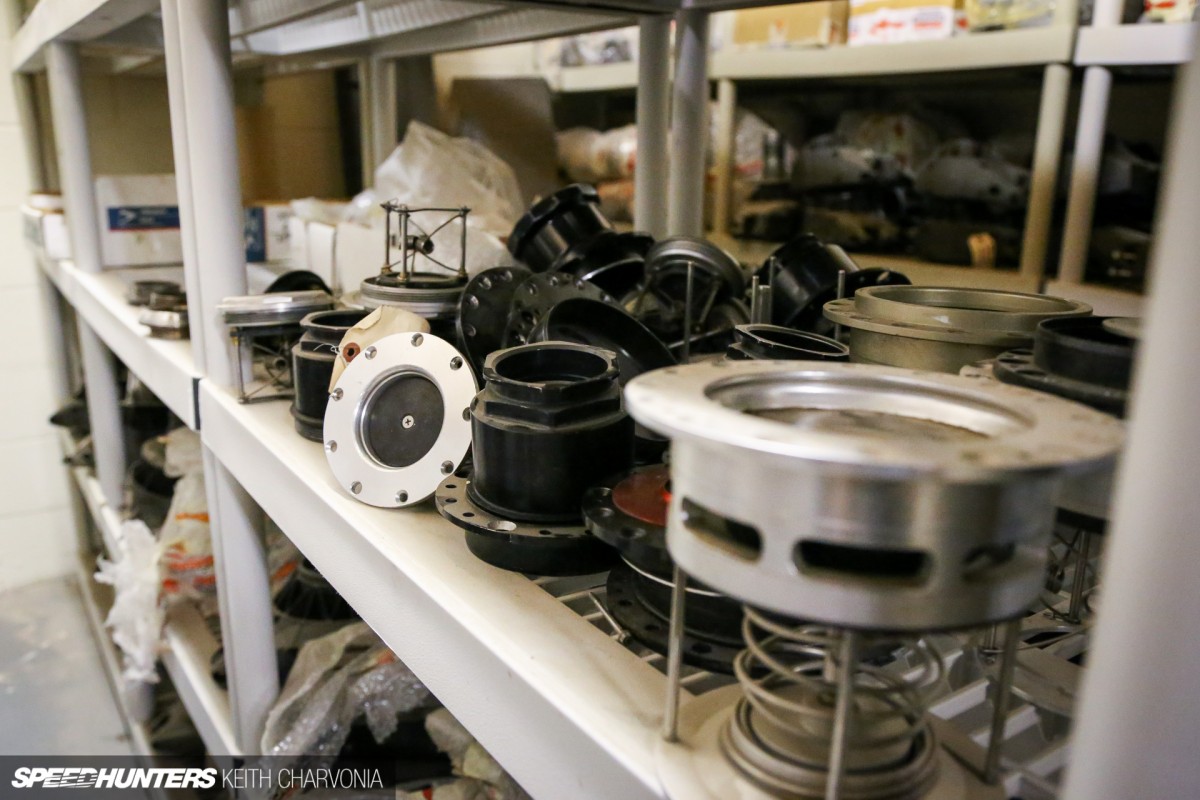 One of the main components I was after was a part called a dry break. These are used to fill fuel cells very quickly during a pit stop, and we thought it would be an appropriate, hardcore race part to use on the build. I stumbled upon this shelf and made my selection.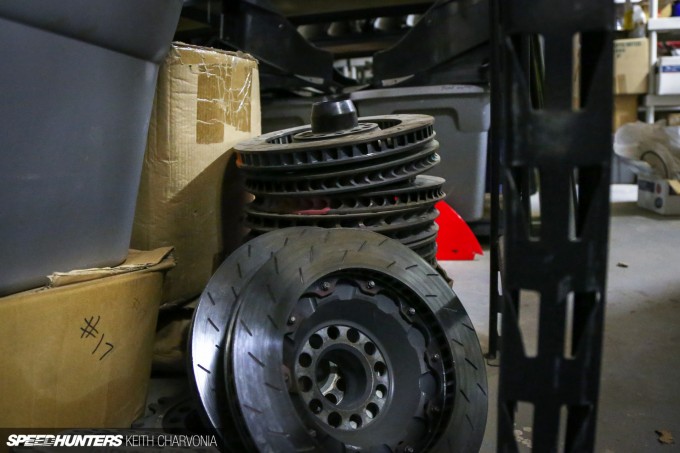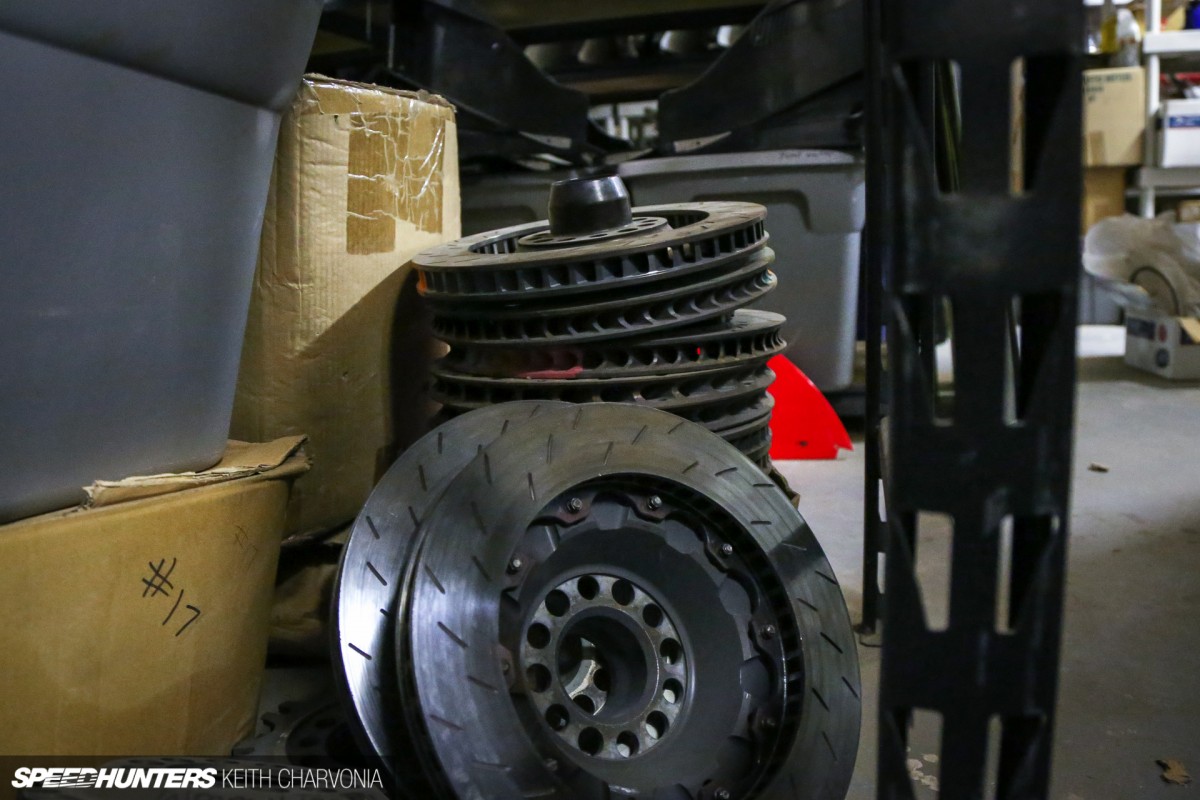 For a moment I pondered making these big brakes fit, but given the timeline decided to stick with an off-the-shelf kit.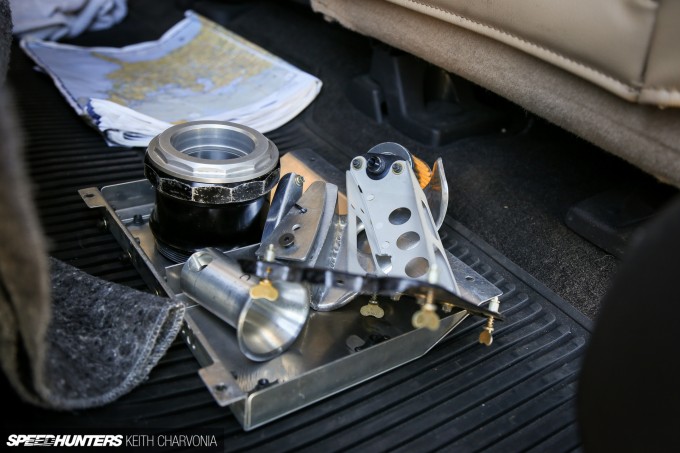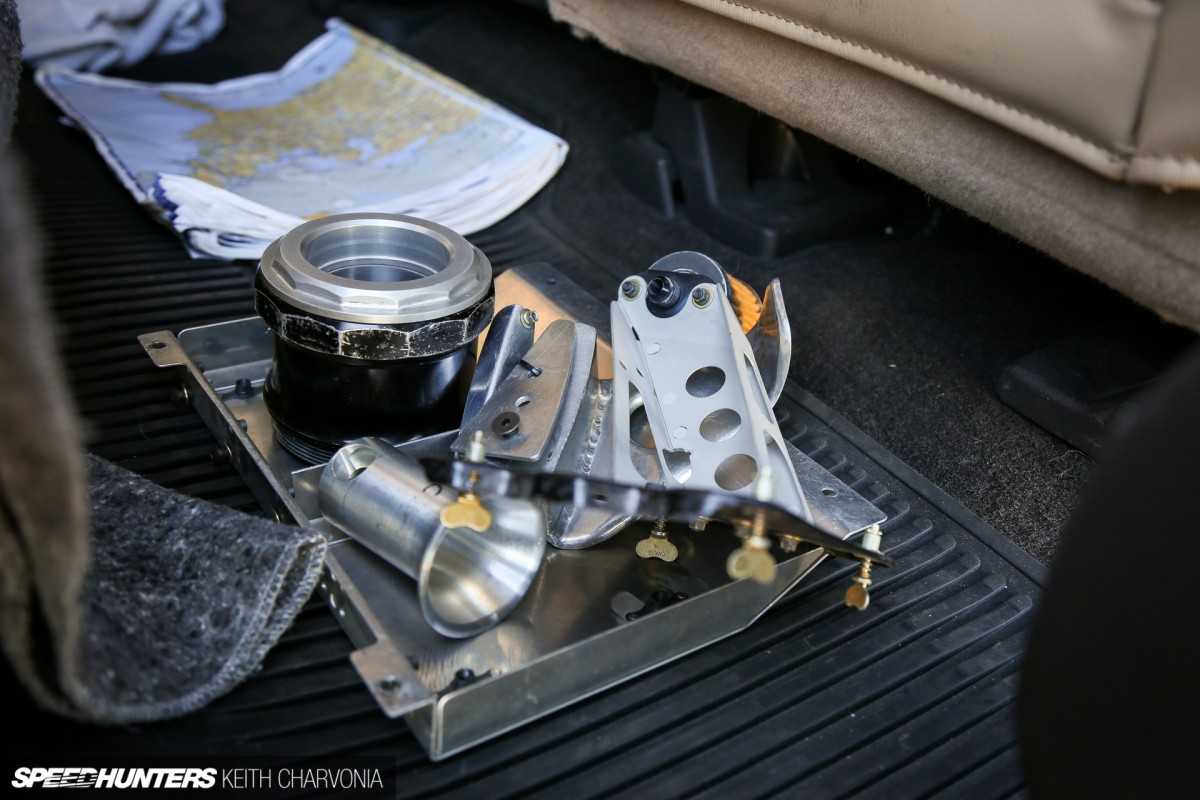 In the end, this was the haul, and all for a cool $80. This would have been over $1000 purchased new, plus these parts had some soul since they had been raced with previously. You're looking at an aluminum foot rest and pedal, air jack probe (for lifting a car with onboard air jacks), the aforementioned dry break, and a cool carbon fiber and riveted aluminum fuel filter setup that I thought I might use.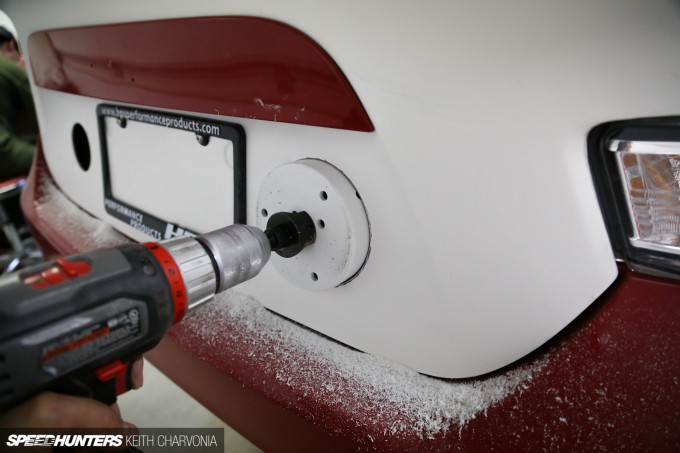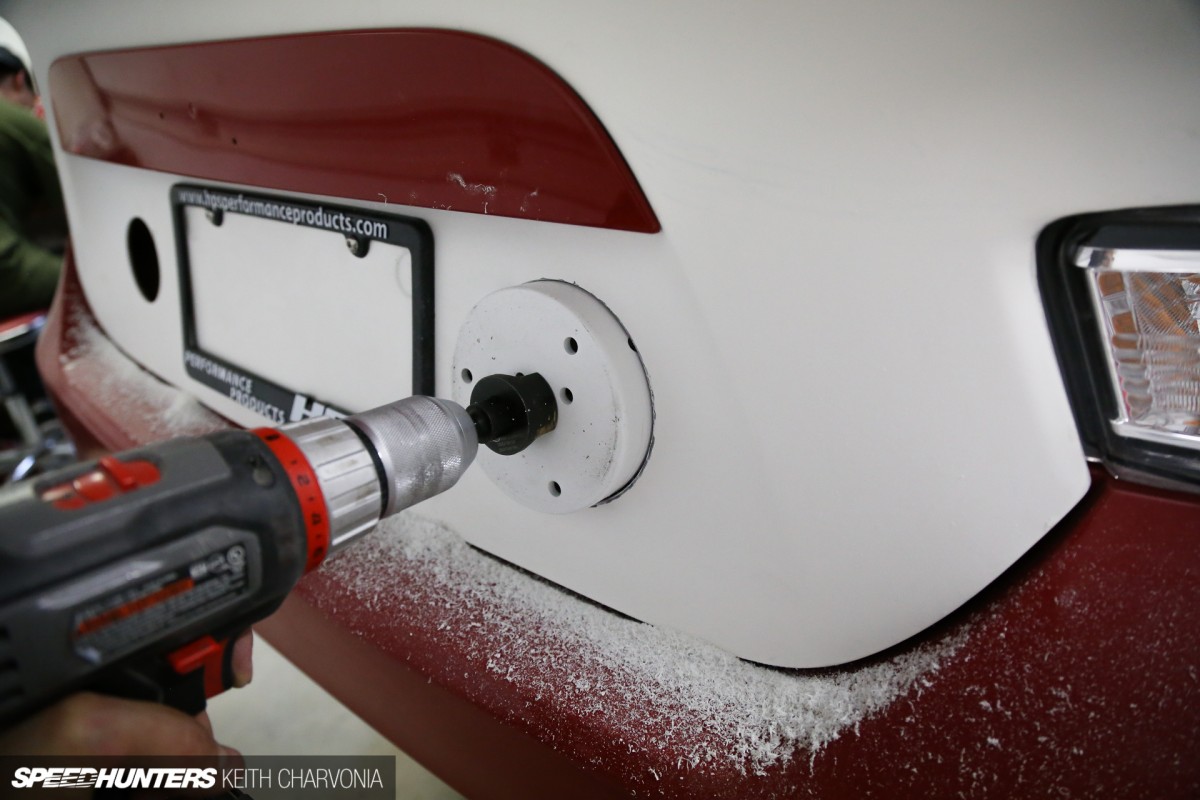 Back in the garage, we were just wrapping up the body mods and were nearly ready to haul the car to Elite Auto Creations for paint. The final step was to mount the Aerojacket trunk lid and cut holes for the air jack probe and fuel filler.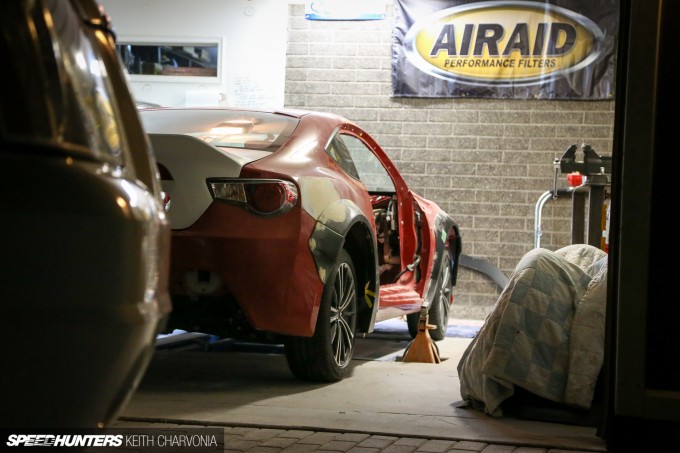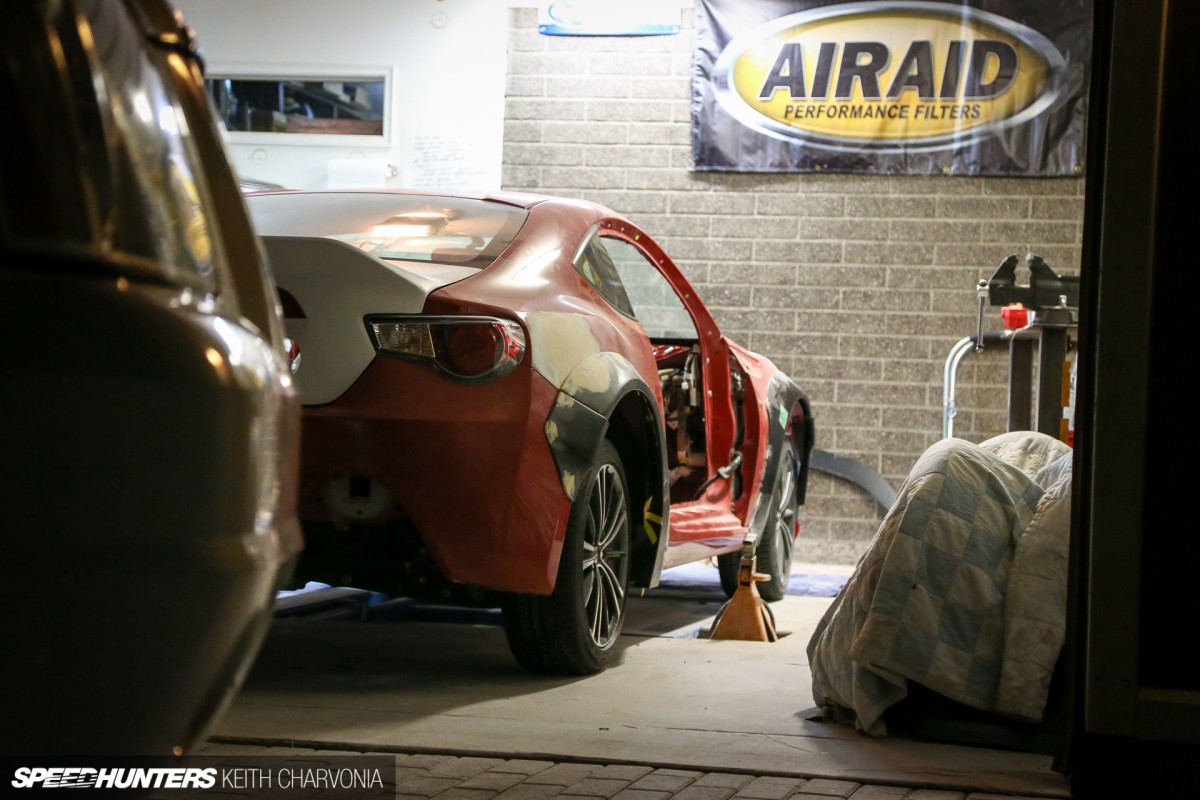 At the end of the second month, this was how the FR-S looked: hood louvered, widebody installed, handles, mirrors and gas door shaved and lots of little touches all over the place. The next day a tow truck would be picking up the car and dropping it off for paint, but I missed that part because I was off to 86Fest with my own ZN6 to take a little break and do some last minute research on parts for the build.
In the next installment we'll finally get to the see car with a fresh coat of R-M Paint by BASF. Then it will be time for my favorite part – final assembly. This was one hell of a final assembly too, because it including bolting up tons of performance parts including a Cosworth blower, installing a complete customized interior and all the suspension and brakes too. There was still a lot to do, and less than a month to finish!
Keith Charvonia
Instagram: SpeedhuntersKeith
keith@speedhunters.com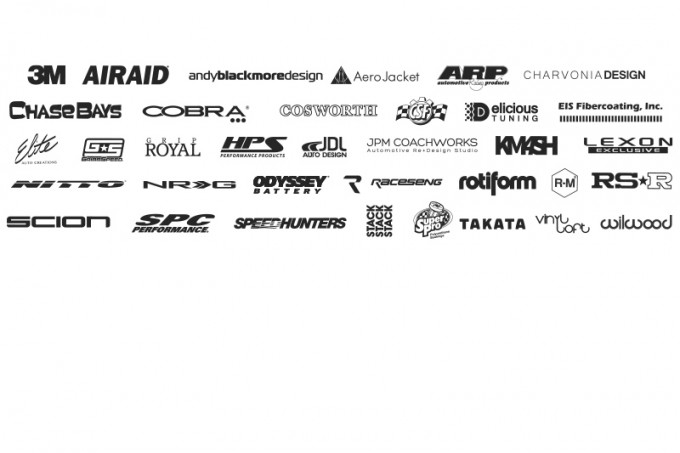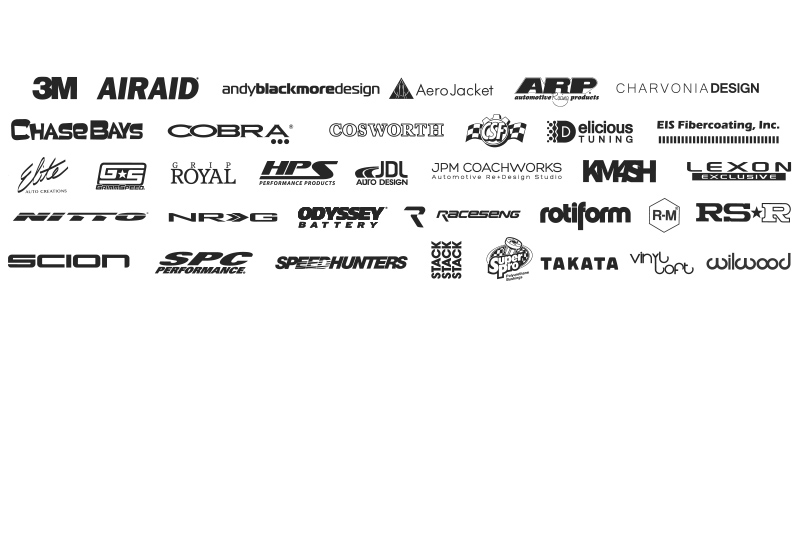 Cutting Room Floor