A Nissan Meet In The Desert
Personally, I think right now is a fantastic time to be a car person. Don't get me wrong, I would've loved to have been 20-something back in the '70s, but isn't it great how anyone these days with a smartphone or computer can have instant access to an online social community of like-minded car people from all over the world? For example, if it wasn't for the social app Instagram, I wouldn't have found myself recently standing on a deserted road somewhere in the northern United Arab Emirates yelling 'Woo yeah!', while my new Emirati friend Khalid did a sweet skid in a '71 Skyline 2000GT. Yep, technology is awesome.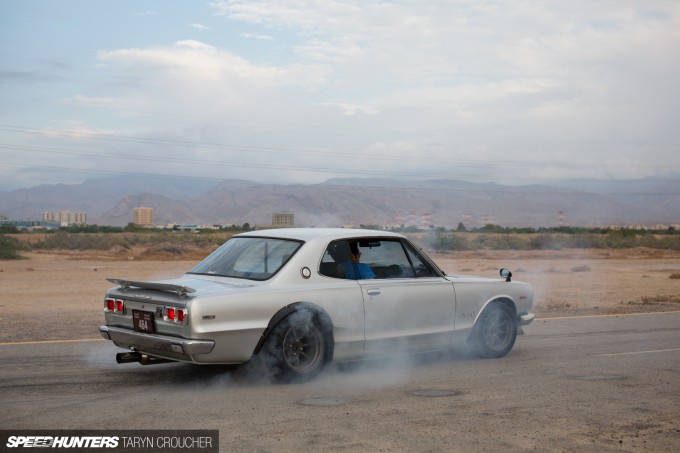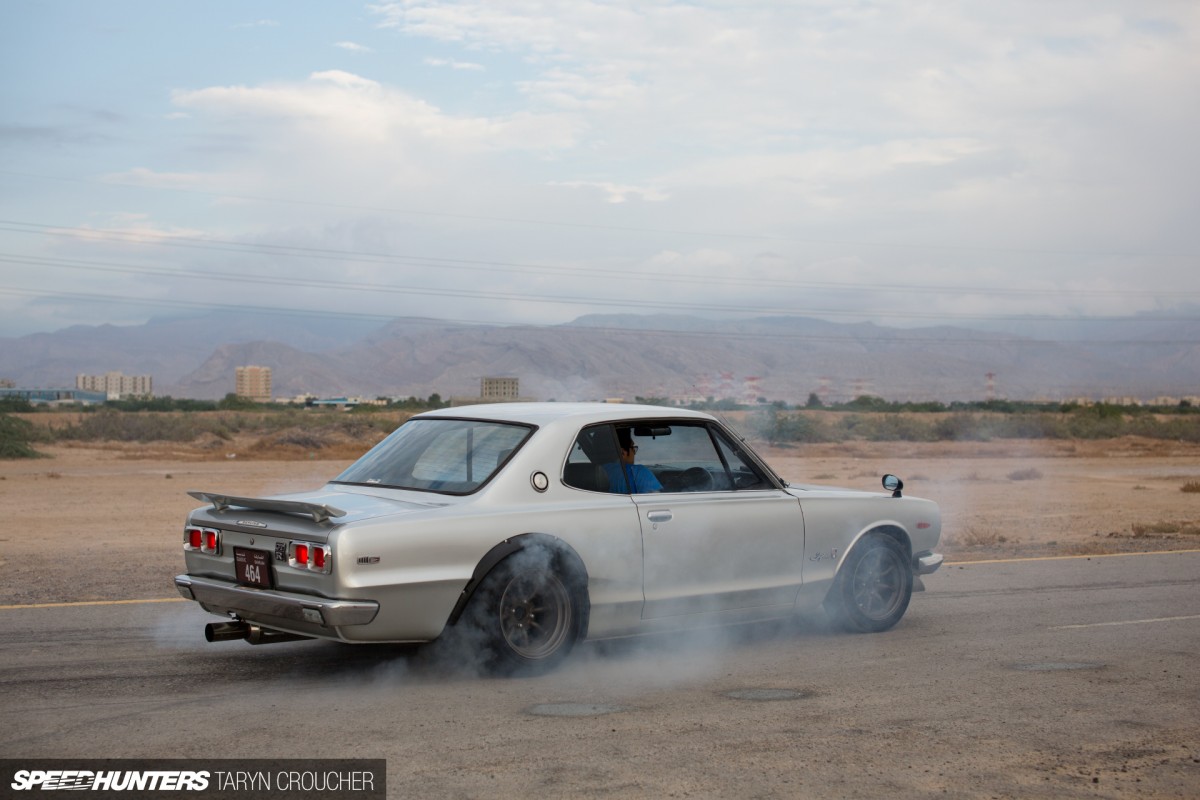 I probably should back-track a bit here. Around a few months ago, I started following a guy named Ebrahim Alshamsi, or Celsior320, on Instagram. Ebrahim and I share similar tastes in cars – old school Nissans in particular – and over time we began liking images of each others' cars, as you do. On one occasion, he left a comment saying, "Feel free to check out my cars if you ever visit Dubai!"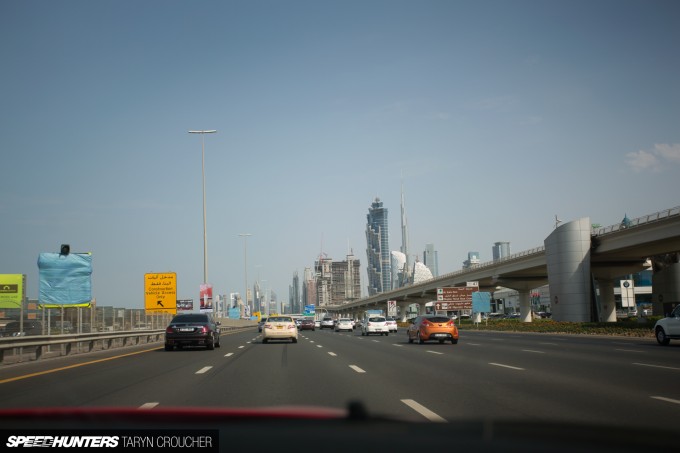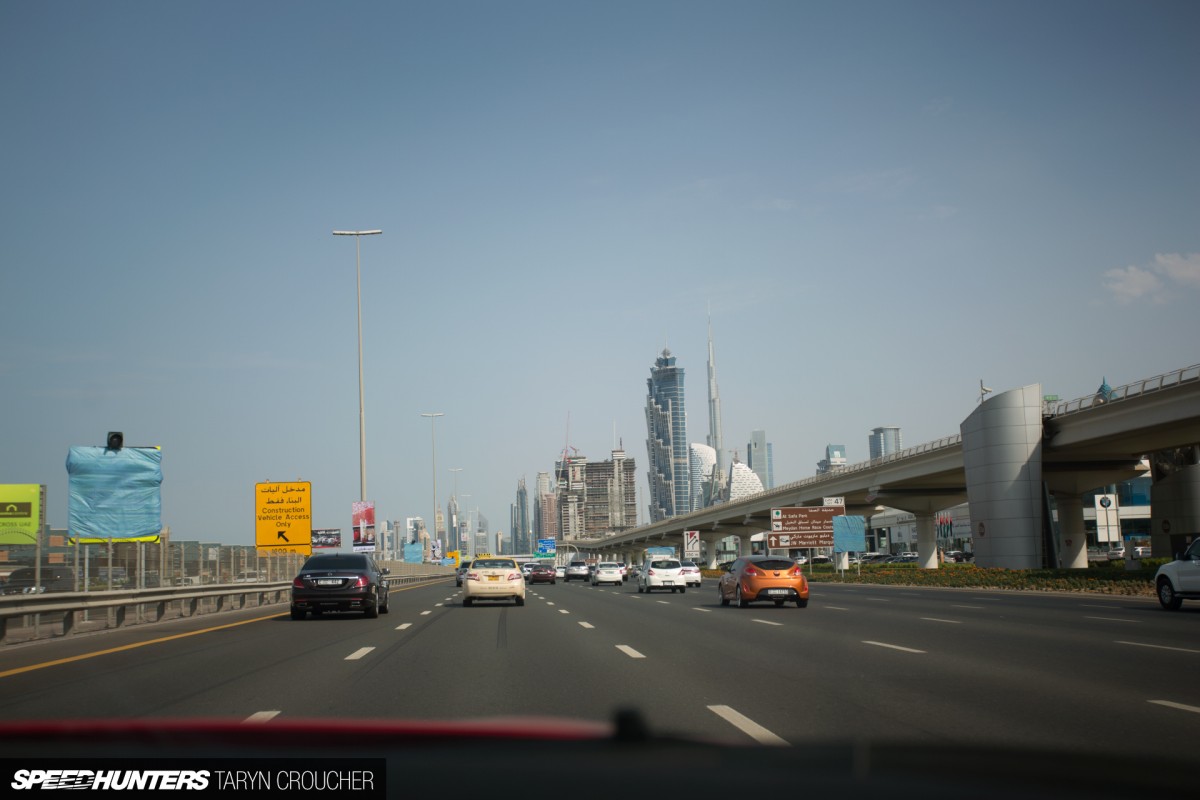 When the opportunity arose for me to travel to Dubai in December, I realised that I might actually be able to take Ebrahim up on his kind offer. Emails were exchanged, and I was disappointed to hear that Ebrahim would be overseas during the dates of my visit. However, he kindly offered for his brother and his friends – who were all just as petrol-headed as himself – to still meet up with us. So we made arrangements to travel north of Dubai to do just that.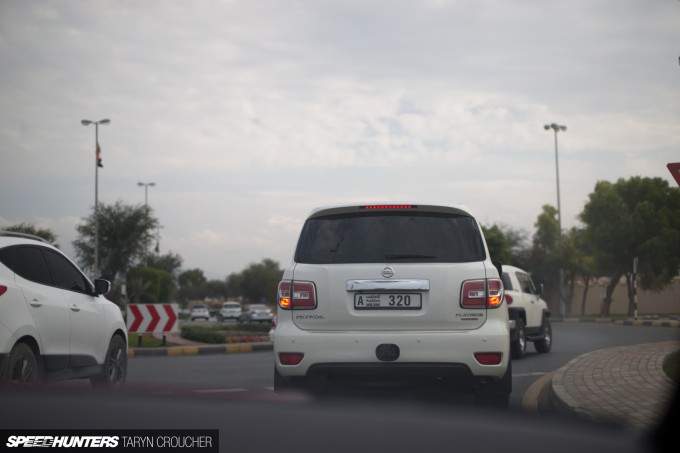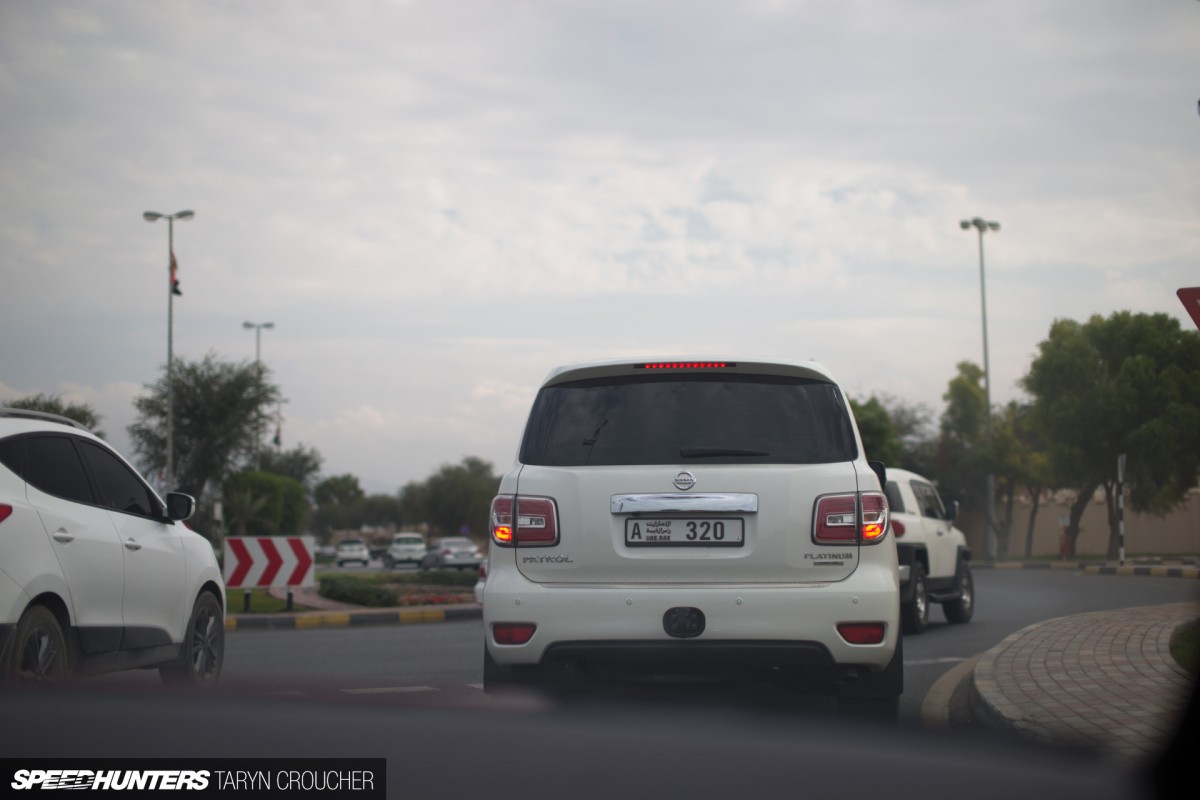 Ebrahim's brother, Khalid, met us at a local gas station and we followed him out to the meet location from there. Tailing Khalid's white Nissan Patrol seemed like a simple enough task, but as soon as we got out onto the road it became immediately apparent that a white SUV is by far the most common kind of car driving on the roads the UAE!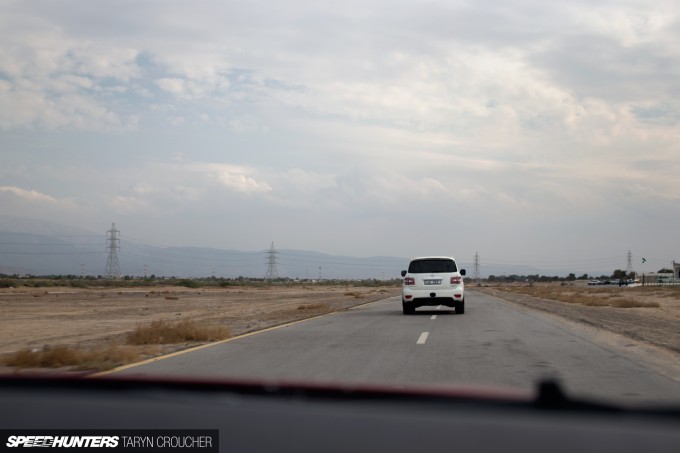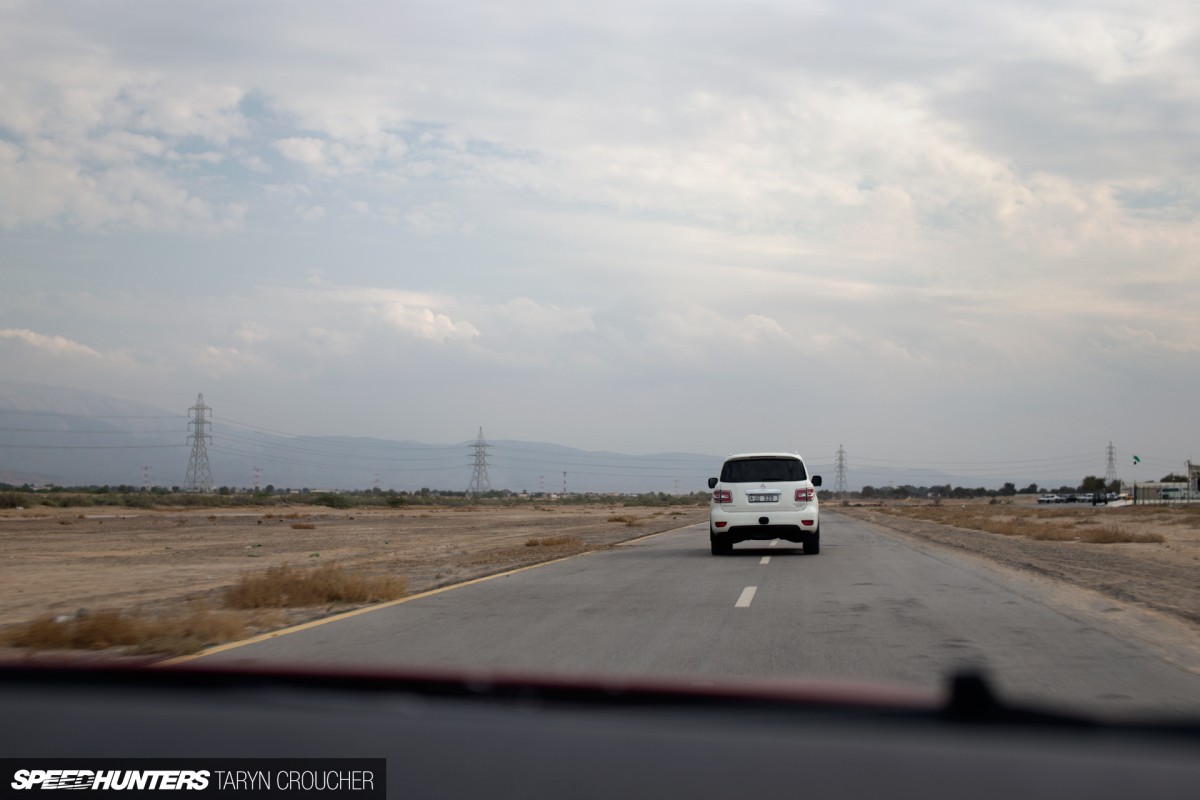 We built up a sweat chasing Khalid and his lead foot through the streets of Ras Al Khaimah, and I breathed a sigh of relief when the Patrol (or what I thought to be Khalid's Patrol) turned down a long, isolated road. As we kept driving, I began thinking, 'Uh oh… is this the right car?'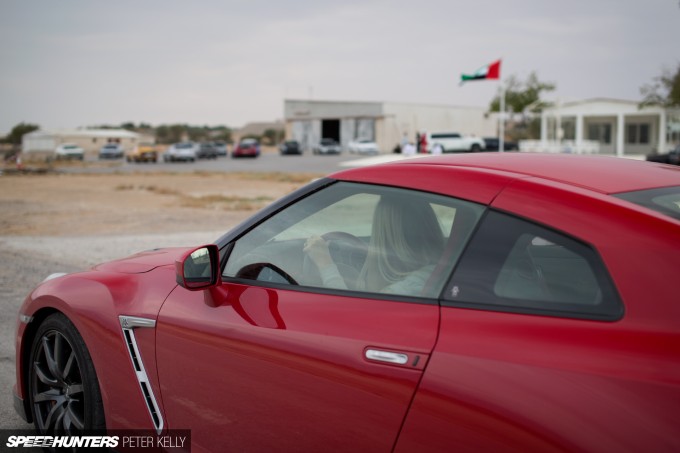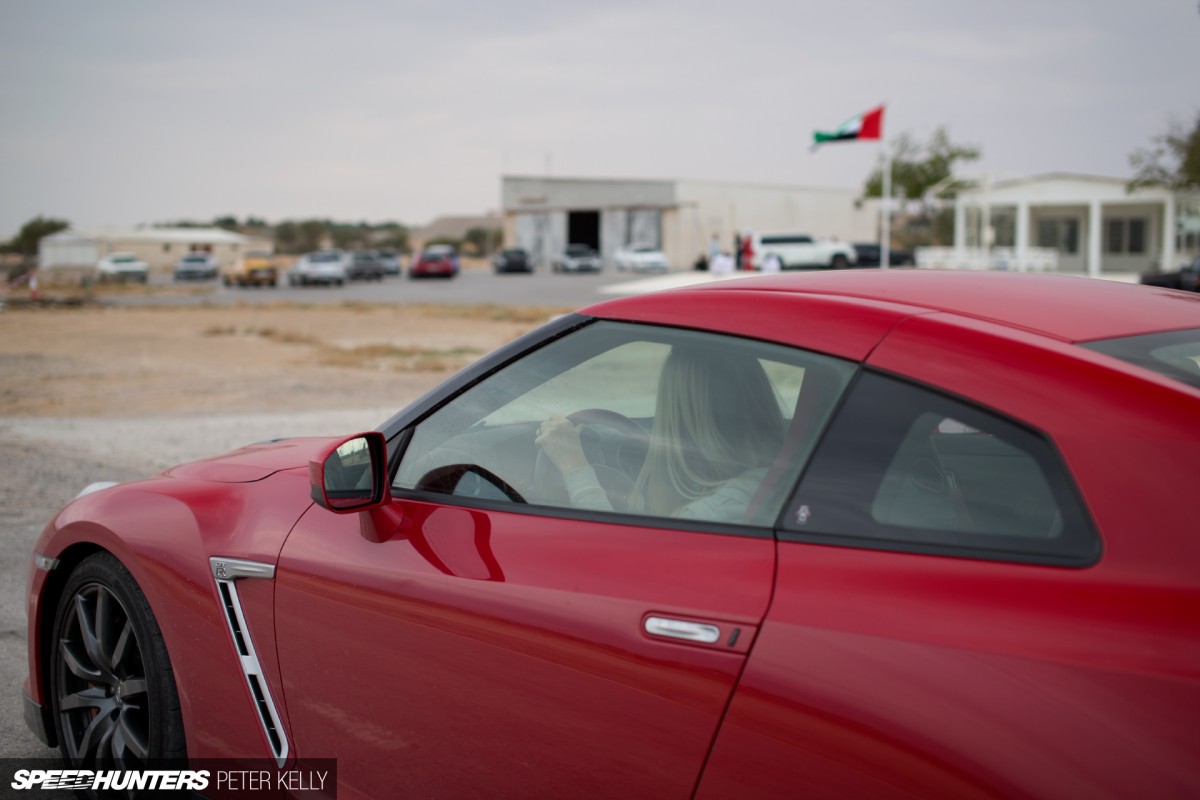 But when I saw a group of very familiar-looking cars in the distance, I knew we we had reached the right spot. Compared to the modified GT-Rs I could see parked up, the stock GT-R press car I was driving suddenly started feeling a tad inferior.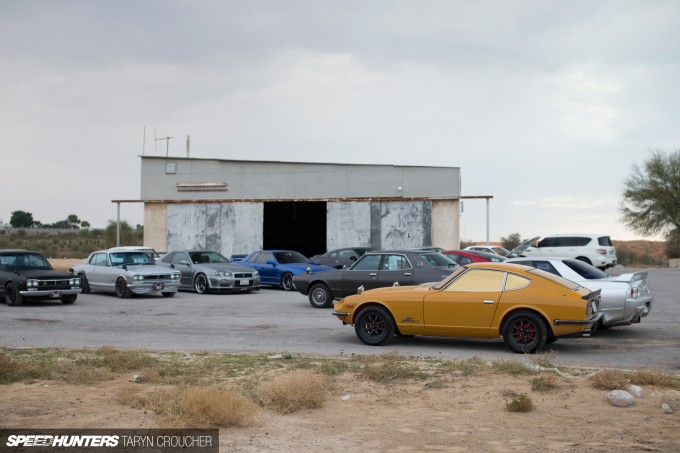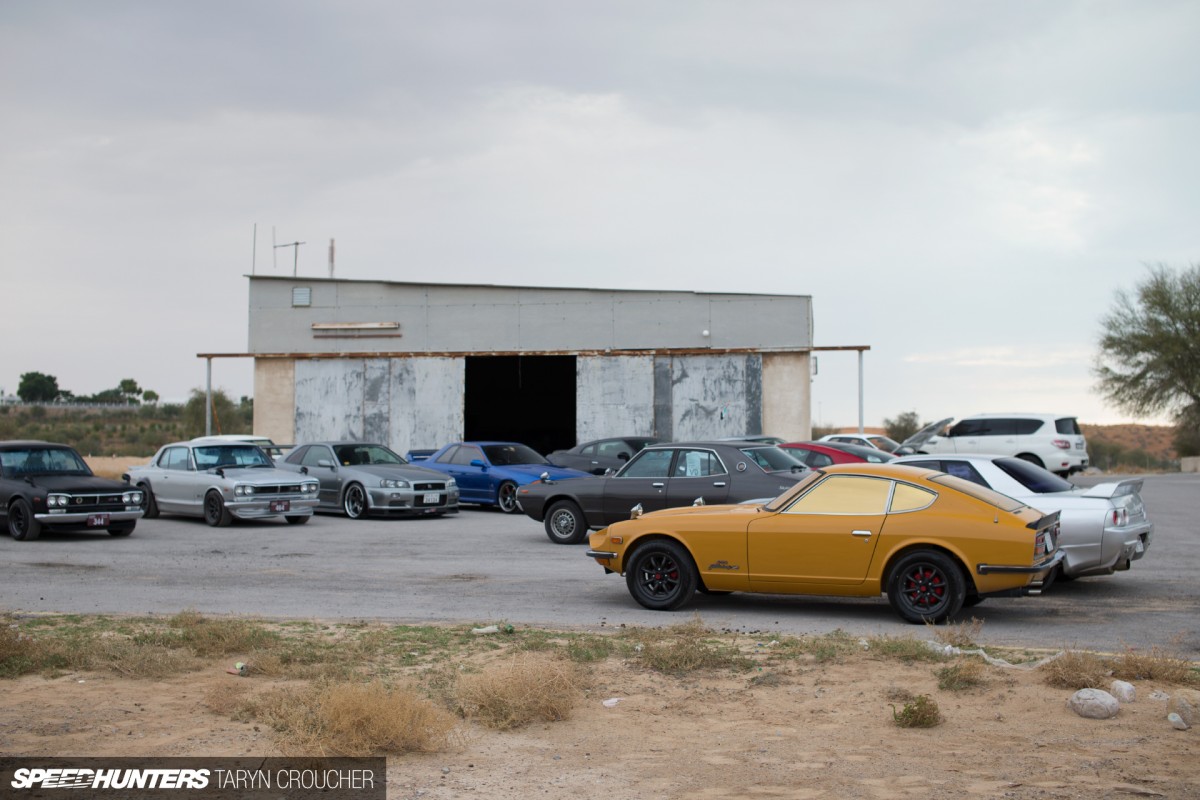 Khalid and his friends had brought along a whole Nissan smorgasbord for us to enjoy, including Skylines and GT-Rs of all generations, and a 240Z as the cherry on top. All these beautiful cars made for quite a strange sight – this was the last thing you'd expect to see in a dusty, deserted field in the Middle East!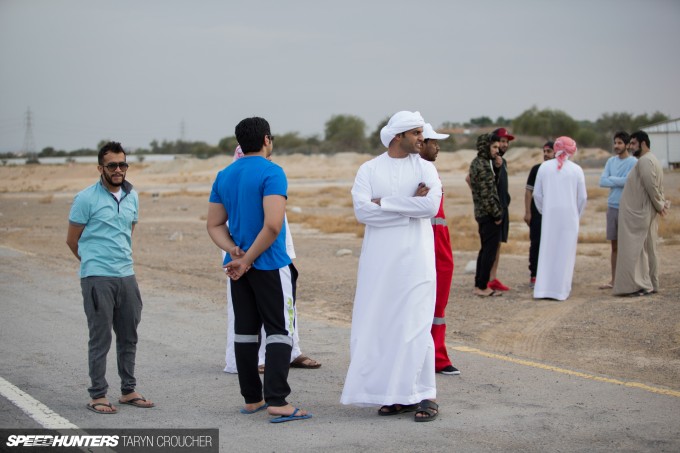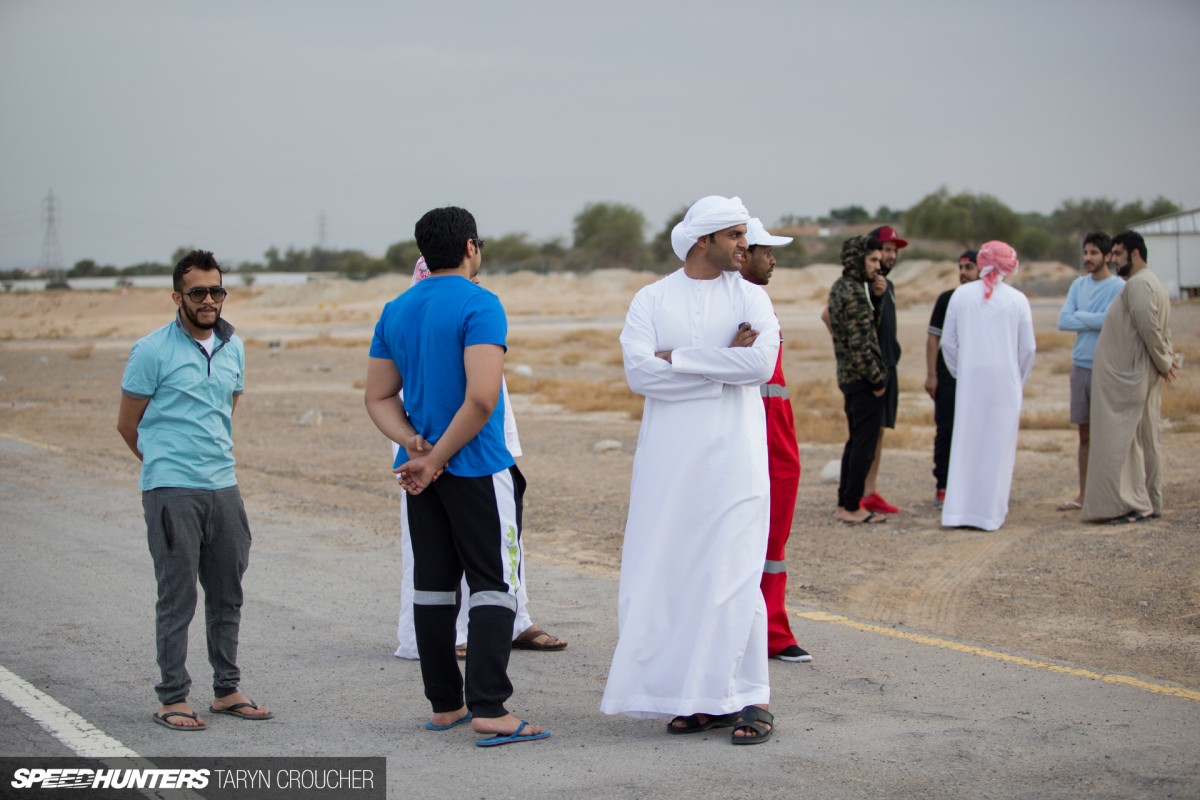 When you think about tuning culture in the Middle East, you automatically think of high-powered luxury supercars, right? What I very quickly realised was that the UAE has a scene for all cars just like every other country does. This group of friends were all die-hard Nissan enthusiasts and it was so cool to hear them talking about their passion for the brand, and the lengths they go to, to have these cars on the road here in the Emirates. We'll talk more about that soon.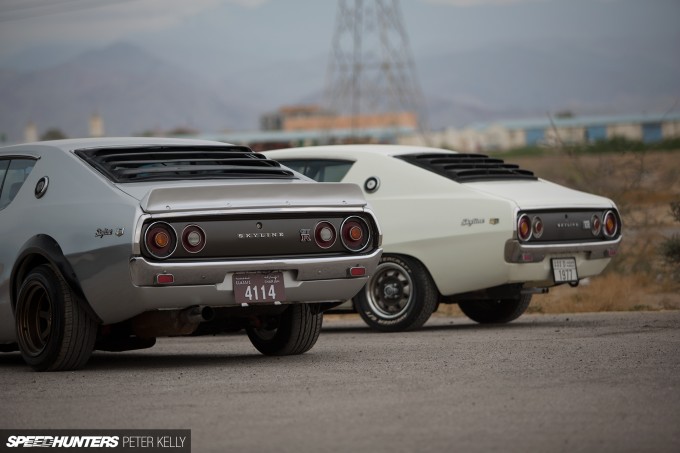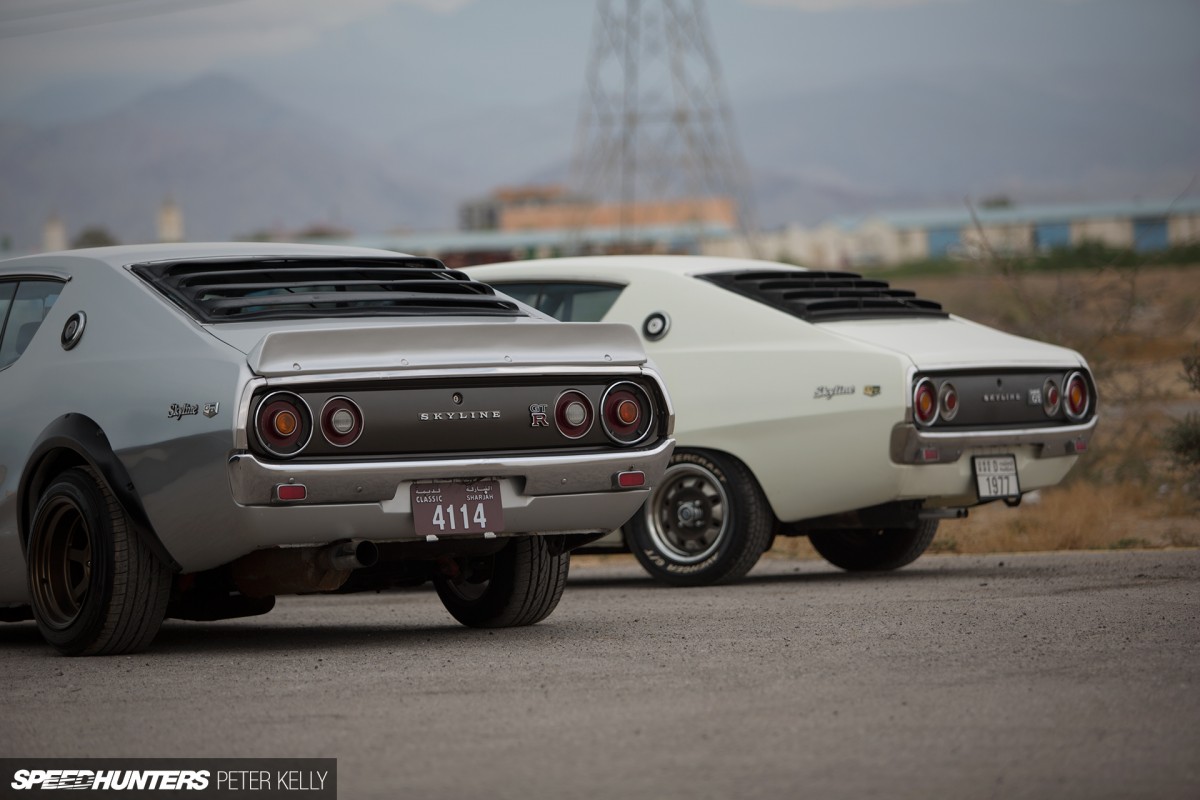 First, let's take a closer look at some of the cars, starting with this contrasting Kenmeri Skyline coupe pair. These cars look so different with over fenders added – check out how much higher the rear fenders sit in comparison to the stock lines on the white 240K.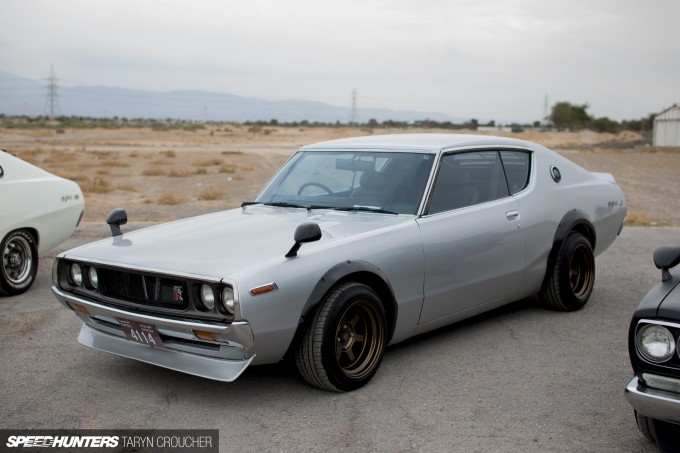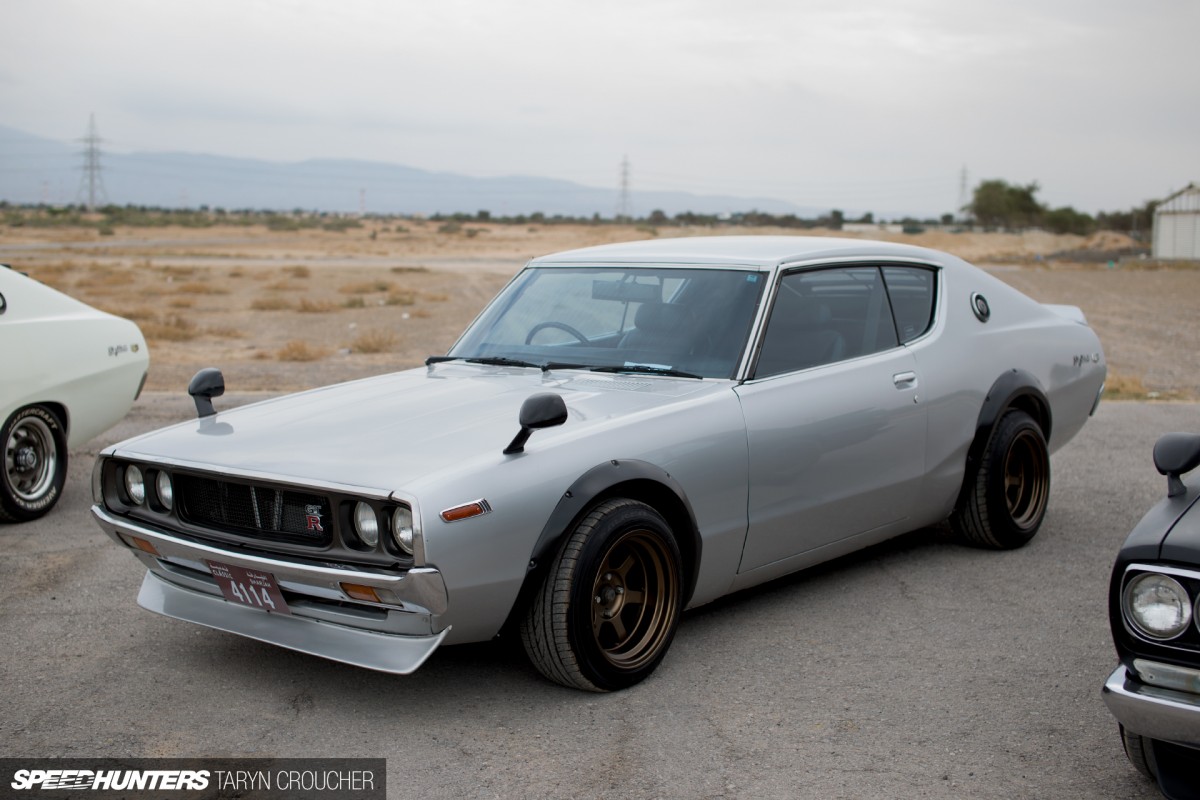 Nostalgic J-tin enthusiast Sultan Al Mansoori's '77 KGC110 GT-R replica was a beautiful example, with his chosen rolling stock of bronze RAYS Volk Racing TE37V wheels contrasting nicely against the silver body.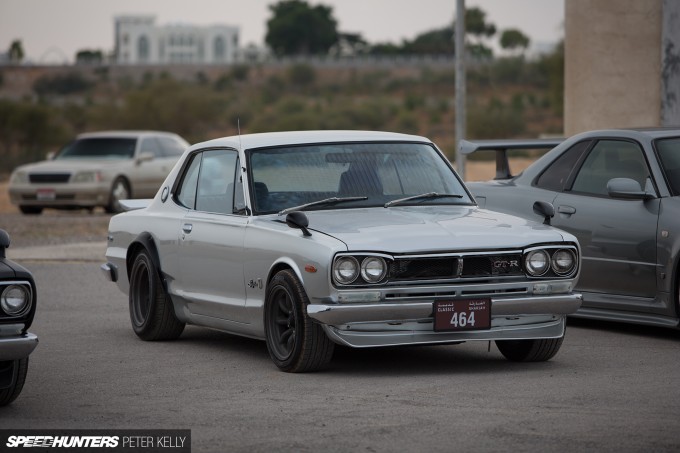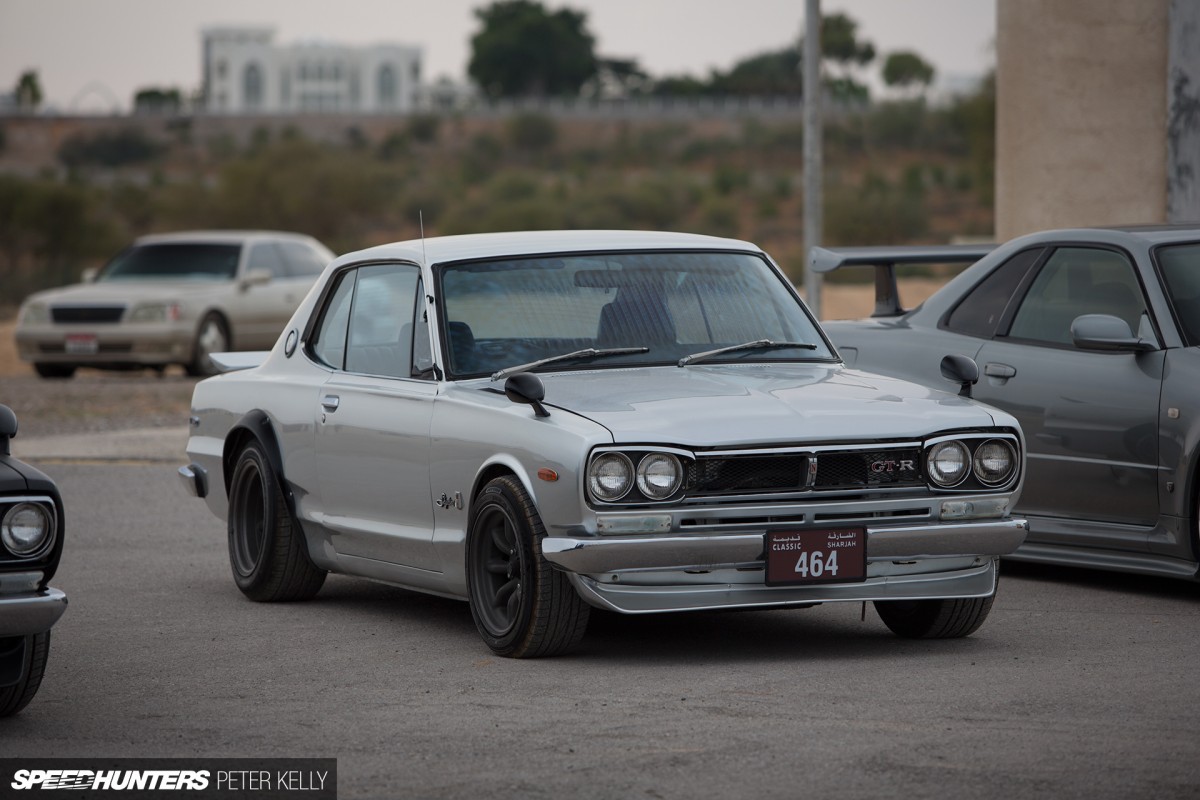 Although Ebrahim couldn't join us, he did have a good excuse – he was over in Japan hunting for more cars to bring back home for his collection, which includes this beautiful '71 Hakosuka KGC10 GT-R replica. I couldn't help but feel just a tad jealous – a KGC10 has always been on my dream 'relatively attainable' car list.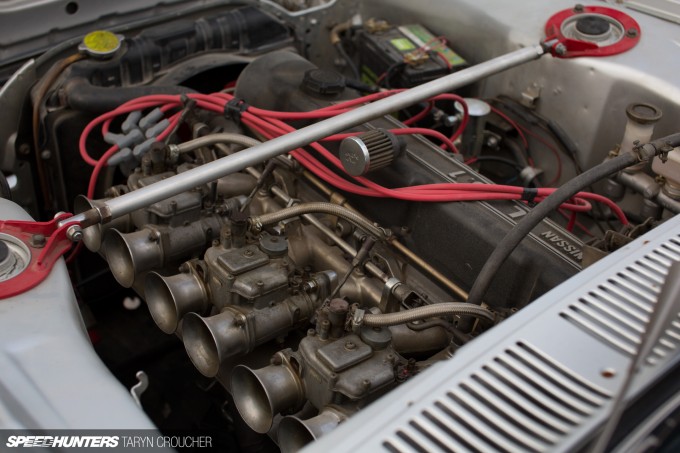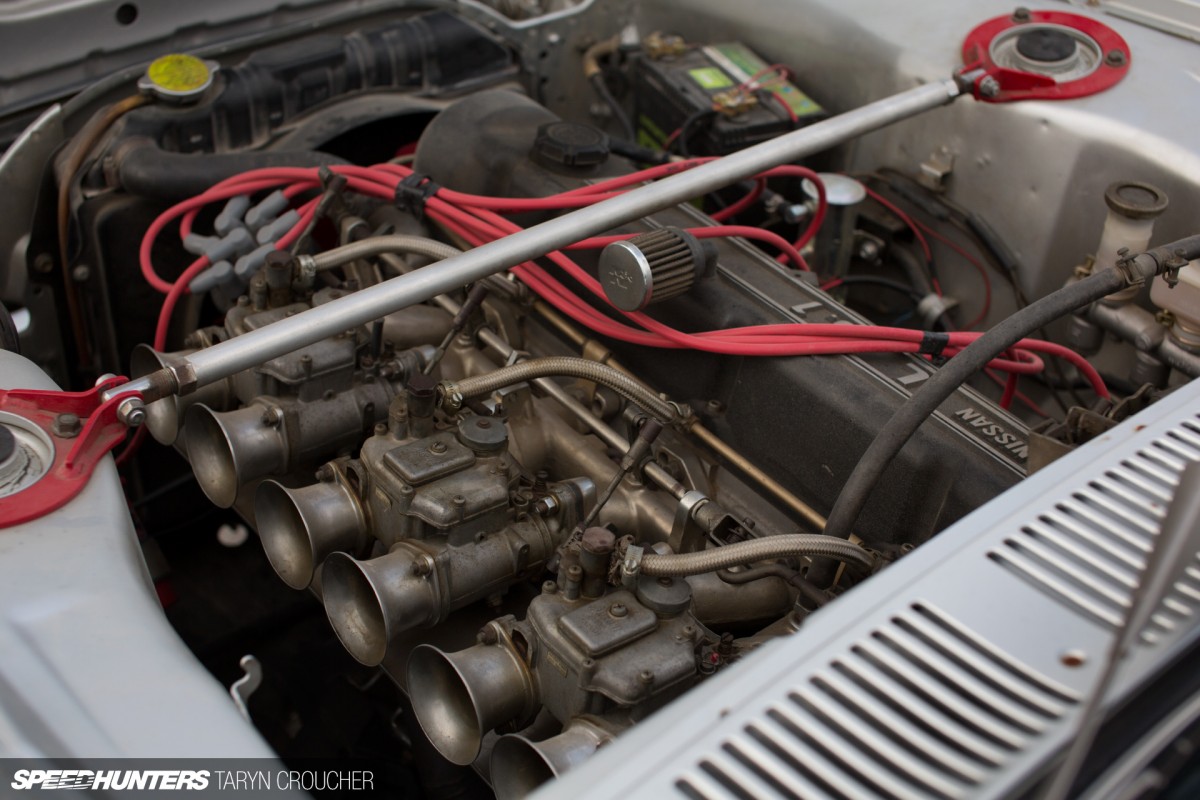 I turned even greener with envy when the bonnet was popped, revealing an L3.1 with triple Mikuni sidedrafts. It wasn't the cleanest engine bay I'd ever laid eyes on, but the car gets driven regularly and I can't imagine it's easy keeping a car clean when you live in the desert.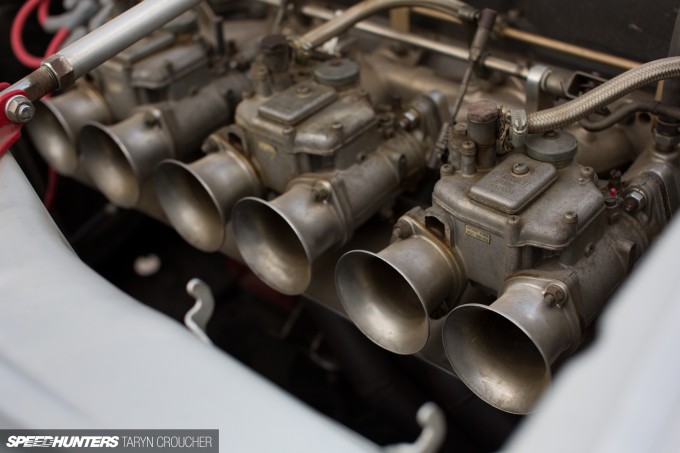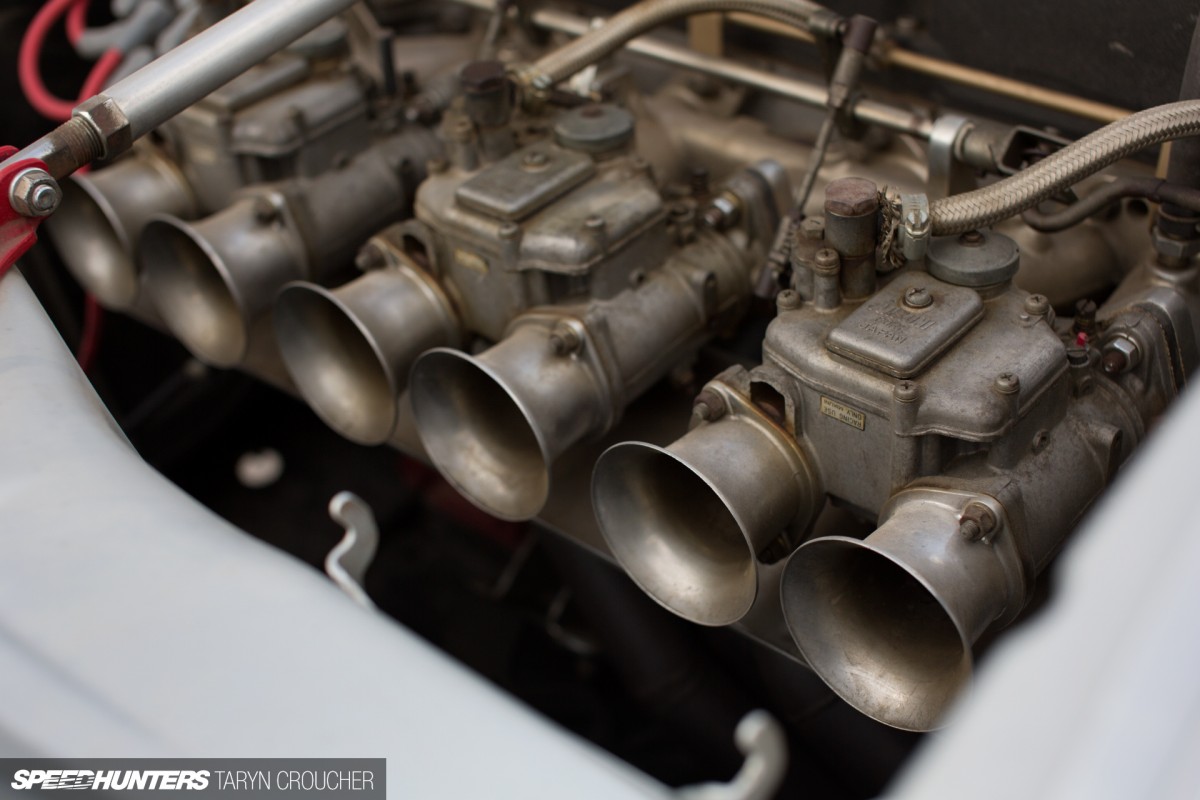 The craziest thing though, was that none of these old carburetted motors were running air filters – it's just not a done thing there apparently. Considering how much sand I came home with in my shoes, clothes, hair, nose and ears (and pretty much everywhere else) made my throat itch just thinking about these cars driving around without any protection!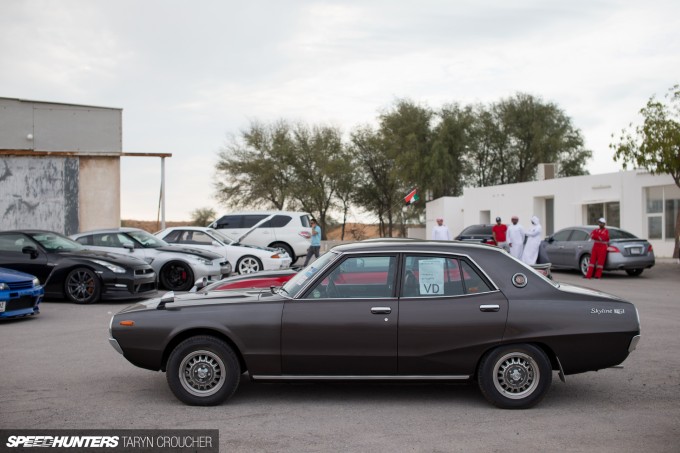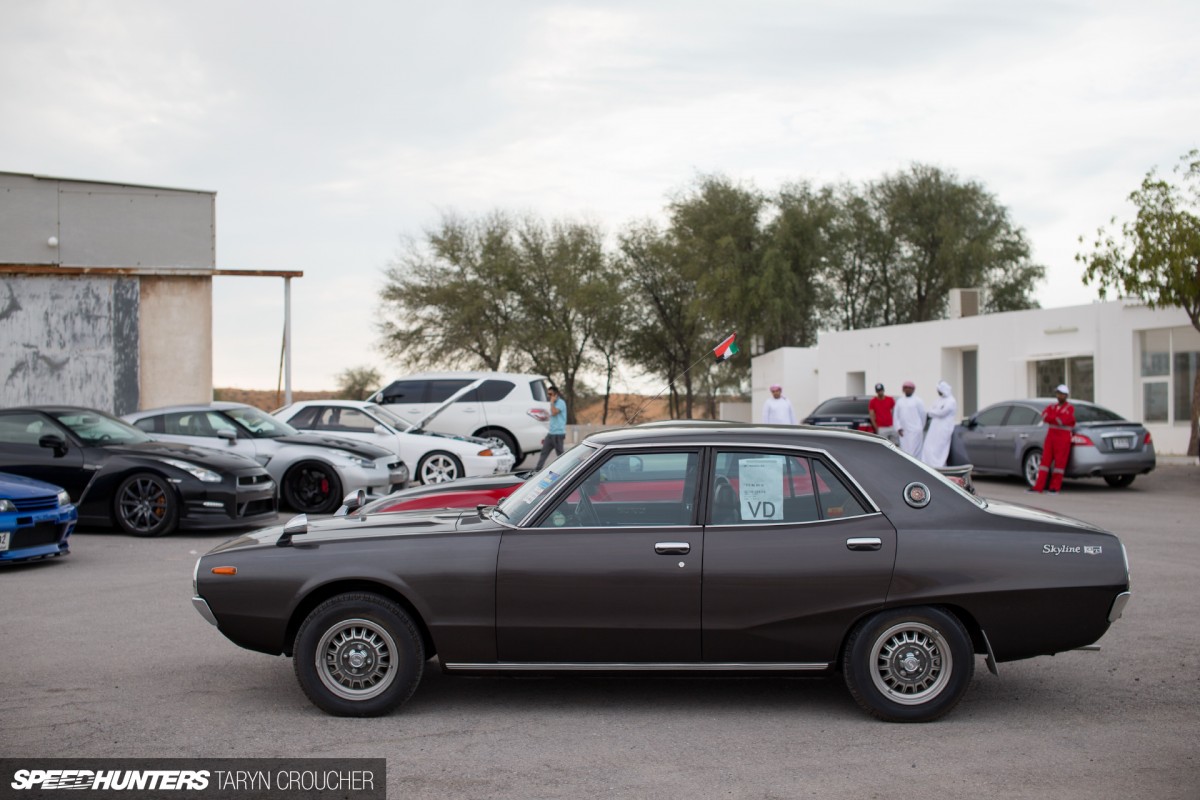 Next up, this beautiful '76 Skyline GC111 2000 GTX-E was in near showroom condition. These cars look so different in their sedan form.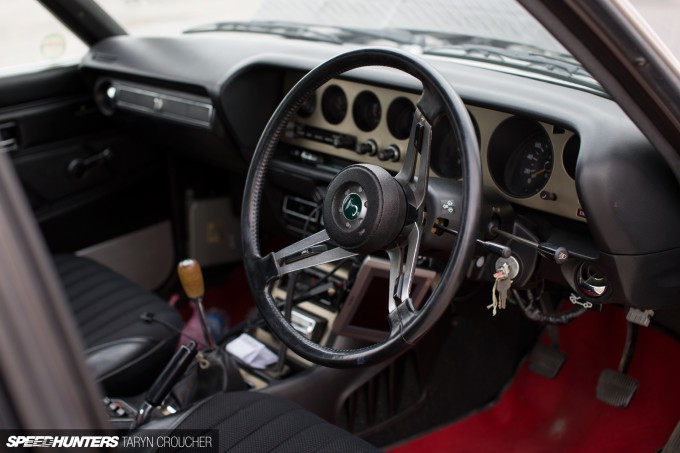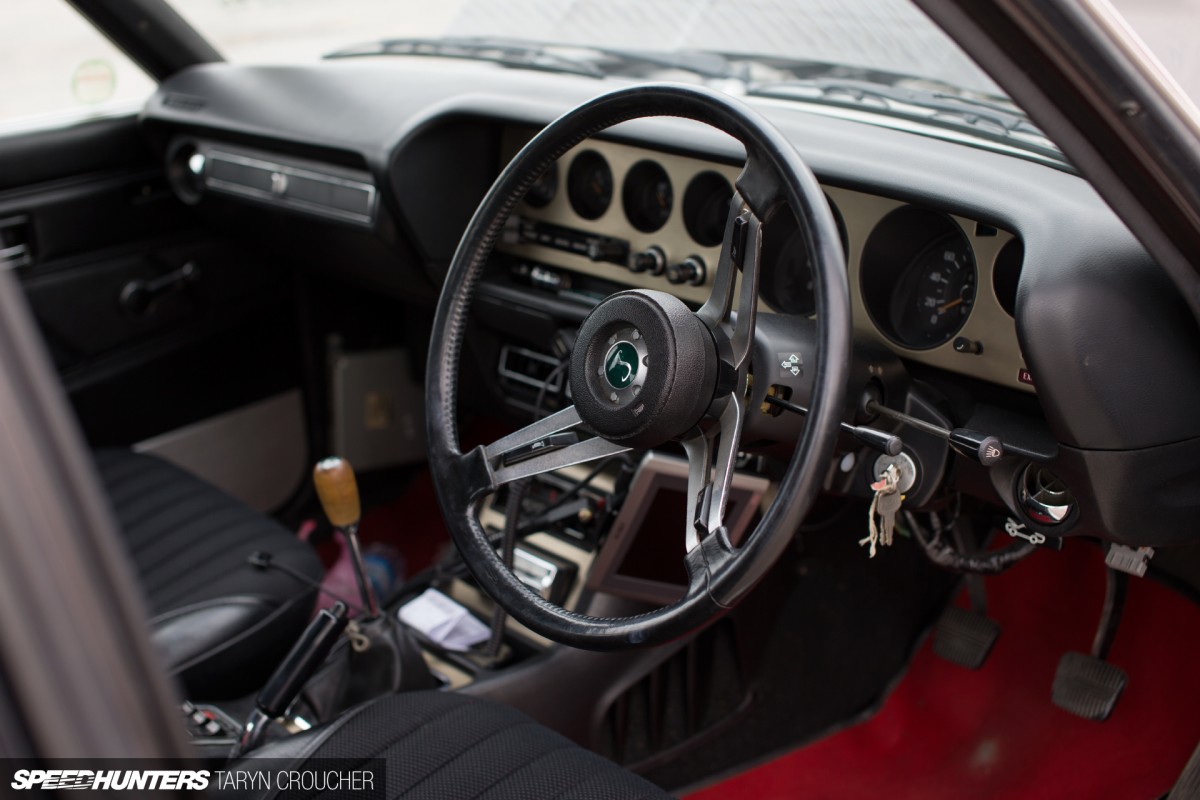 Check out the interior – the seats looked like they'd never even been sat in before. As I peered inside the cabin, the owner insisted I drive it up and down the road a few times to test it out. He encouraged me to take a seat and had a huge smile on his face as I went to turn the key.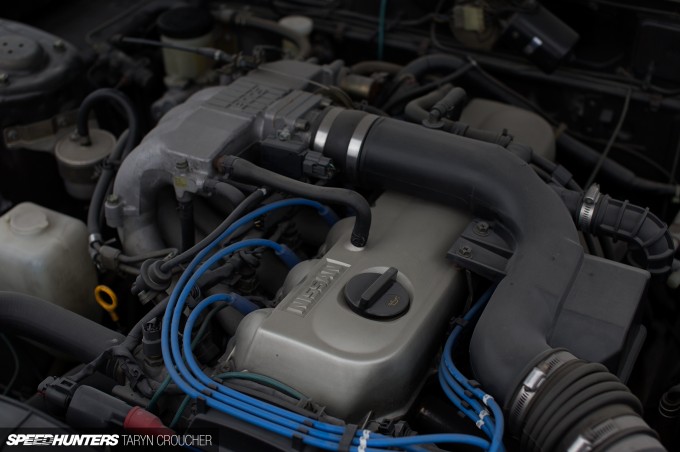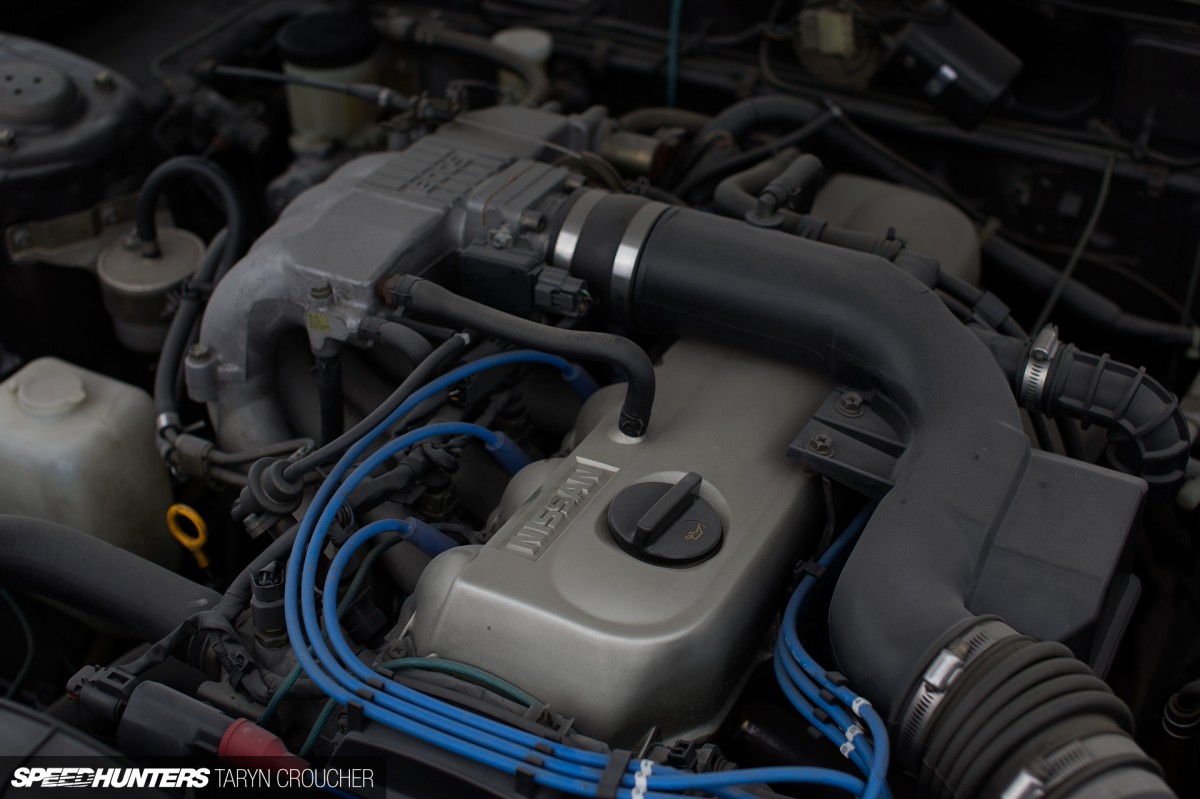 As the engine came to life he laughed at the confused expression on my face. There was definitely no L-series motor in there, that was for sure! It all made sense when he opened the hood to reveal a sneaky RB20E conversion.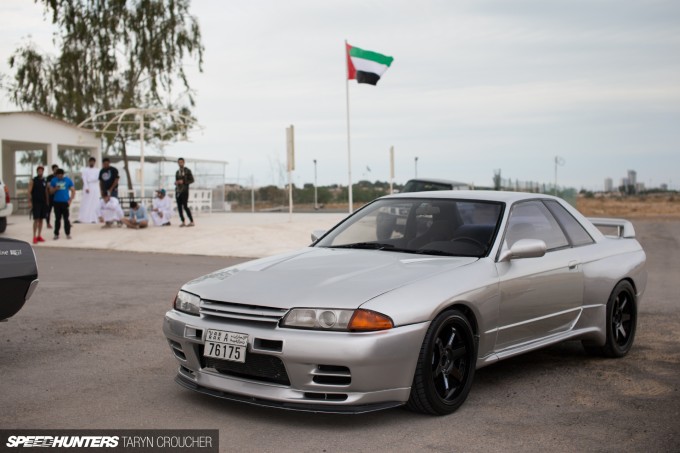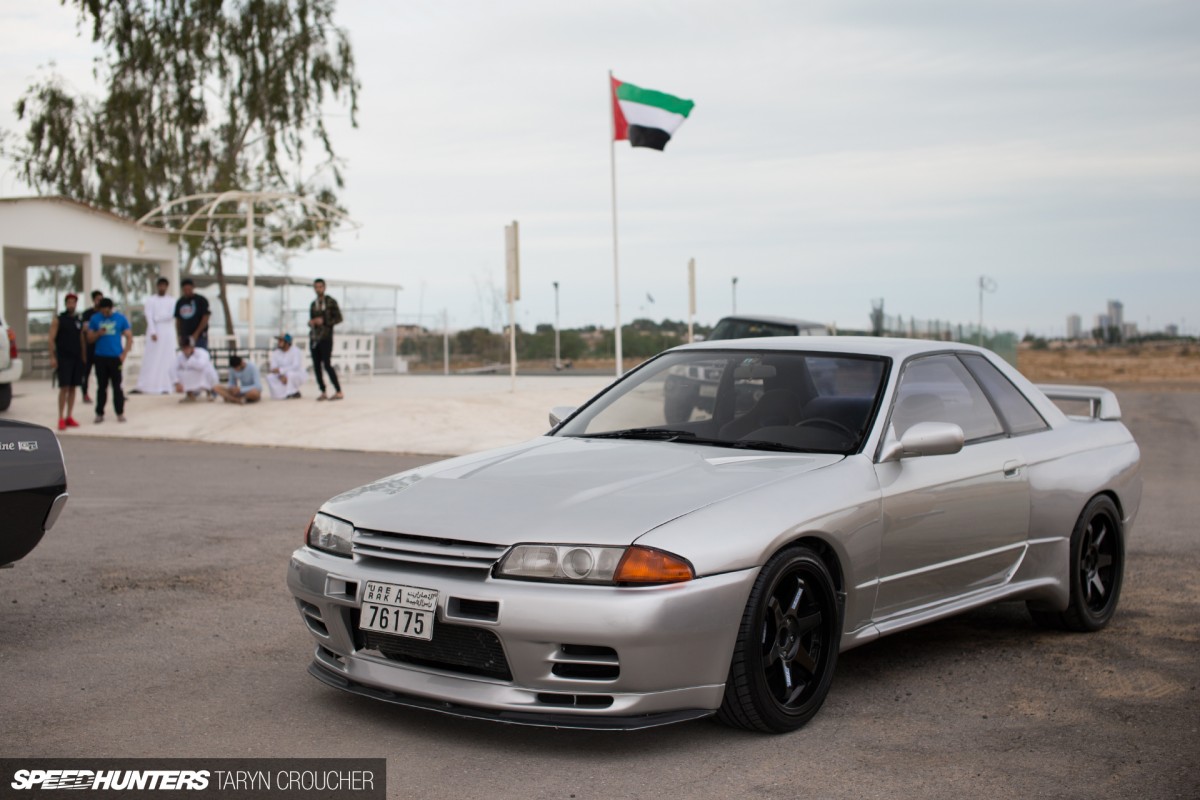 Speaking of RB engines, this beautiful BNR32 on RAYS TE37s was one of three clean examples brought along. You'll notice that none of these cars have any radical styling, extreme stance or crazy engine swaps – they've all stuck with period-correct looks with light to moderate engine upgrades.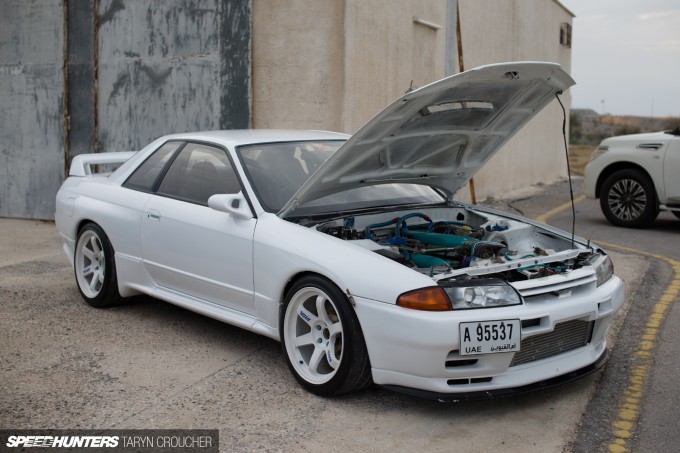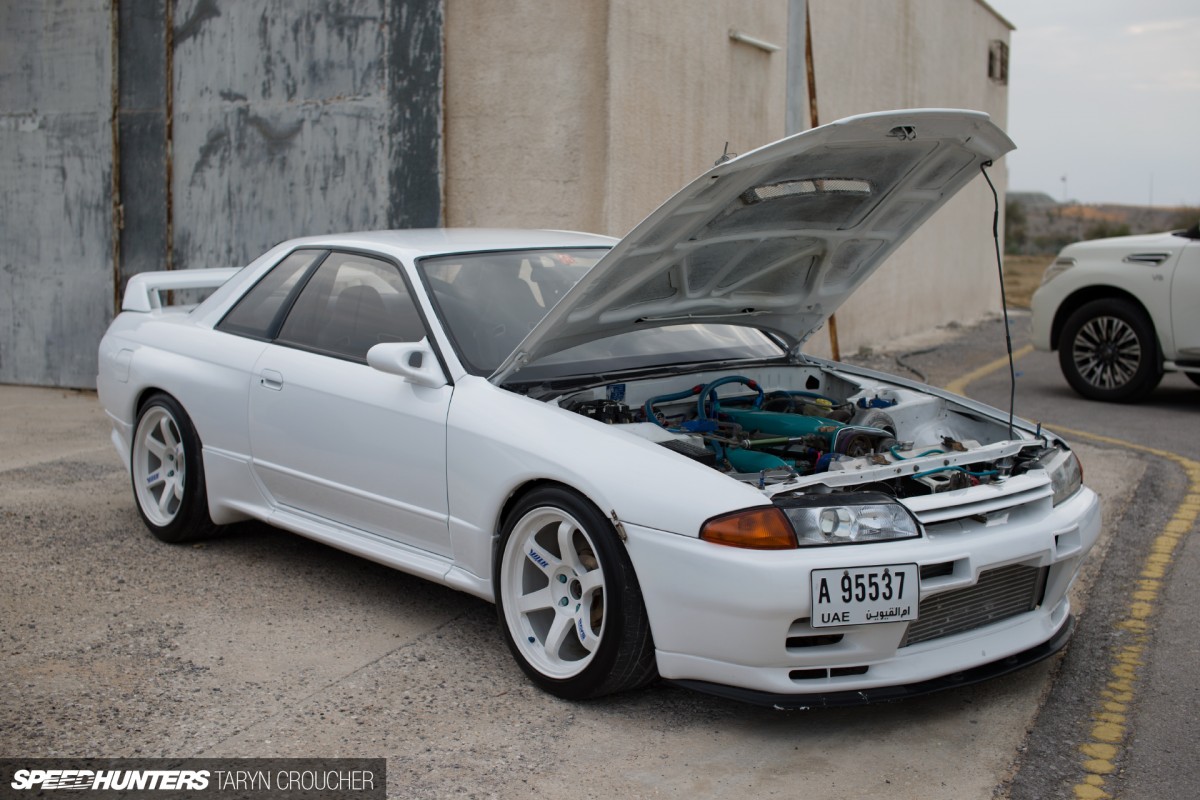 This BNR32 really stood out, and that wasn't just because of the Ganador side mirrors and matching white TE37s, but because of its unique engine package…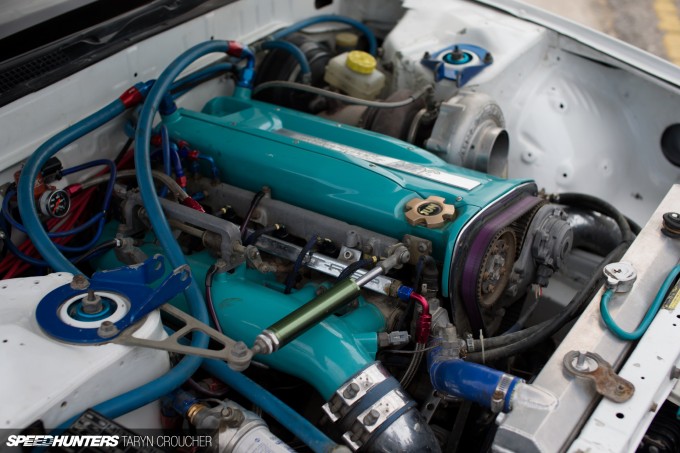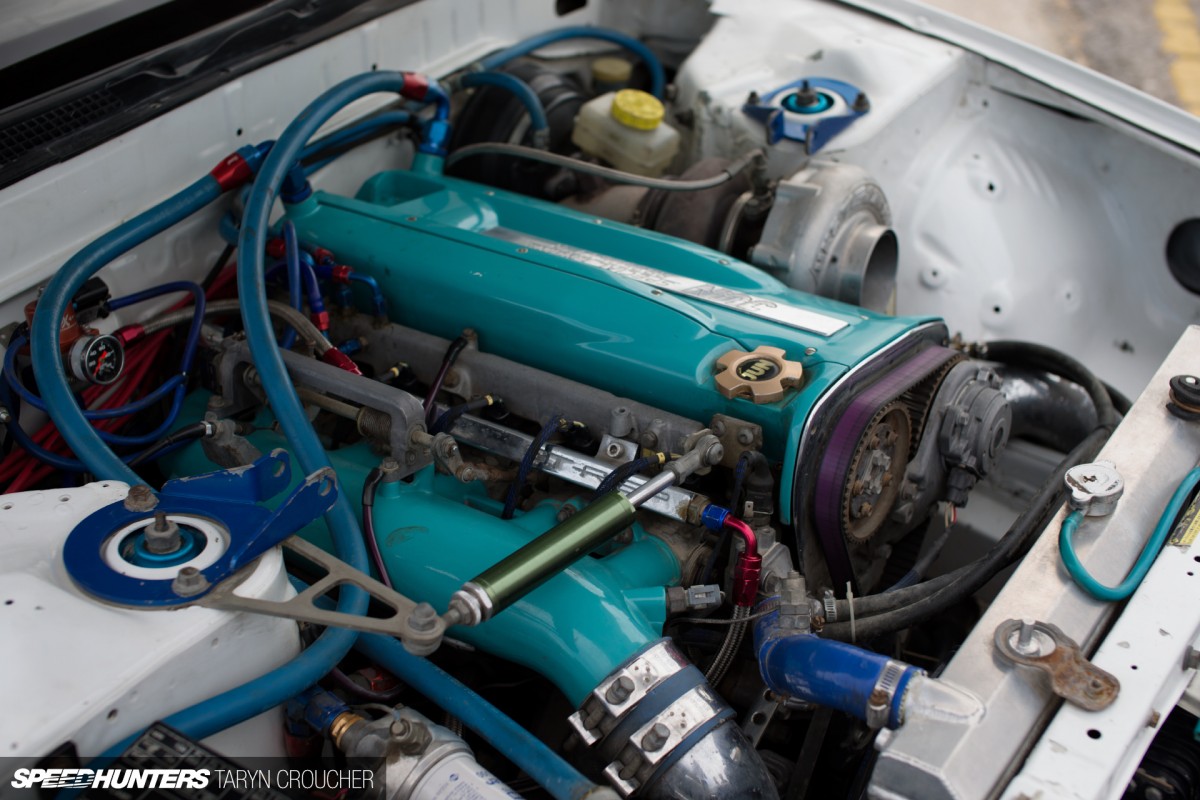 The GT-R was originally imported from Japan into the UAE with this JUN-built RB26, which back in its glory days was pushing around 900hp. It's since been rebuilt with all new internals and switched to a larger single turbo, and is still making a respectable 600 horses.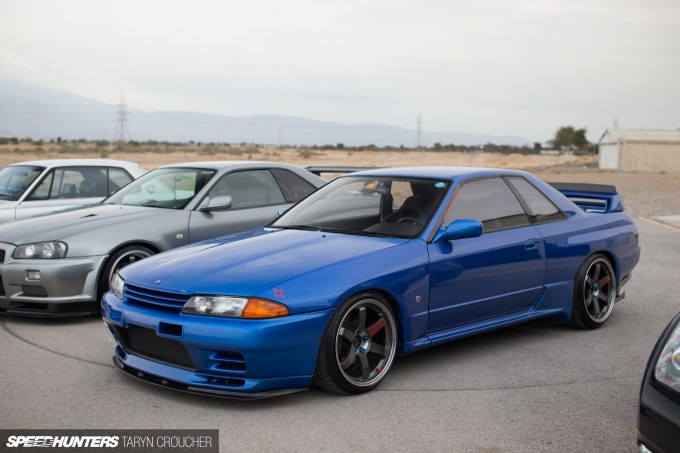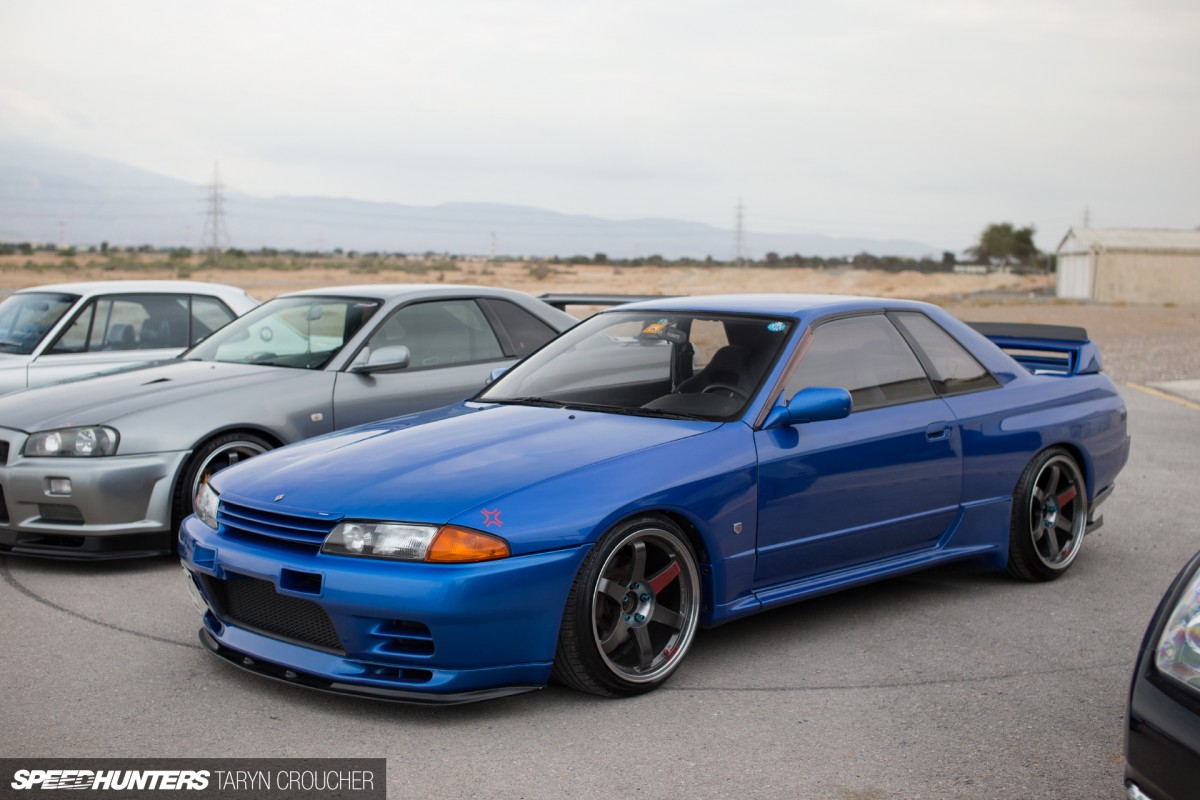 Something you've probably noticed by now is that all these cars are LHD. That's right – after they've been imported from Japan they've been converted to comply with UAE vehicle regulations. Older cars from the '70s, like the 2000GT and Kenmeri Skylines, can get away with being RHD under a special exemption law for classic vehicles, but if you want to own a BNR32 or 34 in the UAE, this conversion is just something that has to be done.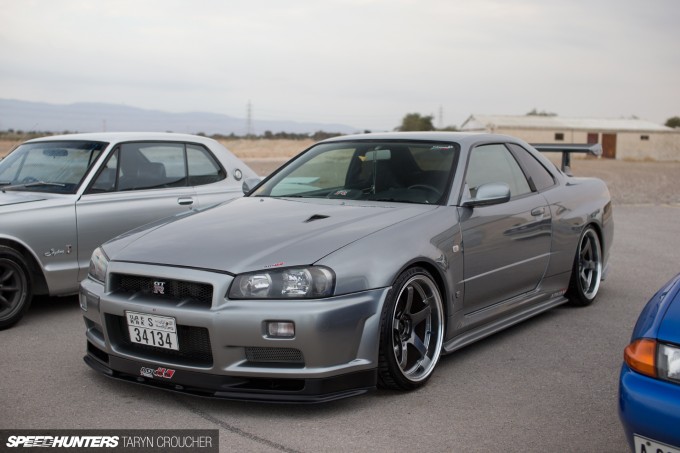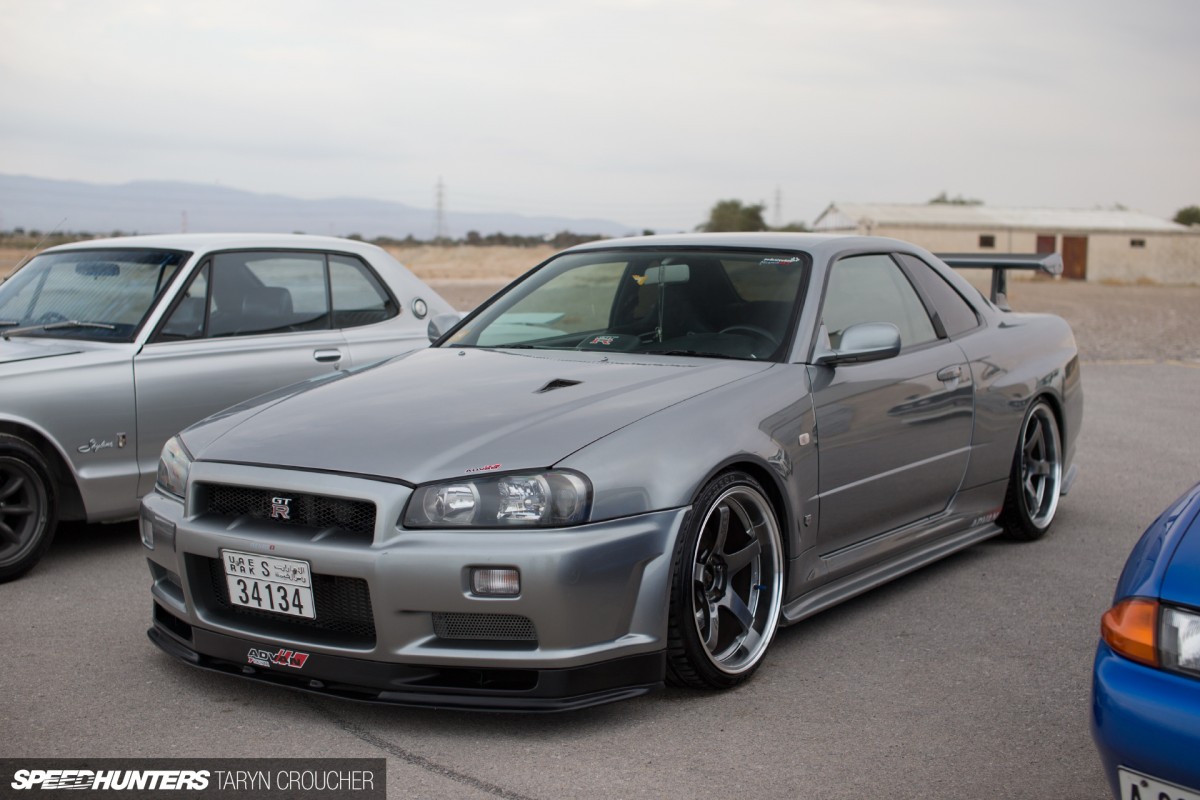 It's crazy though, because looking inside the car you'd never be able to tell that the dash has been chopped right through the middle. The interiors still look flawless.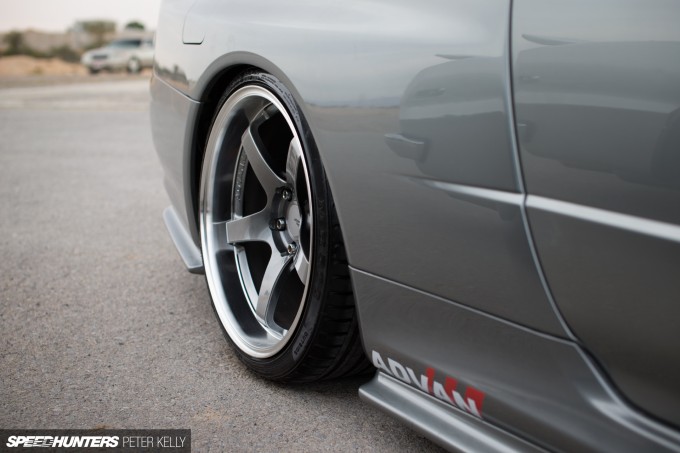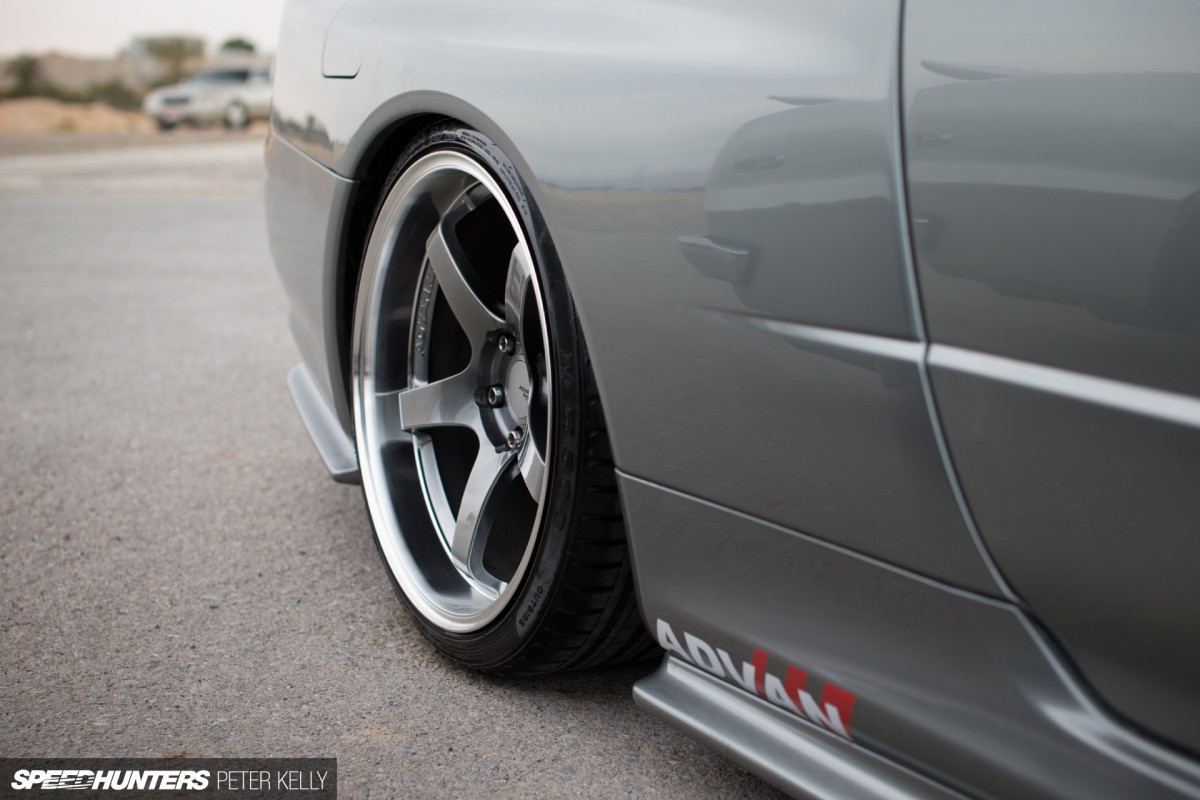 Saad Al Yaaqieb, the owner of the beautiful R34 GT-R specimen, was telling us about how he previously owned two R32 GT-Rs, and sold them both to buy his R34. It looks so damn good on these Advan GT 90 wheels.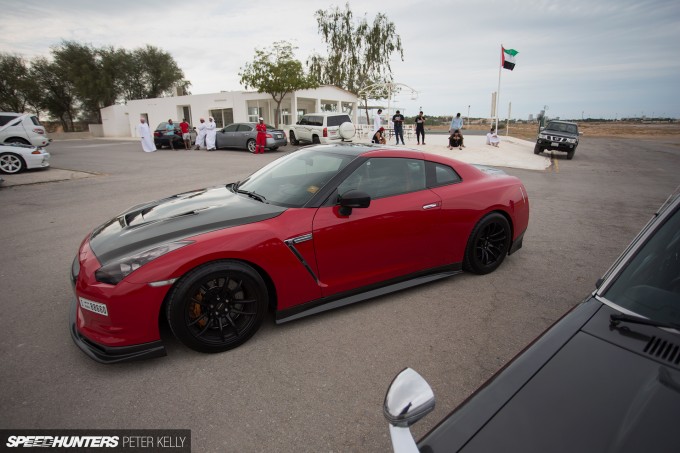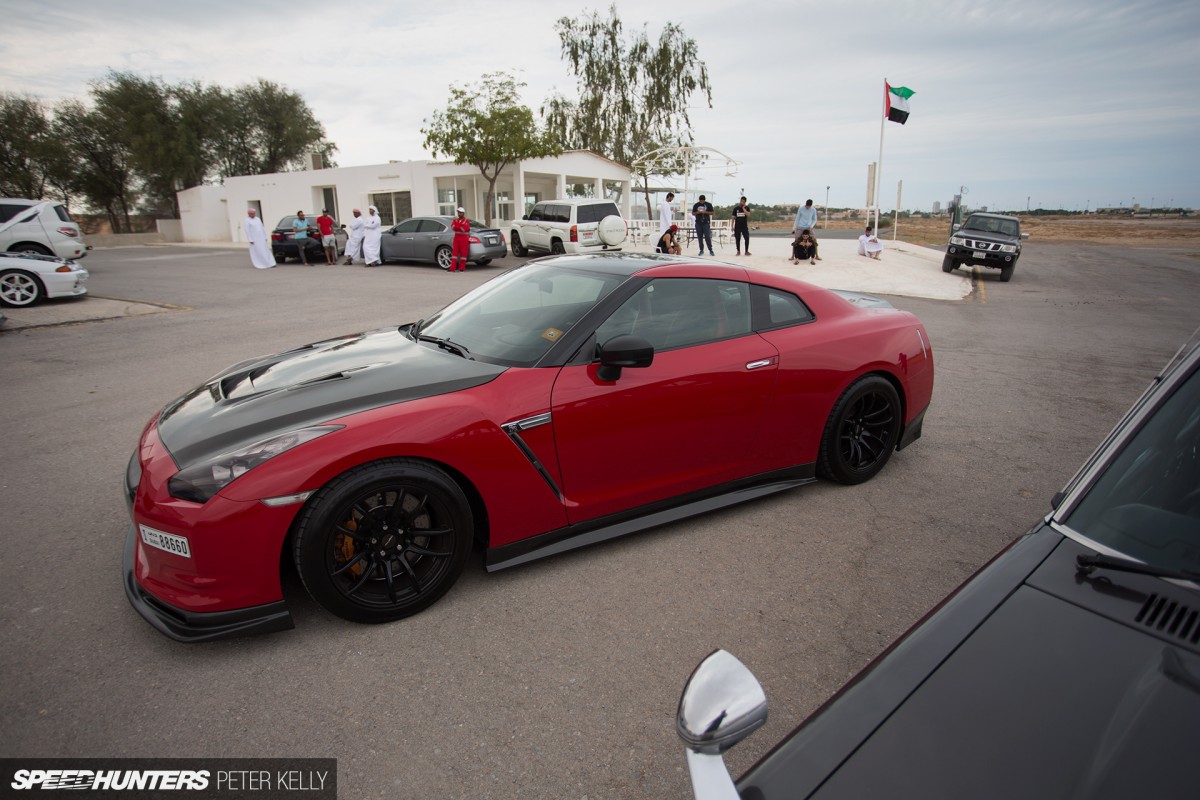 Is modern R muscle more your thing? This was one of three very cool modified R35s in attendance.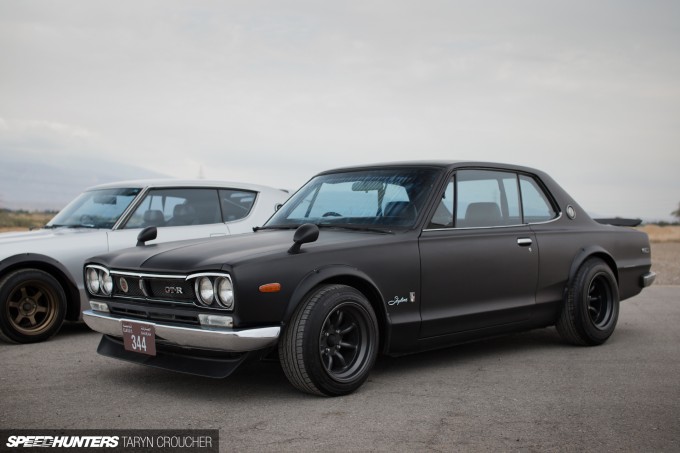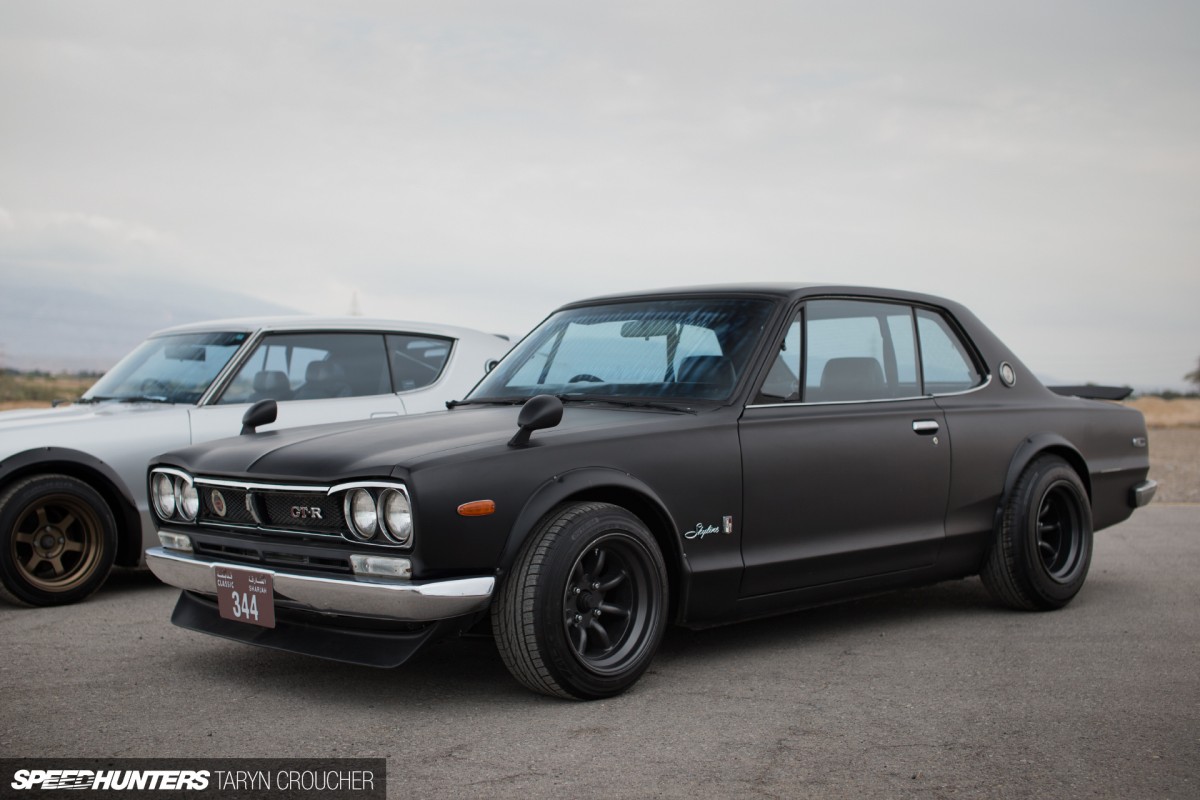 My camera couldn't get enough of Sultan Almansoori's satin black KGC10 Hakosuka. Usually I'm not a big fan of matte-finish paint, but this car looked super-tough with its matching wide black RS Watanabe wheels. An L28 swap always helps too!
Photoshoot Fun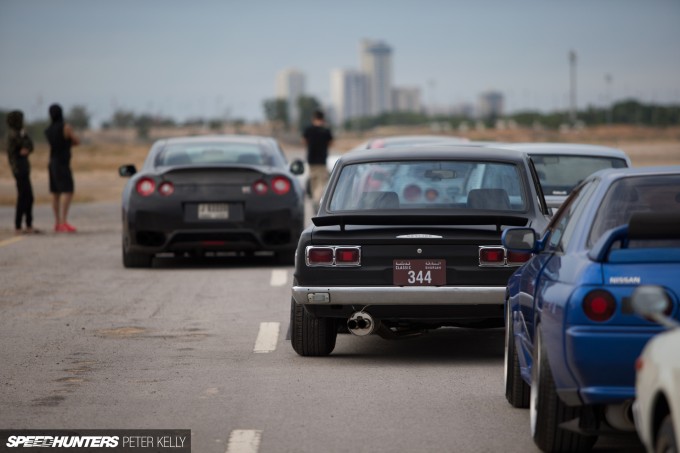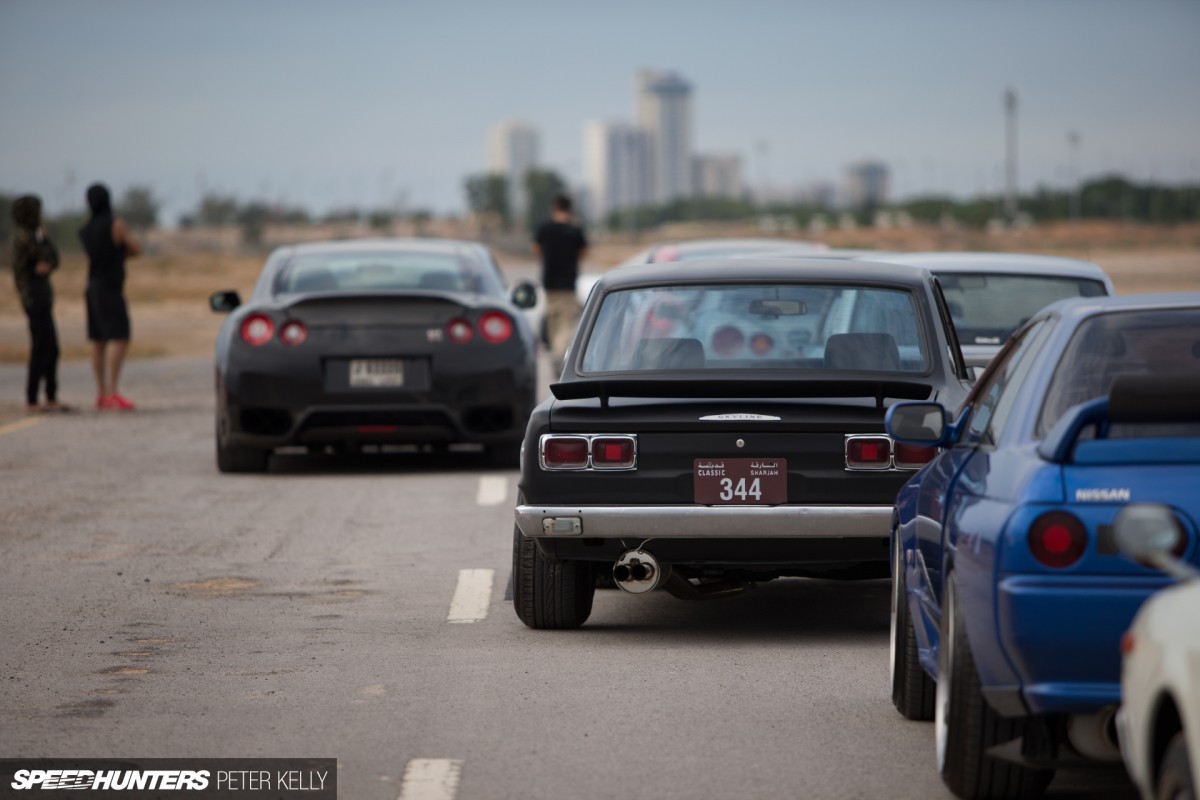 Seeing as we had the afternoon to burn, we decided to move the cars out onto the road to get some better pictures for our new friends, who were more than happy to oblige.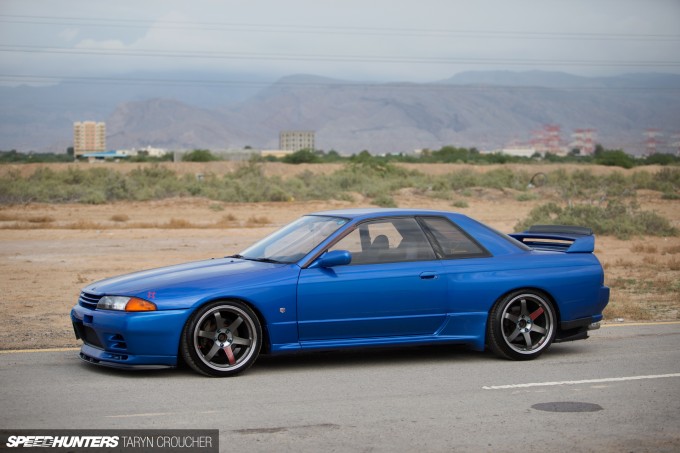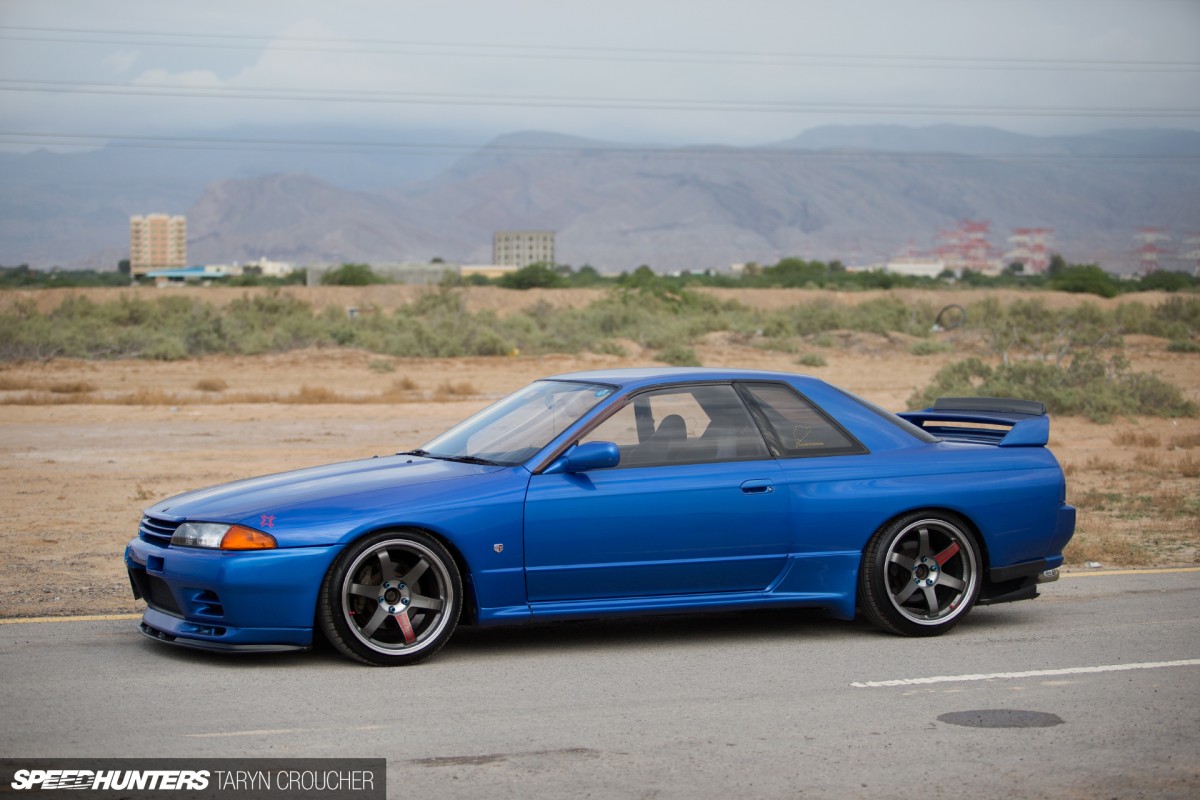 The hazy sky combined with a few clouds made for perfect shooting conditions, although at one point we actually thought it was going to rain! We hadn't even thought about the possibility of wet weather (as it pretty much never happens) but thankfully it was only a very slight passing shower.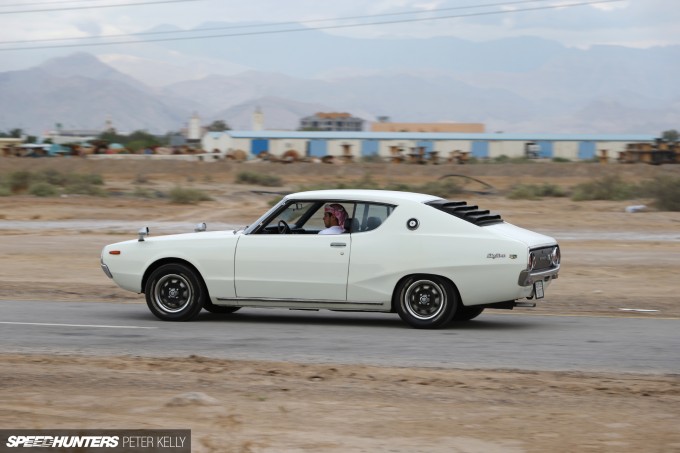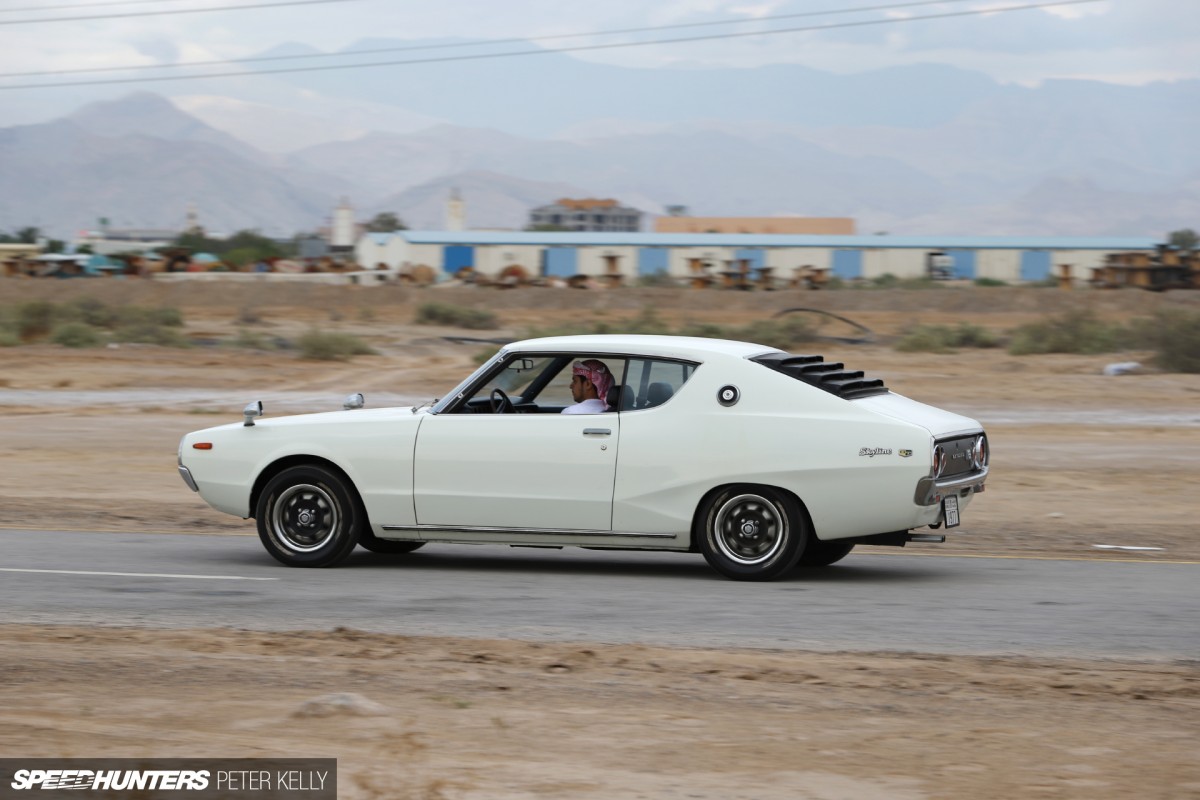 Here's a better shot of Khalid's Skyline 240K in all of its retro glory. I can't get enough of those louvres and the stencilled tyres!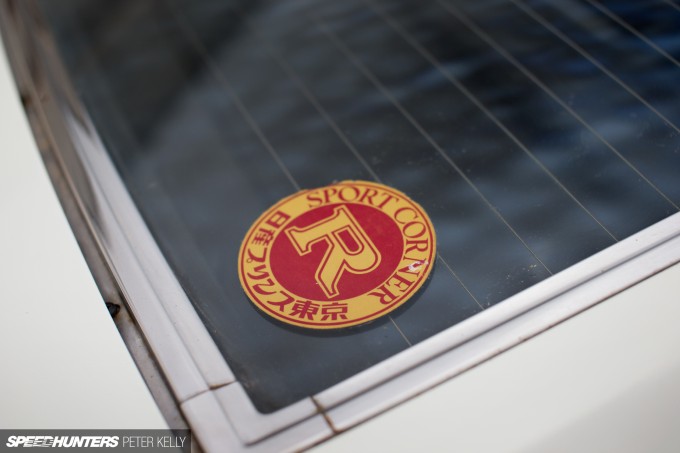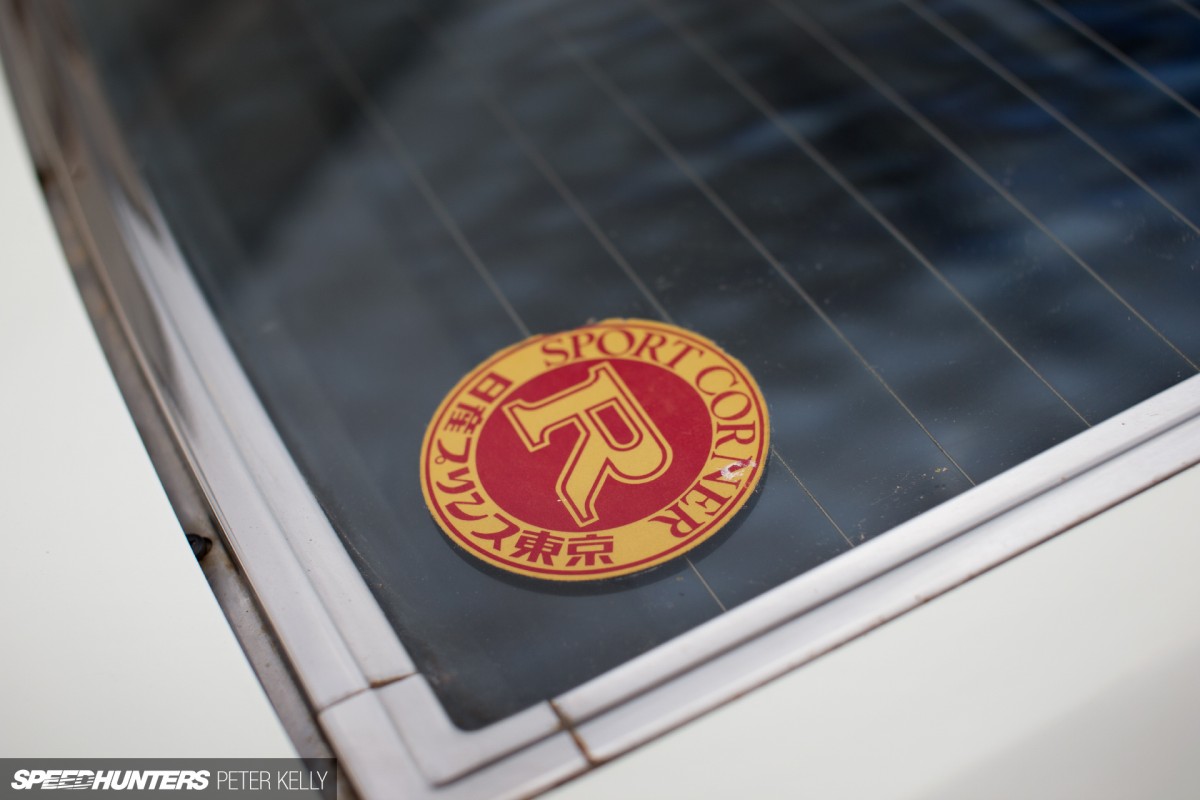 A few of the cars still wore old Japanese stickers – I thought it was cool that this had been left on.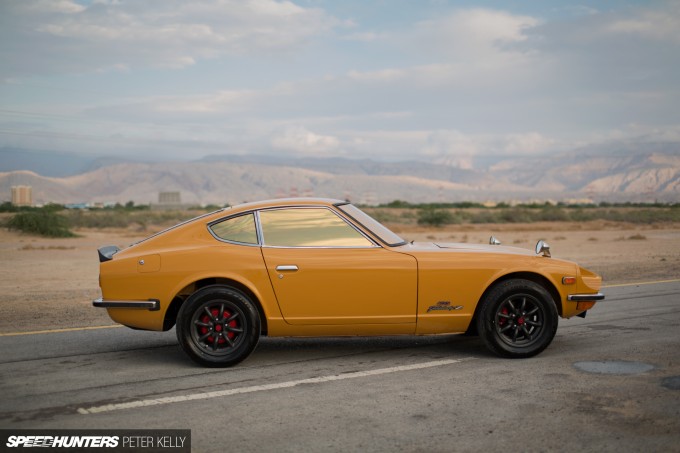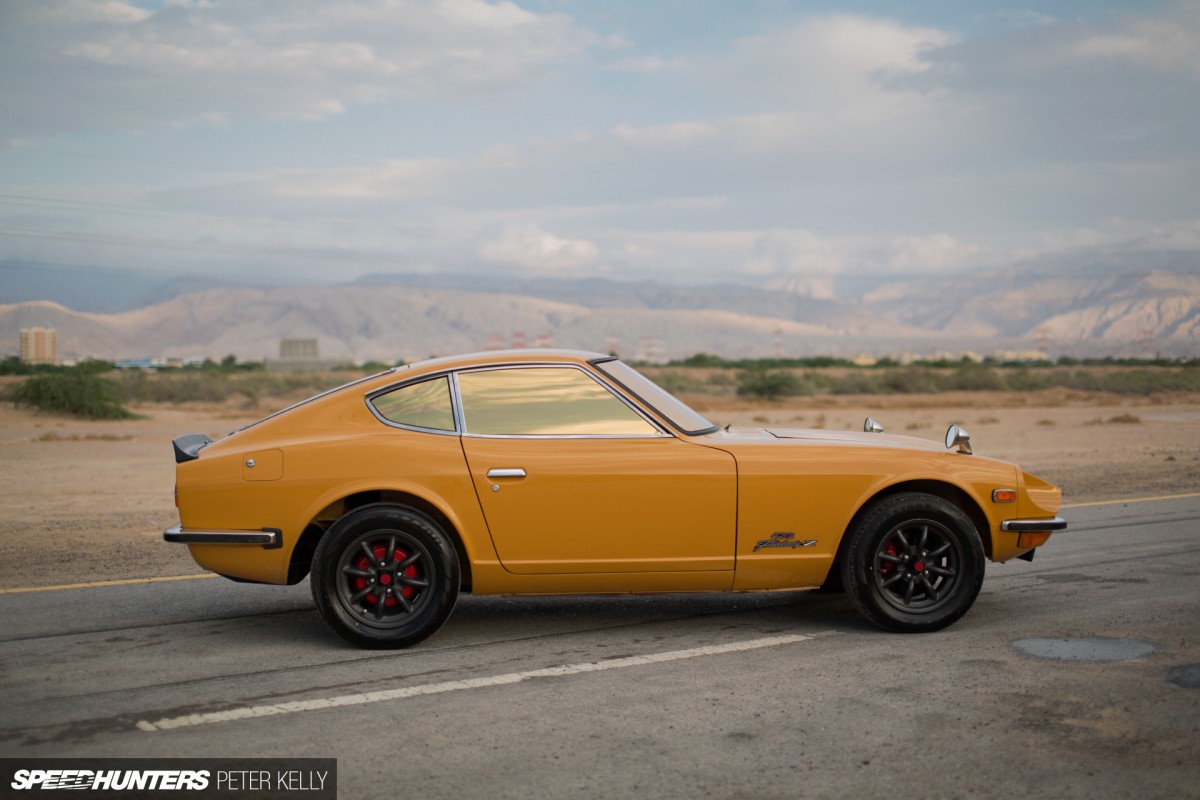 Being the S30 geek that I am, I was excited to get a proper look at Ebrahim's 240Z, which despite its looks is not a real Fairlady Z432 – just a cleverly replicated copy. Khalid explained to me that he and his brother would love to add a real Z432 to their stables one day, but for now they've created a 'tribute' car from this lovely 1970 mustard-coloured 240.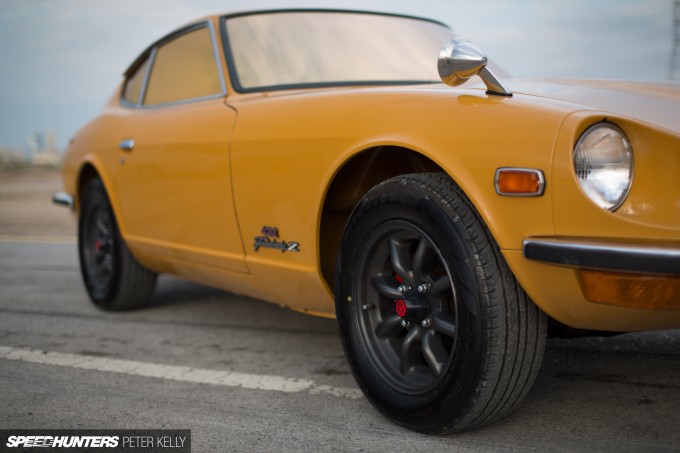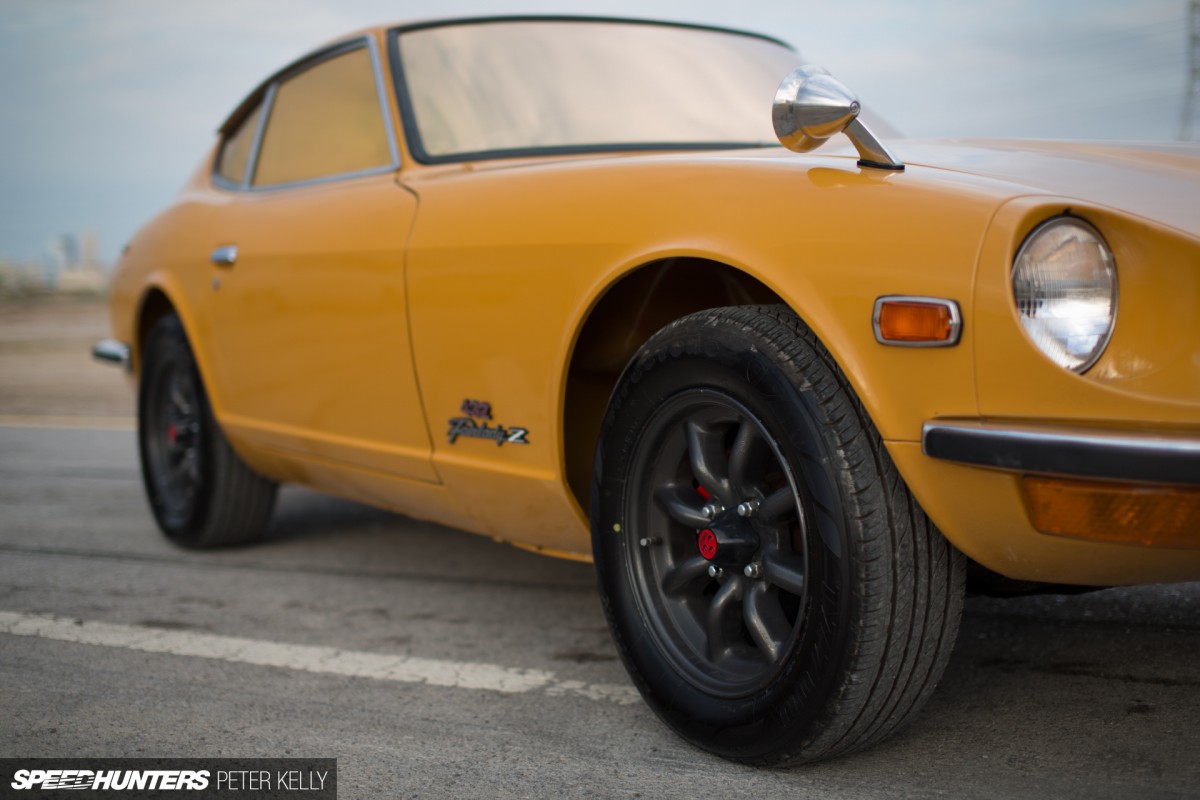 When I asked about the mirror tints, Khalid laughed and explained, "The interior is not ready yet, so we applied those this morning so it would not show in the photos!"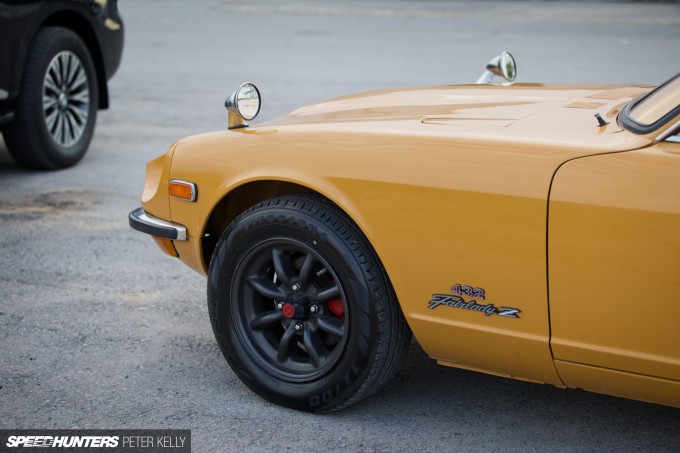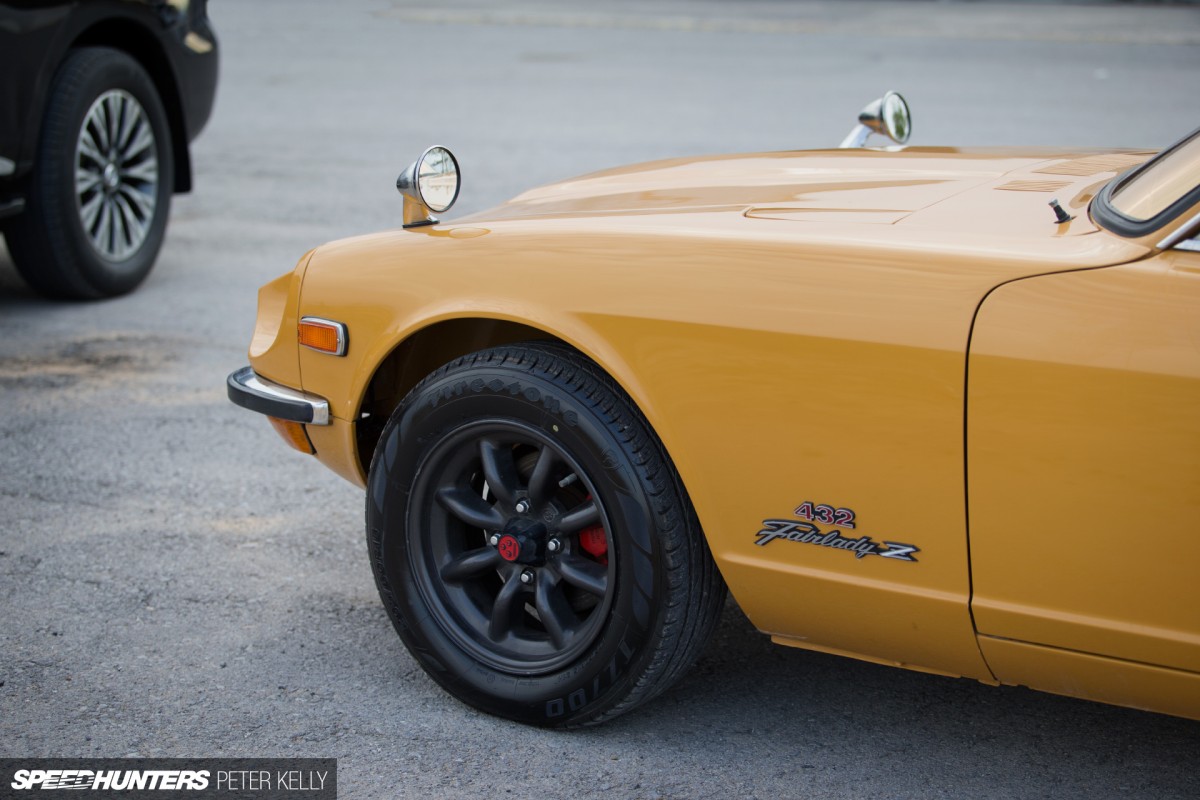 The wheels are RS Watanabes of course, and Ebrahim has added badges, fender mirrors and a rear boot spoiler as a nod to the ultimate Z-car.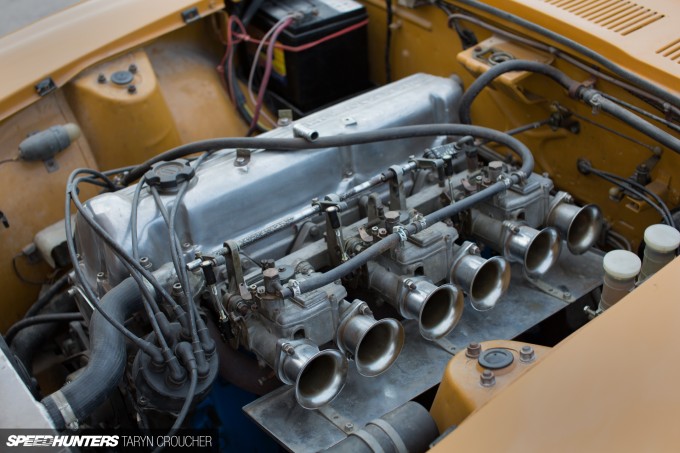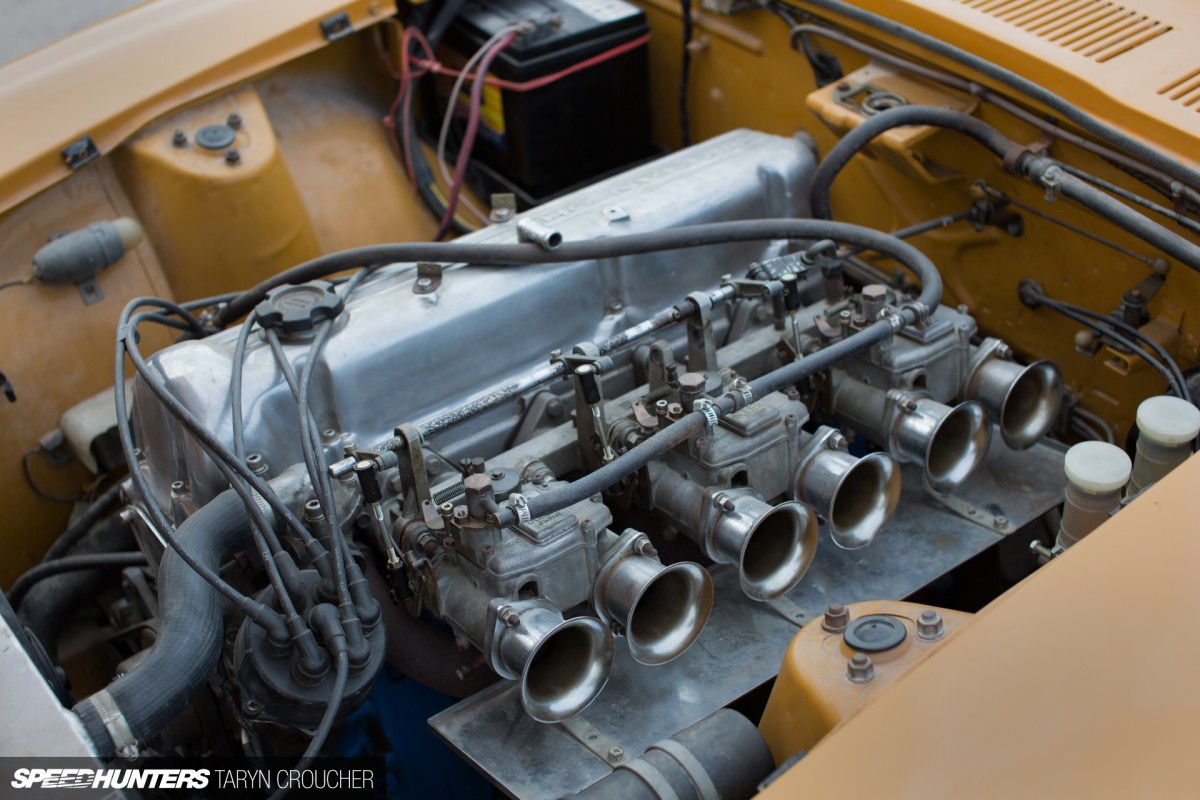 Instead of the much-desired S20 engine, Ebrahim has gone with an L32 stroker motor, which is obviously still pretty cool!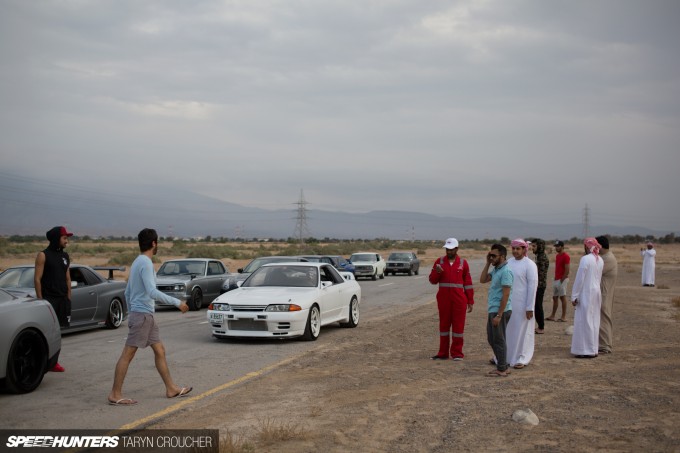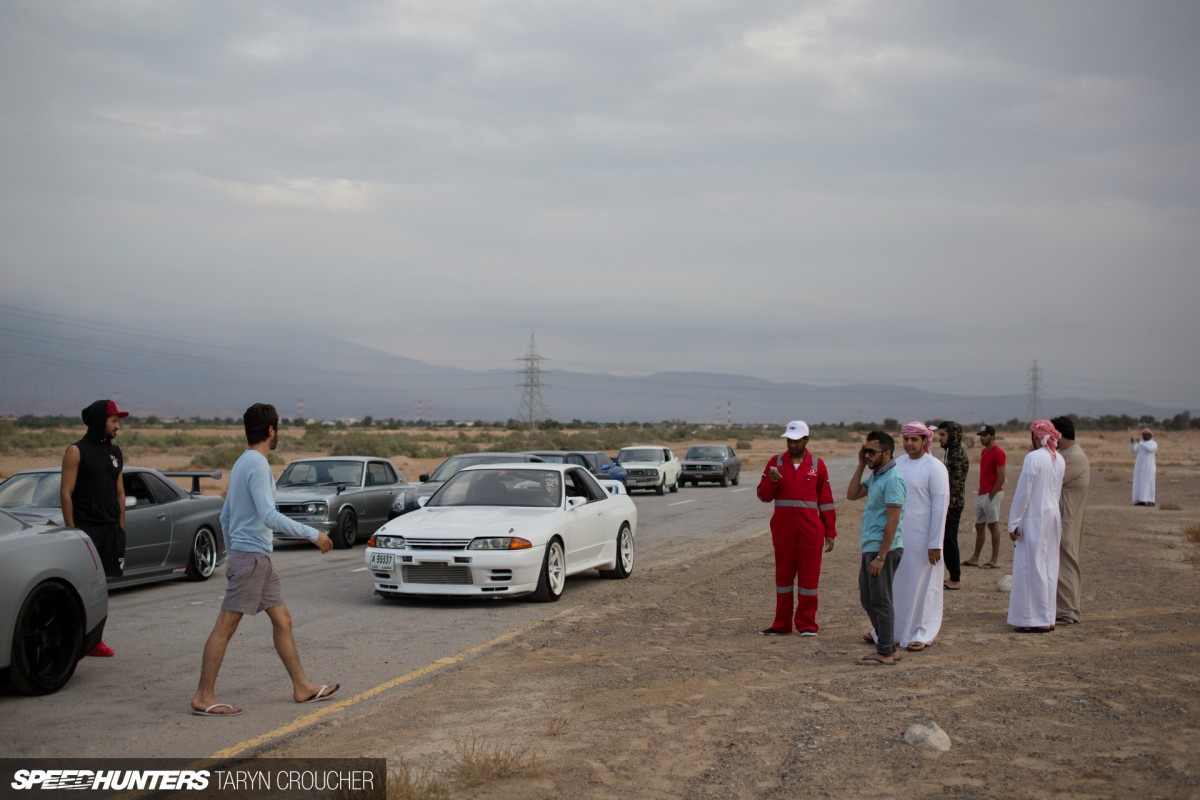 This was my first time hanging out with a group of Emirati car enthusiasts (and not to mention my first time visiting the Middle East), so I wasn't too sure what to expect. But these guys were super cool; they were extremely polite and welcoming, and were super excited about our visit. It's so funny that wherever you go in the world, even when there's a slight language barrier in situations like this it simply doesn't matter, because car talk somehow seems to be a universal language.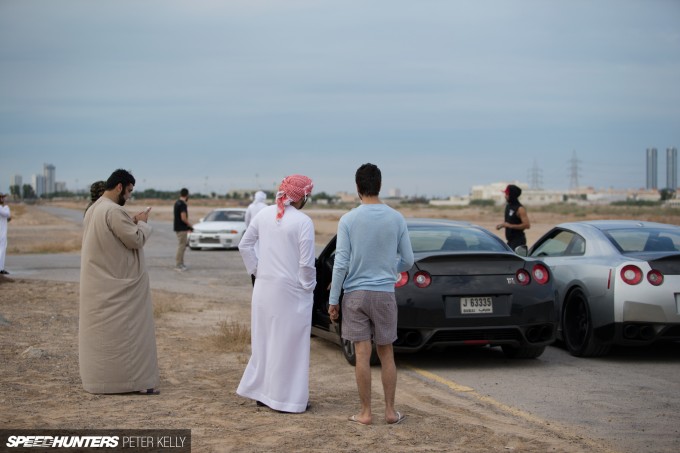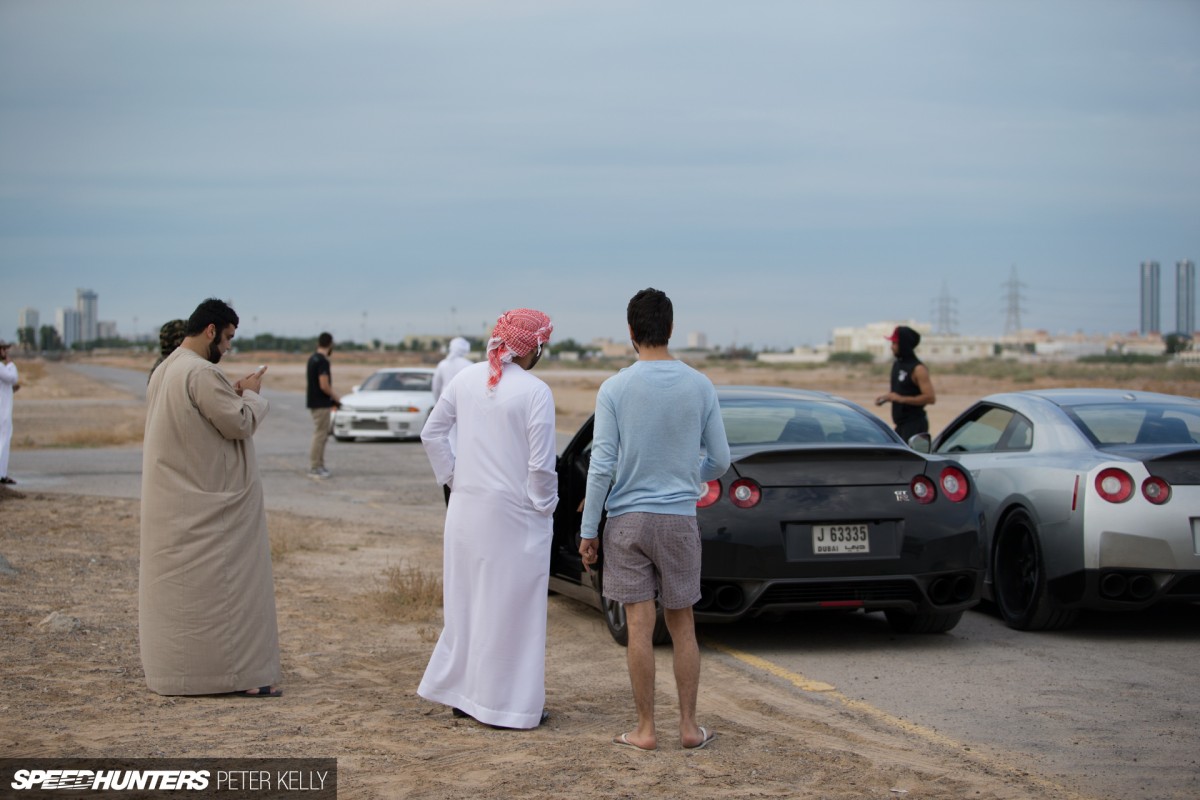 These guys were doing the exact same things I do with my friends back home in New Zealand – uploading photos of each others' cars to Instagram and Facebook, and egging on each other to get their rear tyres smoking…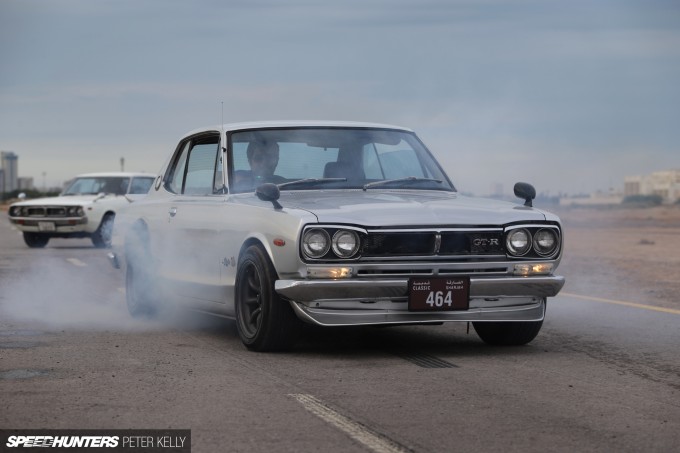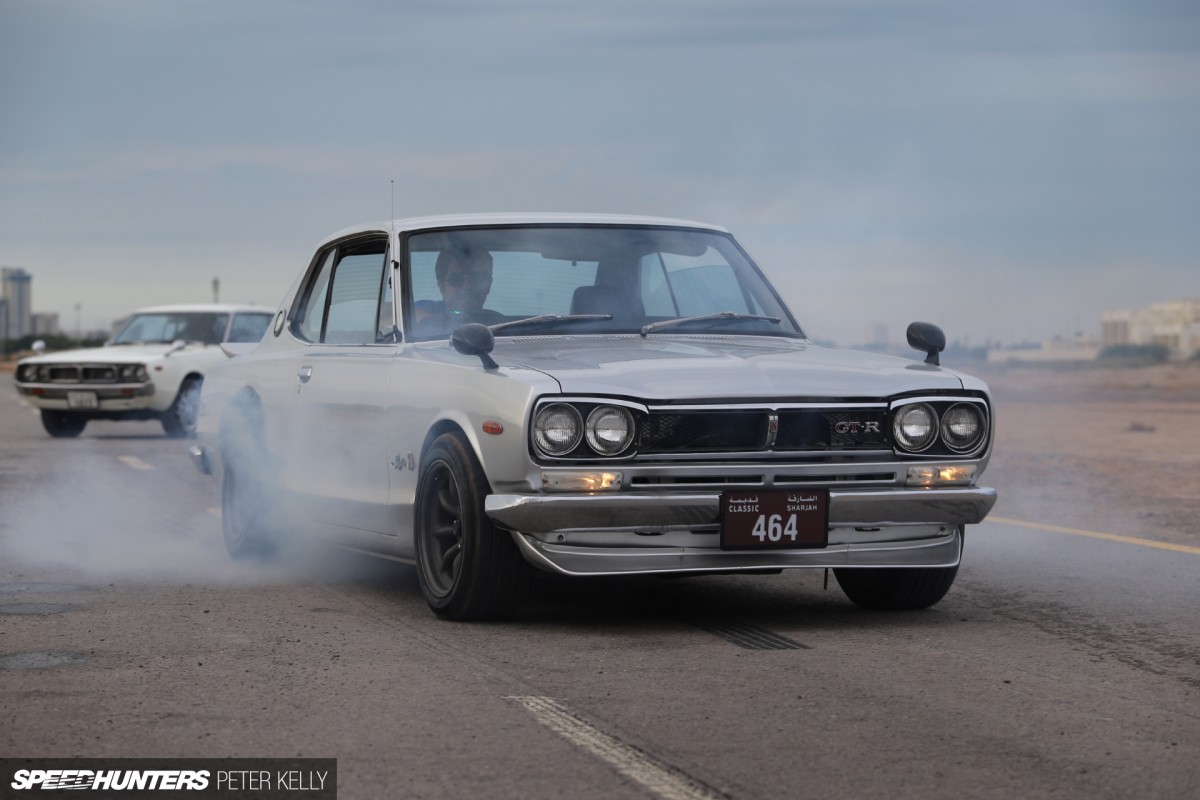 Not too bad for a 45-year-old car with an L-series engine, right?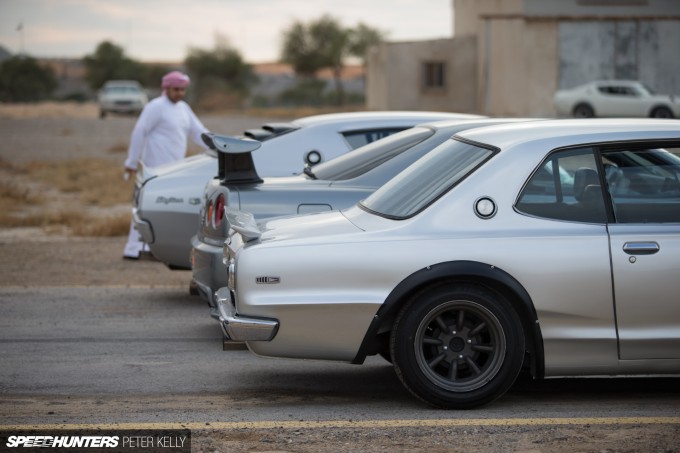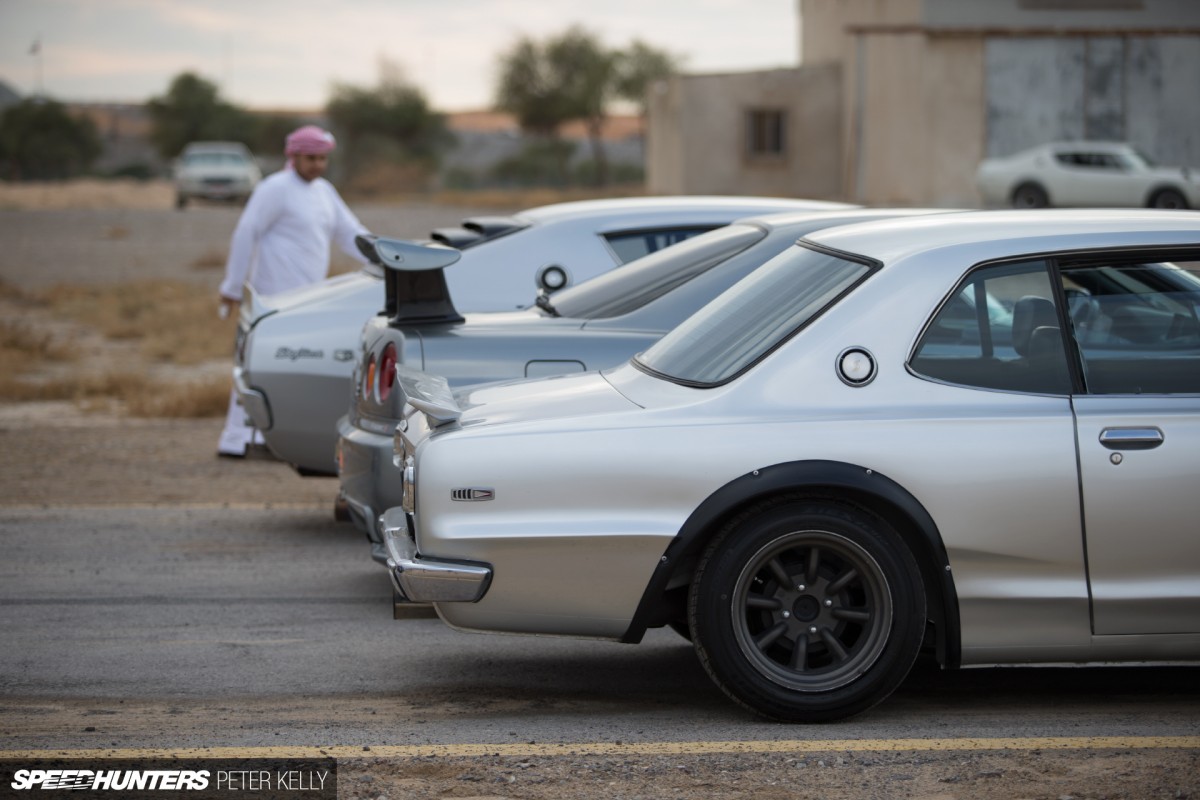 The location we were at was actually a property where Ebrahim and Khalid store some of their cars, so before we left I asked if we could take a look inside the shed behind us. I had a feeling there was going to be some pretty interesting stuff in there.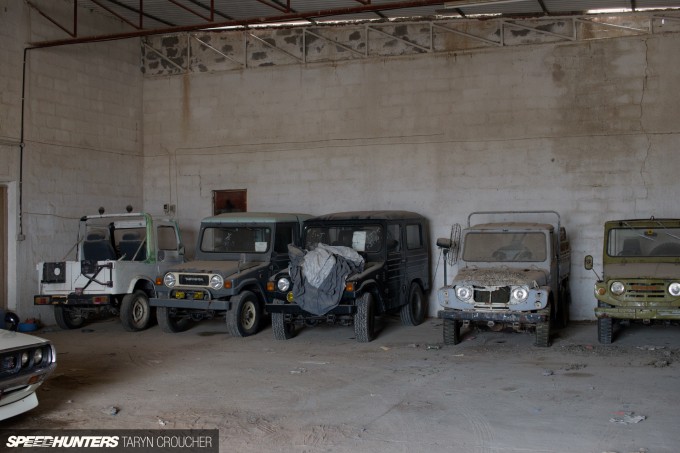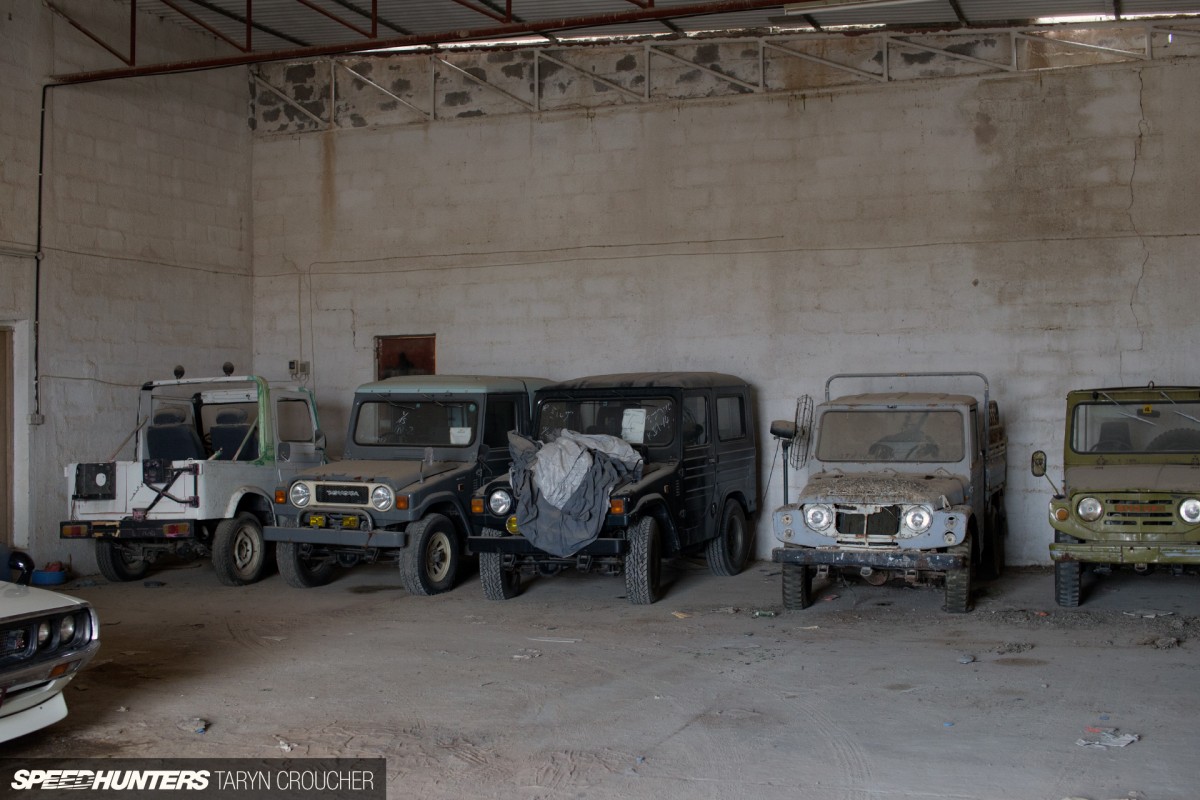 Inside the shed were at least six or seven off roaders, or 'ATVs' as they're called over there, some of which looked not road-worthy at all, let alone off-road-worthy.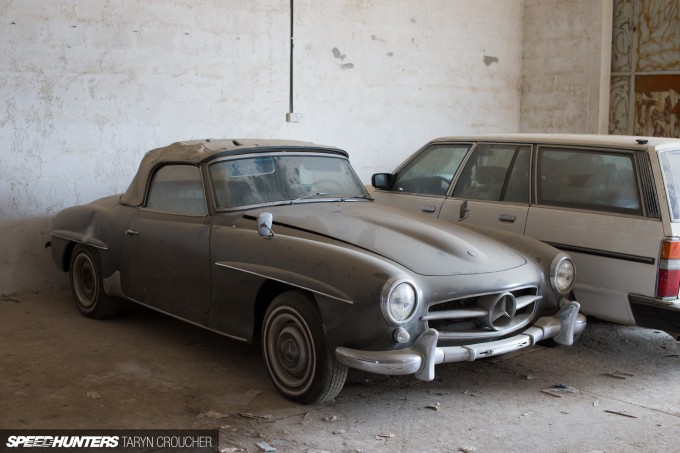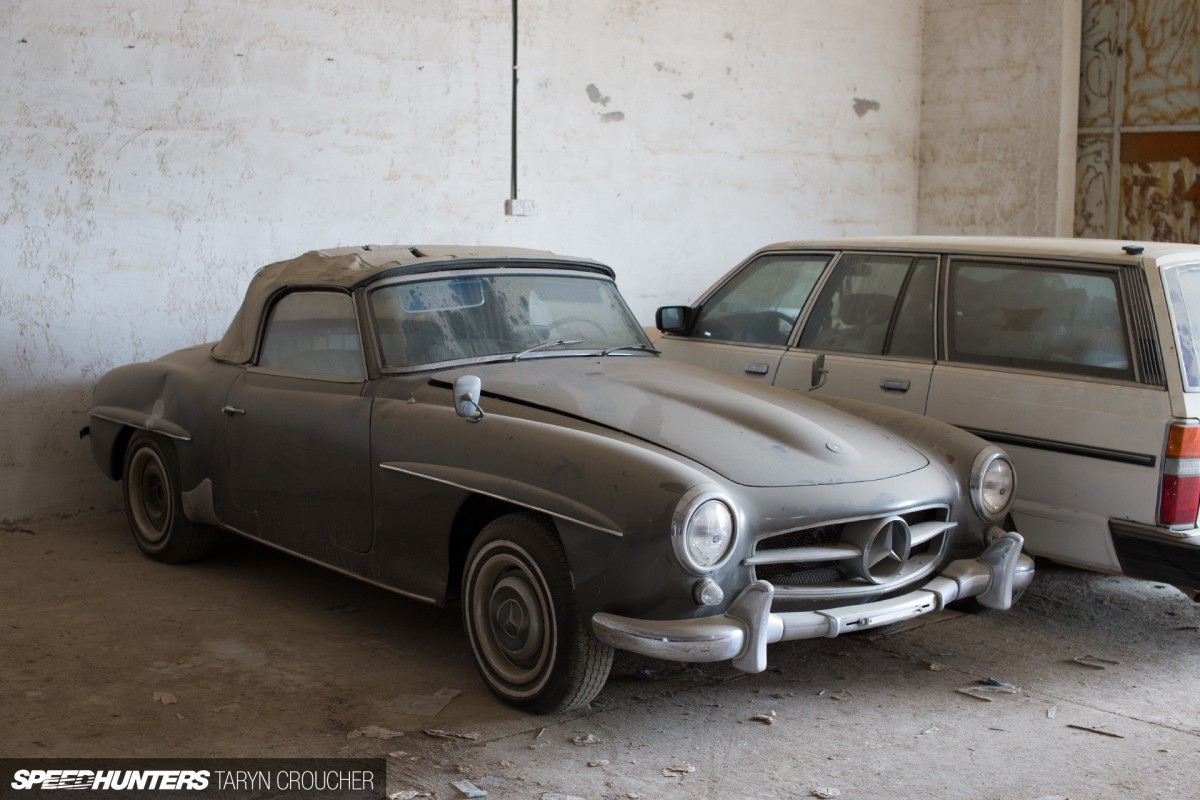 This was an odd sight – a beautiful old Mercedes-Benz 190SL gathering dust. I wonder how long it had been sitting there for?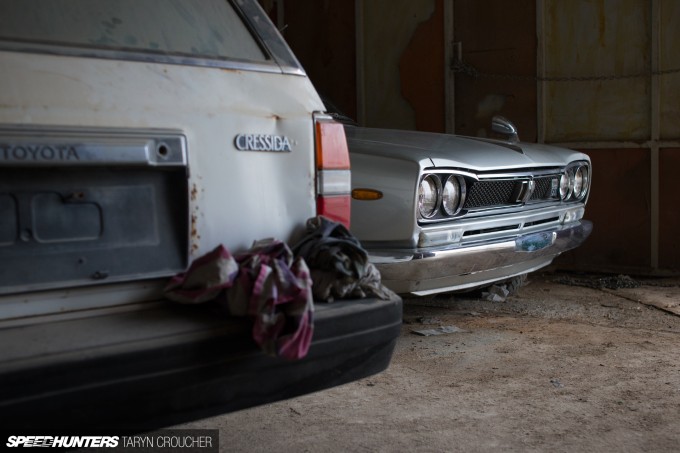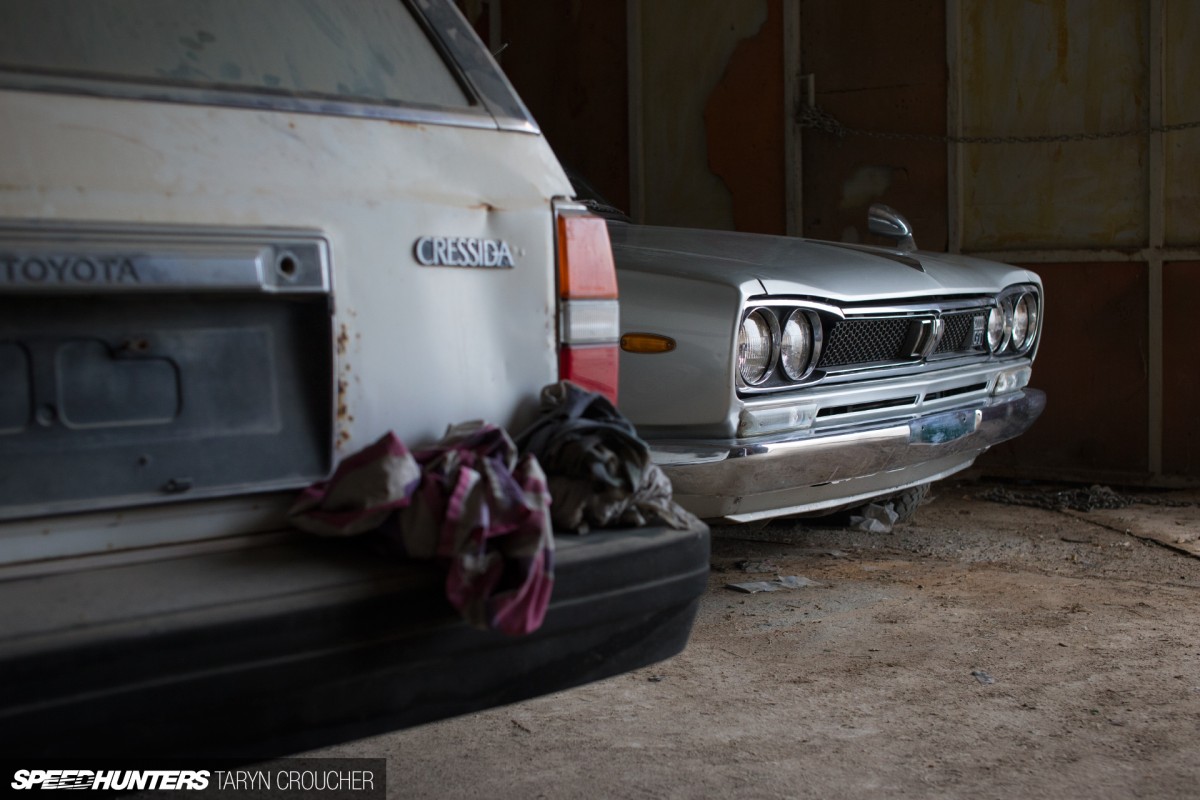 There was also another Hakosuka taking refuge, and an old beat-up Cressida wagon, which was acting as some sort of parts storage vehicle.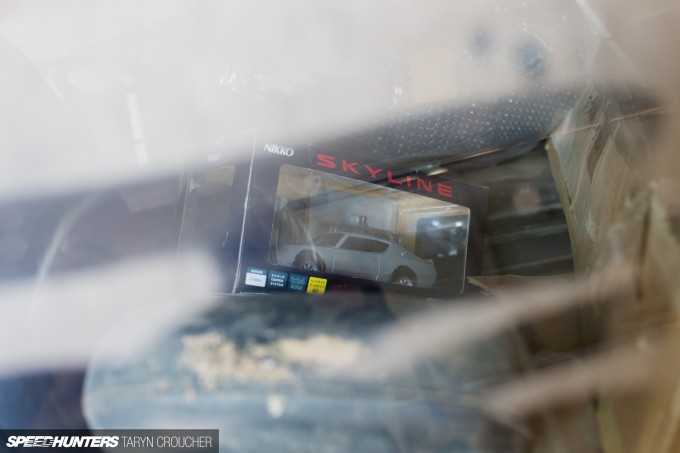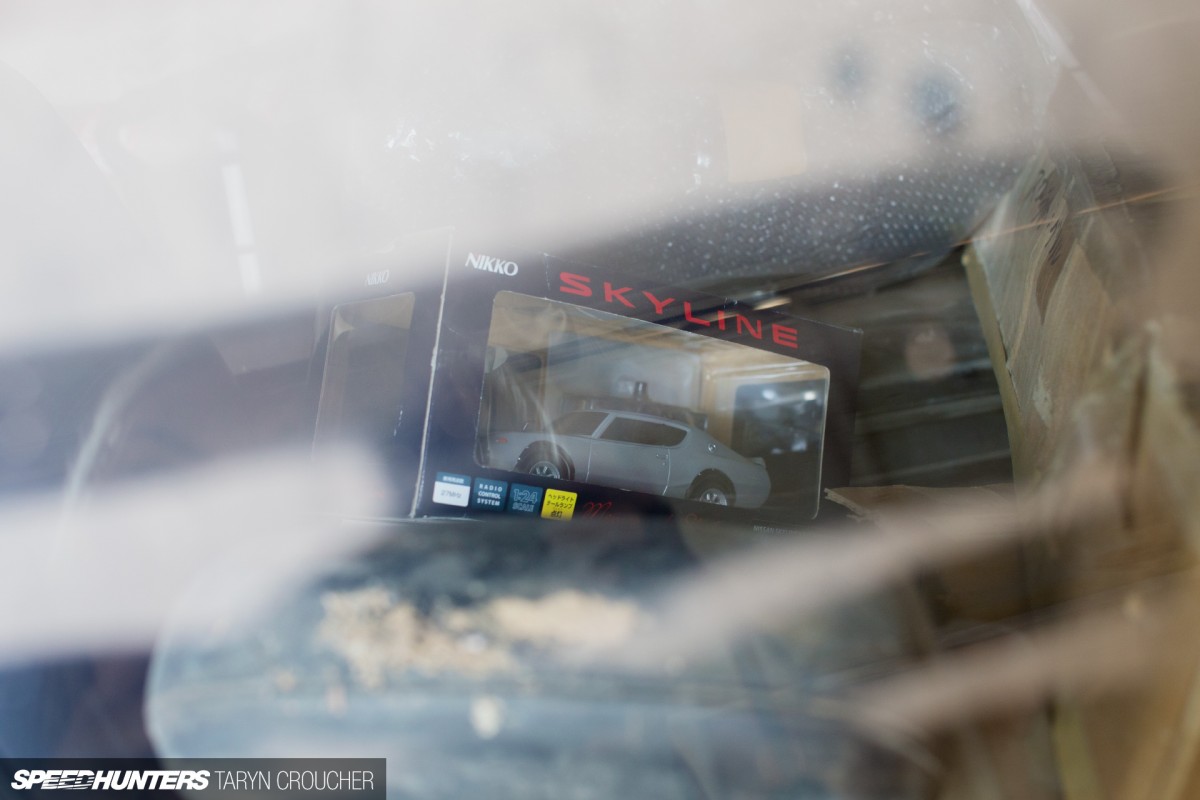 I swiped my hand across the window, removing a thick layer of grit as I did so, and took a peek inside. I could just make out a Kenmeri GT-R model!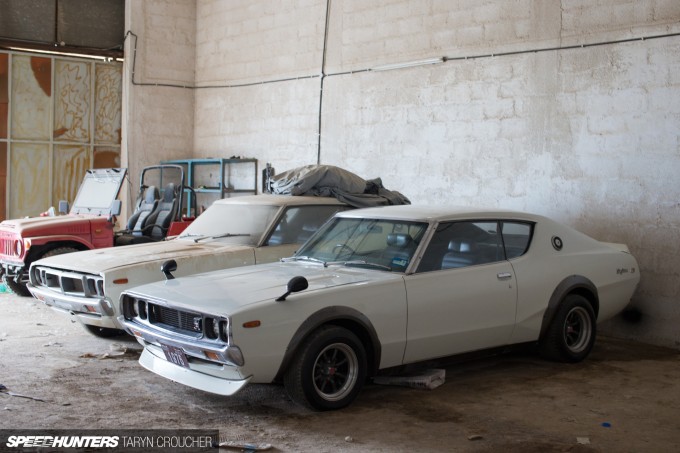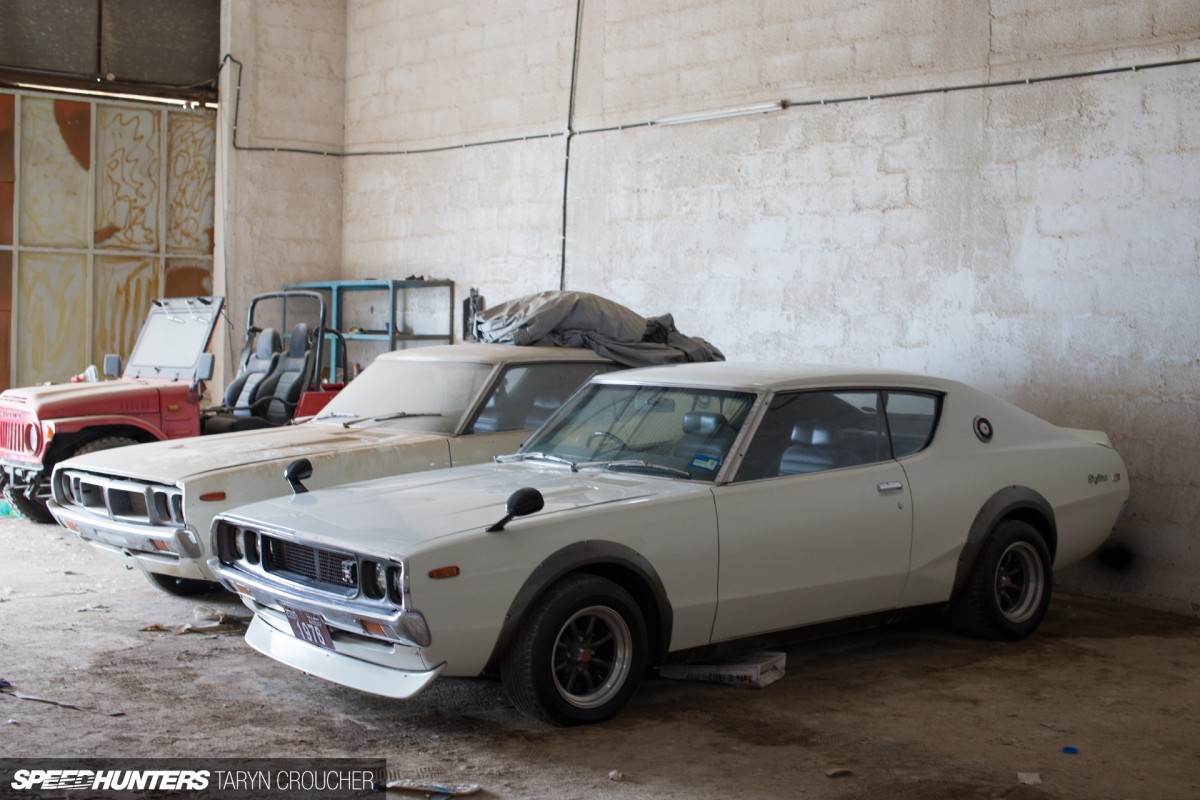 Across the other side of the shed was the life-sized version – a '73 KGC110 GT-R replica looking in need of a little TLC.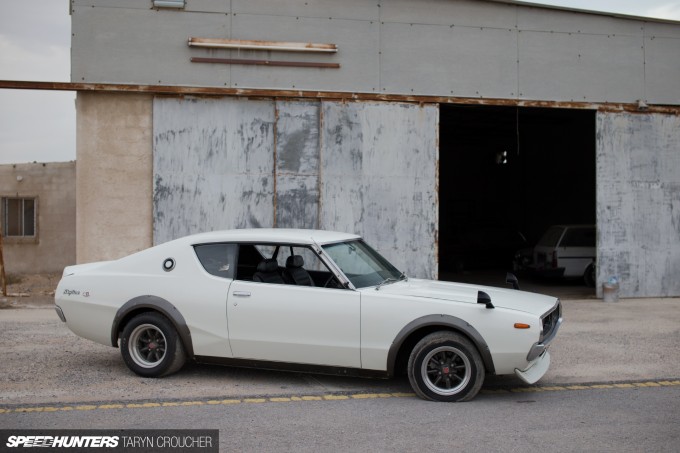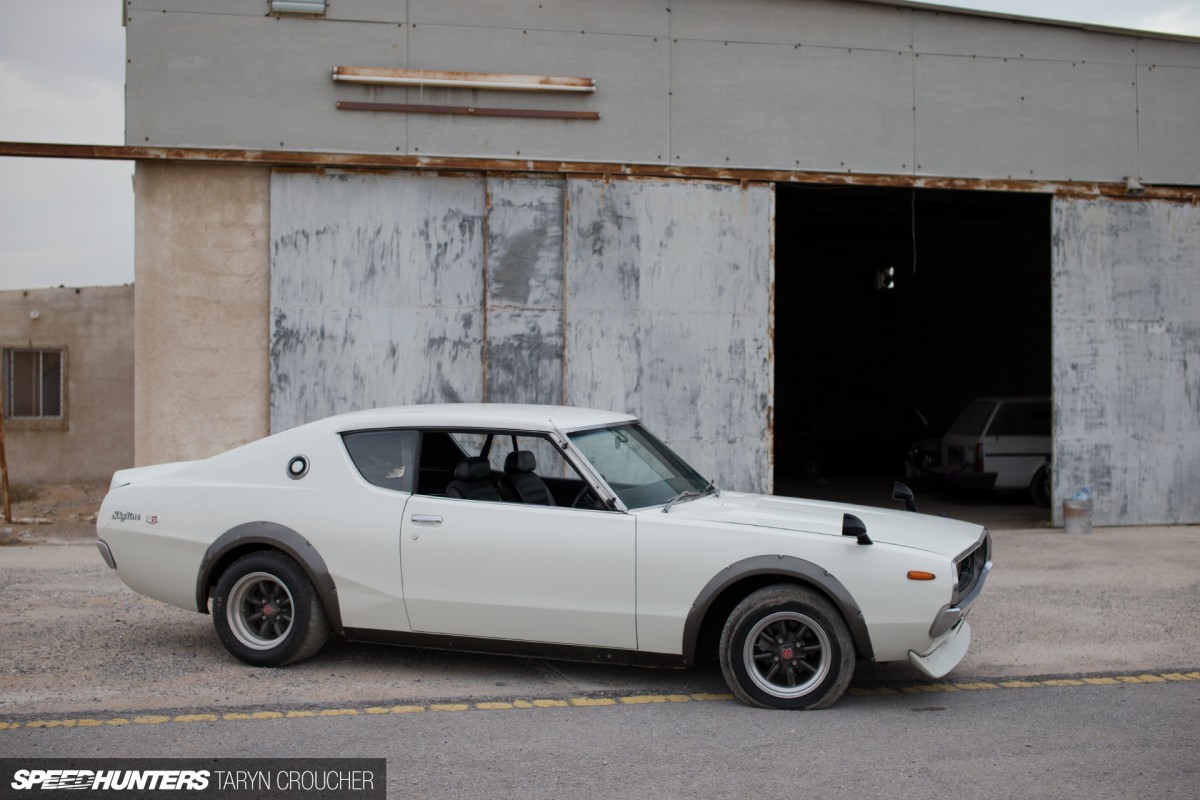 Later on, Khalid brought it outside for us to have a better look. The car wasn't drivable as the engine wasn't in good shape, and although it had been given a clean it still showed signs of having sat still for a while. It was a beautiful specimen though; the paint was in good nick, it had the rear spoiler, GT-R-style over fenders and Watanabe wheels… I wish I could've brought it home with me to show it some love!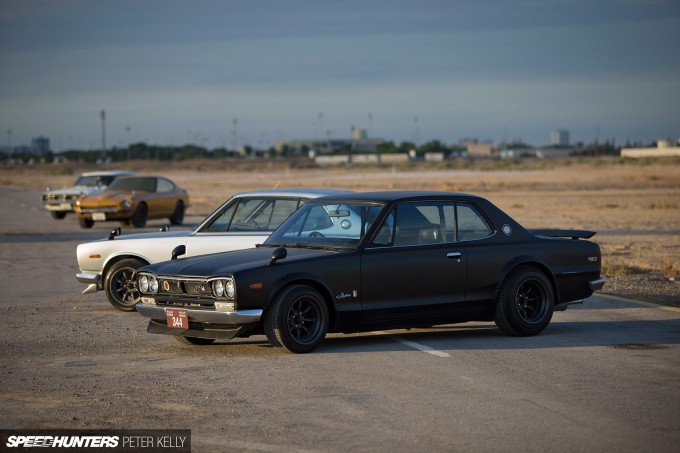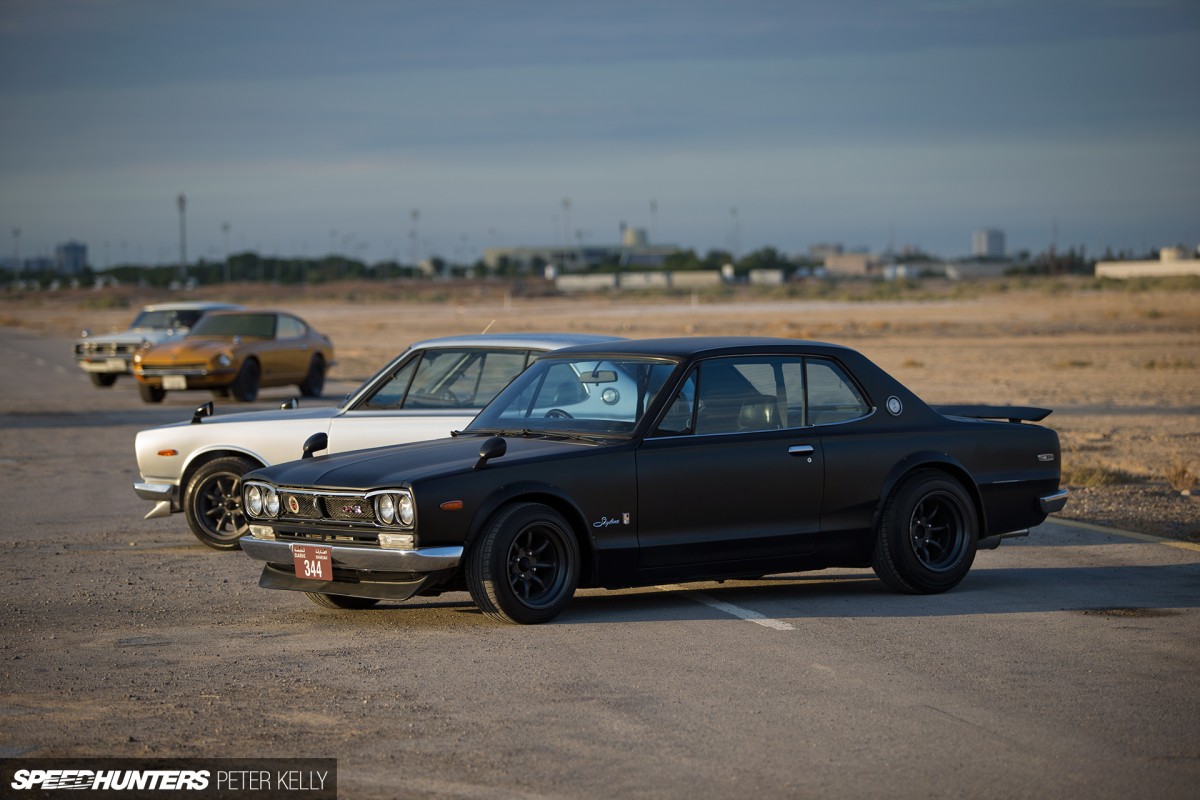 As the sun got lower in the sky we began to say our farewells to our new friends, and as this happened, the clouds darkened and a beautiful hazy orange light cast over everything.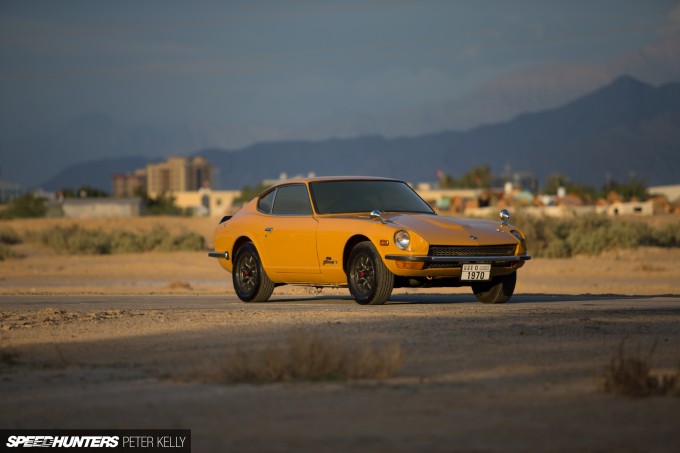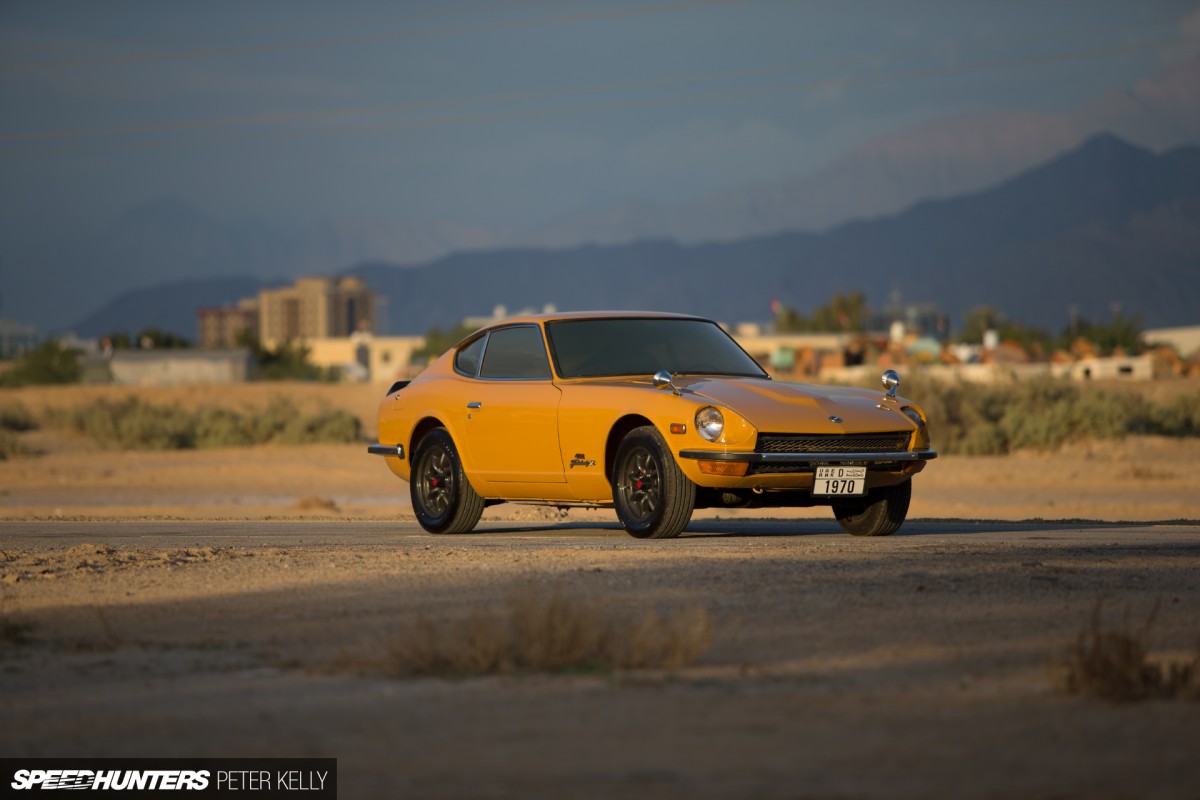 Mirrored buildings glittered and the intimidating blue shadows of the Hajar Mountains loomed in the distance, and as the orange light intensified, I could hear the Adhan, a beautiful traditional song signifying prayer time, echoing around us. It was a surreal and beautiful moment that I'll never forget.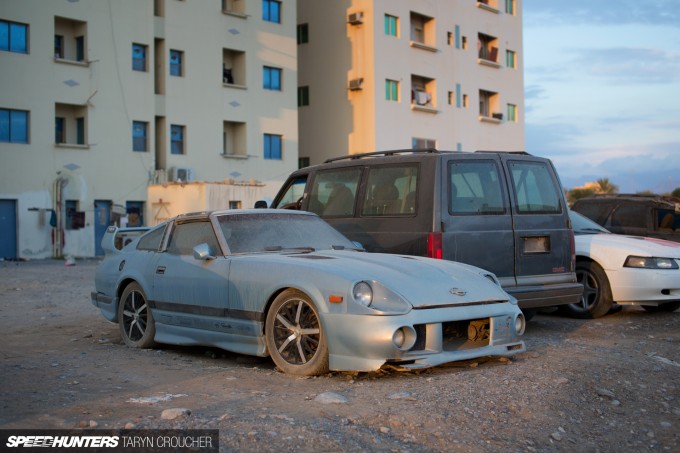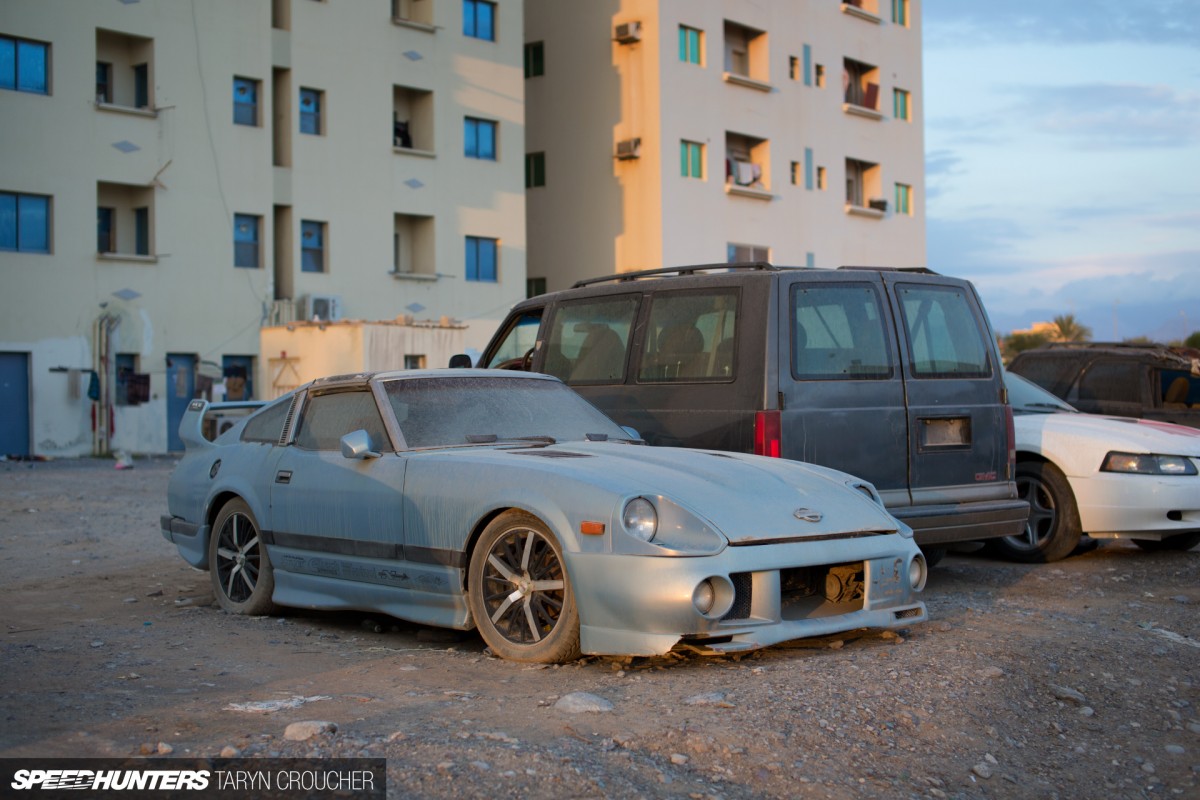 On our way out of town, we followed Khalid to another 'spot' where he and Ebrahim store more of their car parts. This time, instead of a shed in the middle of a vacant lot, we drove down an alley and pulled up behind a block of shops. I couldn't help but gawk at this filthy 280ZX with its strange body kit in the parking lot.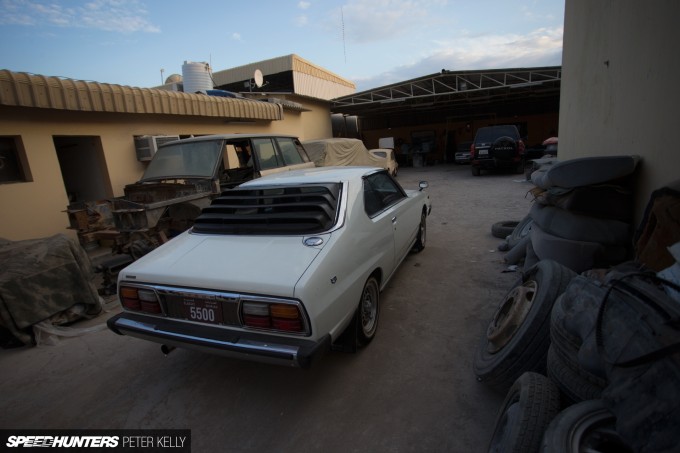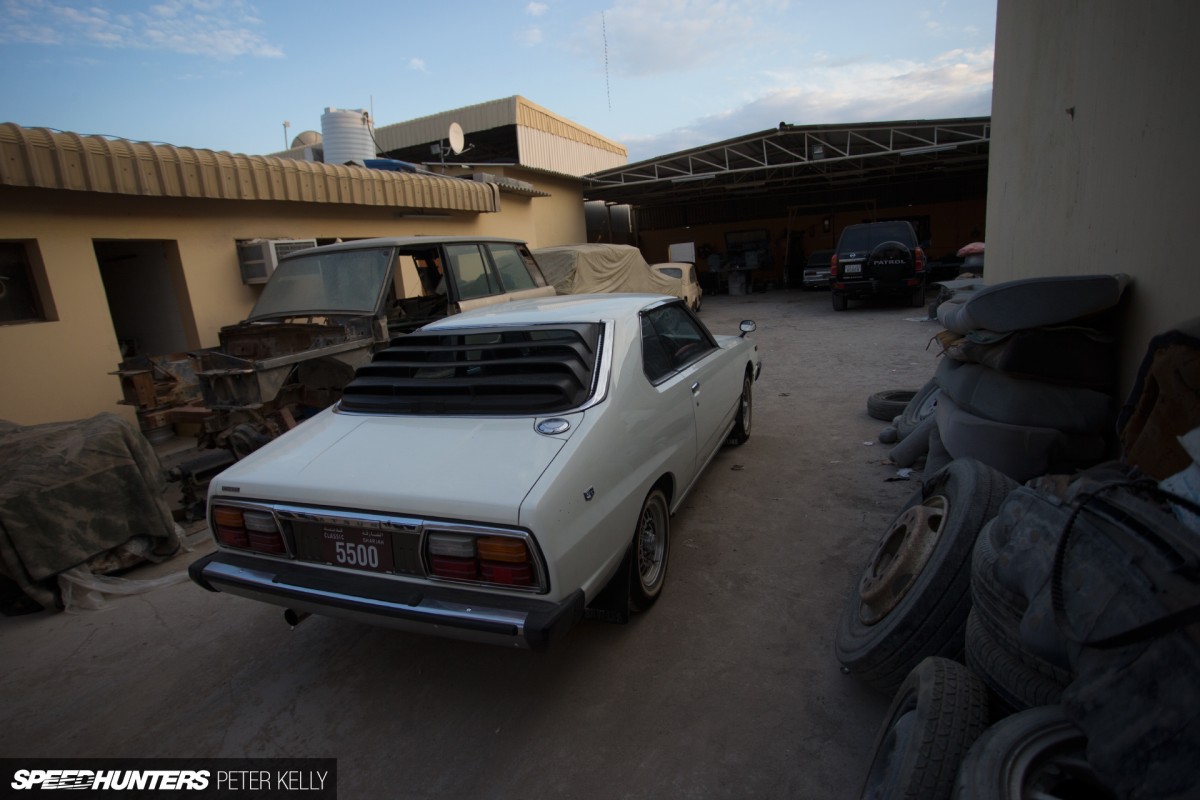 Down another alley was a workshop of sorts, although it didn't have a sign so I couldn't really tell if it was a shop or if it was privately owned. We were greeted by a Skyline C210, stacks of tyres, parts and various half-alive-looking cars.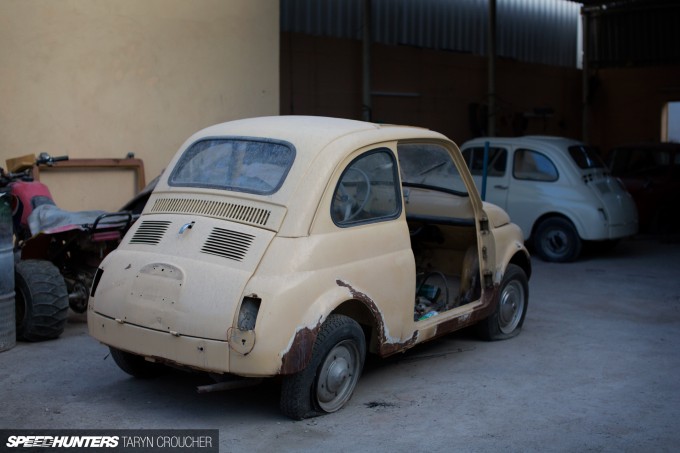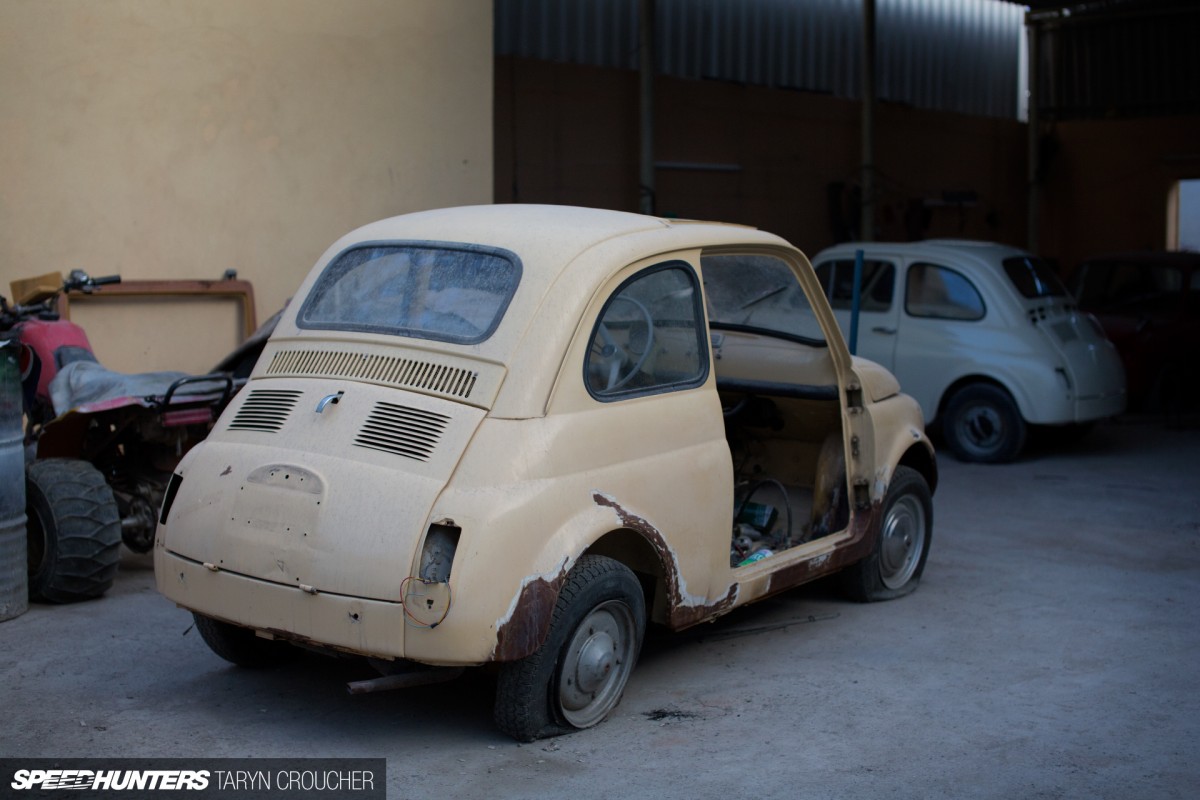 There were a number of Fiat 500s, including this poor little guy who was looking like he'd seen better days.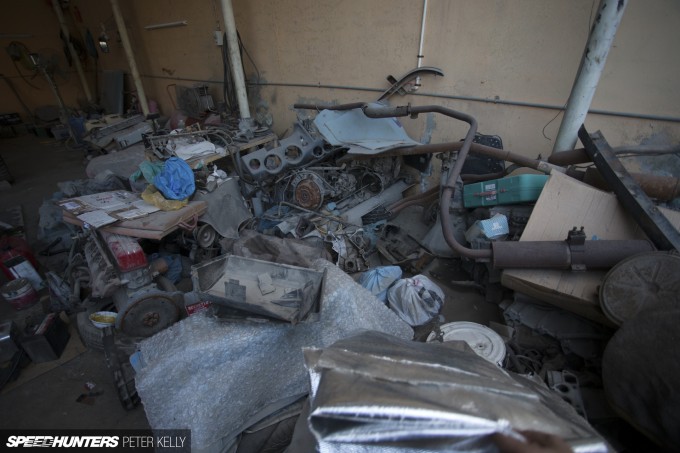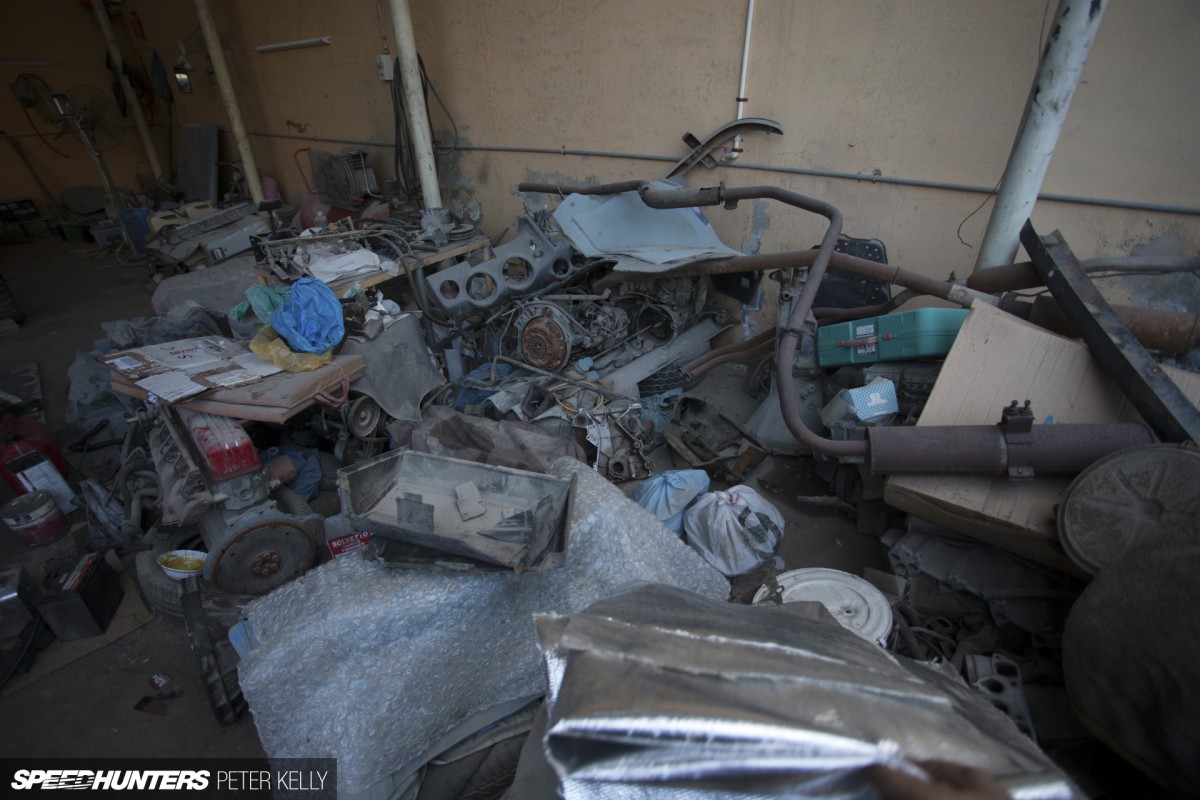 Underneath the covered area of the shop was an enormous mountain of old Nissan parts. I could spot exhausts and mufflers, dashboards and door cards, old carbs and engine blocks – you name it.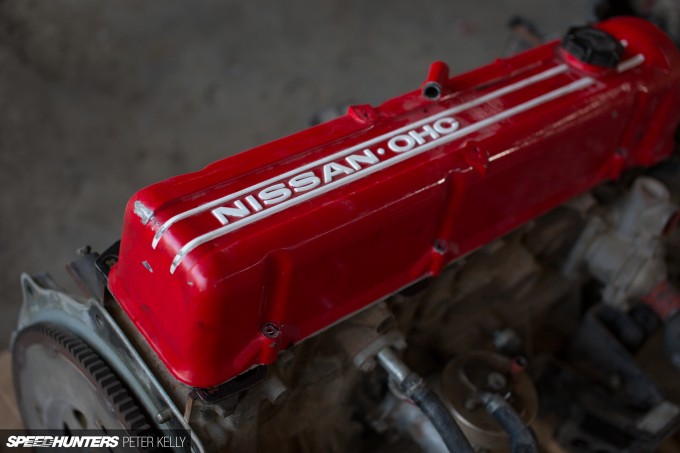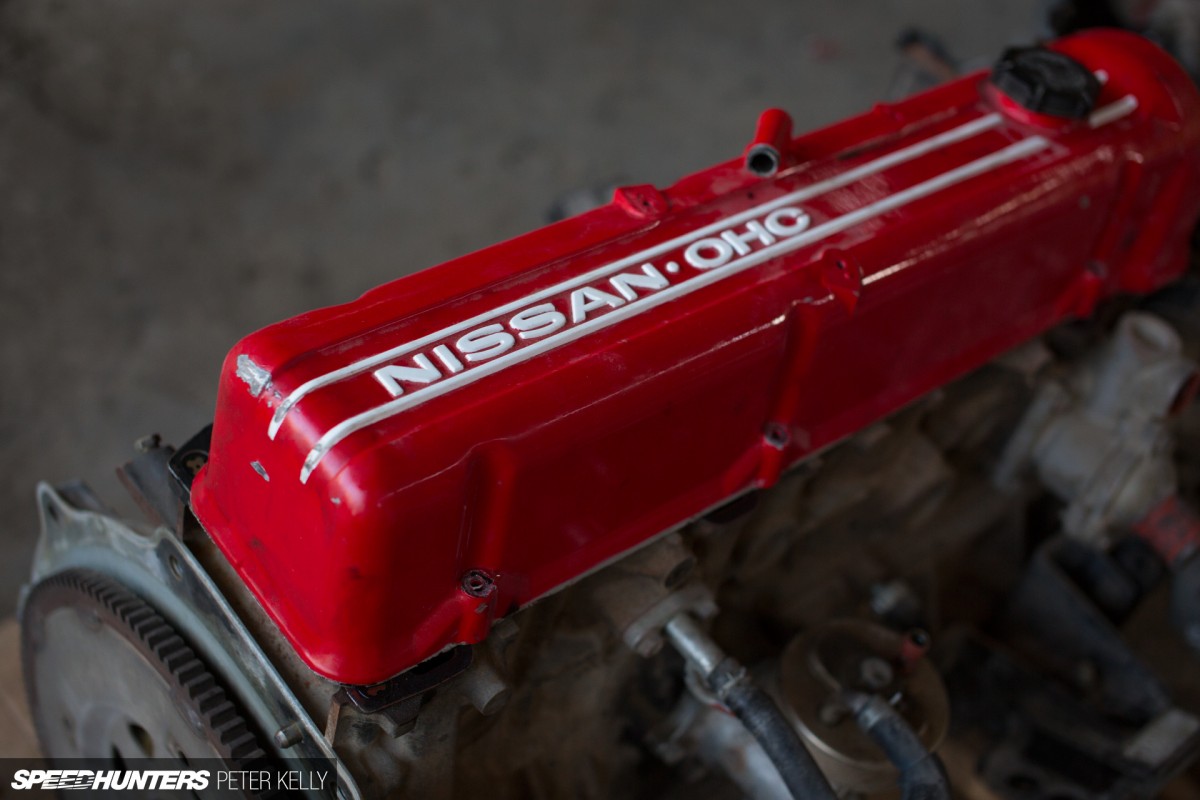 There were also numerous L-series engine lying around. I quite liked the look of this red and white rocker cover.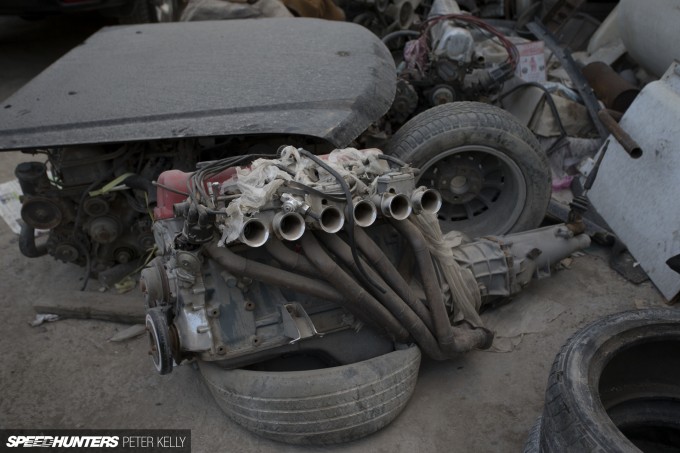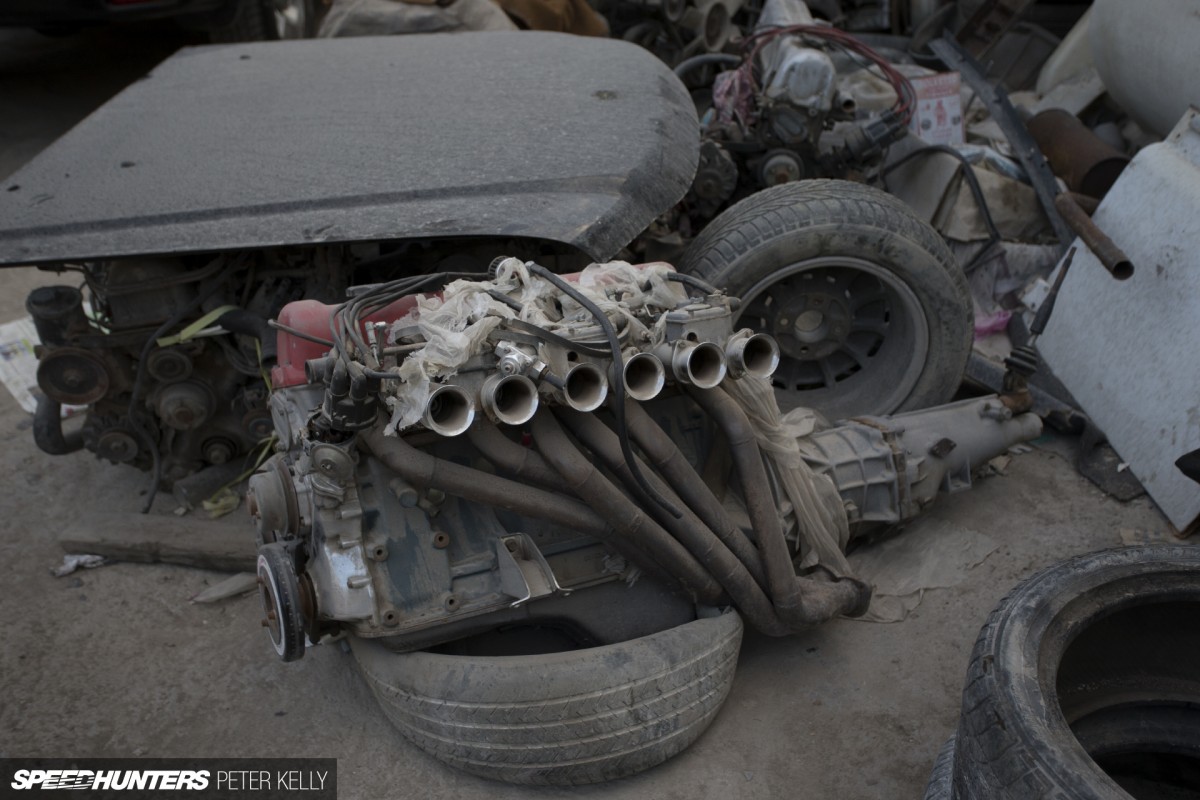 This L-series was sitting outside, covered in sand, still with its triple sidedrafts, exhaust headers and transmission intact.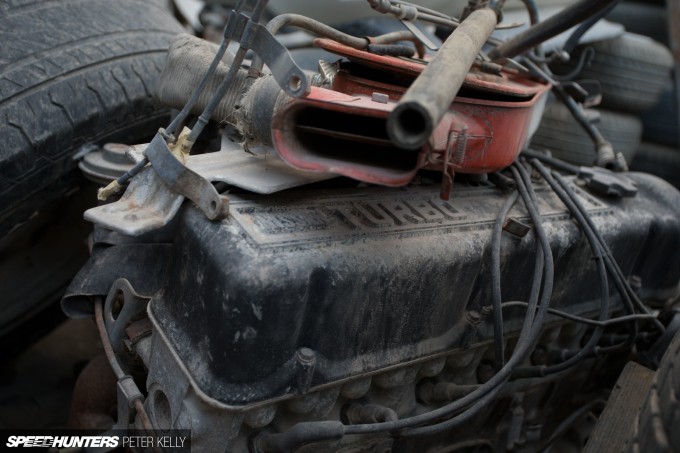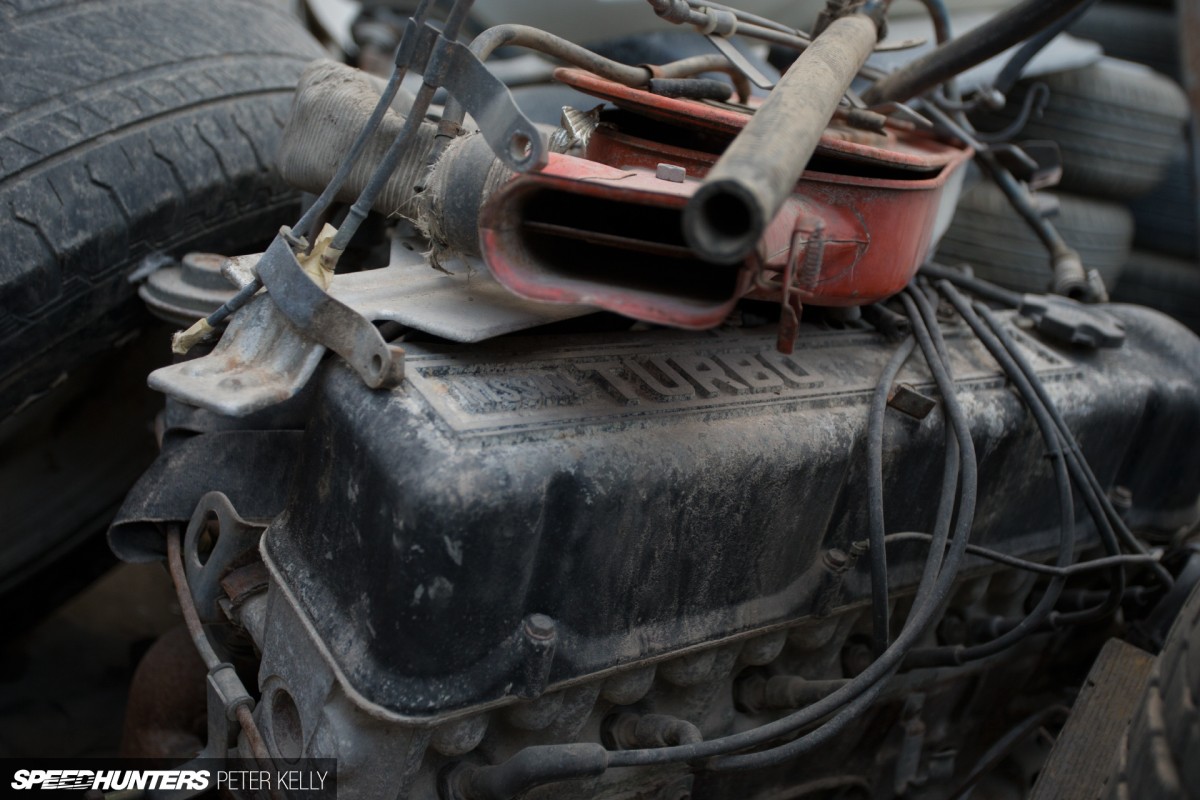 L-series Turbo, anyone?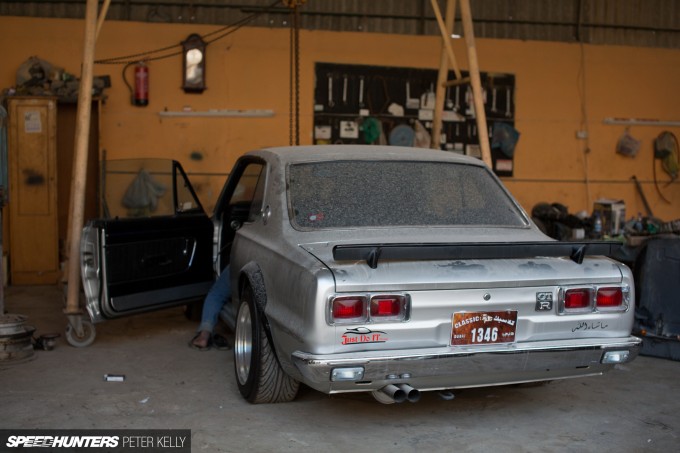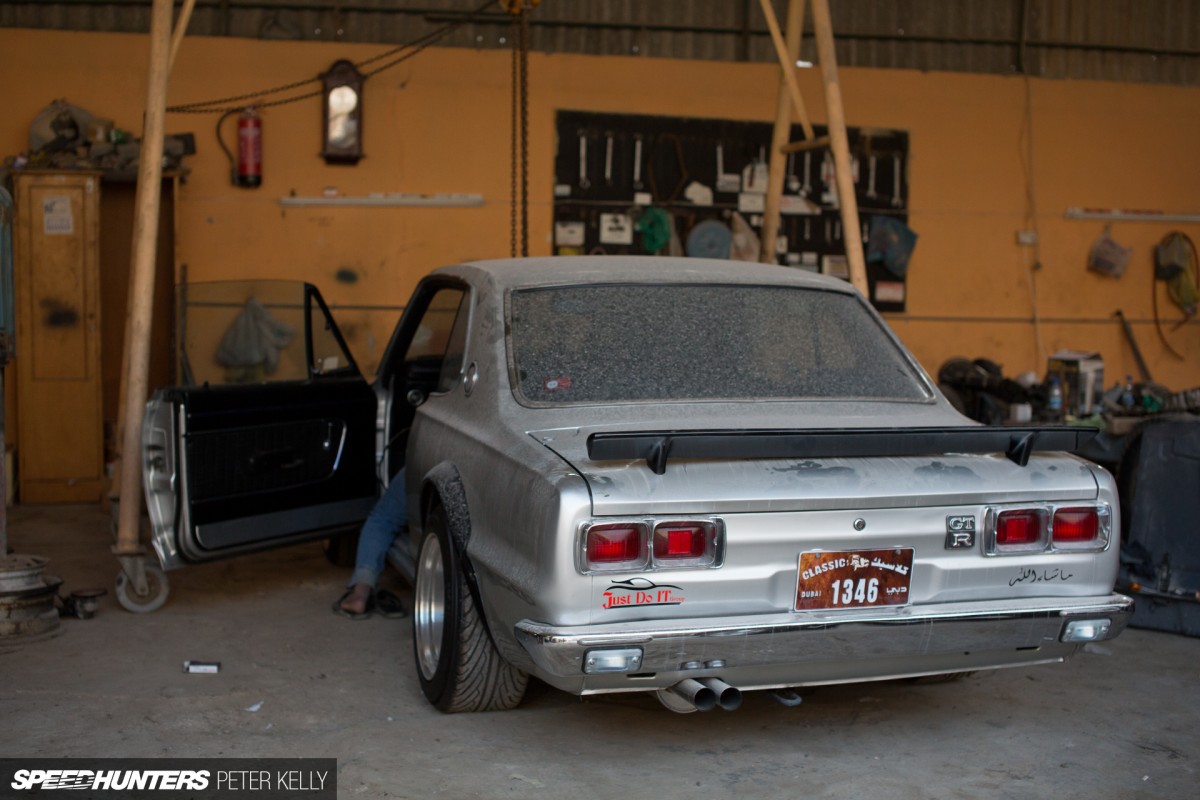 Over on the less cluttered side of the shop, another silver KGC10 was being worked on. Isn't it amazing that all these cars are in the UAE? I never would have thought. While I was checking out the sand-covered boxy Skyline, Khalid gestured for us to come and look at something he was uncovering on the other side of the shop. He picked up some old carpet and shook the sand off, revealing a pile of bubble wrap.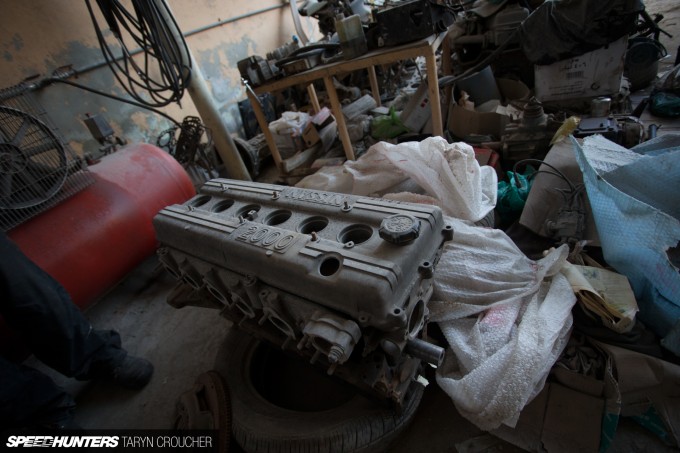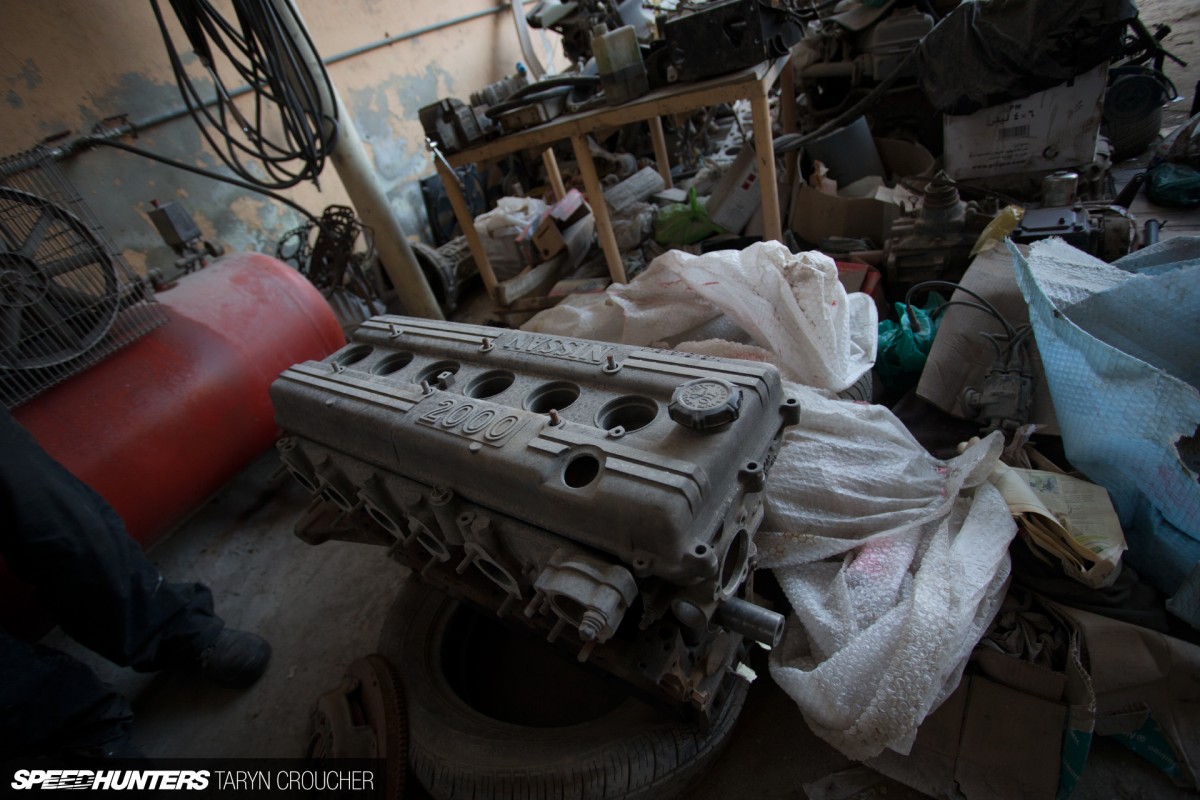 Who would've thought that in this quiet workshop, down an alley behind a block of shops in a small town in the UAE, a rare Nissan S20 engine would be hiding under a pile of sandy old carpet.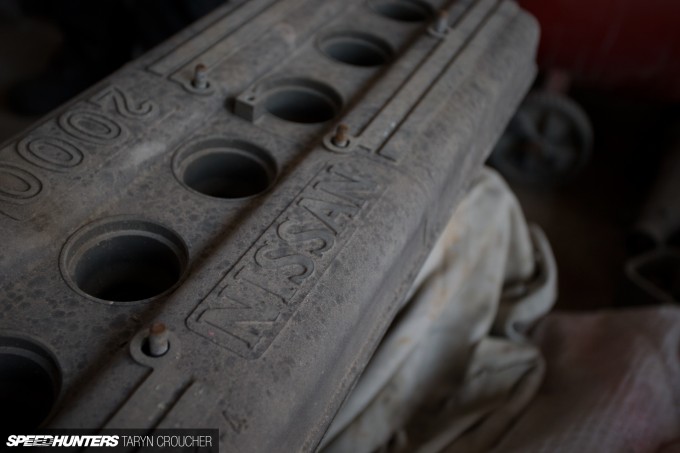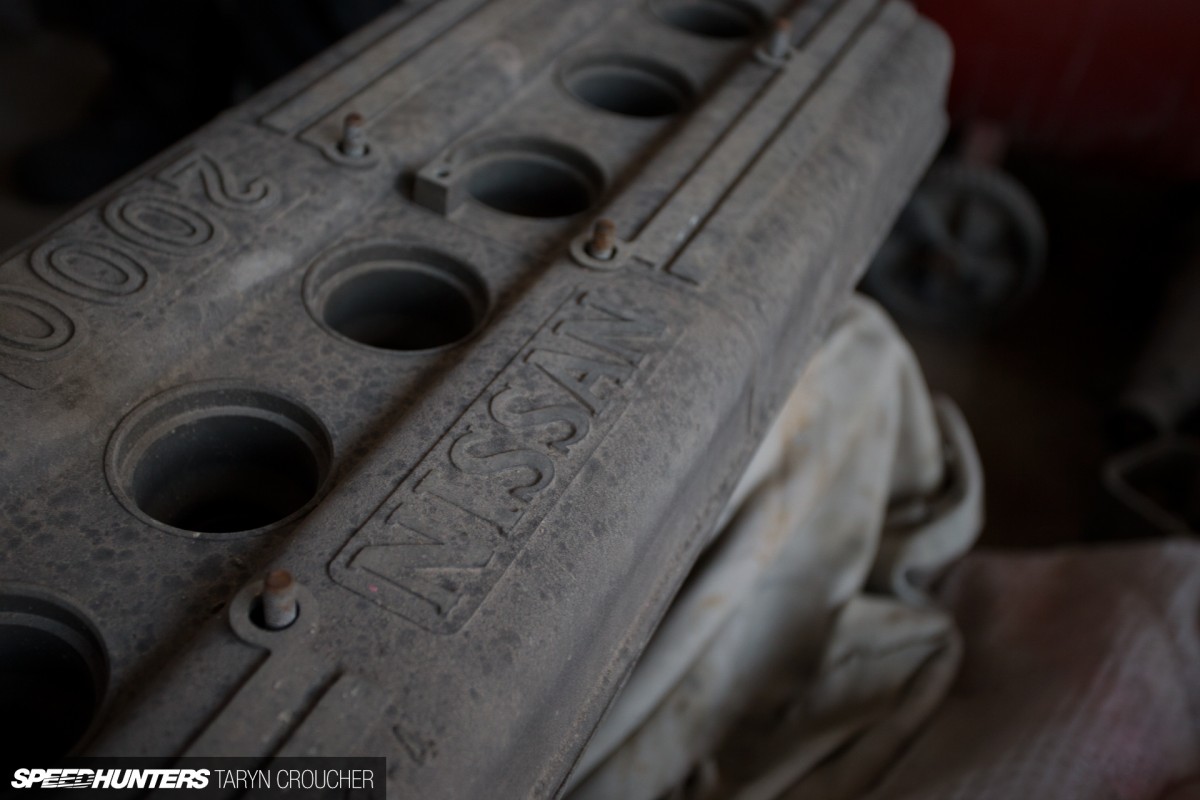 This particular engine is from Ebrahim's current project car, a 1971 Nissan KPGC10 Hakosuka GT-R, which is currently undergoing a full ground-up restoration. At this stage, the shell has just finished having paint applied – a vivid hue of blood-orange. Check out a quick video of it here. For now however, the S20 is just sitting and patiently waiting its turn.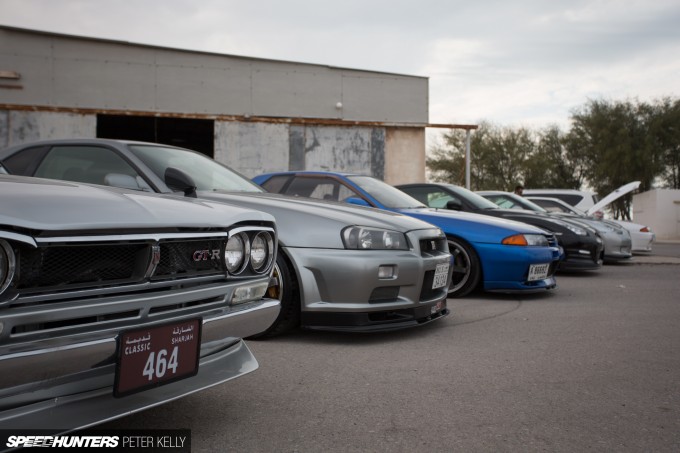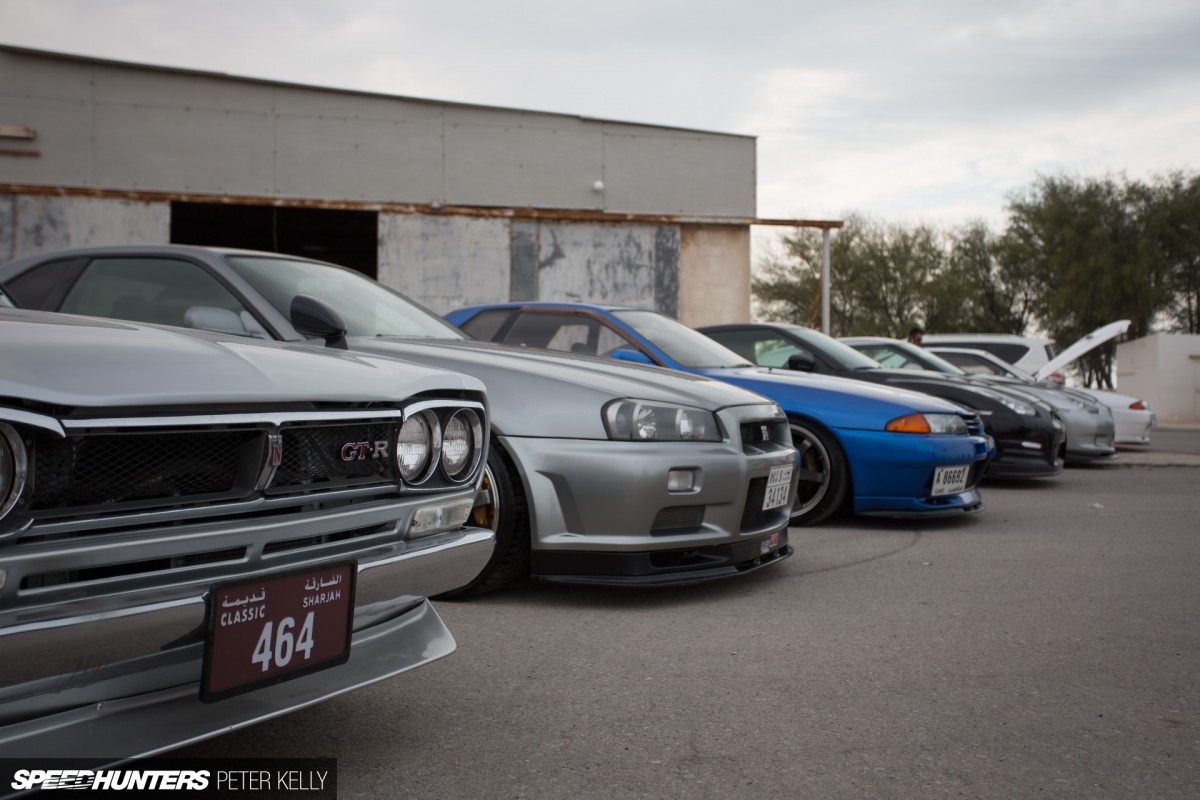 I think it's fair to say that calling Ebrahim a Kyusha enthusiast would be an understatement. Ebrahim and his friends could probably be going out and getting involved in the luxury car scene, but instead they're following their passion, rescuing these beautiful collector cars from Japan and giving them a new life in their home country. It made me happy to see this spirited group of gearheads enjoying car life and contributing to a small, yet thriving nostalgic Japanese car scene in the United Arab Emirates. A special thank-you to Ebrahim and Khalid for their hospitality!
Words by Taryn Croucher
Instagram: taryncroucher
Twitter: @taryncroucher
taryn@speedhunters.com
Additional Photos by Peter Kelly
Instagram: speedhunters_pedey
pedey@speedhunters.com
Cutting Room Floor