Beautiful Day, Cold Night
When you think of car meets, you're almost guaranteed to be picturing highly-polished machines baking under the hot mid-summer sun, whilst dudes in t-shirts and shorts meander around in small groups arguing about wheel fitment and drinking ice cold cans of their favorite sugar and caffeine-laced carbonated poison. It's a scene played out all over the world. But what about winter? While it may be true that many of the more hardcore builds are likely to be in a million pieces over the colder months, the majority of street cars and their owners are spending their time tucked up at home, sipping hot chocolate and trying to teach their cat to play the piano in an effort to while the long, icy nights away.
Why doesn't anyone rug-up in five layers of thermal underwear and brave the potential rain, snow and less-than-hospitable temperatures for a chance to meet up with friends and talk nonsense about cars?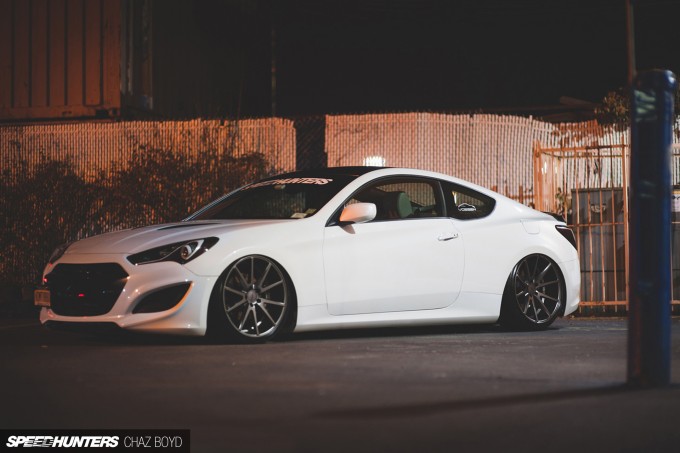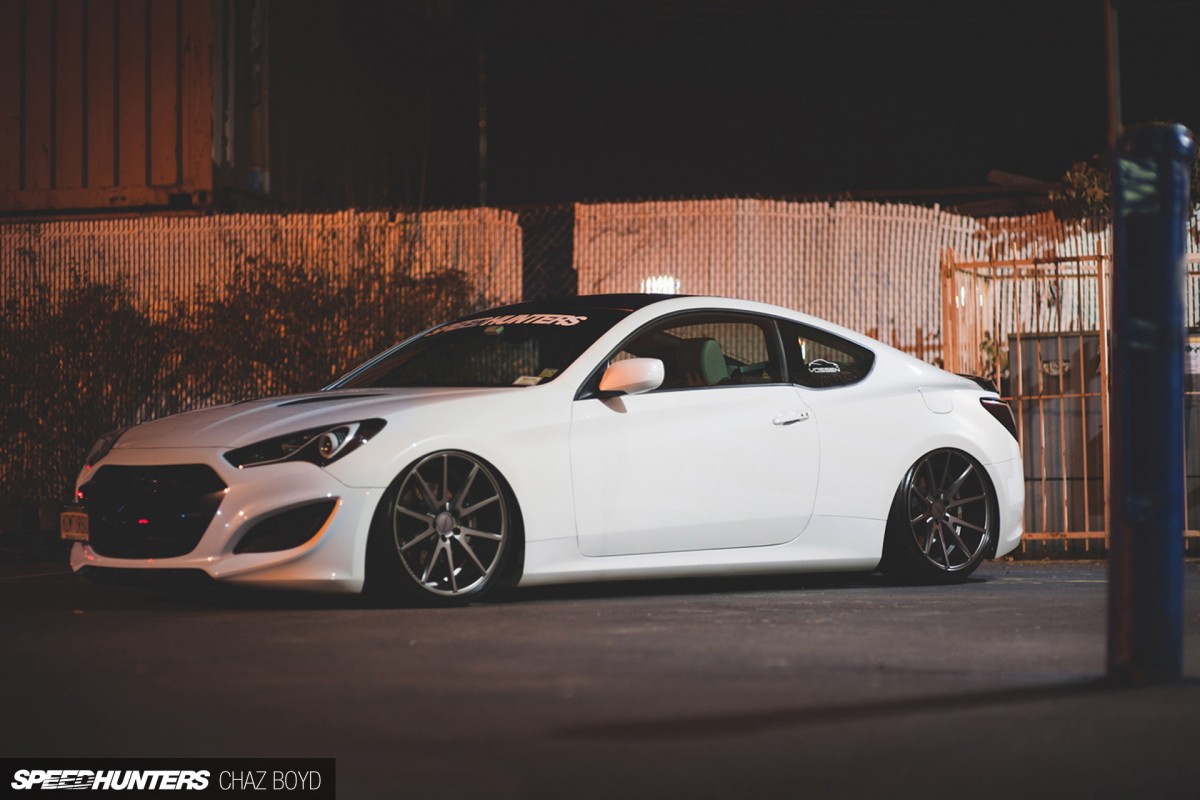 Well, there are a few brave souls out there who do, as it turns out. I recently met up with Wayne Vivola in New York. Wayne is the owner of this aired-out Hyundai Genesis running big Vossen VSF1s, and one of the main names behind Dynamic Redline Society, a New York based group of like-minded friends who share a passion for all makes and models of cars, and enjoy hold a good old street meet – even in the deep, dark depths of winter.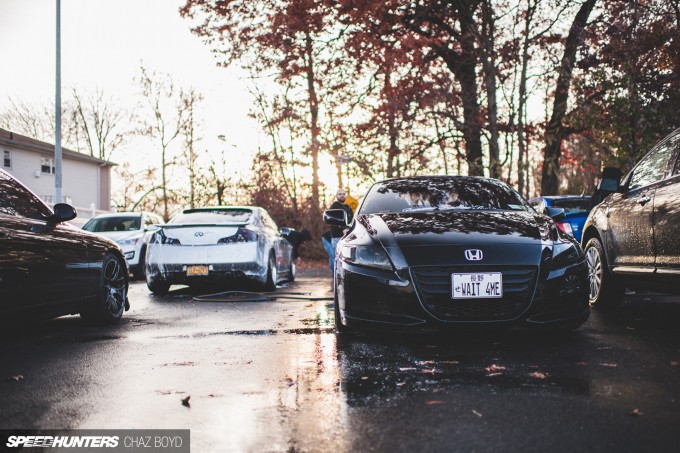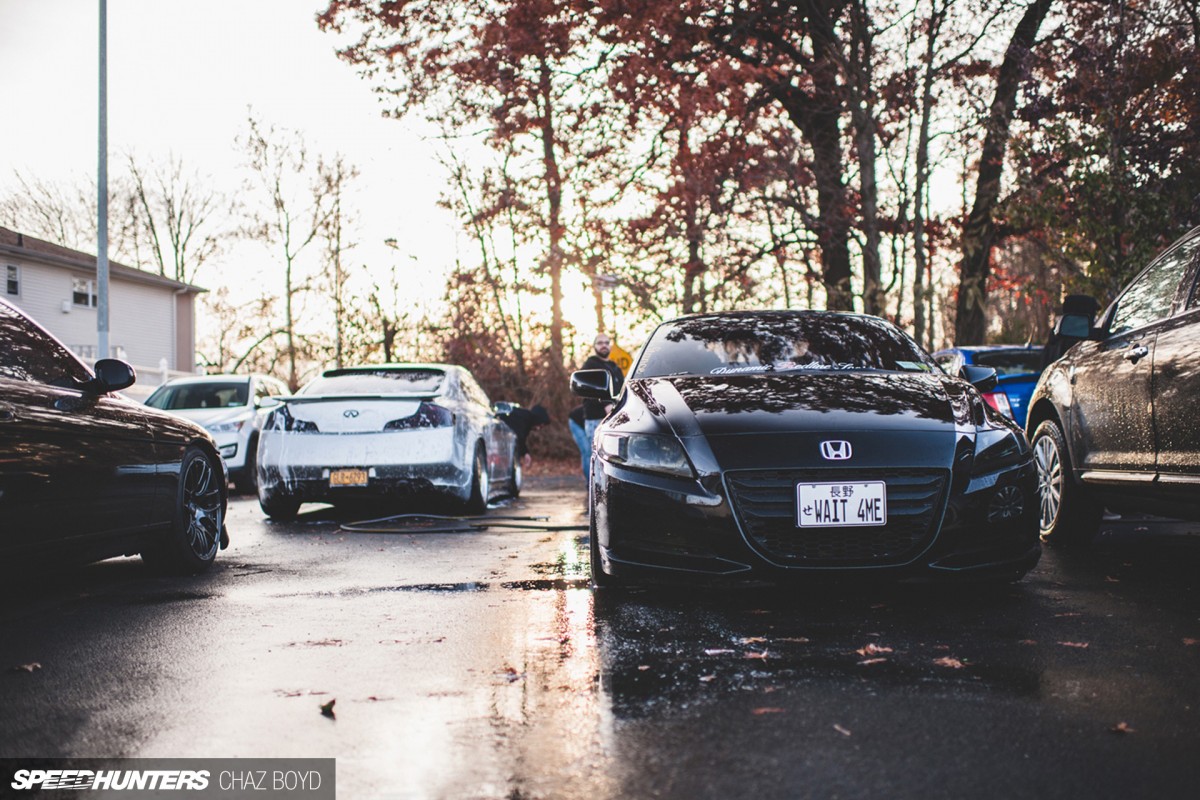 I caught up with a few members before the meet started, just as everyone was rushing to get their cars clean. The Honda CR-Z is a great looking car, but after an initial surge of modified examples hit the scene straight after it went on sale, they've since gone pretty quiet. So it was nice to see Fred's example looking pristine in Crystal Black Pearl.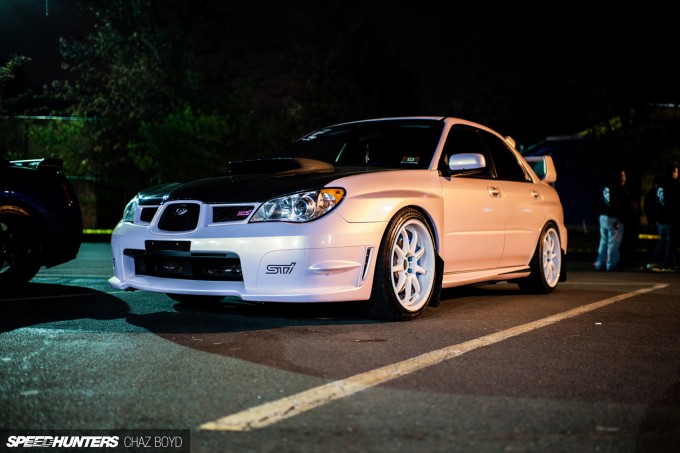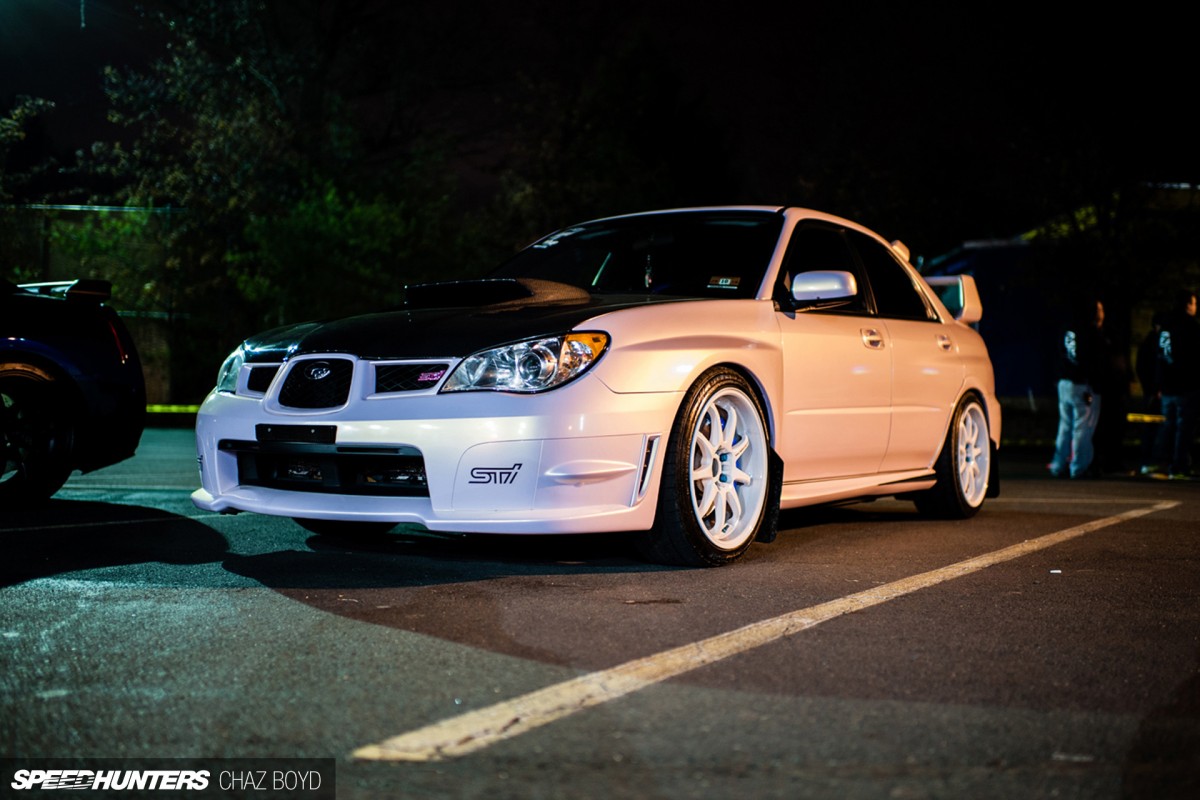 Down at the venue temperatures were steadily dropping, but the tough locals were already arriving, including Alyssa and her pearl white Subaru STI on Work XD9s.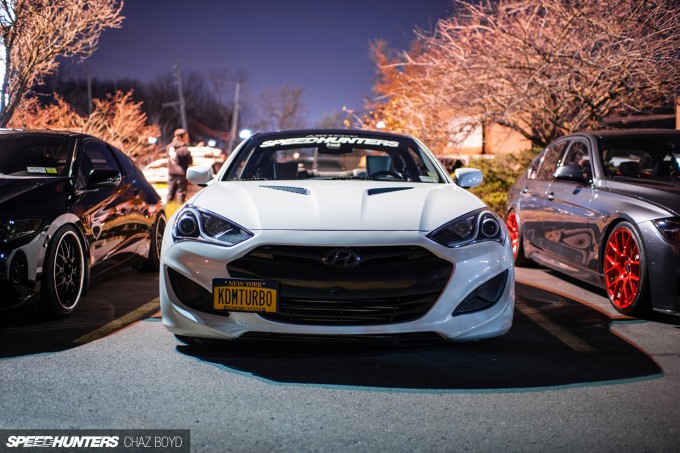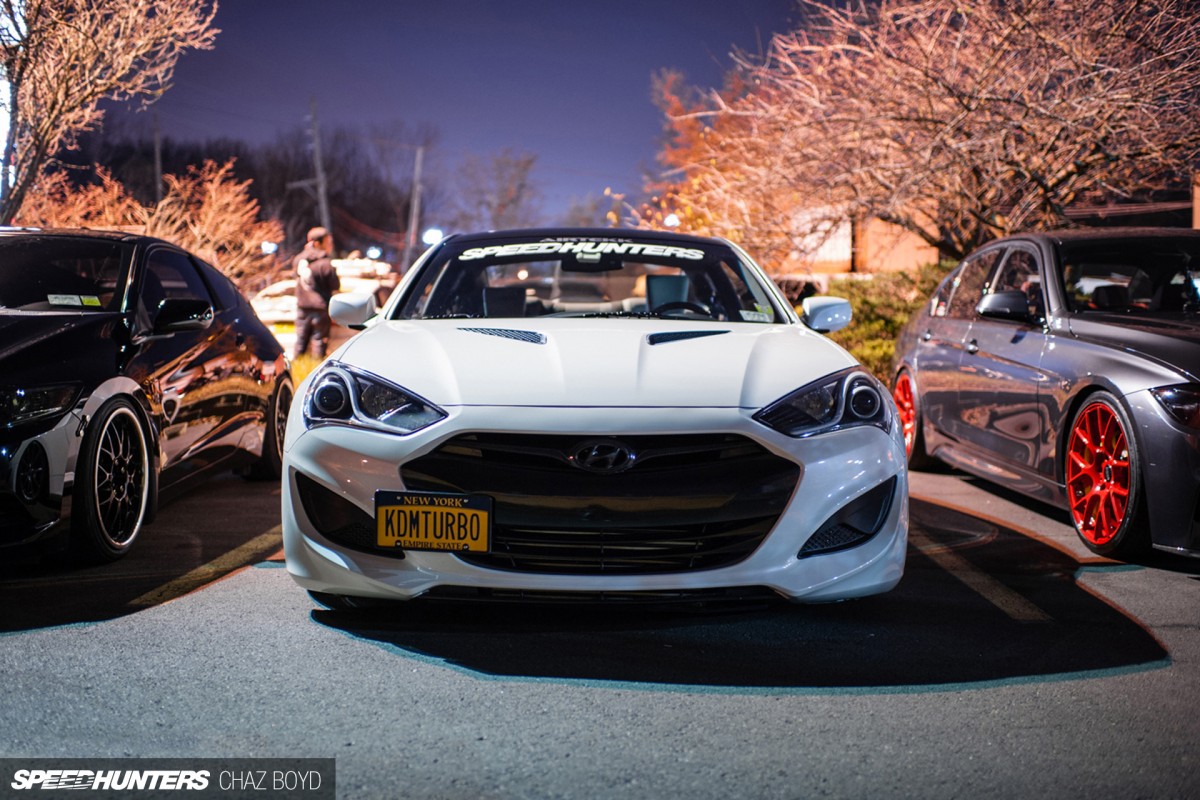 Wayne's turbo Genesis can be seen here flanked by the CR-Z and a very tidy BMW 335i. The rear-drive Hyundai coupe is a striking machine – one that seems to be growing in popularity as the price of second hand examples begin to come down.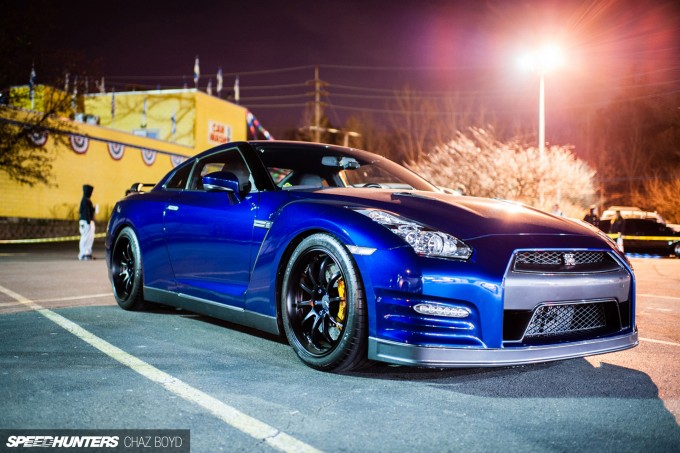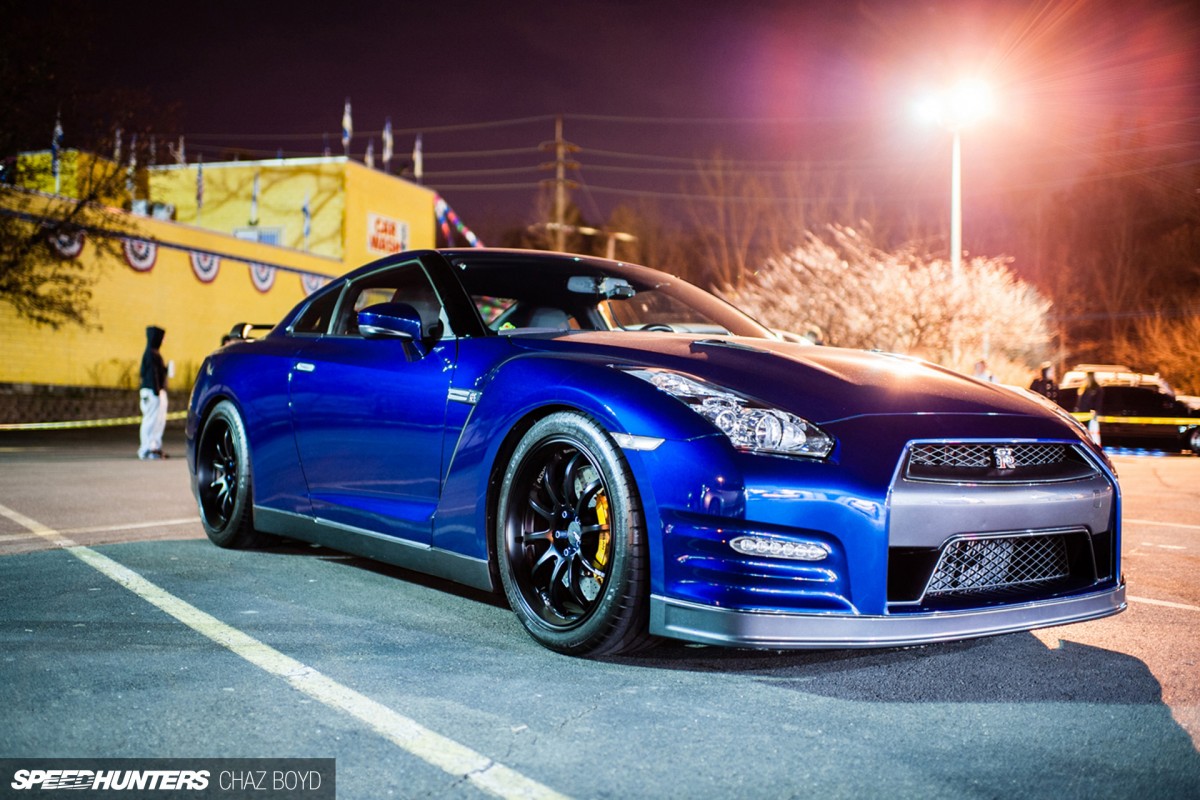 This crisp and simple R35 GT-R on Advan Racing RS-Ds was also one of the first to arrive, followed soon after by its much older and much less common brother…
A Rare Sighting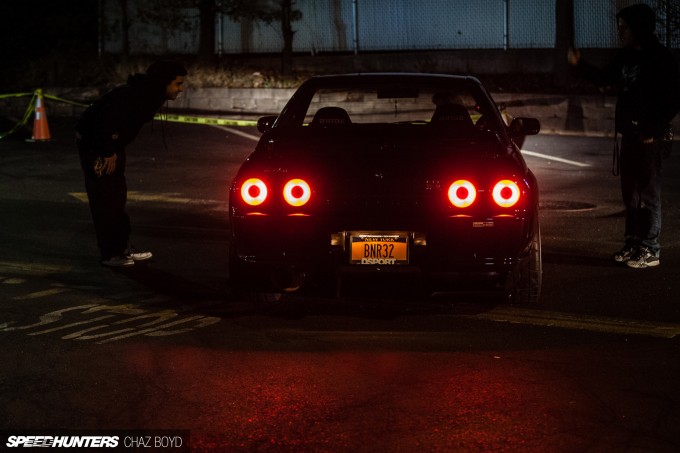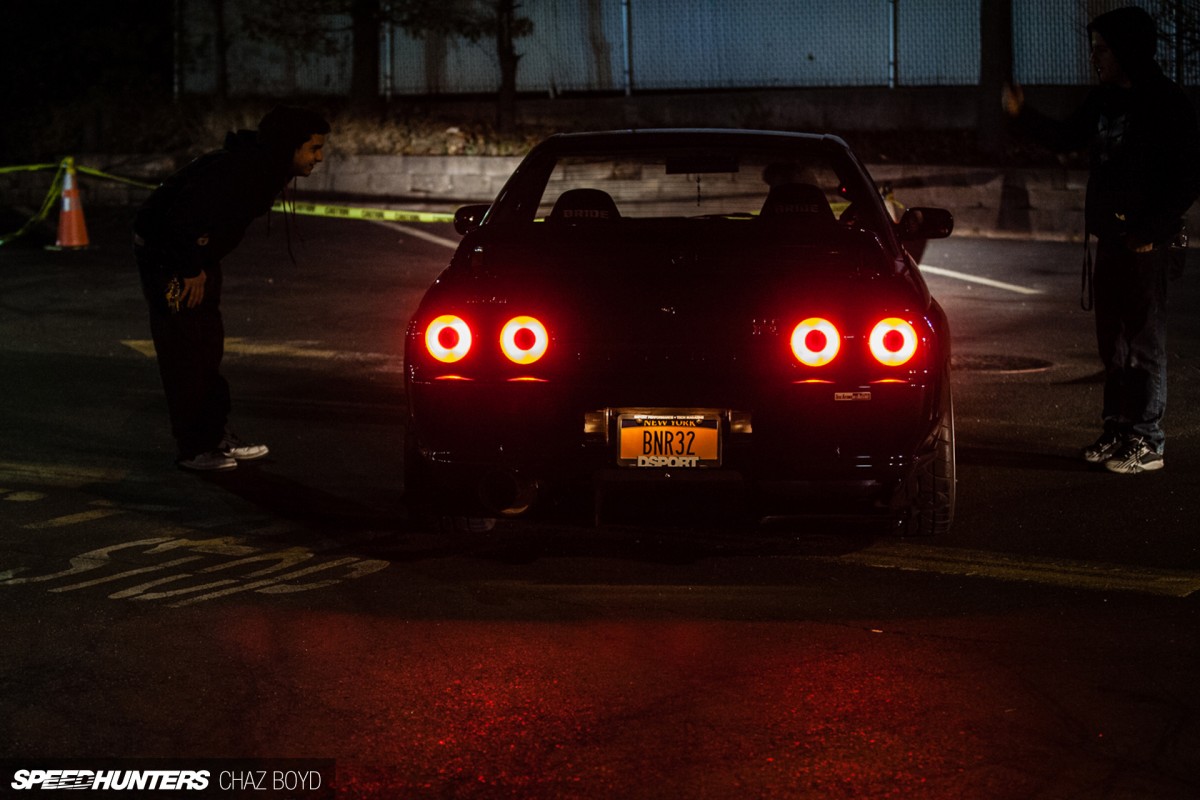 Those afterburner rear tail lights are instantly recognizable… Until very recently, seeing a right-hand drive Skyline on the road anywhere in the States was extremely rare – even more so somewhere like Staten Island, where this meet was held.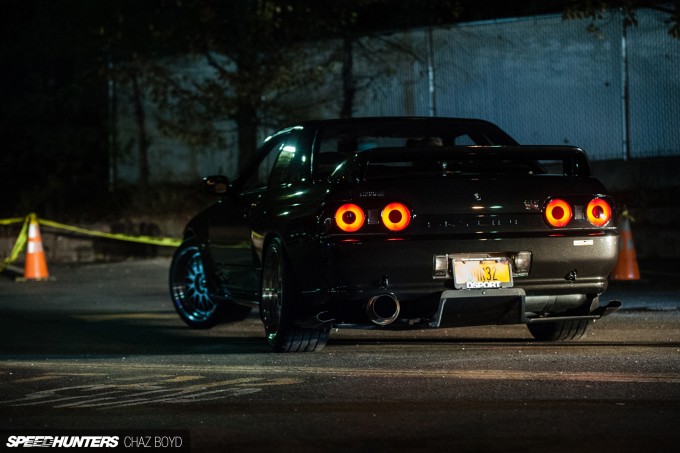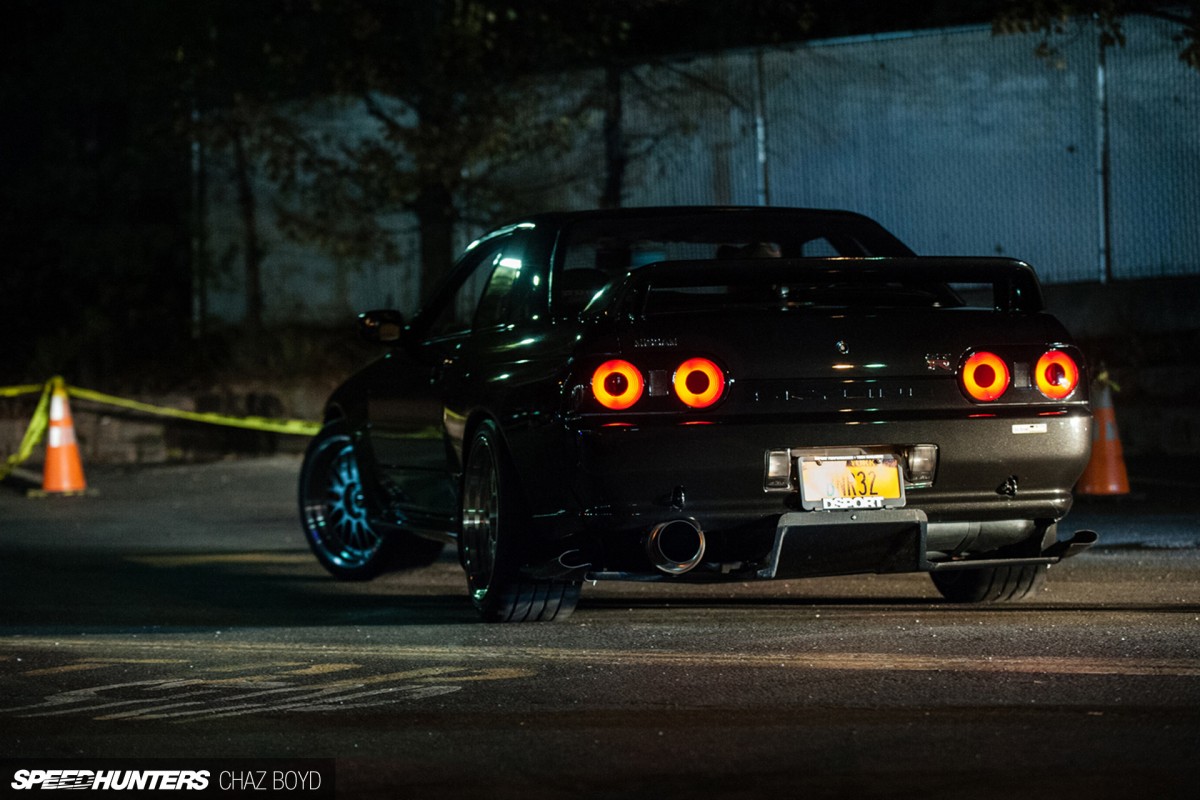 Of all the Nissan Skyline GT-Rs, the R32 will always hold a place in my heart. There's just something about that early '90s Japanese styling that will never look outdated or ancient – especially when matched to a choice few aero upgrades like the carbon diffuser on this particular car.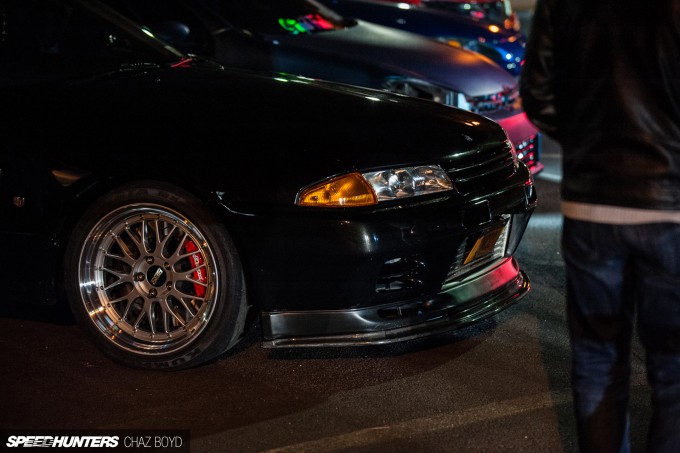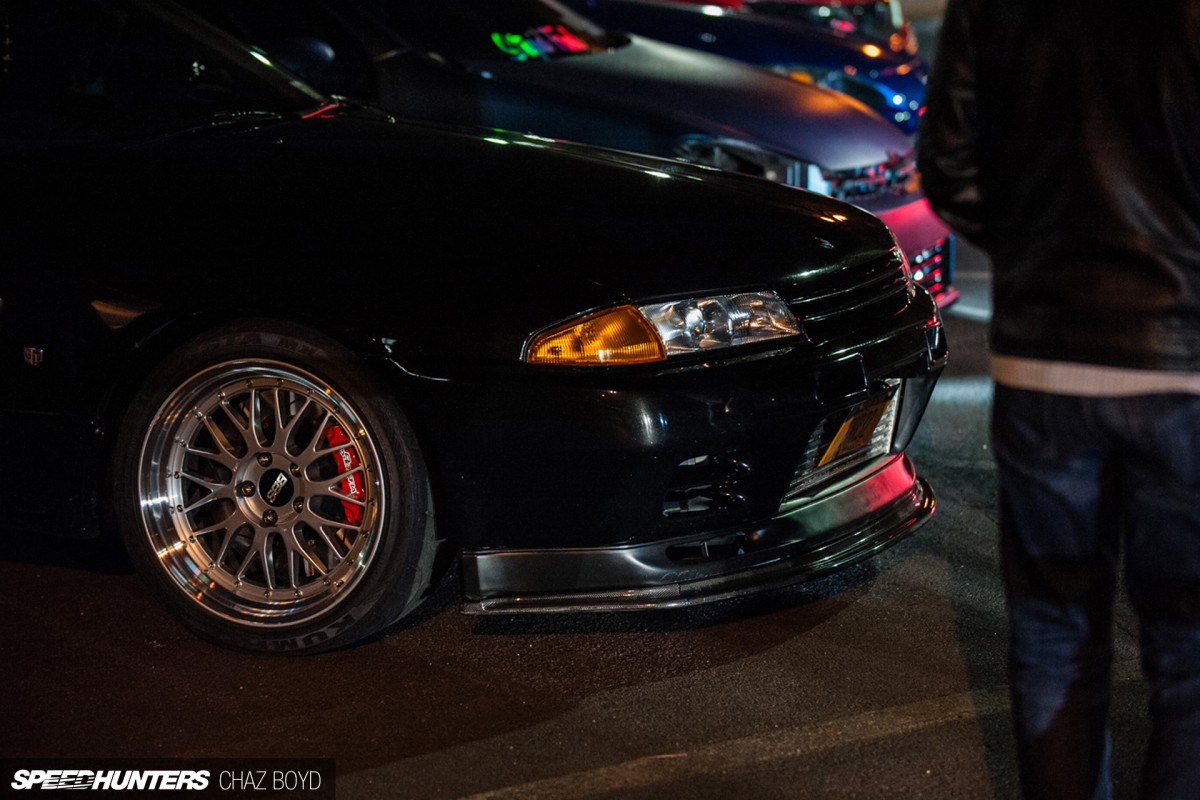 The Skyline was coated in a fresh layer of the 32's signature gunmetal grey, and sat on perfectly fitted BBS LMs hiding big Rotora BBK brakes. I could only imagine the sheer joy of driving this car around a city where you're pretty much guaranteed to never see another one.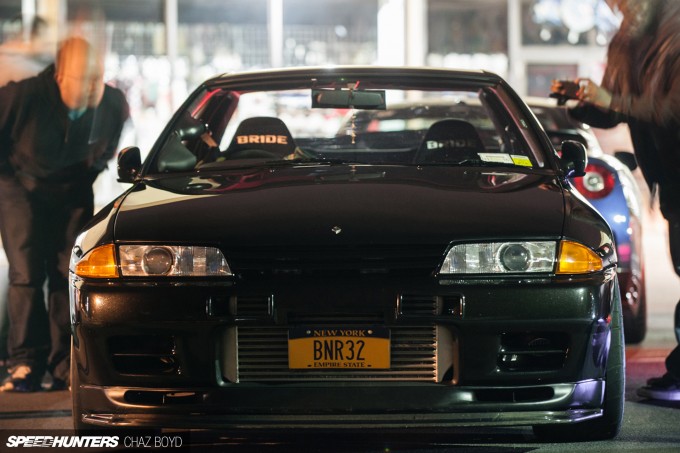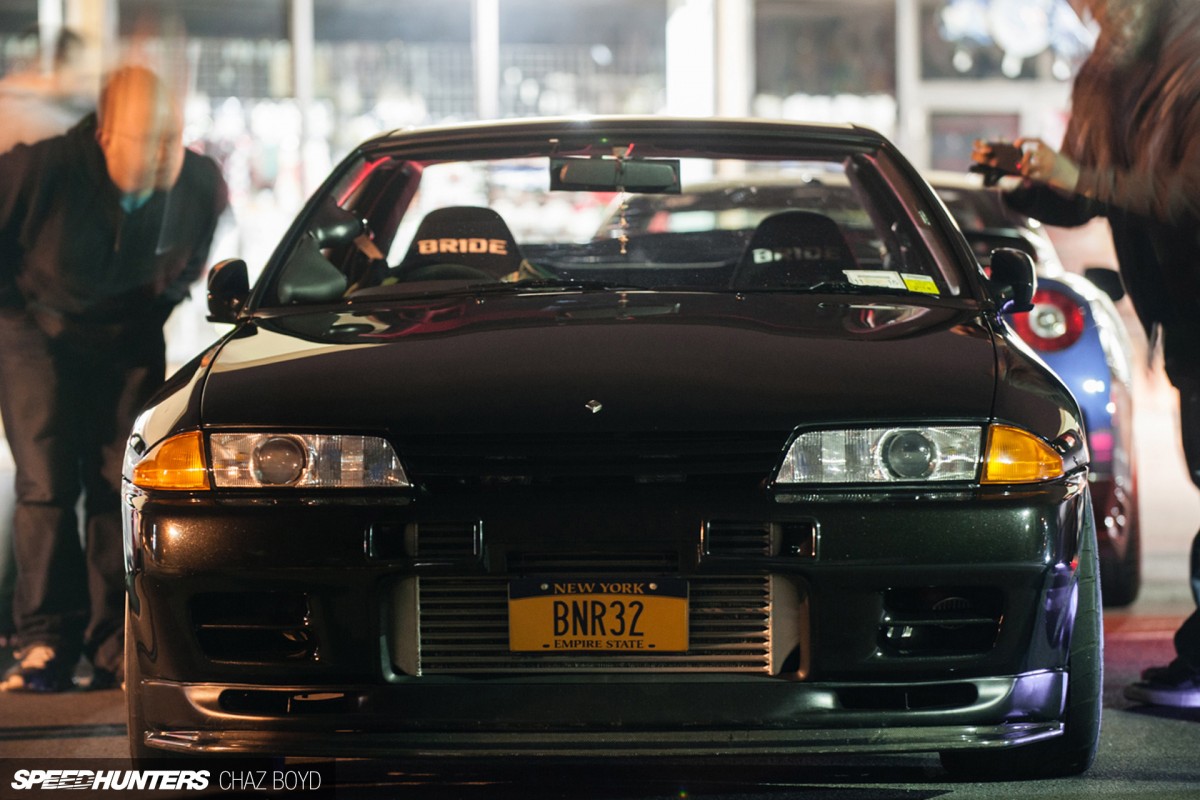 Althought readers from more import-friendly countries might not react the same, as expected, the RB26DETT-powered machine is something of a mythical beast in this part of the world, and it drew curious people all evening. I would love for this to become a more common site out here on the East Coast. With the 25-year exemption rule, I can only hope to see more of these machines soon.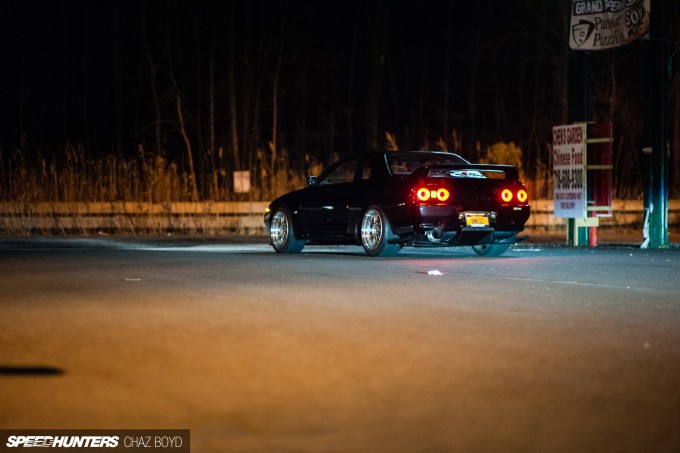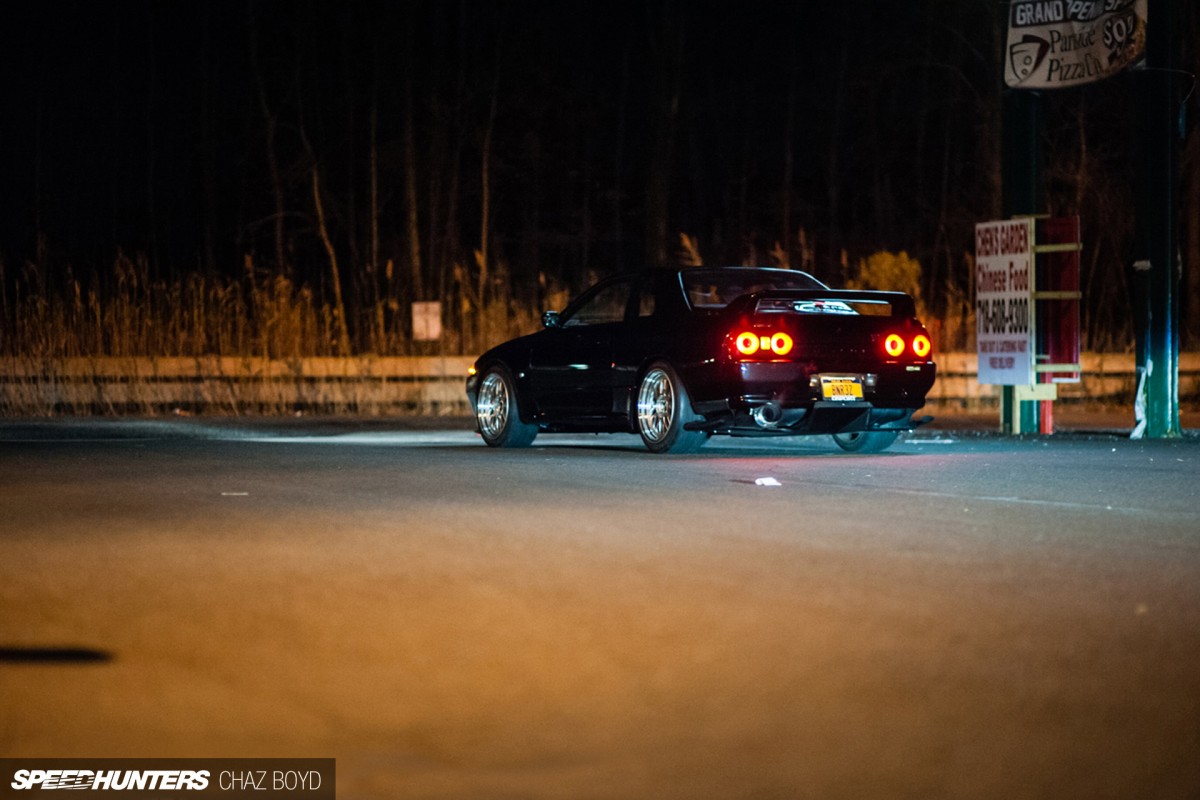 Seeing the R32 come and go was a pleasure. When the owner left it reminded me of being a teenager again, playing racing games on the original PlayStation and first seeing a Skyline. I needed it then, and 17 years later I still need one just as badly.
Welcome To NYC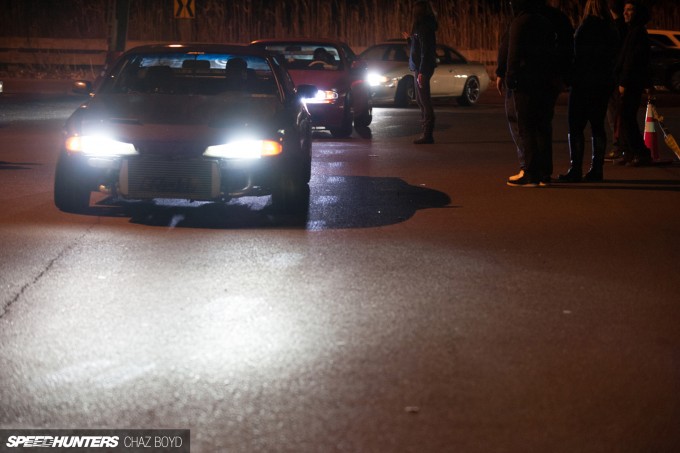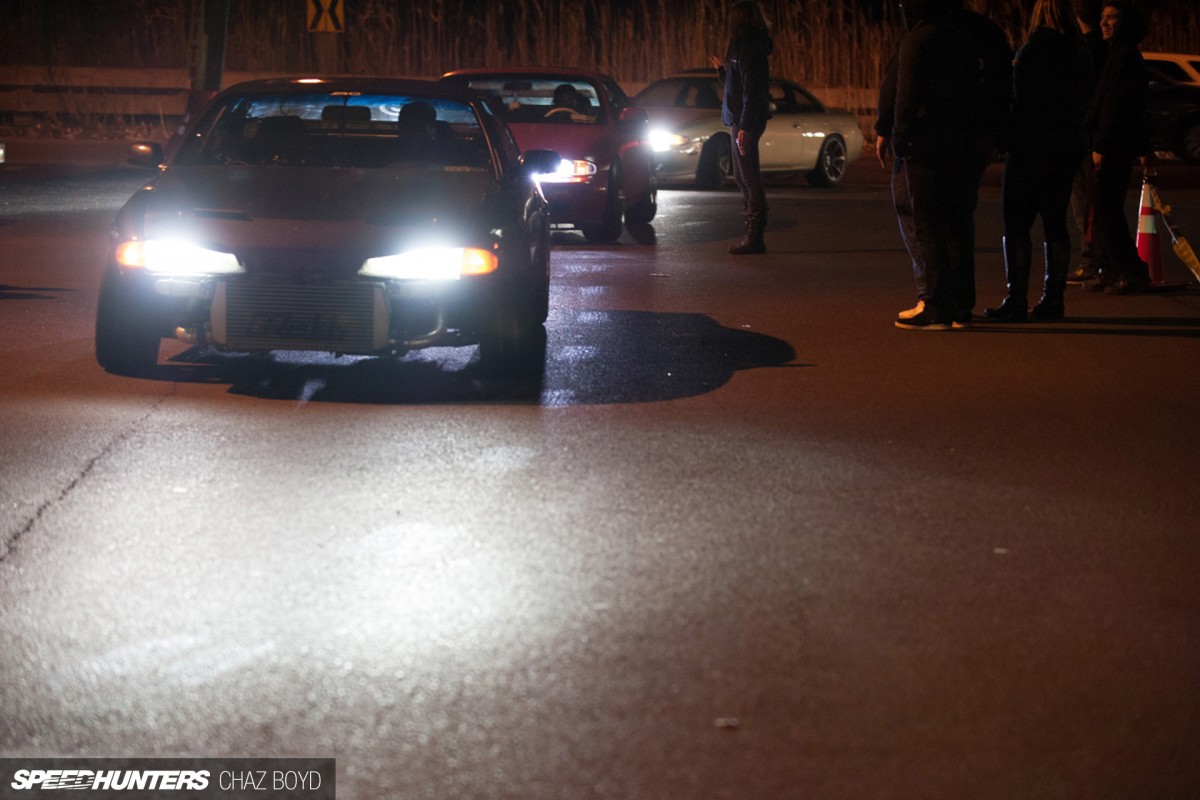 Once I'd managed to pull myself away from the R32 the meet was halfway through and cars were coming and going – apparently New Yorkers aren't too bothered by what had quickly become 30 degree (-1 degree celsius) weather.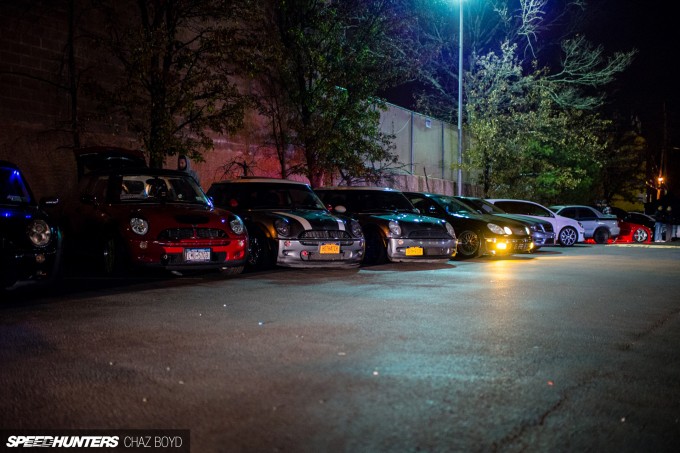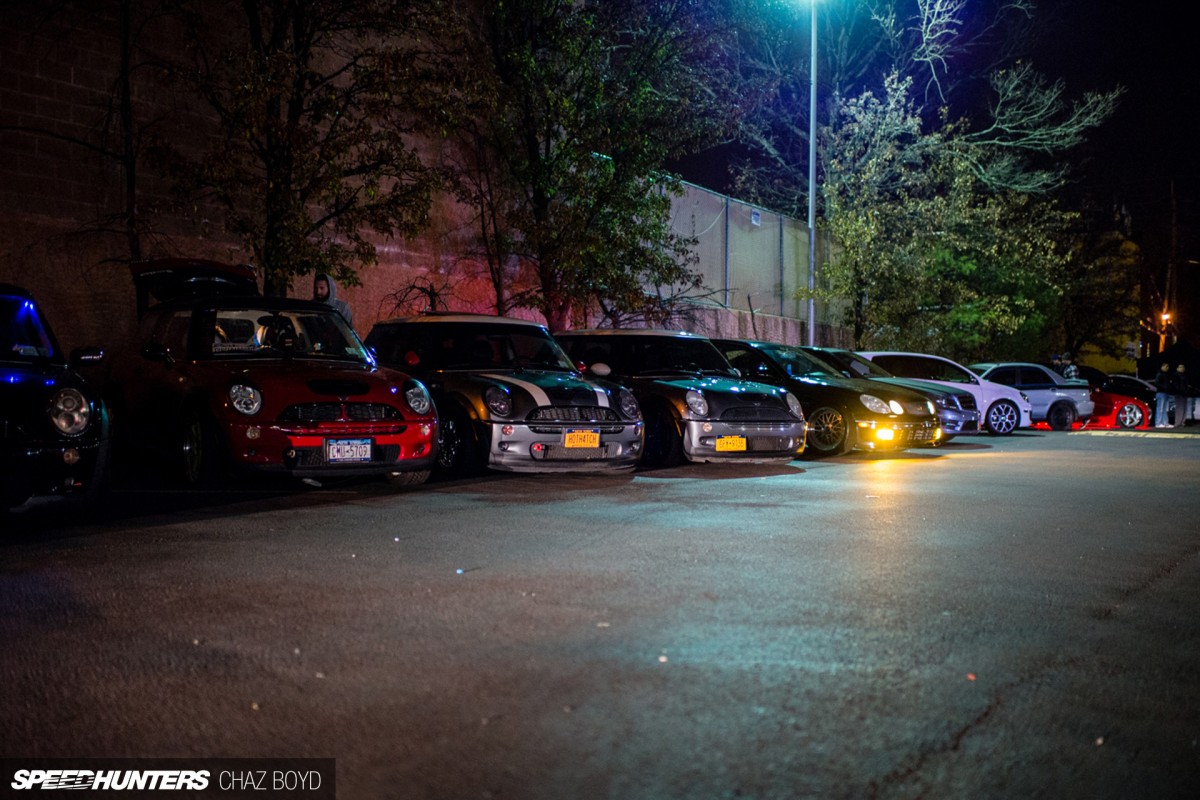 The cars tended to arrive in groups, and one of the coolest was this quartet of angry MINI Coopers. It's good to see enthusiasts getting involved in cars that regular modifiers might not even think twice about.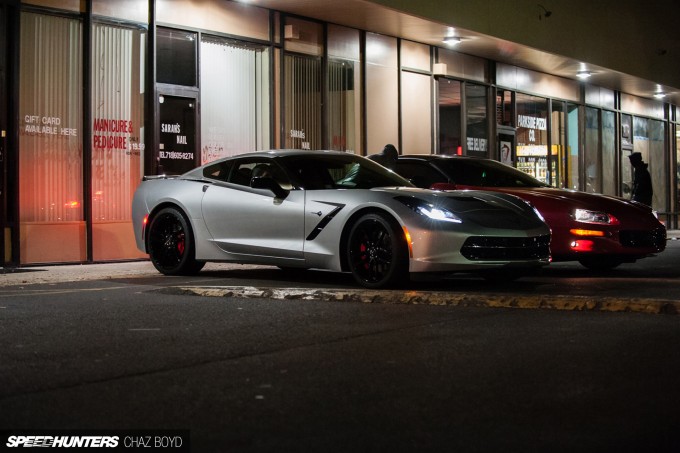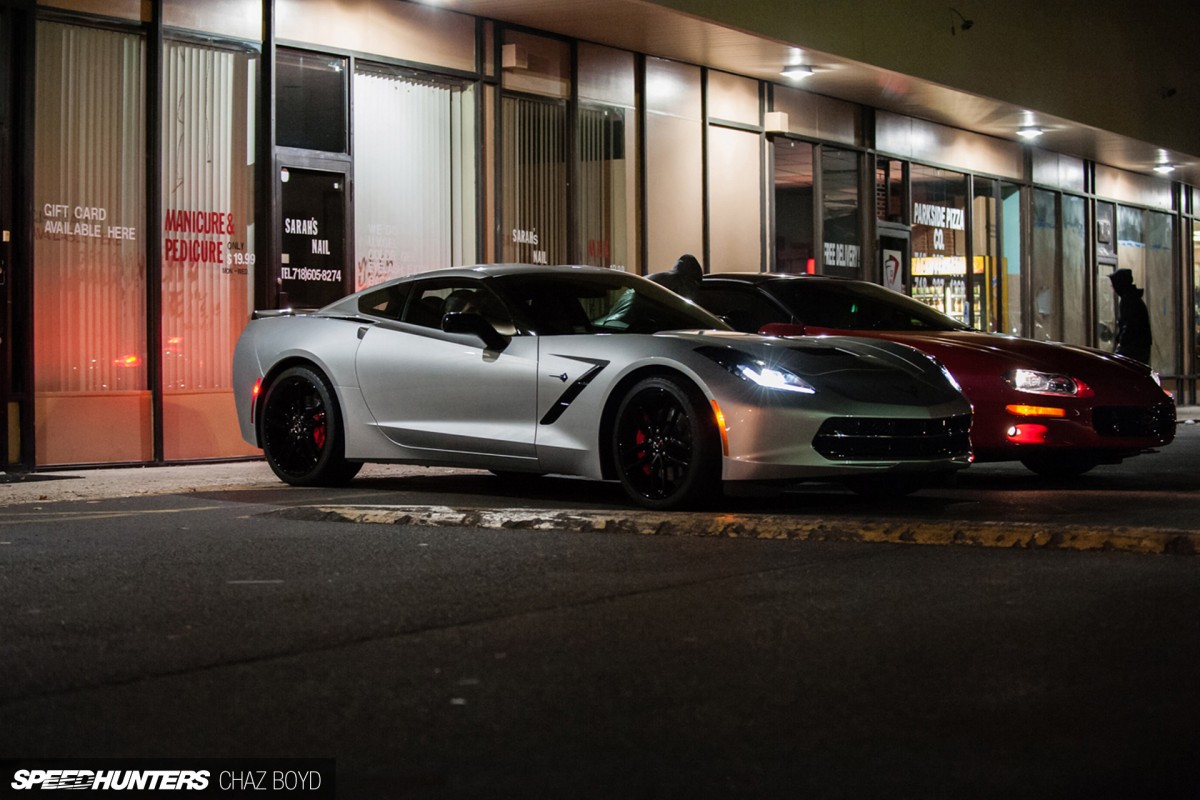 I've got to say, the new C7 Corvette just looks devious – even in factory form. I think Chevy did a great job restyling the Corvette, and there's little out there that can look as good for the same money. Looks are subjective though, of course.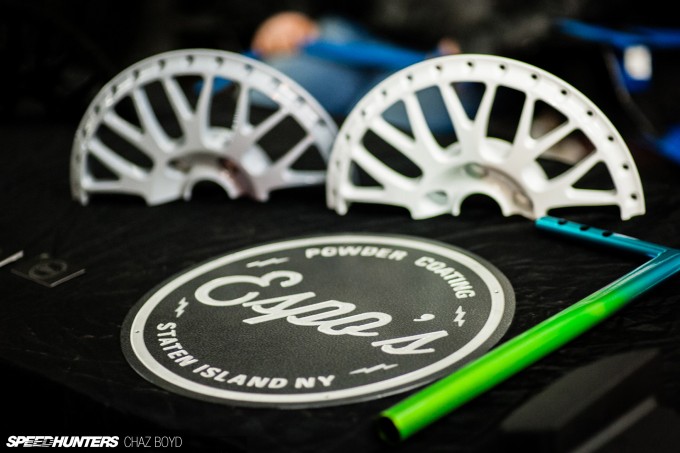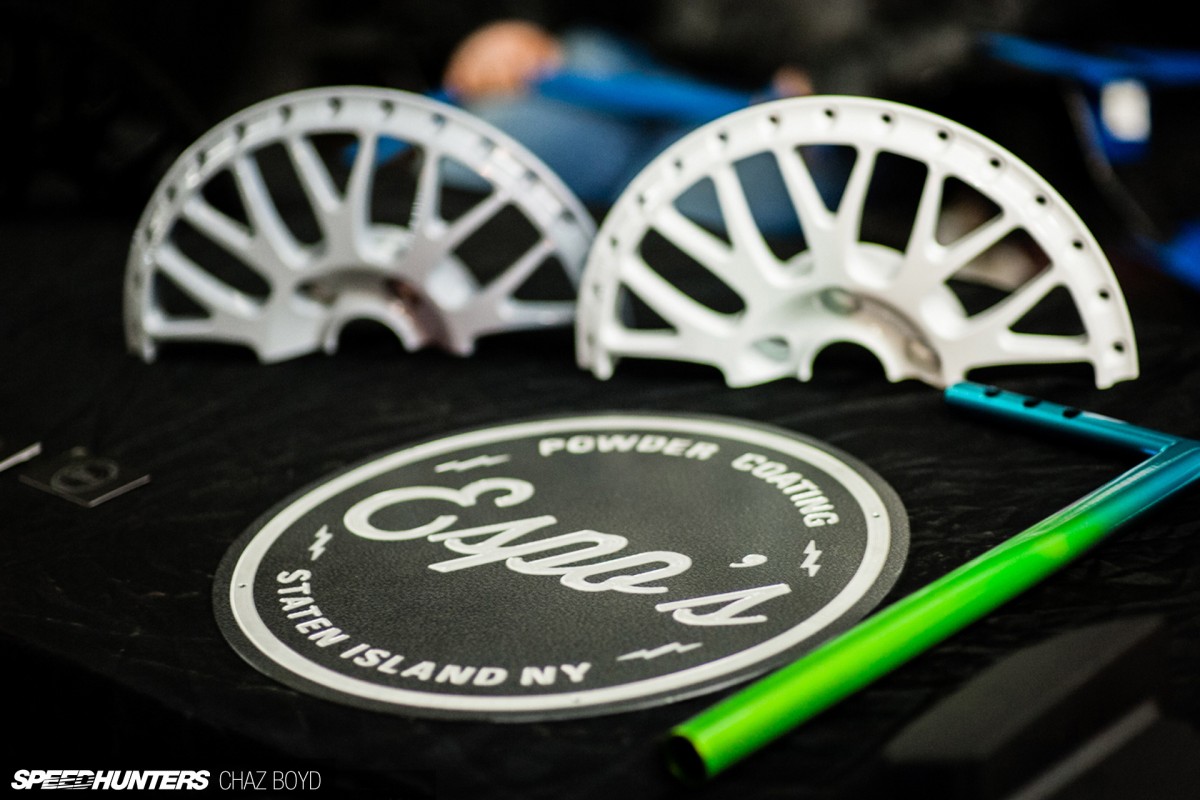 Staten Island is home to a great little car community, and with that comes a thriving industry, with local stalwarts like Espo's quickly becoming the go-to guys for powder-coating wheels and other parts.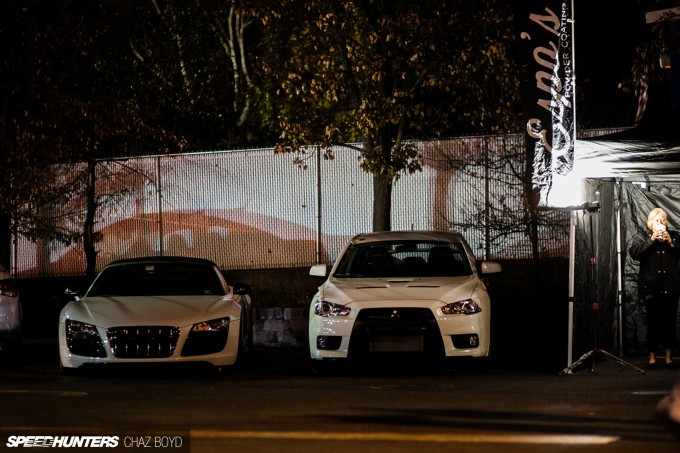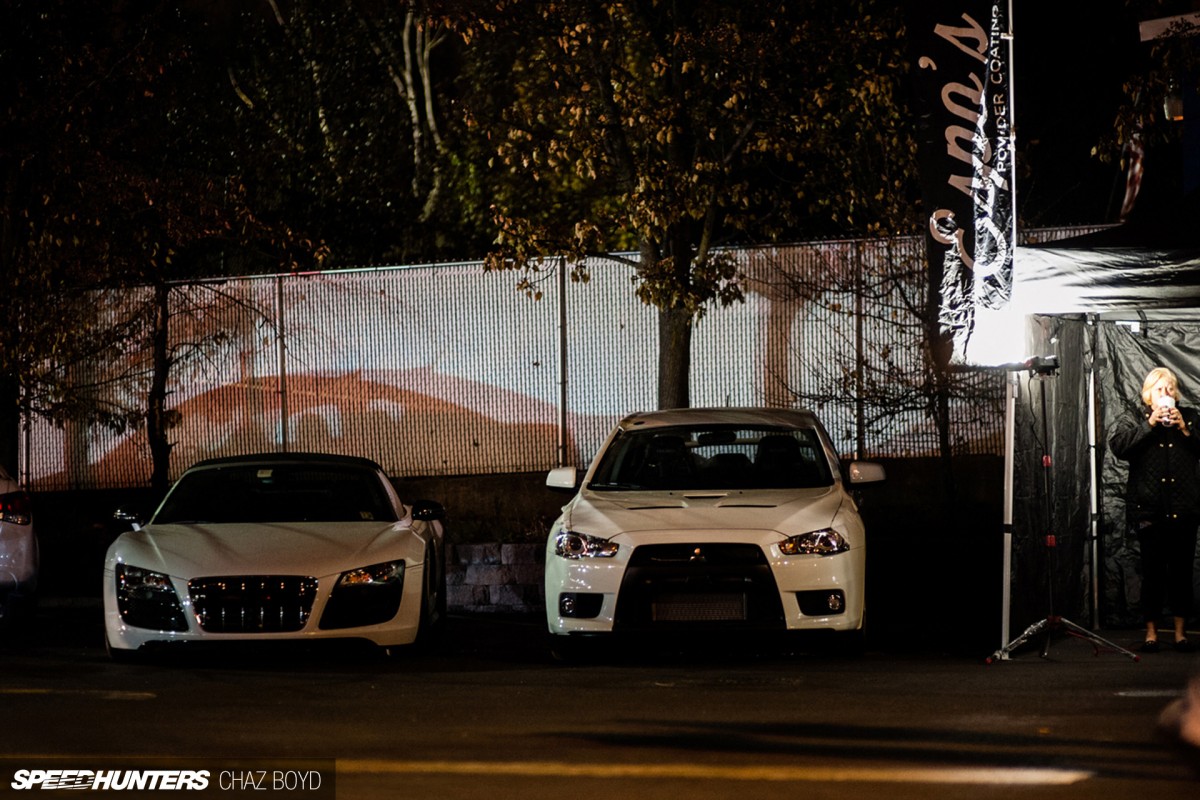 Espo's appear to be the smart ones too. Big gas heaters are a fairly effective way of attracting and keeping people at a booth when you're dealing with below-freezing temperatures.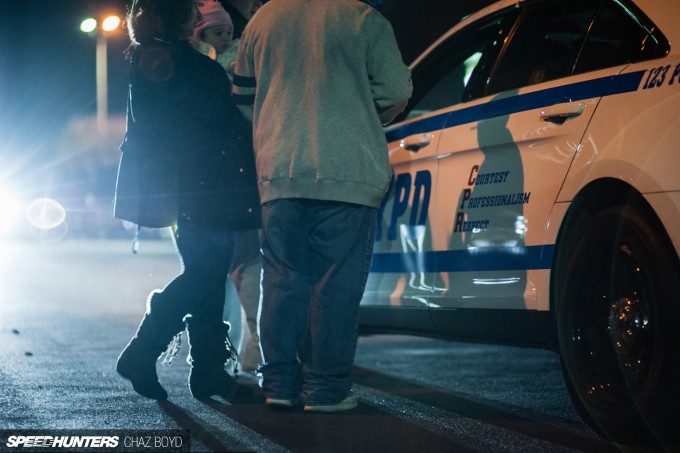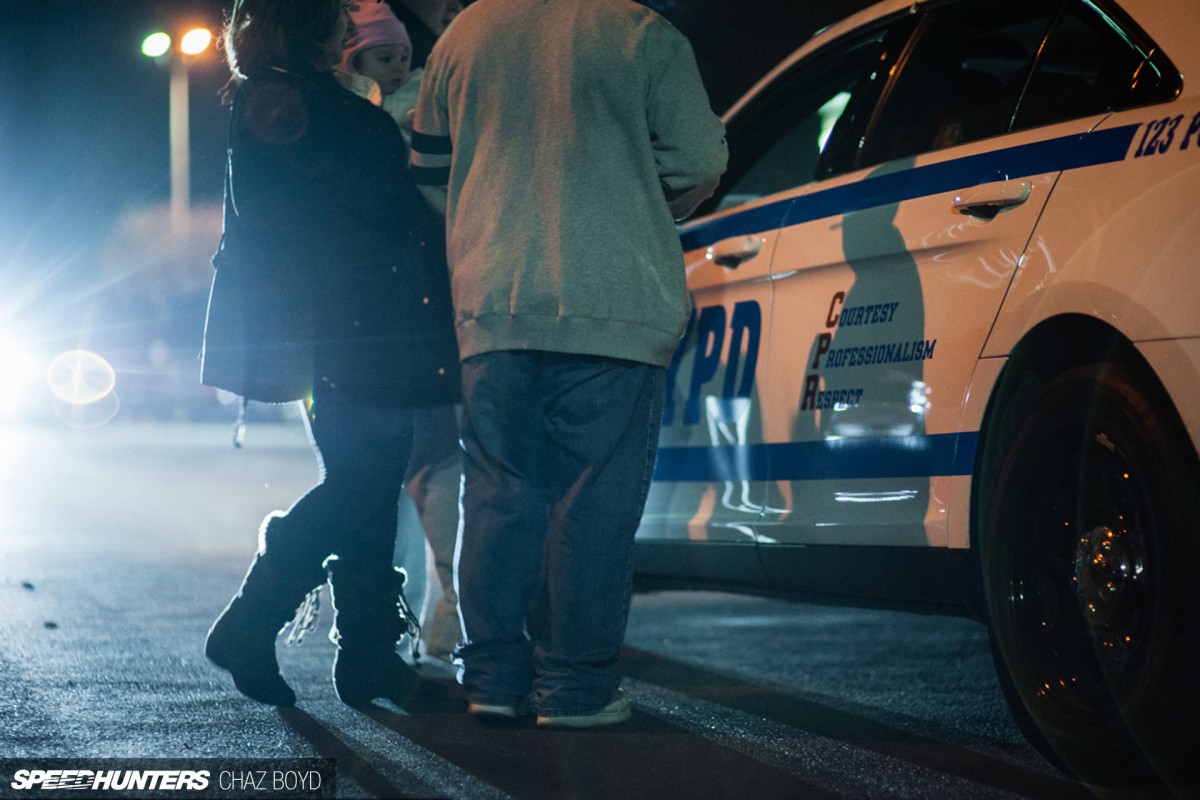 Even the NYPD showed up. Everyone was well behaved and the officers were just there to check out the scene and admire the cars.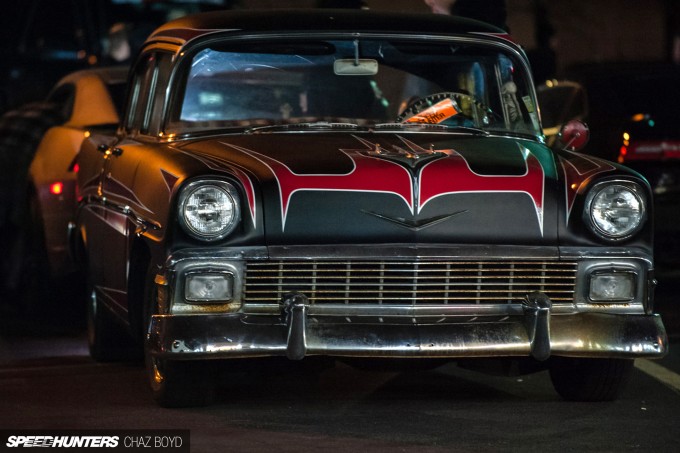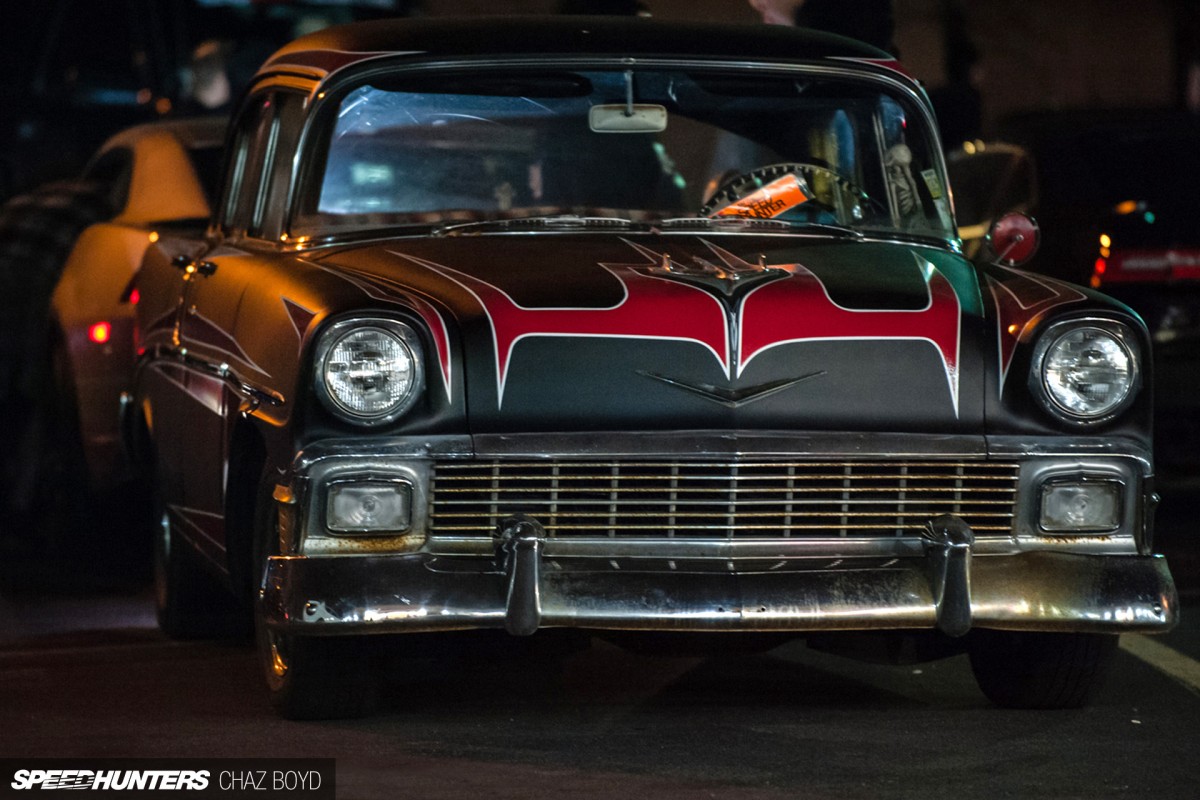 While most cars were of the later-model variety, a few classics, like this ratty Chev, made an appearance too.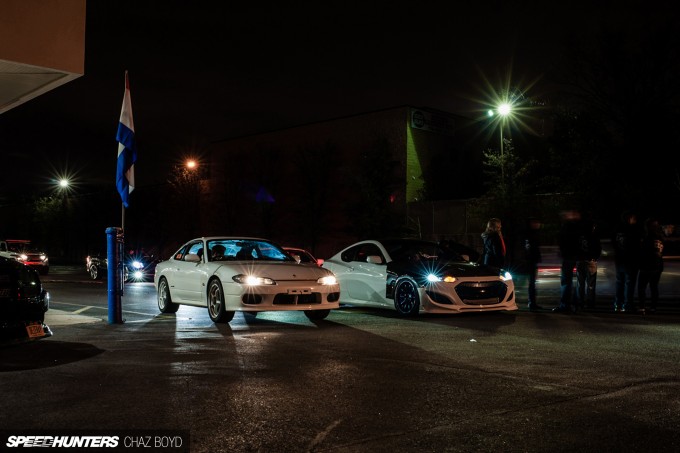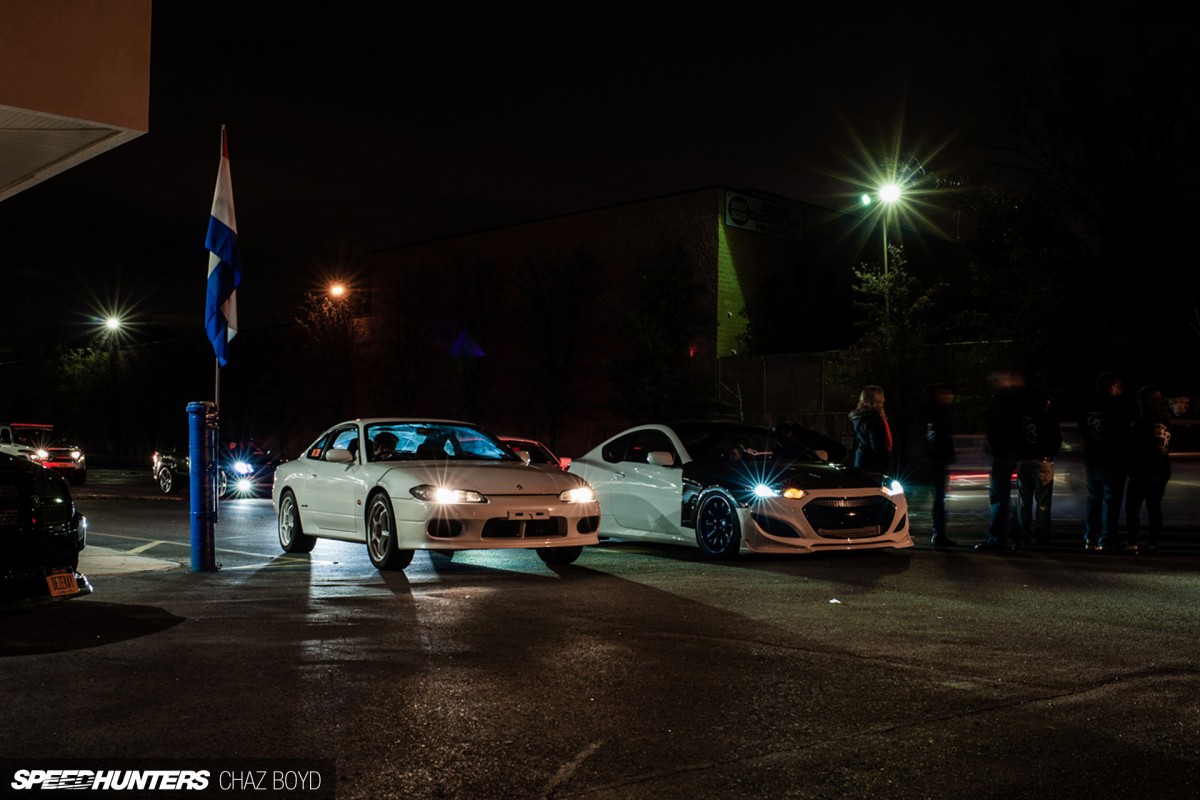 Somehow, this S15 Nissan Silvia snuck in without me noticing it – another extremely rare car in this part of the world. I'd really like to see what becomes of this example in the future, I can only hope it gets much more modified from this point on. The car sitting behind, a Hyundai Genesis, was an eye catcher too, though that was more thanks to the acres of carbon fibre splashed across its front end.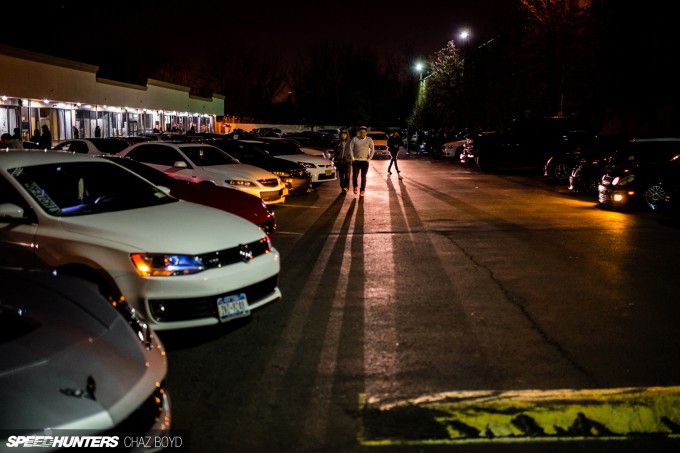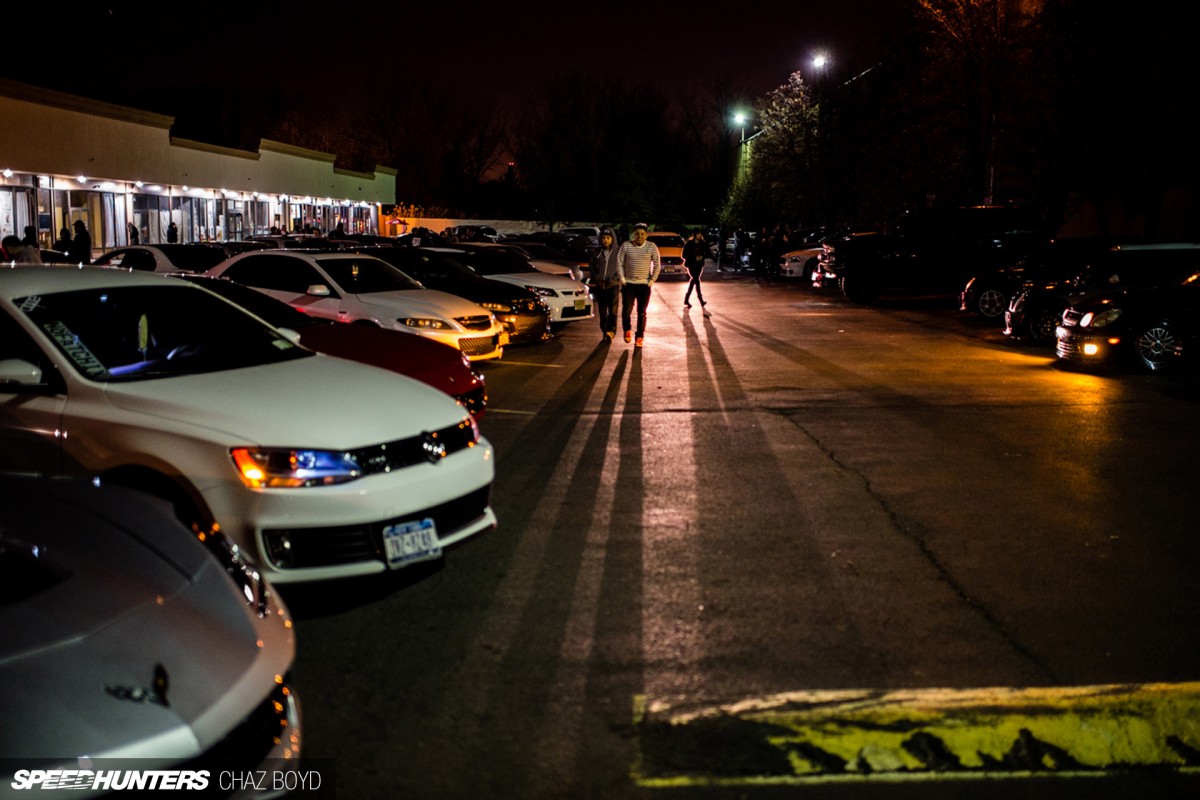 The parking lot was full for most of the night with a good mix of Euros, Japanese imports and domestics. It showed that there are some seriously tidy street cars in the New York area, and some seriously dedicated enthusiasts too.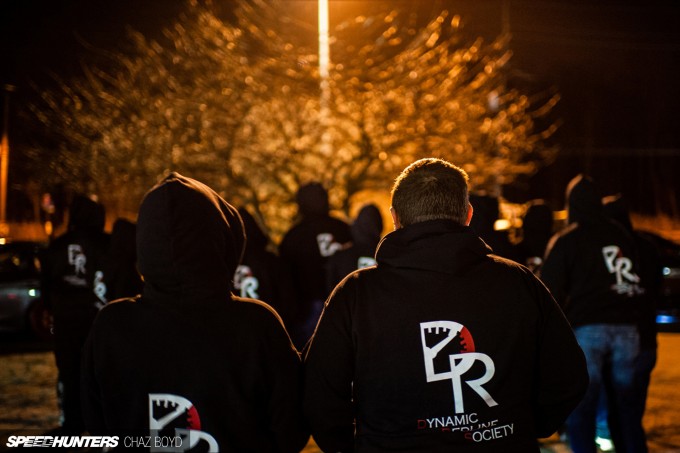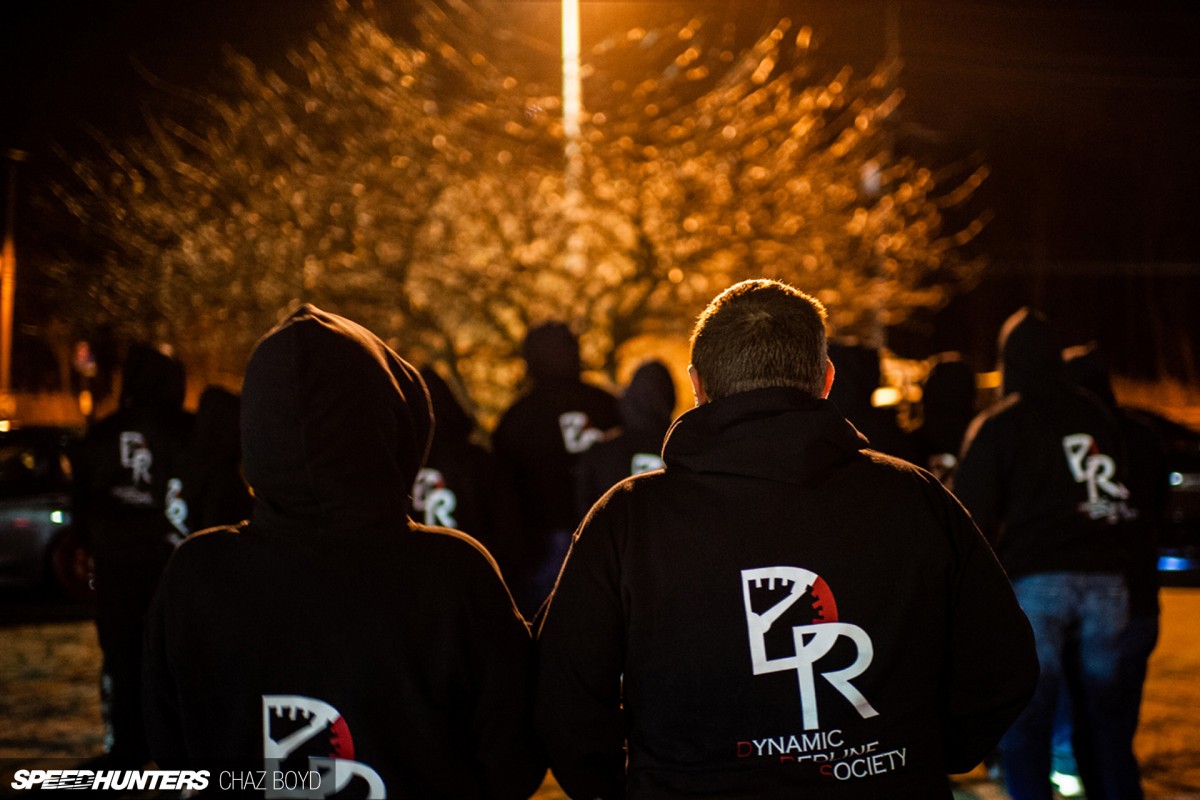 Do you – like DRS and all the rugged-up New Yorkers that attended this sub-zero get-together – hold meets in the depths of winter in your part of the world? If not, why not? We all like the idea of hot summer days spent hanging around cars and the people that own them, but why can't we do it all year round?
Chaz Boyd