Mitsubishi & The GTO
Boom! There you have it – a Mitsubishi GTO as the leading shot on a Speedhunters post! When was the last time you saw that? I can't remember if we've ever run any GTO-related content on the site, which to be honest is a real pity. That's exactly what I was thinking when I came across this car at the HKS Premium Day. It wasn't one of the high profile time attack cars that everyone was drooling over, but rather a regular tuned machine that was entered in the Hyper Challenge under the Pro Shop Fukuoh name.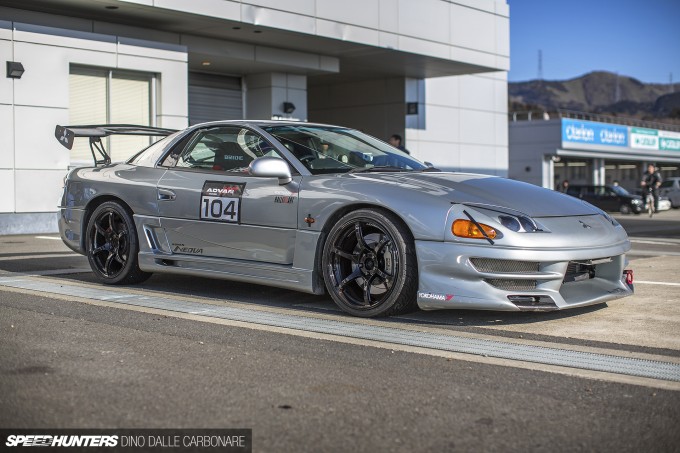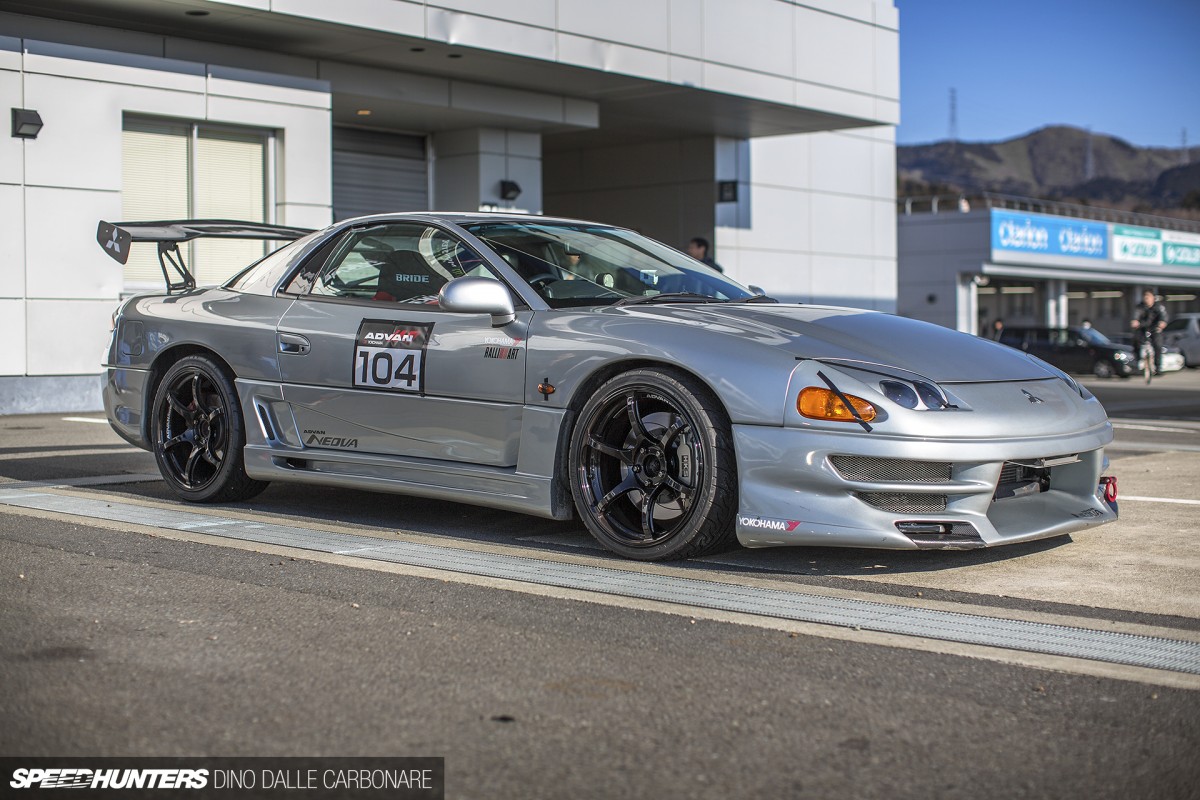 Truth be told, the GTO never really ranked as one of Japan's best driver's cars, but what the big Mitsubishi lacked in poise and feel it more than made up for with character, design and its abundance of electronics.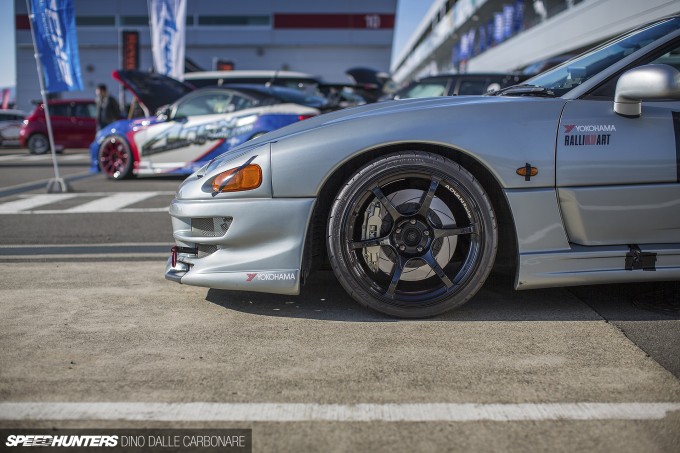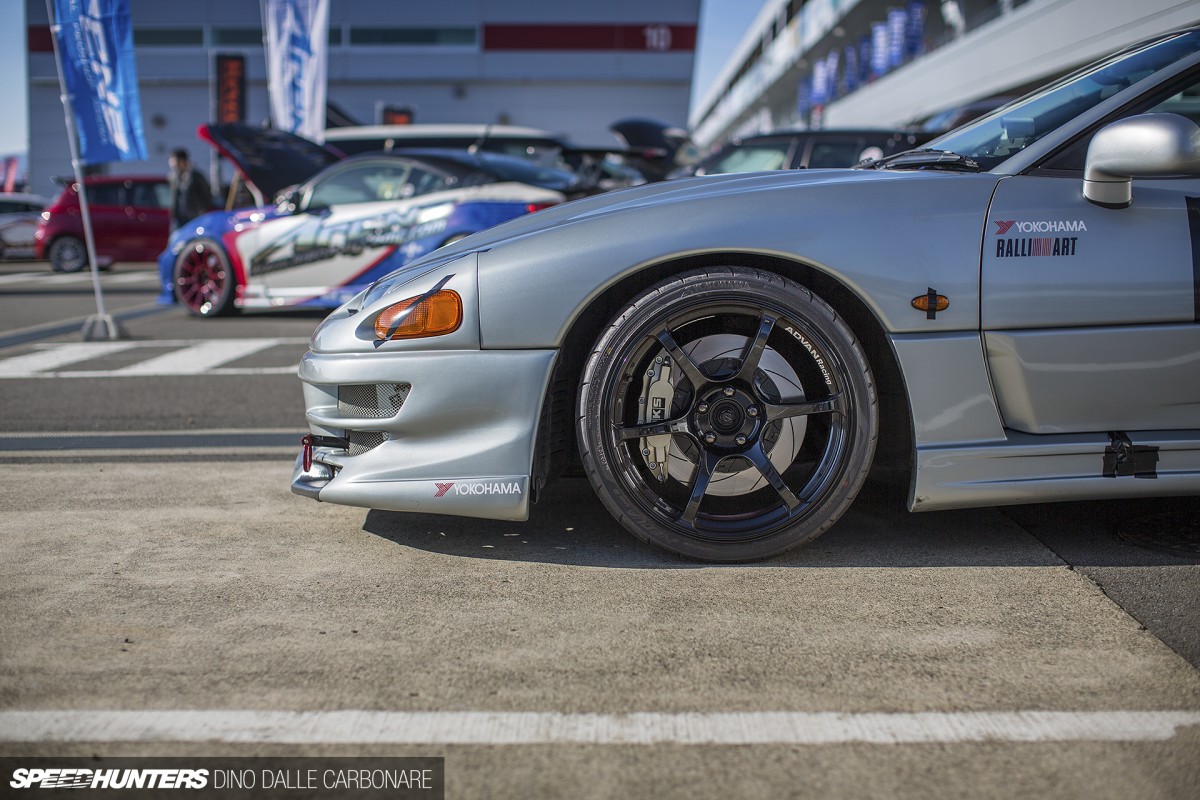 I've always had a soft spot for the GTO; it brings back many memories and somehow – much like the 300ZX – it's cycling around again. By this I mean it's gone full loop – it came out, was cool, then was forgotten about, then slowly its design and appeal has come full circle again. Certain cars – much like fashion – have a funny way of doing that, don't they? This particular car was running a nice set of Advan rims and packing some serious brakes thanks to HKS.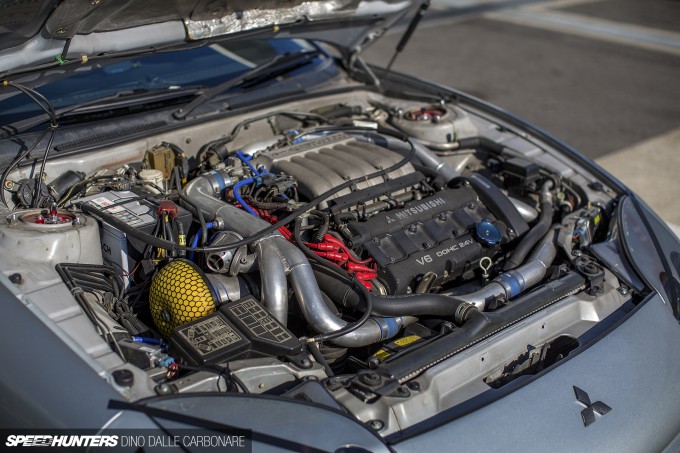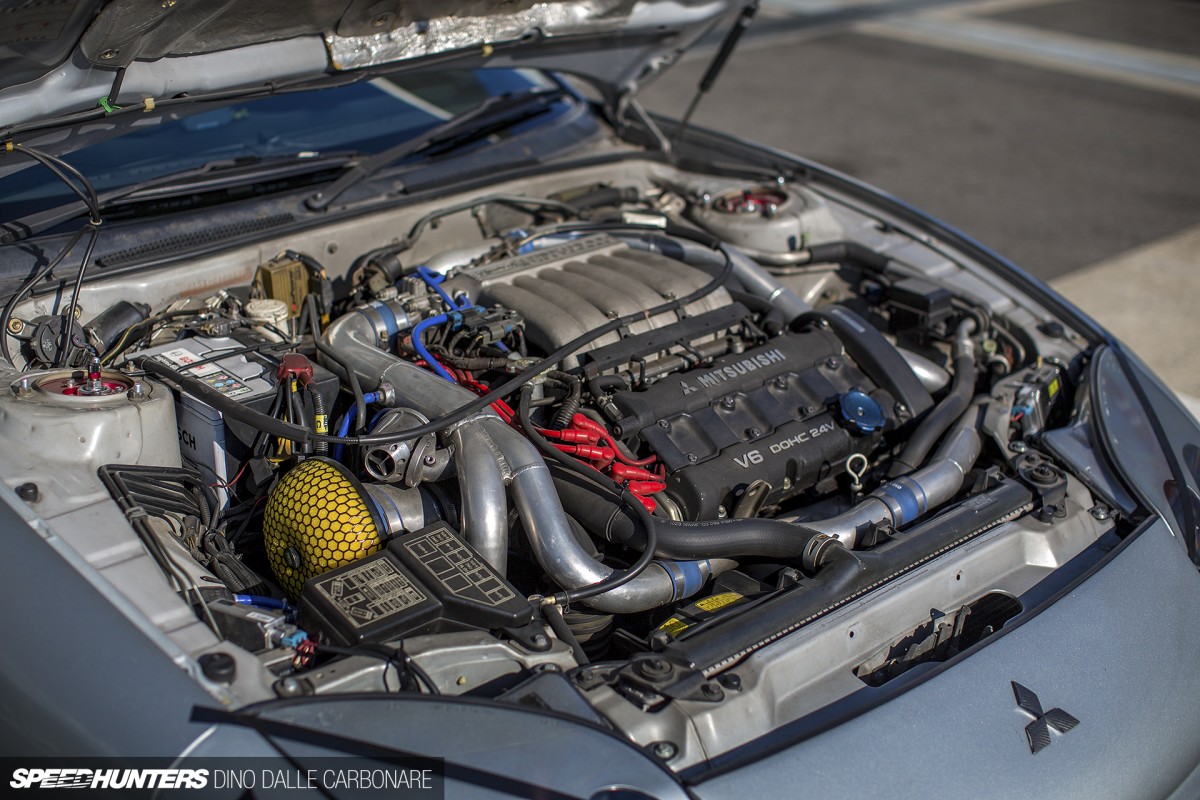 Talking to Fukuoh-san, he explained that the 6G72 had only been treated to a few simple modifications, including a full hard piping kit, an upgraded intercooler and a ECU remap. This has yielded a decent boost in power and torque, allowing for some fun through the tricky Fuji layout.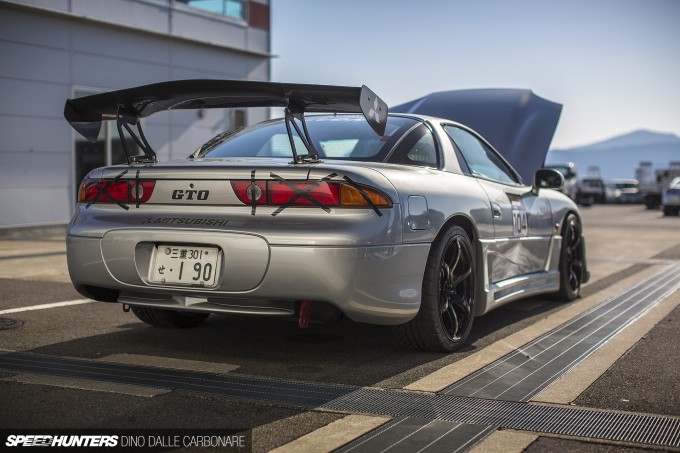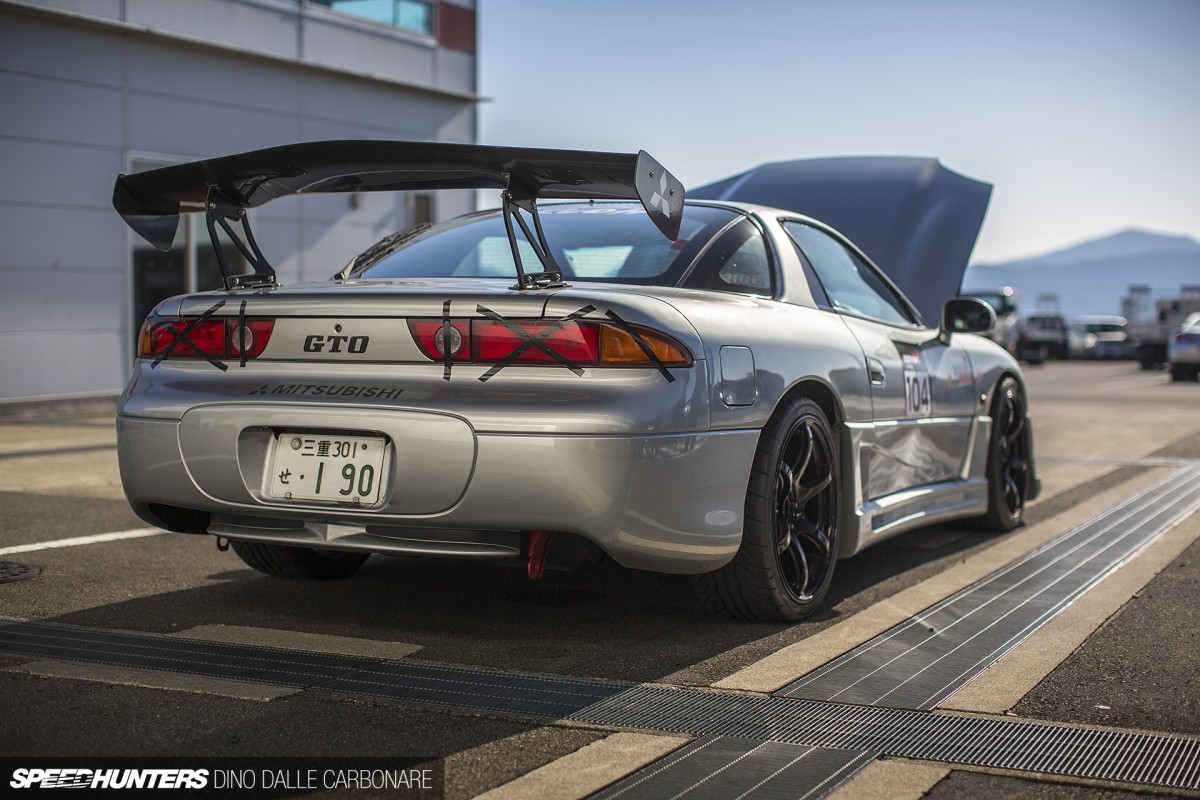 Yep, the GTO is still a decent looking car. It would be really cool if we saw more people getting into these and coming up with some wild builds. In the meantime, I'll keep an eye out for this one and see if its owner has more plans for it…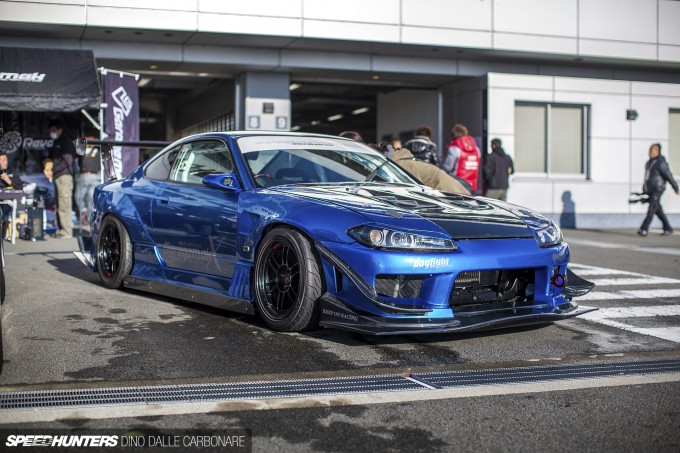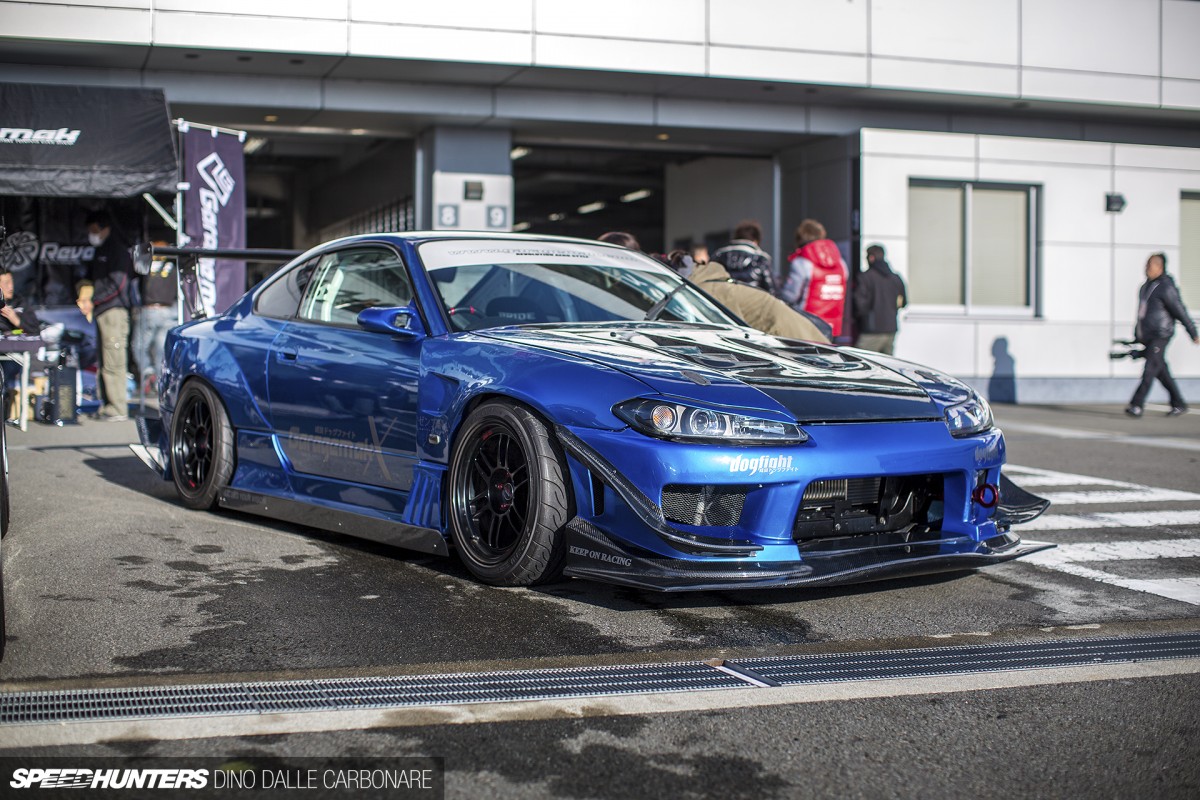 HKS Premium Day is one of the only few events where I can catch up with the Miyazawa brothers from Garage Mak. In the last few years these guys have really made a name for themselves by building some of the most serious S15 Silvias we've ever seen. It's been a while since I featured one of their demo cars, but every year they seem to have something new to show.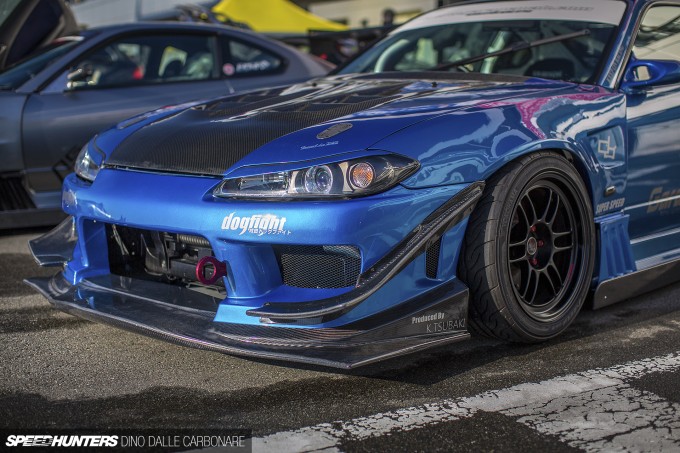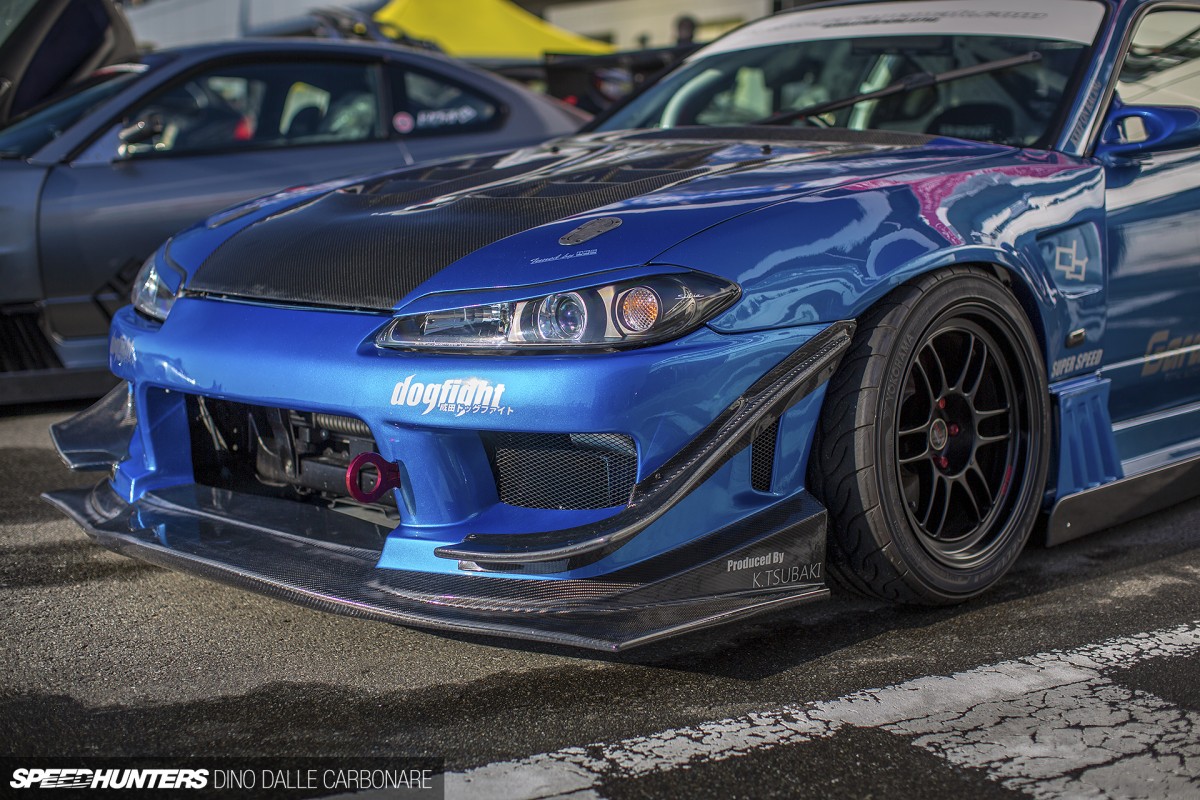 This blue time attack beast is one of their latest creations, and it sports the complete Garage Mak aero kit plus a ton of carbon fiber highlights. The car sits low on a set of Enkei RPF1s and looks ready to hit the track in anger.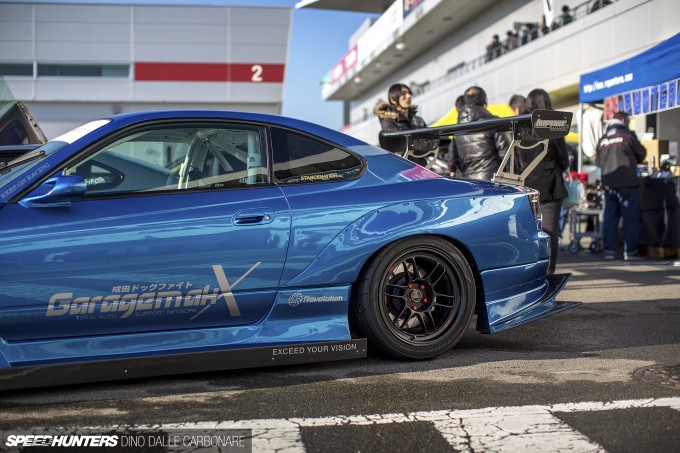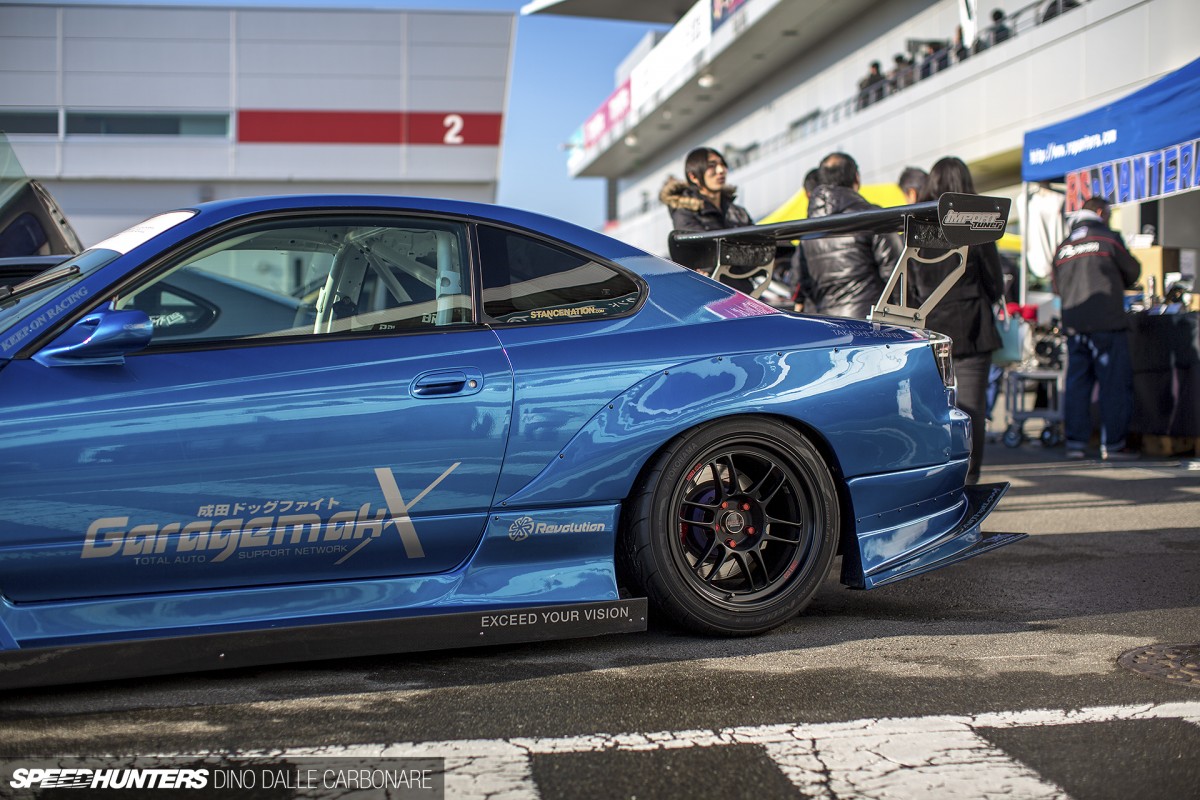 Don't think for a moment think that this car is all about stance. Oh no, this thing is built to set serious lap times and everything that it's been fitted with – including the rear overfenders – is there because it directly or indirectly adds more performance.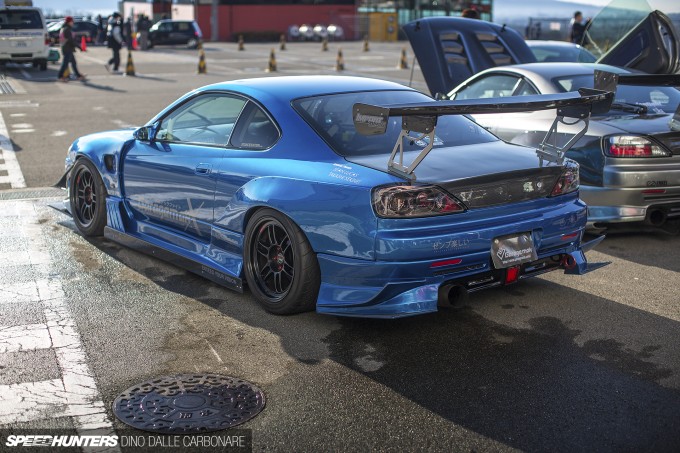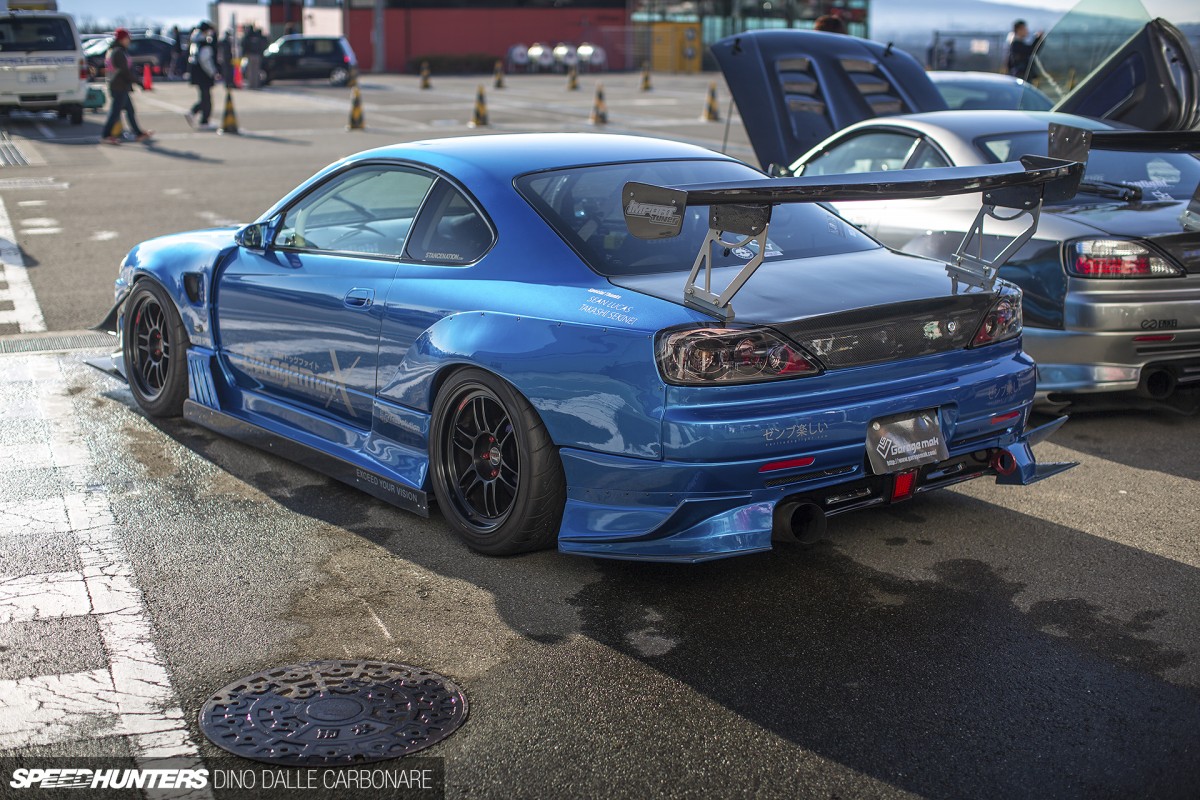 Garage Mak has done a superb job of taking the old school tuner car feel and fusing it together with modern day style to keep things current. Because let's not forget that the S15 is 16 years old now!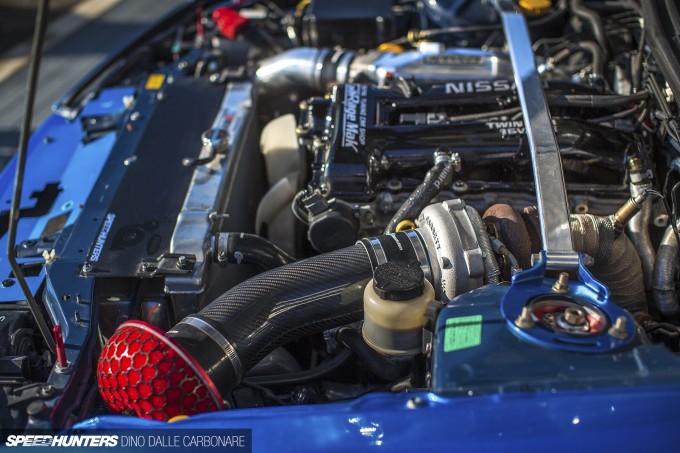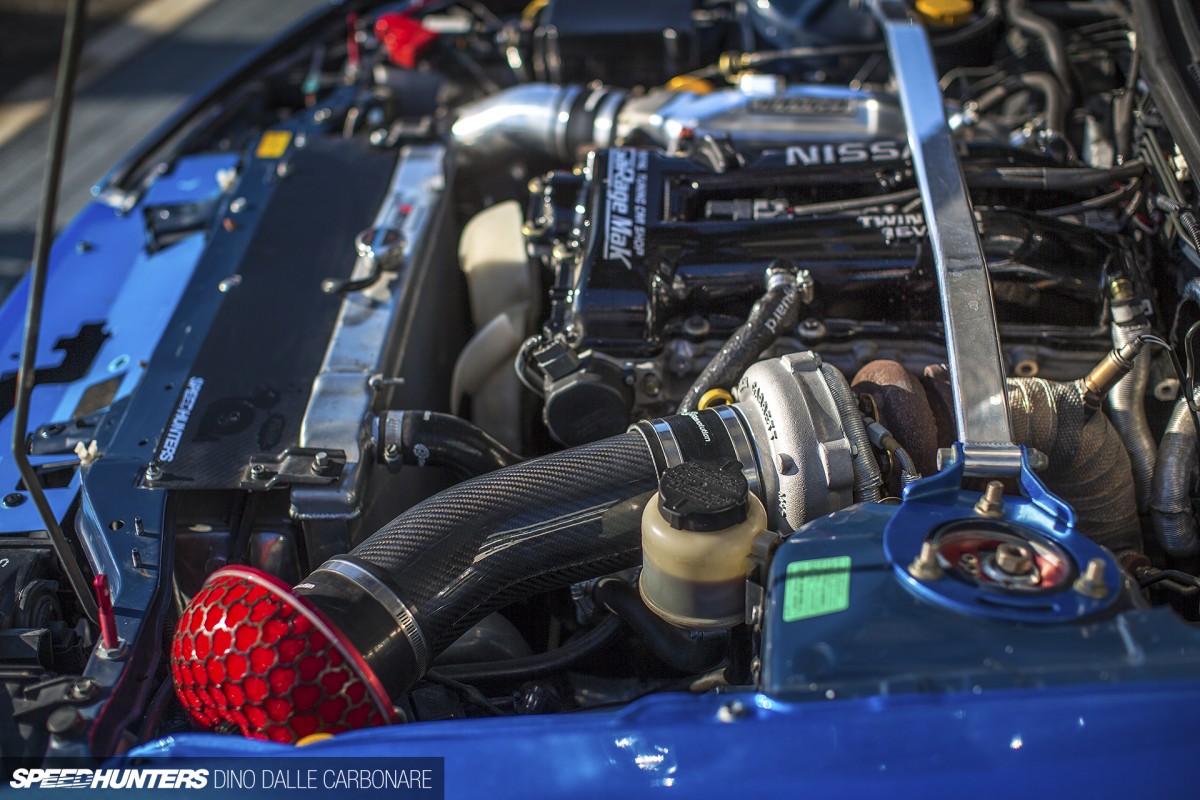 Like the wild supercharged Z33 that they further evolved and entered in the Option magazine time attack session, Garage Mak cars are never short on power. They are what I've always referred to as 'proper' demo cars – well-rounded builds with no shortcuts taken.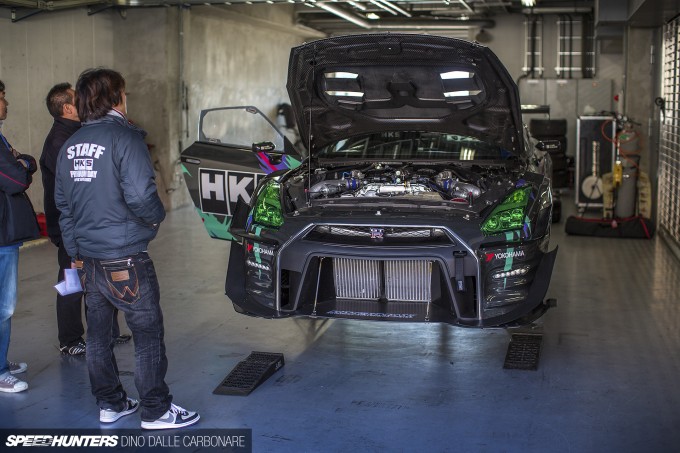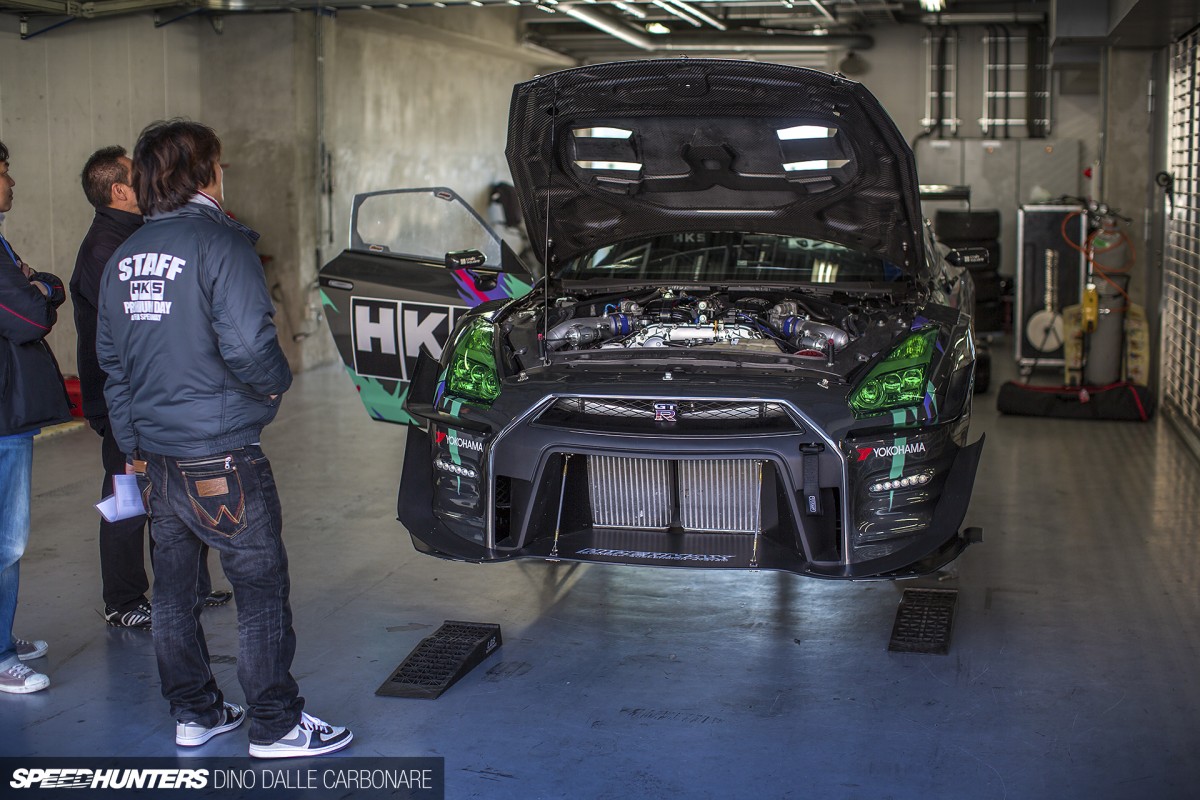 Then of course there is HKS. I couldn't possibly skip out on showing you Nob's crazy GT1000+ time attack GT-R – the car that he managed to set a 1'37″773 lap time with right at the end of the day. This car has been evolving over the last couple of years and in its current form runs a BenSopra front bumper and diffuser section which was added before last year's WTAC in Australia. HKS are continuously making little tweaks and changes, learning along the way and eventually trickling down that knowledge into the parts they manufacture. It's the way HKS has done things since the very beginning.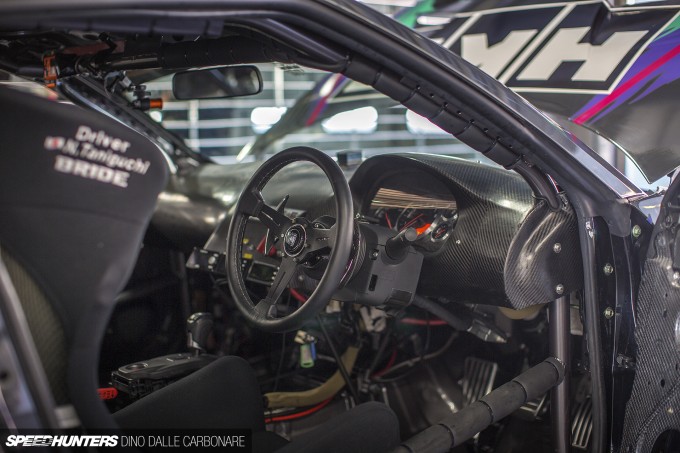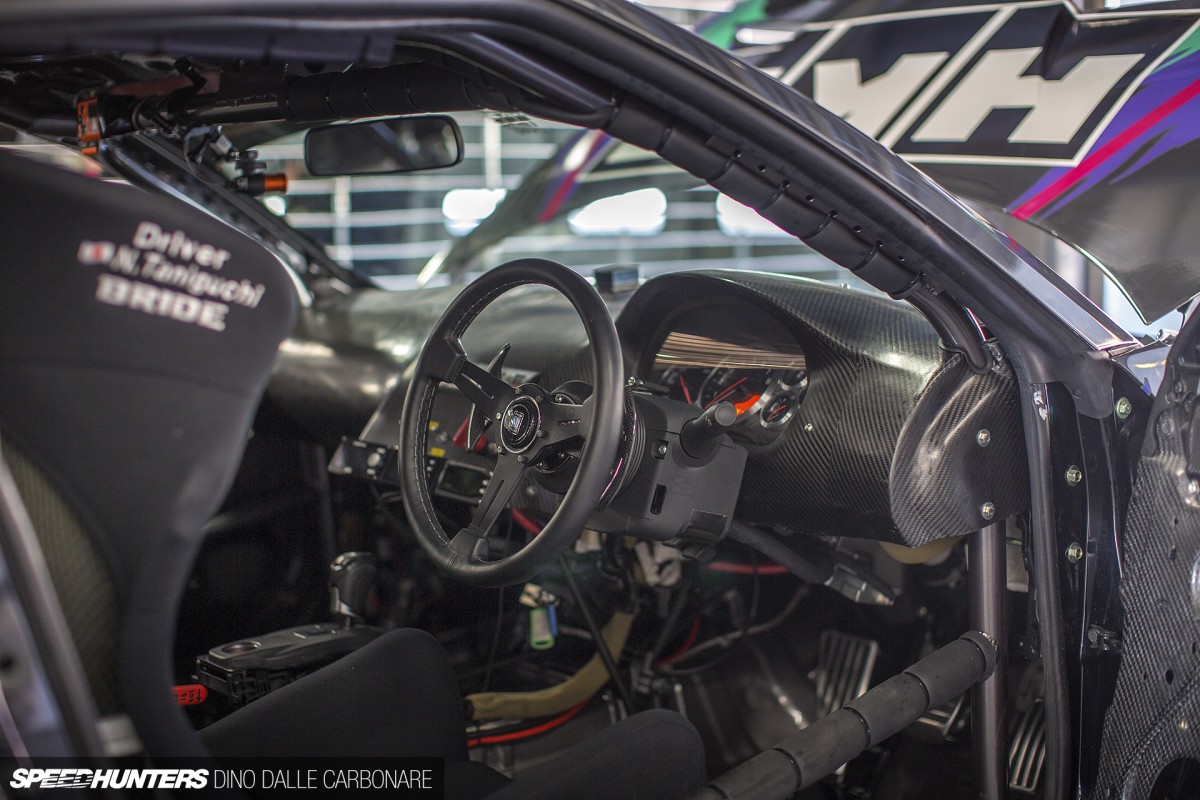 Since the last time I saw the GT-R it's gained carbon fiber doors, Lexan windows and a louvered cover for the rear glass. While most time attack GT-Rs seem to look mostly factory inside, HKS have taken some time to really strip everything out of the R35's shell. On top of the full rollcage is a lightweight carbon fiber dashboard that looks remarkably similar to the one that Daigo Saito is using in his new Formula D GT-R.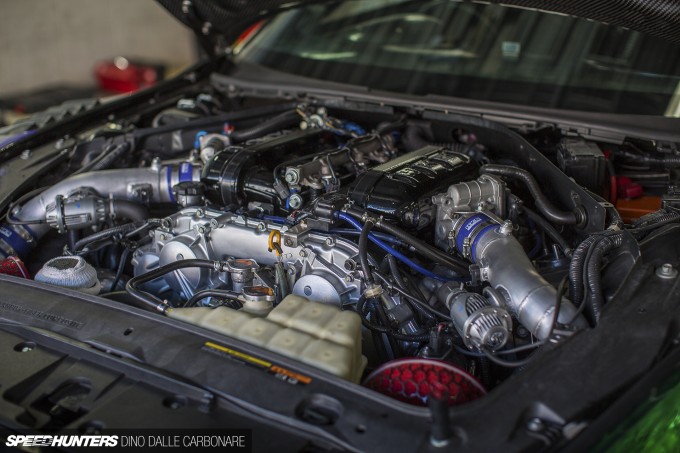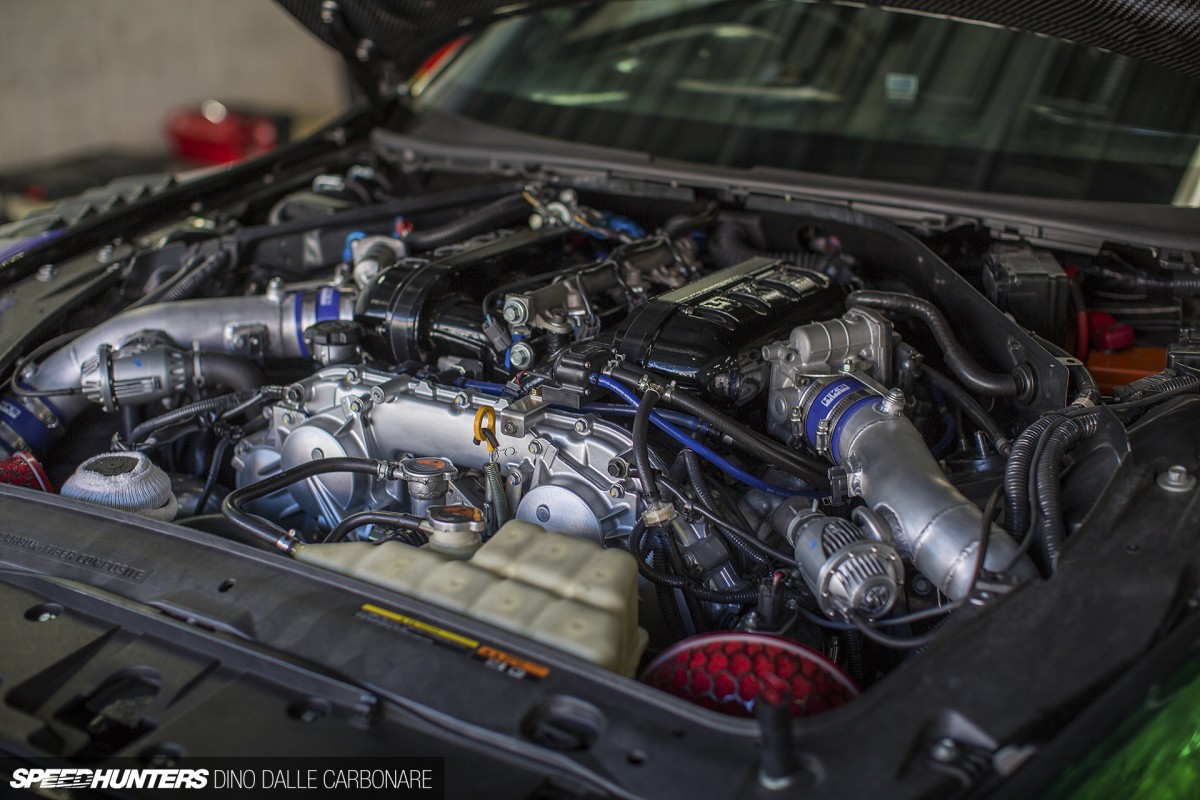 With around 2bar (29.4psi) of boost thrown at it, the 4.1L stroked VR38 is good for 1200hp and an almost ridiculous-sounding 130kg/m (940lb/ft) of torque. To take the gargantuan abuse that the driveline has to endure, HKS produced a limited edition run of a very special gearbox set that features specially coated and thicker cogs, steel gear plates and 8-disc clutch packs that are 300 per cent stronger than stock.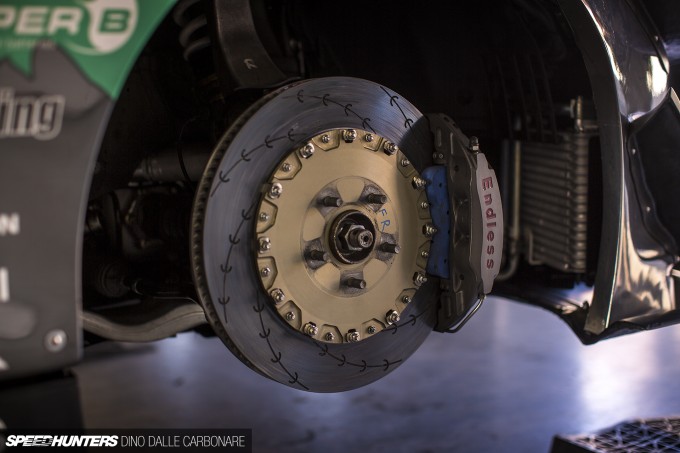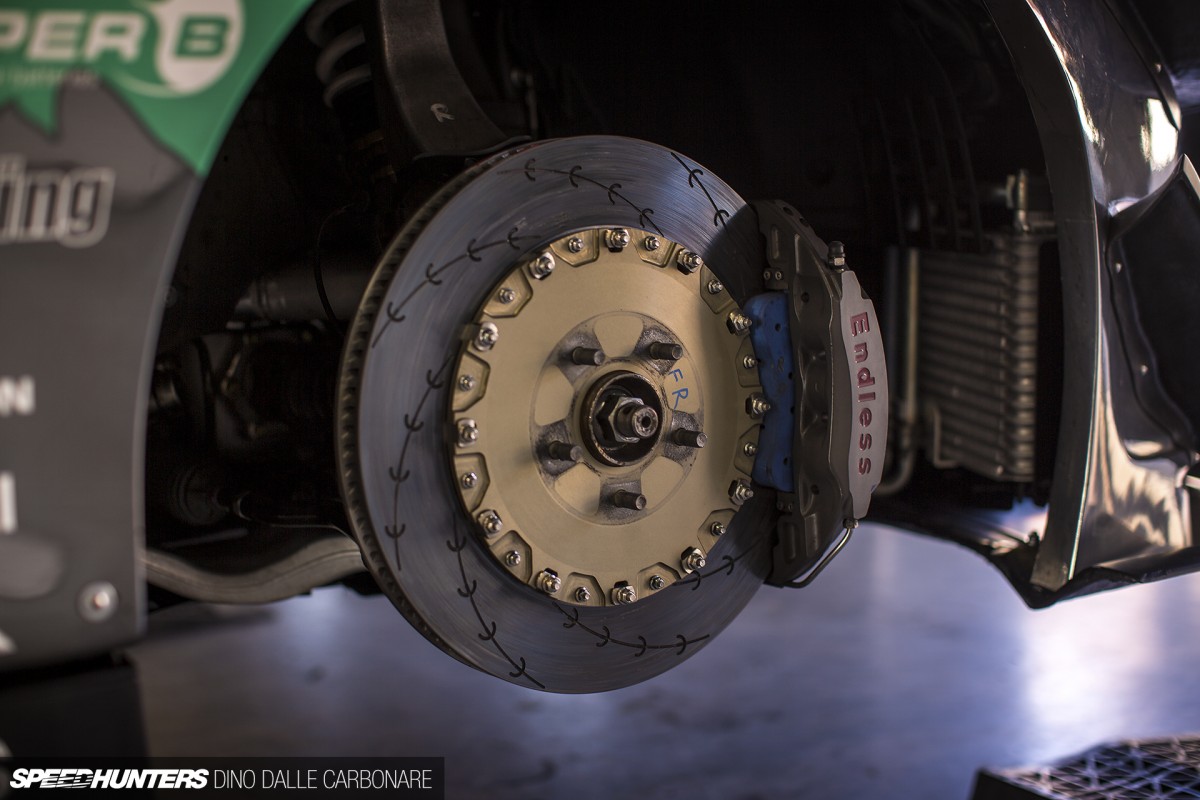 This all allows Taniguchi to pack on the speed at an impressive rate, reaching well over 320km/h down the Fuji main straight. Of course, with great power comes a greater need for braking performance and that's where Endless came to the rescue with these anchors. Strangely enough, the HKS car wasn't running the same Endless carbon ceramic discs that the MCR R35 out testing was.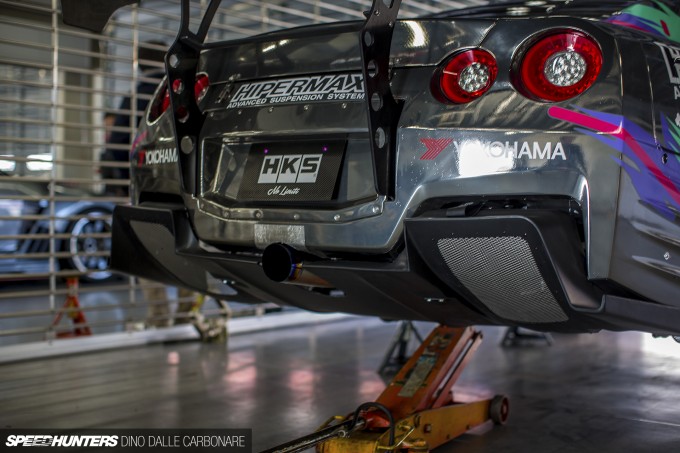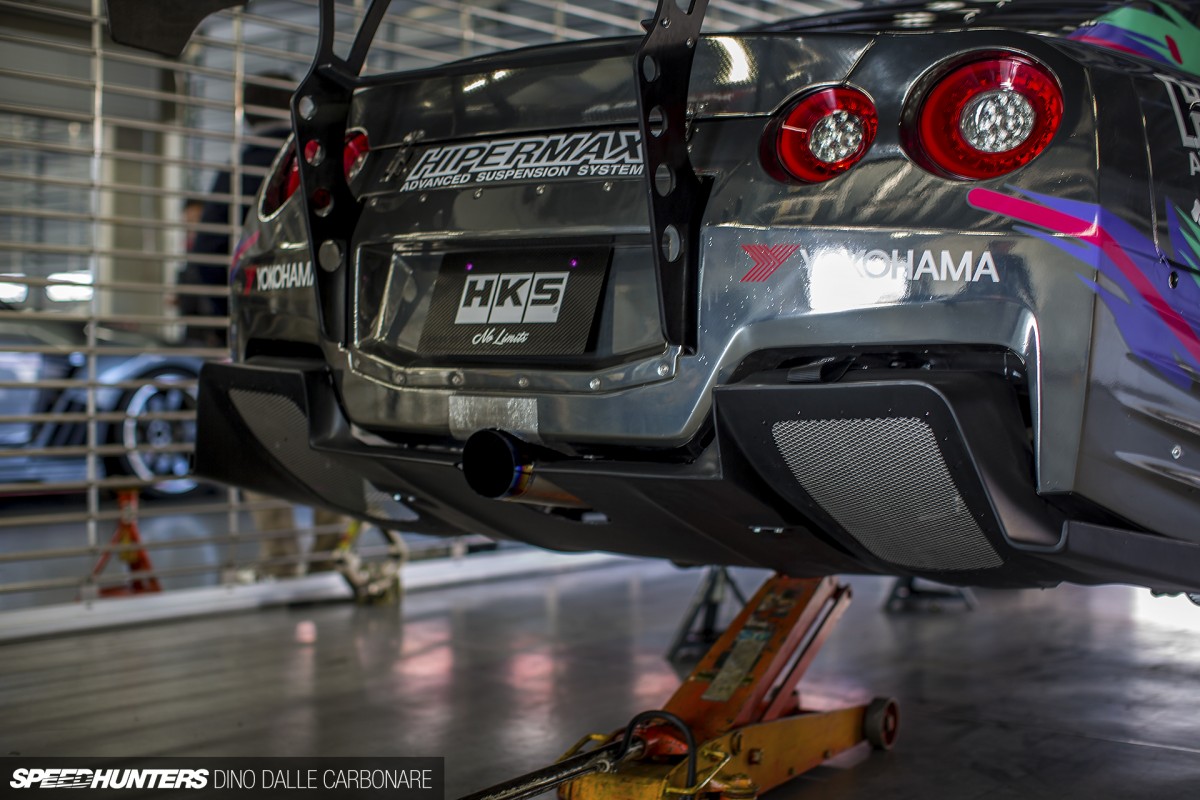 While the car has a complex front bumper design to aid in downforce, you won't be seeing any other crazy aero additions – the norm with modern day time attack cars. That's because HKS has always focused heavily on power and performance, and this whole project has stayed faithful to that way of thinking. At the rear however, they've cleaned up the airflow by employing a custom diffuser which seals around the center-exit exhaust. If it can do 1'37" with very limited aero, imagine what it would be capable of if it went full Under Suzuki spec!
Prime Up Your Engines Gentleman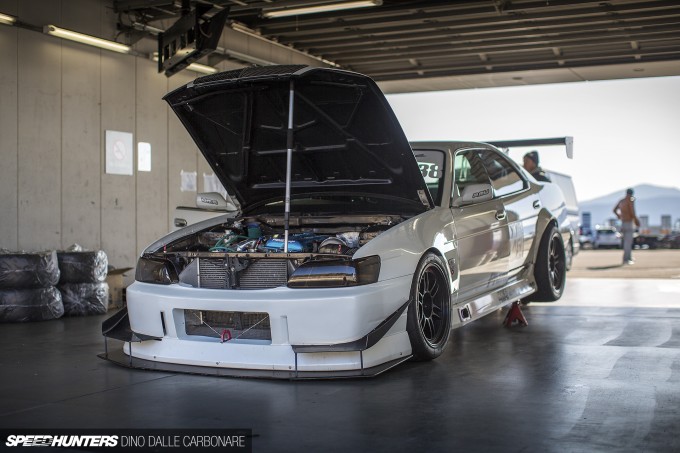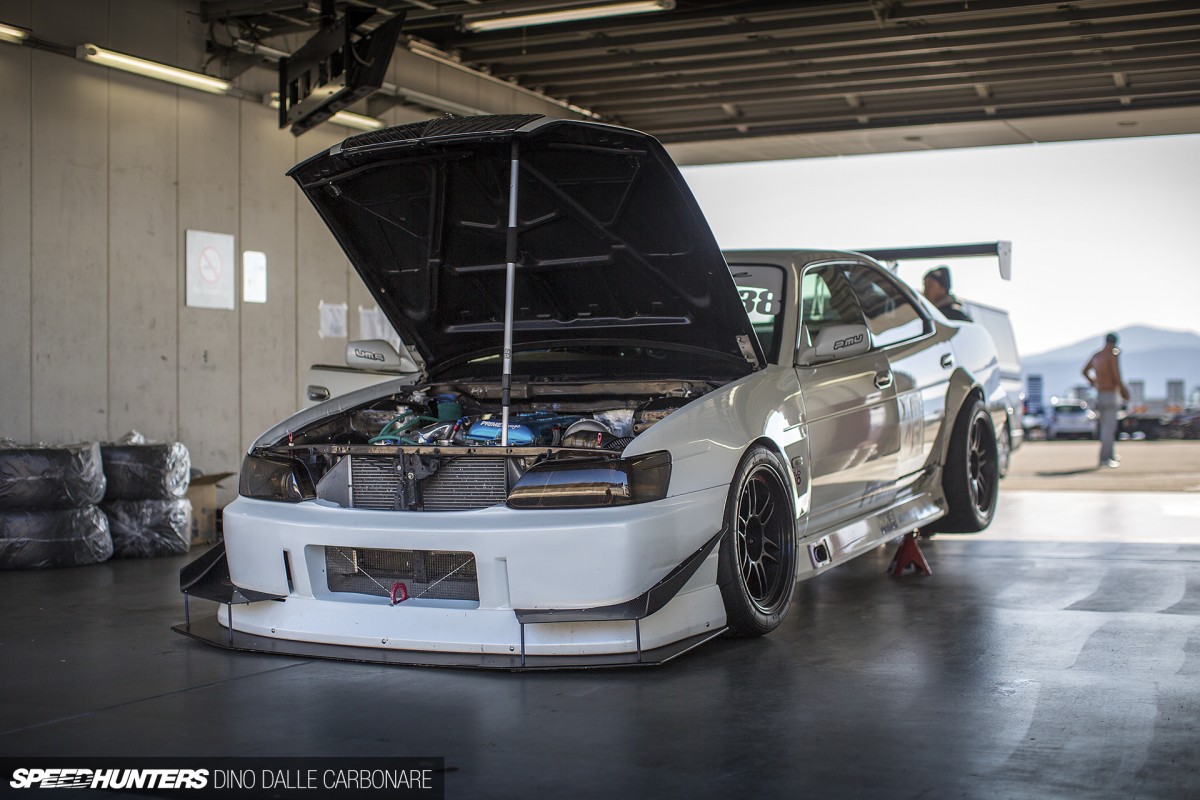 I know you guys are going to like this one! After being totally baffled by seeing a time attack tuned C35 Laurel burble along the paddock access road, I had to go to the Prime Garage pit and investigate.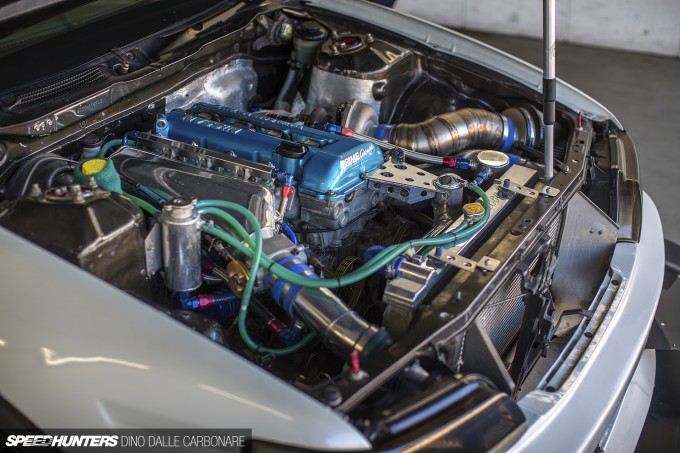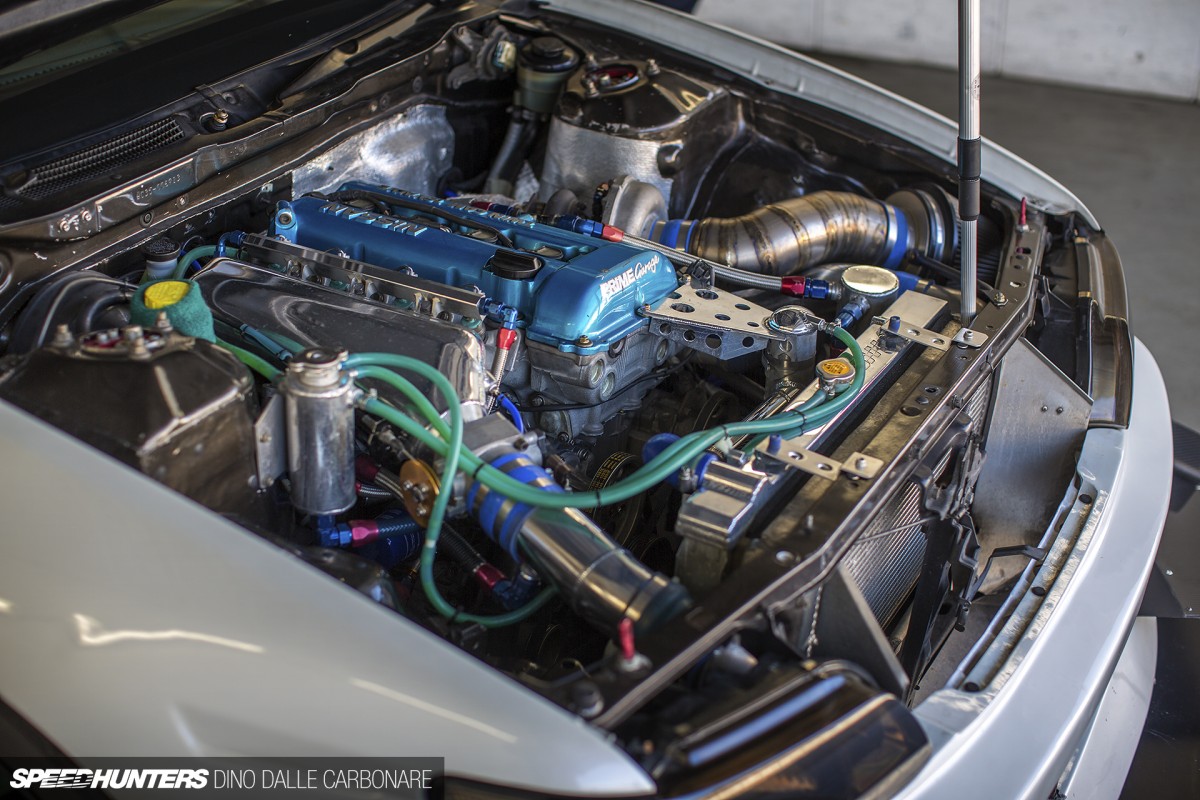 It turns out that strange noise was coming form a pretty heavily tuned SR20 that's been swapped in in place of the RB20DE this particular car was originally fitted with.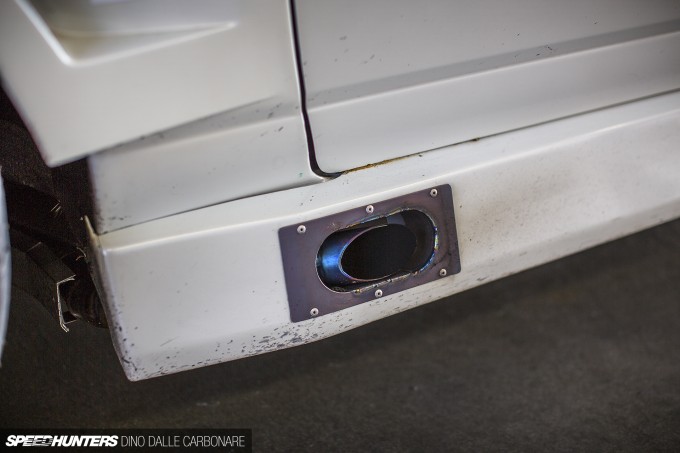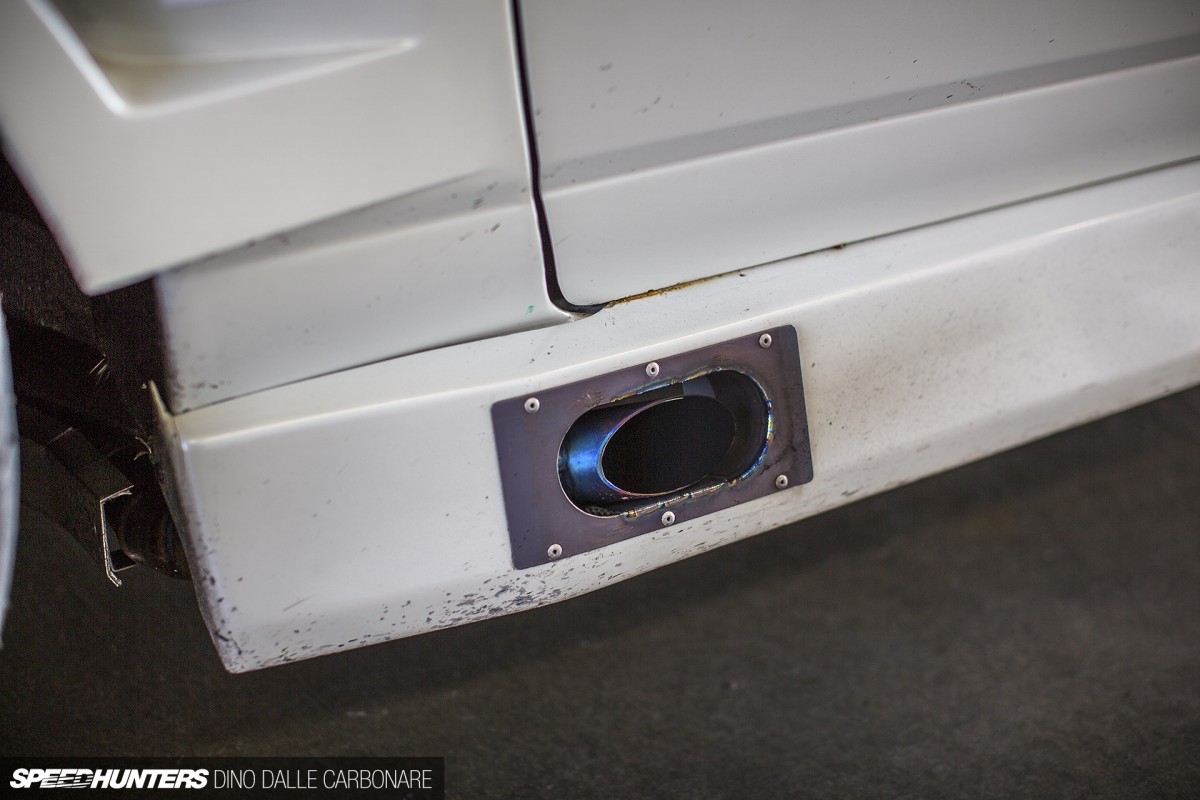 Oh, and the fact that the external wastegate vents to atmosphere via this side-exit screamer pipe makes the car infinitely cool!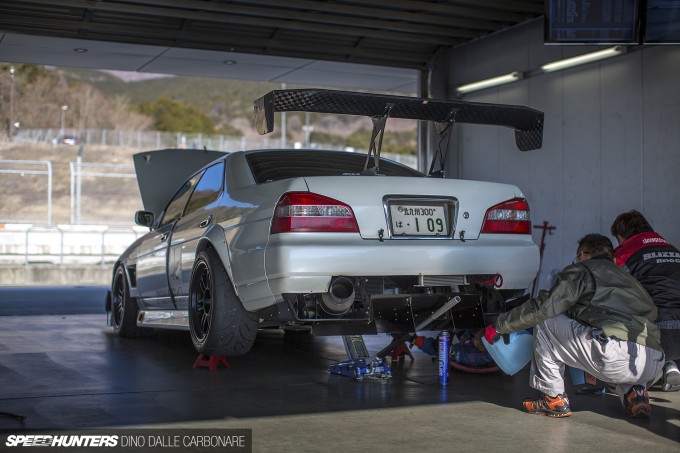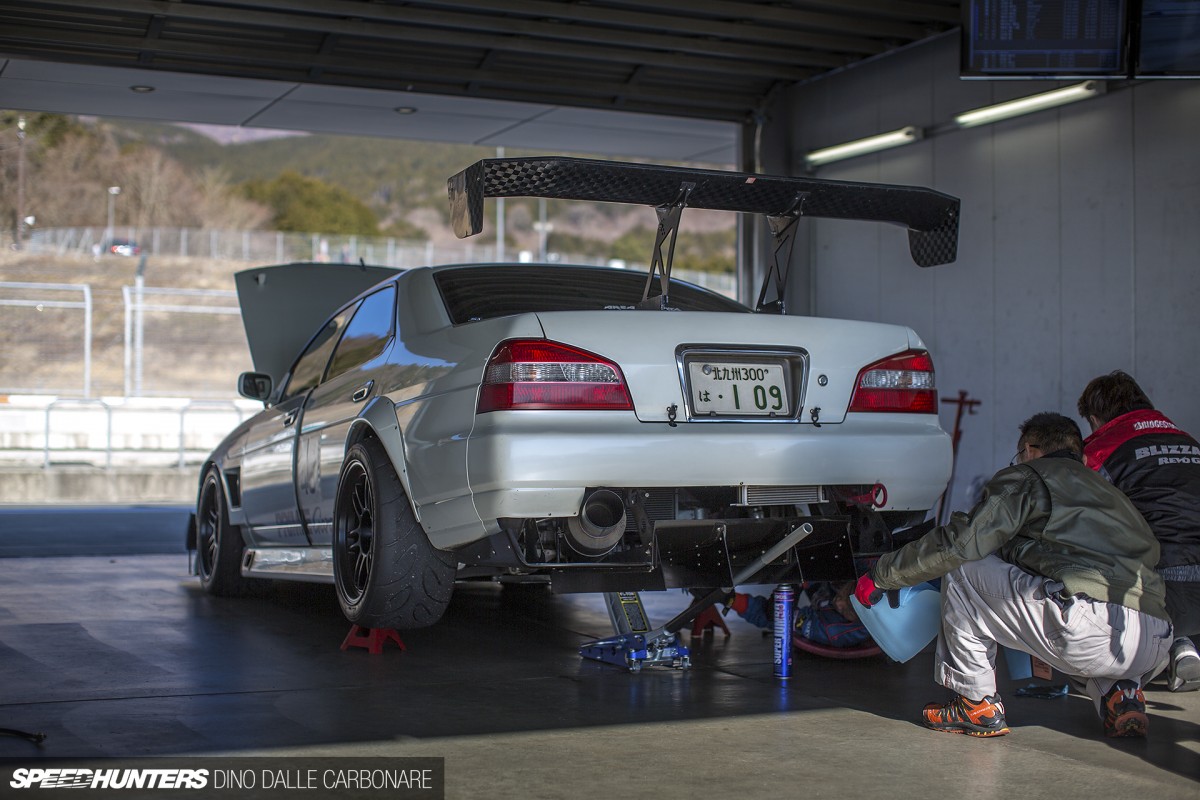 The subtle touches that Prime Garage have made really help create a one-of-a-kind C35. There's a one-off front bumper and splitter, vented front fenders and rear flares to widen up the rear track. A high-mount GT wing and a custom under diffuser helps keep the rear end glued to the ground, which I'm sure is very helpful in a high-power, rear-wheel drive sedan like this.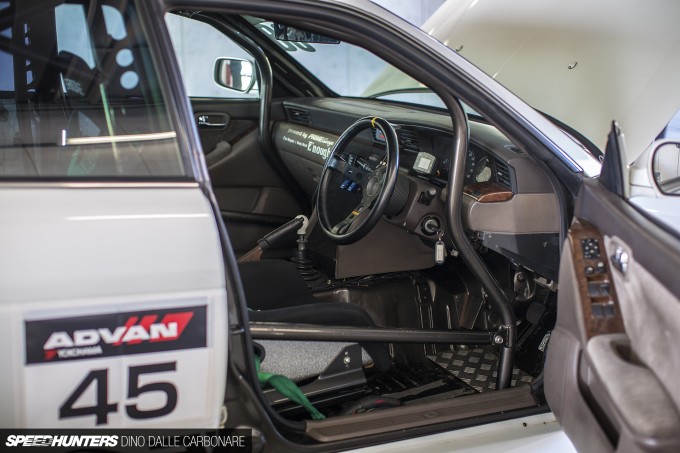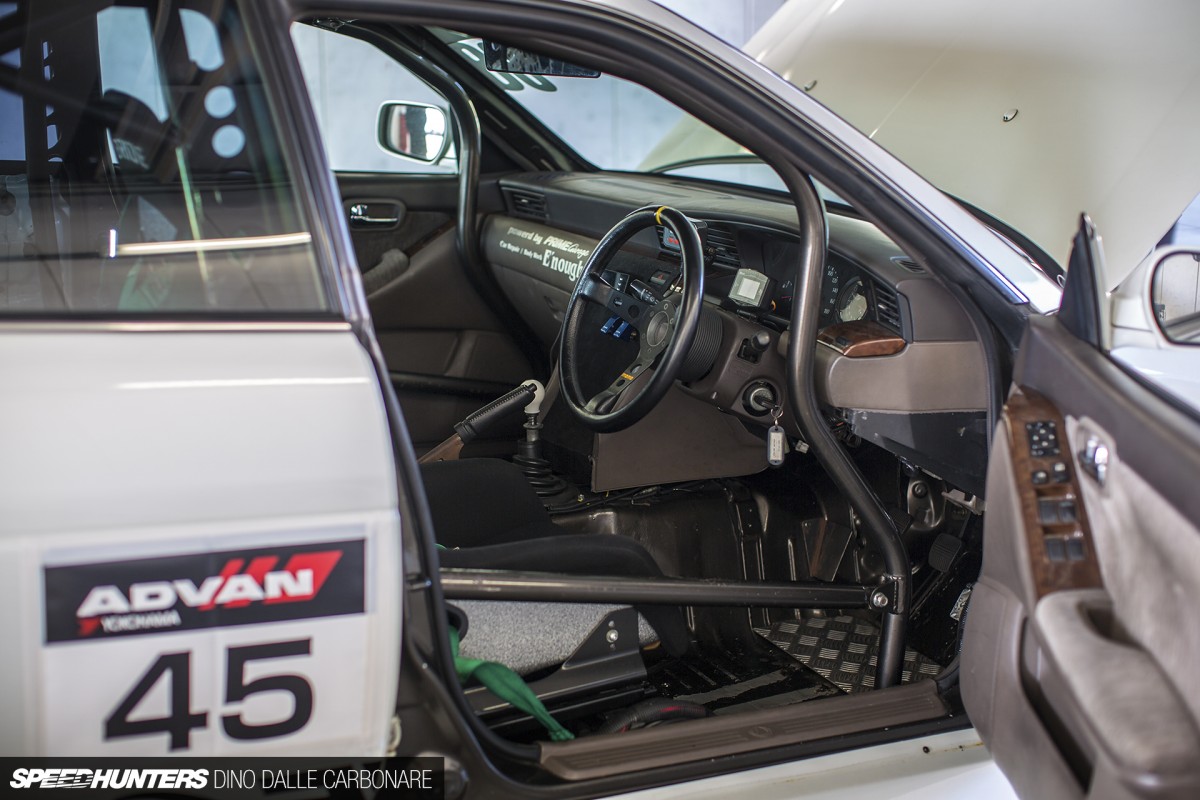 I love how most of the grandpa-spec interior has been retained, including the fake wood trim on the dash and door cards. It's a superb match for the rollcage and bucket seat! Seriously, this is one of the freshest builds I've seen in a while.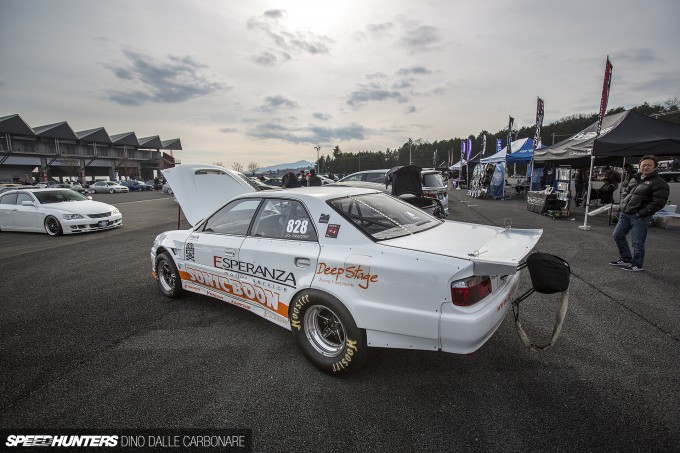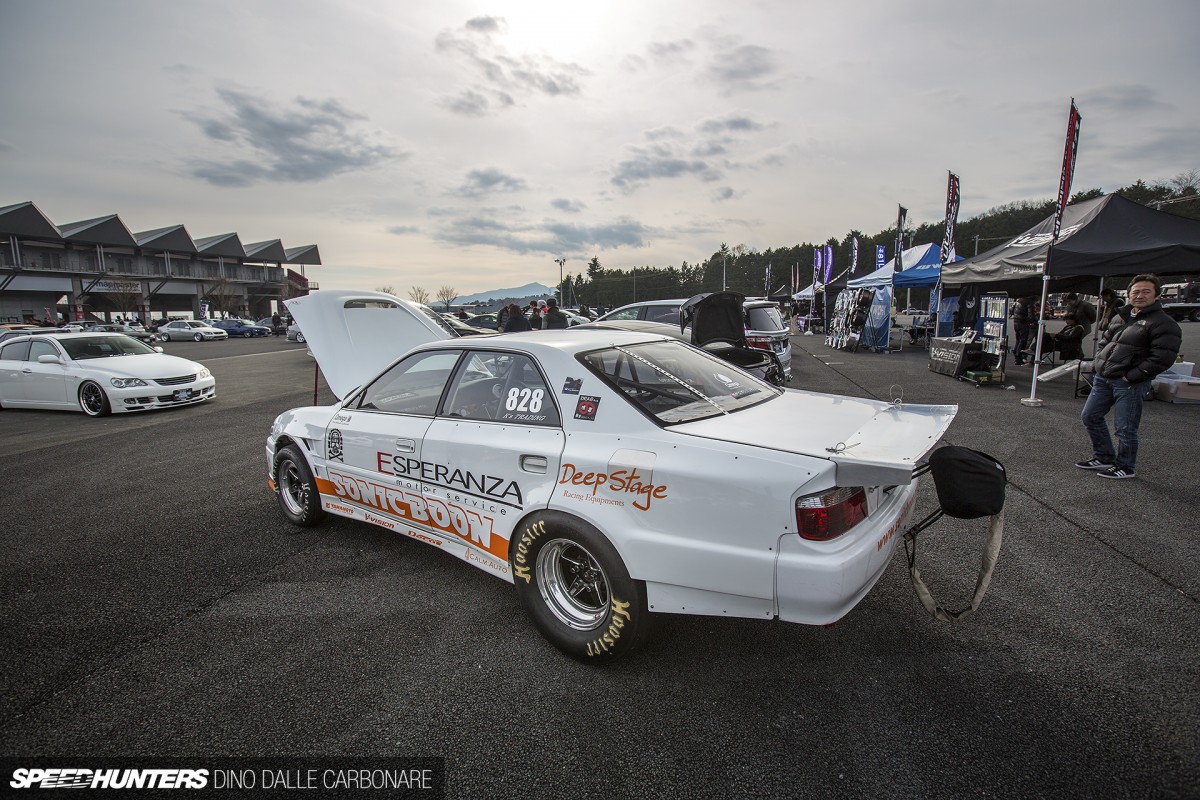 Which brings me to this. Considering that they've built most of the 2JZs that have powered Daigo Saito's drift cars in the past, Esperanza Motor Service are well-versed in the art of extracting big power from Toyota's legendary straight six engine.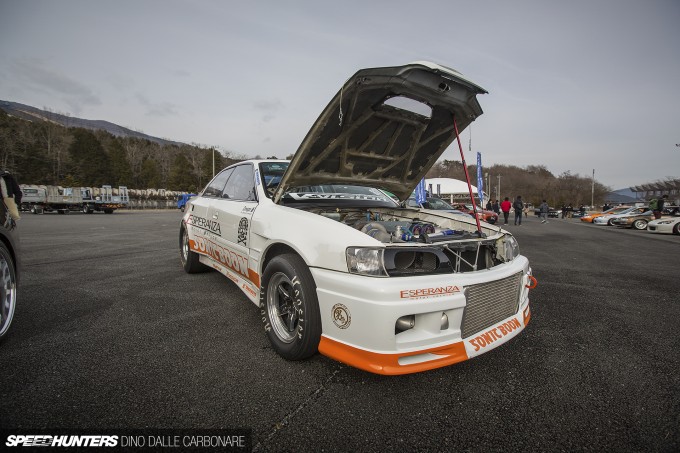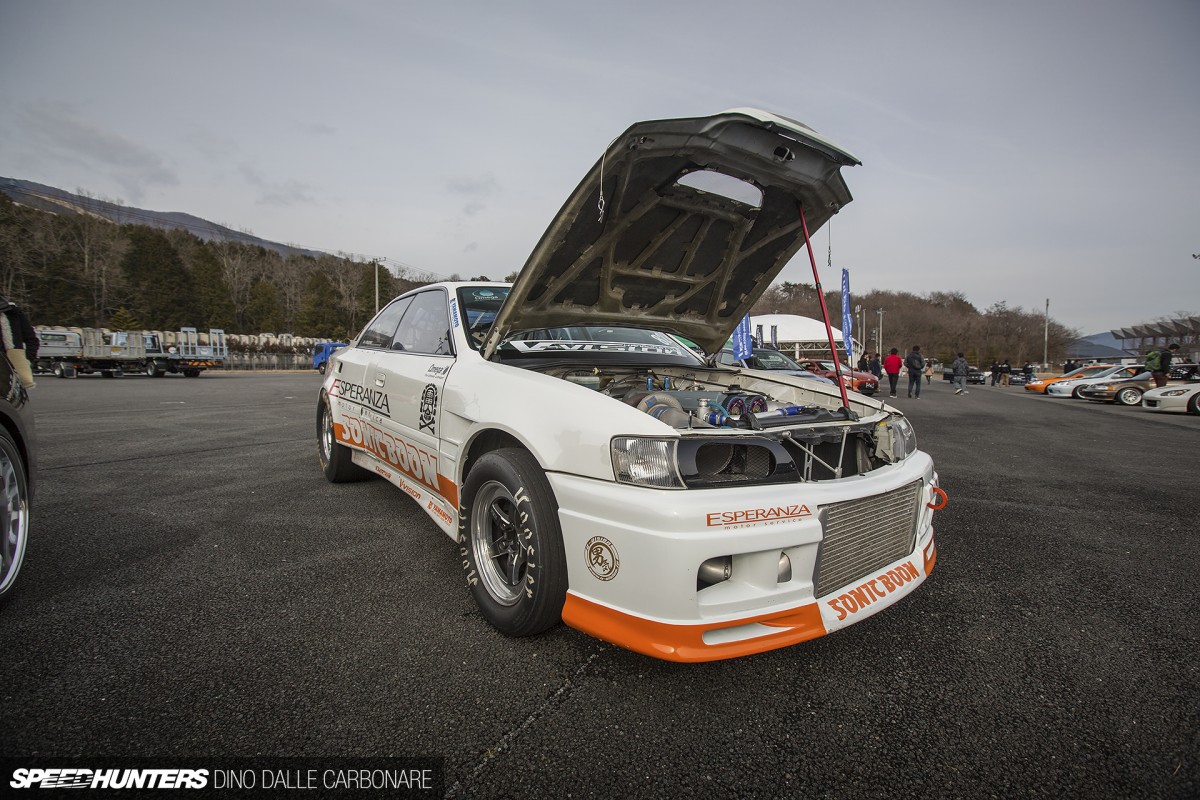 When they aren't building engines for customers and the best drifter in the world, they are slowly developing this Toyota Chaser, which has been engineered in collaboration with the guys at Sonic Boon. You might actually recall that I spotted this car making some mean 1/4 mile passes at Sendai Hi-Land, back in 2012.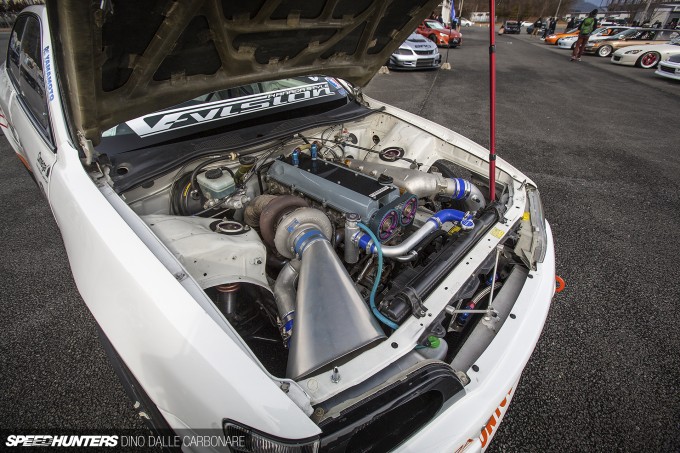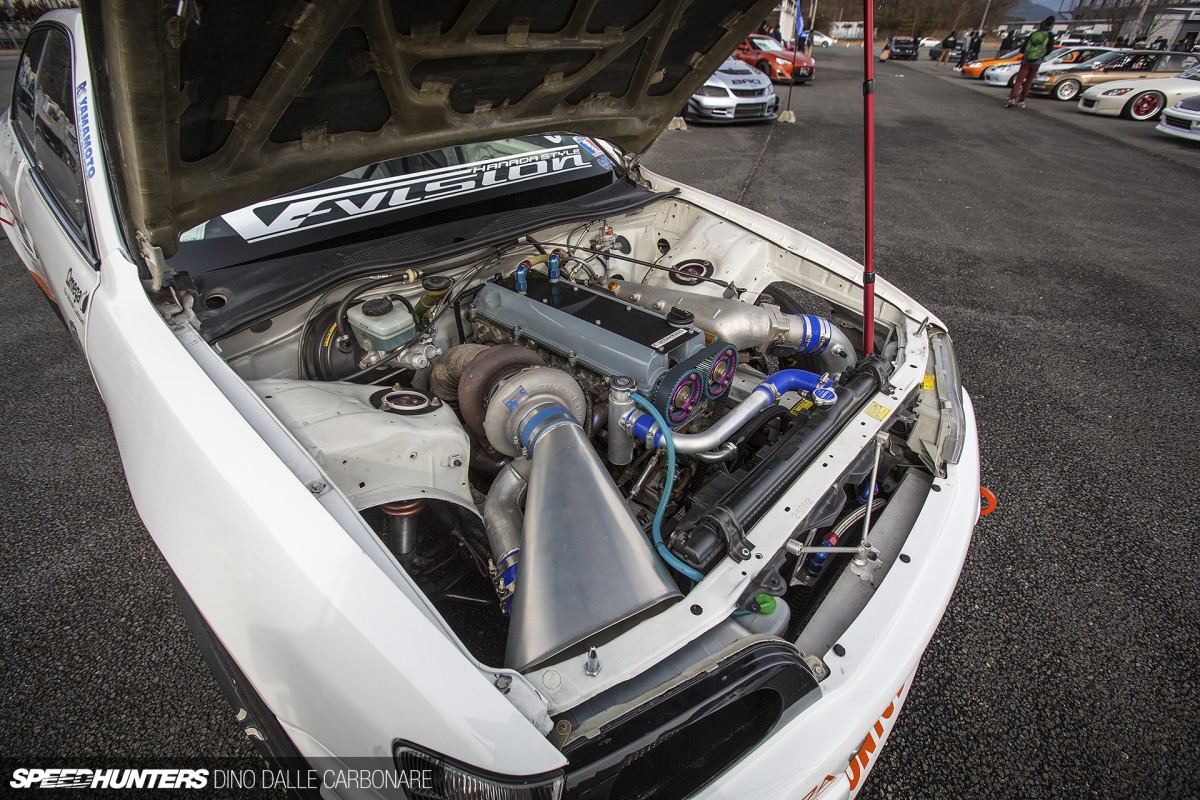 It's good to see that Esperanza are still very much working on it, but I can't help but wonder wonder where it will race now that Sendai Hi-Land has closed. I find it really hard to believe that no one has stepped up to build a dedicated drag strip in Japan! It would be the only place that crazy 1000hp-plus beasts like this would have a chance to prove their true potential.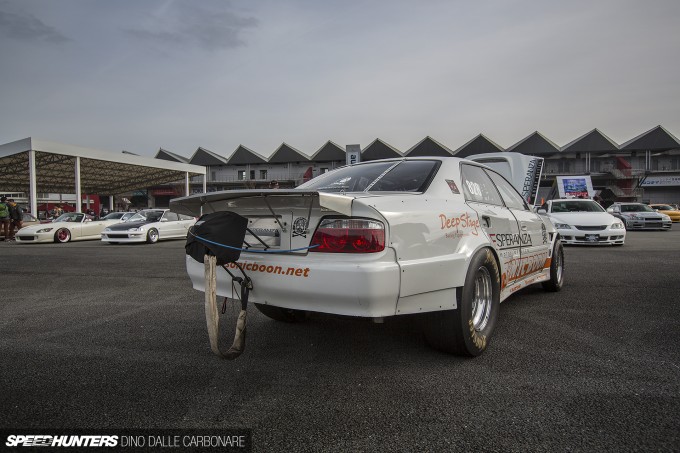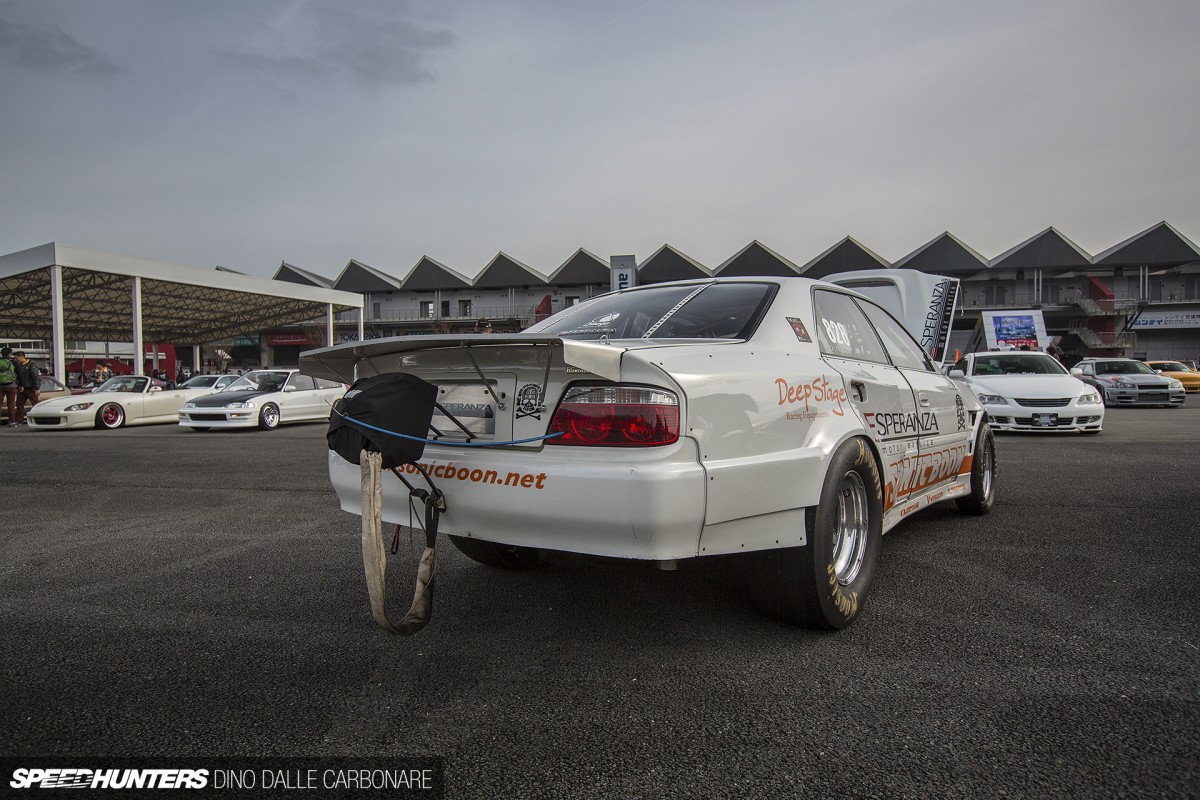 It's not everyday you see a Chaser fitted with a parachute!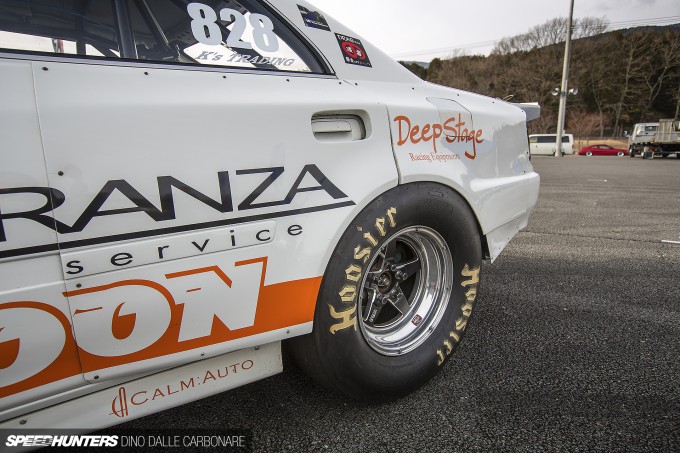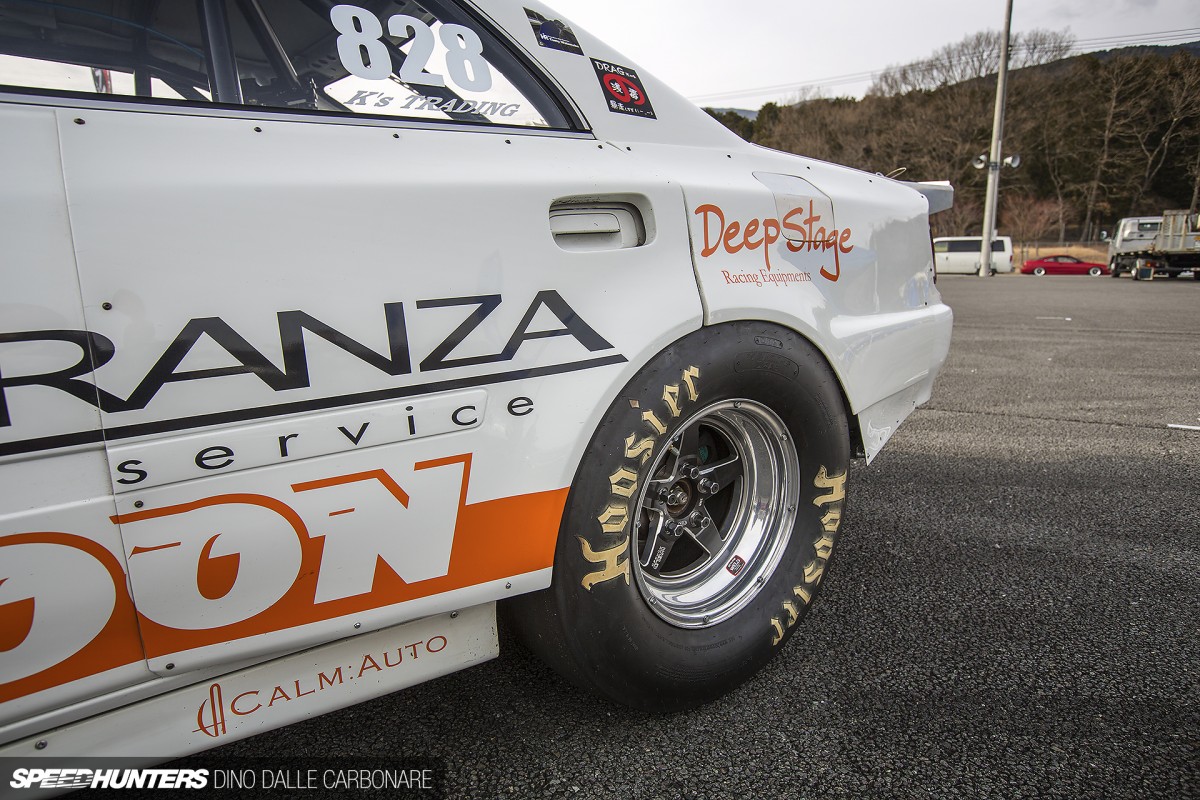 Once warmed up properly these Hoosier drag slicks will generate enough grip for the JZX100 to hook up and lay a decently-fast run. In fact, that time I saw this car run these tyres provided so much grip that something in the driveline let go with an almighty series of painful clunks.
This concludes my coverage from the 2015 HKS Premium Day – the perfect time to give a big thank you to HKS. Thank you for existing, thank you for continuously developing parts to feed our passion, and finally thank you for this awesome event you put on every year! More next year, please!
Dino Dalle Carbonare
Instagram: speedhunters_dino
dino@speedhunters.com