Power Hungry
Let's kick off with some numbers: 750 horsepower and well over 900 newton metres of torque. These are the sort of figures that'd feel much more at home in a two-seater supercar, but what happens when the family has arrived, and two seats just won't cut it?
This is what happens. Enter the HMS H63 RS700.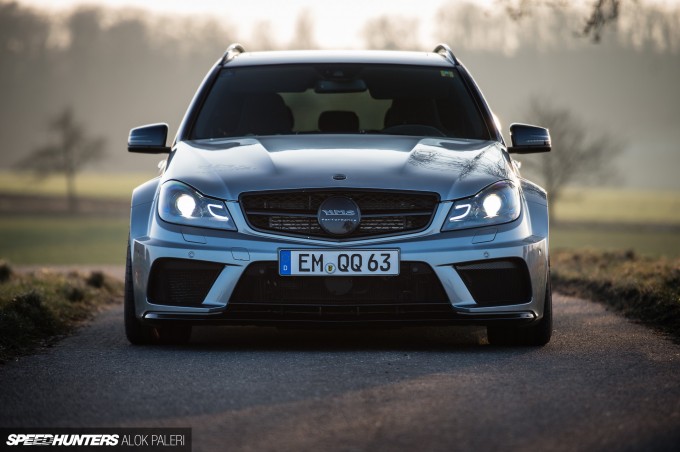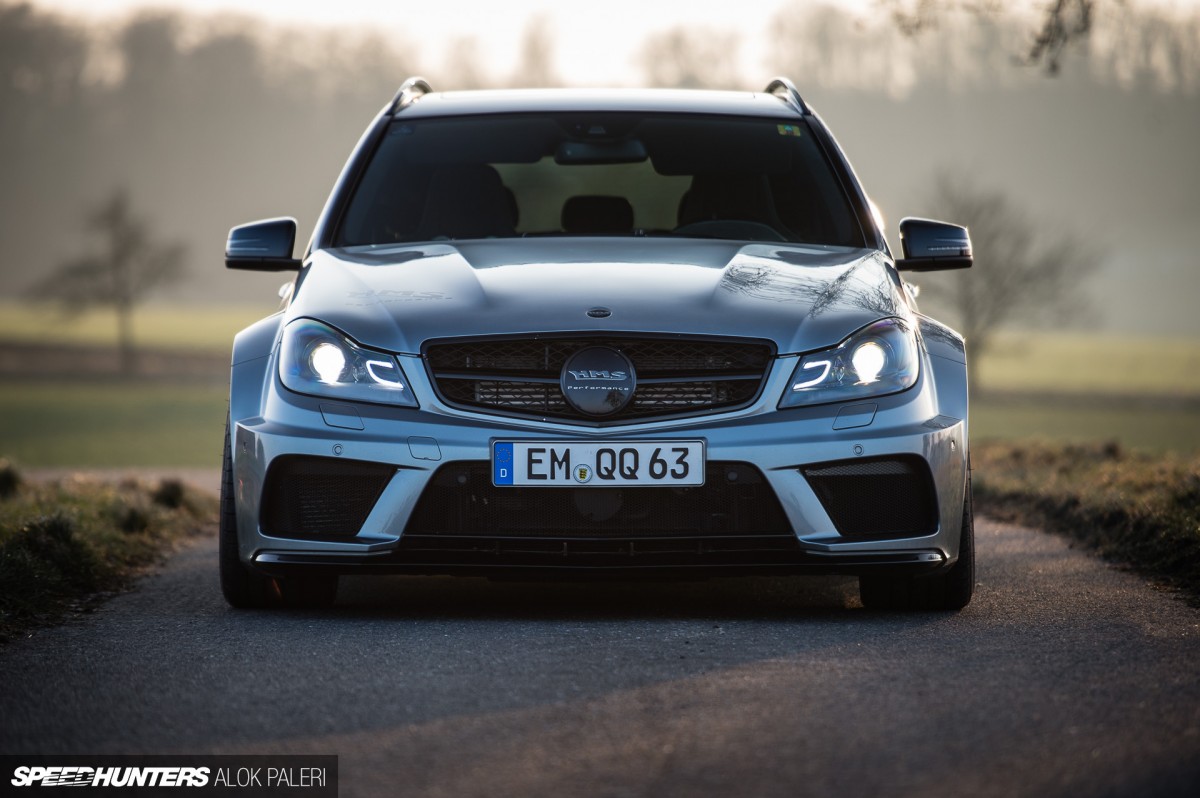 Based in the industrial town of Malterdingen close to the Black Forest in Germany, HMS Tuning is the company behind this mile-munching beast.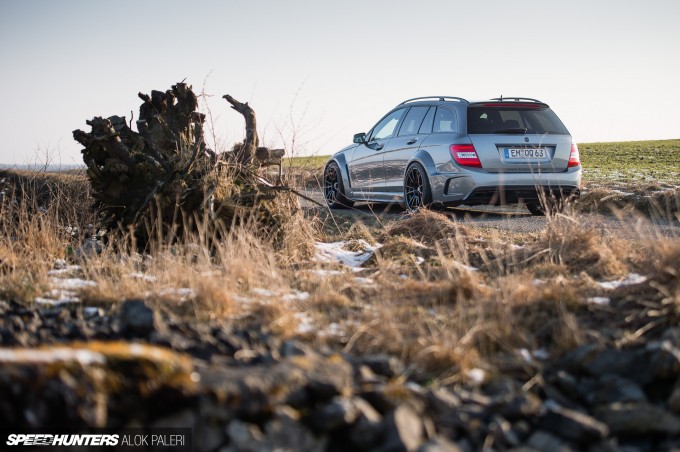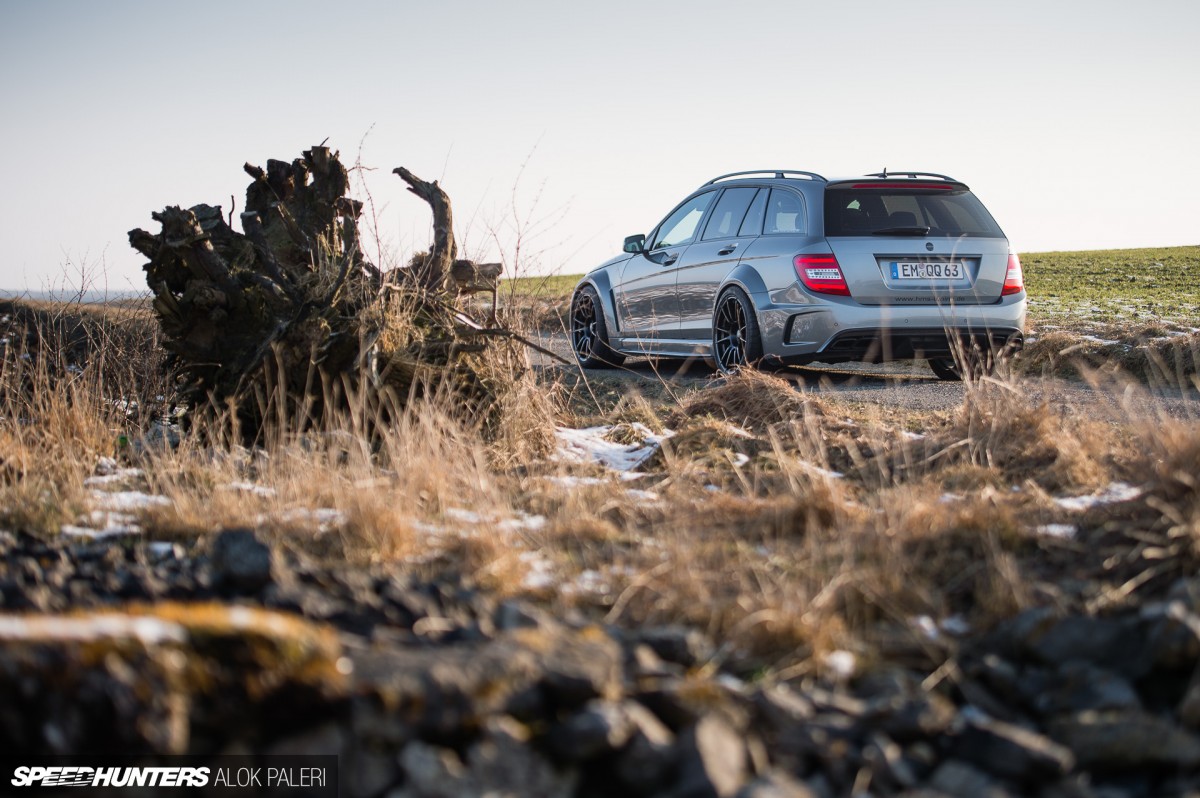 The car started life off as a facelifted Mercedes-Benz C63 AMG T-Modell that somehow felt too tame for the guys at HMS Tuning. I had the car parked next to a stock C63 wagon and one of my friends joked about H63 being in that Old Spice commercial: Hello, ladies, look at your man, now back to me, now back at your man, now back to me.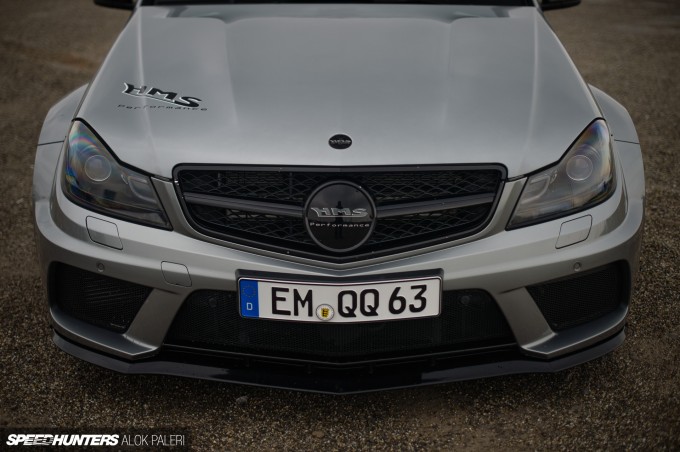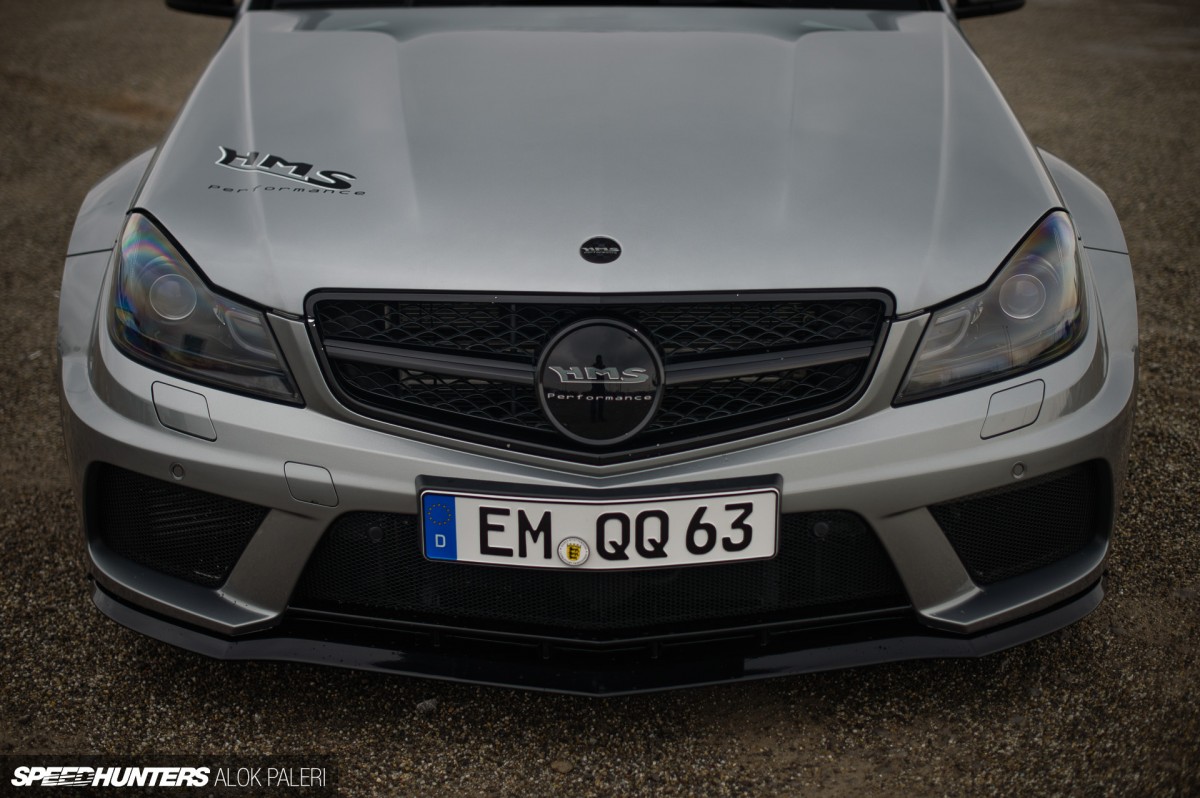 The aggressive front bumper and bulging fenders of the H63 are from a Mercedes-Benz C63 AMG Black Series coupe, and are finished in lightweight carbon fibre.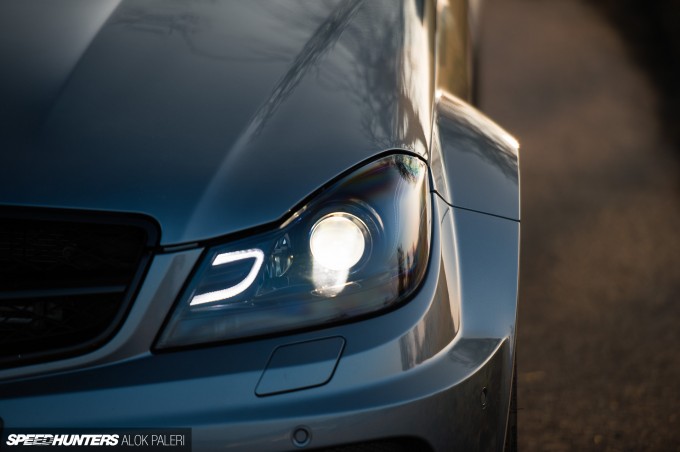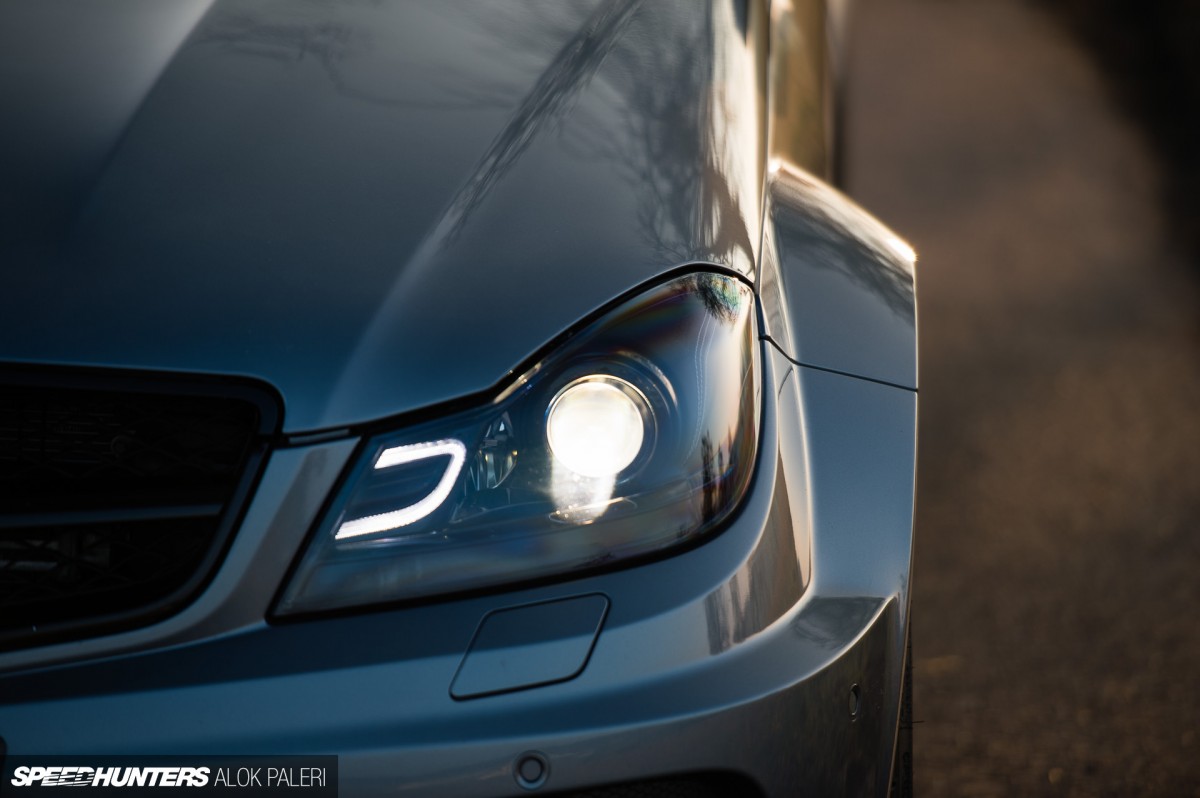 As a result of borrowing parts either right off OEM cars or adapting from them, the H63 does away with the tackiness found in many aftermarket tuned European cars.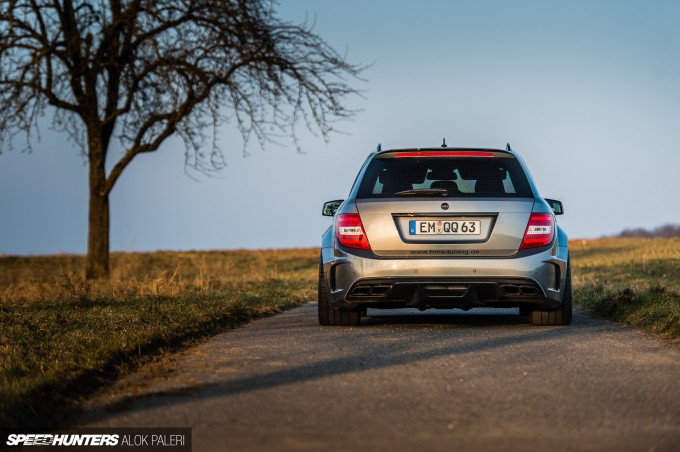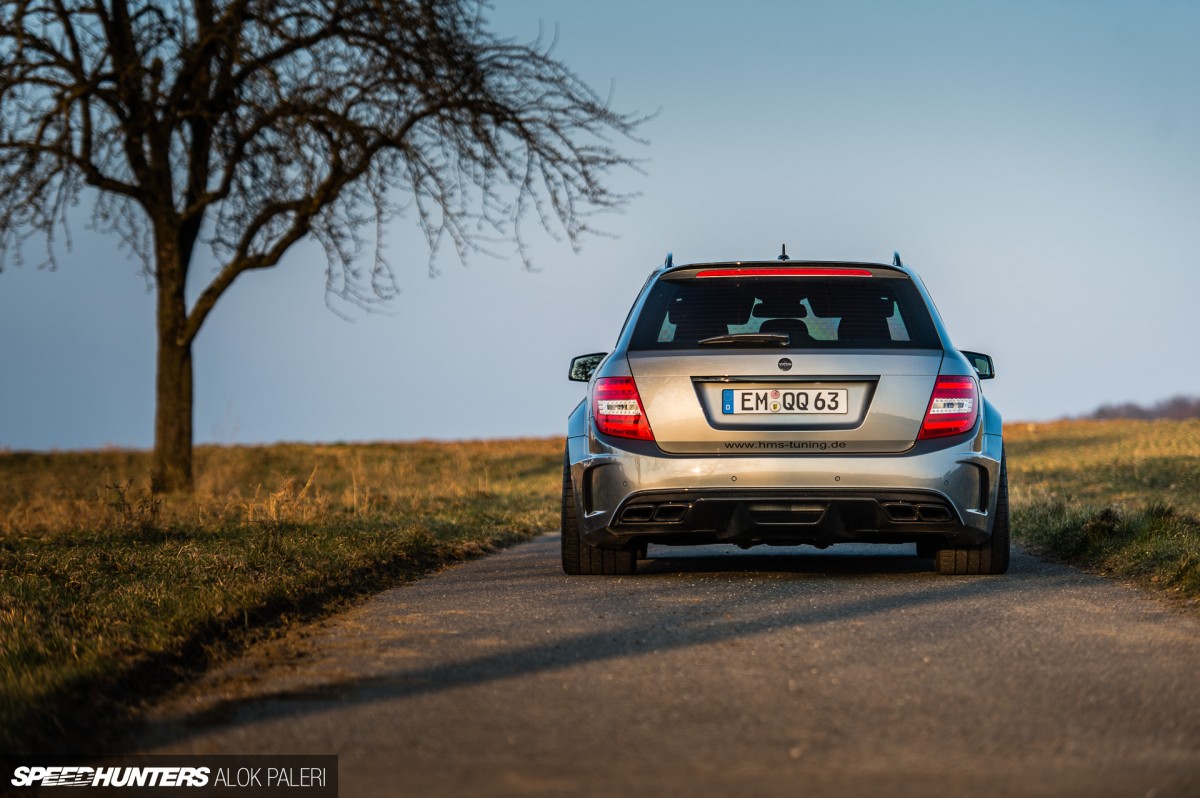 The rear fenders are widened to accommodate the wider rear end, which is Mercedes-Benz E63 Bi-Turbo fare. There are no spacers in use here – the width is all real. The rear bumper is also fabricated from carbon fiber and based off a C63 AMG Coupé Black Series item.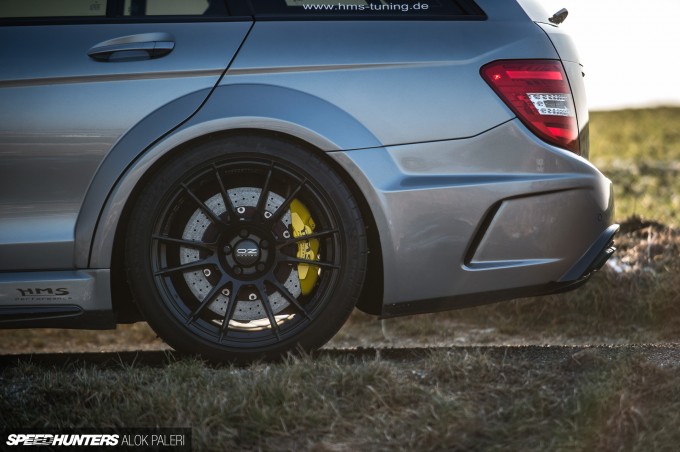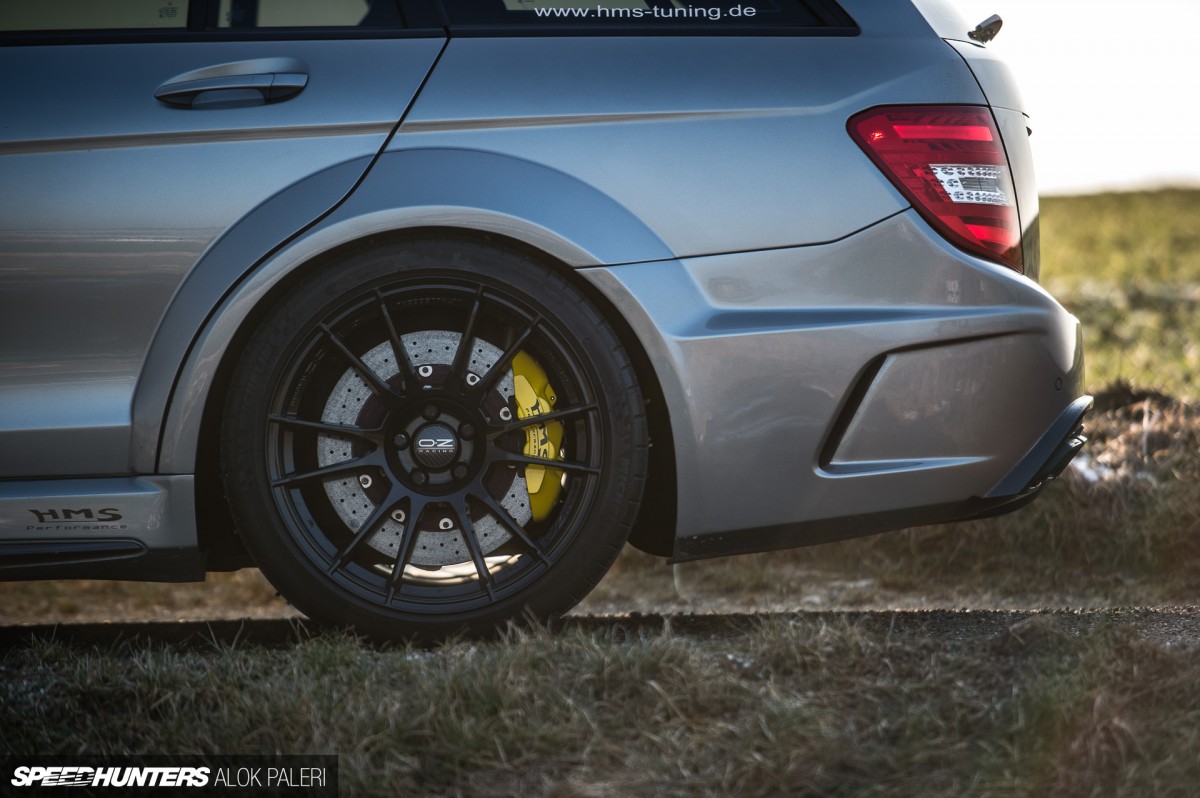 To make it all fit custom diff mounts had to be fabricated, and as a result the entire rear diff sits 15mm closer to the chassis than stock.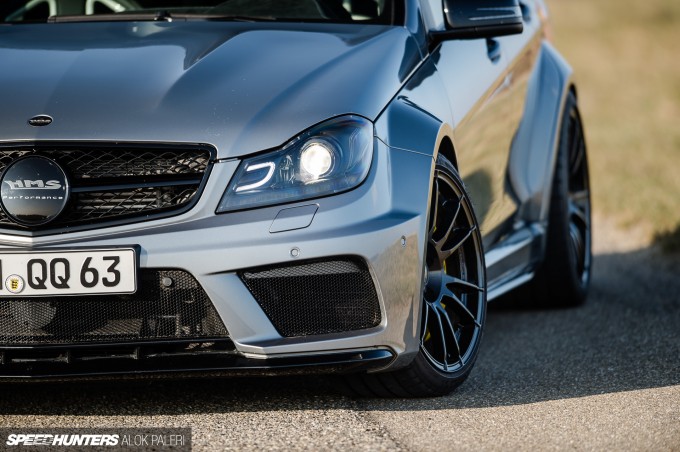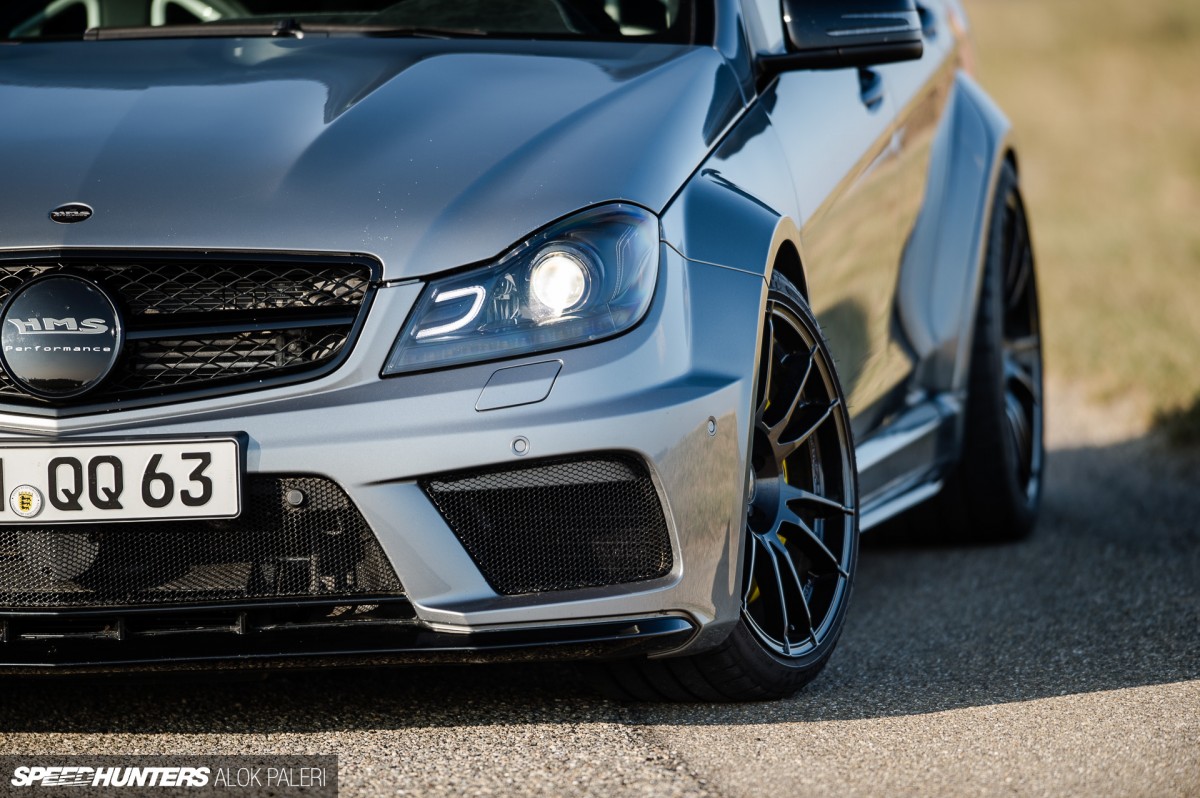 To get all the power down – despite being one cocktail of a car – the H63 sits on KW Clubsport coilovers that have been adapted for use in this specific car.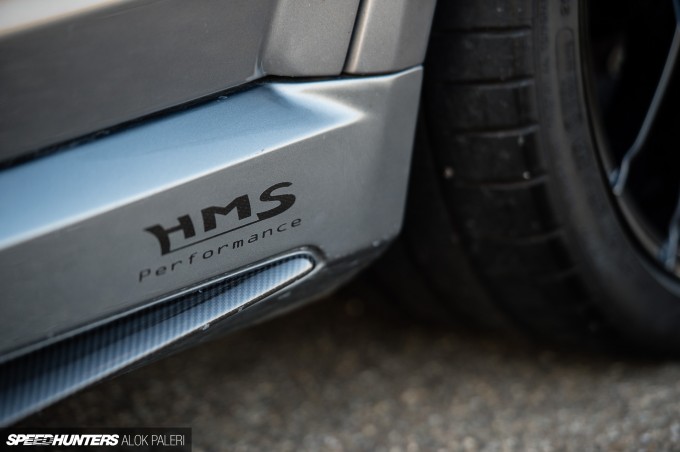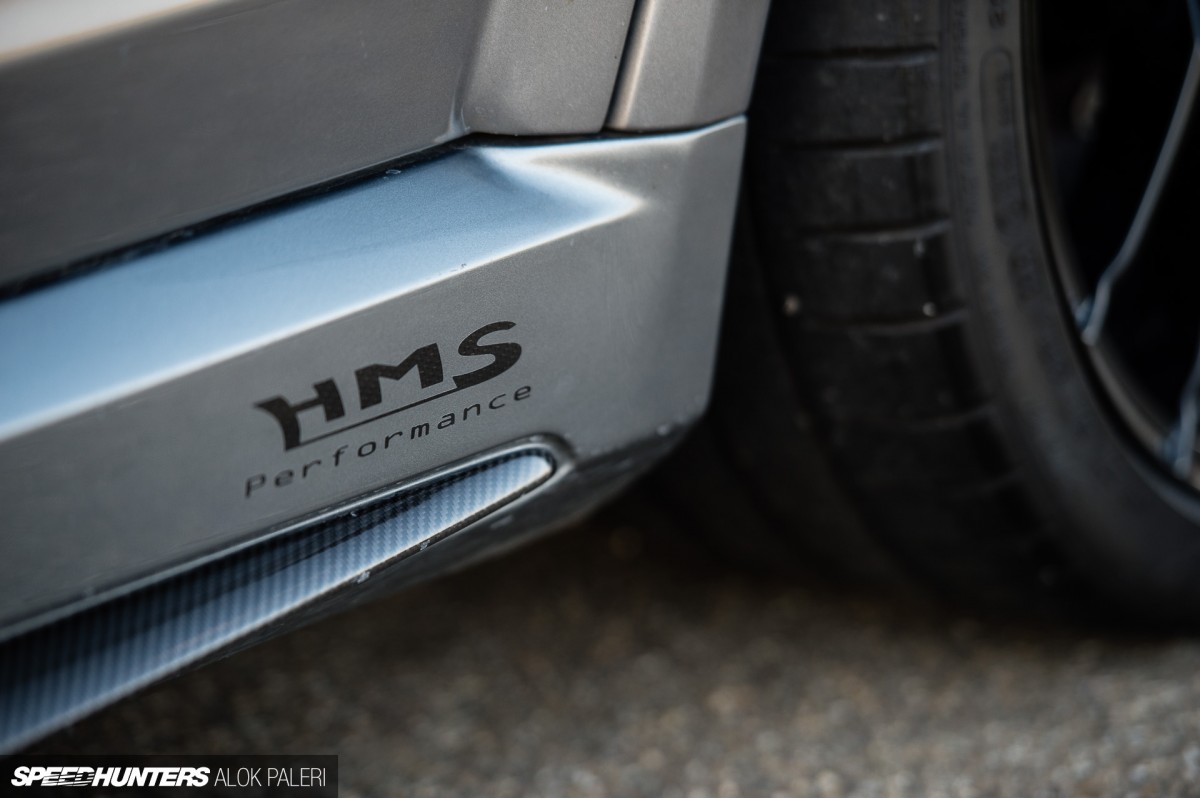 Nice sticker with a carbon fibre pattern on it? I'm afraid not. With the widened front and rear fenders, a set of custom side skirts have also been fabricated in carbon fibre onto which the guys at HMS simply placed a sticker, painted over and peeled the sticker away.
Heart Of The Beast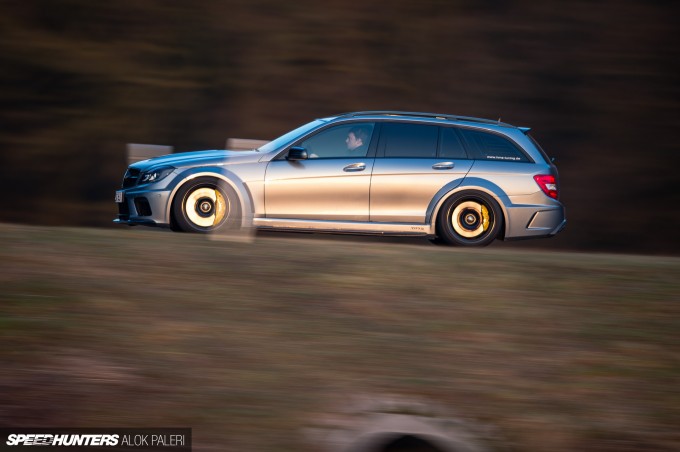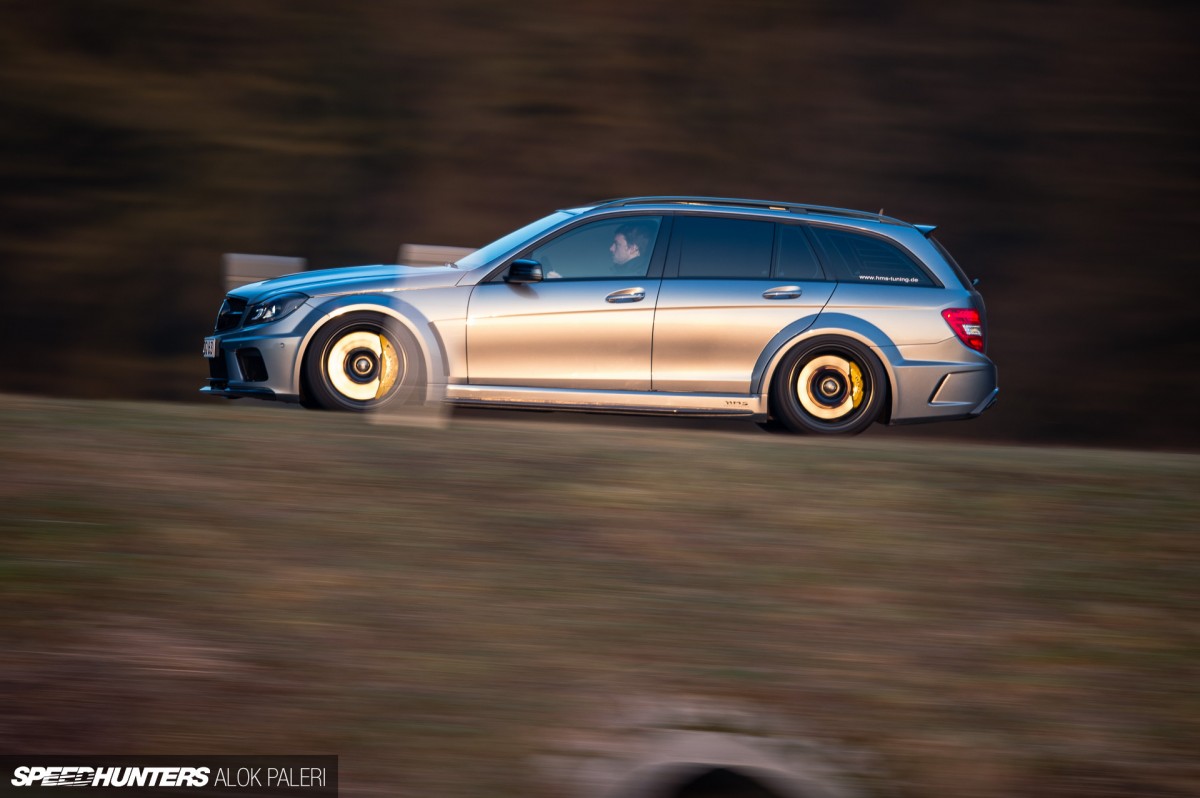 With a high-revving, naturally aspirated V8 developing 457hp in stock form, the C63 is a bit of a cruise missile already, but obviously that wasn't going to cut it for HMS.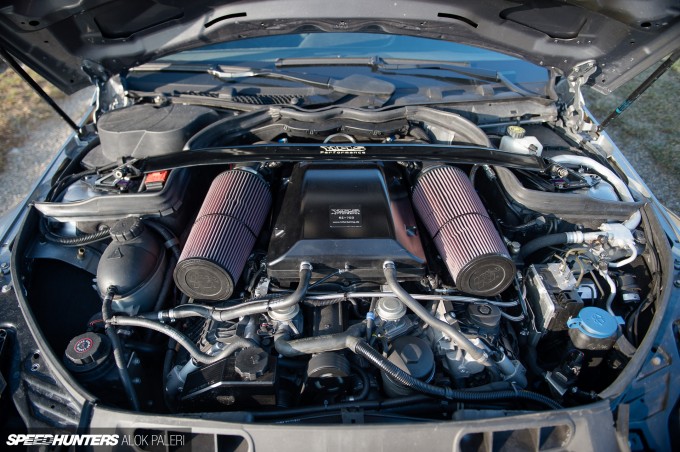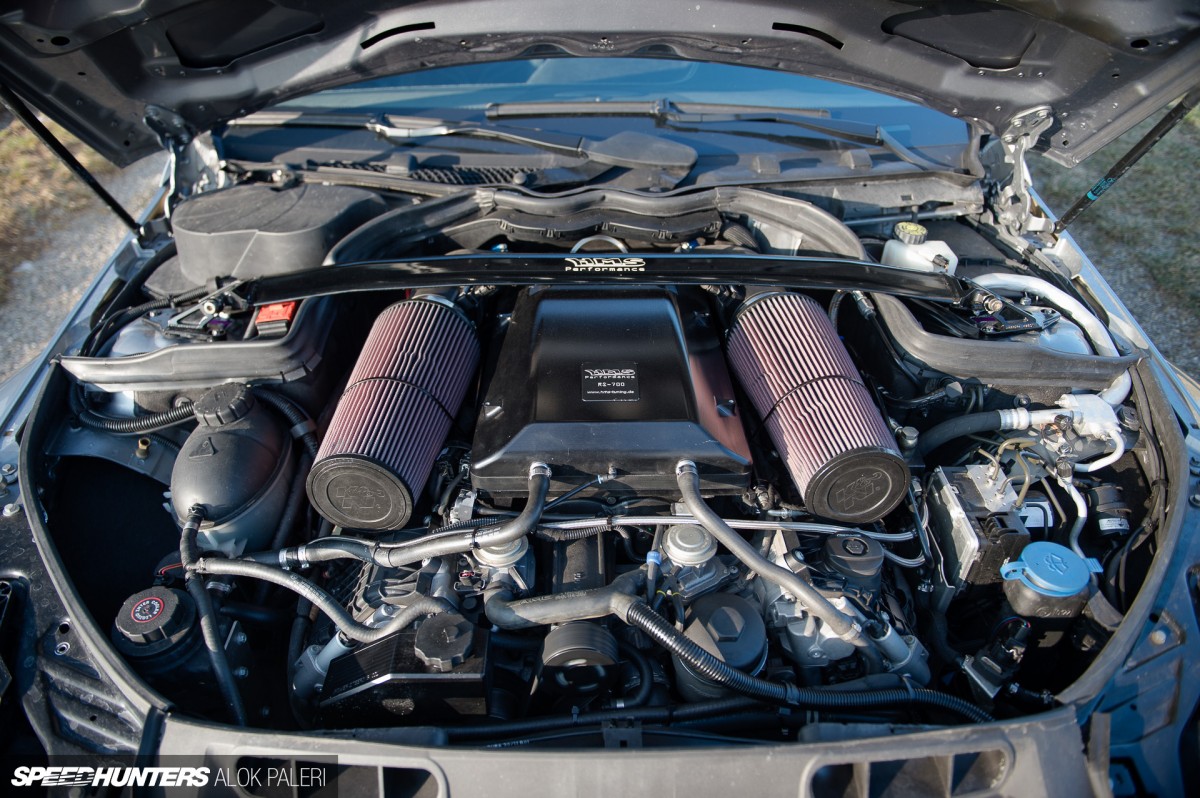 Once you remove the engine cover, you are greeted by two massive K&N air filters.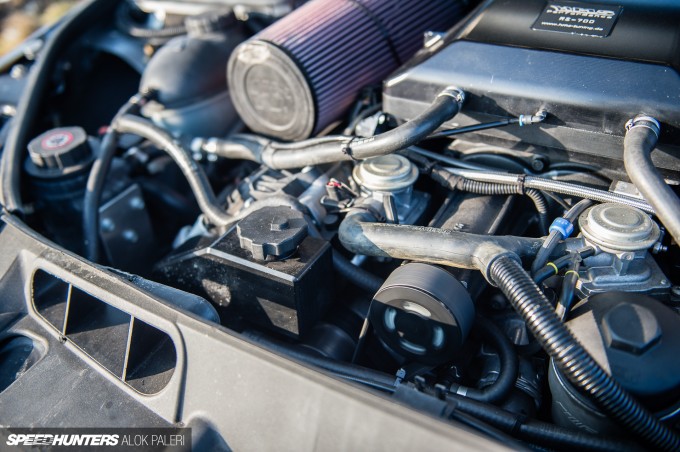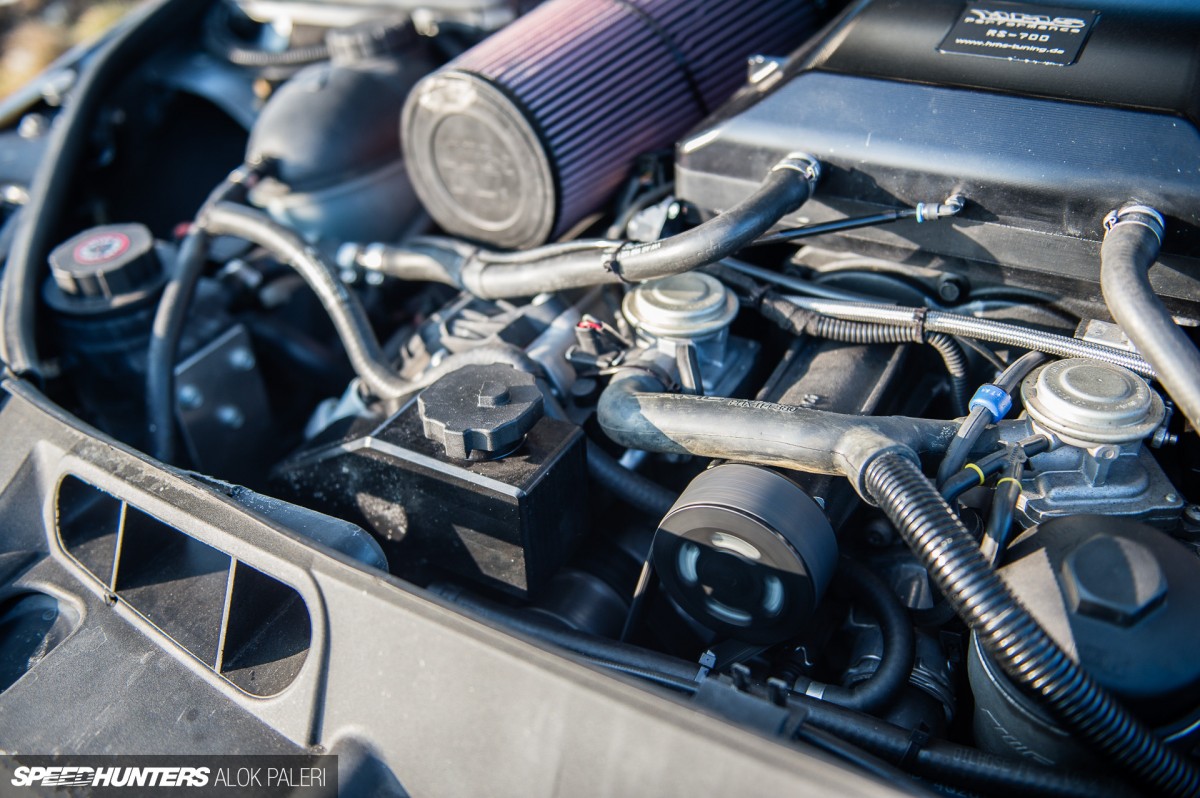 There is only so much power you can squeeze out of a naturally aspirated V8 before you blow the bank or break something expensive, so HMS slapped on a supercharger and boosted output to at least 750 horsepower.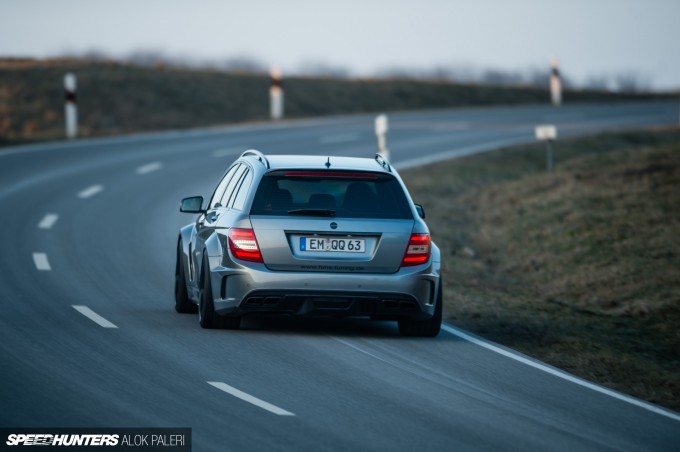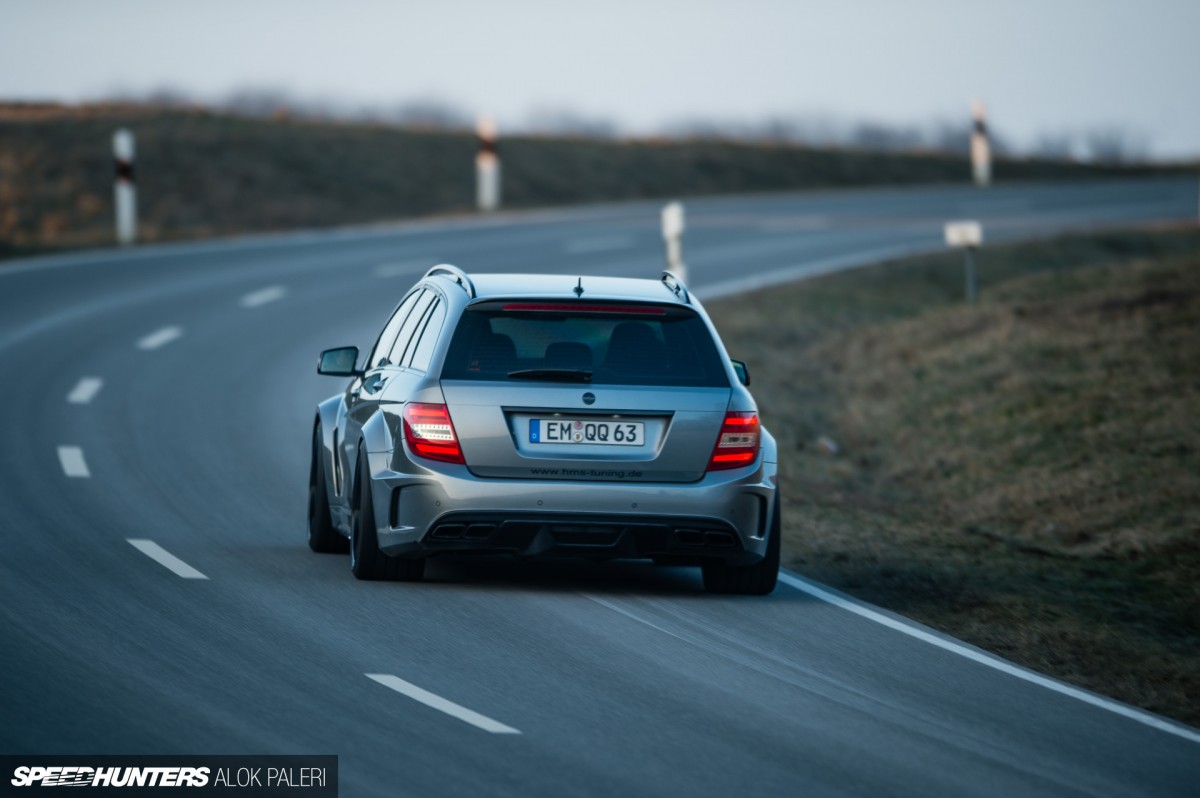 I say at least, because at the time I drove the car, it was fresh off the winter build and had yet to see the dyno. 750 is HMS's lowest estimate of power…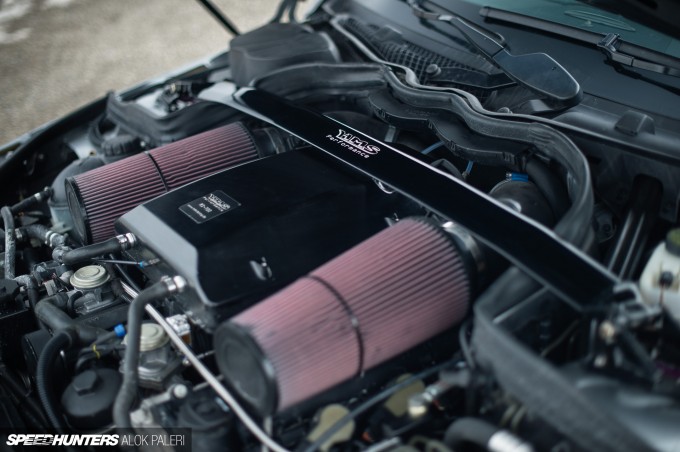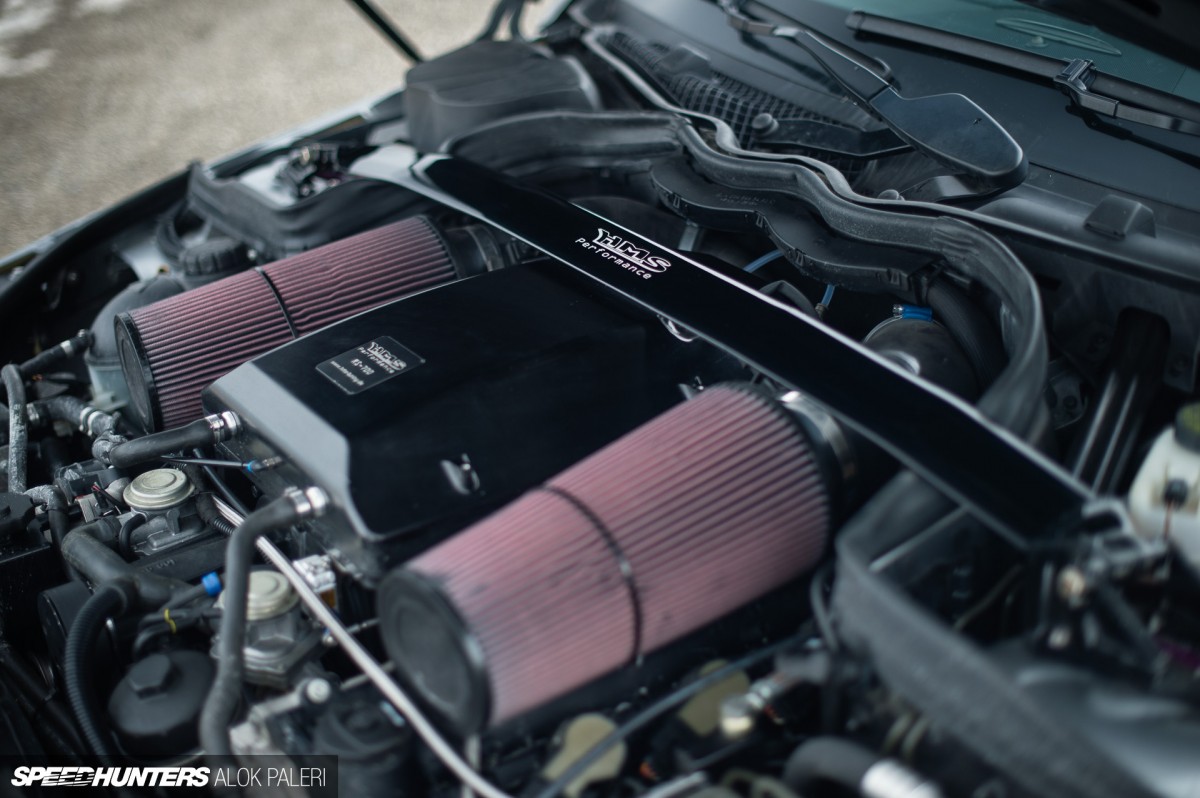 An HMS Performance strut brace was installed on a reworked dome to make sure all that performance doesn't twist the chassis out of shape under load.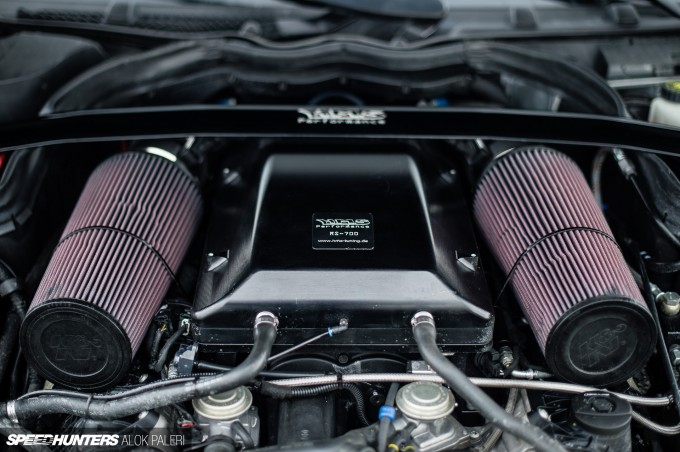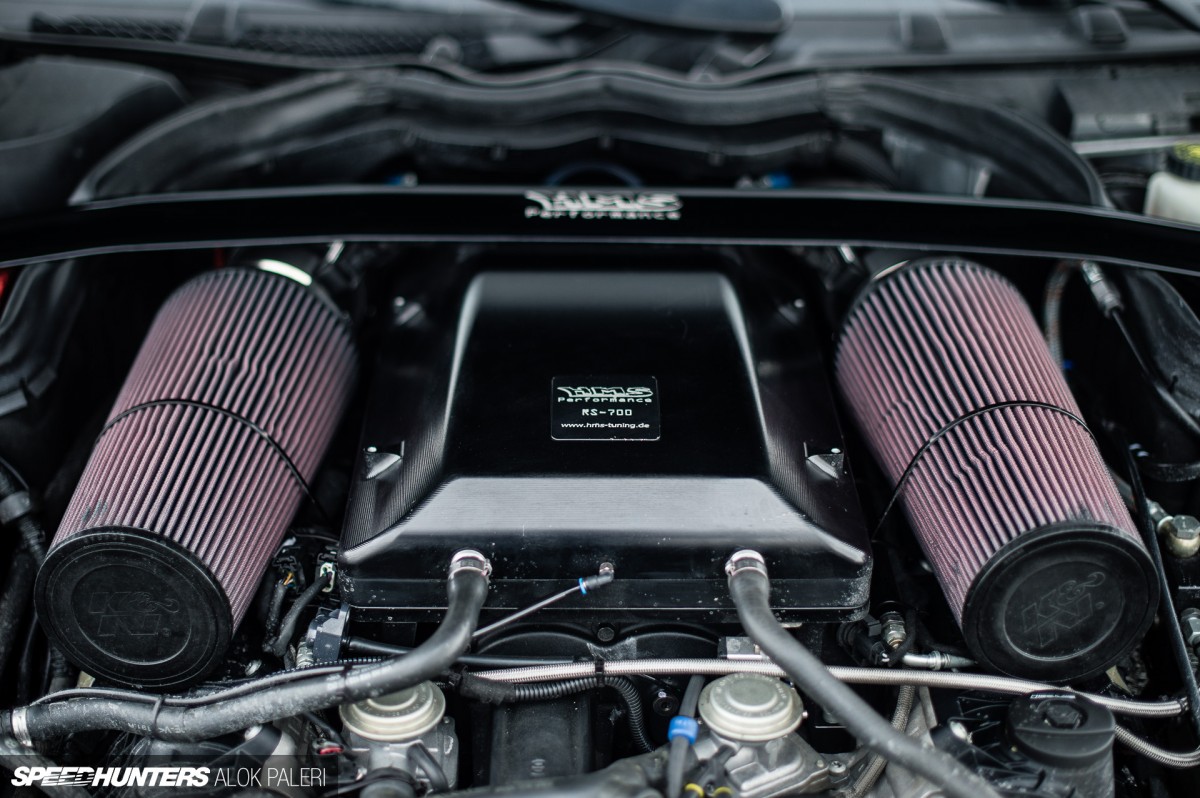 The engine has been completely reworked using cams sourced from the SLS AMG as well as forged pistons and custom HMS Performance headers.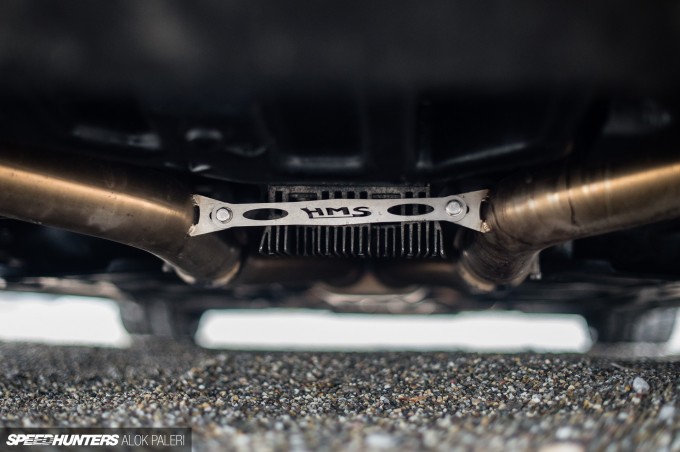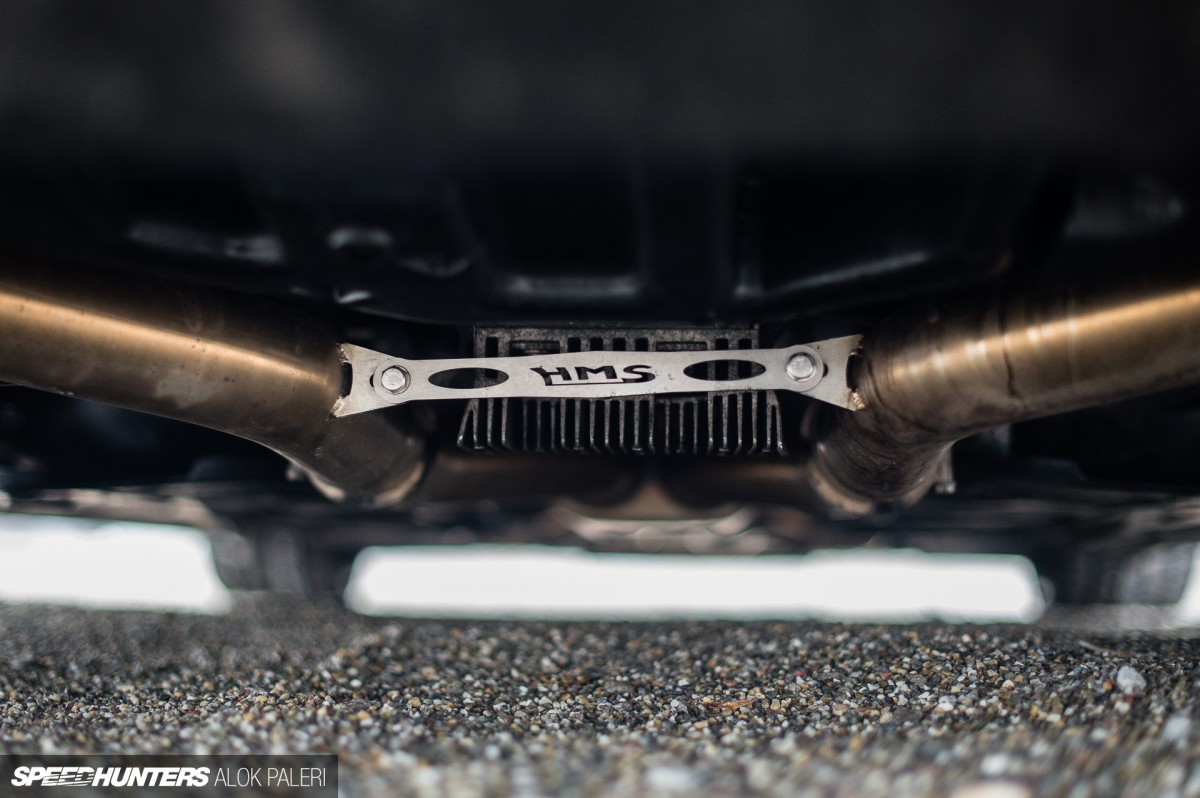 As this is their hero car, it comes will the full palette of HMS Performance parts, including 76mm downpipes and a stainless steel exhaust system featuring switchable butterfly valves.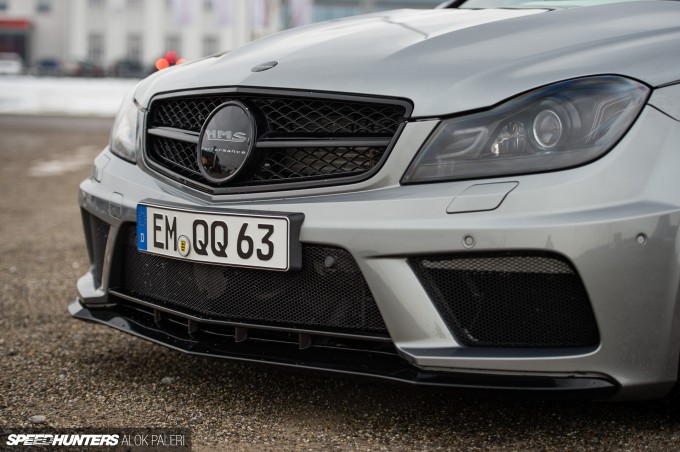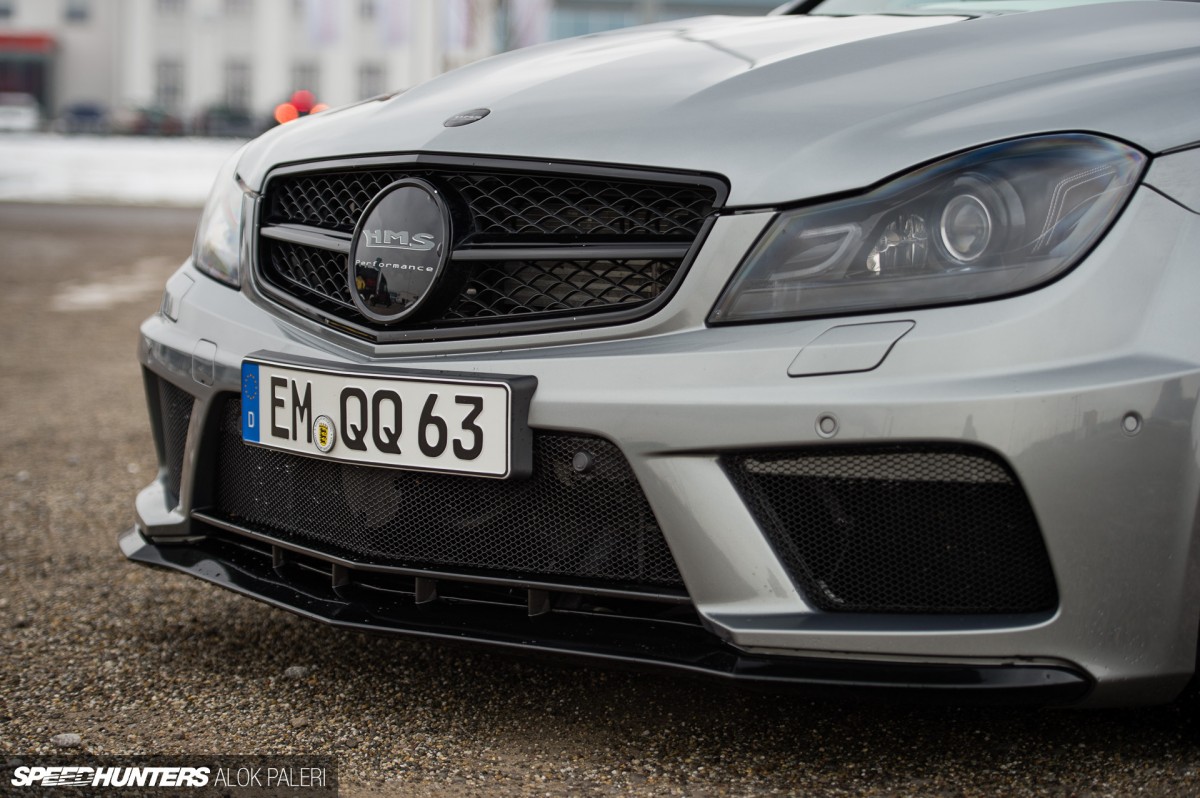 If you look behind the front grille of a stock C63 Black Series you'll see quite a lot of free space. All that free space has been taken up by larger radiators in the H63. There is one for engine and transmission oil, as well as an additional cooler for the power steering.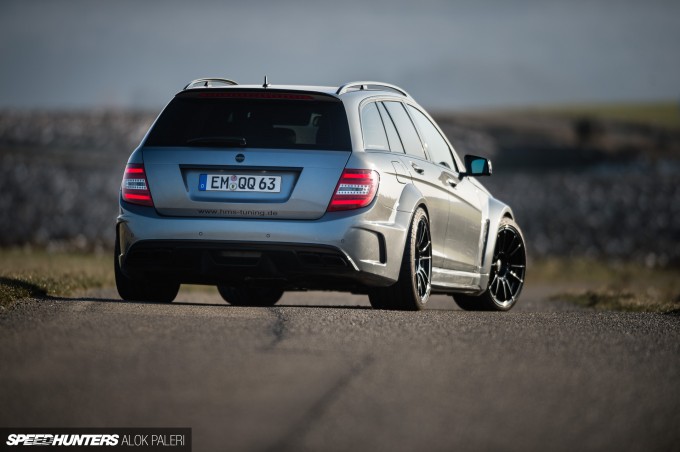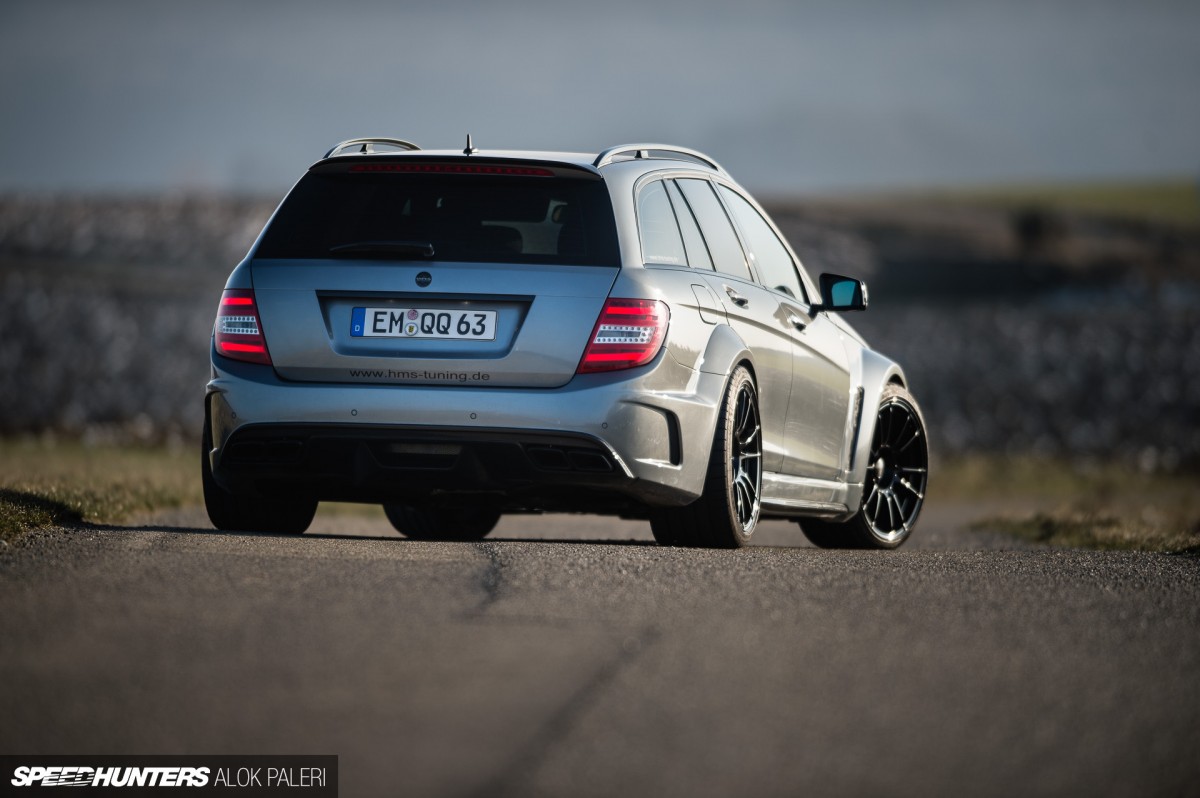 The problem is though, you can't just throw a ludicrous amount torque at the stock 7-speed MCT SpeedShift transmission and expect it to dance. So in this case, the entire transmission has been dismantled and beefed up to handle up to 1000Nm and alleviate the chance of breakage.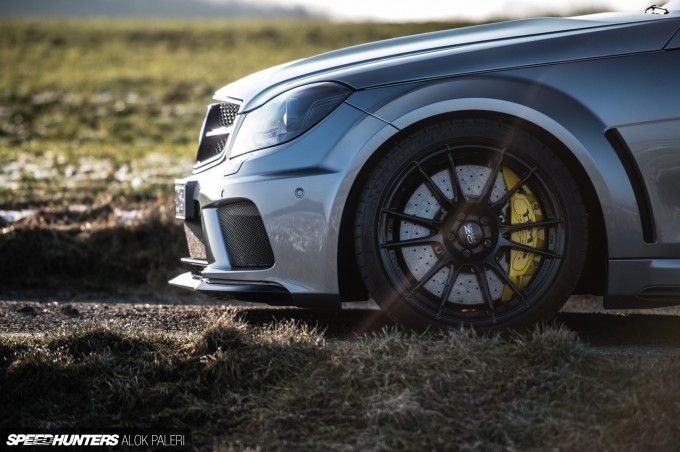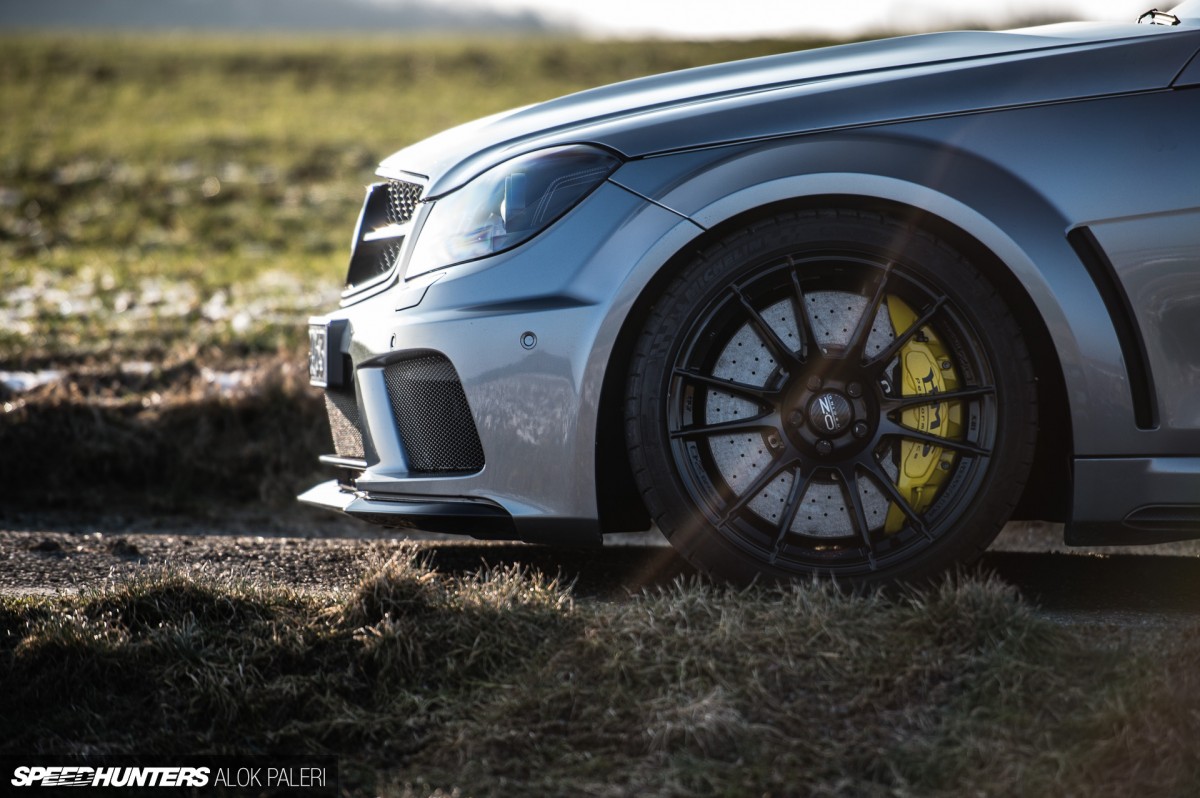 And once you have the power of the Gods, you still need to come down to earth every time you need to stop – especially in a ship as big as this. This calls for some heavy-duty braking systems.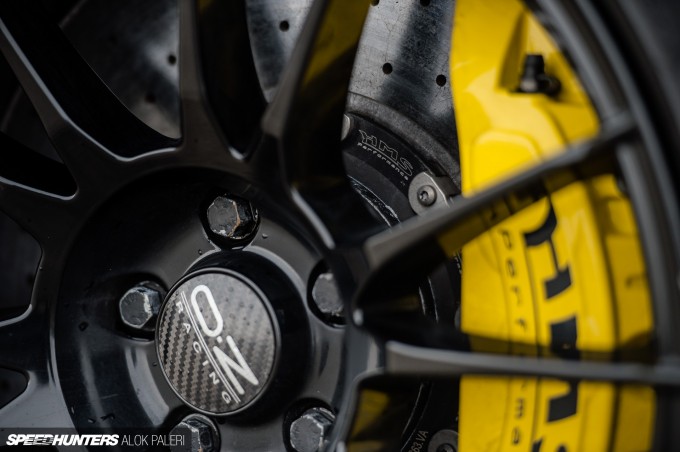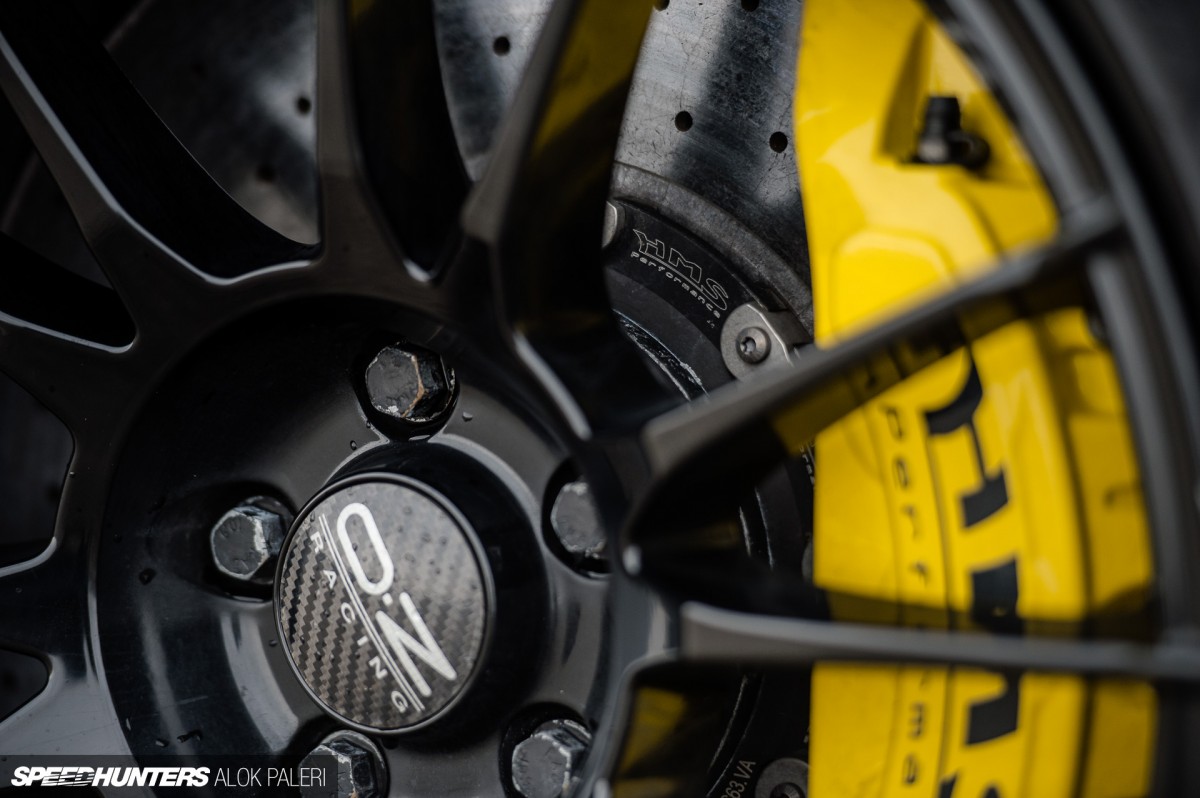 The H63 features an adapted Audi RS6 system with 6-piston, 402mm carbon ceramic discs for front end bite.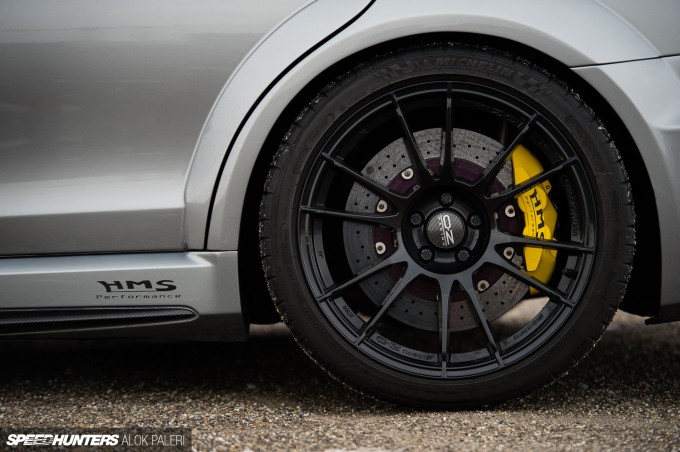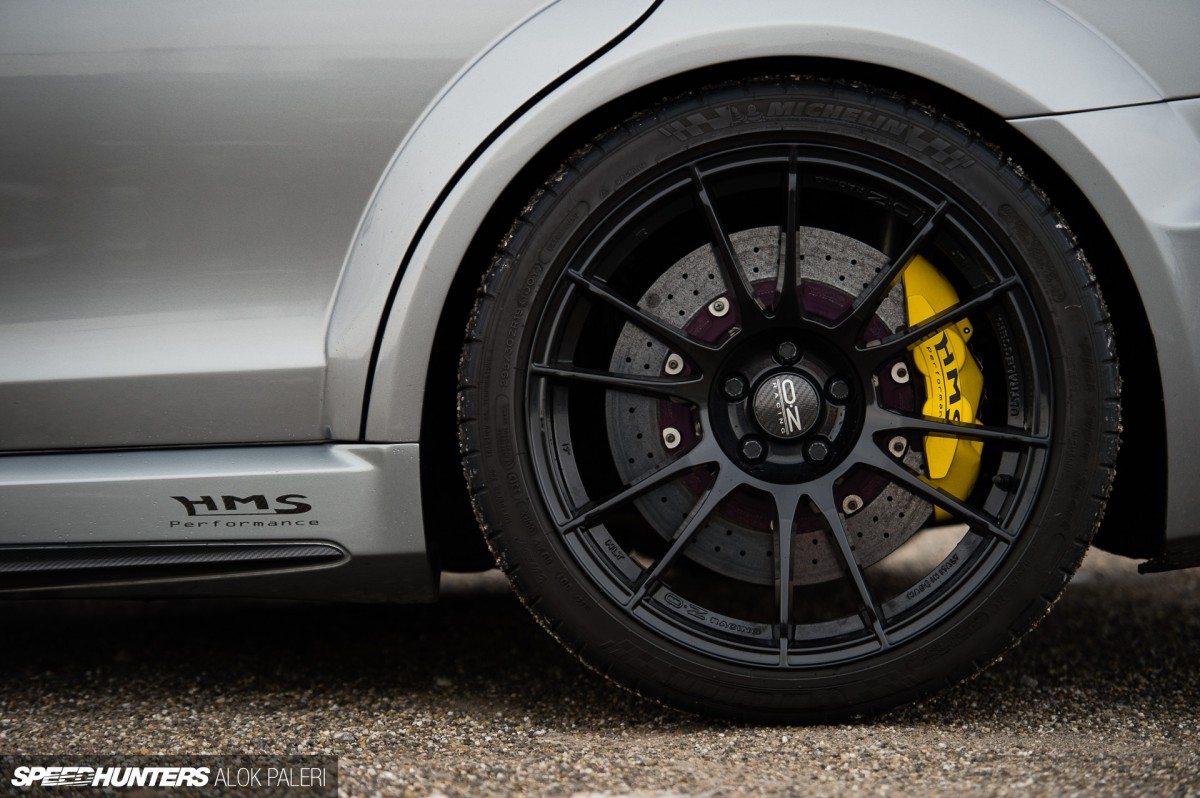 At the rear they are slightly smaller 4-pots over 370mm carbon ceramic discs. Normally I wouldn't worry too much about the size of the rear brakes, but with all this power, it's good that the traction control system has the stopping power it needs to rein the lively rear axle in.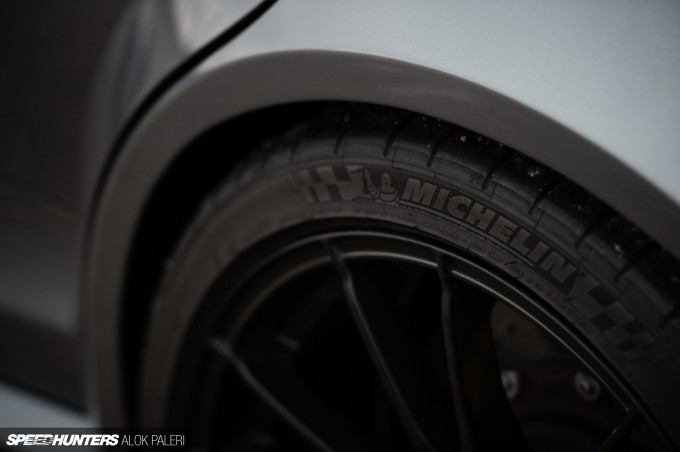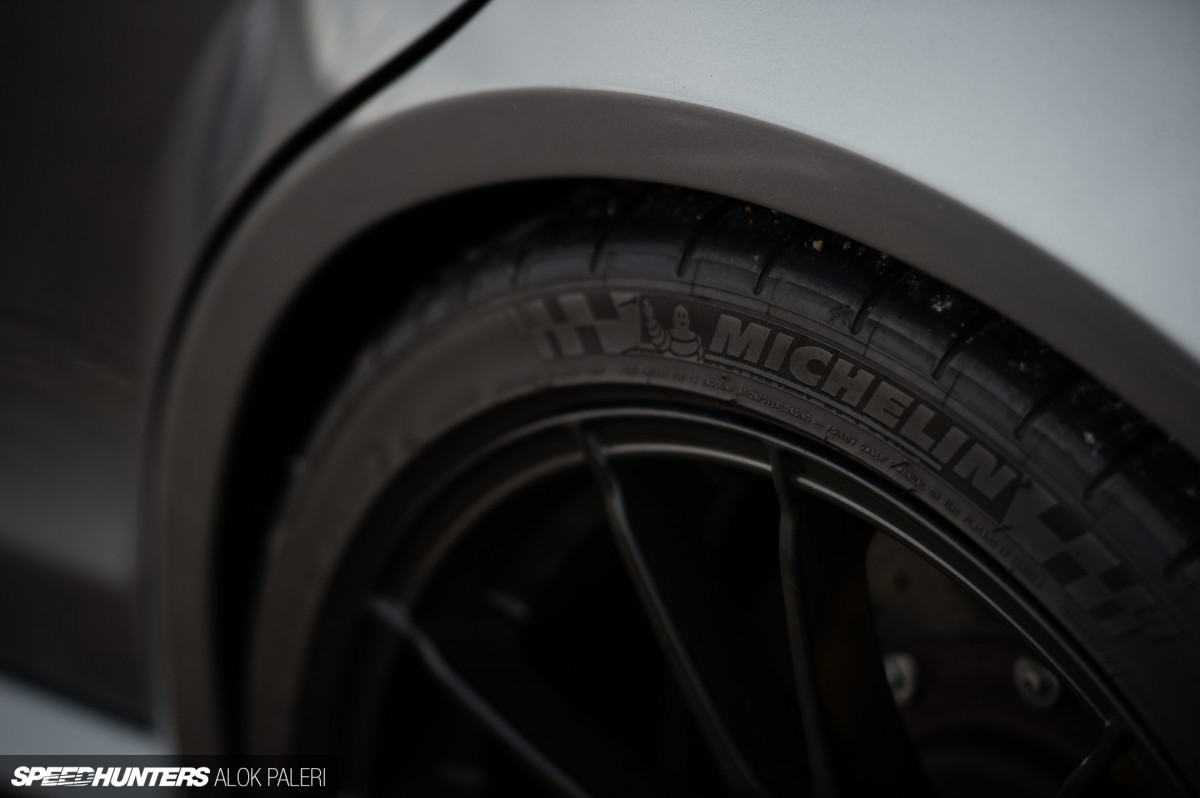 And traction control proved to be quite useful during my drive, as the car was on summer compound Michelins measuring 275/30 and 295/30 front and rear respectively. I experienced sub-zero temperatures on most of the days and snow on one, which was like ballet dancing with a sumo wrestler. The car was constantly breaking traction on the autobahn in traffic – sometimes during fifth to sixth upshifts at my slightest nod at the gas pedal!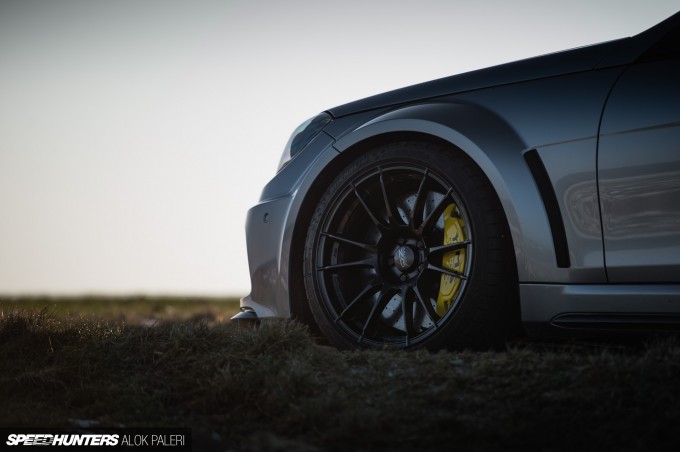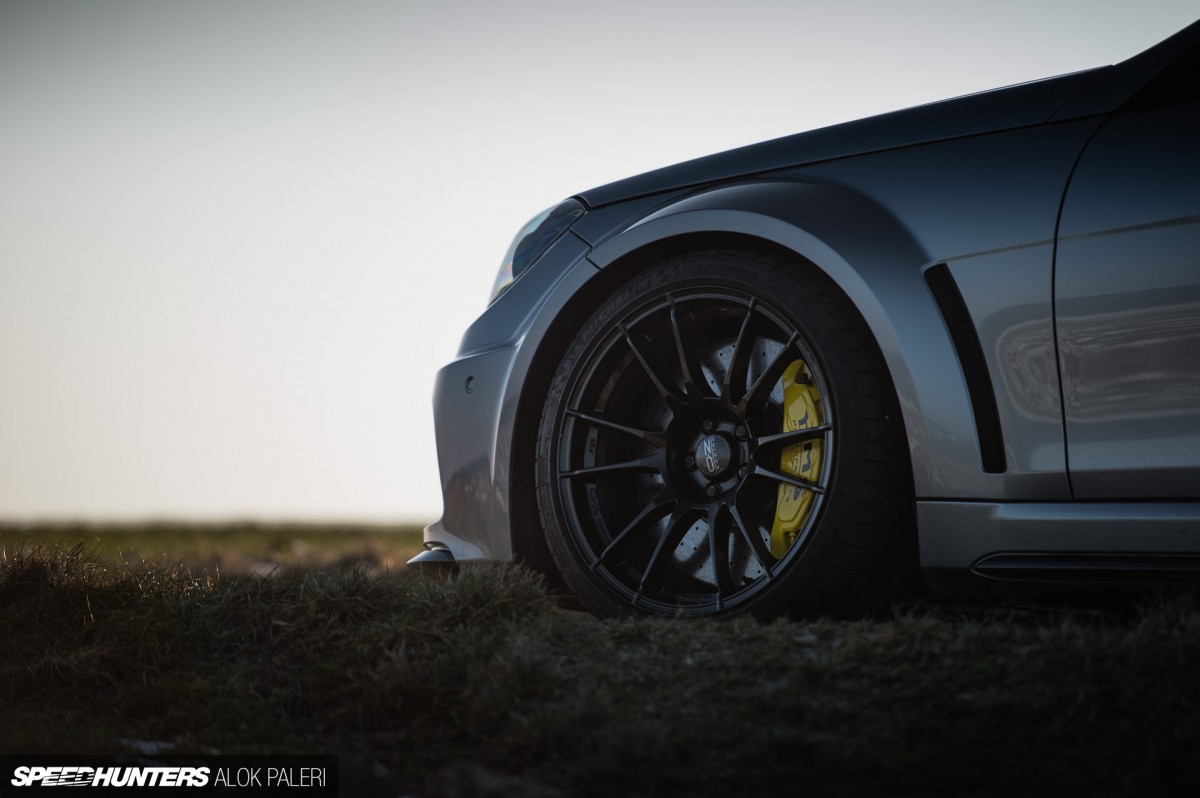 All that rubber is wrapped around 19-inch O.Z. Racing Ultraleggera HLT wheels measuring 19×10-inch at the front and 19×11-inch at the back.
Tailored Suit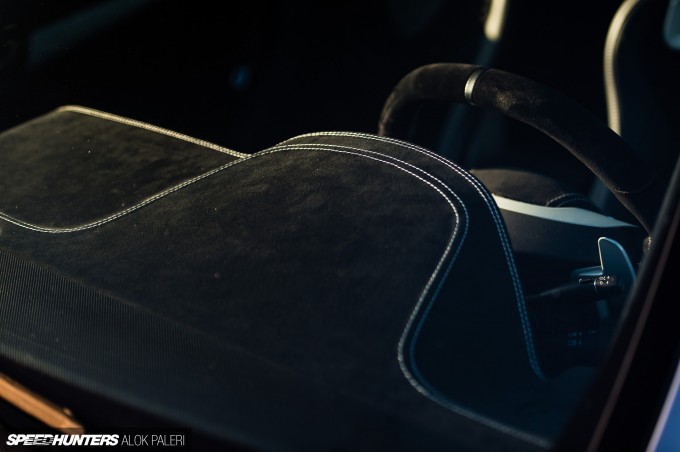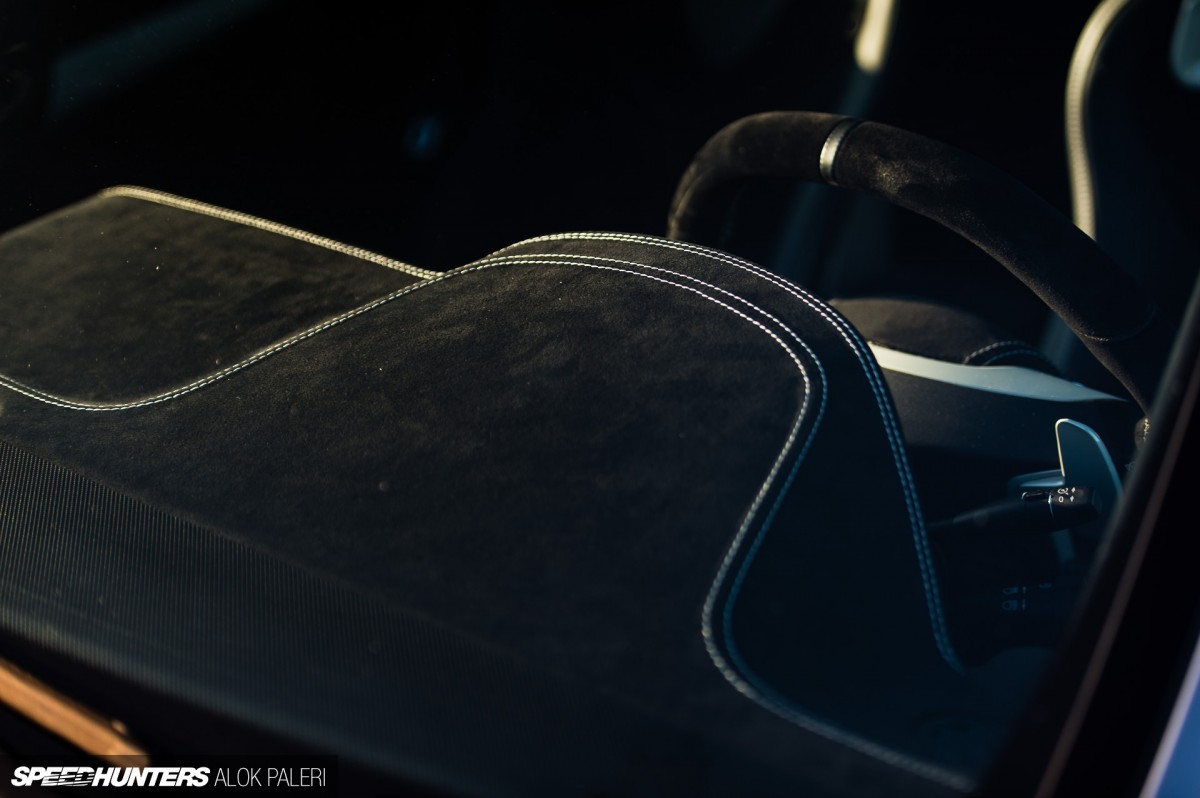 HMS has gone the full nine yards with the H63's interior; almost every surface retrimmed with Alcantara and contrast stitching.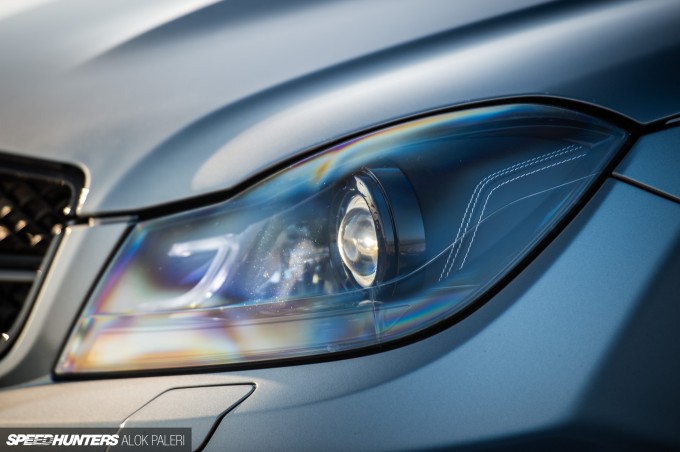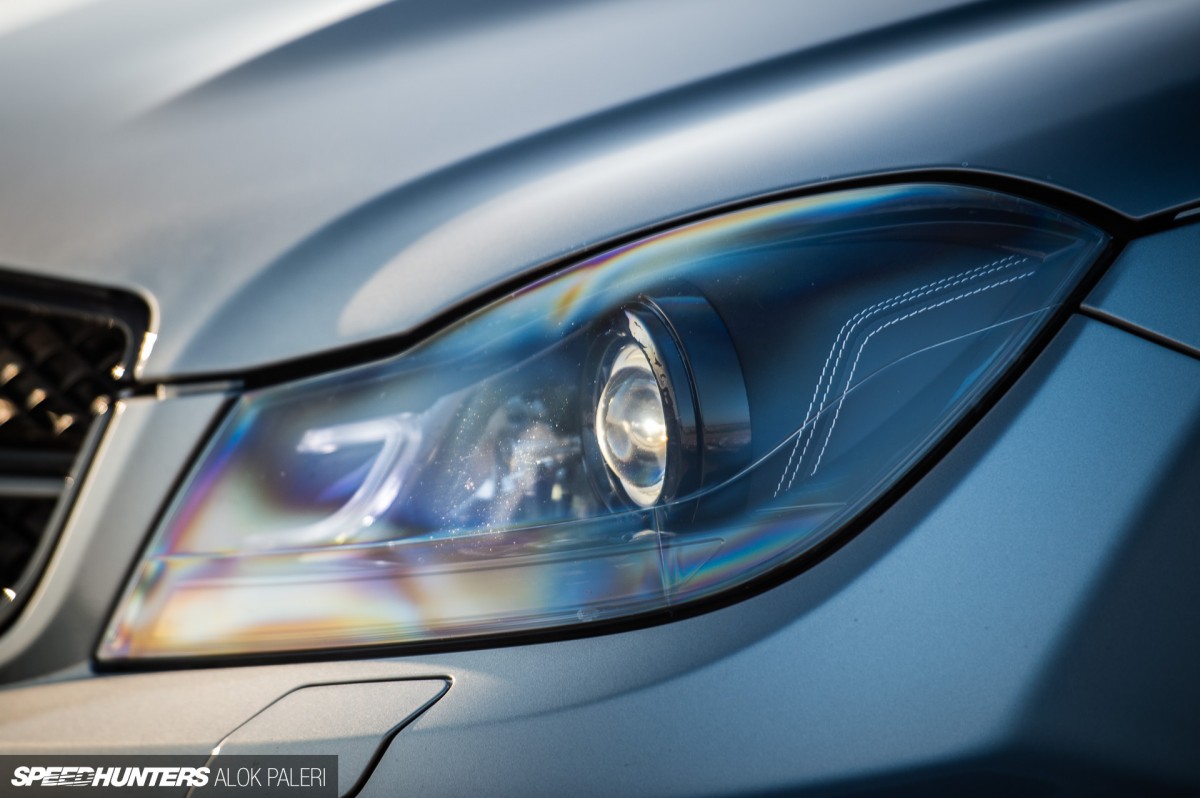 HMS even took apart the headlamp units and painted all the chrome bits black, and then wrapped the rest of the shiny bits in Alcantara and added a laser-engraved HMS logo.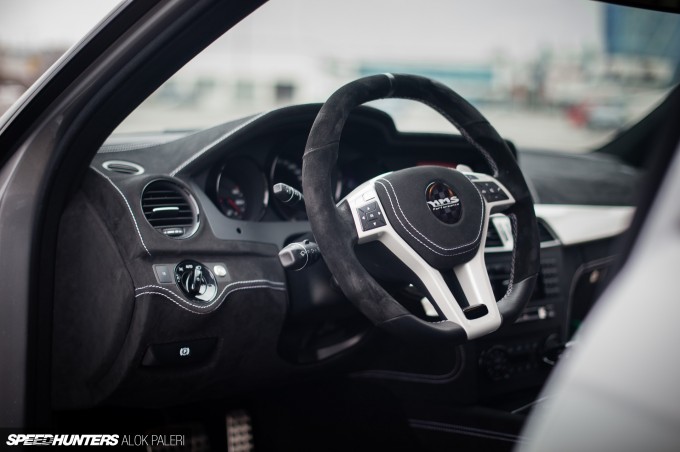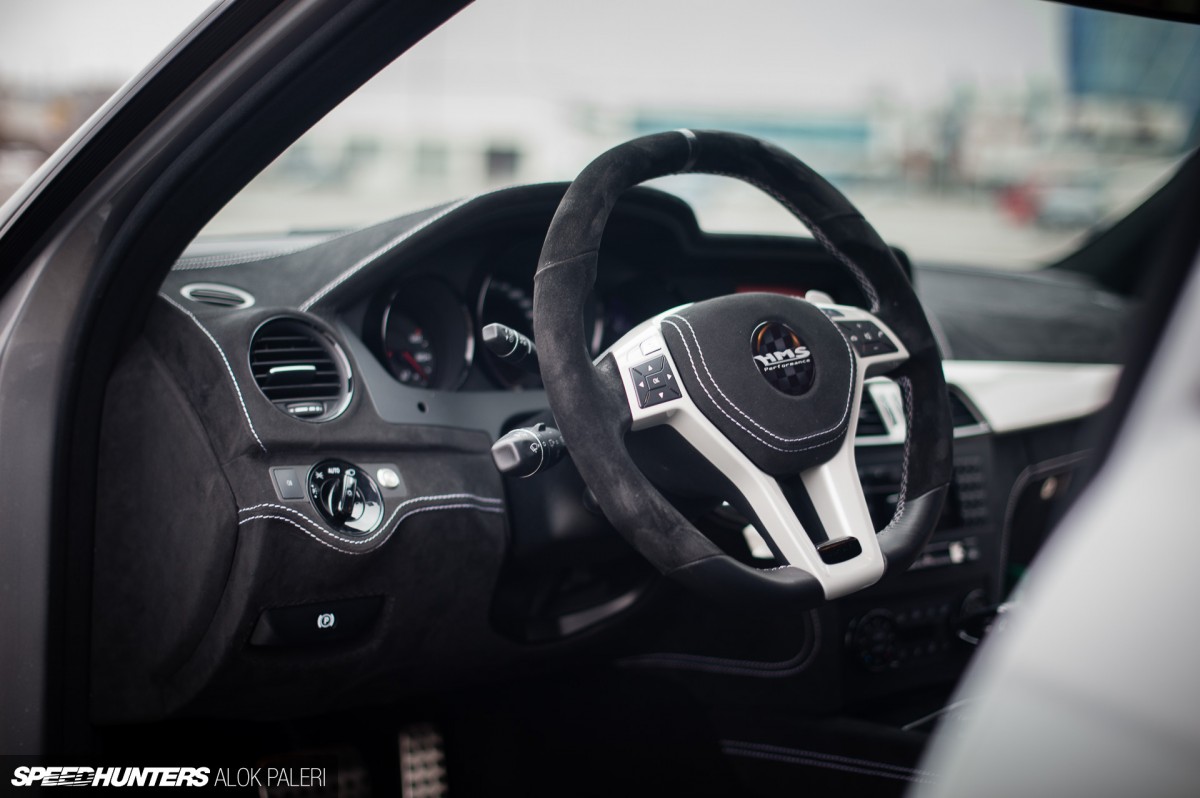 Markus Handloser, the brains behind HMS Tuning, strongly believes that chrome doesn't belong in the interior of a premium automobile, so he removed every single shiny piece – bar the switch that activates the valve in the exhaust – and painted them gloss black.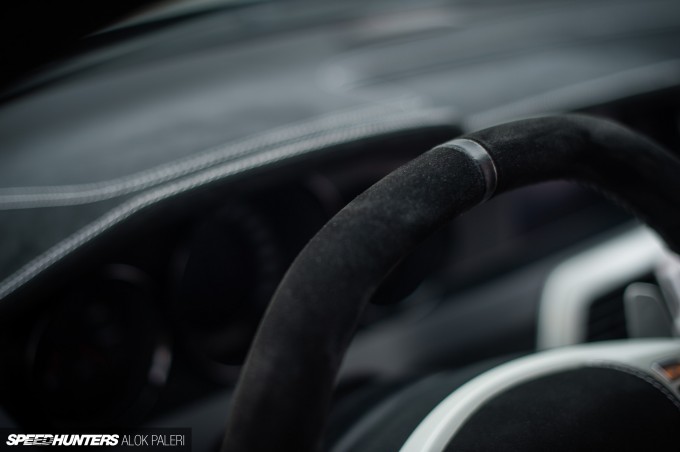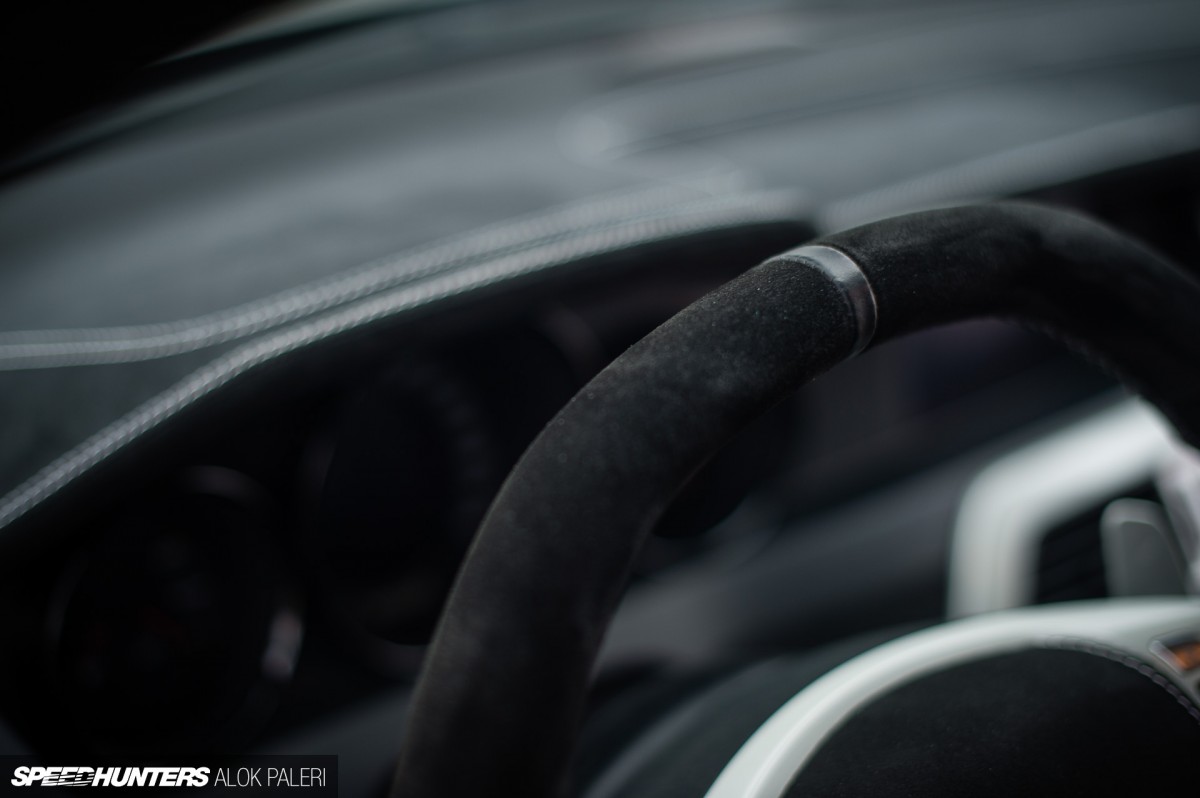 The stock C63 wheel is wrapped in Alcantara as well. The non-circular AMG steering wheel doesn't really need a center marker given its shape, but the H63 has one in leather all the same.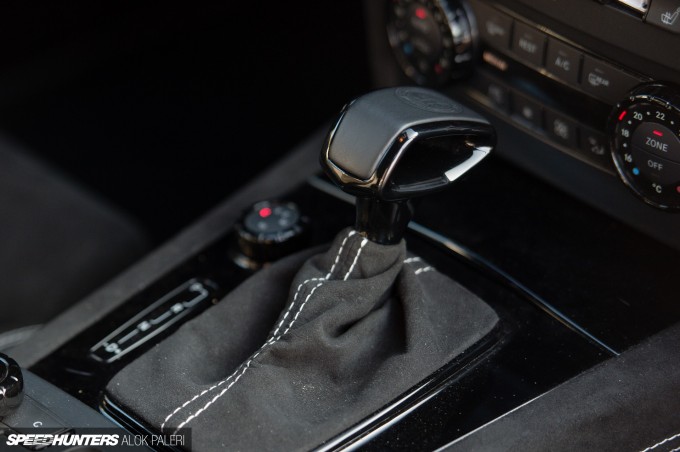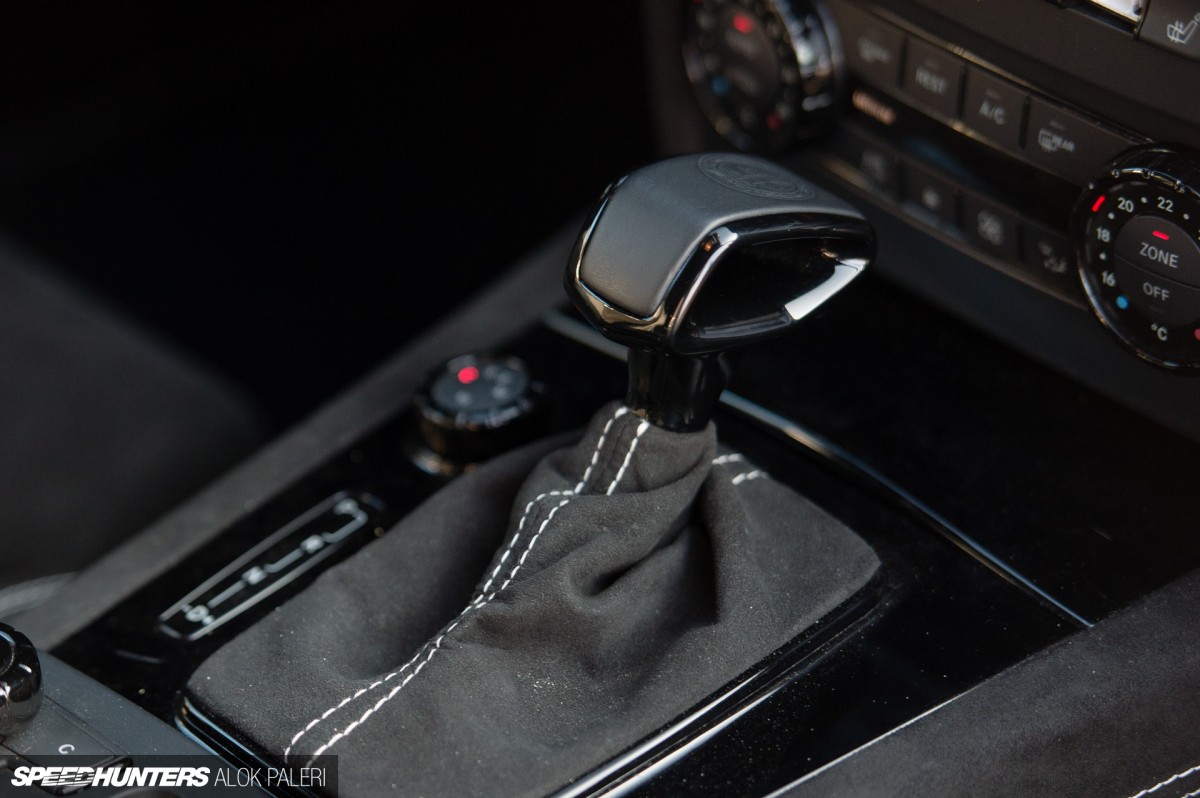 The tall gear selector lever from the C63 has been replaced with a painted black unit lifted off an SLS AMG, and the shift scarf fabricated in the same material the dash has been wrapped with.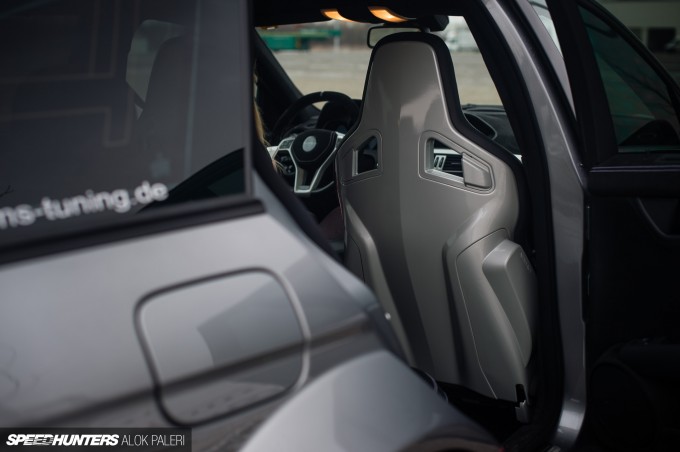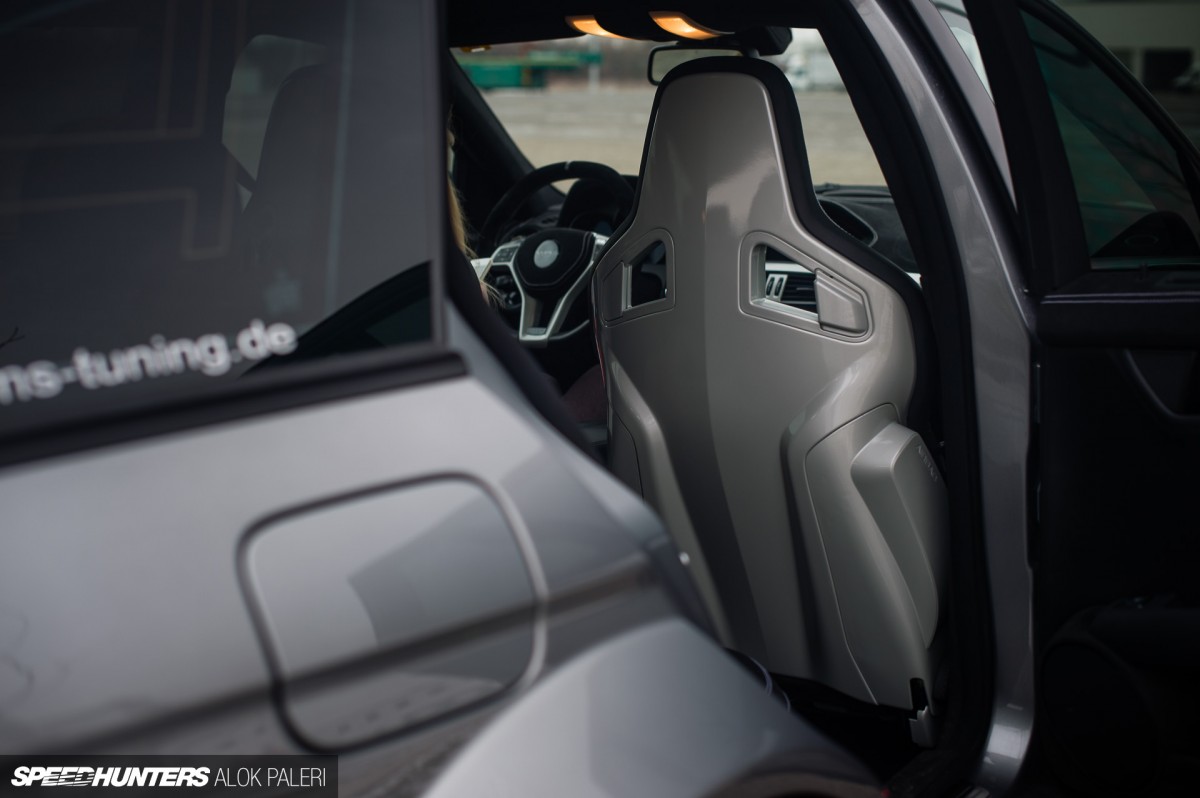 The stock seats have been done away with too, replaced by painted Recaro Sportster CS bucket seats with side airbags.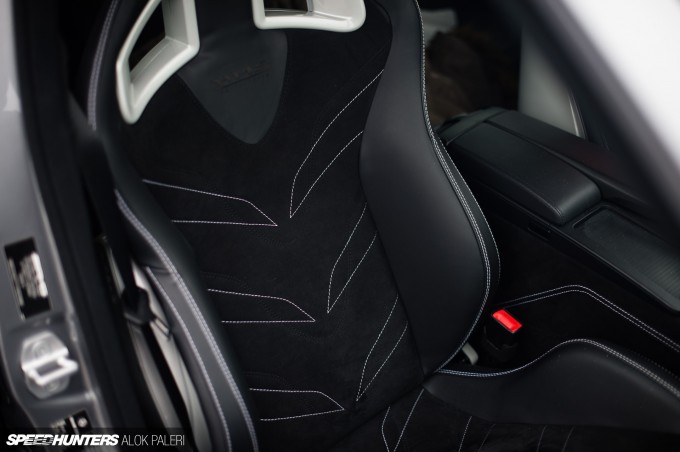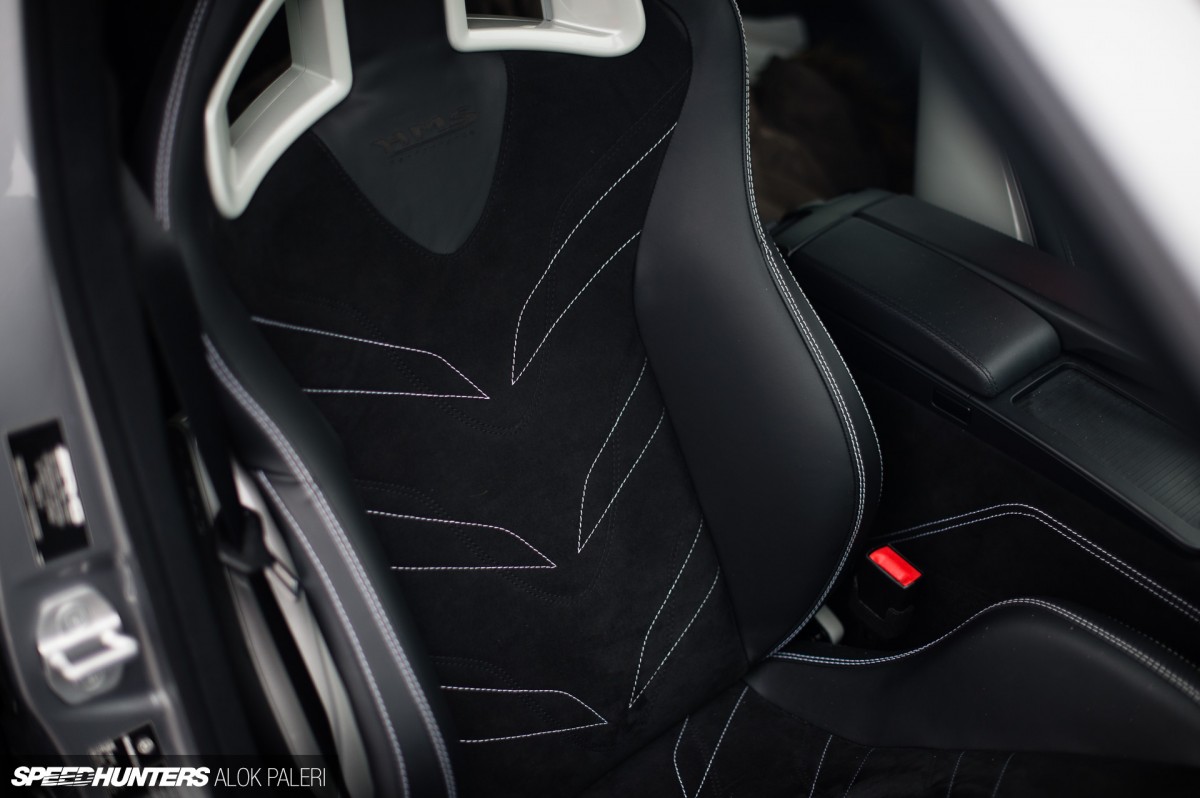 They too have been re-upholstered in leather and Alcantara to go with the rest of the interior, and even come with seat heating – something I really appreciated when I was jumping from location to location in freezing temperatures.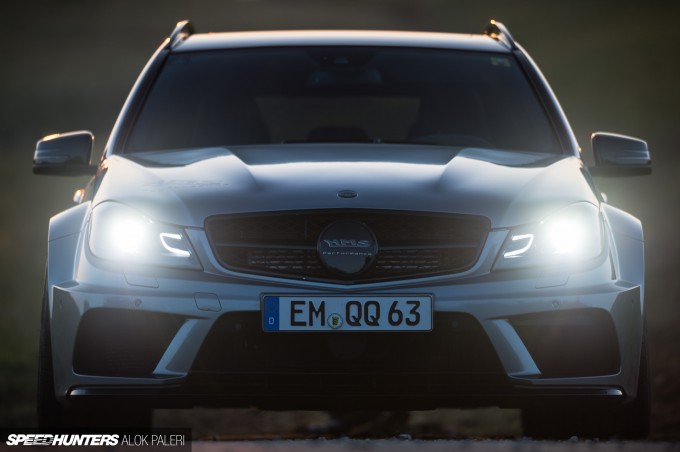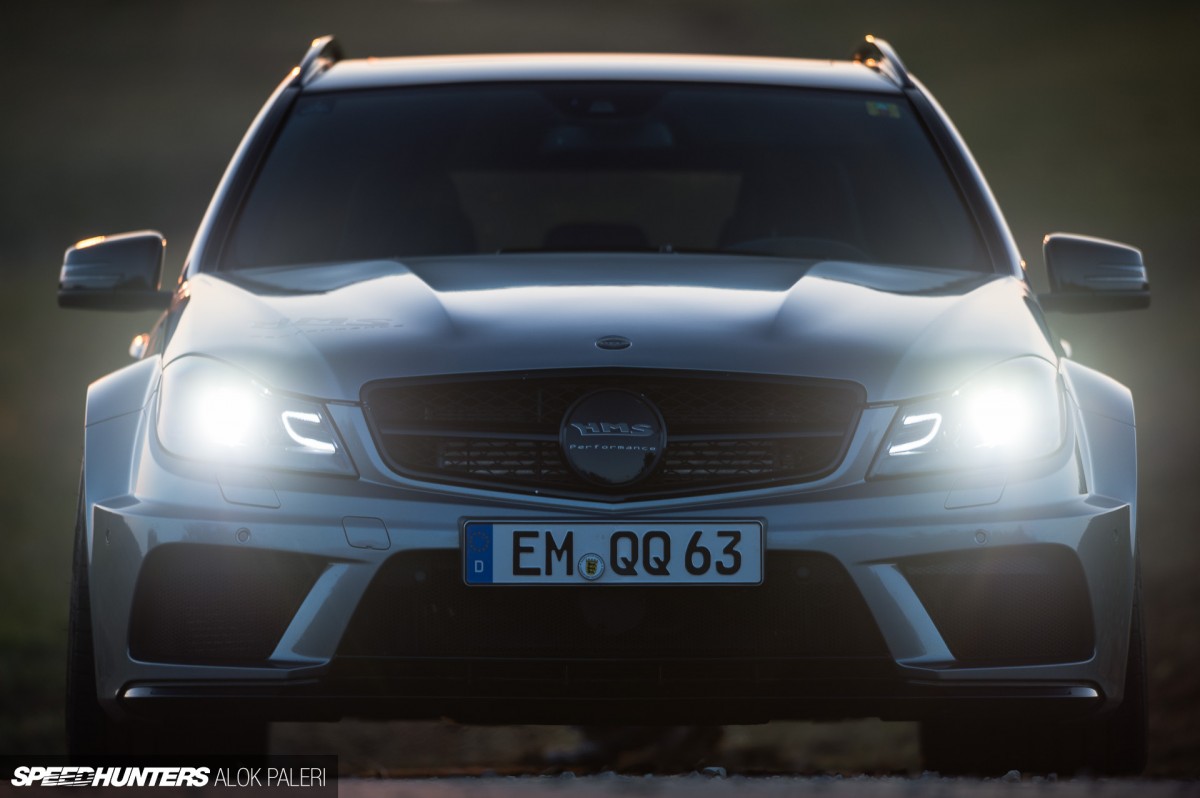 I spent a day driving the H63 in and around Stuttgart, the home of Mercedes-Benz. At every gas station I stopped to get fuel (and I had to do this quite frequently), there were no shortage of people coming over and trying to figure out what it was.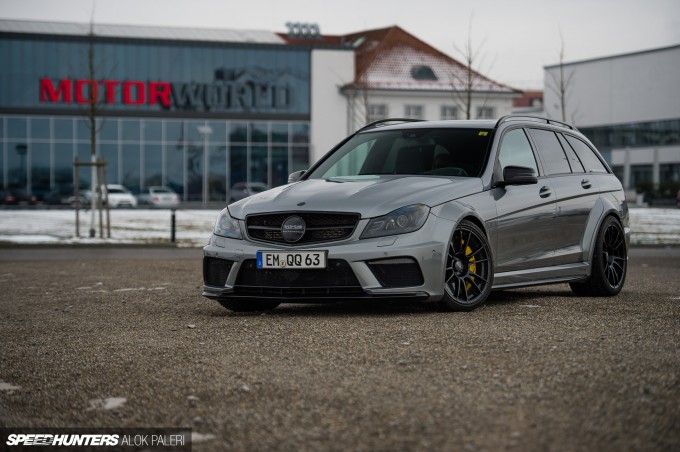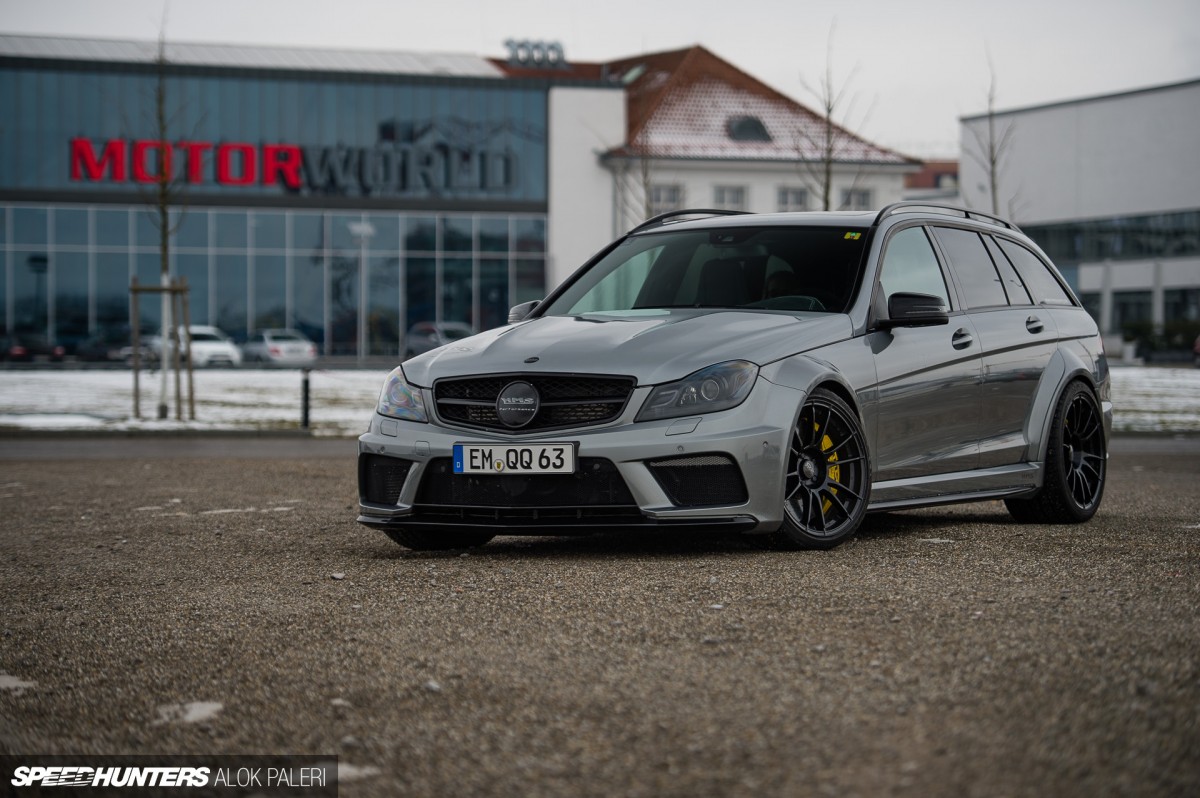 Even at a later stop at Motorworld just outside Stuttgart, where I parked the car out front and had a coffee at their 'V8 Hotel', I could see through the glass window how visitors to the exhibits kept stopping at the H63, wondering what on earth it was.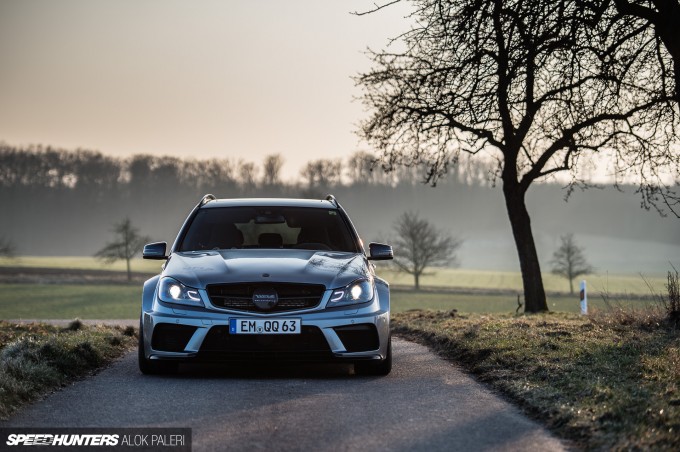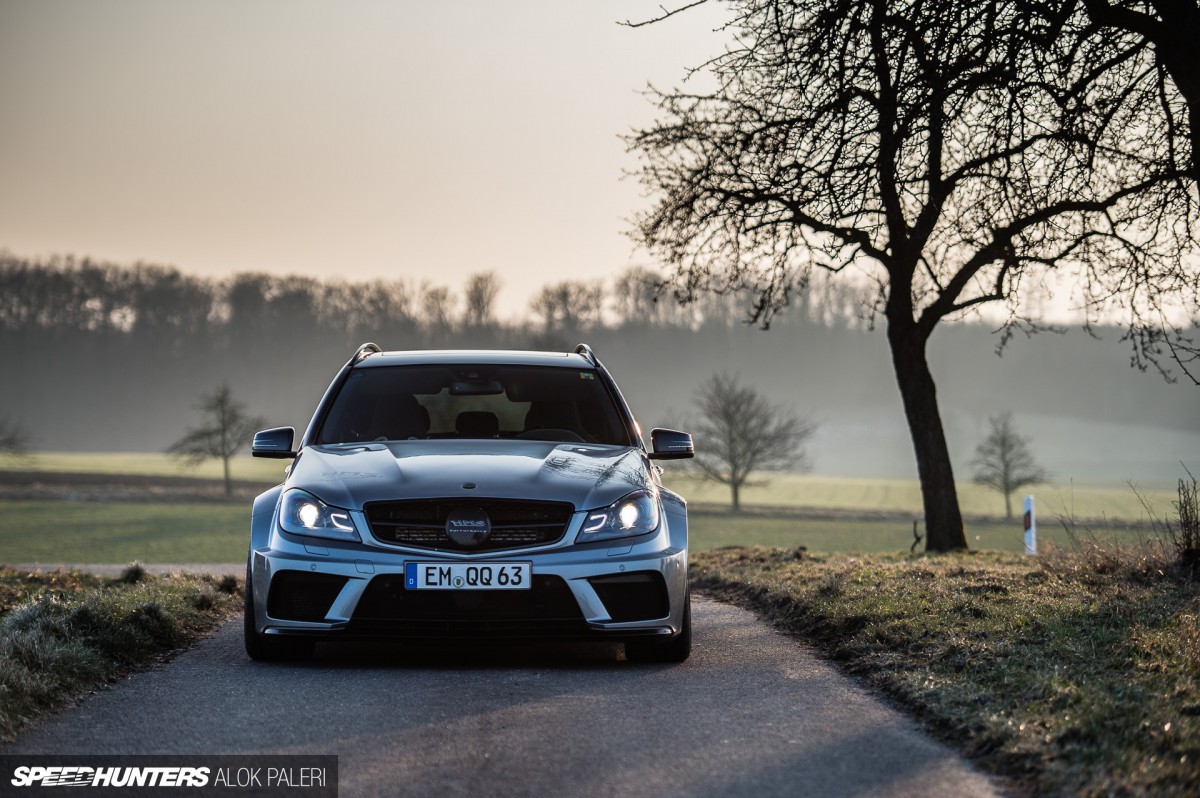 I love this sort of thing in a car. The H63 has adapted the OEM style so eloquently.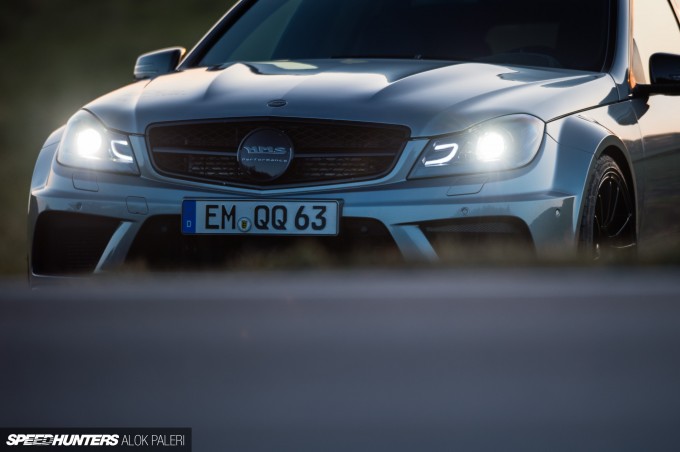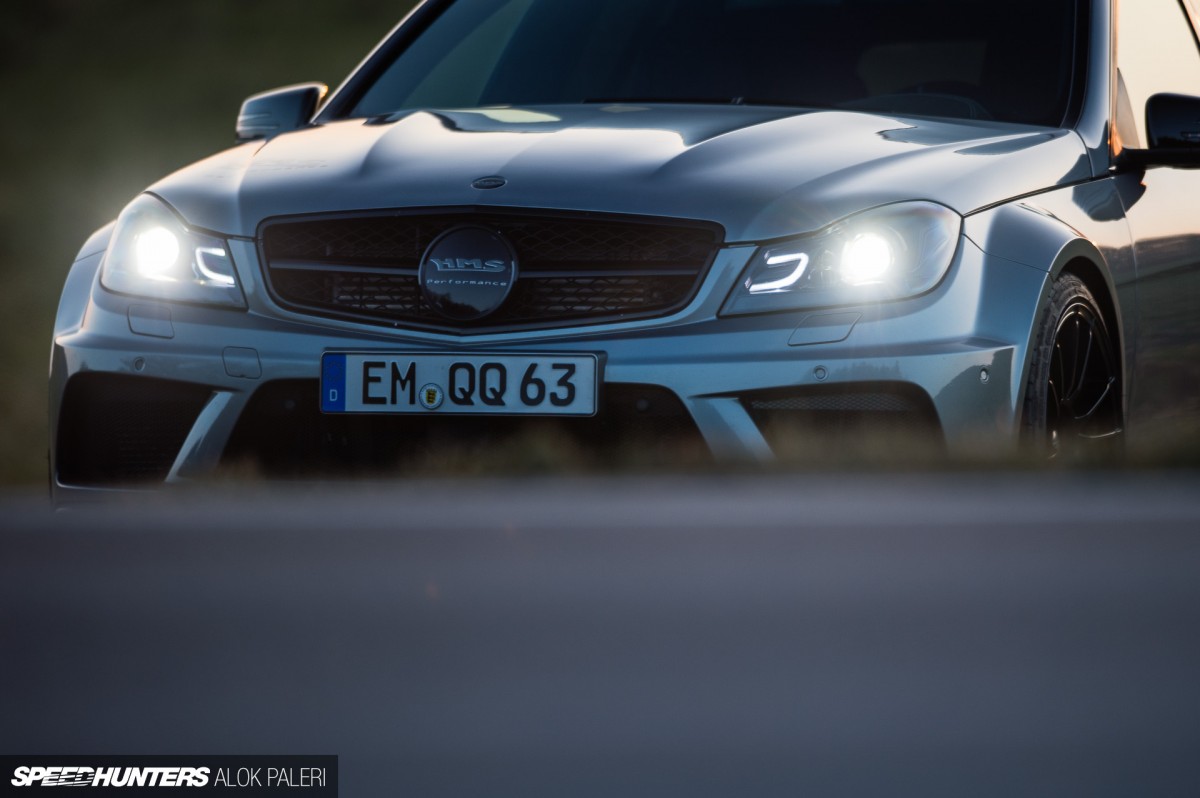 Yet there are enough hints that your mind tells you something inherently sinister is lurking underneath.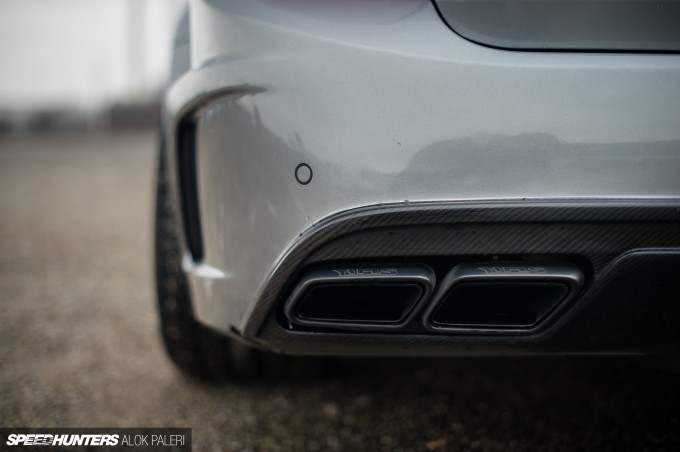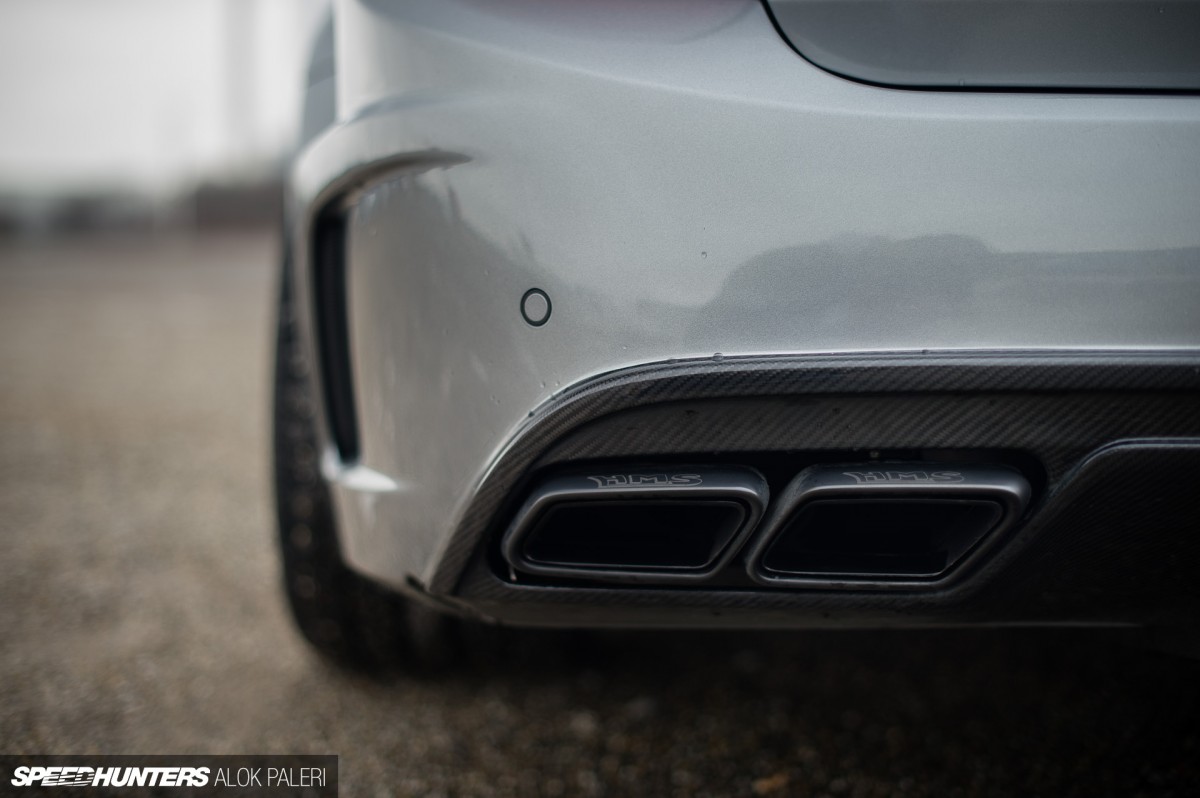 Of course, all doubt vanishes the second you turn on the ignition and the supercharged V8 crackles to life. Or I should say explodes into life. With the flaps closed the exhaust sounds not much unlike a stock C63.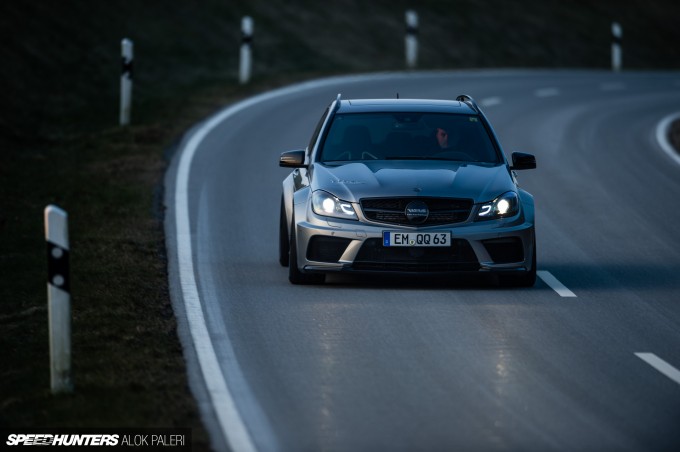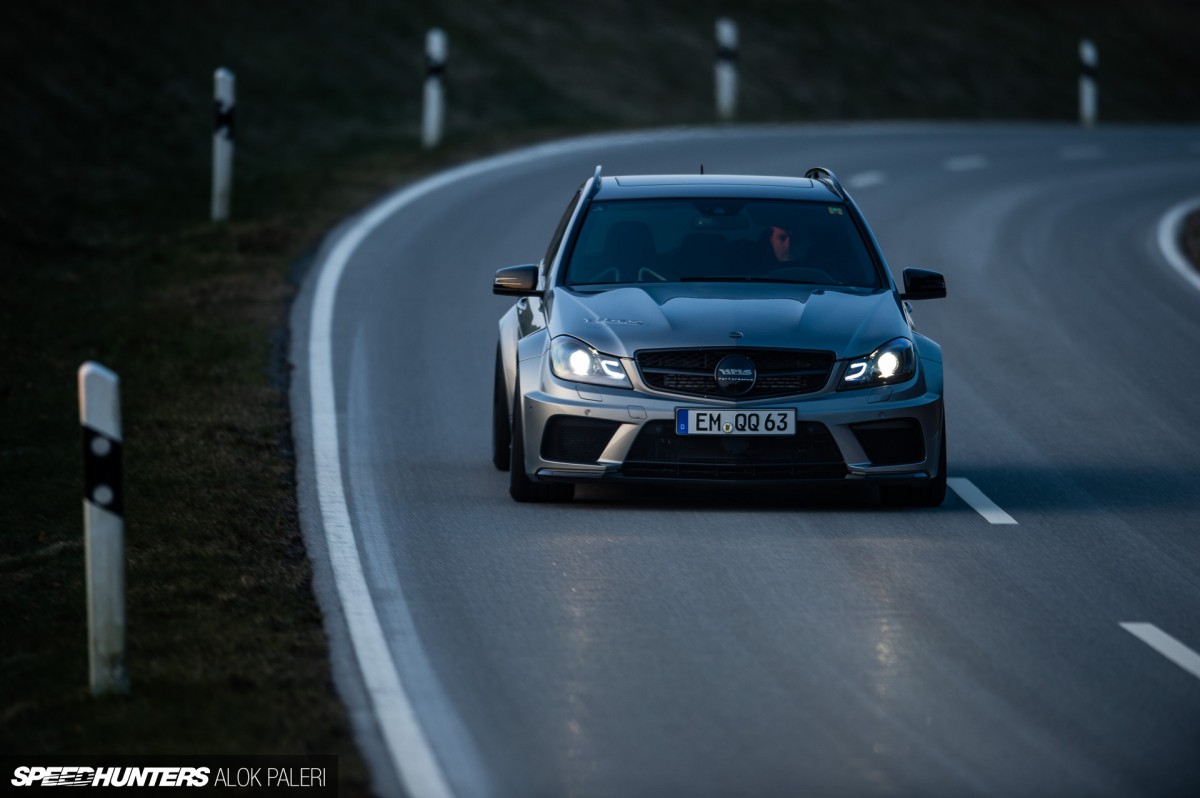 Push that little button left of the steering wheel though, and all hell breaks loose. I tried making some recordings but no microphone can do justice to the thunderous deep roar that follows every time you even look at the throttle.
But with this clip you can see and hear the RS700 tear through the peace and serenity of the idyllic French racetrack Anneau du Rhin earlier last year when it had only 700 horsepower.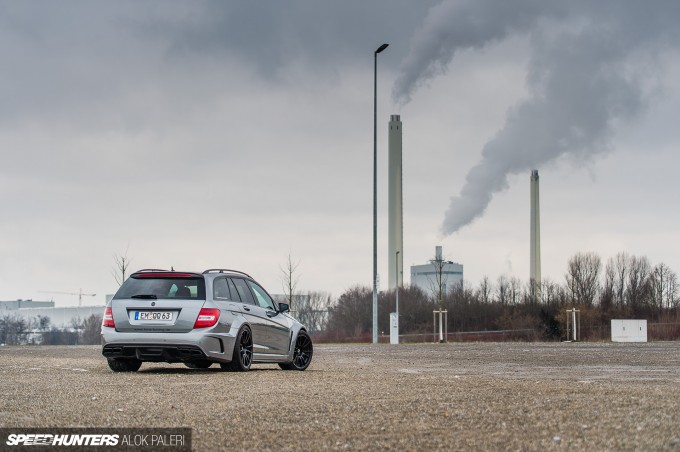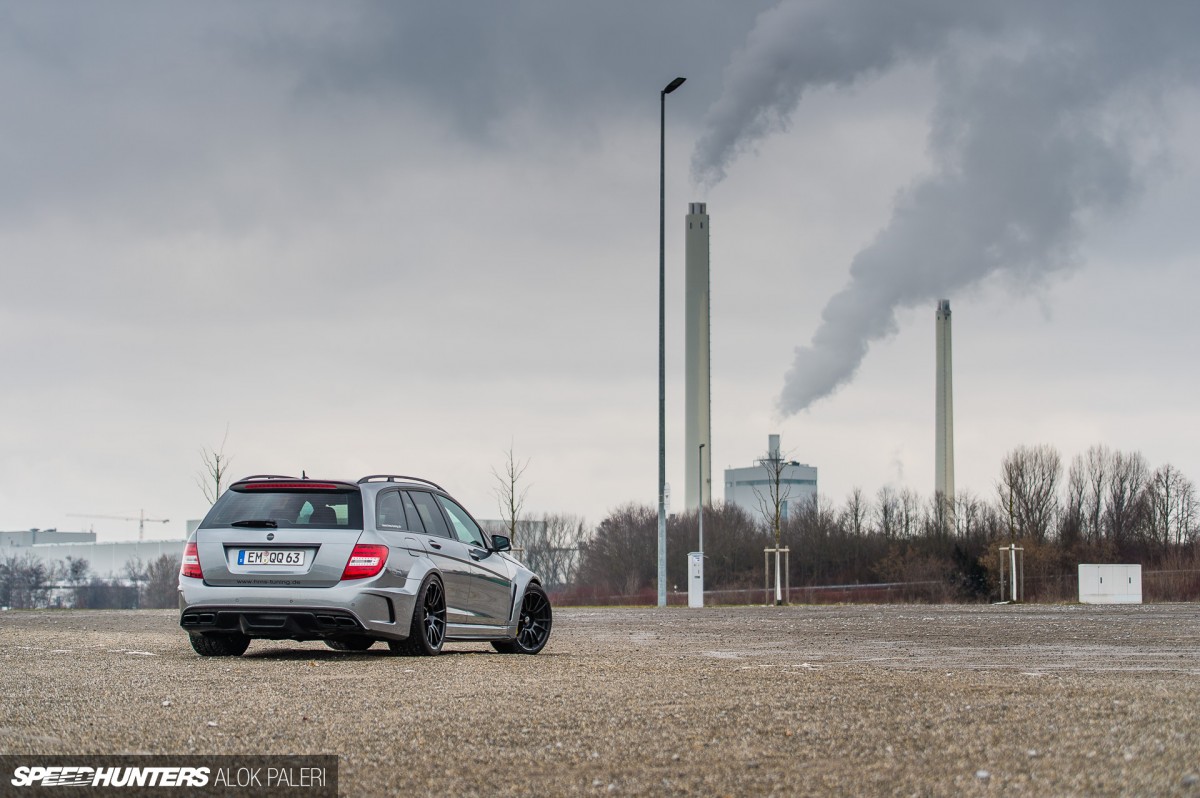 Despite being packed with ultra-modern tech like active lane assist and radar-guided cruise control, the H63 instantly changes character as soon as that exhaust valve is opened. It goes from a civilized luxurious spaceship to an industrial-sounding, tire-slaying hoon machine.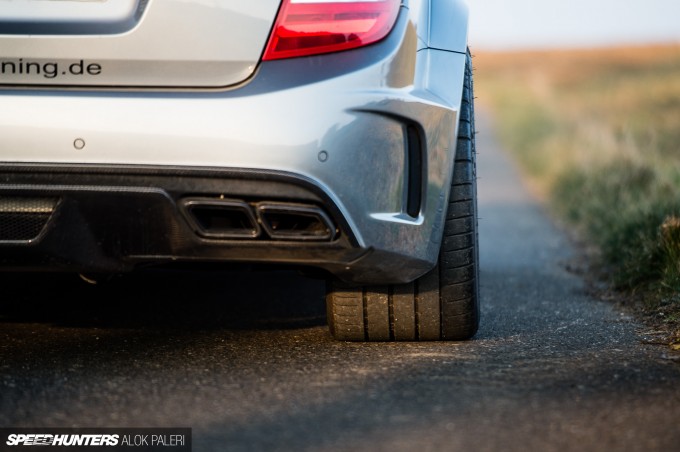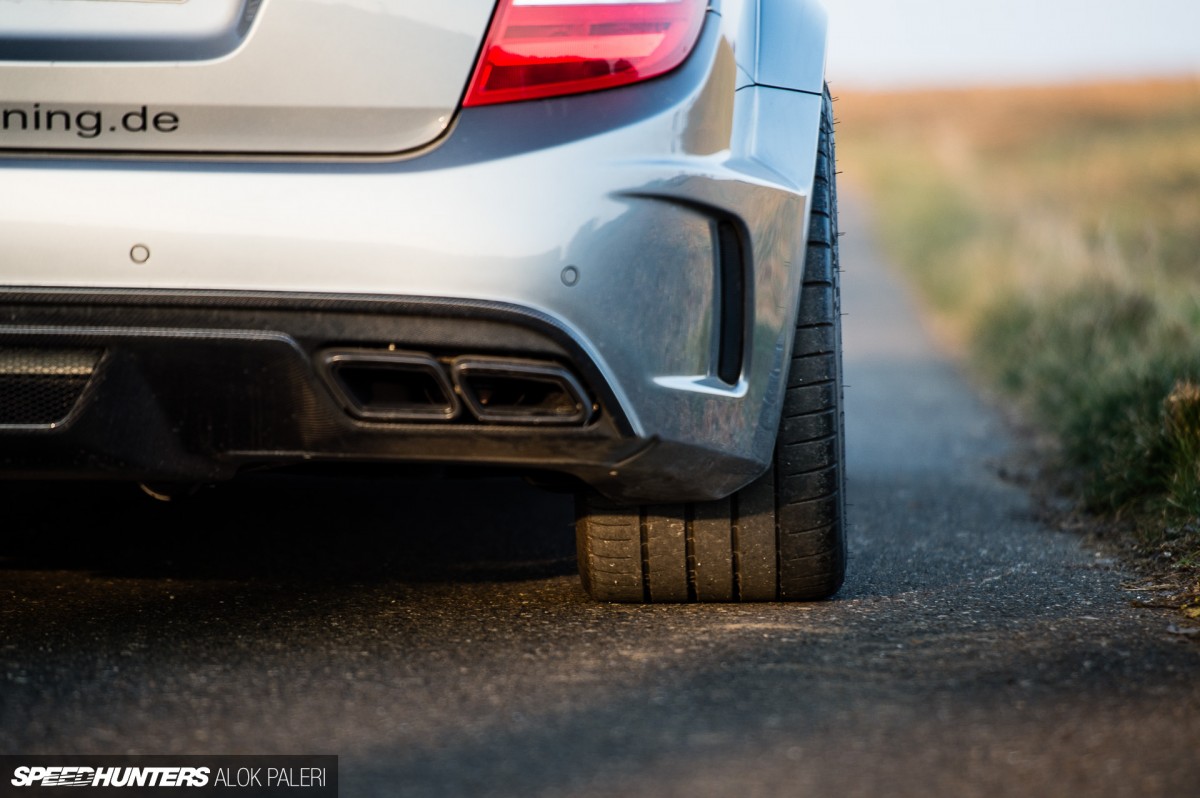 Sure, the H63 wears wide rubber, but there is so much torque at hand that the rear tyres are quickly and efficiently transferred to thick black stripes on the road.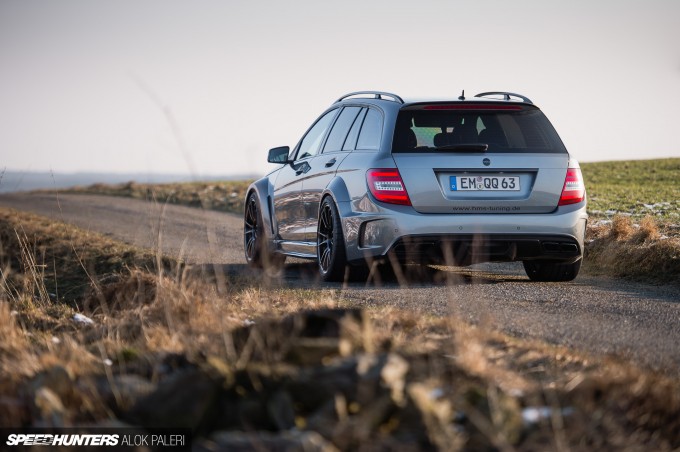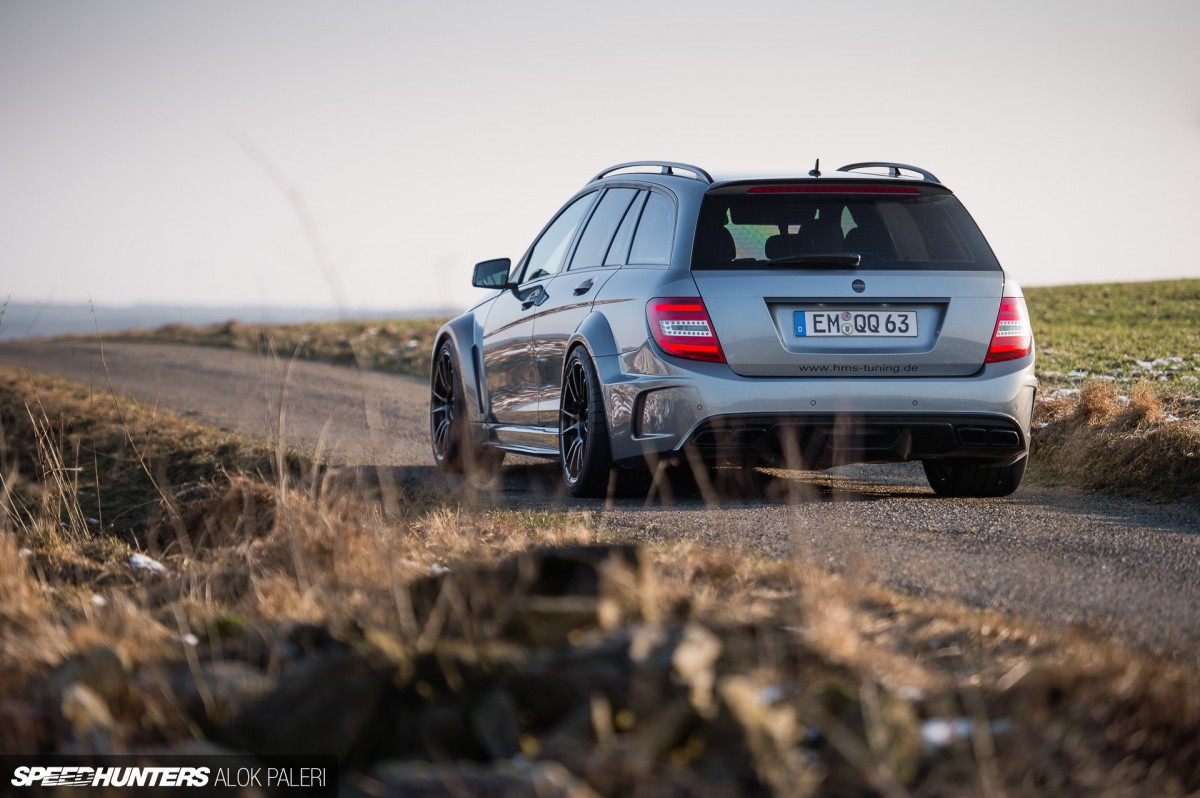 For petrolheads who have to say goodbye to their high-end performance and supercars because their second child have arrived, a thunderbus like this is pure bliss.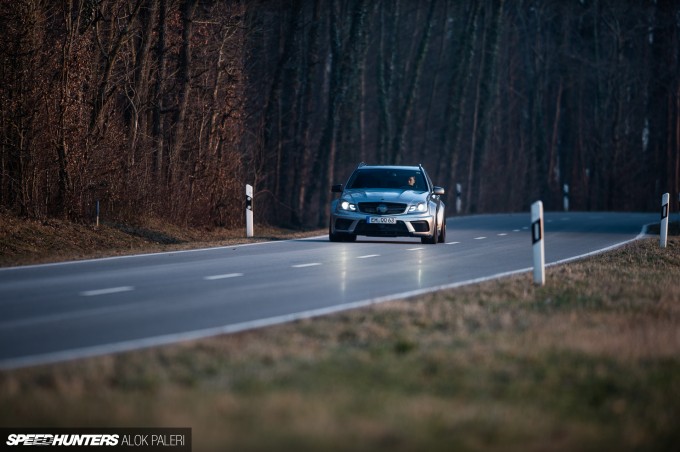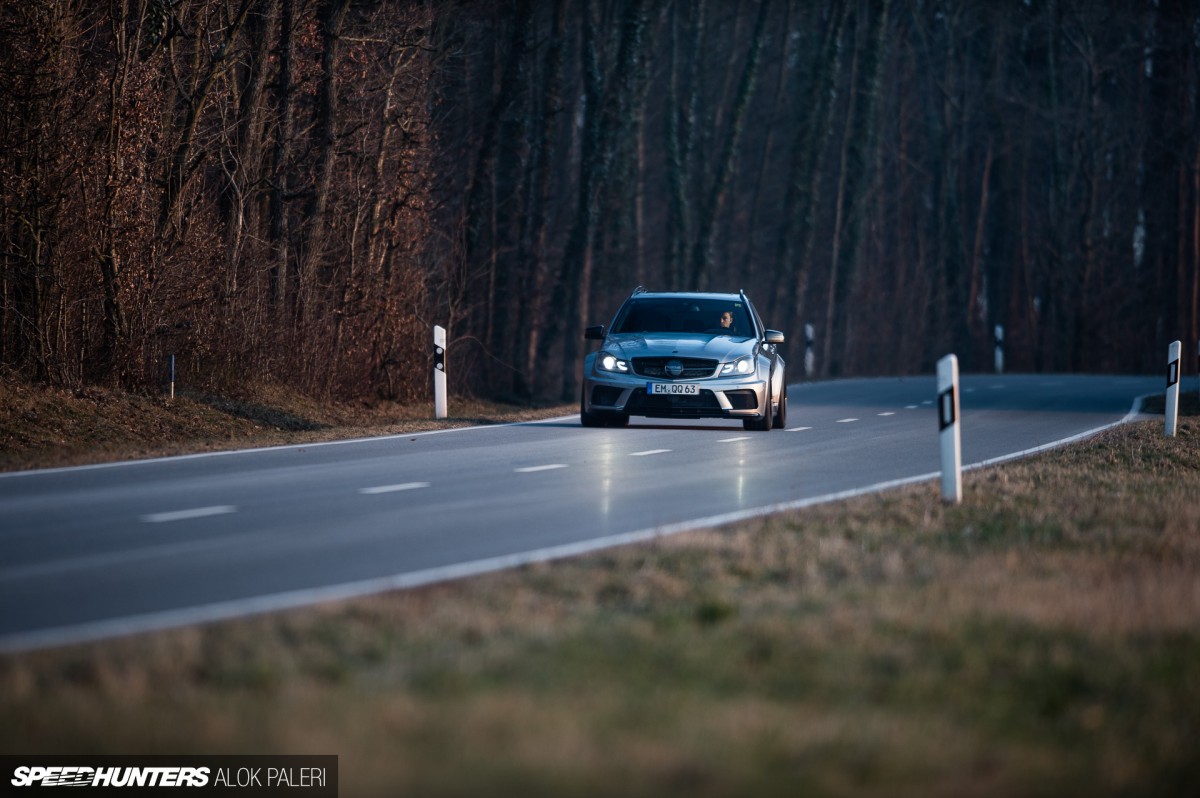 Laying fresh rubber on a deserted forest backroad, I don't think I've ever produced a sound of this much volume using any machine ever in my life.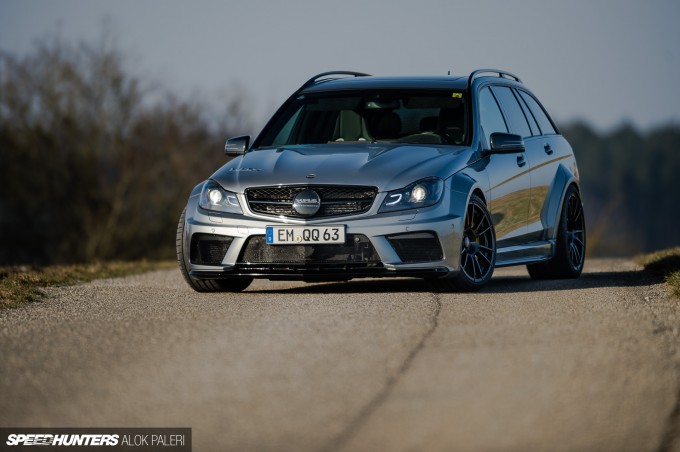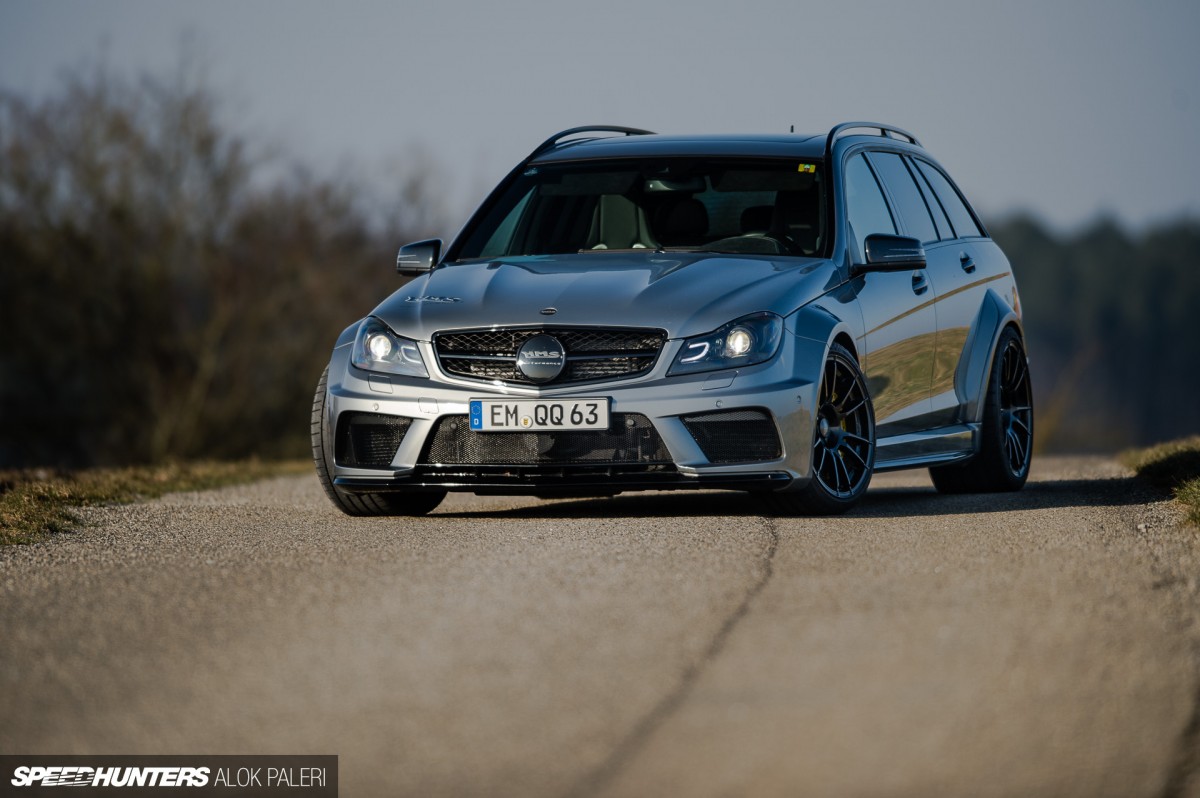 A wagon like this is a dream come true for many petrolheads. Enough power to decimate tires at will, enough room in the back for all your belongings, and looks to kill.
What more could you ask for?
Alok Paleri
Instagram: rennworksmedia
alok@speedhunters.com
Cutting Room Floor