Happy Place
There's a strong chance this could be one of the best Volvo 240s in the world. I'm serious, I wouldn't joke about something like that. There has been plenty of fun poked at the boxy 200 series over the years, but as a long-time 245 owner myself, I'm not even sure why people jest at all. Maybe it's because these cars are just so good at everything, in an inoffensive and likeable way? So mocking them is probably the only way people who don't own a Volvo can handle the amount of awesome that comes as standard with one… Maybe.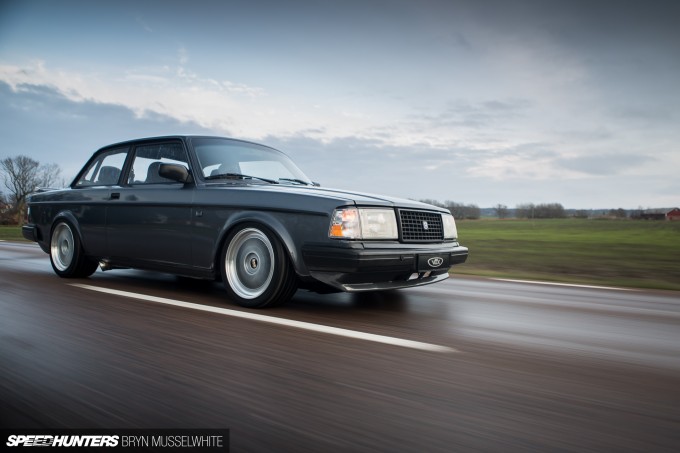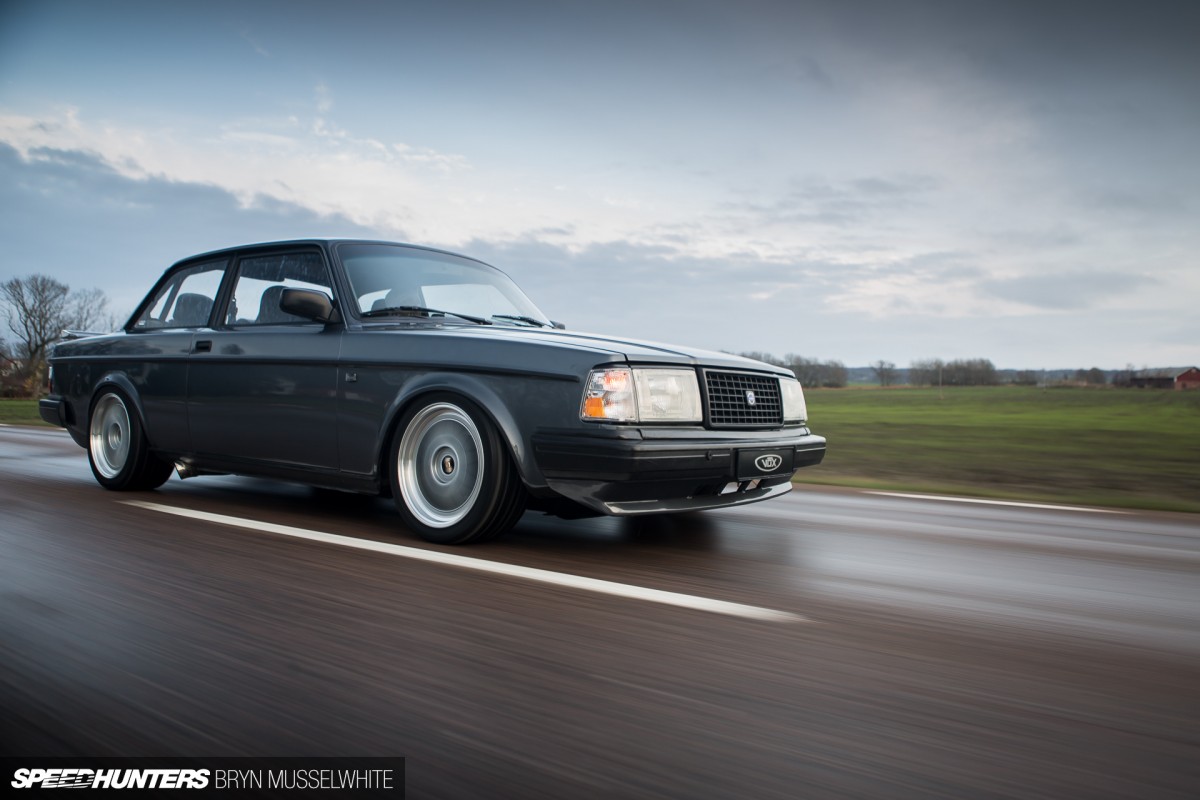 Okay, so I'm sorry (not really), I promised myself I wouldn't get carried away with this one, but I just can't resist it. I have found my own personal Volvo Valhalla in Sweden – and I'm pretty happy about that. Up until April 2014 I didn't even know this particular 242 existed, but I had been trying to track down a guy called Mattias Vocks for a while. All I knew is that he'd built an absolutely kick-ass Amazon estate that ended up travelling to the SEMA Show, and that he might work for Koenigsegg.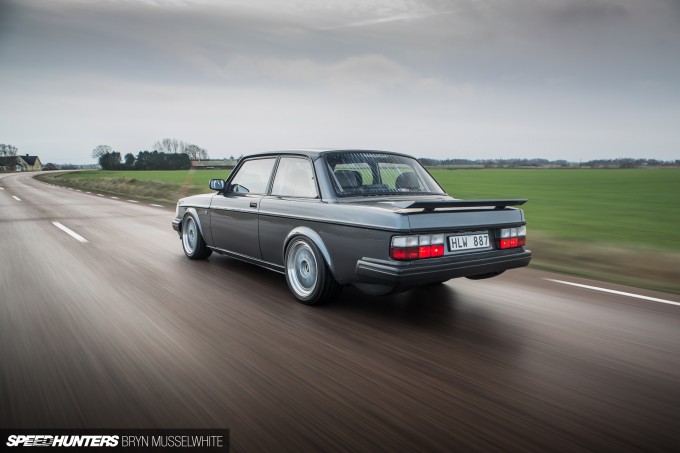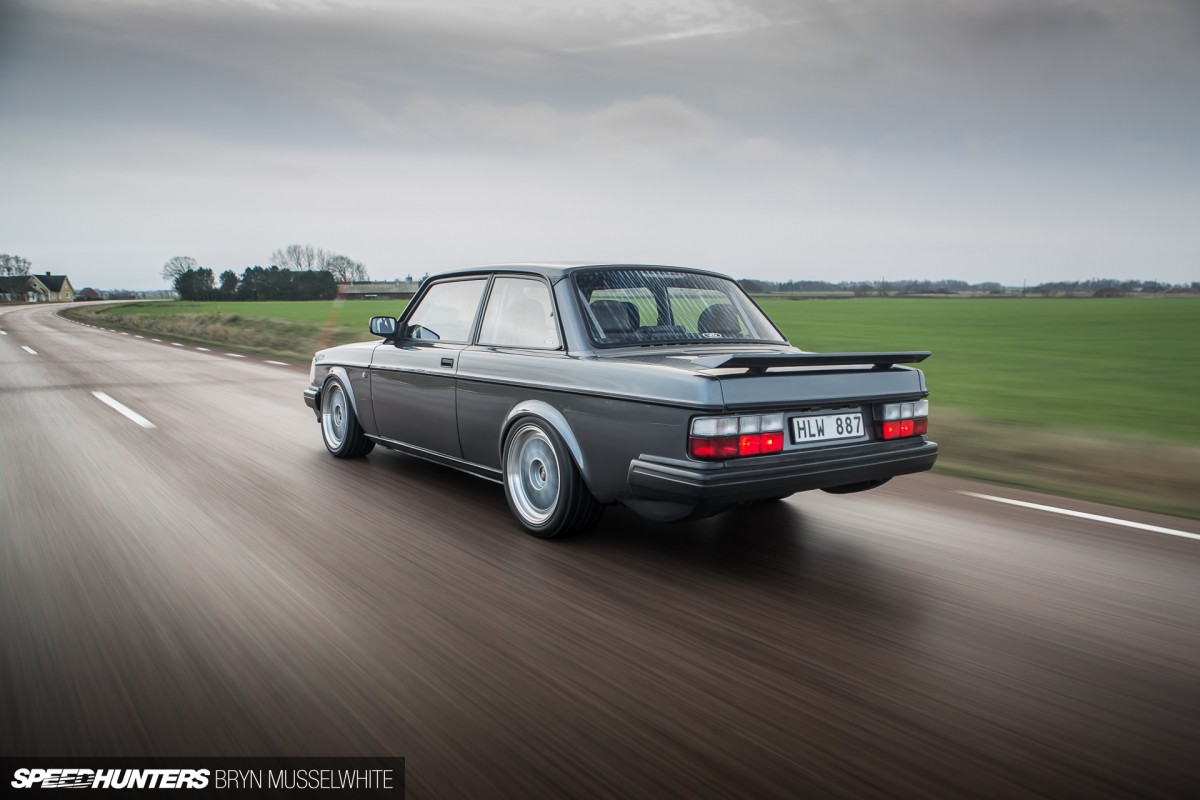 So there I am, stood inside the Swedish hypercar factory looking at the incredible One:1,only days before its debut at the Geneva Motor Show, and what do I do? Ask if anybody knows a guy called Mattias Vocks of course…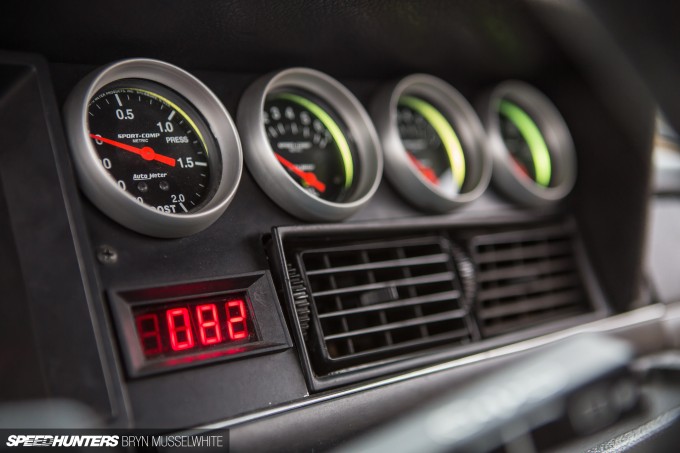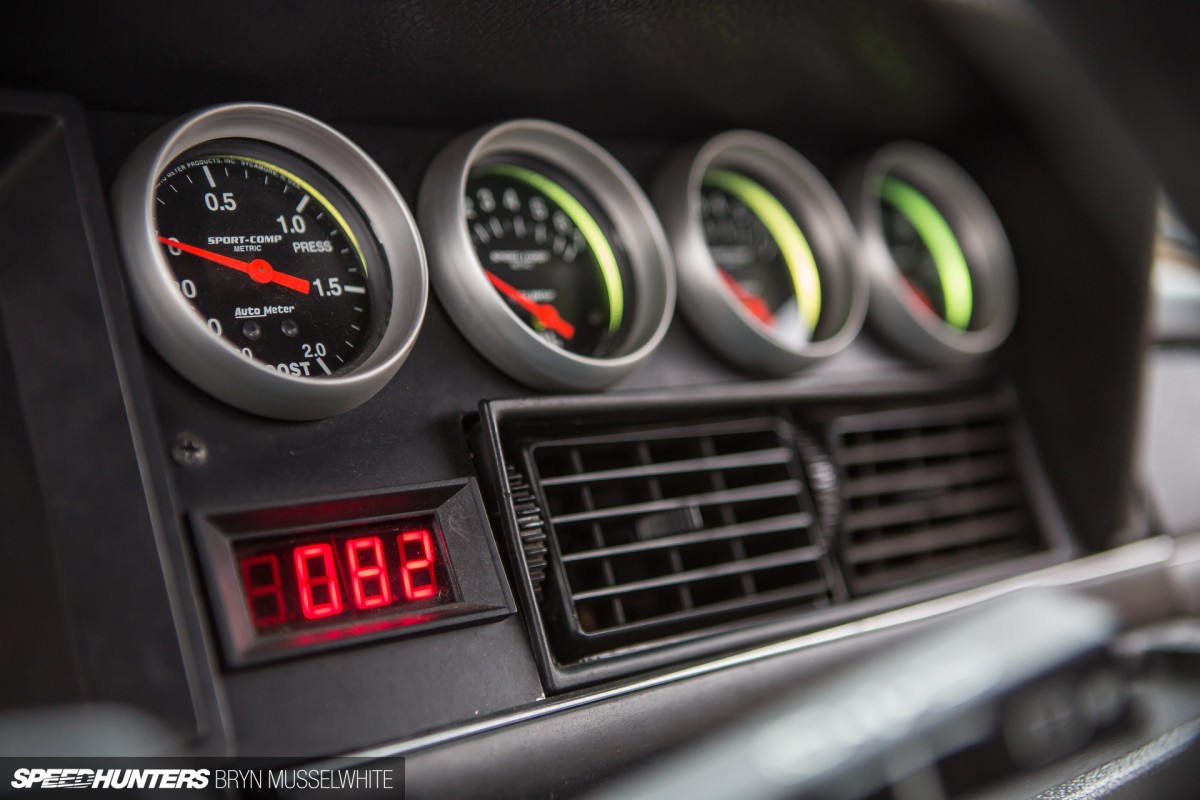 It's probably not the first thing that would come to most people's minds in that situation, but when you've got Volvo fever, you're pretty sick.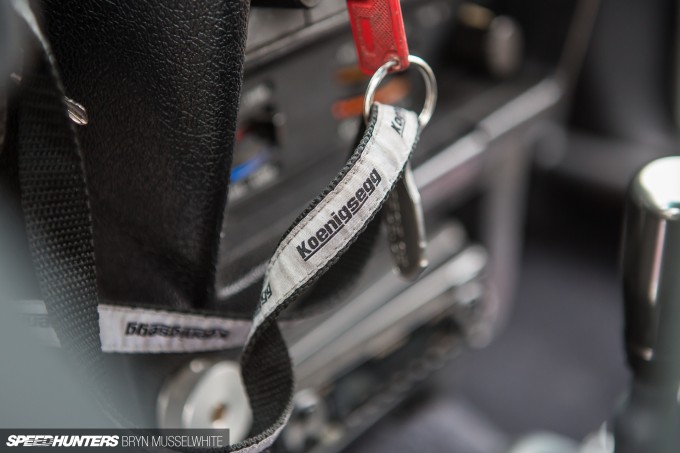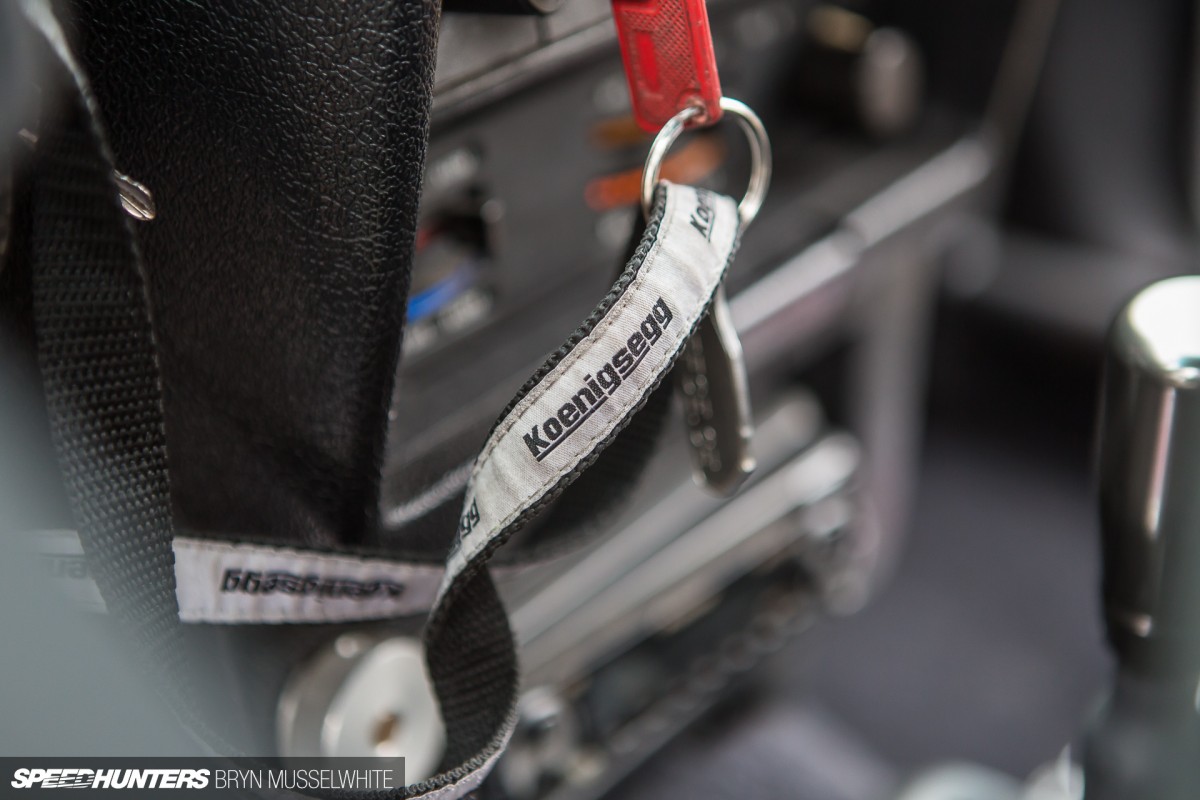 Bizarrely, Mattias was stood two people away from me as I blurted out how amazing I thought his Amazon estate was. He and the assembled technicians obviously thought I was a bit odd, after all, I don't think many journalists that pass through Koenigsegg use it as an opportunity to track down an old Volvo. Contact had been made though, and this was a good thing.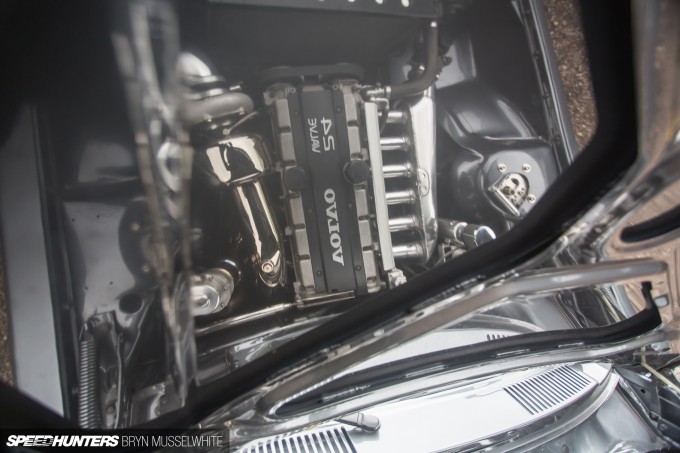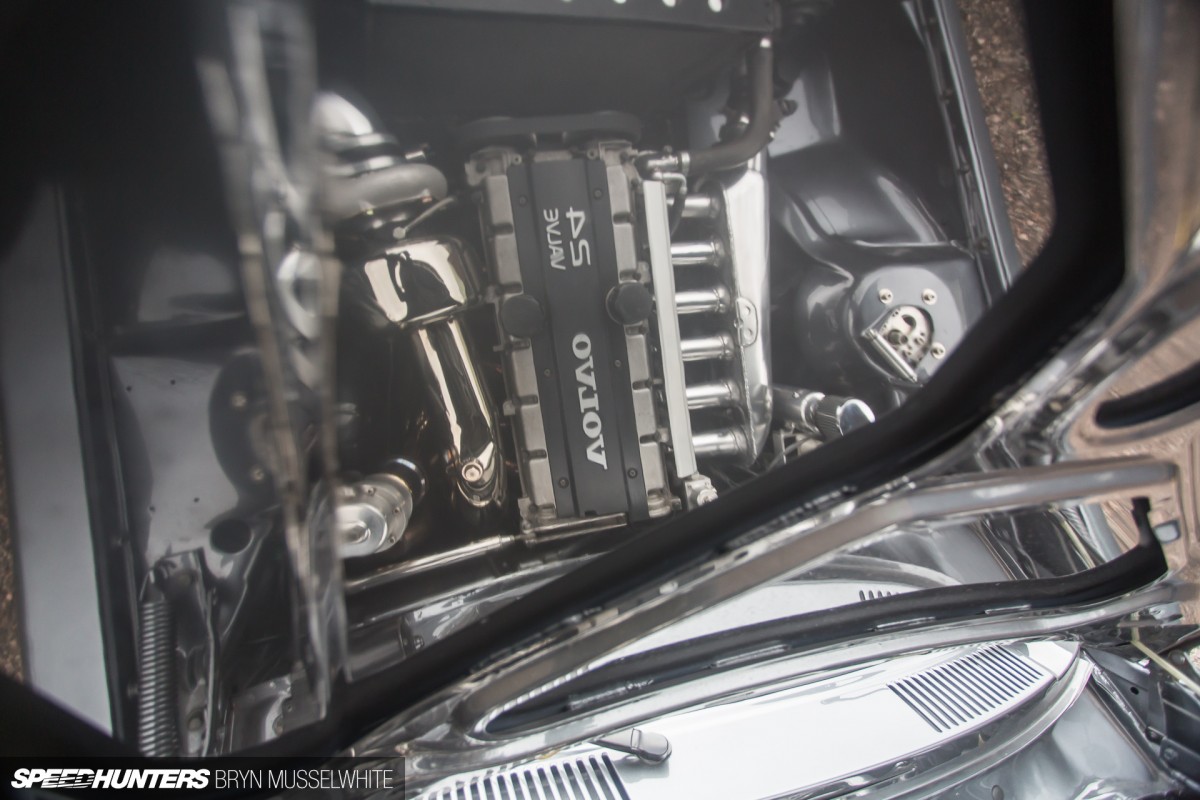 Later that night, whilst the team were still busy putting the One:1 together, Mattias and I had a coffee and I learned he'd sold the Amazon a couple of years prior. But he told me that he had his brother's 242 at home – which he'd built also – and that I could come and take a look at that if I wanted to. "It's got 740hp," he said.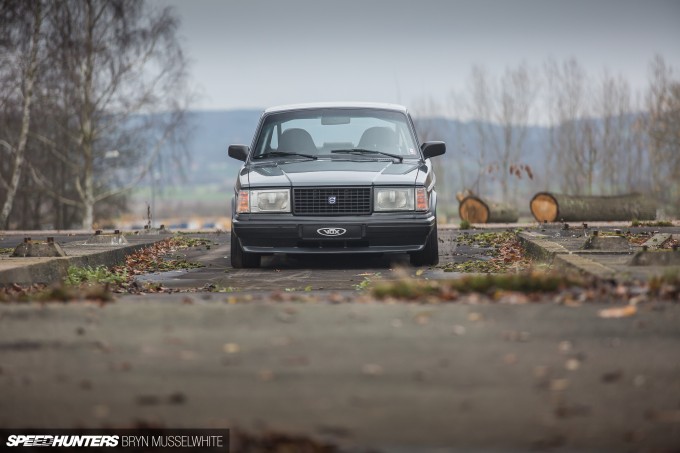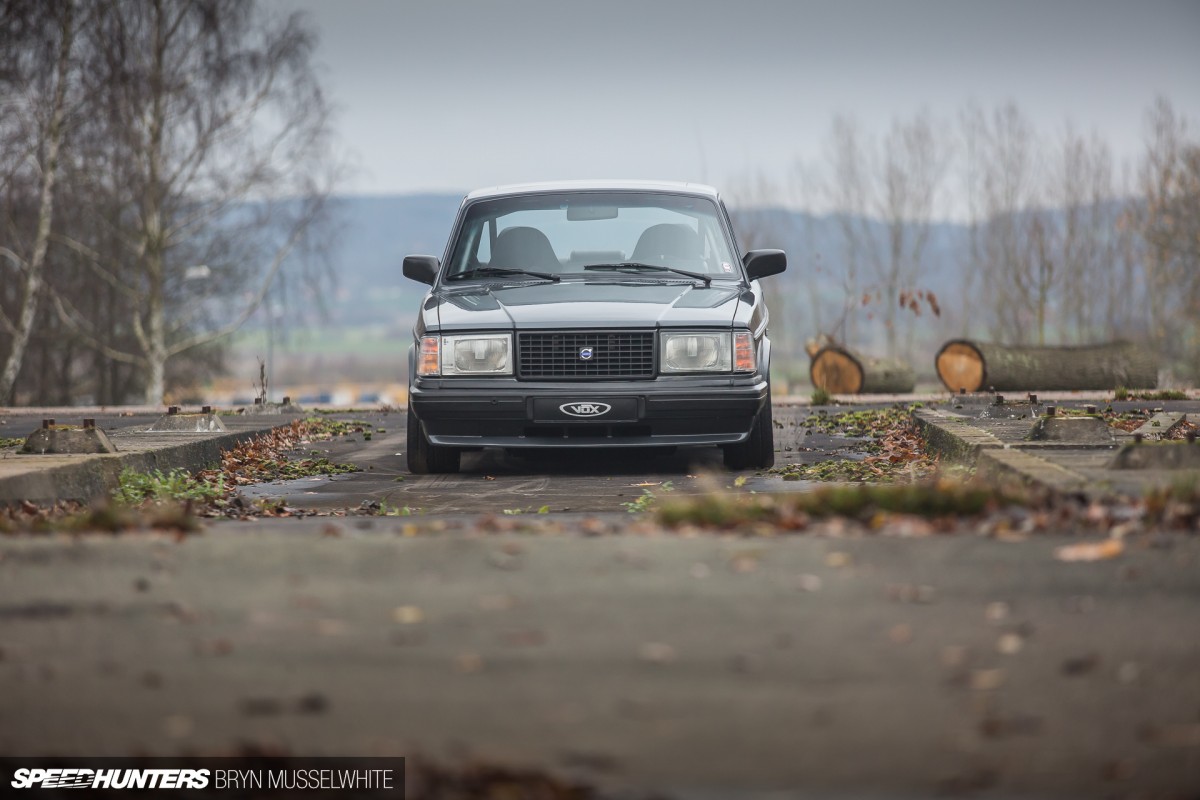 I can remember thinking to myself, this just gets better. I knew the Amazon was an incredible build, so I could only imagine what he might have done to one of my favourite cars. I had to see it. To break up an all night work session, we drove the short distance to Mattias's newly-built home workshop and he pulled the cover off the 242 that's in front of you now.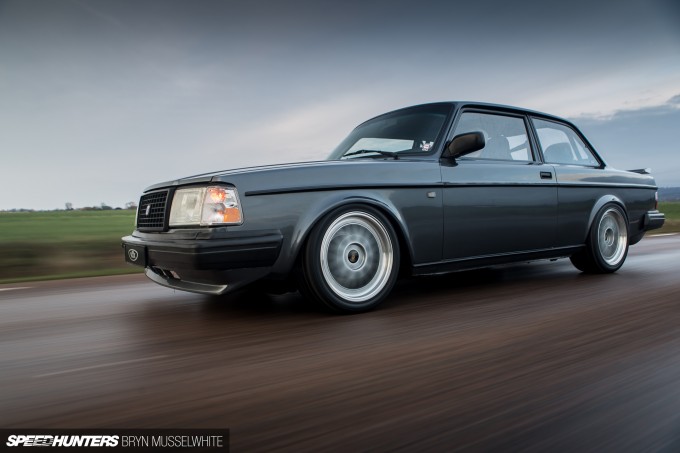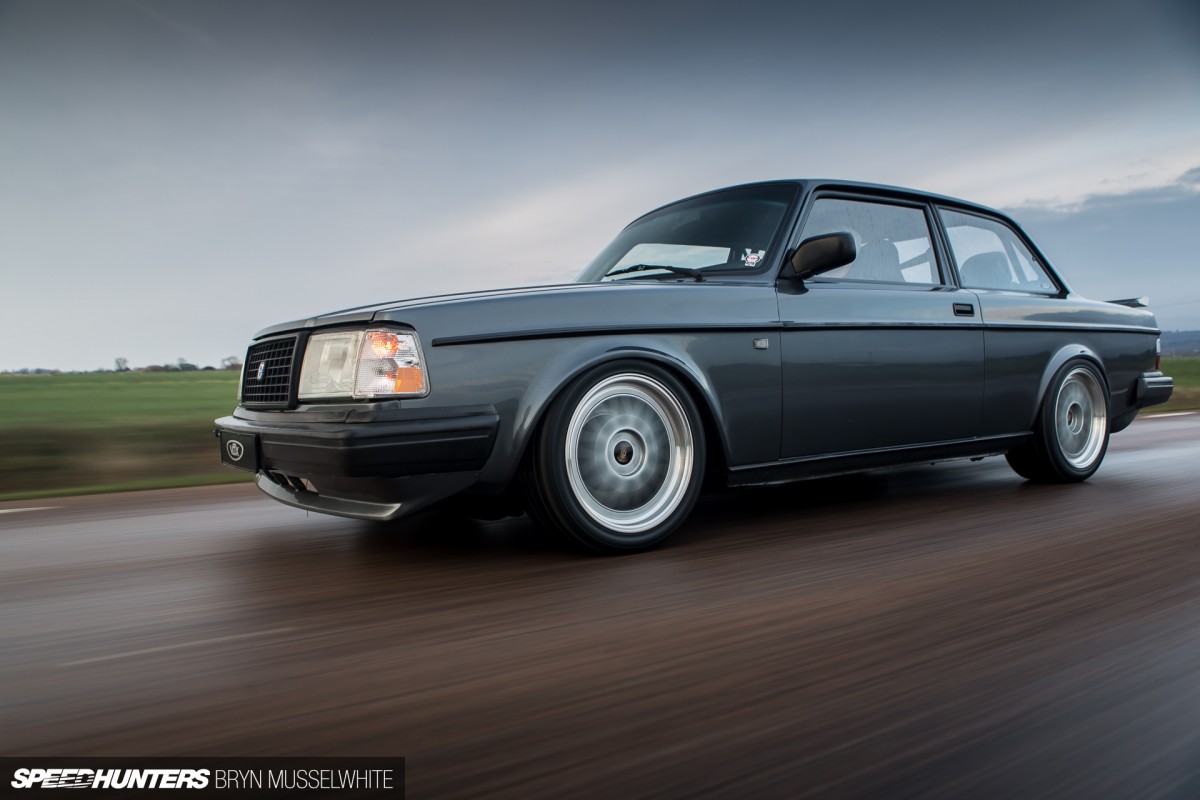 Now, at first you might be thinking the same as I did then – 'yes it's clean and I love the BBS LMs, but it's not as wild or as modified as I hoped it would be'. But then I got to learn the full story and my mind was changed…
Happy Face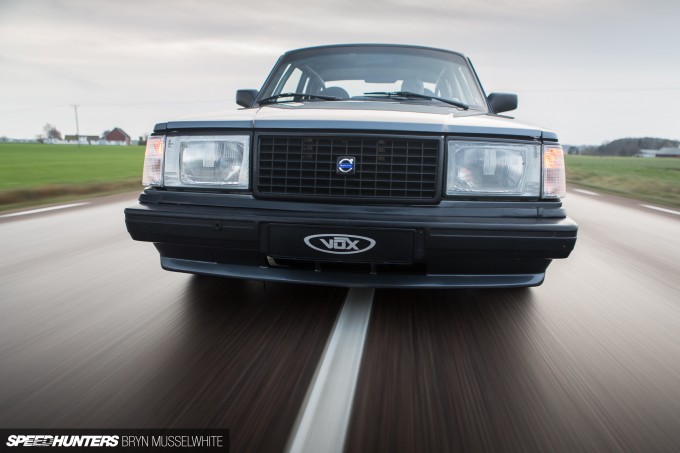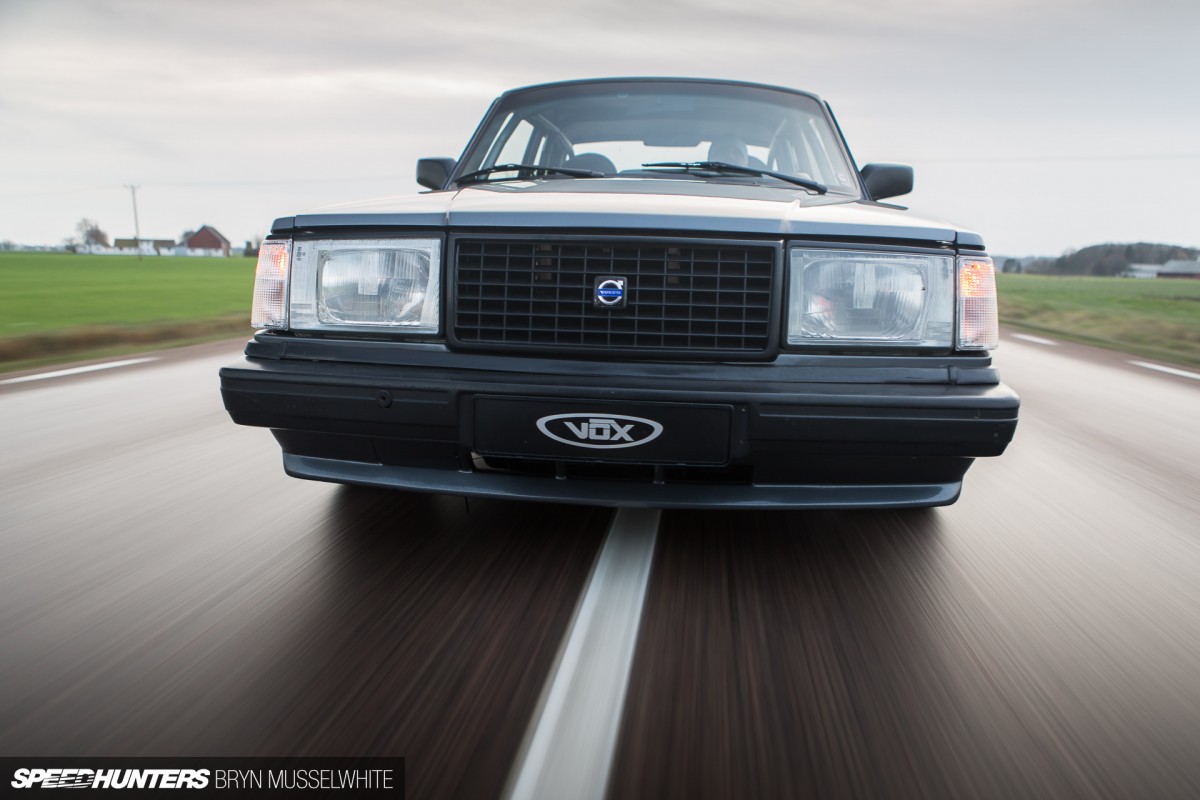 Because let's face – it in the last year we've seen some pretty incredible Volvo 240s, two of which made it on to our Top 10 Feature Cars of 2014 list. There was the mongrel Viper-motored track weapon, and the super clean, BMW-engined 242 which brought home second spot outright. But arguably, if you're a Volvo fan you'll want to see a Volvo brand motor under the bonnet.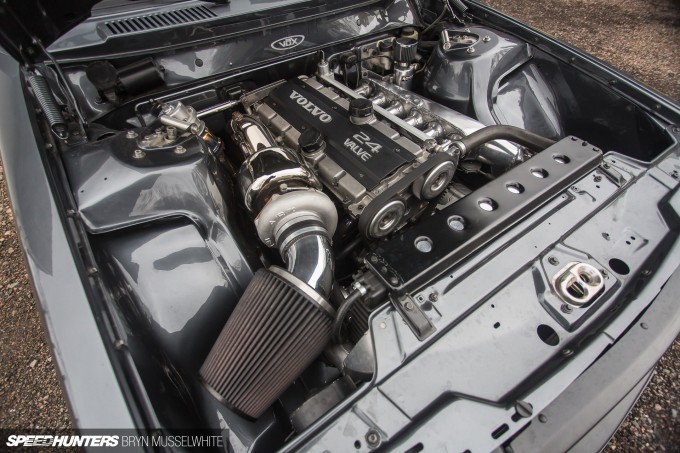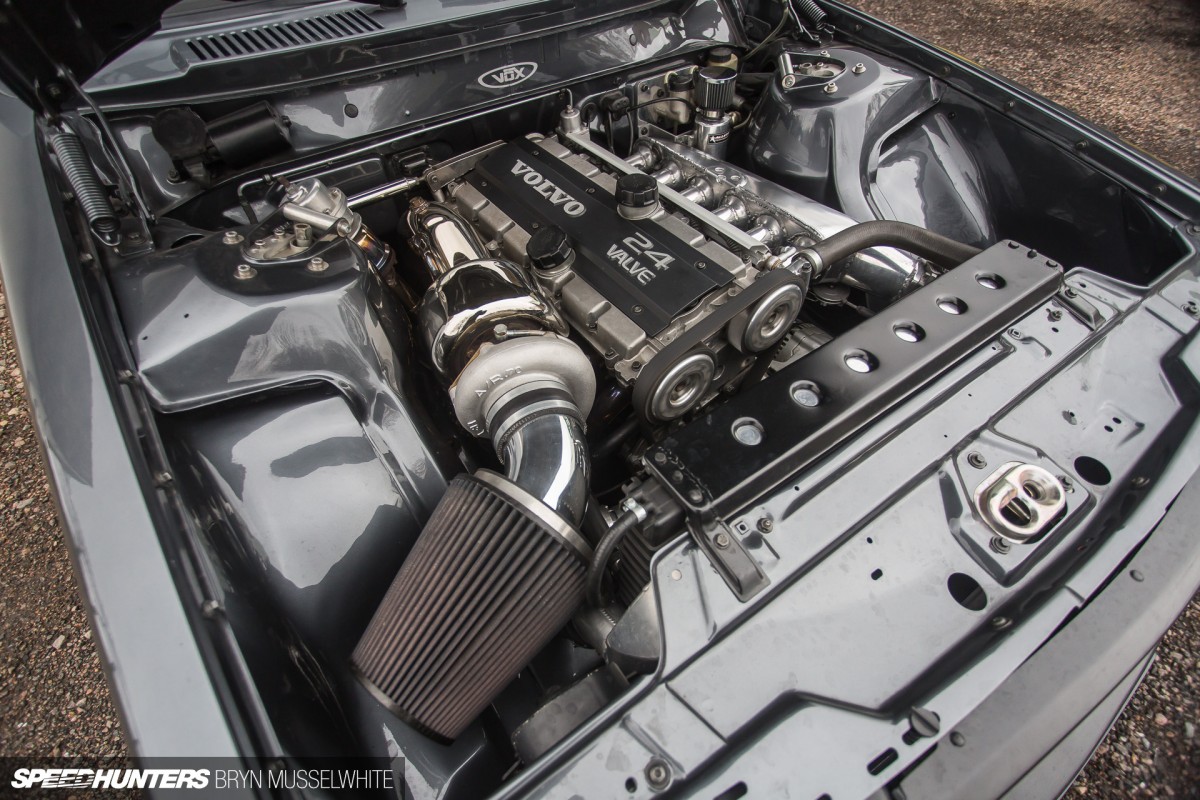 It helps with that perverse sense of satisfaction when you blow somebody's doors off and they must know what engine you're running. Reply Viper V10 or BMW M5 and they'll credit that with your success. But for Mattias, it had to be the 24V six cylinder motor from the larger 9-series Volvo model.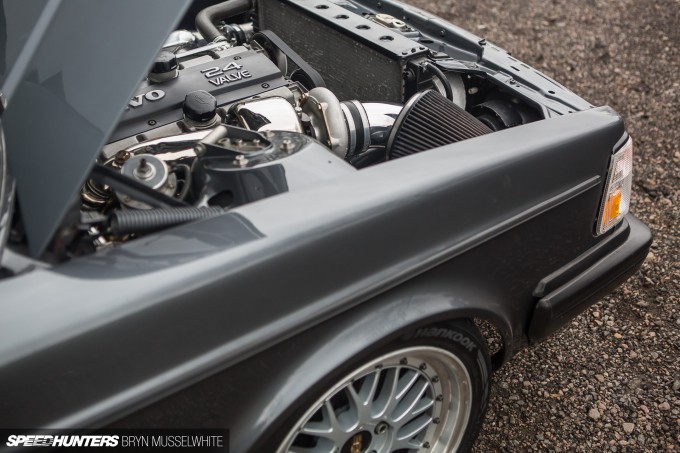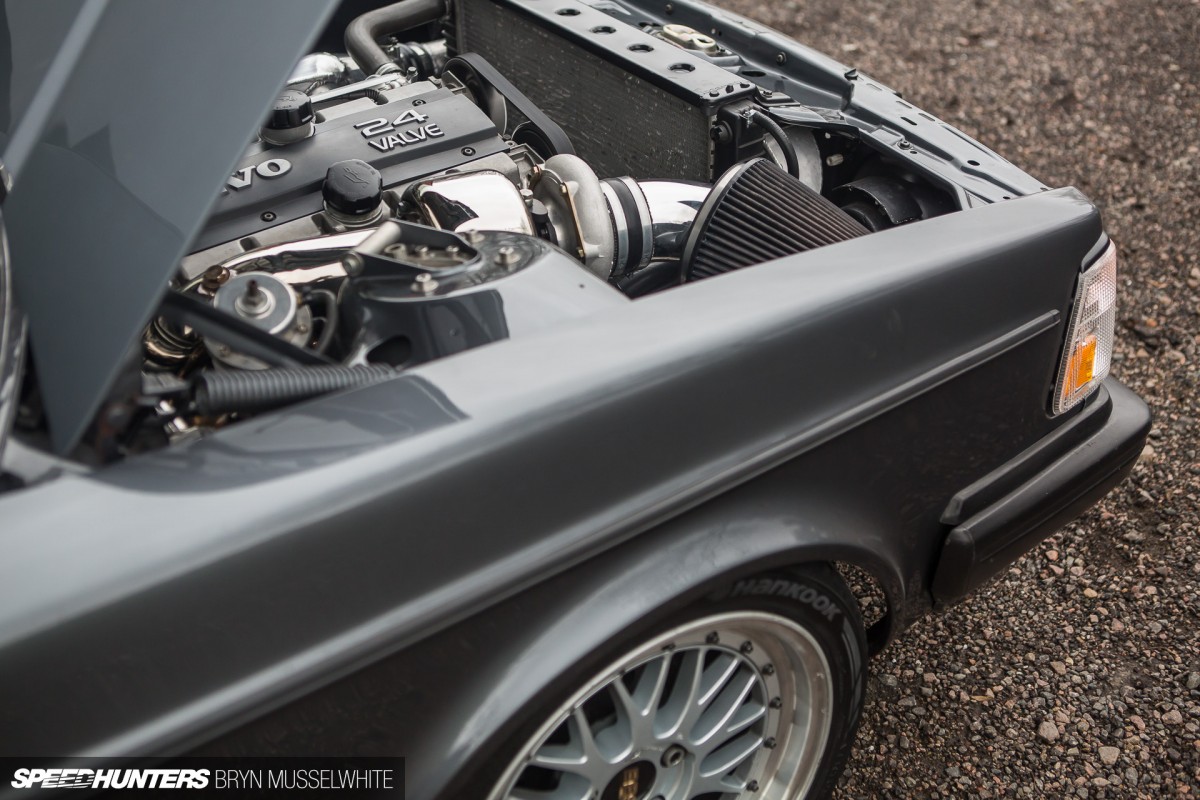 It's not an obvious choice by any means, and not a common swap at all. In fact, on the Volvo radar the six seems to be largely ignored after the smaller and supposedly punchier four cylinder B230 engine, or even the 20-valve, 2.5-litre T5-sourced motor. But if you want real Viking power, then six cylinders are definitely the way forward. More cylinders, more boost!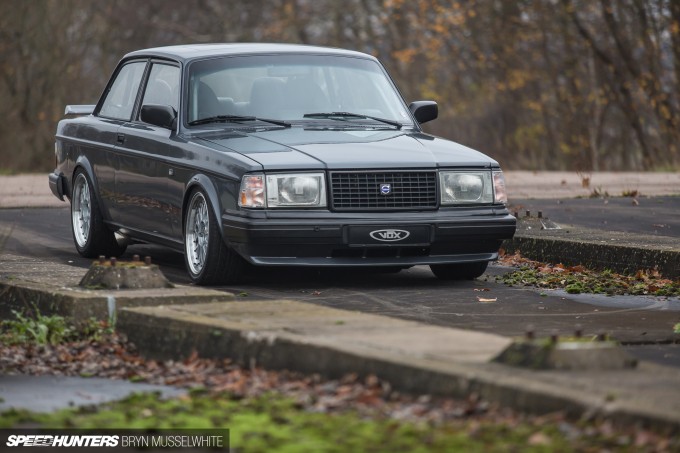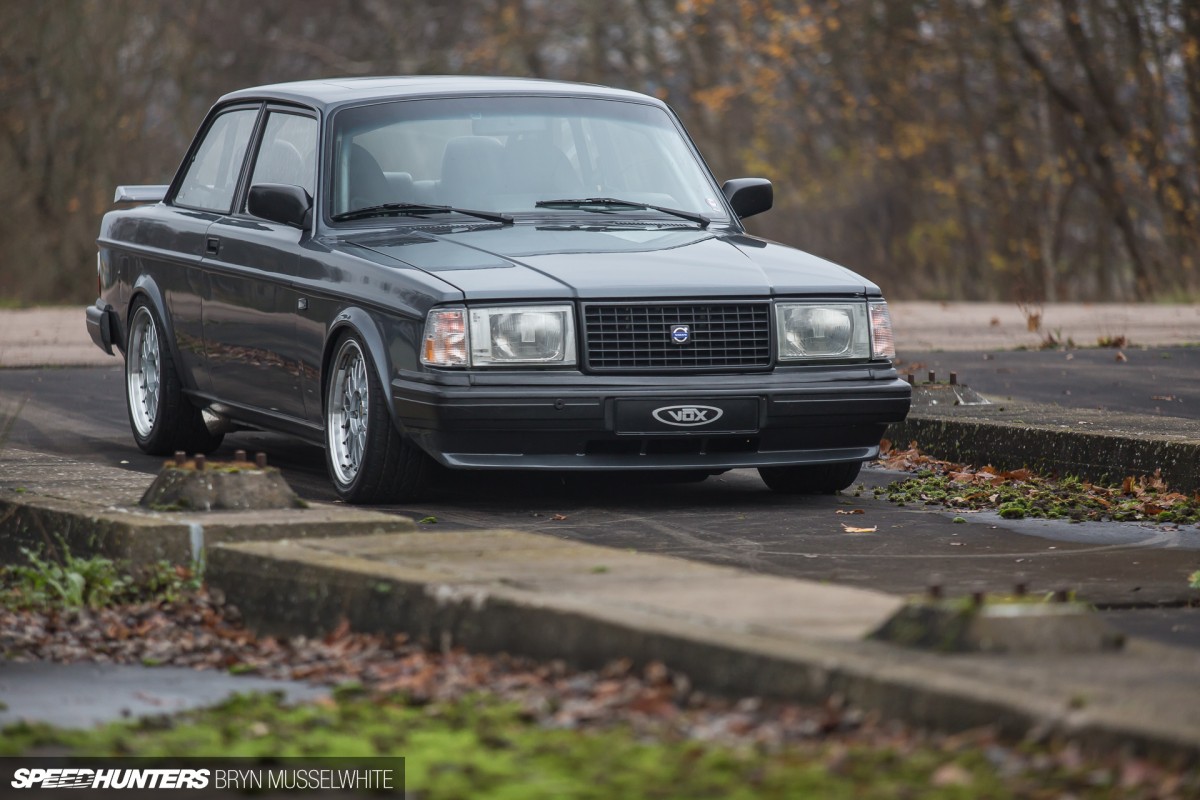 It was one of the reasons why Mattias bought the saloon back in 2007. When he picked it up from his friend Marco Garver it was already running the inline six, so Mattias figured it would be a good test bed for the technology he wanted to put in the Amazon, which was still being built at the time.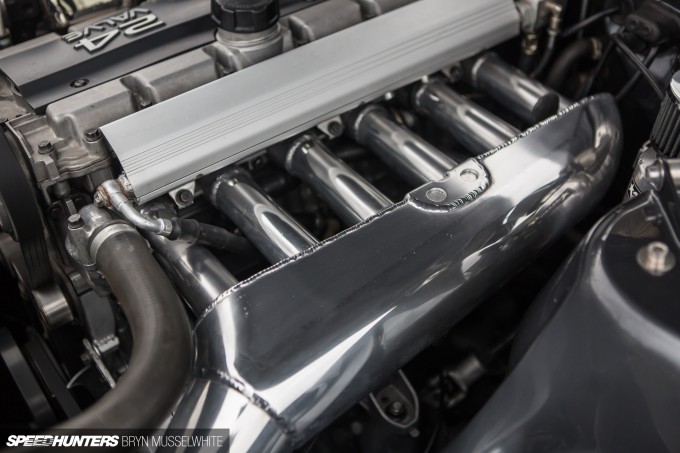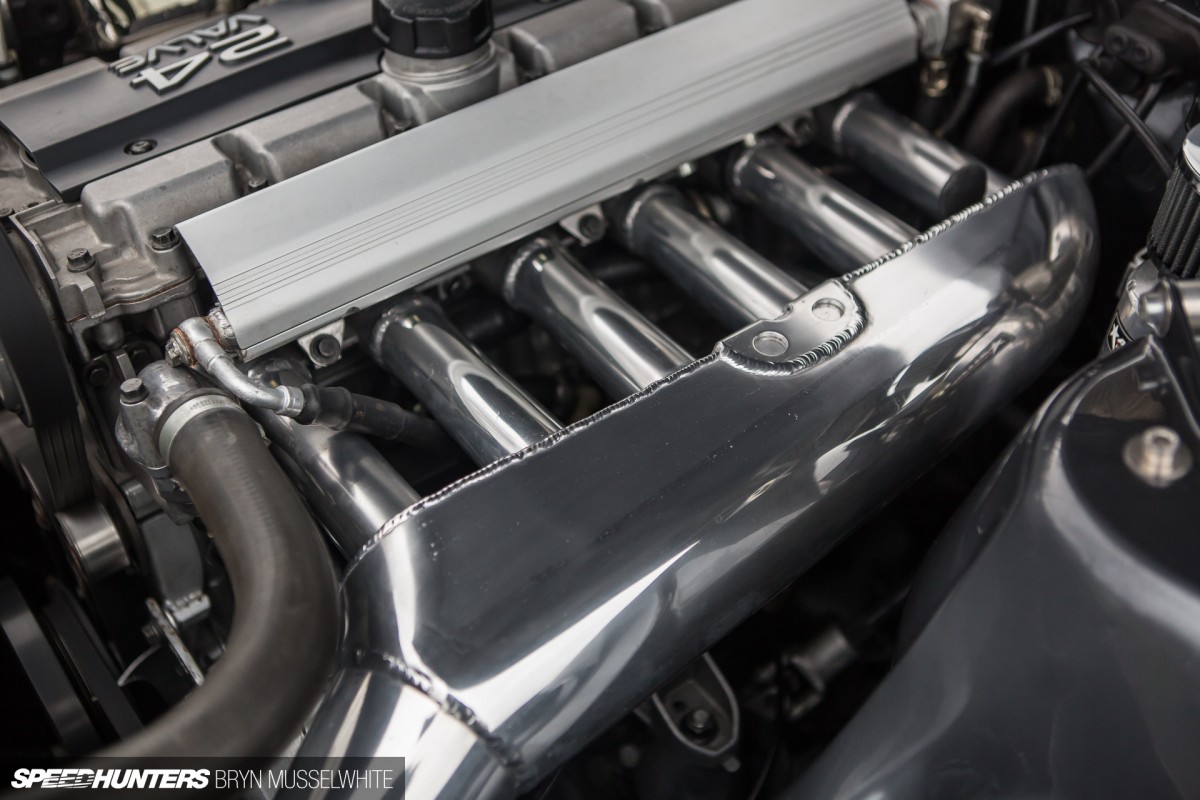 The state of tune has way surpassed what it was back then, with power now topping 740hp on 1.7bar (25psi) of boost running on E85 fuel. It does make me wonder if Mattias can only tune an engine to Volvo model number figures, which means by (questionable) logic, next up he should be aiming for 850, then 960? Musing aside, the level of finish on the whole car is lovely. That 'tab' in the middle of the intake side of the manifold was added the night before I turned up for the shoot, after Mattias remembered that it had split the last time the Volvo was used in anger. If he hadn't told me I wouldn't have known as it looks like it's been there all along.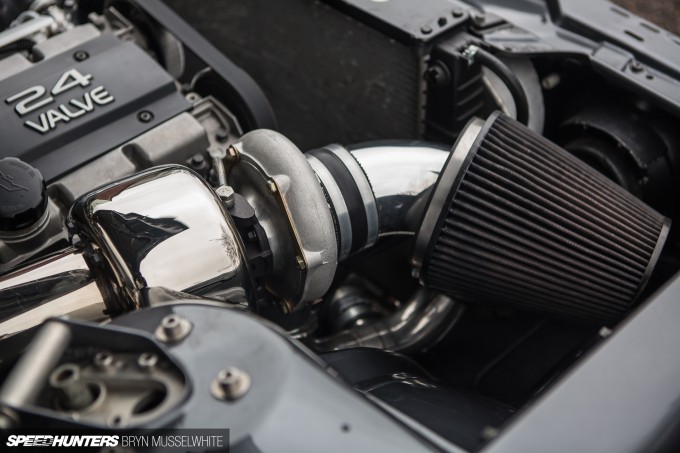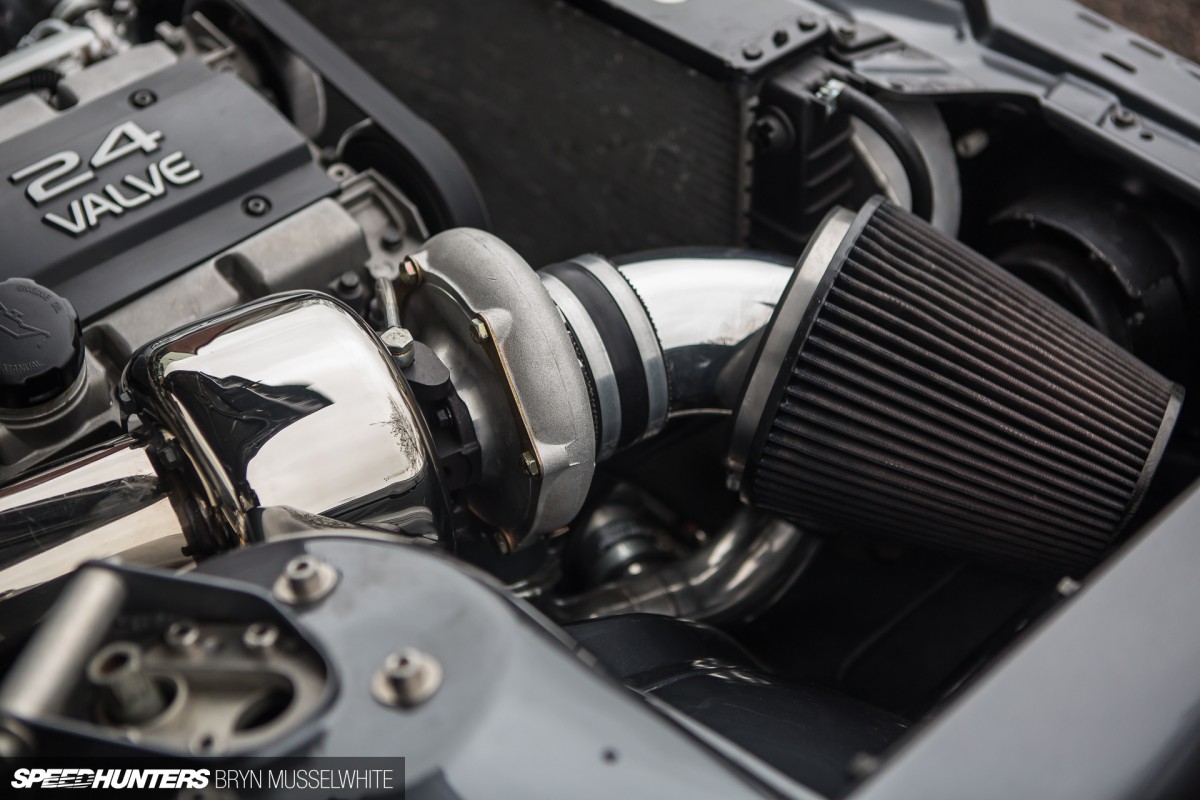 The Precision Turbo PT67 RS is a fairly new addition to the engine bay having been added last summer, and the polished cover and hard piping compliments the Volvo Titanium Metallic paint perfectly. As for what it does, well, on a slightly damp day in December it made the ride across to our location hilarious. The turbo spools up fairly quickly given its physical size, but then that's because there are six cylinders feeding it I guess.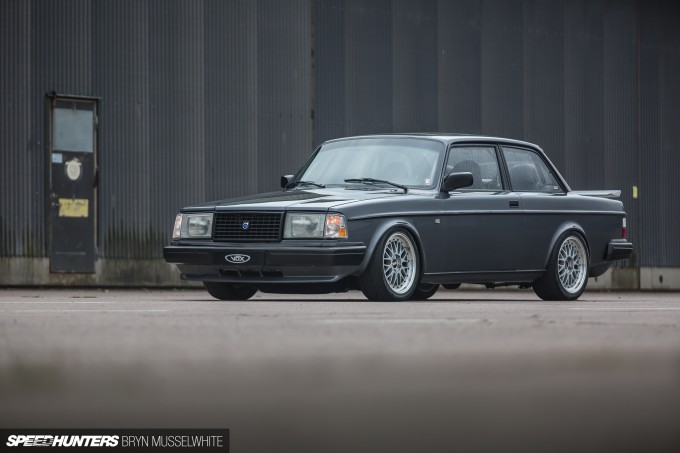 And this brings me to another thing I love about the way Mattias has finished the build: it's subtle. The original plan for this build was a rough and ready track weapon, but there are plenty of those already and I'm glad it turned out like this. If I hadn't told you, you could easily believe it was running a tweaked 2.3-litre motor with a couple of hundred horsepower, which would be fine. But over 700hp? That's somewhat ridiculous, right? The more I look at this simple execution the more I think about my own project and how I've made it stand out more and more. Now I kind of want to take it back to an almost stock look.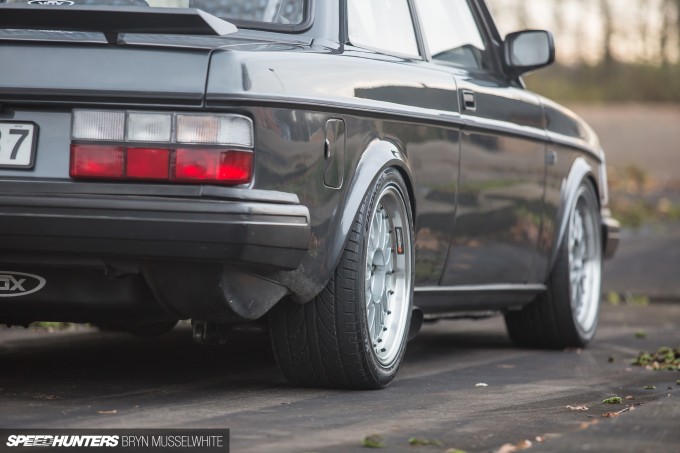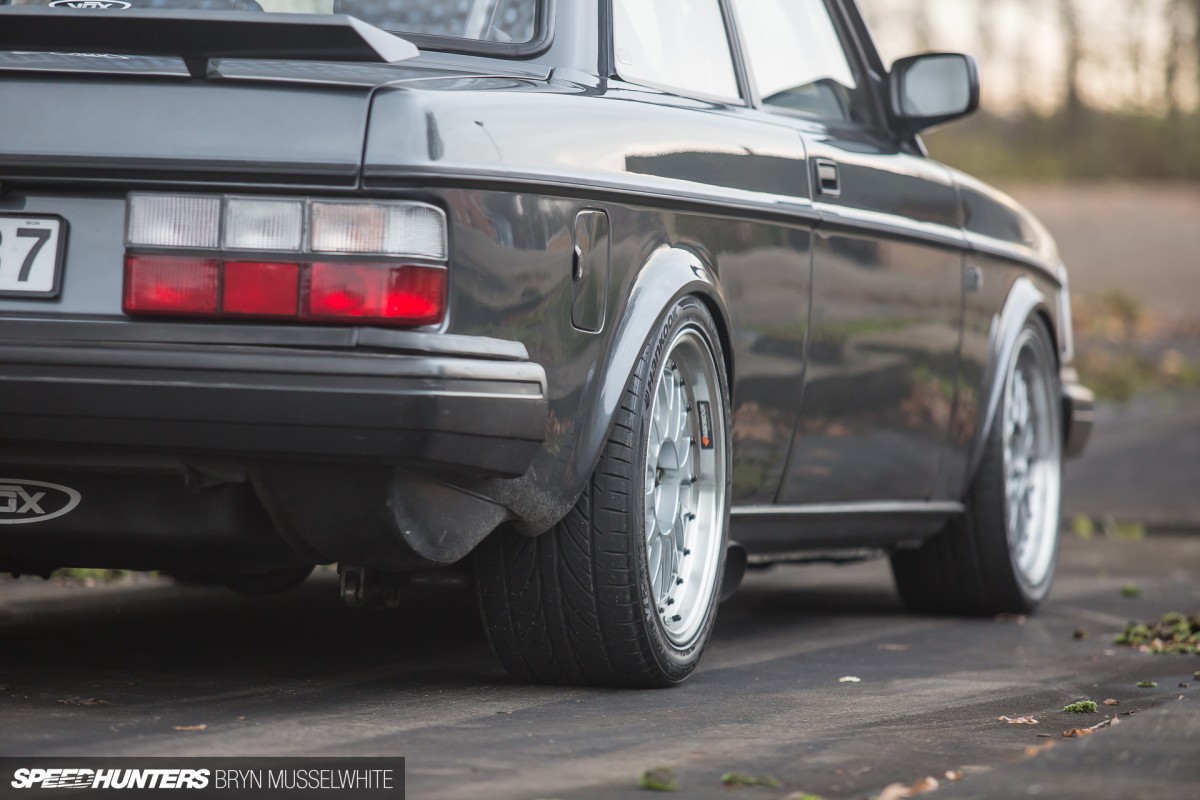 There are some very subtle modifications that go together to create the overall deception here though. The rear wheel arches are in fact front arches, and Mattius has mounted them further up the bodyline to help lose the 'Volvo squat' that so many have when lowered. They also give extra clearance, which helps with the 17×9.5-inch BBS LMs and Hankook 255/40s. That's the same size tyre I'm running on my wagon, with its big sticky-out arches…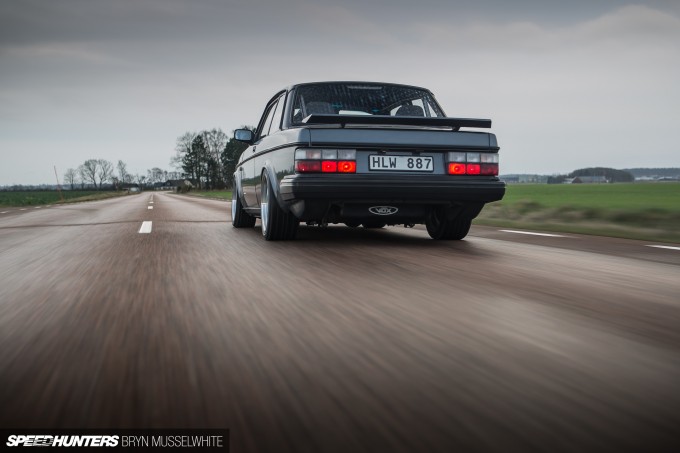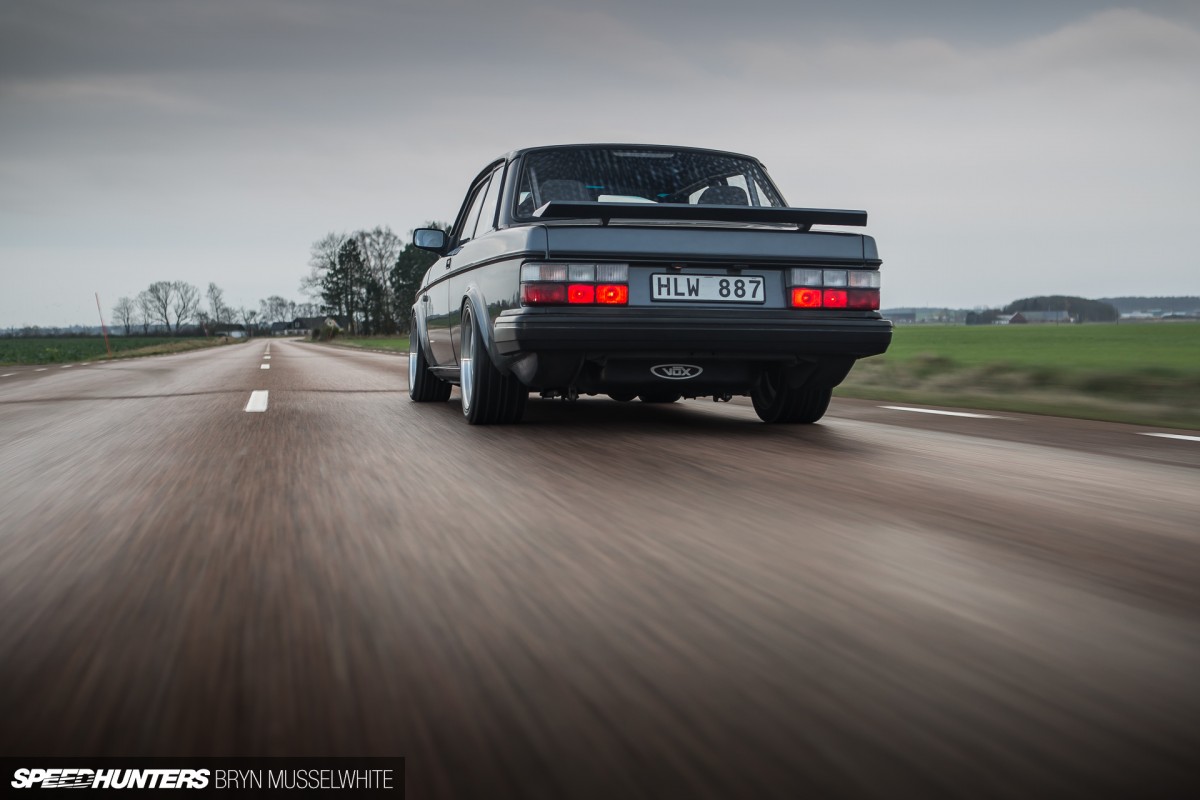 You can see my train of thought rolling on down the tracks right now. The reason why I bought my 240 in the early '00s was because I liked the shape, so why change it? It's what Mattias has put in behind that engine and under the back end which is inspiring me right now too.
Happy Pace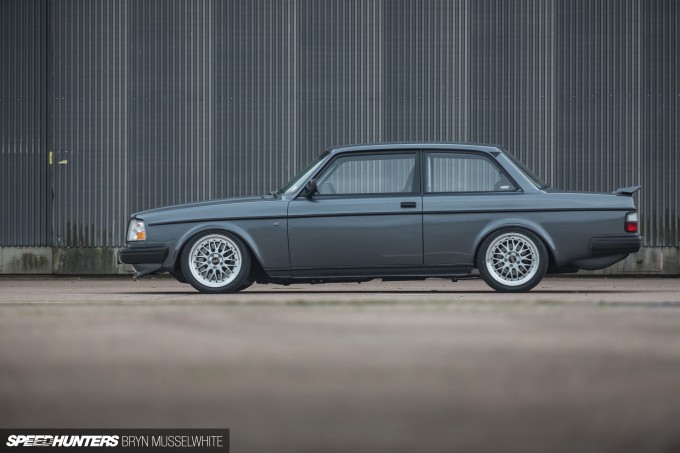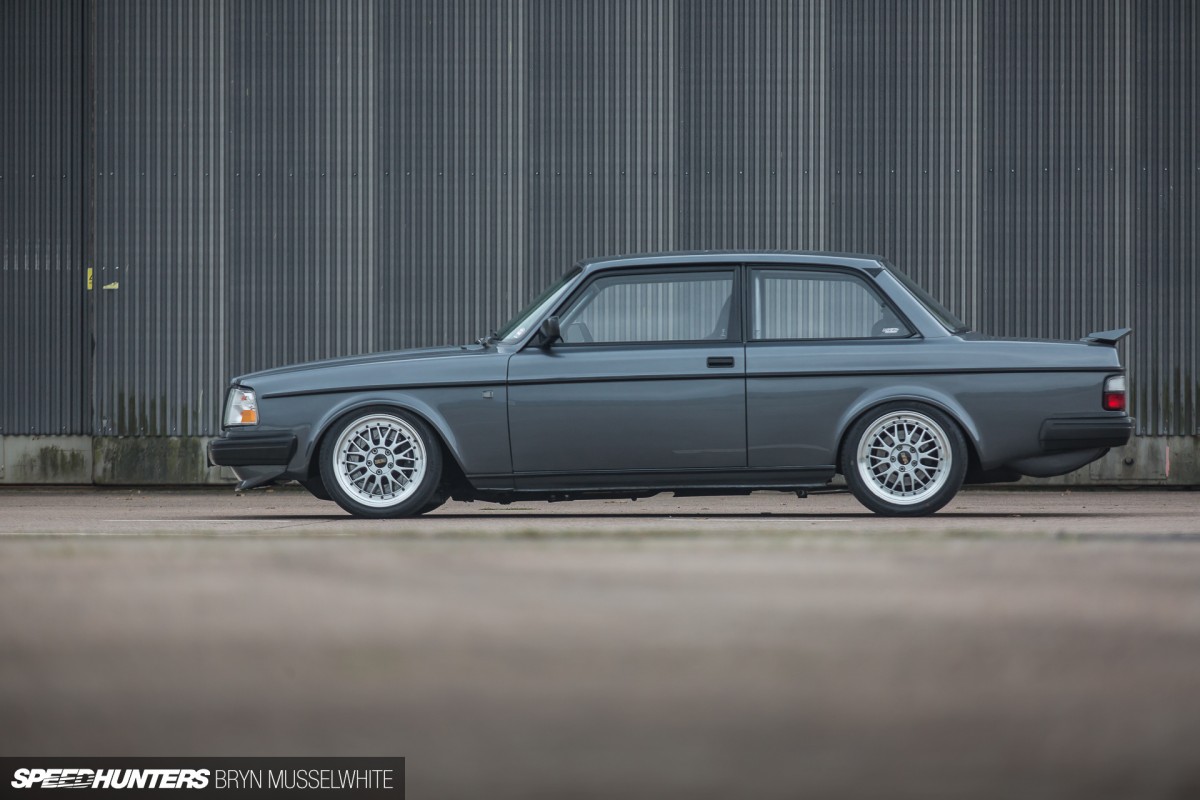 To handle the power, Mattias has moved away from Volvo components – something which is okay to me as the important stuff is still from Gothenburg. For starters he's gone for the BMW 6-speed manual gearbox that you'd usually find backing up a V8 in a 540 manual. By cutting the front off the Volvo bell housing and welding it to the back of the BMW item, it now mates right up.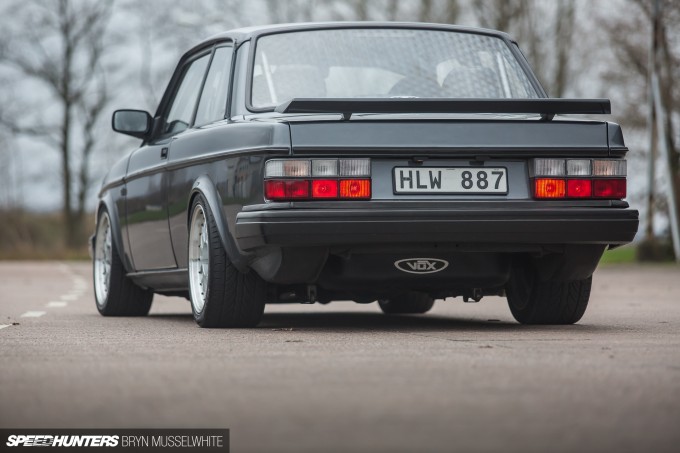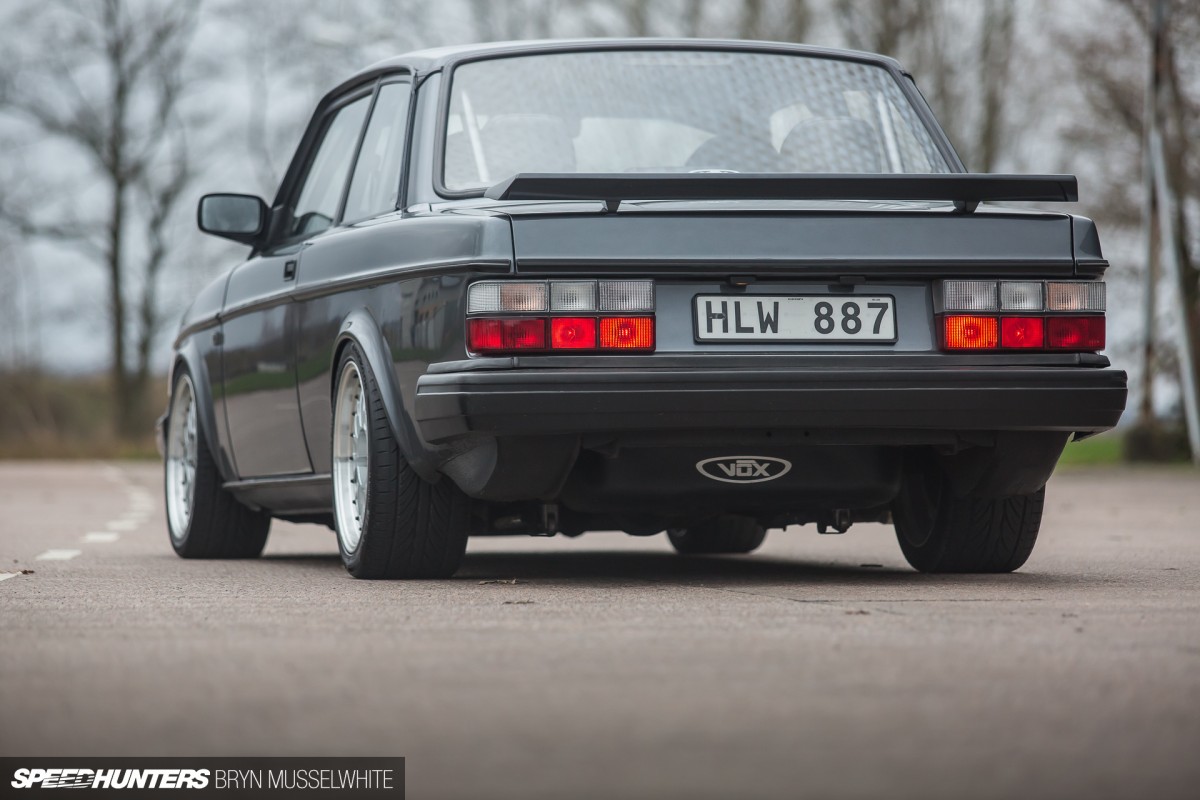 The back axle is a Chrysler 8.75-inch unit fitted with Moser 38-spline axles and a Wavetrac diff. That's a stout combo right there and seems to be handling the power just fine for now. I did ask why he hadn't gone down the Ford 9-inch road, and Mattias told me that even with an alloy centre housing he felt it was still too heavy. Yup, been there, done that!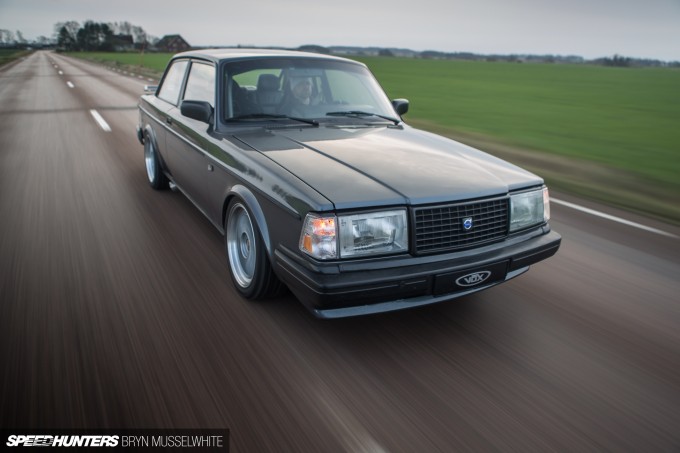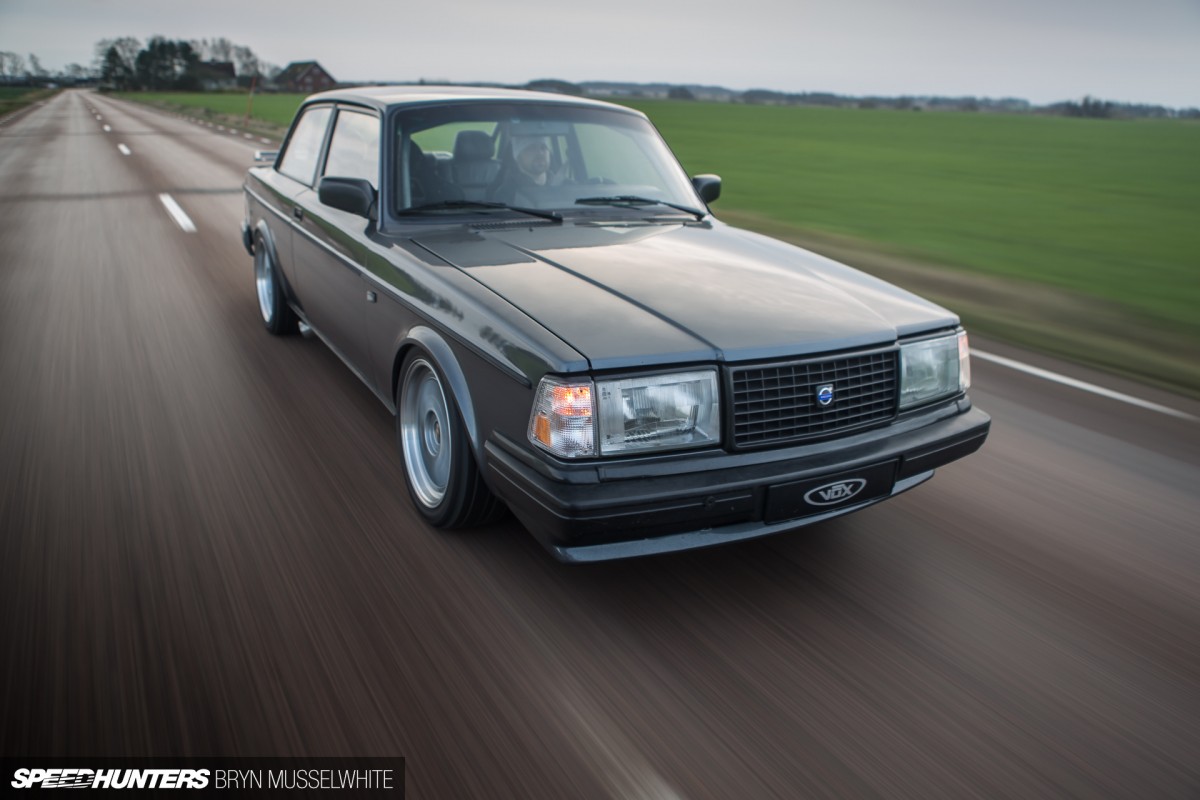 So there's a lot going on here that might not be obvious at first, and I like that. There's a certain restrained finesse to it all. From the standard door-mounted mirrors to the egg crate turbo grille and the Group A style rear spoiler. Because yes, the 242 was kicking-ass in the '80s on the race circuit, so a little modification is fine.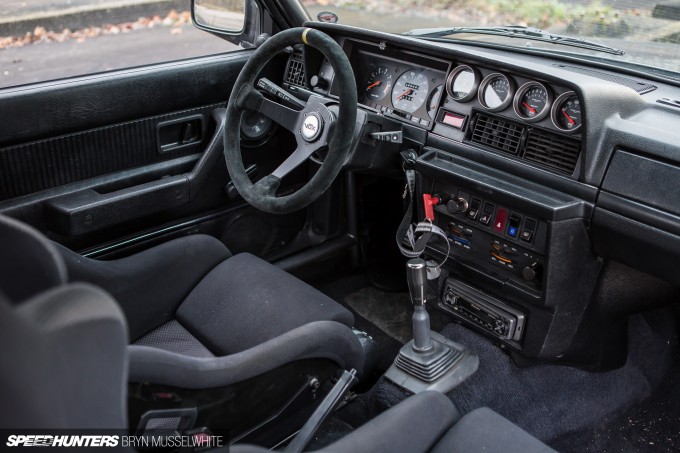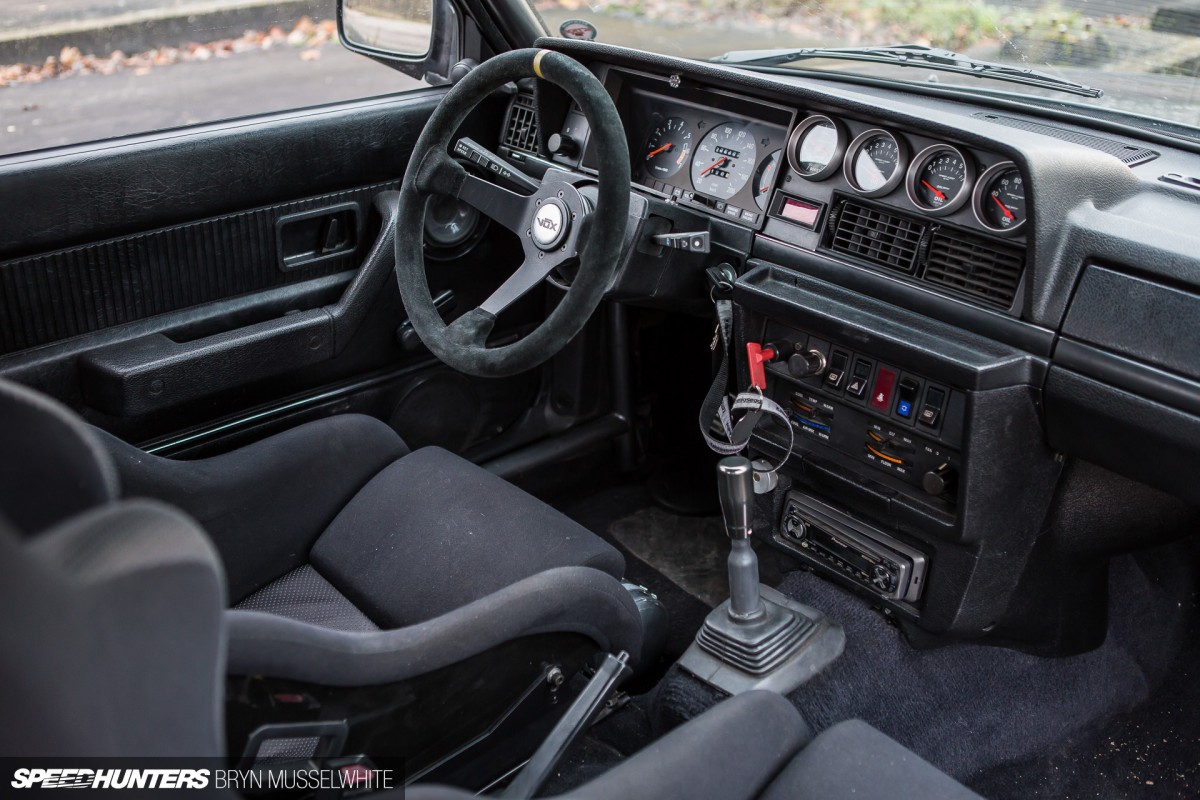 Looking inside, Mattias has resisted the urge to change too much. There are some Auto Meter gauges where the stereo used to mount and a suede-wrapped steering wheel to help him hold on when things get hectic. You can also just make out the cage here in the A-pillar and lower sill area.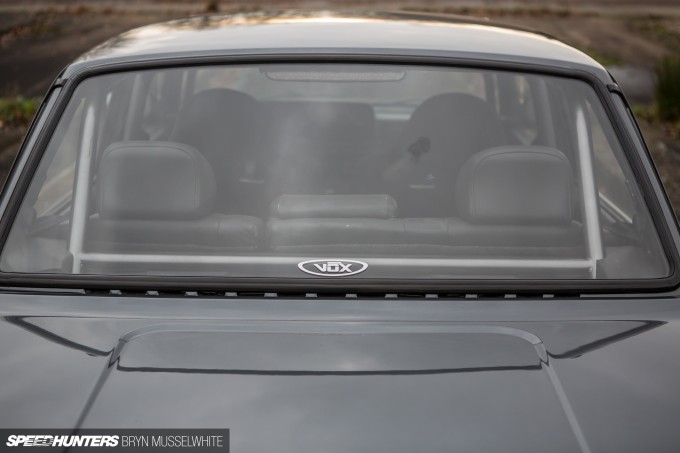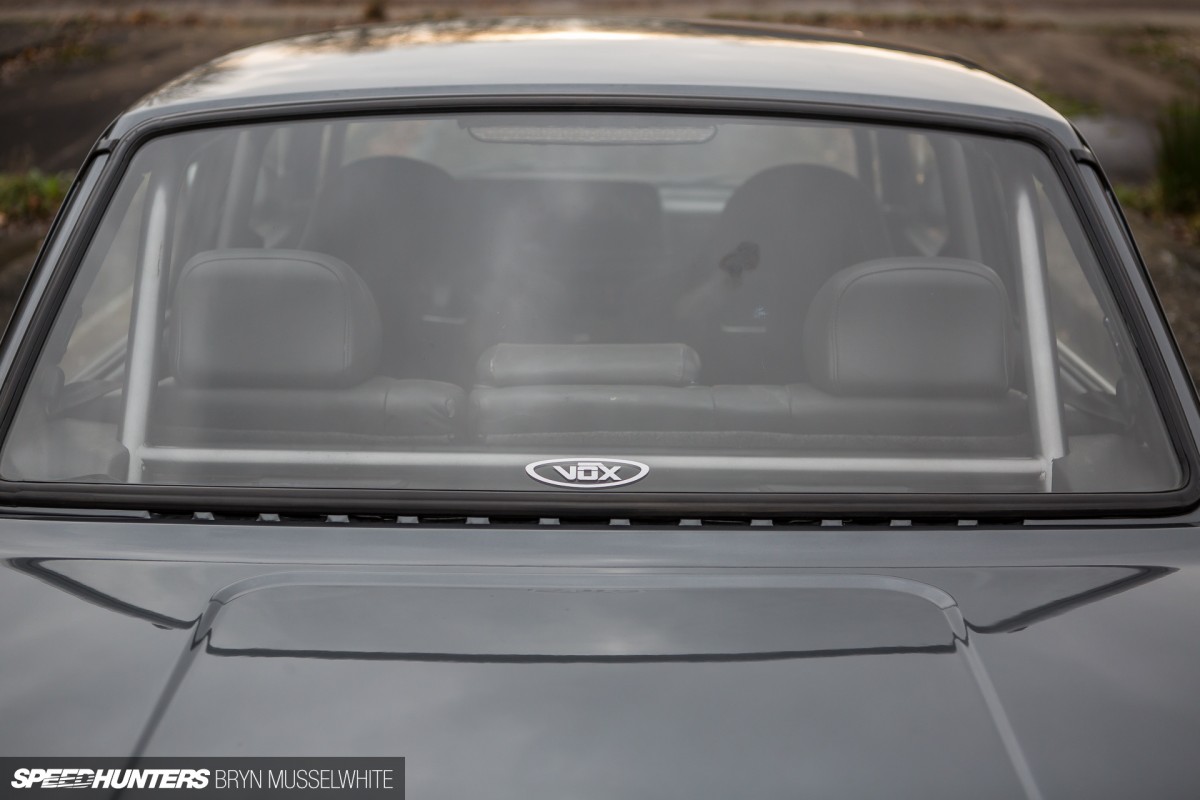 Just about the only place it's really visible is through the rear window, but that's because it ties into the rear suspension mounts, so can't faithfully follow the C-pillars. At the other end it runs up through the back of the dash into the front shock towers, adding that all important rigidity now the power levels have been quadrupled over standard.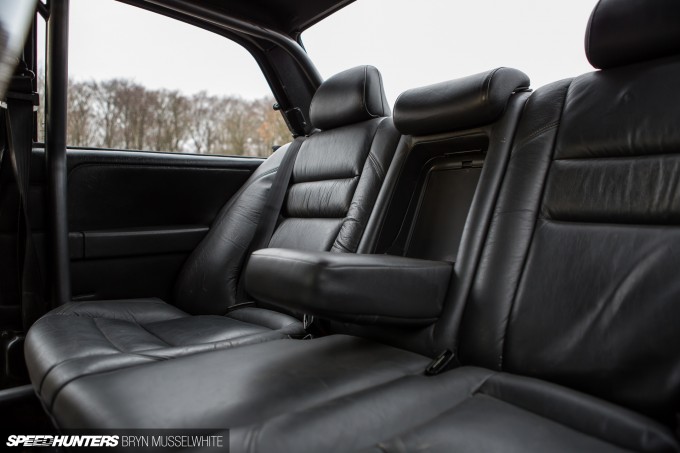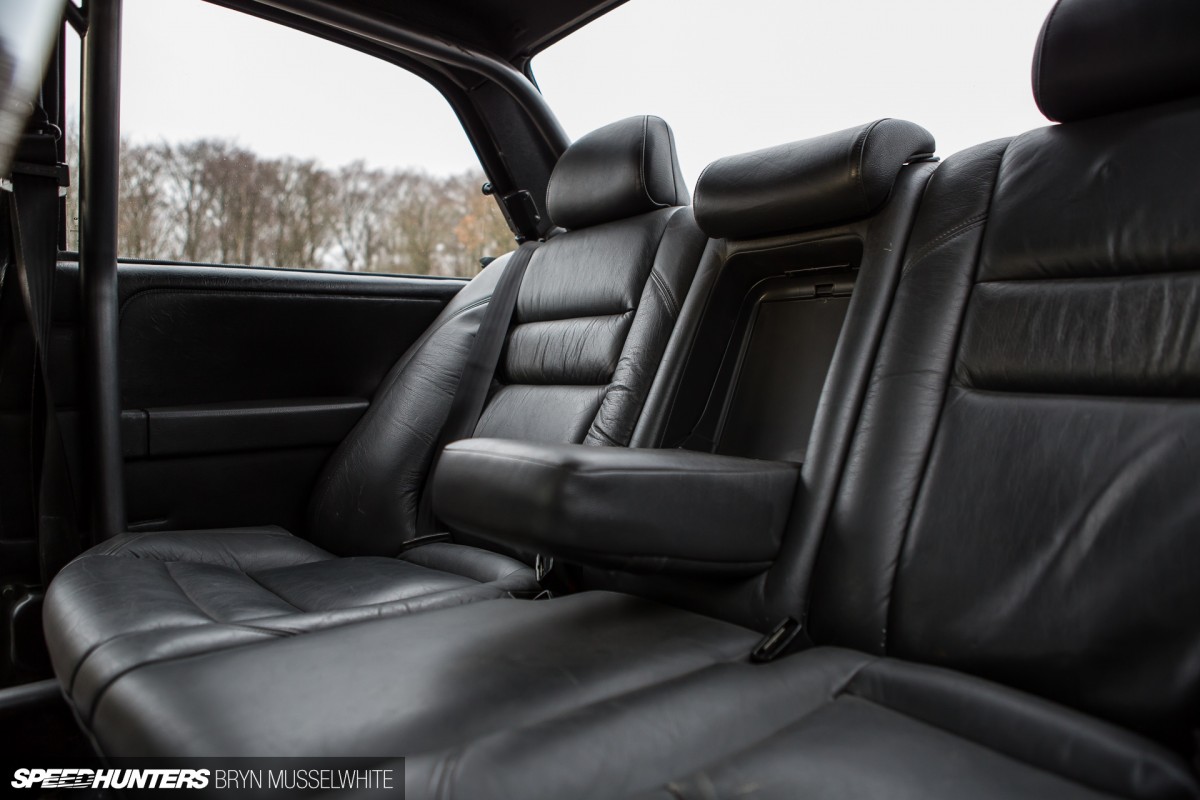 There's still plenty of room for passengers to be scared in comfort though. I find it hard to believe that there's a later model leather back seat in here, but then the envy comes in again. The added sound deadening from having the upholstery in place is welcome, and as if I needed reminding again – why strip weight out when you have 740hp to play with? There's a moral in there and it's something to do with just adding more power.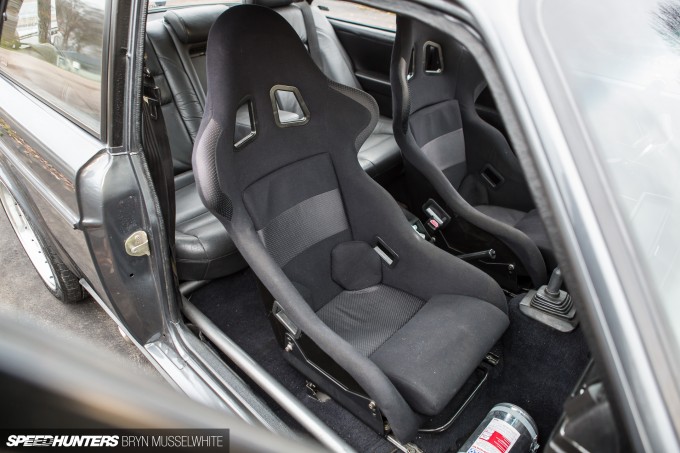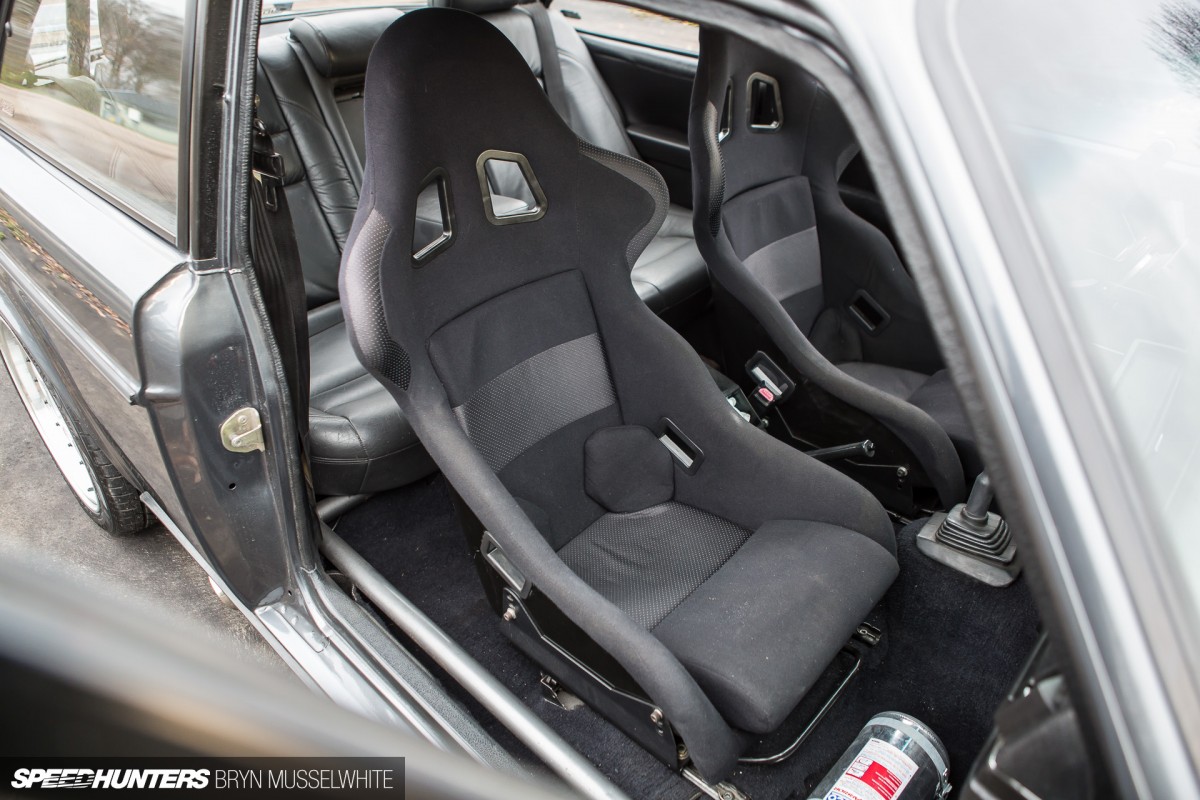 Thankfully, in the front there's a bit more support. This is welcome when the back end decides to dance like your mum at a carnival – all ass and wiggling. And just in case you were wondering what that sounds like, this video should satisfy your curiosity.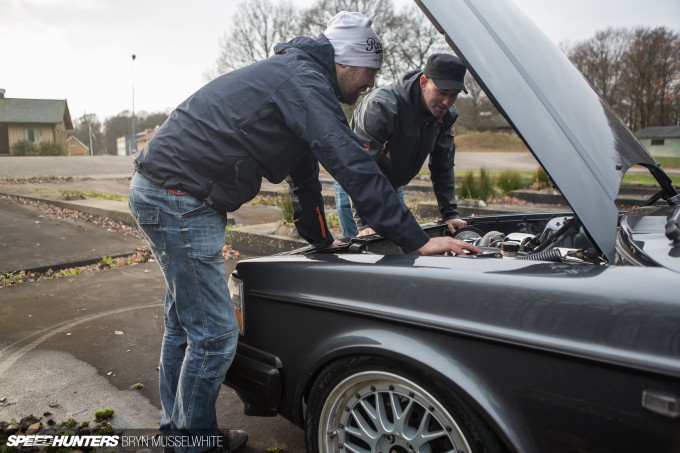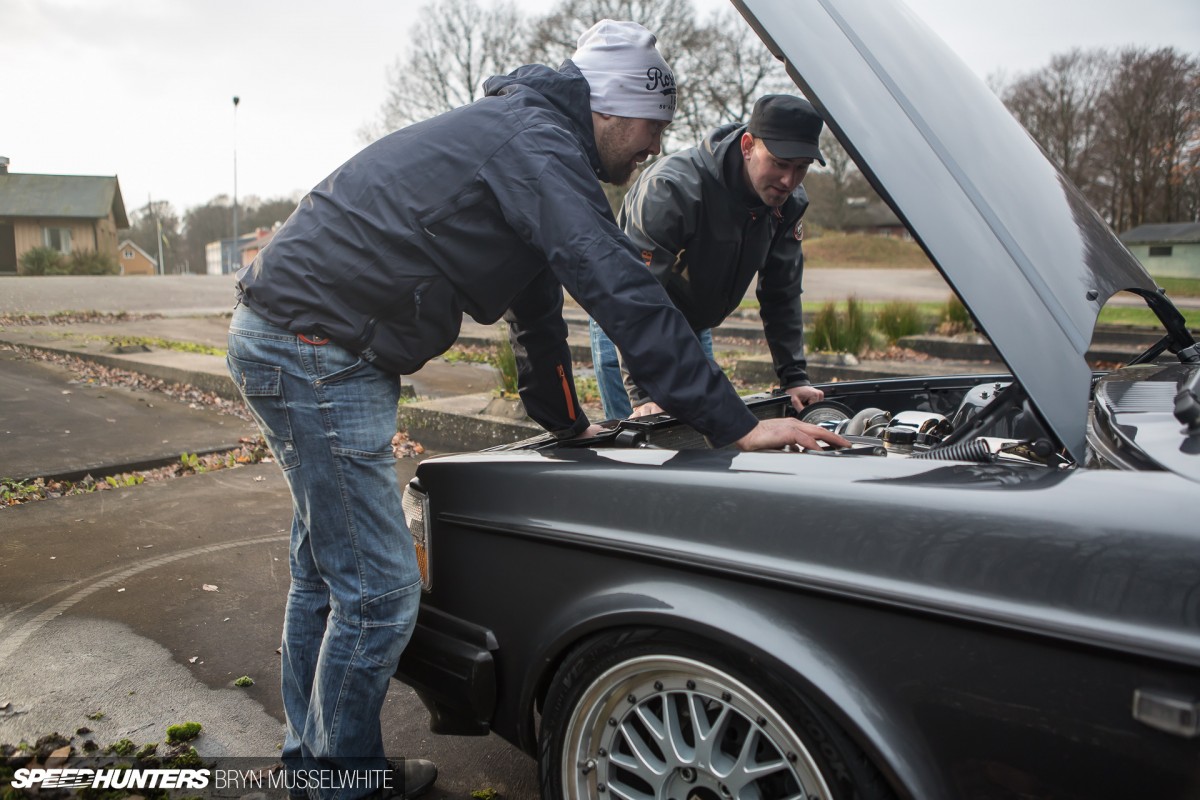 Getting back to the Koenigsegg connection, the best parts bin the world provided the front brakes, as they're from CC8S and feature 340mm discs and 6-piston callipers. I find it kind of fitting that the guy responsible for the prototype department at the forward-thinking hypercar manufacturer drives a kick-ass Volvo… That's Mattias in the white hat by the way.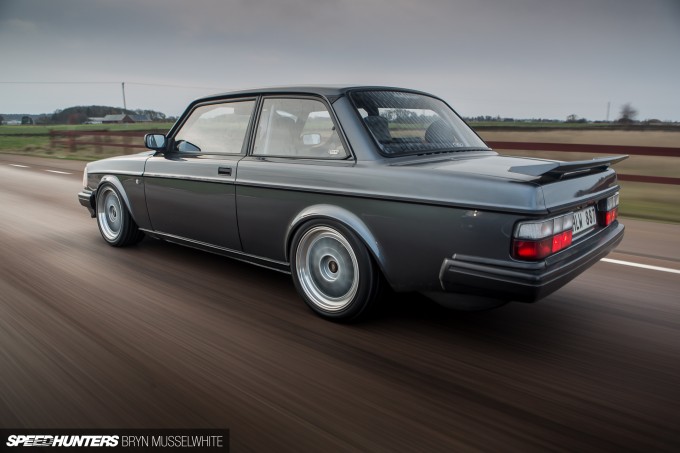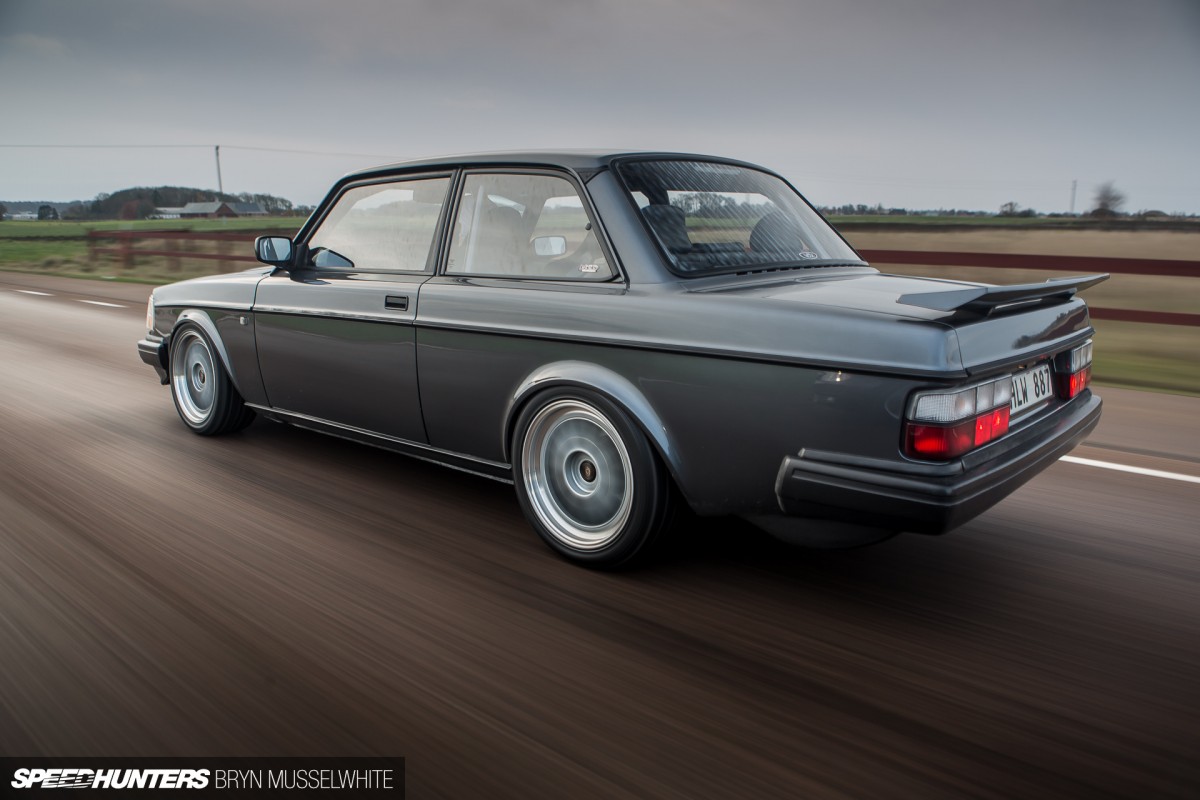 Yup, that was a good day. Although Mattius's brother Magnus owns the 242 now, he rarely gets to use it. But that doesn't matter too much, because it's not like this is ever going to go out of fashion or get boring in any way.
In fact, come to think of it, everybody should have a kick-ass Volvo at their disposal. But you'll just have to accept it probably won't be as good as this one…
Bryn Musselwhite
bryn@speedhunters.com
Instagram: Speedhunterbryn
(PS. Mattias unwittingly sold his Amazon to British motorbike legend Guy Martin. So if you're reading this Guy, how about a feature?)
Cutting Room Floor