Part 1
When it comes to racecars, the first thing that catches your attention is the livery. While I've heard of the saying, 'The car looks good no matter what when it's in the winners circle', I'm not exactly sure if that's true. To me, a strong visual identity is just as important as a reliable engine. A racecar's livery is what people remember and the timeless ones will live on forever etched in our memories.
Each of us have our favorites, and of all the classic liveries, those by Gulf Oil, Jägermeister, Marlboro, Martini, and Castrol really stick out to me. Which got me thinking about all of the liveries I've come across in the North American drifting scene over the years. So I dug through my archives and came up with my 25 all-time favorites.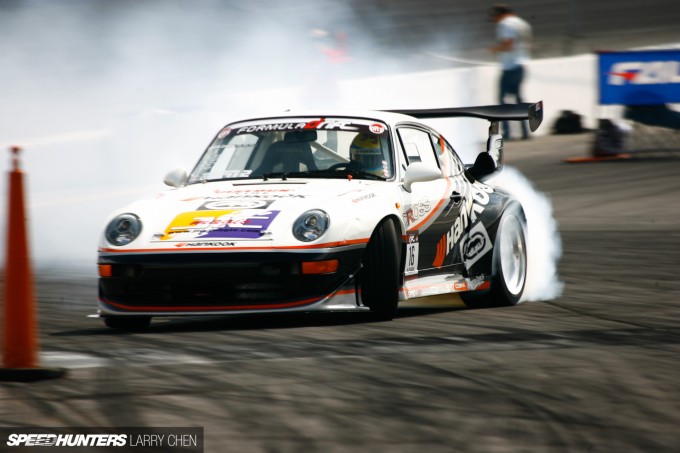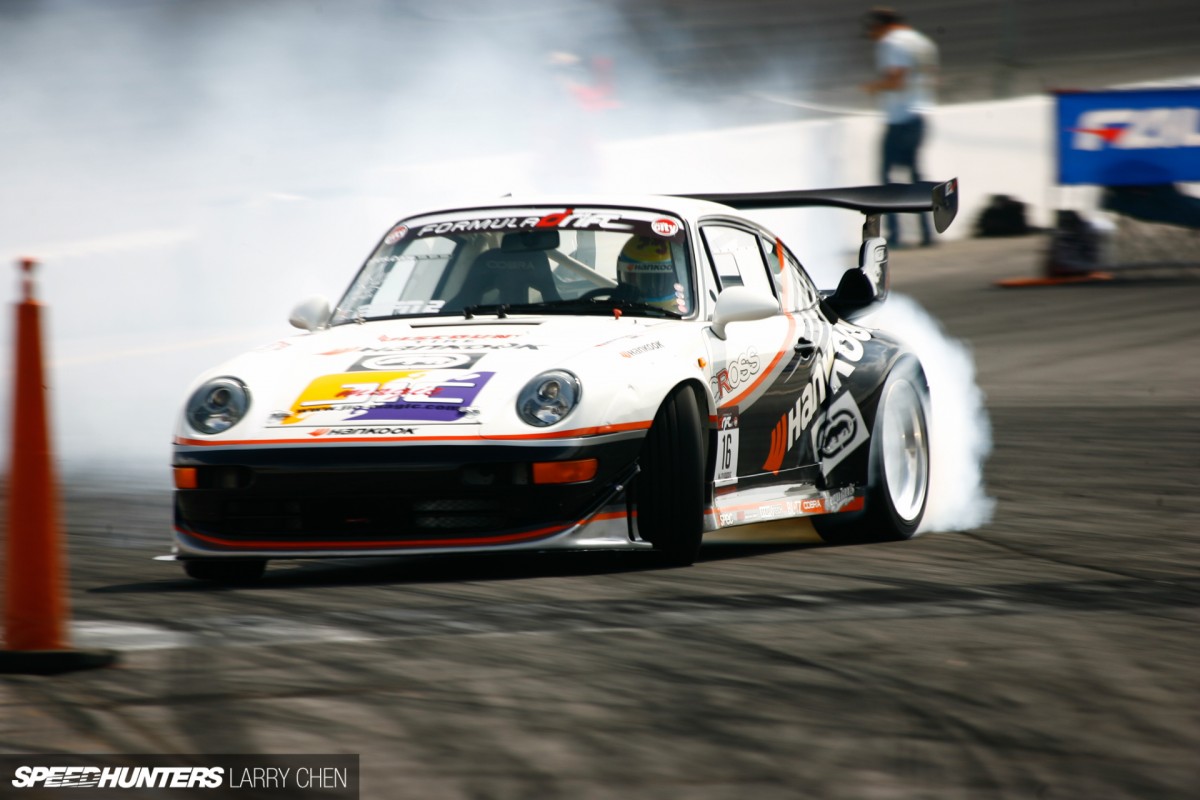 In no specific order, let's begin with this Hankook Tire Porsche drift car. While many drift cars have run the Hankook colors, I think this rear-engined 993 RS wore them the best.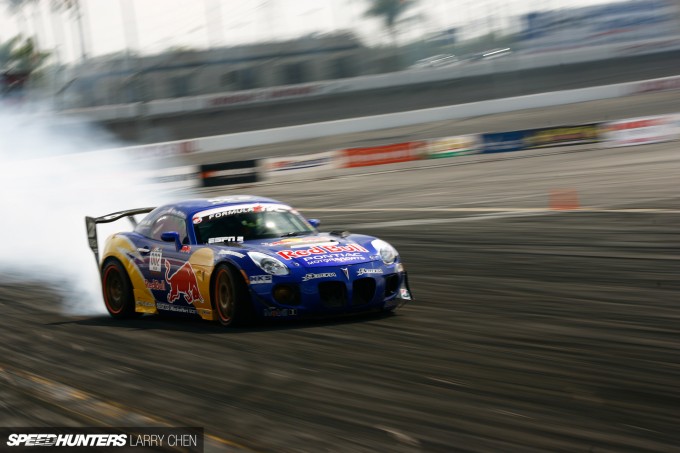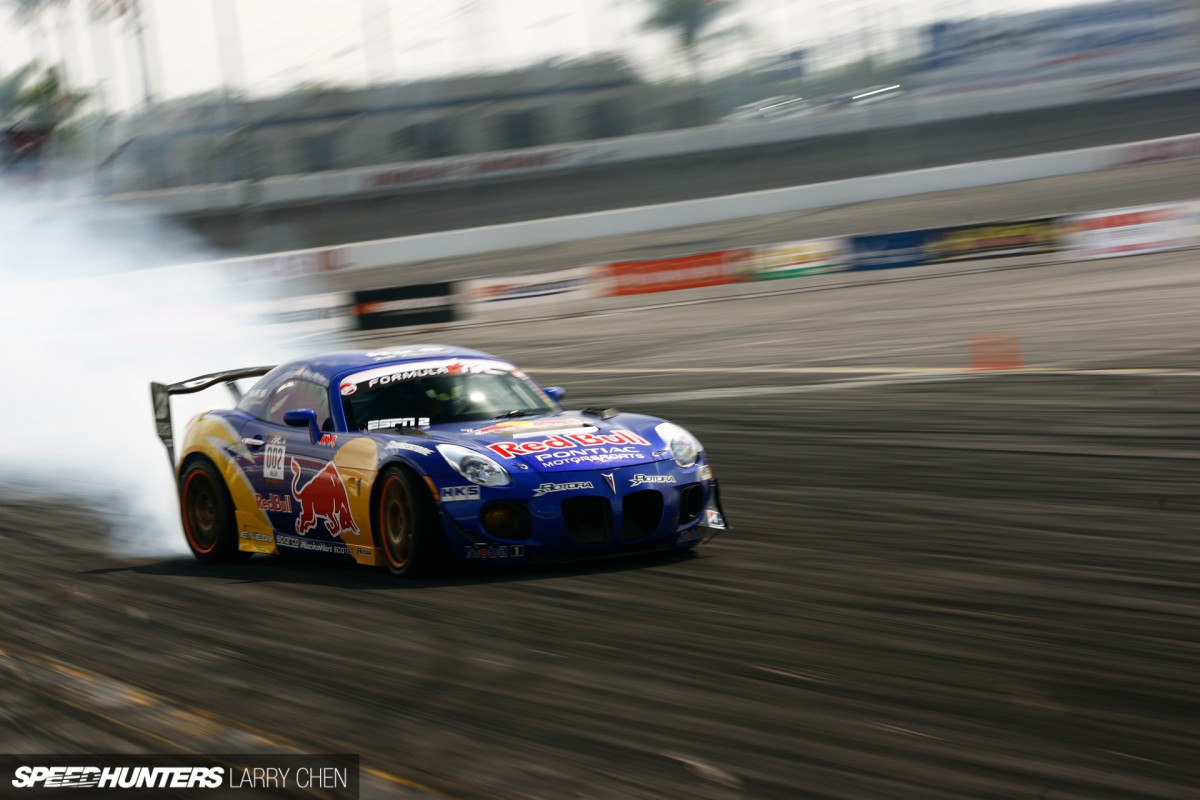 Red Bull has supported the sport of drifting from its stateside beginnings, and they've always had some of the most beautiful racecars on the grid. Out of all of them, I think Rhys Millen's Pontiac Solstice looked the best.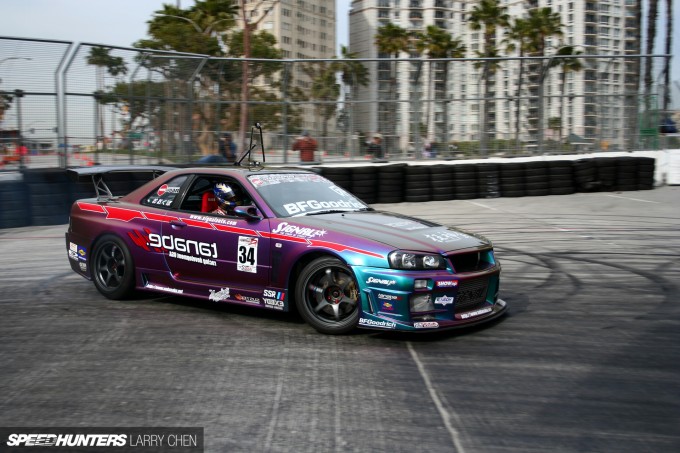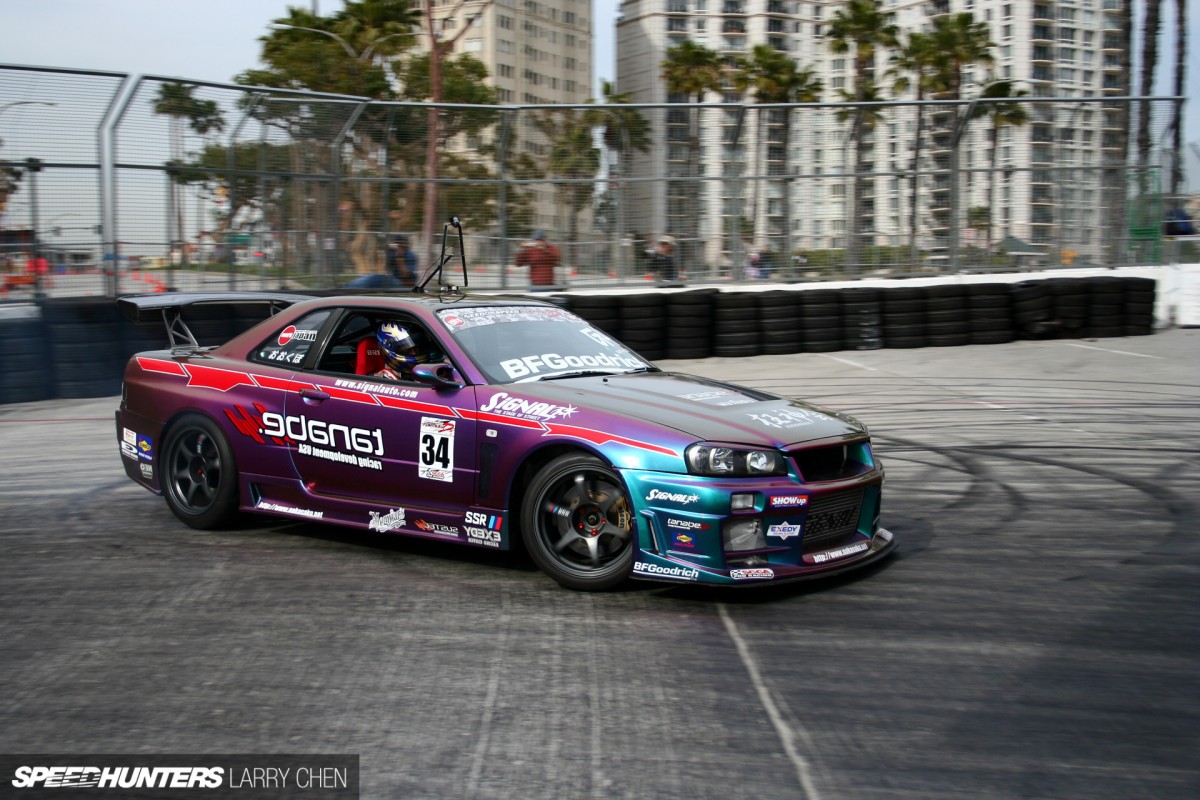 Having an R34 Skyline competing in the Formula Drift series was cool enough in its own right, but the fact that it has Signal Auto's signature Maziora chameleon paint job was the cherry on top. There was no bad angle to shoot this car from.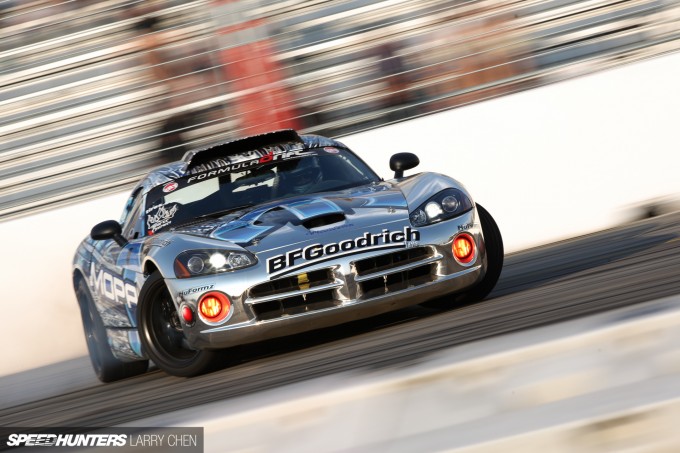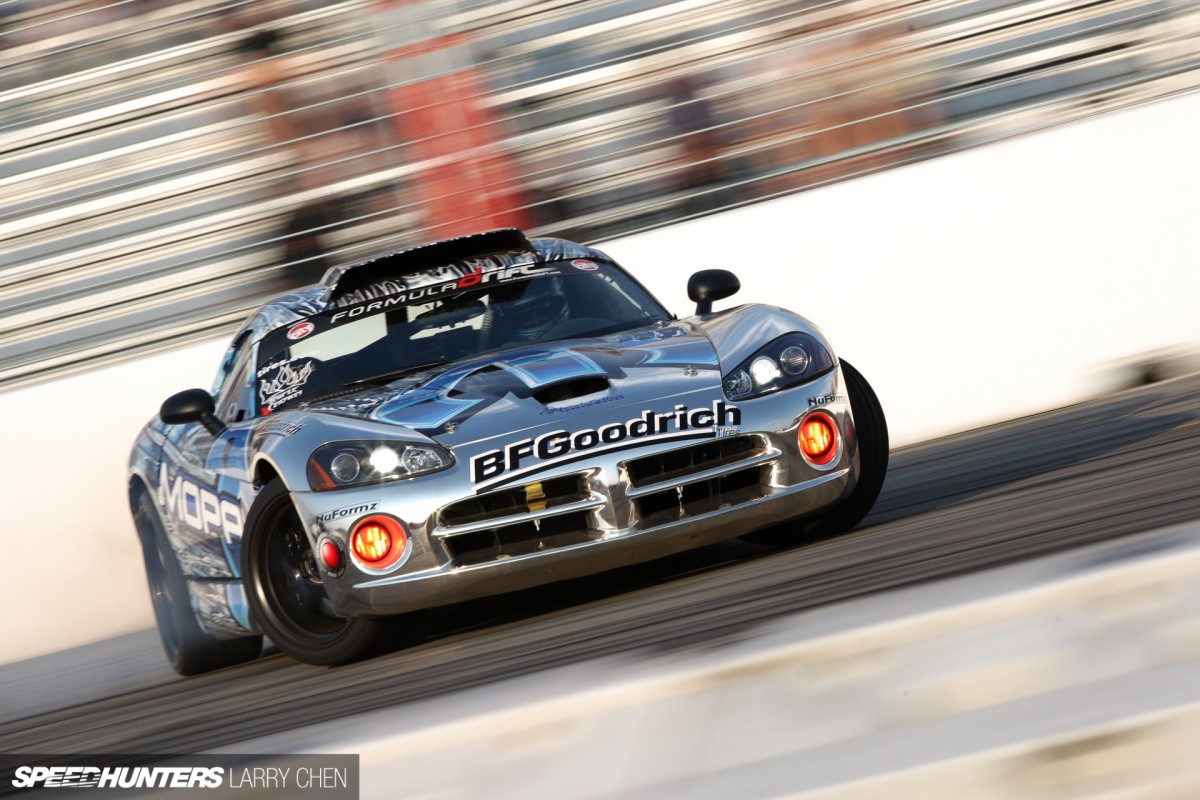 In terms of showstopping liveries, I can't think of anything crazier than Samuel Hubinette's Dodge SRT10. While chrome doesn't usually work on racecars, I feel like this Mopar pulled it off quite well.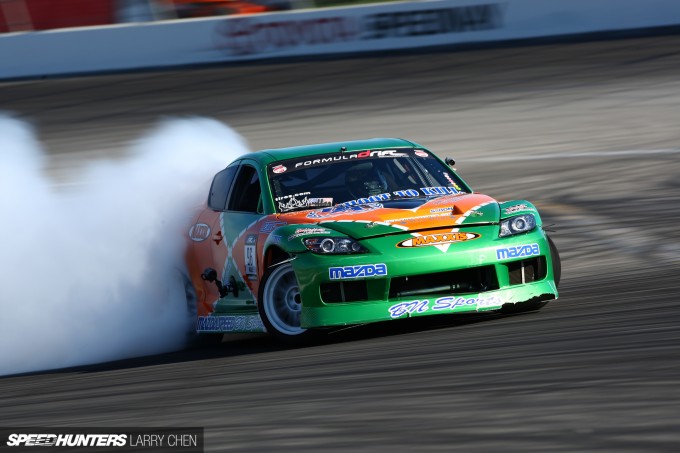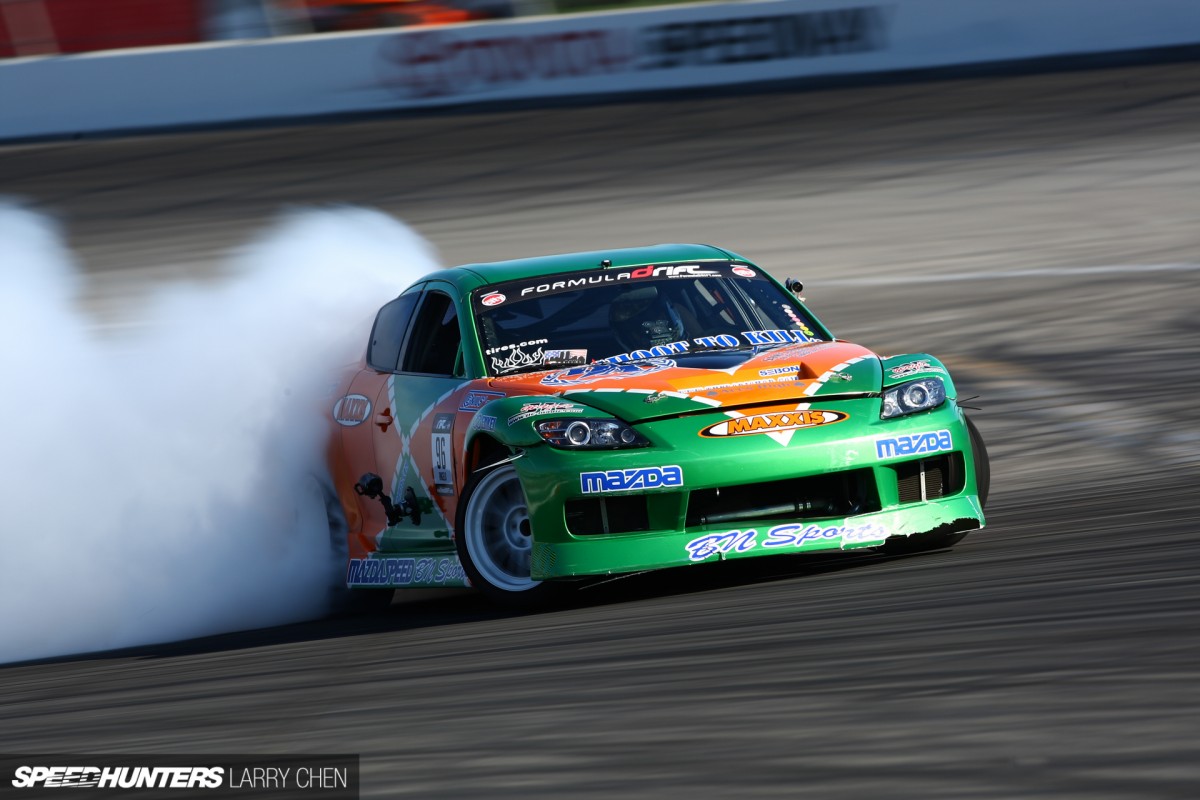 I really like to see teams coming up with original designs for liveries, but sometimes it's nice to see a reboot of a classic. The Mazda 787B Le Mans look actually fit Tony Angelo's RX-8 really well – the colors popped like no other, making it one of the best looking drift cars of its time.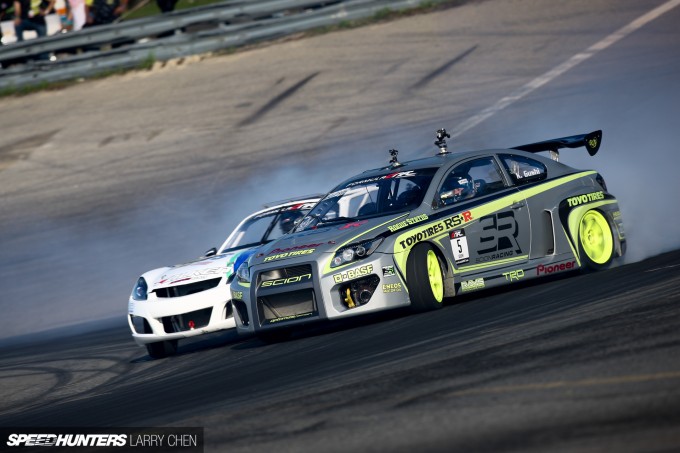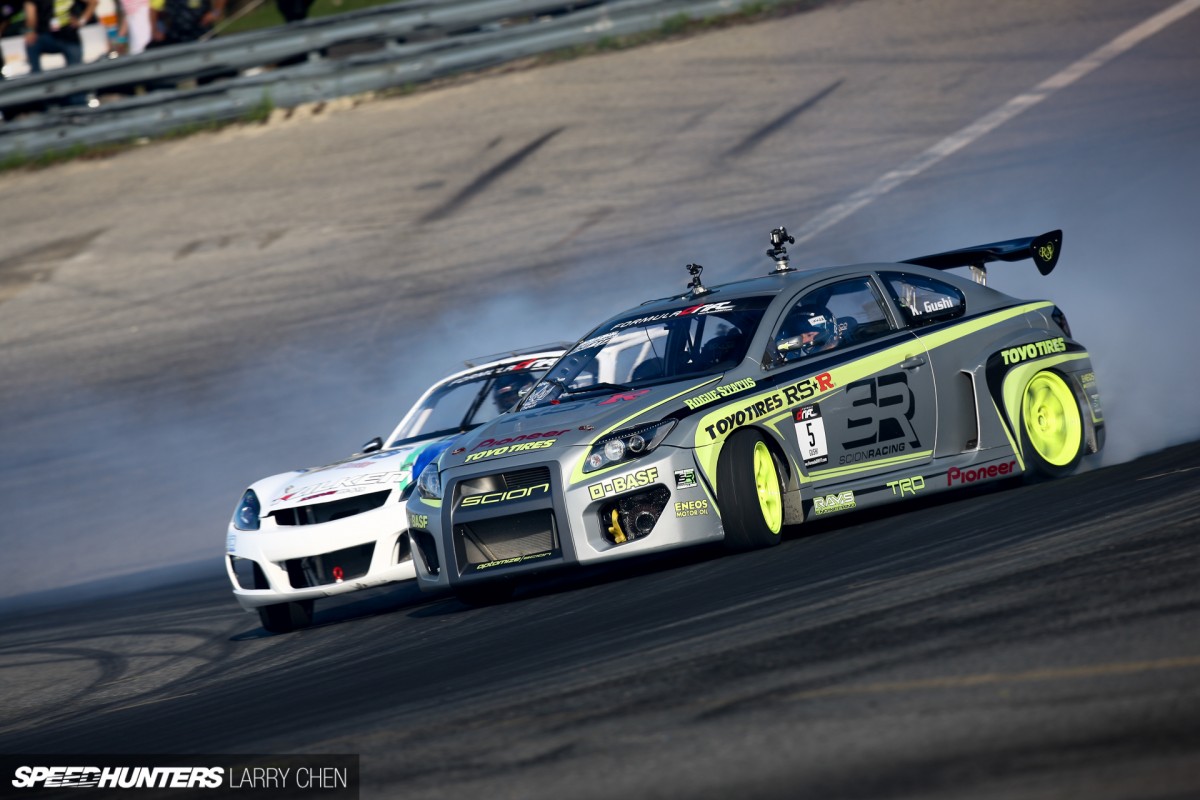 Unique paint combinations will always stand out and Ken Gushi's BASF/Scion Racing livery looked amazing against the tC's neon colored wheels.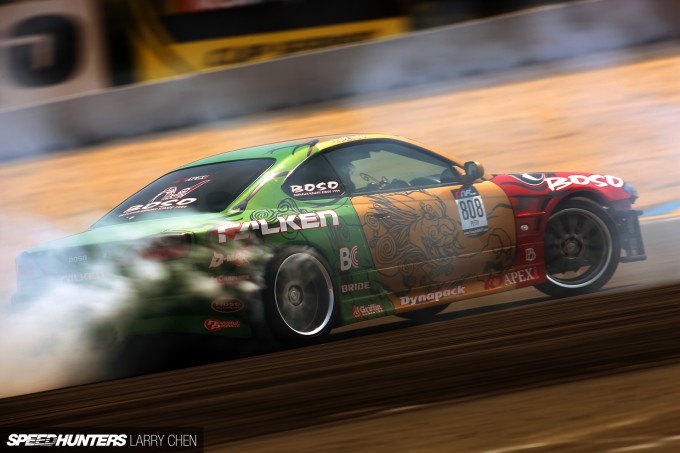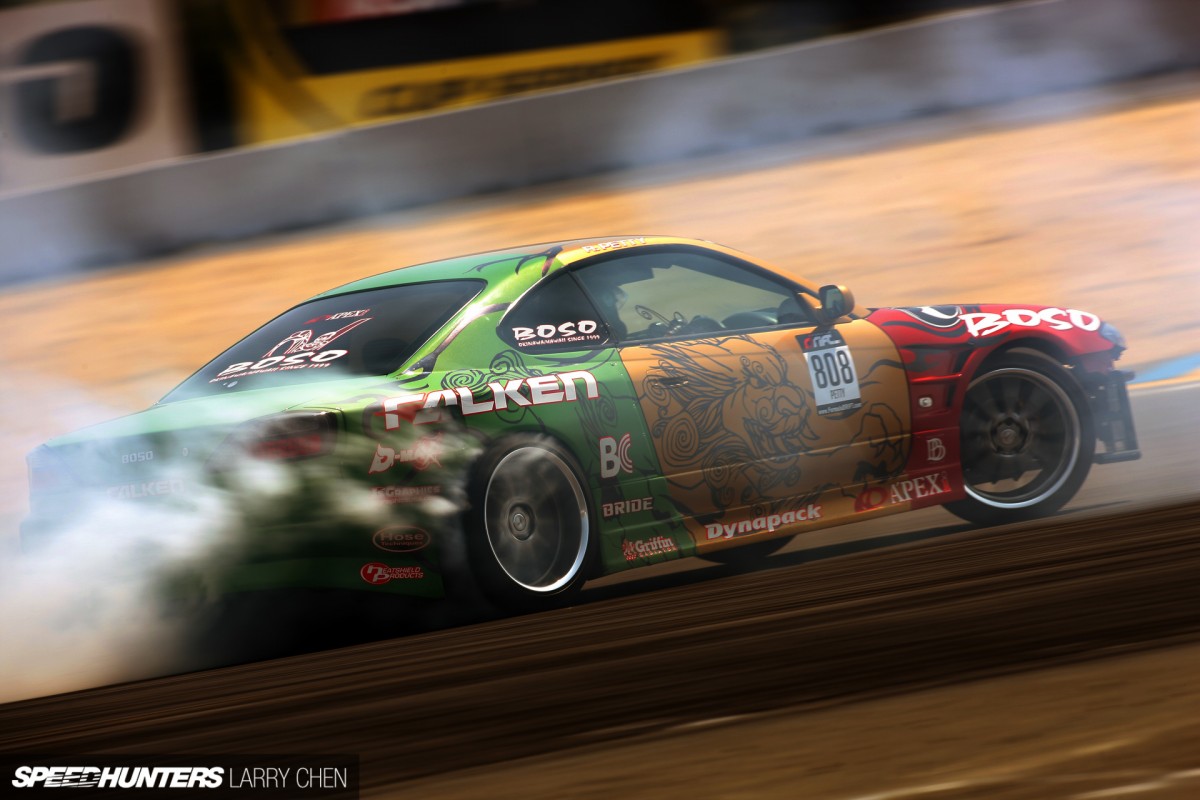 In terms of liveries that shook the drifting world, Ross Petty's Rasta-inspired S15 comes to mind. There were a slew of copycats after this car debuted in 2009, but none of them came close to the style that the Garage Boso S15 had.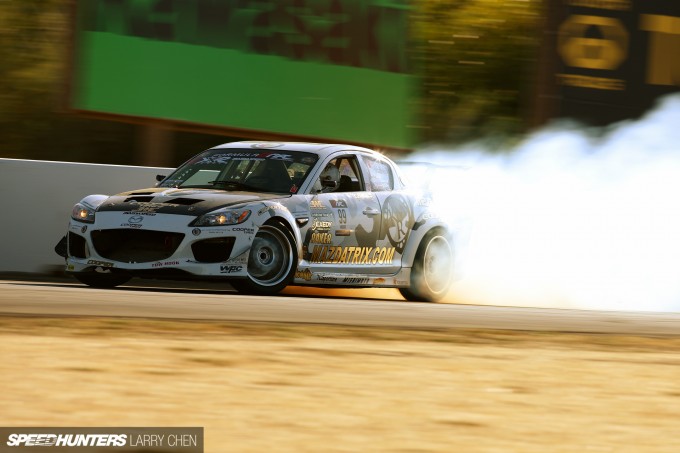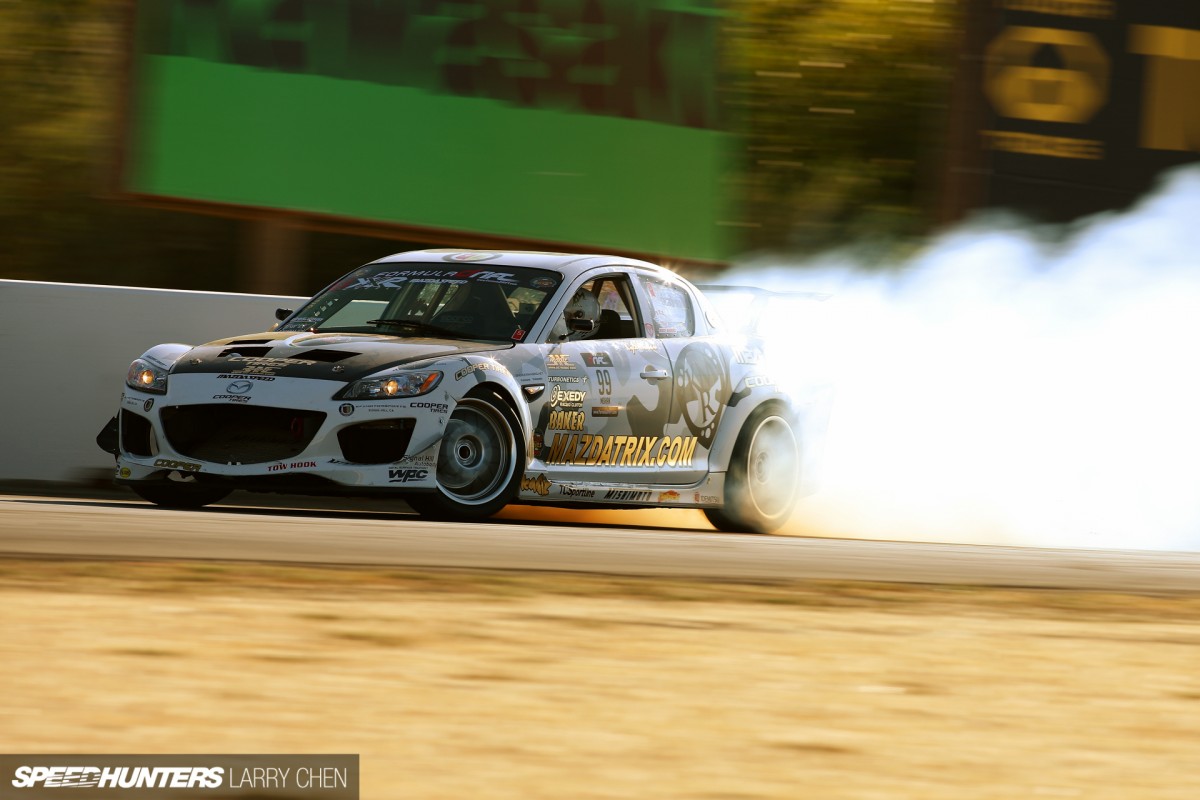 While the RX-8 was a less than desirable street car, there were plenty of race versions that looked amazing. Out of all the revisions Kyle Mohan's car went through, I still like the original camo scheme the best.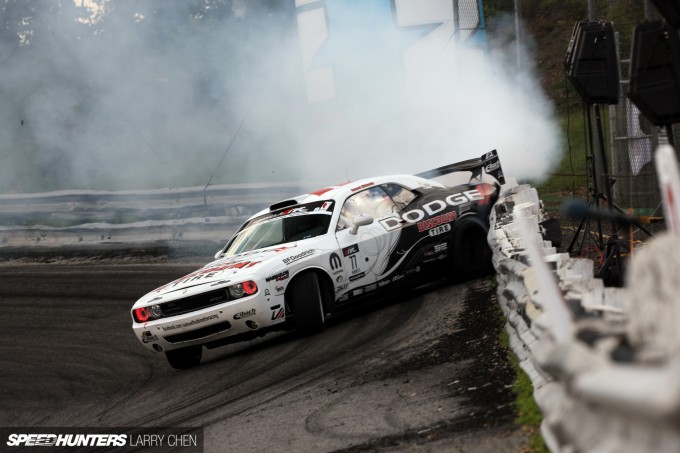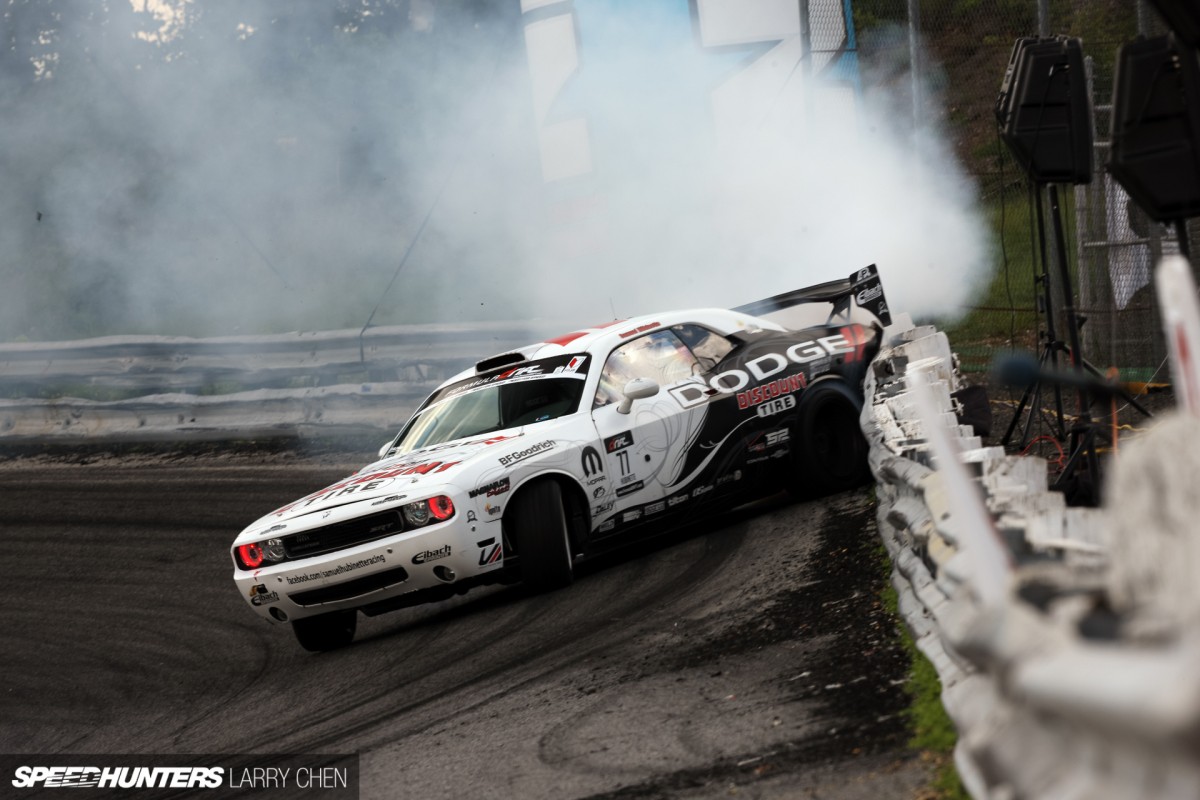 Sometimes the most simple things can set off a car's look, and the red running lights on this Dodge Challenger are the perfect example. Although, as you can see here, Kenny Moen decided to put his own spin on what the bodywork should look like.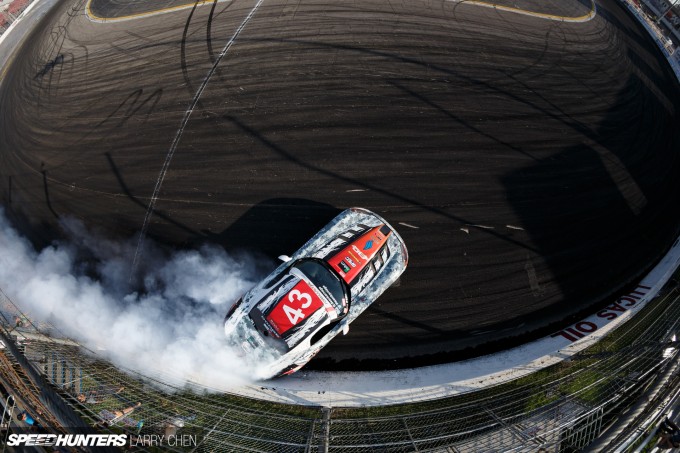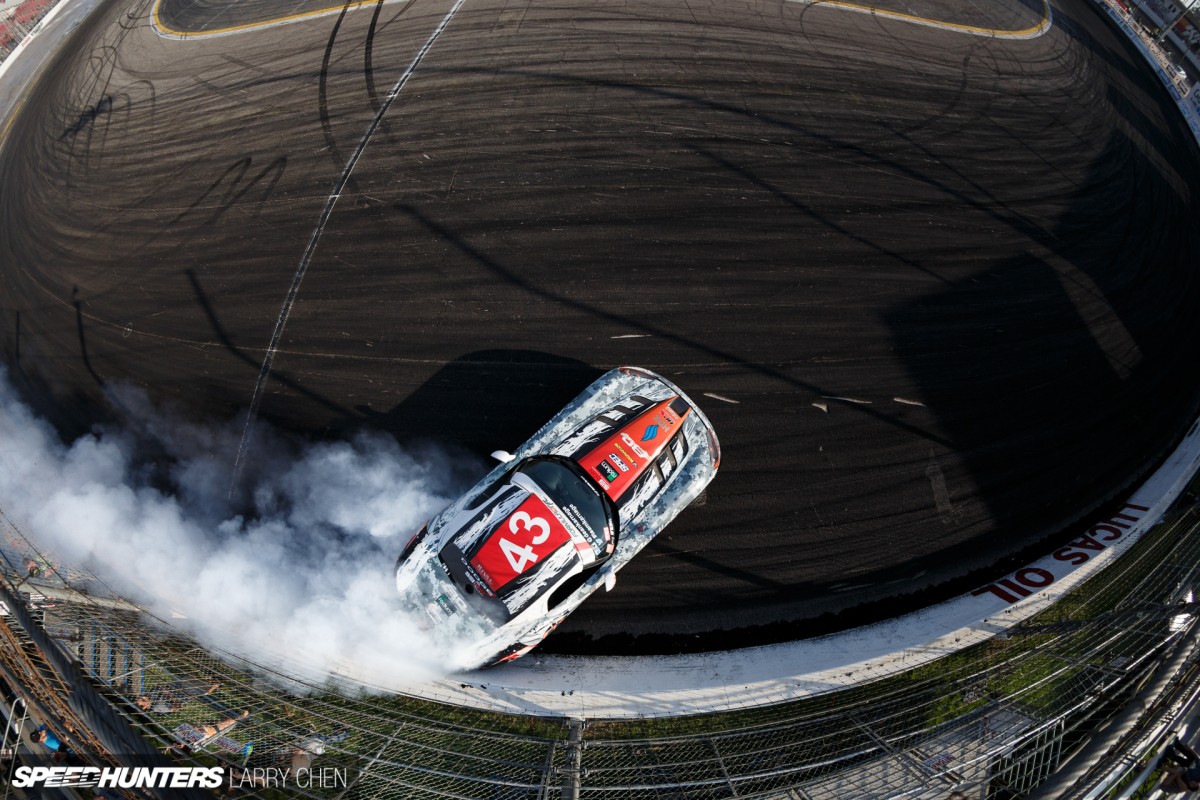 The last Dodge on my list belongs to Dean Kearney's tire slayer. It looks amazing from all angles, but best from above. Many teams neglect the roof of the car, but I just love how it gives a completely different perspective on this digi-camo livery.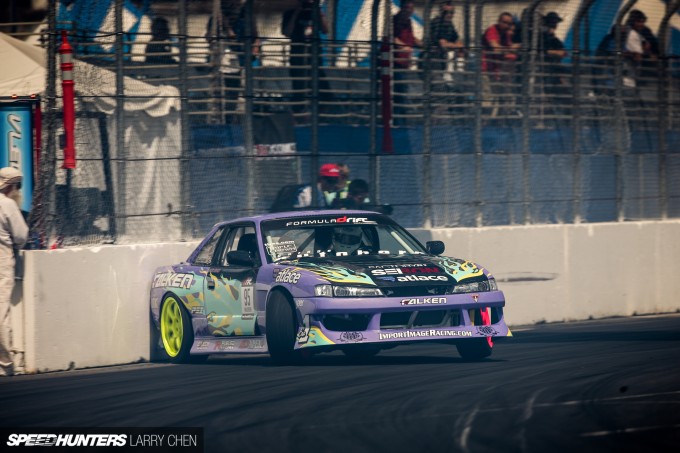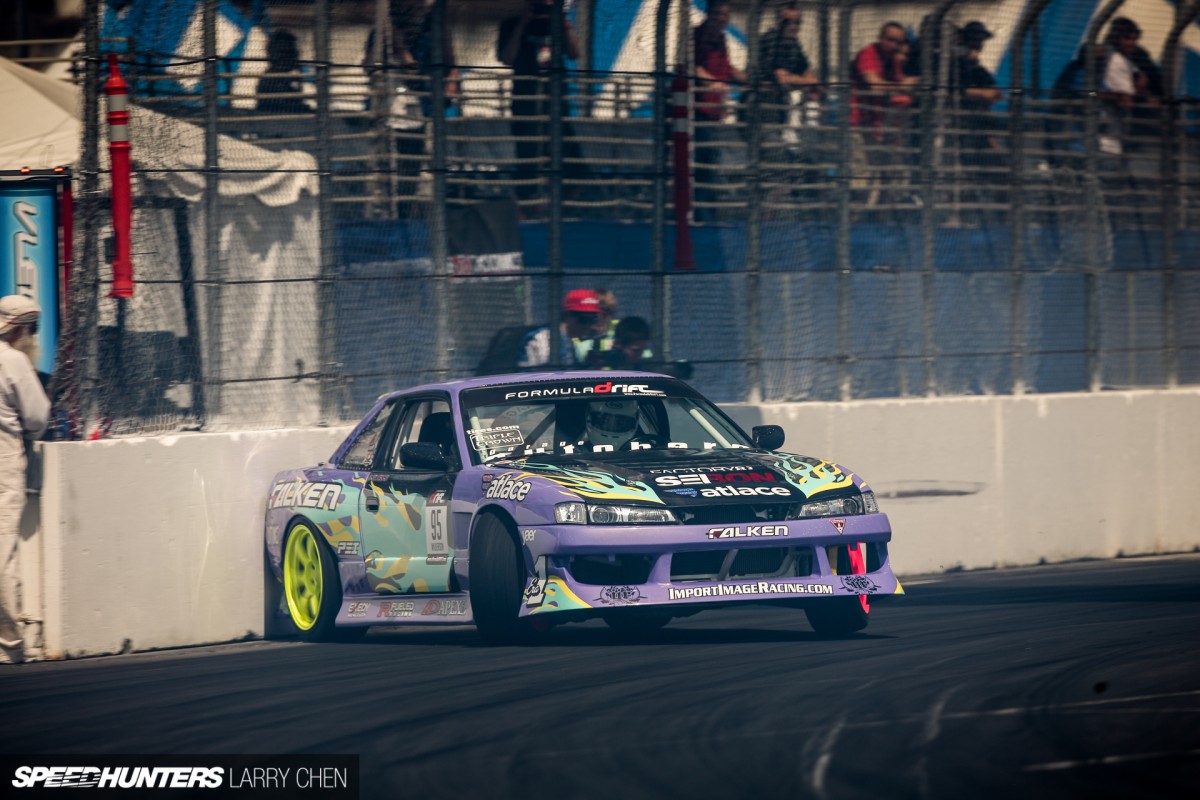 In terms of original and iconic American liveries, Walker Wilkerson's S13 is probably one of the most notable. While many privateers skimp out in this department, Walker went out of his way to run something that stood out, which made him a crowd favorite.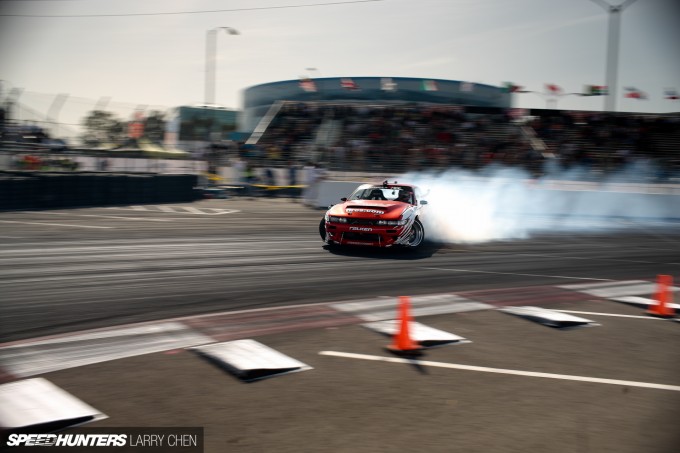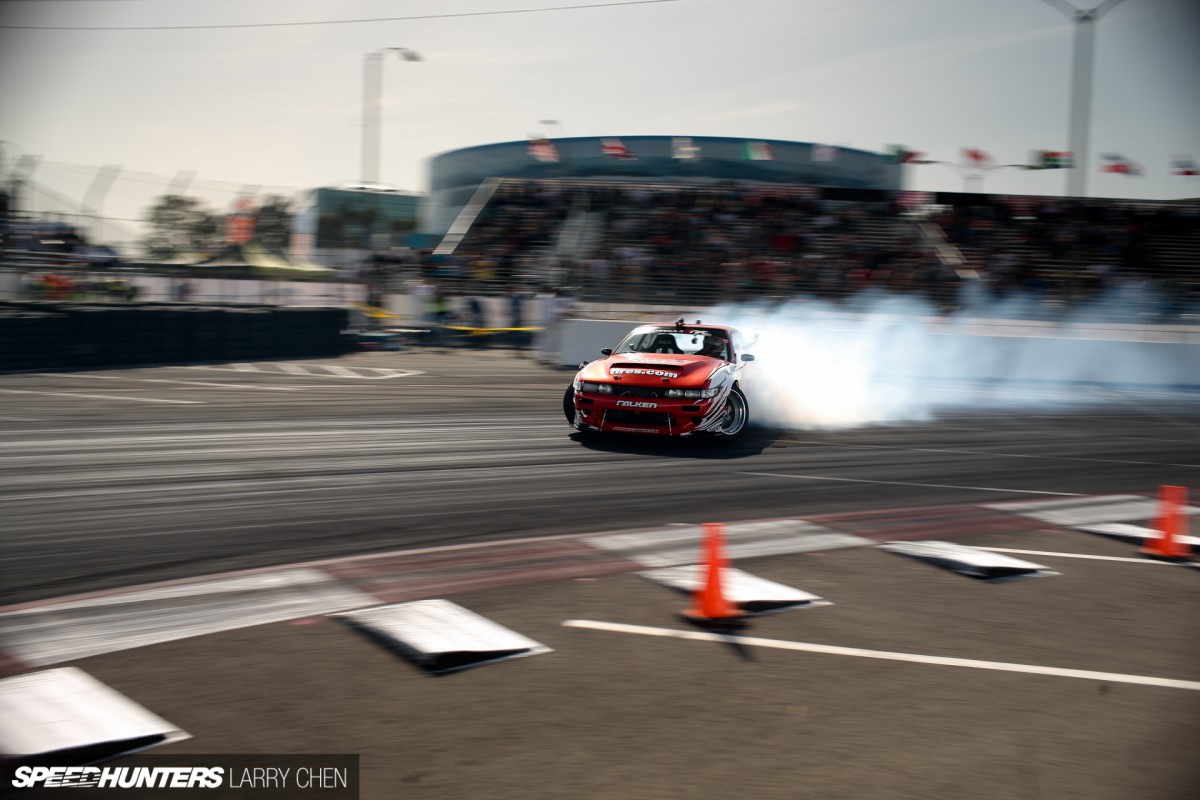 Continuing with S13s, my all-time favorite S13 drift car has to be Daijiro Yoshihara's championship-winning Discount Tire car from 2011. I just love the way the car looks when it's sideways, and this variation with the red and white accents really stood out.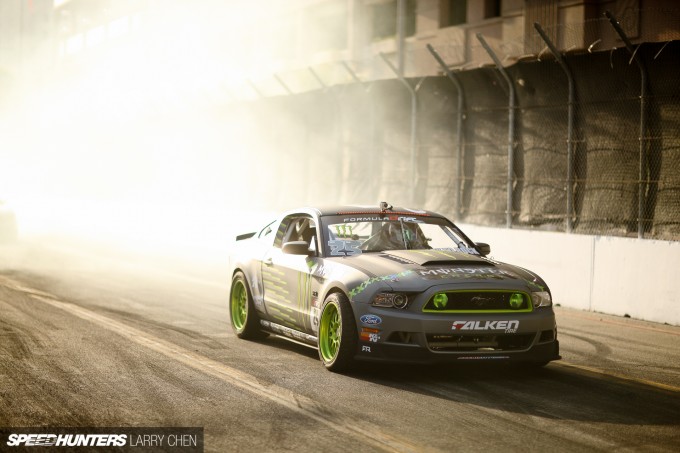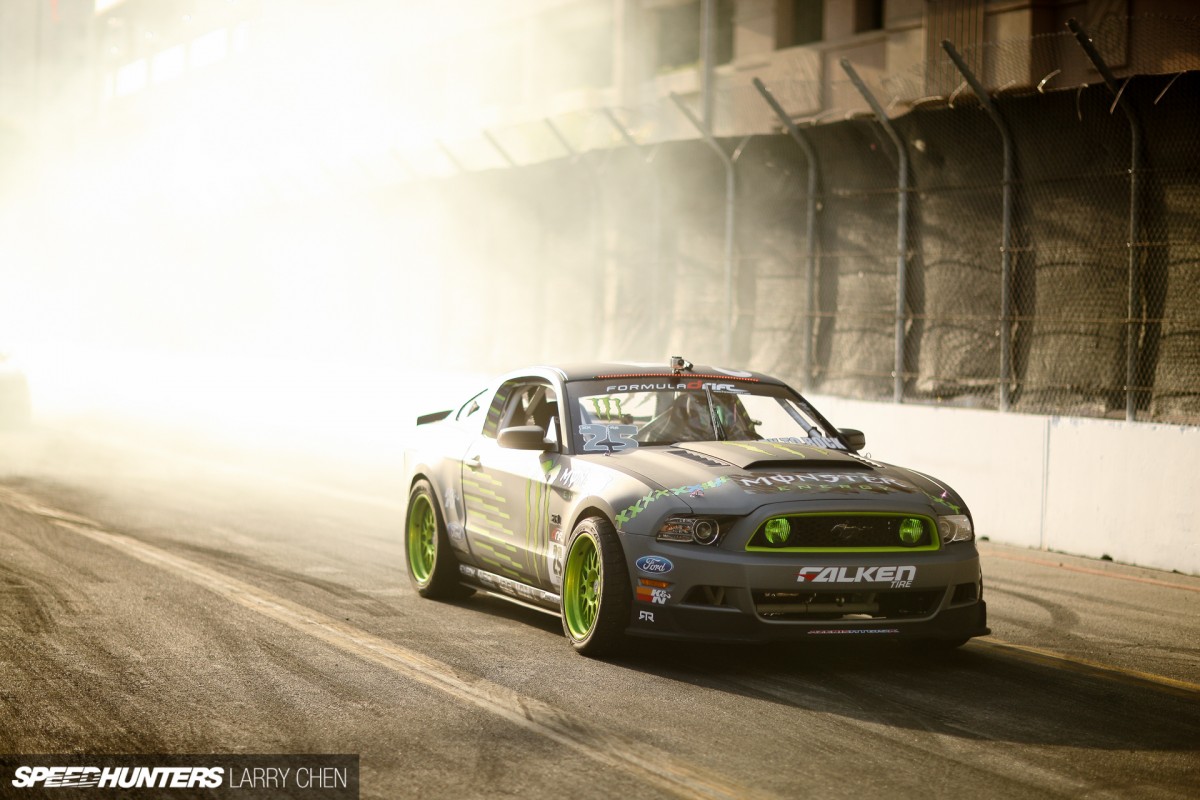 While there have been plenty of Mustangs in and out of the paddock, the Frankenstein-inspired livery for Vaughn Gittin Jr.'s 2012 Mustang was my absolute favorite. It really worked with the lines of the car and the green highlights set it off nicely.
Part 2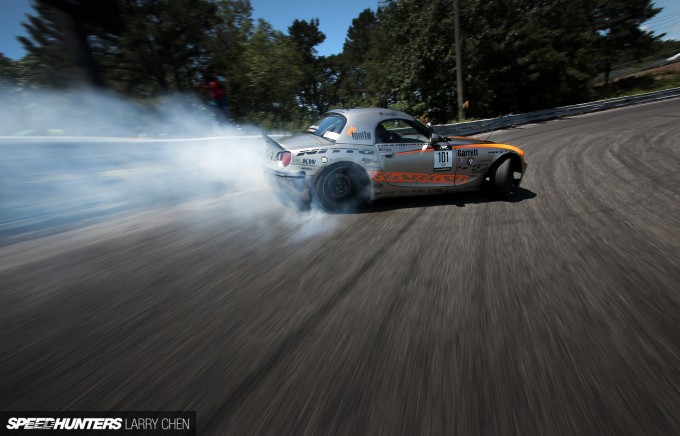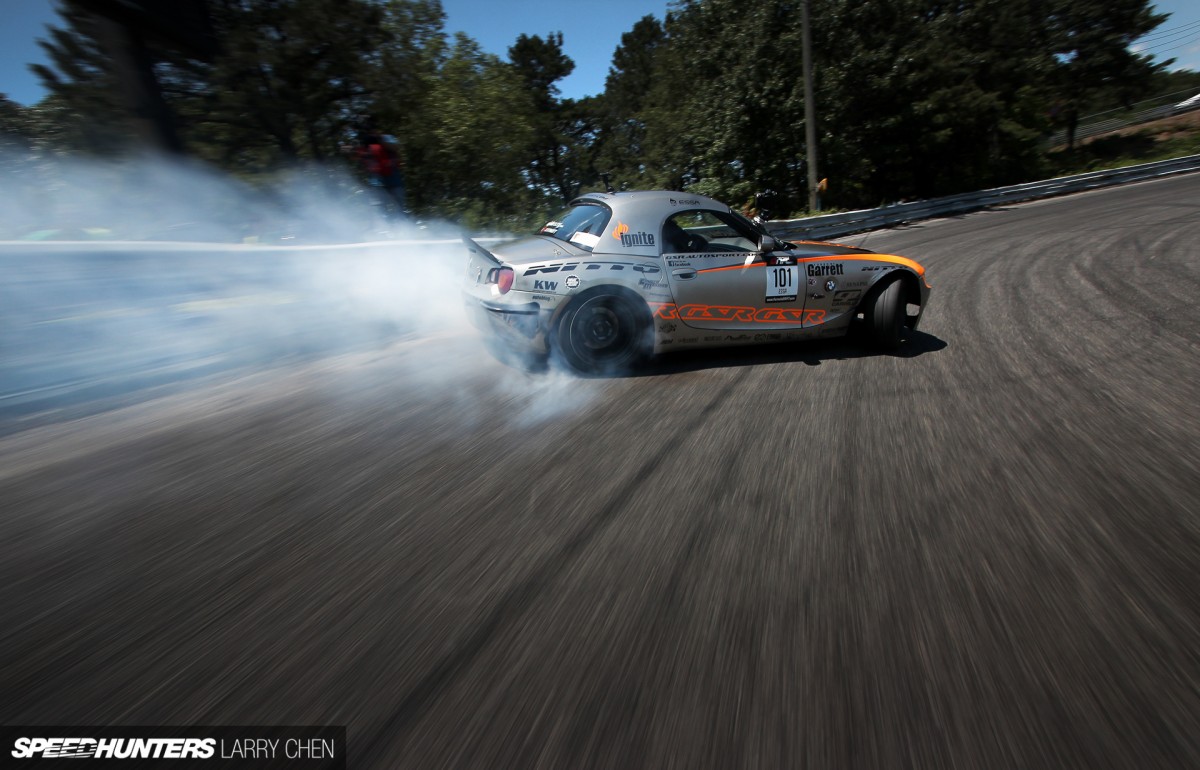 Sometimes simple is the best way to go. Mike Essa did his best to develop the Z4 chassis for drifting, but unfortunately he didn't achieve the results that he was hoping for. It's too bad because the car looked absolutely amazing.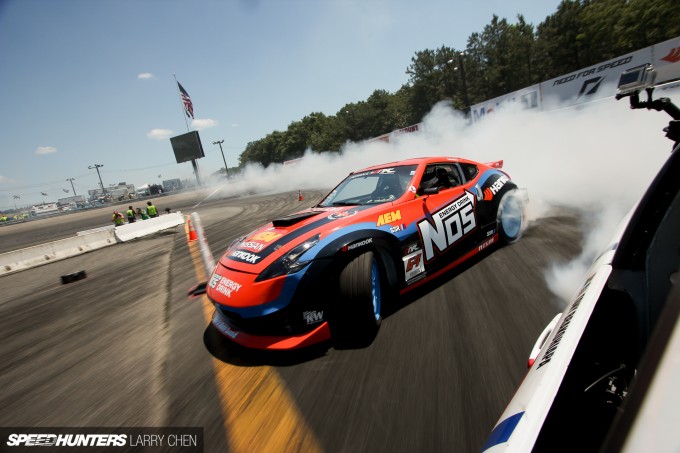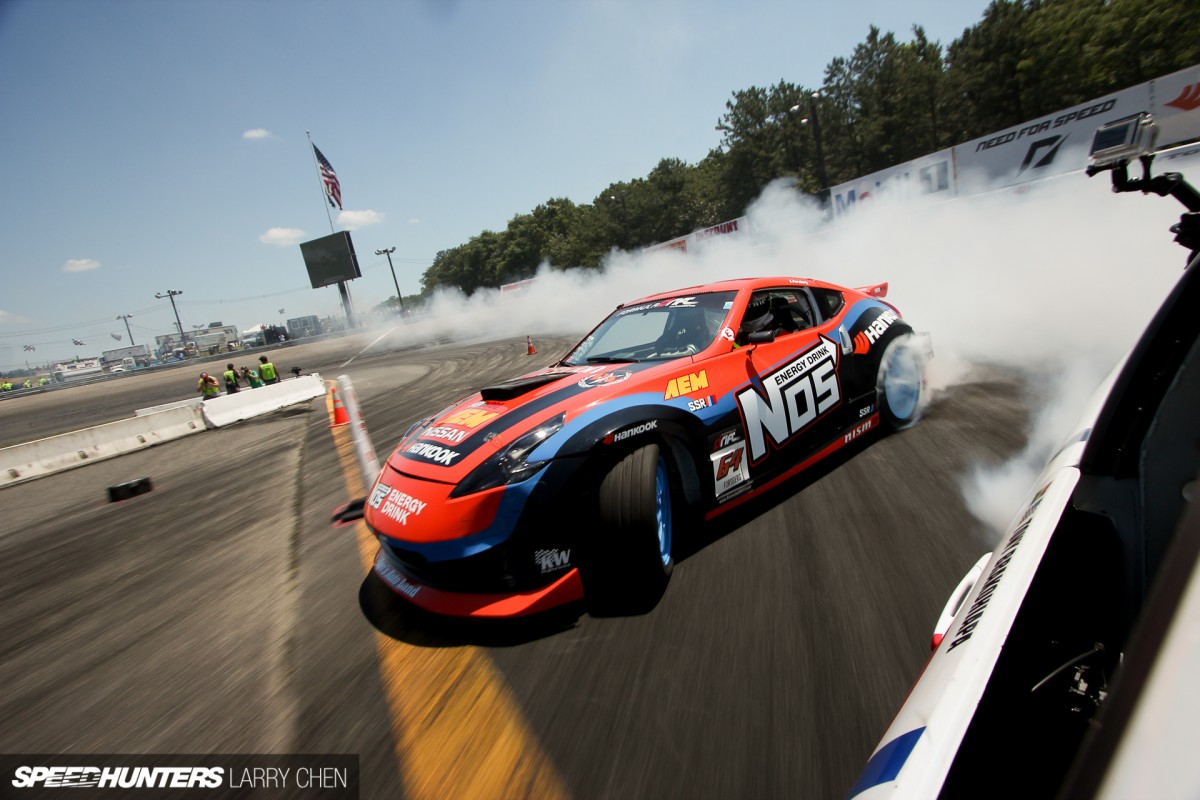 Many Nissan Z cars have competed in the FD field but I have to say that Chris Forsberg's 2012 livery suited the car the best. While I like the all-carbon look from the 2014 season, I love the orange more – which may or may not have something to do with my own Z, Ole Orange Bang.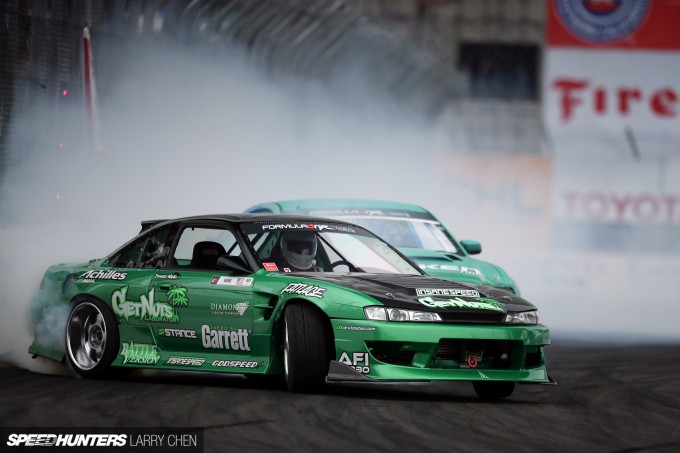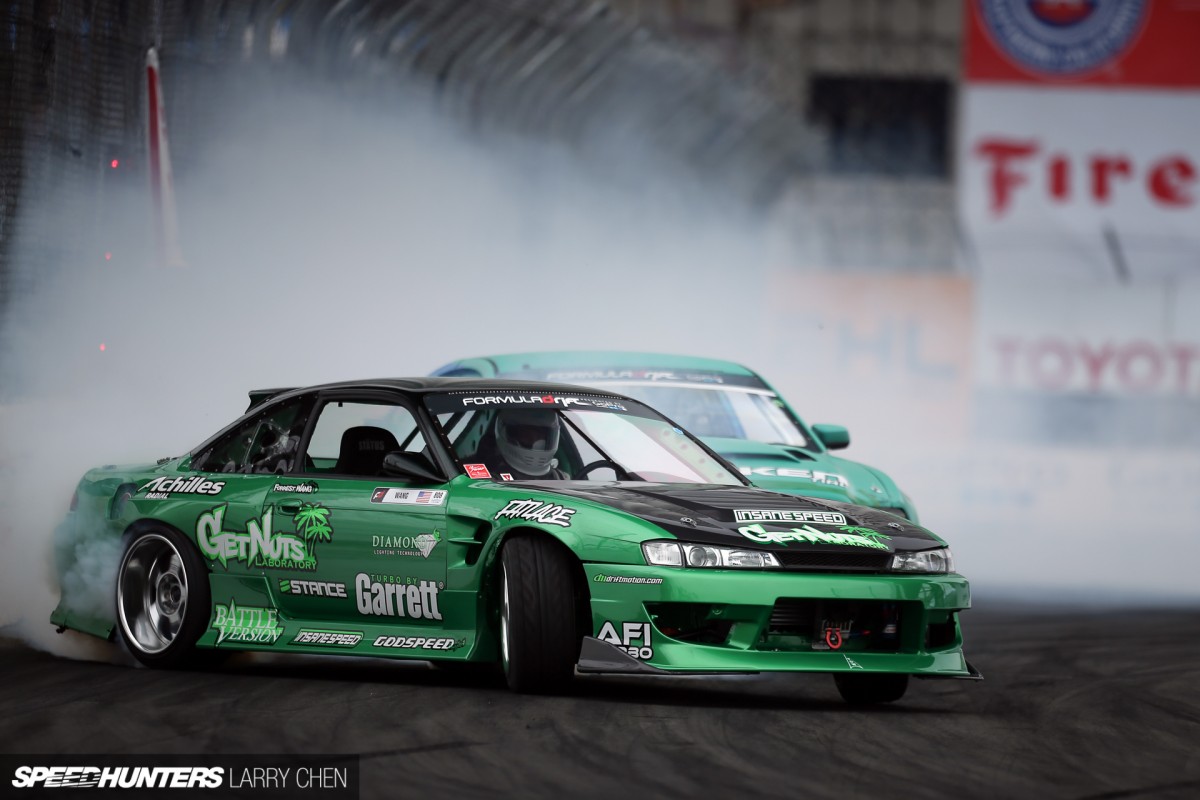 Forrest Wang has always had incredible style and his S14 was probably one of the best looking cars on grid in 2013. While the design was simple, it looked stunning from all angles. Rumor has it that he is building an S15 for the 2015 season, so I am curious to see what it will look like.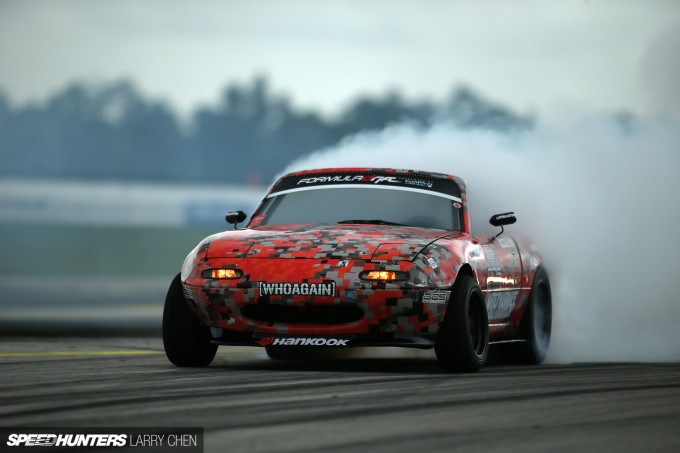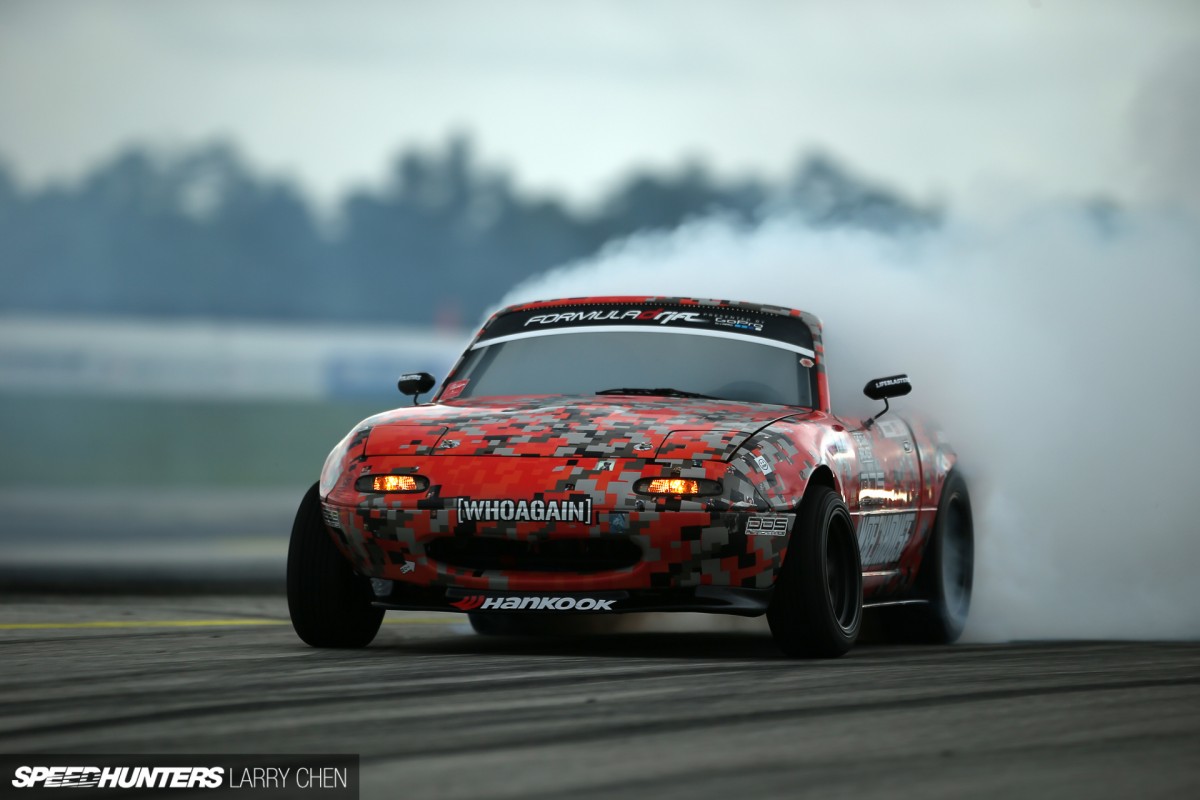 Maybe I have a soft spot for orange cars, but there is just something about Danny George's Miata that I really like. Perhaps it's because the car was totally out of place, but I loved how he incorporated photos of his supporters into its livery.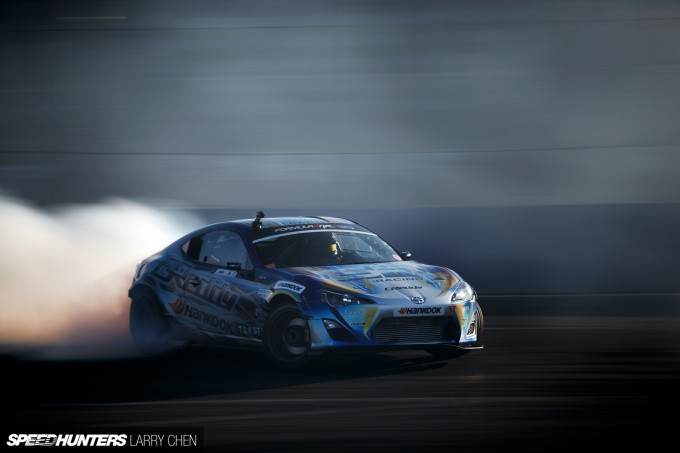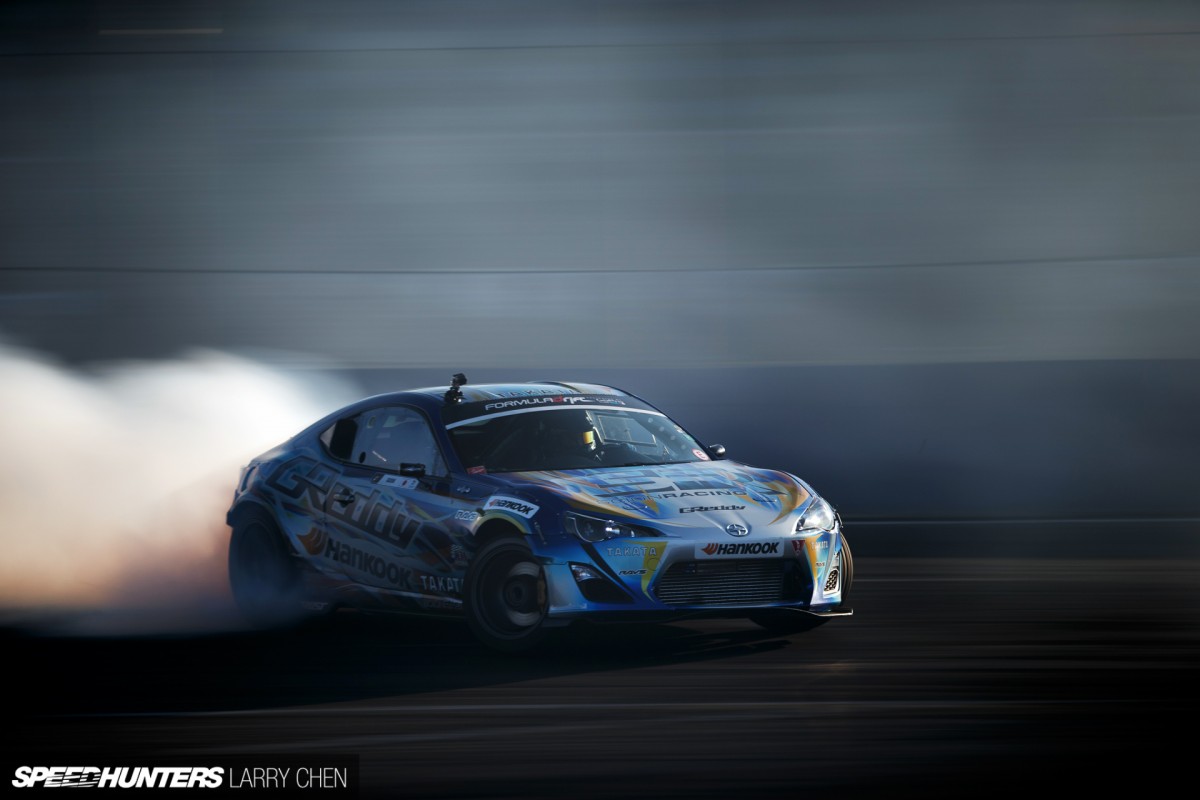 The GReddy Scion FR-S driven by Ken Gushi has gone through three liveries, but I think this very Japanese-looking wrap from the 2013 season fitted in perfectly with the styling of the 86.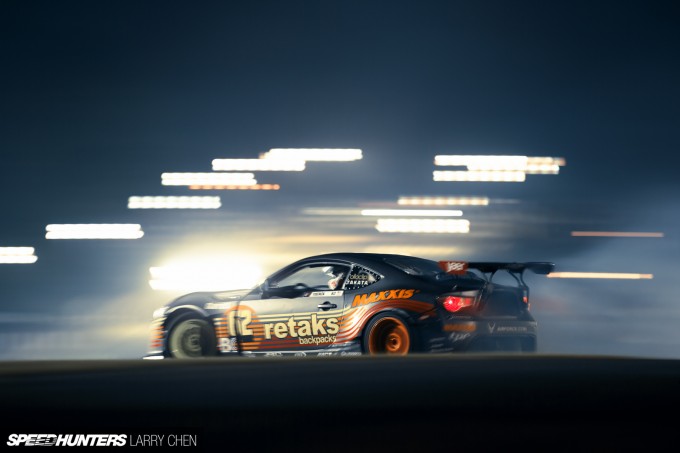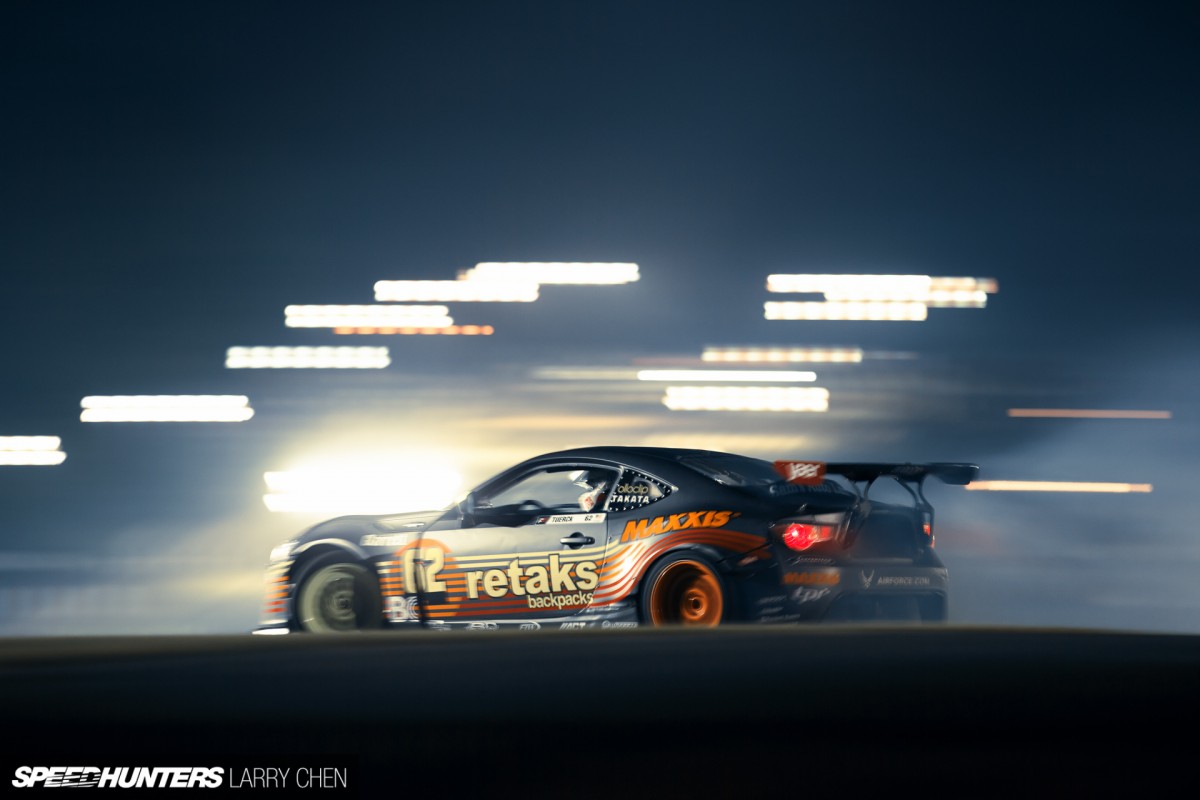 Retaks-sponsored cars have always looked great, but this past year's FR-S driven by Ryan Tuerck takes the cake. I love the colors and the mismatching wheels that set it off perfectly.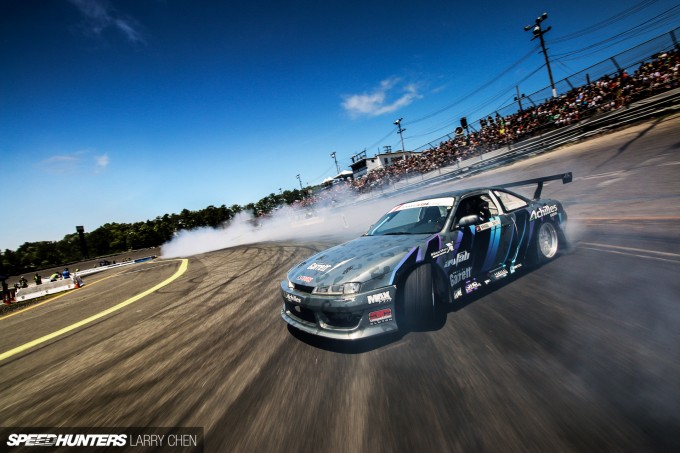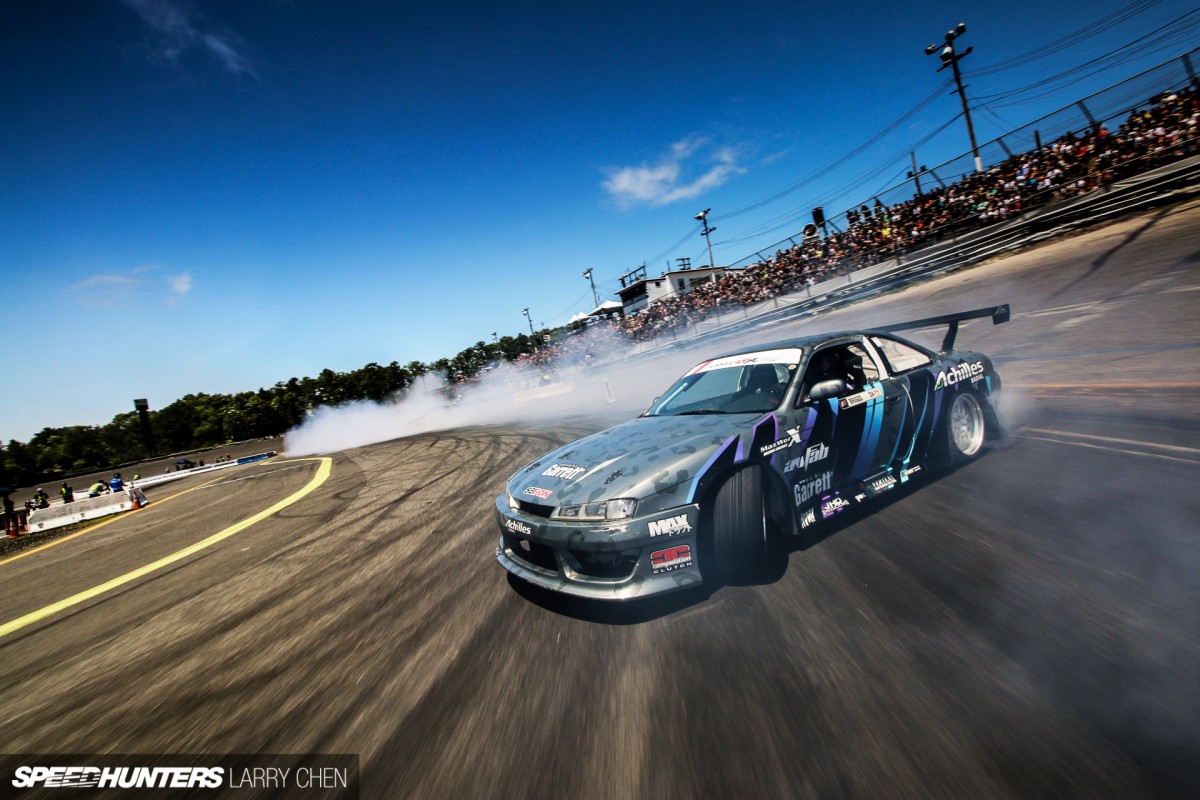 While the whole cheetah print thing has been done to death in recent years, it'll still look great if executed properly. Dave Briggs is unique in that he is the only one left running a Nissan inline four cylinder turbo motor, so it's only fitting that he has a unique livery for his S14.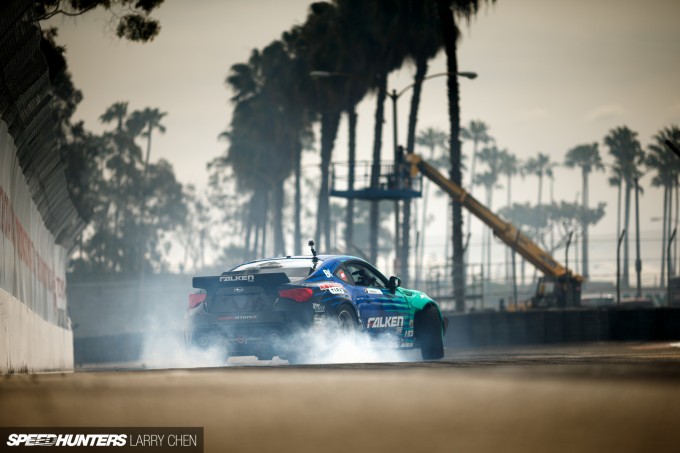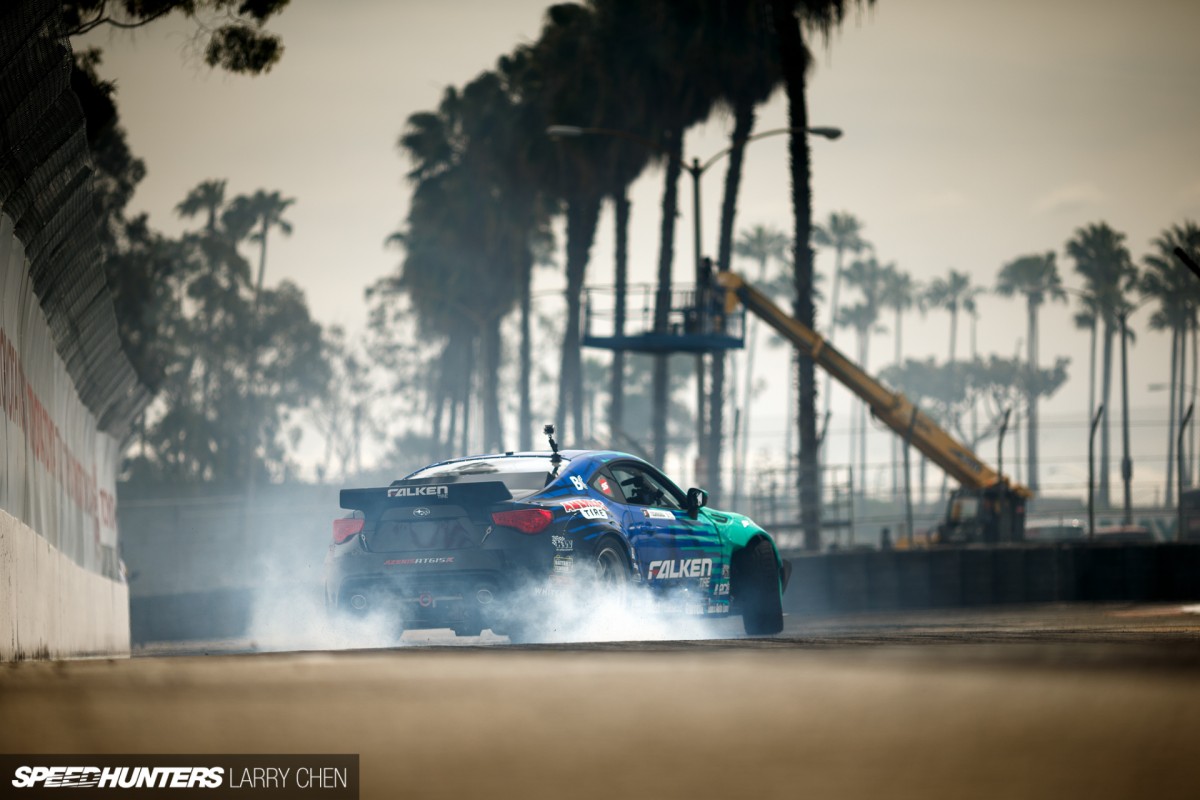 Of course, you can't mention American drifting without mentioning the Falken teal and blue scallops, which have been seen in Formula Drift since day one. Daijiro Yoshihara's all-new twin turbo BRZ is nothing short of amazing, with a very aggressive look from all angles.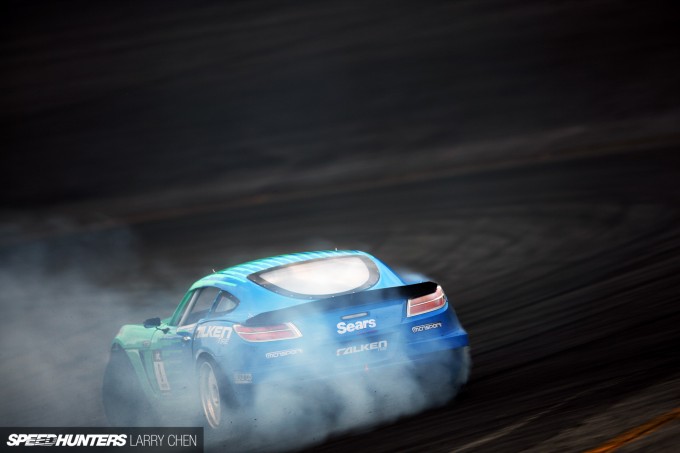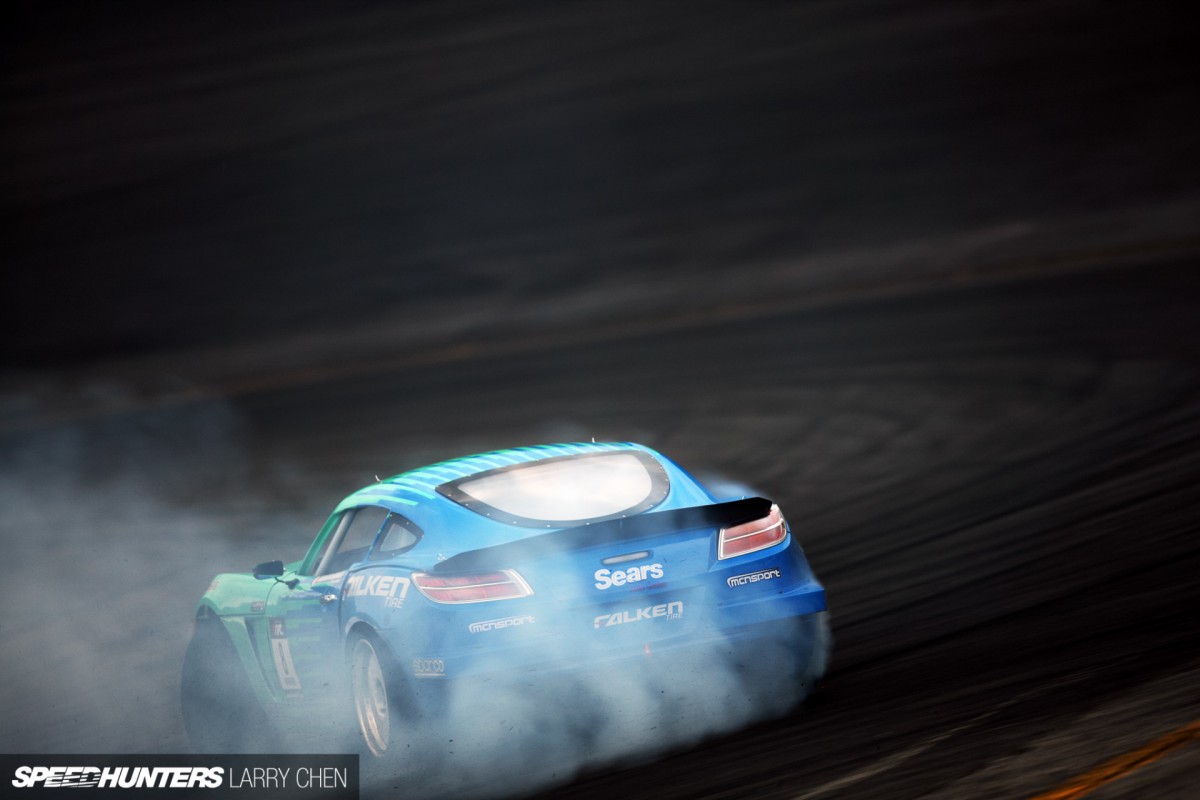 Of all the Falken cars past and present, Darren McNamara's hardtop Saturn Sky is my favorite. In fact, I think it's one of the best looking drift cars to have ever graced the FD paddock.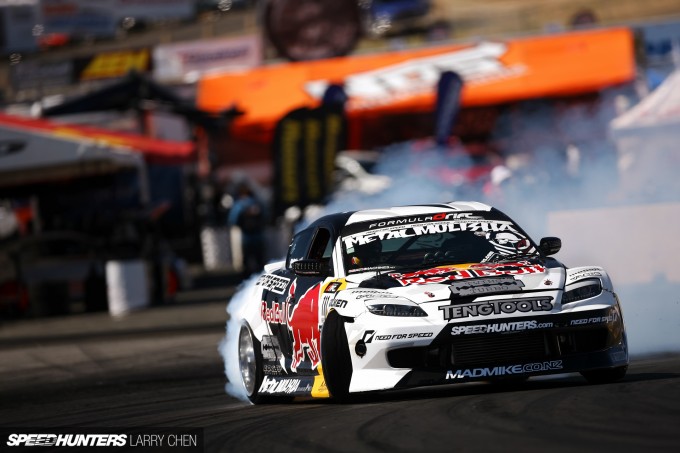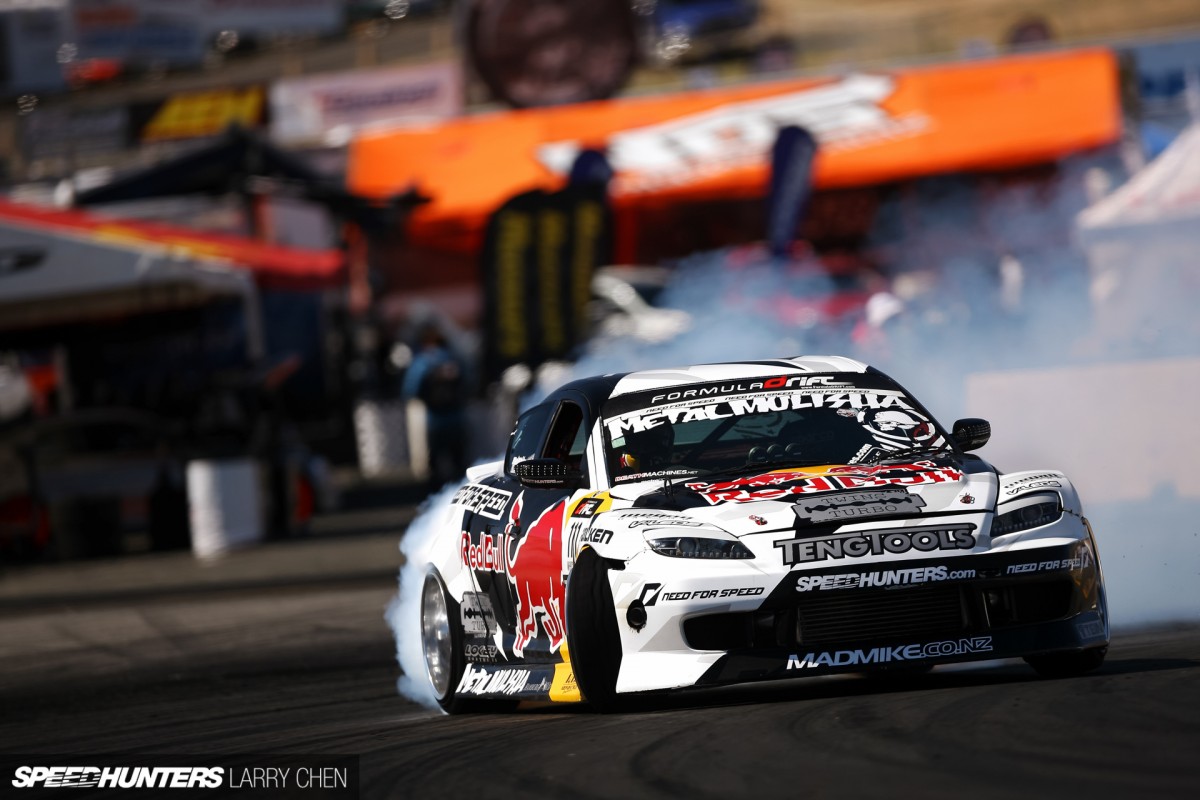 Let's finish off my list with Team Speedhunters. All of the Speedhunters car liveries were designed by Andy Blackmore, and they've become quite iconic with many teams all around the world borrowing traits of the style. To this day, Mad Mike Whiddett still has the most beautiful RX-8 in the world. What an amazing looking car.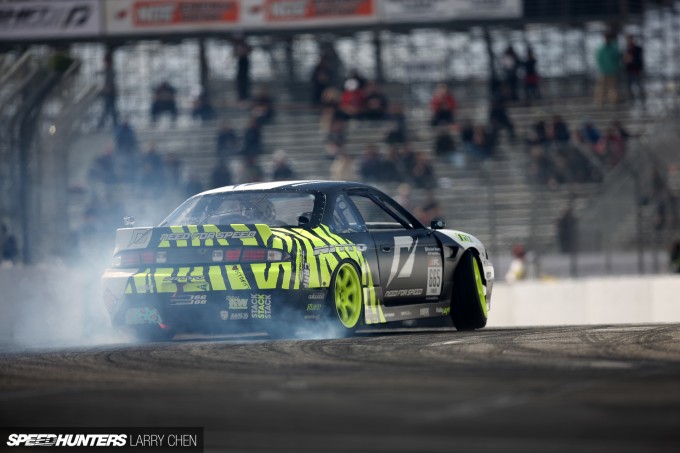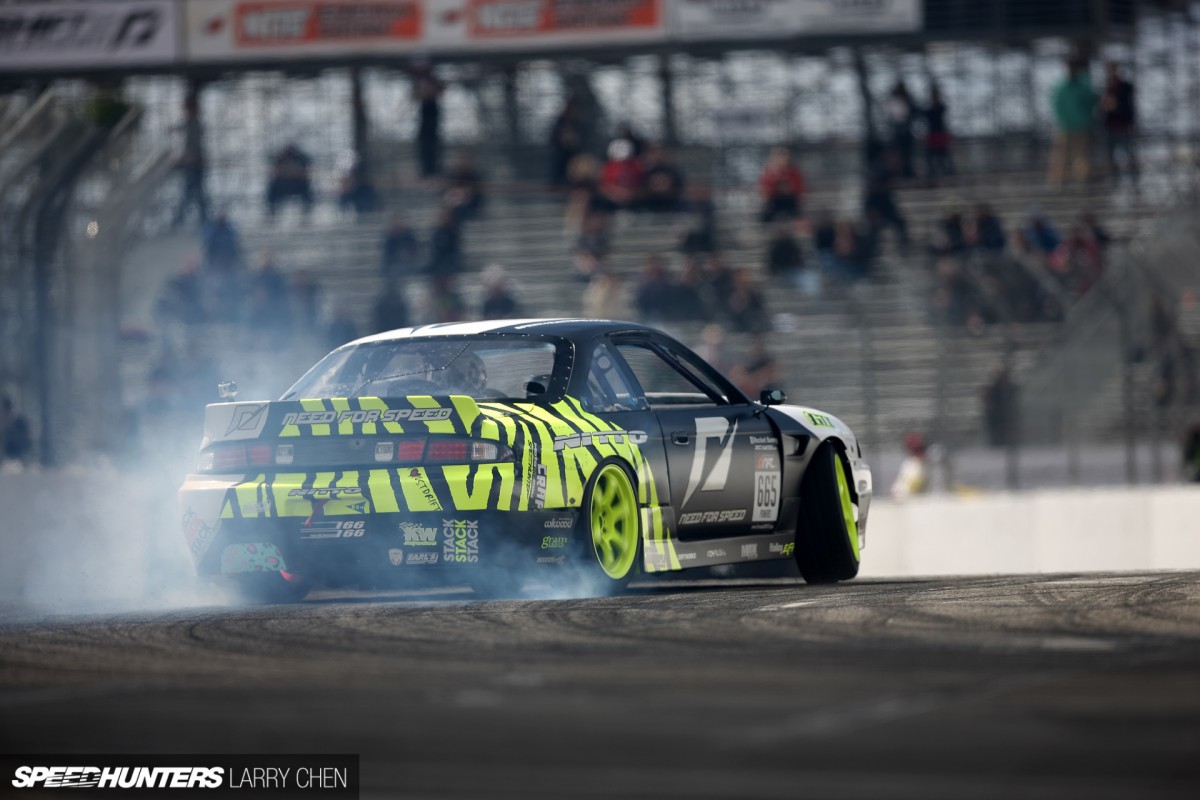 Matt Power's Team NFS/Speedhunters Rocket Bunny S14 (aka The Pirate Ship) was truly amazing. The style at the time was pretty groundbreaking, and I think it suited his personality very well. This S14 inspired many enthusiasts to take another look at the zenki model, when at the time most people were only interested in the S14's kouki version.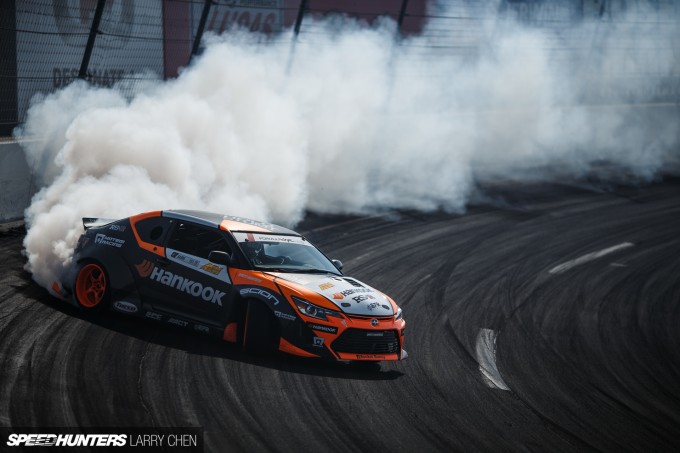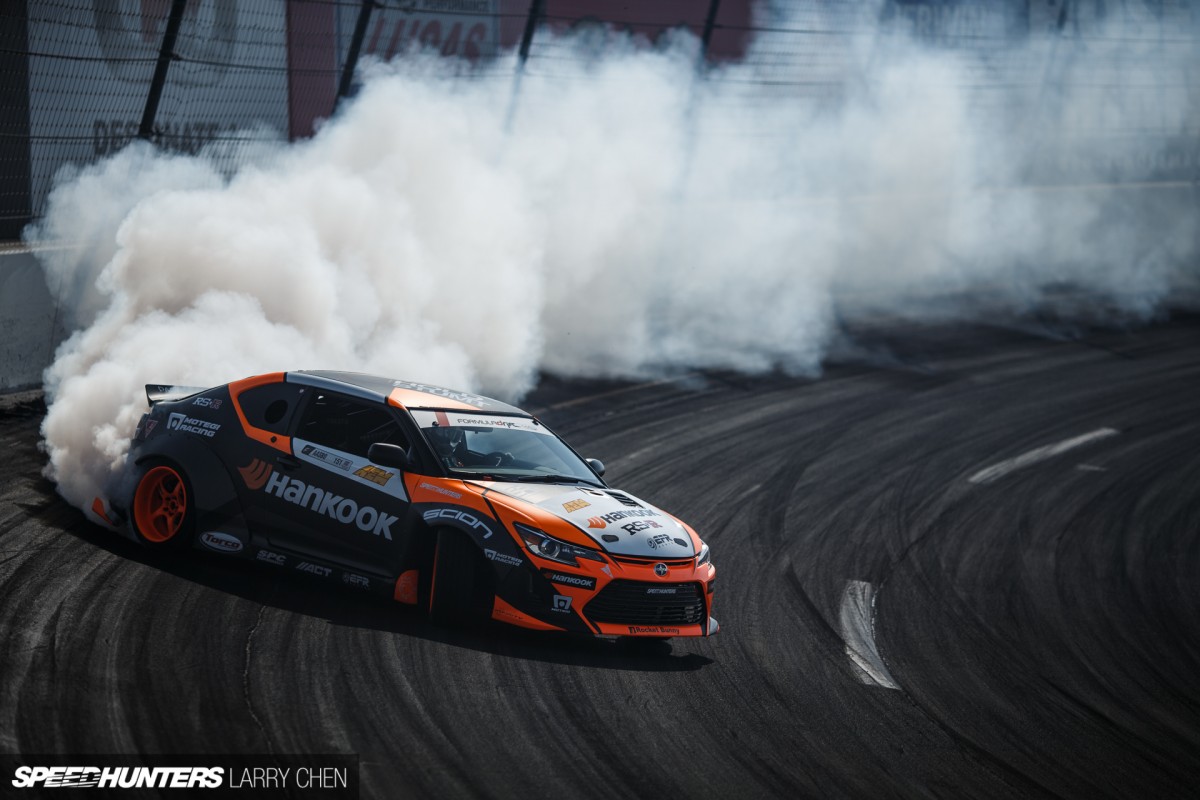 Finally, the Papadakis Racing Scion tC driven by our very own Fredric Aasbø finishes off my Top 25. While the car has gone through many looks and variations on a similar livery, I think this latest one with the Rocket Bunny kit really sets the car off. If only the tC came in rear-wheel drive so we could see more of these cars getting sideways.
These are my 25 favorite liveries from Formula Drift. Now tell me – what are your favorite liveries in drifting and racing in general?
Larry Chen
Instagram: larry_chen_foto
larry@speedhunters.com