Japan's Biggest Tuning Show
The general idea behind Tokyo Auto Salon is to bombard you with as much car related goodness as possible – something the event does very well. It's precisely what the Tokyo Auto Salon is all about; you wander like a kid in a candy store through hall upon hall, guided solely by the sight of something in the distance. You may spot a cool slammed VIP ride a few booths up, but then you are totally distracted by a new set of brakes that you need to take a closer look at. You try to navigate through the crowds as a friend told you the girls at the Yokohama booth are crazy-hot, so you instantly make it your goal to get there safely, trying not to get crushed by the mobs of girlhunters, each armed with an array of image and video capturing devices strapped to their bodies.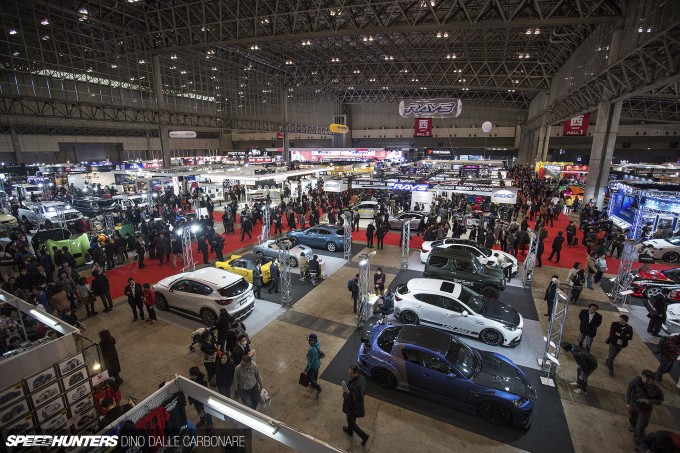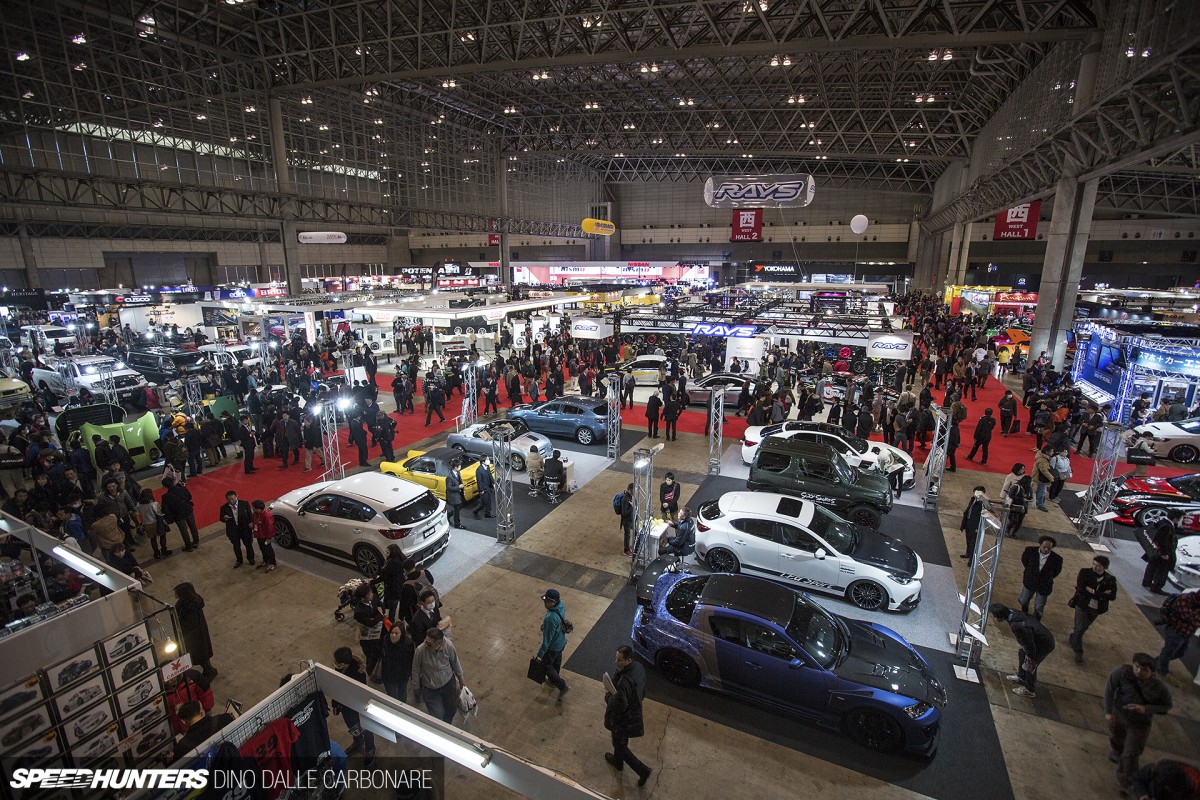 On Saturday and Sunday, just moving around the halls of the Makuhari Messe can become a proper chore, such is the number of people that visit TAS over the weekend. 2015 has been a huge success for the annual tuning show – the halls filled with record numbers of displays and almost 310,000 visitors through the doors over the three-day event. Yep, modifying is far from dead in Japan.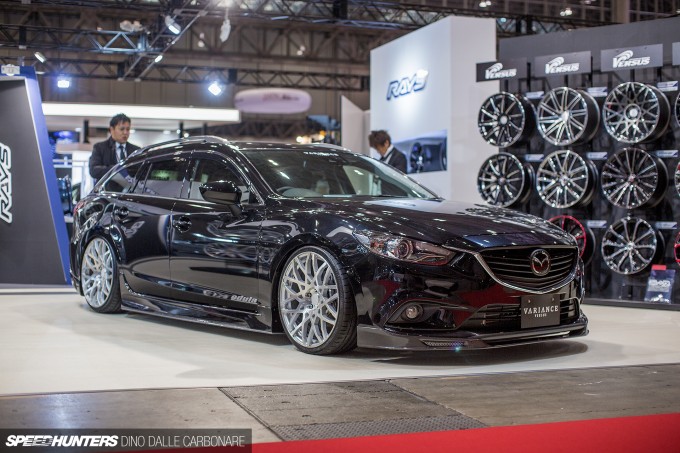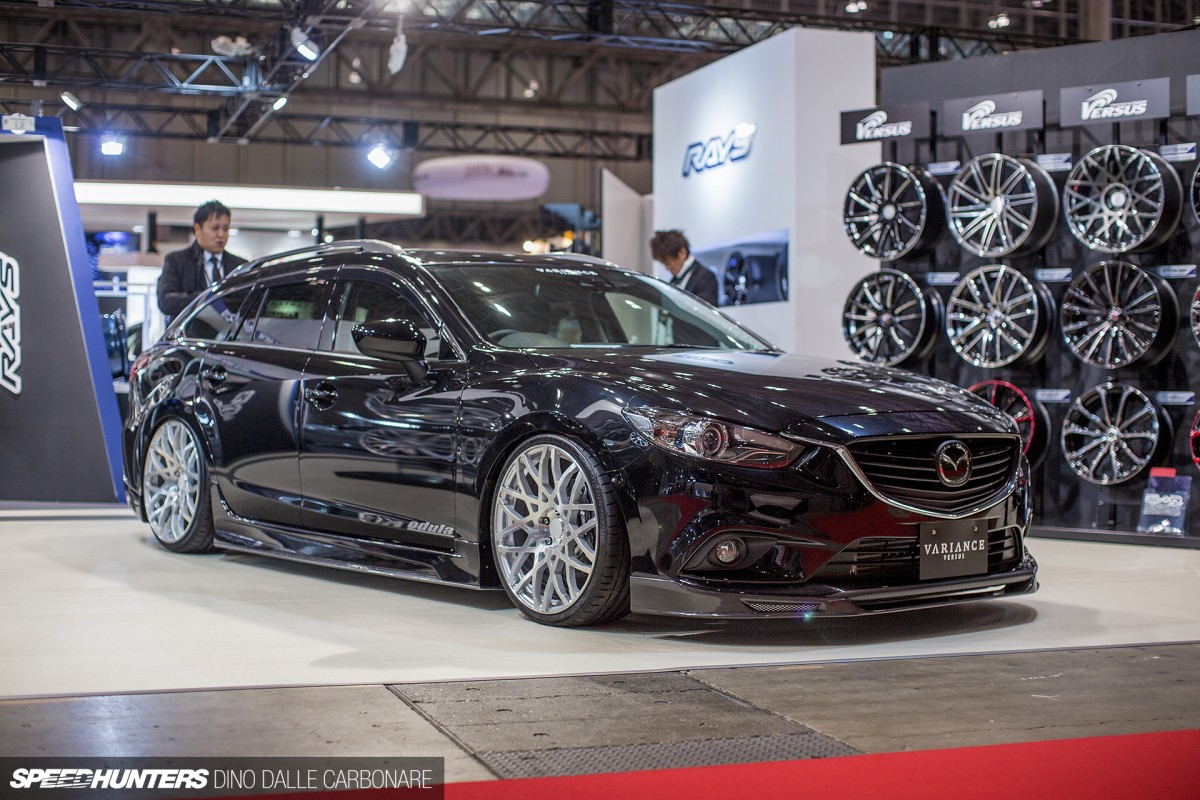 So let's begin our tour at the RAYS stand – one of the first places I always stop off at to see what's new for the year. It's where I spotted this Mazda Atenza sitting on new Variance V.V.10M wheels from RAYS' Versus line. The stance and show-orientated movement has forced Japanese wheel manufacturers to push themselves to stay on top of current trends with new and innovative wheels, and these are a perfect example of that.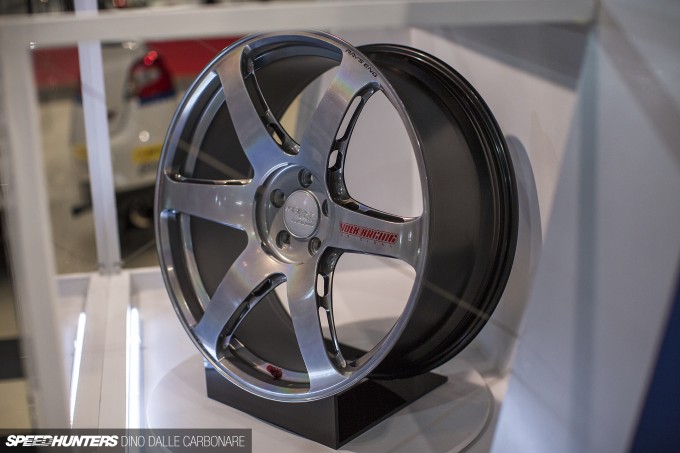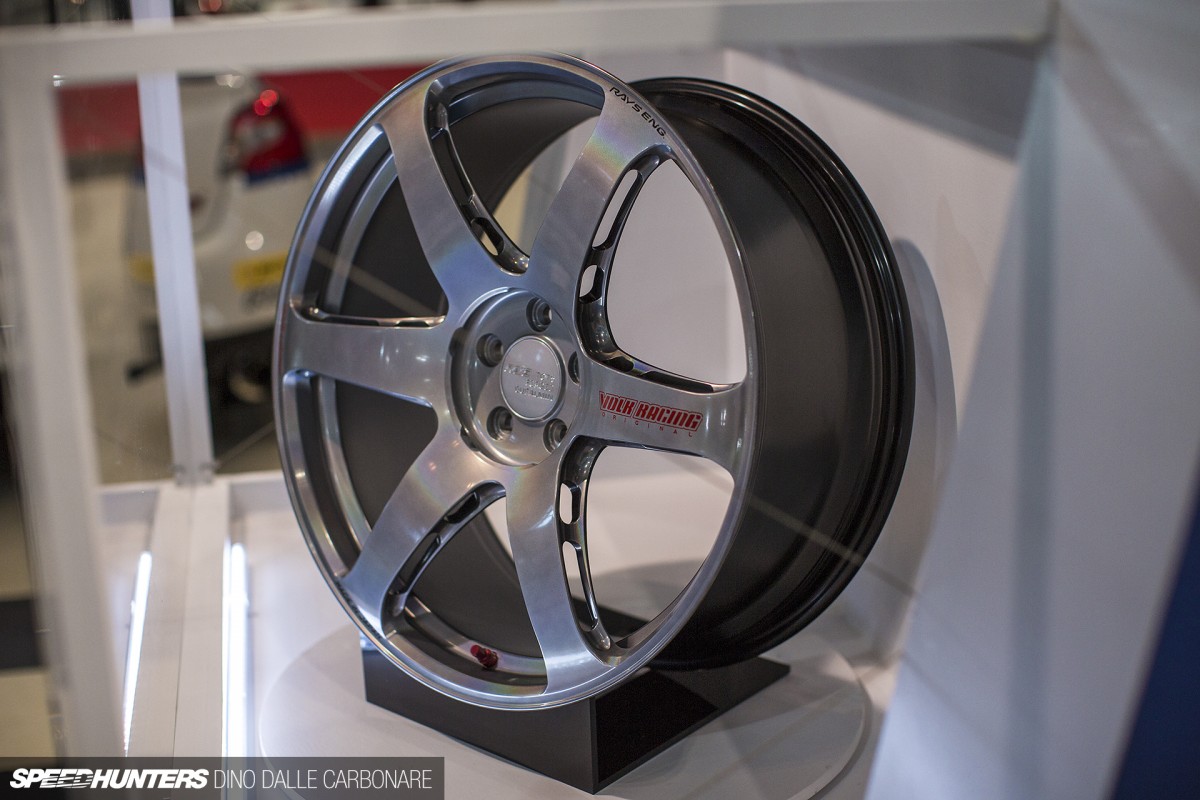 Sitting in front of RAYS' main display area was this new TE37 design. This 22-inch version of one of the most iconic Japanese aftermarket wheels is only a prototype at the moment, but as you can see it boasts a new spoke design. If the wheel goes into productions it's going to be aimed at the SUV market, which means it will surely find its way onto some big luxury sedans too.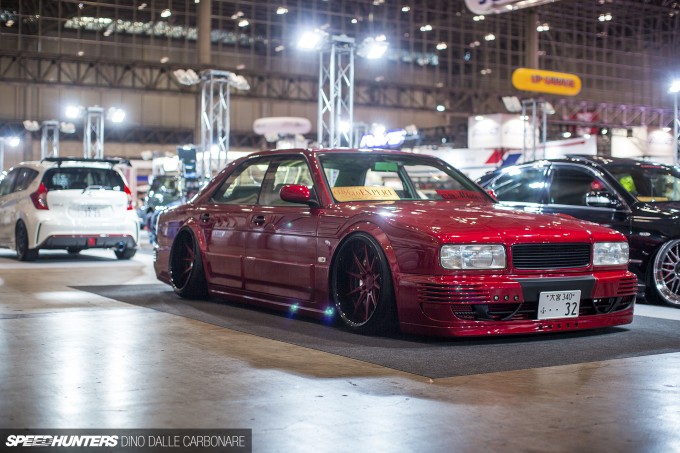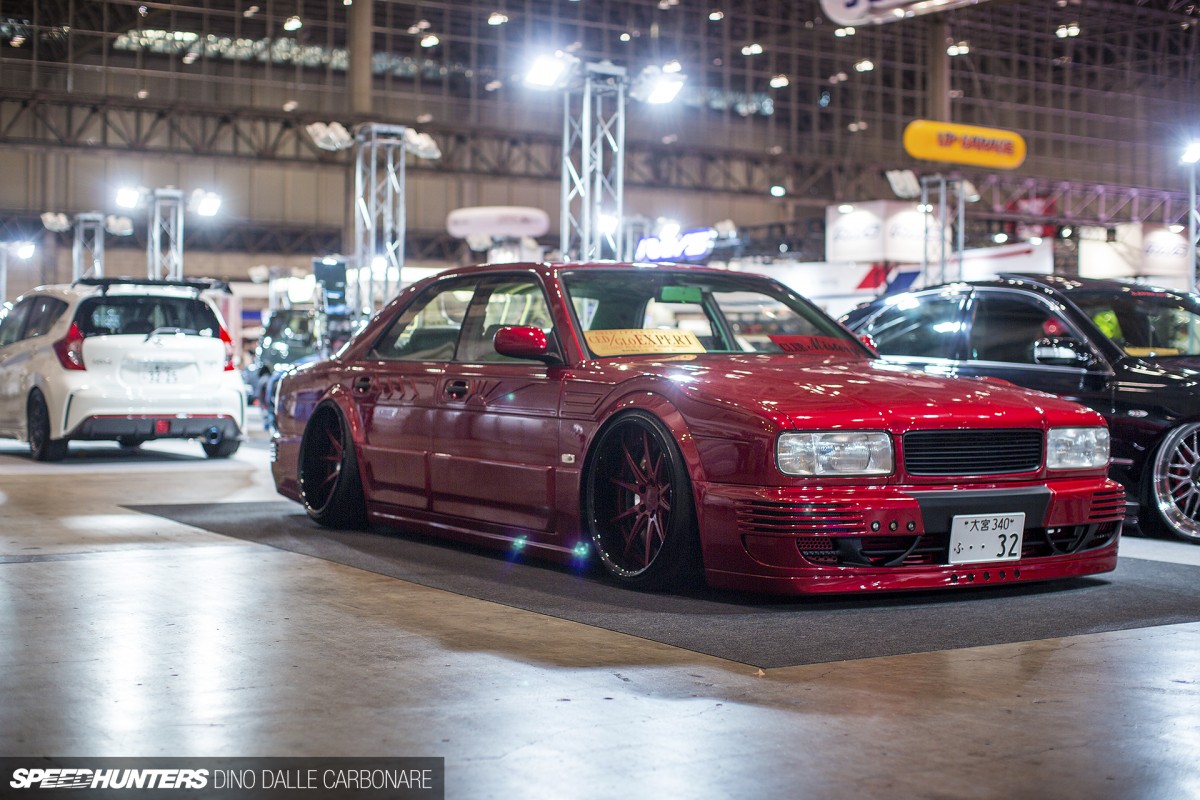 The VIP movement, well, keeps moving! There were quite a few sweet sedans to feast one's eyes on, but this old Cima from Expert really stood out to me.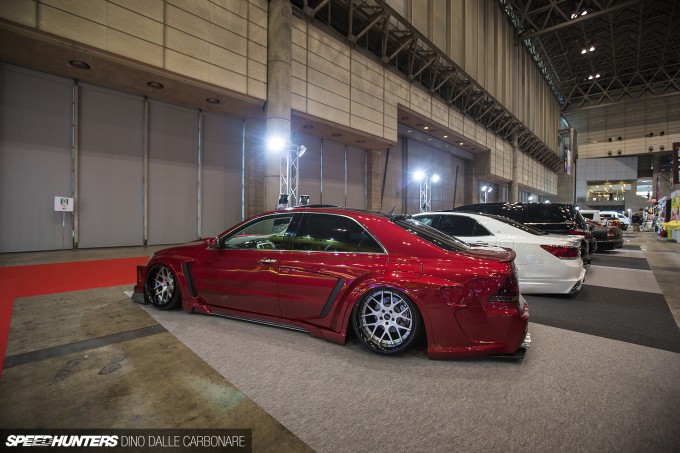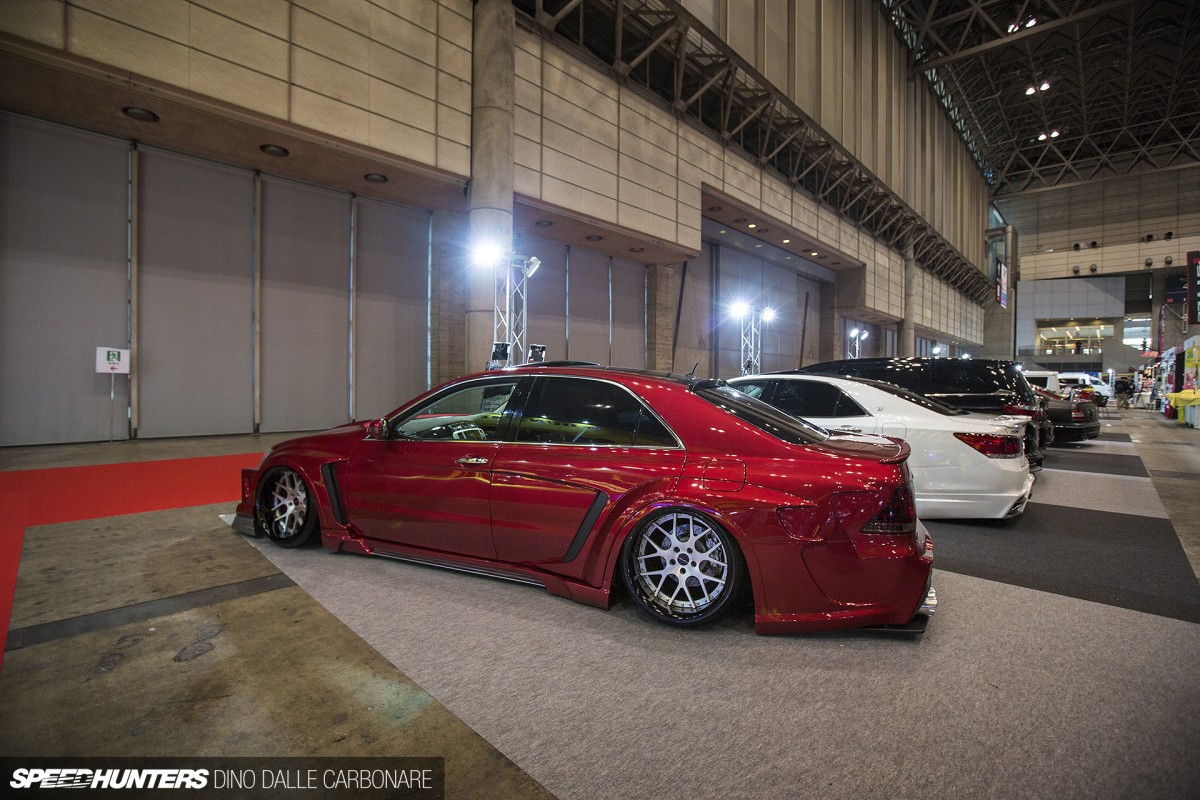 Some take things to the extreme, and wild widebody kits and intricate designs are becoming quite the norm, as this insane Crown Athlete shows.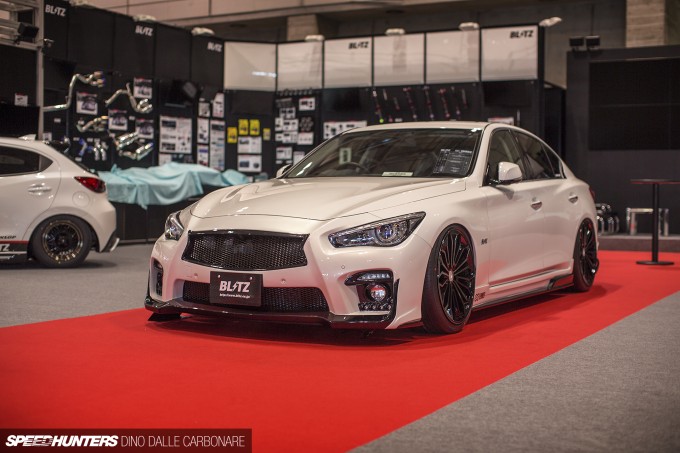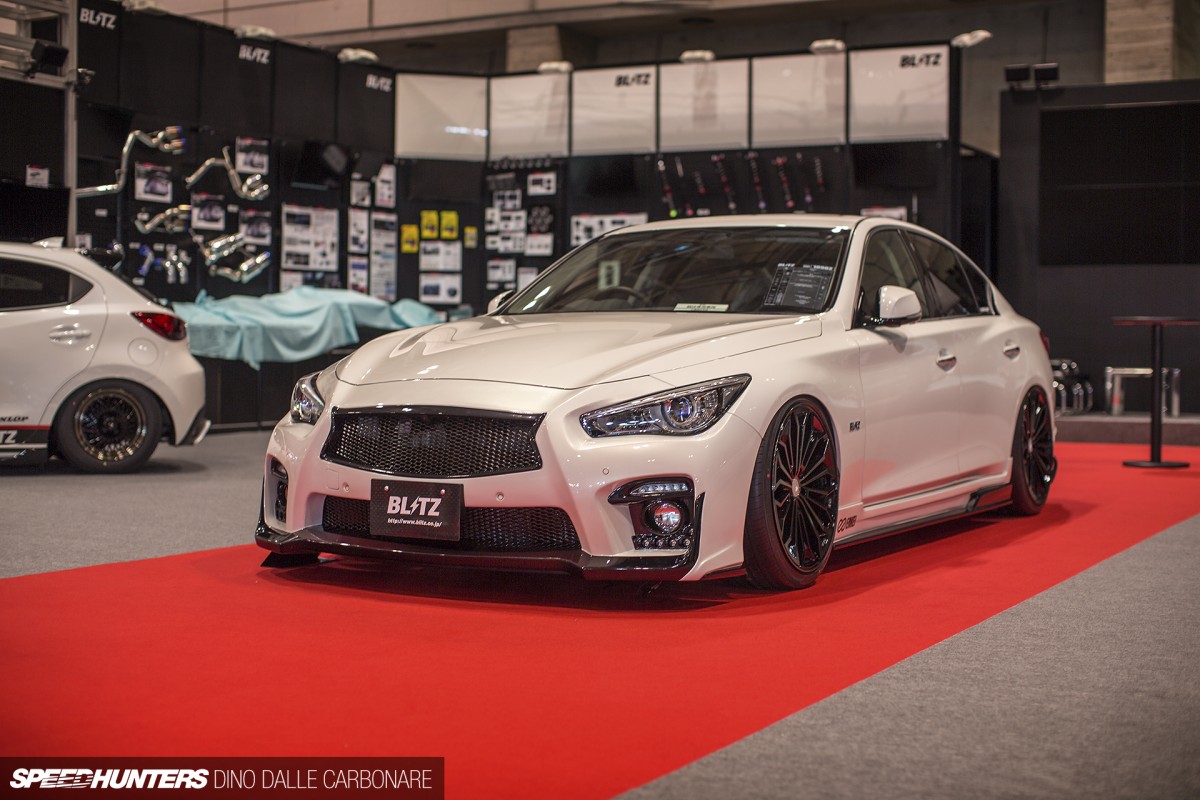 The new Infiniti Q50 – or Nissan Skyline as it's called in Japan – will no doubt become a popular base for VIP guys to go crazy on, but its underlying sports credentials put a nice twist on things. That's why I thought Biltz's interpretation was really spot on.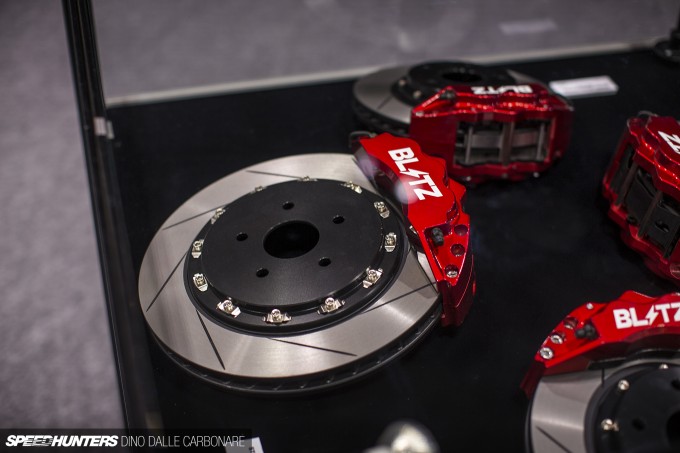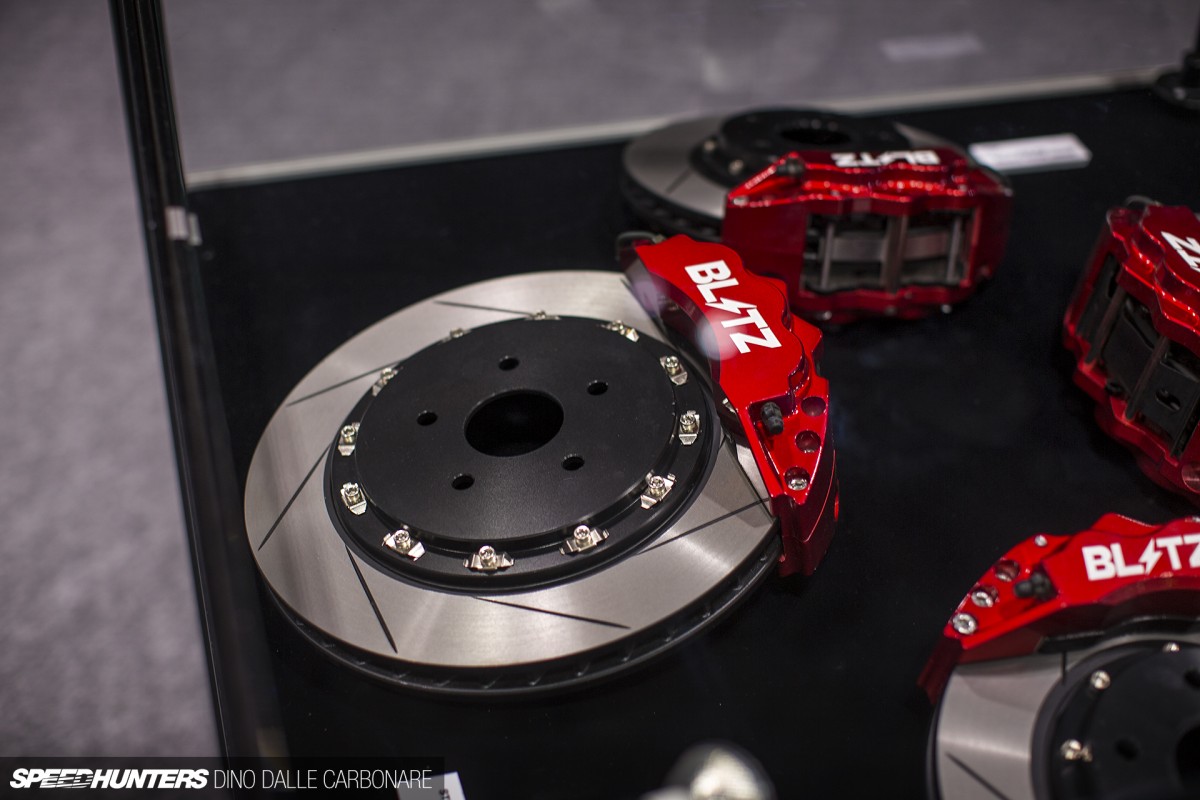 Blitz have even launched their own brake kits which will soon be released in Japan.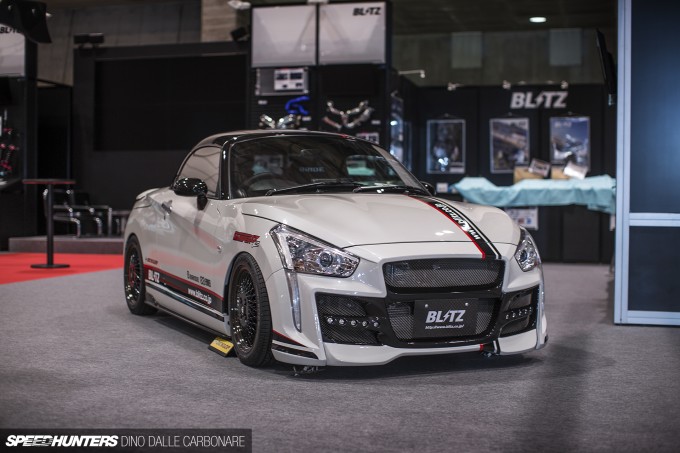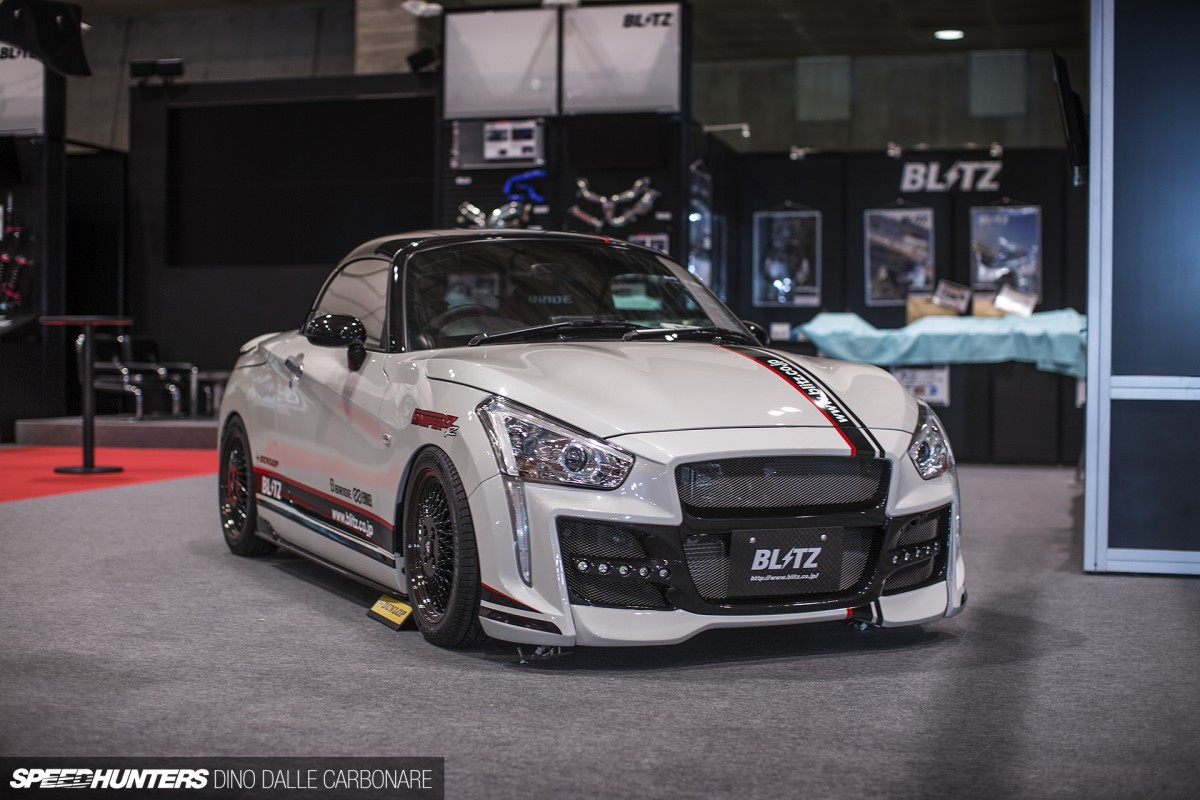 This is a company that's been trying out some new marketing initiatives of late, like giving out suspension upgrades to customers and asking them to pay and keep them only if they like them. It's a way to get that tuning bug to return and it has to be commended as people's tastes have skewed a tad lately. Blitz also went to town on the new Daihatsu Copen, dressing their demo machine up with a set of Enkei mesh wheels and some R35-inspired aero treatment. Of course, being from Blitz there are some performance mods in the mix too.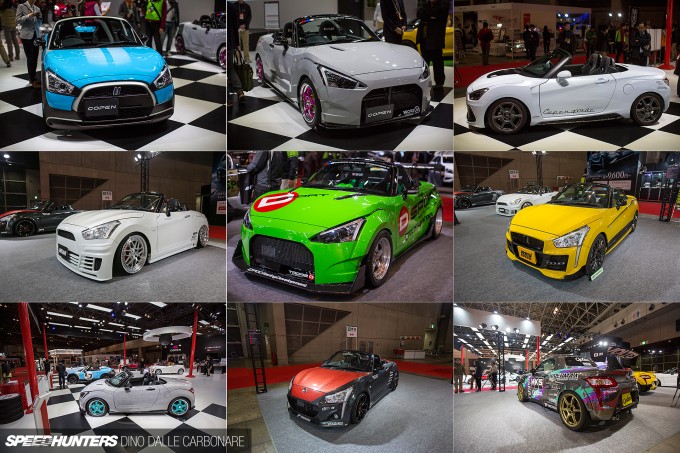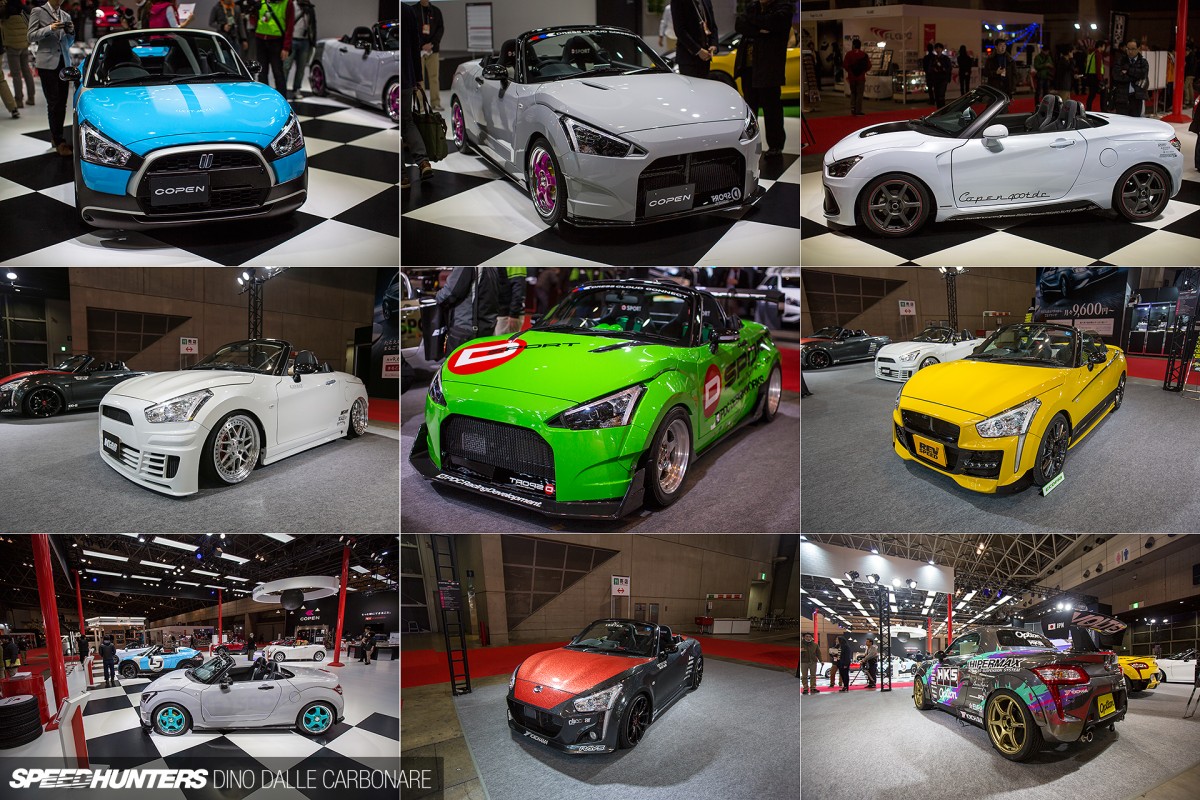 And while we're on the subject of Copens, check out this little selection! Daihatsu called in a bunch of tuners and asked them to come up with their own modified interpretations of this new-gen kei machine. Once Honda hits back with the S660 it will be interesting to see if there's a wave of new kei sportscars like we had back in the early '90s. My favourite? It has to be the HKS time attack Copen in the bottom right corner!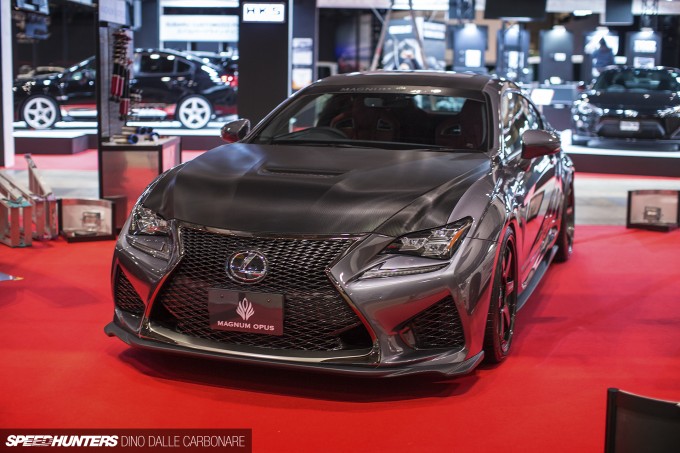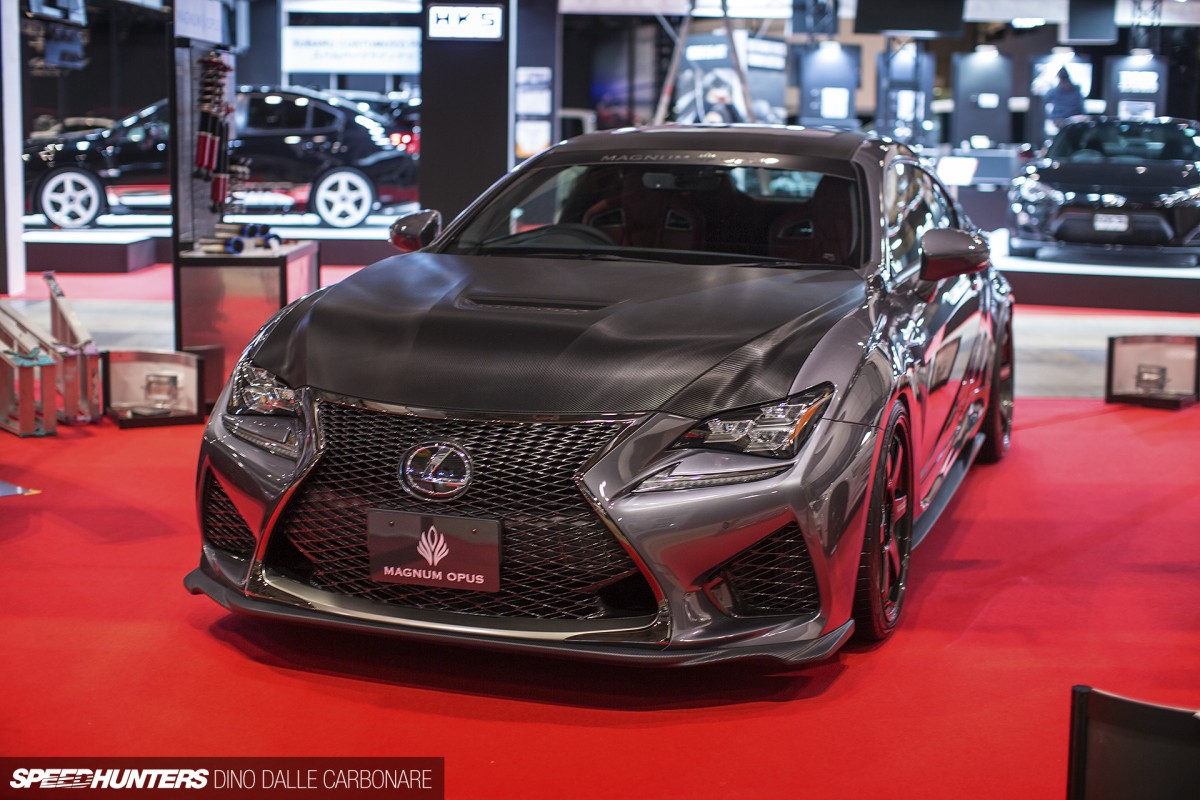 Like a few other aero specialists out there, Varis was quick to jump on the Lexus RC F now that it's been released in Japan. Given the time constraints, they only managed to come up with a carbon lip spoiler, side skirts and a rear treatment for the new performance coupe, but I'm sure we'll see some wilder designs from Varis emerge over the coming year.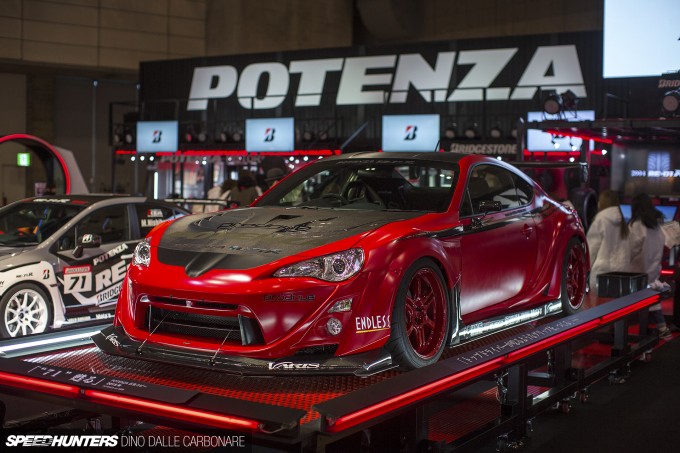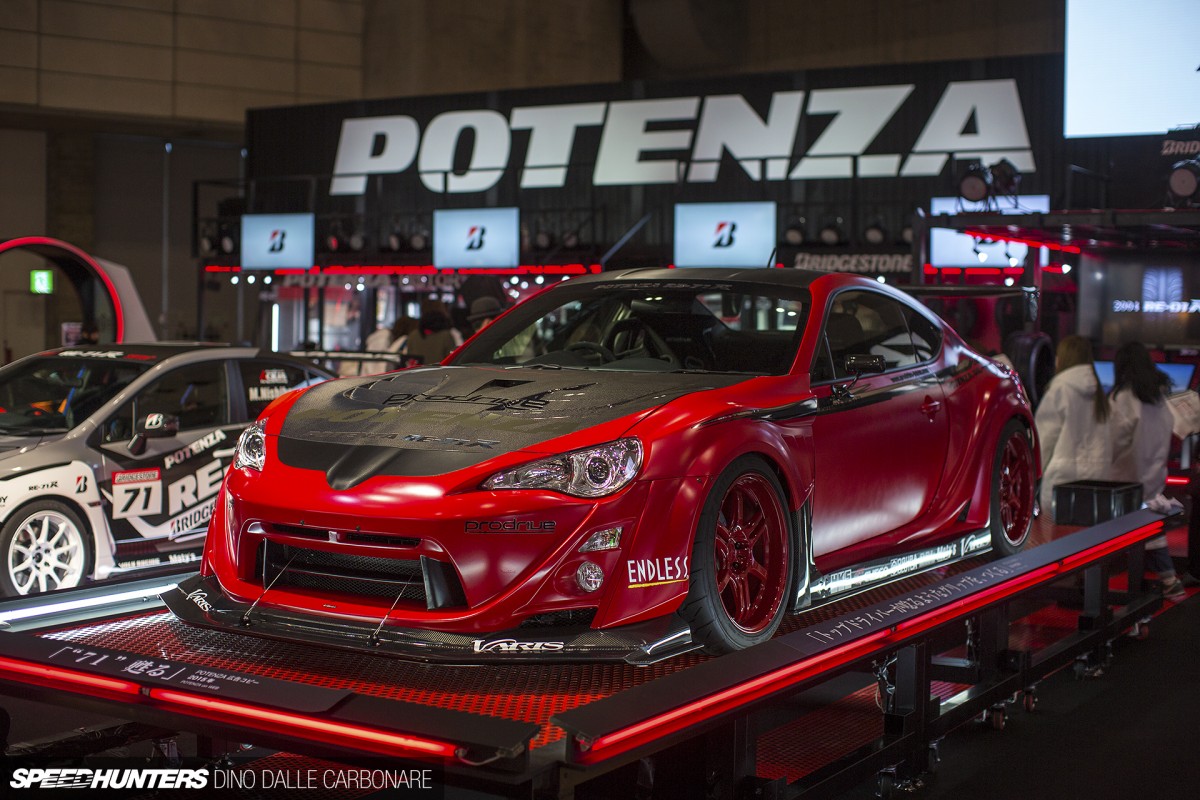 And talking of Varis they had a collaborative project on display at the Bridgestone booth. Amongst a number of modifications, the Toyota 86 featured Varis's widebody aero kit and was sitting on a set of Prodrive wheels, which of course are manufactured by the Bridgestone group. Red on red? Do like!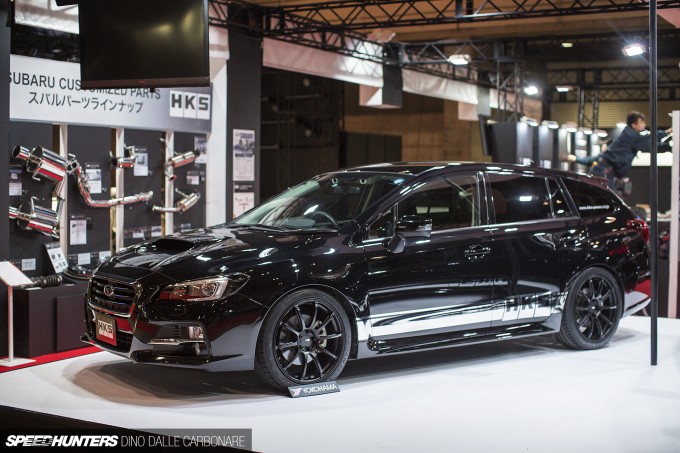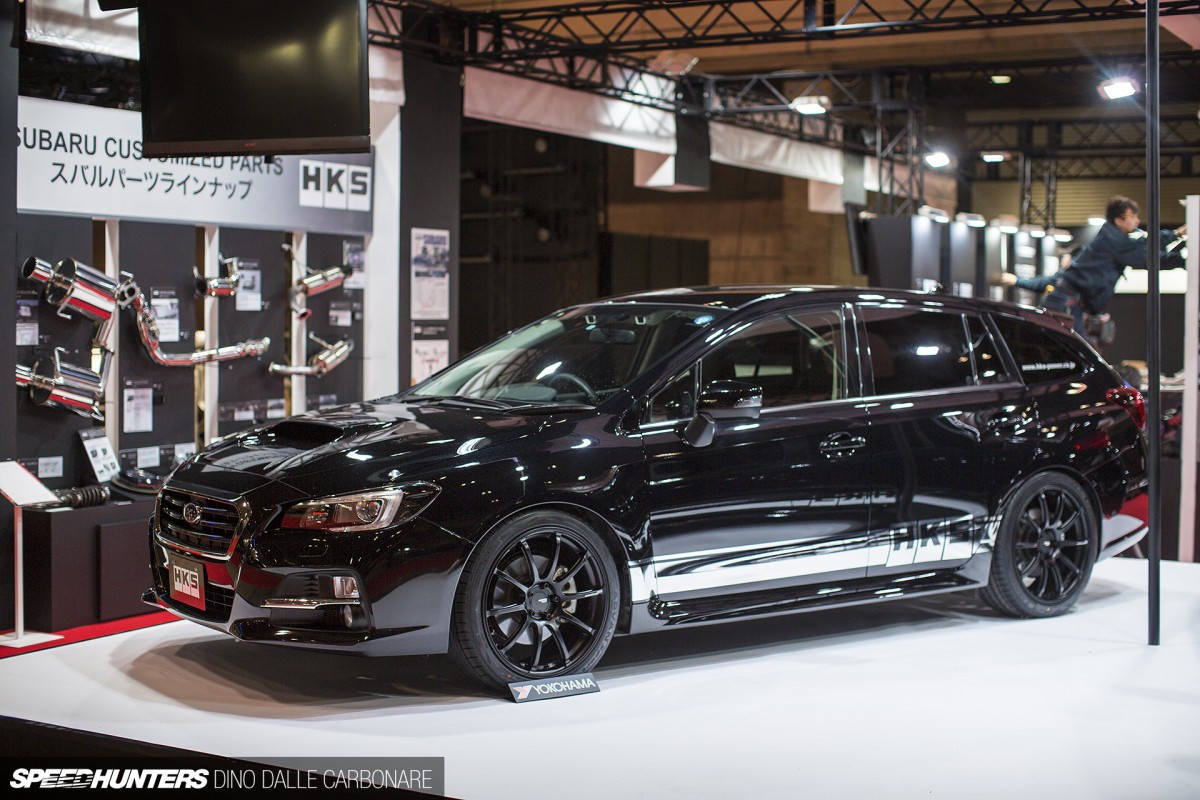 I spent a while looking at this Subaru Levorg on HKS's stand. It's such a pretty looking compact wagon, and it would have had so much potential was it not ruined by only being available with a CVT transmission. HKS has attempted to make the most of the car by developing some adjustable dampers, a full exhaust system, and making some electronic upgrades to extract a little more power from the 300hp FA20 turbo motor under the hood.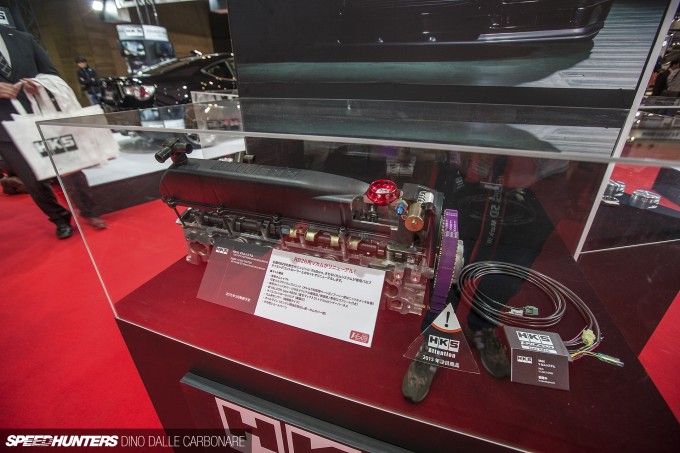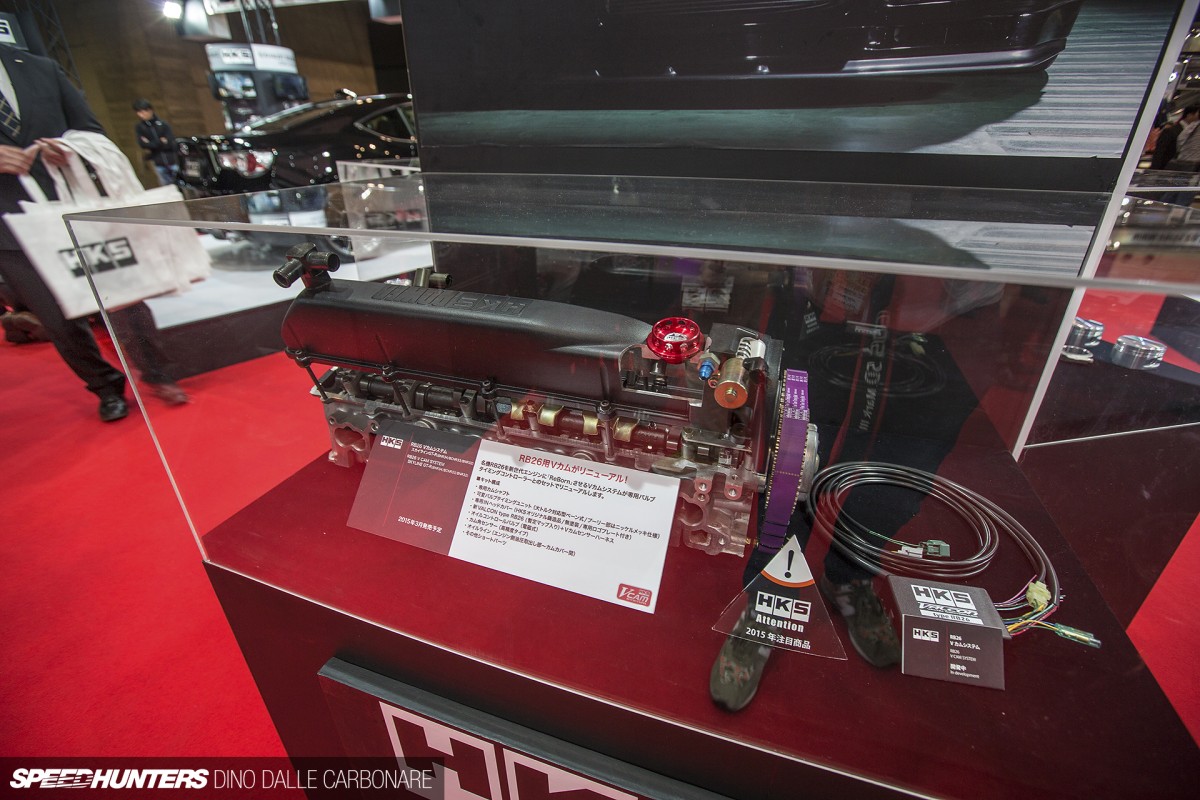 However, it was this that I couldn't keep my eyes off. Yep, HKS has updated the V Cam system for the RB26 and are now even launching a Step 0 2.8L stroker kit for the same engine. Seeing a tuning powerhouse like this going back and developing new upgrades for these old engines is so inspiring. Big thumbs up to HKS, and let's hope more performance parts makers follow suit.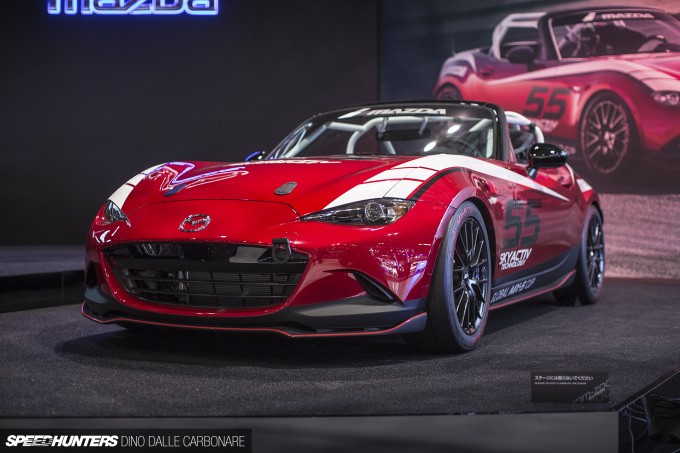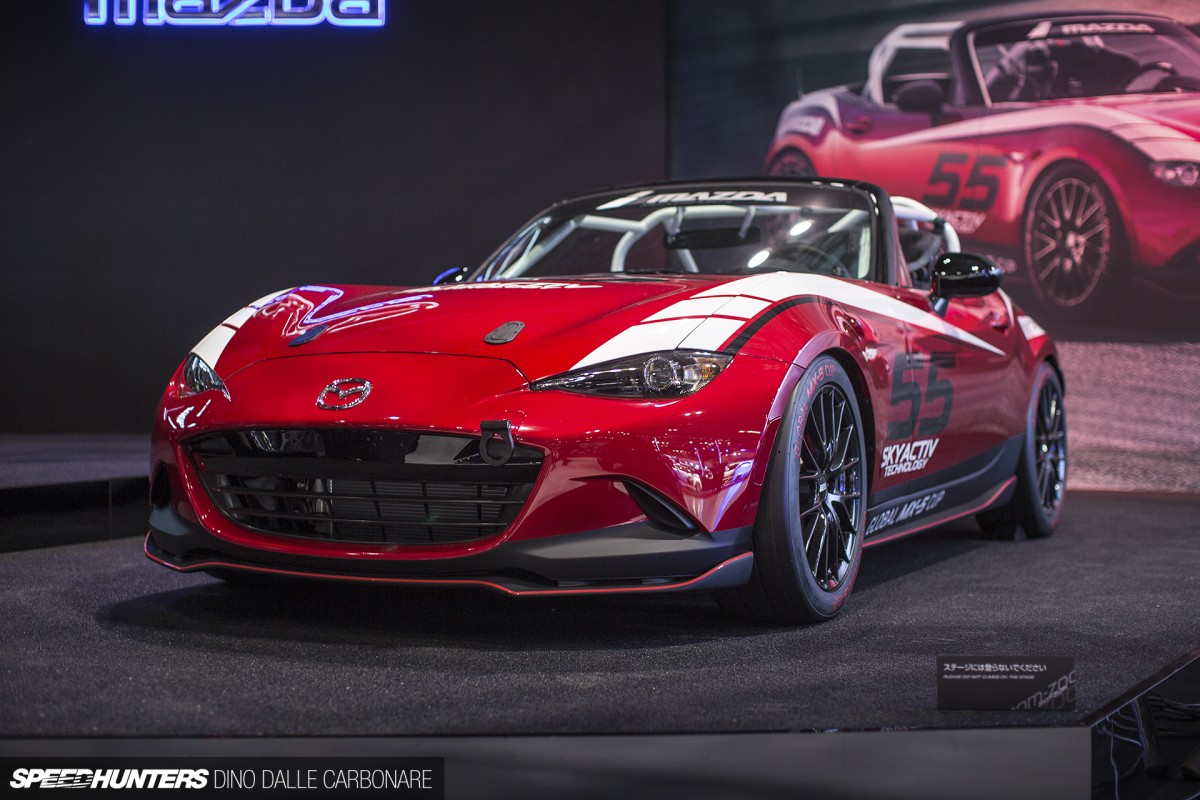 We've seen this thing before at the SEMA Show, but I thought I'd take a few more snaps of the one-make racecar that Mazda plans to launch once the production model goes on sale. Hurry up Mazda, we want to drive these cool little cars!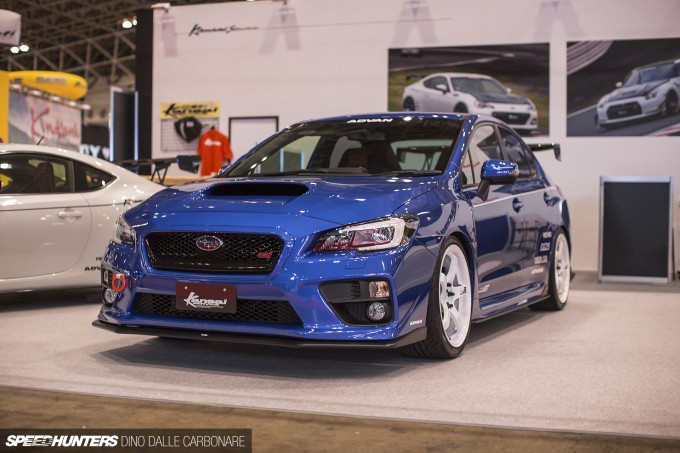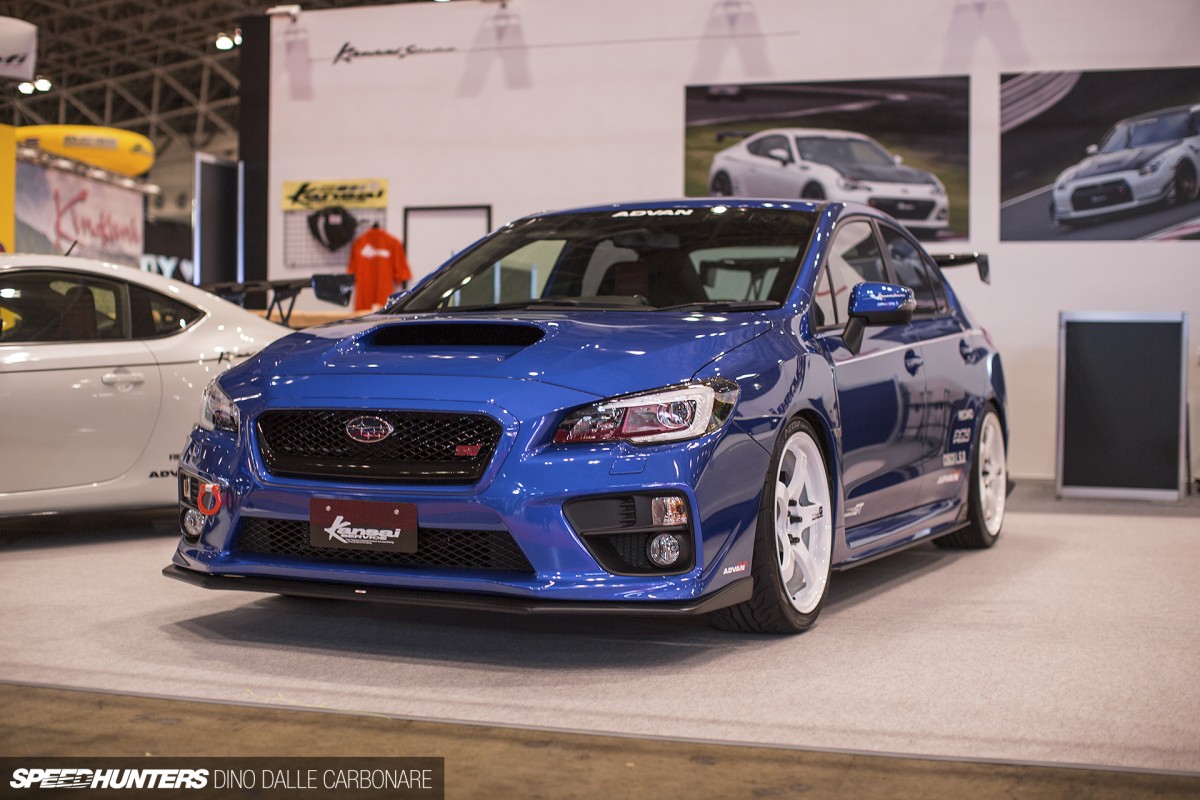 As always, Kansai Service had its big booth right in front of Yokohama and Nissan, and in the middle of it all was a new-gen Impreza STI. This car is bound to be at the epicenter of the tuning scene for the forceable future now that Mitsubishi is killing off the Evo.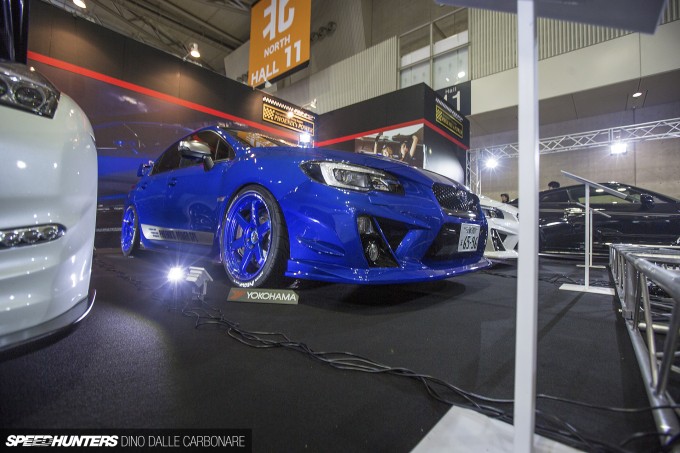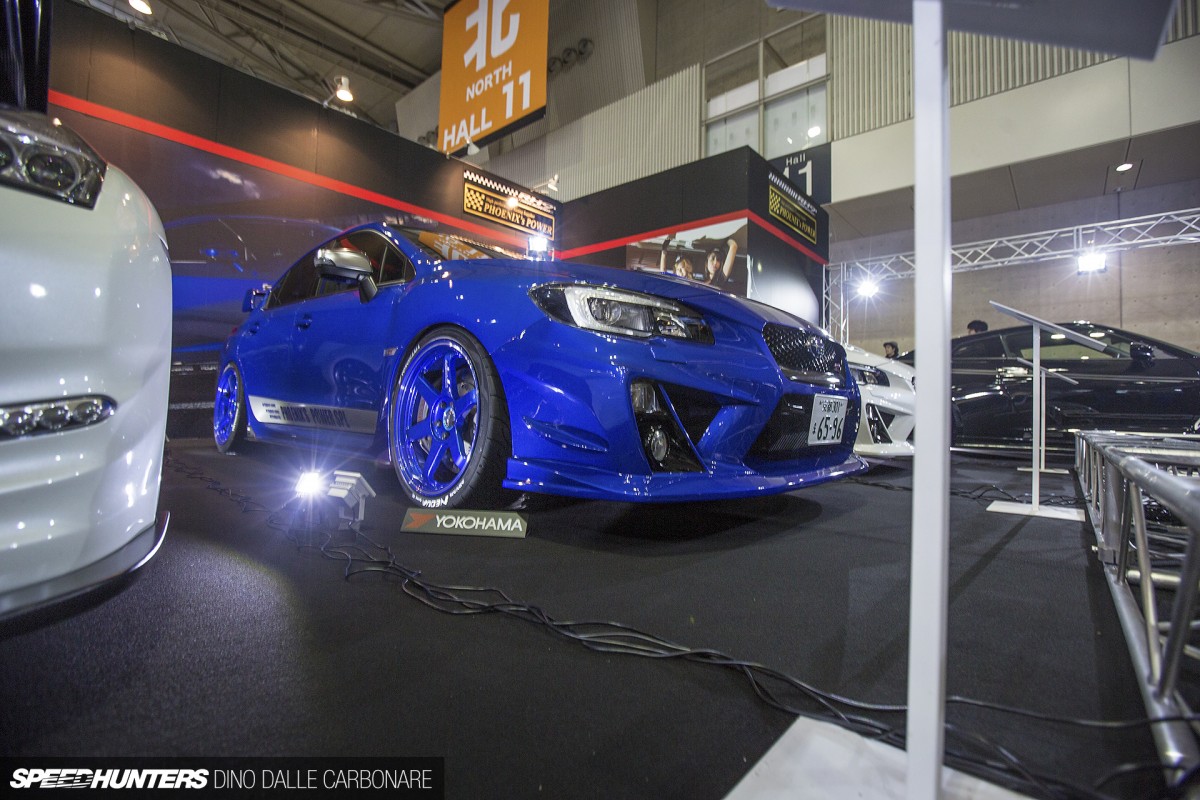 Phoenix's Power too had their own interpretation. Blue on blue? Hell yes! It will be interesting to see what kind of numbers all these shops will be able to extract from the model's 2.0L turbo boxer engine.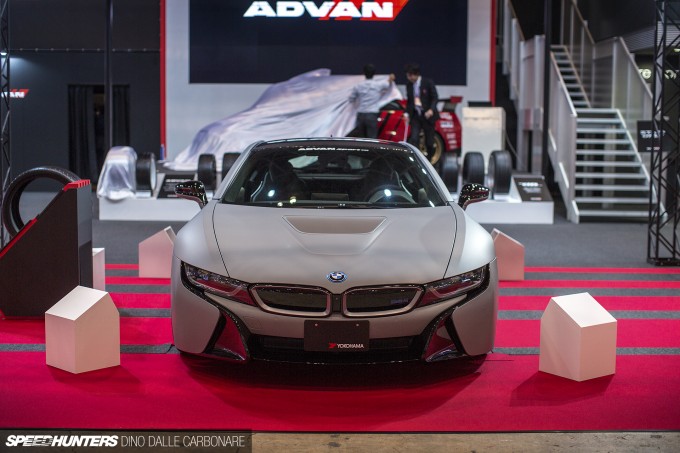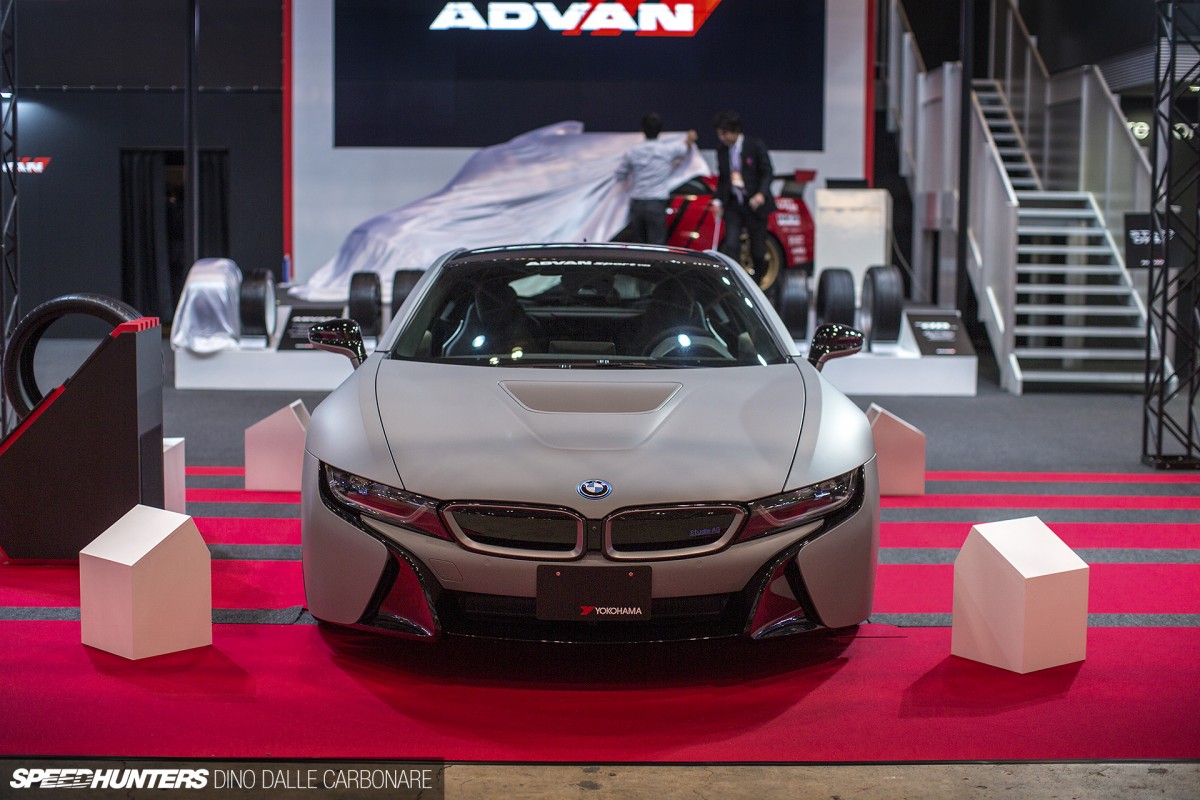 Call it an evolution in tuning, but Studie – the biggest BMW specialist in Japan – is going to be developing some updates for the i8. Their demo car was already sitting on a fresh new set of BBS wheels centerstage at the Advan booth.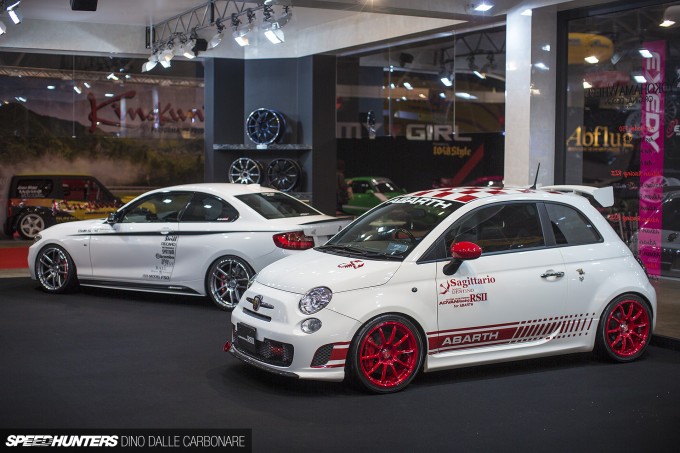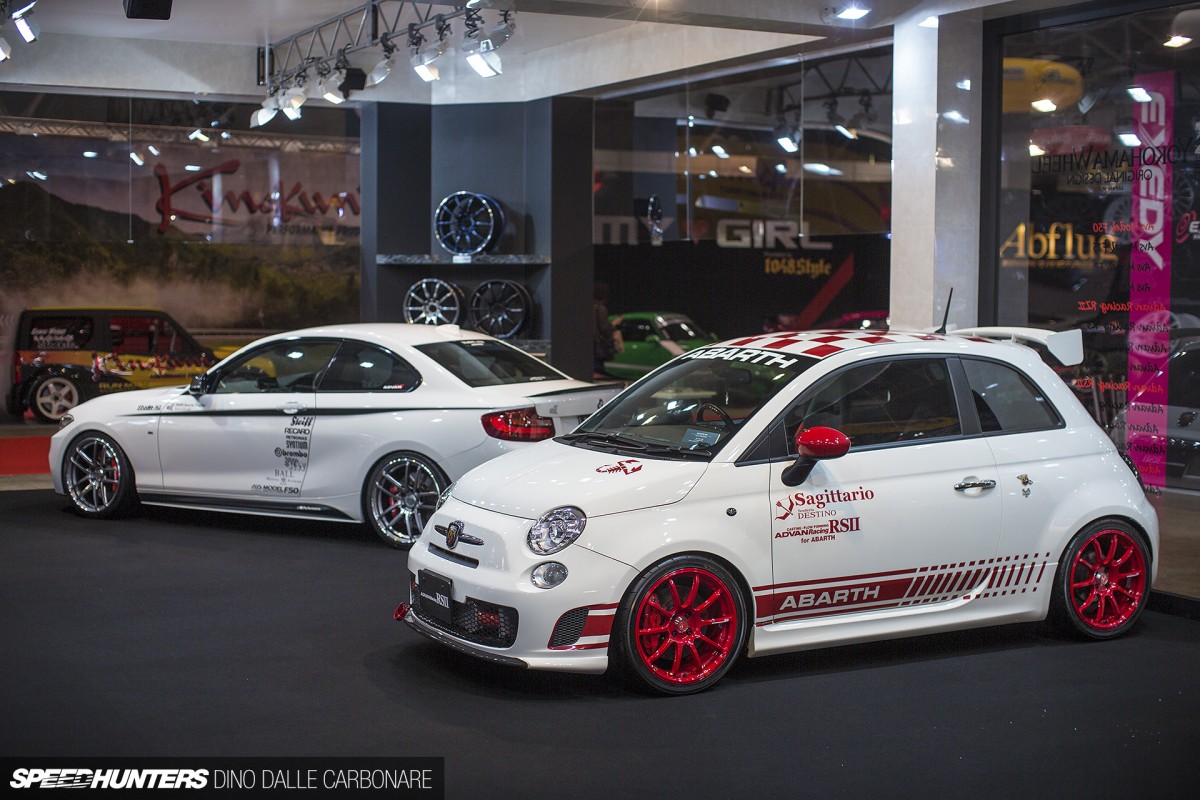 Wheels, wheels, wheels! There are so many new wheel manufacturers popping up every year, but it's the big names in the industry that continue to garner most of the attention – much like Yokohama and their cool selection of demo cars, which included the Destino 500 and Studie M235i.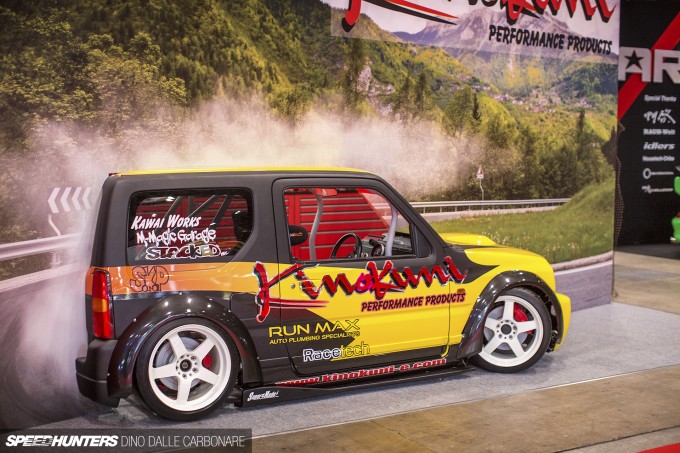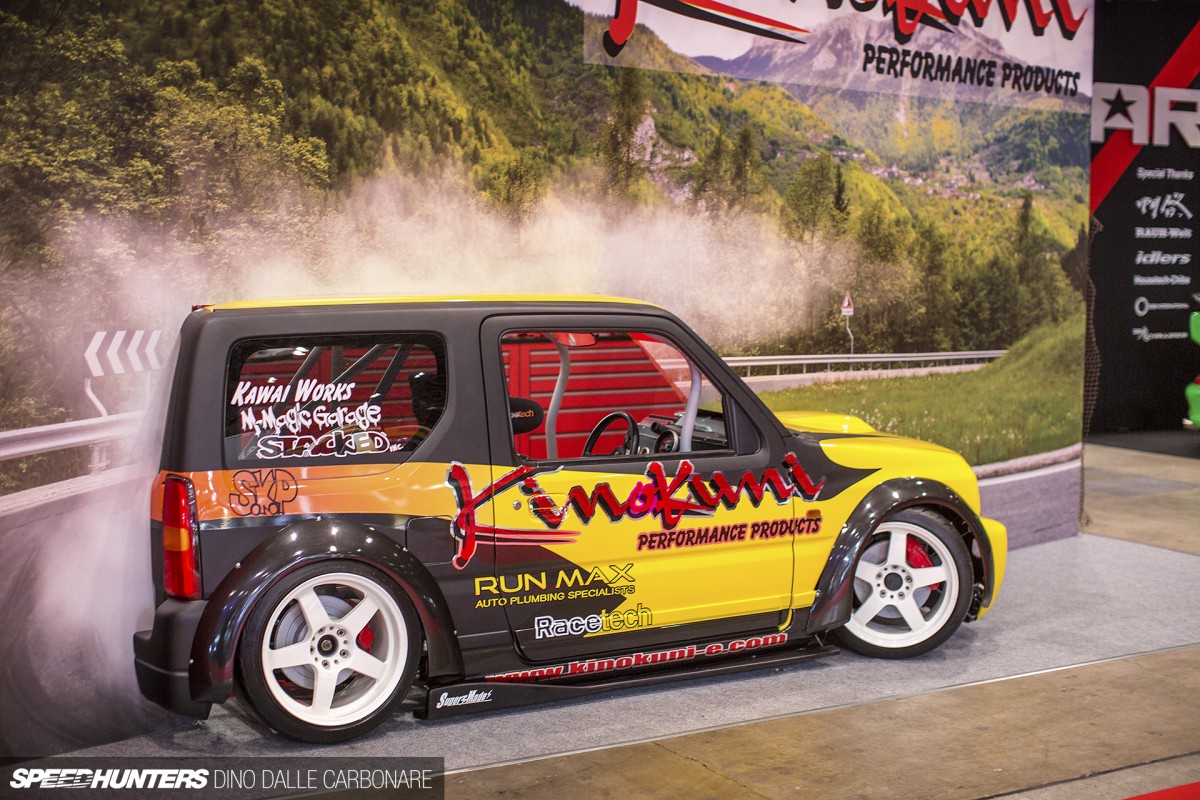 And now for what may well have been the most exciting car of TAS this year. Looks aside, there's little left from the Suzuki Jimny it's based on.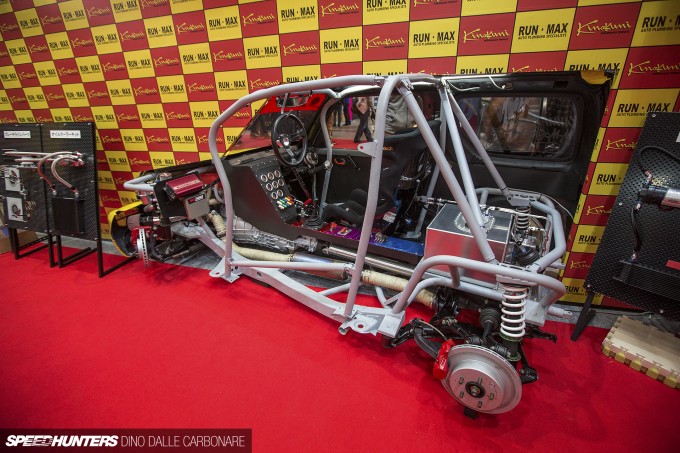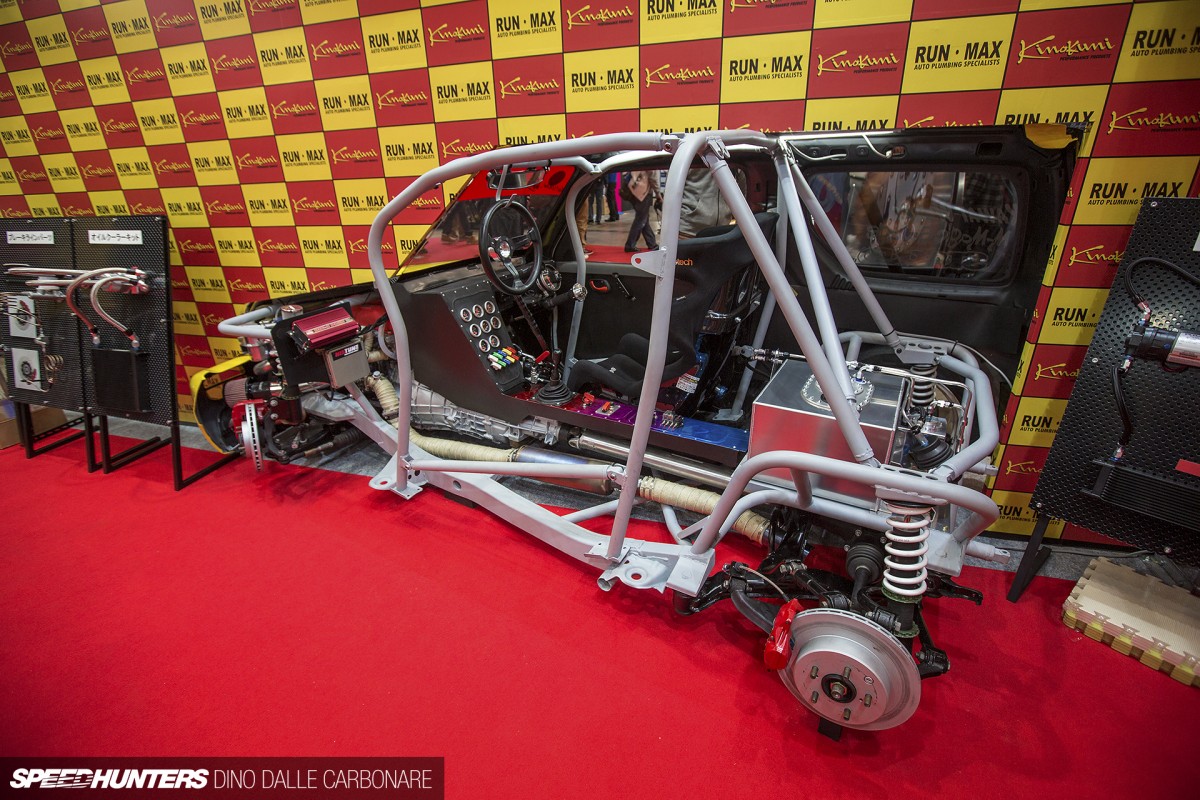 Pop on over to the other side of the wall and all is revealed. Underneath the removable body resides a tubular frame tied into parts of the original Jimny chassis. It's all been built to show off the various parts that Kinokuni manufactures – like fittings and braided lines – but the coolest thing sits up front: an SR20DET. Once this fun little project is finished it will be the freshest drift machine in Japan!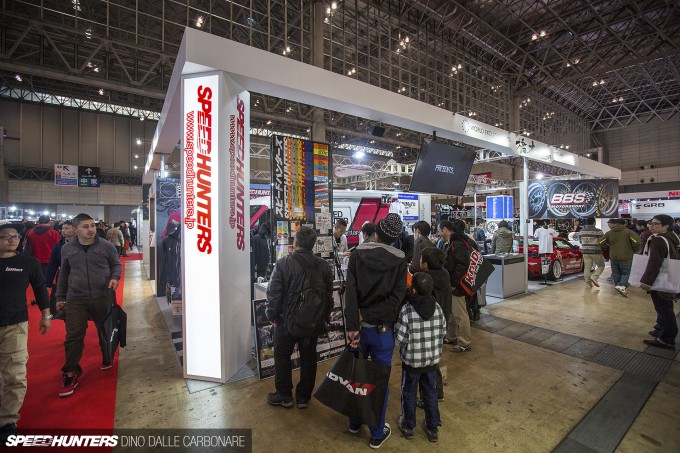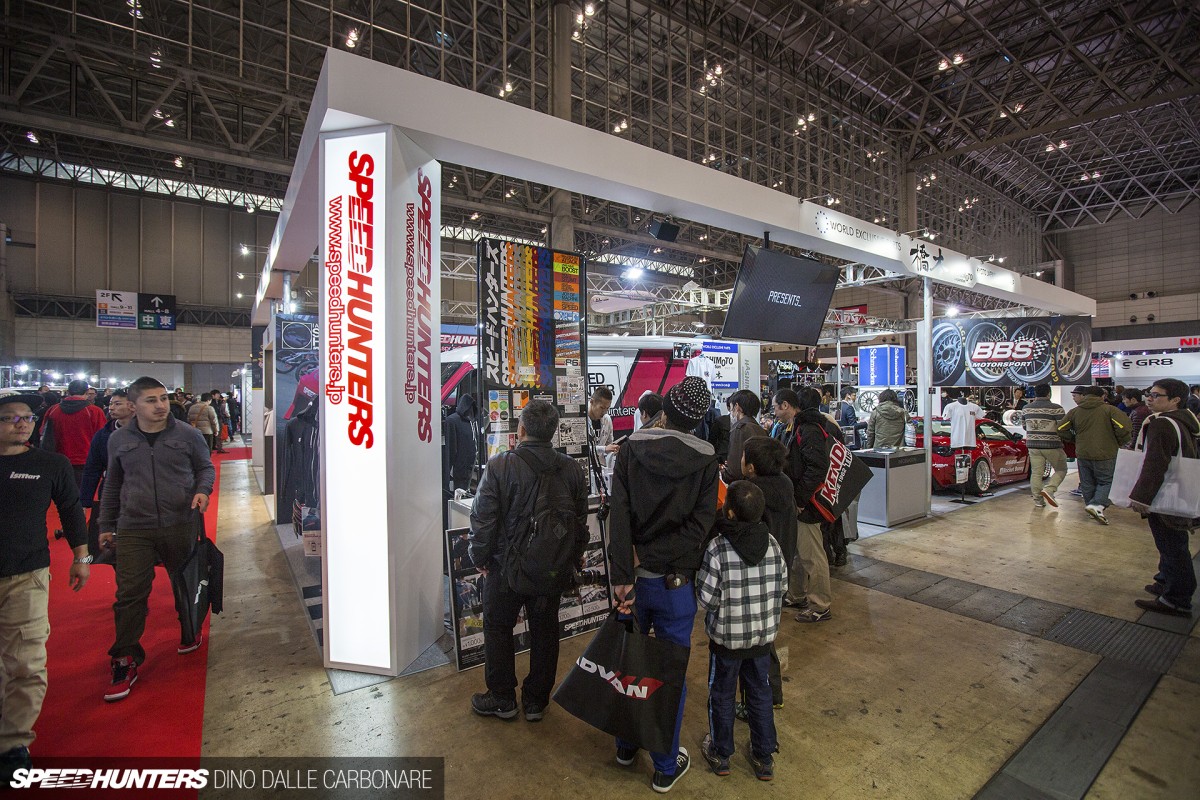 After years of bringing you coverage from the Tokyo Auto Salon we can finally say that we were there too – officially. 2015 saw Speedhunters set up its very first booth at the show, which was a very proud moment for us.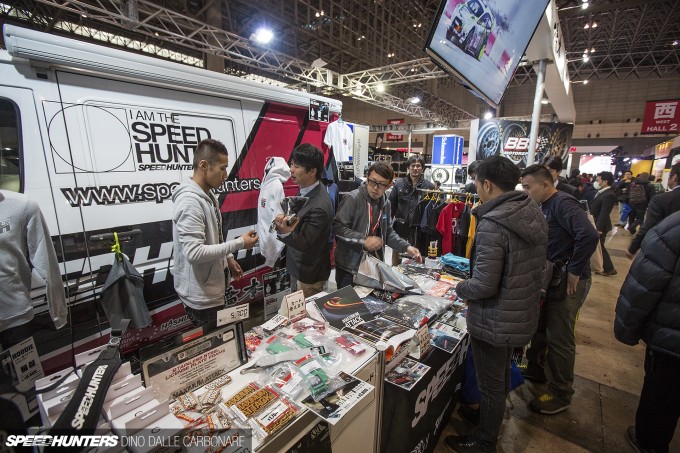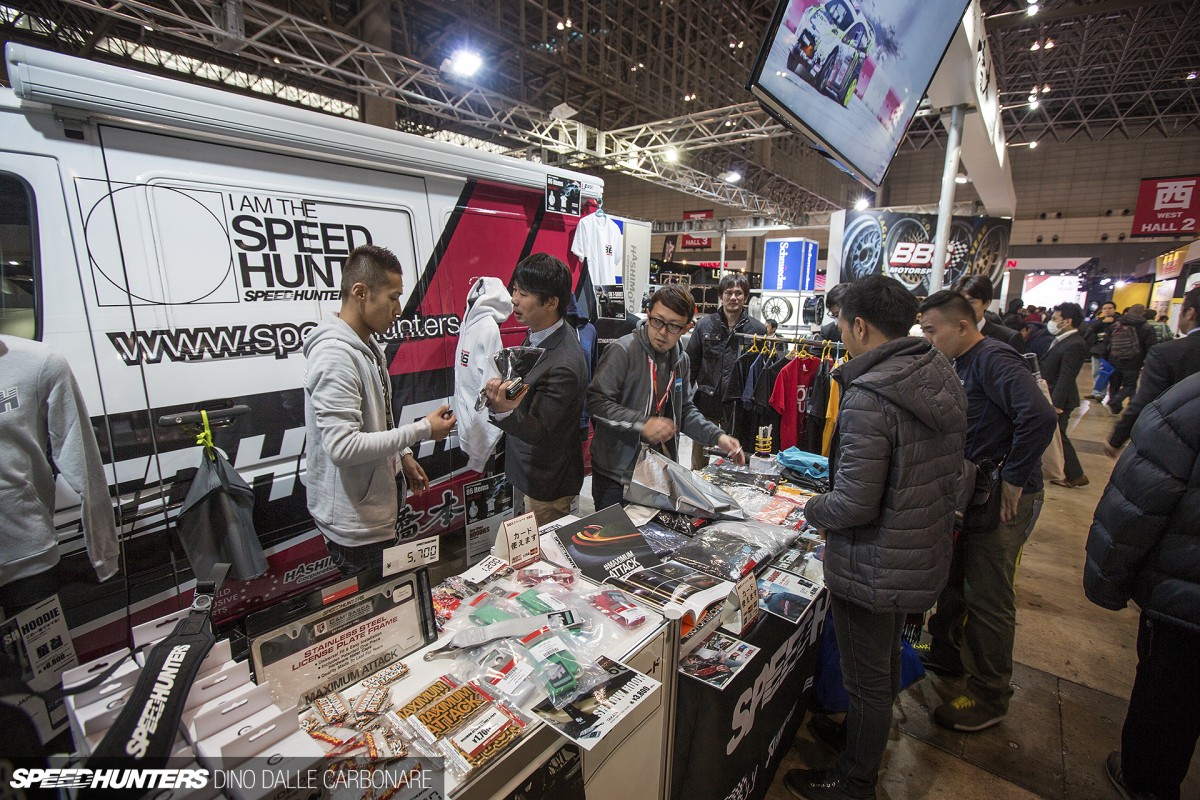 We'd like to extend a massive thanks to everyone that stopped by to pick up some of our merchandise or just to say hello to Larry and myself. It was very humbling and we are truly grateful for all the support!
Hunting For The Coolest Cars & Parts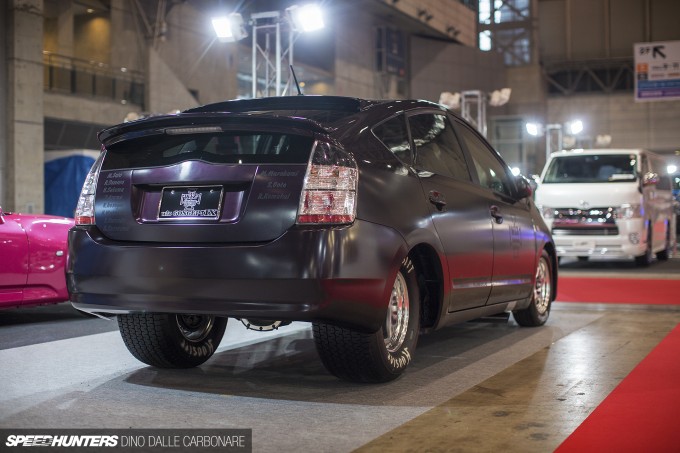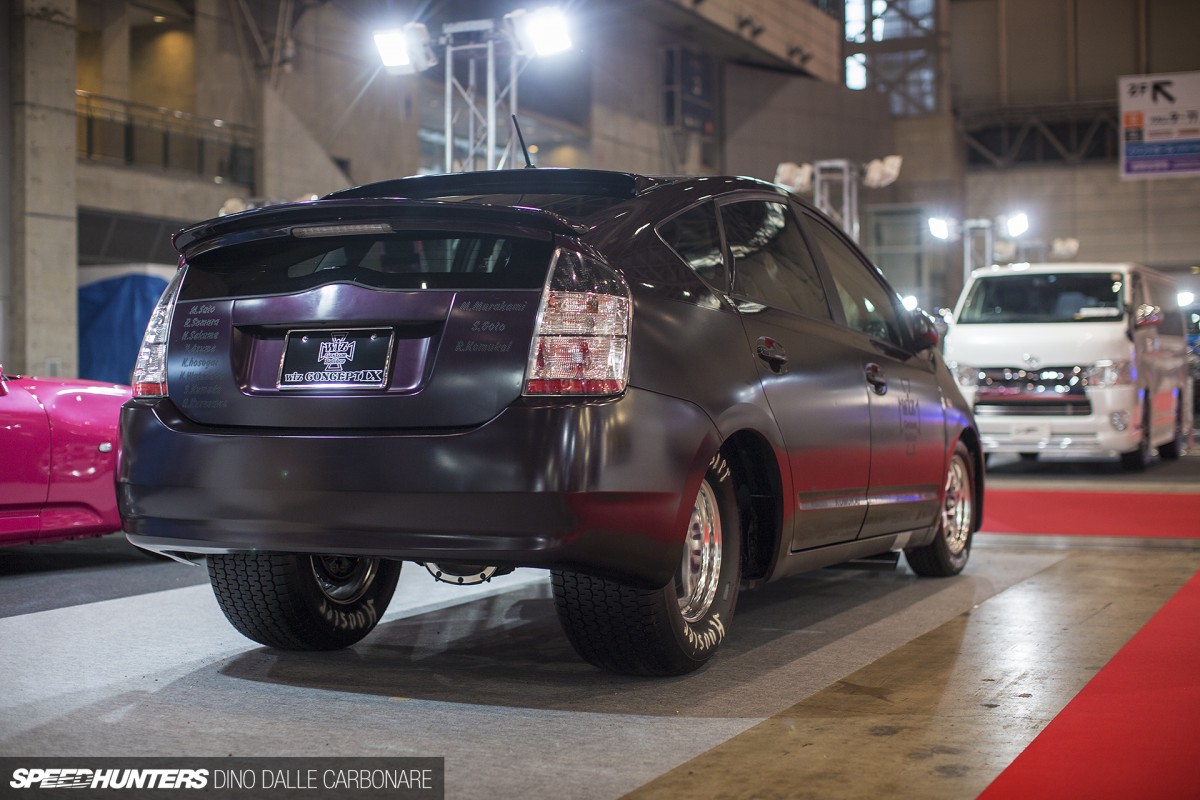 How about this for a university project? I'm sure than many people walked right by this Prius, not realising that underneath the body was a rear-wheel drive drag machine. But if the big drag radials at the back didn't give the game away, what powers this thing was certainly sure to.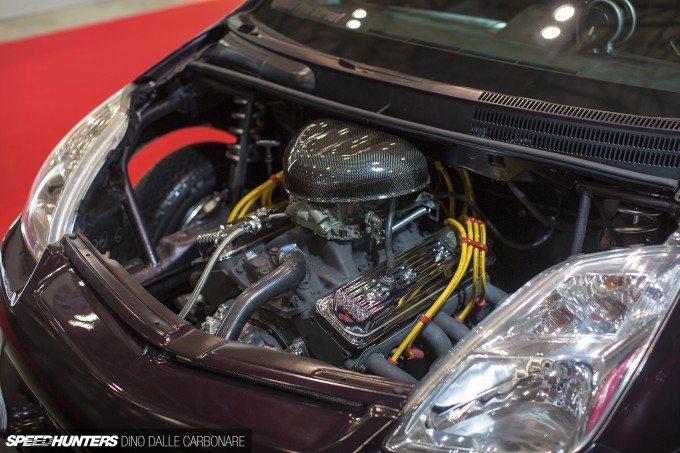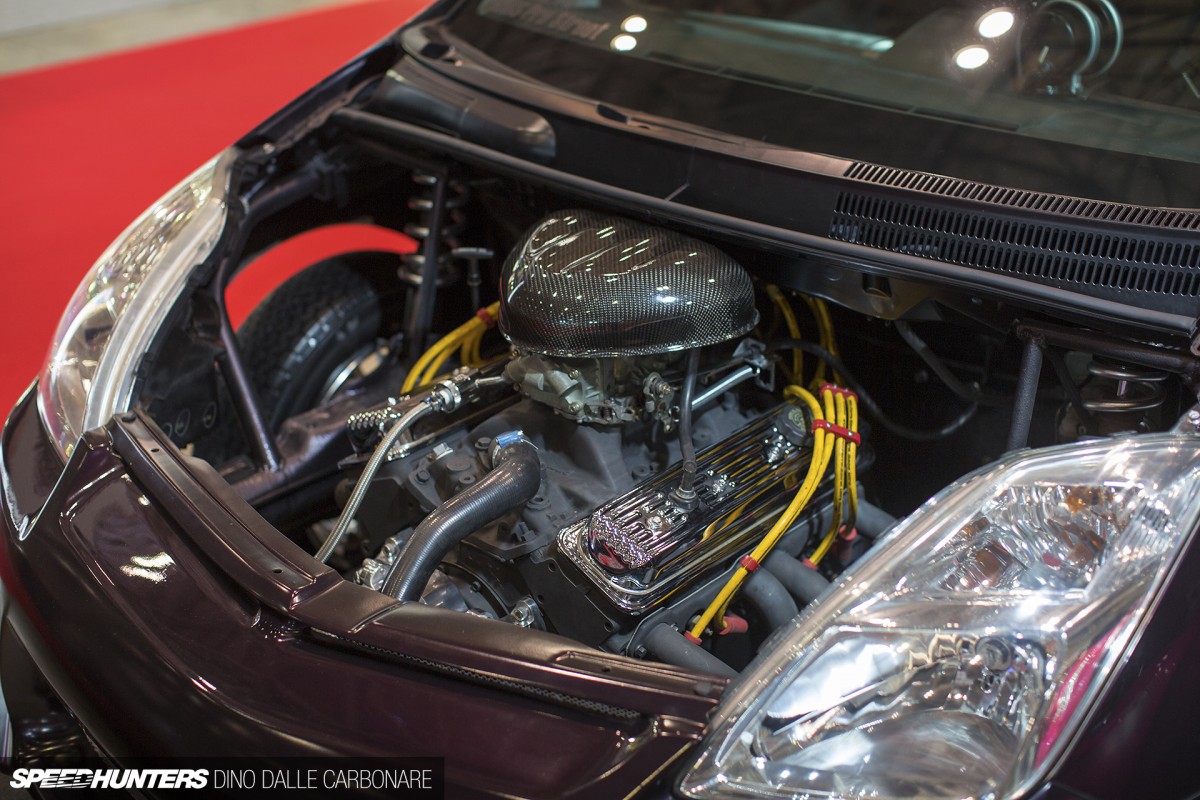 Yep, there isn't much hybrid/eco stuff going on here… I really hope that the students who built this received top honours for their efforts!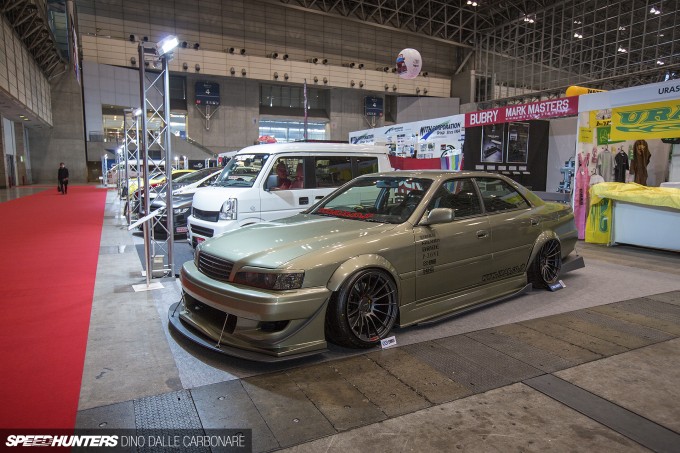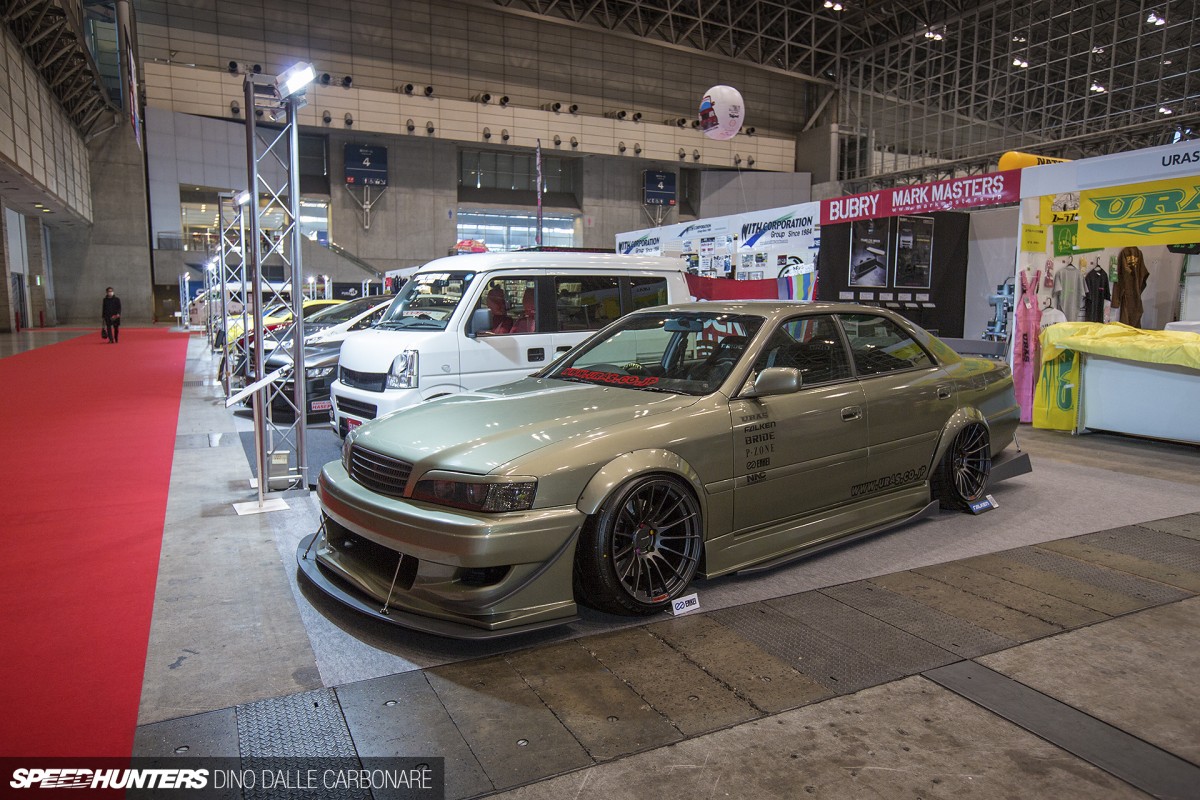 We're all familiar with the wild ER34 Nissan Skyline sedan interpretations that Nomuken over at URAS comes up with, but this year he thought he'd change things up a little and apply some fresh thinking to the JZX100 Toyota Mark II. I have to say, I'm really liking this style!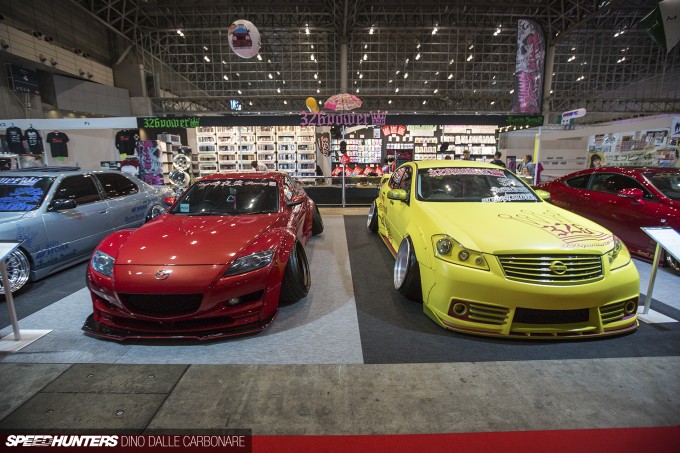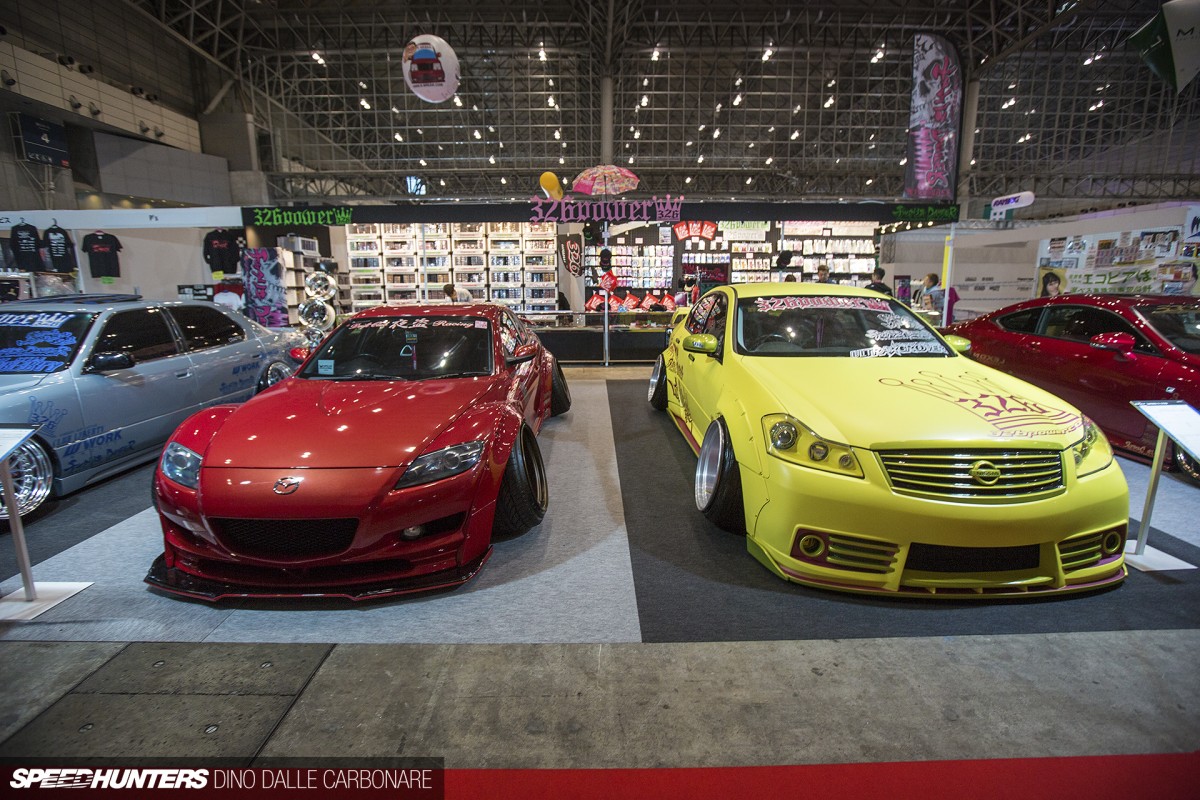 326 Power is constantly coming up with some of Japan's most groundbreaking stance cars. Maybe it's the Hiroshima style that does it – I don't quite know – but like the Lexus RC in the opening photo of this post, their cars just grab your attention instantly. Haters are going to hate I'm sure – especially with the amount of onikyan they run on most of their builds – but this is one side of JDM car culture that isn't going away any time soon.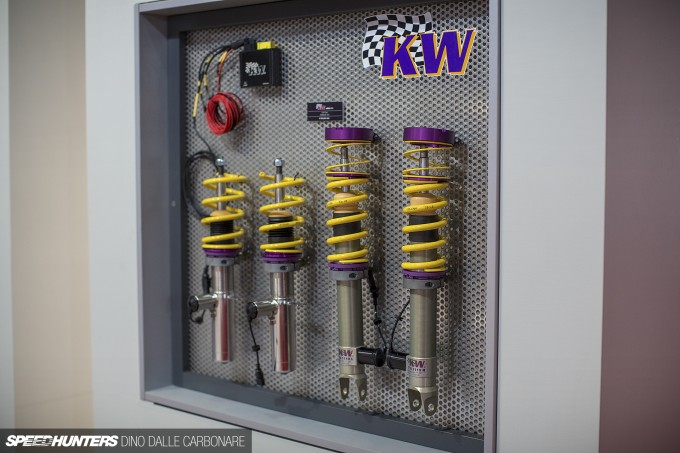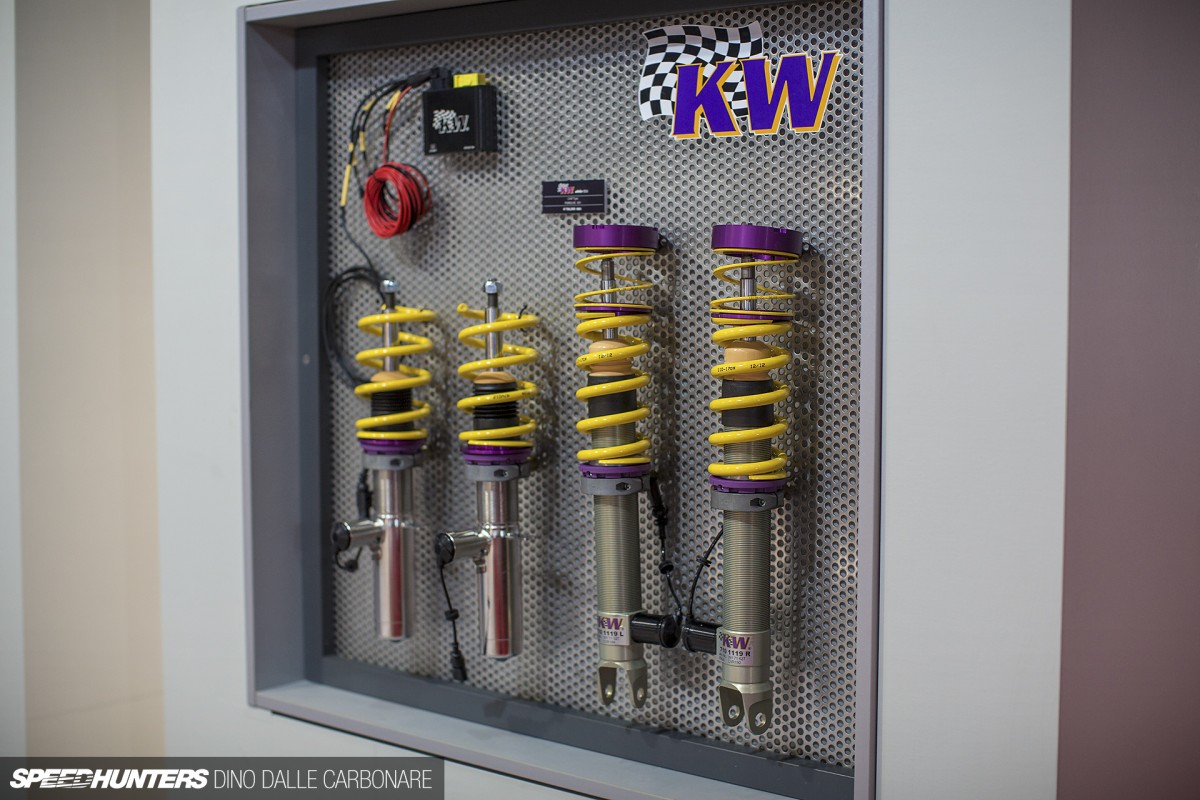 It's really cool seeing more and more foreign brands entering the Japanese market. KW is one of them, and along with their ST line, they're offering a full range of high performance suspension solutions – from street to race.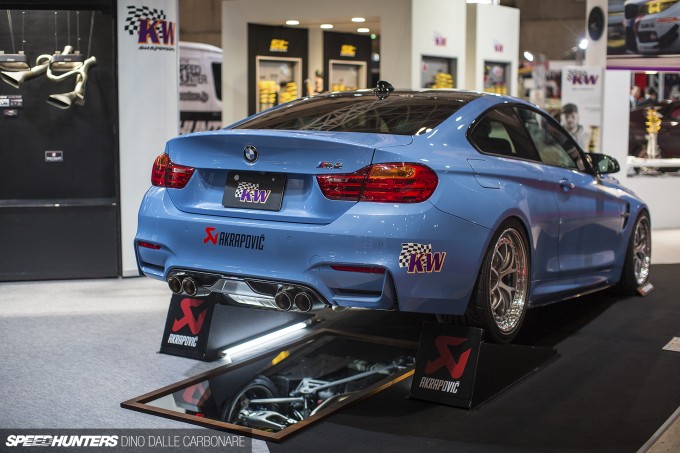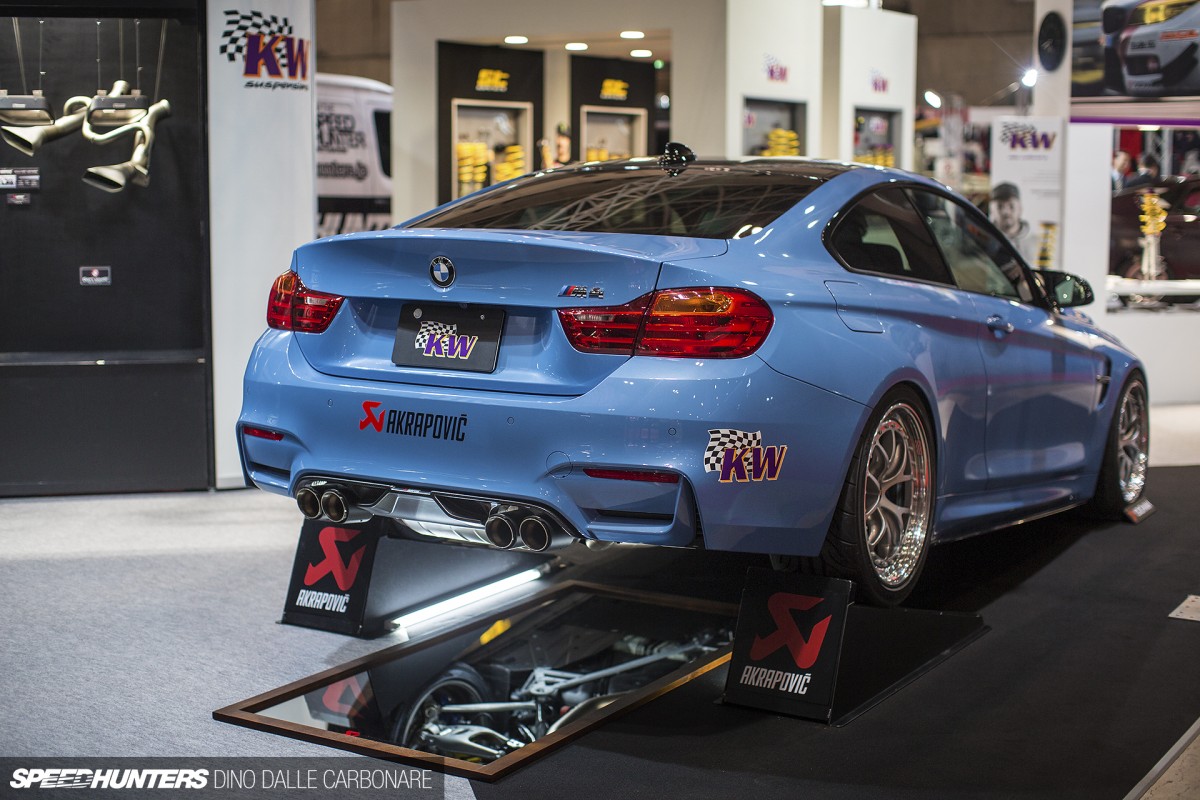 And once you have the handling and looks of your car sorted, the next thing is always making it sound better.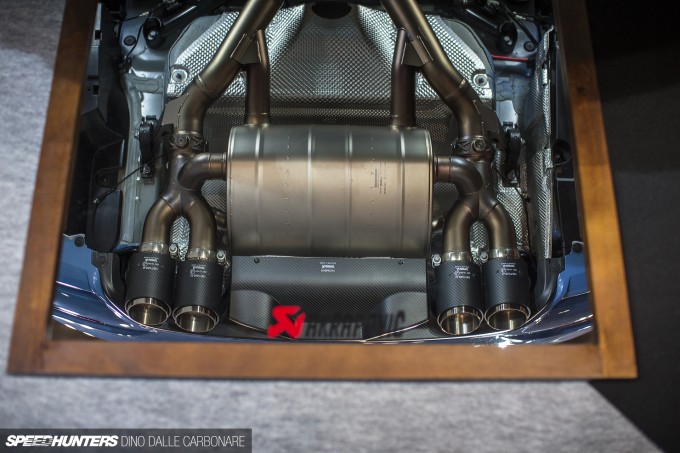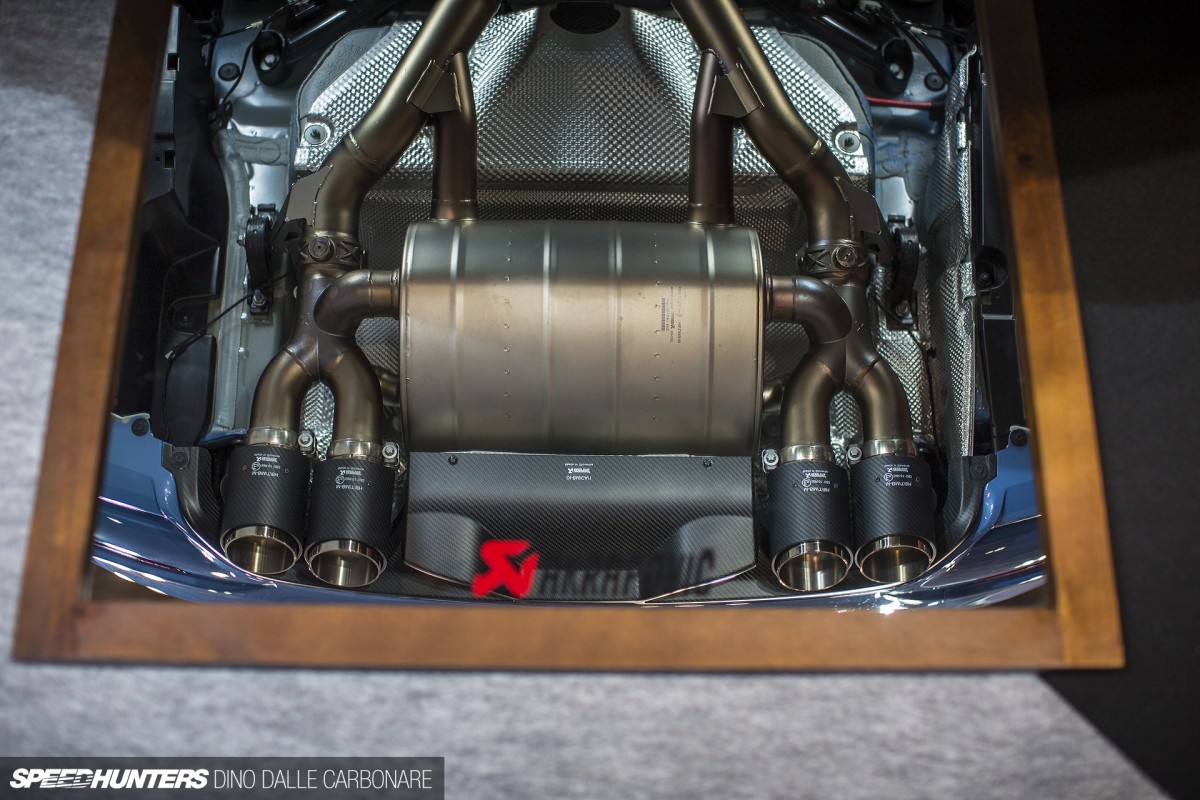 Check out this Akrapovič titanium exhaust for the F82. It's a pity you can't see it in all its beauty once it's fitted to the car!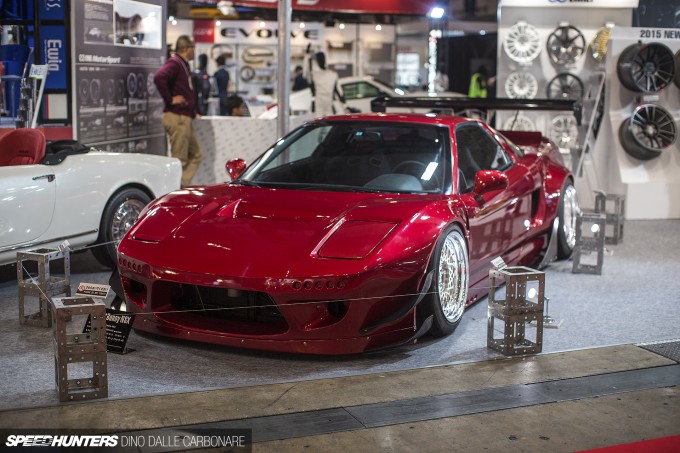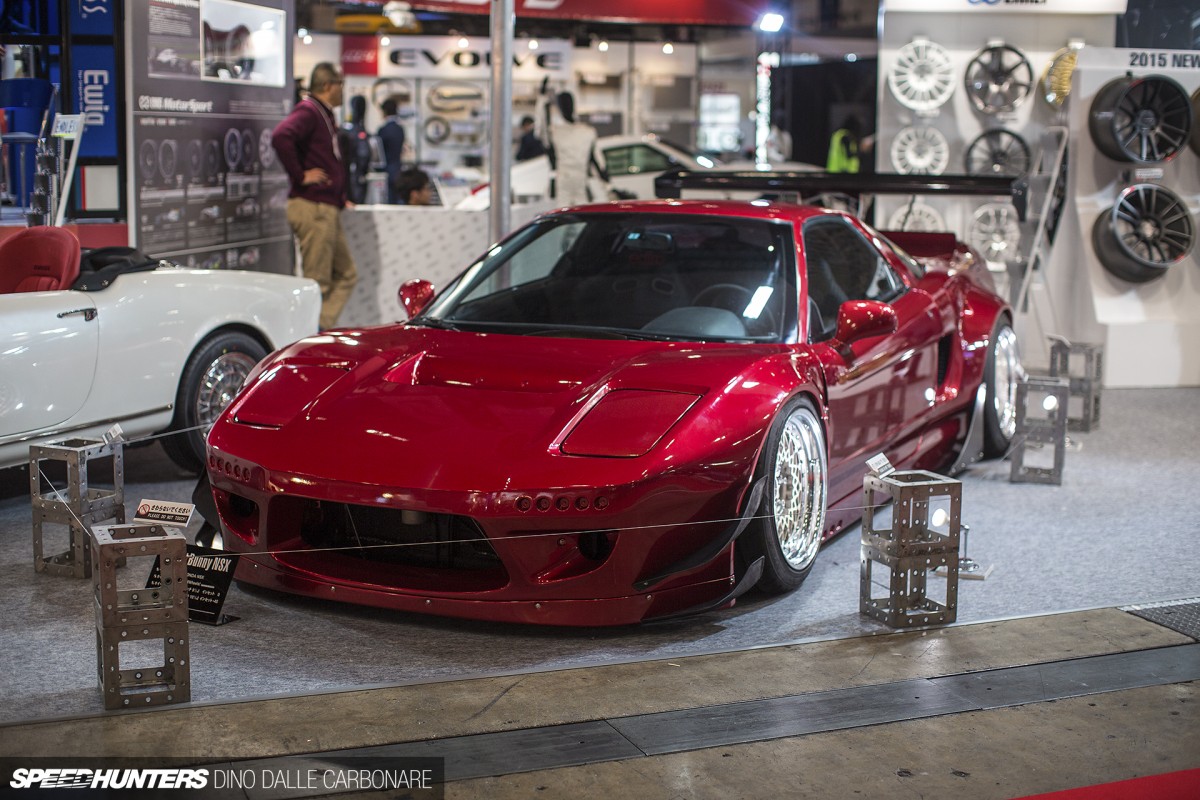 After three years of world domination, Miura-san at Rocket Bunny decided to take a little break for TAS this year. Of course, slowing down for Miura means that he only had to build a few cars for the show – one of them being a new daily driver. It's so nice to see his NSX kit presented in such a simple way with no graphics and no sponsor stickers – just his design and some candy red paint to complete it all. What do you guys think?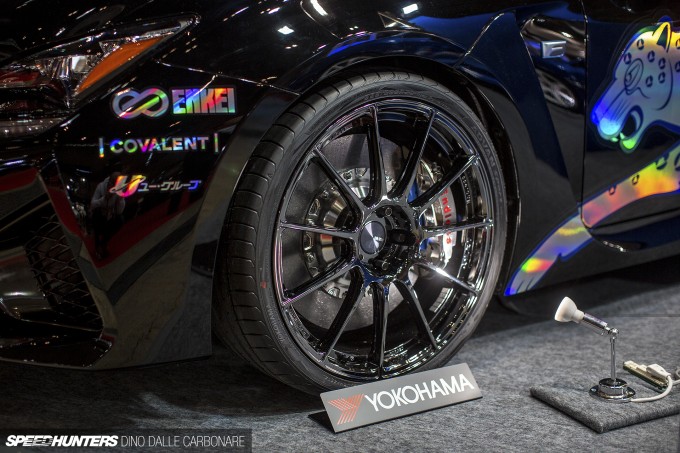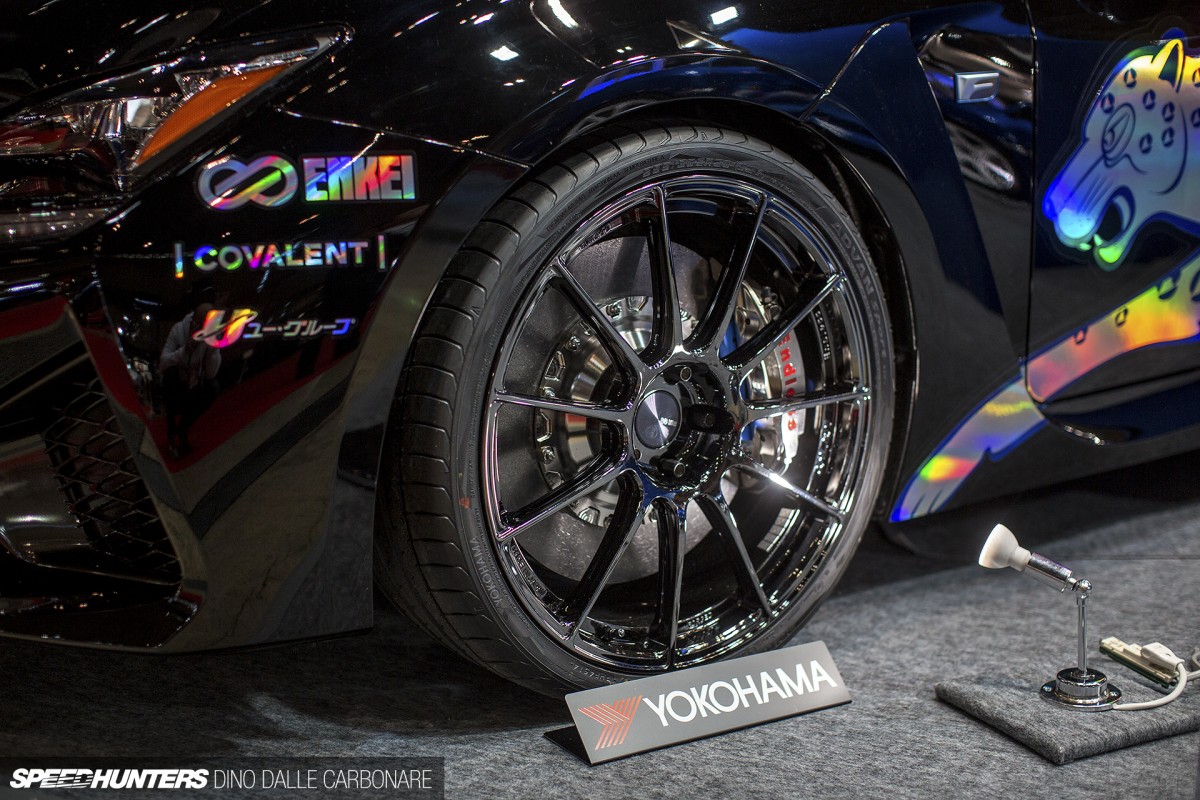 Let's talk about parts for a moment. For me, TAS has always been about the performance-making hardware, but the latest trend of aero and aesthetic mods has diluted this down a bit. That said, I always make a point of checking out what will hit the market in the coming year, and something that really made me salivate was on display at the Endless booth.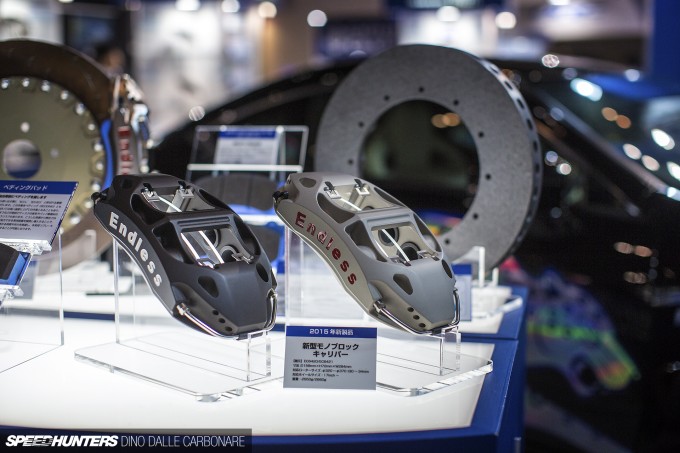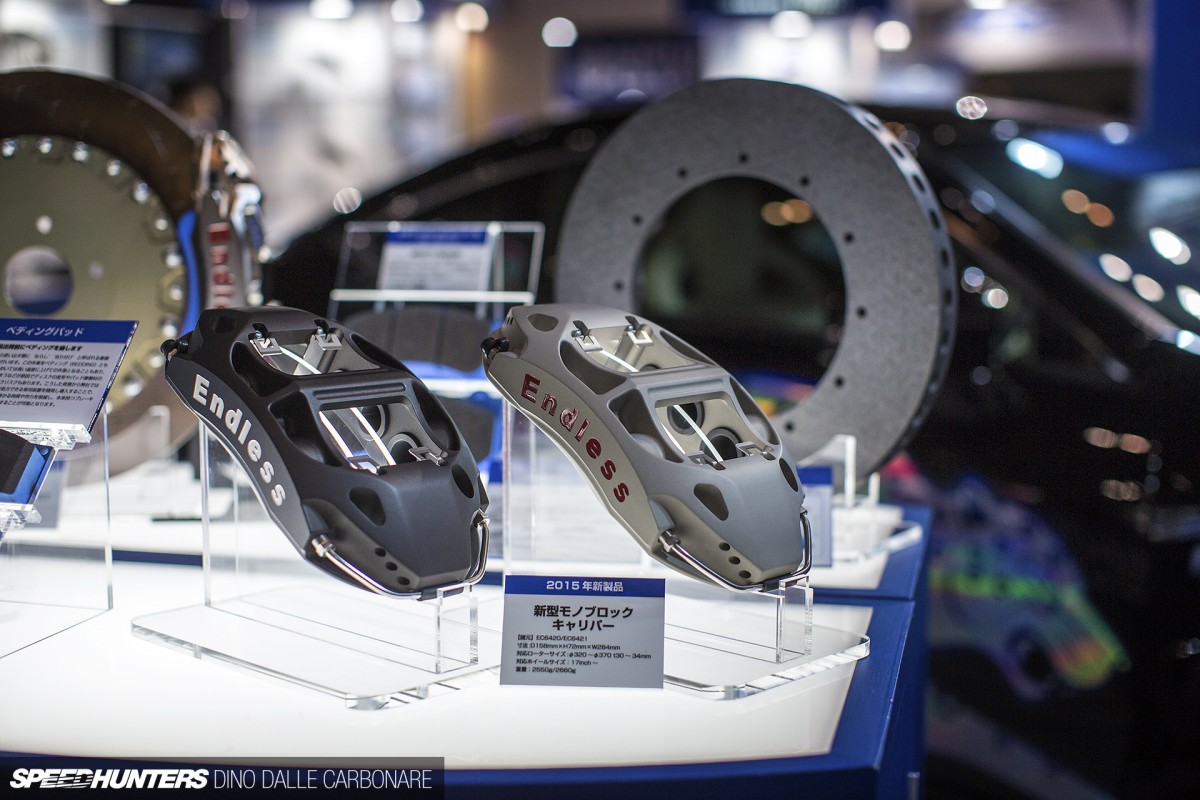 Endless was the first brake manufacturer to develop and sell an aftermarket monoblock 6-pot calliper, and now they've followed that up with a carbon disc option to go along with it. Details are still thin on the ground, but this was easily one of the most exciting new products to be shown at TAS this year. Good on you Endless!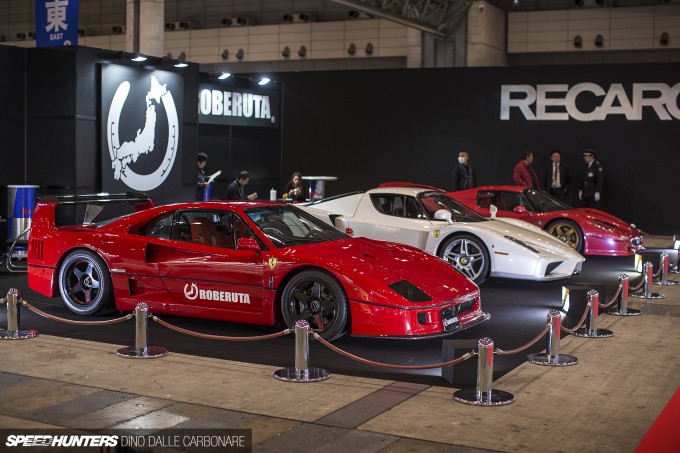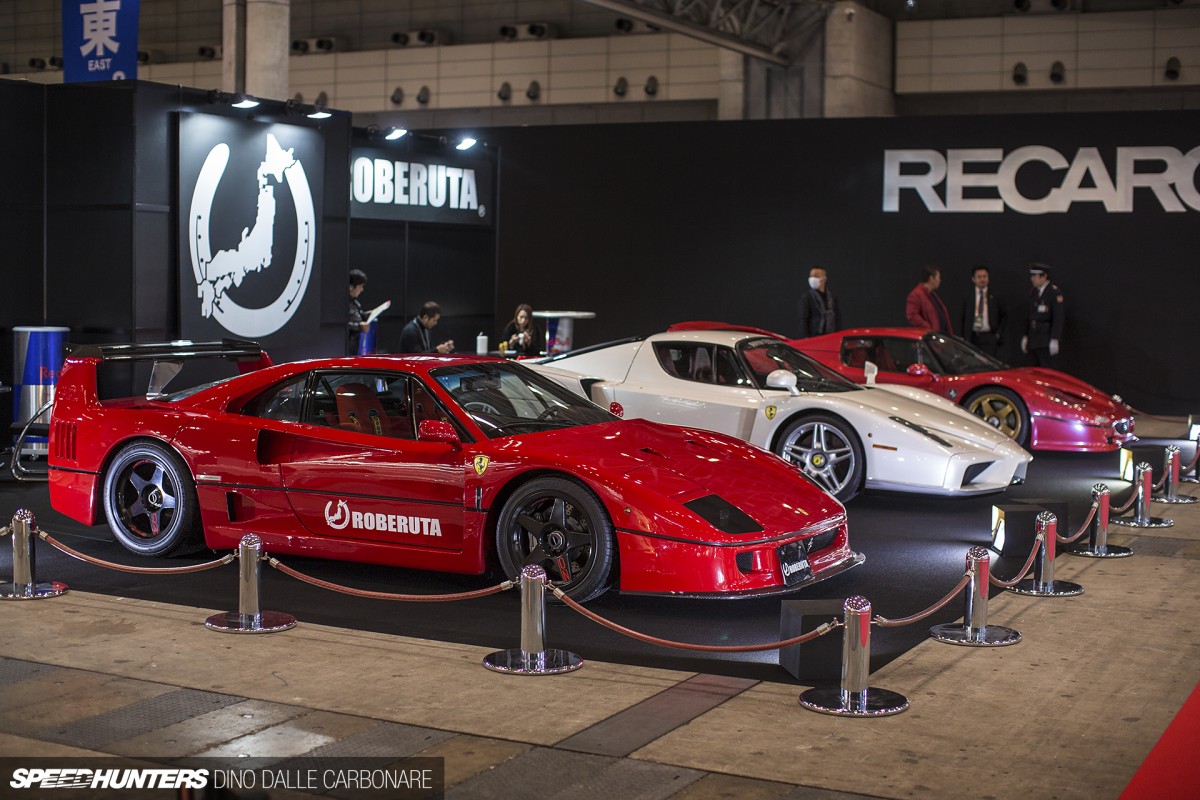 Roberuta specialises in air cups to lift up the noses of expensive supercars, but as usual it was their line up of demo machinery that grabbed everyone's attention. I doubt anyone even noticed their products on display, because I myself lost it at the F40 and don't remember much after that!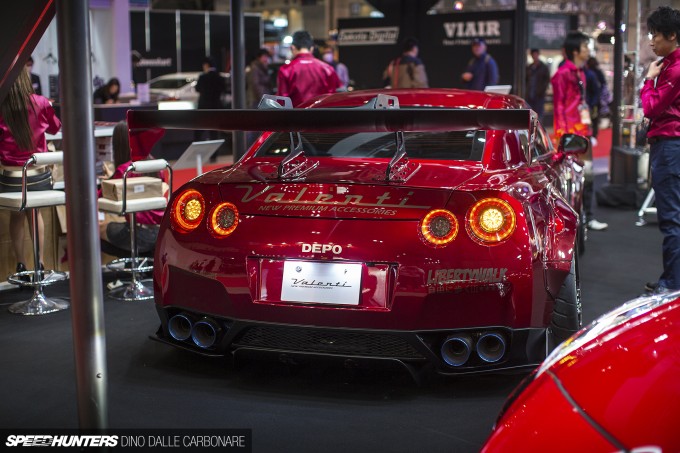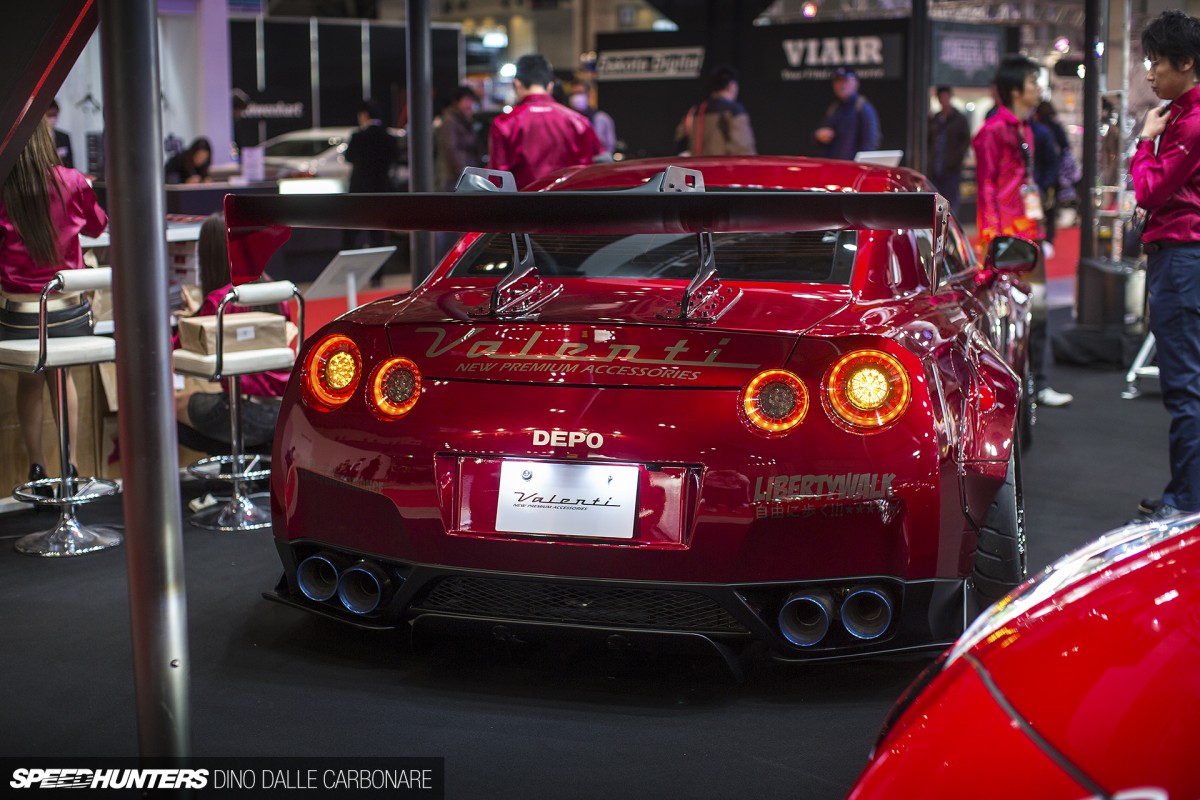 I've touched on brakes and suspension, and now I want to talk about lights. The light tuning trend appears to be far from over, with companies like Valenti continuing to grow their catalogue with LED and complex head and taillight replacements.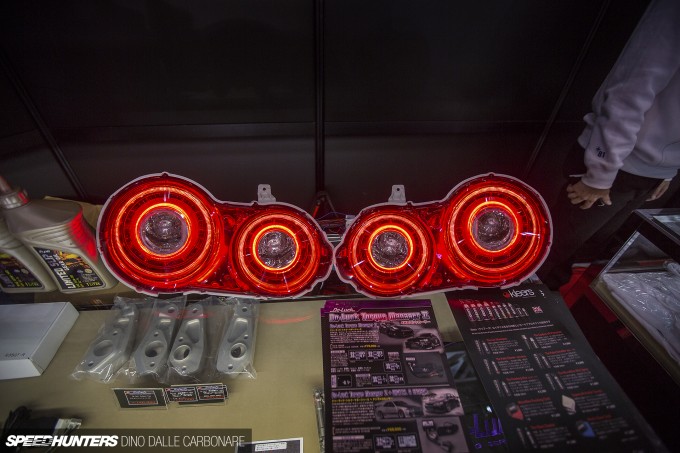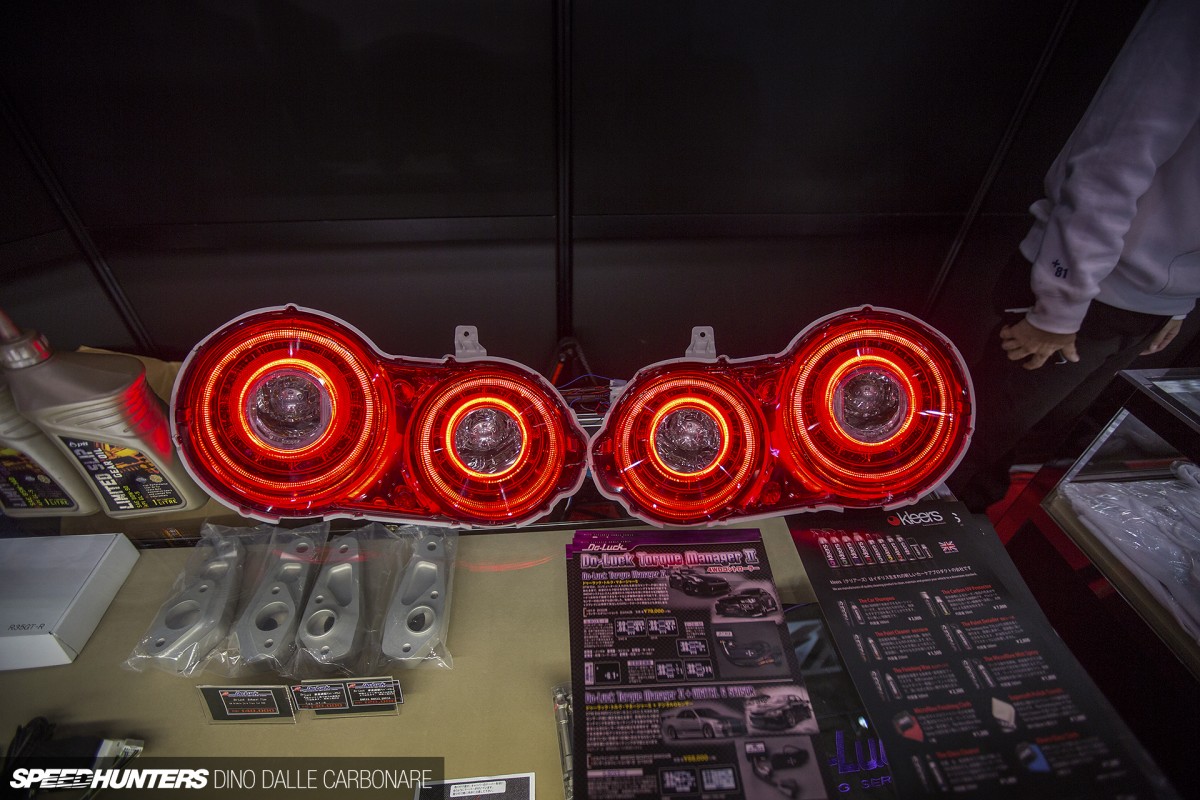 Check out the new Do-Luck R35 taillights with a twin ring look. The iconic afterburners redefined?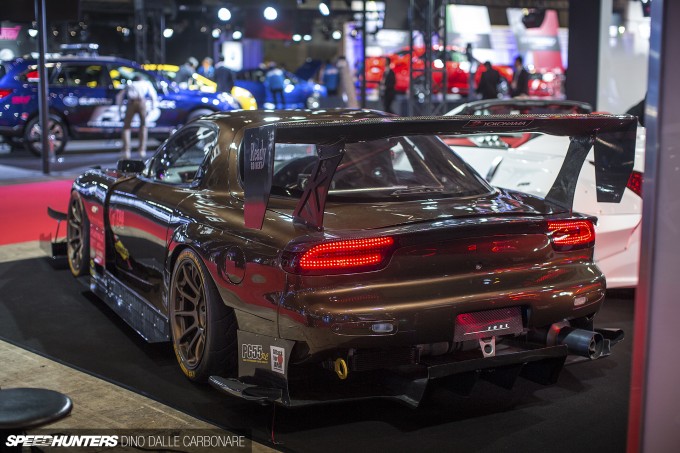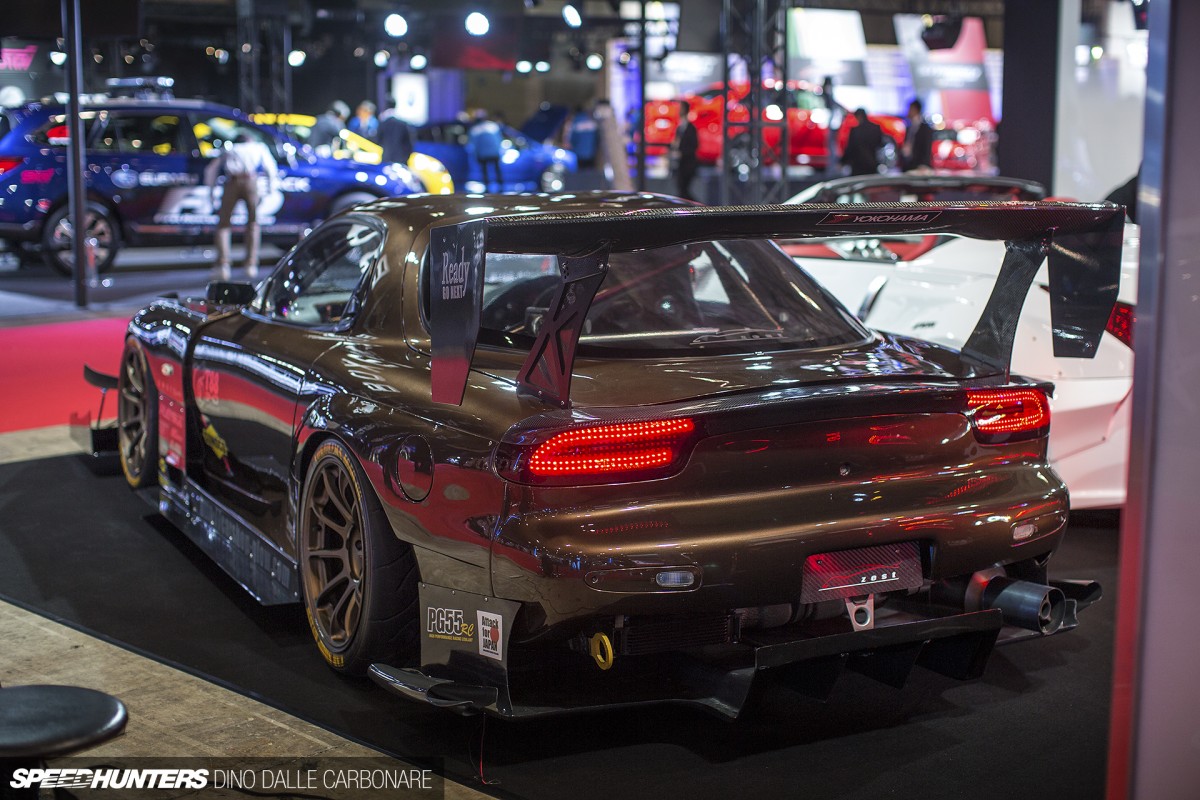 Car Shop Glow were also showing off some cool taillights on their time attack FD3S RX-7.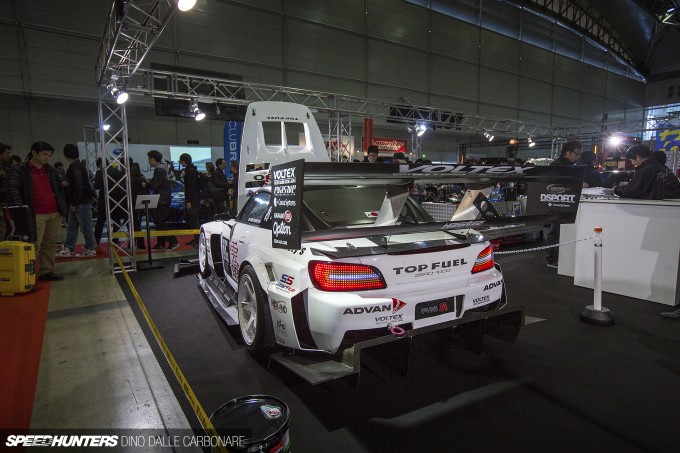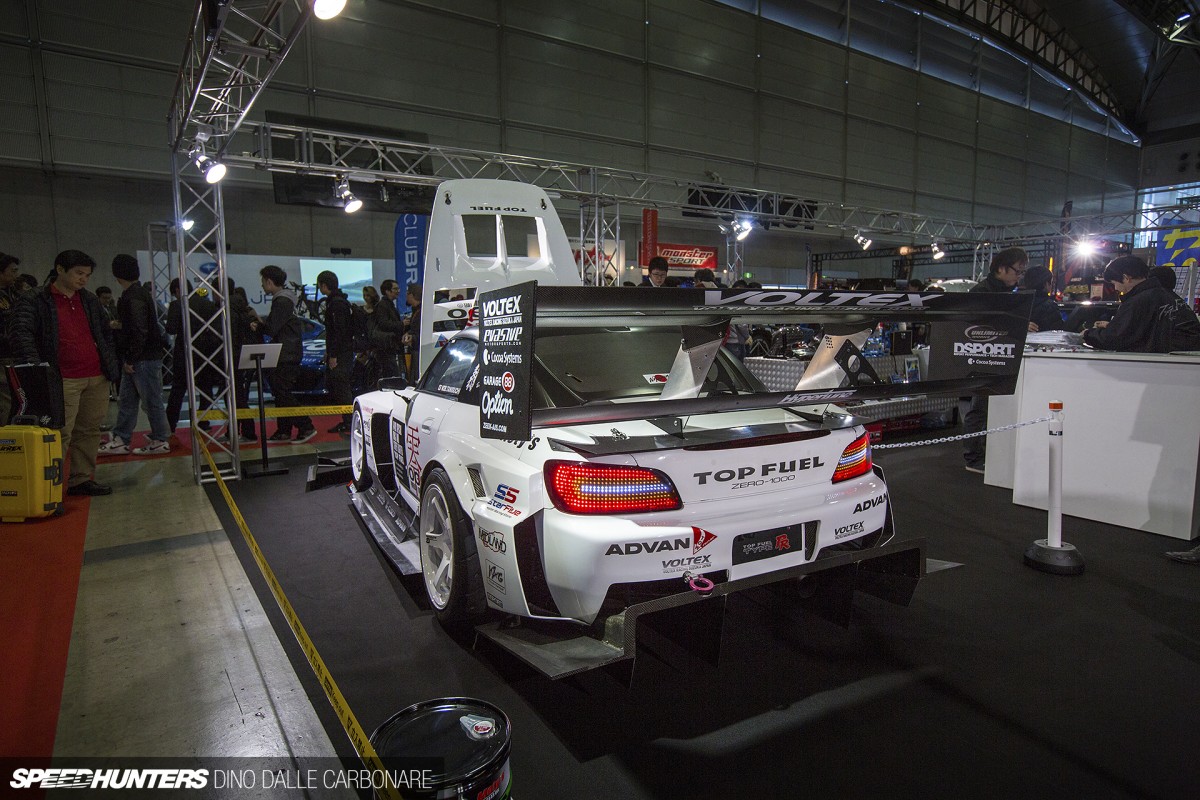 And these are another set they made for Top Fuel, by far the coolest LED lights I saw at the show. Now, will someone please step up and make something cool and modern for the R32, R33 and R34? Please, pretty please? Valenti? Anyone?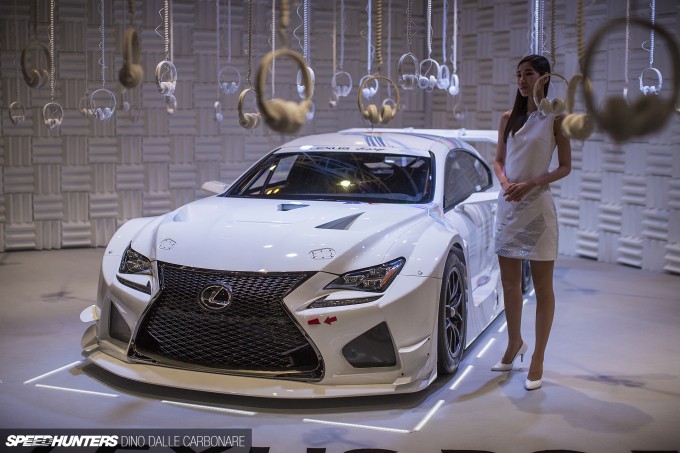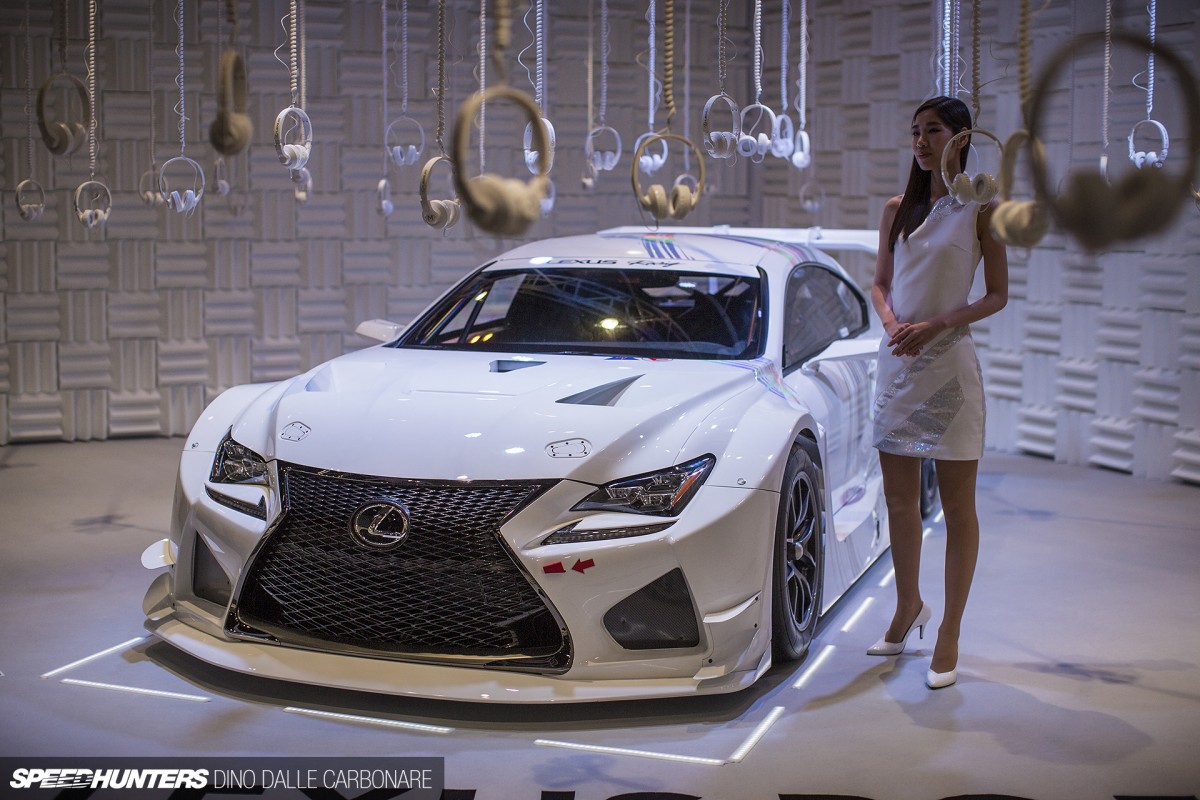 With a simple white theme, Lexus's booth was once again both elegant and minimalistic. This time, however, there were headphones hanging down from the ceiling, which you could put on and hear what the Super GT Lexus RC F racecar sounds like. Very cool.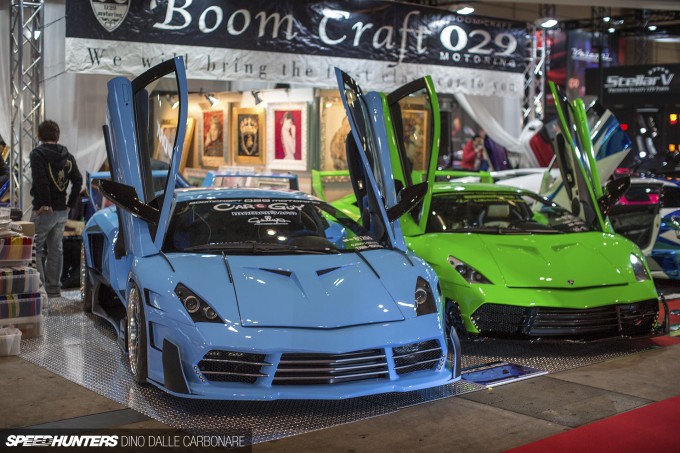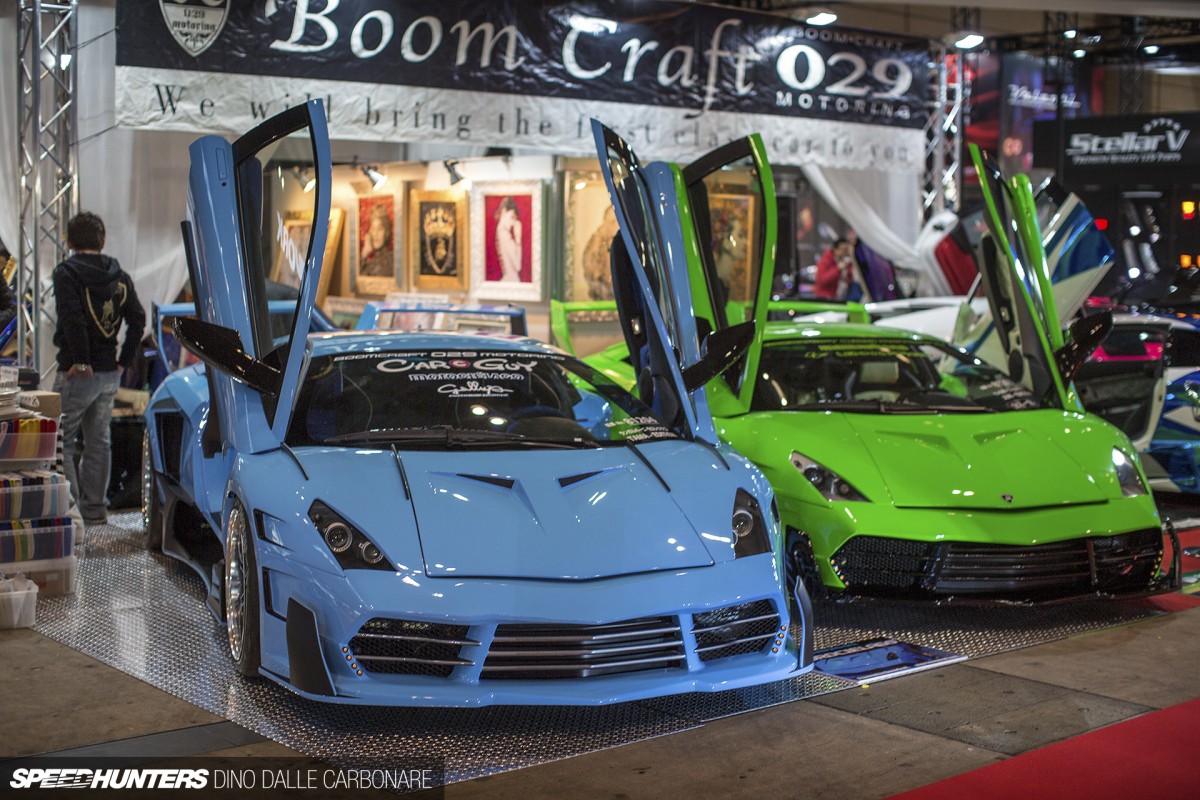 Boom Craft and 029 Motoring had the craziest and most Japanese-like booth of them all I thought, even though every car on display was Italian. These kits were all designed by Morohoshi, the guy that has singlehandedly redefined what Lamborghini tuning culture in Japan is all about. You either like it, or you don't – simple as that.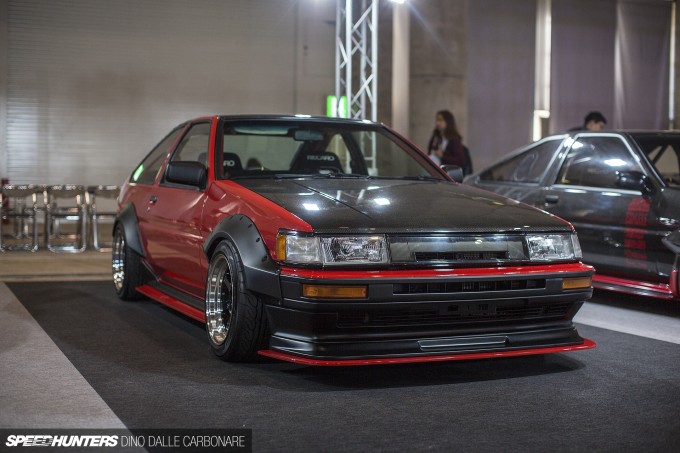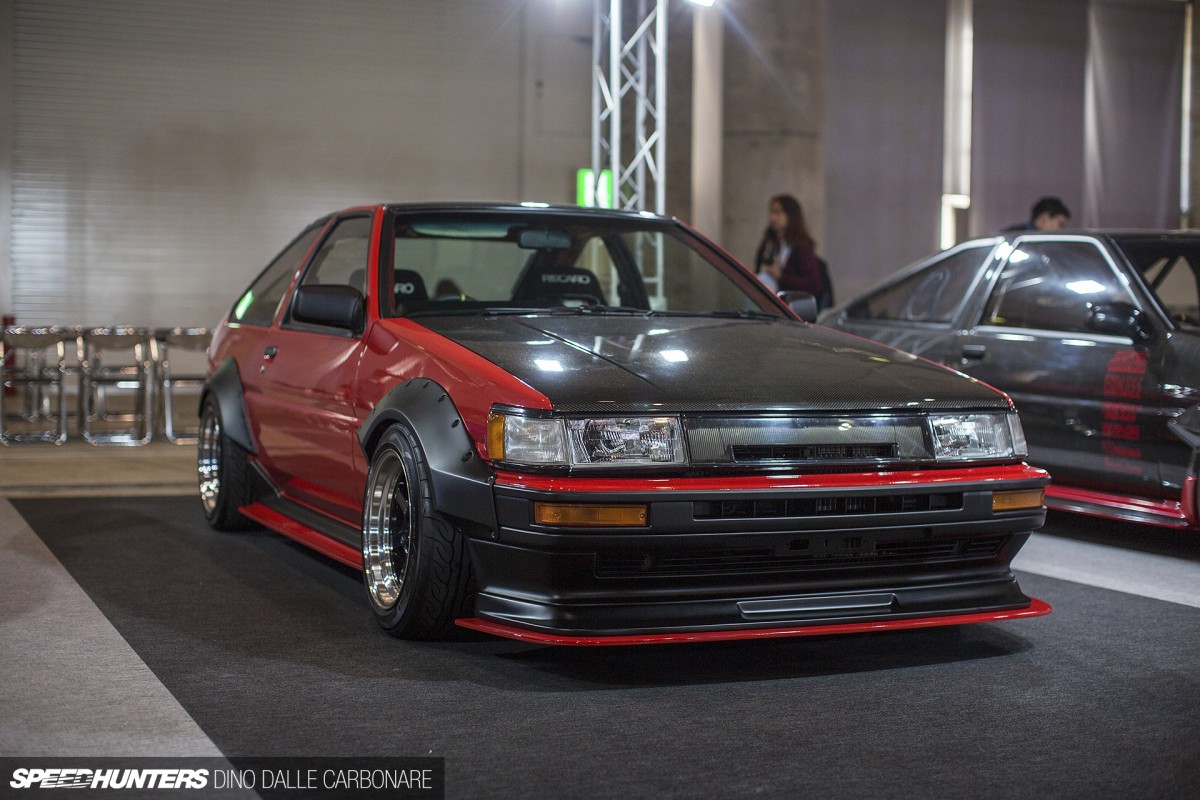 Impulse is a shop that I've always wanted to visit. The way they tune and build AE86s using ample amounts of carbon fiber is quite unique, and their recent launch of new overfenders really gives the old Hachiroku some contemporary style.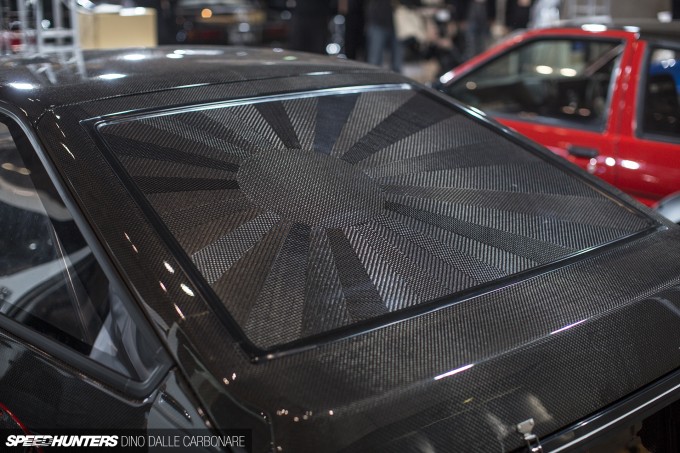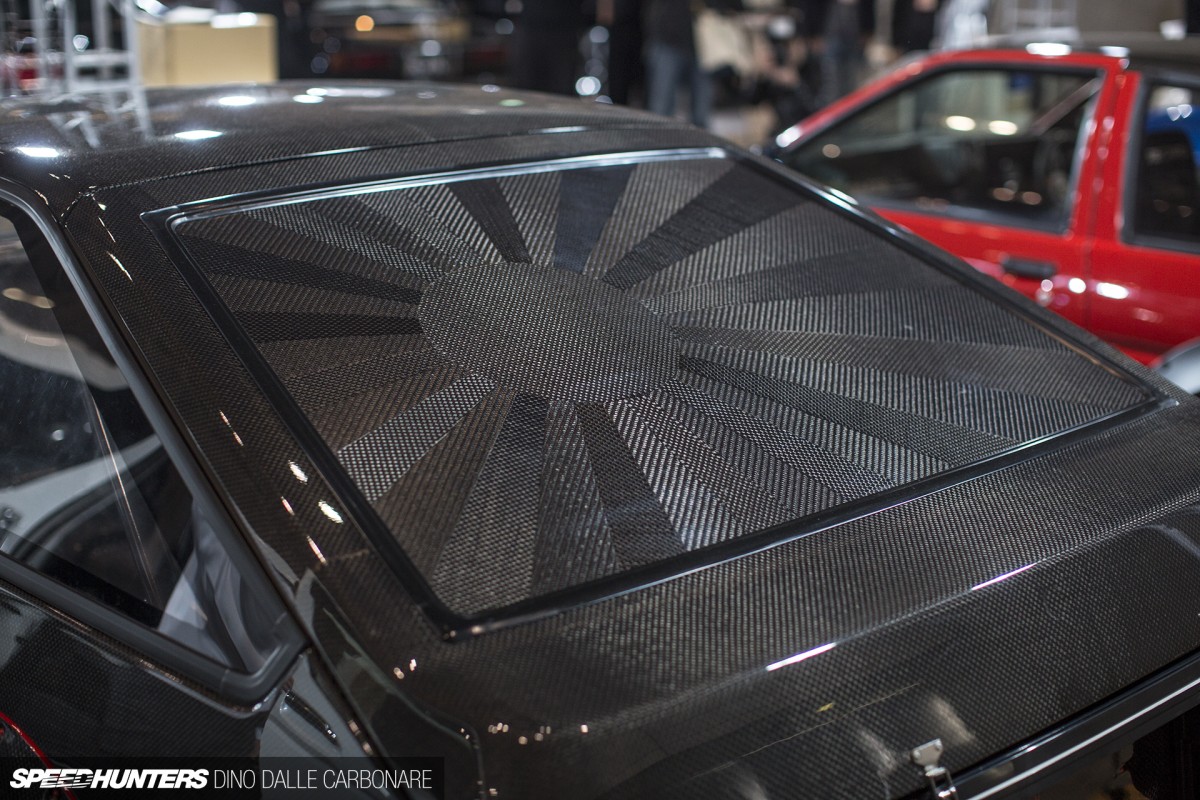 They obviously know what they are doing when it comes to creating in carbon finer, but this is just showing off! In a good way of course…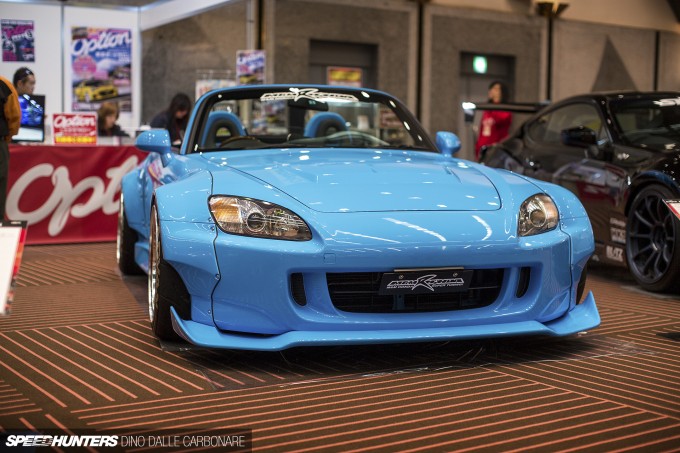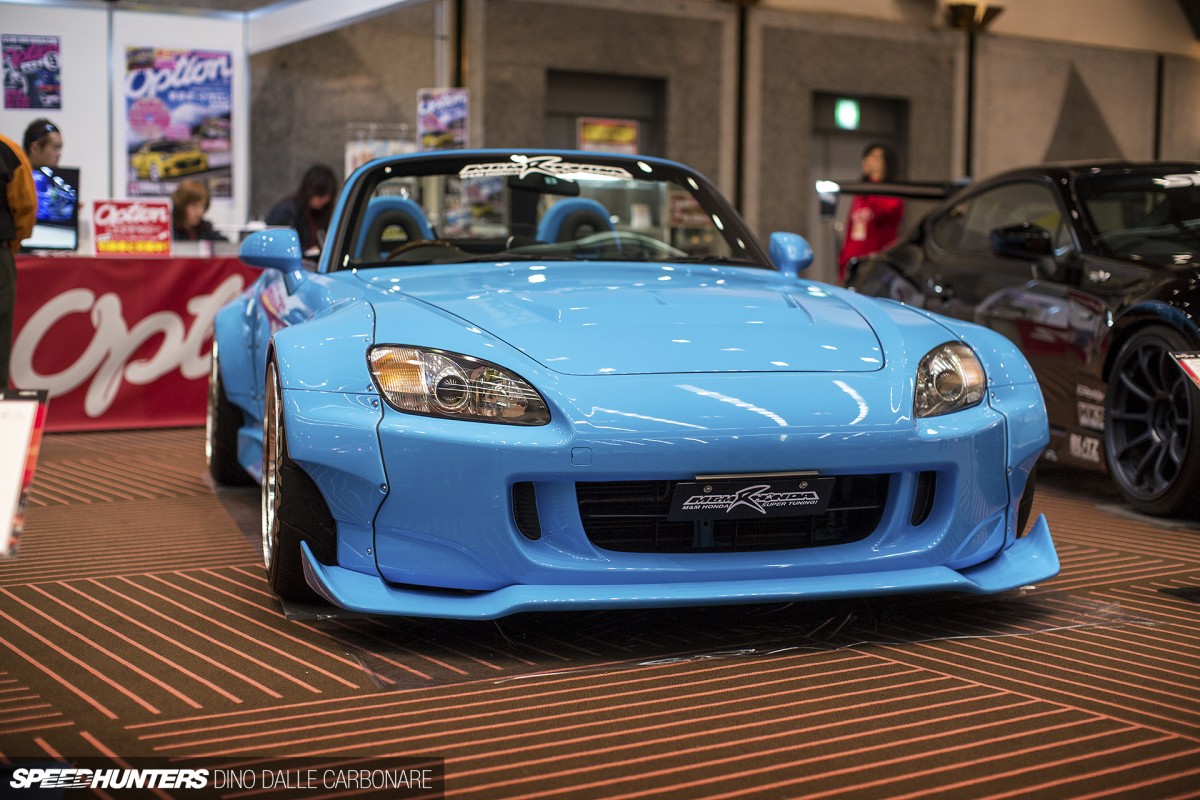 It was bound to happen sooner or later, and M&M Racing has finally given the Honda S2000 the works look with a set of pretty wild overfenders. The car is built for fast road driving and touge action, so while it sits low, it doesn't have exaggerated negative camber. An excellent execution.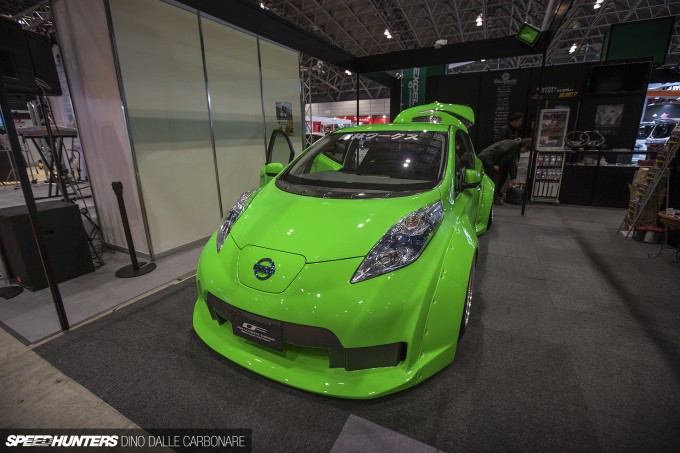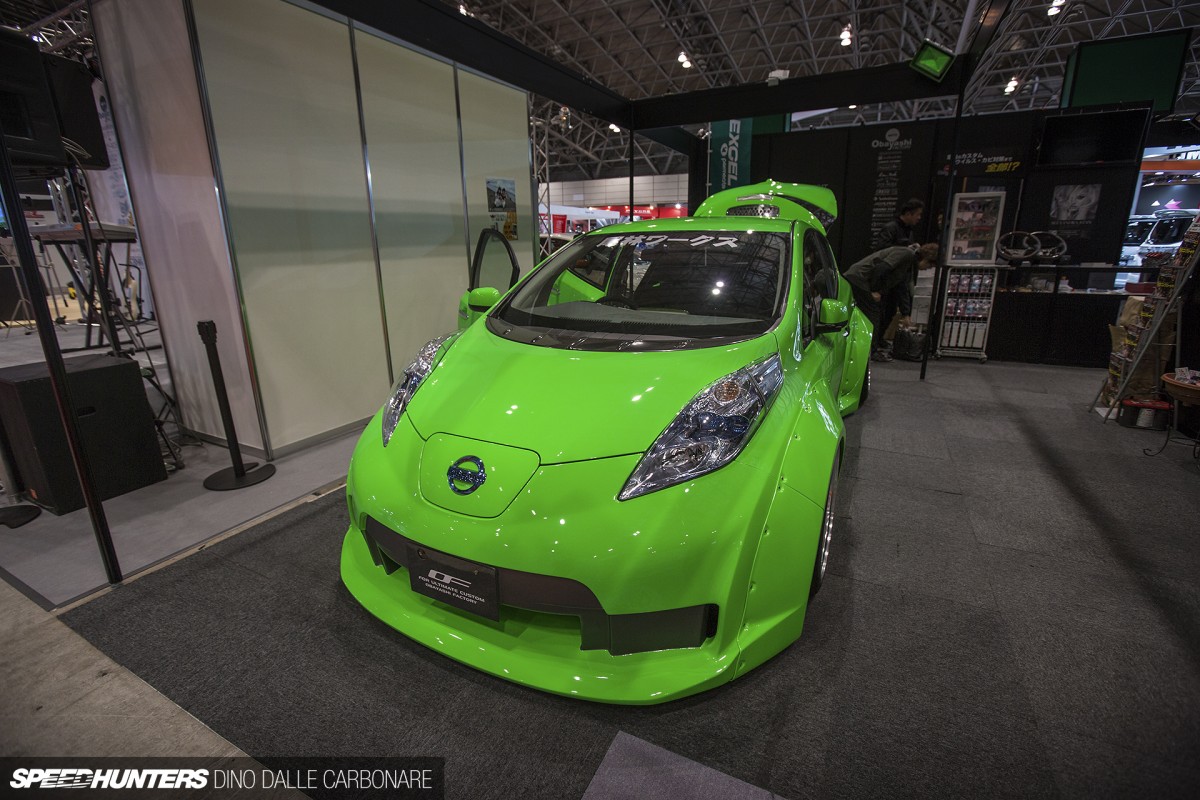 More overfenders? Yep, this time from Obayashi Factory who took a Nissan Leaf and did unthinkable things to it. I like the result though, and in a strange way it actually reminds me of Toshi's RWB Rough Rhythm 993.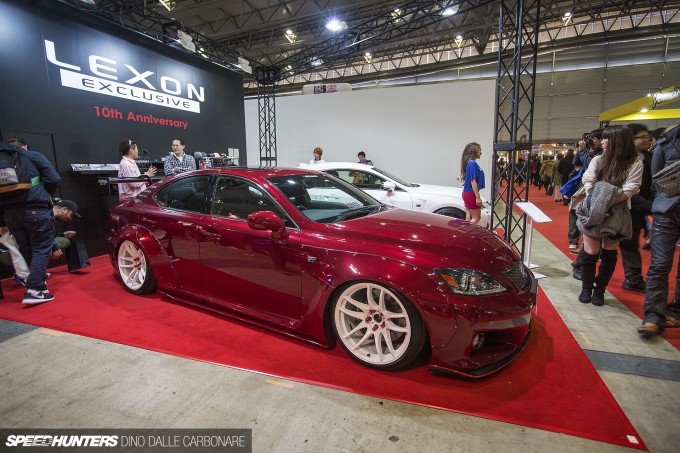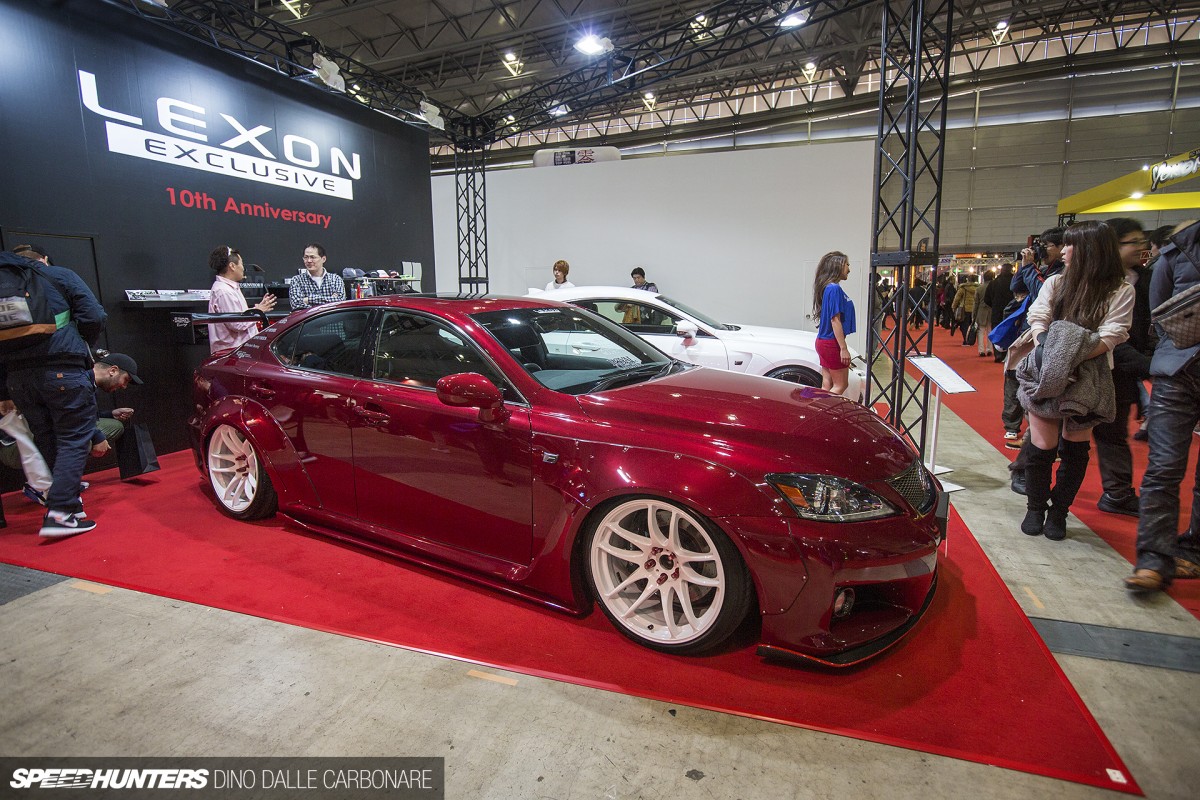 To celebrate their 10th year anniversary, Lexon Exclusive put together this wild Lexus IS F running elegant overfenders and slammed down on a set of Work wheels. The execution, choice of color and that wild wing really did it for me. Once this car is fully complete I'll definitely be heading to their shop to take a closer look at it.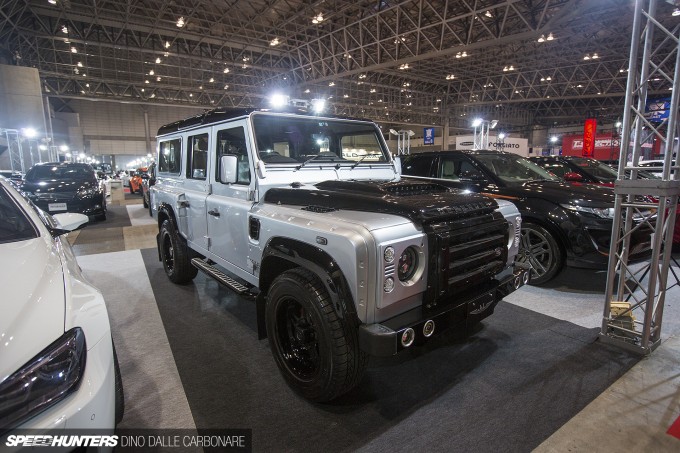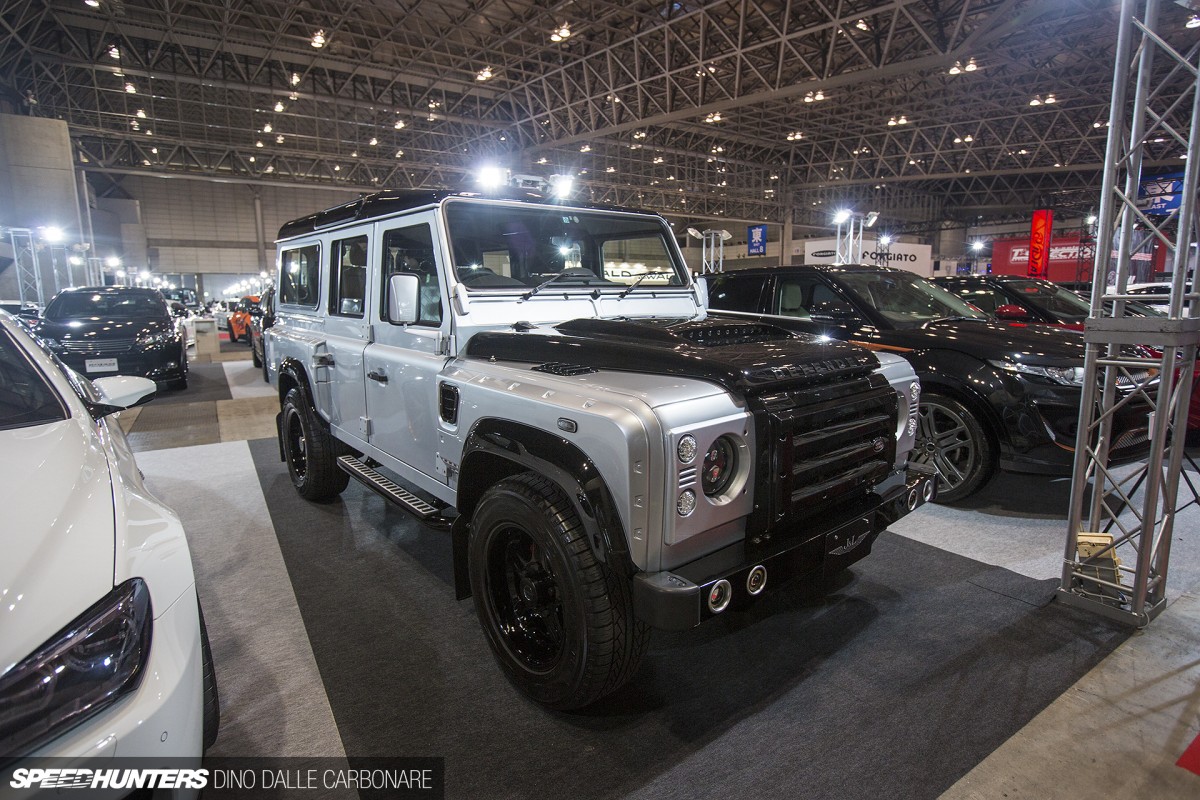 Now, we generally don't really show too many SUVs or off roaders on Speedhunters, but this thing was too cool to pass up. J&L went crazy on this Defender with overfenders and a ton of other custom body additions, and then finished it off with a fully leather-trimmed interior. It might not be performance related, but this would be such a cool truck to trailer your racecar to the track with!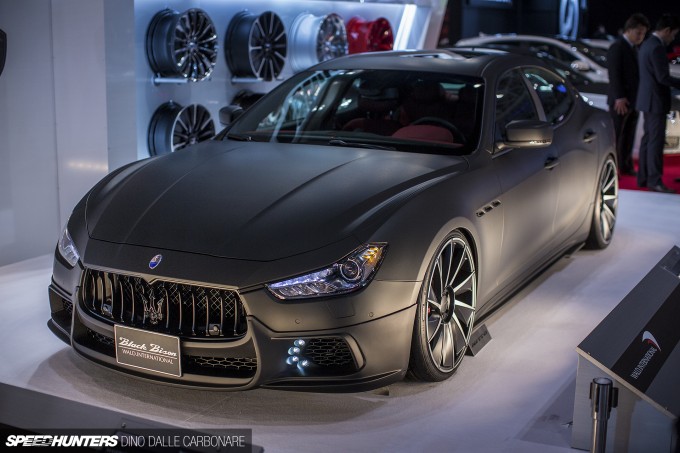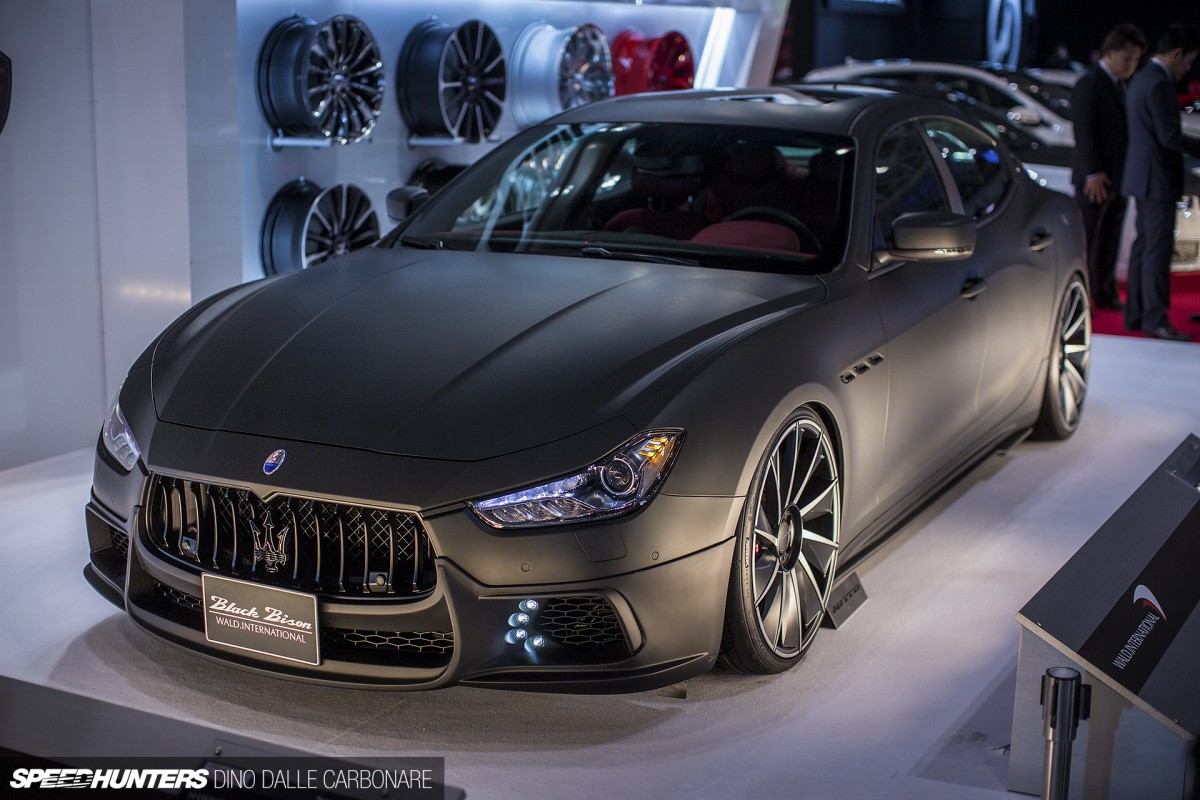 The number of imported luxury and performance cars continue to grow at TAS every year, and in the Euro-styling realm Wald is always one of the most talked about exhibitors. This time around they chose to showcase the new Maserati Ghibli and their elegant series of aesthetic additions for it. I do like the matte black finish, even if it is a little 2009.
Vans, Racecars, Time Attack & Of Course The Girlhunters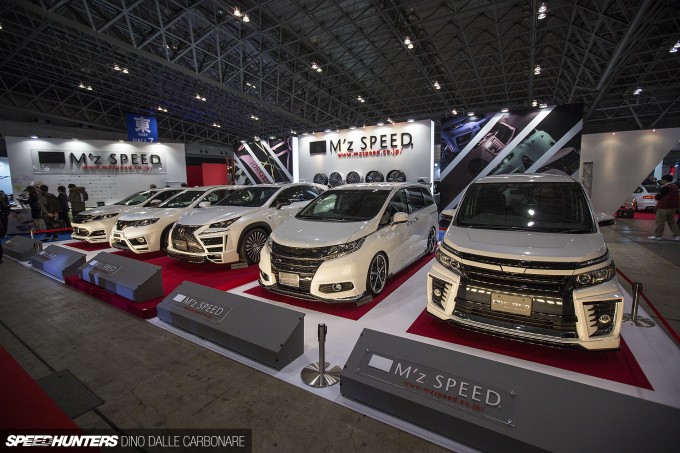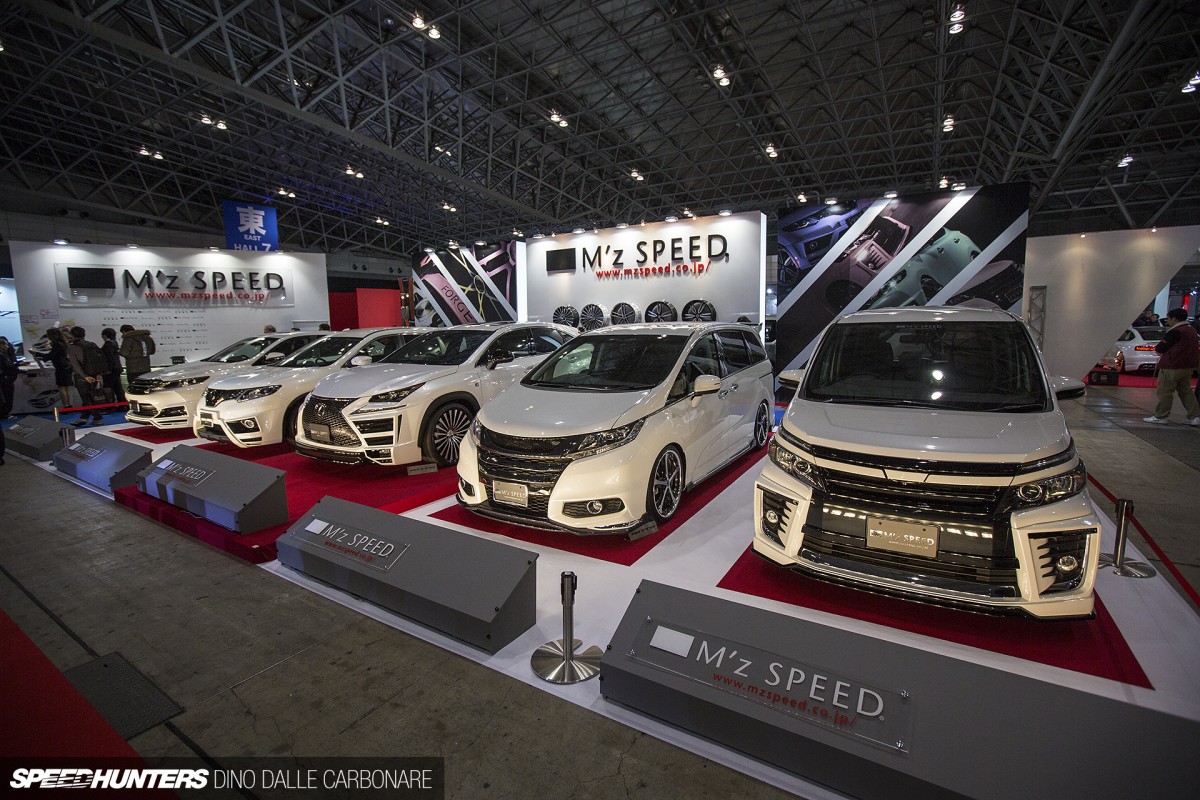 Vans and SUVs are never forgotten at TAS and M'z Speed had things well covered with this large display of modified family haulers.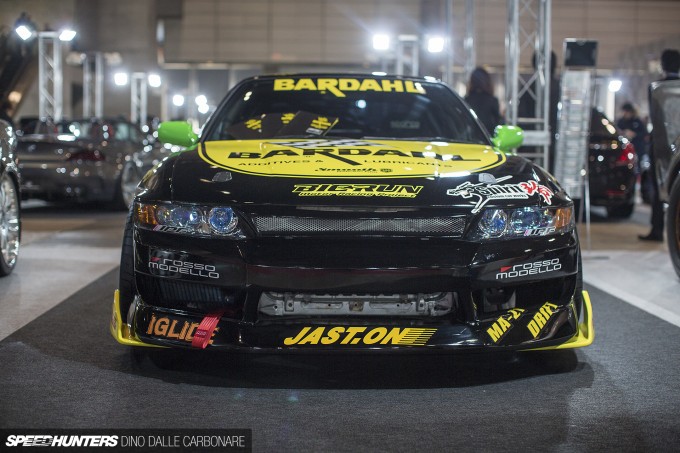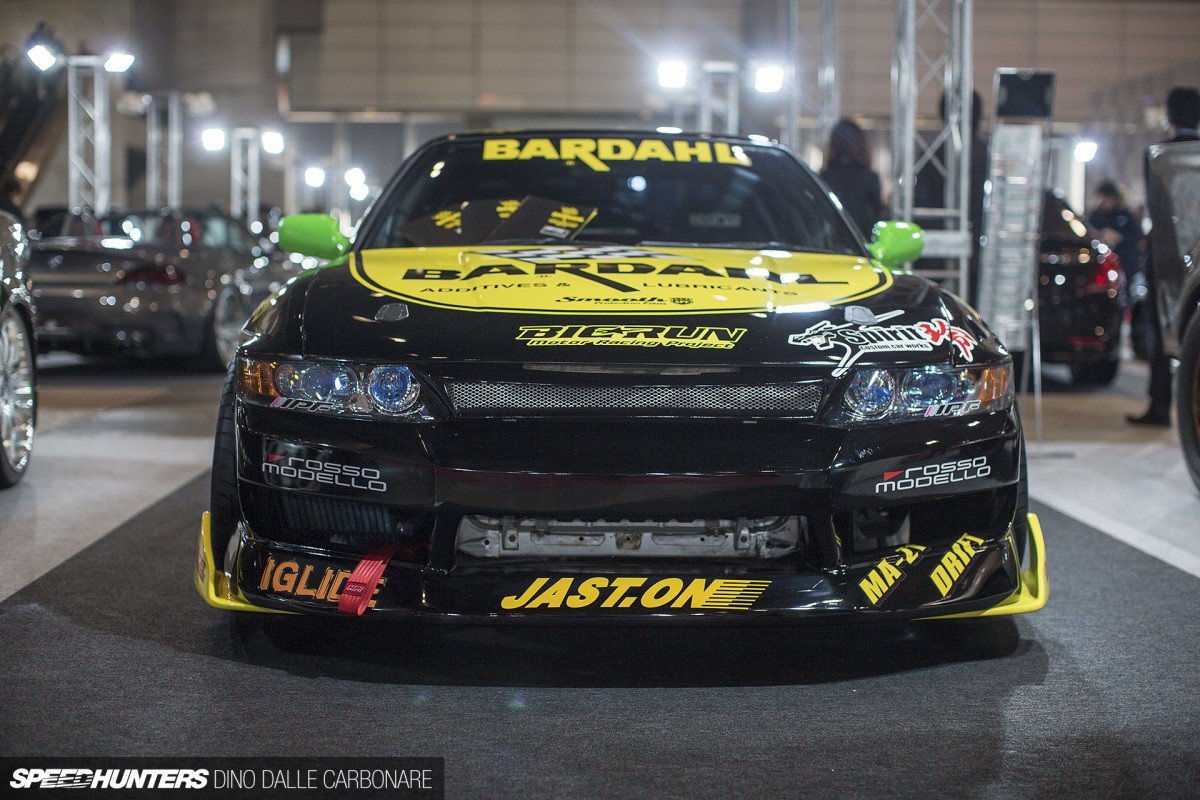 In my mind, Honda Odyssey headlights on a S13 Nissan Silvia make for one of the best facelift conversions. The units fitted to this Big Run S13 were even running IPF projectors.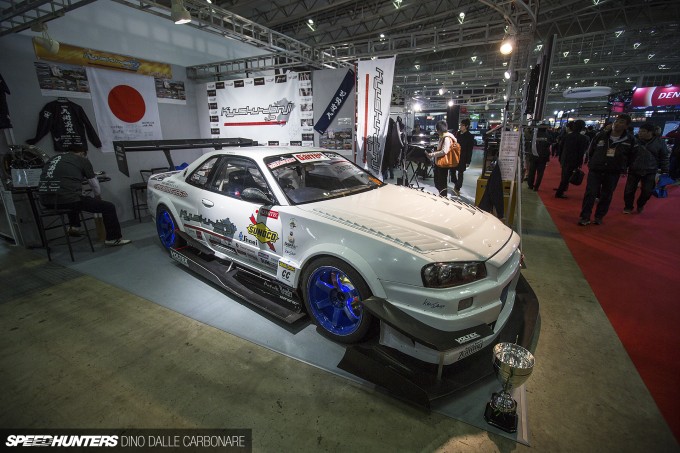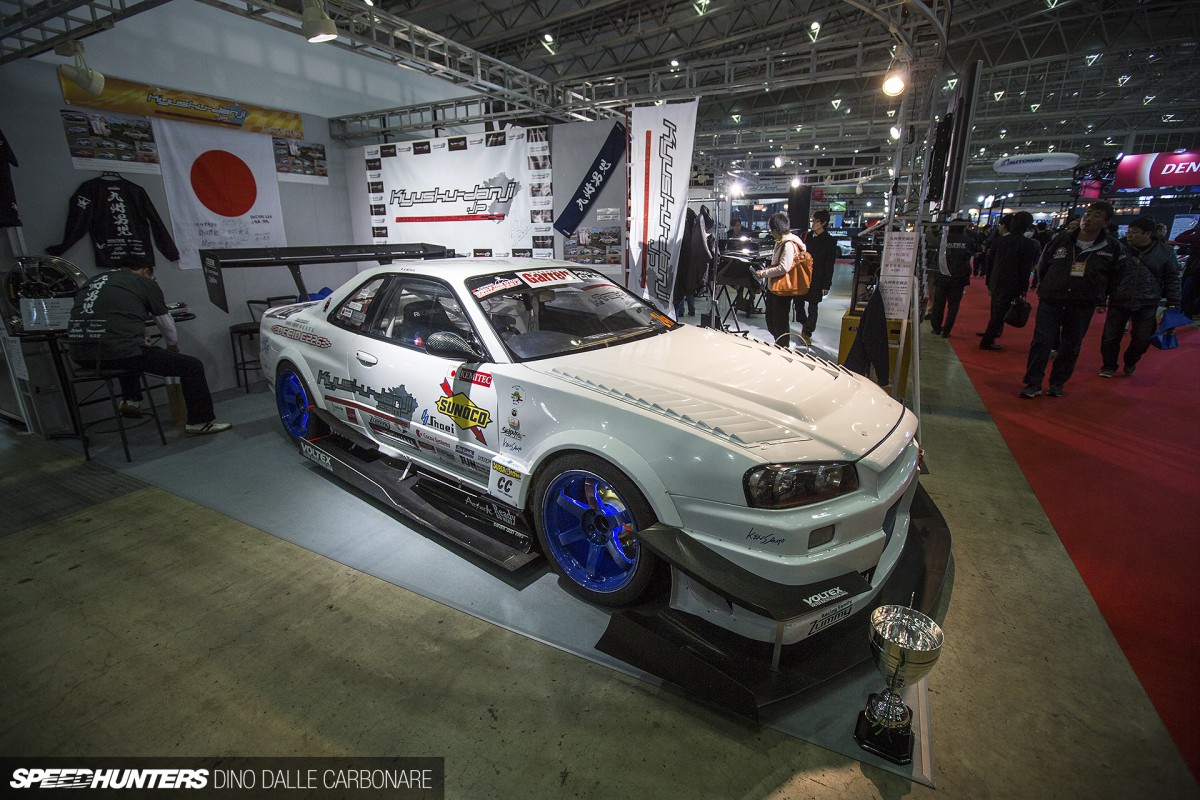 The Kyushu Danji BNR34 has changed a lot since I saw it last at Battle Evome. Its debut at the Yokohama World Time Attack Challenge in 2014 was a successful one, and their collaborative effort with Voltex has equipped the Nissan with some of the wildest aero additions we've ever seen on a san-yon!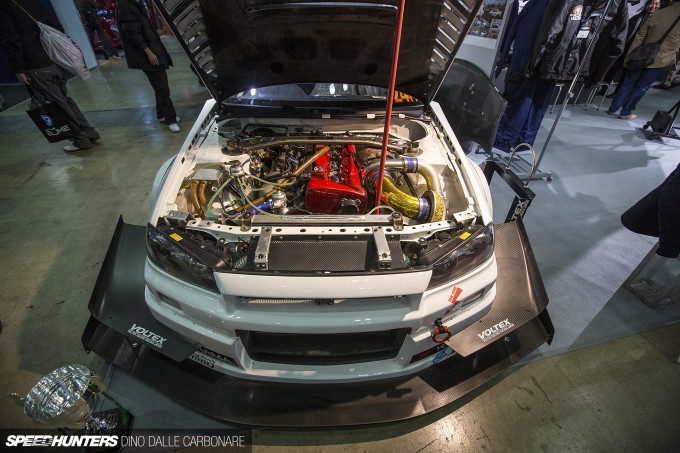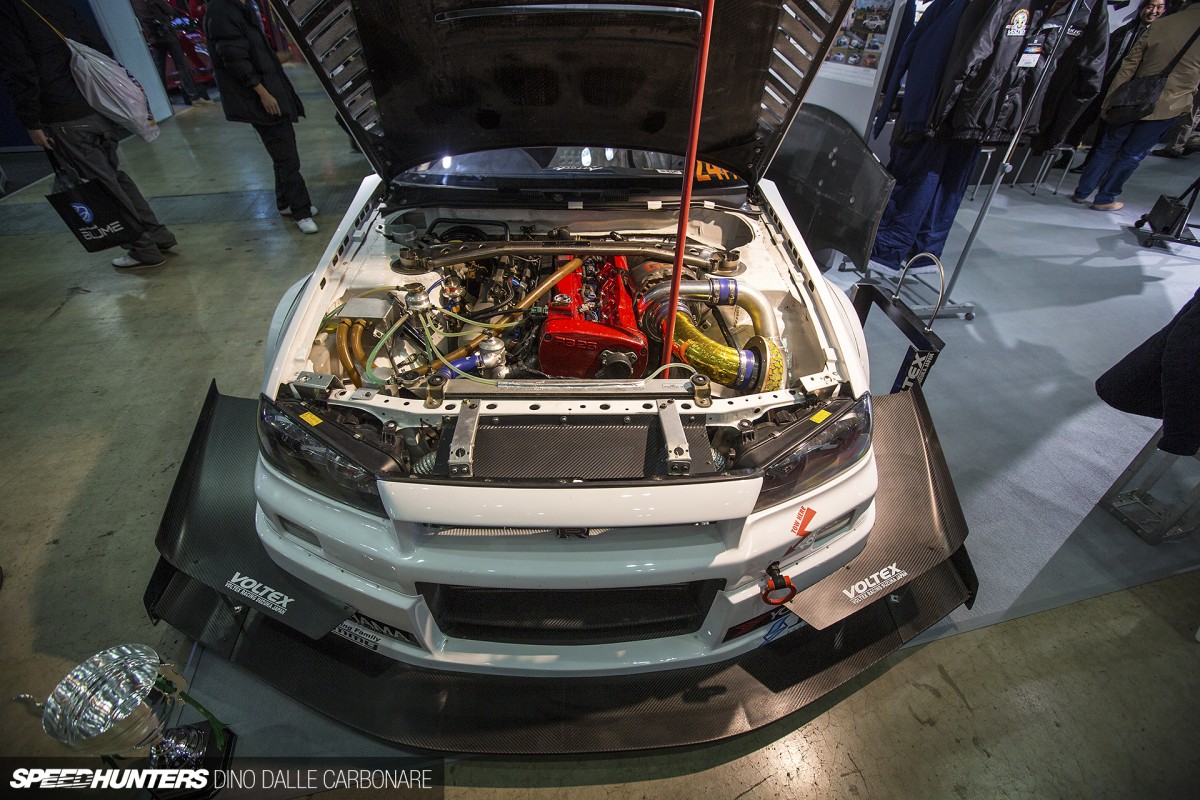 Now, those are canards! I really hope we'll see it back at Tsukuba for the remaining two Evome rounds. Maybe Under Suzuki will manage to fix his engine before then too!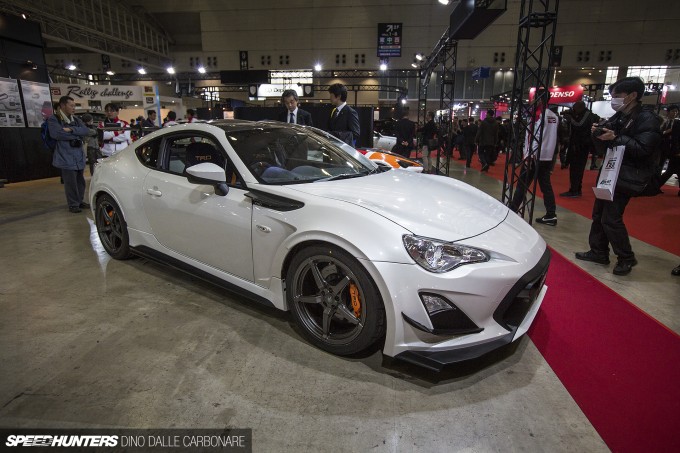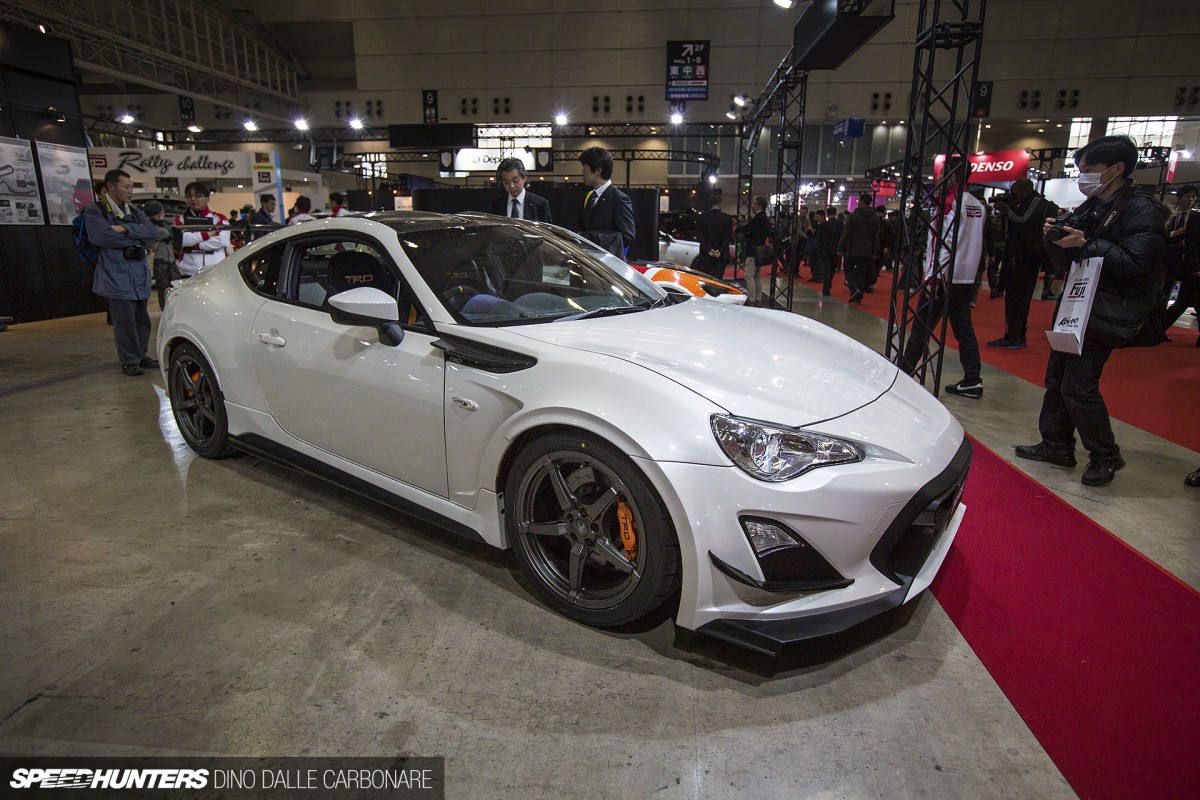 Do you remember the TRD Griffon we featured two years ago? Well, this is the result of that development program – Toyota Racing Development's road-going version, which will be available to purchase in Japan from March. Those fenders really are to die for.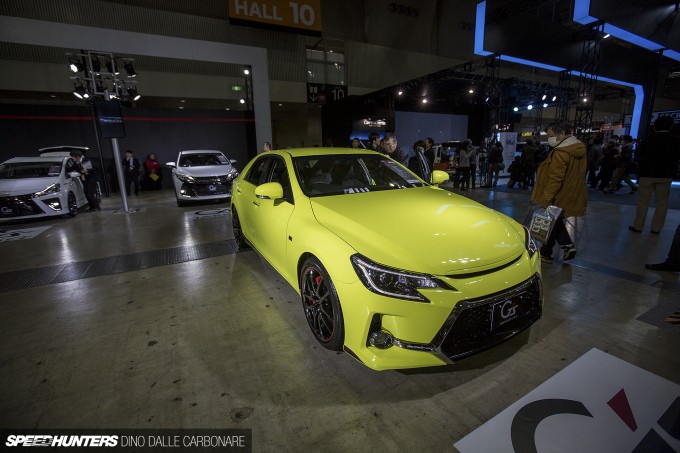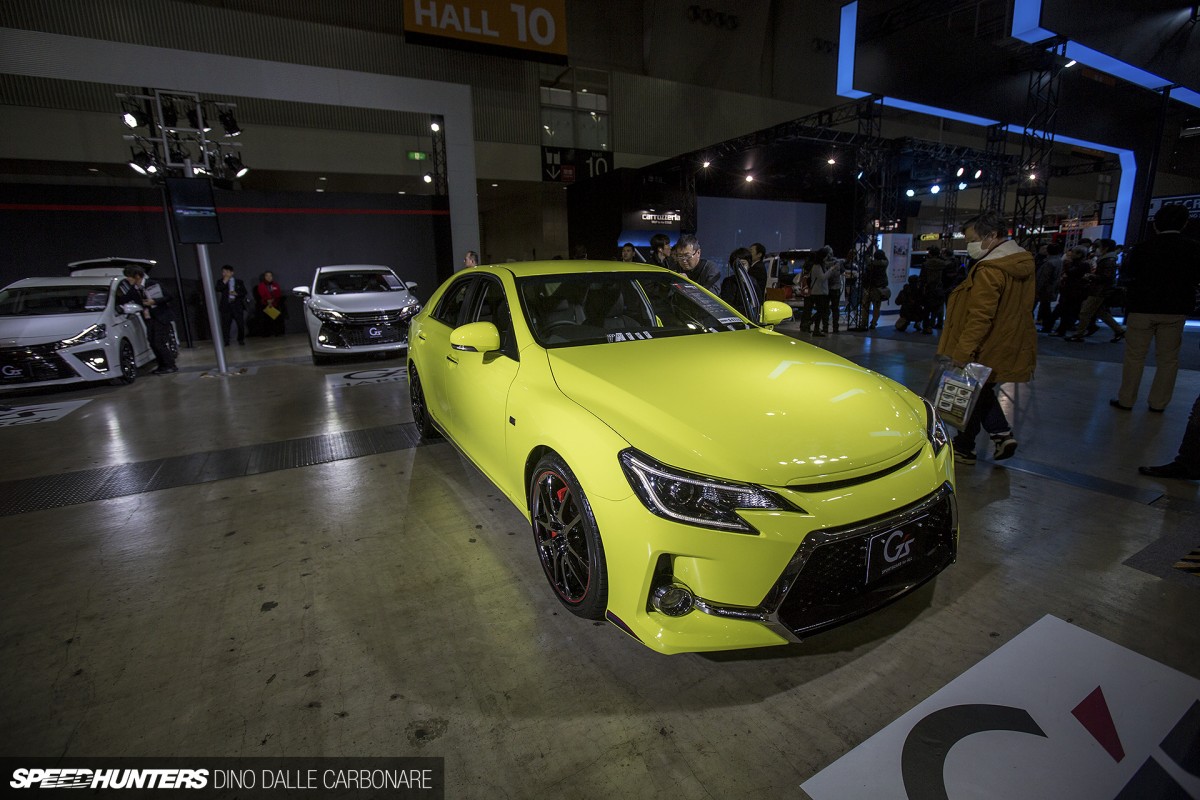 Toyota and its tuning and aftermarket brands are on fire right now. They've come up with some really cool cars, one of them being the recently released G's Mark X, which features a number of performance and styling upgrades over the standard sedan.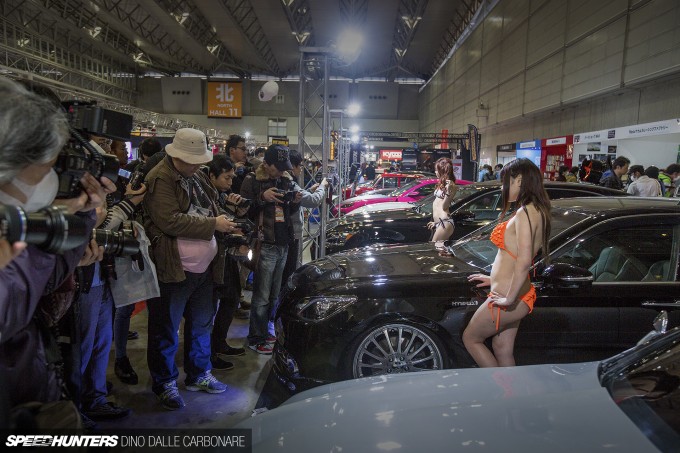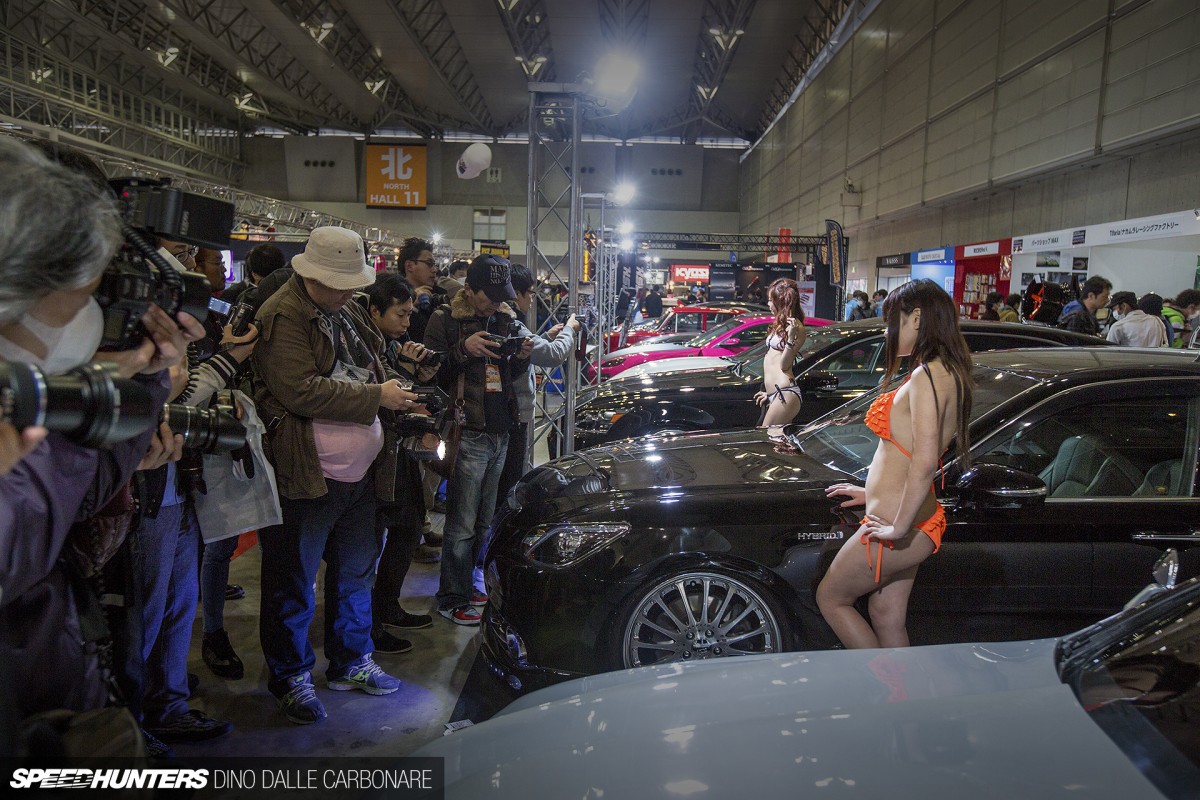 Of course, Tokyo Auto Salon is as much about the cars as it is about the girls. But for some, it's only about the girls.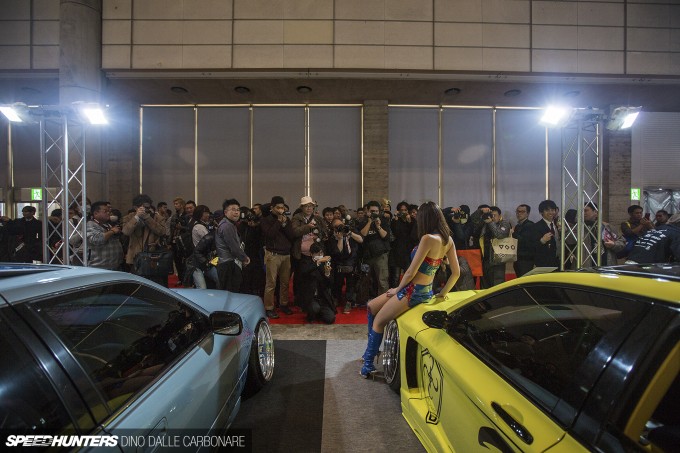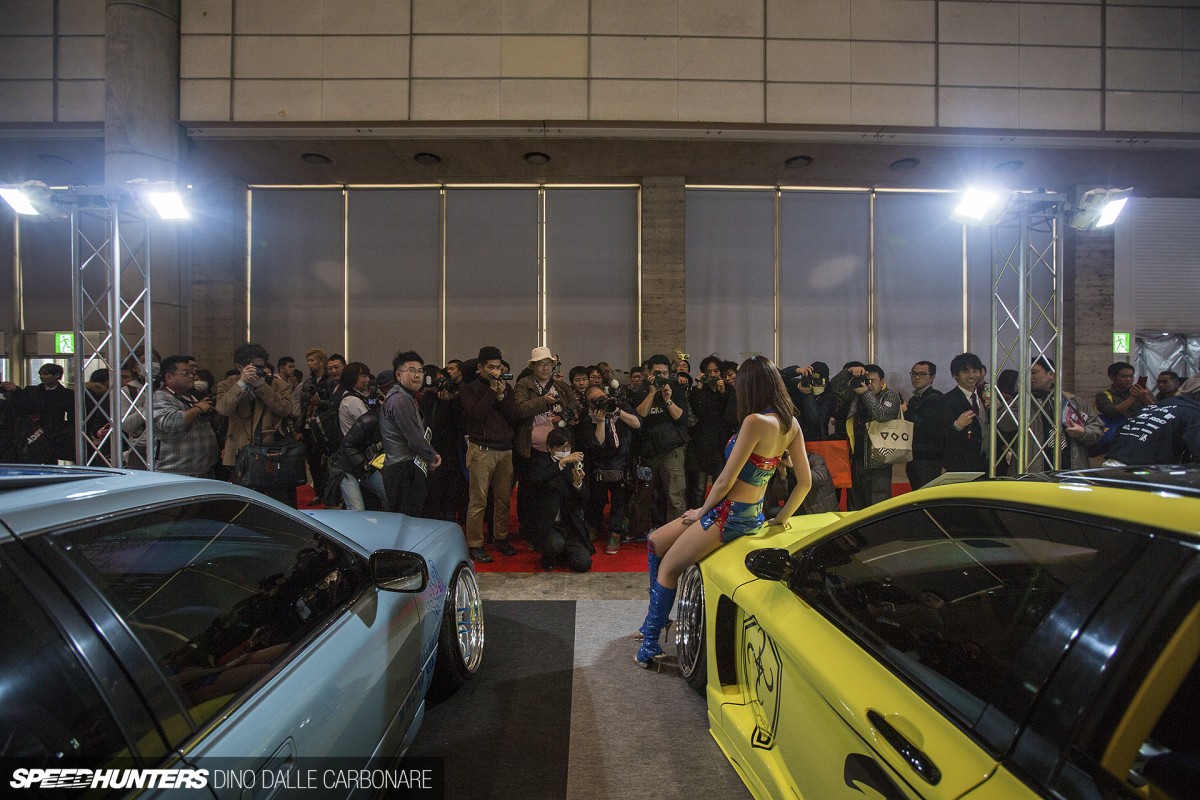 The girlhunters are a dedicated bunch too. Some go as far as following their favourite girls online and even bringing them presents and cards.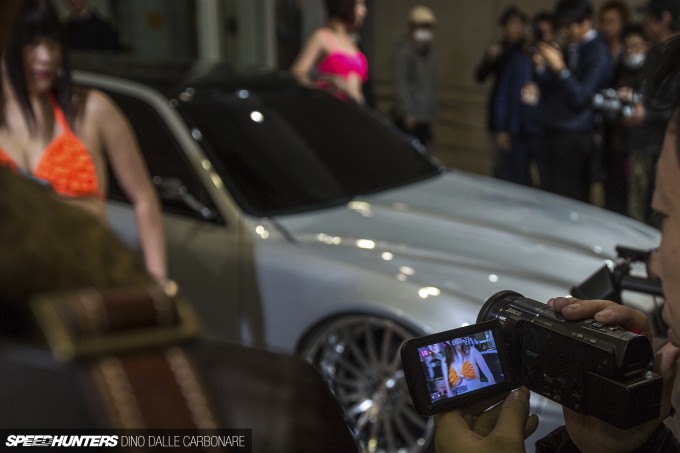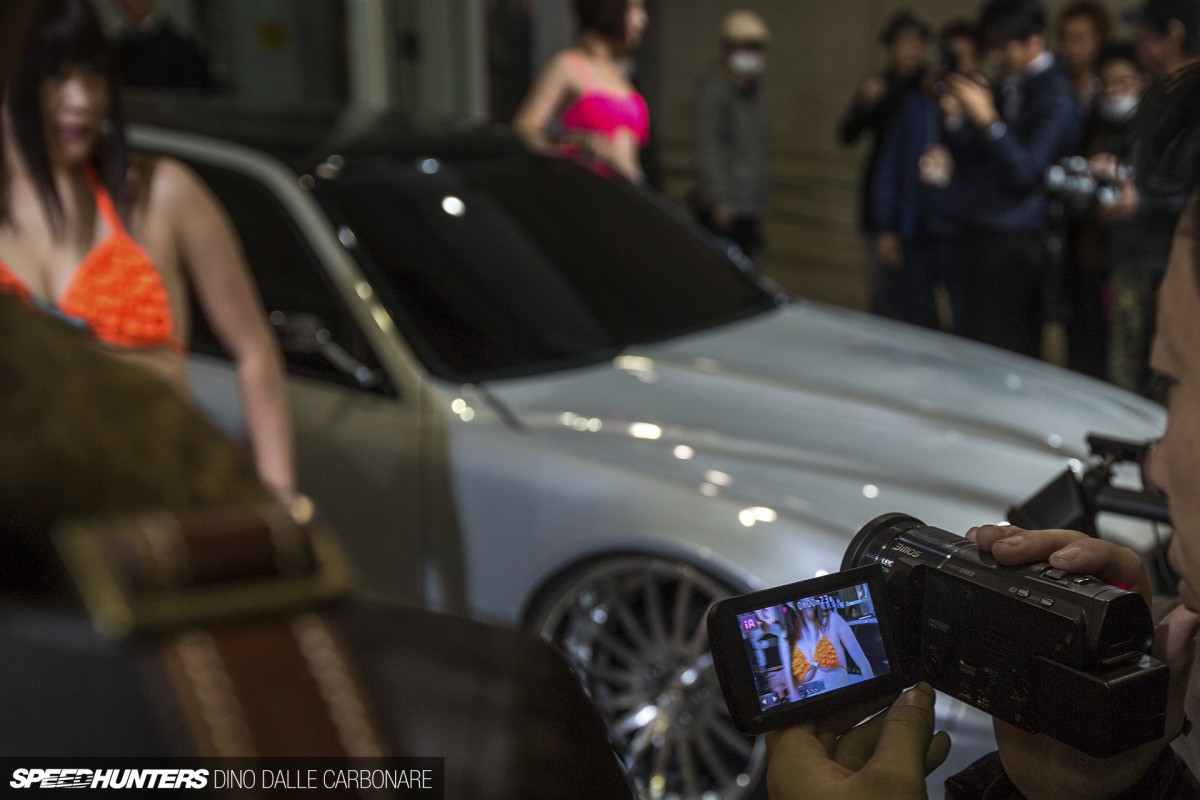 I like to class them as 'respectful stalkers'.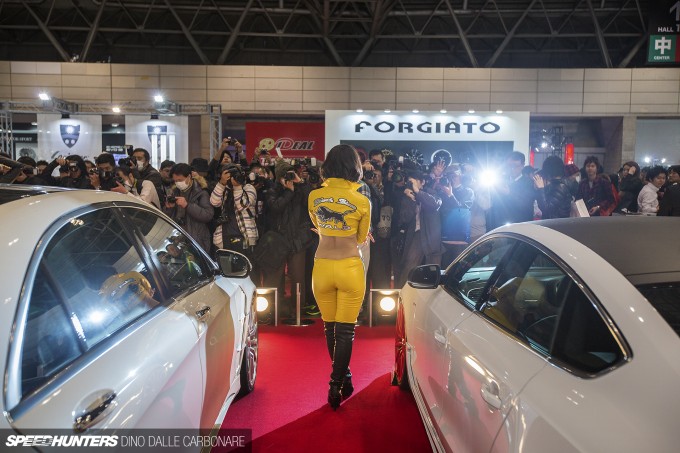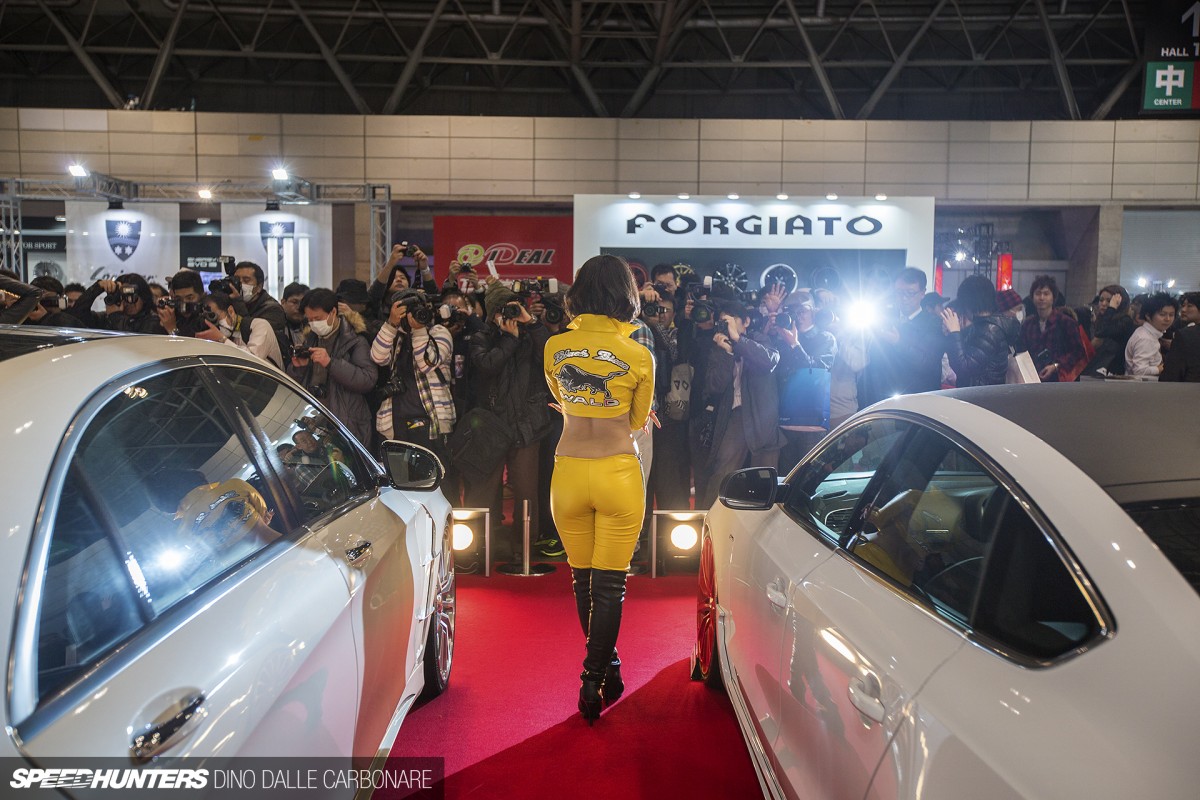 Japan is Japan after all.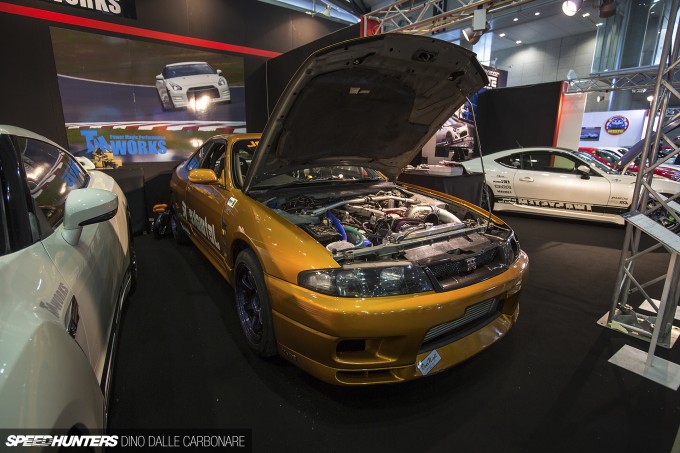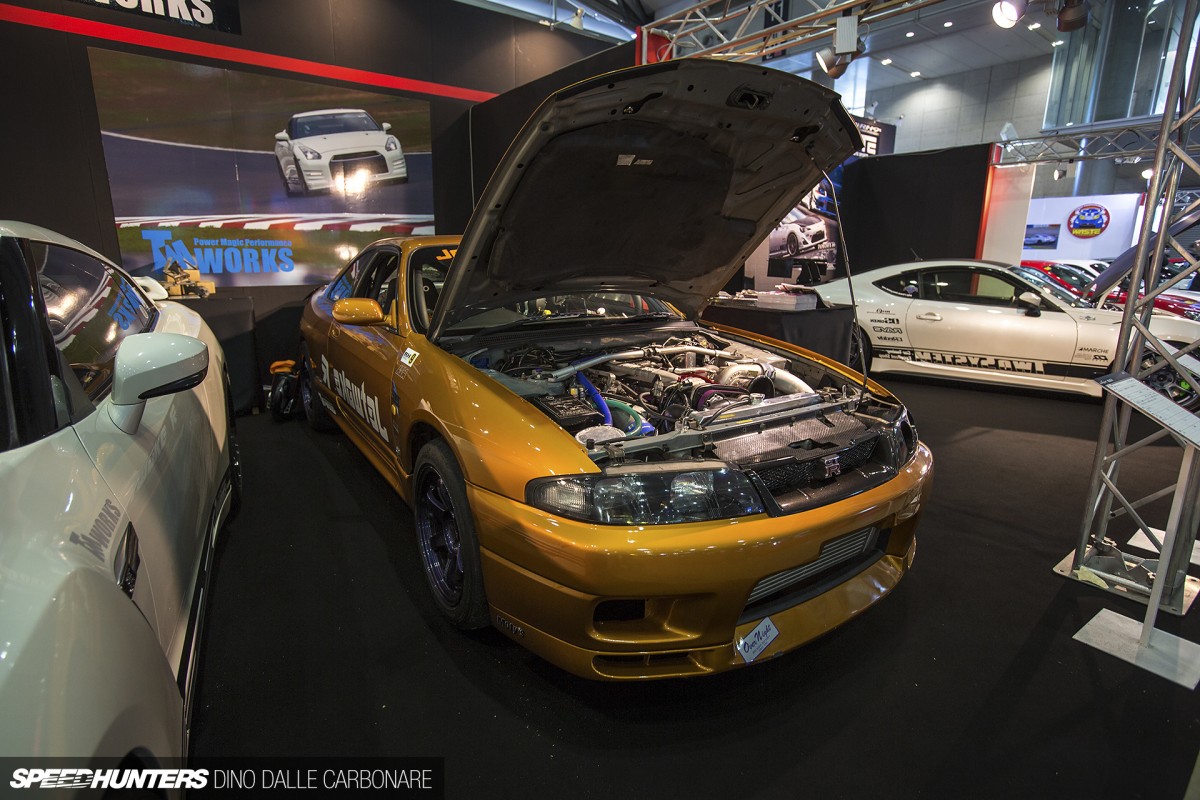 But let's get back to the cars shall we? Hidden behind all of the 'show' cars at TAS, you'll find the smaller shops that are still out there catering to those that have that unstoppable addiction with power. TM Works is one of those places.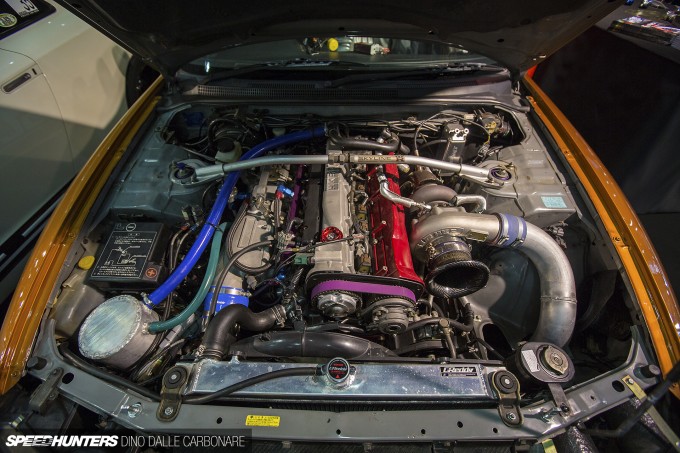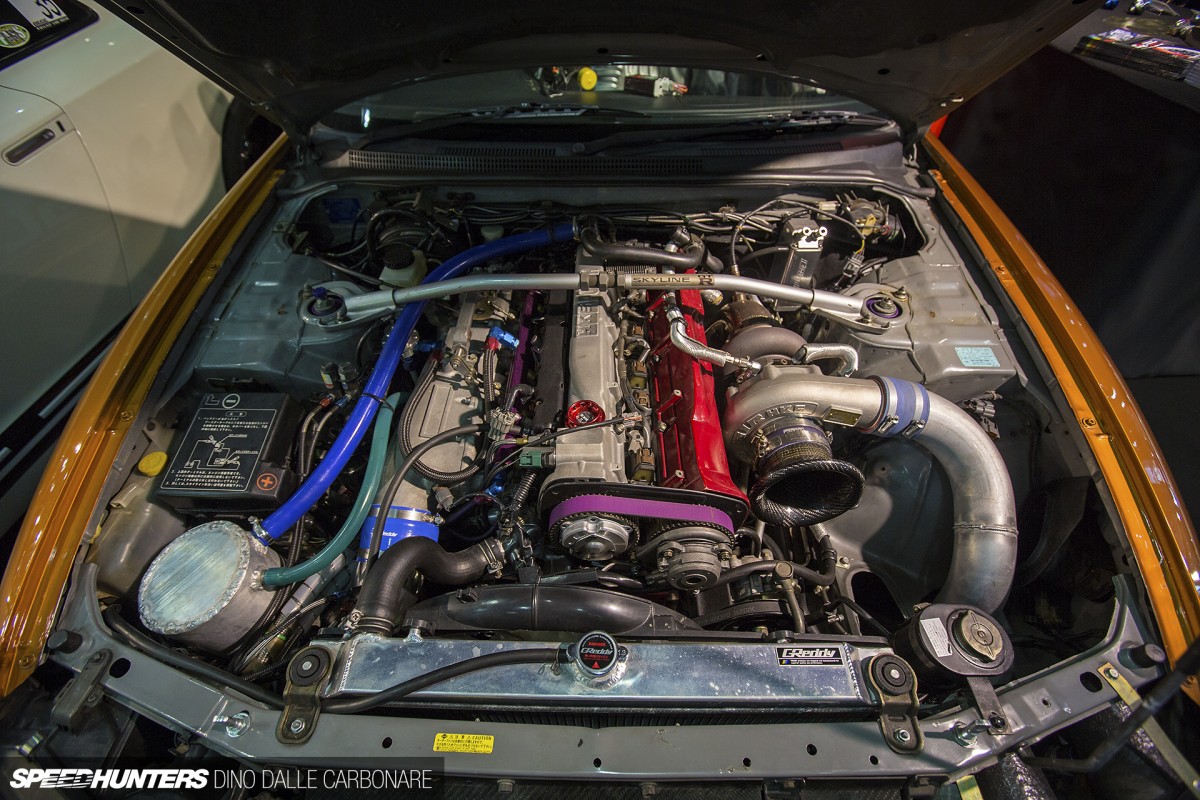 They keep pushing the envelope of engine tuning and making full use of what's out there. And like I mentioned and showed you earlier, it's cool to see that there are so many parts makers supporting it all – especially for those cars that are now classed as older, and in some cases classic machines.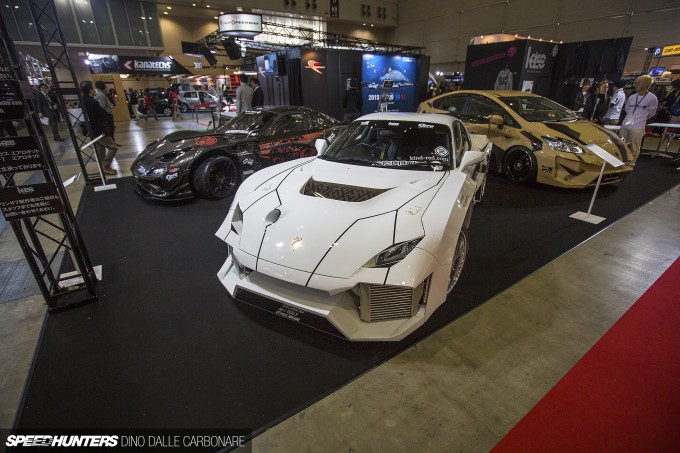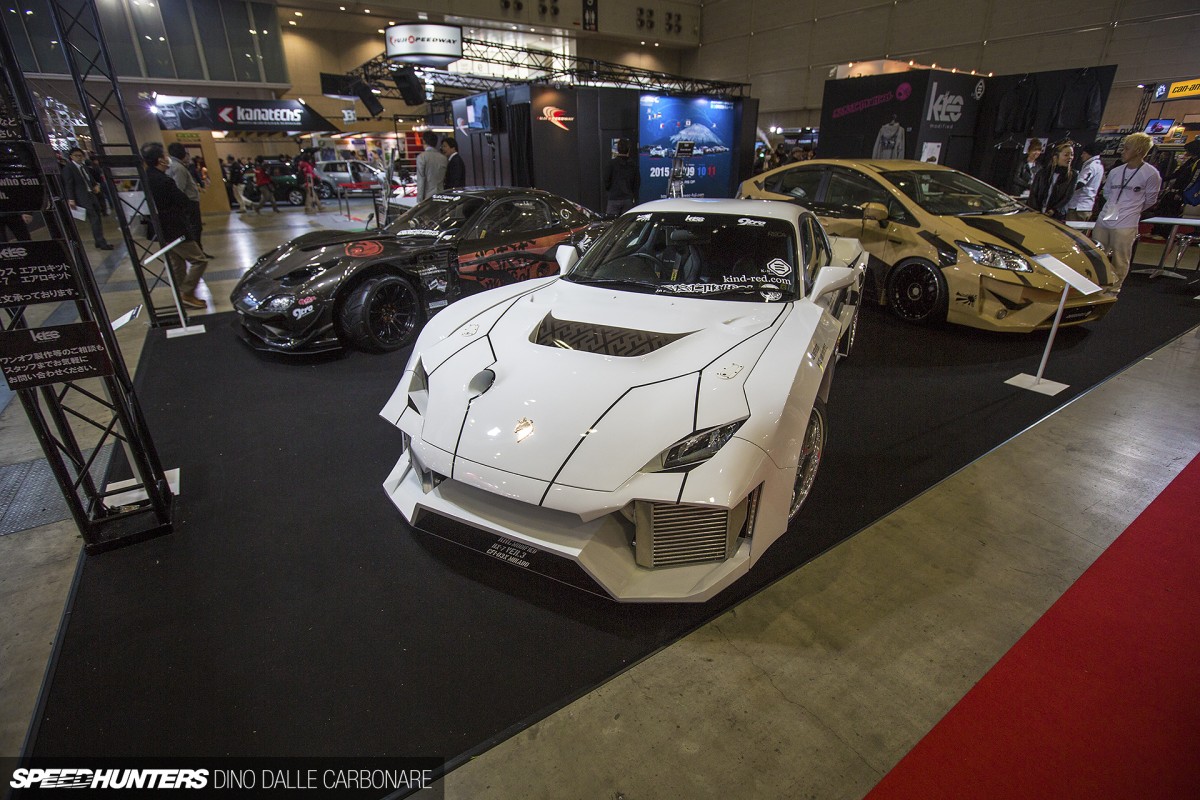 I'm pretty sure I don't need to spell it out, but KRC Japan continues to have the most 'out there' kits for the FD3S. The Osaka company designs everything from furniture to clothes and accessories, and now they've even started to customise the Toyota Prius. TAS really has something for everyone.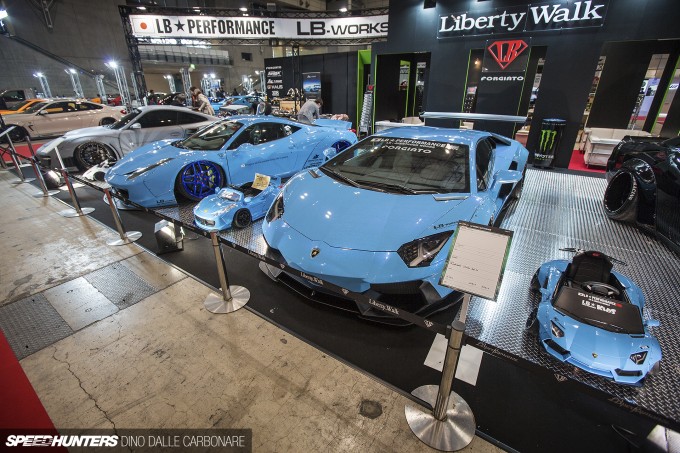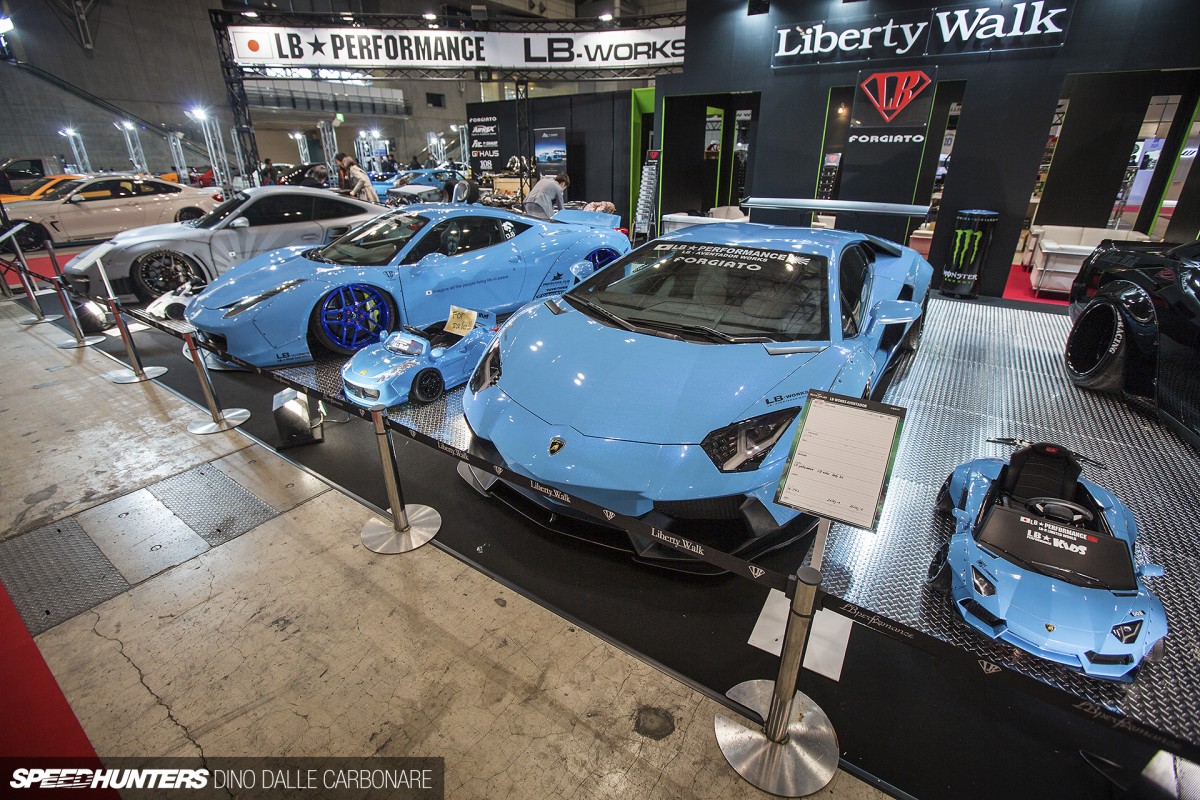 Along with the Dodge Challenger and Porsche 997 we saw in the TAS preview post, Liberty Walk had their usual huge booth filled up with slammed and widened supercars. Of course, it also included their ever-expanding line of kids cars that are given the same aesthetic treatment.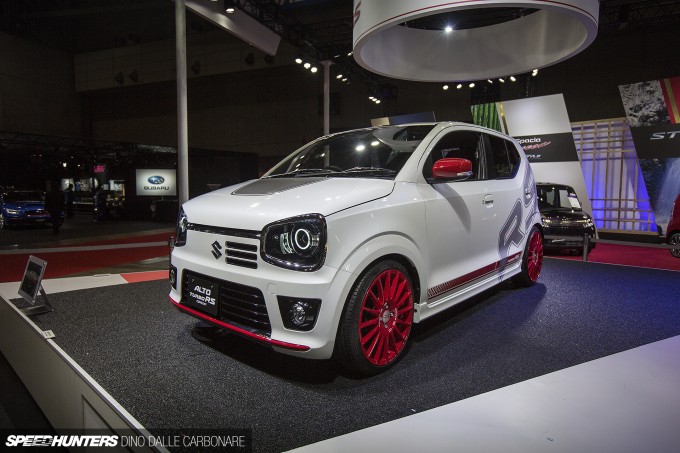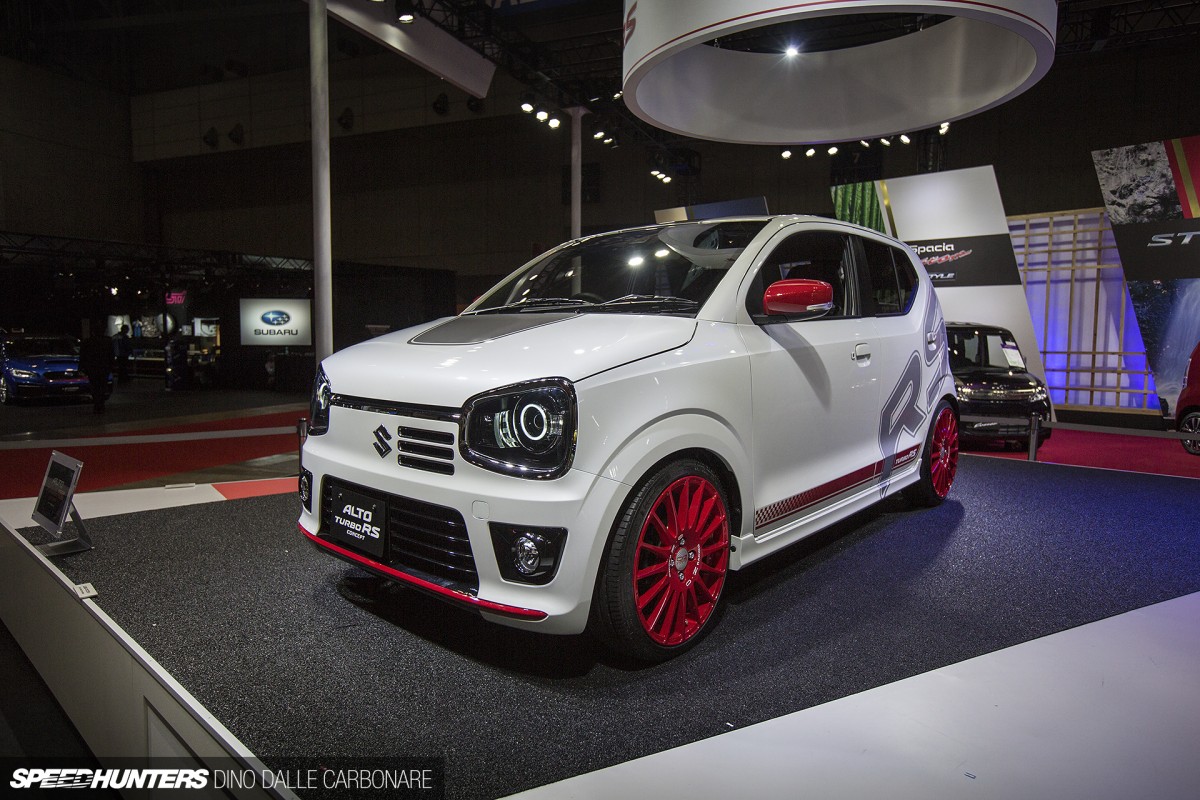 Do any of you guys remember the hot version of the Suzuki Alto from back in the '90s? Well, it's back with a vengeance with this Turbo RS version based on the all-new car. It's only a concept right now, but Suzuki would be crazy not to make this a reality.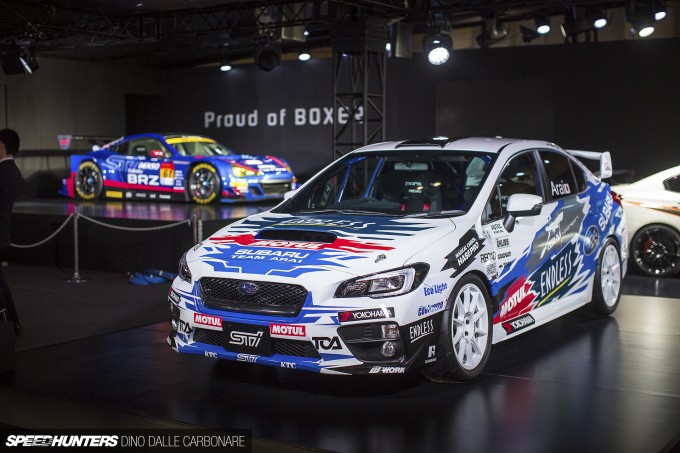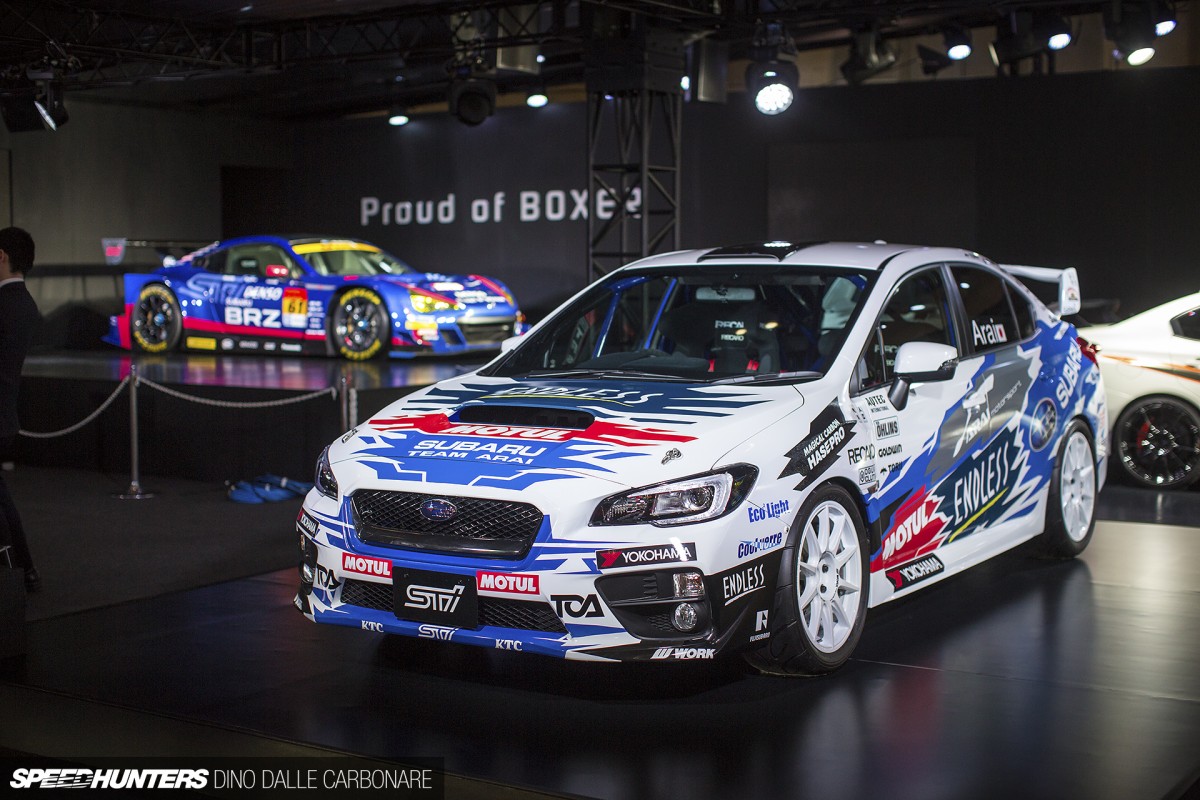 The guys at STI have certainly been busy. On top of the Blitzen Legacy we saw being forklifted into the show in my preview post, they had Toshi Arai's brand new rally car based off the 2015 Impreza platform on display.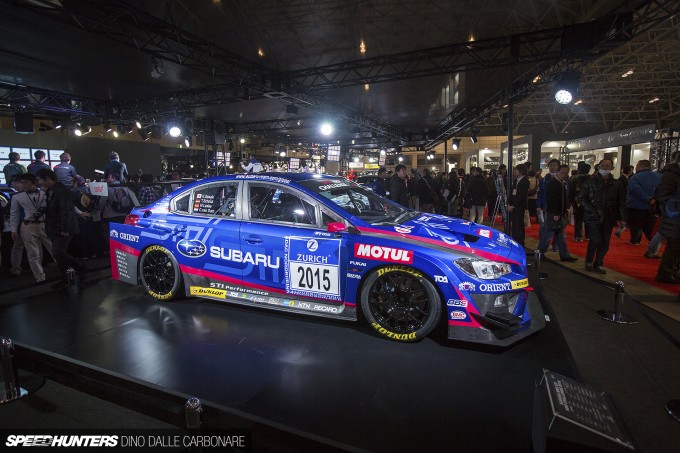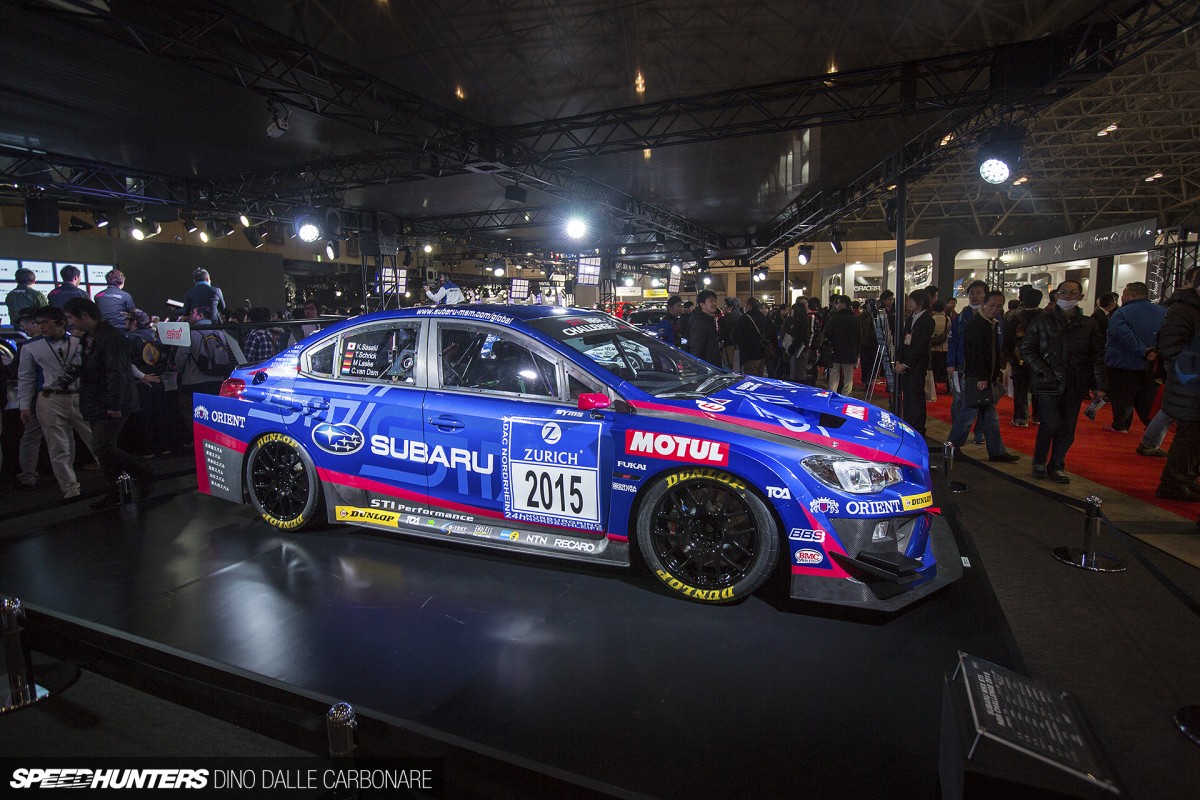 But the hottest machine on their stand was without a doubt the 2015 Nürburgring 24 Hour Race Impreza. When compared to the cars that STI has run at the grueling endurance race in the past (and successfully may I add), they have really stepped their game up with this one – especially so on the aero side of things.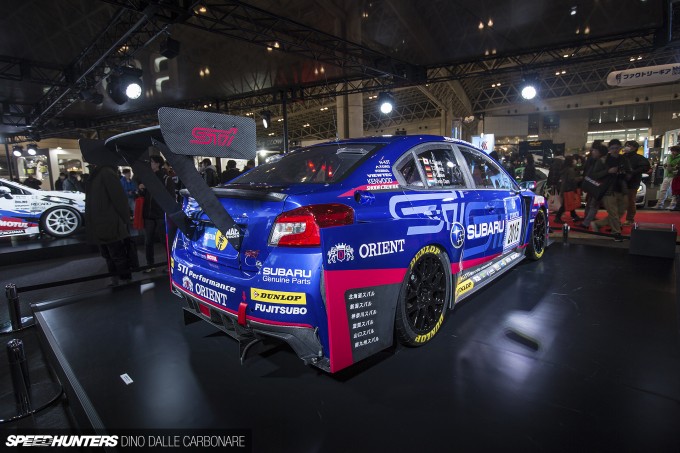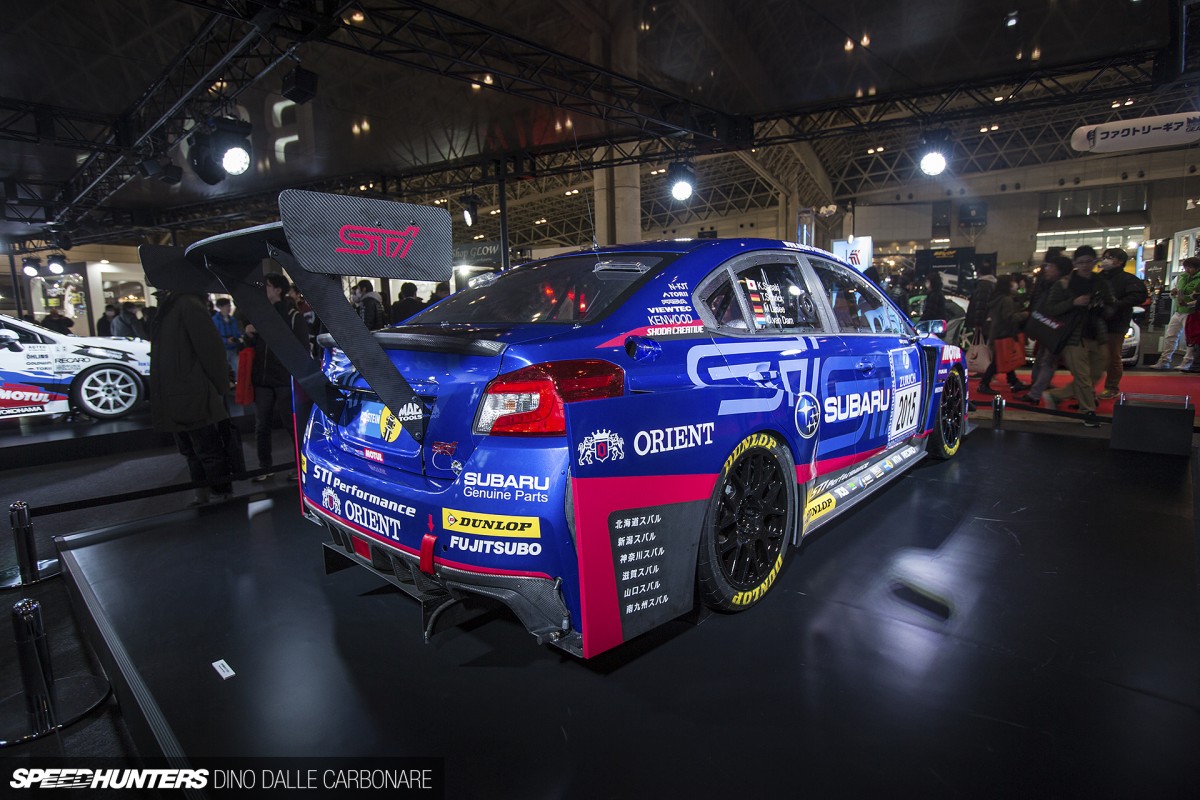 In addition to the big front splitter, canards and underbody aero additions, the rear gets these squared-off fenders and probably the biggest wing ever employed on an Impreza.
All in all, I'd say that 2015 is shaping up to be an exciting and interesting year in the JDM world. I'd be curious to hear what you think and what your favourite cars from the show were!
Dino Dalle Carbonare
Instagram: speedhunters_dino
dino@speedhunters.com