We Caught Him
Rick Webb is one of those really quick guys who's hard to catch. In fact, the only reason we were able to bring you this feature as part of our Carbs Only Theme is because he hurt his engine and couldn't go racing this weekend just past.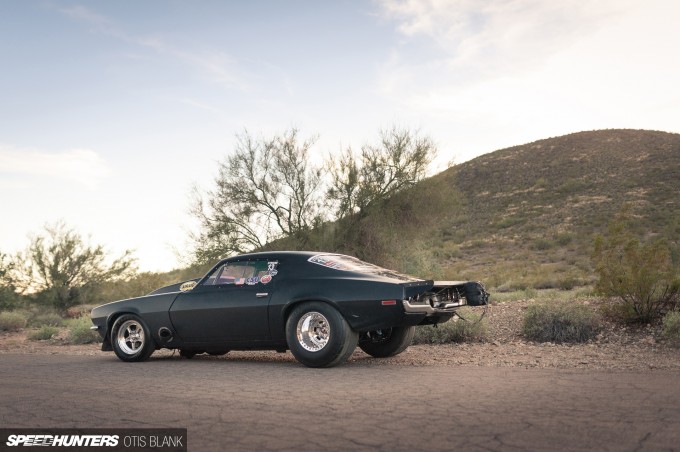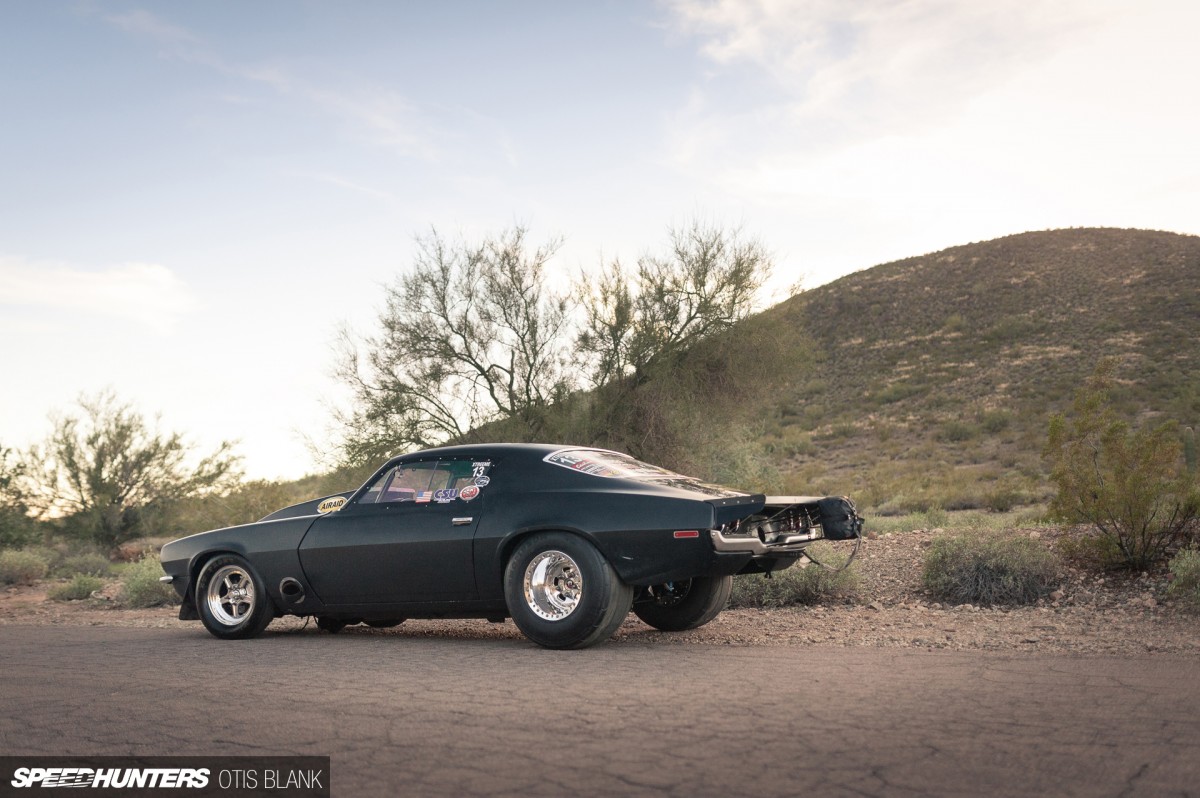 We looked at a number of carb'ed muscle cars to feature as part of the theme and while they were all pretty, none had that indescribable, head-swivelling allure we were looking for. Until we laid eyes on Webb's blow-through 1973 Chevrolet Camaro RS Z/28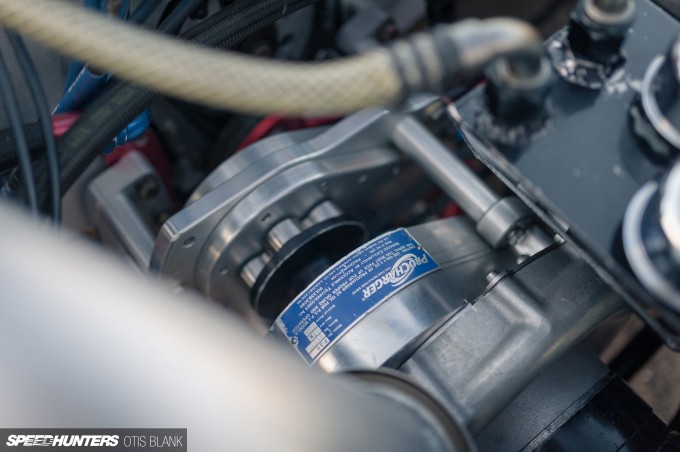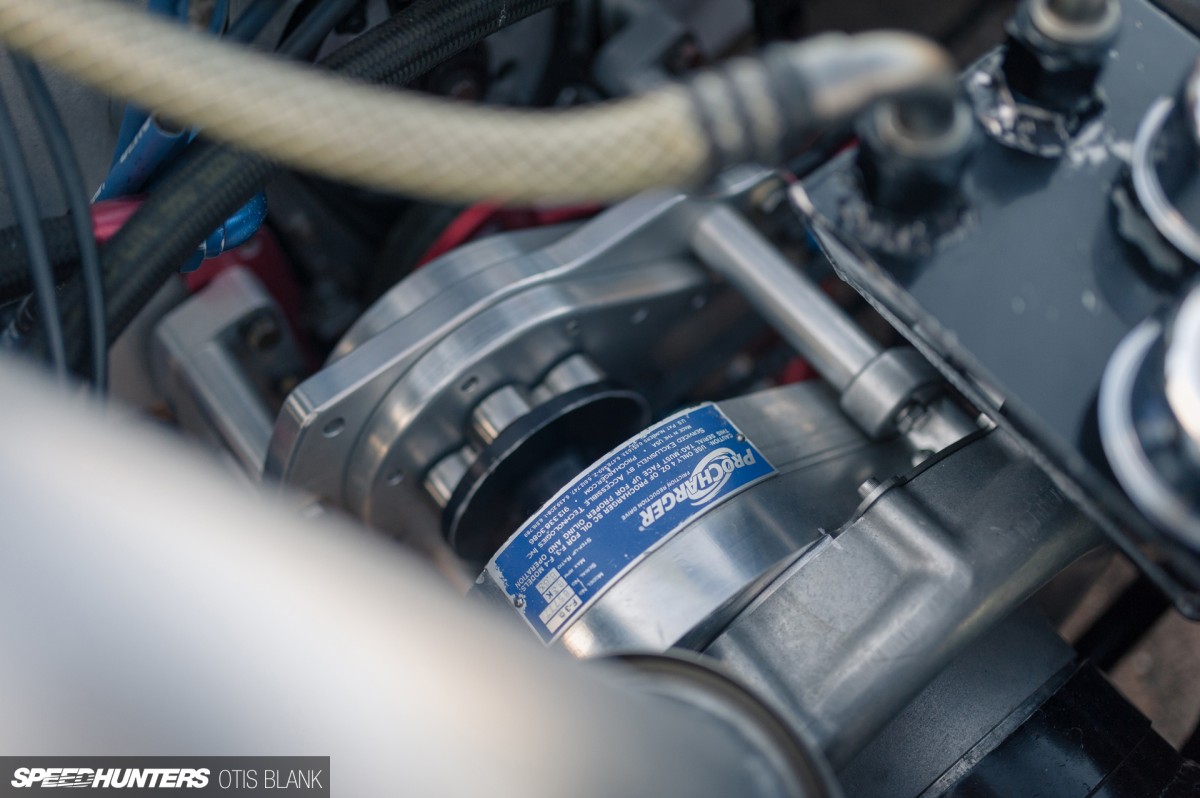 "What the hell does blow through mean?" you ask. Well, you start with one of these: An obscenely large ProCharger supercharger.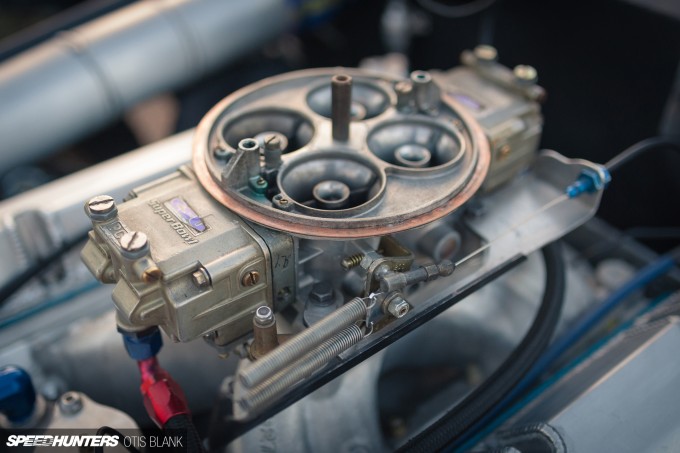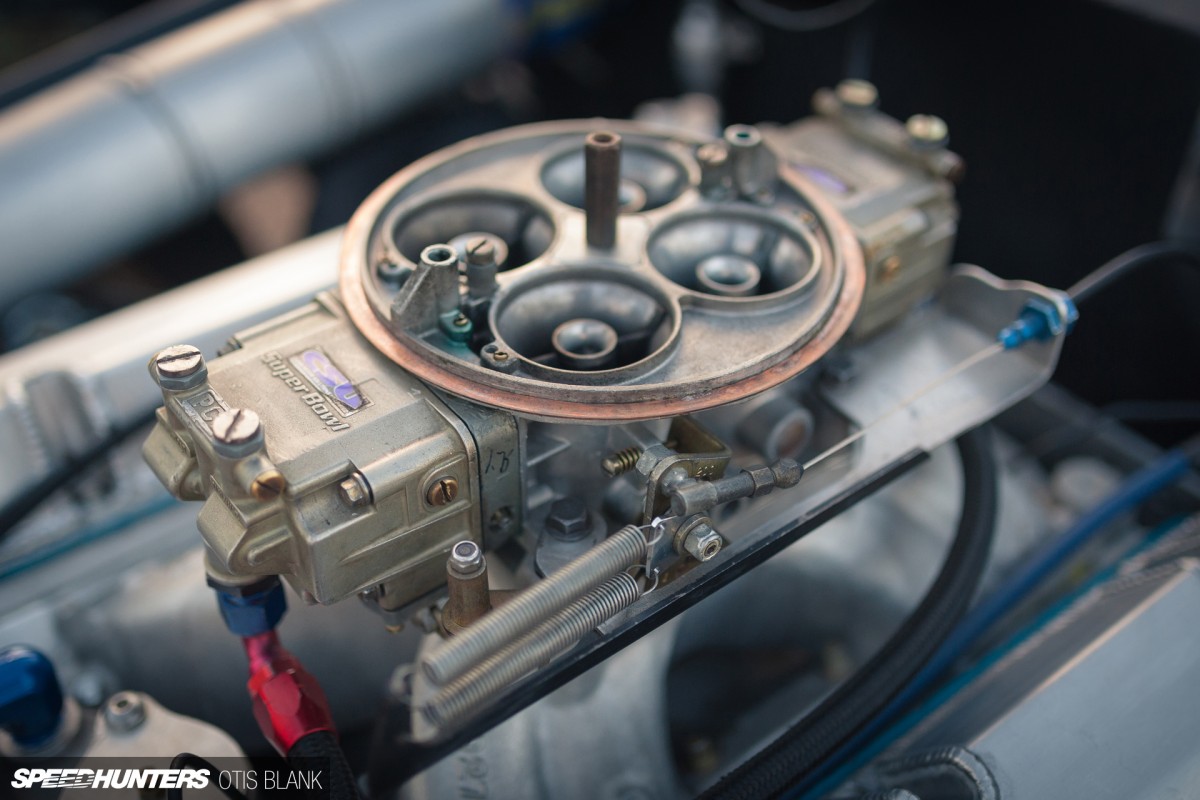 And you let it cram 30 pounds of boost into one of these: a Holley Dominator that would rather suck its own air than be force-fed. Want to see what that's like? Watch the video below.
Let's back up though, because there's something I need to point out right away.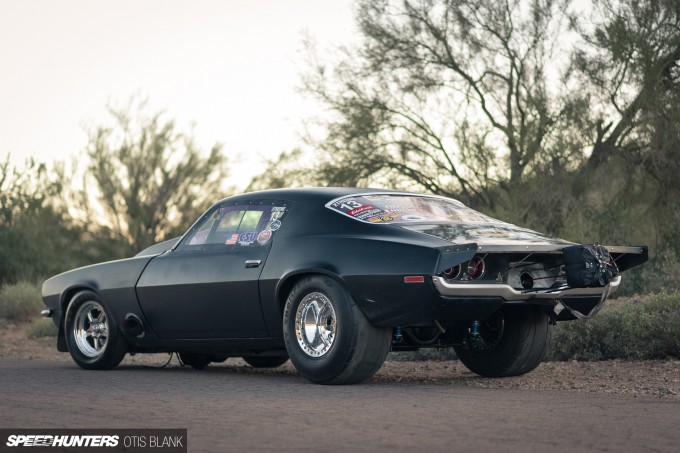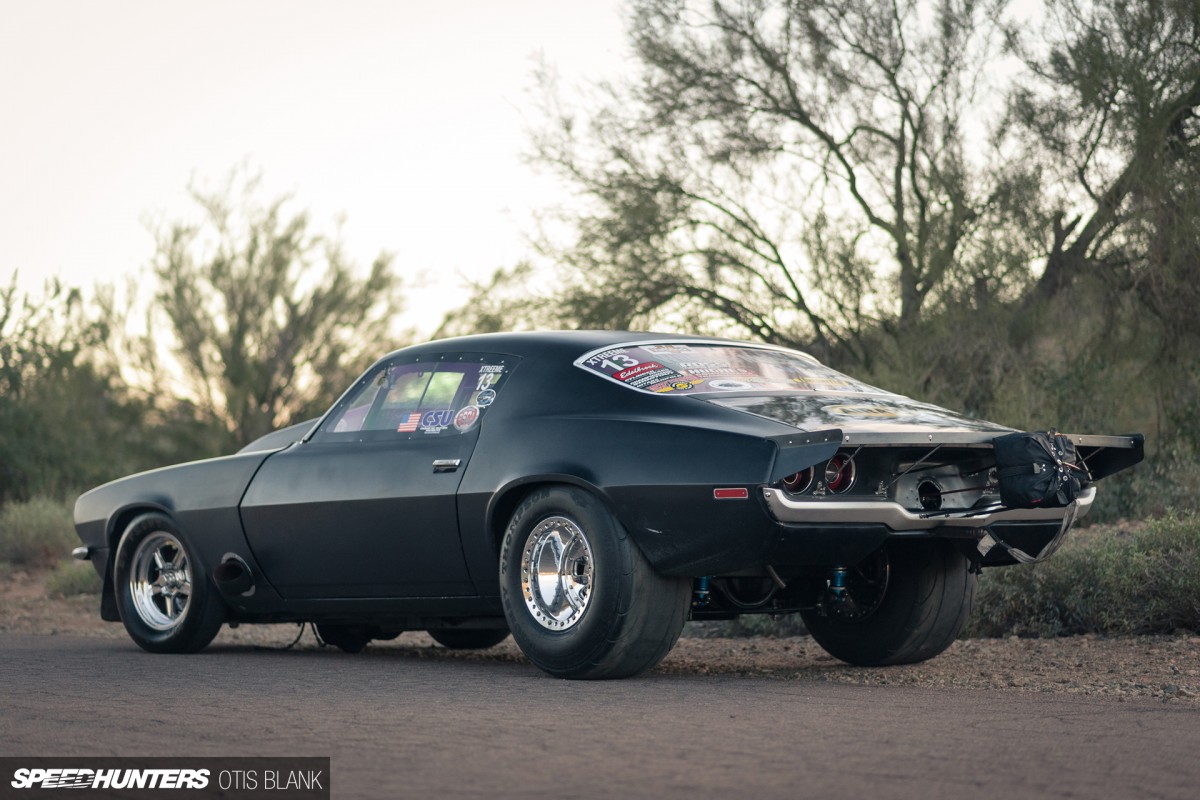 Besides being a blow-through car, this is also what you call a 'small tire' car. It doesn't use massive slicks stuffed into huge, hacked-out tubs.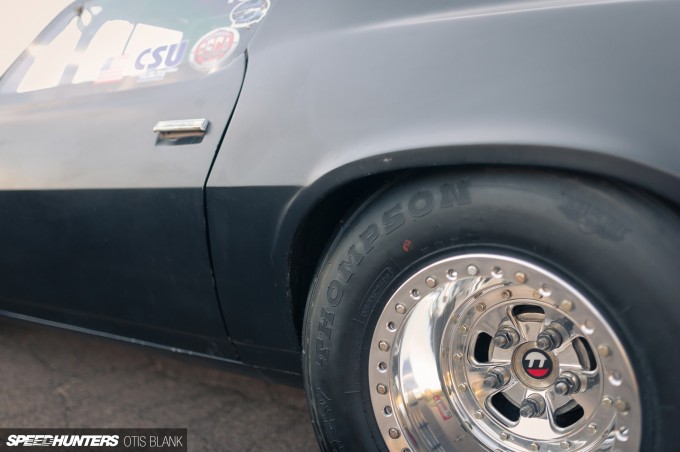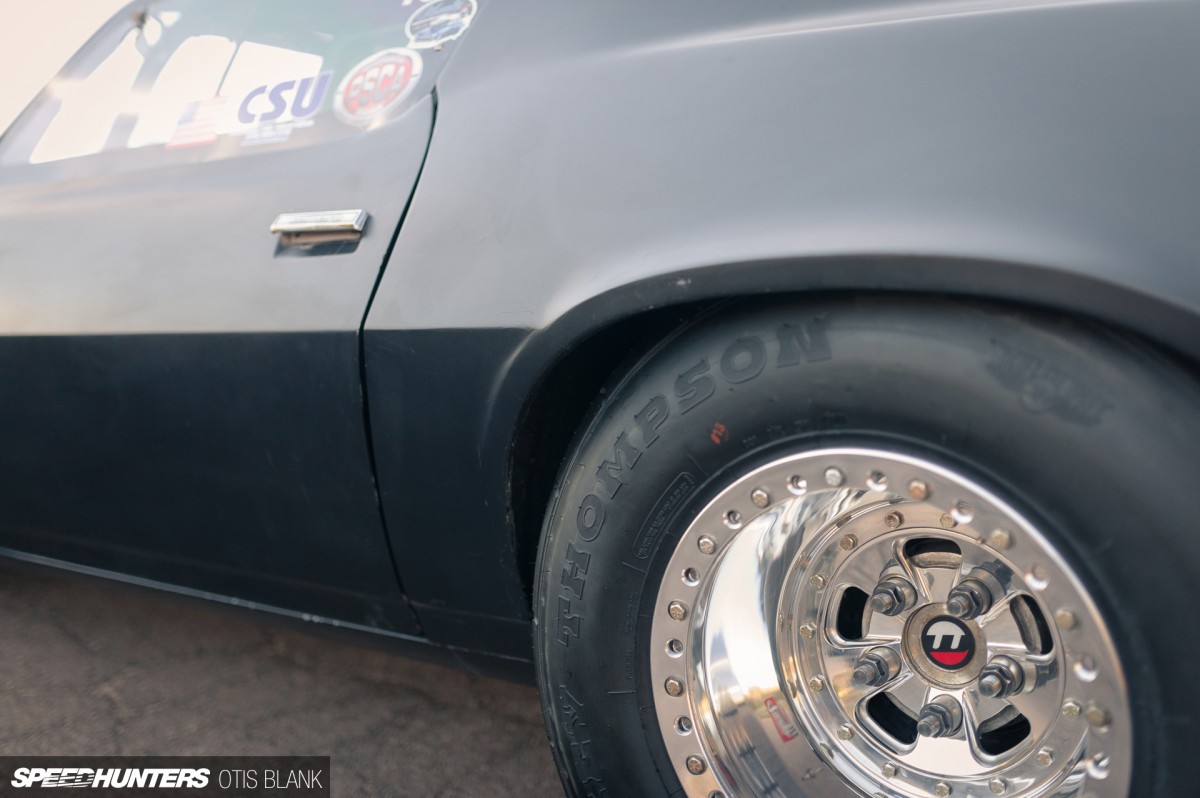 No, because drag racing is a numbers game, and it's all about what you can do with certain equipment to be the fastest in your class. Rick races in the True 10.5 division using drag radials. He's quick to point out that the tires are quite a bit smaller than the Outlaw 10.5 cars which use a 10.5W tire that measures wider and taller.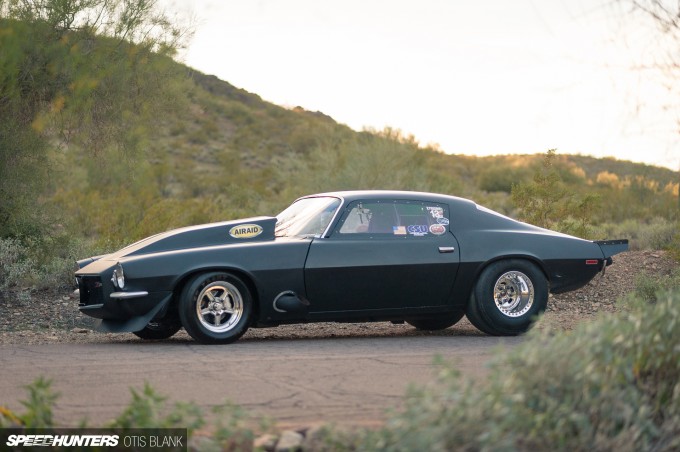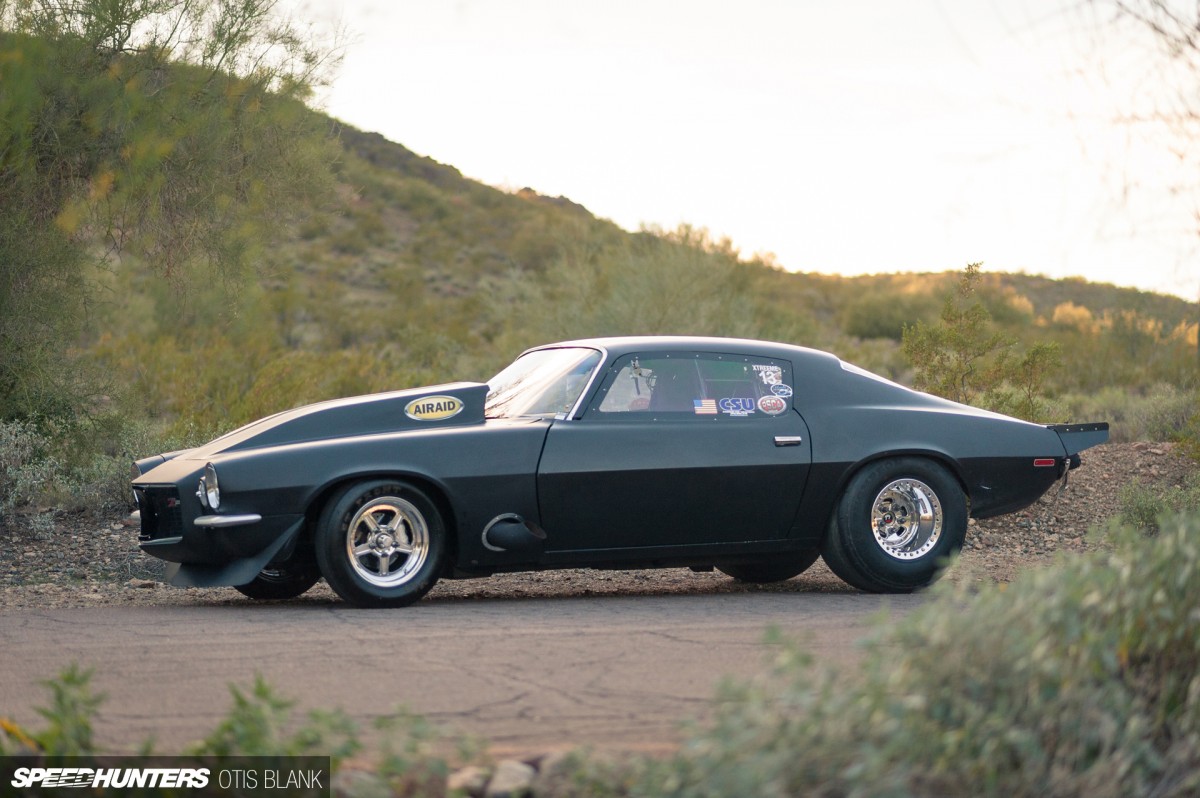 It leaves the car with a stance that looks more like a hopped-up street car than a dedicated drag racer. Aesthetically, it's less aggressive than a pro street car lumpily idling by on a cruise night, but Rick can still go wheels-up and run a low 7-second pass in the quarter – the car's PB is currently 7.10 at 201.70mph, making it the quickest and fastest small-tire blow-through car in the world.
Tell Us All Your Secrets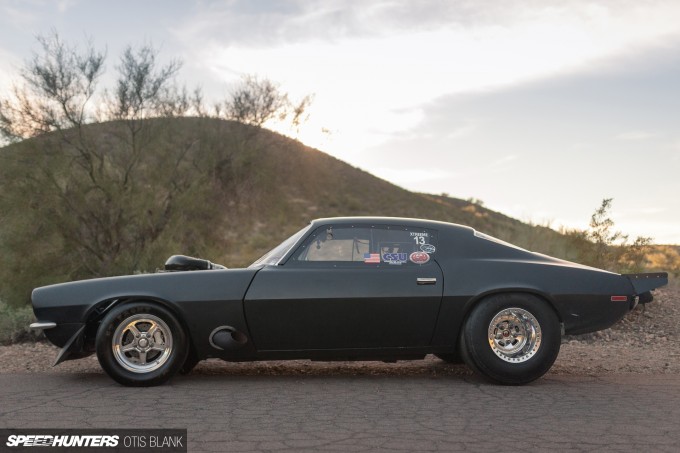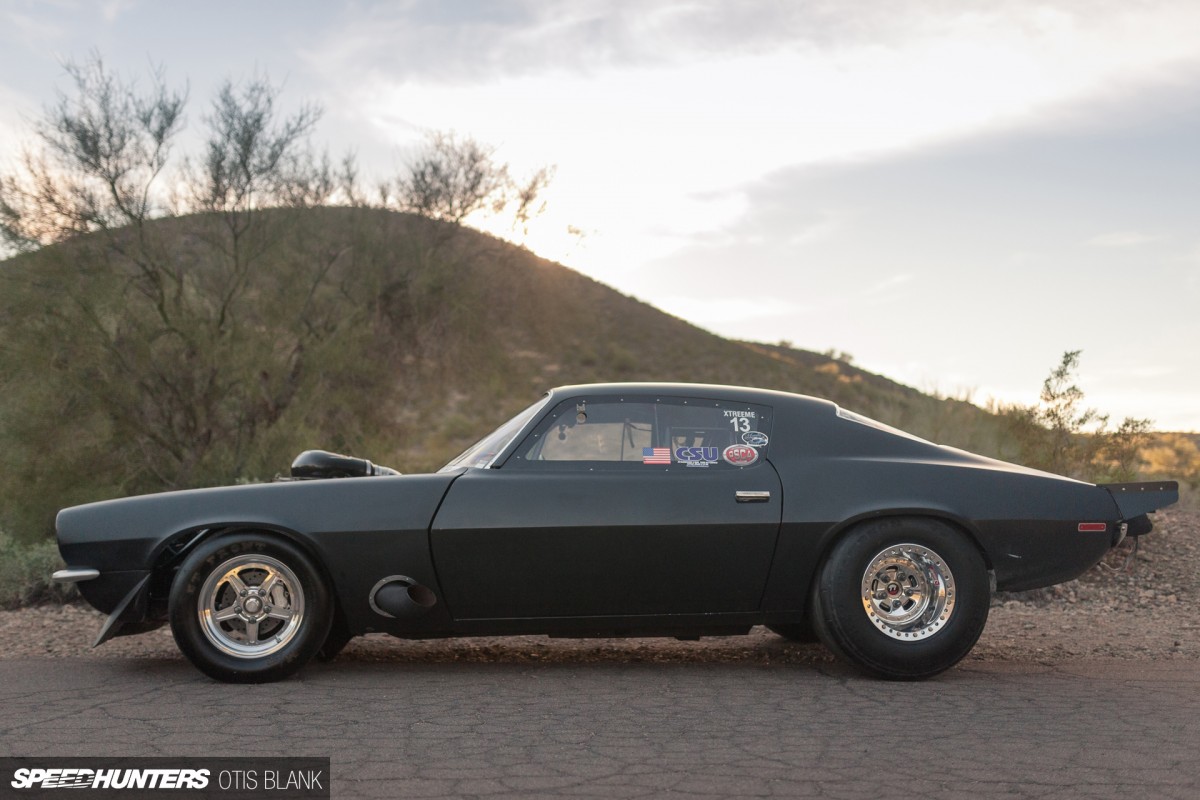 With the six-inch cowl hood removed, we can get a sense that there's something interesting going on in the engine bay. I don't see the usual round air cleaner poking up.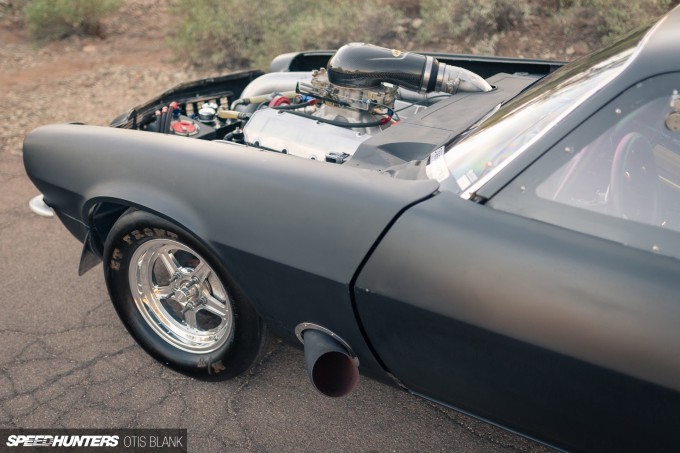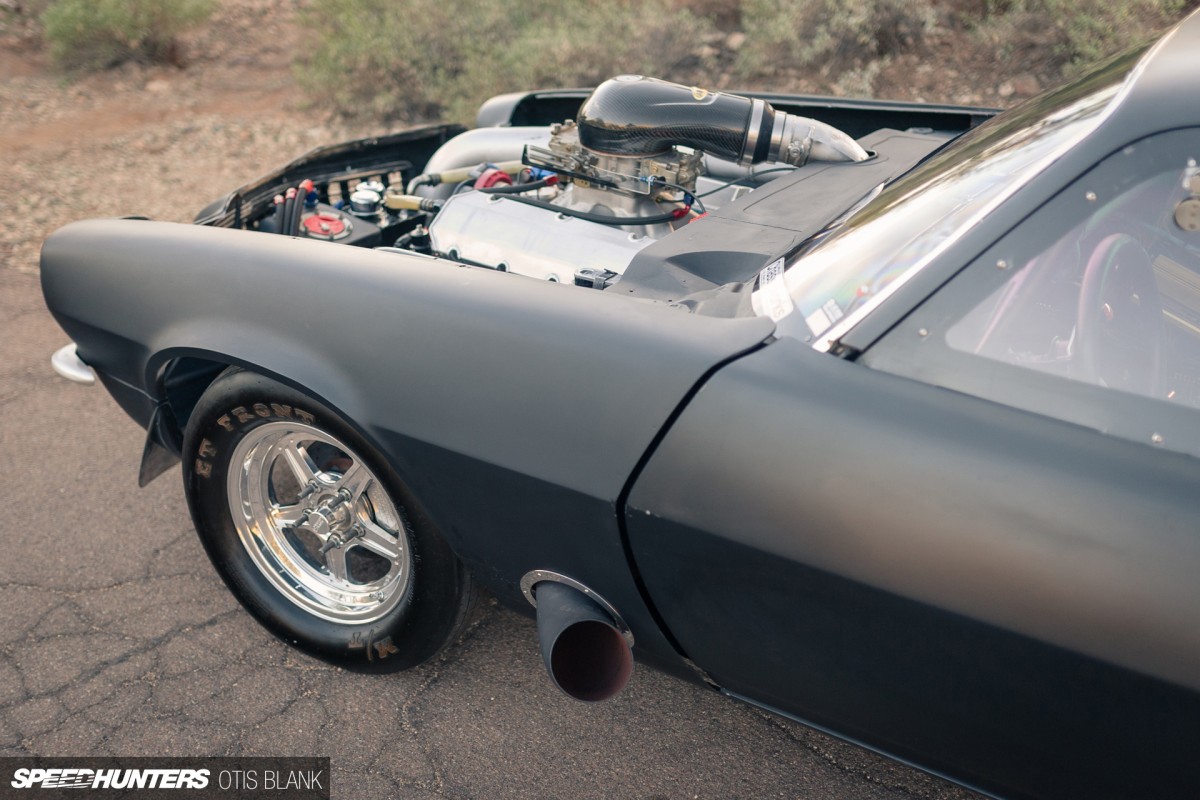 That strange form is actually a carbon fiber Airaid carb hat, which is used to pipe air into the carburetor from a remote location.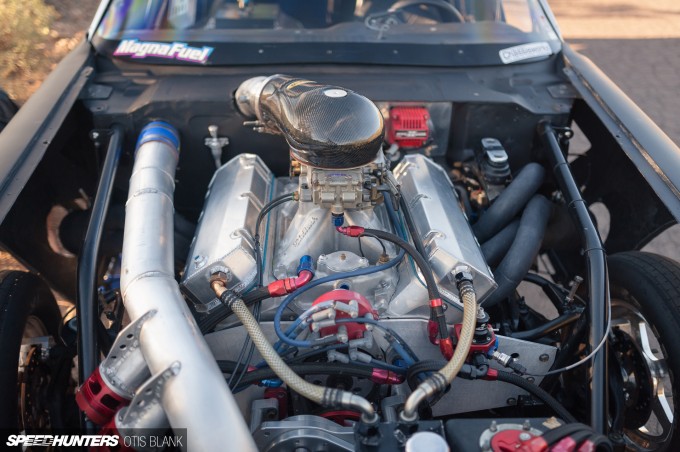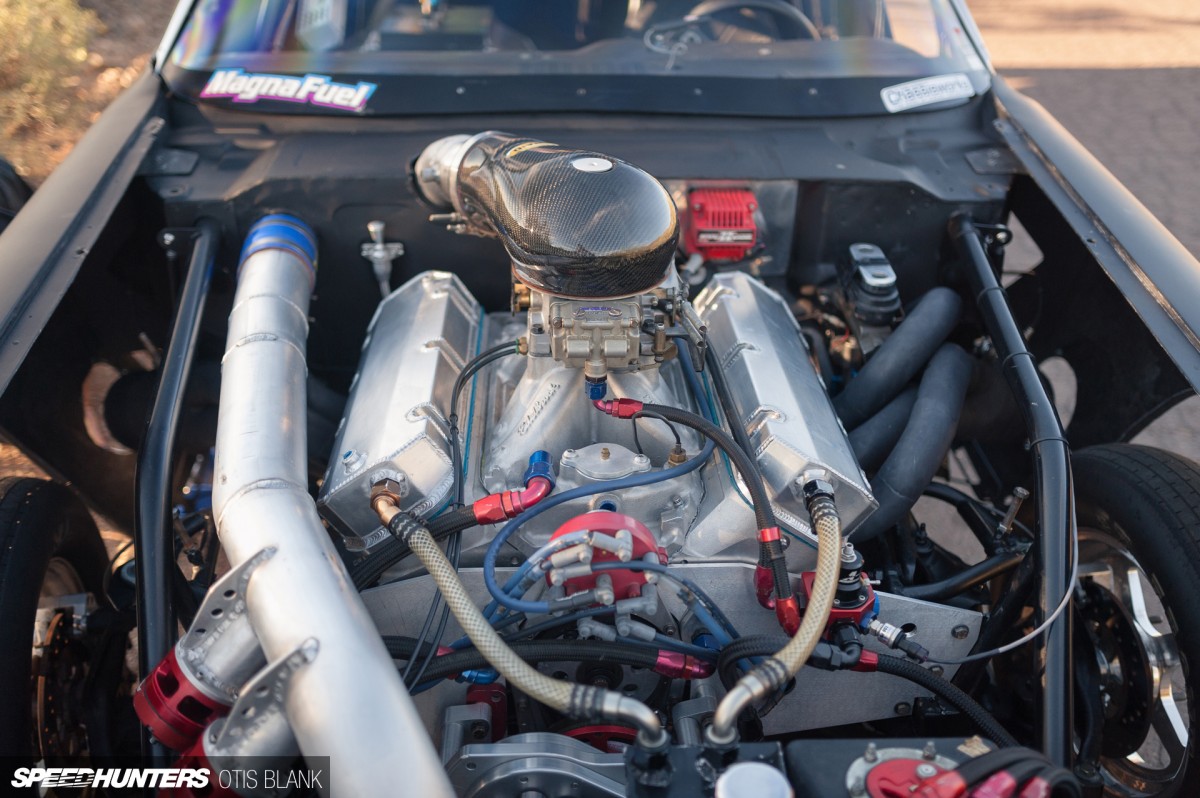 The engine is a 540 cubic inch Dart Big M big block Chevy that Rick carefully built with a combination of race parts that he's figured out over decades of racing. You can read the complete list of engine specs at the end of the story, but I'll just point out that the pistons are a coffee can-sized 4.5-inch across.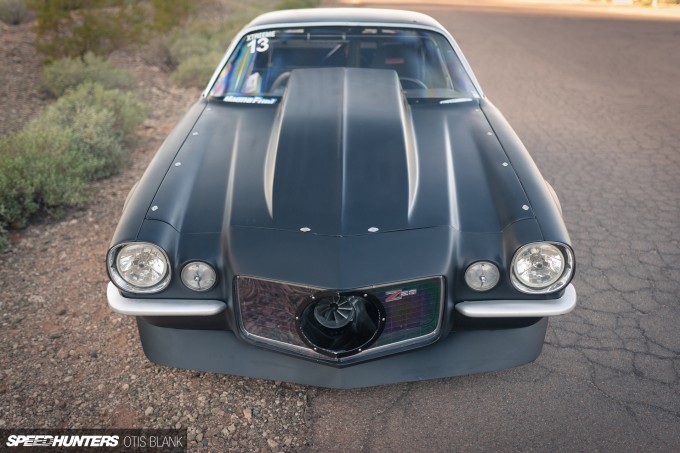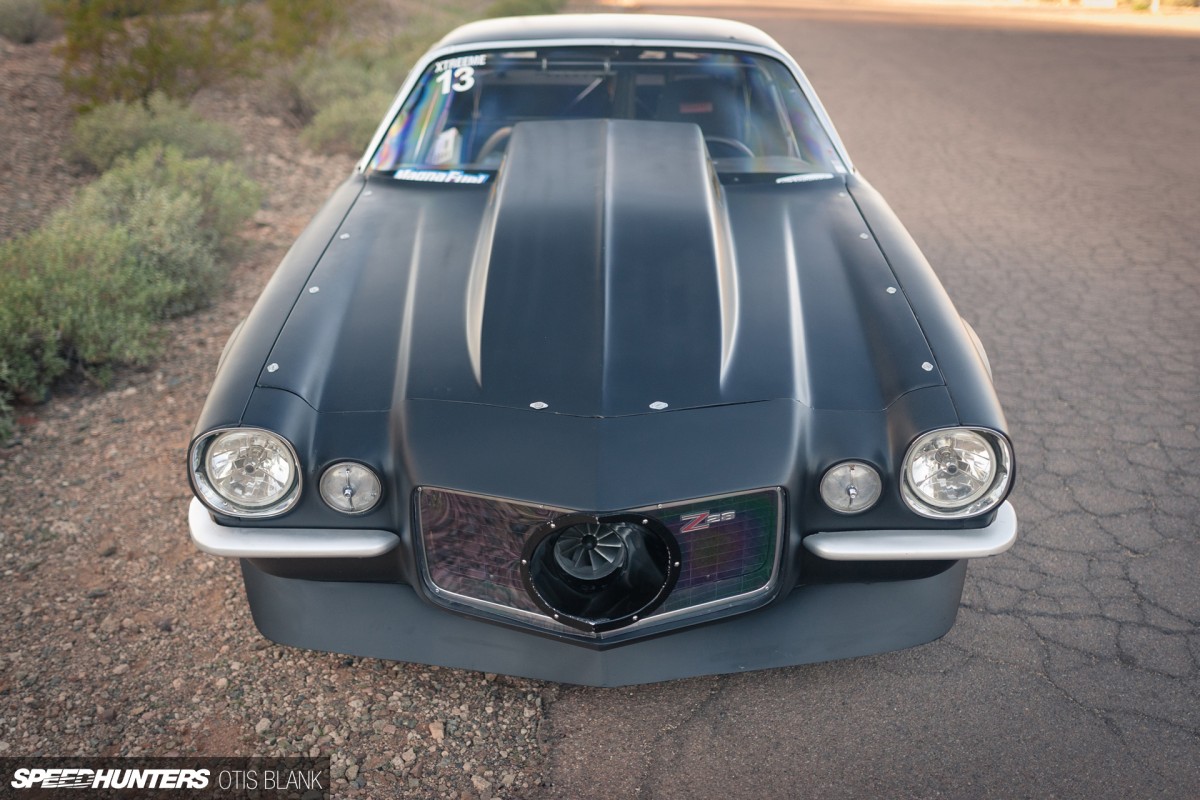 The show really starts here, at the 135mm inlet of a ProCharger F3R.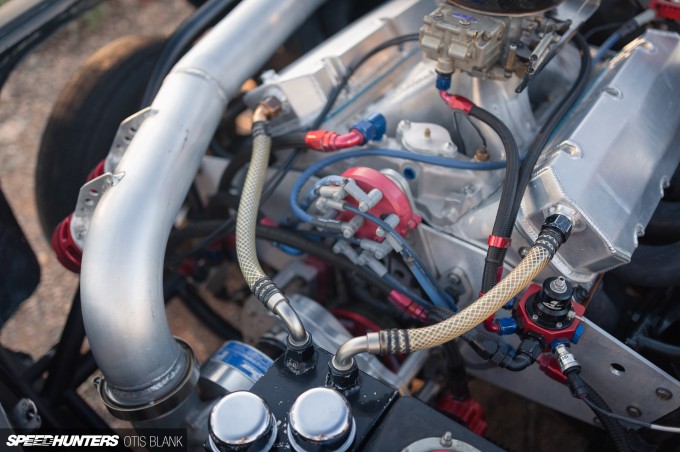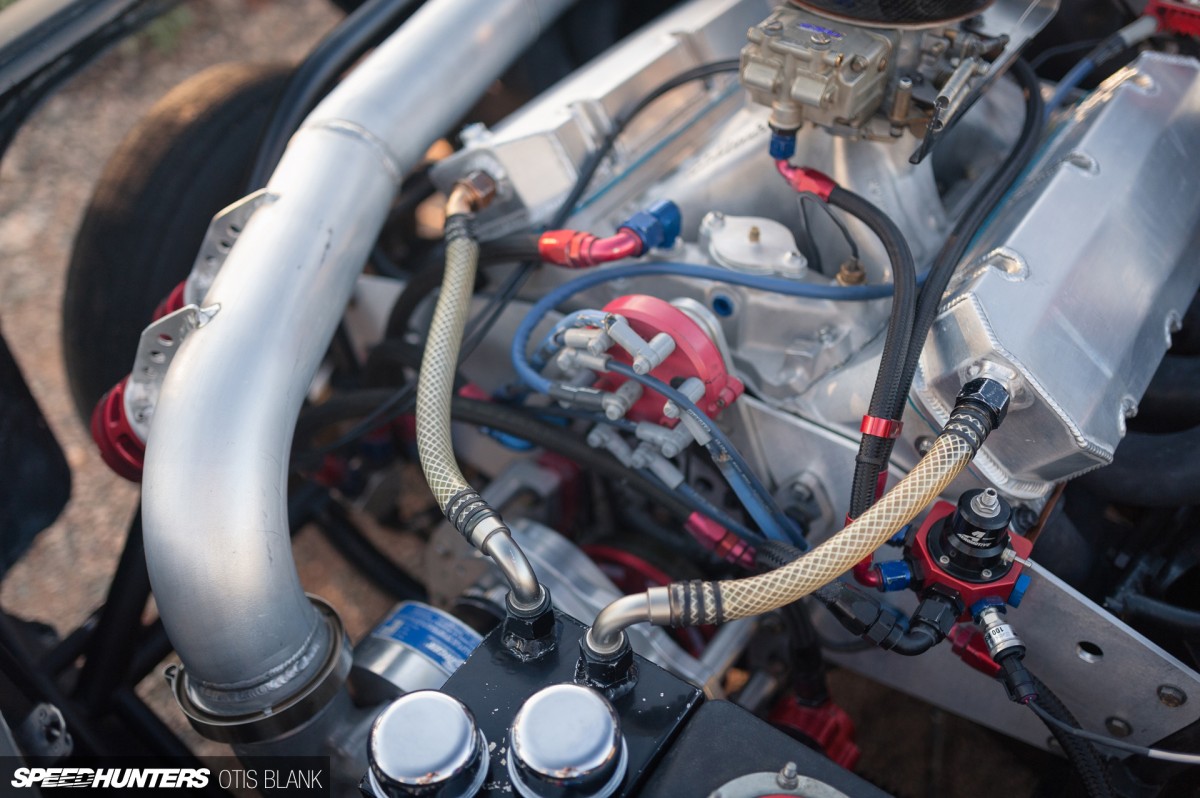 The supercharger is driven off the crank through a gear drive from The Supercharger Store. It uses straight cut gears like a Winters Quick Change rear axle to adjust the blower's RPM relative to engine speed. Rick actually finds old Quick Change gears and mills them down to the proper thickness for his setup. Also notice the solid aluminum engine plate.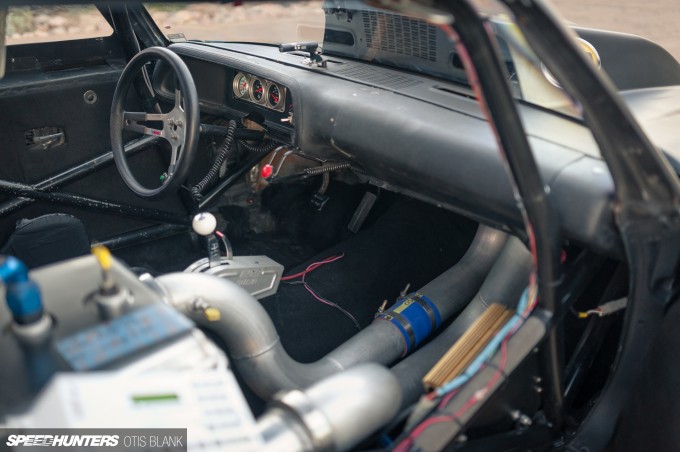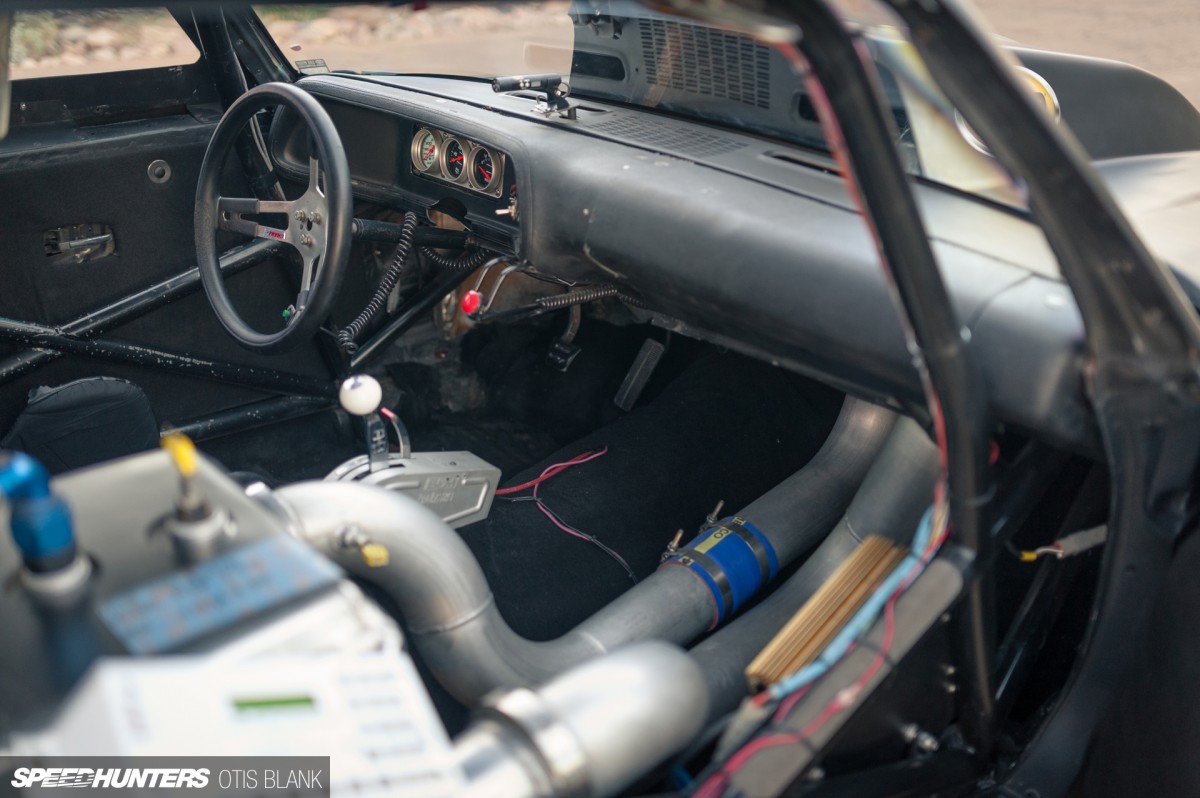 From the ProCharger, compressed air makes its way through the firewall and into the cabin.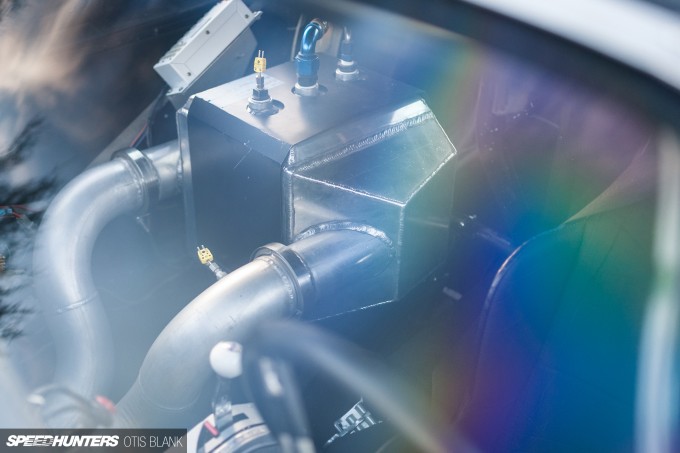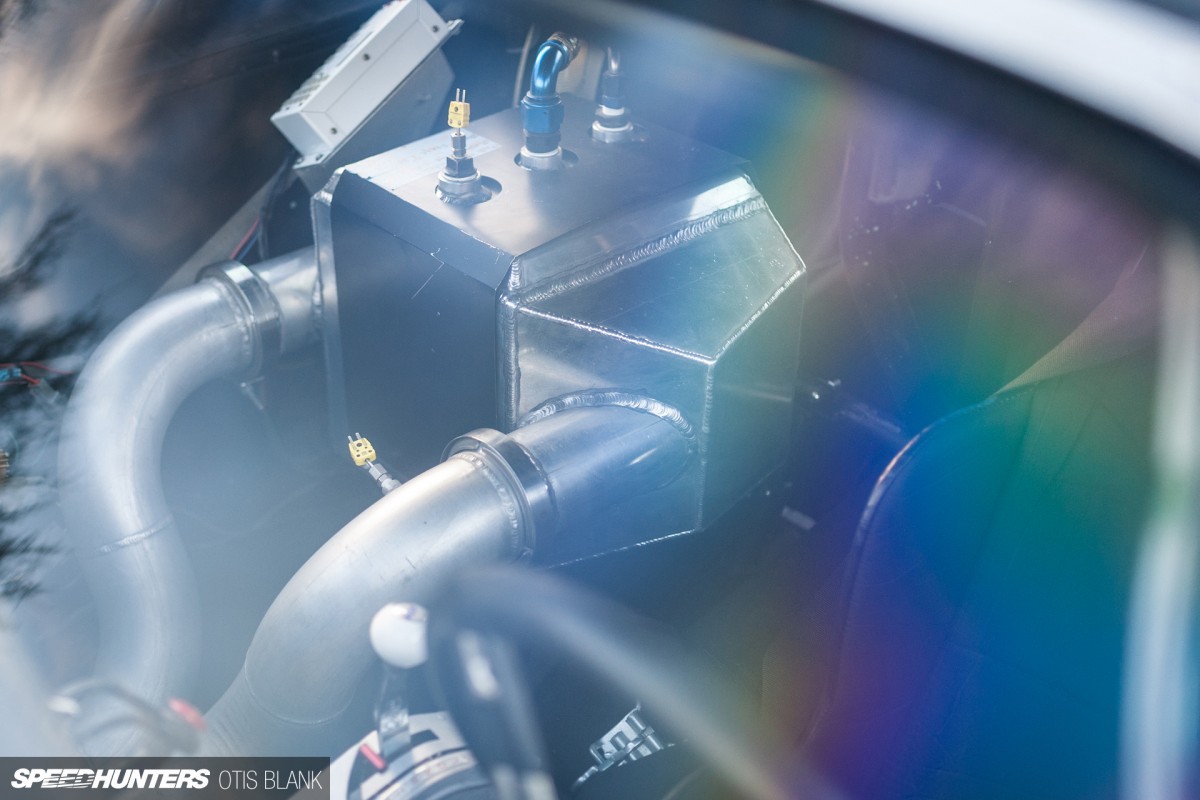 Piping is routed back to this water-to-air intercooler mounted where the passenger seat used to be.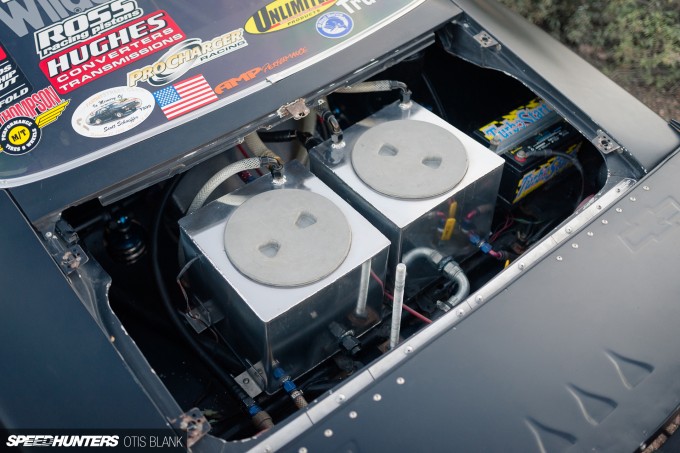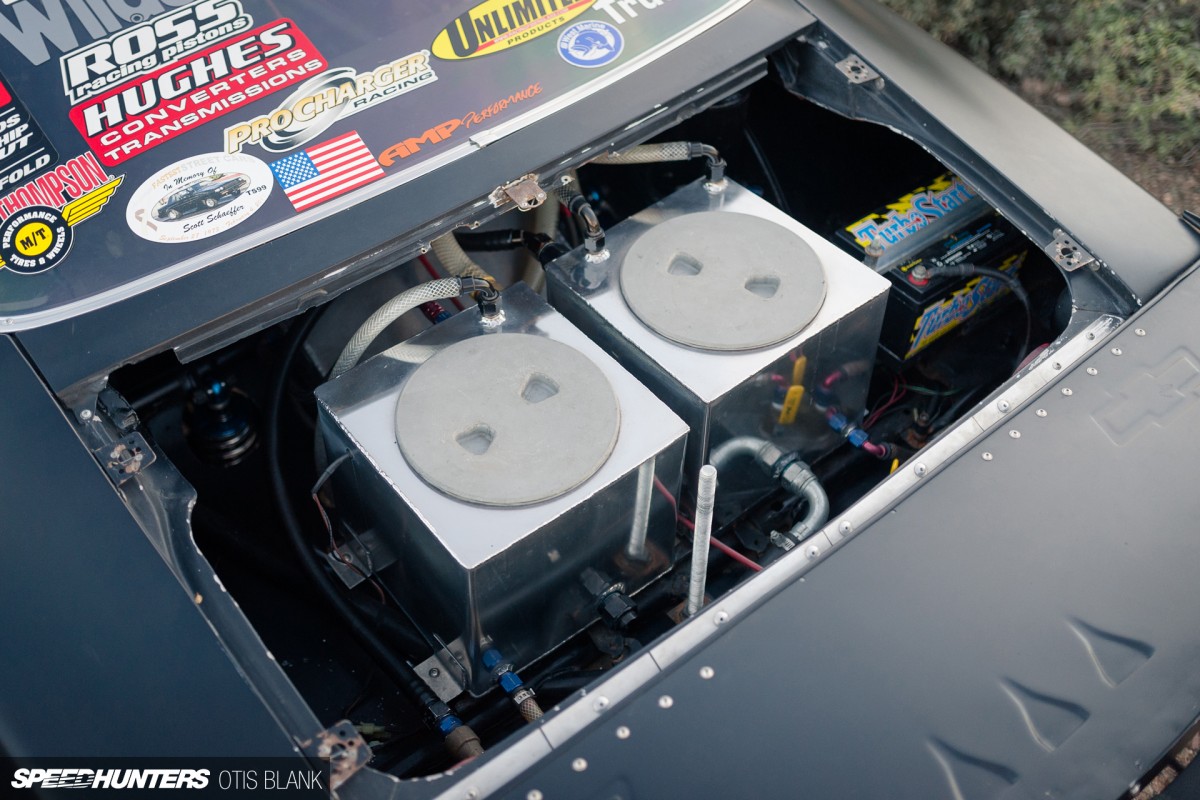 The intercooler is fed by one of these two ice water filled tanks. The second tank cools the engine by pumping cold water through a closed loop system. Who needs a radiator anyway?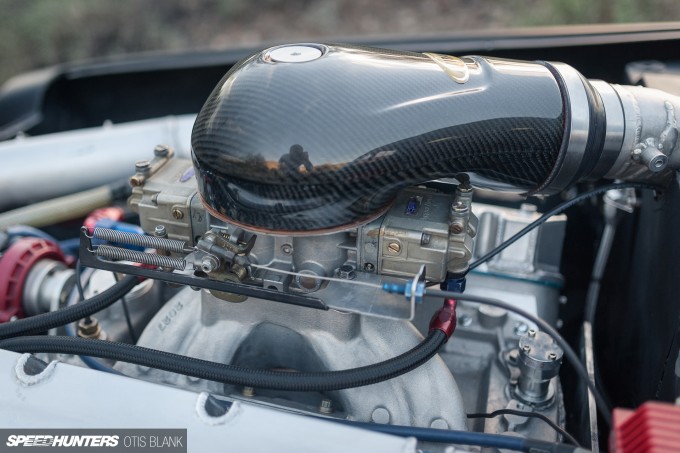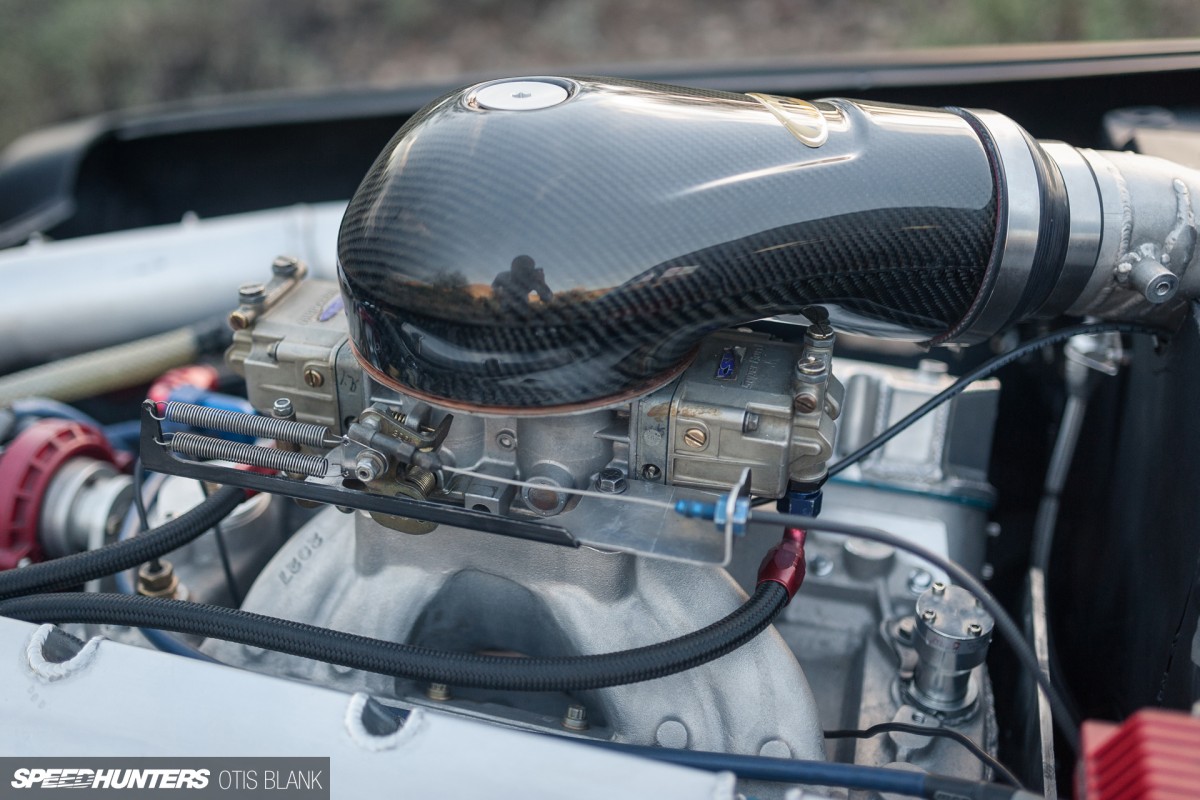 The cooled air charge passes through the carbon fiber carb hat, which is a quarter of an inch thick to handle boost and held down by a large machined nut. Just to make sure pressurized air can't leak past, the hat is also glued down to the carb base using RTV silicone.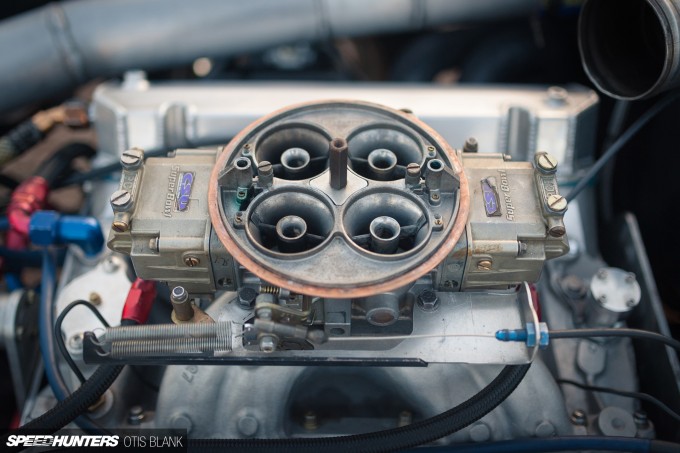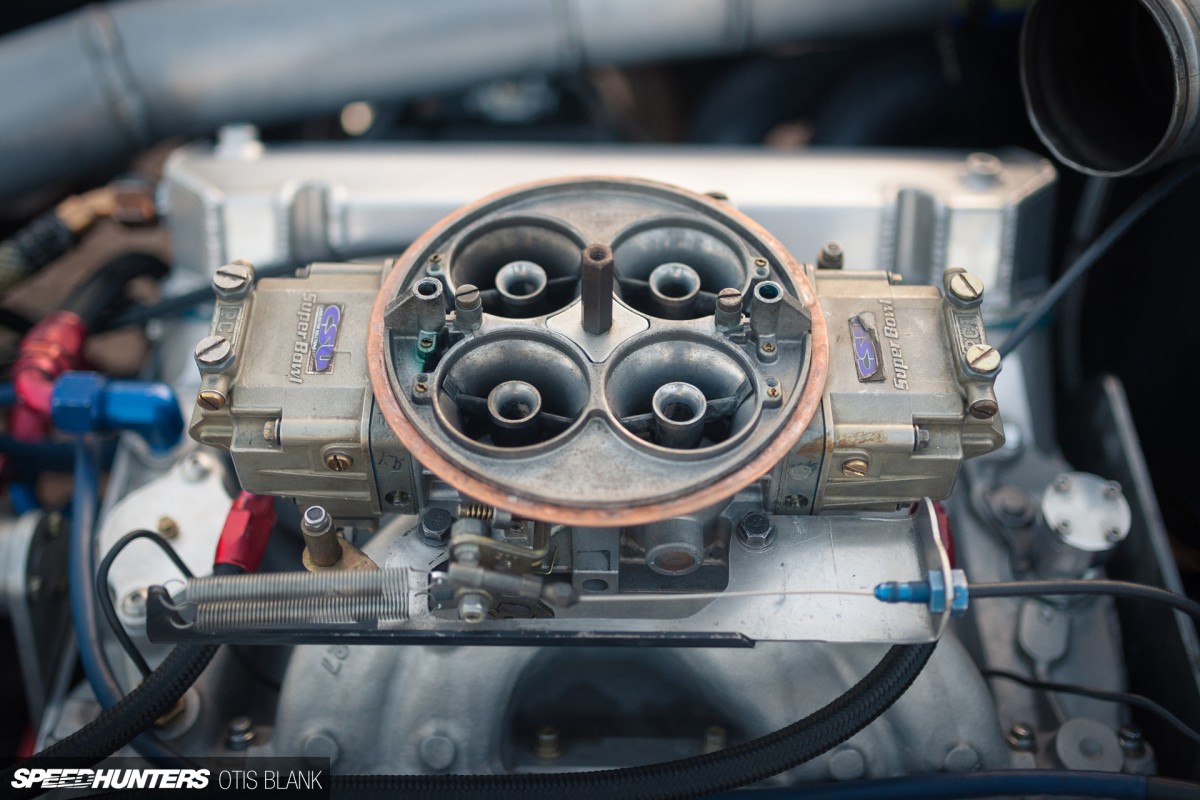 Rick explained that his success in getting the Camaro to run so hard has been in finding the correct combo of parts. One of the most critical of these coordinated parts is the Holley Dominator carb that's been extensively modified by blow-through expert Kevin Van Noy at Carburetor Solutions Unlimited.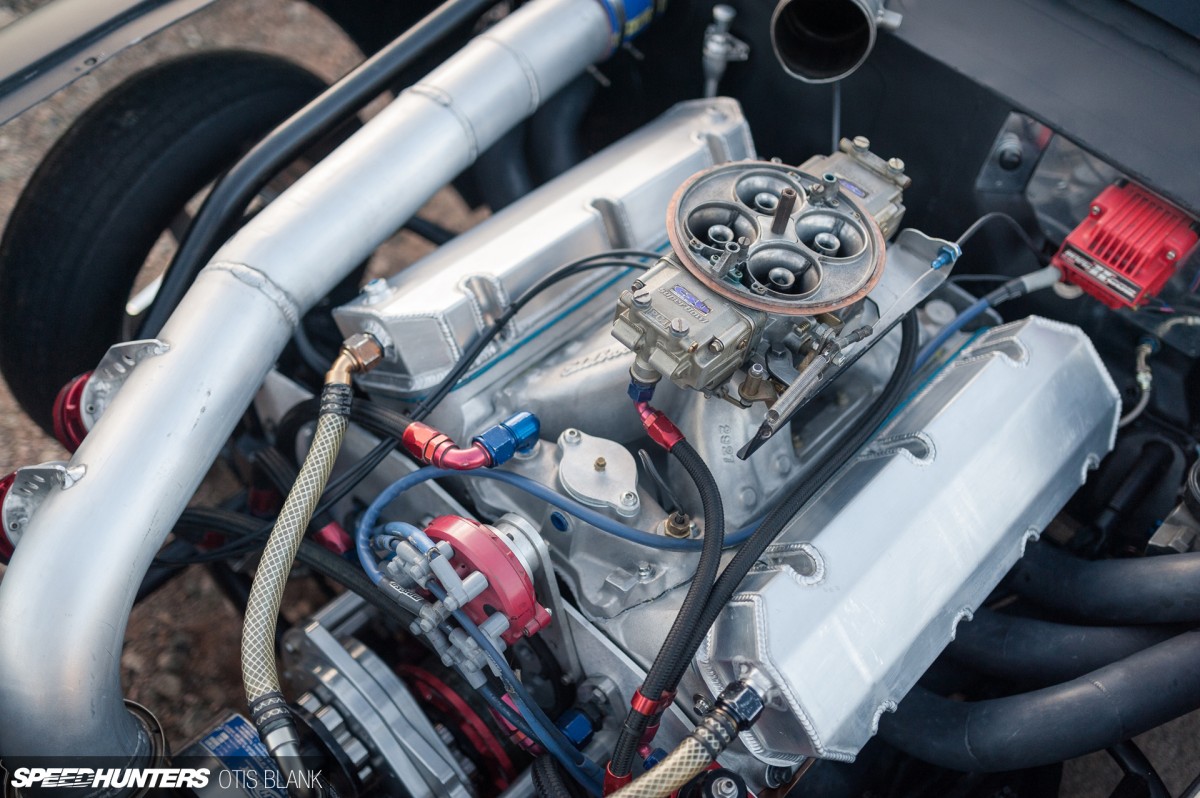 CSU completely overhauls carbs to make them blow-through friendly. Long story short, you can't use an out-of-the-box carburetor and expect it to act right when you throw 30psi at it. For example, a stock hollow float would crush under boost, so CSU used a special closed-cell Nitrophyl float that won't collapse from the extra pressure.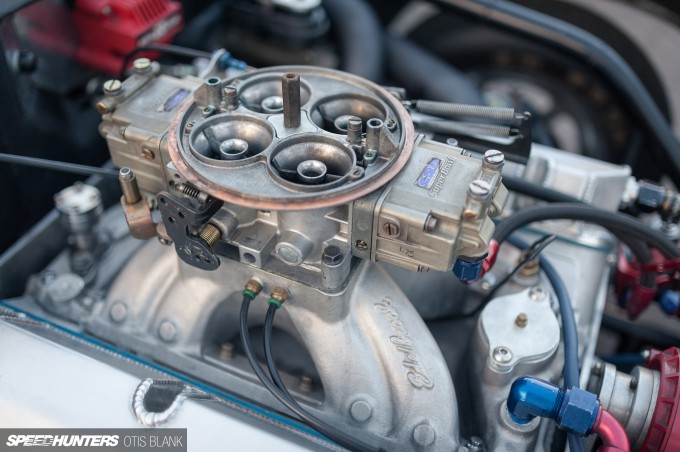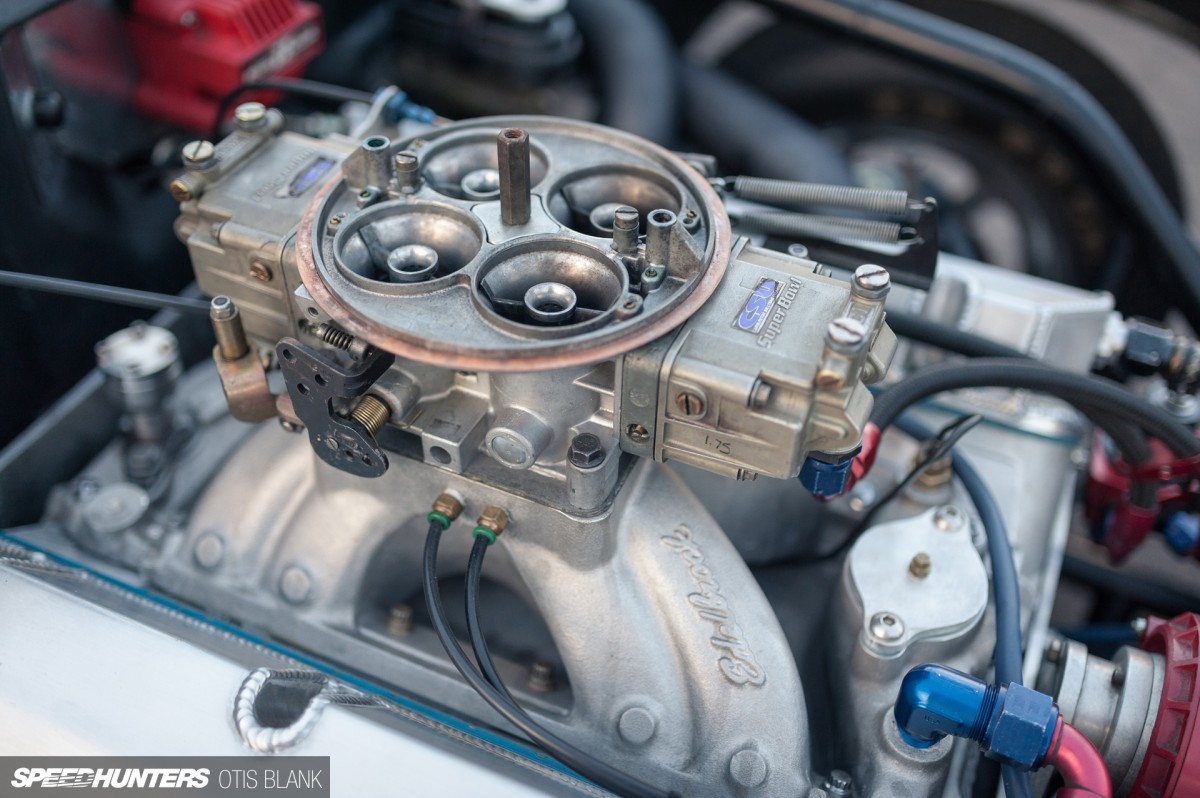 Annular discharge boosters with multiple ports were also swapped in to ensure plenty of atomized fuel is on tap to match the enormous amounts of air.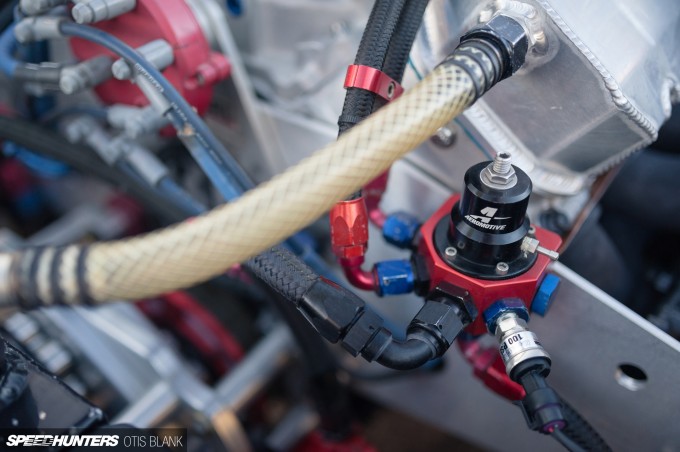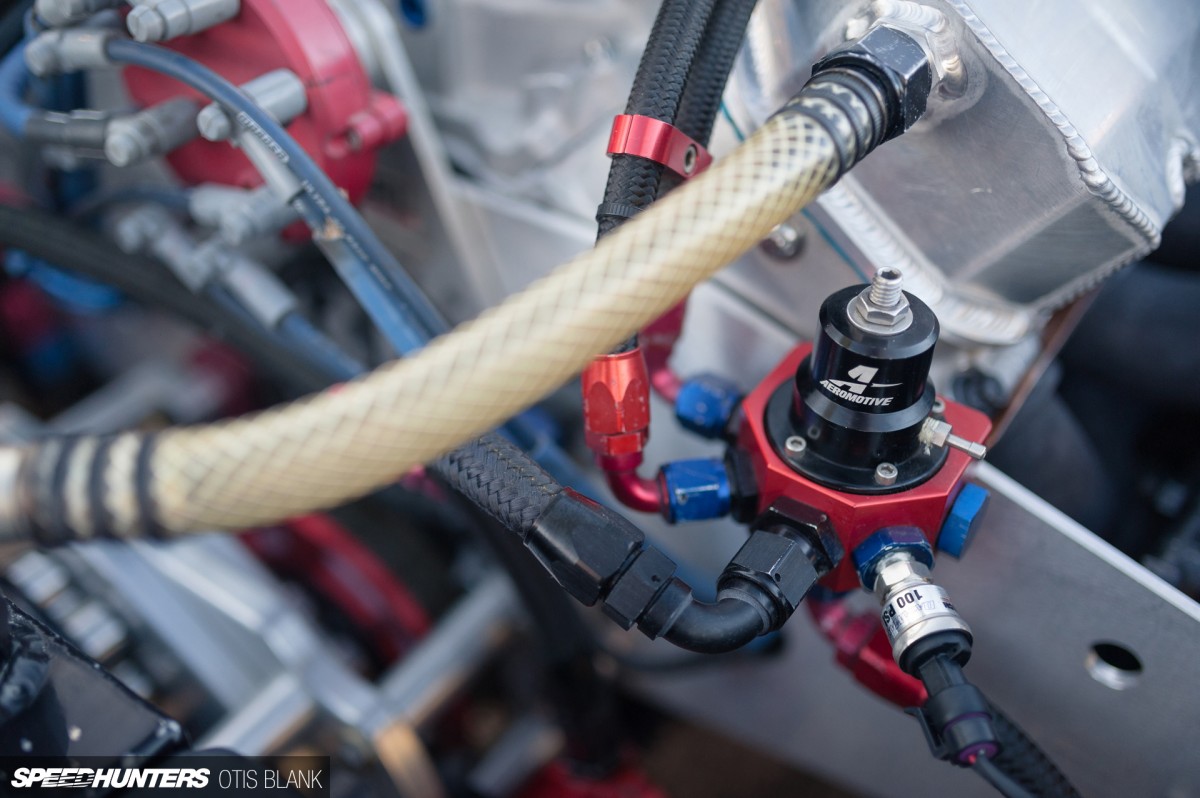 An Aeromotive fuel pressure regulator runs 8psi at idle, but quickly cranks up to 40psi when the car hits boost. The fuel pressure sensor sends info to a datalogger, one of the very few pieces of tech on board.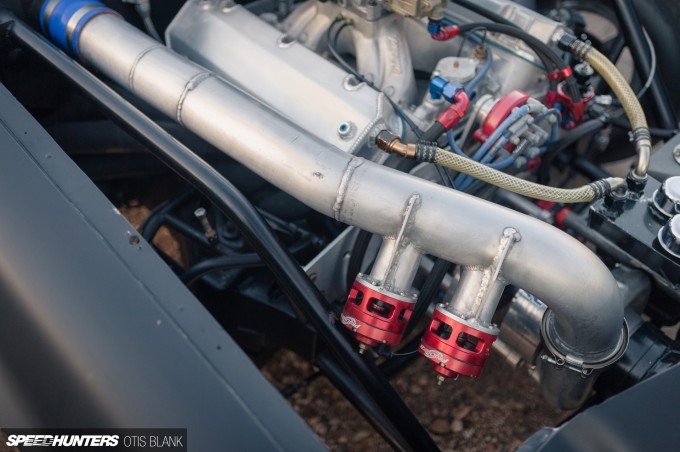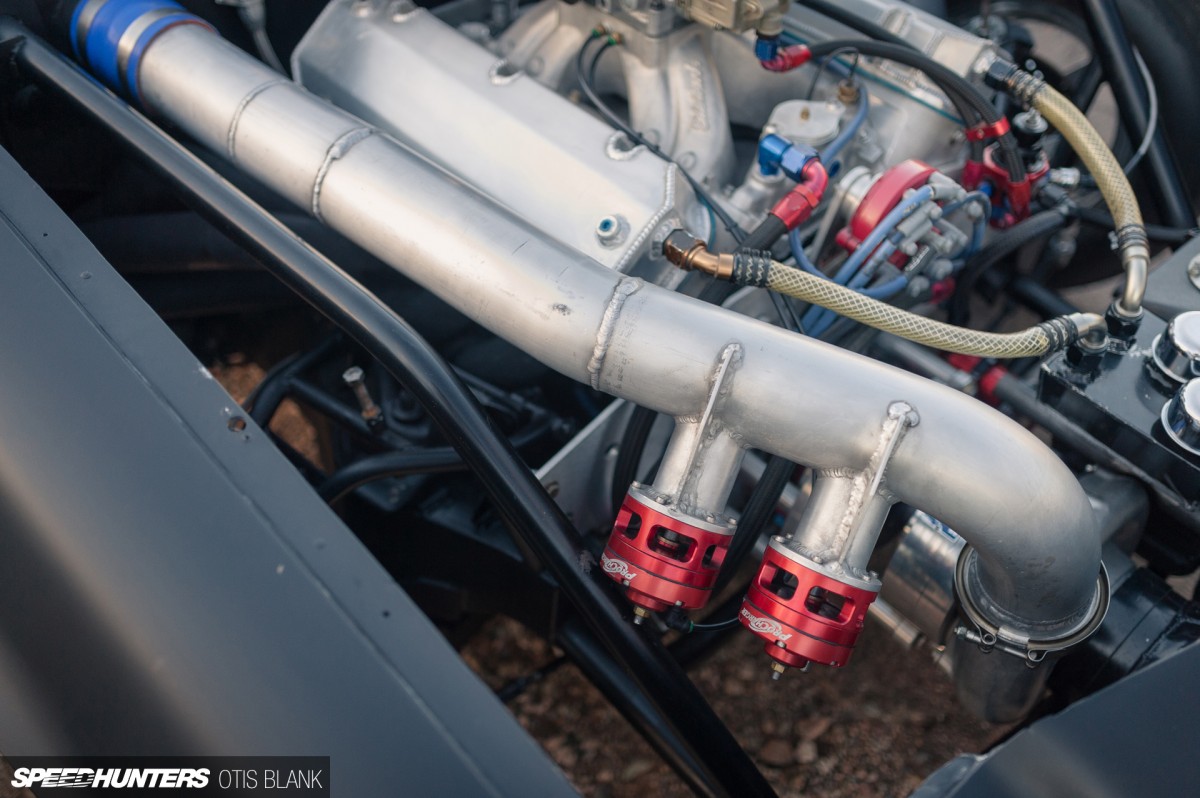 Twin blow-off valves were needed since the ProCharger is so damn big.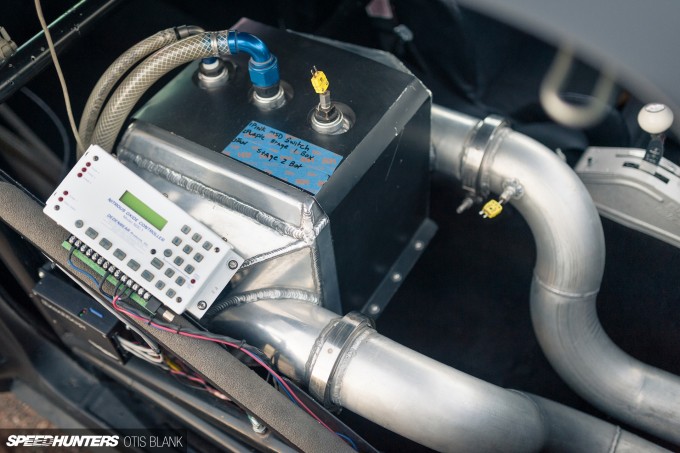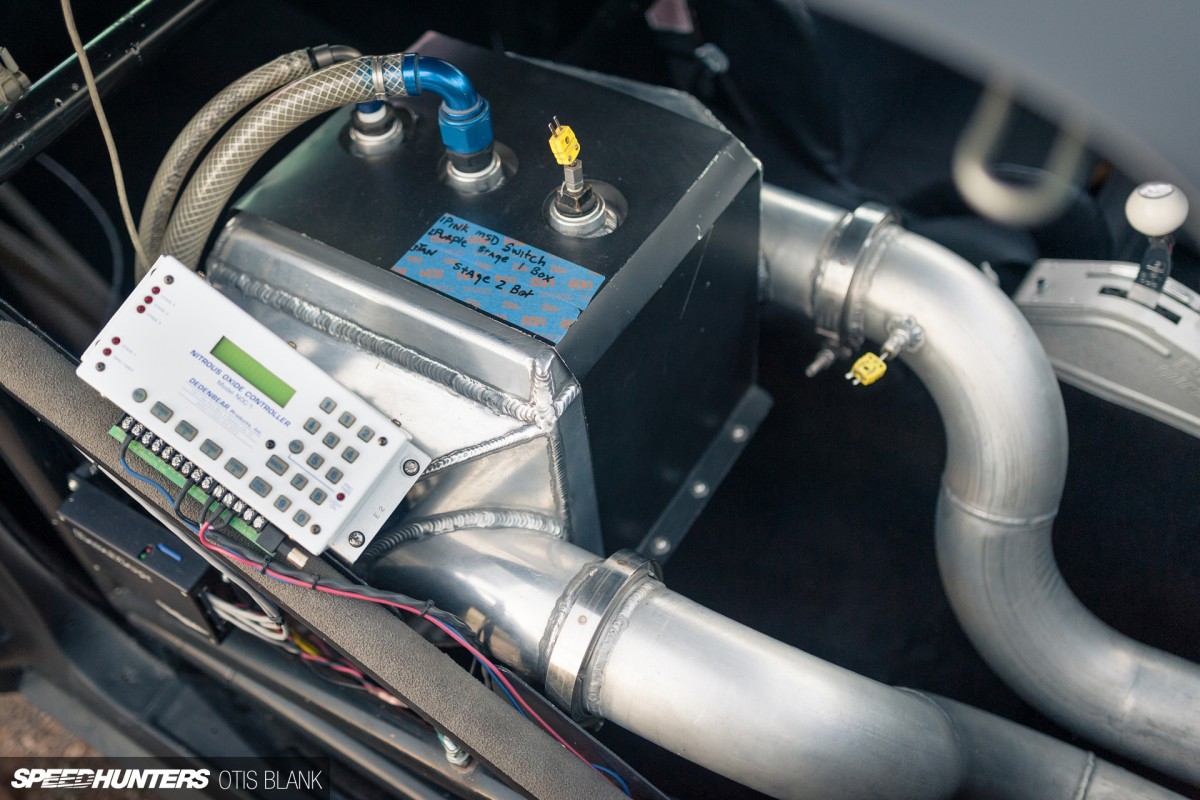 A Dedenbear nitrous timer is coupled with an MSD 7531 progammable ignition to set burnout and launch rev limiters, and also retard timing at specific points during a run to help the car hook up.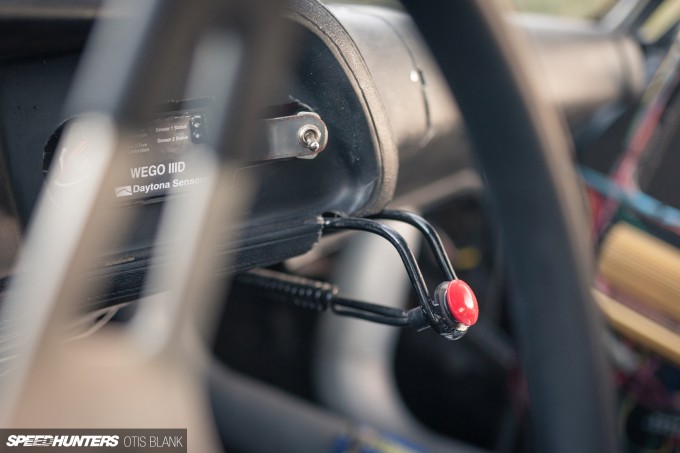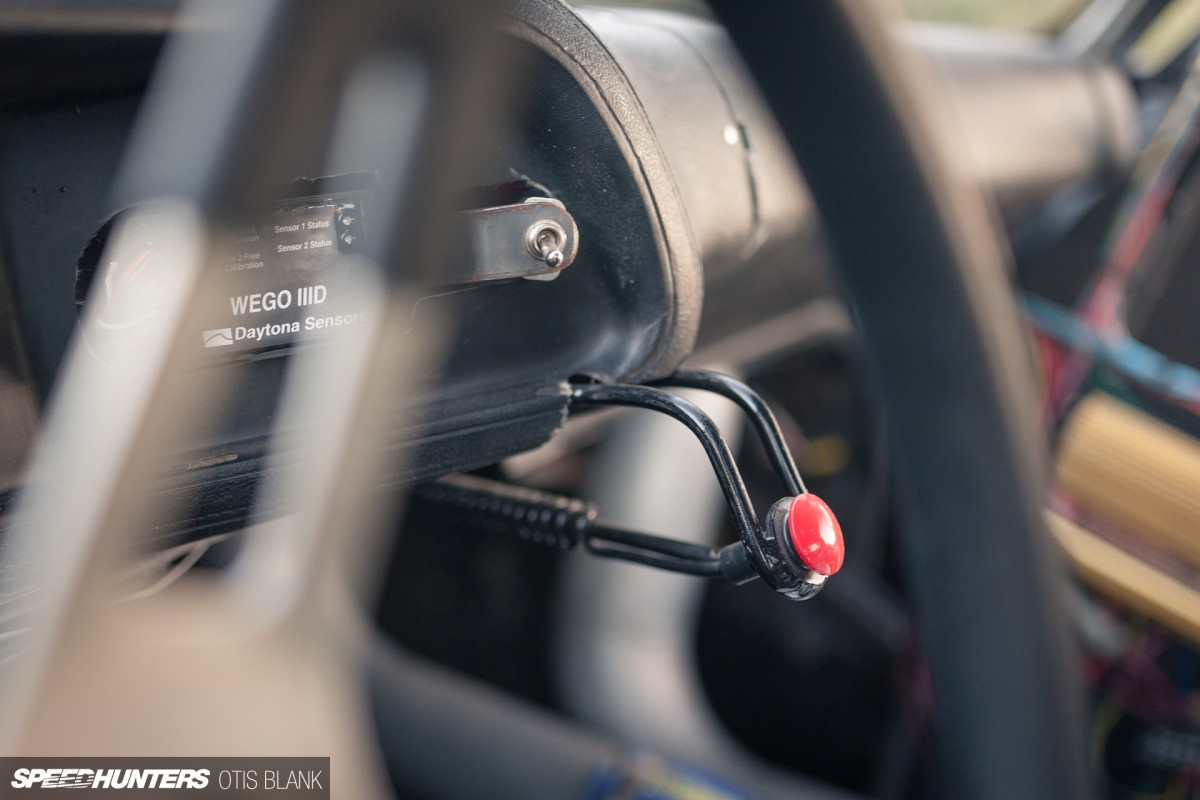 When Rick launches the car, he mashes the throttle and holds this trans brake button until the lights change. When he lets go, the car takes off like a bat out of hell.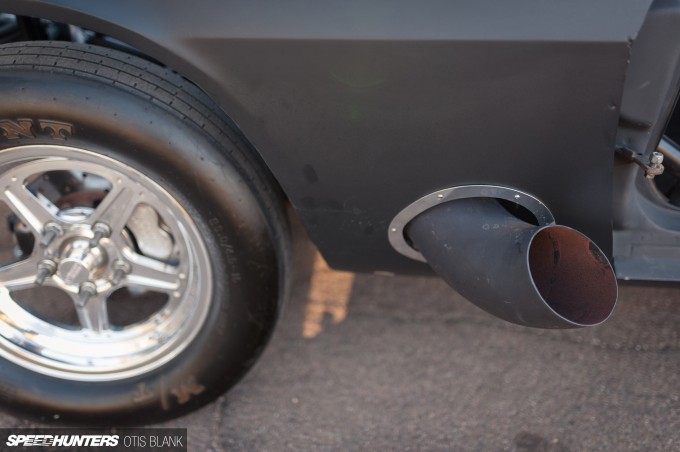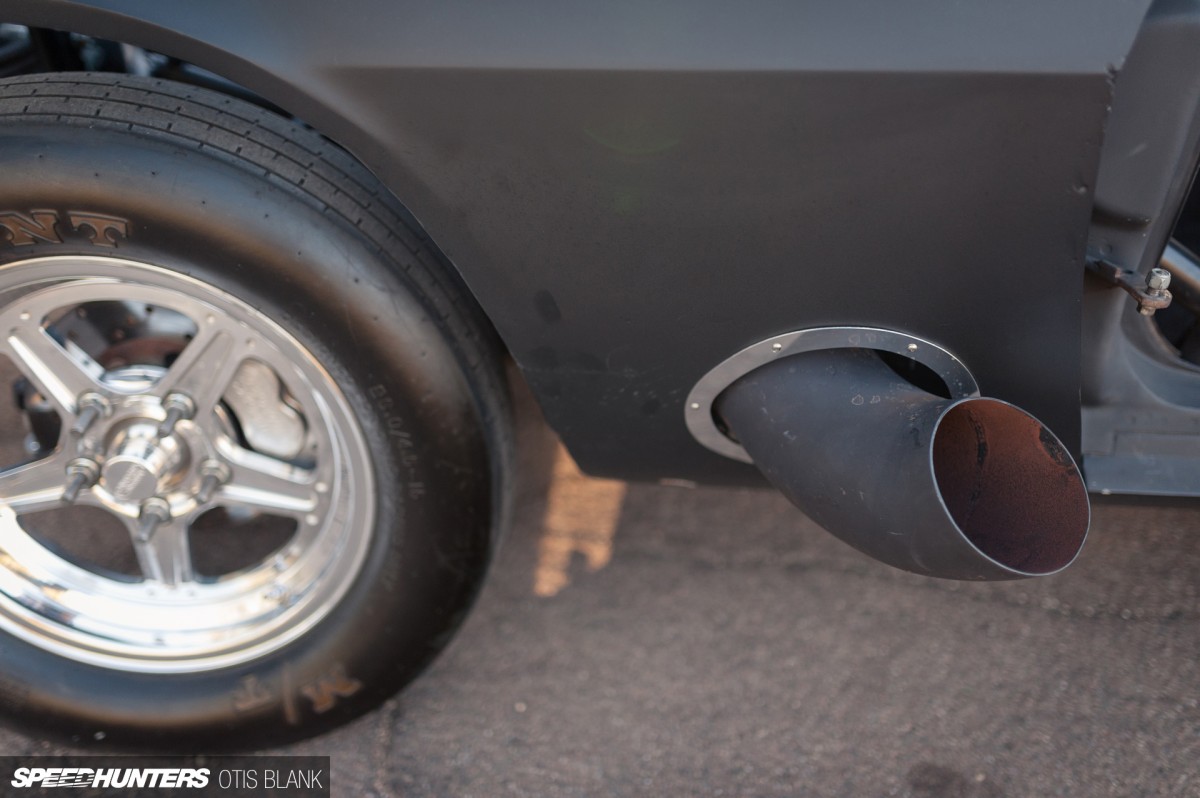 I know that I've been focused on the engine this whole time, but this is the Carb Theme after all, and I really enjoyed learning about how a supercharged, blow-through carb setup works. There's more to making Rick Webb's Camaro scoot down the track than raw horsepower though.
The Complete Package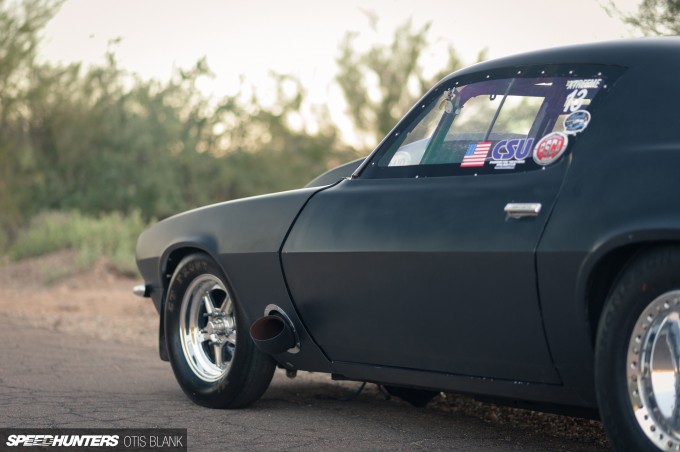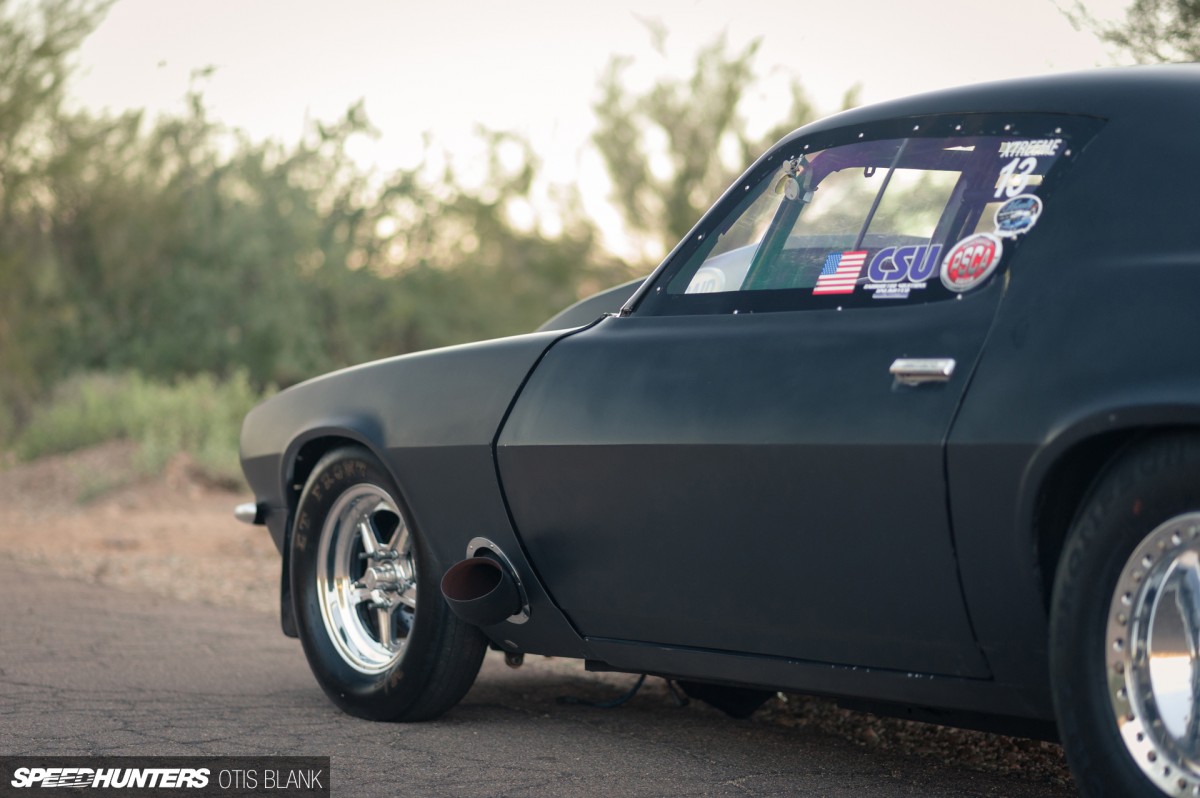 Rick guesses his car makes somewhere in the neighborhood of 1800 to 2000 horsepower, which points us to the biggest struggle when trying to get down the track. Traction.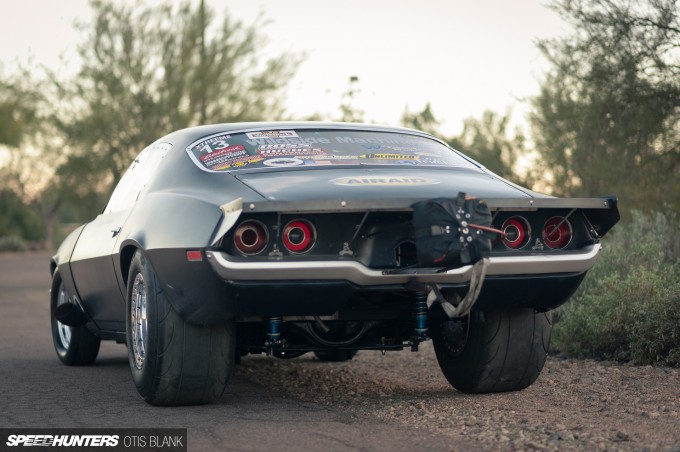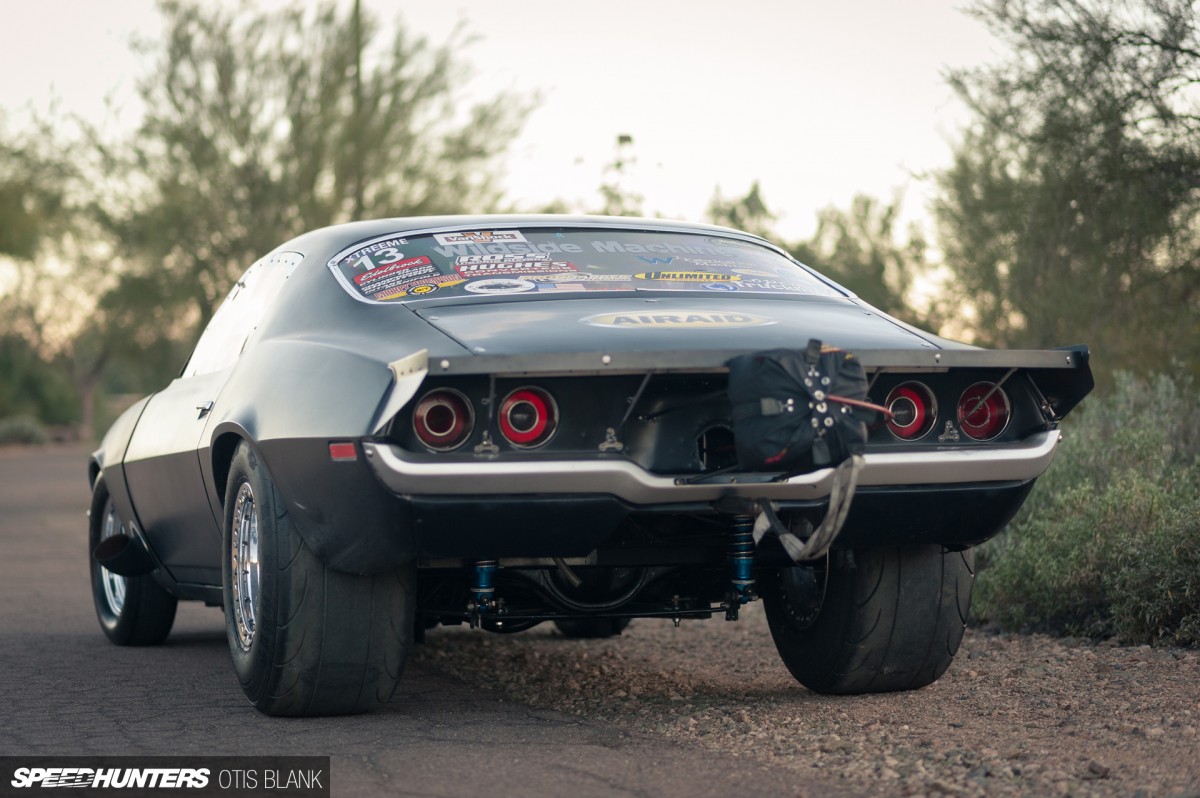 Surely larger tires would help, but racing in a True 10.5 class requires a relatively small drag radial. This is where the challenge (and fun) comes in.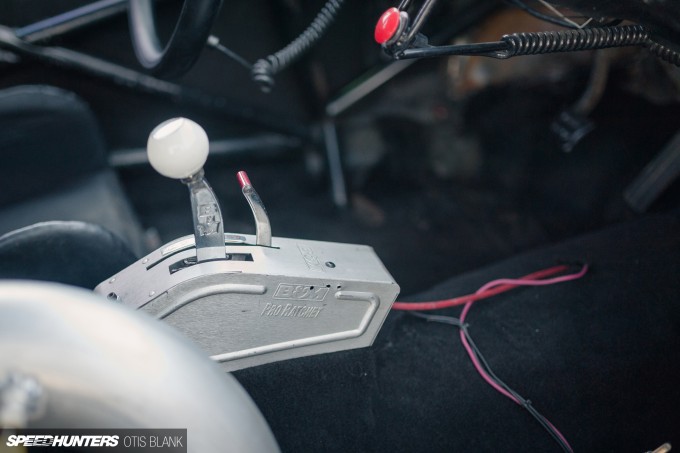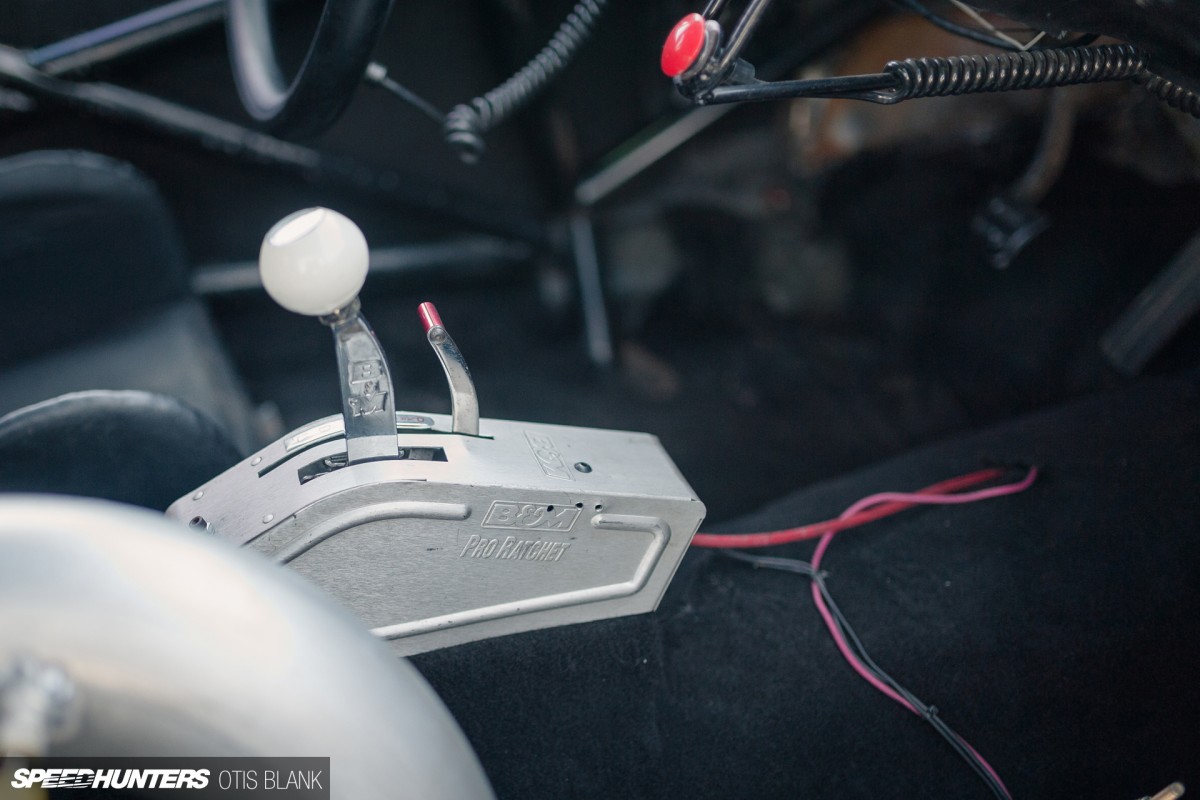 It seems the final piece of the hook-up puzzle was the torque converter, which was recently sorted by Hughes Transmission. They not only supplied a built 2-speed Powerglide, they also worked with Rick to create a custom converter that stalls at 4,500rpm. Isn't that where you would normally shift a big block?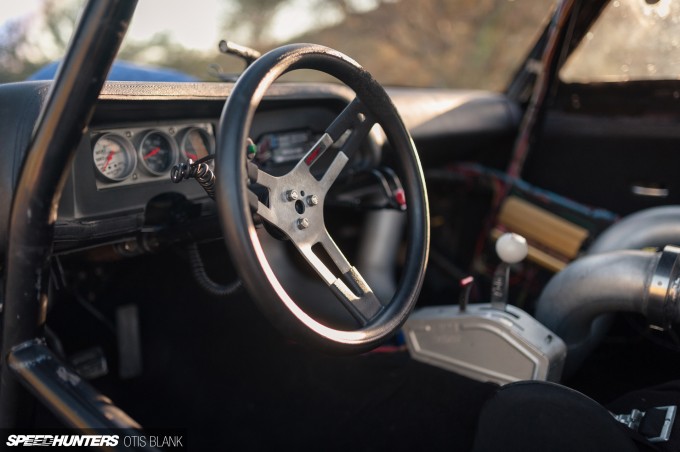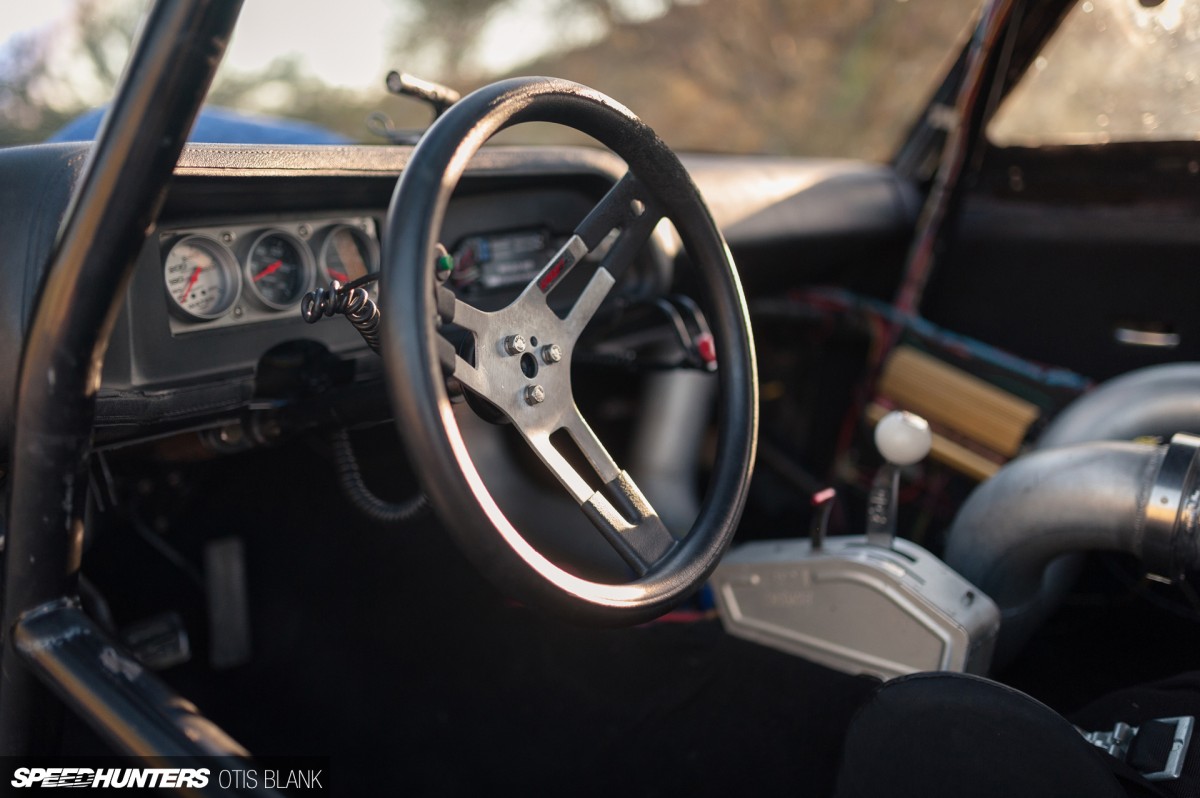 Not this one. It revs to a stratospheric (for a rat motor) 8,200rpm.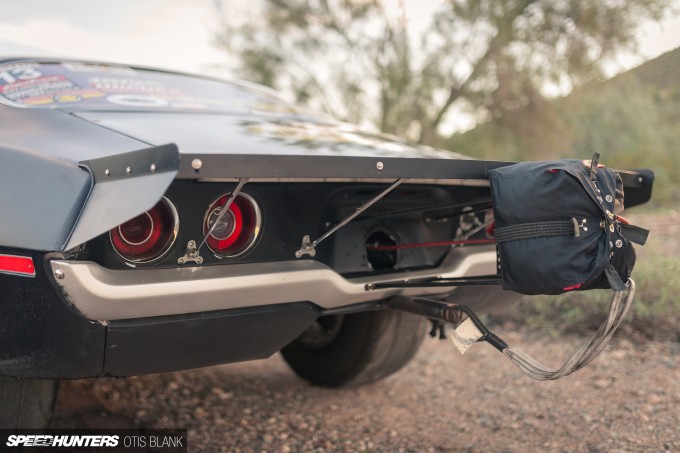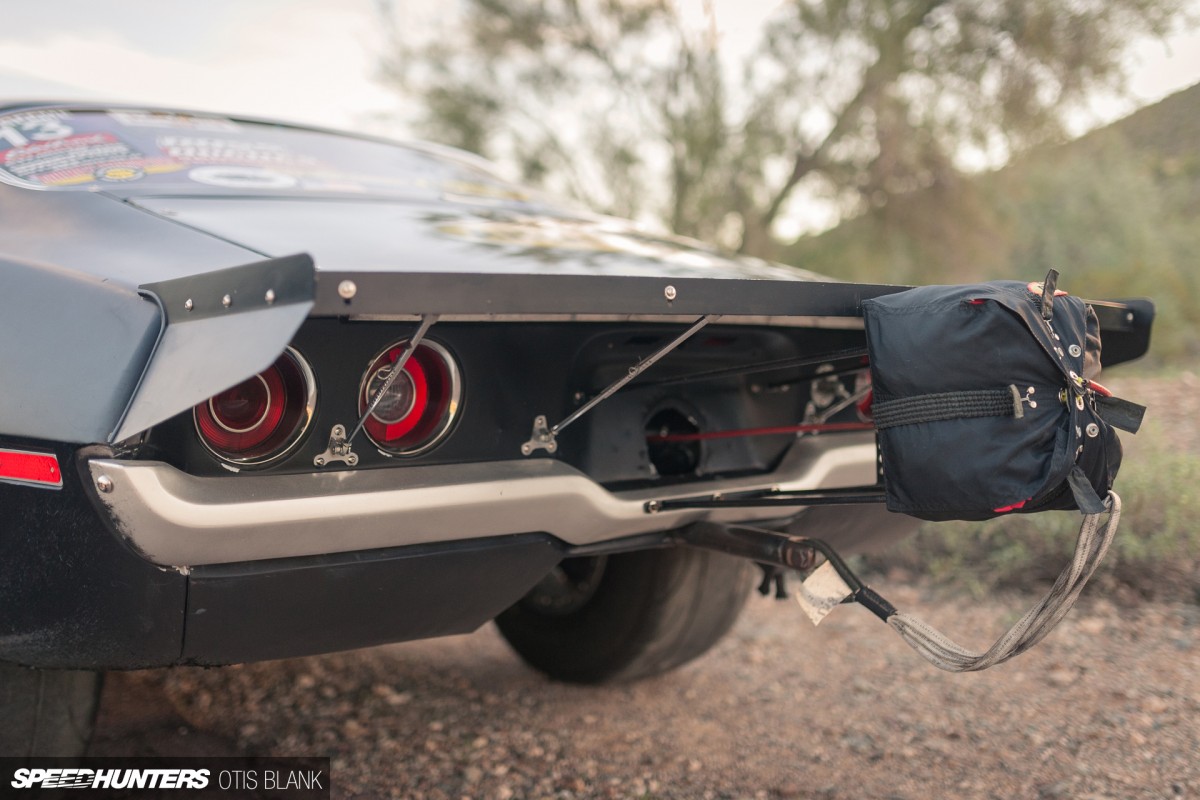 Entering the traps at 200mph calls for a parachute.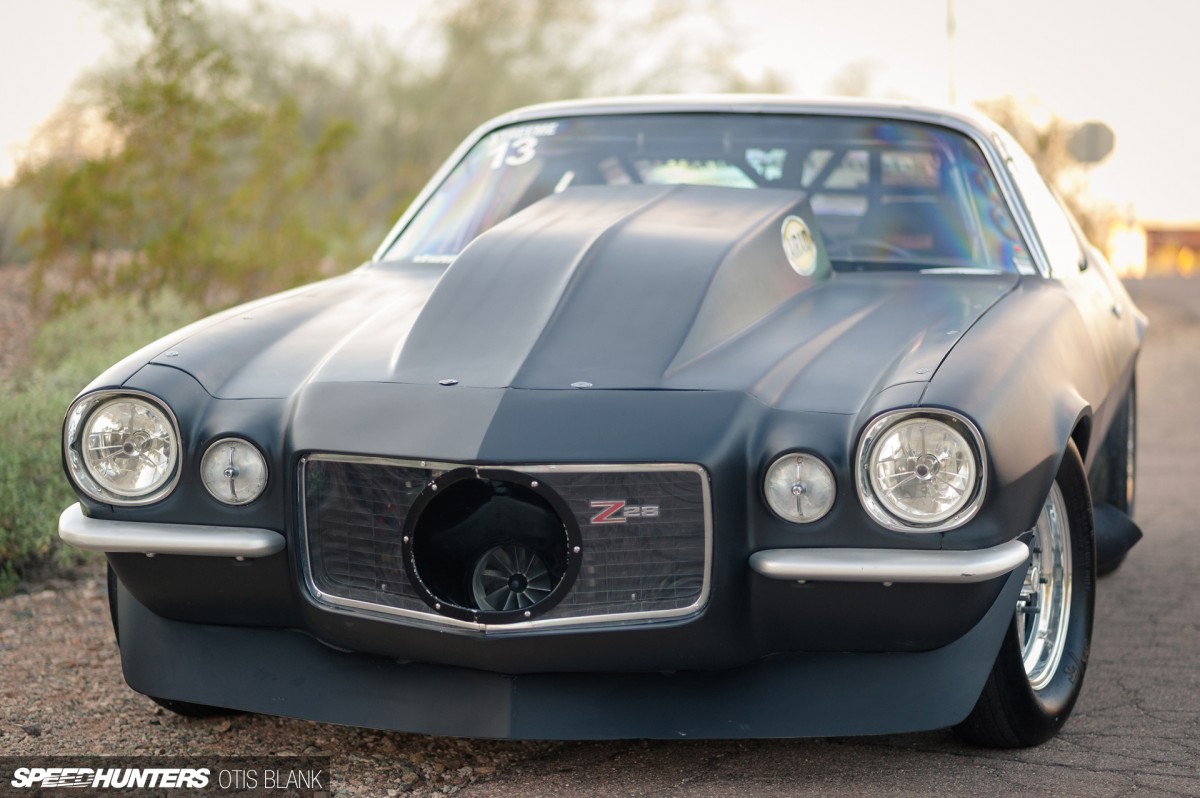 Rick has done his best to improve the Camaro's aerodynamics. Here you can see the chin spoiler he made to match the rest of the fiberglass front end components.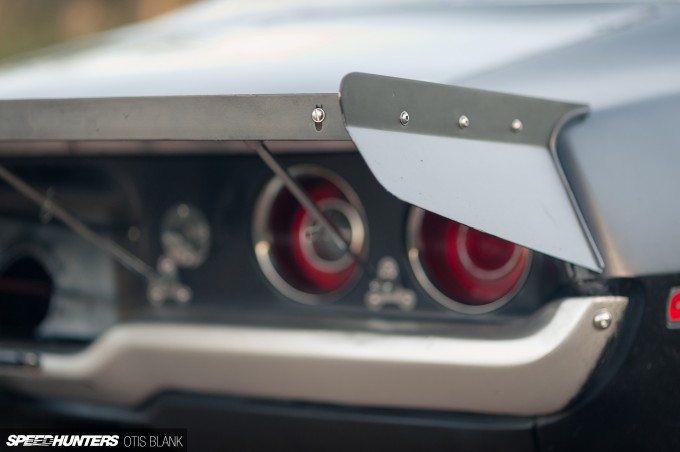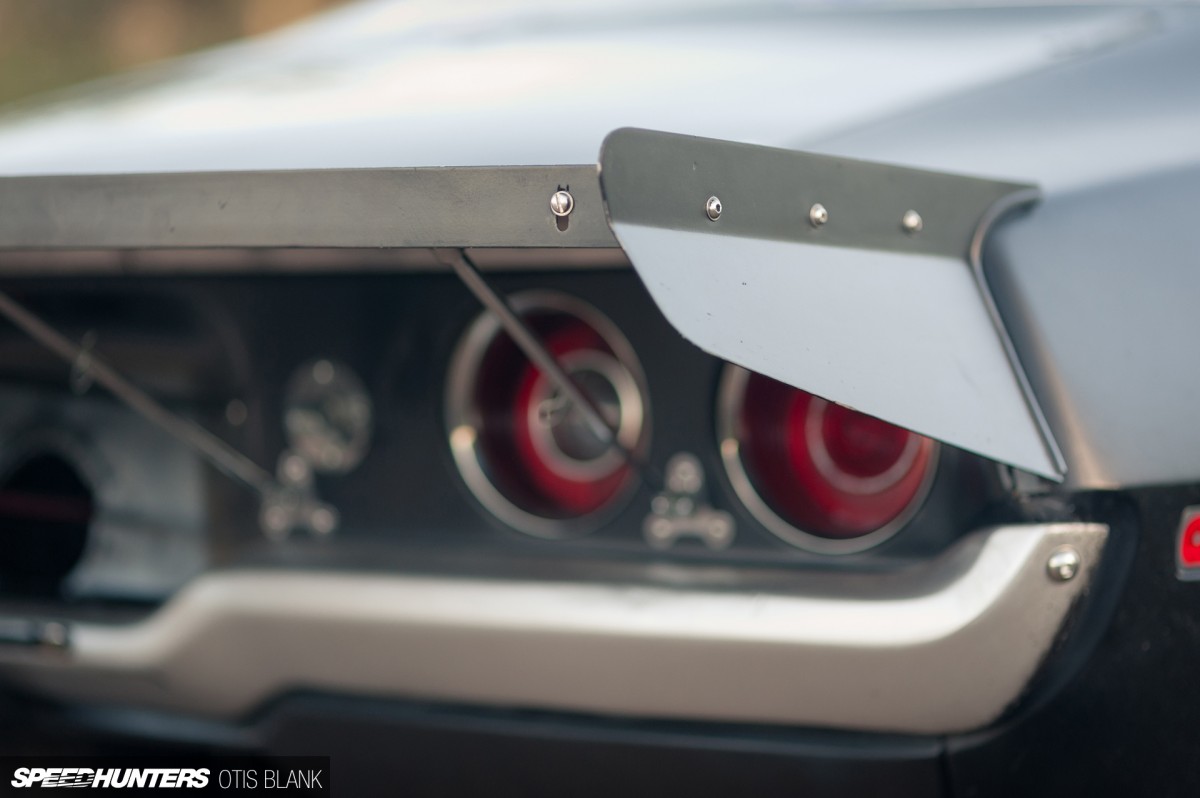 There's also a wing tied into the rear of the car, adjustable of course, and fabricated in house.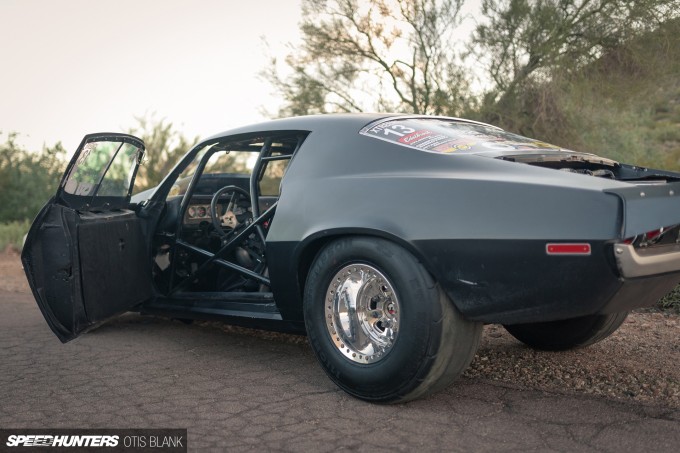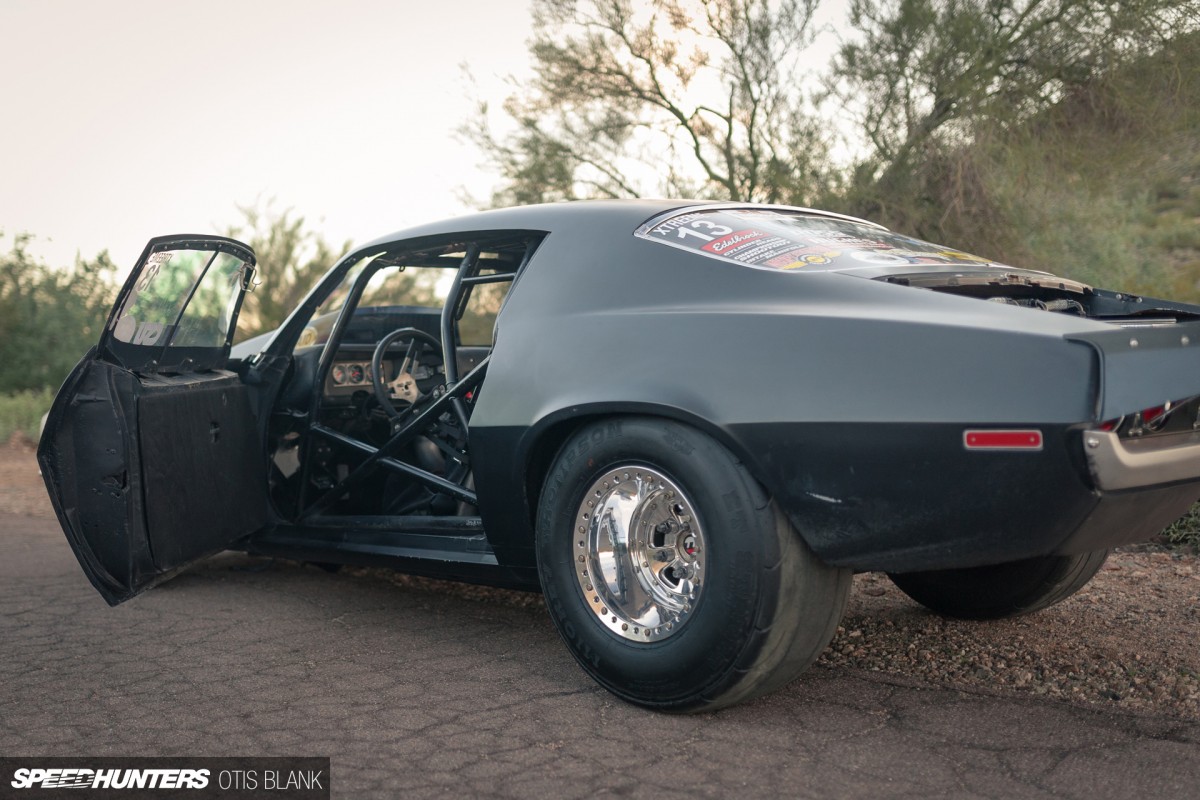 The chassis has been stiffened with a certified mild steel rollcage, all built by Rick and his buddies.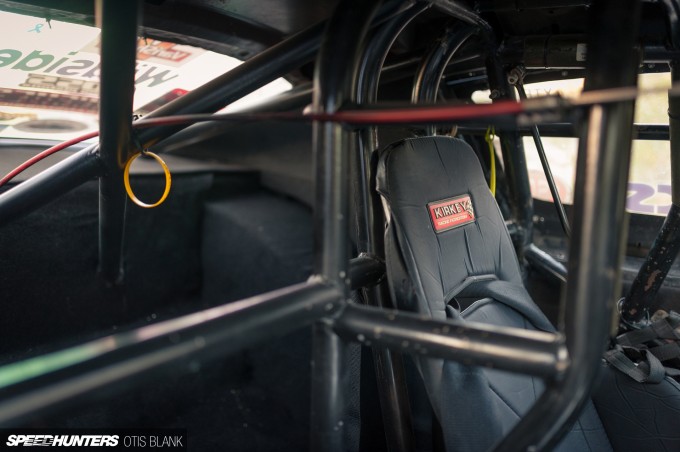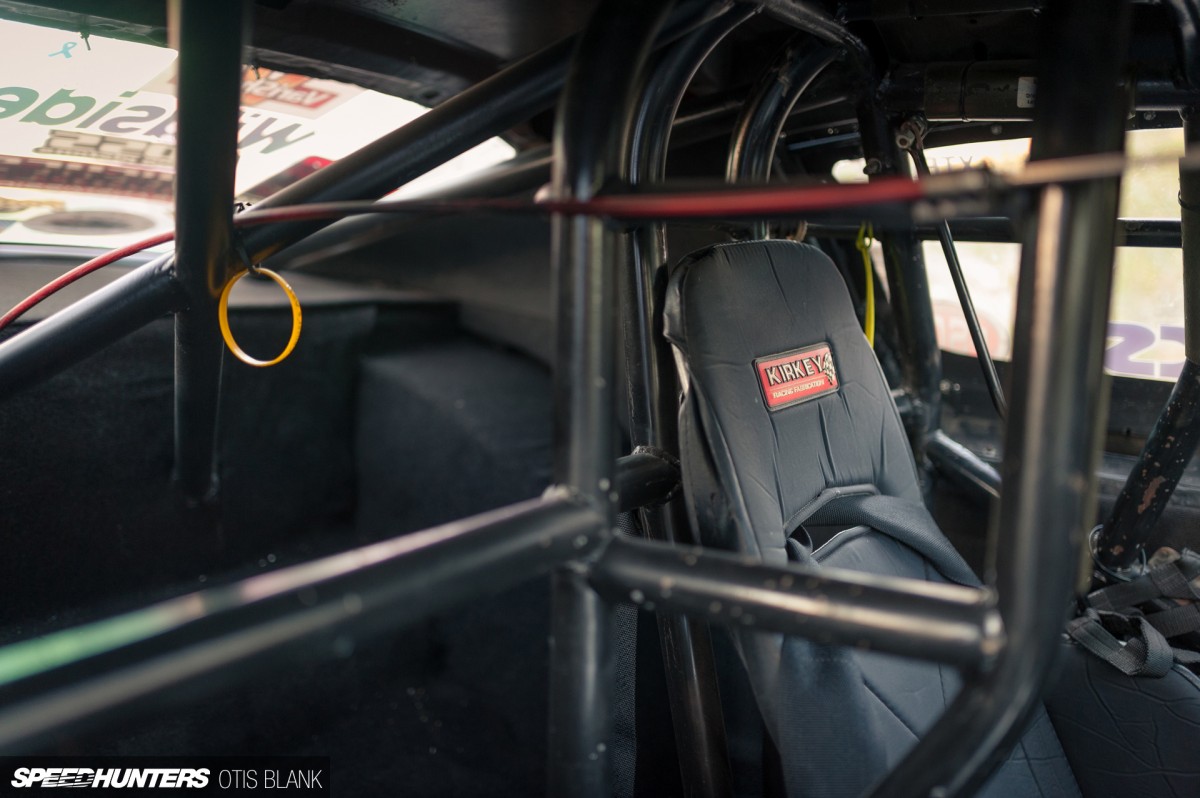 Obviously the first task for the cage is to protect the driver.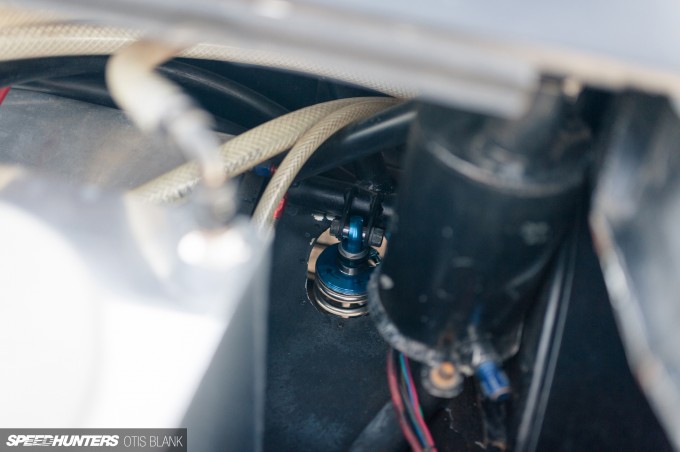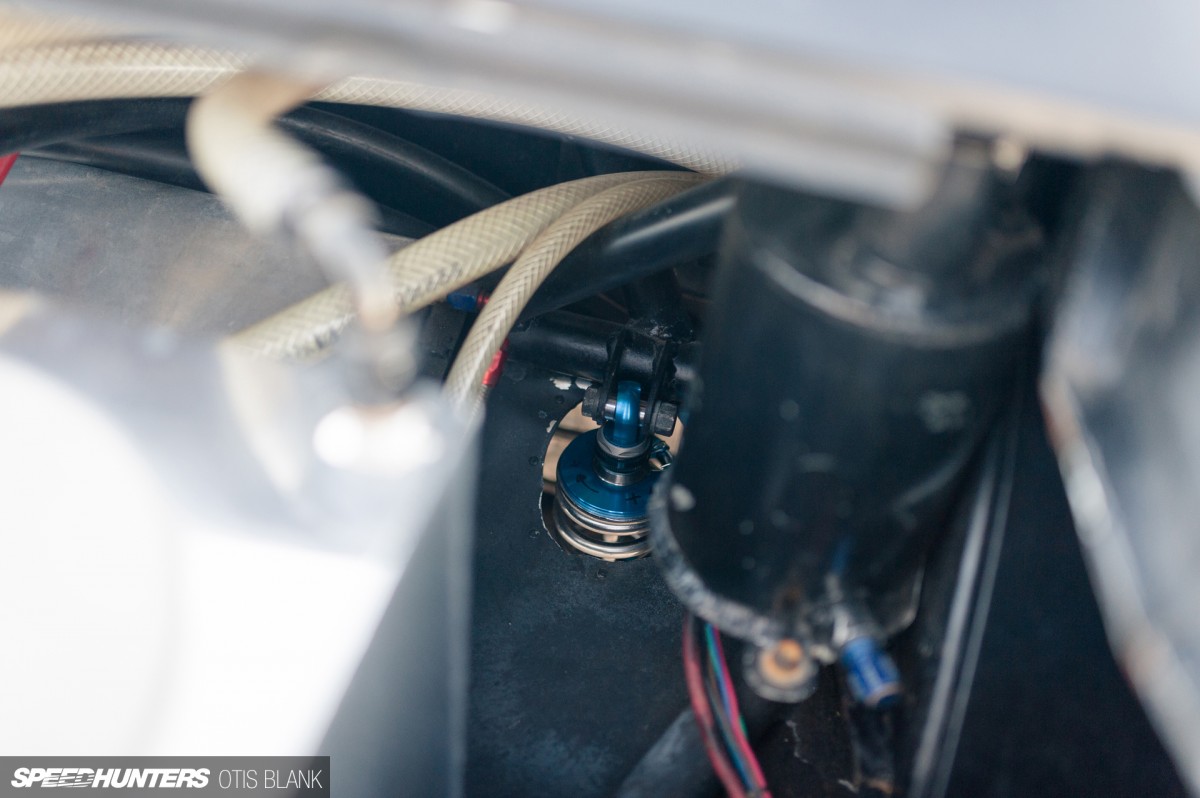 It's also useful for tying everything together on a unibody car like a Camaro.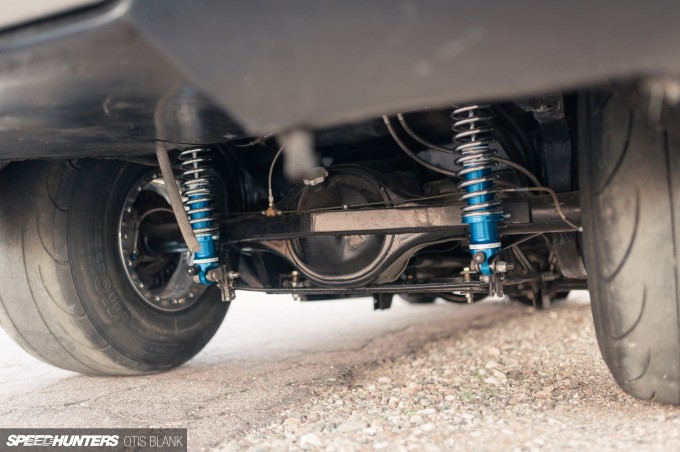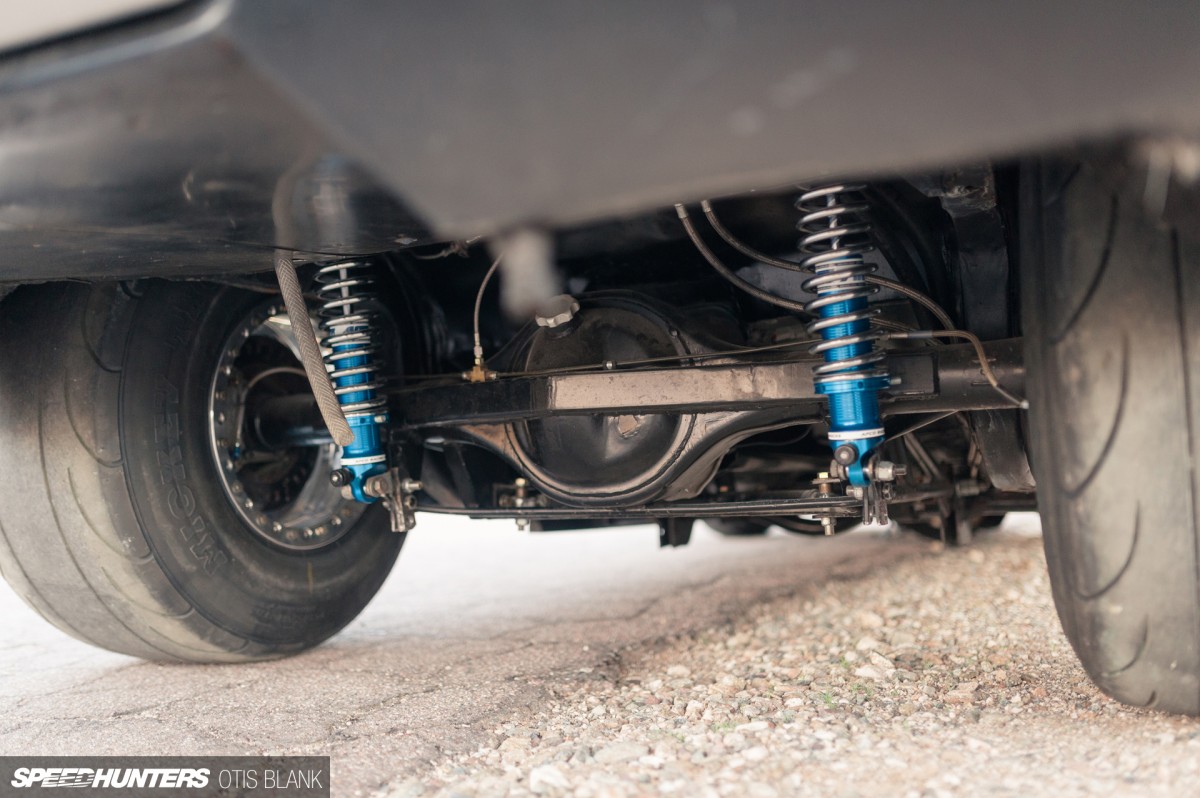 The rear suspension, like the rest of the car, is purpose built and dialed in. The Strange 9-inch rear axle was reinforced with a large steel brace and fitted with 40-spline Moser axles. The True 10.5 class also allows for a ladder bar rear suspension which affords more adjustment than a traditional leaf spring setup.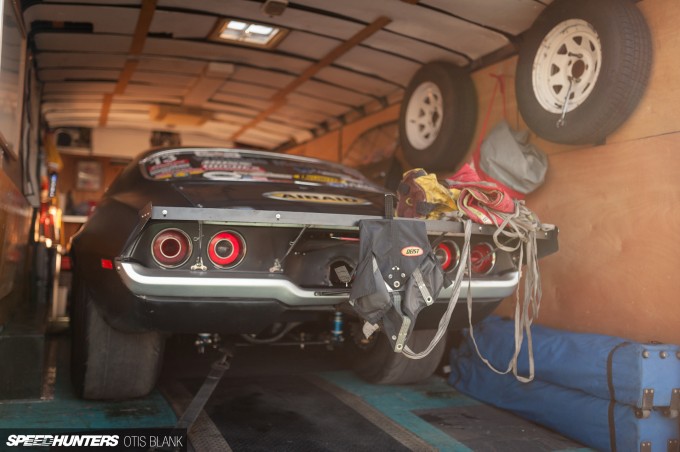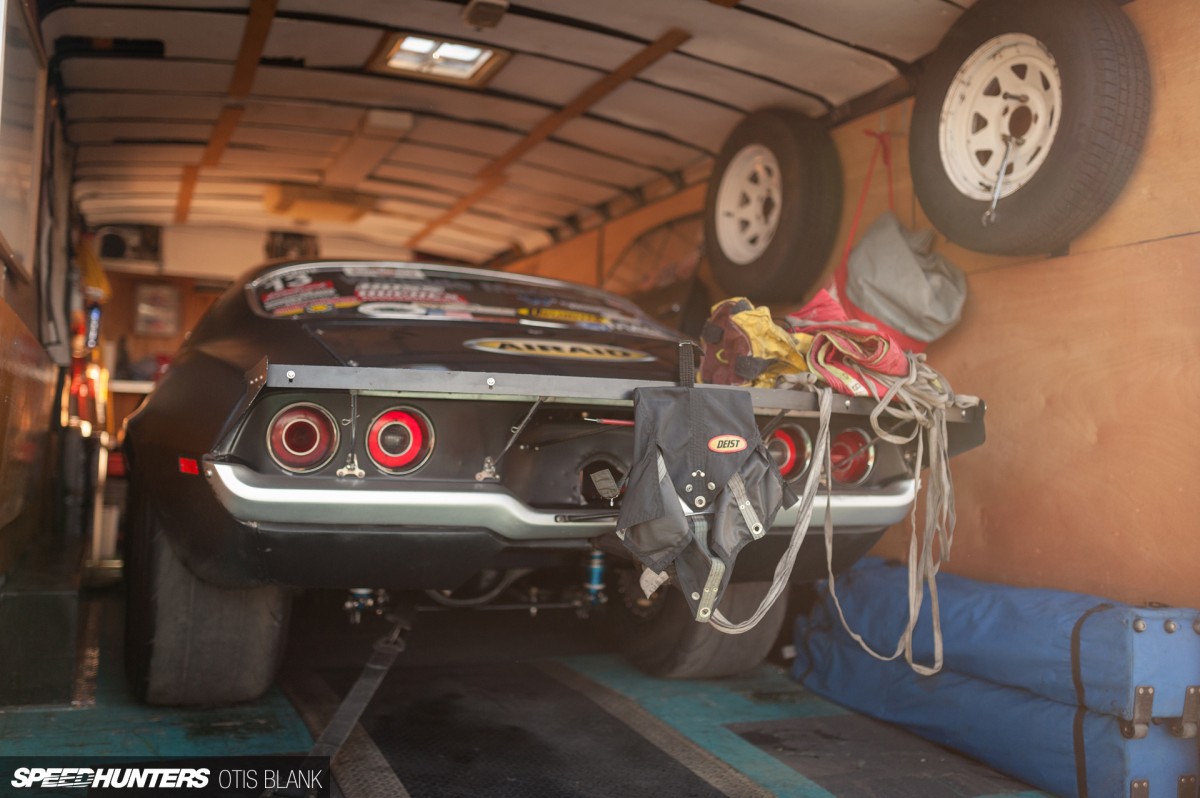 We were fortunate to catch up with Rick on a day that he wasn't either wrenching on the car or trailering it to his next race. In fact, he blew the engine up something spectacular last time he had it out, so it was his misfortune that even allowed us access to the car on a quiet Sunday afternoon.
We would like to thank Rick for rushing to button up the engine and haul the car out to a suitable shoot location, and also for patiently teaching us all about how a supercharged, blow-through carb, small tire drag car works. We want to see a burnout next time!
Keith Charvonia
Instagram: SpeedhuntersKeith
keith@speedhunters.com
Photos by Otis Blank
Instagram: otisblank
otis@speedhunters.com
Cutting Room Floor