Inspiration From Around The World
Our #IAMTHESPEEDHUNTER program has developed into something quite special over the last six months, and we've certainly taken notice of how much you've enjoyed our showcases of readers' rides as part of our monthly themes. At the beginning of the month when we asked you to submit your carbureted rides for a special feature for our forthcoming Carbs Only Theme, we were once again completely blown away by the number of submissions we received. We can also tell you that the cool-factor was extremely high for so many of these submissions, making it very difficult for us to choose which projects to include…
One thing's for certain though; there's a massive, thriving community of carb enthusiasts around the world right now, and there's no shortage of interesting and inspirational carbureted project cars out there. So without further adieu, let's take a look at some of our favourites!
Tore Leithe, Norway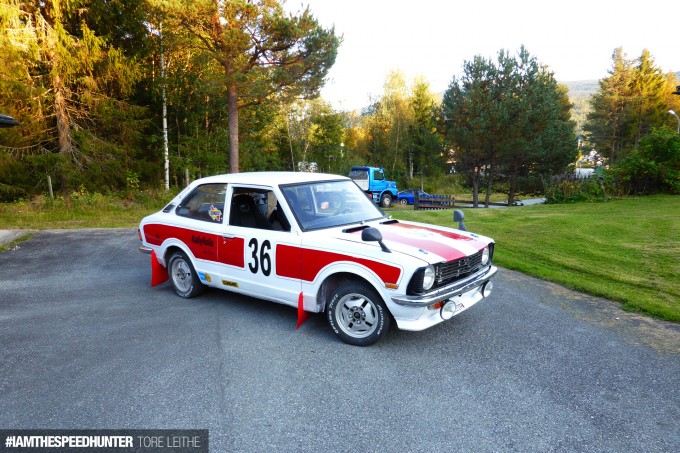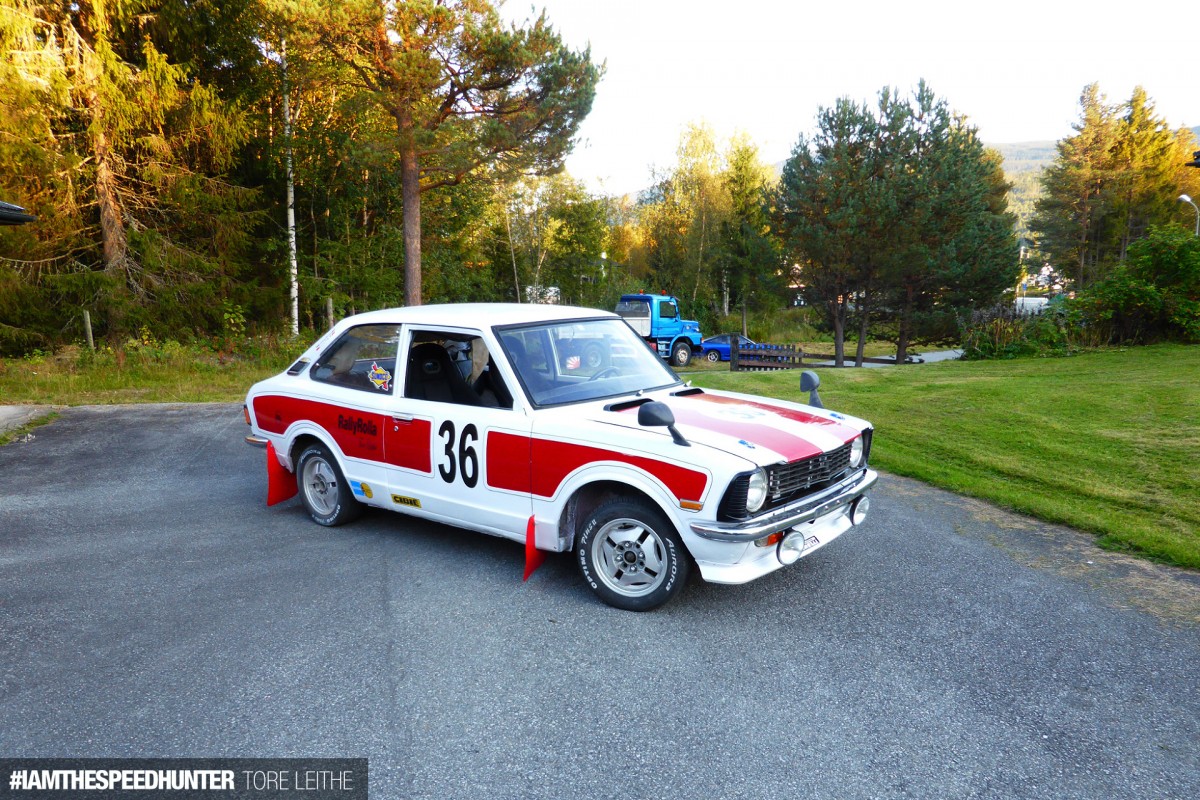 17-year-old Tore might not be old enough to get his driver license yet, but that hasn't stopped him from restoring this old '75 Toyota Corolla on his own. The KE20 was in poor condition when he first came across it, and Tore has spent the last year restoring the unloved chassis and refreshing the rusty, mustard-coloured body with a fresh rally-inspired paint scheme.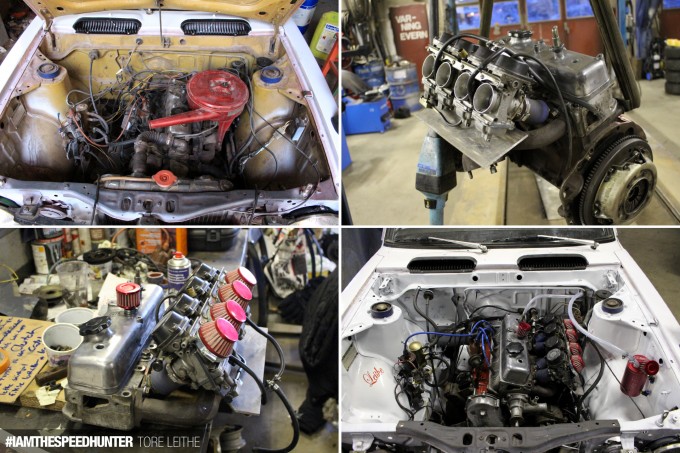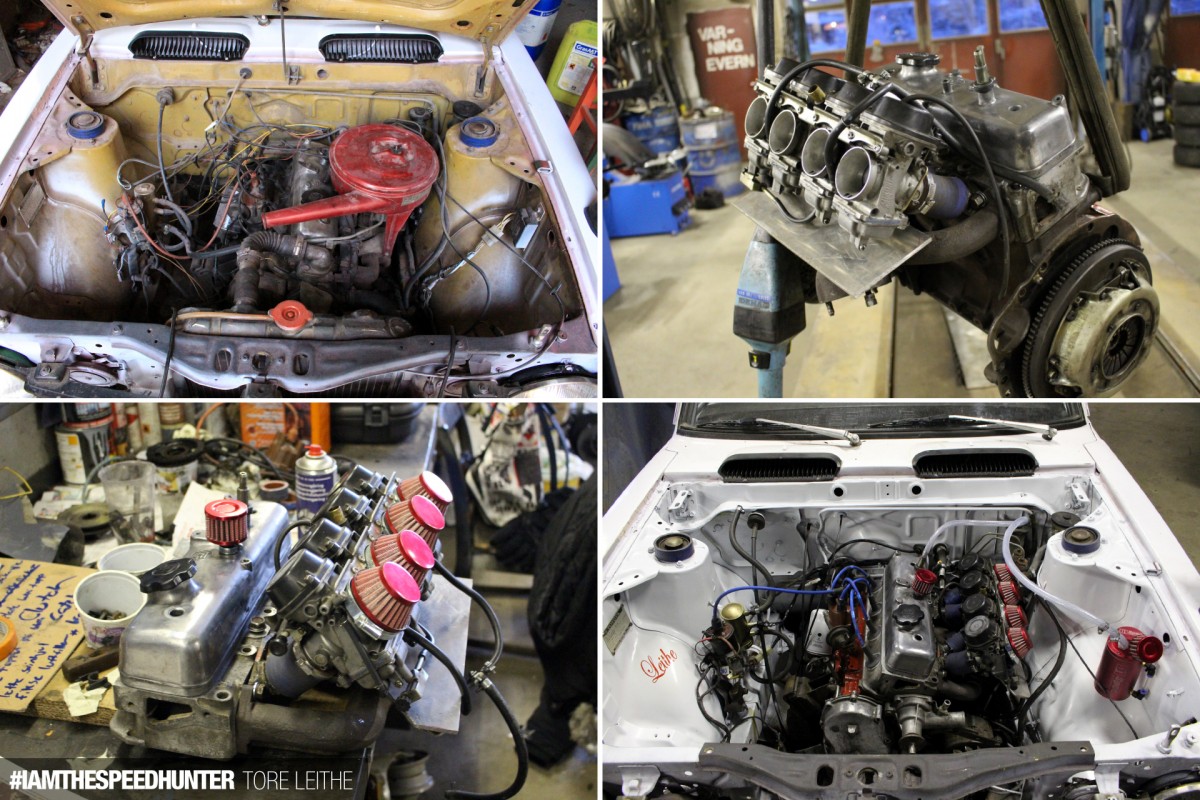 He's now in the process of giving the original four cylinder 3K engine a high compression rebuild, with the old single Weber carburetor being ditched in favour of a set of 38mm motorcycle carbs from a Suzuki GSX-R1100. The bike carbs were cheap and extremely easy to create a custom intake manifold for, and they should sound most excellent once the 'Rolla is back up and running. Tore's looking forward to taking a much more responsive and rev-happy KE to Gatebil Norway for a bit of fun later this year. That is, if he doesn't get too distracted with the '69 Toyota Crown project he's just acquired…
Alexander Lindqvist, Linköping, Sweden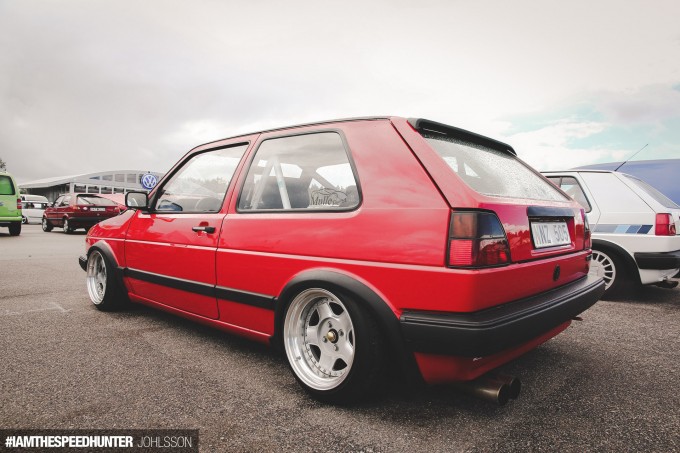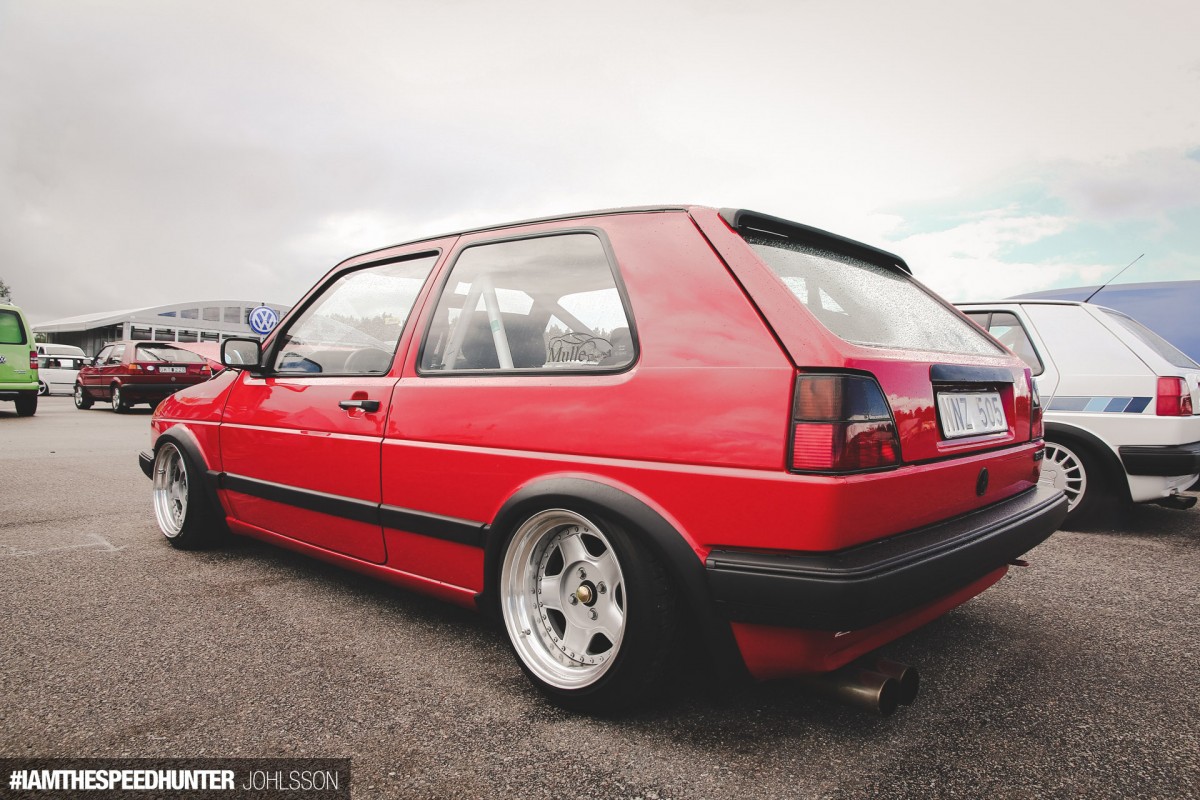 Alexander Lindqvist's '88 Volkswagen Golf is a very tidy example of a Mk2 from the outside, but it's what's hiding under the bonnet that's really of interest to us…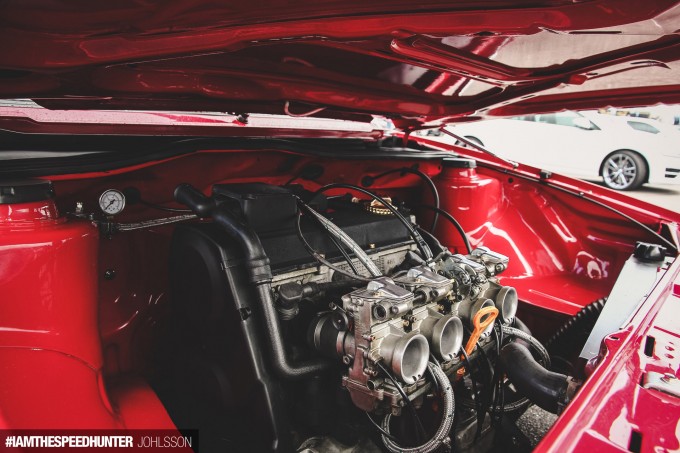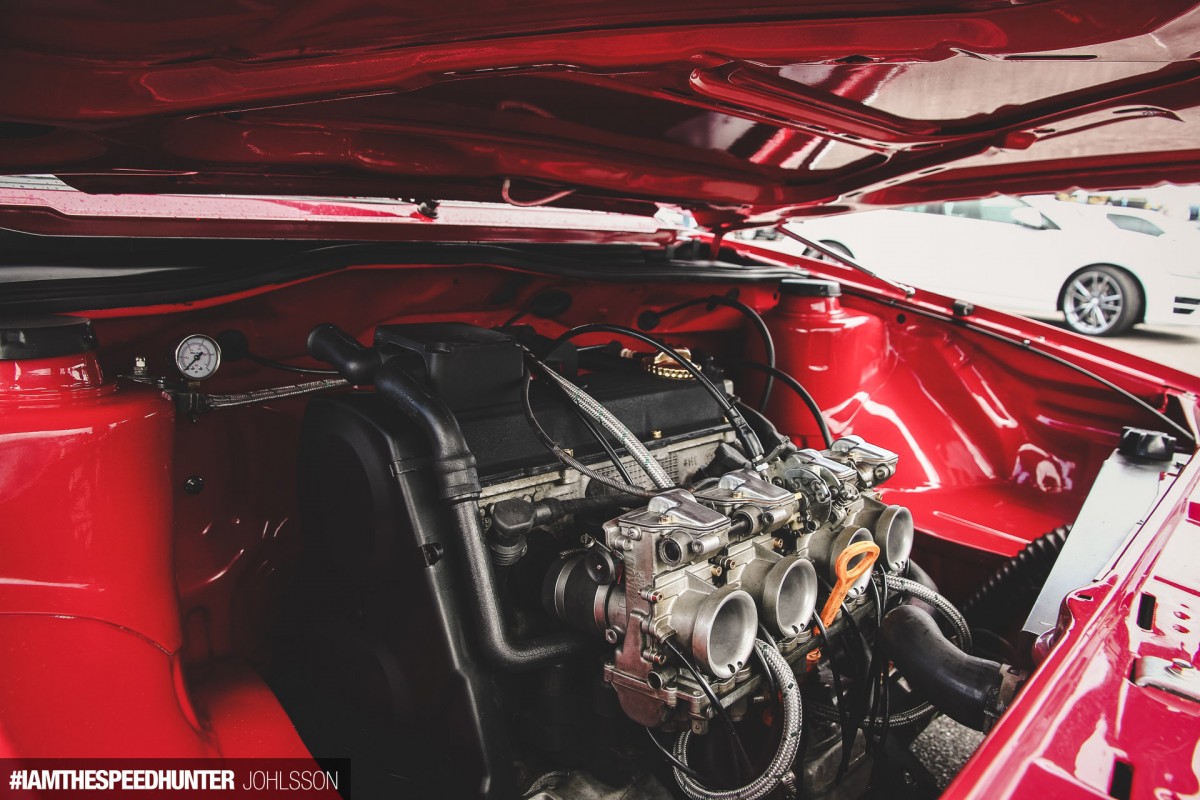 A first glance reveals a far-from-stock engine bay, with twin sidedraft carbs as the main attraction. Dig deeper and you'll find the engine is actually a Golf Mk3 2.0L AGG block mated to a ported and polished Mk4 1.6L AKL cylinder head. Alexander explains, "I always knew I wanted carbs for this build, and as plenty of cars in Sweden run Webers, I really wanted to do something different. I picked up these Mikuni RS 38 Flatslides (aftermarket performance carbs designed for the Suzuki GSX-R bike range) for a great price and they weren't actually too much trouble to install. Just the main nozzle size had to go up slightly and the needles needed only the slightest adjustment. I built my own custom intake and managed to find a Mikuni specialist to help synchronise them. After a couple of runs on the dyno we achieved 157hp at 6,400rpm, with 198Nm at 4,700rpm."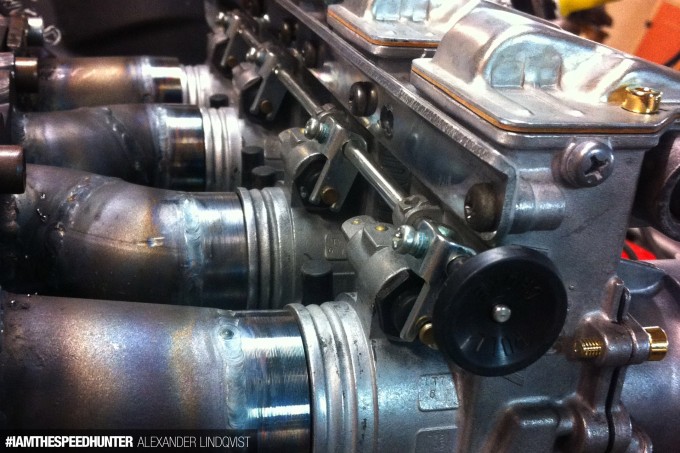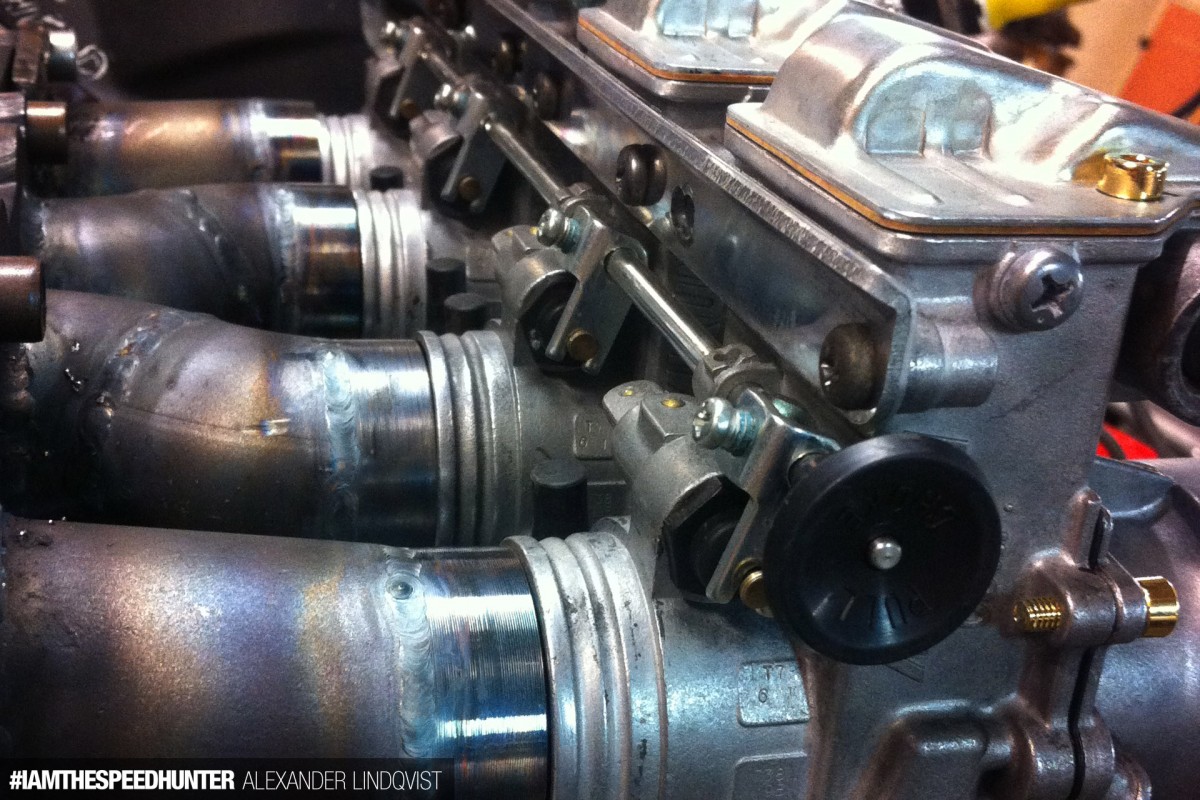 Spark and ignition is now controlled by a VEMS ECU, and the fuel gets a quick ride to the carbs via a Facet Red Top pump, and is controlled by a Malpassi pressure regulator. The new VW motor doesn't just look good; the raspy Mikunis combined with an aggressive cam make it sound pretty damn cool too. Nice one Alexander!
Gary Kollofski & Dale Pelvit, Minnesota, USA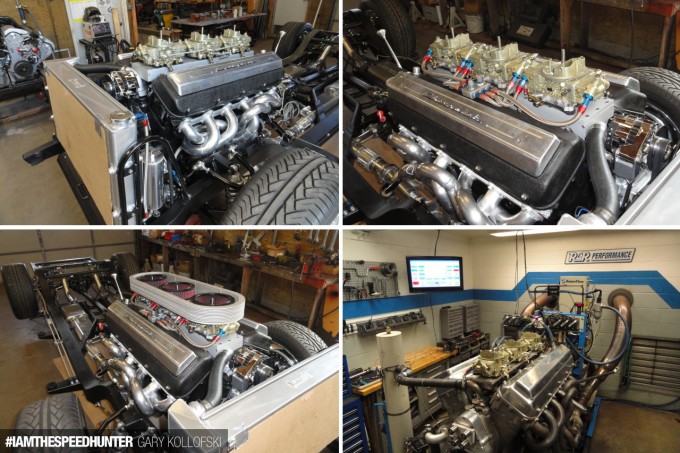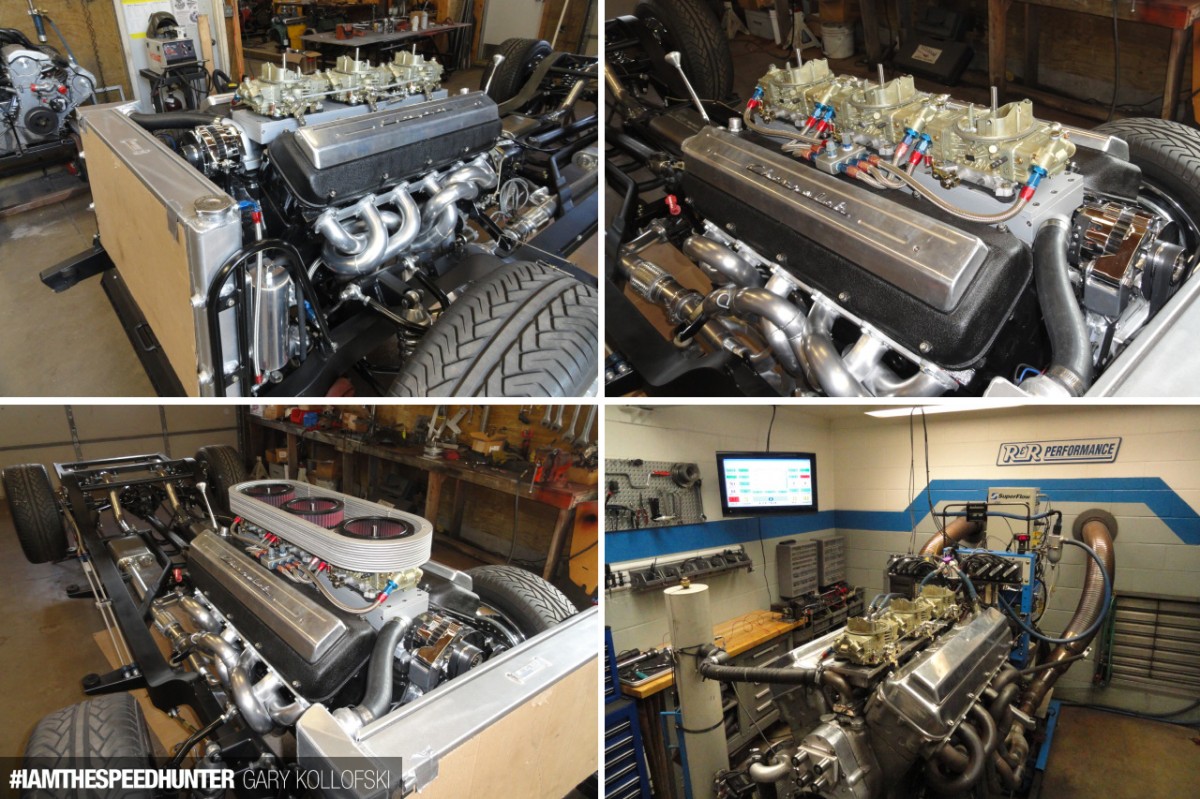 Forget saving the best until last; we just can't wait to show you these three spine-tinglingly impressive V12 builds. Our friends at Holley forwarded these images to us from an American hot rod enthusiast named Gary Kollofski, who has embarked on not just one, but two incredible no-detail-spared Chevy builds. That's right, three V12s in two cars. Our first reaction here was to track down Gary to find out more, which he was more than happy to do. Gary explains, "The engine shown above is an all-aluminium, 730cid hemi-head V12, manufactured in Italy by BPM Marine. These motors are primarily used in the marine industry and are still being manufactured today. The three Holley carbs are 600cfm 4150 series #4776 double pumpers, and I'm very fortunate to have a talented friend, Dale Pelvit, the talent and brains behind both cars, who has spent over 80 hours creating the custom intake. On the dyno with the Holley carbs it produced 619hp and 720lb-ft torque. It idles at 750rpm and has instant throttle response and a huge amount of torque!"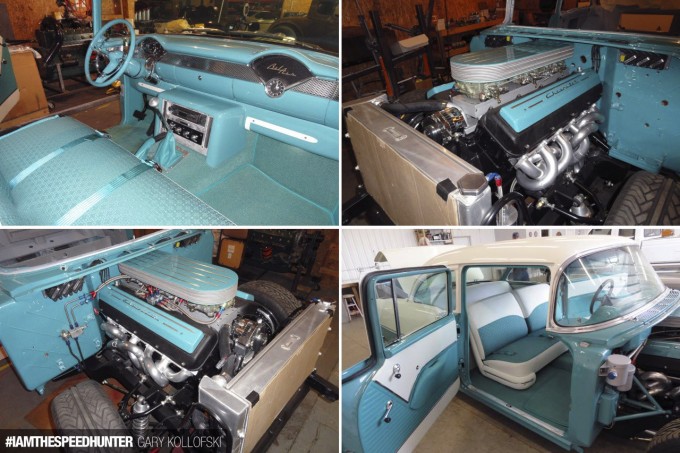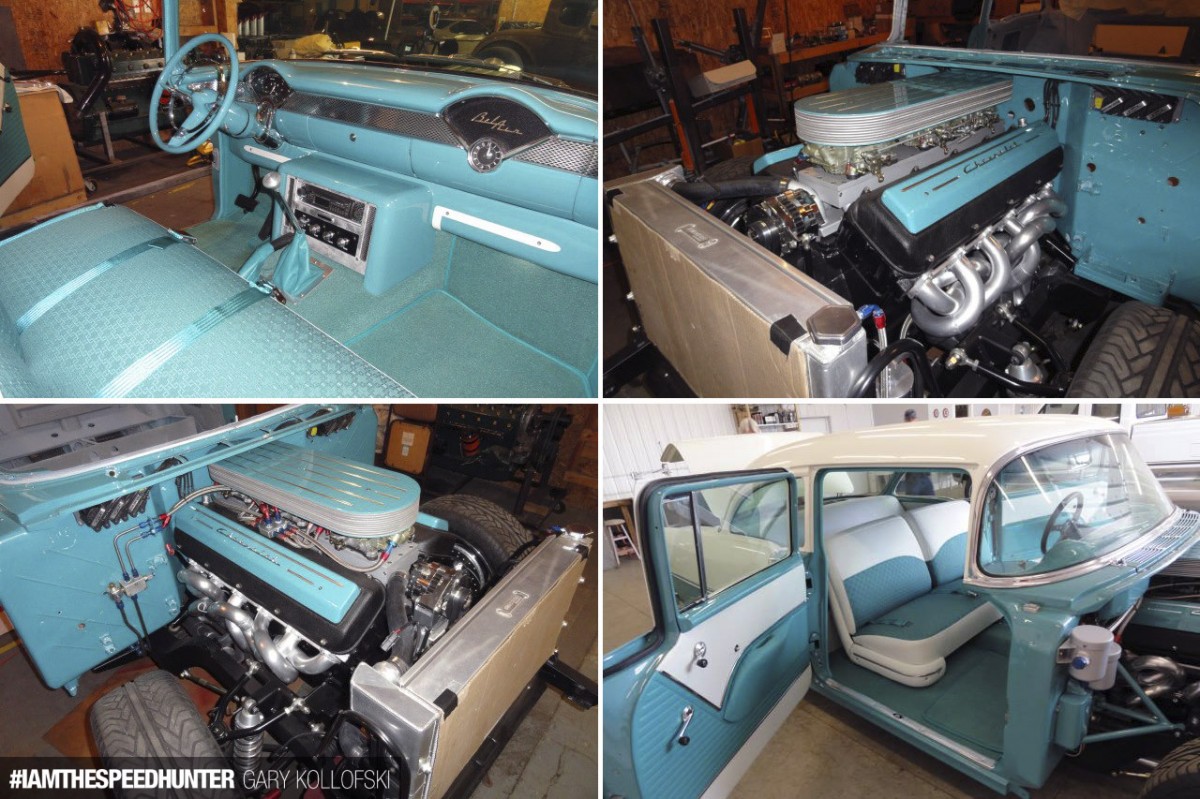 The monster V12 has found its home in a '55 Chevrolet Bel Air, which as you might've guessed, has been fully restored to an absolutely immaculate condition. But wait, there's more…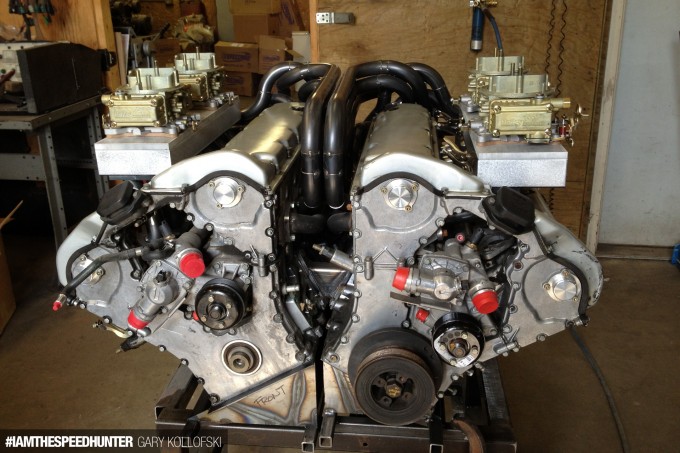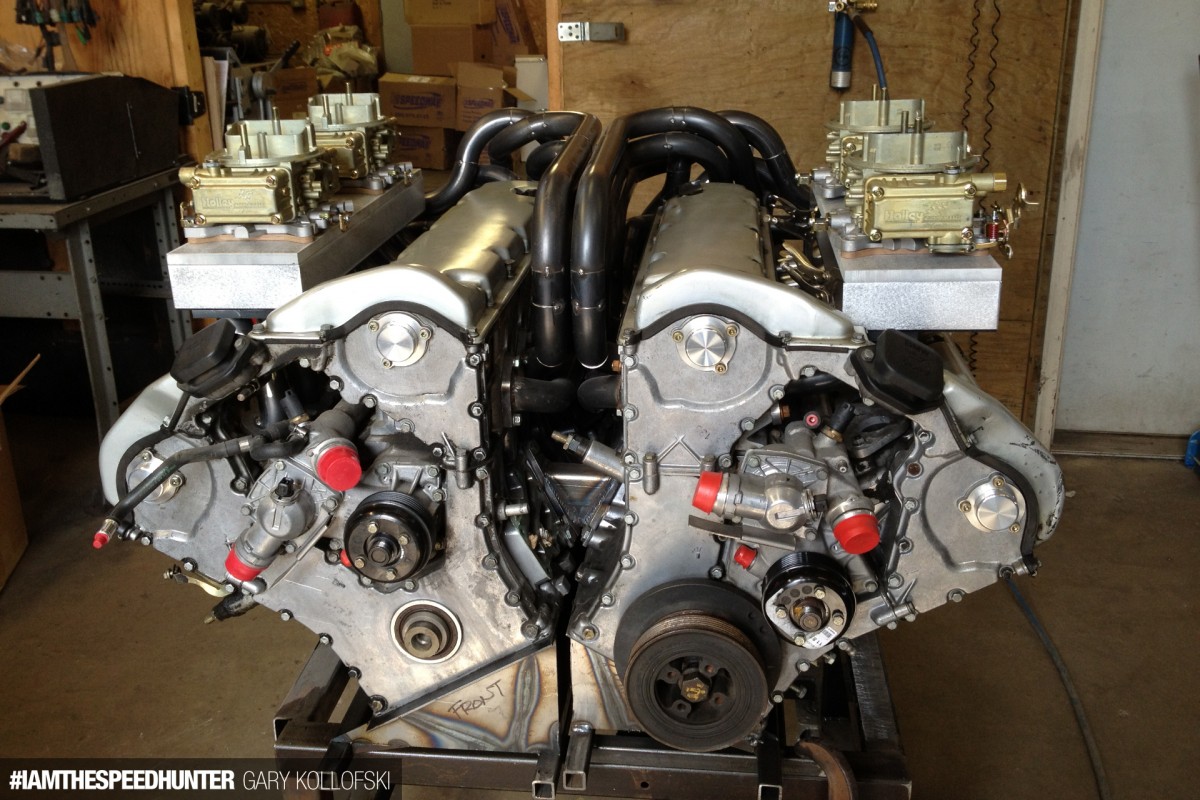 Gary continues, "The '55 was at the painters for one and a half years, so during that time Dale and I needed something to keep us busy. That's when the '57 Chevy build started." Powering this second project will be two BMW 750iL V12s mated together to form a massive 24-cylinder W24 powerplant. Feeding the hungry beast will be four 450cfm 4160 series #9776 Holley carbs, for which Dale has also built a custom manifold. Wowzers!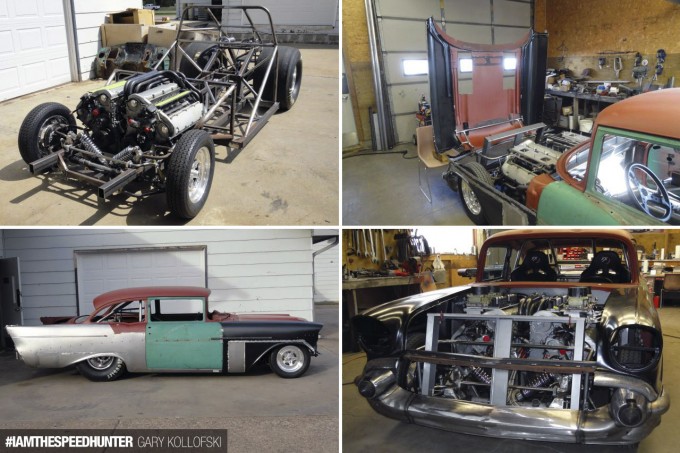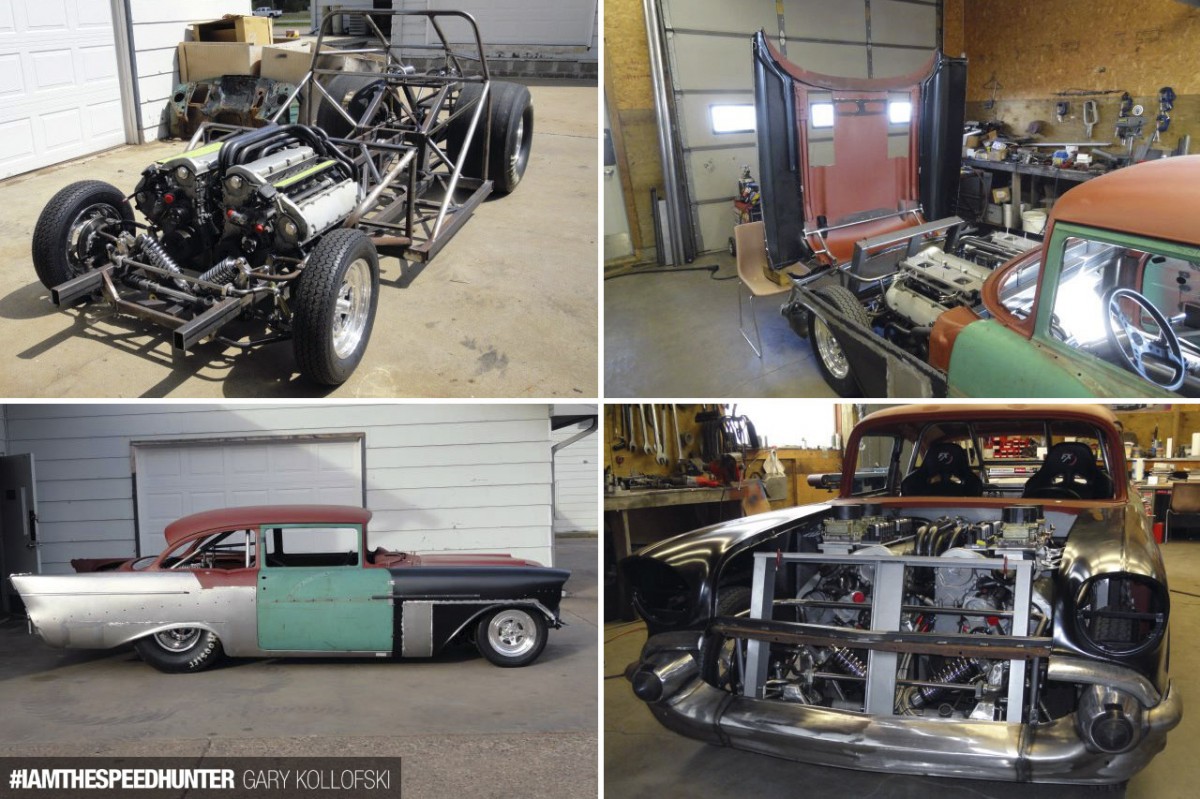 Here are some more recent photos of the '57 starting to take shape, and once again, the level of detail here is mind-blowing. Gary already has the '55 up and running, with the '57 still under construction and due for completion this summer. We're definitely going to have to track down Gary and check out these incredible projects through out own lenses, but until then you can check out more photos of both builds on Holley's Facebook page here.
Oleksandr & Alick, Kiev, Ukraine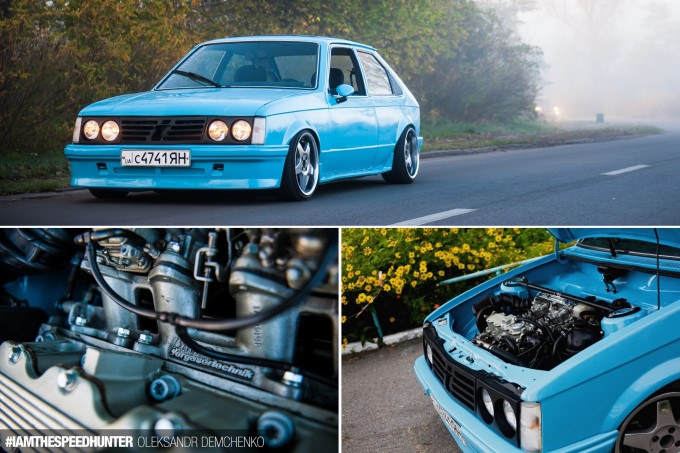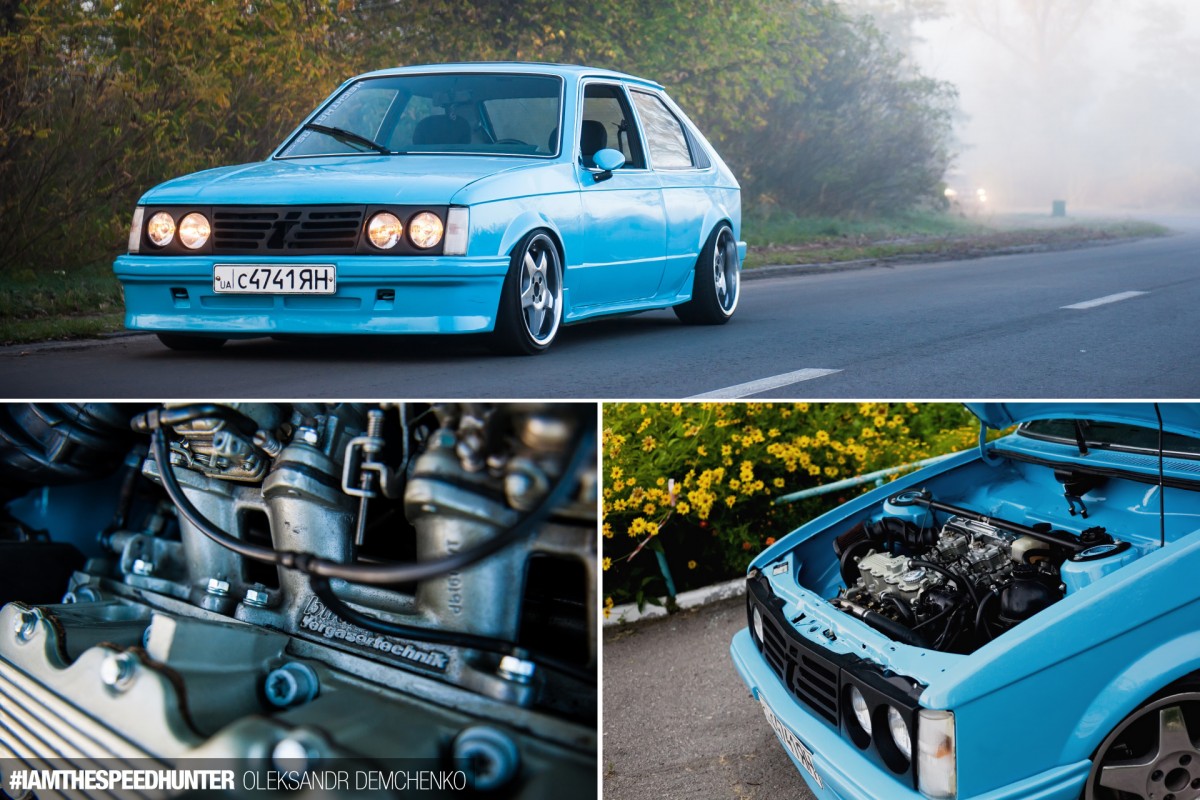 Over to Eastern Europe now, where photographer Oleksandr Demchenko has sent us some images of his friend Alick's very cool Opel Kadett D. Alick has added a bunch of upgrades, including custom-built coilovers with KW springs and an Opel Vectra 2000 brake kit, retro Recaro seats from a Calibra and Kadett GTE instruments. The '80s hatchback's been given a new lick of paint, a body kit and shaved doors and badges too.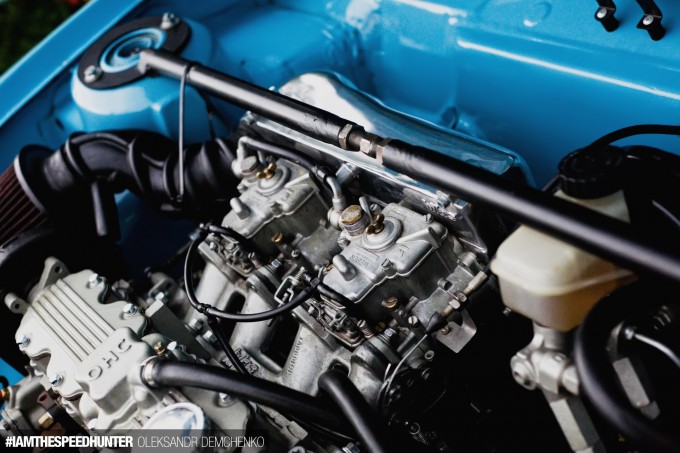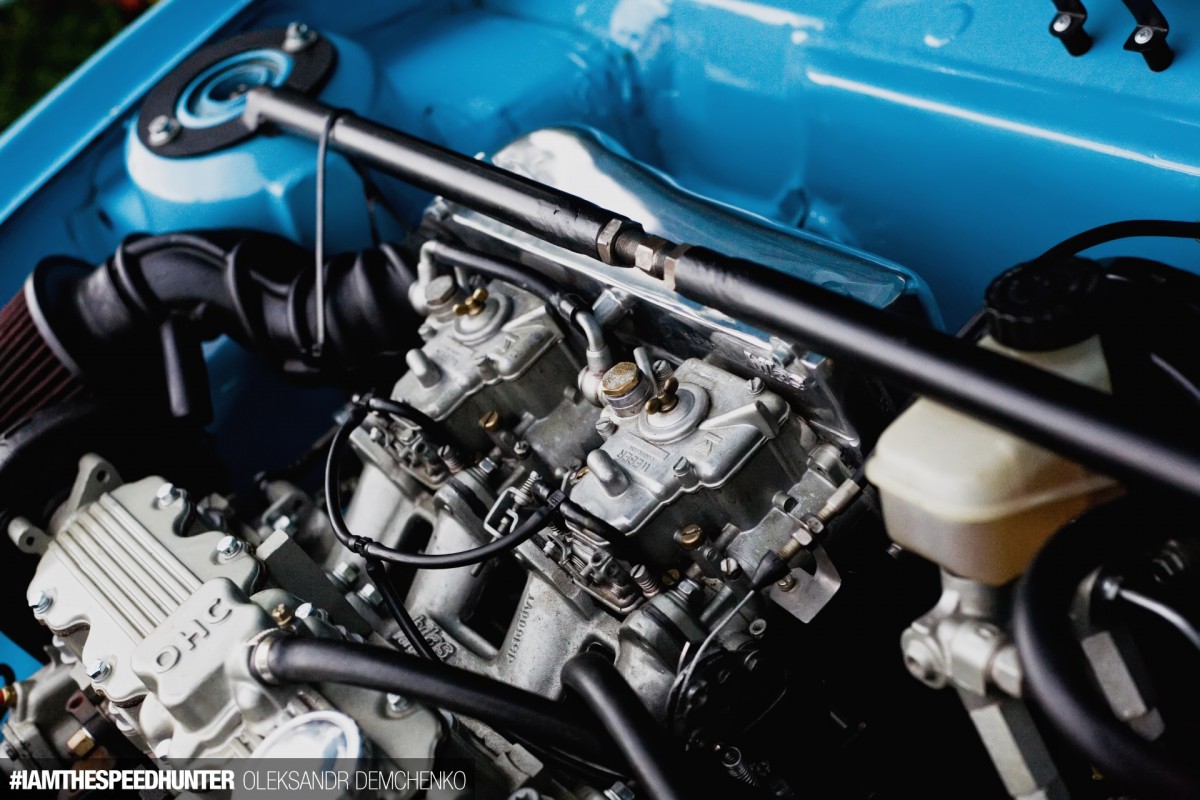 Pop the hood and you'll find that Alick has retained the 18E head, but not much else. Sitting inside the shaved engine bay lies a 2.0-litre Opel C20NE block with 86mm C20XE pistons, and no EFI to be seen. Instead, Alick has chosen to convert to a pair of Weber 45DCOE sidedrafts, hooked up to the motor via a DBilas Dynamics intake manifold. Mated to an F16 gearbox and with a freshly-built custom exhaust, the new and improved Kadett now runs and sounds like a dream. We definitely have a soft spot for these feisty little cars and Alick's build is no exception.
Red Dickson, Vacaville, California, USA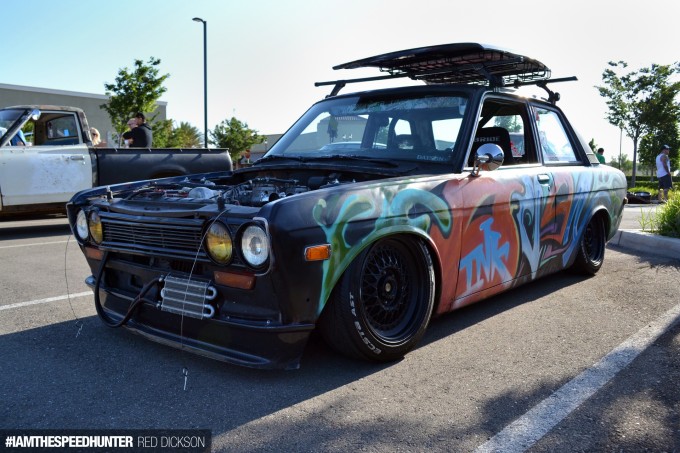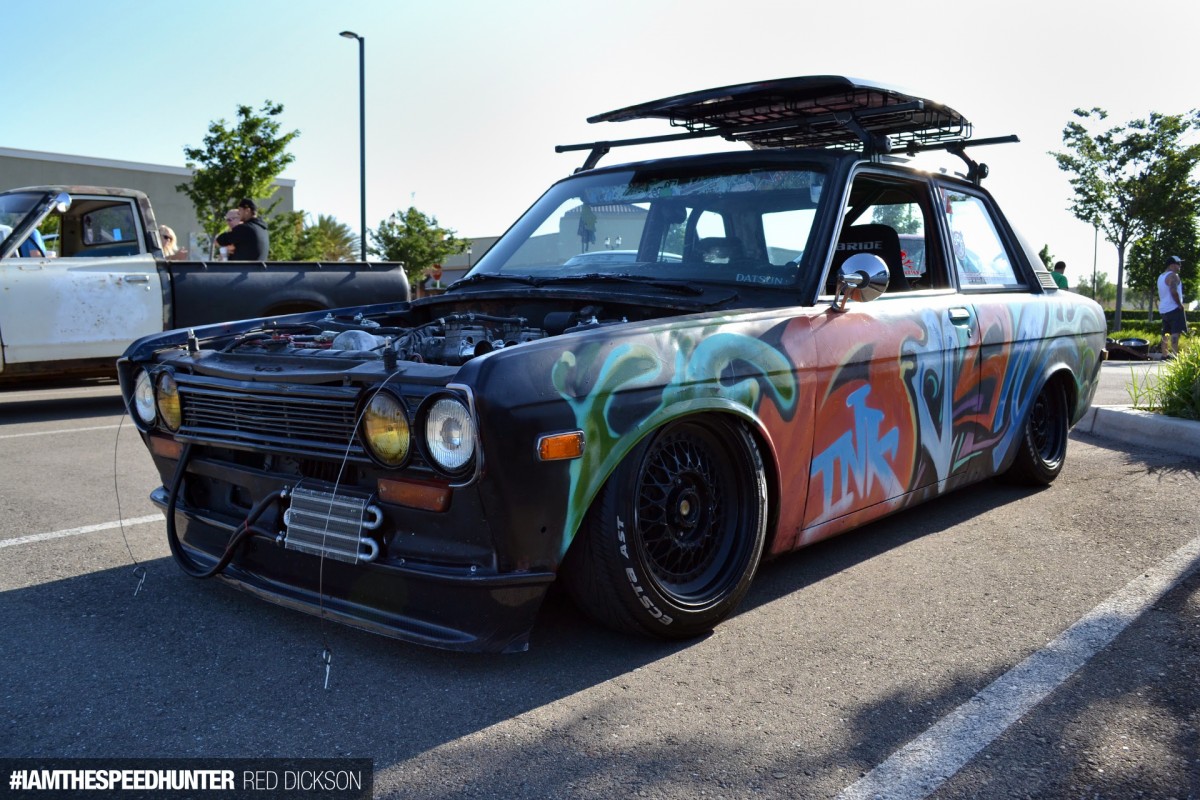 Onto some four cylinder action of the Japanese variety now, we're really digging Red Dickson's character-filled '71 Datsun 510, for which he's currently building a LZ22 engine. The Nissan L-series head and 2.2-litre Z22 block mash-up will be fed fuel by twin Mikuni 44mm carbs, which are now functioning perfectly, but this wasn't the case when he first acquired them.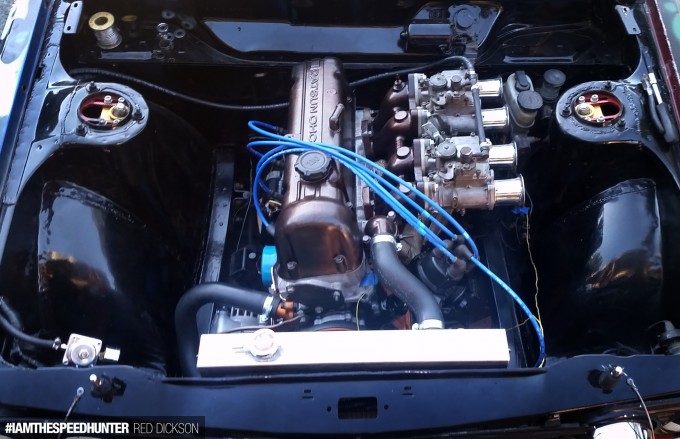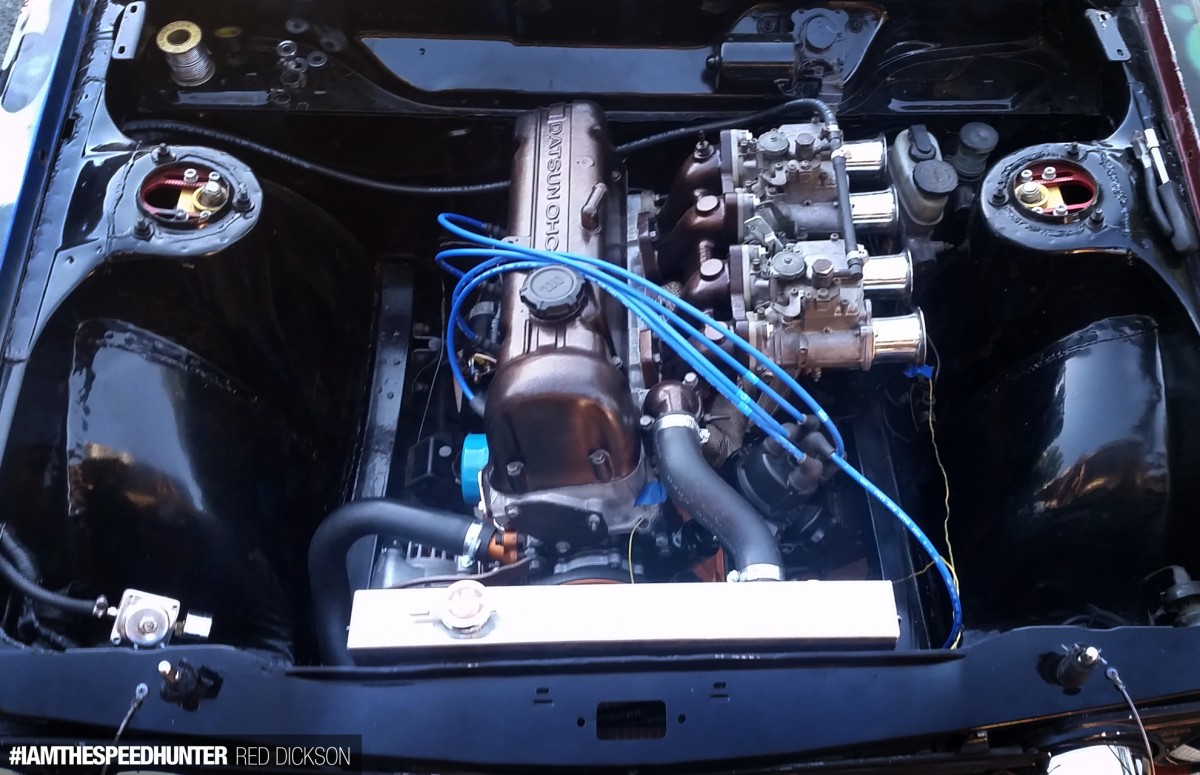 When it comes to working on his car, Red prefers to do everything himself, but when it came time to rebuild the carbs he knew better than to mess around with them on his own. A trusted carb specialist had a field day buying new parts for the neglected Mikunis, fully restoring them back to good health. While some might consider this an unnecessarily painstaking process to go through, Red was determined to stick with the less-common Mikuni brand and keep the nostalgic Japanese vibe alive throughout his build. We admire his dedication, and we bet he can't wait to hear the gurgling carb-fed machine come to life with the new setup!
Roman Macias, Fremont, California, USA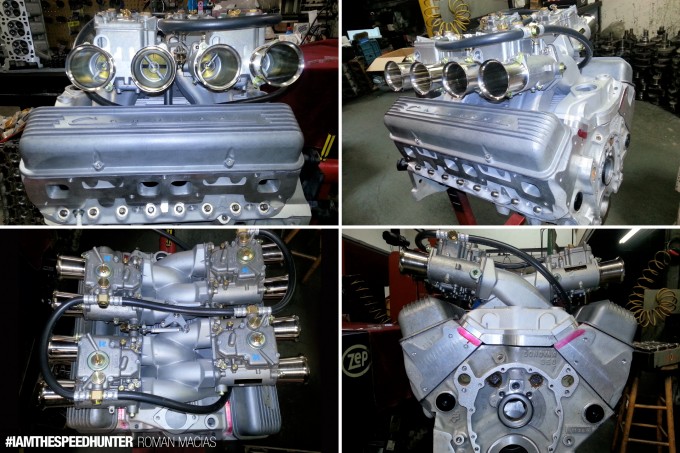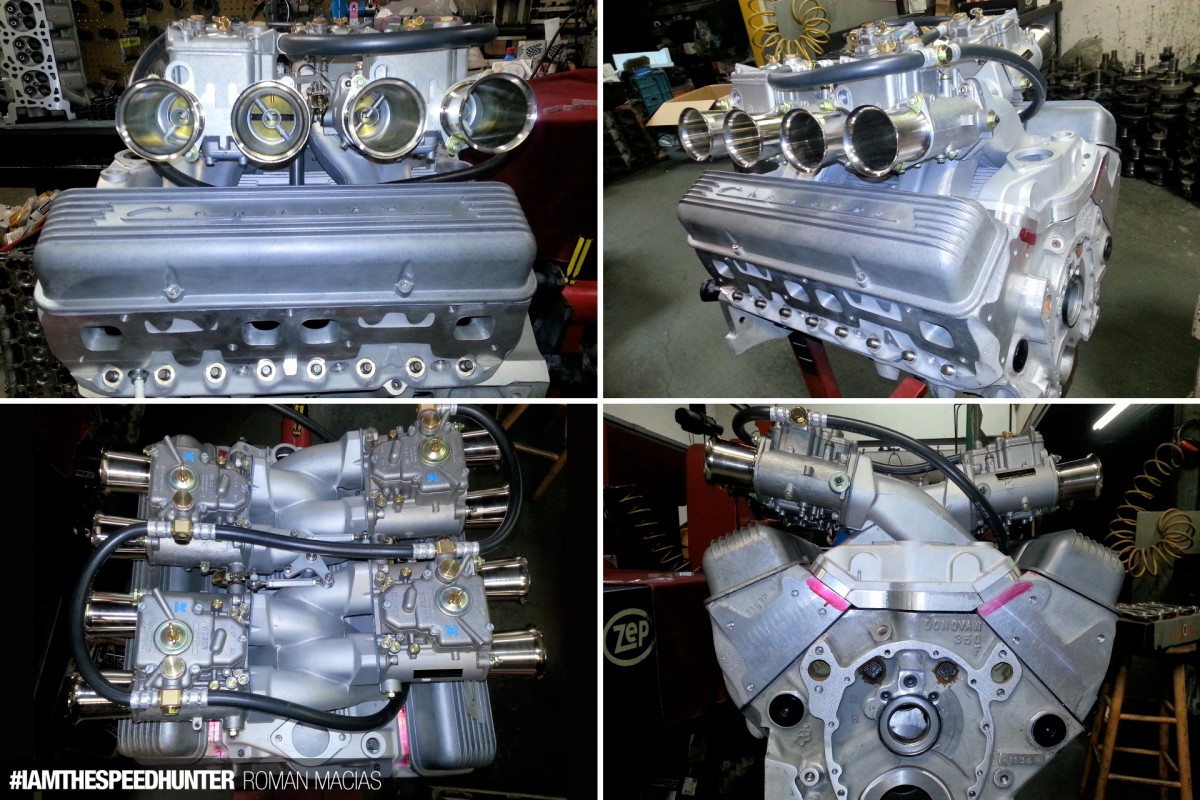 Roman from Fremont, California sent us these images of his current project – an all aluminium Donovan Chevy small block stroker V8, on which he'll be running four Weber 48 DCOE carbs custom jetted to feed E85 fuel. The motor isn't quite ready to be bolted together yet, but as you can see, the Webers will be mounted to a moon-style cross-ram intake manifold, with a custom intake runner flanges and spacers. The coolest part is that this engine is destined for a street-driven '64 Chevrolet 'race van', inspired by the 1963 Corvette Grand Sport. This is another project that we really can't wait to see more of…
Carbureted Fours, Sixes & Eights
Andrej Jovanovic, Belgrade, Serbia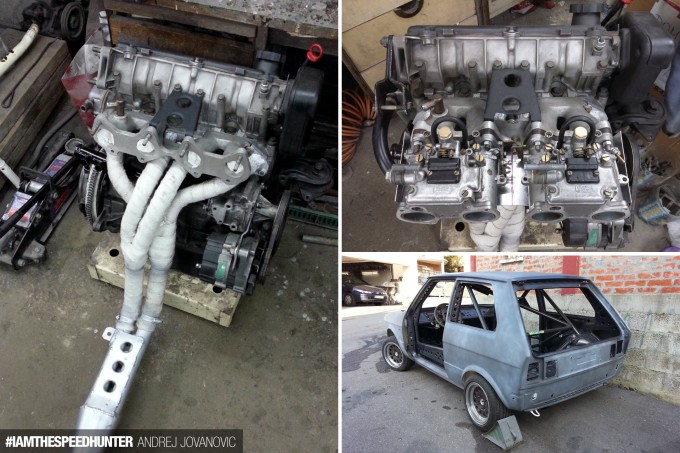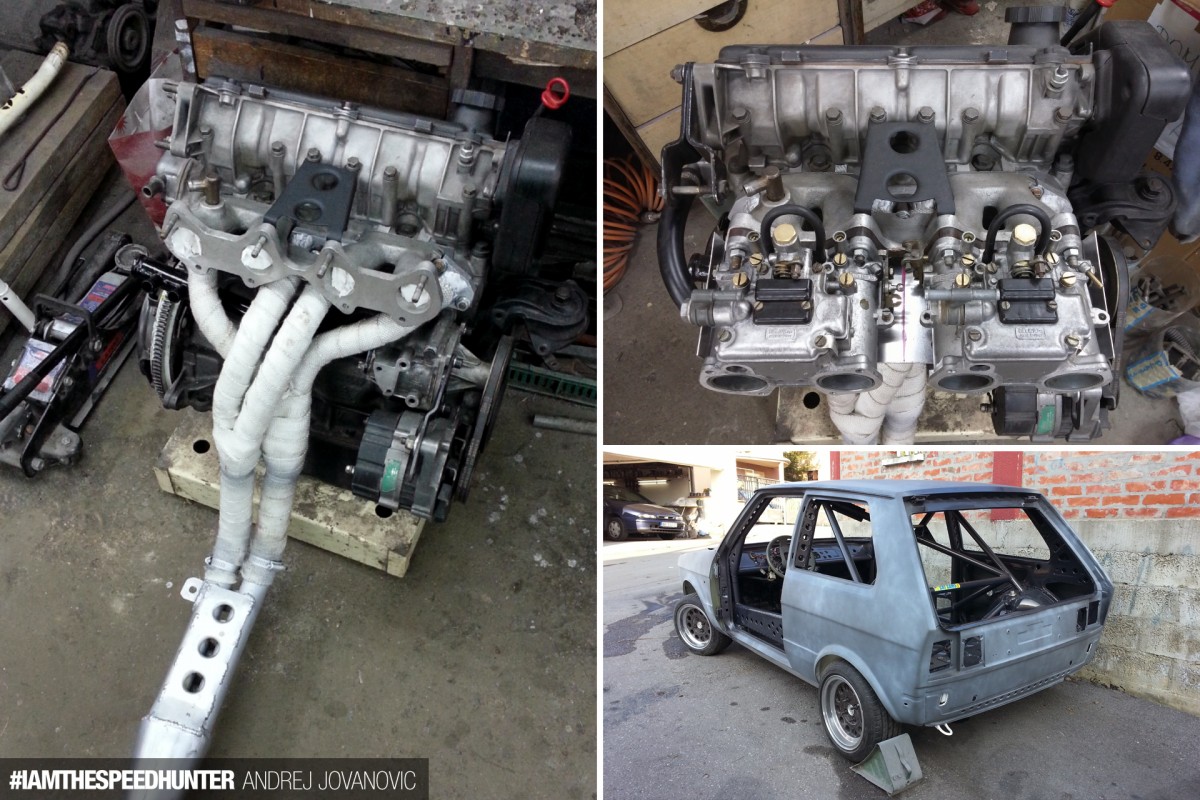 Next up, Andrej from Serbia is restoring a model of car that quite possibly hasn't ever made it onto Speedhunters before, which is definitely part of the reason why we like it so much. It's an '89 Zastava Yugo Koral 55, and as you can see it's still very much a work in progress. But just like Andrej, we can see the potential. With the goal of a street-capable racecar in mind, the Koral has been stripped and fully caged, riding on Bilstein adjustable shocks and 13-inch Ronal A1 wheels. Andrej has sourced a Lancia 1.6-litre SOHC engine which will eventually join with a Colotti race gearbox, with air and fuel provided by twin Dellorto DHLA 40mm carbs originally from an early '80s Alfa Romeo 75.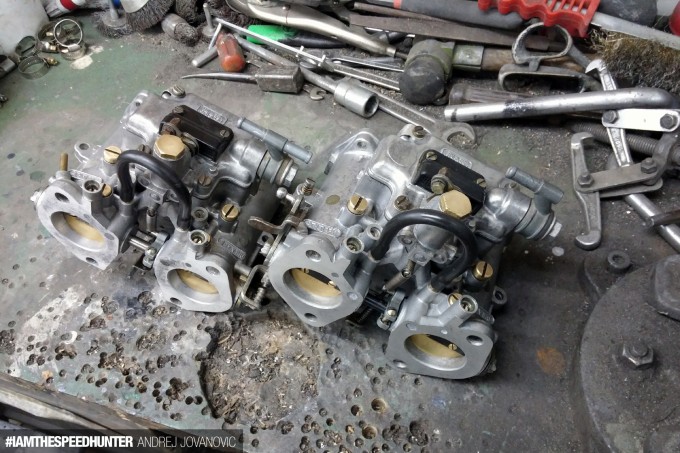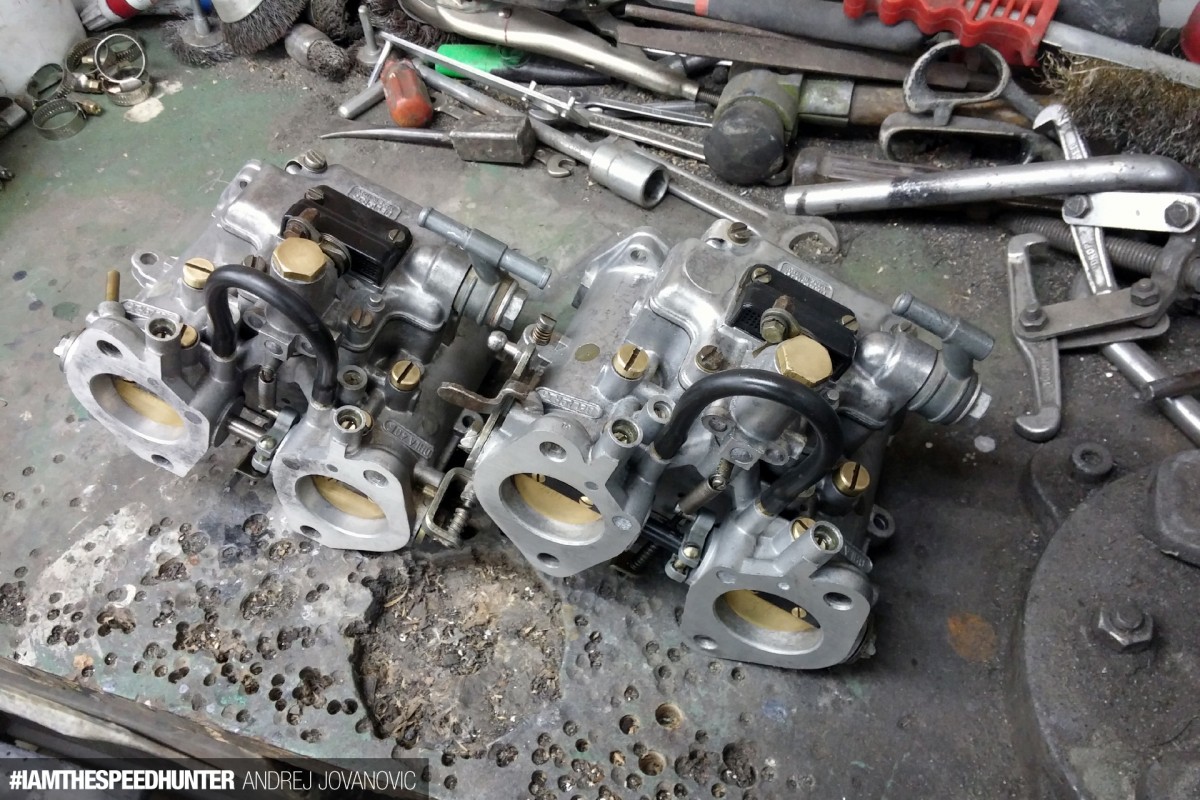 Andrej tells us, "With the Dellorto carbs, the chokes have been drilled out (from the stock 32mm) to 34mm, I've added bigger jets to allow for more fuel and I also plan on adding high velocity trumpets with a Pipercross air filter. It's not a big power build, but working on this little engine in my garage at home brings me great joy, and the car itself is going to sound awesome. I love the raw, mechanical sound of carburetors; it's going to be quite a fun street and track car once it's all done."
Best of luck with the rest of your build Andrej! If you're okay with using Google translate, you can also follow Andrej's progress on his blog here.
Trevor Ryan, Northern California, USA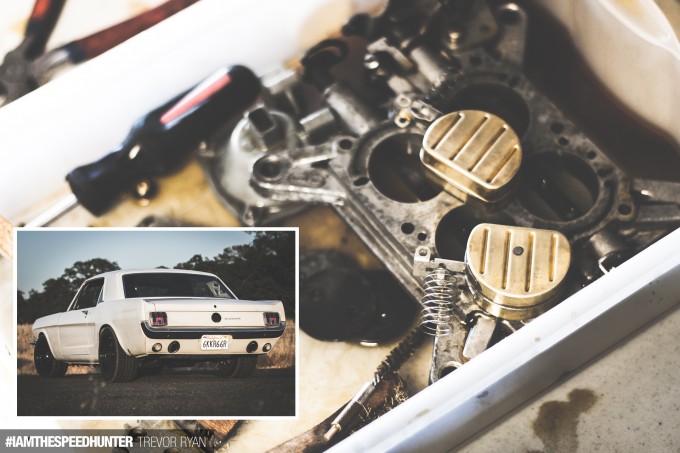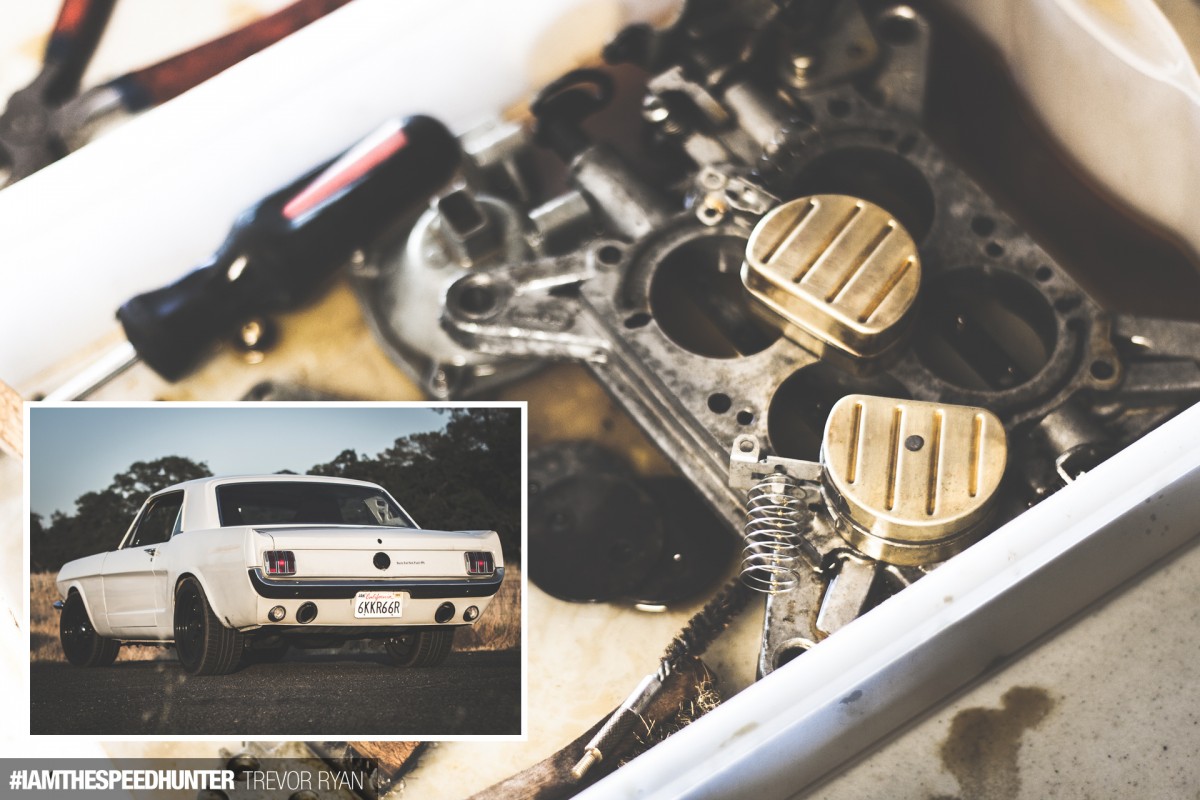 Here we have another track-ready street car. Trevor Ryan has owned this '66 Mustang for almost five years now, with the old 'Stang already having gone through a handful of late-model Ford-family engine swaps. While not the most flashy or outrageous of conversions, Trevor has decided to stick with a near-stock look for the time being, all the while still taking advantage of some modern technology upgrades for more power and reliability. The current powerplant of choice is a '94 5.0L Ford HO V8, from which he's stripped off the stock fuel injection and replaced with a classic Holley 4-barrel.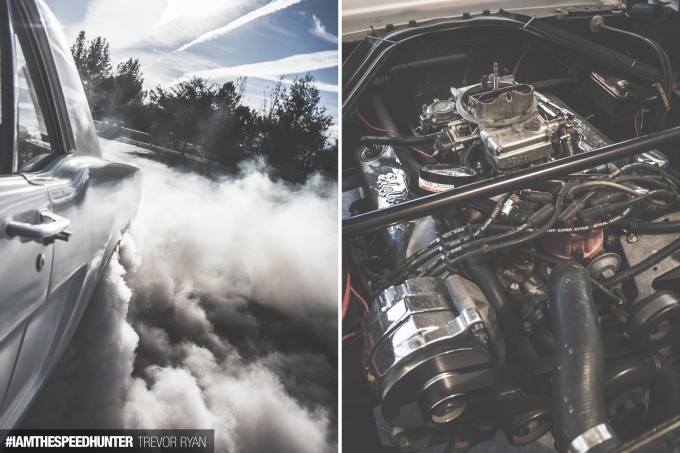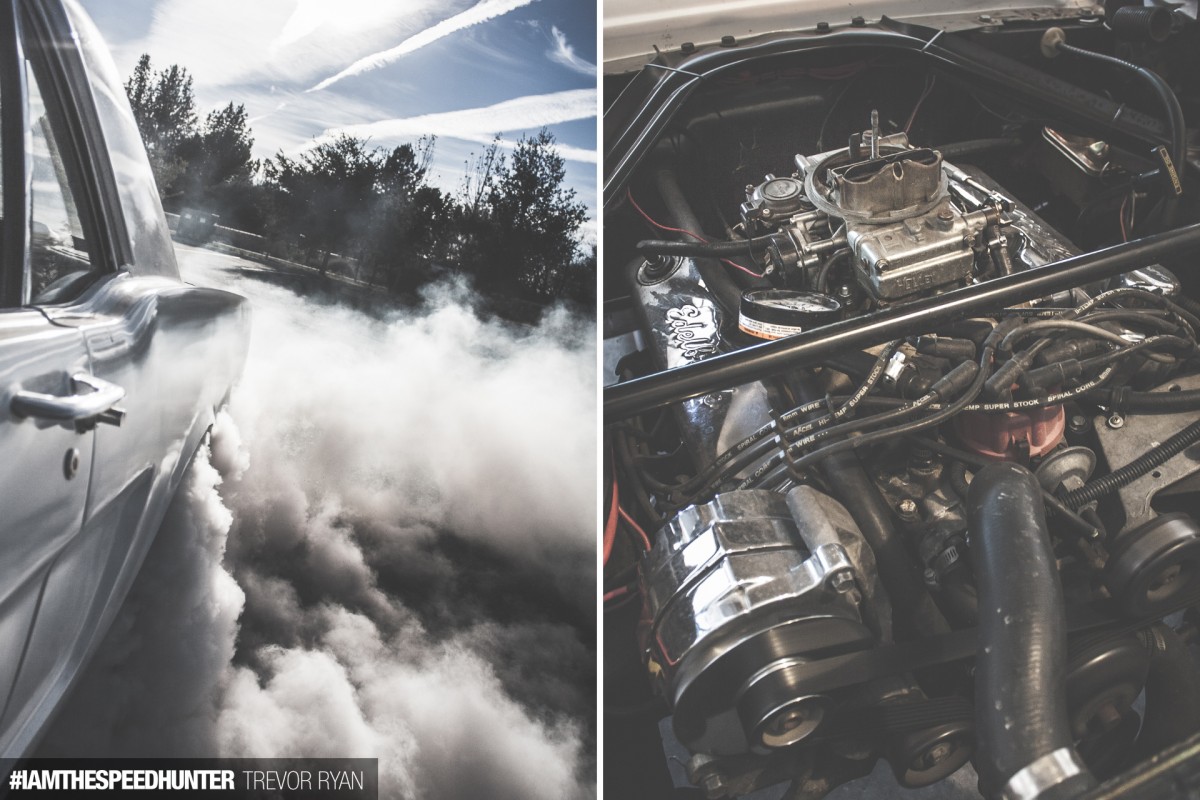 Trevor writes, "A number of 289 parts were adapted for use in the 5.0, including the distributor which was upgraded with dual spark ignition and a rev limiter set to 6,400rpm. A K&N intake pulls air through a '67 Shelby-style fiberglass hood while long-tube headers and dual-chamber Flowmaster mufflers provide a bit more power and a primal soundtrack." The Ford now pushes 300 crank horsepower and weighs just under 2,300lbs – not too shabby for a 50-year-old daily driver!
Jan Martin Villanos, San Diego, USA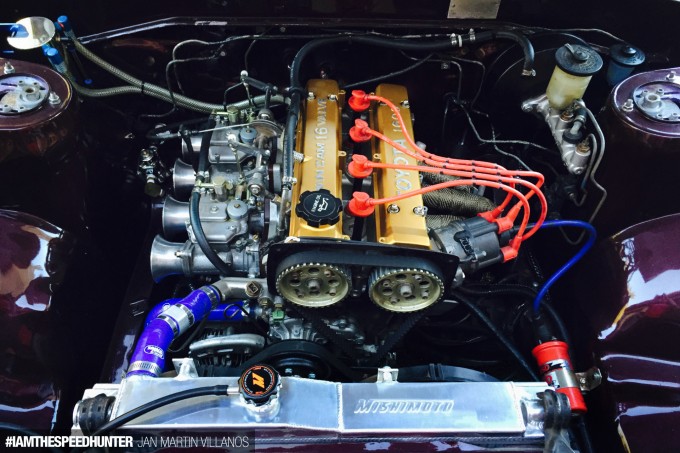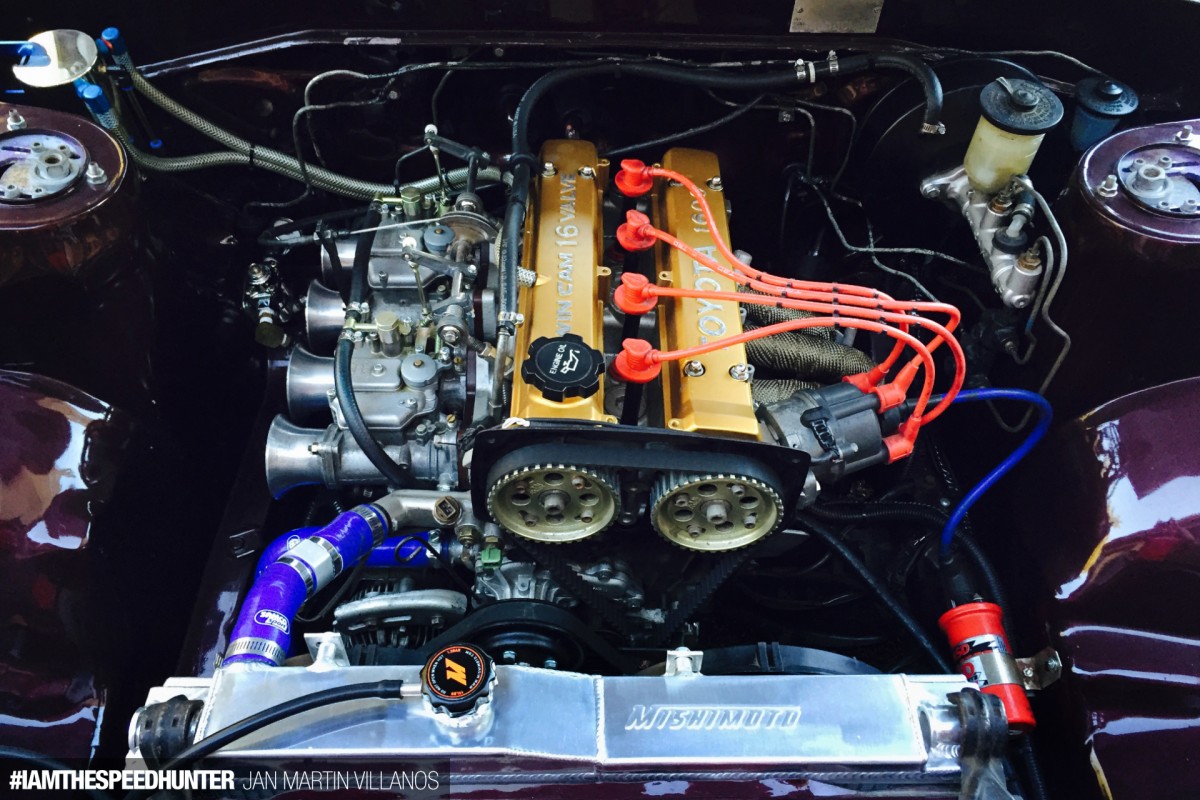 What would an #IAMTHESPEEDHUNTER feature be without a sneaky Hachiroku added in here? Jan has only just recently put the finishing touches on his AE86 Corolla build, but unfortunately hasn't yet had time to enjoy the car properly as he was deployed to Japan shortly after its completion. Thankfully, he was able to send us a few photos to enjoy before he left.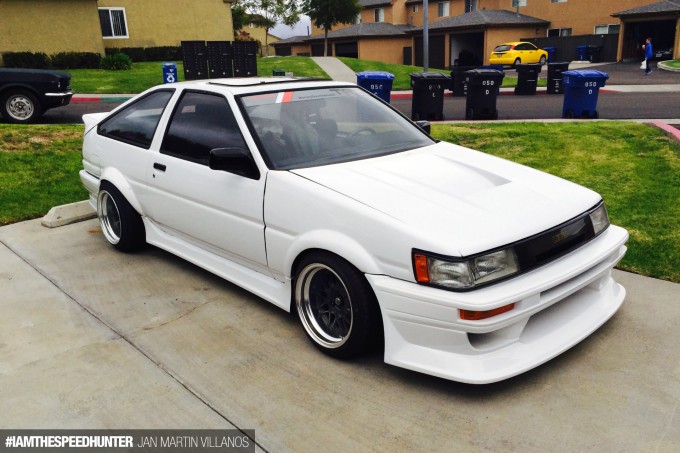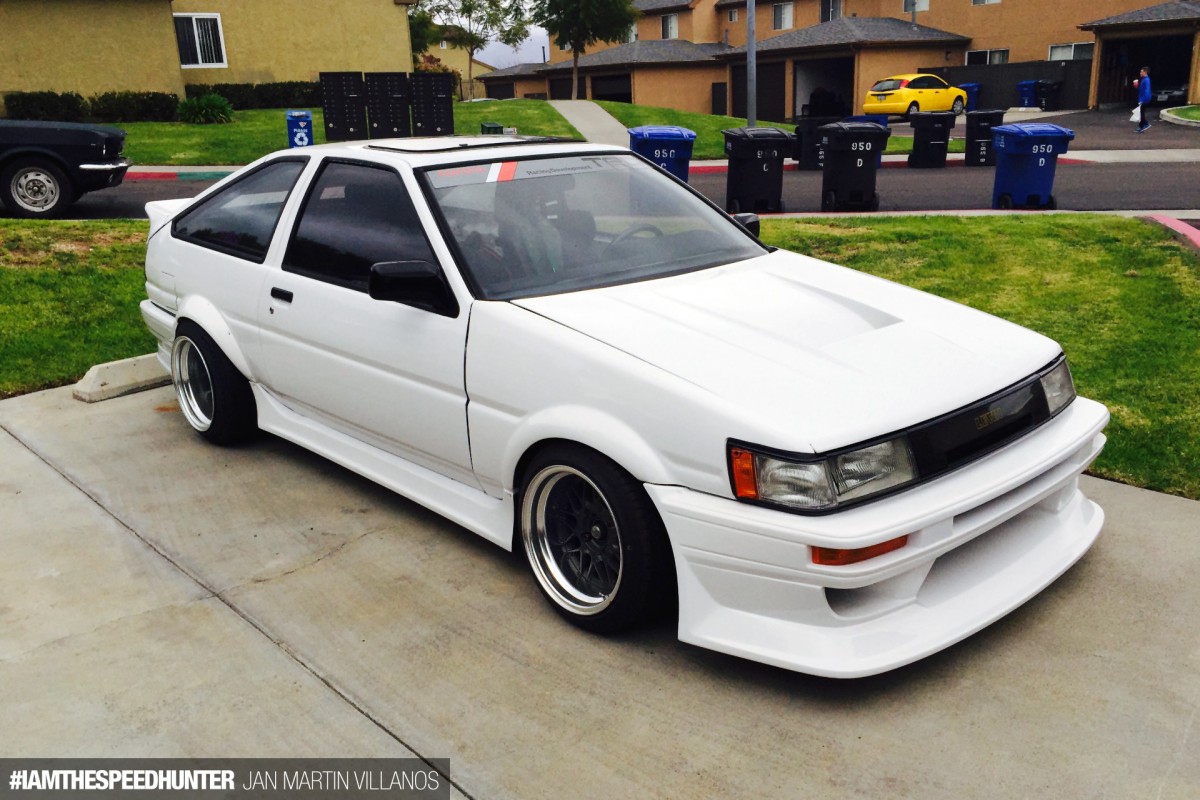 The clean little Levin-faced machine sports a plethora of genuine Japanese goodies, including a huge range of TRD parts and 15-inch Kei Office Dori Dori wheels in aggressive offsets. He's also rebuilt the 4A-GE blue-top motor with all fresh internals and Toda 288-degree cams sitting in a ported and polished head…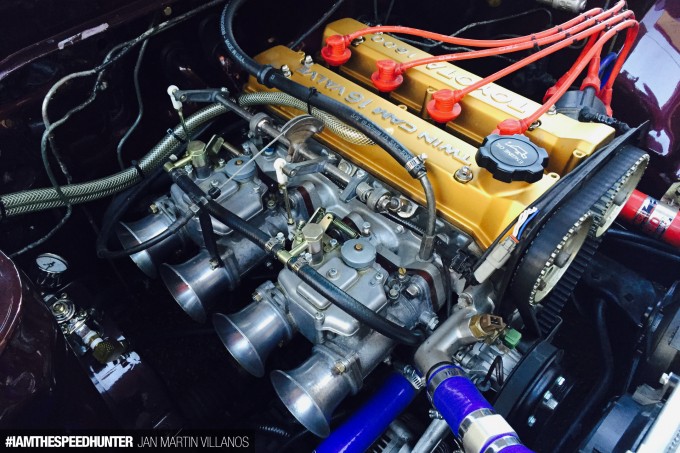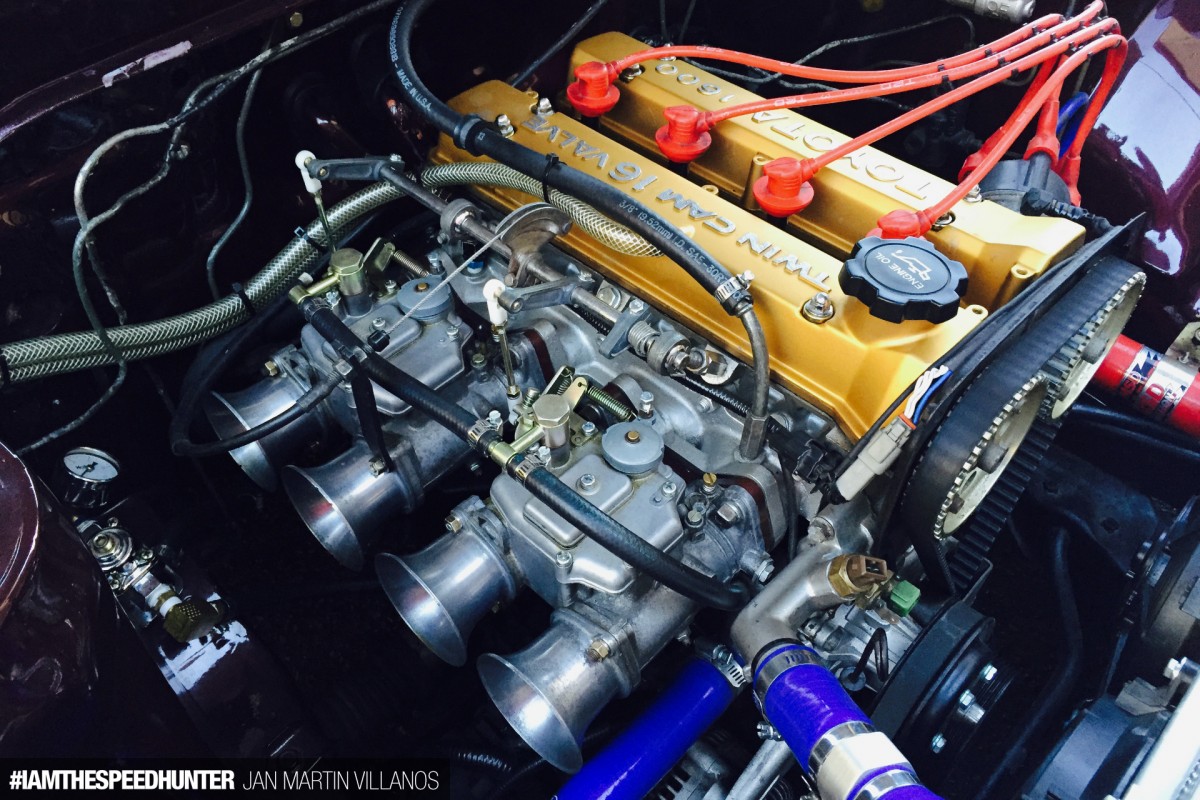 And what a superb job he's done! Inside the shaved and tucked engine bay (which is painted a beautiful shade of black cherry pearl), the four cylinder motor is fed by 44mm Mikuni sidedraft carbs, freshly rebuilt by the Mikuni experts over at Wolf Creek Racing in Virginia. Jan's passion for his AE86 is obvious, and we love what he's done with this overall very tidy build. Now all he has to do is come home and drive it!
Daniel Schaefer, Düsseldorf, Germany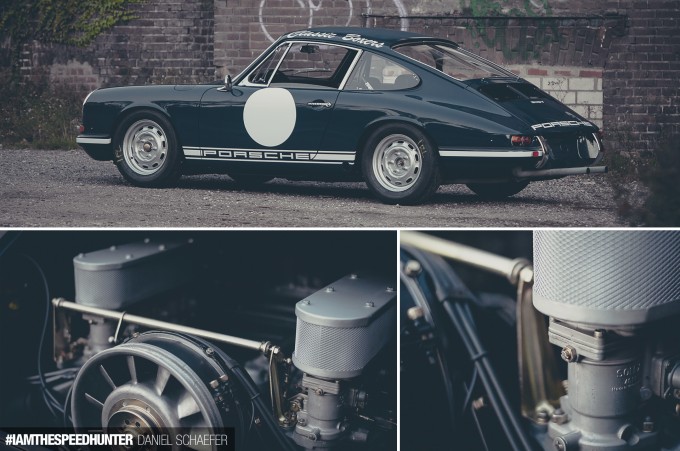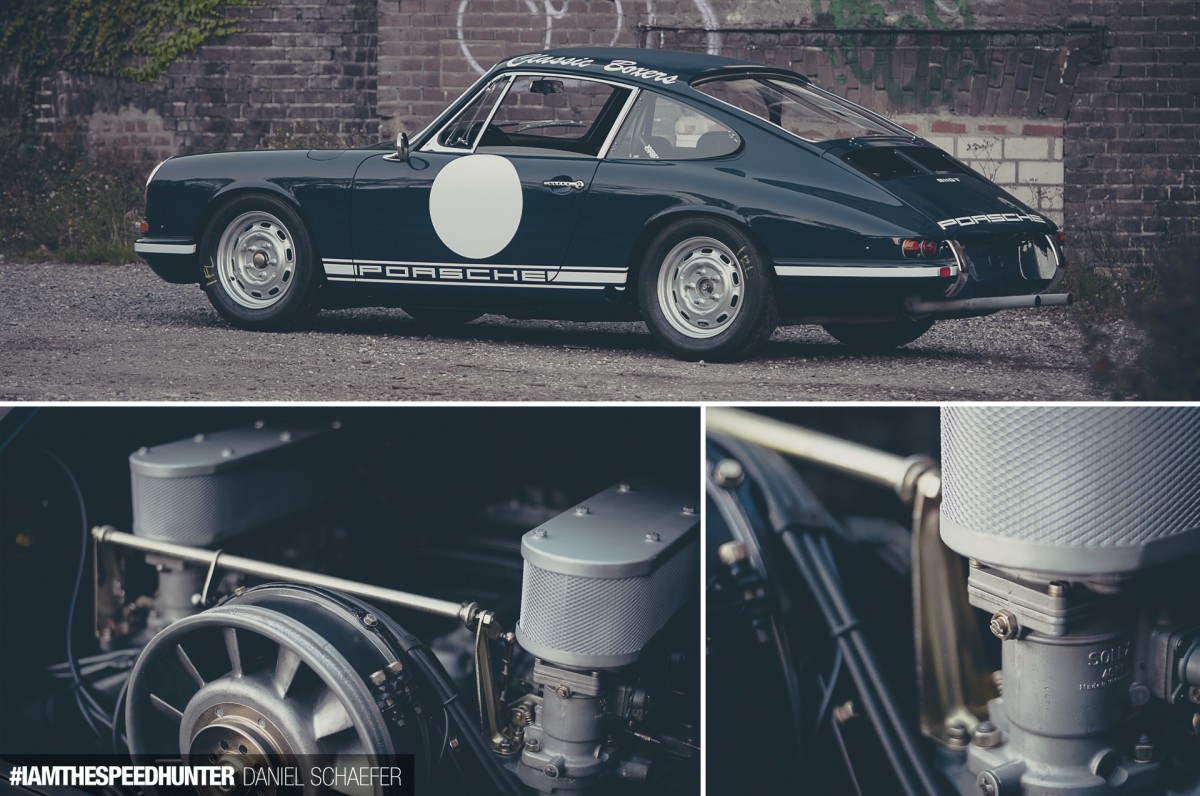 Born into a family of German car enthusiasts, Daniel Schaefer was always destined to catch the Porsche bug. He currently works for his family's business, Classic Boxers, restoring old Porsche vehicles for a living, so it was only natural that one day he would embark on a classic Porsche project of his own. Also a keen photographer, Daniel has shared with us some of his photography of his 1966 Porsche 911GT build, for which he has fully restored the original 2.0-litre flat-six engine, along with a few modifications.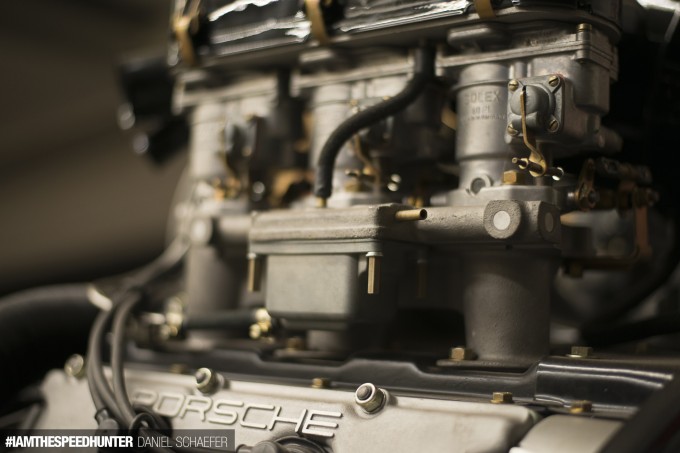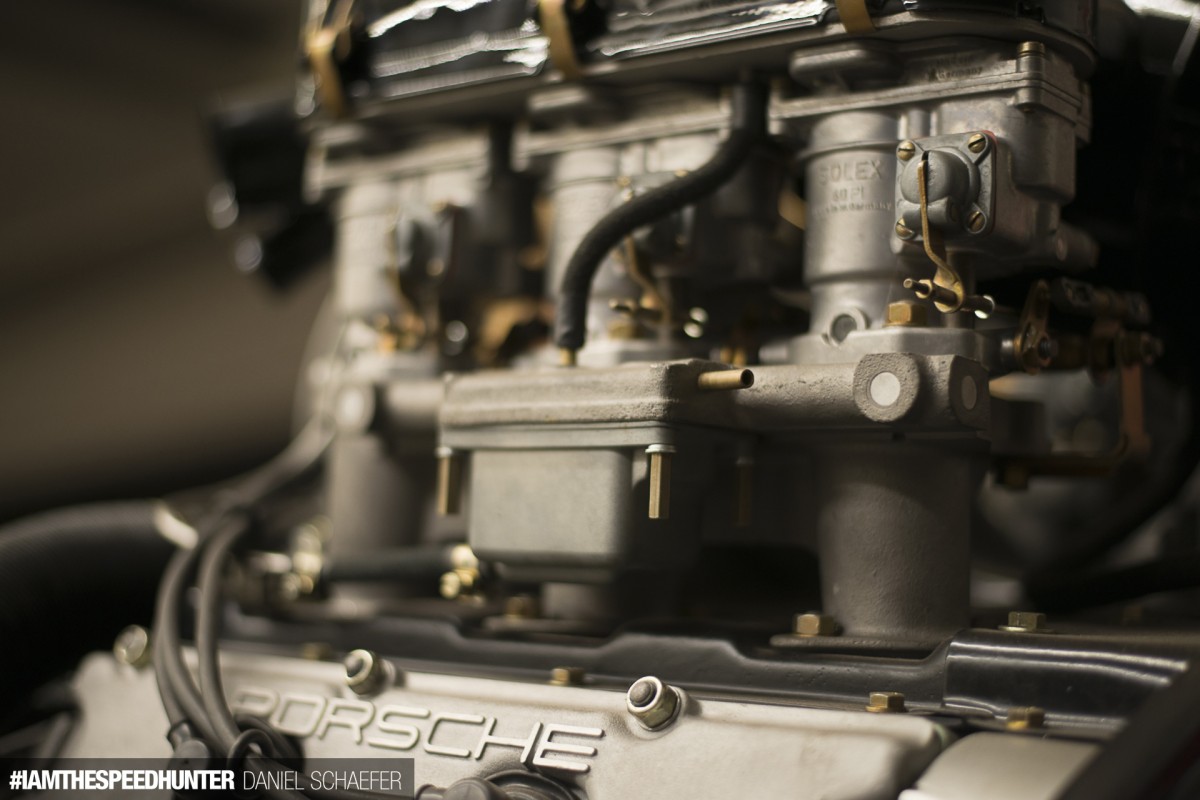 Daniel explains, "I'm a huge fan of period-correct Porsche tuning, so I wanted to stick with the original motor. My first step with this car was removing the rotten engine and cleaning and measuring all of the parts I wanted to use for the rebuild. Everything has either been refreshed or replaced; the crank resurfaced, heads rebuilt and ported and polished, I've added JE high compression pistons, 911S rods and camshafts from a Carrera 6, and a period-correct twin-pipe sports muffler. I also rebuilt the original Solex PI 40 carburetors and added self-made old-style air cleaners." So, again there's nothing too crazy to been see here, but we can definitely appreciate how Daniel has stuck with the 911's roots and kept things both traditional and functional. For an old, air-cooled machine from the '60s, 198hp is more than enough to have a whole lot of fun with!
John Curtin, Brisbane, Australia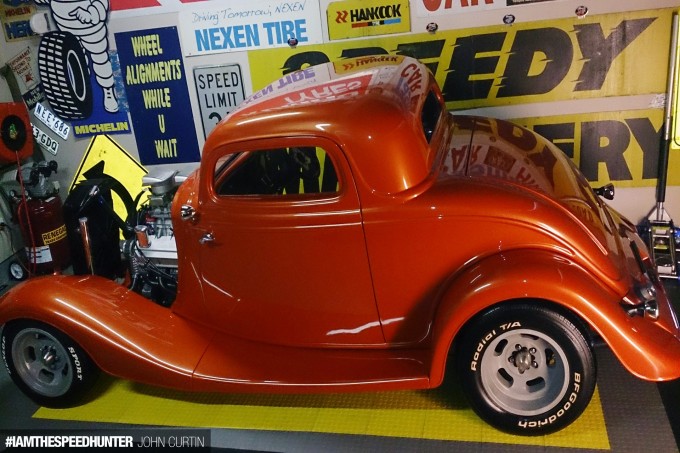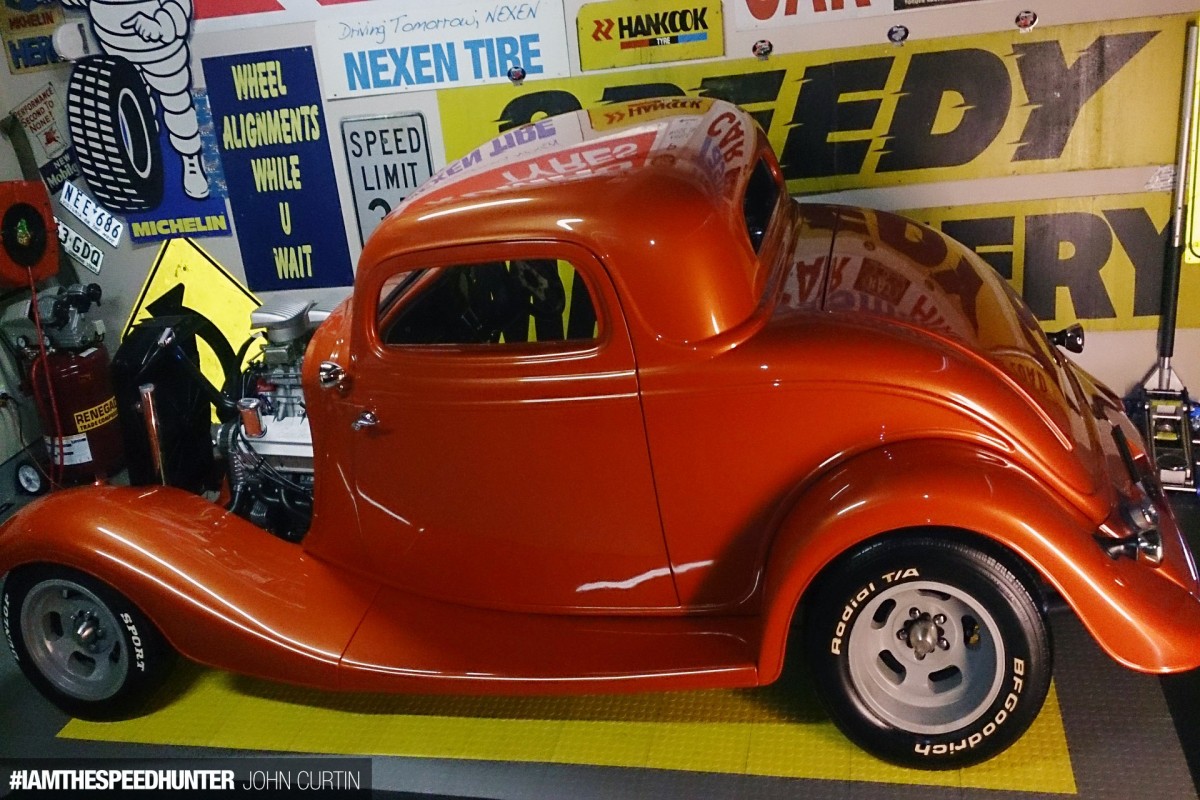 Next up, Australian Speedhunters reader John Curtin is currently in the process of building a hot rod based off a 1934 Ford three window coupe, which, despite still being roughly six months away from completion, is already shaping up to be a beautiful machine from what we can see here.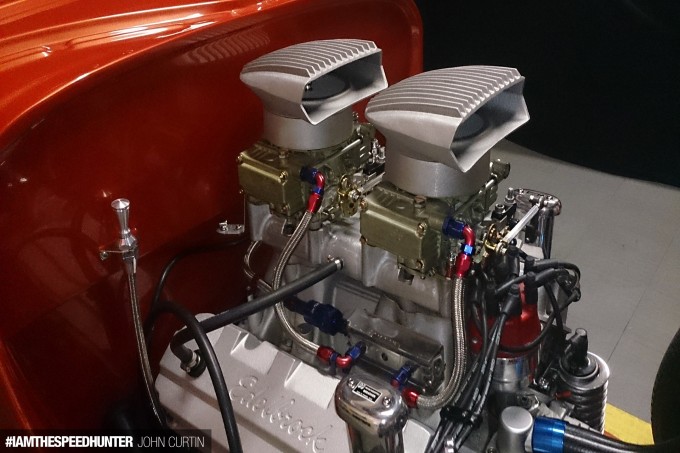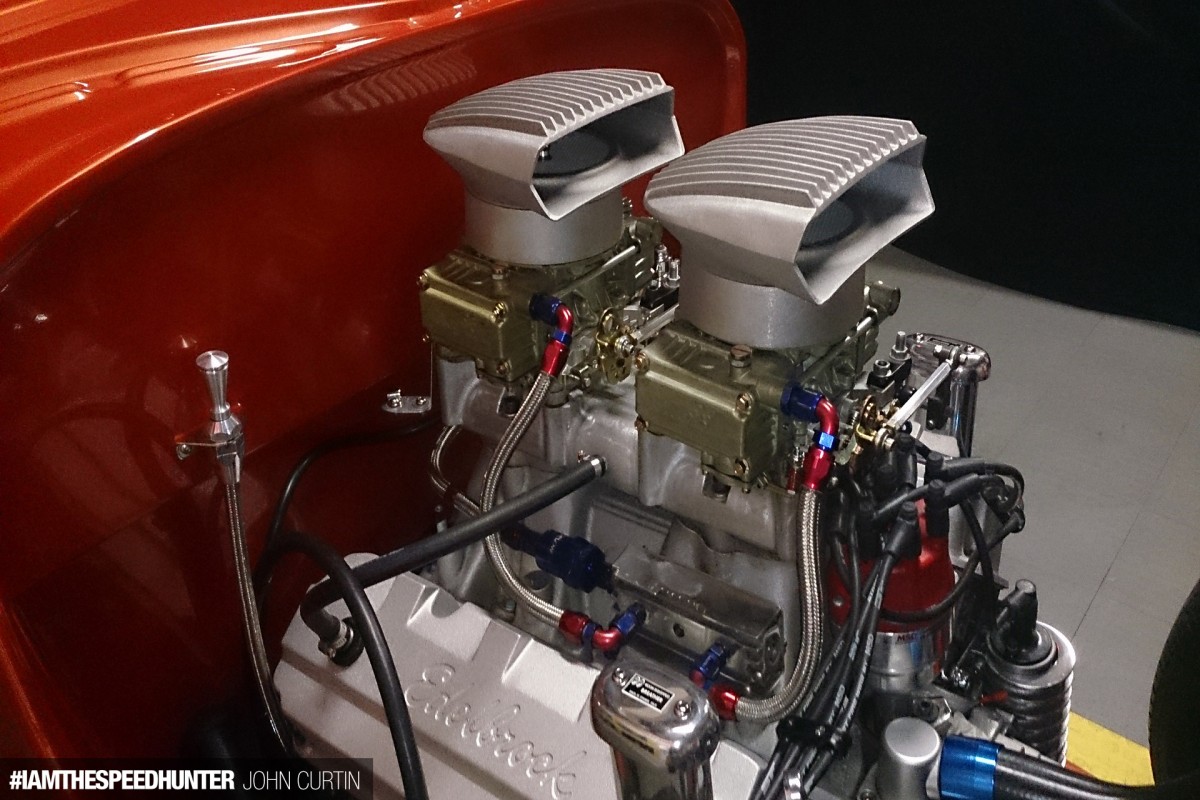 John's engine of choice is a 5.8-litre Ford 351 Cleveland ('73 Ford Ltd. Australian block), which he's modified with oversized pistons, a bigger cam and a high volume oil pump, a double row timing chain, plus it has a fully balanced bottom end with flowed and match-ported 2V heads. The carburetors are twin 450cfm Holley 4-barrels on a Redline Performance tunnel ram manifold with nostalgic American 'Richies' natural cast aluminium individual 4-barrel scoops. John has also been able to have the vehicle approved as being road-registered with no engine covers, legally allowing him to leave the front end fully exposed to show off the beautiful carbureted small block in all its glory.
Alexander Rygaard, Denmark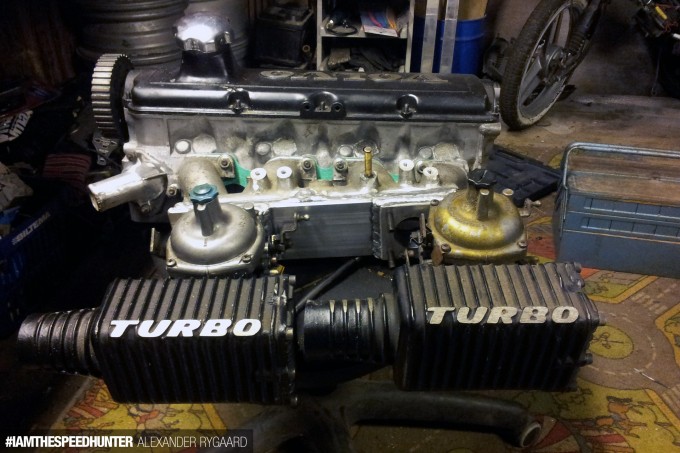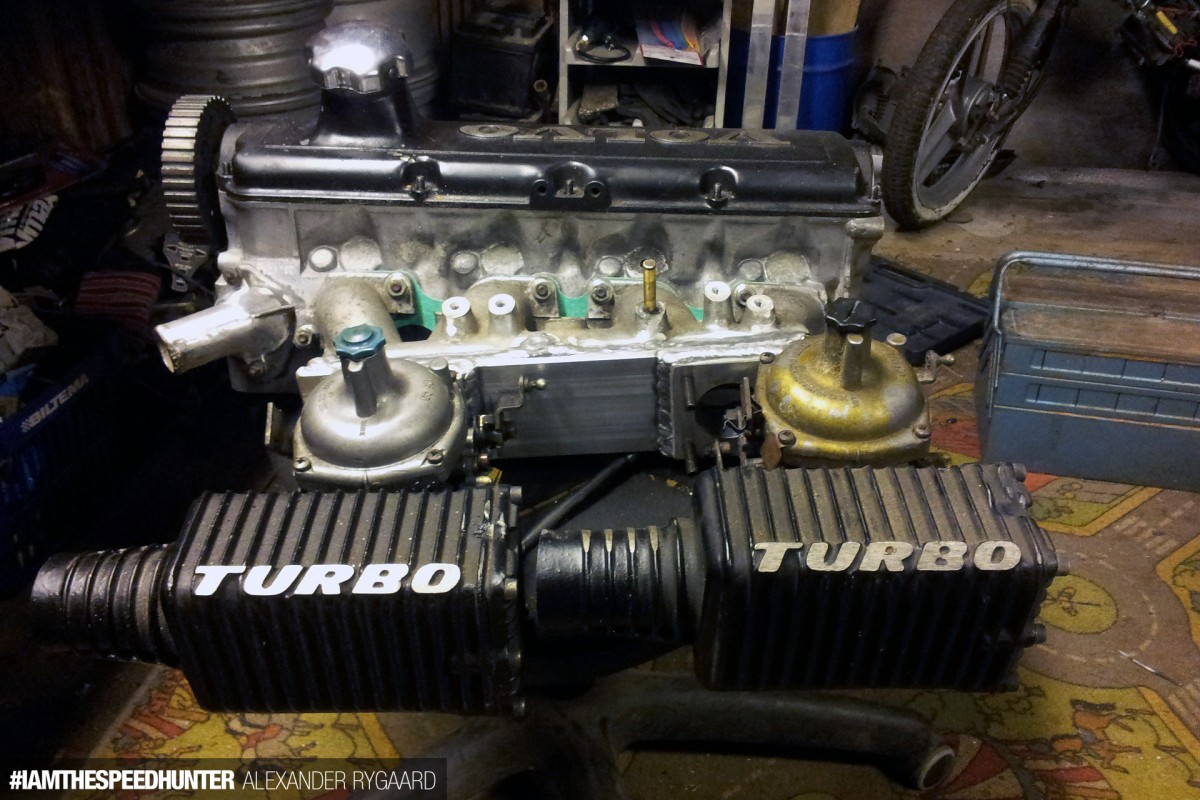 Seeing as this was the only turbocharged engine submitted to us, we thought we'd include this rather interesting project from Alexander Rygaard in Denmark. Alexander and his two brothers are currently all students so they have a fairly limited budget for their automotive hobby, but that hasn't stopped them from keeping busy throughout the cold Scandinavian winter by rebuilding an old Volvo 245. While most people would generally opt for a modern fuel injected Volvo engine for 'more horsepowers' as those crazy Scandinavians like to call it, Alexander is more into the old school way of doing things – he's sourced a very retro-looking Volvo Redblock B230A engine with an original Volvo turbo kit. Using a Volvo 1000 531 cylinder head with much bigger ports and better airflow, Alexander plans to have the head CNC-machined and install new valves.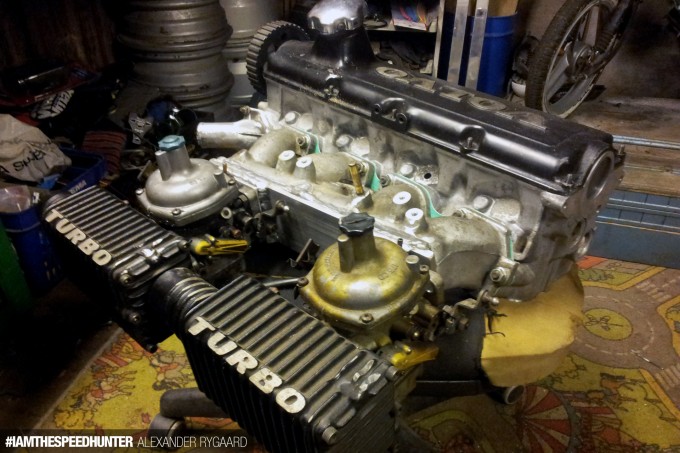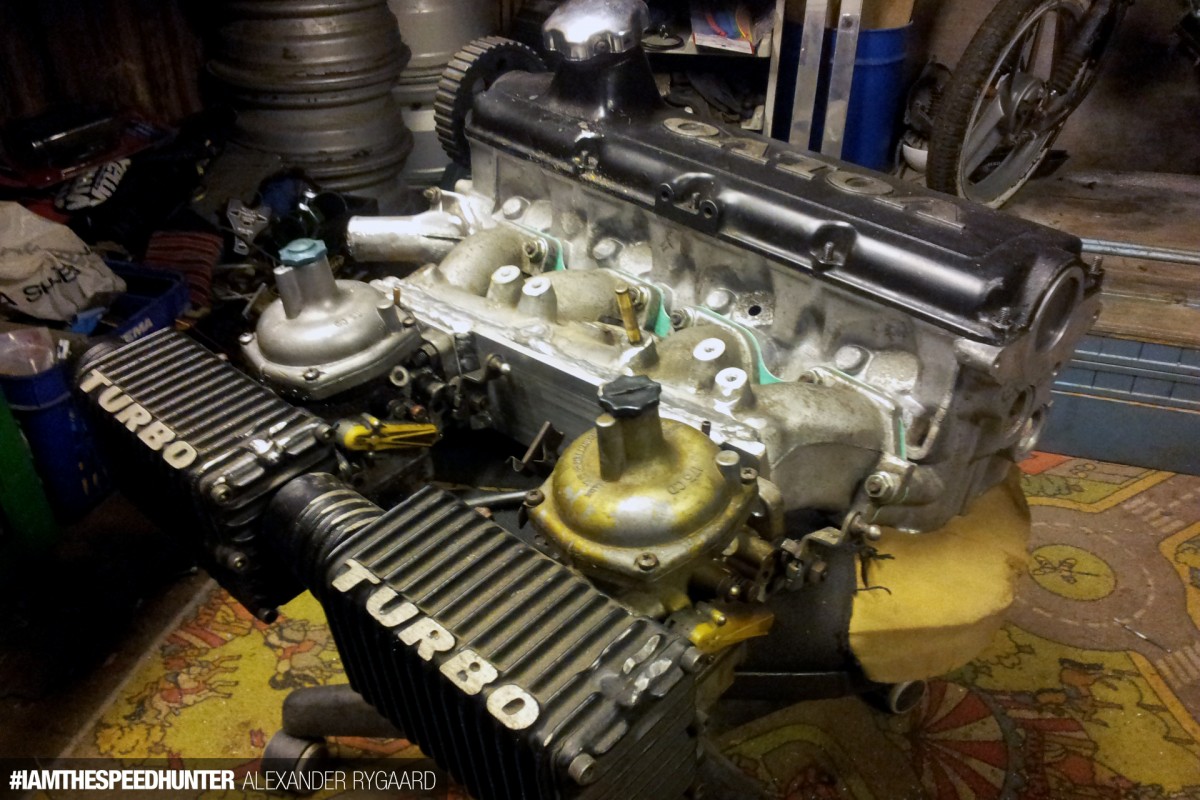 Alexander tells us, "I've sourced a Volvo A cam, which works quite well on 8-valve turbocharged Volvo motors – but of course, there is much speculation between Volvo enthusiasts as to which cam is the best. That discussion will probably go on forever." He goes on to explain that the Solex carbs shown here came with the Volvo turbo kit for this engine. "I chose the carburetor and turbo setup because I find old technology and mechanics more fun to work with. Bringing something old to life gives me a great deal of satisfaction, much more so than buying something new. The idea that 30-year-old technology can give many new cars a run for their money at the traffic lights is part of what makes me want to continue to spend money on my old turbo Volvo!"
With plans to eventually install a Garrett GT2560R turbo, Alexander and his brothers are hoping to make double the horsepower – somewhere around the 280hp mark. Best of luck with your project, guys!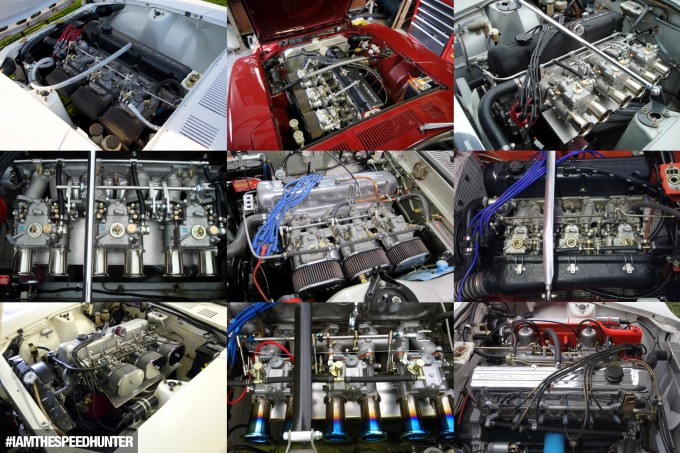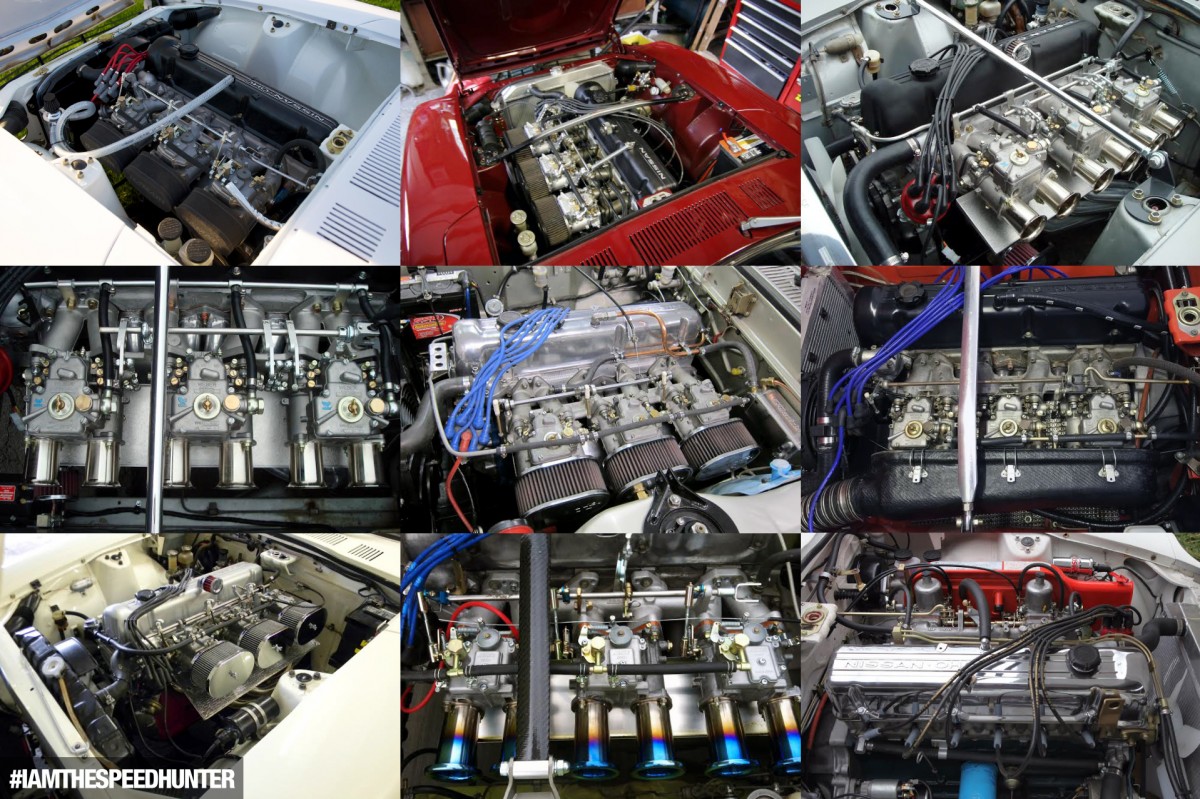 Sadly, this brings us to the end of our #IAMTHESPEEDHUNTER carbs only feast, but we couldn't finish up without including some of the fantastic nostalgic Nissan and Datsun engine builds that were submitted to us. Check out the L-series love above from (top-bottom, left-right) Torbjørn Blystad from Norway, David Cerutti from New York, Lou Strickland from California, Kevin San from Australia, Samuel Giroud from France, Nathan Hayles from the UK, Binh Nguyen from Canada and Santid Panichapong from Texas.
Thanks everyone and make sure to look out for our next announcement to find out how you can submit content for our February theme. Until then, happy Speedhunting!
Story by Taryn Croucher
Instagram: taryncroucher
Twitter: @taryncroucher
taryn@speedhunters.com
The Carbs Only Theme on Speedhunters
#IAMTHESPEEDHUNTER: The V8 Swap Theme – Readers Rides  
#IAMTHESPEEDHUNTER: The Creators Theme – Show Us Your Fabrication Skills
About #IAMTHESPEEDHUNTER
We created #IAMTHESPEEDHUNTER to allow you the opportunity to share your skills and car culture experiences from around the globe with the rest of the Speedhunters audience.How do you get involved? It's simple…
Speedhunters.com – Watch out for our monthly announcements on how you can take part and submit your content to feature in one of our monthly themes!
Instagram – Follow us on Instagram at @TheSpeedhunters and tag your own car culture images with #IAMTHESPEEDHUNTER
Twitter – Follow us on Twitter at @SPEEDHUNTERS and share your tweets with the #IAMTHESPEEDHUNTER hashtag
Flickr – Join our #IAMTHESPEEDHUNTER Flickr Group and share your favourite photos with us and others
E-Mail – If you've been to a cool event and captured some amazing images, be sure to e-mail them to us on iamthespeedhunter@speedhunters.com and tell us a little bit about the event