The Magic Of Daikoku
My first time at Daikoku PA was during a very memorable school night in 1993. I rolled in with a few friends of mine, one of whom had 'borrowed' his father's brand new Mercedes-Benz 600 SL. I had lost the call to ride shotgun so I had to sit horizontally across the tiny rear seats, but the somewhat uncomfortably cramped ride was all worth it. I didn't know it then, but the short drive from the south side of Tokyo to the Yokohama Bay Bridge and that first experience of Daikoku would sort of shape a lot of the future choices I eventually ended up making. Fast forward 22 years, and I'm still coming back to this place! Over that time I have seen it change – from the redesign and resurfacing that was done a little while back, to the evolution of the cars themselves and modifying tastes. But one thing has always stayed the same. Daikoku PA has always been a hub – a meeting point for those that have a thing for cars, a place to meet or make friends and share in the passion that brings us all together.
The first meeting of the year at Daikoku is one of the best. It has a different energy to most of the other gatherings that are held here – perhaps due to people being in the midst of a few quiet days to celebrate the coming of another year. They are more relaxed, less stressed, and up for a bit more fun and banter than usual.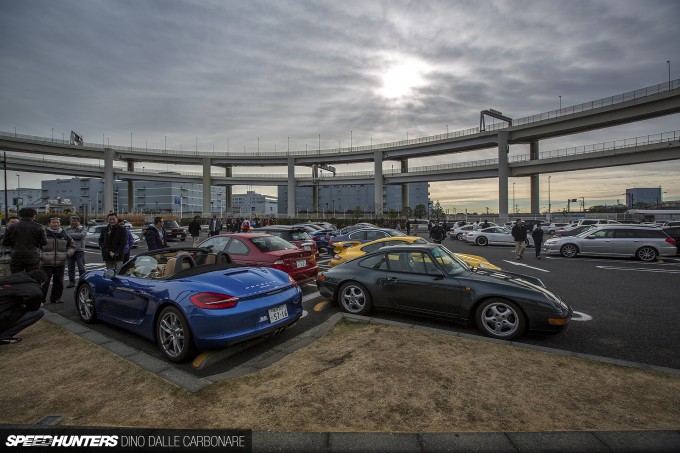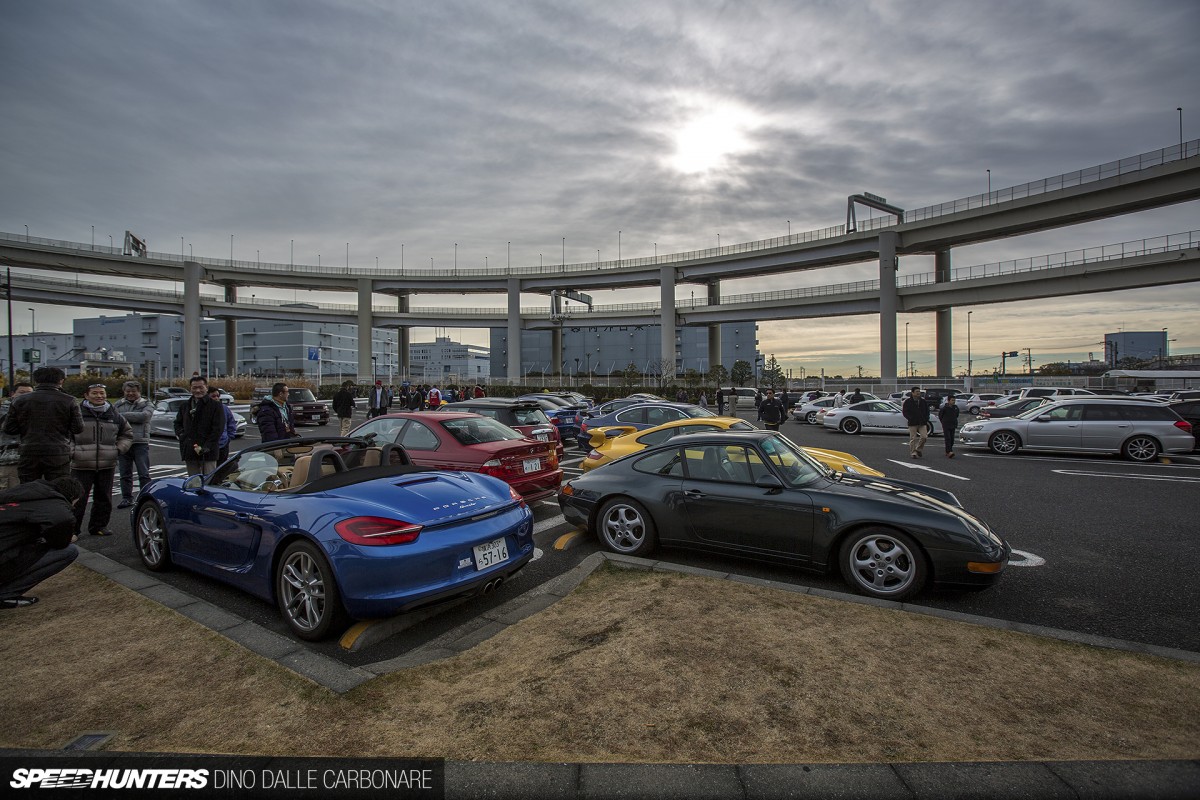 While you can always be sure that a meeting happens on the second day of the year, you never really know what is going to drop by and when. So although it was extremely difficult to get out of bed, I tried to be there nice and early. And despite temperatures still below freezing, there were already a fair few cars parked up in the lot when I arrived.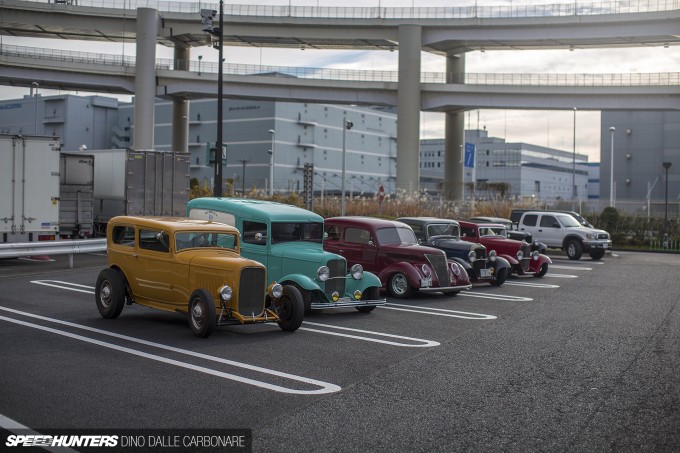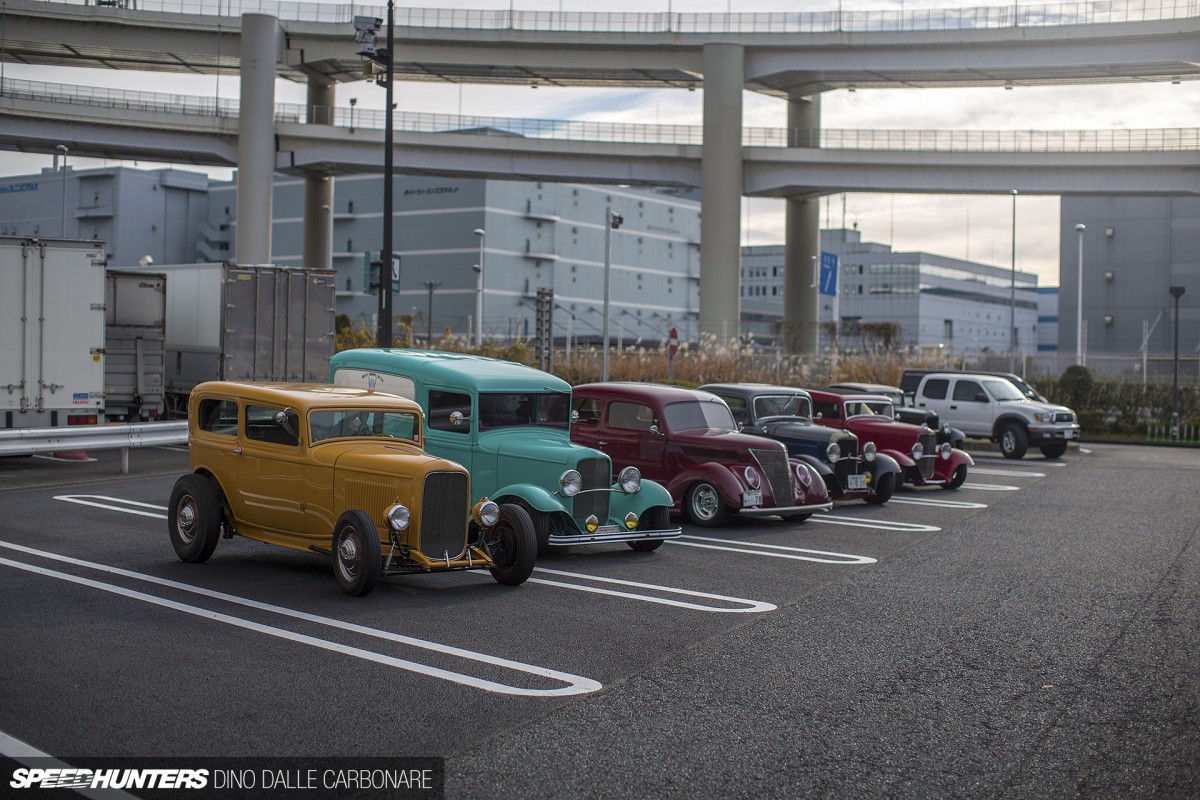 They included a little gathering from a Yokohama-based hot rod club.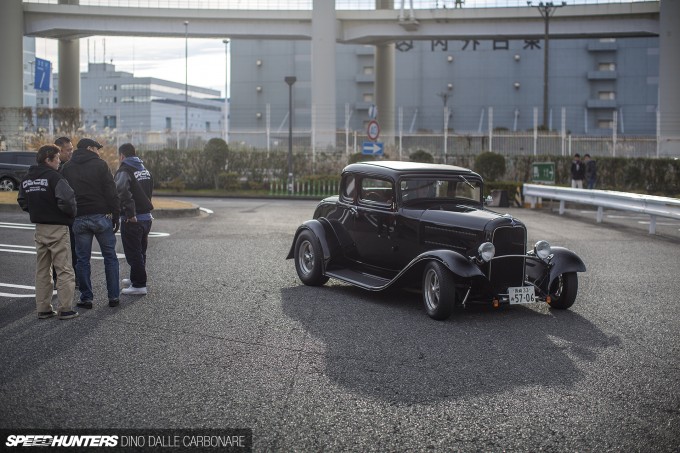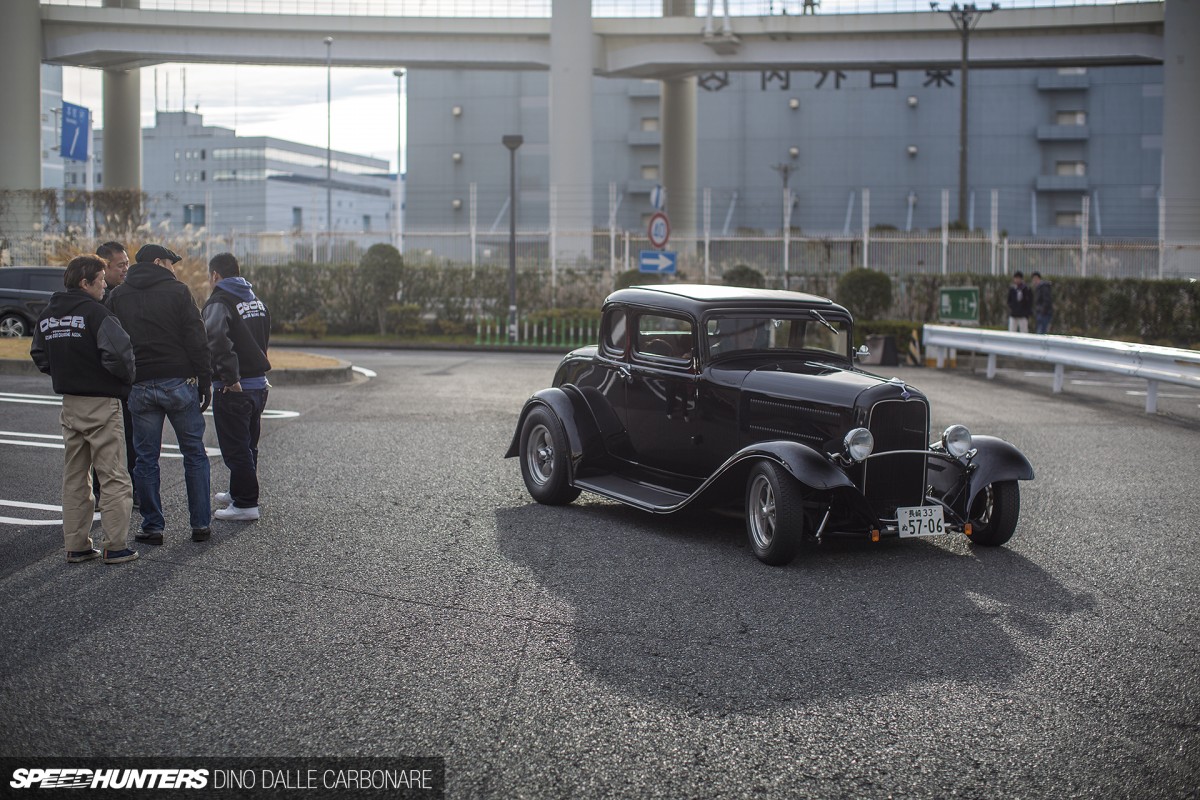 The guys were out on a cruise for the morning and had stopped by to wait for a couple of more members to join their convoy.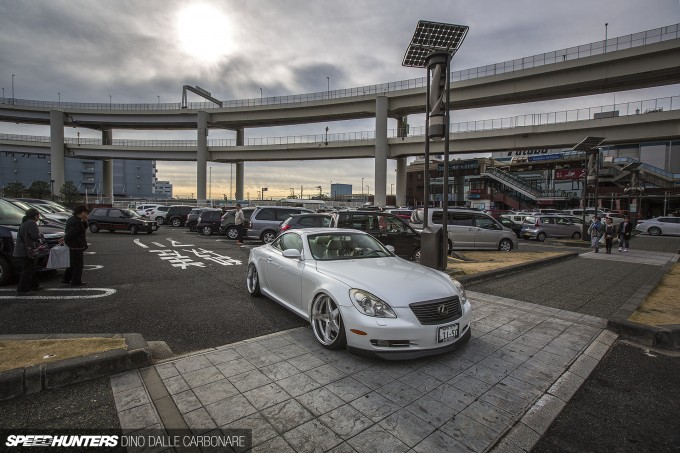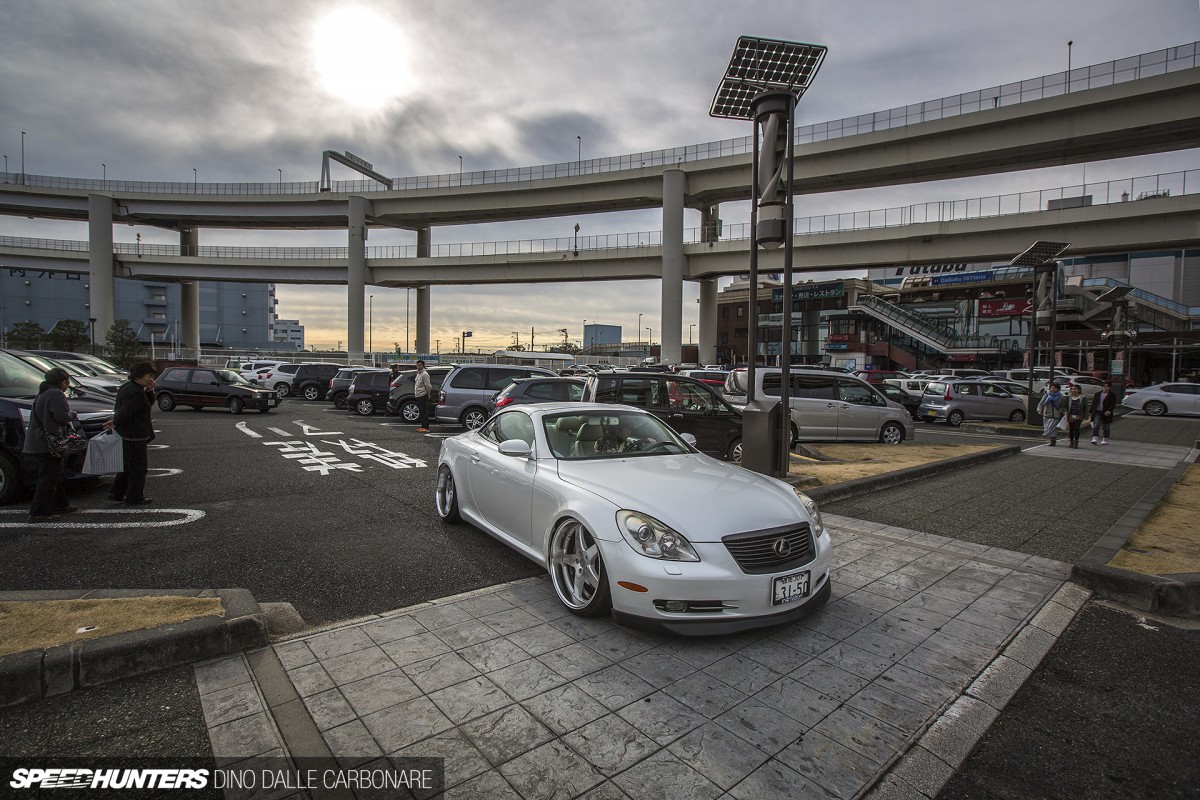 One thing you can always count on at the first meeting of the year is variety. Name any car and there's a good chance you might see it on this very special day at Daikoku. While VIP machines are usually few and far between however, I did see this nice and smooth Lexus SC run in and momentarily struggle with the tiny little ramps that divide the two areas of the PA.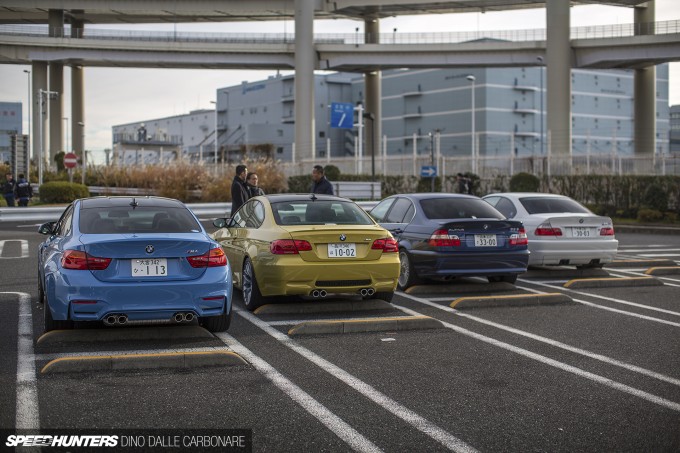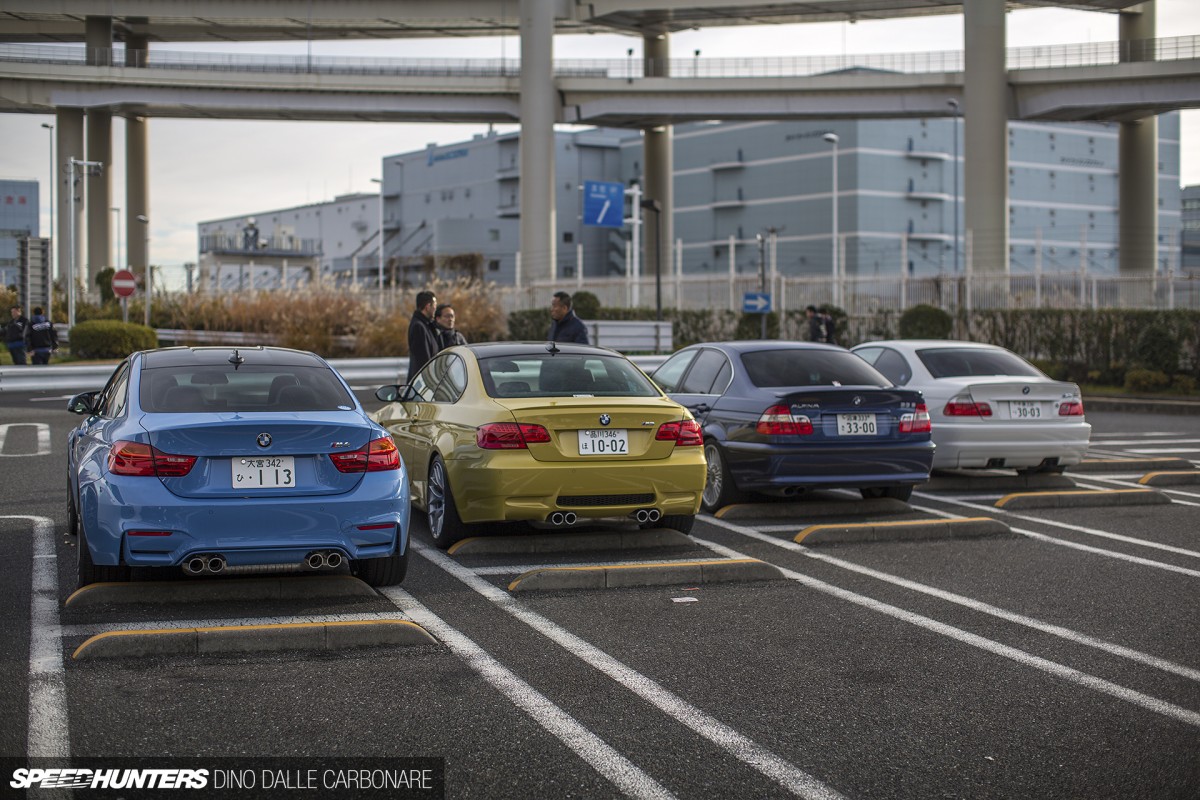 BMW's popularity continues to grow in Japan and amongst a nice little group of Alpinas there were some tasty M cars lined up. E46, E92 and F82 – which one would you take home?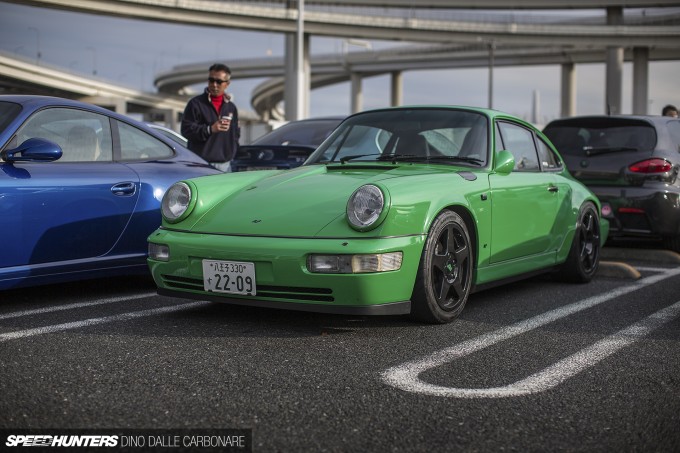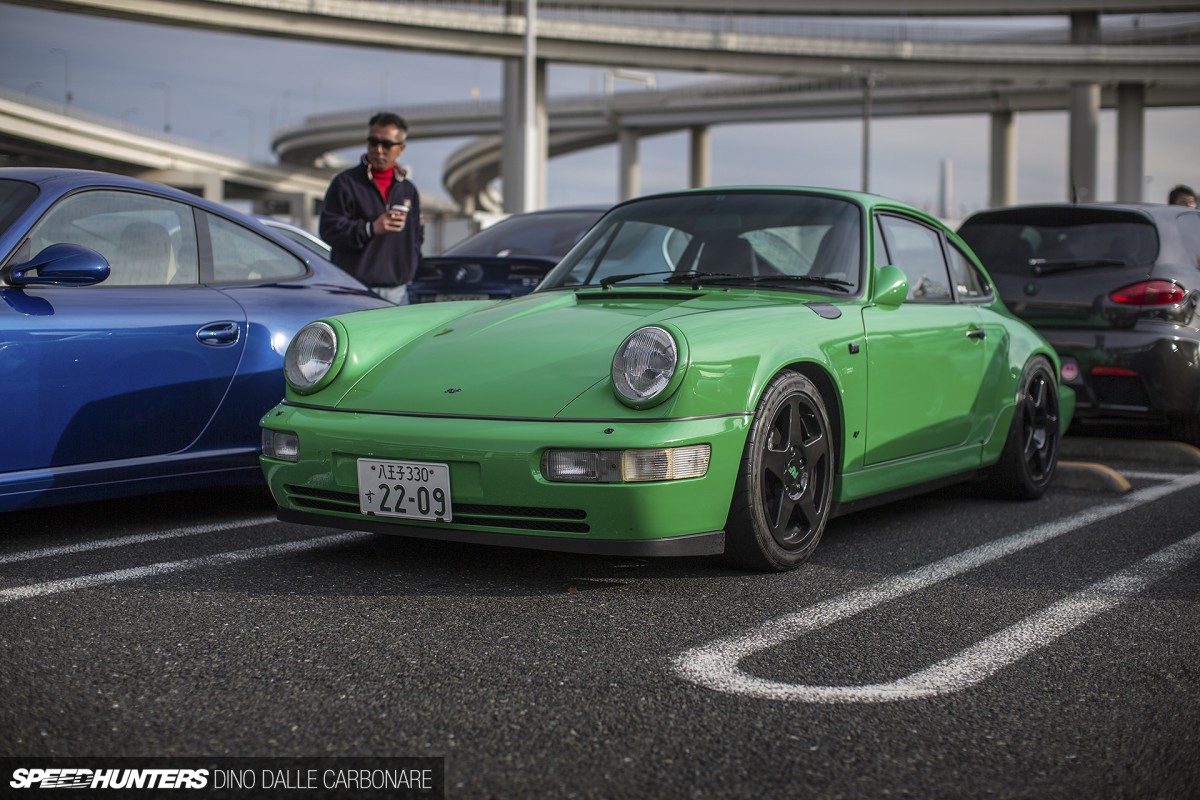 If you follow me on Instagram you may have seen that I came across a spotless RUF CT the other day in Tokyo. RUFs are pretty rare even in Japan, so I was surprised to see another one parked up at the meet.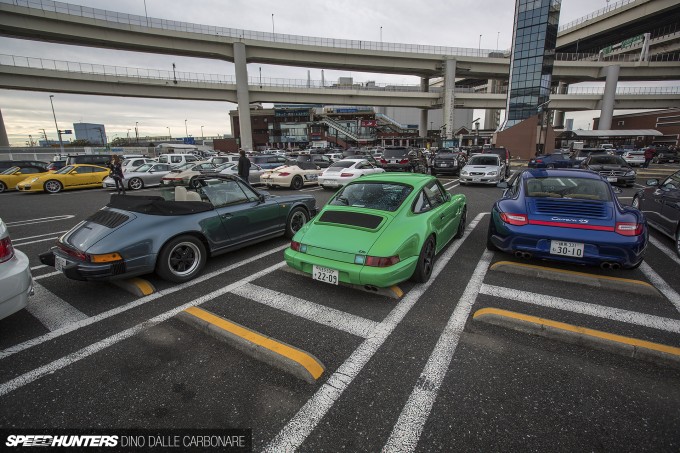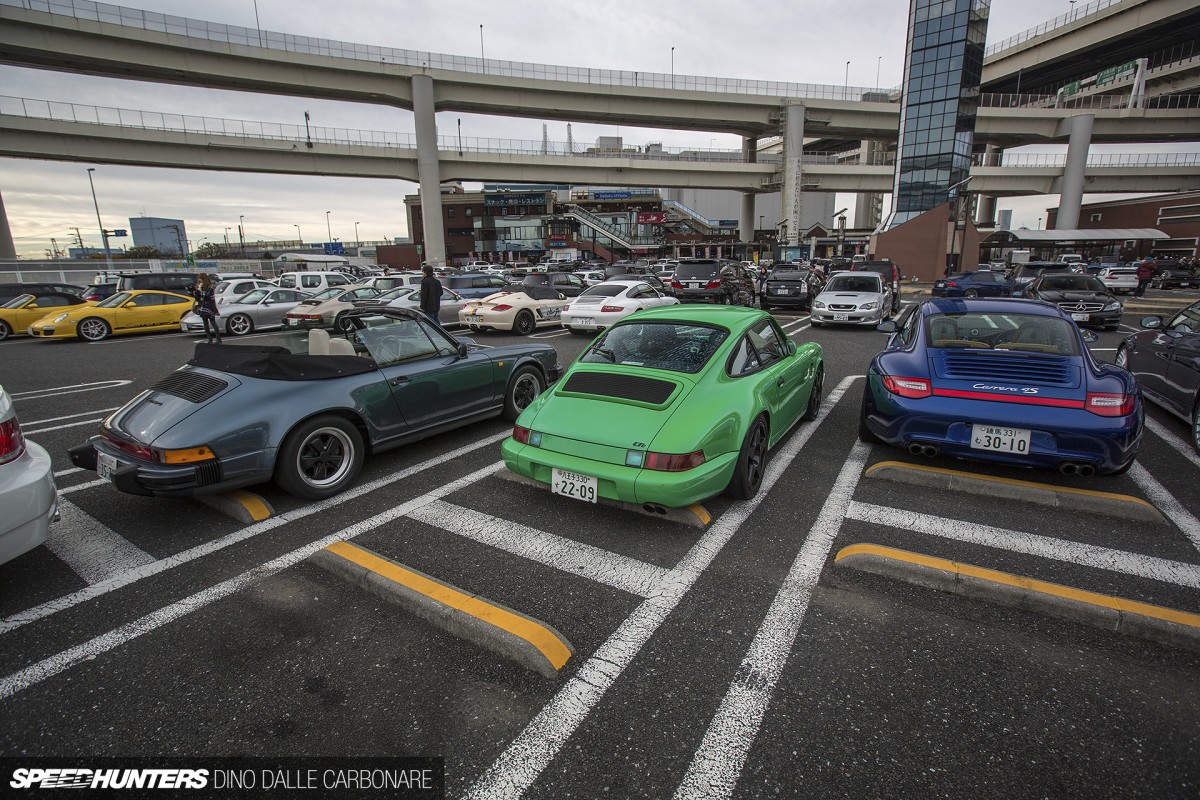 Sat in between a 930 drop-top and a 997 4S, it certainly stood – although the color probably had something to do with that! The badge on the back said 'CTo' – one I have never seen or heard of.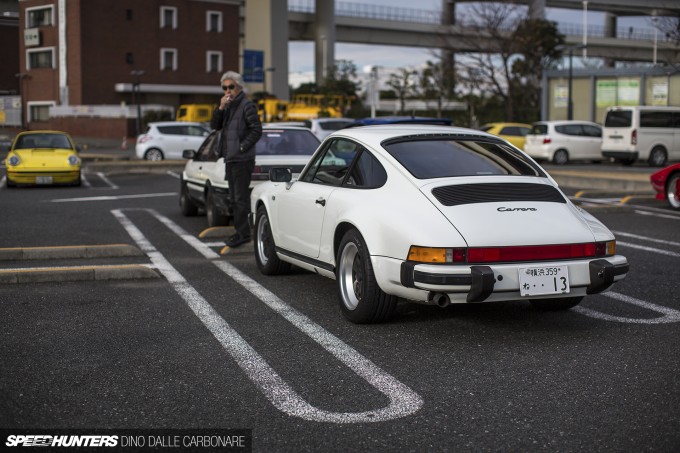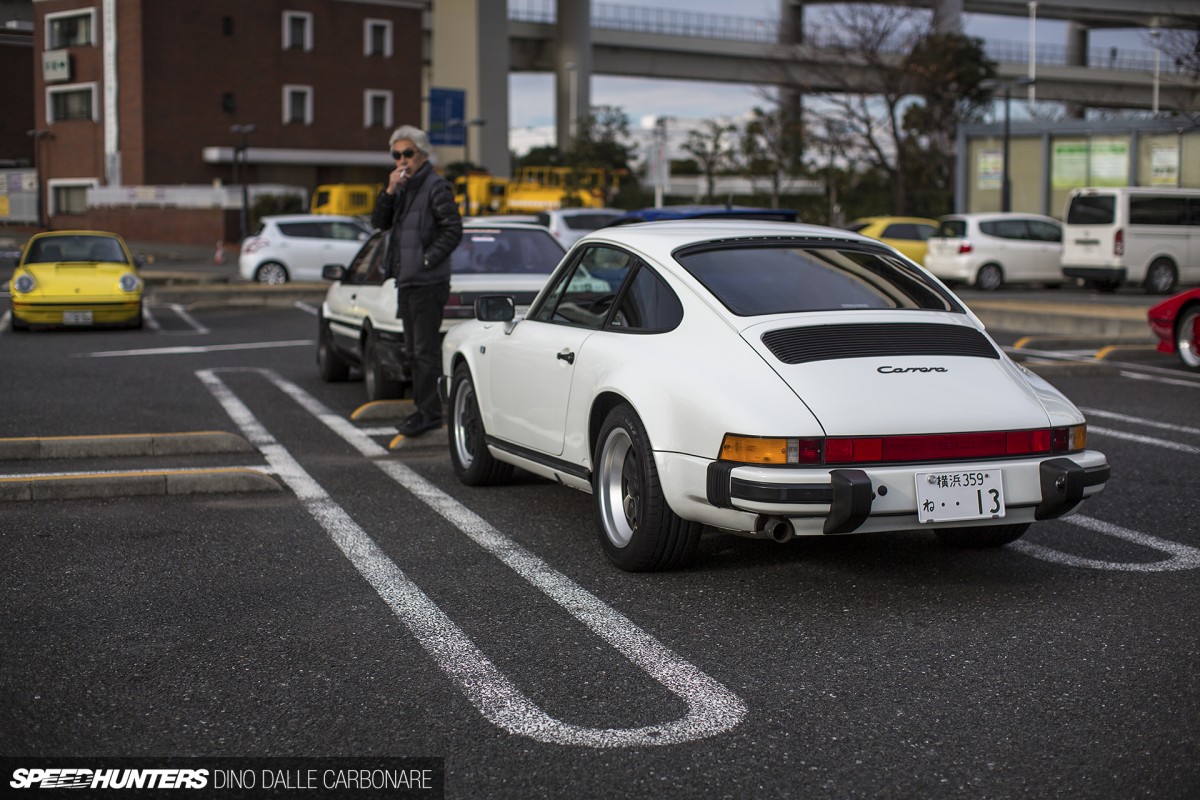 The classic Porsche scene is really beginning to pick up here in Japan, and it's slowly but surely driving prices of these older cars up. As always with 911s, first of all it's nice to see where they've come from (this 930 Carrera was from the US) and then see how they've been personalised by their owners.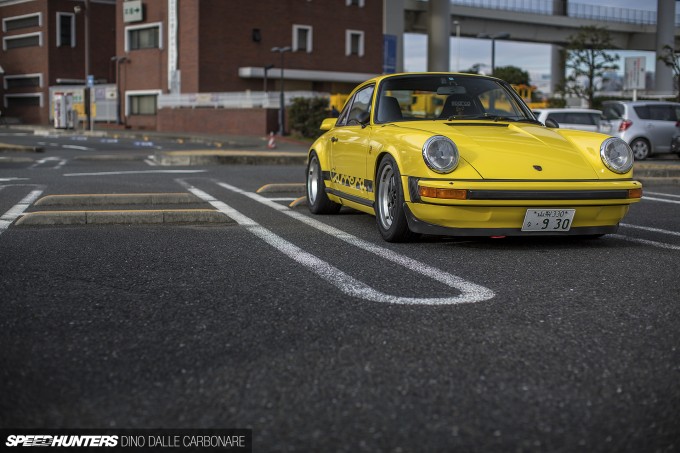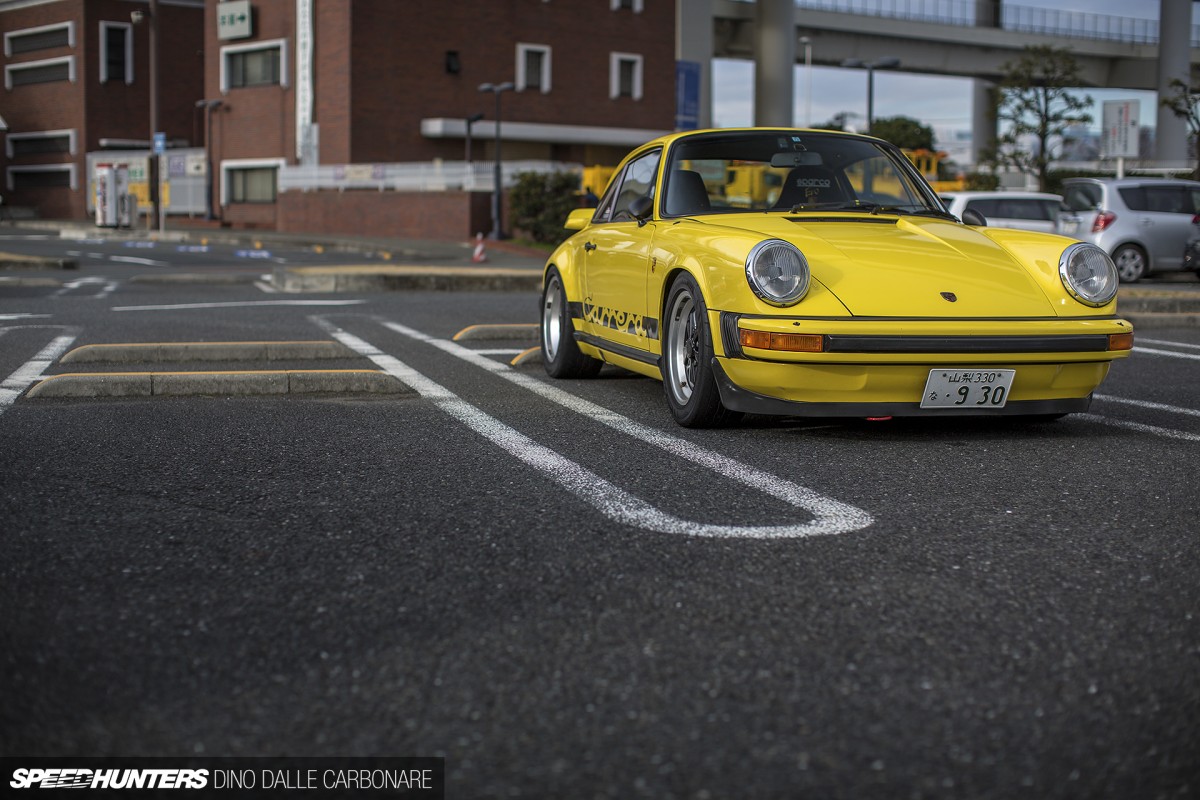 I haven't seen this M's Machine Works tuned and maintained 930 Carrera 3.0 since a very wet July 7th night back in 2012. It seemed out of place at the 7s Meeting in Umihotaru, but it looked spot-on sitting in Daikoku amongst such a variety of cars.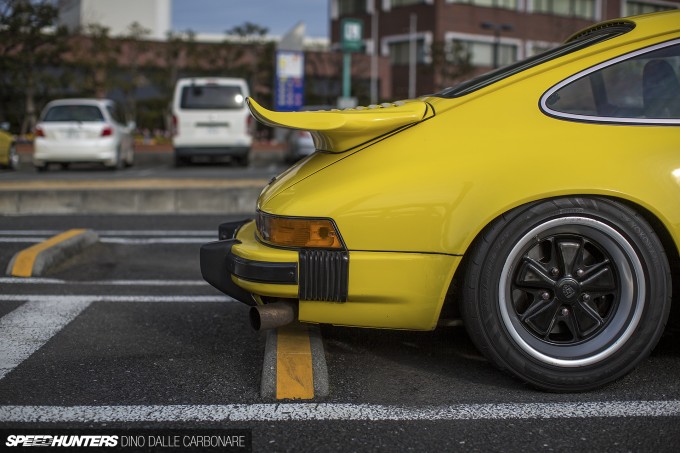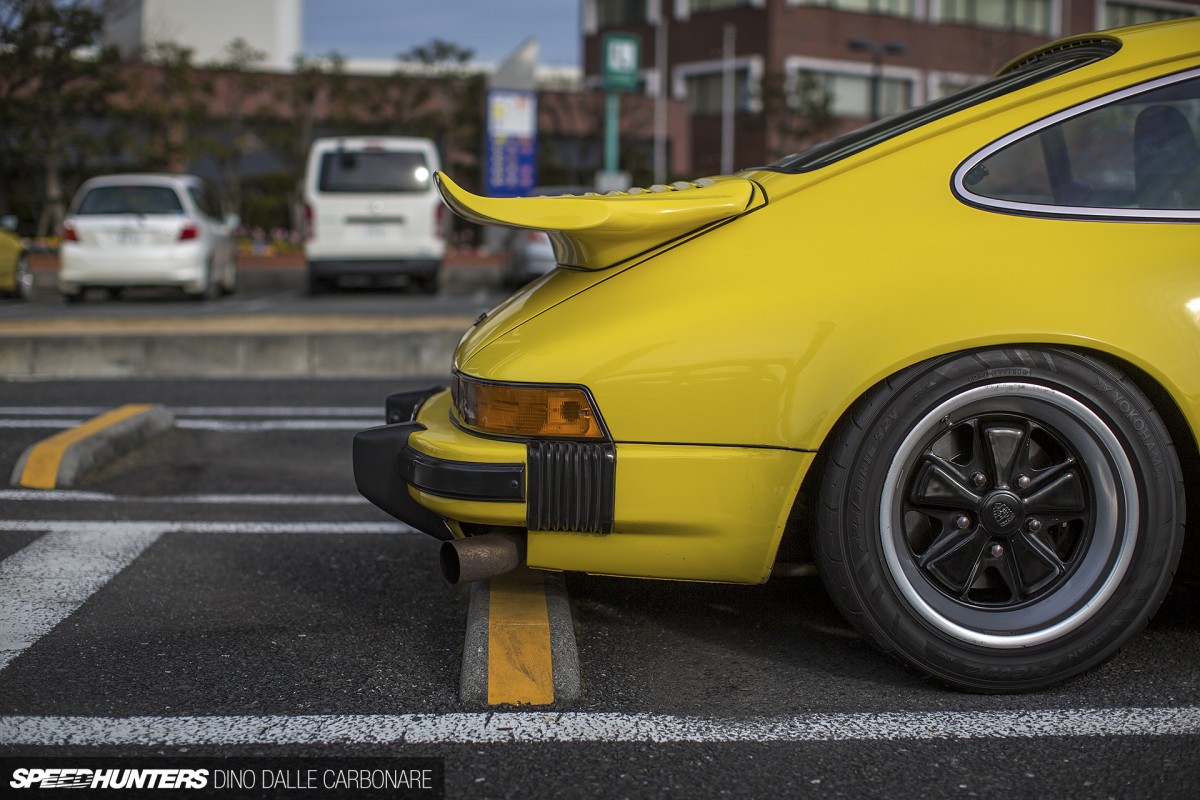 This car does a lot of things right – classic Porsche perfection personified in metal.
The Movement Begins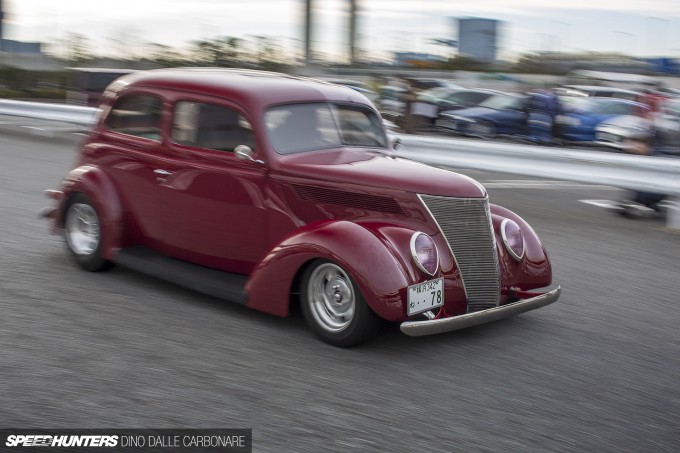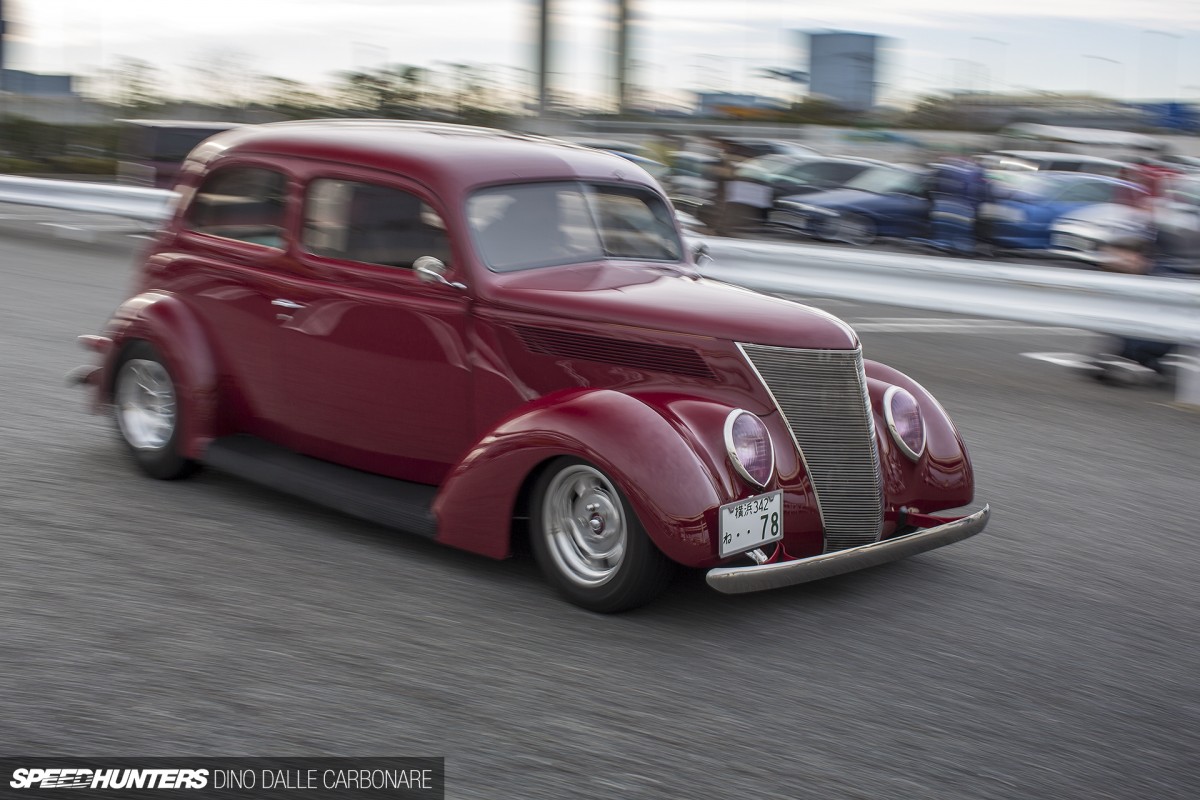 It wasn't long until the hot rods started to crank their lightly-silenced V8s into life.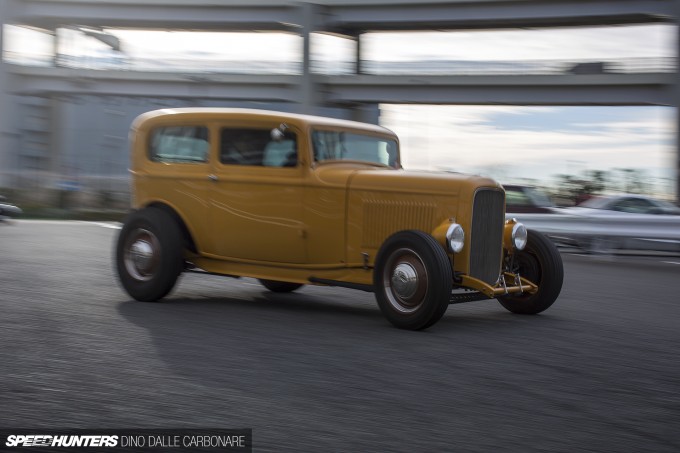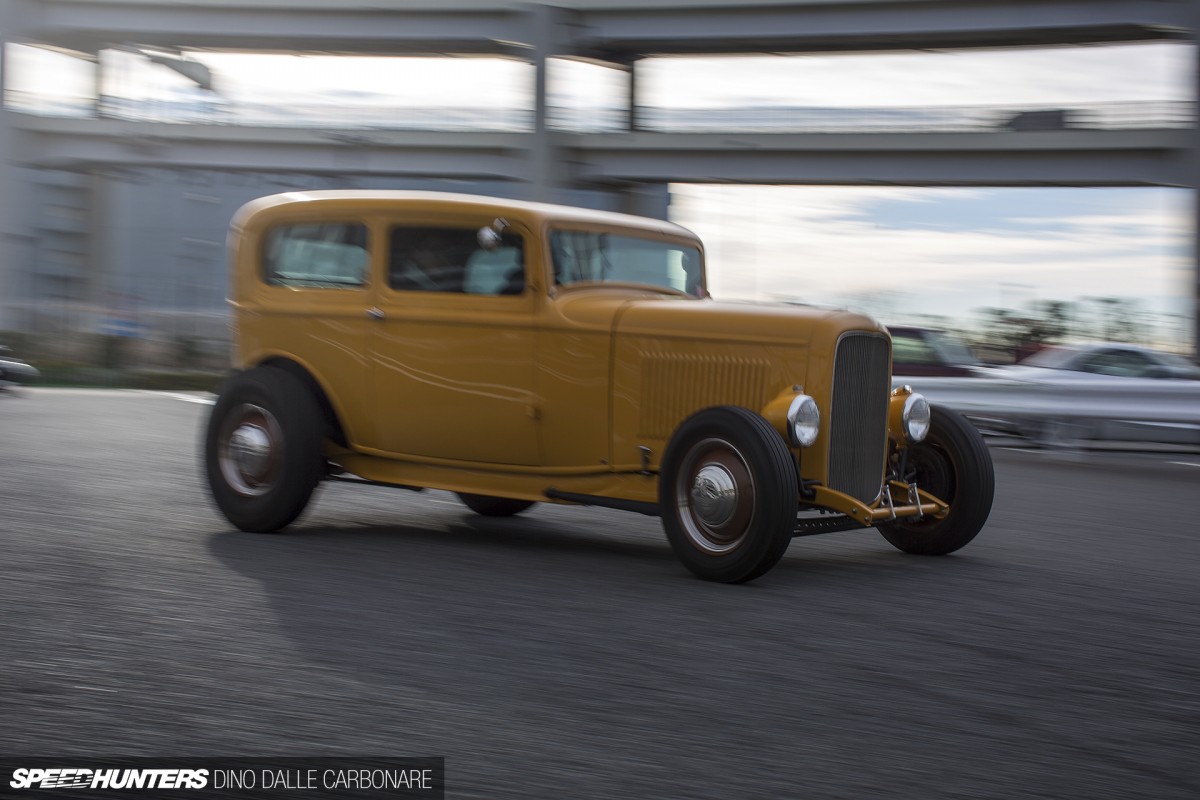 It was time for them to move on, maybe to hit up another parking area on the Wangan, or perhaps to drive back to Yokohama and drop by the Mooneyes Cafe…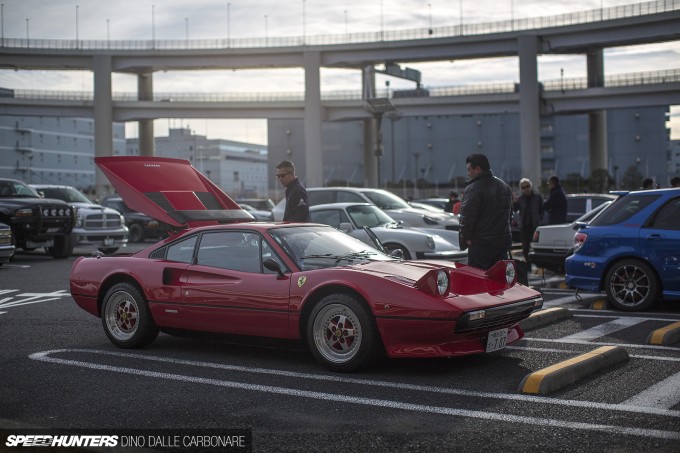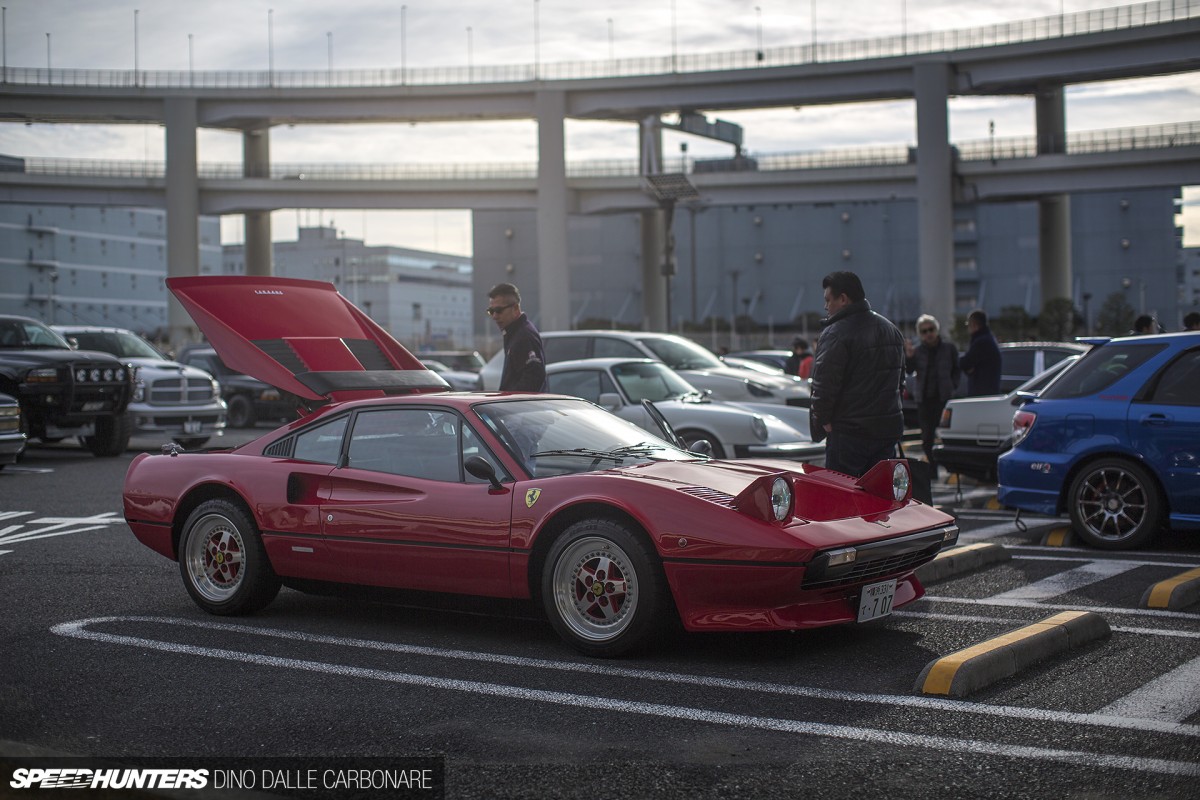 Looking at this 308 I couldn't help but marvel at how ageless this iconic Ferrari shape has become – not to mention at the meticulous way that it had been looked after all these years.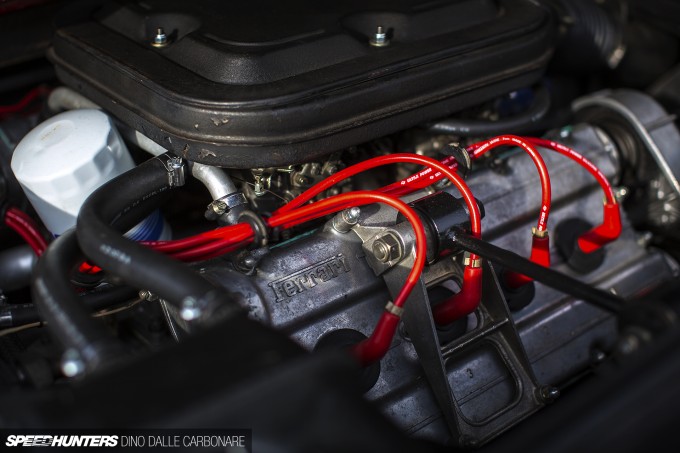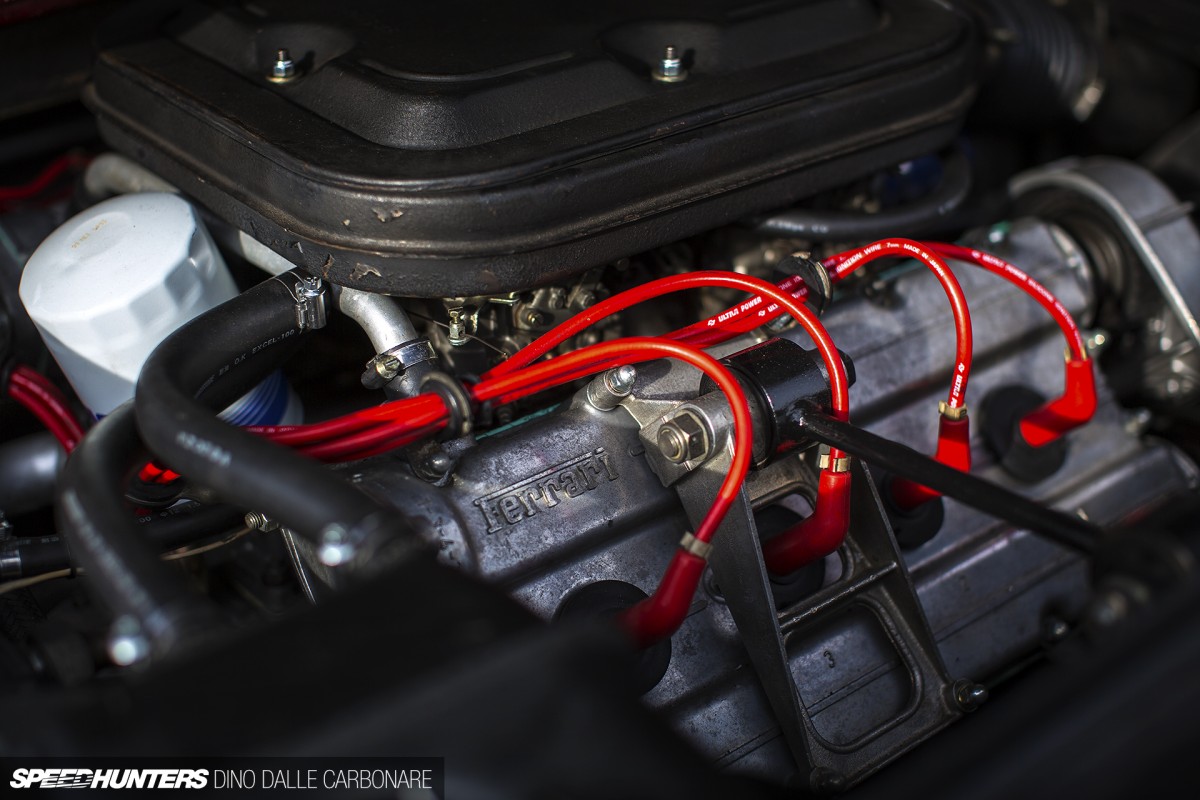 Its compact V8 sitting transversely in the back also made me wonder about its modern cousin – the 458 – and how the move to forced induction is going to go this year. 2015 is set to be one interesting year for the prancing horse!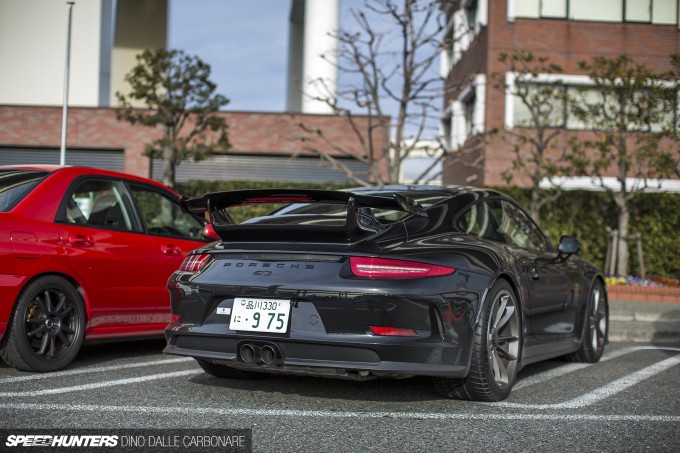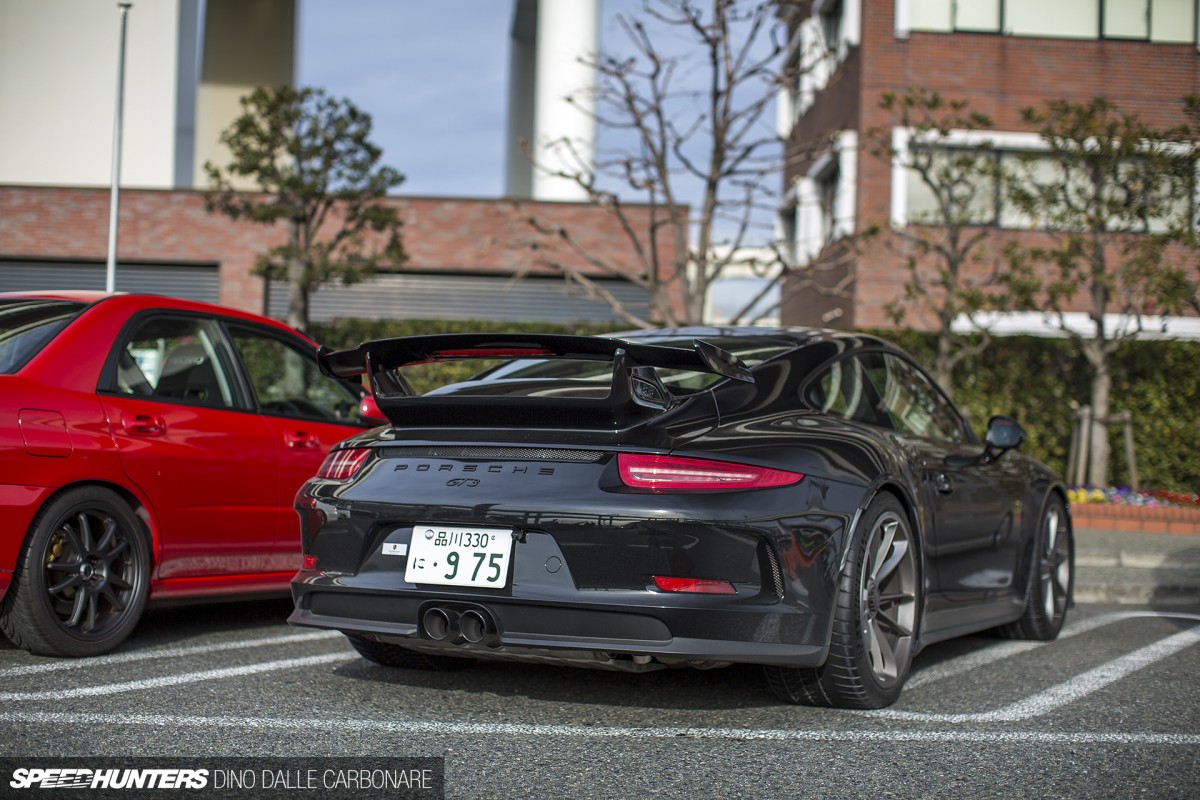 Porsche will be releasing the RS version of the 991 GT3 – an even faster, more capable track beast for the road, that will deliver more than 500hp if the rumours are to be believed. That's going to be one hell of an epic naturally aspirated flat six!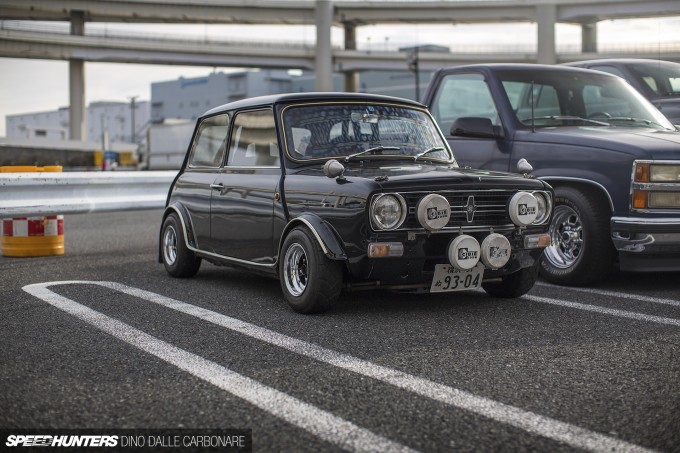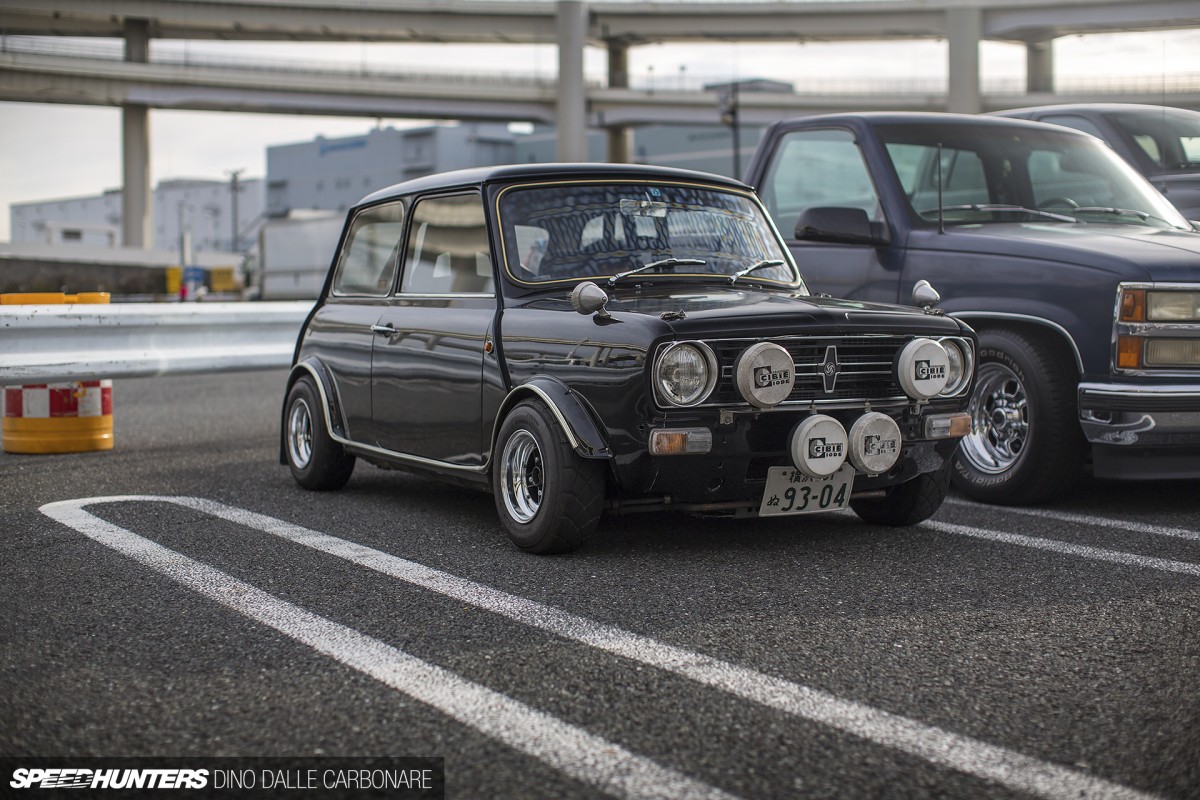 Away from the higher end of modern day supercars, there was quite a few others car to check out, starting off with this little Mini Clubman spotting a quartet of Cibie projectors.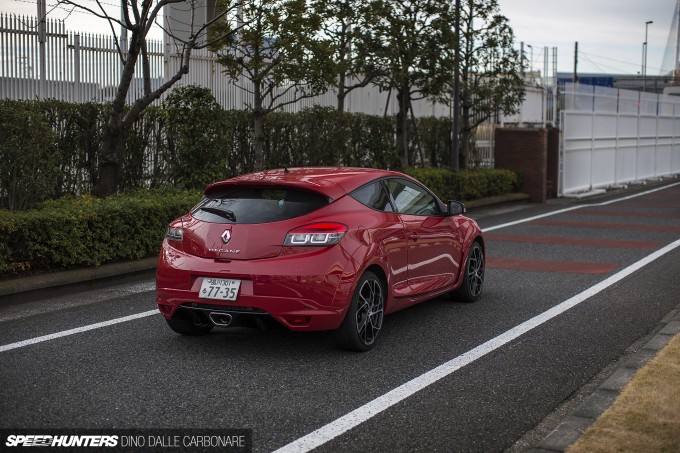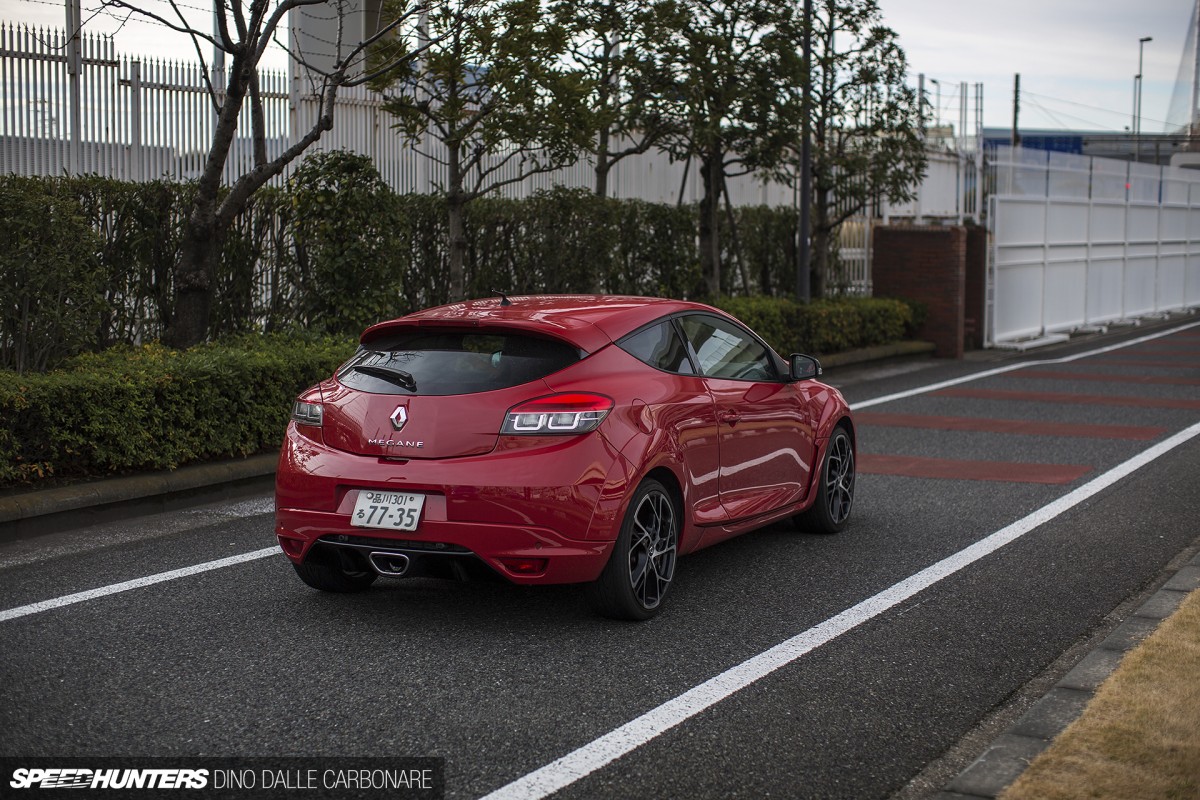 Here's one car I'm really looking forward to trying out soon. I haven't driven a decent front-wheel drive hatchback since I test drove a Mugen-tuned Civic years ago, so I really need to experience the RS Megane.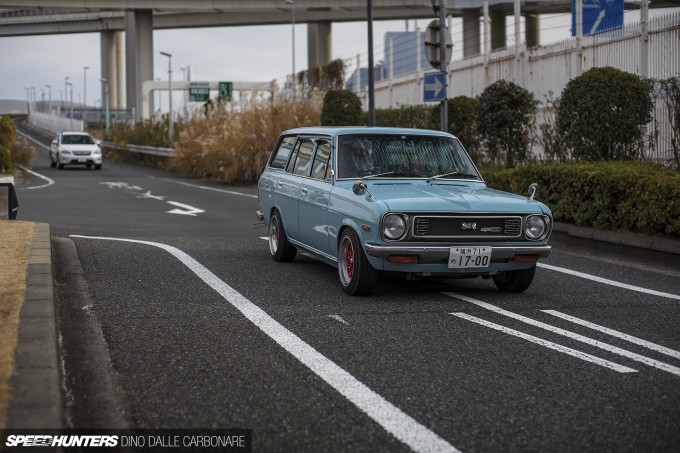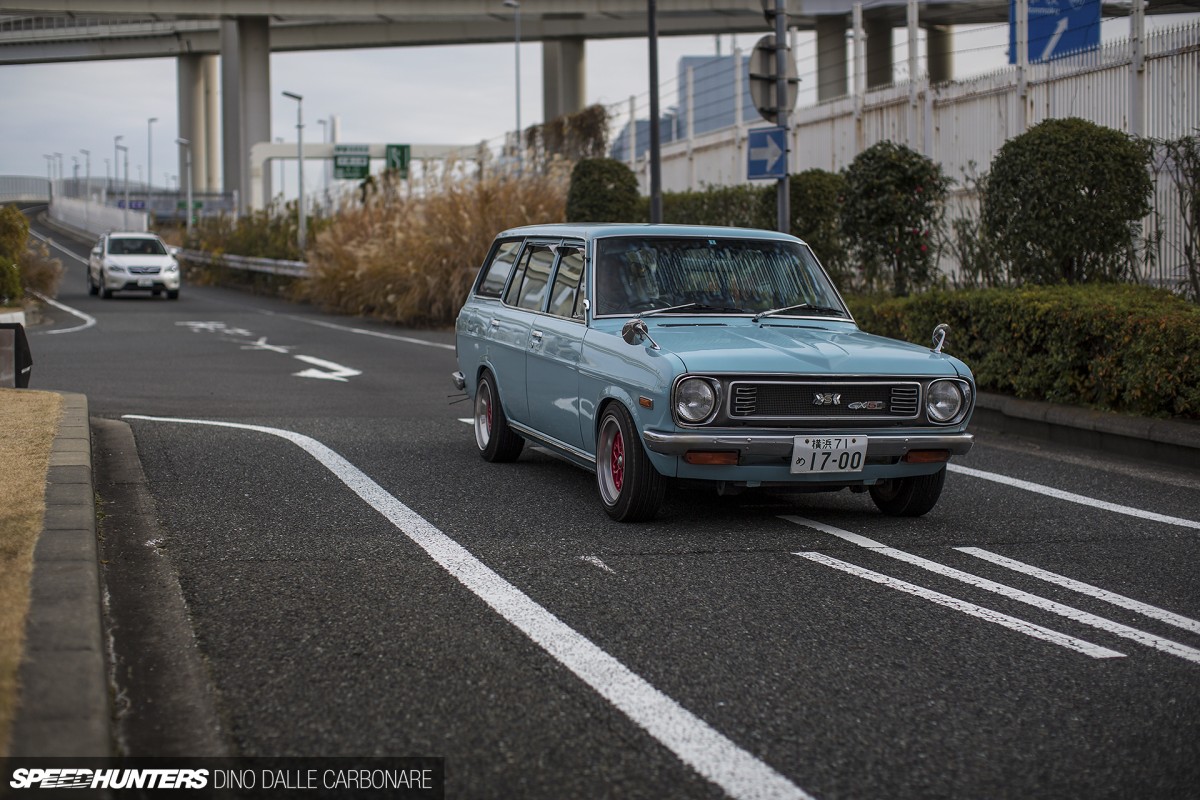 Sunny wagons are pretty rare cars no matter where you are in the world, but what set this one apart was the Team Yayoi Sakura wheels it was sitting on. There's much, much win going on here!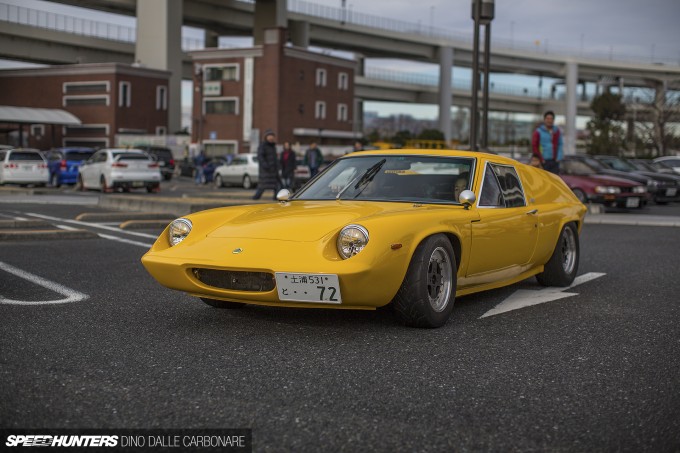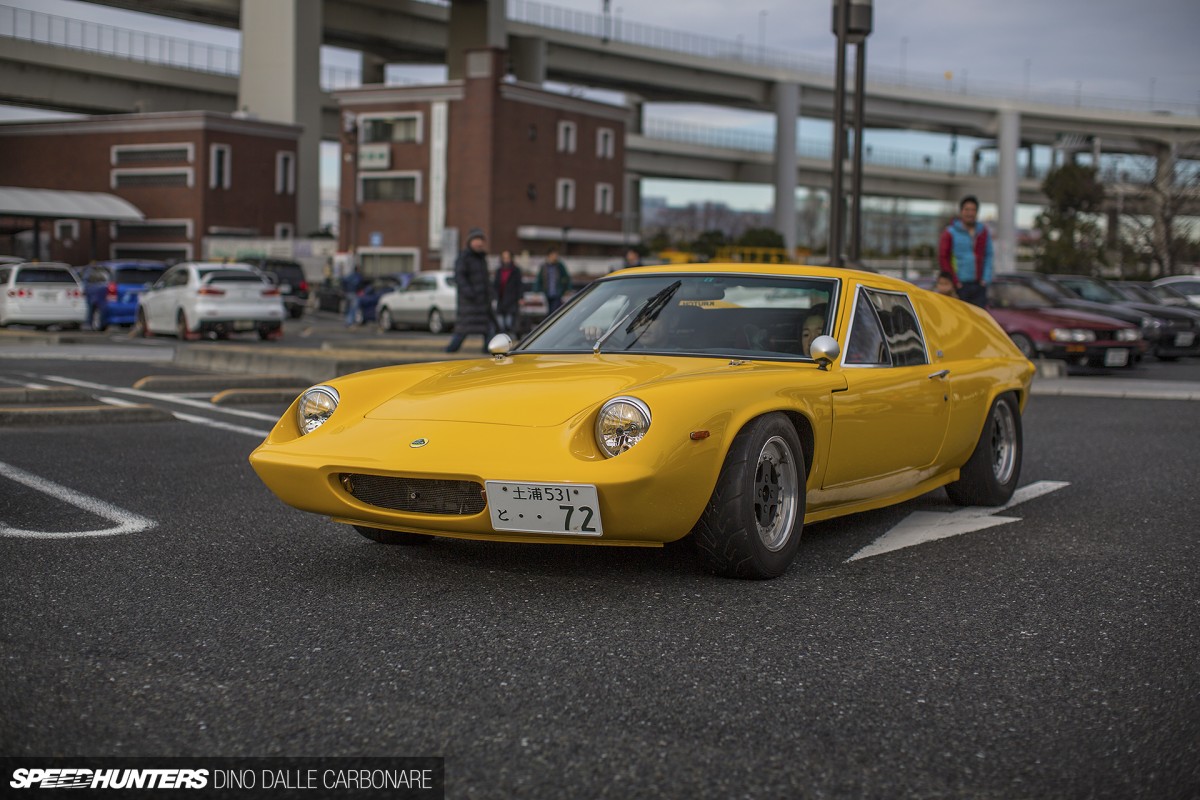 No Japanese meet is ever complete without a Lotus Europa!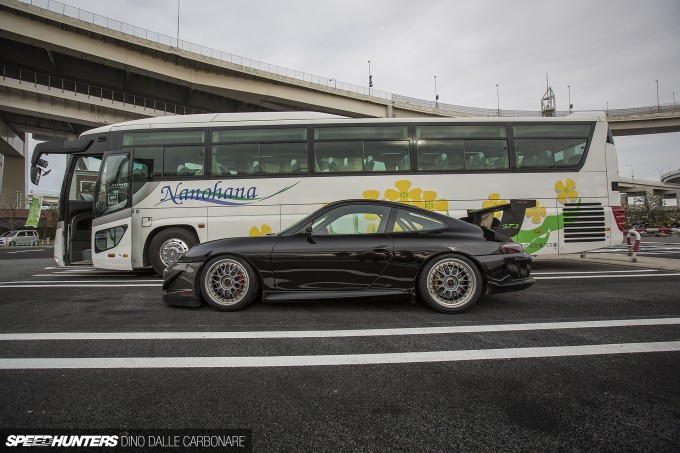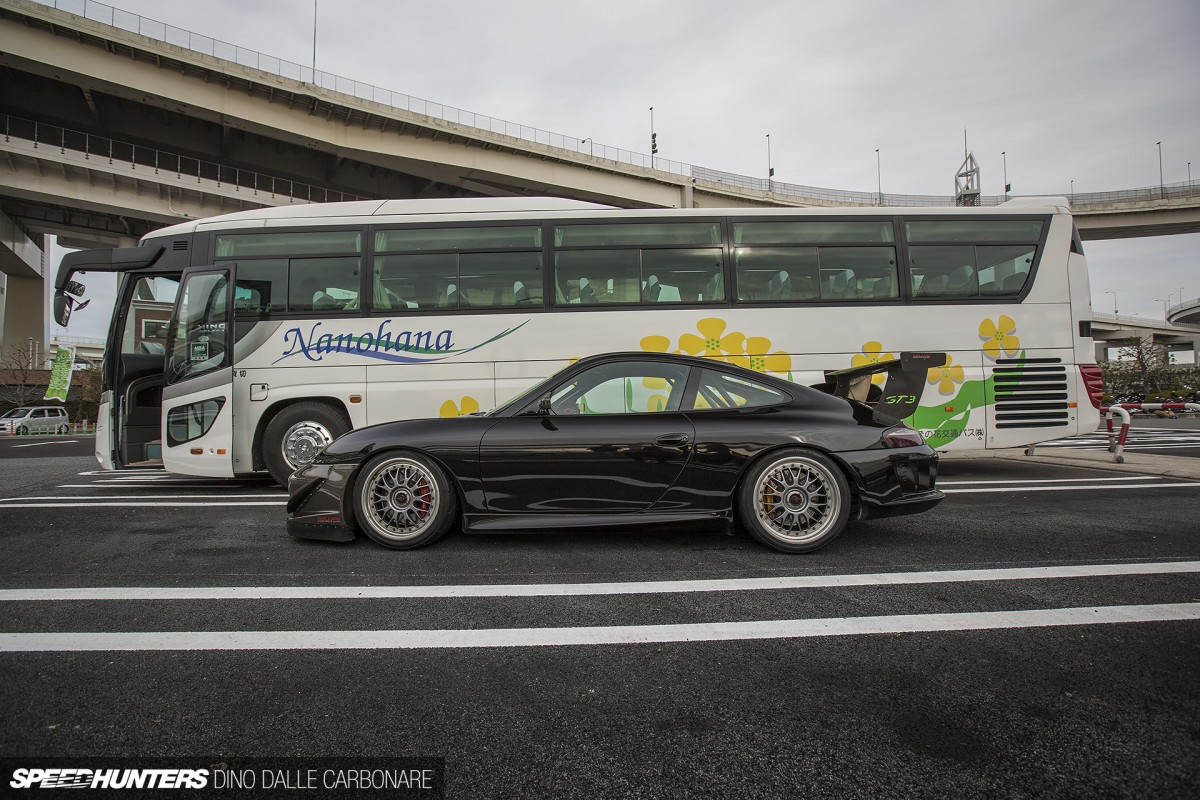 We've seen this 996 GT3 a few times before at Daikoku, and it appears as though the Cup Car look is evolving with many more carbon fiber body panel additions. I wonder if the owner carries a big single-nut torque wrench for the hubs?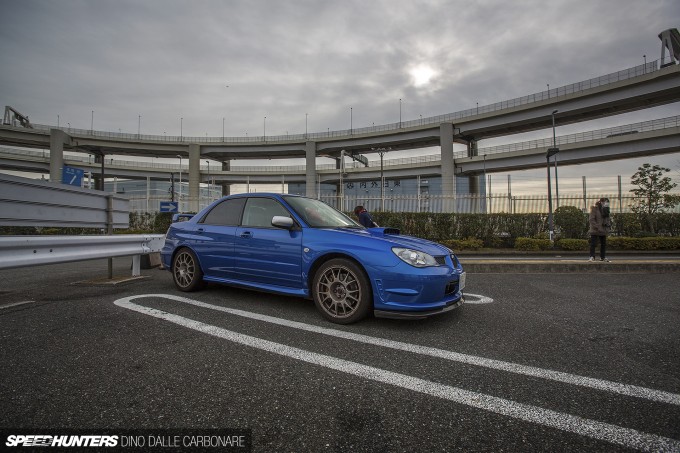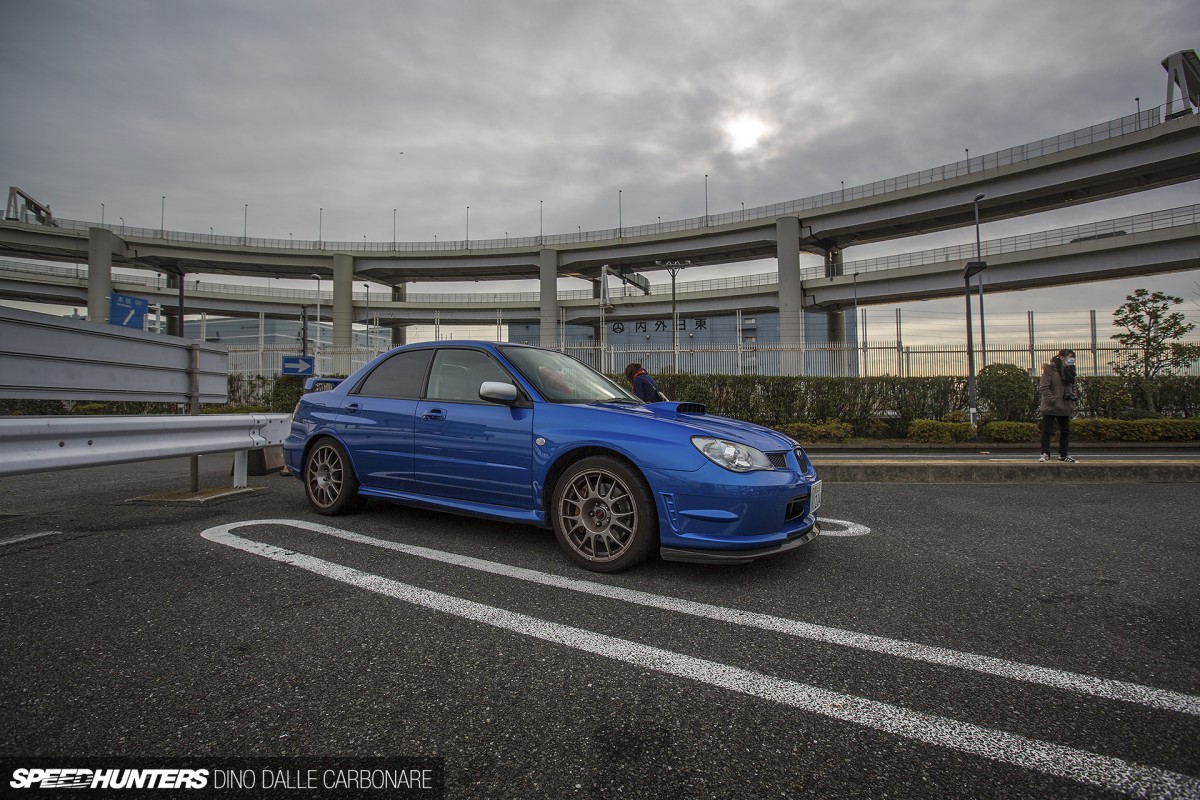 I'm always getting told off by Speedhunters readers for not giving Subarus much love any more. It's true – blandness and a sheer lack of innovation when it comes to their high-performance models has made me lose interest, which is frustrating as I still love and respect what the brand used to stand for. But still, it doesn't mean I won't show gems like this STI S204 when I come across them!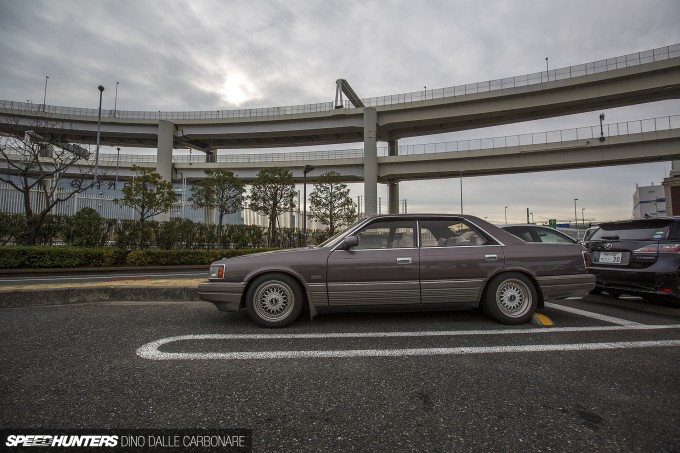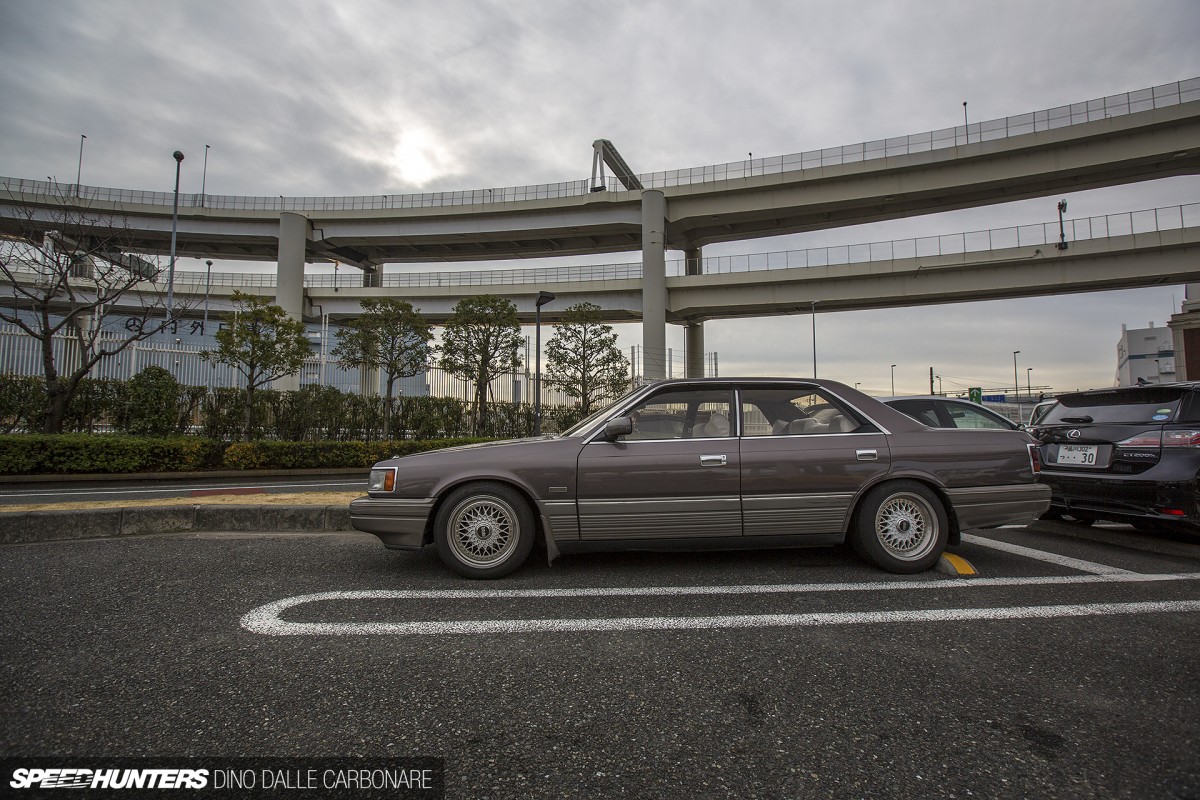 Mazda Luce? Hell yes! There's not much speed being hunted here, but there's no denying it's one of those oddities from the '80s that you just can't help but take a closer look at. This angular HC generation was the final car to wear the Luce name in Japan.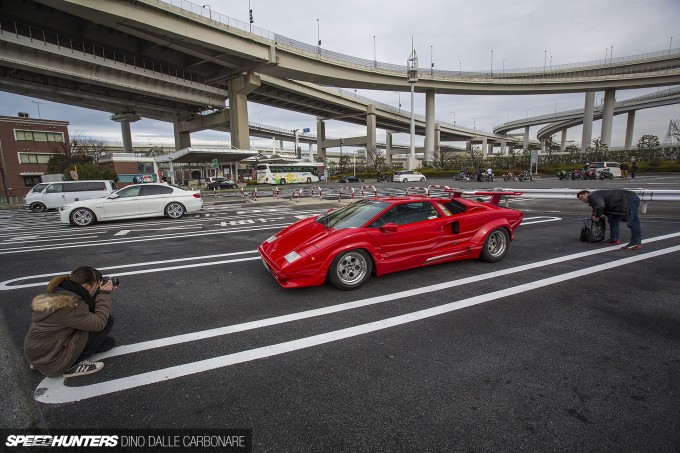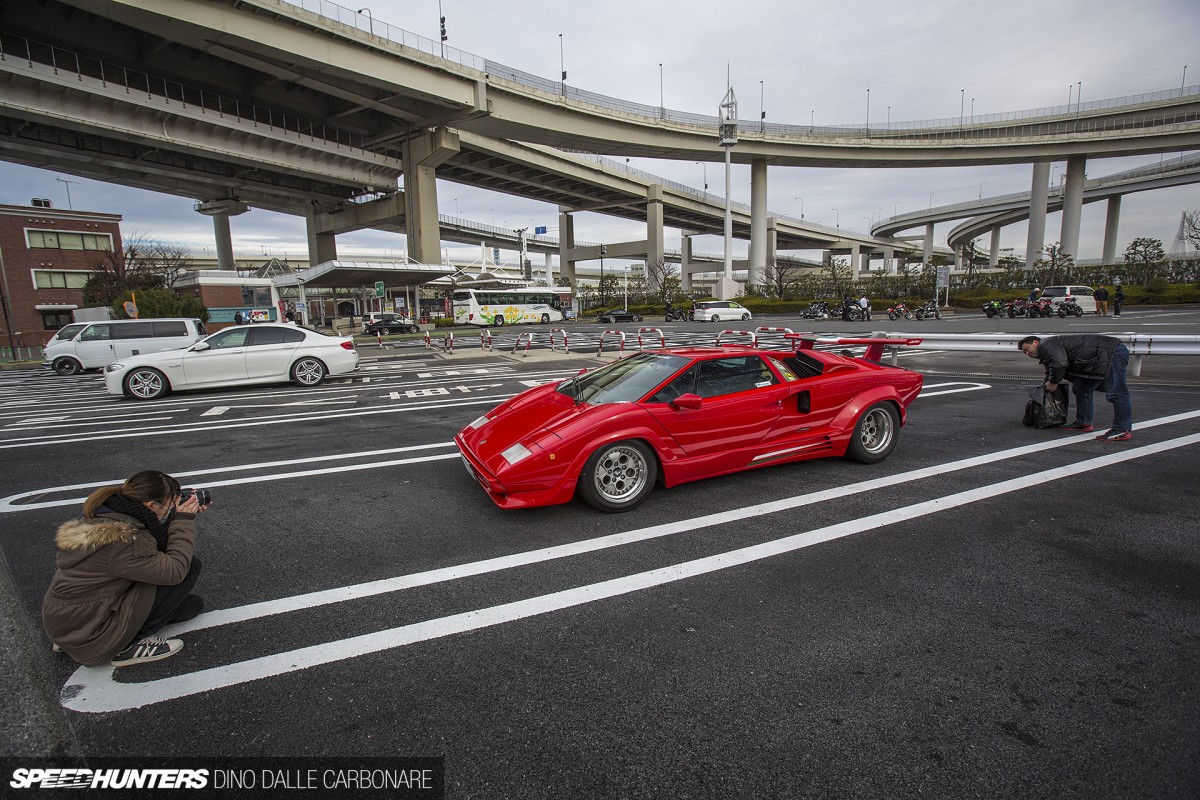 As the morning progressed the supercars started to roll in and all attention shifted to the top half of the parking area. This area is reserved for trucks, so cars being parked up usually gets the police at the Daikoku PA station (yes, there's a cop shop at Daikoku!) pretty annoyed. But they seem to turn a blind eye for this meeting. Mind you, with this particular day of the year being the only one that you don't see trucks out on the streets of Japan, there is no need to save the spaces.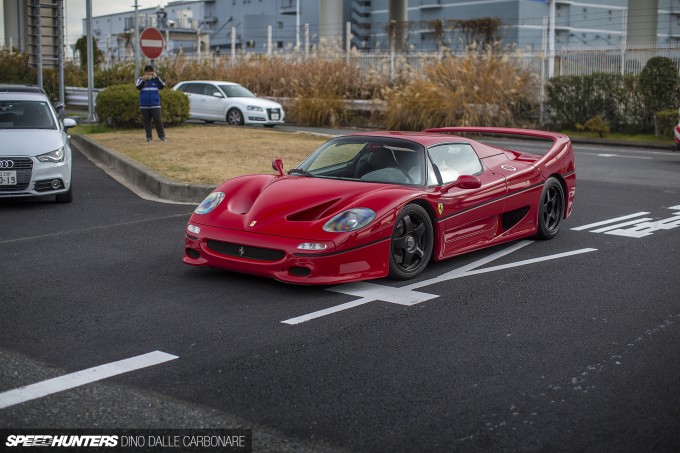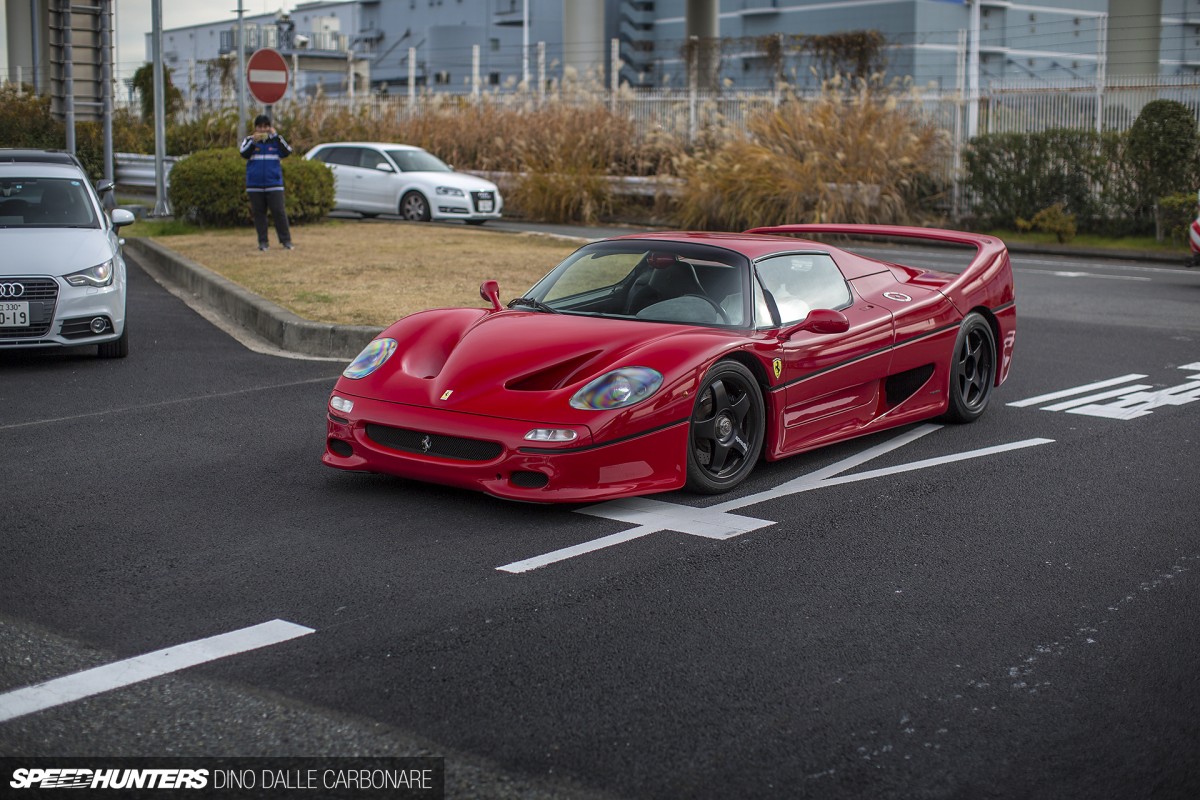 It didn't take much longer for some proper metal to arrive – or should I be saying carbon fiber and Kevlar?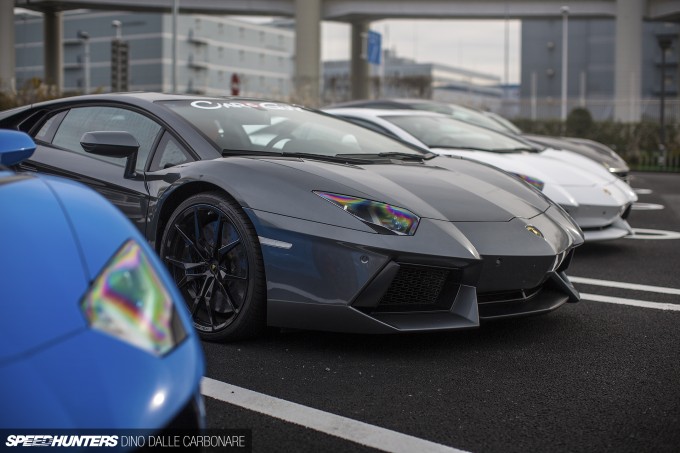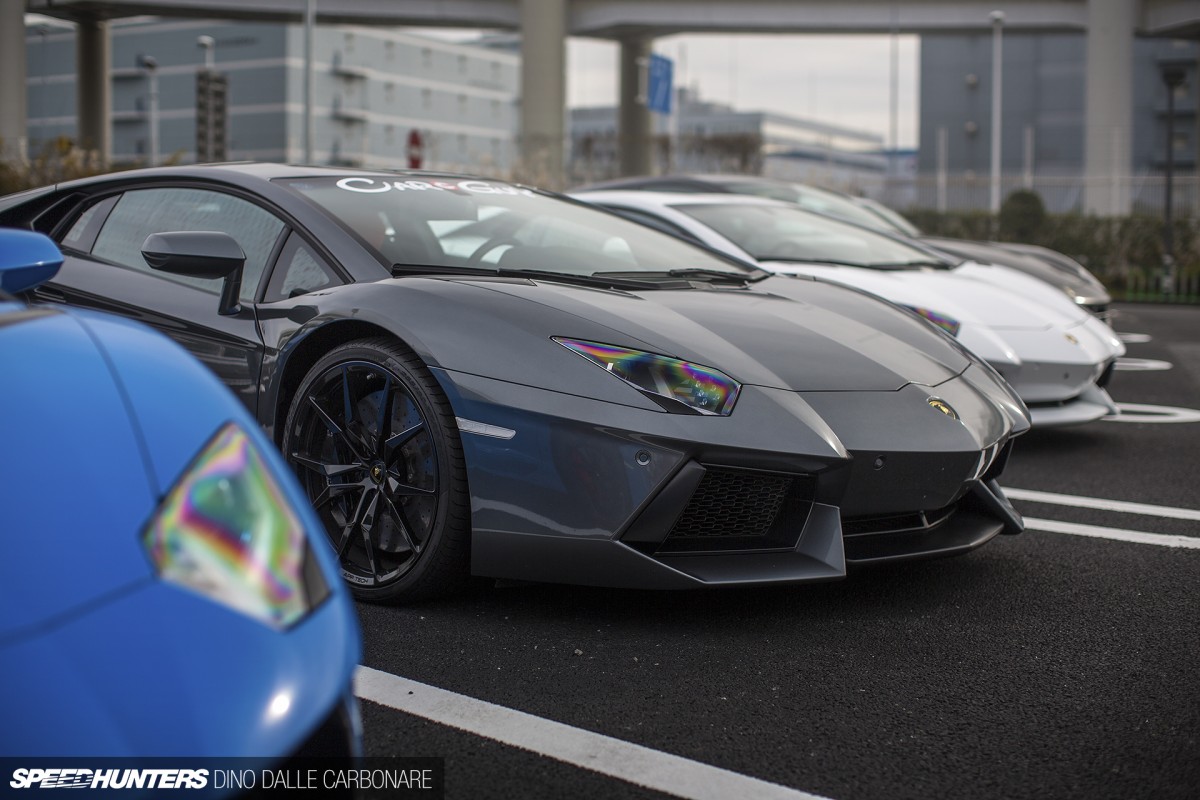 The Car Guy club pretty much took over the party, showing up with a nice selection of high-end supercars.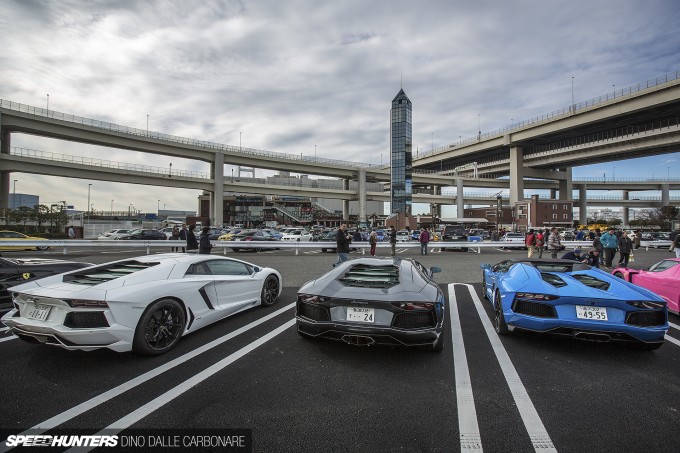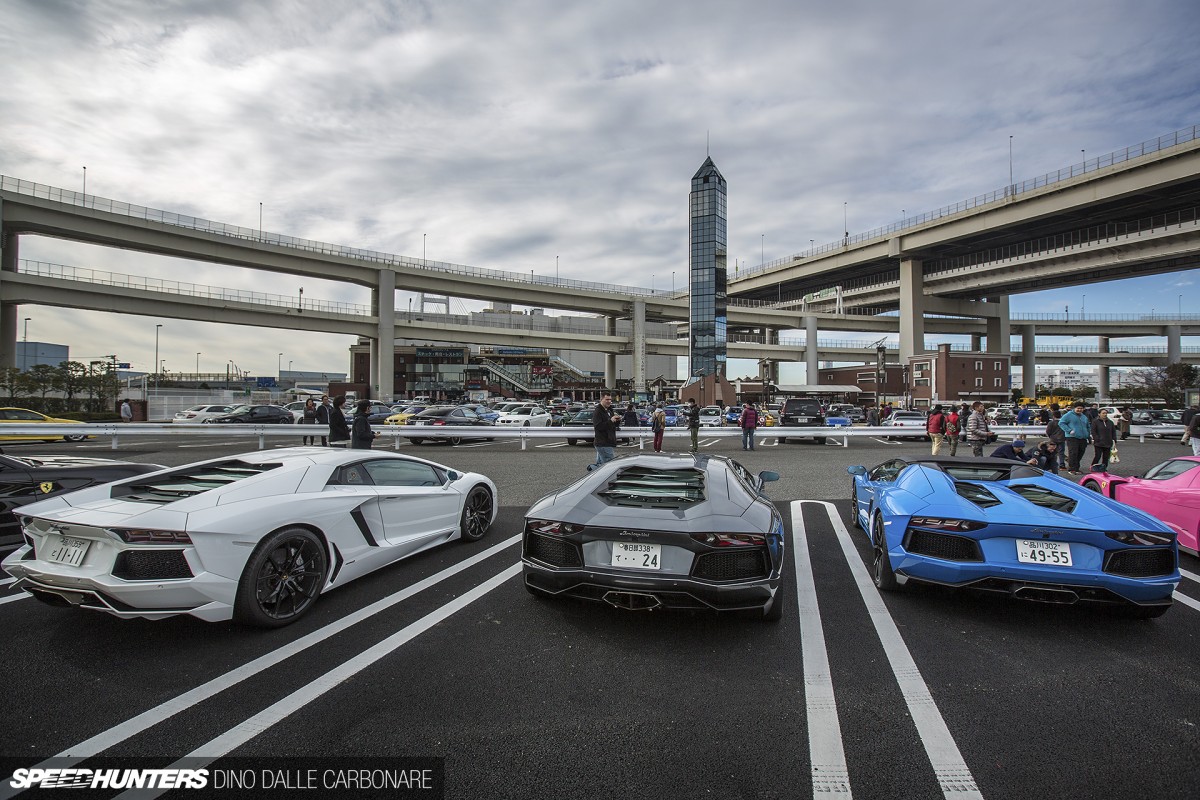 It's not often you get to see three Aventadors parked up next to each other, but Car Guy has been gaining a lot of momentum of late. They're a group of supercar owners that strive to get together as often as they can, spreading the word that if you are lucky to own some of these cars, then you should make the most of them and enjoy them as much as you can.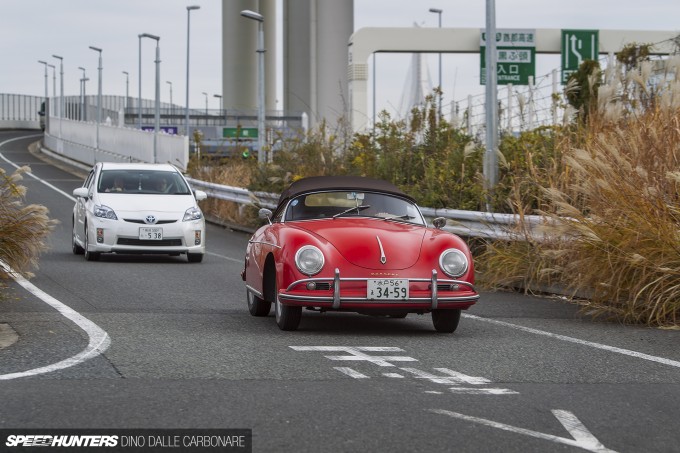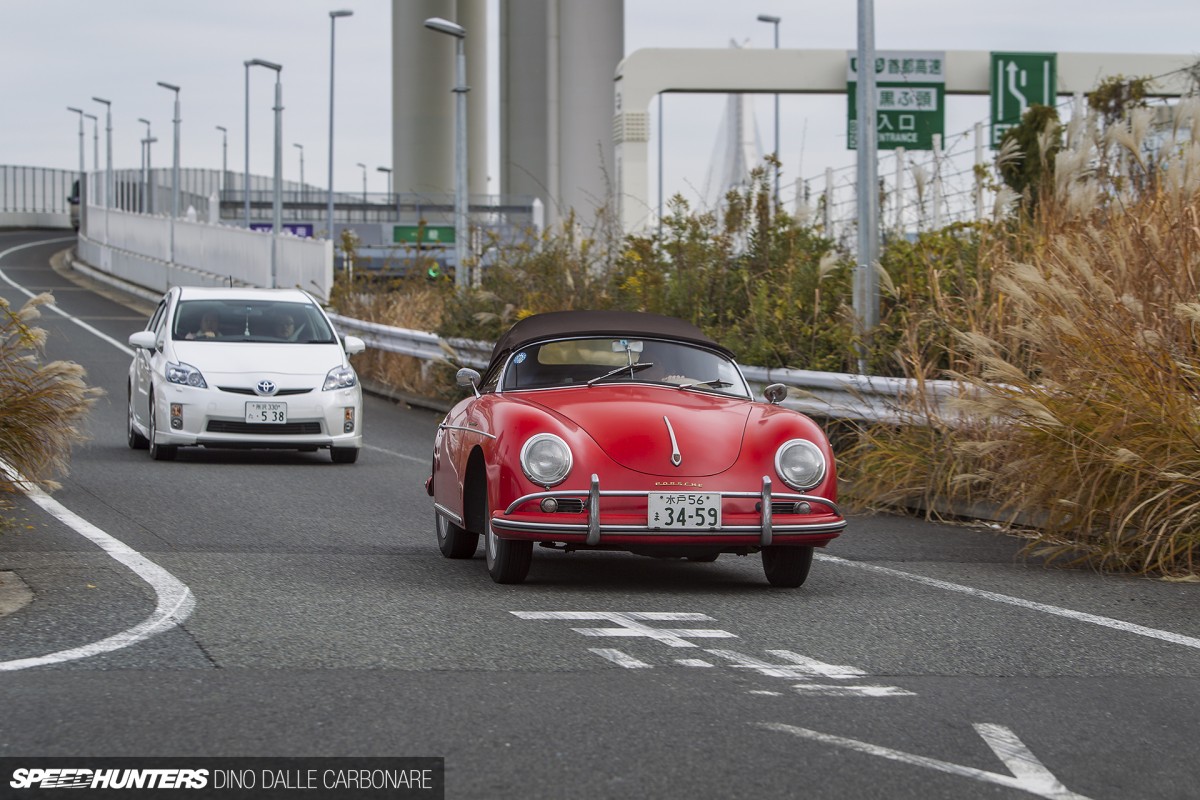 Seeing everyone at Daikoku PA flood over to the check out the arrival of the supercars, I stepped away for a little bit and waited by the off ramp that brings you down into the parking lot. There were still iconic machines rolling in, like this Porsche Speedster that had driven all the way from Ibaraki.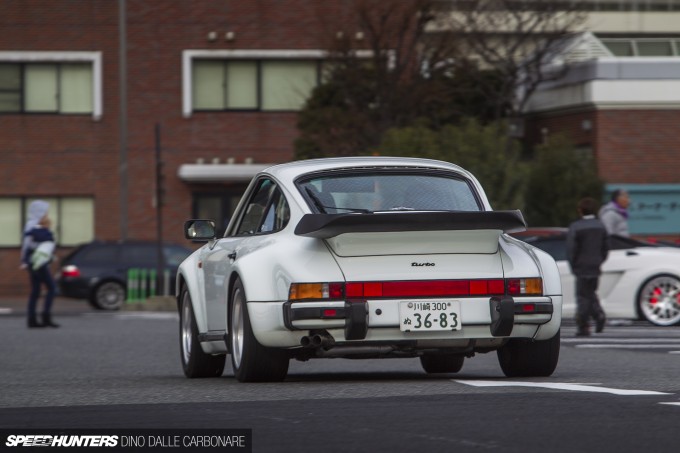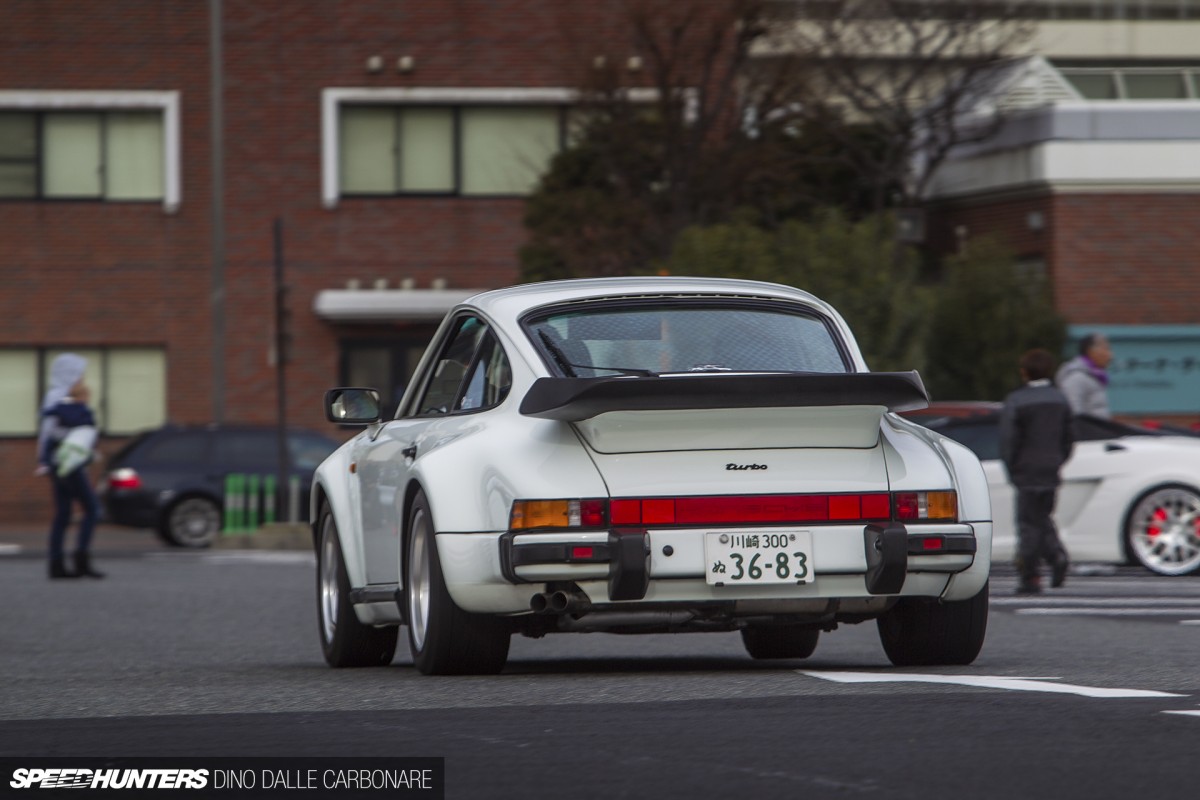 930 Turbo. Do I need to say more? Oh actually, yes I do… Damn you America for forcing manufacturers to put big accordion bumpers on cars in the '80s! There, done.
Enter The P1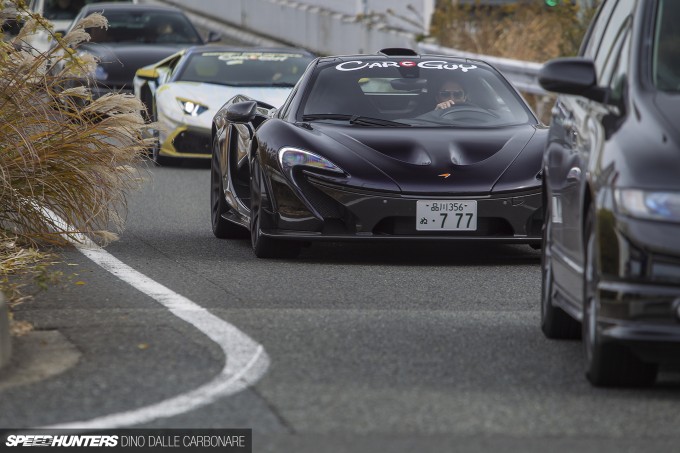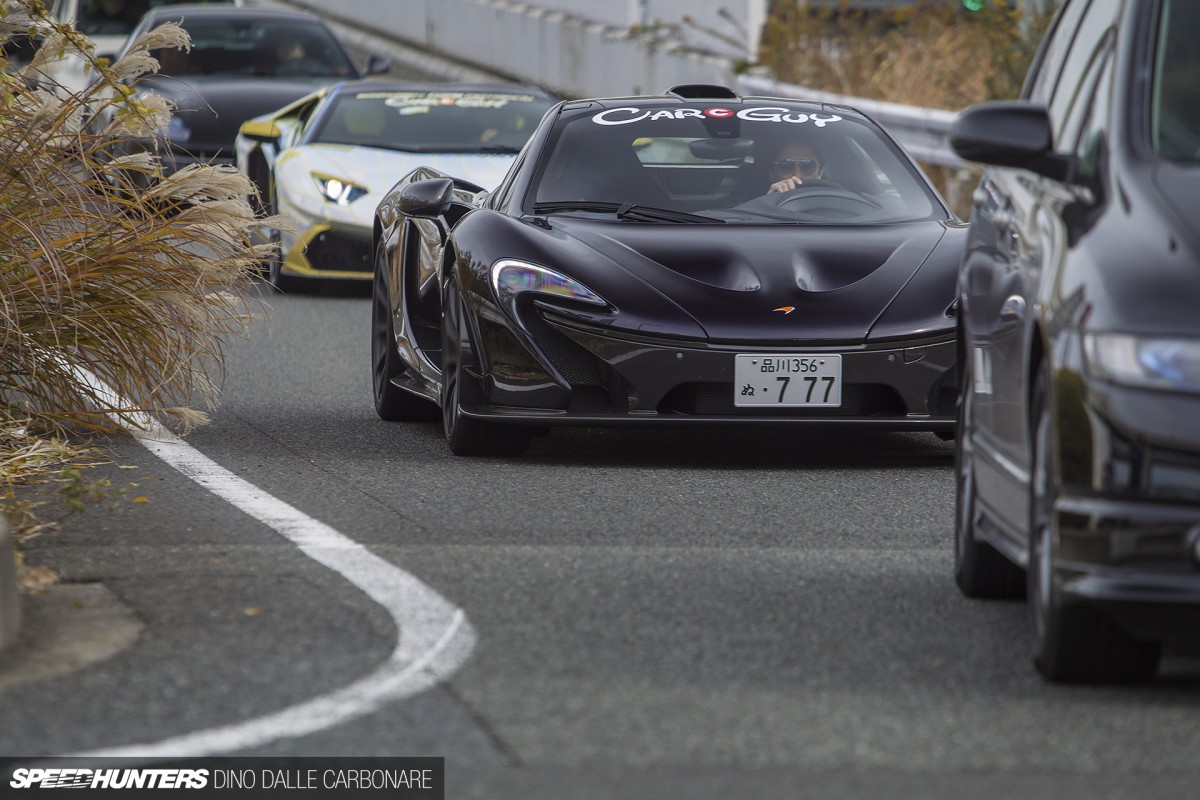 A few minutes after the commotion had quietened down, it started all over again as Kimura-san, the man behind Car Guy, arrived with the car he's been waiting two years for.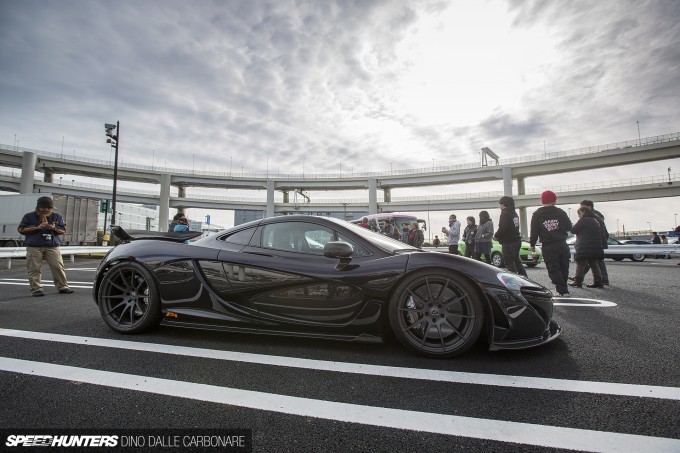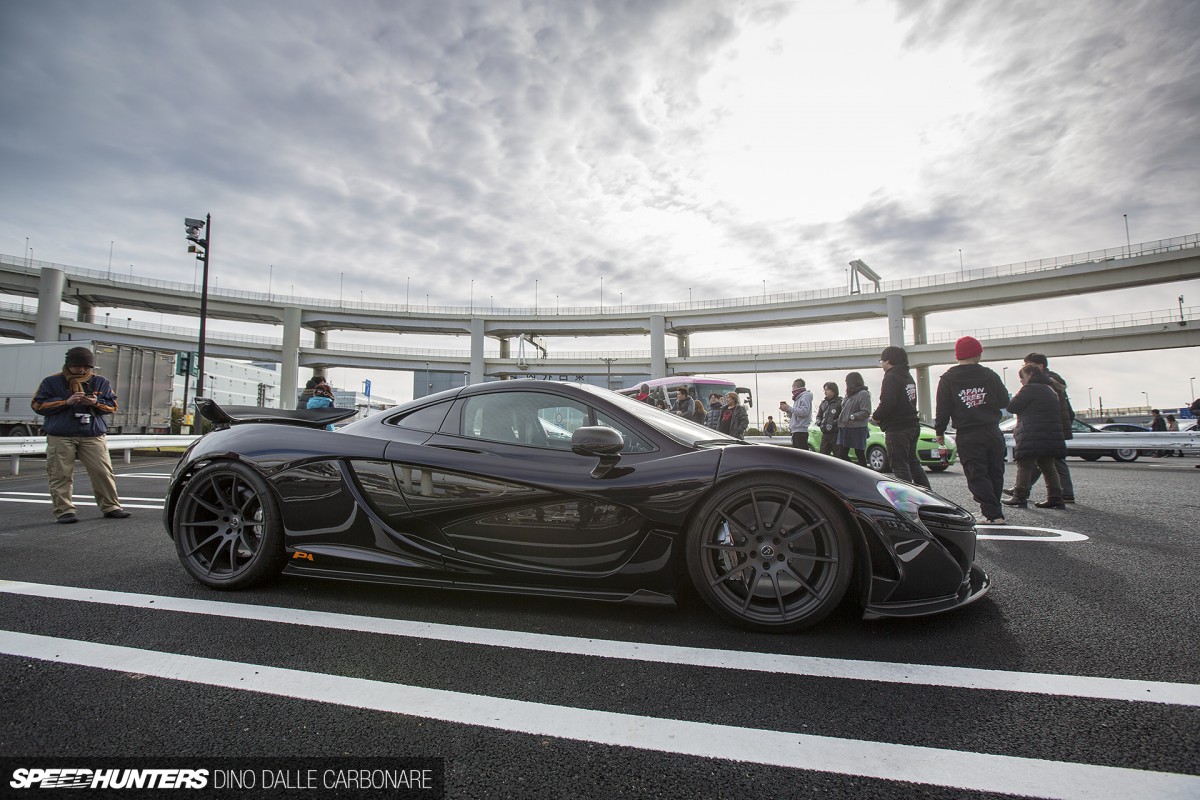 Seeing it's not really the right sort of season to be going camping with his F40 and BBQ-ing on the car's exhaust, he's got this new 'Eco' car from the UK to enjoy over the winter months.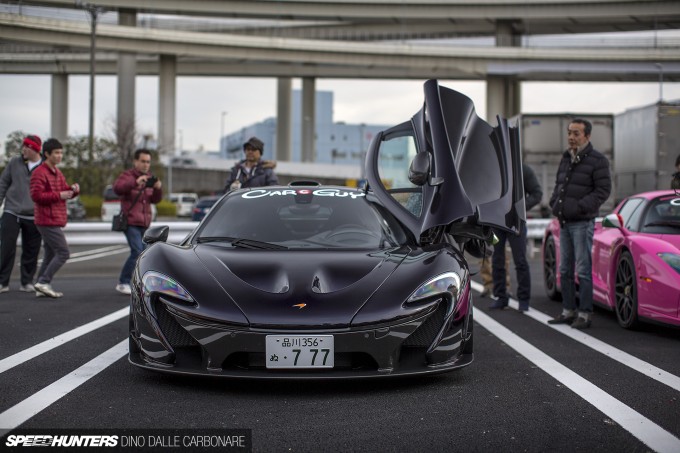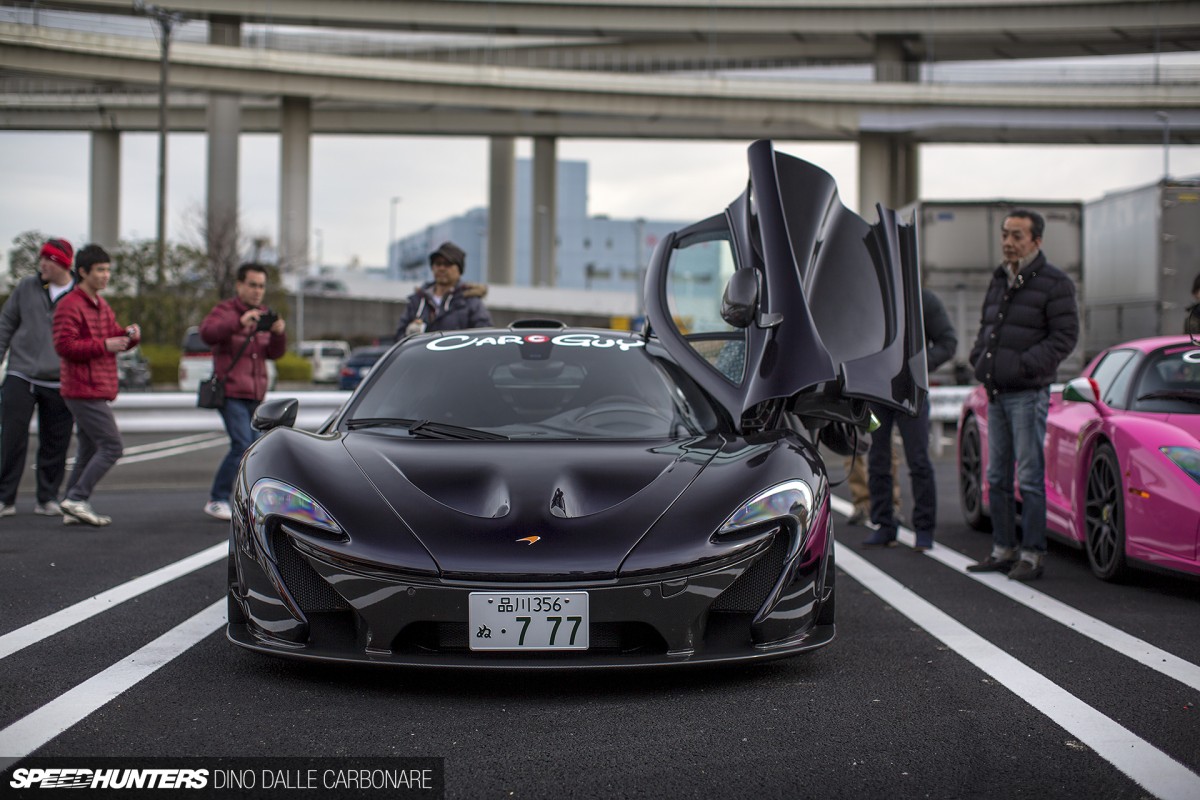 Not a bad little ride, right? Jokes aside, the McLaren P1 is one of the most beautiful cars I have seen in a long time. It even makes the LaFerrari seem almost predictable in its design! Its organic lines, the way everything is there for a purpose gives it an impossibly intimidating presence. Every picture I've seen of the car up until the weekend has made it look black, but in reality the color is a dark metallic purple.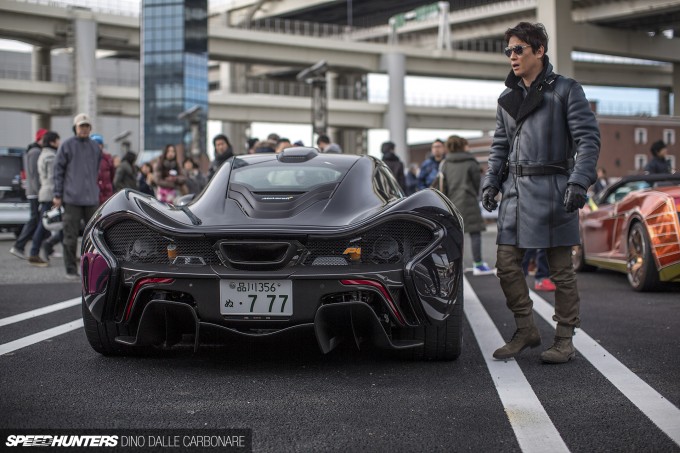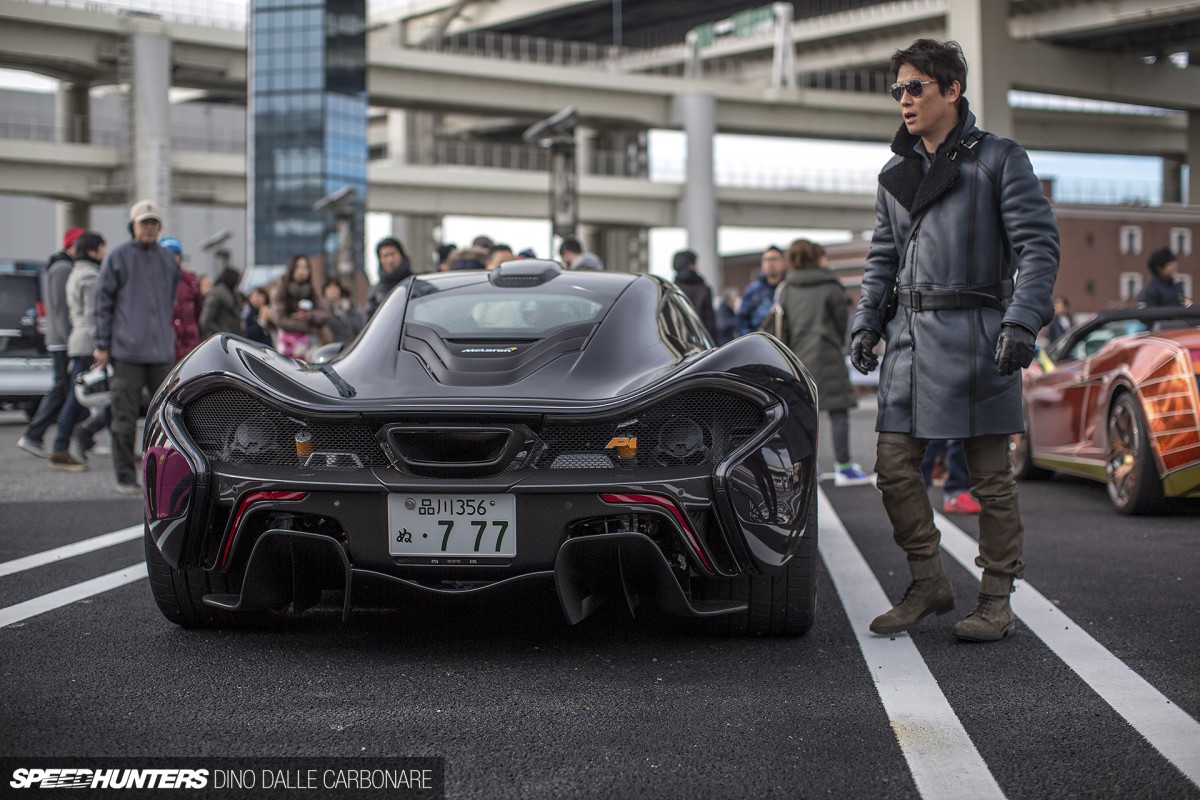 Kimura-san was cool enough to show off the car to any one that came over to check it out.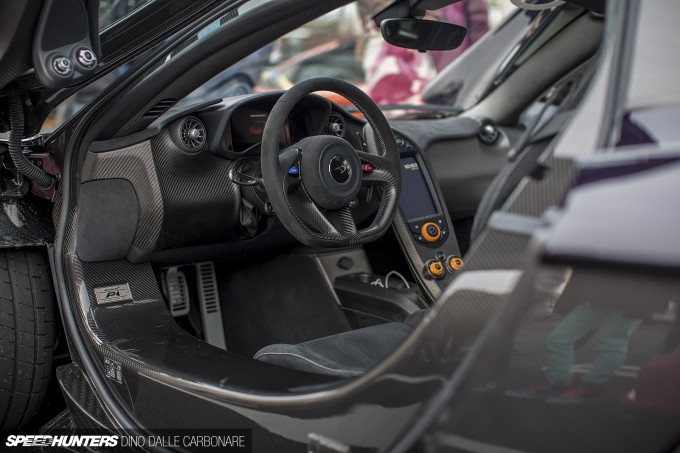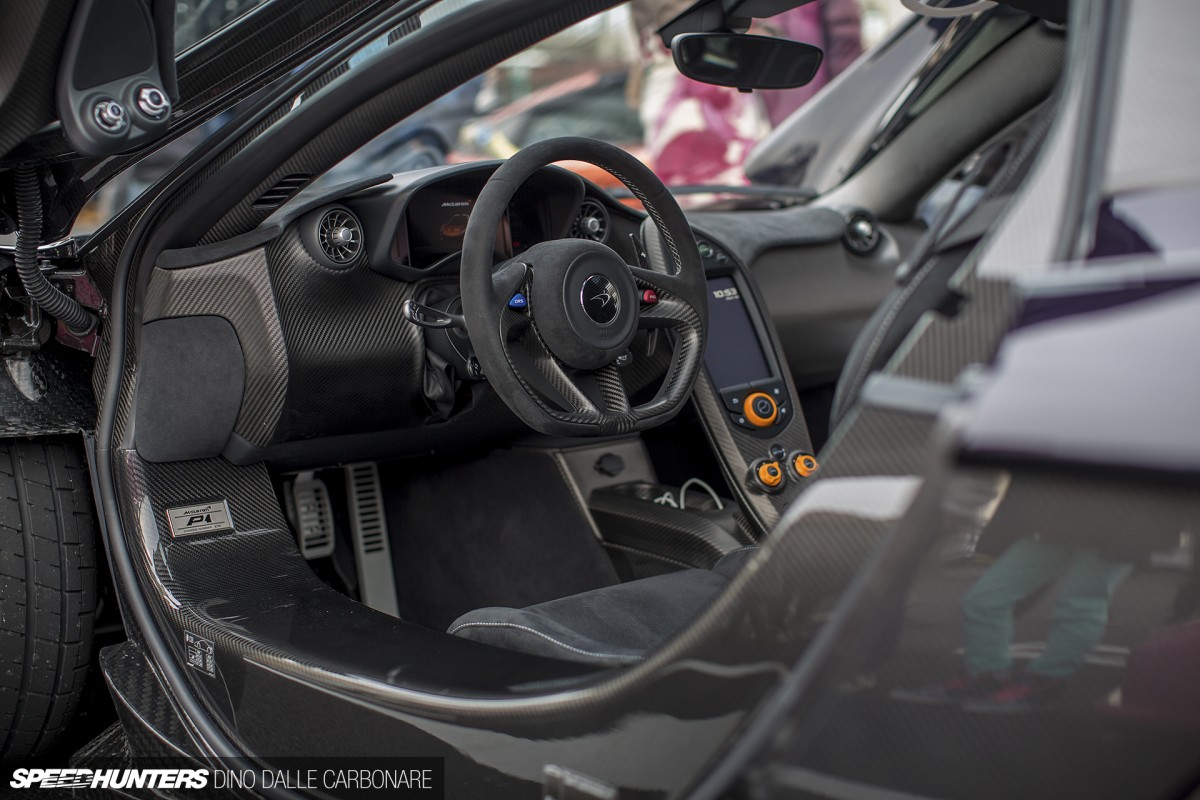 He lifted the driver's side door so we could all drool – I mean look – inside the spartan cabin. It's pretty much a carbon everywhere sort of deal.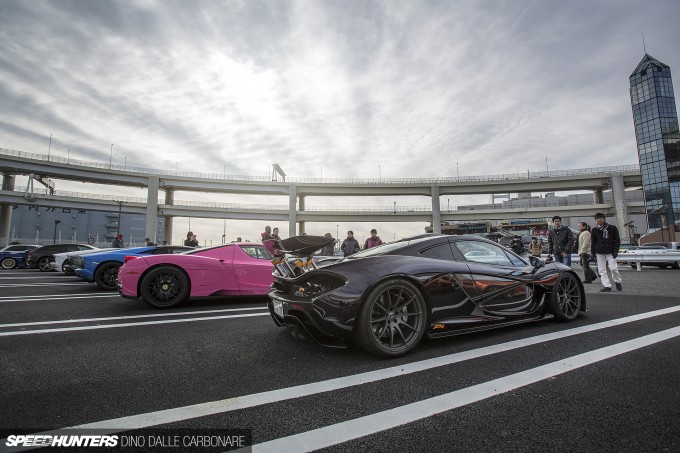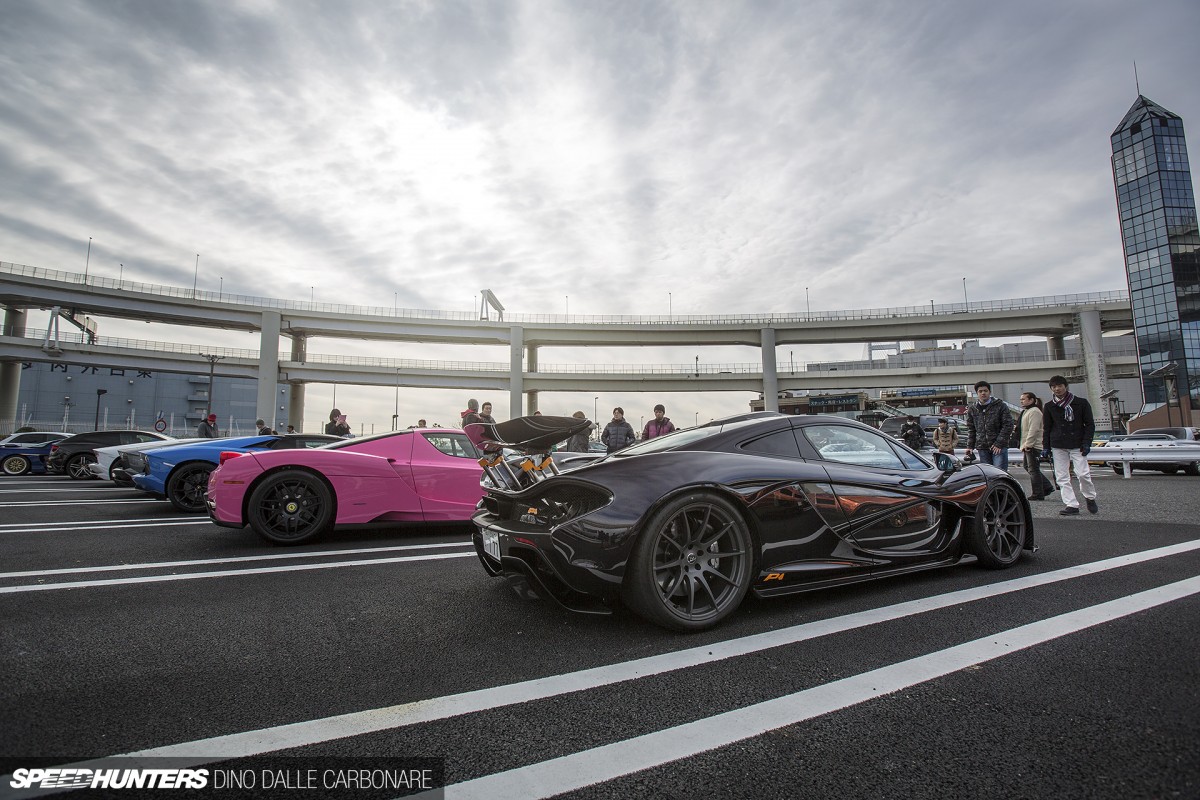 He then hit the race button and the P1 – like one of Batman's crime-fighting jet-powered cars – transformed, lifting up and tilting its big carbon fiber rear wing, while the car's suspension dropped a few centimetres.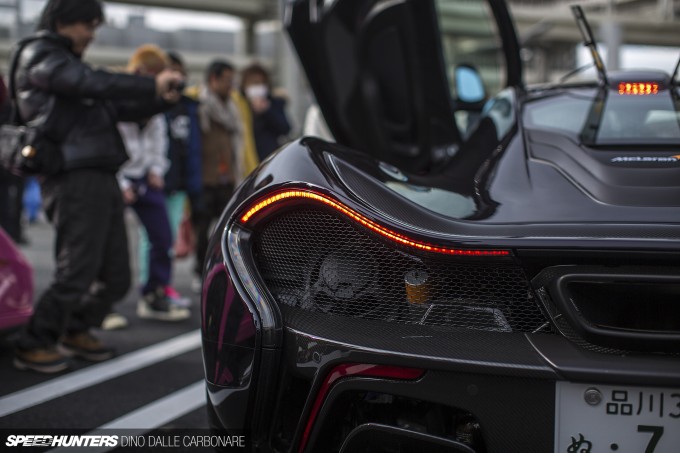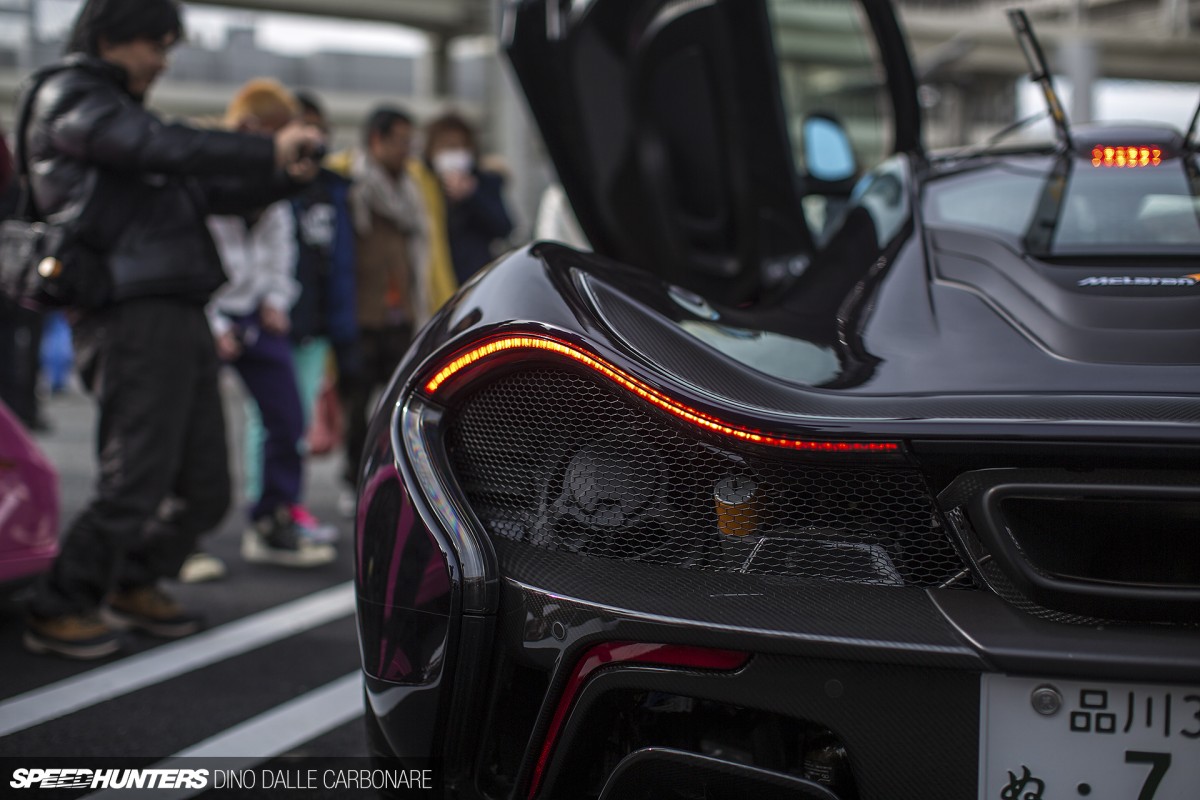 The rear taillights are the perfect example of how LED technology should be used. Genius!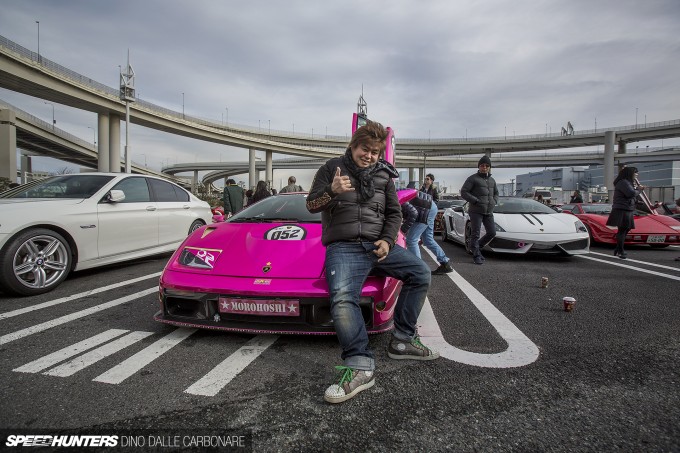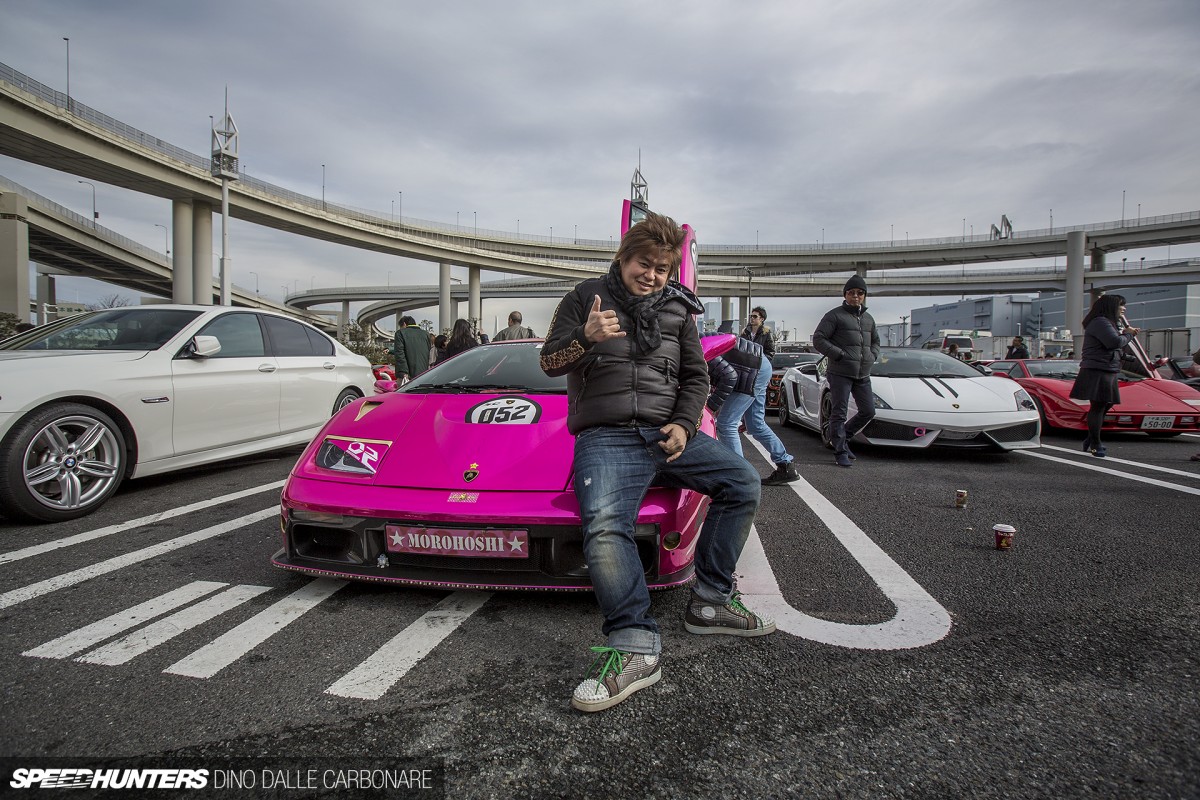 One guy we all know thanks to his participation in some recent viral videos to come out of Japan is Morohoshi. This guy and his cars just wouldn't work in any other country, but his persona and what he does with his Lamborghinis seem to be a perfect match.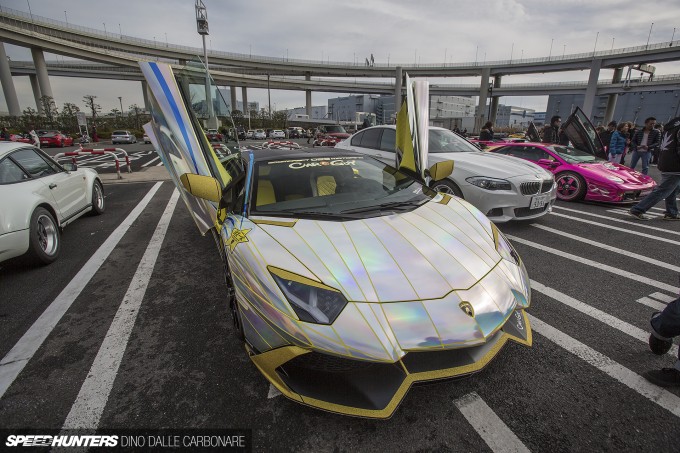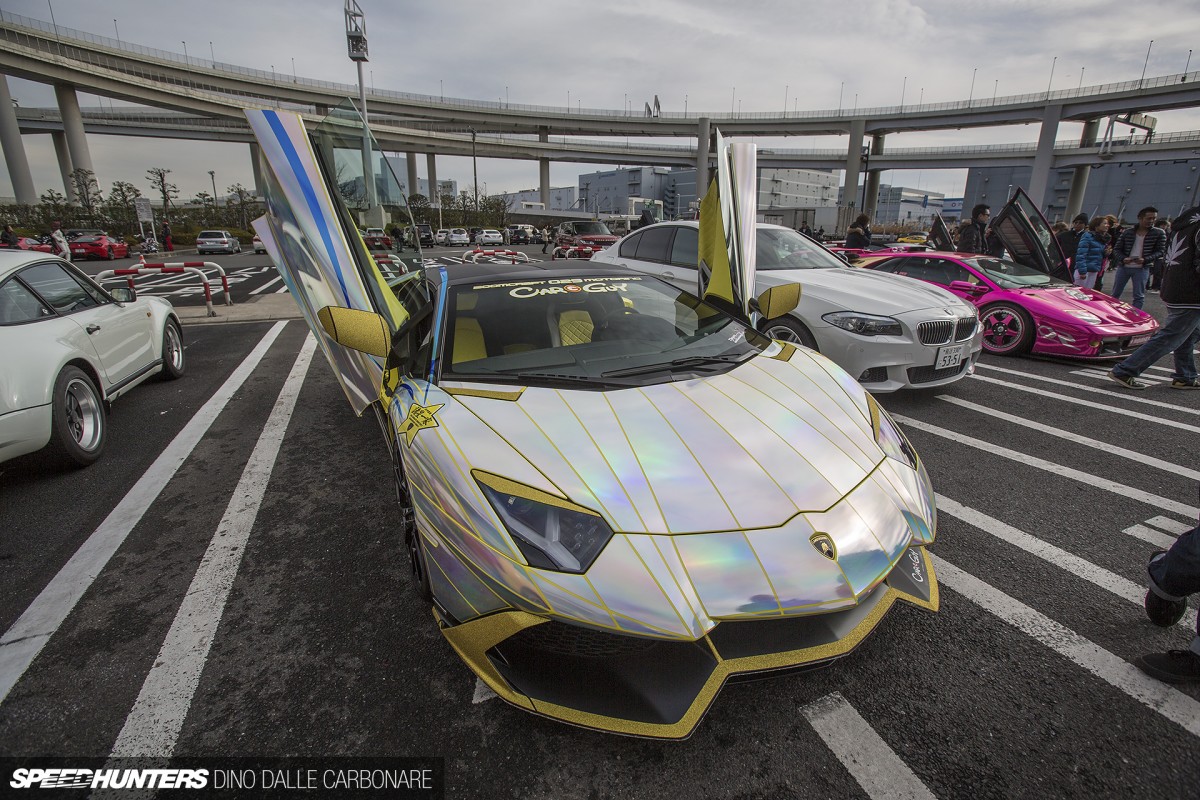 It all strangely and curiously works. Why? Because Japan.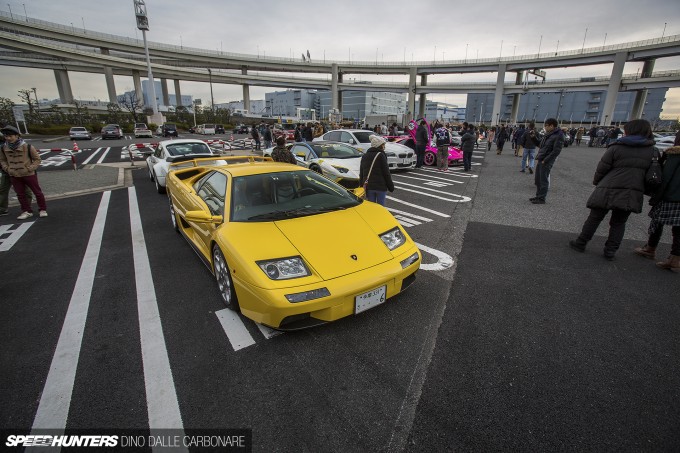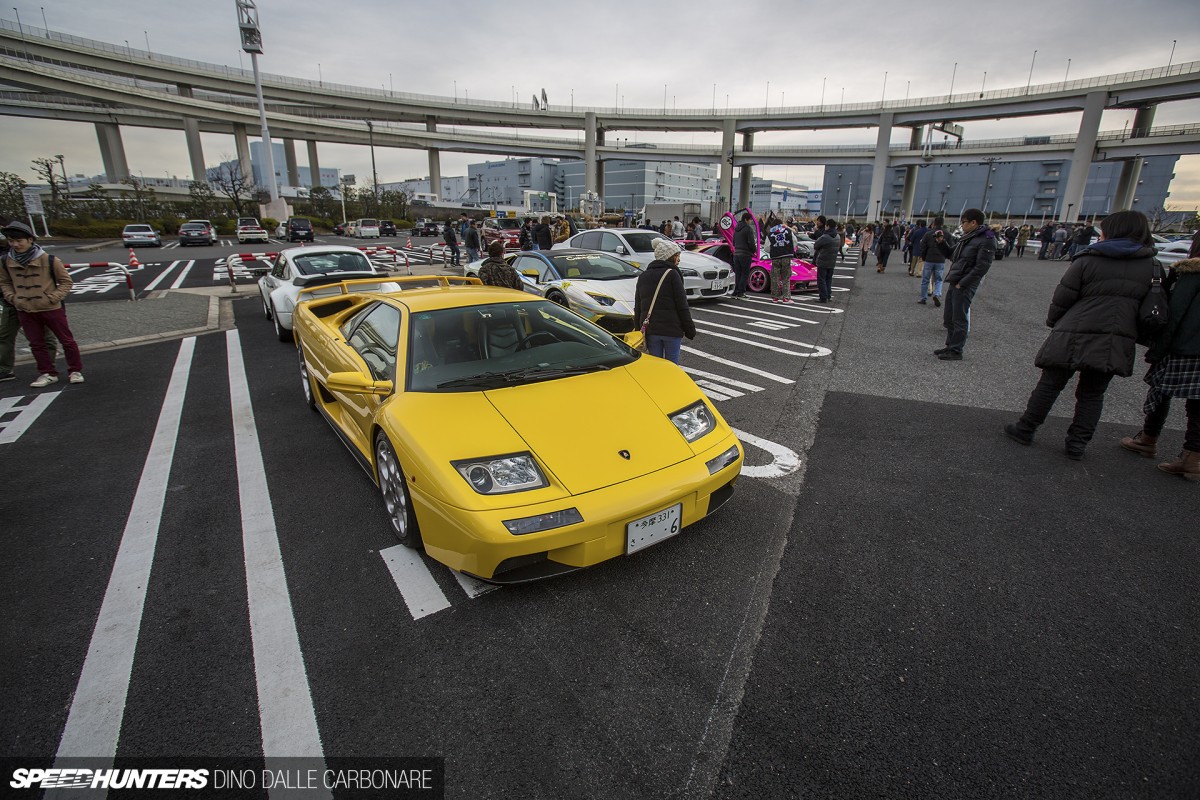 His pink car from the 2014 GoPro video almost makes a regular Diablo look sedate!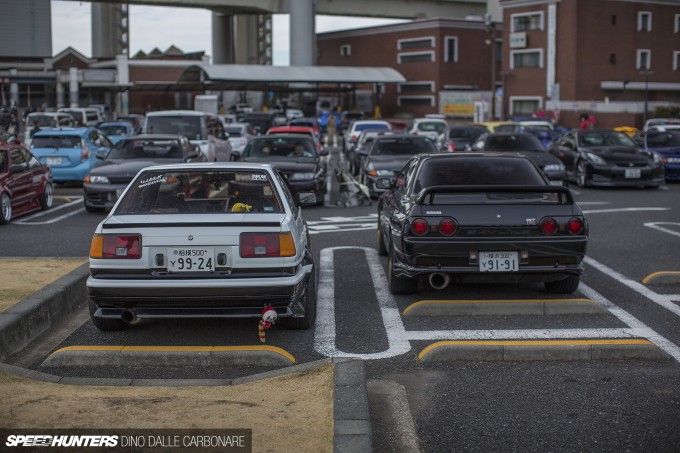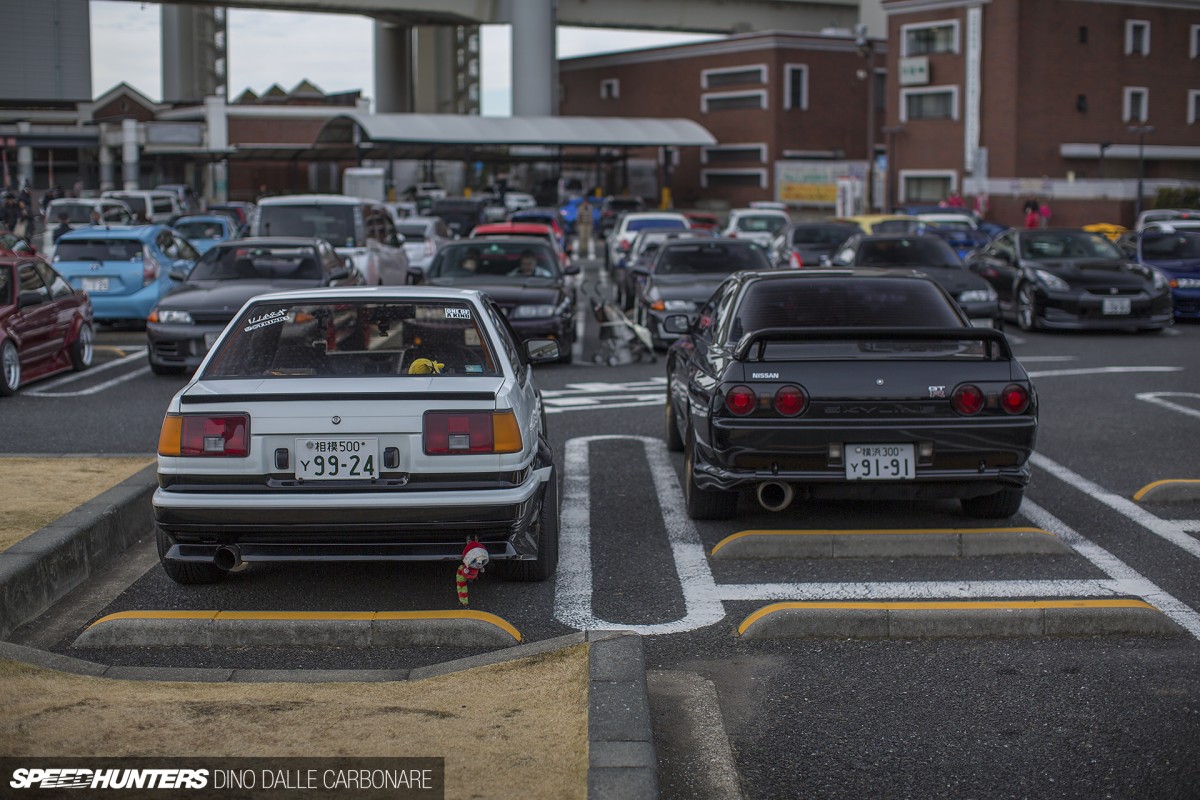 There is only so much opulence one can take, so it wasn't long before I snuck back to check out some more relatable machines. There was a huge turnout of guys that had rolled in from the various US military bases around the city in their cars.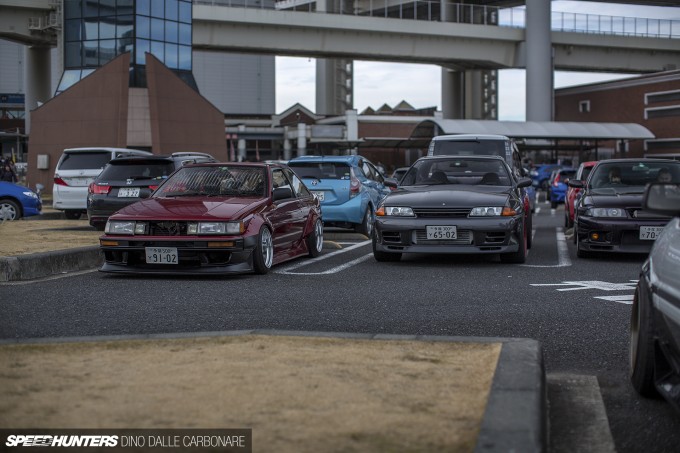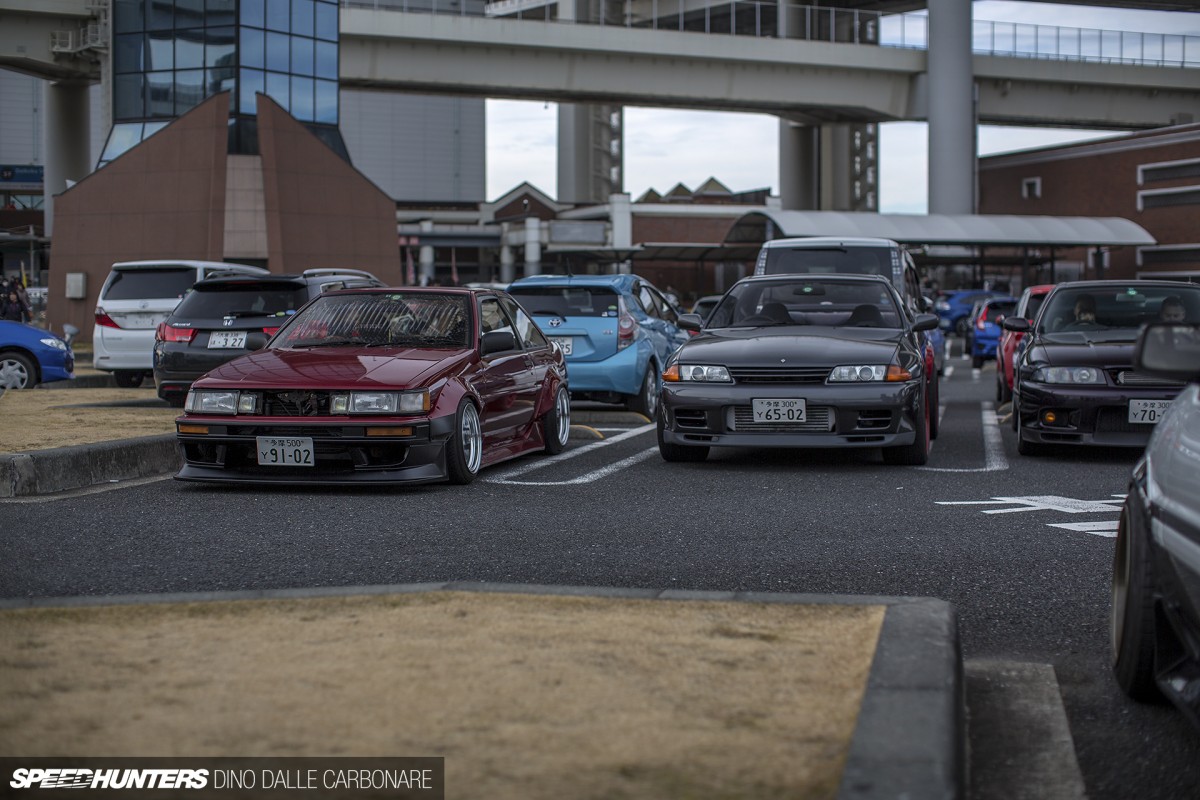 Included was this very fresh looking Hachiroku, which I'll be taking a closer look at very soon.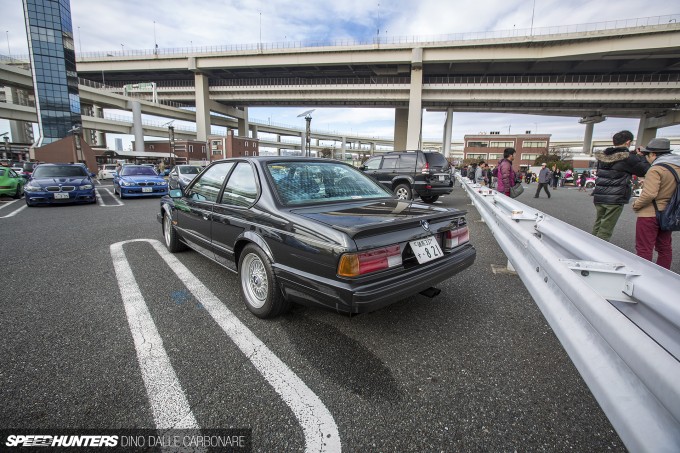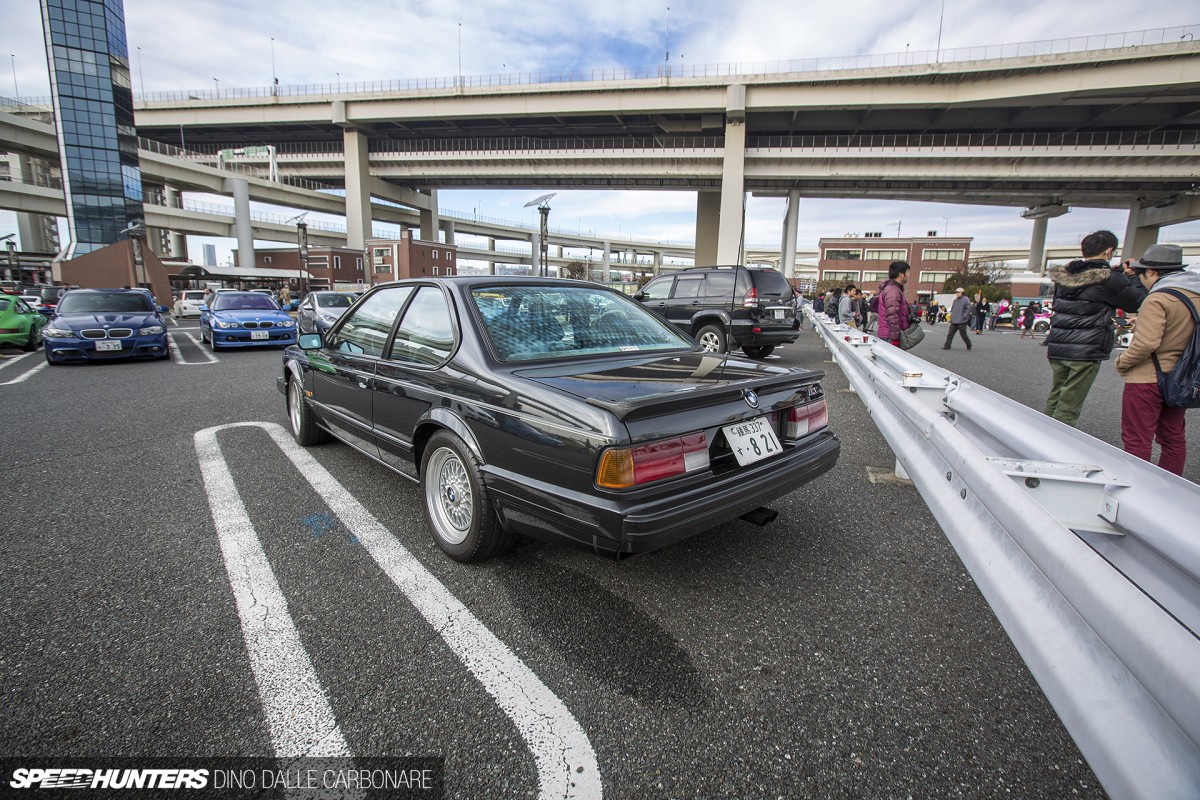 There was an unexpected addition to the BMW lineup that pulled in pretty late in the morning – this bone-stock E24 M6. There have only been three generations of this big powerful coupe, but like every other M car it has grown and been on the receiving end of a massive engine (a 5.0L V10 in the E63) and then traded NA for forced induction and a slightly smaller power plant (a V8 twin turbo in the F12)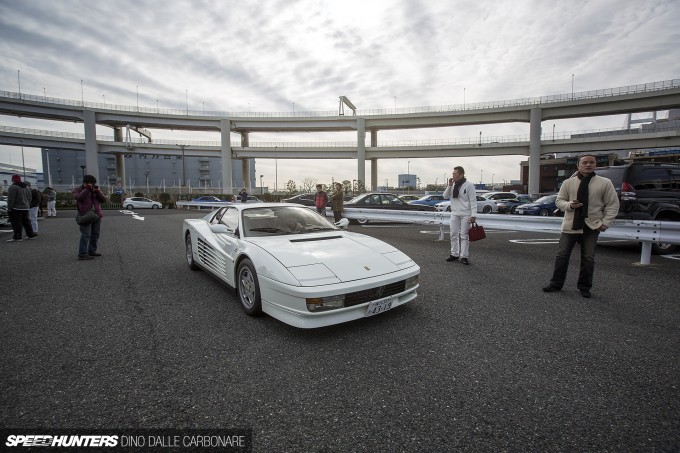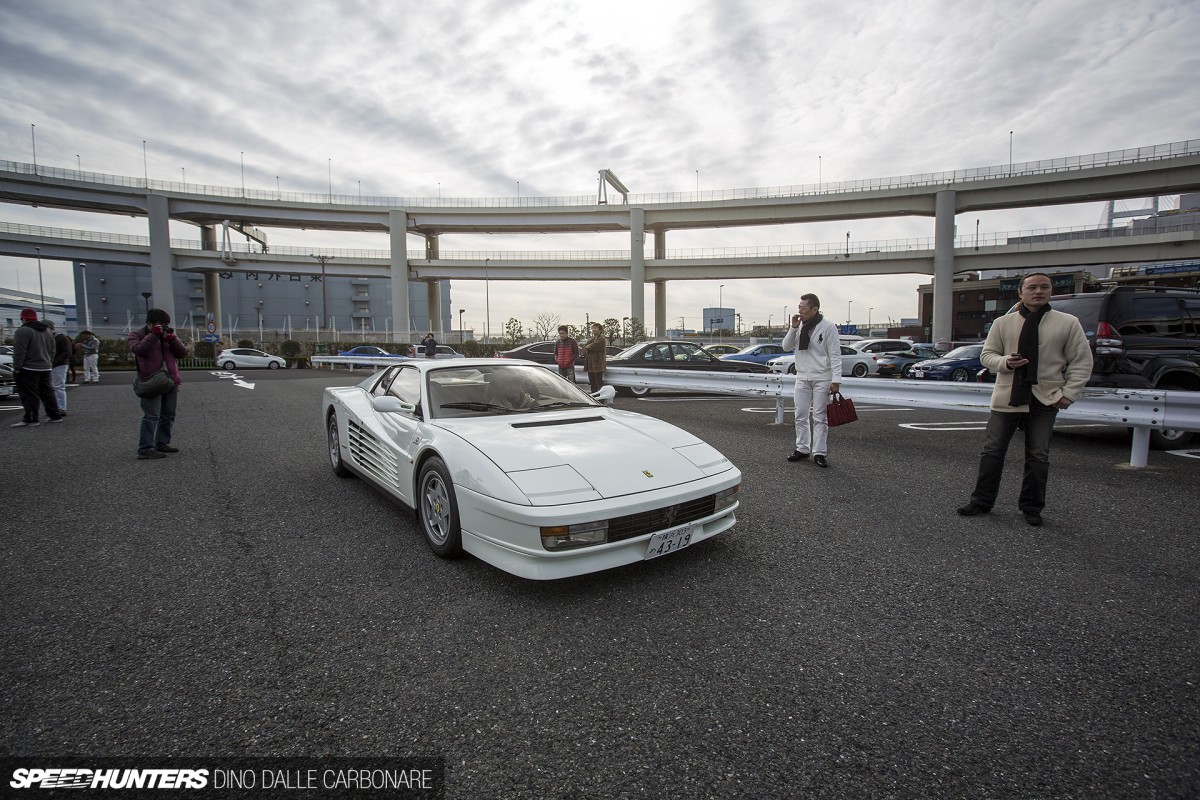 Is there anything cooler than a white Testarossa? No, of course not! Now that these cars are strangely looking cooler than ever, it had even more of an impact as it made its slow entrance into Daikoku.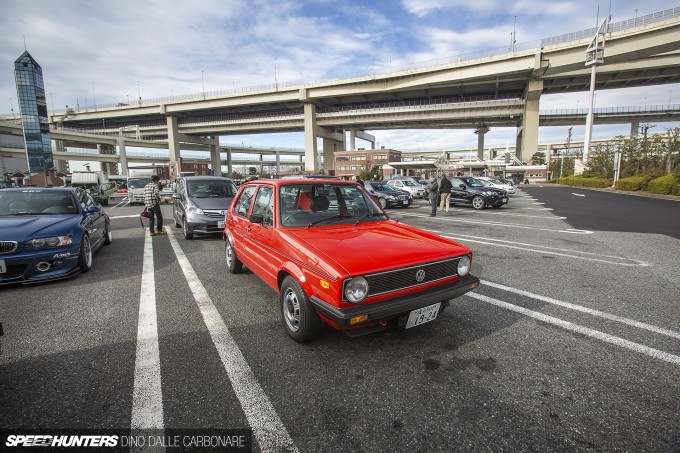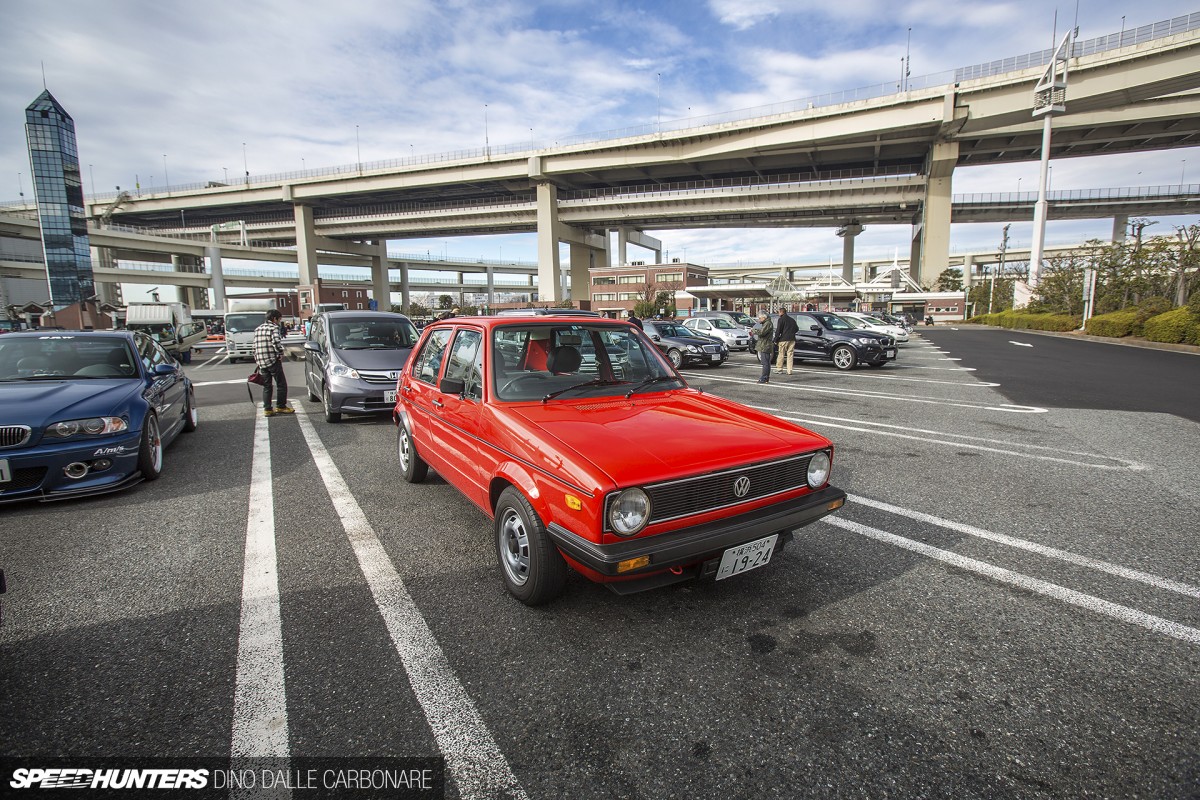 Coolest car of the day? Easy – this 1976 first-gen Golf GTI. It just sat there and made a statement, emphasising just how big and overly complex cars have become in the best part of 40 years.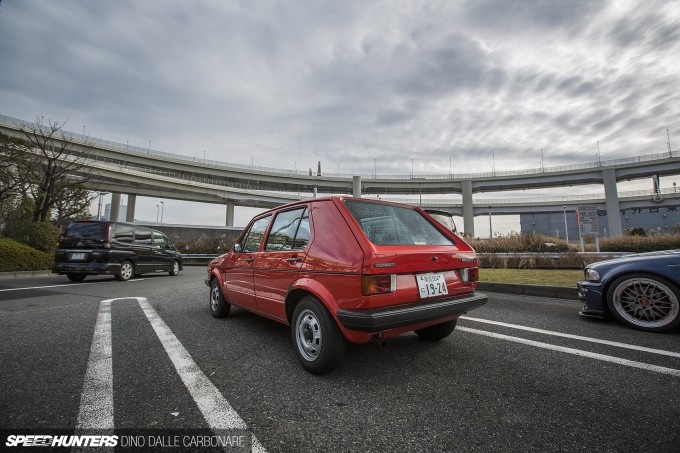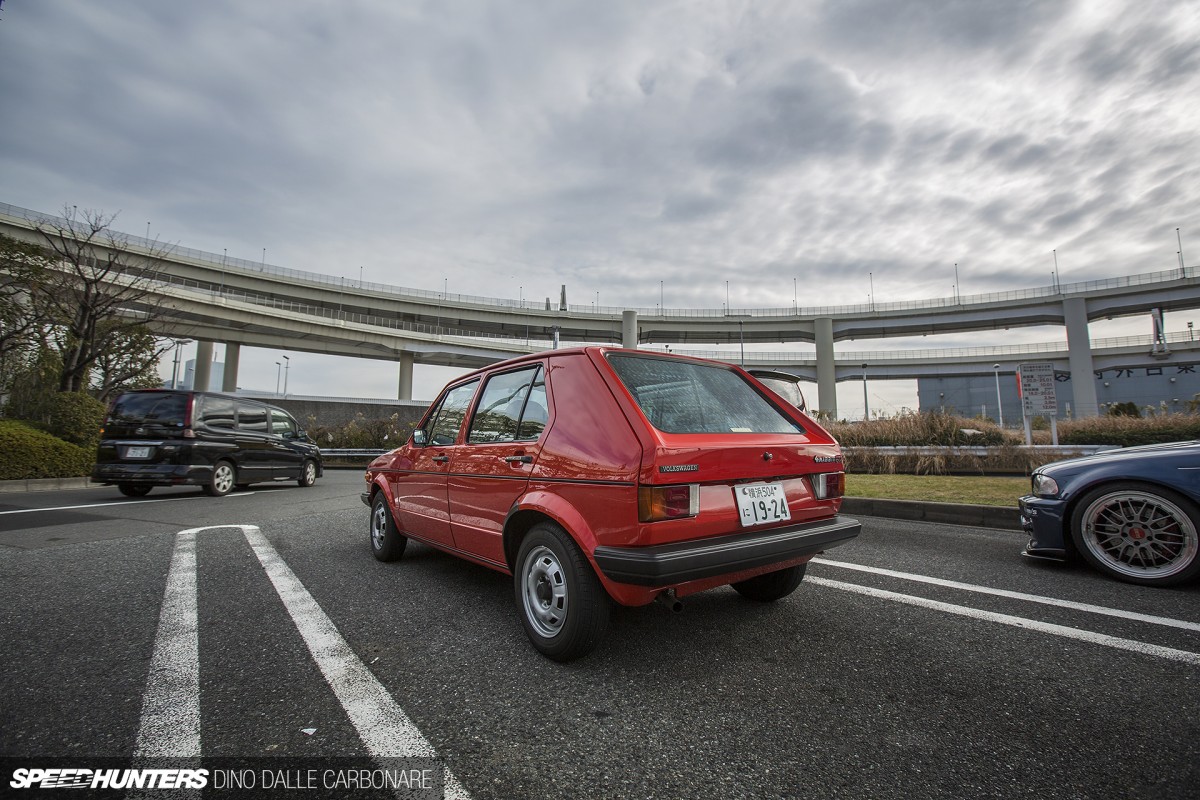 I couldn't get over its condition, totally stock but not a scratch or dent on the thing, and with an equally immaculate interior.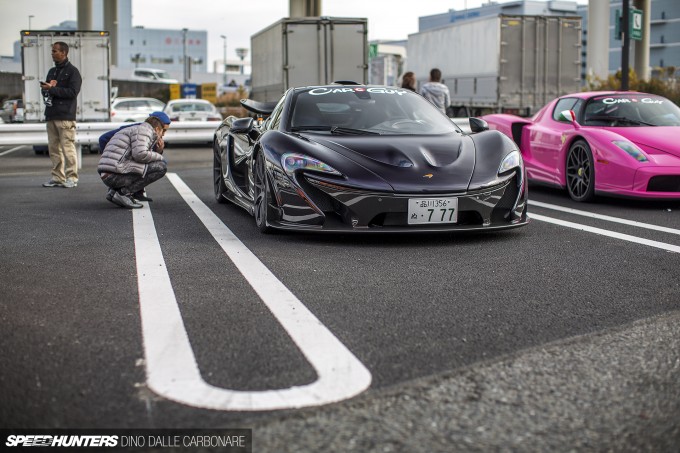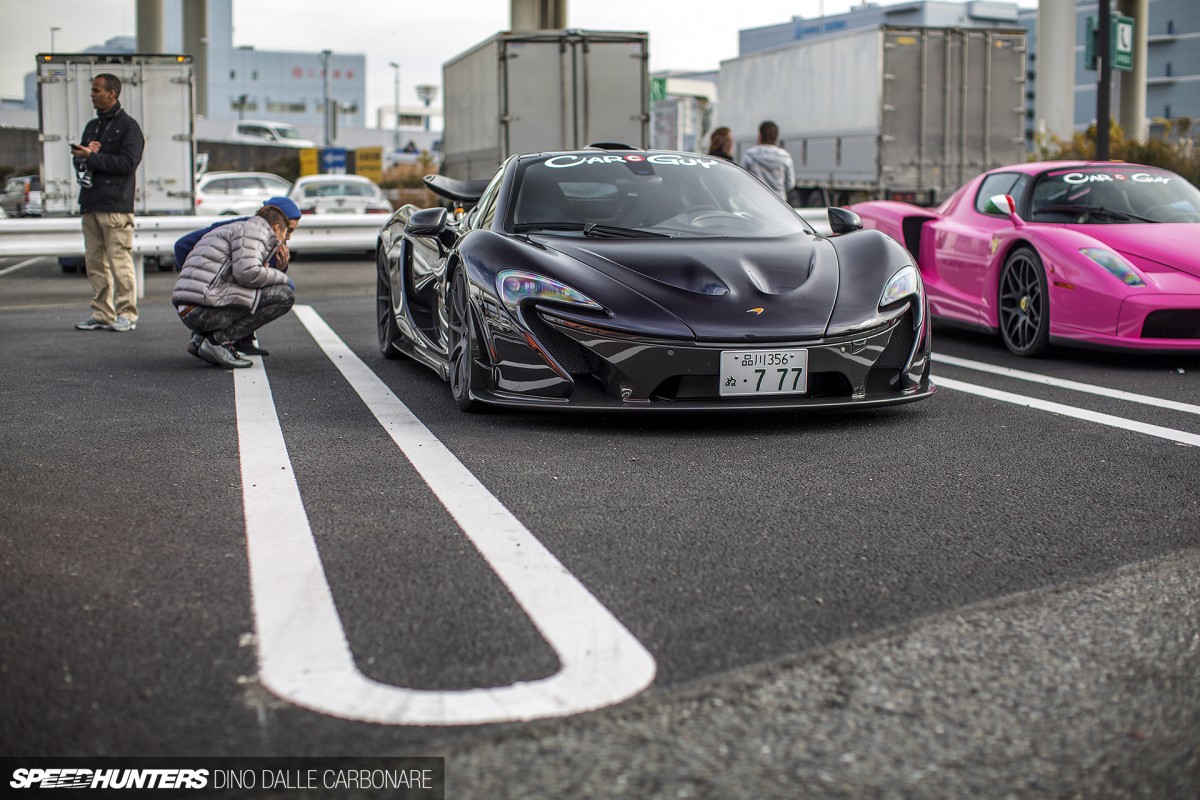 I can't help but finish things up with a final image of the Car Guy P1. For hours, it was the unofficial centerpiece of the gathering, and set just the right sort of tone for the year we have ahead of us here in Japan. It might be close to 22 years that I've been coming to Daikoku PA, but somehow I'm pretty sure I won't ever stop returning…
Dino Dalle Carbonare
Instagram: speedhunters_dino
dino@speedhunters.com