Warm Up Your Engines
I've been lucky enough to cover some pretty crazy automotive-related stuff in my time, but nothing, and I mean nothing, could have prepared me for the awesomeness that unfolded on an autumn day back in November.
I have been driving the Hakone Turnpike for so many years that I've probably taken well over 100 cars up and down it. For Japanese car magazines it's been a road course of sorts ever since it opened, and is the place to go if you want to put your car and driving skills to the ultimate test. It's close enough to Tokyo for a quick afternoon expedition and since it's a privately owned toll road, traffic is pretty much non-existent most of the time. On top of that, its surface is more like Fuji Speedway than a normal road. And then there's the layout. I've always called it the mini-Nordschleife as it manages to throw all types of corners at you, and like any proper mountain pass it has to be driven both up and down to be thoroughly enjoyed.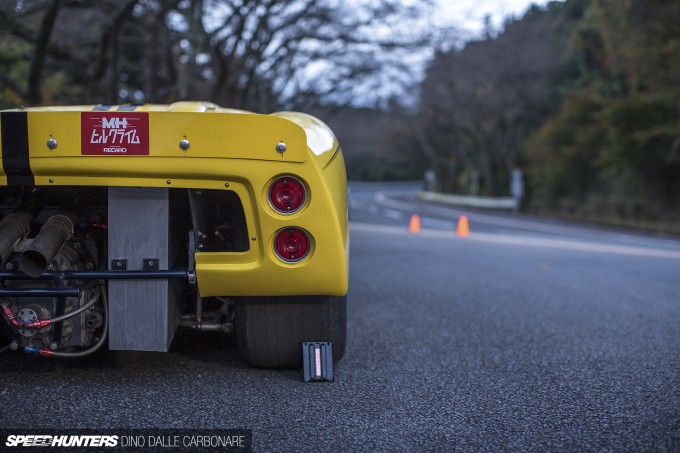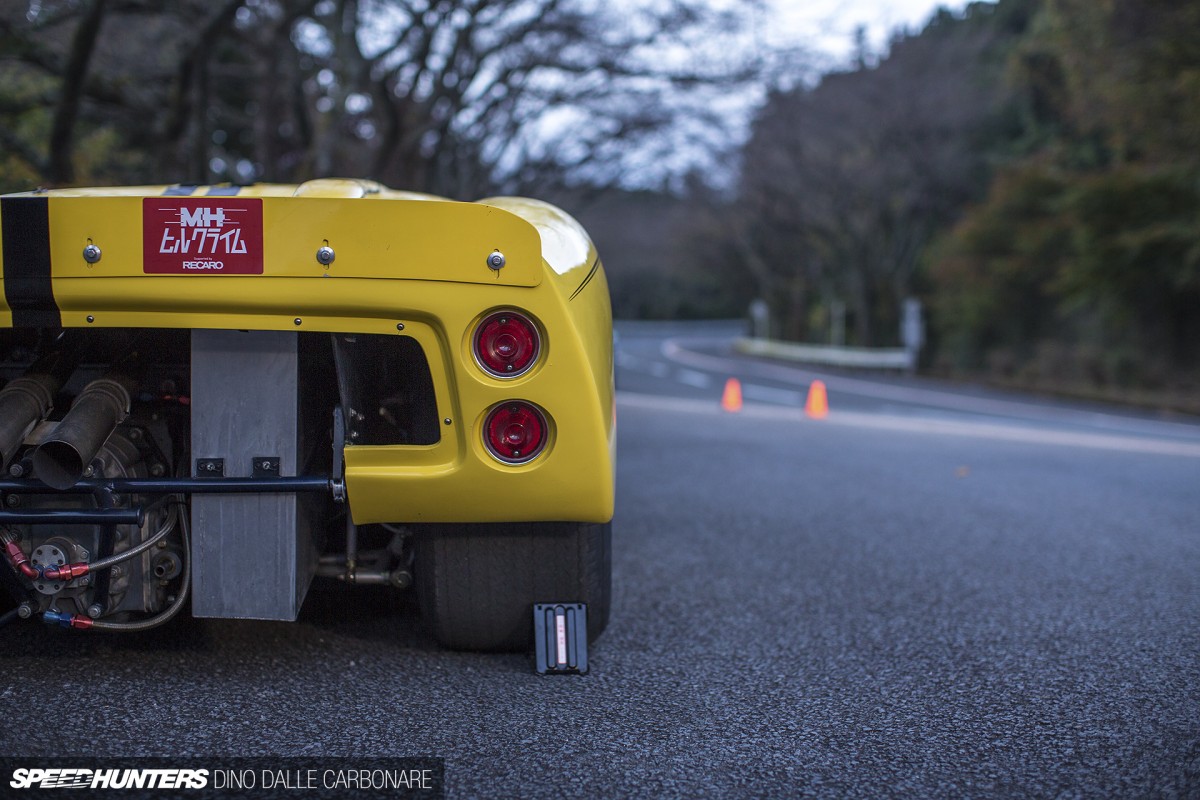 Every time I've driven this road I've thought to myself how epic it would be to run a hill climb here. They actually held them 30 or 40 years ago, but things have changed a lot since then. So to think that little 'what if?' dream of mine actually materialised into the Motorhead Hill Climb still blows my mind. If you haven't seen the short film, do yourself a favour and press play below right now.
If it was any other country, this event would have surely happened a long time ago. But this is Japan. It might not be obvious to the casual visitor who pops over for a quick holiday, but this is a country that's regulated to the hilt. If it's fun, the government will probably tax it, control it, and then use a fax machine to send out a set of rules and regulations for everyone to follow. If it's a lot of fun, it'll just be banned – like dancing in night clubs. I kid you not. So for this event to have happened, well… everyone is still very surprised that it actually did!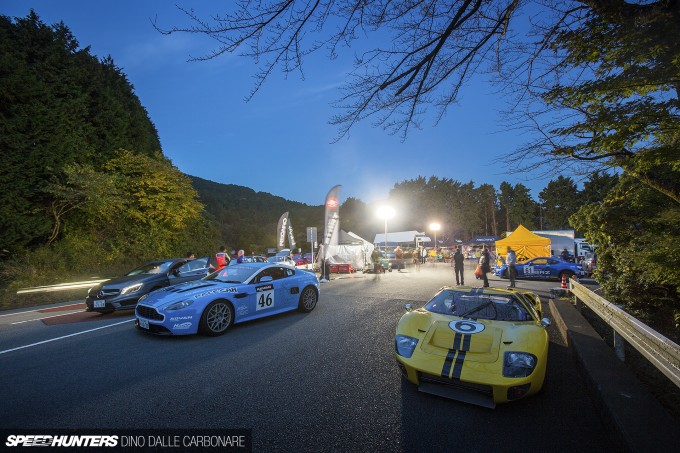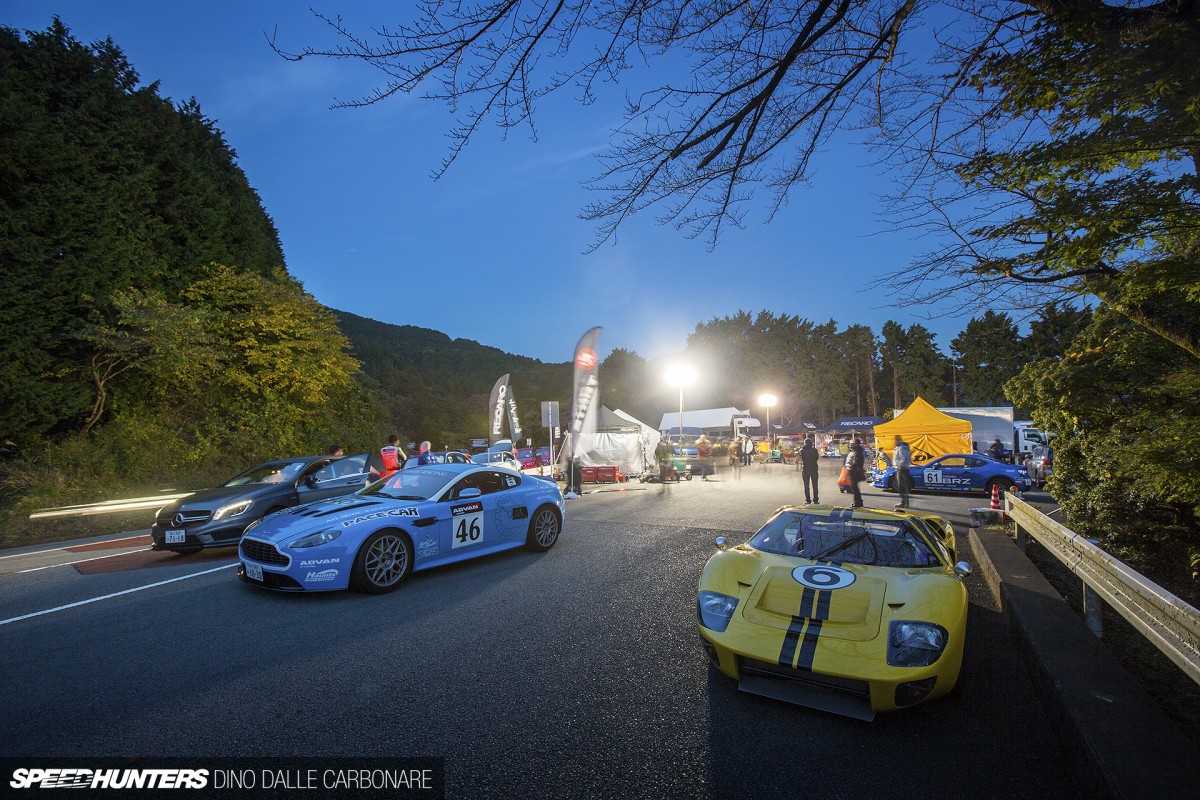 The latest issue of Motorhead – with its 40-page feature highlighting every minute of the hill climb – has been on the shelves since Christmas Day, and as usual it's a really nice read. But seeing as though not everyone can get hold of it easily, I thought I'd dedicate a post to the truly unforgettable day. The planning involved in making this event a reality goes all the way back to the beginning of last year when the team at Motorhead set the wheels in motion. Fast forward 11 months, and here we were – over 100 people all told, including media, officials, drivers and teams. The 5.00am start was painful, but it was also necessary as everyone needed to be briefed on what to do, when to do it, and where not to stand. Safety was the biggest concern, and the event needed to go off without a hitch to have any chance of being able to happen again in the future.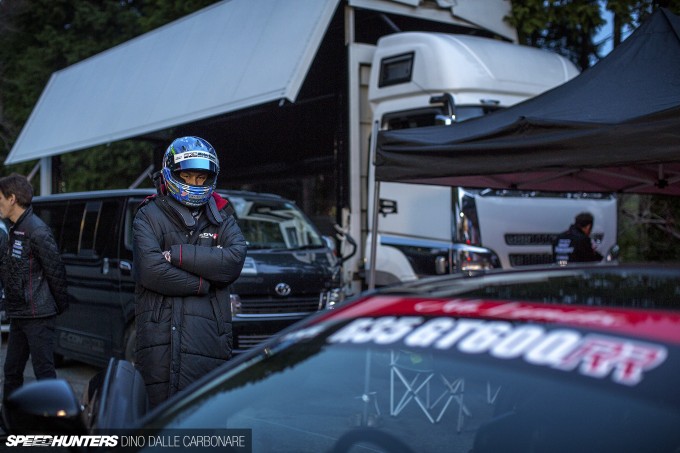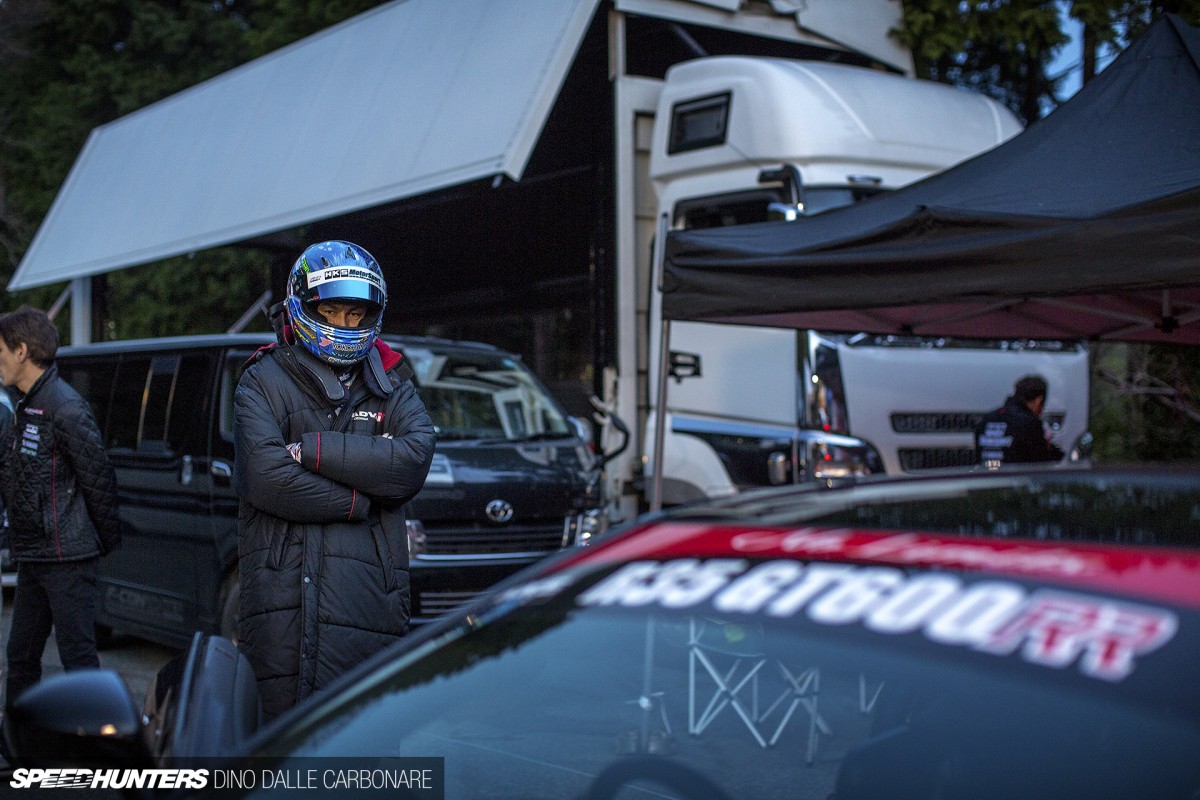 The idea was a simple one: four cars, four drivers and a specially-selected 7.5km long section of the Hakone Turnpike pass. Each car would get a few warm up runs before being allowed to attack the corners a total of four times – each time followed by its own pace car and escorted back to the pit area located in a parking area at the road's base. While the event idea was cool in itself, the cars invited to participate had to be interesting too, and one of the first teams to sign up with their street-tuned GT-R were the guys at HKS. Their pilot – Nobuteru 'Nob' Taniguchi, a long-time driver for HKS and the man tasked with extracting the best possible time out of the 600hp-plus R35 on the day.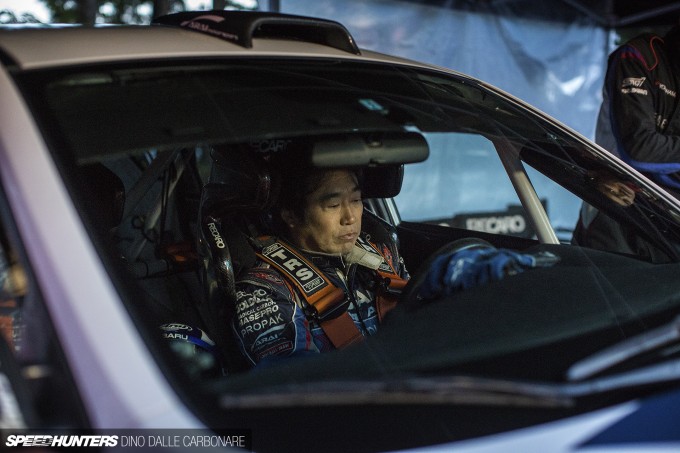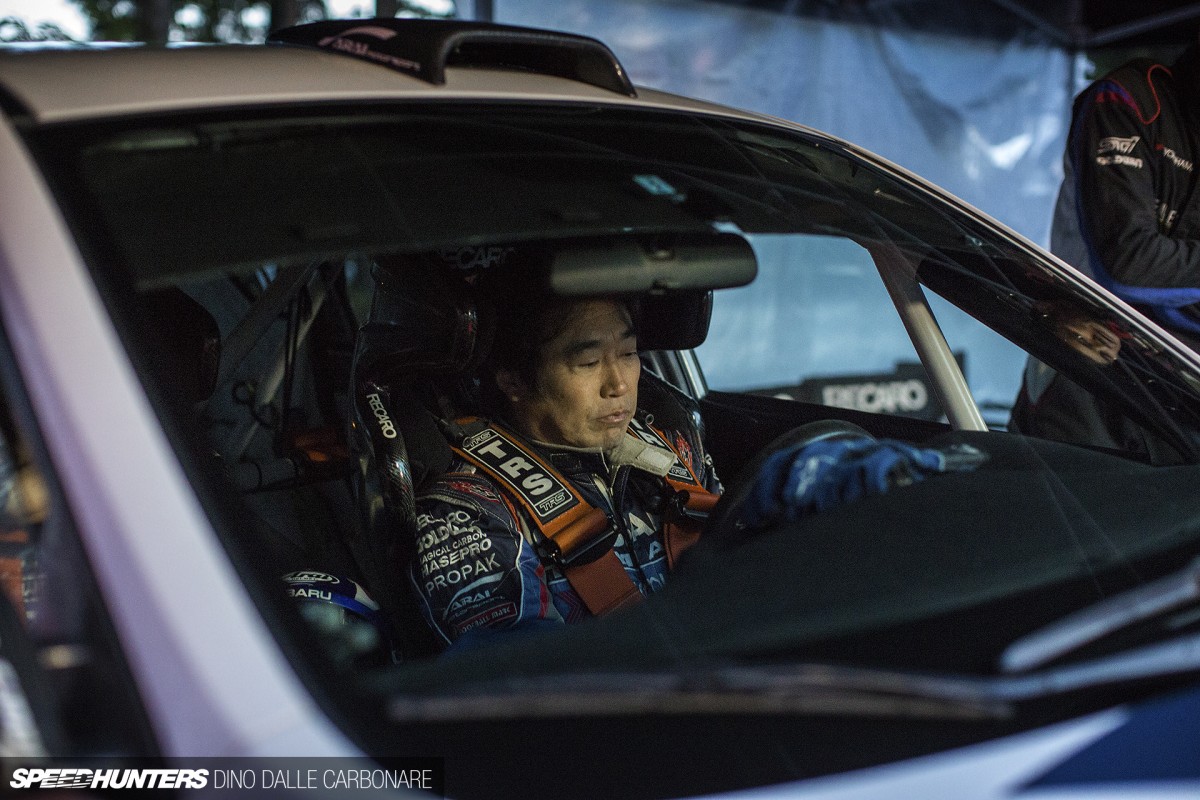 Next up was professional rally driver Toshio Arai. He entered the event with his Group N Subaru Impreza STI Spec C, which was setup for tarmac and sporting a ton of chassis and suspension upgrades. The engine, however, remained pretty stock, with an ECU fiddle and a free-flowing exhaust increasing total output to 300PS.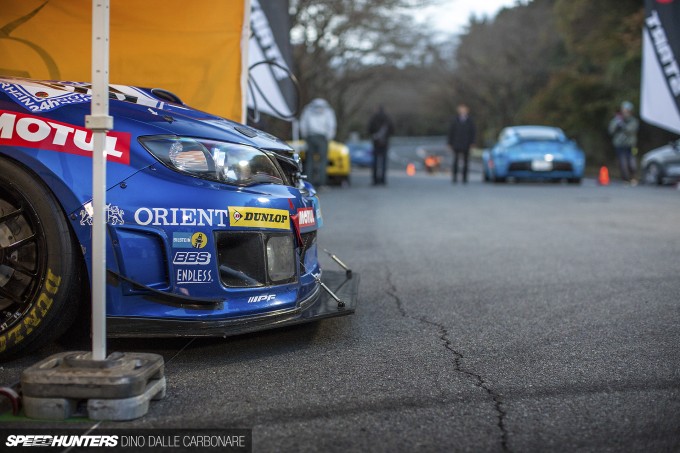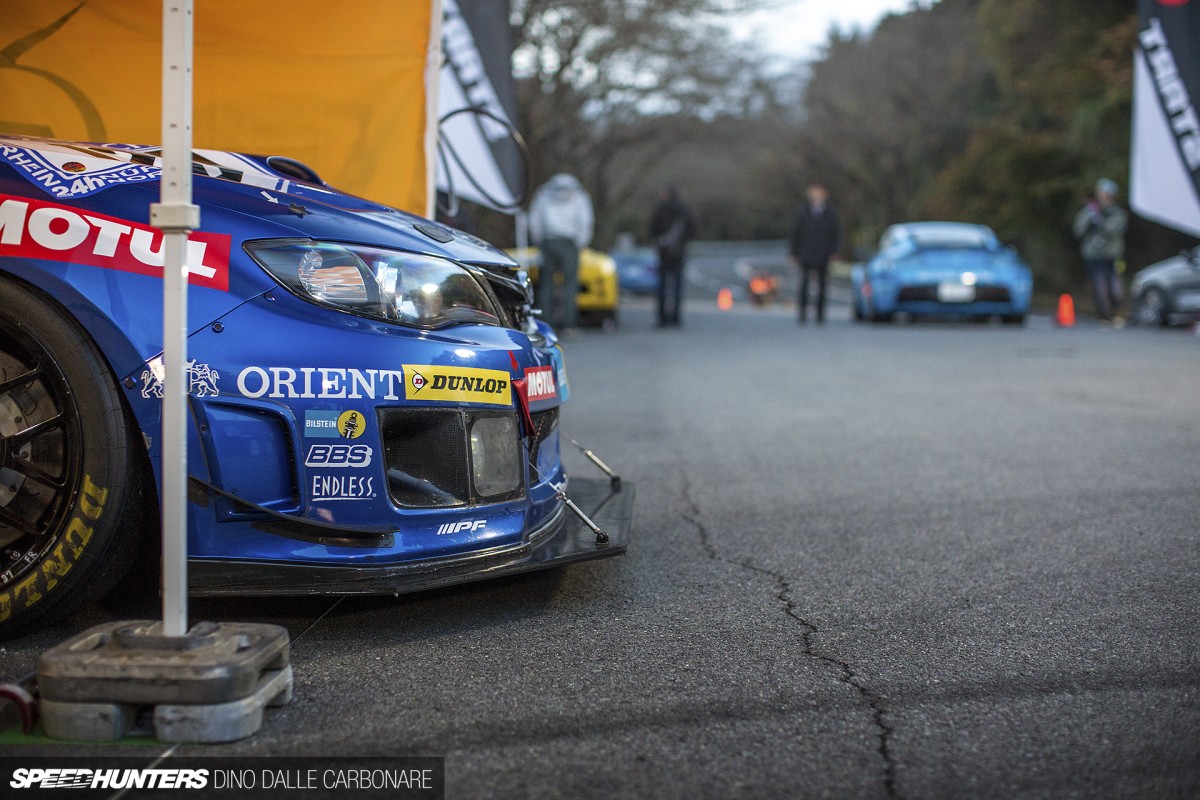 Next up was another Subaru Impreza, or more specifically the car that won its class at the 2013 Nürburgring 24 Hour. How appropriate!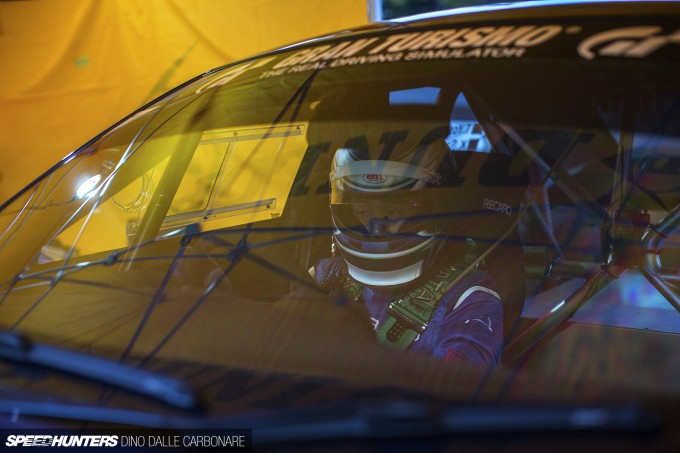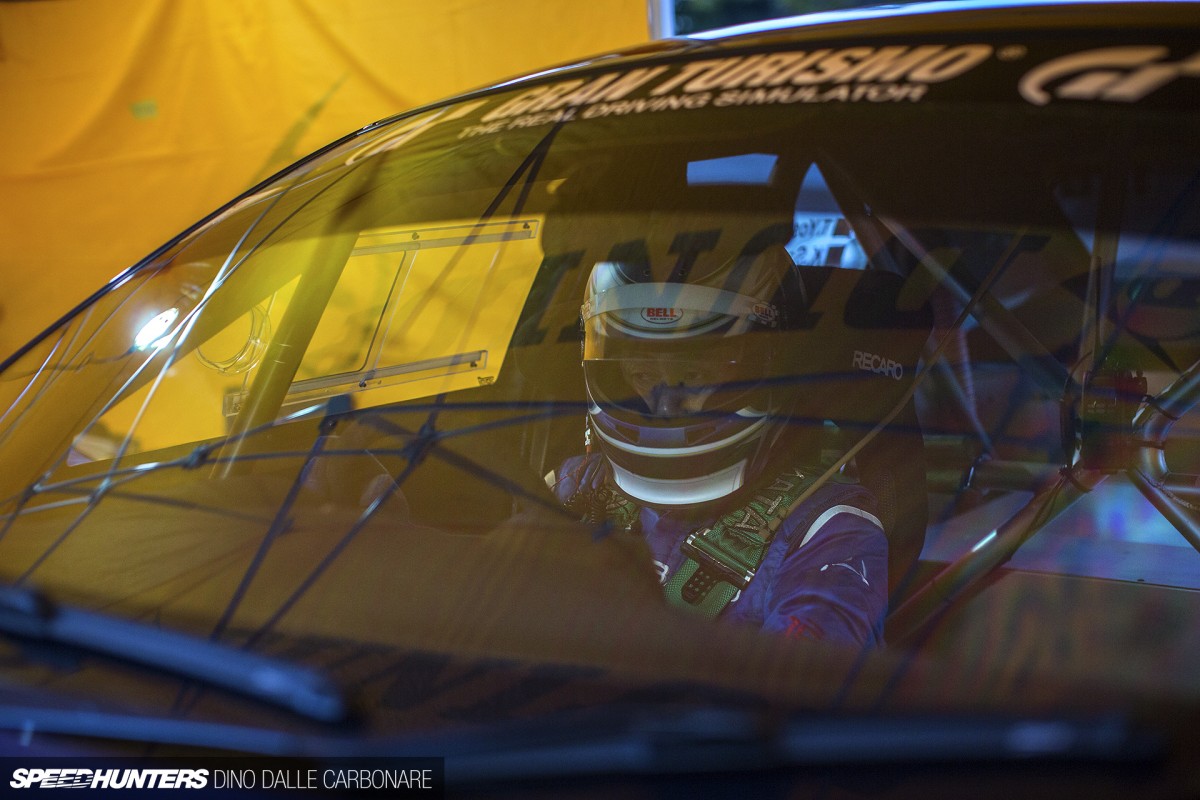 The man behind the wheel? That would be STI's General Director, Eiji Tatsumi. He's a rather handy driver, and for the last two decades the man responsible for ensuring that all STI-badged cars have the appropriate characteristics of a proper performance machine.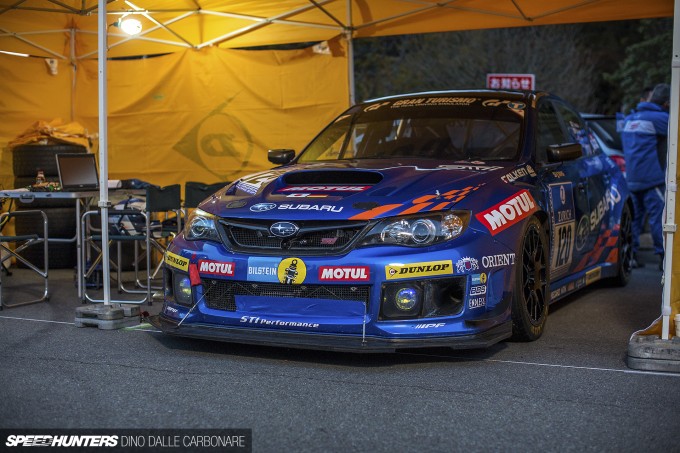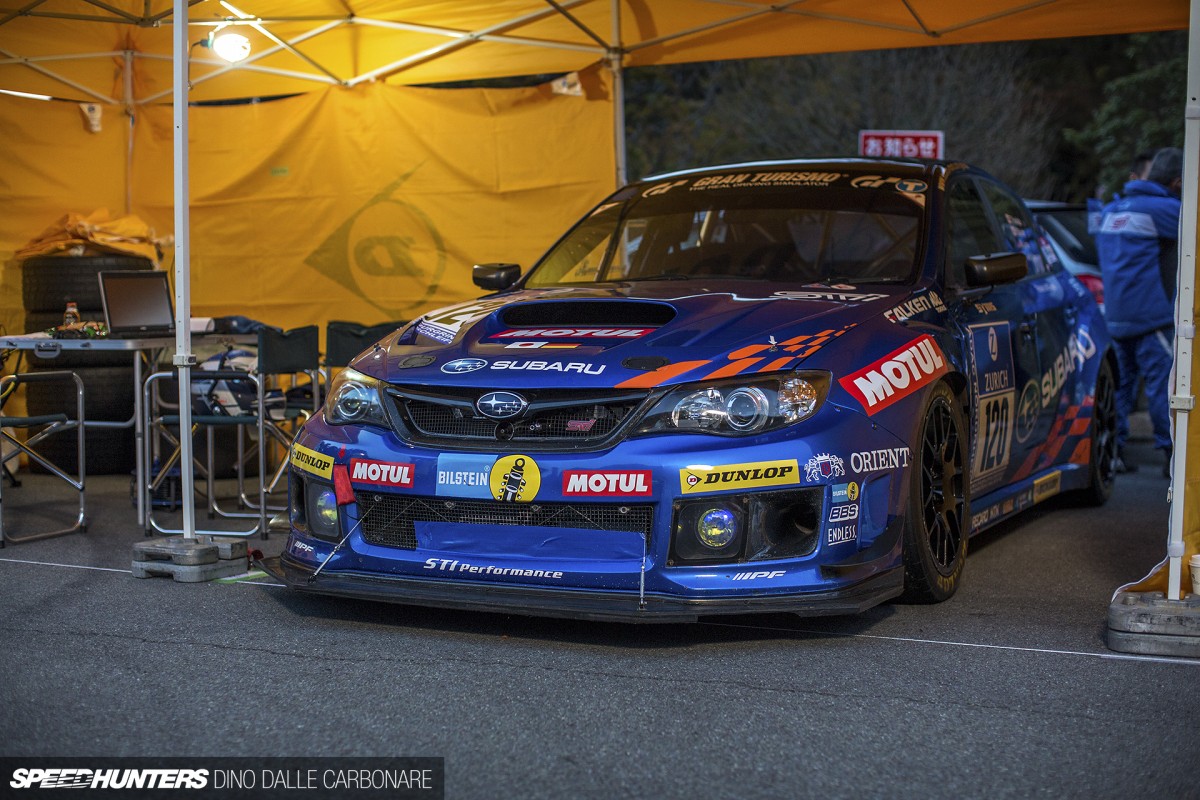 This Impreza is pretty much a fully-fledged racecar, but due to regulations its tuned EJ20 breathes through a 38mm restrictor. Therefore power is capped off at 340PS, but it's truly setup and built for these kind of trials. The team came out with Dunlop as part of the project.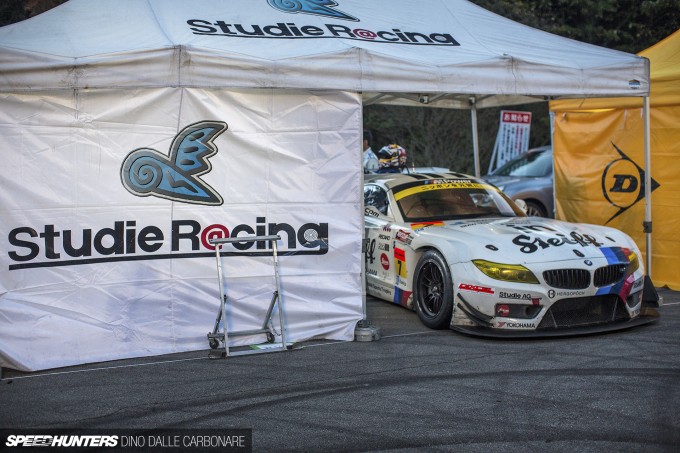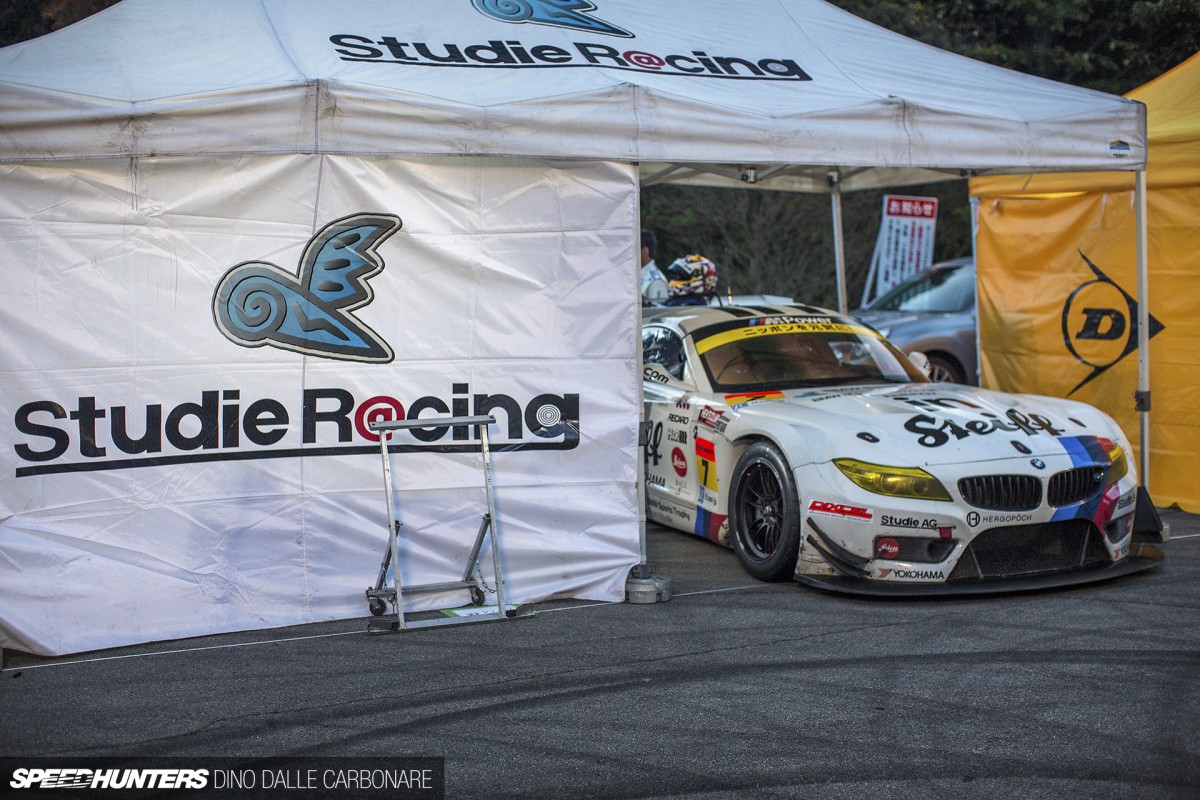 Car number four – and the one that had everyone excited – was the Studie Z4 GT3 from the ranks of Super GT. A few days prior this same car was being raced in the GT300 class at the Motegi round of the championship, but on this particular day it was ready to be unleashed on a mountain road – albeit set up with a higher ride height than usual.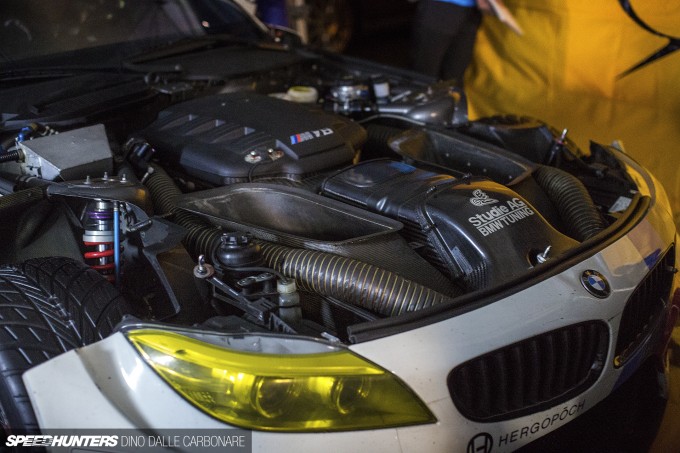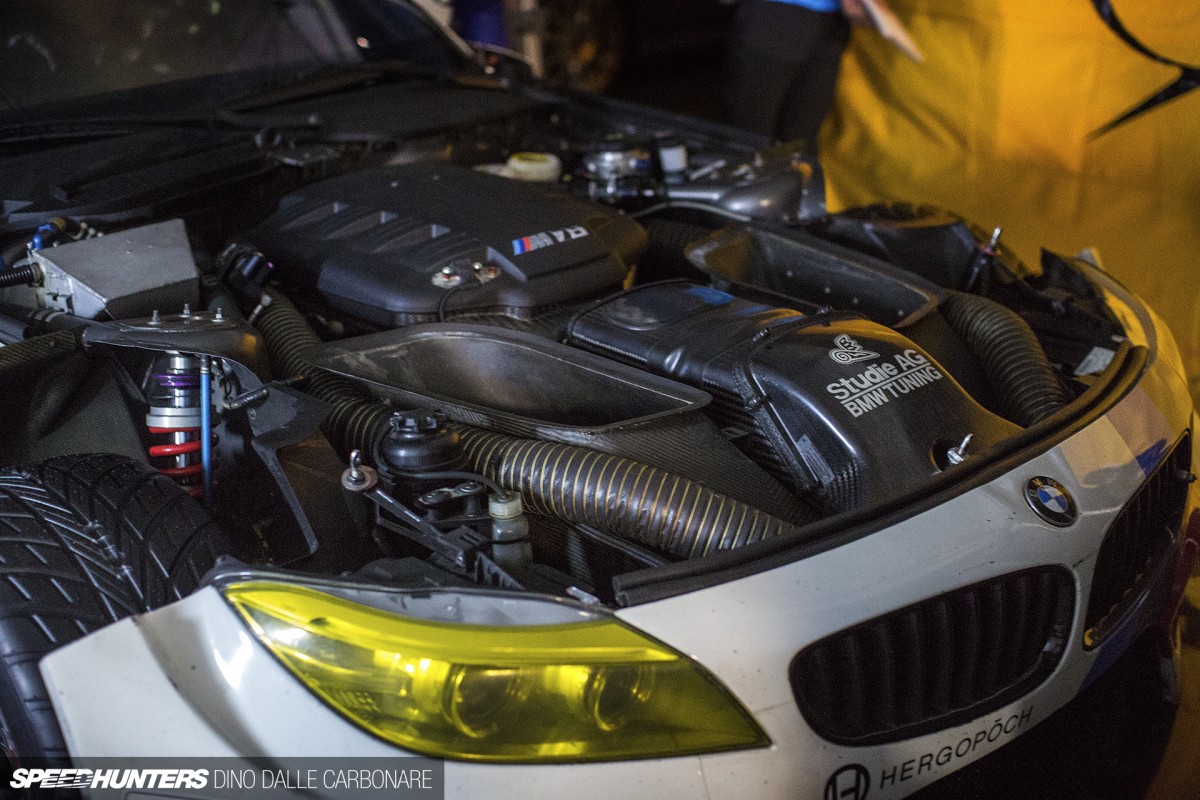 The Z4 is powered by a screaming 4.4L V8 that churns out 535PS when totally de-restricted; the engine sitting way back in the chassis for optimal weight distribution. Due to Super GT GT300 regulations the motor breathes through a restrictor too, so power is rated at 470PS.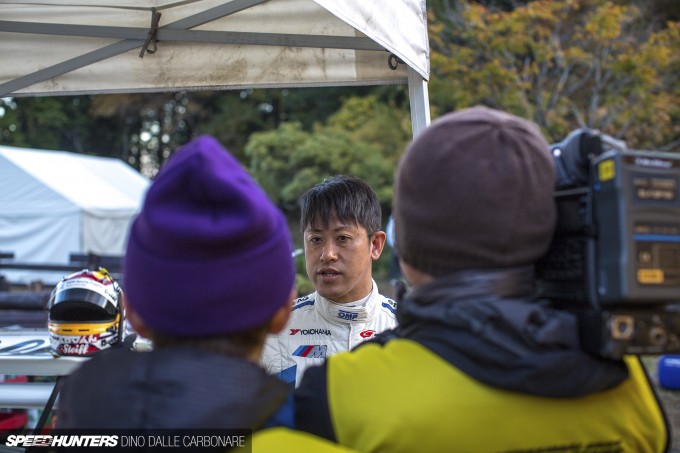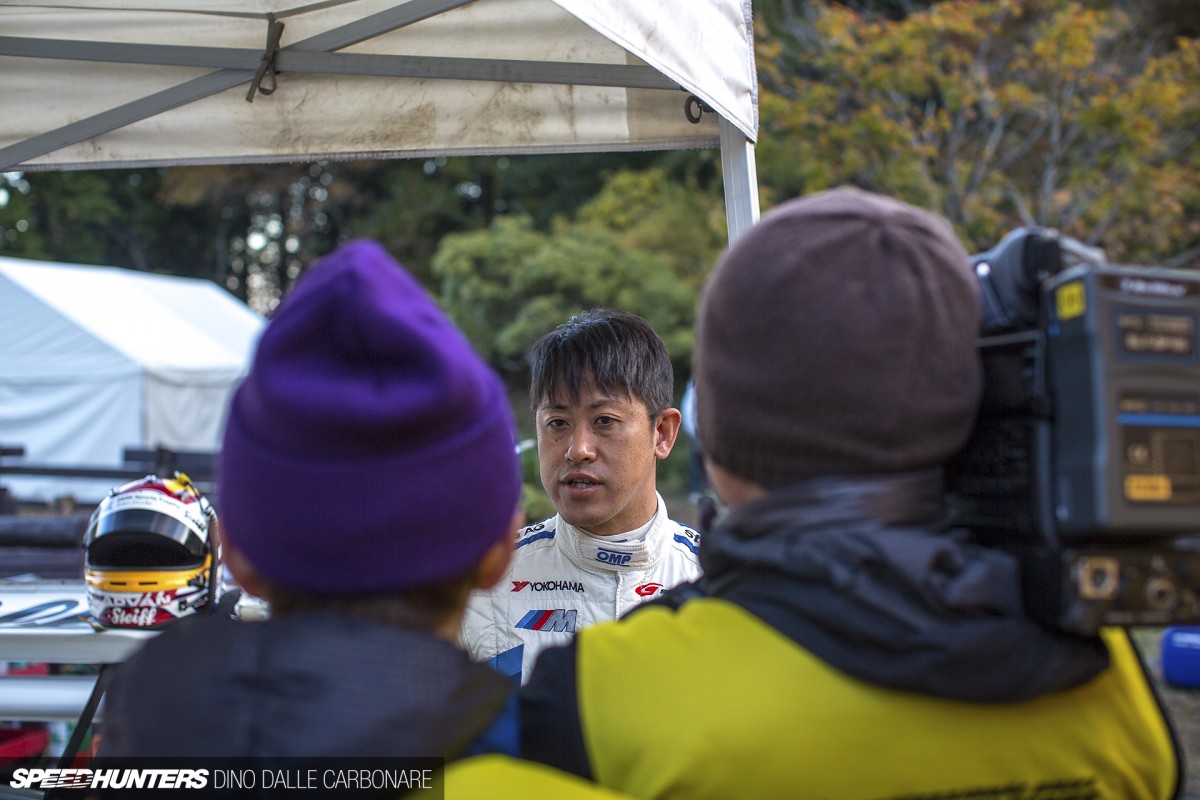 Piloting the car was Seiji Ara who has been with Studie for years. Winning Le Mans in 2004 with Audi and being a regular Best Motoring presenter, Ara is one of the most highly-respected Japanese drivers of the modern day. And given that he had the car with the most potential to win the Motorhead Hill Climb, all eyes were on him.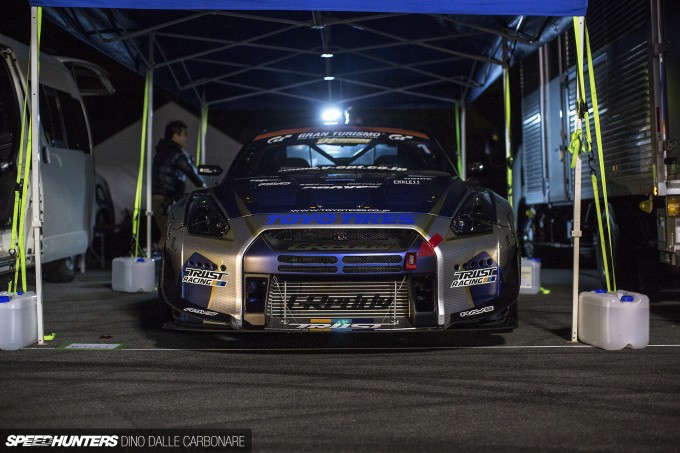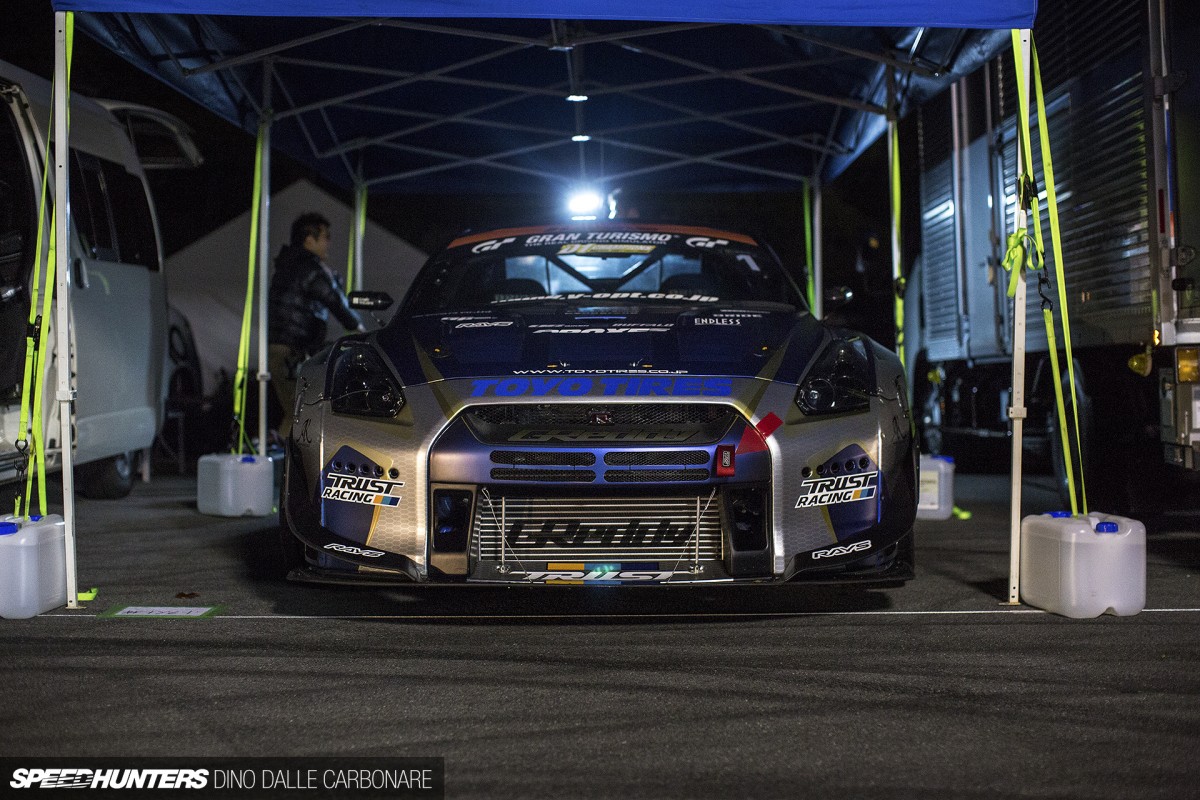 The anomalie in the selection of cars was this – GReddy's Rocket Bunny kitted GT-R, as driven in the D1 Grand Prix series last year by Masato Kawabata. Why was it here? Well, on top of the time attack session, Motorhead thought it would be cool to throw a drift car into the mix for pure entertainment purposes. So after persuading the owners of the Turnpike that not too many black marks would be left behind (yeah right!), they asked Kawabata if he was keen on pitching the R35 sideways over a bridge at 200km/h. Of course he was!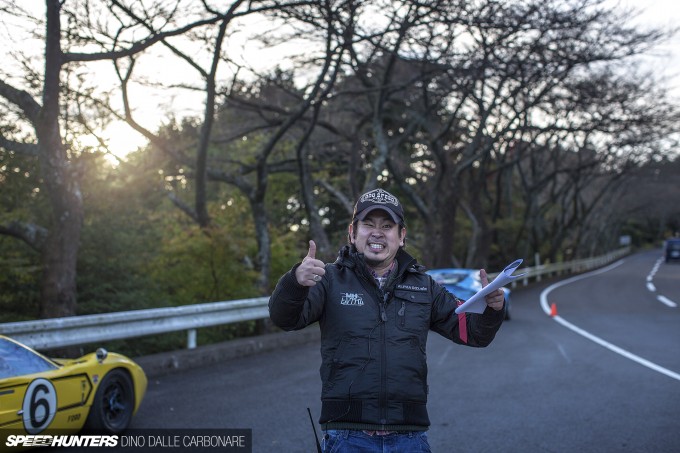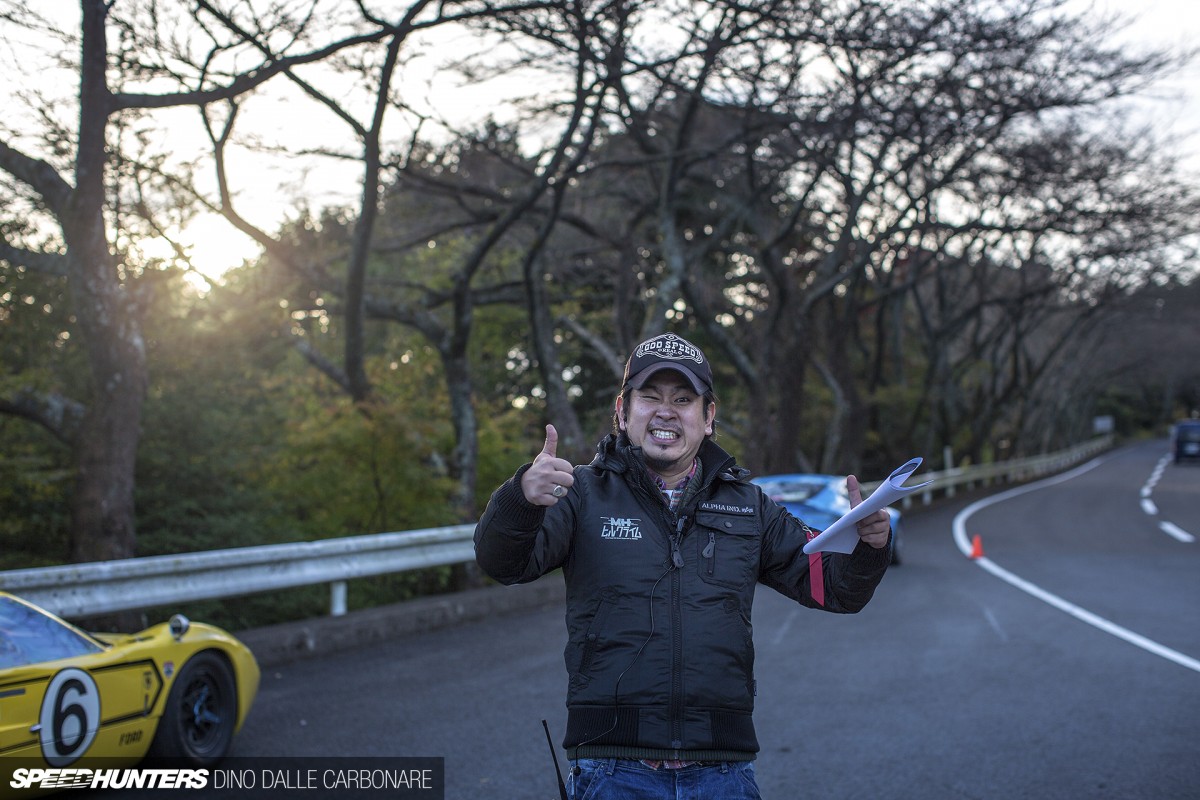 This whole event was the brainchild of this guy, Ko-hey Takada. In a few short years he has managed to reinvent automotive print media in Japan, applying a winning formula of high quality photography, design and paper stock, coupled with captivating stories. He's well on his way to making Motorhead a household name and had the right people on board for this crazy idea.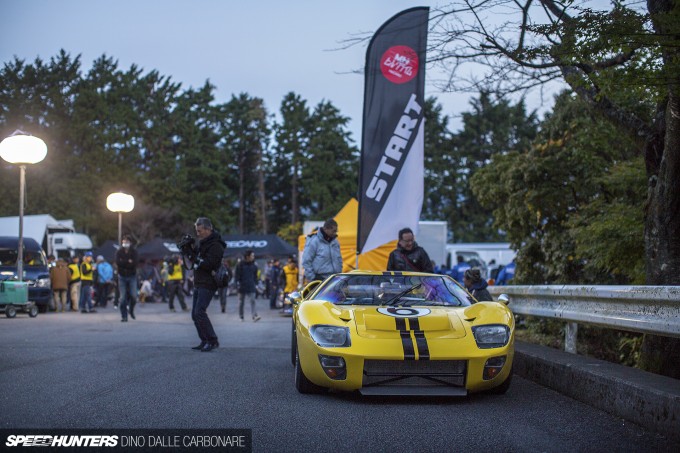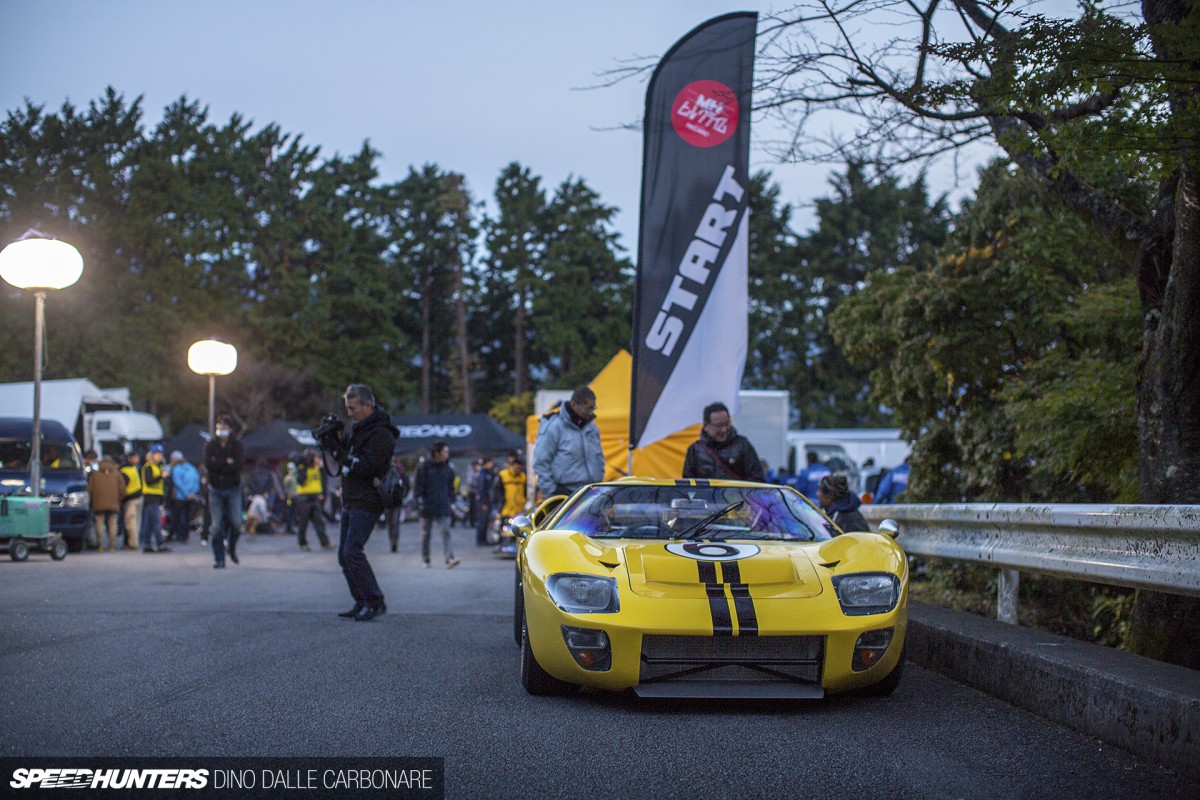 Oh, and then there was this car. With the event being so unique, Motorhead thought that a classic racecar would bring a touch of class to the proceedings. This is no replica by the way – this is a real-deal 1964 GT40 MkII brought out of the massive M's Vantec collection, which if you remember also includes this interesting car.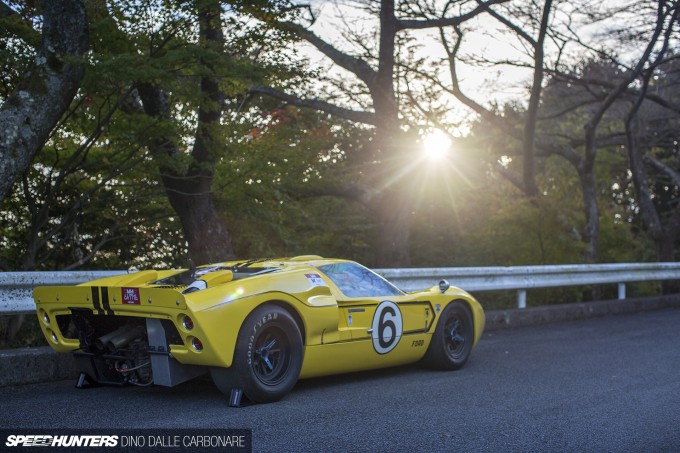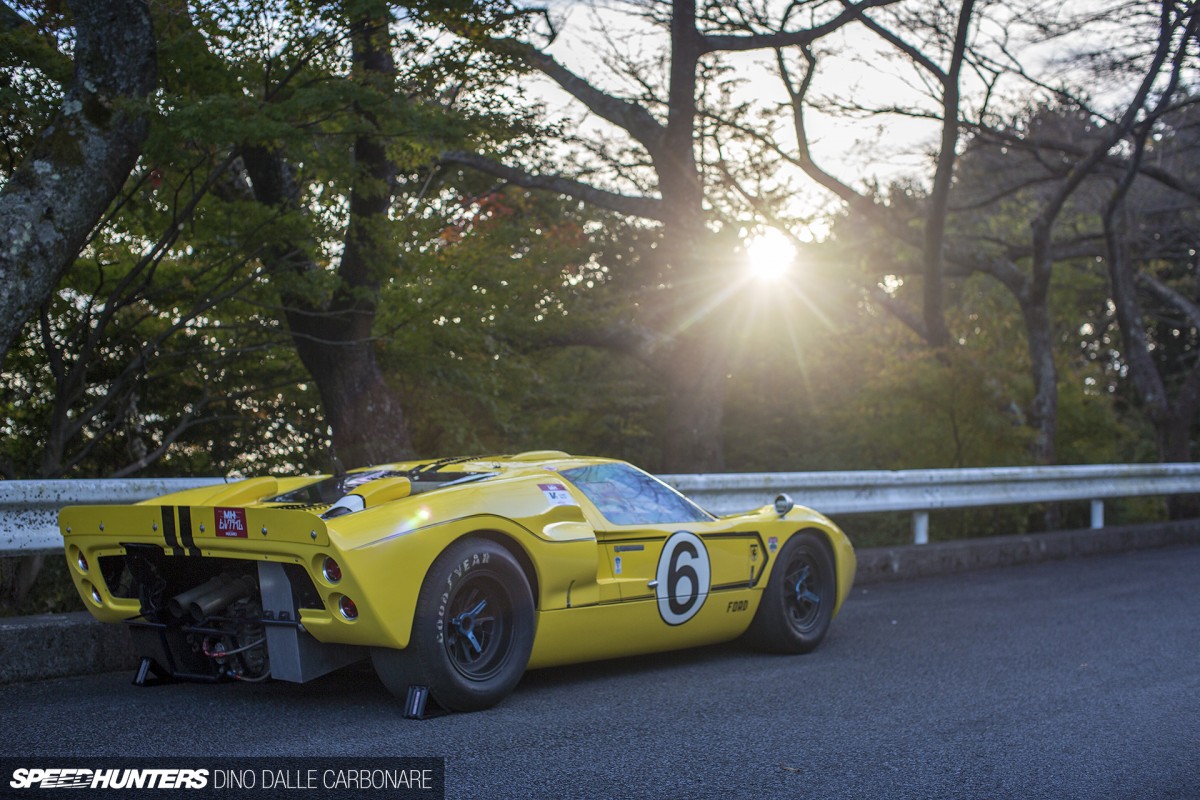 I really fell for this 50-year-old beauty. It stood just a metre tall, weighing in at roughly 1,000kg with a screaming 7.0L V8 strapped to its back. Just look at it and tell me what's not to love?!
Getting A Feel For It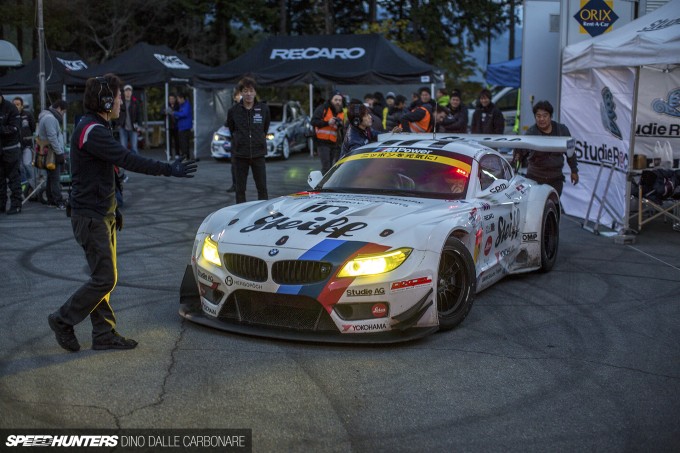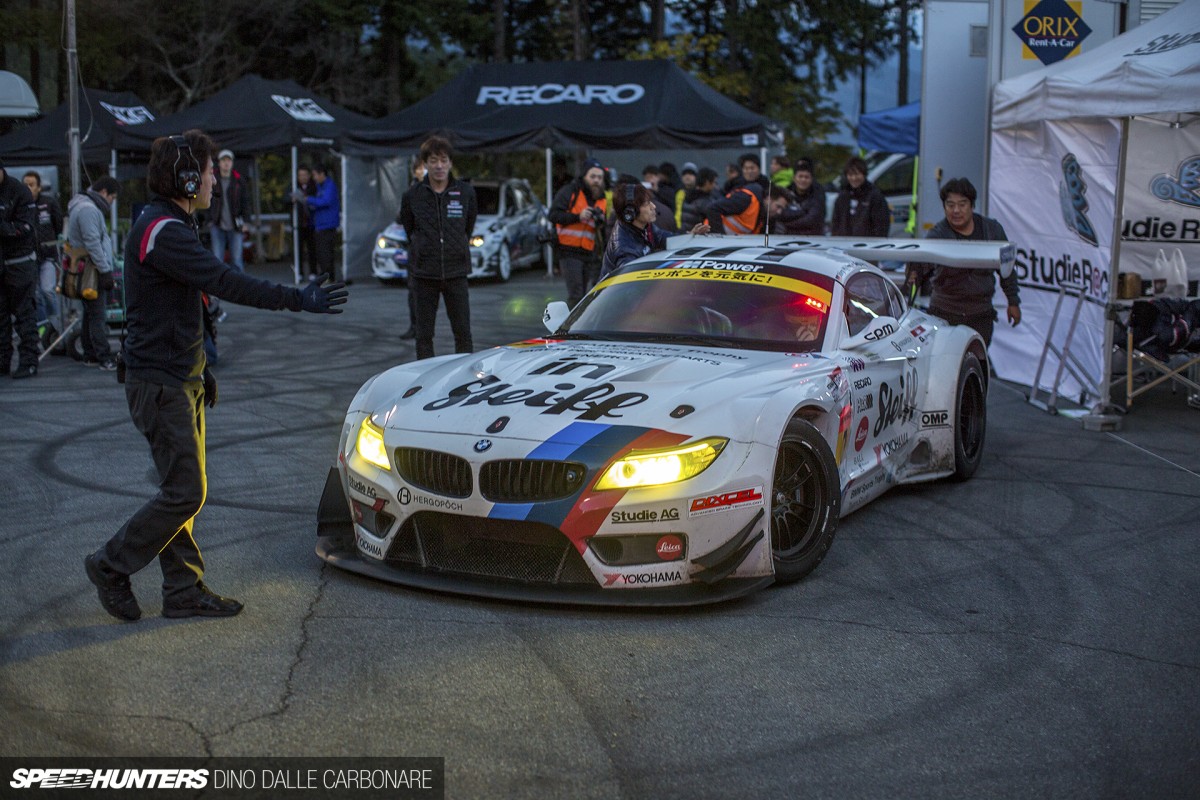 As soon as first light broke the pits kicked into action; the sounds of powerful engines on their high, cold-start idles disturbing the peace and serenity of the tranquil mountains.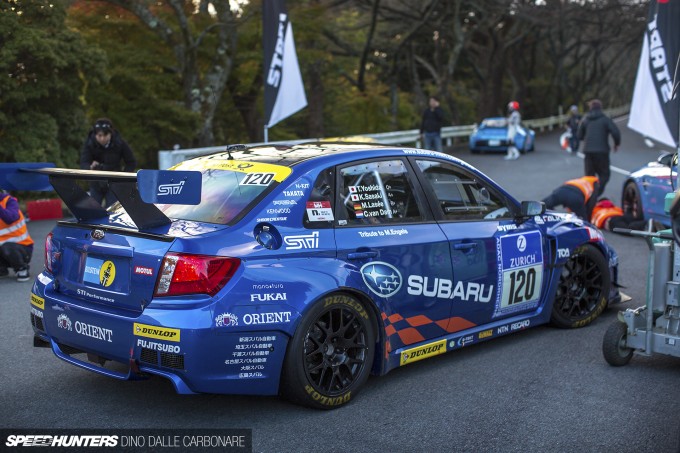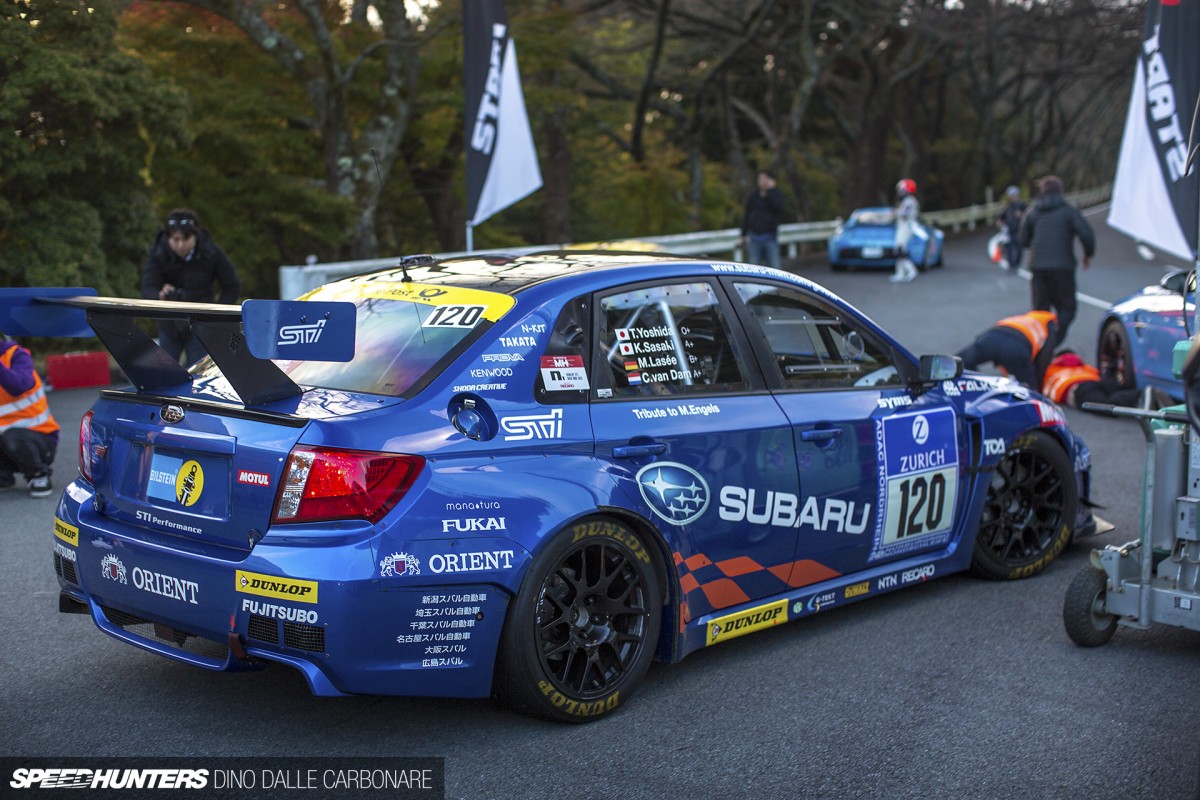 After preliminary checks the cars manoeuvred into the cramped pit area and slowly lined up as their time to shoot up the Turnpike rolled around.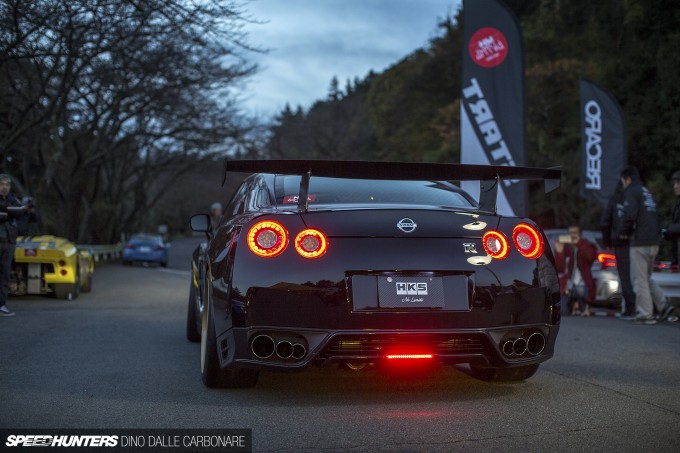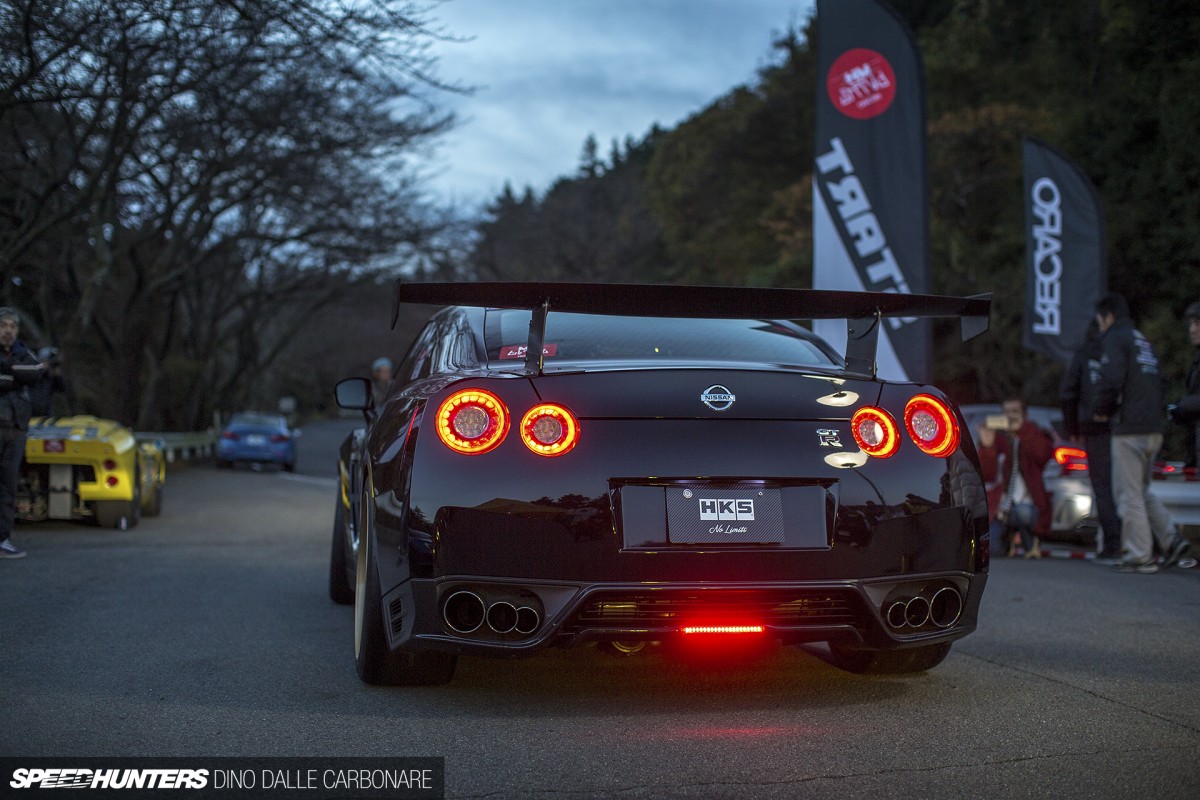 Taniguchi was itching to get going and arrived at the start line first. This GT-R is fitted with HKS's GT600 kit with power boosted to the figure its name suggests. It's the most popular kit that HKS sells to R35 customers, so the event was a great way to show what this upgrade package is capable of with one of the best drivers in the world doing the steering!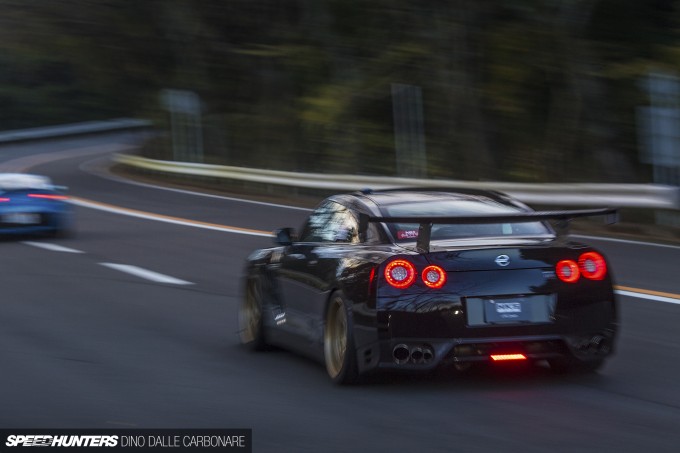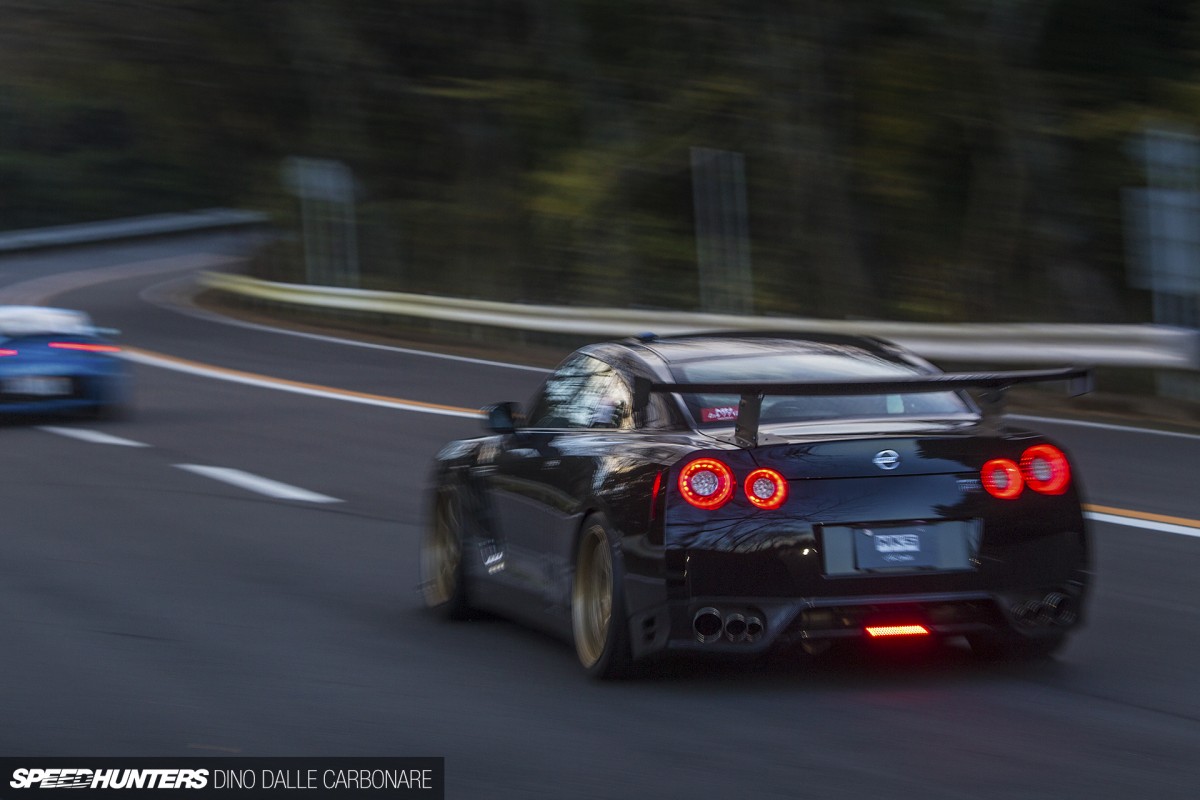 Let's not forget where Taniguchi originally honed his skills either – on touge roads not too dissimilar from this one, perhaps only tighter and slightly slower. The GT-R catapulted away without any fuss, the gearbox upping cogs at a silly pace as the car piled on speed.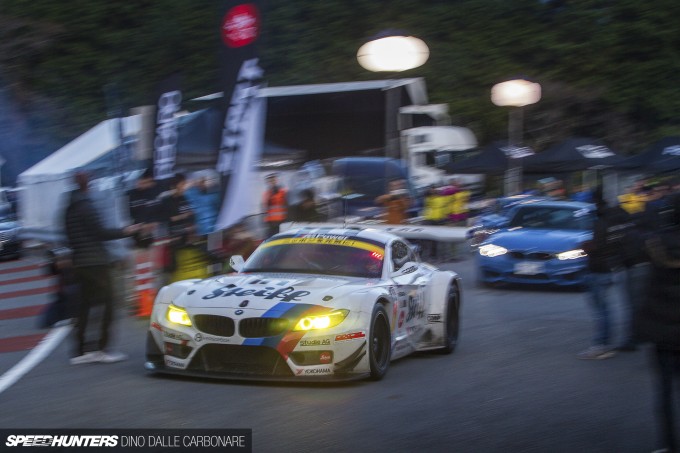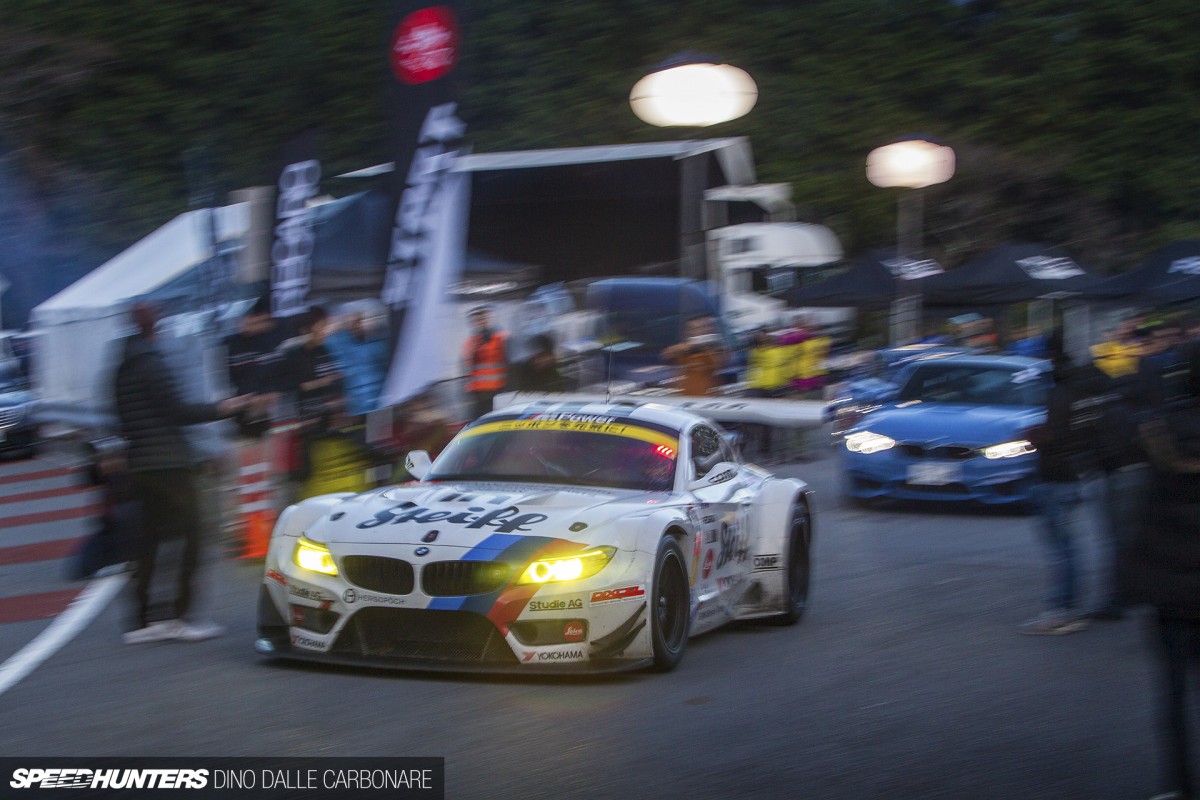 The Studie Z4 was next, and the way this car just darted out of the pits surprised everyone. We had no idea Ara would gun it like he did, even during the warm up, but I guess that's how racers do it – 100 per cent all of the time. It was like an instantaneous bolt of thunder – the V8 wail interrupted momentarily as Ara actuated the sequential transmission for constant upshifts. In a second it was around the first corner and gone…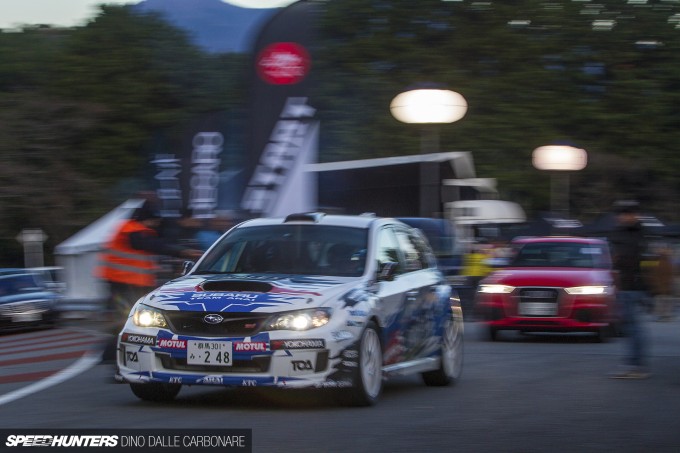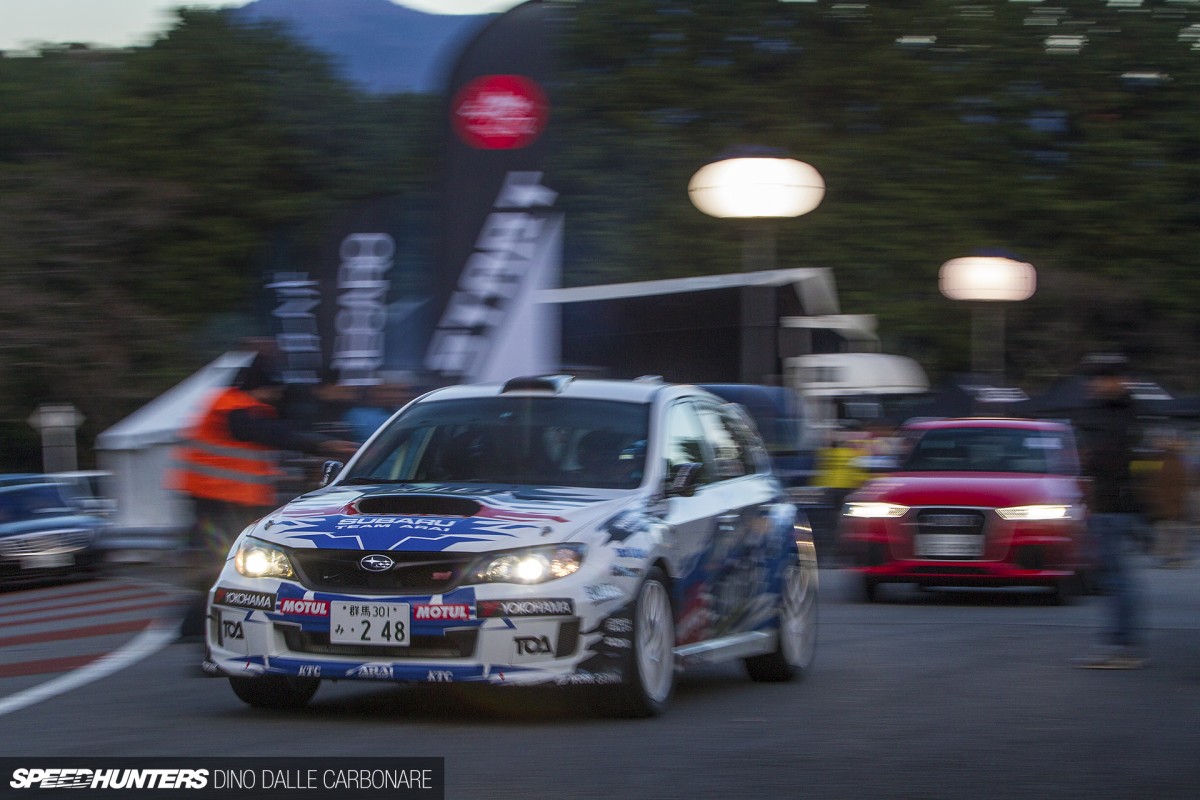 After the Nürburgring STI, Arai was next in his Spec C – the barely-silenced boxer-powered machine nowhere near as powerful as the cars that had gone before it, but so well setup it probably wouldn't need to brake much through the corners ahead.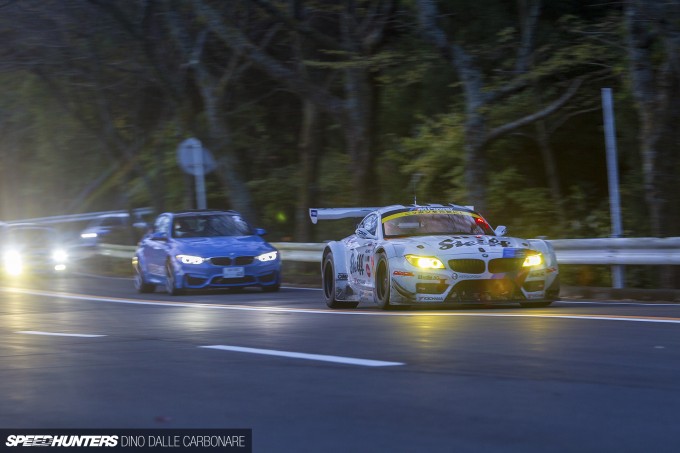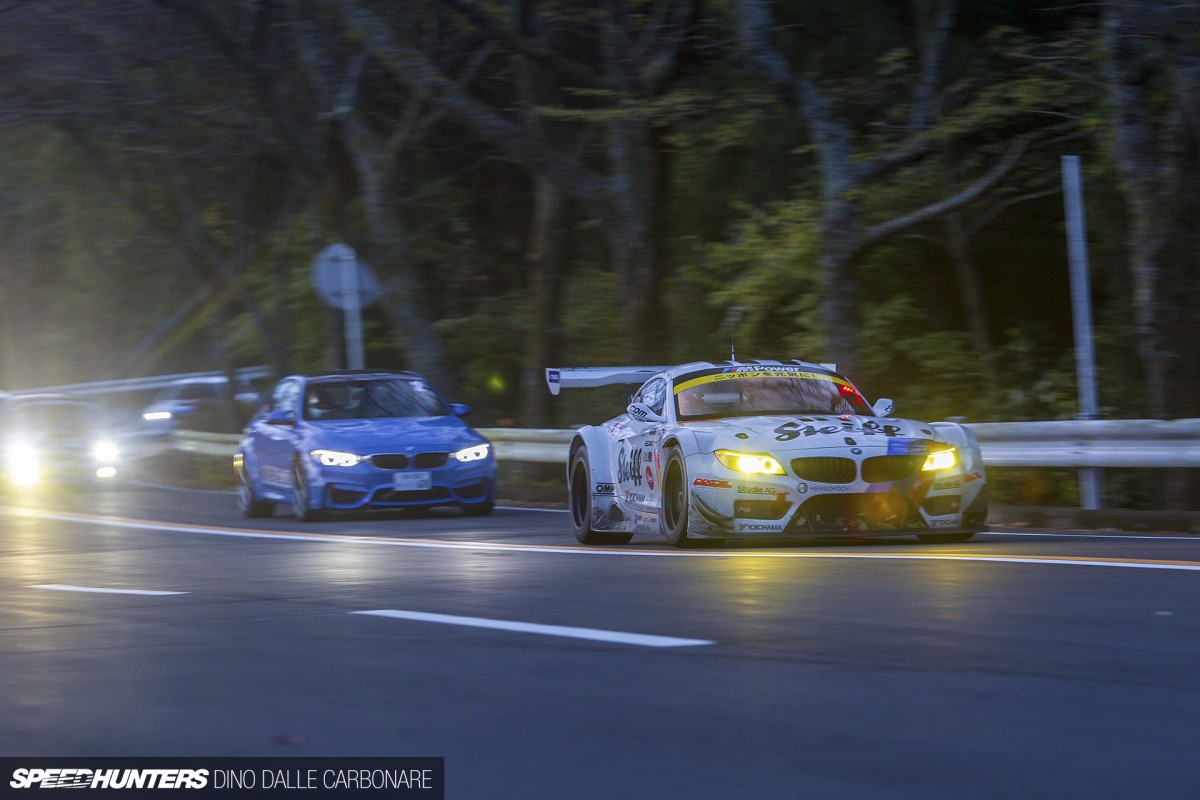 There were a good 10 or so minutes of silence and then gradually a buzz could be heard. All of the cars had patiently waited at the top of the pass, and once the course was clear returned in convoy back to the pits.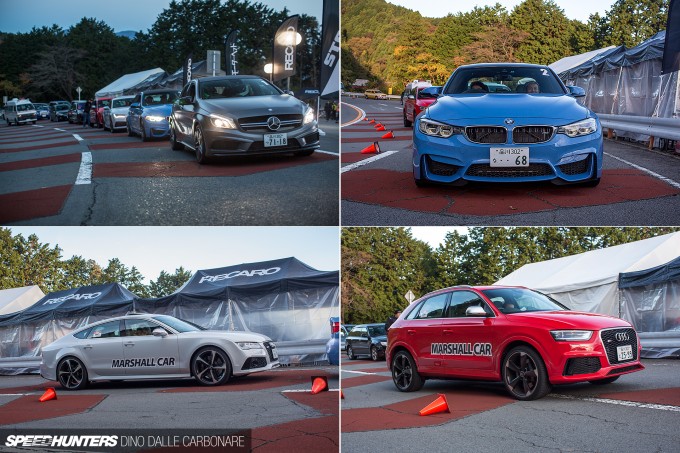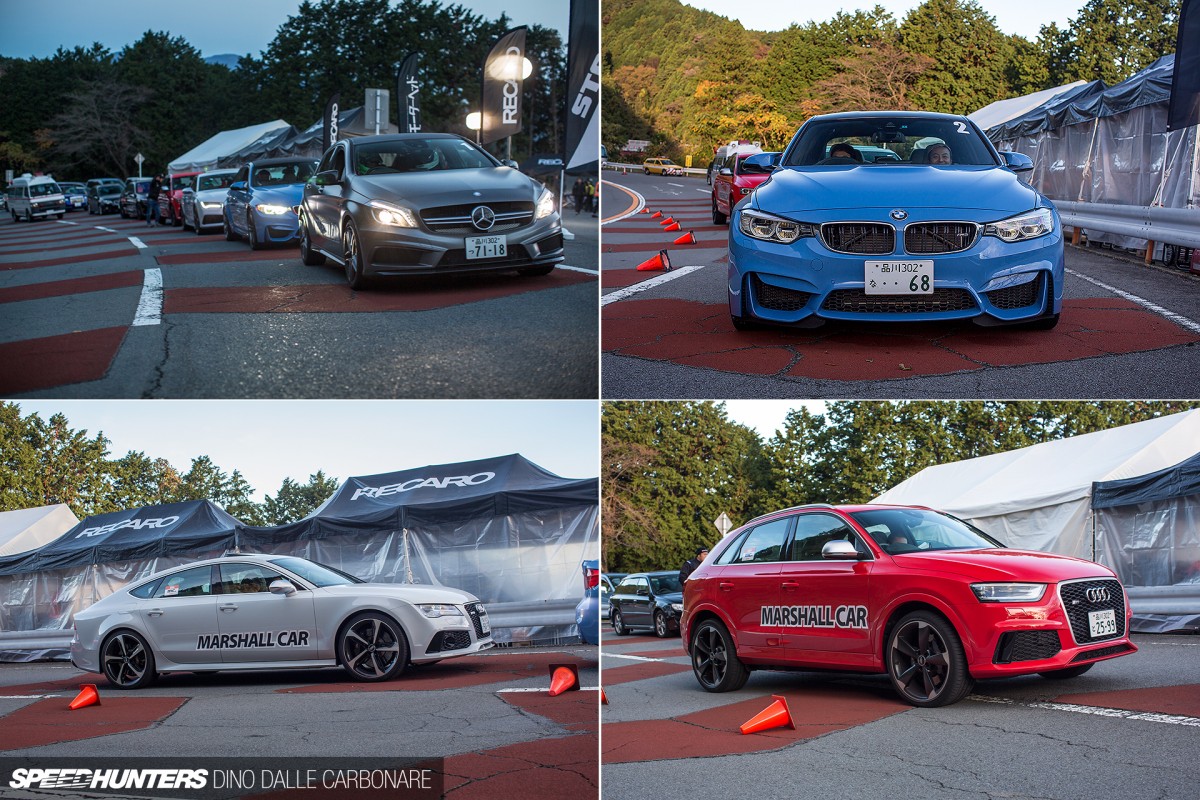 I need to touch briefly on the pace cars, as Motorhead borrowed some of the hottest German metal on offer in order to have a chance at keeping up with the cars they were matched to. The A45 AMG followed the HKS R35 up the road and led the way when coming back down the pass. The BMW M3 (the very same car I had driven weeks prior) was teamed up with Ara-san, and since he was driving two cars on the day was on pace car duty for both the Studie Z4 and the M's Vantec GT40. The 500PS Audi RS7 was looking after the STI Impreza while the 310PS RS Q3 barely kept up with Arai's Subaru.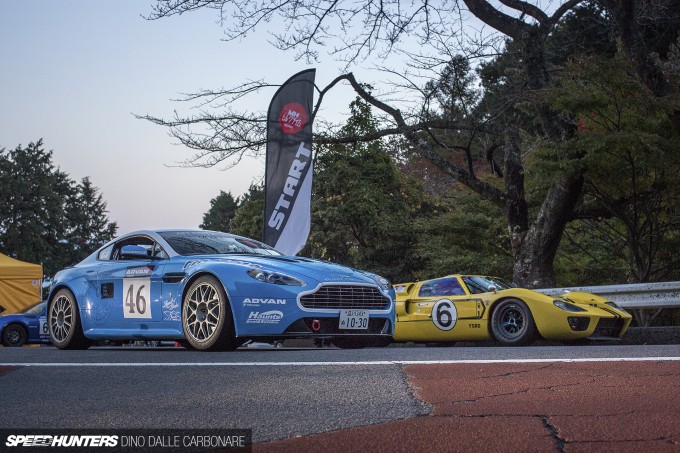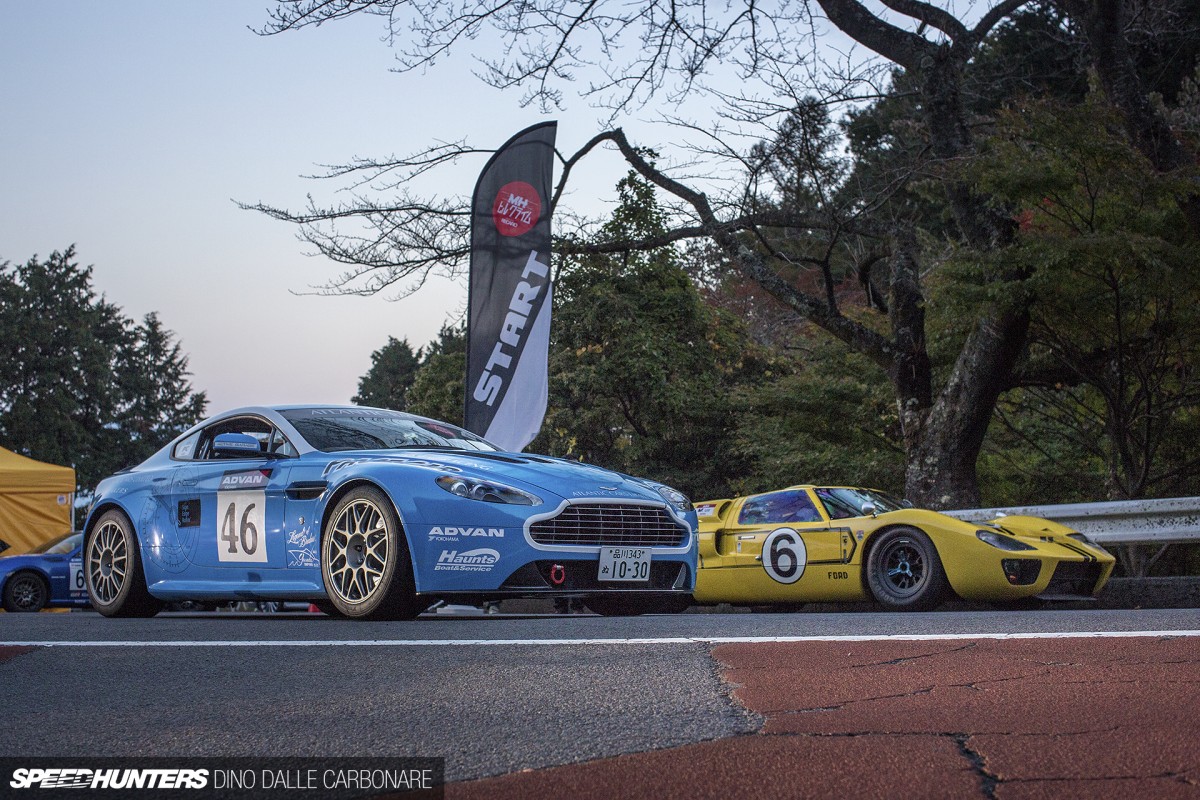 Clearing the course before any racing went down was the job of this blue Aston Martin V8 Vantage, driven by Japanese veteran driver Tetsuya Tanaka. Once past the 12km marker – the end of the timed section – he would radio in to give the okay that there were no wild animals on the road or any other debris that would cause issues for the racecars.
7.5km Of Fast-Paced Corners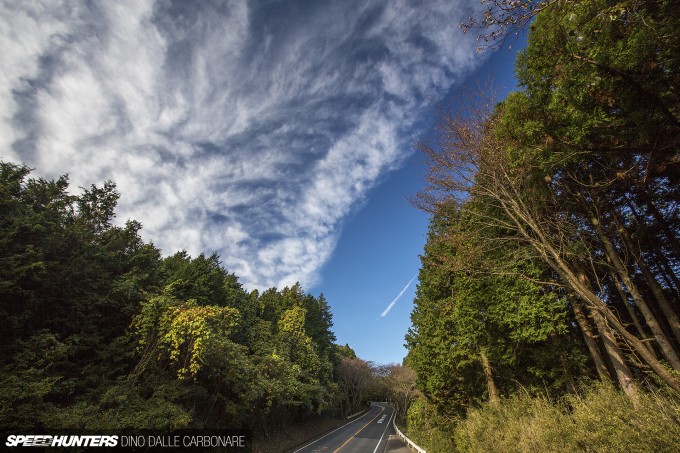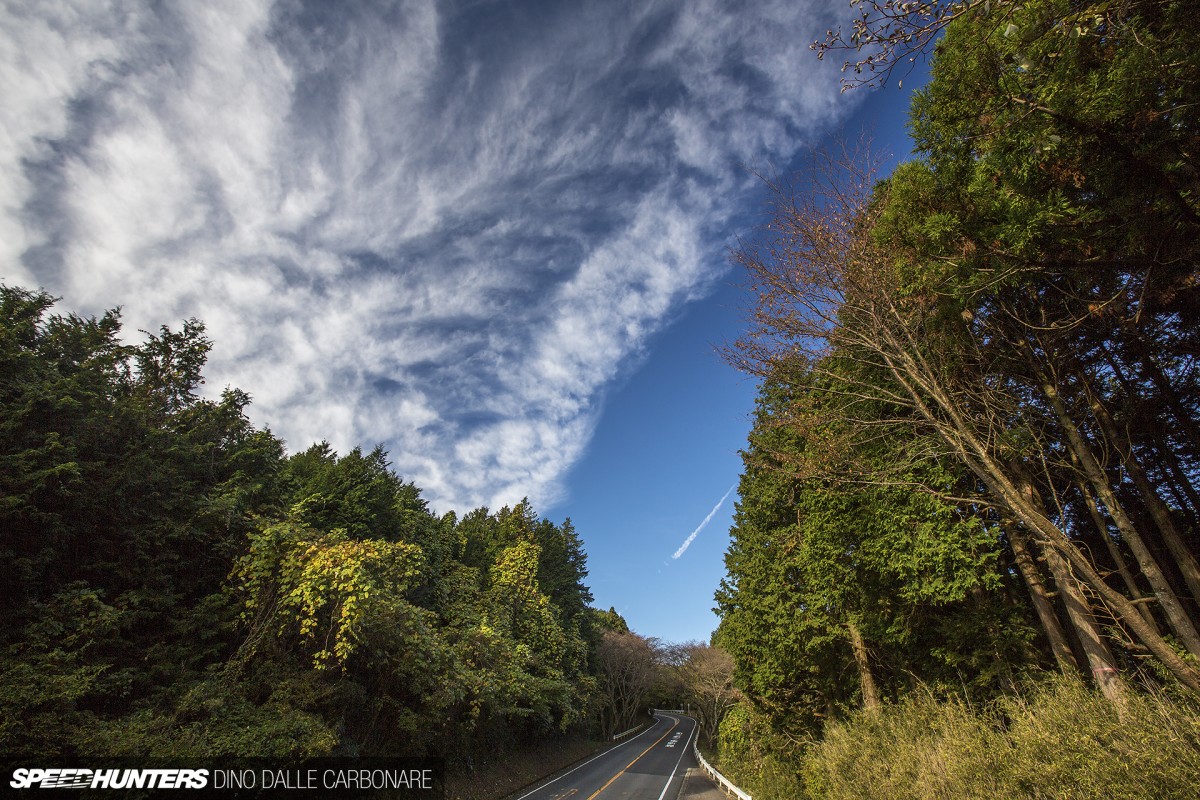 With all cars all warmed up, we headed up to the first shooting location. The air was crisp and cold to get the best performance out of the cars, and the sun was beginning to put some heat into the tarmac. It was a stunning day for a time attack hill climb session, that's for sure.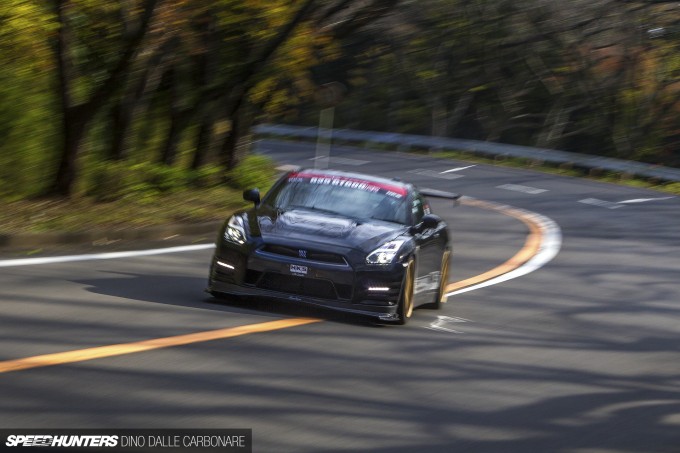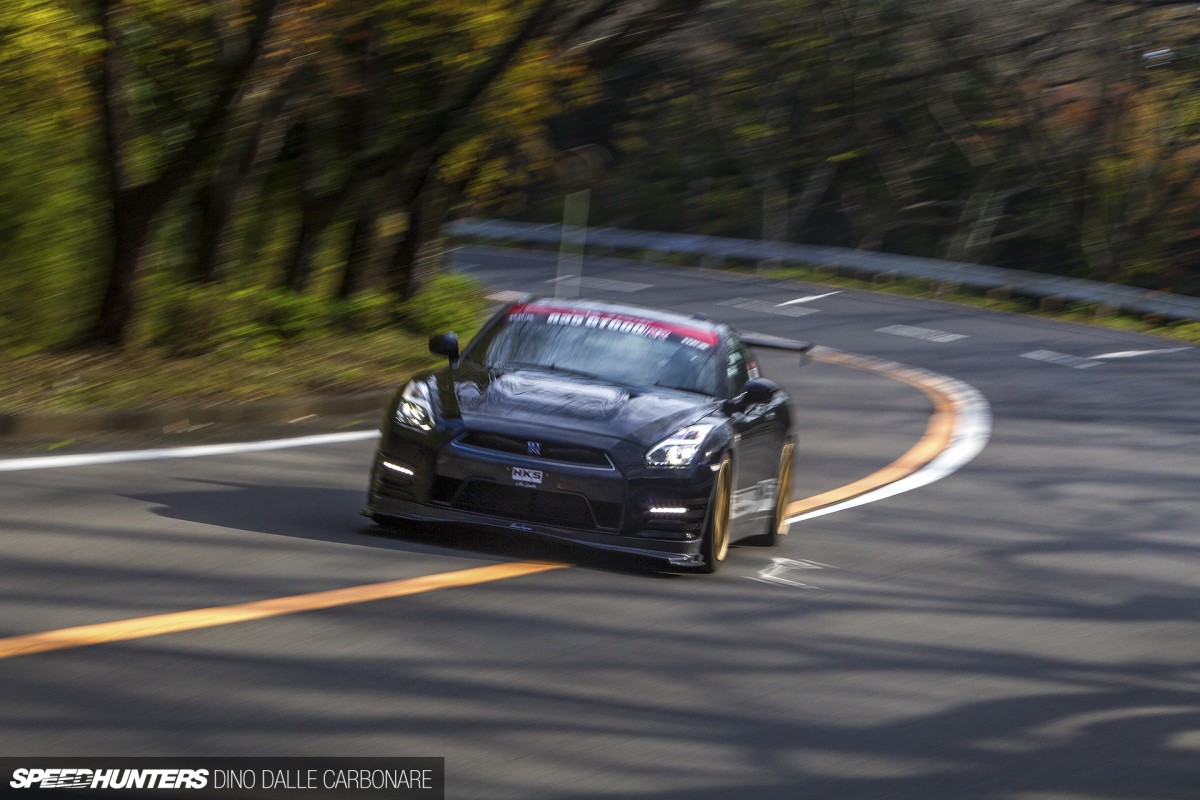 We got a quick confirmation from the radio that Taniguchi had began his attack, and then – like a flash – the black GT-R shot by. It was so unexpectedly quick that everyone shooting was left with an expression of pure shock.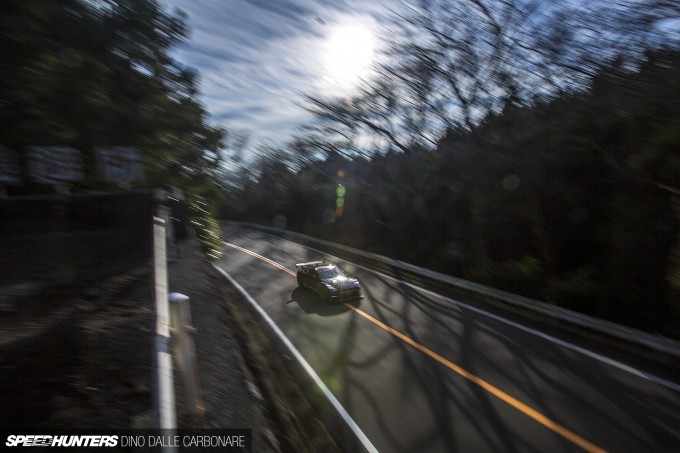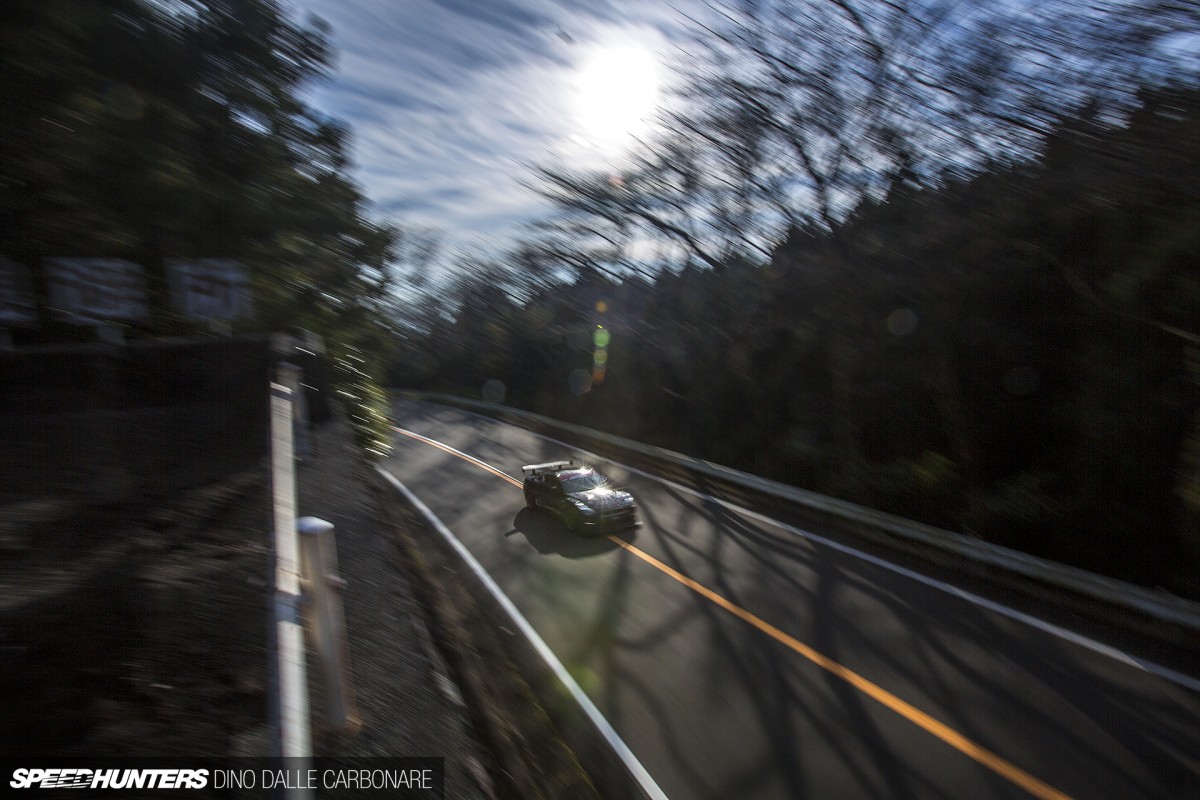 We all knew that these cars were going to pack some serious speed into their runs, but this was just crazy! A rethink on shooting was needed – I switched to my other camera with a wider lens and waited for the next passes. These were made at different times obviously, but for the sake of continuity in this post, I've bunched all the photos of each car together.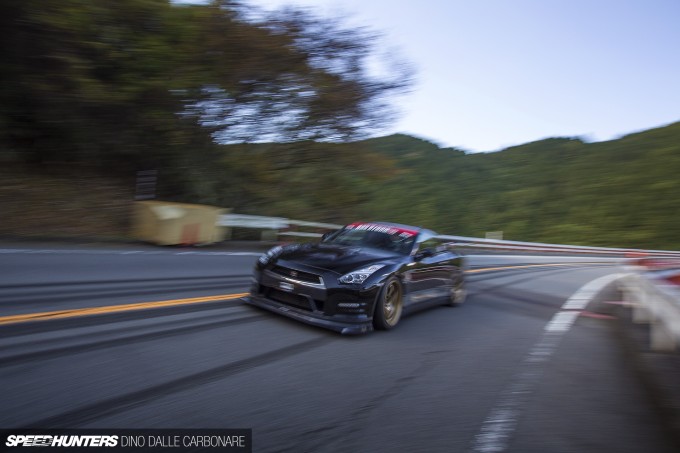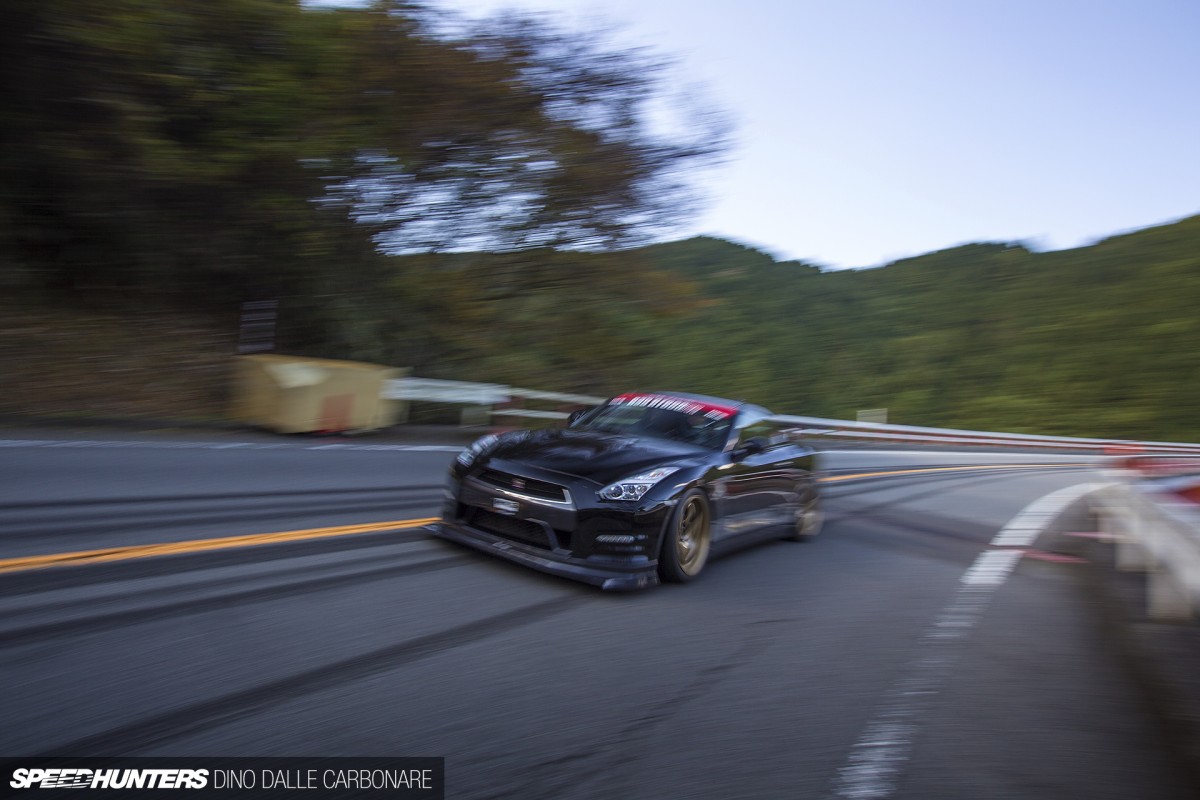 The GT600 R35 was running on HKS Hipermax dampers that were setup with some serious geometry to extract the most out of the street tyres the car was running on.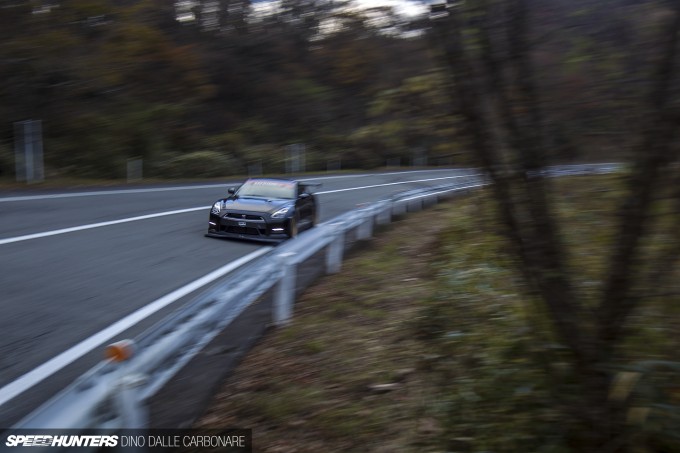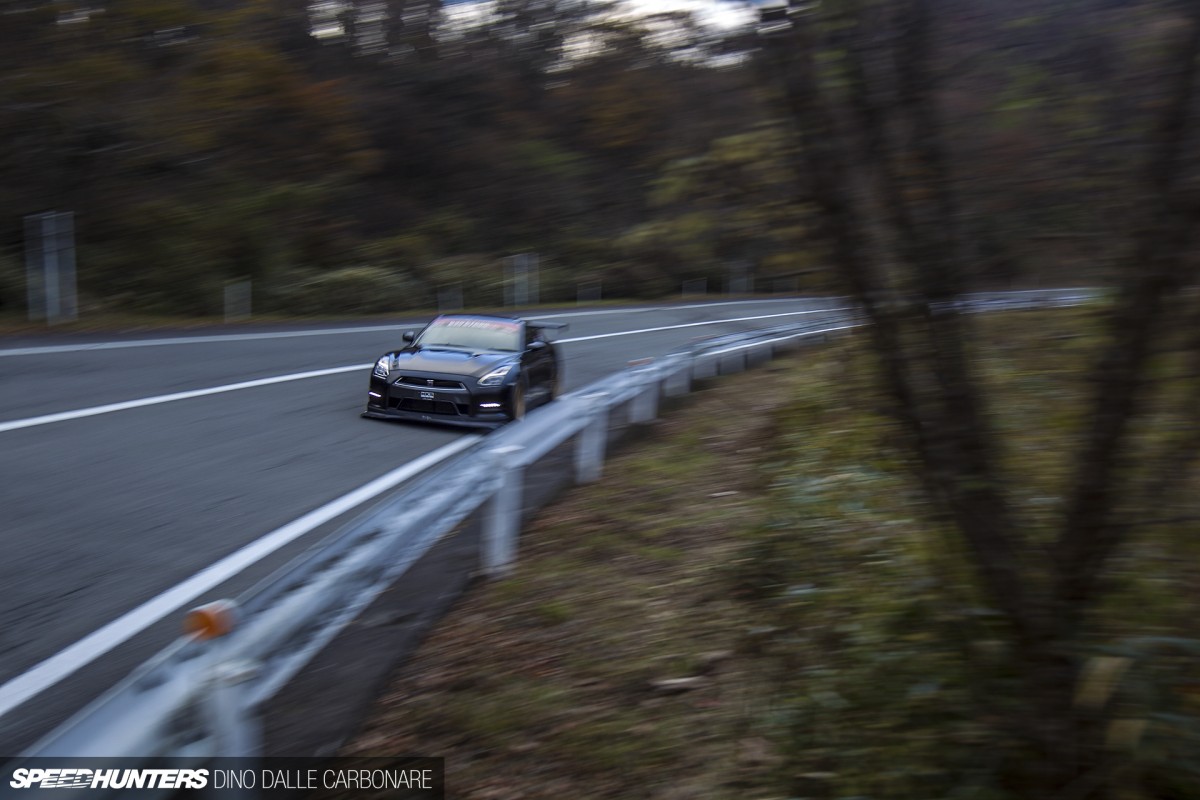 The best time Nob could muster out of four runs on the 7.5km timed section was a 2'53″75, and the highest speed he hit on the fastest stretch was 220.42km/h. If you have ever driven on the Turnpike you will know that is ridiculously quick. Each car was outfitted with a Racelogic VBOX Sport Performance Meter to provide an accurate set of numbers. And here's one more for you – 1.61G, the maximum lateral acceleration Nob achieved.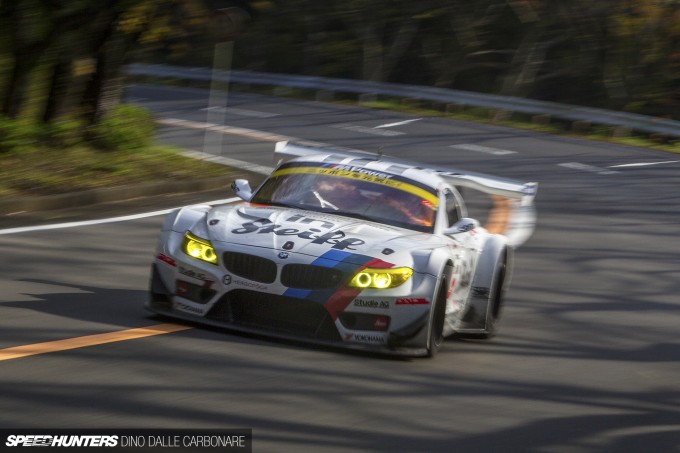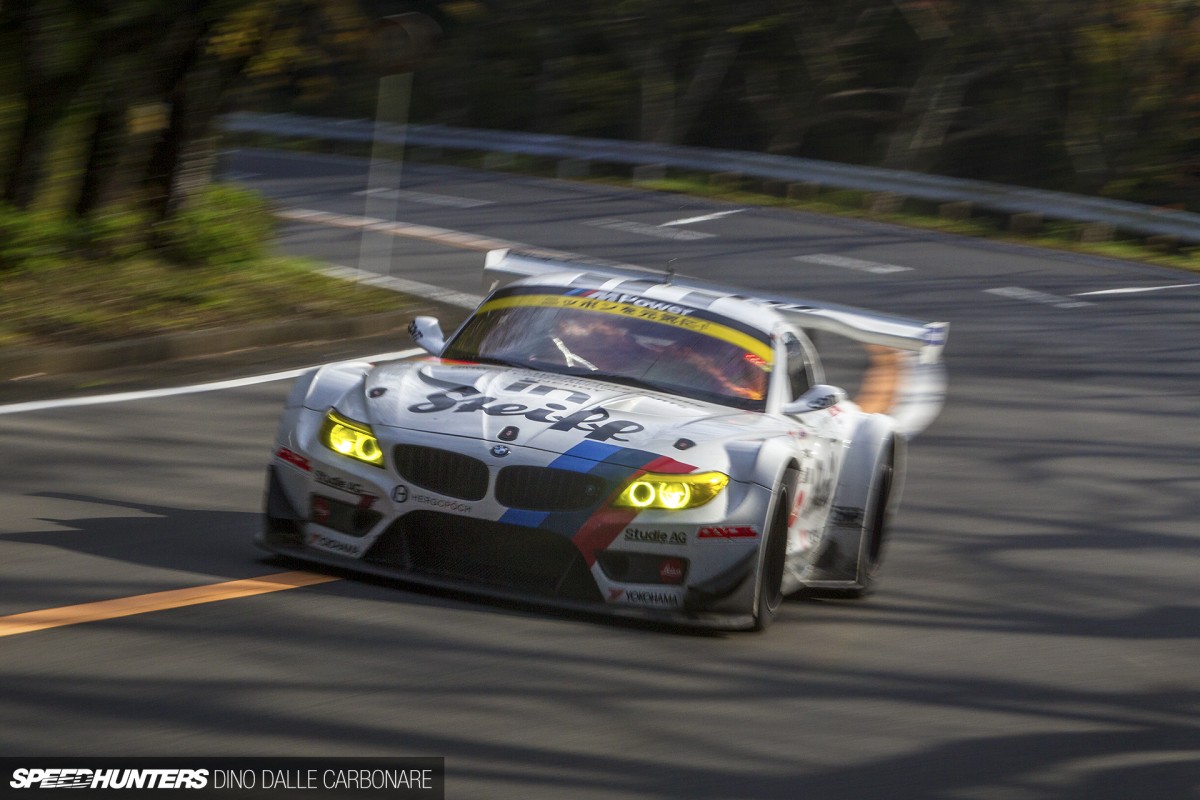 Next up, the Studie Z4. The black GT-R was fast but we all knew the GT300-spec BMW was on another level. However, Ara's first pass in the morning was a 2'54″20, so it didn't seem that quick compared to what Nob had achieved. The engine sound made it seem so much faster though!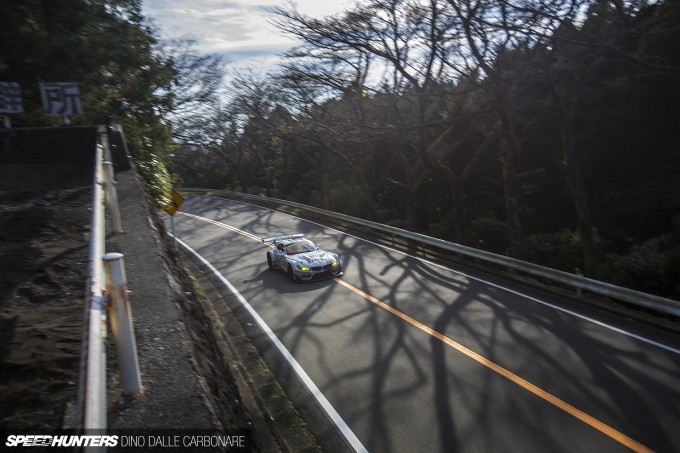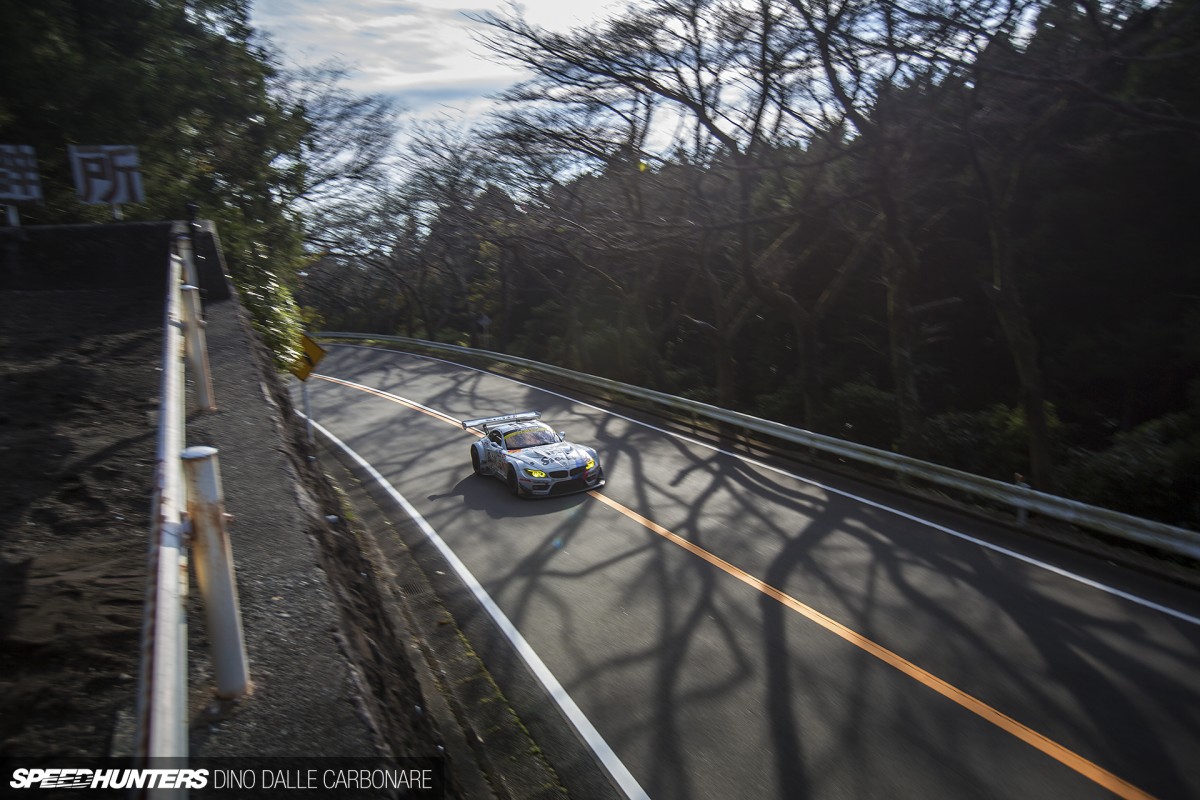 On its second pass, even by turn three where I was standing, the car was visibly carrying more speed.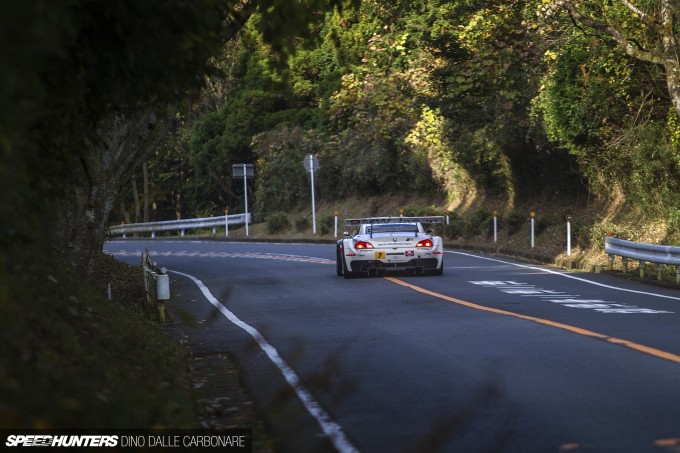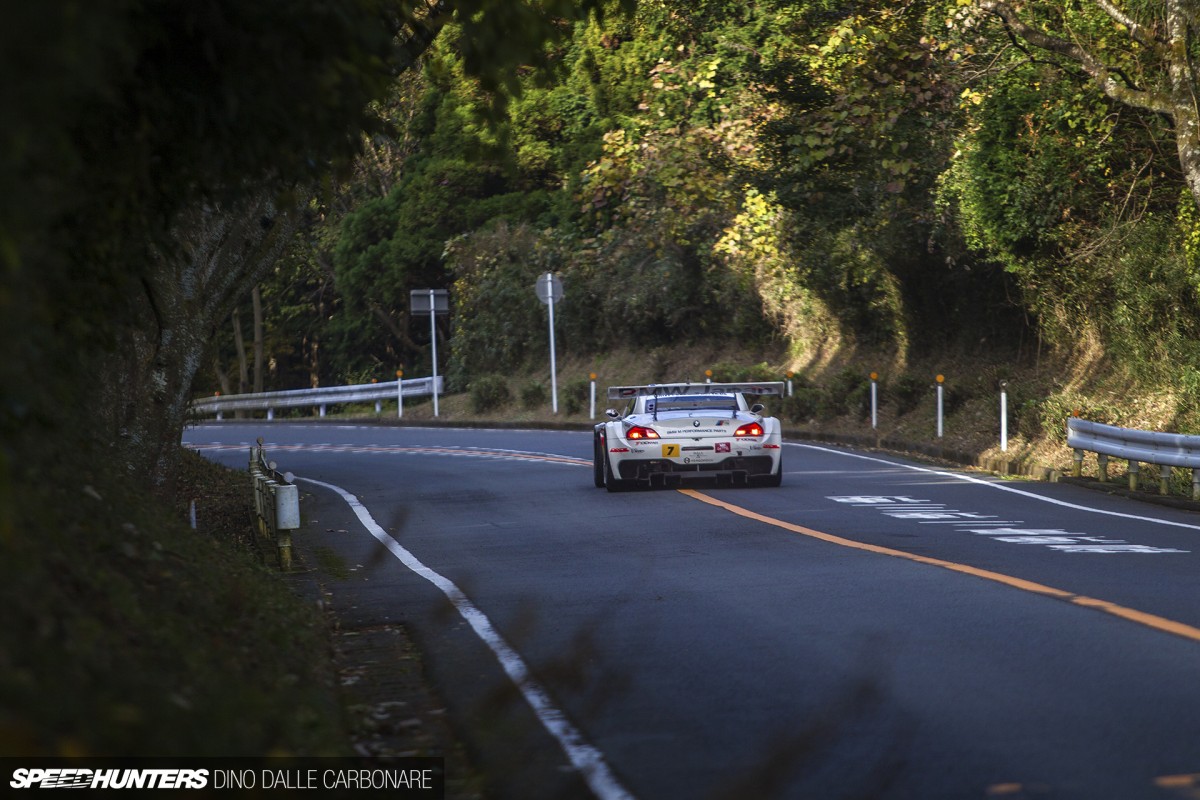 This time he went quicker by four seconds.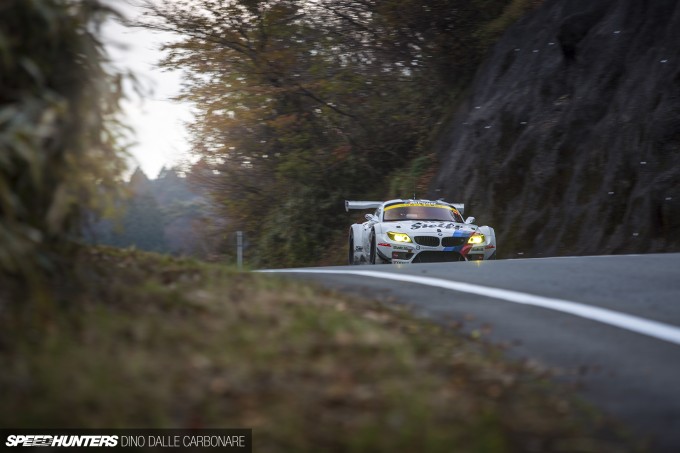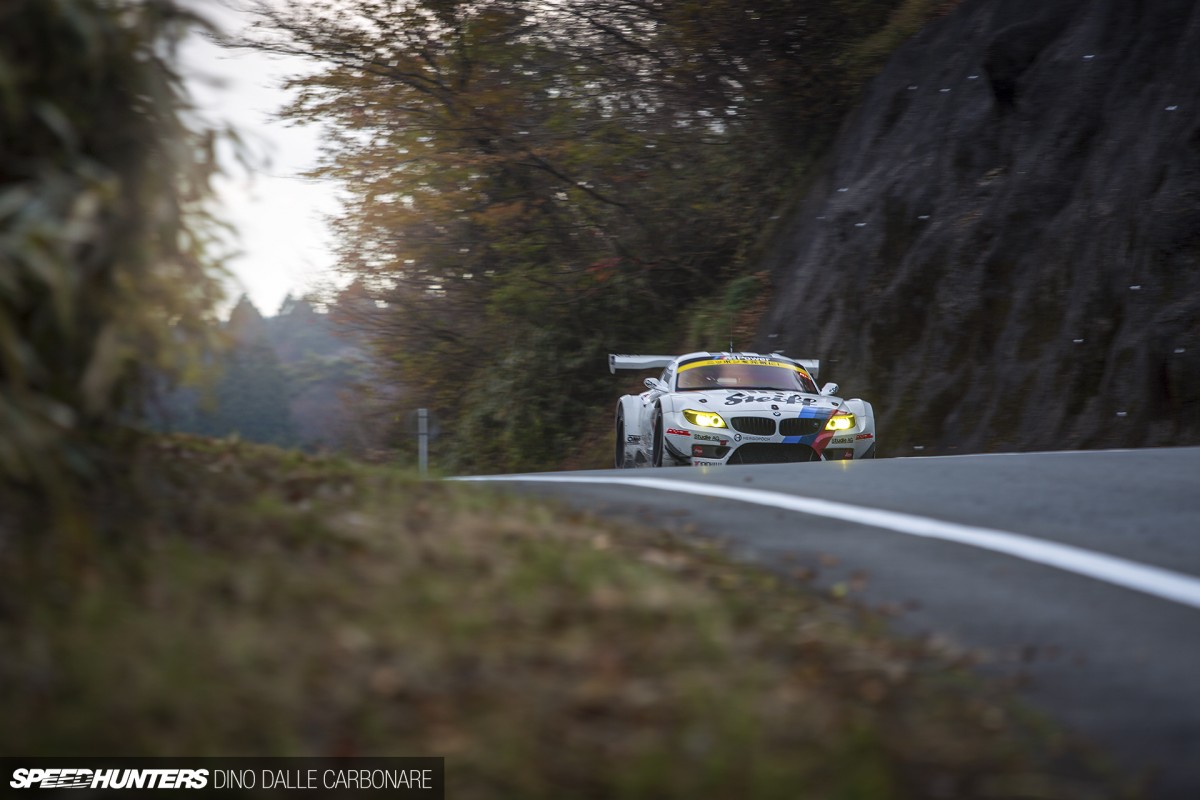 I was at the top end of the course for the afternoon sessions, standing on the second to last open corner that leads into the final gradual right. The road really opens up here and the speeds were mind-numbingly quick. Standing by the side of the road behind the guardrail, barely a meter from the car, I felt the wall of sound resonate right through my ribcage. It was almost overwhelming, taking my breath away for a split second.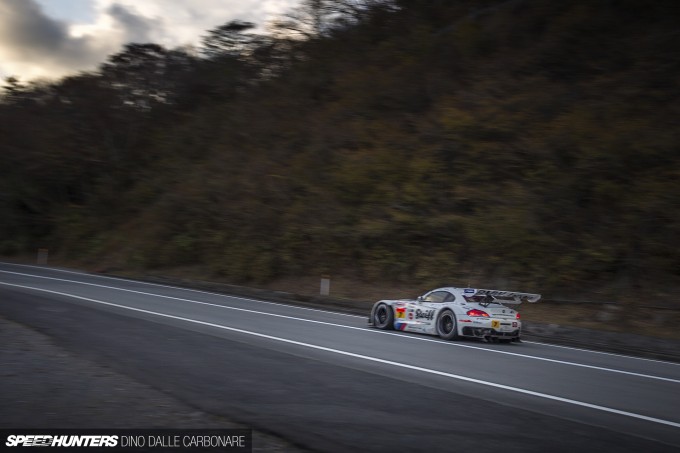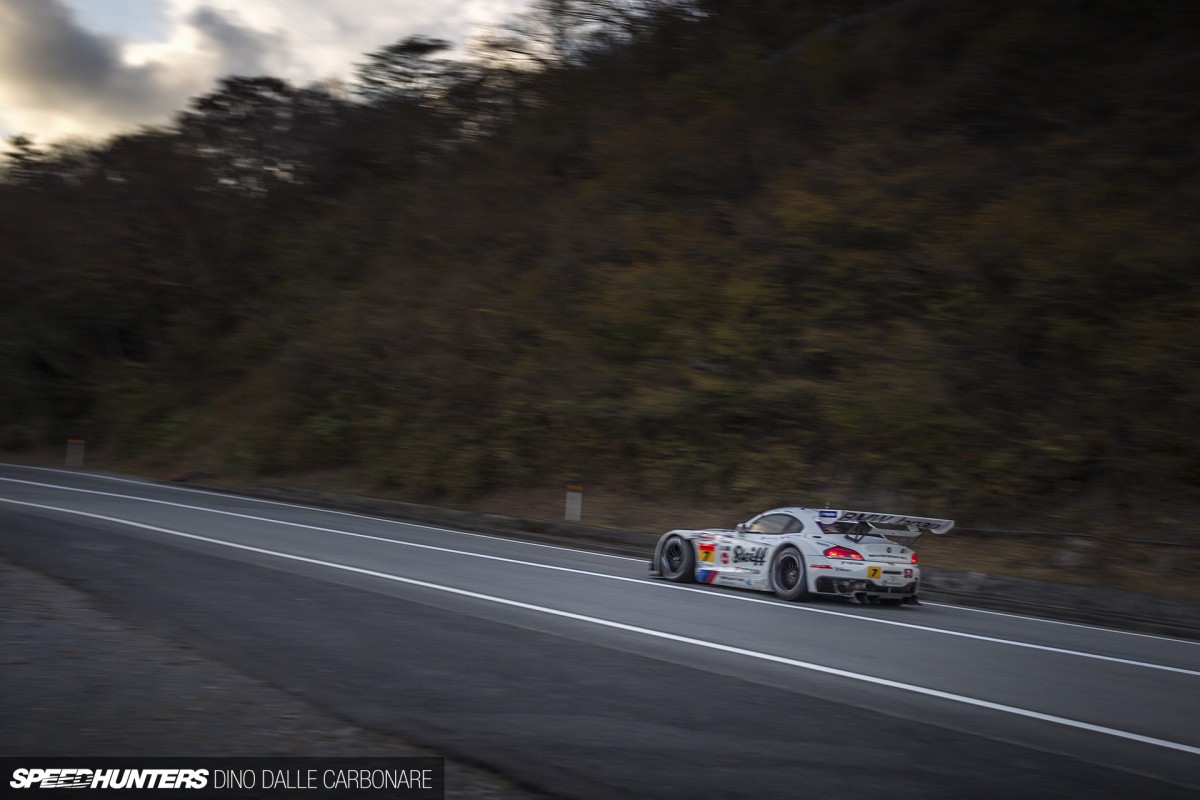 On his third pass, making full use of all the downforce the Z4 manages to develop, Ara managed a 2'47″10. Then his final run came up as the sun was almost setting. I don't know what they did in the pits – perhaps cranking the rear spoiler as vertical as it goes, or maybe switching to a sticker compound of slick, but he dropped the time down to 2'41″35 – a whopping 13 seconds faster than his initial morning run! Strangely enough, his top speed was slower than that of the HKS GT-R at 216.62km/h, but the maximum lateral acceleration reading was 1.92G, hinting at where racecars find their increased pace over powerful road cars.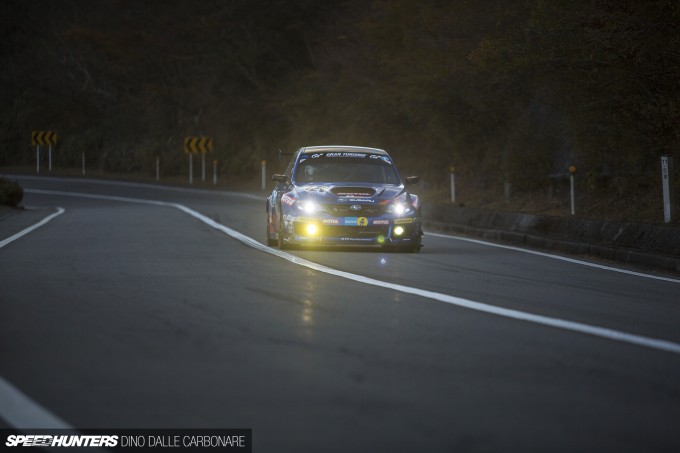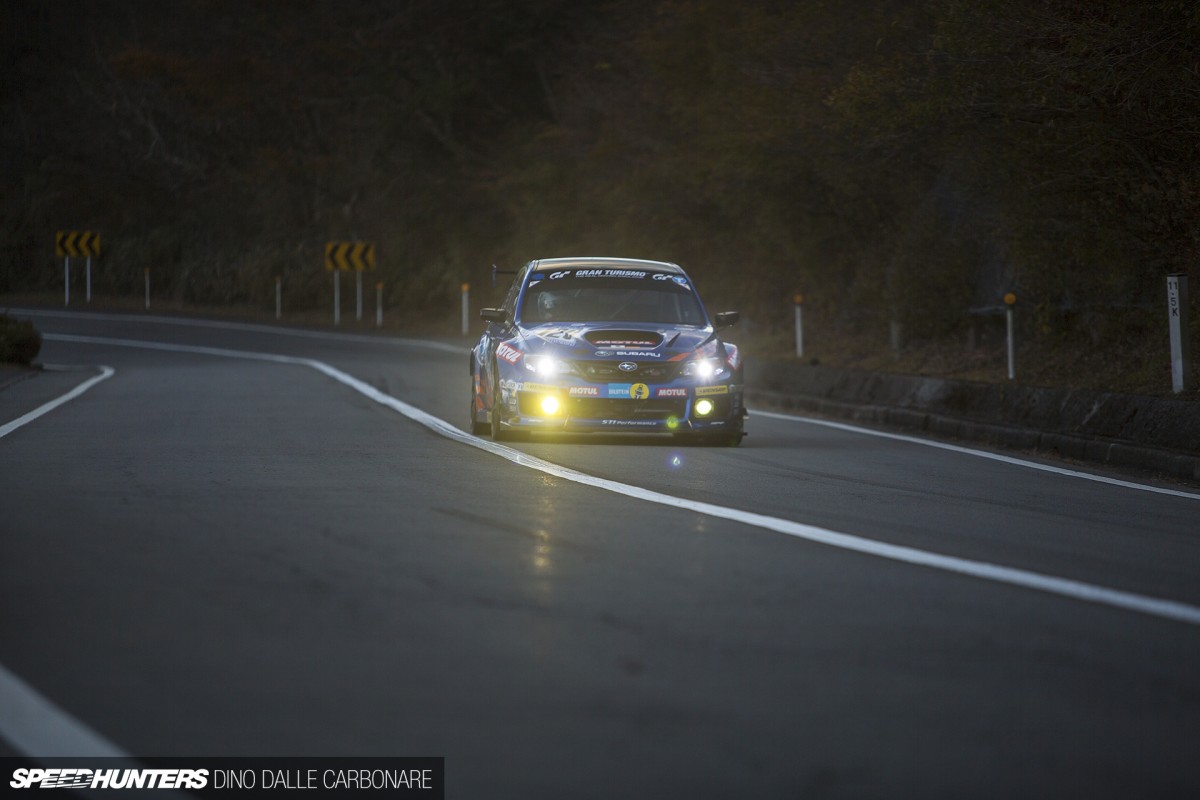 Tatsumi-san was next in the STI Nürburgring Impreza. He was way down on power, grip and downforce compared to the first two cars, and his best time of 3'03″90 with a top speed of 190.53km/h was a refection of that. It put things into perspective, right? The maximum G achieved on the street-legal Dunlops was 1.50, which in my book only makes the HKS GT-R's numbers all that more special.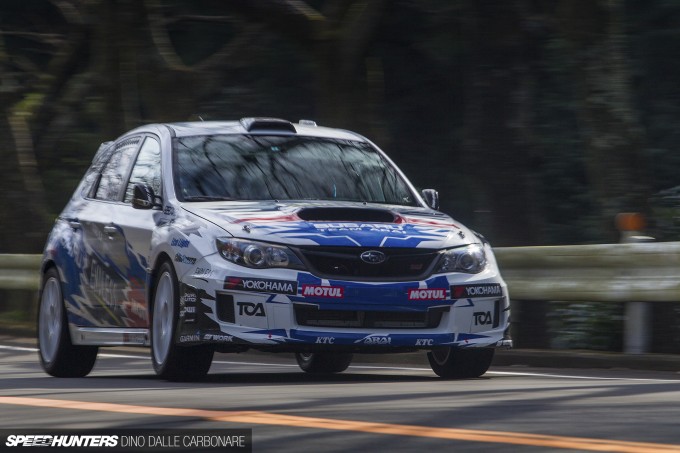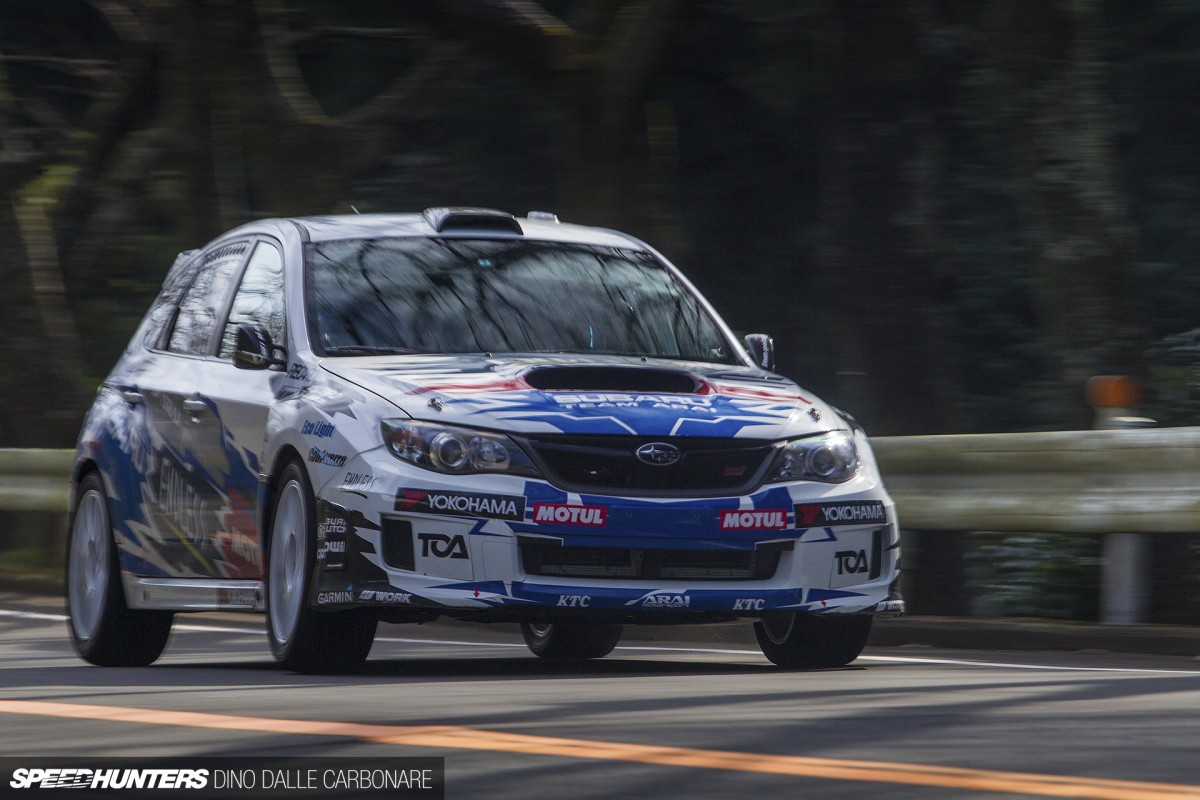 Japan's premier rally driver was next.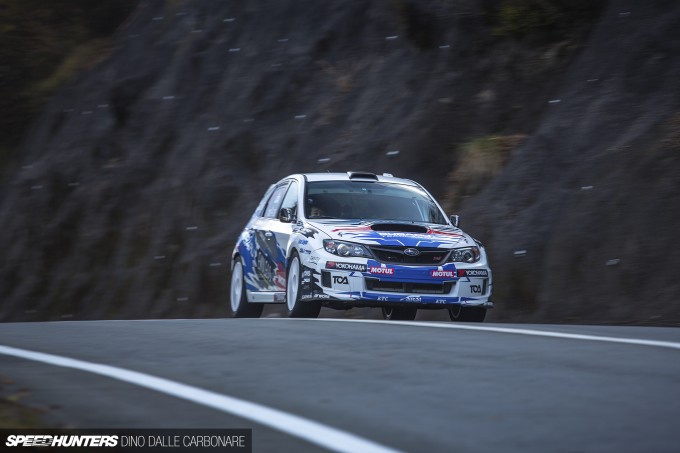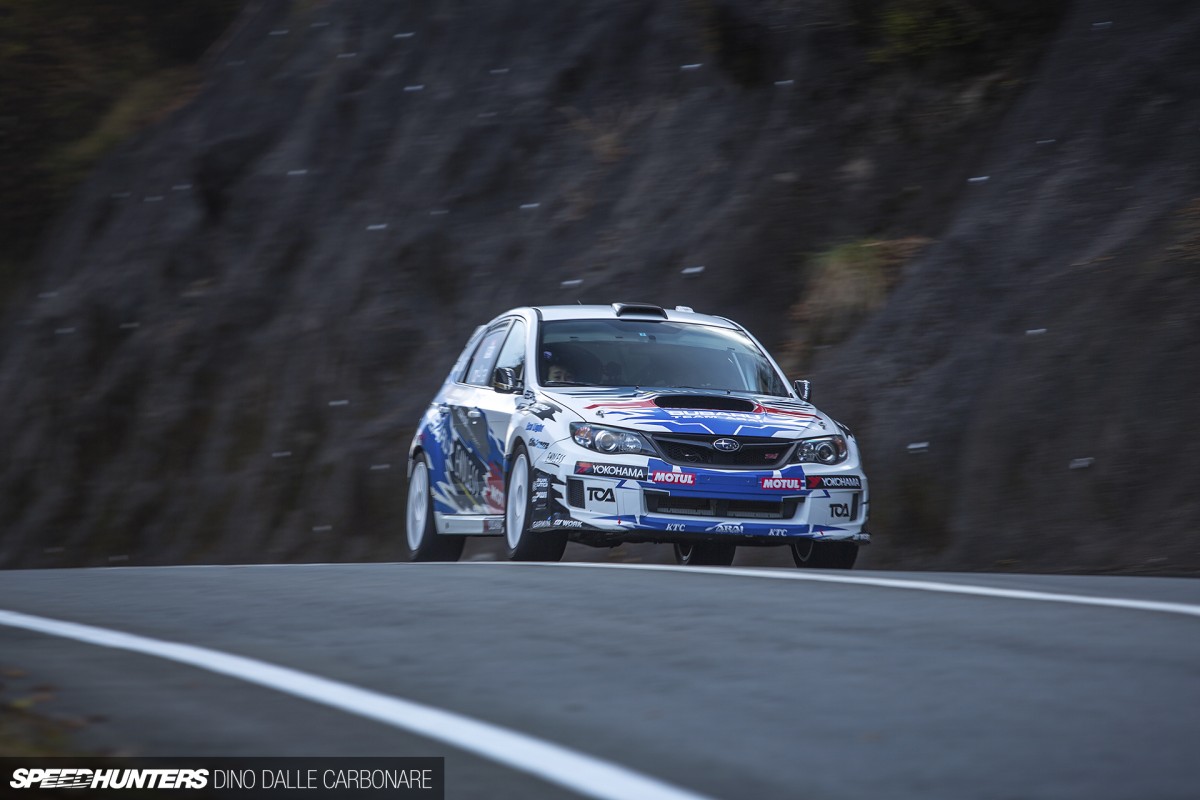 A 3'03″50 was the best time Arai could extract from the car that he built and setup himself. Despite a 40PS power deficit when compared to the Nürburgring STI, the Group N spec Impreza was a whisker faster. That's pretty cool, don't you think? 190.11km/h was the highest speed it hit and Arai managed to pull more lateral Gs on the Yokohama tyres with a 1.51 reading.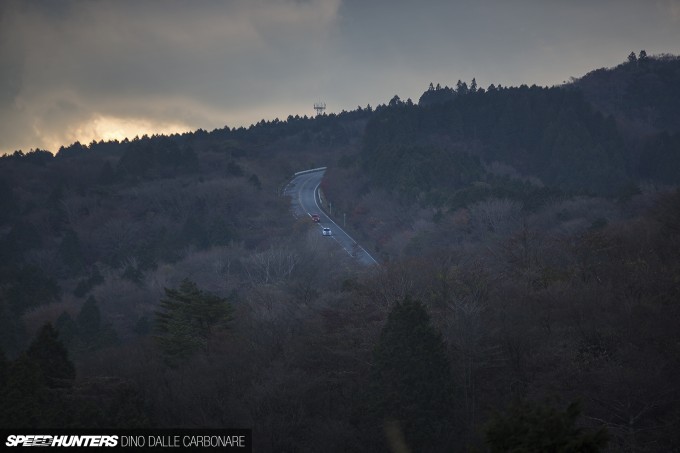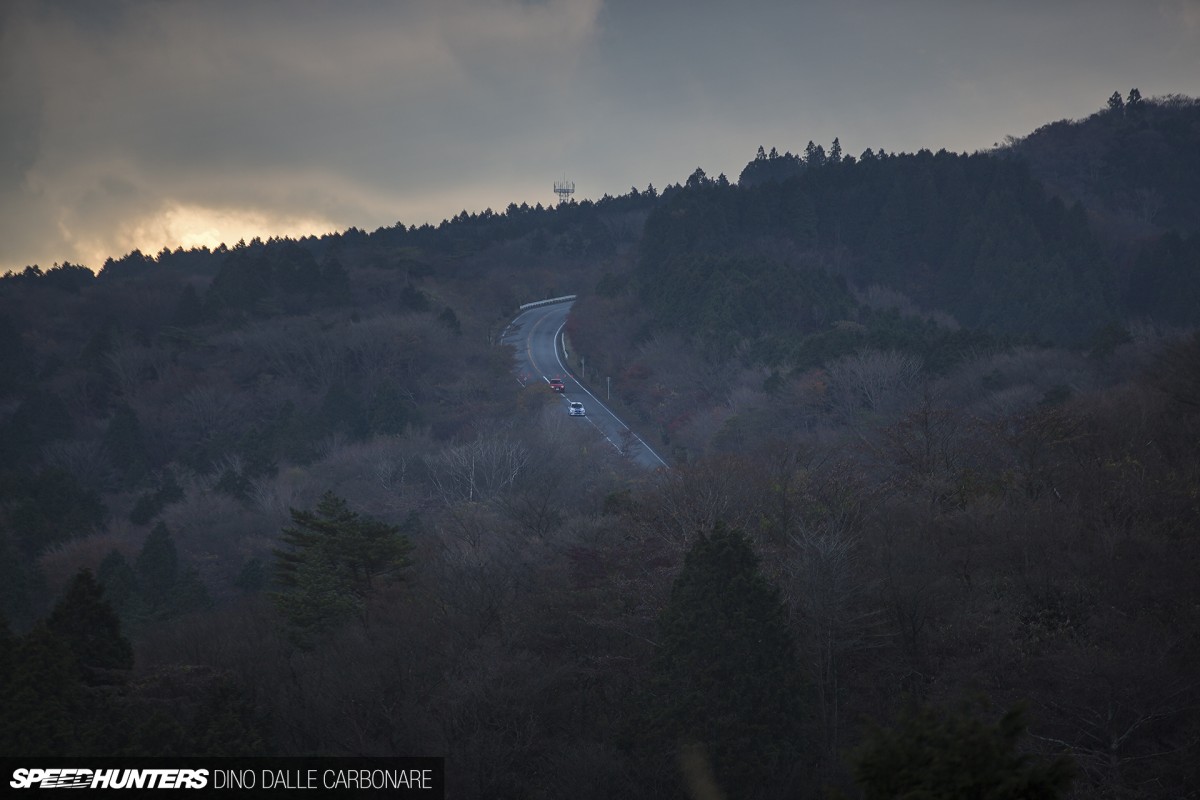 Here he is returning slowly down the pass after his final run, the Audi RS Q3 pace car following right behind. This wider shot gives you a better perspective of what the Turnpike looks like from the top of the mountain it climbs up over.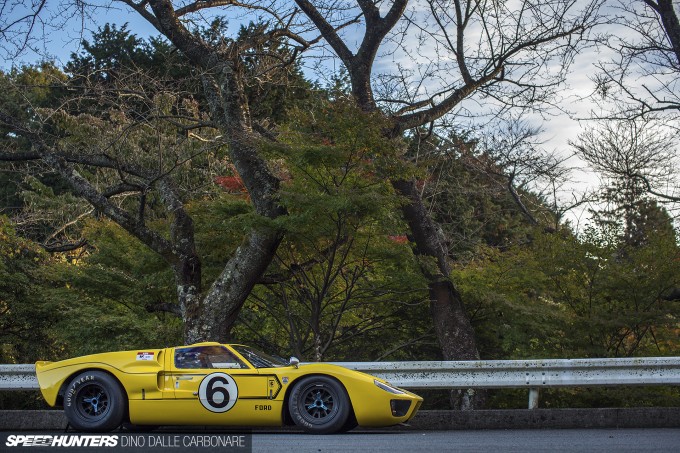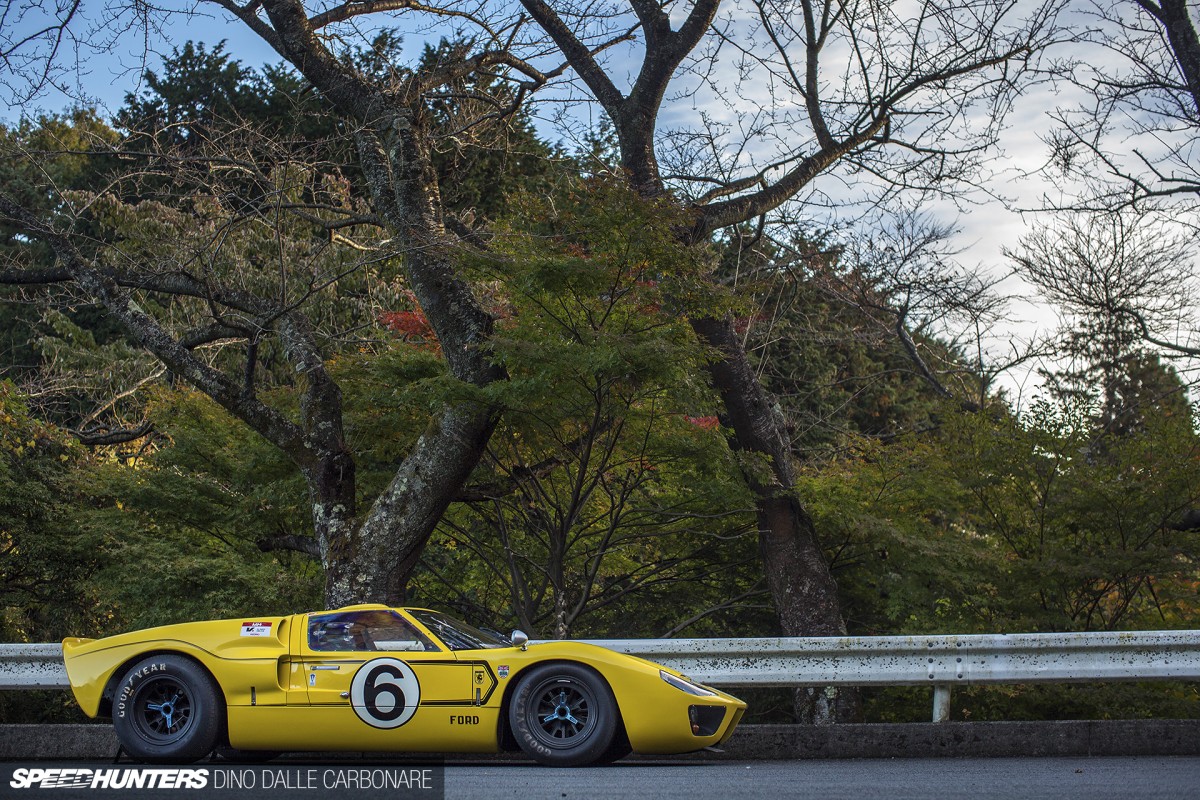 Ara-san was also called on to drive the GT40, partly because he's pretty compact himself, and therefore able to fit into the tiny cockpit.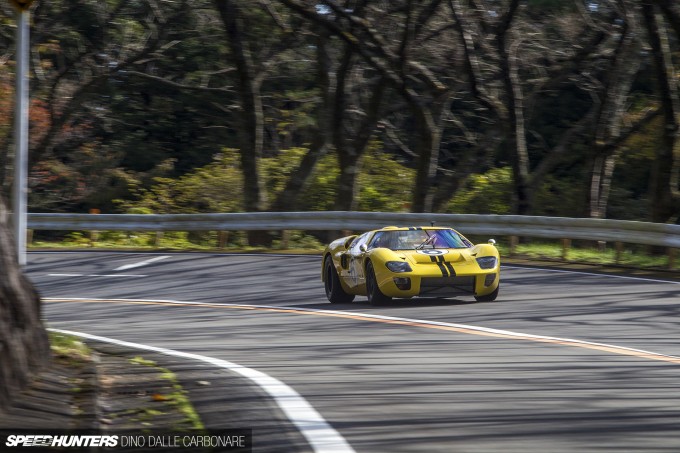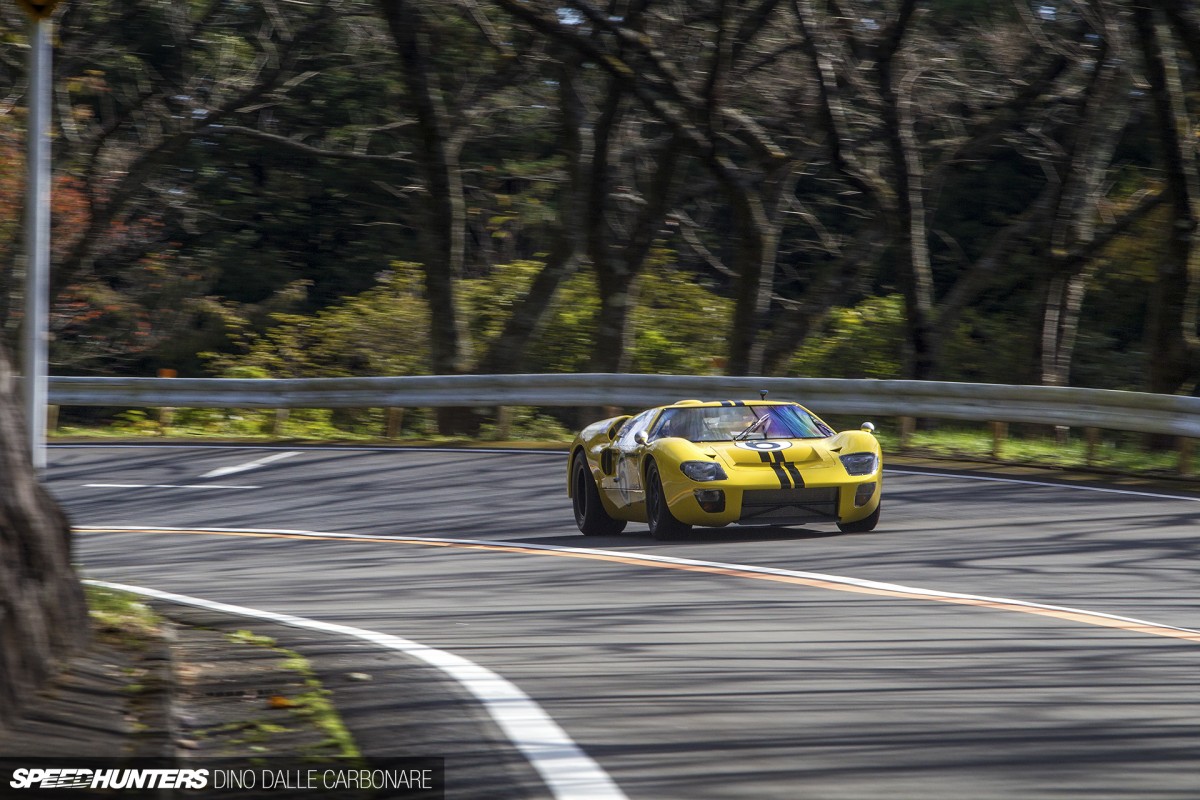 Considering the multimillion dollar value of this vintage racer – not to mention the fact that it was running on tyres that were probably older than most people reading this right now – we weren't really expecting it to post any record-breaking times.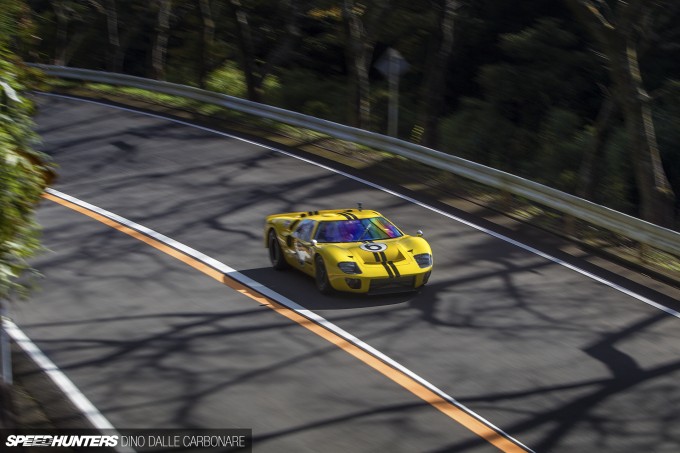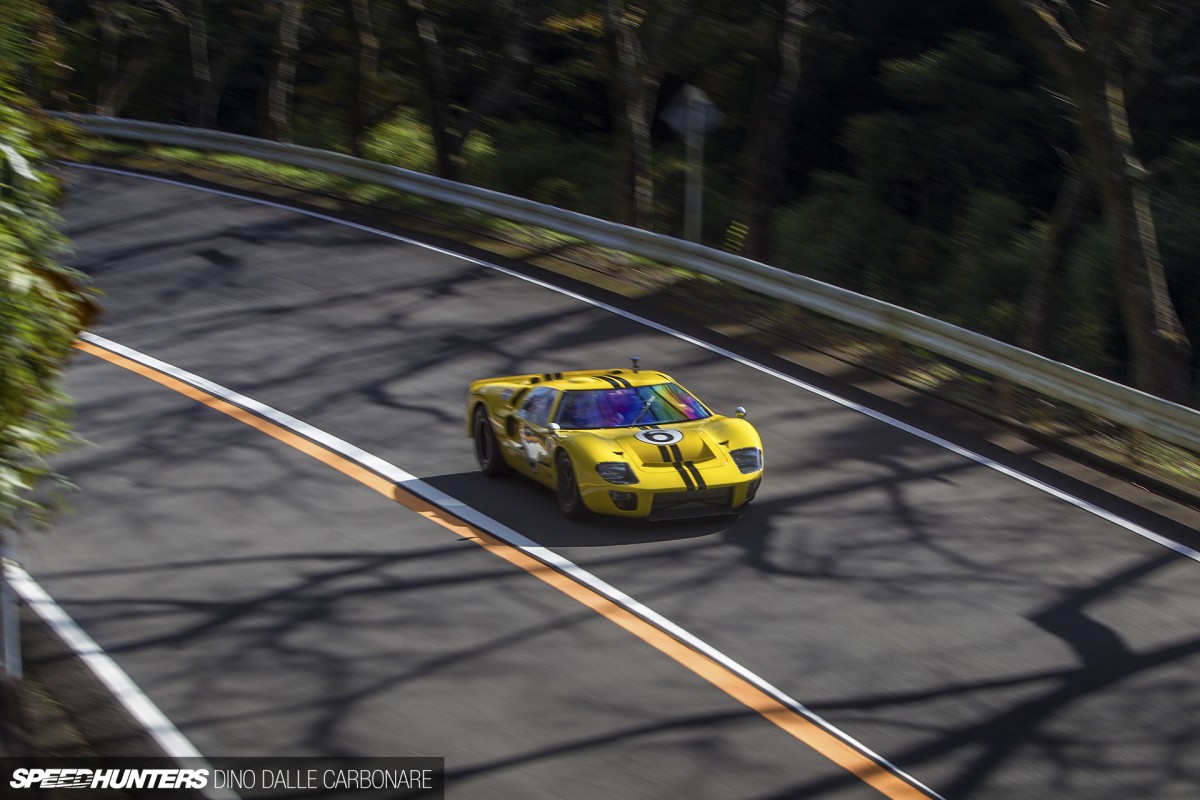 However, it did set a baseline number that all classic cars entering this event in the future (if they happen) will be measured up against. That time is 3'48″50; Ara using the car's extremely long gearing (it was set up for Le Mans after all) to wind 156.49km/h out of it.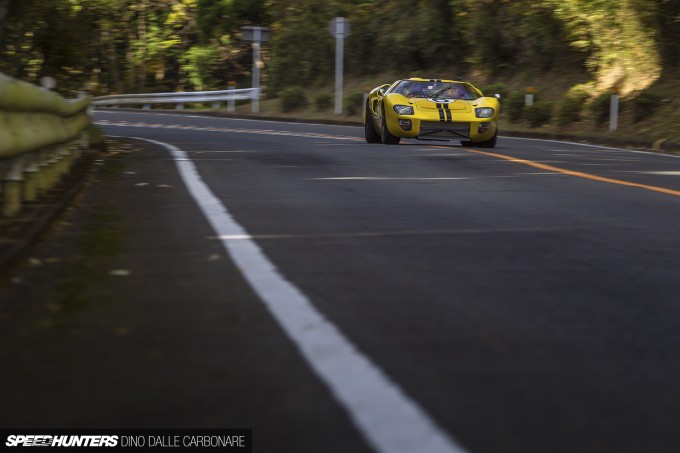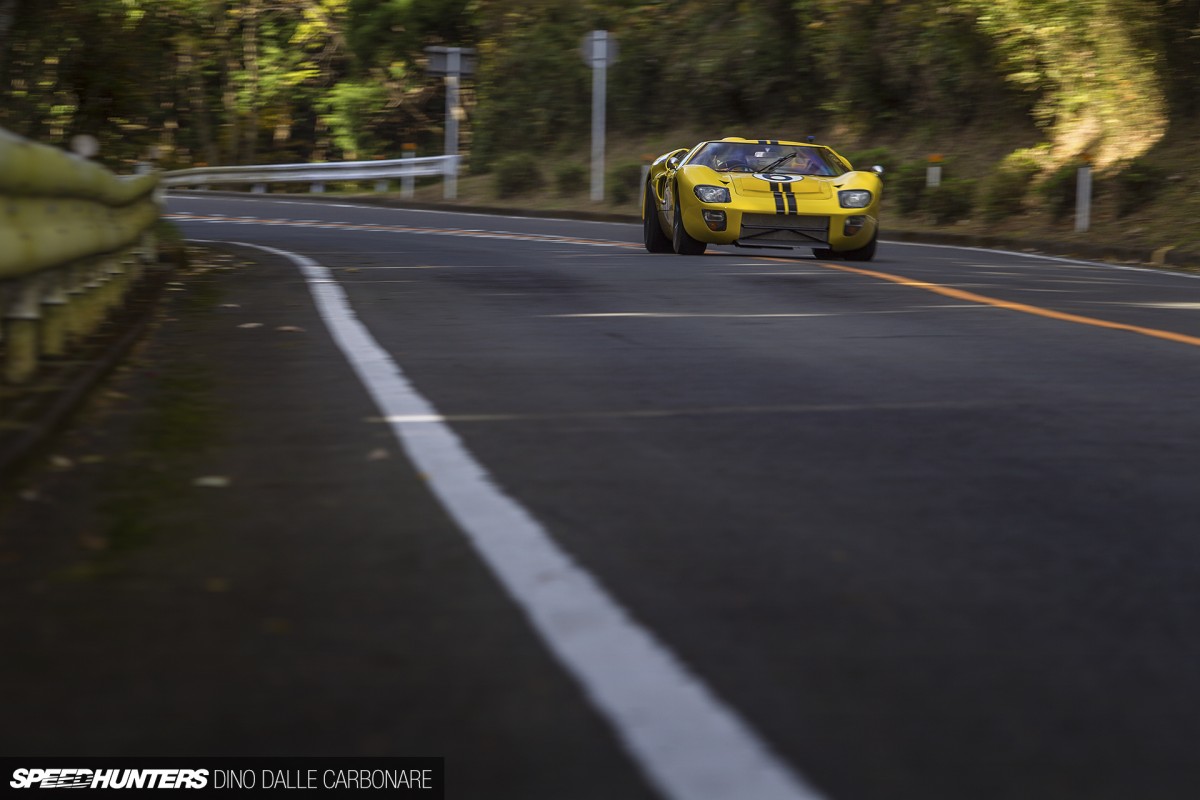 Most modern day sportscars would probably better those numbers, but for a 50-year-old car driven conservatively, they're very respectable. Oh, and did I mention it looked sensational out in action? Ara even managed to rack up 1.17 of lateral G on those pretty scary looking steam rollers the Ford was fitted with. Seeing this car on the Turnpike is something I won't be forgetting anytime soon…
Kawabata, We Salute You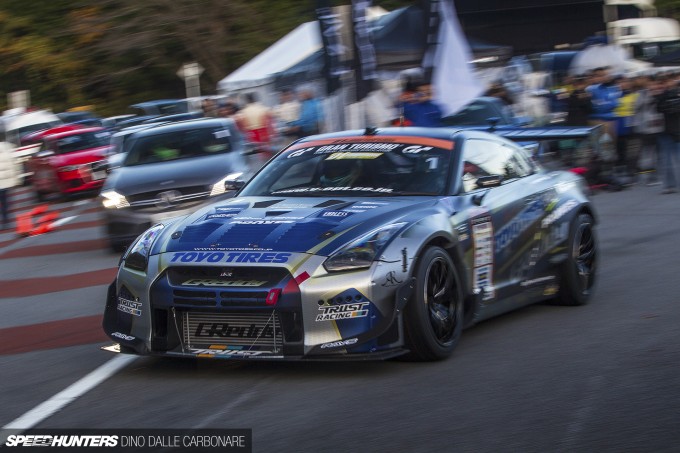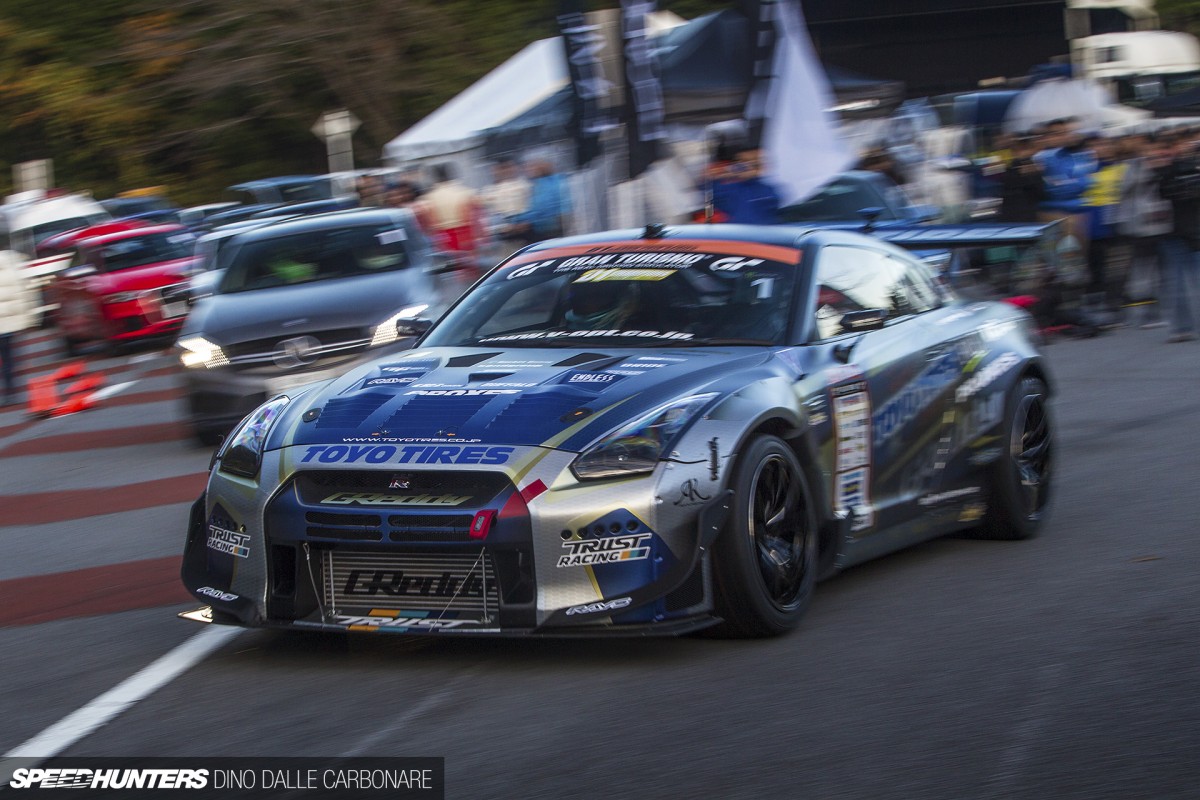 Then it was Kawabata's turn. Before we proceed any further, I need to quickly state that this man is my new hero. Sure, plenty of drifters have gone sideways on mountain roads, but seeing this guy do what he did with the 1000PS-plus GReddy R35, well, let's just say I will never look at that corner on that red bridge the same way again.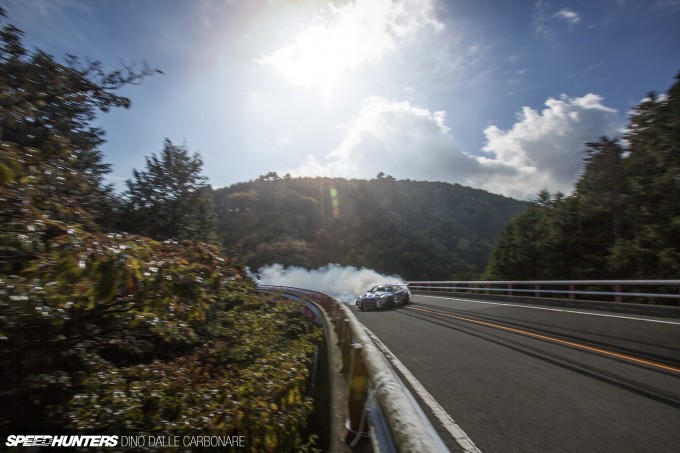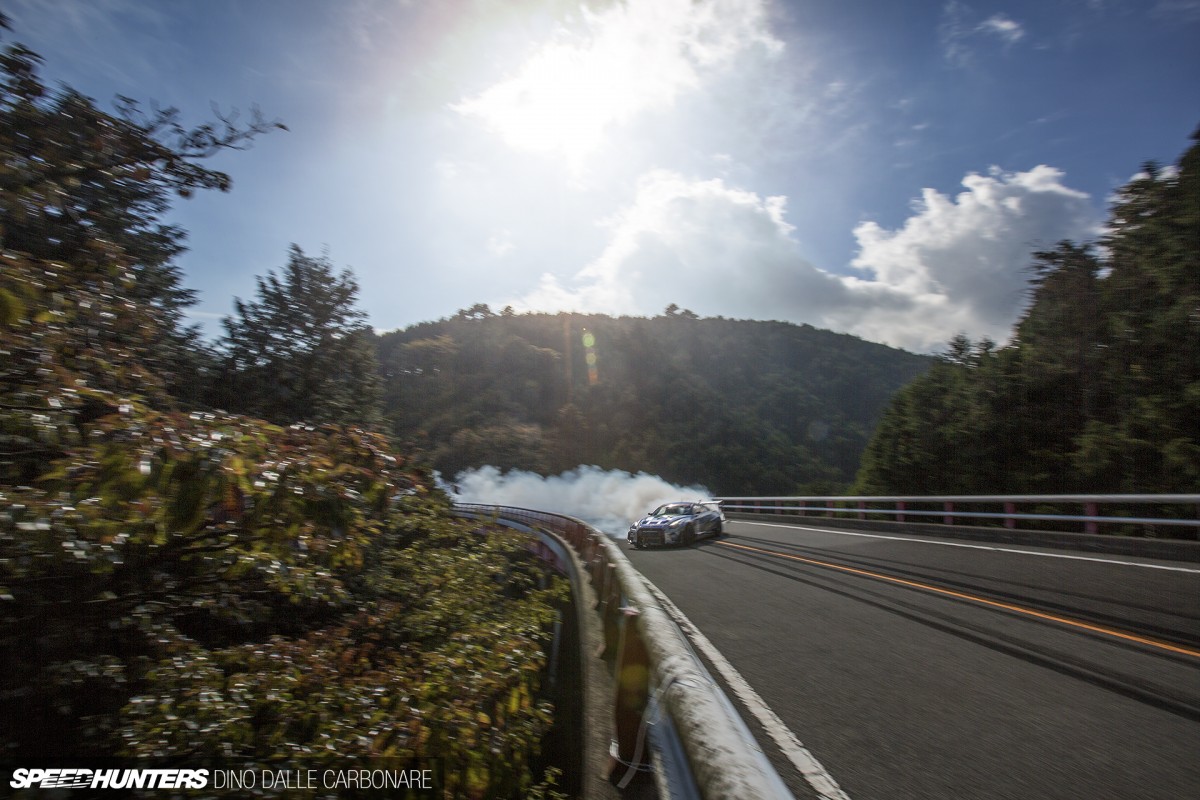 Kawabata's drift actually started a little bit back before the bridge, allowing him to pack on as much speed as possible to initiate the corner in 5th gear. Yes, 5th gear!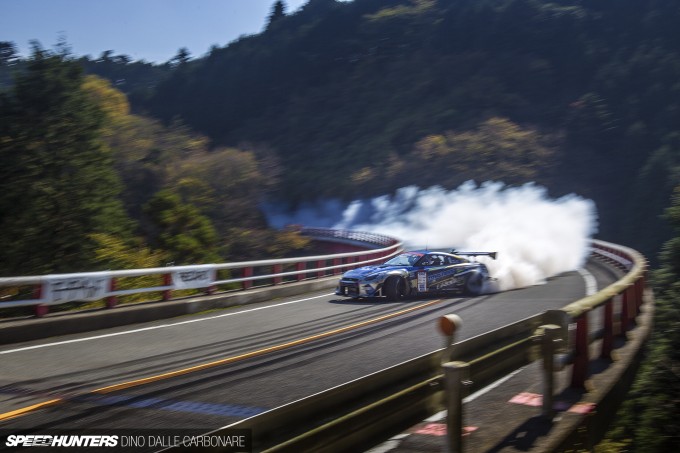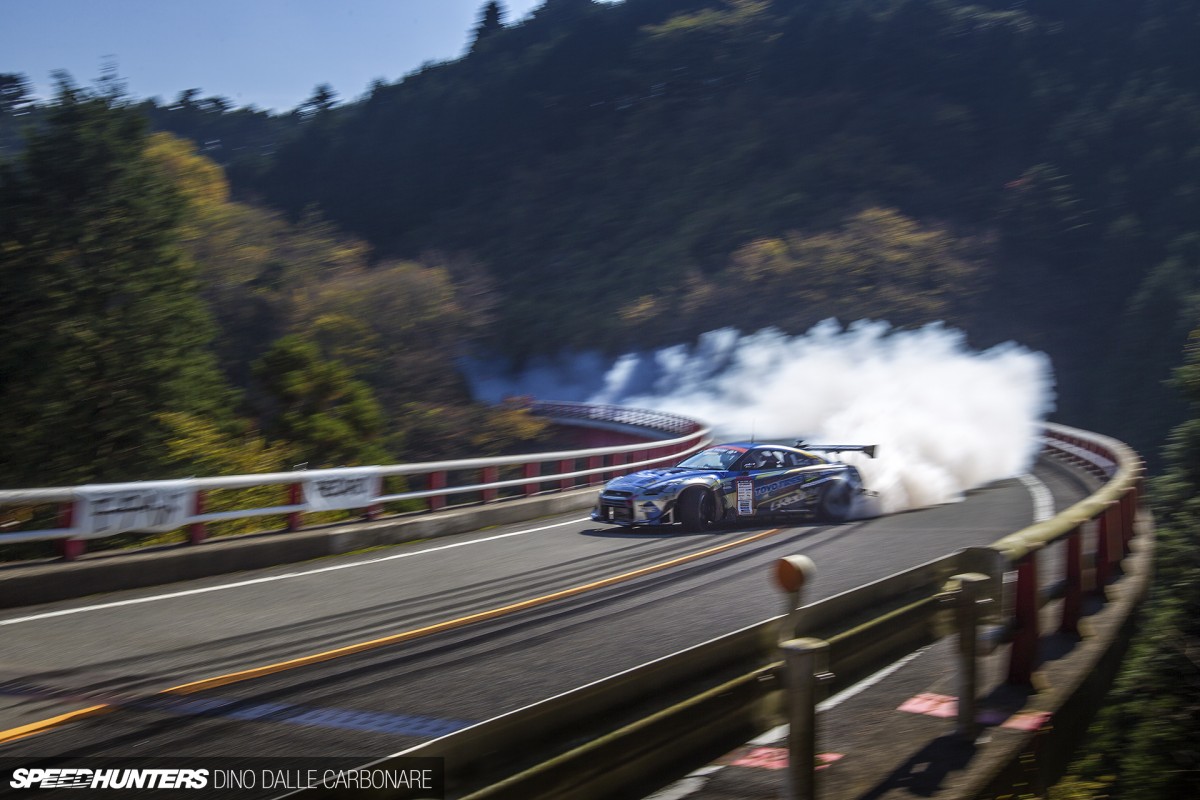 214.98km/h, burning up thick Toyo R1Rs sideways, on a bridge, 80 meters over a steep valley requires the biggest pair of testicles you could possibly imagine.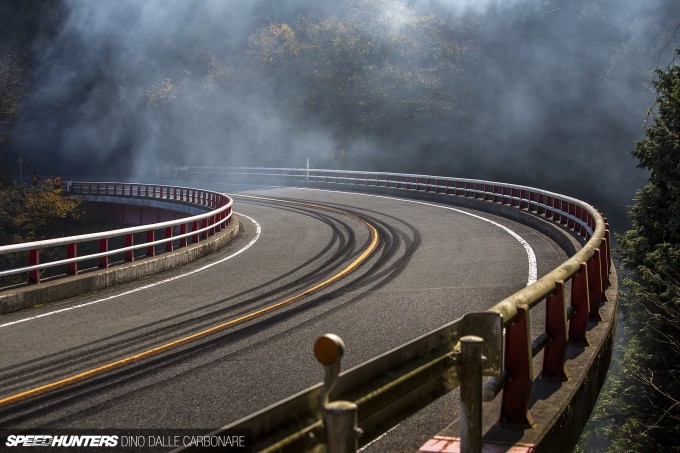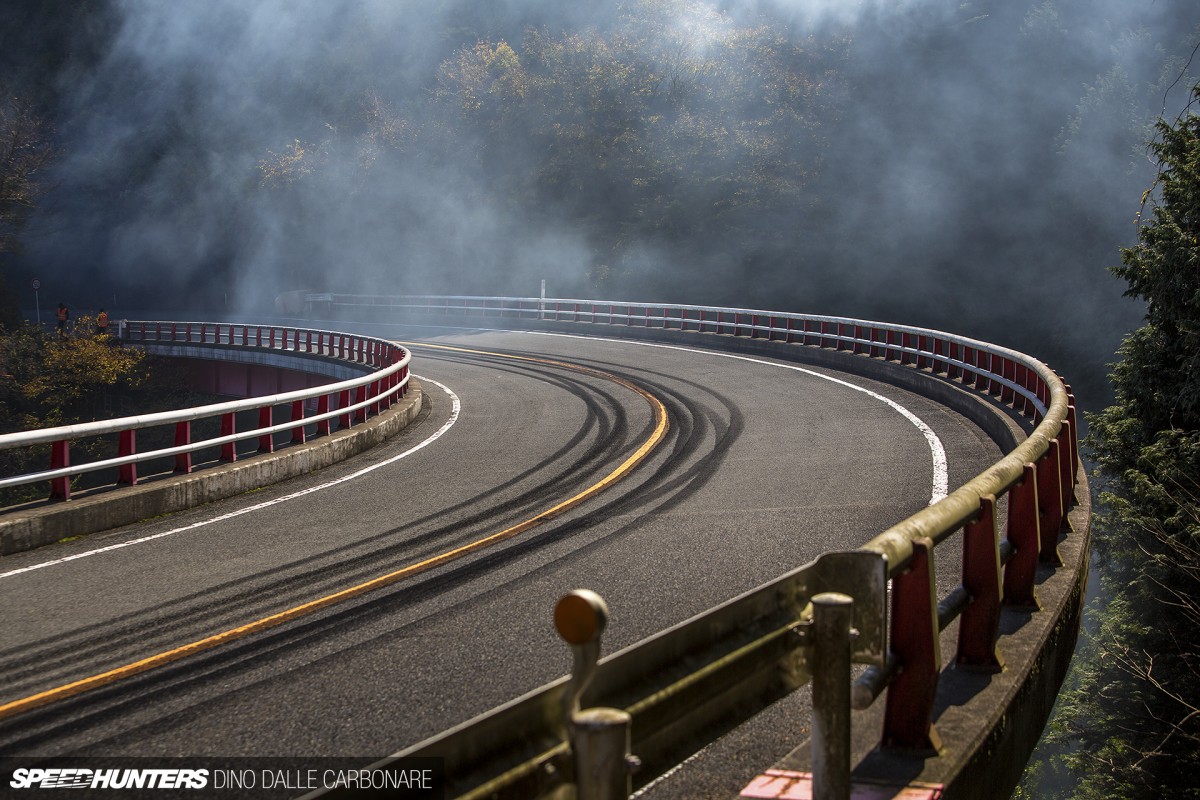 This was the aftermath. I wonder if pensioners driving up the Turnpike at 32km/h in their 1998 Toyota Crown afterwards questioned the thick black marks right in the middle of this particular section of the lovely, serene and scenic climb? I can just picture such a conversation in my mind, 'Damn juveniles, doing skids on public roads, what has the world come to?!'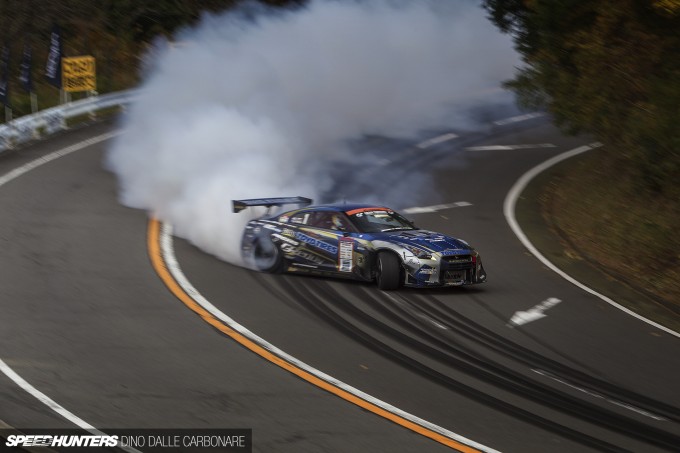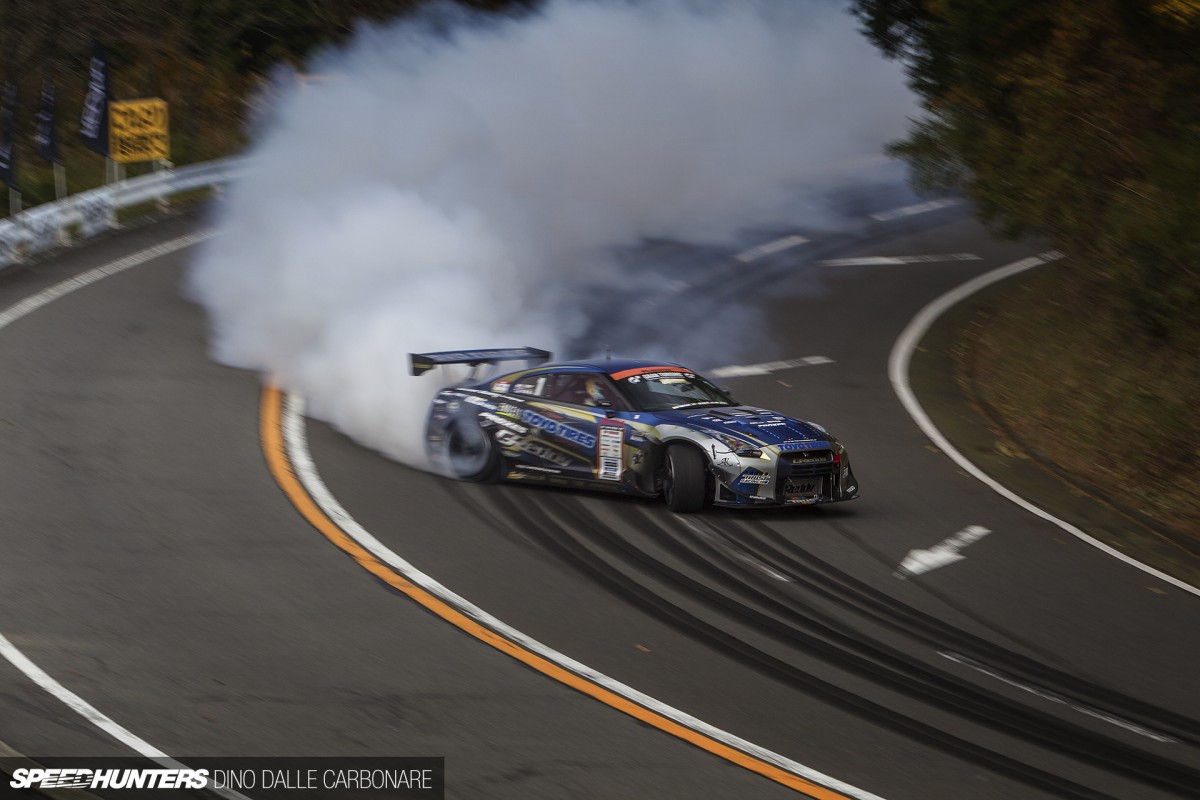 The thing is, Kawabata didn't even really stop drifting after the bridge where everyone was shooting and filming from.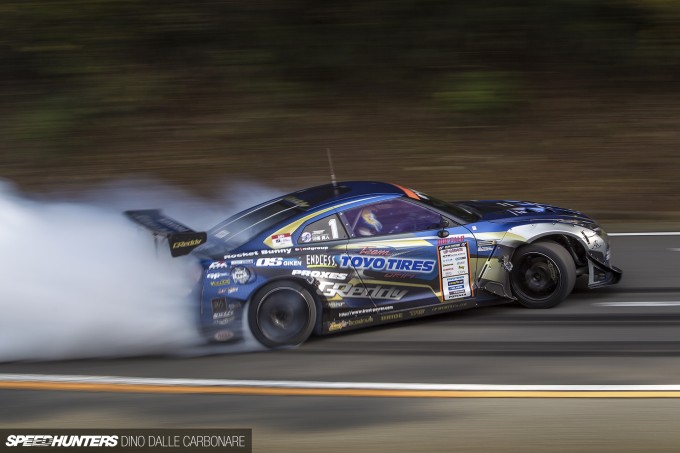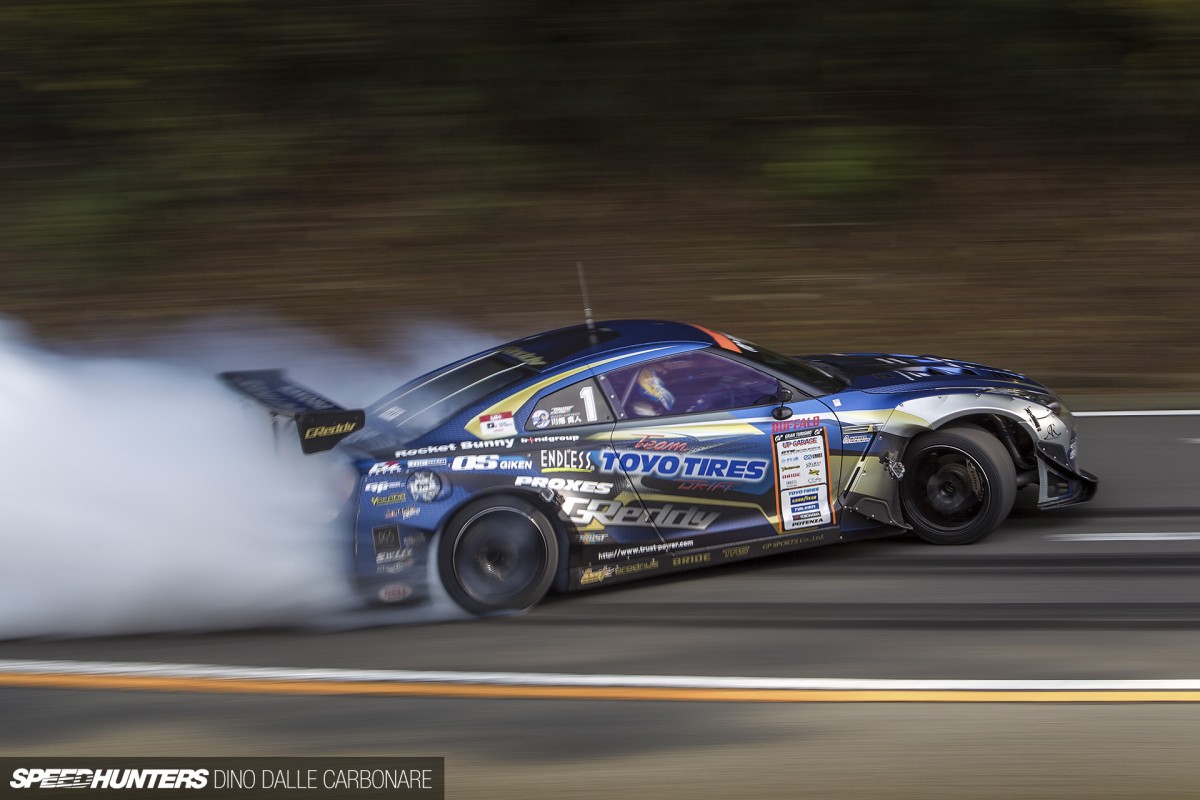 He just kept going…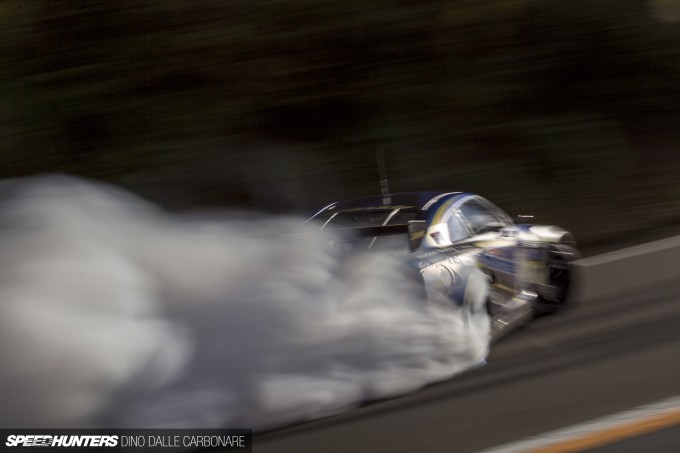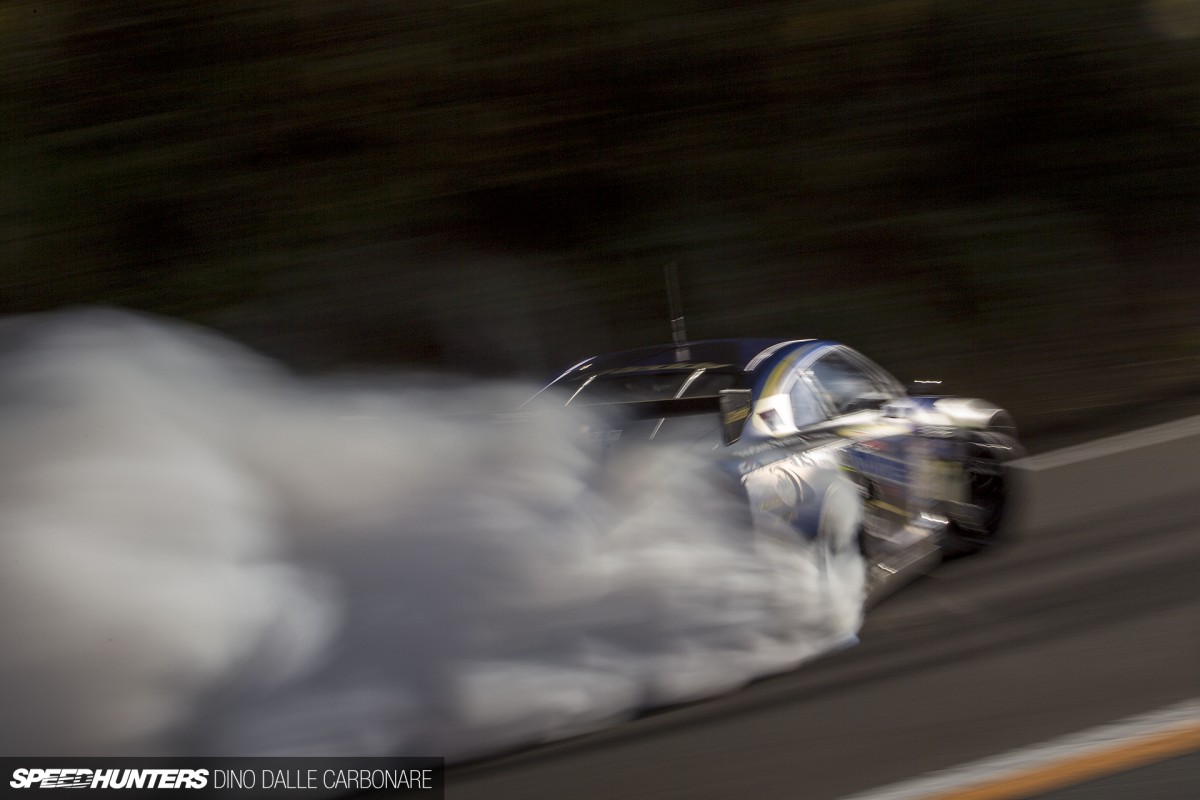 And going…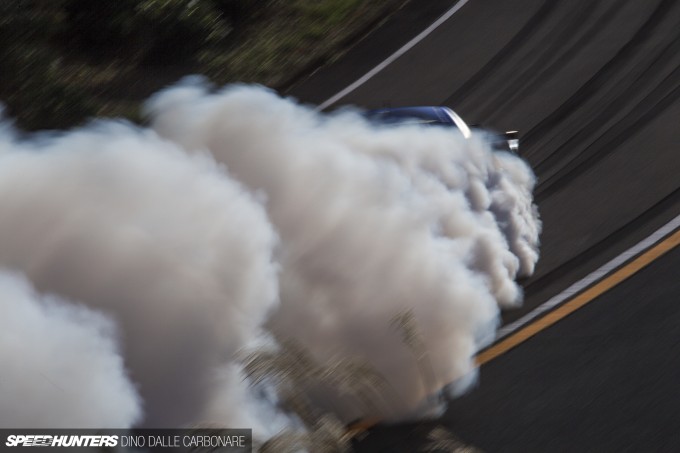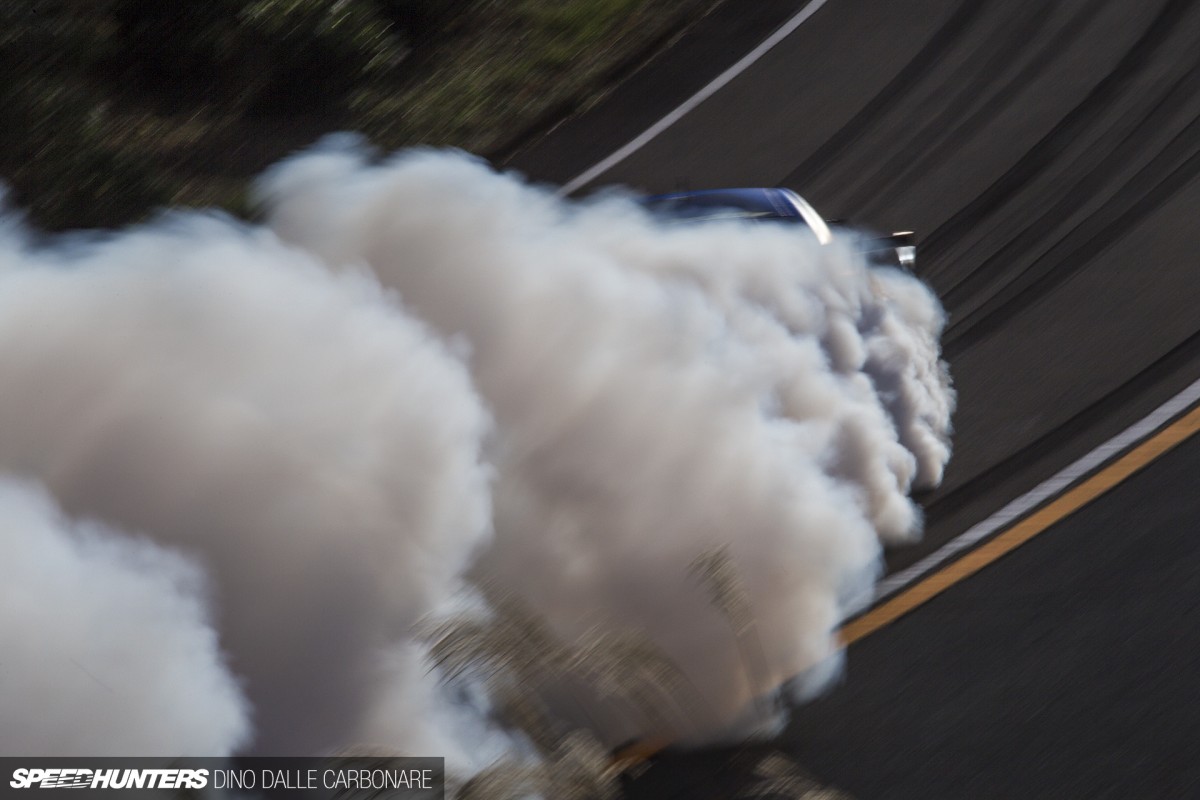 And going some more, right until the moment where the GT-R disappeared in a thick cloud of smoke. Seeing that he was there and the road was closed, the GReddy guys even had Kawabata go out for a grip run to see what the massively-powerful RWD R35 could manage. He only had one go, crossing the finish line in 3'16″96.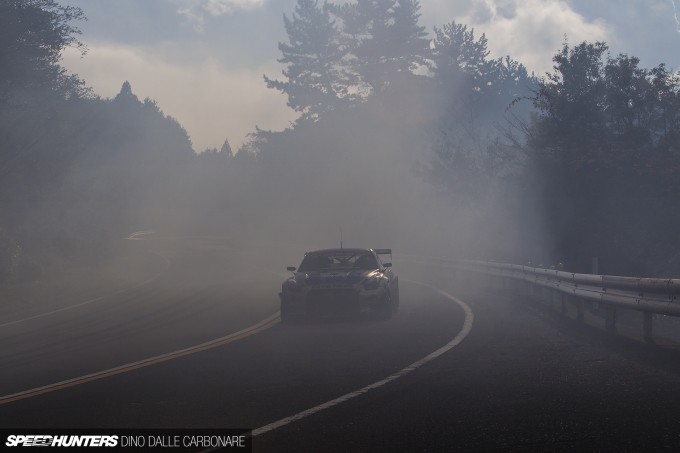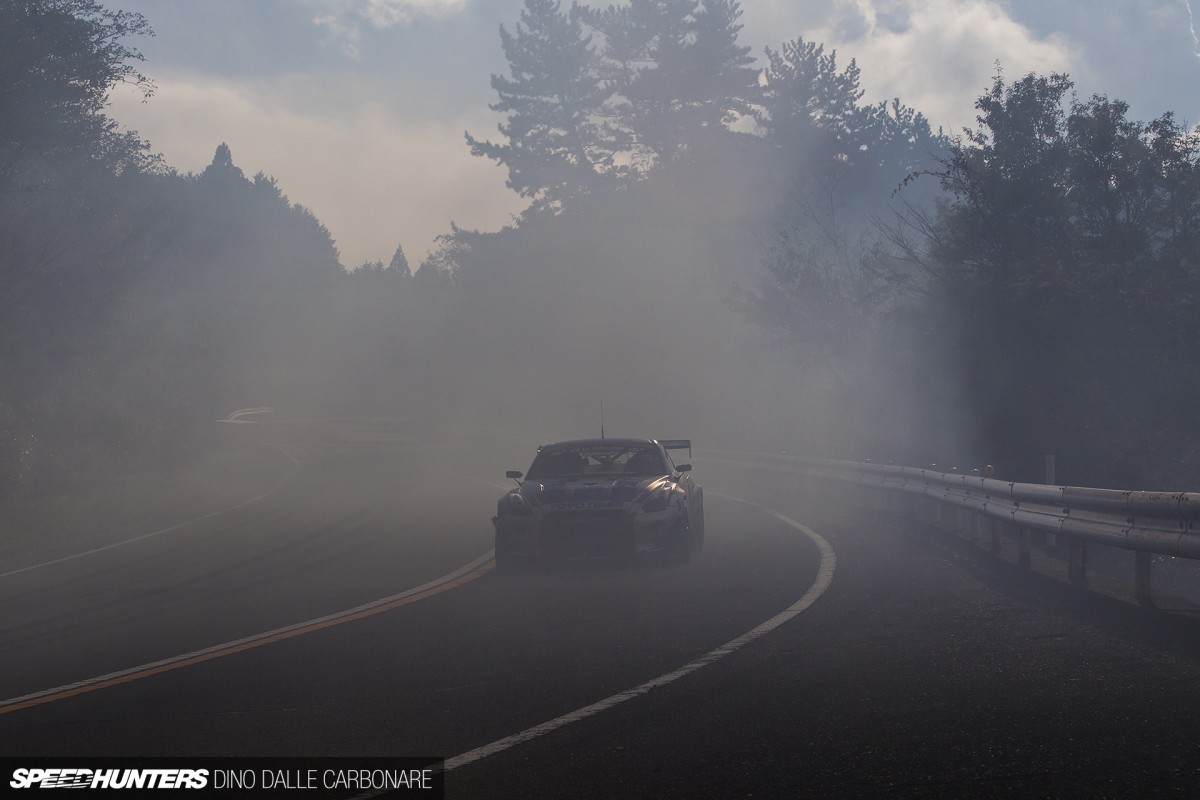 Yes, this was an event of monumental epicness – one that has taken Japan's already cool and inimitable car culture and made a hell of a lot better, if that's even possible. I take my hat off to Takada-san and his team, not to mention all those that participated and were involved. I'm so grateful that I was brought in to be a part of it. The Hakone Hill Climb must happen again. Every year henceforth. It just has to, because it can only get bigger and better if given the chance.
Update: For a closer look at Toyo's R35 GT-R, check out the video above.
Dino Dalle Carbonare
Instagram: speedhunters_dino
dino@speedhunters.com