Needle In A Haystack
Where do you go to buy parts for your car? In California, I know where to go to get pretty much any car part that I may need. If I want to get general parts, like light bulbs or windshield wipers, I just go to a parts store. For new OEM parts I would go to a dealership or just order online to save some cash. If I really wanted to go the cheap route, I would head to the junkyard and pull the parts off myself. Some junkyards are fancier than others of course, and I've been to one where they just call in a part, and 30 minutes later it's handed to you – for a fair price to boot.
What about performance or rare JDM parts? Everyone has their sources, but there are so many performance shops in California that finding anything and everything you need is normally just a phone call away. Of course, it's a little bit different in other countries, but largely follows the same concept. So what is it like in China? Well, I went to find out…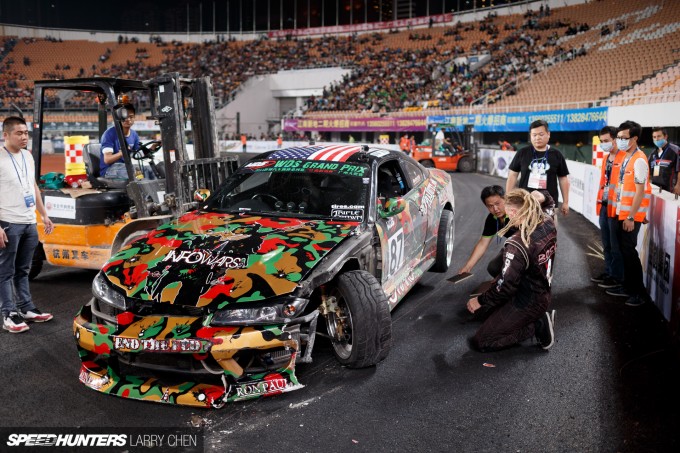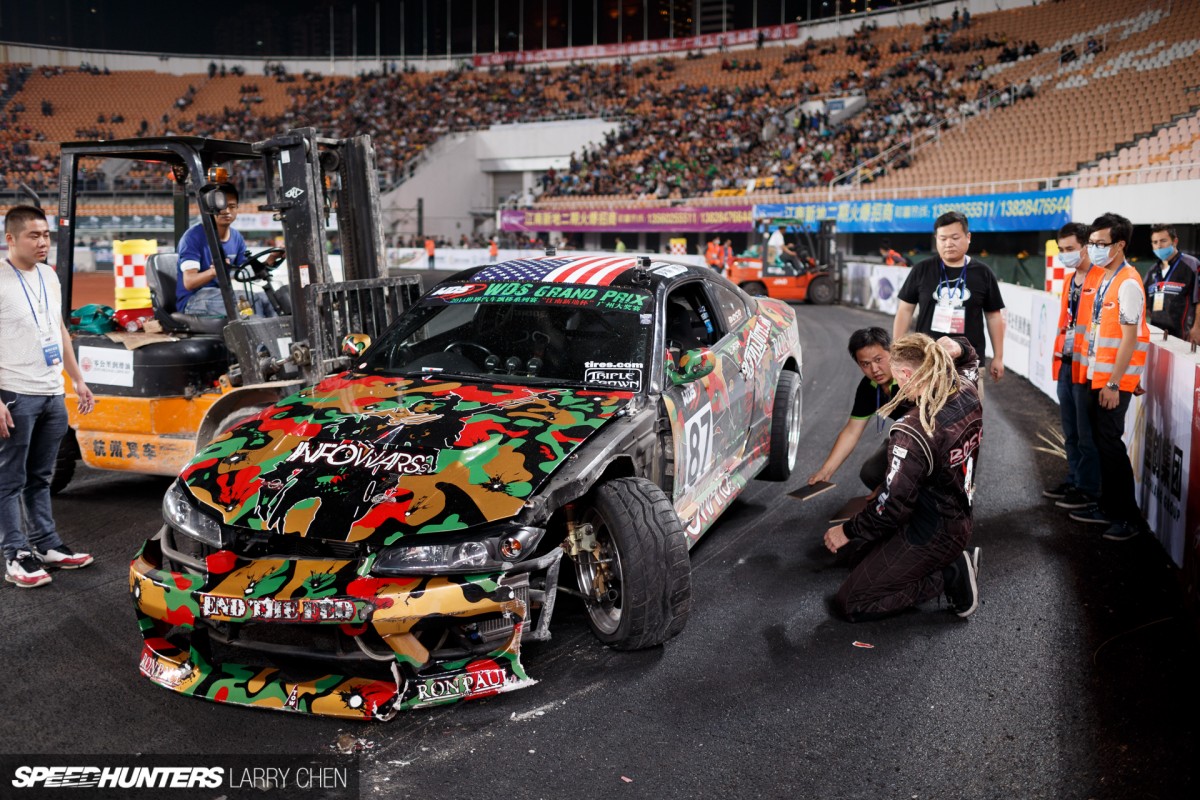 In December I attended the World Drift Series China event in Guangzhou. I will go into more detail about the event itself in another post, but for now I want to talk about a parts predicament that Ross Petty found himself in on his return to drifting after a two-year hiatus. Ross was on fire, and it actually looked as if he was going to win the event. But when he went up against Matt Powers in the final four, Ross drove through an oil slick and his S15 understeered into the wall.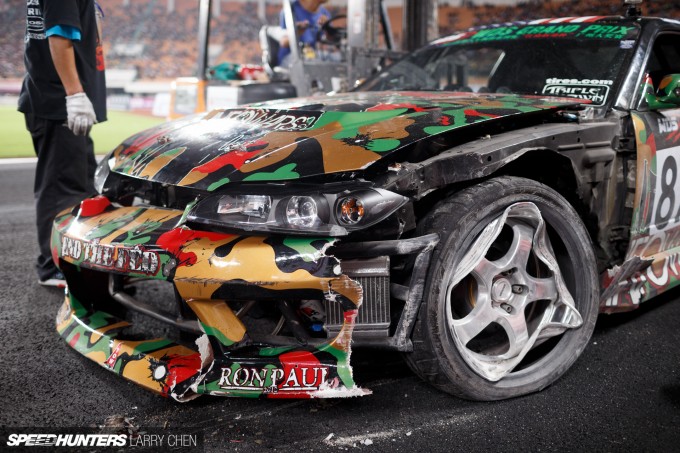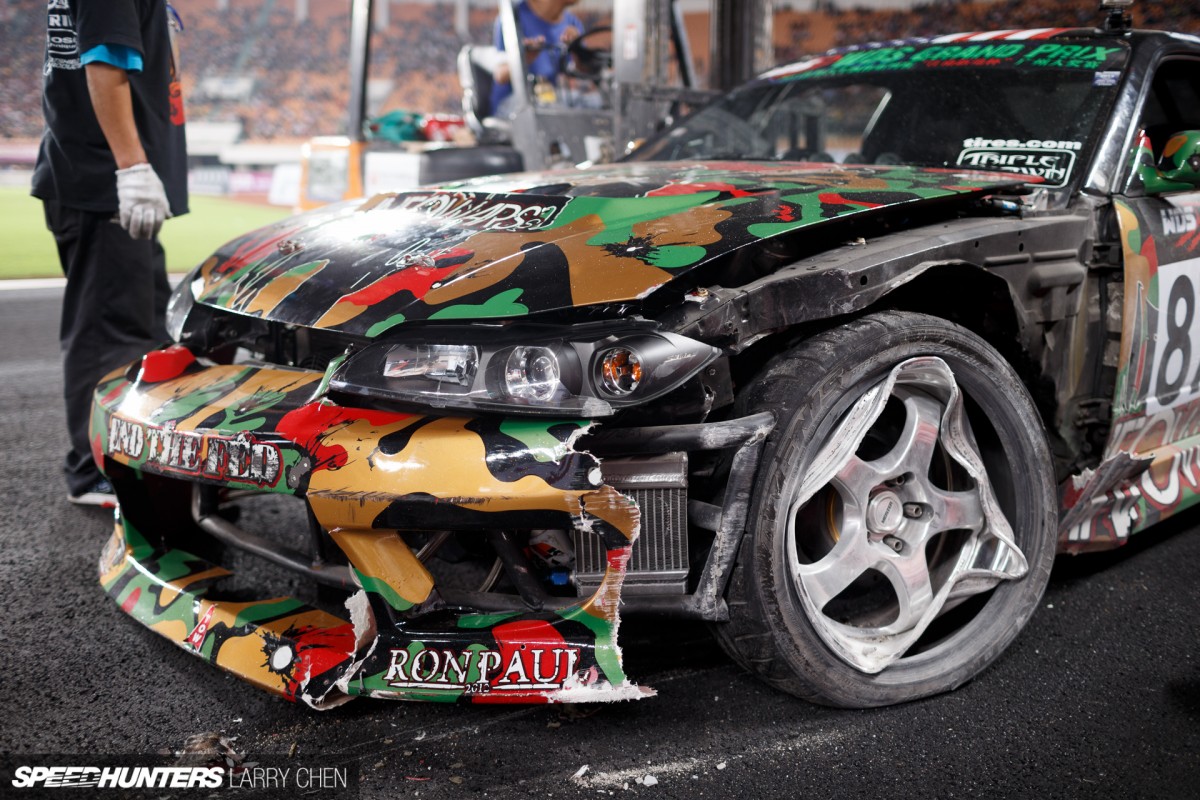 His left front wheel turned into a tostada, he broke a control arm and damaged a rear knuckle. If he was stateside or in Japan, this would be a simple fix, however, there was another event in the city of Shenzhen the following weekend, so he needed to repair the car right away.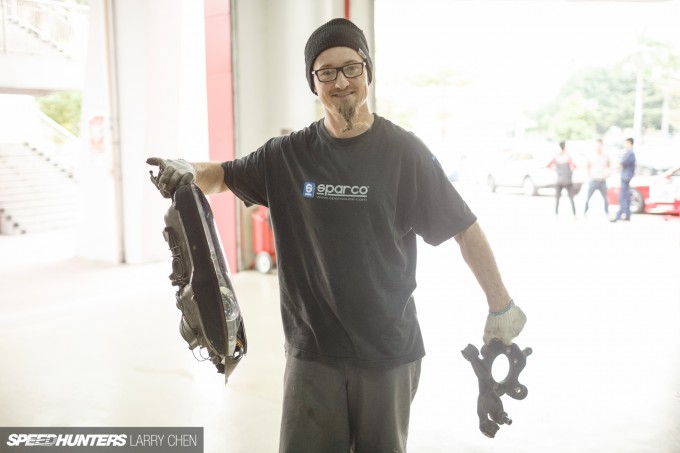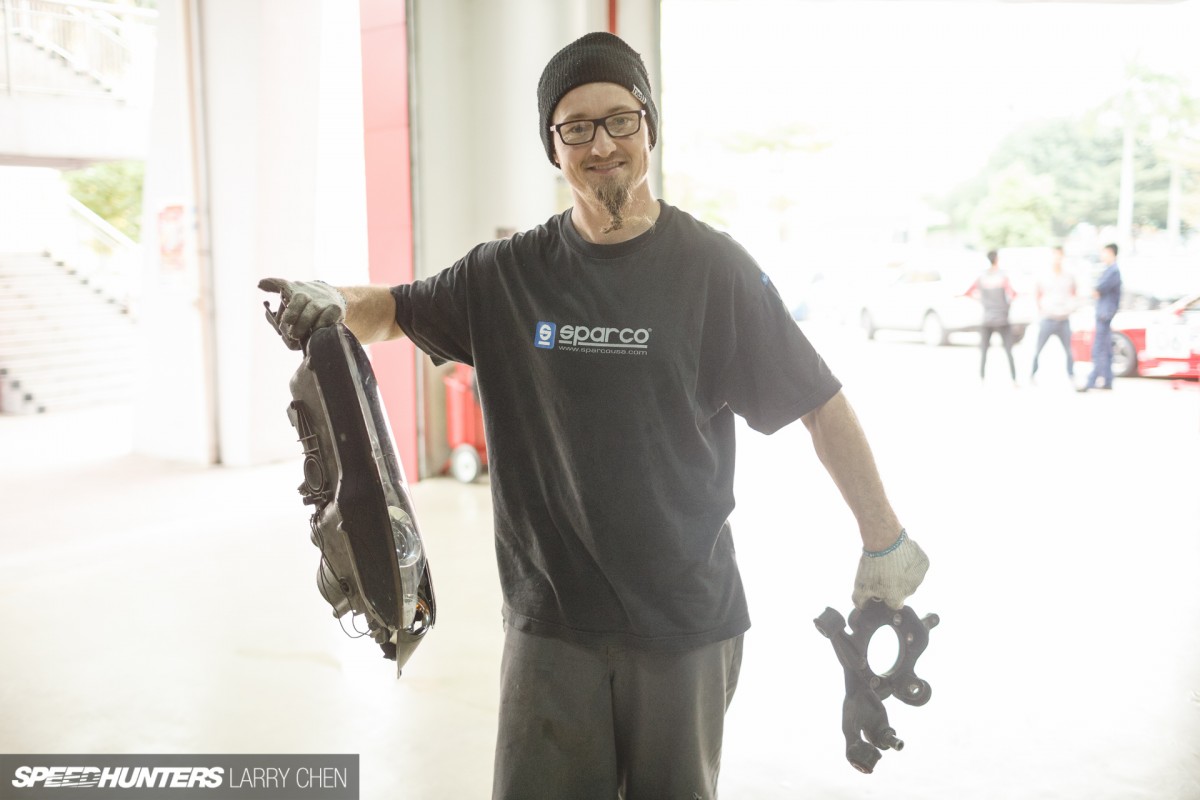 That meant sourcing parts for the S15 in Guangzhou. But where to start looking? Luckily the locals told us about a parts market nearby, which supposedly had lots of rare JDM parts sourced from Hong Kong, where the Japanese car scene is huge.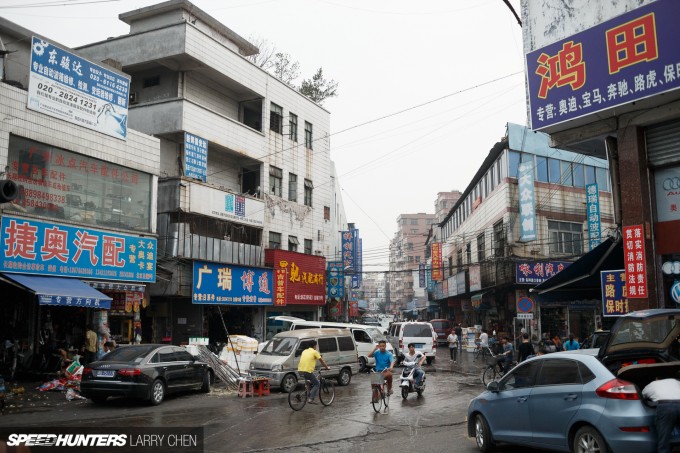 After a 40-minute taxi ride we arrived in the middle of a very busy intersection. At this point I was sceptical about finding what we were looking for, but at the same time I was intrigued by what we might uncover. According to our contact, there were parts suppliers as far as the eye could see in this area of the city.
As we walked down a small alleyway, I noticed some signs with familiar logos. We were close.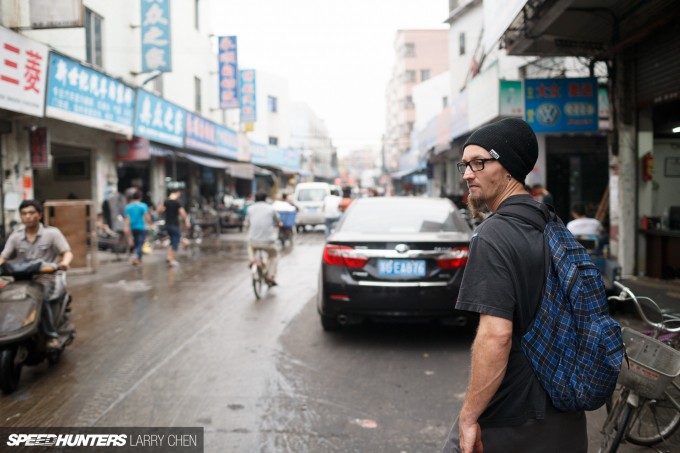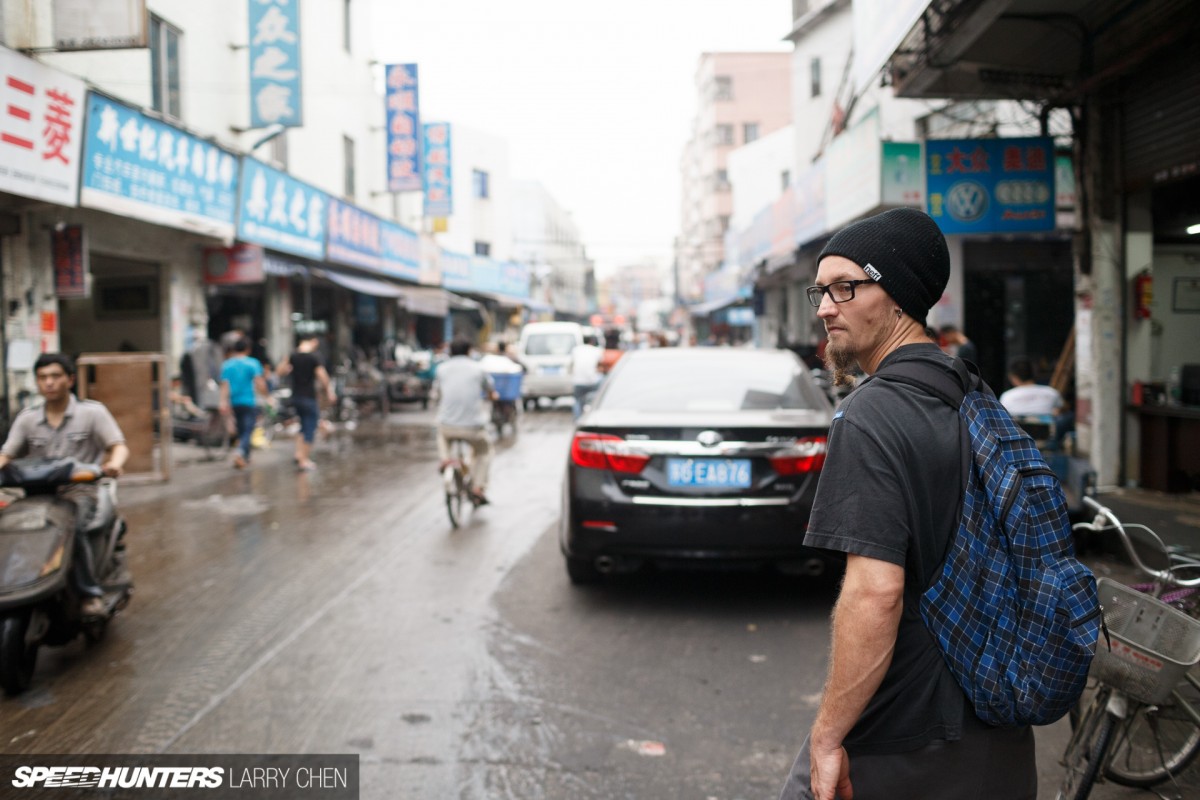 Ross pretty much had everything he needed to fix the car expect two things: an S15 headlight, which he could live without, and a rear driver's side knuckle for an S14/S15 – a must-have.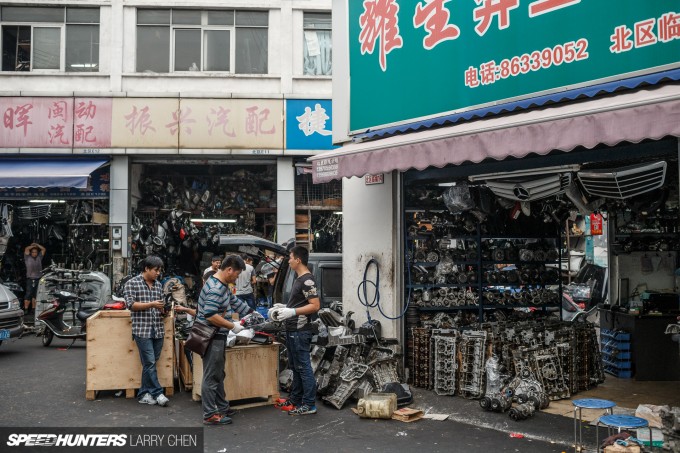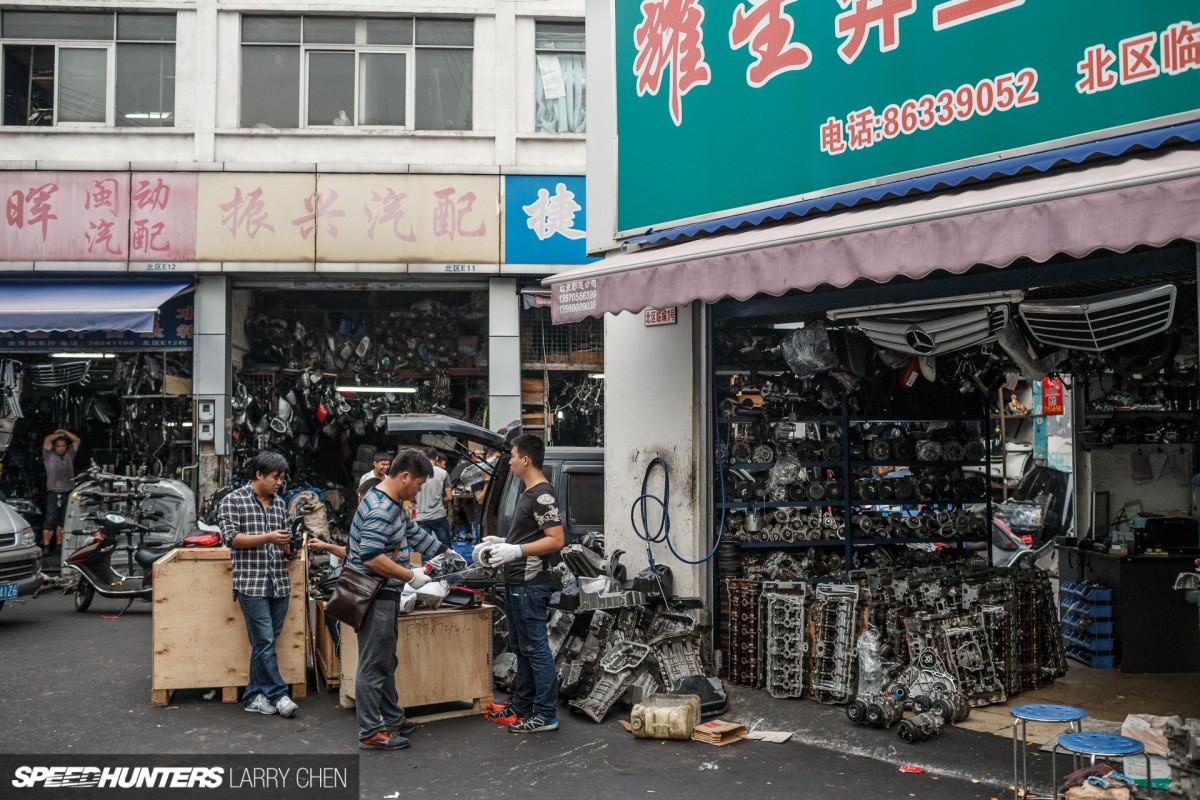 I thought we'd find a normal parts warehouse similar to what I'm used to in Los Angeles, but what we were confronted with was far from that.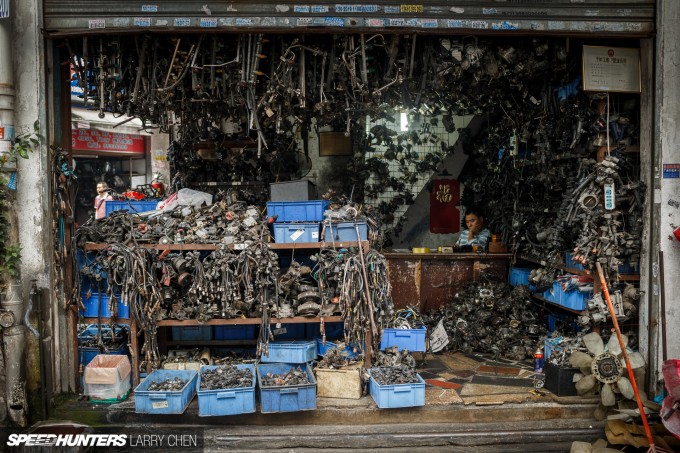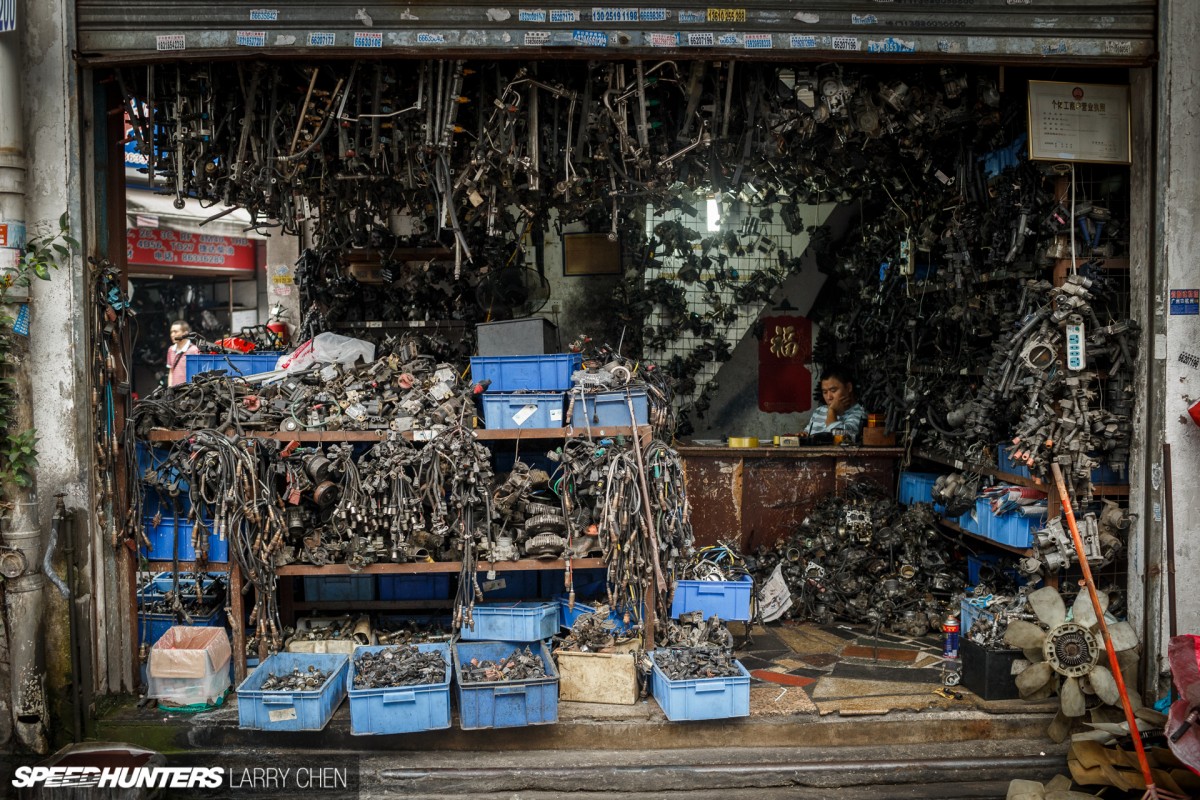 I just can't begin to describe the feeling that I got from this one shop. It's just madness.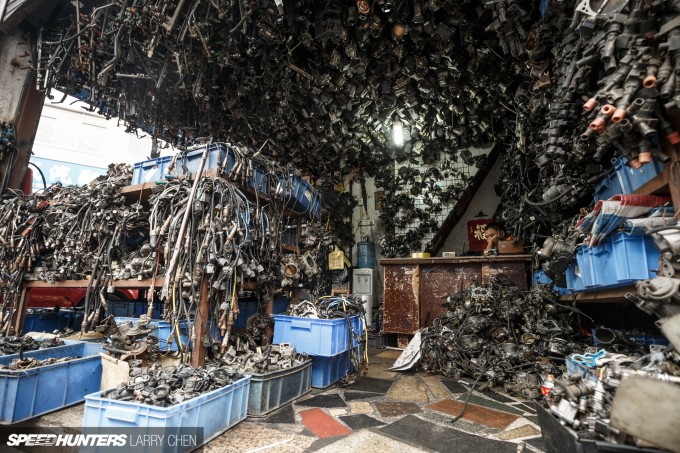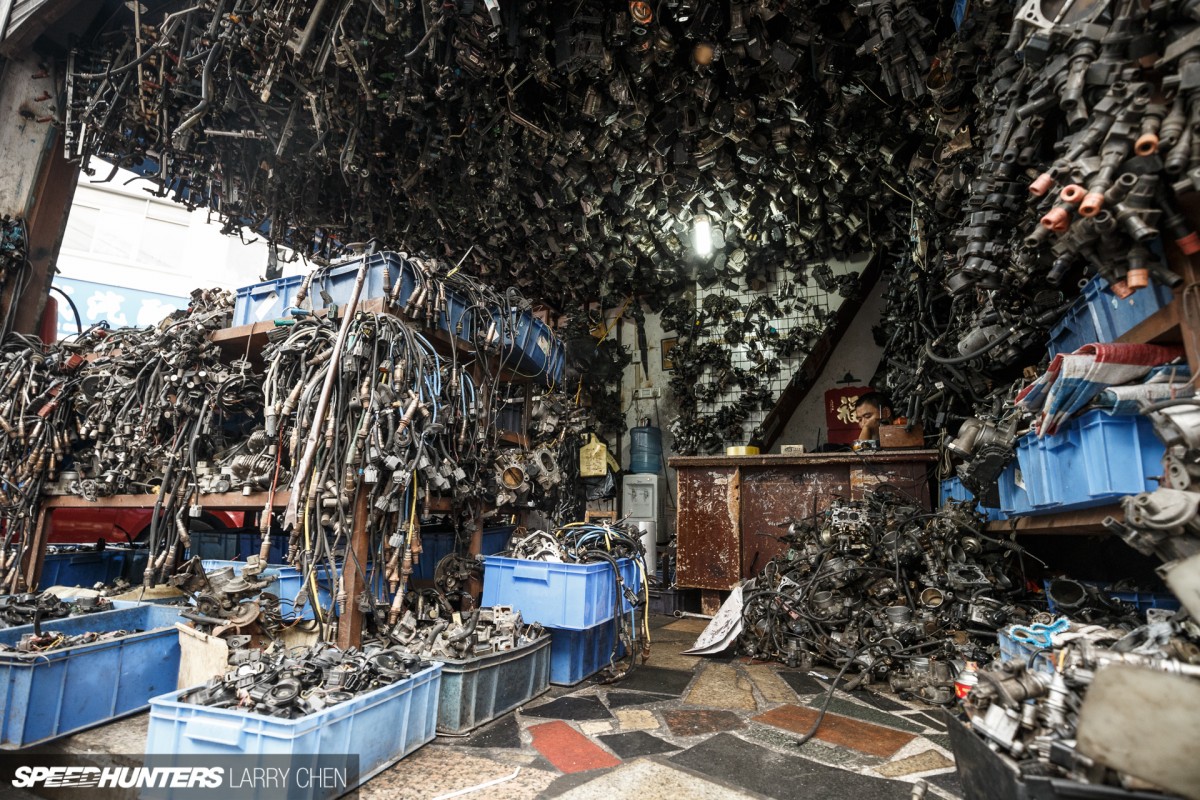 Fuel rails suspended from the ceiling and hundreds of throttle bodies hanging over the store owner's head. OCD car fanatics need not apply here.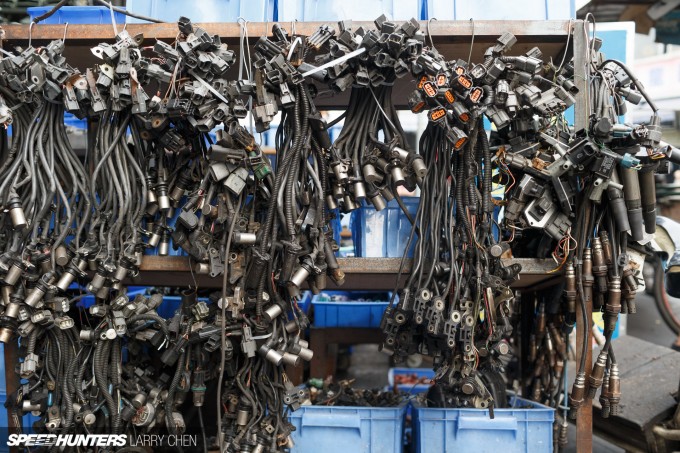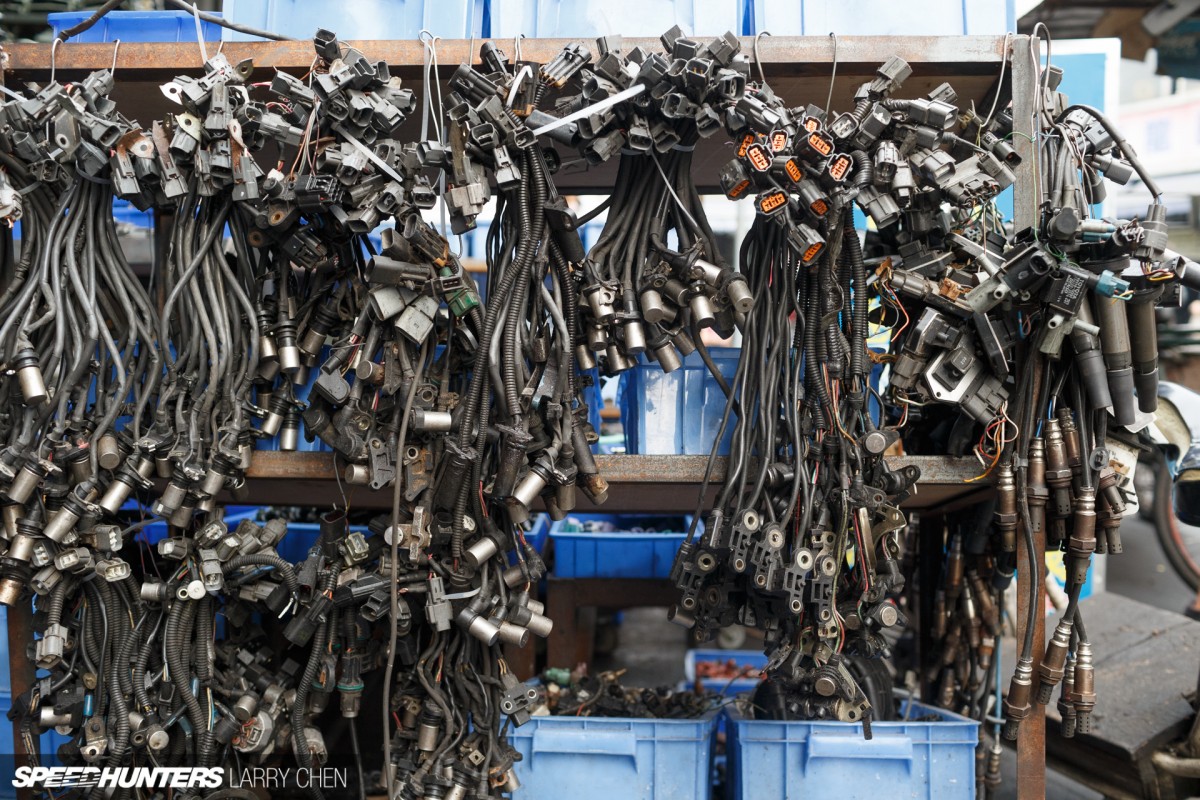 Upon closer inspection, it was actually pretty amazing how organized this shop really was. I decided to explore further…
Don't Get Shafted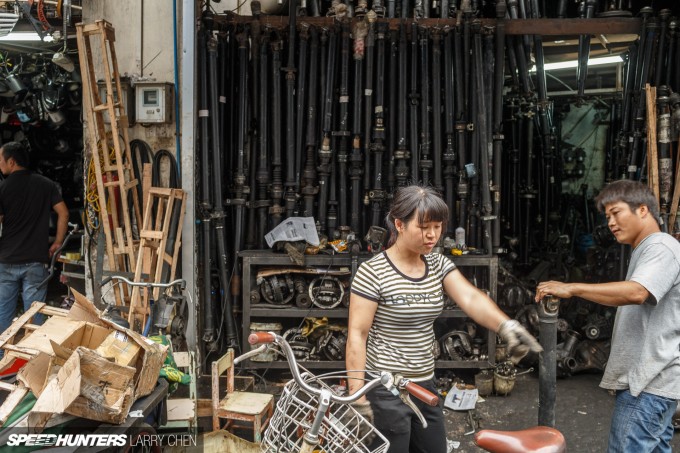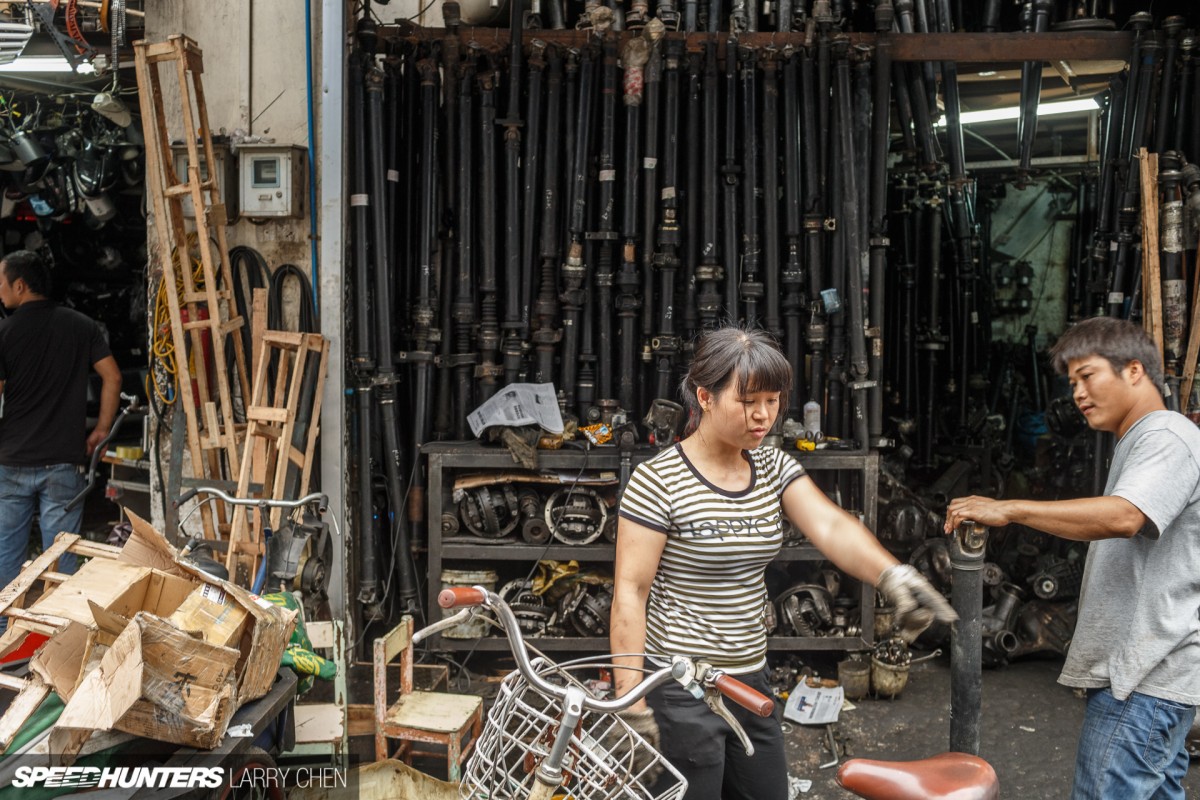 Pretty much every shop I walked past had a specialty. This one sold driveshafts and driveline parts. You don't want to get shafted by this shop.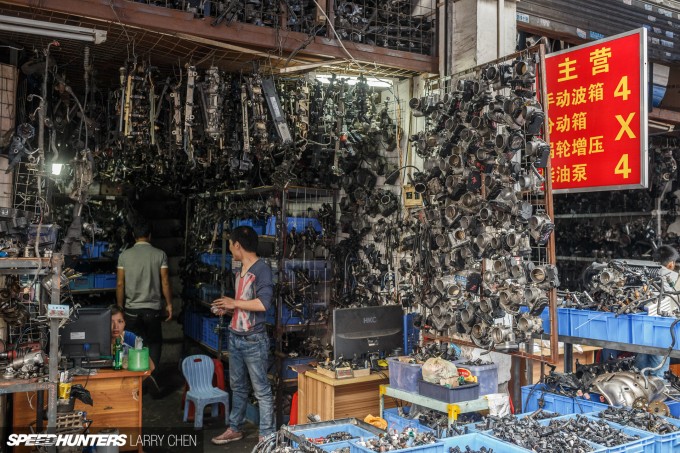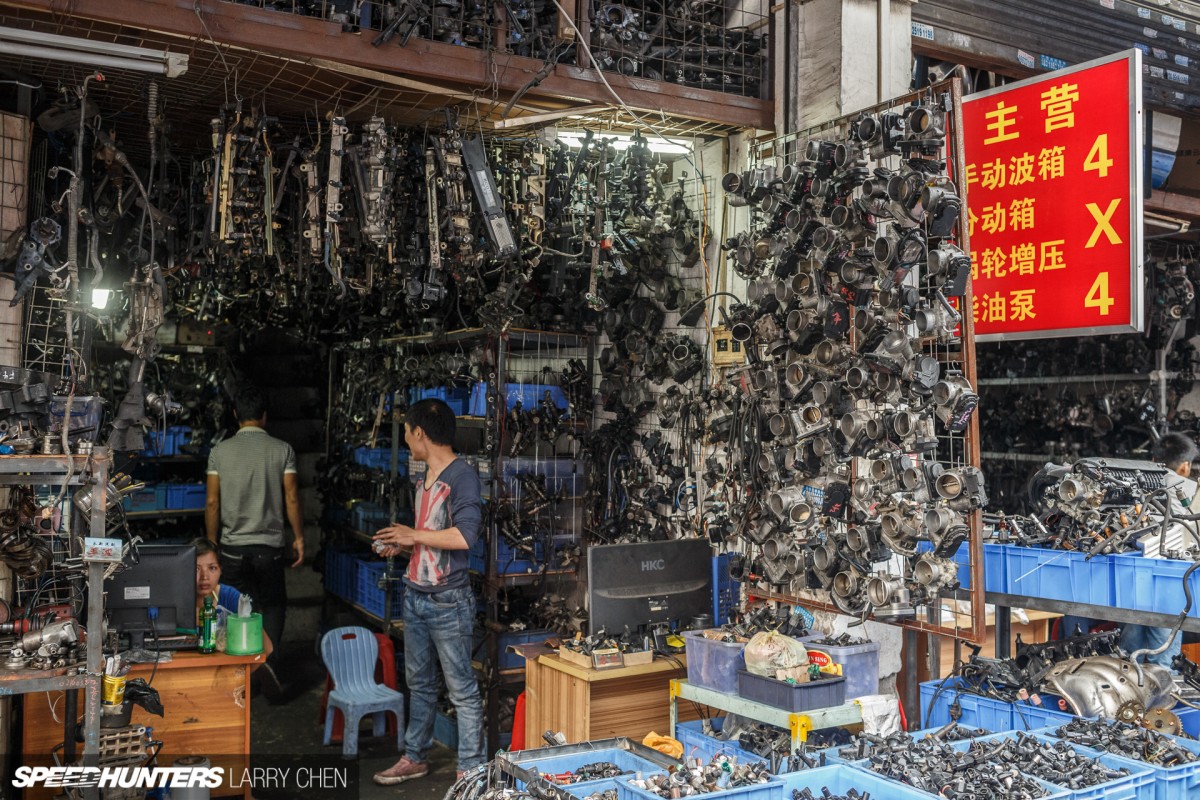 What I'm curious about is how anyone finds what they are looking for. I mean, there has to be hundreds of different types of fuel rails hanging from the ceiling of this shop. Could you imagine if it collapsed? That wasn't the scariest aspect though, rather that it smelled like fuel in there. The fact that most Chinese males smoke cigarettes, made me very afraid to get too close.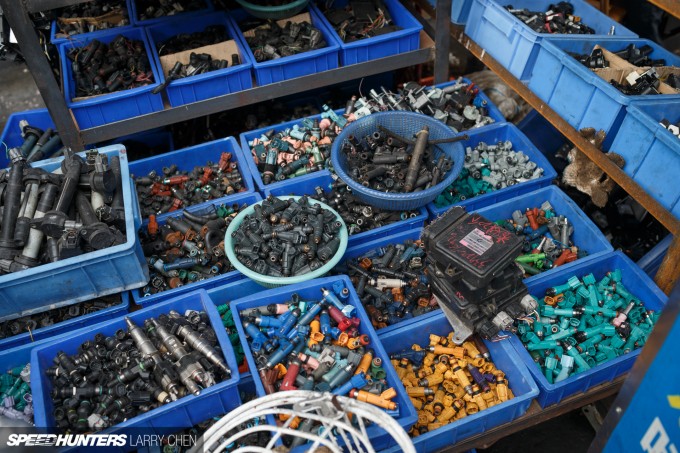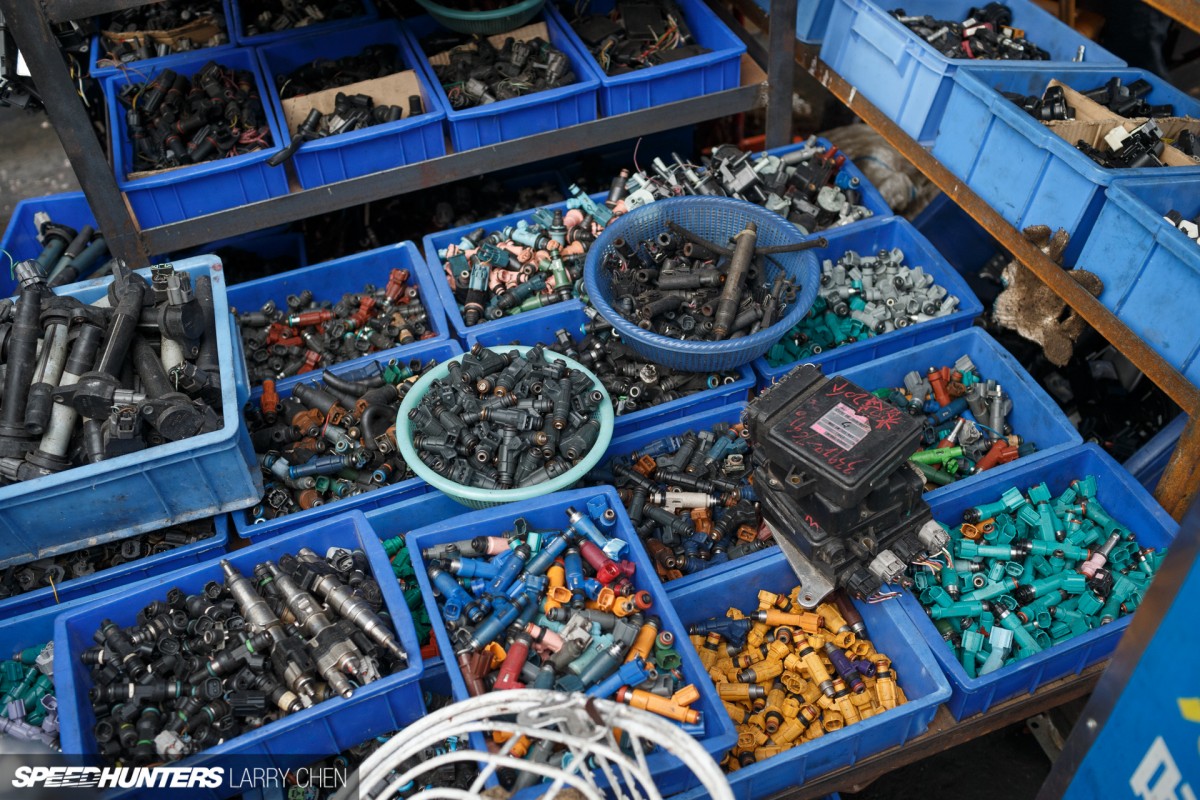 Check out these awesome grab bins for fuel injectors. Some of these are bound to still work.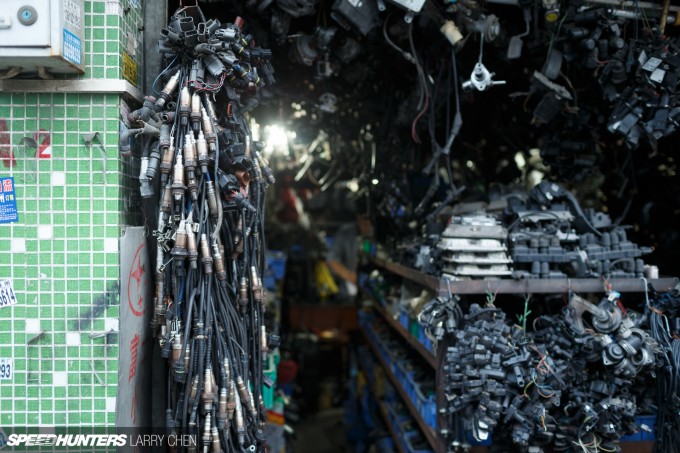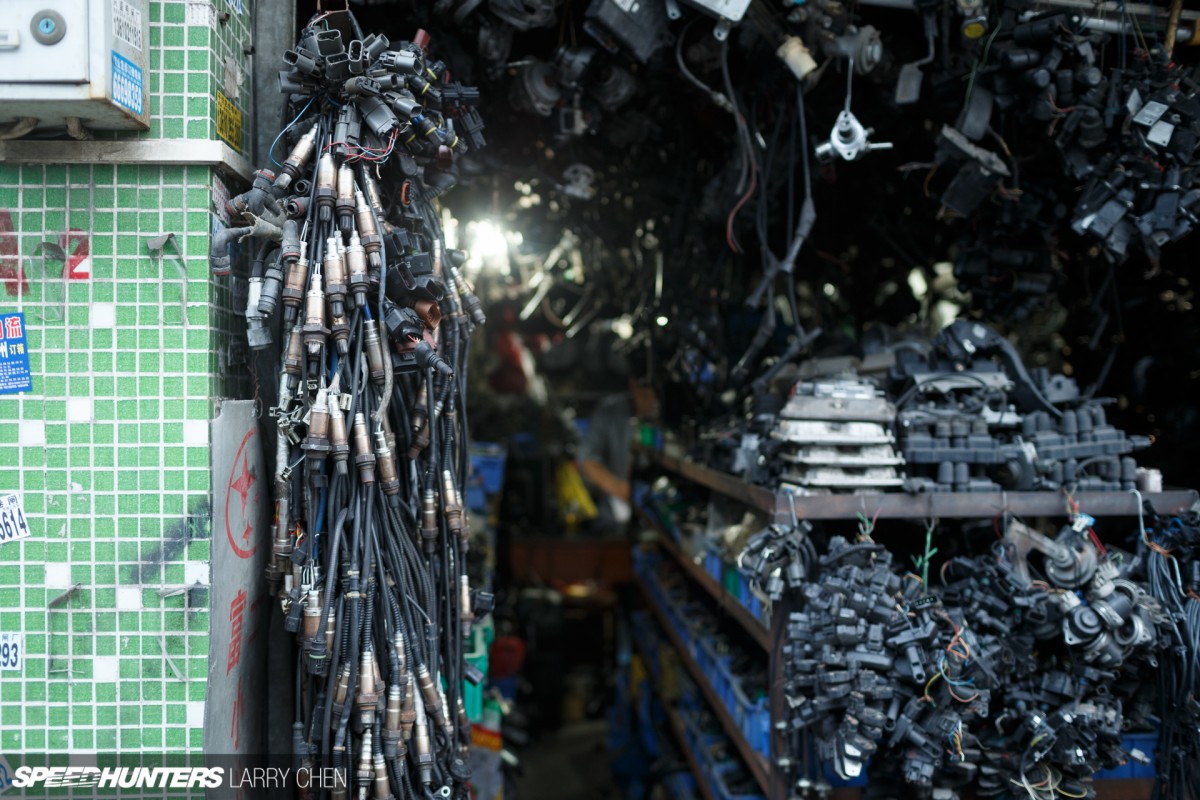 Or choose from this wide variety of O2 sensors. The possibilities are endless.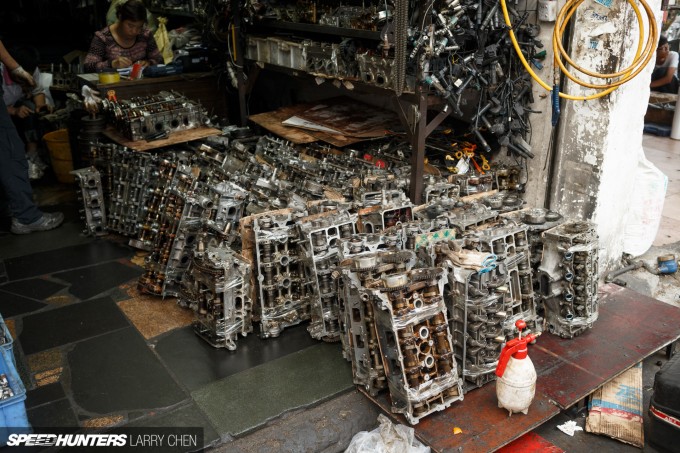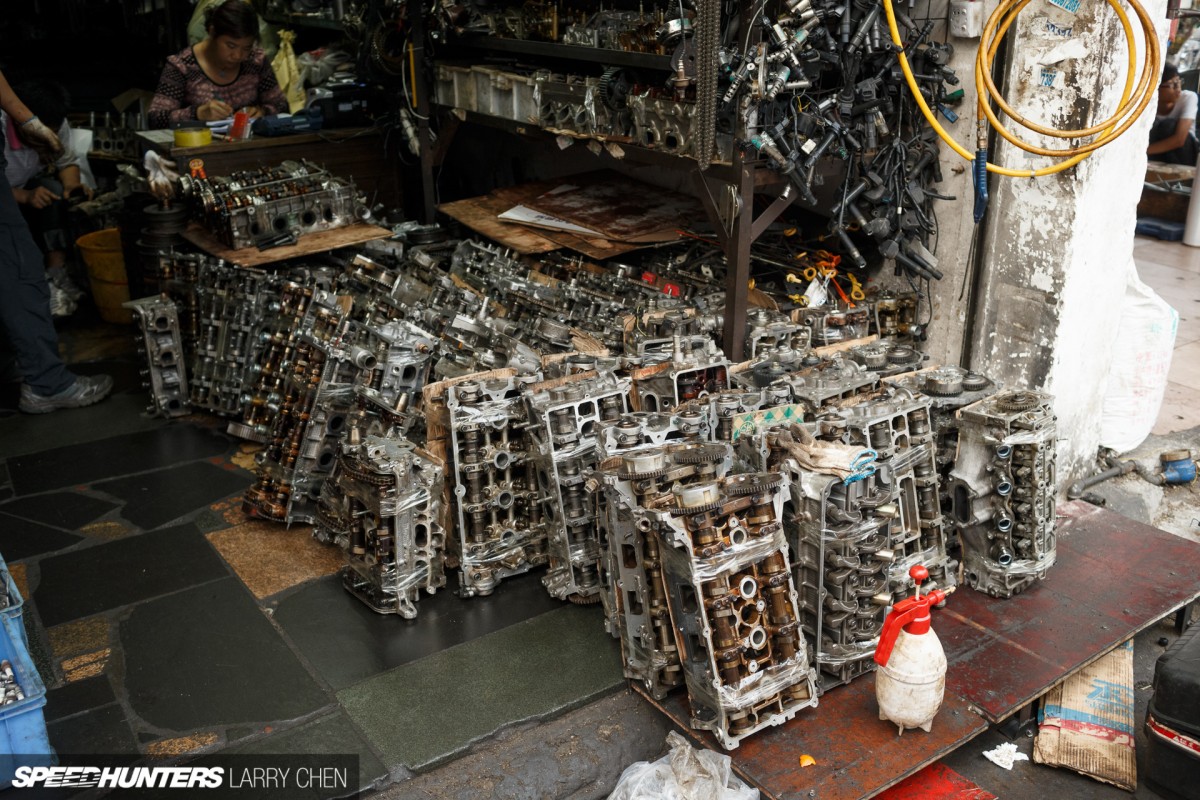 Need a new top end for your motor? There are many sitting on the floor that you can pick from.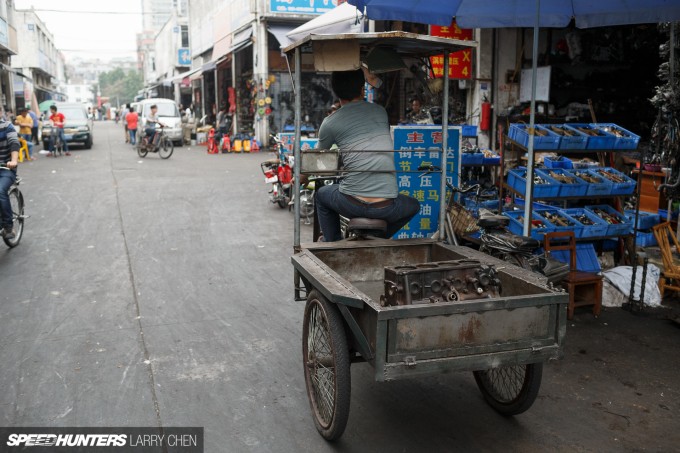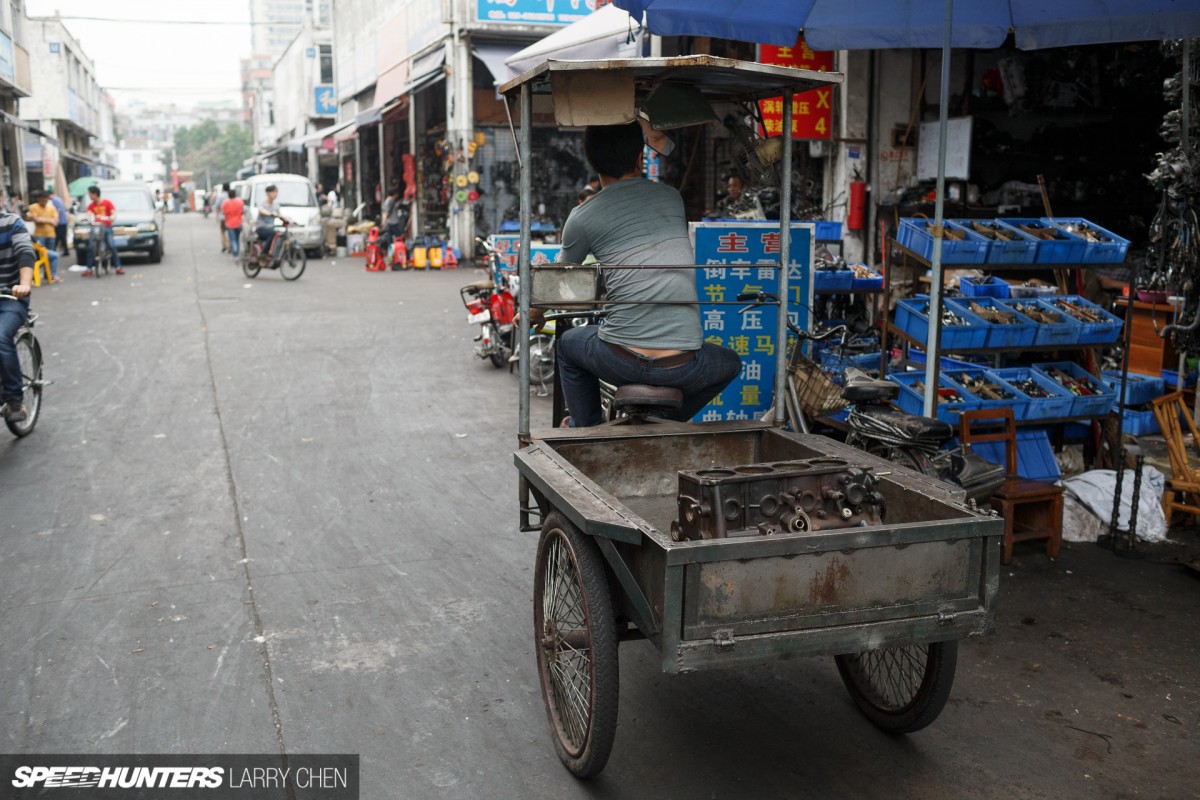 Don't have room in your car? No problem, they deliver. And in style might I add.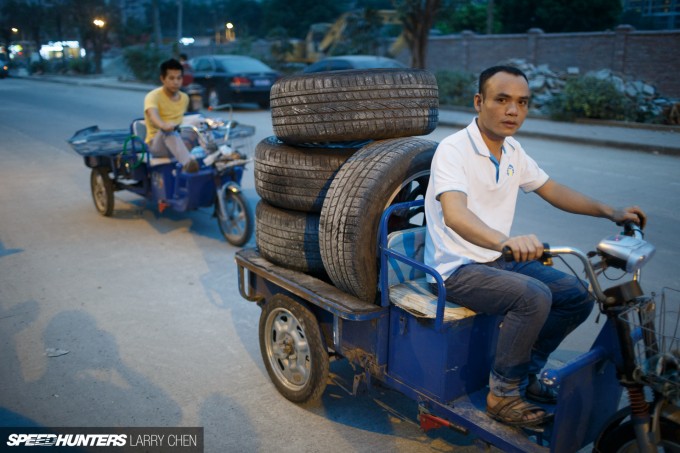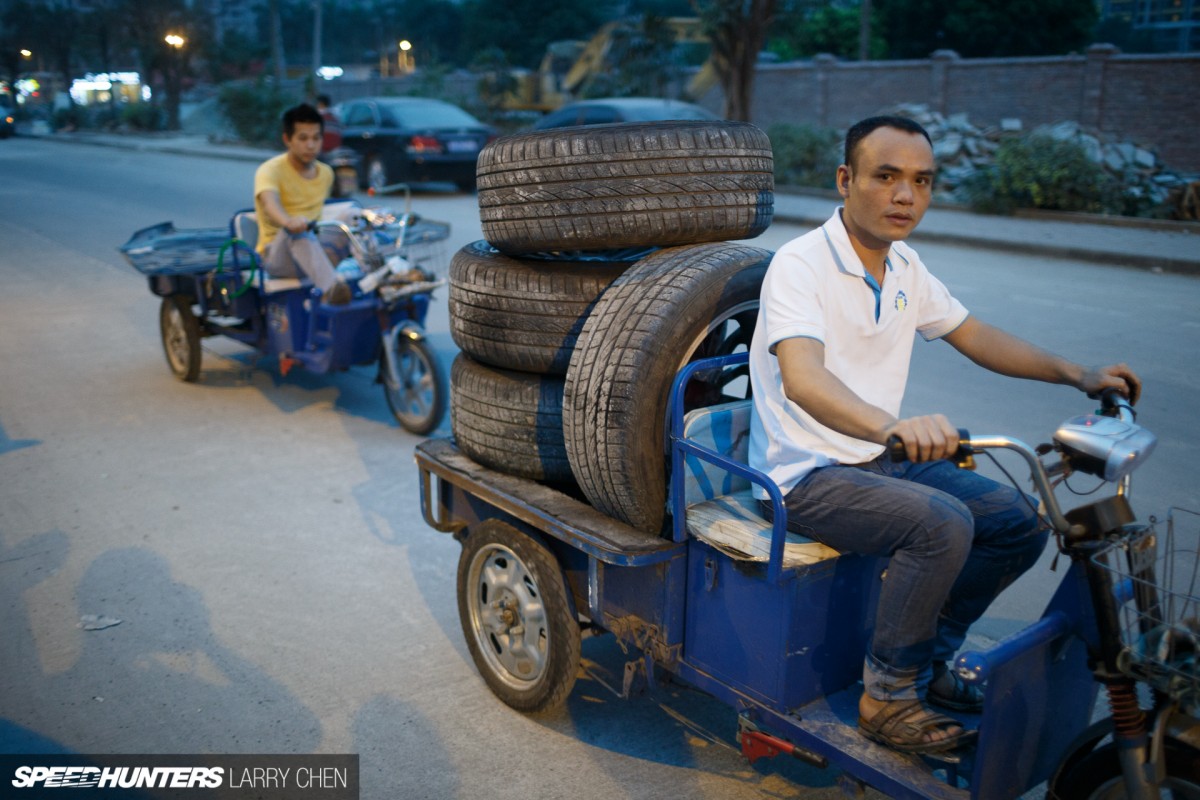 Need wheels and tires? You're covered here too. Free delivery of course.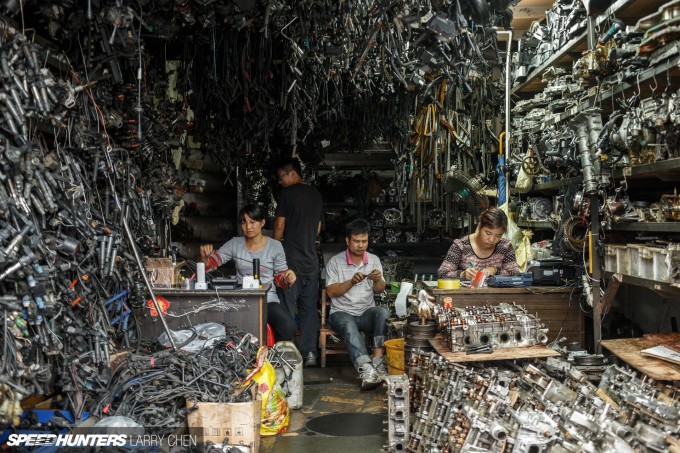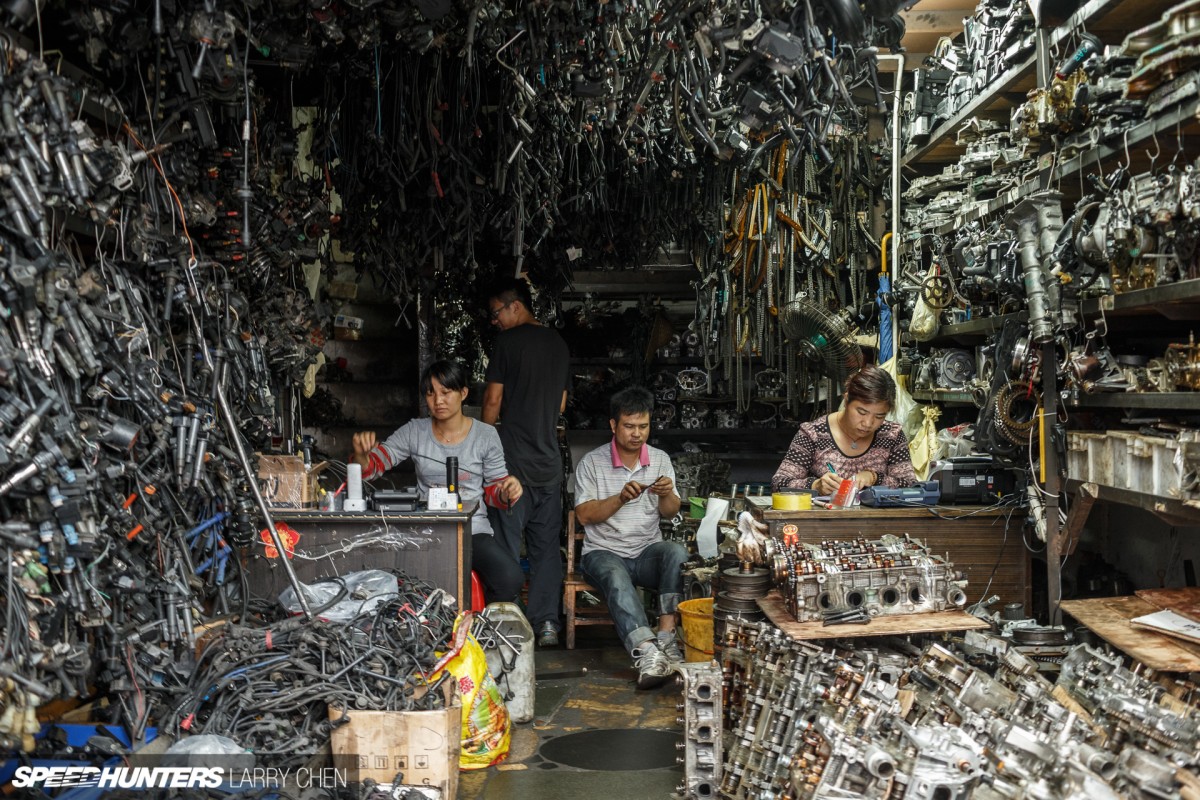 What also amazed me was the fact that no one cared that I was taking photos of them.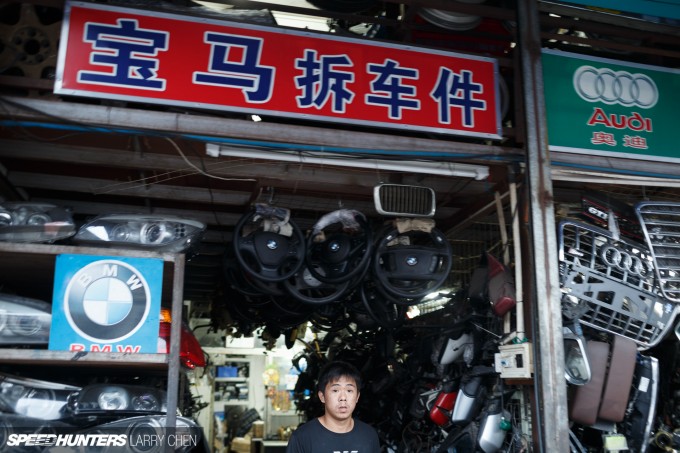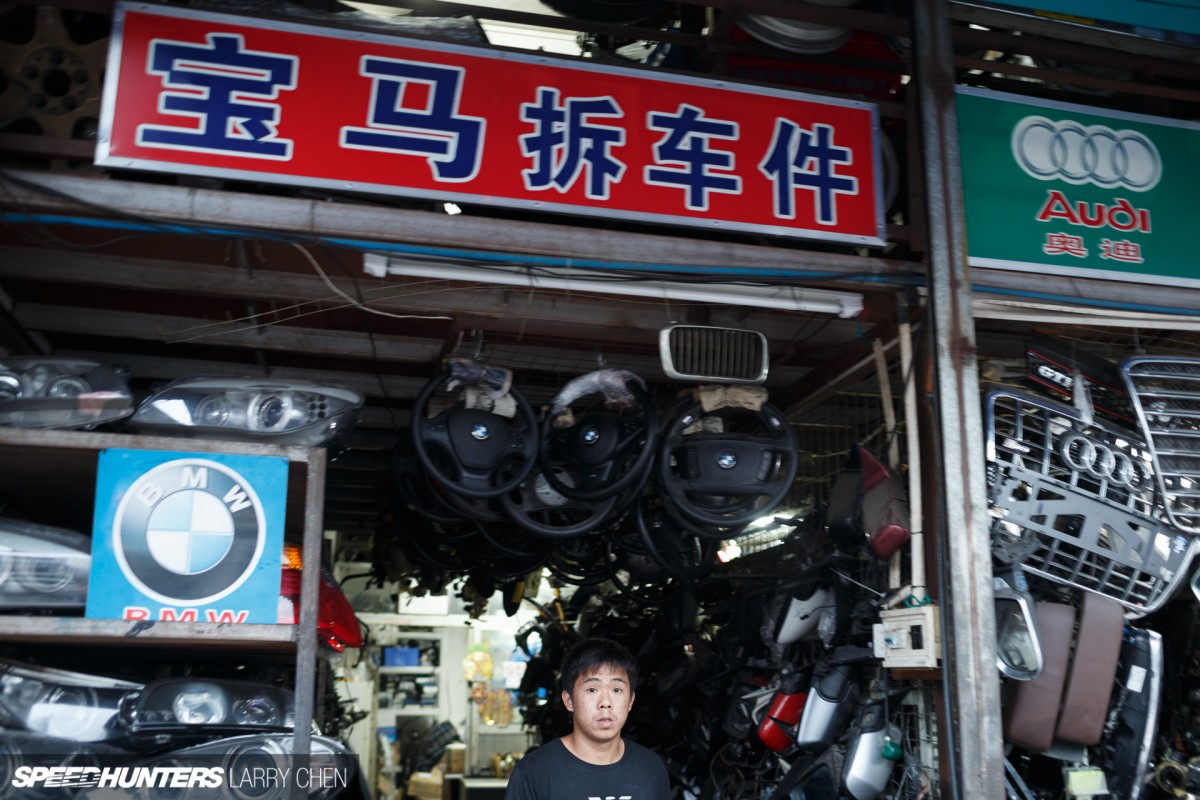 Pretty much every junkyard that I've been to in Los Angeles does not allow photography, and the staff certainly don't want you to take pictures of them while they go about their work.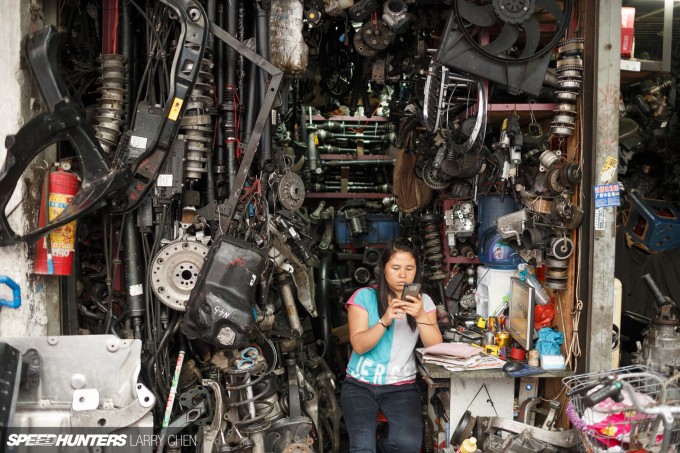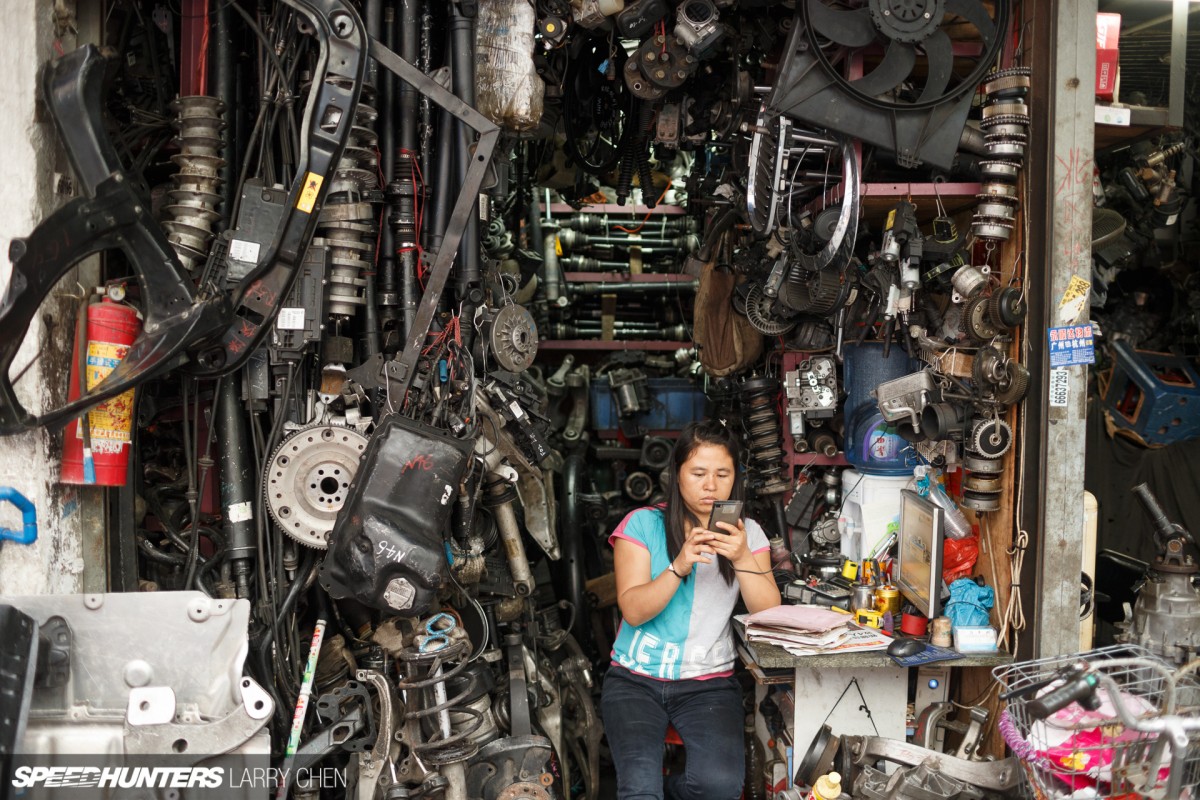 Here, everyone seemed to be in their little world, just waiting for their next potential customer while surrounded by thousands of used car parts.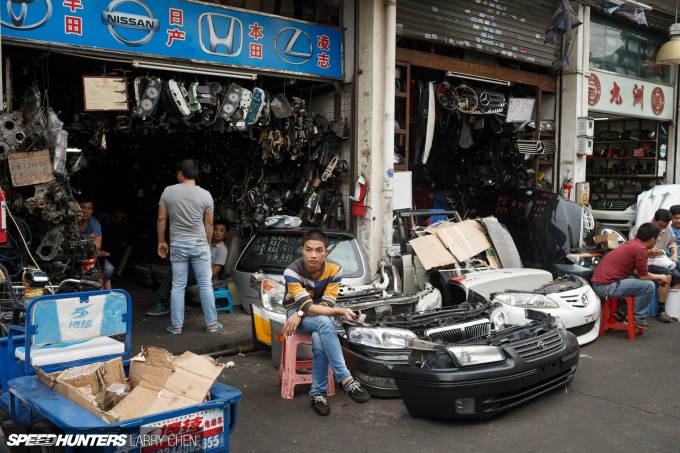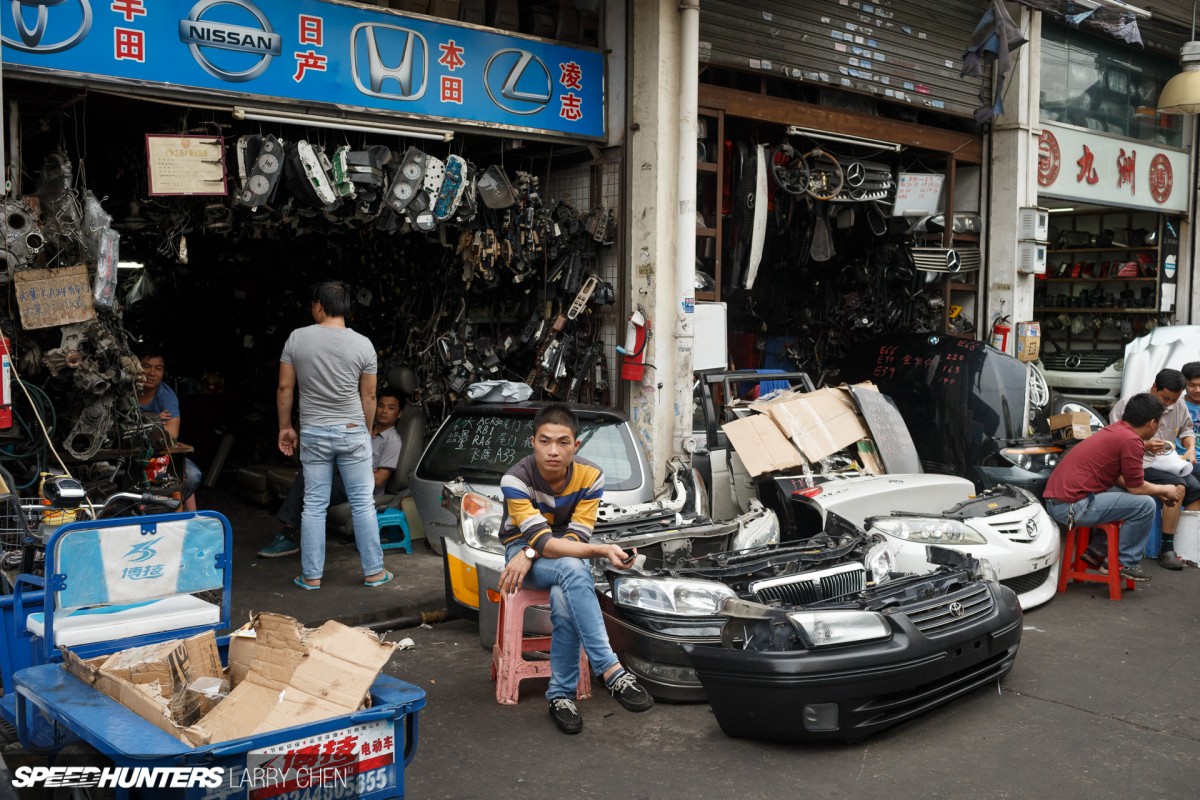 Oh, don't mind me, I'm just keeping an eye on these front ends.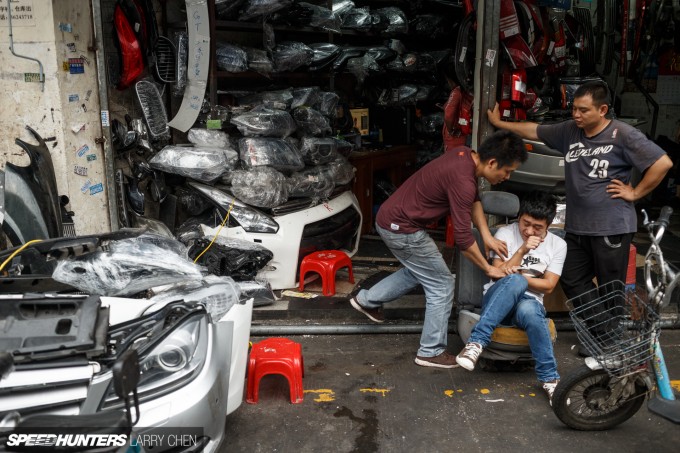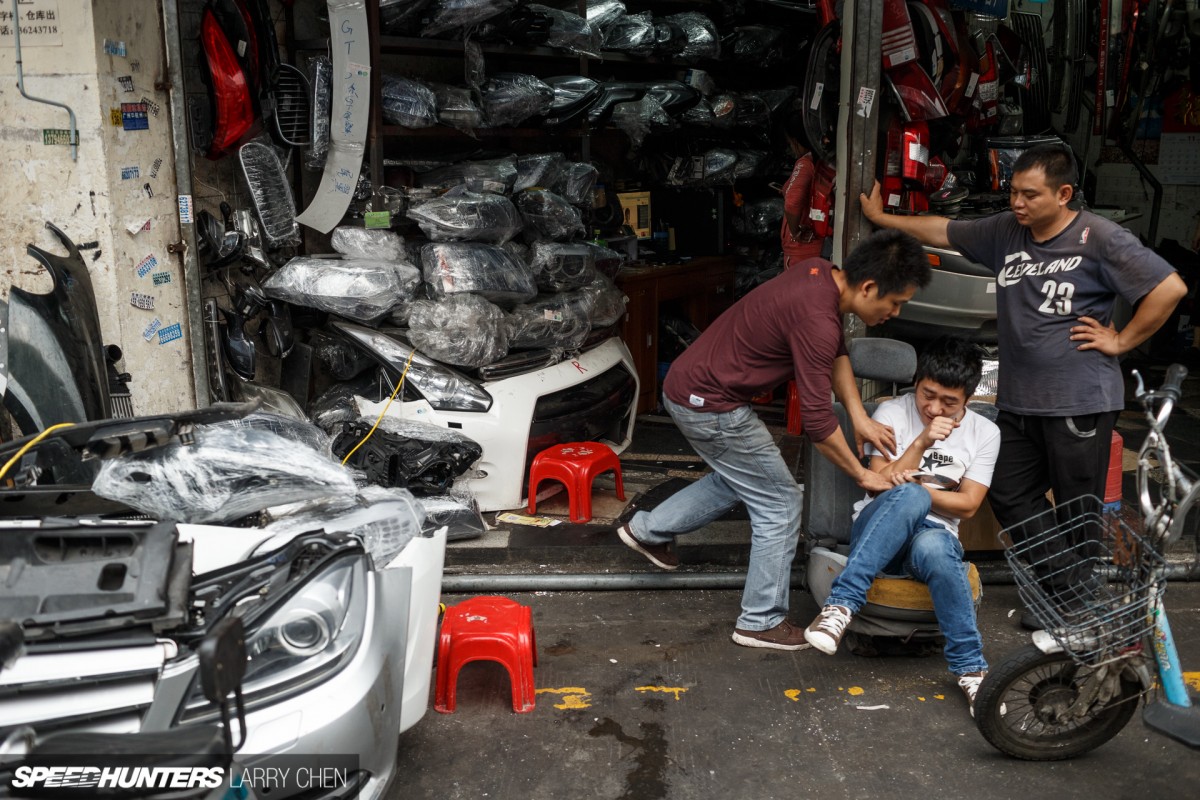 You have to pass the time somehow, right? Check out the Nissan GT-R bumper sitting there and being crushed by all those headlights.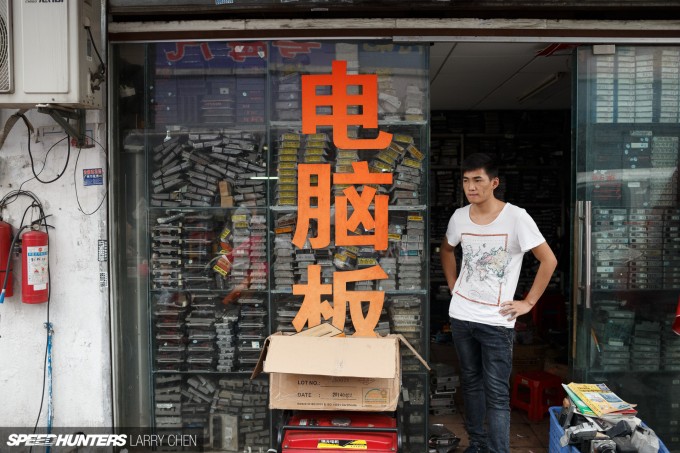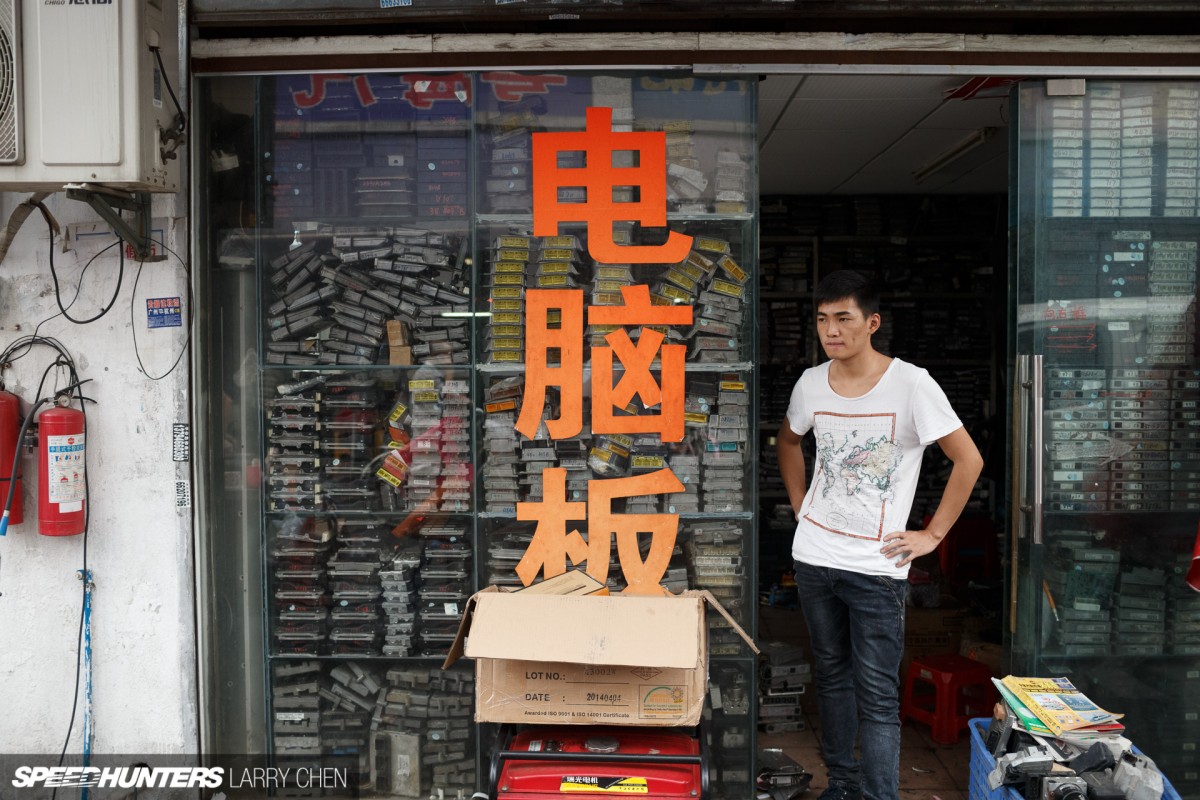 I was interested to find out what each shop specialized in. I've already shown you guys the driveshaft shop and the fire hazard fuel rail shop, but what else was there?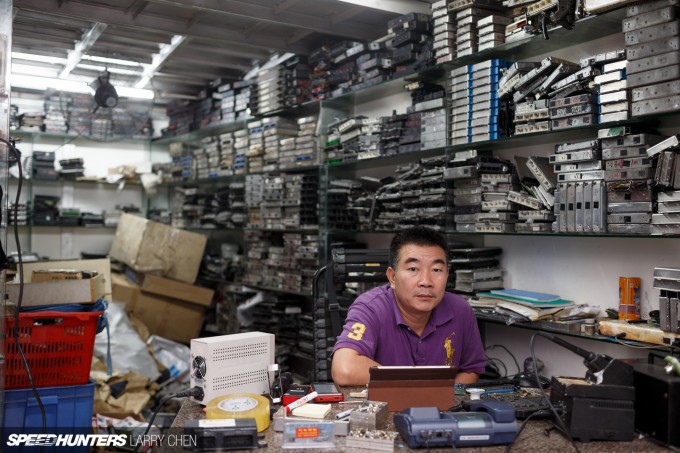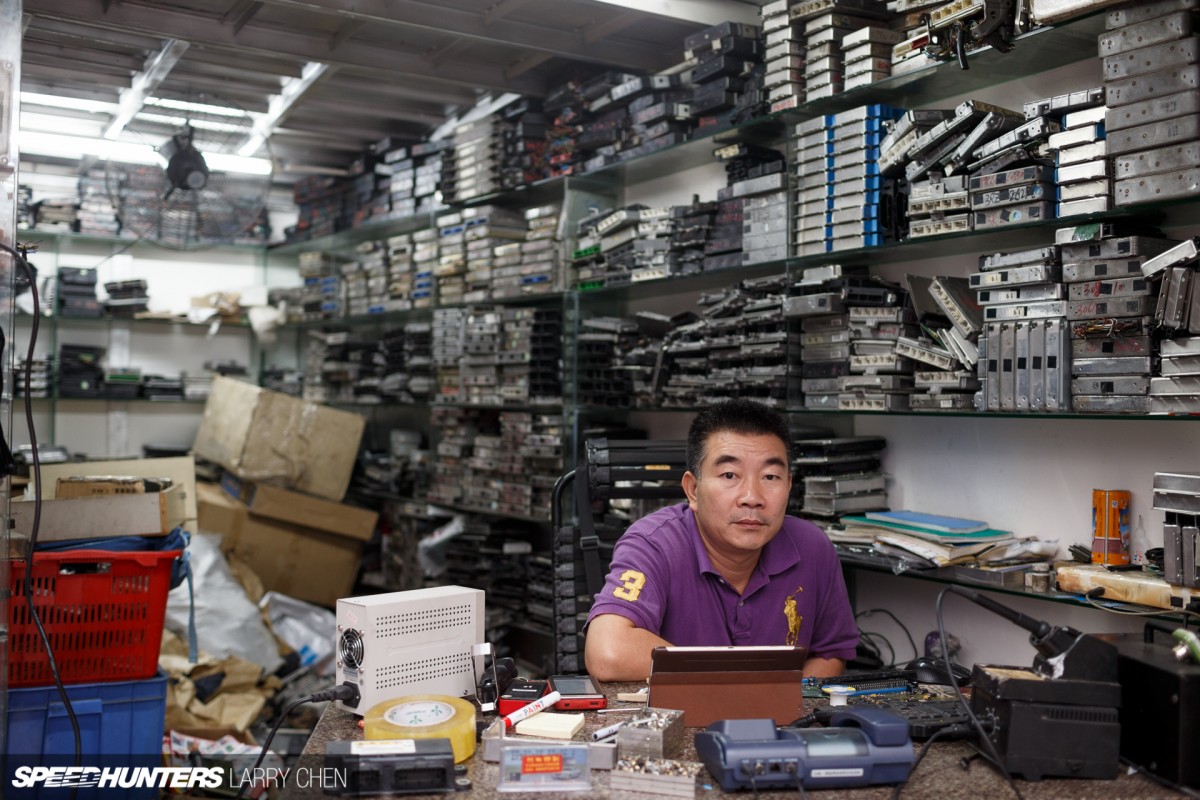 There was a shop dedicated to selling ECUs of all makes and models. This was probably one of the cleanest ones on the street, for obvious reasons.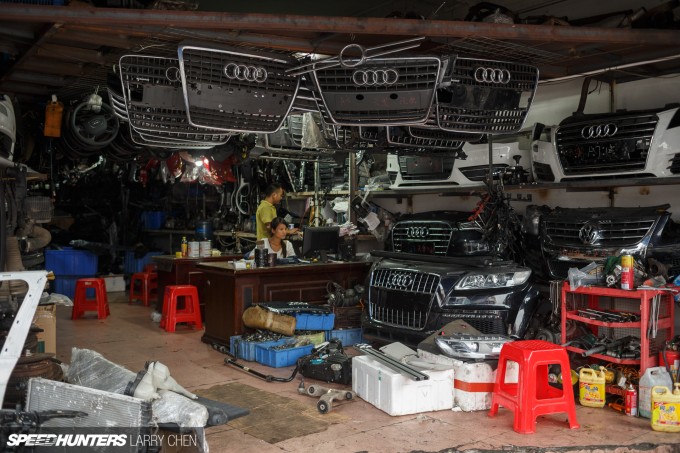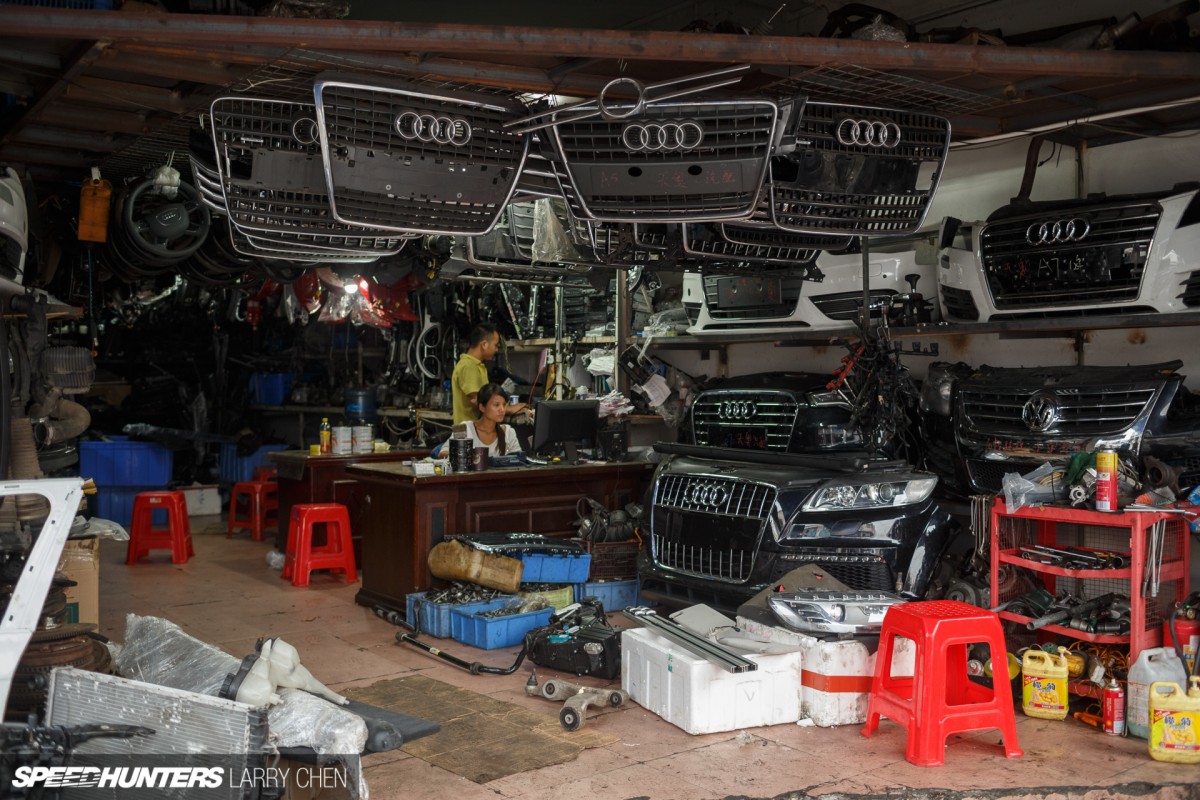 I found this Audi and VW front end store too. Audi is considered one of the most prestigious brands in Mainland China.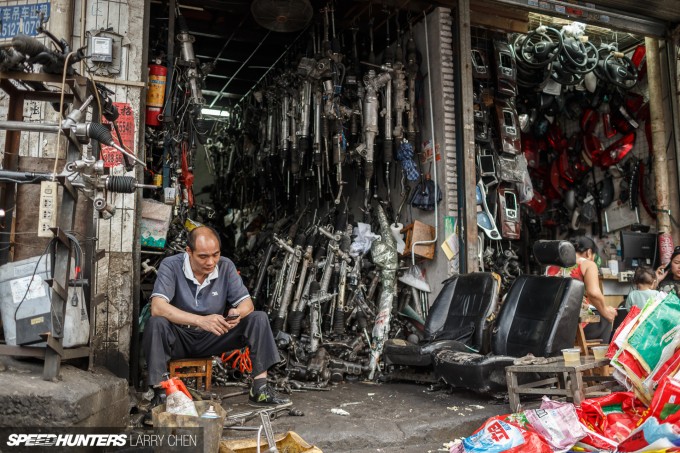 Need a rebuilt steering rack? Look no further, this guy has more racks than you have ever seen.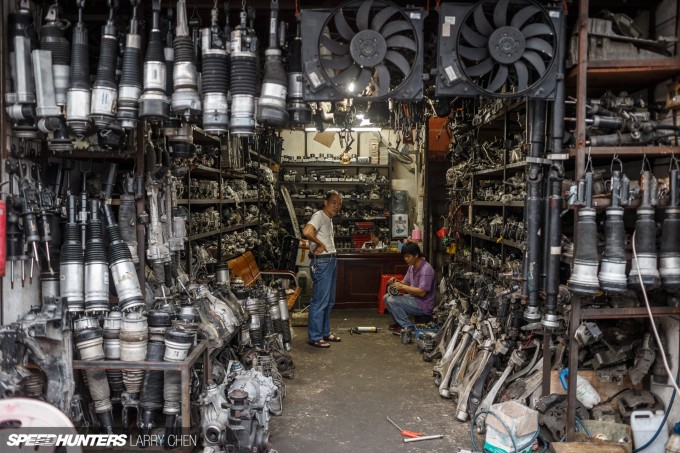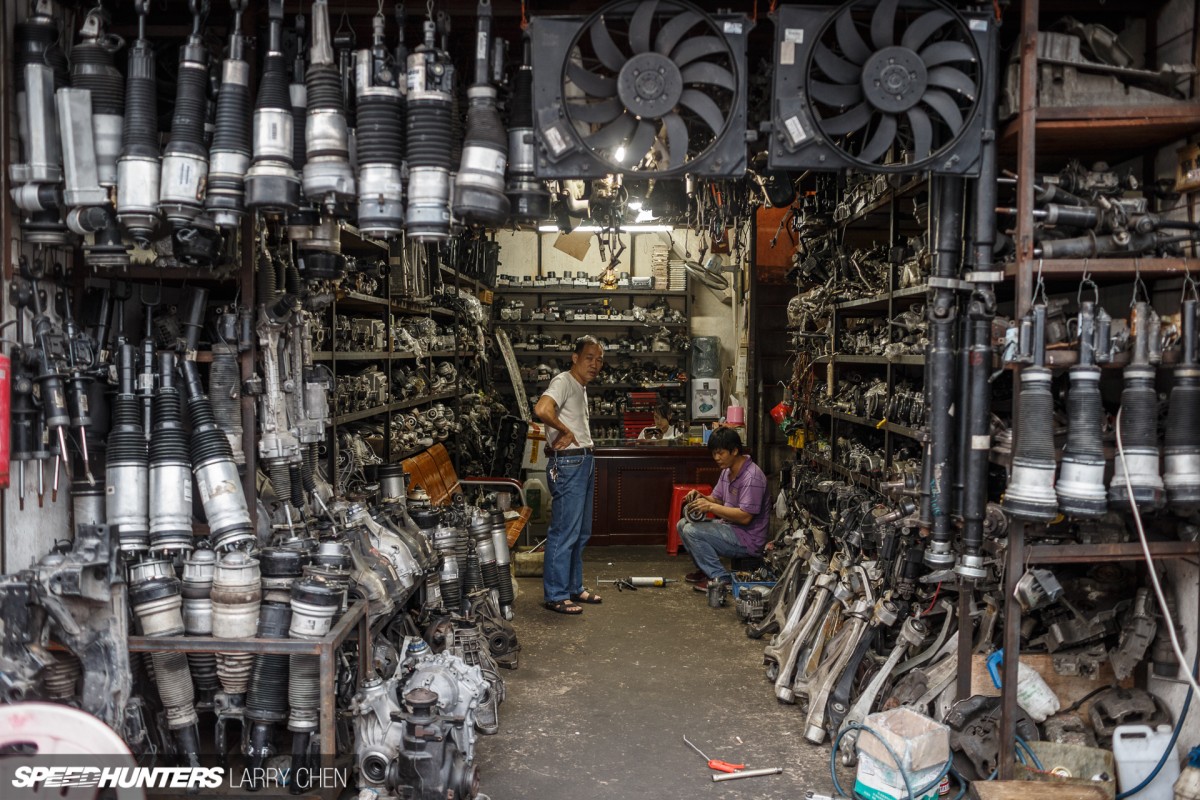 What about air suspension? No need to go to the dealership when you can just get it second hand.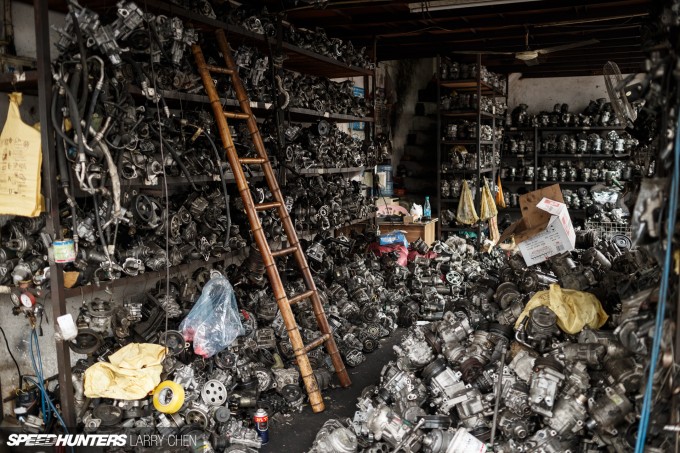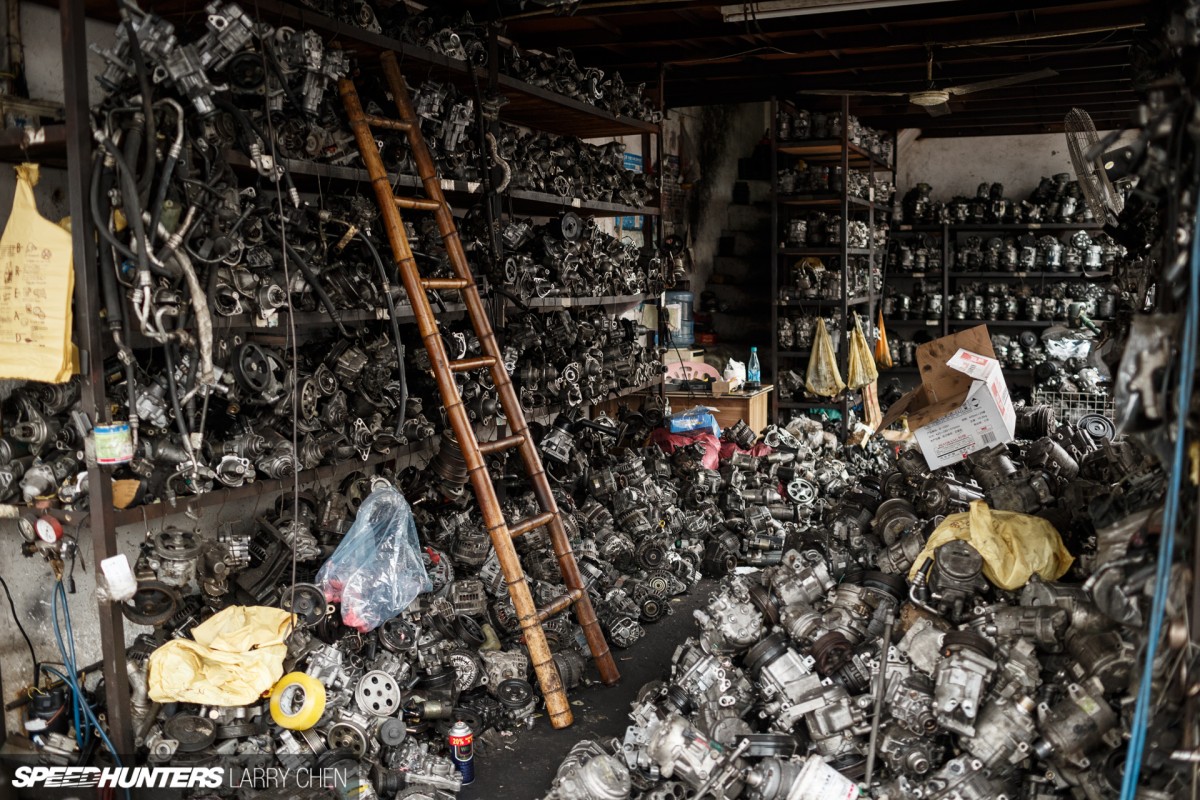 I have no idea how this alternator shop knows which one is for what car, but I'm guessing there's some sort of system in place. That wall of alternators is just waiting to fall over on an unsuspecting victim. Getting crushed by a wave of alternators is a bad way to leave this earth.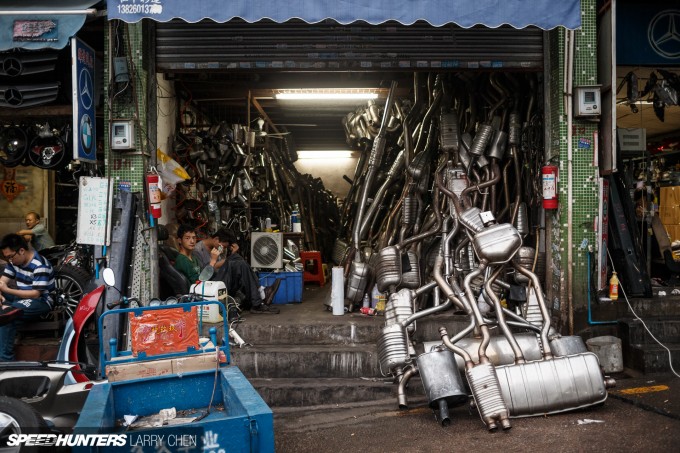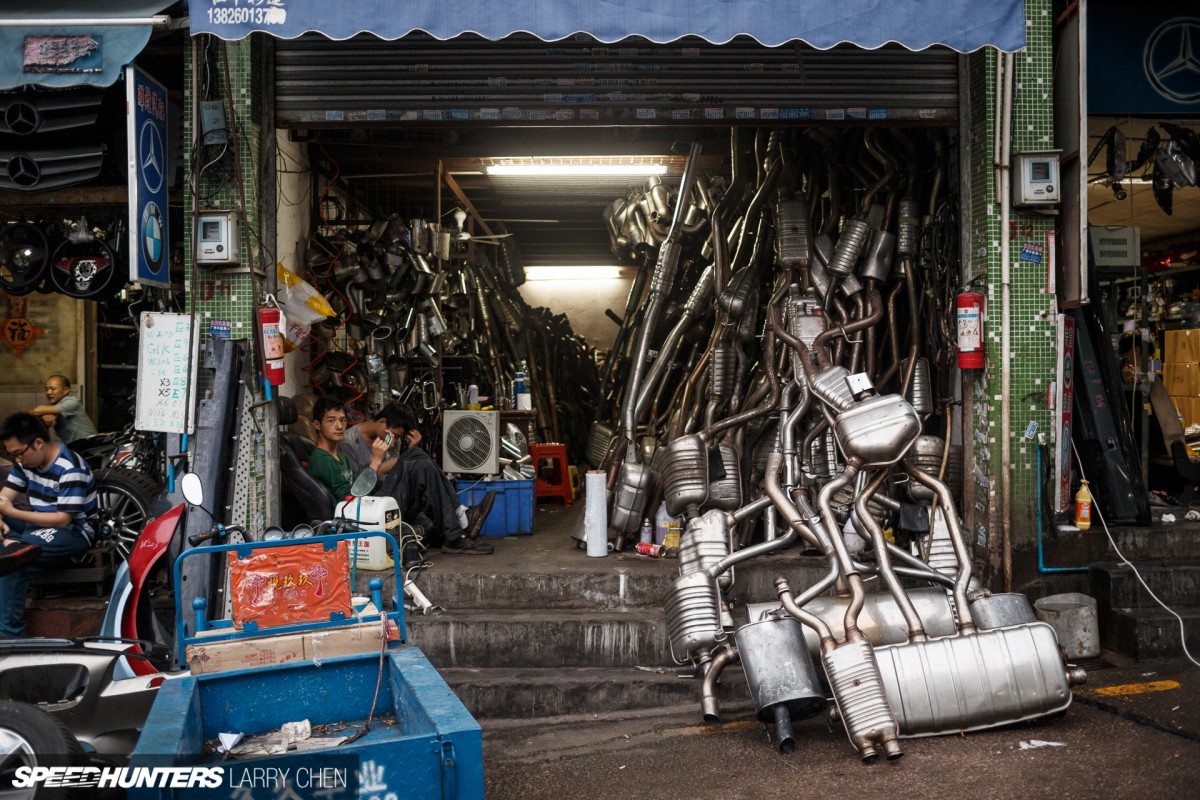 There were quite a few exhaust shops, and most of the stock they had was fully assembled. My only question is, what do they do if you need one that's way in the back?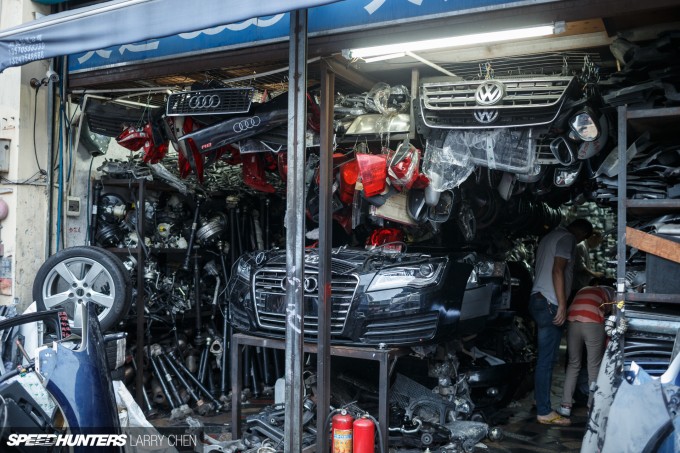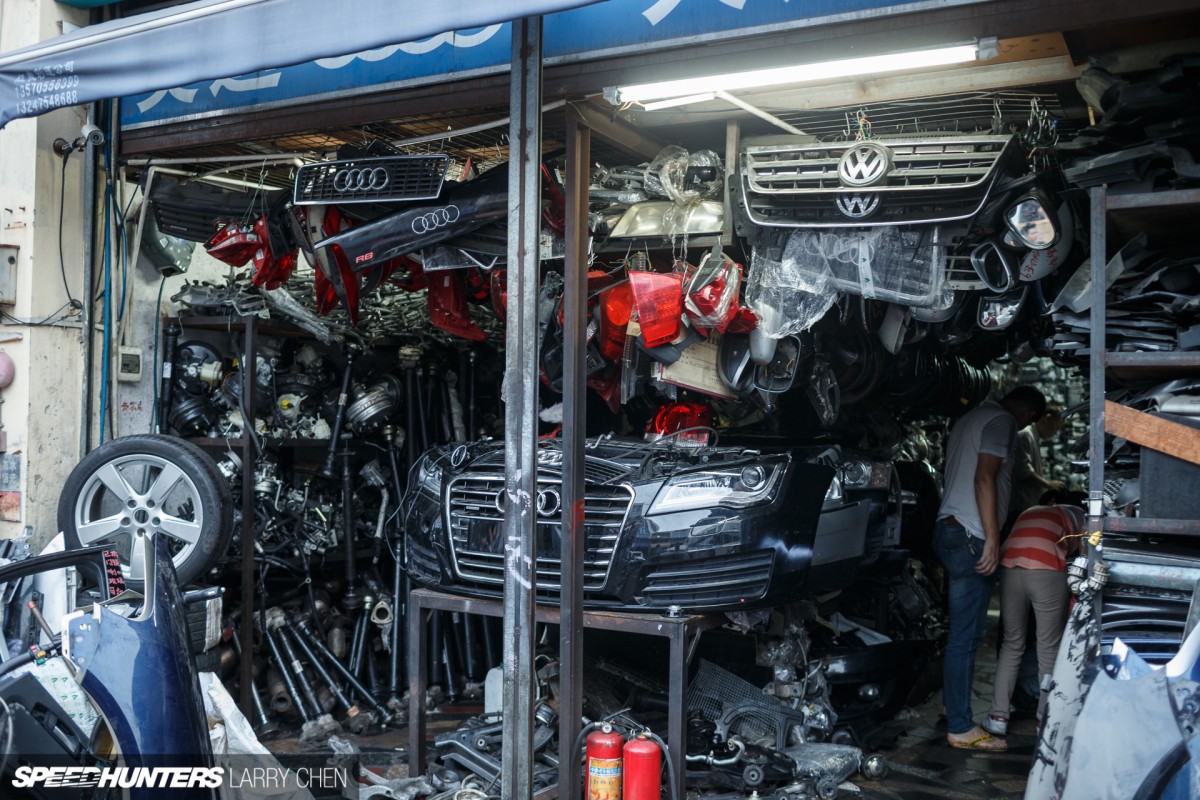 This particular shop sold pretty much everything under the sun, but good luck trying to go inside! This was a hoarder's dream palace.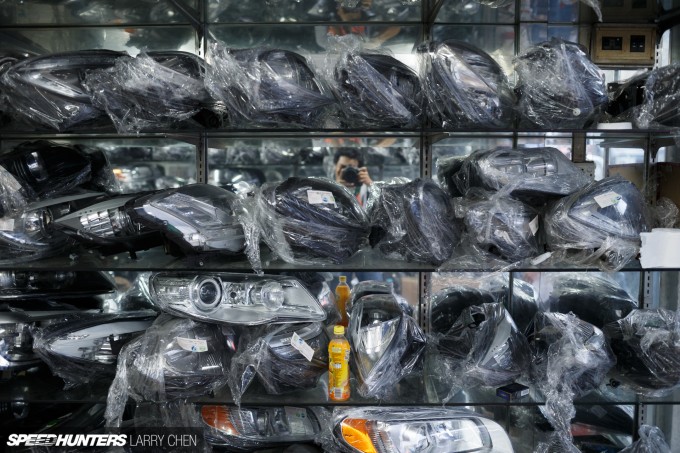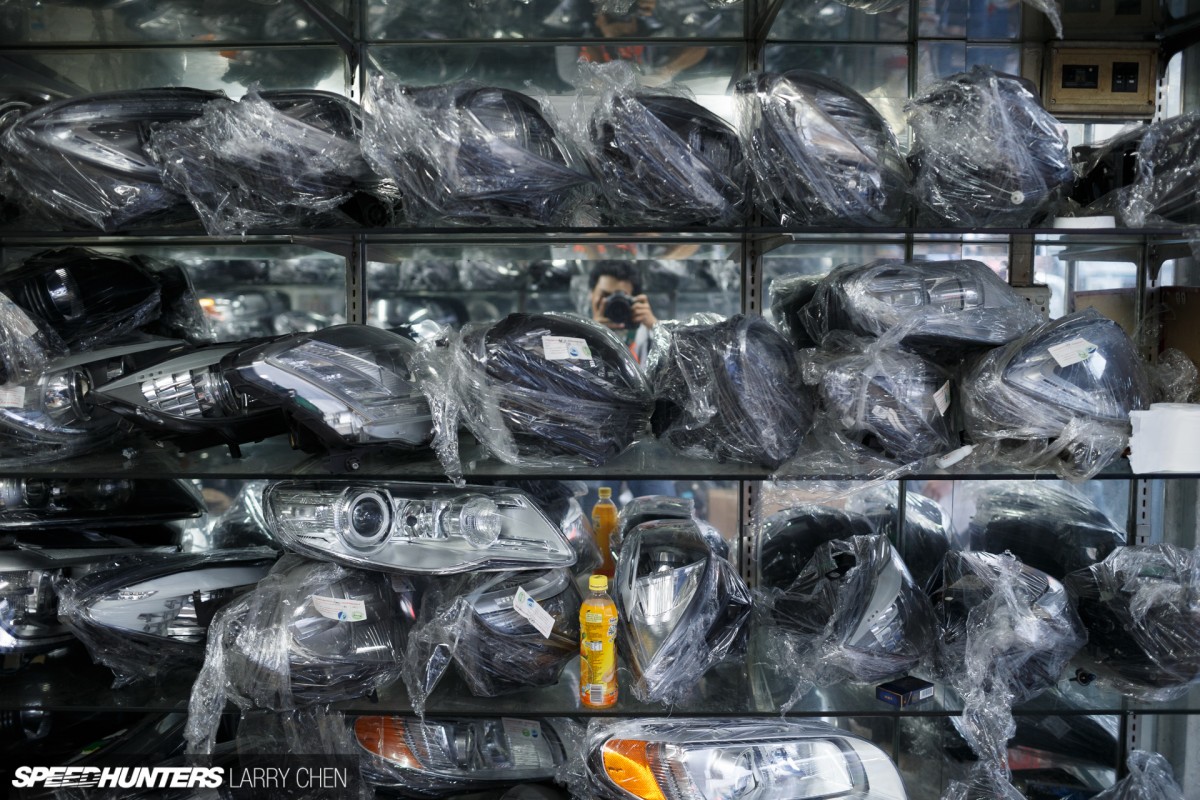 The most common shop I saw were those dedicated to reselling headlights. Because of the massive amount of fender benders that happen every day in Guangzhou, lights are the most common parts that need to be replaced.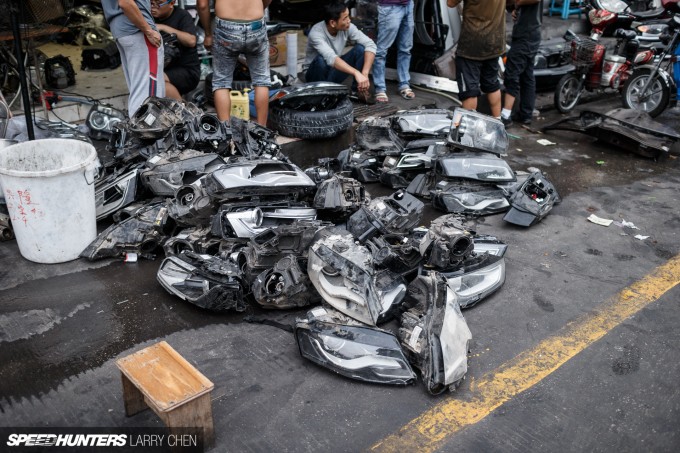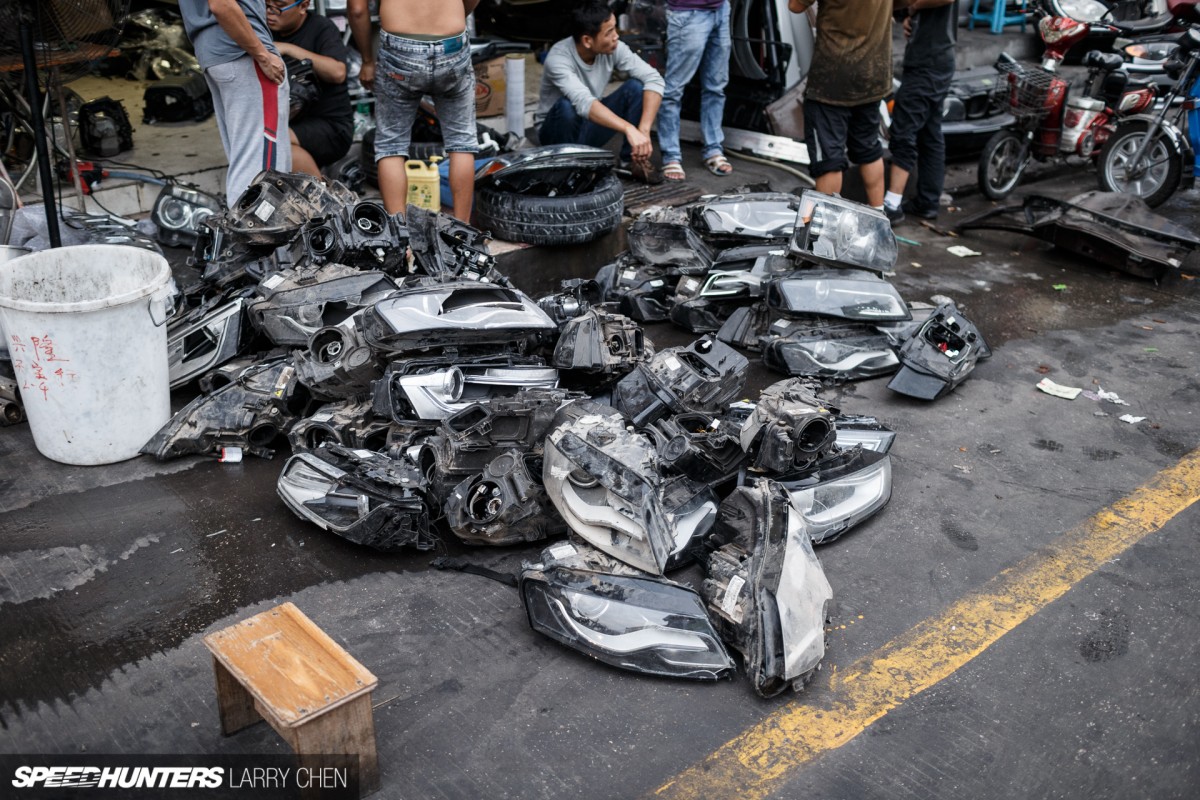 A lot of them are restored headlights that are pieced together from used parts.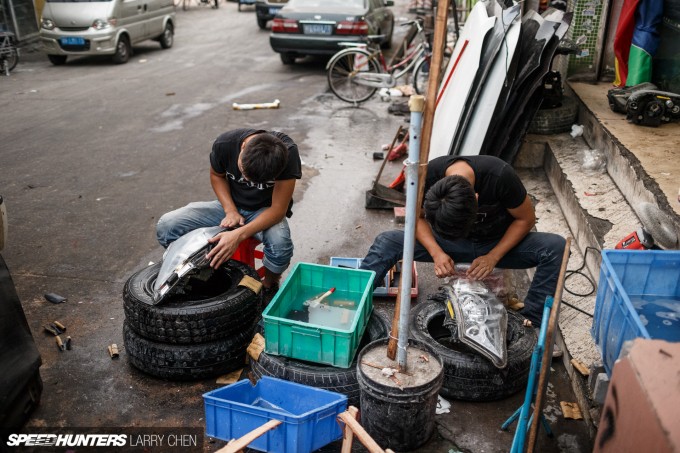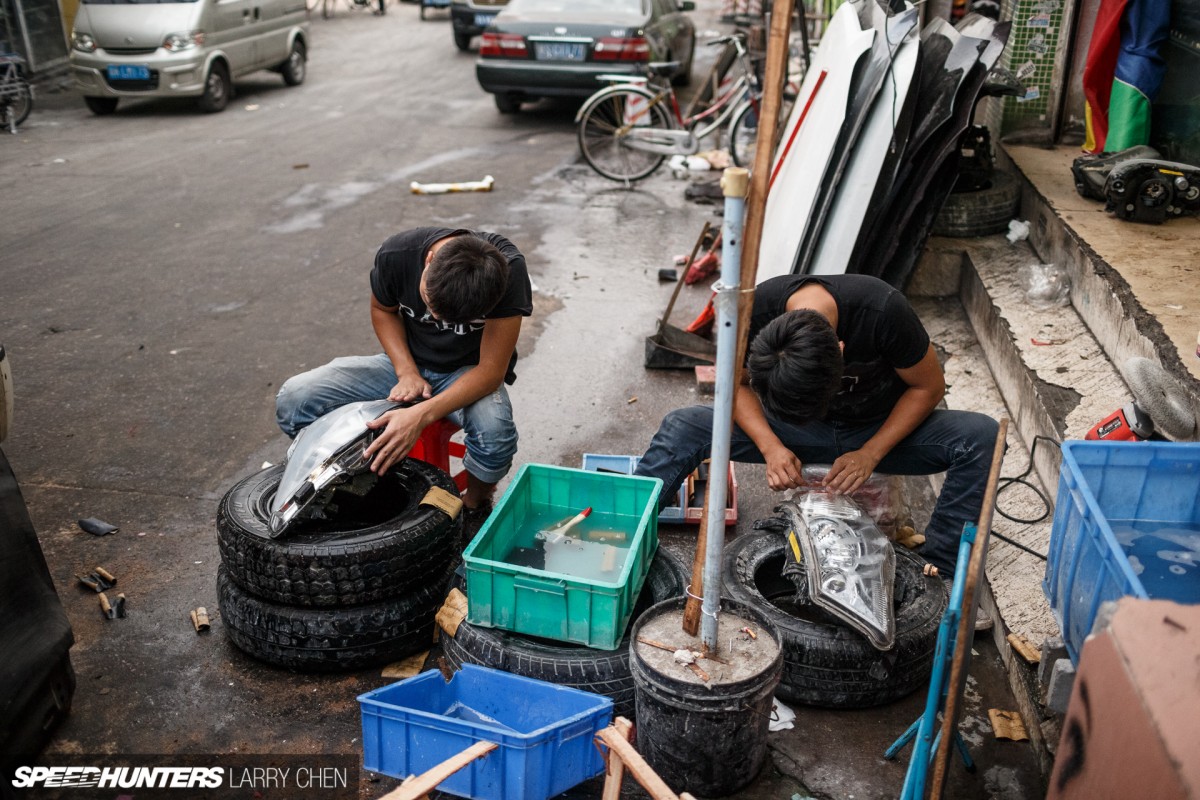 One by one they are restored back to their original clarity.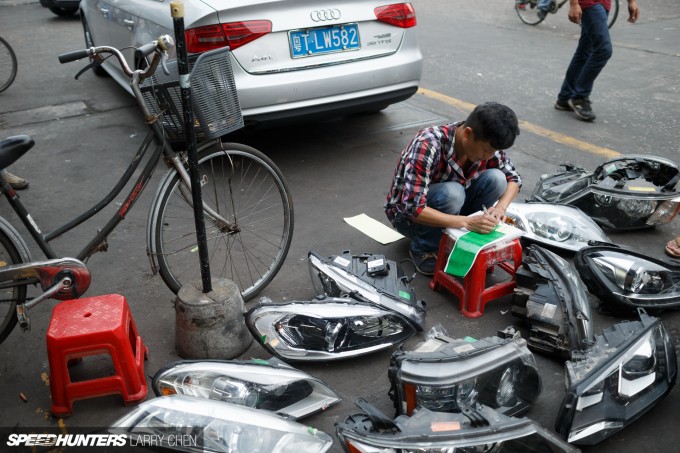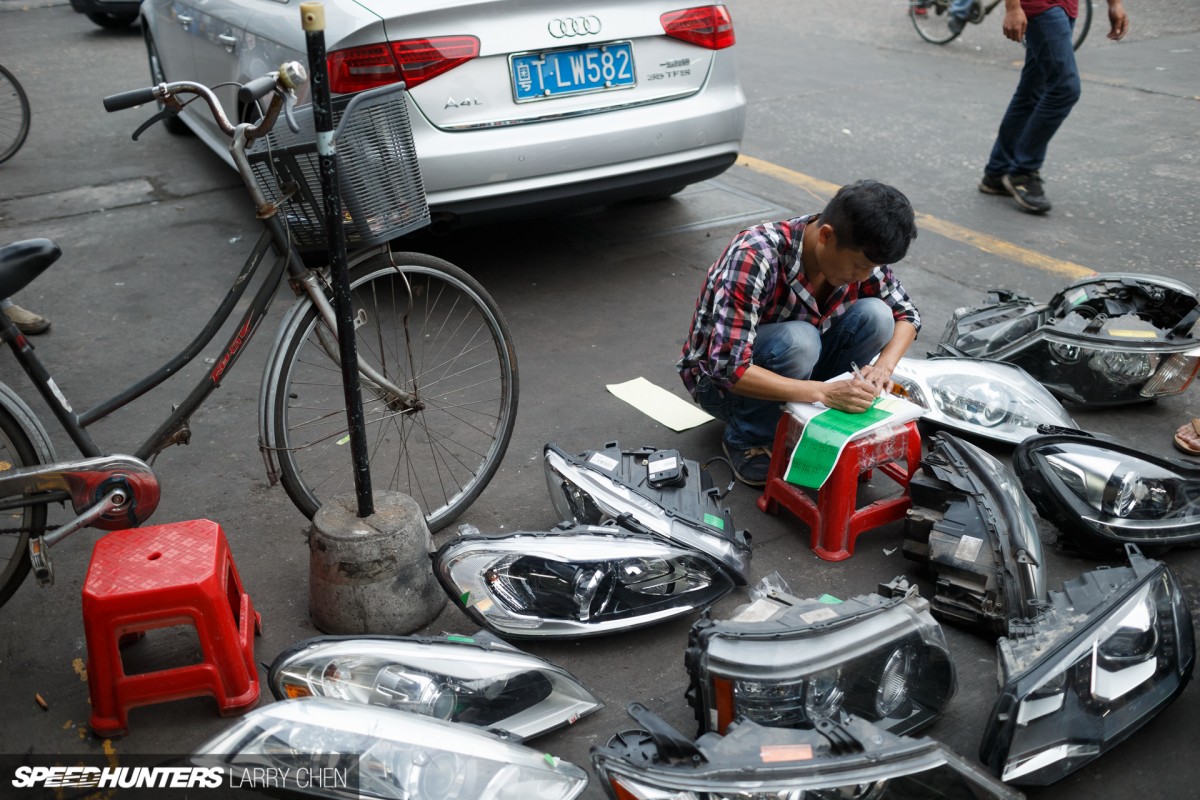 Each one is then labeled and priced ready for display. They're pretty much perfect and sold for a fraction of the new OEM price.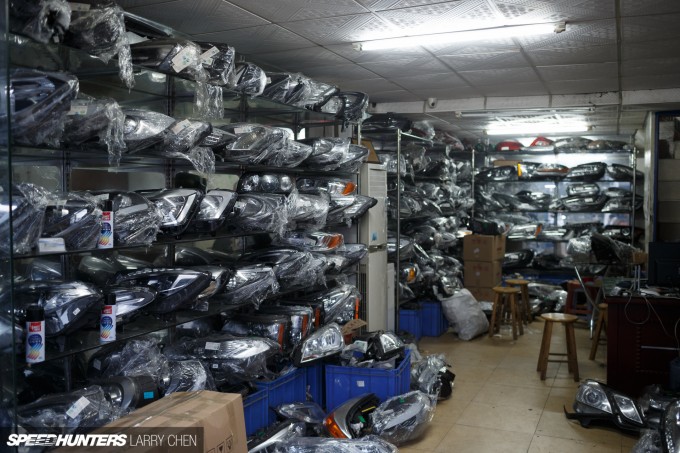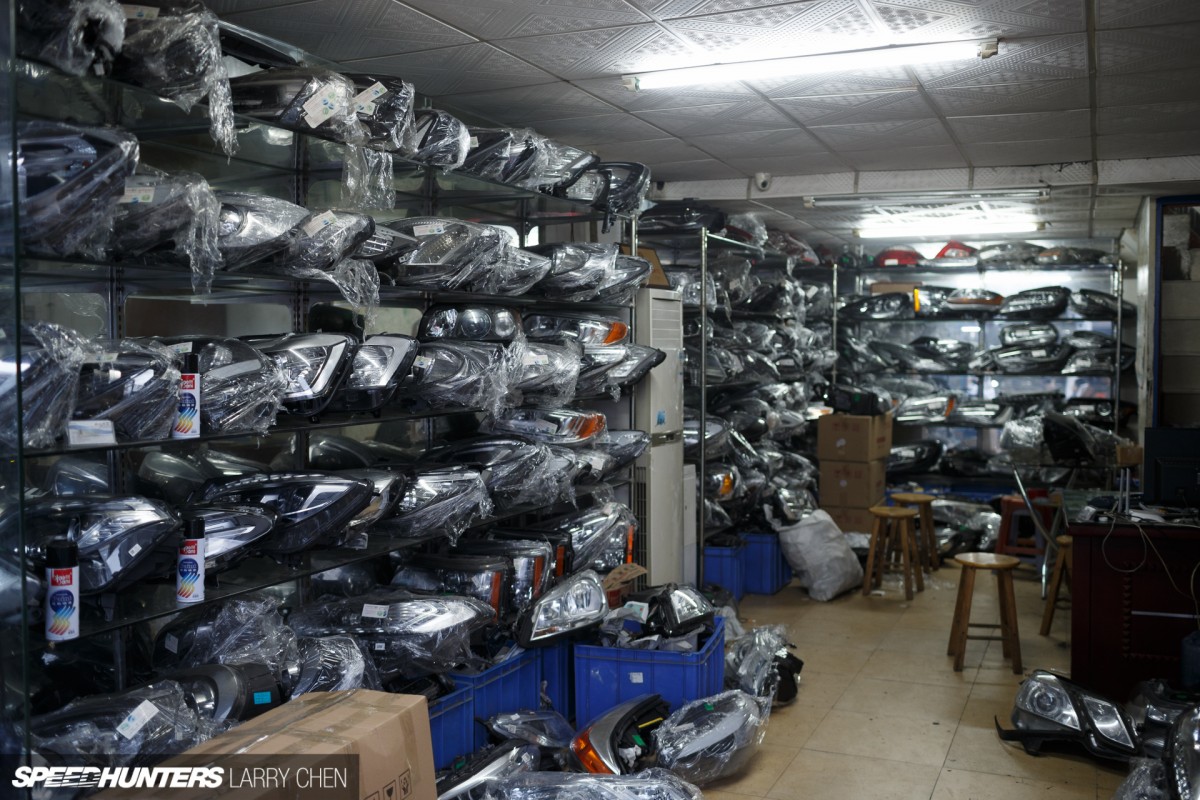 Out of all the stores we went to however, we could not find a single S15 headlight. That was not a big deal though, as it was just a cosmetic item really.
Hungry?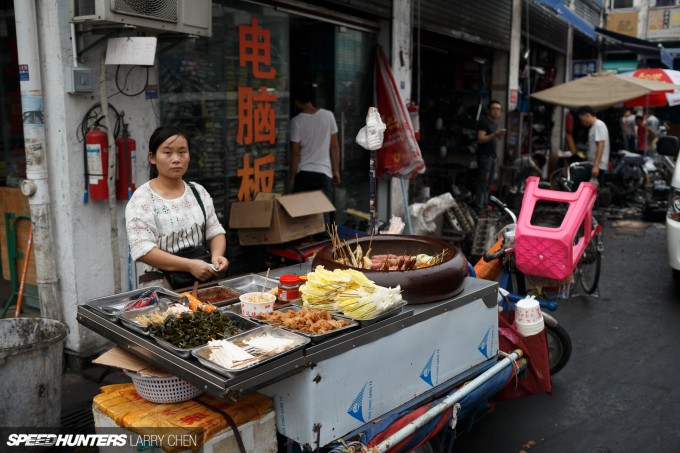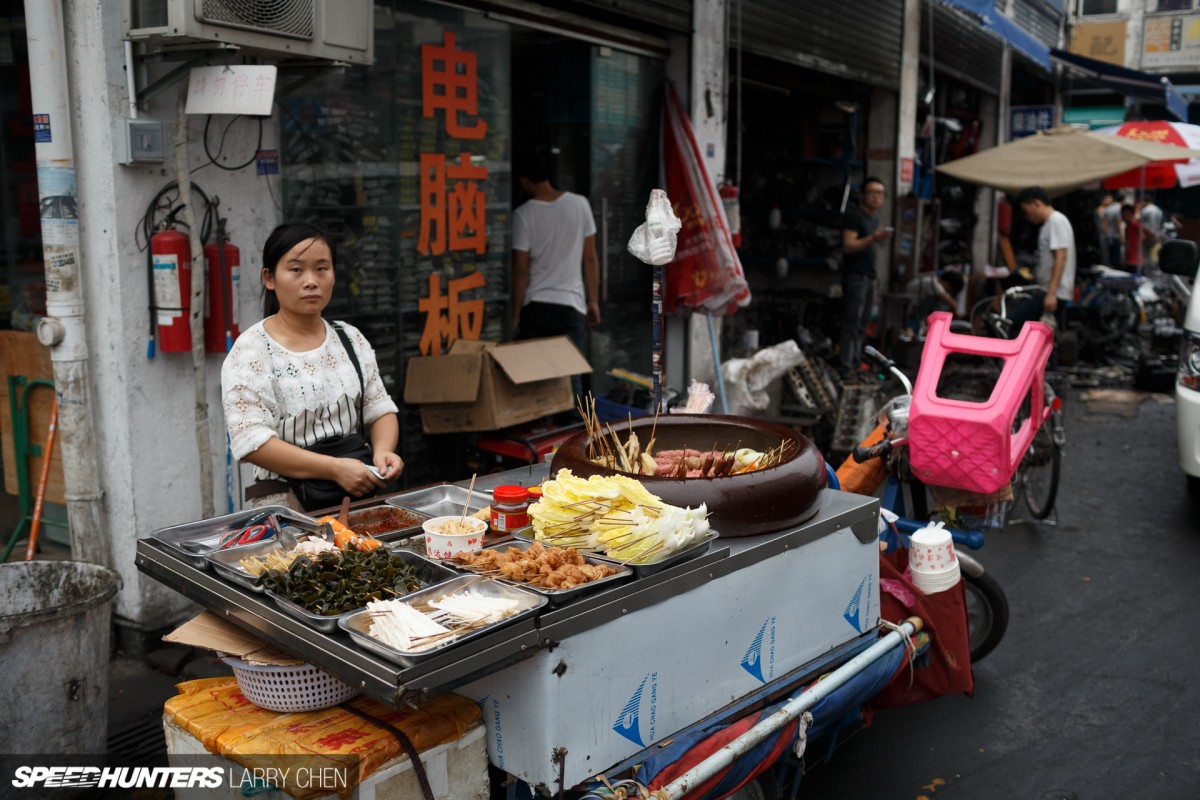 When you get hungry from all the shopping there are food carts everywhere with some tasty street meat for you to try. Yum.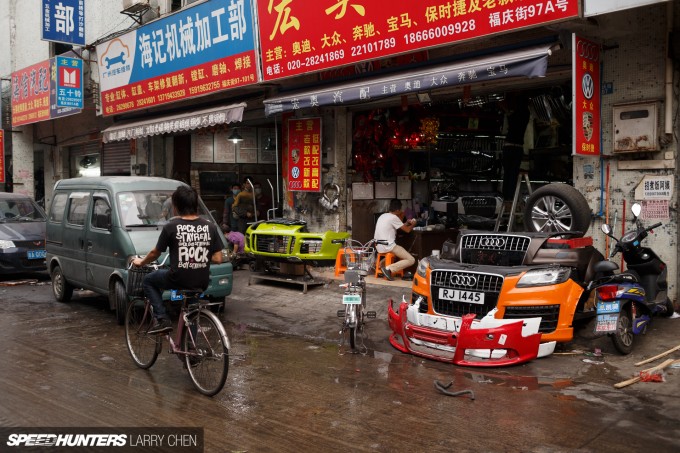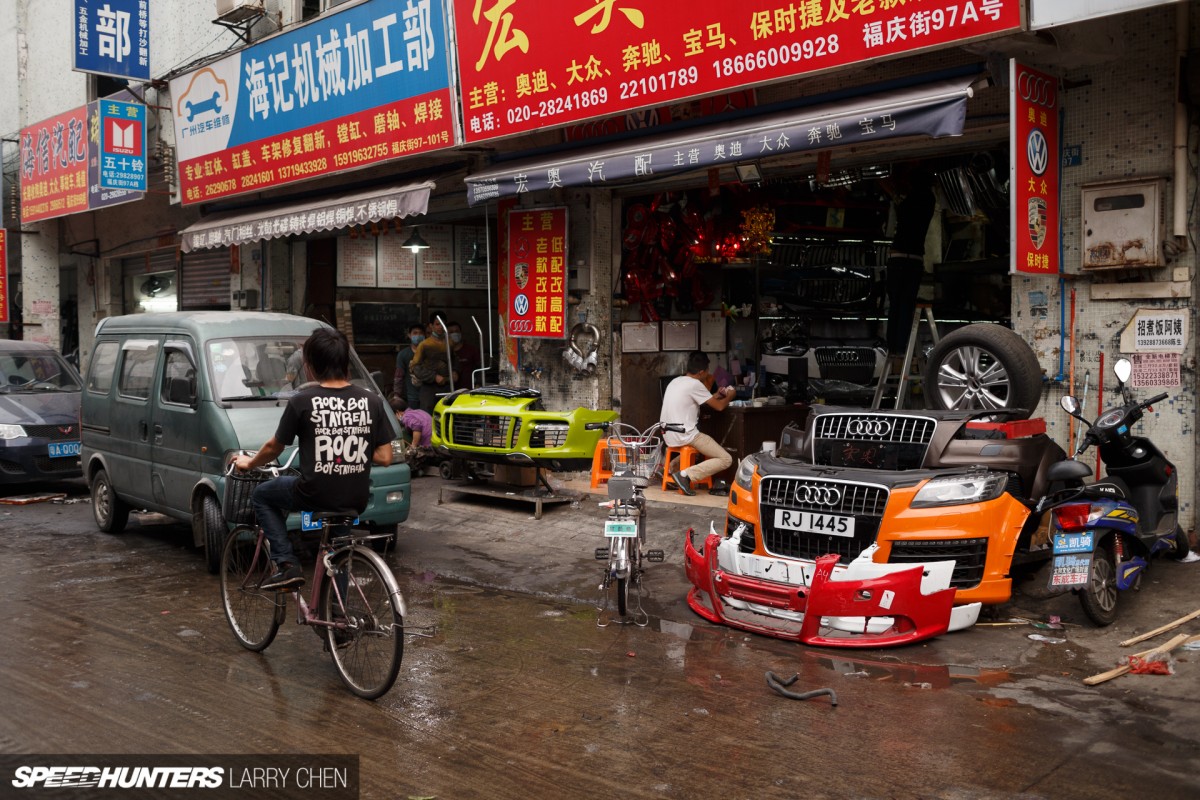 Also interesting was the way the shops often blended into the street itself. As if the road was not narrow enough, the spaces out front of the shop were used to display items.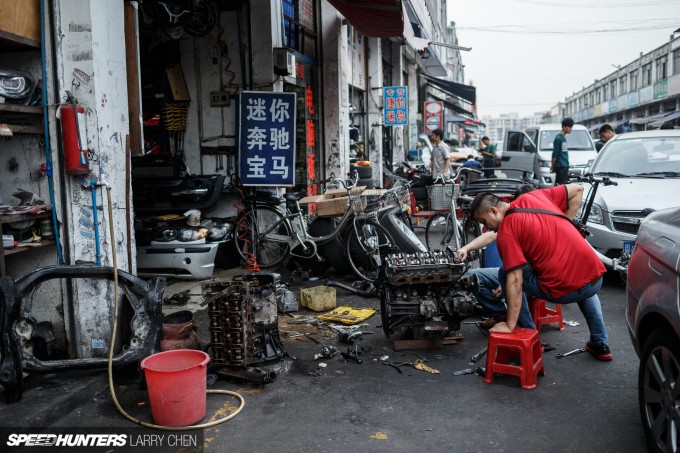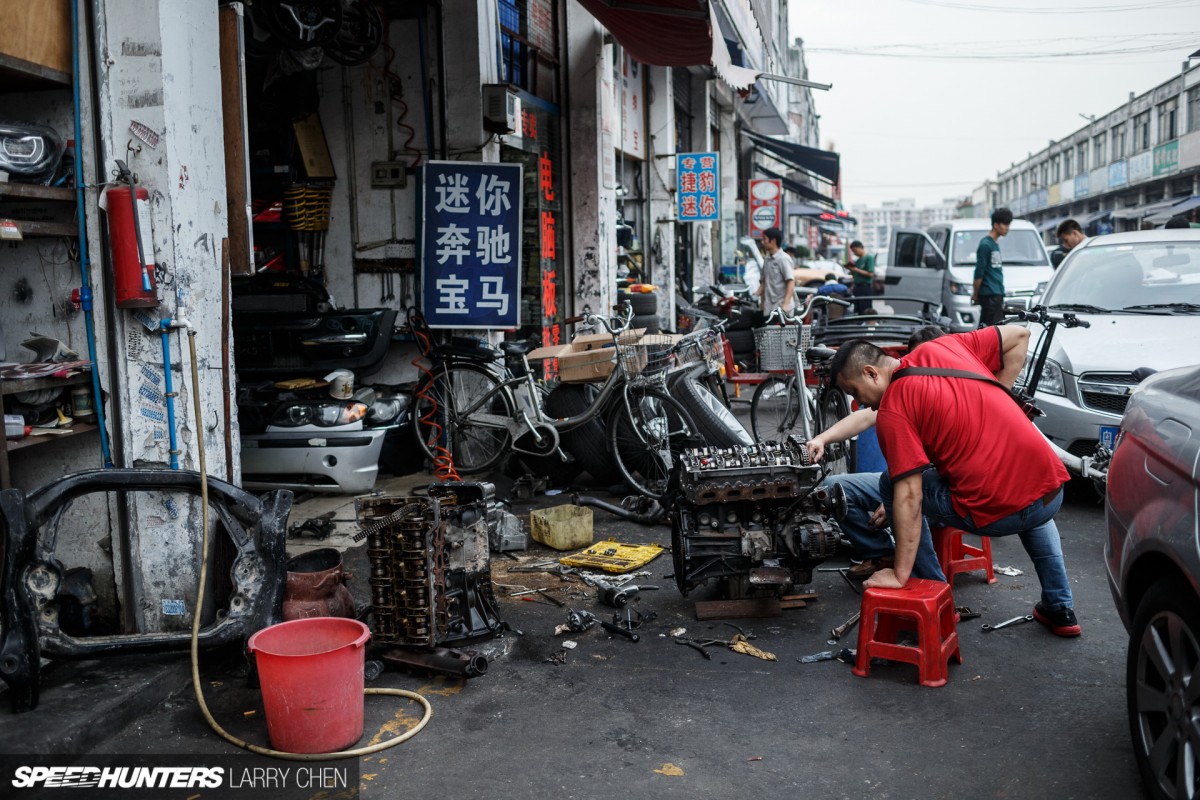 In some cases it was also used as a full-on workshop. These guys even had an engine building area. Who needs a clean room, right?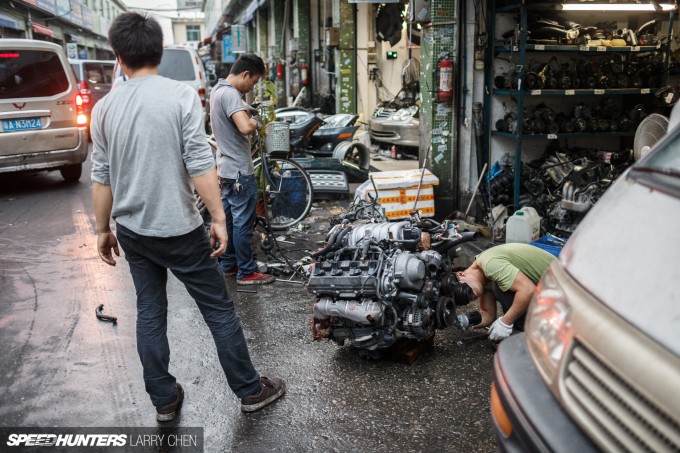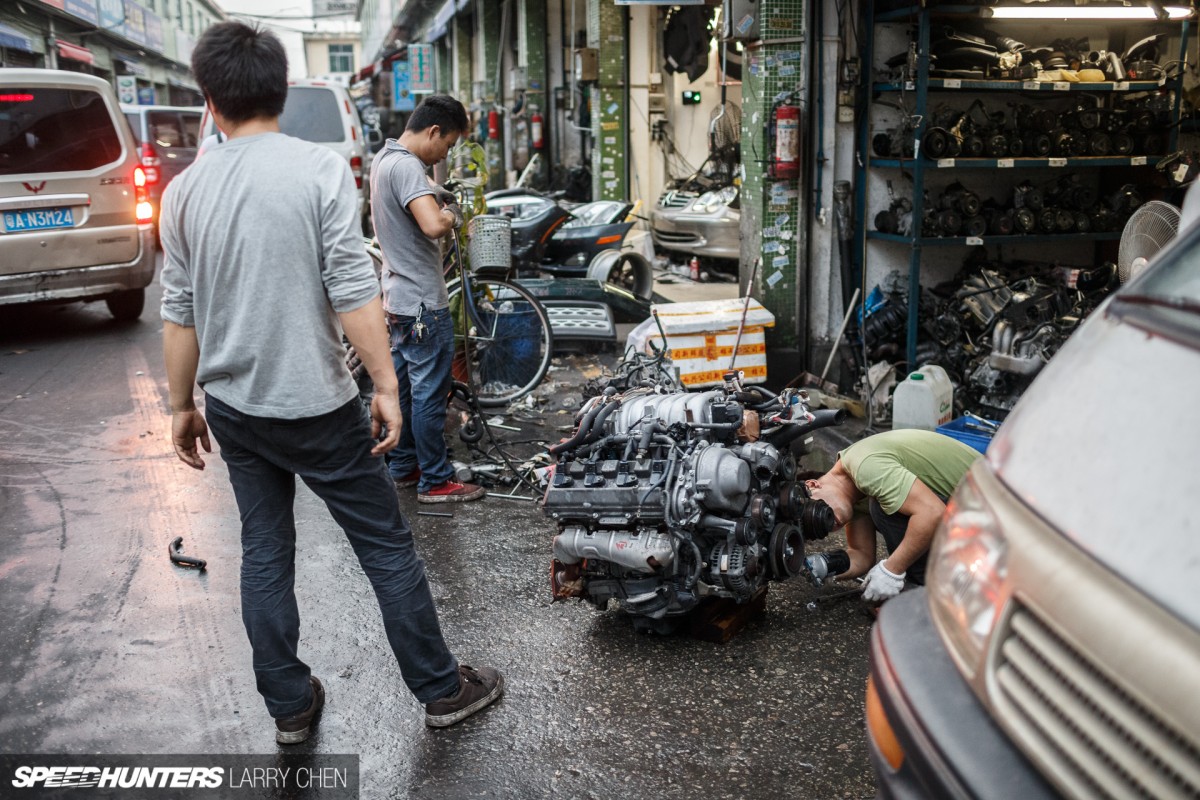 No cherry picker? No problem. No engine stand? Just put it on the ground. Compression test it and sell it for profit. Done.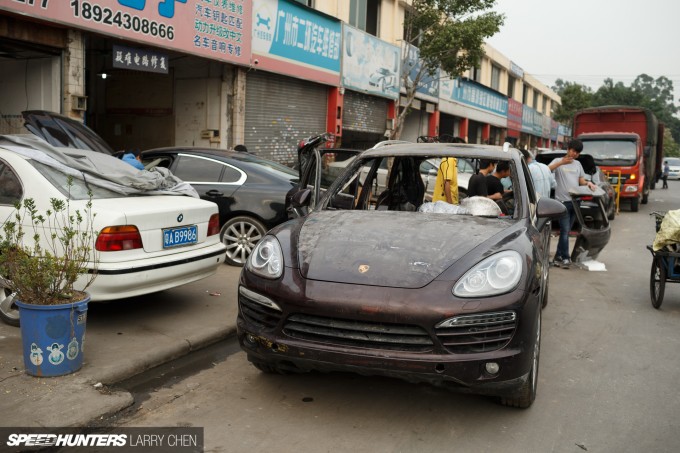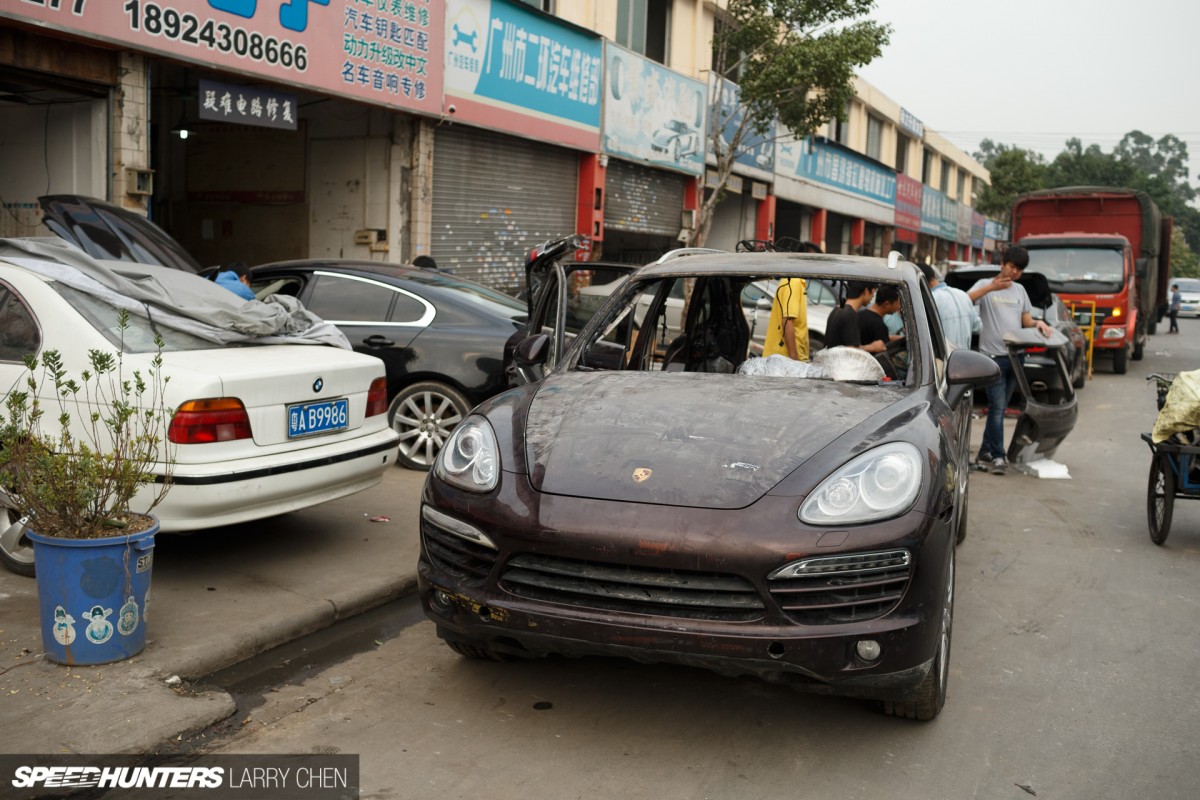 Apart from restoring headlights and engines, I also saw these guys piecing back together a fully burnt out Porsche Cayenne.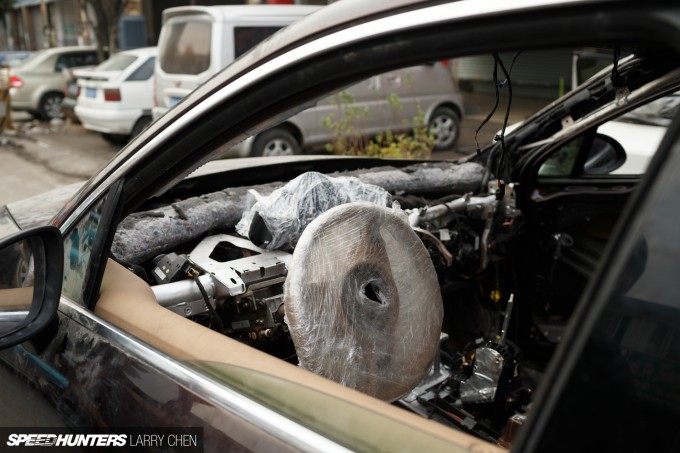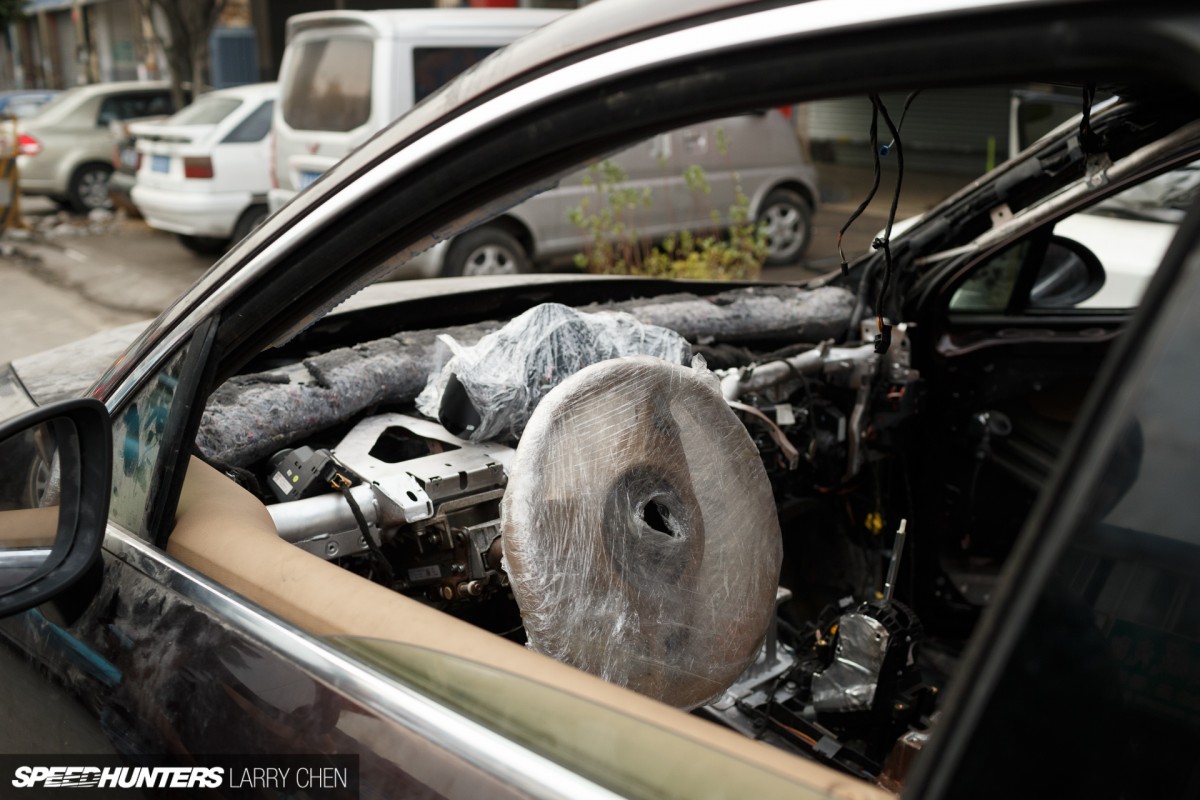 There are no laws about working on your car on the street, and with a new interior and a fresh coat of paint this Porsche will be ready for the showroom floor once again.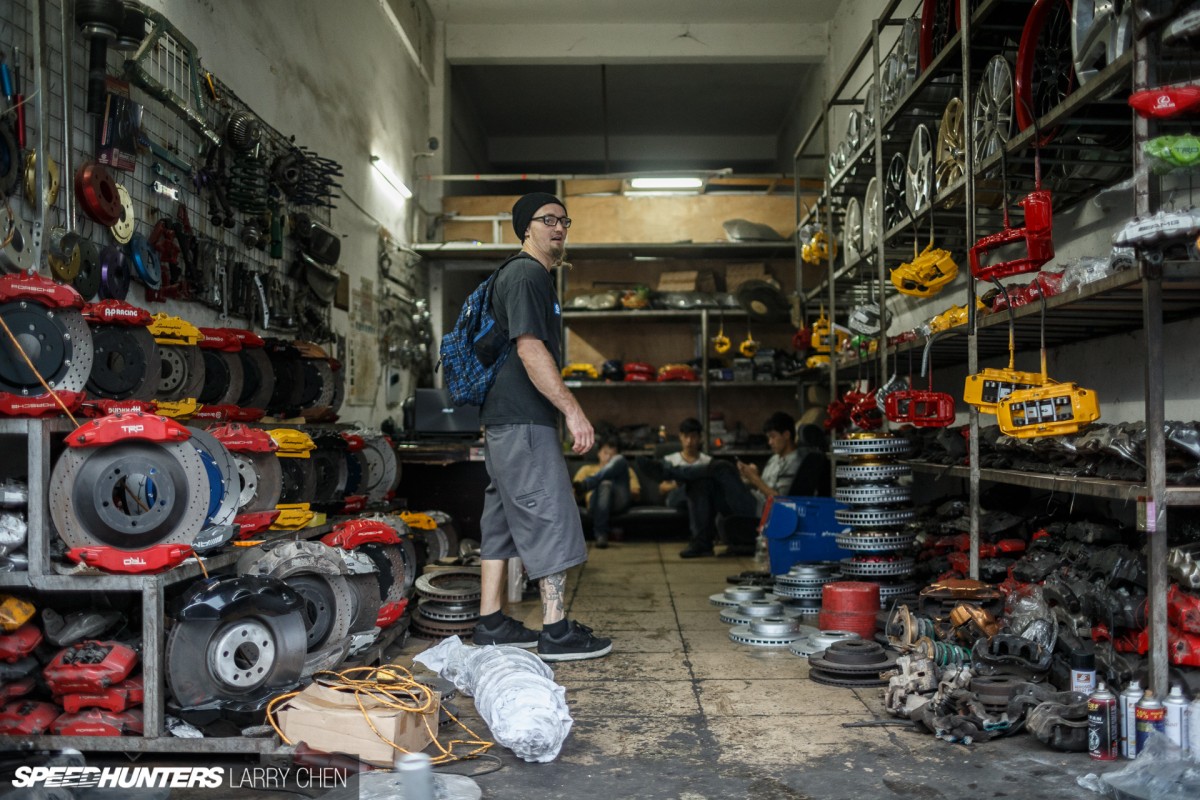 Of course, the real reason why Ross and I went out there in the first place was to find an S14/S15 driver's side knuckle. And soon enough we found some shops that seemed to specialize in performance parts.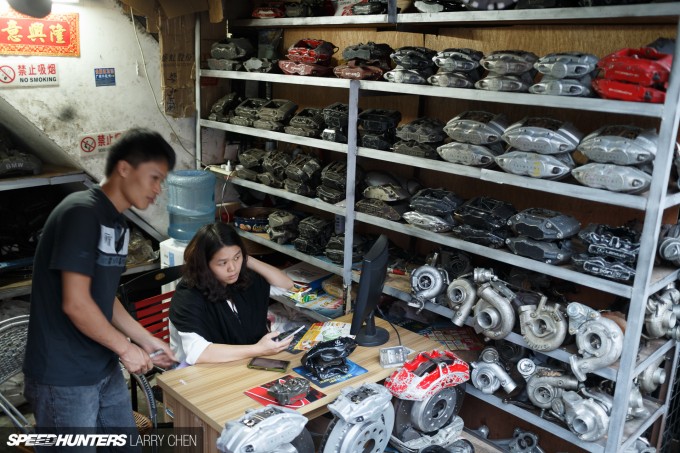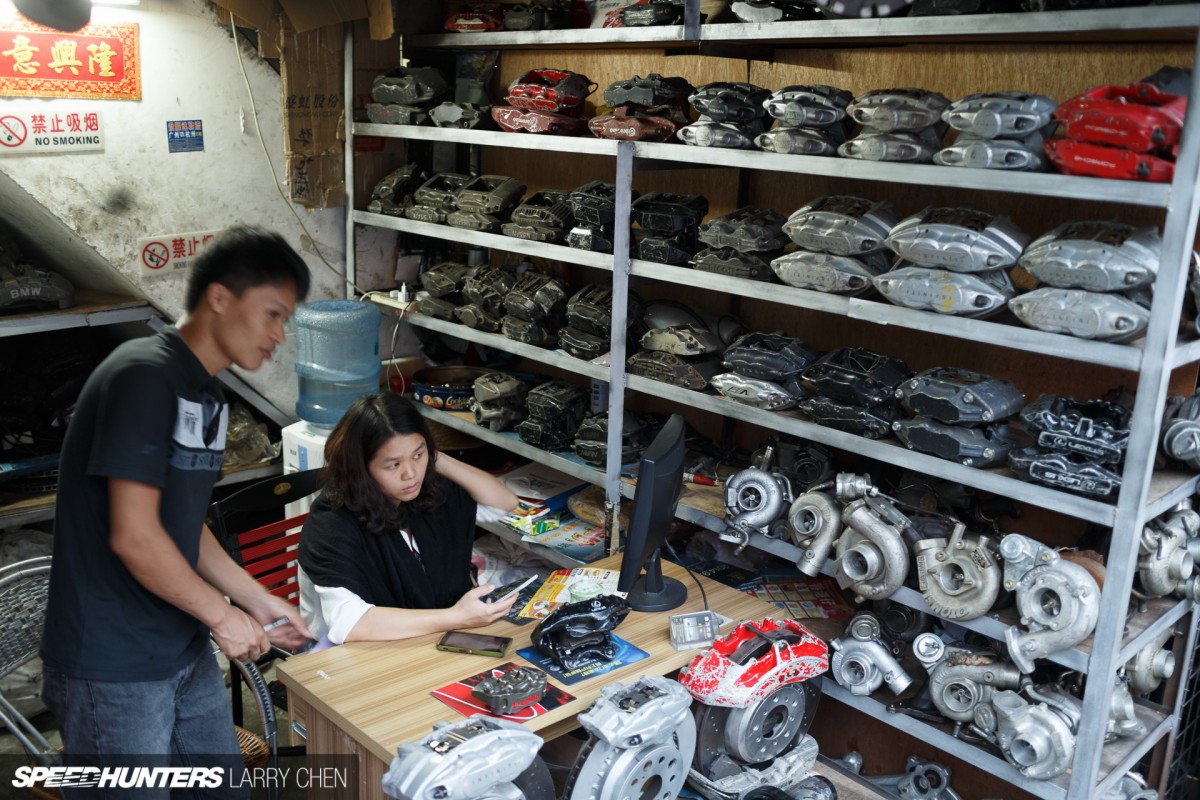 I couldn't tell if the parts were genuine or not, but it seemed like most of the brakes this shop had for sale were OEM, many of them restored and repainted.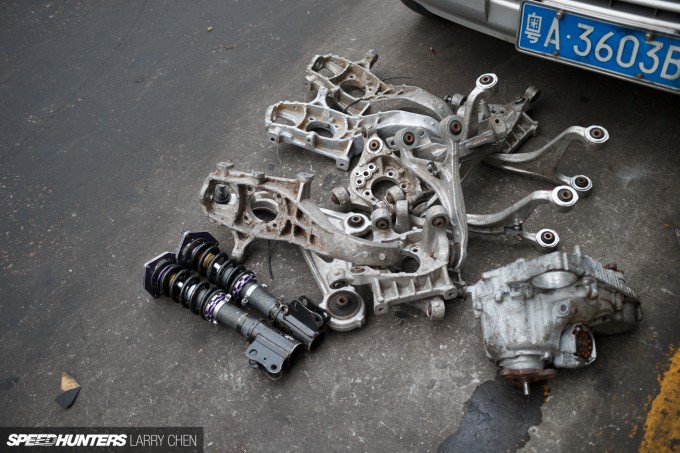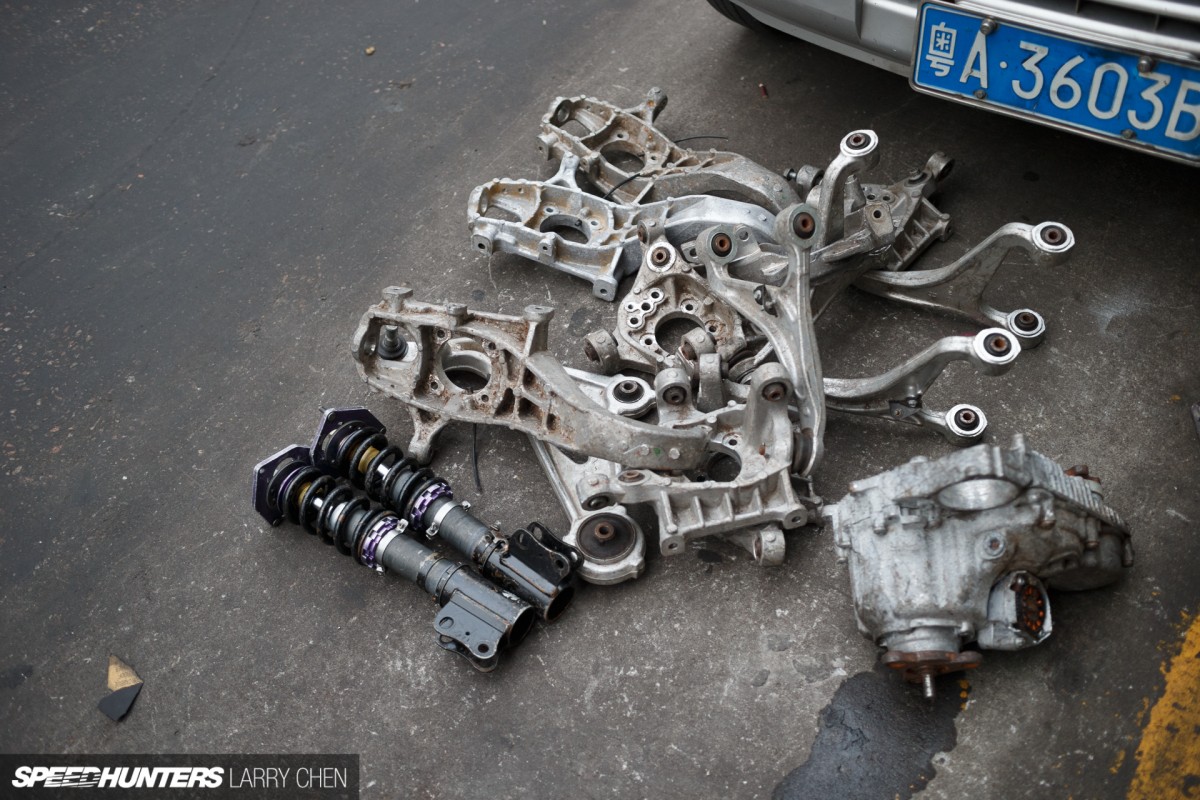 There were also a bunch of Nissan suspension parts laying out on the street.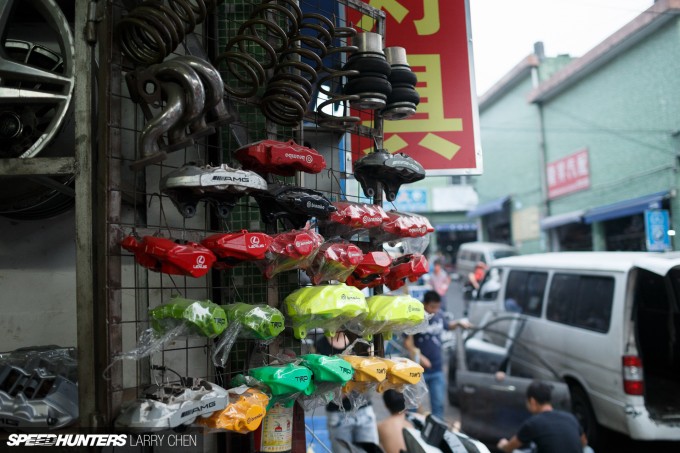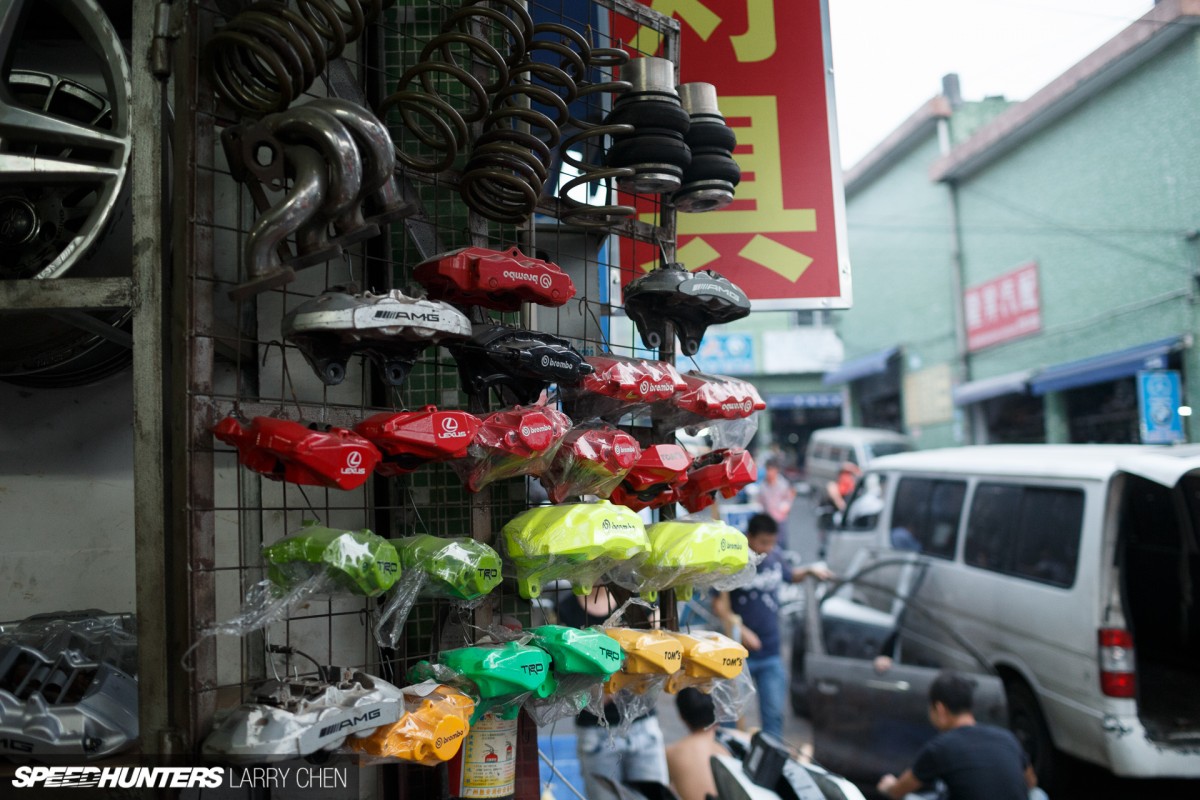 I am at a loss to explain why shops were trying to sell all of these brake calipers and rotors. While I get that there is a demand for OEM parts, how is it that these shops know what brakes will fit on what car?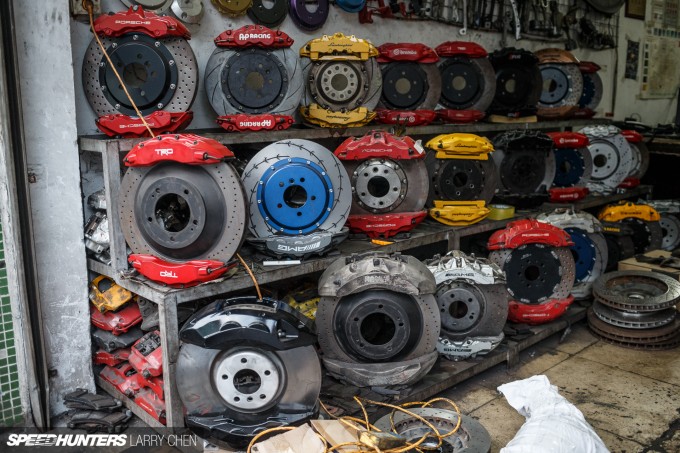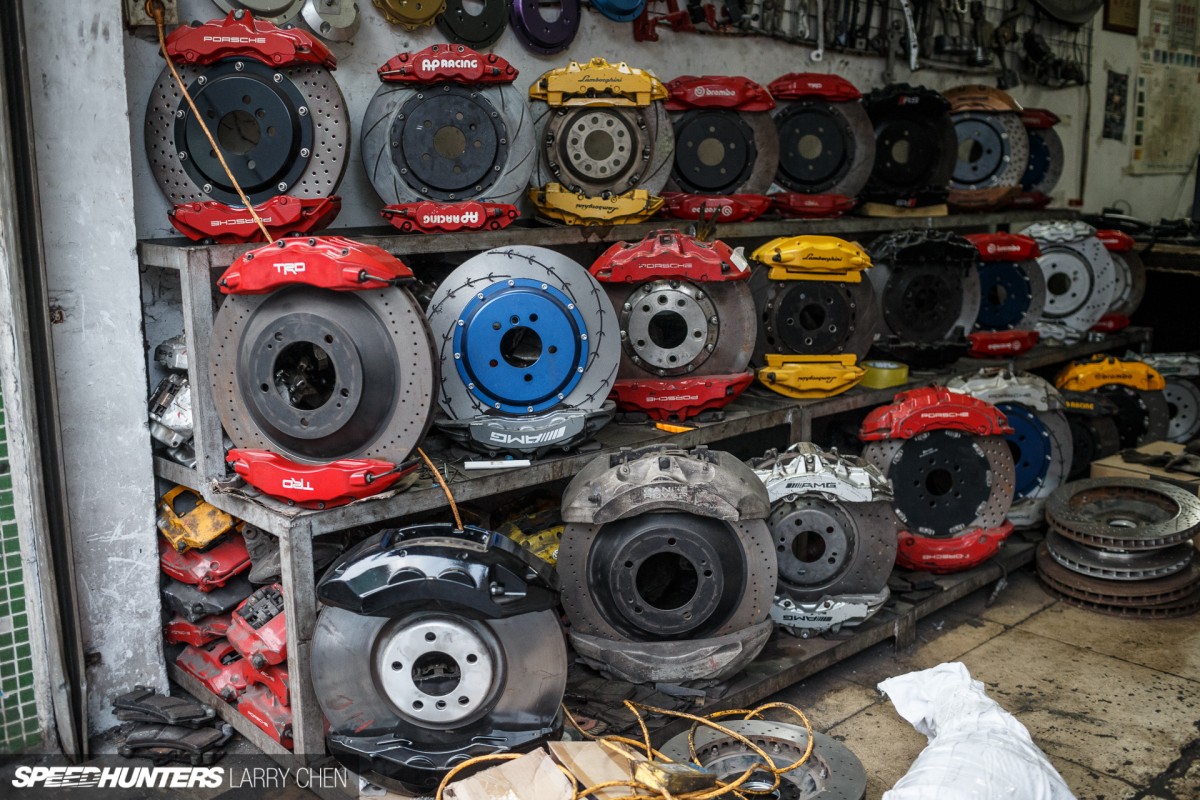 With that said, besides the headlight shops and the ECU store, how is it that anyone on the block knows what they have in stock or not?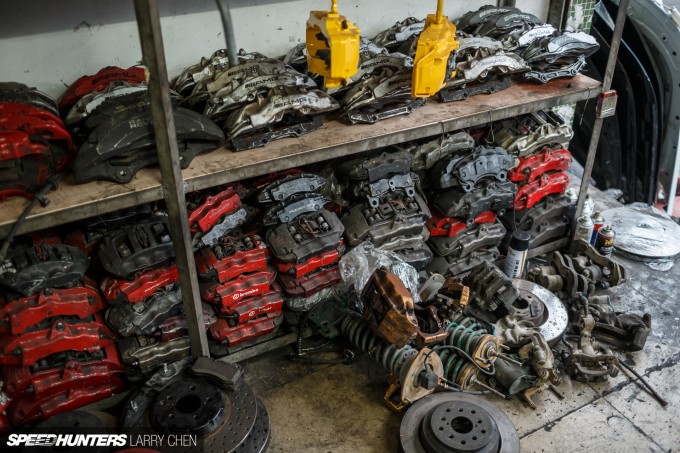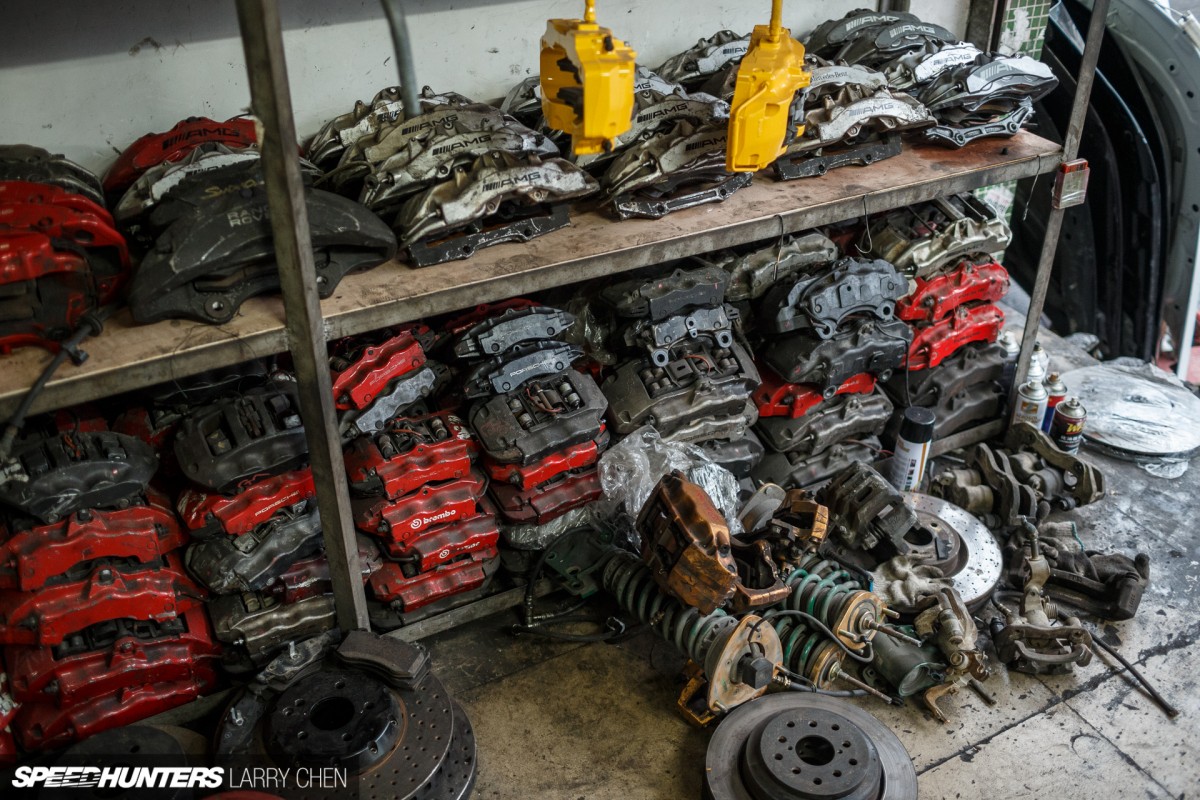 These guys didn't have the knuckle we needed in stock, but they said they would pull one from another warehouse and deliver it to our hotel. Mission accomplished.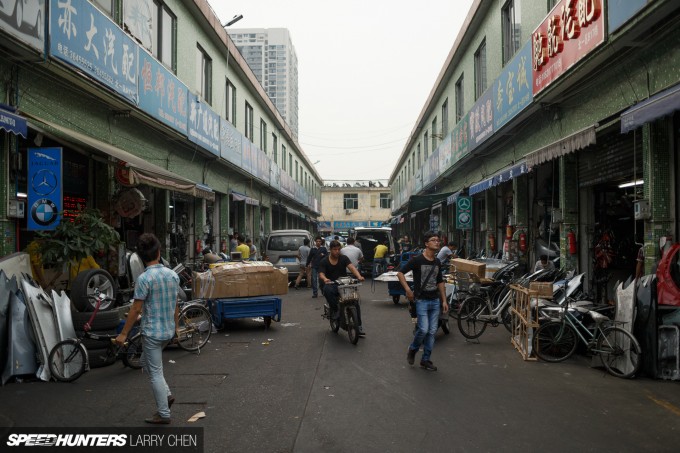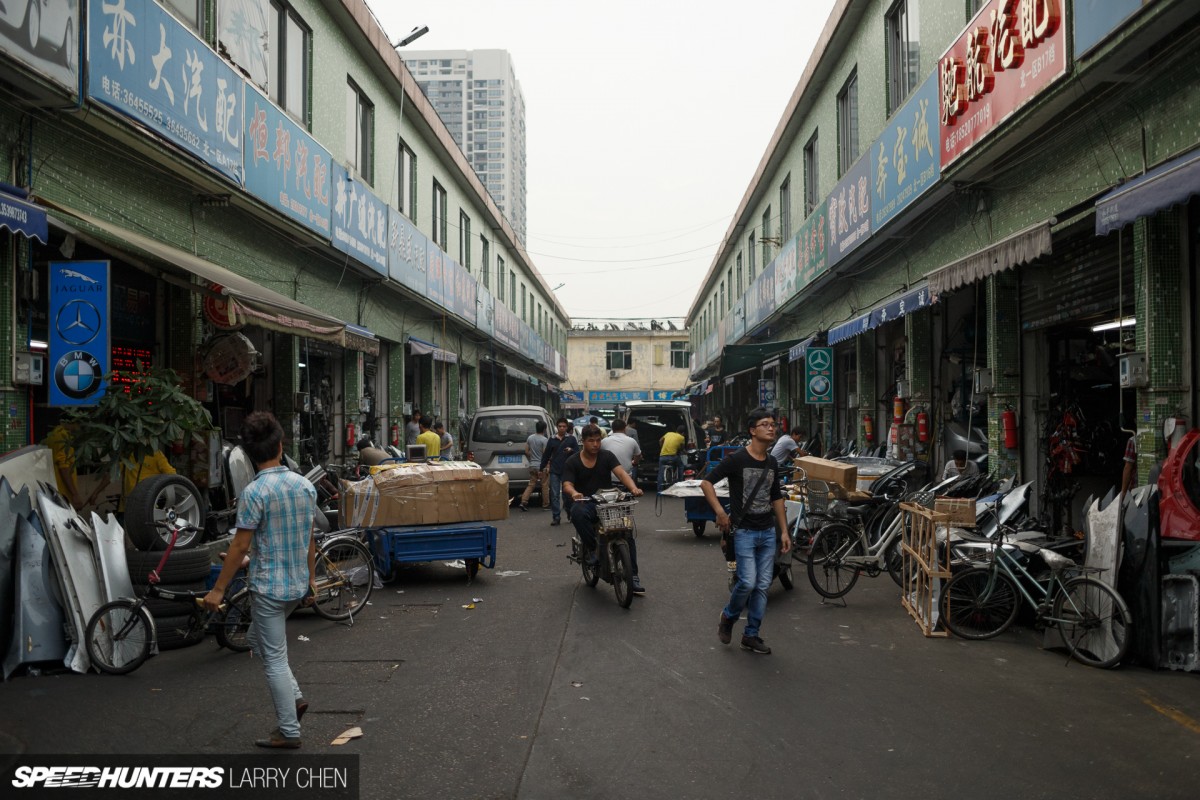 I'm just glad that I had the chance to look into a world that's completely removed from what I am used to. I'm sure there are many more markets around the world like this one, and perhaps with even crazier shops.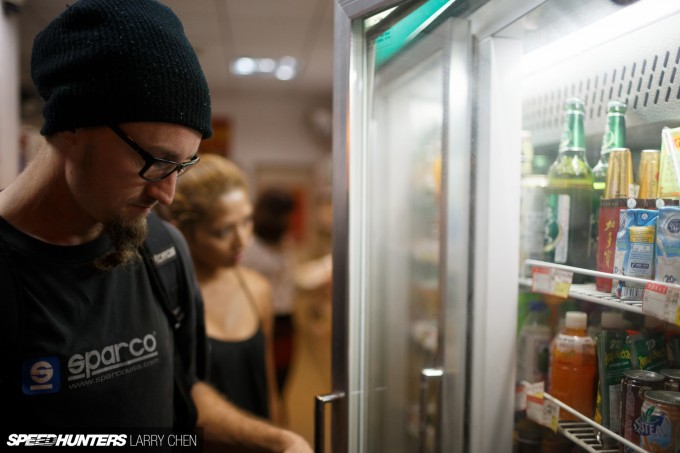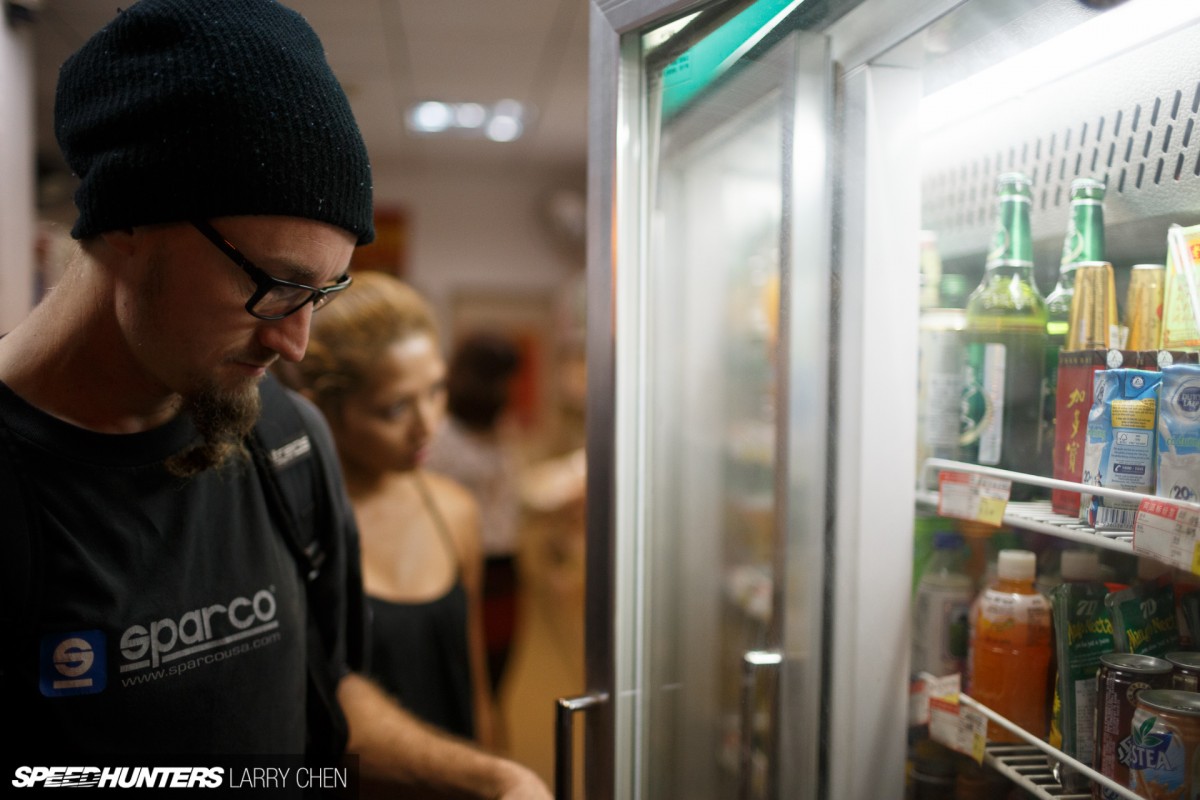 It's always tough on drift teams to compete while abroad – especially privateers like Ross Petty. But with a little bit of dedication you can pretty much fix anything. Soon I will go into more detail about what the Rasta drifter had to go through to fix his car in time for the next round of competition.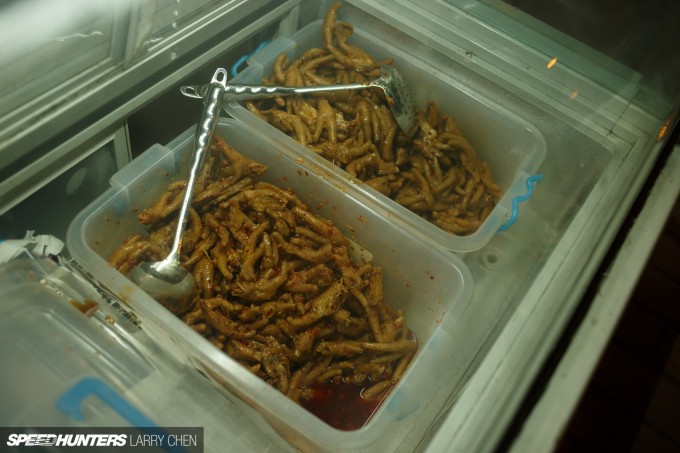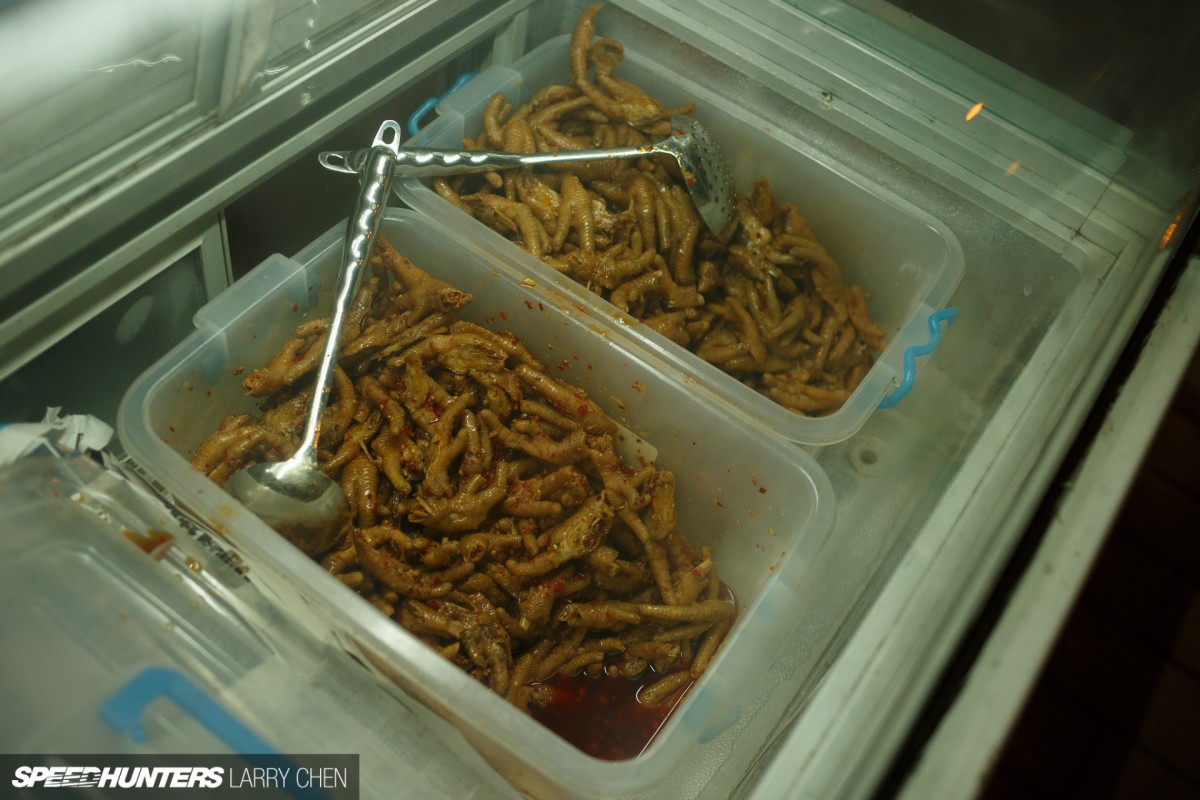 What better way to end a day of parts hunting, than with a bowl of spicy chicken feet.
So tell me, what sort of interesting parts shops have you guys been to? Post some photos in the comments section – I want to see them!
Larry Chen
Instagram: larry_chen_foto
larry@speedhunters.com