The Natural Habitat
One of the things I enjoy most about Speedhunters is the way we try to break down barriers and showcase car culture that exists outside of its traditional borders. It could be a wide body Porsche on the narrow streets of Tokyo, a rare JDM import cruising through the canyons of California, or a beastly American muscle car on the highways of Stockholm. You just have to love the idea of the unexpected – and we really pride ourselves on showing that sort of stuff.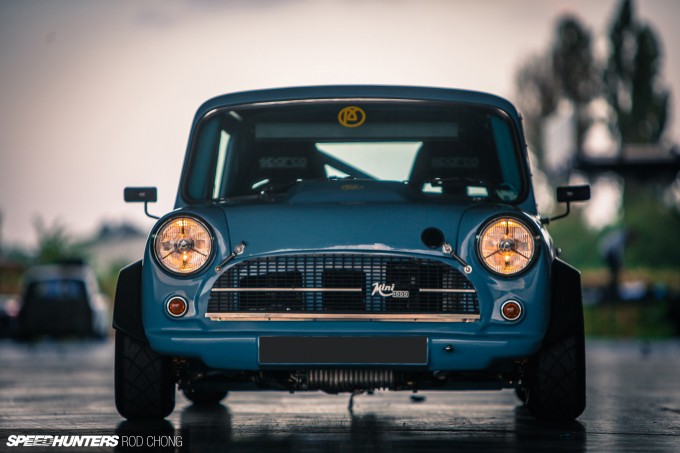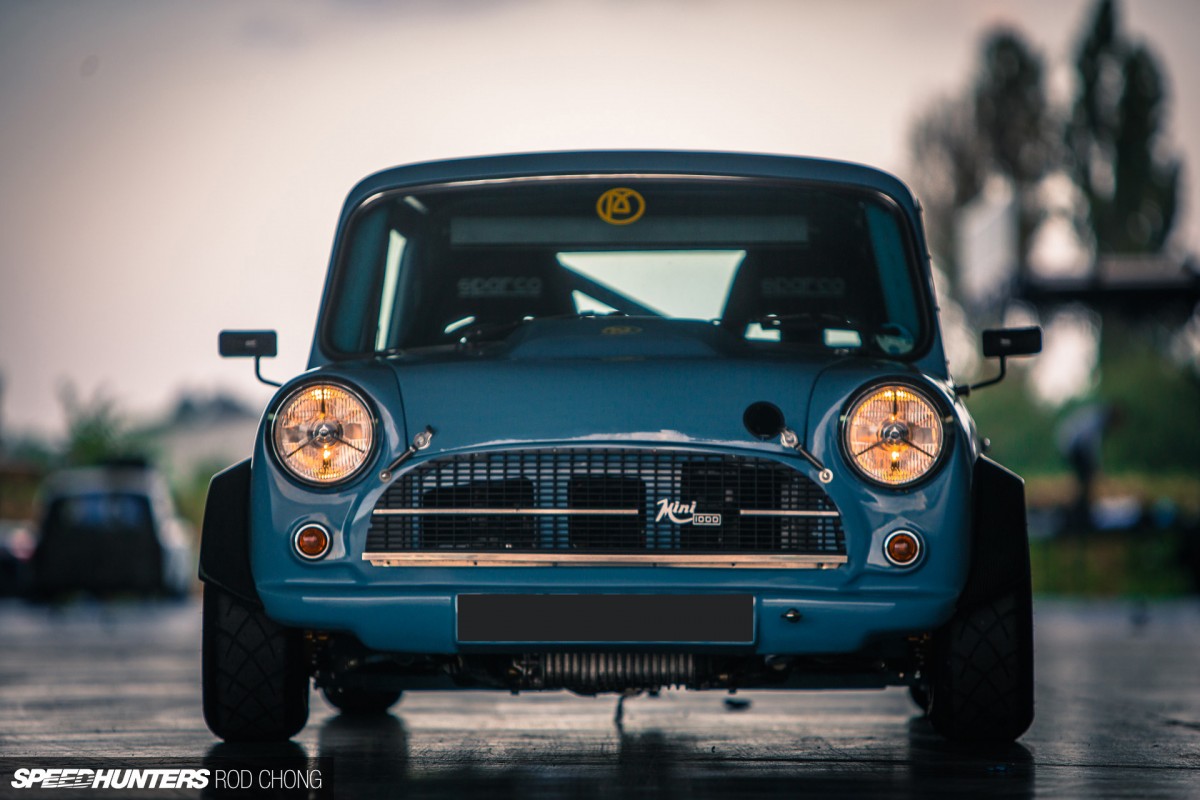 But that doesn't mean we are adverse to discovering cool cars in their natural habitats. There's definitely something proper and pure about experiencing a Skyline GT-R on a winding stretch of touge, hustling a BMW around the Nürburgring or unleashing an American V8 across an endless desert highway.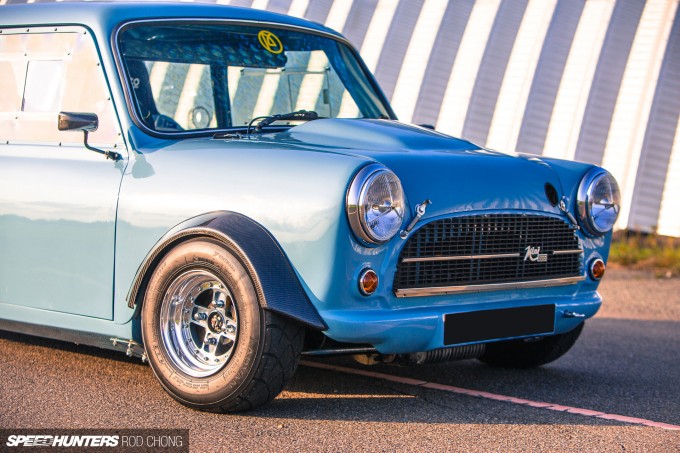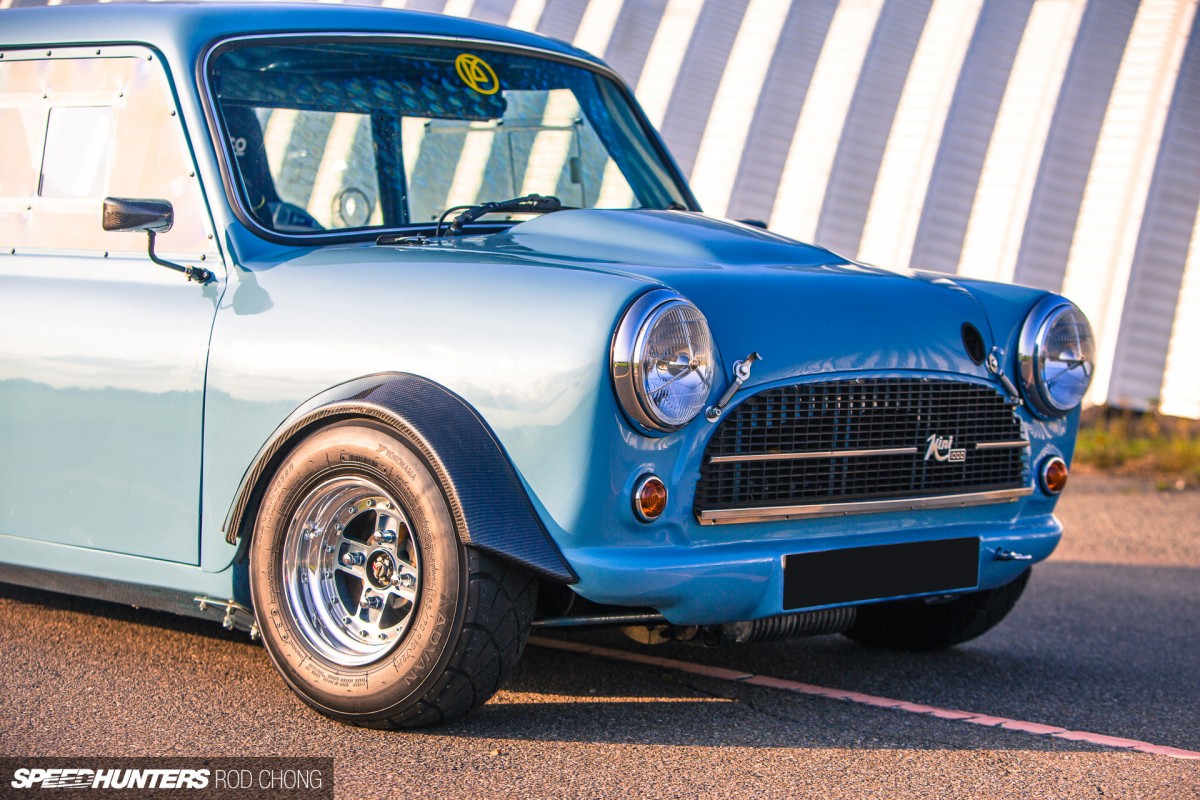 And that brings me to this car – a classic Mini owned and built by a Jonathan Faulkner of Dorking, a small town outside of London. It's hard to think of a more quintessentially British automobile than the Mini, and it was at the UK's Players Show where we spotted Jonathan's aggressive and unique example.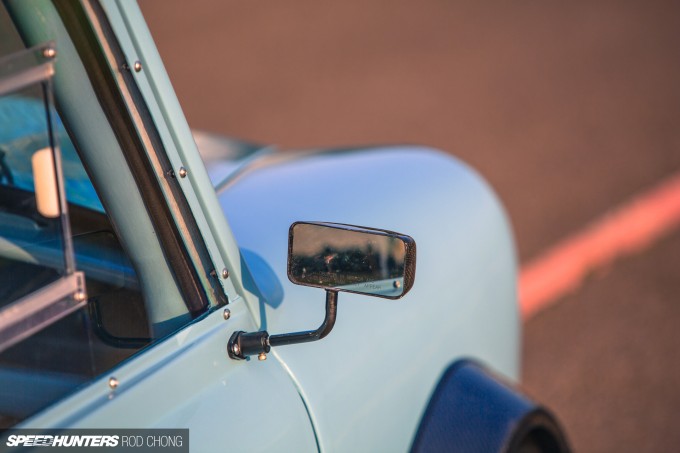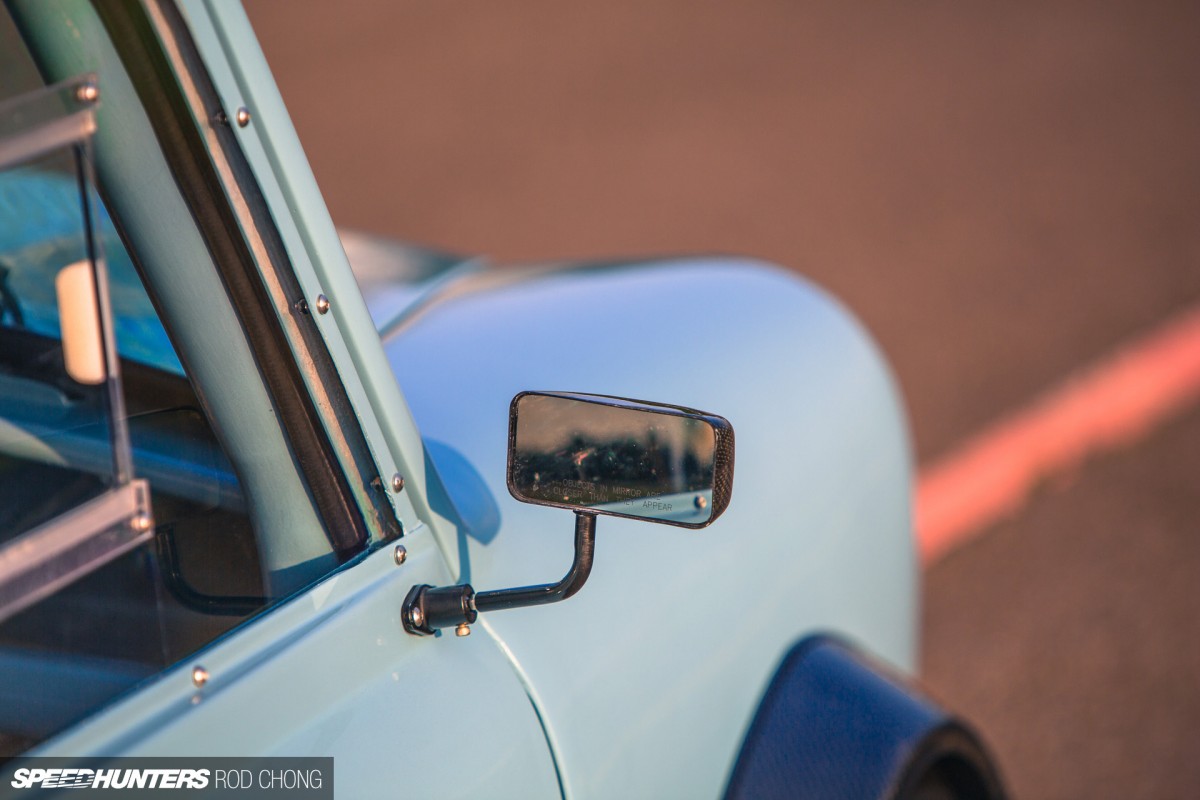 Like a lot of Brits, Jonathan grew surrounded by Minis and the passionate following that they enjoy. His father learned to drive in one and then worked in a Rover dealership for 24 years, so it was only natural for Jonathan to take an interest in the little cars from a young age as well. There was also something he loved about the whole underdog character that came with modified Minis.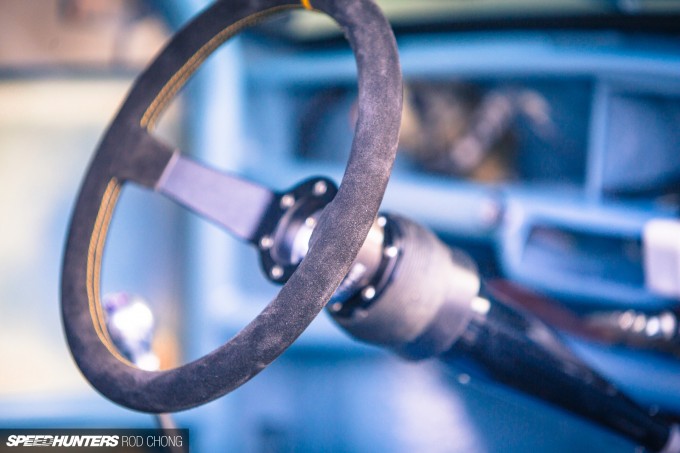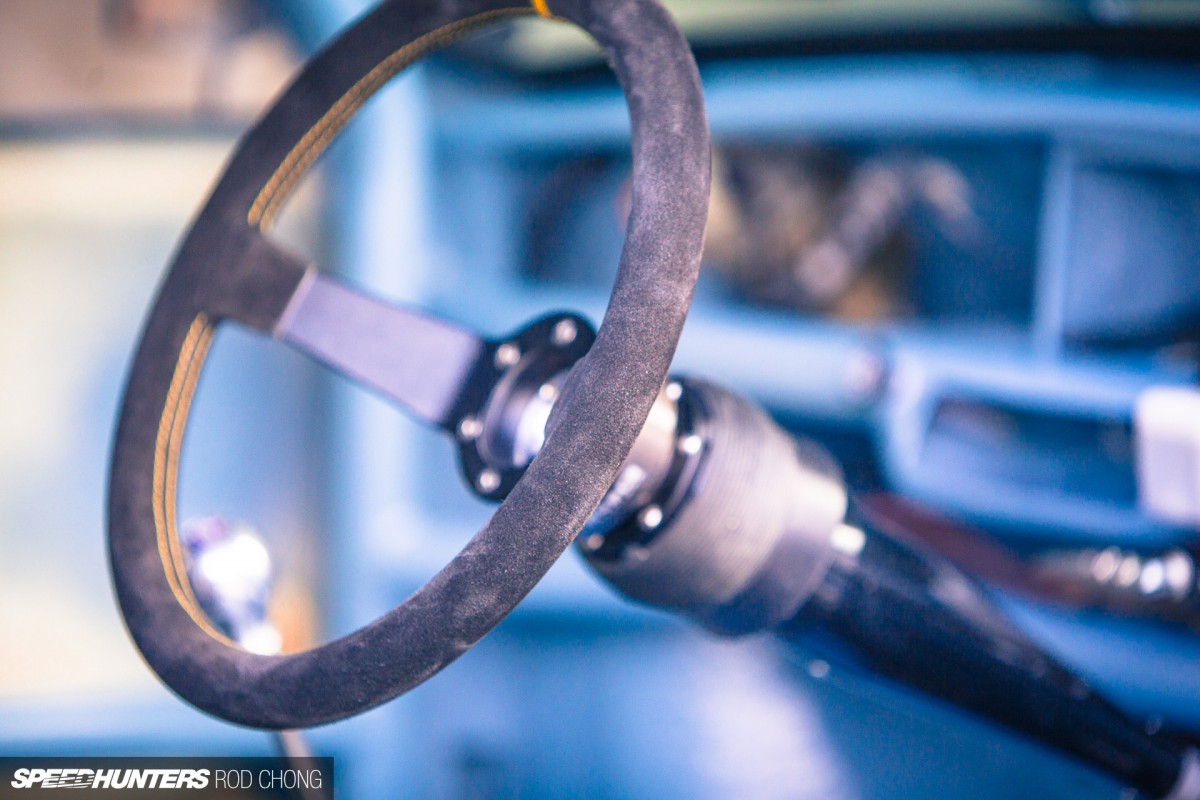 As soon as Jonathan passed his driving test as a teenager he too would get a Mini to play around with. Along with his father, he began to fix up his car – fitting its 998cc engine with breathing modifications and eventually a race-spec cylinder head. Next, he decided more power was in order so him and pops went to work building a new 1,380cc motor.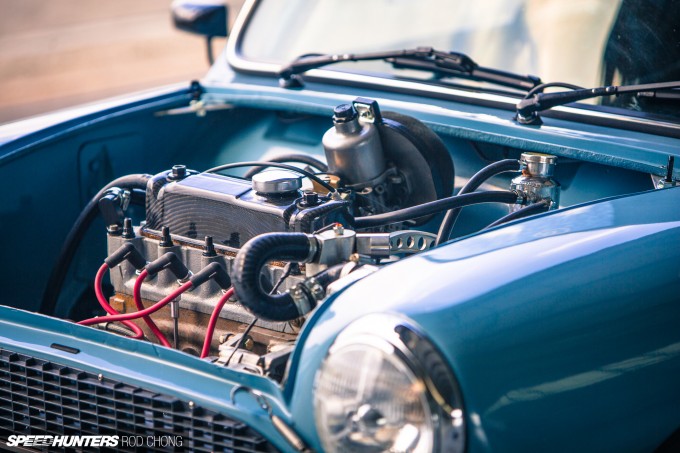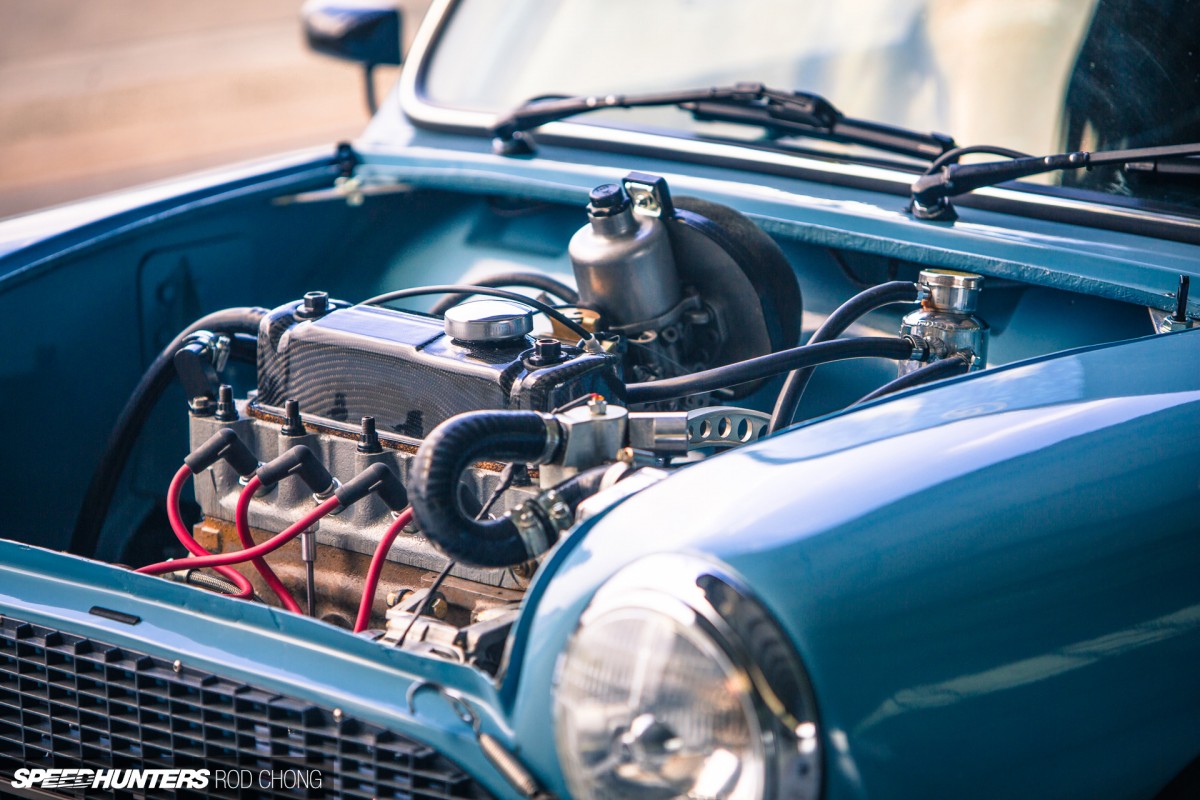 This was Jonathan's first real taste of modifying a car, and while the power was significantly upgraded with the new motor, he began to notice some of the car's other shortcomings. This Mini was an older restoration, and daily driving had began to take its toll. More importantly, he began to see that rust was creeping in again – something that old Mini owners are all too familiar with.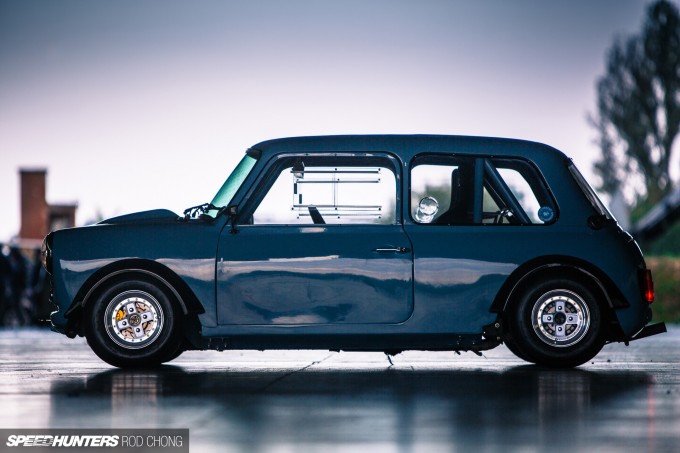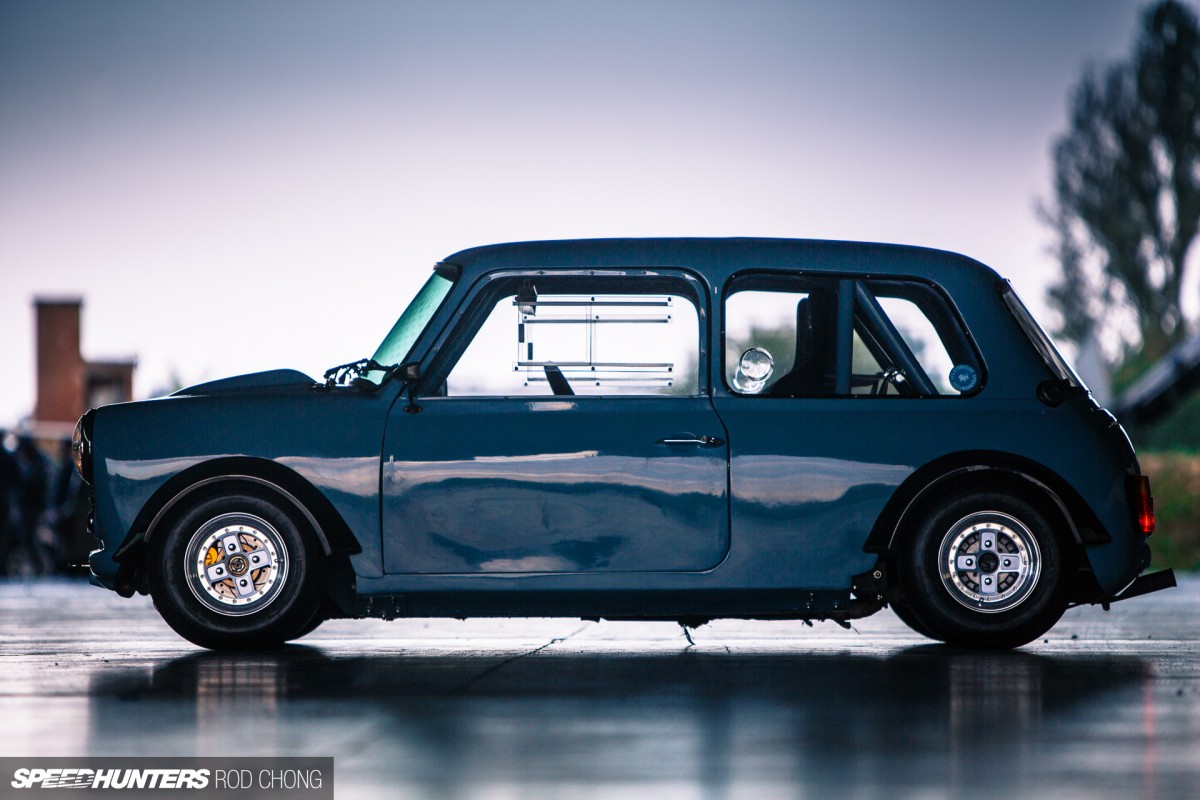 In 2010, Jonathan came across an extremely rare item for sale – a Status Motor Company Mini Minus body shell. A 'Mini Minus' you ask? What's that? Well, it's essentially a replacement body for classic Minis, made from fiberglass (and a bit of steel) that was aimed at owners looking to replace the rust-devoured bodies on their aging cars.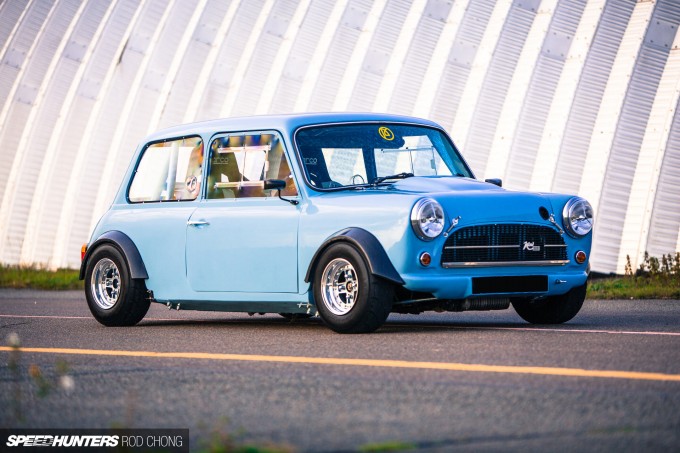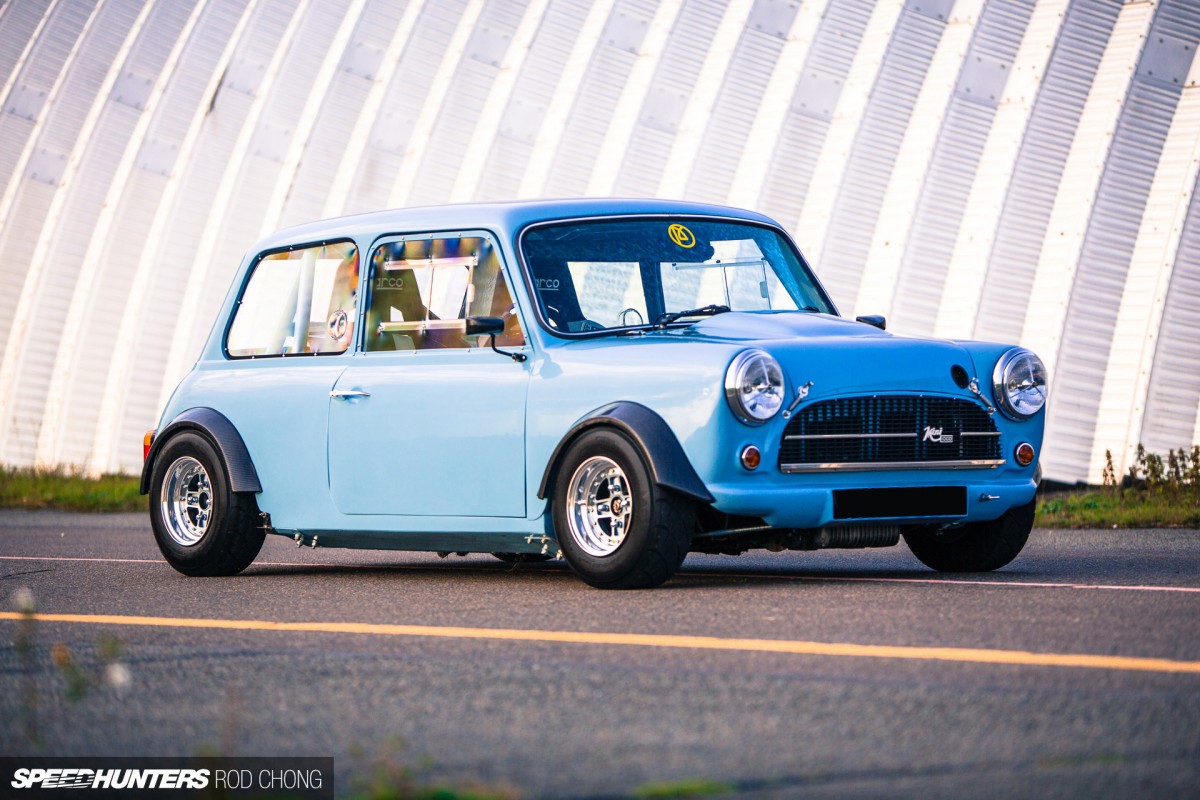 Along with its unique construction, the Mini Minus body is also sectioned and sits three inches shorter than a standard Mini. Not only does this help to cut mass from the already featherweight car, but its lower profile gives the Mini a more aero-friendly shape. Production numbers for the Mini Minus were extremely low, and production ended in the early '90s, meaning they are quite rare today.
Small Body, Huge Project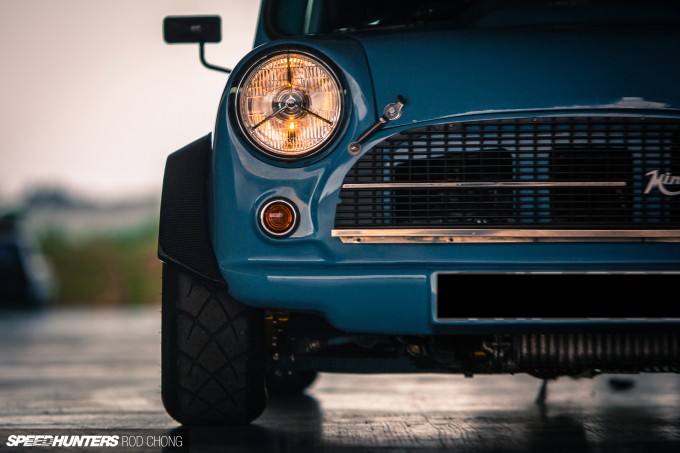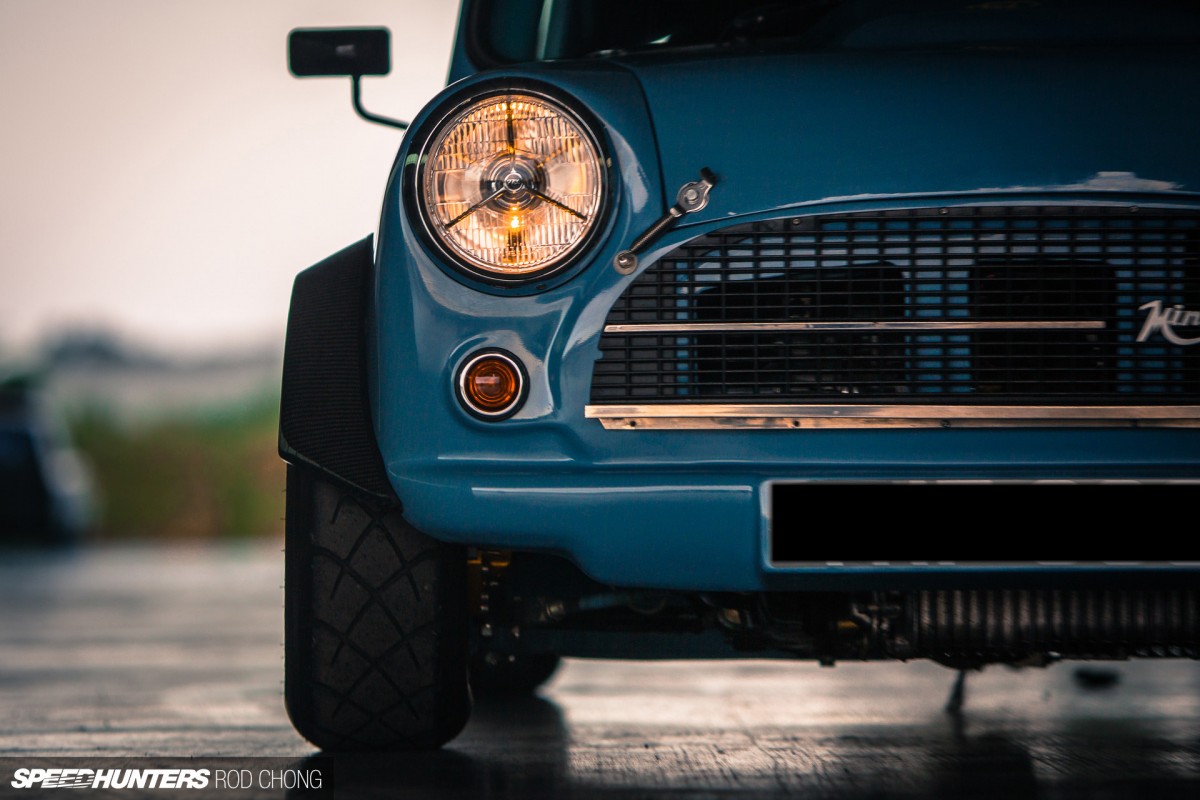 Jonathan's plan was to purchase the Minus shell and combine it with the running gear from his previous car to create a faster, lower and lighter Mini that would also be protected from the rust that bothered him so much.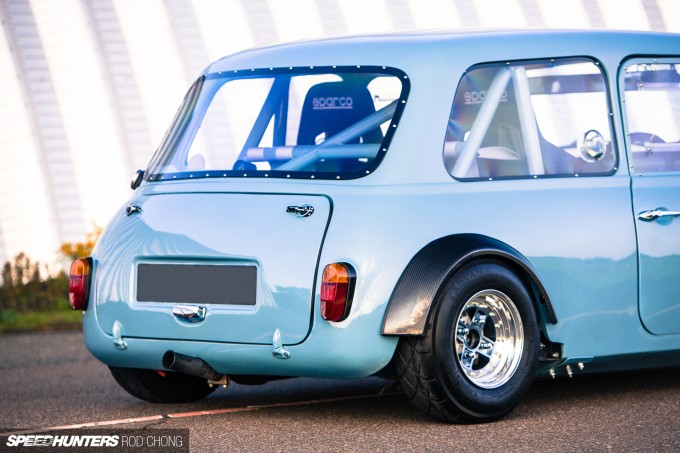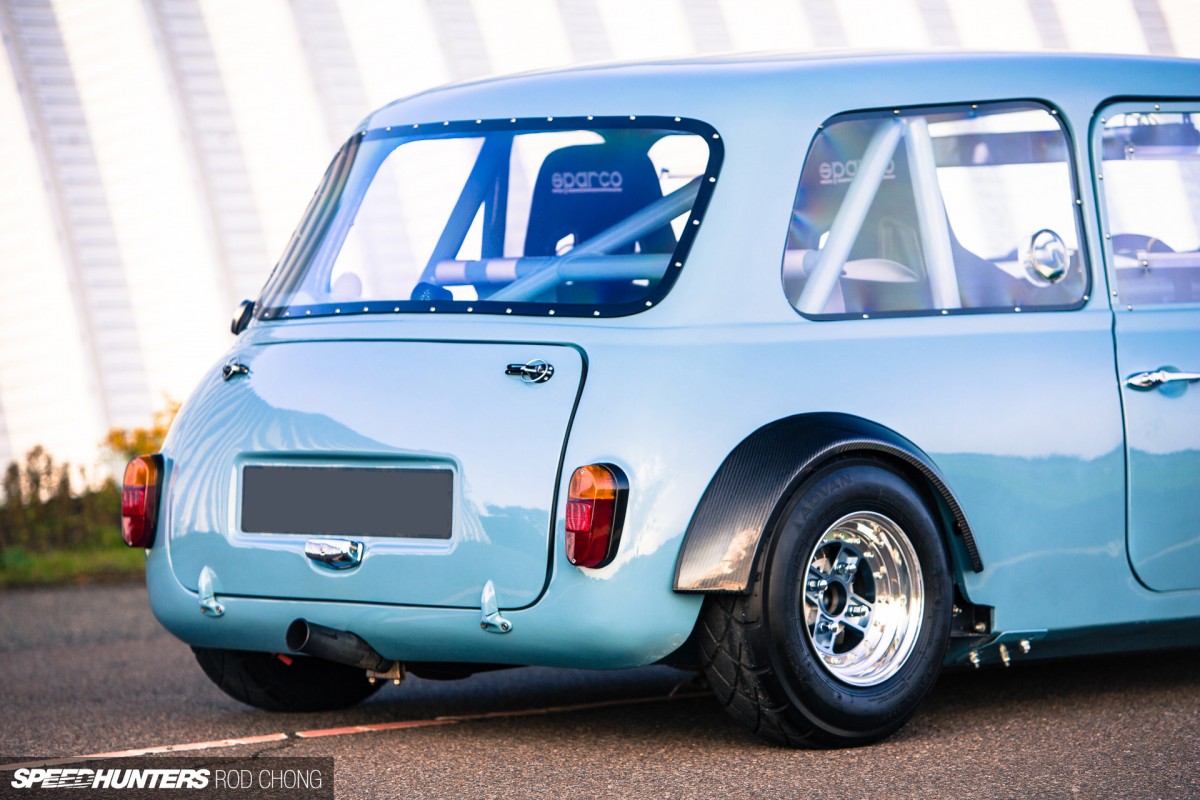 After acquiring the shell, Jonathan discovered that the project would be much more involved than originally planned. This was because the fiberglass body itself had deteriorated significantly from being stored outside for decades in the UK climate. It was actually a full year before he began working on the project, as he spent many months gathering parts and determining exactly what his plans would be.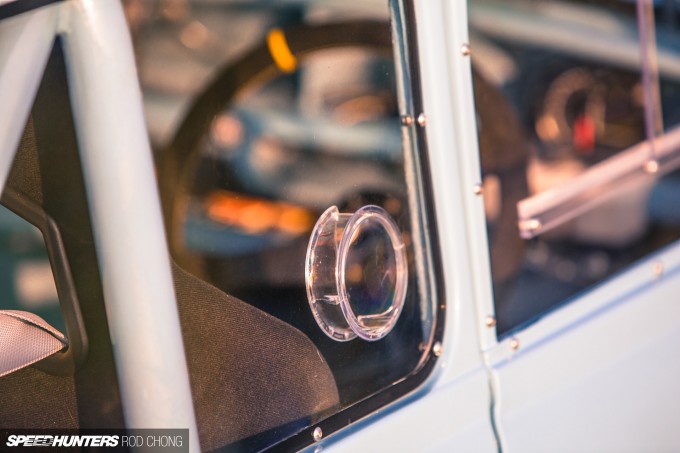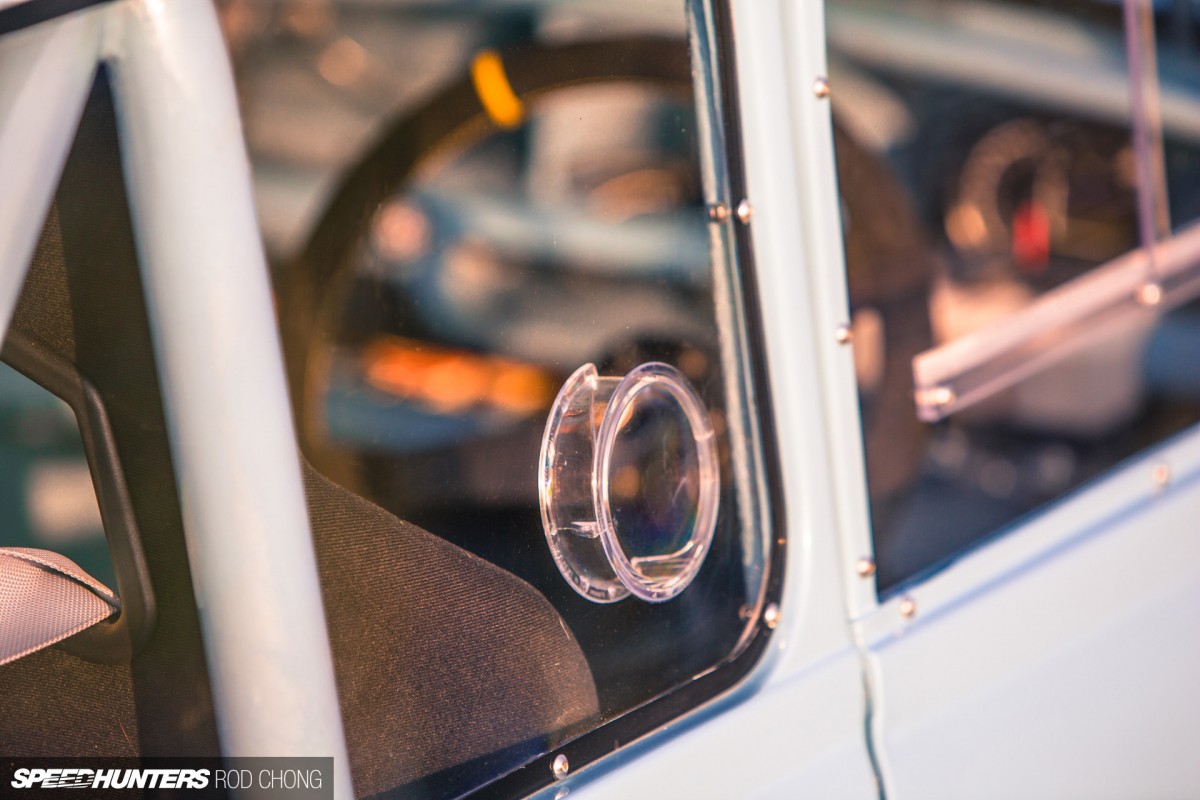 Finally, in December of 2011, the build began, The first step was to strip everything he could off the old car, and to get the new shell in rolling condition so that he could move it around. Things got tough when Jonathan began to go through the Minus body. He knew almost nothing about bodywork, but even he could see that the fiberglass shell was in rough shape. It was so bad that on a few occasions he considered abandoning the project altogether.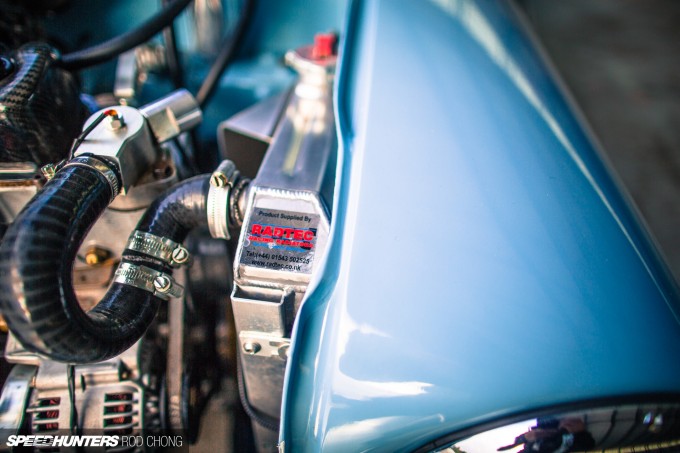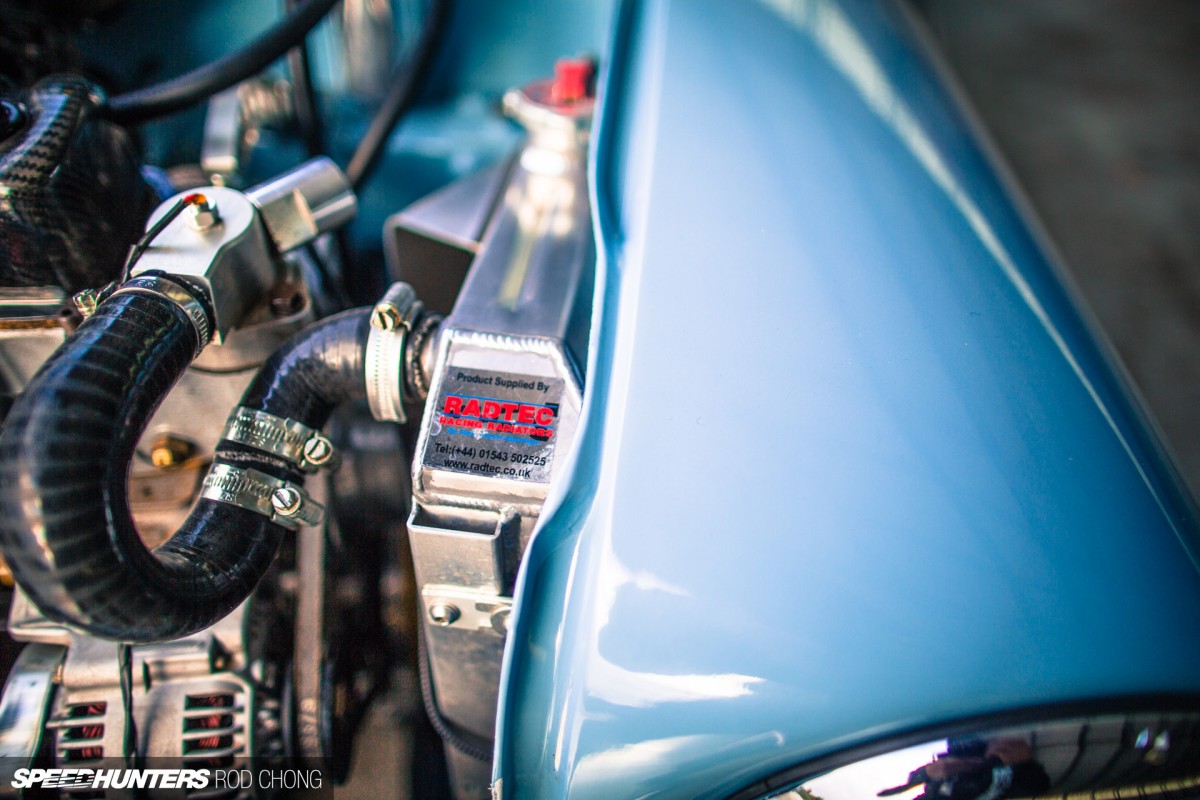 But in the end perseverance paid off, and slowly but surely Jonathan began to tackle the weathered fiberglass, tediously grinding every crack before carefully filling it in. It was a painstaking process, but by September of 2013 he finally had the shell coated with primer.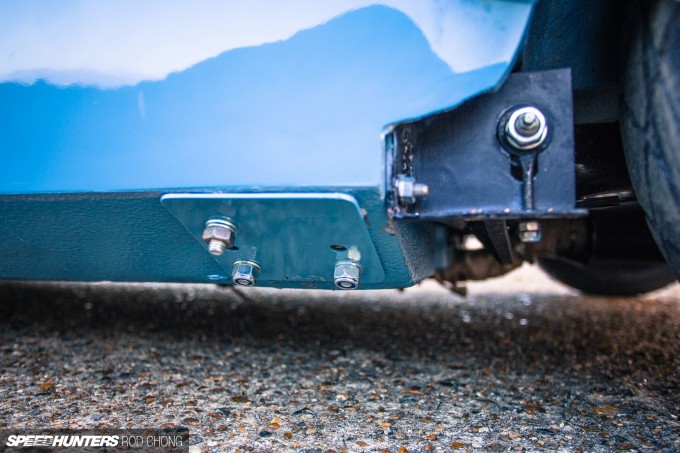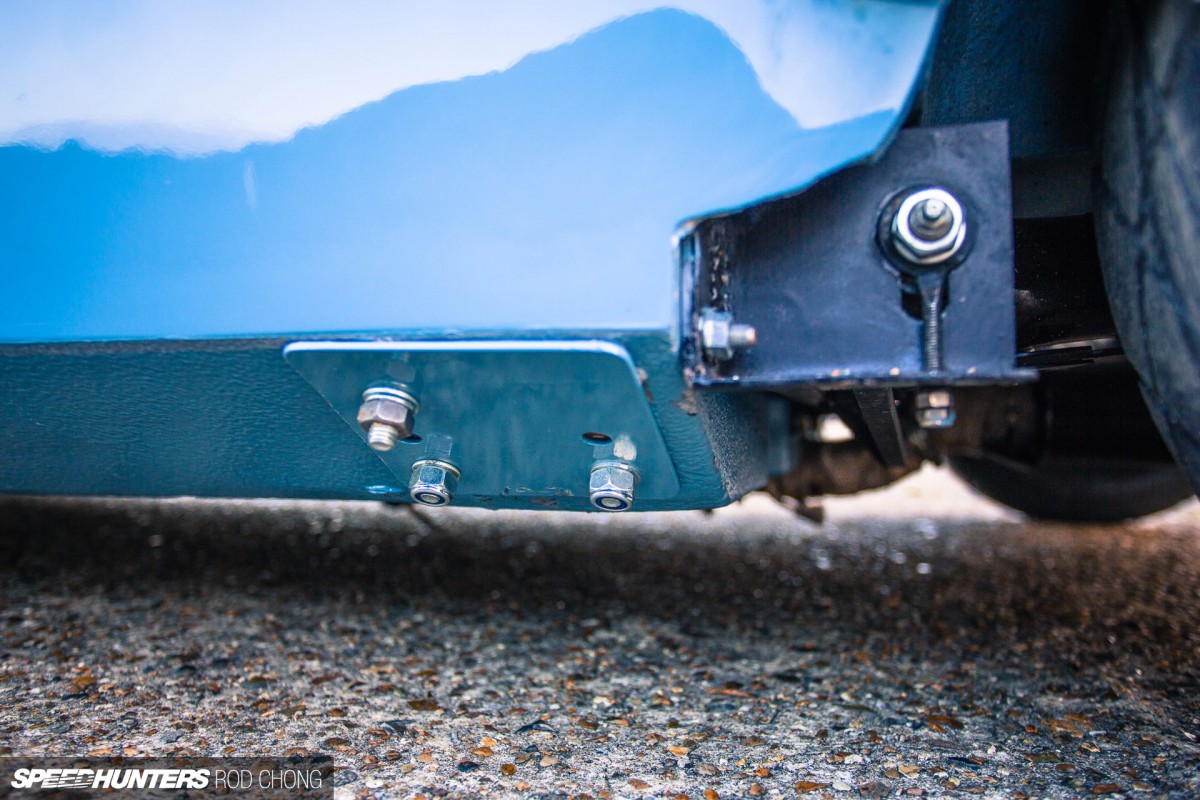 And when he wasn't restoring the body, Jonathan was working on the car's chassis – trying to get the Mini to sit as low as possible. He tubbed the front and rear fenders, fitted internal gear linkage and modified the front and rear suspension turrets to accommodate a coilover setup. When he had the car sitting on its tires, the front coilovers were binding so Jonathan had Force Racing fab up some extended control arms for more clearance.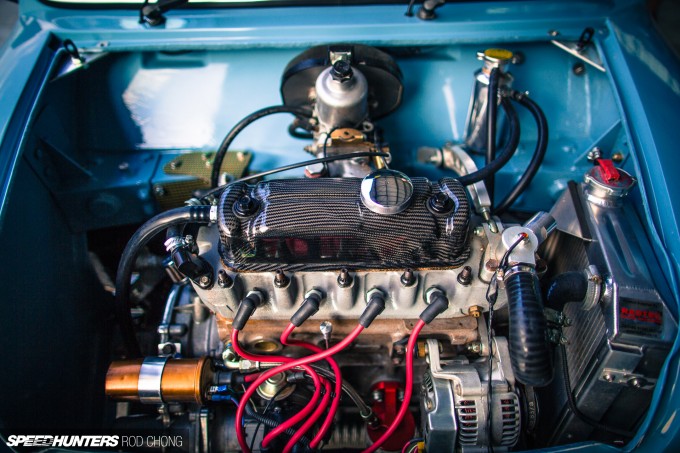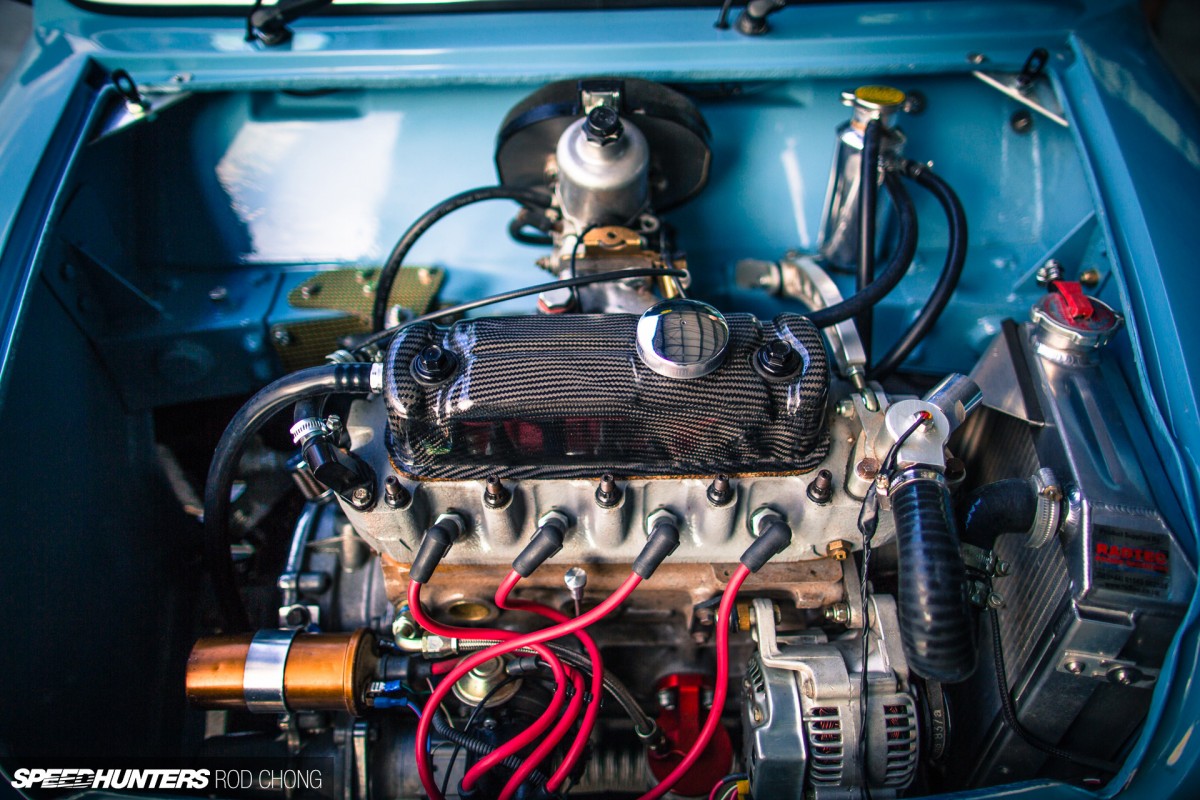 With the body and suspension issues being adressed, the next order of business would be to transfer over the 1,380cc engine from his previous Mini. Prior to dropping it in the new car, he gave the motor a minor refresh including new valve guides, a lightened timing gear, and some additional head and intake porting.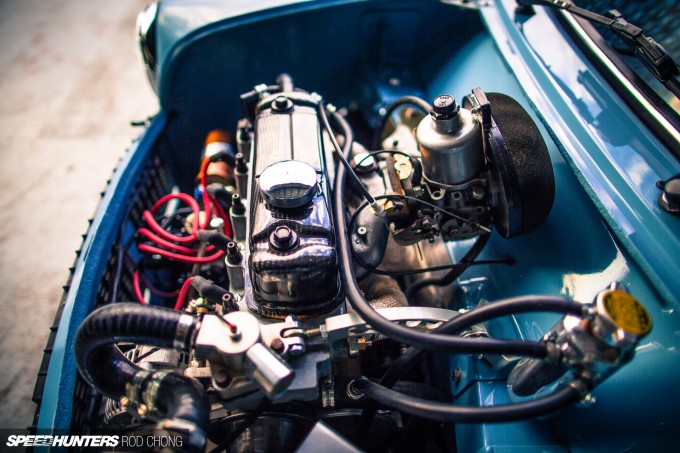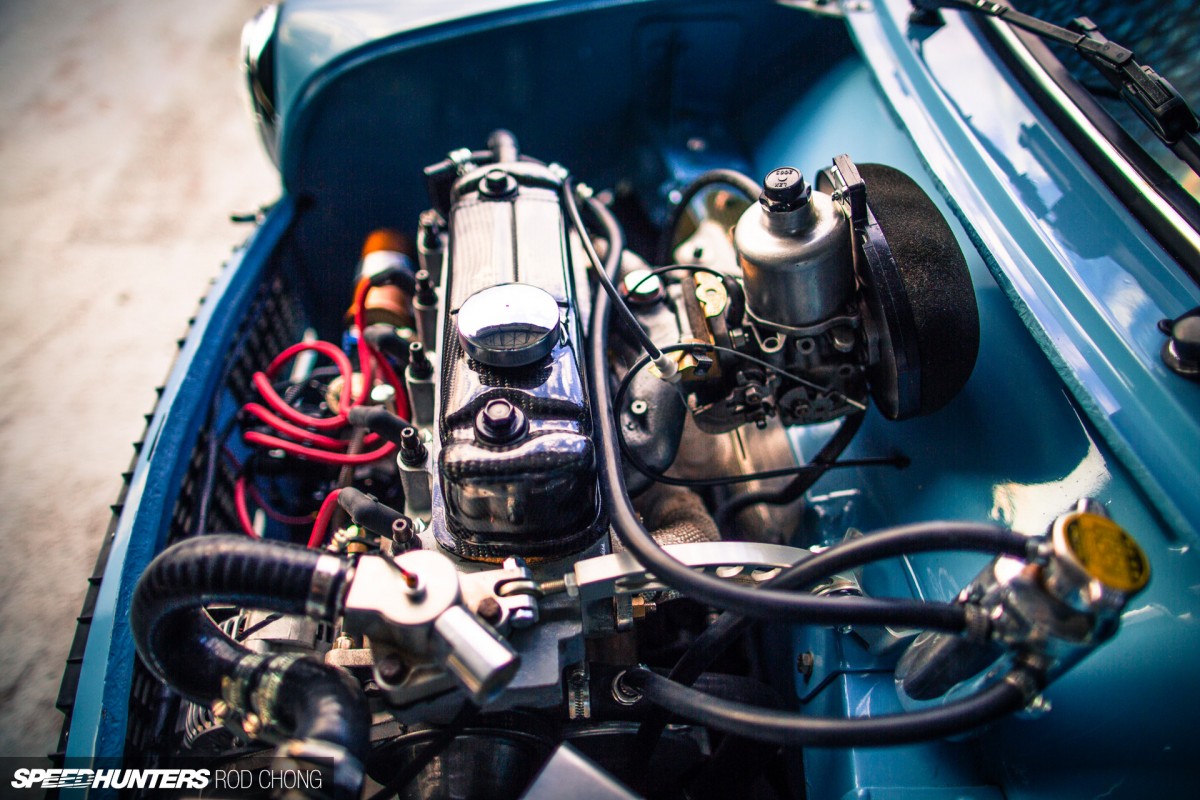 This was in addition to the performance modifications that had already been completed – things like the bored out block, upgraded head, fully-built valvetrain with a Kent 276 camshaft, a modified HIF 44 carb and a ported LCB exhaust manifold. All said and done, the engine setup is good for 92hp and 105lb/ft of torque.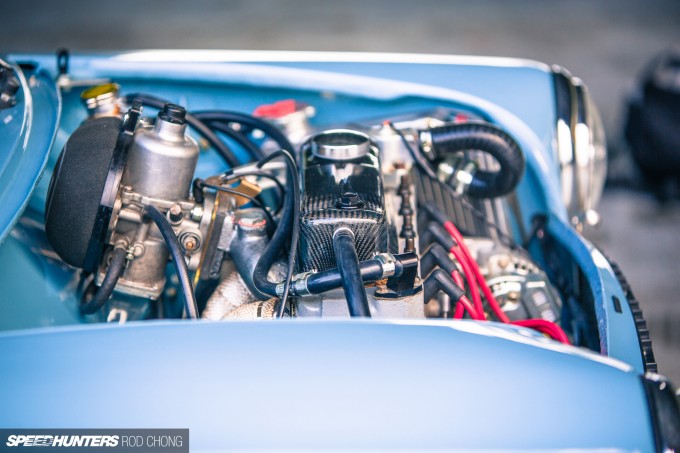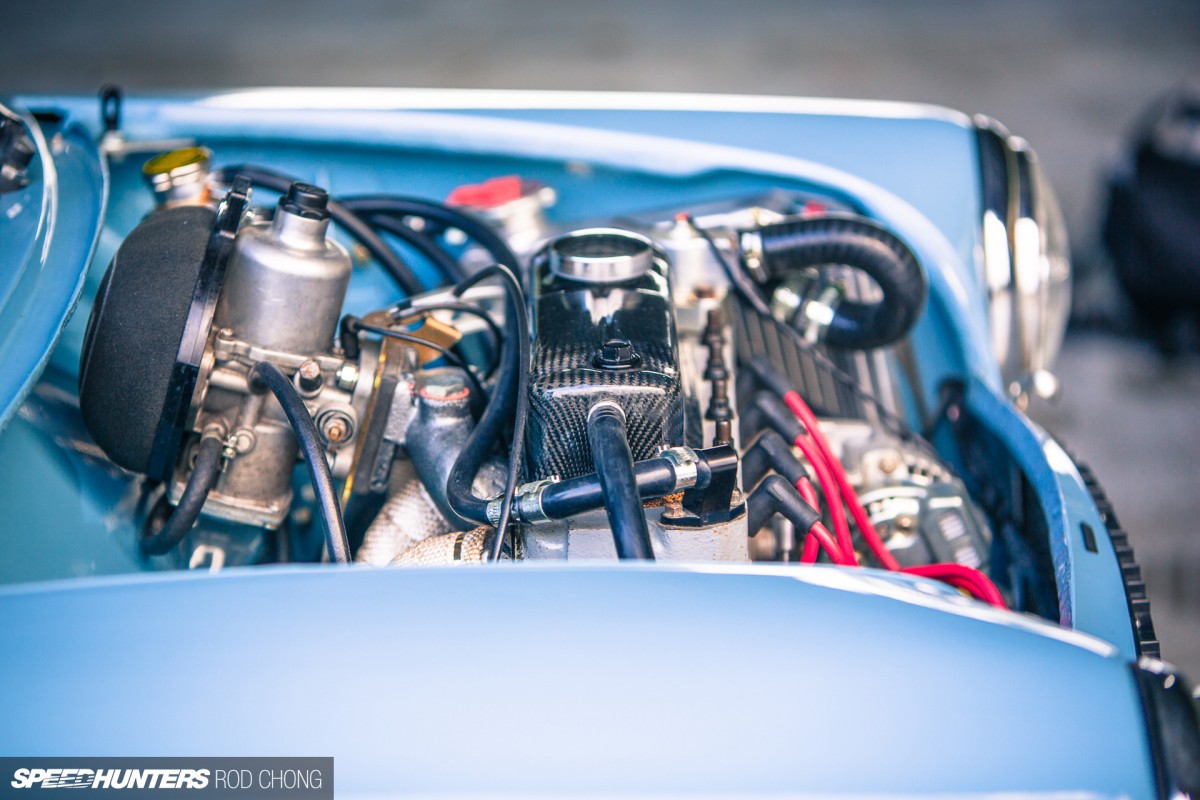 While that's surely one of the lower output numbers ever seen on a Speedhunters feature car, you need to know that the Mini weighs just 562 kilograms (1,239 lbs). That makes for an excellent power-to-weight ratio and lots of fun on the backroads.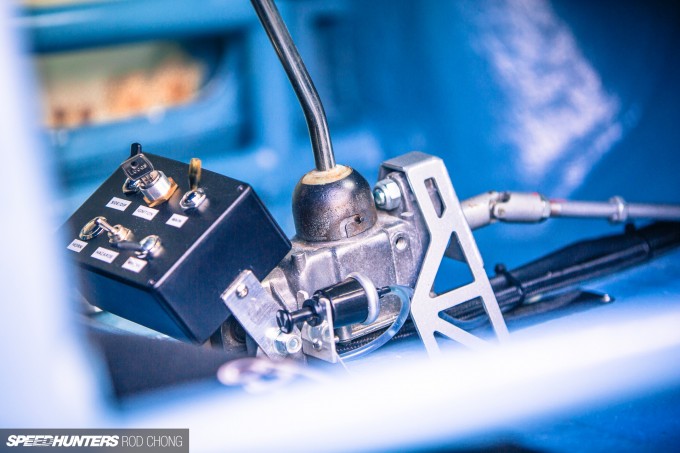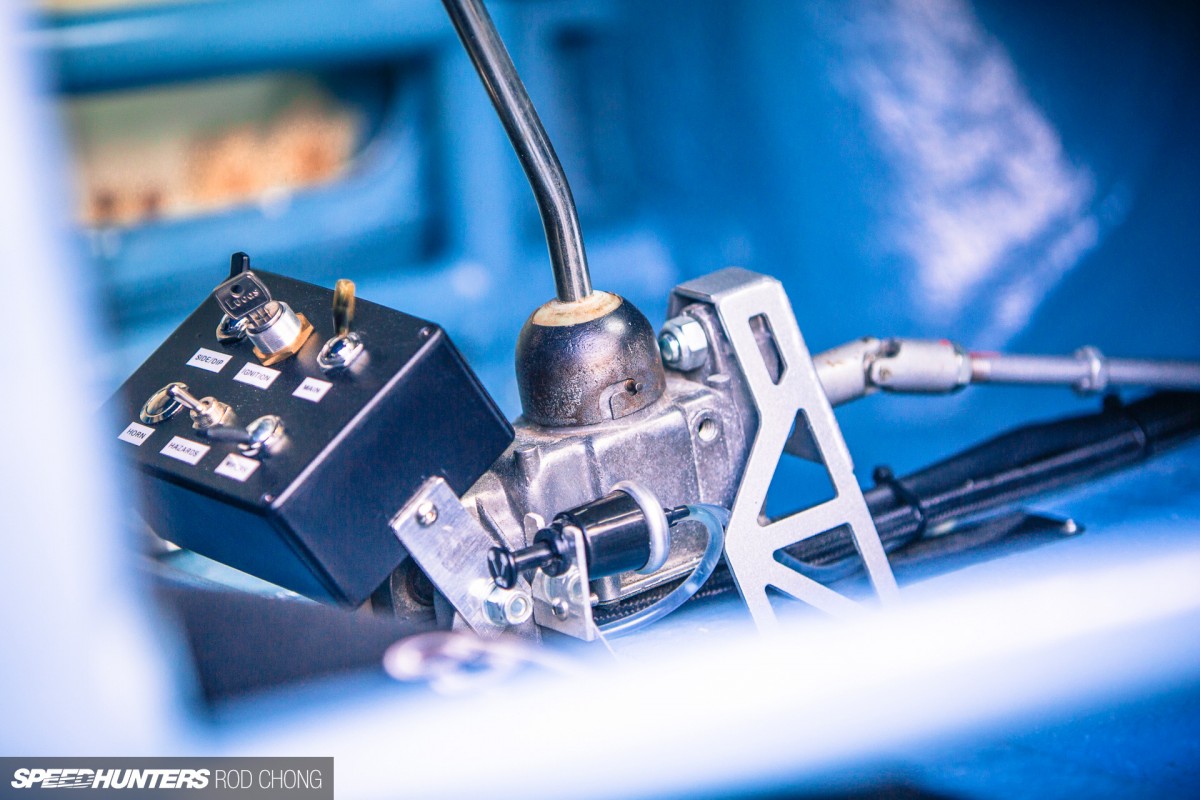 The engine is paired to a reconditioned manual gearbox with an X-pin diff with a Verto clutch and lightened flywheel, along with the aforementioned KAD internal gear linkage.
Lightweight & Low Height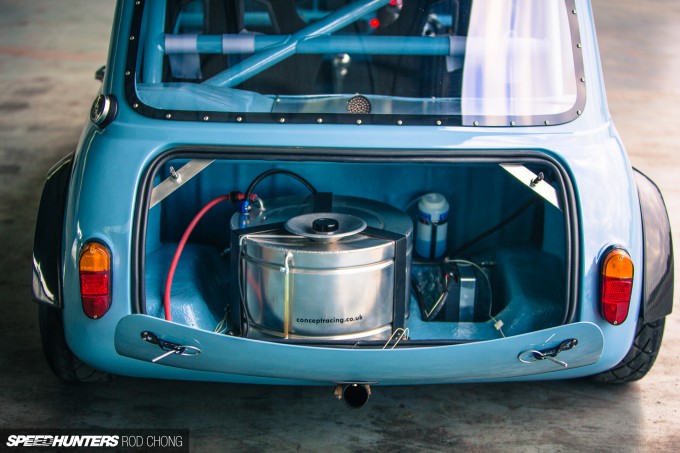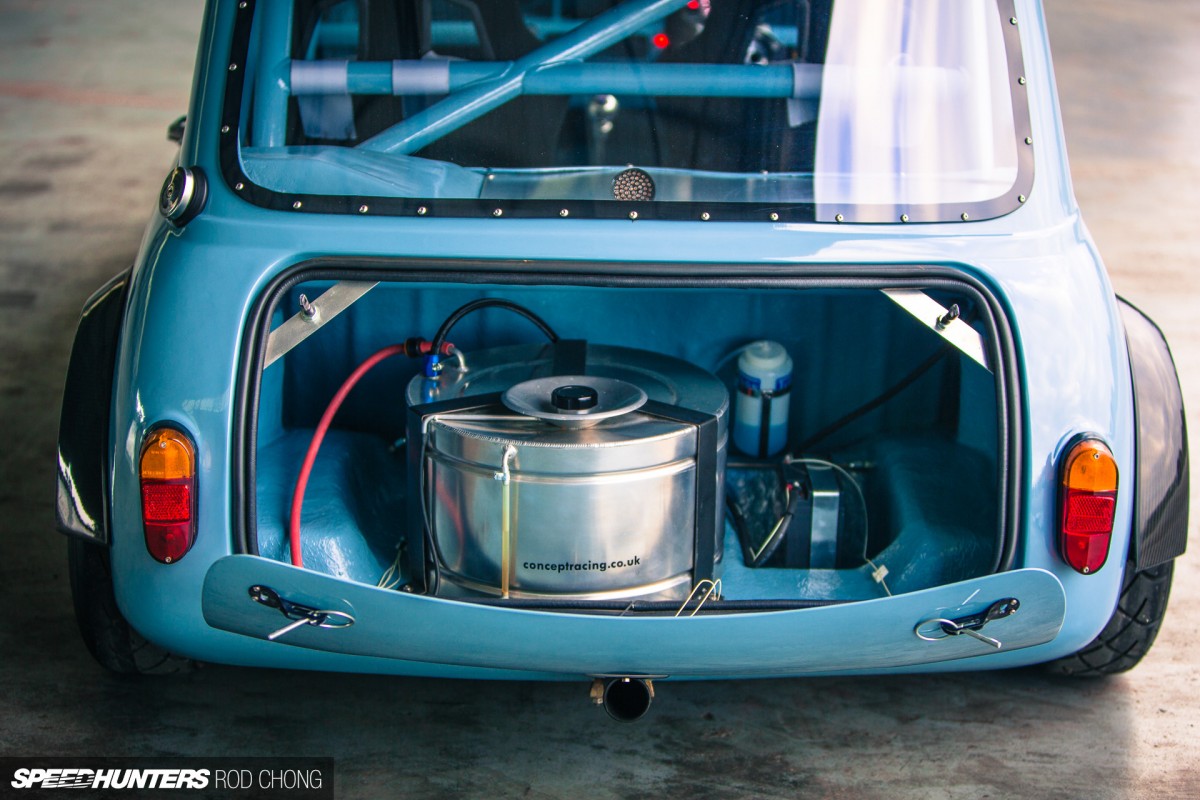 With the running gear sorted, the next thing was to address the interior – and more specifically the rollcage. Jonathan wanted a cage that would tie the car together both literally and figuratively. He ended up working with Nickson Motorsport, who have handled a number of drift cars for the Driftworks crew.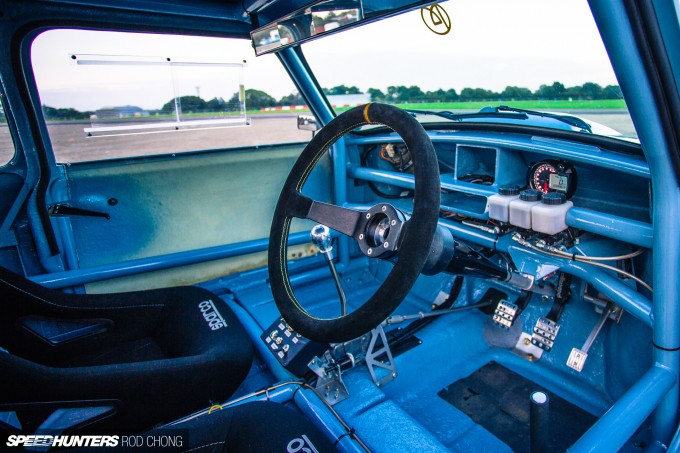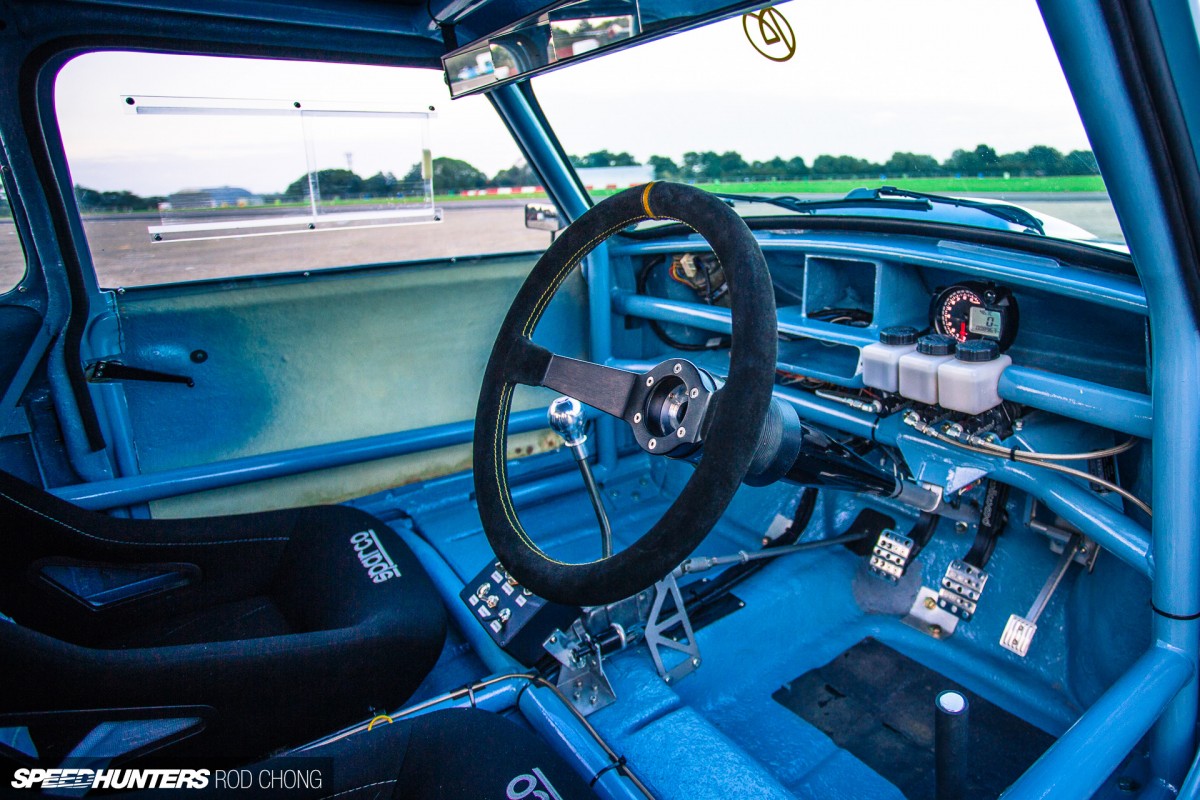 The completed cage ties together the fiberglass shell, the front and rear subframes along with the steering box. It also helps to serve as a mount for the pedals and the seats.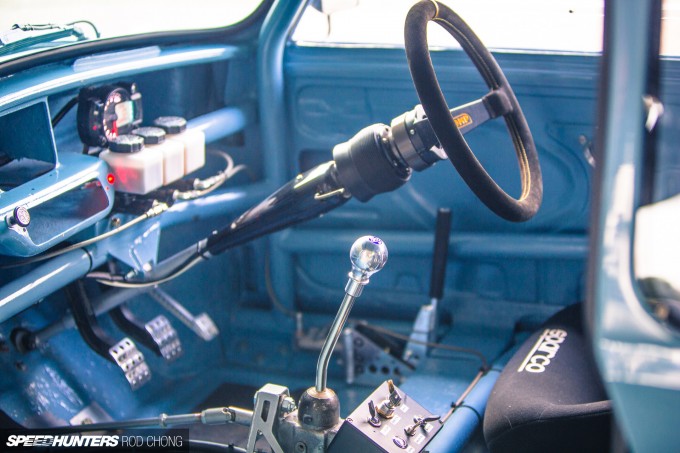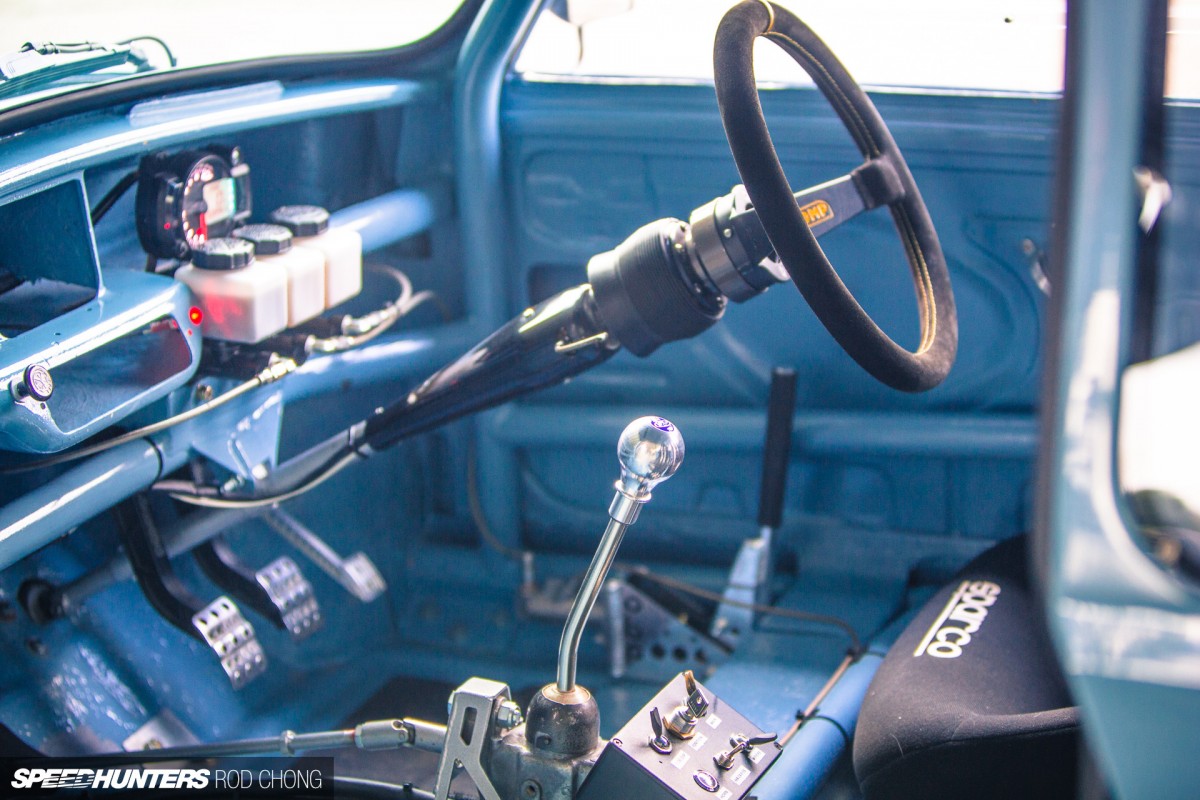 Aside from the cage, the Mini's cockpit is stripped of everything but the essentials. There's a KOSO-RX2N digital dash, a custom control panel mounted near the shift lever – and not much else.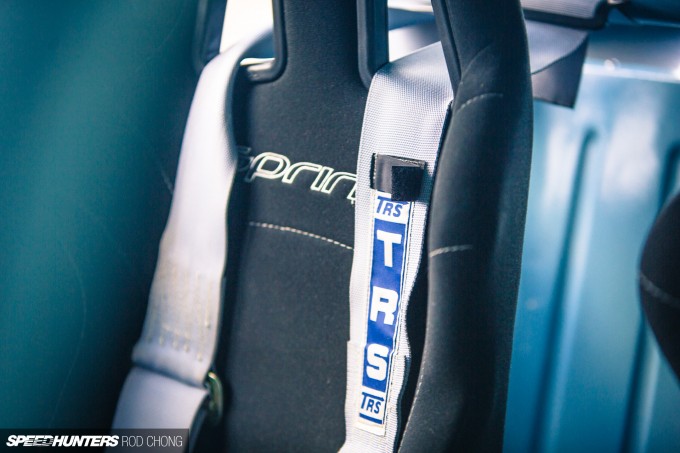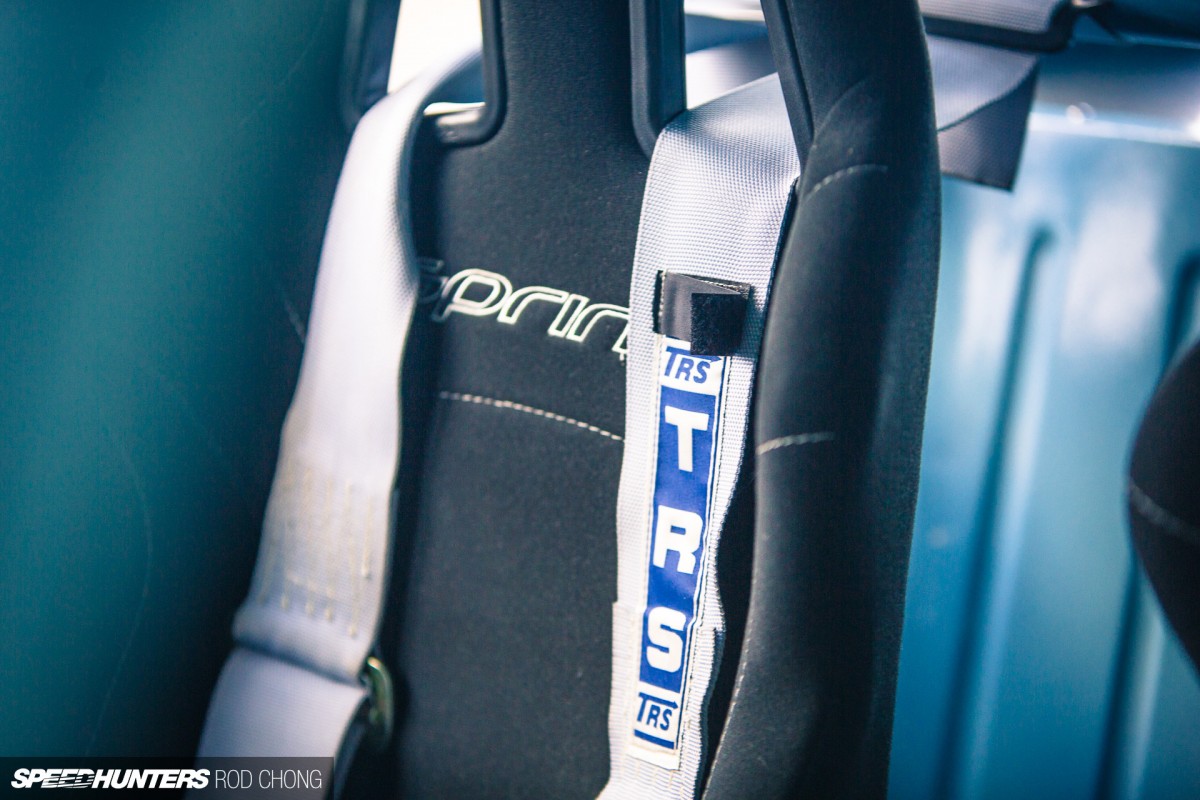 Seating accommodations for the driver and passenger are handled by a pair Sparco Sprint buckets with TRS 3-inch racing harnesses.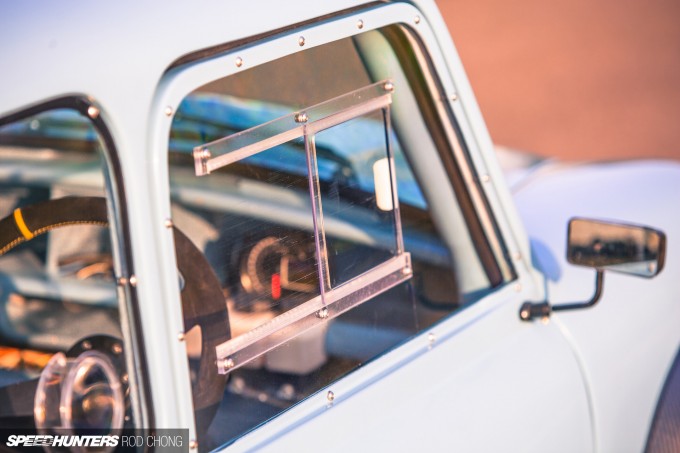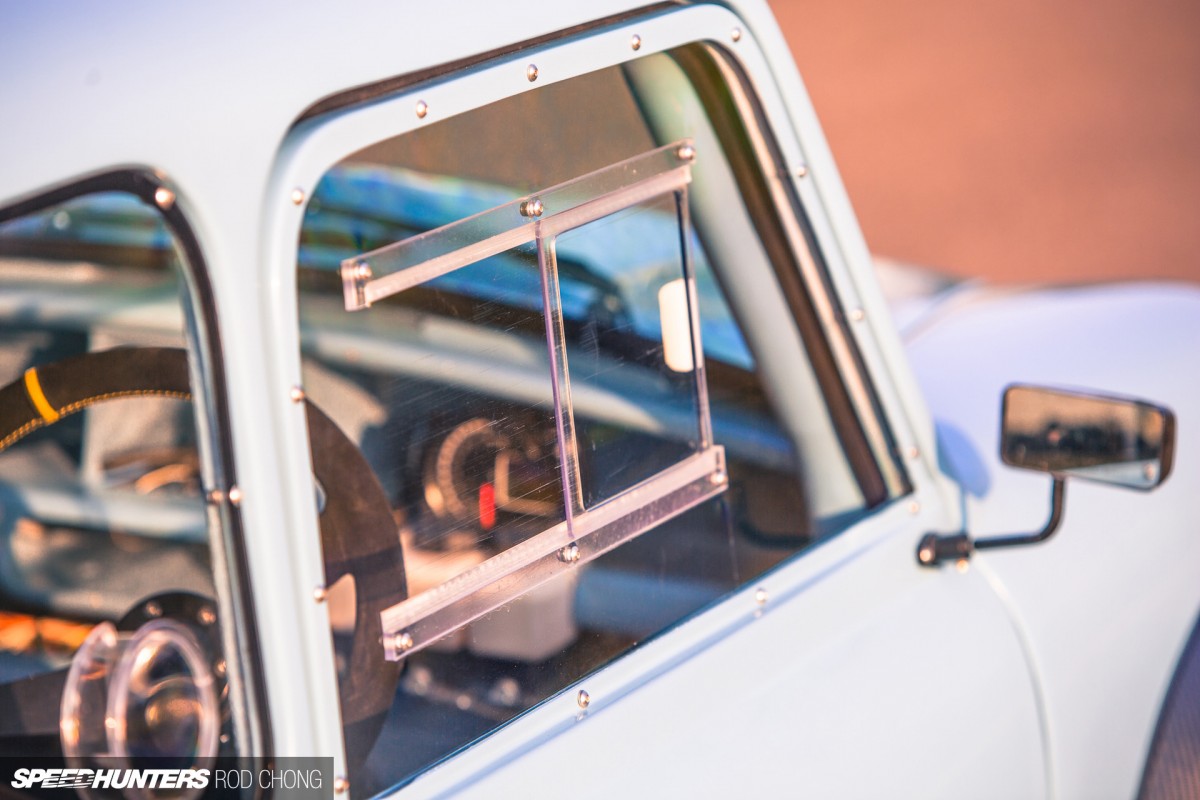 With the interior and cage straightened out, the last order of business was to finalize the Mini's exterior. Here Jonathan fitted a set of lightweight carbon mirrors along with polycarbonate windows to match the GRP doors, hood and rear decklid.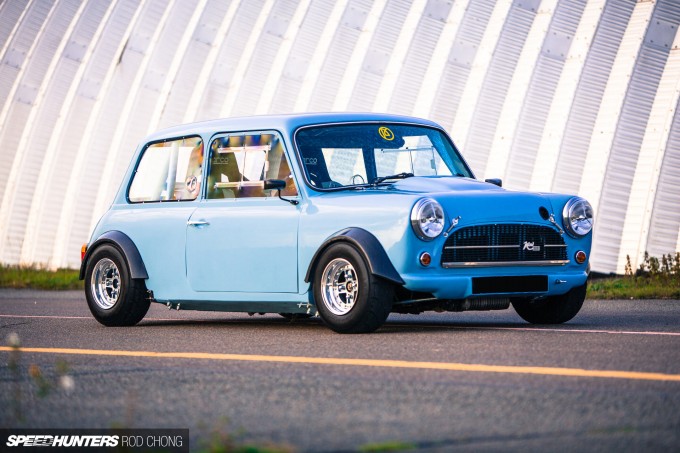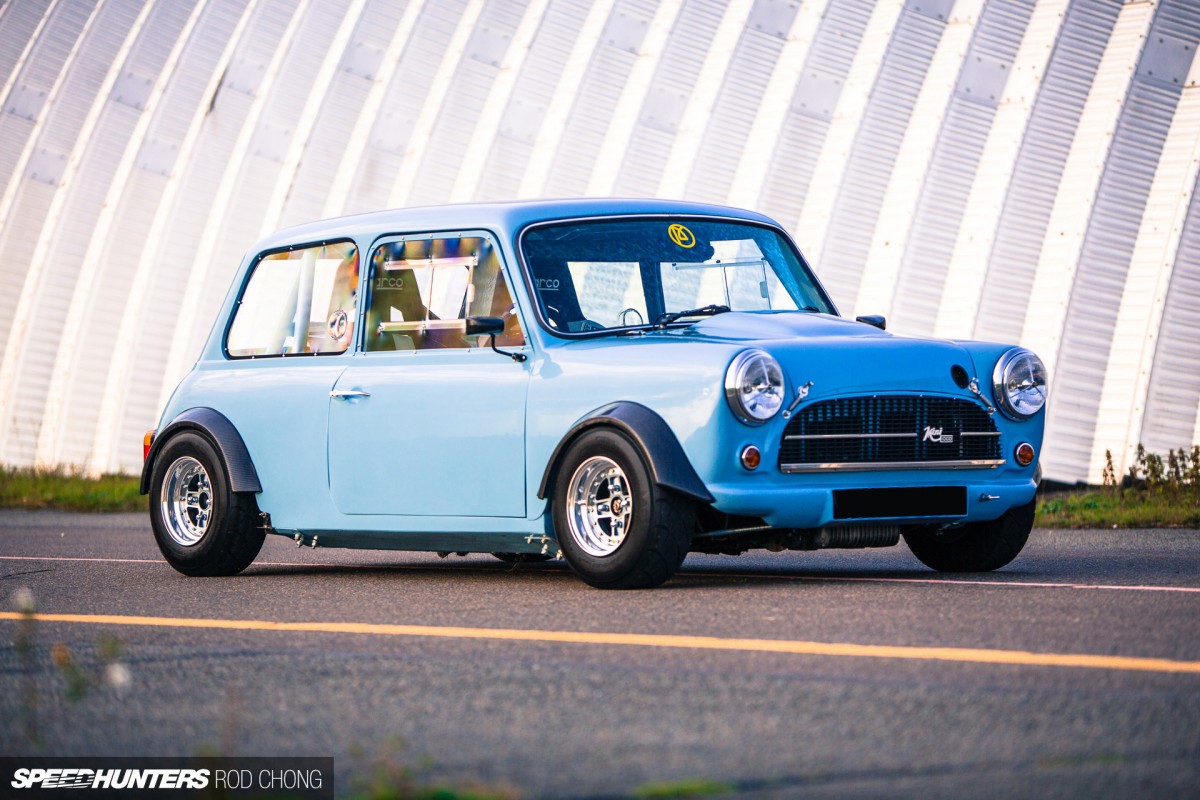 Everything is set off by a unique paint hue applied by Pete Delia, who has done a lot of work for Jonathan's father over the years.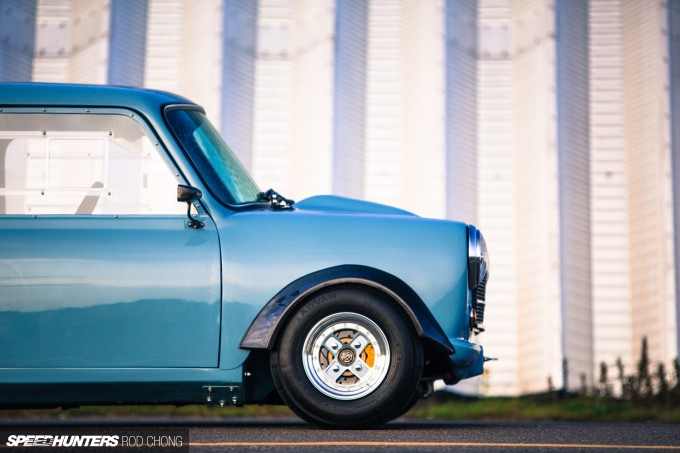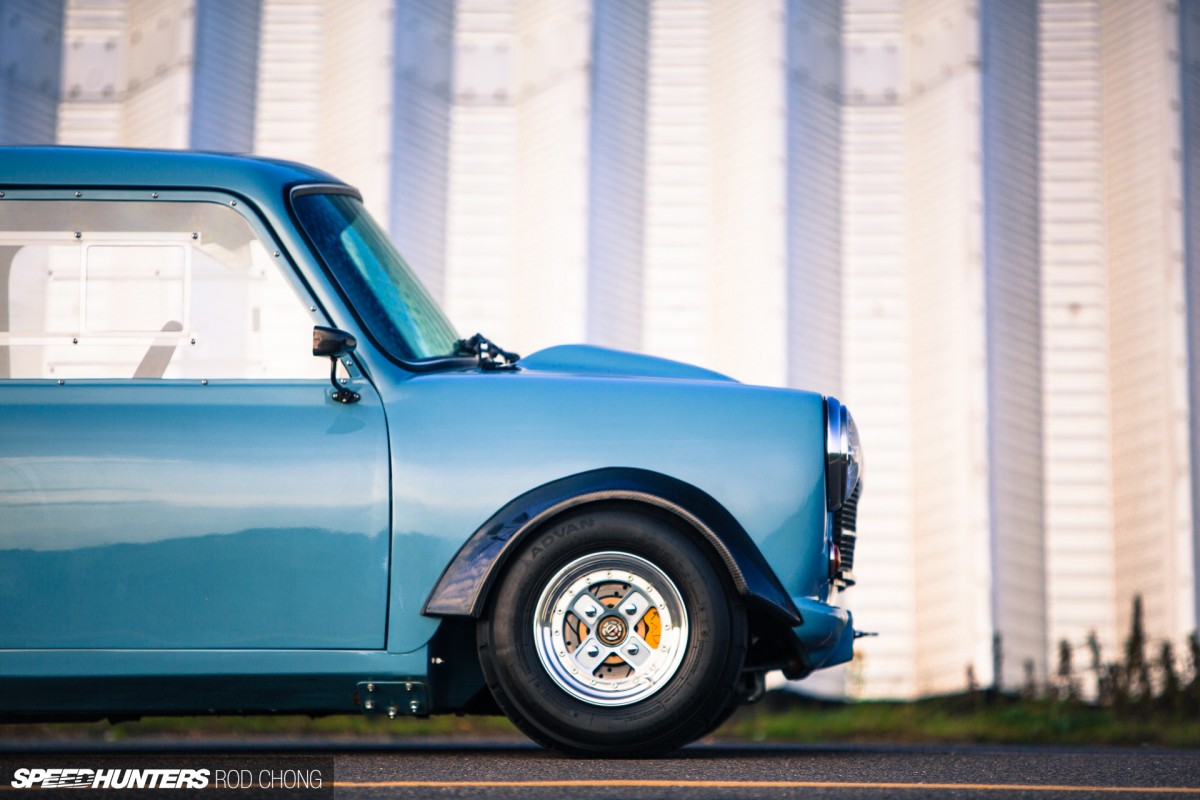 The finishing touch is the Curley carbon fiber over-fenders, which sit atop the Mini's 10×6-inch Force Racing ST10 wheels. The tires are grippy Yokohama Advan A032Rs in 165/70R10 sizing all around.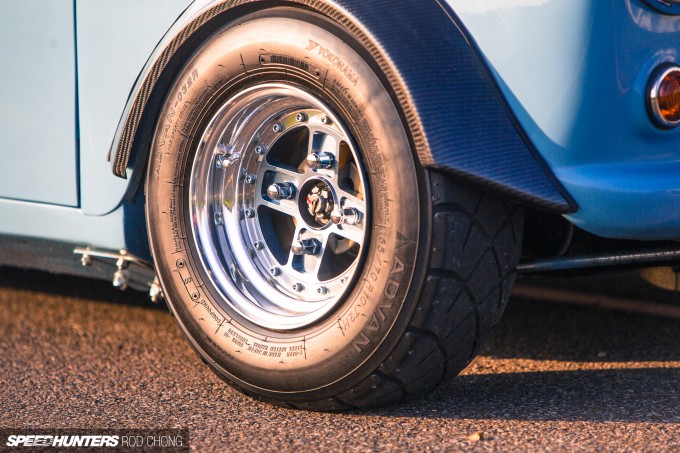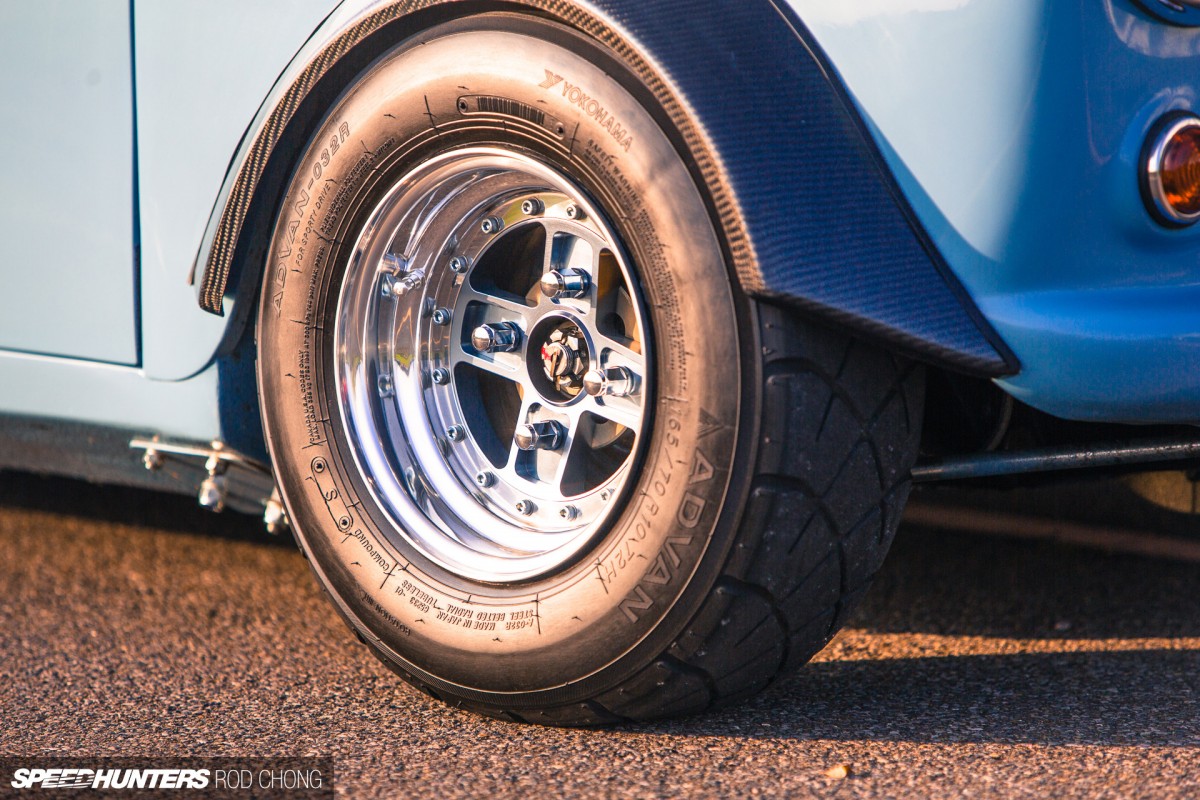 Visible behind the spokes are the car's KAD 4-pot calipers and 8.2-inch front discs, which together with the wheels are one of Jonathan's favorite aspects of the car.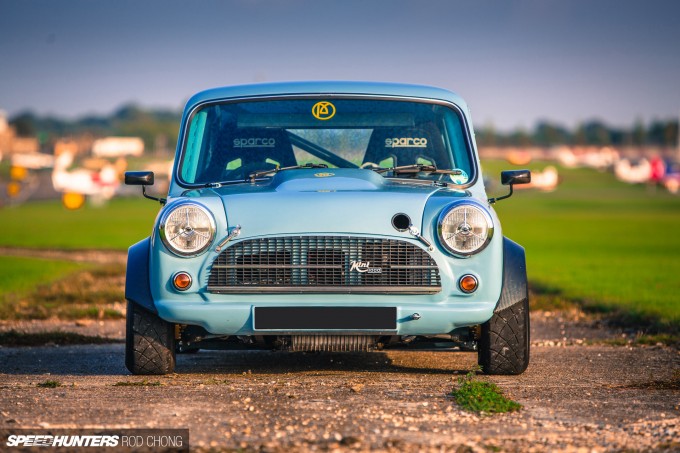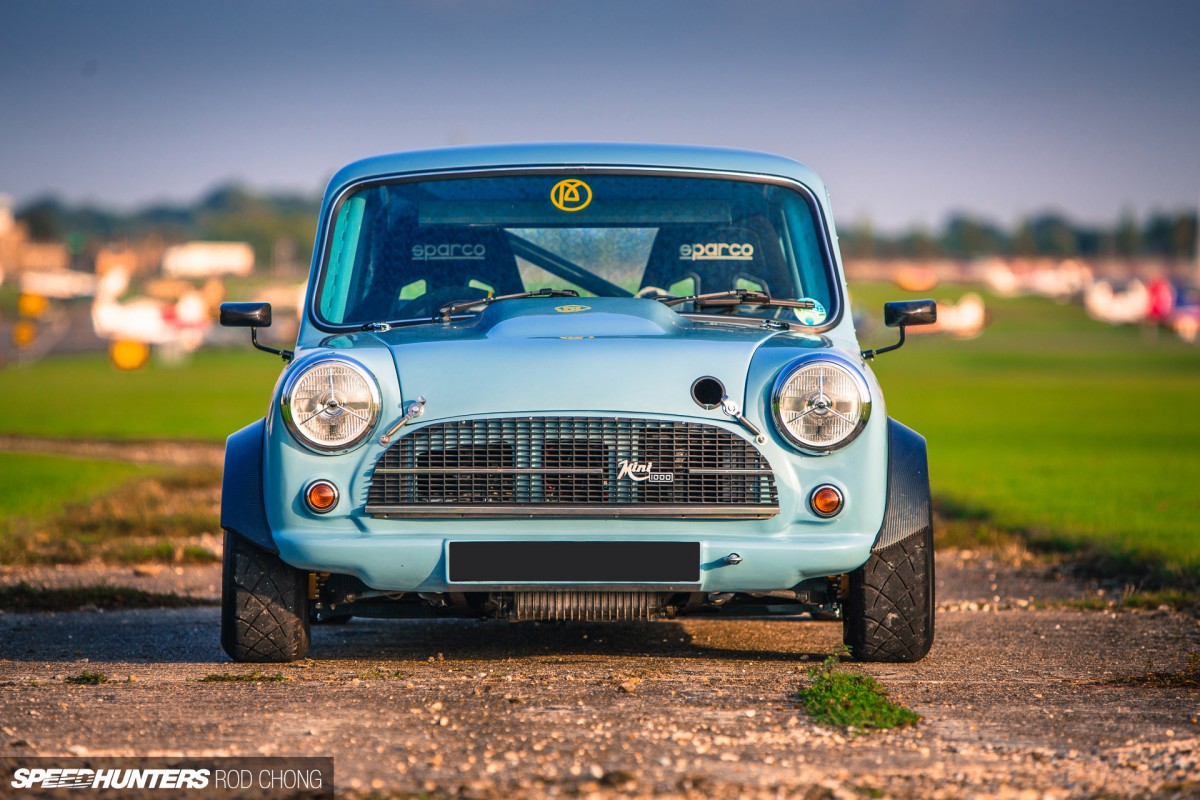 While the build has been a long and sometimes frustrating process up to this point, Jonathan says he's far from done with the project. He's actually in the process of building a new motor with a Garrett GT17 turbocharger pushing 20psi, which he hopes to have completed before the end of this year. He's also going to see what he can do about shedding even more mass, with an ultimate weight goal of 500 kilograms.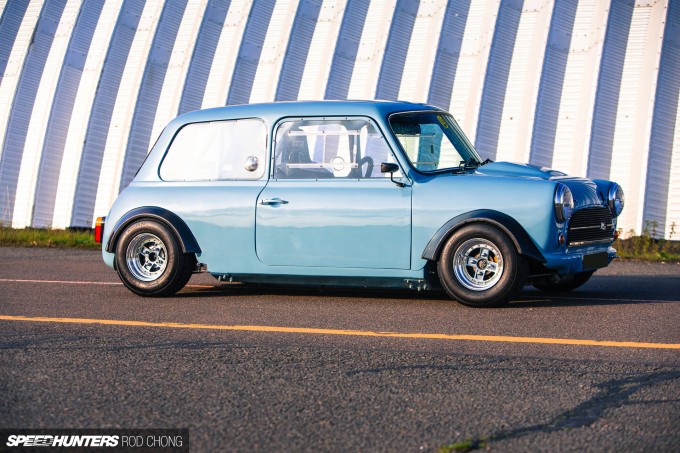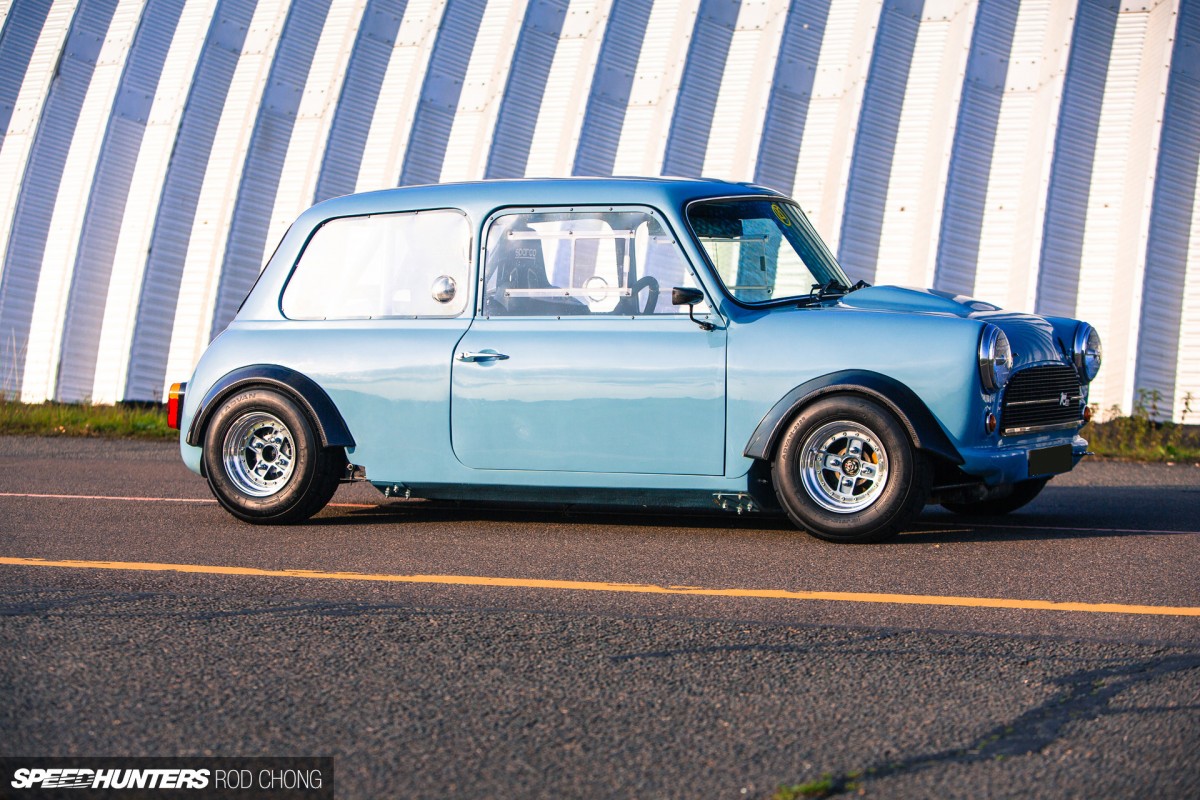 What I like most about about Jonathan's car is that it's still immediately recognizable as classic Mini – albeit one that's quite different from the norm. With its aggressive stance, unique body shape and extremely light weight – it's a fresh, but retro-minded take on an icon of British motoring and a fitting symbol of the UK's ever vibrant car culture.
Mike Garrett
Instagram: speedhunters_mike
mike@speedhunters.com
Photos by Rod Chong
Jonathan Faulkner's Mini Minus
Engine
A+ block bored to 1380, Powermax pistons, Stage 4 head, Rimflow valves, double valve springs, 1:5:1 full roller rockers, Kent 276 camshaft, Kent lightened vernier duplex timing gear, modified HIF44 carburetor, ported/knife-edged, ported MG Metro inlet with water way removed, ITG stub stack air filter, Radtec extreme radiator, Revotec electric fan, electronic distributor, ported specialist components LCB manifold, 2-inch twin box exhaust modified to fit tighter in tunnel, Radtec extreme radiator, Revotec electric fan, Brise alternator
Driveline
Standard reconditioned gearbox, Mini Spares X-pin diff, 2.9:1 crown wheel & pinion, lightened Verto clutch and flywheel
Suspension/Brakes
Gaz coilovers (front), Minisport aluminium drive flanges, rear beam axle cut for exhaust clearance, Protech coilovers (rear), KAD aluminium rear arms, Specialist Components aluminium rear hubs. lightened 4-bolt subframe tied to rollcage, adjustable tie bars and bottom arms, Force Racing titanium top arms extended for an improved coilover angle, KAD 4-pot calipers, 8.2-inch vented/drilled/grooved discs, Minifin alloy rear drums, Goodridge brake lines, OBP hydraulic handbrake, Wilwood dual bias aluminium pedal box
Wheels/Tyres
Force Racing ST2 10×6-inch alloys, Yokohama A032-R 165/70R10 soft compound tires
Exterior
Status Motor Company Mini Minus body shell, Arc Angels GRP doors, boot and bonnet, tubbed arches, bolt-in polycarbonate windows, Curley carbon arches, P700 style headlamps, Innocenti rear lamps, small carbon F1 mirrors, Innocenti grill
Interior
Nickson Motorsport rollcage tied to front & rear suspension, pedal box and existing steel inside the shell and seat mounts, TRS 3-inch harnesses, Sparco Sprint seats, custom switch box behind gear lever, KOSO-RX2N digital dash, wiring loom hidden under wing, OMP steering wheel, NRG snap-off boss, DSN door handles, DSN door hinges, KAD internal gear linkage
More Mini stories on Speedhunters
The Carbs Only Theme on Speedhunters
Cutting Room Floor