Snap Oversteer
If you could put together your dream event what would it be? A hill climb up the Stelvio Pass? A time attack on Monaco's F1 street circuit? For Speedhunters' own Mad Mike Whiddett, bringing drifting to the masses with unique automated scoring system in a city location consumed his thoughts for many years – but it became a reality in December 2012. Last weekend Red Bull Drift Shifters returned, with a bigger production and a new home on an iconic Auckland City road.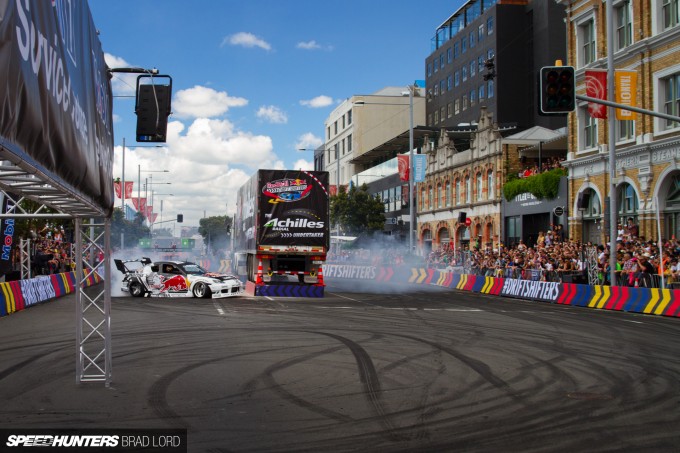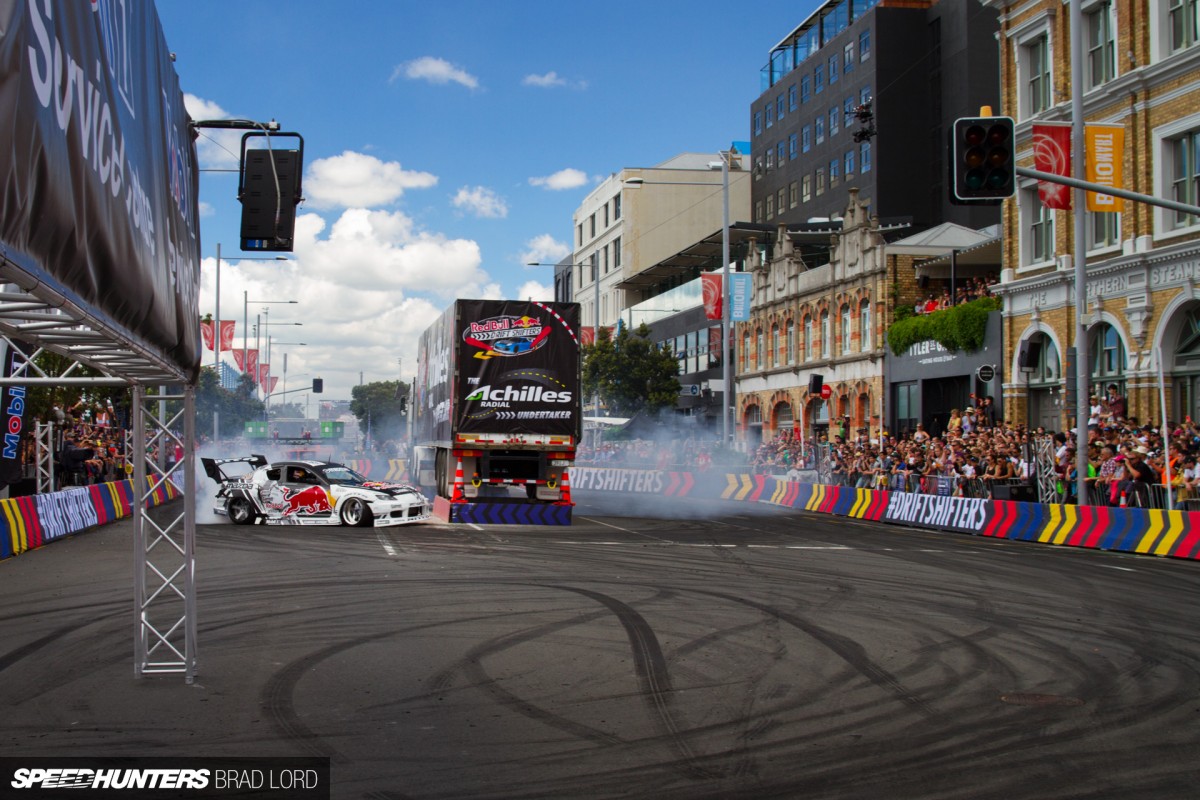 Quay Street holds fond memories for many, and at the height of the modified import movement in the early to mid '00s the long harbourside stretch became the late-night congregation point for anyone with a passing interest in tuned-up Japanese performance cars. So to have an event like this happening in this particular location was kind of cool.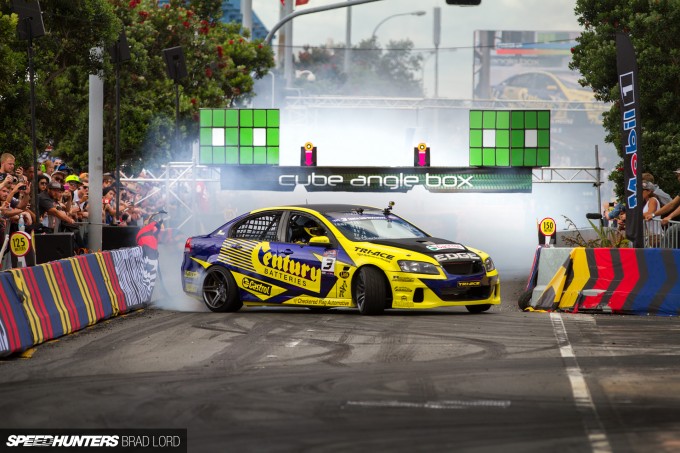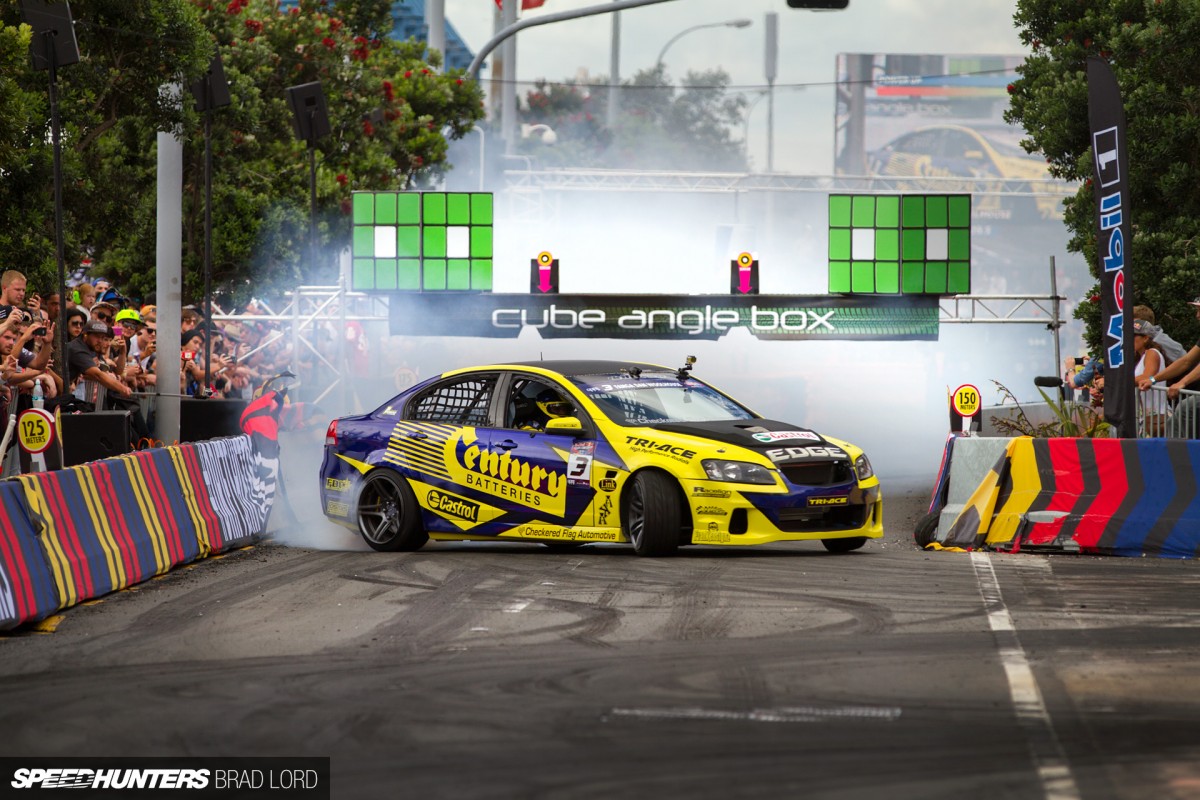 In fact, just a few hundreds metres down the road from where the Red Bull event played out on Saturday afternoon, is where I had my first taste of drifting way back in 1997 – albeit in its not-so-legal original form. That particular day didn't end so well for the owner of the RPS13 who was demonstrating his skills (a sea of blue and red flashing lights made sure of that), but Drift Shifters was different. There were police again, but this time around they were watching from the sidelines, and I can't see how they wouldn't have loved what they saw.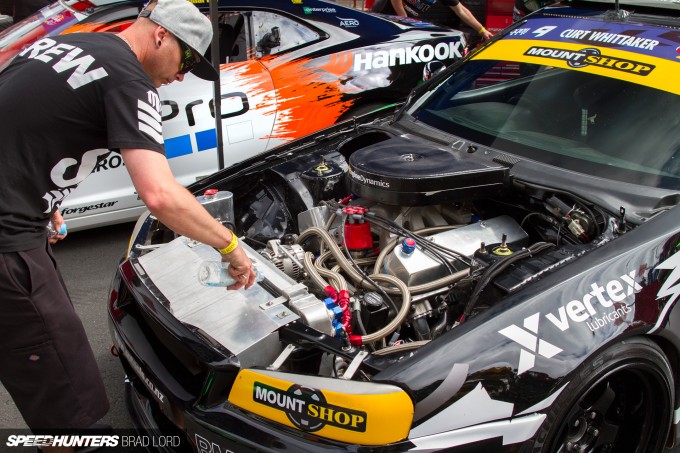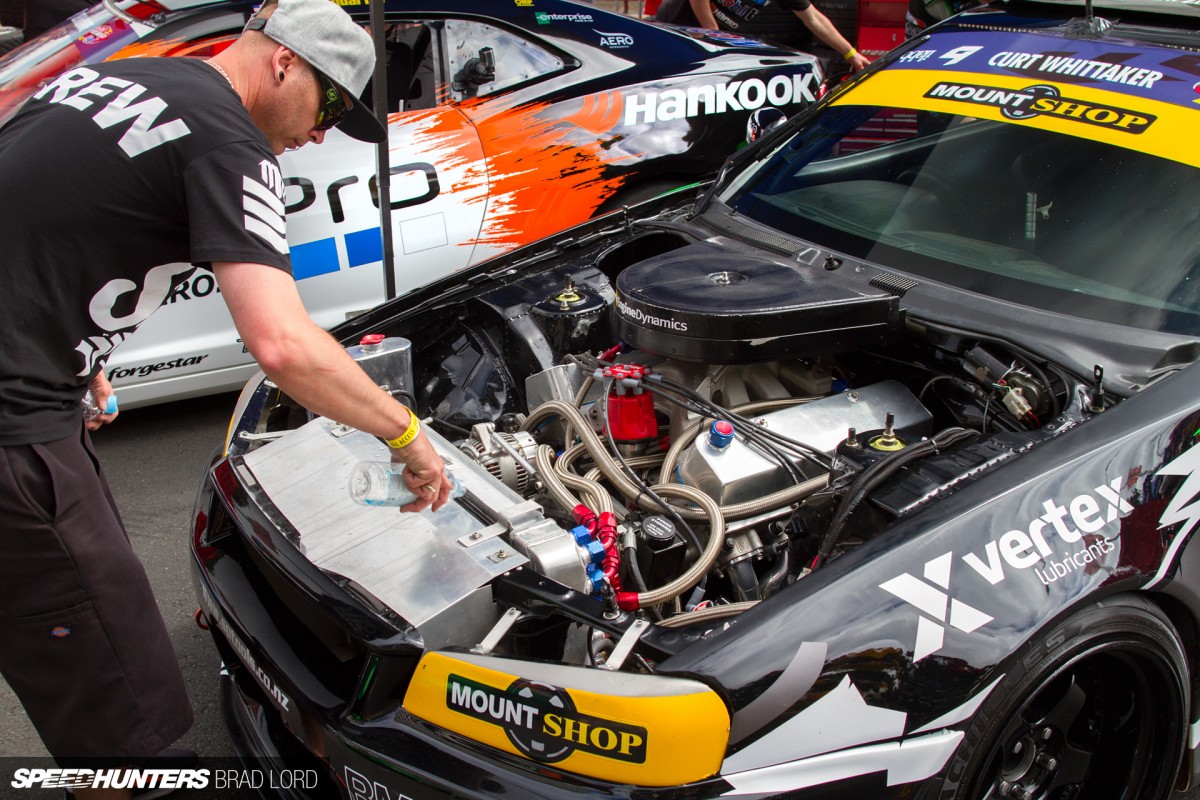 As a legitimised motorsport, drifting has a long history in New Zealand. As I just alluded to, it got its start on the street like in every other country where it has a following today, but in its D1NZ championship which kicked off in 2003, New Zealand has one of the longest-established series in the world.  Because of that there's no shortage of talented drivers and plenty of serious drift machinery.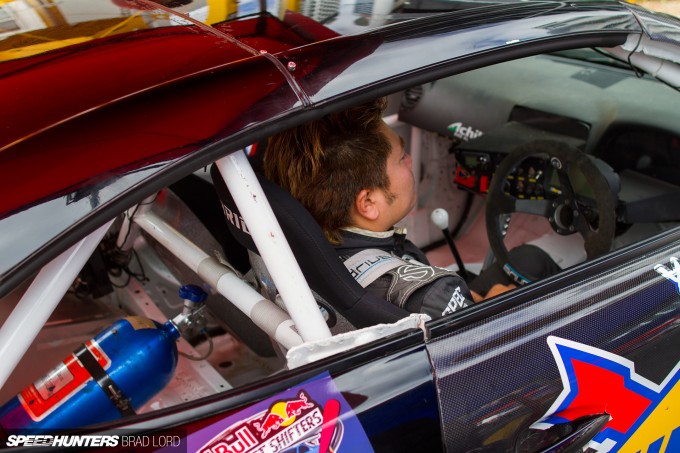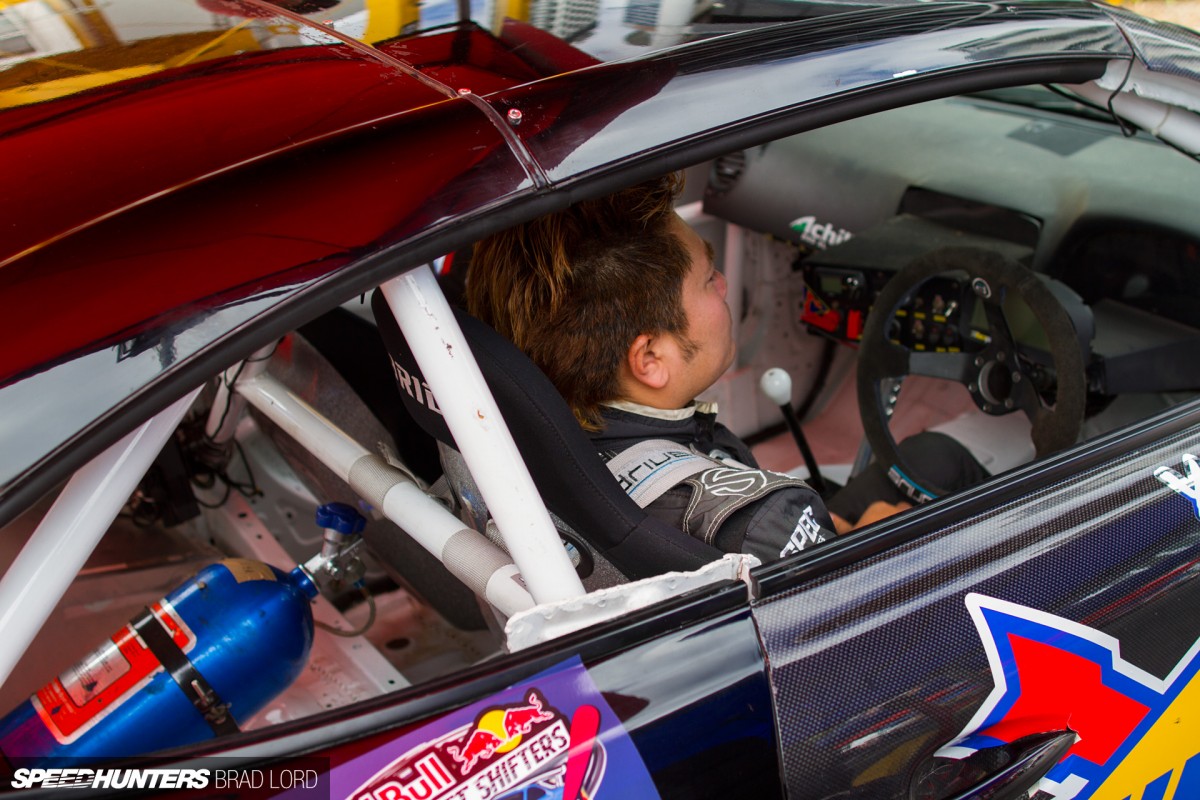 But if you had told me at the very first D1NZ event that in decade's time drifting would be able to shut down a few city blocks for a day, and that the authorities would happily remove permanent traffic islands so that the course could be mapped out in the exact way it was envisaged, and that it would be attended by some of the biggest names in the sport, I probably wouldn't have believed you. And would you blame me? That seems like a pretty far fetched idea…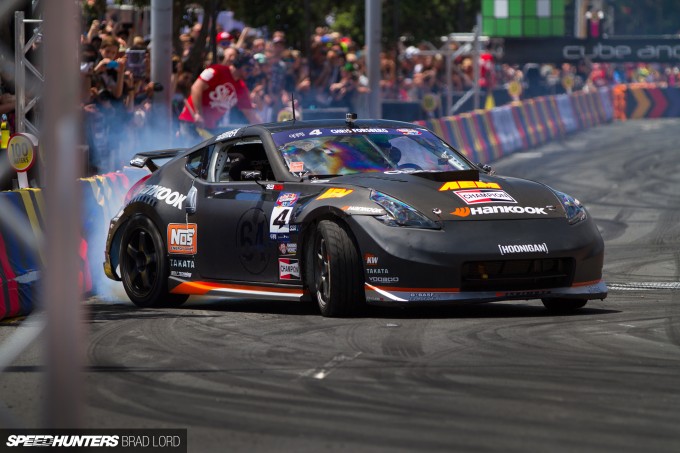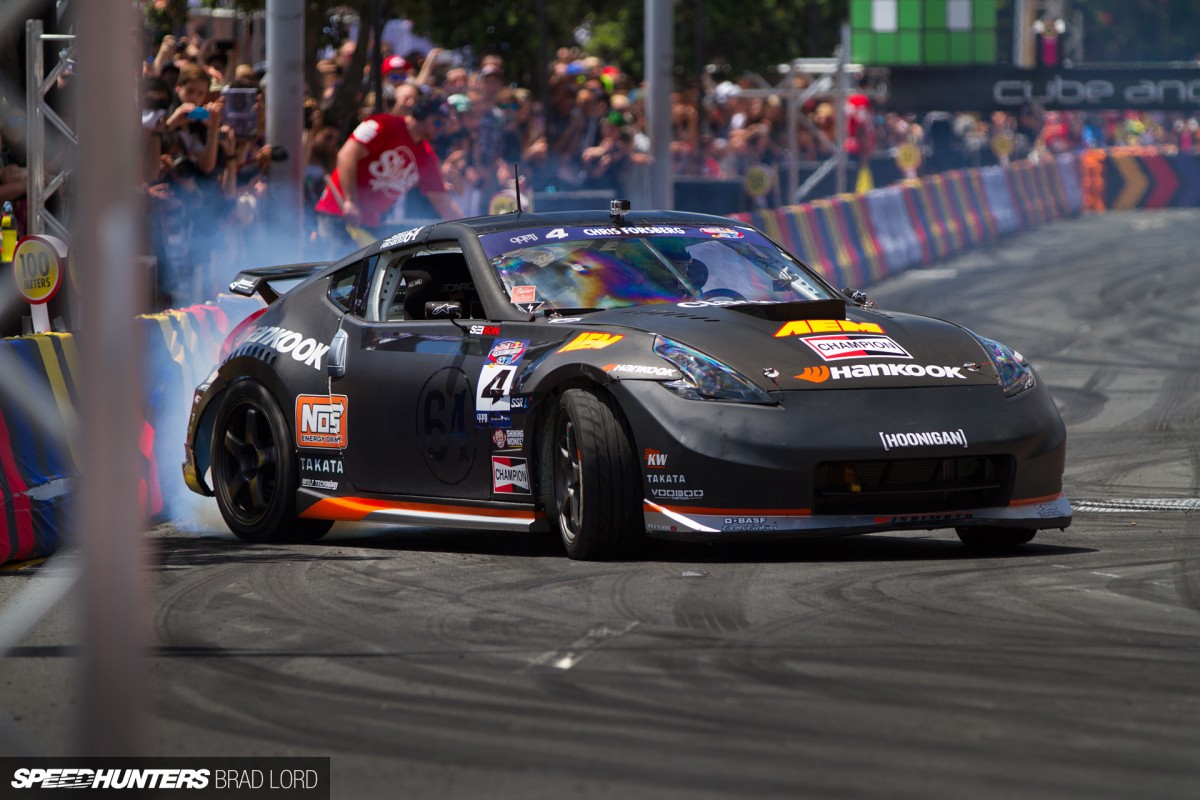 Except that's exactly what happened last weekend.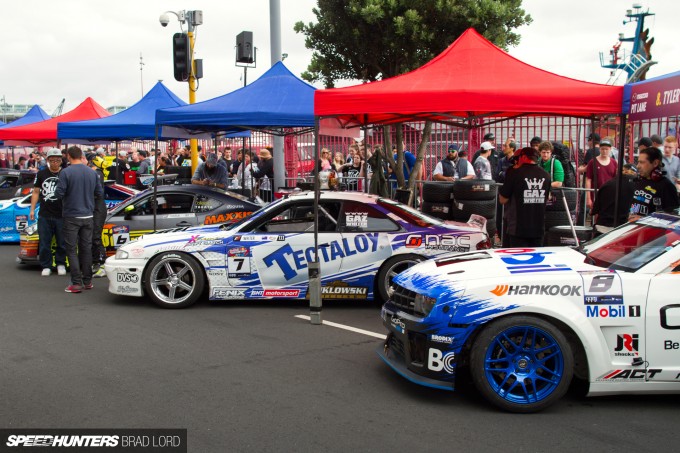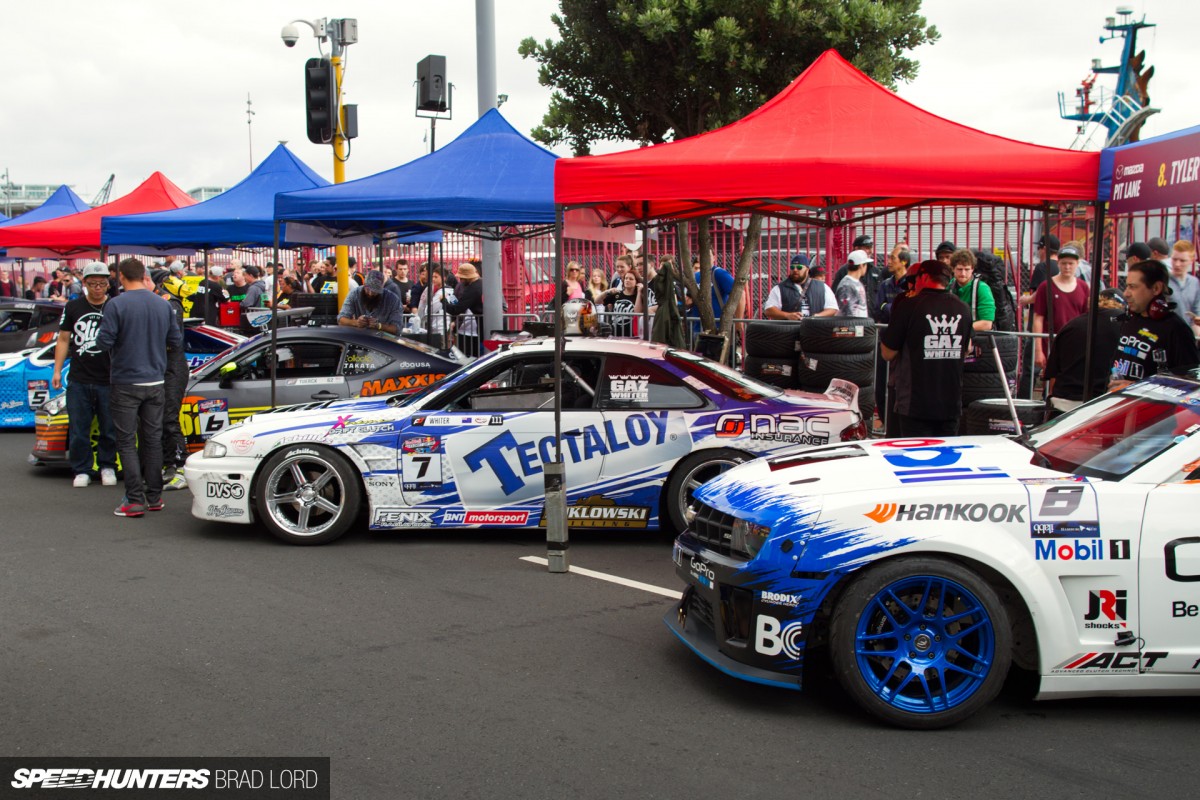 Earlier this week Pedey gave you his account of the event; talking through the format and how things panned out on the day for the assembled drivers and the 20,000-strong crowd. I'm going to add to that with a few of my observations.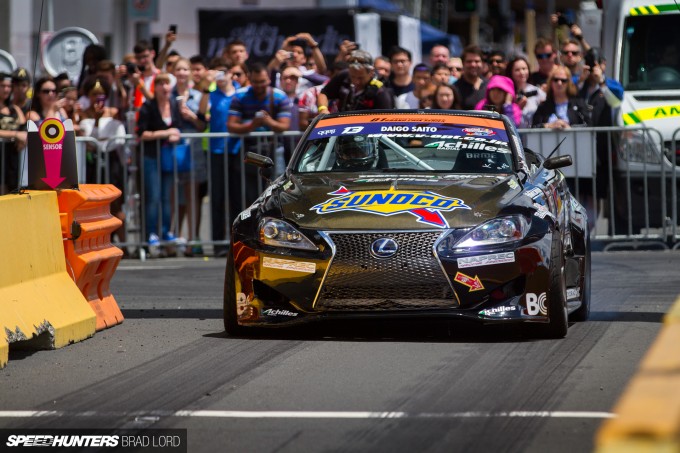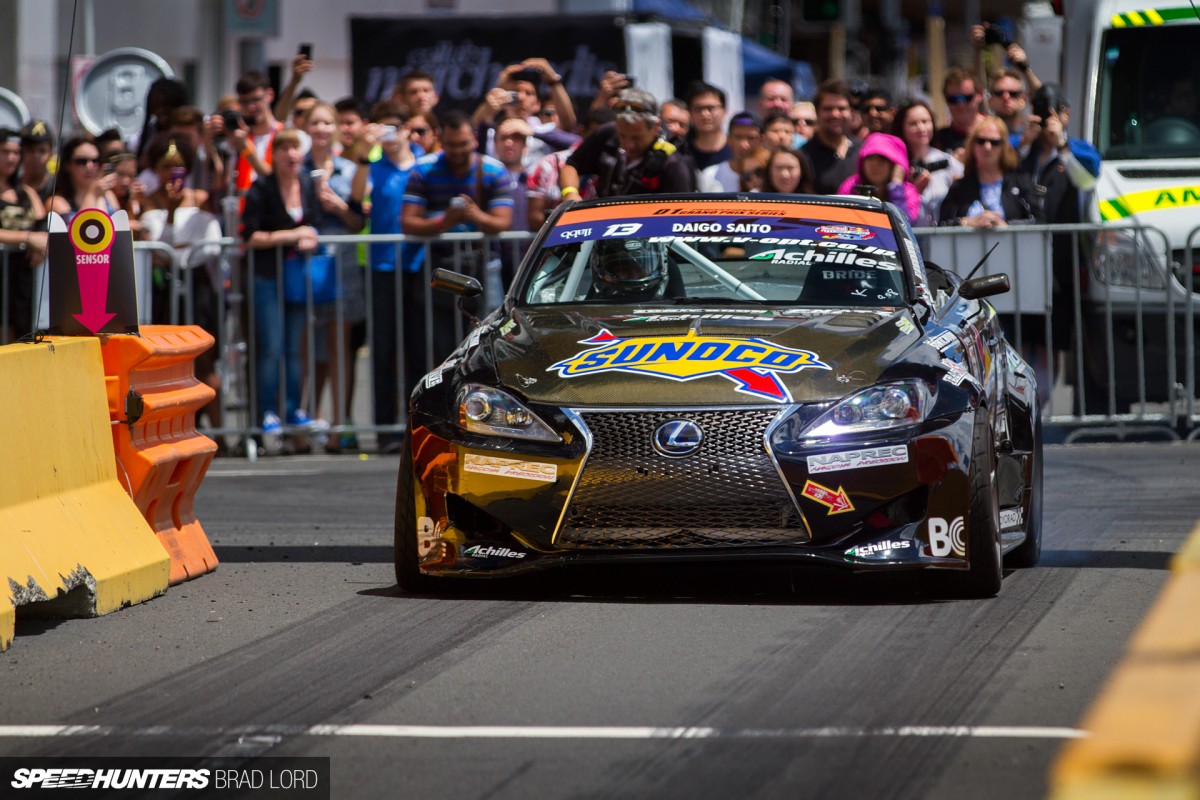 The fact that so many people turned out to this event should give you an idea of just how popular drifting has become in New Zealand.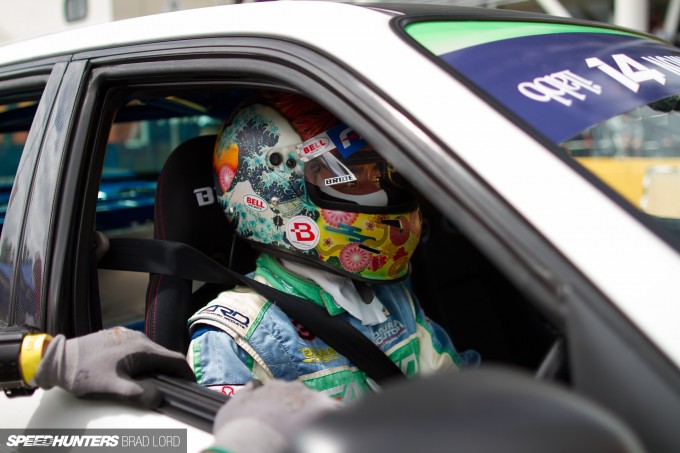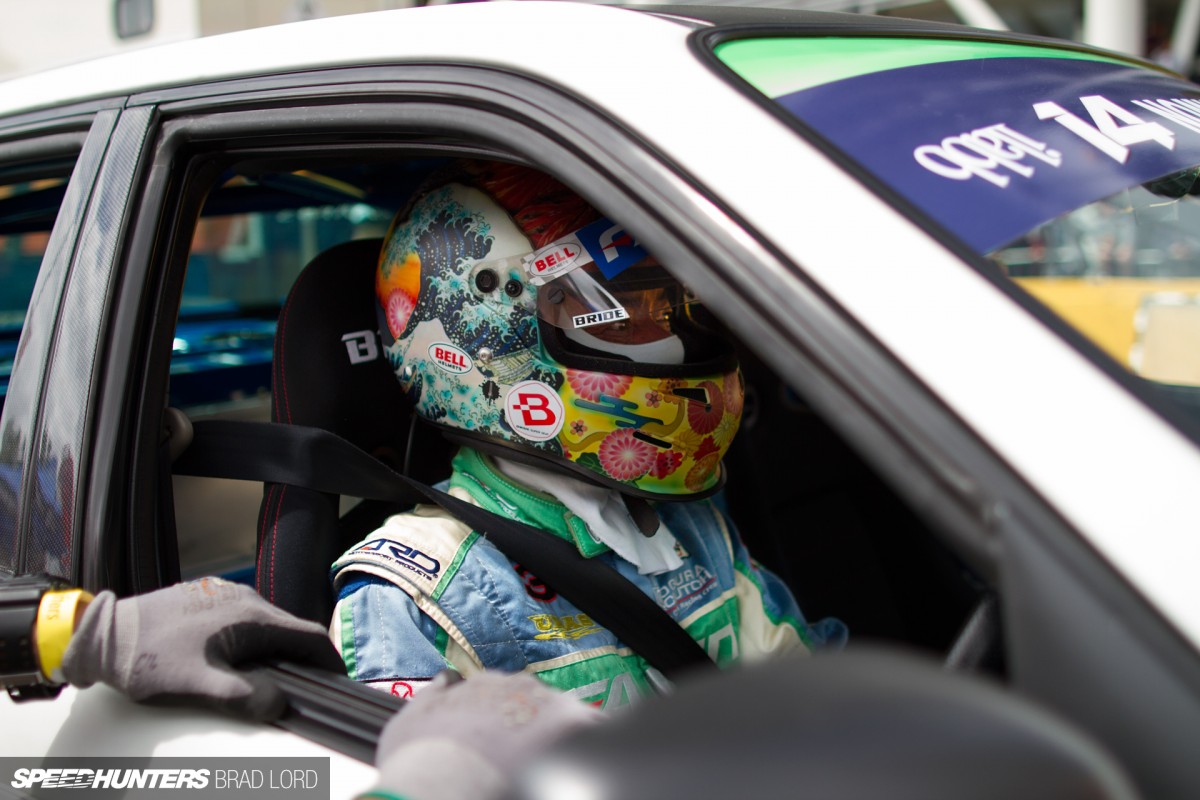 Yes, it was free to attend, so not everyone in the audience would have known who this guy is, or the animated alter-ego he's brought to the sport, but there was a lot who did.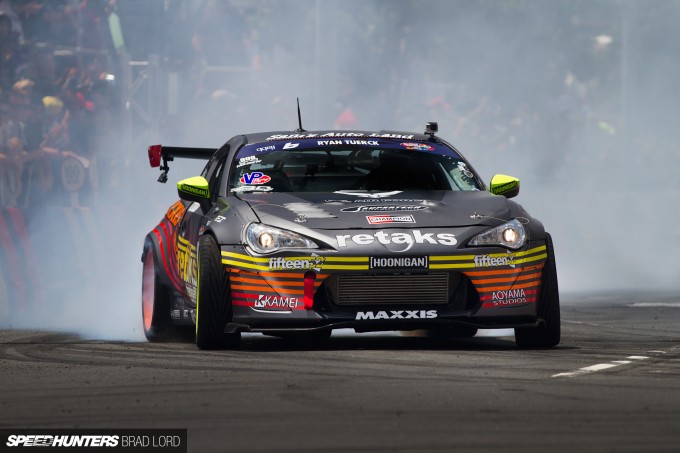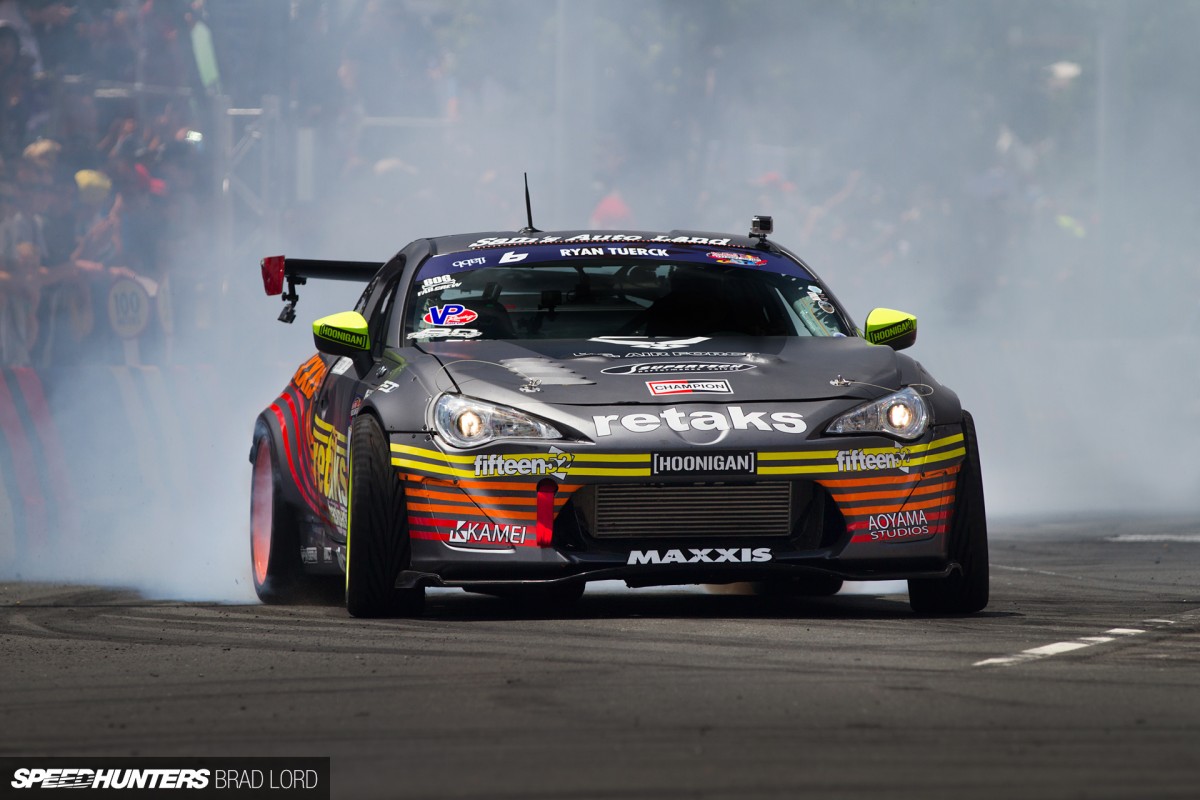 And the same goes for the Formula Drift heroes who made the long-haul flight down from the US.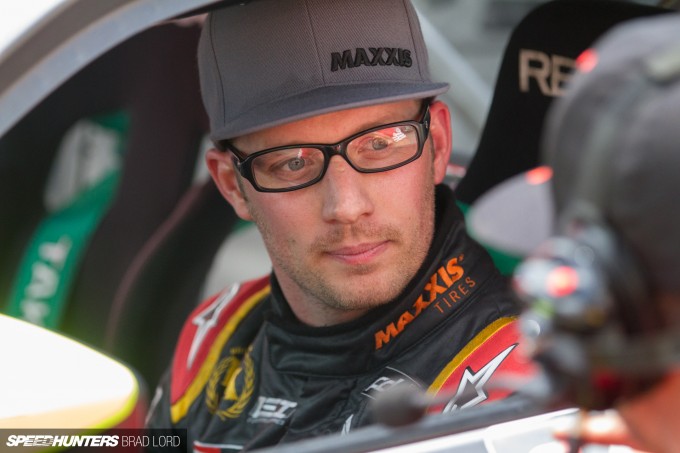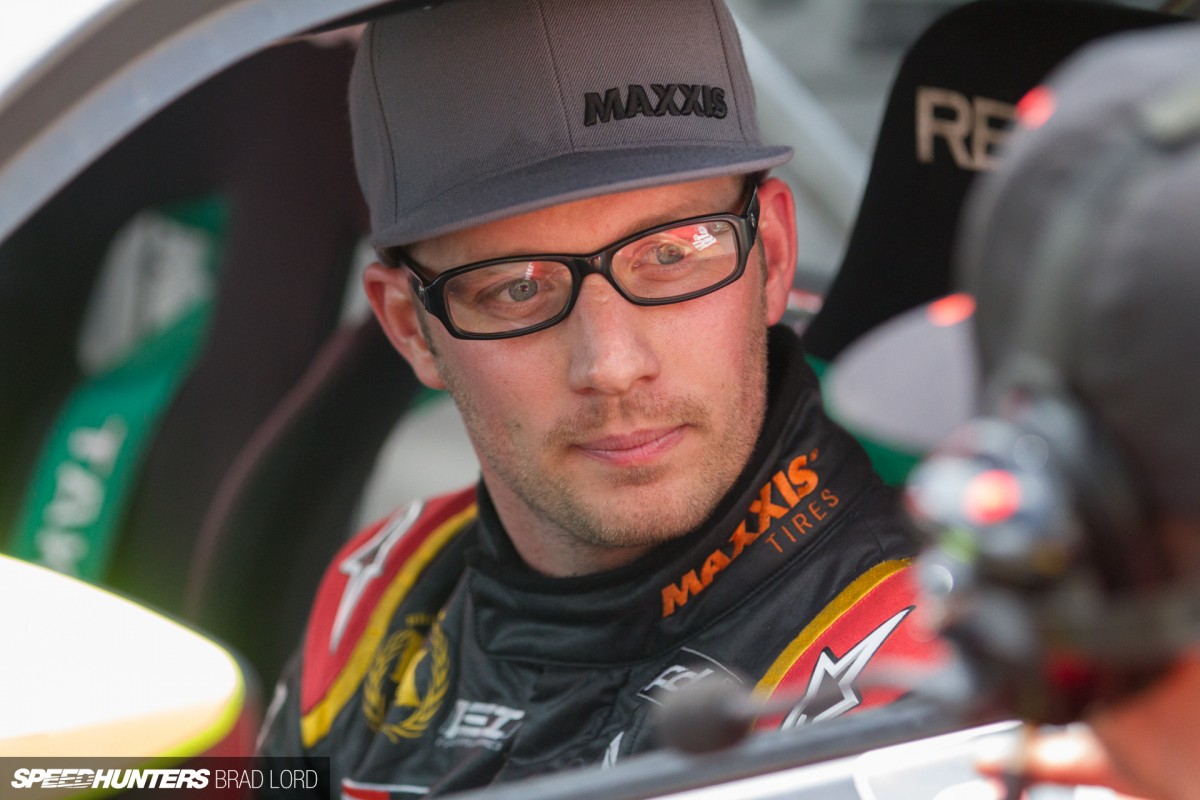 Having the FD championship screened on free-to-air mainstream television in New Zealand has helped make guys like Ryan Tuerck, Chris Forsberg, Tyler McQuarrie and Matt Powers drifting heroes Down Under, so to be able to watch them drive live in their own cars – albeit for a few fleeting hours – was an opportunity not to be missed.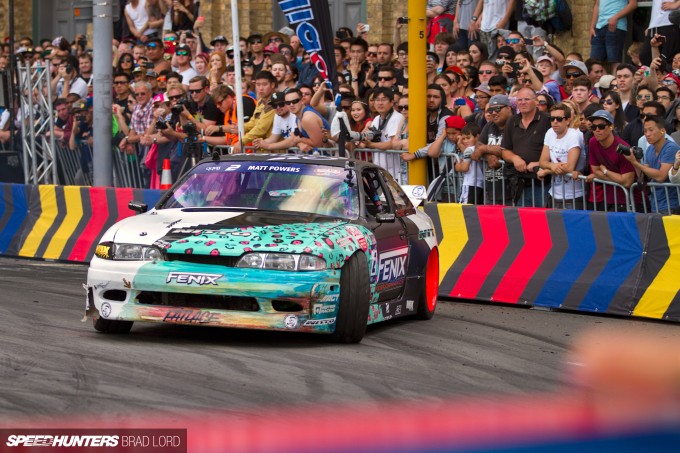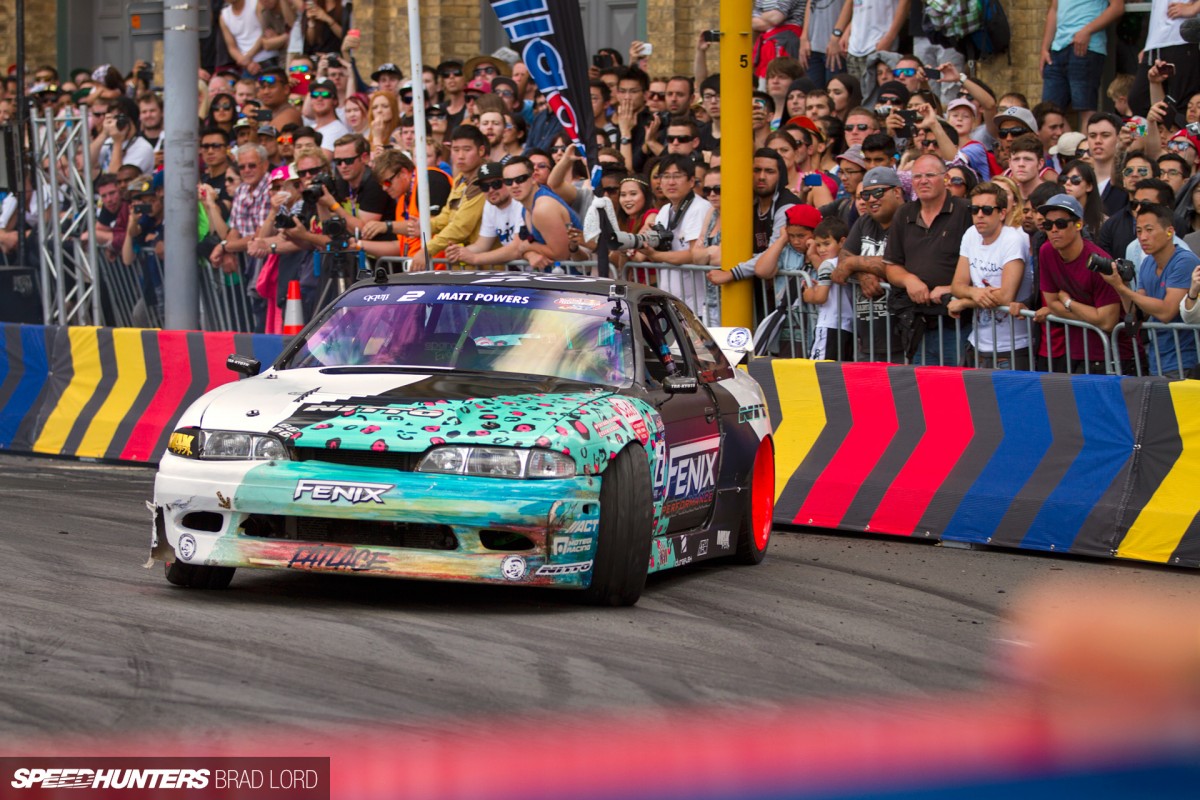 And given the show that was put on, I don't think anyone could have left disappointed. But it wasn't just the high-speed, sideways driving that turned up the volume behind the barriers – there was the resulting carnage that came from all 16 drivers going hell for leather too…
Utter Carnage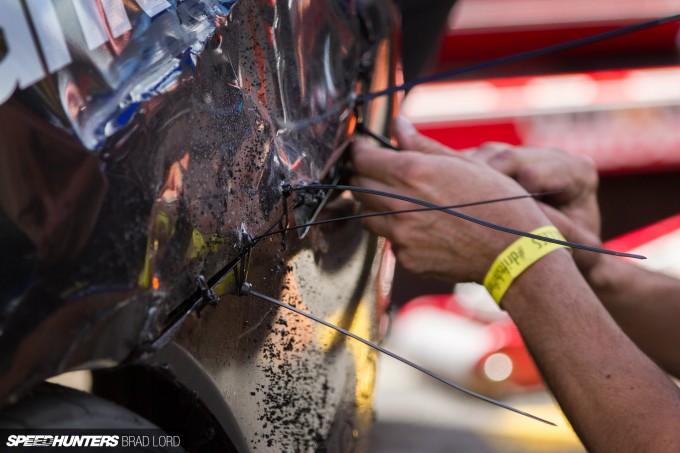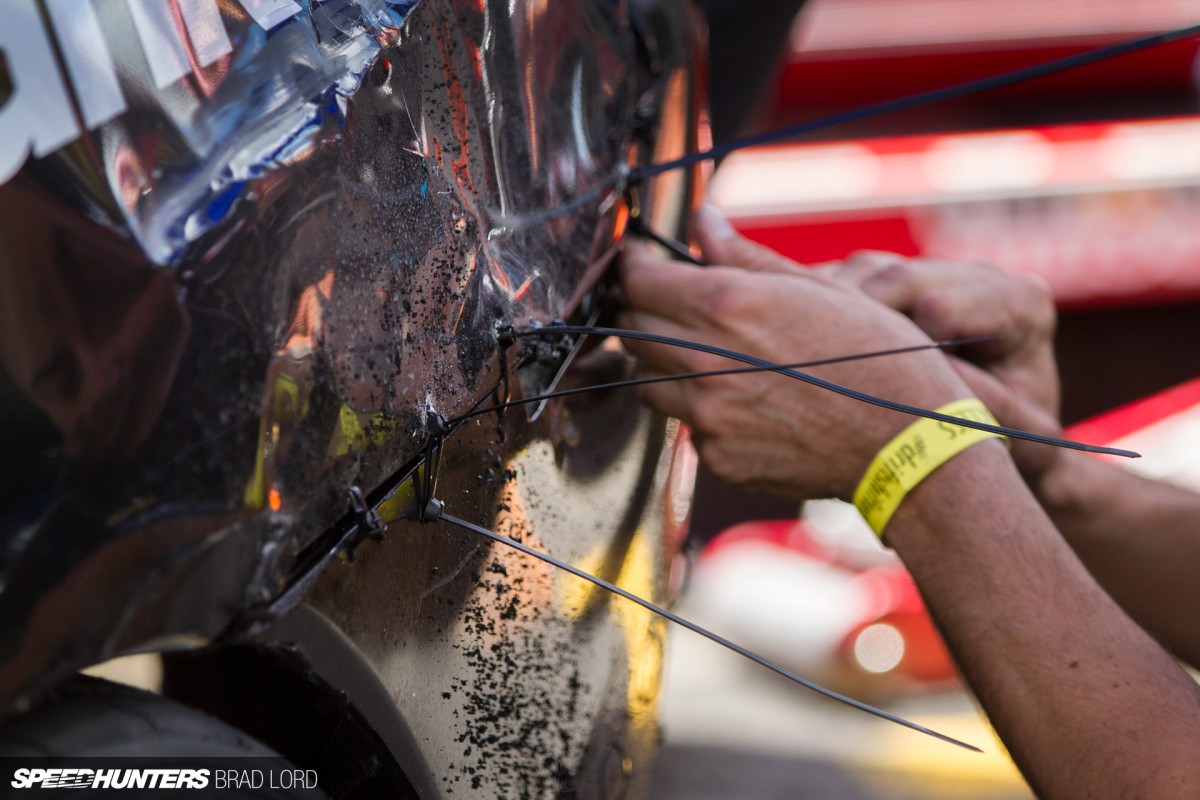 By nature, twisted metal and shattered fibreglass are the byproduct of drifting, but shy of a demolition derby I don't think I've ever seen as much carnage at a motorsport event than I did at Red Bull Drift Shifters. From the moment the event began, right through to the latter stages of competition, you'd always find at least one car being hit with a big hammer or getting temporarily stitched up. But most of the time there were three or four wounded machines undergoing roadside surgery.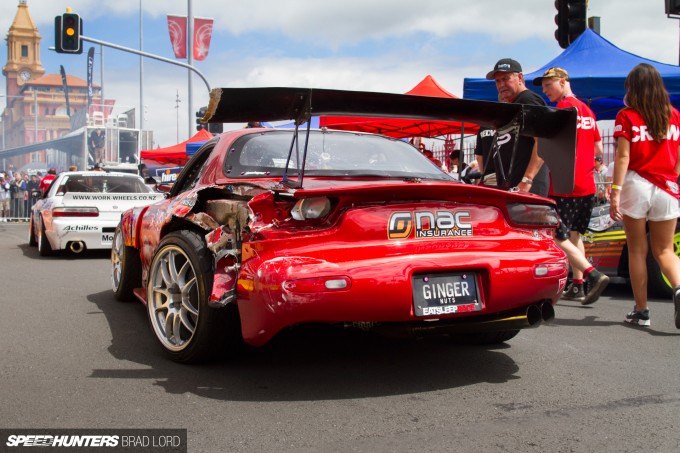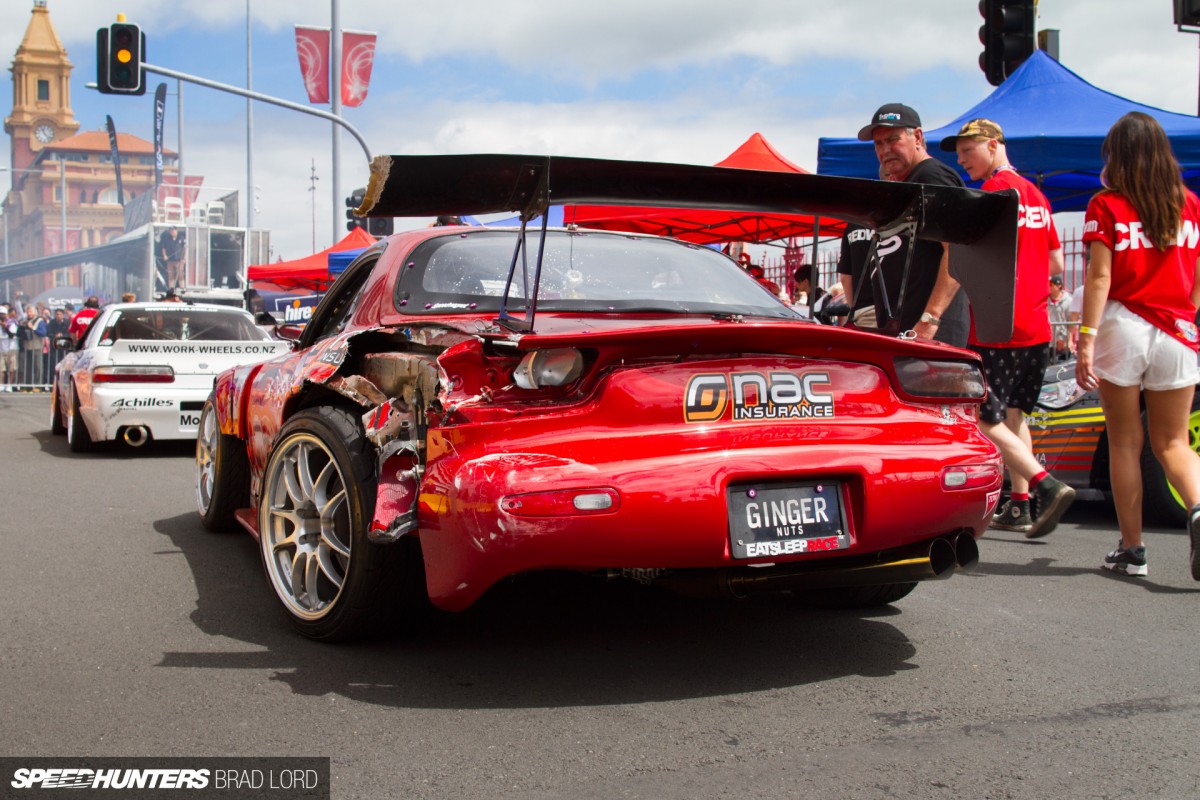 Incidents ranged from light bumper grazes – drifting's equivalent of a skinned knee – to serious fractures that would require a little more time to be put right. Bin it or win it, right?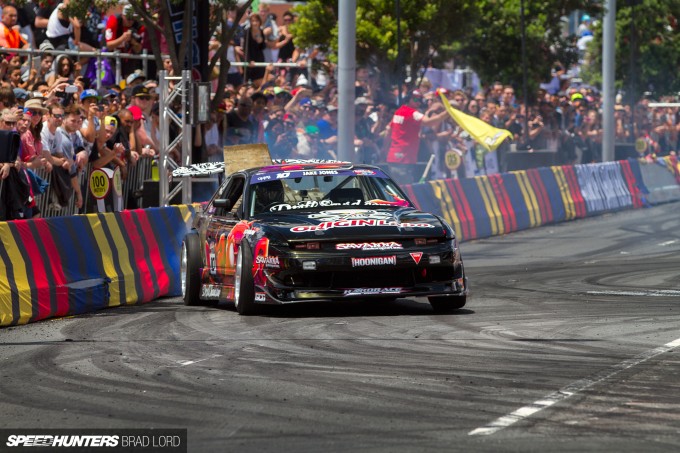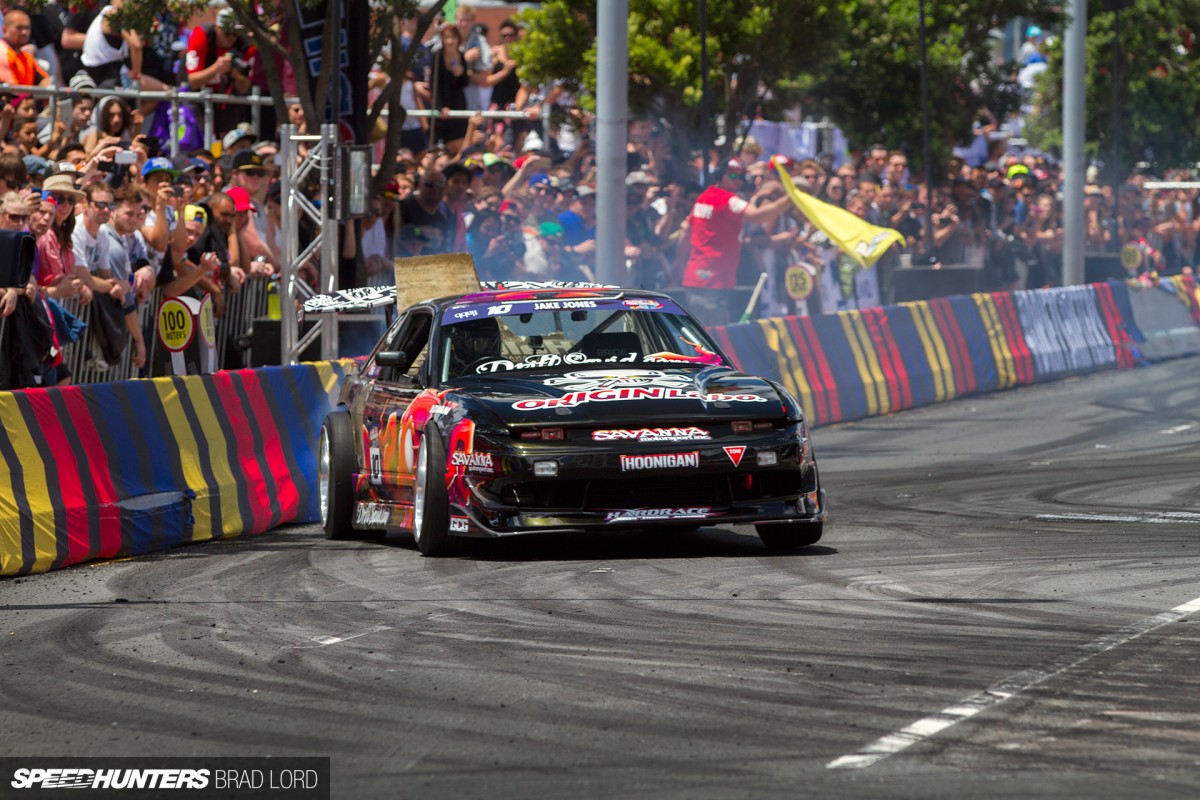 With FRP flying off cars left, right and centre, track marshals were kept busy dealing with the aftermath. Australia's Jake 'Drift Squid' Jones gave them a brief reprieve by tidying up after himself – his detached rear fender promptly shovelled up by his rear wing.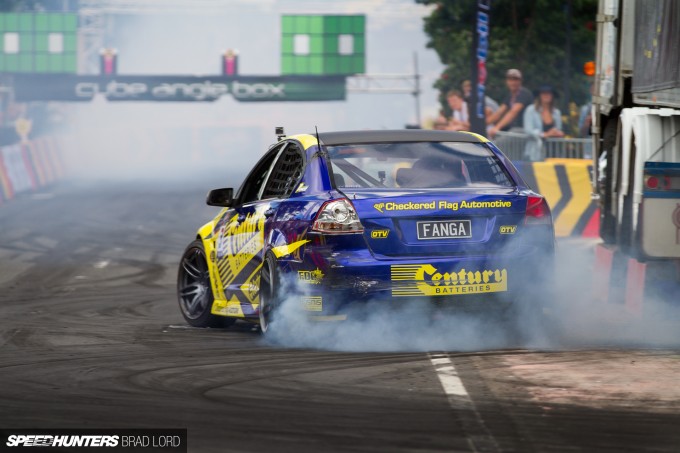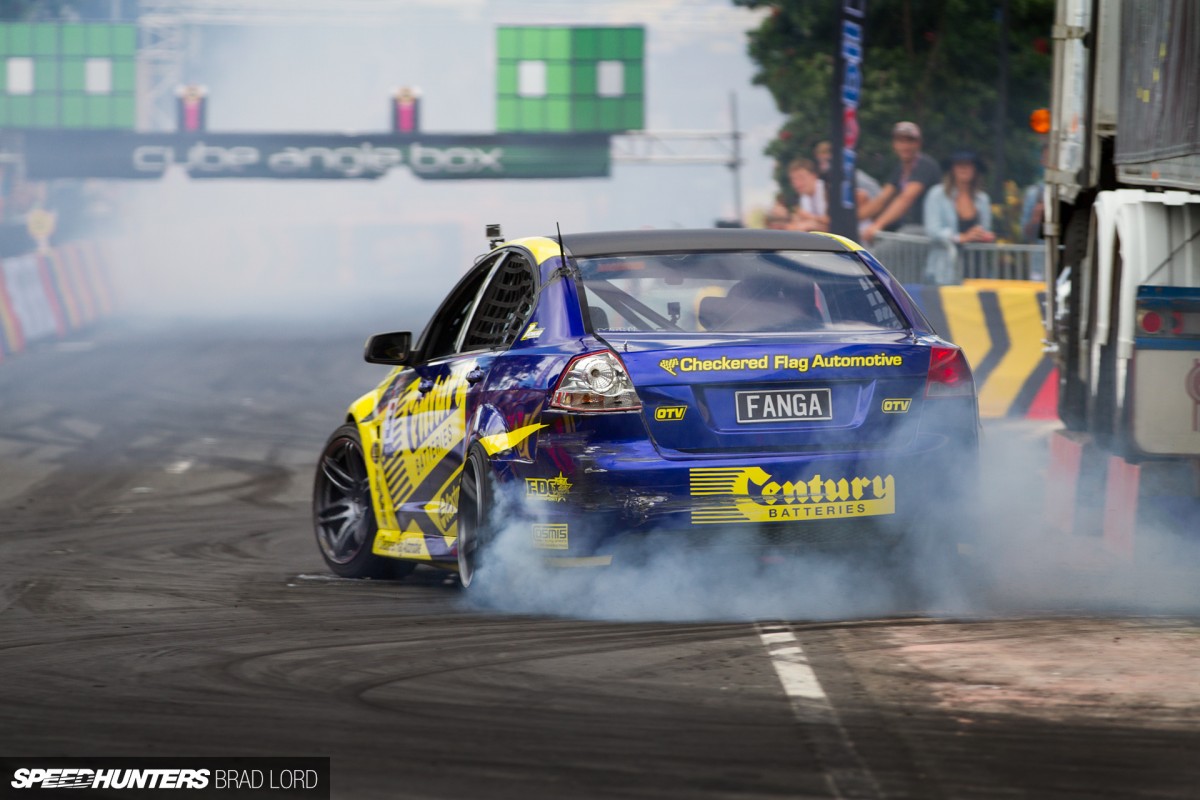 By the time qualifying was done it was hard to find a car that hadn't been involved in some sort of altercation with a barrier. At the 2012 event, Fanga Dan Woolhouse took out his windscreen and roof when he misjudged his position sliding beneath the Achillies Undertaker truck trailer obstacle, so I'm pretty sure he was happy to trade that for a smashed tail light and some scuffs in his new ex-cop Holden Commodore this time around.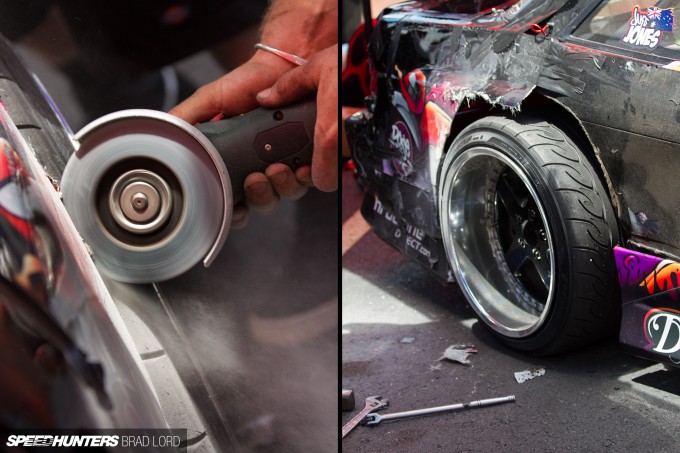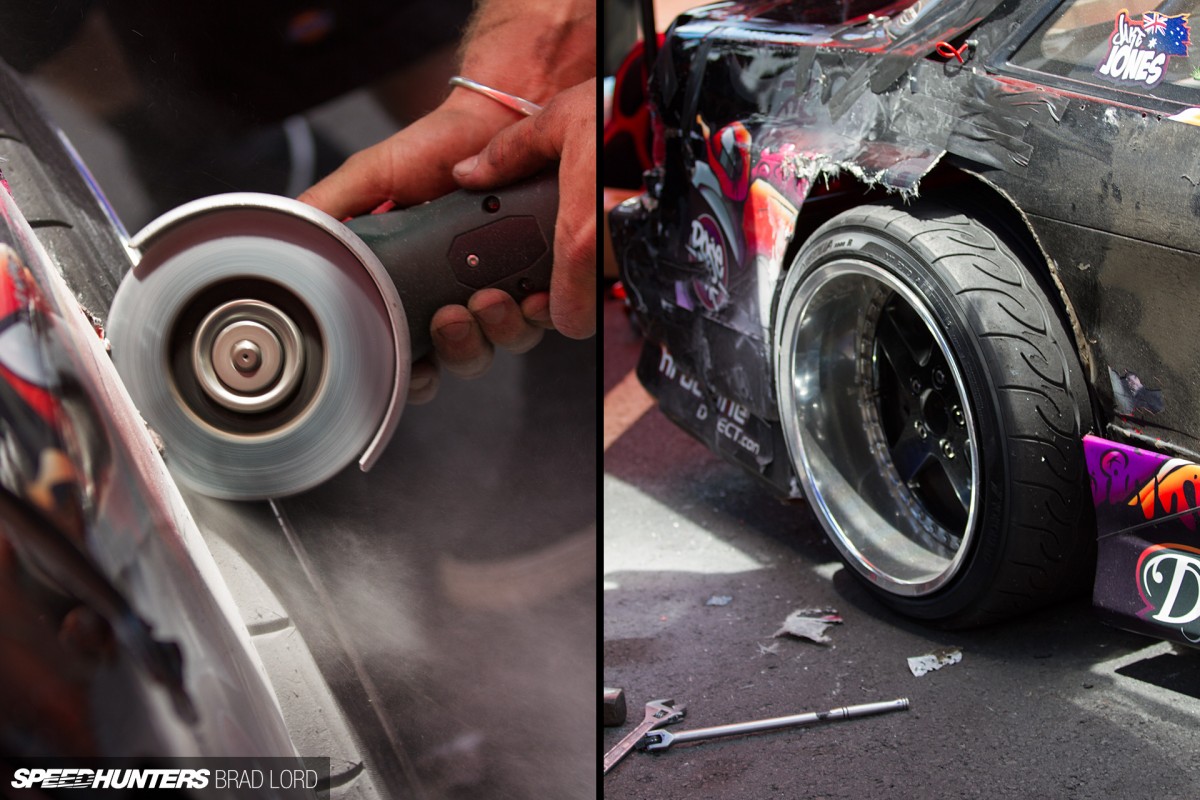 Because of Drift Shifters' high-enrgry, quick-fire format (it was all over in three and half hours), teams had to work fast to rectify the broken bits before they were called back up for their next run.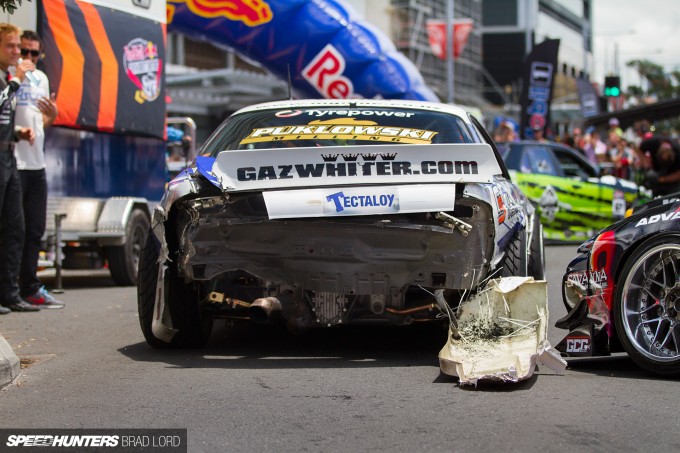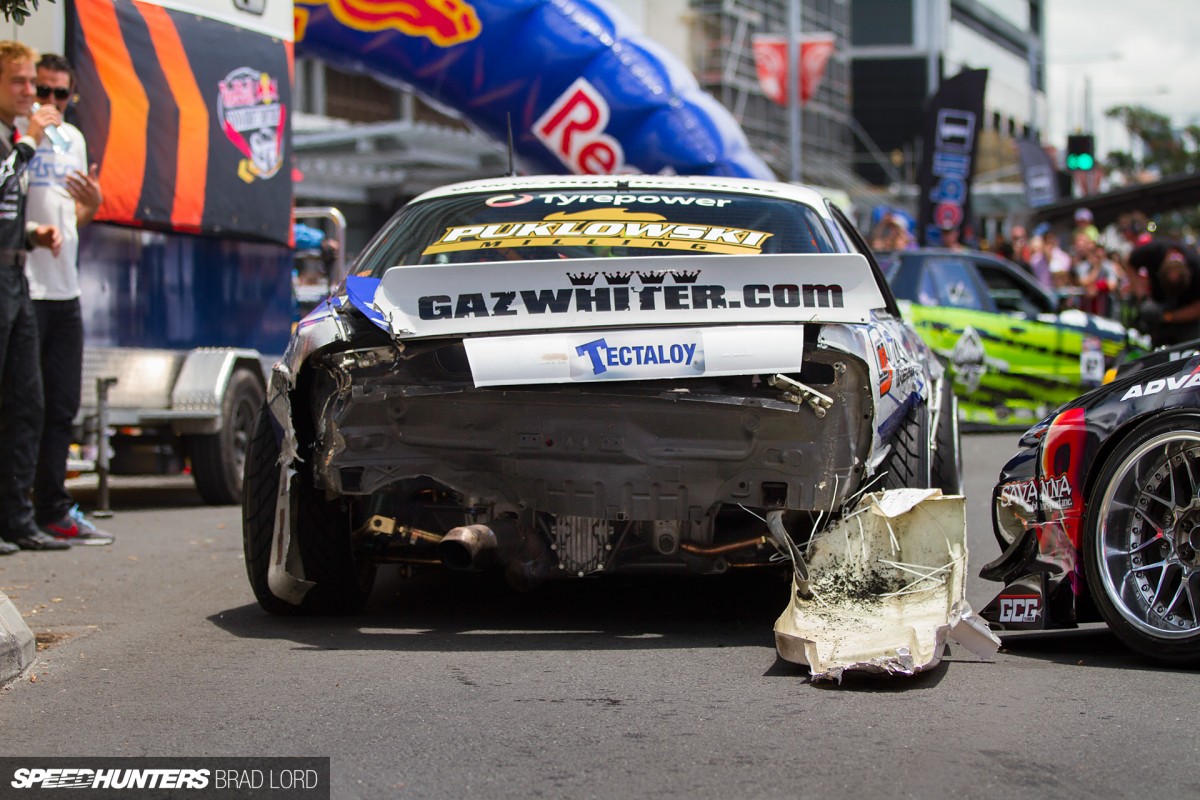 Sometimes damage was repaired, only to be damaged for a second time on a subsequent run. No combo points for that though!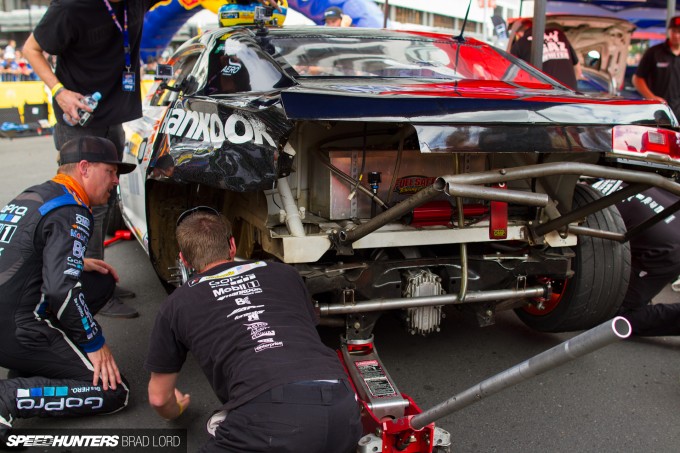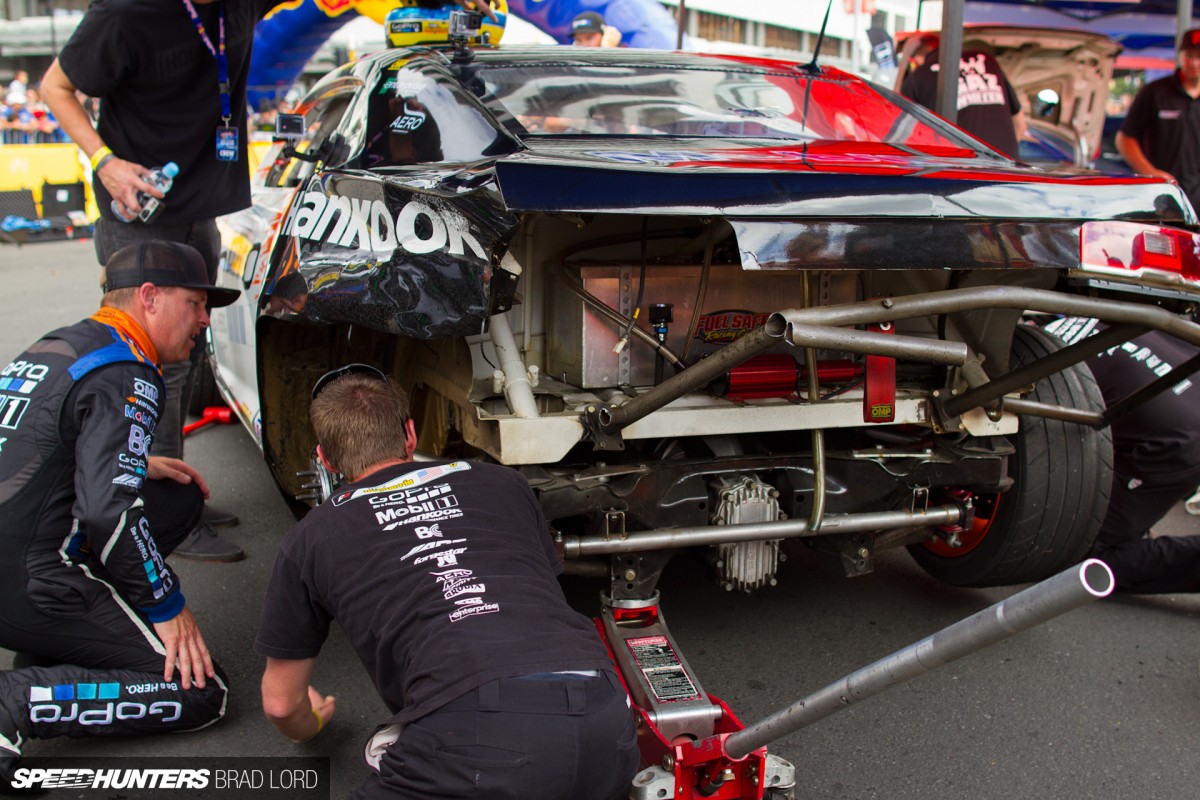 I asked Mad Mike – who had also come to grief early on in the day – what he thought was going on. He put it down to a couple of things, but mostly the fact that everyone was going maximum attack in an effort to rack up the proximity points. Even guys like Tyler McQuarrie lost a few bits of their car along the way.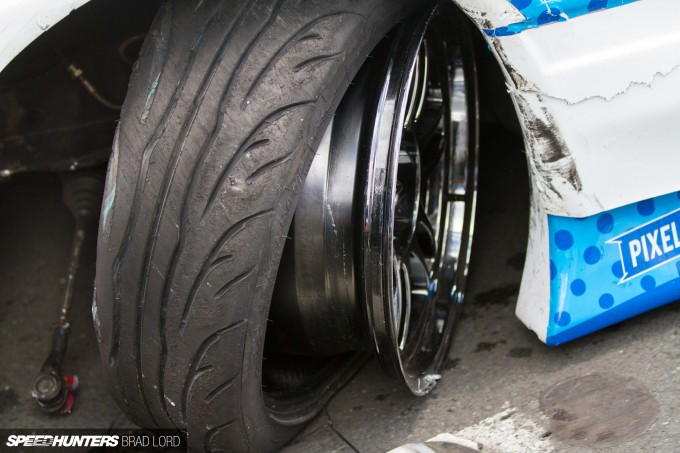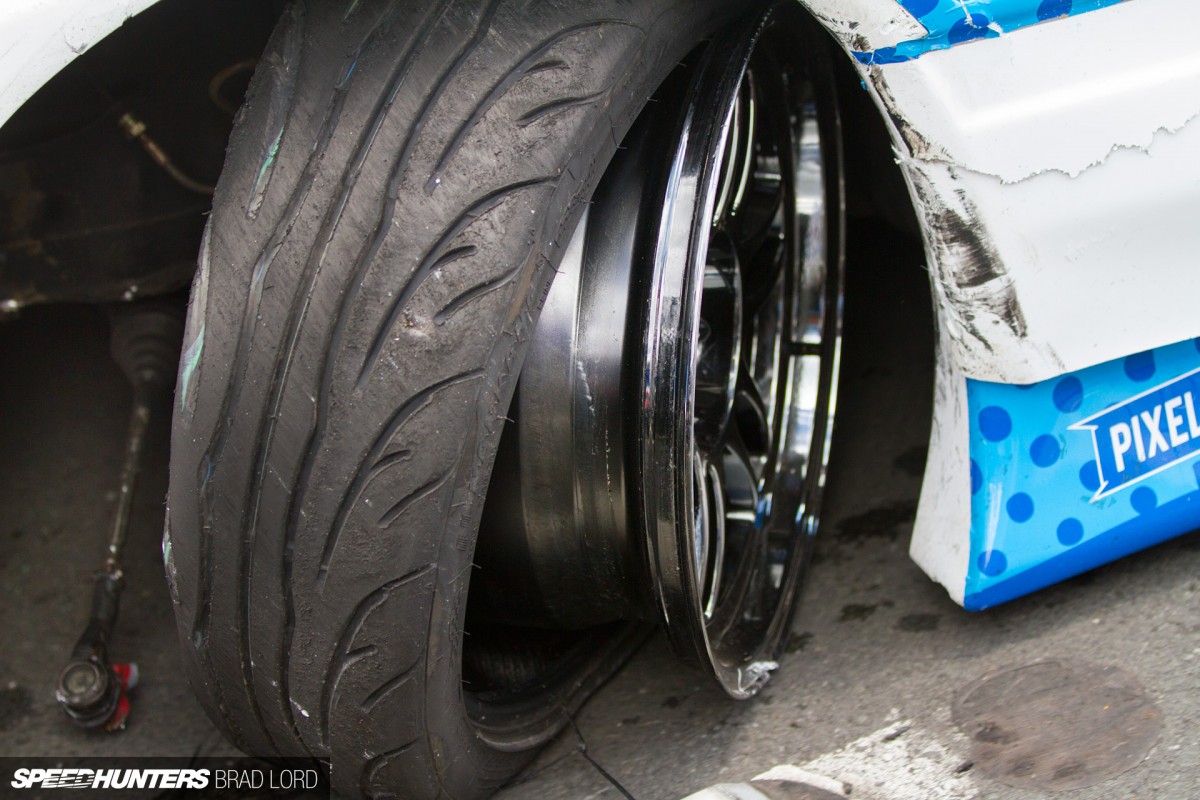 While the Camaro driver was able to get back out there, local hope Andrew Redward wasn't so lucky. He clocked up some big numbers in his quarter final effort, and would have gone through to the semis had he not clipped a barrier and done this damage to his RX-7 towards the end of his stellar run.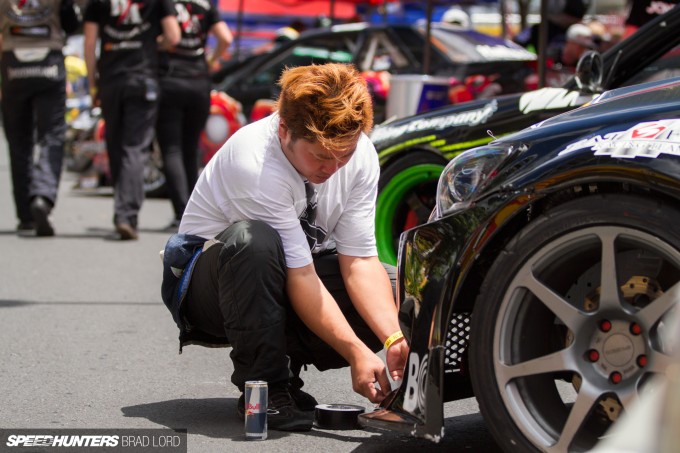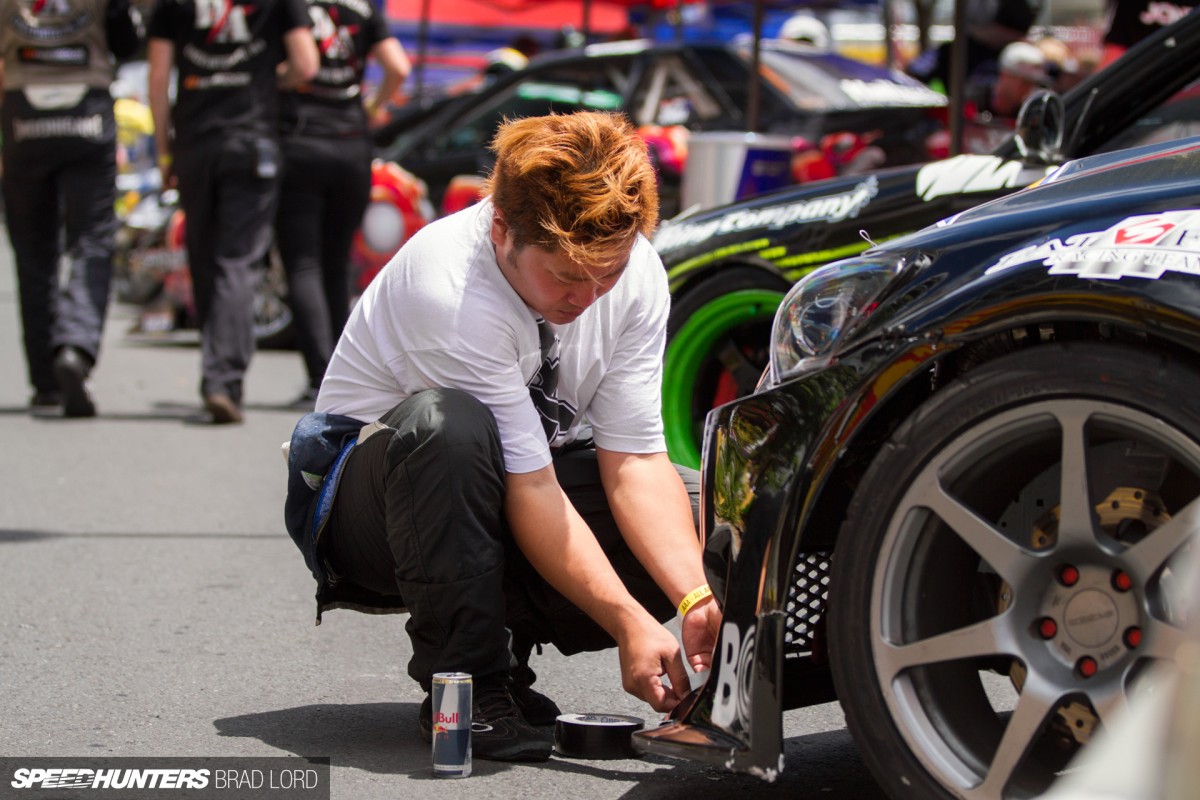 Handfuls of zip ties and rolls of 100mph tape flowed faster than cans of the sponsor's complimentary product, and with only small teams of mechanics on hand sometimes the drivers had to get in on the act too. Don't worry, Saito's stunning Lexus IS-C came out largely unscathed.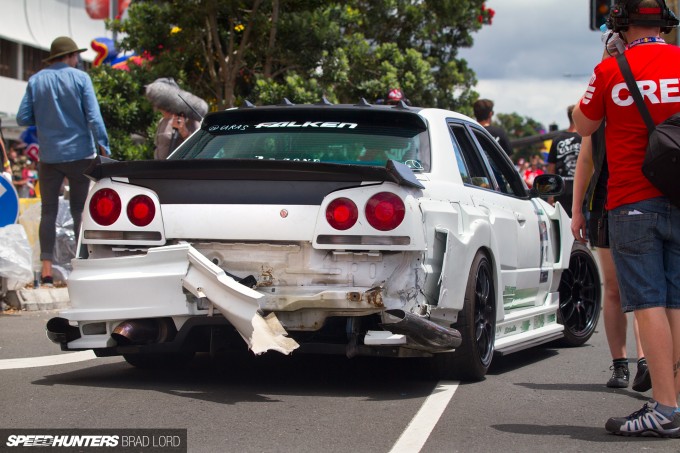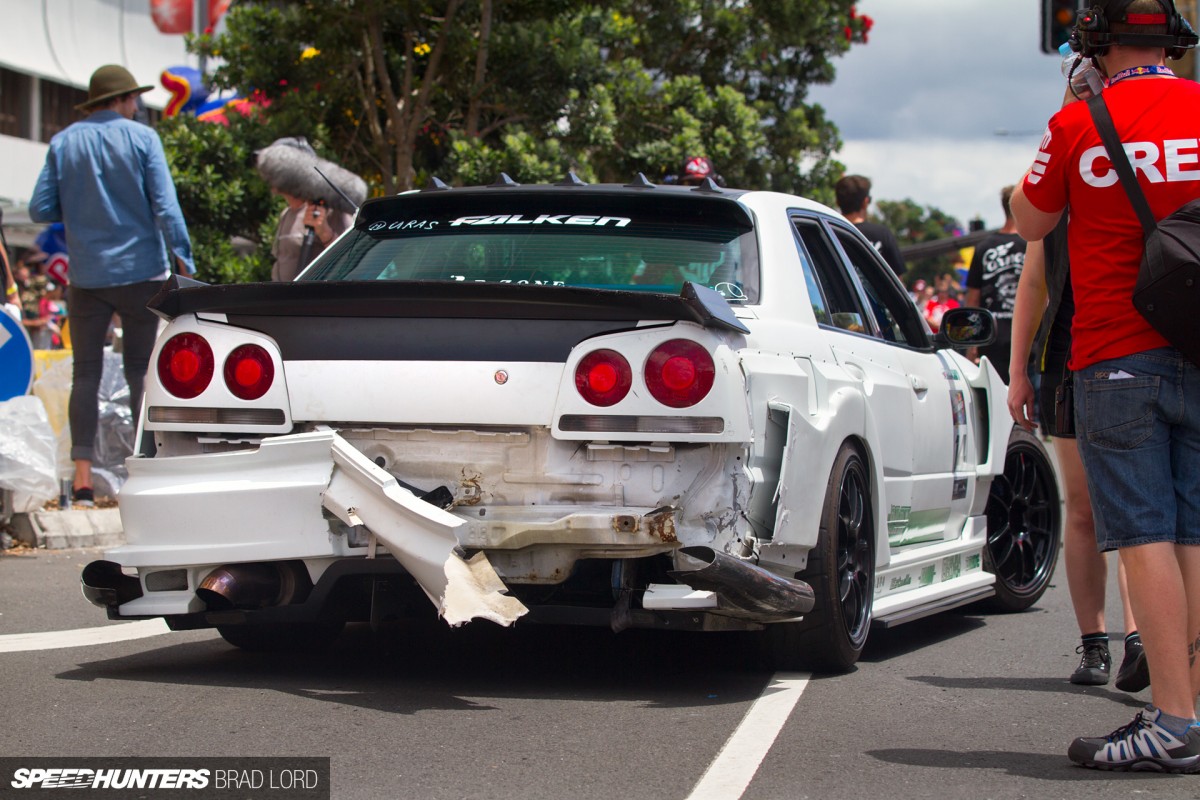 Ken Nomura's Skyline didn't fare quite so well however. Given the course's obvious appetite for destruction, at least he could take solace in the fact that it finished the day with all four wheels still pointed in the same direction though…
Shifting Gears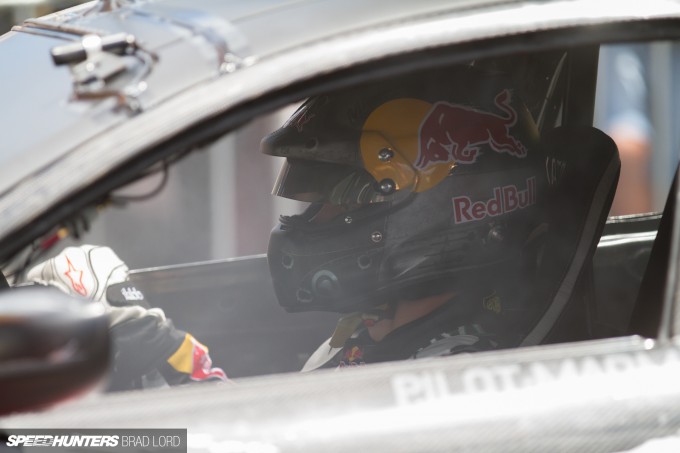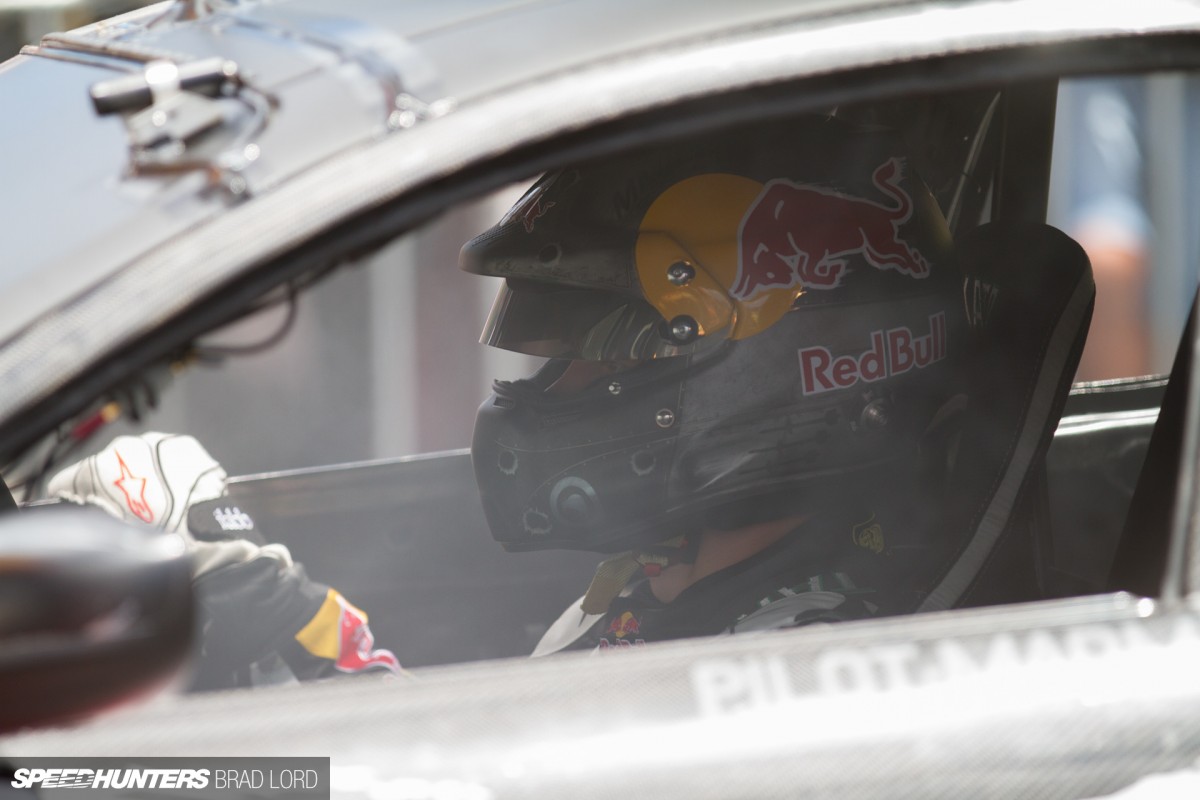 In dreaming up the concept for this event Mike has always maintained that he's not out to change traditional drifting in any way, shape or form. Drift Shifters is about bringing a show to the people with an easily followed and understood format.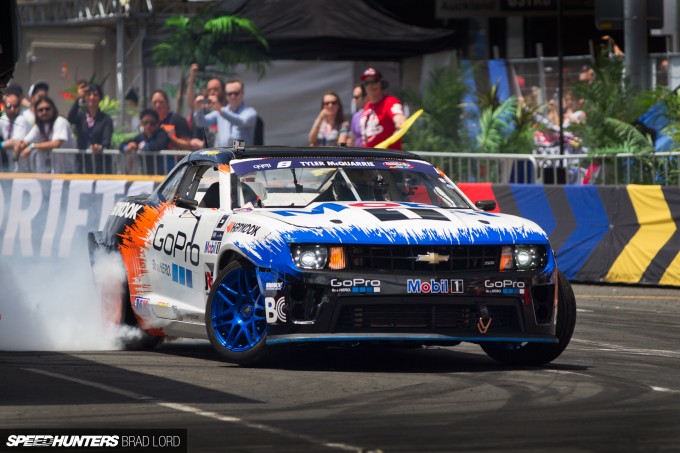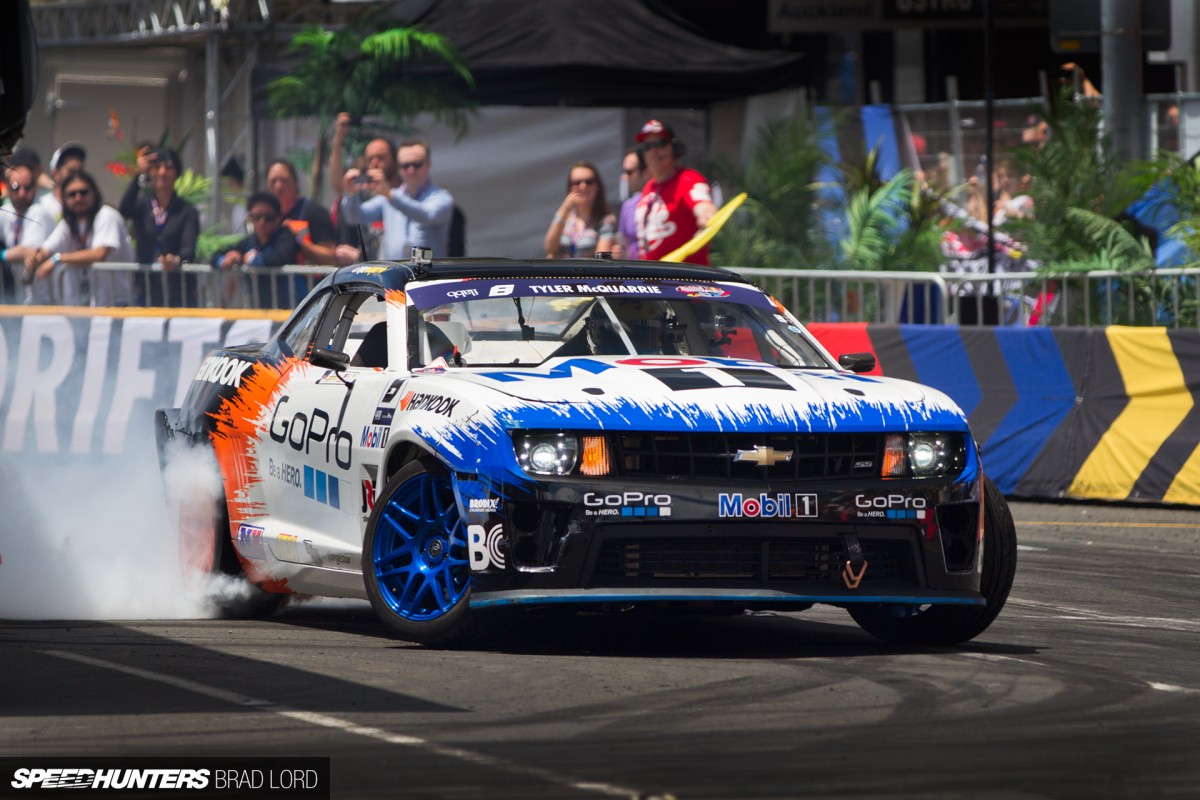 Call it the four-wheel equivalent of freestyle motocross played out on a downtown city street. It sounds cool, right? It absolutely is…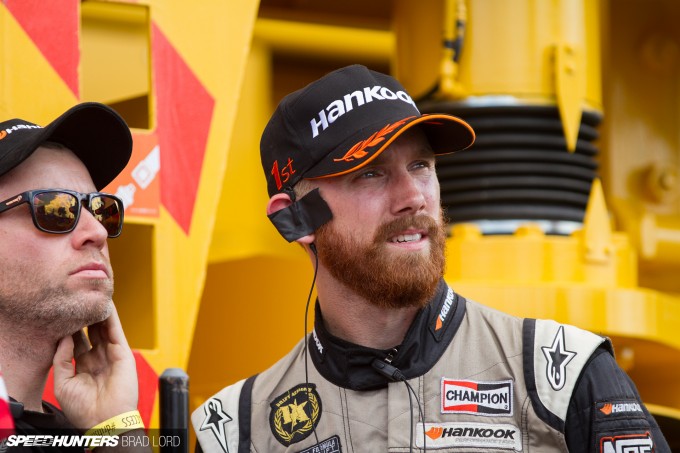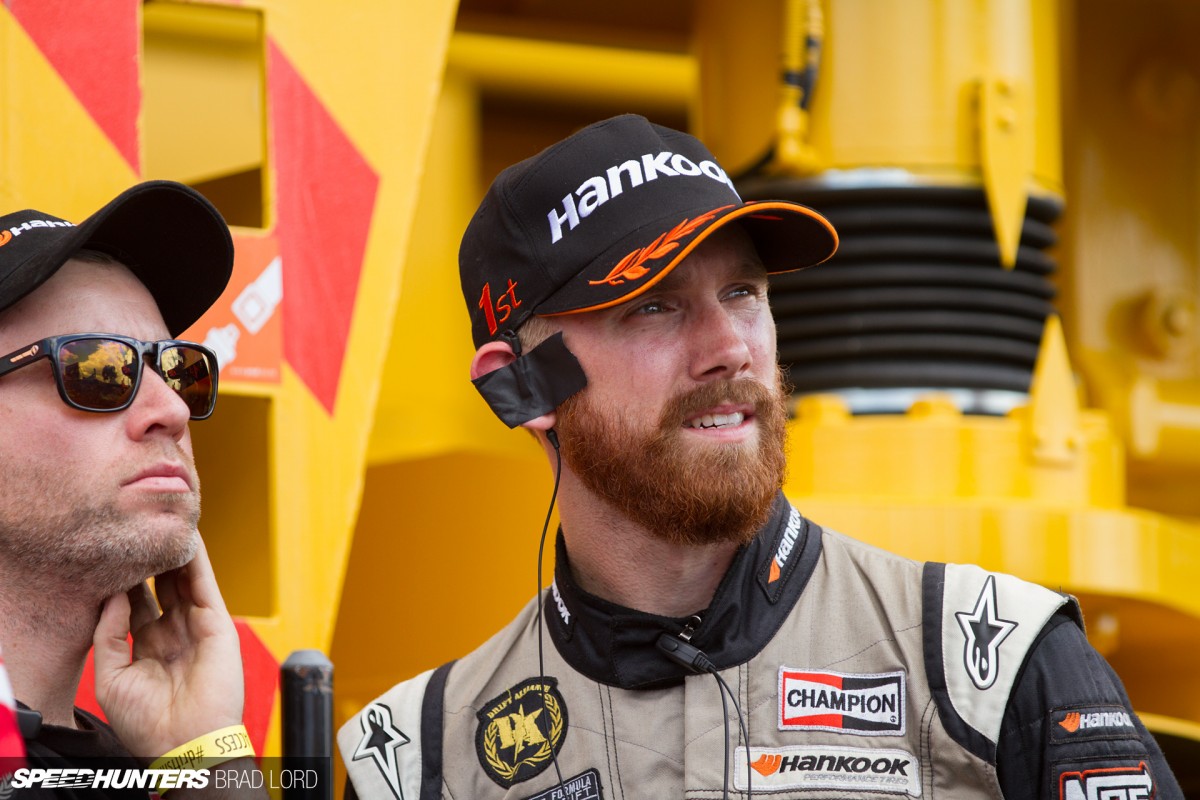 Like freestyle motocross, tactics play a big part in Drift Shifters too. Knowing how and where you can rack up the big scores is an important aspect of the event, and it was interesting to note which drivers paid the most attention to those details.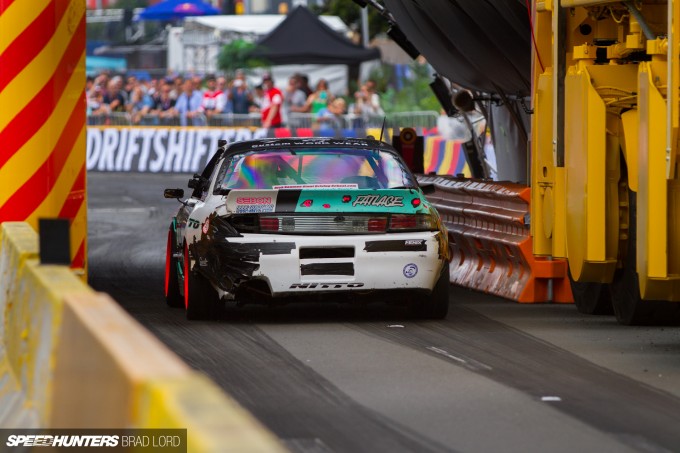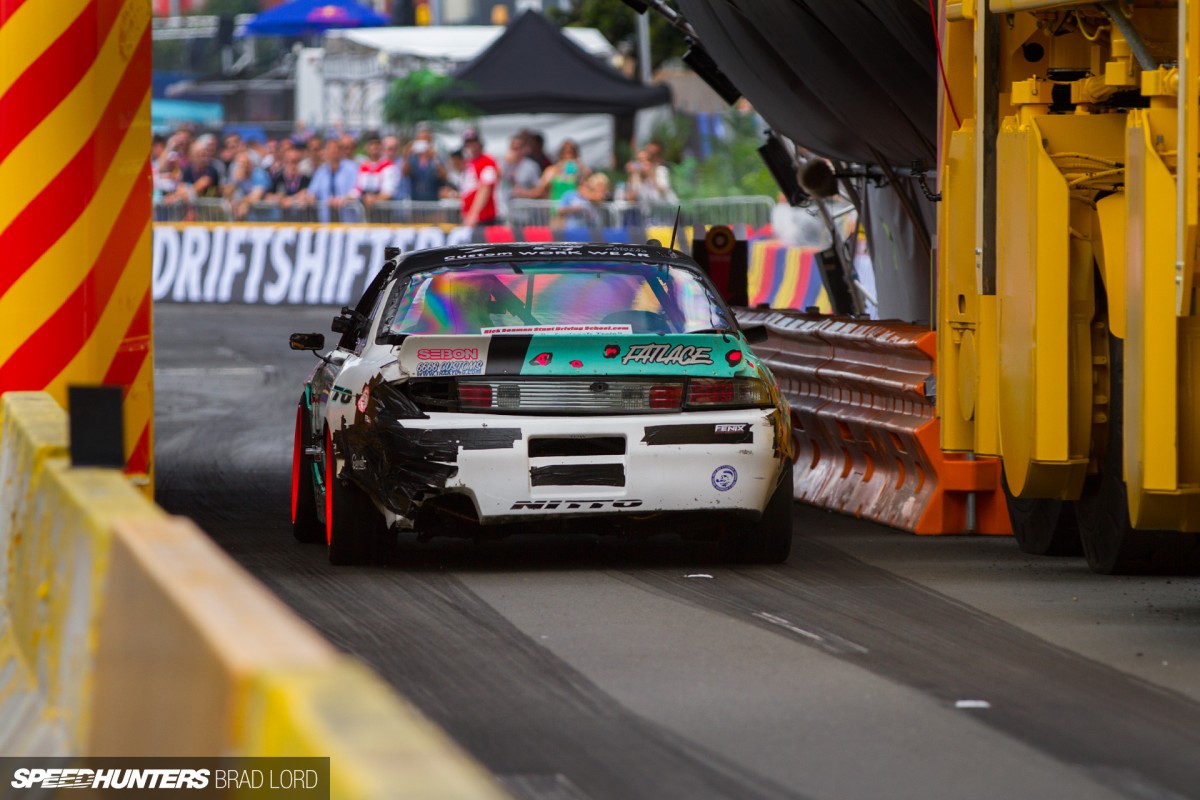 At the first Drift Shifters event Matt Powers spent every moment he wasn't driving watching the big screen and formulating a plan of attack for his next run based upon what he saw. It paid dividends and he drove to the win.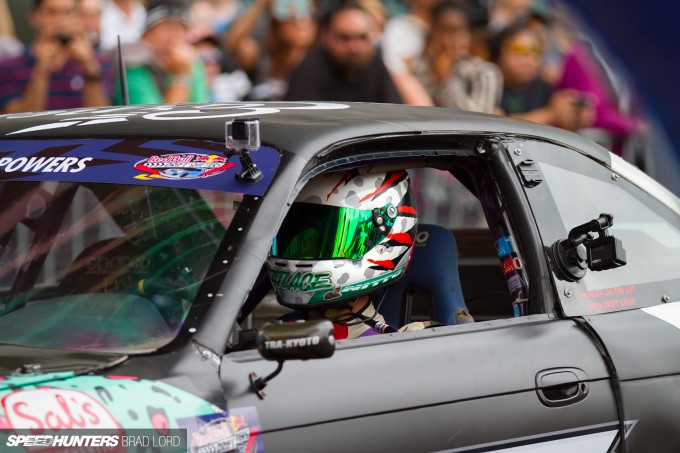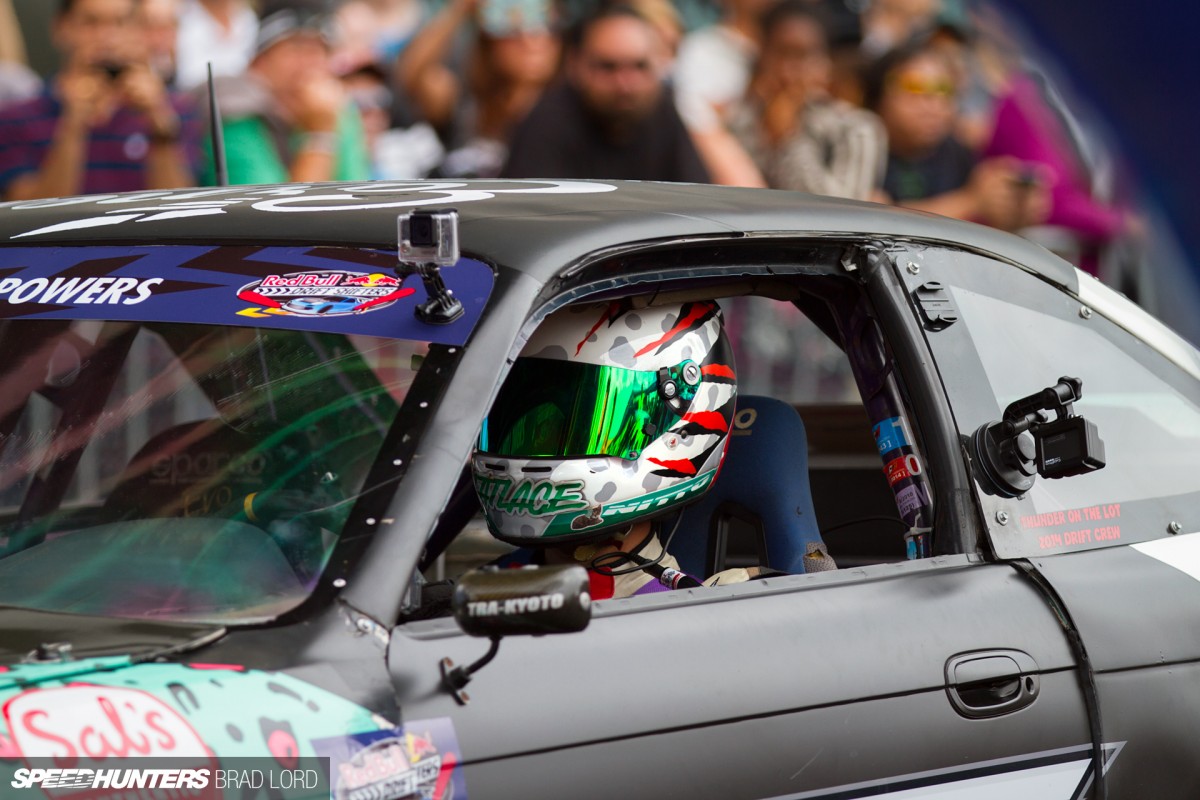 Matt adopted the same calculated approach this time around too, and through practice, qualifying and the first two rounds of competition he racked up the high scores – the highest outright of all drivers in his quarter-final run with 4,101,229 points. One slip up and it can all come crashing down though, which is exactly what happened when Matt lost his focus in the semi-final and was eliminated from the competition.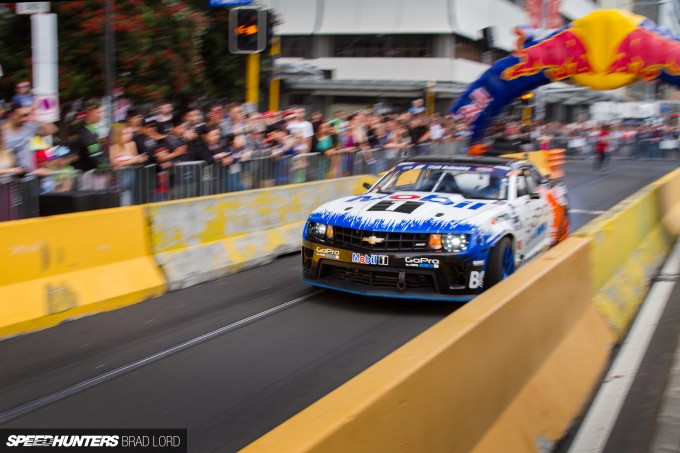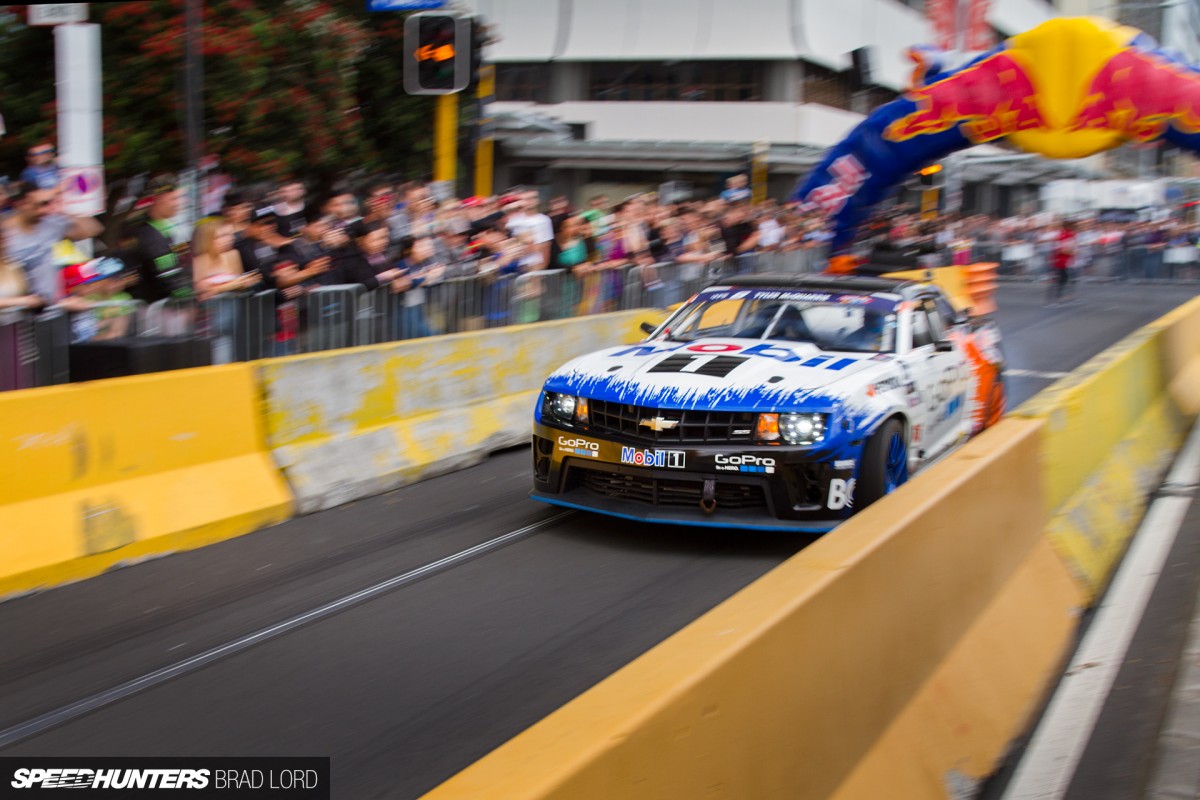 So not only do you need to plan out your run, it all has to come together in the heat of the moment, which of course is easier said than done – especially with a 70-second time factor to contend with as well.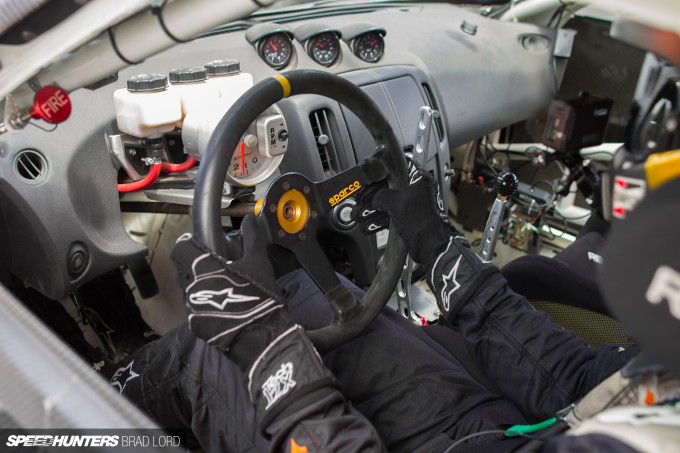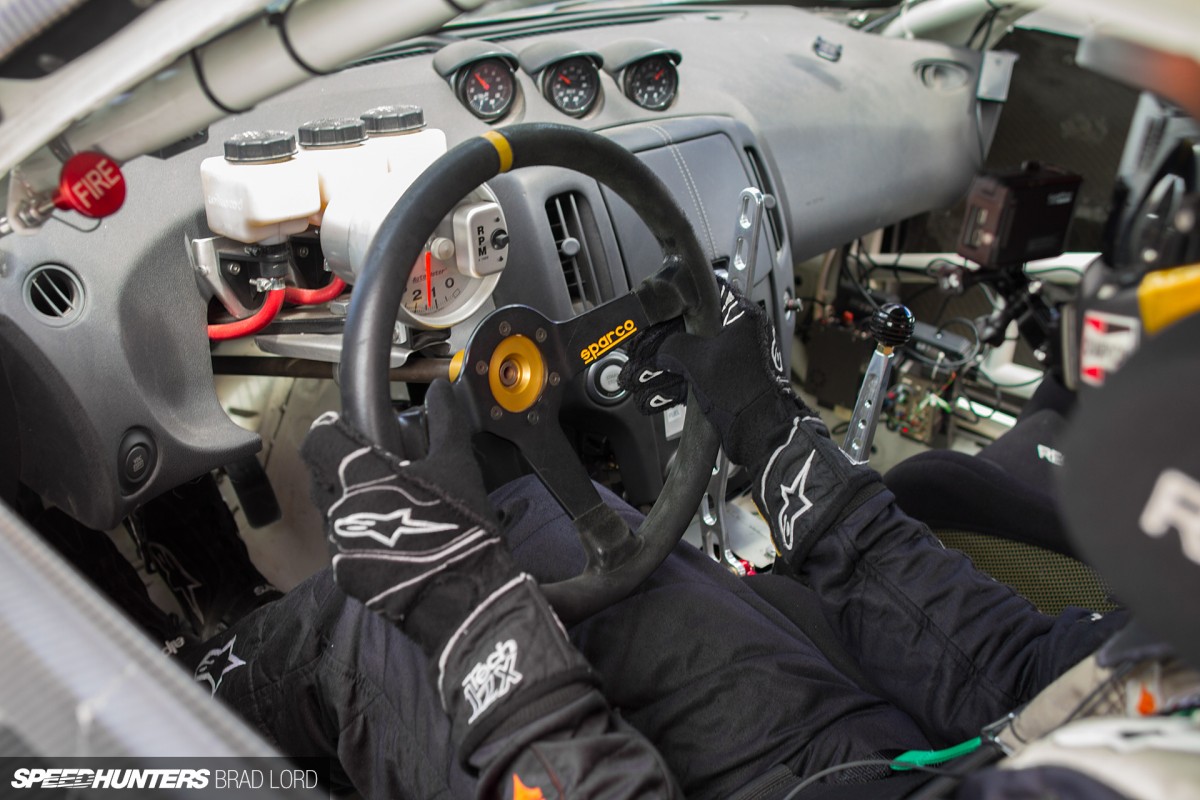 Which means you need to be quick, clean and accurate as well – three more elements to think about on the start line in the seconds before the engine starts bouncing off its limiter and smoke begins consuming the cockpit.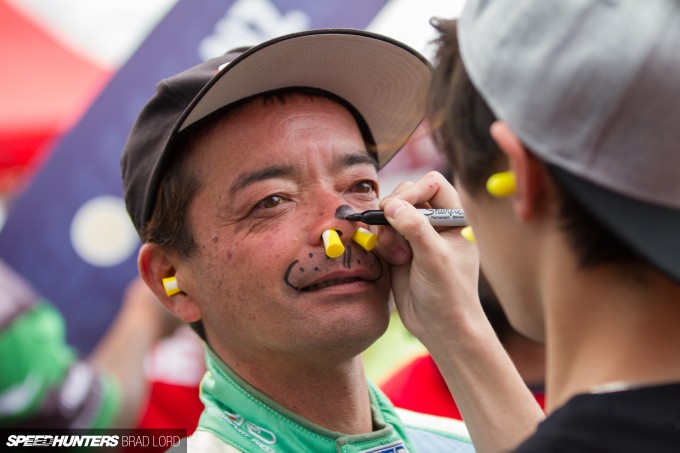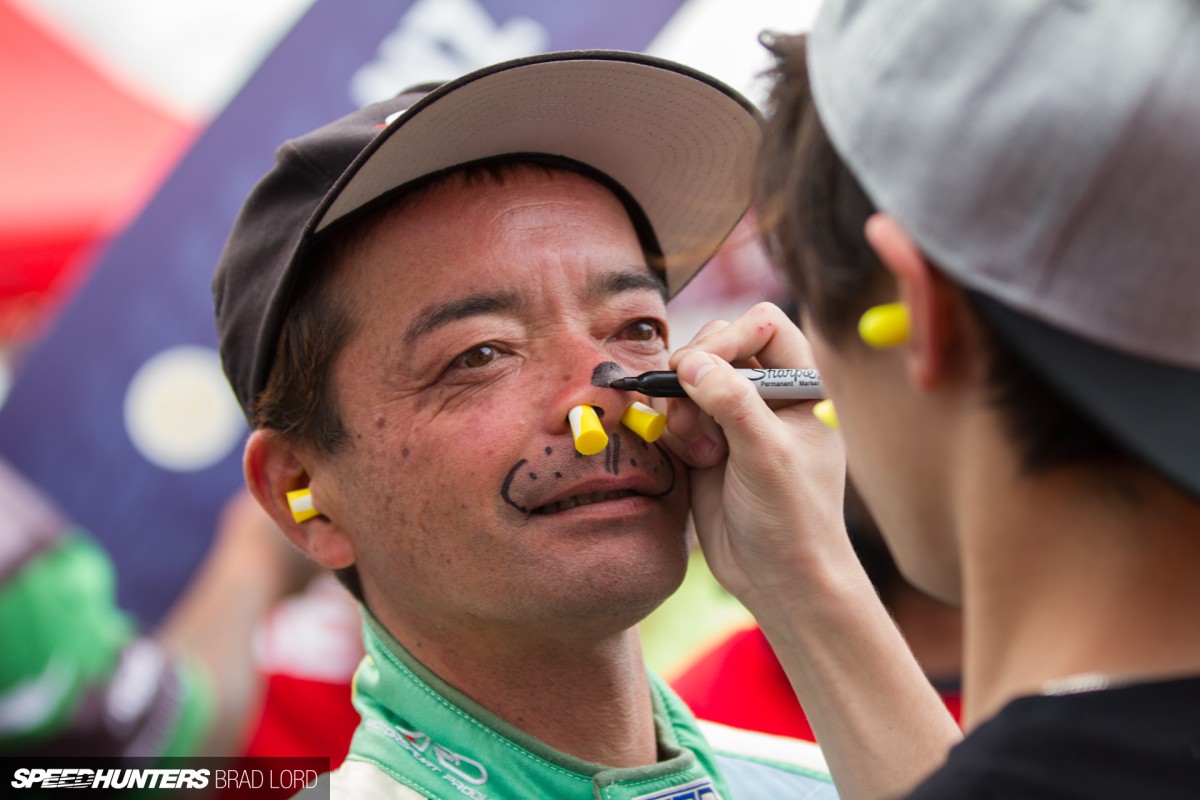 But it's not all serious, which is why I think the Drift Shifters concept has a promising future. From the rapid-fire format to the visual and aural effects, the entertainment value is high – especially so when Nomuken is in the house.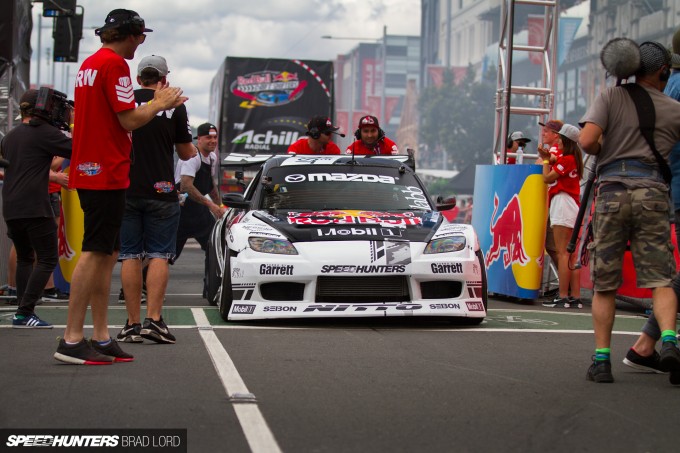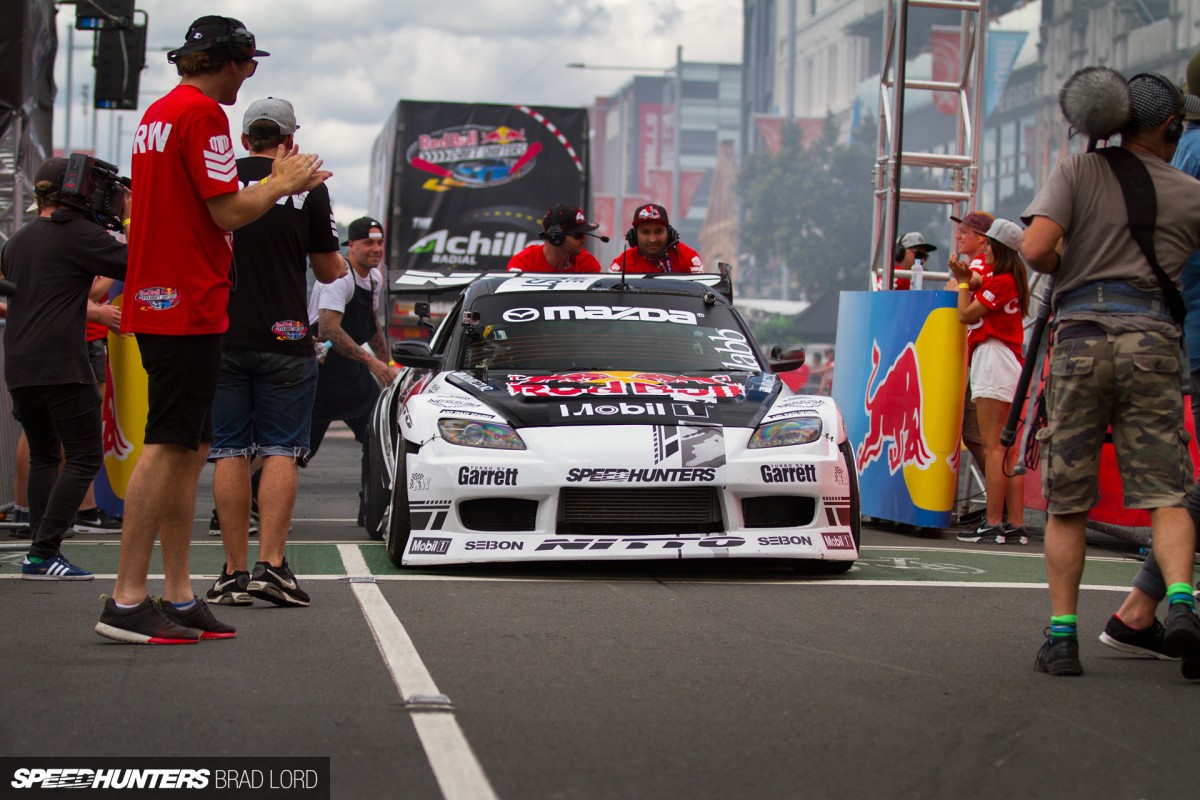 So what's next for Red Bull Drift Shifters? That's the question I posed to Mike after the smoke had settled and he'd wiped the champagne from his eyes. His answer – only bigger things. Back in 2012 no one knew how well the event would work, but it did. And what went down in the heart of Auckland's CBD last weekend has now categorically confirmed it.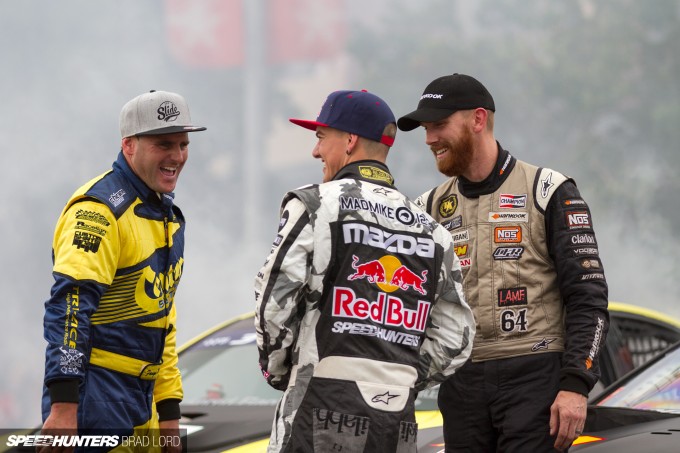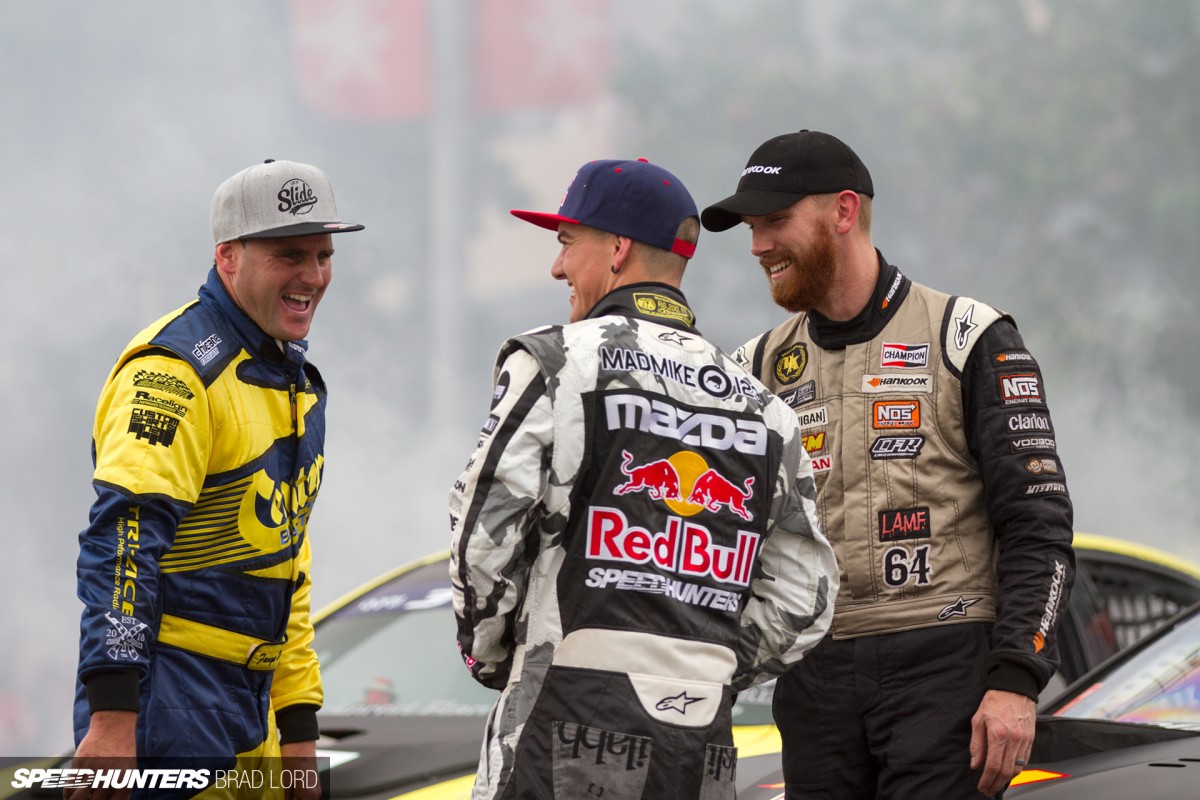 The idea of taking this event to the world seems even more likely, and if Mike has it his way I think it will be happening sooner rather than later. And really, who wouldn't want this on the streets of their hometown?
On that note, it's time to wrap up our Red Bull Drift Shifters coverage, but not before a look at this new – and very cool – event rundown clip from the people that made it happen. If you have trouble viewing the embedded video above check it out on the Red Bull NZ site here.
Brad Lord
brad@speedhunters.com
Cutting Room Floor