Come One, Come All
You just can't beat a good local show, and 16 years in there's no denying that Severed In The Southwest is one of the best there is. I used to drag my minitruck through this same parking lot in my teens, so it's been a blast to revisit the scene these past couple years as a Speedhunter.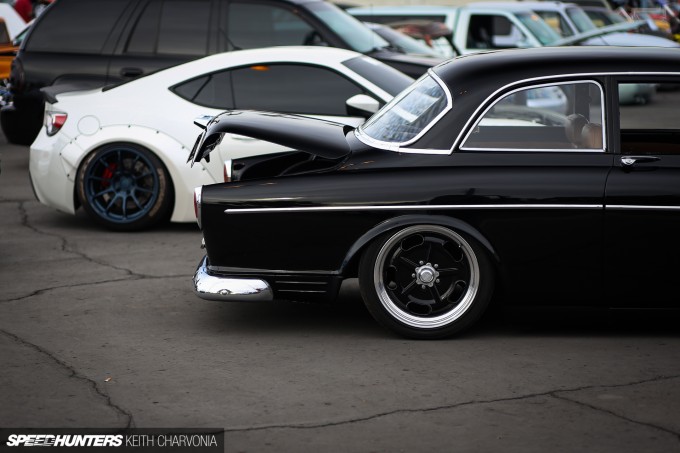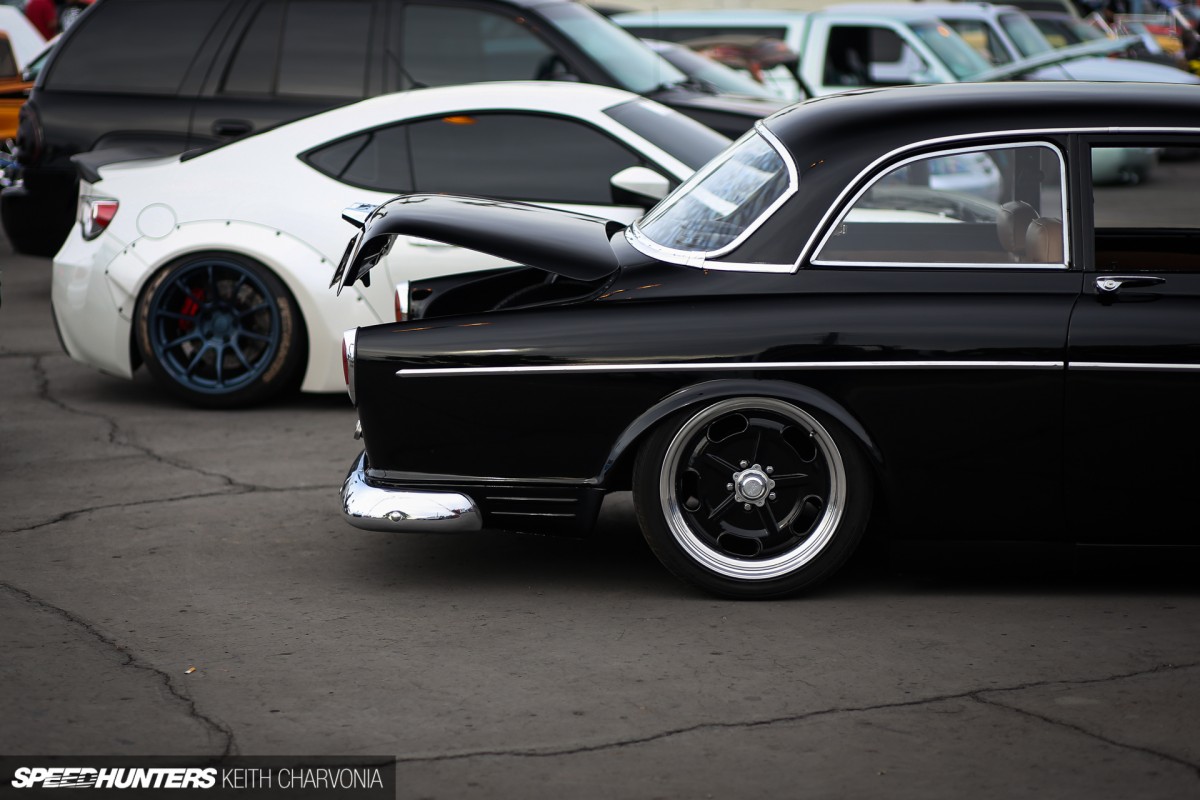 Last year I brought the Double Down RTR I had just built for the SEMA Show, since it was bagged and all. Knowing I only had the car for a limited time I chose to show it over my own FR-S or Kaiser, but this year I had to bring out my FR-S. For one, they have a Scion class I wanted to compete in, plus I had just installed an Air Lift suspension. More on that later.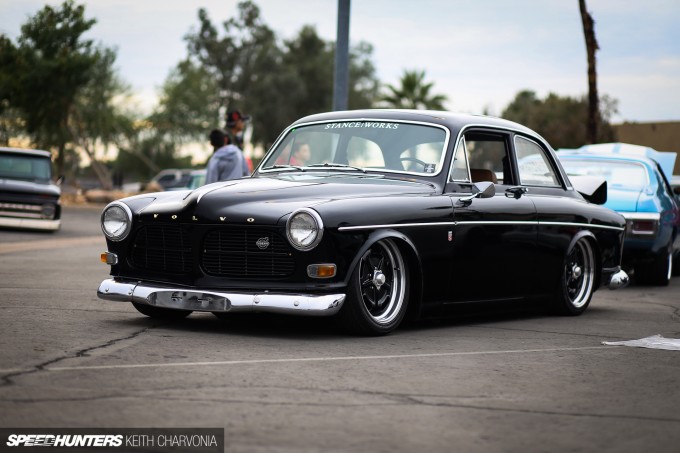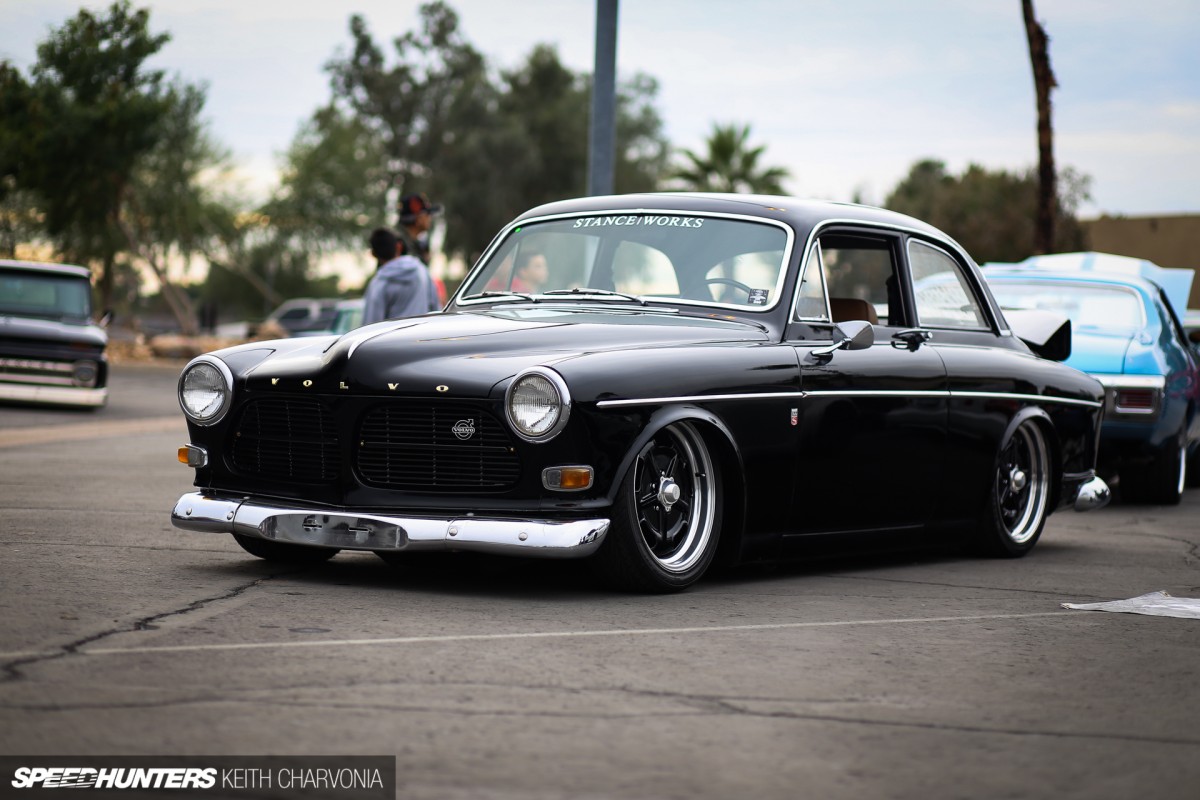 The bagged Volvo sitting next to my car belongs to a friend of mine, Keith Ross. You'll notice his photos sprinkled throughout this story too. He's a pretty talented guy.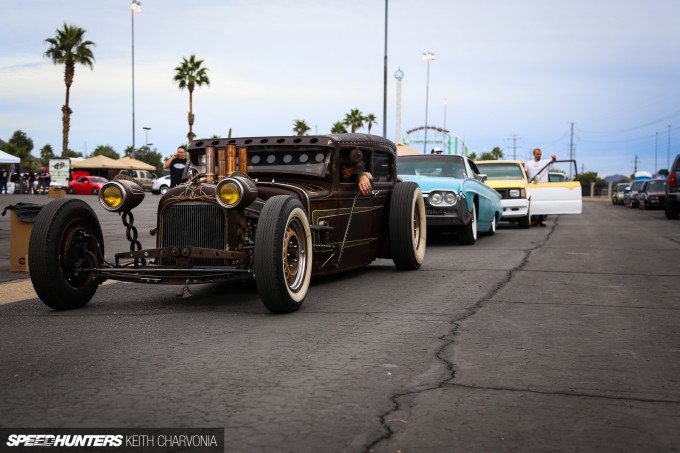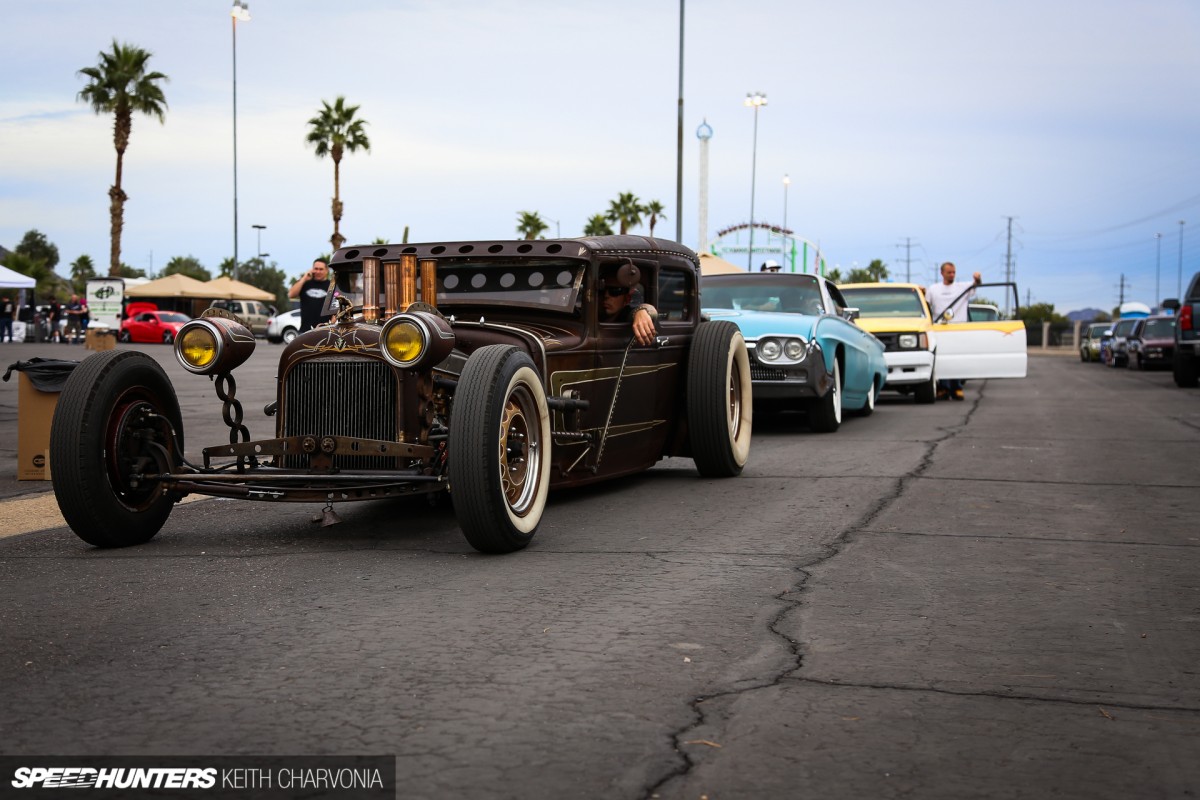 Our two cars sitting side-by-side is actually a nice representation of what Severed In The Southwest is all about. It's 'run what ya brung' and cars of all types are welcome.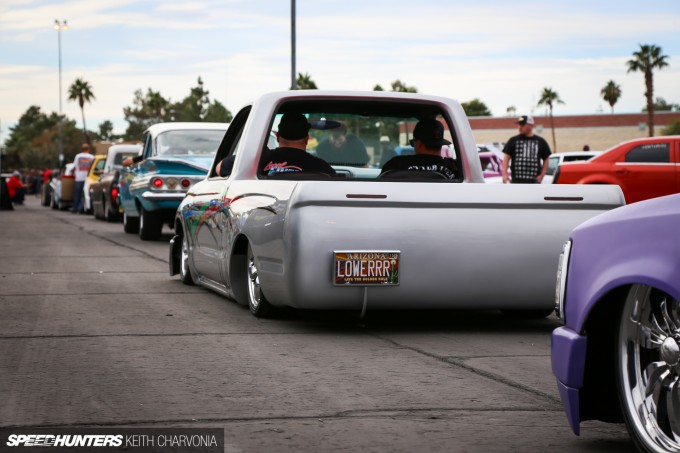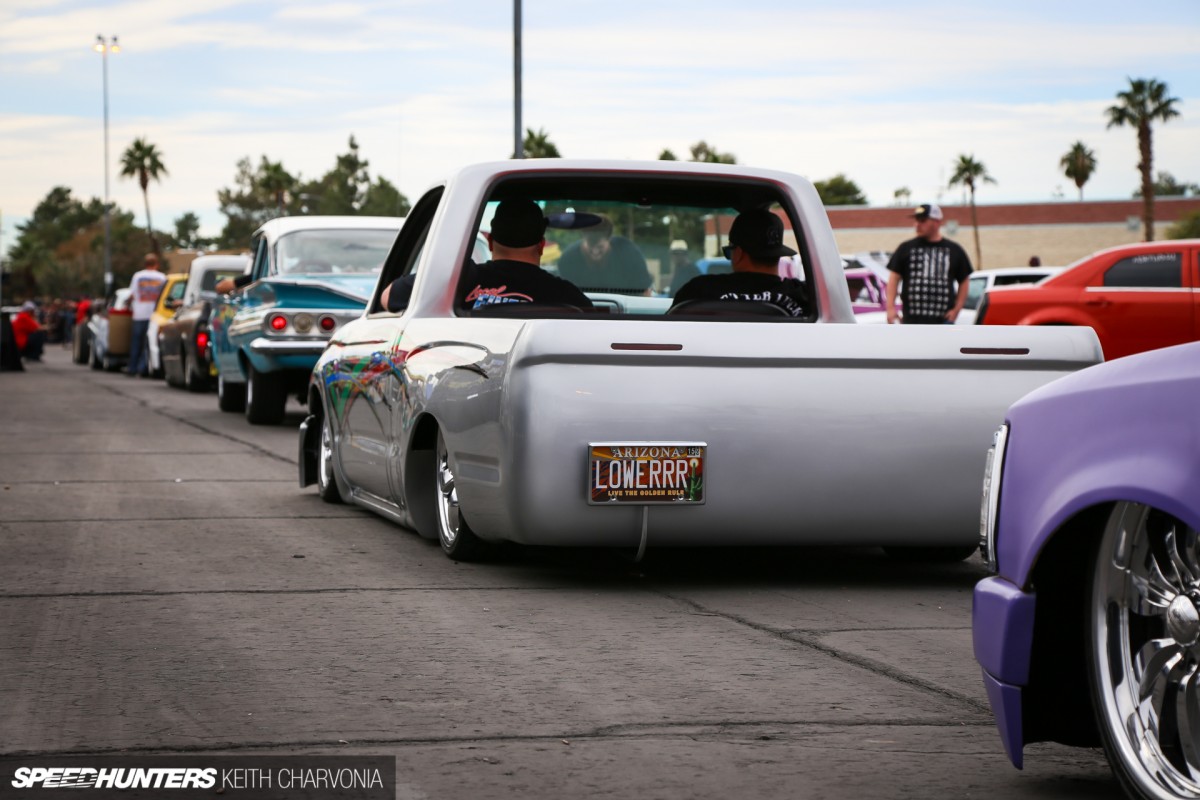 Let's not forget that this started out as a minitruck show though, so almost everyone there was a minitrucker at heart.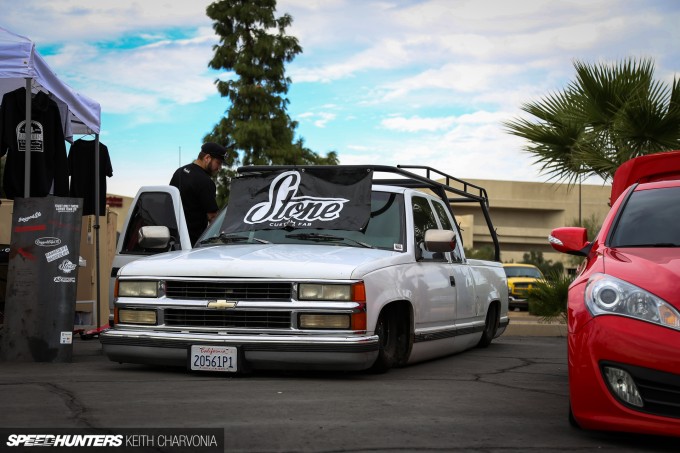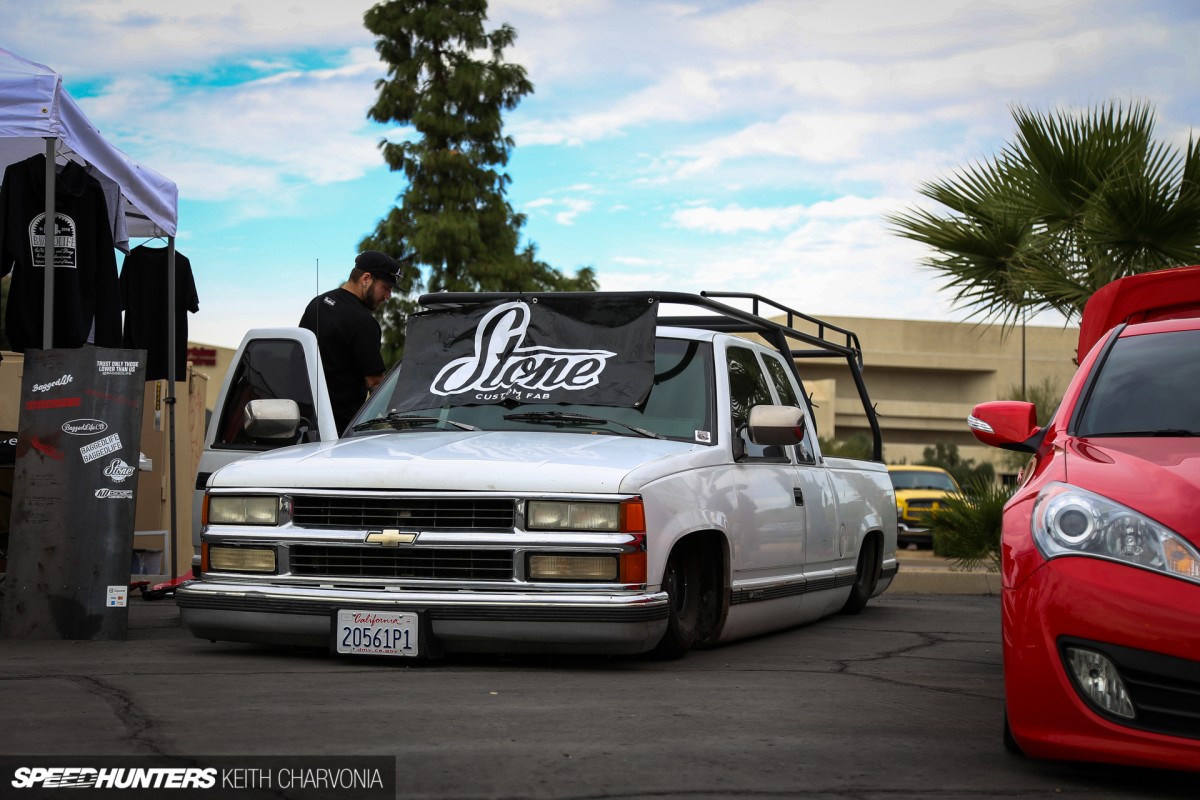 I'm also struggling to call this a local show anymore as people seem to be venturing from further away each year to attend. I even spotted the familiar Stone Fab work truck from central California that Mike featured earlier this year.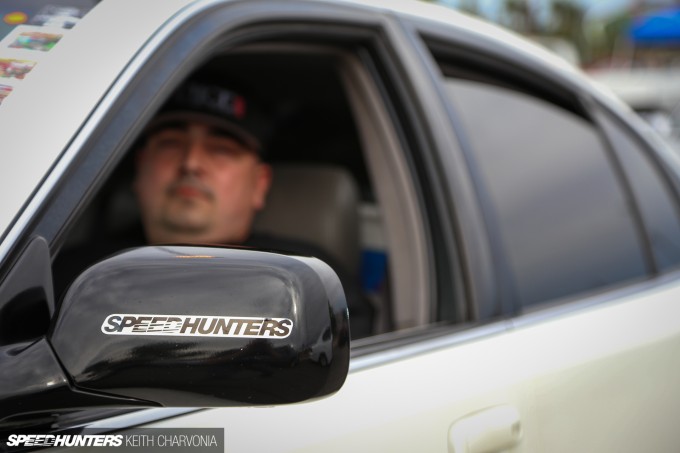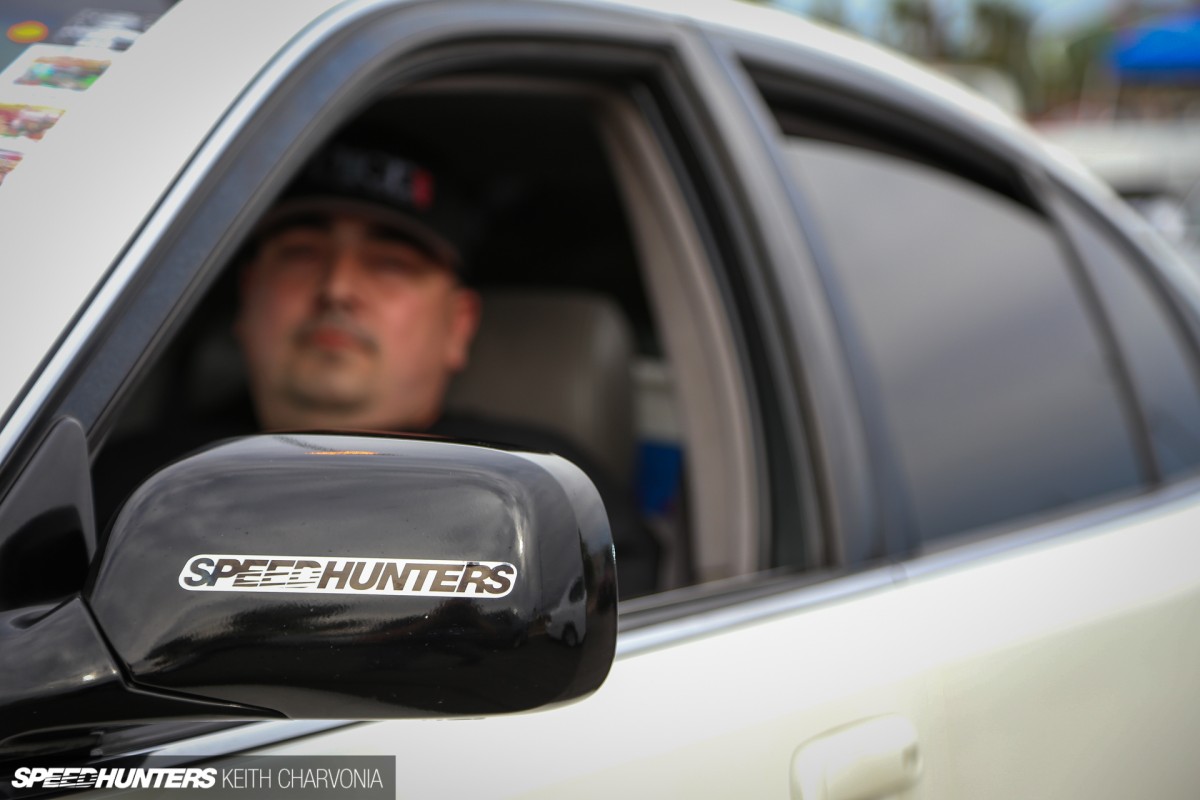 In a scene that probably doesn't click on Speedhunters much, it was cool to meet a few avid readers too.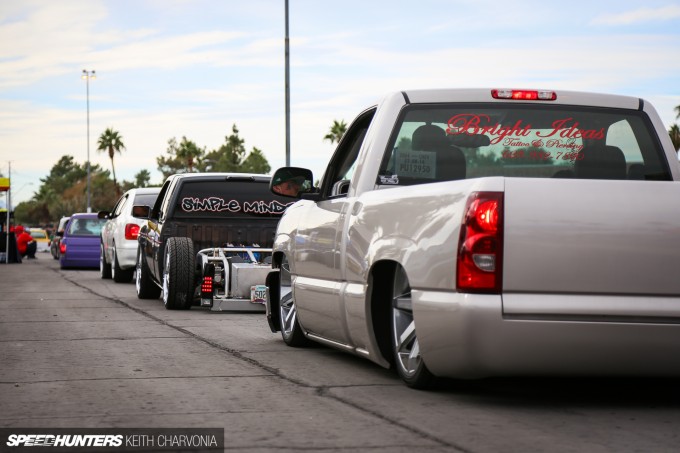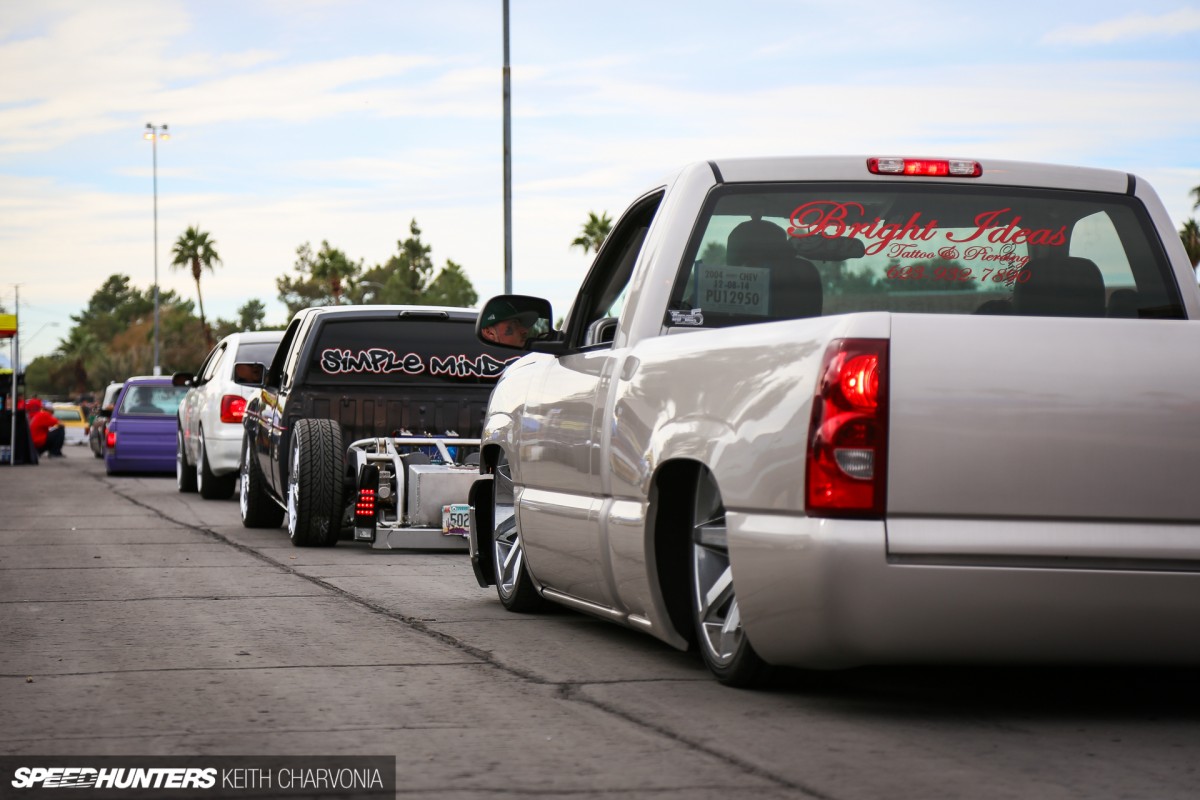 There were the token bedless minis and their full-size counterparts. This was all expected and appreciated just the same. To be honest, I'm right at home surrounded by frame-dragging machines like these.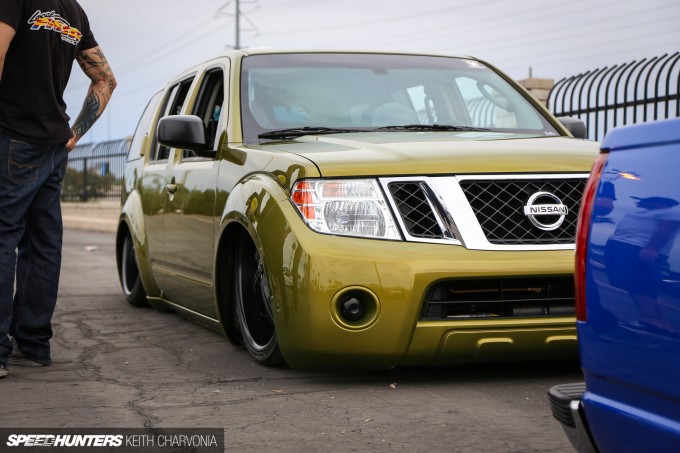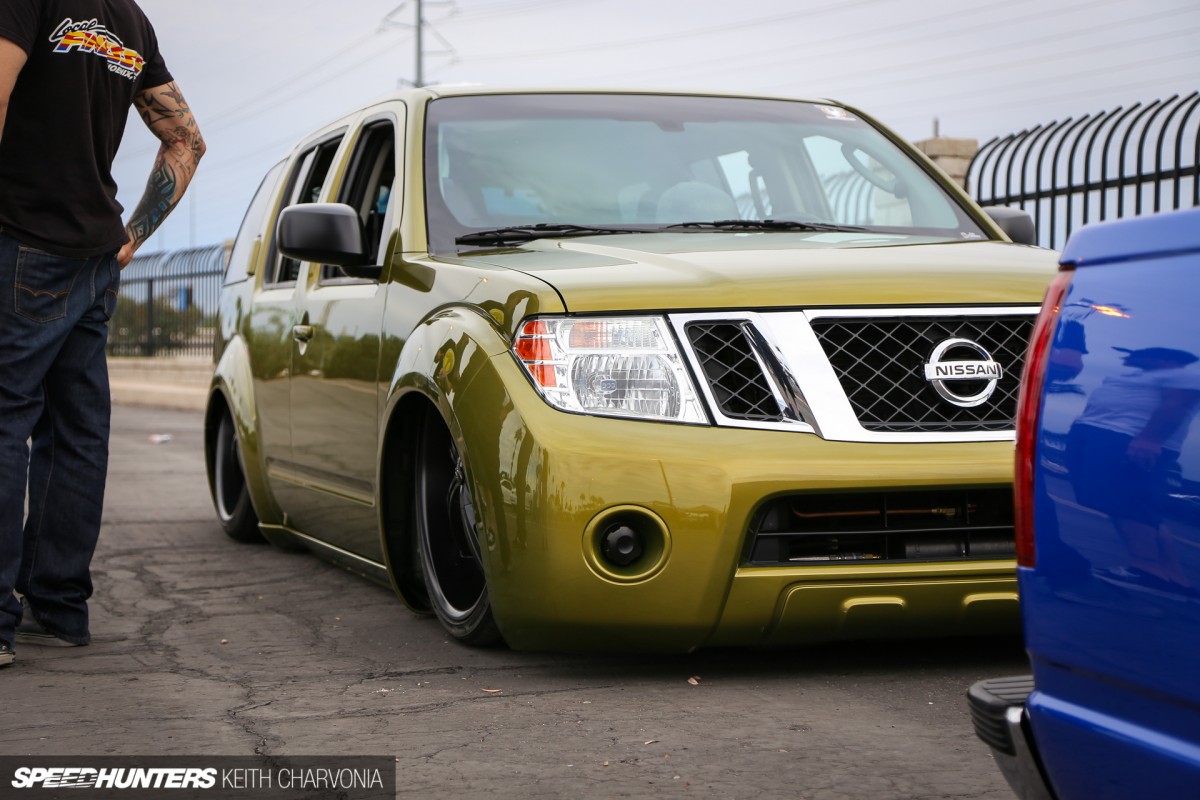 A few guys have ventured into more difficult projects, like this body-dropped Pathfinder.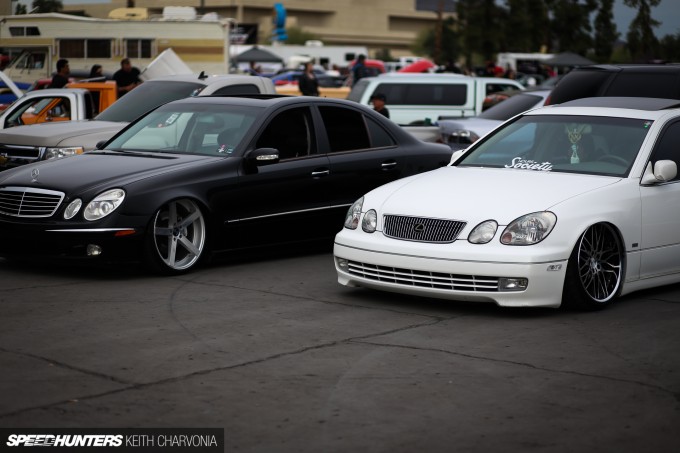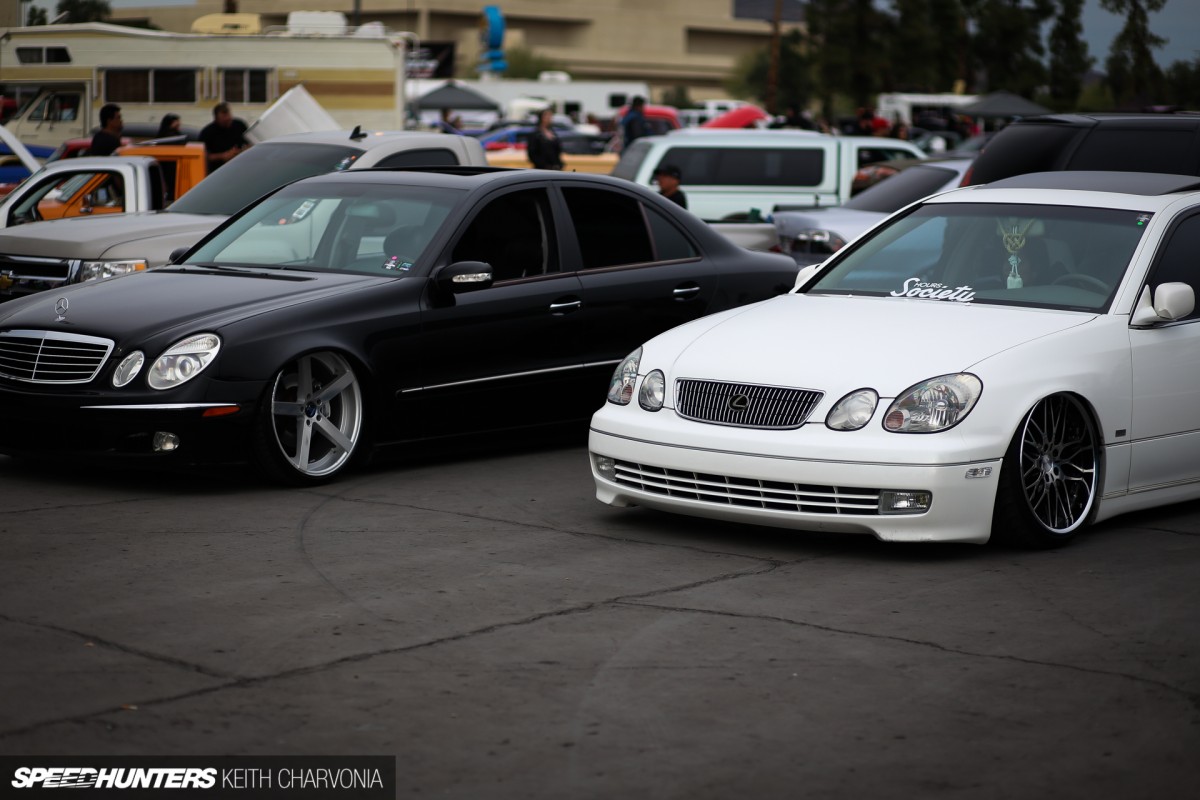 Another trend I touched on in my coverage last year is the number of slammed luxury cars in this scene. It's not VIP at all, more like minitruckers who have grown up and want more car, but still have to modify everything they touch.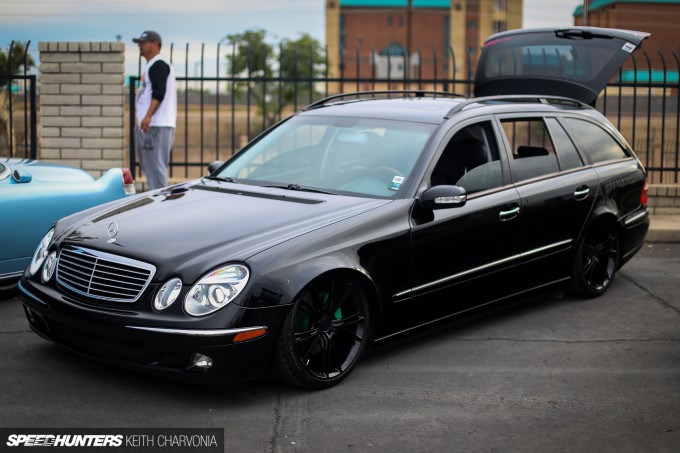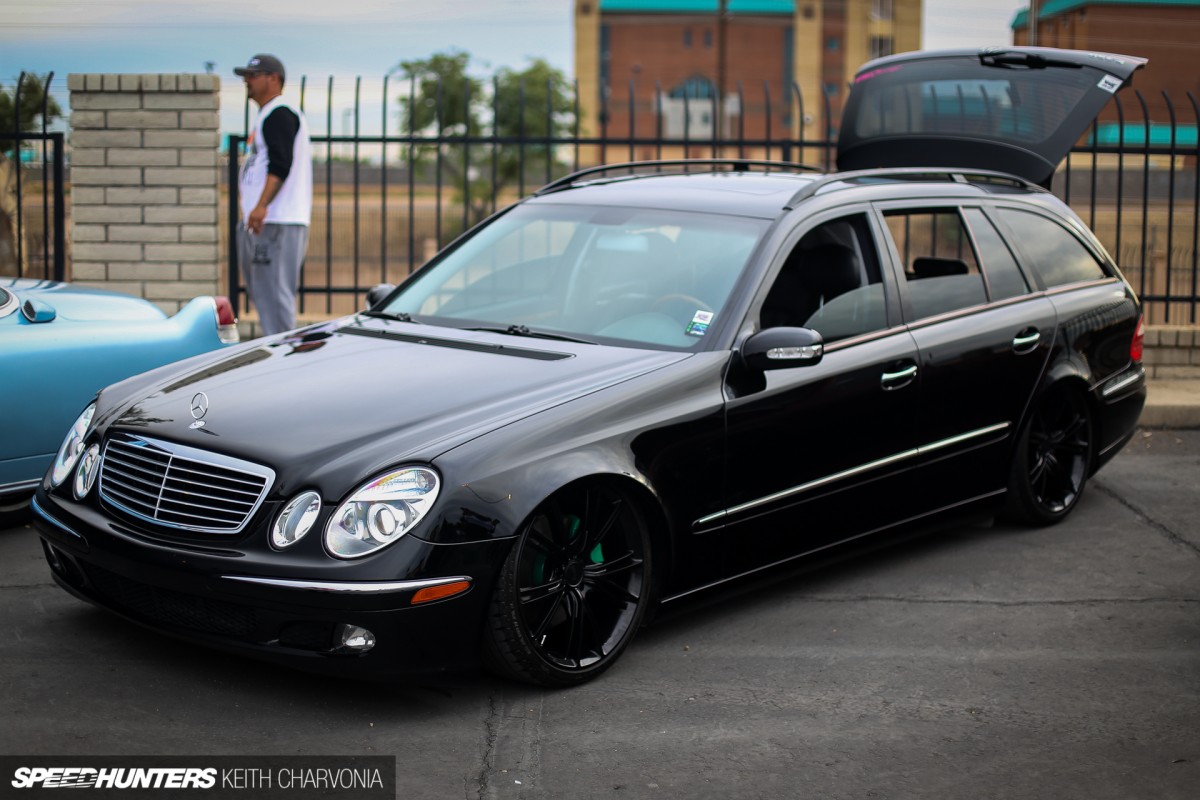 This wagon was especially cool, but I didn't catch whether it was riding on air or hydraulics.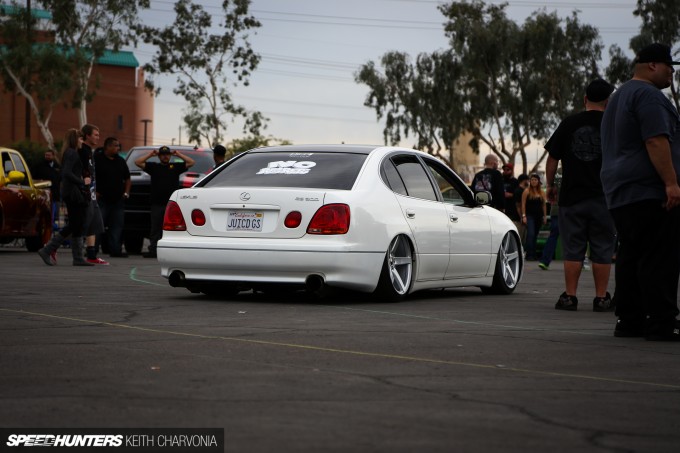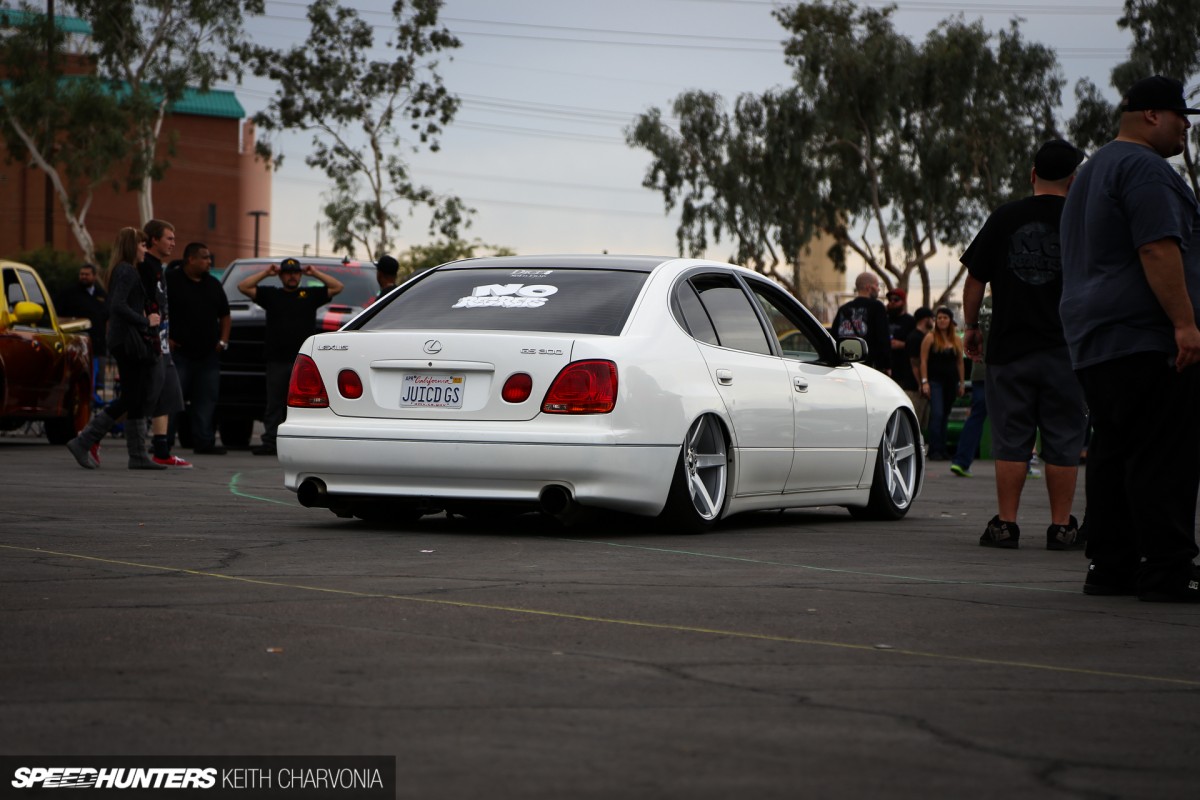 You might be surprised by how many of these cars are riding on hydros. With the use of accumulators and a solid installation, they can function and ride very well.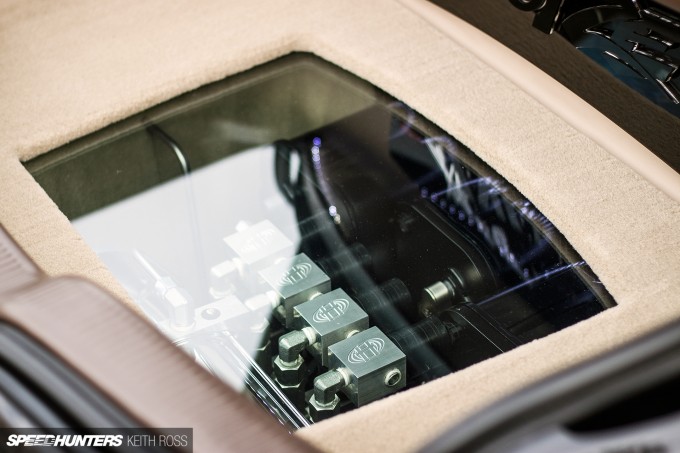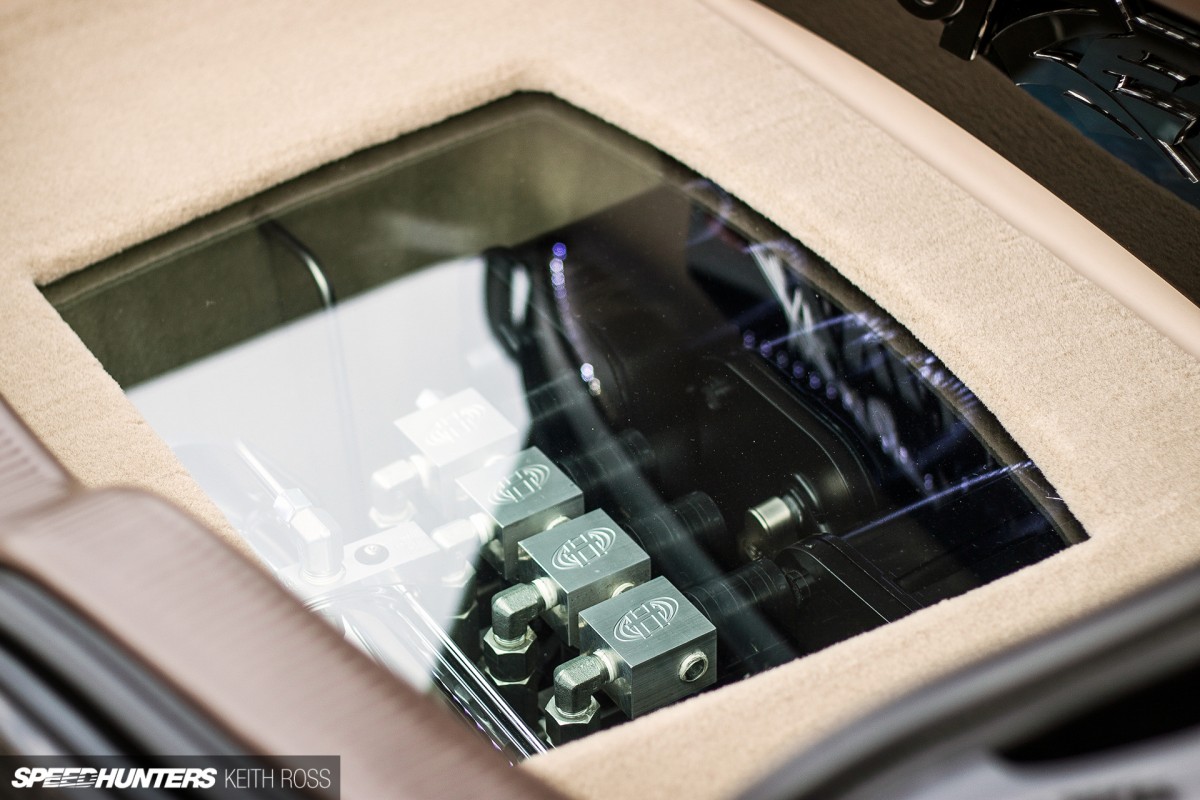 These aren't the leaky old pumps in your uncle's six-fo' Impala either. These guys have it dialed in.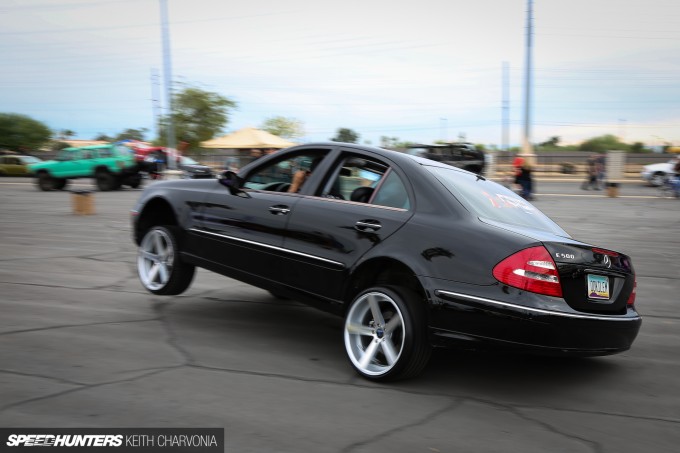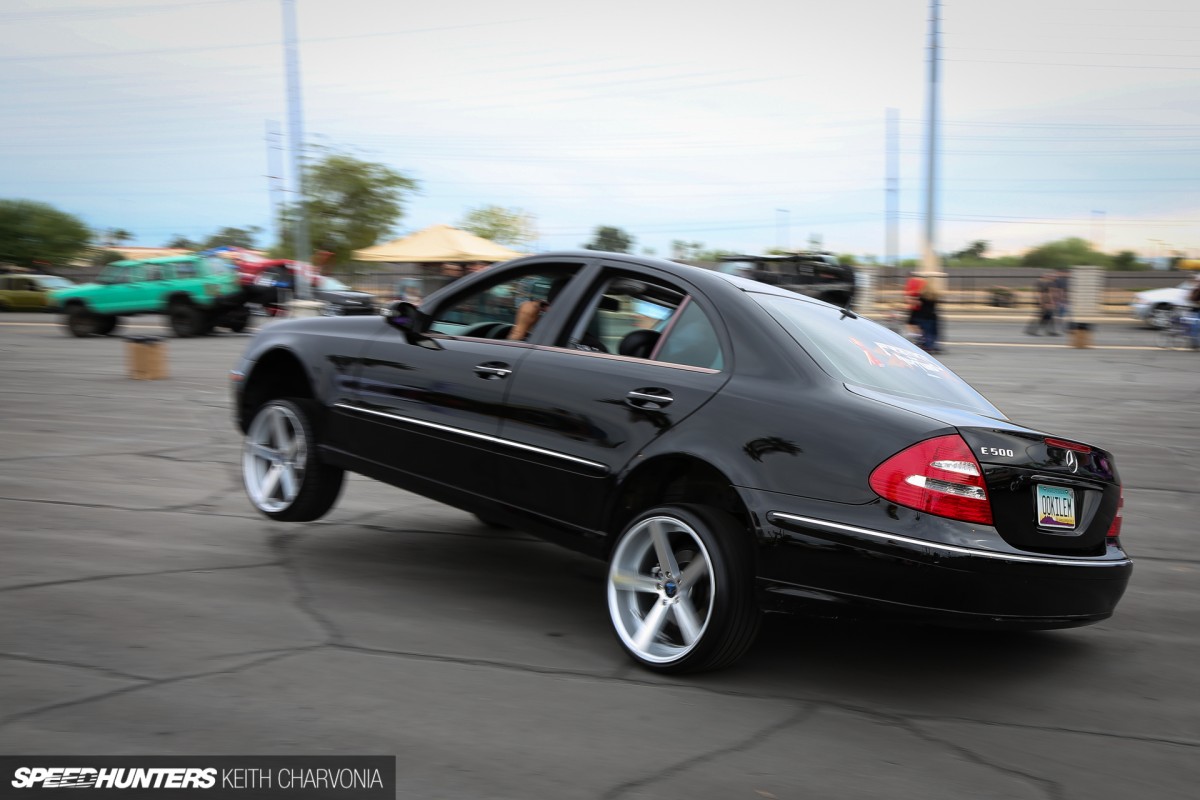 And you might be downright shocked when one of those chassis-dragging cars rolls by pulling a three-wheel.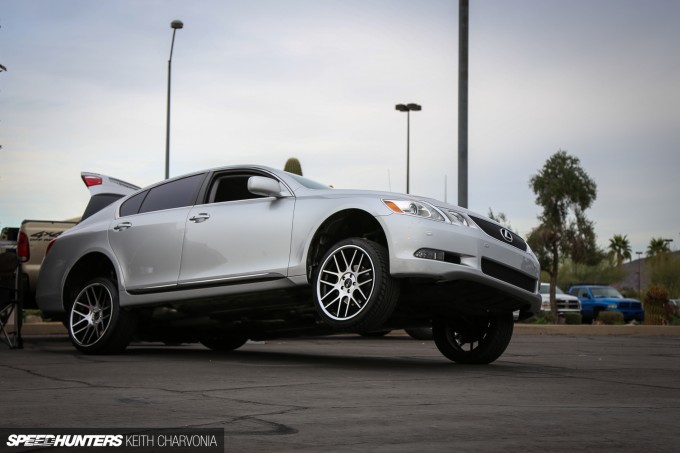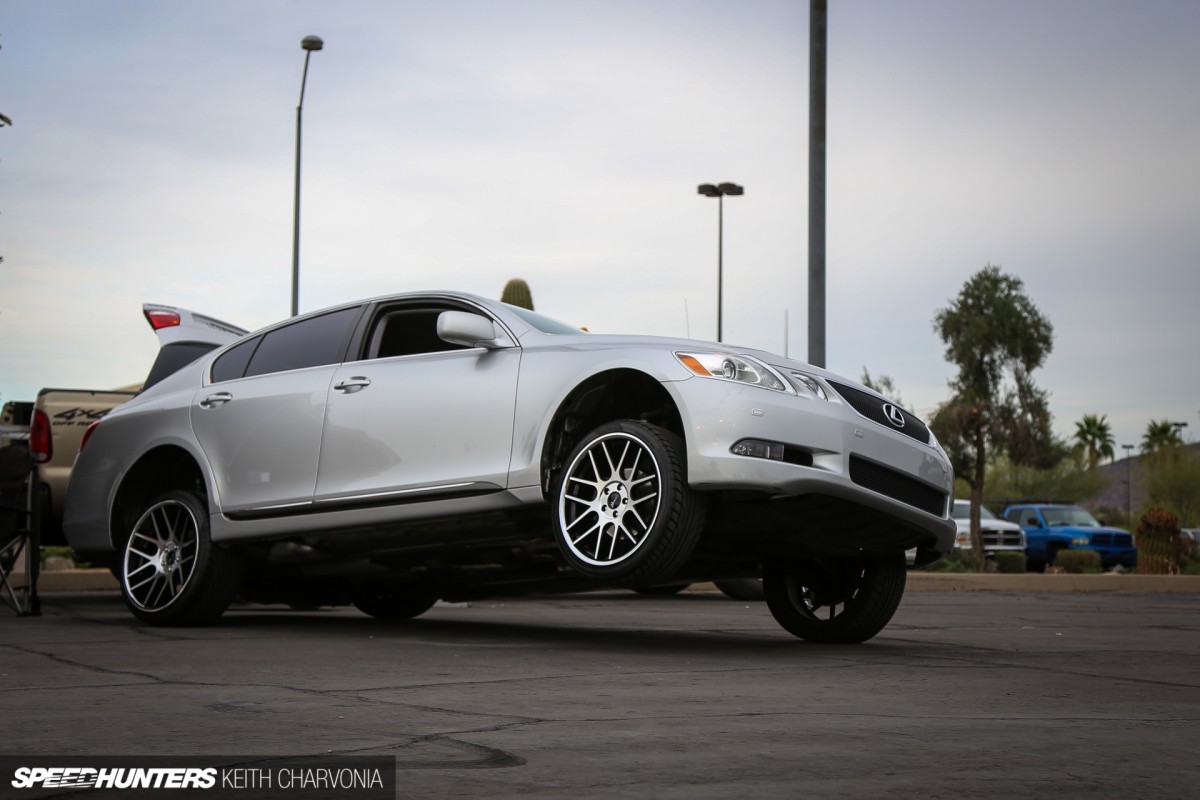 I think we may have stumbled into some microcosm of a trend here. What do you think?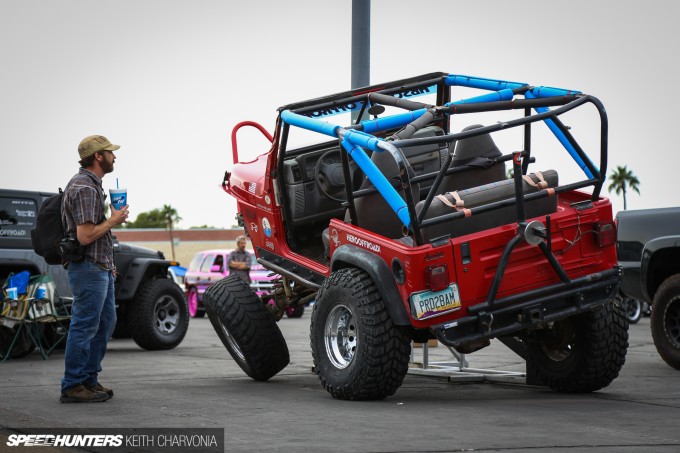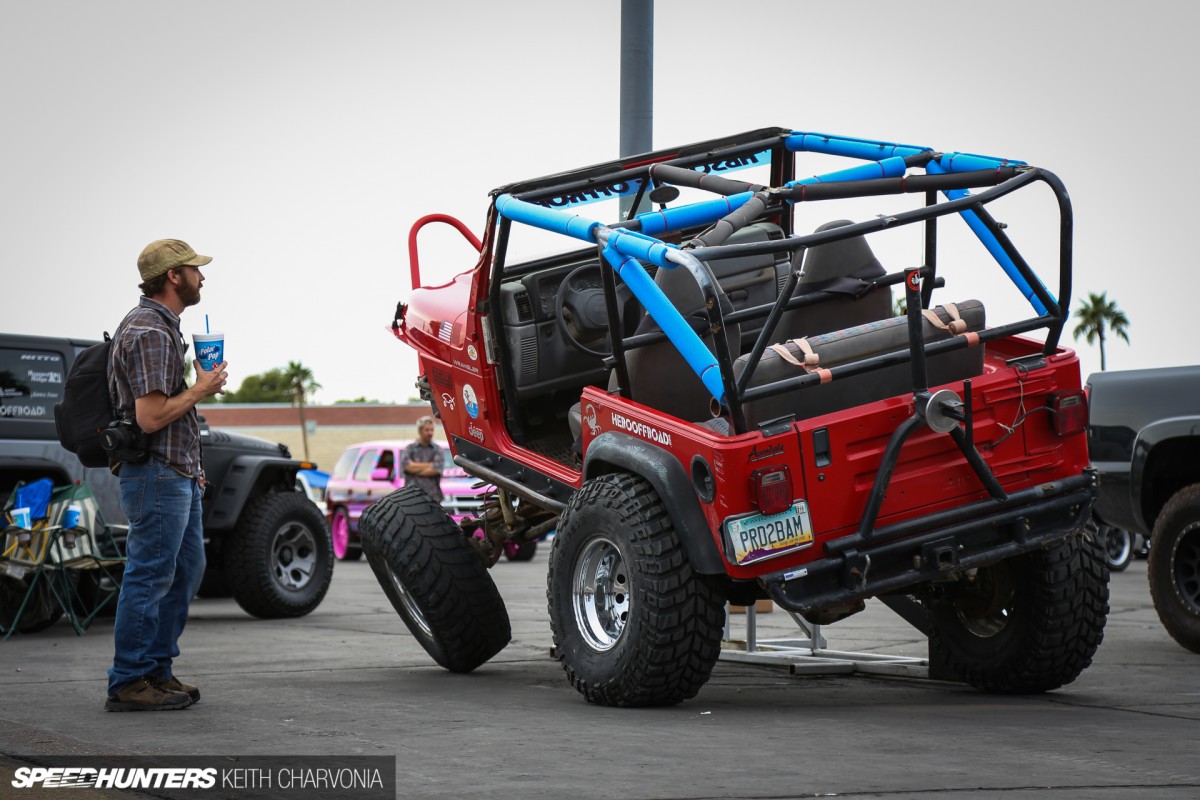 This flexy TJ wanted to get in on the fun too, although it cheated and used an articulation ramp.
Old School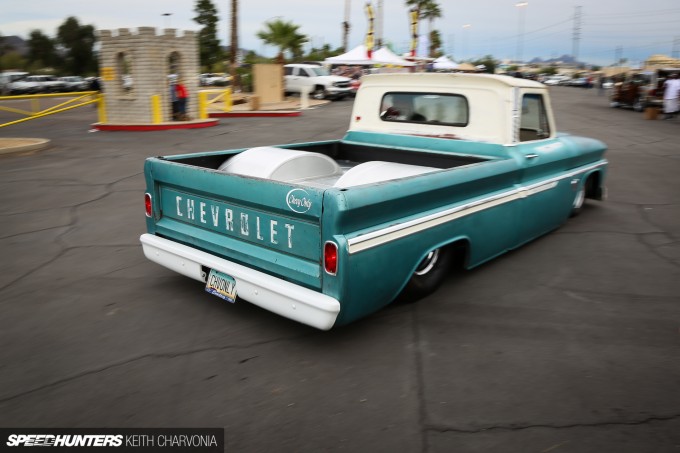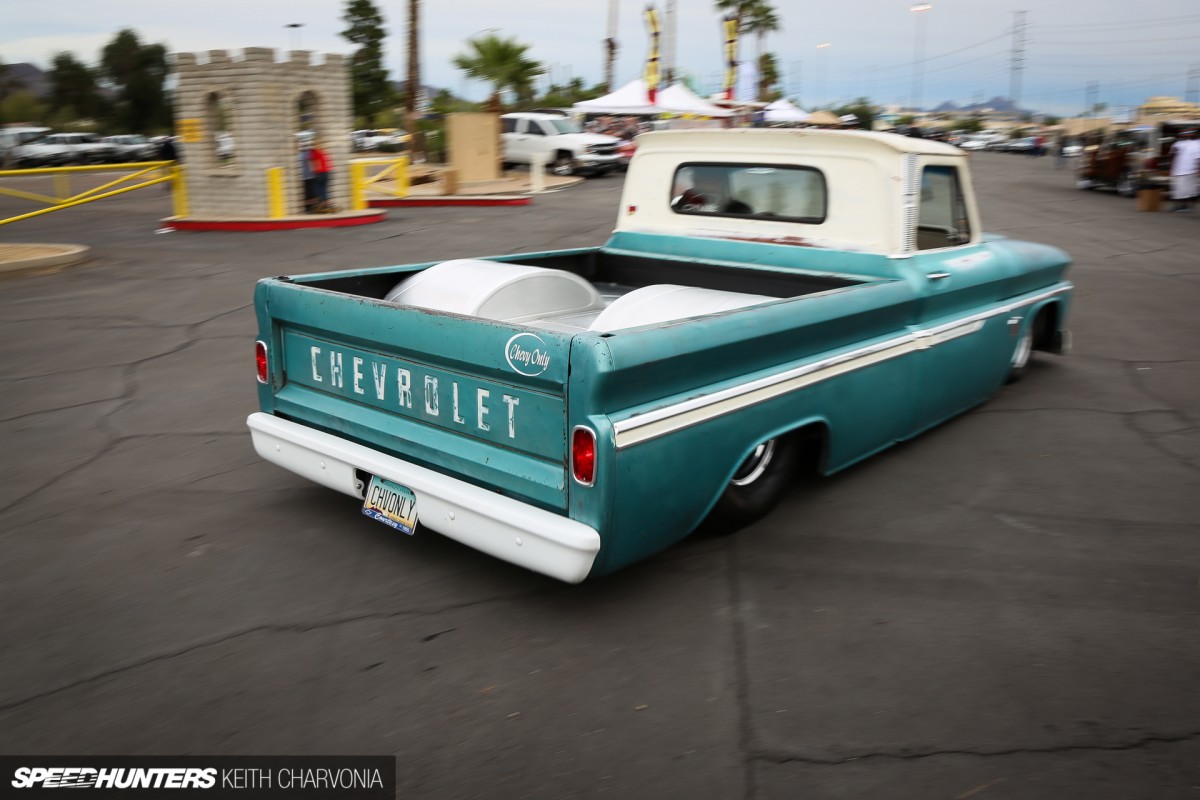 There was some serious machinery on hand this year, including 'Chevy Only' Dino's latest pro street effort. This guy only builds Chevy trucks, and he's become pretty good at it.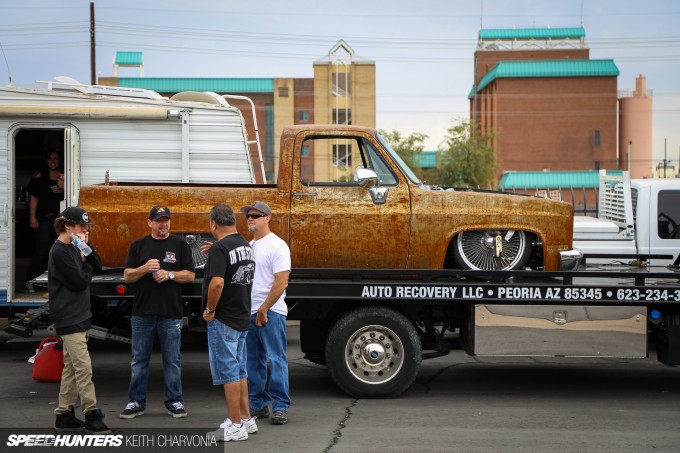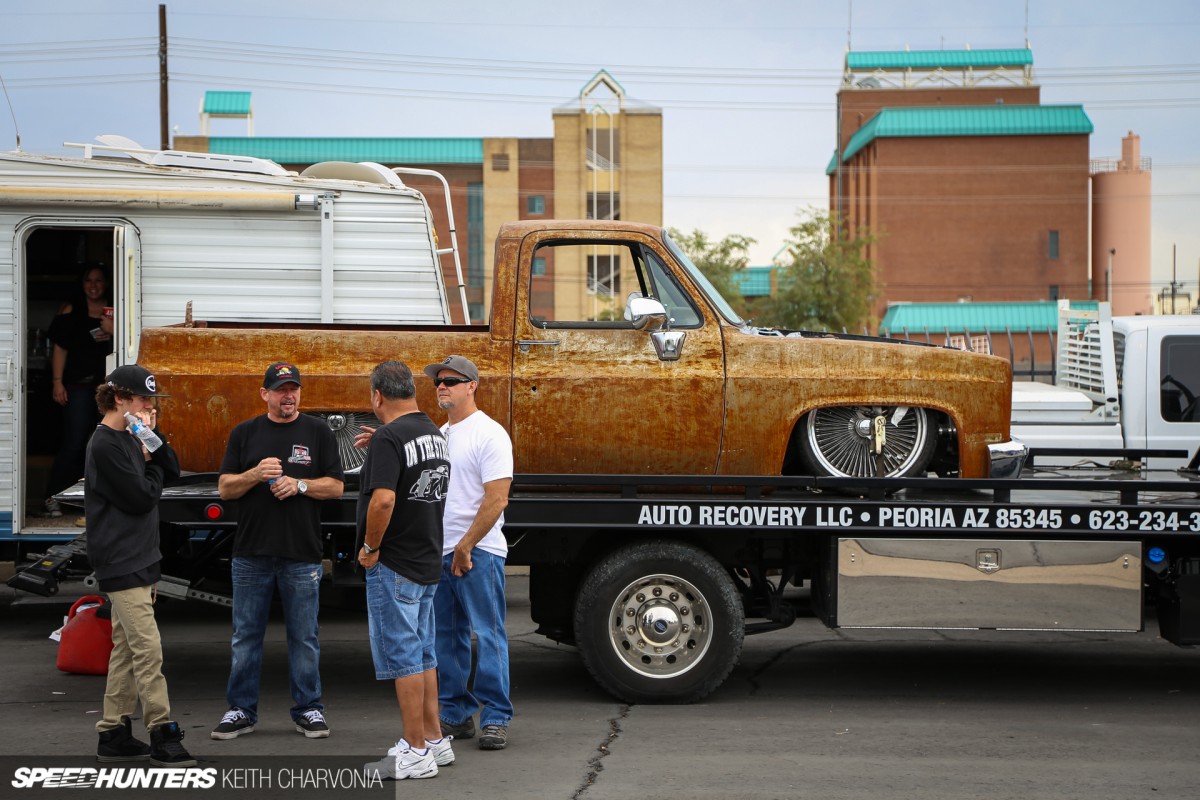 It's been clear for a long time that Chevy trucks from the '60s and '70s are considered classics, but lately the square bodies have been gaining in vintage status in too. This one's actually a rare two-wheel drive K5 Blazer.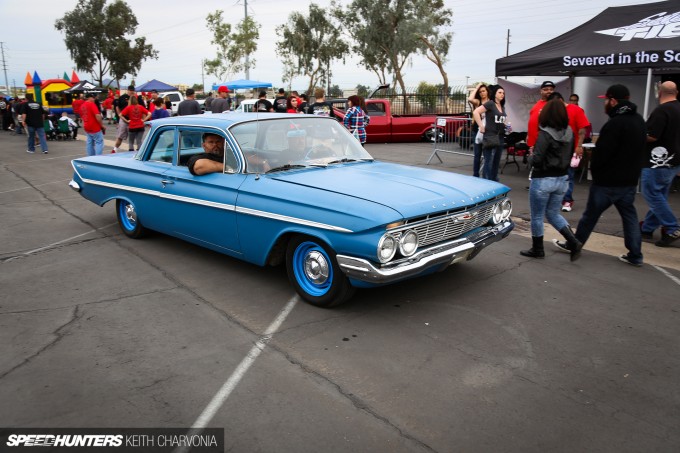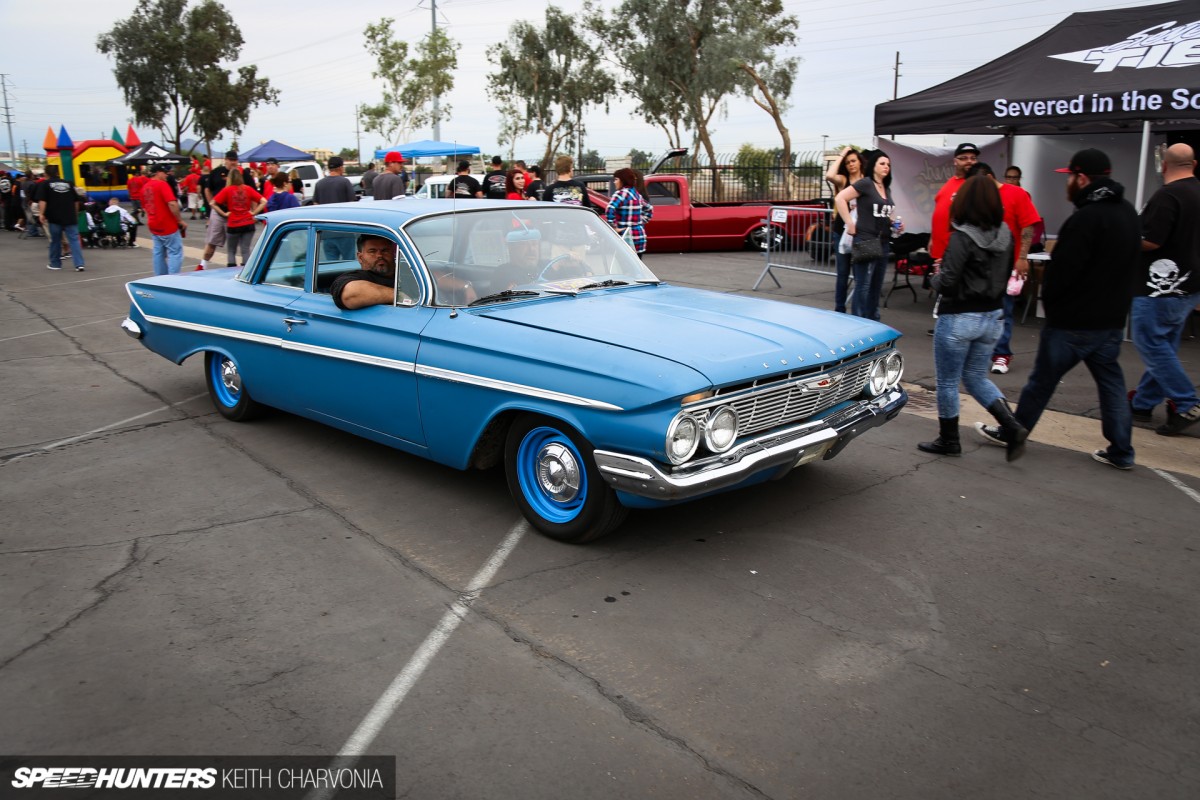 While the majority of vehicles at Severed In The Southwest were hammered as close to the ground as possible, there was still room for a nice resto too. I could smell the carbureted fumes as this one rolled by, leading me to believe it's still mostly original.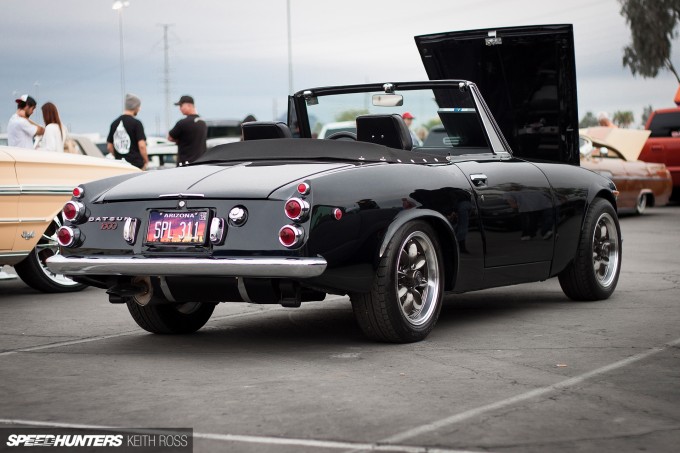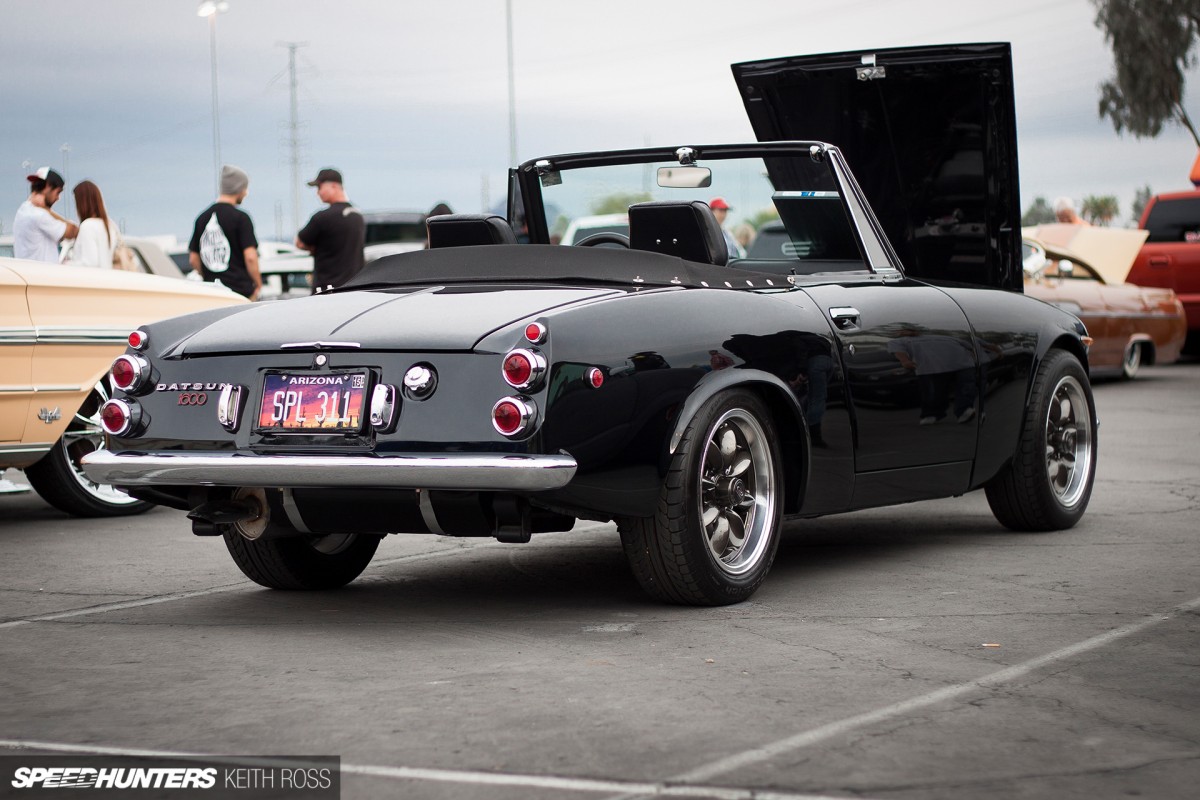 When I saw this little Datsun Roadster I figured it was just a clean weekend car for somebody.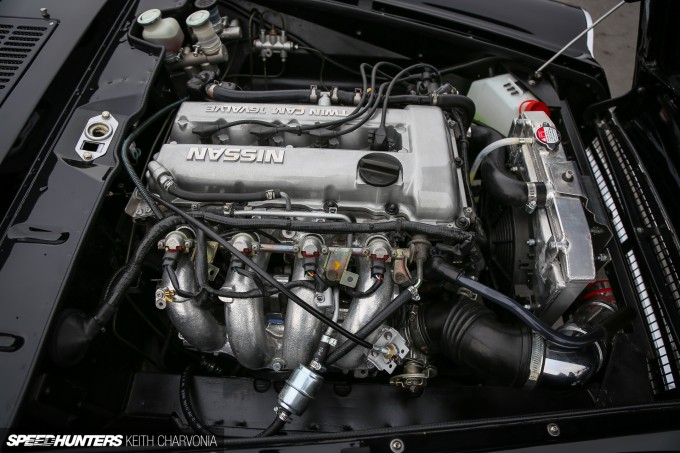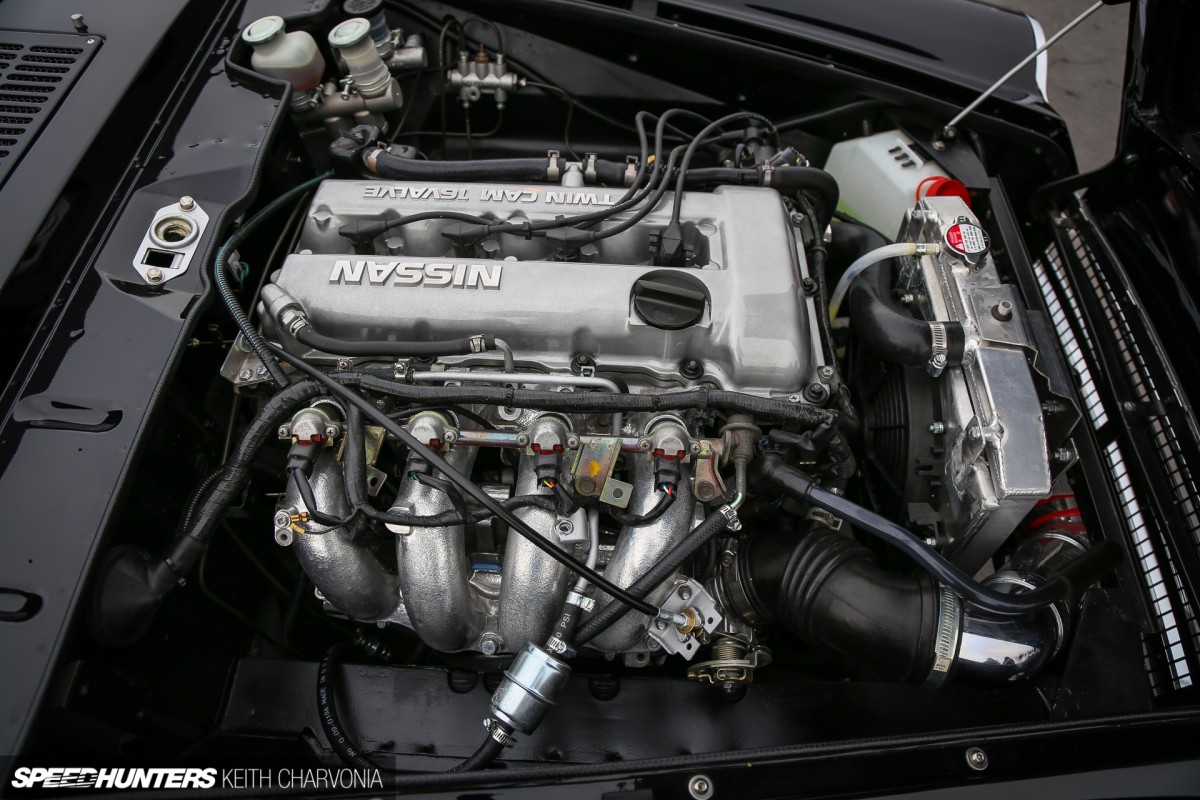 Closer inspection revealed a naturally aspirated SR20DE engine, which probably makes this thing an absolute blast!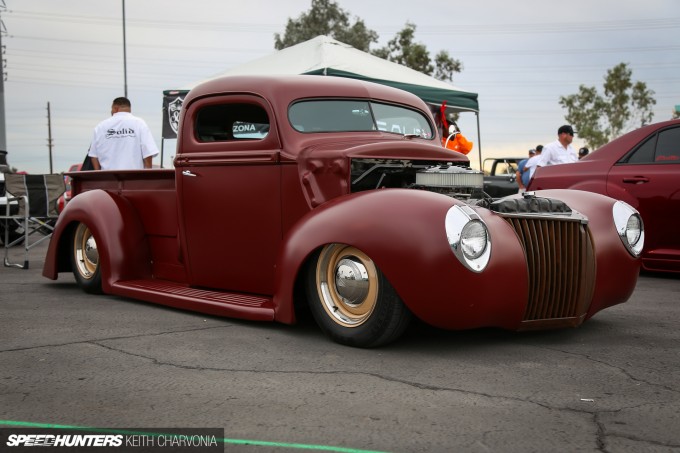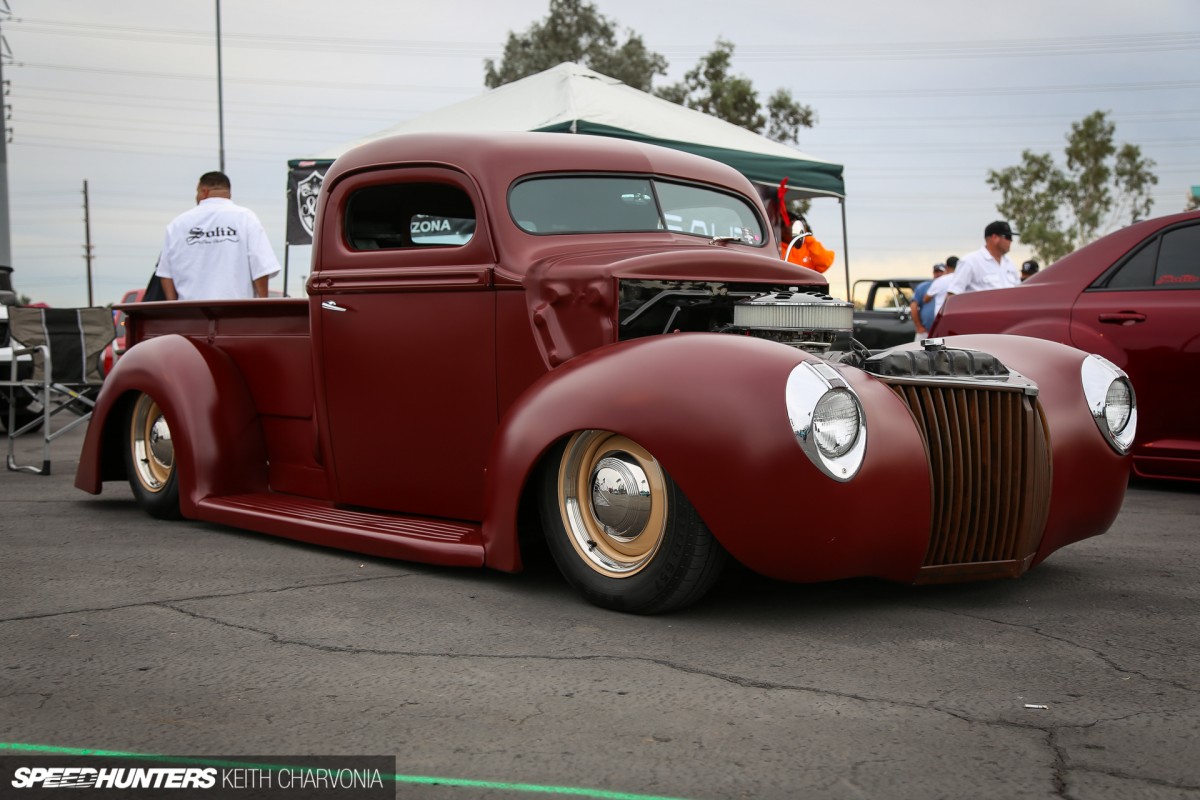 I've always been intrigued by how different a '40 Ford can look depending on the stance and chop, or lack thereof.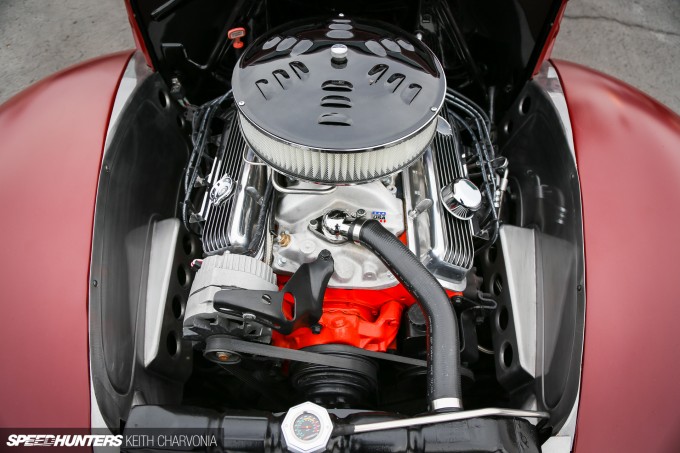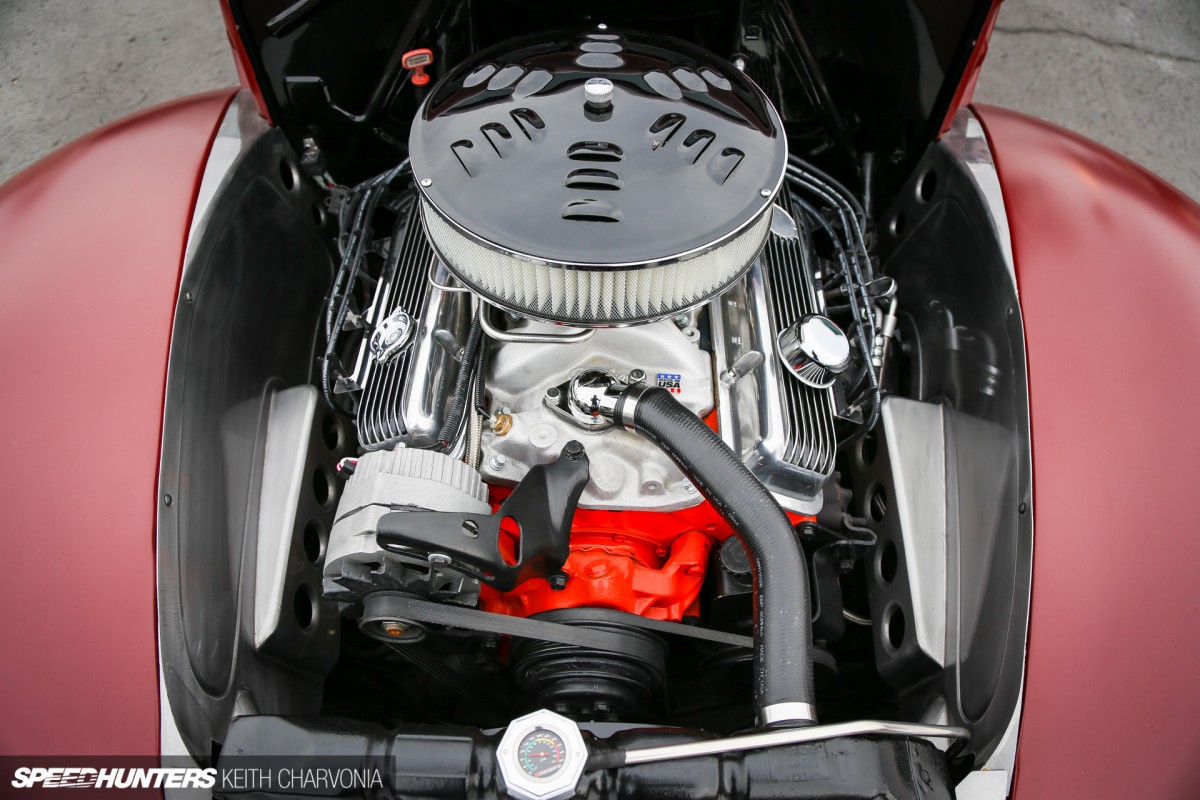 This one was beautifully finished, inside and out.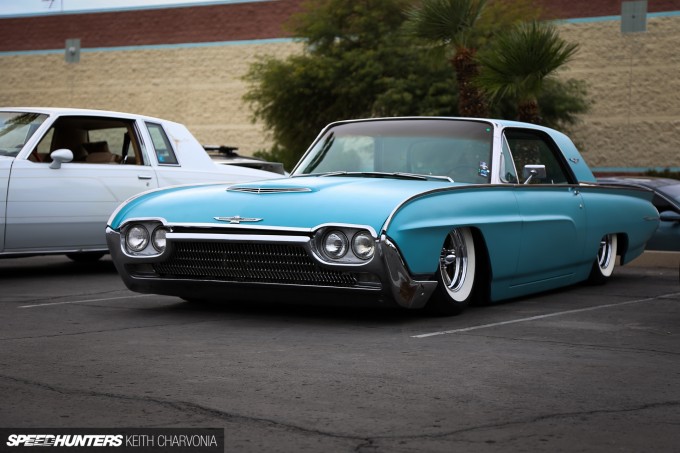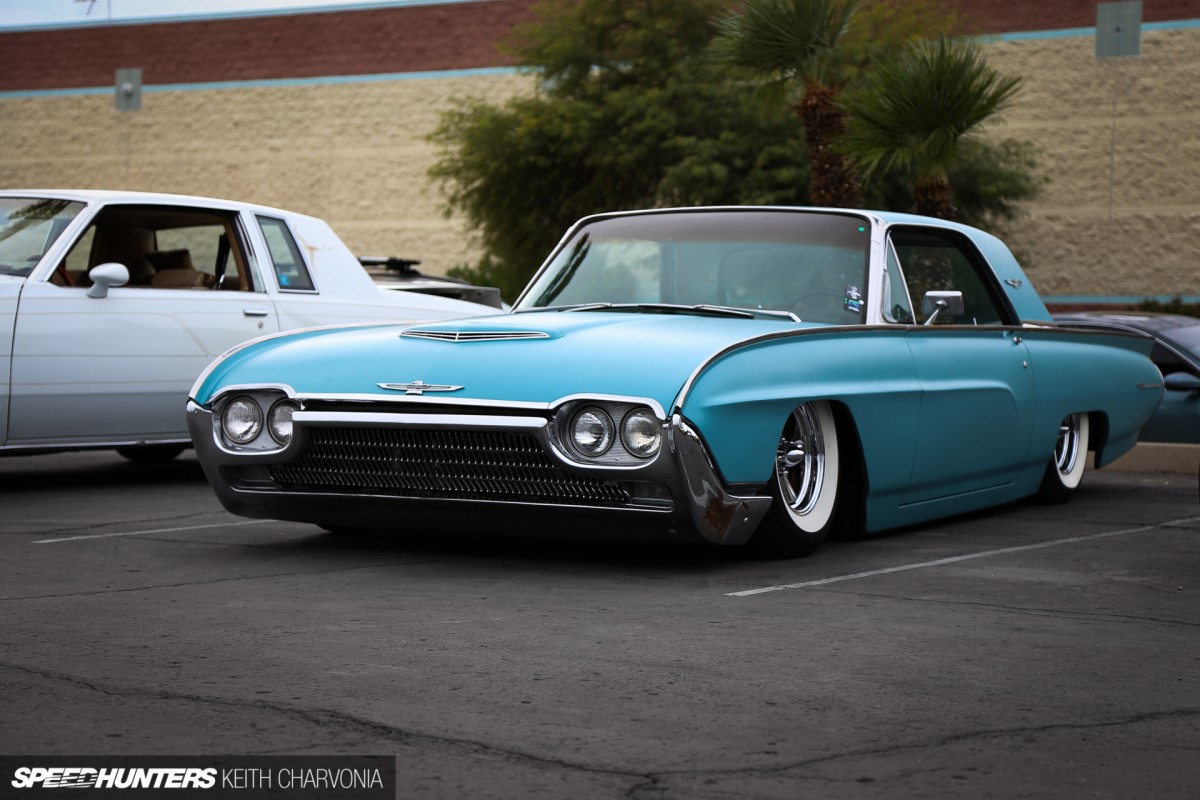 Another car I've long lusted after is an early '60s Thunderbird, and this is almost exactly what I would do with it. You can't beat the styling of these factory customs.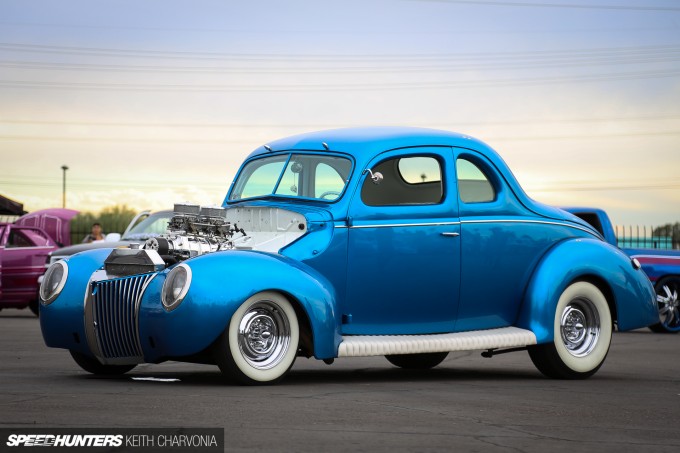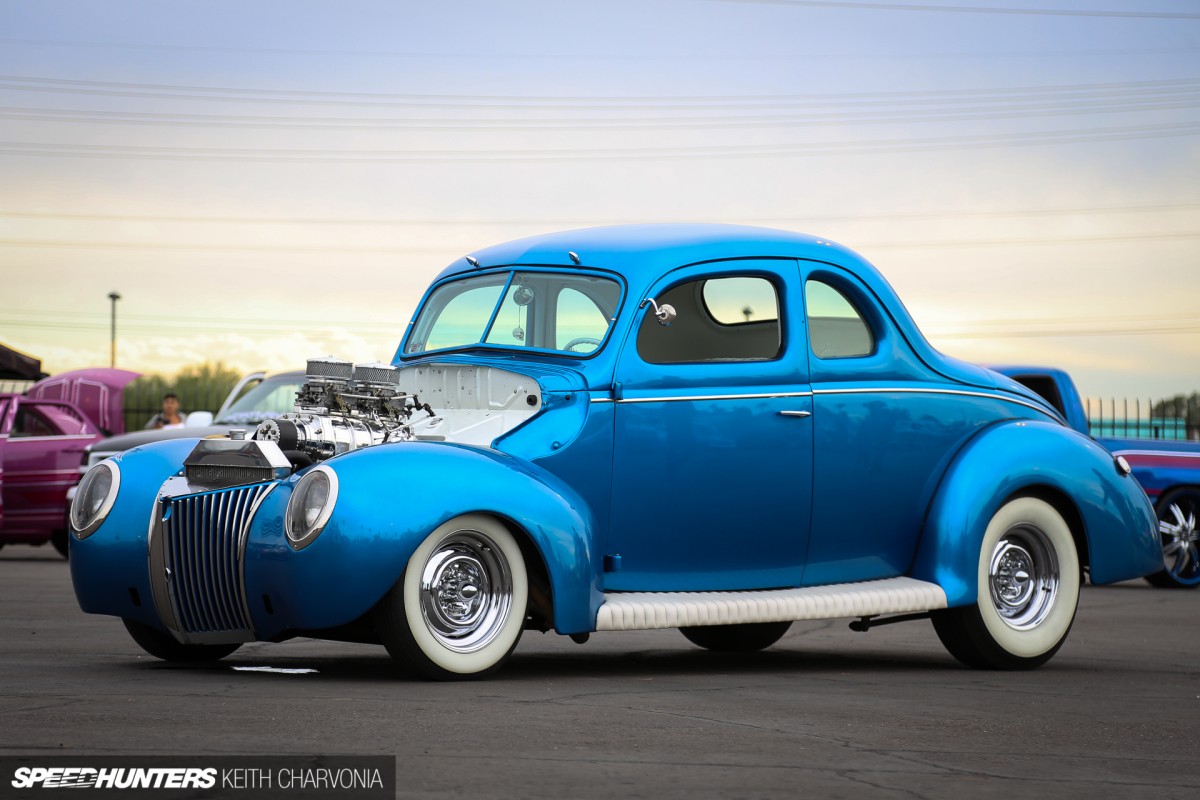 Even though this is considered a minitruck show, there was no doubt that classic cars were more than welcome, no matter the flavor.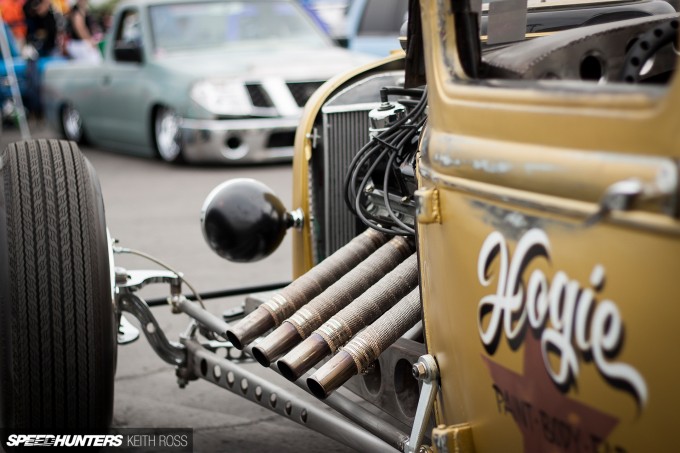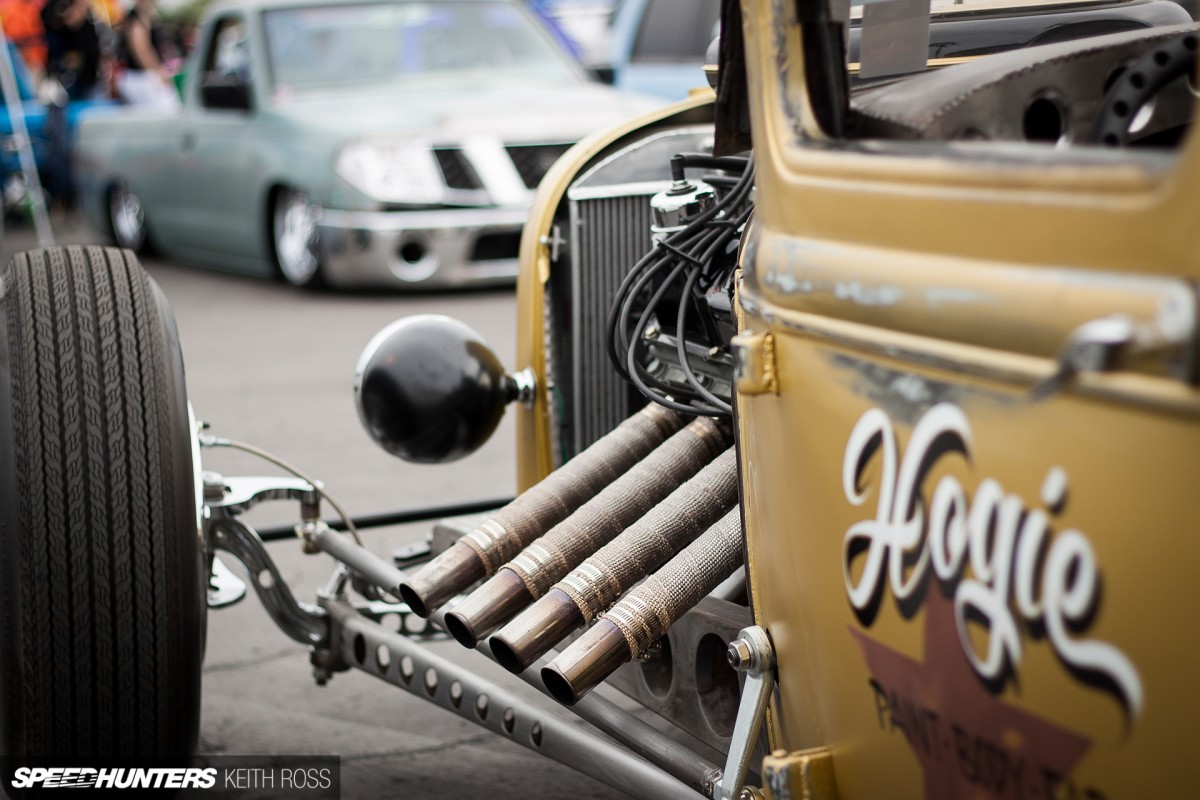 Besides, there's nothing wrong with a little cross-pollination of scenes to get new ideas for your own build.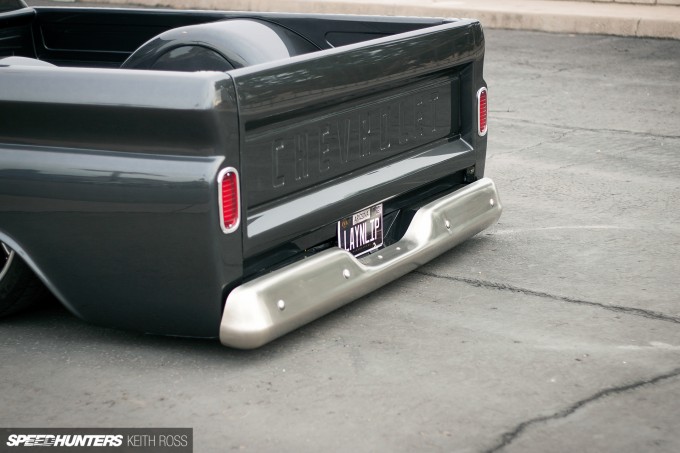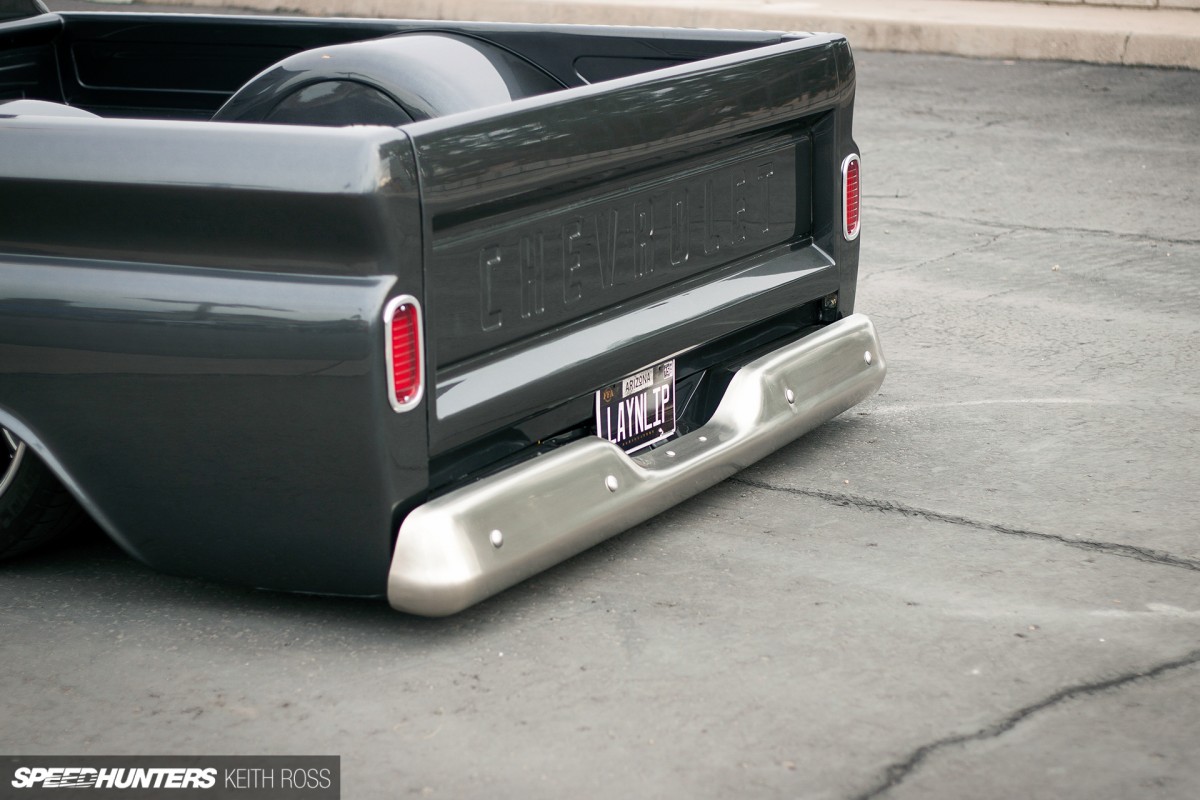 And then there are vehicles like the Chevy truck that I opened this story with, which easily bridge the gap between minitruck and hot rod.
Maximum Low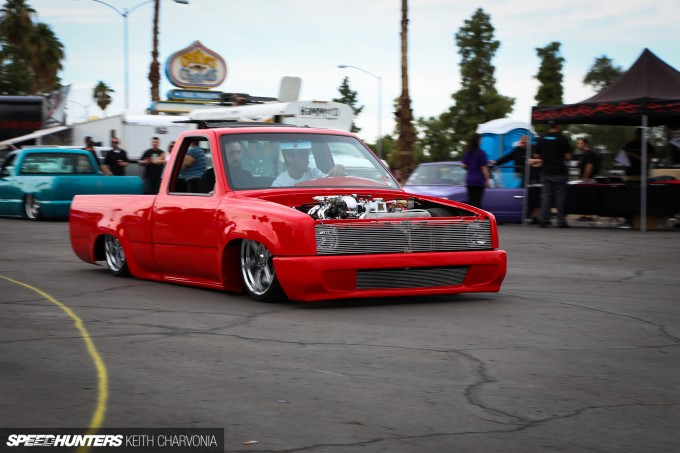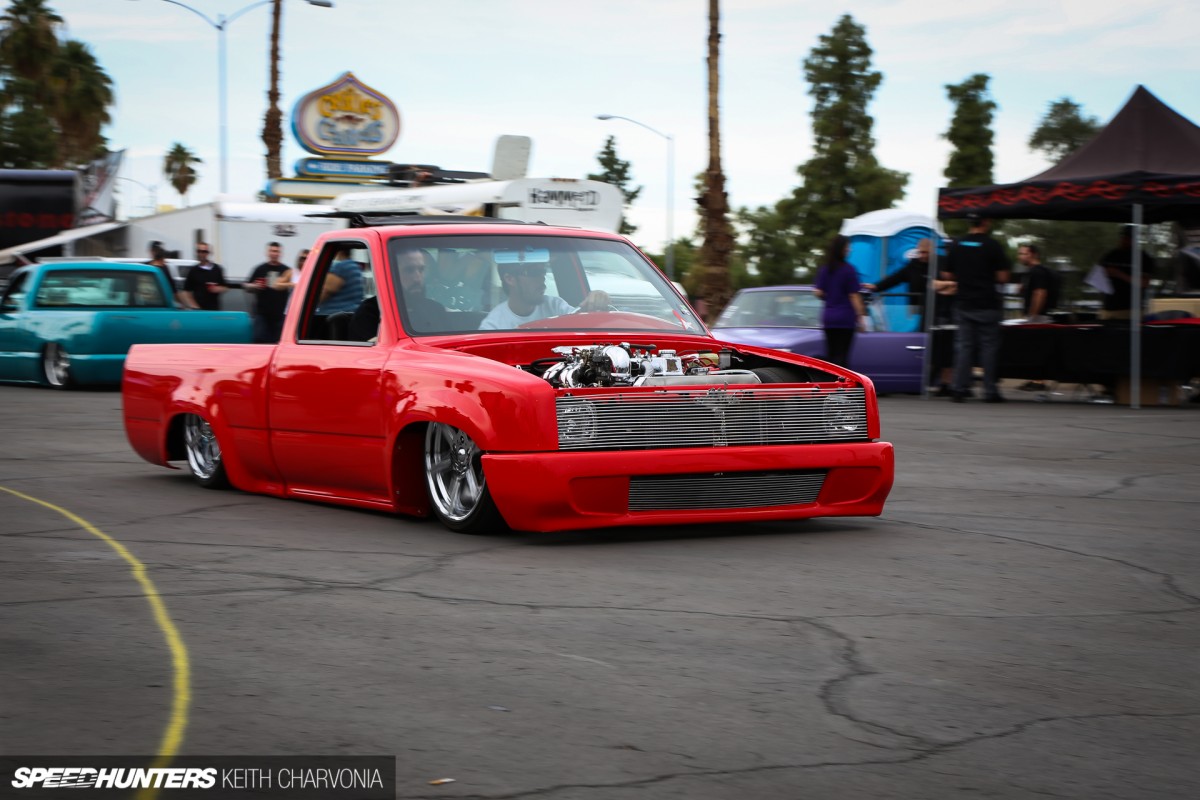 In the battle to be the lowest, it seems like some vehicles are built right around the rolling stock.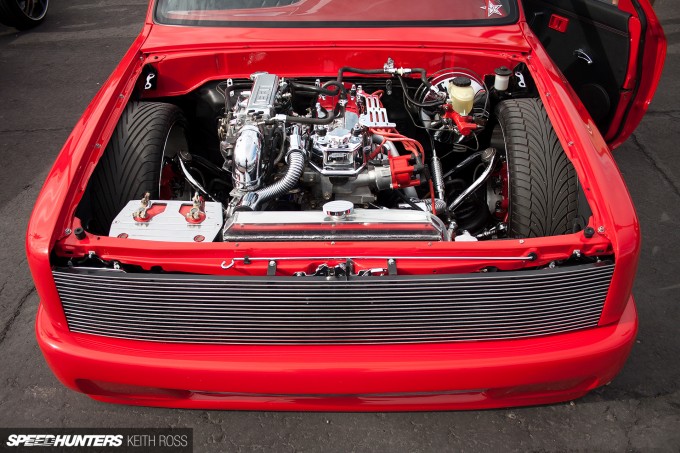 Pop the hood and all you'll see is an engine and two tires.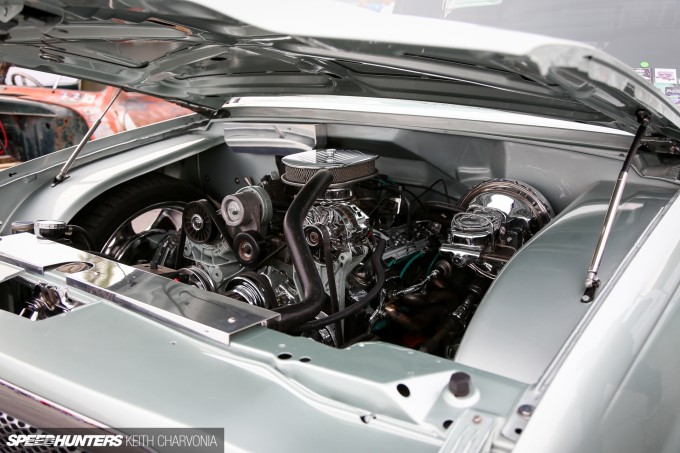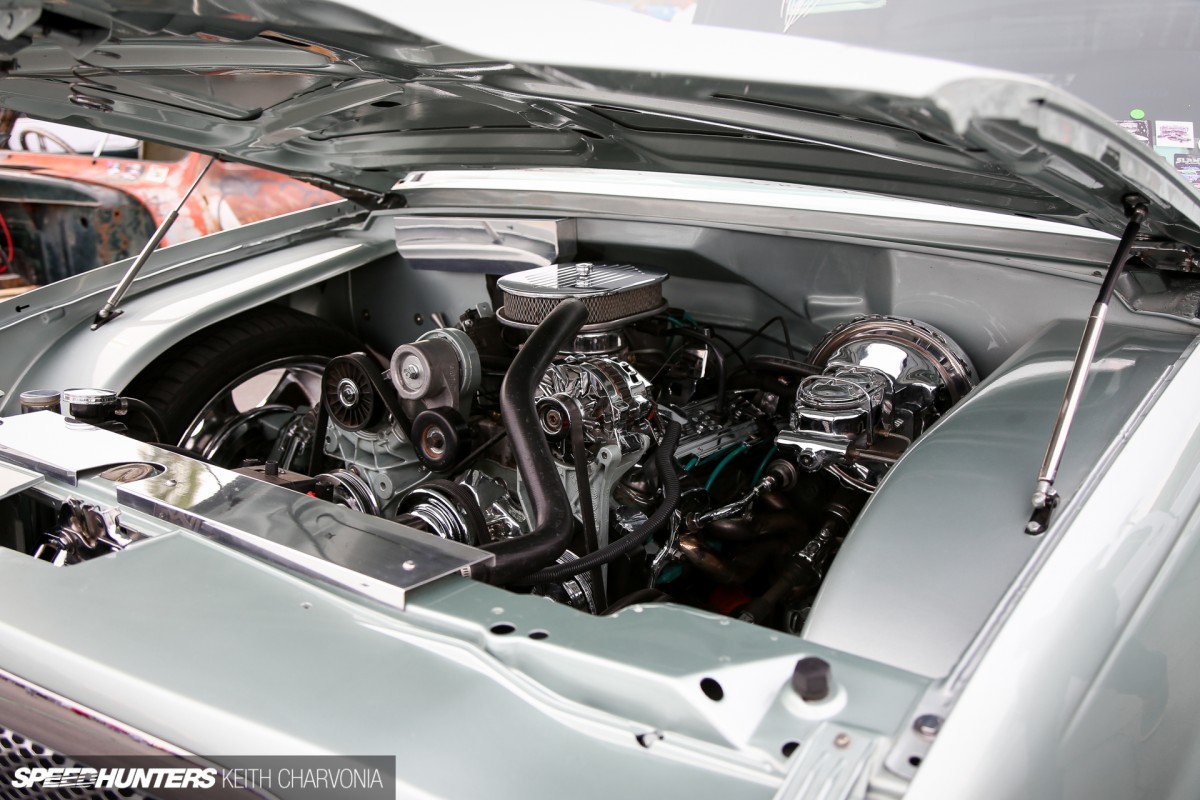 Some guys get close, then weld in some custom inner fenders to protect the engine bay from road grime.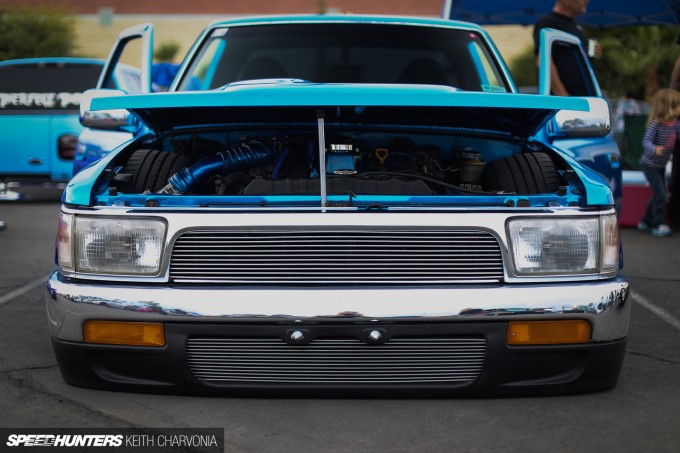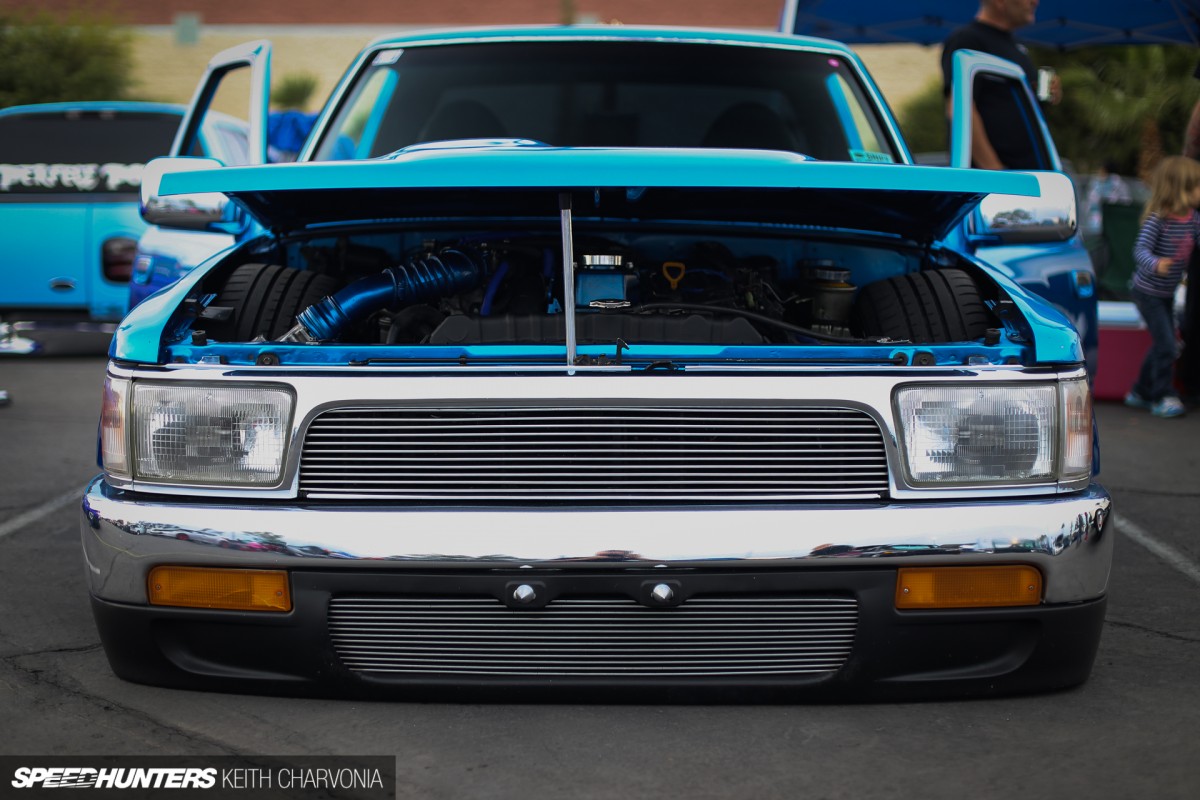 But there comes a point where there just isn't enough room for even a thin piece of sheetmetal.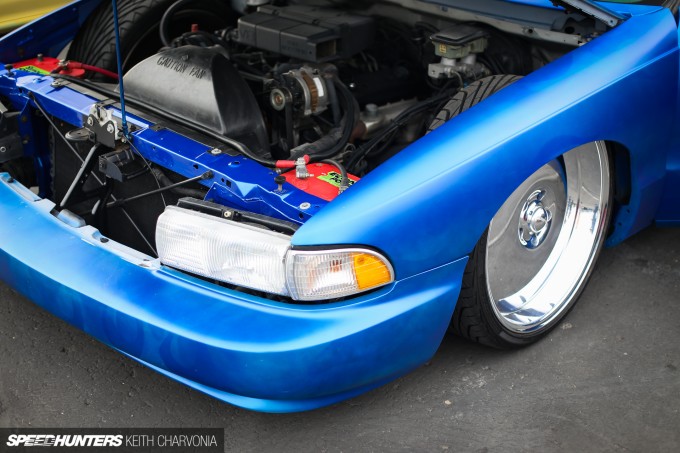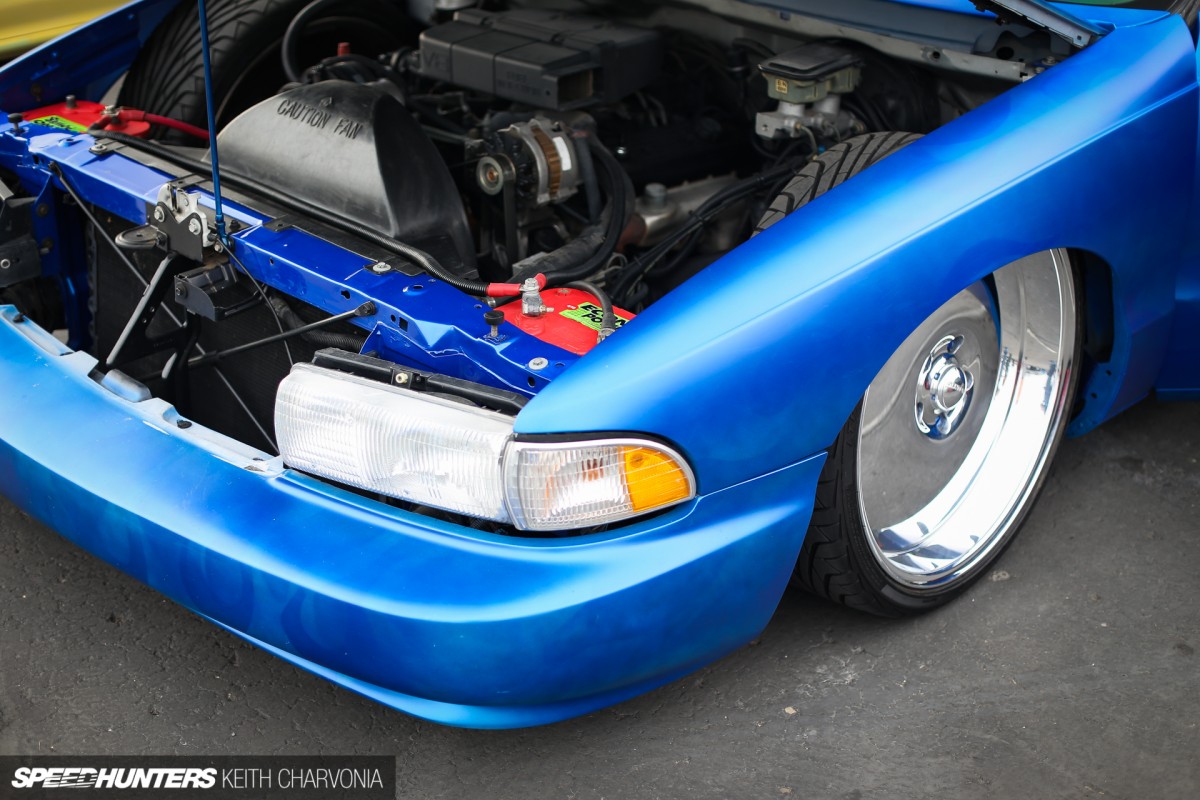 This used to be considered extreme, but is becoming more and more common as the scene progresses.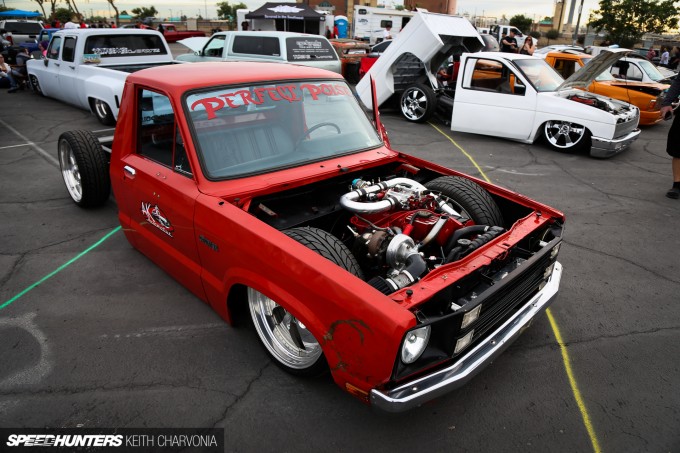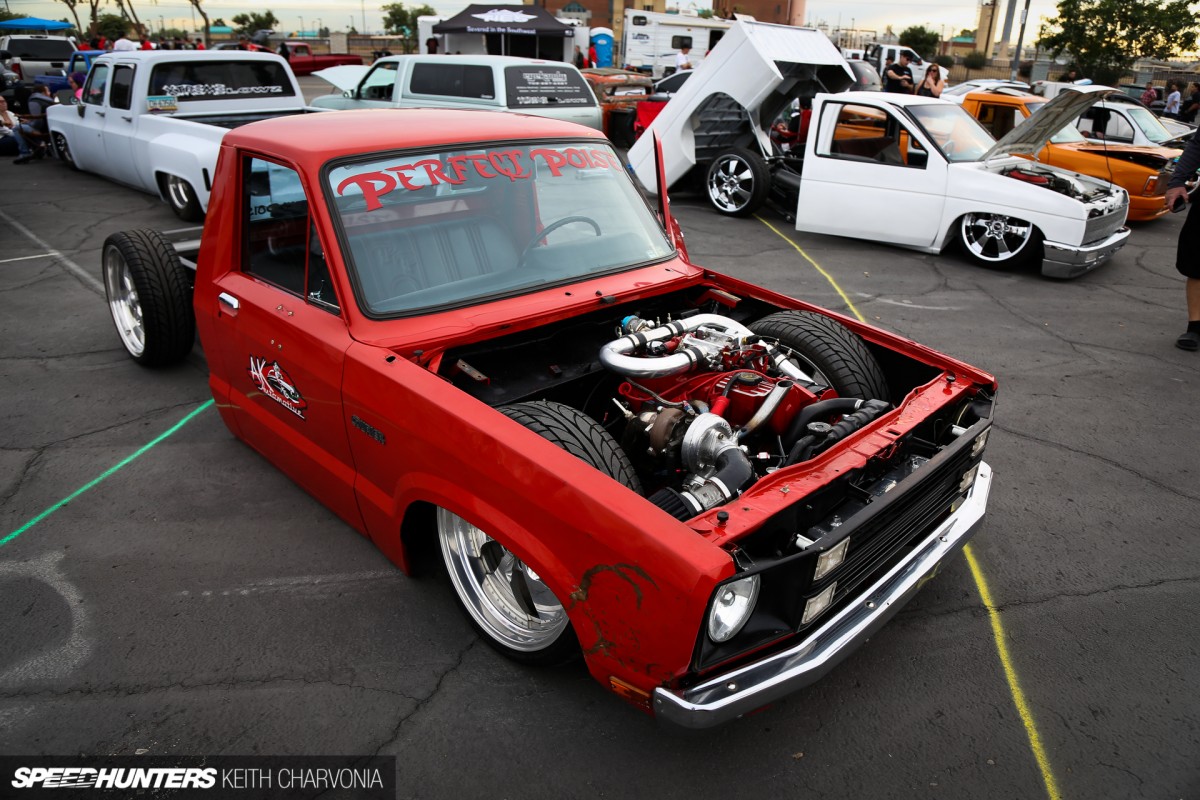 Sometimes the limiting factor is the hood itself!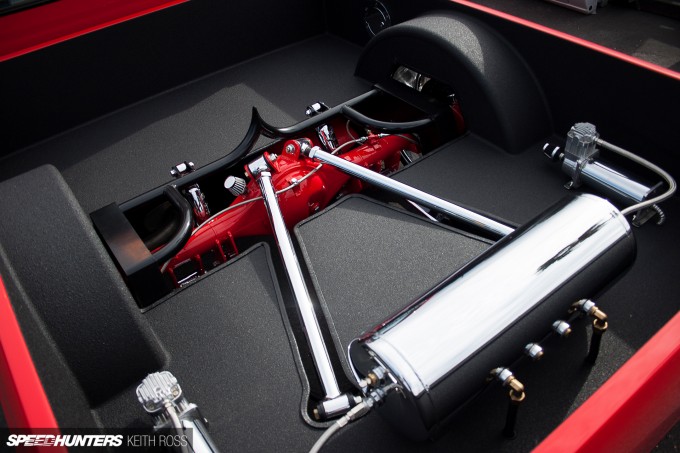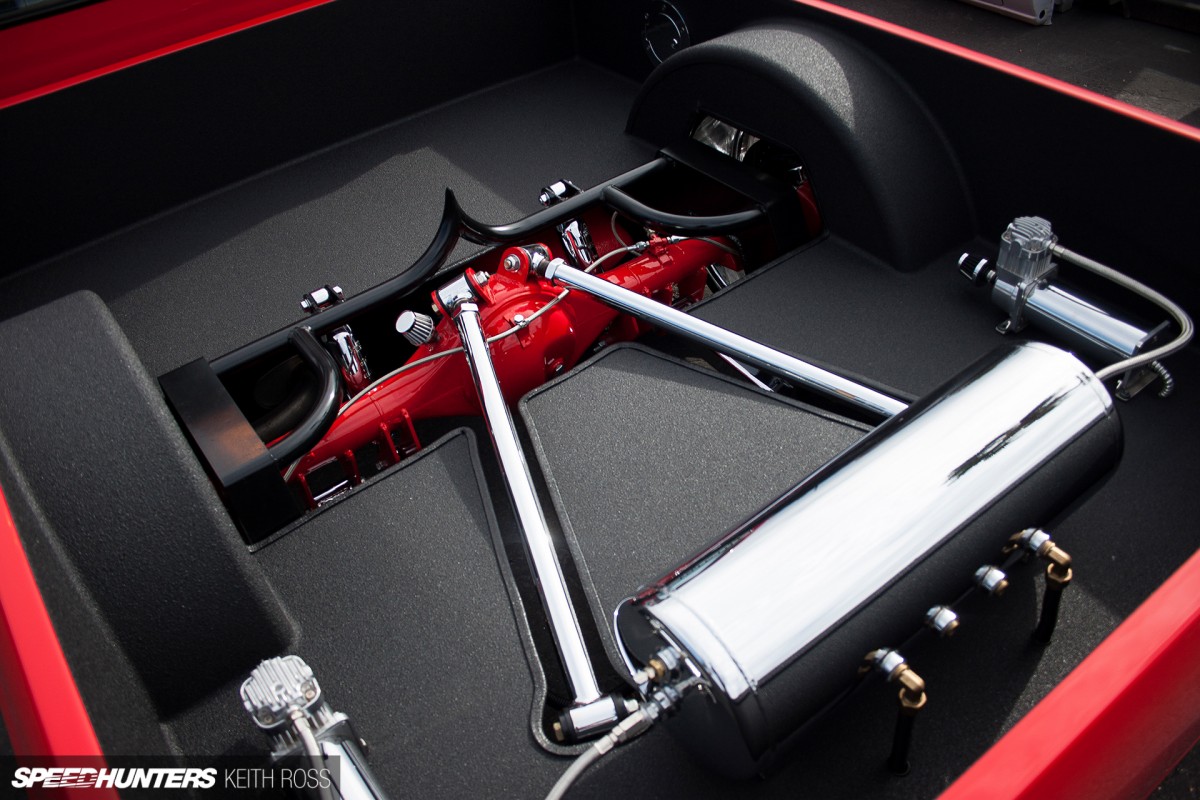 Various forms of bed floor-raising and cutting are employed to make room for the suspension and tires that will inevitably be needing room.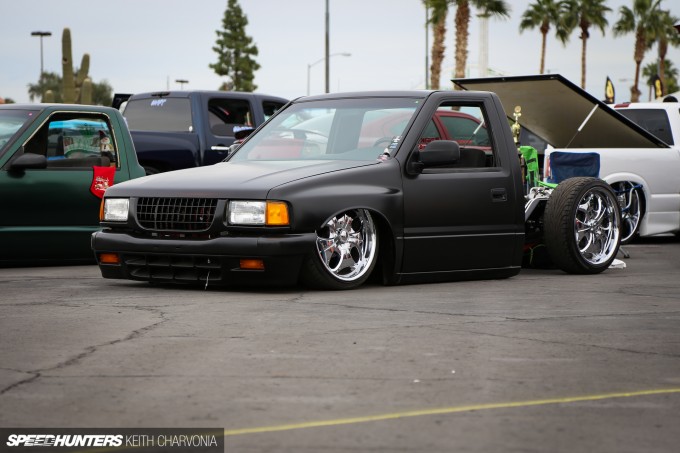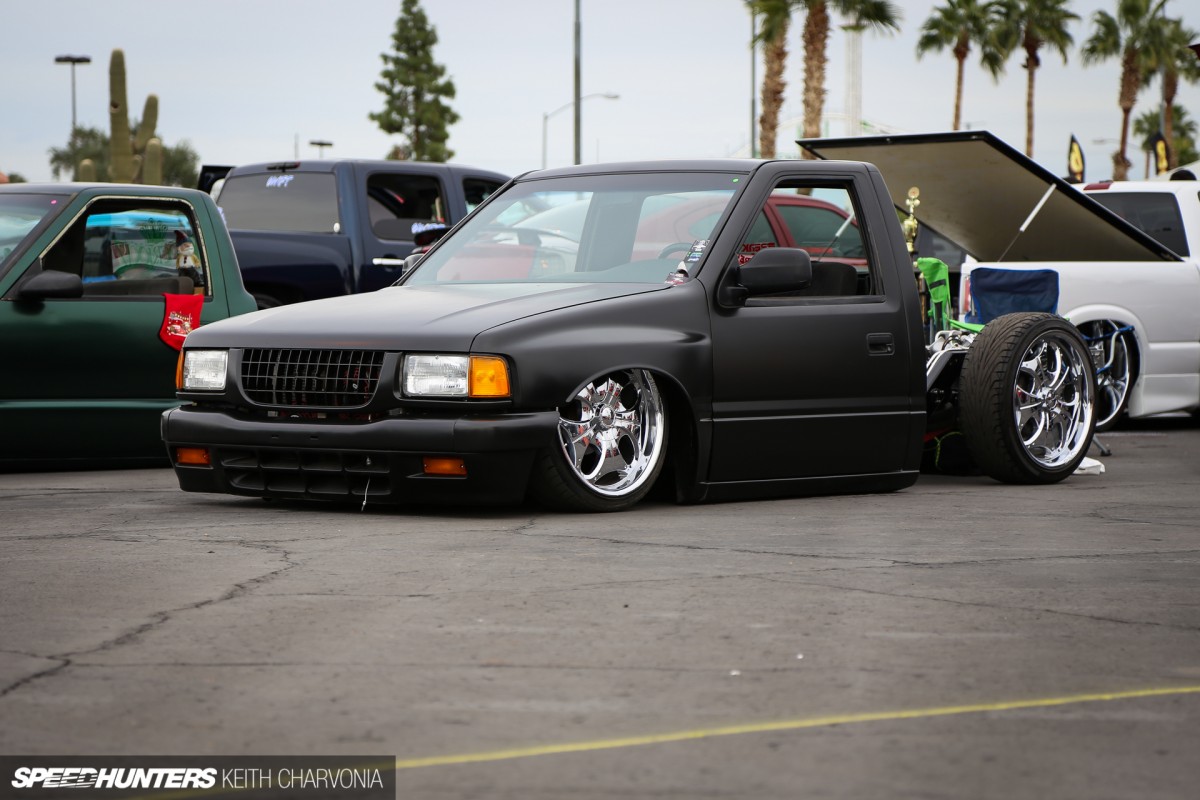 Of course, until the bed's done a lot of guys just roll without it.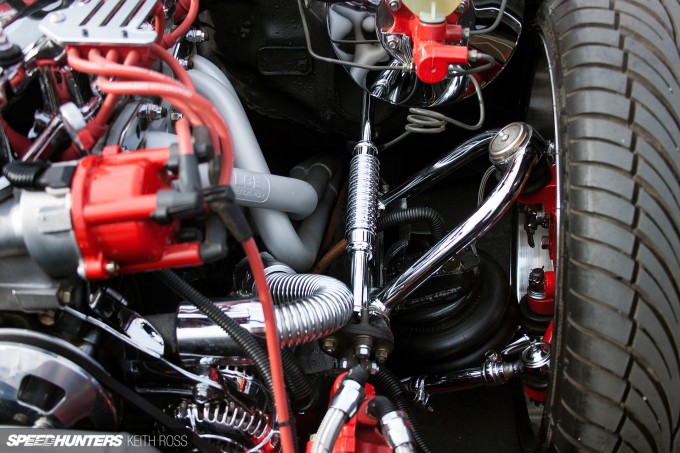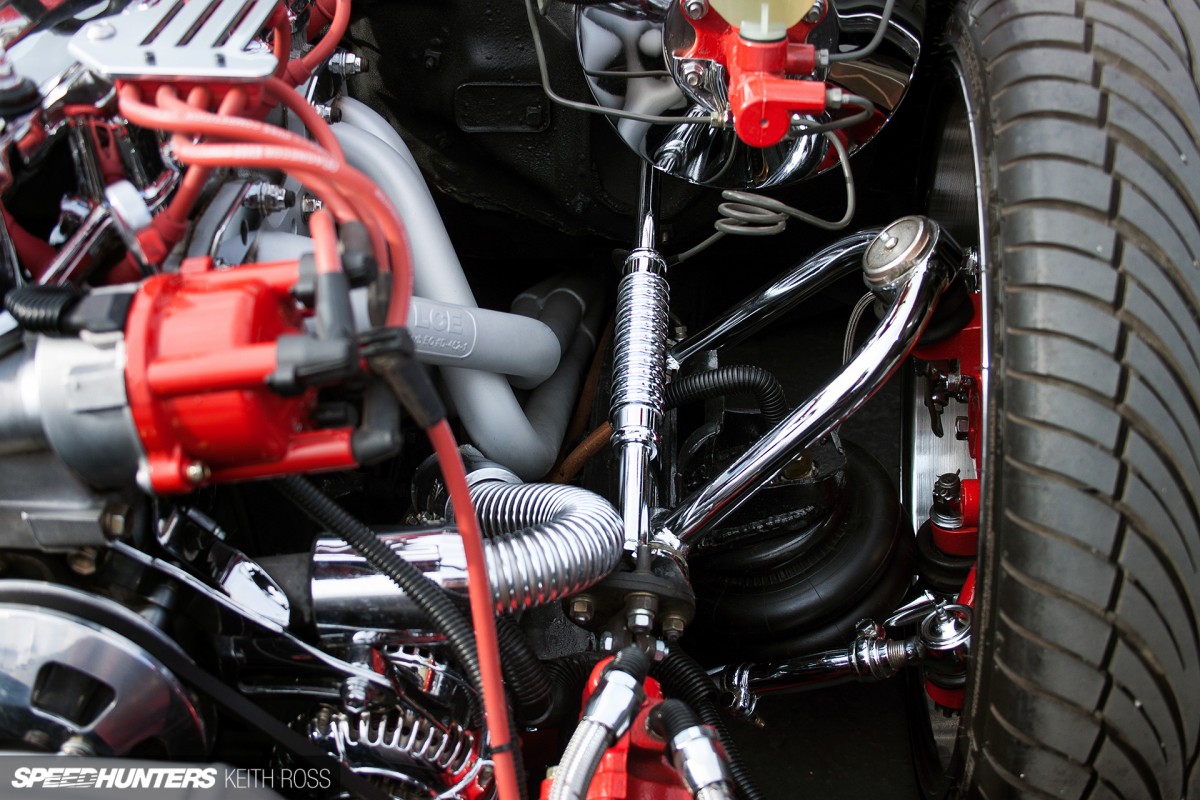 Another minitruck trait that you don't really see in other scenes is the use of exposed suspension components. It's really due to packaging restraints, but at the same time I can't help but feel like I'm looking at a modern hot rod.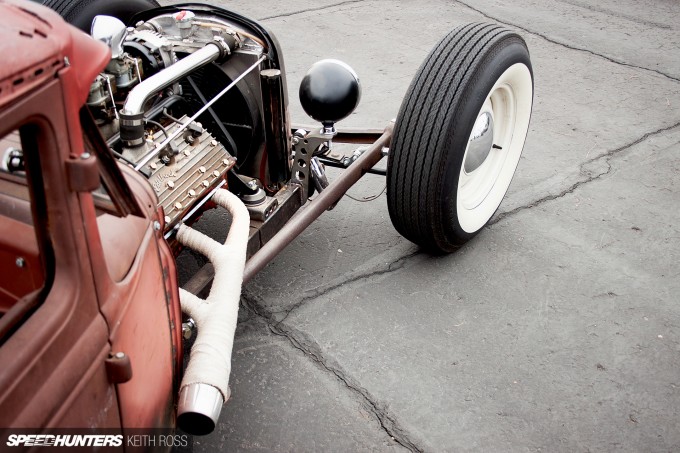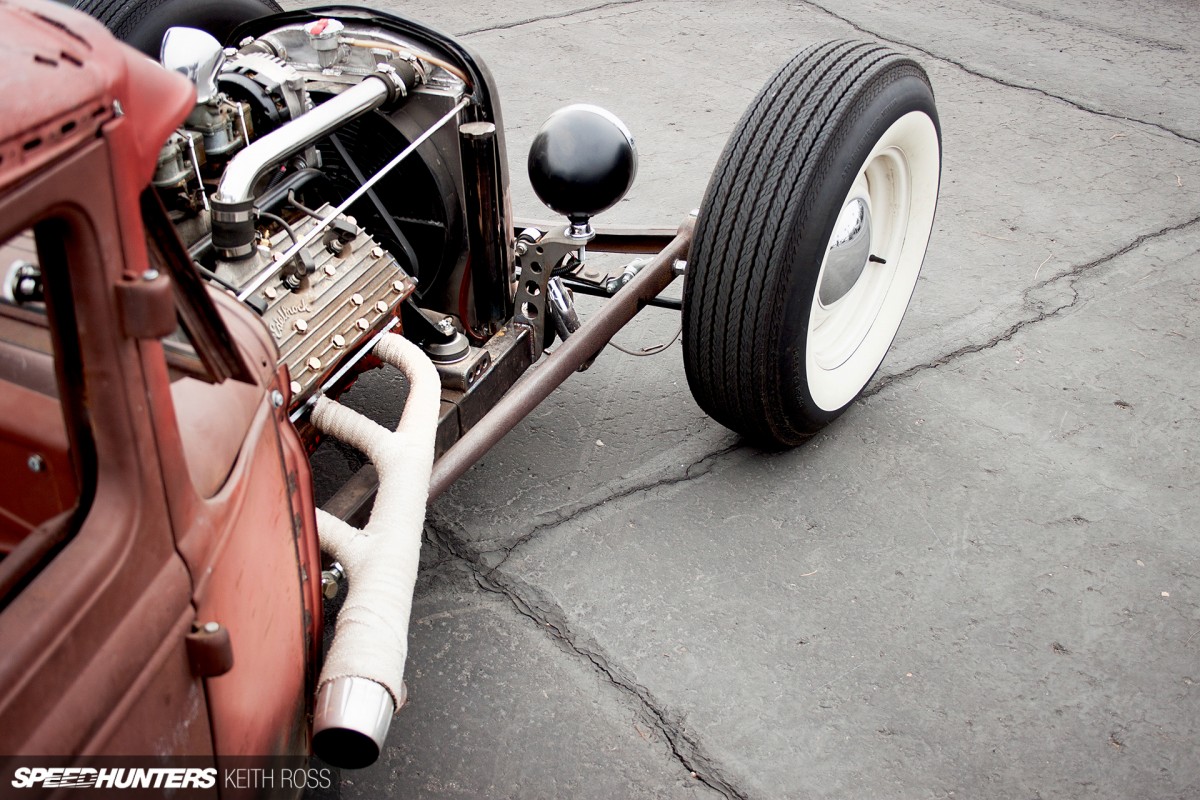 See what I mean?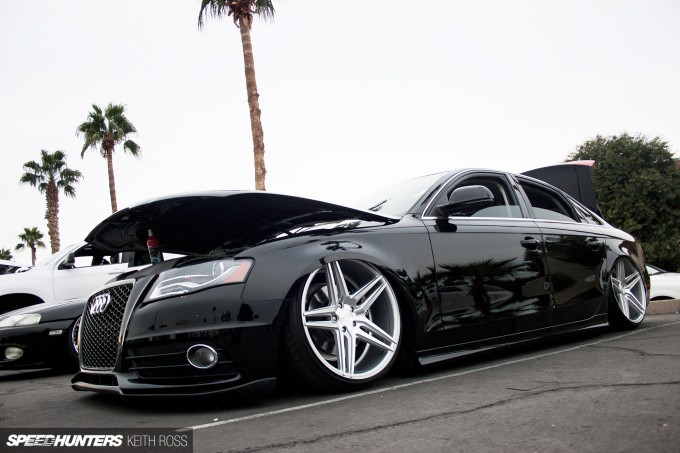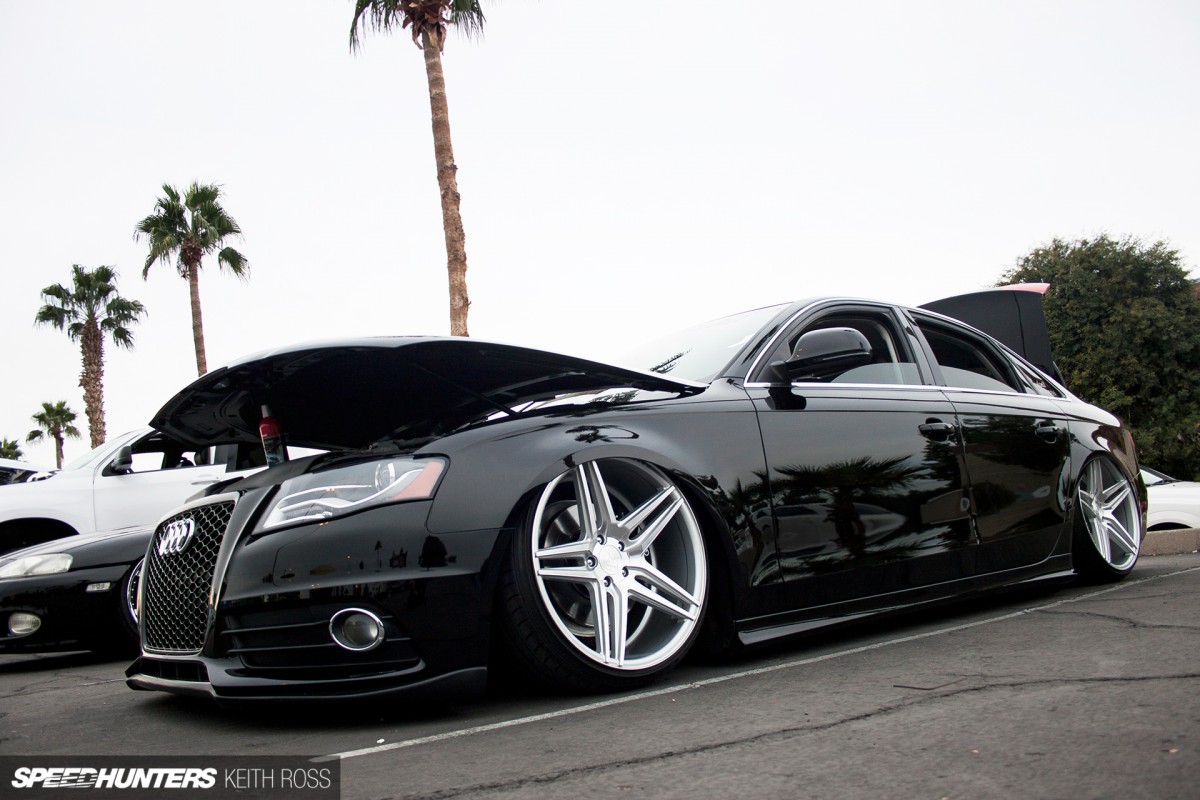 No body style is off limits, as we have seen from the cross section of vehicles at Severed In The Southwest.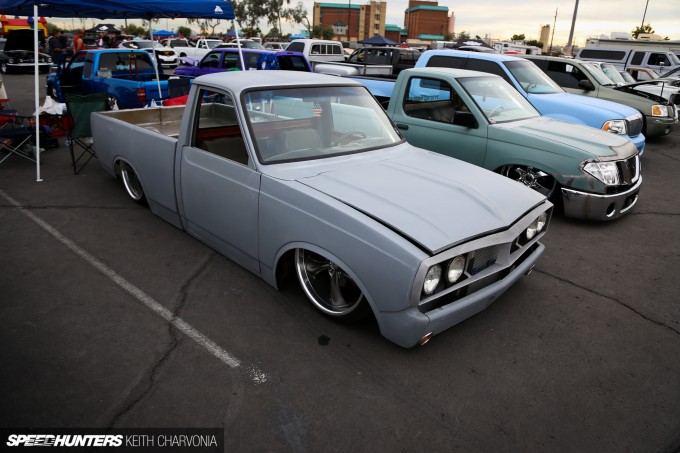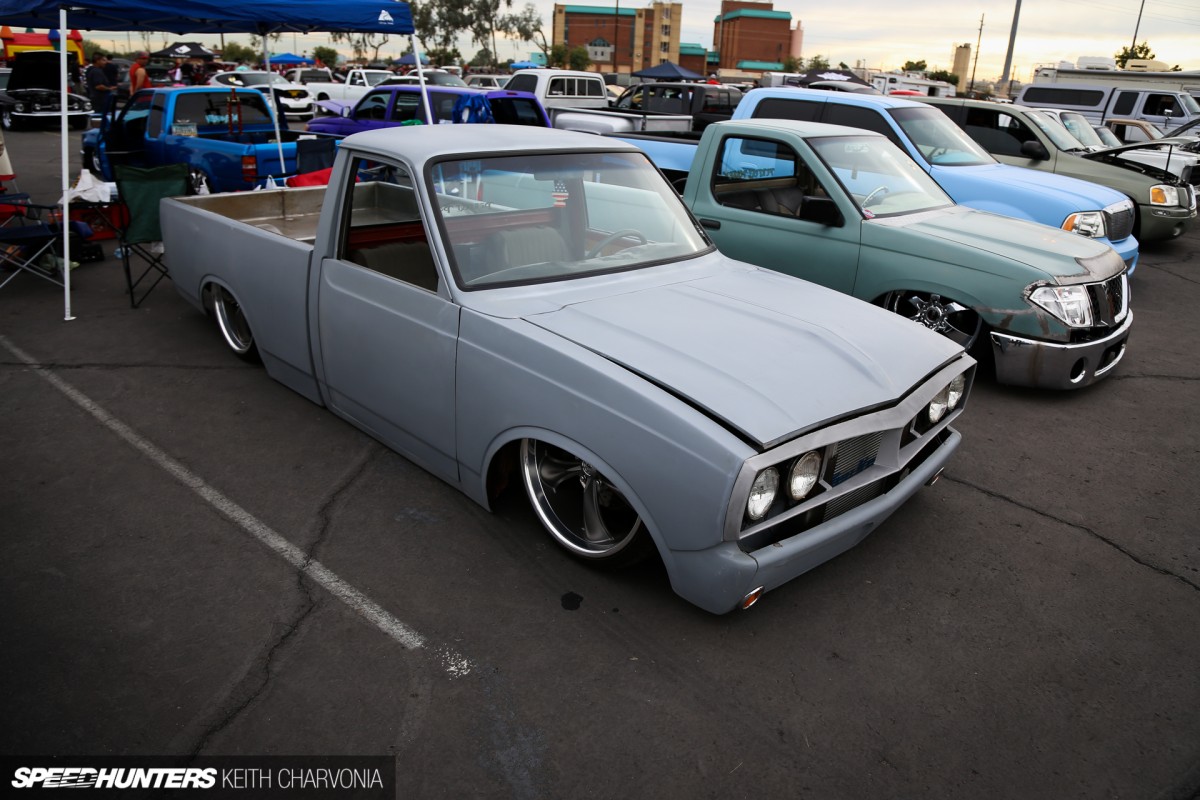 What started with a minitruck for many of us, soon made its way into all sorts of other vehicles.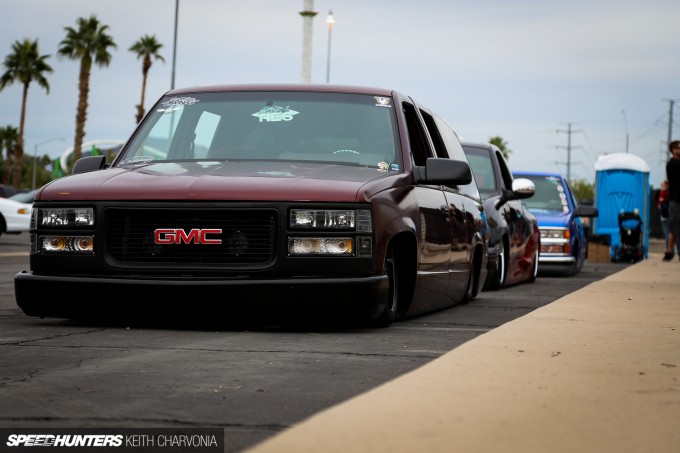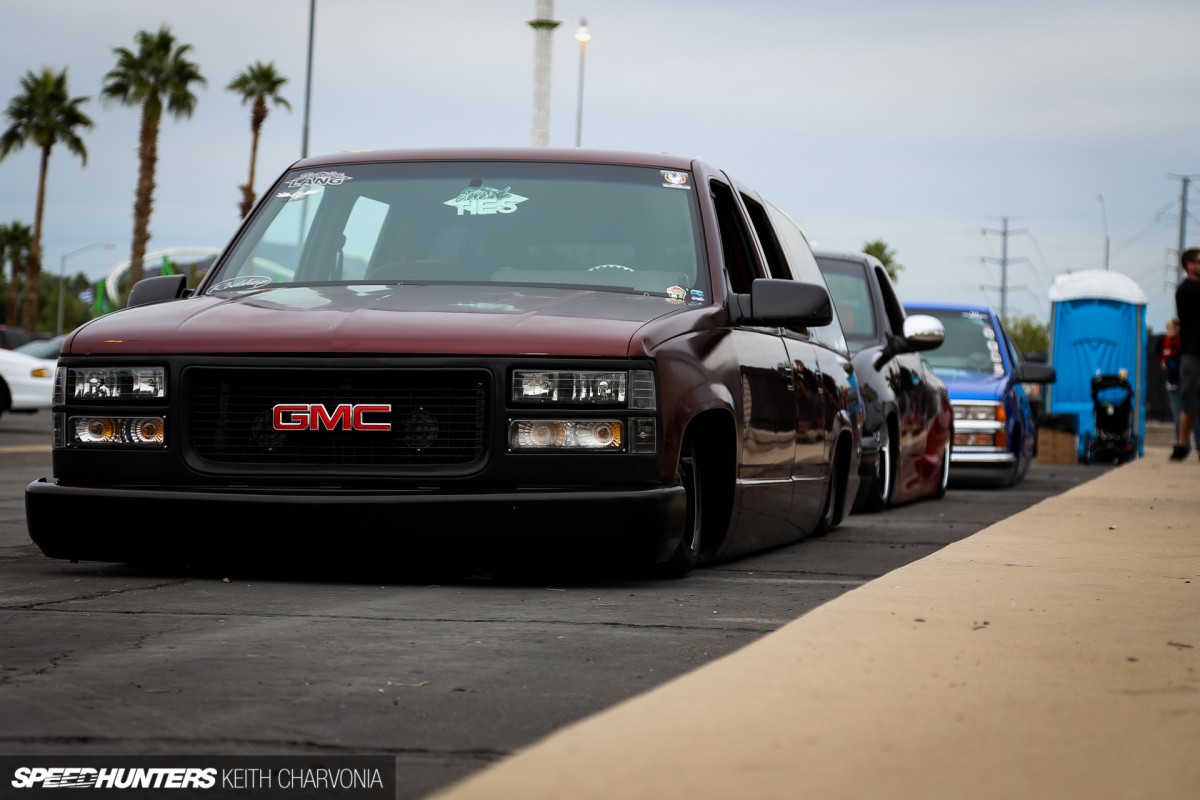 A body-dropped Suburban might be good for hauling your family and friends.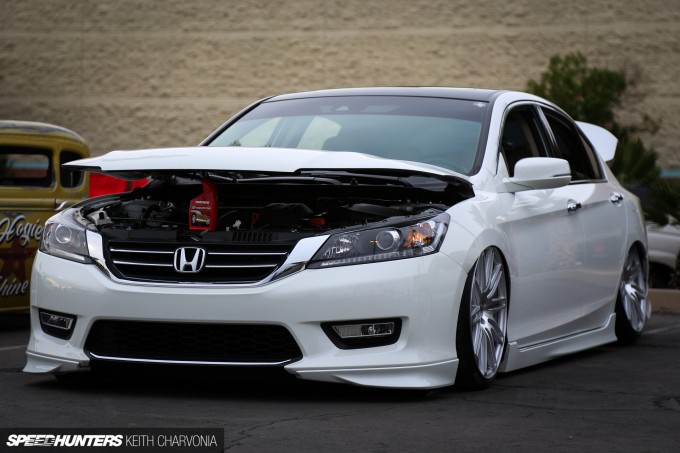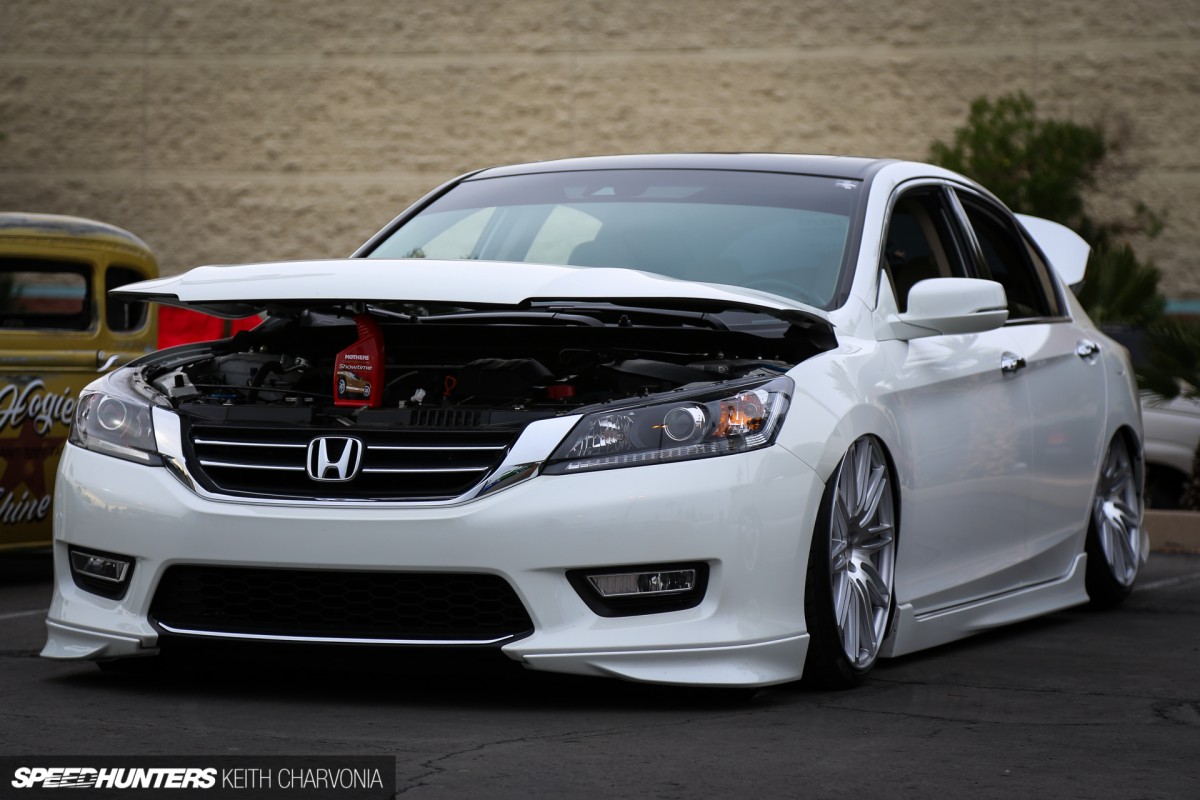 These guys are finding ways to dump late-model cars too, usually involving lots of modding and cutting.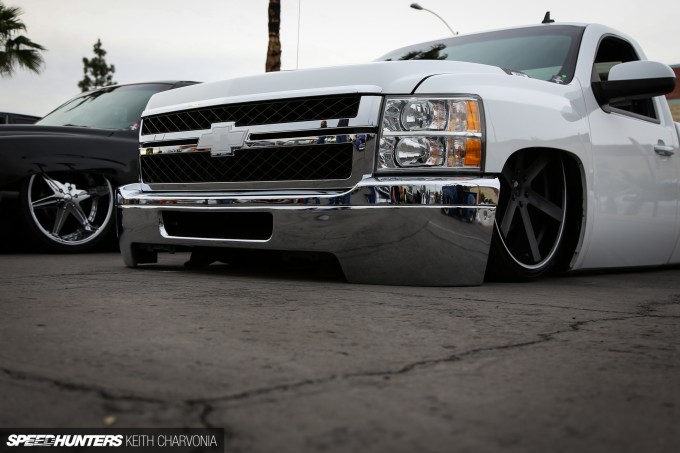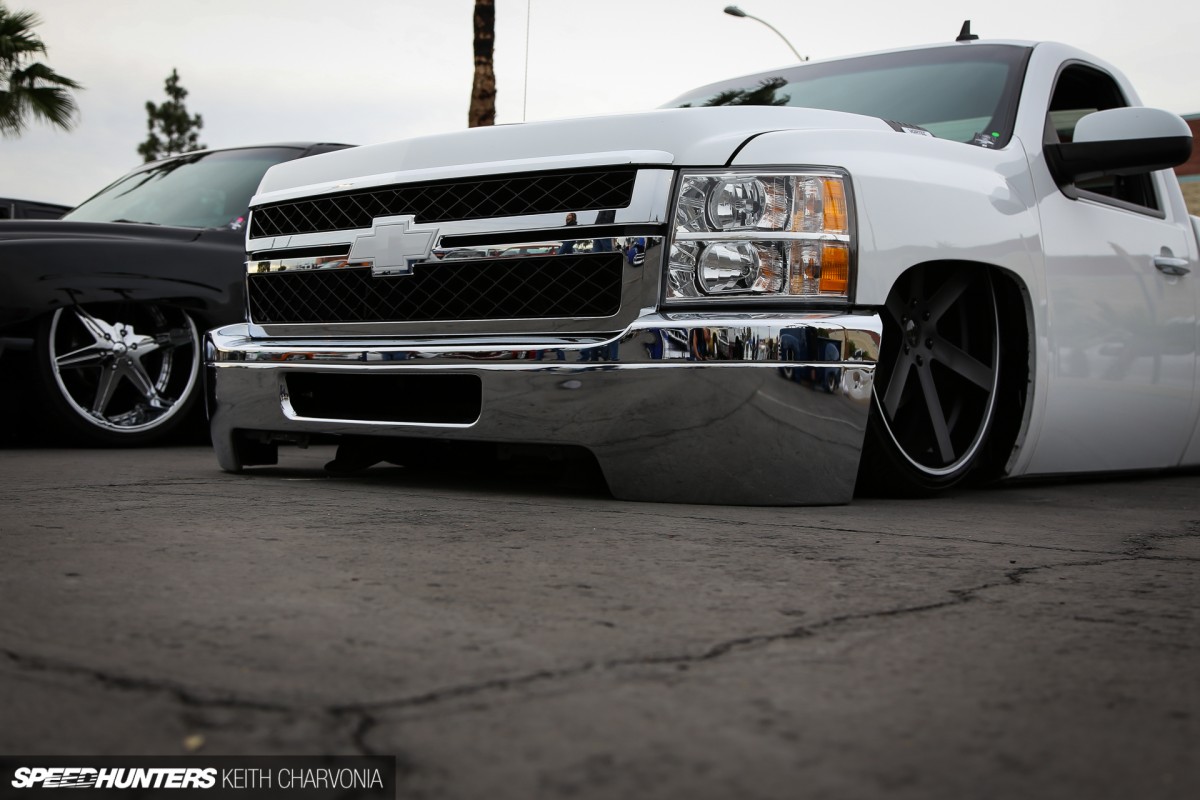 Whatever it is, the mission is clear: get that thing on the ground.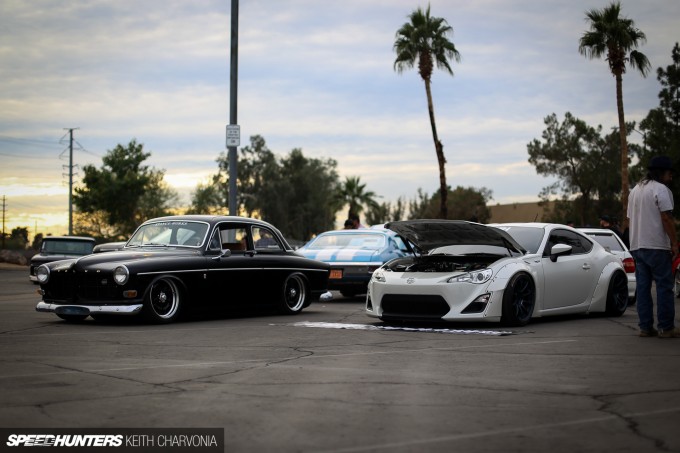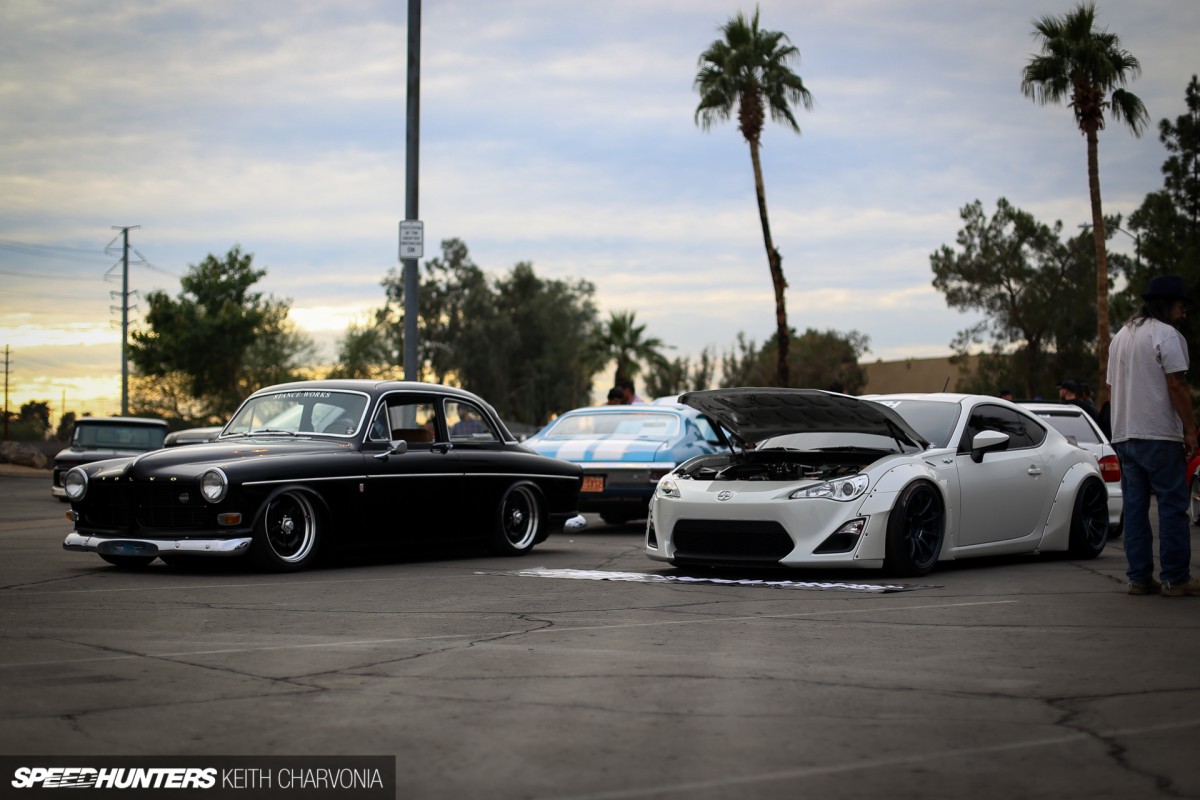 Keith and I had a great day shooting and were just about to pack up our camera gear when we heard his name over the loudspeakers. Turns out he had won Best Import, and meanwhile I snagged first place in the Scion category too! Not a bad way to spend a Saturday.
Thanks to Joe Molina and Severed Ties for having us out, and for continuing to throw such a fun show. I just wonder what I should bring next year?
Keith Charvonia
Instagram: SpeedhuntersKeith
keith@speedhunters.com
Additional photos by Keith Ross
Instagram: Keith602
Cutting Room Floor