Could It Be Magic?
I'm not quite sure how you could consider a twin turbo V8 engined Escort Cosworth "the safe option", but that's exactly what this fast Ford is to Matt Smith. In a story that twists and turns, there have been superbikes, 500hp Cosworth engines, race circuits and mind-opening discoveries; but whichever way the path traveled, the end game has always been about going fast. Like sub 10-second quarter mile at the drag strip fast…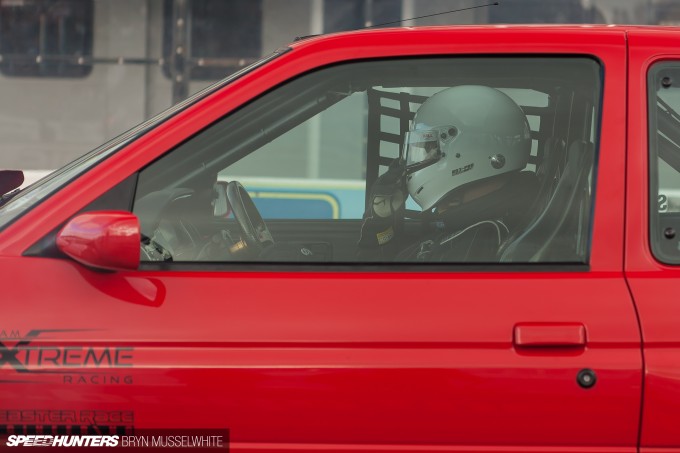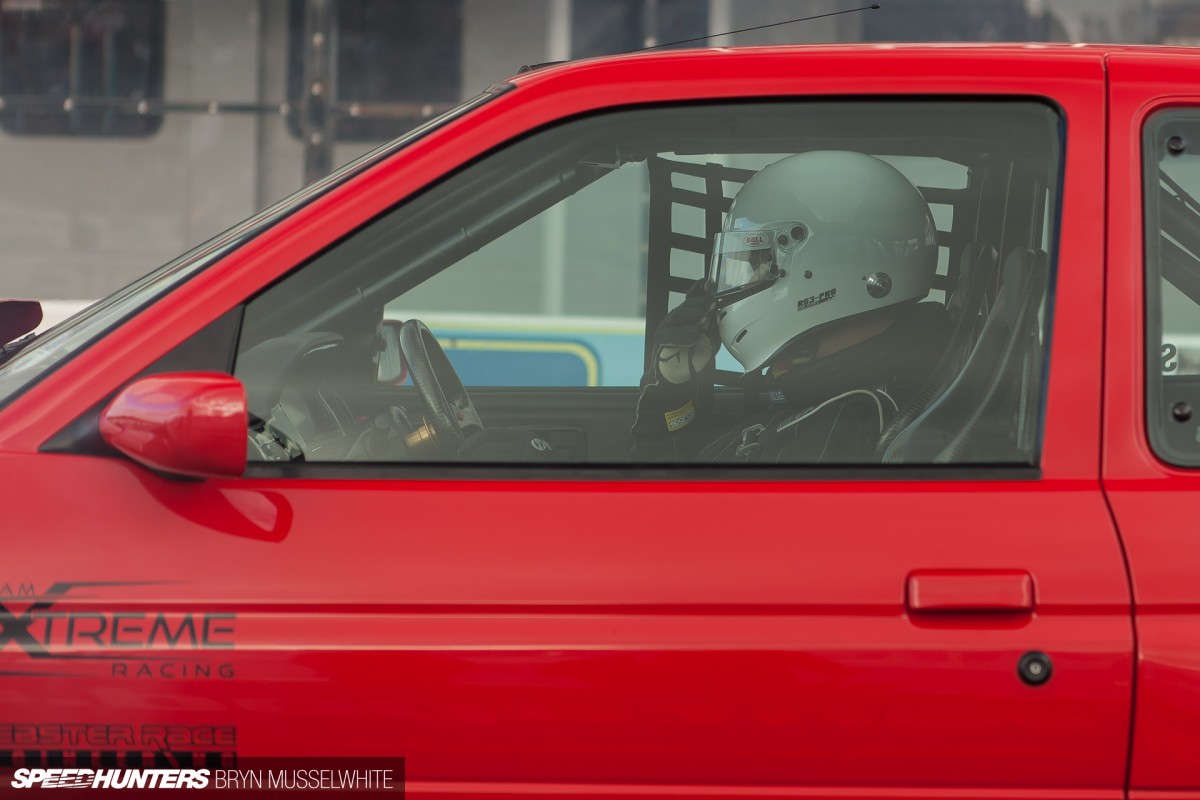 Reading the comments on some of the stories we publish I often pick up on little pockets of interest and envy. One in particular is the American admiration for the European-built fast Fords. The RS (Rallye Sport) heritage goes back to the early '70s, but it's the name Cosworth that really gets the fuel pumping. Maybe that's why I find it amusing – and more than a little ironic – that us Europeans will lust over the readily available V8s of America, whilst many Americans yearn for our four-cylinder, turbocharged homologation specials. So Matt and his Escort must have the best of both worlds, right?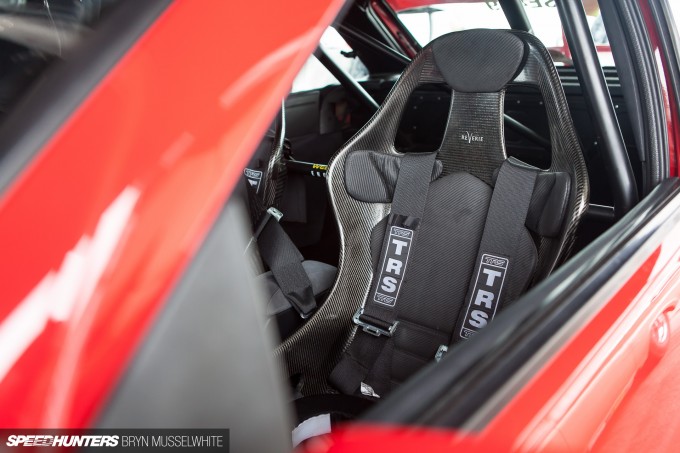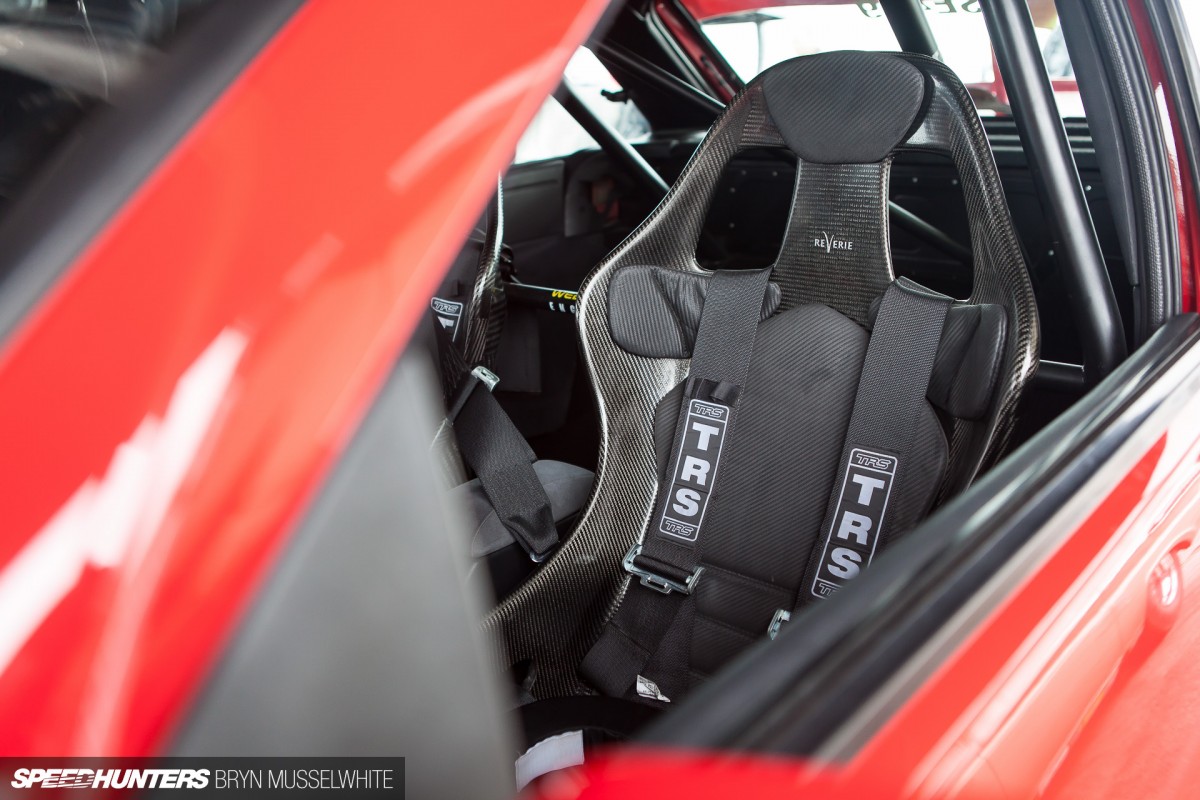 What he has now is a whole world away from what Ford intended the Escort Cosworth to be when it was released in 1992. But because Matt's a petrol head – a pure, power driven pursuer of speed – standard was never going to be good enough. Especially with a history like his.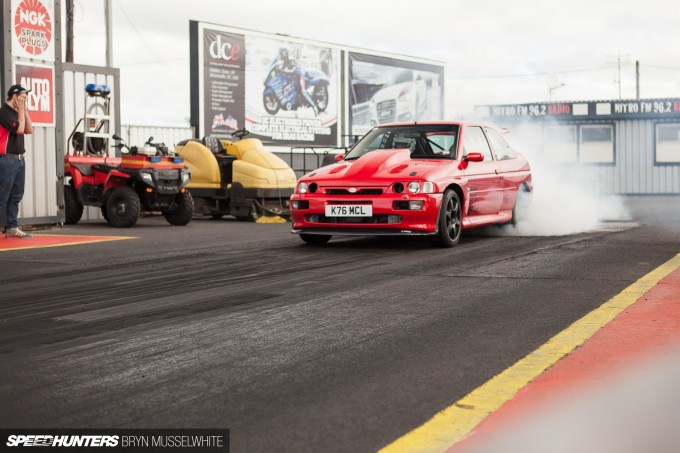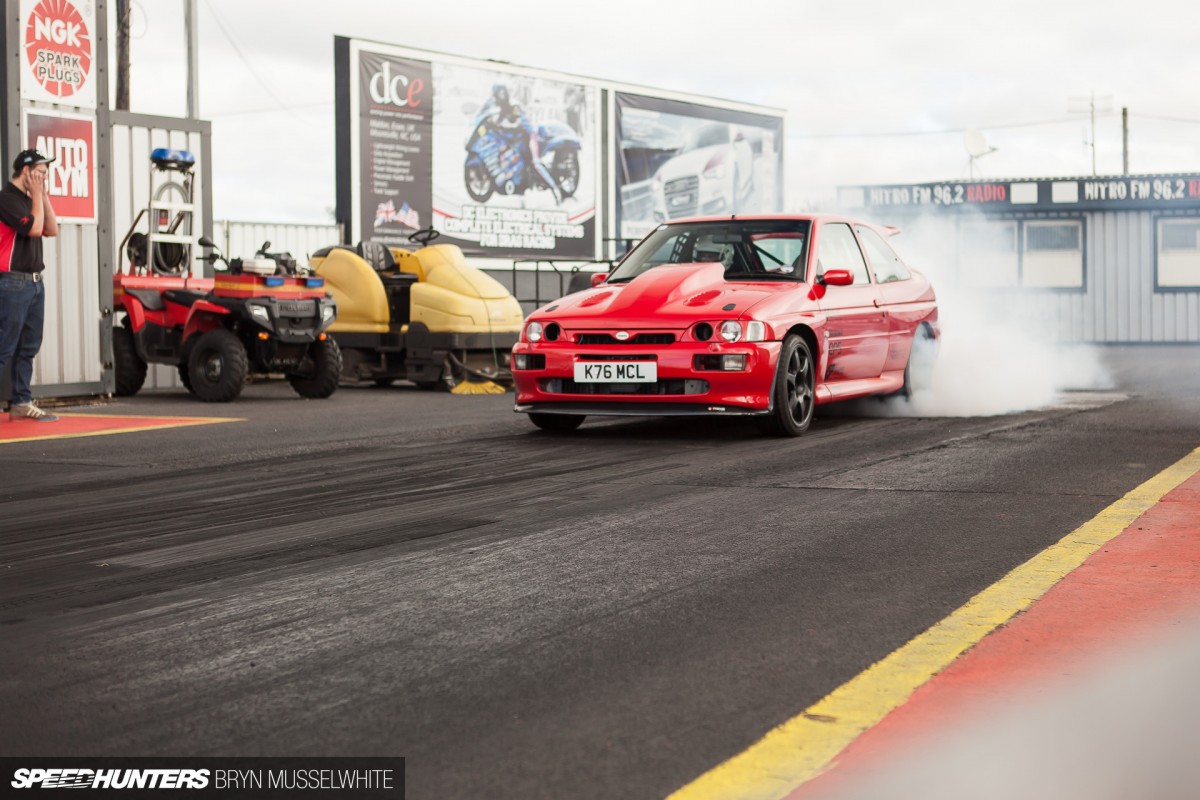 But what he's managed to do is balance out a radical list of modifications with the original spirit of the Cosworth badge. Of course, Matt never imagined it would come this far, but his enthusiasm for what he started with never faltered. In fact, the full rebuild originally aimed for concours trophies before a sharp turn was taken and the target shifted to the deep end of a quarter mile drag strip.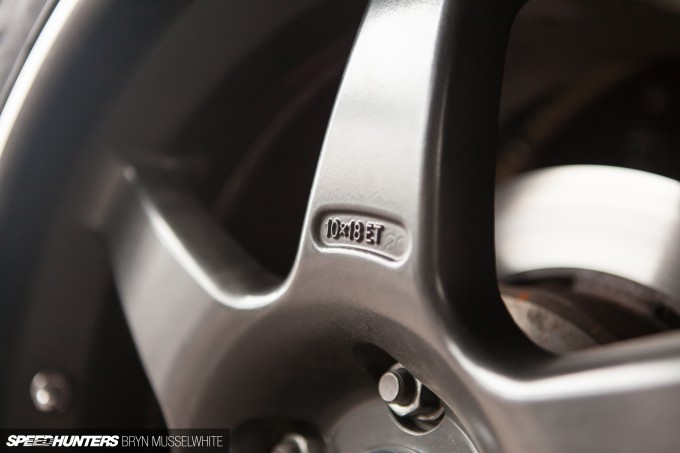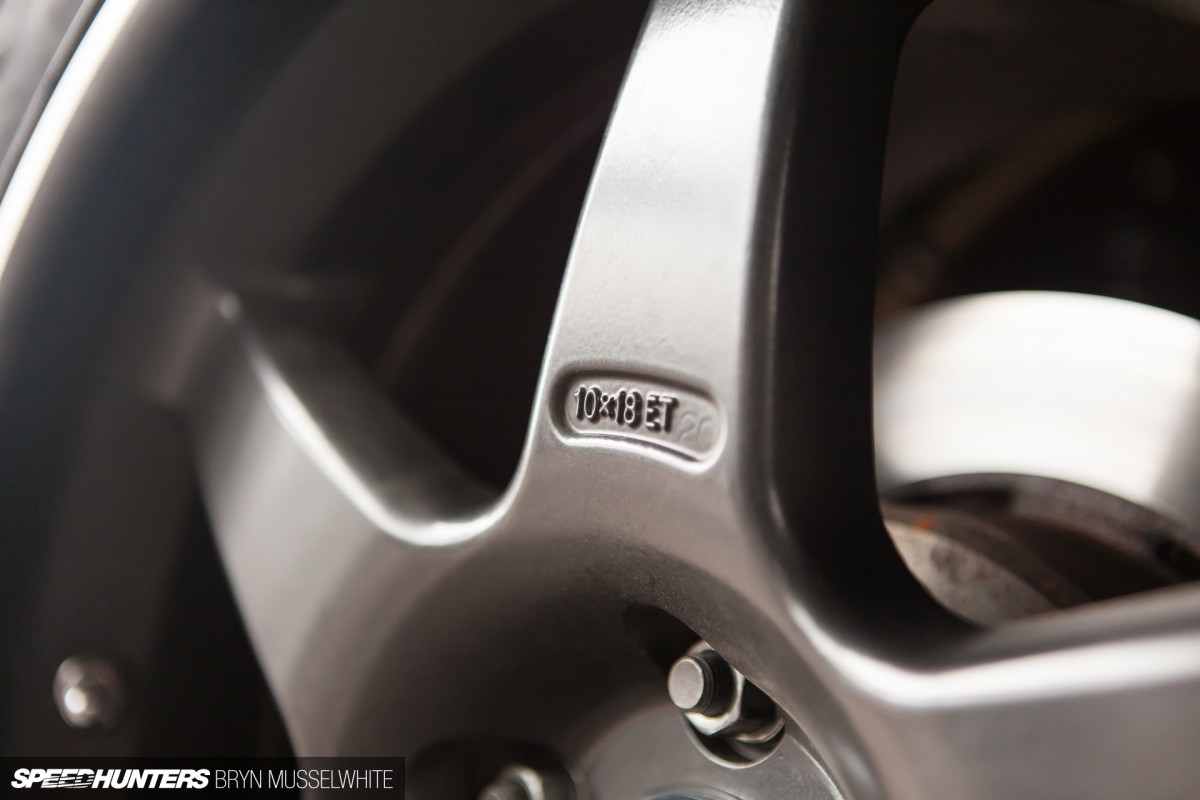 So how does it all change? Well, speed has played a big part in the Smith family history, which was originally supplied by motorbikes. Matt was inspired by his older brother Martin, and then with their close group of friends they went through motocross and then superbikes on track, before eventually turning their collective interests to quick track cars and quick road bikes. But some near misses and some injured friends proved to be a wake up call for the brothers. As Matt wisely states, "No matter what you say, you're going to go out and go faster, and you don't realise how fast you're going until you have to stop or you have a crash."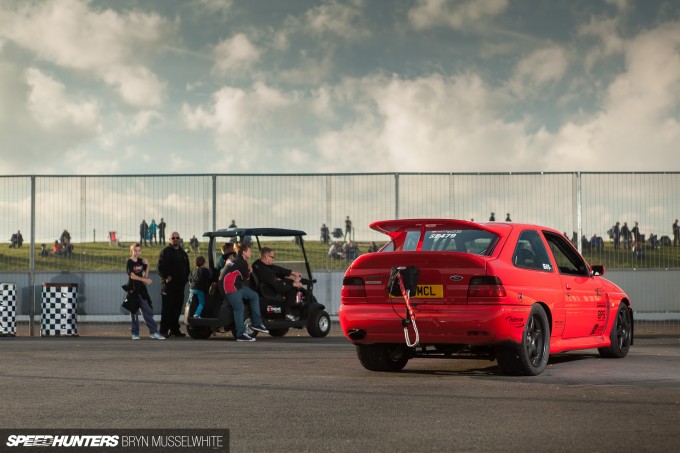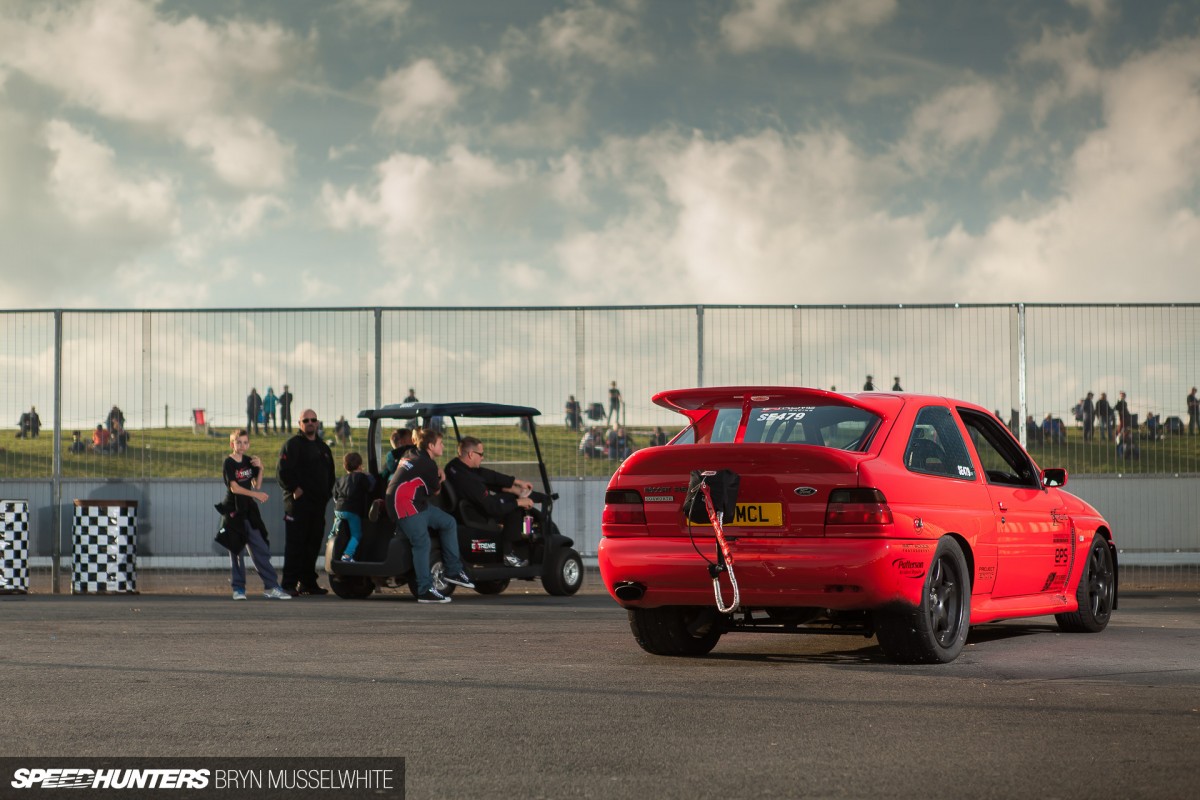 Matt remembers an old friend, Jamie, having an Escort Cosworth when they were younger. The big-winged three-door is a really iconic figure in the European tuning scene (hence the envy from over the Atlantic) and it's a model that left its mark on many of us. It's one of those 'one day' cars. The original 220hp was just the beginning for many owners, and this particular car had been owned by another friend who hadn't used it for a few years. When the opportunity for Matt to purchase presented itself in 2008, he grabbed it.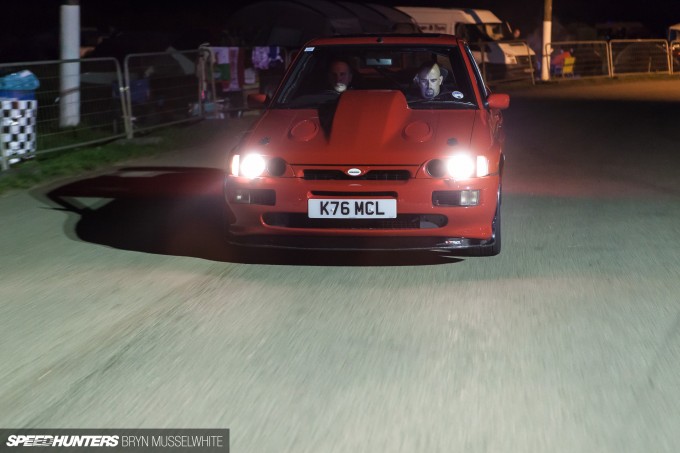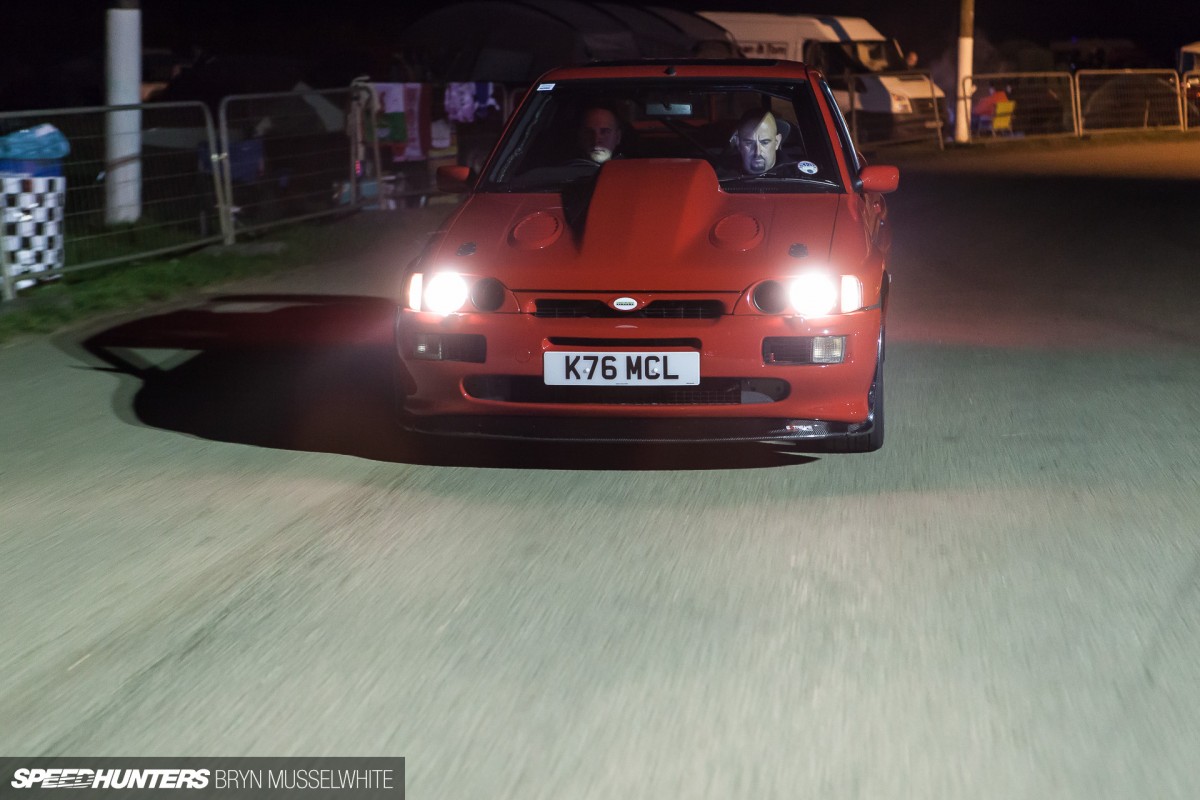 After a failed gearbox on the way back from Ford Fair, the next year a plan was made to build a quick, streetable Escort Cosworth – something there are plenty of out there. With a 500hp motor from renowned engine builder Harvey Gibbs ordered, the shell was stripped down for a full nut and bolt rebuild.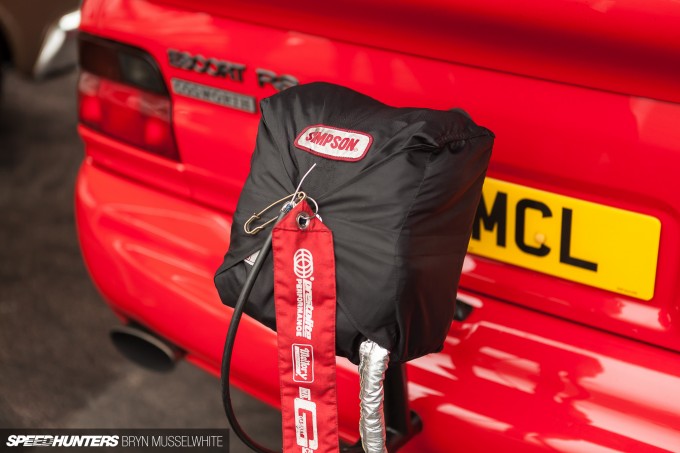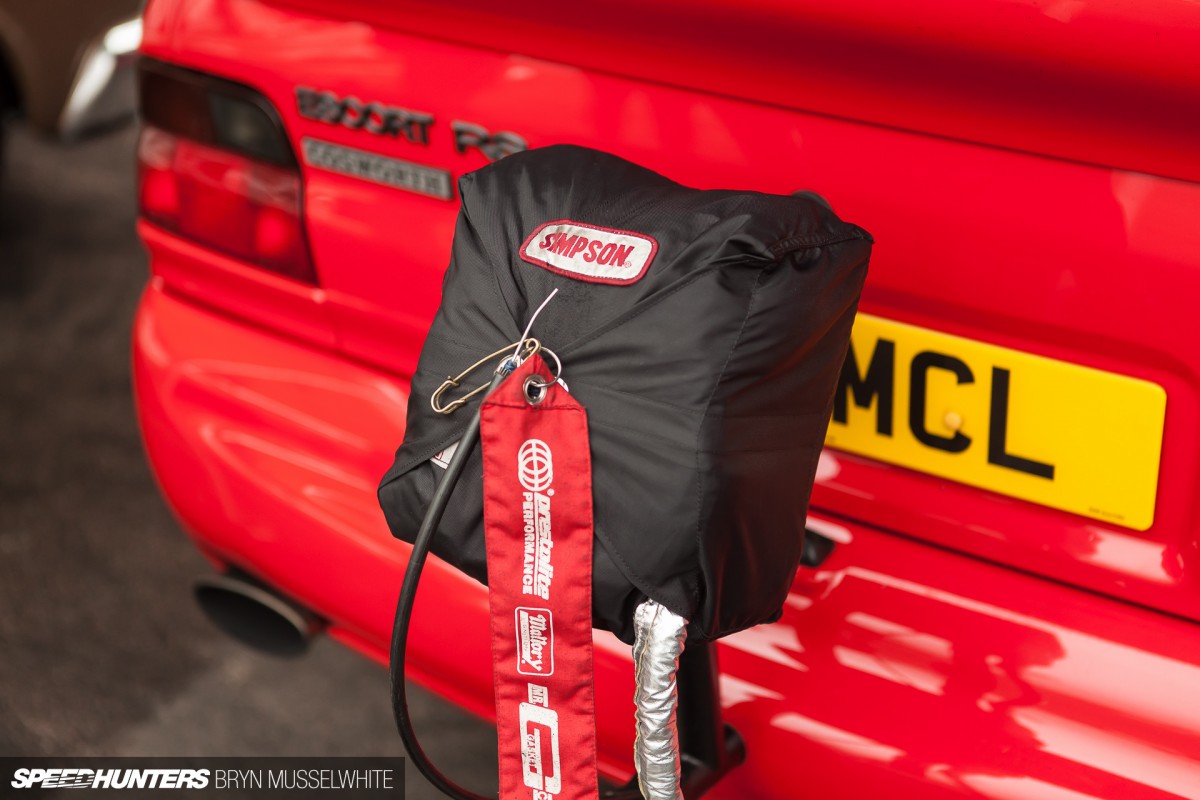 Then came the turning point, when good friend Phil Peck (who drag races a late-model Mustang) told the brothers that they should come to the strip one weekend. Matt recalls saying: "Why would we want to do that? It's a straight line, boring, we were into circuit racing. But then I was walking down the pits and on the left of me I had the track and on the right of me I had the show and shine – it was then that I knew what I wanted to do." The explosive burst of power on the line and the condensed sensations you have to deal with when so much is squeezed into a few seconds sealed the deal.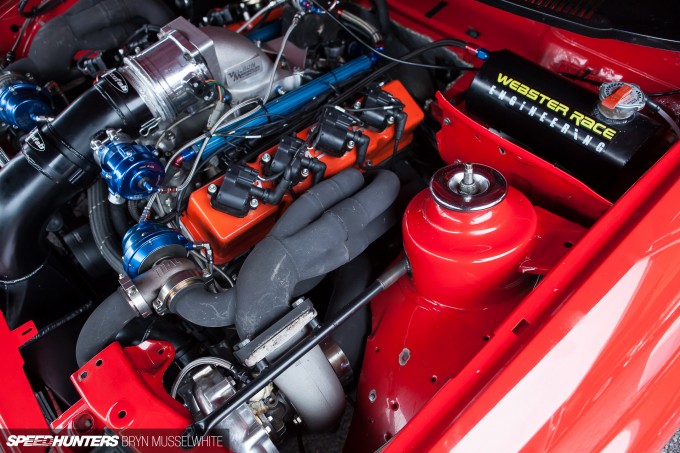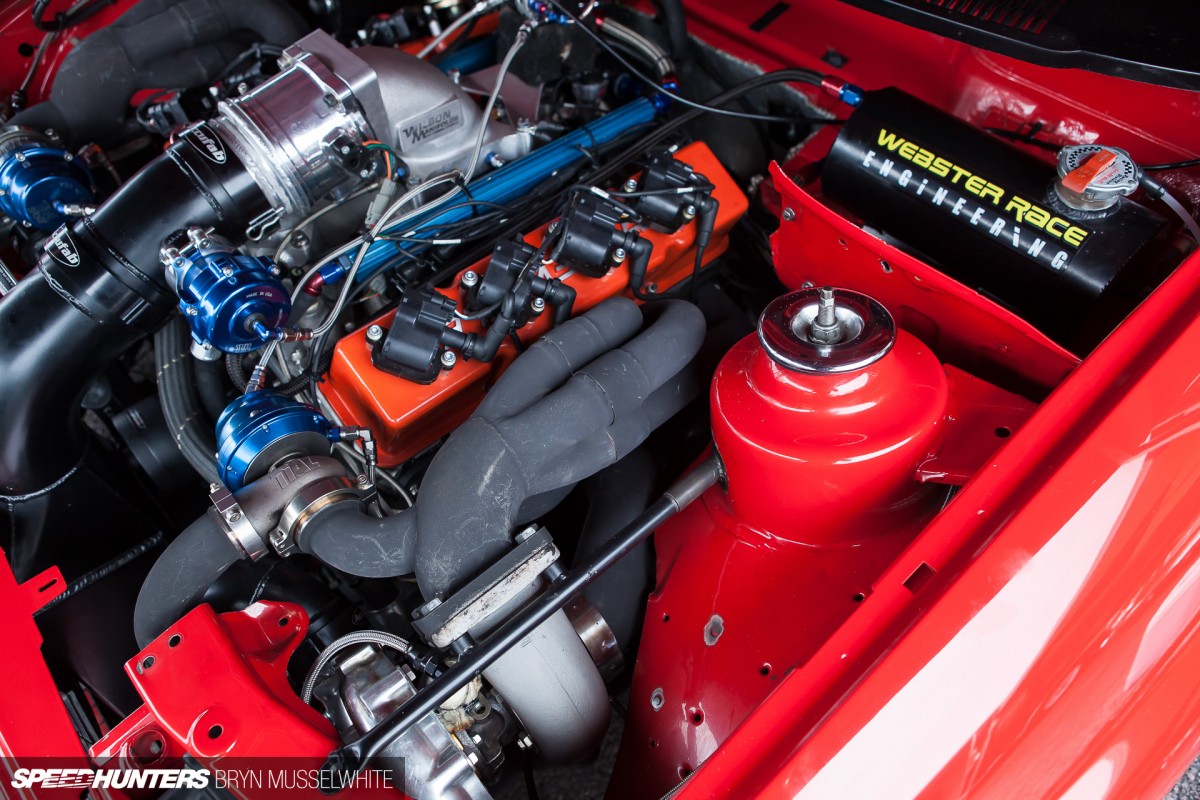 Now there's two turbos, twice the number of cylinders and more than five times the original power of the Escort to entertain Matt. So did he make the right decision?
Things Are Getting Serious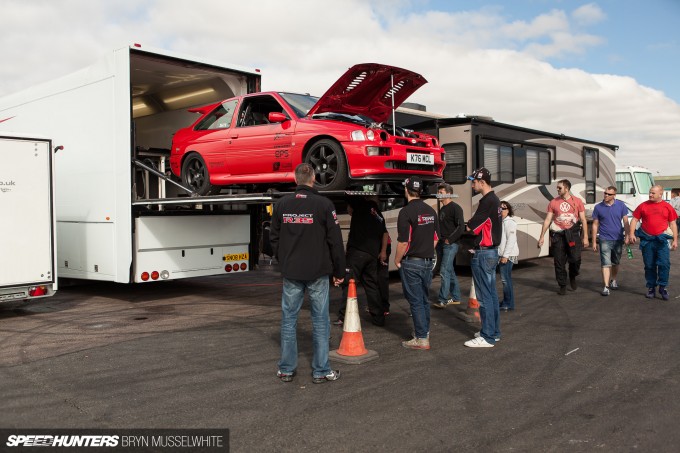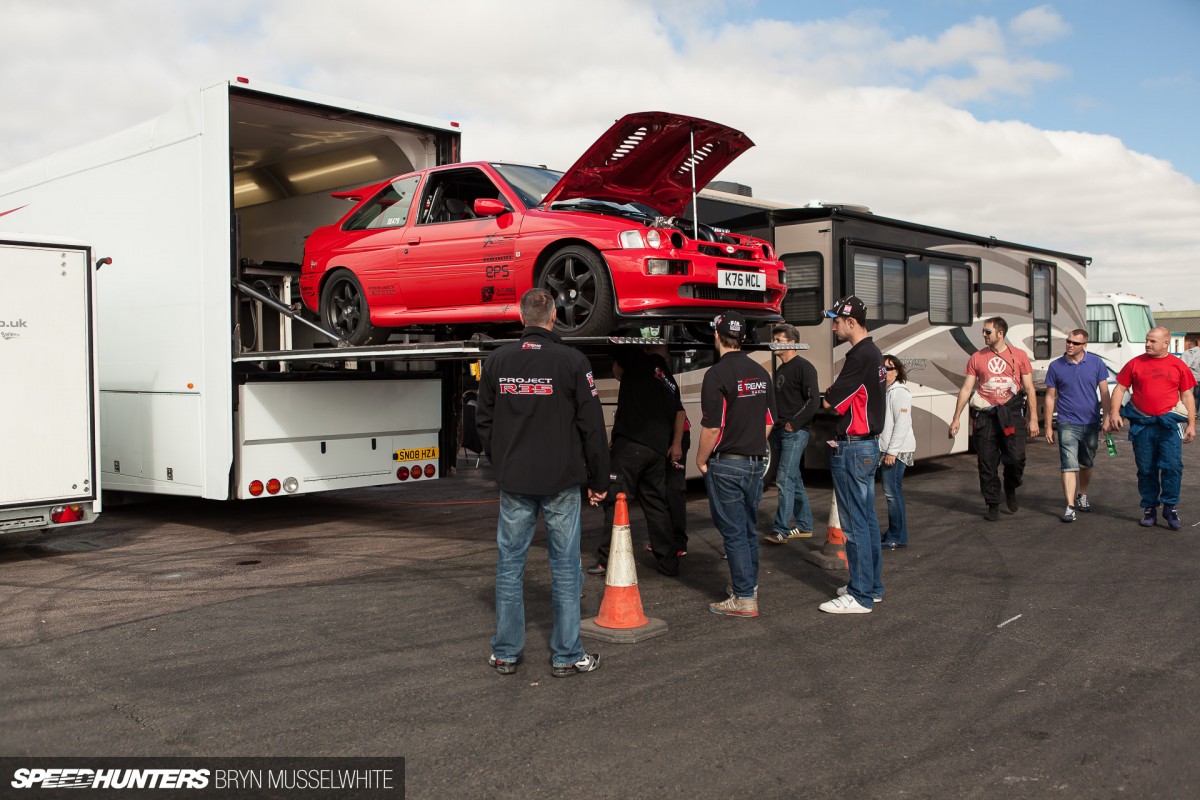 That weekend at the track Matt got introduced to Jon Webster (he's stood in the background here in the plain black sweatshirt). There are very few people with the kind of experience Jon has, and as Matt explained, he played a pivotal role in the project. "It's about trust when you want somebody to do this kind of work. What's vital for me is that we don't have to revisit things – I don't want to be building an engine every other week, or redoing things after every race."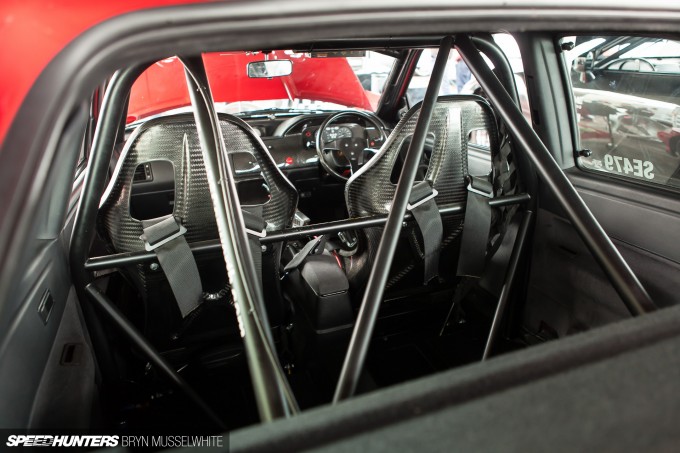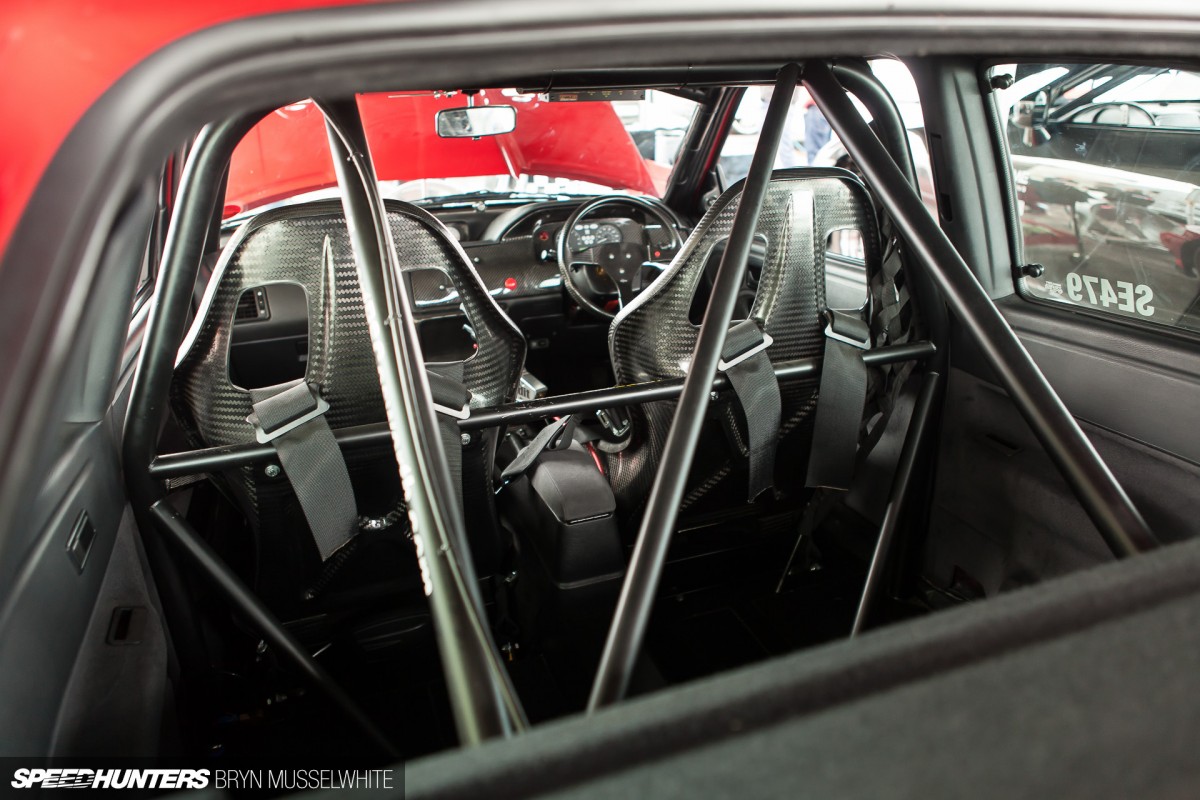 Talking to Jon also revealed the way to scratch the itch right first time: twin turbos and a V8. Coming home from the drag strip that weekend, Matt went straight online and found an Escort for sale that had already been converted to twin turbo and a V8. It was a sign – and promptly purchased. So with his existing Cosworth already stripped down to a shell in the garage, the engine setup from the new car was put in the back of a van and the pair delivered to Webster Race Engineering. The Harvey Gibbs engine and anything else not needed was sold on and the work began.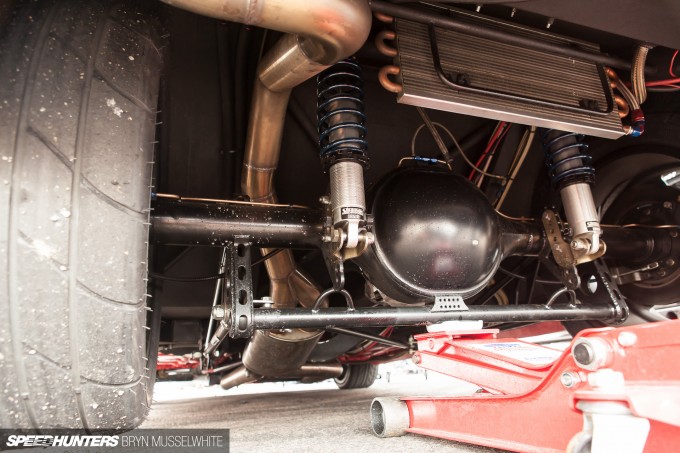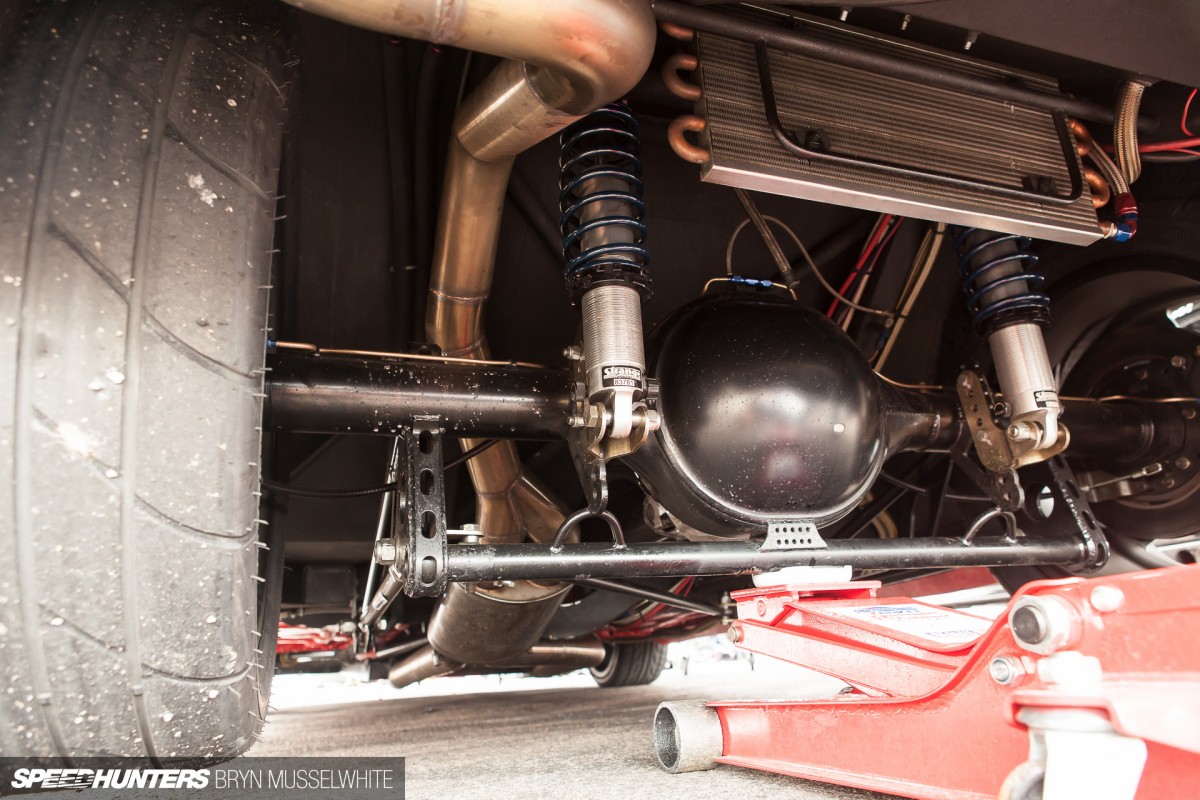 The plan from the start was to enter in to the Street Eliminator Championship. That meant the Escort needed to remain street legal, which suited Matt's plans fine as he still wanted to enjoy it on the road. But a YB-based engine just wasn't going to cut it. Yes, they'll make big power, but with that reliability issues would also be there to deal with. The other thing that had to go was the beam rear end. It's now replaced with a built Ford 9-inch back axle, but that required cutting into the freshly detailed shell to fit. "I went up to John's and he took me to one side and said he had something for me, and there was my rear floorpan. I'd spent nights and nights working on it – getting it better than showroom – but there it was all cut out. To be fair though, I've never looked back and never regretted it."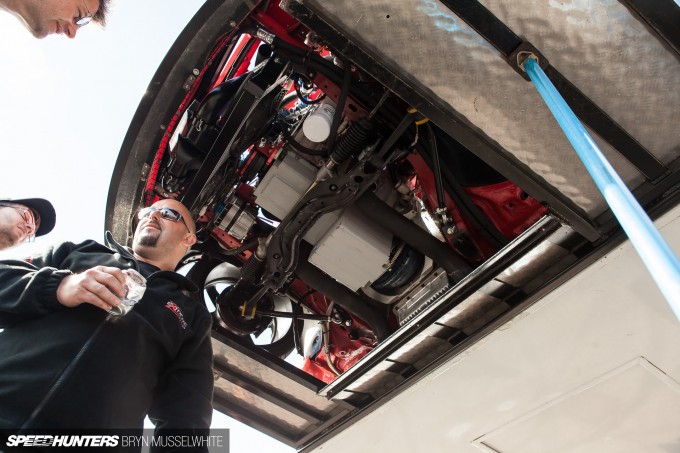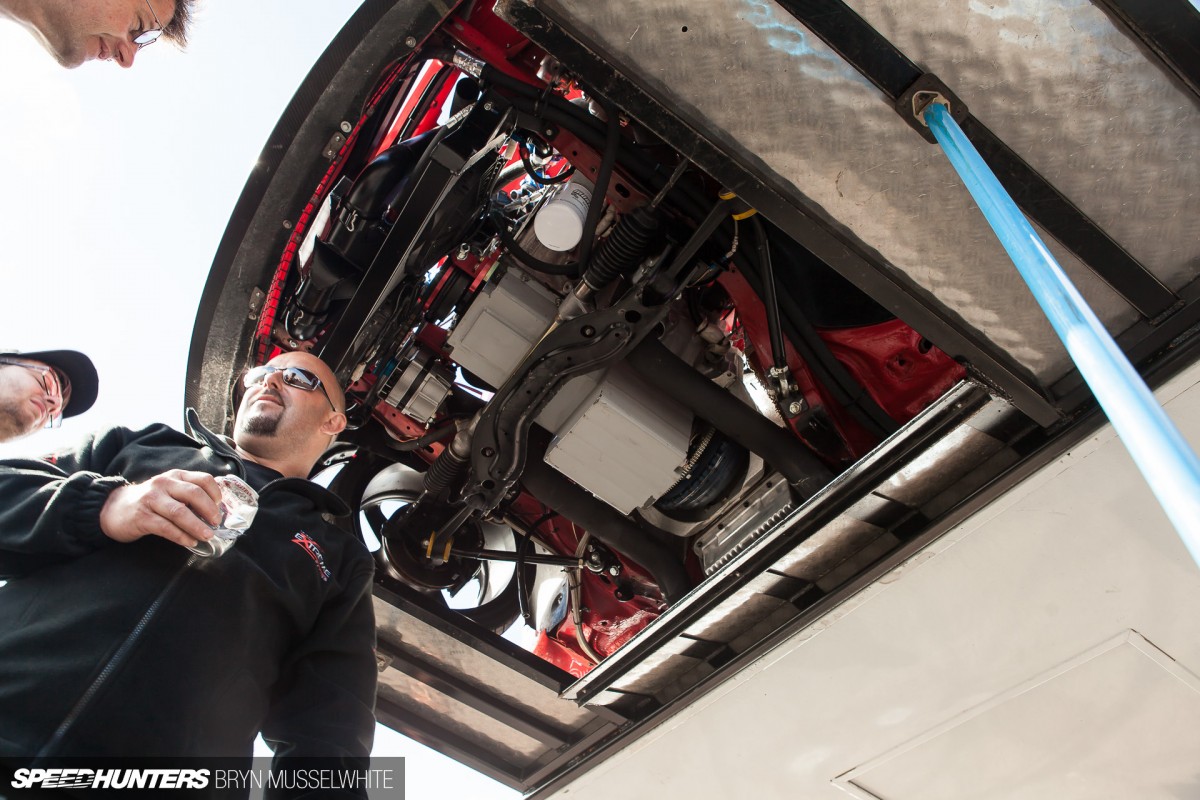 Along with the cage and suspension, the other major fabrication was at the front end, where there's now a small block Chevrolet V8. And yes, I did say Chevrolet. There's not a definitive power figure, but with a Garrett GT4094 turbo mounted on either side of the engine good for up to 750hp apiece, and taking into account the ETs and trap speeds it runs (more on that shortly), it surely must be somewhere between 1000-1200hp.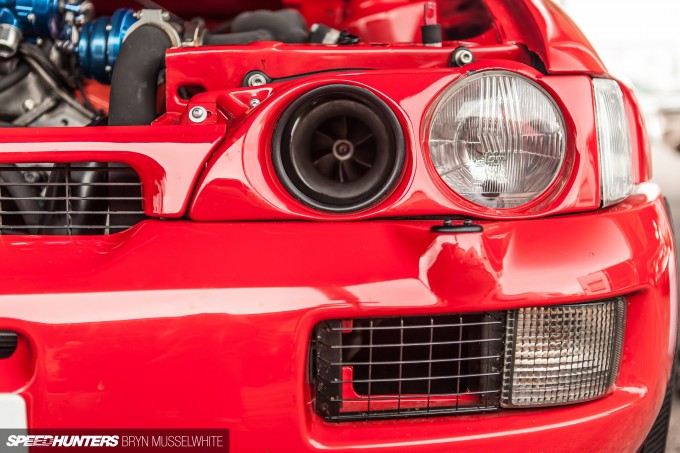 Again, Matt's passion for the Escort shape that he's known and loved for so many years shows through in the execution. The Morette twin headlamp conversion is popular in the Ford scene and comes from the Sierra rally cars which predate the Escort. When a bonnet-mounted lamp pod was fitted, the corner of the standard headlamp was obscured so these were developed, allowing the manufacturer to run a single round lamp on the outside. Legend has it that the inner opening was used as an additional air intake that opened at speed, until the authorities caught on. So it's kind of apt that there's a turbo eyeing you back through that hole now! The mesh grille lower down is from the legendary Sierra RS500, so more than a nod to heritage. Take a look at this video and you can see how it looked when the car first debuted and how things have developed since then.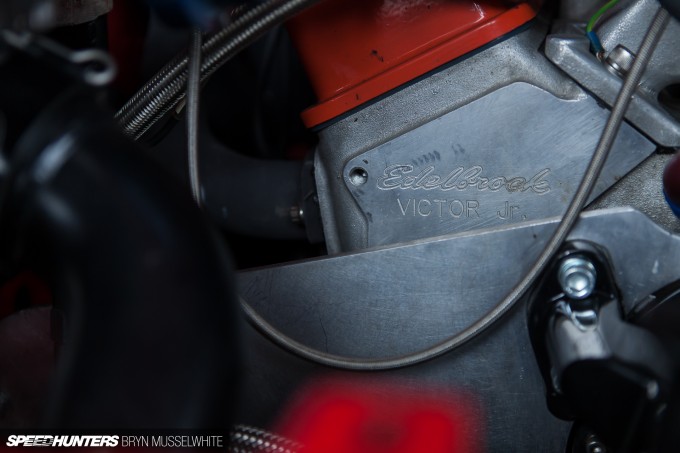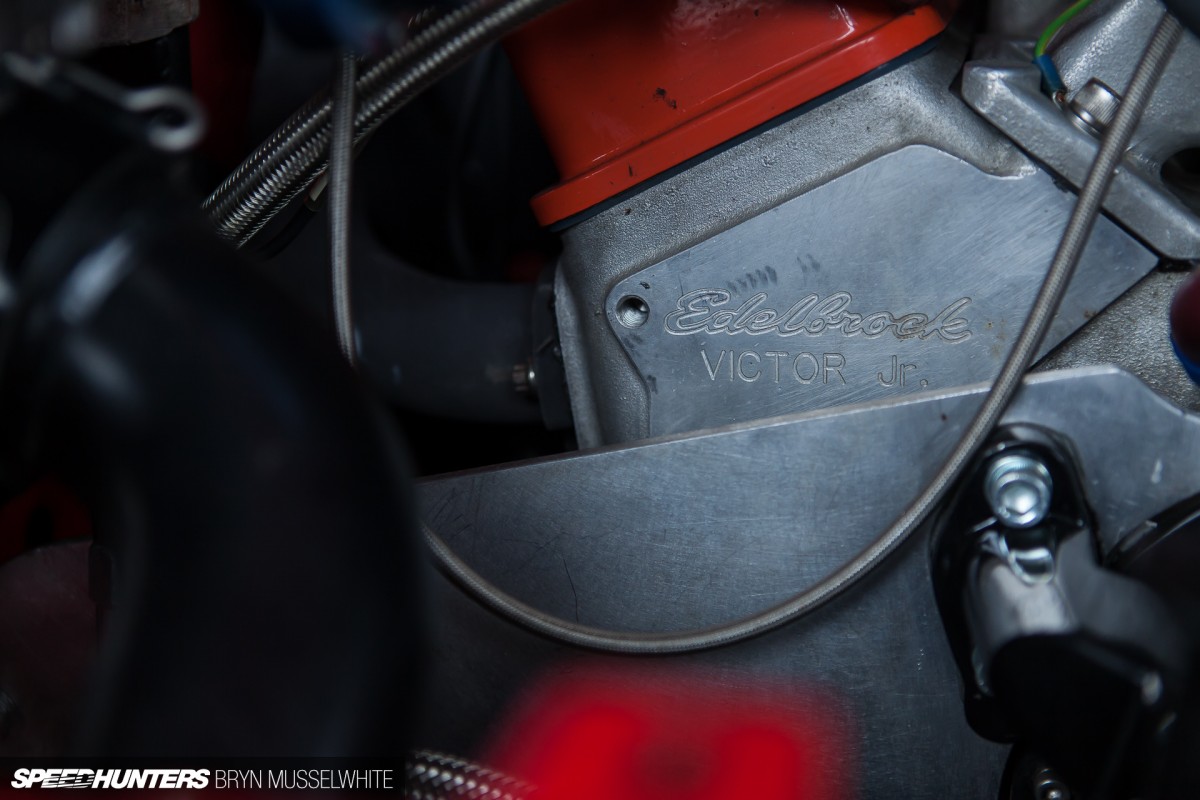 The original engine that the project began with has been changed – this one having been built, ported and flow matched by Mark Moseley with tech support from Richard Coles at Coltec Racing Engines and parts sourced from Rob Loring at Ice Engineering. That might sound like a complicated list, but it's all about the team work with these guys – both Matt and brother Martin telling me how it made the jump from the circuit to the strip so easy and enjoyable. They now all race under the name Team Extreme, with a very impressive line up of cars ranging from a Supra to an R32 Skyline and more.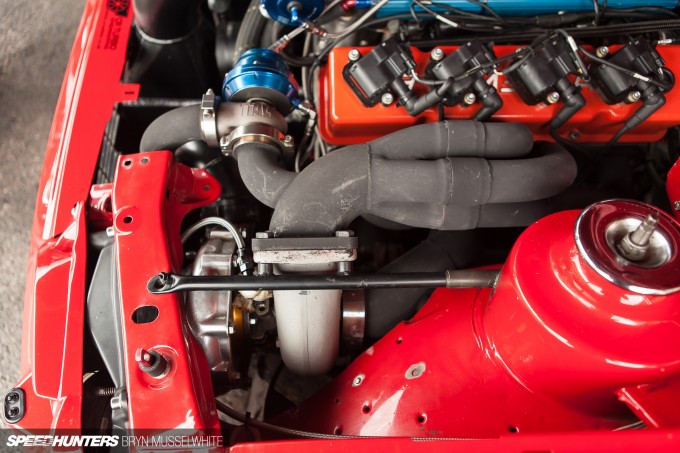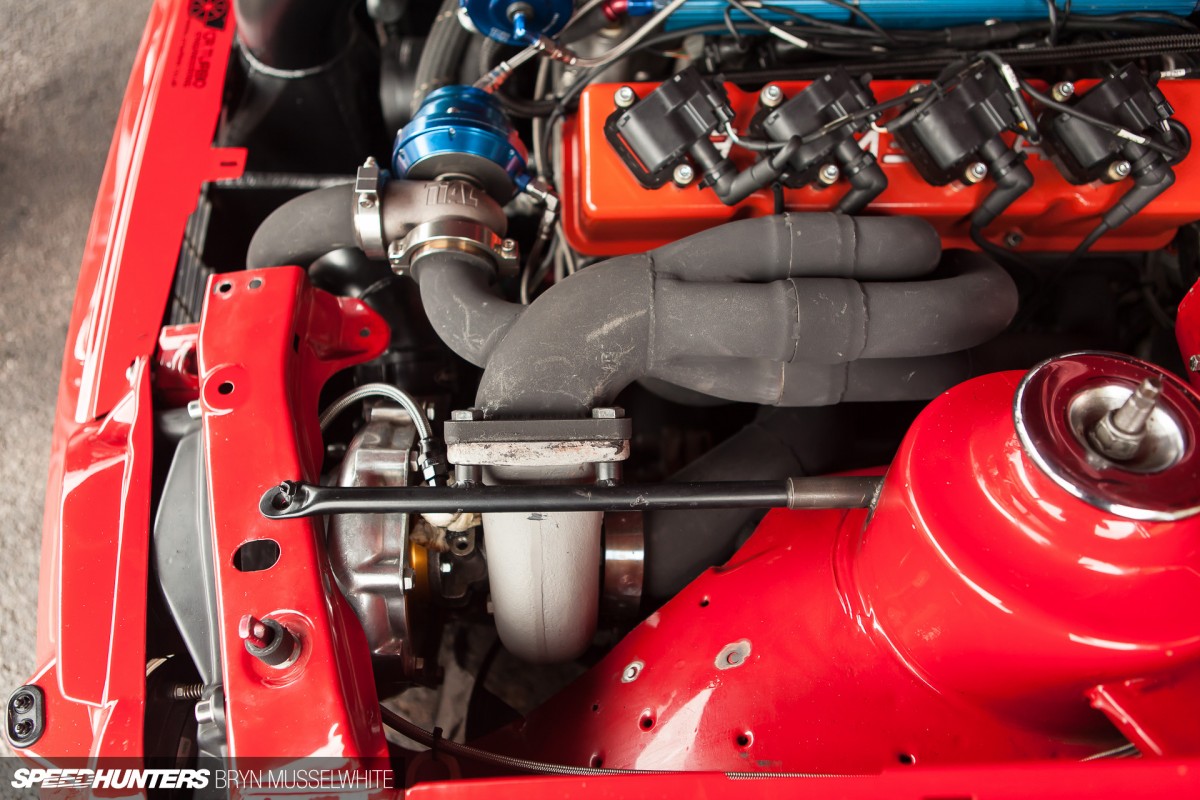 Of course, with the bonnet open the game is up. As you can see it's all been cleverly packaged too, and that exhaust manifold looks like it could survive a bomb blast. But it's not showy under here – everything serves a purpose without being over the top.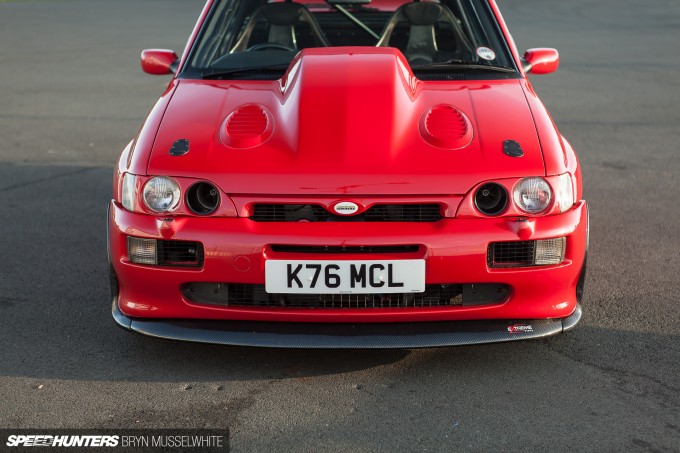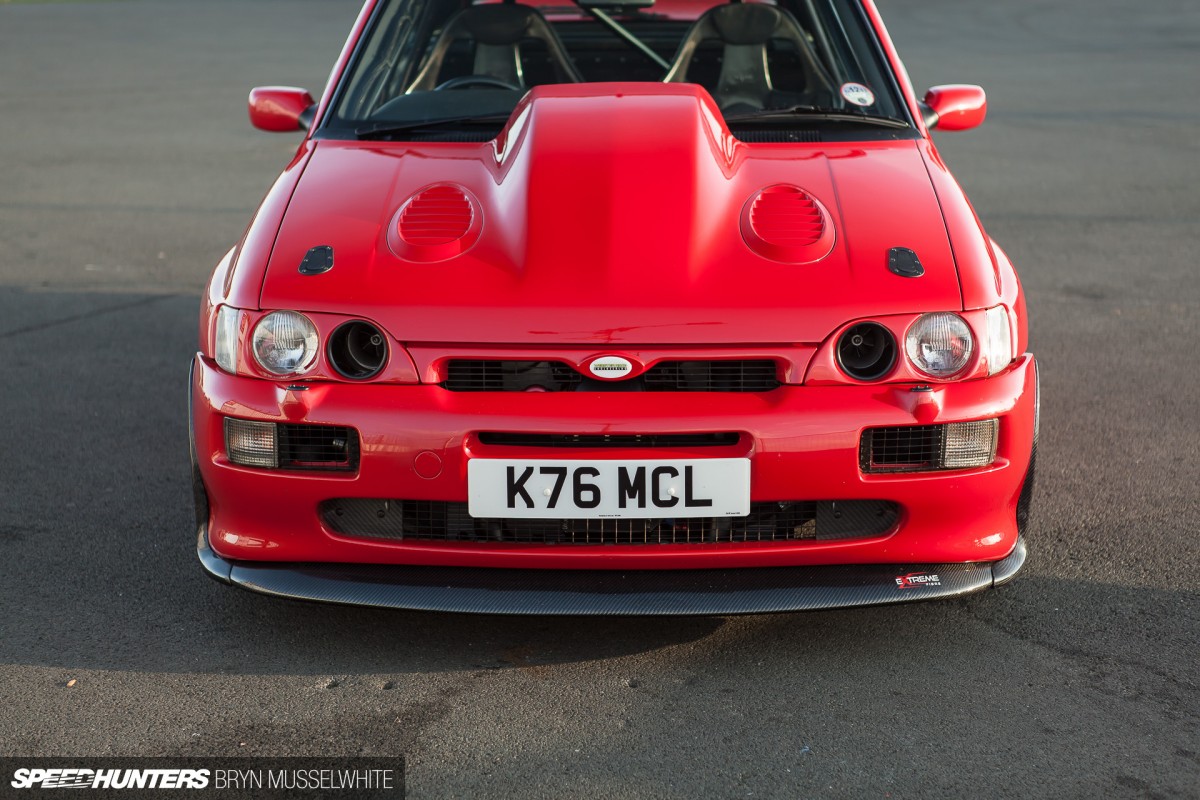 The bonnet had to be modified to clear the engine, but it's the only non-standard body panel on the whole car now. Additions like the carbon lower lip are aftermarket, but it stays true to the lines of the original Ford moulding.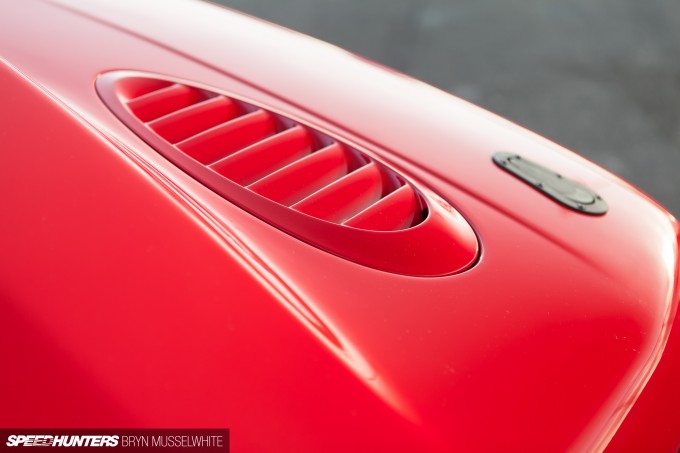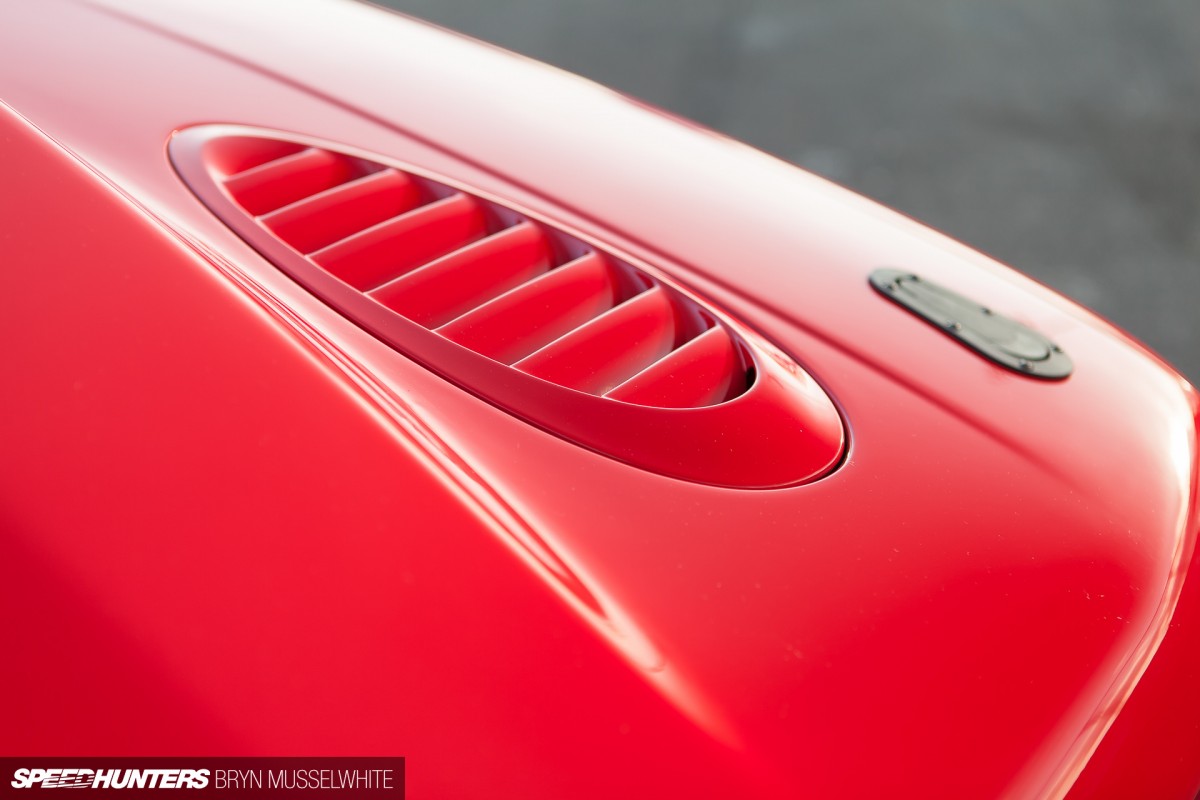 The standard Cosworth vents may be hidden from each other by the scoop in the middle of the bonnet, but the factory fresh red paint job just adds to the illusion for me. Unlike many drag cars, the Escort is naked and free from any graphics or names too, which I really like.
Just how quick can you go and still be road legal though?…
Take It To The Street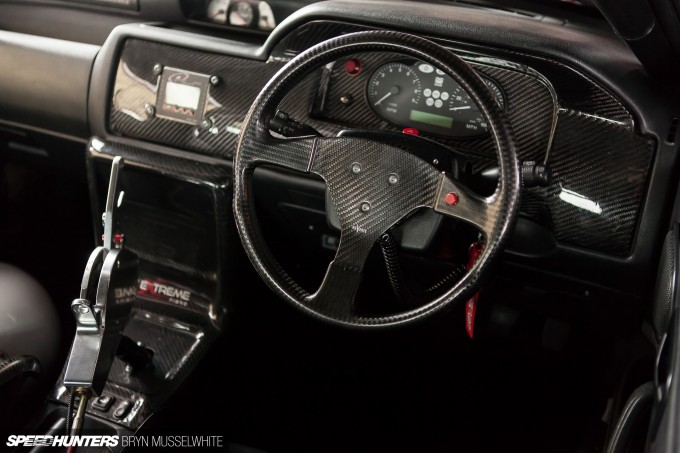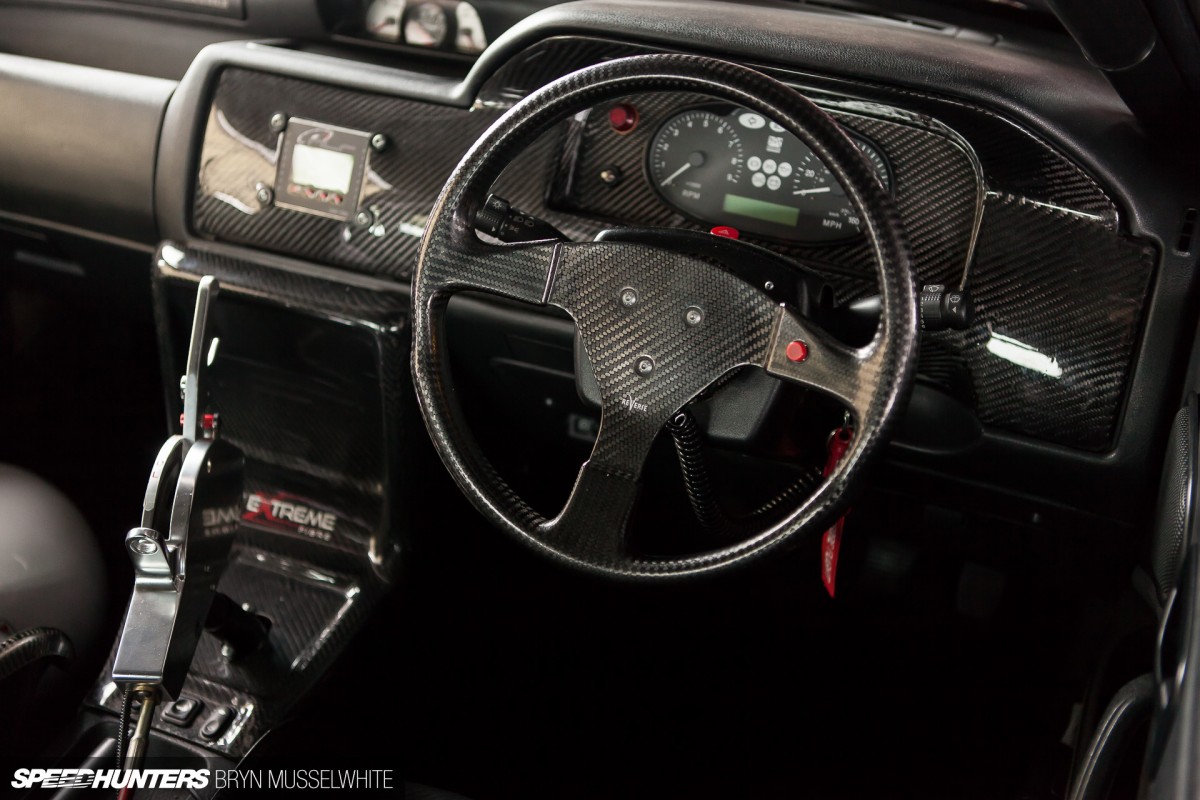 Inside it's a similar story to the outside: subtle but modified for purpose. Remember this had to remain a nice place to be and because of that it all feels vaguely familiar with the factory lines being kept. But where there used to be a gearstick which connected Matt to the four-wheel drive system. Now there's a B&M shifter for the two-speed automatic transmission, which was built up by Andy Frost, the man responsible for the fastest street car in the world up until the 2014 Hot Rod Drag Week. Quick street cars are in the UK blood stream…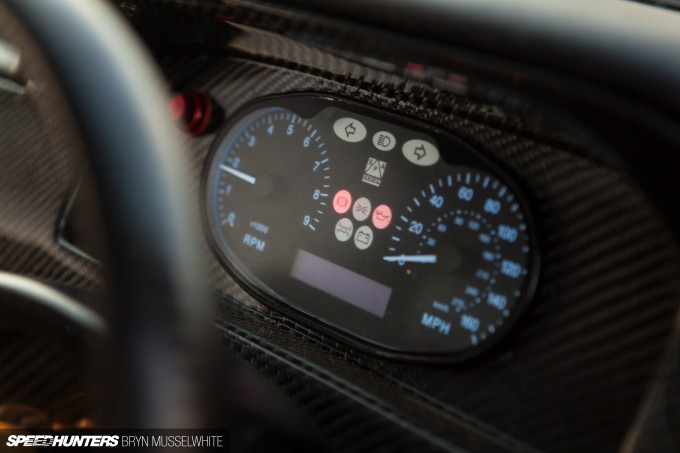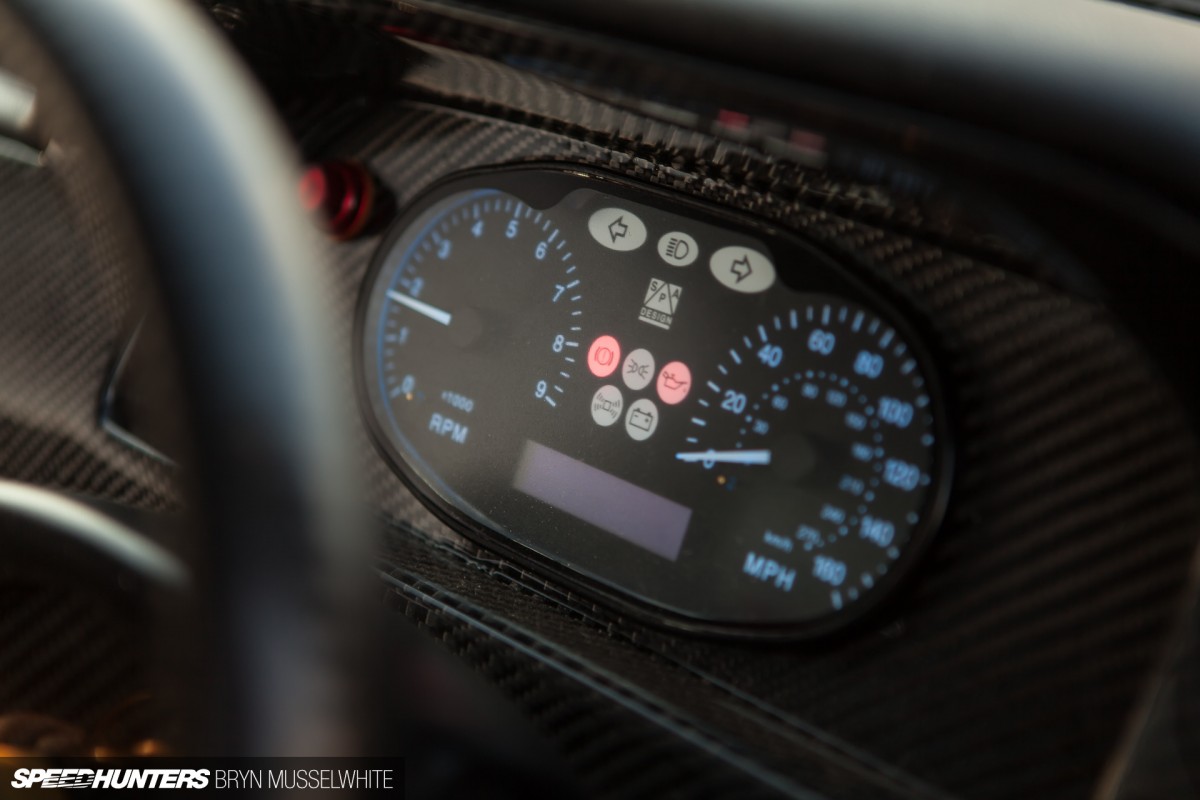 And where the original dials and gauges used to be, now a SPA digital dash sits neatly in the carbon fibre cluster.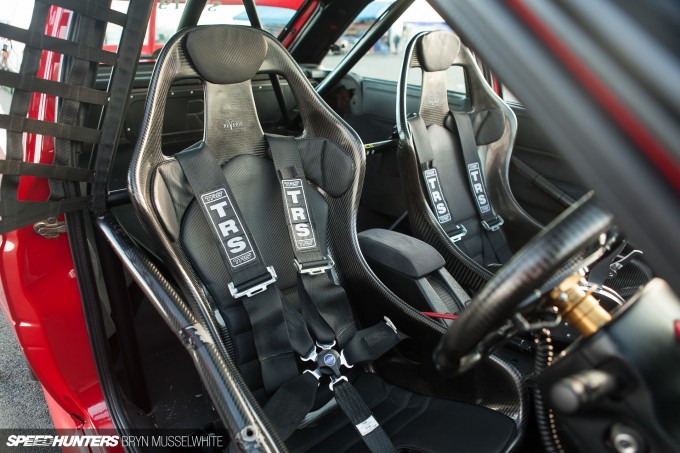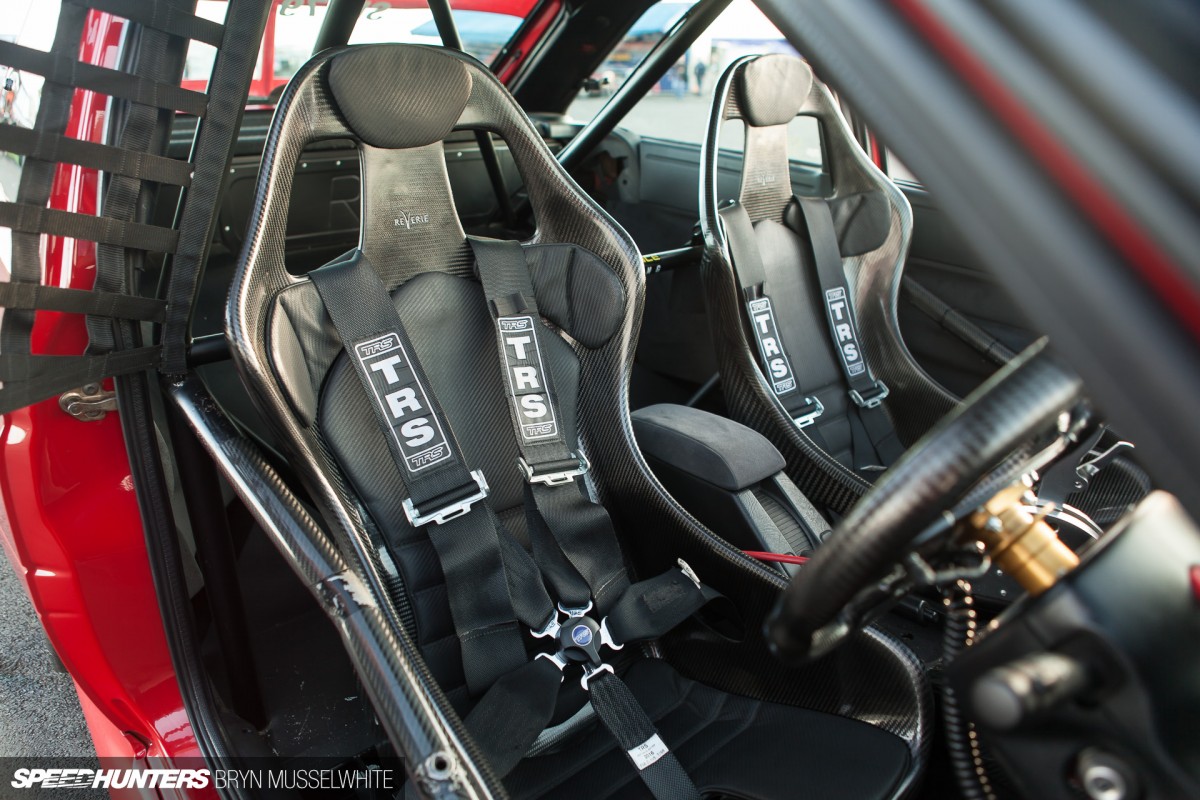 On the subject of carbon fibre, that's another of Matt's weaknesses – one which I personally can't fault him for! The carbon bucket seats, Eclipse 280mm steering wheel and other parts all came from UK firm Reverie. I've drooled over their price list for many years, so I'm very envious of what you see here! Note the standard centre console too…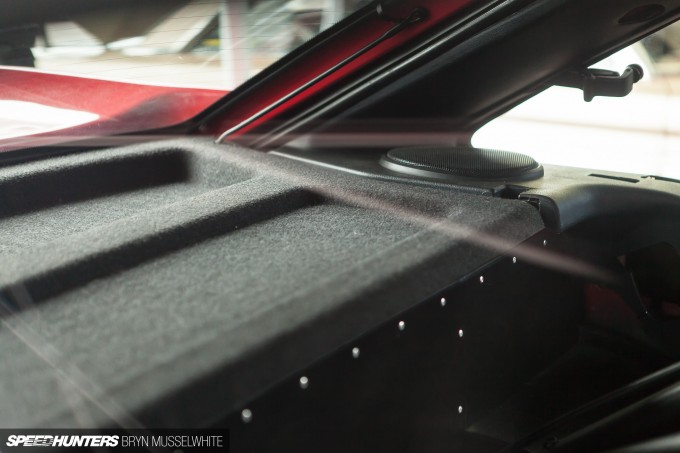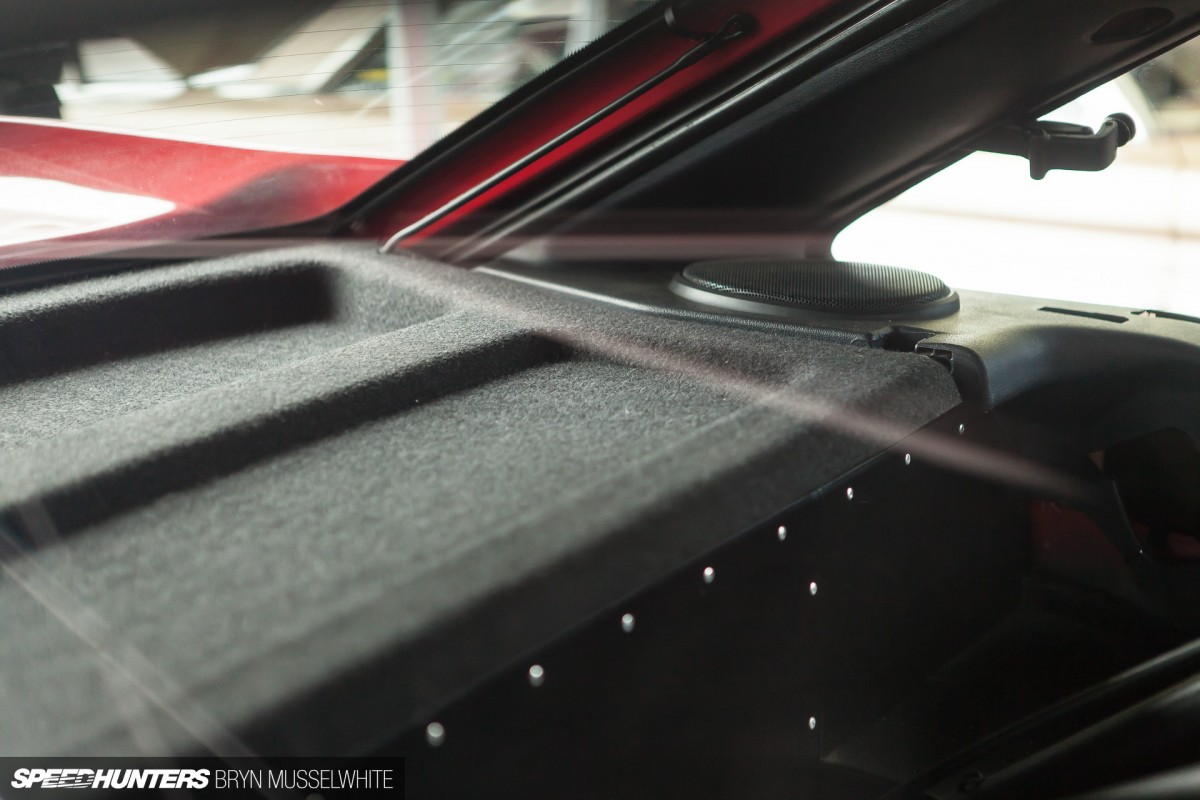 Little touches, like that and the standard rear parcel shelf make me smile. Usually you'd want to shout about the potential this Escort has, but not here. The speaker grilles hide empty space, but those are genuine pop-out glass rear windows, just like the heated rear screen – no polycarbonate here.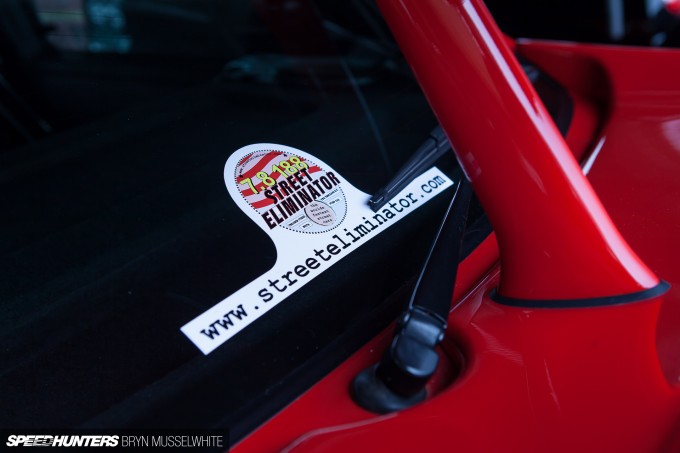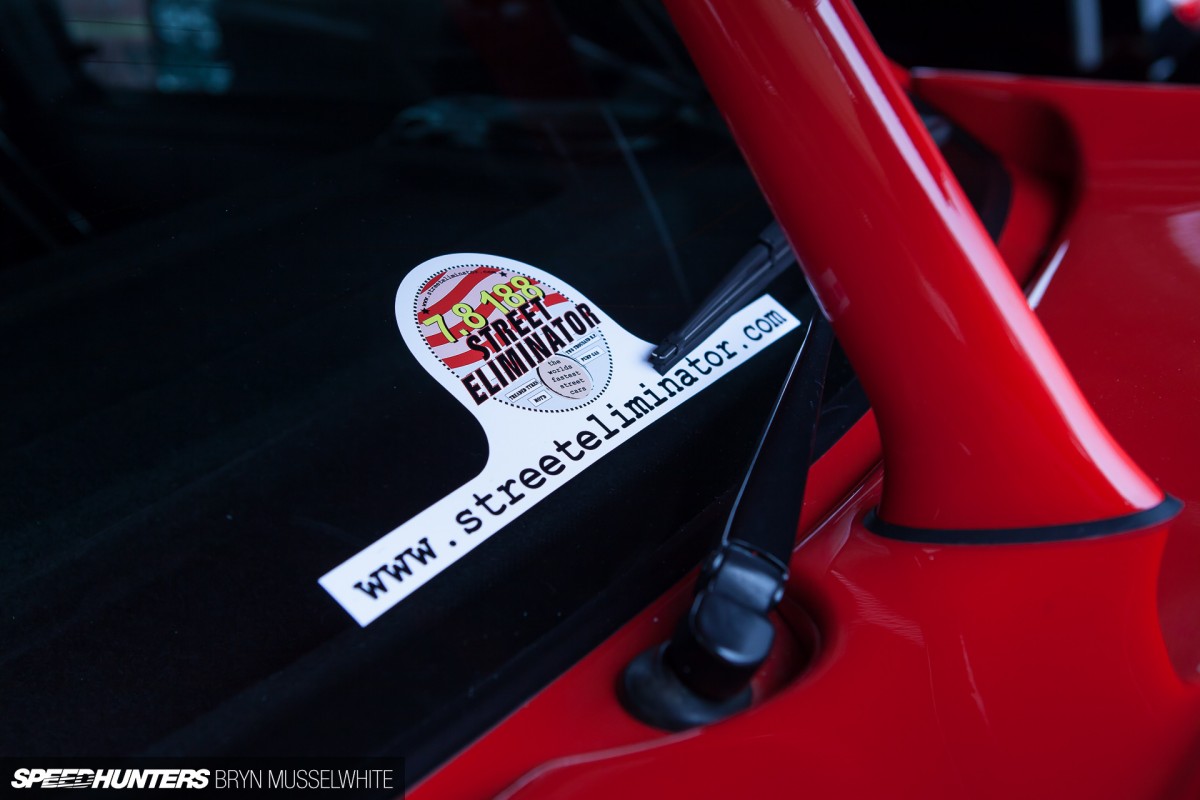 Maybe the Escort is a bit of a sleeper even? I know that may sound crazy, but if you saw it on the street would you think it's a 9-second quarter mile capable car? Maybe you would, but if so you'd be wrong, because Matt and the Cosworth have turned in ETs as low as 8.4 seconds this year. With the aim in the last couple of years for the car to 'run its tag' of 8 seconds, that's now well within reach, which means 7s can't be discounted either…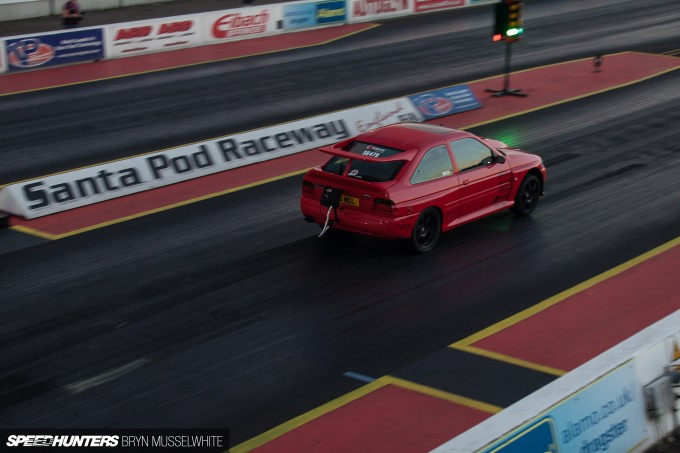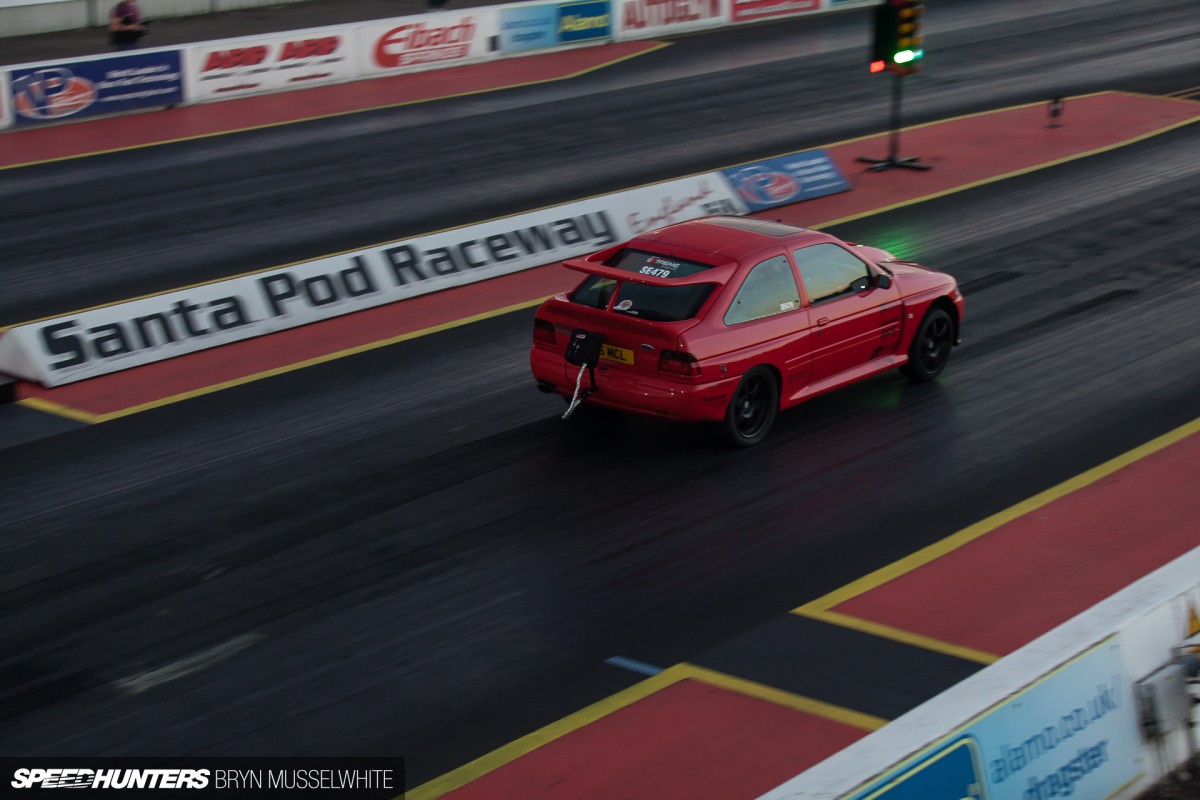 Of course, it's not been without drama, nor some serious head scratching from all involved along the way. But that's what it's about, right? If it was easy everybody would be doing it. Things rarely go to plan in this game, and if you need the perfect example of that just remember that this was meant to be a concours show car build!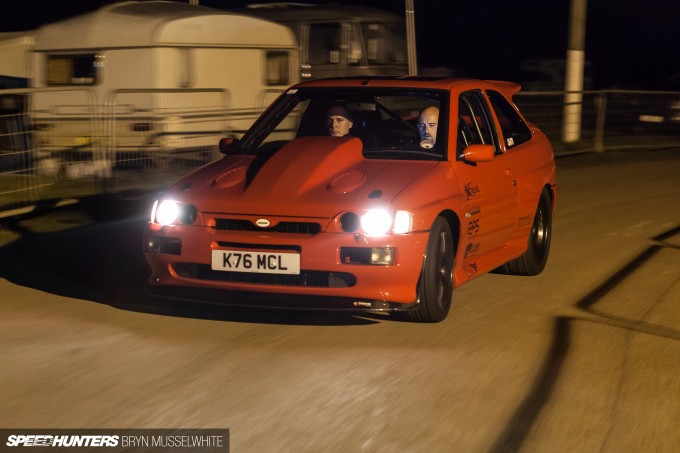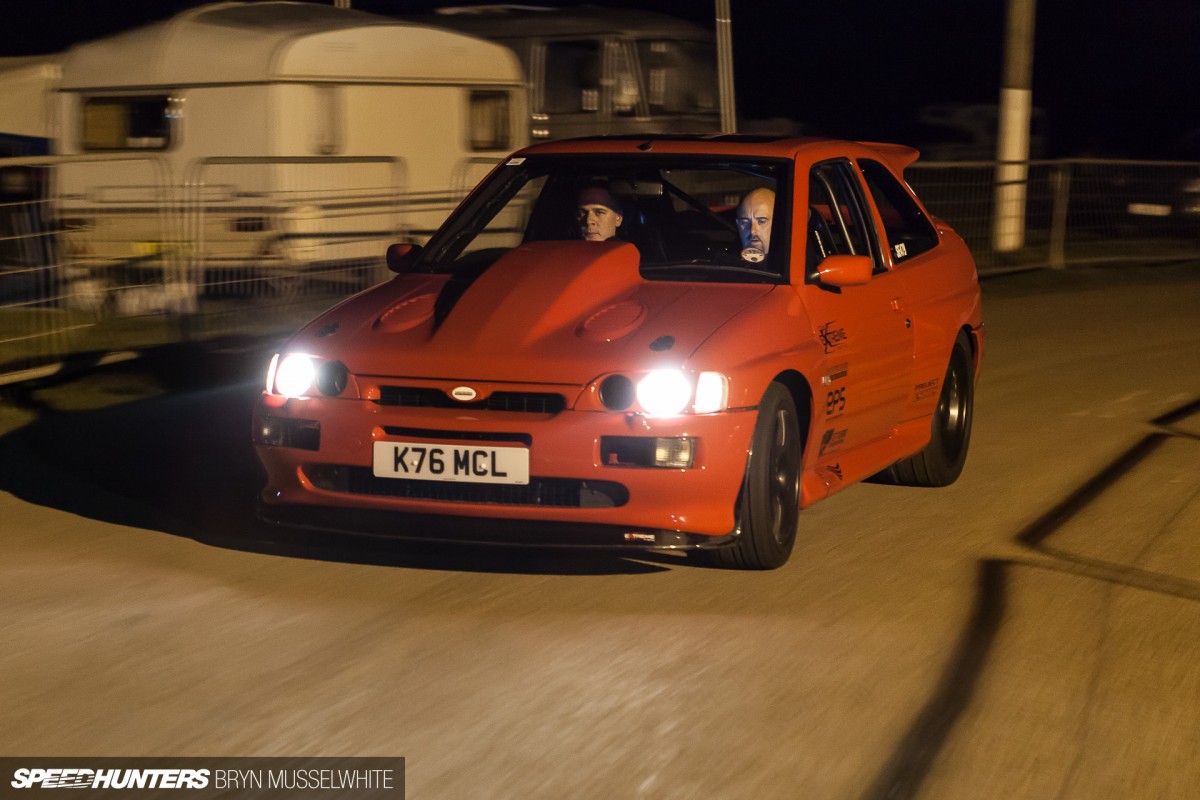 But it's not – although it is immaculately presented. I took this picture as we left the drag strip for a 25-mile night cruise to prove that it's a proper road car. All the Street Eliminator competitors have to complete this cruise, which includes a fuel stop, then another hot start further along the way – all slap bang in the middle of the weekend's racing. Our annual vehicle tests are also a lot stricter than in the US, so this in itself is no mean feat.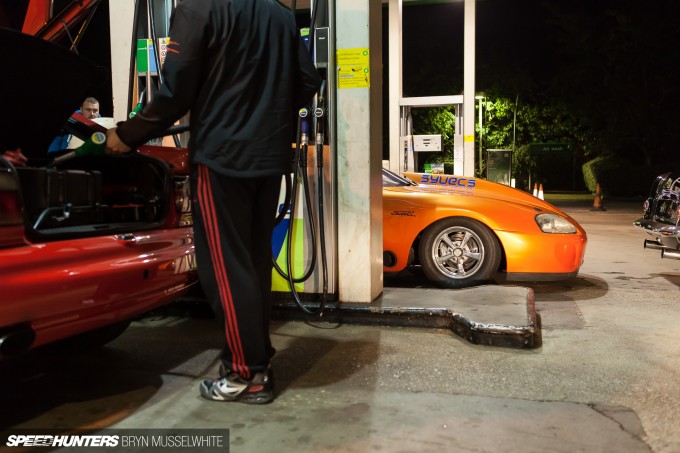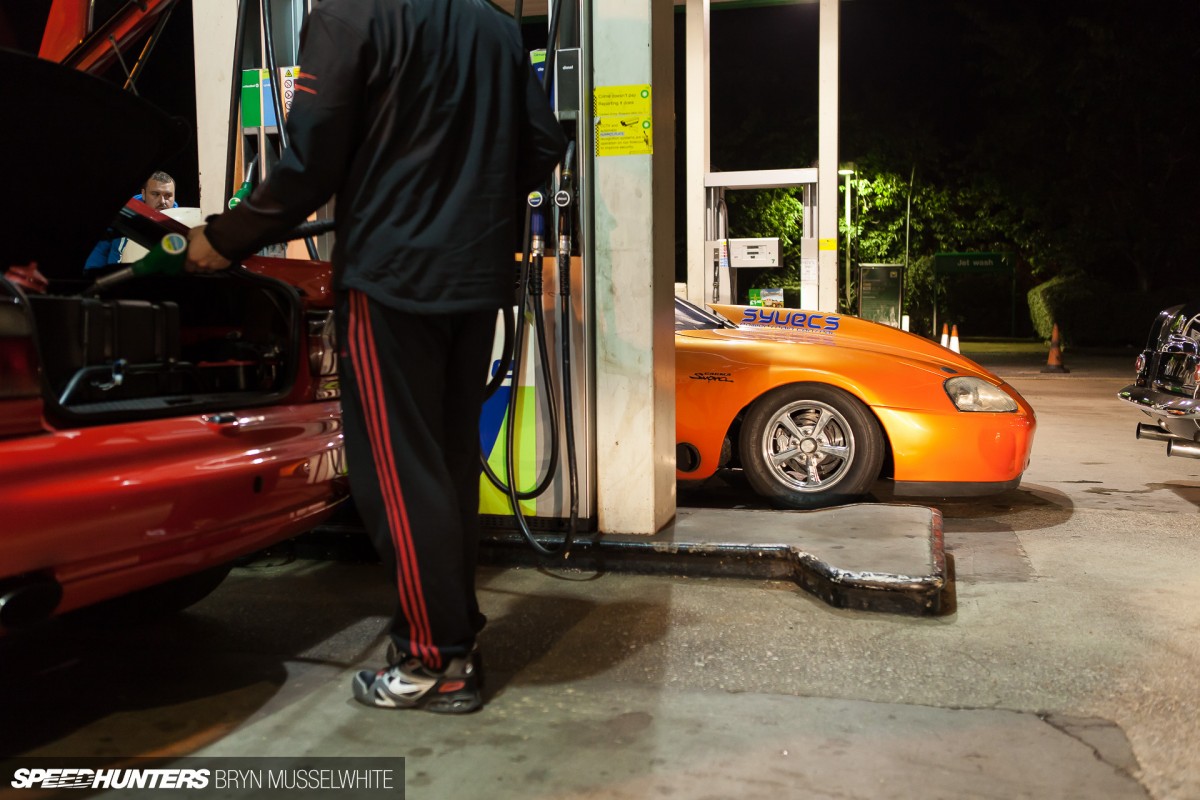 It makes for a pretty awesome sight when tens of thousands of horsepower rolls into a sleepy countryside fuel station. Winding our way through dark roads the snake of brake lights and headlamps make me smile, as other road users pass by blissfully unaware of the automotive potential they just encountered.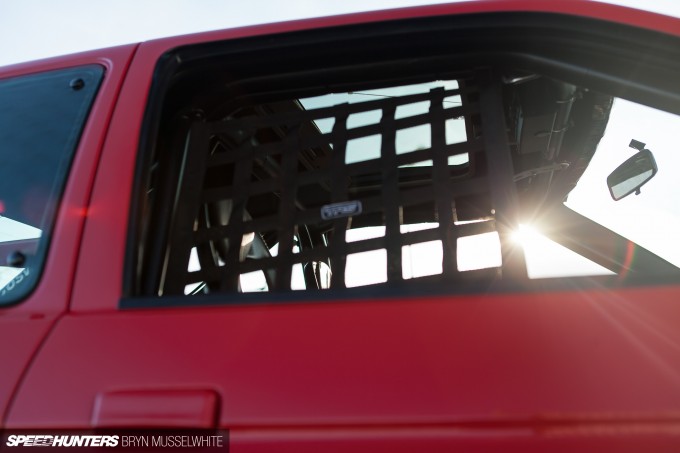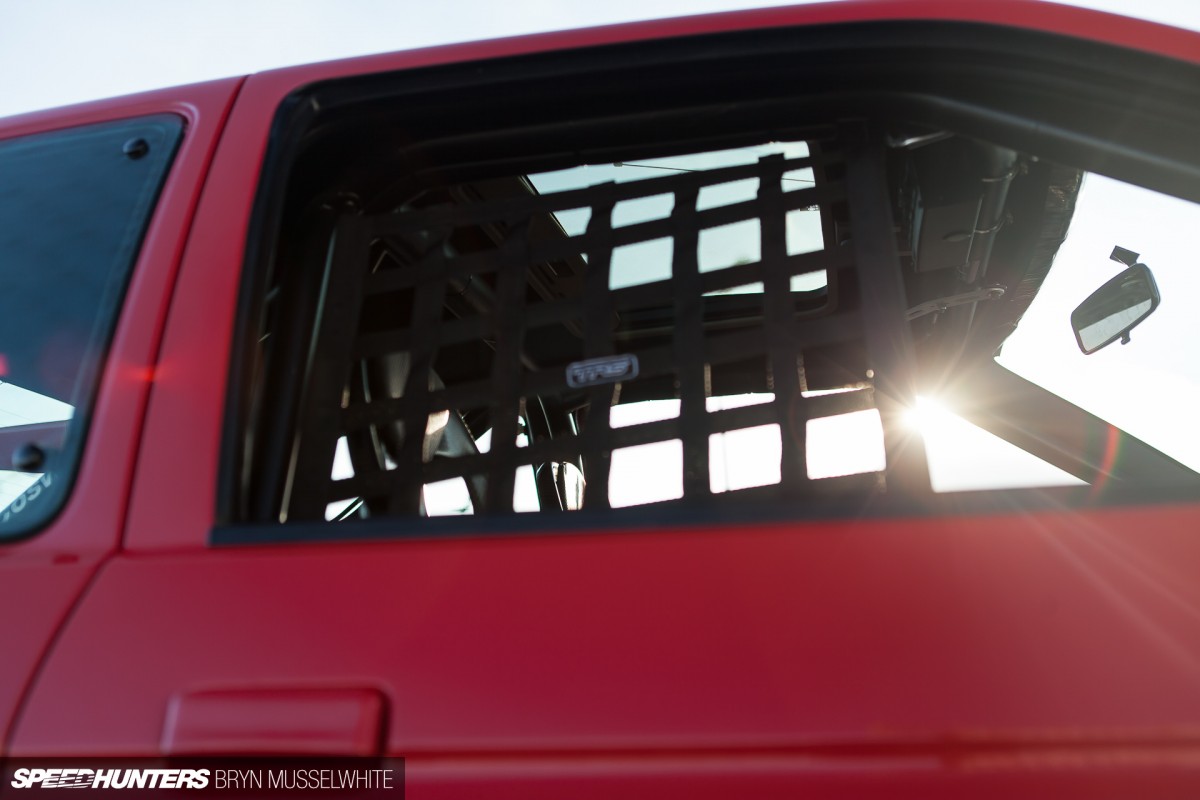 So considering this is the safe option over spanking superbikes around on the road and track, just how far is Matt going to go with the Escort, bearing in mind that it's virtually a full-bodied car with sunroof, glass and metal panels in place. To that Matt says, "I set out to build an 8.50 street car, so if I start going any further it's going to get out of hand. Right now it's still an Escort Cosworth with a engine swap and rear axle. The next move is a full tube car, which would be a waste of this car. The passion is always to go faster, but the important thing is to remember to have fun while you are."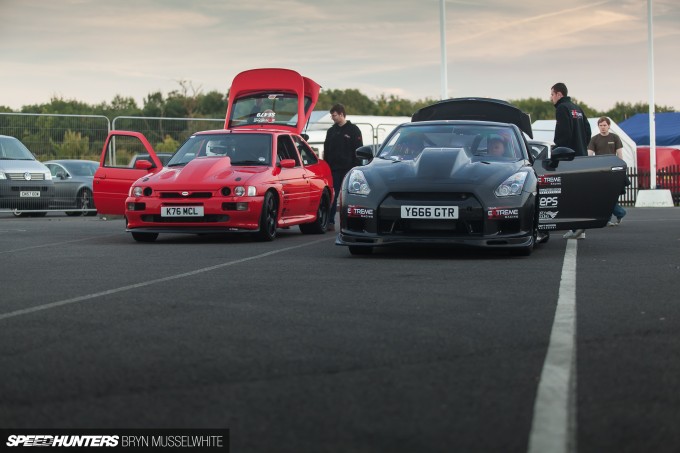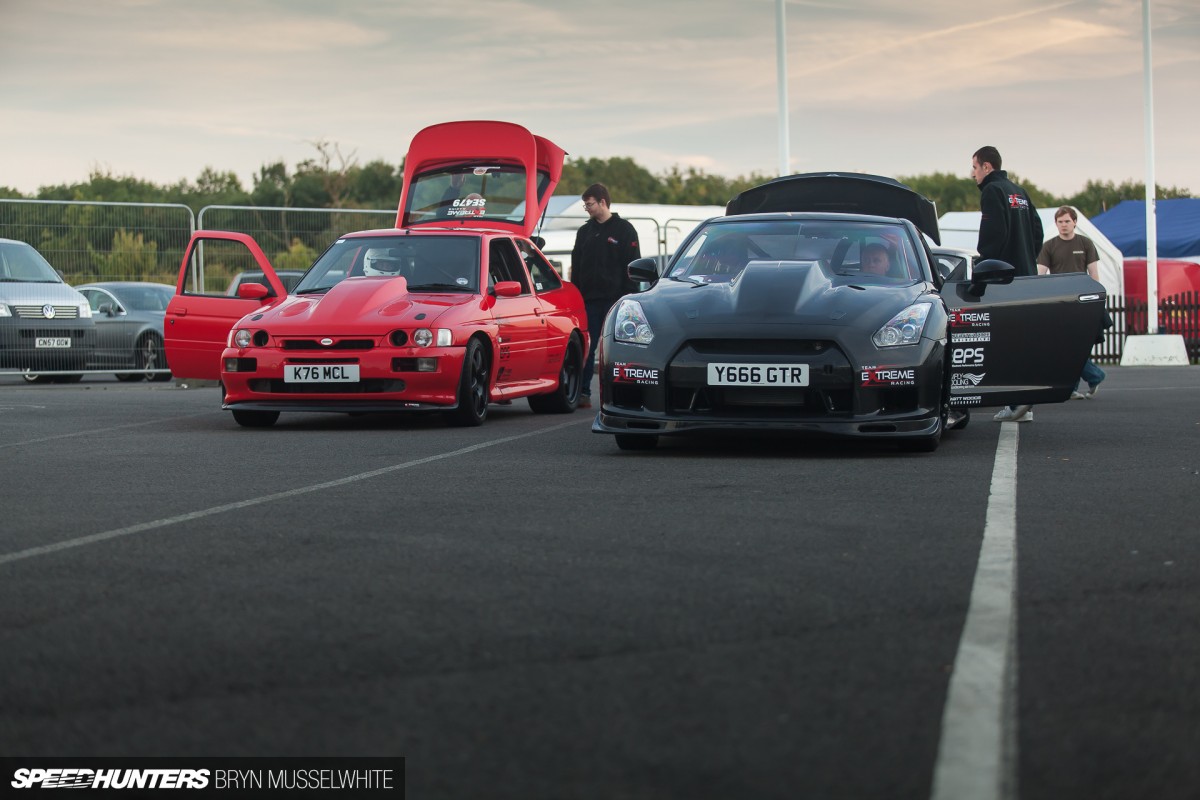 Fun? Sounds like a plan to me! The Smith brothers know a thing or 10 about how to do things right, so whatever happens it'll be good. That R35 GT-R? It's owned by Matt's elder brother Martin, and I'll be showing it to you next…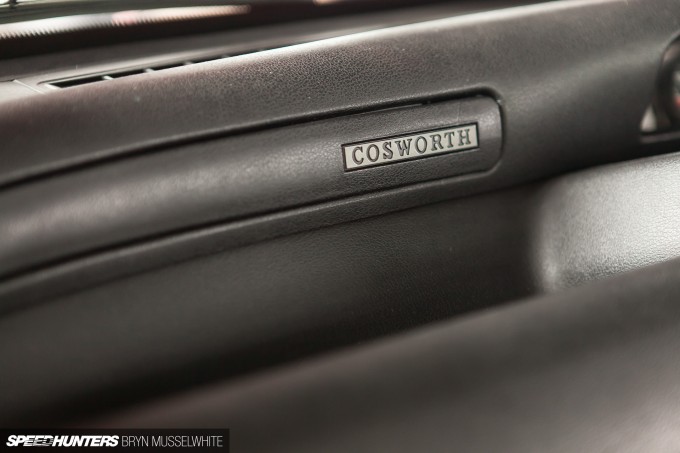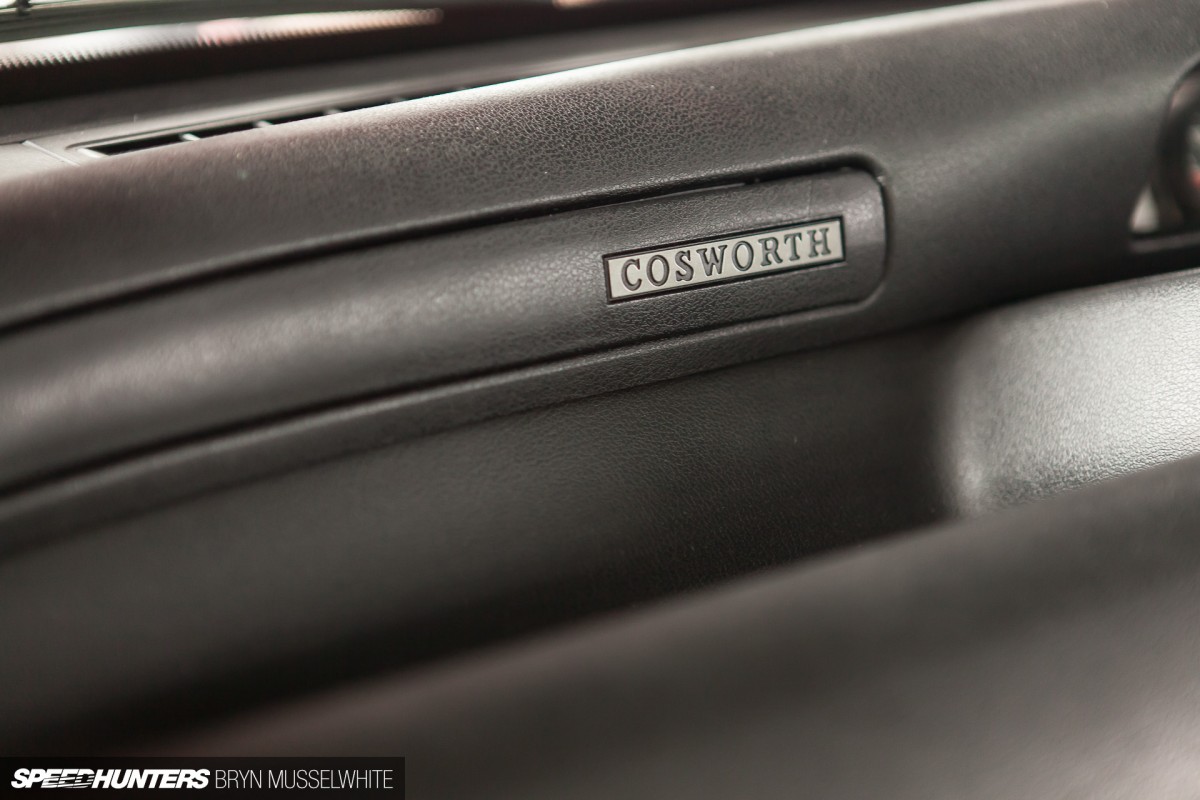 Going back to the start and the point I made about how you can never predict what lies ahead – sometimes it's best to just enjoy the ride, because the journey is often just as important as the destination. So do you still want to know where you're going with your project? Or are you content to see what happens?…
Bryn Musselwhite
bryn@speedhunters.com
Instagram: Speedhunterbryn
Cutting Room Floor