Homegrown Hero
The car you see before you is amazing. It's fast, it has handles superbly, it looks positively badass, it's fully street legal and it takes daily driving duties with ease. It's also been built almost entirely from scratch – but that's just the beginning of it.
Say hello to what I think is one of the most inspiring feature cars seen on Speedhunters all year…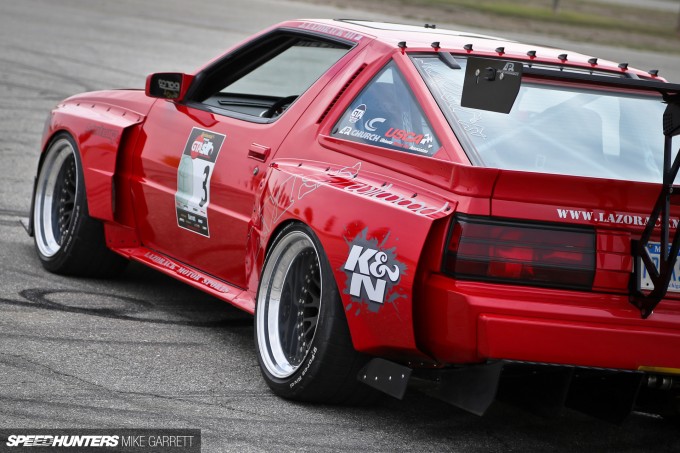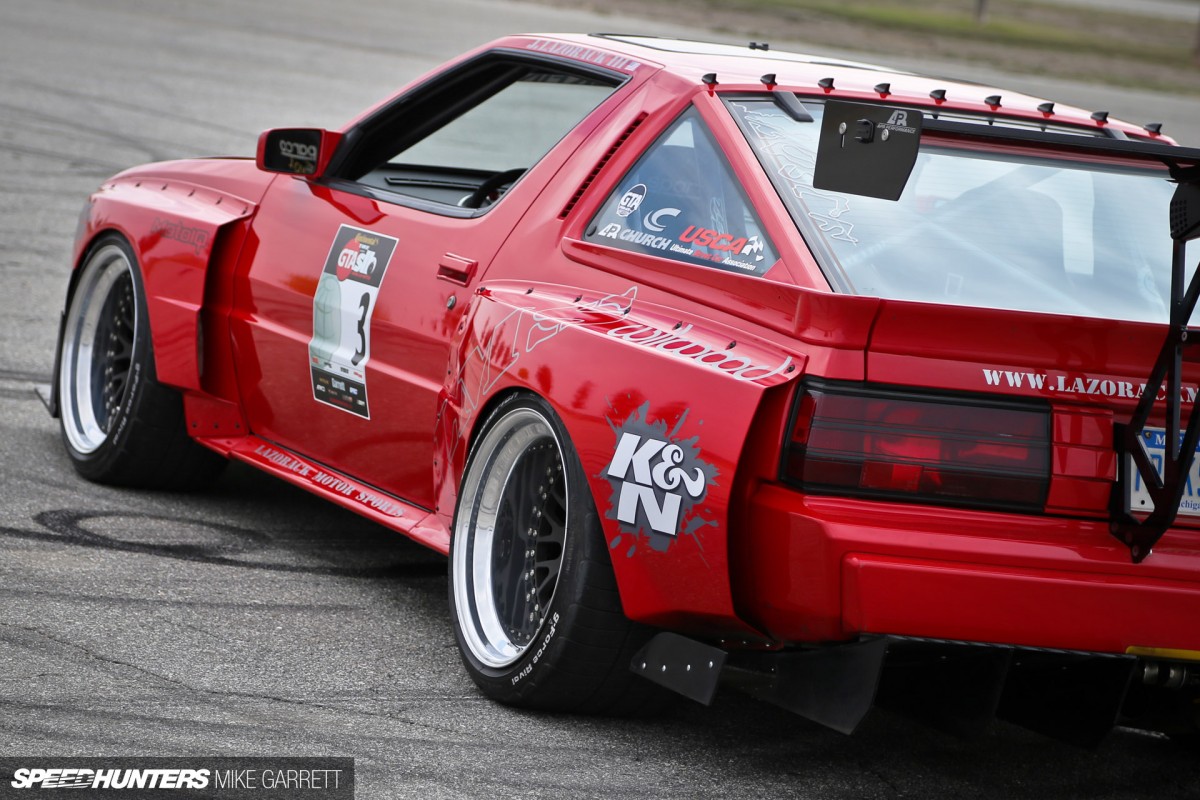 John Lazorack's 1988 Chrysler Conquest (the Mopar twin to the Mitsubishi Starion) is a car I've been following for a couple of years now. When I finally had the chance to check it out in detail at the Buttonwillow Super Lap Battle a few weeks ago I was ecstatic. This was a car long overdue for some Speedhunters lovin' and it turns out John is a regular reader who has been dreaming of the day when his project could be seen here.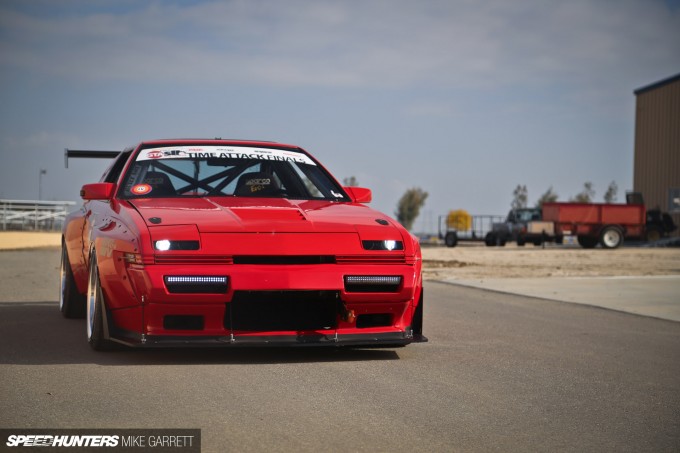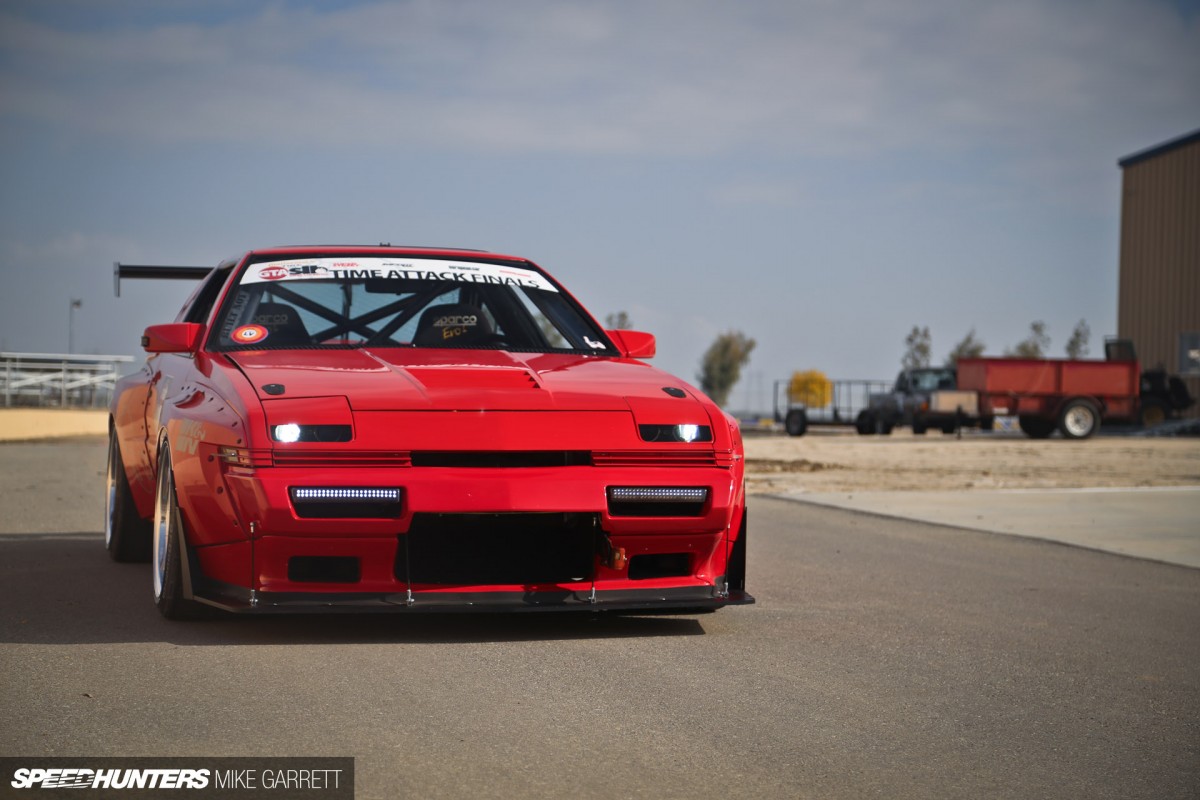 For as impressive as John's Mitsubishi/Chrysler is, the machine itself is just part of the story. This isn't just a cool car, it's a tale of do it yourself magic and a young man who's living out his automotive dreams on a modest budget.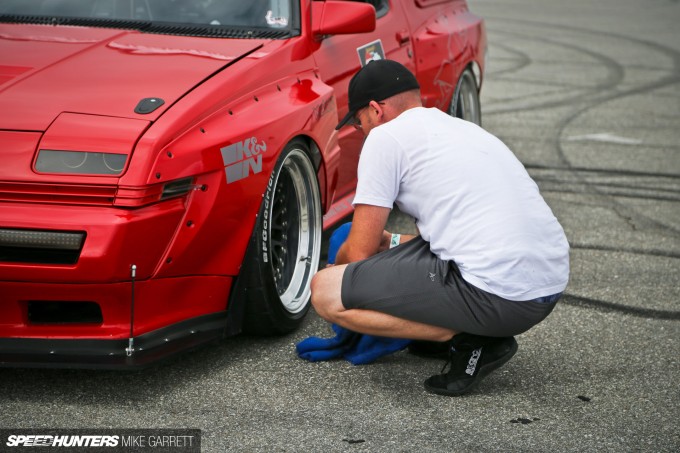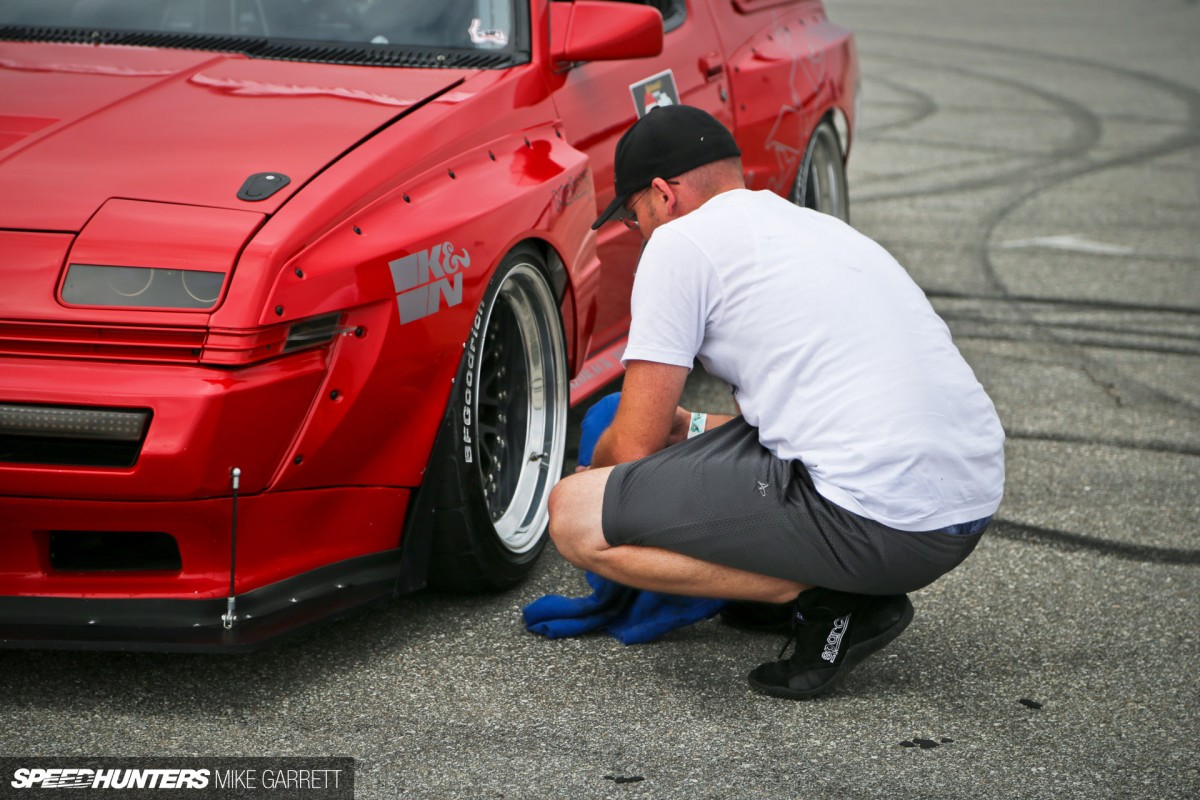 John grew up in Pennsylvania and acquired the car when he was just 16 years old. It was a bit of a cream puff with just 70,000 miles on the odometer and one previous owner – not a bad car to drive to high school. He drove the Conquest for a couple of years before blowing up the original turbocharged four cylinder engine.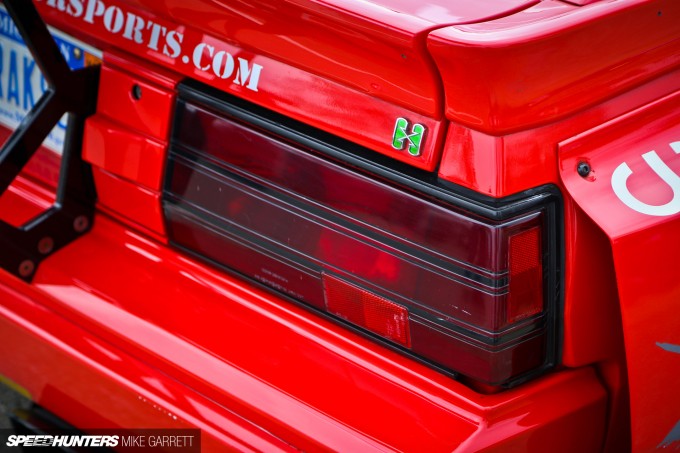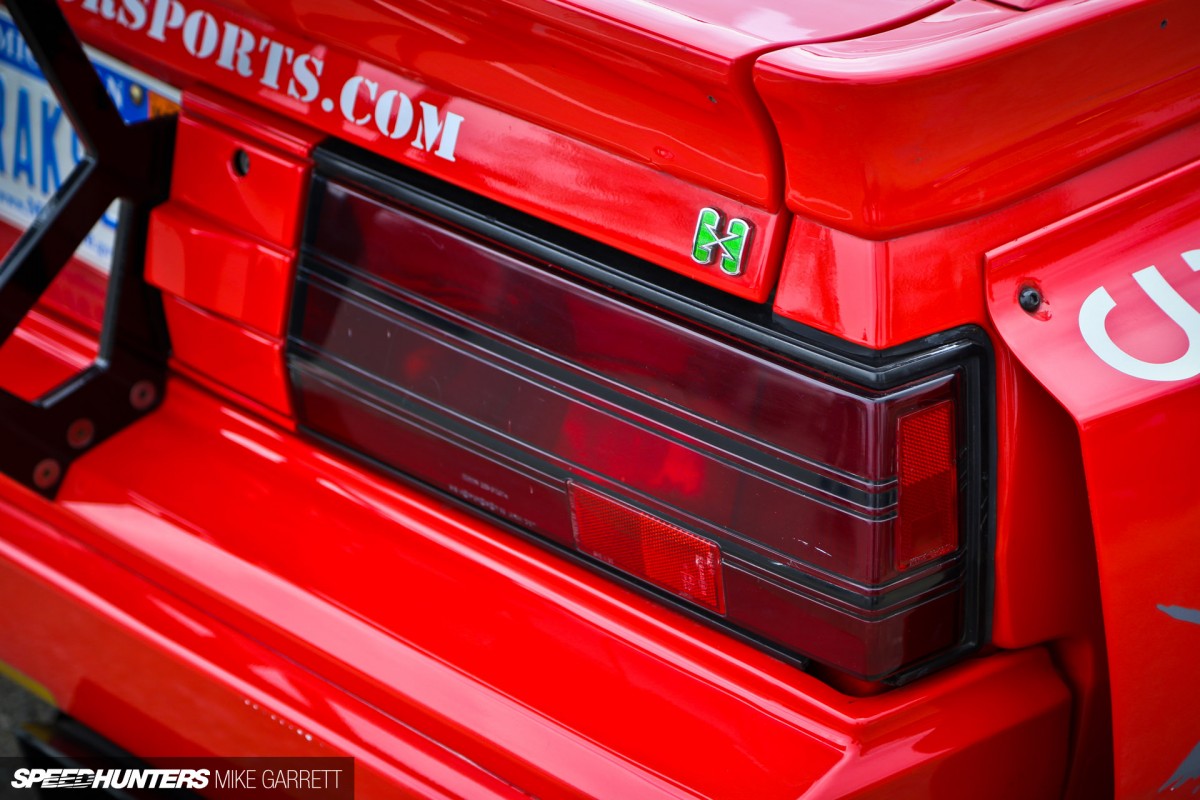 He used this as an opportunity to rebuild and upgrade the stock G54B engine, fitting it with a larger turbo and other goodies. Even so, he was never satisfied with the power and more importantly the reliability he was getting from the boosted motor. When John moved across the country for college, the project was put on the back burner, although he did spend time working on it whenever he came home to visit.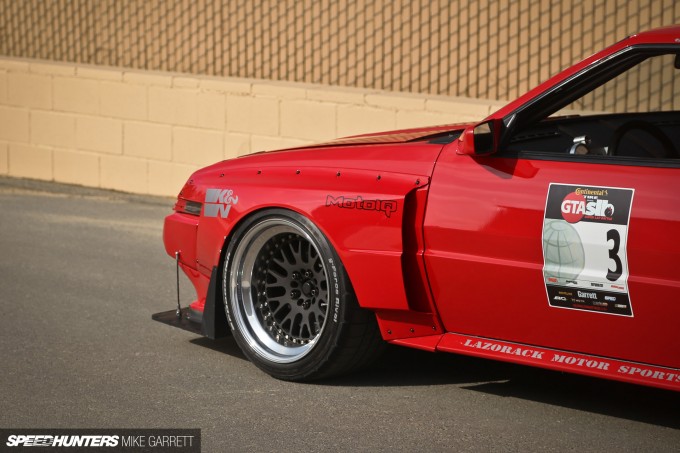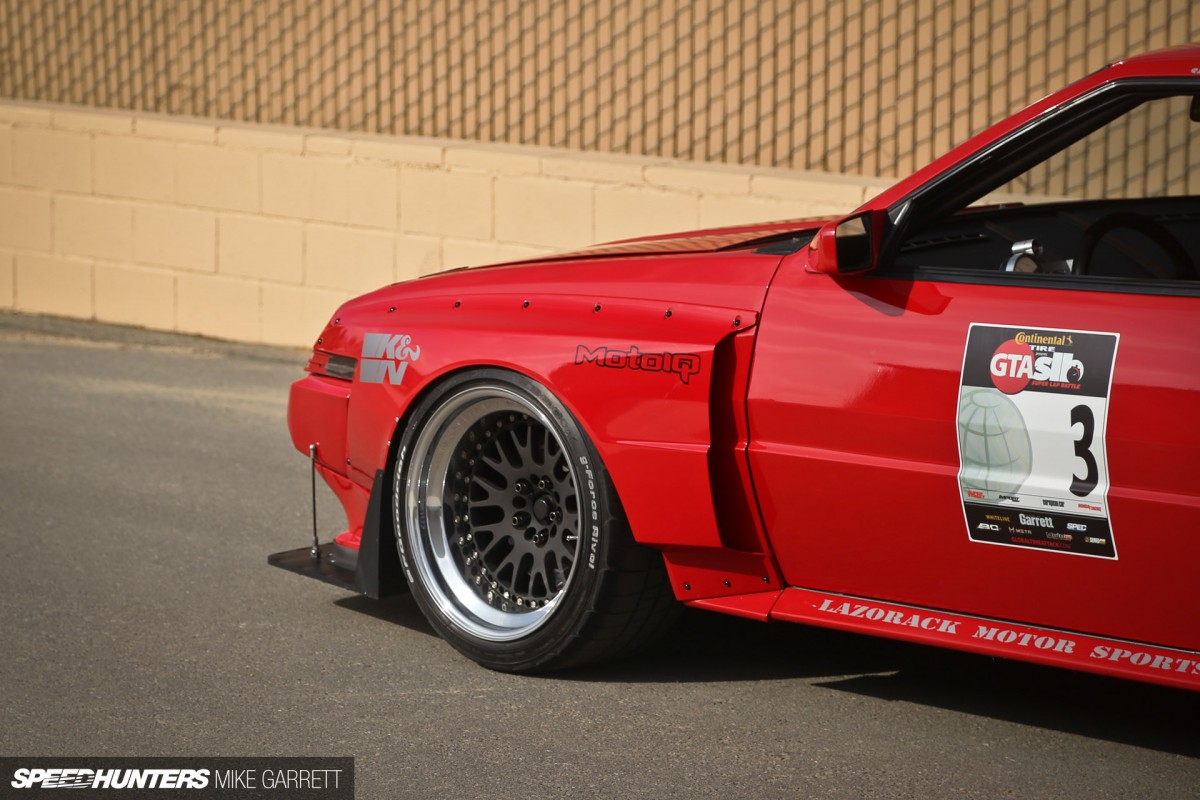 This whole time John was studying to become a designer in the automotive industry, and when he took a job with GM in Detroit it meant he'd finally have a place where he could store and work on his car. After getting the car to Michigan from Pennsylvania, he decided he'd had enough of the old setup and was ready to give the Conquest a ground-up rebuild.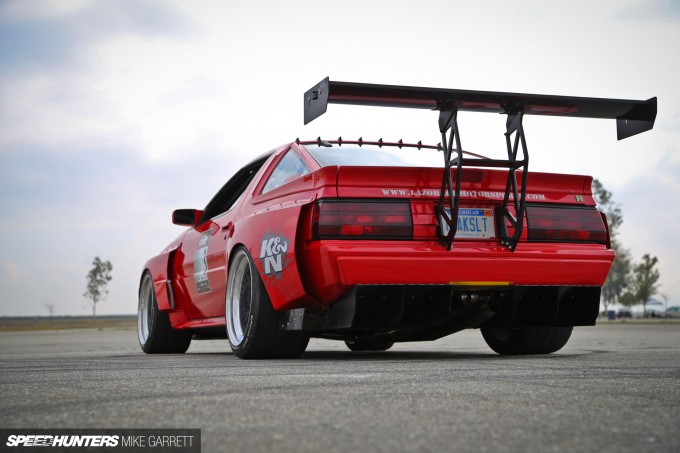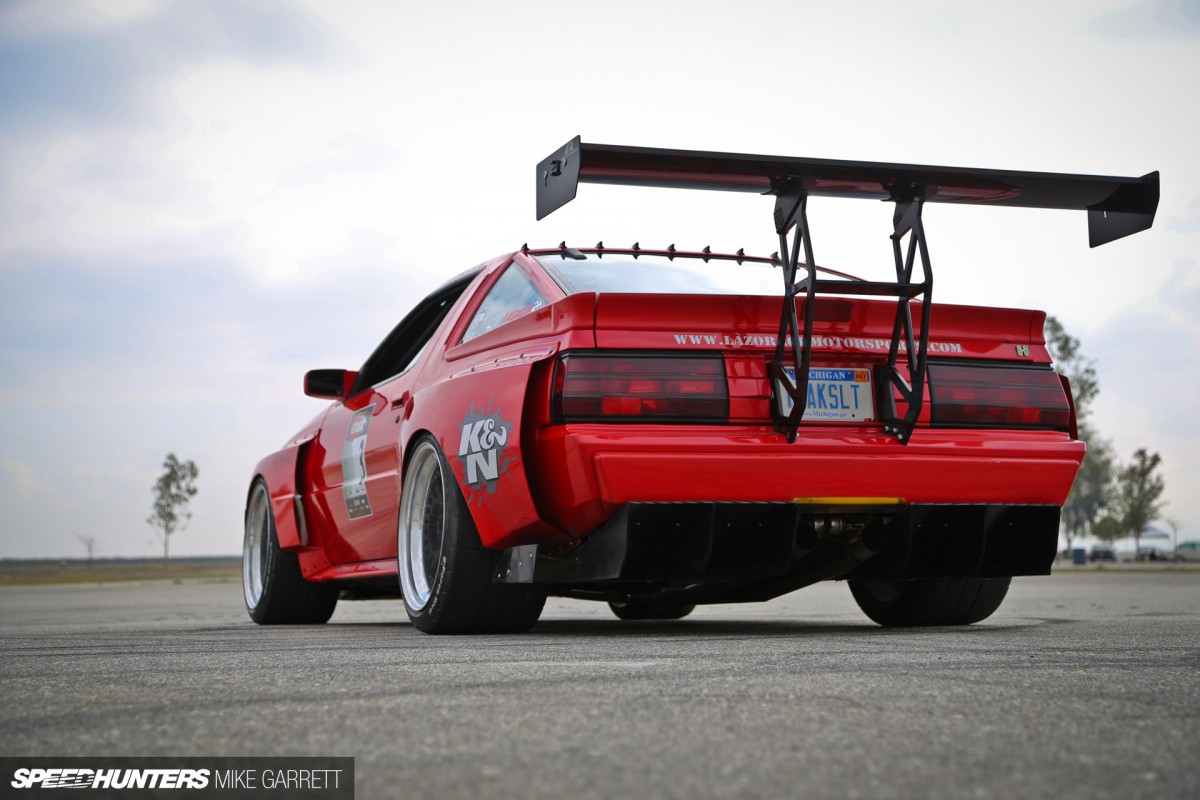 His idea was to build a car that he could drive to the track, beat the living crap out of and then drive home again without any issues. That meant he'd need to make a major departure from the finnicky G54B setup.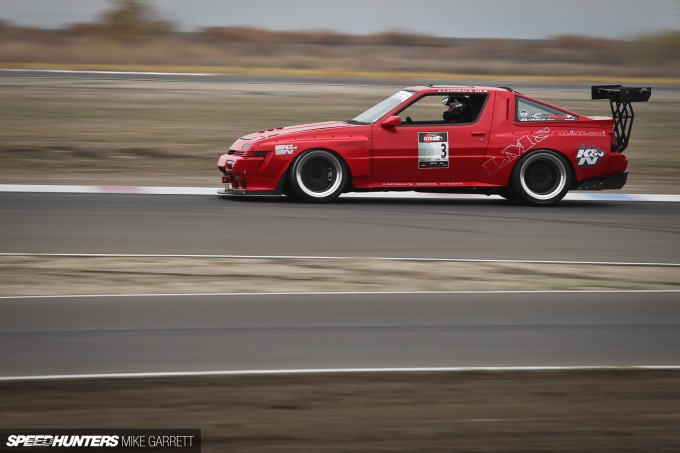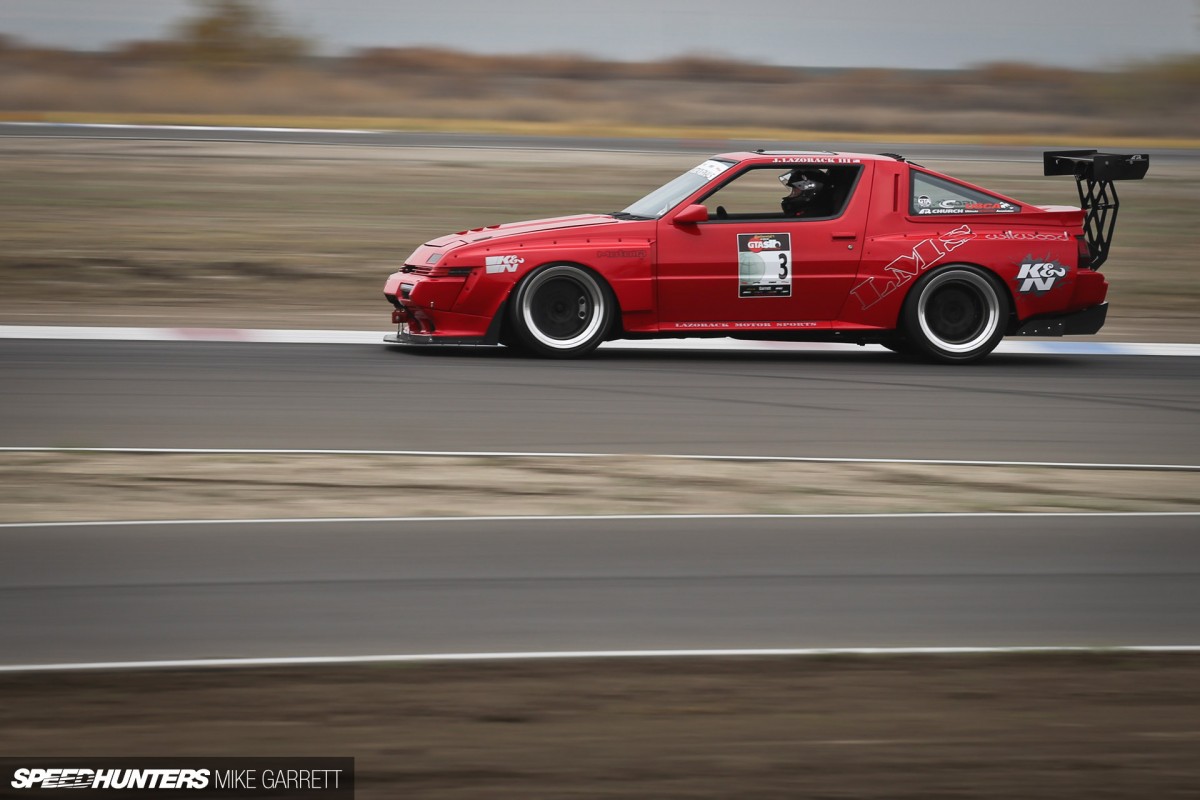 Being fresh out of college, John didn't have much money laying around, but what he did have was a decent set of mechanical and engineering skills – and most importantly a desire to learn. Then again, even if he had a lot of money it wouldn't have helped much.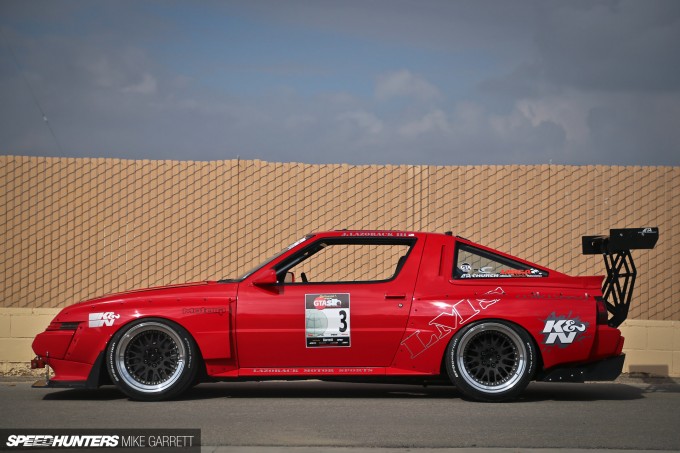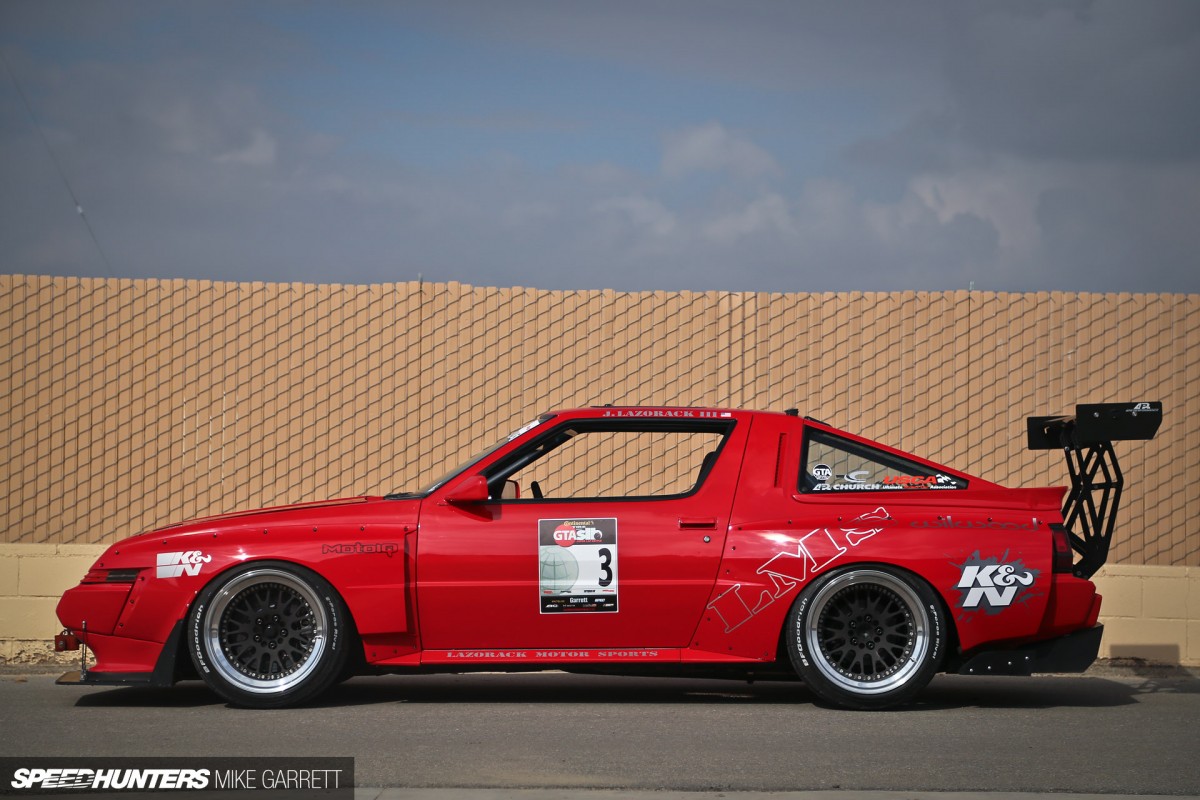 That's because there's pretty much no aftermarket support to speak of for a Conquest/Starion. If John was to reach his goal, a whole lot of DIY was going to be needed. And thus began a five-year process in which he taught himself how to weld, how to fabricate parts and how to build a functional car for both the track and the street.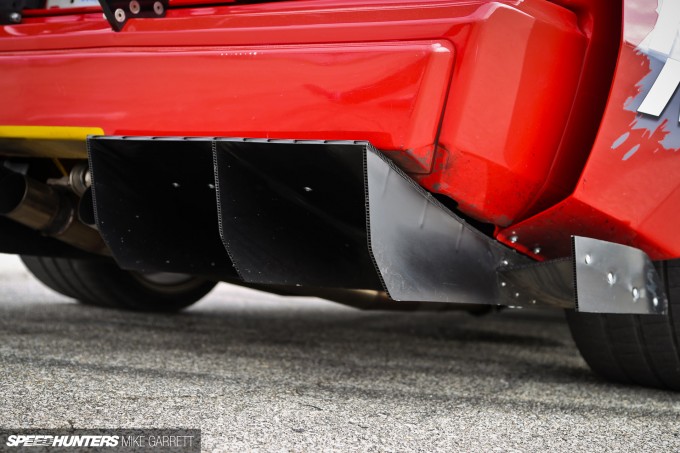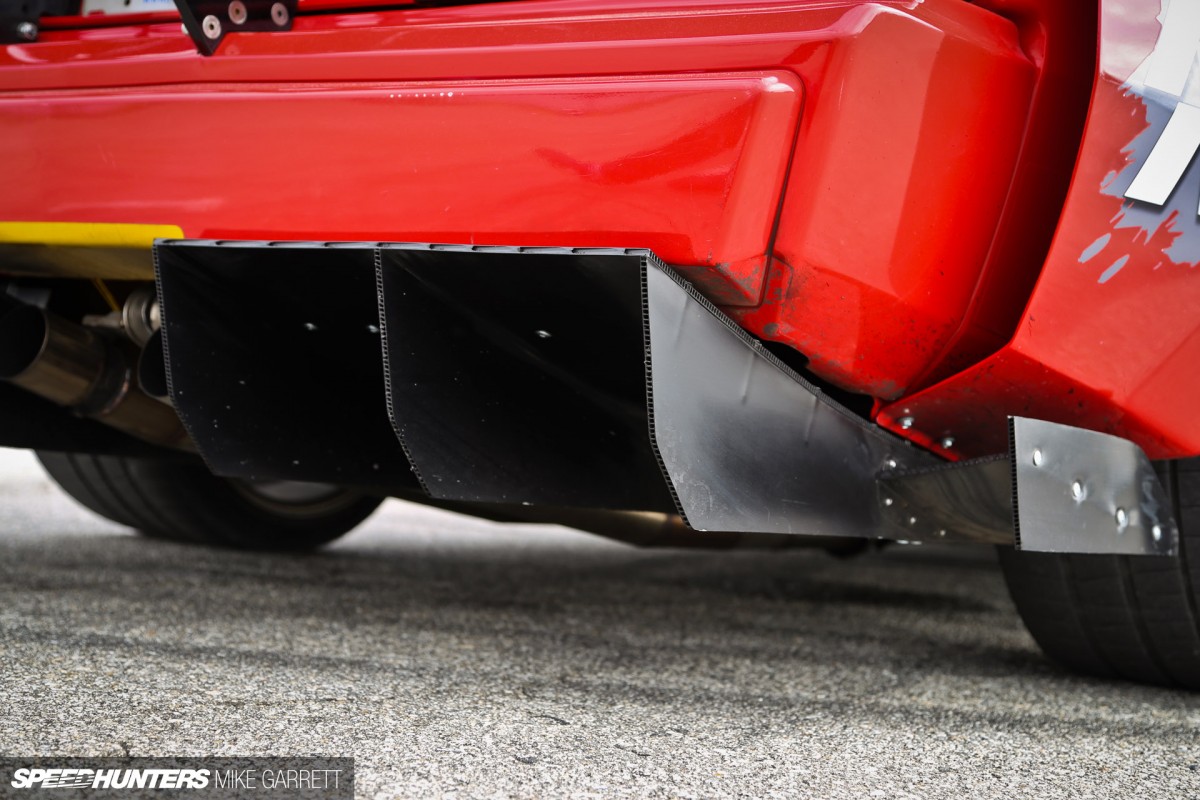 Over the years John has been constantly refining the car's setup, and the version of the car that I saw at Buttonwillow last month has evolved greatly from its original iteration. So let's take a look at what makes this thing tick…
V8 Or Bust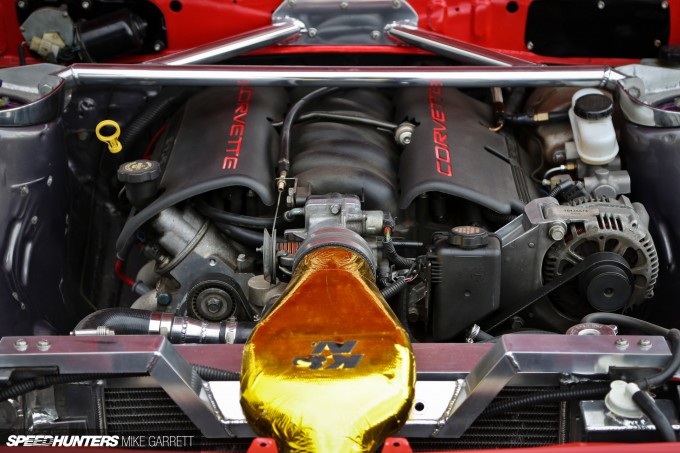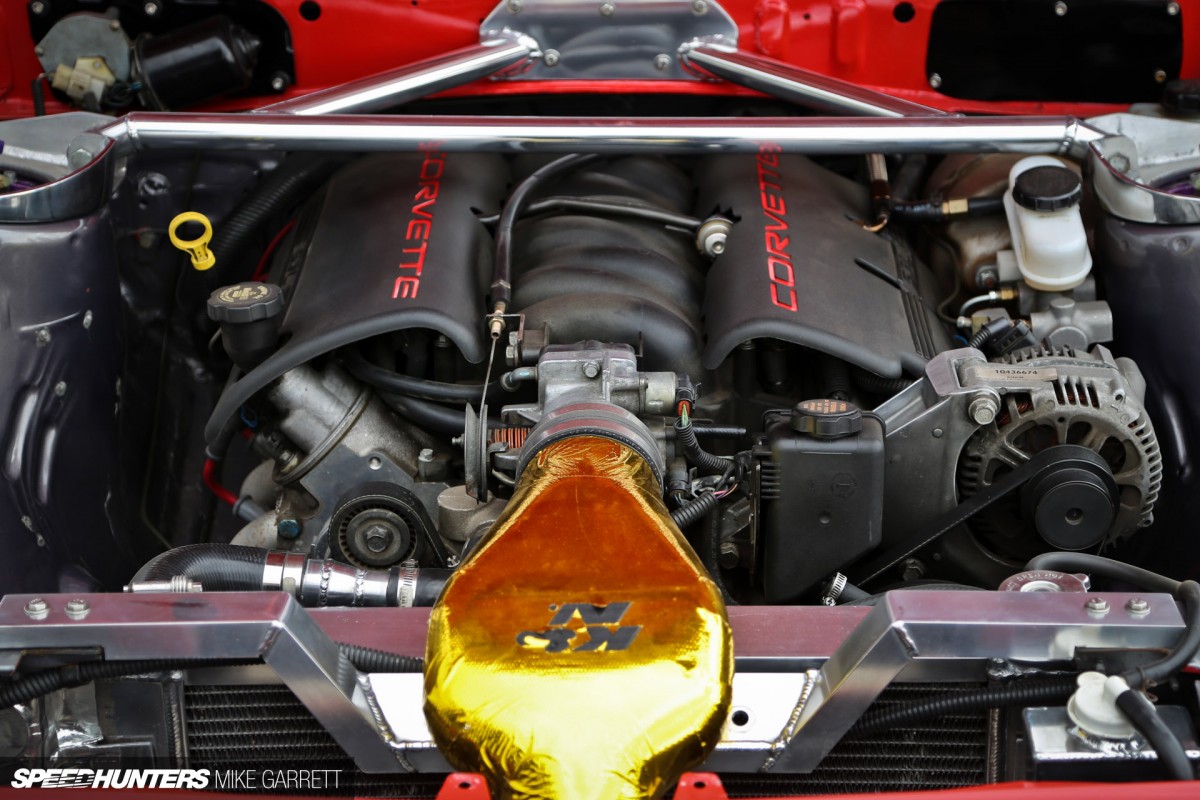 At the heart of the car is the engine: a 5.7-liter LS1 V8 from a 2002 Corvette. You might be saying 'oh, another V8′, but it really was the perfect choice thanks to its power, compact size, light weight and of course its legendary reliability. When John bought the motor off his buddy for cheap, he knew he he'd found the perfect engine for what he wanted do.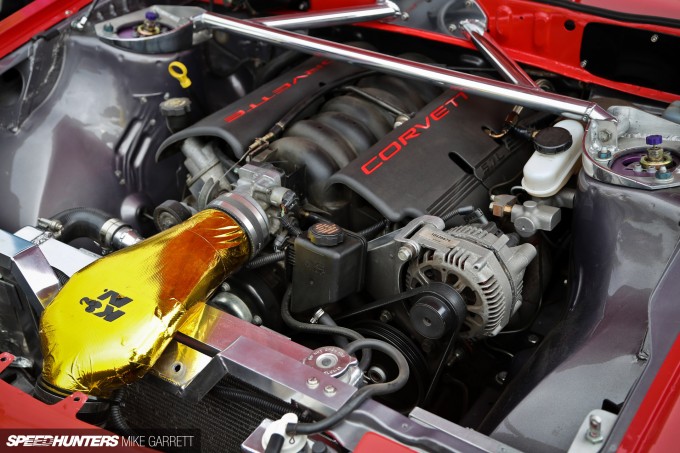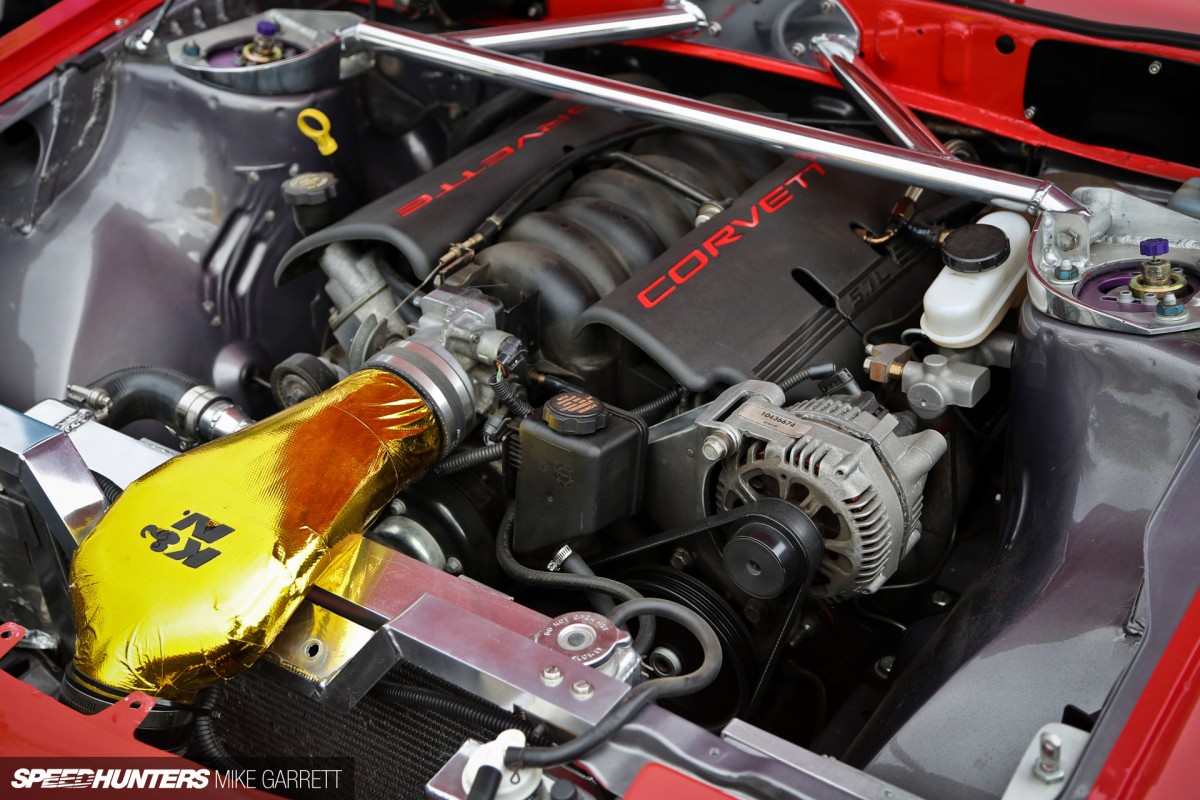 In terms of modifications, aside from a set of custom-built long tube headers, a K&N intake and an aftermarket oil pan, the LS1 is completely stock. The big story here is the engine's placement. John wanted the motor to sit as far back as possible, so he actually cut into the firewall to make room for it. This required the steering system to be completely redesigned and it now uses a rack and pinion setup from a Ford Mustang GT.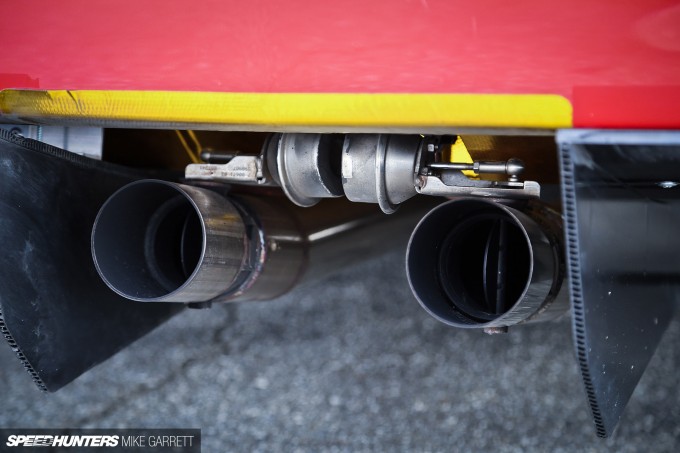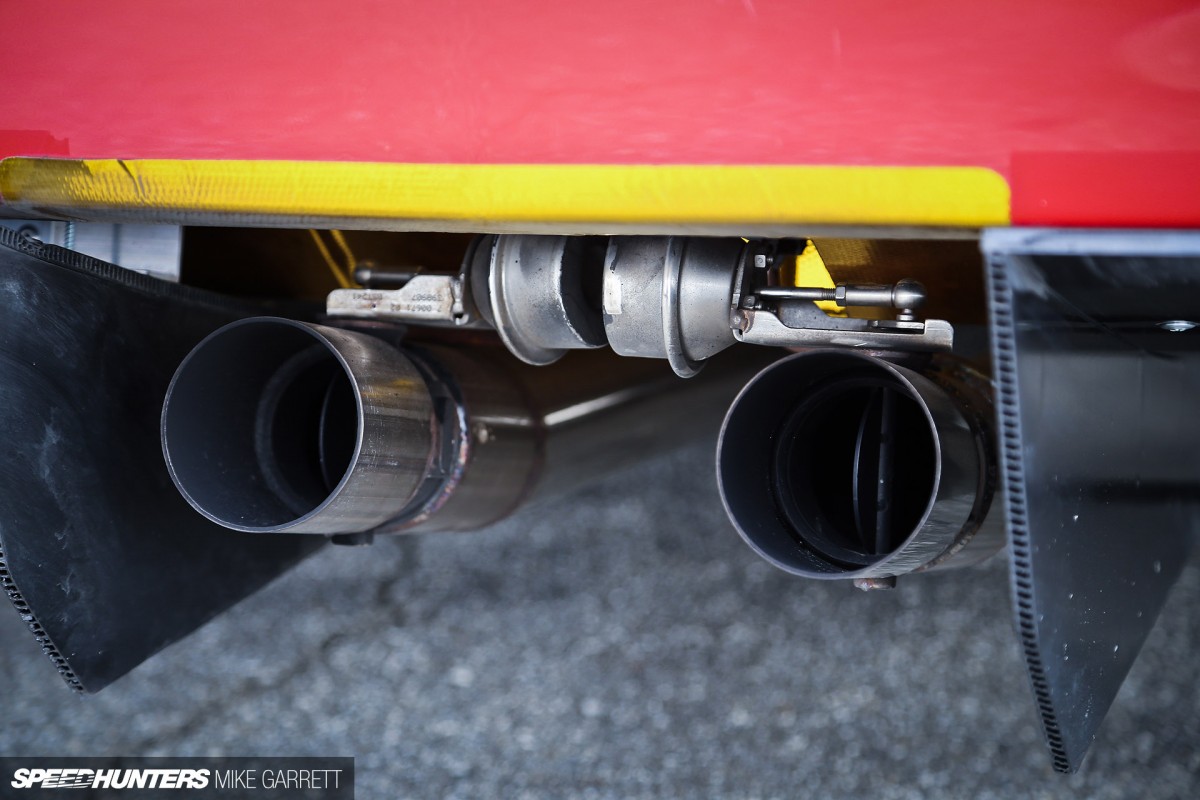 Not to be left out is the custom exhaust system which features a pair of pipes exiting from the middle of the rear diffuser and exudes that perfect V8 rumble.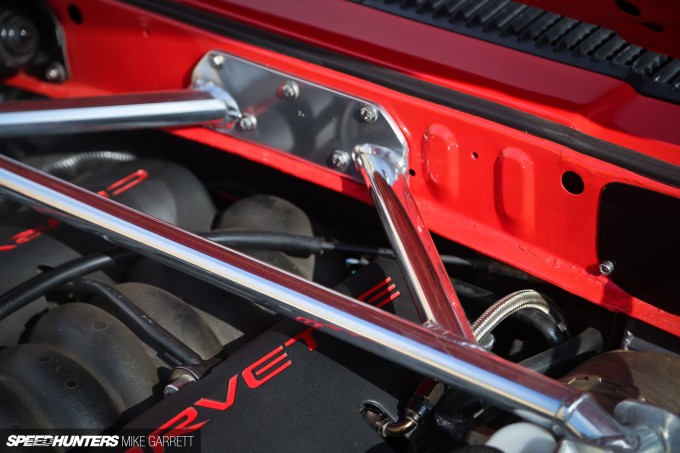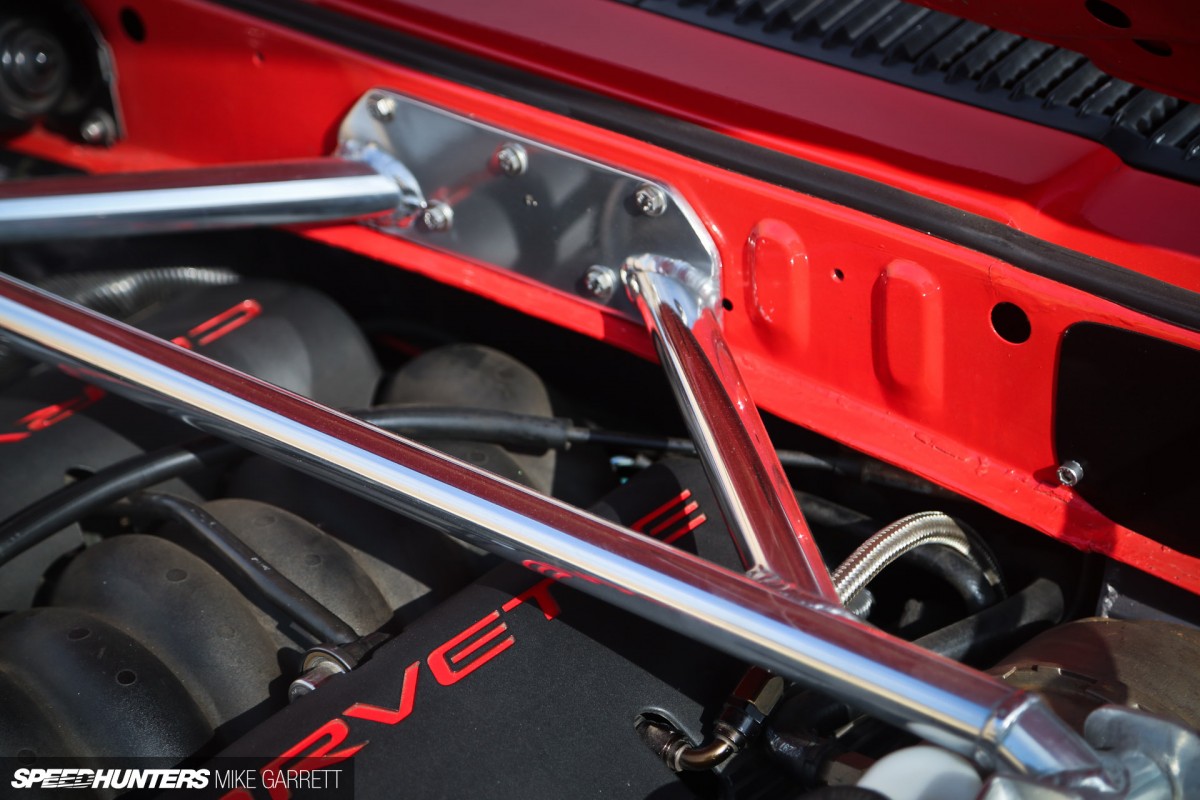 As for the chassis, the whole tub has been stitch-welded and John digitally designed and fabricated custom steering knuckles along with control arms and a strut tower brace in the engine bay. The suspension itself consists of custom-valved D2 coilovers along with adjustable camber plates, polyurethane bushings and a set of Suspension Techniques sway bars.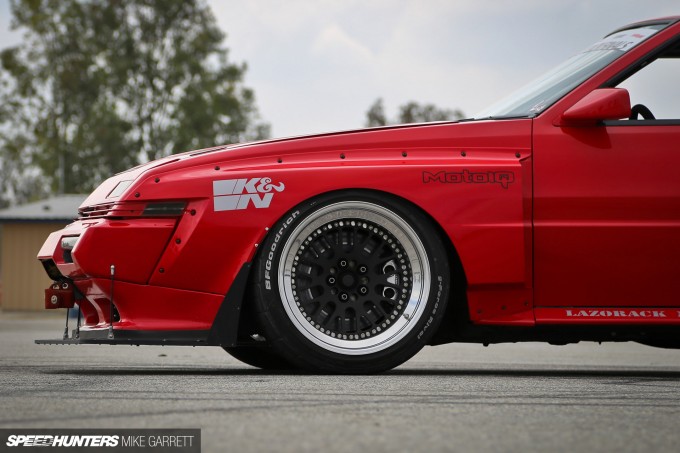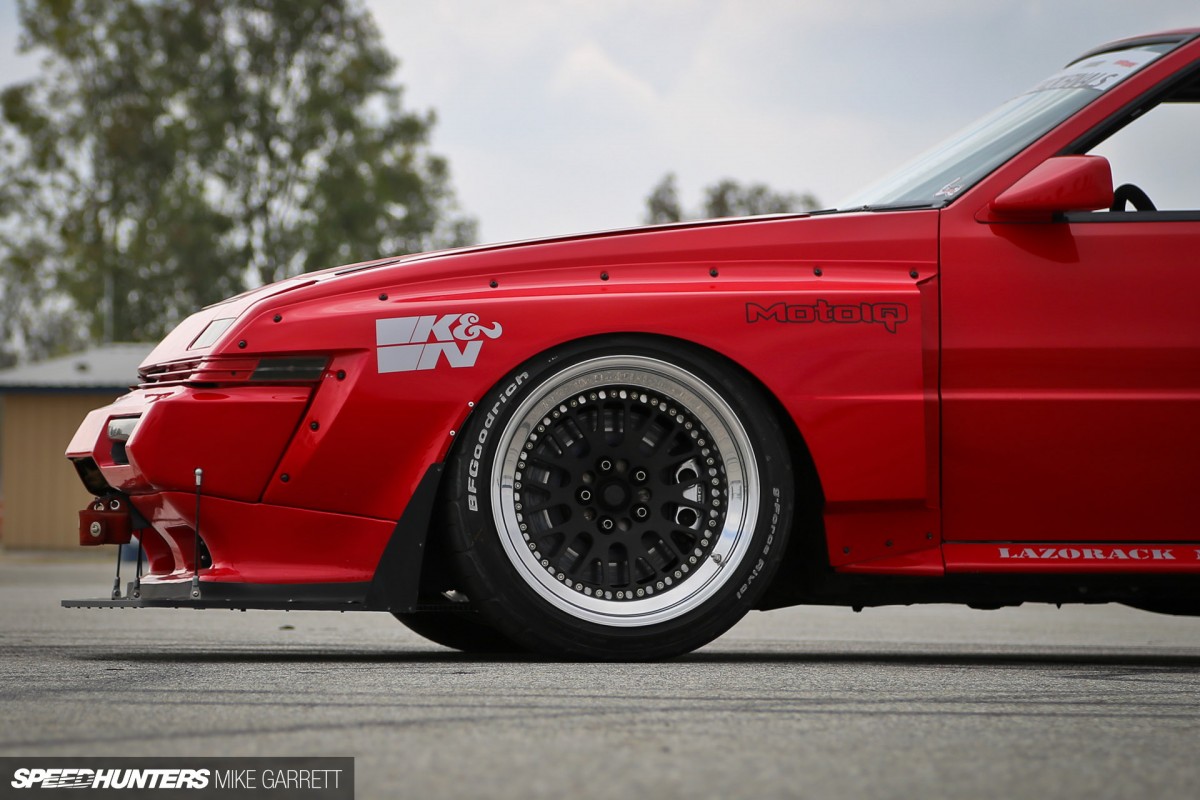 Up to this point braking duties have been handled by a set of Mustang Cobra R 13-inch rotors with PBR calipers, but this winter John's in the process of upgrading the stoppers to a set of giant Wilwoods with 6-piston front calipers and 4-piston rears.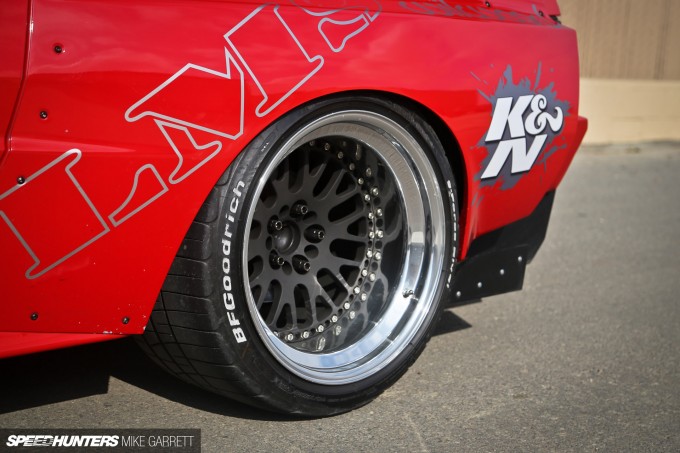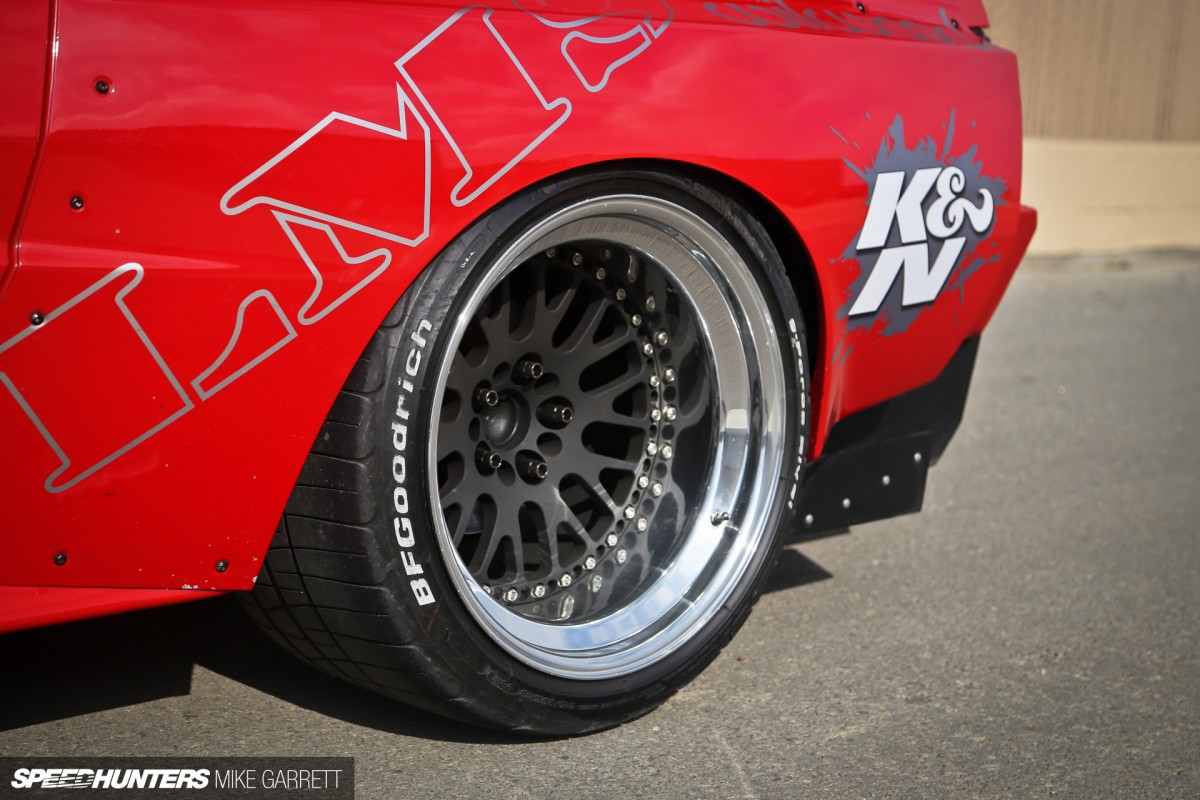 The wheels are CCW Classics – 18×11-inch in the front and 18×13-inch in the rear – with 275/35R18 and 315/30R18 BFG G-Force Rival tires respectively.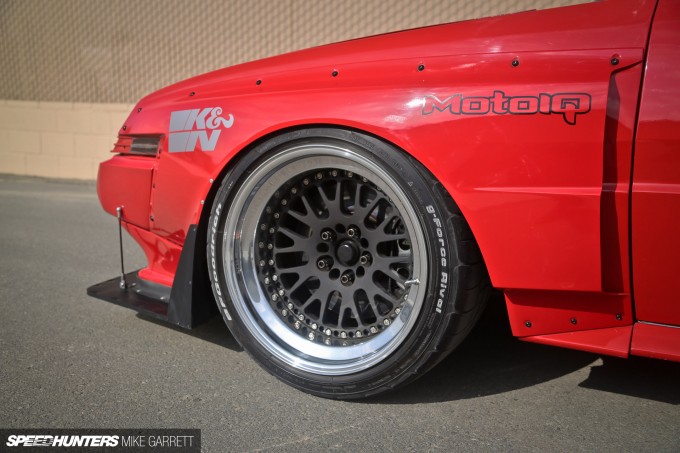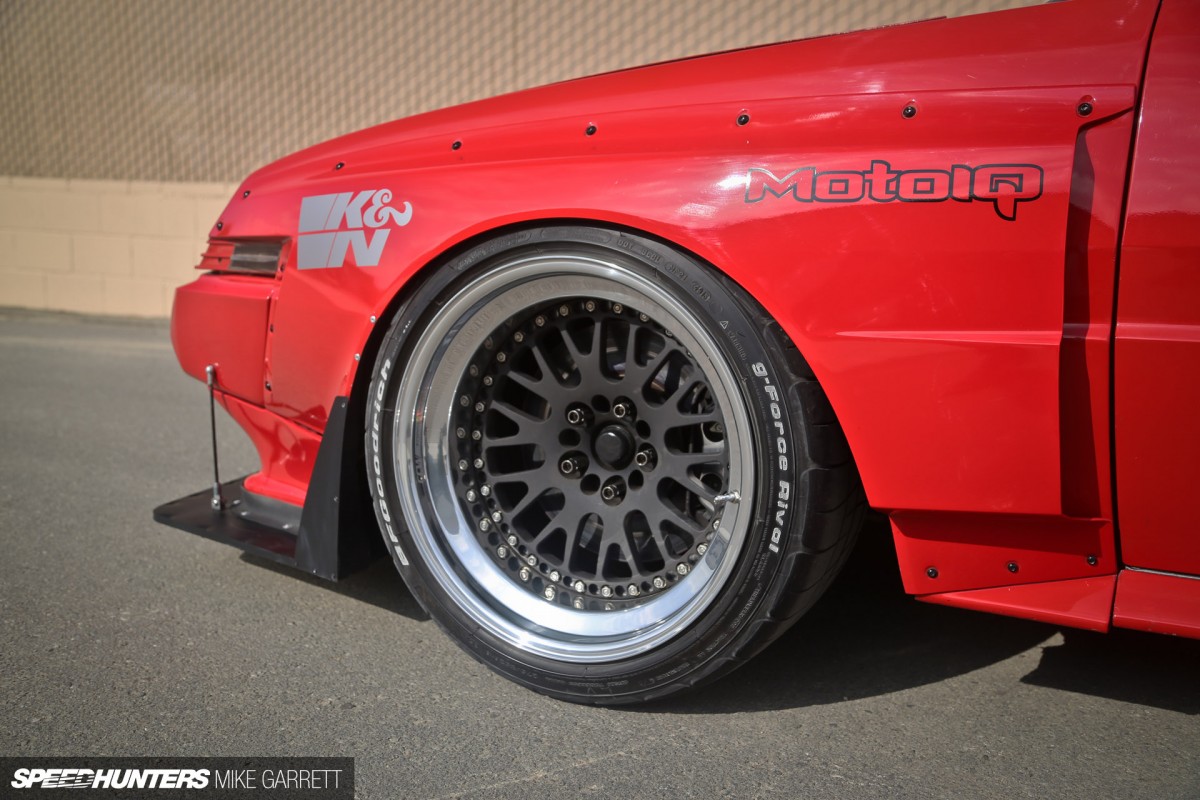 The reason that the car's able to run such aggressive wheel and tire sizes is because it's been fitted with a wide body conversion that pushes the fenders out a full six inches further than stock.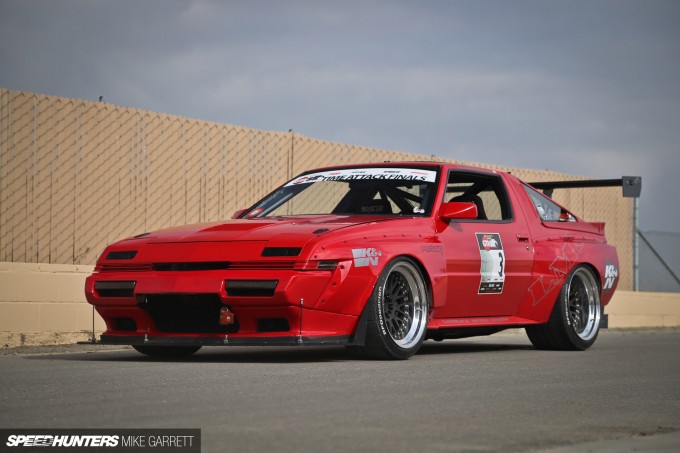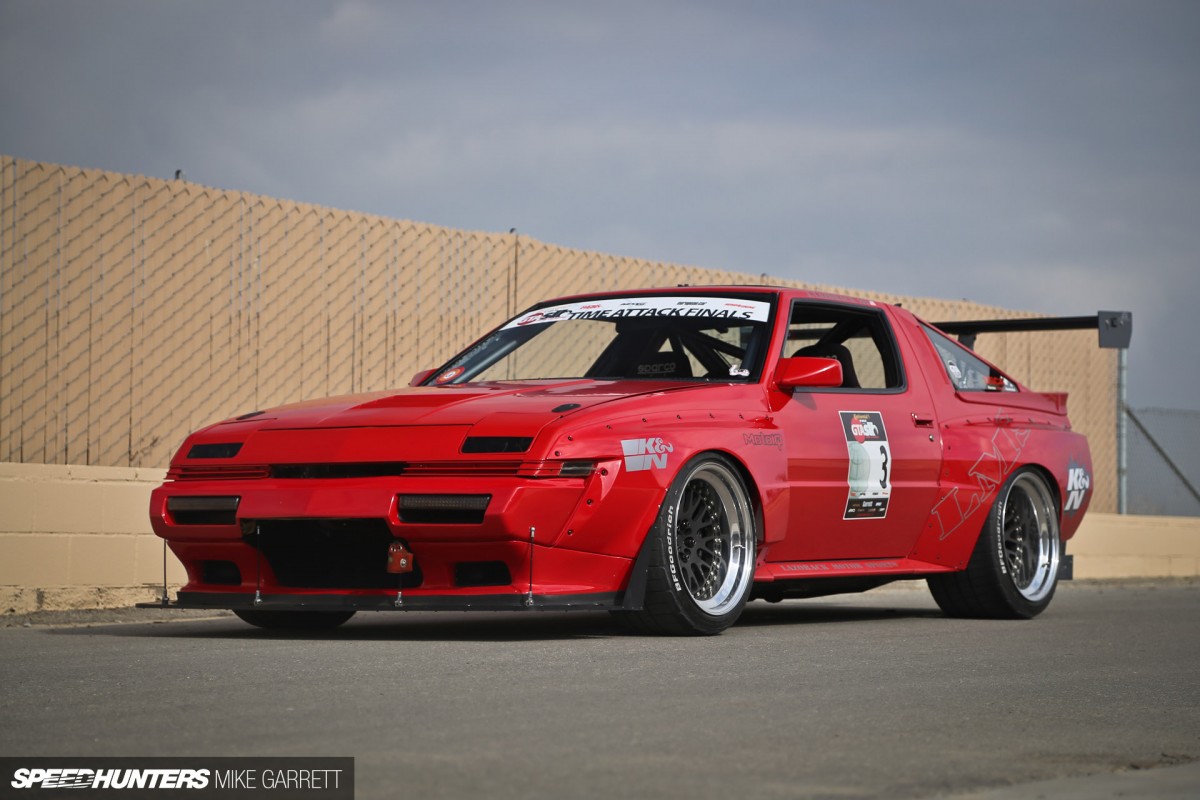 Needless to say, these body parts weren't sourced from an aftermarket catalog – John digitally designed and built the parts himself. What I especially love is how they're dramatically wider but don't detract from the factory lines that made the Conquest look so cool in the first place.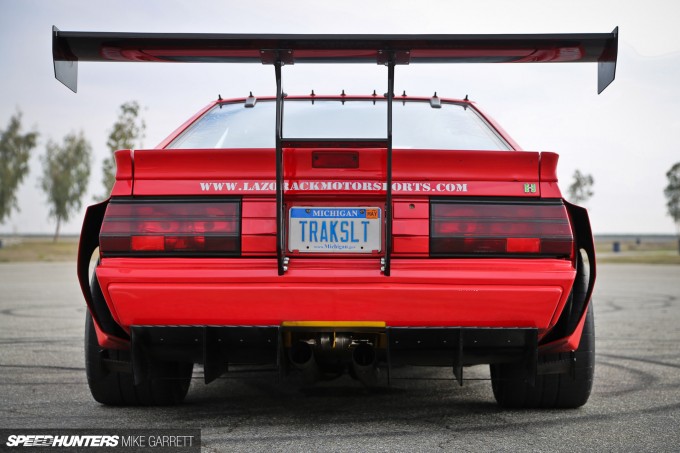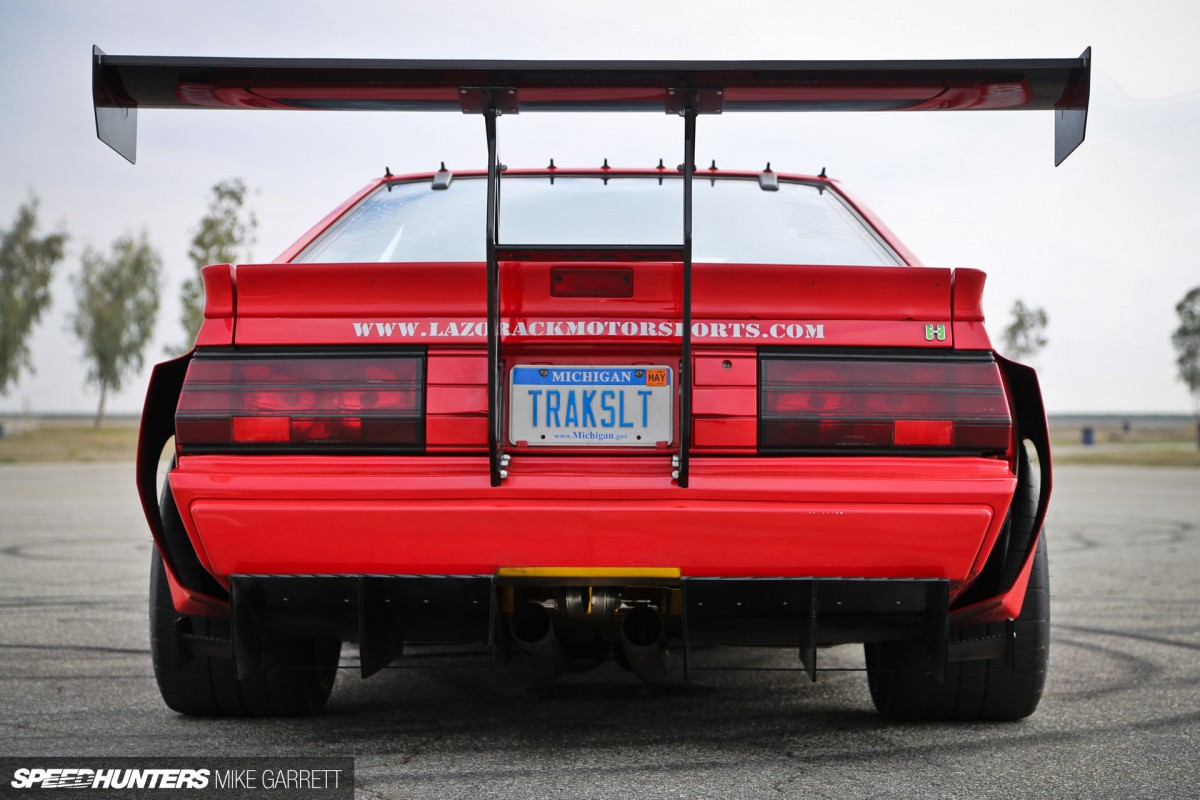 Elsewhere on the exterior you'll find an APR GT250 rear wing with custom-built stands and a rear diffuser. Up front is a custom-built adjustable splitter with aero canards and a vented hood.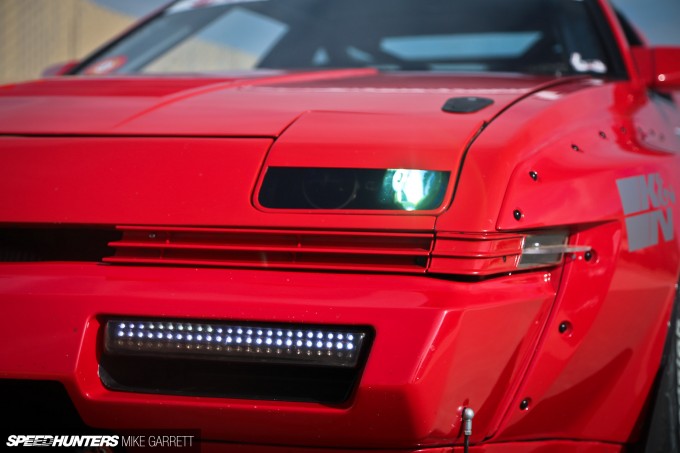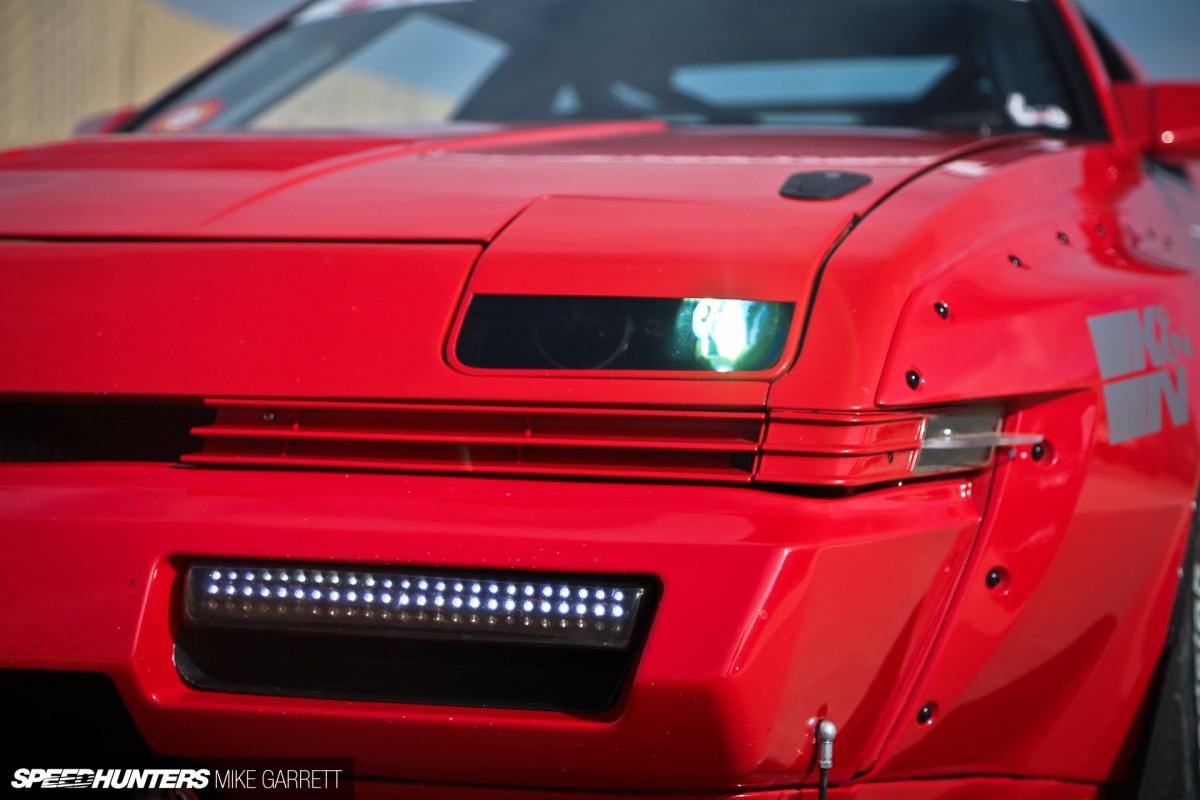 Other touches include a set of custom HID projector headlights mounted in the original pop-up locations and a set of trick LED running lights and fog lamps.
Road Trips, Track Days & More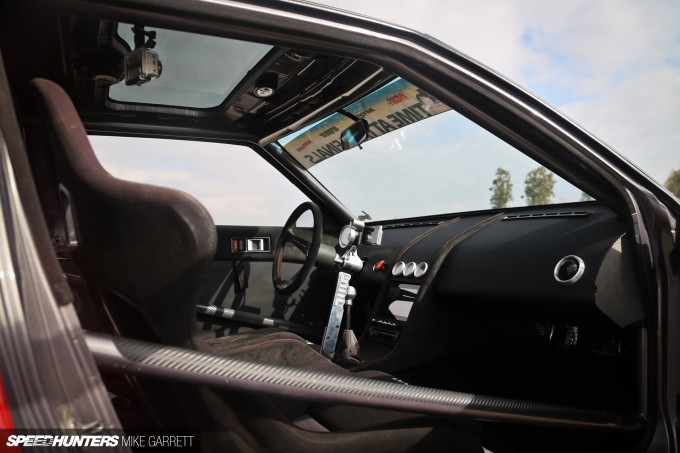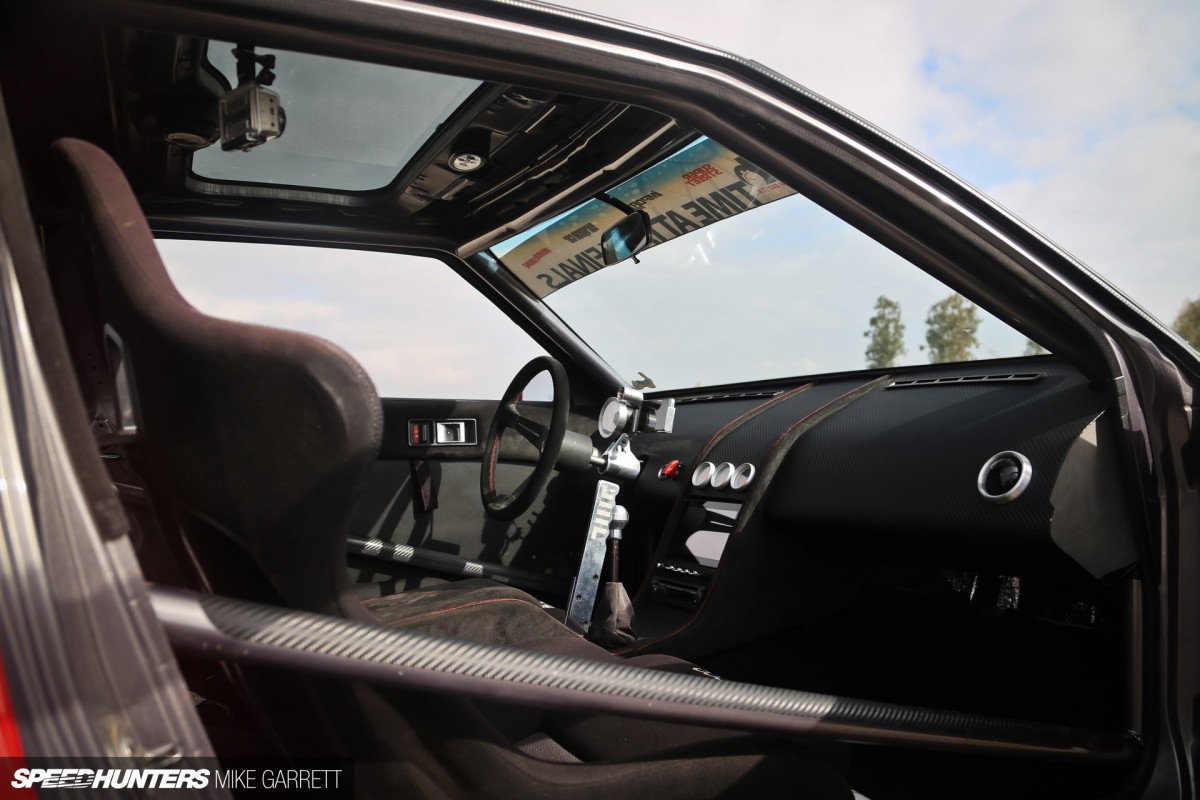 One of the most impressive aspects of the entire car is actually the interior. Over the course of the build John reinvented the entire cockpit with a focus on keeping things lighter, cleaner and simpler than stock. Using a mixture of aluminum, carbon fiber and a suede material, he fabricated a new dashboard with a simplified instrument layout and an integrated Samsung tablet PC.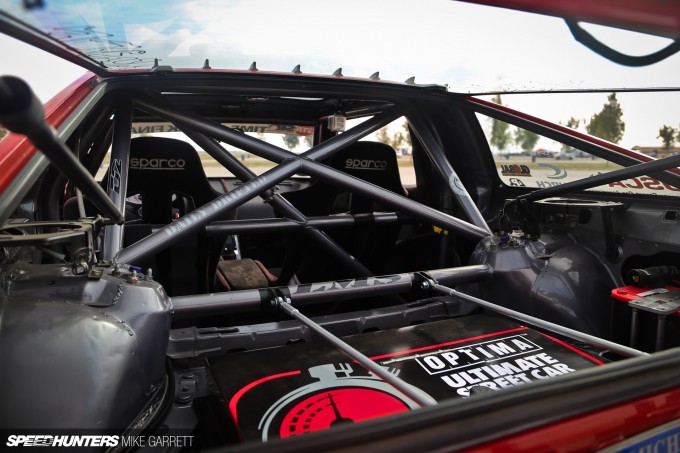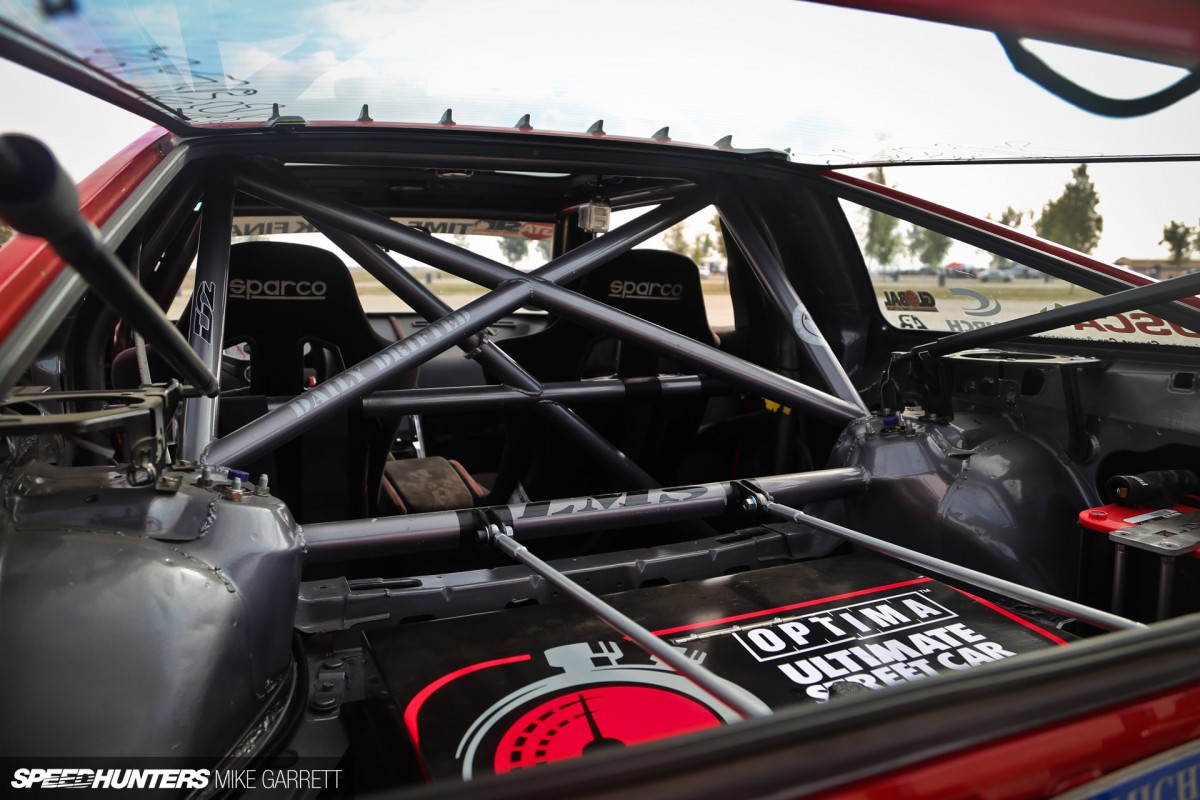 Because track days were in John's plans for the car, he also digitally designed a full 10-point roll cage that was built by the chassis wizards at Art Morrison.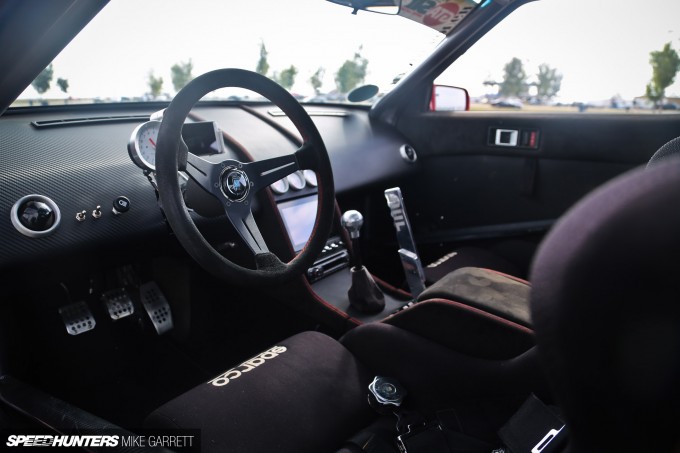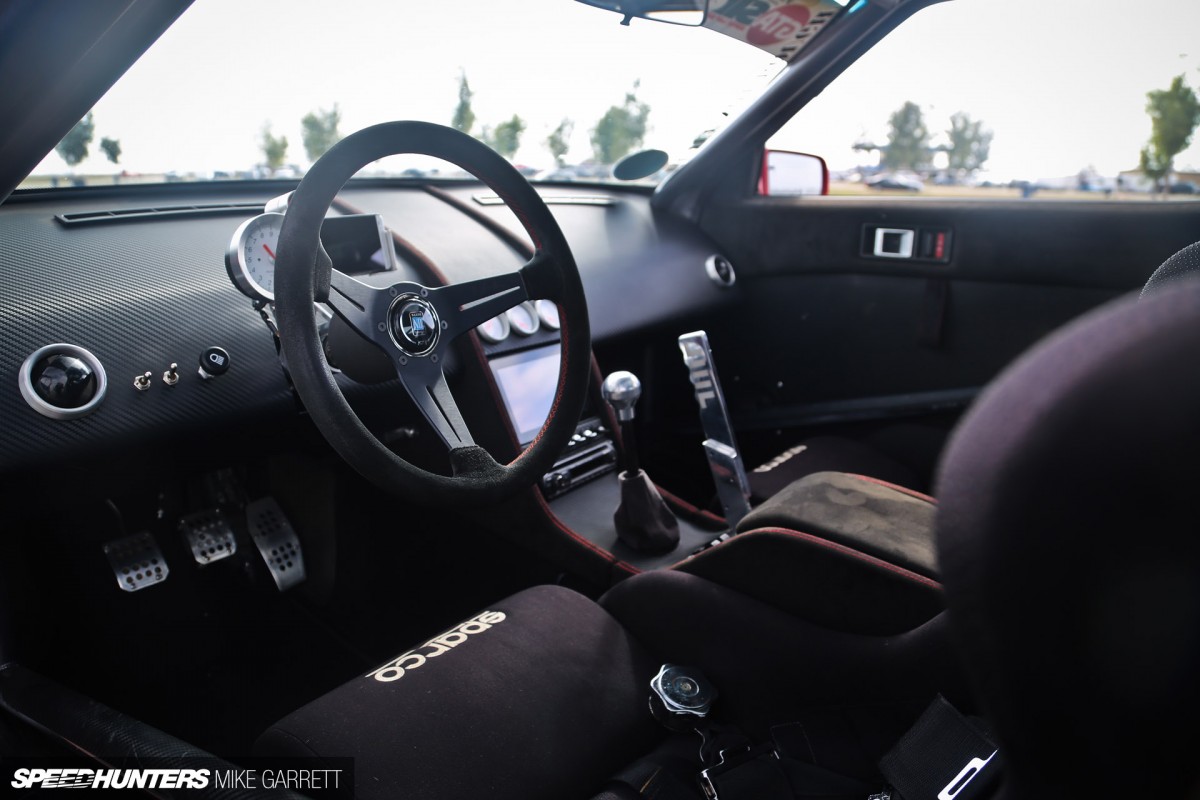 Elsewhere in the interior you'll find a pair of Sparco Evo-L bucket seats with Corbeau harnesses and a deep-dish Nardi steering wheel with a suede-wrapped rim.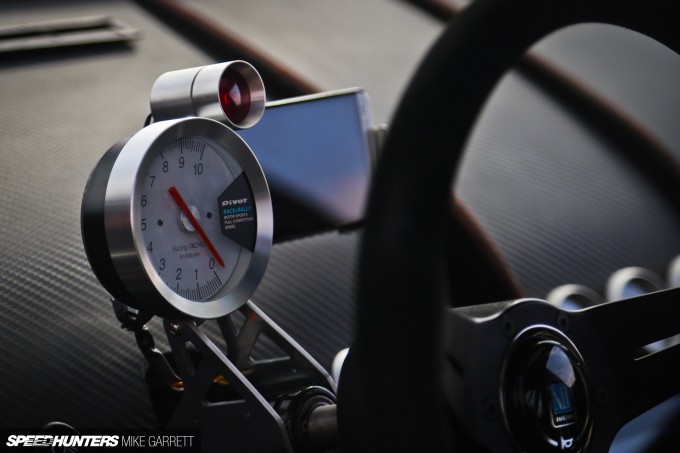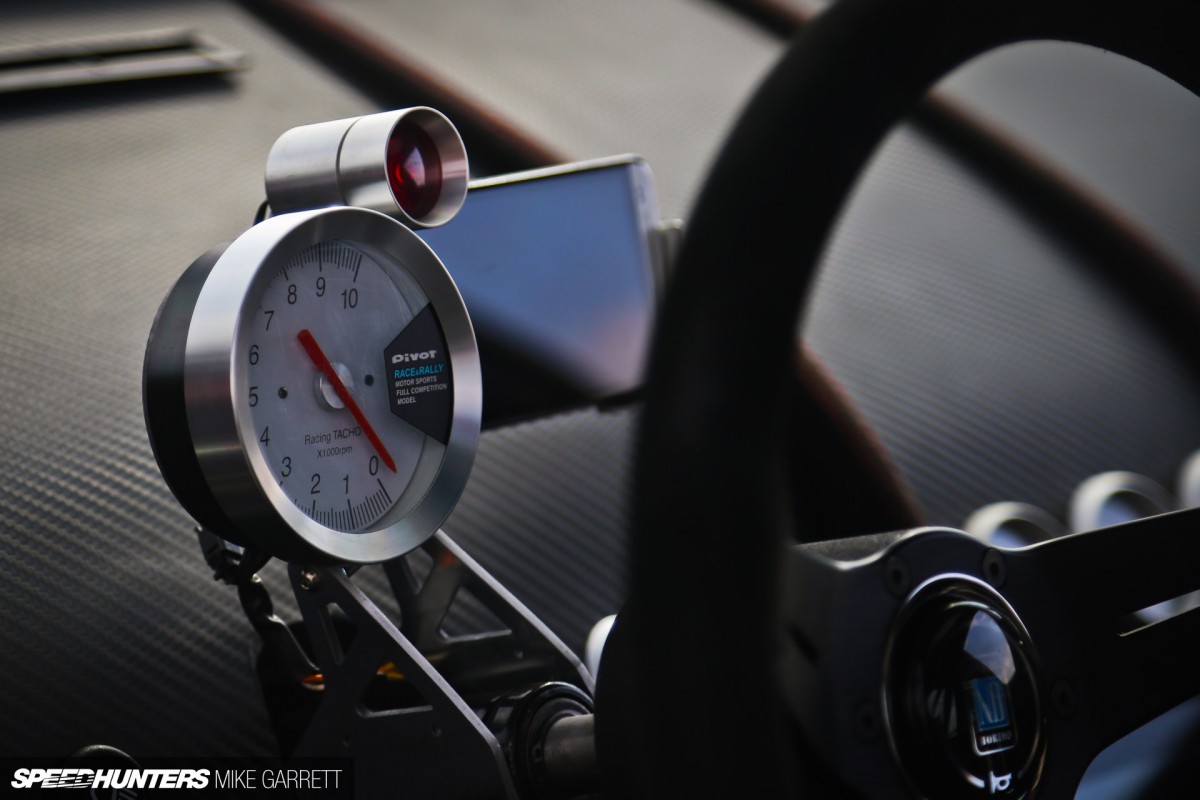 I especially like the placement of the Pivot tachometer and smartphone mount that's directly in the driver's line of sight.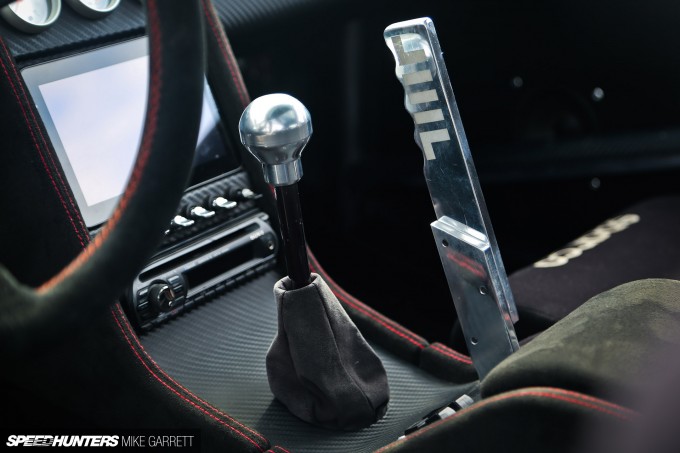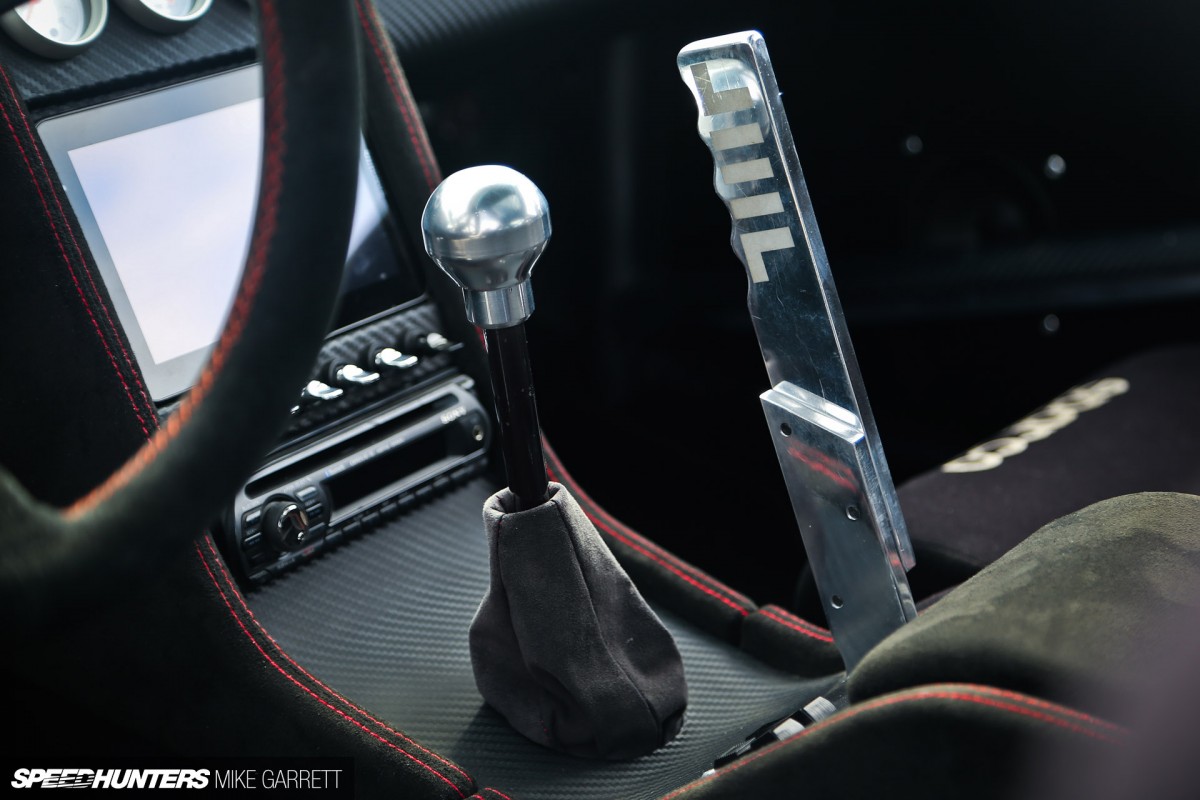 The Tremec T56 6-speed transmission has been fitted with a custom-made short throw shifter, and you can also spot the lever for the car's hydraulic handbrake system. Yep, that's right – John also likes to take his car out to the occasional drift event.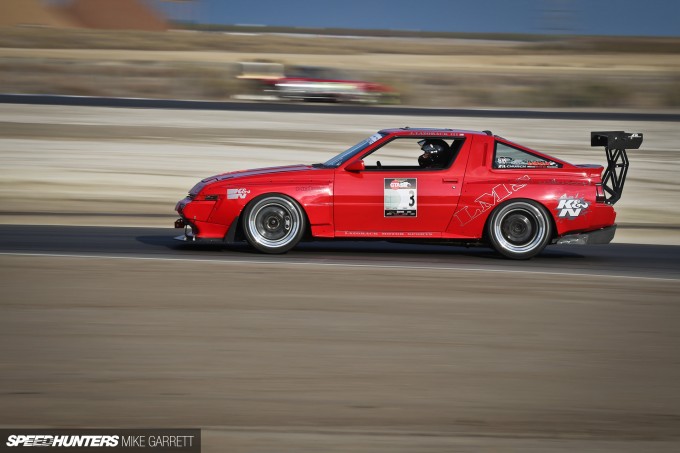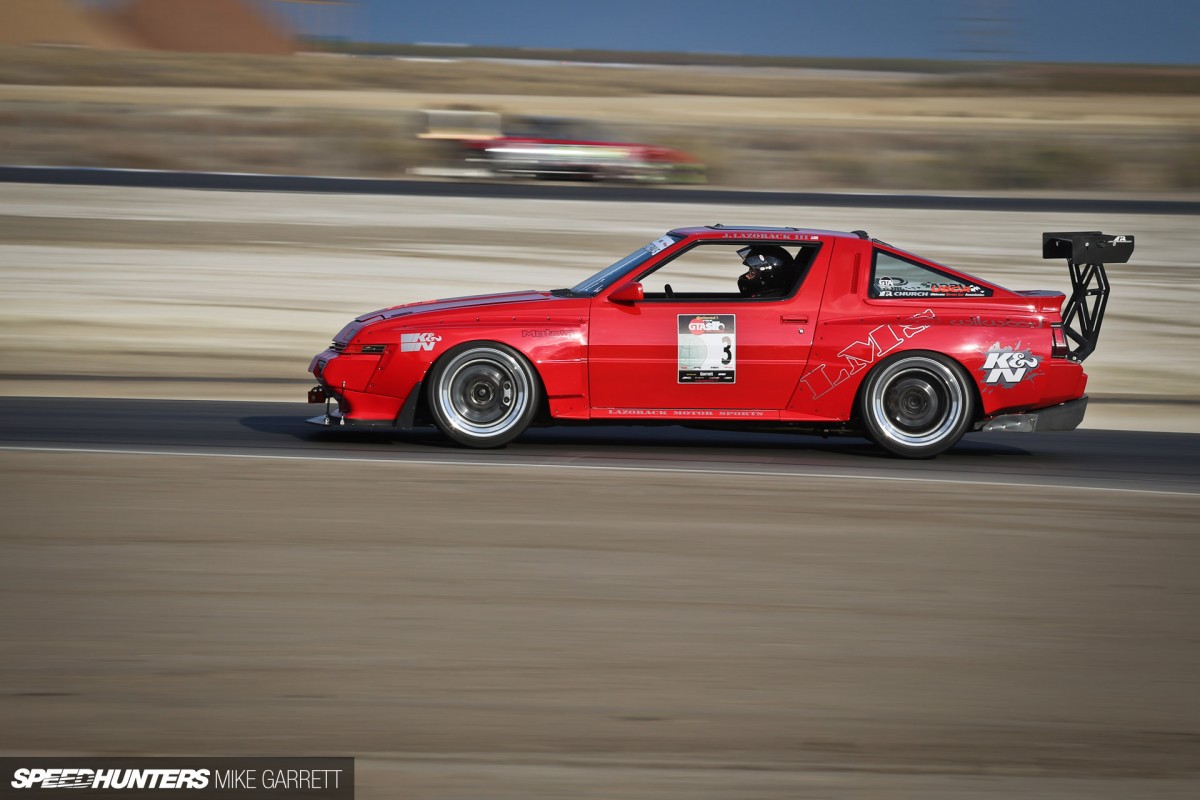 Up until a couple of months ago he was using the car everyday, but now he usually only drives it to track events. John says he typically hits two track days a month, and the homebuilt machine can also be found competing in series like the Optima Street Car Challenge and Global Time Attack.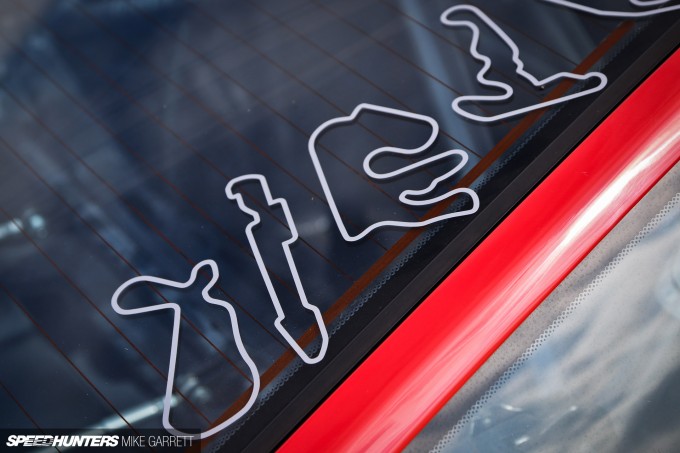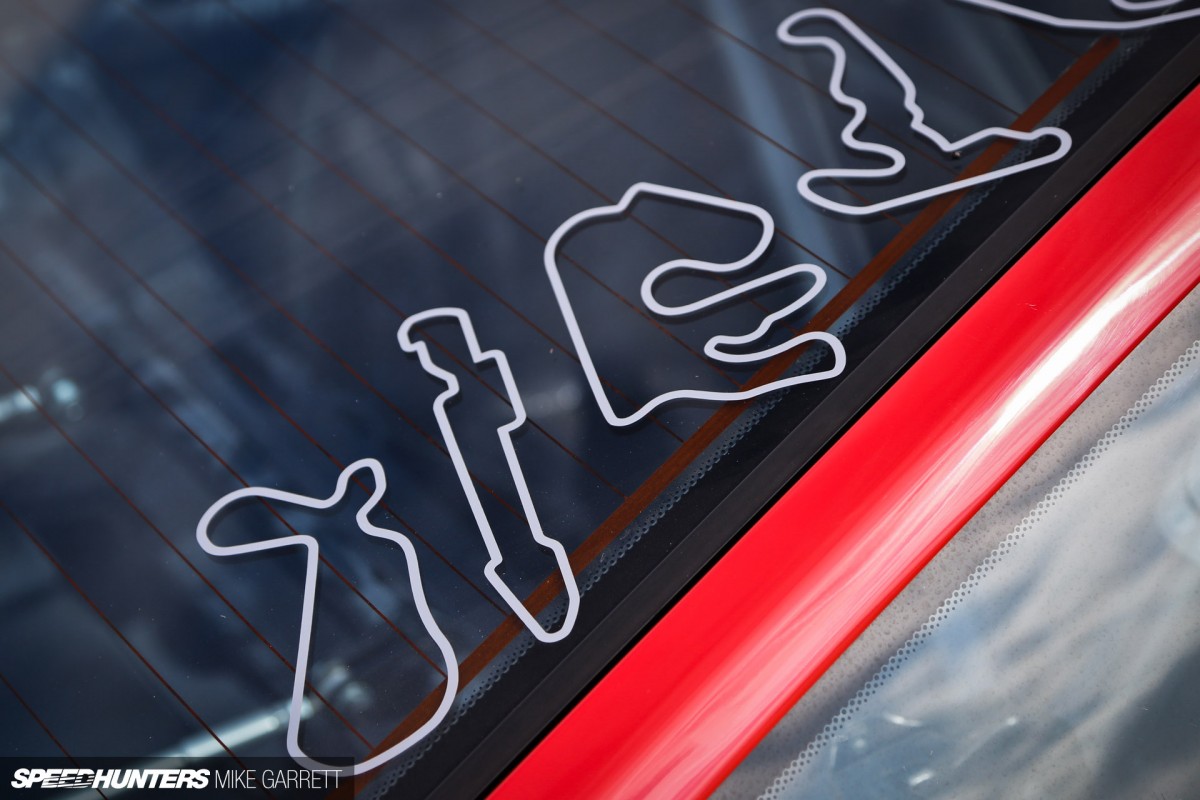 He's also logged thousands of miles on cross-country road trips, hitting up some of America's greatest racetracks and driving roads along the way. In a cool touch, John actually has decals of all the track he's driven applied to the rear window. Which ones can you recognize?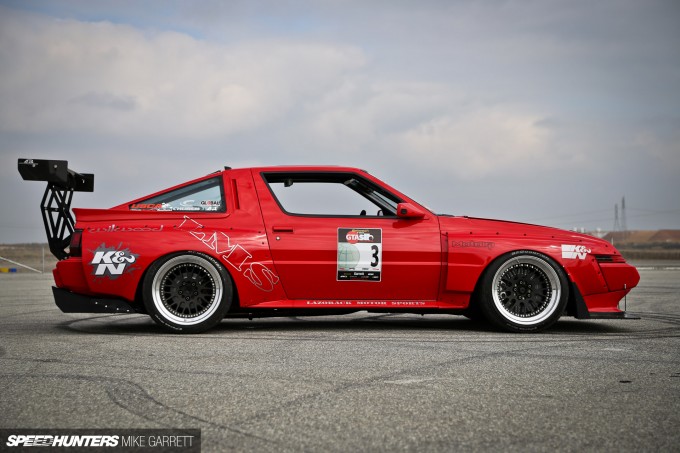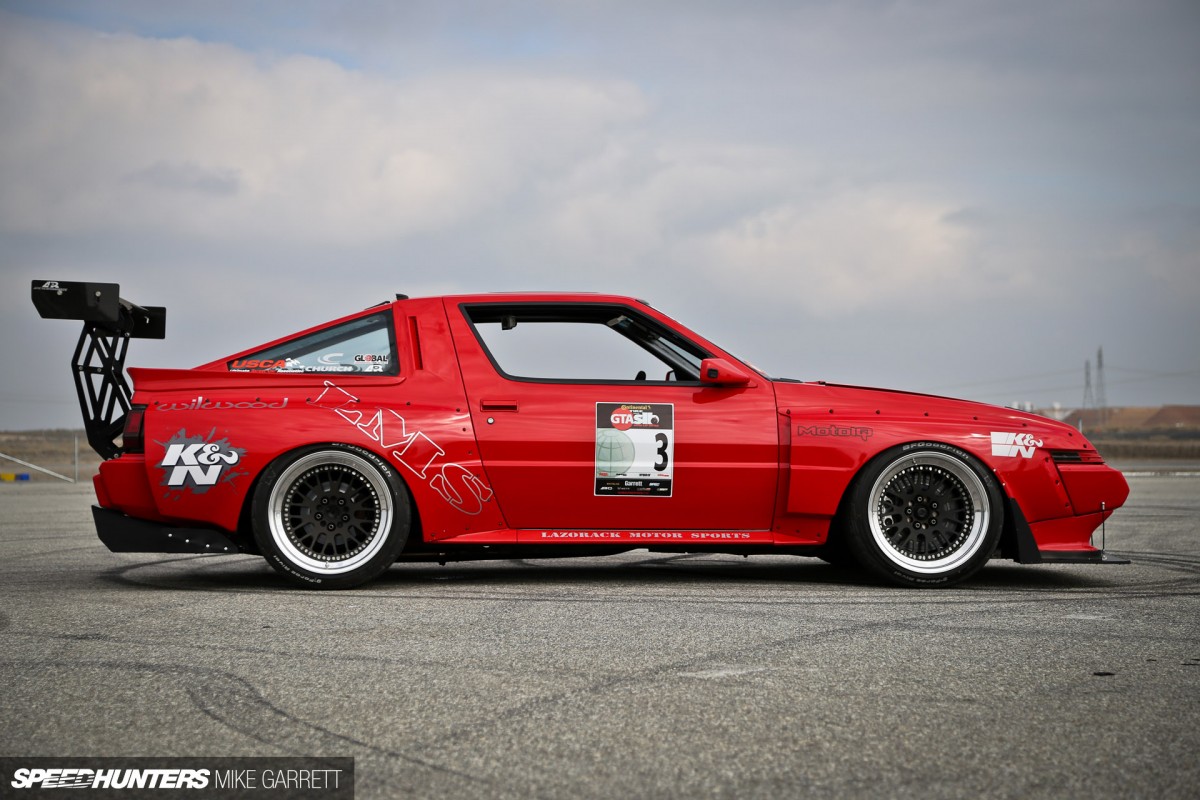 Everything John's done to his Conquest has been in some way inspired by something seen on another racecar or supercar. Every track day he attends, he learns something new about the car, and all of this knowledge gets funneled back into the build itself.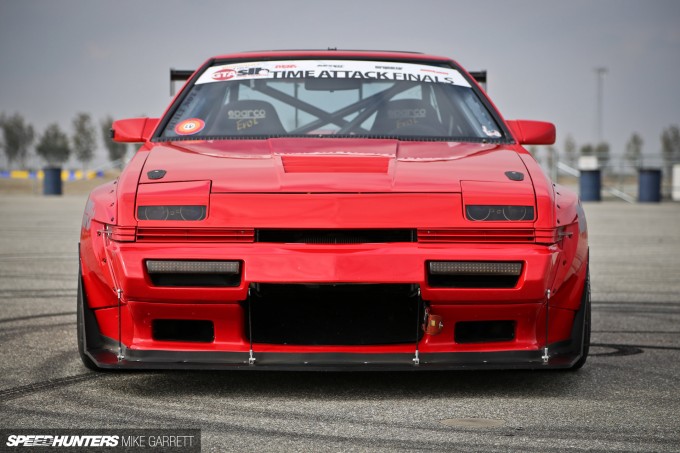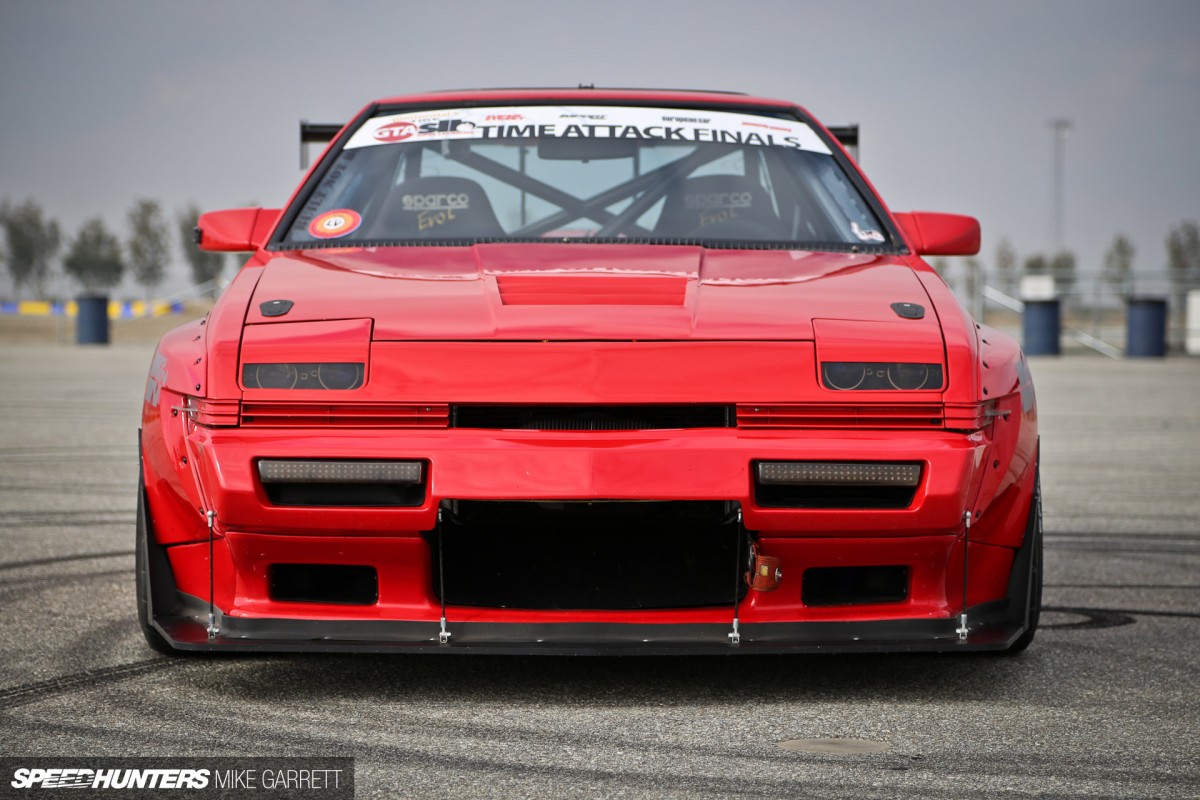 The car is a constantly evolving project and this off-season it's going under the knife for some big improvements. Aside from the aforementioned brake upgrade, John's also planning to rework the car's aero setup and to swap over to a more powerful engine. He very much likes the idea of staying naturally aspirated, so I wouldn't be surprised to see an LS7 lurking under the bonnet soon…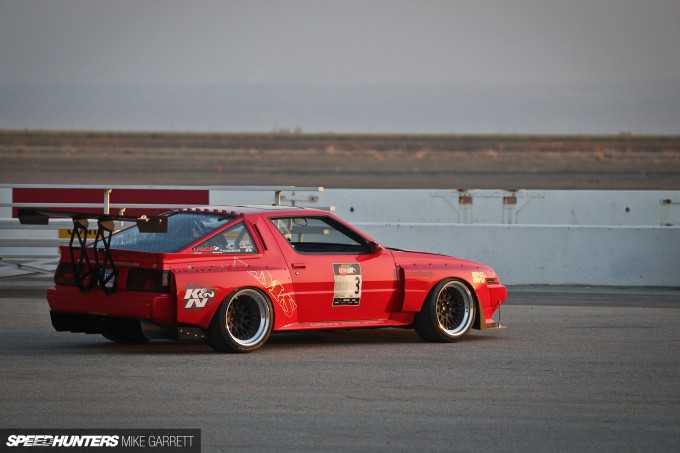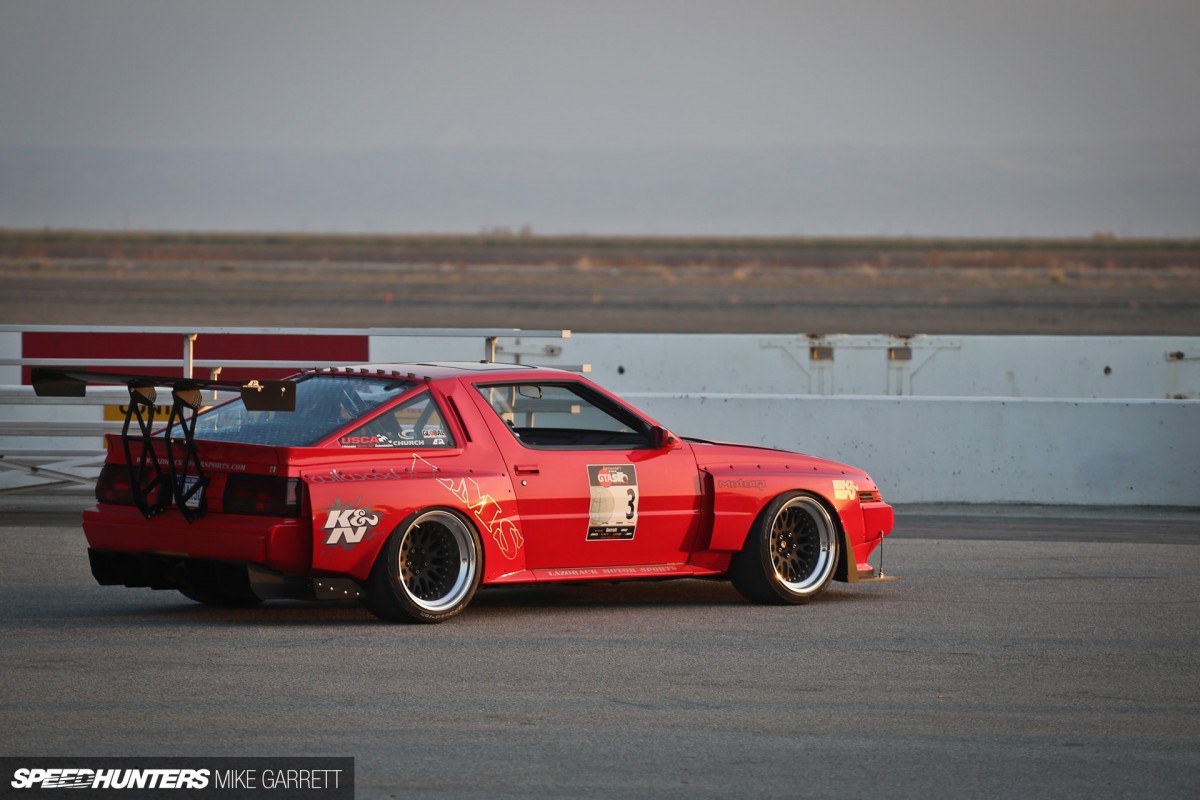 For me it's tough to think of a positive quality that John's car doesn't have. It's quick, it's balanced, it's street friendly, it's cool looking and it's extremely unique. It's not a big-budget fantasy build, and its grassroots, homebuilt ethos is nothing short of inspirational.
We only have a handful of days left before we say goodbye to 2014, but hey why not save the best for last?
Mike Garrett
Instagram: speedhunters_mike
mike@speedhunters.com