Junkyard Hero
We are human beings. We like fast cars. We like cool-looking cars. We really like fast, cool-looking cars. And apparently for some reason, we also love to look at photos of said cars being wrecked.
It's just the way things go. If some guy out there happens to crash his Ferrari or McLaren, you can bet there'll be someone with a cell phone camera to capture the damage – and soon it'll be making the rounds on car blogs and social media feeds. It's almost as if destroying your brand new supercar isn't enough humiliation.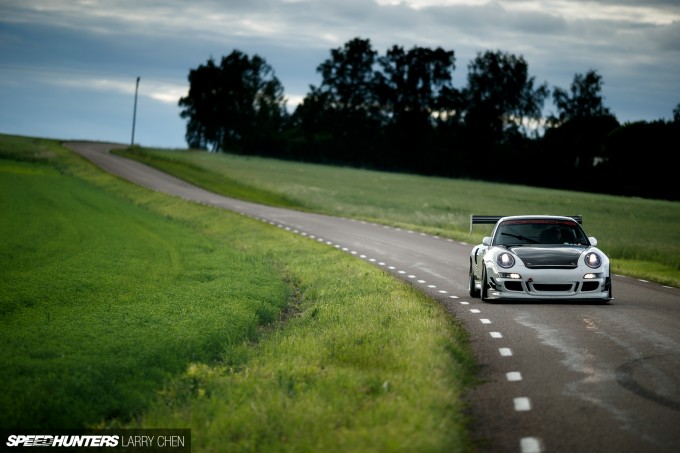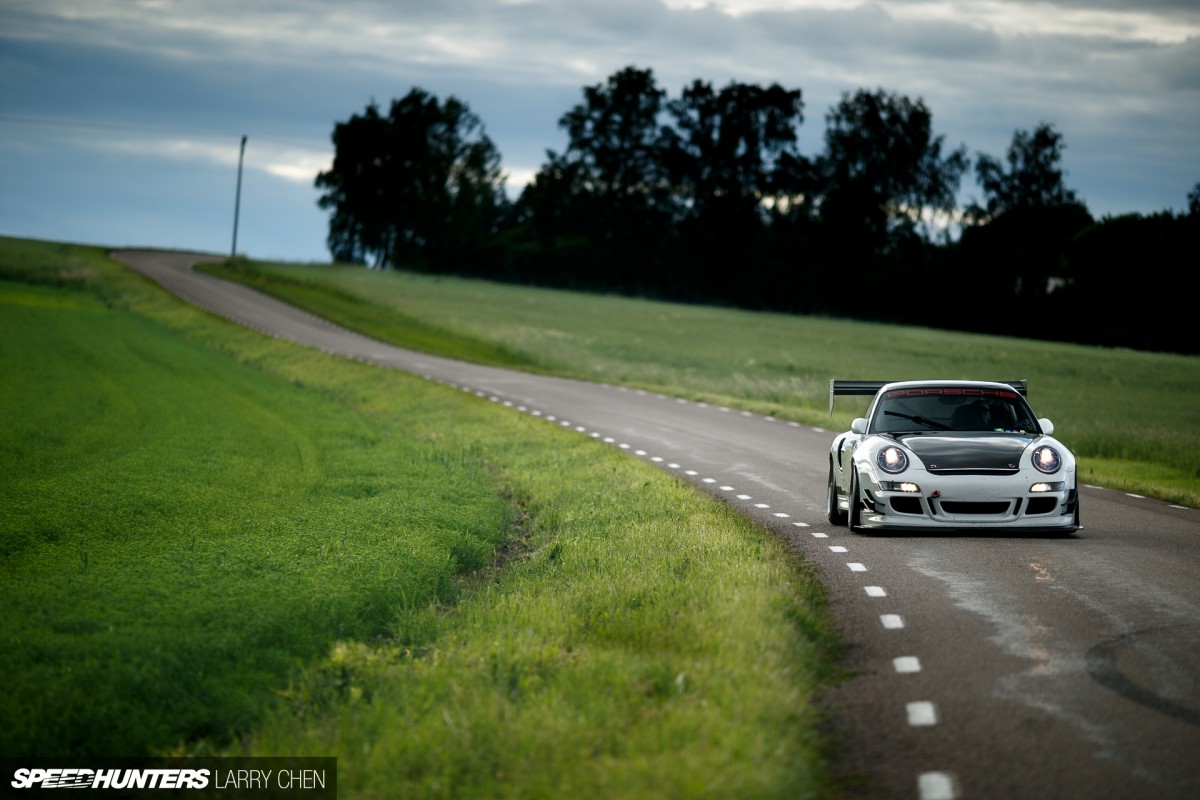 There's even a huge website dedicated entirely to posting pictures of smashed-up sportscars, and I'm sure its page-view numbers aren't small. Whether it's a simple, if slightly morbid, sense of curiosity, a touch of envy, or something else – people can't resist looking at photos of their dream cars crumpled and in pieces.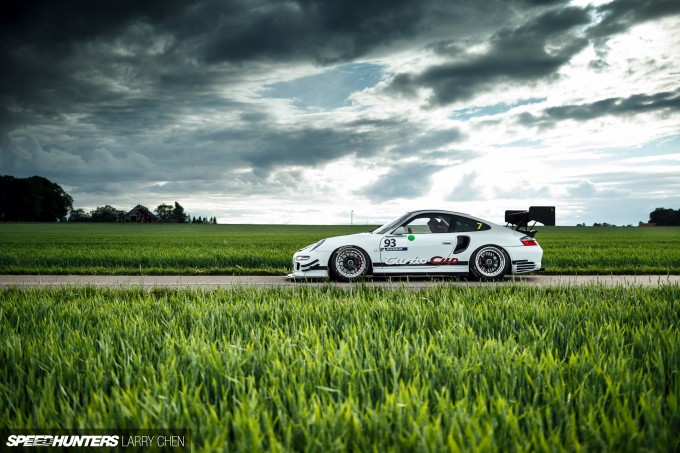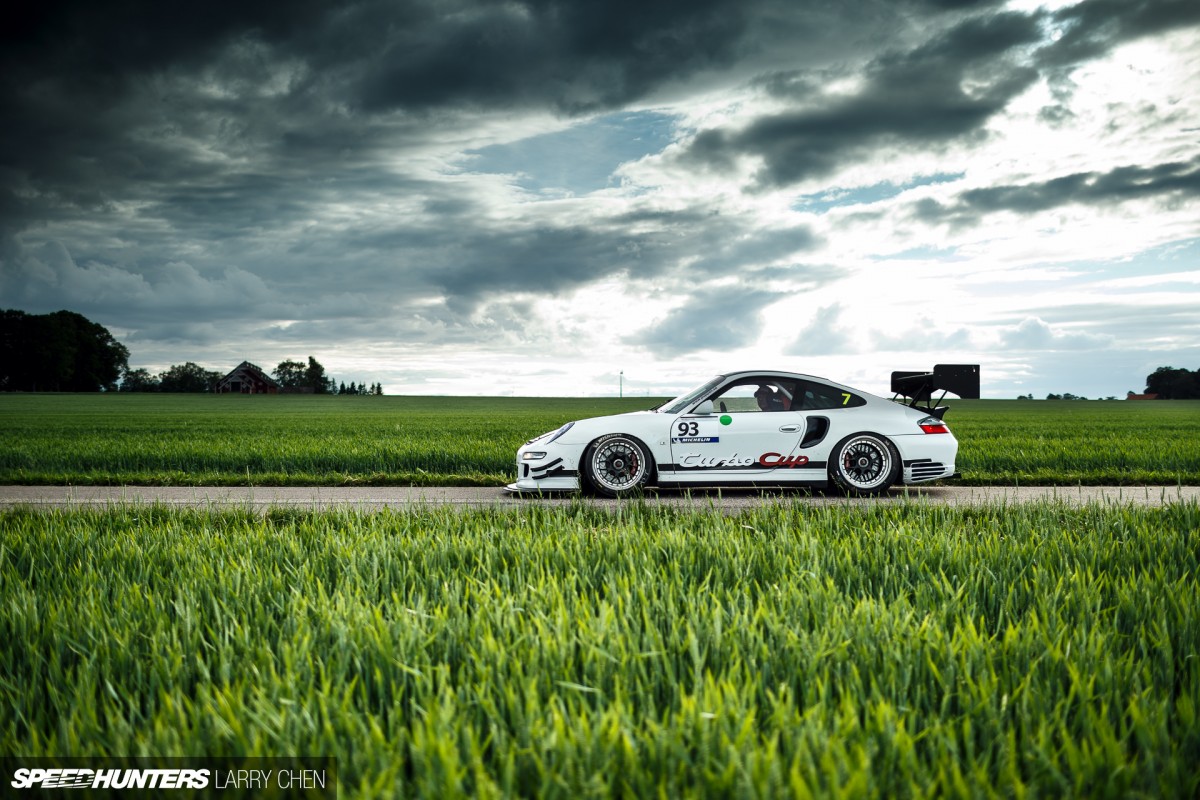 The car you see here actually started off as one of those wrecks. The year was 2007 and a Stockholm resident by the name of Peter 'Puppan' Eriksson came across a crashed Porsche 996 that probably could have been considered more of an automotive corpse than simply a wrecked car.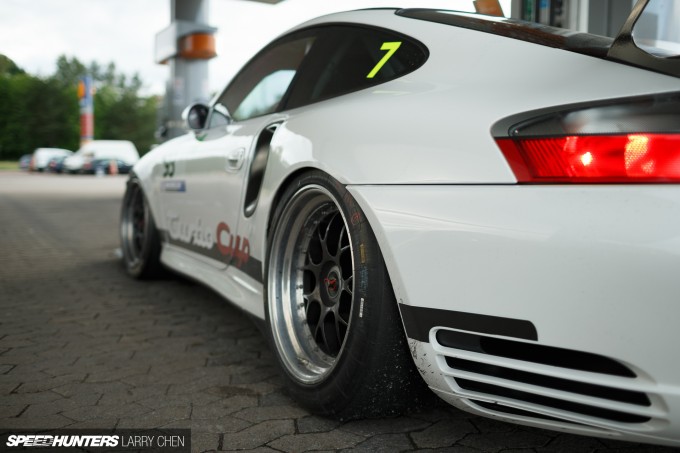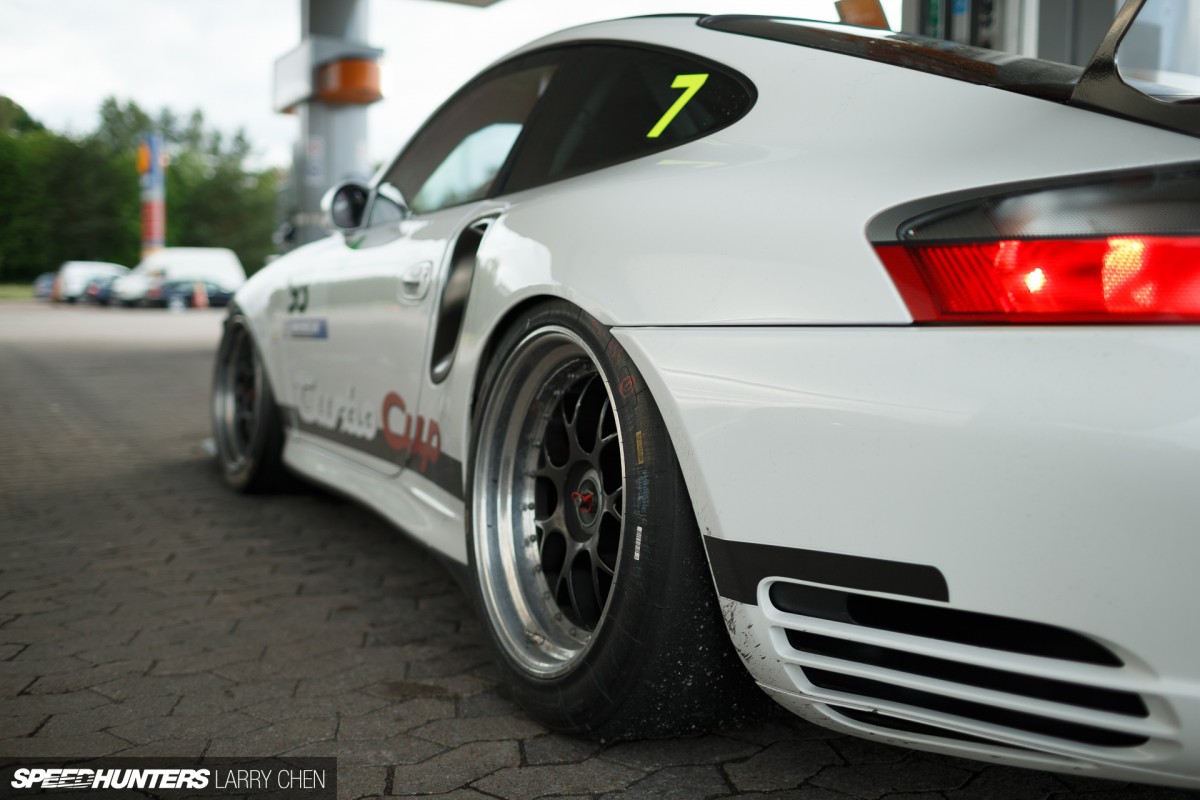 The Porsche was completely destroyed. Both ends of the car were mangled, the rear section of the roof had caved in and the entire front suspension and been torn off. The driver was lucky to have escaped without serious injury.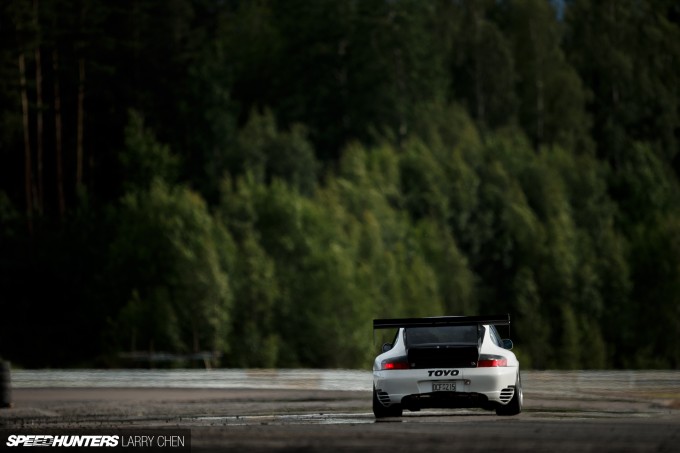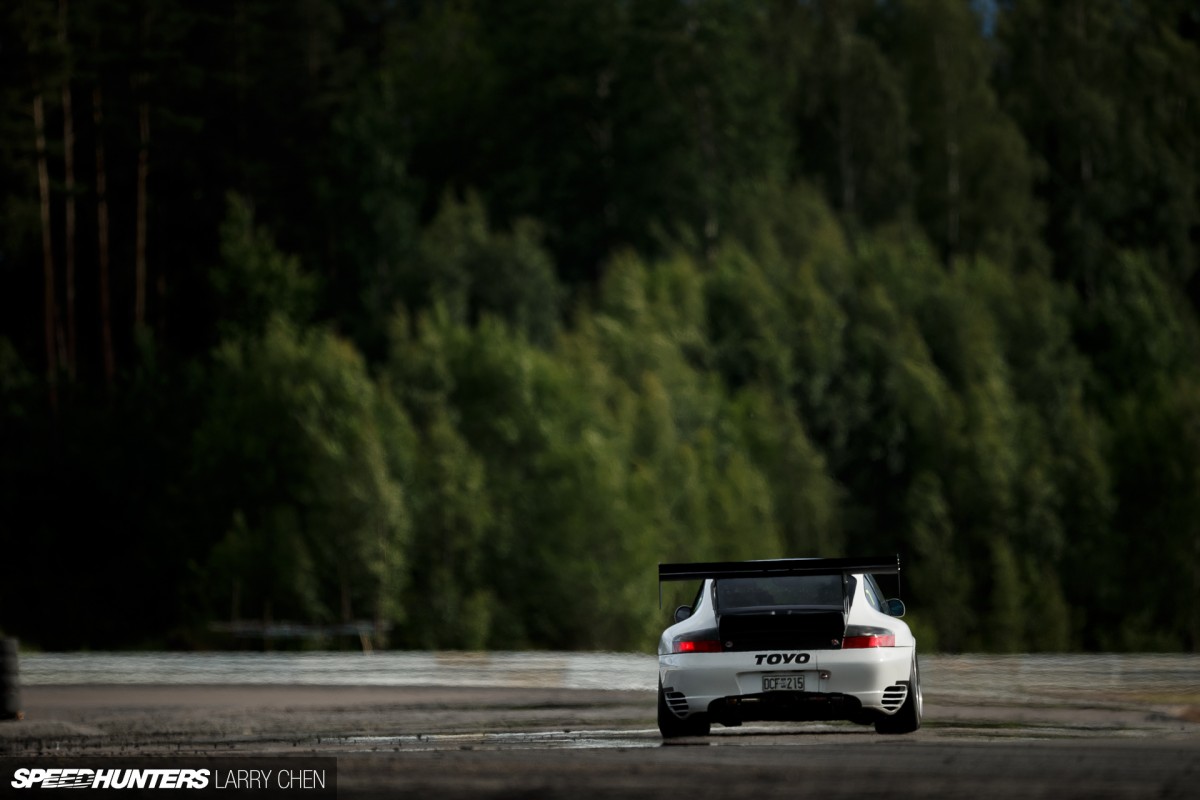 Most people would have written off the car completely – pulling off the few salvageable parts that were left and sending battered chassis off to the scrapper. But Peter had a different idea. Rather than a Porsche that saw a premature end, he saw the the wreck as a new beginning; the start of an entirely fresh car building journey.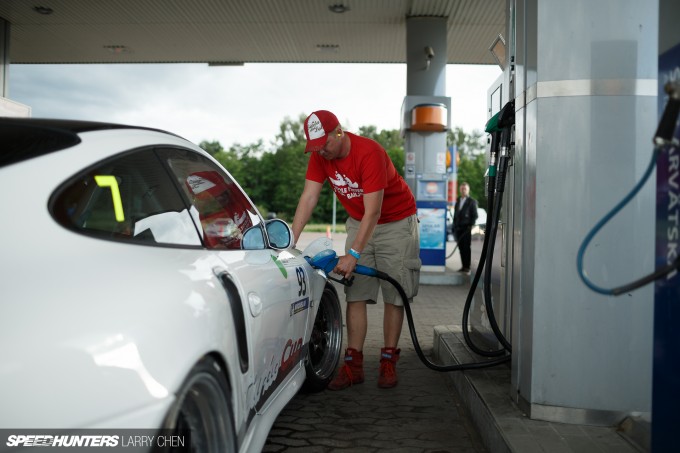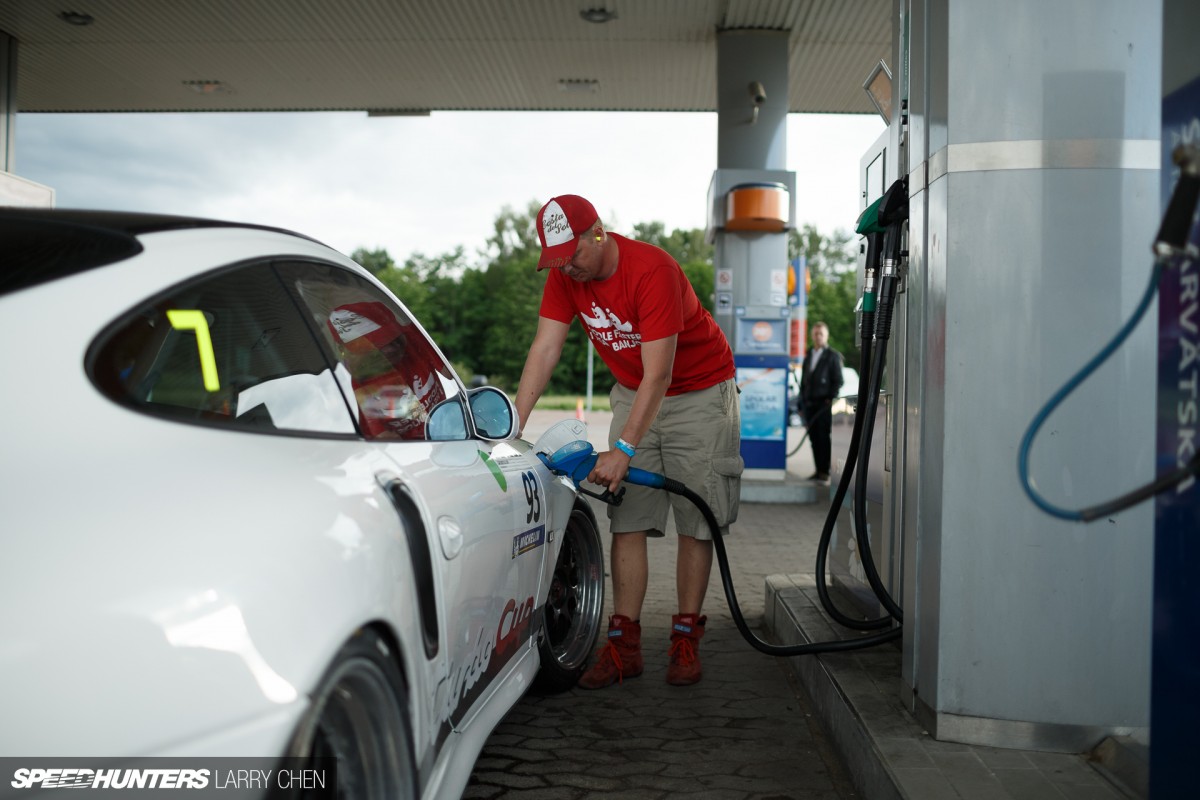 With plenty of confusion coming from those around him, he hauled the 996 carcass to his shop and got to work. Of course, this wouldn't be Peter's first time turning a wrench – he's spent more than 15 years building and racing Porsches – particularly the front-engined models. Prior to the 996, he'd built no less than five 944 Turbos, including one example that was considered one of the fastest street legal vehicles in Sweden.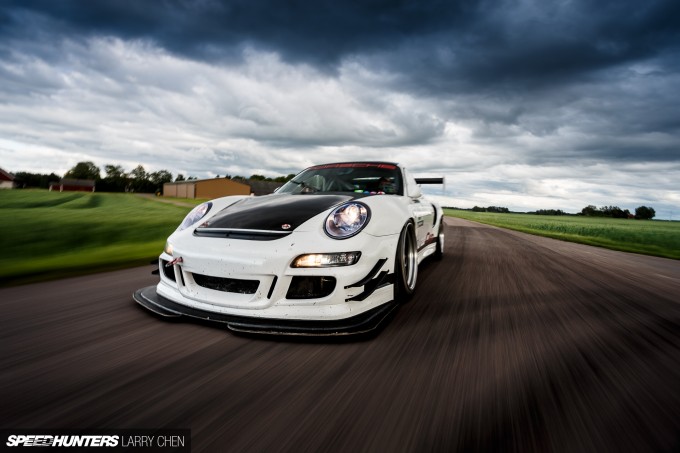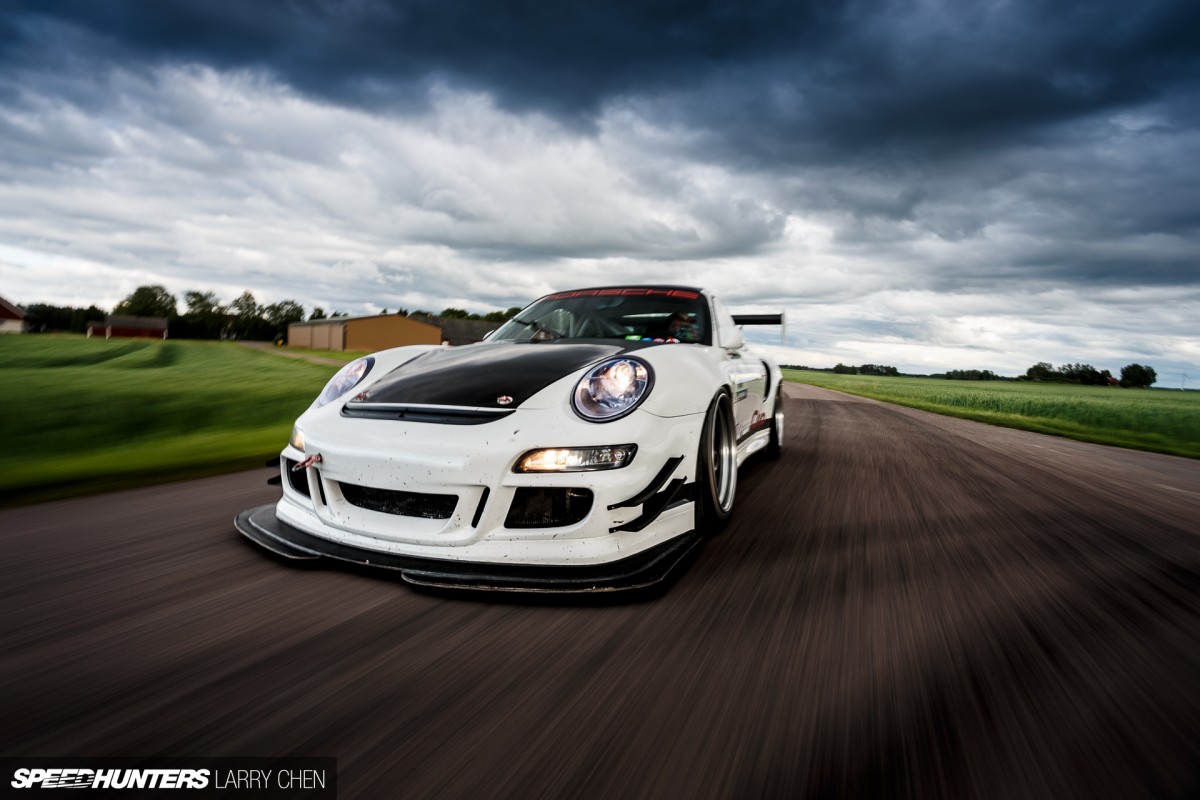 But bringing this Porsche back from the dead was going to an ambitious project even by his standards. Peter's goal wasn't to restore or repair the 996 to its former glory – if he wanted to do that he could've easily just gone and bought a mint one for a lot less money than he's invested in this project.
The Resurrection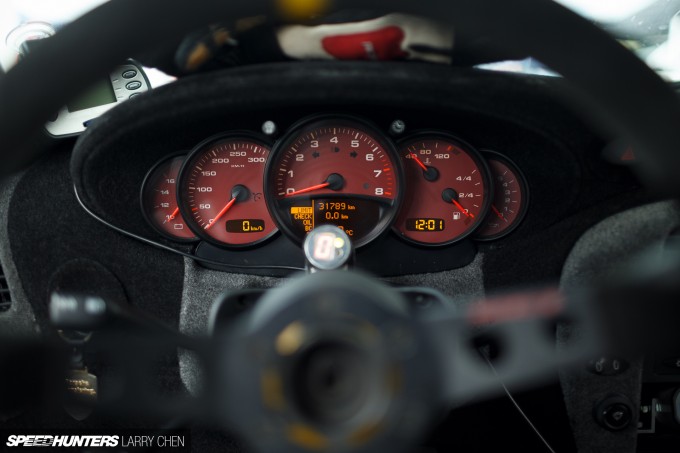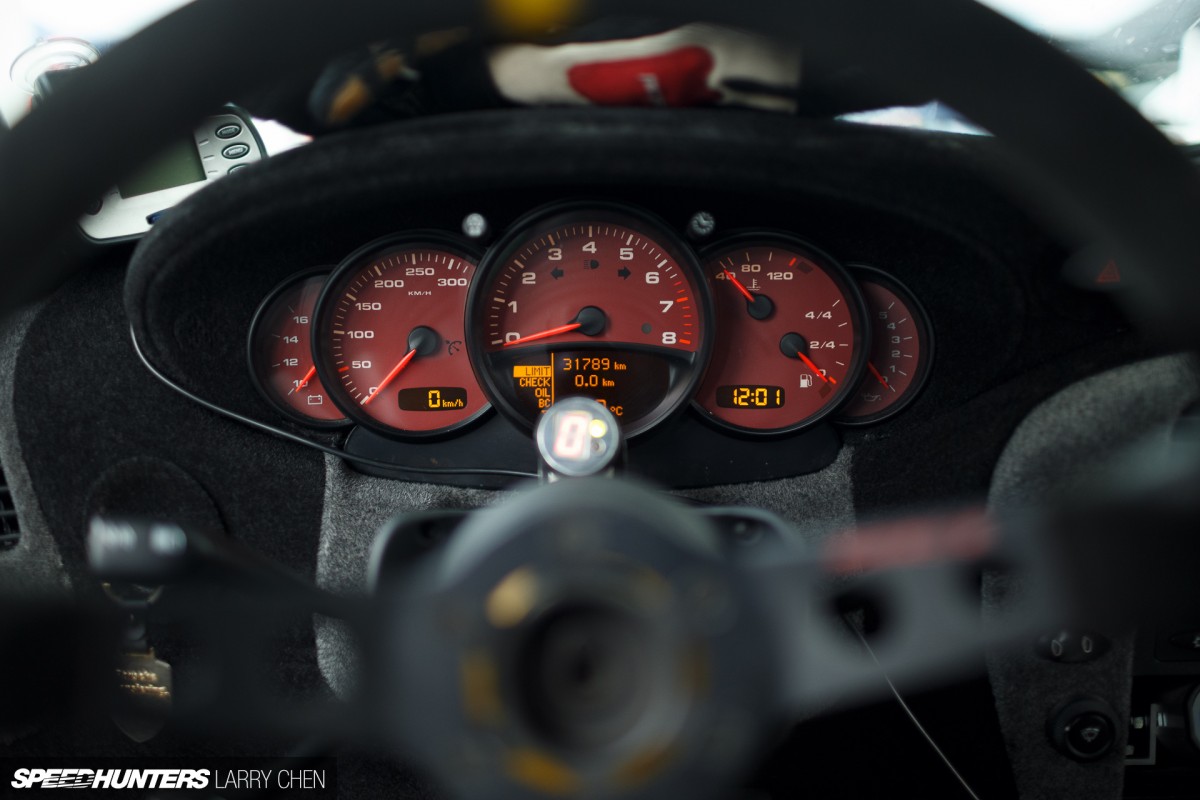 From the very beginning Peter's plan was to use the wrecked car as the platform to build what he saw as the ultimate street-going Porsche 911, with hopes to claim the title of fastest road legal track car in the region.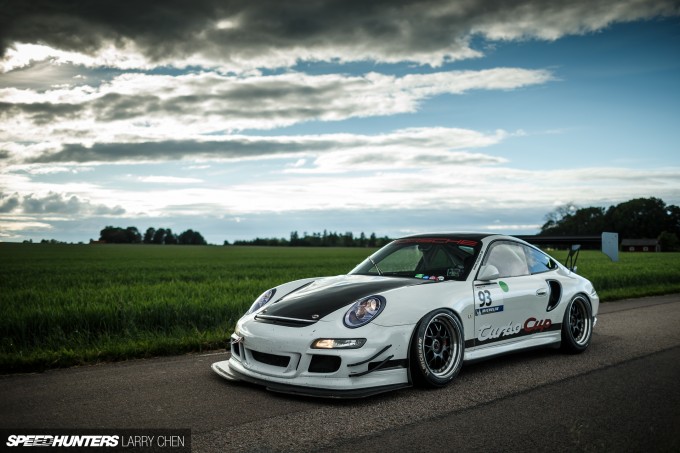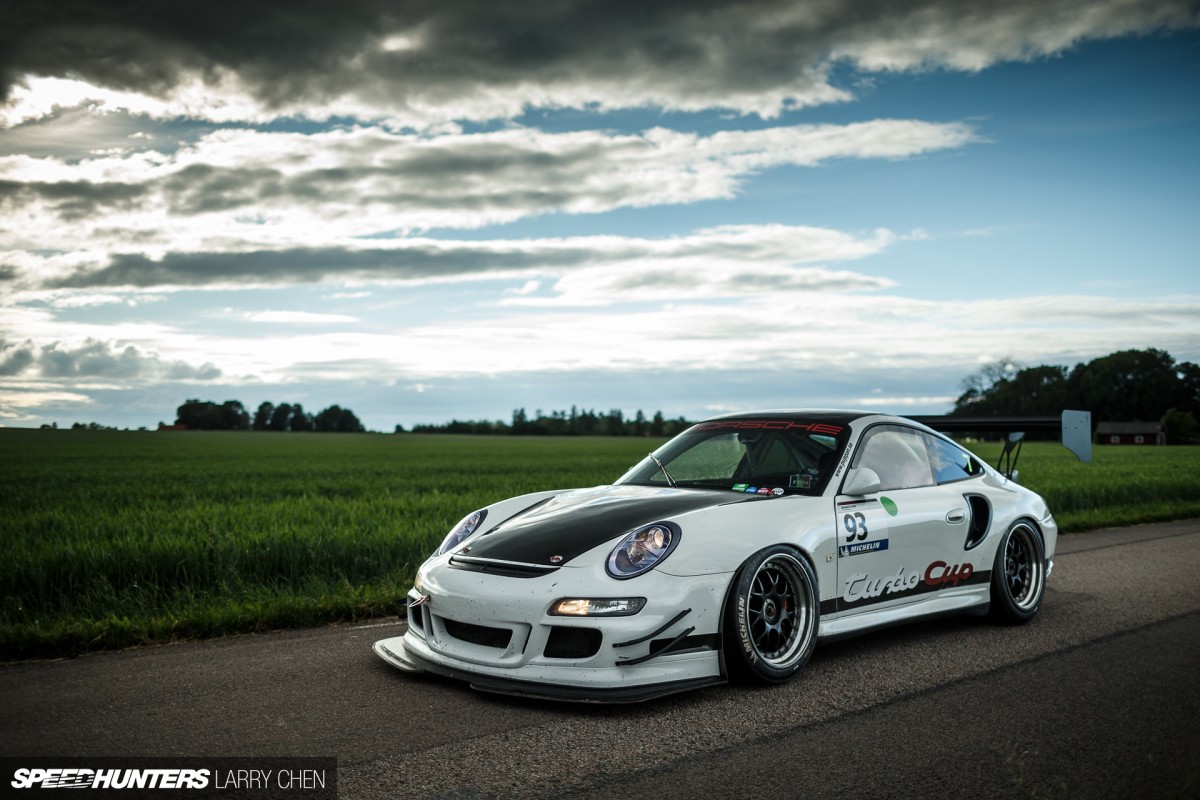 With the wrecked Porsche now in his workshop, Peter and his buddies got together and stripped the car down. And when I say stripped I mean it. Every damaged piece of body structure, suspension and powertrain was cut off and removed until the guys were left with nothing but a bare chassis pan. Thus began a seven year process of building, racing and then rebuilding again with constant improvements along the way. The result of all that work is the machine you see before you now.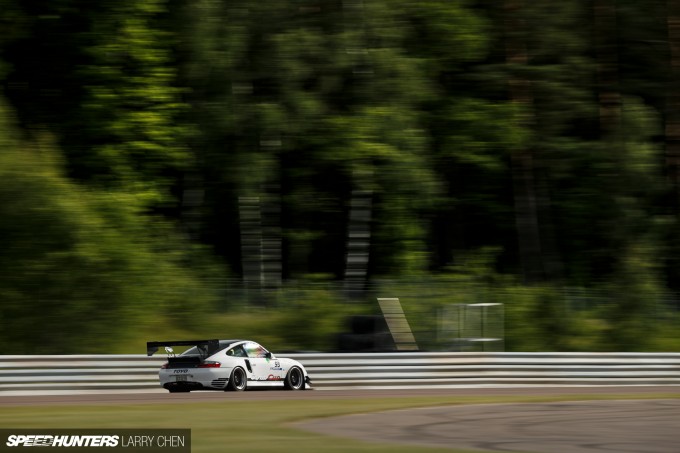 In its current state the car is a complete mash-up of factory Porsche equipment, aftermarket parts and plenty of custom-fabricated components. It carries the resemblance of a Porsche Cup car, but the only rulebook it's been built to adhere to is Peter's own.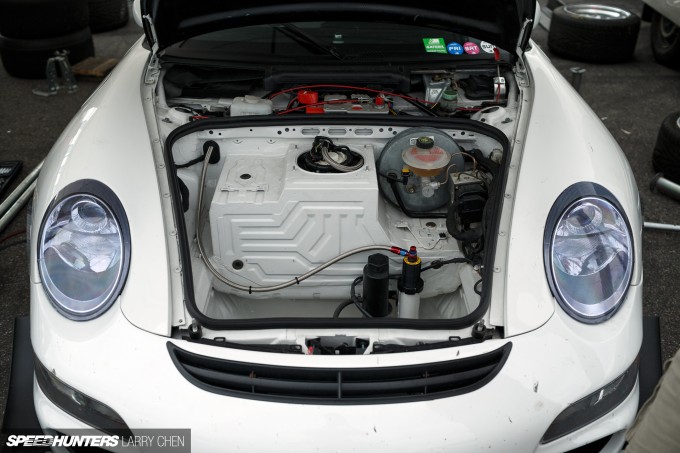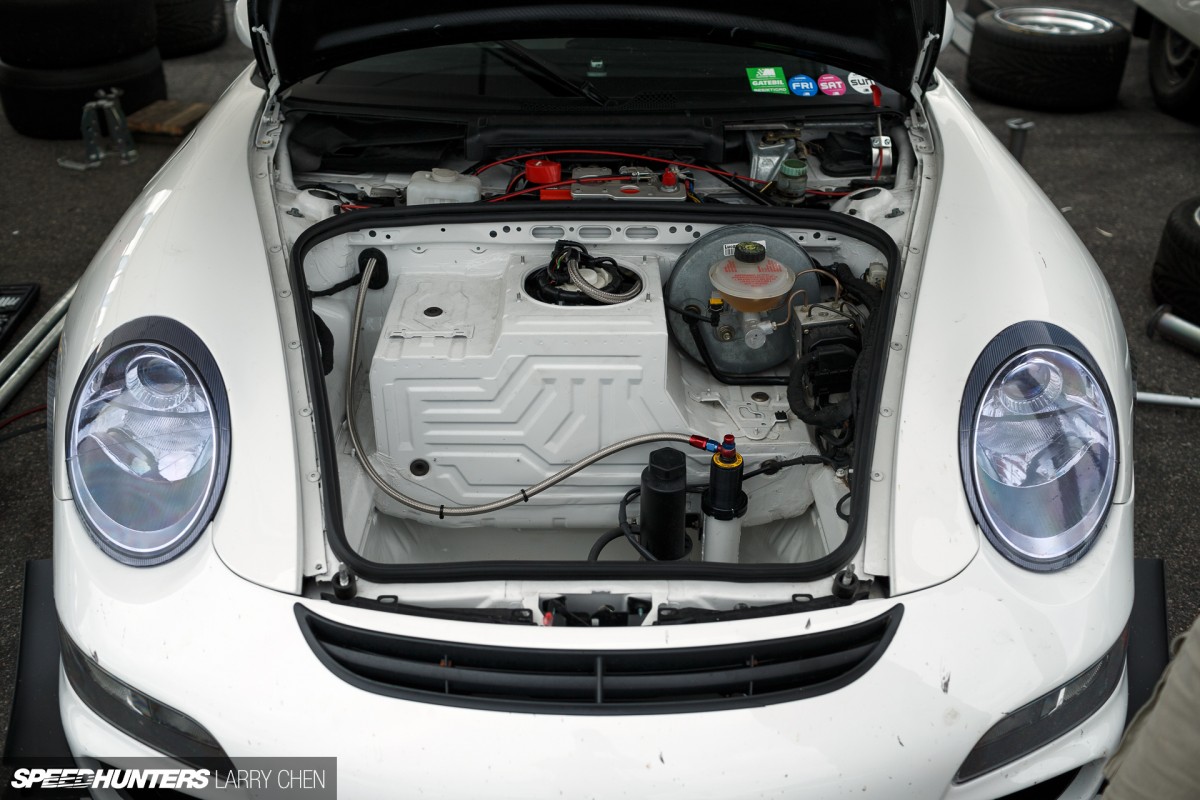 Beginning with the chassis itself, the 996 pan has been fitted with both front and rear subframes and uprights from a 997 Cup car. Peter also built a custom, fully adjustable suspension arm setup based on RSR specs, along with custom top mounts that allow for adjustments without effecting the preload on the springs.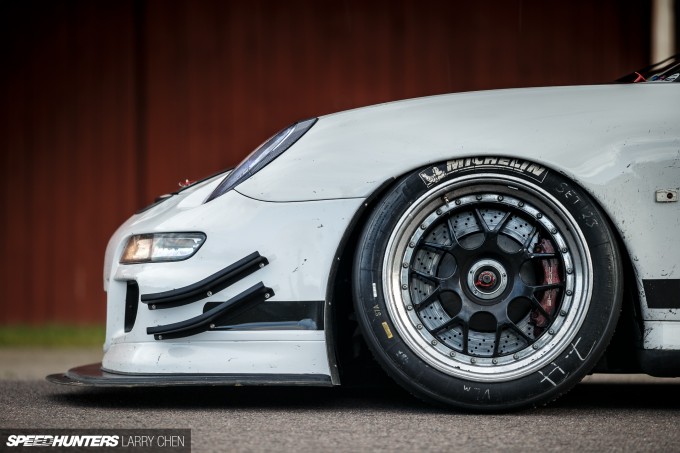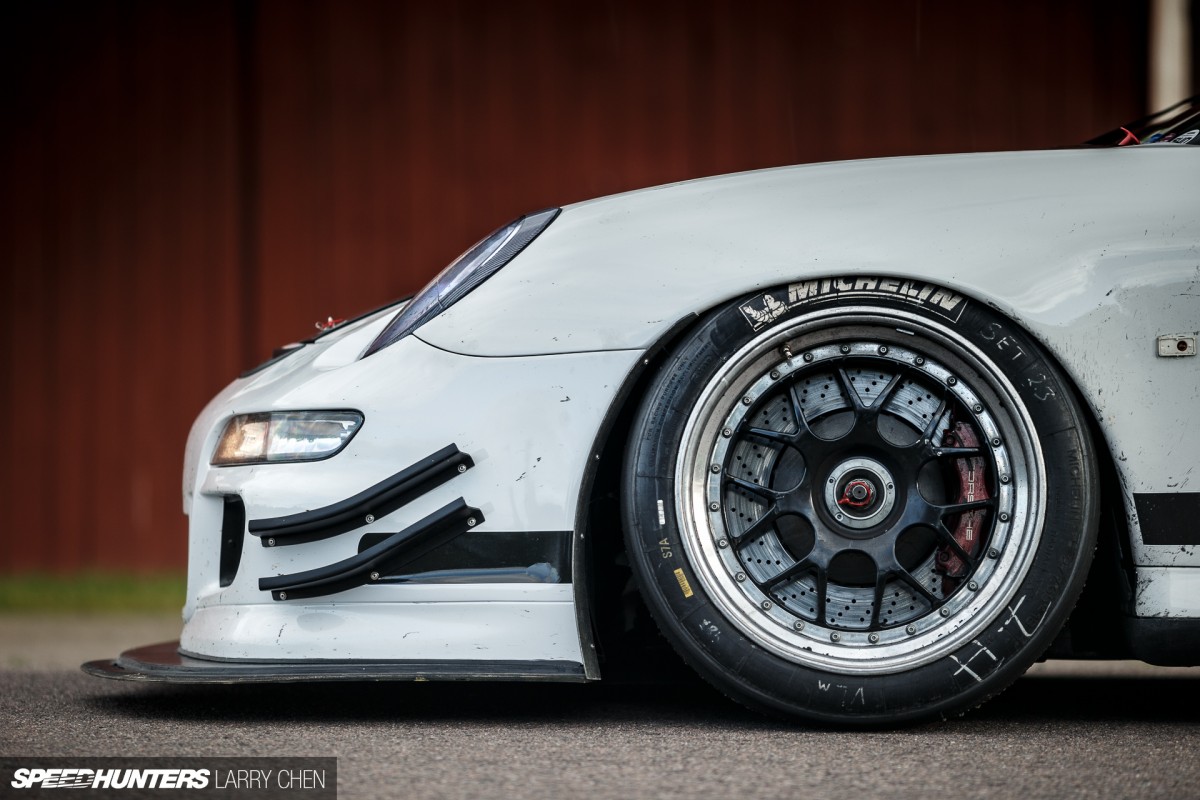 The dampers themselves are 3-way adjustable Öhlins pieces with matching springs. Braking is handled by a set of 6-piston calipers with 380mm rotors up front, and 4-piston calipers with 350mm rotors in the rear. Air jacks have also been fitted for quick maintenance and tire changes.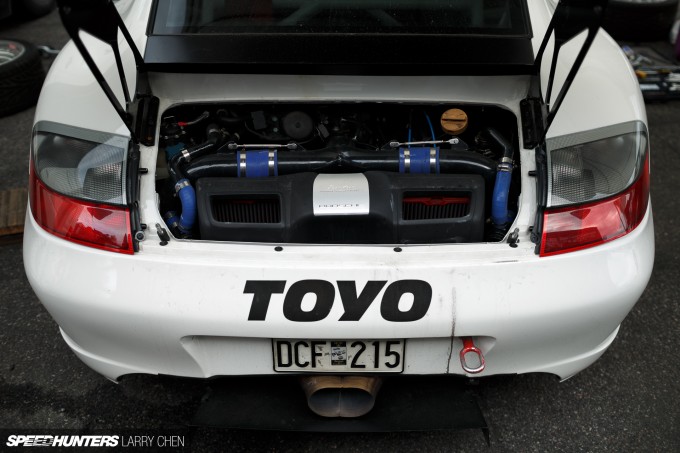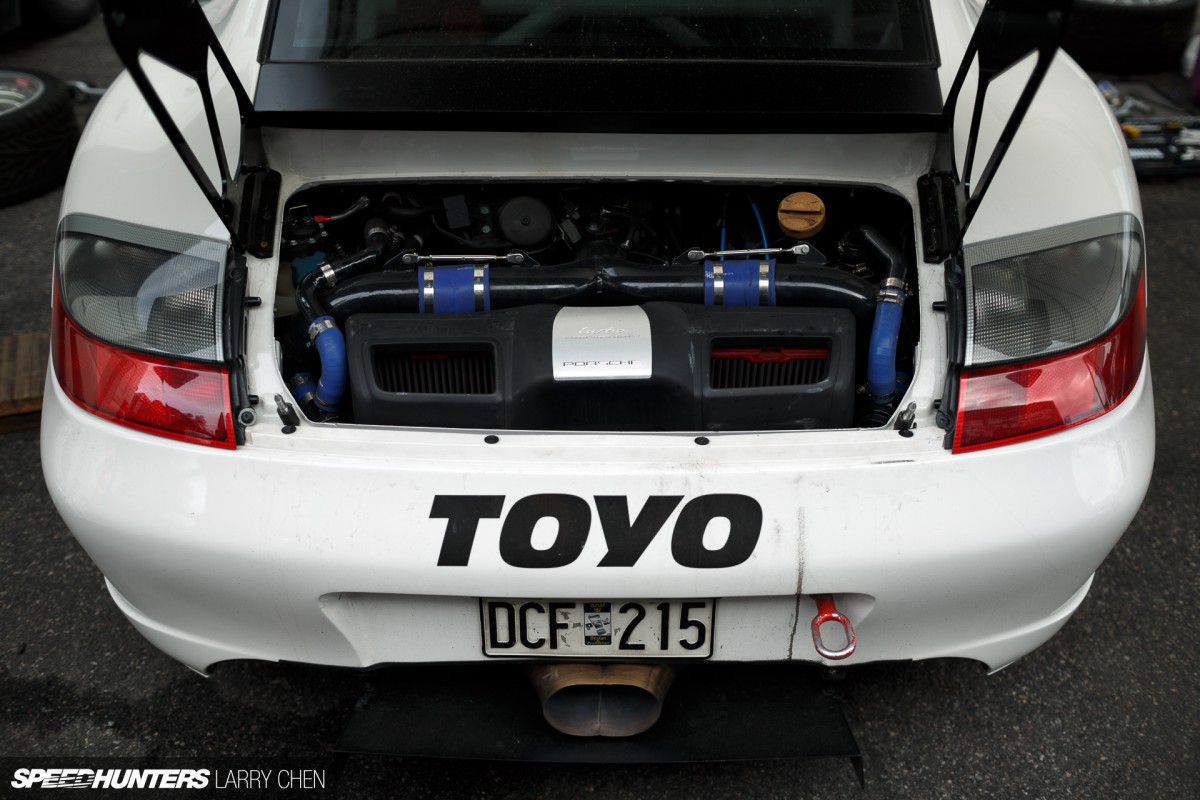 The engine is a 3.6-liter flat six that's been stripped of everything not necessary for power and mounted with RSR solid motor mounts. Boost comes from a pair of SMR/Promotive K24/18G turbochargers on custom-ported manifolds. There are also GT2 RS intercoolers, a twin 2.5-inch intake system and the fuel system has been fully upgraded with E85 capabilities.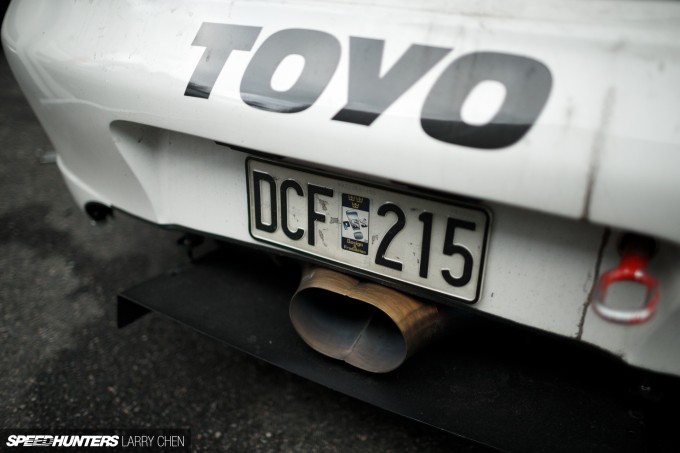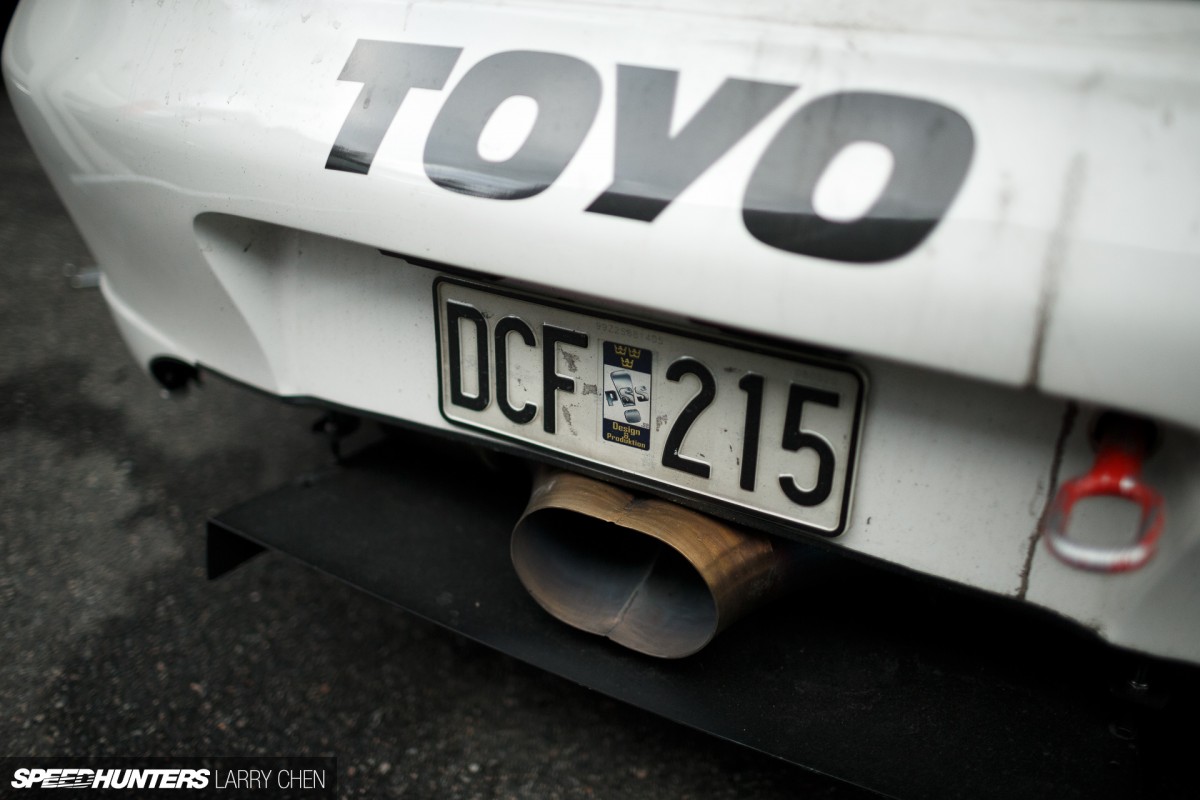 At full boost, the setup is good for about 750 horsepower at the flywheel – not a bad number considering the car tips the scales at just 1,300 kilograms.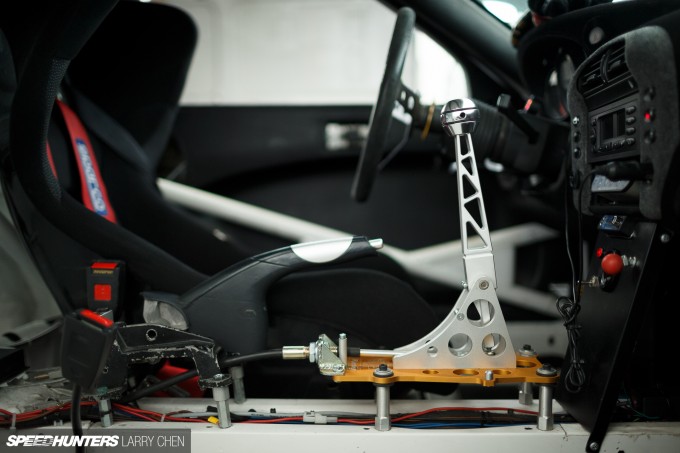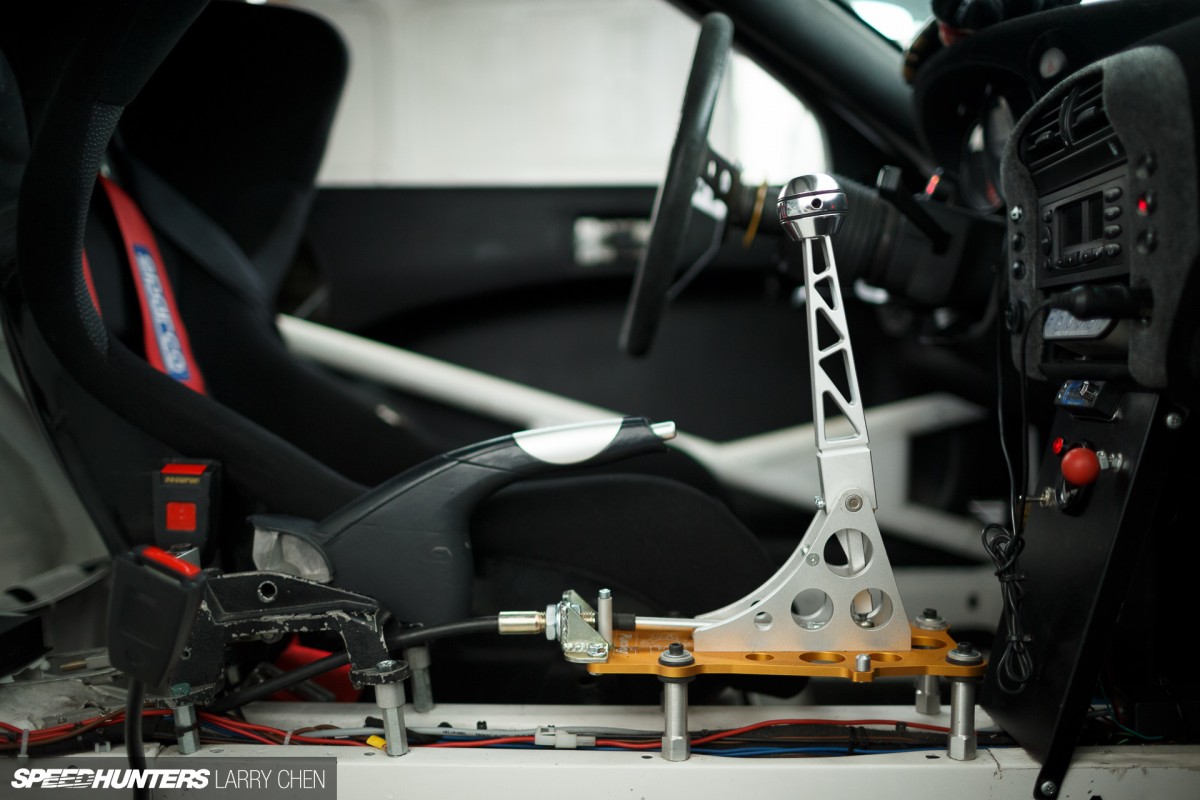 The engine is mated to a Porsche Motorsport 996 GT3 R manual transmission with a lower speed gearing setup and a SQS sequential shifter. The clutch is heavy-duty piece from Sachs, while a 997 Cup car LSD helps put the turbo power to the ground.
Neverending Journey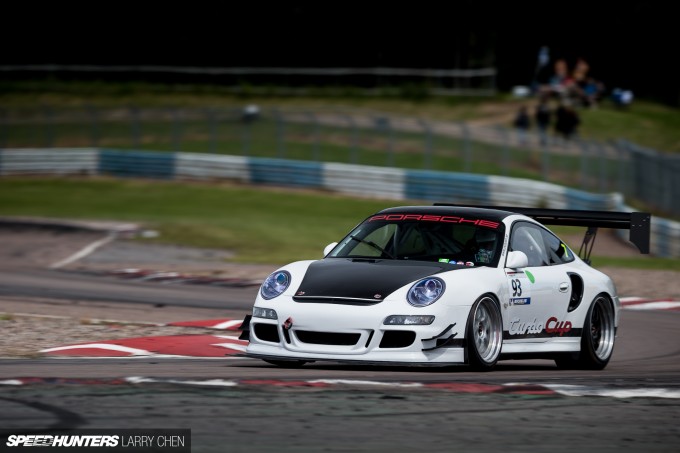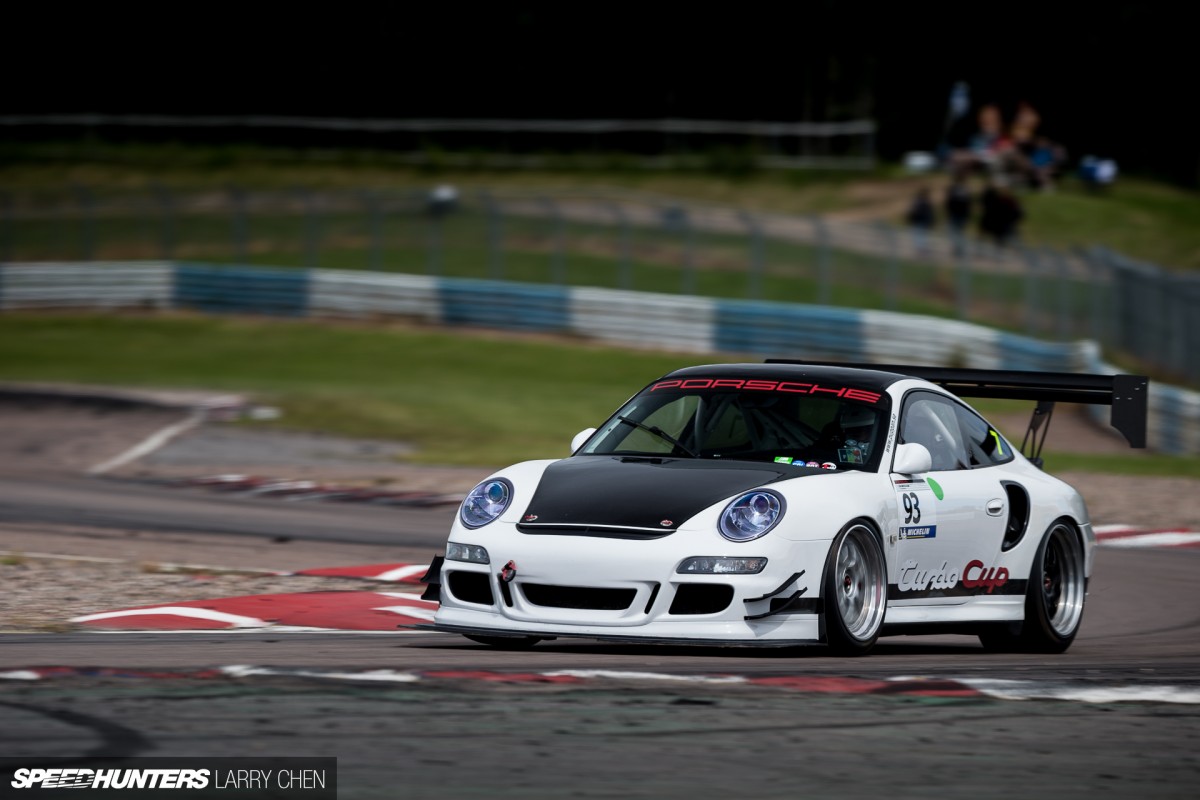 Because there were almost no usable parts left on the original wrecked 996, the body of Peter's car has essentially been rebuilt from scratch. Up front is a custom wide body setup based on a 997 Cup car design that further helps to throw people off its scrapyard origins.
Peter has also fitted a custom-built front splitter and canard setup, with aerodynamic duties assisted by an RSR-inspired wing in the rear.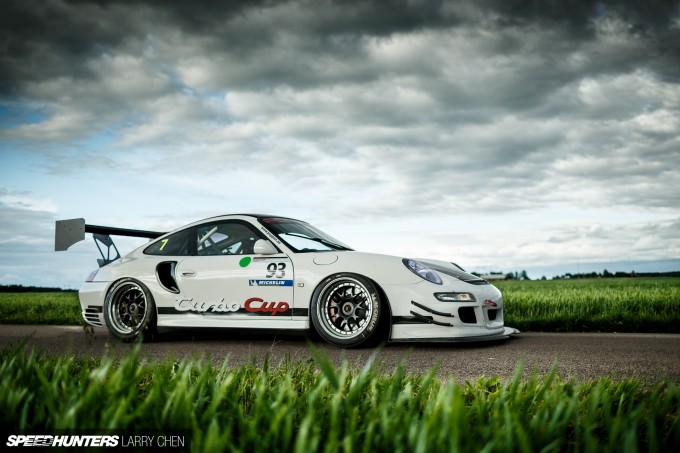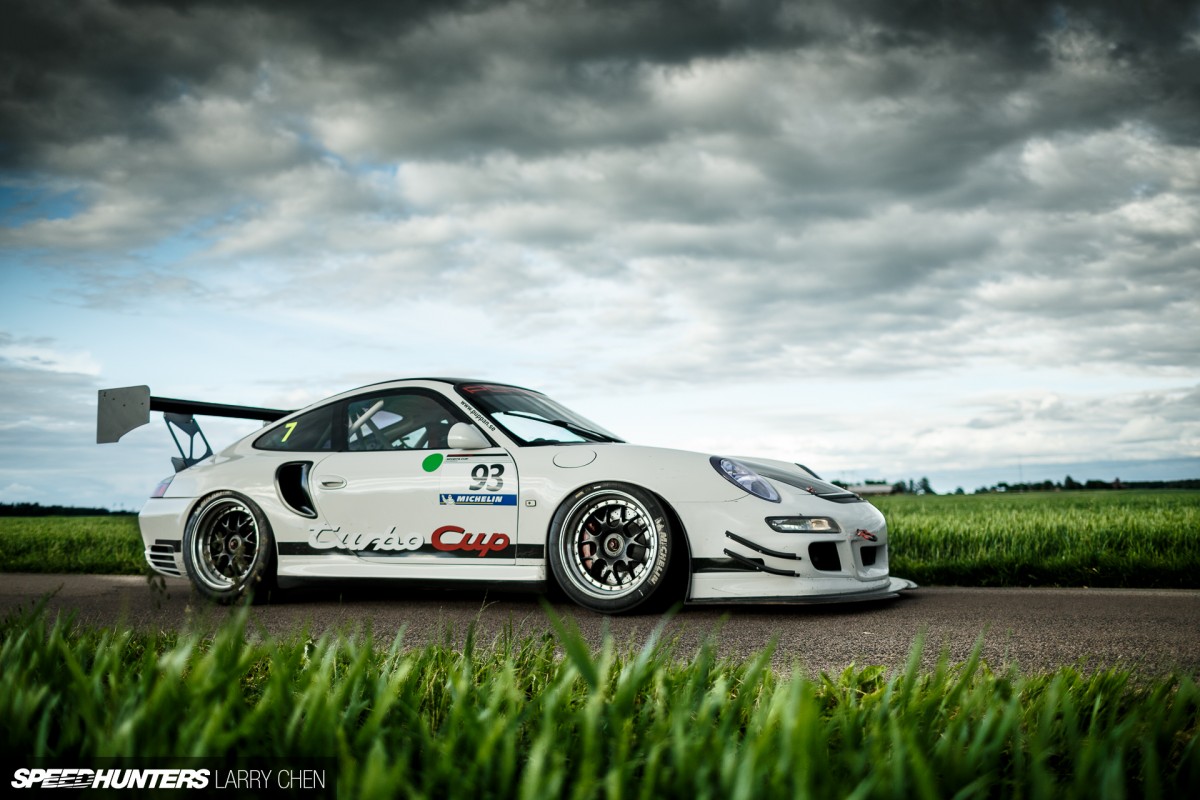 Other touches on the exterior include an RSR-style rear bumper, a set of lightweight doors, Cup car windows and a Carrera White paint job with OEM-style RSR graphics.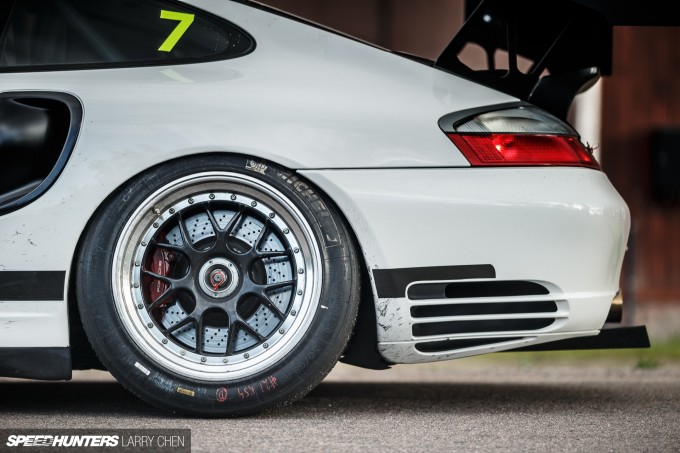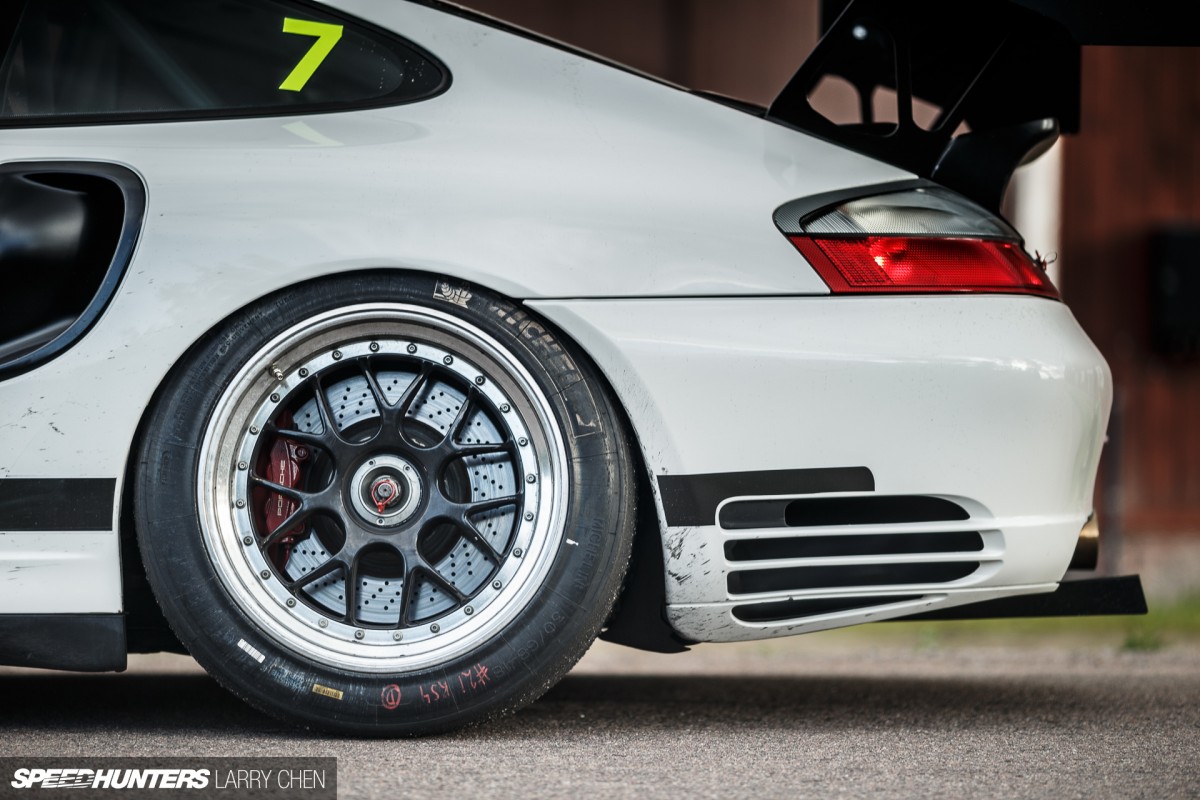 The wheels are center-locking BBS splits from the Porsche Motorsport catalog measuring 18×10.5-inch in the front and 18×12-inch in the rear. Depending on whether Peter is using the car on the street or at the track, the tires are either Toyo R888s or full Michelin slicks.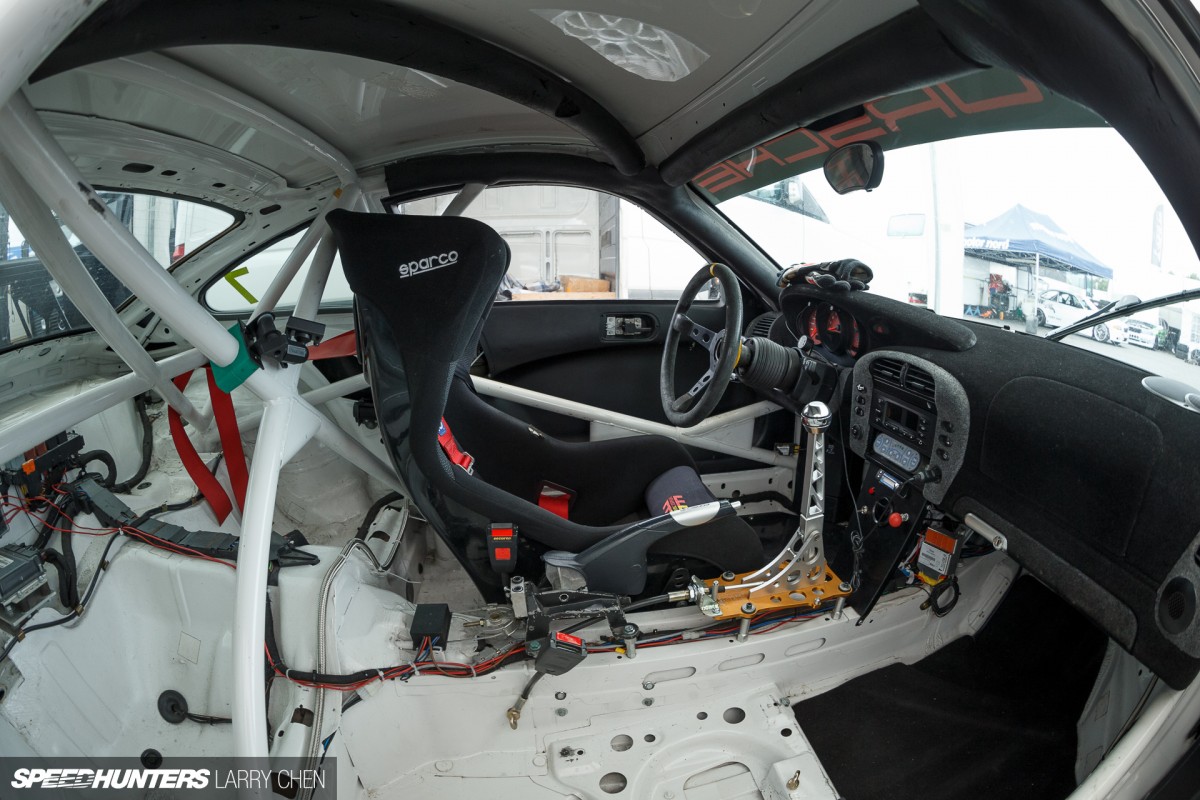 While the car does indeed see street use, you couldn't determine that by its interior. The cockpit has been stripped of everything non-essential – except for the OEM coffee cup holder that is.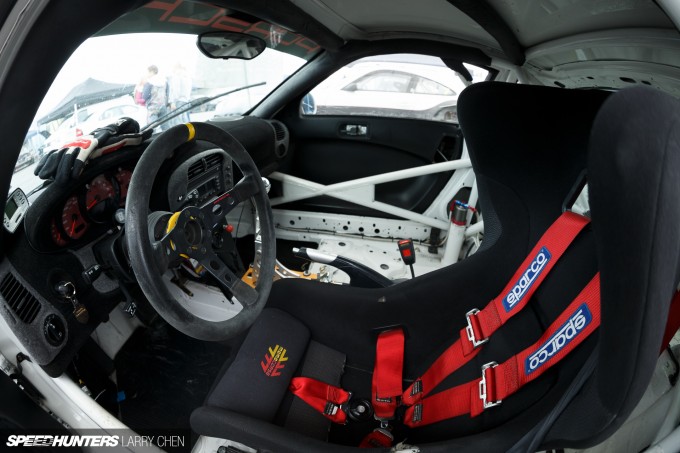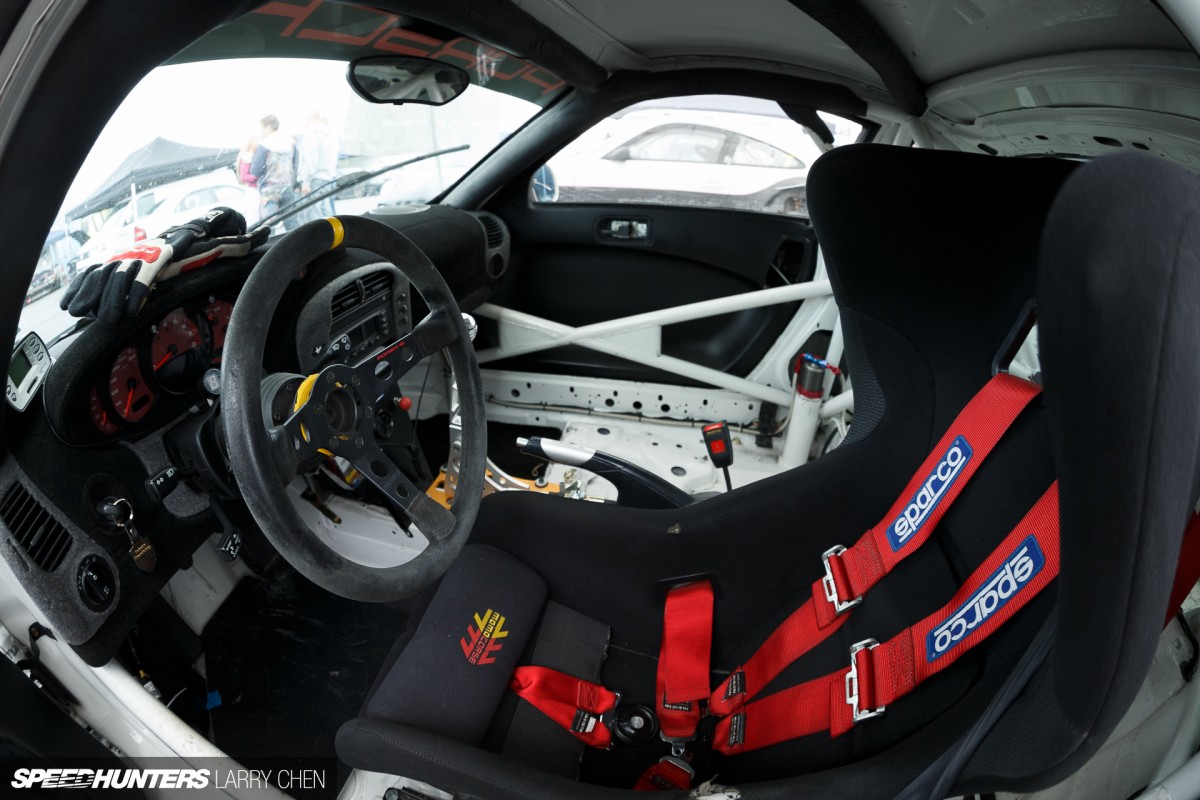 The cabin has been fitted with an FIA-certified roll cage and seating arrangements consist of a single Sparco bucket seat with a 6-point harness (an OEM belt setup is used during street driving).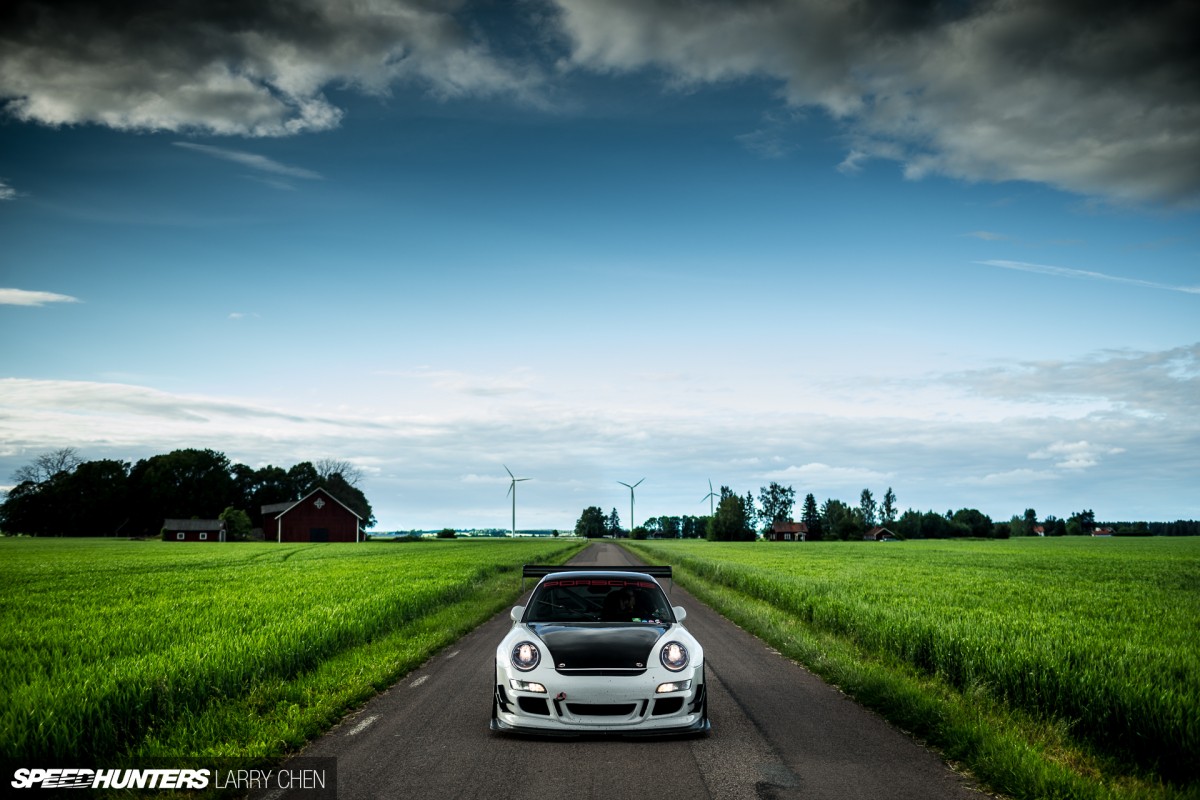 Over the years the zombified Porsche has broken many track records in the area, but with the competition constantly getting faster there's no rest for Peter.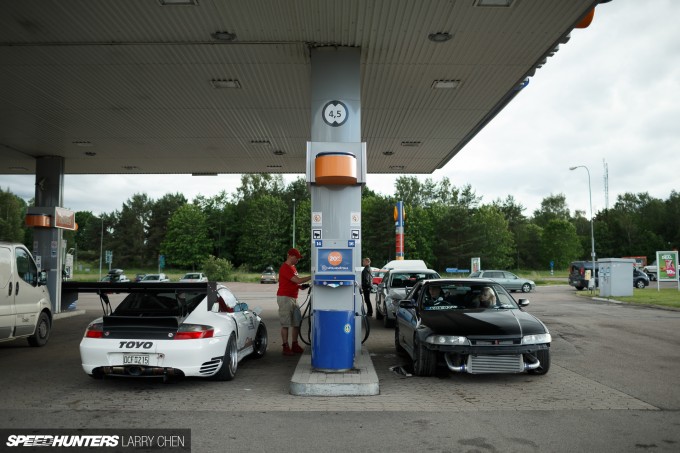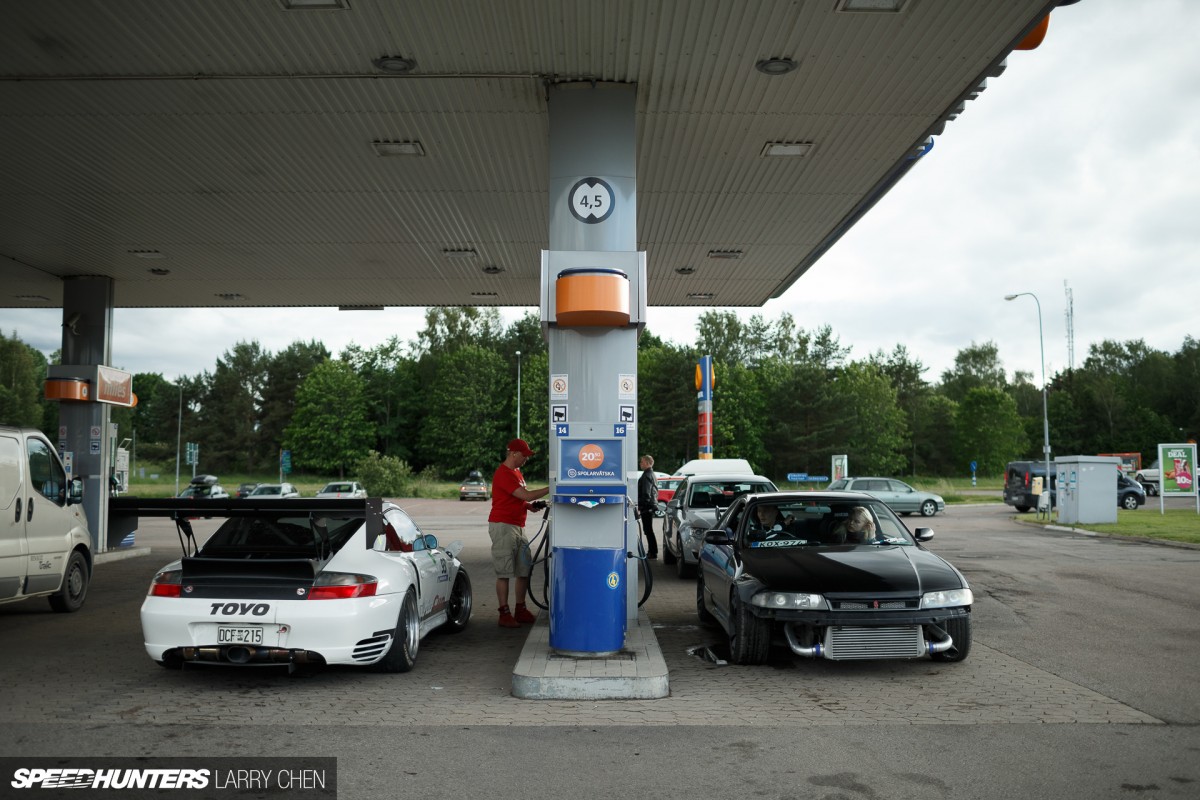 The car is actually under the knife for a complete rebuild right now, and the plans include a full 997 RSR body conversion with more power, more aero, more tire and well… more everything. It's been a long journey for Peter and the rescued Porsche, but the story is far from over.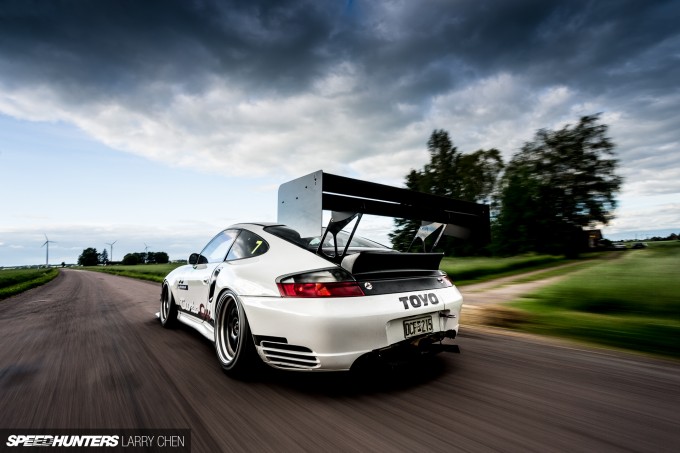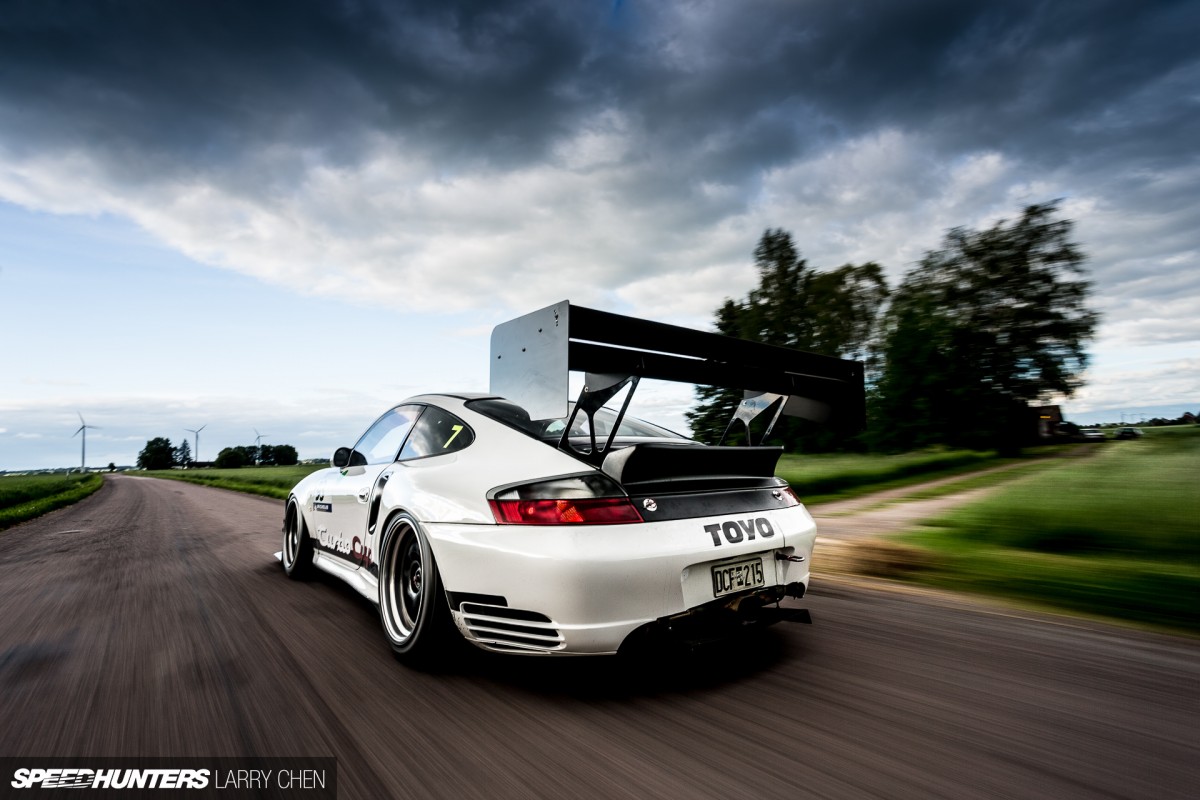 While I'm sure we're all guilty of gawking at the latest accounts of supercar misfortune and crunched bodwork, we're probably better off spending our time enjoying the more uplifting side of car culture.
Here's to many more stories of automotive revival and redemption like Peter's!
Mike Garrett
Instagram: speedhunters_mike
mike@speedhunters.com
Photos by Larry Chen
Instagram: larry_chen_foto
larry@speedhunters.com
Peter Eriksson's Porsche 911 Turbo Cup

Numbers
750hp at the flywheel
Engine
Porsche 3.6L boxer, RSR solid mounts, ported headers, SMR/Protomotive K24/18G turbos, GReddy boost controller, rebuilt air intake with separate 2.5-inch intakes for each turbo, BMC filter, GT2 RS intercoolers, Evo pop-off valves, rebuilt fueling system with twin fuel pumps, AN8 fuel lines, large injectors, coverted to E85, SMR/Protomotive software, 4-inch exhaust, 100-cell race cats
Driveline
Porsche Motorsport 996 GT3 R manual gearbox with Porsche Motorsport lower speed gearing, Cup flywheel, Sachs 1050NM clutch, RSR solid trans mount, 2011 997 Cup LSD, Puppan Design heavy-duty transmission differential cover, SQS sequential gear level changer
Suspension/Brakes
997 Cup front and rear subframes, 997 Cup uprights, fully adjustable Puppan Design wishbones front/rear, all wishbones uni-balled RSR style, uniball top-mounts, Öhlins 3-way dampers and springs, 380mm rotors, 6-piston calipers (front), 350mm rotors, 4-calipers (rear), Bosch GT2 ABS, Puppan Design air jacks
Wheels/Tires
Porsche Motorsport centerlock BBS wheels, 18×10.5-inch (front), 18×12-inch (rear), Toyo R888 tires (street), Michelin slicks (track)
Exterior
Puppan Design 997 Cup front wide-body, Puppan Design front splitter and canards, carbon trunk lid, Porsche Cup 2011 replica rear engine hatch, RSR replica wing uprights, Puppan Design double-element rear wing, Puppan Design RSR replica rear bumper, lightweight plastic doors, Cup rear window and quarter windows, Carrera White paint with 2007 Porsche OEM-style RSR style graphics
Interior
FIA roll cage, Sparco Pro Circuit bucket seats, Sparco 6-point harness (OEM 3-point for road use), OEM heating and climate control, Contour action camera
More Porsche related stories on Speedhunters
Cutting Room Floor