Back in December 2012, Speedhunters' own Mad Mike Whiddett brought a long time event dream to life. With backing from his principal sponsor, Red Bull, a downtown city street in Mike's hometown of Auckland, New Zealand, was shut down and transformed into a giant pinball-inspired drift arena. Red Bull Drift Shifters became a reality and its first champion – former US Formula Drift driver Matt Powers – was crowned.
This coming weekend it's happening all over again in Auckland – bigger, faster, and with a larger line up of internationals. If you're not going to be there in person, you'll probably be happy to know that there's a free livestream happening…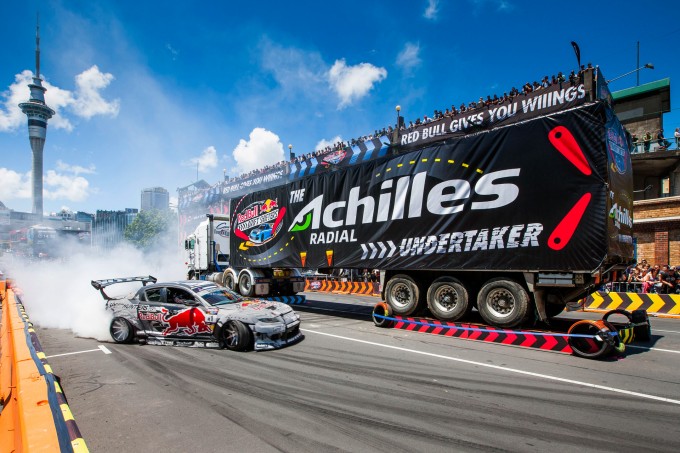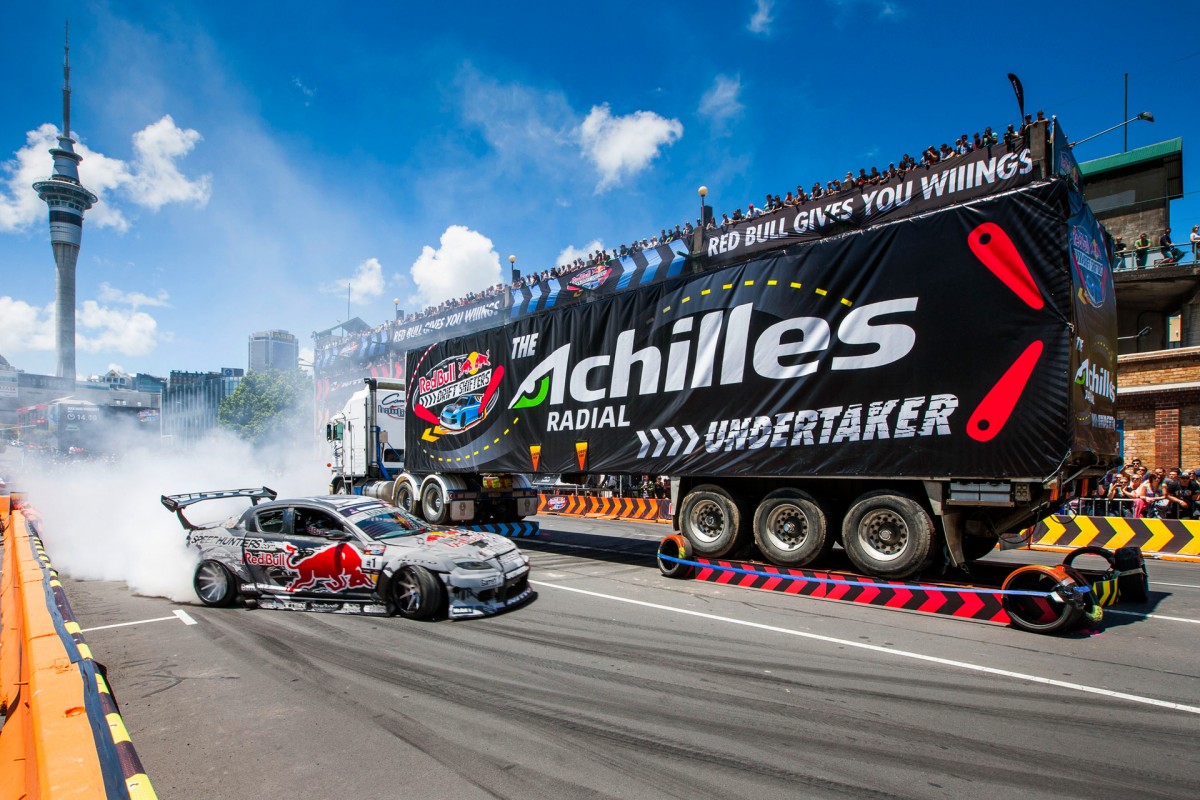 A new location right on the city's waterfront is making way for a street course that's some 311 metres long and 19 metres wide. Running a unique single-car freestyle format, there are 12 obstacles to negotiate in total – including the return of the Undertaker from the first event (above). Drivers will have 70 seconds on the clock to accumulate as many points as possible through a custom, computer-controlled mechanism that scores angle, proximity and speed, and an eliminator style competition will knock down the 16-strong field until the event's overall winner is found.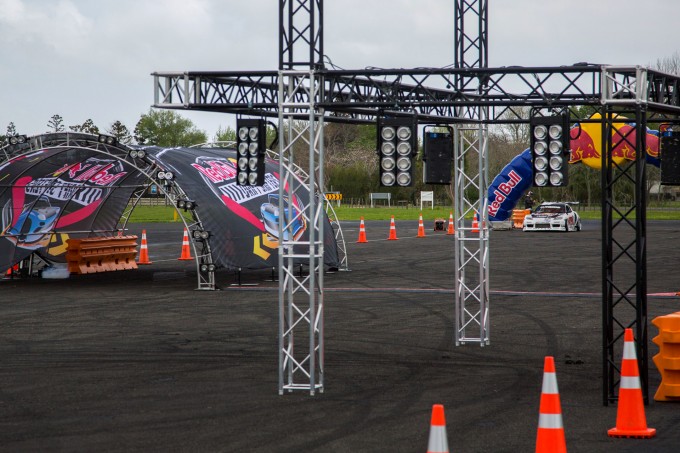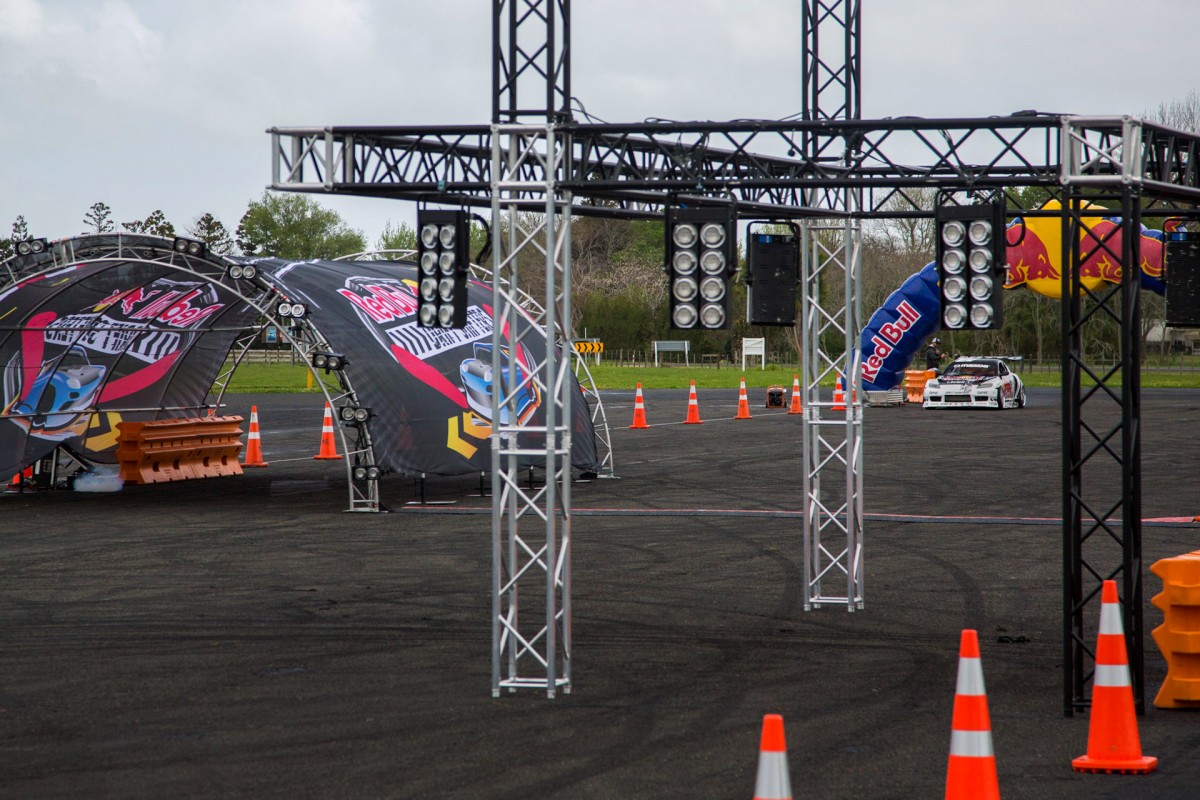 Three overseas drivers headlined the first Red Bull Drift Shifters, but for 2014 that's been increased to seven. Along with Mike and eight other Kiwis, US drivers Chris Forsberg, Ryan Tuerck and Tyler McQaurrie will be facing off with Australia's Jake Jones, and Japan's Daigo Saito and drifting icon Ken 'Nomuken' Nomura. Of course, Matt Powers is back to defend his title too.
A huge amount of preparation work has gone into the planning of the event, including full-scale testing at an airfield a couple of months back. The tech clip above should give you a good idea of how it will all play out on the day, and you can find more videos, including driver intros here.
As for the live broadcast, that's set to kick off from the quarter final stage of the event at 1.30pm local NZ time this Saturday December 6 (4.30pm Friday PST, 7.30pm Friday EST, 12.30am Saturday GMT). Red Bull TV is where you'll find it.
Otherwise, stay tuned for post-event coverage on Speedhunters next week!
Brad Lord
brad@speedhunters.com
Photos: Red Bull