An Open Top & A Race Car
After getting an overall view of this year's Nismo Festival, I thought I'd take a closer look at the most diversified selection of cars that I could, given that all I had to choose from were Nissans! To kick things off it was Tomei's all-new demo car that I came across first thing in the morning. Following on from their KA24-powered USDM 200SX that we saw earlier this year, they chose to prepare yet another S-chassis – this time an S13 convertible of all cars.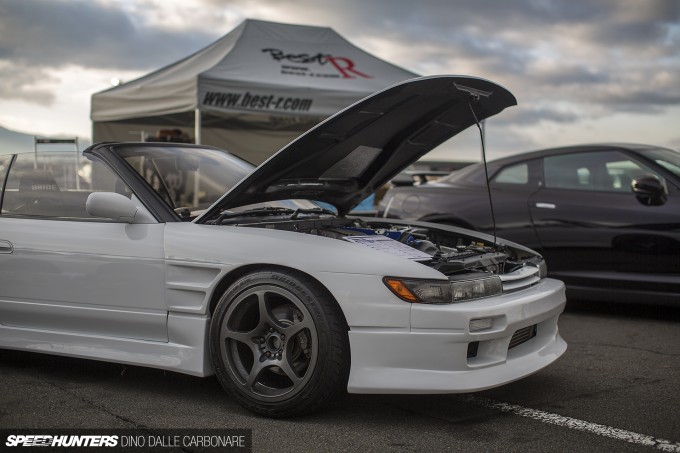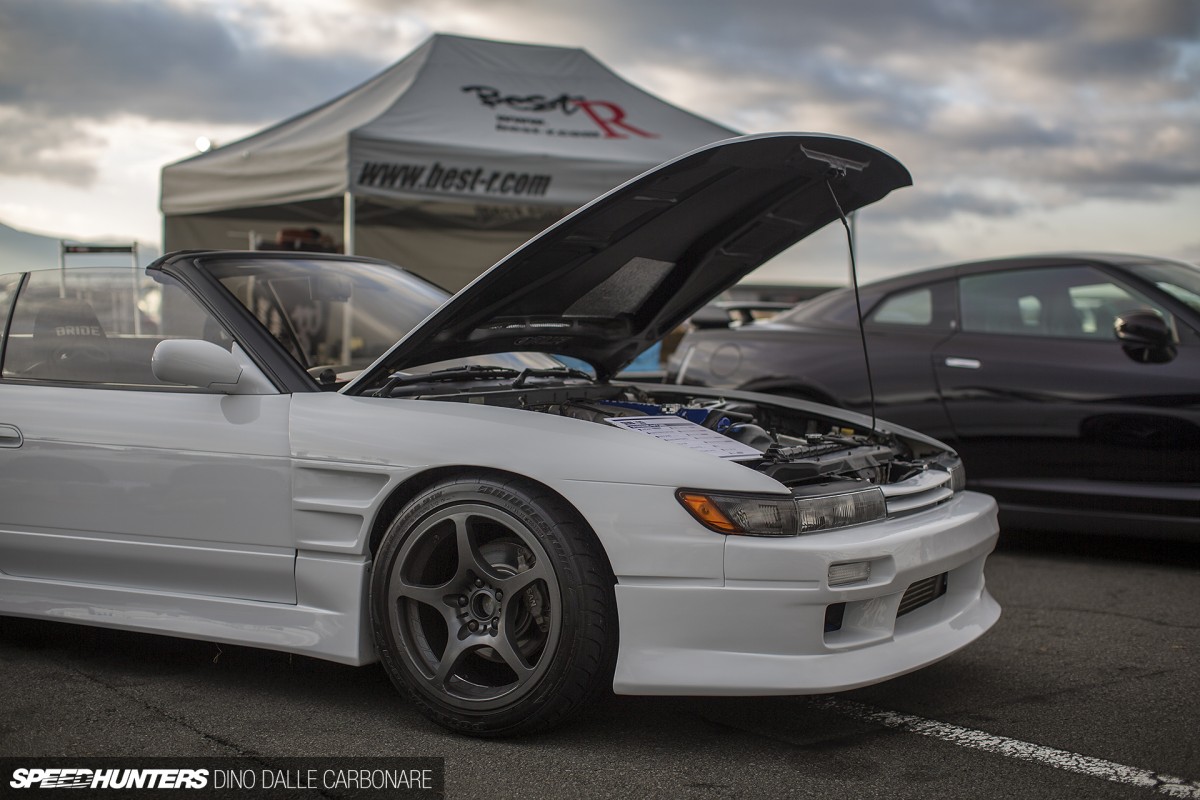 Quite an interesting choice, but one that certainly got everyone taking notice.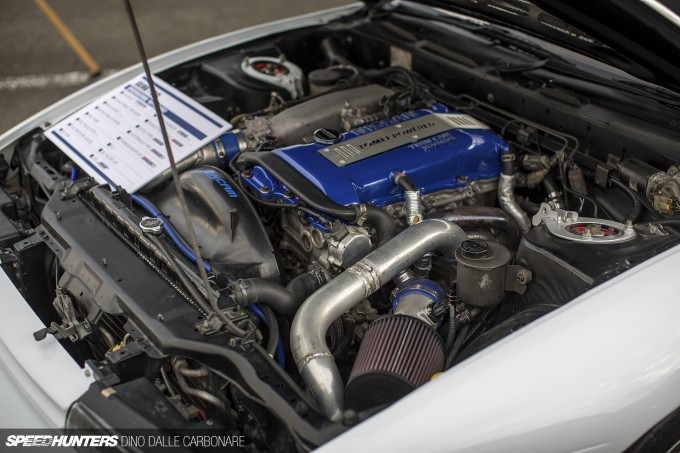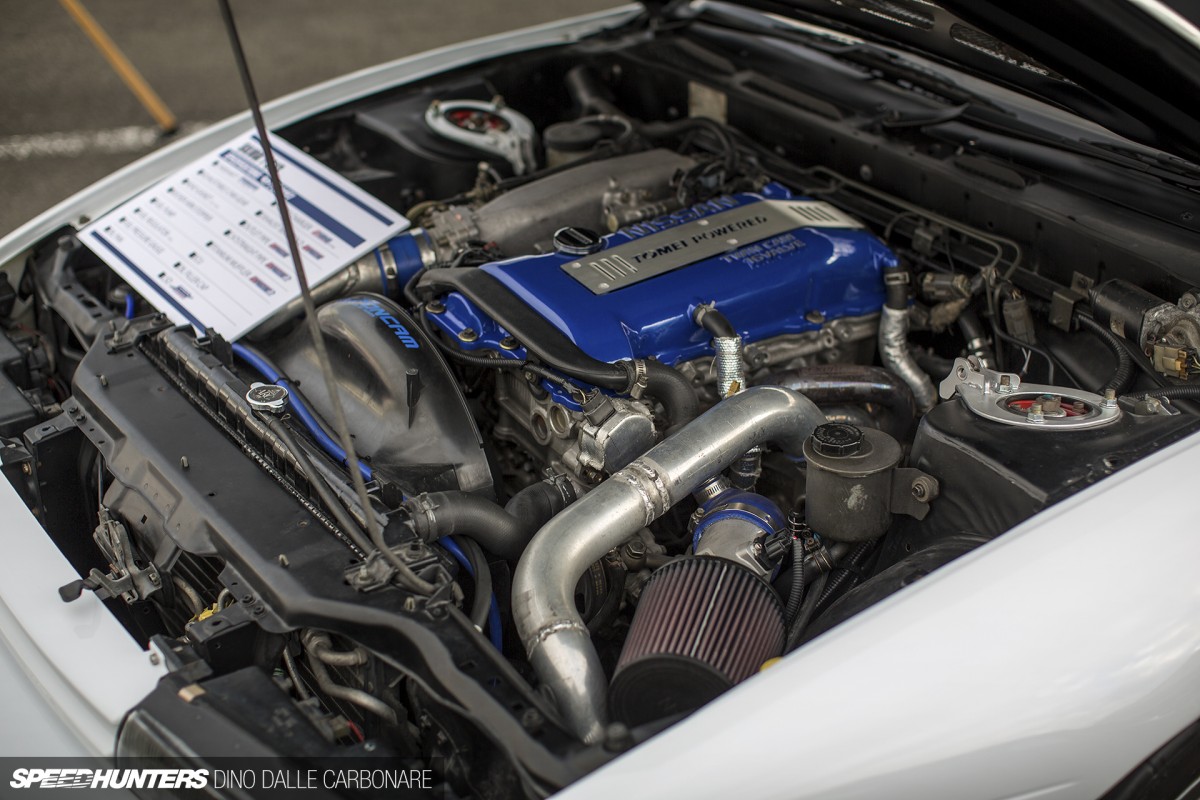 This engine is what a well-sorted, yet basic SR20 setup is all about, nothing fancy but running all the right bits. The internals remain unchanged so it's still on its stock 2.0L bottom end, but there's a Tomei Arms M7960 turbo kit mounted on a Tomei Expreme manifold to boost output.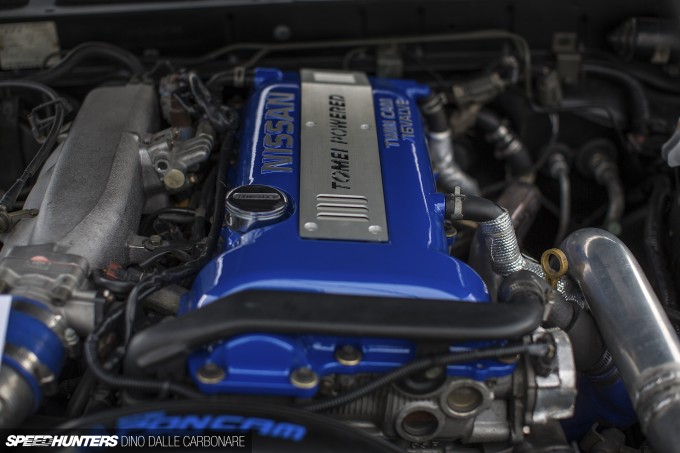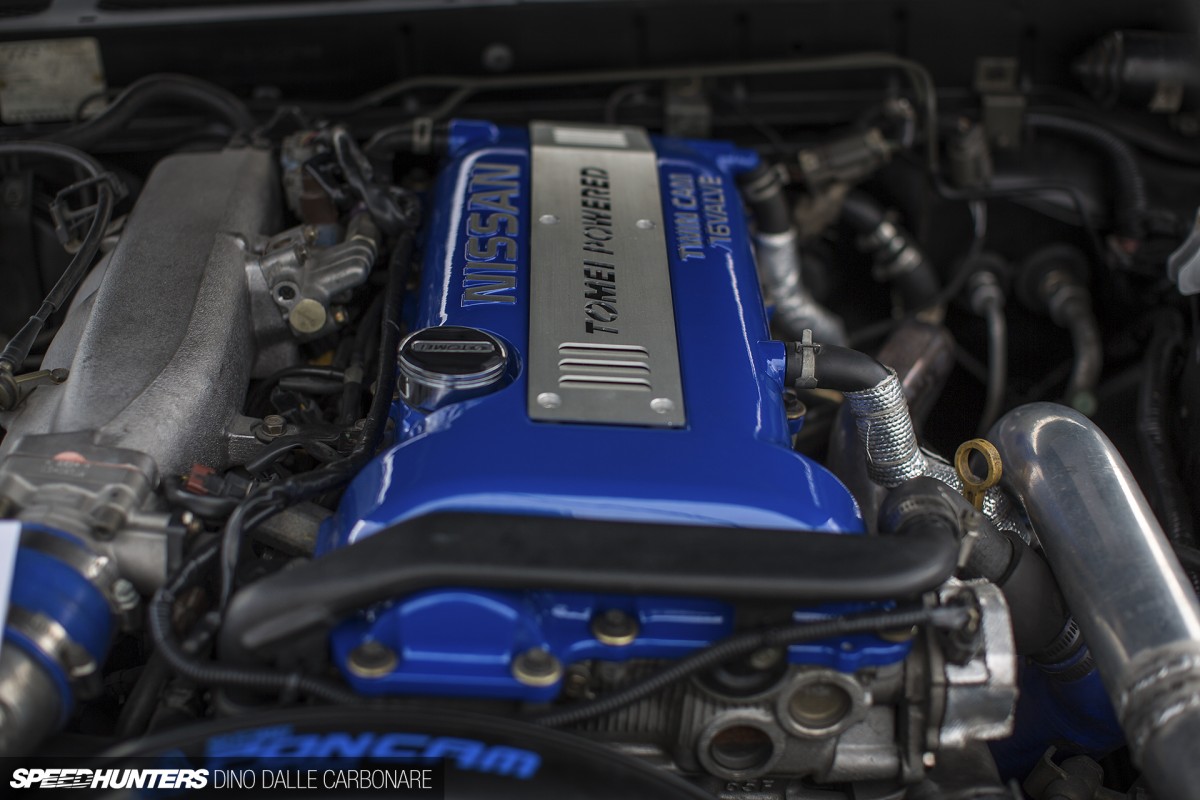 Making the most out of the higher boost are some 256-degree cams with 11.5mm lift on both the intake and exhaust, rocker arm stoppers and a metal head gasket. The necessary fuel upgrades have also been taken care of, as well as a straight-through titanium Extreme exhaust.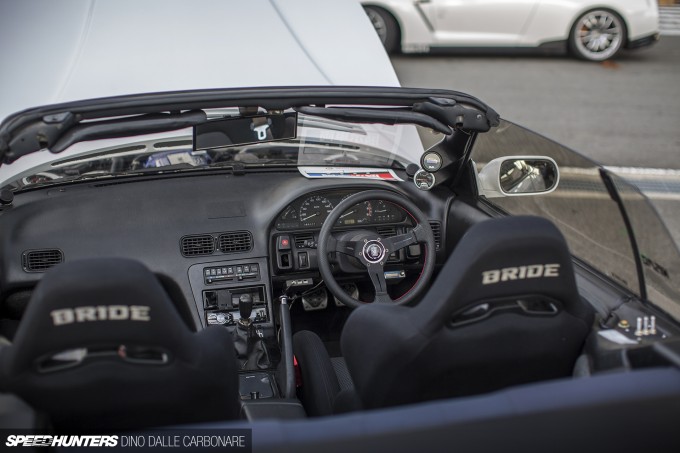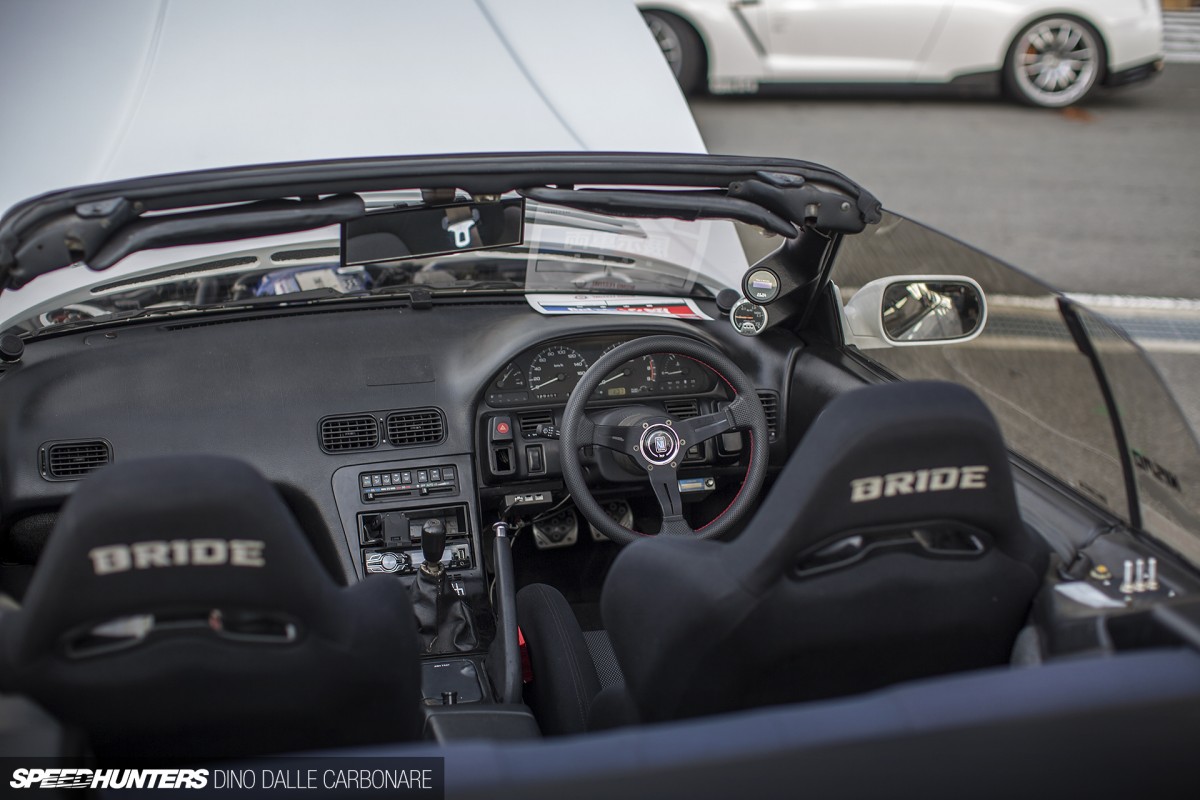 Tomei aren't saying how much power the car is making, but 380-400hp would be a pretty accurate guess. Add the Tomei LSD this open-top S13 is fitted with and I'm sure it makes for a pretty fun little drifter.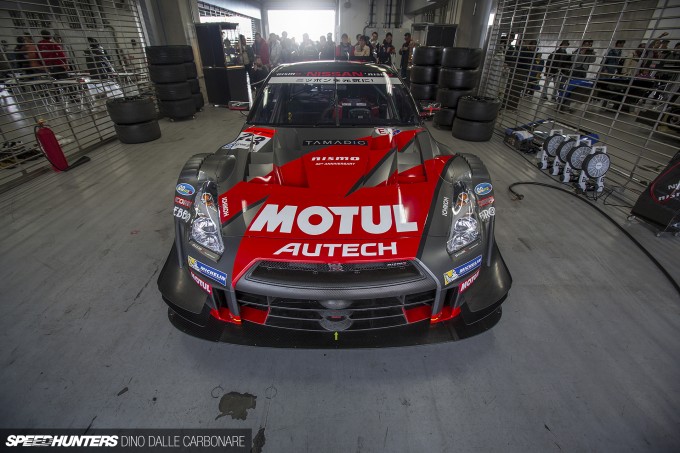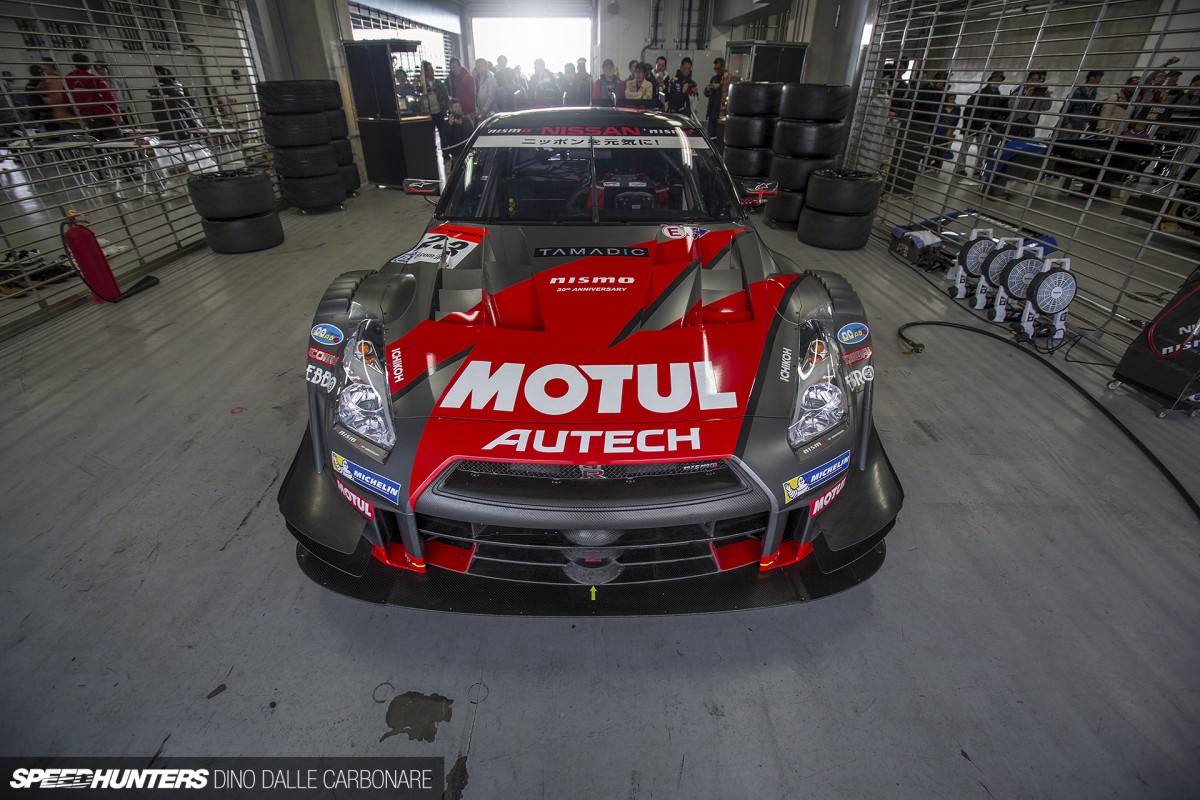 I'm going for variety with this Spotlight-O-Rama, so with all the race cars sitting around in the pits I thought I'd choose one and do a quick walk-around. So how about this year's GT500 Championship winner – Ronnie Quintarelli and Tsugio Matsuda's R35 Motul/Autech GT-R.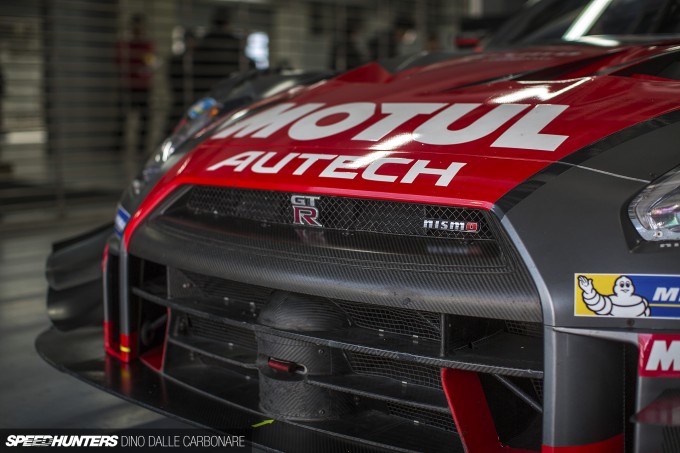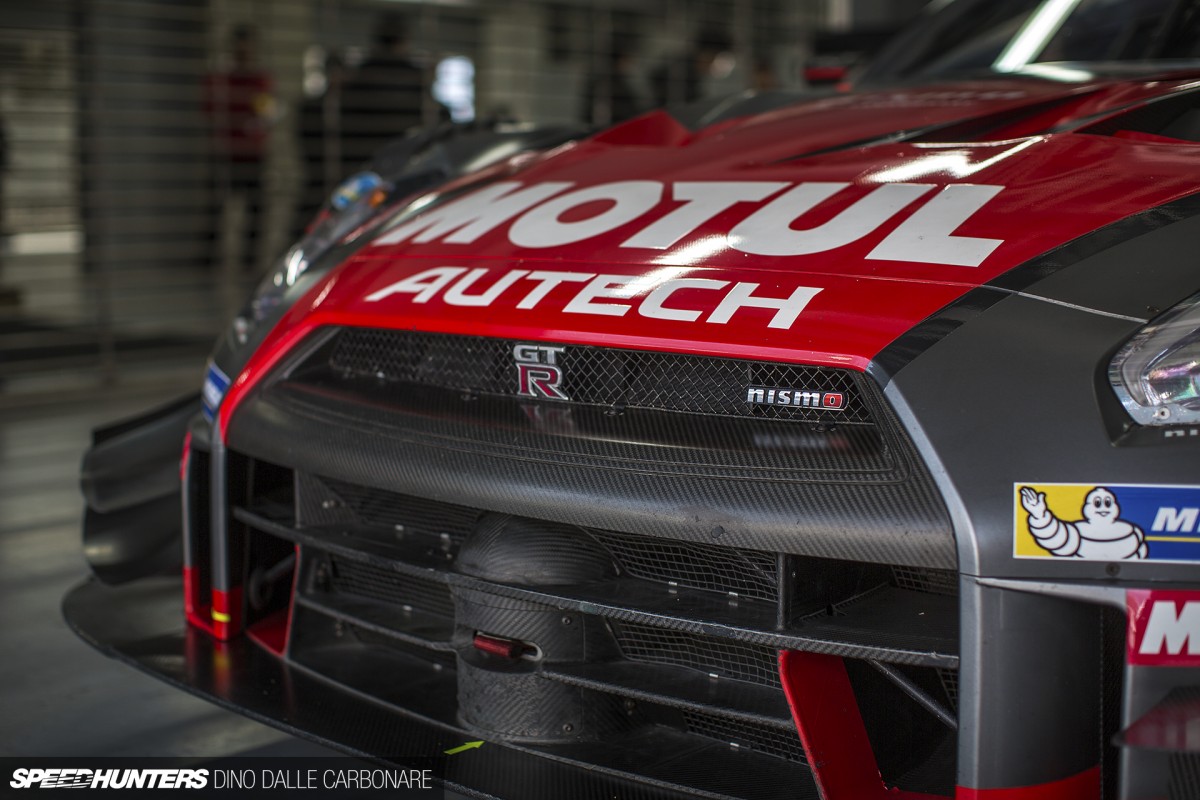 Japanese GT racing used to be so cool, because up until around the year 2000 all the cars were roughly related to their road-going counterparts. Of course, that's no longer the case, but despite that you can't really ignore their capabilities. This year's GT500 cars have been made to conform to 2017 DTM regulations, so a lot has changed – primarily the engine with all three manufacturers running 2.0L turbo four-cylinder motors.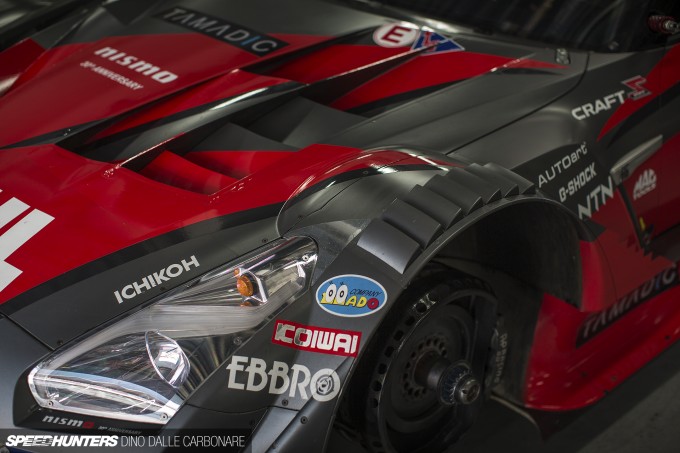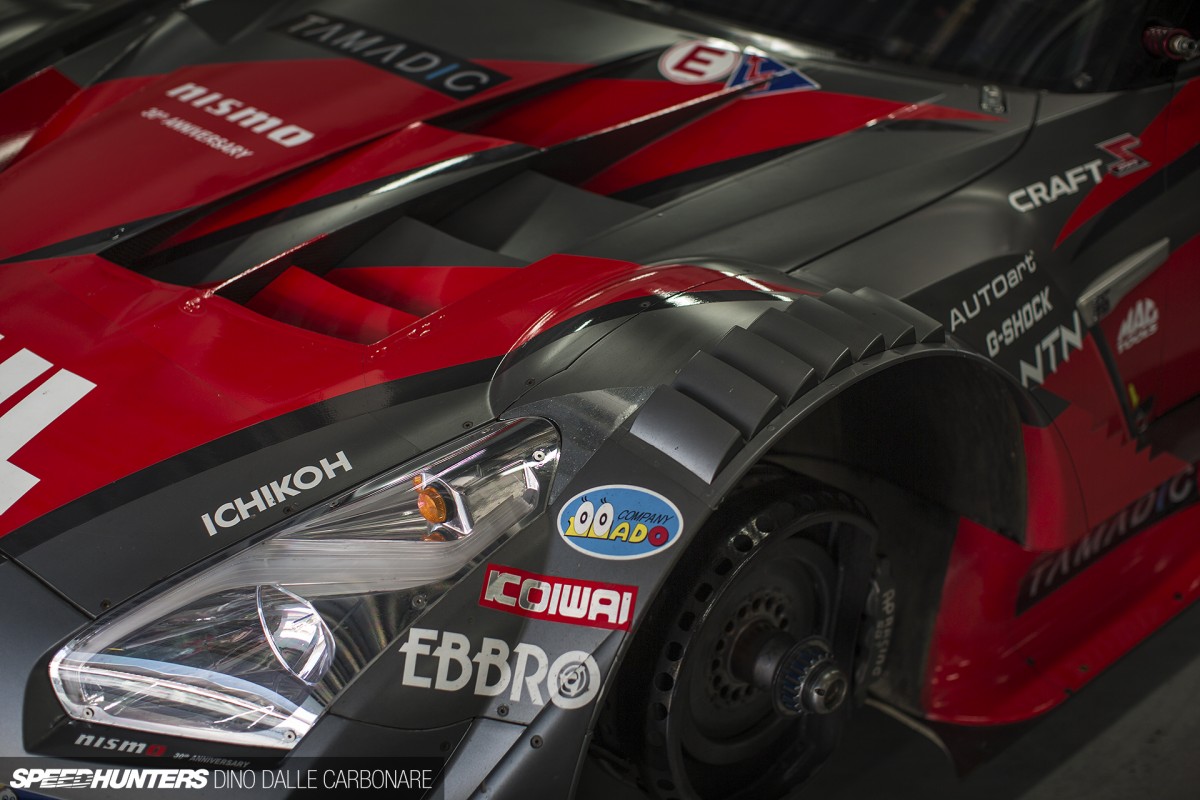 The NR20A powering the Motul car outputs close to 600hp, and thanks to a curb weight of 1,020kg and the intricate DTM-dictated aero, it can post times well under 1 minute 40 seconds at Fuji Speedway. DTM regulations also mean the cars can now run carbon discs, something they weren't previously allowed to do in Super GT.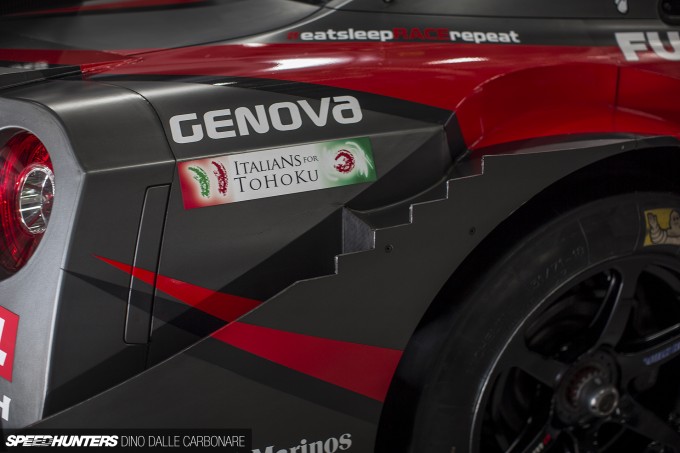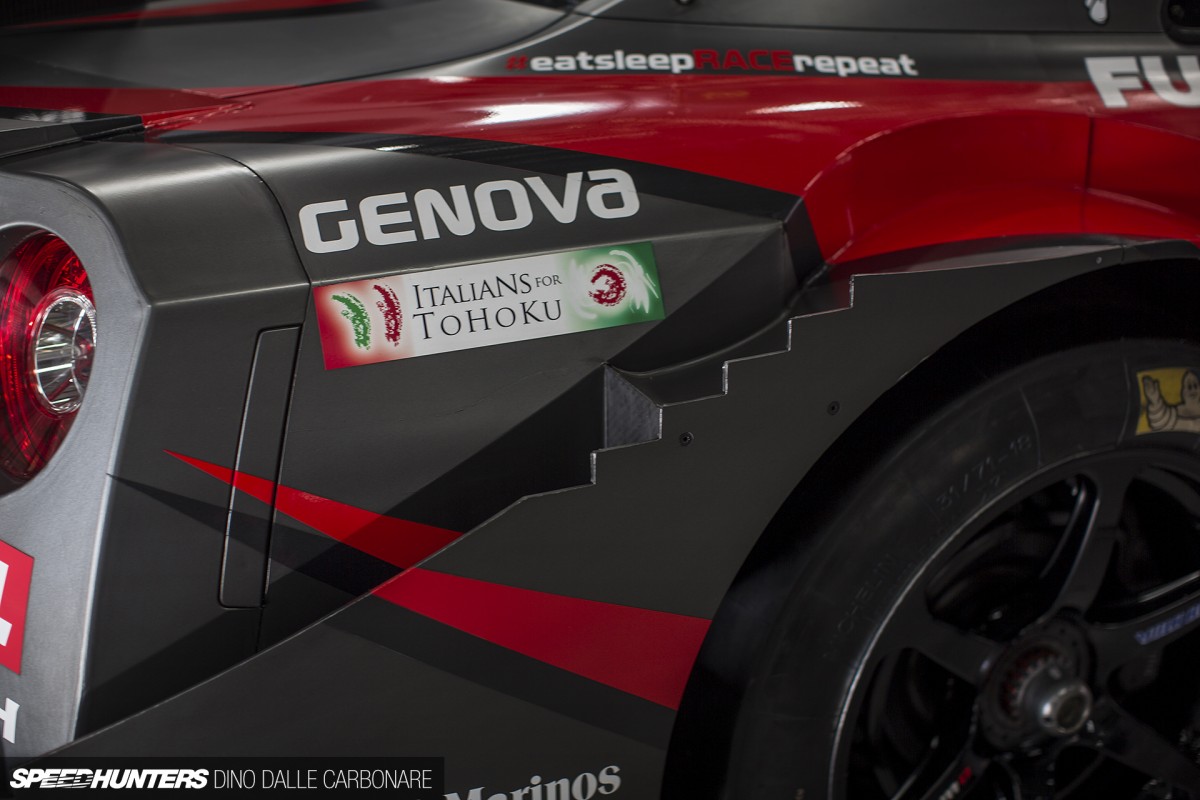 The aero treatment is pretty complex, but it's already been changed from the 2014 base car that we saw unveiled at last year's Nismo Festival. Like the engines, aerodynamics are something that teams are allowed to develop and modify themselves, which is where the competitive edge comes from in this class.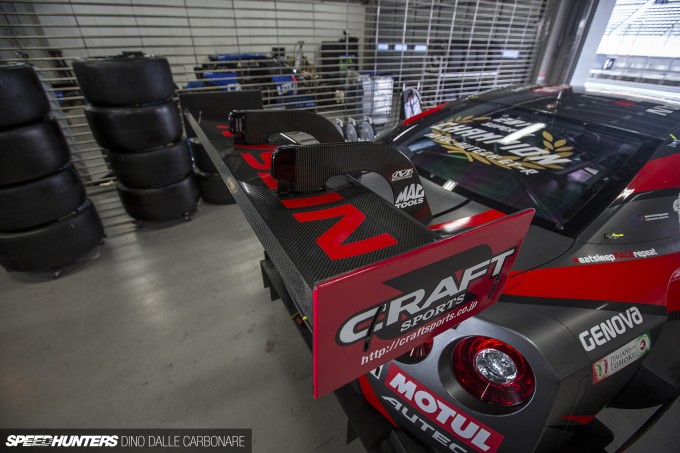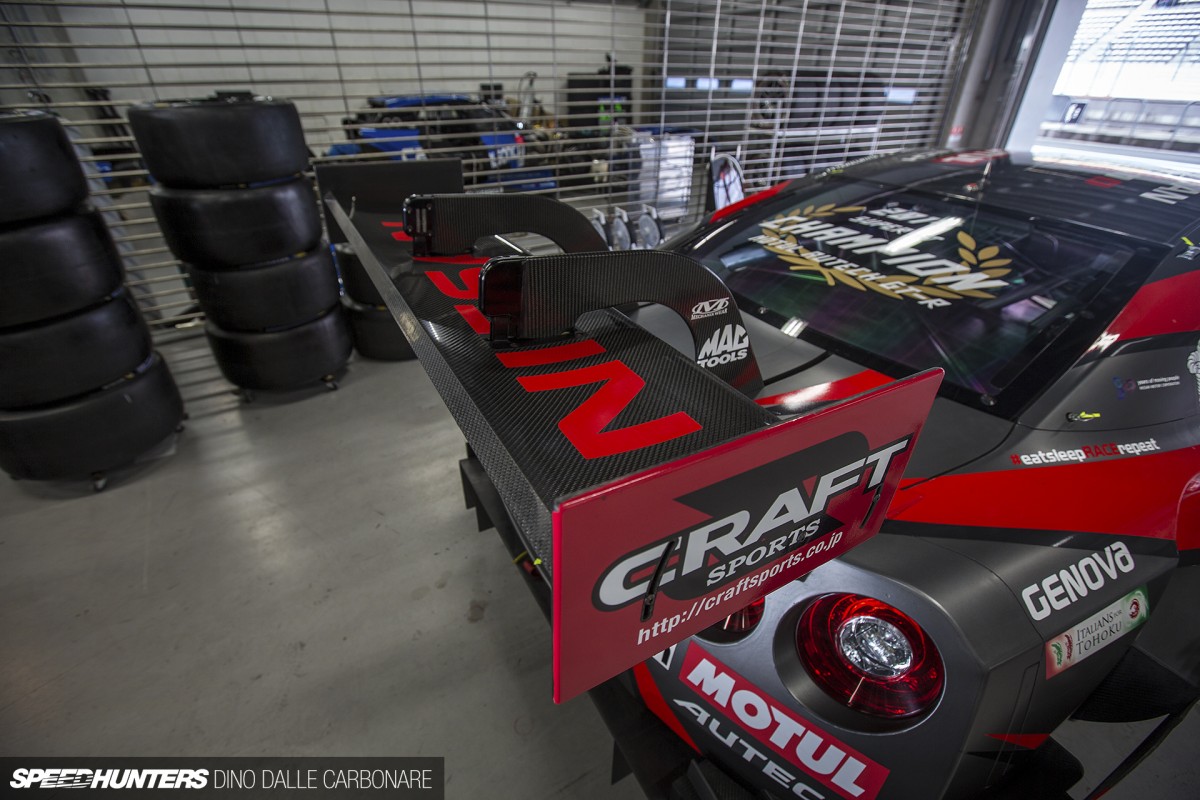 One of the most evident additions are the swan neck stays for the rear spoiler, which not only look great but are much better at eliminating drag than conventional mounts.
Street, Followed With Vintage Metal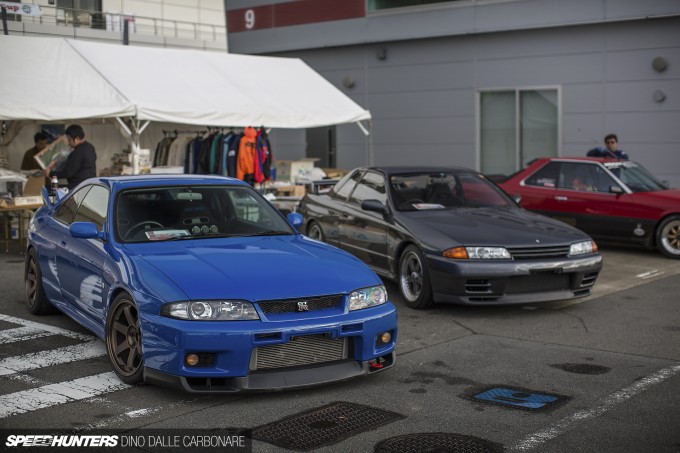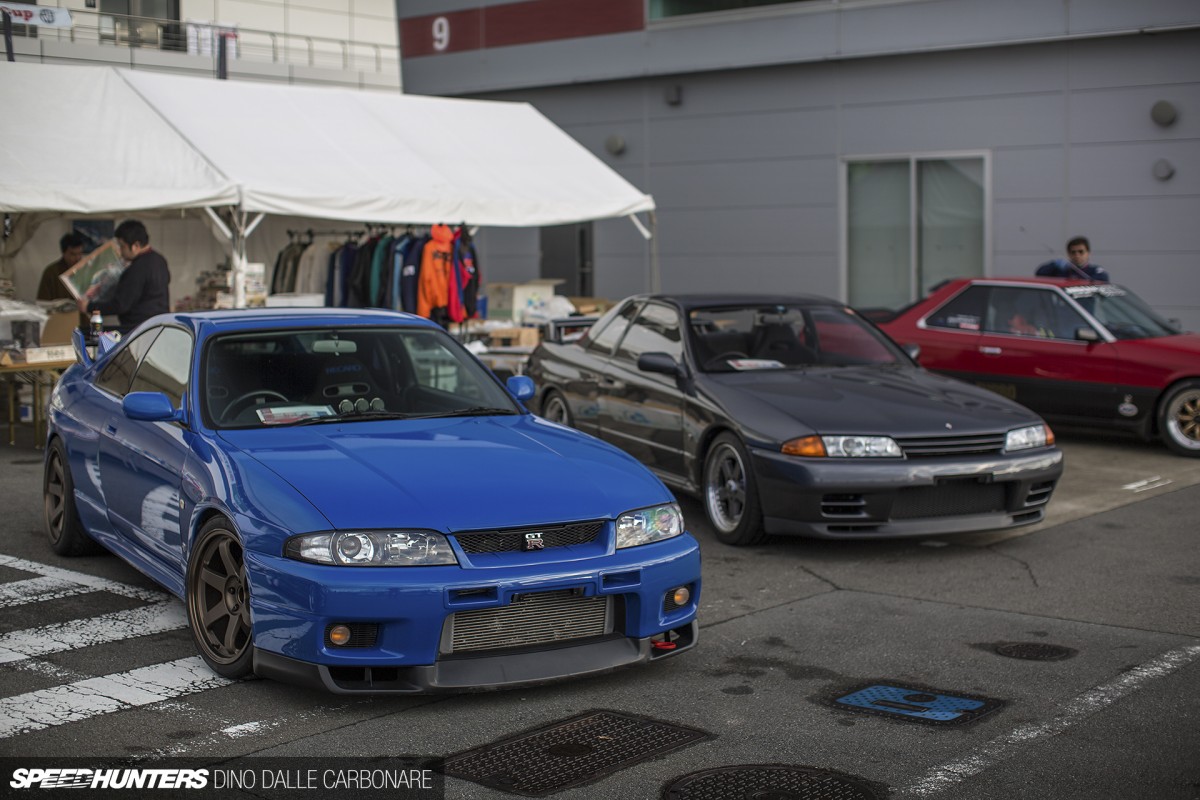 I couldn't possibly turn down a closer look at this Championship Blue BCNR33, as it looked almost unsuspecting siting there in front of one of the many display booths. I say unsuspecting, because aside from a rather large intercooler, the removed mesh that usually protects it and bronze RAYS Volk Racings TE37s, it looked quite stock.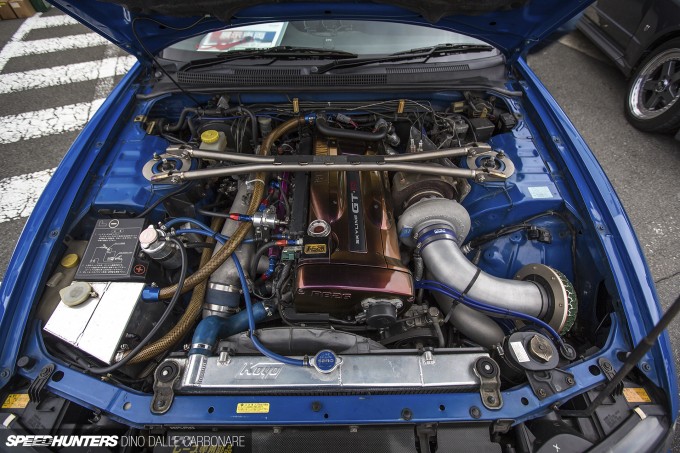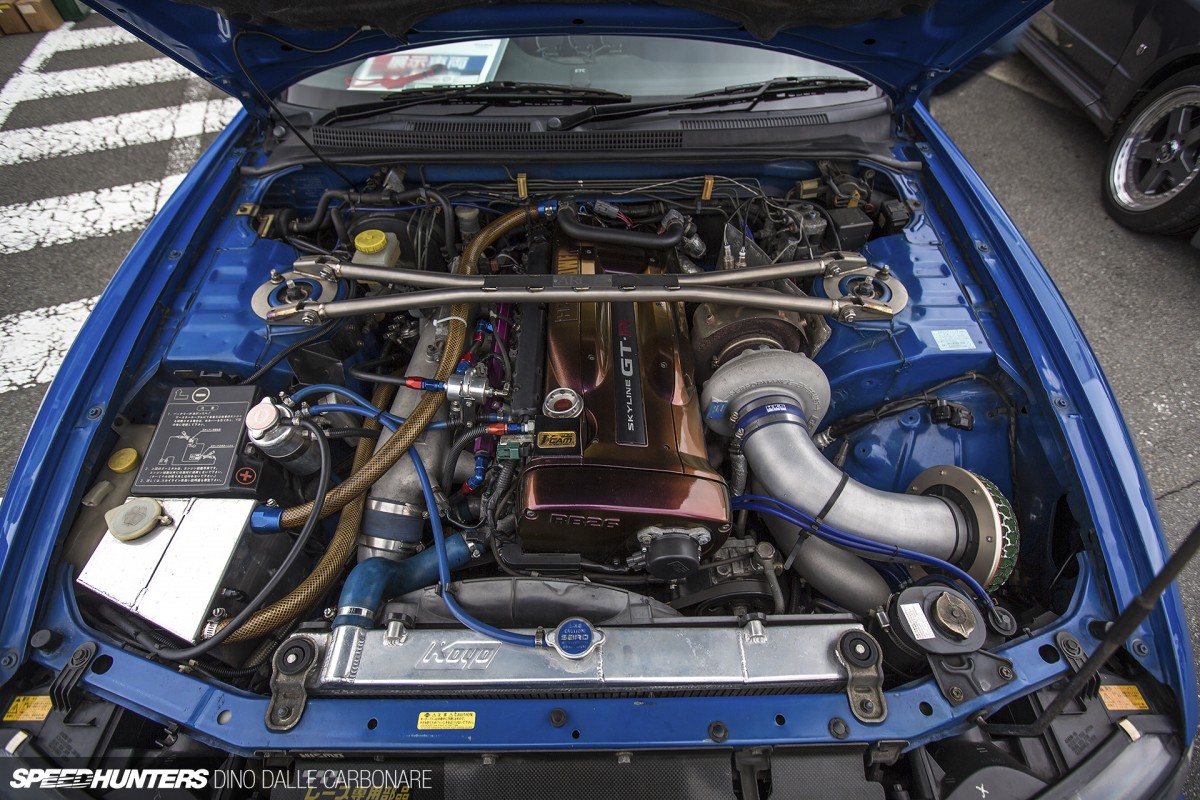 Yeah, wrong! I walked past it later on in the afternoon and thankfully its bonnet was lifted up allowing us all to gawk at the serious power-making hardware that had been thrown at it.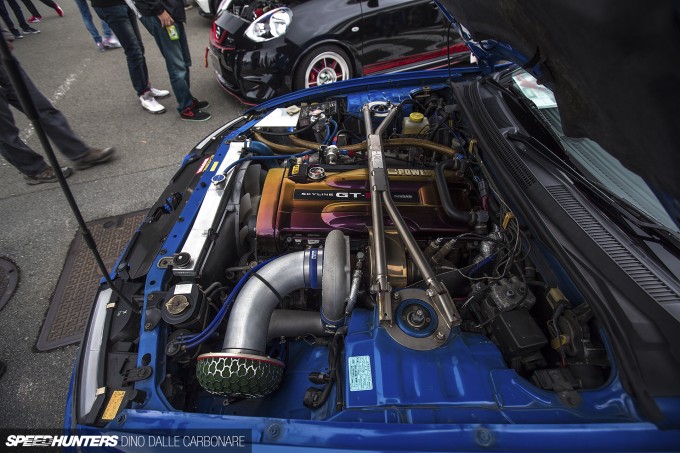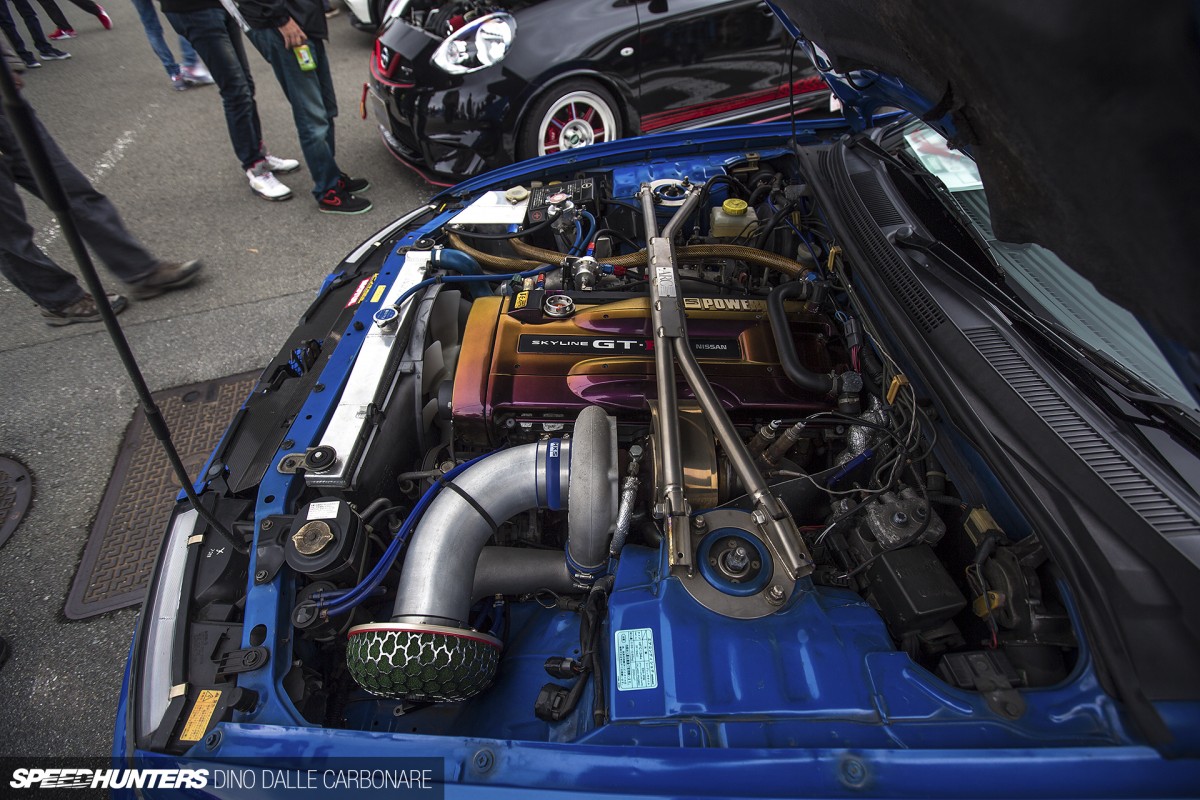 With a 2.8L stroker kit, HKS V Cam and a large Trust T88 turbocharger, this thing will be good for 800 solid horses with plenty of mid-range aggression to play with. The single turbo route is becoming ever so appealing…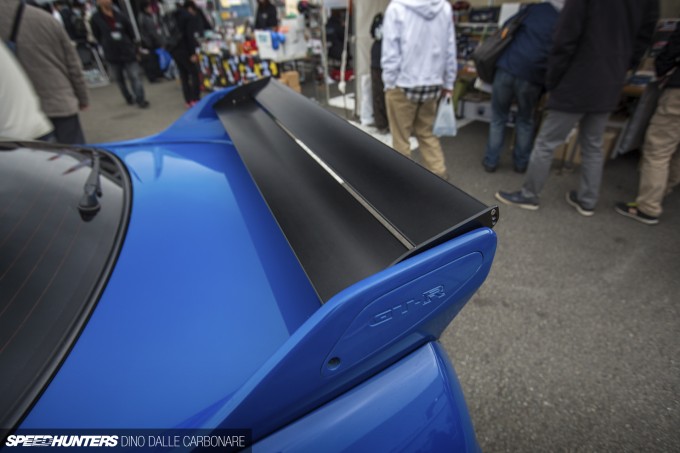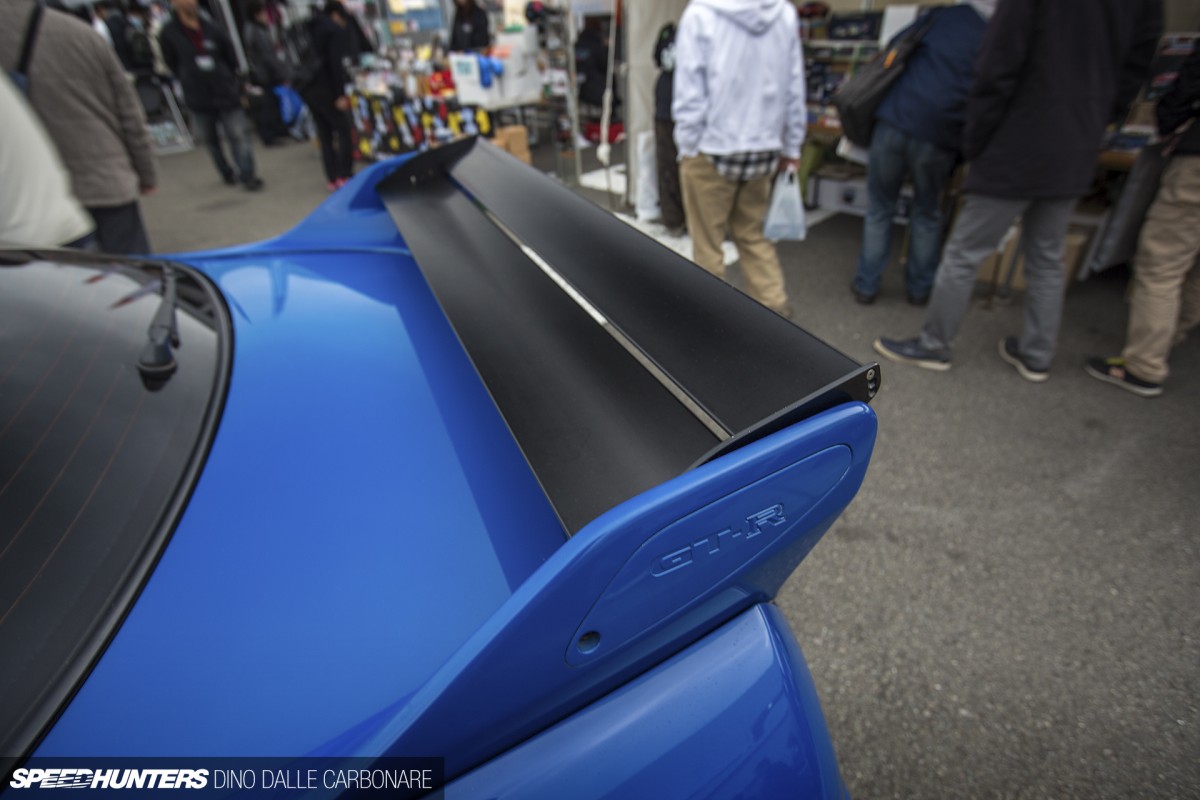 A nice twin-flap rear wing to get a little more functionality out of the stock spoiler and that is all that was needed.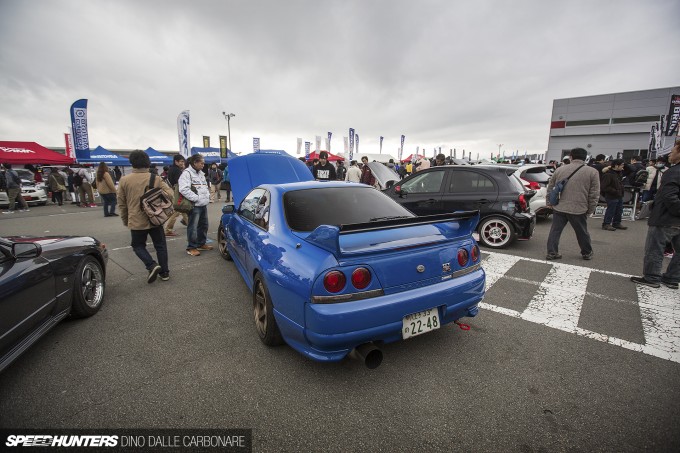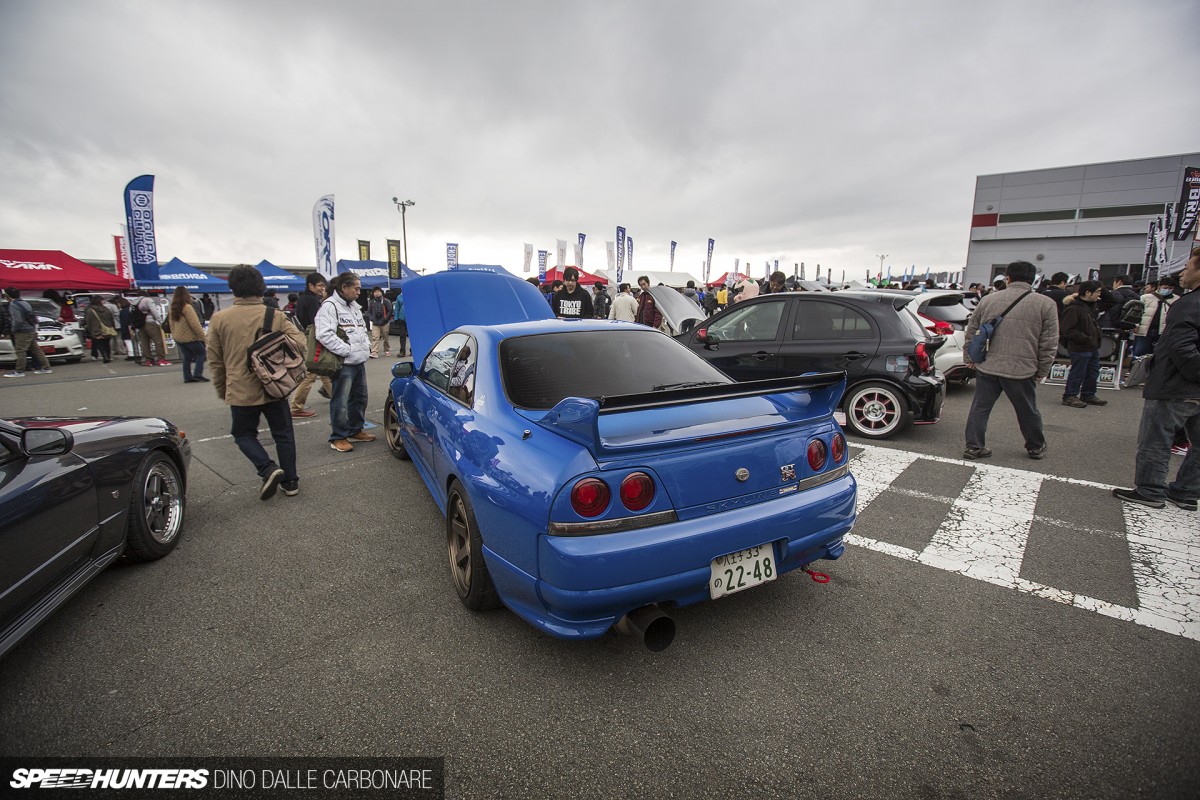 Oh yes, and I can't possibly forget the massive exhaust outlet – a must for helping keep stray cats around the neighbourhood nice and warm.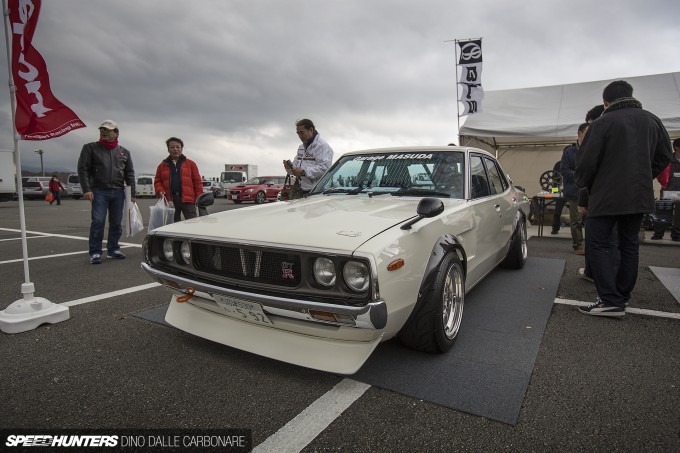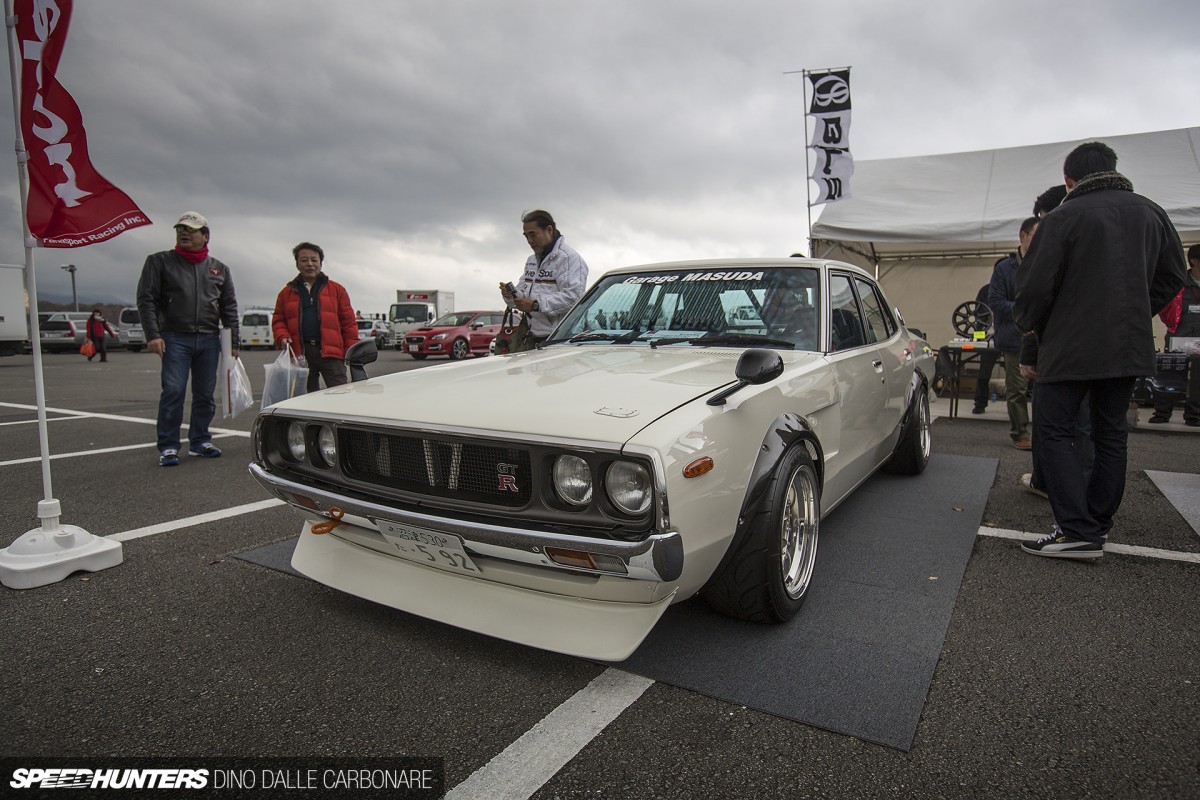 We've seen a drift car, a race car and an obviously very capable street car, so it was some vintage metal that I was after next. And right at the end of the paddock is where I found a bit of a rarity. Okay, so it isn't a GT-R, but it's not too often that you see a four-door Kenmeri.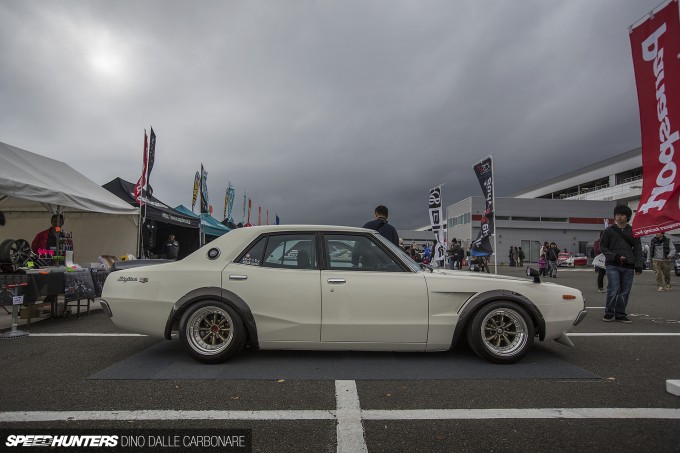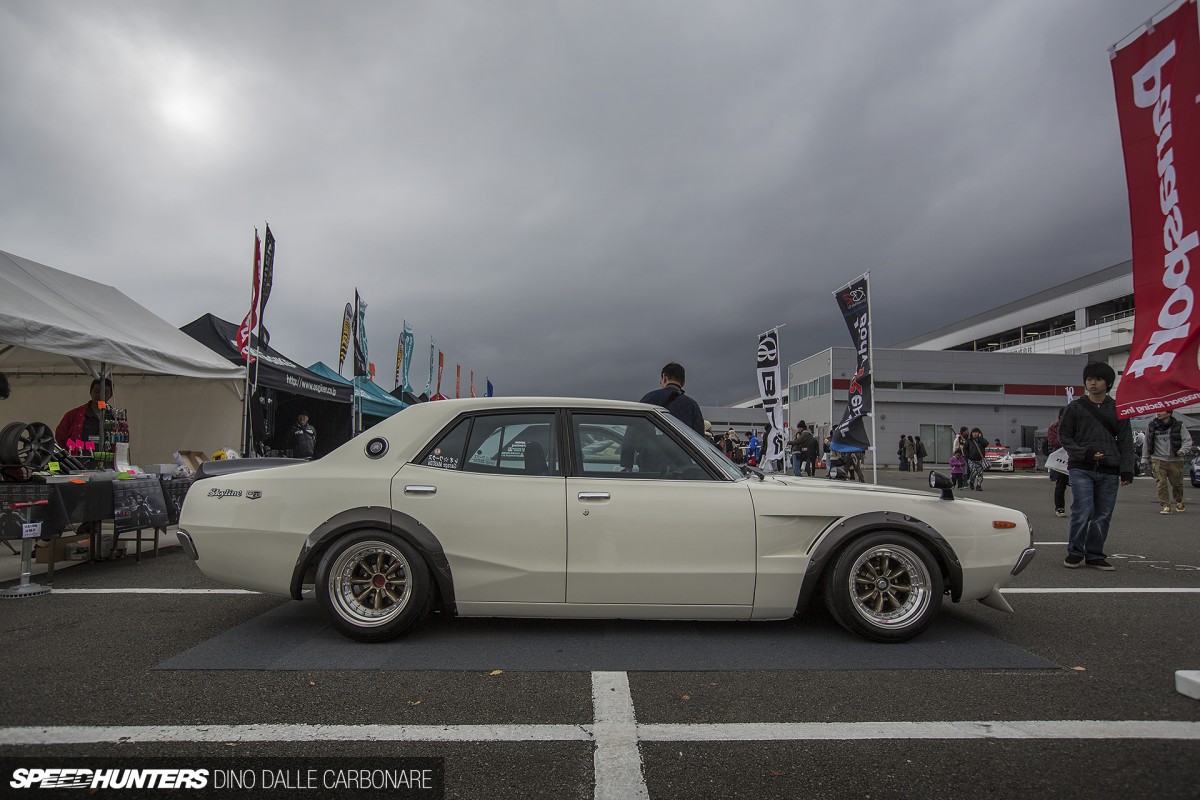 What made this GT-R-inspired example even more special is that the signature squared-off rear fender outline was hidden by the addition of the Works fenders. It really helps transform the entire profile of the car, and mated to the vented front additions makes for a damn good looking machine, don't you think?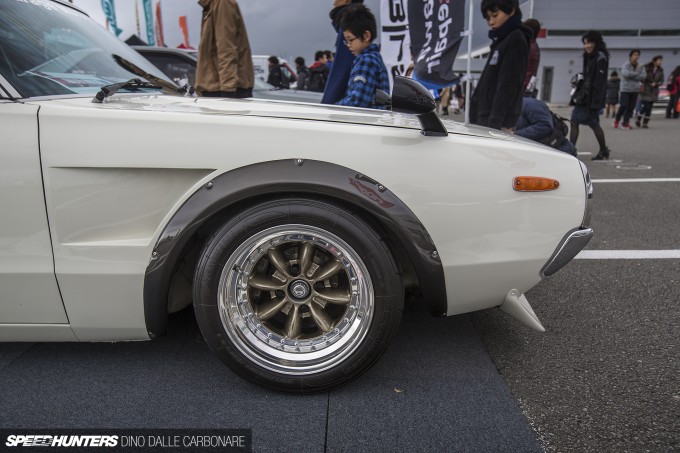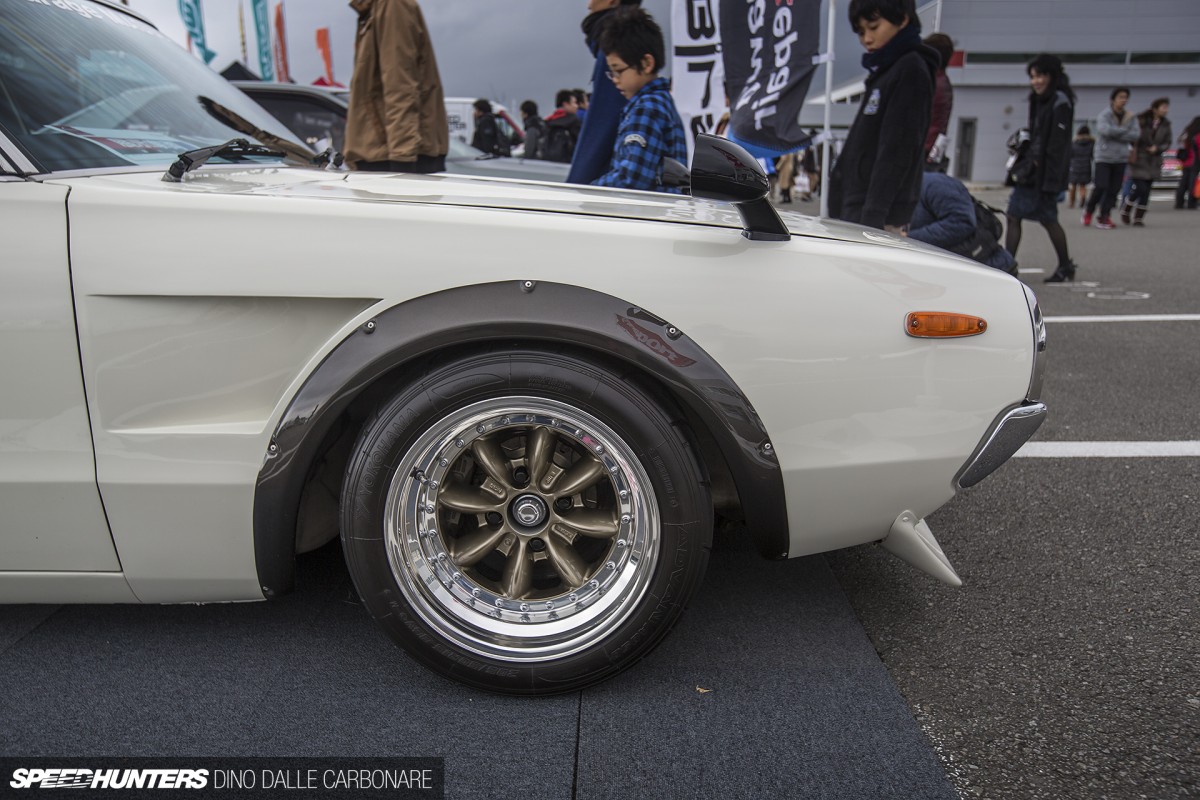 Seeing the car was on display at the Panasport booth, it was sitting on a fresh set of 3-piece Racing/G7-C8Rs wrapped in super-sticky 205/50R15 Yokohama Advan A050s.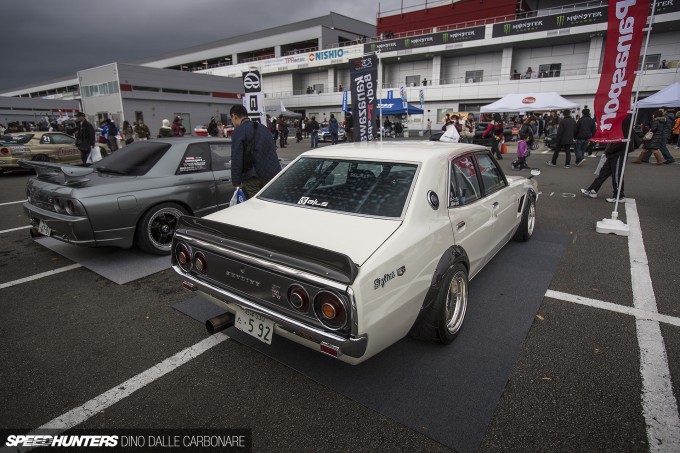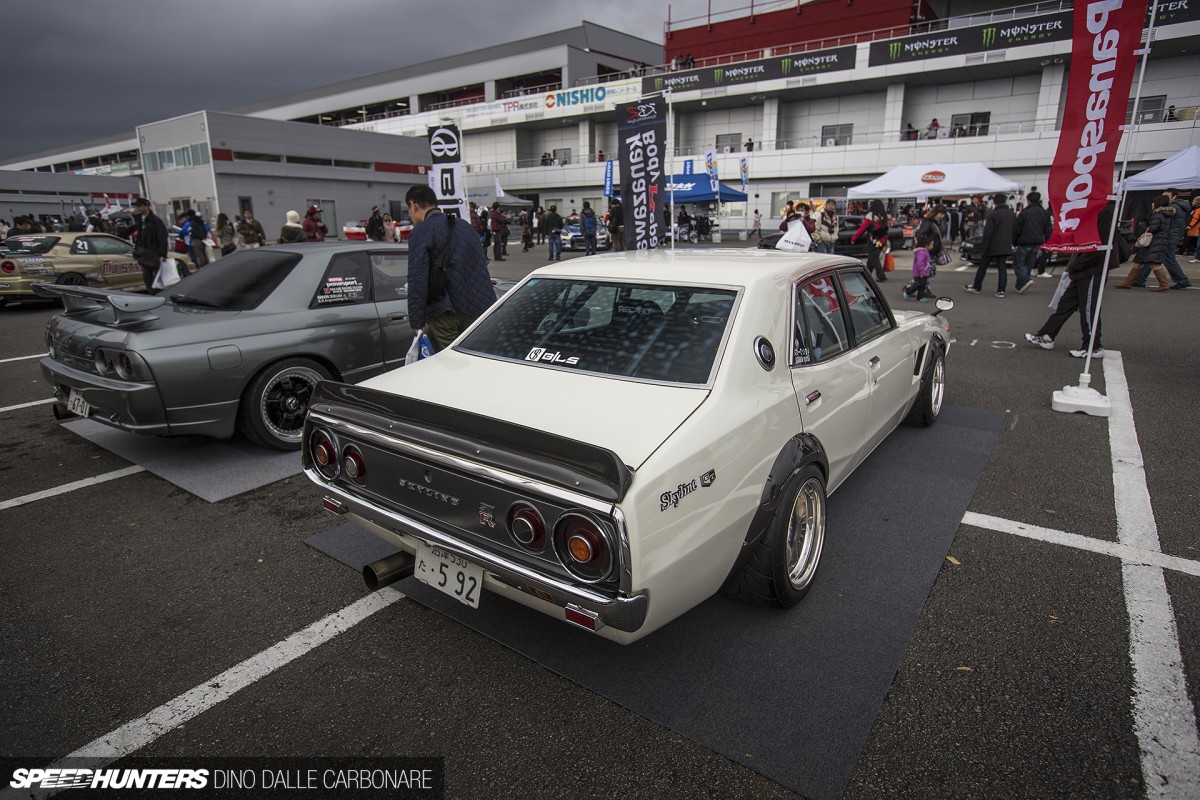 The GT-R touches continued right the way to the back with the fender badging and the ducktail spoiler.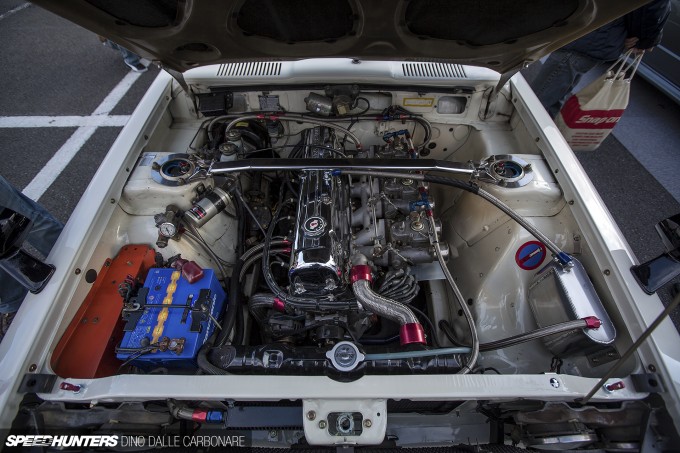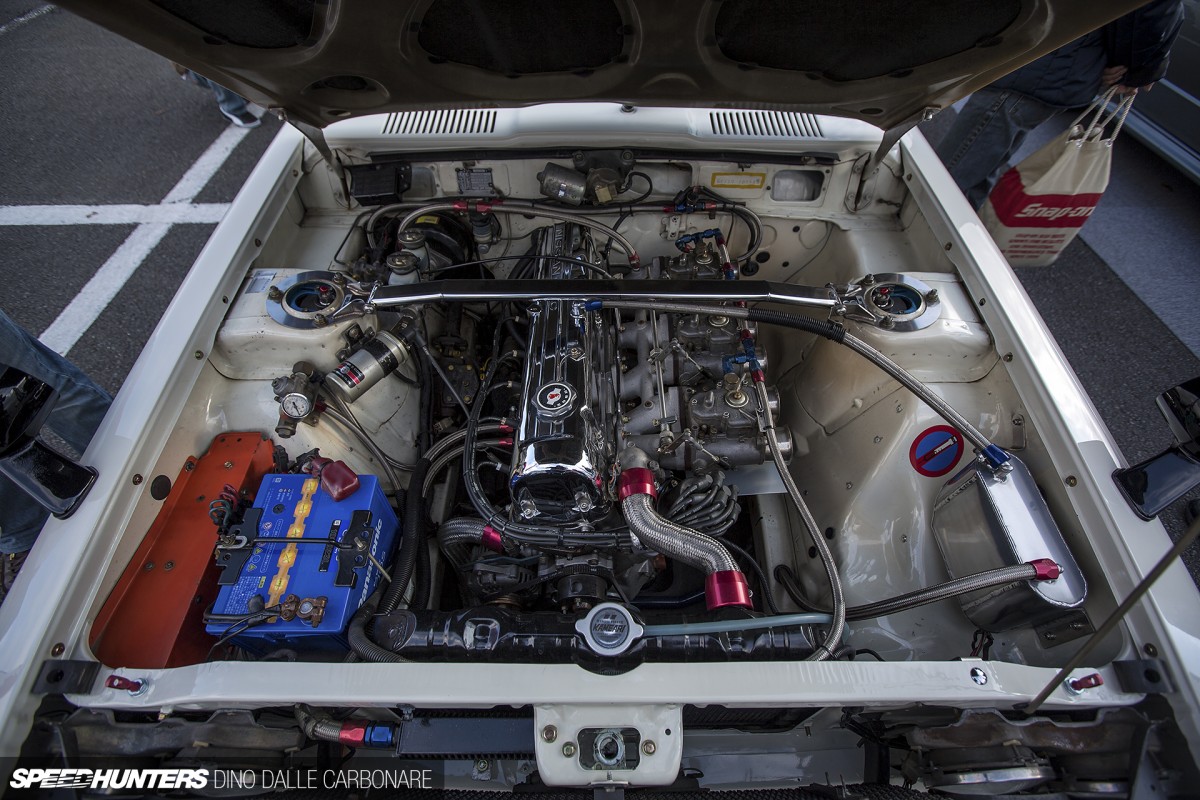 Under the bonnet it was L-series perfection with a nicely built unit running triple Weber carbs.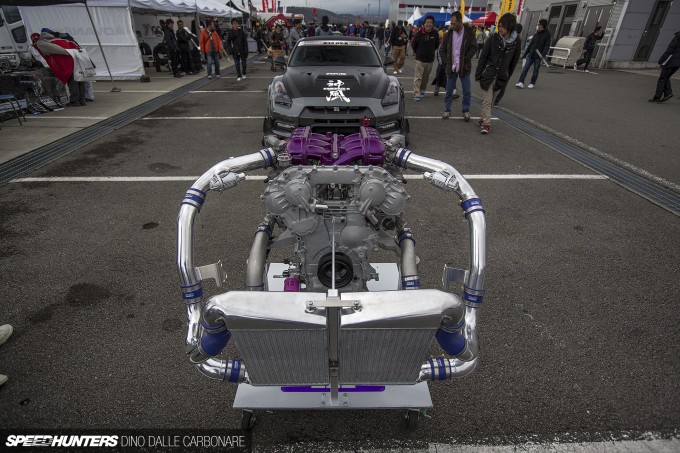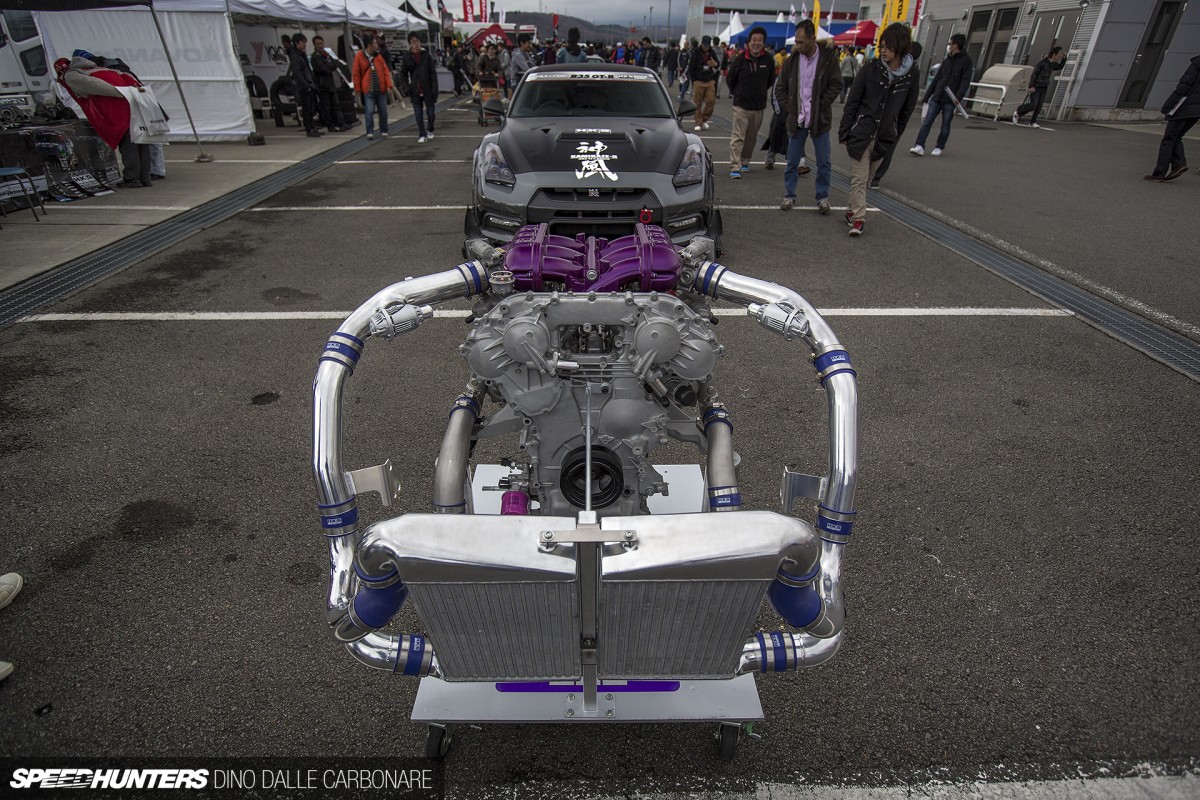 My last pick isn't a car per se, but an engine – HKS's 4.1L version of the VR38DETT to be precise. Sitting right in front of the Kamikaze-R that HKS Technical Factory built in collaboration with Varis, it represents a big change for this year: the fact that Nismo/Nissan finally allowed tuners to show off their modified R35s and the relevant tuning parts.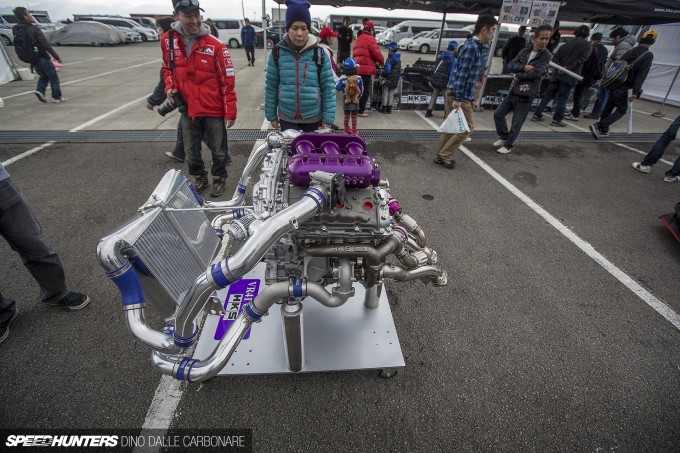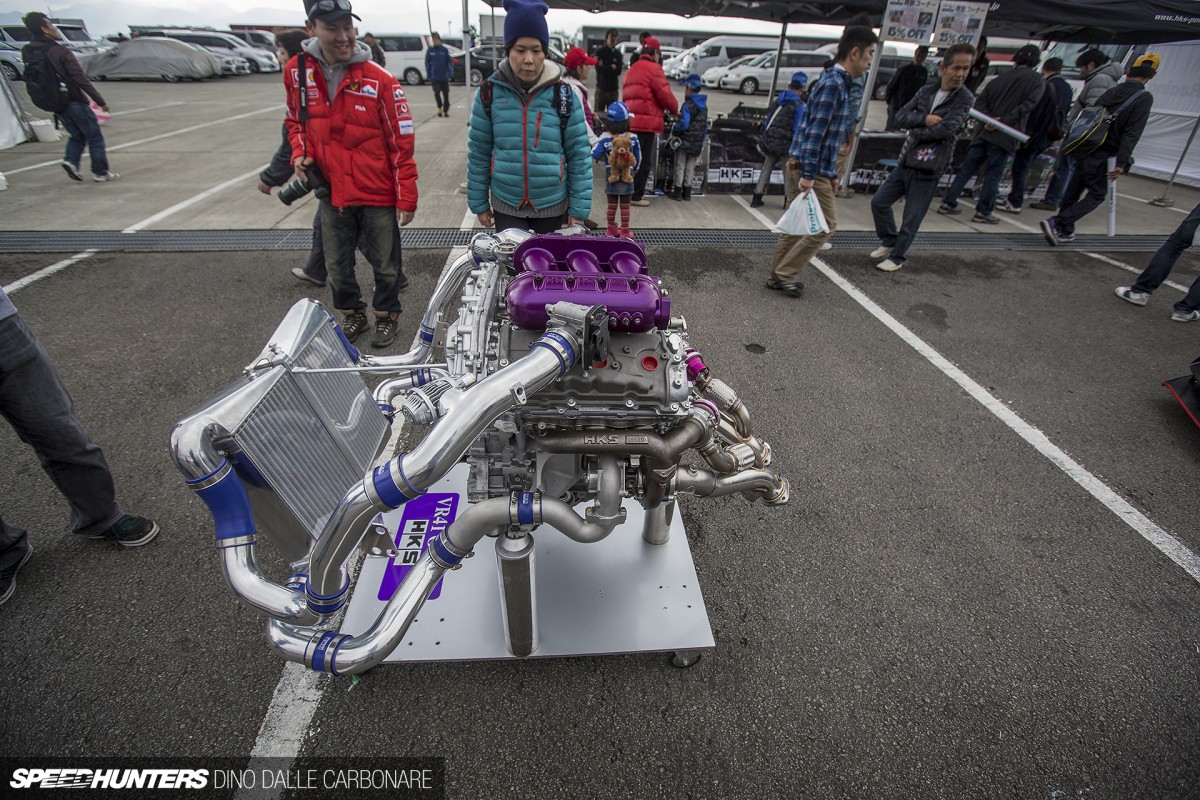 I can't even begin to fathom what the restriction (which came into play in 2007 when the R35 GT-R was released) was all about, but I'm just glad that it's now a thing of the past, as I suspect all the tuners that make a living out of these new GT-Rs are too.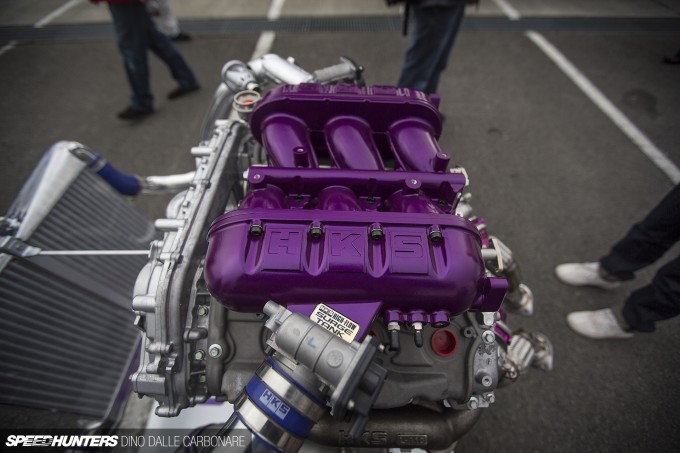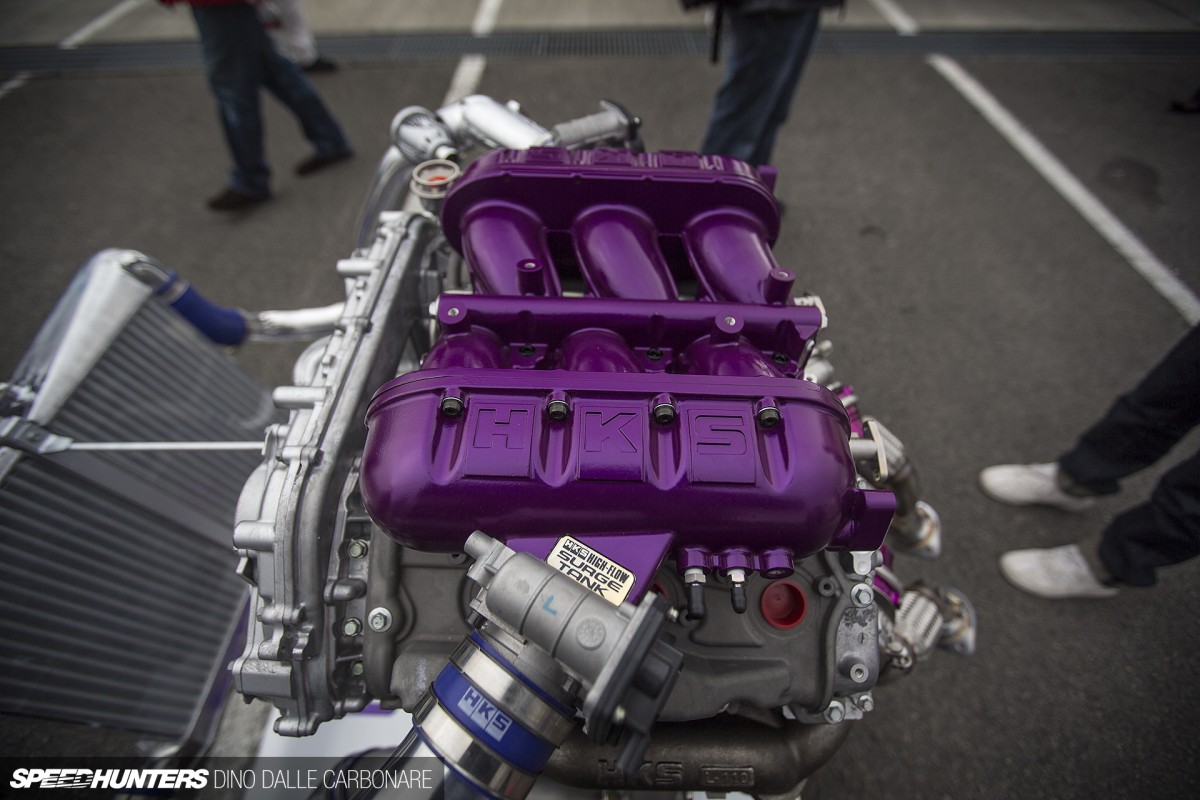 In Japan, HKS is the parts manufacturer of choice when you need to up the power on your VR, and this unit was sporting all their main gear. On top of a bottom end upgrade, the engine also included HKS's larger volume intake plenum (or surge tank in JDM speak).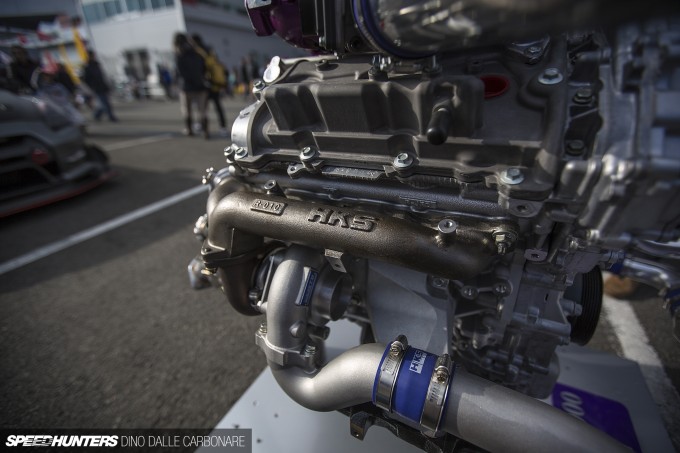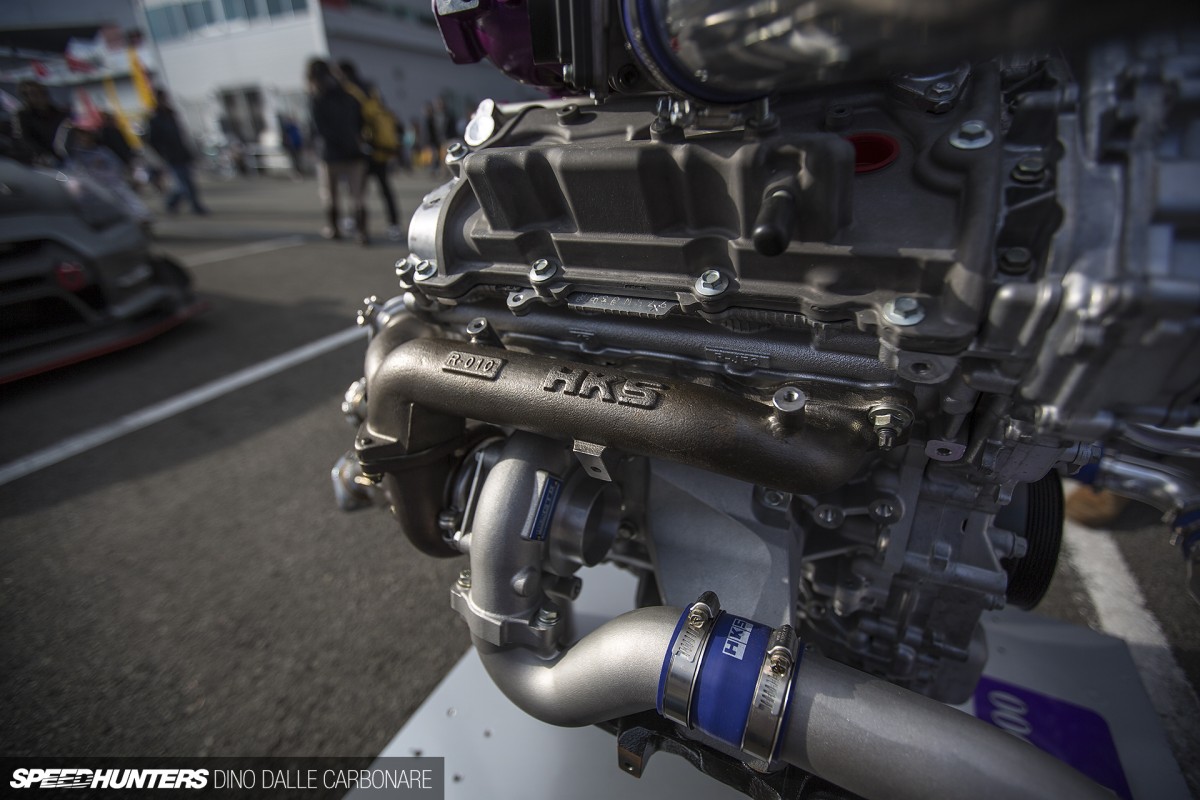 To keep tuners from swapping out the stock turbos for upgraded items, Nissan had IHI cast the stock turbine side of the blowers in one-piece with the exhaust manifold. A lot of good that did, as aftermarket upgrades were on the market within six months of the R35 going on sale. The GTII turbo kit is good anywhere up to 1,200hp when mated to the right sort of supporting parts, and what really makes it special is the fact that it's been created with full symmetry in mind.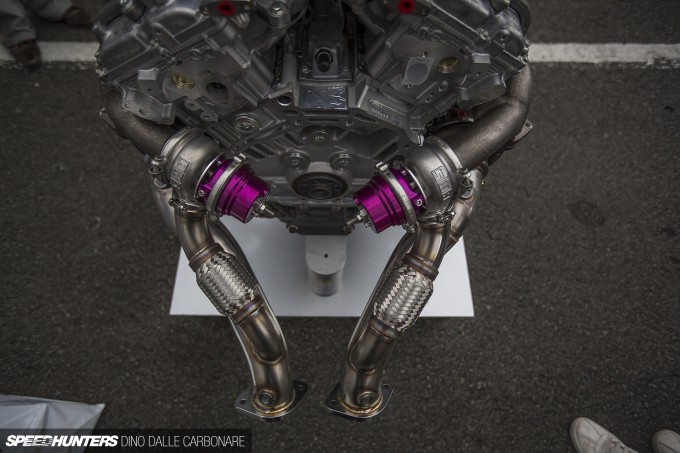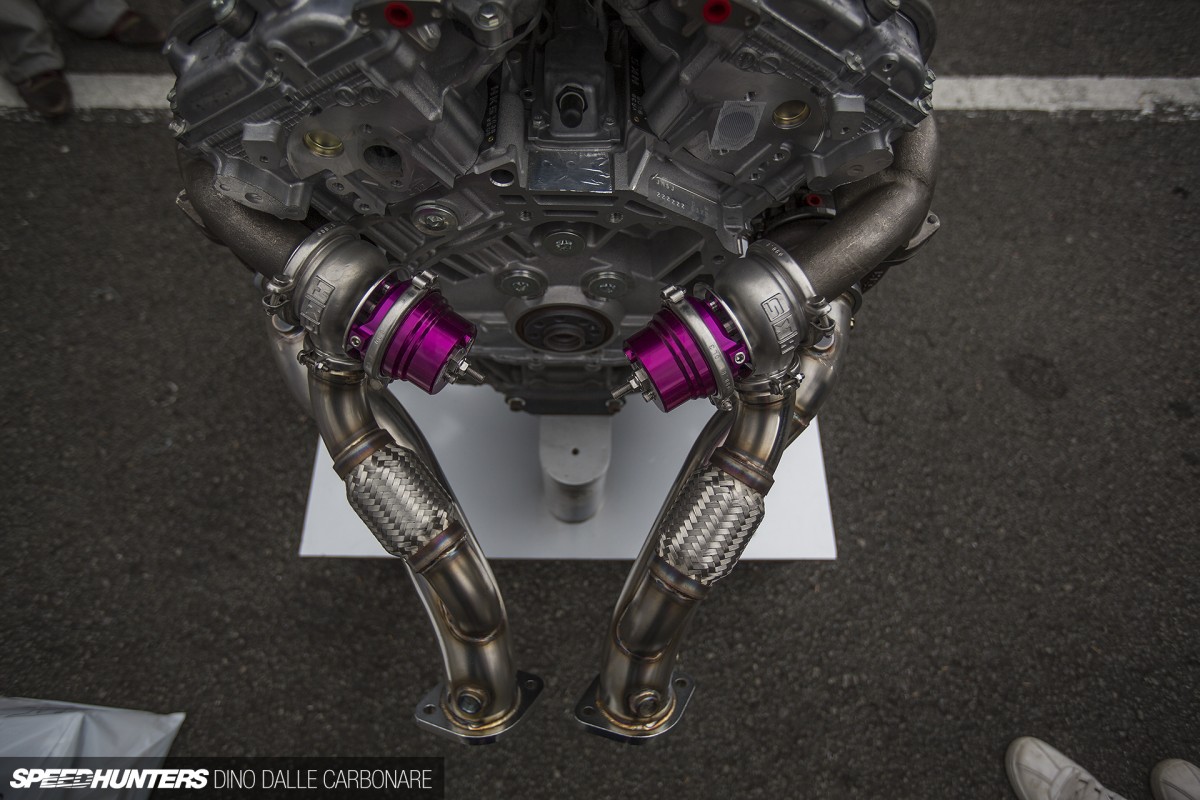 That's important, as aside from looking damn good, it allows all the other parts like the down pipes and wastegates to package nicely, as there isn't that much free space to play around with down there. The only real drawback in my opinion is that unlike the RB26, you can't see all these nice tasty little bits and pieces. I suppose it's good if you prefer the stealthy look!
That's all from the Nismo Festival but not quite it from Japan. This month is jam-packed full of cool events like the Tsukuba Super Battle and the Mooneyes Hot Rod and Custom Show – not to mention the most important hill climb event Japan has ever seen. Off-season? In Japan? Yeah, right!
Dino Dalle Carbonare
Instagram: speedhunters_dino
dino@speedhunters.com