Enthusiasts Unite
We are no strangers to the annual automotive event that is the Nismo Festival. No matter how many times we revisit it, the sights of cars both past and present never fails to impress. Nissan and Nismo have something very special on their hands here, and while others have tried to imitate the event, this celebration of pure automotive infatuation really has no rival.
This Nismo Festival is the sort of gathering that strengthens a brand in a way that soulless marketing and PR stunts can't even come close to matching. It's much a part of these two brands as it is of the people, something I've come to understand having attended for the last 15 years.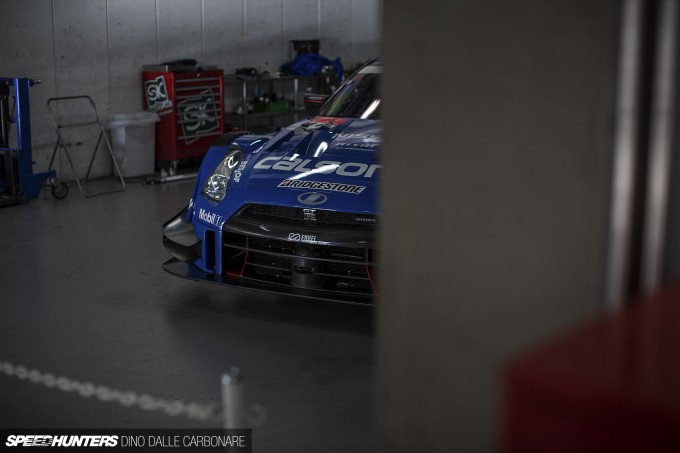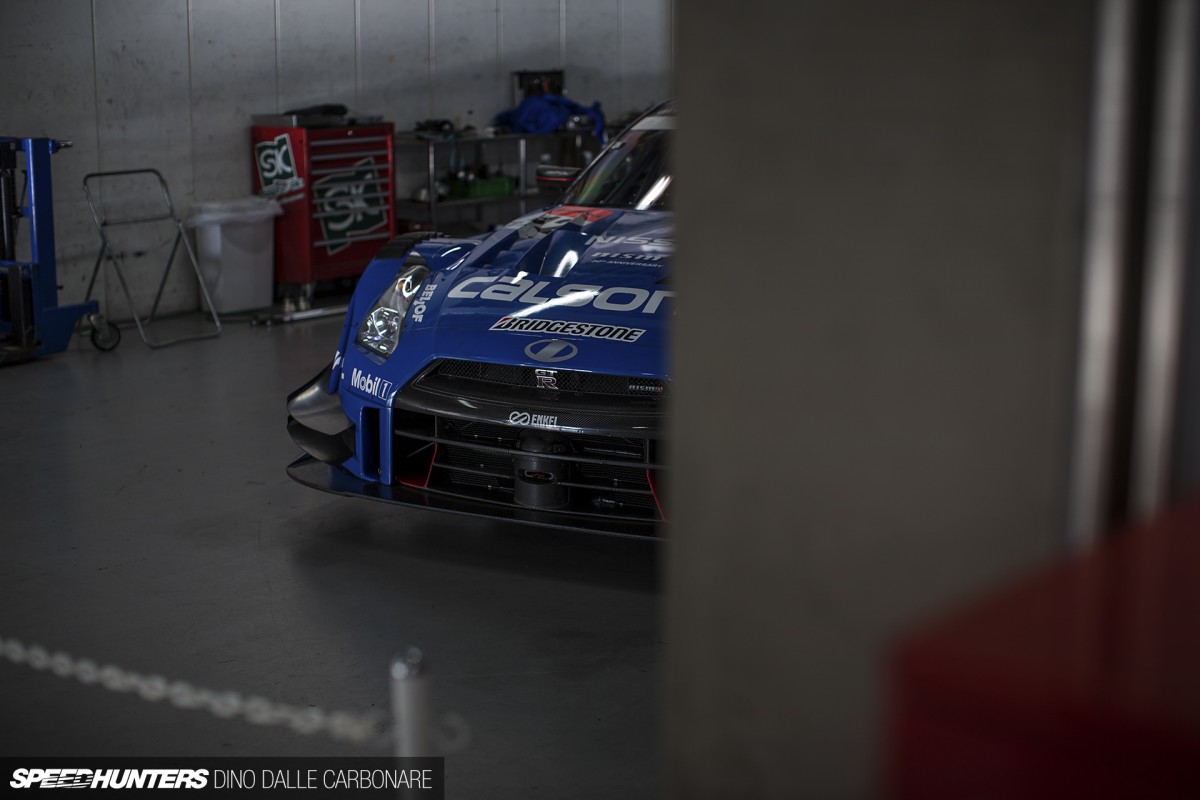 The event allows Nissan's fans to get up close and personal with its iconic cars – those from the history books all the way up to the latest modern race cars. And it's not just a static display deal – Nismo makes sure they bring out a squadron of pro drivers to take each and every machine for a drive.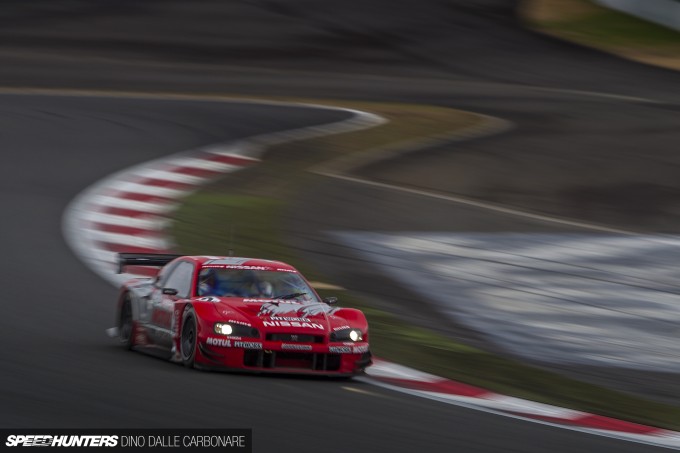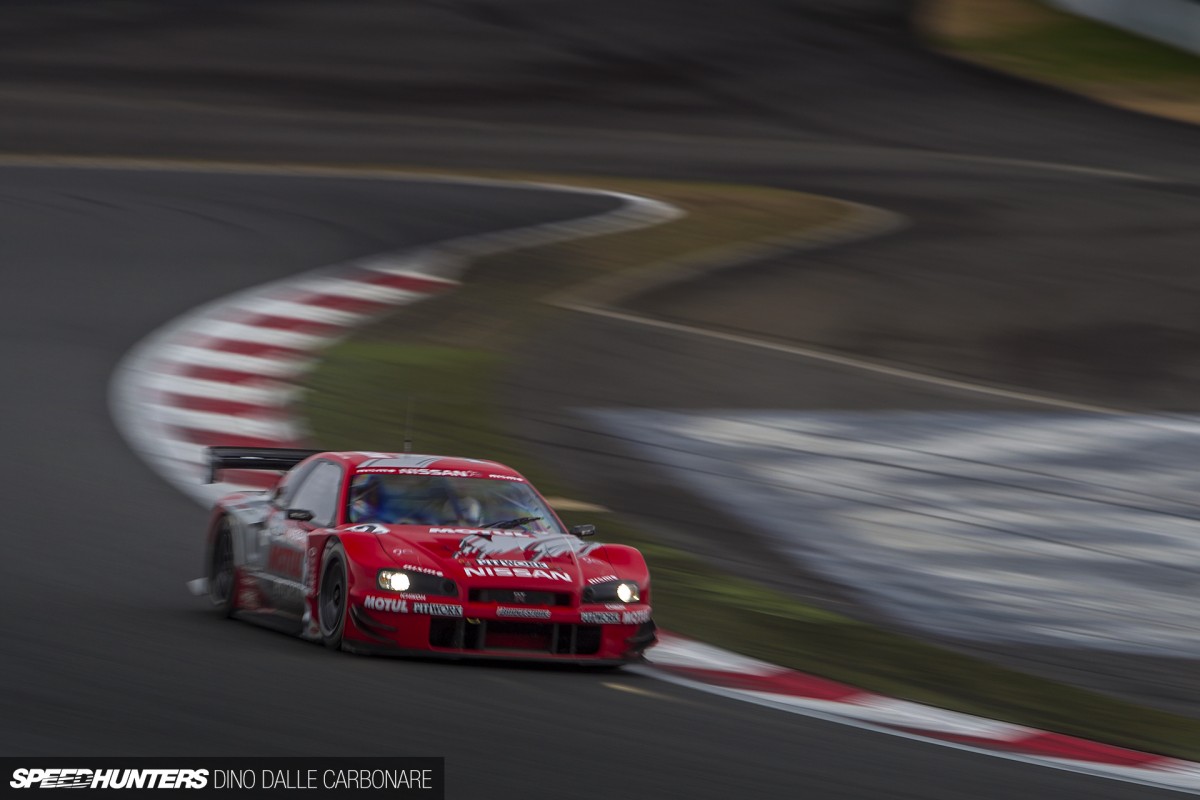 It's why we are treated to vision like this every year. For me at least, seeing an old R34 GT-R GT500 racer do its thing on track strengthens the love for my own R34, and – for a day at least – allows me to forgive Nissan for currently not catering to the enthusiast market. Yes, there's the R35 GT-R, but how many of us can afford to blow a hundred grand on a supercar?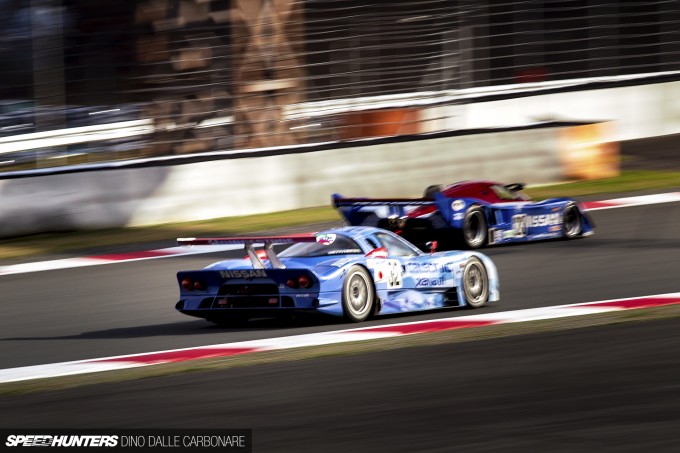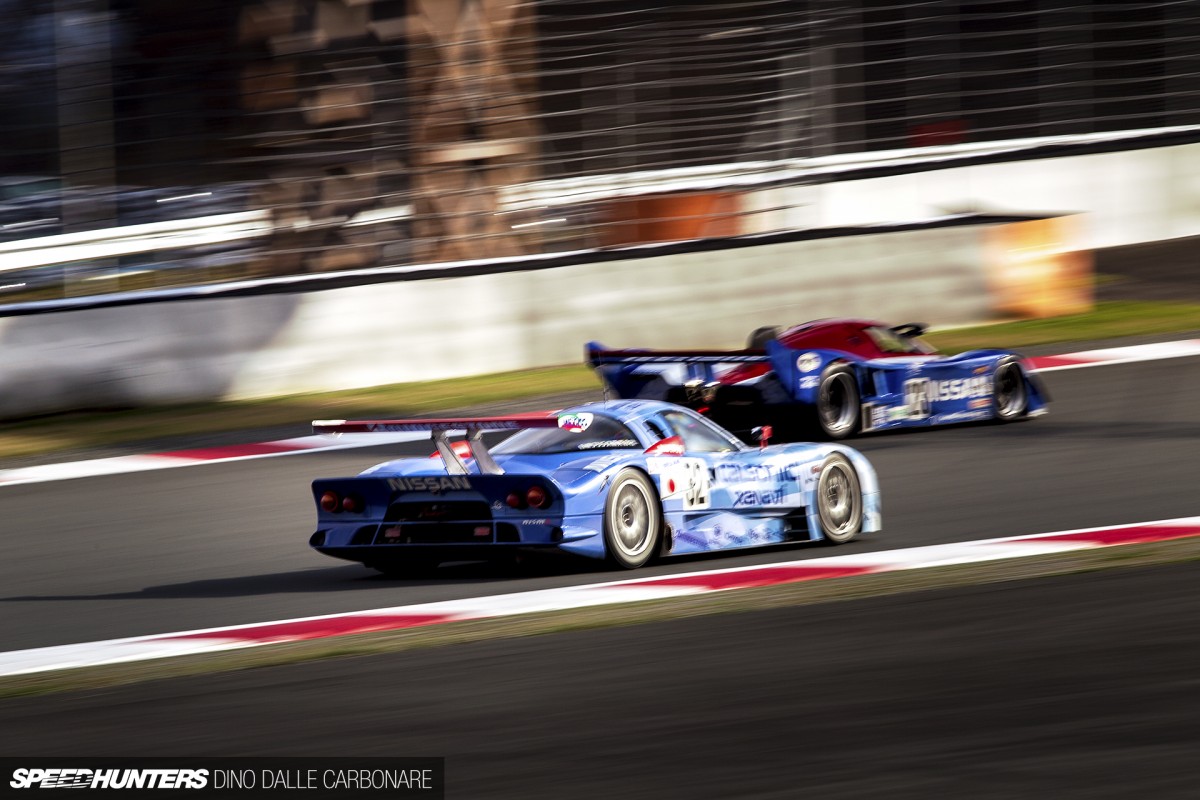 We need that precious iDX concept to go into production. Because, by bringing back an entry-level turbocharged sports car, Nissan would surely steal hearts like it did back in the day with the S-chassis. But being confronted with the greatest race cars of them all battling it out on the track, I felt optimistic this year. If Nissan and Nismo are still organising an event like this, it's also because they are thinking of the future – and that's a very good thing.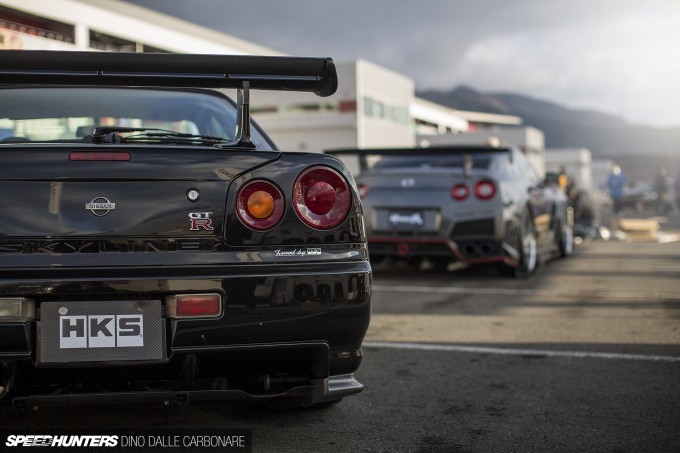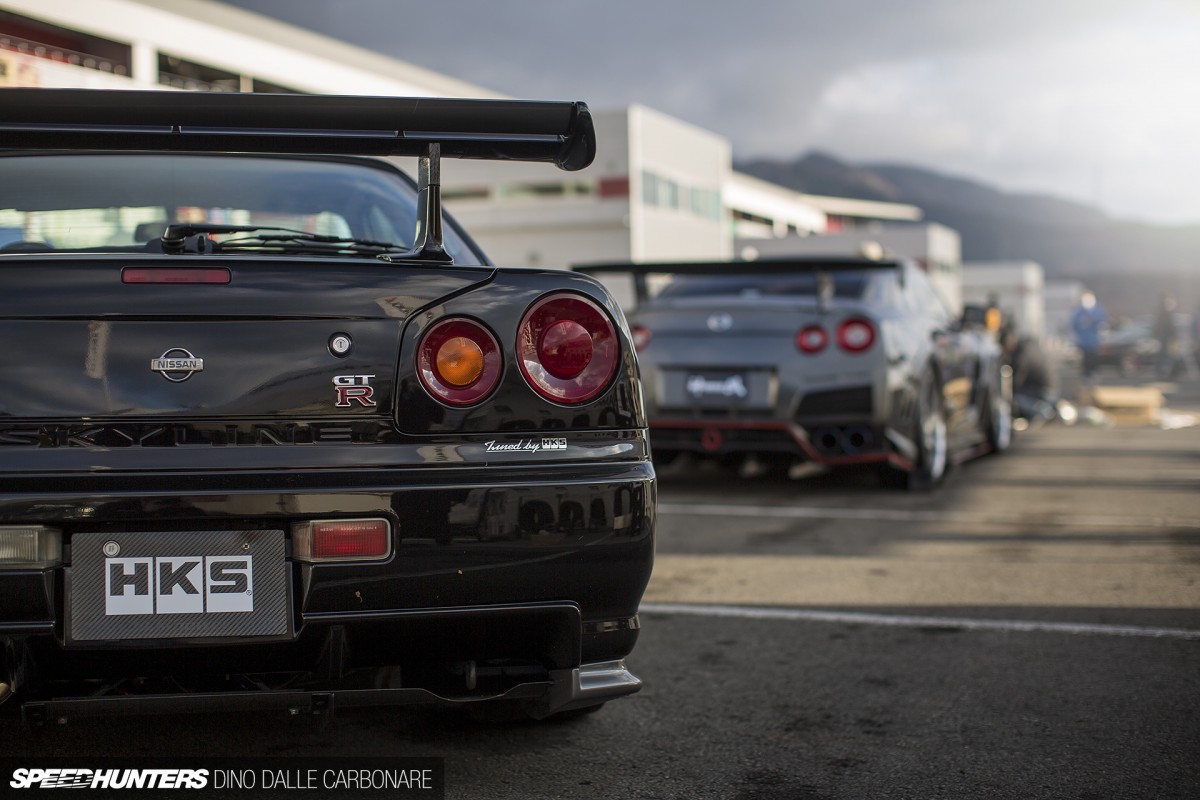 In the Fuji Speedway paddock, where tuners are given the chance to show off all their products and freshest demo cars, I noticed something different this year. This time around, Nissan actually acknowledged that their R35 can indeed be tuned, and allowed said tuners to bring their own cars along. Up until this year, modified R35s were simply banned from being displayed at shop booths – a silly move that did pretty much nothing. But Nissan's new mindset on the subject was a welcome one.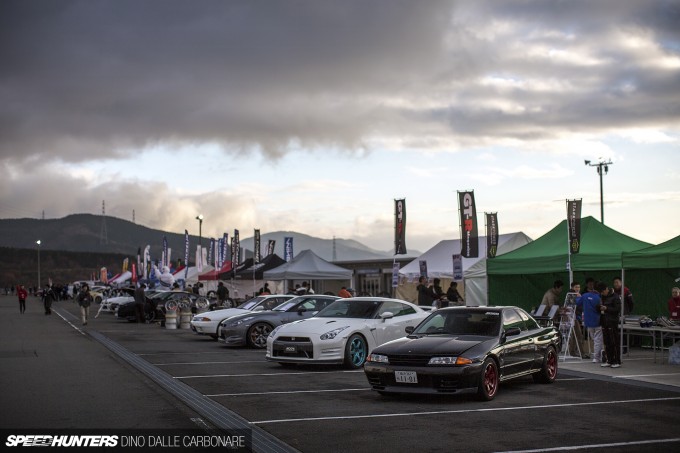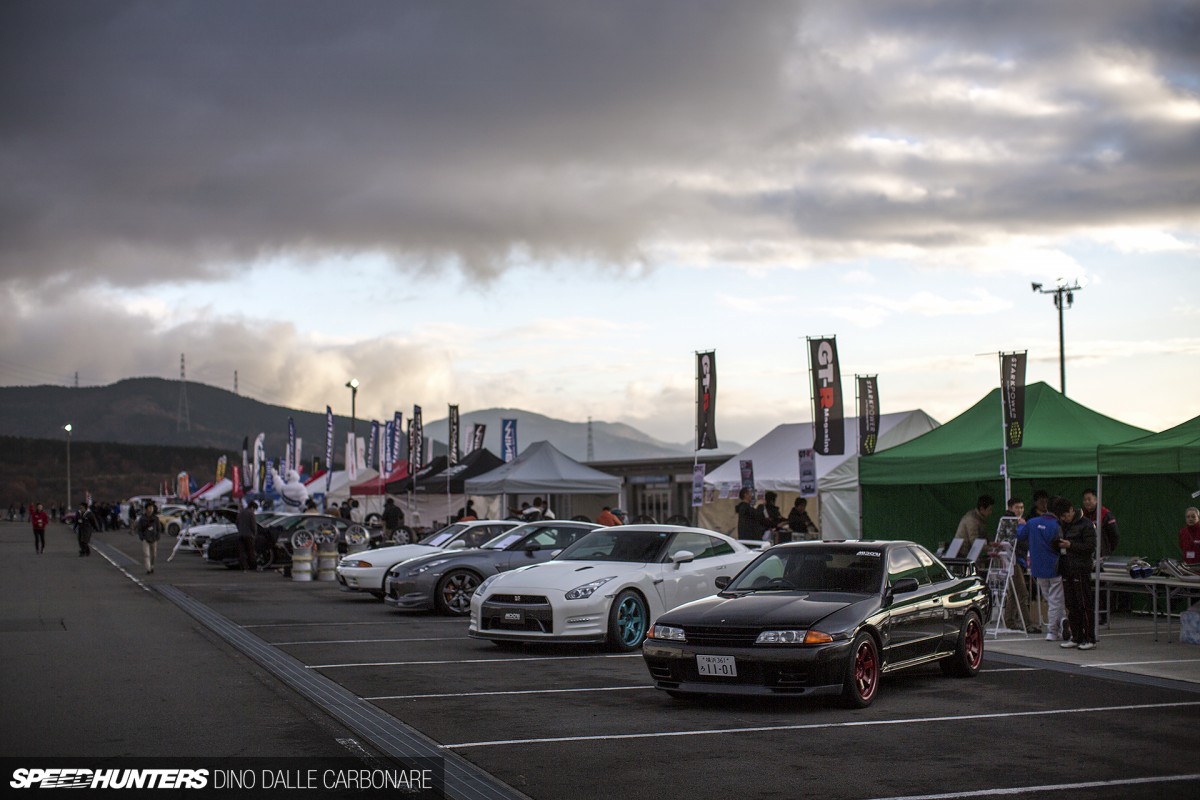 So along with the greats from the past, like Midori Seibi's black R32 seen at the end of the row here, the paddock was filled up with countless san-gos.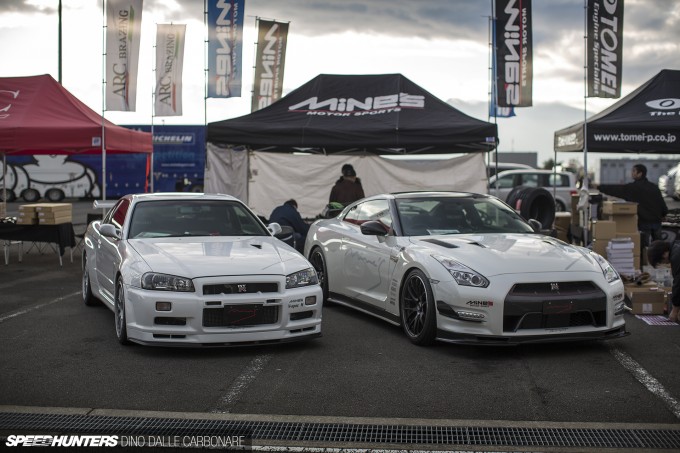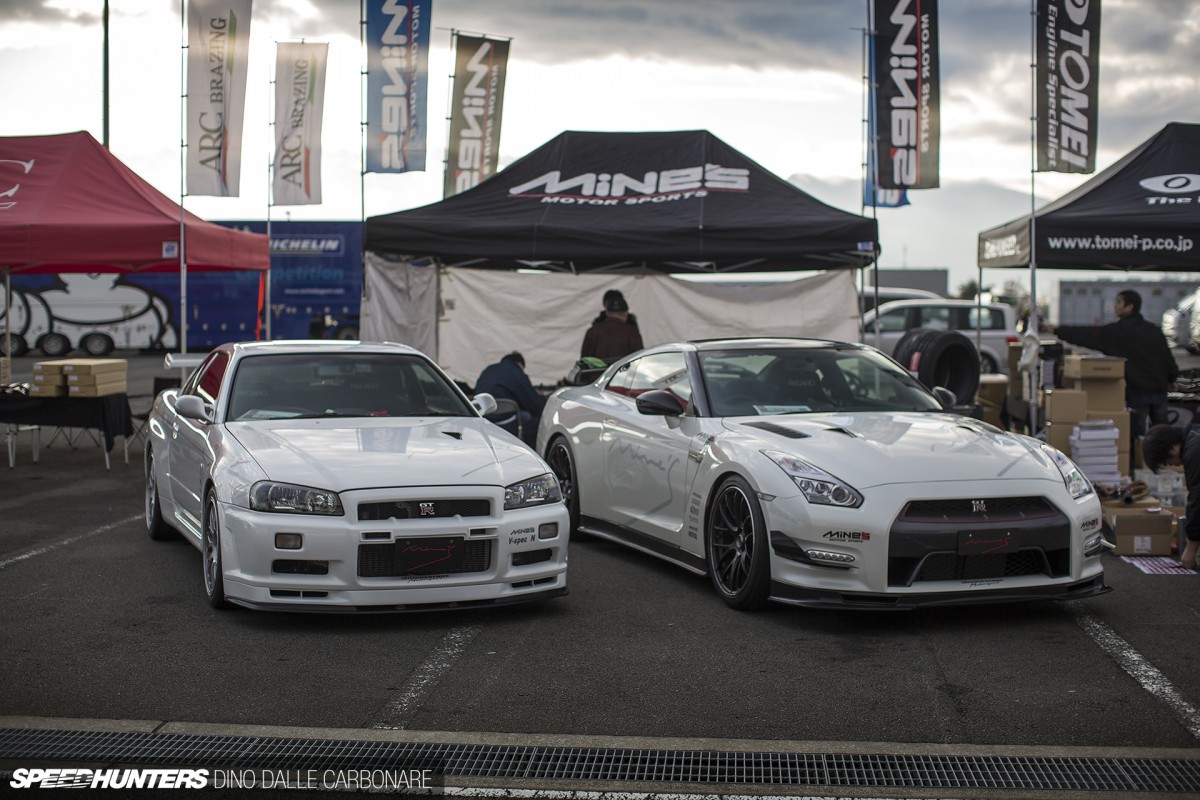 A legend next to the modern day interpretation of a GT-R. Given the chance, which one would you take home with you?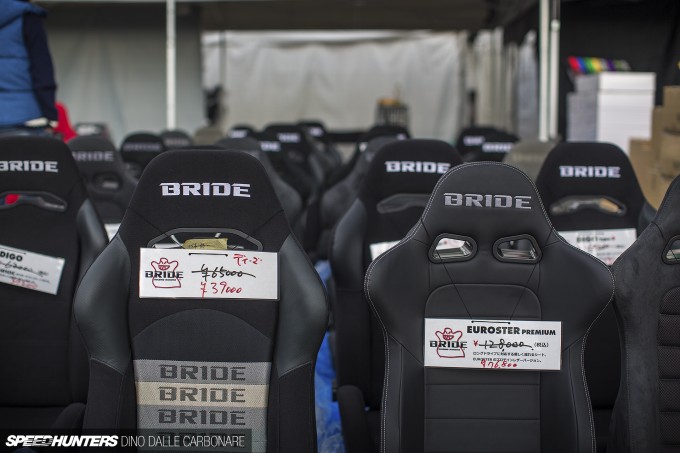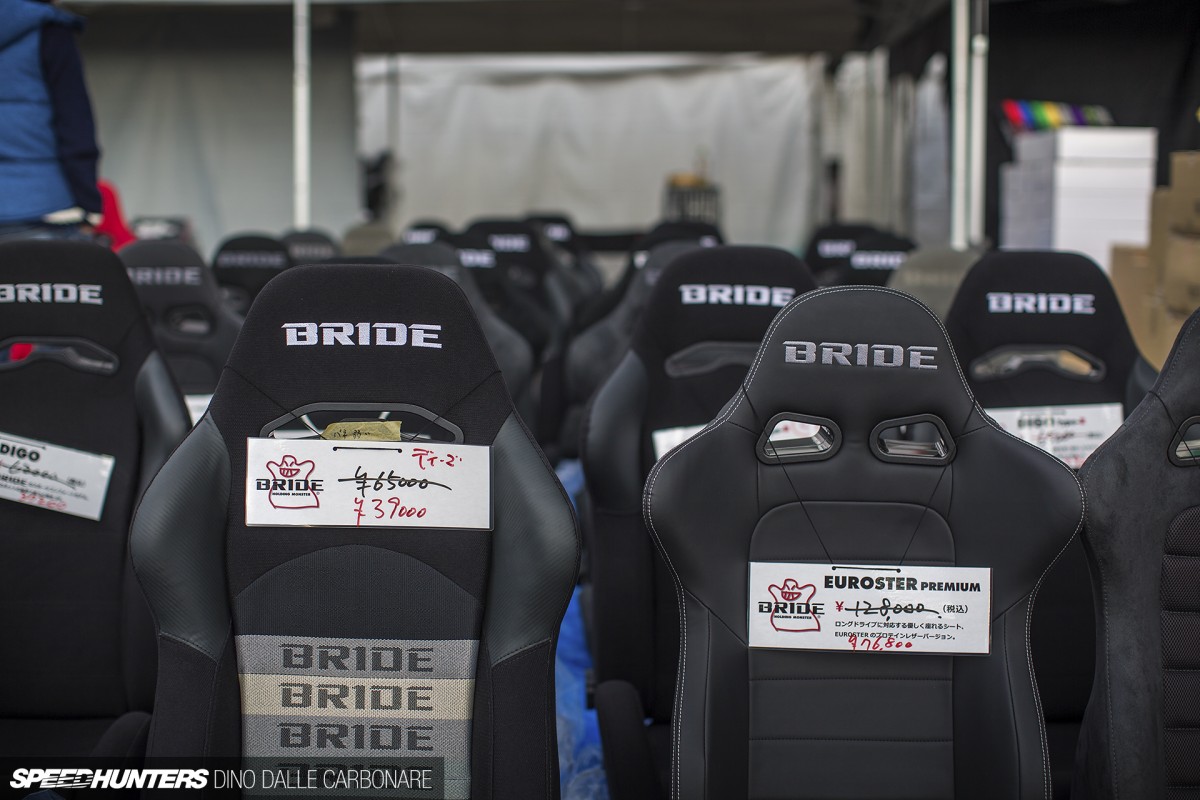 For owners of Nissan performance cars, one of the Nismo Festival's biggest selling points is the deals that can be had on the day. Take Bride for example; they laid out a ton of brand new seats with seriously slashed prices. I took this shot at around 8:00am and by 11:00am I only counted eight seats left.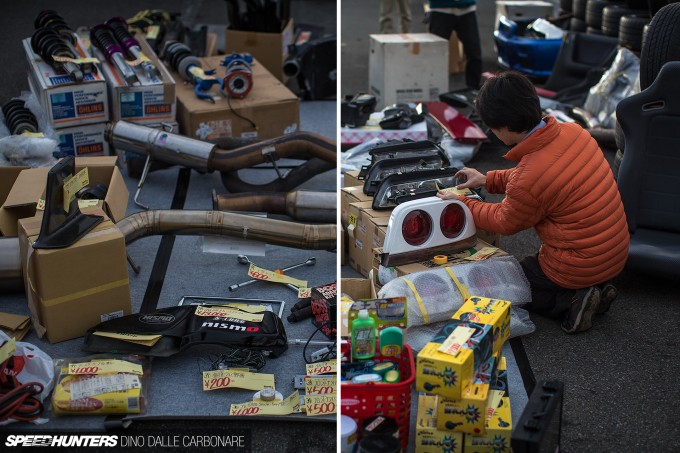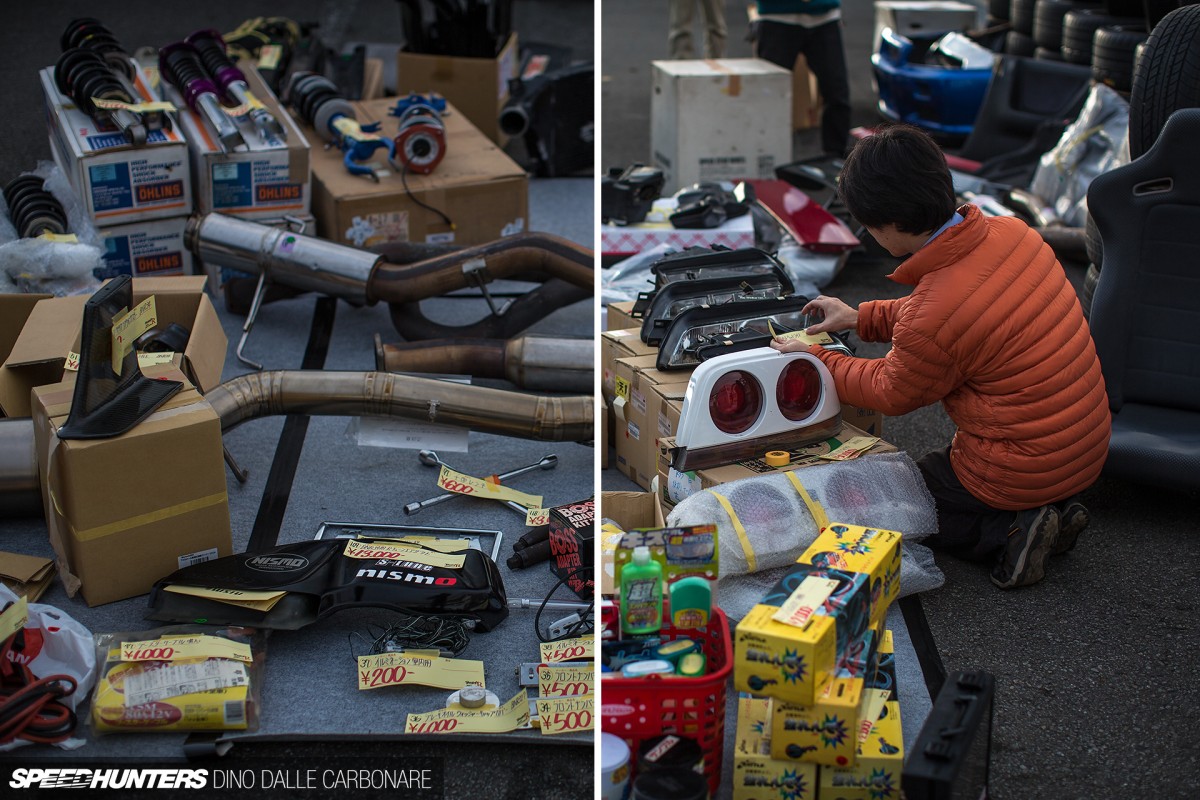 It's also a great place to find some great secondhand deals too – you just have to get in early and buy then and there if something takes your fancy. The 'I'll have a think about it and come back later' approach does not work at the Nismo Festival!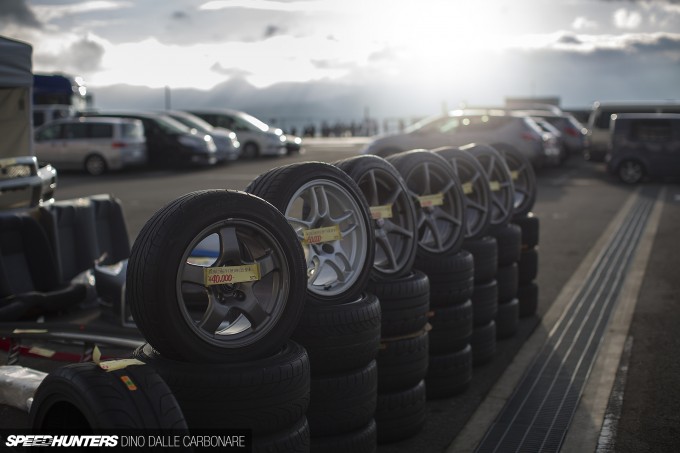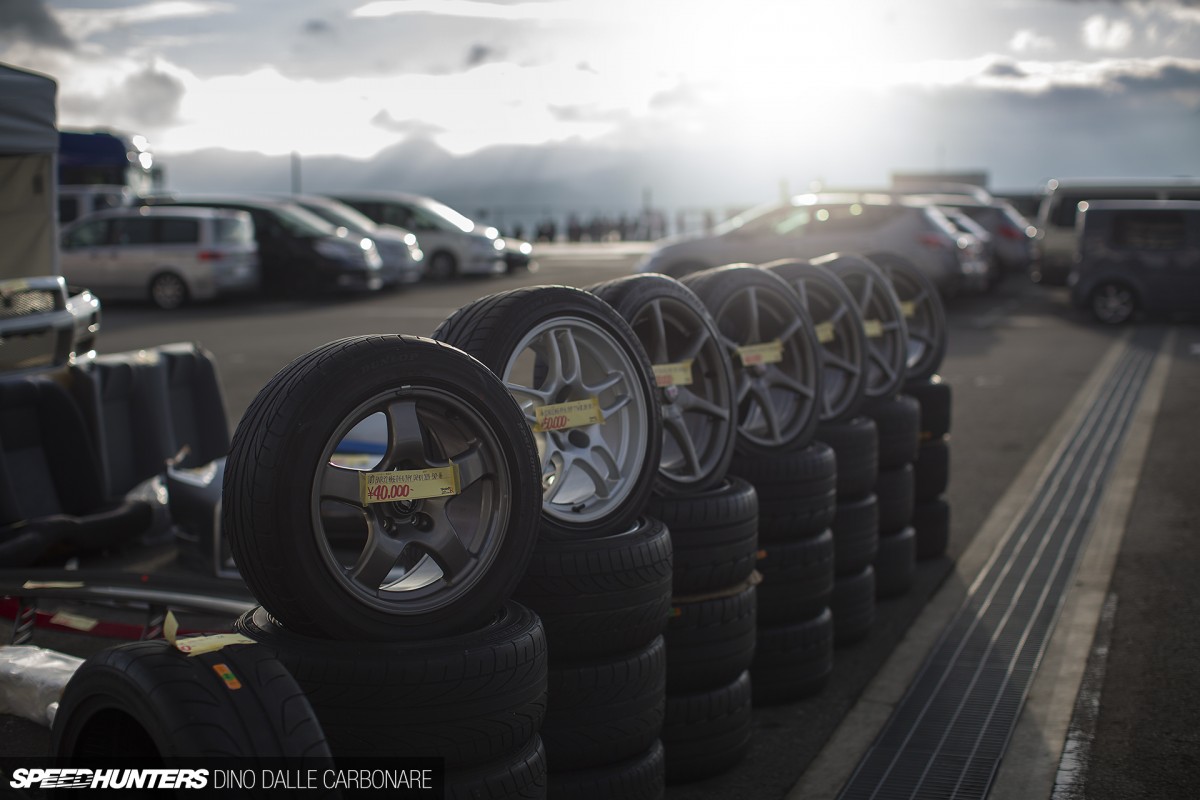 Do I regret selling my stock BNR34 BBS rims? Yes, I do. That's all I have to say on the matter…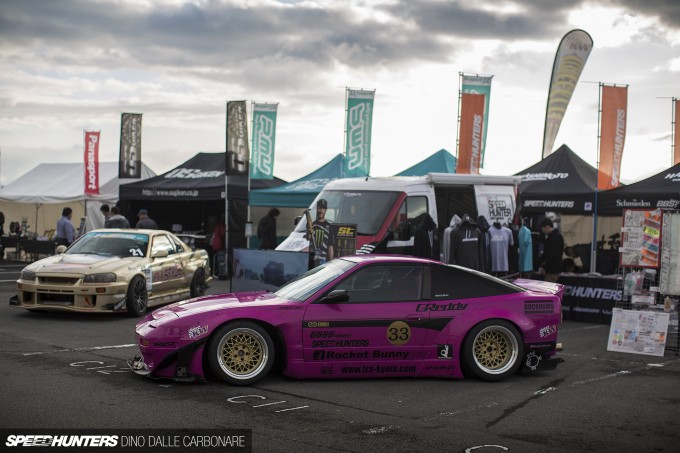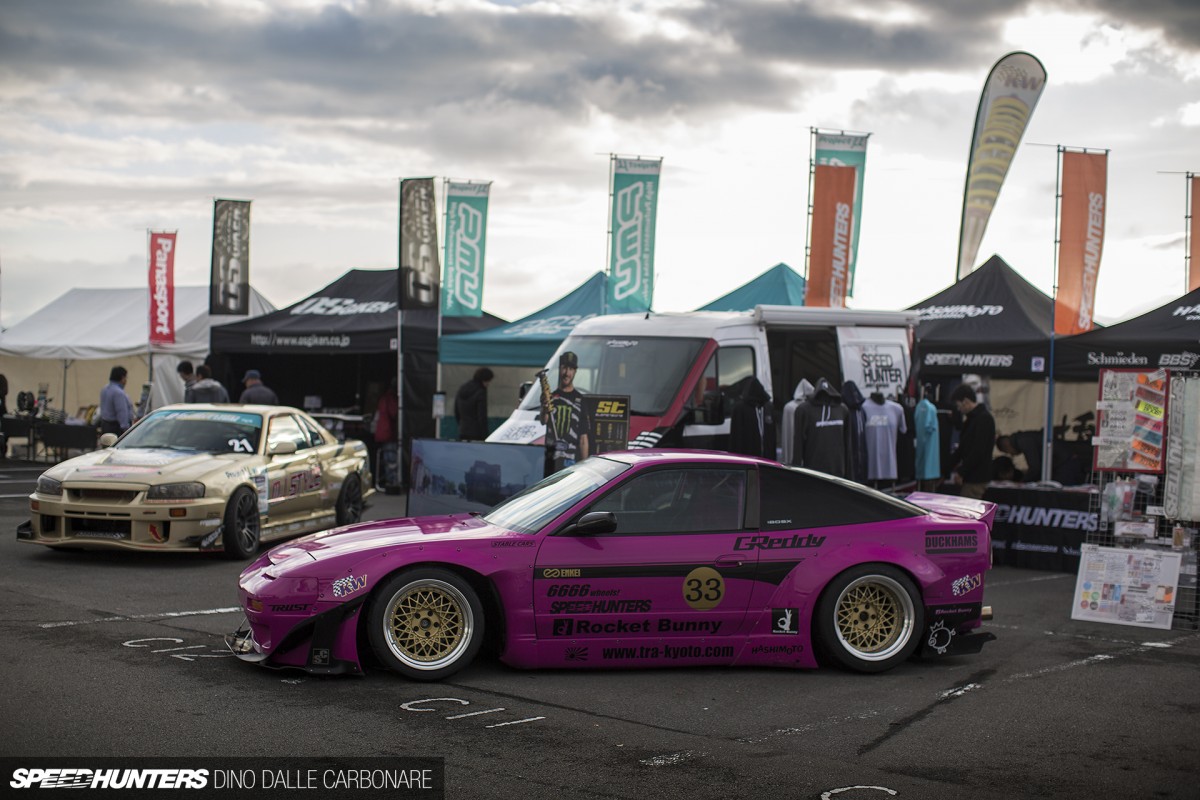 Seeing the Speedhunters booth alongside some of the biggest names in the JDM aftermarket scene certainly made me feel quite proud. To top it off we even had the Stable Cars 180SX on display as well, now sporting fresh new 6666 wheels by Enkei.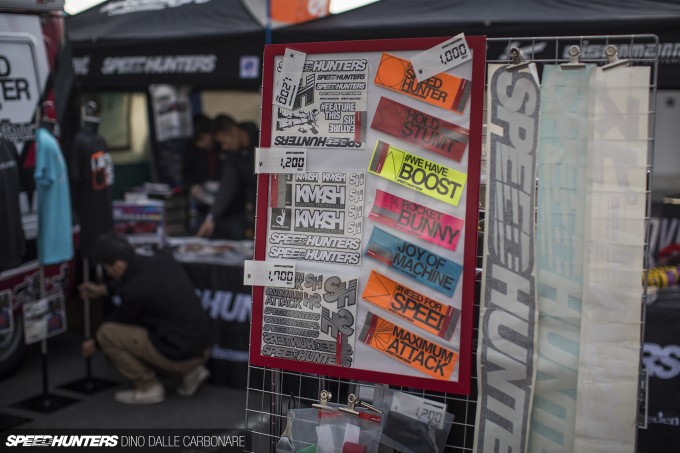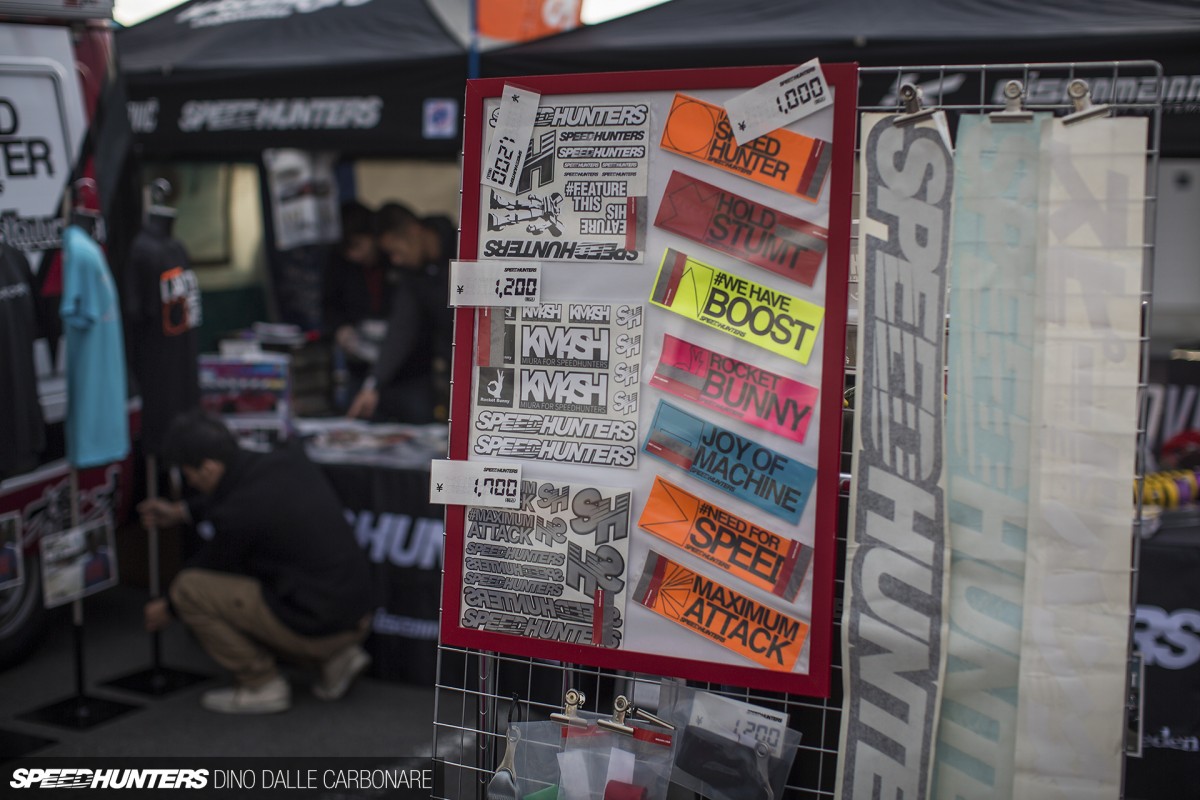 Along with the usual popular bumper stickers and sticker sheets, the latest collection of gear was on sale. With the freezing temperatures everyone had to endure, I'm sure the new hoodie went down quite well too!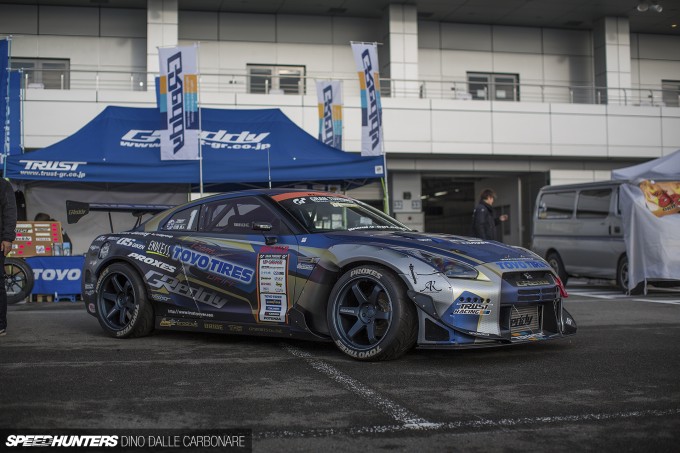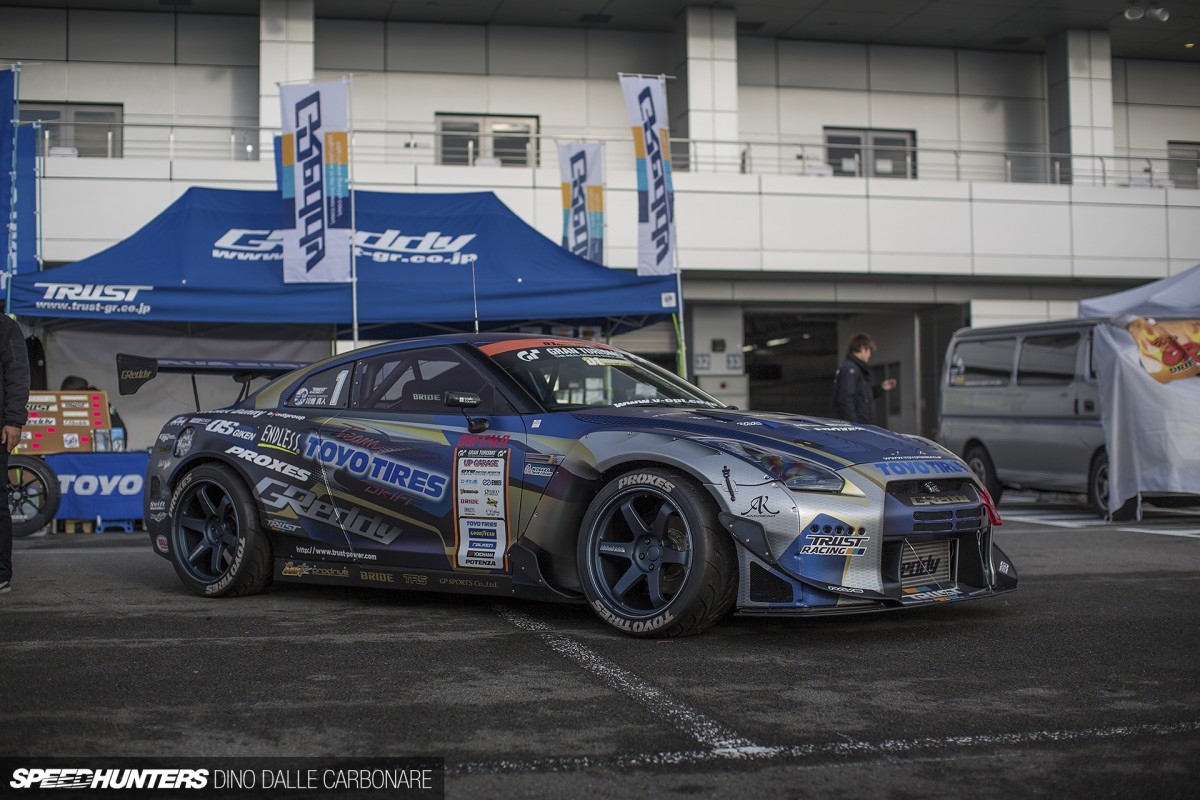 Kawabata's D1 GT-R is going to make history. Well, it actually already has, but we won't be seeing why and how just yet. All I can say is this: at the end of this month he will officially become a drifting legend. Do I have your attention yet?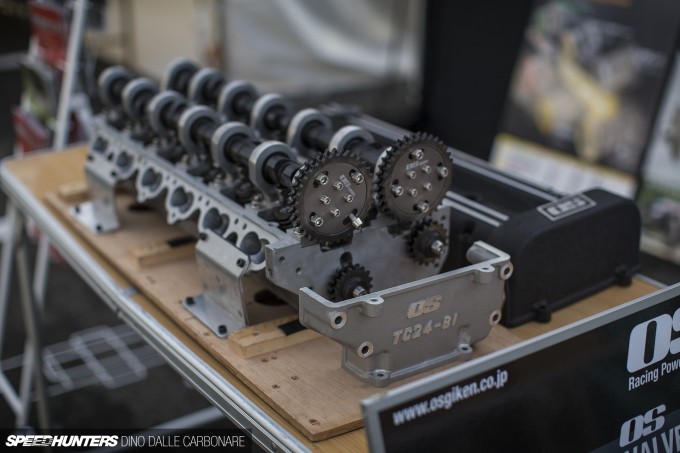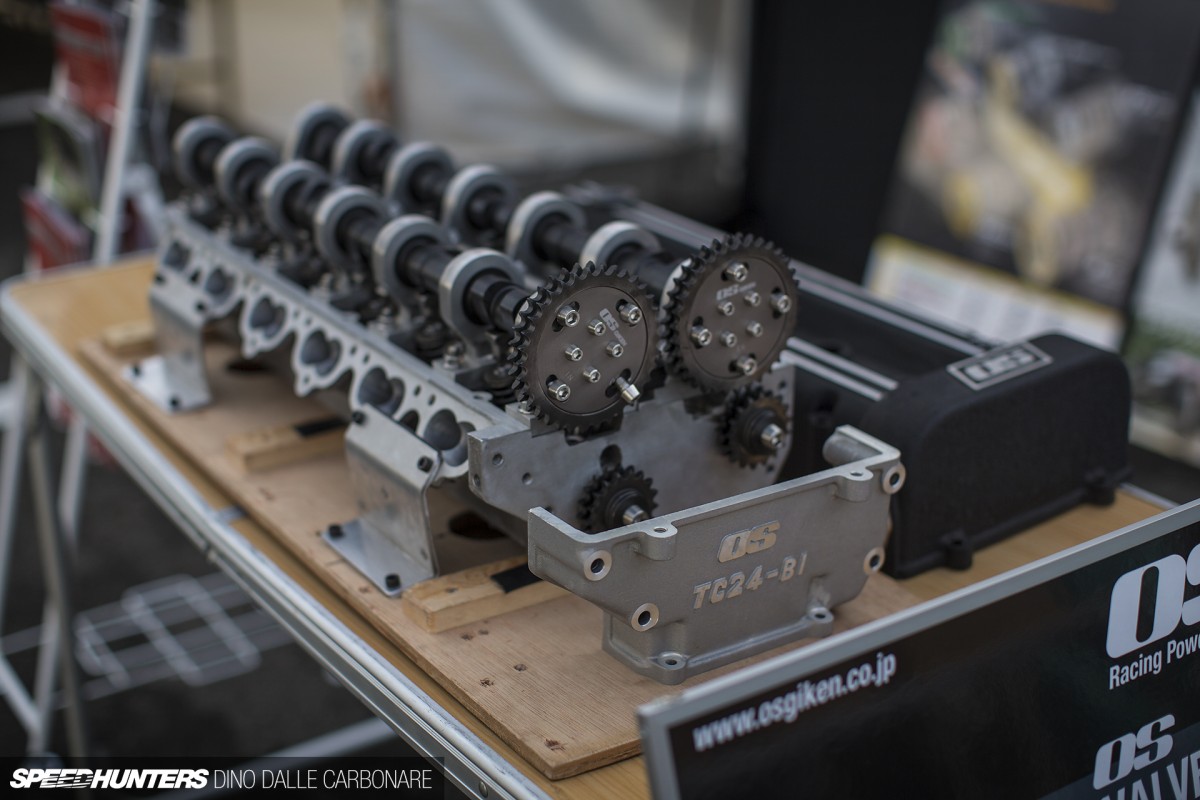 Parts, parts and then more parts – there was so much to see from tuners. Of everything on display, it was OS Giken's TC24-B1 head conversion for the L-series that stole the show for me. I really need to delve deeper into this wonderful bit of kit, so next year I'll definitely be stopping by the OS Giken factory to grab some awesome GoPro footage of this motor revving to 9,000rpm in their demo S30Z.
Old & New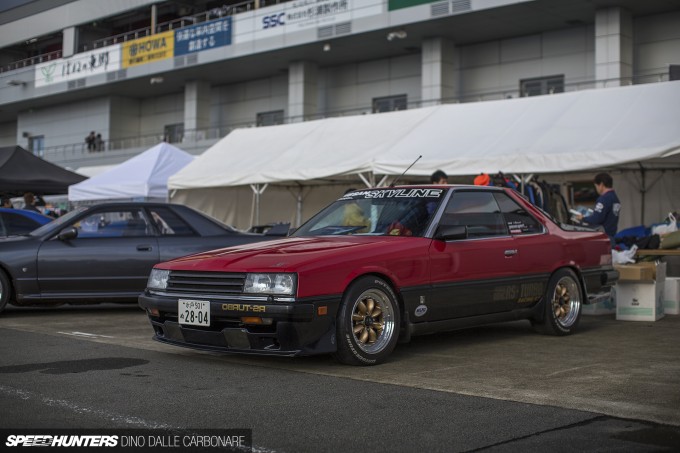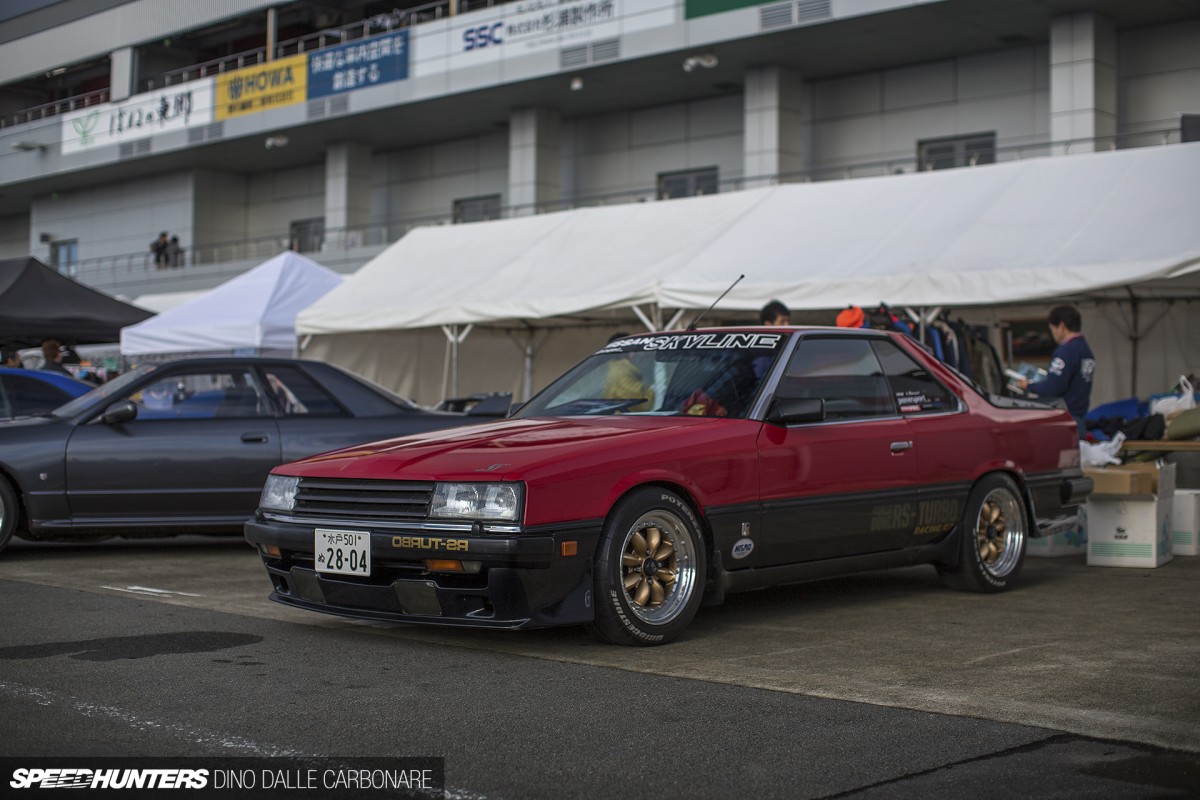 If '80s Skyline styling is more your thing, you would have loved this spotless R30 I came across. This model is quickly becoming more collectable, and with that prices are starting to rise considerably.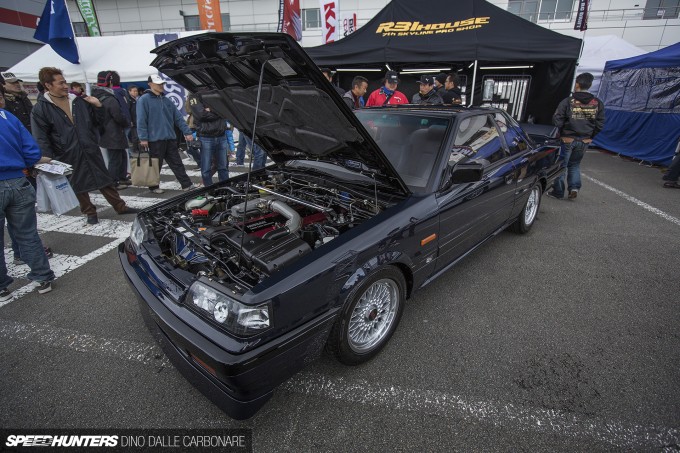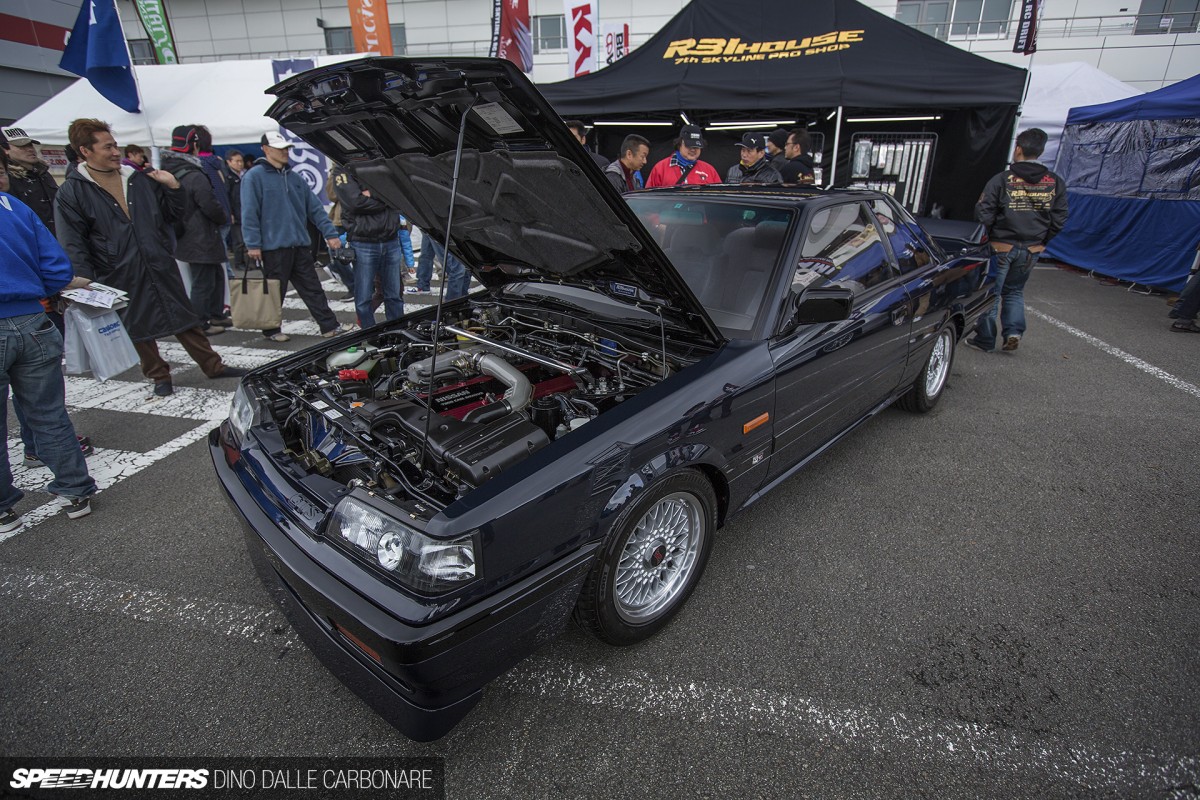 But if you are of the opinion that a Skyline isn't really a Skyline if it doesn't have a straight-six motor, then you can forget about the FJ20DET powered R30 and start looking at R31s. R31 House had this stunning example on display, which was spotless all the way through and featured a fully-rebuilt RB20 at its heart.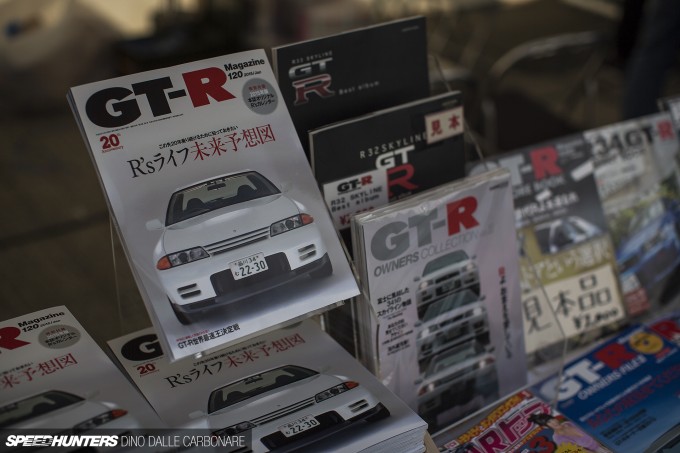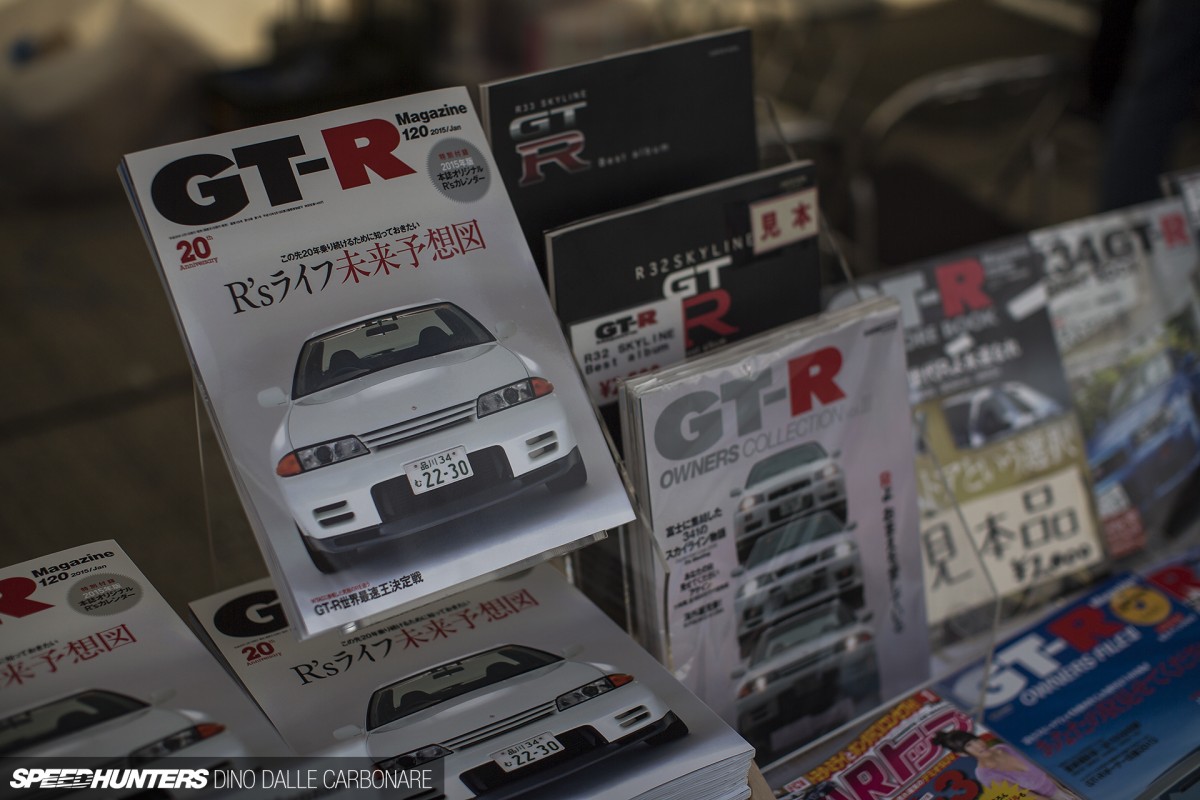 With this being Japan, there is of course a magazine for everything. In Nissan GT-R circles, GT-R Magazine is the publication everyone looks to for inspiration and to keep up with the scene. They had their usual display where you could pick up some back numbers, as well as sign up for a subscription.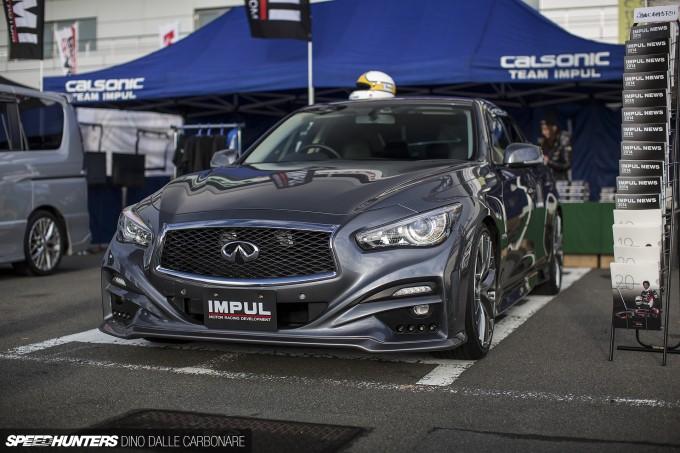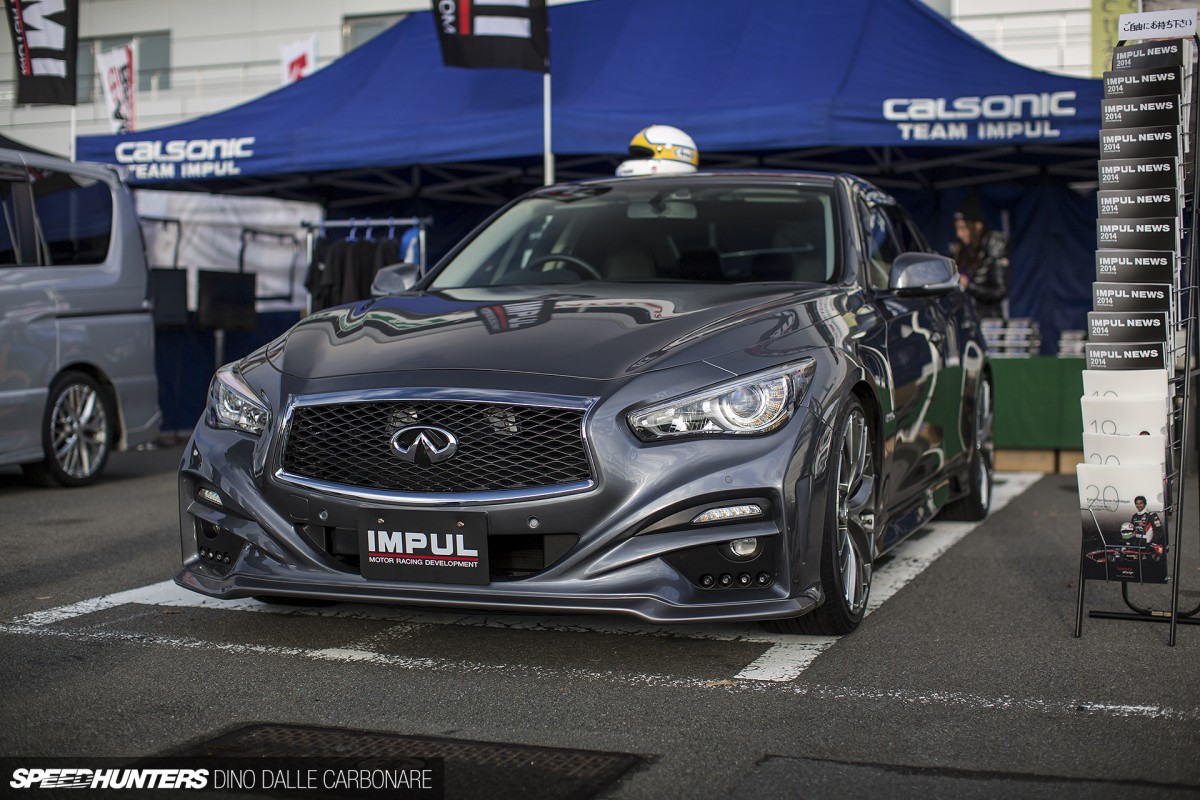 And then we get to this. The new Skyline. With an Infiniti badge. Sold at Nissan dealers. Yeah, you aren't the only one that's confused here, but it is the future I guess. It will be sold in Japan as either a hybrid or with a 2.0L turbo four-banger from Mercedes-Benz, but hopefully the the VR38DETT-powered concept that's been floating around for PR stunts will get the go ahead sooner rather than later. Only then will we see the Skyline name stand high once again. If you're in doubt Nissan, just dump the VR38 into every car you make, and then you're guaranteed some true winners. It works for AMG, right?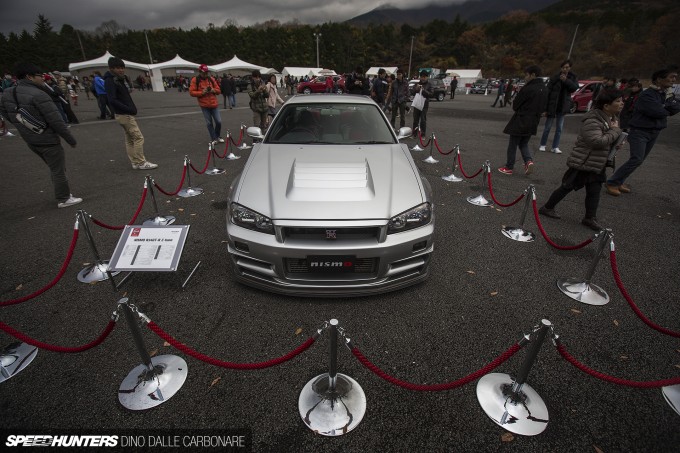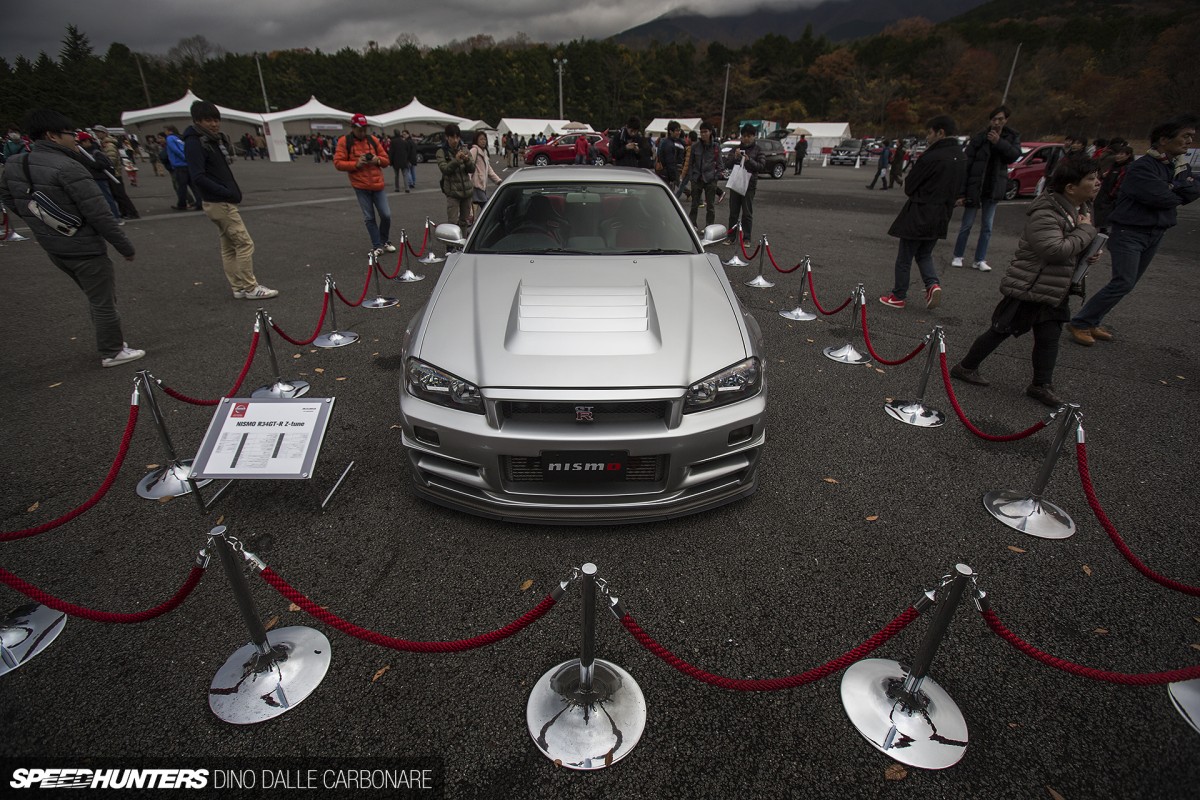 Ah, now this is more like it. While Nissan tries to convince the Japanese public that they no longer need powerful performance-oriented cars, Nismo reminds us what this scene is all about. The Z-tune is a true legend, and the older Skyline GT-Rs continue to retain their popularity in aftermarket tuning circles. If you remember my tour of Nismo, you'll see why.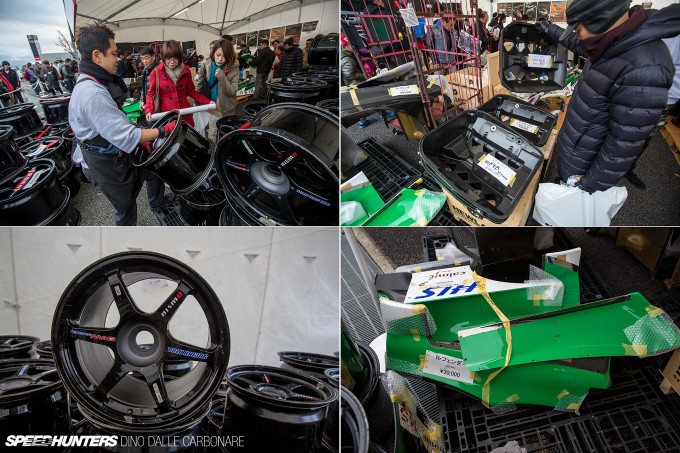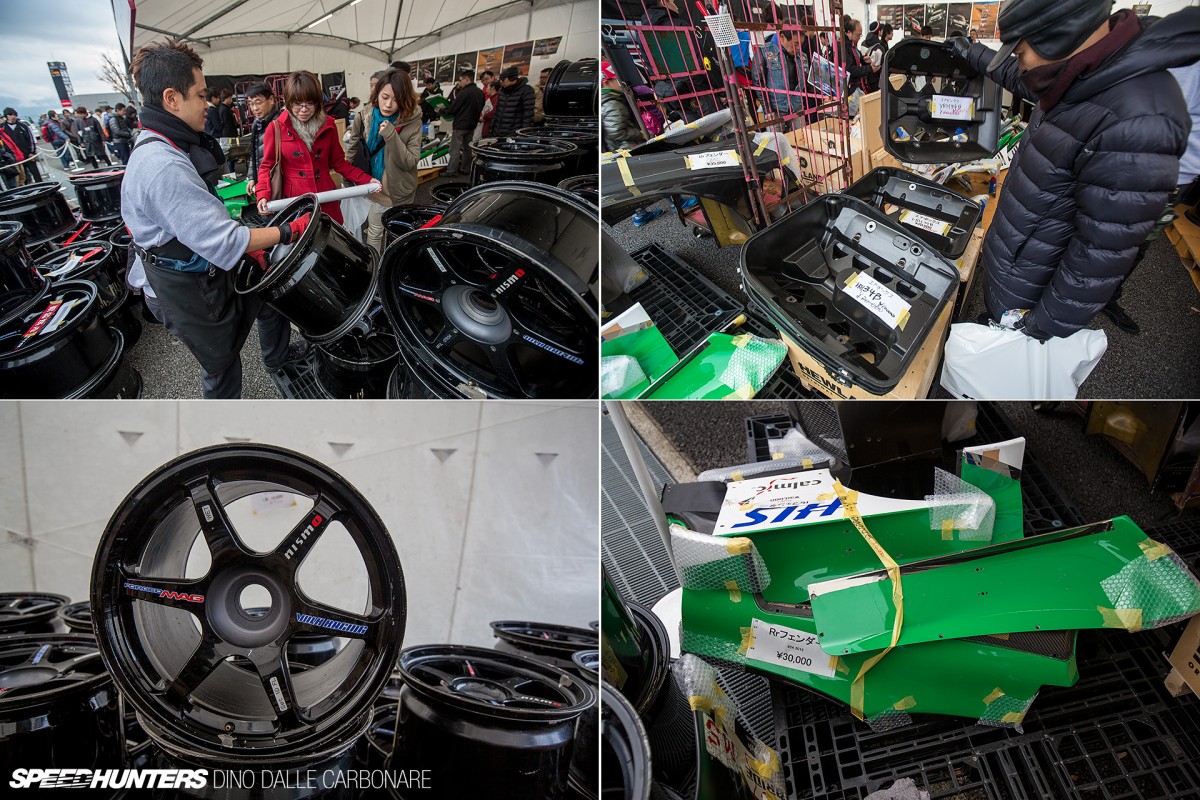 Not too far from the Z-tune, Omori Factory held their usual sell-off of race car parts they no longer have use for. There were stacks of forged magnesium RAYS/Nismo wheels from their GT cars, as well as plenty of carbon fiber body panels and engine covers. From a bank balance perspective, this was very dangerous place to be!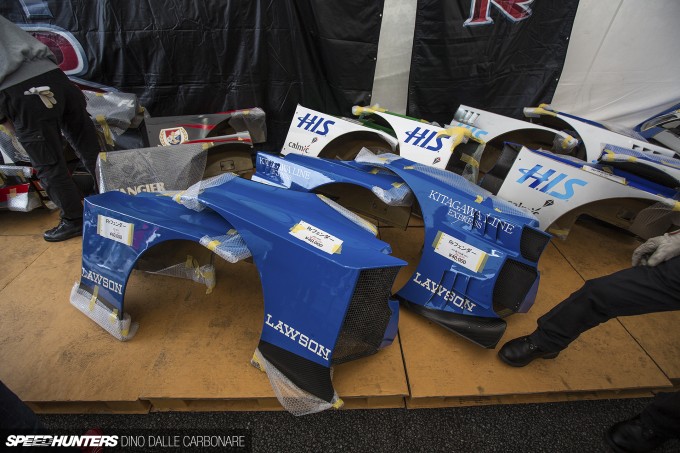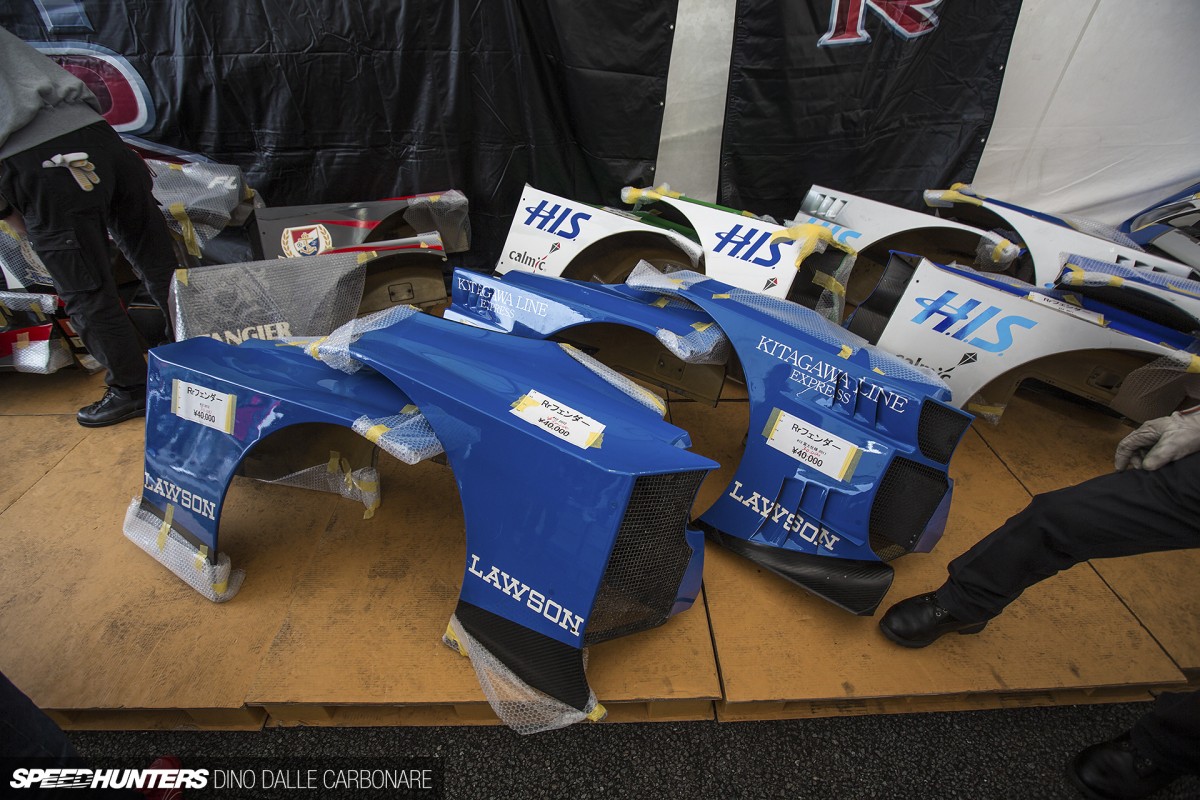 I'm surprised R35 owners don't pick a few of these body panels up and bolt them onto their cars… I'm joking of course, as they wouldn't fit unless you put a lot of work into them – but I've always wanted to see Nismo develop a wide body kit for the san-go.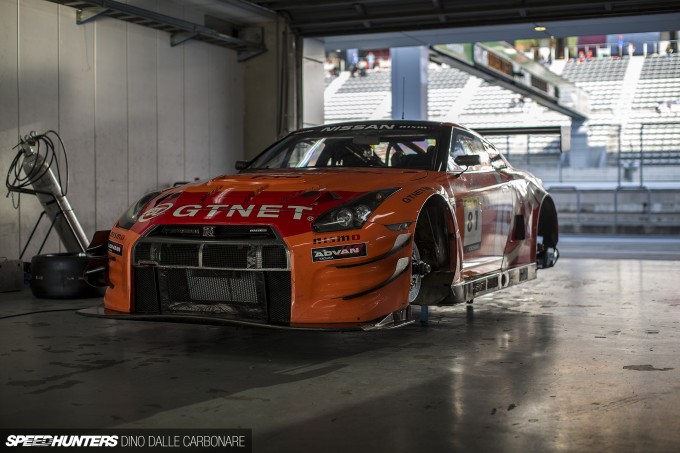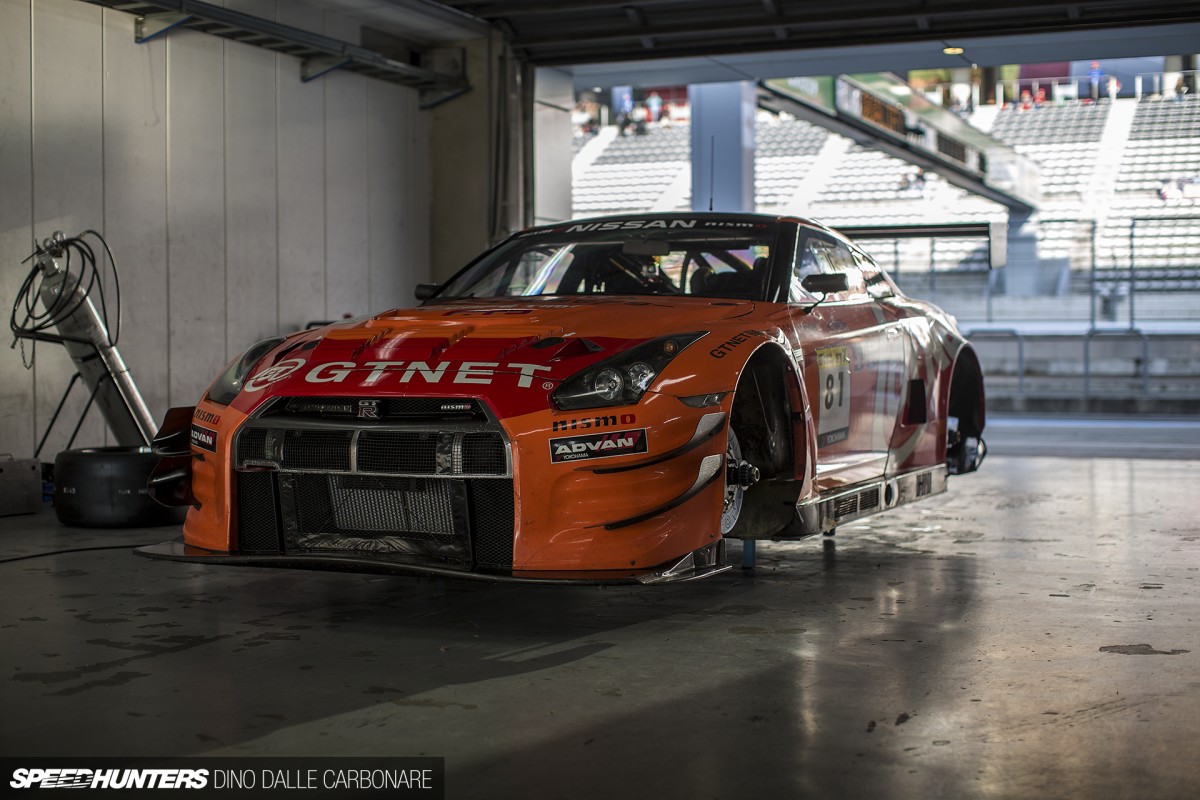 Actually wait a second – they've already done that with the GT3!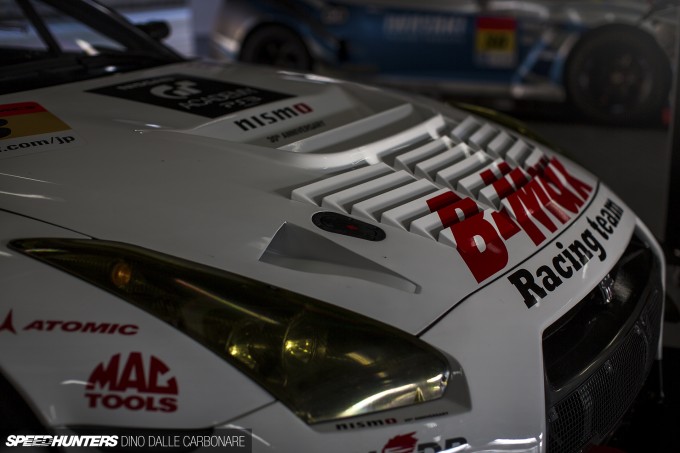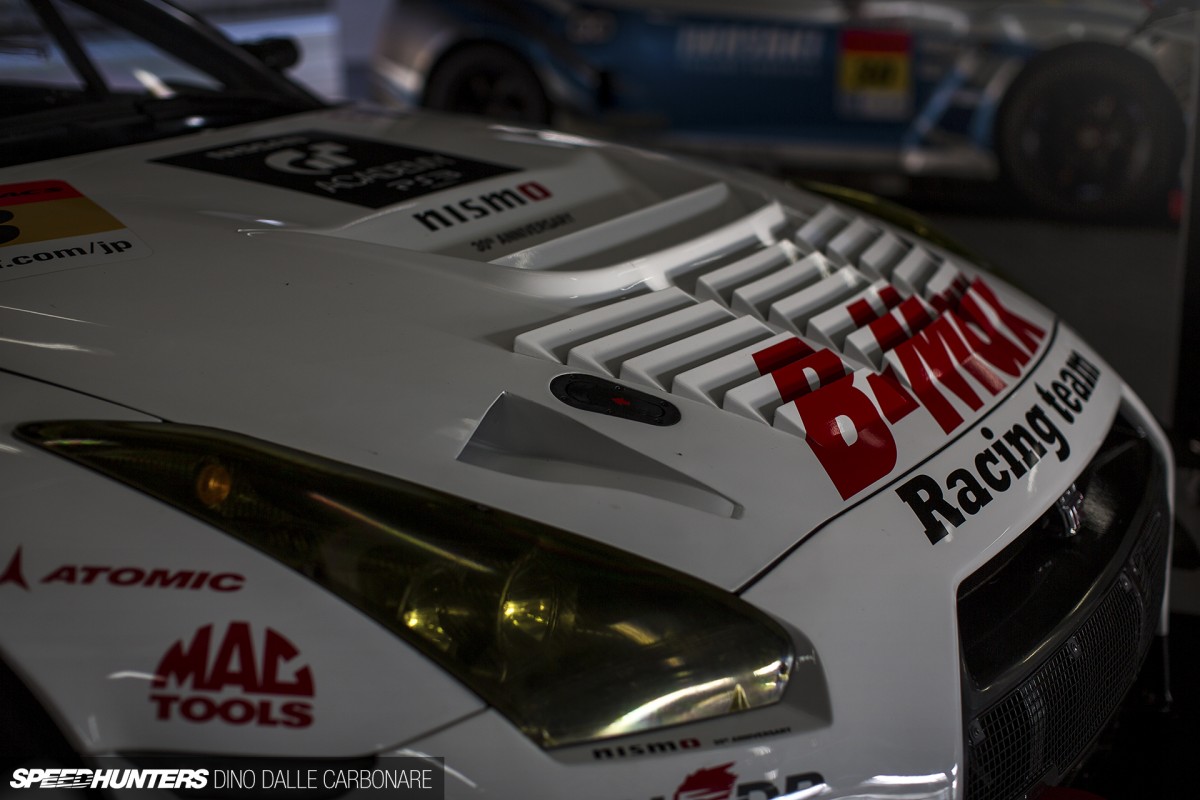 Can you imagine if they sold a street version of this car? It would look incredible!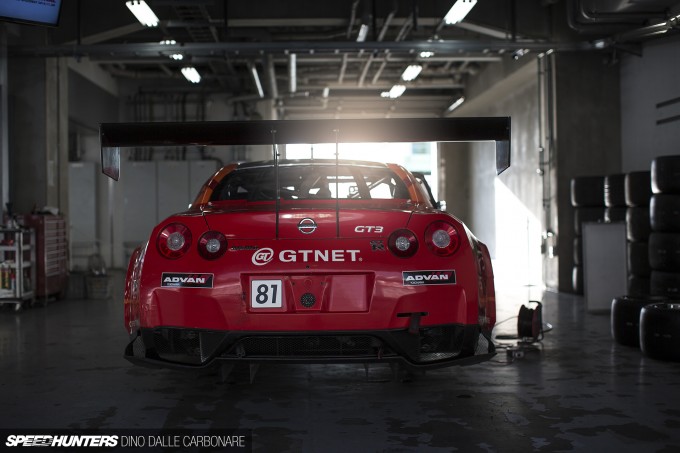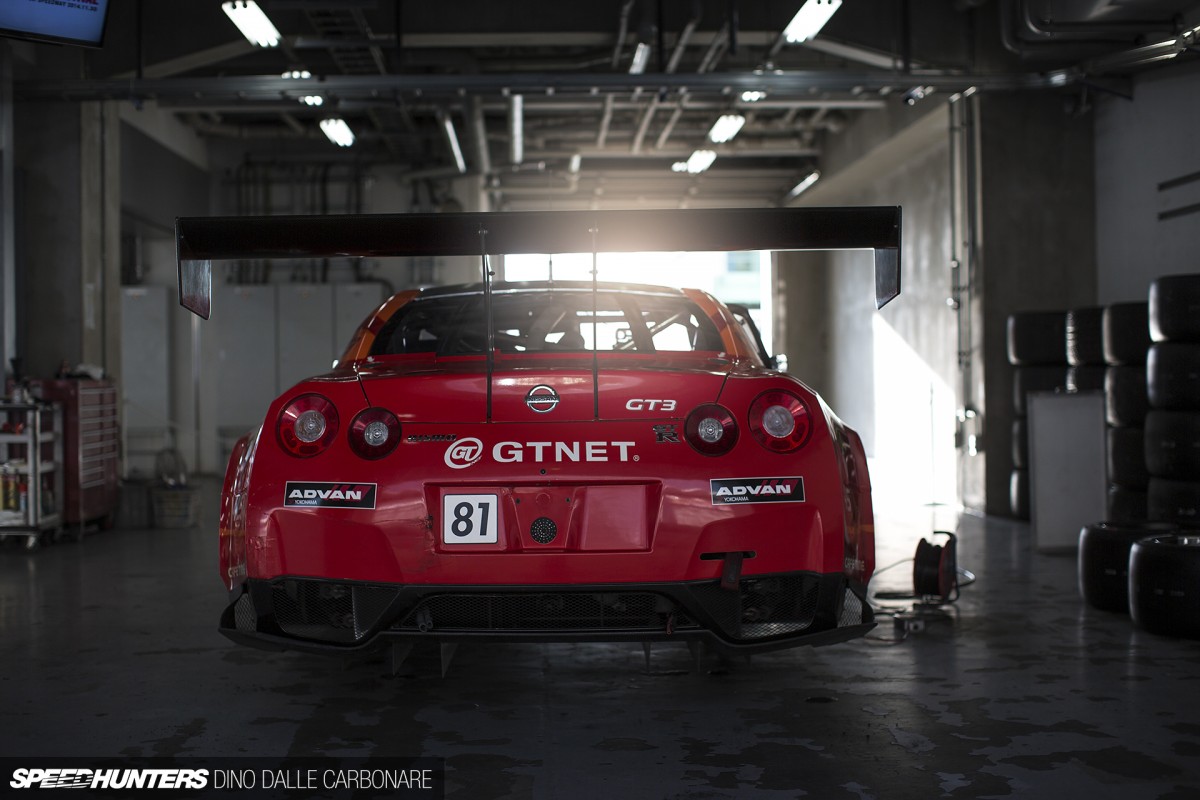 For now we just have to drool over the various race cars that were on display in the pits. Much like the GT-Rs that came before it, the R35 is far more suited to being a fully-fledged race car than an everyday supercar.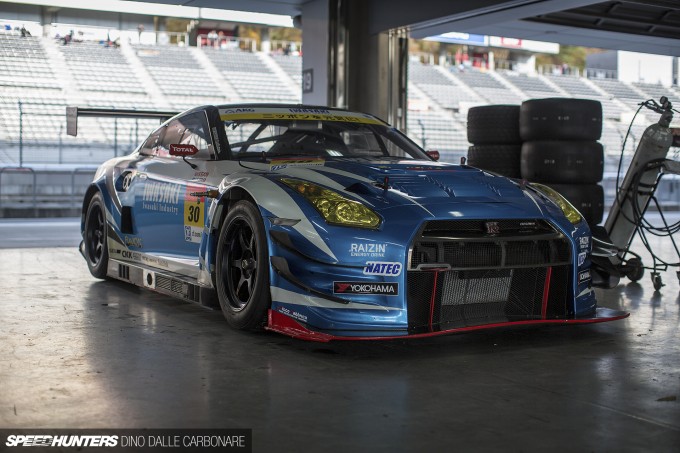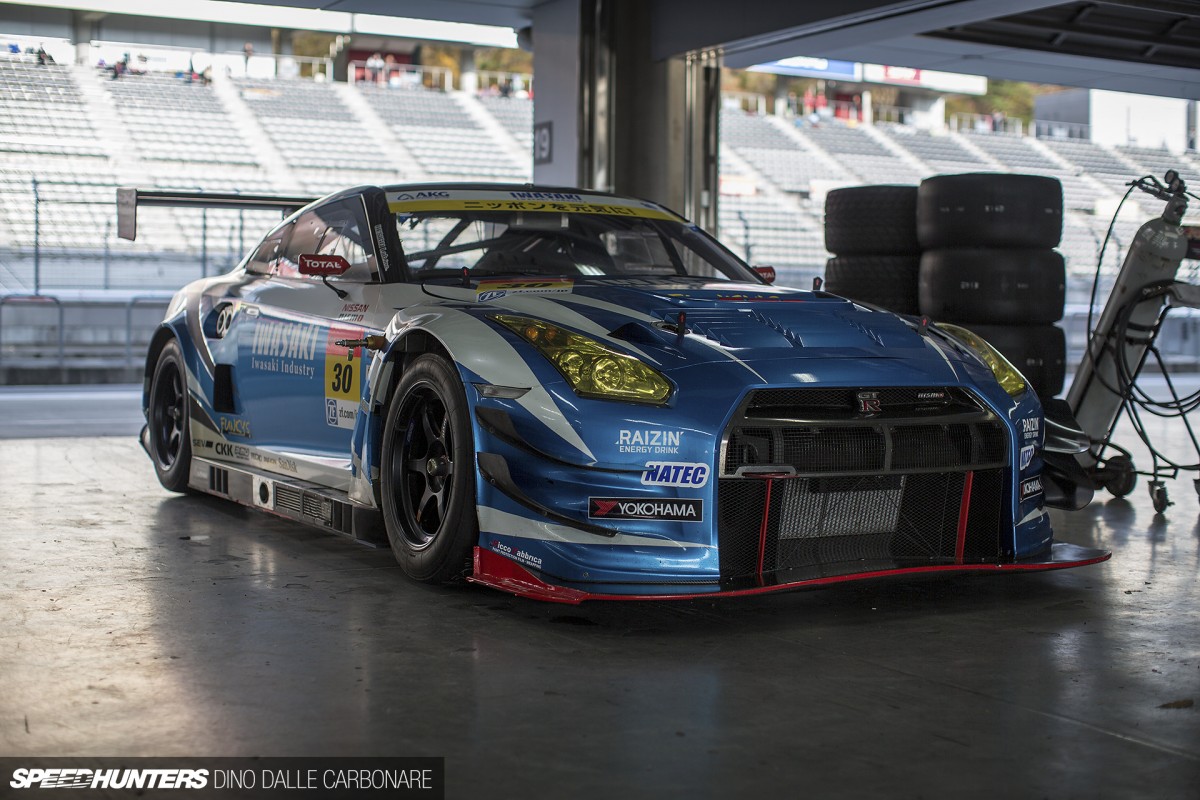 Scratch that – it can do both rather well.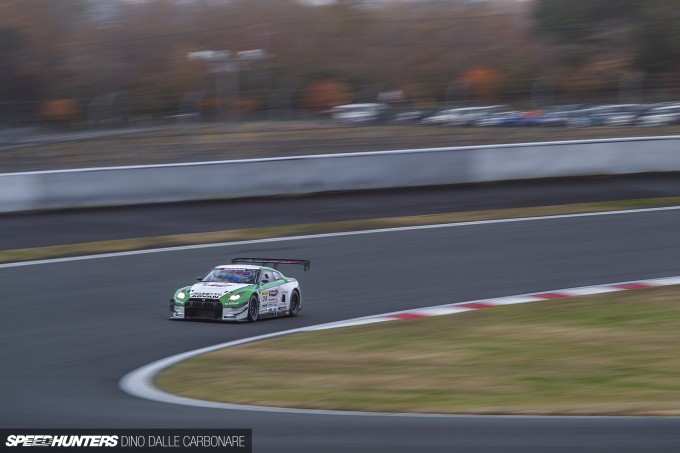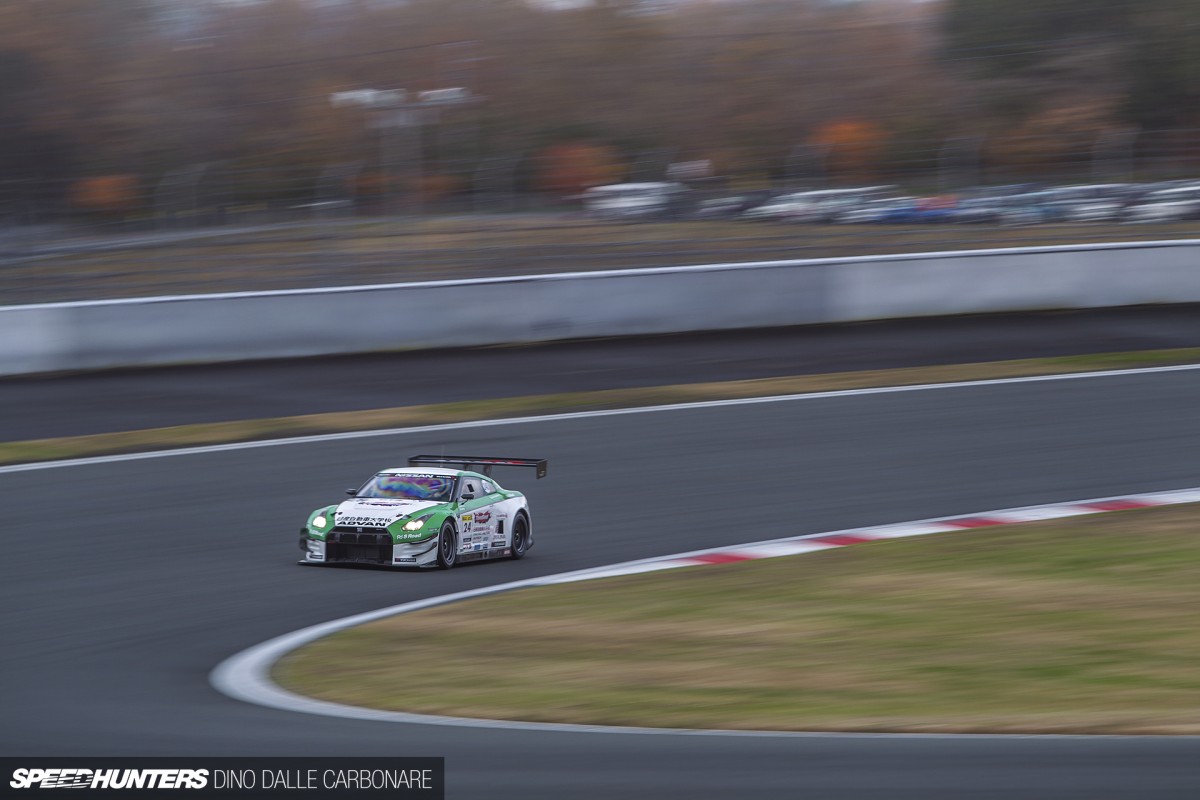 Getting up close to the cars in the pits is one thing, but seeing them out on the Fuji course is the icing on the cake. And trust me when I say that the drivers don't baby them at all – they drive them as aggressively as they do in the heat of competition.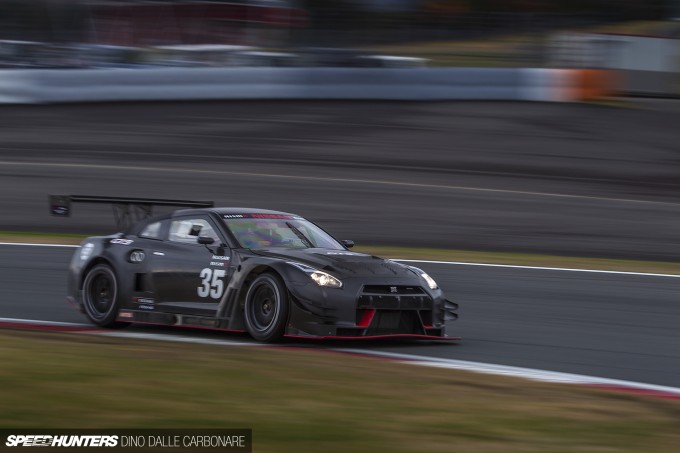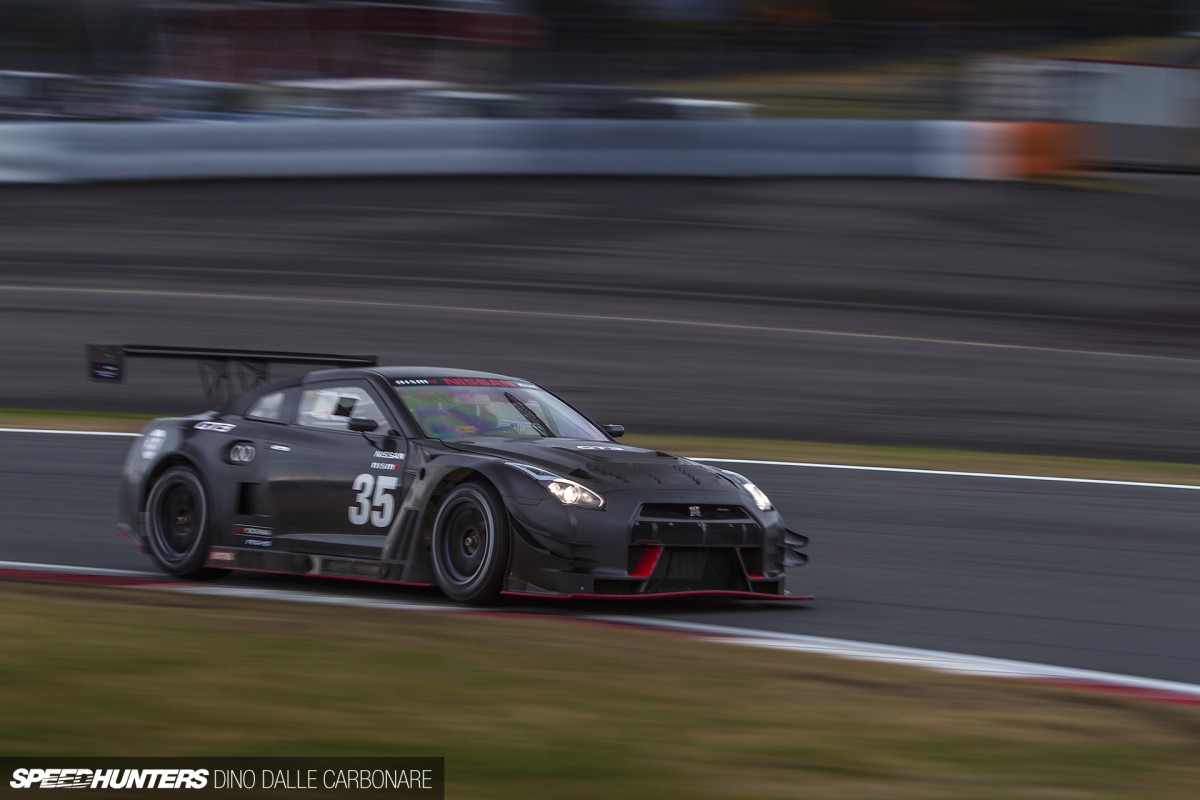 They even had the new 2015 version out on track. I have to say, I'm quite liking the new front bumper treatment…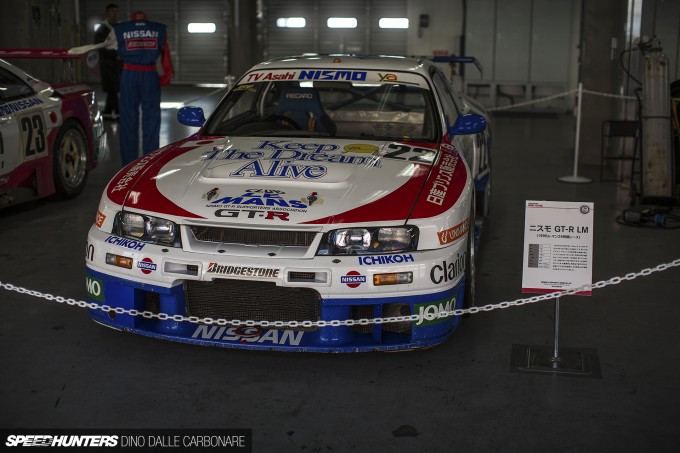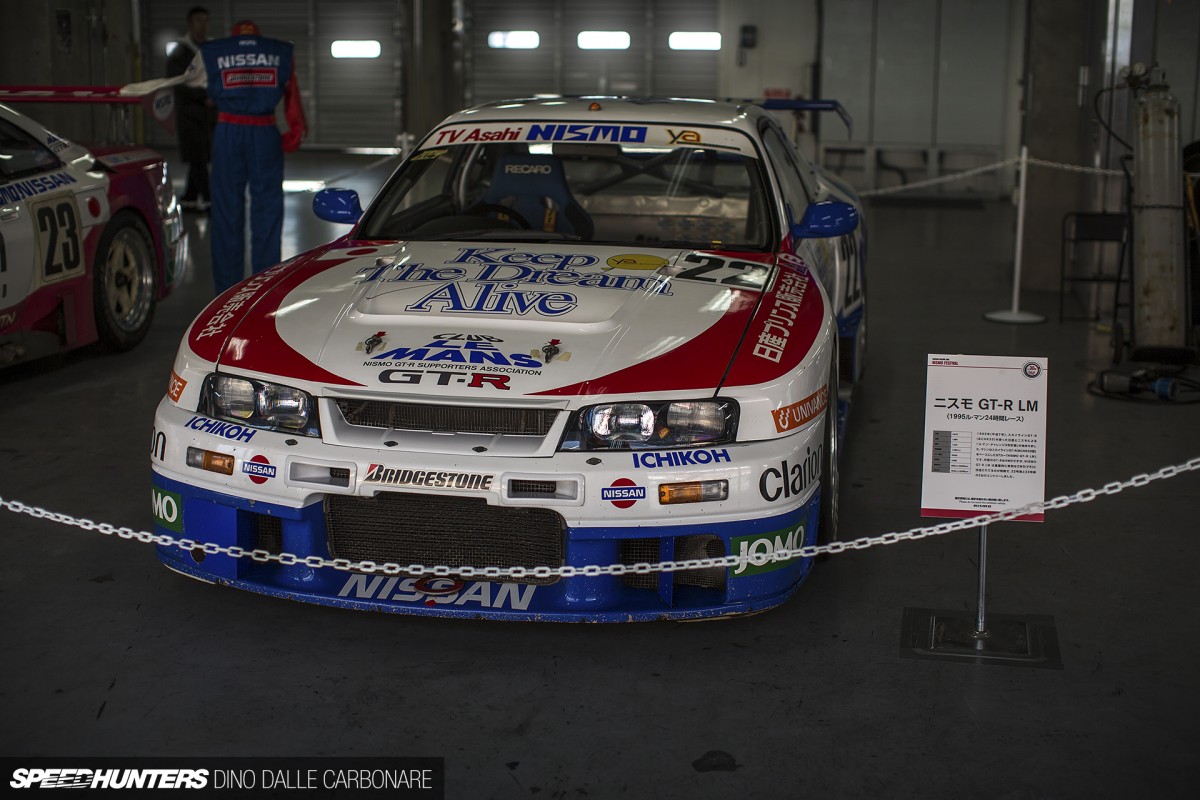 But it's the historic stuff – many of the cars that we recently saw in the DNA Garage collection – that so many people come to see. This is the 1995 GT-R LM that raced at Le Mans and brought RB26 power to the most famous endurance race in the world.
RB Love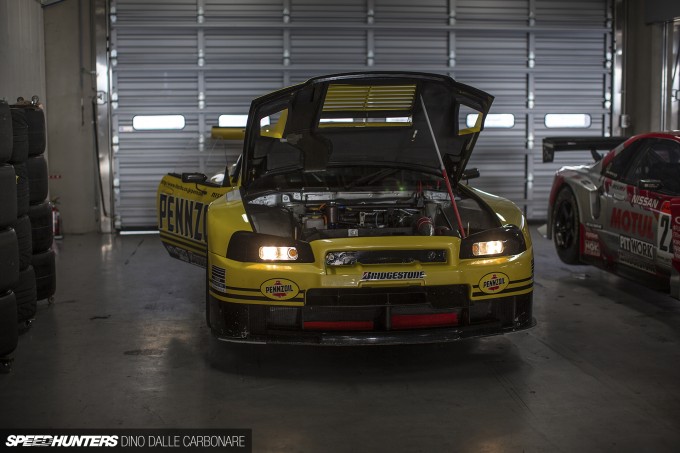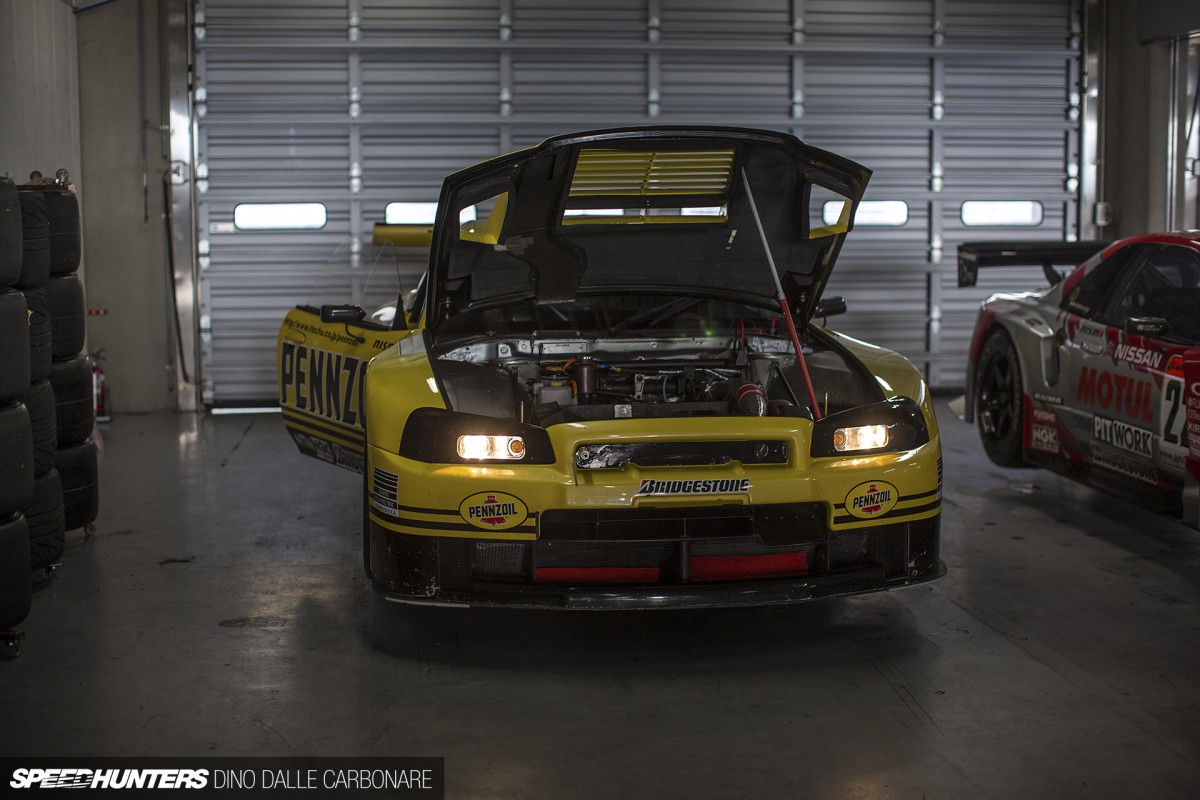 Unlike the Motul R34 that I opened this post with, Eric Comas' legendary yellow Penzoil JGTC car that took the GT500 title in 1999 was powered by an RB motor too.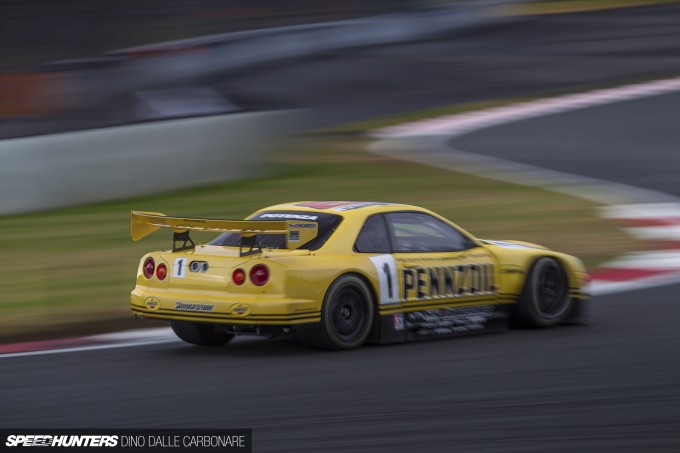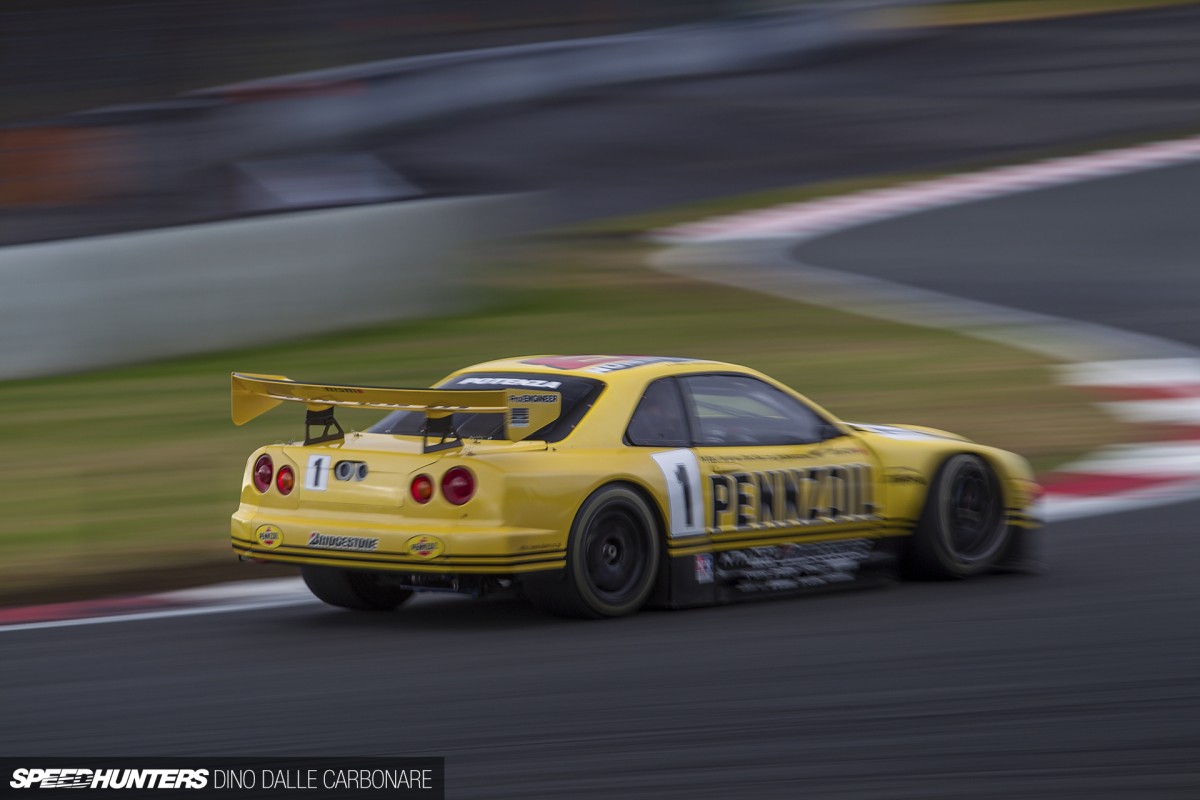 It's always a pleasure to see and hear this car screaming around the track. Remember what I said about the Nismo Festival strengthening the brand? Well, this is it right here for me – Nissan doing it right!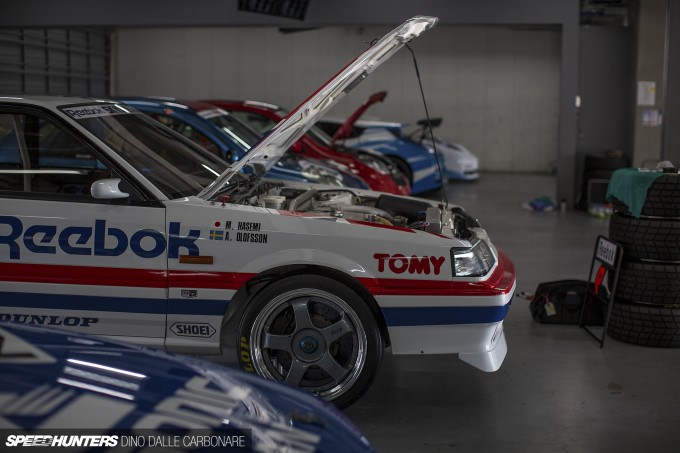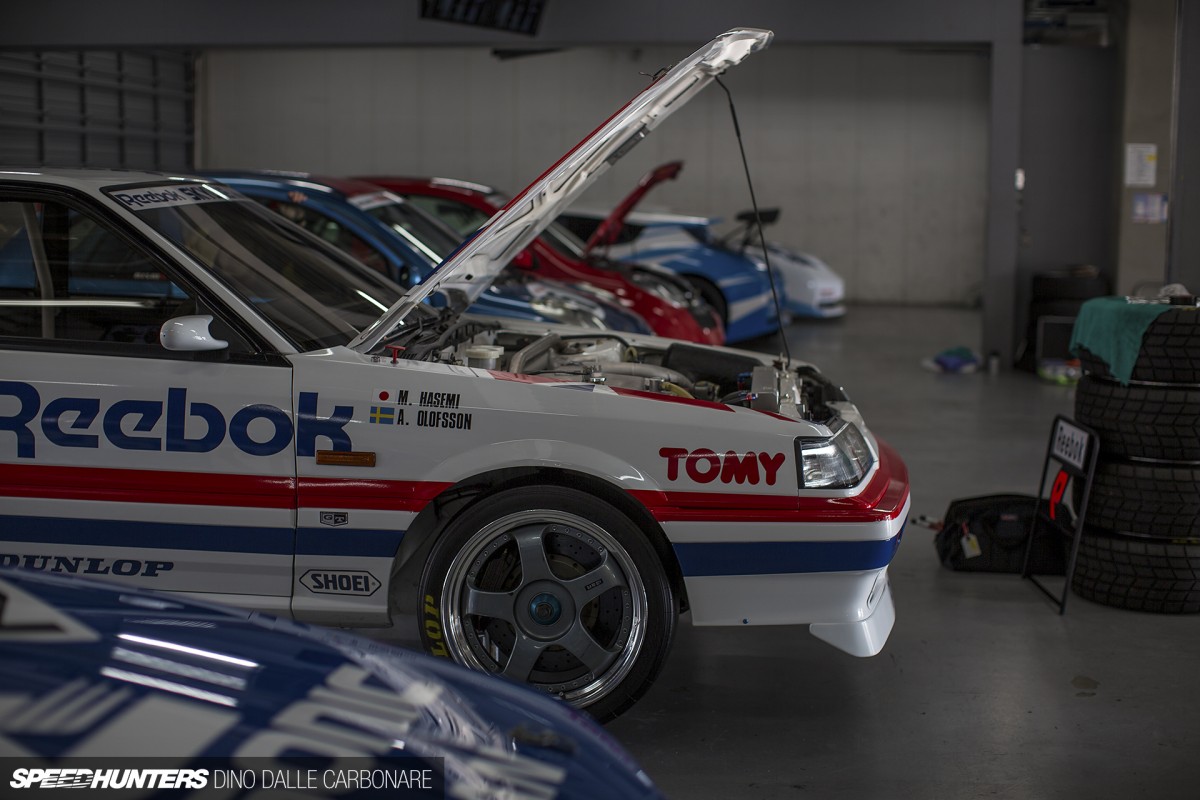 From a car that everyone loves, to one that came before the GT-R hit the scene and stole the show – the Hasemi R31 Group A racer, based on the GTS-R.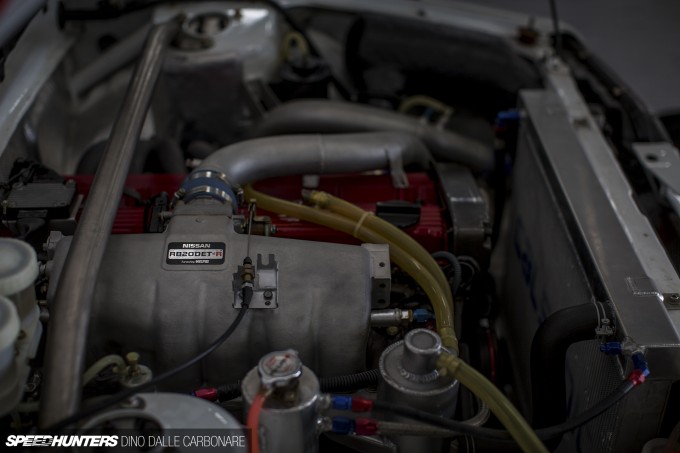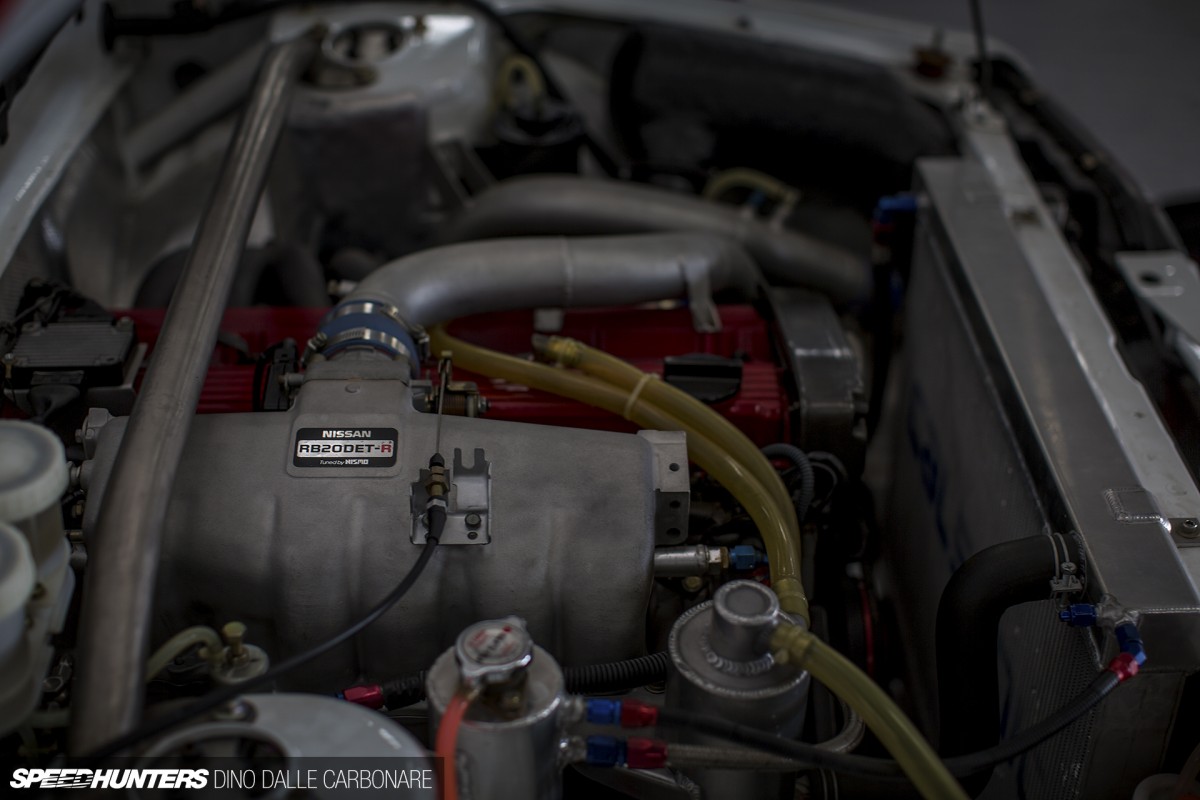 This is probably one of the rarest RBs to have ever be built by Nismo. The RB20DET-R developed 443PS at 8,000rpm, and 412Nm of torque at 6,000rpm. That's not bad from a 2.0-liter motor.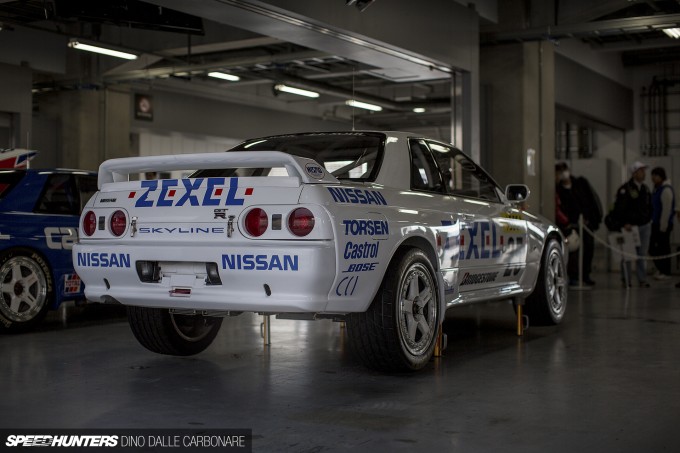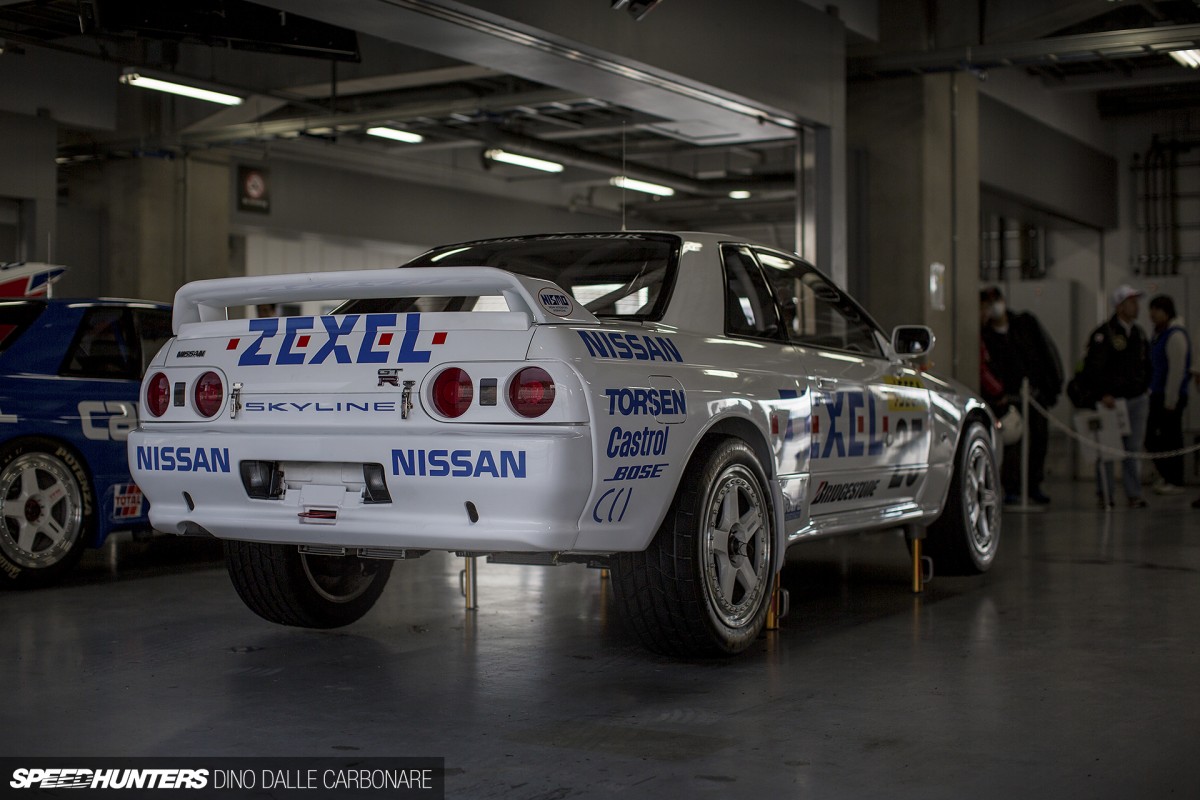 Of course, with the RB26DETT power levels soon topped the 600hp mark.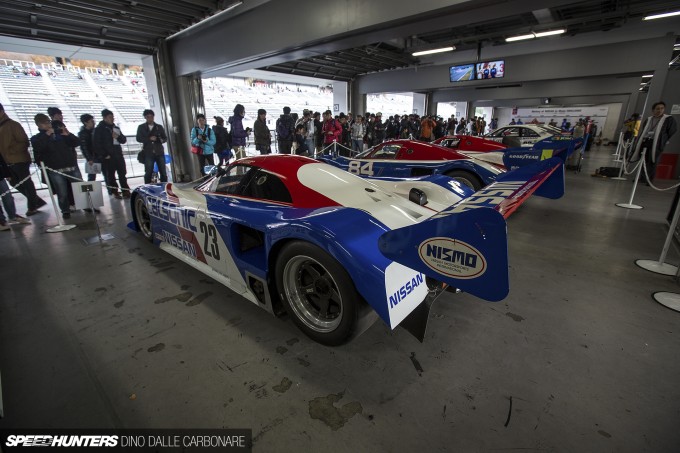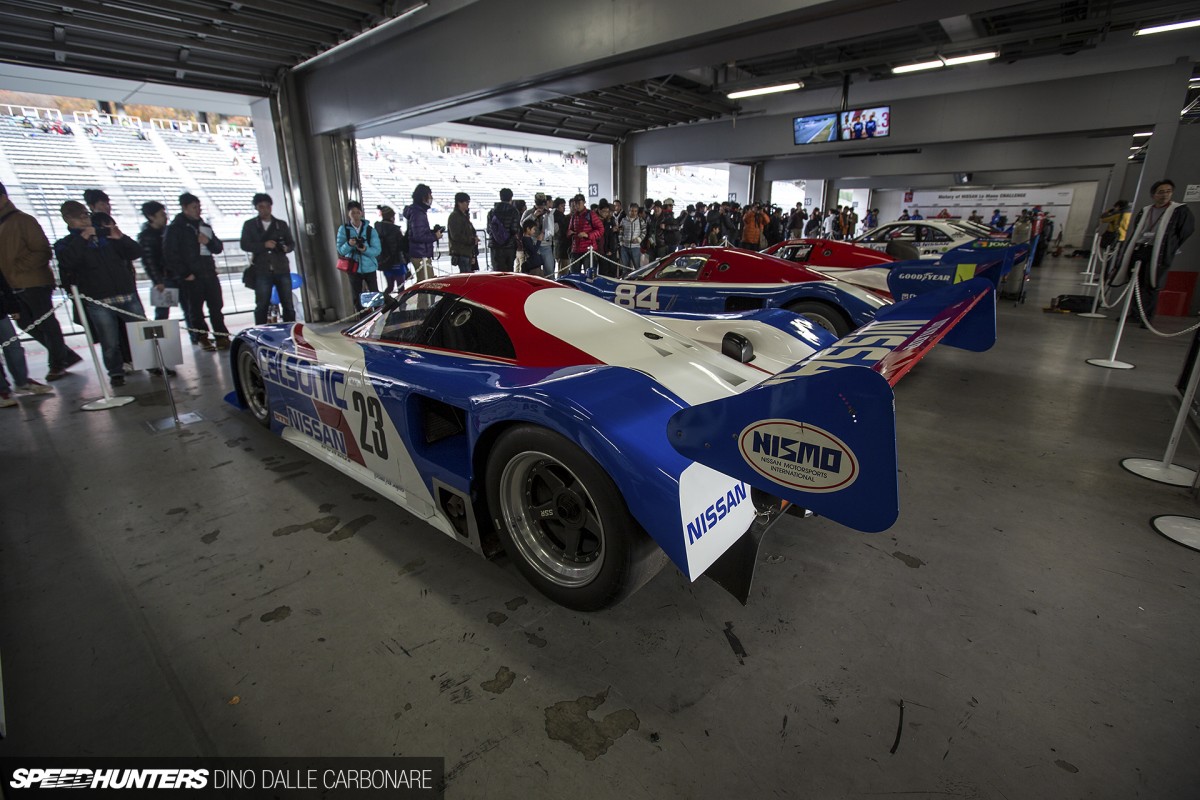 Nissan always wants its fans to remember just how far back its history goes in prototype racing too, so they brought all of the cool stuff out of the collection. Included was the R89C you see here.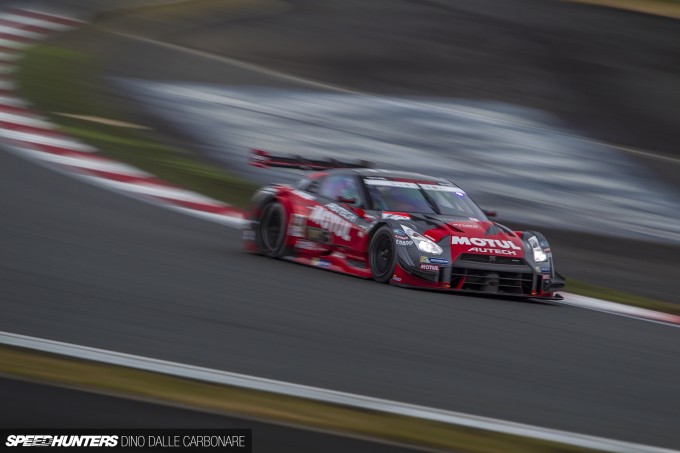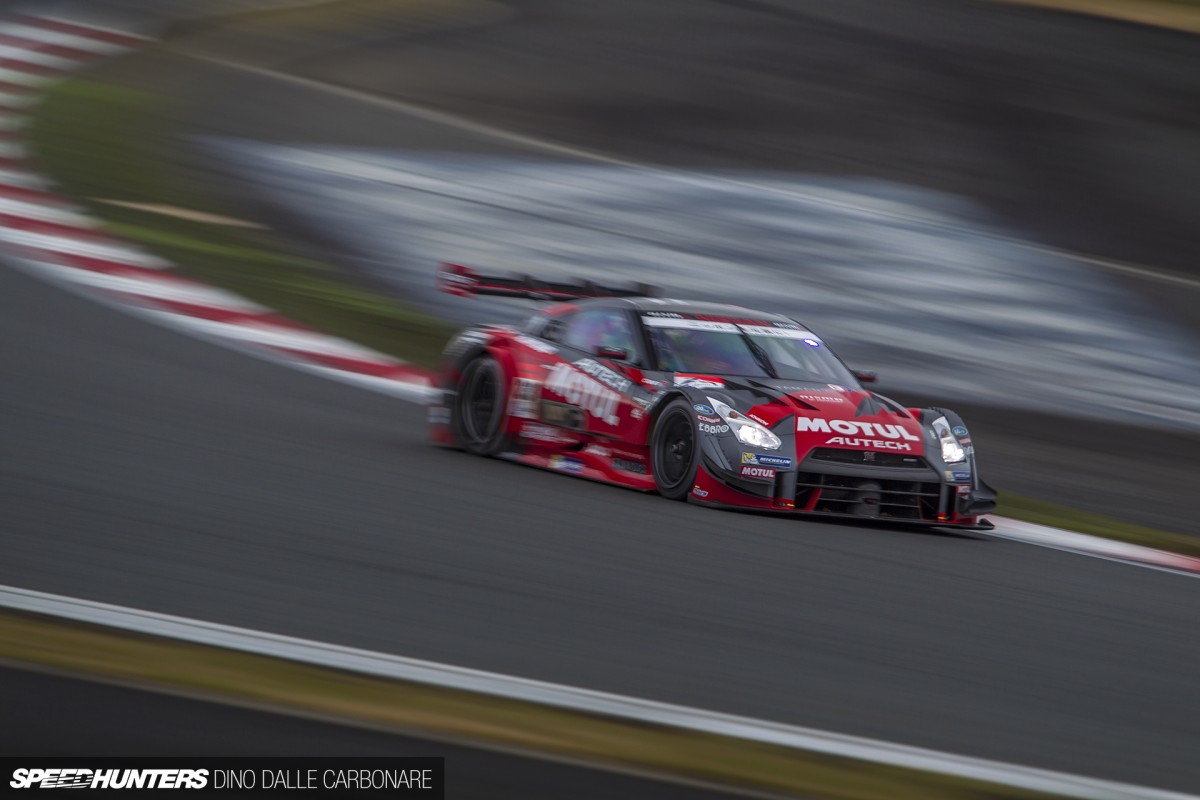 Italian driver Ronnie Quintarelli and his teammate Masataka Yanagida continue to fly the Nissan and Nismo flag high by once again winning GT500 title this year in the Motul GT-R.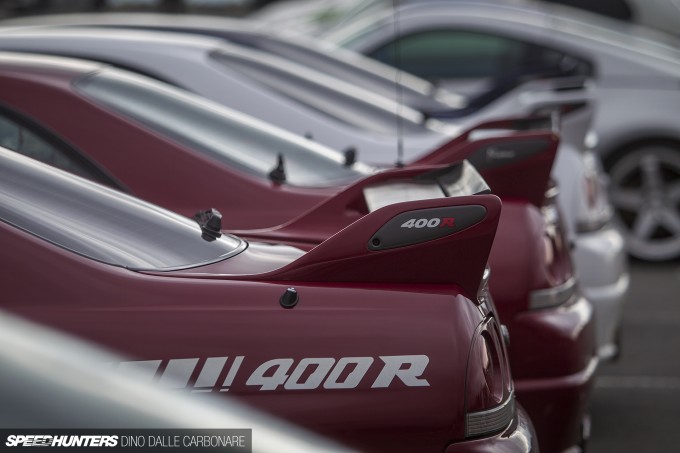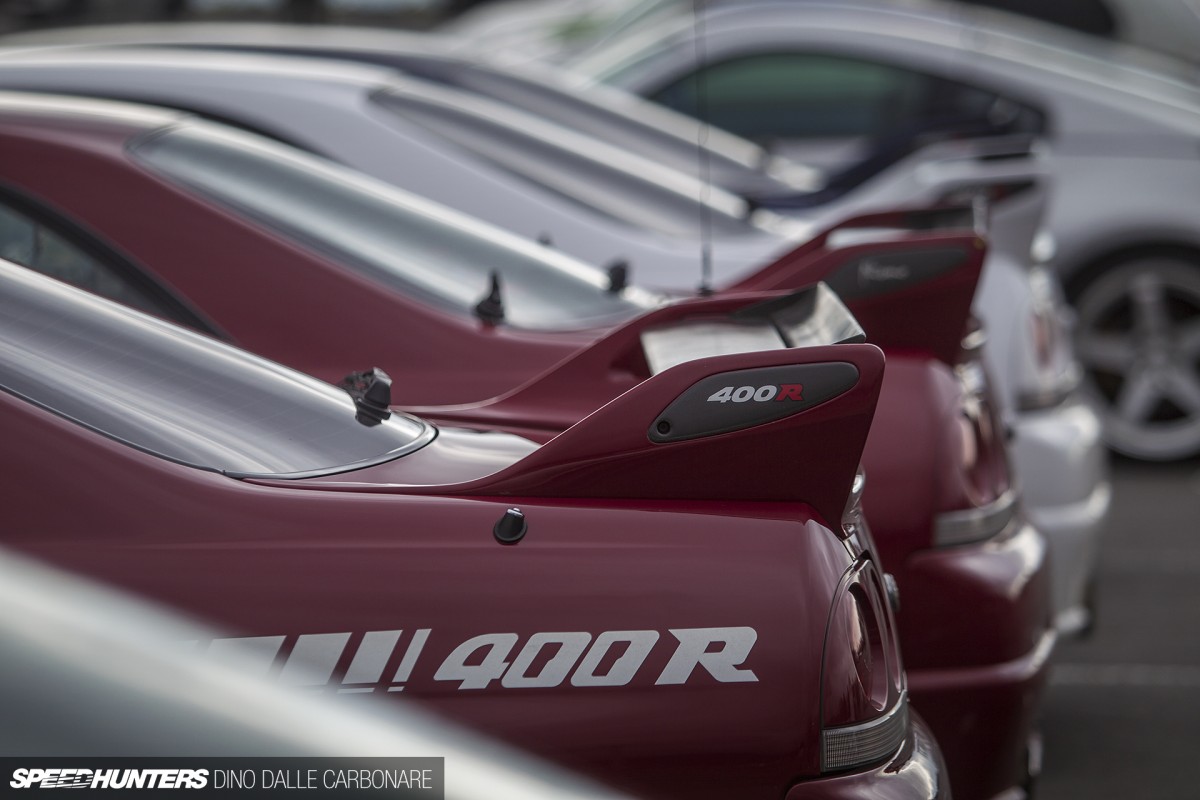 It's always cool to see what owners show up with, and on top of the countless parking areas dotted around the Fuji Speedway grounds that are filled to the brim with Skylines, Silvias and Fairladys of every vintage, there is one car park reserved for those that own complete Nismo cars.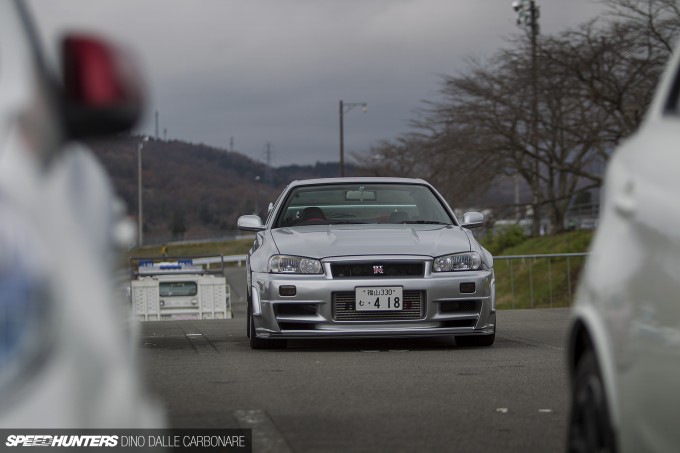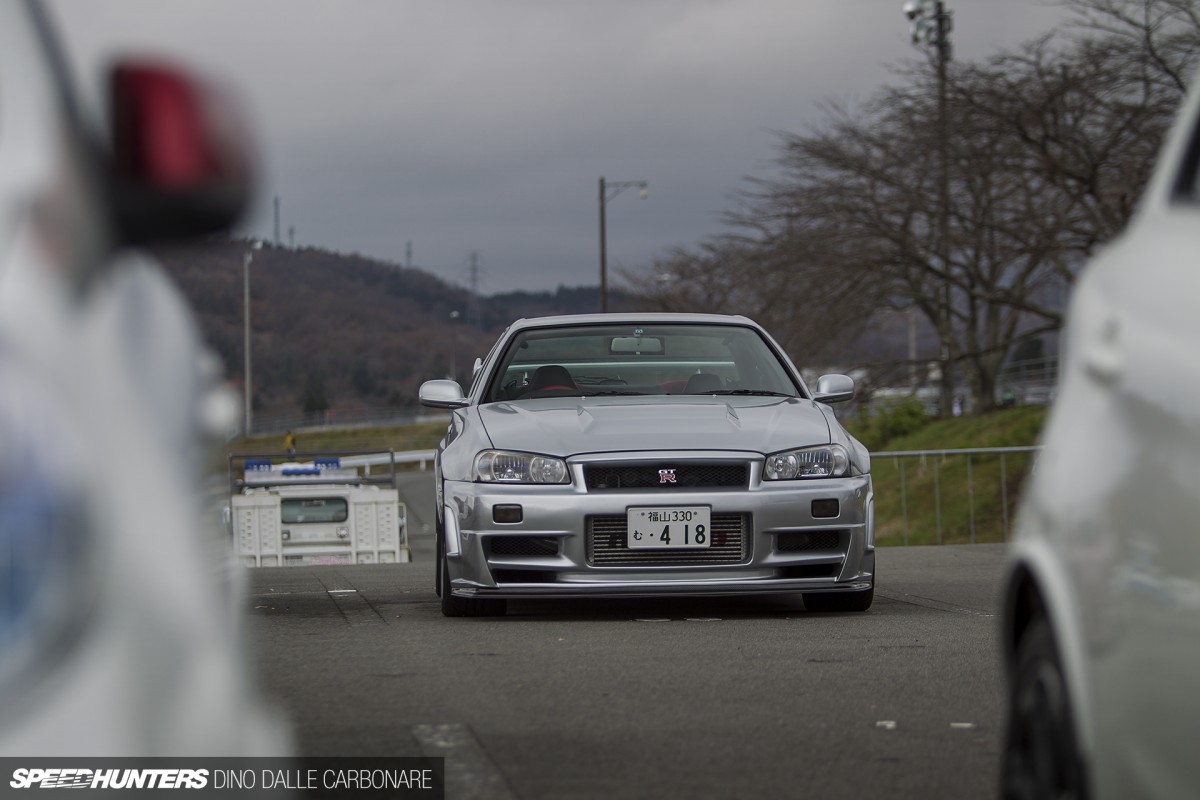 There were four 400Rs present, but unfortunately I only spotted one single, lonely Z-tune. Given their desirability I guess most of these cars are out of the country by now.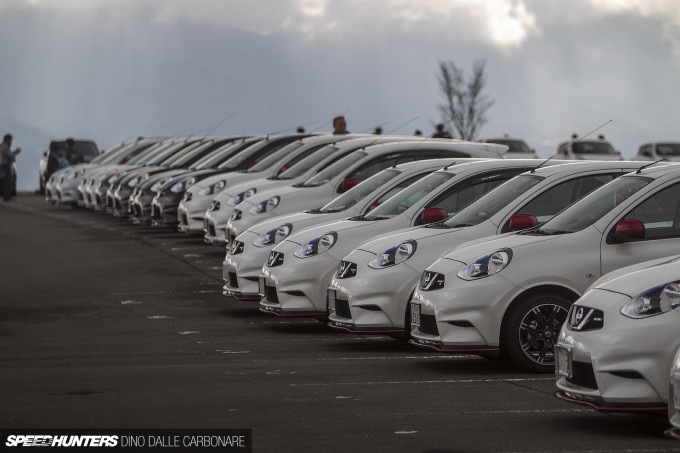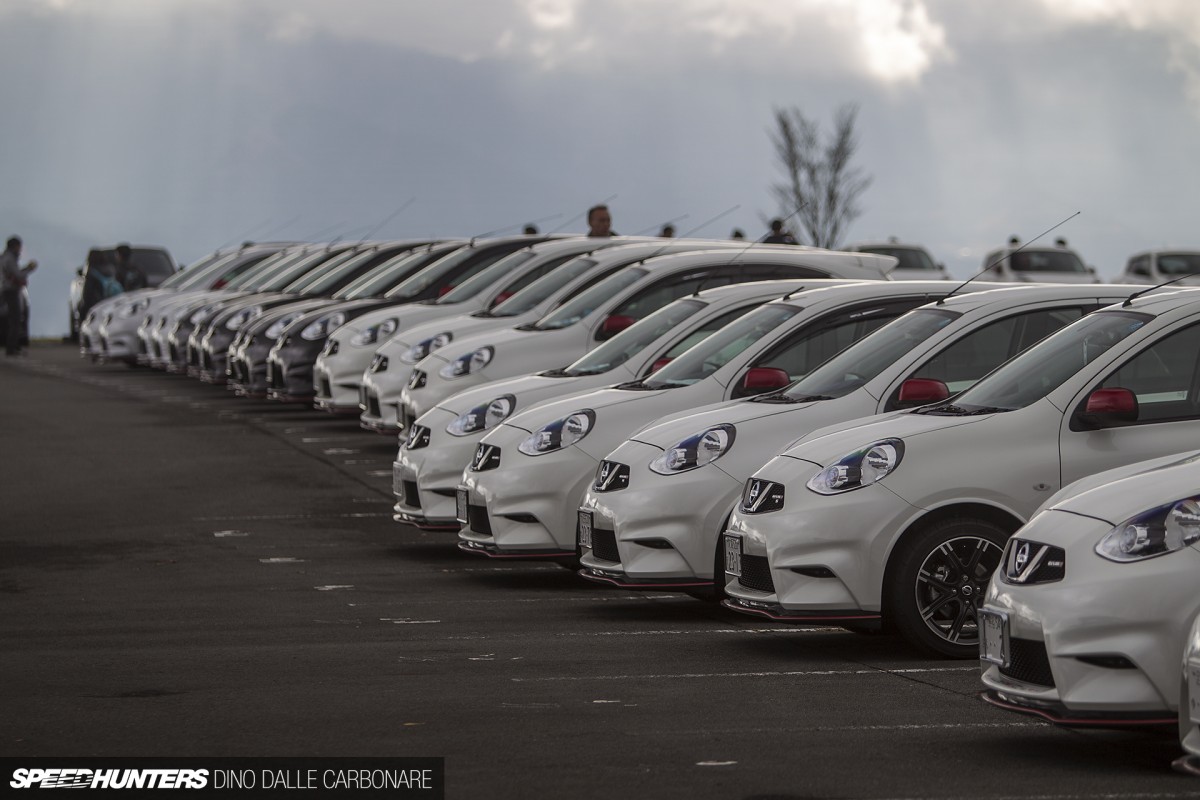 With Hiroshi Tamura in charge of handling the way Nissan and Nismo collaborate to create complete versions of regular production models, there have never been more owners of Nismo edition cars than this year. The JDM-only Nismo March has been quite a success.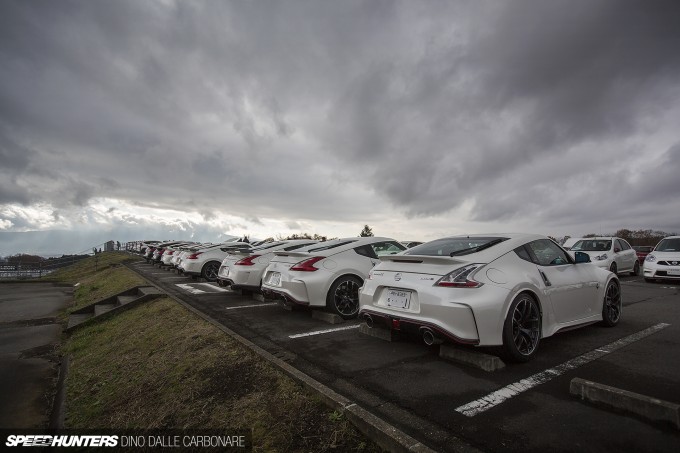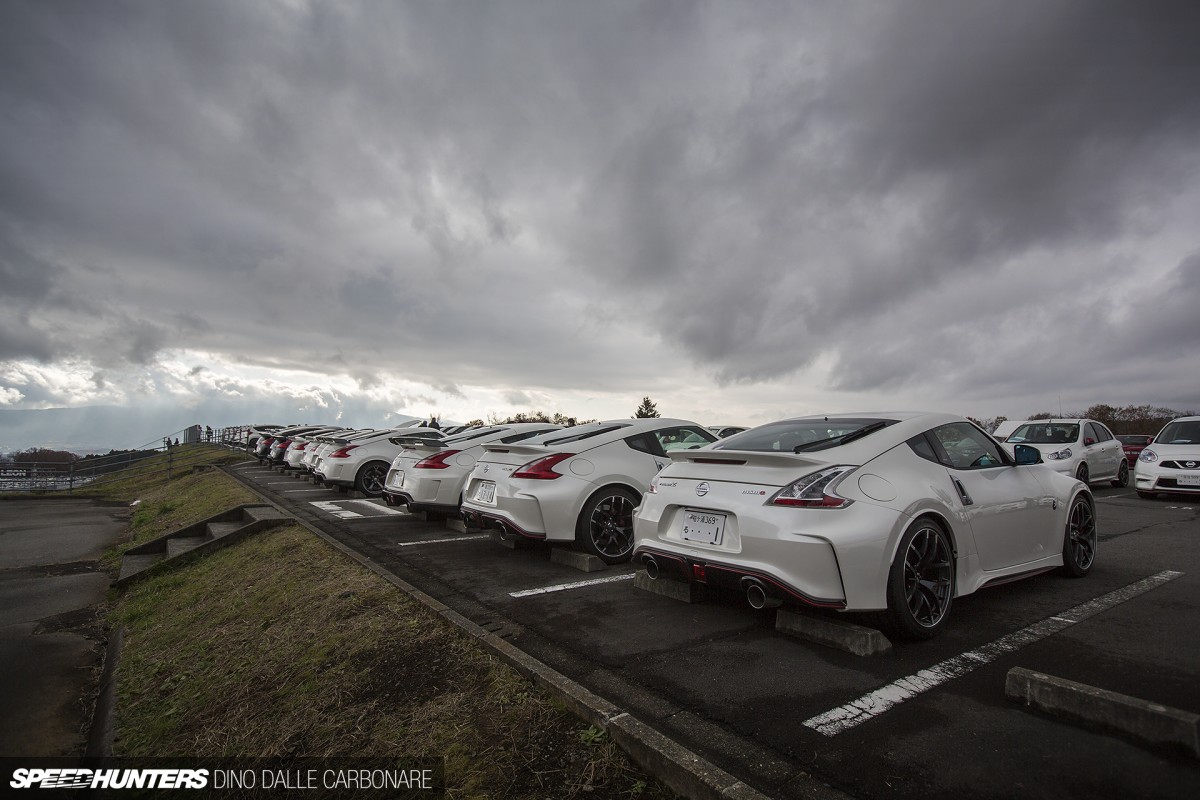 There's the Nismo Fairlady Z (370Z) too – this being the latest version of the car. It kind of makes you wonder when we'll be seeing a replacement for the faithful and successful Z34? How long has it been around for now – seven or eight years?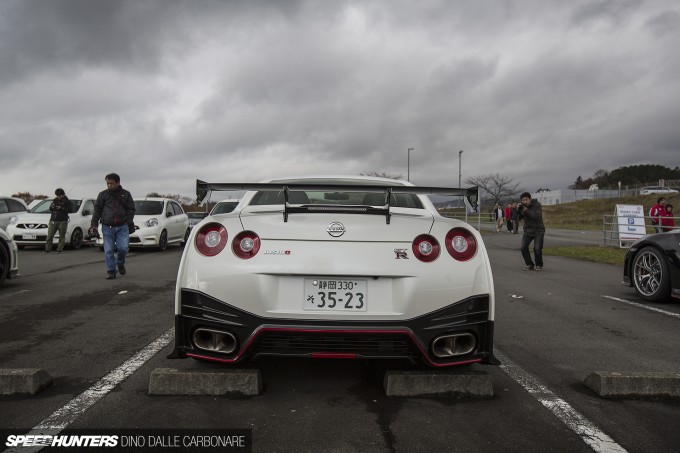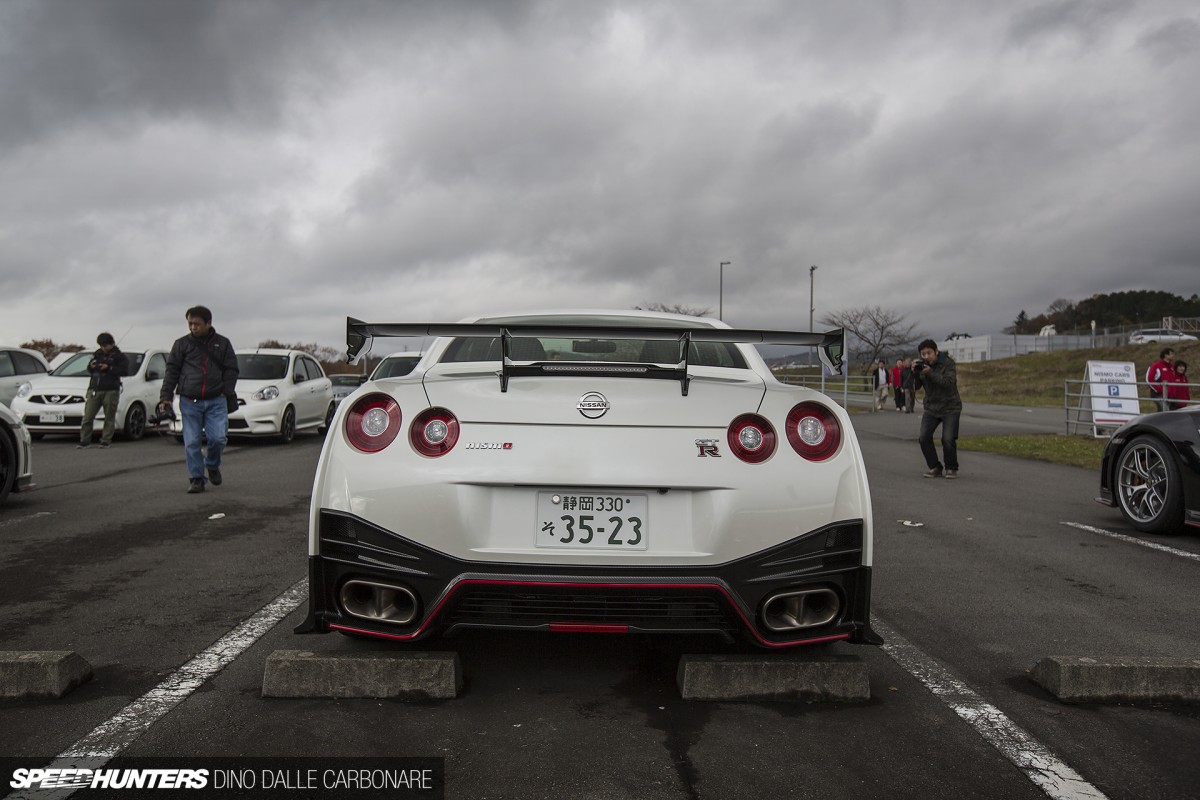 Then there's the daddy of them all – the Nismo GT-R. Sales of this car are good in Japan, but there is quite a wait for purchasers as Nismo can only build three or four units a month.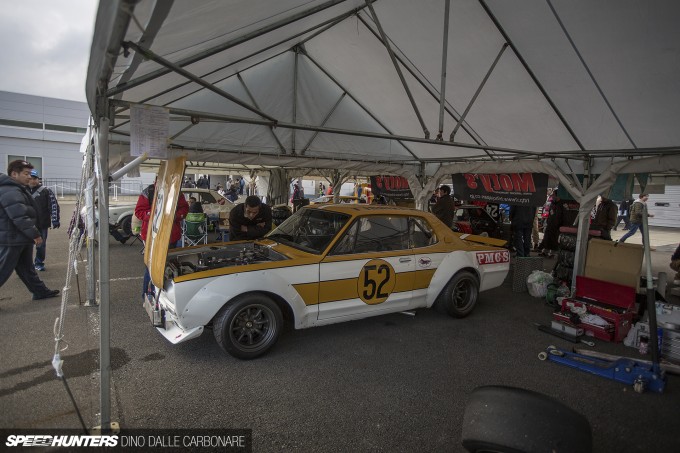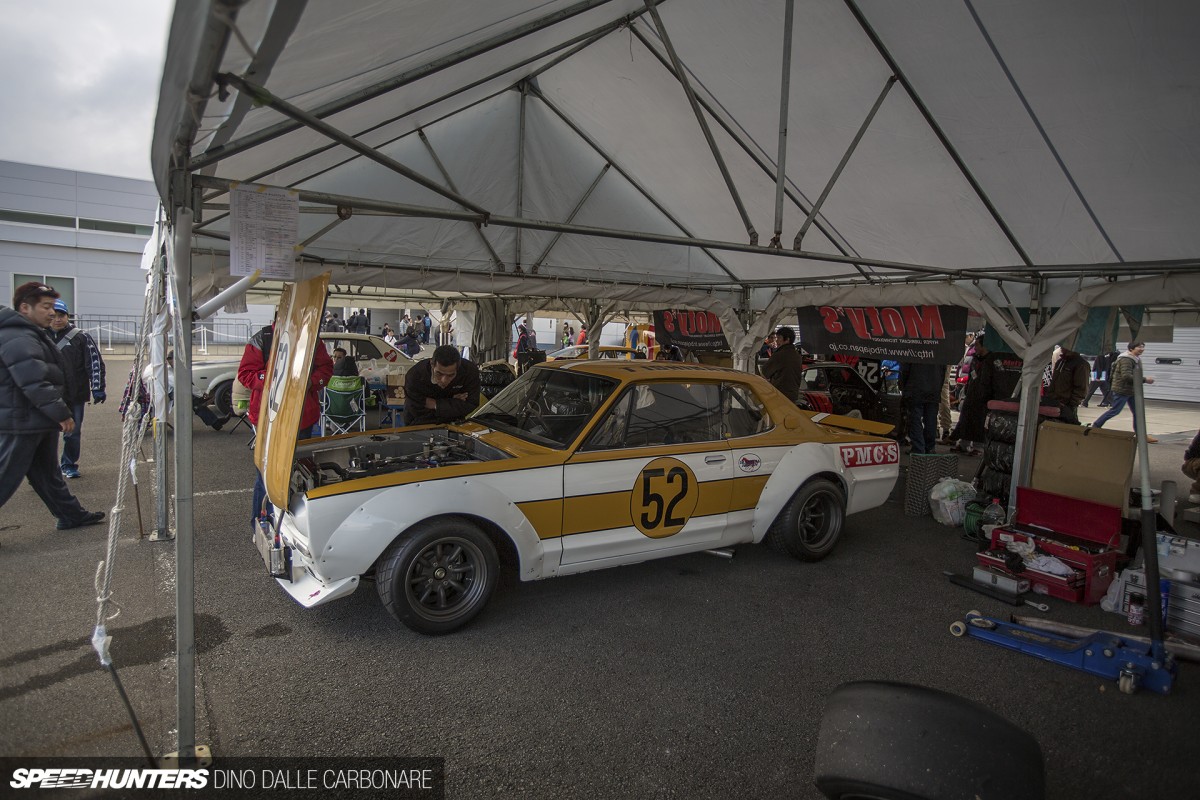 The far end of the paddock was reserved for historic cars – the machines that started to put Nissan on the motorsport map in its home market.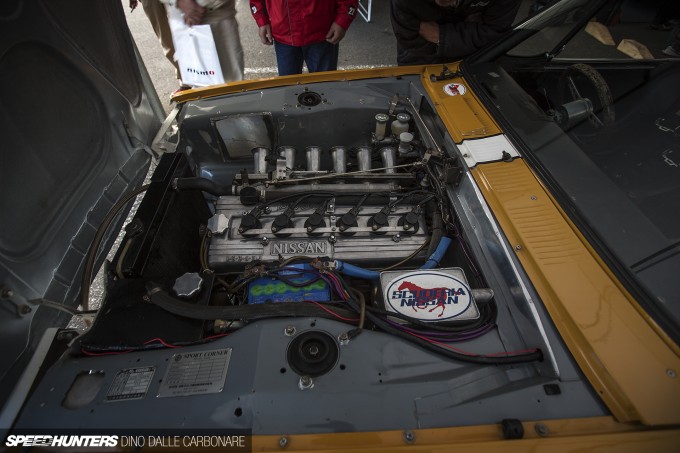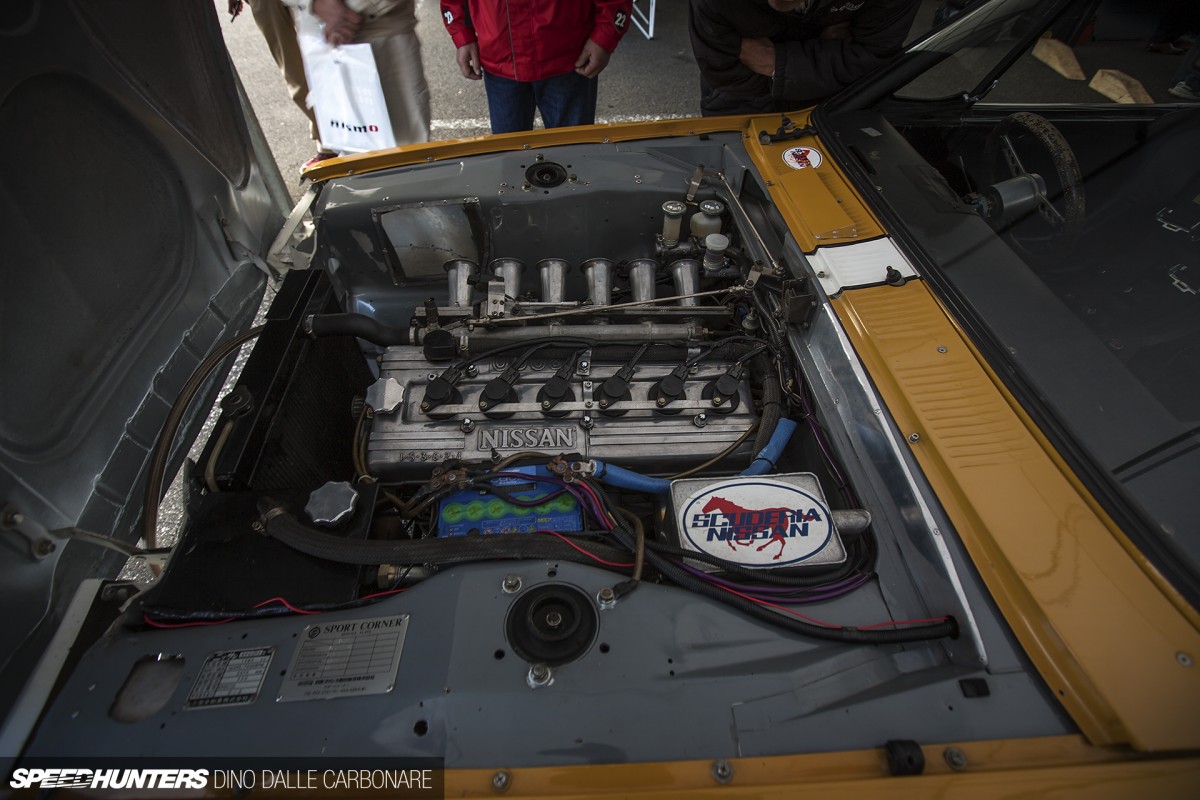 It's not often you get to see a genuine and authentic KPGC10, let alone one sporting a full works version of the S20 straight six. Simply glorious.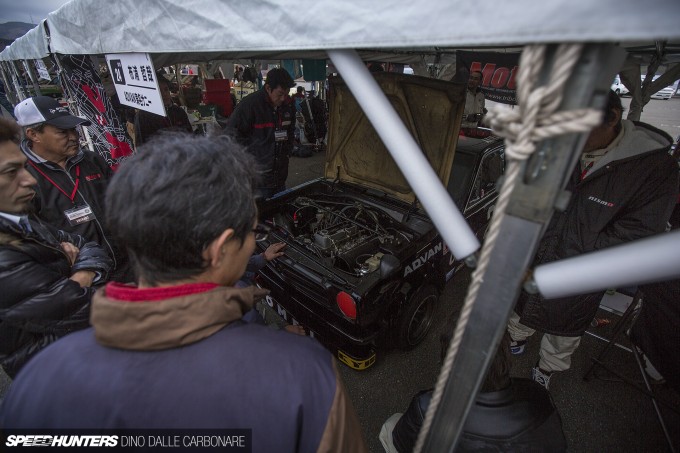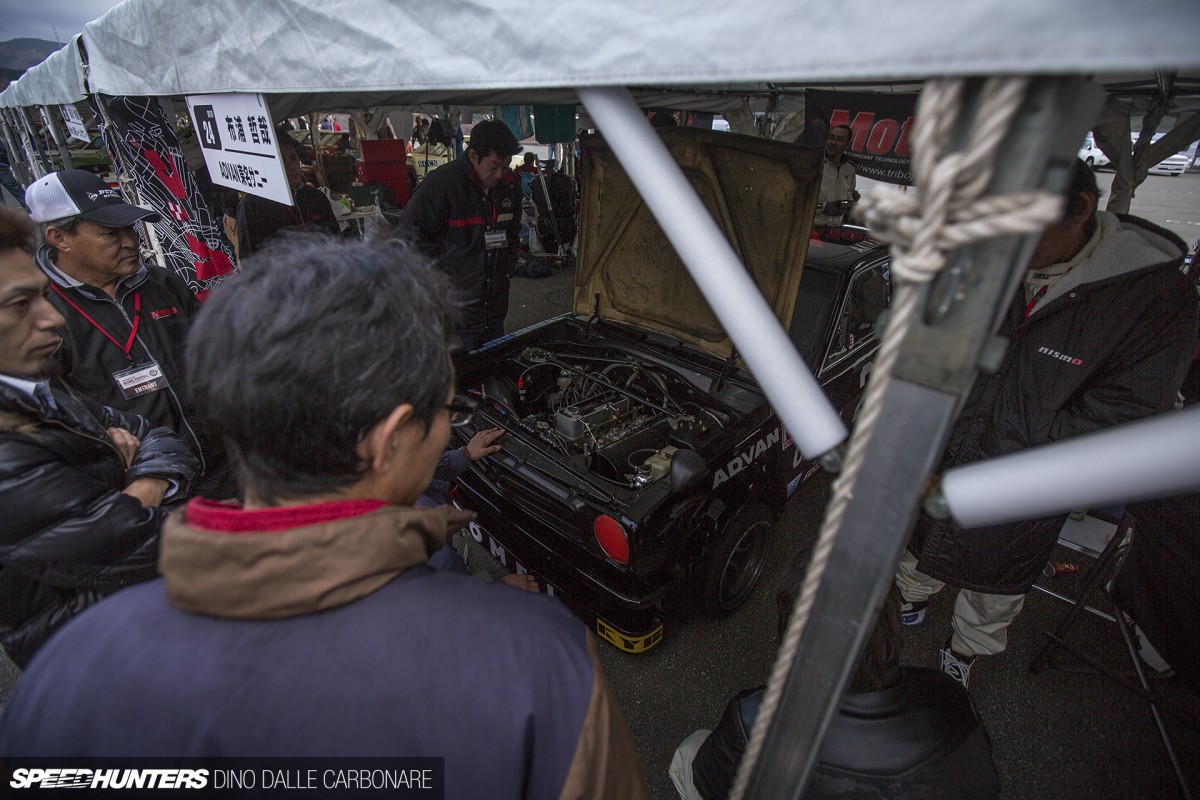 There was much debating going on here, and it's these little groups of enthusiasts chatting about the old days that adds a final twist of excellence to this event.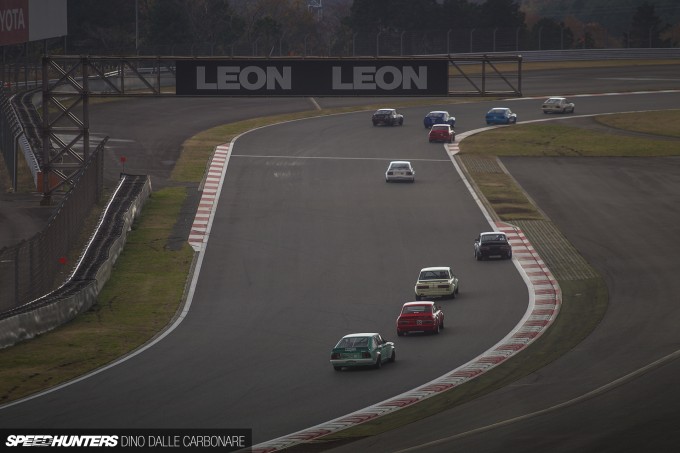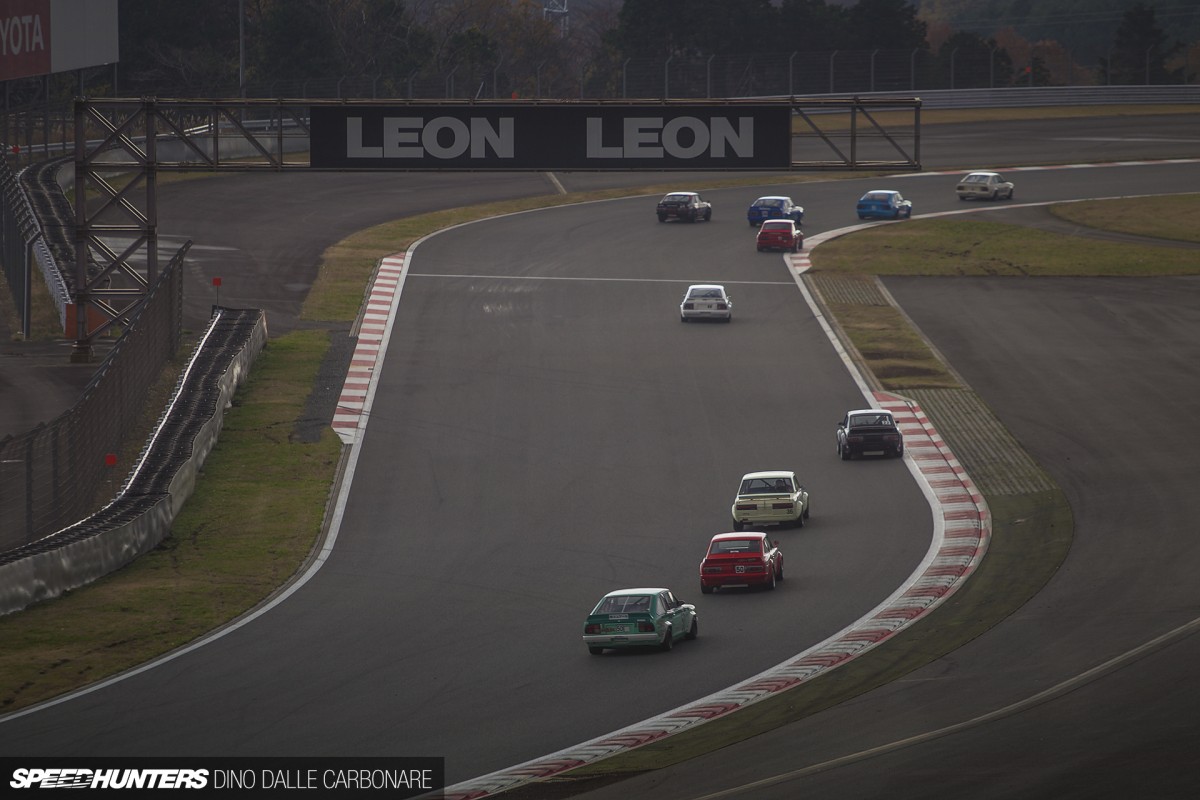 I'll finish up this post with a shot of vintage Sunnys and Skyline out on track for the historic car race – a great sight that was further boosted by the buzz of naturally aspirated race motors at full chat. I've got a variety of cars to share with you in an upcoming Spotlight-O-Rama post, so stay tuned for that!
Dino Dalle Carbonare
Instagram: speedhunters_dino
dino@speedhunters.com